The Best Restaurants at Disney Springs
When it comes to choosing the best restaurants at Disney Springs, the decision gets complicated. Did you know that there are close to sixty (60) different dining options at Disney Springs?
And with so many different places, how are you supposed to know which one is the best Disney Springs restaurant?
Some of the top restaurants at the Walt Disney World Resort are located at Disney Springs. And this fact alone makes it extremely difficult to settle on which dining reservation might work best for your family.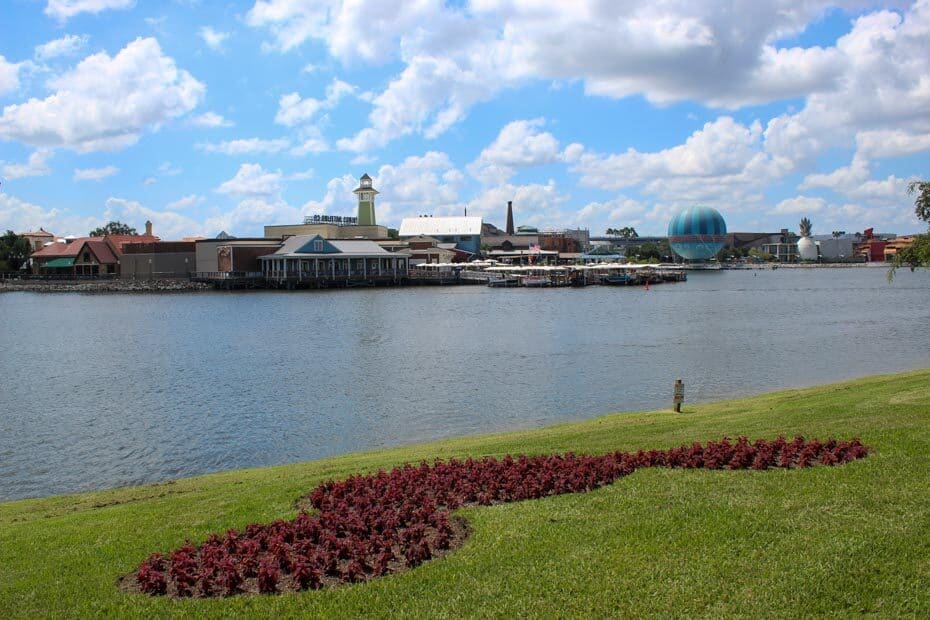 With those thoughts in mind, I decided to put together a list of what I deem to be the best restaurants at Disney Springs. Because let's face it, the number of choices has become pretty extreme. And it wouldn't be a Disney vacation without having a fantastic dining experience or two scheduled.
On the flip side, if you have a specific food craving, it should be reasonably easy to find exactly what you are looking for at Disney Springs. That's where having this large of a venue can benefit a variety of guests.
Below are my picks for the top restaurants at Disney Springs. The first eight are all table service restaurants. And the final three are all quick service restaurants. Toward the very bottom, I'll add a few honorable mentions for sweet treats like ice cream, cakes, and chocolate! 
Best Disney Springs Restaurants (2021)
To share with you a little history, back a few years ago, Disney Springs underwent a massive refurbishment. The outcome resulted in several celebrity chefs and niche investors opening new restaurants at the Lake Buena Vista destination.
Among these well-known chefs are names you are probably familiar with like Art Smith, Rick Bayless, Masaharu Morimoto, Wolfgang Puck, and Jose Andres. So naturally, these chefs having dining locations at Disney Springs brings in a large amount of traffic to the venue.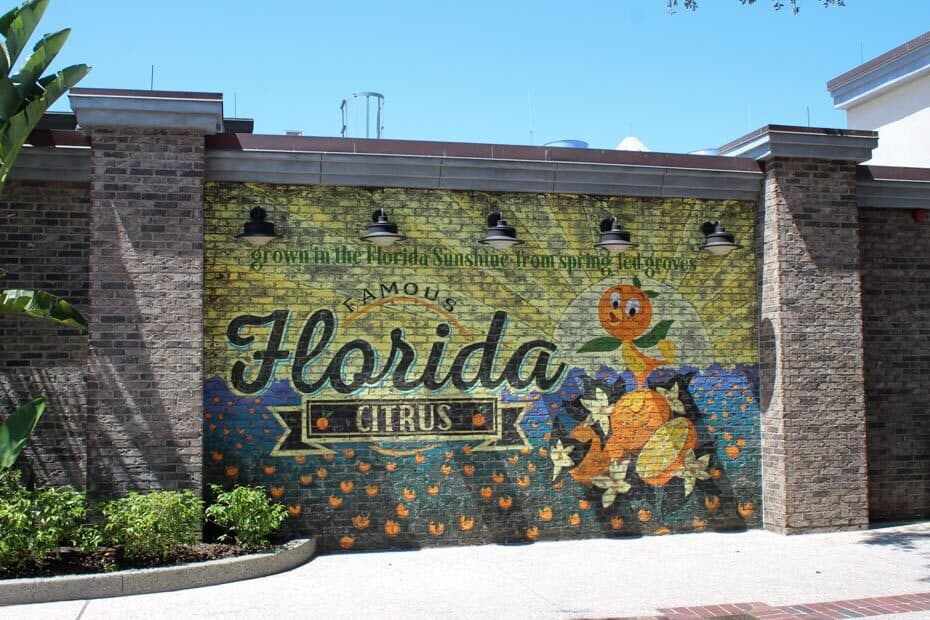 And then there are a few other dining stops including counter service meals that are worthy of being categorized as best Disney Springs restaurants. Therefore, the first eight restaurants we will look at are all table service locations. While the last three are a little more casual.
Below you'll find each location that I've selected as the best Disney Springs restaurant. These are not in any specific ranking order, other than the more casual ones toward the bottom. Additionally, four of these options are considered a Disney signature restaurant, the same as fine dining.
#1 The BOATHOUSE
Location: The Landing
Serves: Lunch and Dinner
Menu: Here
Type: Table Service, Disney Signature Dining
The Boathouse most definitely comes in as one of the best Disney Springs restaurants. The theming is nautical, there's a gift shop out front, and they even have boats that look like cars! You can even rent them and drive out onto the water.
Additionally, The Boathouse has a waterfront dining location. Their menu includes a variety of fresh seafood, steak, sandwiches, and burgers. This restaurant is popular for a reason and has a wonderful reputation
You will need to secure a Disney dining reservation in advance to enjoy a meal here in most cases. This restaurant is considered signature dining and is a sought-after establishment.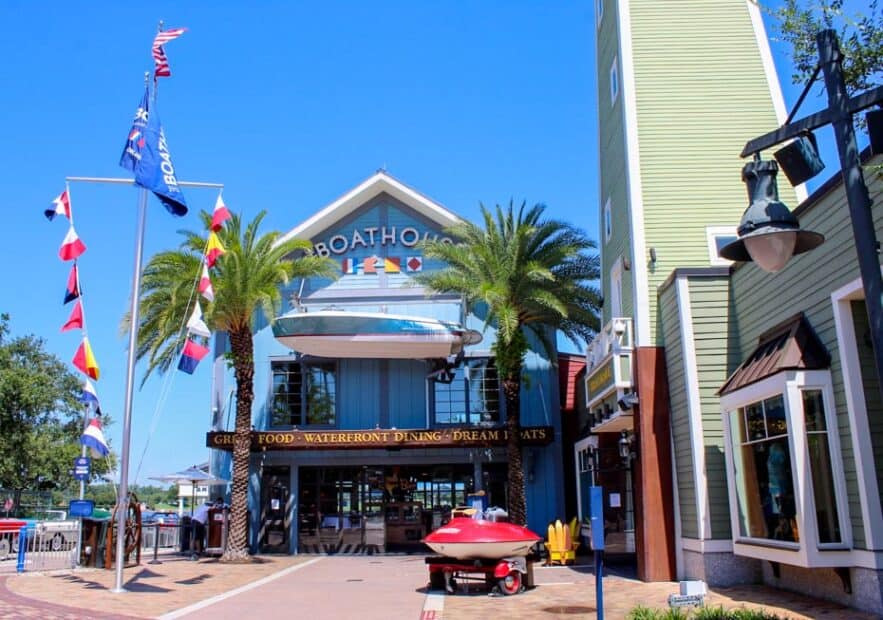 If for some reason, you don't have a reservation and want to eat a little more casually, you can always head out back to the Dockside Bar. This location offers the restaurant's full menu as well.
If you opt to dine outside, you can enjoy your meal while watching others drive amphicars out onto the water. Who knows? You might even end up wanting to take one of these unique vehicles out for a spin yourself.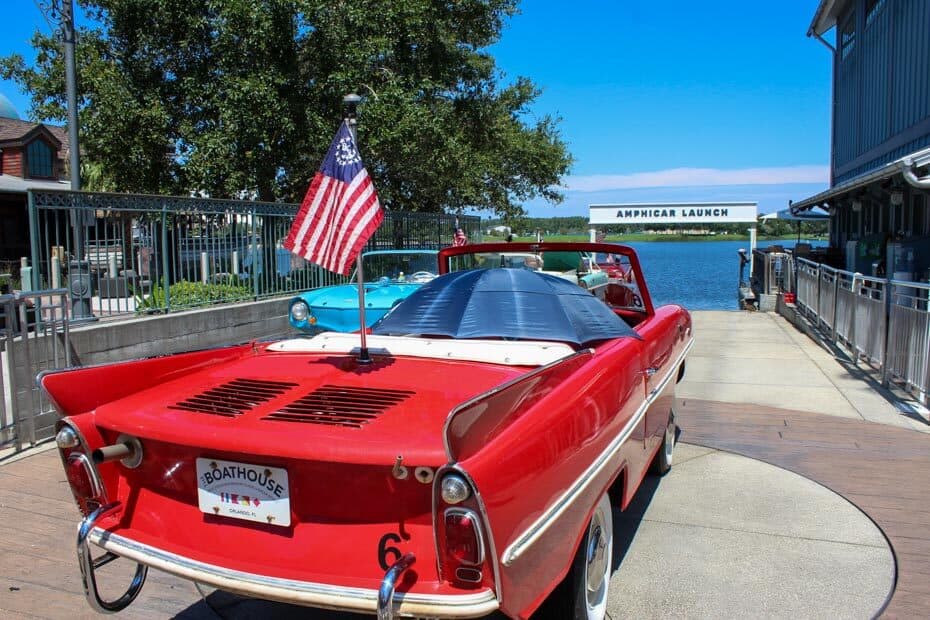 Location: The Landing
Serves: Lunch and Dinner
Menu: Here
Type: Table Service, Signature
My number two choice for best Disney Springs restaurant is Morimoto Asia. There are quite a few reasons I love a meal here. But the main reason is that they serve food prepared with quality ingredients while consistently providing excellent service.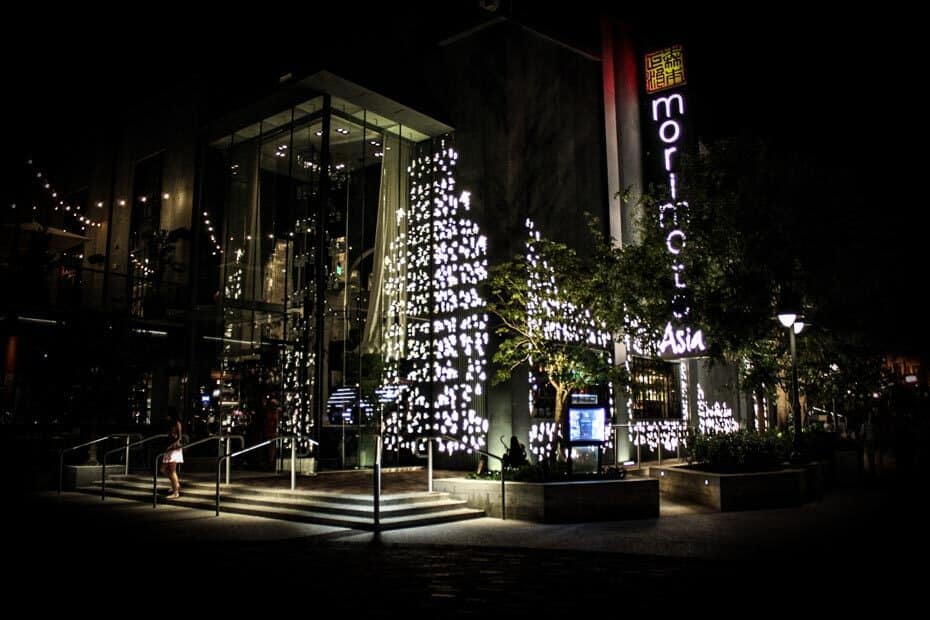 Below is a look at one of the entree items I've tried at Morimoto Asia. This dish is the Duck Ramen, and it was packed with ramen and duck meat. Portion-wise it was so large; I didn't get anywhere near finishing it.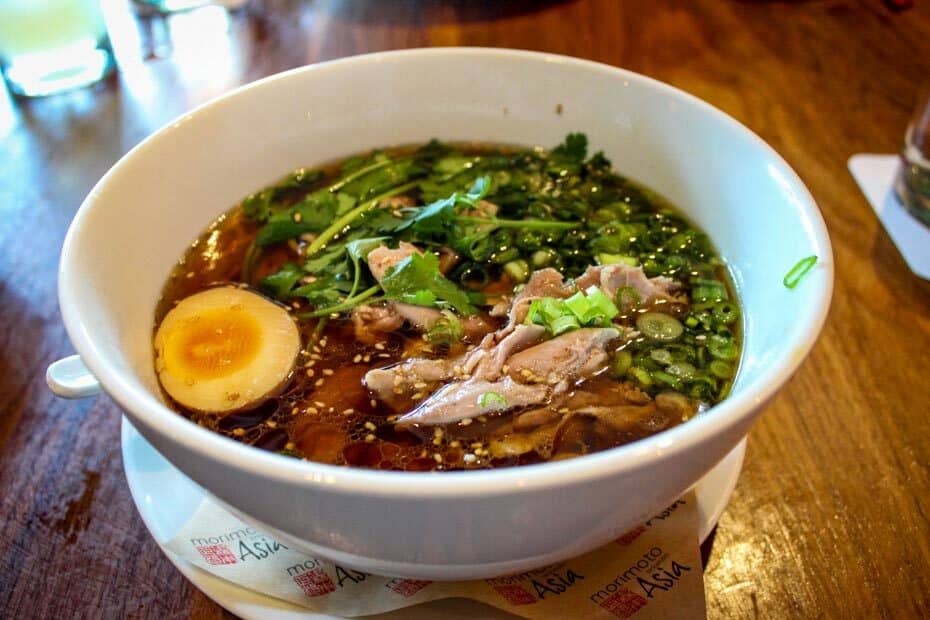 I've had the good fortune of eating at Morimoto at least five times to date, and we have never left wishing we had eaten elsewhere.
Another perk at Morimoto Asia is that they offer a variety of dining options. If you want something more fast-casual at a price that won't break the bank, try Morimoto Street Food.
Street Food has a walk-up window on the far side of the restaurant with a separate menu and outdoor seating area. It's a fun stop for a counter service meal at Disney Springs when you don't have a reservation.
Did you spend all day in a Disney park and are now looking for late-night dining? Then, visit Morimoto's Forbidden Lounge. It's located on the restaurant's second floor, offers a full menu, and is open late. There's even a separate entrance if you want to avoid walking through the main restaurant.
In addition, there's a pretty nice spot to eat outside on the balcony. Oh, and if you are a sushi fan, you won't want to miss it here.
#3 Chef Art Smith's Homecomin'
Location: The Landing
Serves: Lunch and Dinner
Menu: Here
Type: Table Service
Fried chicken sandwich, anyone? That's where Chef Art Smith's Homecomin' comes into play. This Disney dining location serves up a menu offering everything Southern from moonshine to fried chicken.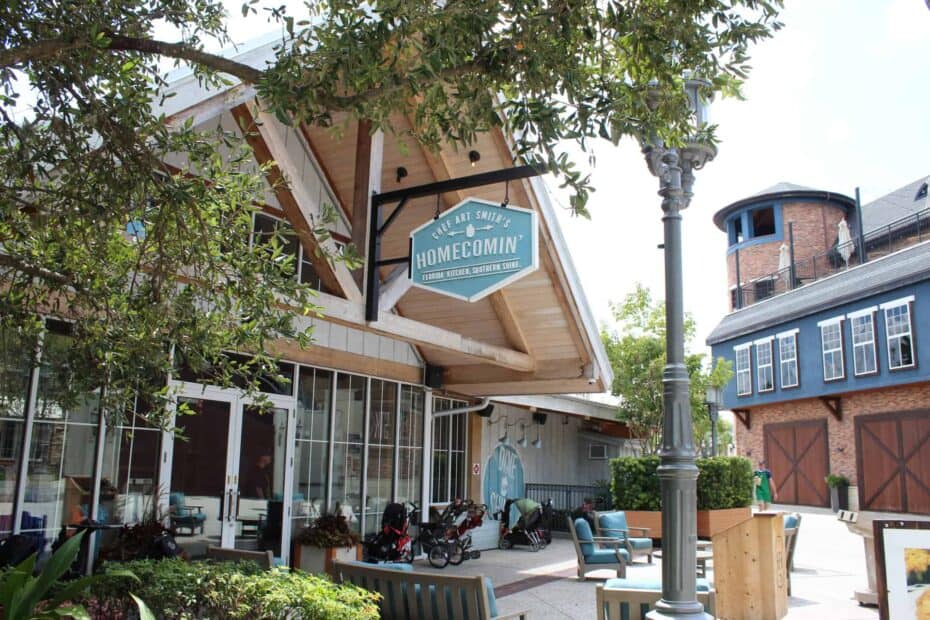 While I don't have a formal review of Homecomin' to provide at this time, I dare say you won't be disappointed. The restaurant has brunch on Saturdays and Sundays between 9:30 a.m. and 1:00 p.m.
Oh, and if you want something vegan and think chicken probably wouldn't work, think again. They'll fix you right up with a "Chik'n" sandwich substituting the real deal for Gardein crispy tenders.
Location: The Landing
Serves: Lunch and Dinner
Menu: Here
Type: Table Service, Signature
Starting off, I must tell you; I haven't dined at STK Orlando in the evening. This dining establishment is known for having more of a nightclub feel in the evening with live music.
But I do think it's a great place to enjoy an al fresco lunch. As you can see in the picture below, the STK has a nice covered outdoor eating area.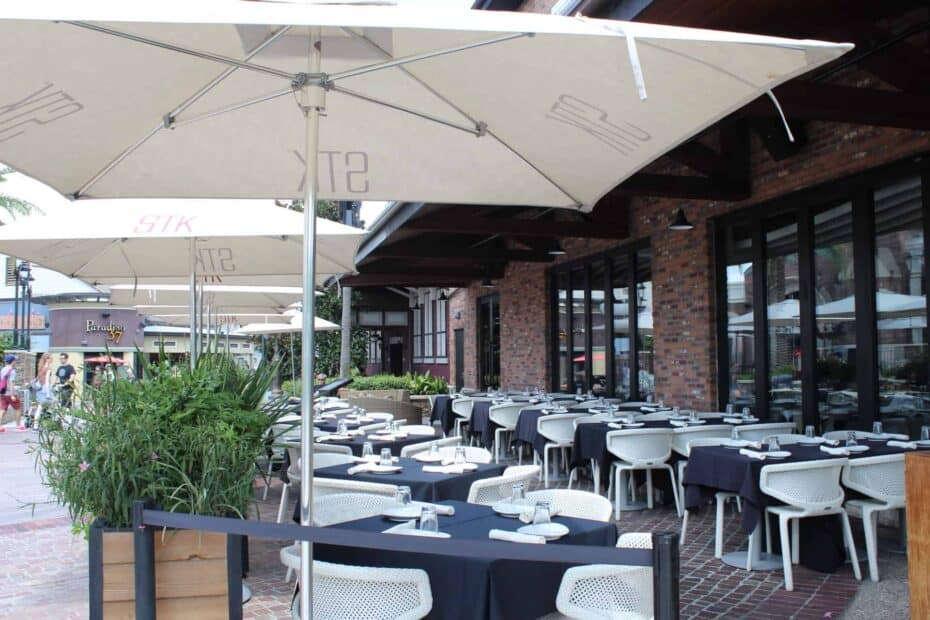 This best Disney Springs restaurant has a good lunch menu and brunch on the weekends. They generally take walk-ups when not overbooked.
Here's the burger I had on my last visit to STK Orlando. It was one of the best burgers I've had in a long time, and I wouldn't say that about any burger.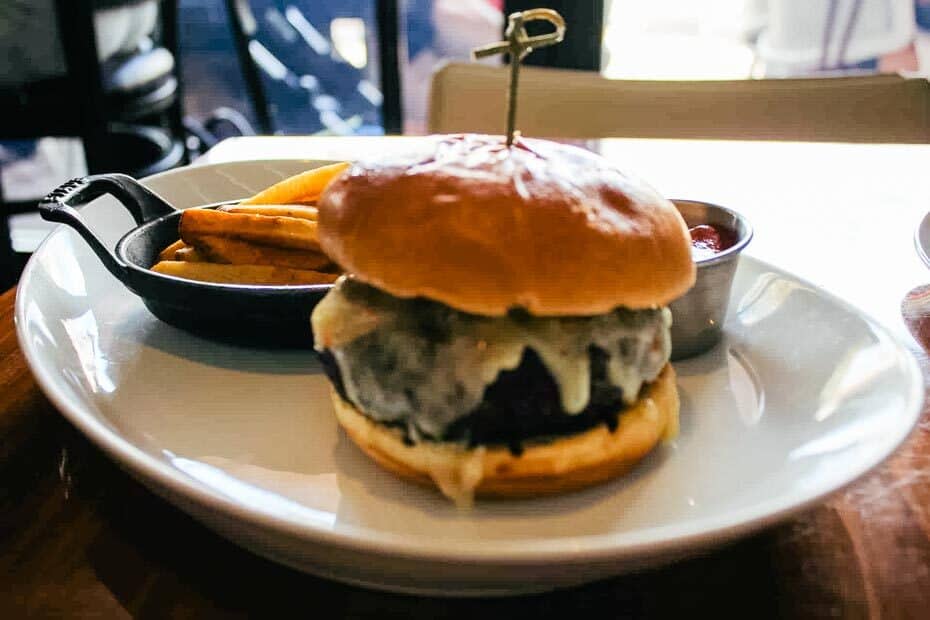 STK is a steakhouse and prides itself on offering quality cuts of meat that are expertly prepared. The food has yet to disappoint.
#5 Wine Bar George
Location: The Landing
Serves: Lunch and Dinner
Menu: Here
Type: Table Service
While I haven't had the opportunity to have a full meal here yet, I would be remiss to leave out Wine Bar George as one of the best places to eat at Disney Springs. The restaurant serves lunch on weekdays and offers a popular brunch on Saturdays and Sundays between 10:30 a.m. and 2:00 p.m.
Dinner service is available nightly beginning at 4:00 p.m. Like the name; the restaurant is most popularly known for its extensive wine selection. Pair a glass with one of their infamous charcuterie boards. I doubt there'll be any complaints by the end of the meal.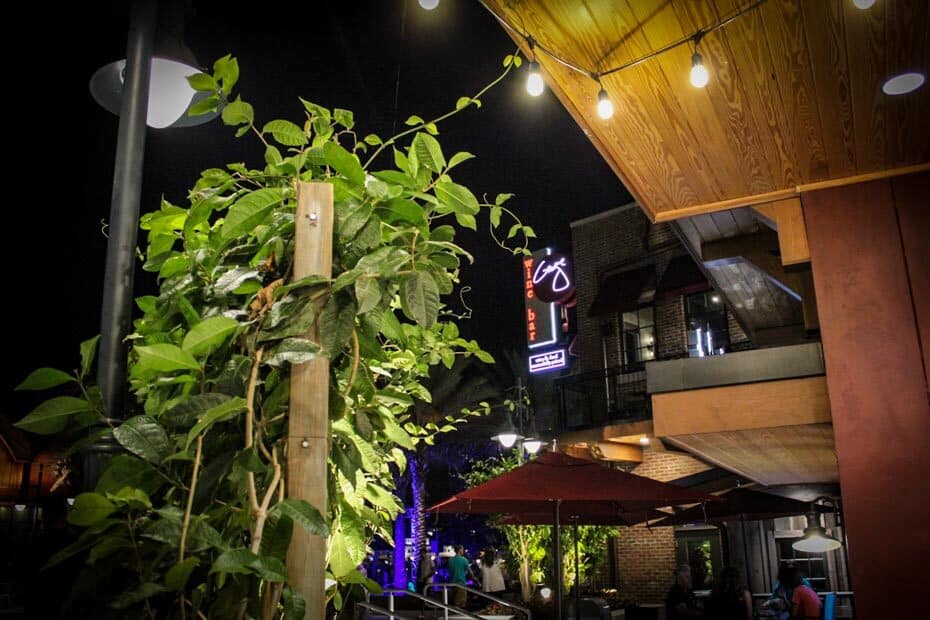 Additionally, Wine Bar George has a second stop for counter service attached to The Basket restaurant. And I have stopped in here to pick up one of their famous cookies!
This Rose cookie is quite a tasty treat. I recommend getting one to-go and sharing it! The Basket is also where you can pick up a Corkcicle or Dole Whip Frozcato when it's available.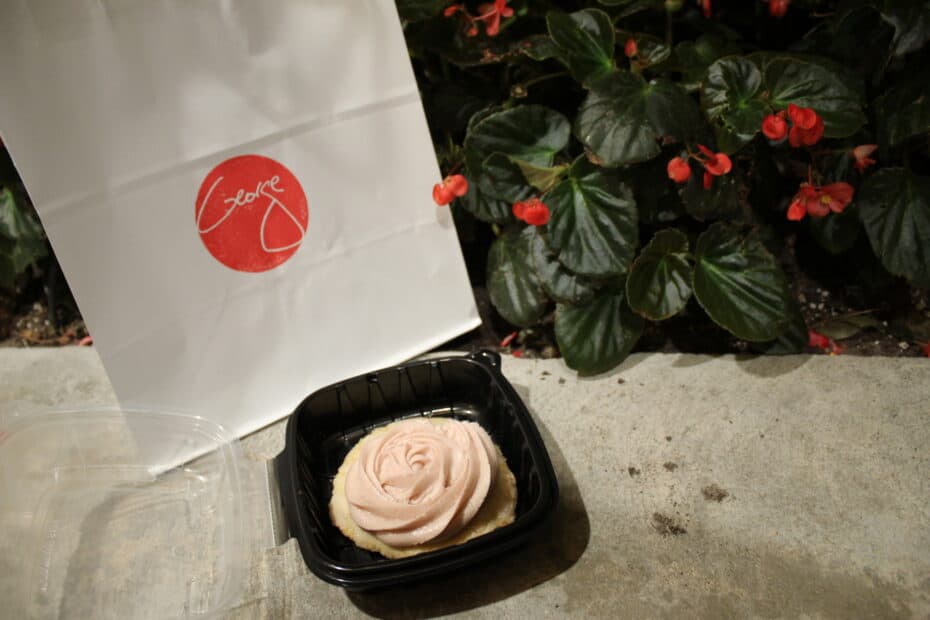 Location: Town Center
Serves: Lunch and Dinner
Menu: Here
Type: Table Service
One of the first places you will run into at the Disney Springs Town Center entrance is Frontera Cocina.
For me, Frontera Cocina and Morimoto Asia are my top two favorite dining establishments at Disney Springs. I've had multiple, great meals at each restaurant, and they always keep me coming back for more.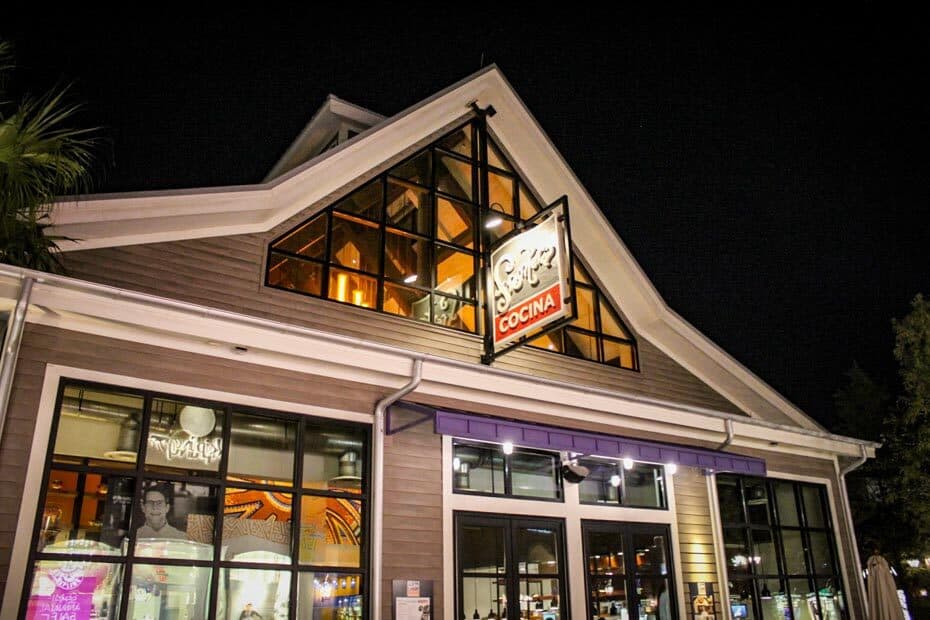 Frontera Cocina? It's Mexican food like you probably haven't had, and it's just plain ole good. If you are looking for a tasty salad at a reasonable price, try their Taqueria Ensalada. It's perfect how it comes, but you can top the salad with carne asada, shrimp, or chicken if you like.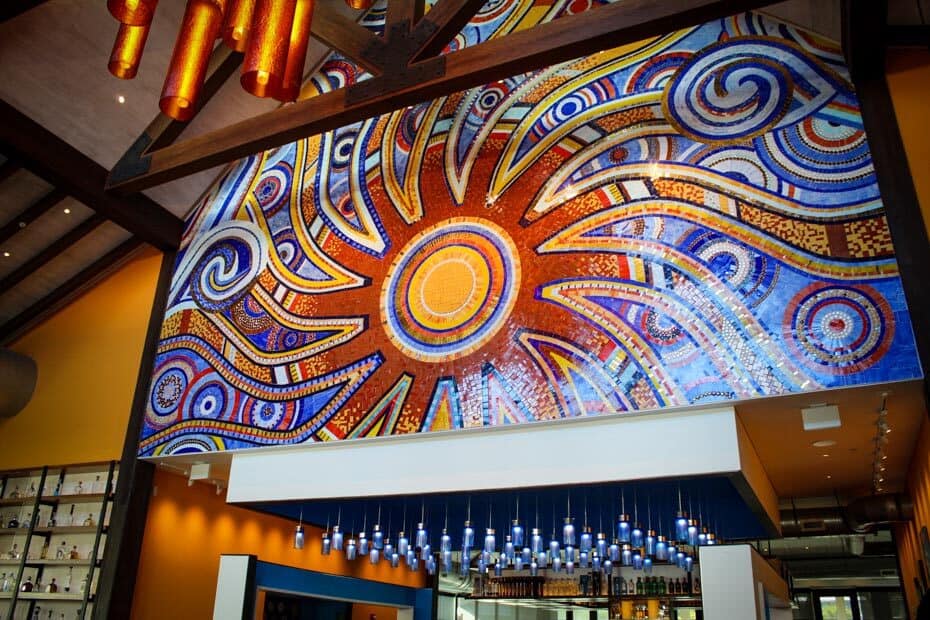 Here's a look at one of our recent meals, the pork belly tacos.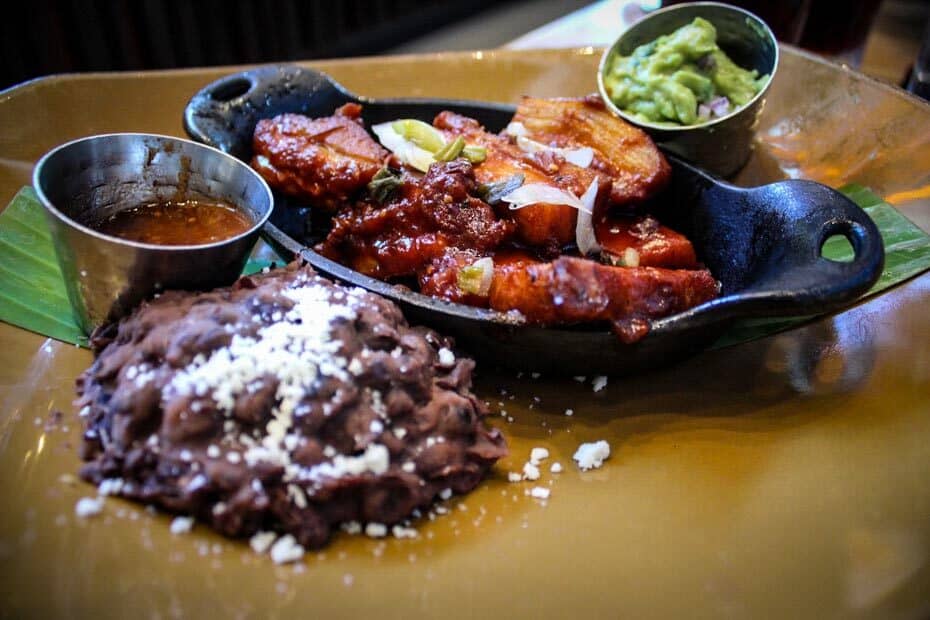 Another note here is that Frontera Cocina does an excellent job of providing allergy-friendly meals. Chef Rick Bayless keeps his staff well-informed, and the regular menu lists common allergens under each item.
#7 Jaleo by Jose Andres
Location: West Side
Serves: Dinner
Menu: Here
Type: Signature Dining
Jaleo is one of the newest dining locations at Disney Springs. You might be familiar with the popular restaurant as they do have several locations in larger US cities.
Chef Jose Andres is the chef and owner of Jaleo and is to be commended for his effort in providing meals for those in need. And for that reason alone, a meal here is worth your patronage.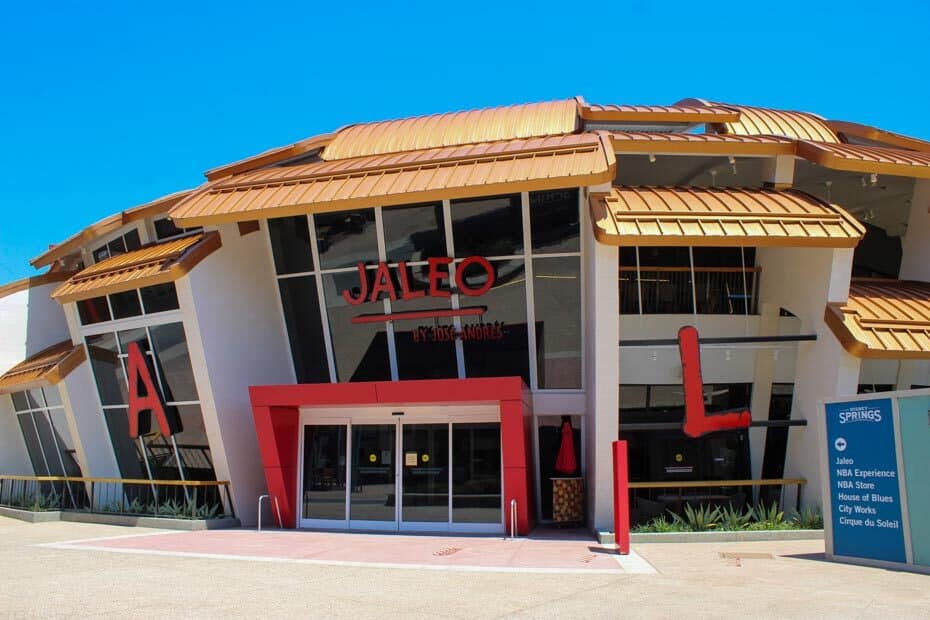 Not to mention the fine Spanish cuisine and tapas menu that Jaleo is known for serving. So make sure to try a fancy cheese plate! Or maybe try something Jose's Way (it's the only way.)
Regarding dining at Jaleo, I don't think anyone familiar with the proprietor can disagree that it belongs in this best Disney Springs restaurant category, probably more than any other option.
#8 Wolfgang Puck Bar and Grill
Location: West Side
Serves: Lunch and Dinner
Menu: Here
Type: Signature Dining
Wolfgang Puck Bar and Grill is my last table service recommendation for the best Disney Spring restaurants. If you are leaning toward Italian cuisine, this is more than likely where you'll want to secure a reservation.
The menu boasts California cuisine with Mediterranean influences. You'll find items here like calamari, pizza, pasta, steak, and seafood.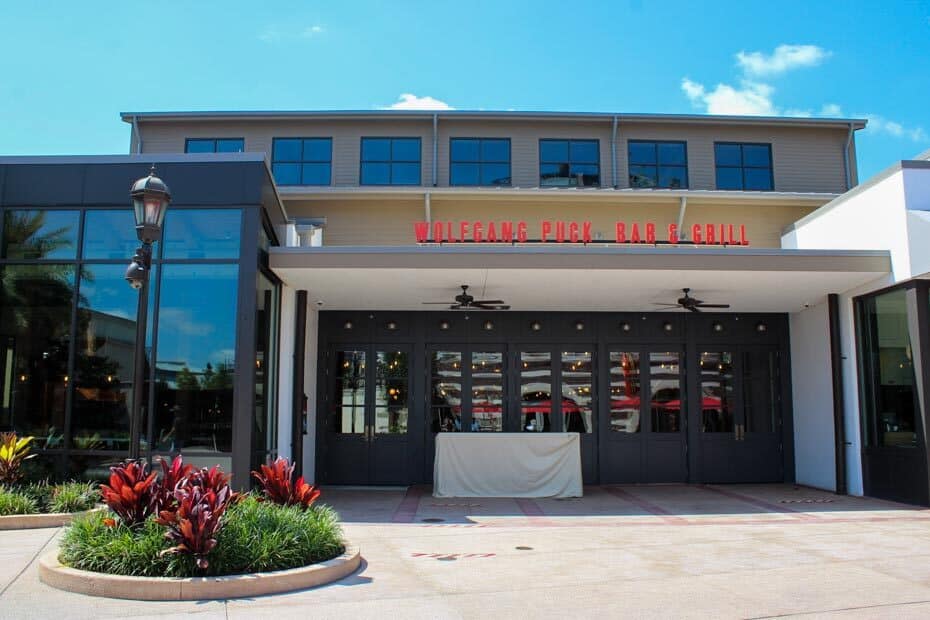 Fans of this celebrity chef will surely enjoy a meal here.
Location: Town Center
Serves: Lunch and Dinner
Menu: Here
Type: Counter Service
Our next stop transitions to quick service dining at Disney Springs. The Polite Pig is a contemporary barbecue joint, but you probably already picked up on that from the name, right?
I've had the pleasure of eating at The Polite Pig quite a few times over the past few years. And while I'm probably more of a harsher critic of their menu than most, I couldn't leave it out of our best Disney Springs restaurants.
Below is their cedar-planked salmon with two market sides. You can probably tell, there's a lot of food involved. So you might want to consider sharing something depending on your level of hunger.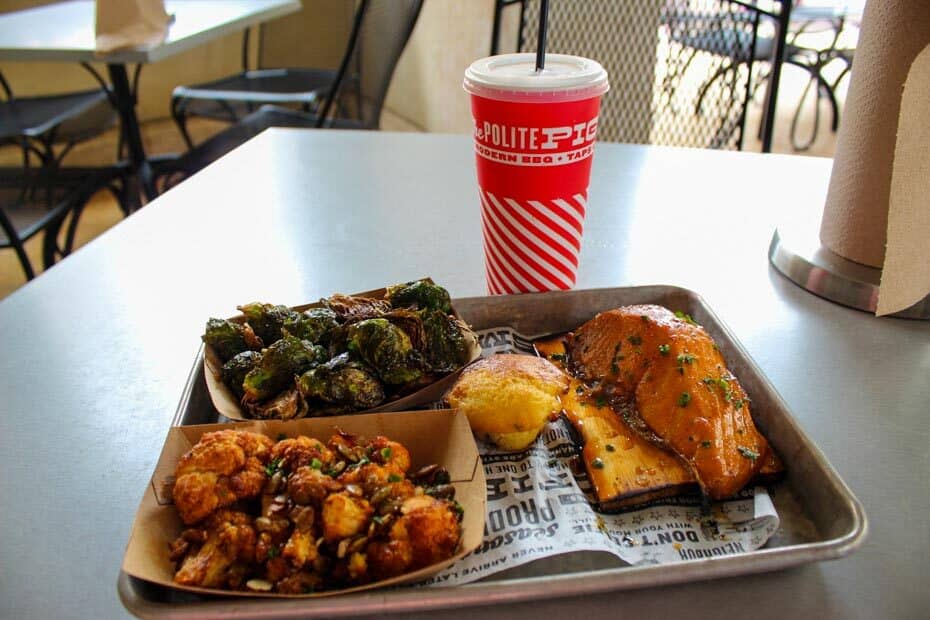 At Polite Pig, you'll find a variety of barbecue dishes with distinctive sides. The restaurant doesn't require reservations and will come in a little less in price than the table service options we've previously discussed.
Location: Town Center
Serves: Lunch and Dinner
Menu: Here
Type: Counter Service
Participates in Disney Mobile Order
What can I say about D-Luxe Burger? If you are looking for a little fries with that shake (or onion rings) you will enjoy this best Disney Springs restaurant.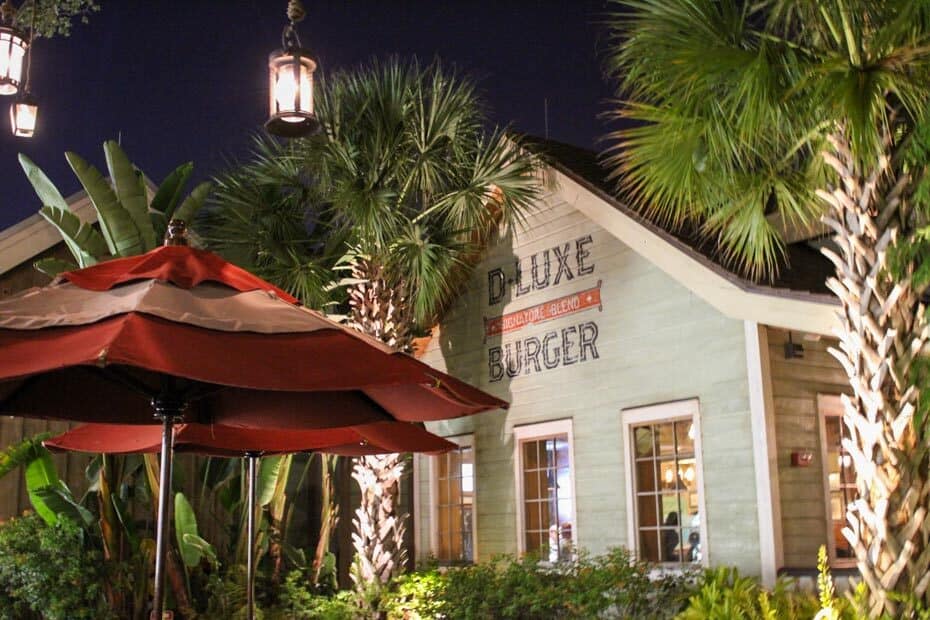 D-Luxe Burger has a variety of different burgers including some with turkey meat, a chorizo mix, and a plant-based option. The restaurant is family-friendly and has great options for kids' meals and chicken fingers.
This is one of my favorite places to mobile order food at Disney. Often I'll leave a theme park like Magic Kingdom, and order my food on the way over. When I arrive, I'll select the "I'm here, prepare my order," and pick it up.
Additionally, they have indoor dining and a pleasant outdoor eating space that looks out to the springs part of Disney Springs.
If you are in a burger mood, you are going to be more than happy you ate here.
Location: Town Center
Serves: Lunch and Dinner
Menu: Here
Type: Quick Service
Last but not least, we have another counter service option for our best Disney Springs dining spots. Blaze Pizza provides the opportunity to order custom individual pizza or create-your-own.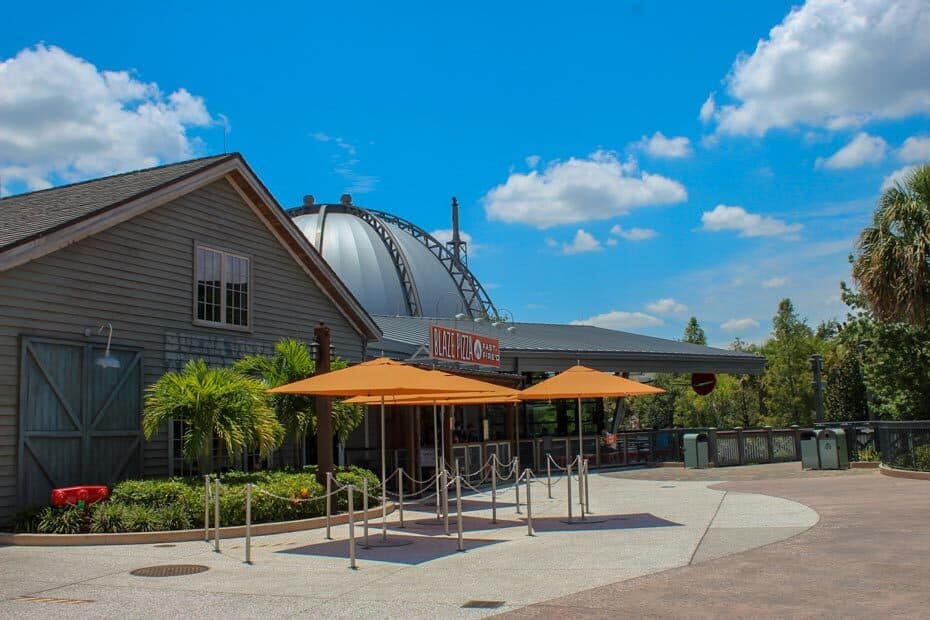 The variety of options and quality of Blaze makes this a wonderful stop for anyone, but especially when dining with picky eaters.
You can get anything from a veggie pizza to a gluten free crust at Blaze. It's also going to be one of your best priced meals while you're on that Disney vacation.
Securing a Reservation for these Best Disney Springs Restaurants
Securing reservations at Disney Springs might be a little challenging if you try to use the My Disney Experience app. And while this is an option for securing those coveted reservations at the best Disney Springs restaurants, I prefer another way.
I have found over the years that I have much better luck reserving a table on a website called OpenTable. They have an app, but I usually visit their website from my mobile phone's browser and select a dining option.
Often when you search the My Disney Experience app, there won't be an available reservation. However, from my experiences, when I visit OpenTable, I can typically have my pick of preferred time.
Here's how to use OpenTable.
Step 1–Visit the Open Table Website here.
Step 2–Select how many are in your party, the date, desired time, and location. If you are already in the area and have location services turned on, Disney Springs restaurants will automatically come up.
Step 3–Select the desired restaurant and preferred time for your reservation. You will then be instructed to confirm your reservation.
Step 4–After confirming your reservation, OpenTable will email you a copy. One of the things I like about OpenTable is that if you don't hit the signup button, they won't continue to email you.
There are so many things like this that I'm usually wary of because companies tend to bombard customers with emails. That has not been my experience with OpenTable.
Final Thoughts (Best Restaurants at Disney Springs)
Before wrapping things up, I felt like I should add in a few honorable mentions. For instance, Raglan Road Irish Pub is a no-brainer if you are looking for bangers and a mashed potato meal. Their fish and chips are also pretty well-known.
Amorette's Patisserie is my go-to for picking up a cake or pastry-style dessert. And Gideon's Bakehouse opened in 2021, providing out-of-this-world cookies! (There will probably be a line!)
The Ganachery is THE place to visit for chocolate. Good luck deciding which flavors you want to try. I'm a sucker for the coconut and orange ones.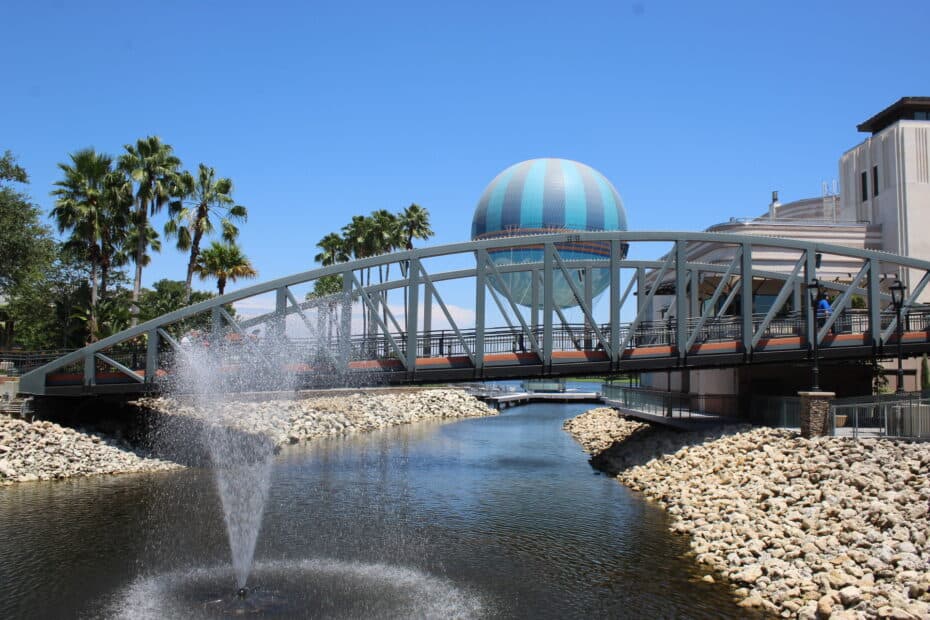 Remember, there is no character dining (review) at Disney Springs. However, you might check out somewhere like TREX or Rainforest Cafe (review Disney Springs location) if you want a meal specifically for children.
This concludes our list of the best restaurants at Disney Springs. Hopefully, this review has provided you with the information needed to make that next reservation.
If you are uncertain of the best route to reach one of these dining venues, make sure to check out my complete guide to using Disney Springs transportation. It includes how to get to Disney Springs and how to get around after you arrive.
Additionally, you can read every Walt Disney World Dining review here on the site.
Make sure to leave me a comment below and tell me what you think is the best restaurant at Disney Springs.