The Best Restaurants at Disney Springs (2023 Updates)
When it comes to the best restaurants at Disney Springs, the decision gets complicated. Did you know that Disney Springs has nearly sixty (60) dining options?
With so many, how are you supposed to know which ones are the best Disney Springs restaurants?
Some of the Walt Disney World Resort's top restaurants are at Disney Springs. Unfortunately, this fact alone makes deciding which dining reservation might work best for your party difficult.
With those thoughts in mind, we've compiled a list of what we deem to be the best restaurants at Disney Springs. We've dined at these restaurants over many visits to Disney Springs, some multiple times.
So it should come as no surprise that sometimes we have difficulty deciding where to eat. Of course, we return to a few of these favorites often.
On the flip side, finding precisely what you are looking for at Disney Springs should be reasonably simple if you have a specific food craving. Given the vast size of the venue, something's always available to satisfy most appetites.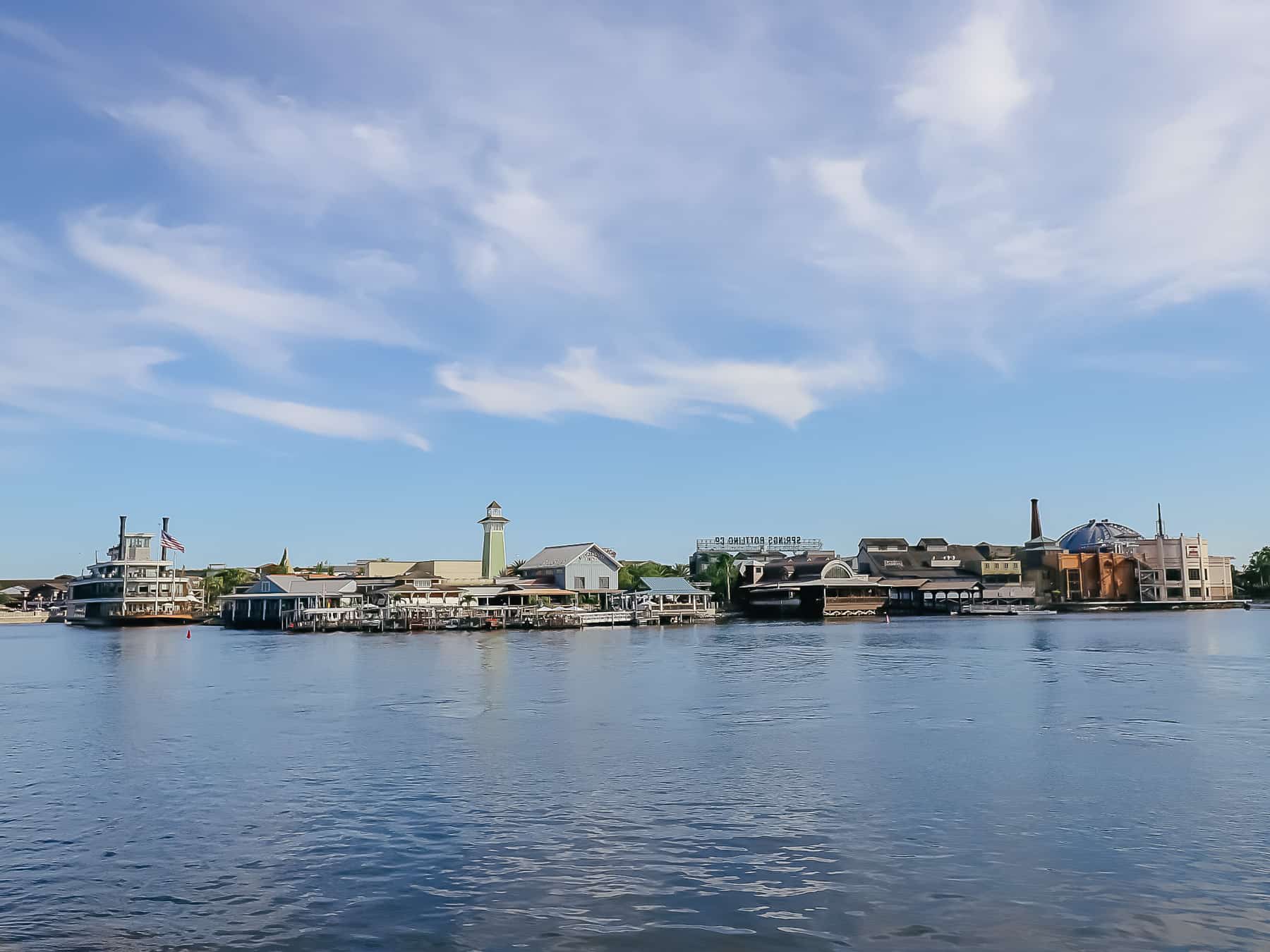 Best Disney Springs Restaurants
Below are the locations we've ranked as the best Disney Springs restaurants. We started with our top choice.
However, these options are all stellar. So they aren't necessarily in strict order. The first eight are table service restaurants, and the final three are counter service restaurants.
Chef Art Smith's Homecomin'
The Boathouse
Morimoto Asia
STK Orlando
Wine Bar George
Frontera Cocina
Jaleo by Chef Jose Andres
Wolfgang Puck Bar and Grill
The Polite Pig
D-Luxe Burger
Blaze Fast-Fire'd Pizza
Toward the bottom, we've added a section with honorable mentions. These restaurants didn't quite make our top ten (well, eleven) but are still worth noting.
Lastly, we'll finish with a few stops for sweet treats like ice cream, cake, and chocolate! So make sure to save room for dessert.
What makes these restaurants "the best" at Disney Springs?
You may already know, but Disney Springs underwent a massive refurbishment a few years ago. The outcome resulted in several celebrity chefs and niche investors opening specialty restaurants at the Lake Buena Vista destination.
Among these well-known chefs are names you are probably familiar with, like Art Smith, Rick Bayless, Masaharu Morimoto, Wolfgang Puck, and José Andrés. So naturally, these chefs having dining locations at Disney Springs brings even more traffic to the popular venue and raises the bar for dining.
Before we look at each option individually, I wanted to point out that four are considered signature dining, the same as fine dining. However, Disney Springs is a fairly casual place. So, there's no reason to worry about a fancy dress code at these locations.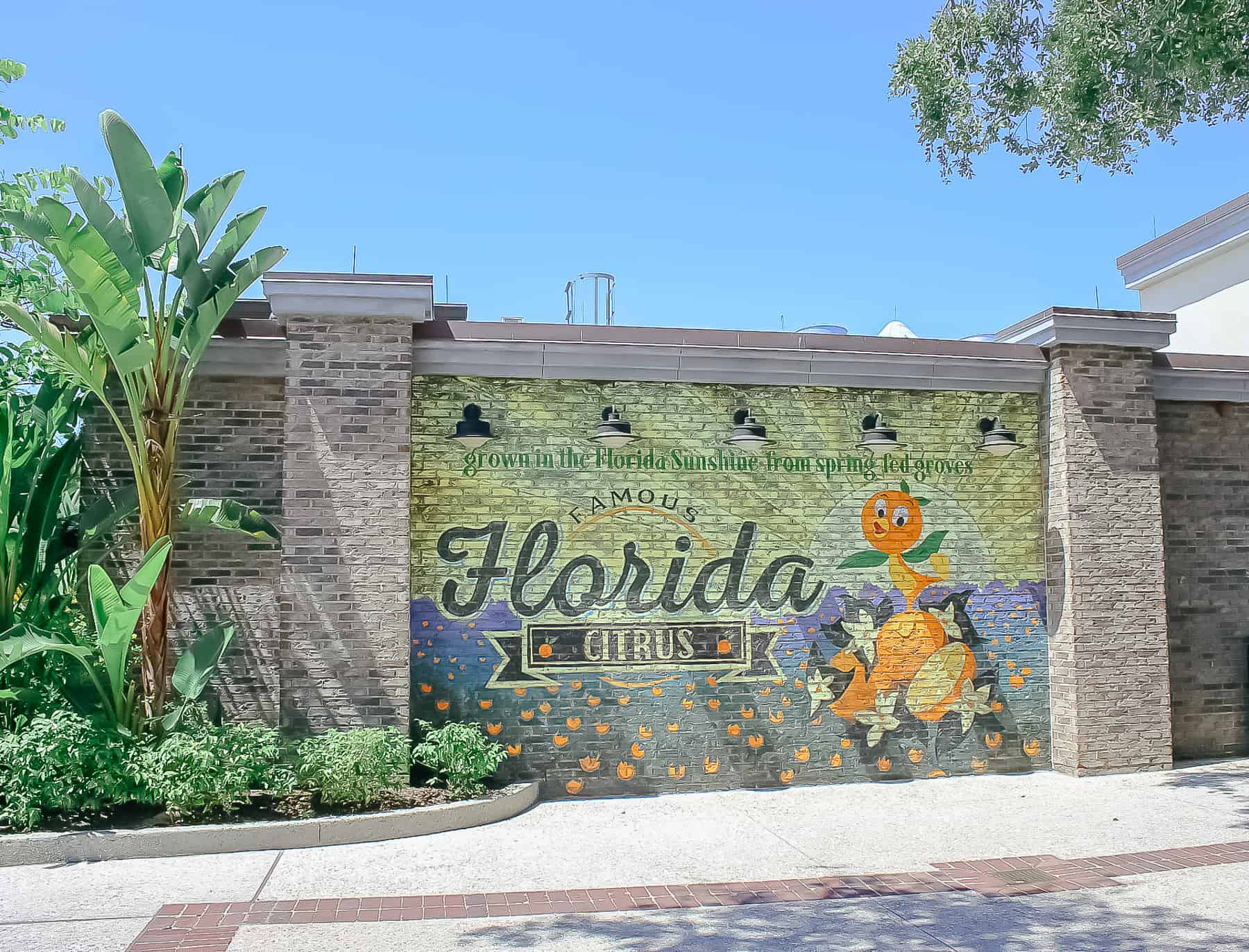 #1 Chef Art Smith's Homecomin'
Fried chicken, anyone? If you're in the mood for southern comfort food, you'll want to secure dining reservations for Chef Art Smith's Homecomin'.
Since moving to Florida, this restaurant has become our favorite dining experience at Disney Springs. It's so yummy!
Location: The Landing
Serves: Lunch and Dinner (Brunch on the Weekends)
Menu: Homecomin' Menu
Type: Table Service
Homecomin's menu boasts Southern favorites like Church Lady Deviled Eggs, Thigh High Chicken Biscuits, and Country-Fried Steak. Sides range from grits smothered in cheese to down-home mac and cheese.
A few tough choices come into play for dessert, between the Hummingbird Cake, Hamilton County Chocolate Pecan Pie, and the Shine Cake. I love them all, but I'll take a slice of that pie any day.
We're talking moonshine by Shine Cake, and there's plenty of that on the menu. A few specialty drinks include the Blue Hooch and Sweet Tea Shine.  
And don't be surprised if you run into Chef Art Smith himself. He frequents his Disney Springs restaurant.
When choosing an entree–good luck; that's why we keep eating here. We haven't had everything yet!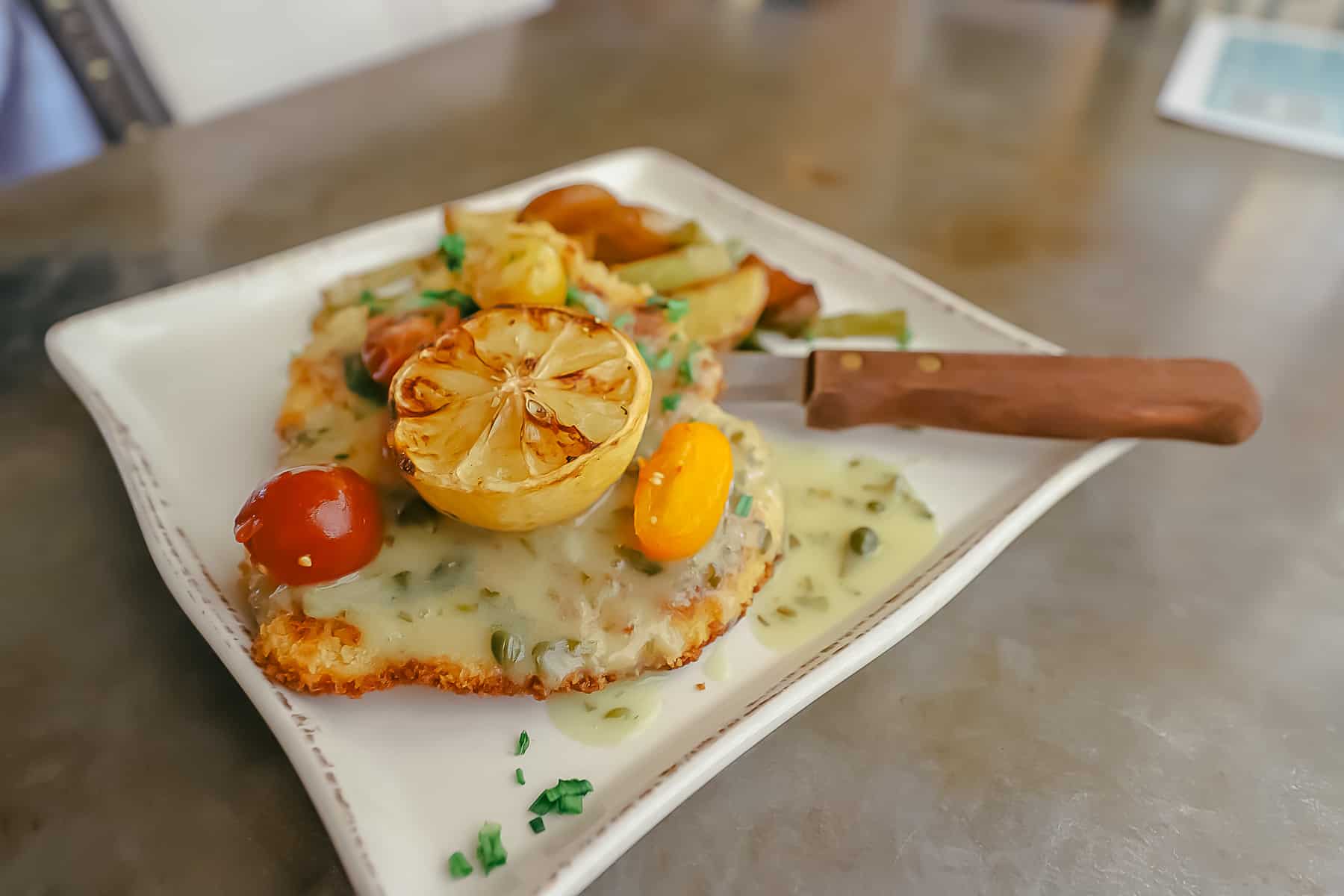 A few other things about this location: the restaurant usually offers a brunch menu on Saturdays and Sundays between 9:30 a.m. and 1:00 p.m.
Also, if you want to order a vegan item and think chicken probably wouldn't work, think again. They'll fix you right up with a "Chik'n" sandwich by substituting the real deal for Gardein crispy tenders.
Tip: You might want to visit this best Disney Spring restaurant after spending a few days in the theme parks. After logging all those miles on Disney property, you won't feel guilty about these indulgent menu items.
Here's a look at the fried chicken platter.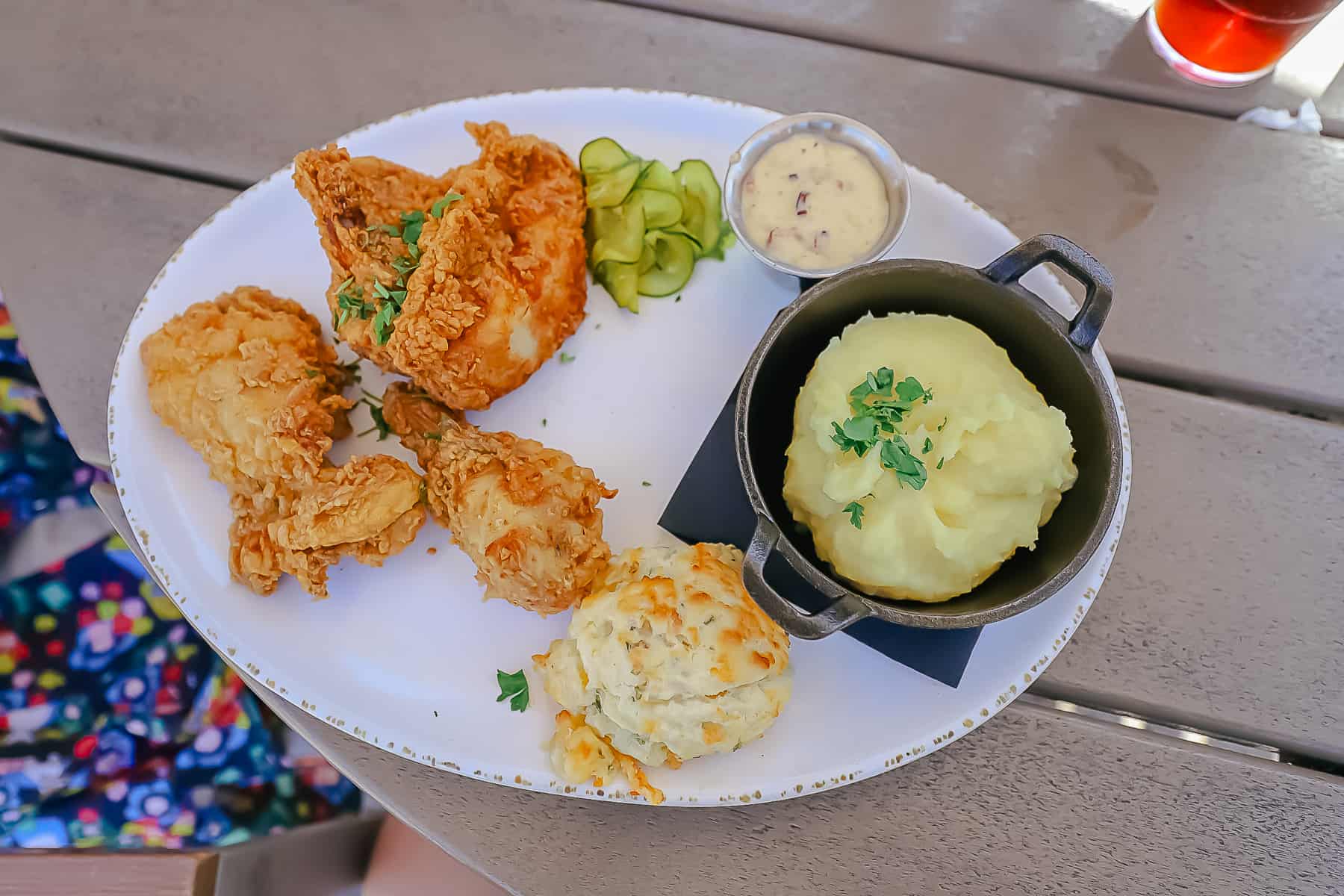 And here is the famous Hummingbird Cake, the restaurant's signature dessert. You'll want to share this with someone because it's massive!
But when it comes to that chocolate pecan pie, warning–I'm not sharing it with anyone. You probably won't want to share it, either.
Related: Chef Art Smith's Homecomin' Review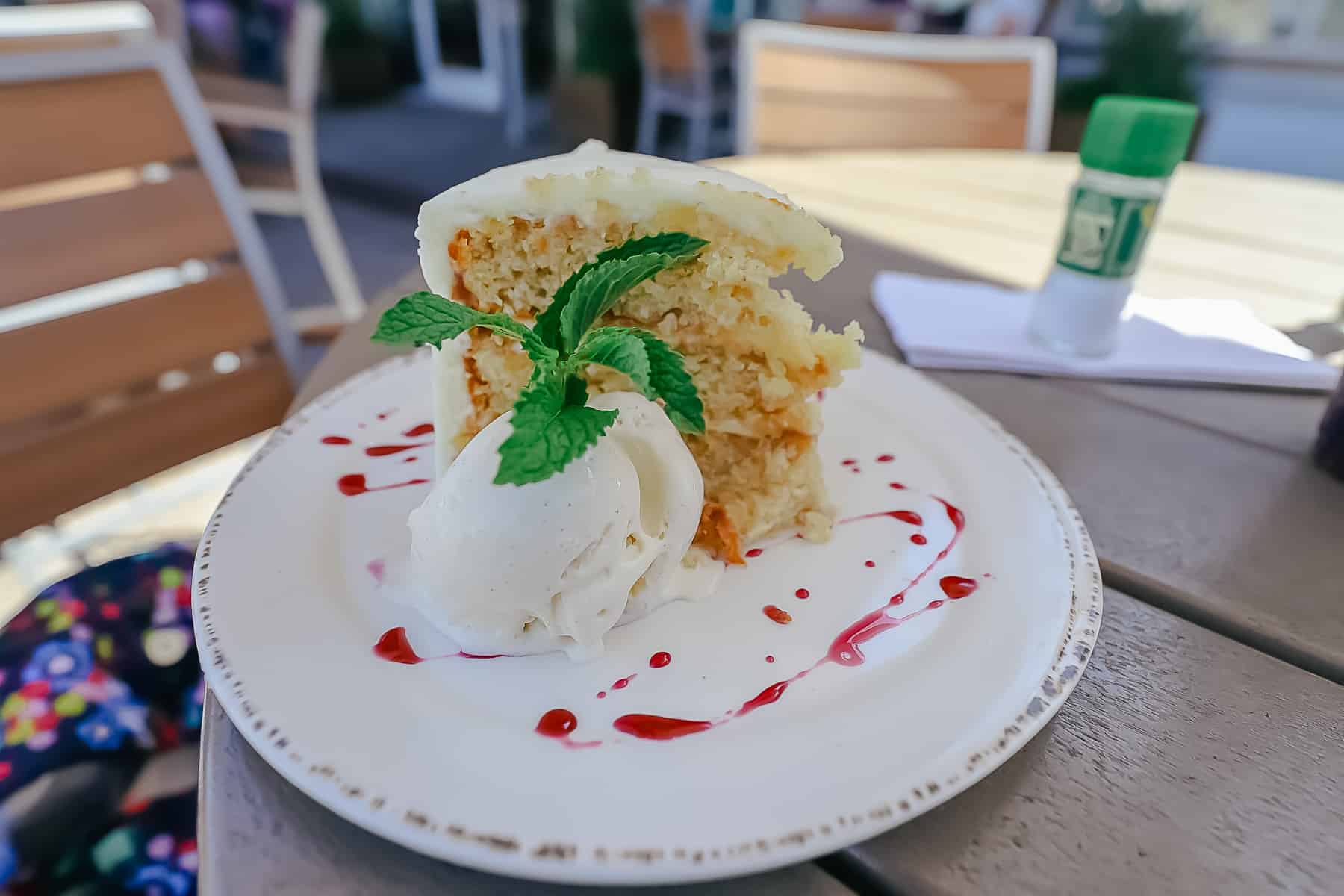 #2 The BOATHOUSE Restaurant
Our next stop for the best restaurant at Disney Springs is The BOATHOUSE. Here are a few of the specifics you'll want to know:
Location: The Landing
Serves: Lunch and Dinner
Menu: The Boathouse Menu
Type: Table Service, Disney Signature Dining
The BOATHOUSE is a steak and seafood restaurant with nautical theming. It has a fun gift shop, the Boatique, near the restaurant's entrance.
Additionally, the restaurant has boats called Amphicars available for rent. A driver will escort you on a tour around the lake.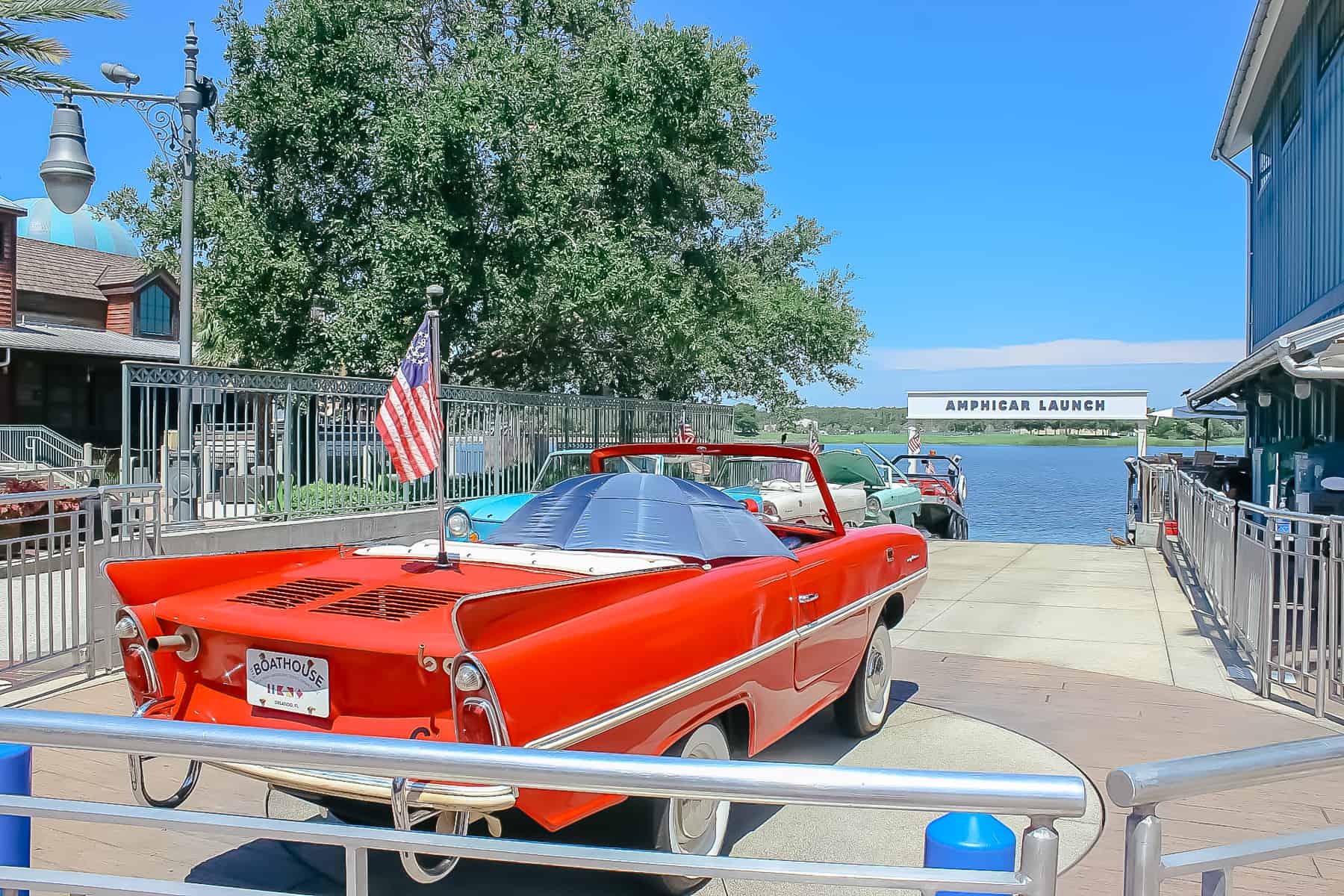 Since The BOATHOUSE offers waterfront dining, many tables provide scenic views of the lake. Menu items consist of fresh seafood, steaks, sandwiches, and burgers. A raw bar sits toward the front.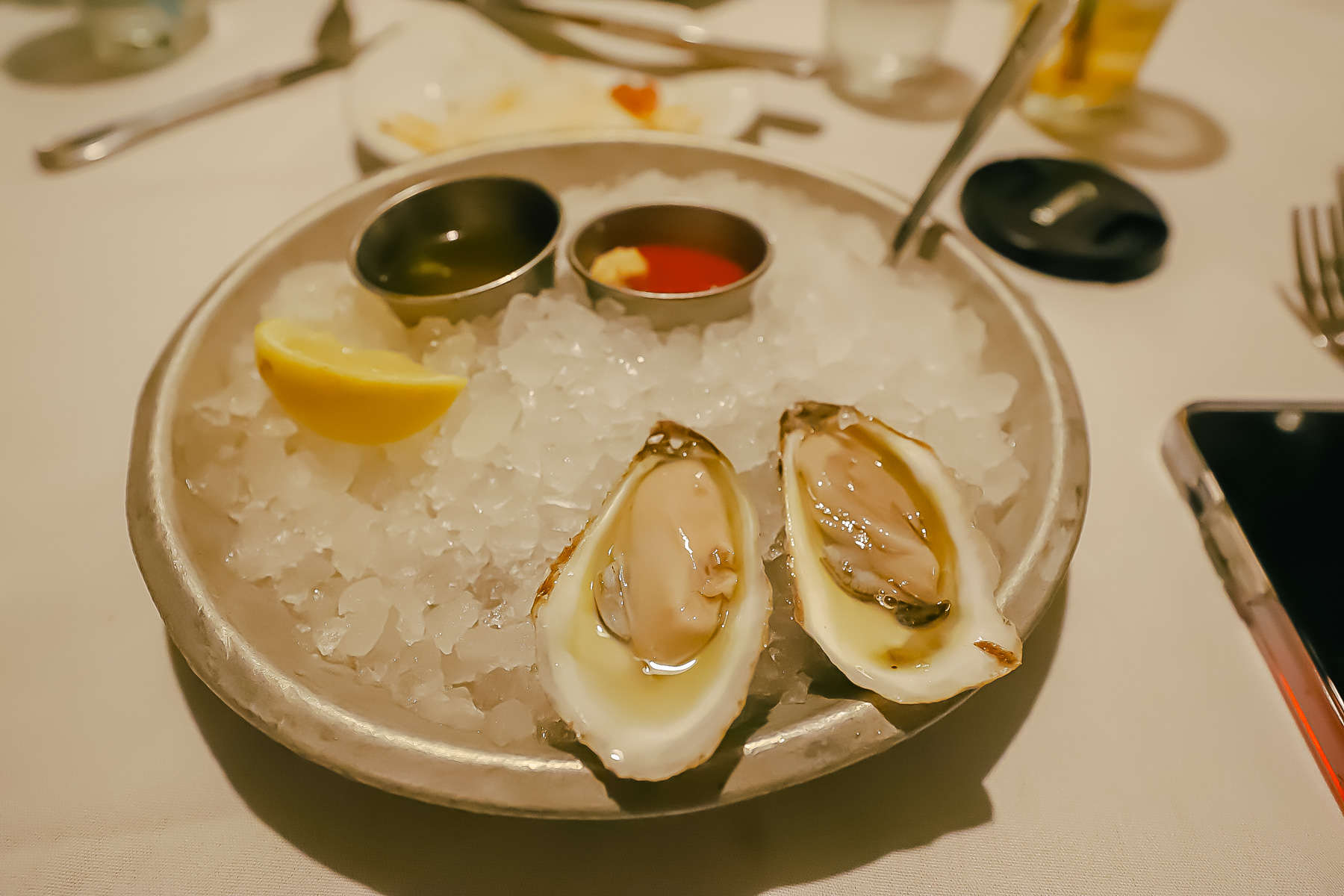 Here's a look at the filet mignon sliders, a dish that gets rave reviews.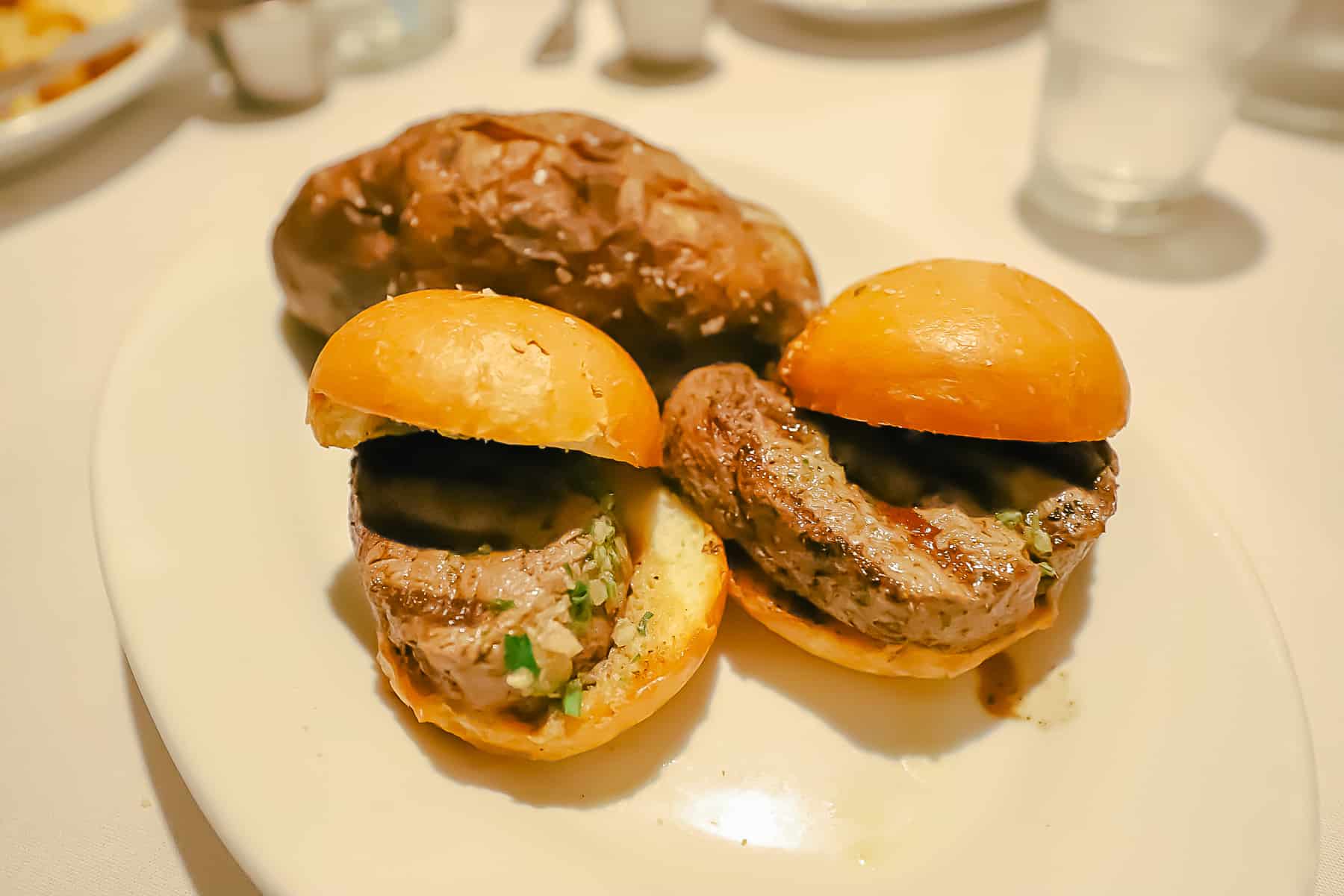 In most cases, you'll need to secure an advanced dining reservation for this restaurant. Given its popularity, the restaurant is often booked, especially during high crowd times.
However, if you don't have a reservation and don't mind dining outside, you can see if there's any available seating at the Dockside Bar. This separate bar area is behind The BOATHOUSE and offers the restaurant's full menu.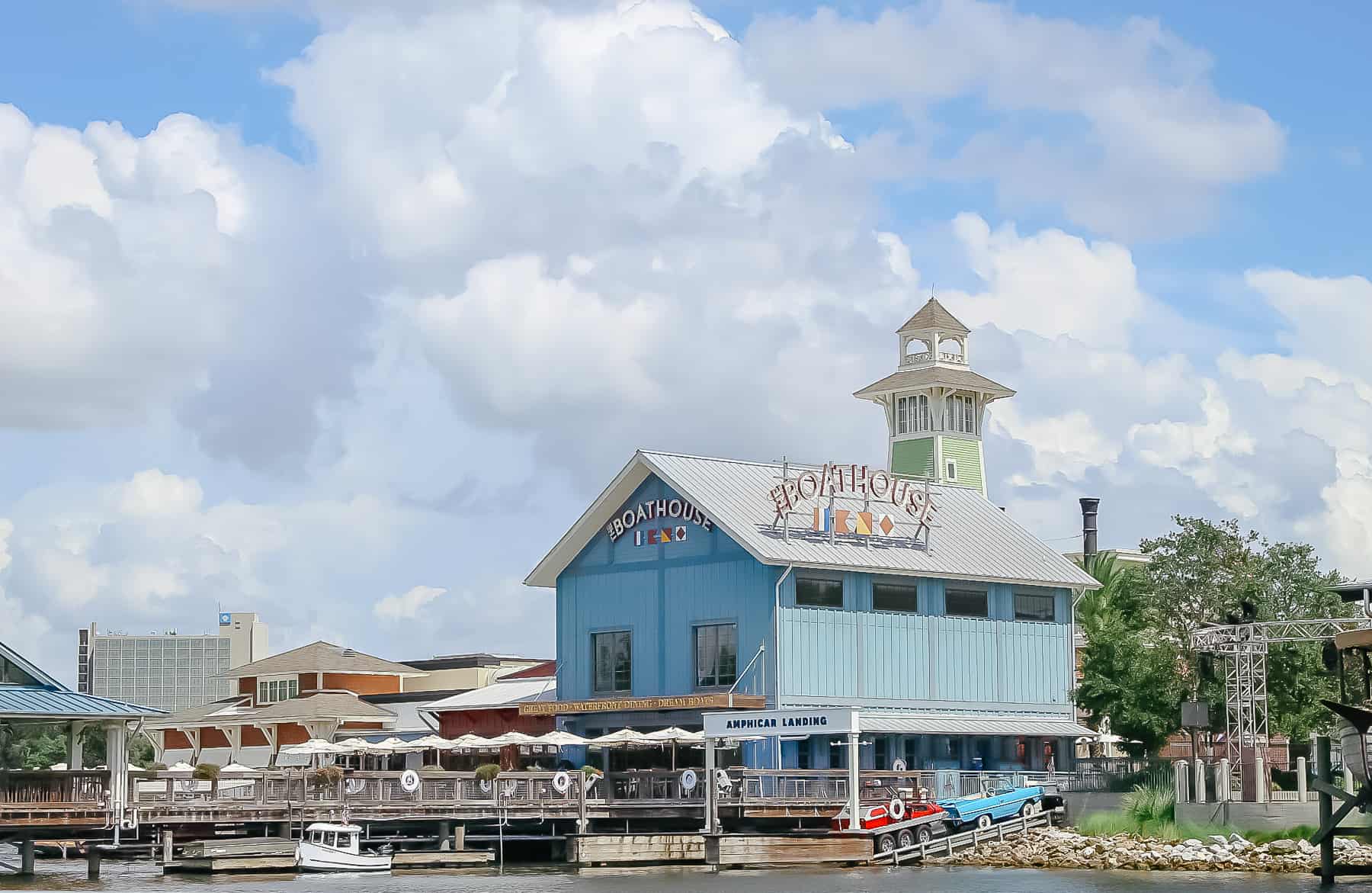 One of the fun things about dining outside is that you can enjoy your meal while watching others drive amphicars out onto the water. Who knows? You might even want to take one of these unique vehicles out for a spin yourself.
Related: The BOATHOUSE Restaurant at Disney Springs Review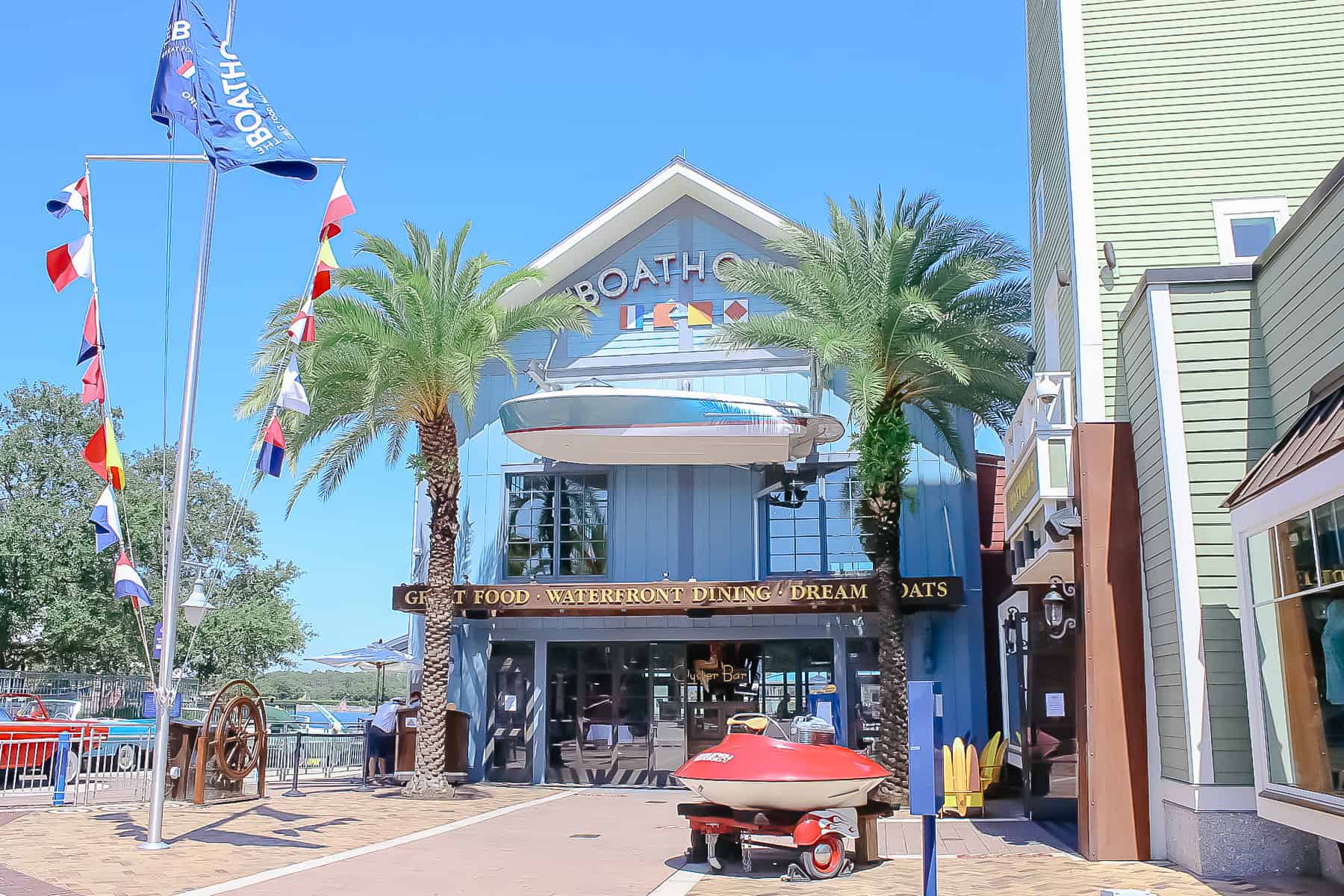 #3 Morimoto Asia
If you like Asian cuisine, you'll love our next pick for the best Disney Springs restaurant. Famous Food Network TV Star Iron Chef Masaharu Morimoto opened this location at Disney Springs a few years back.
Here are a few of the specifics:
Location: The Landing
Serves: Lunch and Dinner
Menu: Morimoto Asia Menu
Type: Table Service, Signature Dining
I love a meal here at Morimoto Asia for quite a few reasons. But the main reason is that they serve good food, prepared with quality ingredients, while consistently providing excellent service.
Below is one of many entree items I've enjoyed at Morimoto Asia. This Duck Ramen comes packed with noodles and duck meat. It was a huge serving. Unfortunately, I was unable to finish it.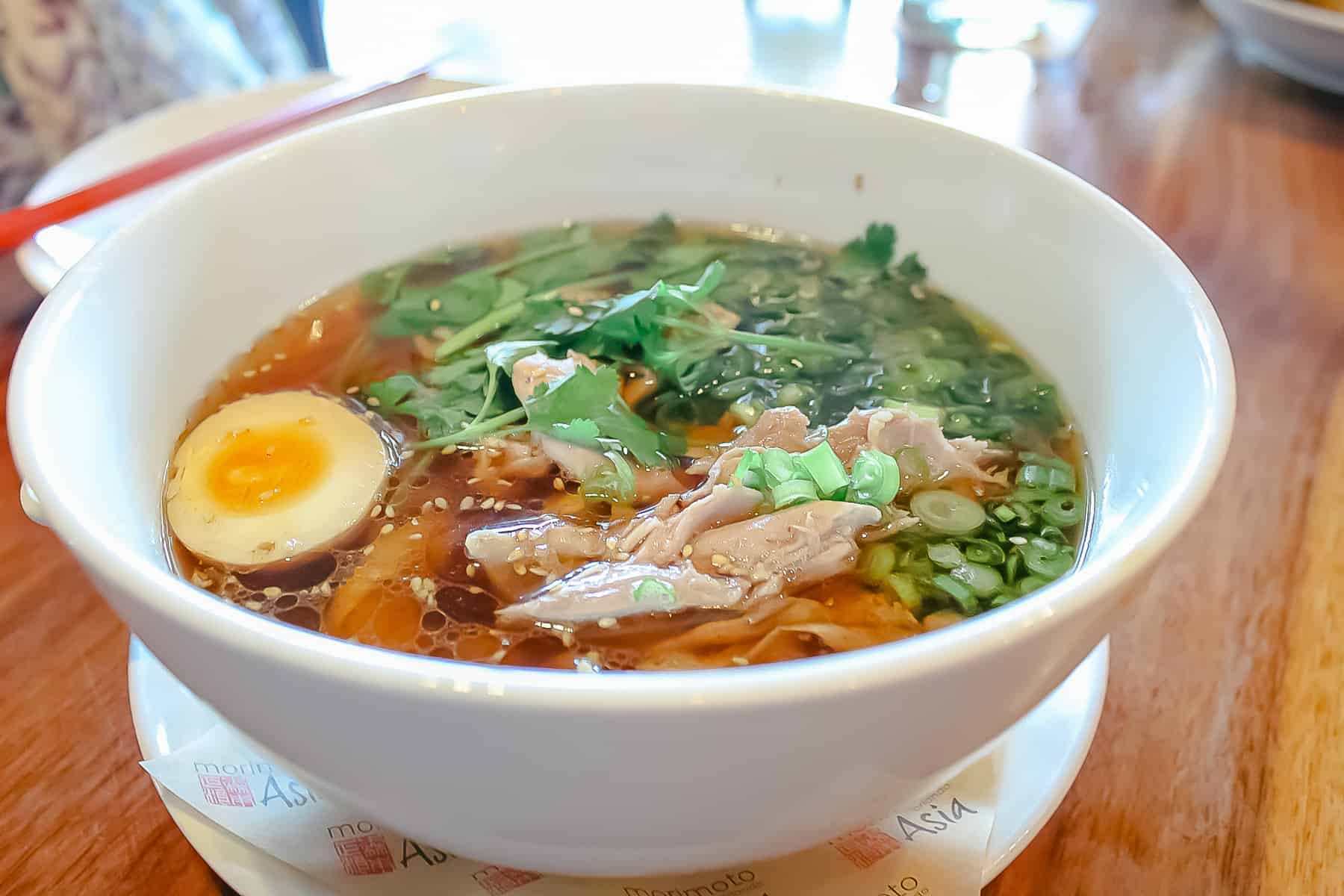 We've had the good fortune of eating at Morimoto many times and never left wishing we had eaten elsewhere. (Make sure to check out their dim sum menu!)
Other favorite dishes we've tried include the Buri-Bop, Morimoto Spare Ribs, and the Japanese A-5 Wagyu Beef. All of which were excellent options.
Another perk of Morimoto Asia is that the restaurant offers a variety of dining options. If you want something more fast-casual at a price that won't break the bank, try Morimoto Asia Street Food.
Street Food has a walk-up window on the far side of the restaurant with a separate menu and an outdoor seating area. It's a fun stop for a counter-service meal at Disney Springs when you don't have a reservation.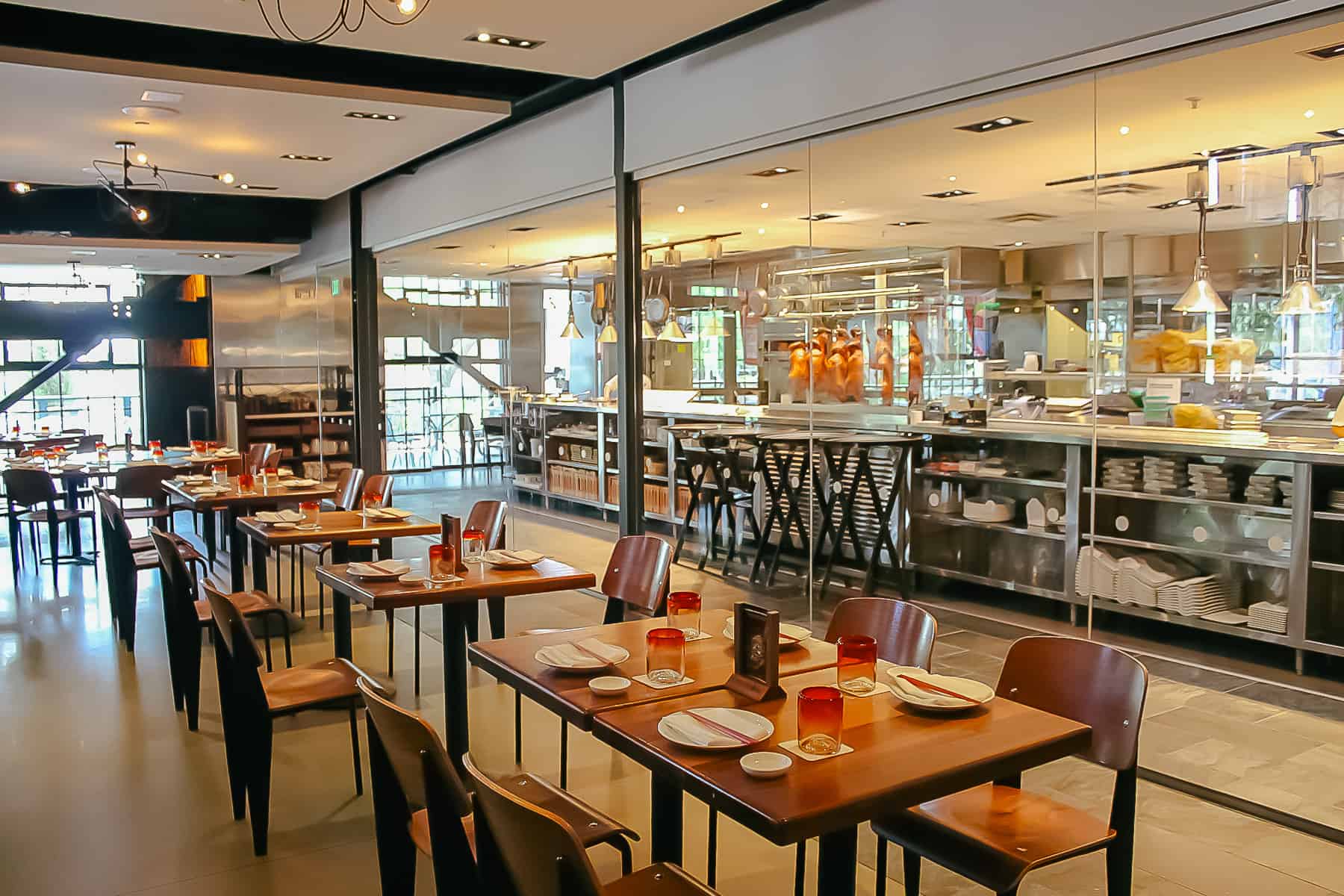 Additionally, Chef Morimoto has a Forbidden Lounge upstairs that's open for late-night dining. It's a pretty sweet spot to pick up an order of sushi and enjoy it outside on the balcony.
Below is a photo of the JYO sushi combo that comes with the chef's daily selection of nine nigiri and one roll. If you're looking for high-grade sushi, you'll want to browse the dinner menu.
Related: Morimoto Asia Review at Disney Springs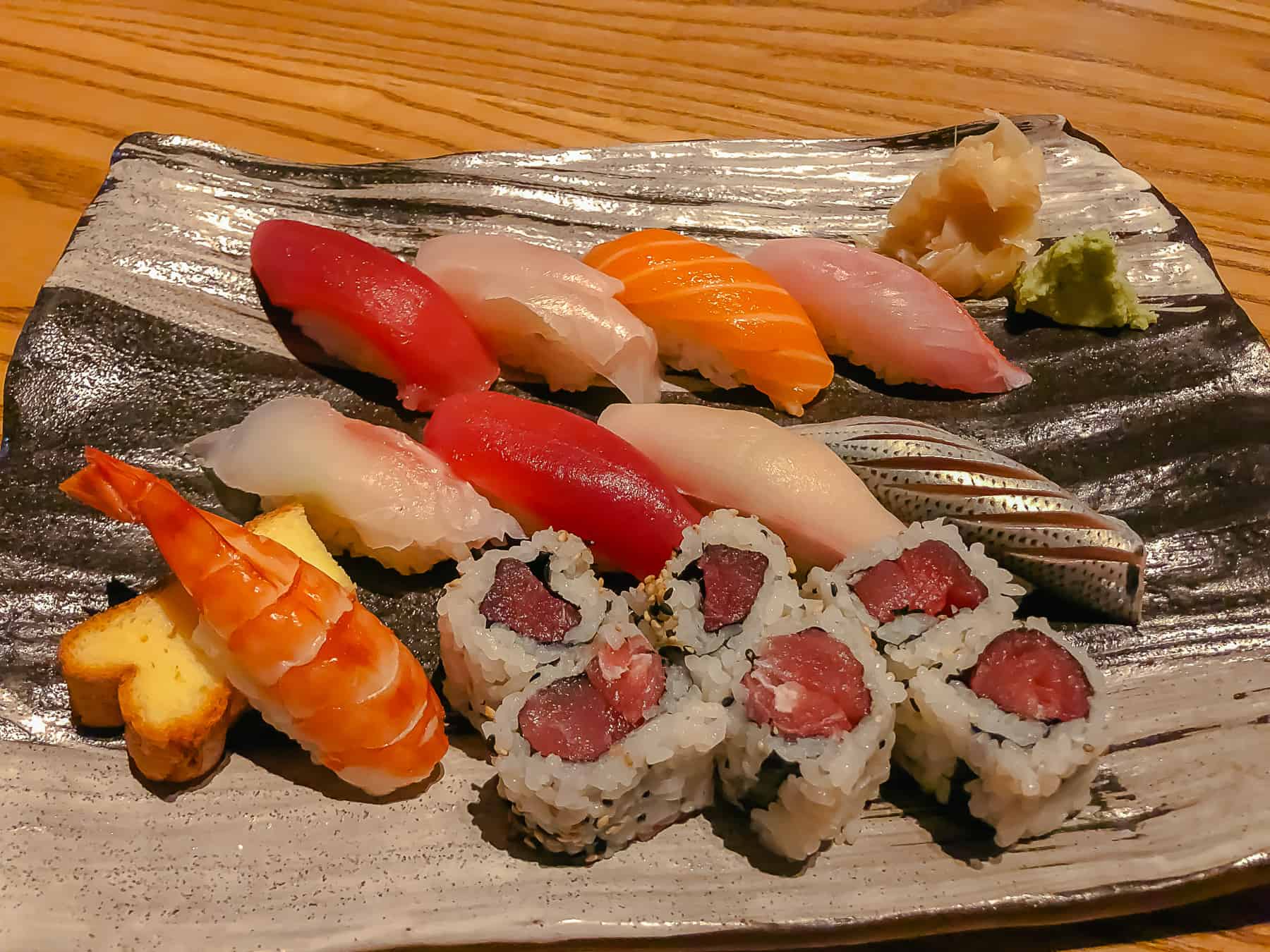 #4 STK Orlando
STK Orlando is listed solely as the best Disney Springs restaurant because of one thing: steak. They offer some of the best steaks around, and it's worth the visit if you enjoy a hearty slab of meat.
Location: The Landing
Serves: Lunch and Dinner
Menu: STK Orlando Menu
Type: Table Service, Signature
STK is known to offer more of a nightclub feeling after dark. However, Disney Springs is a family-friendly venue. So, this location remains pretty casual.
Additionally, this location offers a separate brunch menu on the weekends. If you're visiting Monday through Friday during lunch hours, don't miss the power lunch menu or whatever menu special they have going. It's usually great food for a steal!
On my last visit to STK Orlando, I had a burger. To date, it remains one of the best burgers I've ever had, and I wouldn't say that about any burger. STK is a steakhouse that prides itself on offering quality cuts of expertly prepared meat. The food has yet to disappoint.
Related: STK Orlando Review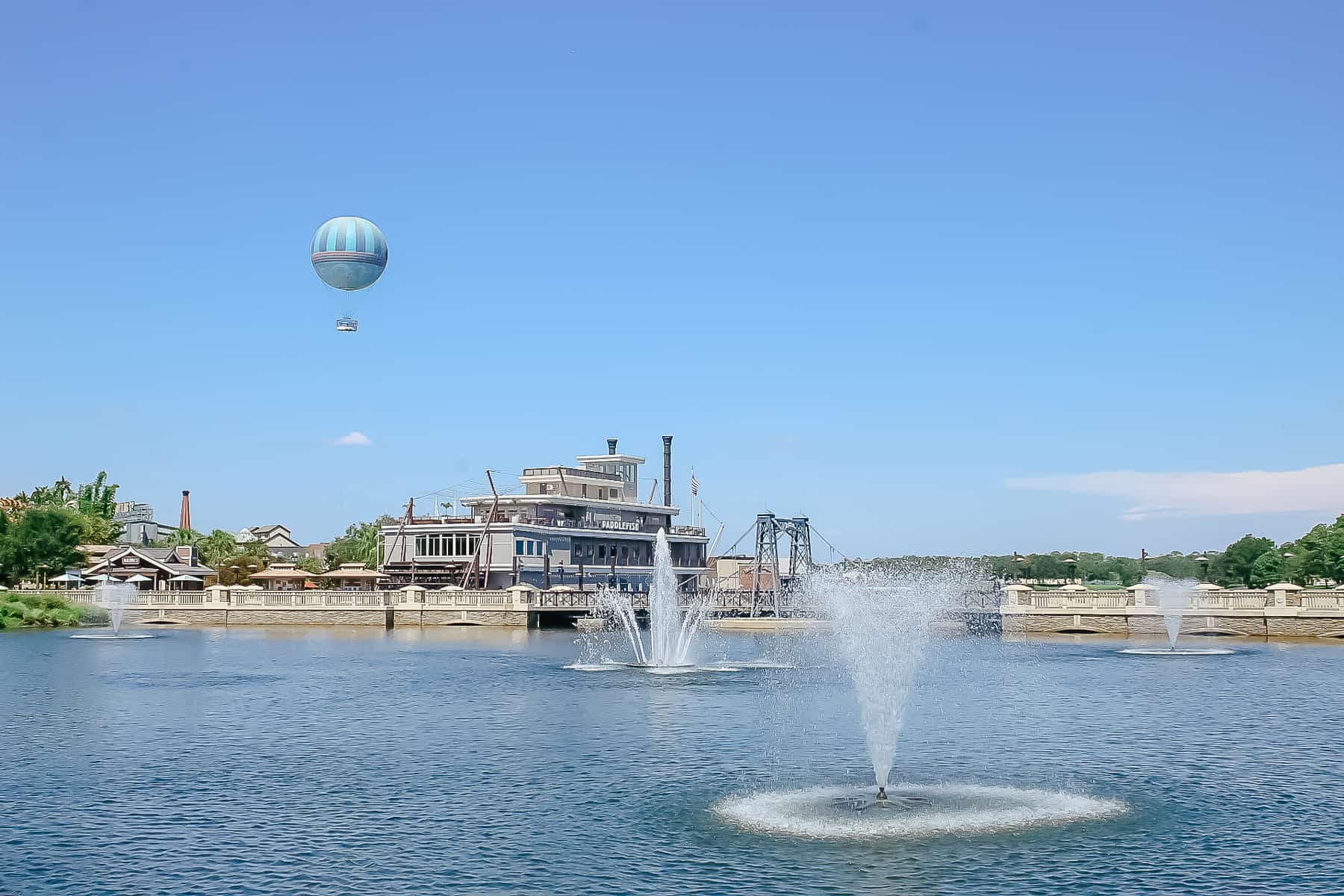 #5 Wine Bar George
Wine Bar George is one location that will blow you out of the water. The restaurant is known for offering unique wine pairings with elegant food. You never hear a complaint about this location. EVER.
Wine Bar George serves lunch Monday through Friday, dinner every evening, and brunch on Saturdays and Sundays between 10:30 a.m. and 2:00 p.m.
You can expect a variety of small plates, boards, entrees, family-style plates, and desserts. It's no secret that the Key Lime pie is a Florida favorite for dessert.
Here are the details:
Location: The Landing
Serves: Lunch and Dinner
Menu: Wine Bar George Menu
Type: Table Service
In addition to delicious food, Wine Bar George is known for having an extensive wine selection. You might pair a glass of wine with one of their famous charcuterie boards. I doubt there'll be any complaints by the end of the meal.
Like most of our best restaurant selections, Wine Bar George has a quick service called The Basket. The Basket offers picnic basket selections, french fries, hand pies, desserts, and more.
However, you can pick up a Corkcicle at Wine Bar George, but don't be surprised if you find a line. This location offers several popular frozen drinks like the Frozcato, Frose, Frequjolais, and a frozen old-fashioned made with Dole Whip Orange.
You can check their website (Wine Bar George) to see if they are offering a complimentary drink with the purchase of a Corkcicle. The Basket also has several unique beer selections.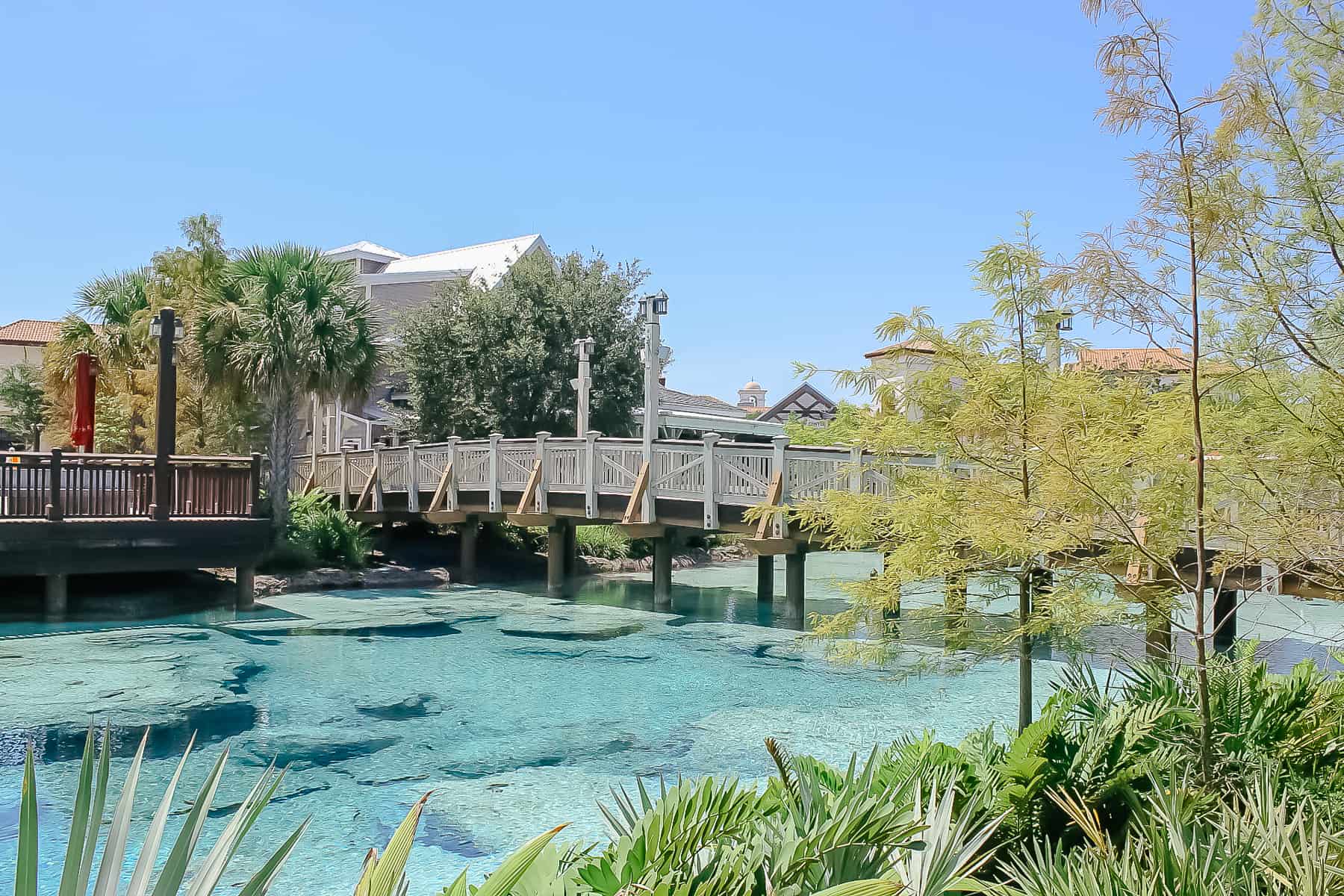 #6 Frontera Cocina
Frontera Cocina is not only one of the best Disney Springs restaurants, but it's also a personal favorite. When someone mentions Frontera Cocina, I immediately want to go!
Here are a few details:
Location: Town Center
Serves: Lunch and Dinner
Menu: Frontera Cocina Menu
Type: Table Service
Frontera Cocina is not just another Mexican restaurant. It's anything but that.
Frontera Cocina is one of the first restaurants you'll run into when you enter Town Center from the bus stop or Lime parking garage.
As far as food goes, you can expect unique Mexican cuisine made from high-quality ingredients. It's also prepared with attention to detail.
This restaurant serves Mexican food like you probably haven't had, and it's just plain old good. From the seasoned chips to special margaritas, we've yet to make a wrong choice.
If you are looking for a tasty salad at a reasonable price, try their Taqueria Ensalada. It's perfect how it comes, but you can add a topping of carne asada, shrimp, or chicken if you like.
Here's a look at one of our recent meals, the pork belly tacos. When was the last time you had pork belly tacos?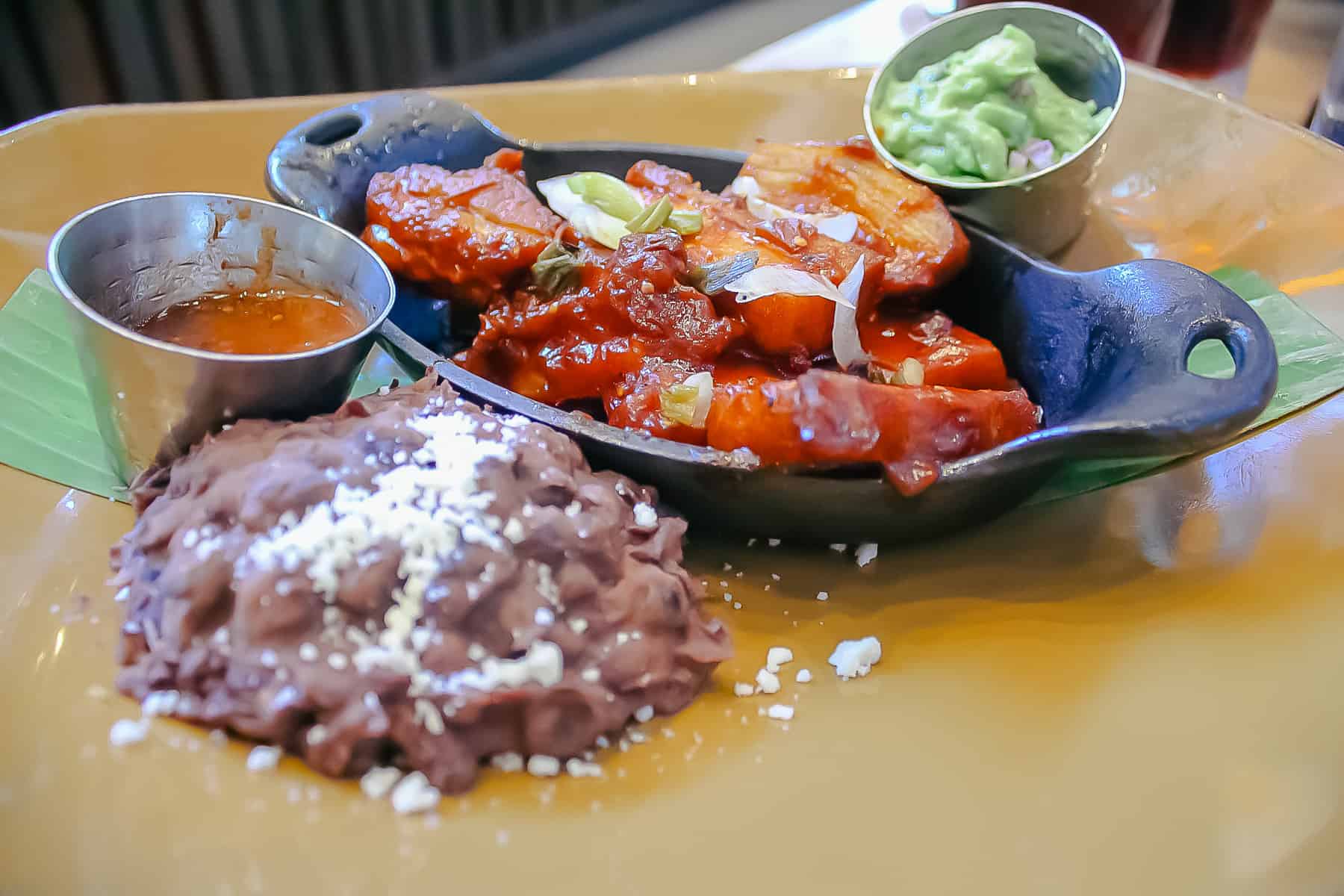 It's also worth mentioning that Frontera Cocina does an excellent job of providing allergy-friendly meals. Chef Rick Bayless keeps his staff well-informed, and the regular menu lists common allergens under each item.
Related: Frontera Cocina Review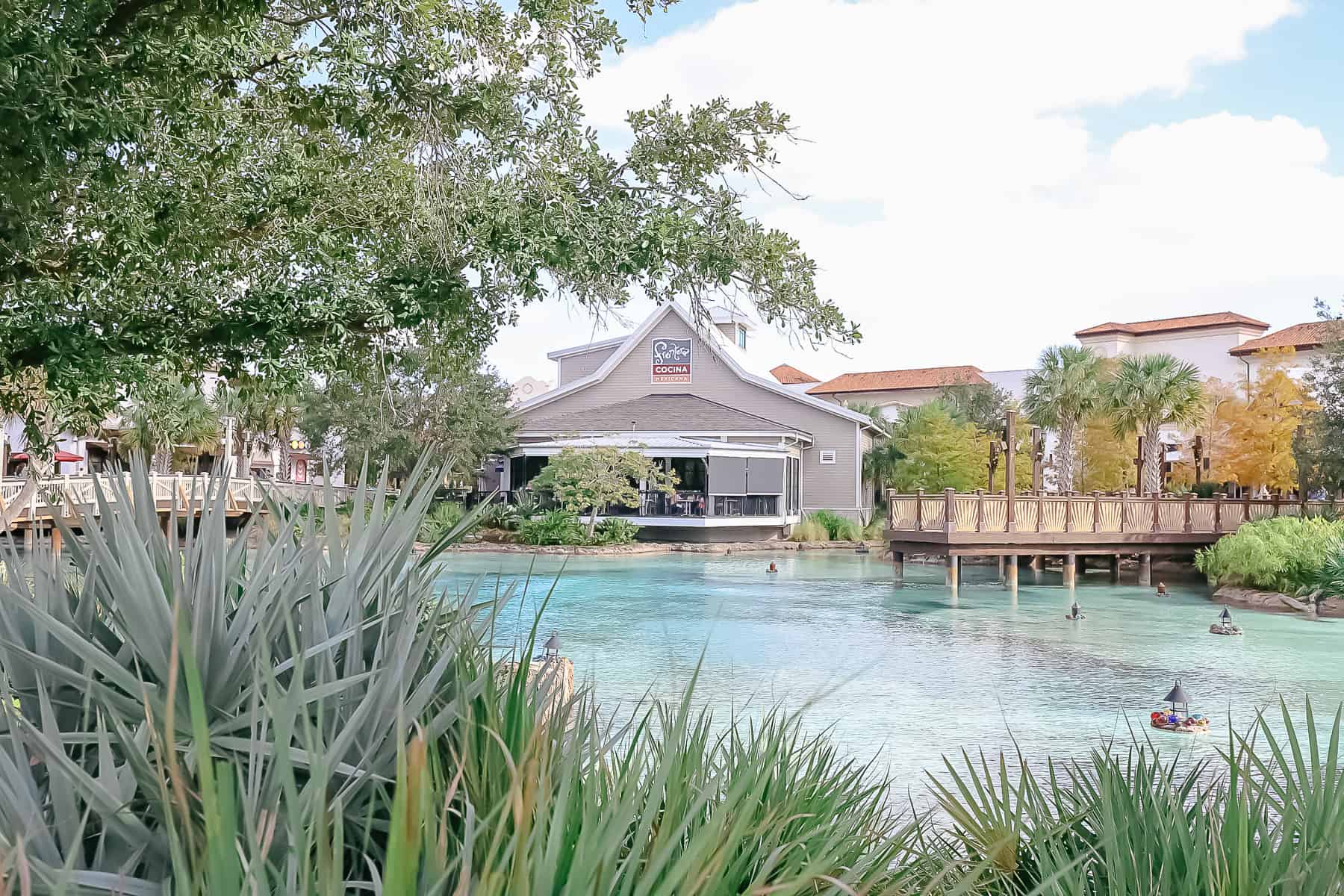 #7 Jaleo by Jose Andres
We consider Jaleo to be another one of the best Disney Springs restaurants. Since this restaurant has a few locations in larger US cities, you might know it. However, if you've never heard of Jaleo, it's time to get familiar!
Location: West Side
Serves: Dinner
Menu: Jaleo Menu
Type: Signature Dining
Chef Jose Andres is the chef and owner of Jaleo and is to be commended for his humanitarian efforts in providing meals for those in need. For that reason alone, a meal here is worth your patronage.
Jaleo offers Spanish cuisine in the way of small plates and tapas. Make sure to try one of their fancy cheese plates! You'll also want to try something Jose's Way (it's the only way.)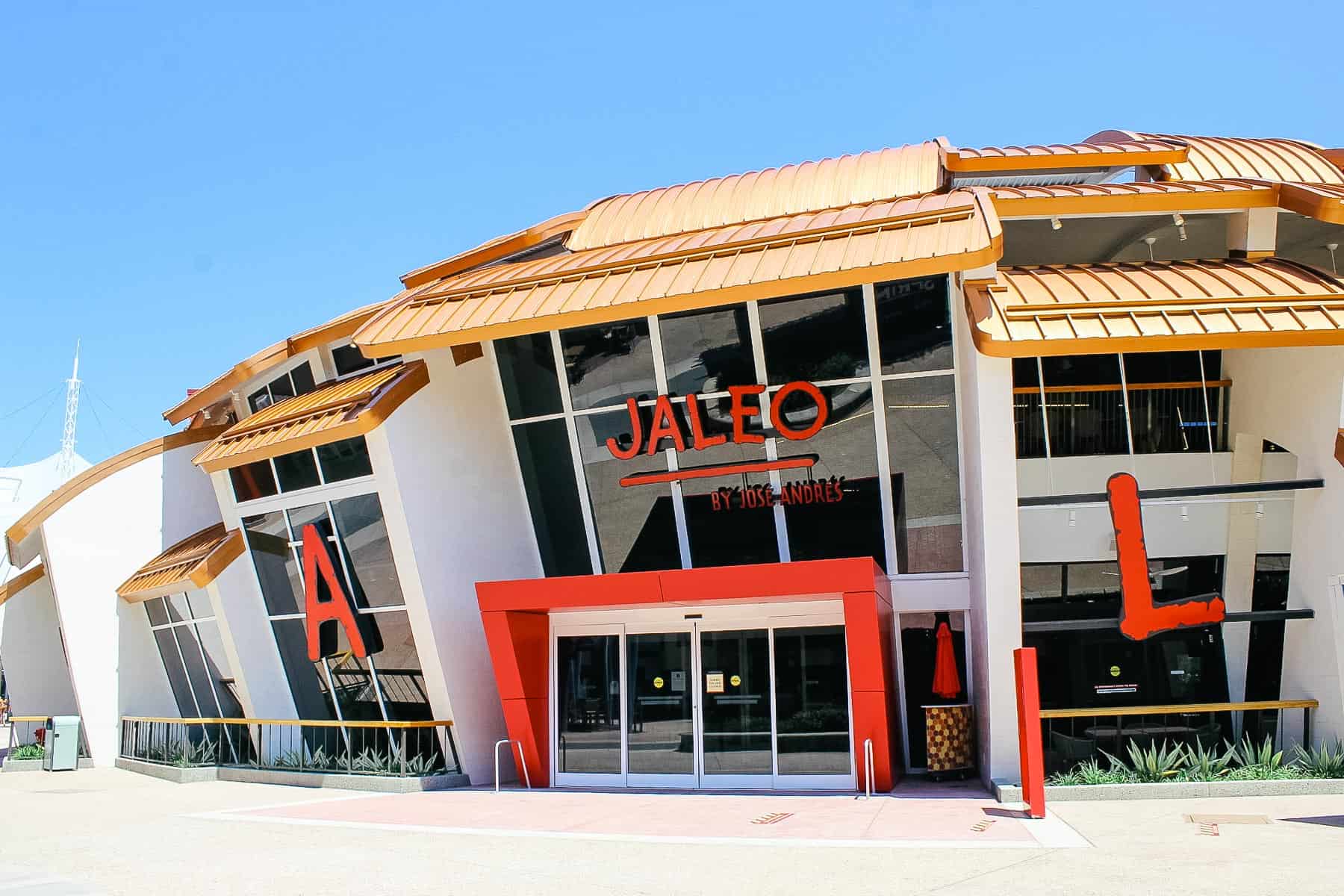 Regarding dining at Jaleo, I don't think anyone familiar with the proprietor can disagree that it belongs in this best Disney Springs restaurant category. It probably belongs here more than any other option.
Related: Jaleo Review at Disney Springs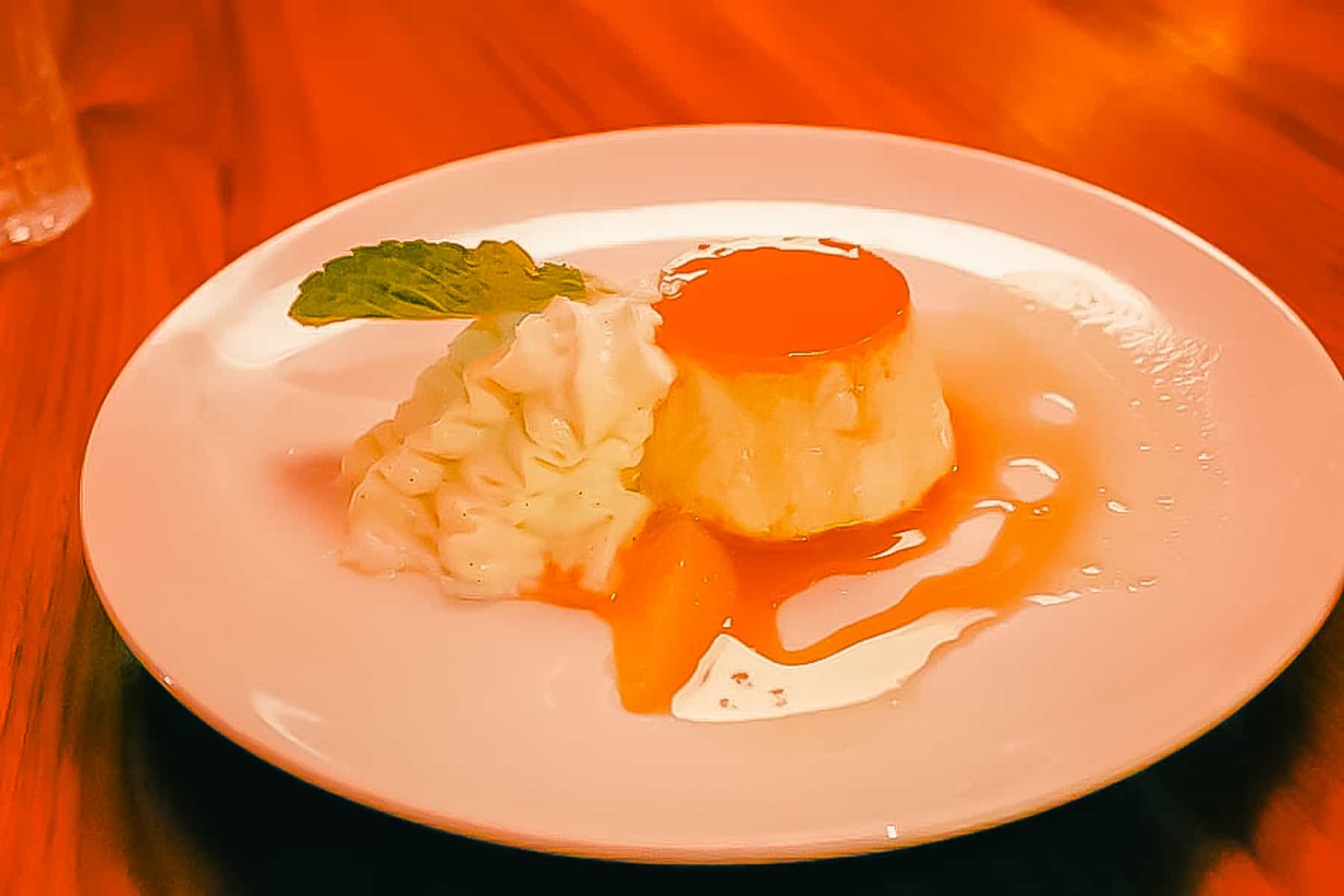 Pepe is the quick service adjacent to Jaleo. This location offers various a variety of Spanish sandwiches (bikinis), hot dogs (chistorra), and wraps (flauta).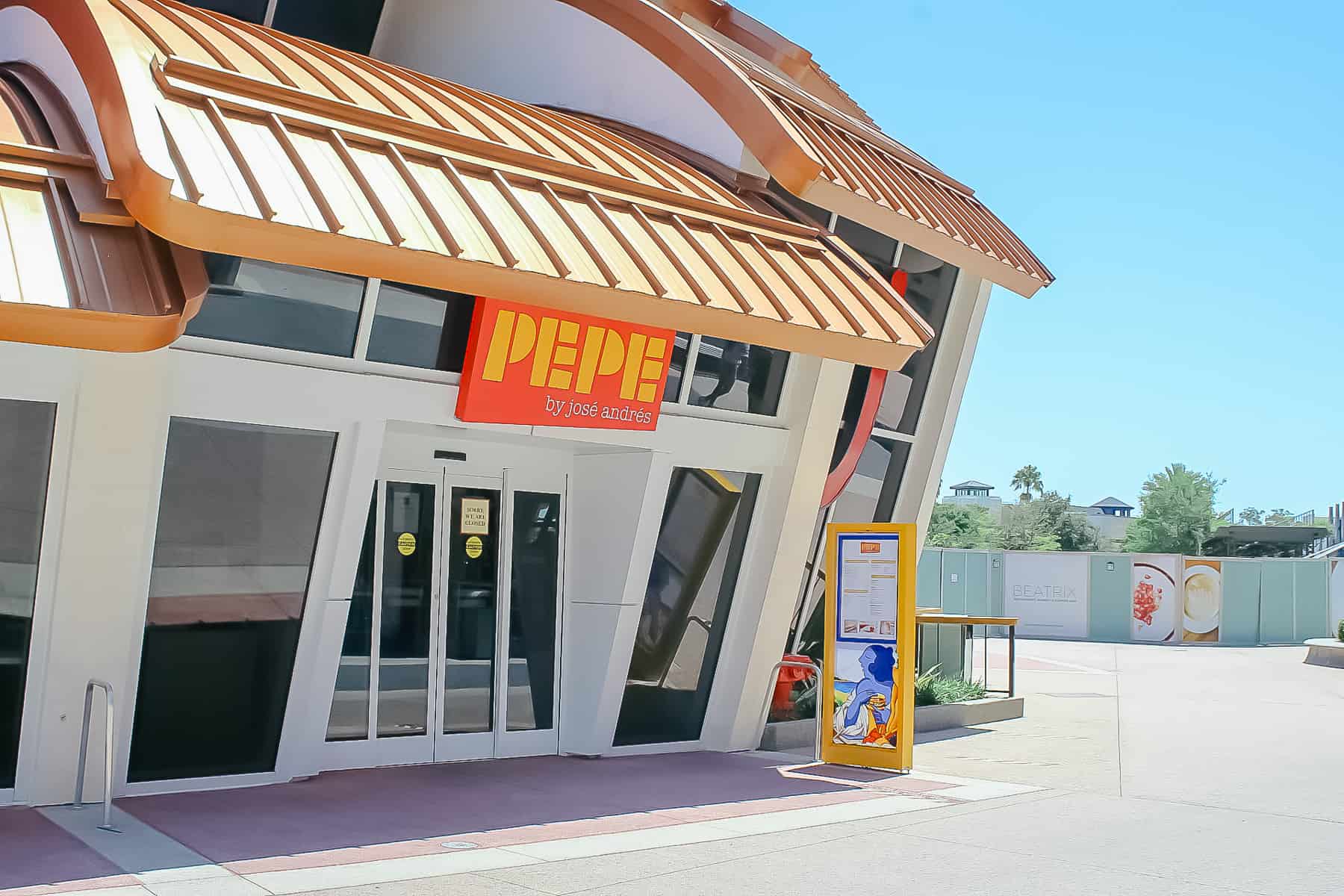 #8 Wolfgang Puck Bar and Grill
Wolfgang Puck Bar and Grill is our last table service recommendation for the best Disney Spring restaurants. If you are leaning toward Italian cuisine, this is more than likely where you'll want to secure a reservation.
Location: West Side
Serves: Lunch and Dinner
Menu: Wolfgang Puck Menu
Type: Signature Dining
Wolfgang Puck's menu boasts California cuisine with Mediterranean influences. You'll find items like calamari, pizza, pasta, steak, and seafood here.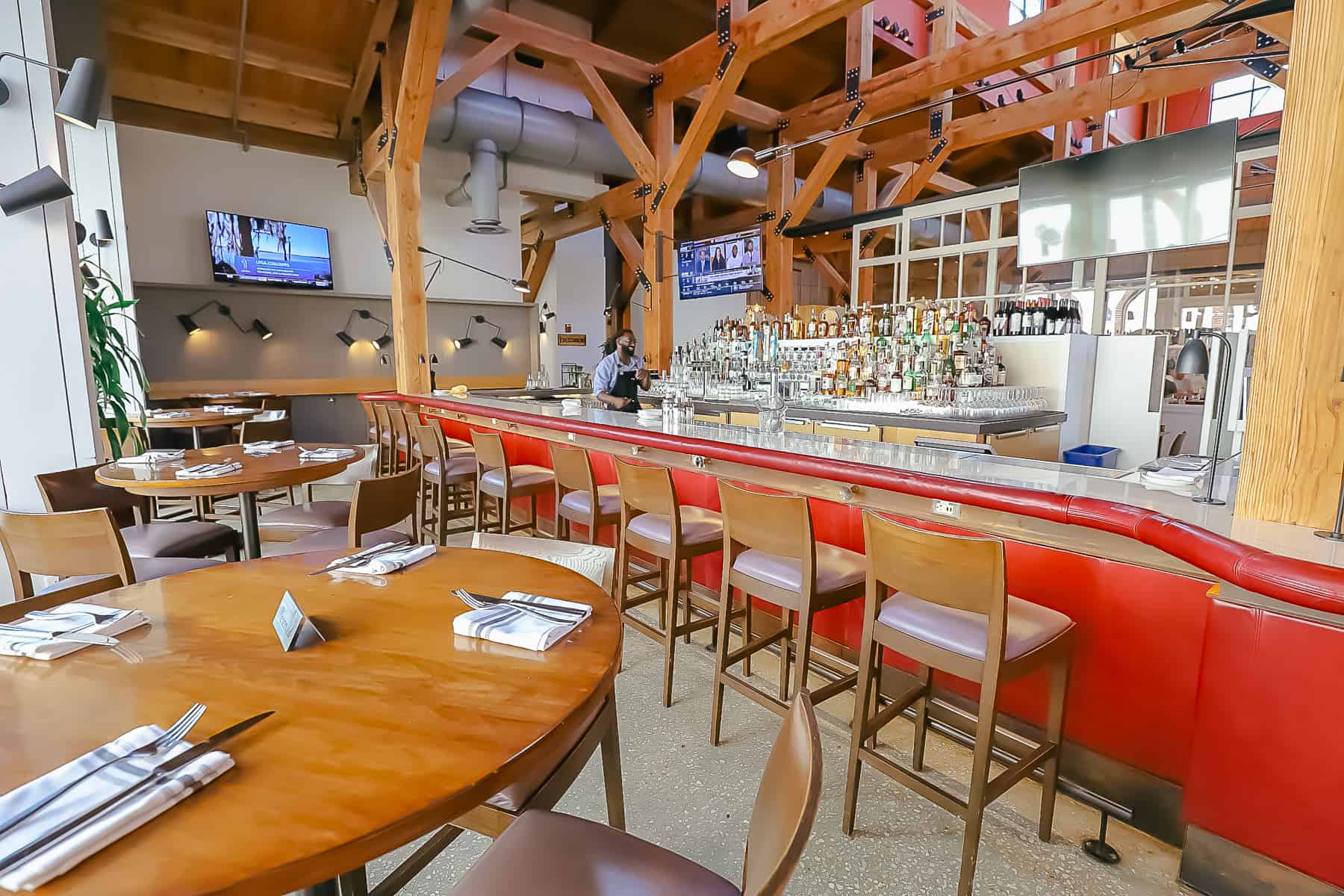 Fans of this celebrity chef will surely enjoy a meal here. On our last visit, we tried his famous Chinois Salad. It was delicious!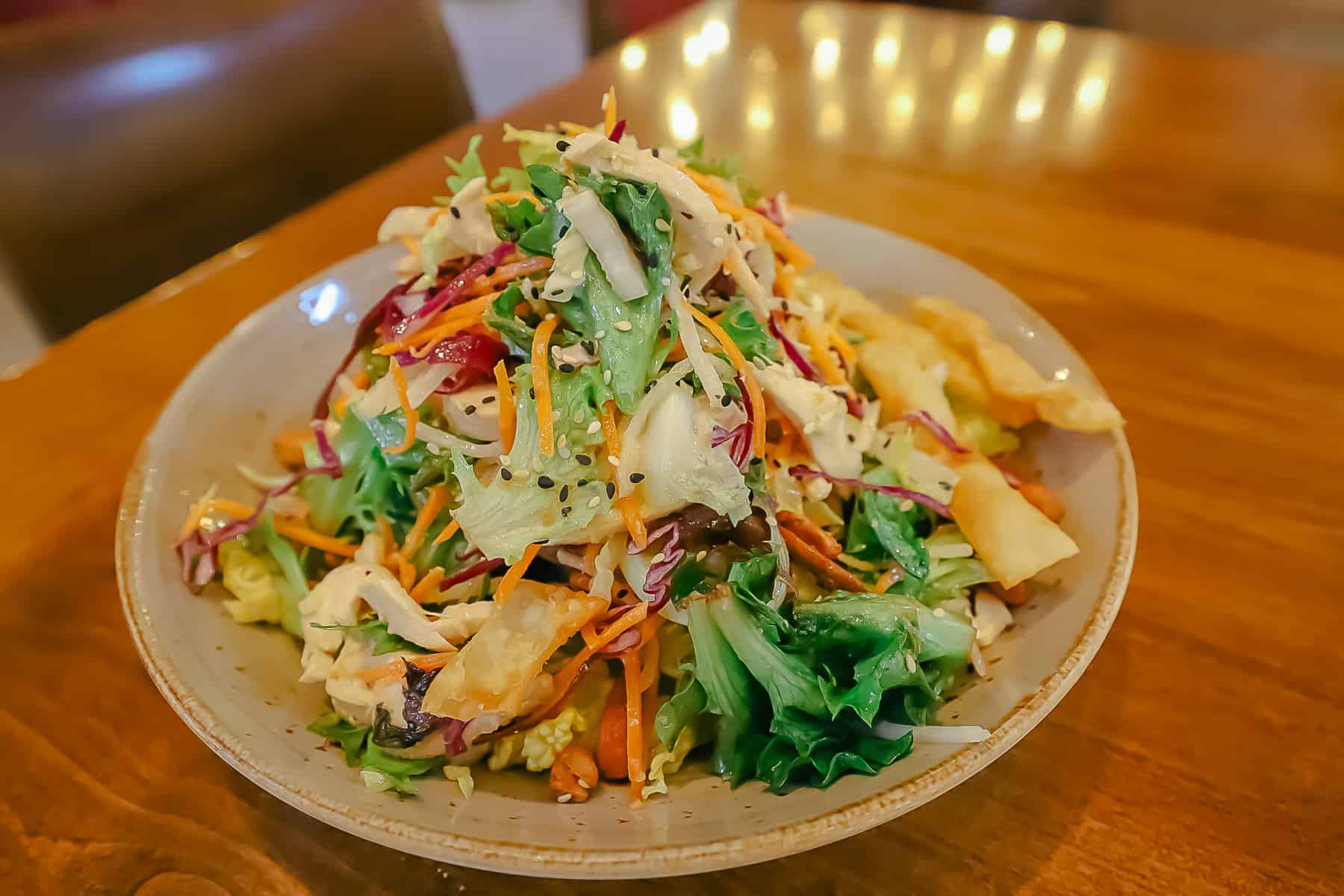 Of course, we tried several other items, including this phenomenal carrot cake. It was too pretty to eat, but that didn't stop us.
Related: Wolfgang Puck Bar and Grill Review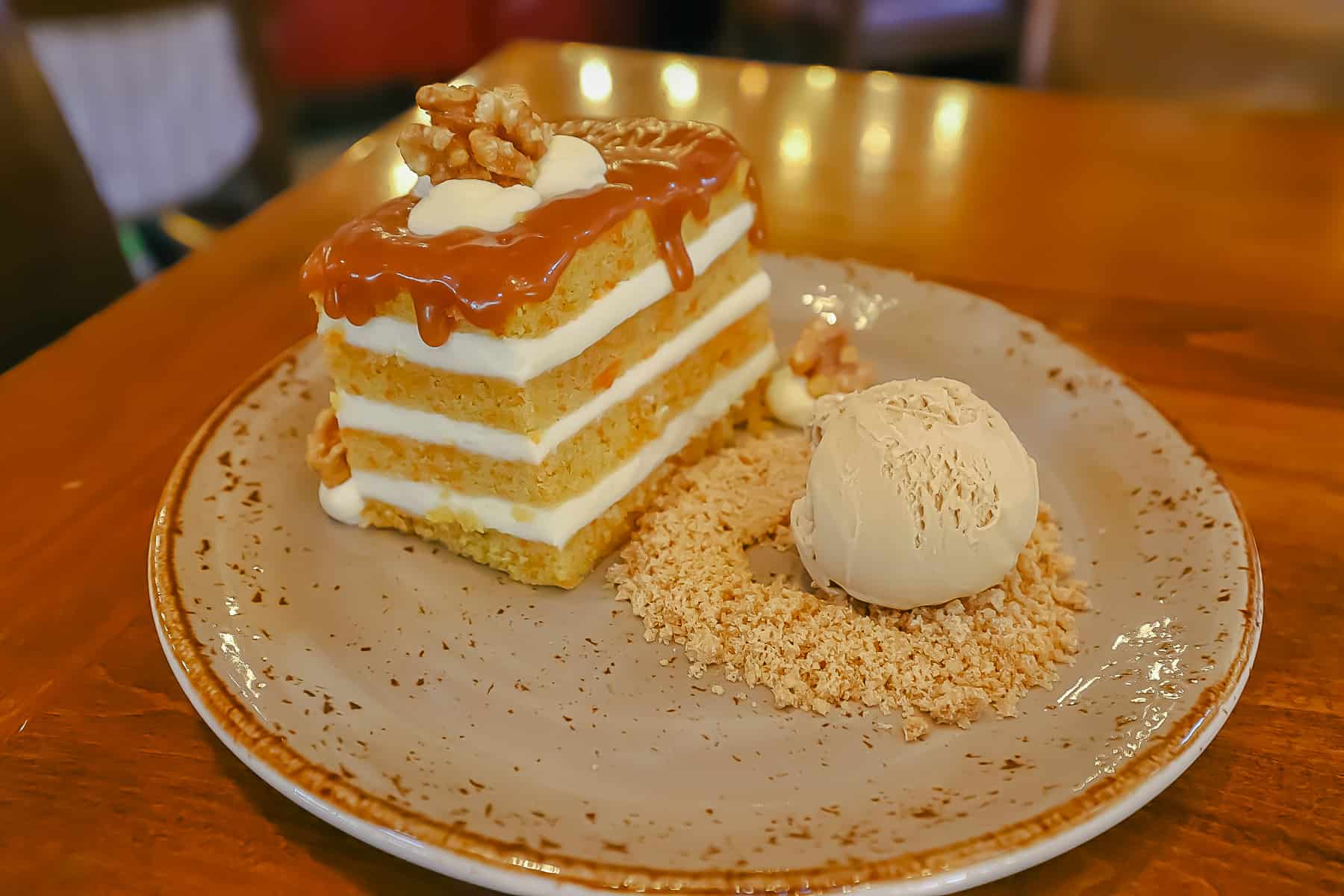 #9 The Polite Pig
Our next stop transitions from table service to quick-service dining at Disney Springs. The Polite Pig is a contemporary barbecue joint, but you probably already picked up on that from the name, right?
Location: Town Center
Serves: Lunch and Dinner
Menu: The Polite Pig Menu
Type: Counter Service
We've enjoyed dining at The Polite Pig several times over the past few years. And while I'm probably a harsher critic of their menu than most, I couldn't leave it off our list of best Disney Springs restaurants.
Below is their brisket with two market sides. You can probably tell there's a lot of food involved. So, you might want to consider sharing something depending on your hunger level. If you enjoy seafood, the cedar-planked salmon is perfection!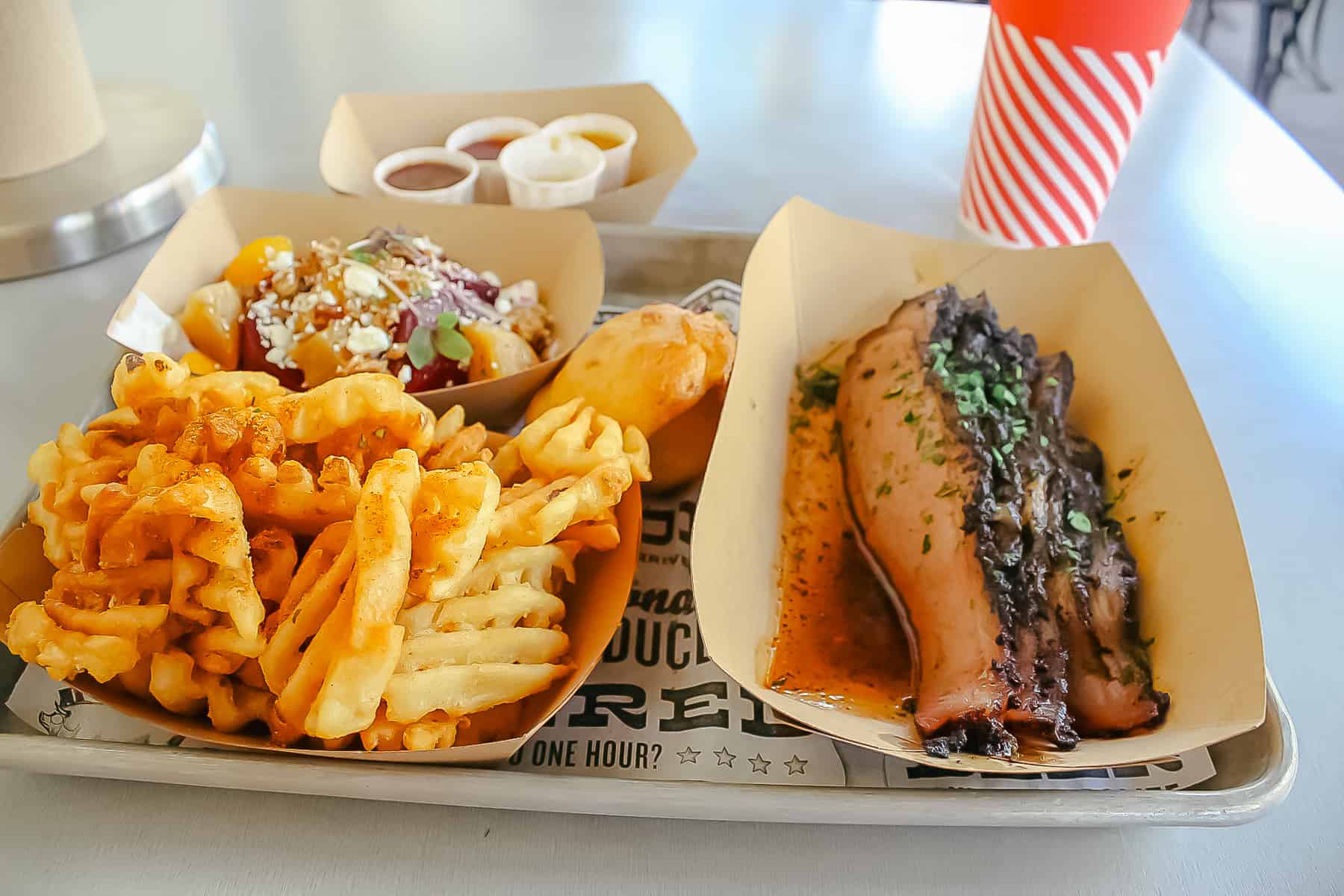 At Polite Pig, you'll find a variety of barbecue dishes with distinctive sides. This restaurant doesn't require reservations and is cheaper than the table service options we've discussed, especially if you share.
Related: The Polite Pig Review at Disney Springs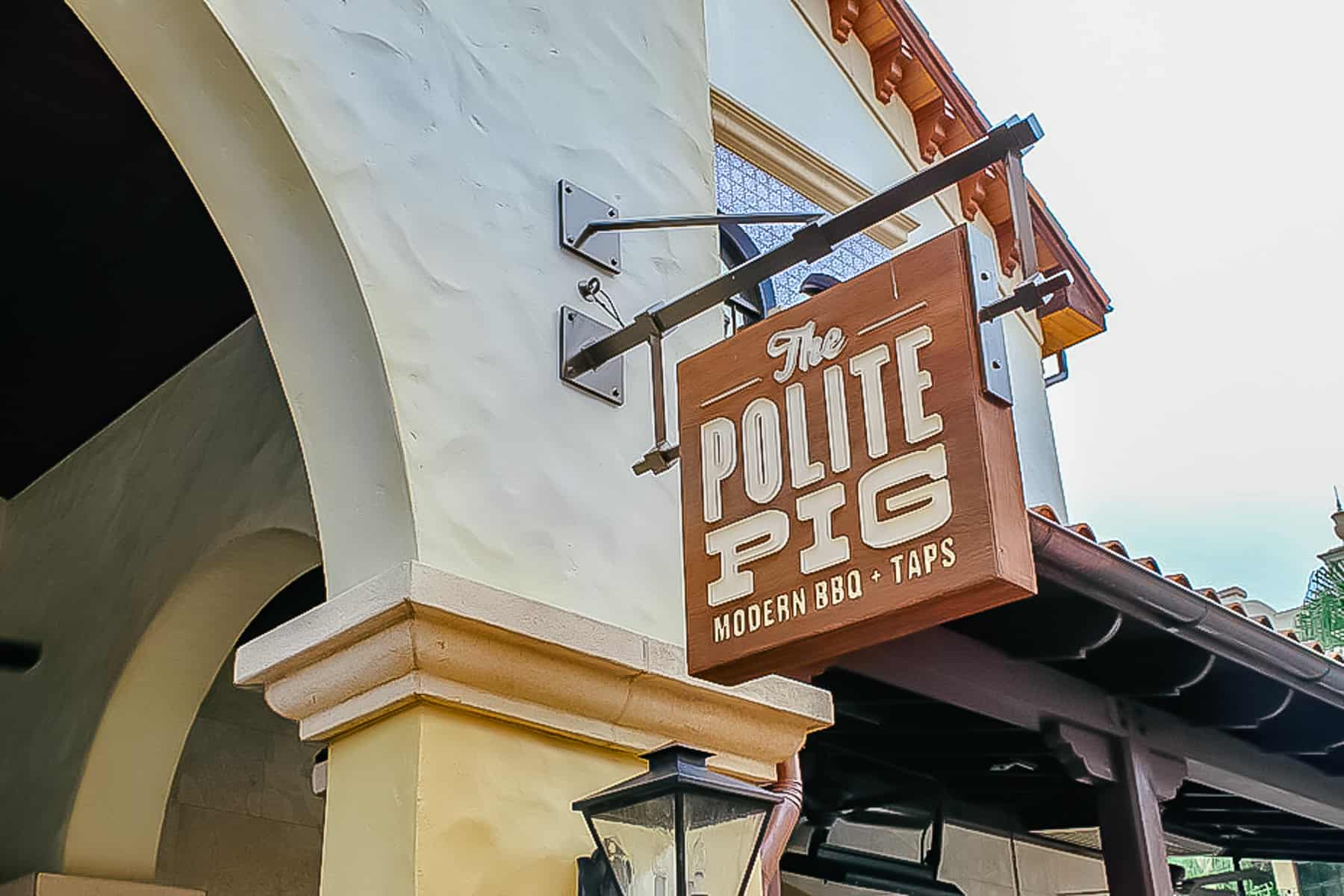 #10 D-Luxe Burger
D-Luxe Burger has delicious burgers that are out-of-the-box. For instance, their El Diablo burger combines chorizo with their signature beef blend. They prepare their signature beef blend in-house and make fresh buns daily!
But one of the things I love most is that this location keeps things simple. Their menu offers burgers, chicken, a plant-based burger, fries, onion rings, and shakes.
Location: Town Center
Serves: Lunch and Dinner
Menu: D-Luxe Burger Menu
Type: Counter Service
This restaurant is family-friendly and has excellent options for kids' meals, including chicken fingers and a grilled chicken sandwich.
Tip: D-Luxe Burger is one of our favorite places to use Disney's mobile order service. We order on the way if we take a bus to the venue. Then, when we arrive, I'll select the "I'm here, prepare my order" in the app. By the time we get to D-Luxe, our order is usually ready.
On our last visit, I tried the Barbecued Burger, which comes topped with barbecue sauce, Muenster cheese, and an onion ring. It was delicious! Yes, that's a regular-size order of hand-cut fries.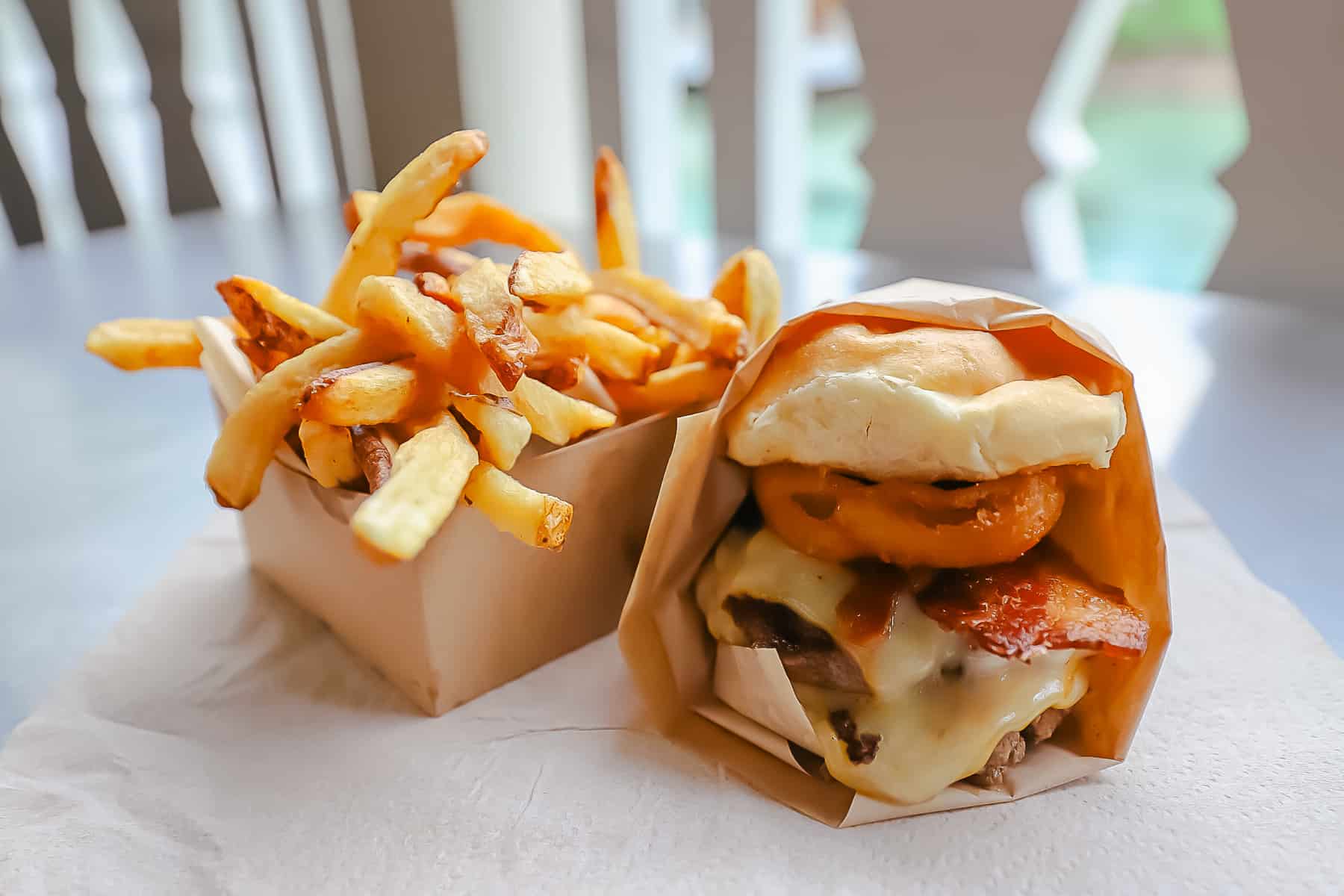 Additionally, this location has an indoor and pleasant outdoor eating space that looks out to the springs part of Disney Springs. So if you are in a burger mood, you will be more than happy you ate here.
Related: D-Luxe Burger Review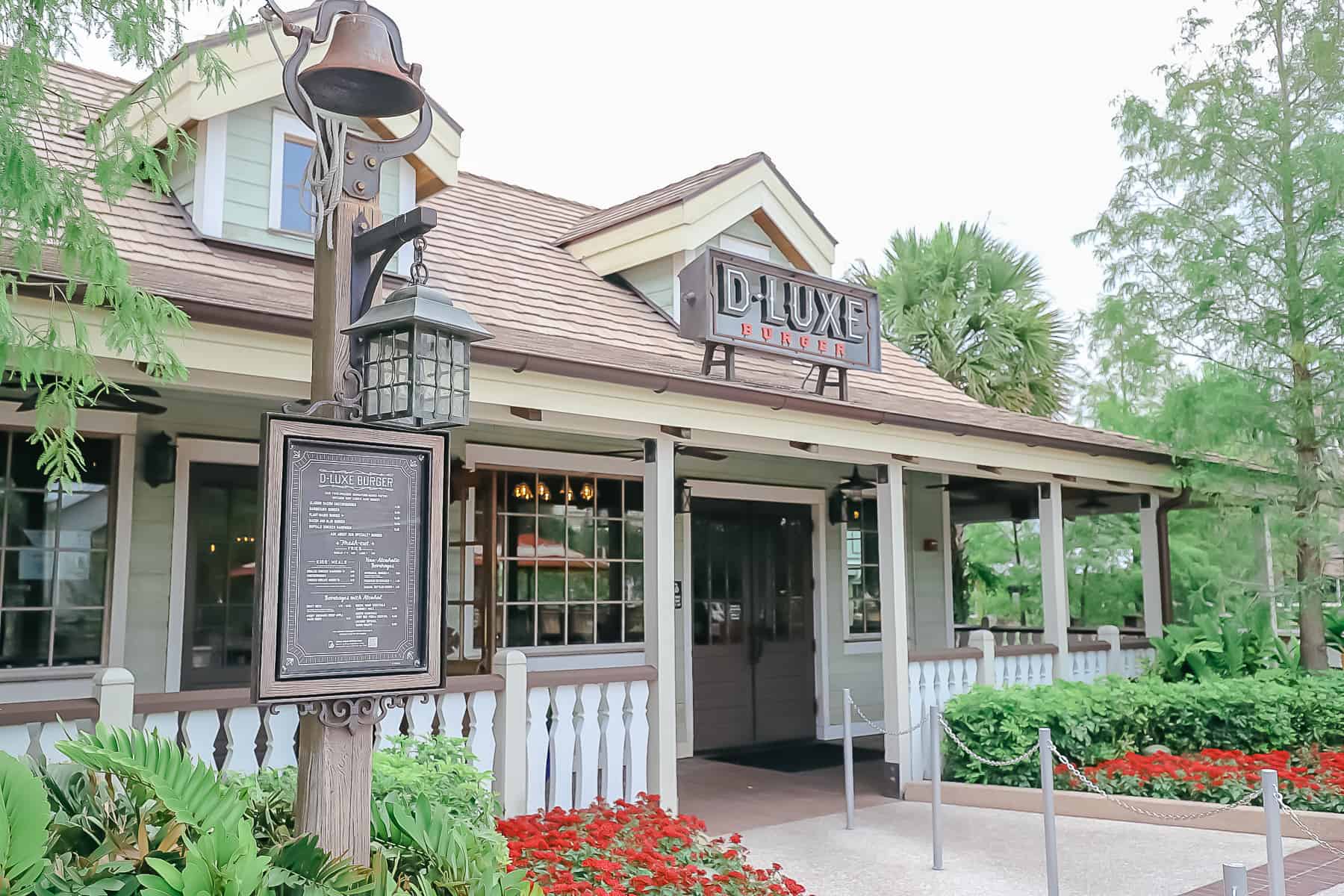 #11 Blaze Fast Fire'd Pizza
Blaze Fast-Fire'd Pizza is the perfect quick-service restaurant at Disney Springs. The food is so good (and reasonable) that we knew we had to include it on our list of best restaurants.
Here are the specifics for picking up a quick meal:
Location: Town Center
Serves: Lunch and Dinner
Menu: Blaze Pizza Menu
Type: Quick Service
Blaze Pizza allows you to order individual custom pizzas or create your own. Their variety of options and quality makes this an excellent stop for anyone, especially when dining with picky eaters.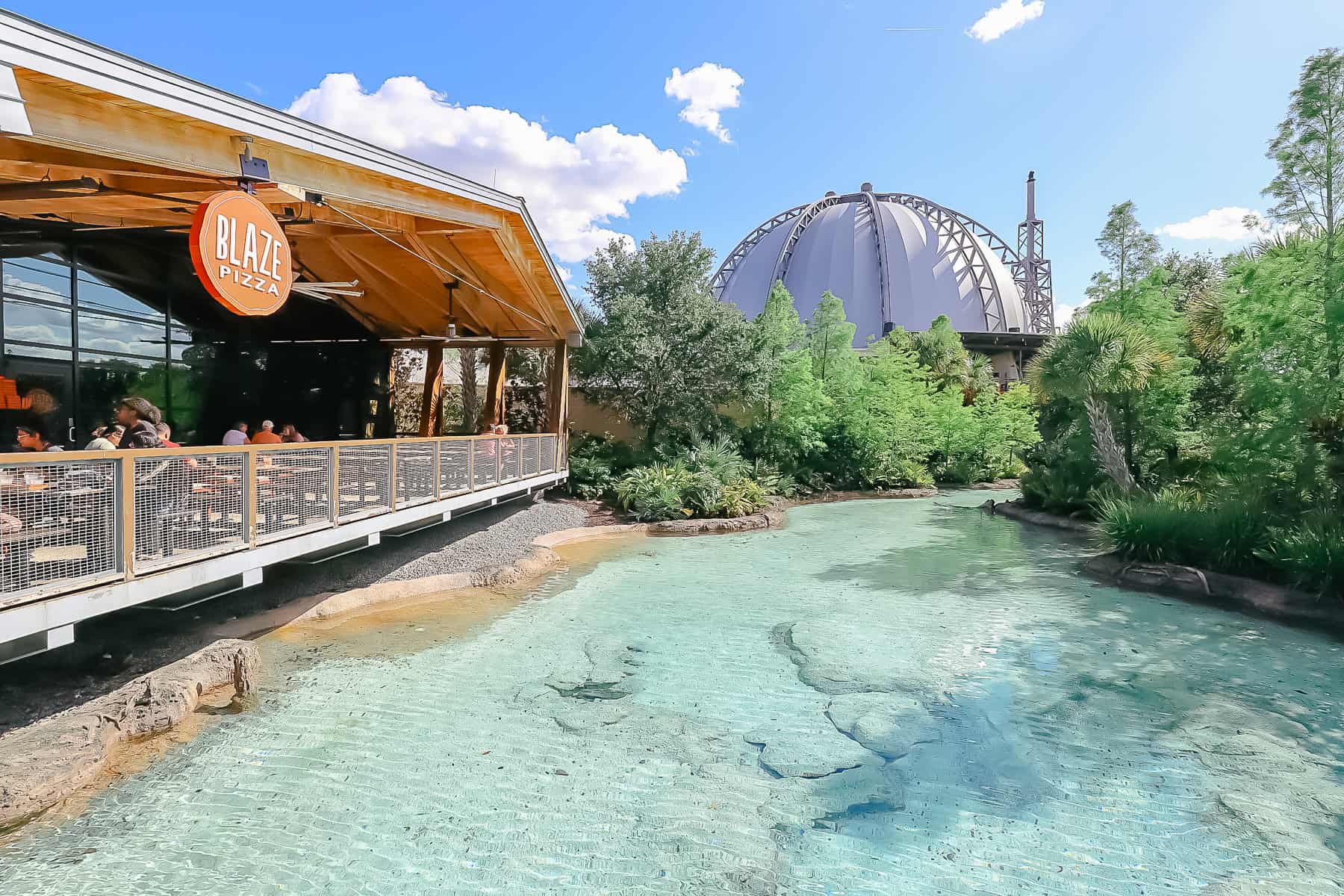 You can get anything from a veggie pizza to a gluten-free crust at Blaze. It will also be one of the best-priced meals during your Disney vacation. Sound like a win-win?
Related: Blaze Fast Fire'd Pizza Review (Disney Springs)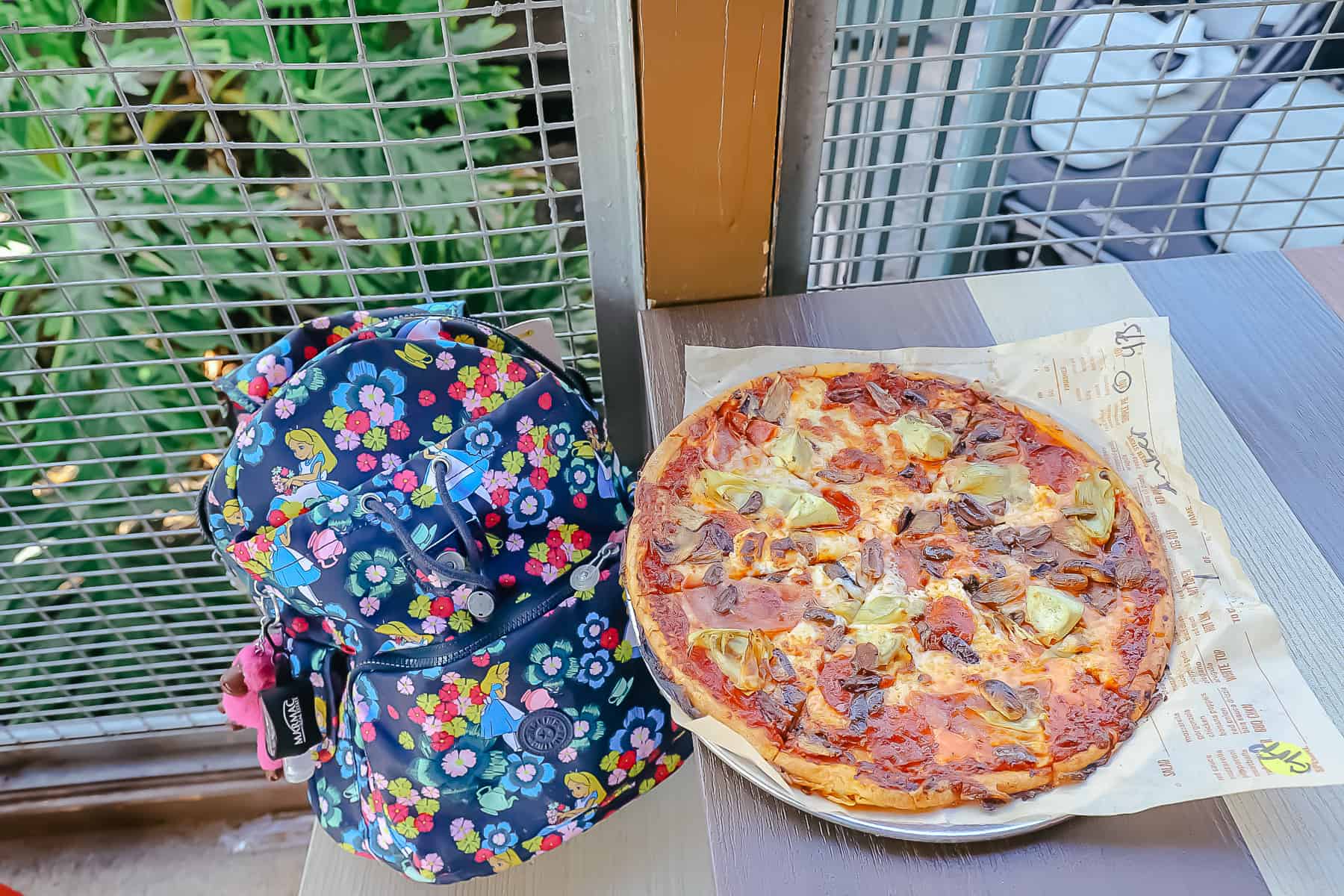 Best Restaurants at Disney Springs (Honorable Mentions)
Unfortunately, not everyone can reach the top of the list, but that does not make them bad options. For instance, Raglan Road Irish Pub is a classic with authentic pub food like shepherd's pie or fish and chips. They also have nightly live entertainment with music and dancing!
Terralina Crafted Italian is located toward the Marketplace end of Disney Springs next to Paddlefish. A James Beard award-winning chef founded this location. It's also worthy of consideration.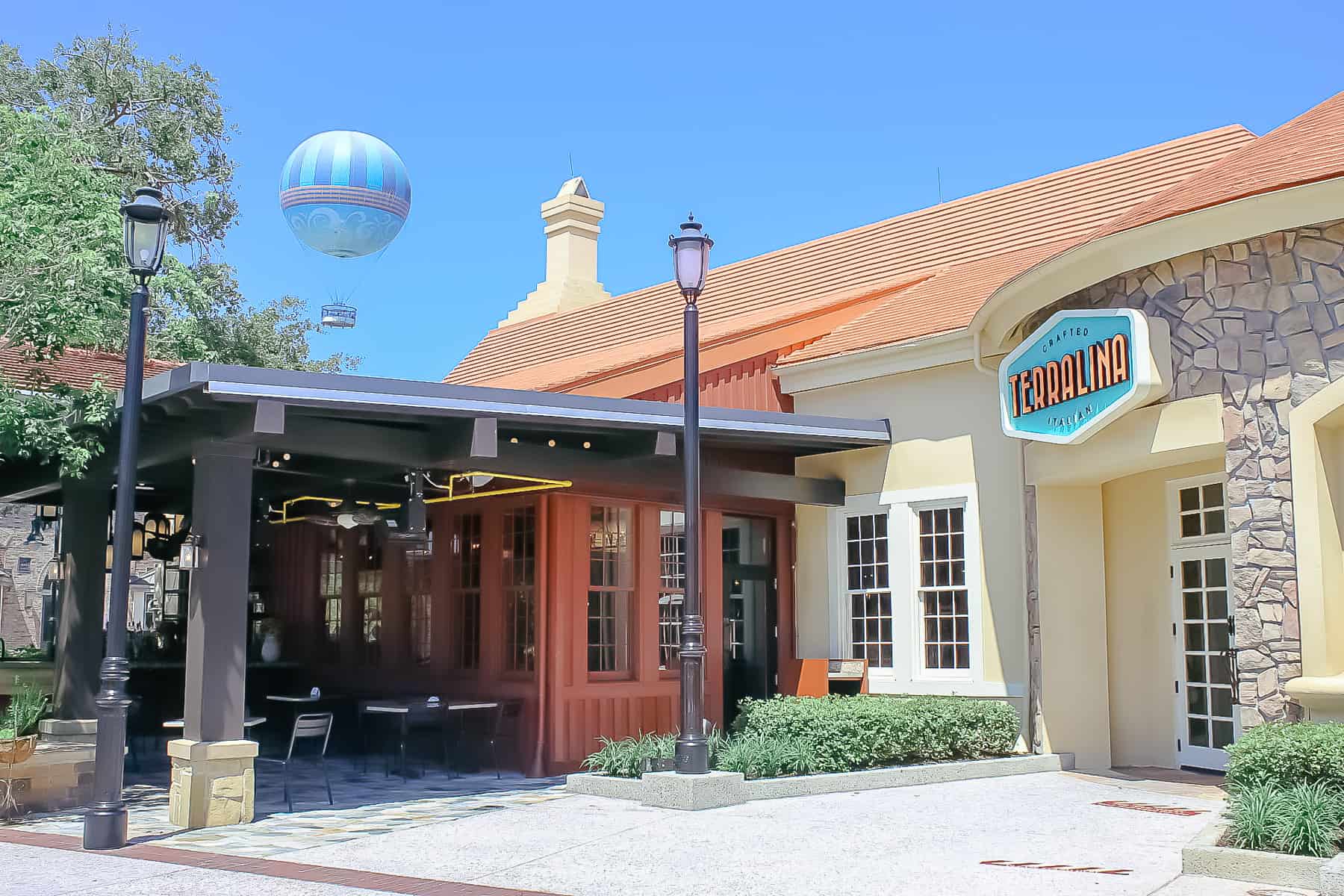 Those looking for the best places to eat at Disney Springs for families (with smaller children) might consider a restaurant with theming. For example, Disney's Springs Rainforest Cafe and T-REX Cafe (dinosaurs) are geared toward children.
Neither of these restaurants is going to offer the highest quality of food. However, they should be similar to your local neighborhood chain restaurant. And the overall experience is usually fun for the family.
Unfortunately, when it comes to dining with children, character dining is not available at Disney Springs.
Related: Disney World Character Dining
Fans of Indiana Jones will want to check out Jock Lindsey's Hangar Bar. This is an excellent stop for an appetizer-style meal or prelude to a later supper! You can preview Jock Lindsey's menu. Don't miss their happy hour options!
Chicken Guy! is another fun quick-service restaurant adjacent to Planet Hollywood. This is Guy Fieri's (Food Network) chicken finger location.
There will be plenty of sauce! Of course, you can expect a long wait on a crowded evening. We waited over 30 minutes on our last visit to order food. But it was good.
Related: Chicken Guy Review at Disney Springs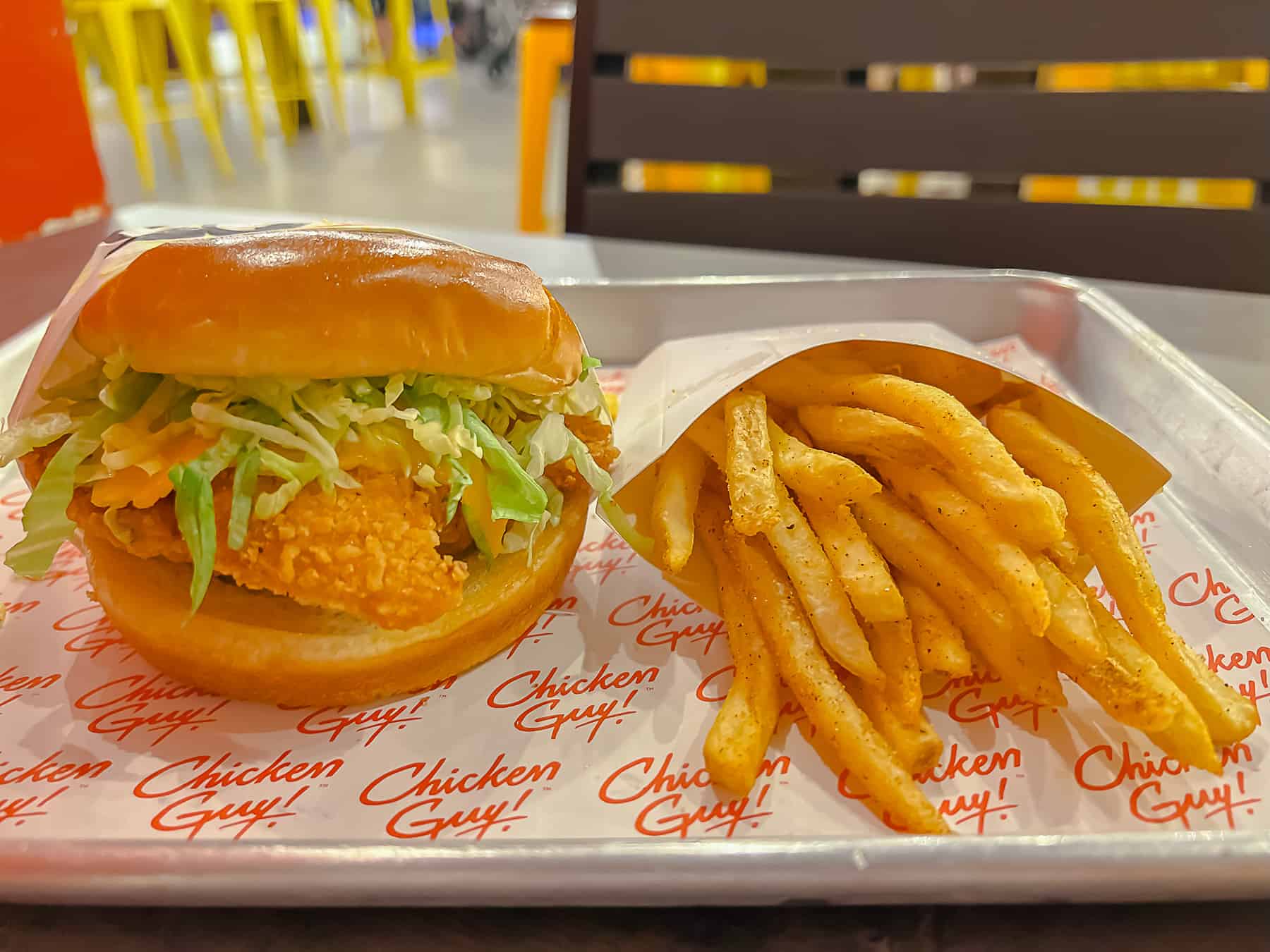 Speaking of Guy Fieri, the Planet Hollywood Observatory offers his exclusive menu at the Disney Springs location. (Menu for Planet Hollywood)
Earl of Sandwich is also a Disney Springs classic for their tasty sandwiches. This is another excellent option to take back to your hotel room.
Lastly, try Splitsville Luxury Lanes on the West Side for those who want to throw something different in the mix. It's a retro bowling alley with a full dining room. (Menu for Splitsville)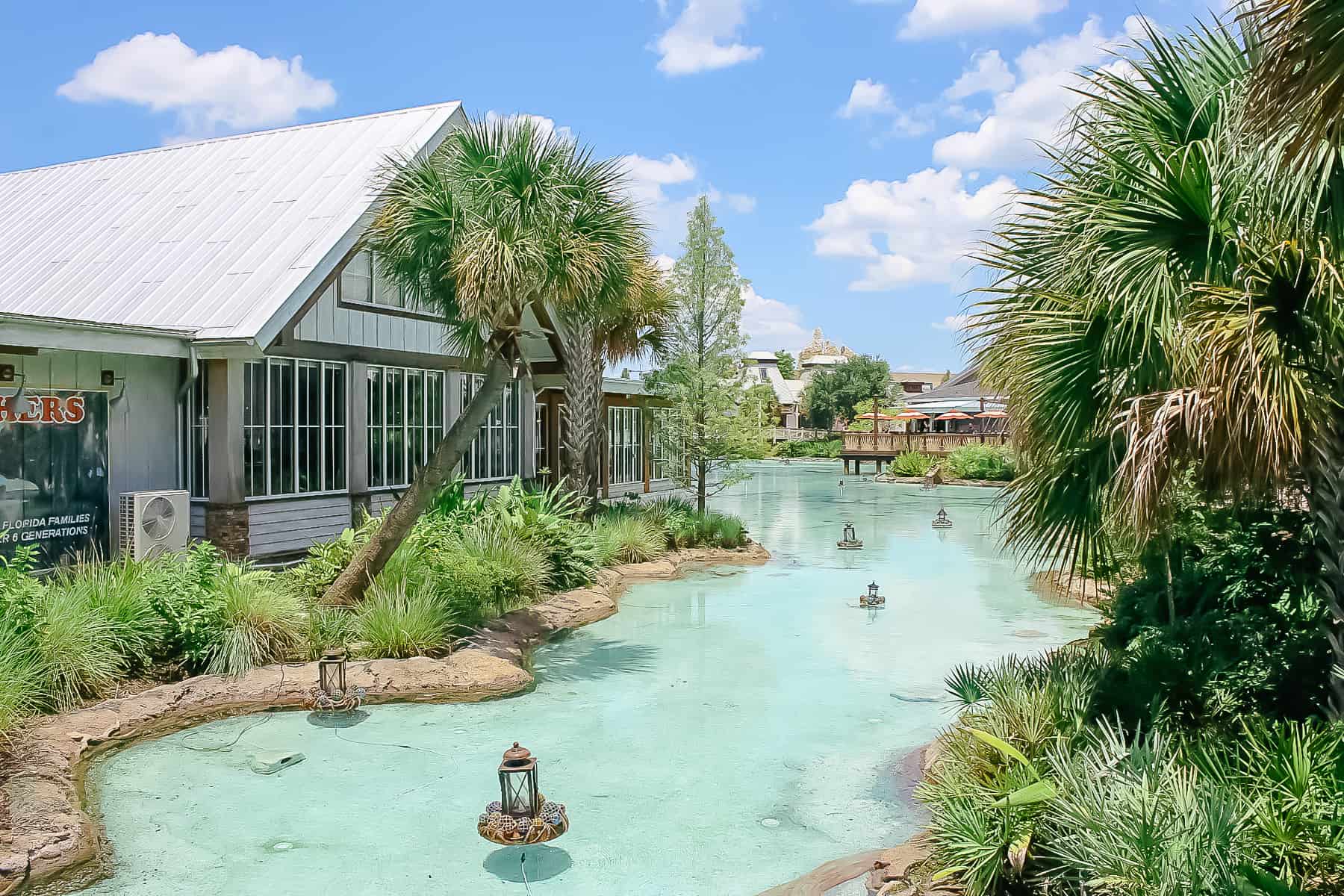 Best Disney Springs Restaurants (For Dessert)
Before we wrap things up, I wanted to share a few of the best places to pick up dessert at Disney Springs. Of course, all table service restaurants we've discussed have excellent dessert options.
But often, by the end of the meal, you might not be ready for dessert. Maybe you'll pick up something later after you've walked around the venue?
Perhaps you might have another treat in mind? For instance, Gideon's Bakehouse has those fantastic chocolate chip cookies.
Warning: this location usually has a line, or you can request to join their virtual queue if you get there early enough. This location has become so popular that guests often wait hours to pick up a treat!
Amorette's Patisserie is a go-to for bakery items like cake or pastry-style desserts. You really can't go wrong here, no matter what you choose.
Salt and Straw is a fun stop for ice cream. With unique flavors like pear and blue cheese or strawberry honey balsamic with black pepper, this stop will surely be a treat to the taste buds.
Lastly, my favorite stop is The Ganachery. It is THE place for chocolate. Good luck deciding which flavors you want to try. I'm a sucker for the coconut and orange ones. We usually pick up a box of six selections and savor one each night afterward.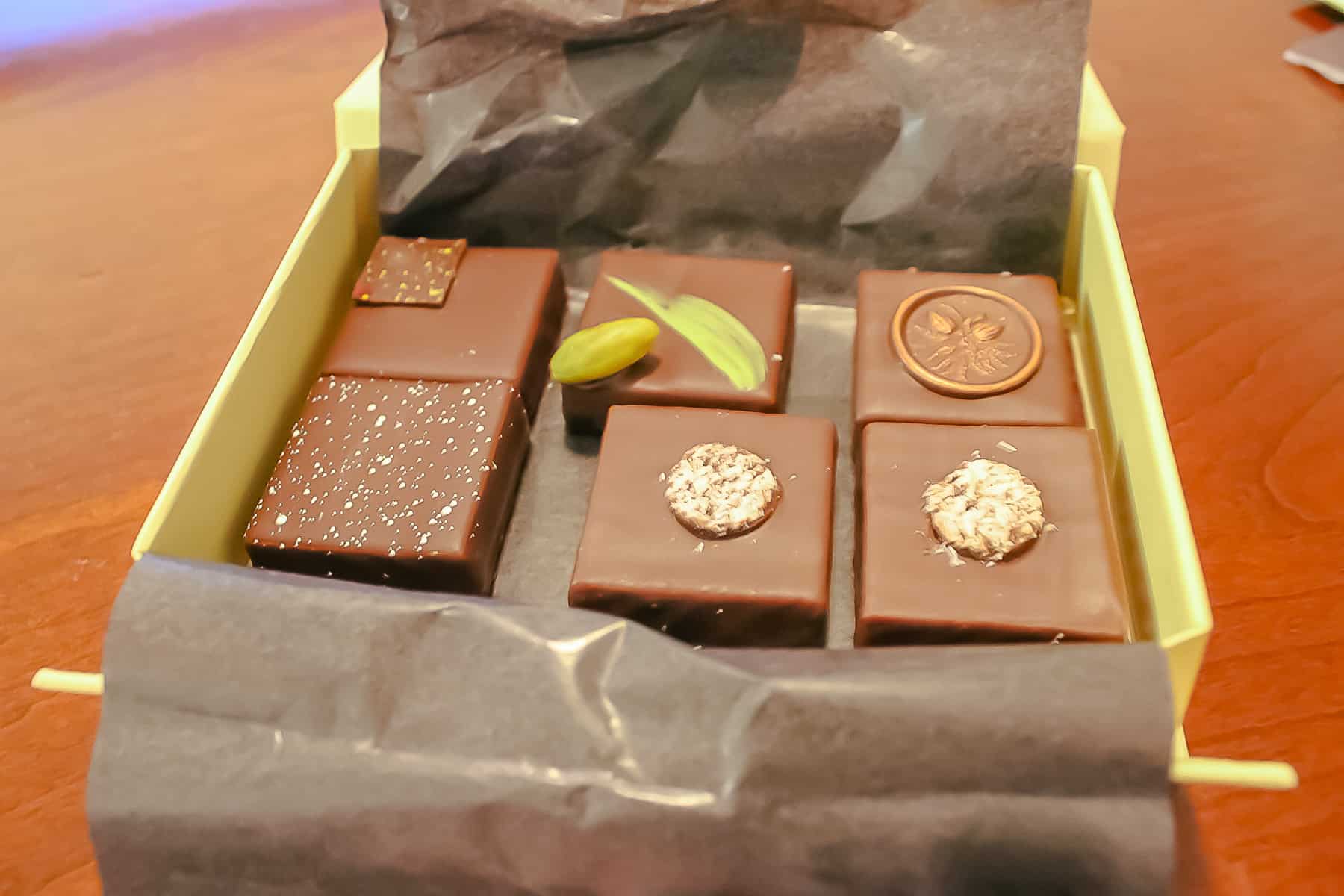 Reservations for these Best Restaurants at Disney Springs
Do you need a dining reservation for table service restaurants at Disney Springs?
Yes and no, let me explain.
All of the restaurants at Disney Springs take walk-ups. So, if you're going for lunch on a Monday through Friday, you can likely get a walk-up without waiting longer than 30 minutes.
However, these restaurants sometimes stop taking walk-ups on nights and weekends (especially during high crowd/tourist times). We have been on evenings when the restaurants put signs on the sidewalks letting guests know they've reached capacity for the evening.
All table service restaurants offer reservations in the My Disney Experience app; some are available on OpenTable. However, you might want to call the restaurant to make advanced reservations if you have a large party.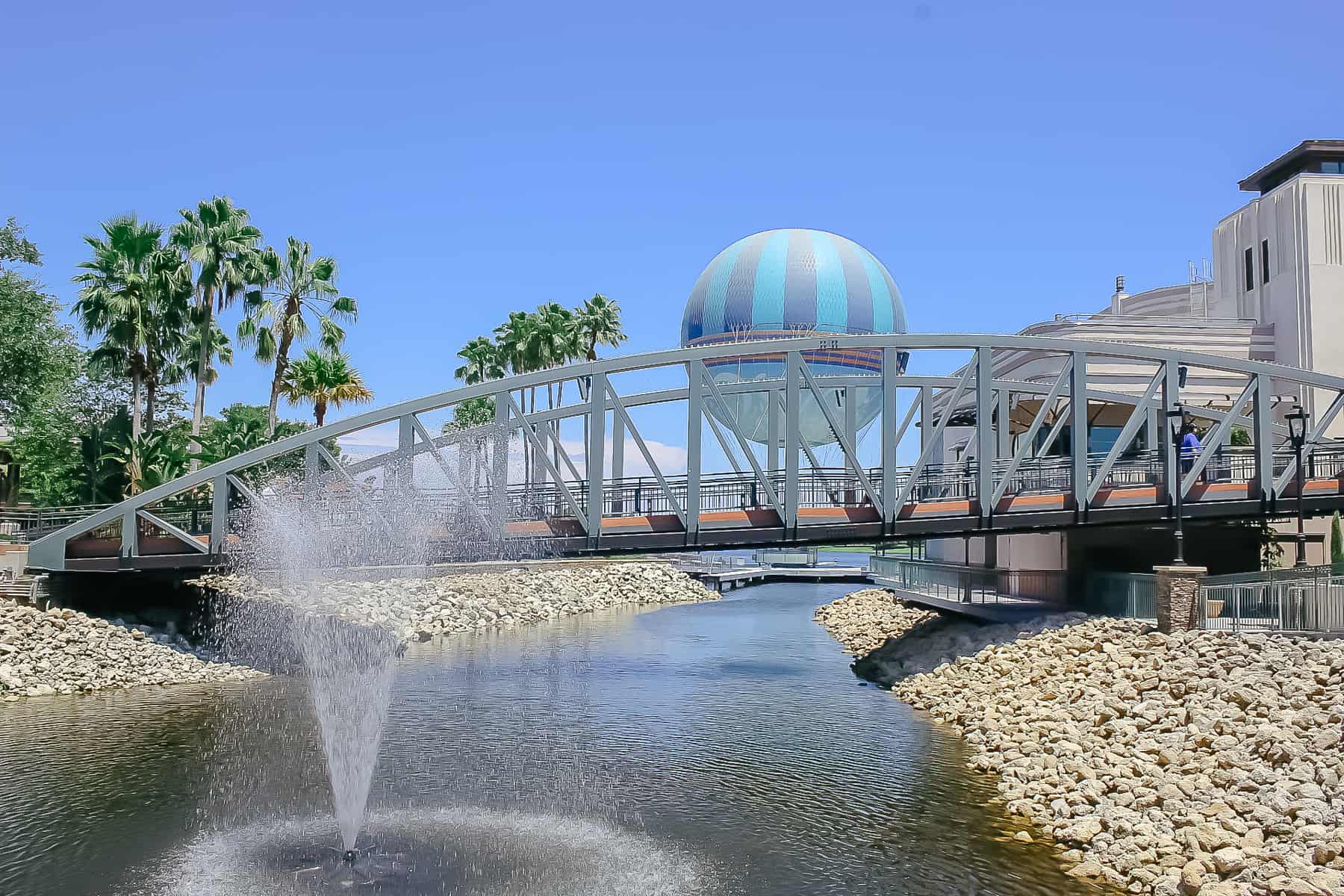 Final Thoughts on the Best Disney Springs Restaurants
Hopefully, our list of the best restaurants at Disney Springs gave you fresh ideas for an upcoming trip. Disney Springs is a busy venue with almost too many things to do!
Additionally, we have a few new options to check out for 2024! One is Summer House on the Lake, and the other is EET by Maneet Chauhan. I don't know about you, but I can't wait to try this new Indian quick-service restaurant by one of my favorite Chopped judges!
If you are uncertain of the best route to reach one of these dining venues, browse our guide to using Disney Springs transportation. It includes how to get to and from Disney Springs and get around after you arrive.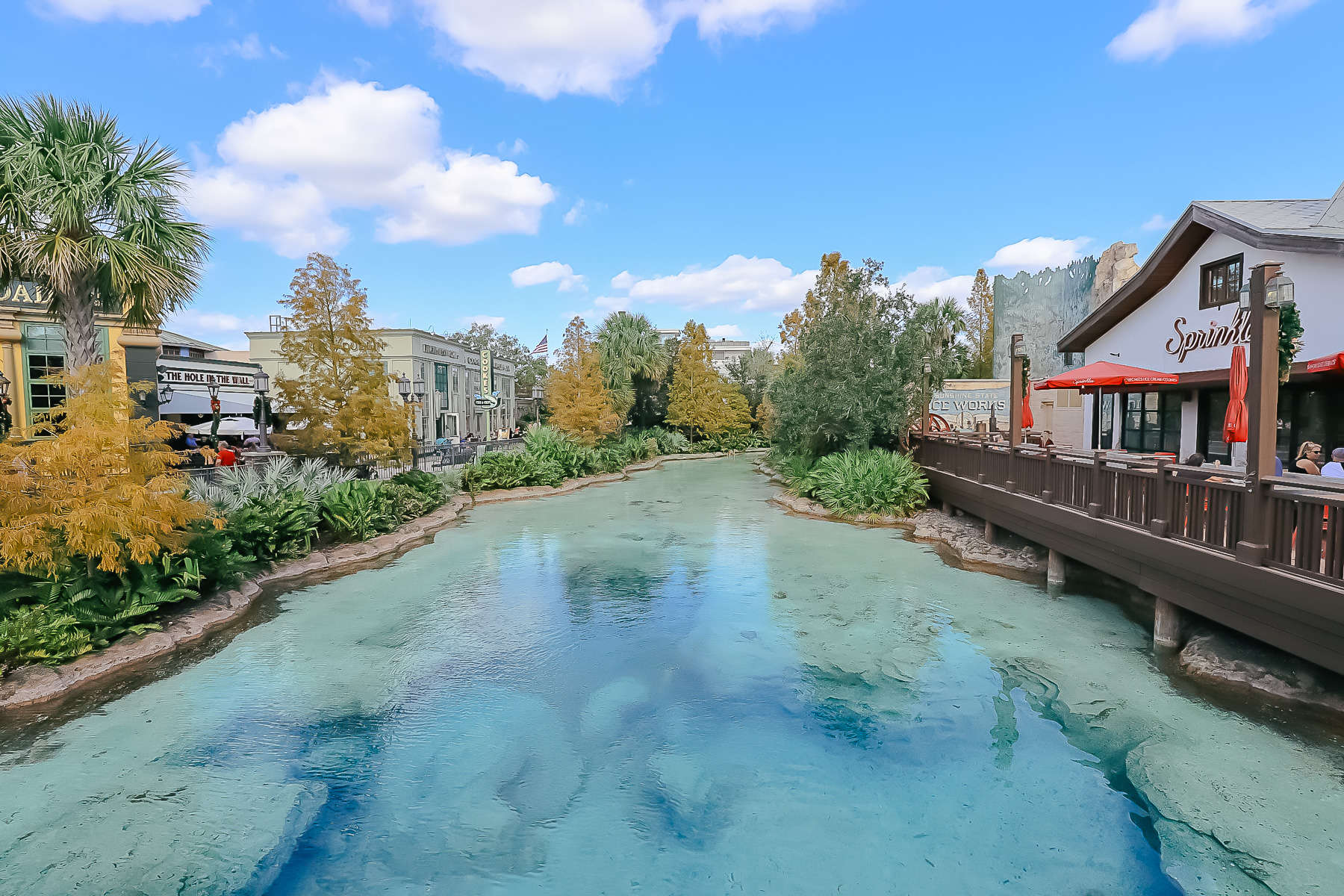 You might also enjoy our entire list of Disney Restaurant Reviews. Or, if you're planning a Disney World vacation, you might enjoy browsing our Disney Resort Reviews.
Resorts Gal specializes in providing updated information about resorts, characters, and dining at Disney World. If you would like, we'd love to have you join our thousands of email subscribers. Don't worry! We only email when we have important things to share!
What Do You Think?
Now that we've discussed our picks for the best Disney Springs restaurants, what do you think? Do you agree with these choices? Have you dined at any of them? What are your favorite restaurants at Disney Springs? Tell us below in the comments. We love to know about your experiences, whether you had an incredible meal or one that didn't go so well.