Disney's Saratoga Springs Resort and Spa Restaurant and Dining Guide
In this article, we provide a list of the restaurants at Disney's Saratoga Springs Resort & Spa. We'll discuss each dining option, menus, and a few tips for nearby restaurants.
Given the size of the Disney Resort Hotel, it often feels like there aren't enough dining options at Disney's Saratoga Springs Resort. But if you consider that Disney Springs is only a short walk or boat ride away, it tends to balance things out.
With that said, Saratoga Springs has an excellent counter service with a good variety of options. There are also a decent amount of options at most of the resort's pool areas.
Saratoga Springs is a dedicated Disney Vacation Club Resort themed after the original upstate New York venue. Rooms at the DVC Resort range from deluxe studios to three-bedroom grand villas. Each studio has a small kitchenette, and the one-bedroom and larger units have full-size kitchens.
Therefore, many guests staying at the resort prepare some meals in their rooms. Considering this and the 60+ restaurants at nearby Disney Springs, it begins to make sense that Saratoga Springs doesn't have a ton of dining options.
For comparison, Disney's Animal Kingdom Lodge and Coronado Springs Resort have many dining options at their resorts. However, those resorts sit to themselves and require alternate transportation to access other restaurants on Disney property.
This article was updated on March 16, 2023.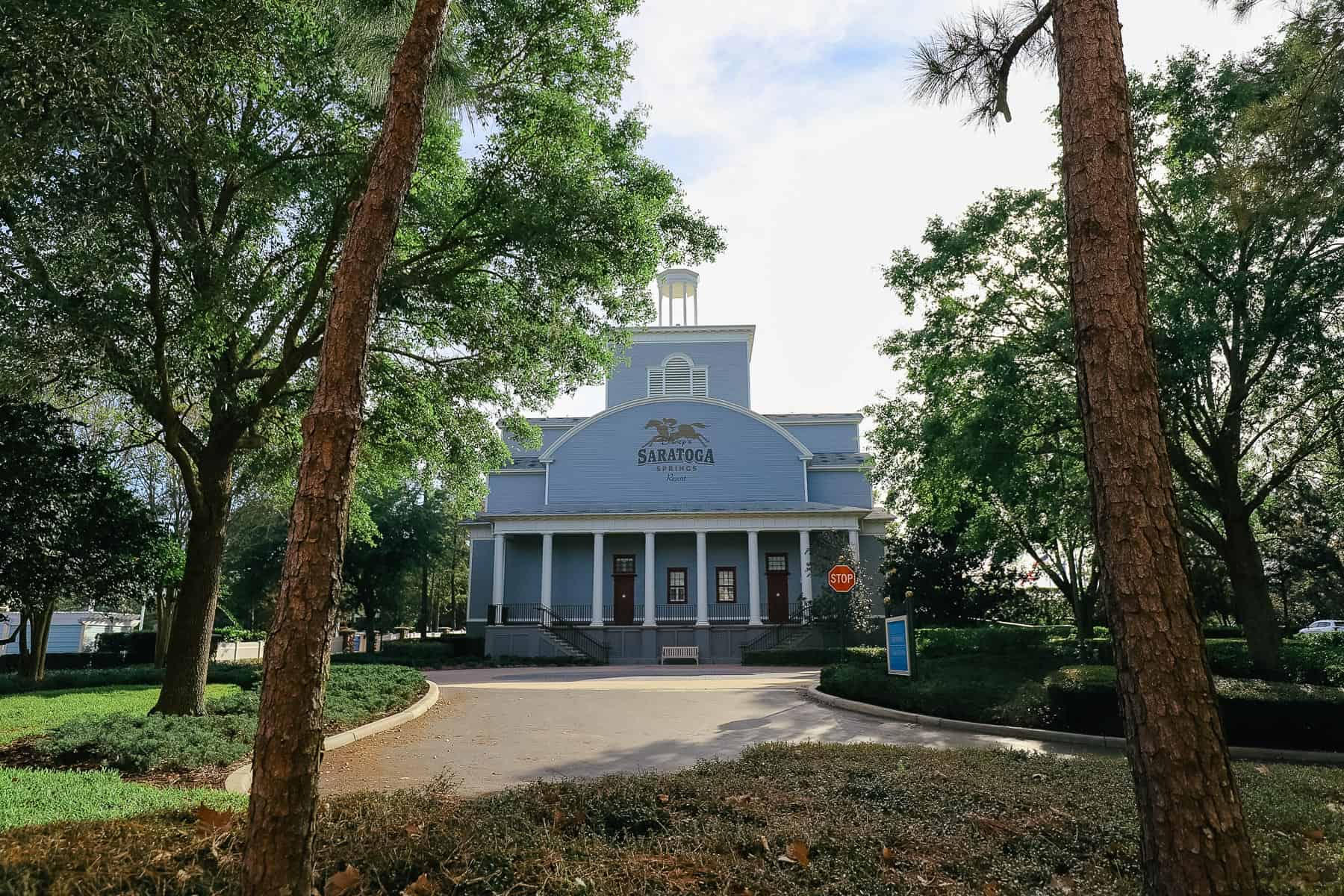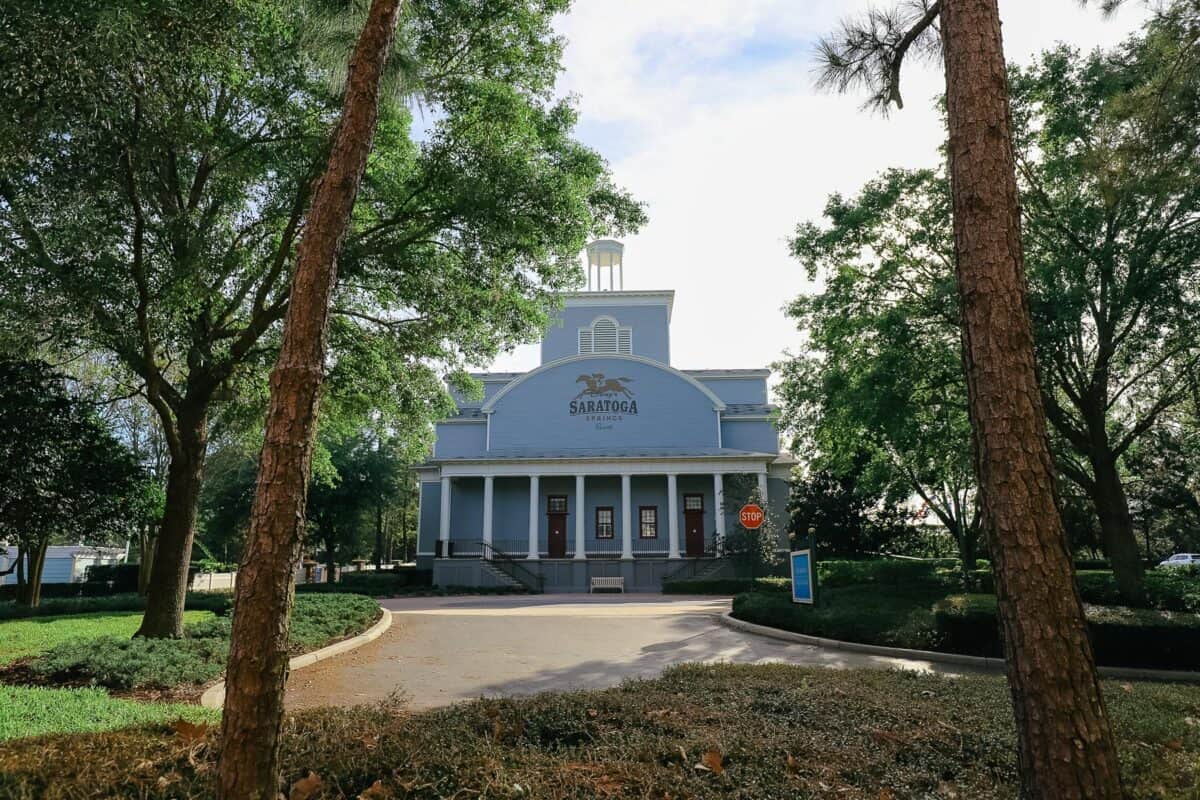 List of Restaurants at Saratoga Springs
As for Disney's Saratoga Springs restaurants, you'll find one table-service restaurant, one counter-service location, three quick-service pool bars, a lounge, and a snack bar. They are as follows:
The Turf Club Bar and Grill
The Turf Club Lounge
The Artist's Palette
The Paddock Grill
On the Rocks Pool Bar
Backstretch Pool Bar

Chip 'n' Dale's Cafe
*All of the pools at Saratoga Springs have a pool bar, except the quiet pool at Congress Park.
The Turf Club Bar and Grill
We'll start with Turf Club Bar and Grill, a casual table service restaurant that offers American fare. This feature restaurant sits adjacent to the lobby of Saratoga Springs.
To locate the restaurant, you'll walk down a hallway between the lobby's sitting area and Artist's Palette. A door leads outside to the patio, and The Turf Bar and Grill's entrance is on the opposite side.
The Turf Club is open daily from 4:30 p.m. until 9:00 p.m. Reservations are recommended, but they take walk-ups based on availability.
Entrees include:
Prime Rib
Filet Mignon
Carrot-filled Agnolotti
Crispy Boneless Chicken
Pan-seared Salmon
Grilled Pork Chop
Braised Lamb Pappardelle
You can preview the Turf Club's menu with prices here on Disney's site.
In addition to the main dining area, an outdoor patio looks out to the Lake Buena Vista golf course and lake. It offers a beautiful view.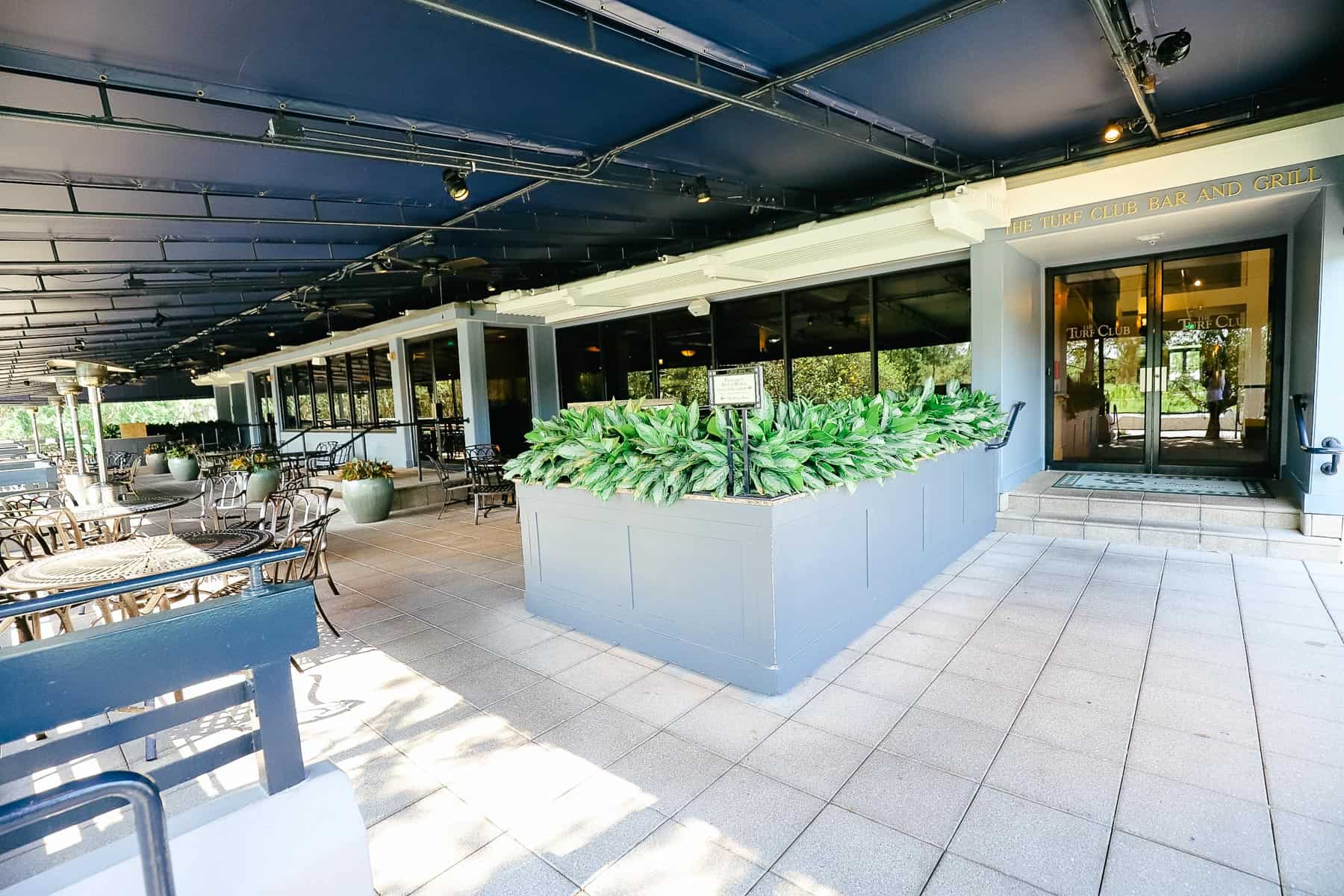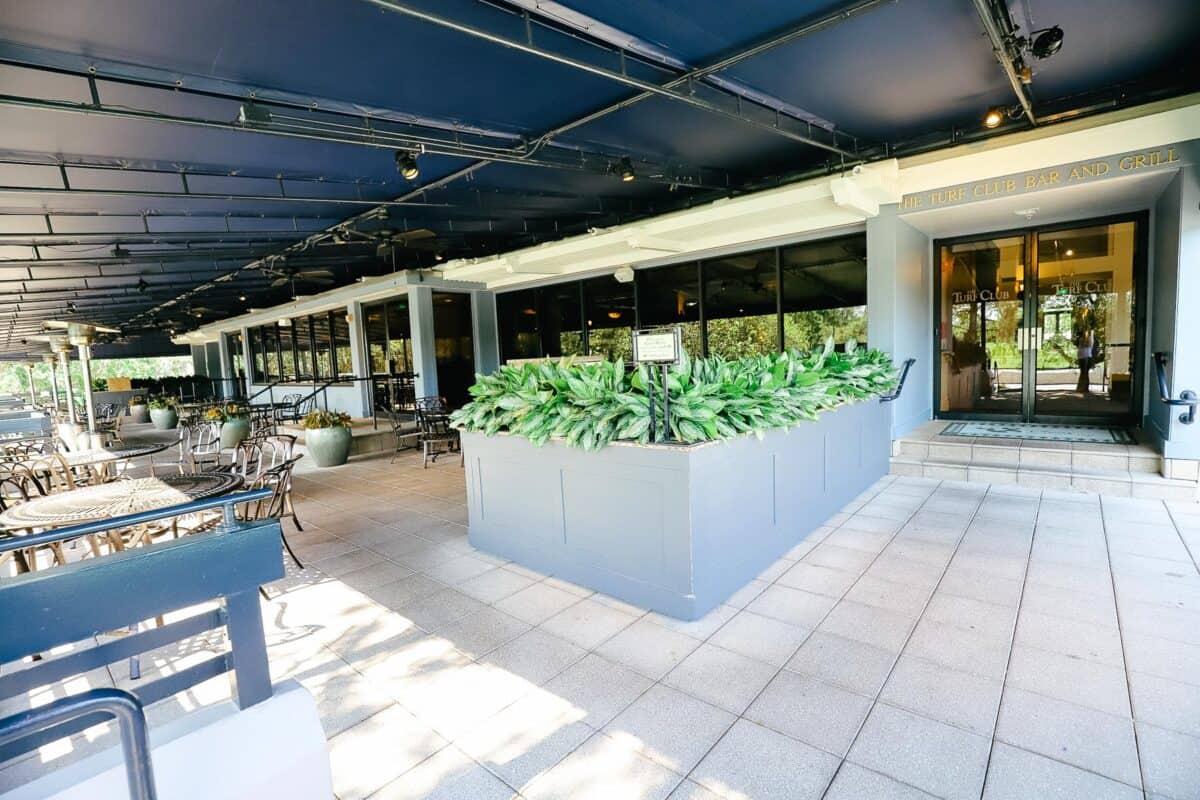 The Artist's Palette
The Artist's Palette is a quick-service cafe that offers a variety of sandwiches and salads. This counter service location serves breakfast, lunch, and dinner and is open daily from 7:00 a.m. until 11:00 p.m.
Indoor and outdoor seating is available. Or you can mobile order your meal to-go and enjoy it in your room or elsewhere around the resort.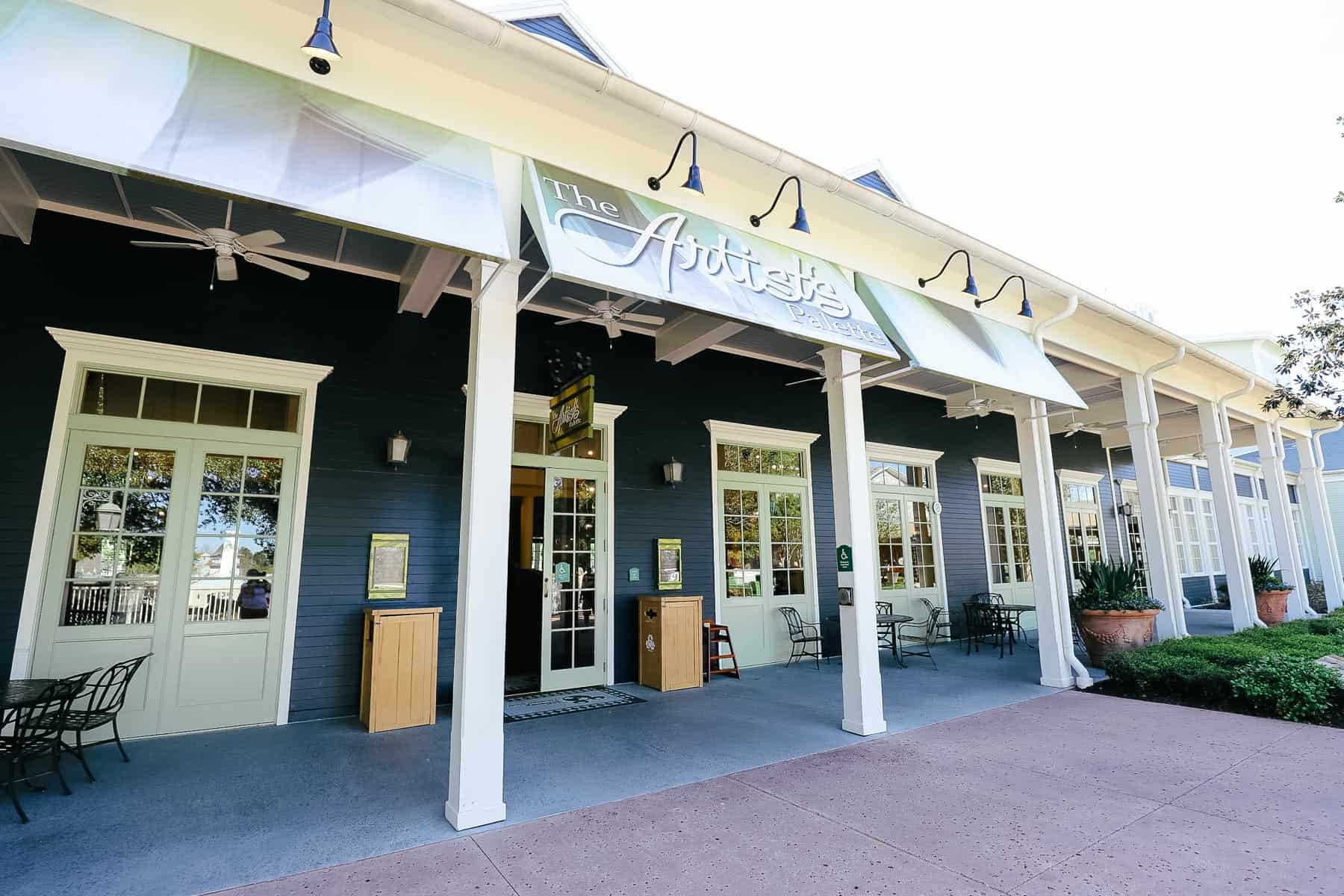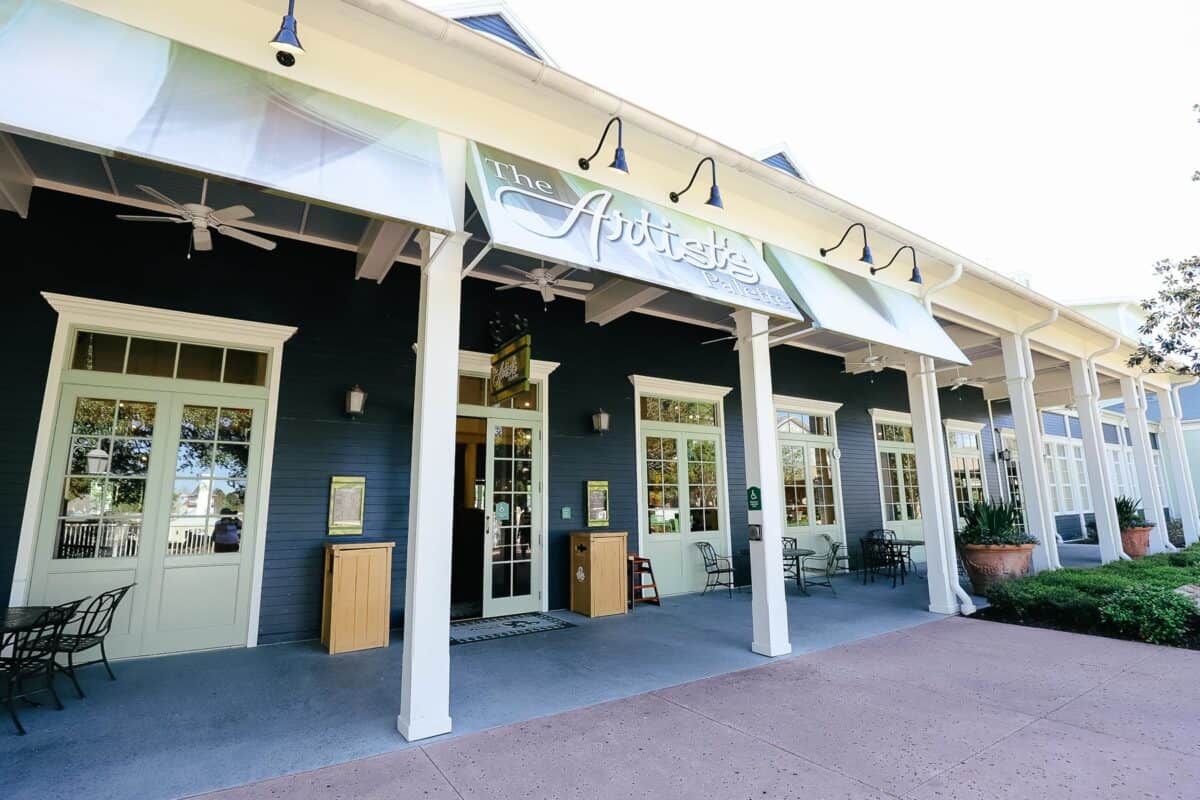 Artist's Palette has items like a bacon quiche, shrimp and grits, and Mickey Waffles for breakfast. They have pizza, salads, sandwiches, roast chicken, and more for lunch and dinner.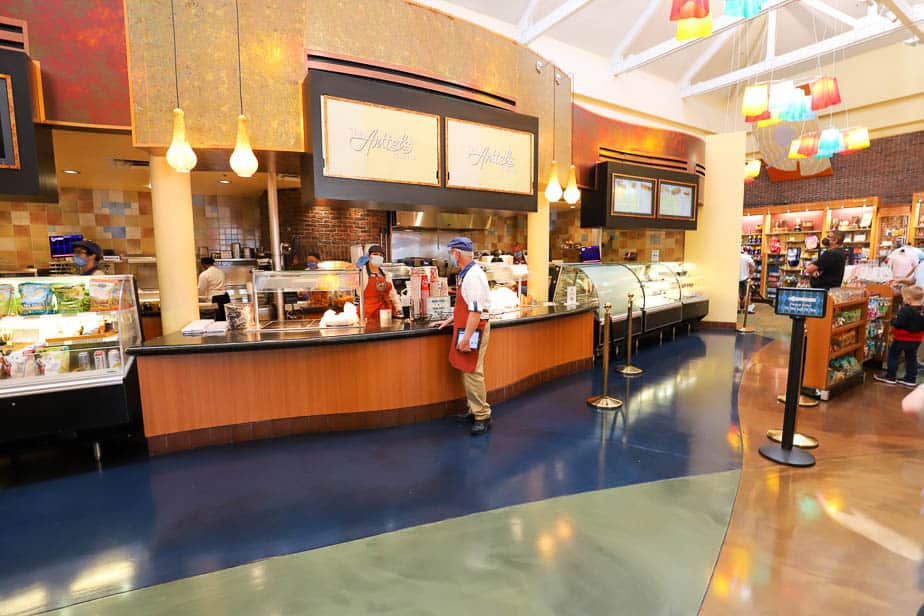 During our last stay, I tried the cheesesteak sandwich with a side of housemade potato chips. The sandwich ended up being a good option and a full meal. I'll take any chance I get to enjoy an order of Disney's housemade chips.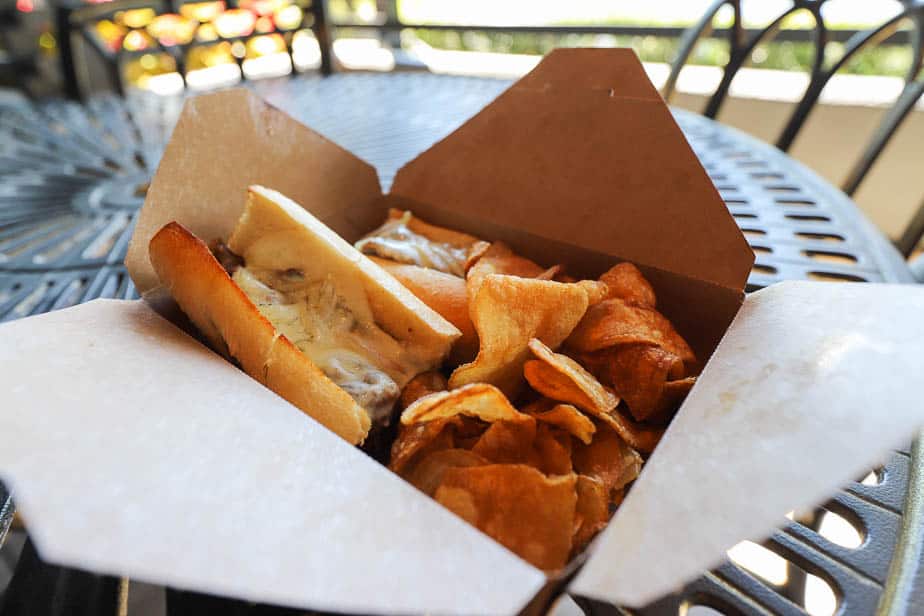 Additionally, you'll find various grocery items at the resort's counter service. At most resorts, these items are located at the gift shop. However, Saratoga Springs gift shop sits in an ample, open space adjacent to the counter service.
Related: The Gift Shop at Saratoga Springs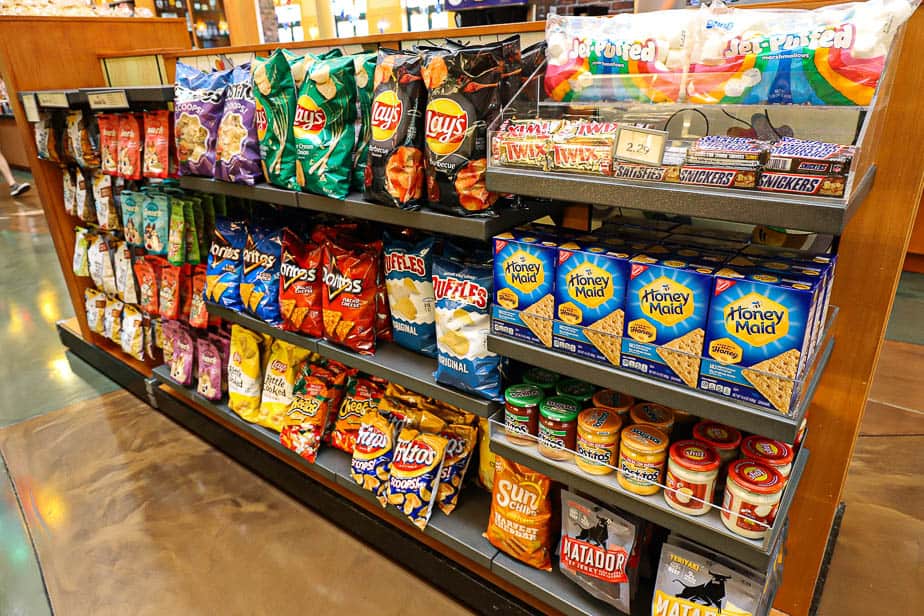 Most guests staying at the resort will bring their own groceries or have groceries delivered. But if the need for something arises, you should be able to find the bare necessities here.
Additionally, guests can pick up a refillable mug at The Artist's Palette. At the time of this update, they are $21.99 and good at any resort's self-service beverage location for the entire length of a resort stay.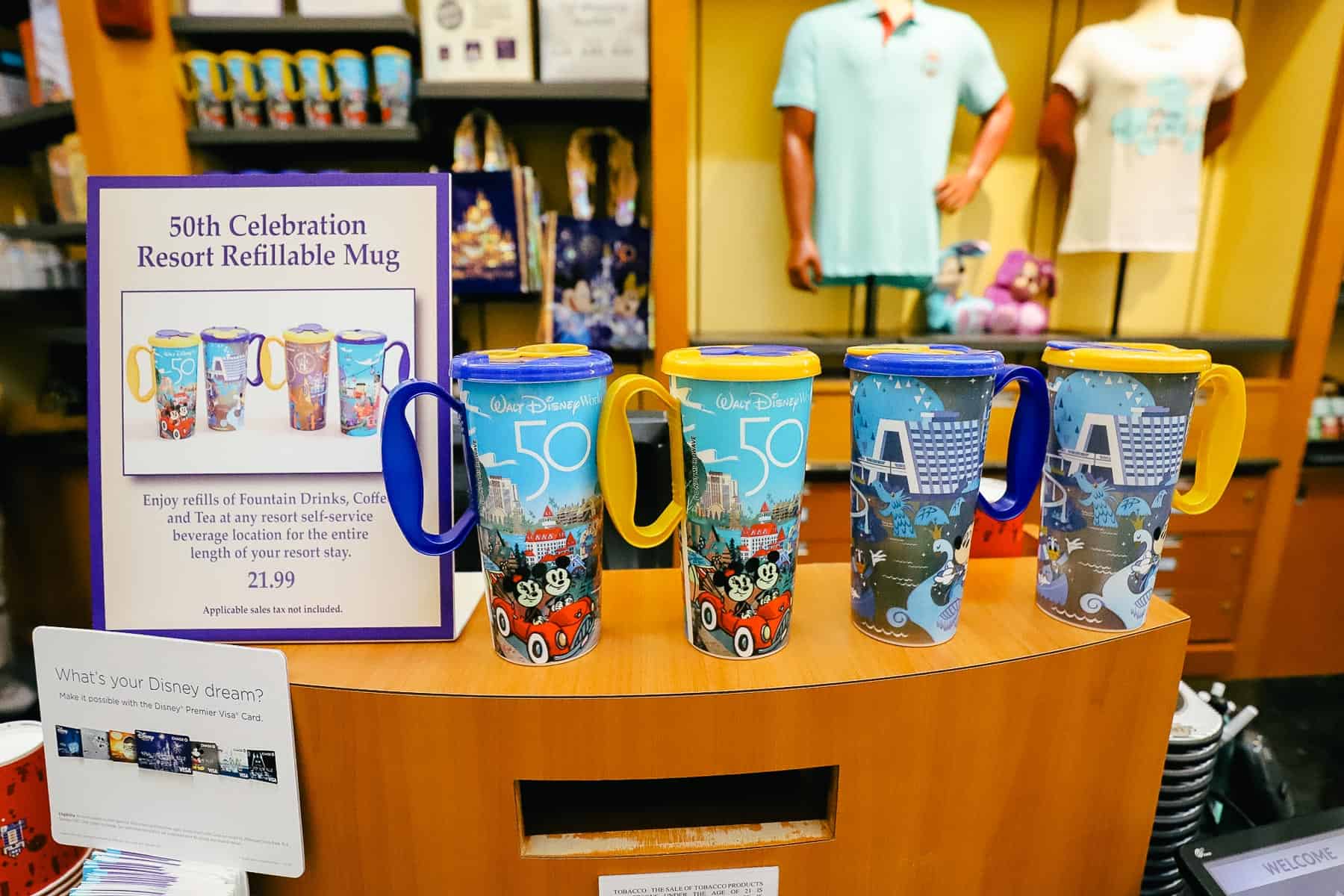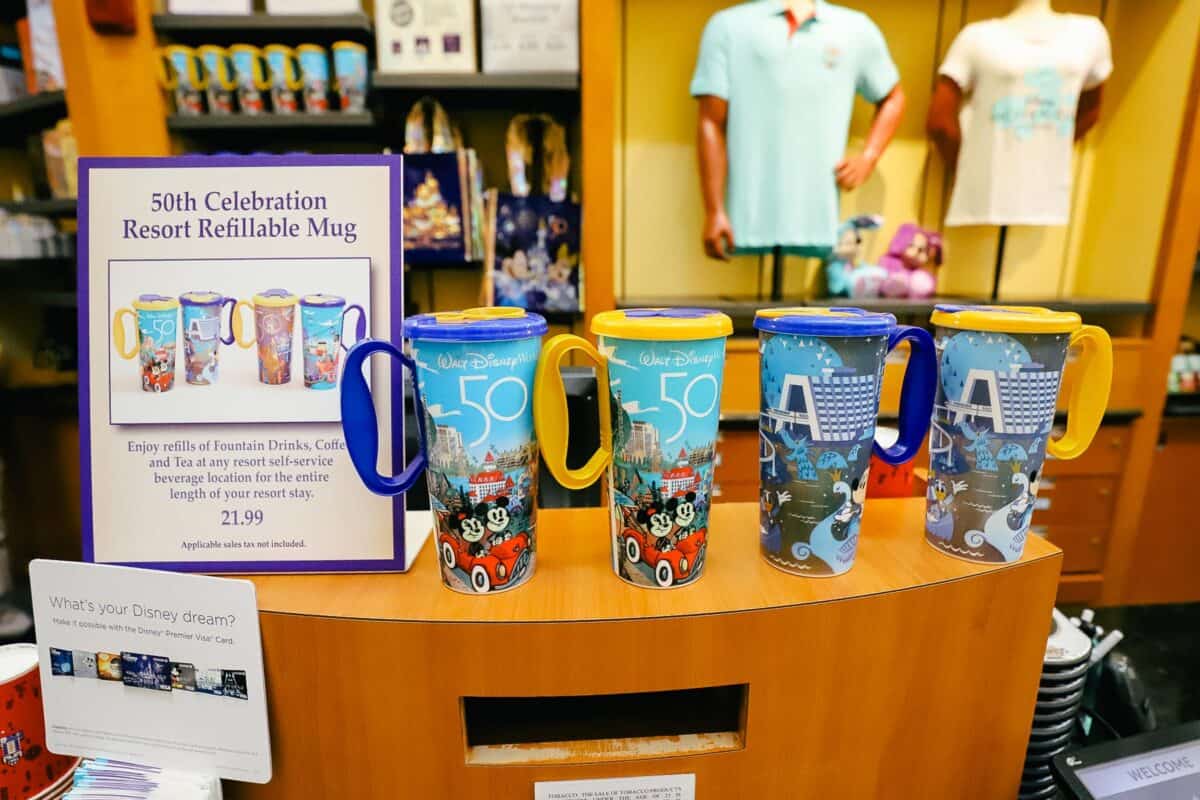 We recently revisited The Artist's Palette for lunch and took photos of the menus and other items in the restaurant. Those items are available in a separate article.
Related: The Artist's Palette Review at Saratoga Springs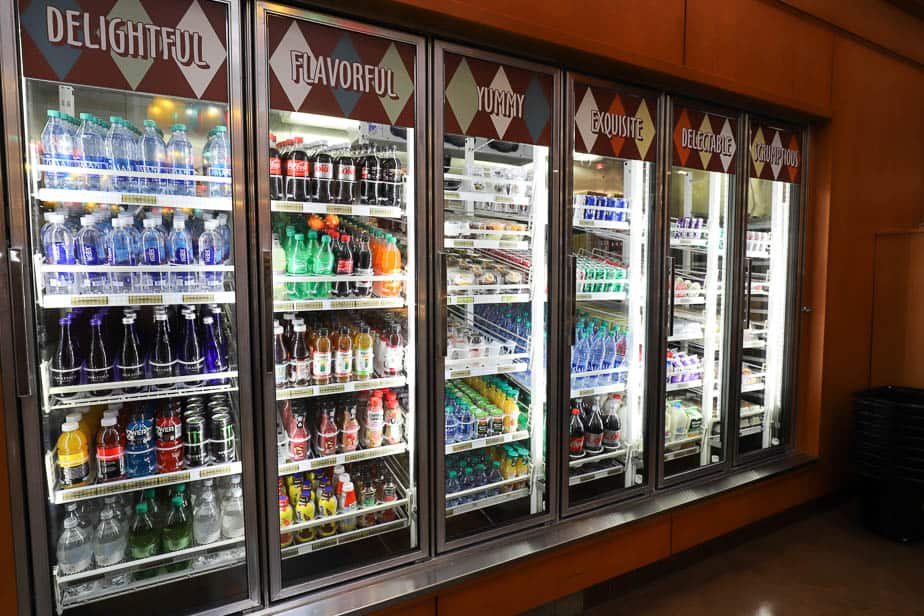 The Paddock Grill
The Paddock Grill is located at The Paddock Pool. This quick service dining location serves breakfast, lunch, and dinner. I will be the first to admit that it's unusual to see a pool quick service with a breakfast menu.
However, given the resort's large size, I think it's warranted. The Paddock Pool is the resort's second feature pool. While I like both pools at the resort, I think this one has a bit of an edge over the main pool.
For breakfast, the menu includes items like:
Breakfast Quiche
Croissant Sandwich
Chocolate Croissant
Bagel with Cream Cheese
Kids' Meals:
For lunch and dinner, menu items include:
Cobb Salad
Fried Chicken Sandwich
Bacon Cheddar Cheeseburger
Shrimp Tacos
Kids' Meals:
Mini Turkey Sandwich
Hamburger
Chicken Strips
You can preview the entire menu with prices here on Disney's site.
Related: The Pools at Saratoga Springs Resort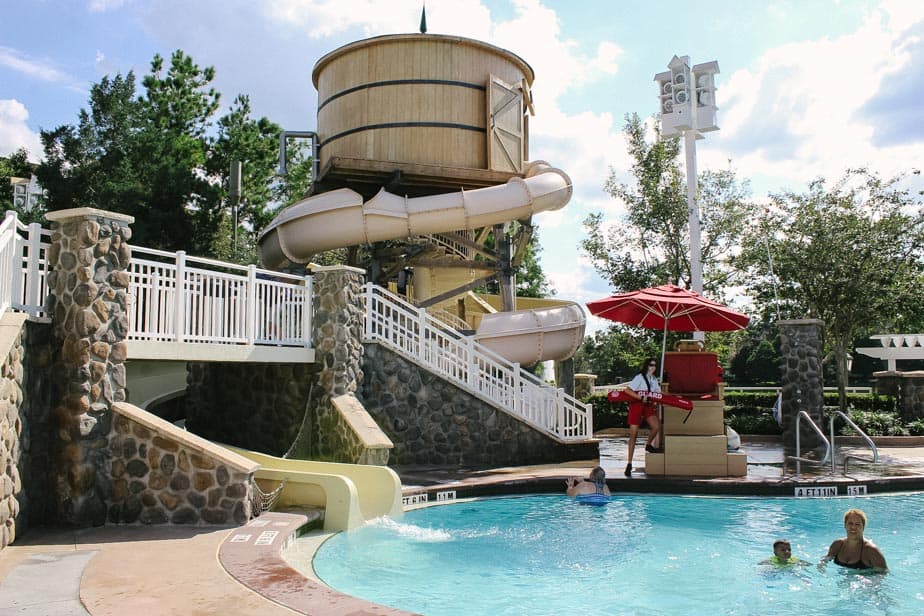 On the Rocks Pool Bar
On the Rocks pool bar is located at the resort's feature pool, High Rock Springs Pool. This location only serves beverages and cocktails.
That's because this pool is located at the bottom of The Springs section of the resort. The Artist's Palette is located at the top of the pool area. You can mobile order and then walk to the main counter-service to pick up your meal.
Every time I visit Saratoga Springs, I notice that On the Rocks usually has a long line. So you can probably expect a wait if you're ordering a cocktail. But, for anything else, I would walk up to The Artist's Palette.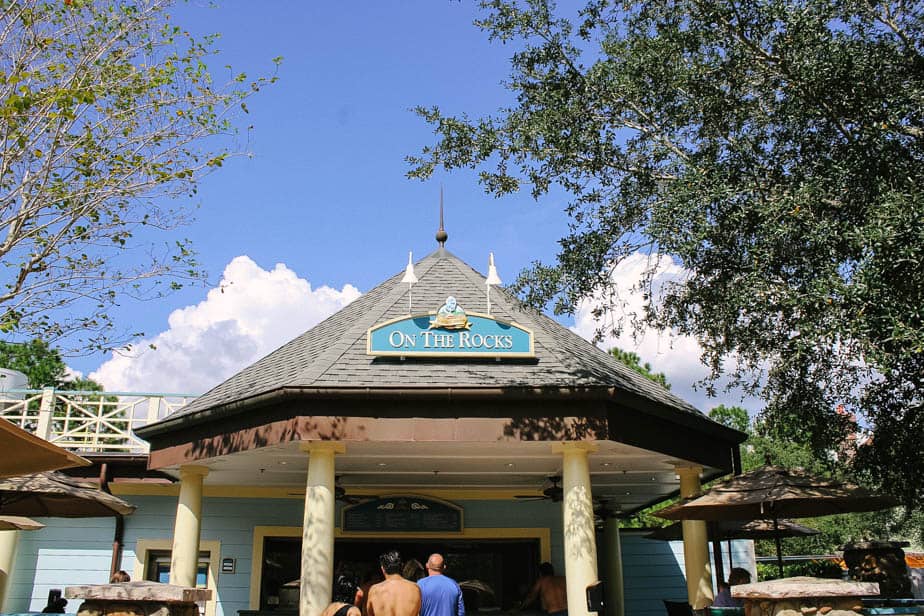 Backstretch Pool Bar
Over on The Grandstand side of the resort, there's the Backstretch Pool Bar. Nobody needs to know how many times I've typed Back "scratch" pool bar and have had to go back and change it.
You may remember in our review of Saratoga Springs, we discussed how this pool serves as the quiet pool for The Grandstand and The Carrousel. The Carrousel is the only section of the resort that does not have a pool.
Backstretch is open daily from 11:00 a.m. until 6:00 p.m. Their menu includes:
Saratoga Specialties:
Buffalo Chicken Nachos
Caesar Salad with Chicken
Italian Sub Sandwich
New York Style Hot Dog
Mango Rum-barbecued Pulled Pork Sandwich
Saratoga Salad with Grilled Chicken
Desserts and Bites include:
Chocolate Chip Mini Cookies
Mickey-shaped Pretzel with Cheese
Nestlé® Mickey's Premium Ice Cream Bar or Sandwich
Seasonal DOLE Whip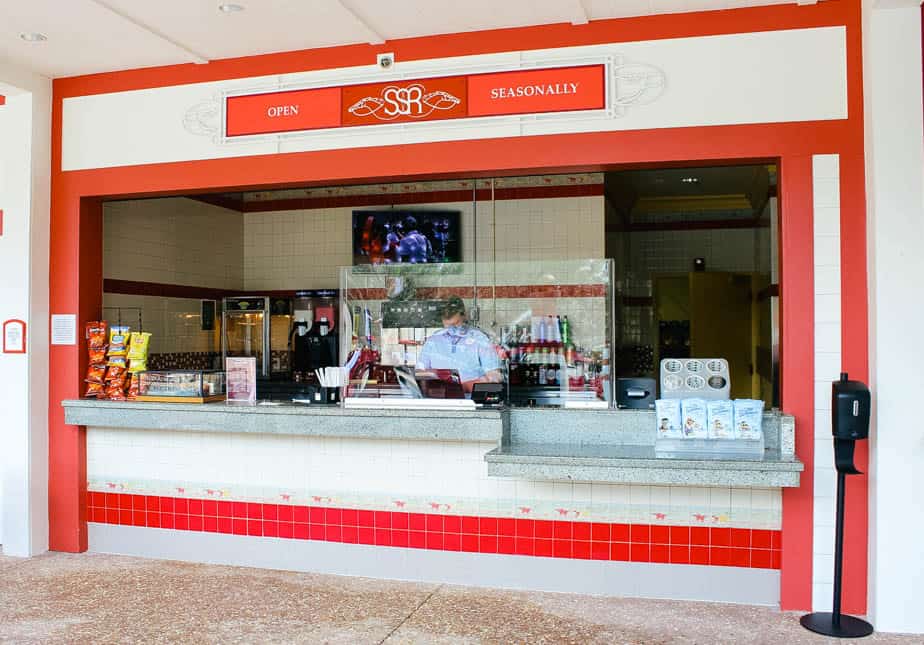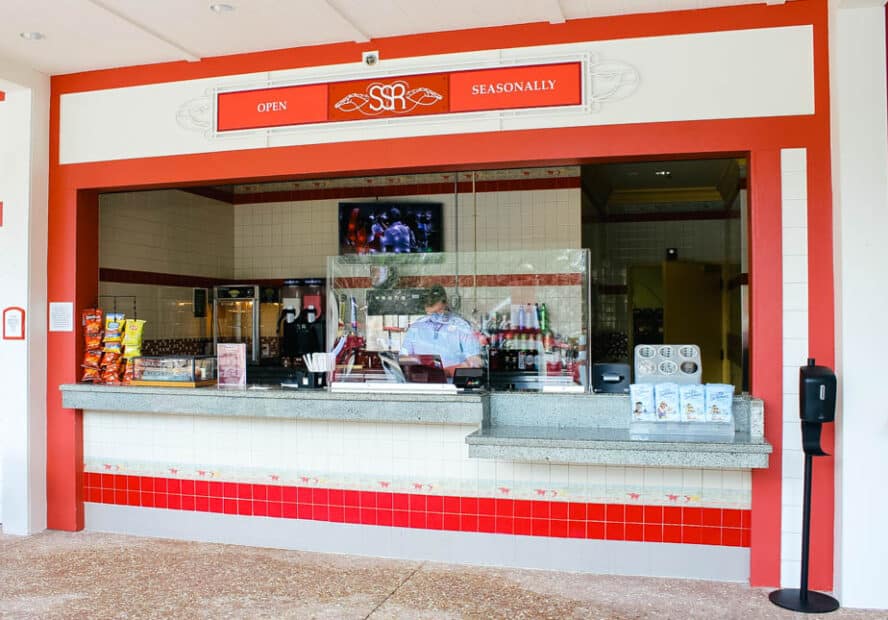 Chip 'n' Dales Cafe
Lastly, Chip 'n' Dale's Cafe is a bit of a hidden gem. It's a walk-up snack bar on the back lower level of the lobby. It's next to the pro shop near the resort's boat dock.
This location serves a variety of items, including breakfast and lunch. And between us, their prices are more reasonable than anywhere else at Walt Disney World.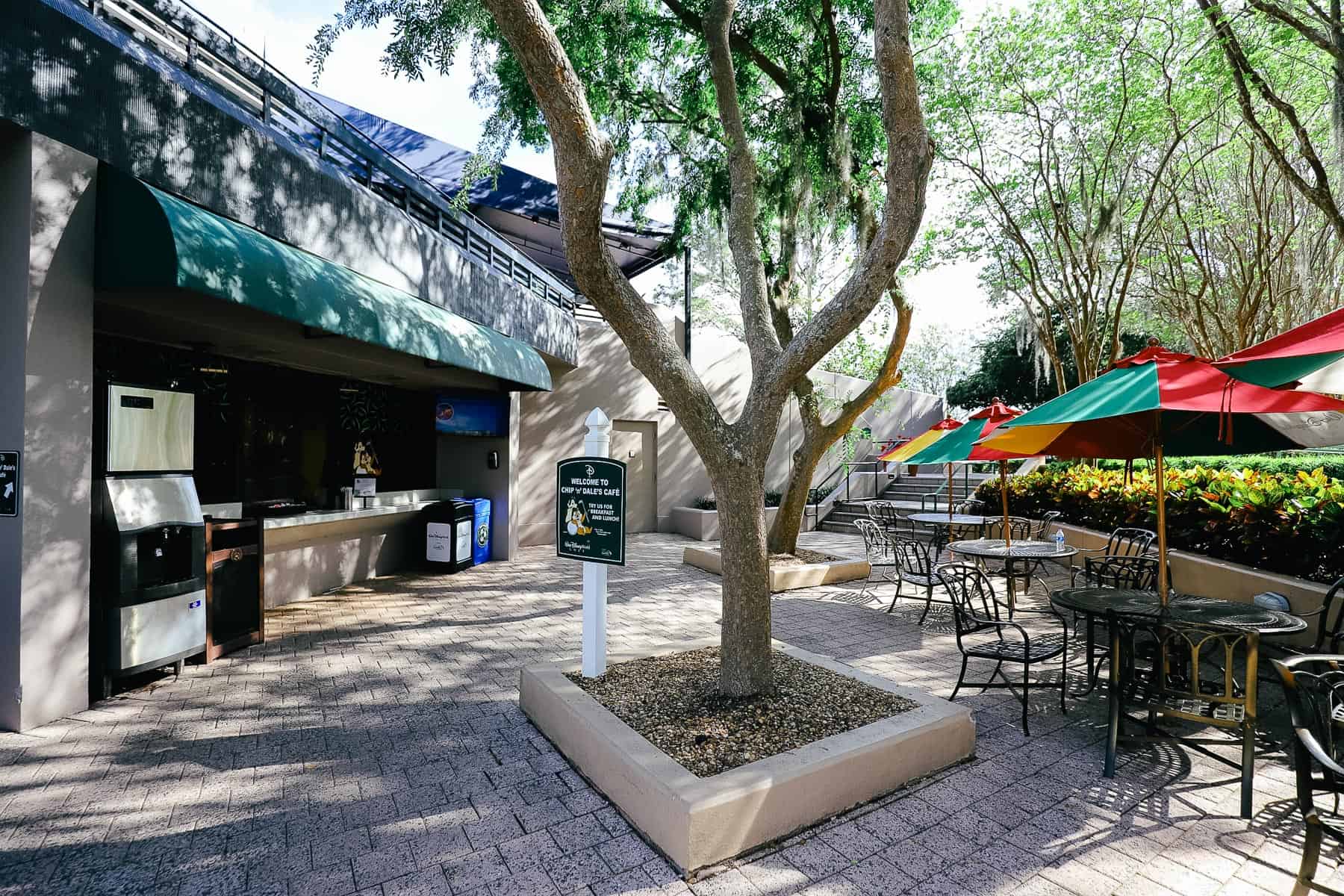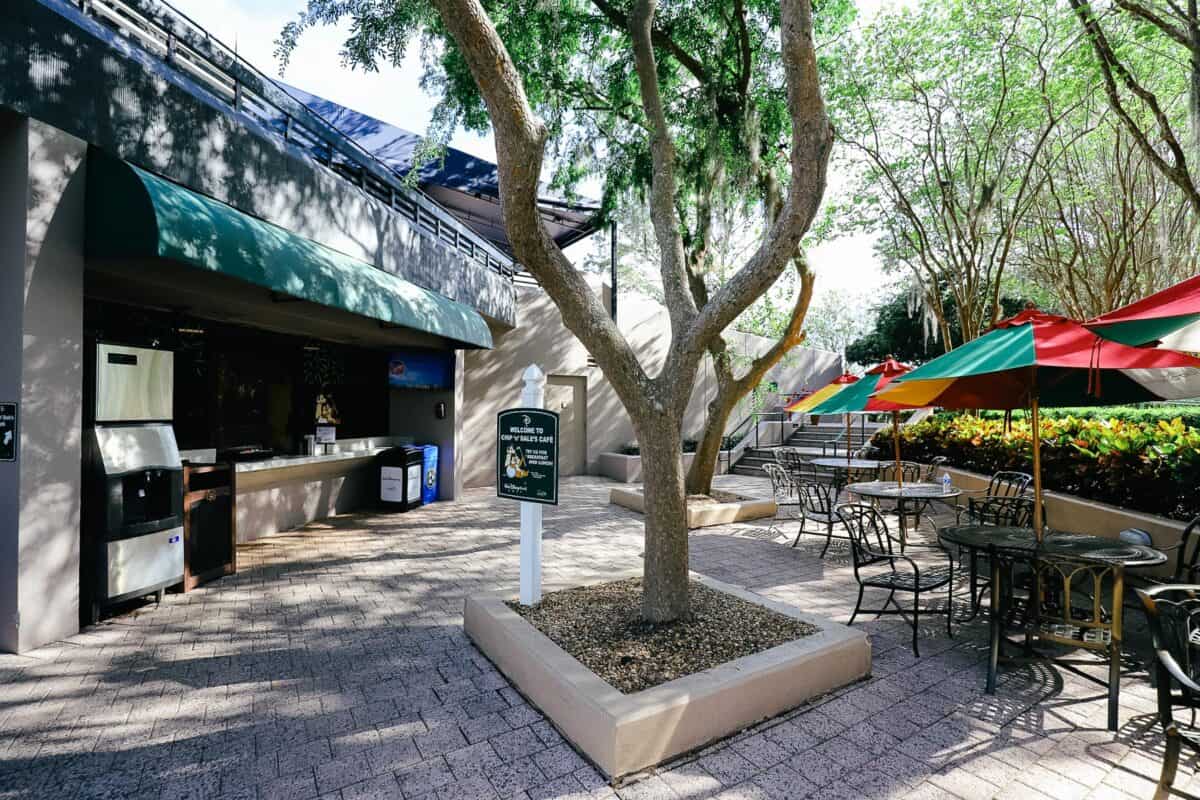 For breakfast, they have a breakfast sandwich and a breakfast burrito.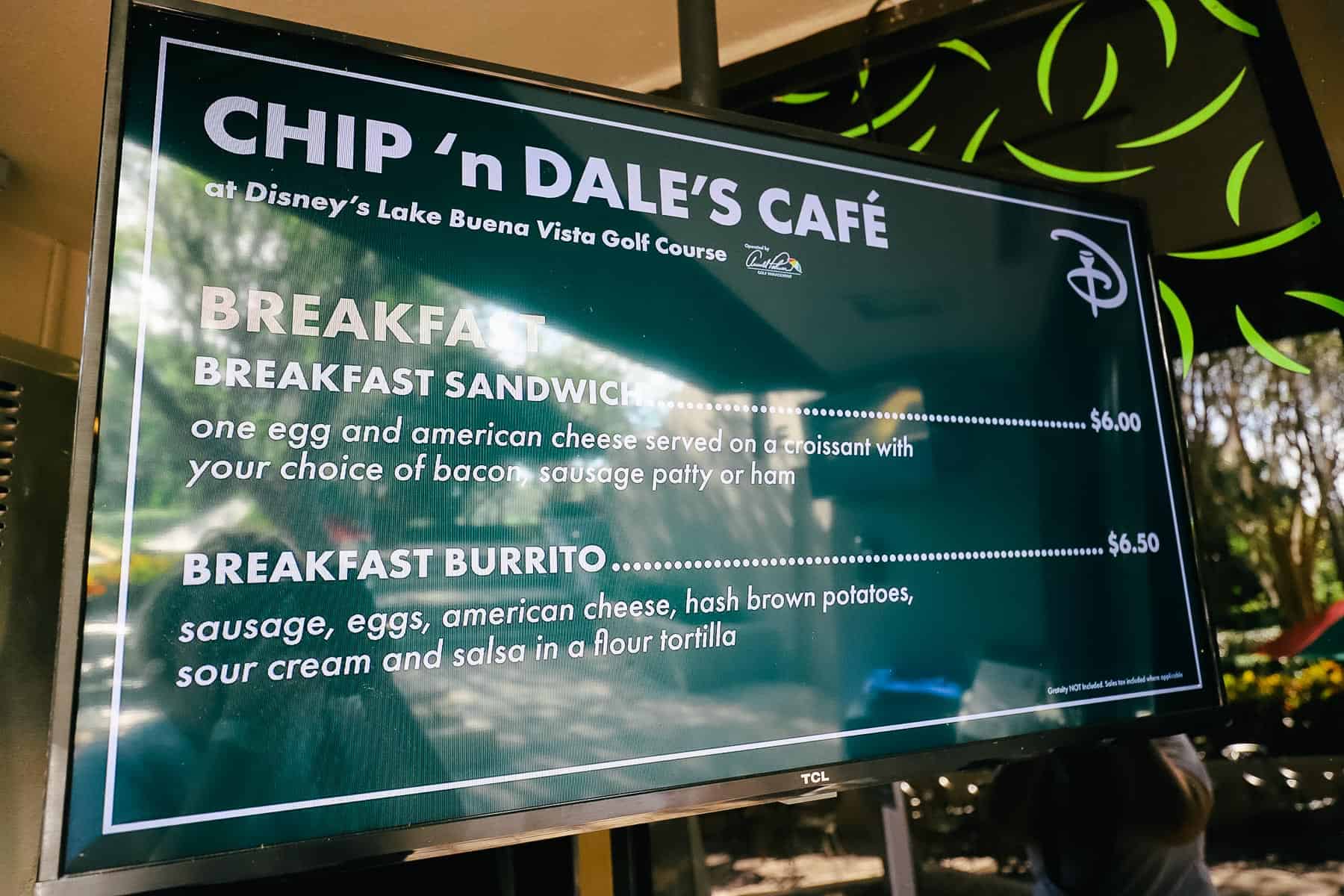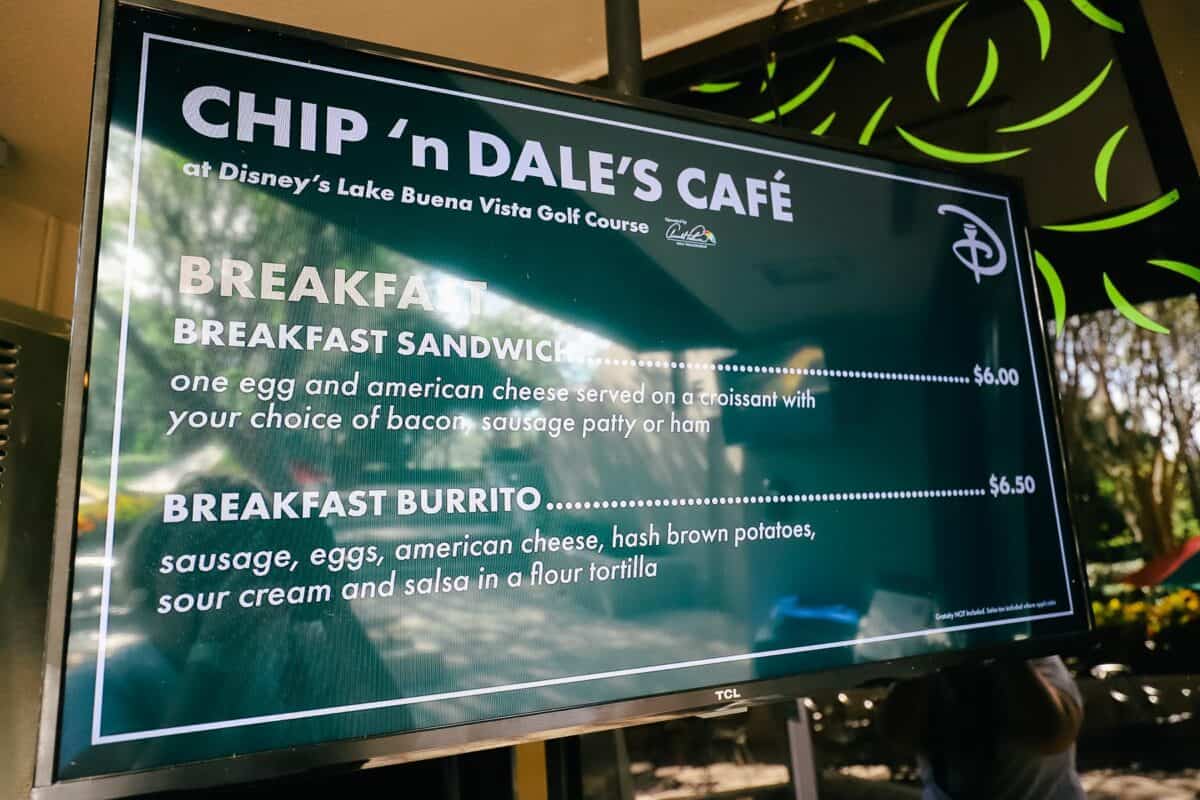 Snacks include chips, pretzels, peanuts, crackers, cookies, etc.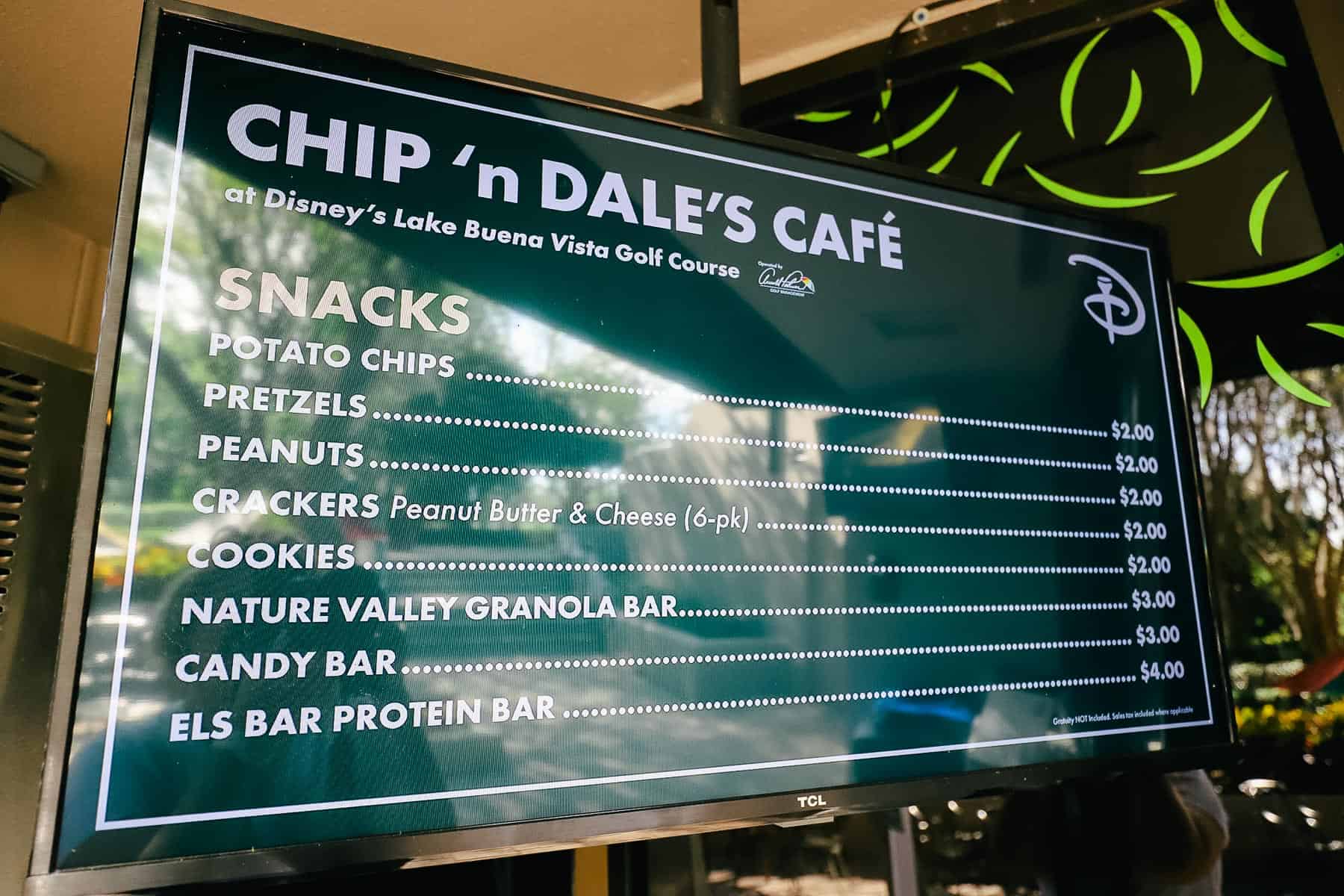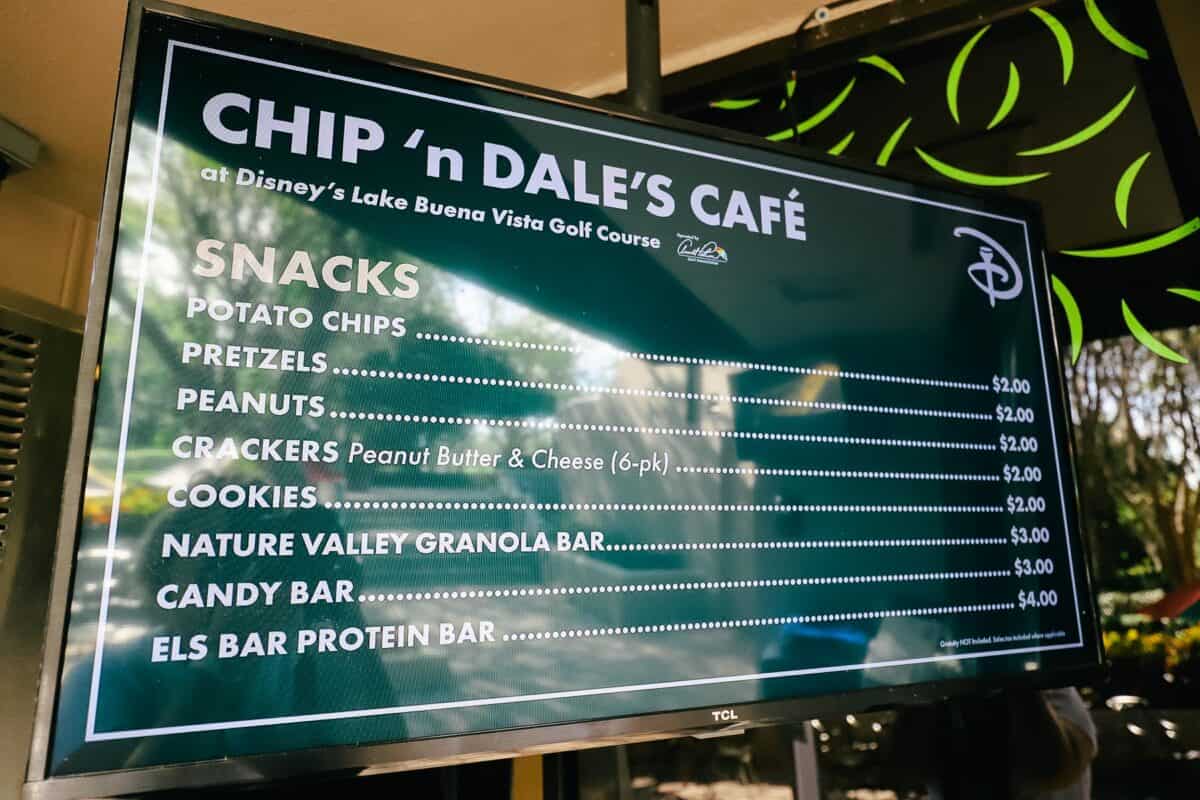 They have several Boar's Head meat sandwiches, a tuna salad sandwich, a chicken salad sandwich, and a country club sandwich for lunch. Per the menu, you can have the sandwich served on a gluten-free wrap or salad upon request.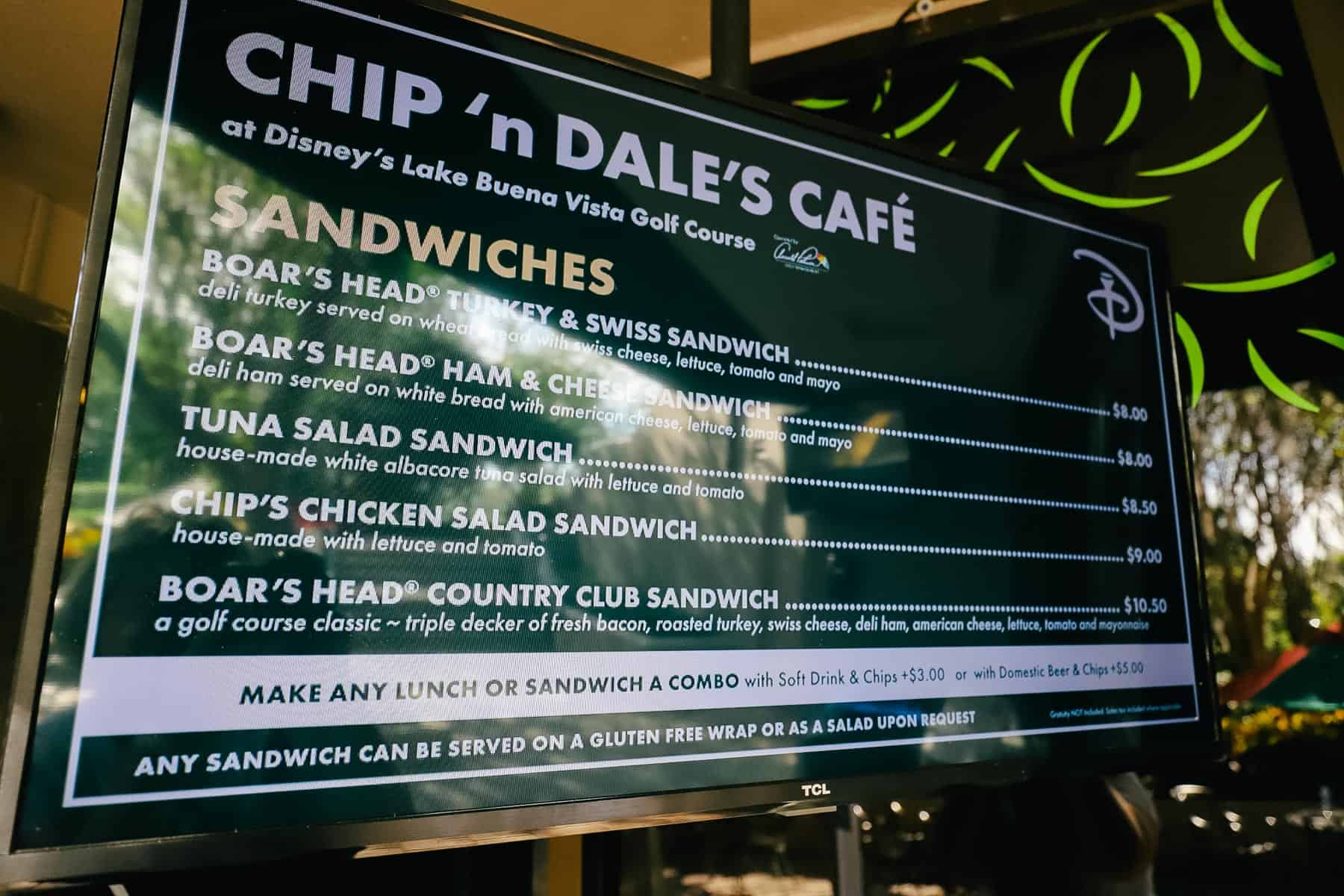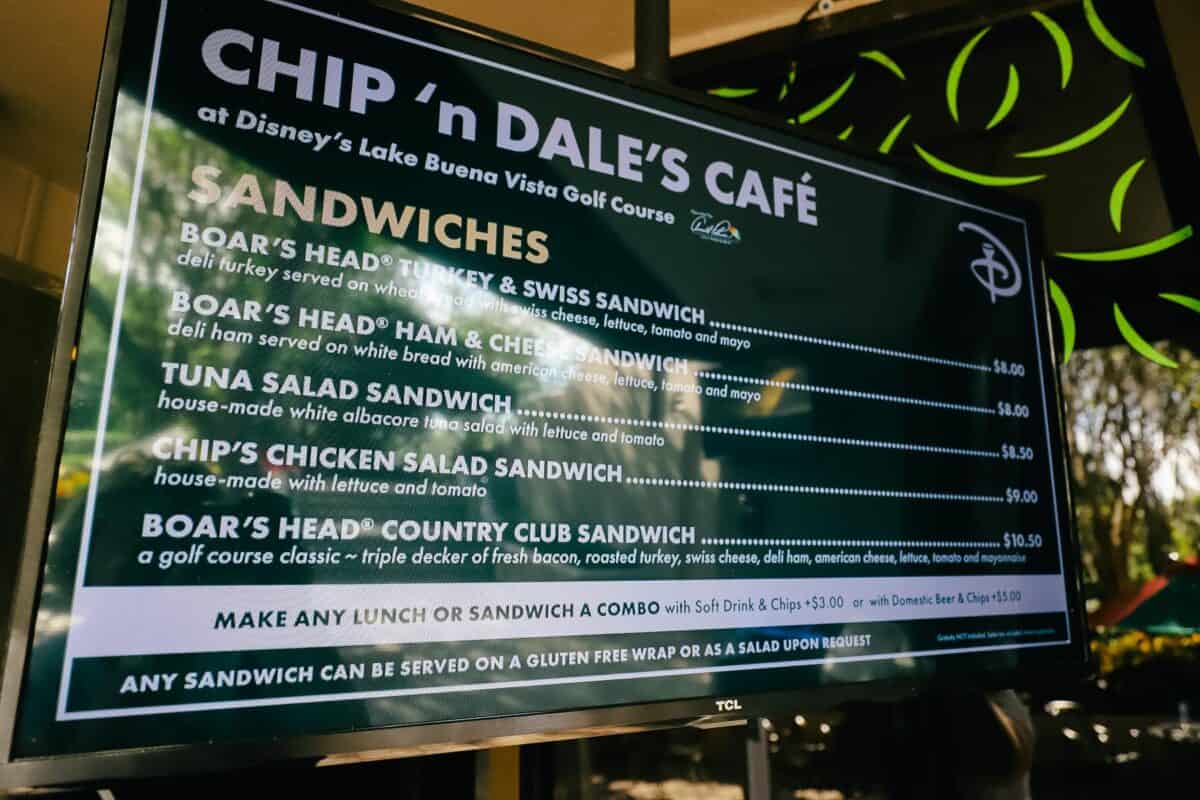 Other lunch items include:
Dale's All Beef Hot Dog
Ultimate Grilled Cheese
Chicken Bacon Quesadilla
Grilled Chicken Caesar Wrap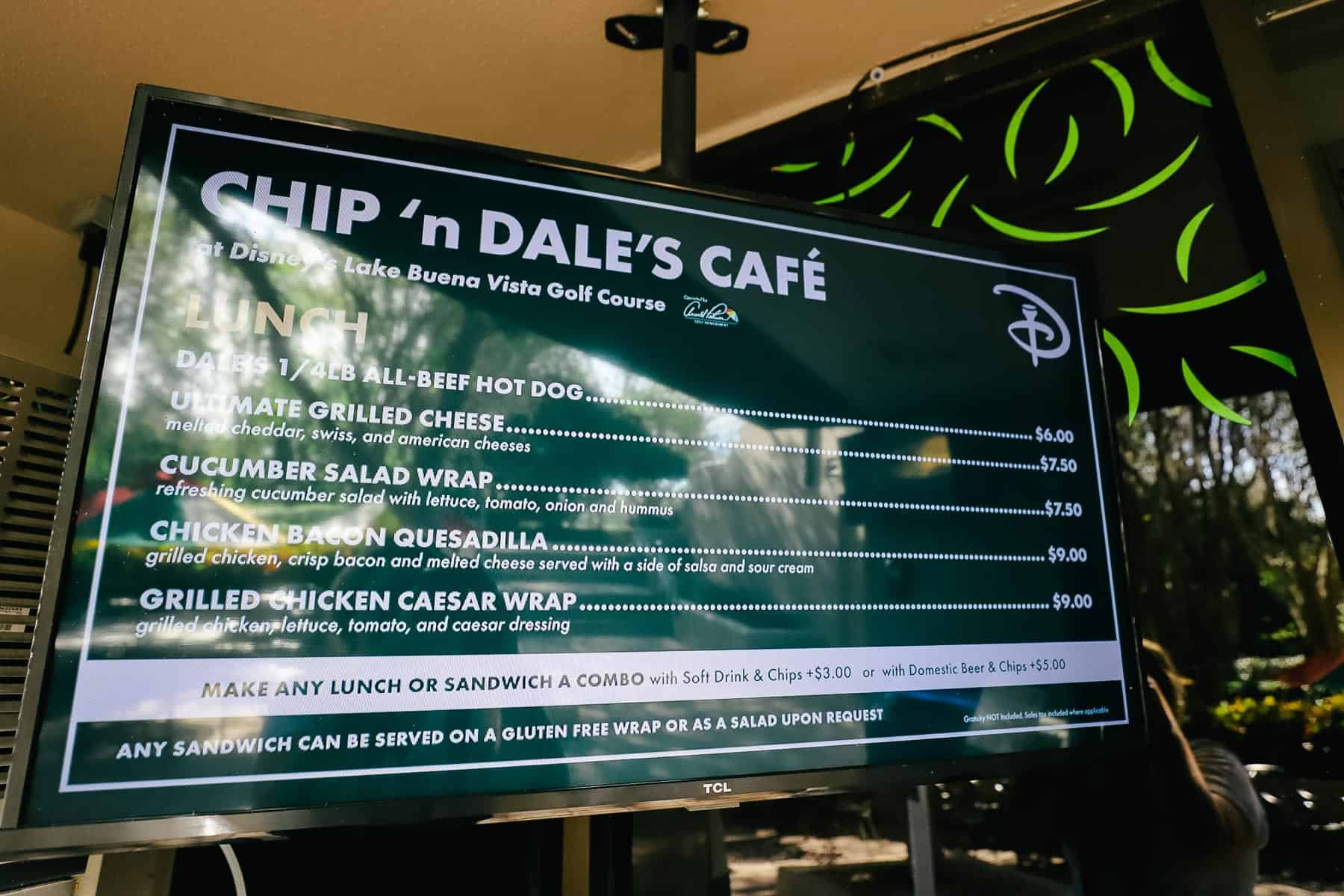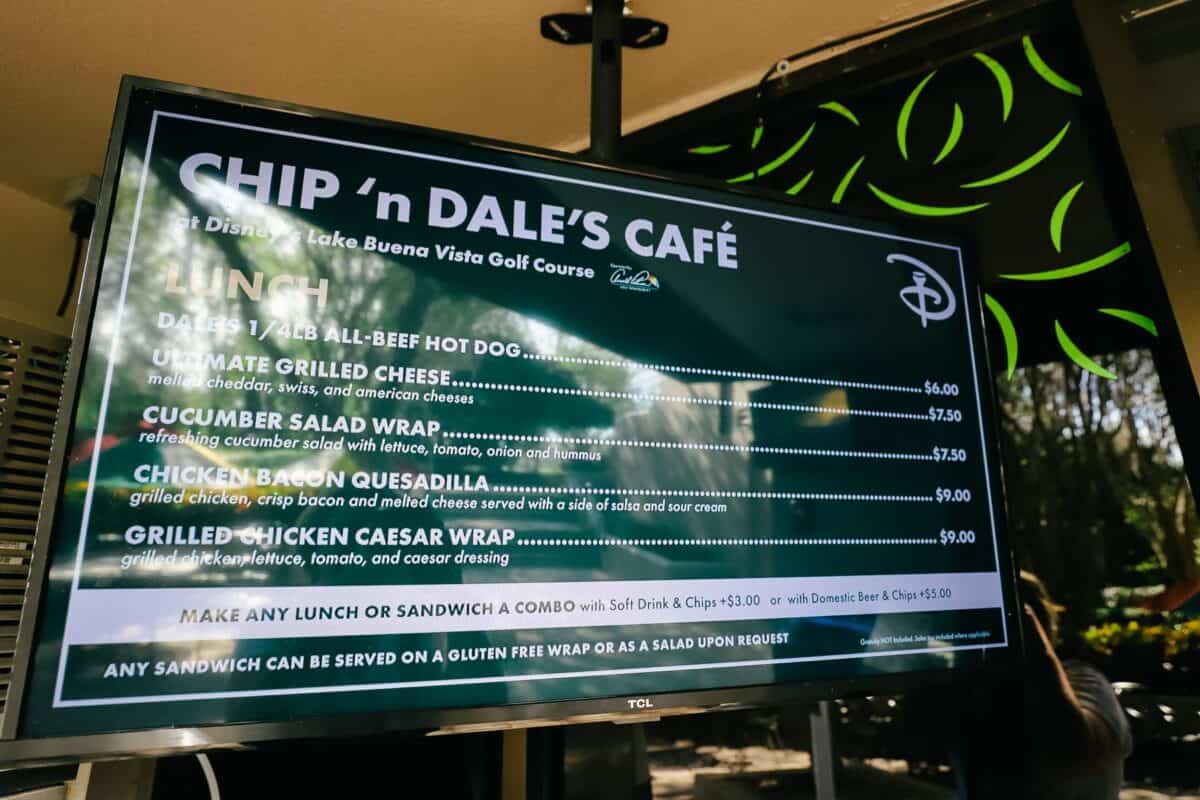 Here is their beverage menu. (If you're playing basketball, tennis, or taking advantage of the bike rentals at Saratoga Springs, this is an excellent place to grab reasonably priced water.)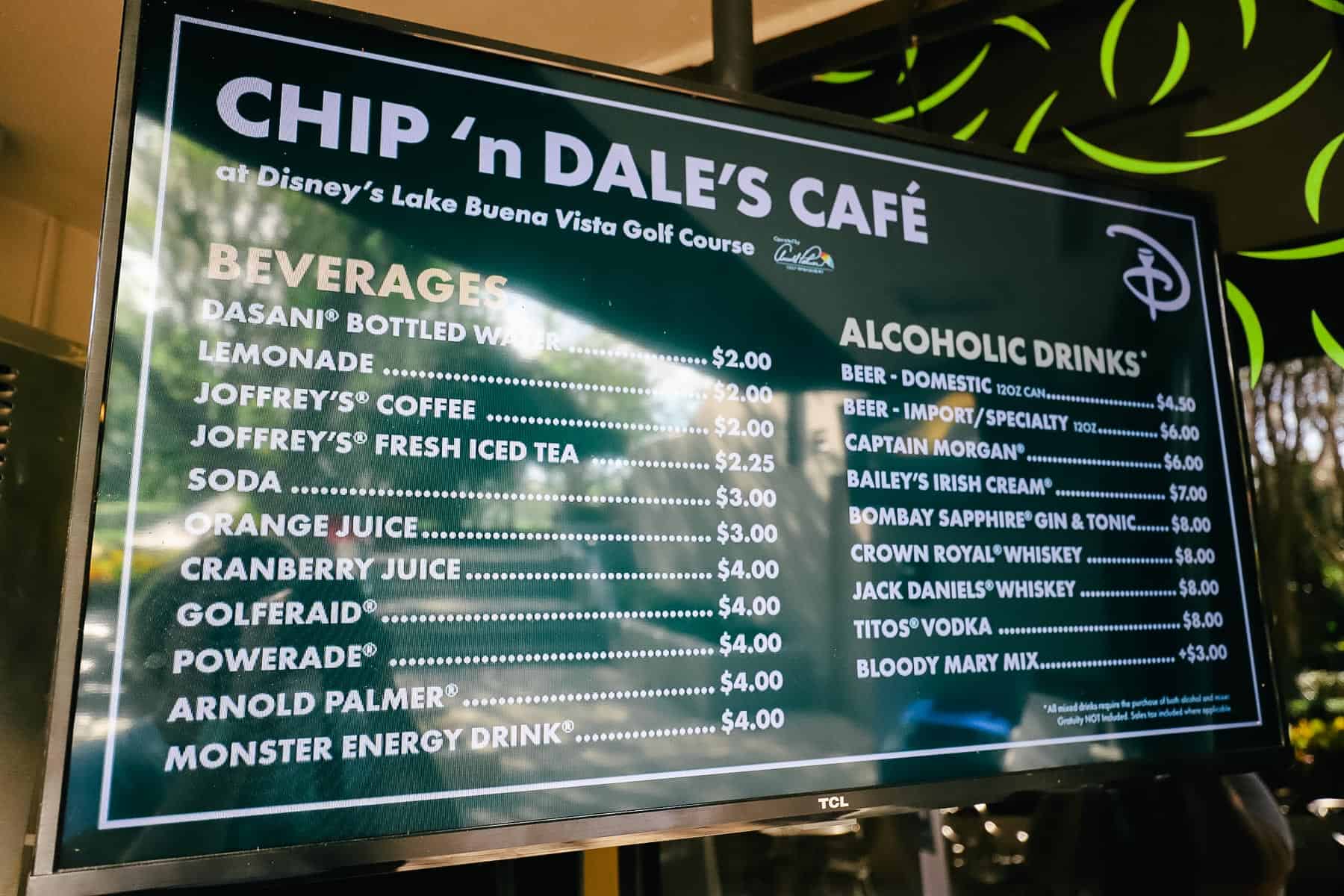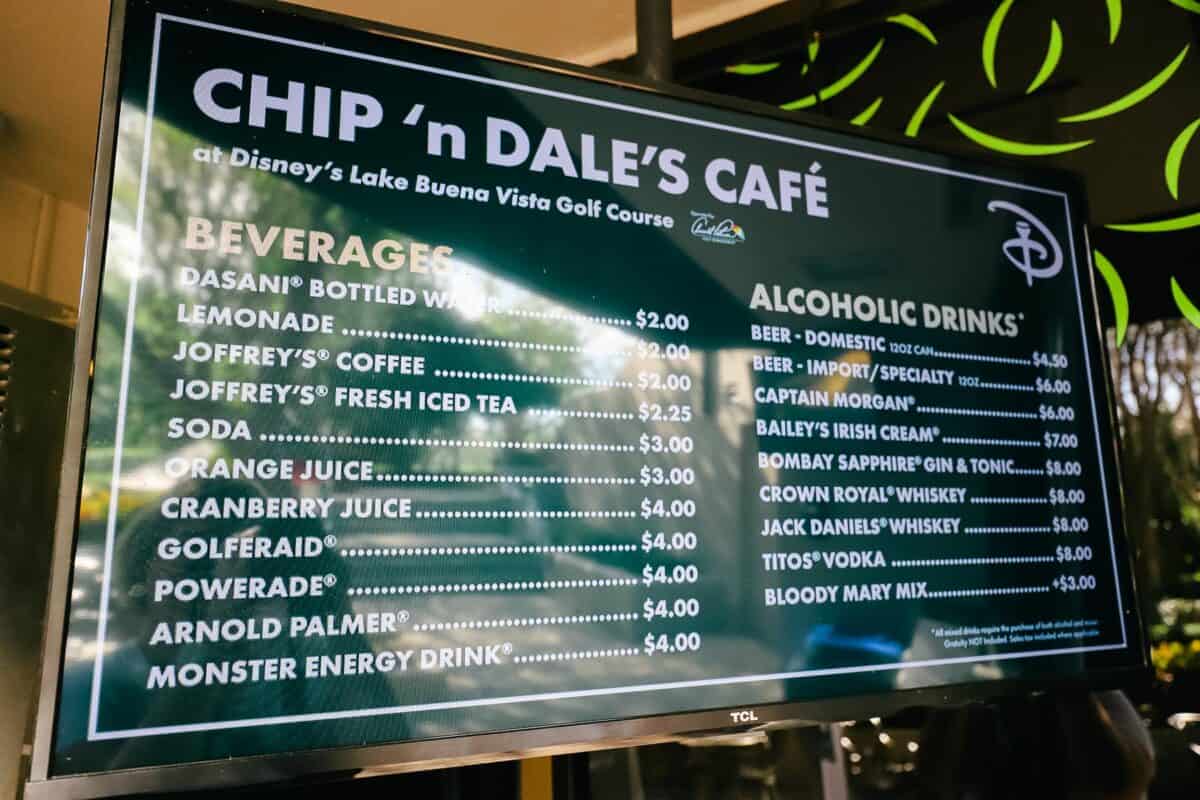 Final Thoughts on the Restaurants at Saratoga Springs
Overall, Saratoga Springs has a few good dining options across the resort. But an even better selection is available at nearby Disney Springs.
On my last stay, I wanted to walk over to Disney Springs for a meal instead of staying at the resort. However, for the sake of this article, I stayed and tried out The Artist's Palette.
When it comes down to it, lunch is lunch. For some of us, it won't matter as long as we get a decent meal.
But if you're a foodie like me, you're probably going to want to plan several meals at Disney Springs since you're staying so close. So if that's the case, you probably won't worry much about the restaurants at Saratoga Springs.
And if this leaves you wondering which restaurants you should try at Disney Springs, we have an entire article. Some favorites include Homecomin', Frontera Cocina, and The Boathouse.
Related: The Best Restaurants at Disney Springs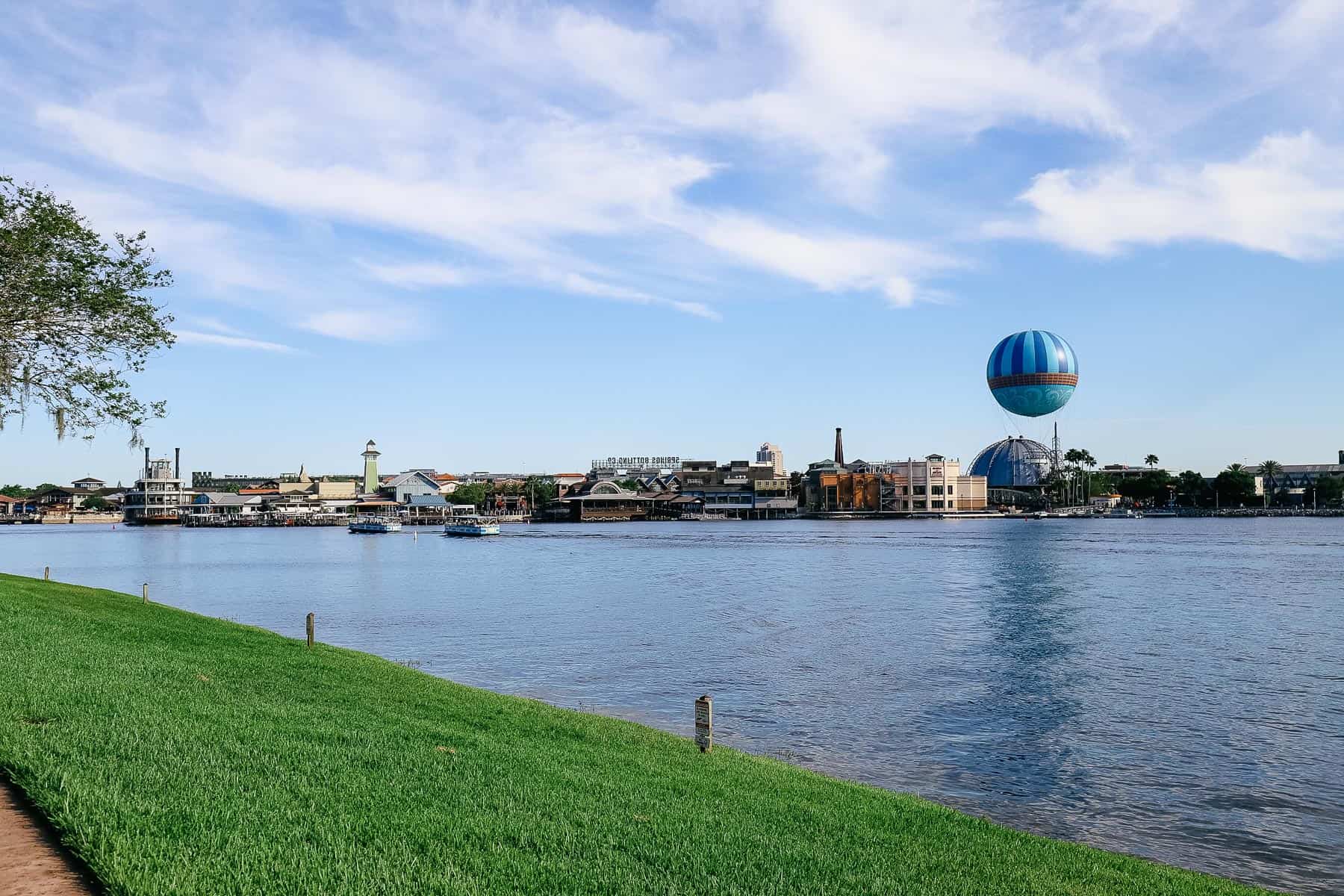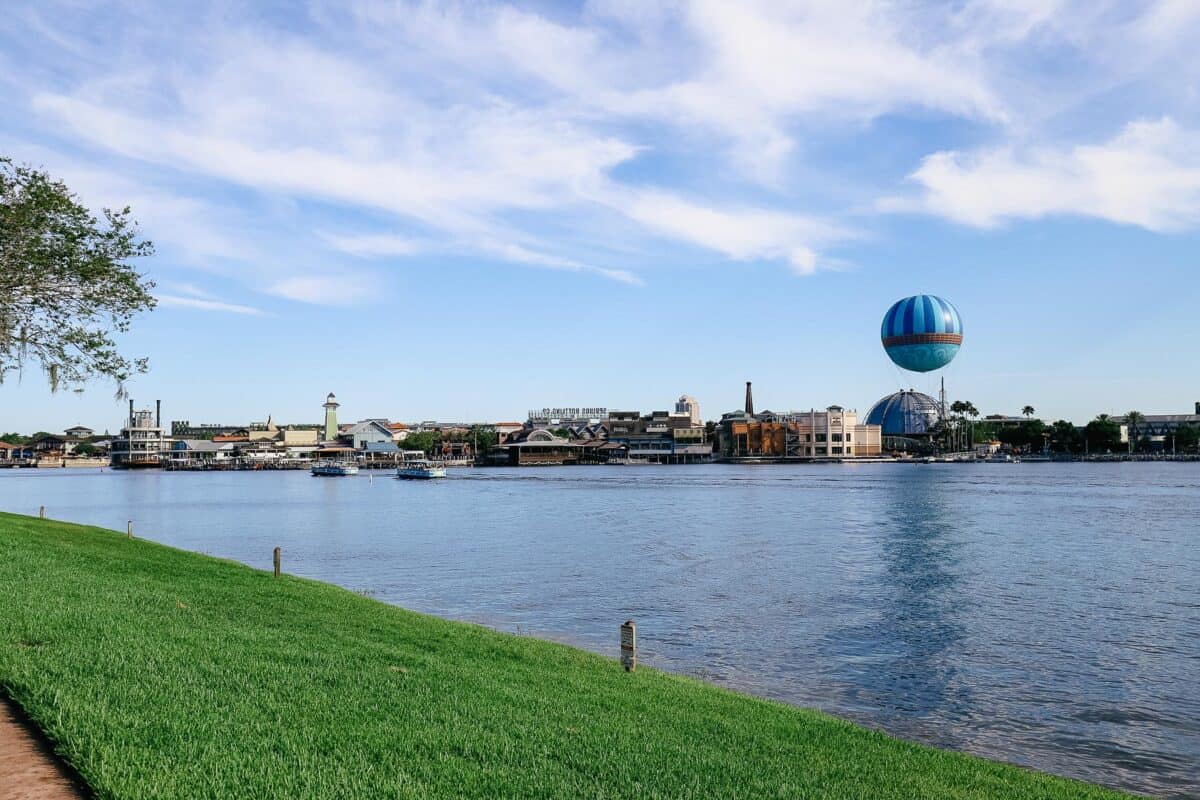 Hopefully, this dining guide gave you a good idea of where you can plan to eat at Saratoga Springs. We have several dining guides for other resorts you might be interested in browsing:
For more information about this resort, we have a guide that lists our related articles:
Or you might enjoy these individual articles:
In the Comments
What are your thoughts about the restaurants at Saratoga Springs? Do any of these look appealing? Share your thoughts or questions in the comments below.
Planning a Walt Disney World or other Disney Destination vacation?
Our friends and travel partner, Firefly Travels, excels at doing Disney differently. You can fill out a plan your trip form on their website, and someone will reach out shortly to discuss the specifics.