Disney's Saratoga Springs Restaurant Guide
Disney's Saratoga Springs Resort and Spa offers a variety of dining options to suit everyone's tastes. In this article, we'll preview the restaurants at Saratoga Springs.
Additionally, Disney Springs is only a short walk or boat ride away if you have a particular craving. The nearby venue offers over 60 different dining options.
Saratoga Springs Resort and Spa is a dedicated Disney Vacation Club Resort. Every room at the resort is considered a villa and offers amenities from a small kitchenette to a full-size kitchen in the larger units.
Therefore, many guests staying at the resort will prepare some meals in their rooms. And because of this and the nearby Disney Springs location, you won't find as many dining options as you might find at a resort comparable in size.
For instance, Animal Kingdom Lodge and Disney's Coronado Springs have many dining options at their resorts. However, those resorts sit to themselves and require alternate transportation to access other restaurants on Disney property.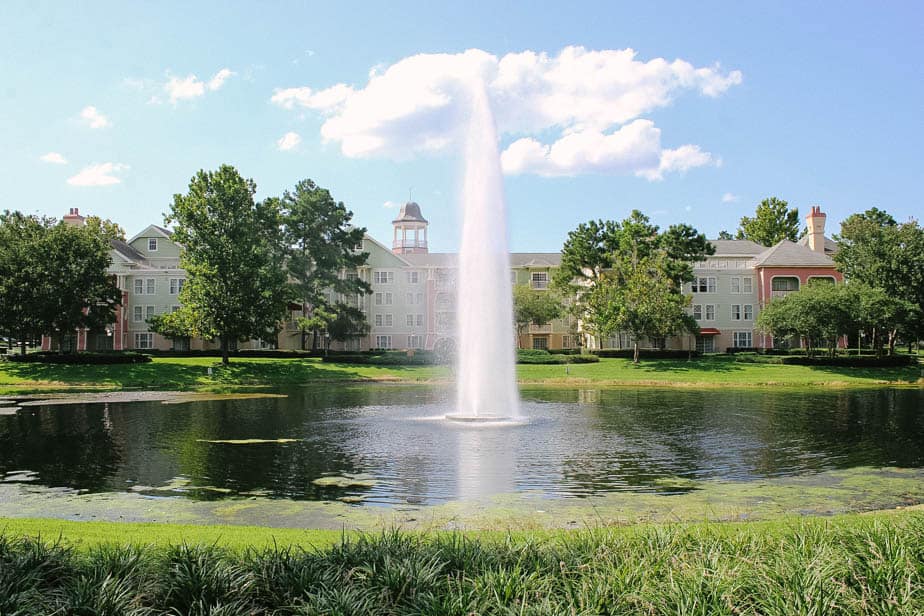 List of Restaurants at Saratoga Springs
As for Disney's Saratoga Springs restaurants, you'll find one table service restaurant, three quick-service locations, and three lounges. They are as follows:
The Turf Club Bar and Grill
The Turf Club Lounge
The Artist's Palette
The Paddock Grill
On the Rocks Pool Bar
Backstretch Pool Bar (doubles as a lounge)

Chip 'n' Dale's Cafe (golf course)
The Turf Club Bar and Grill
We'll start with Turf Club Bar and Grill, a casual table service restaurant that offers American fare. This feature restaurant sits adjacent to the lobby of Saratoga Springs.
Guests can dine at The Turf Club Bar and Grill starting February 3, 2022. The restaurant serves dinner daily from 4:30 p.m. until 10:00 p.m.
Signature offerings include prime rib and pan-seared salmon. You can preview the Turf Club's menu here on Disney's site.
In addition to the main dining area, an outdoor patio looks out to the golf course and lake. It offers a beautiful view.
The Artist's Palette
The Artist's Palette is a quick-service cafe that offers a variety of sandwiches and salads. The counter service location serves breakfast, lunch, and dinner.
This counter-service has indoor and outdoor seating. Or you can always take your meal back to your room and enjoy it there.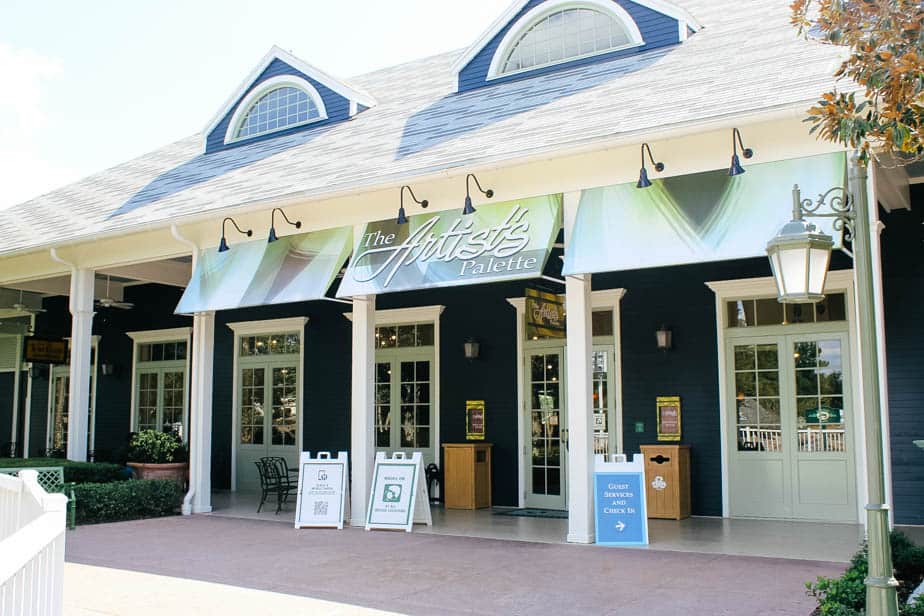 Artist's Palette is open daily from 7:00 a.m. until 11:00 p.m. You can mobile order in advance and then pick up your meal. Or you can order at the restaurant.
Artist's Palette menu (here on Disney) has items like quiche, shrimp and grits, and Mickey Waffles for breakfast. You'll find items like pizza, salad, and sandwiches for lunch and dinner.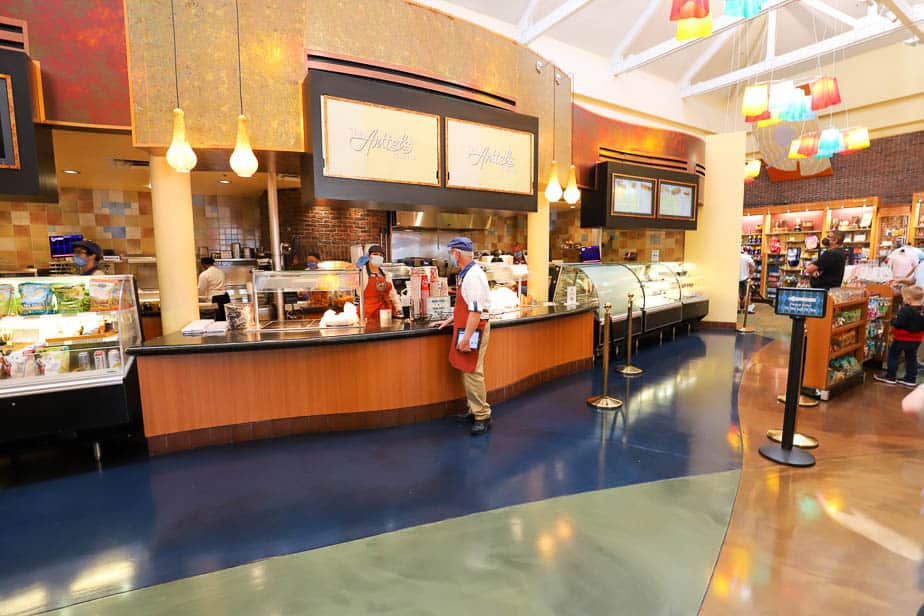 On a recent visit, I tried the cheesesteak sandwich that came with a side of housemade potato chips. The sandwich ended up being a good option and a full meal. I'll take any chance I get to enjoy an order of Disney's housemade chips.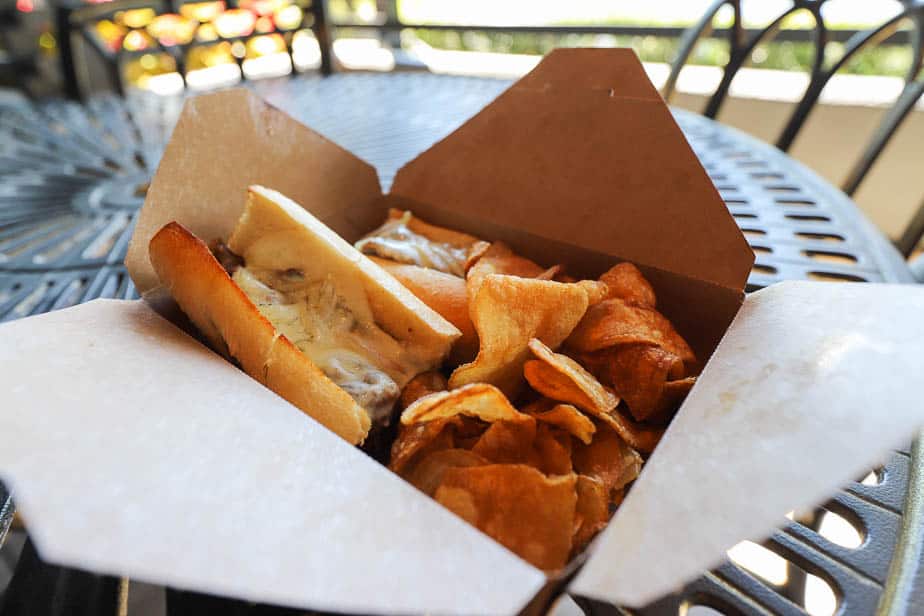 Additionally, you'll find various grocery items at the resort's counter service. At most resorts, these items are located at the gift shop. However, Saratoga Springs gift shop sits in an ample, open space adjacent to the counter service.
Related: The Artist's Palette Gift Shop at Saratoga Springs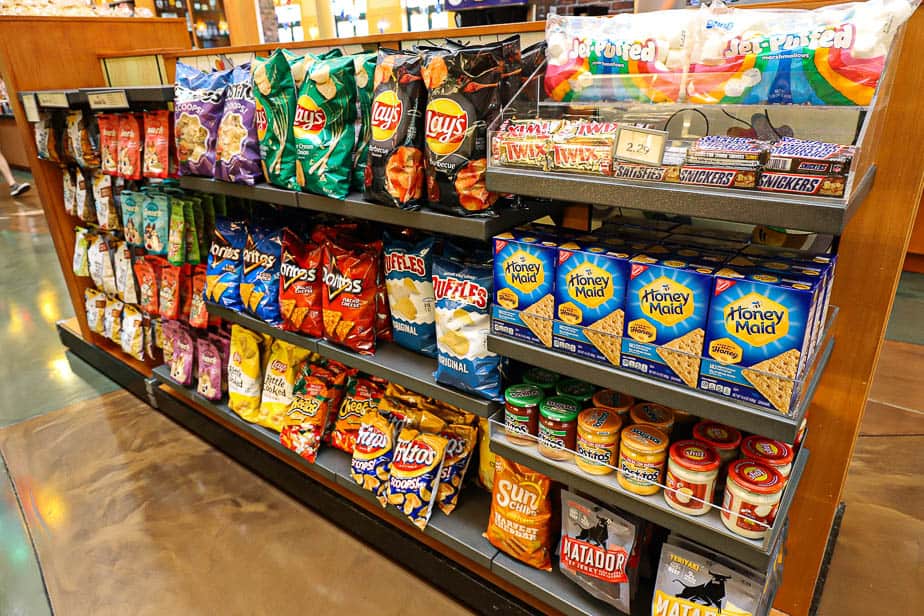 Most guests staying at the resort will likely bring their own groceries or have groceries delivered. But if the need for something arises, you should be able to find the bare necessities here.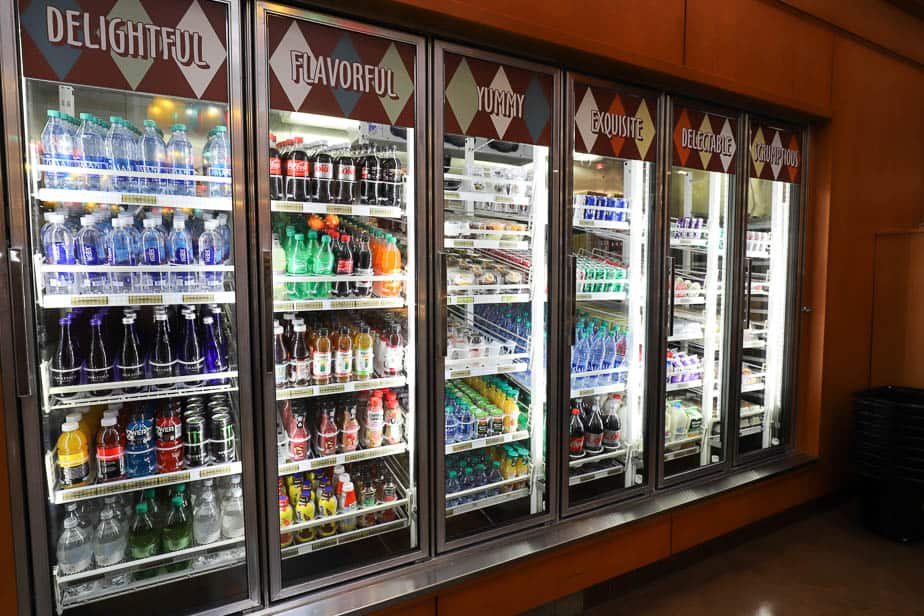 The Paddock Grill
The Paddock Grill is located at The Paddock Pool. This counter-service dining location serves breakfast, lunch, and dinner. I will be the first to admit that it's unusual to see a pool quick-service serve breakfast.
However, given the large size of the resort, I think it's warranted. The Paddock Pool is the resort's second feature pool. While I like both pools at the resort, I think this one has a bit of an edge over the main pool.
Related: The Pools at Saratoga Springs Resort
For lunch and dinner, you'll find items like a Cobb salad, shrimp tacos, burgers, and chicken nuggets. The menu is available here on Disney's site.
On the Rocks Pool Bar
The resort's feature pool, High Rock Springs Pool, is where you'll find the On the Rocks pool bar. Unfortunately, this location only serves beverages and cocktails.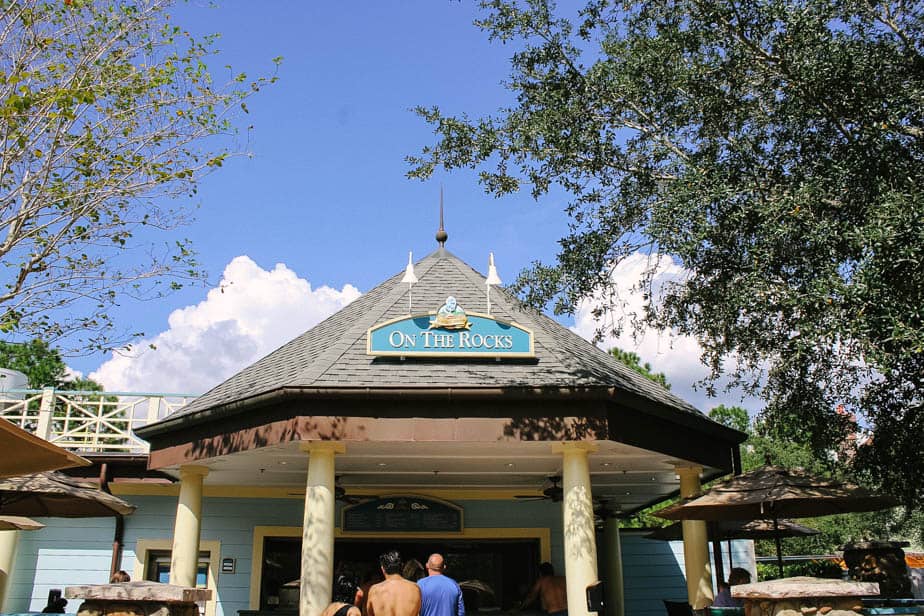 That's because this pool is located at the bottom of The Springs section of the resort. The Artist's Palette is located at the top of the pool area. You can mobile order and then walk up to the main counter-service to pick up your meal.

When I was working on this series of articles for Saratoga Springs, I noticed that On the Rocks was always busy. I felt that given the size of the resort and the feature pool area, more options should be available.
Backstretch Pool Bar
Over on The Grandstand side of the resort, there's the Back Stretch Pool Bar. Nobody needs to know how many times I've typed Back "scratch" pool bar and have had to go back and change it.
You may remember in our review of Saratoga Springs, we discussed how this pool serves as the quiet pool for The Grandstand and The Carrousel. The Carrousel is the only section of the resort that does not have a pool.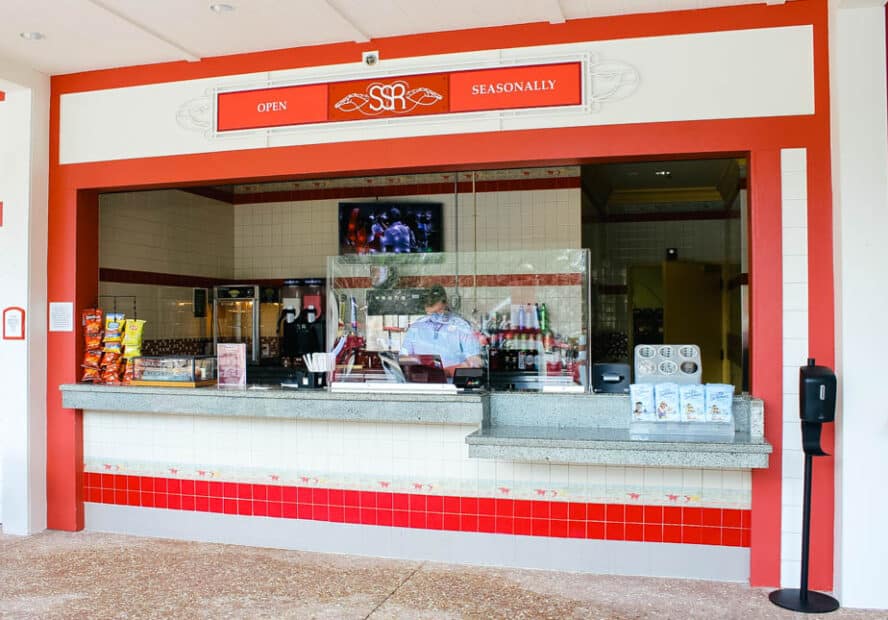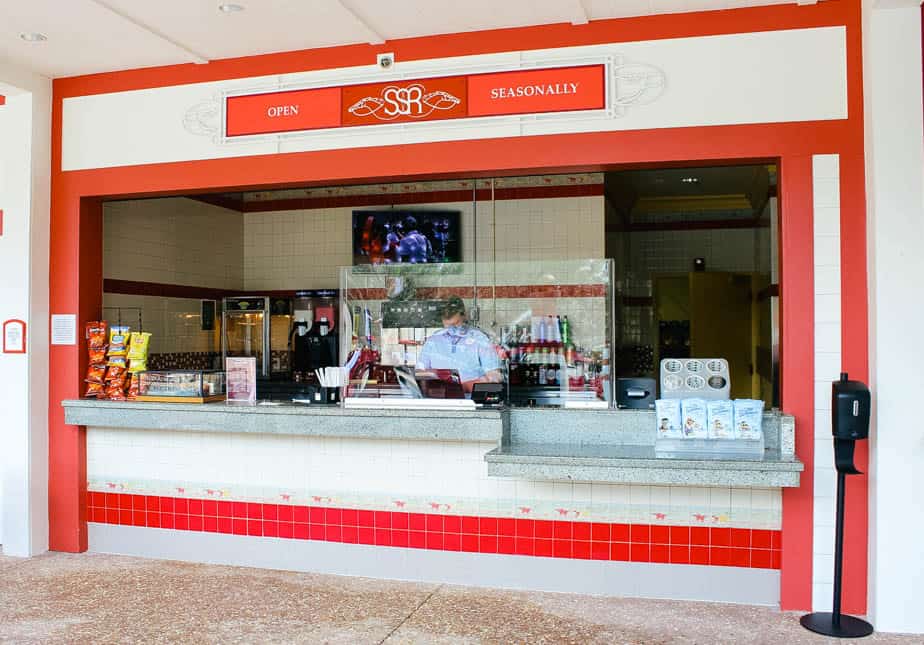 Backstretch's Poolside Menu listed pizza, sandwiches, snacks, and there's Uncrustables for the kids.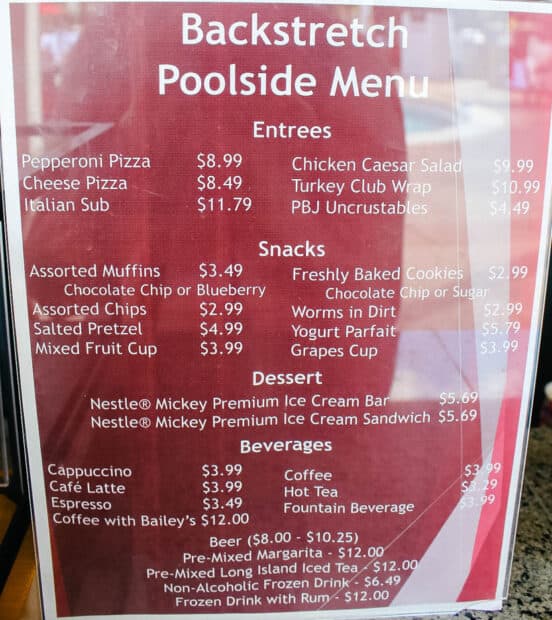 On this visit, the sole cast member working the area was a little overrun. He mentioned they were already out of many of the items listed.
While I don't think this is normal for the resort, it is a good indication that Disney is short-staffed at this time. So please remember to be patient with these cast members.
Lastly, Chip 'n' Dale's Cafe is located at the golf course. They serve a variety of pre-made sandwiches and snacks. You can also pick up a limited amount of breakfast items here on your way out to the golf course. The menu for this location is available here.
Final Thoughts on the Restaurants at Saratoga Springs
Most of these restaurant dining guides take a long time to complete. Unfortunately, Saratoga Springs just doesn't have that many restaurants. But I'm not necessarily sure they need more.
On my last stay, I found myself wanting to walk over to Disney Springs for a meal instead of staying at the resort. On the day I had the cheesesteak sandwich, I was considering walking over to Blaze Pizza for lunch.
However, for the sake of this article, I stayed and tried out The Artist's Palette. And when it comes down to it, lunch is lunch. For some of us, it won't matter as long as we get a decent meal.
But if you're a foodie like me, you're probably going to want to plan several meals at Disney Springs since you're staying so close. So if that's the case, you probably won't worry much about the restaurants at Saratoga Springs.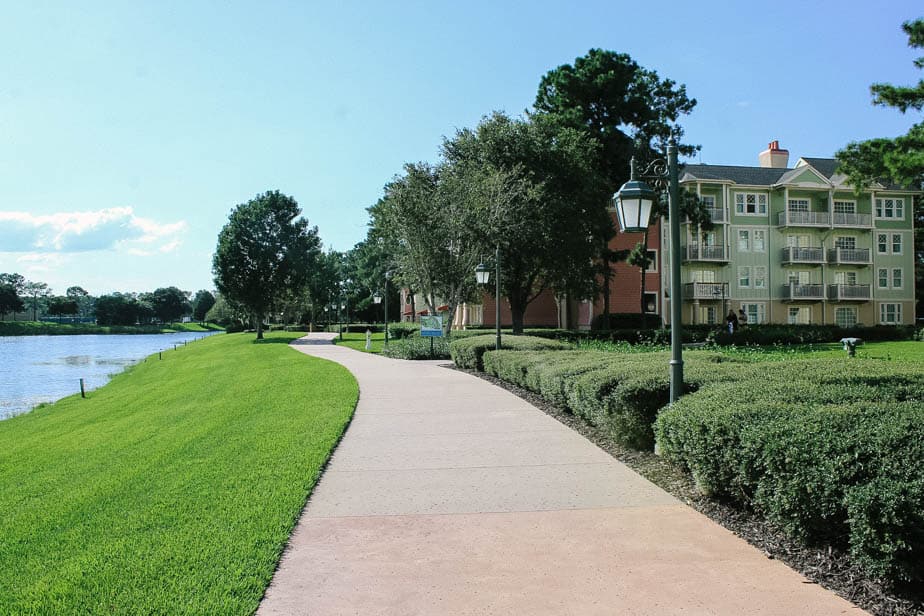 And if this leaves you wondering which restaurants you should try at Disney Springs, we have an entire article with updates for 2022. Some favorites include Homecomin', Frontera Cocina, and The Boathouse.
Related: The Best Restaurants at Disney Springs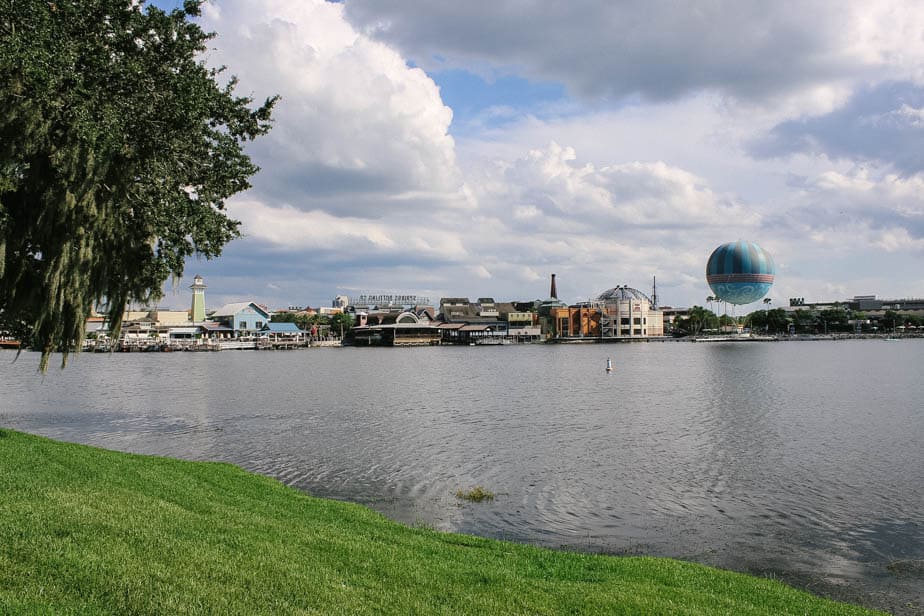 Hopefully, this dining guide gave you a good idea of where you can plan to eat at Saratoga Springs. We have several other dining guides for other resorts you might be interested in browsing:
What are your thoughts about the restaurants at Saratoga Springs? Do any of these look appealing? Share your thoughts or questions in the comments below.