Cape May Cafe Breakfast Review (Minnie's Beach Bash Breakfast Buffet)
This article provides a review of the character breakfast at Cape May Cafe at Disney's Beach Club Resort.
You'll find the lobby of Disney's Beach Club buzzing with guests if you walk through any time during breakfast hours. Most of those guests are waiting to check in or be seated at the character breakfast at Cape May Cafe.
When I say buzzing, I mean lots of families with small children. Usually, everyone is hungry and eager to get their seat. But, even more so, later in the morning, you'll find the guests who sacrificed eating breakfast earlier in exchange for a seat at Minnie's Beach Bash.
Only recently did Minnie's Beach Bash return with characters to Cape May Cafe. Earlier this year, the restaurant reopened character-less.
However, the entire entourage has once returned along with the traditional breakfast buffet. So grab a shovel and pail. We're off to Cape May Cafe to enjoy the character breakfast that is Minnie's Beach Bash.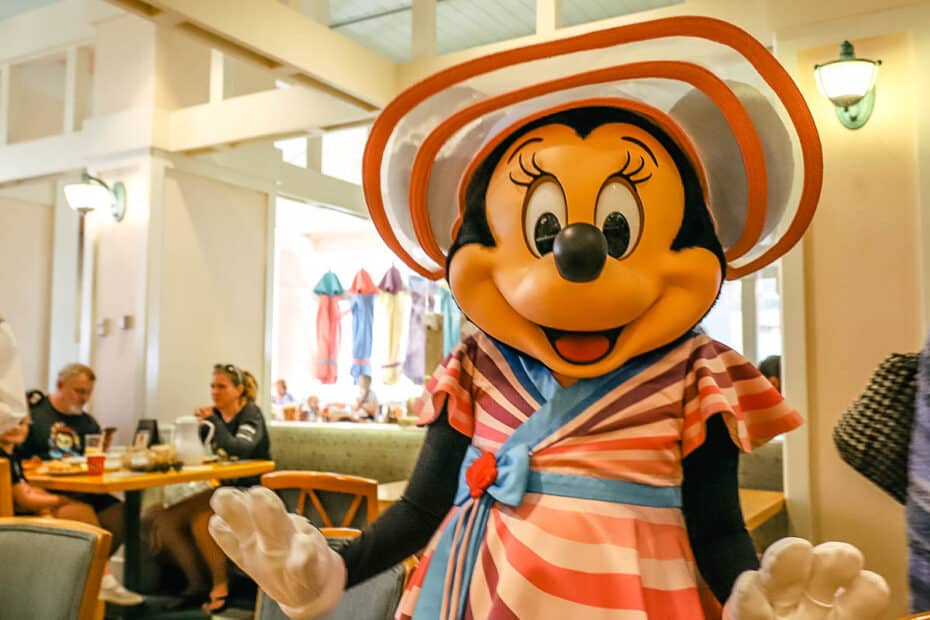 How It Started…
Earlier last week, I had plans to set sail on the Disney Wish with a few of my friends from Firefly Travels. My friend Anna Marie flew into town, and we rode to the port together.
On our way to Cape Canaveral, we decided to have a late breakfast at Walt Disney World upon our return. So Anna checked the My Disney Experience app, and a character breakfast for two at Cape May Cafe popped up after a few tries.
We both decided it was a great option. She wanted to try out the experience for her customers, and I had yet to review Cape May Cafe on the site.
It was an excellent decision because we also saw the 2022 gingerbread carousel at Disney's Beach Club. Of course, the carousel is only available through the holidays.
After a week spent mainly around adults on the Disney Cruise Line, I found the waiting area for Cape May a bit boisterous. Immediately, I noted to Anna that we were no longer at Serenity Bay.
With that said, I don't mind the enthusiasm of guests, young and old. So if you're taking small children (who could be noisy), don't worry. You'll fit right in with the majority.
However, if you prefer a more peaceful meal, you'll probably want to skip character breakfasts altogether. Alternatively, the character breakfast at Topolino's Terrace is a bit more refined. But I can't make any promises.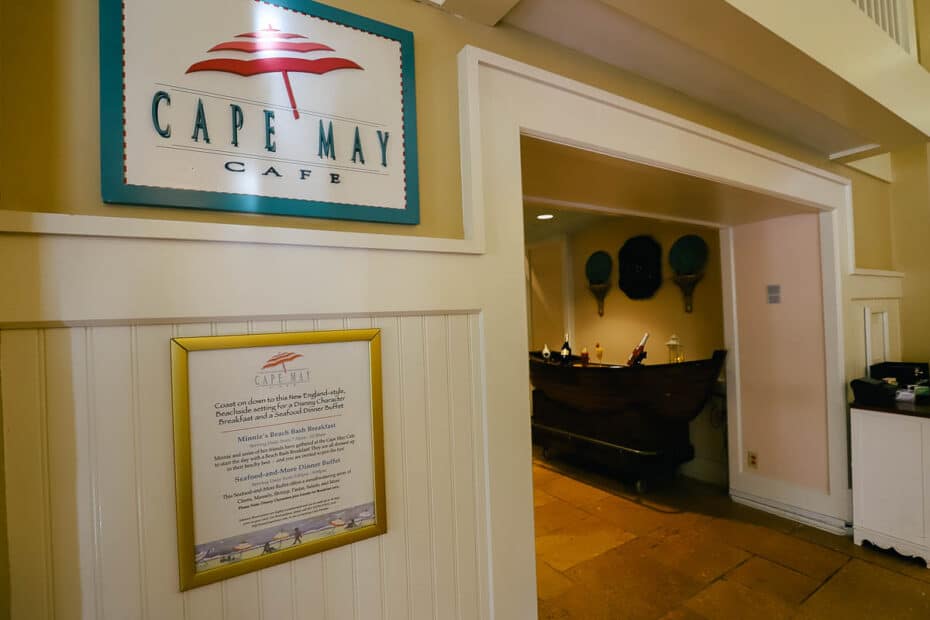 Minnie's Beach Bash Character Breakfast Buffet
When we arrived at the restaurant, I noted that Minnie's Beach Bash was $45.00 for adults and $29.00 for children. So for a family of four (two adults and two children), you're looking at spending approximately $150.00 plus tax and tip for this meal.
All total, that's somewhere in the range of $175.00. Note that's if your children are between the ages of 3 to 9 years old.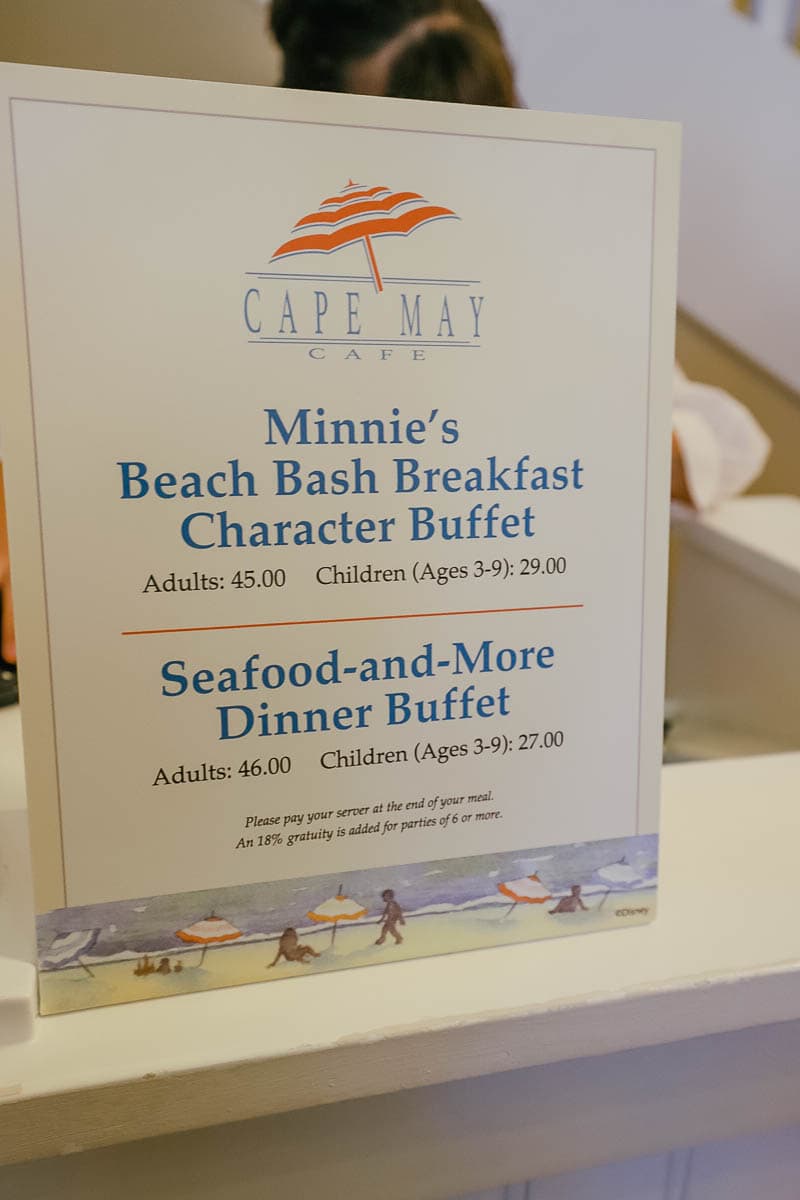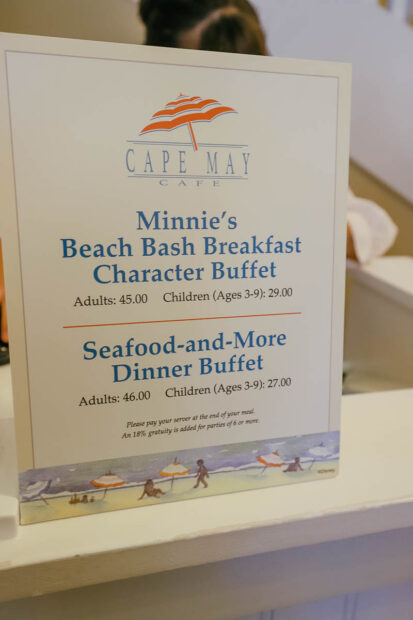 In the evenings, Cape May Cafe has a seafood-and-more dinner buffet. However, characters are only available at breakfast.
So don't show up at dinner hoping for crab legs with a side of characters for the kids'. You won't get either. Well, you could get crab legs for an extra cost. However, they are no longer included in the buffet.
Minnie's Beach Bash Breakfast is served daily between 7:30 a.m. and 11:30 a.m.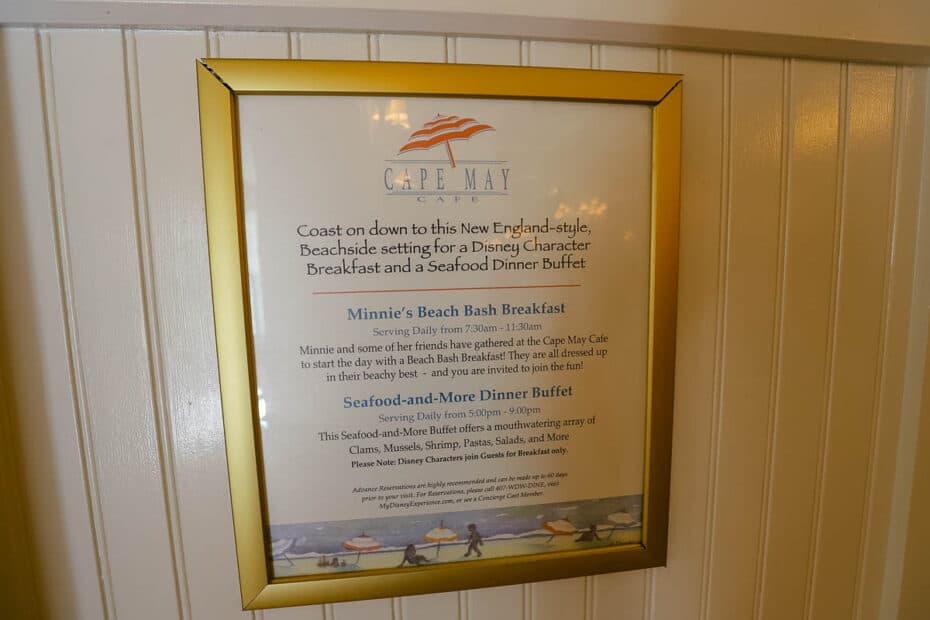 Inside the restaurant, you'll find beach theming that includes umbrellas and sand castle displays. It's a cheerful place to enjoy breakfast.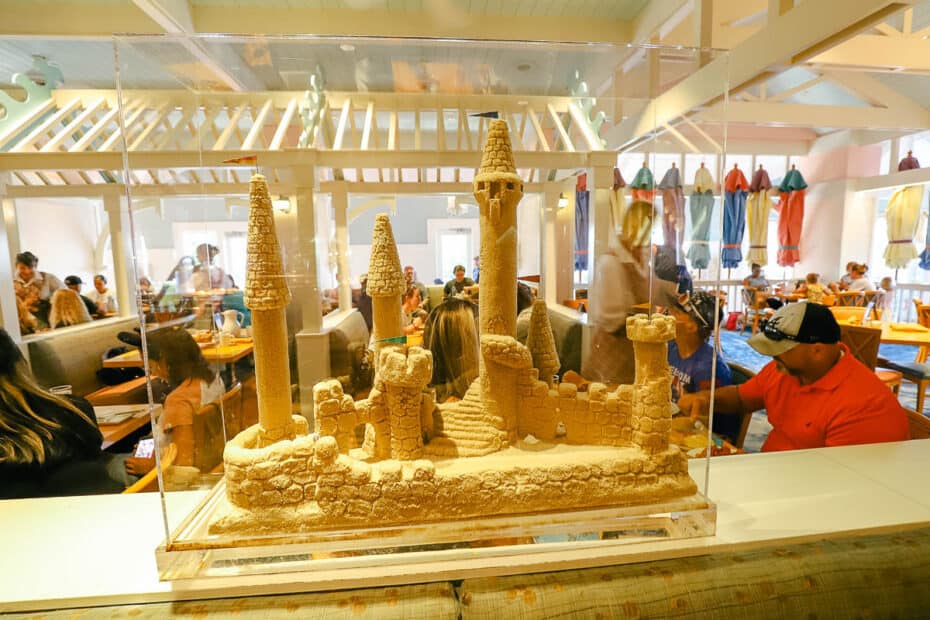 On the way to our seats, we noticed a few breakfast cocktails displayed. Several drinks were available to order at an additional cost. However, coffee, tea, and soda are included in the price of the meal.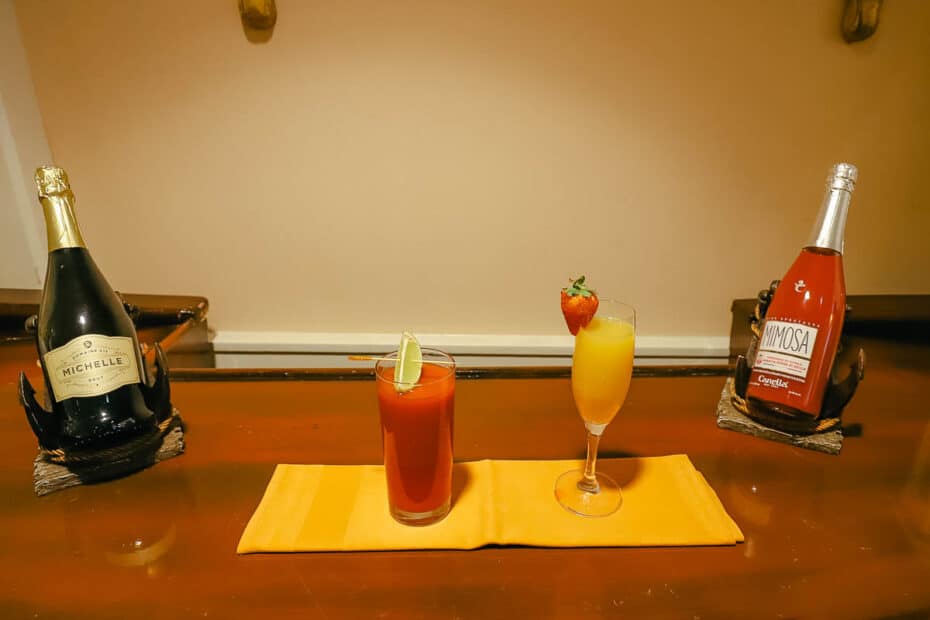 Cape May Cafe's breakfast buffet sits toward the middle of the restaurant.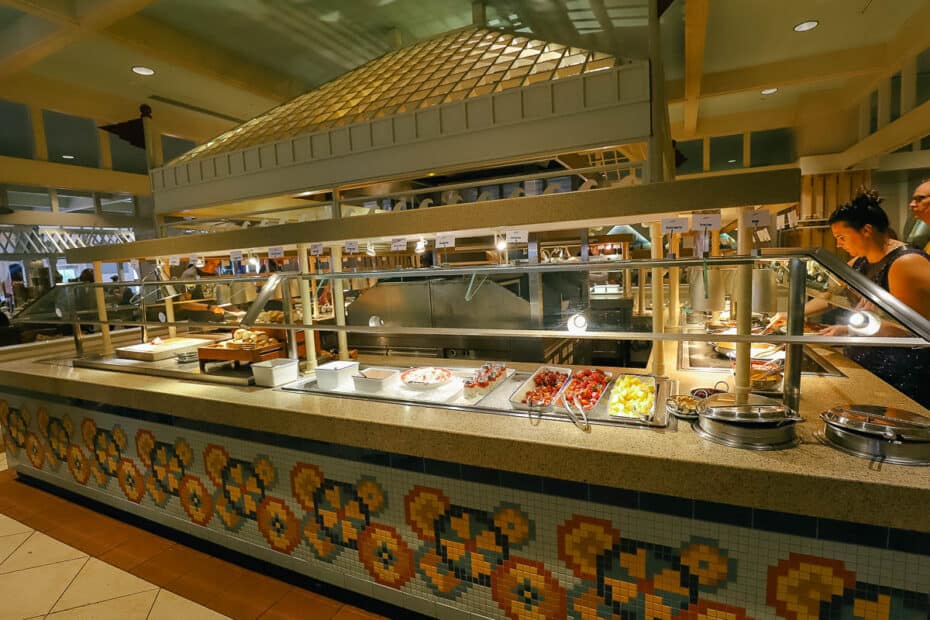 In addition to the buffet, there is an omelet station.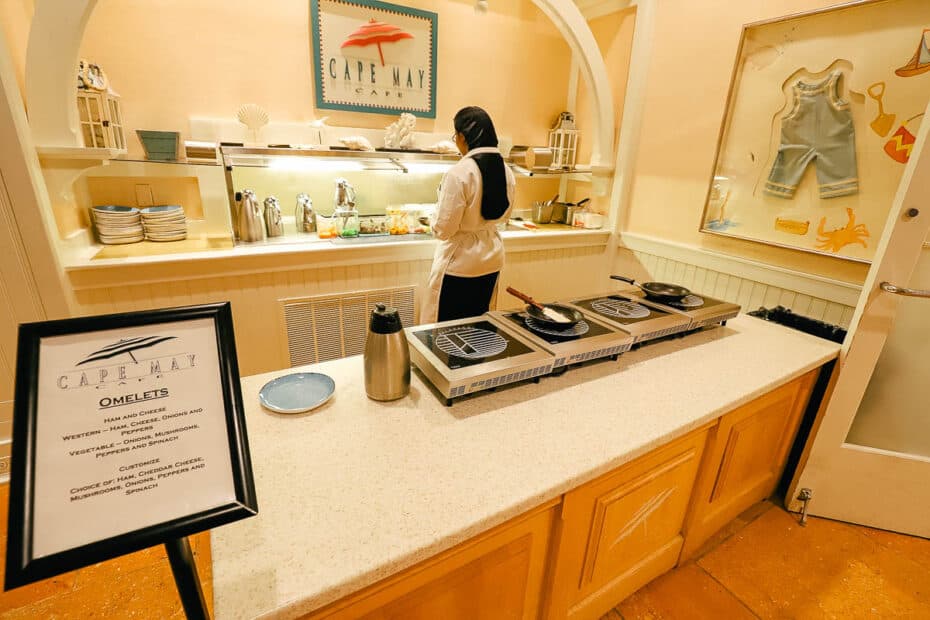 Choices for omelets included:
Ham and Cheese
Western (Ham, Cheese, Onions, and Peppers)
Vegetable (Onions, Mushrooms, Peppers, and Spinach)
Custom
Customization options included: Ham, Cheddar Cheese, Mushrooms, Onions, Pepper, and Spinach.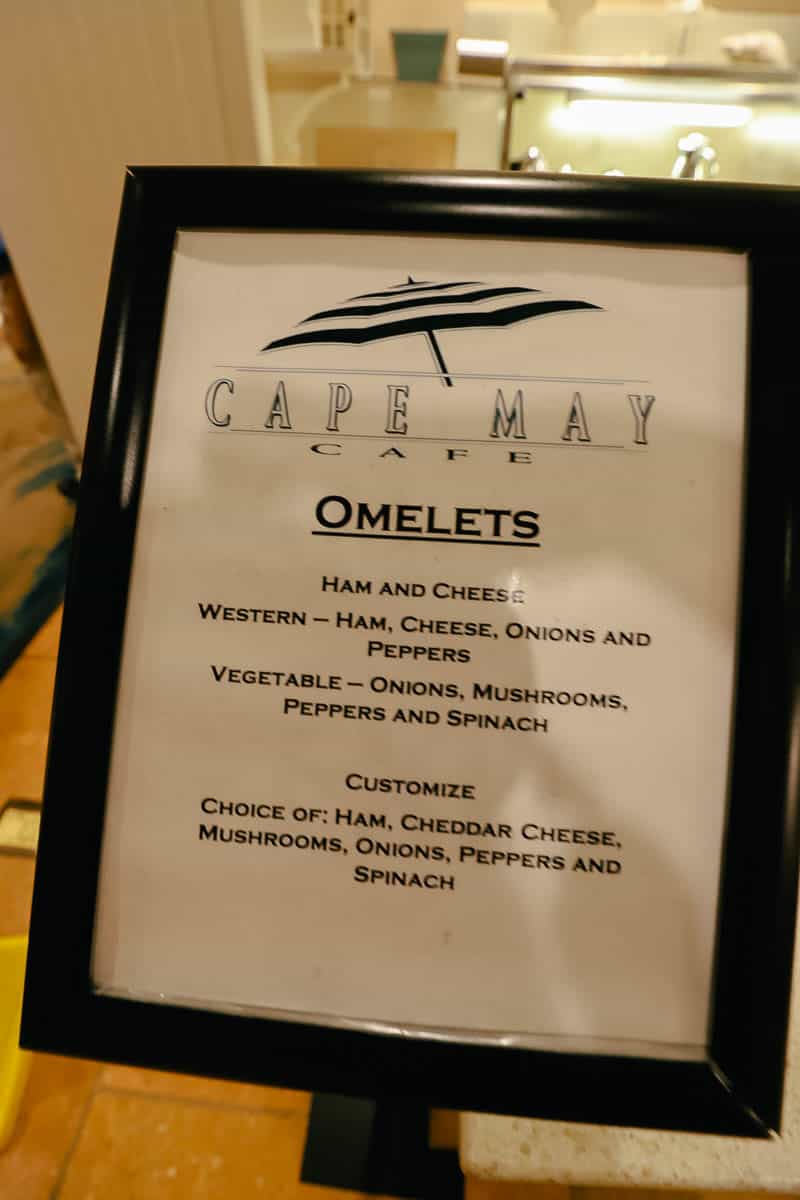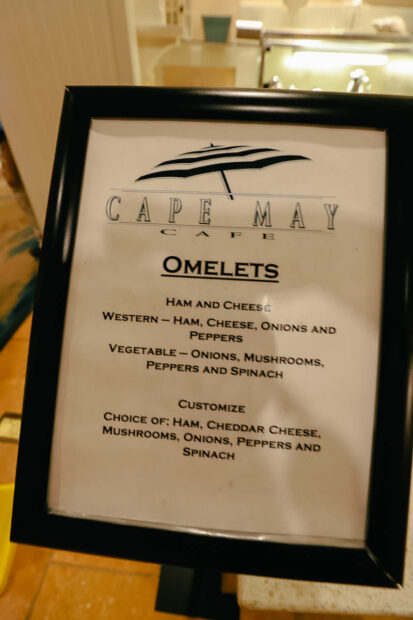 Like most buffets at Disney World, bread service is brought to the table. At Cape May Cafe, that bread service is salted caramel beach buns.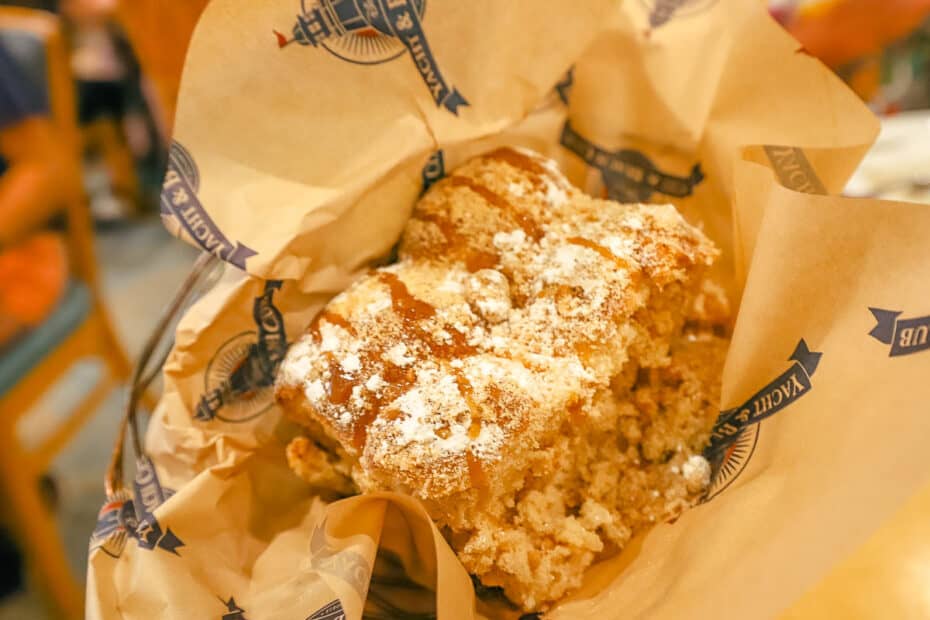 These rolls were soft and delicious. They were served with a vanilla cream sauce on the side.
If, for some reason, your server forgets to bring rolls out to the table, make sure to ask. They were the highlight of our meal.
As far as the buffet goes, I walked around and took photos of all the items so you could see what's available. Like most character meals, the food is pretty generic.
I'm not saying it's not good, but it's not great, either. Most of these items you could order at one of the value resort food courts.
First, we have a large station of carbohydrates.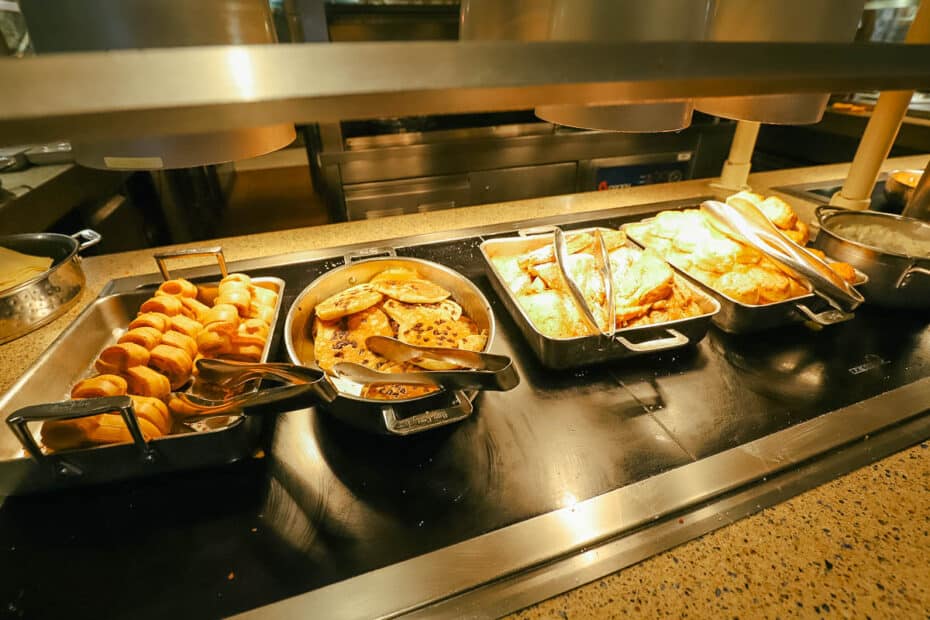 Items include Mickey-shaped waffles and chocolate chip pancakes.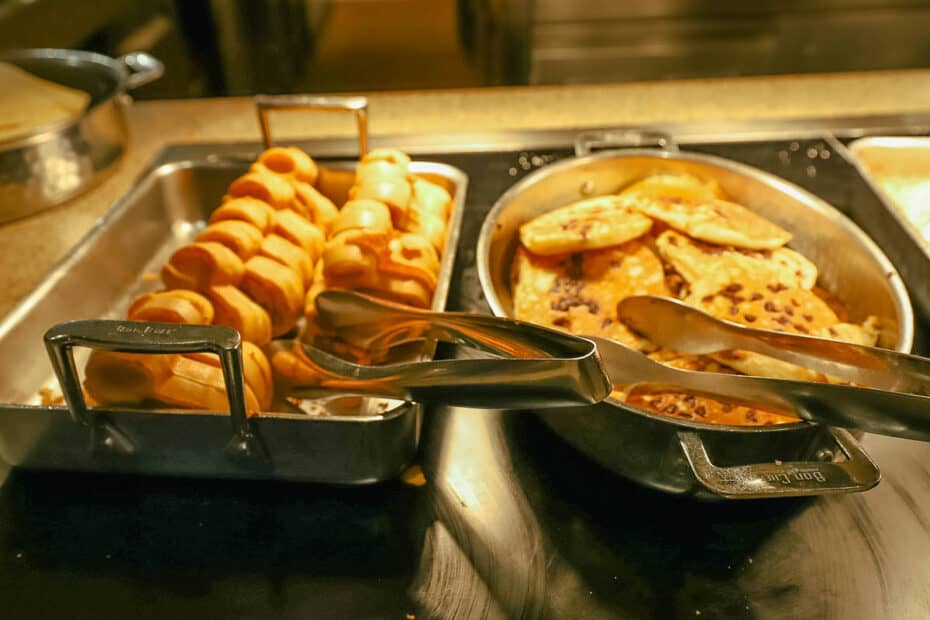 Then there's French Toast and biscuits.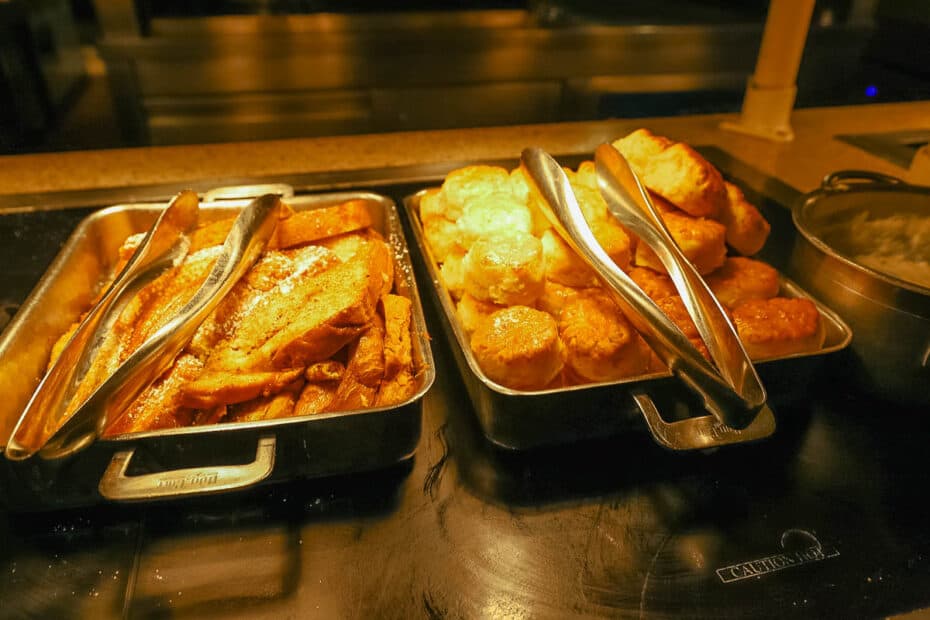 Those biscuits come with a side of gravy. Per the menu, they were cheddar biscuits and gravy.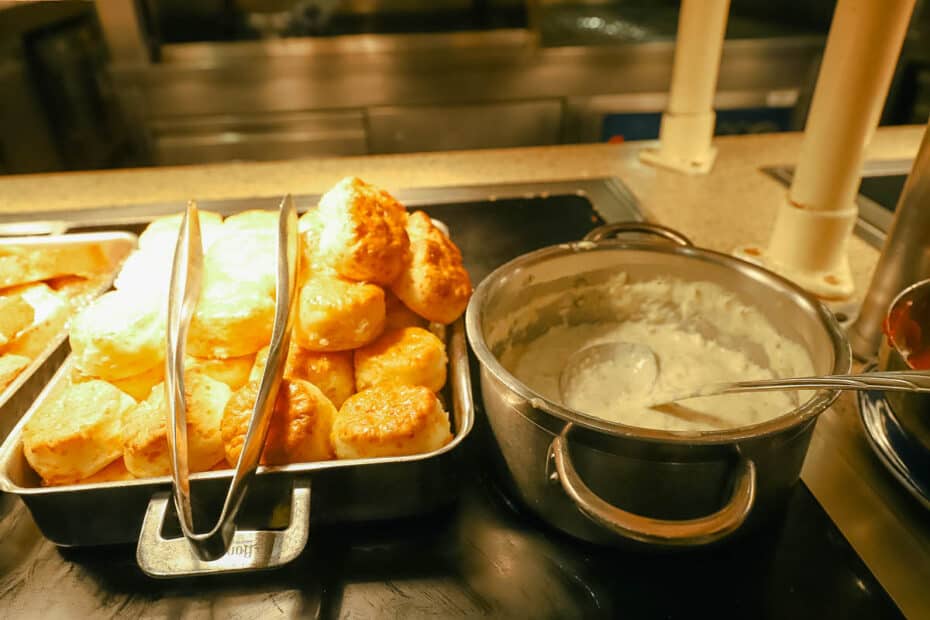 Then we have roasted potatoes and sausages.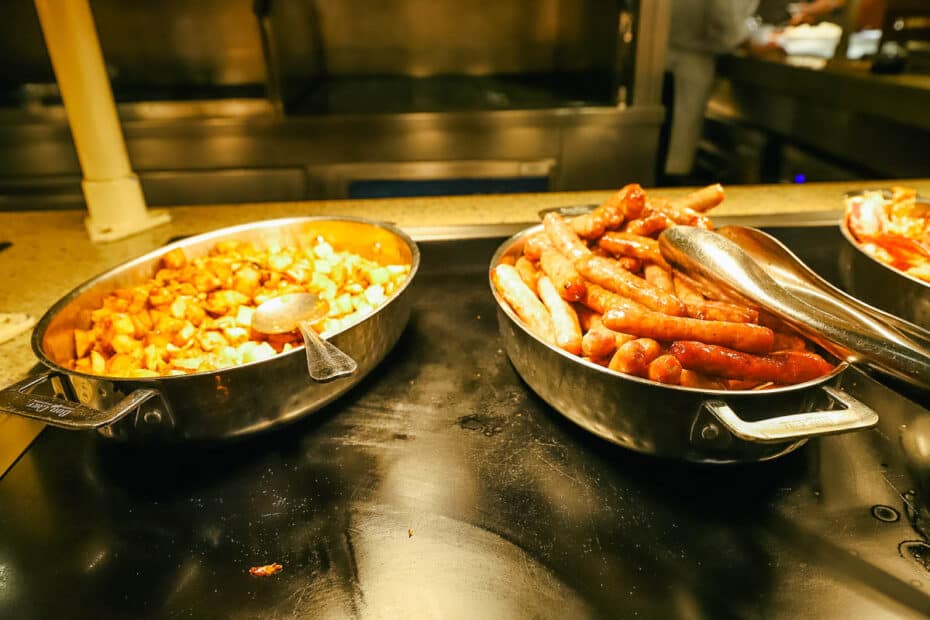 And there's bacon with scrambled eggs.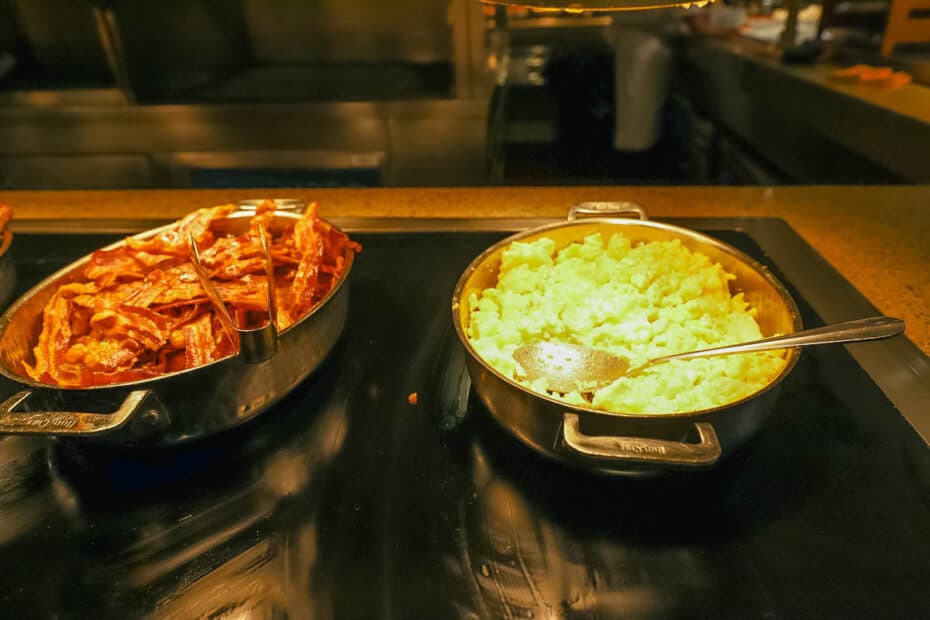 Around the corner, there were Parker House Rolls, which reminded me of Ale and Compass. That restaurant is within walking distance and offers better food for a lower price minus the characters. (It's one of our favorites.)
Related: Ale and Compass Breakfast Review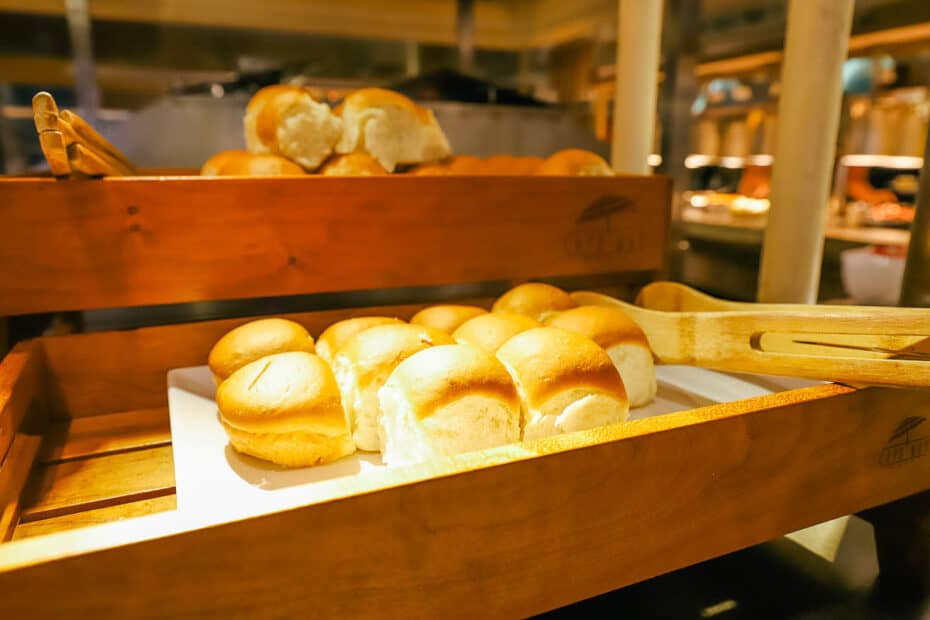 Next to the rolls, there's a carving station with ham.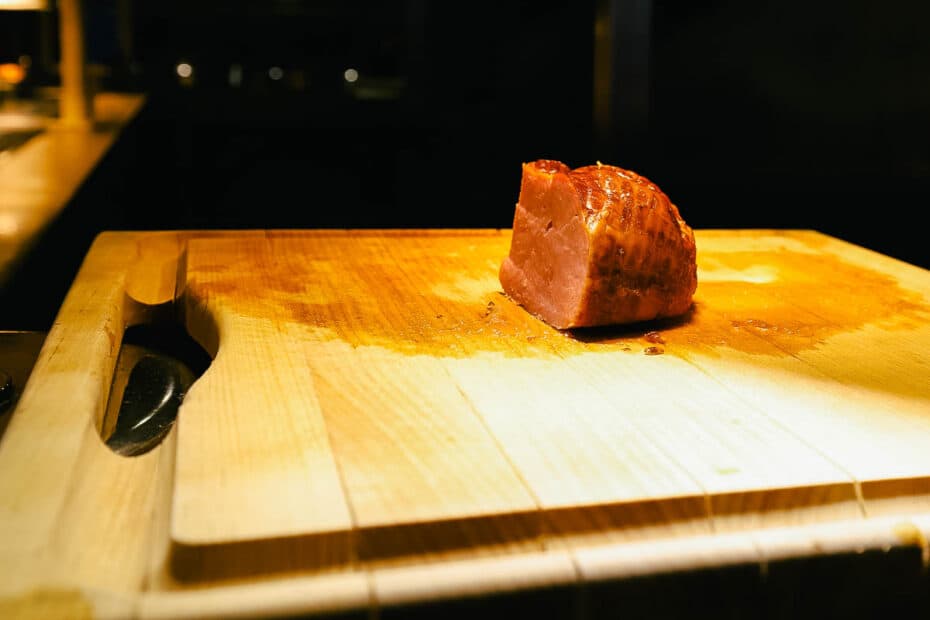 Fruit selections included grapes, strawberries, and pineapple.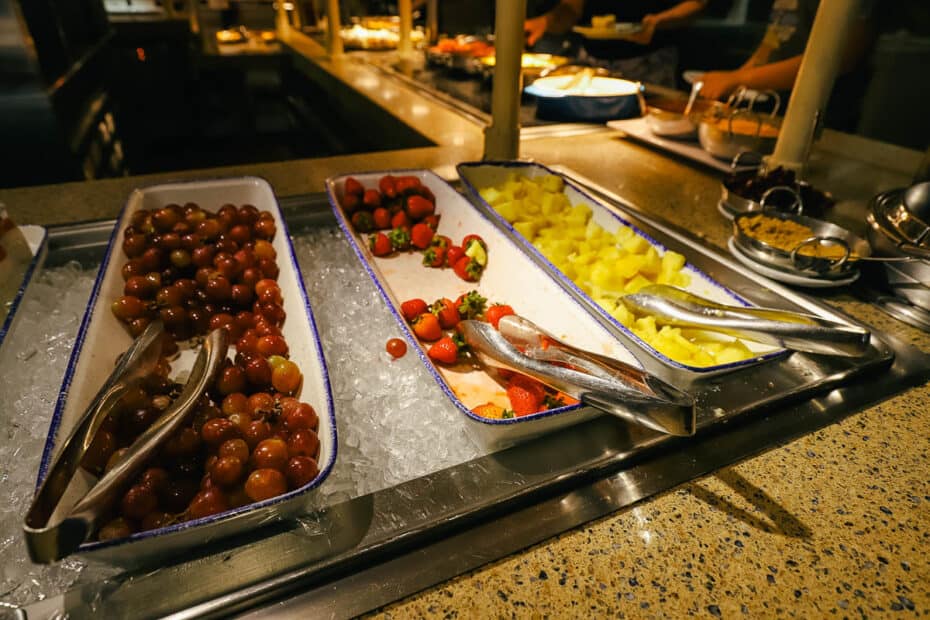 Then we have a marshmallow fruit salad and overnight oatmeal with fruit topping.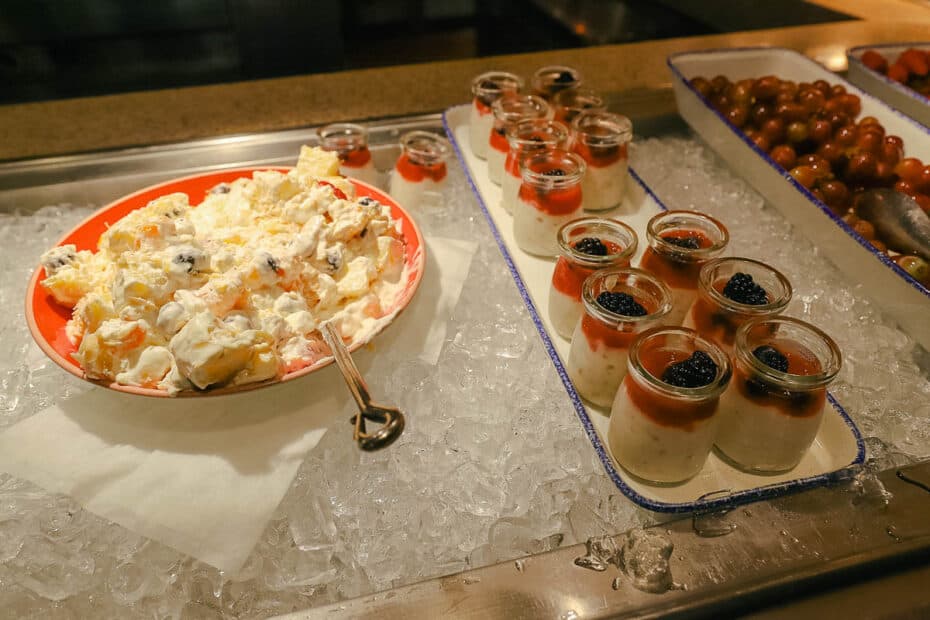 If you prefer regular oatmeal, it's available, along with brown sugar and dried cranberries.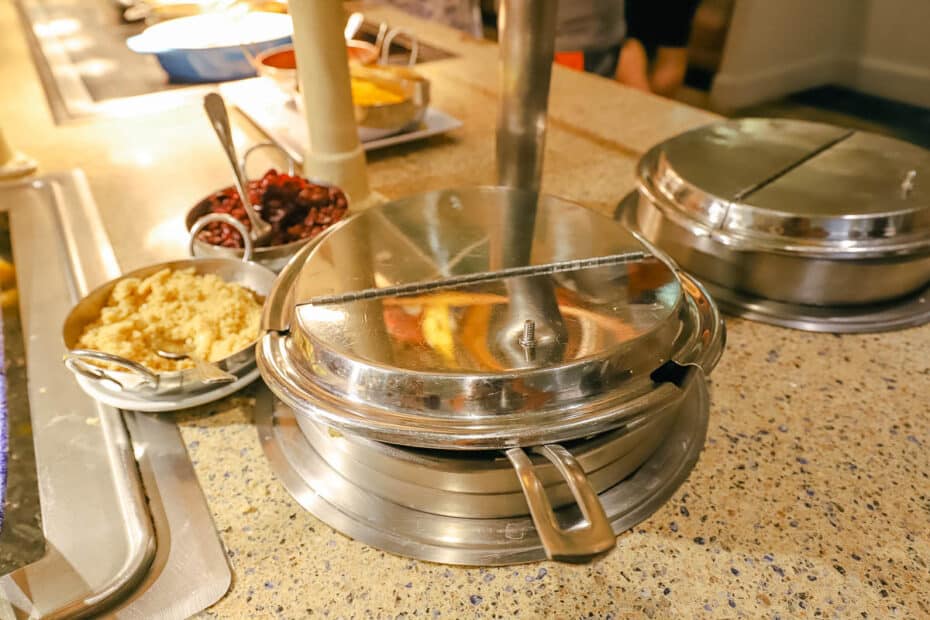 On the back side of the buffet, we have shredded cheese and a sauce you could combine with tortillas and eggs to make a breakfast wrap.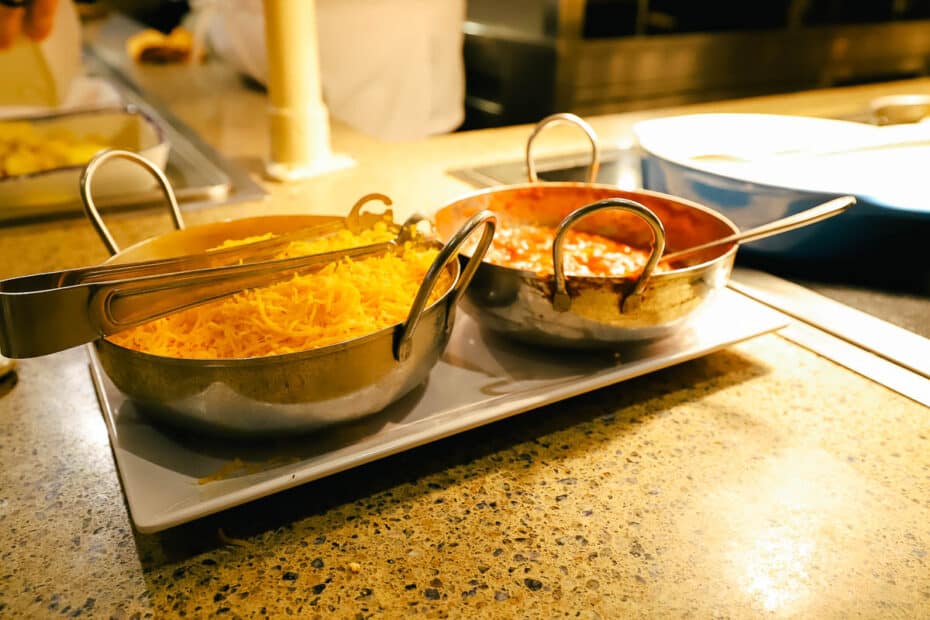 There was another section with bacon and sausage. But, unfortunately, there wasn't any chicken or turkey sausage available.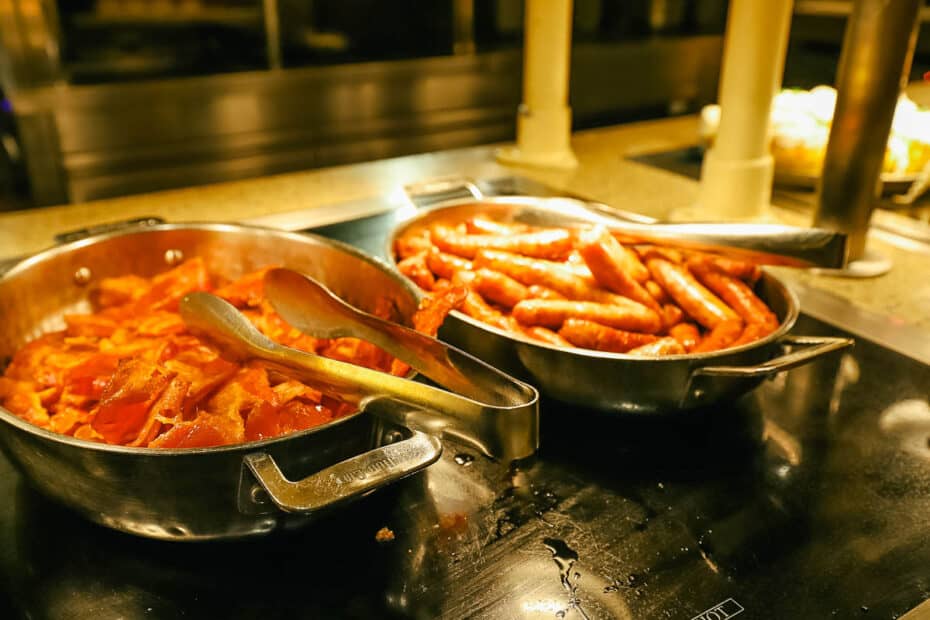 Next, we have asparagus, more roasted potatoes, and a plant-based item. The asparagus reminds me of breakfast at Boma, which is the best breakfast at Disney World.
Related: Boma Buffet Breakfast Review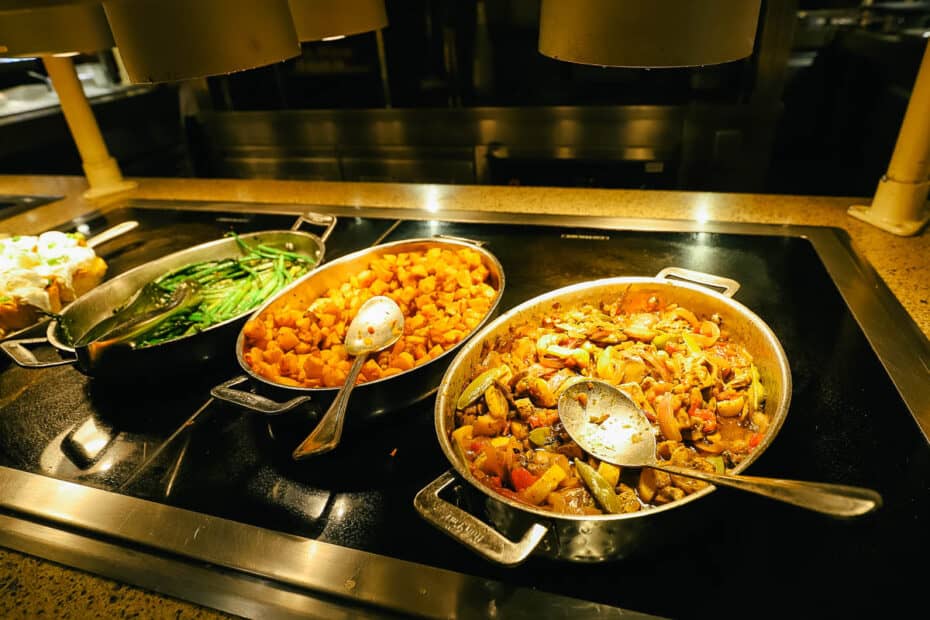 Most of the items on the buffet have a label that helps identify them.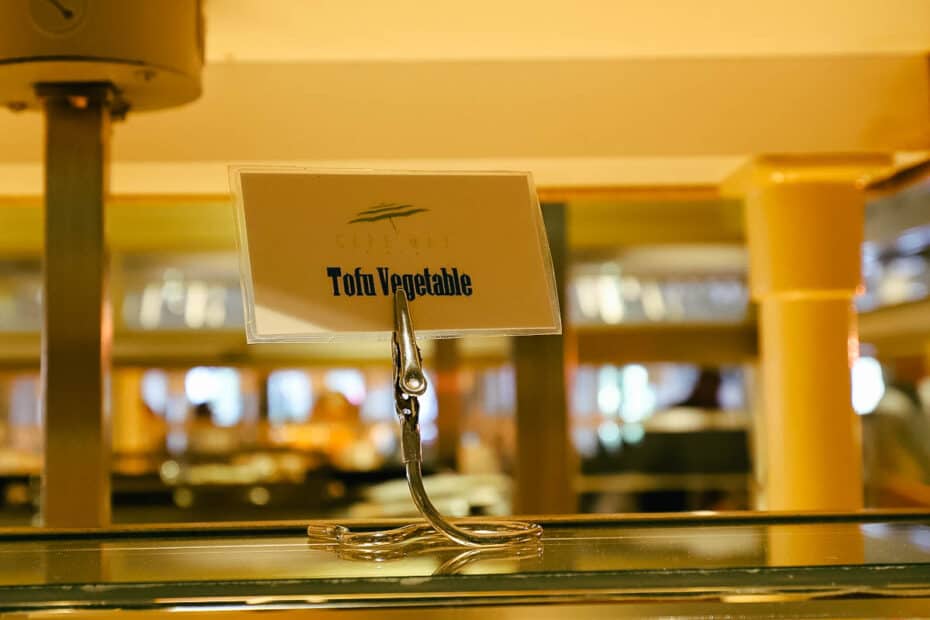 For instance, I had no idea what this dish had in it. But I was able to discern that it was tofu vegetables.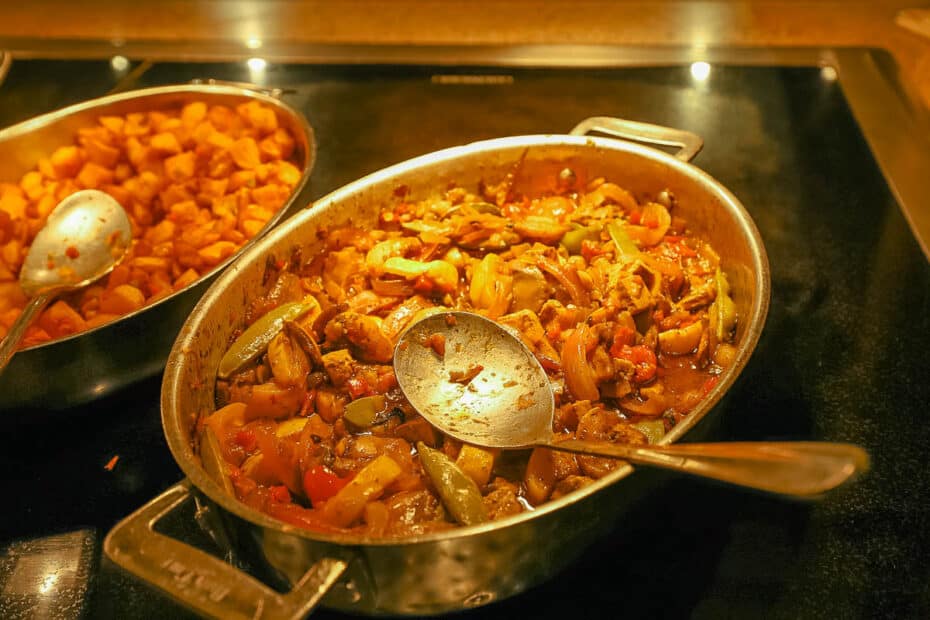 Next to the majority of plant-based offerings were these items that looked like yellow cupcakes with white icing.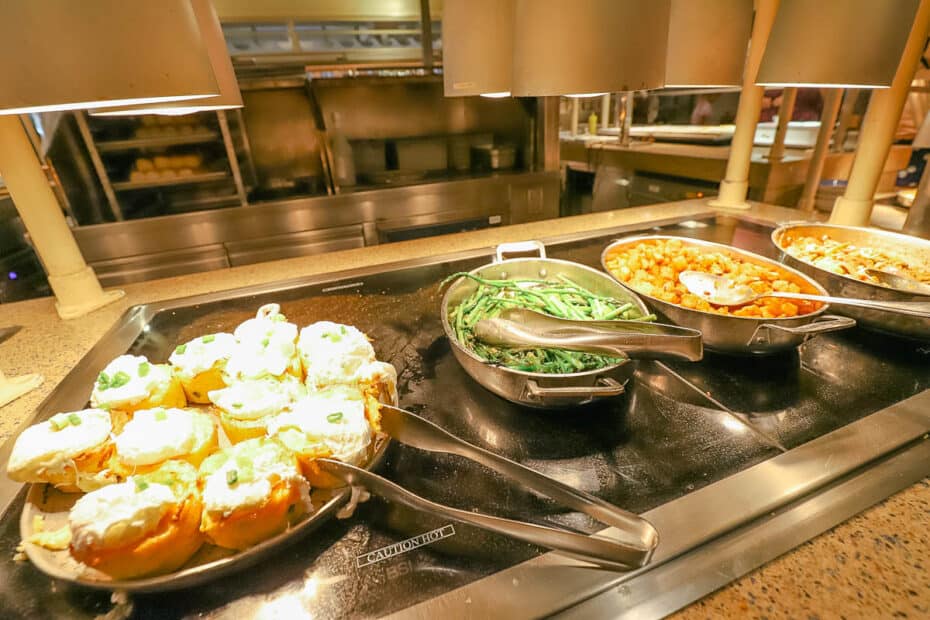 Surprisingly, they were poached eggs sitting on top of a potato hash.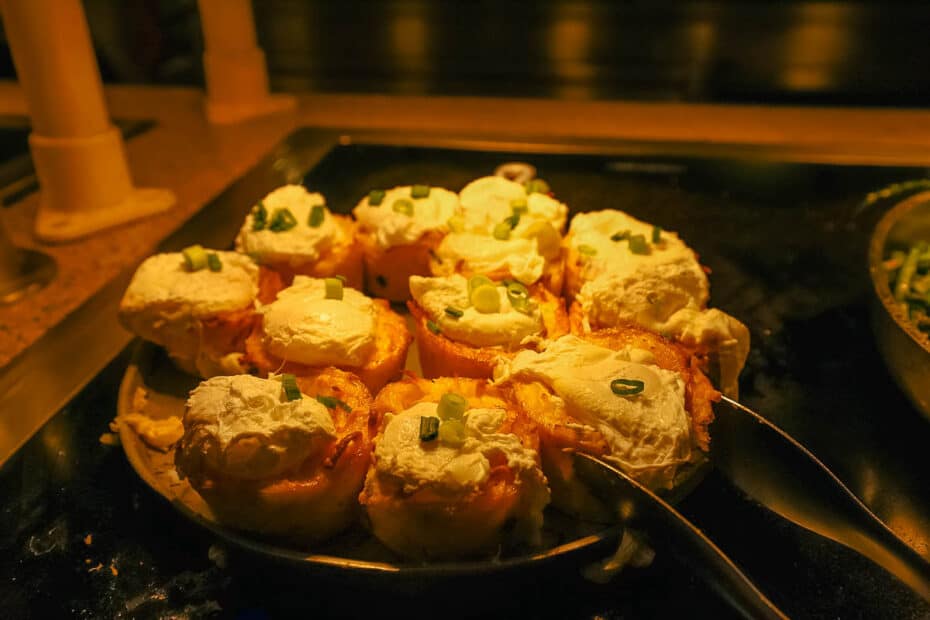 On the back corner of the buffet was a kid's section with Mickey-shaped waffles, pancakes, berry sauce, and whipped cream.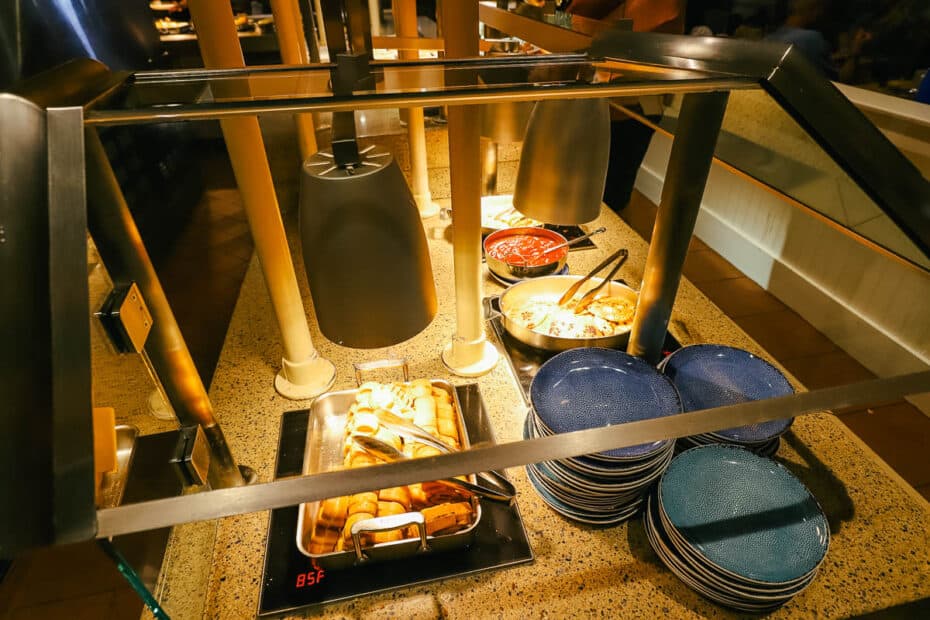 I guess it's nice to have a few things at eye level for the kids.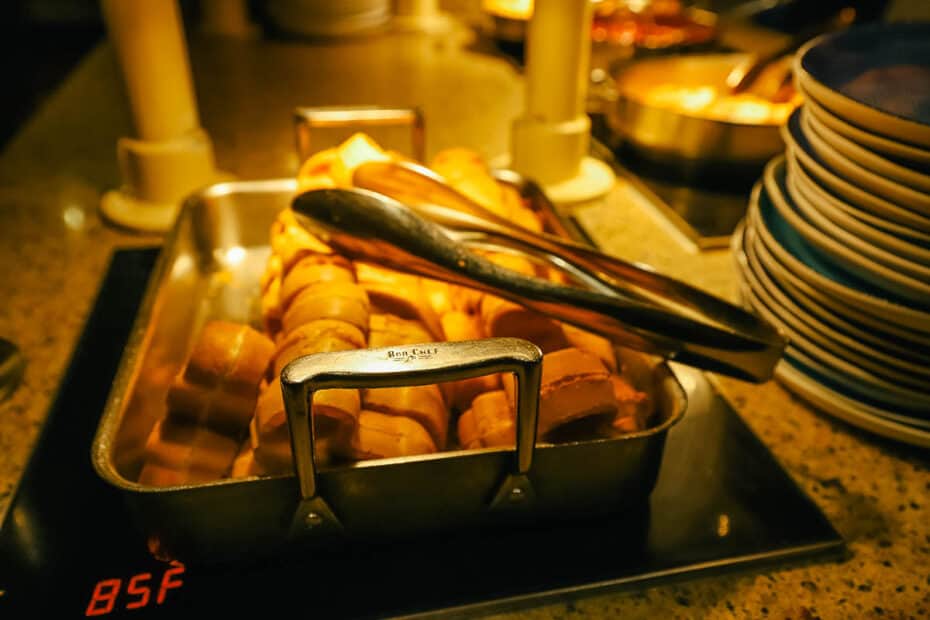 Lastly, there was a selection of crepes next to the children's buffet.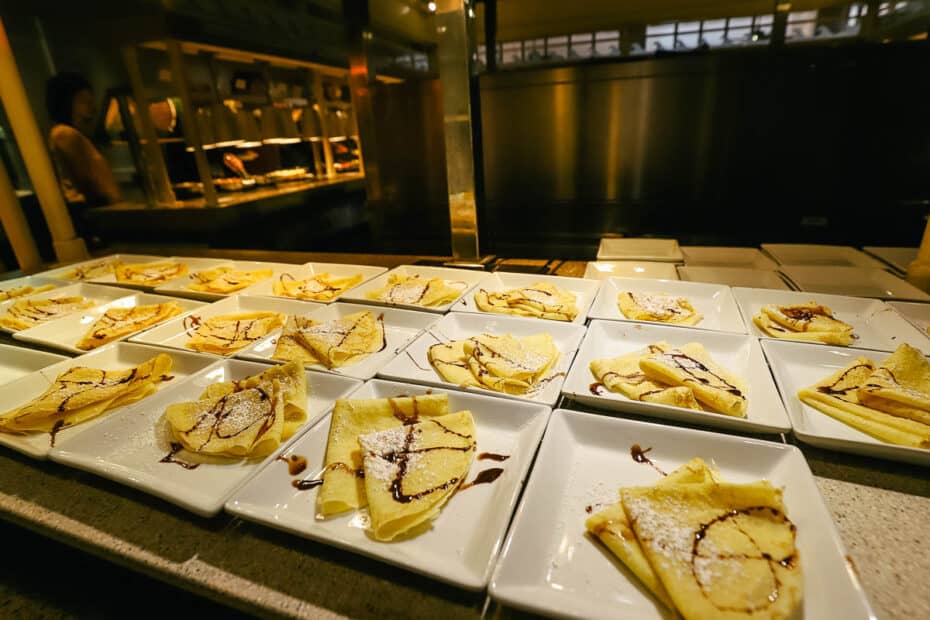 For my first trip to the buffet, I got the basics. I felt all of the items on this plate were decent.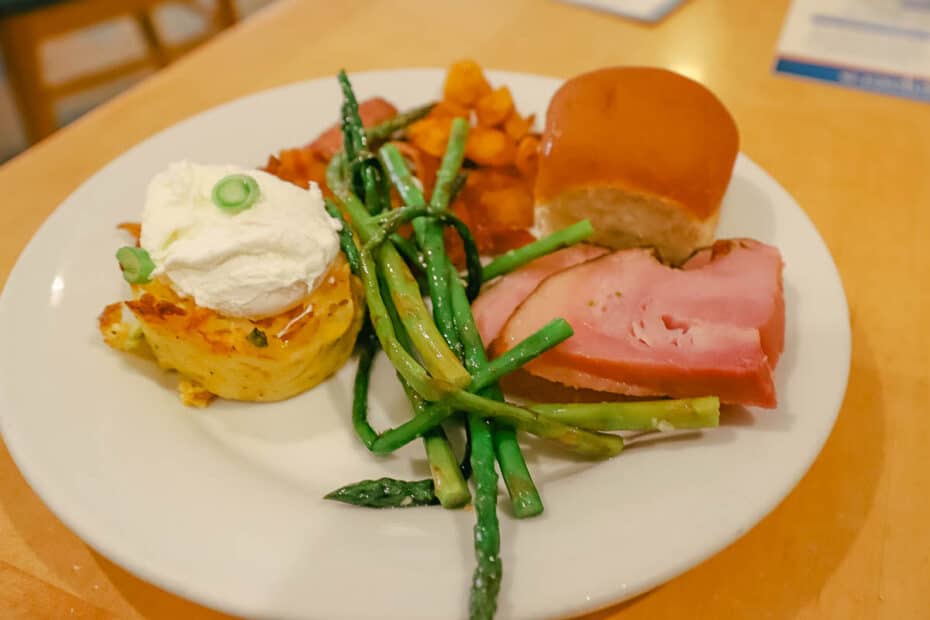 Unfortunately, I can't eat a lot of eggs. So I would have done better by removing the poached egg. After I dove into it, the egg yolk ran out everywhere, which kept me from continuing.
For round two, I tried the biscuit with gravy, chocolate chip pancake, and a little fruit. The cheddar biscuit with gravy was one of my favorite bites of the meal.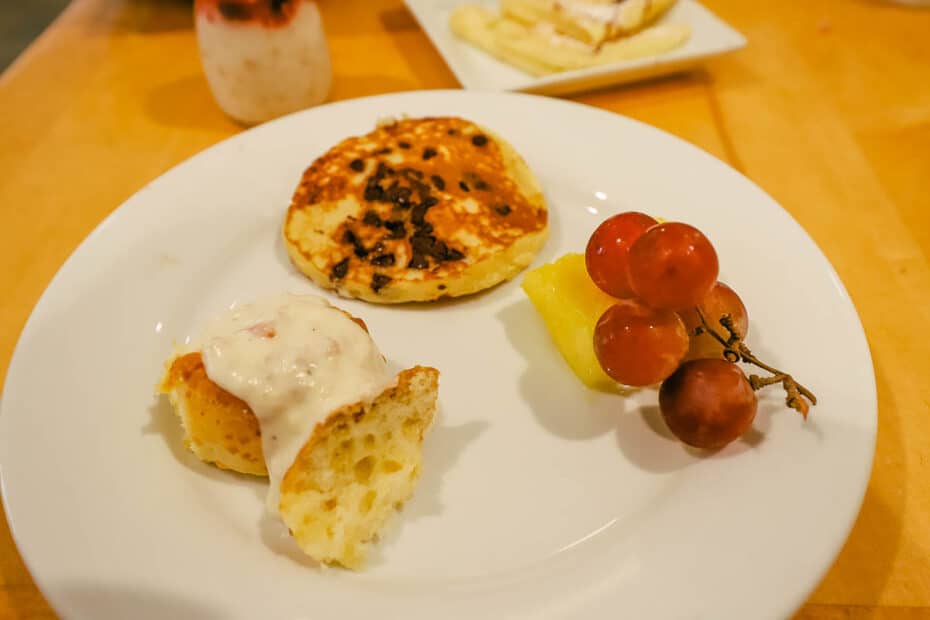 I grabbed overnight oats to sample but found them mostly flavorless.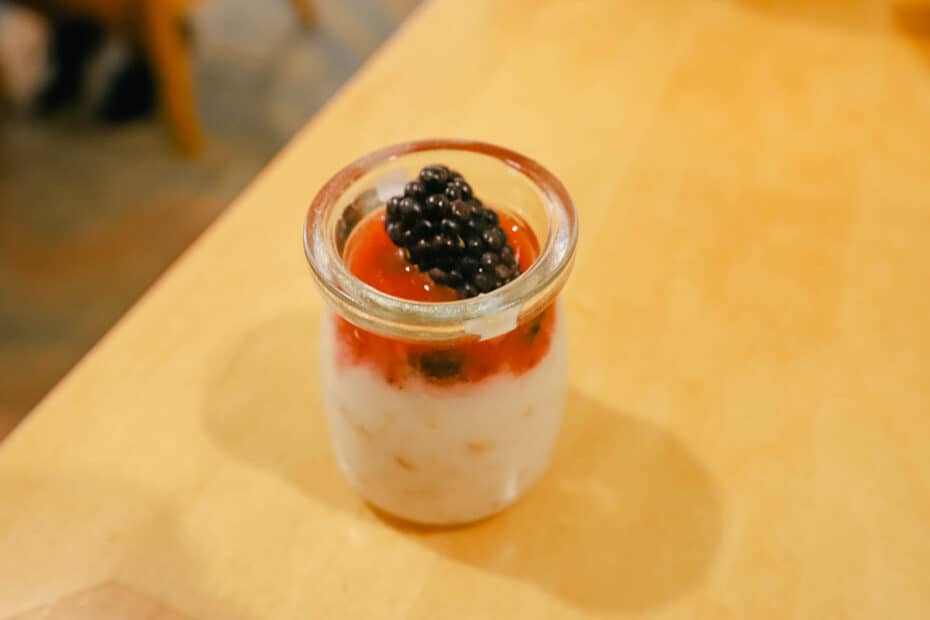 And while the crepes looked fun, they were a letdown. I don't know if this day was the norm, but there wasn't any filling inside them. Instead, they were strictly crepes with a dash of confectioner's sugar and a drizzle of chocolate sauce.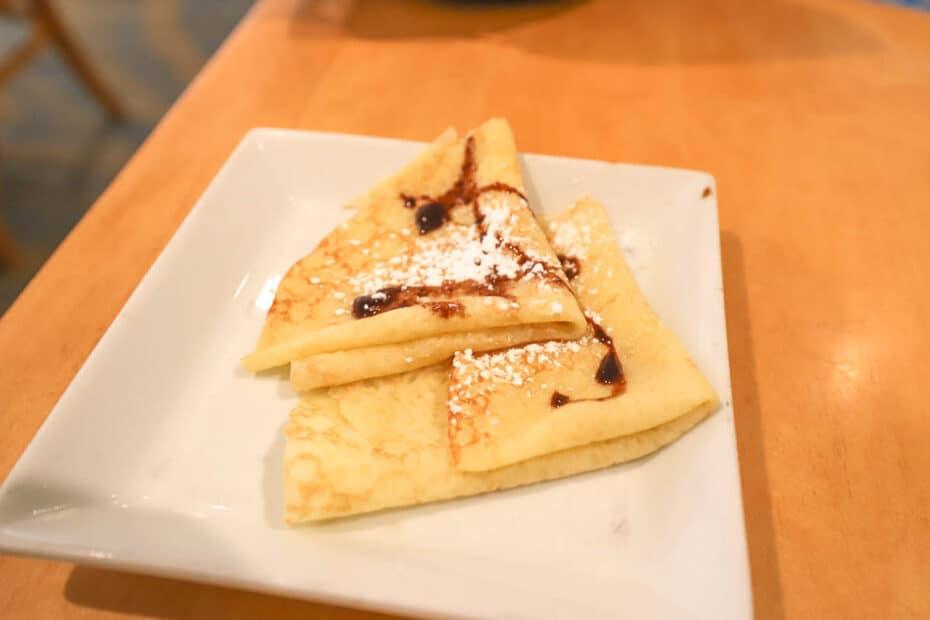 Overall, the breakfast items we received were exactly as we anticipated. Our meal was filling, but the food wasn't exceptional.
As Anna said, we were there for the characters. But did they deliver?
Characters at Cape May Cafe
At Minnie's Beach Bash Breakfast, you'll have the opportunity to meet several classic characters in fun attire. This was the fun part of the meal, and they didn't disappoint.
First, Minnie Mouse came to the table wearing a beautiful striped summer dress with a matching hat. I love that bow on your dress, Minnie!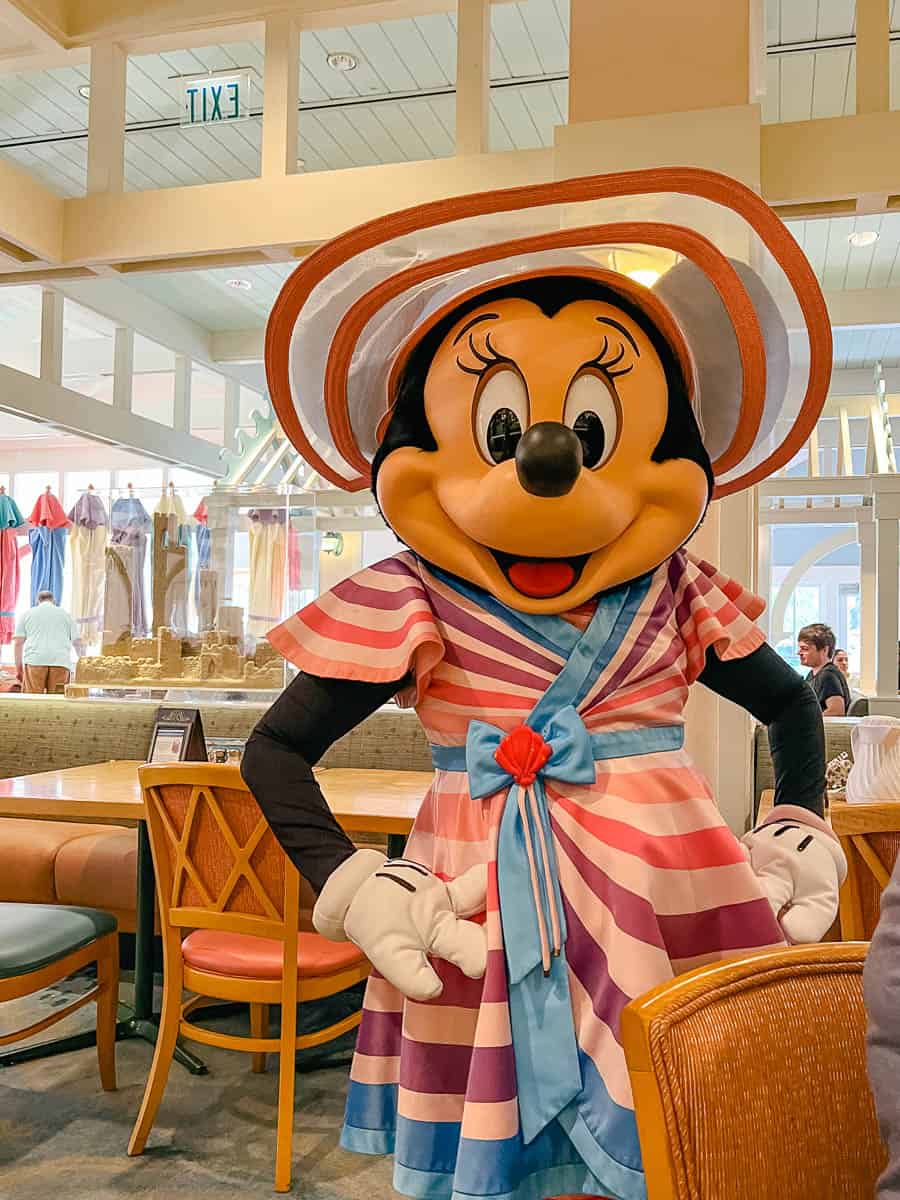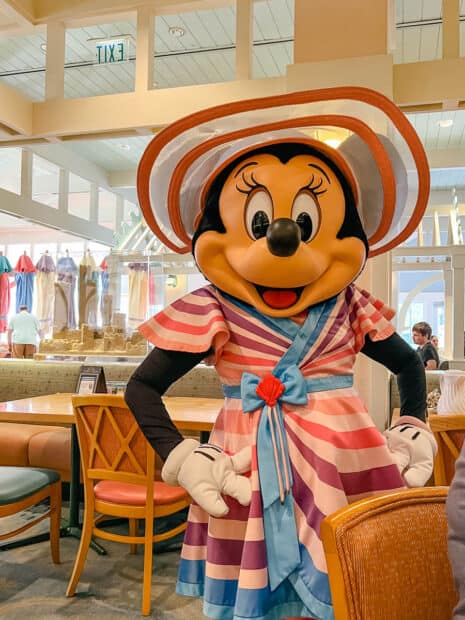 Not long after, Donald Duck made an appearance. Per usual, he reminded us that he was the number one character at breakfast.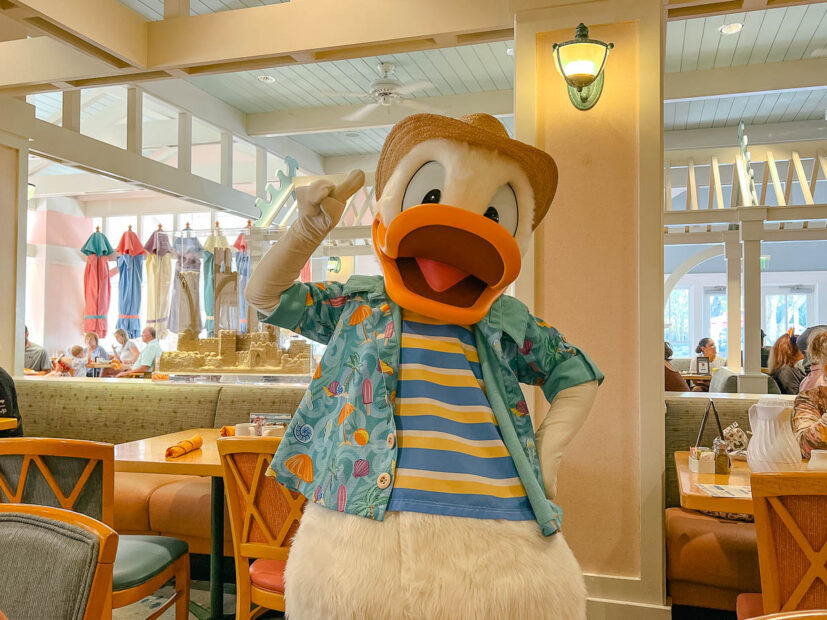 As the meal progressed, a song came on over the speaker system. Then, all the characters would gather children in their immediate area, take them to a nearby open space, and invite them to dance.
This interaction reminded me of the Princess Processional at Akershus Royal Banquet Hall character breakfast. That restaurant recently reopened and offers an opportunity to meet multiple princesses.
Eventually, Daisy Duck made an appearance at our table. She was as fashionable as ever.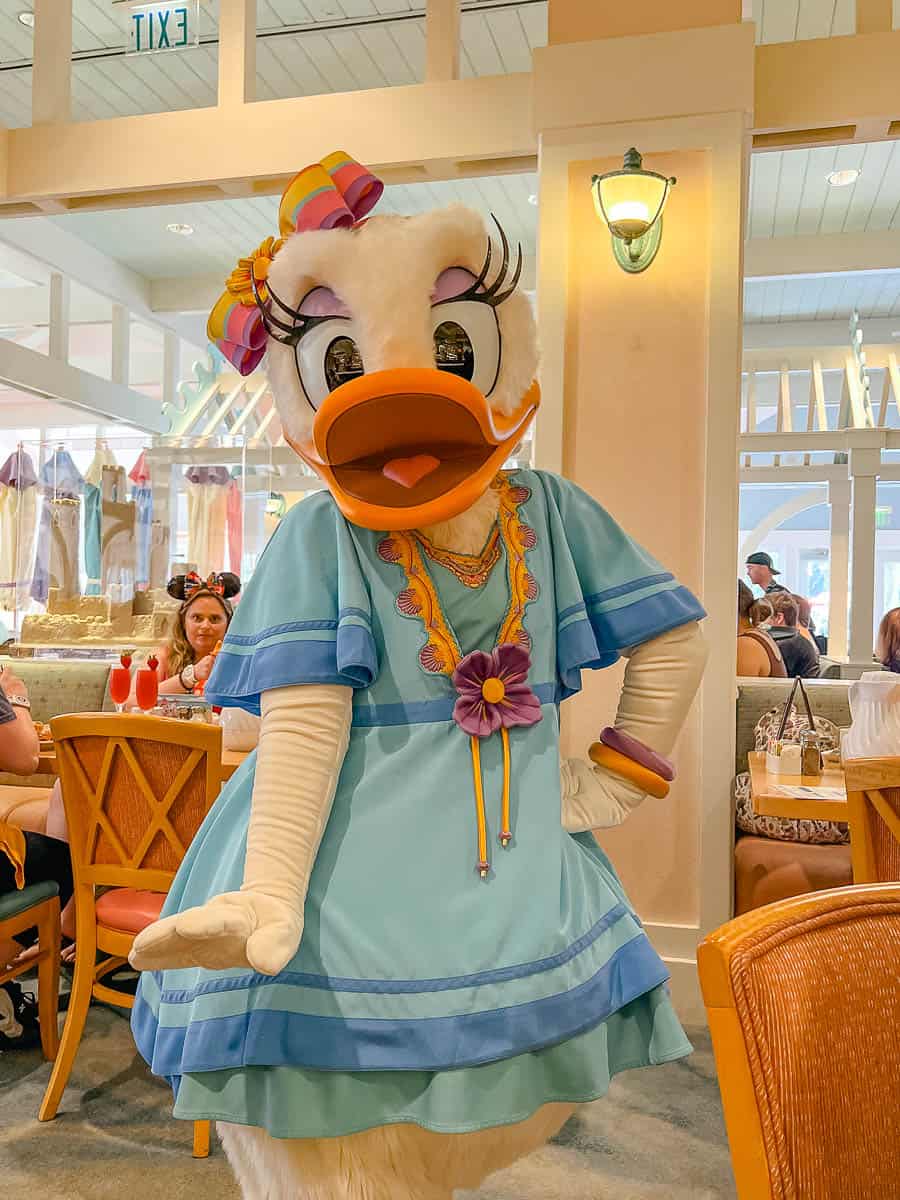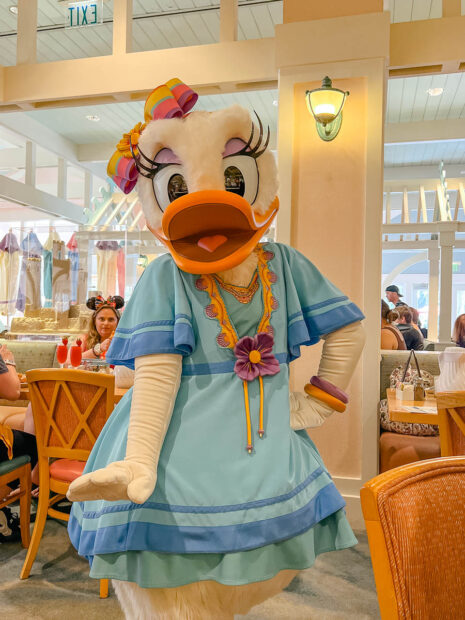 Last, Goofy came by to greet us. By the time Goofy had arrived, we were finishing up. Our meal lasted approximately one hour, and we met all the characters.
If you're planning to attend this meal, I would plan for it to take an hour and a half. We waited about fifteen minutes to be seated after we checked in.
Additionally, if the characters are running behind, meeting them could take a little longer. So pace yourself during breakfast.
And if a character is nearby when you're initially seated, feel free to go on and prepare your food. That character will come back through by the end of your meal.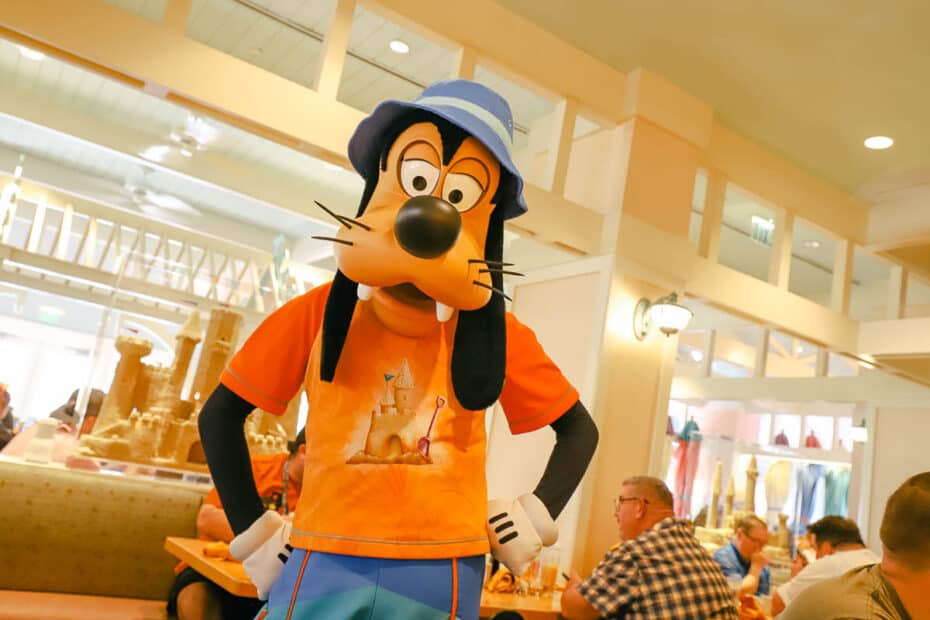 To keep things flowing smoothly, the characters at Minnie's Beach Bash do not sign autographs. However, when seated, we were presented with a postcard.
On one side of the postcard, there's a photo of the characters present at the meal.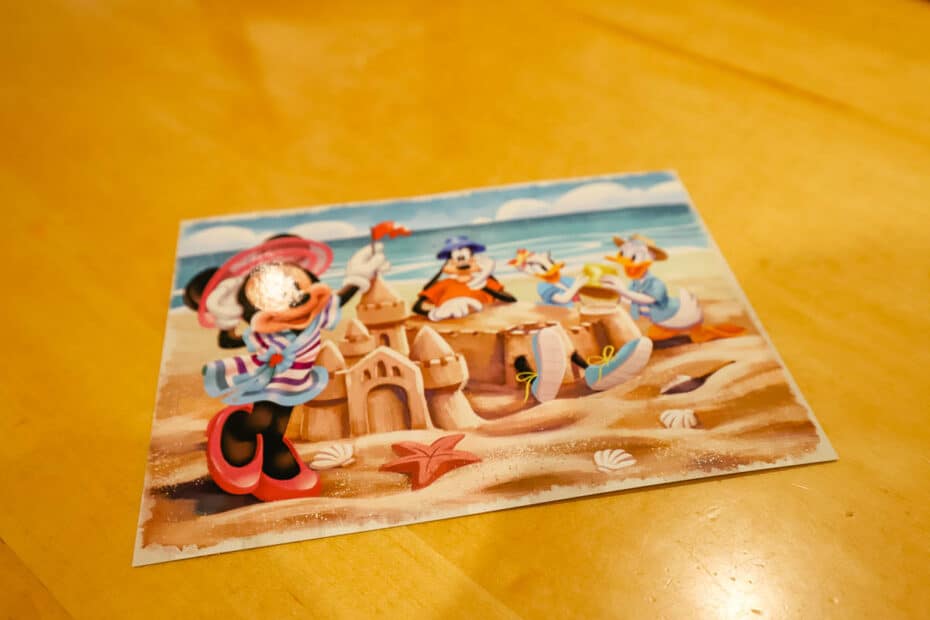 On the opposite side, you'll find the character's autographs.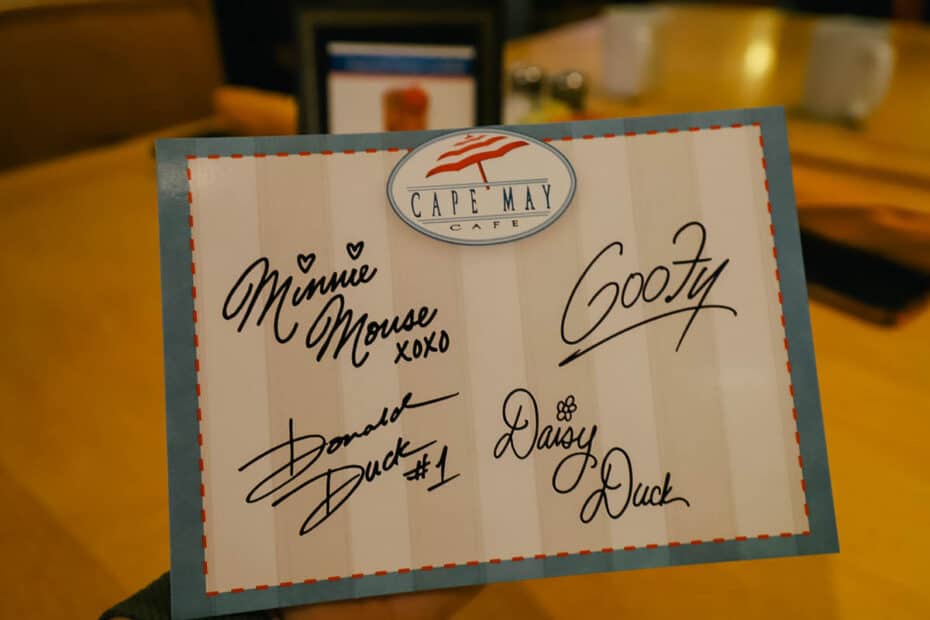 Ultimately, the characters at Cape May Cafe made our experience enjoyable. And I couldn't help but notice that others around us seemed to be having a good time.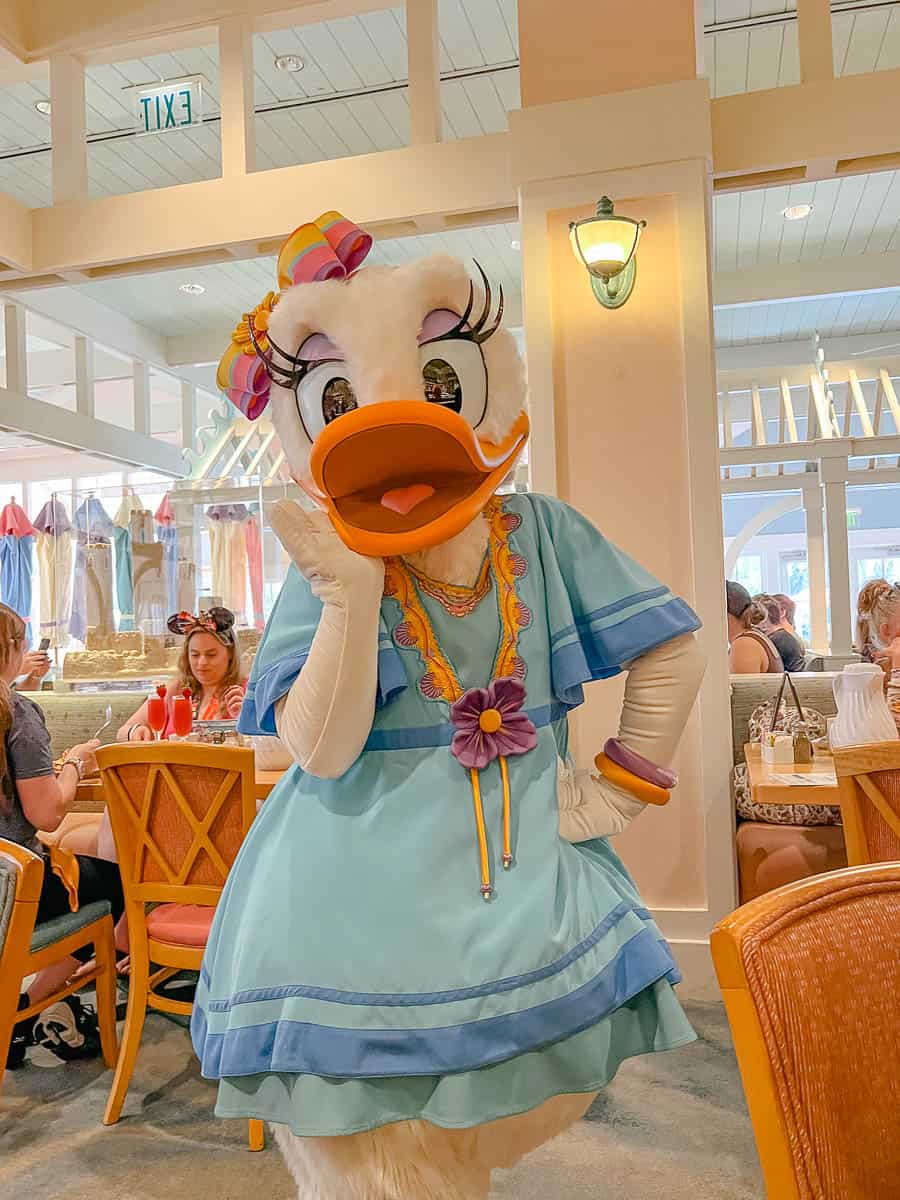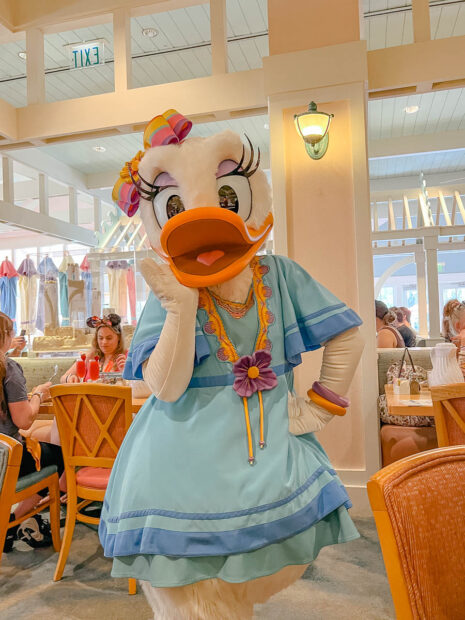 Funny enough, the dad at the table next to us nearly croaked when he got their check. Anna couldn't help but notice his "wow" expression when he opened the bill.
So keep the price in mind when reserving one of these meals. If you're on a tight budget, you might opt to meet a few characters in the parks.
But if you want to experience a little bit of everything, plan a character breakfast on a morning when you don't have a ton of other stuff to do. We like to do this kind of thing on a resort day, where we enjoy a late breakfast, spend the afternoon at the pool, then have a casual dinner.
We have a complete guide that covers every character restaurant at Walt Disney World. Or you might enjoy our detailed review that looks specifically at breakfasts with characters.
Here are some of our recent character meals:
Regarding meeting characters in the parks, we provide walk-throughs of our experiences in our guide–Character Meet-and-Greets at Disney World.
For more information about Disney's Beach Club, all our articles are listed on our page dedicated to the resort: Disney's Beach Club Resort.
In the Comments
What are your thoughts on Minnie's Beach Bash at Cape May Cafe? Do you plan to reserve this character meal during your vacation?
Planning a Walt Disney World or other Disney Destination vacation?
Our friends and travel partner, Firefly Travels, excels at doing Disney differently. You can fill out a plan your trip form on their website, and someone will reach out shortly to discuss the specifics.