An Ale and Compass Breakfast Review
Ale and Compass is one of our favorite breakfast spots at Disney World so much that we eat breakfast here several times a year.
In this Ale and Compass breakfast review, I'll share a combination of several meals with you. Additionally, we'll look at Ale and Compass's breakfast buffet that comes with an entree.
Ale and Compass serves breakfast daily up until 11:00 a.m. The restaurant is located off the lobby of Disney's Yacht Club Resort and is a table service dining location.
This article was updated on February 6, 2022.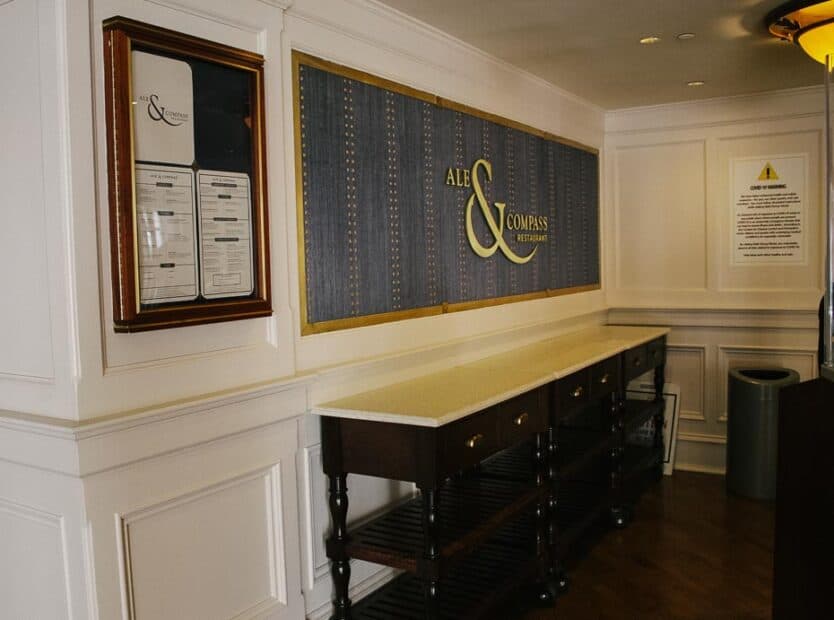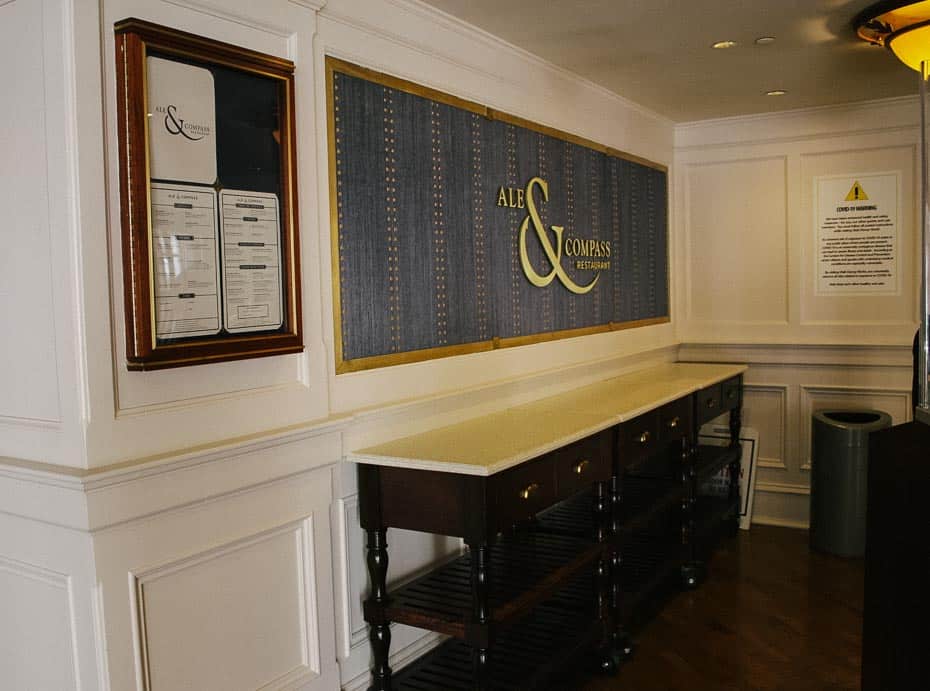 Ale and Compass Breakfast Review
If you were to ask me where to have breakfast on your Disney vacation, Ale and Compass is one of my top choices. The only comparable restaurant I would recommend for breakfast is the Grand Floridian Cafe.
Related: Breakfast at Grand Floridian Cafe
Additionally, if you are considering character dining, I would suggest Topolino's Terrace. That breakfast provides the opportunity to visit Disney's Riviera Resort and enjoy high-quality entrees alongside Mickey and Friends.
Related: Topolino's Terrace Character Breakfast
And if you're looking for a super start to your day, there's the breakfast buffet at Disney's Animal Kingdom Lodge. That buffet usually boasts over 75 different items. So make sure to bring your appetite!
Related: Boma, Flavors of Africa Breakfast Buffet Review
As for breakfast at Ale and Compass, the food and service are so terrific that we continually find ourselves returning. Over the years, we've enjoyed many a meal here.
Sometimes we even order breakfast-to-go from Ale and Compass via the My Disney Experience app and enjoy it out by the pool.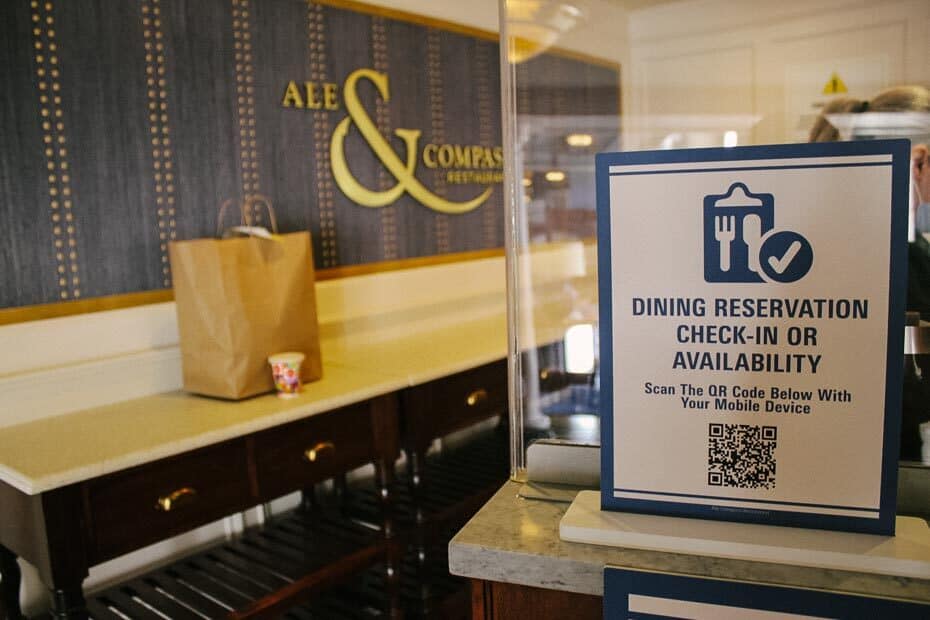 One of the things I like about Ale and Compass is that I always feel like I'm getting a great value when I dine here. In general, when dining at Walt Disney World, you expect to pay more. It kind of goes with the territory.
However, the prices at Ale and Compass are reasonable. In addition, I always feel good about the portions and quality of the menu items.
If you have ever visited Disney's Yacht Club before, you might remember that Ale and Compass was formerly Captain's Grille. While I wouldn't compare the locations in style or the menu, you can still expect a warm welcome and excellent service.
Additionally, Ale and Compass offers a popular buffet that includes an entree. Toward the bottom of this review, we'll preview the buffet and go over the price of the meal.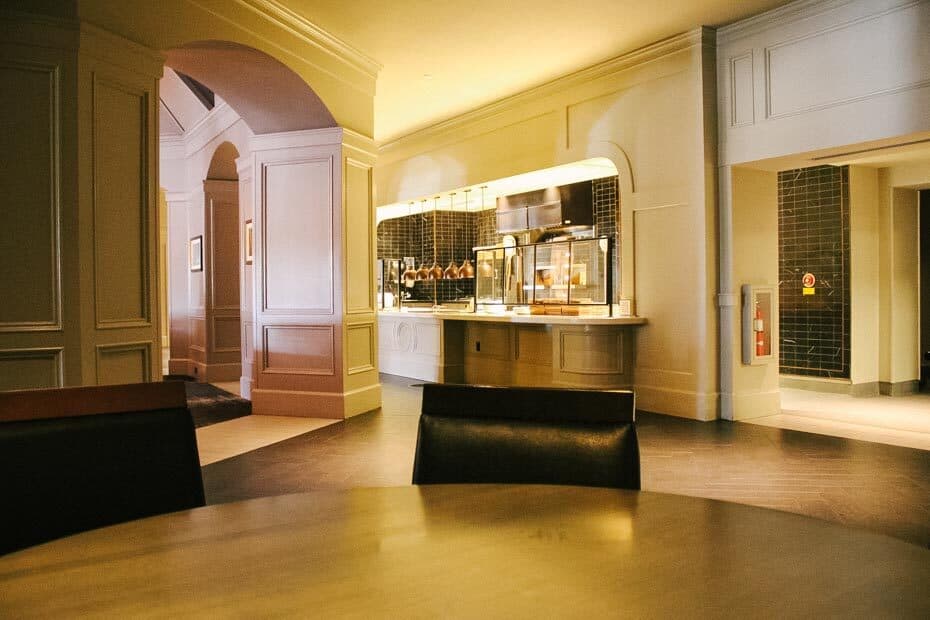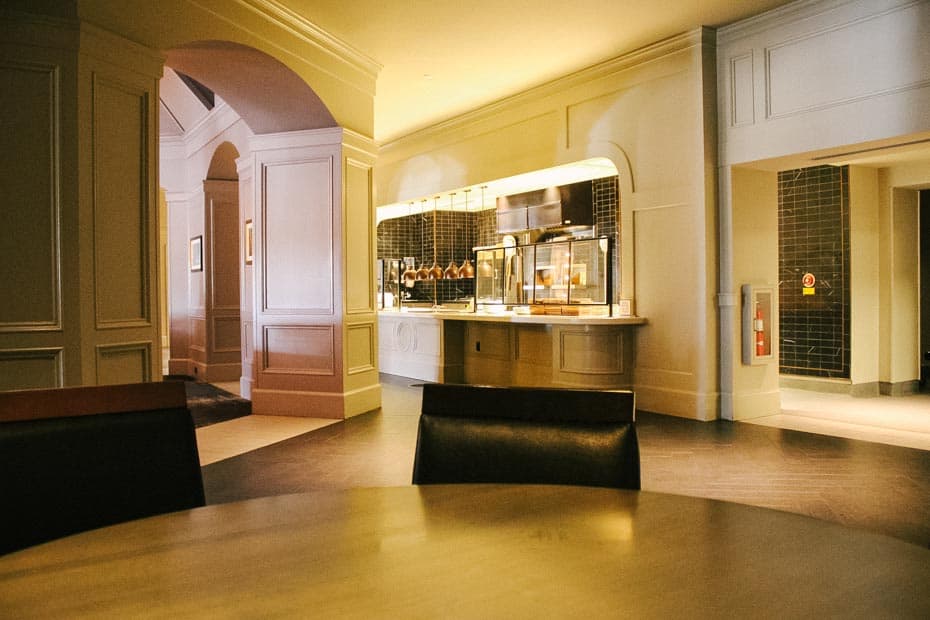 You will receive a QR code to access the breakfast menu when you arrive at the restaurant.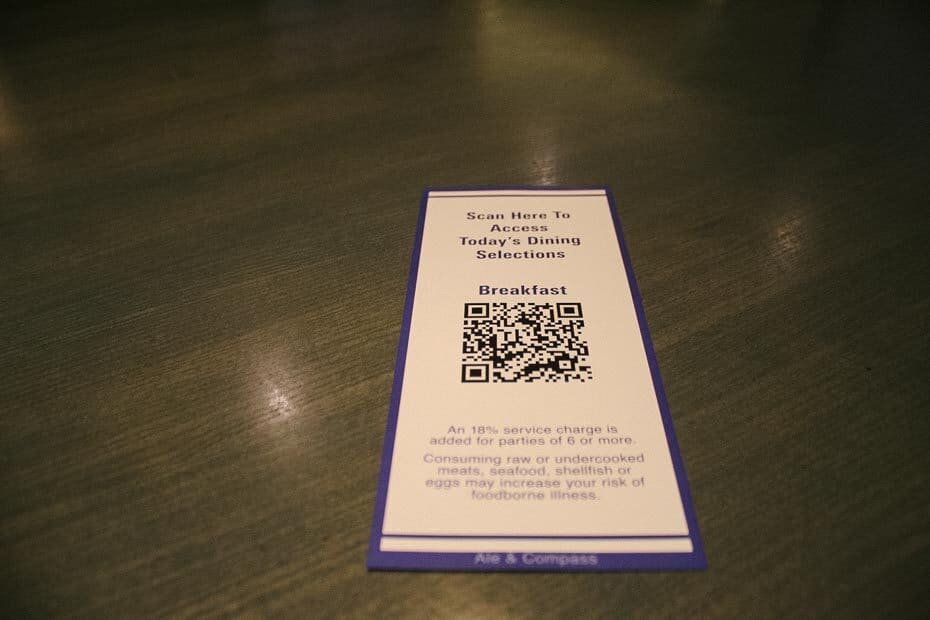 For starters, we'll look at our most recent breakfast at Ale and Compass. Unfortunately, this meal was right before the buffet returned.
Stacy and Carmela both ordered the Shrimp and White Cheddar Grits. The menu describes this item as "poached egg, Chorizo, and charred tomato stew."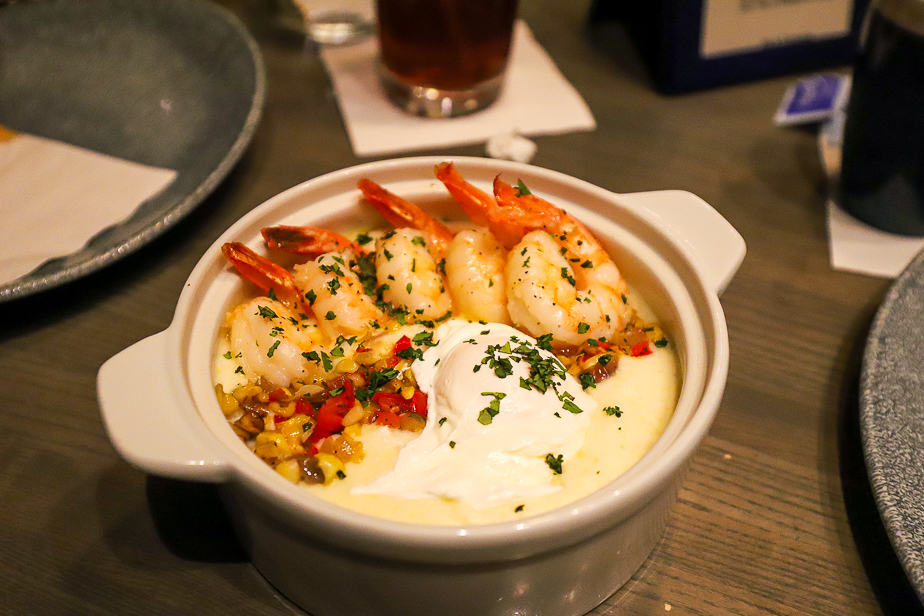 Stacy has a rosemary allergy, so the chef sent her tomato stew and chorizo out separately. Some of the ingredients listed "variety of spices," and no one was sure if rosemary was one of them. However, we quickly determined by the taste that the chorizo most definitely contained rosemary.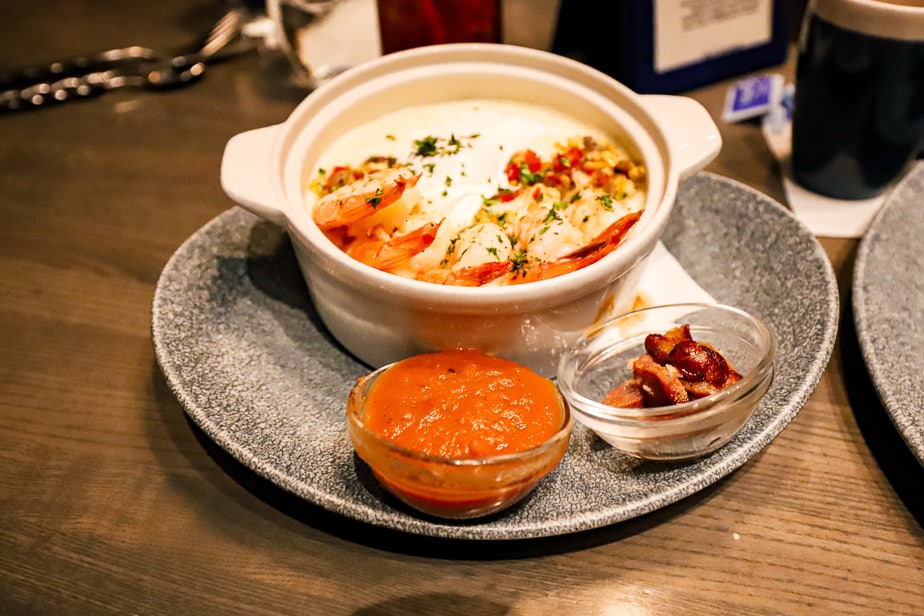 Let me tell you about these grits! They were amazing. The shrimp were perfectly executed, and that chorizo was tasty. I'd probably skip the tomato stew part because I don't care for tomatoes, but other than that, it was a winner.
Additionally, Carmela ordered hers without the poached egg on top. So if eggs are an issue, you can order this dish without them.
I went with an old favorite, the dark chocolate waffle. It had been over two years since I had them, so I felt it was time. The menu describes this item as "dried cherry compote, espresso-mascarpone cream, chocolate shavings, and choice of sausage or bacon."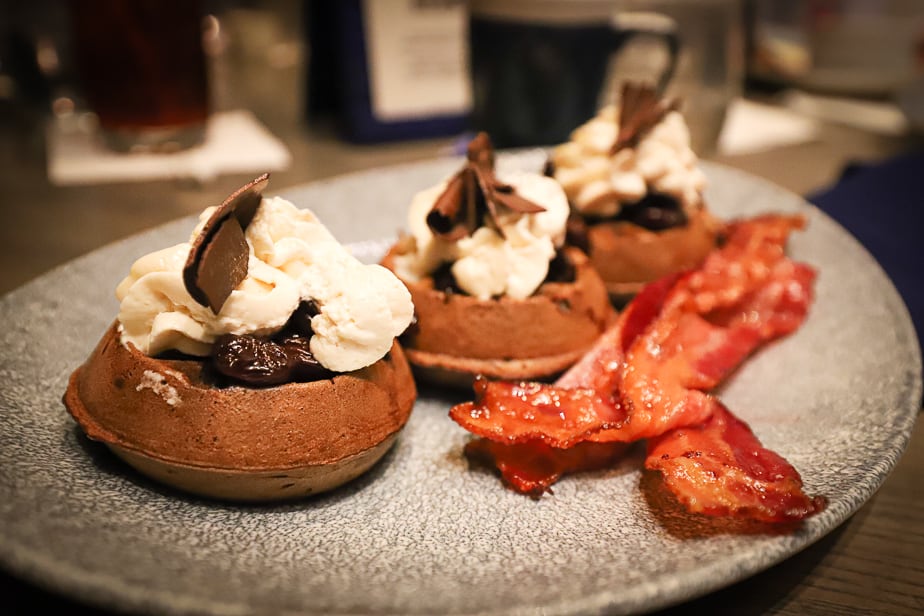 The waffles were as good as ever. And I'm already looking forward to the next time I get to enjoy them.
Samantha went with the American Breakfast. The menu describes this item as "two eggs-any style served with breakfast potatoes and choice of sausage or bacon."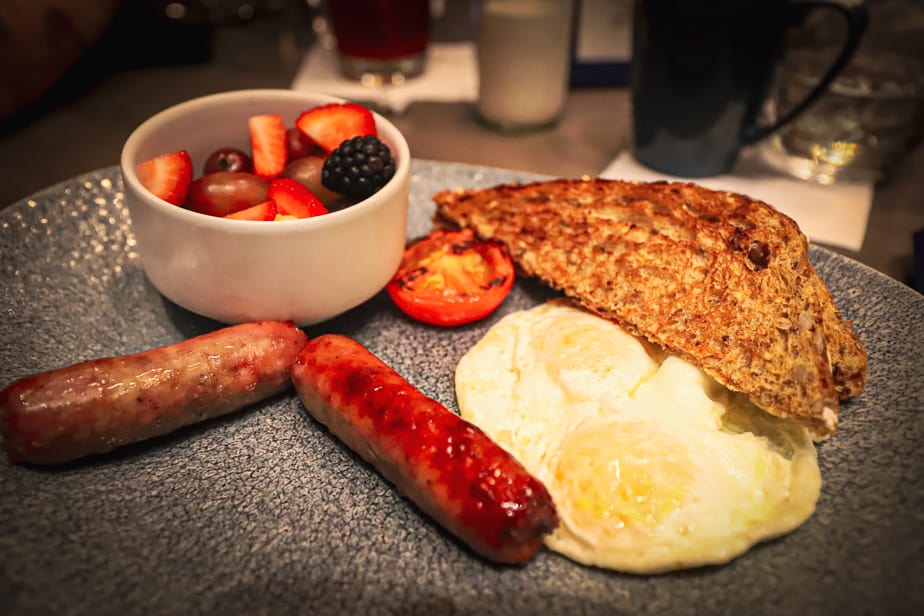 She substituted the potatoes for fruit. This entree was a pretty standard breakfast but still an excellent option for less adventurous diners.
Back in September, I spent a few days at Disney's Beach Club Villas and enjoyed breakfast at Ale and Compass twice during my stay. One morning, I took a walk around the resort and mobile ordered the children's blueberry pancakes with bacon.
Unfortunately, I forgot to take a photo of the pancakes. I was running a bit late and ended up taking the dish back to my room to eat.
Regardless, the blueberry pancakes are another delicious option. They come in adult size or a kids' meal.
The kids' meal was more than enough food, and the pricing was comparable to a counter service restaurant. So you might do better ordering something like this and picking it up over what's available at The Market, the resort's quick service.
Another morning, I took a walk around the entire Boardwalk area. By the time I finished, I had worked up quite an appetite. So I opted to join the walk-up list for Ale and Compass.
This time I went with one of the newer items, the smoked salmon and toasted bagel sandwich.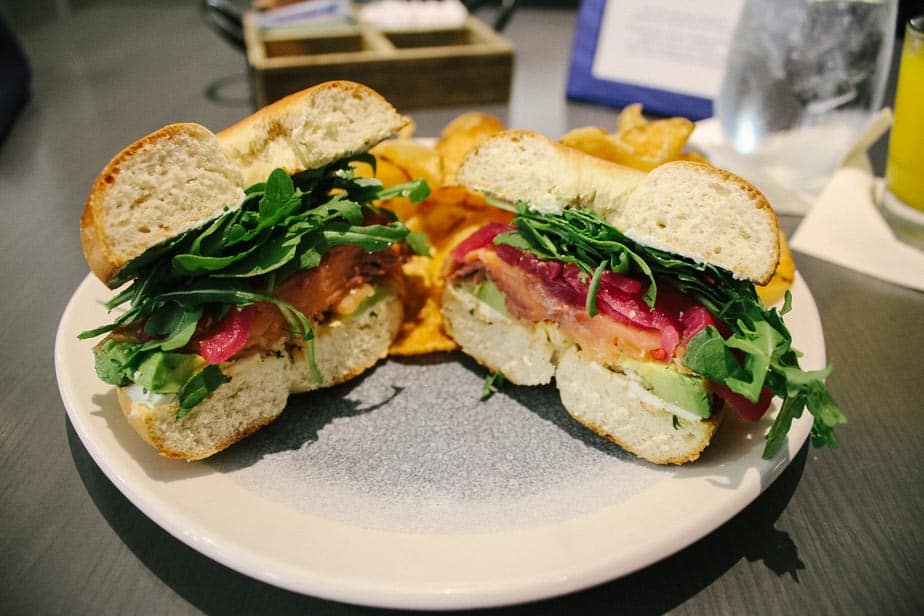 The menu describes this as "herbed cream cheese, pickled red onions, vine-ripened tomatoes, and avocado with house-made chips.
I ordered my salmon bagel without the tomatoes. As you can probably tell, this was a huge breakfast.
My only complaint was that the avocado took away from the cream cheese flavor, so I ended up removing some of it. I love avocado but not necessarily with cream cheese.
Additionally, the house-made chips at Disney are excellent. Overall, I was very pleased with this meal.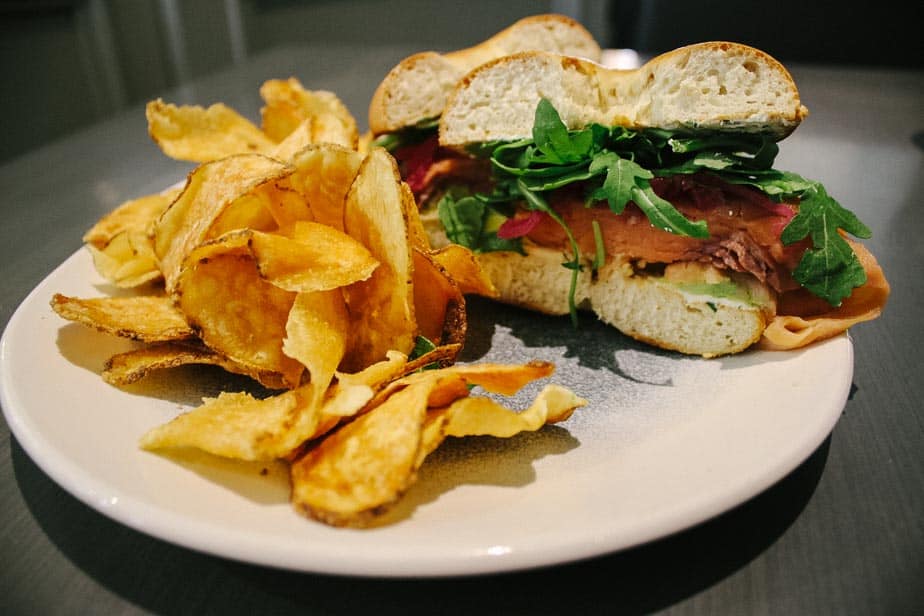 If you've eaten breakfast at Ale and Compass over the last year or so, you may remember they were offering a combined breakfast and lunch menu. Since the buffet has returned, the restaurant has formal lunch hours from 11:30 a.m. to 2:00 p.m.
So now, all of the lunch items have moved to the lunch menu. After lunch, Ale and Compass will close and then reopen from 5:00 p.m. until 9:00 p.m. for dinner.
If you are considering Ale and Compass for dinner, I have a separate article here covering what we've enjoyed to date. The menu features refined classics alongside hearty items like seafood pot pie and lobster bisque.
Now back to breakfast. On several occasions, I have ordered fresh-squeezed orange juice. It's always excellent.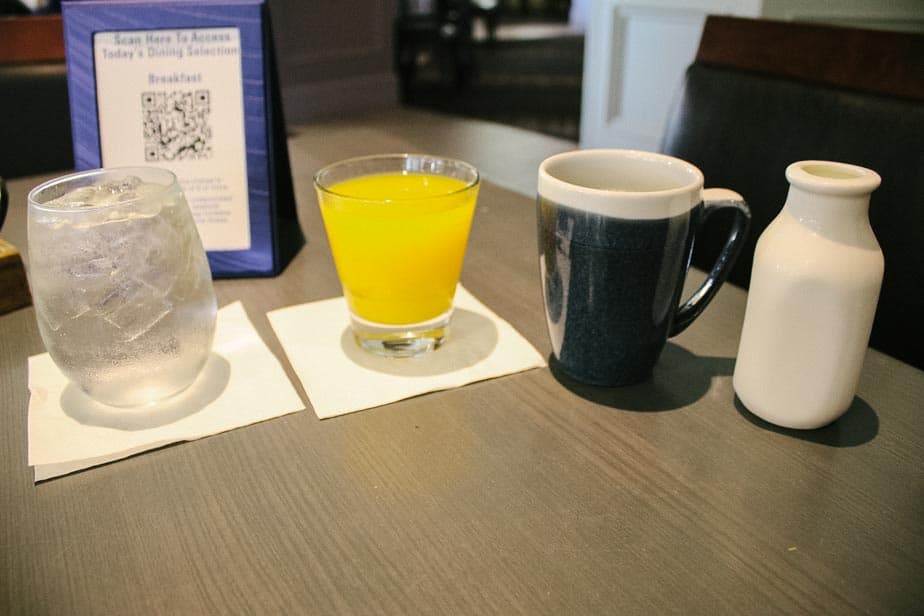 At one point, I was on a vegetarian diet and tried the vegan breakfast option at Ale and Compass. The plant-based breakfast protein bowl was another sizable meal.
Here is a photo of the plant-based protein bowl. It is described on the menu as "choice of tofu scramble or plant-based eggs" with "plant-based sausage, quinoa, sweet potatoes, chard, kale, and pickled carrots served with carrot-ginger dressing and chocolate-avocado toast."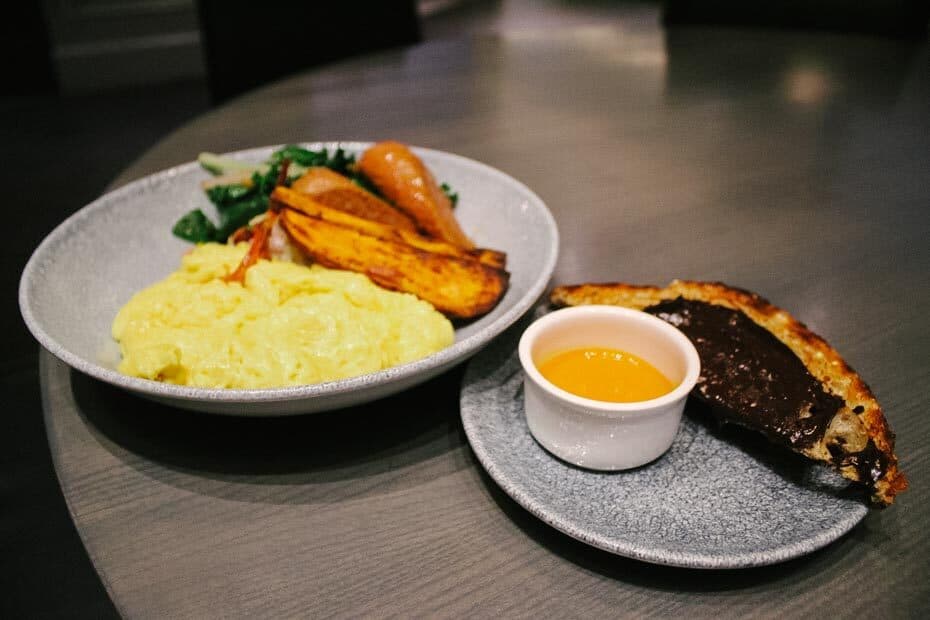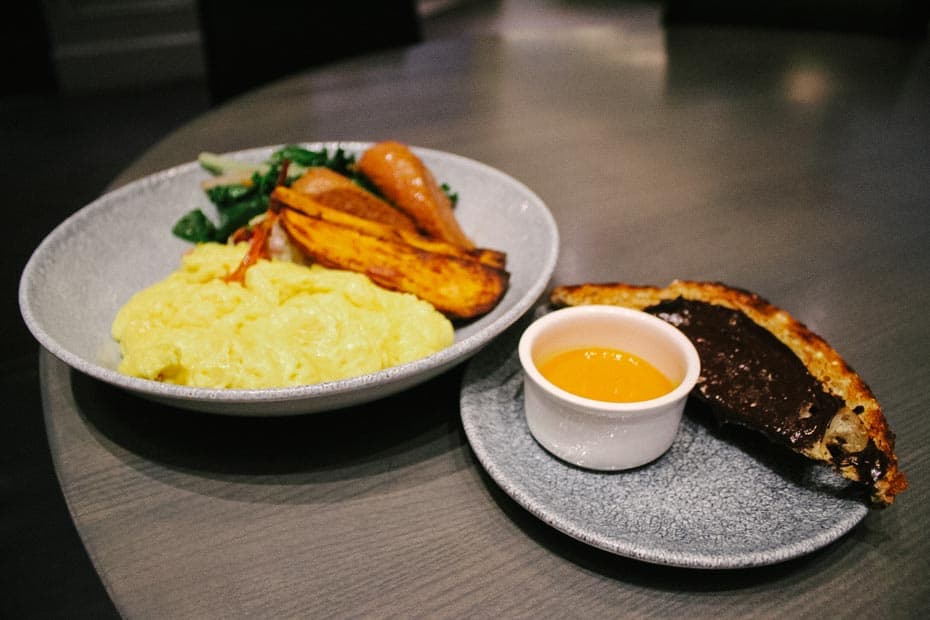 When I initially ordered this meal, the cast member asked if I wanted tofu scramble or plant-based eggs. I had enjoyed the vegan tofu bowl at Satu'li Canteen previously, but other than that, I didn't have too much experience with tofu.
Related: Satu'li Canteen Review
When I asked my server her thoughts, she mentioned that most guests said they couldn't distinguish between regular eggs and the plant-based version.
So, I opted to give the plant-based eggs a try. And I have to admit; you'd have a hard time convincing me they weren't regular scrambled eggs. On a side note, these are made from a legume.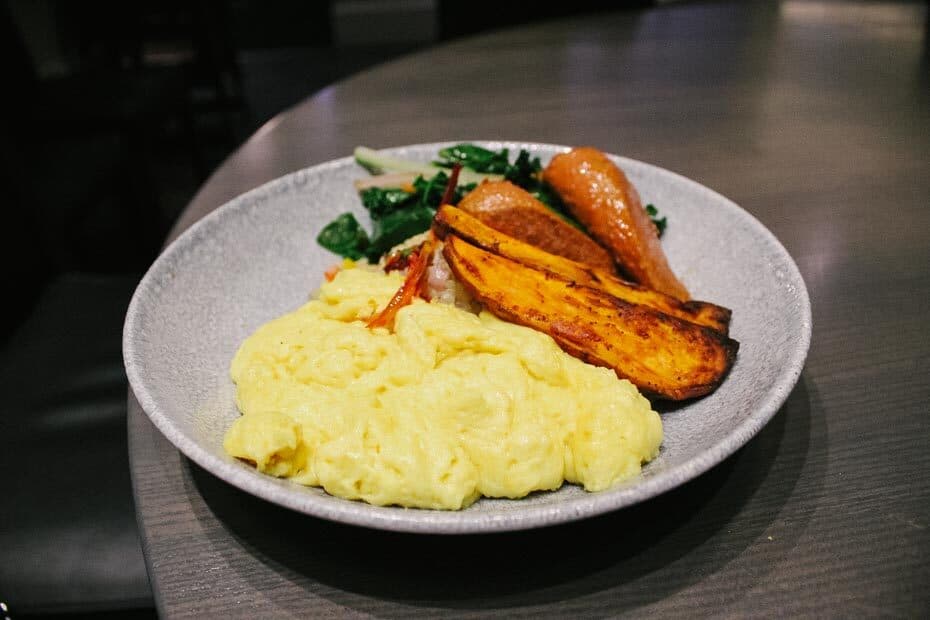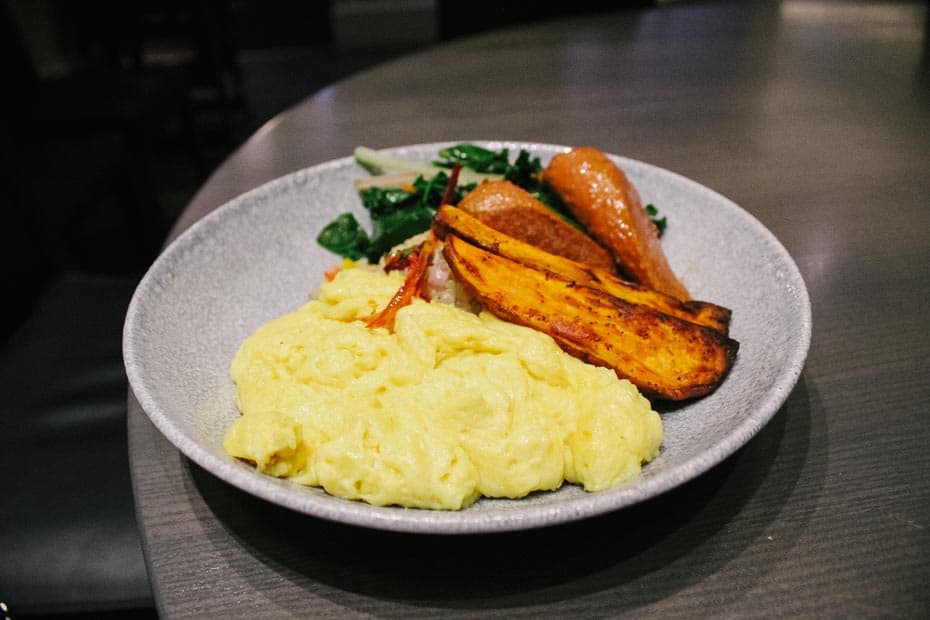 This day, I sat in a darker corner and took way more pictures than I would like to admit. I was hoping to capture the texture and color of this dish made from plants that resembled eggs.
Interestingly, I ended up taking so many pictures that a couple came over and asked me if I ran a food blog. I just smiled and told them no, I was more of a Resorts Gal.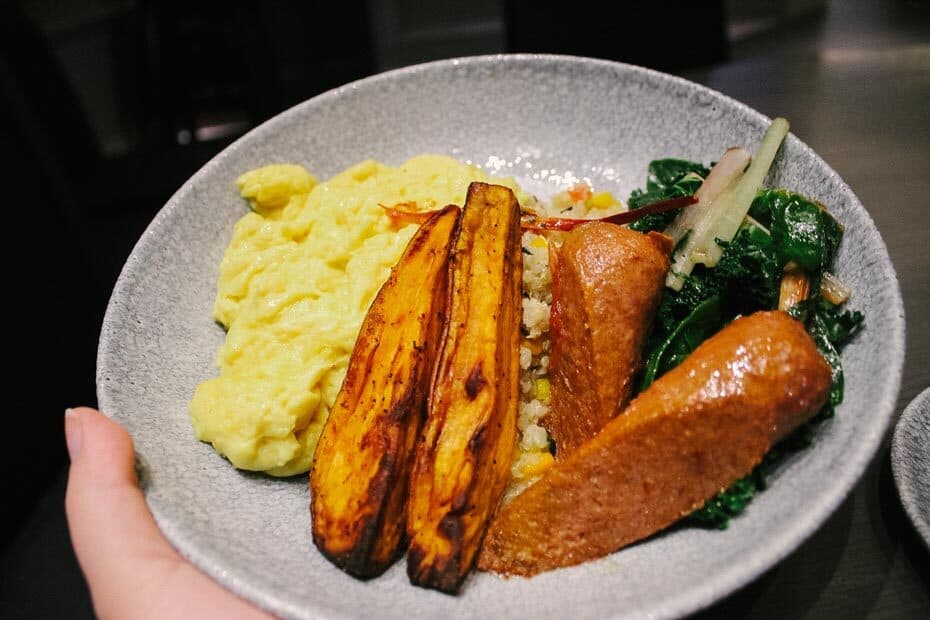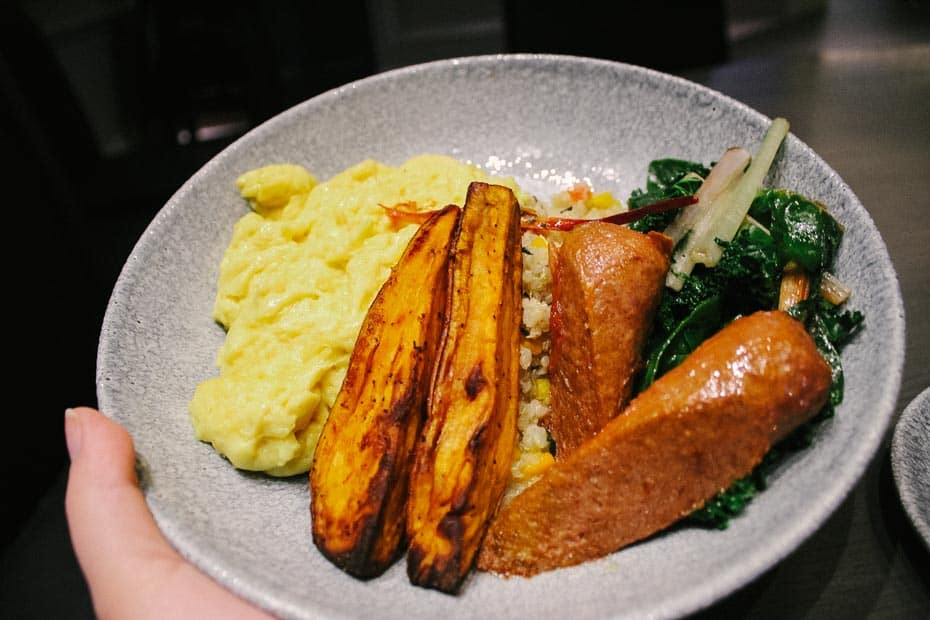 Anyway, about the rest of this protein bowl. The sweet potatoes, carrots, and greens complimented the dish. Underneath was a base of quinoa, which tasted like quinoa. While very filling, the grain didn't seem to add or take away from this entree.
The plant-based sausage was what you would probably expect. However, I have found that these breakfast sausages are usually more on the dry side.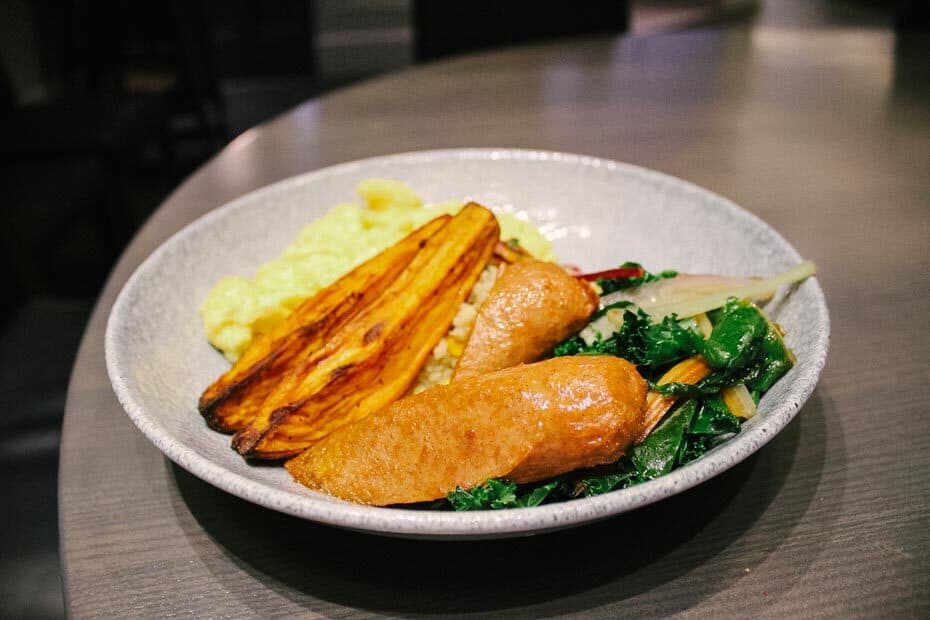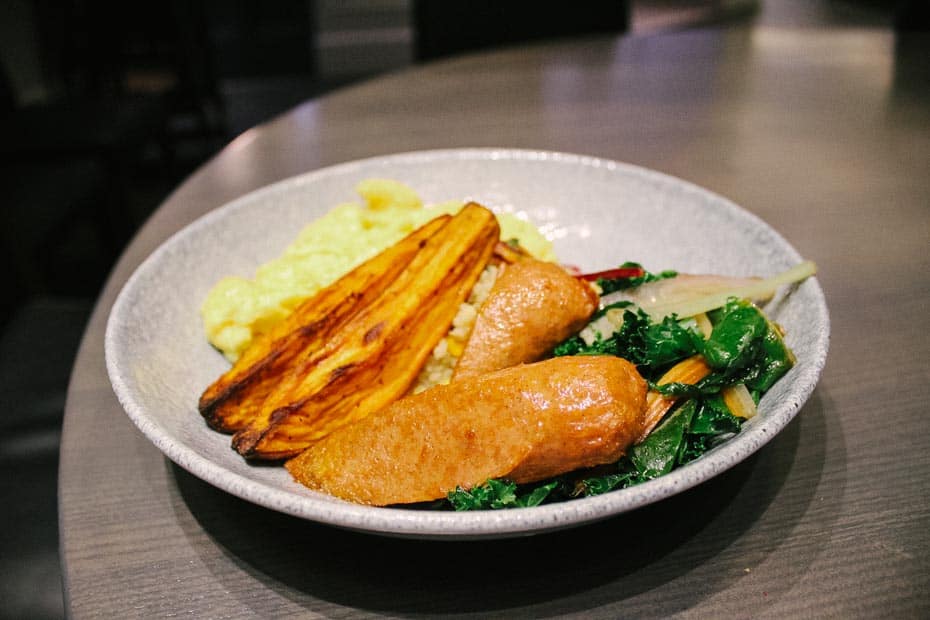 Speaking of plant-based protein, Primo Piatto at the Riviera has lemon ricotta pancakes that you can order with plant-based sausage. These pancakes are delicious. However, they are not vegetarian or vegan since they contain eggs and dairy.
Related: Primo Piatto Review at Disney's Riviera
The other part of the vegan breakfast protein bowl was chocolate avocado toast. I have a good deal of experience with avocado and love how the buttery flavor takes on chocolate. It might seem contradictory with its bright green color, but these items work well together.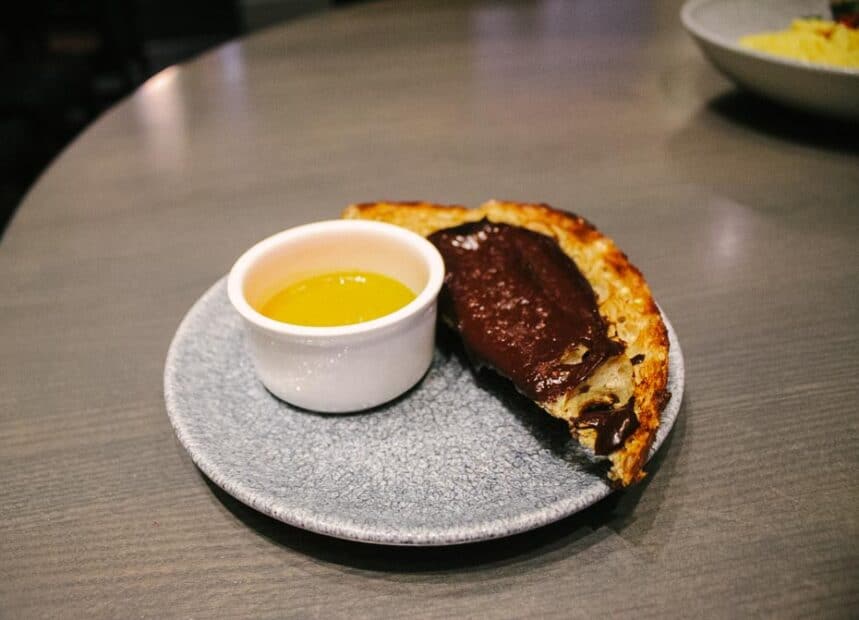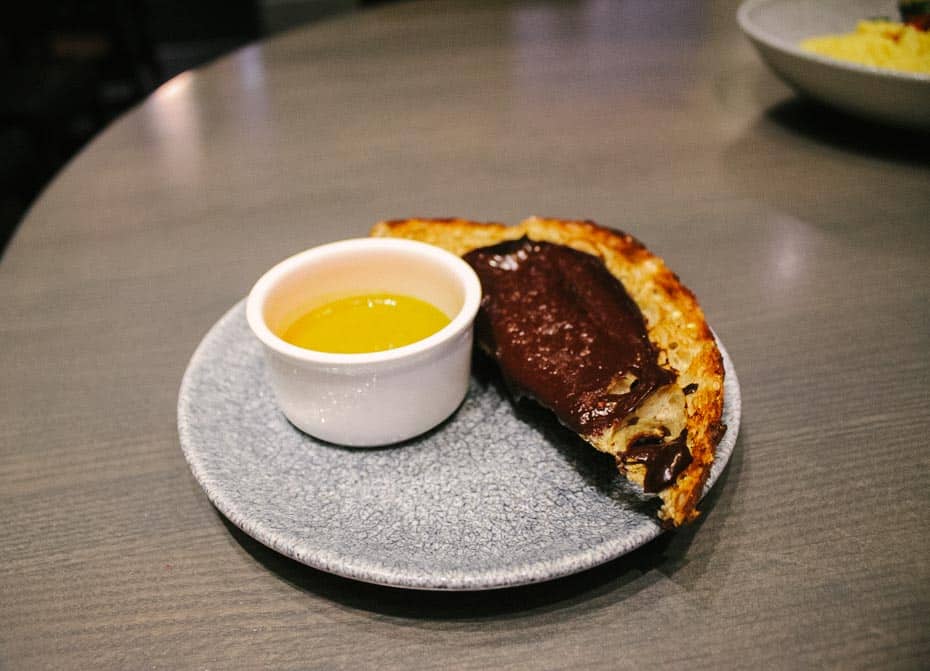 While this whole meal was beyond filling, I felt like I could have probably gone for another slice of that chocolate toast.
Besides the toast is a carrot ginger dressing. The dressing was supposed to be poured over the bowl ingredients. However, I didn't get the memo and kind of forgot it was there.
The sauce ended up getting pushed over to the side with my toast. Nevertheless, it was an enjoyable bite. Unfortunately, I can't comment on whether or not it all worked together.
Now we'll look at a few Ale and Compass breakfasts past. From my original restaurant review, we have the chocolate waffles again.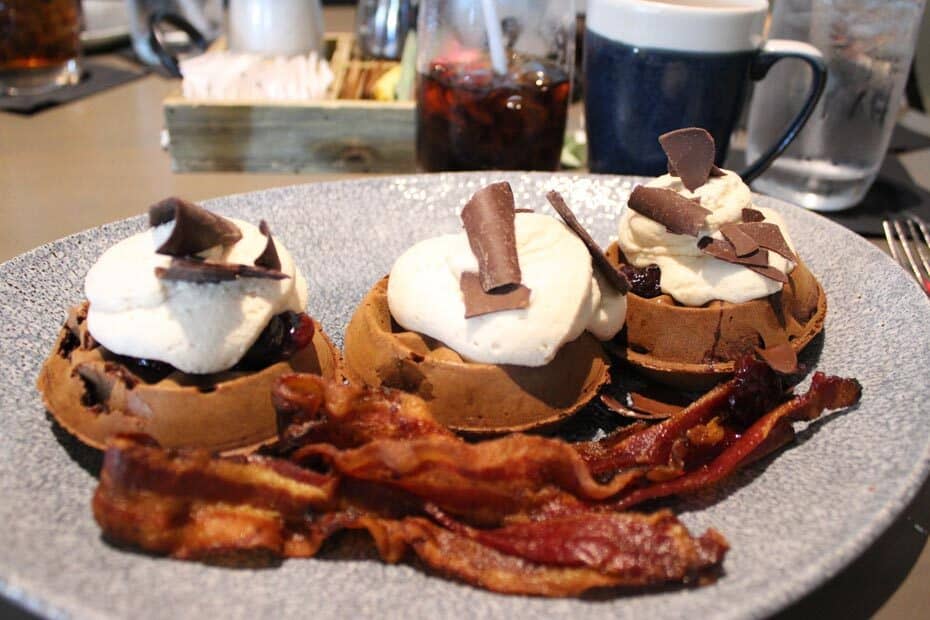 As someone ordering for the sake of reviews, I rarely order the same thing twice.
Here is what I had to say about them before:
These waffles are not waffling in any way but a good way. They will be gone very quickly when they make an appearance at your table. It might take a minute to wrap your taste buds around the richness, but after that, you will be just fine. Trust me.
Health-wise, they probably aren't the best choice. But dark chocolate, cherries, and a side of protein may hold a little merit. Of course, you can always promise yourself to do better and try harder tomorrow. That's what I do. After all, tomorrow is another day!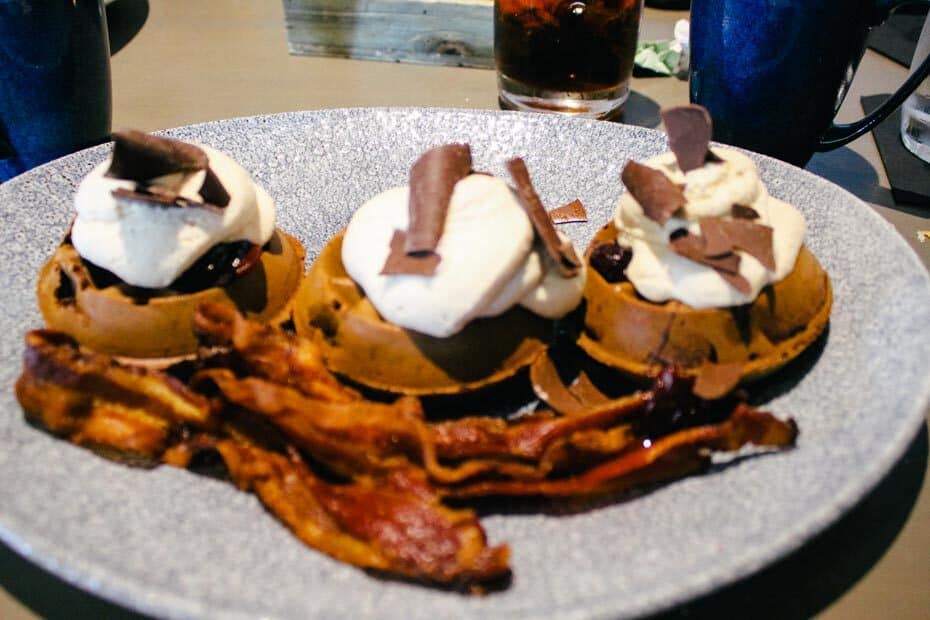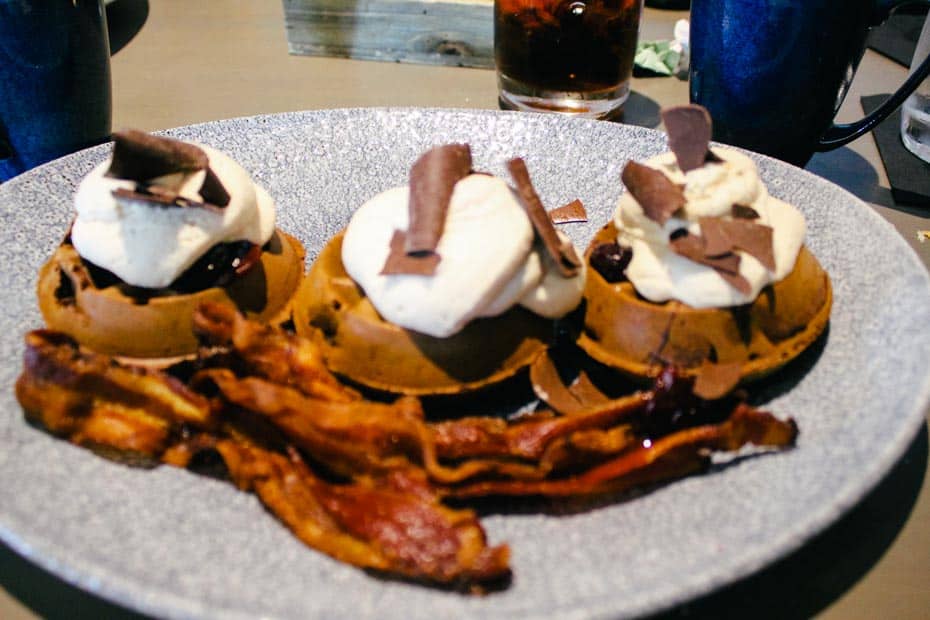 Below is an order of blueberry pancakes with bacon and sausage. The chef modified the dish for my son's food allergies by swapping the pancakes for allergy-friendly waffles.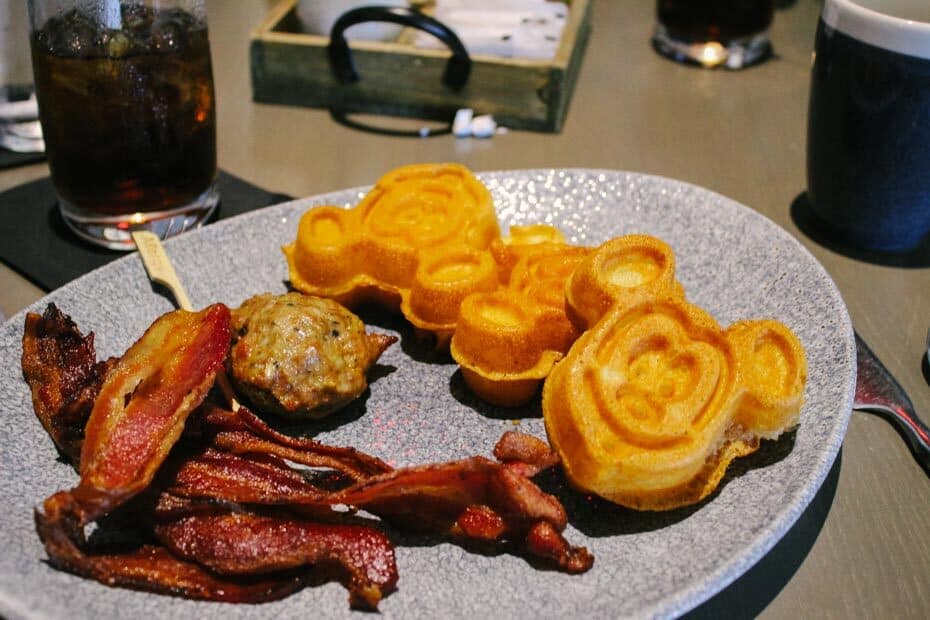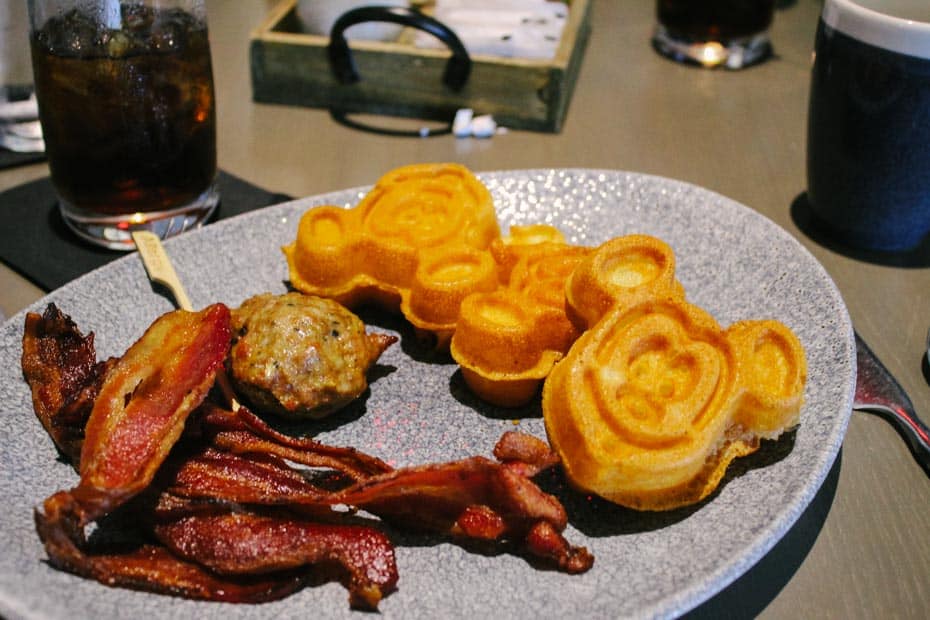 In our case, they substitute the pancakes with the allergy-free waffle mix. We usually end up with a side of both types of meat. The chefs are more than willing to customize a meal with other offerings. You might enjoy fruit or an order of potatoes.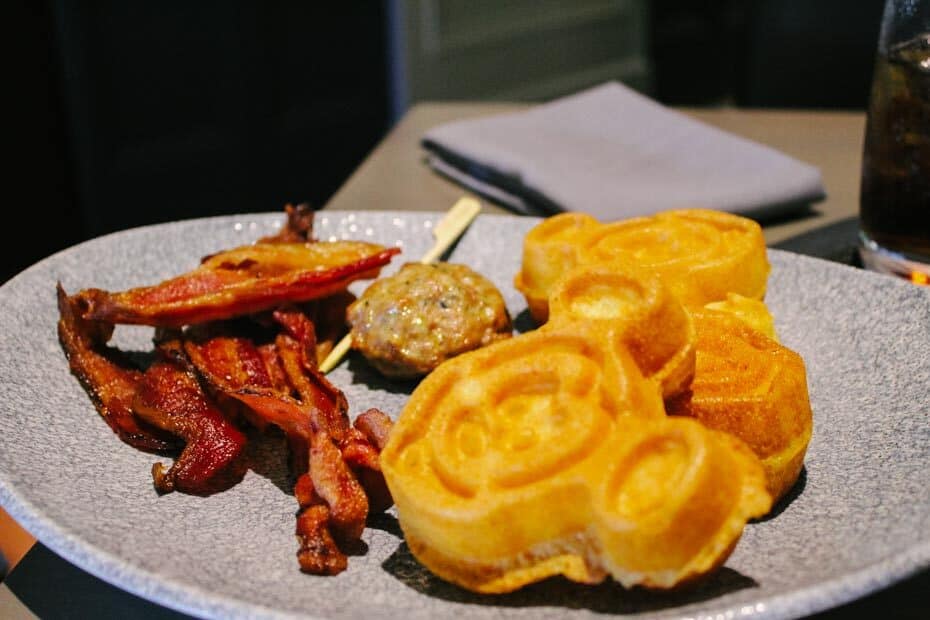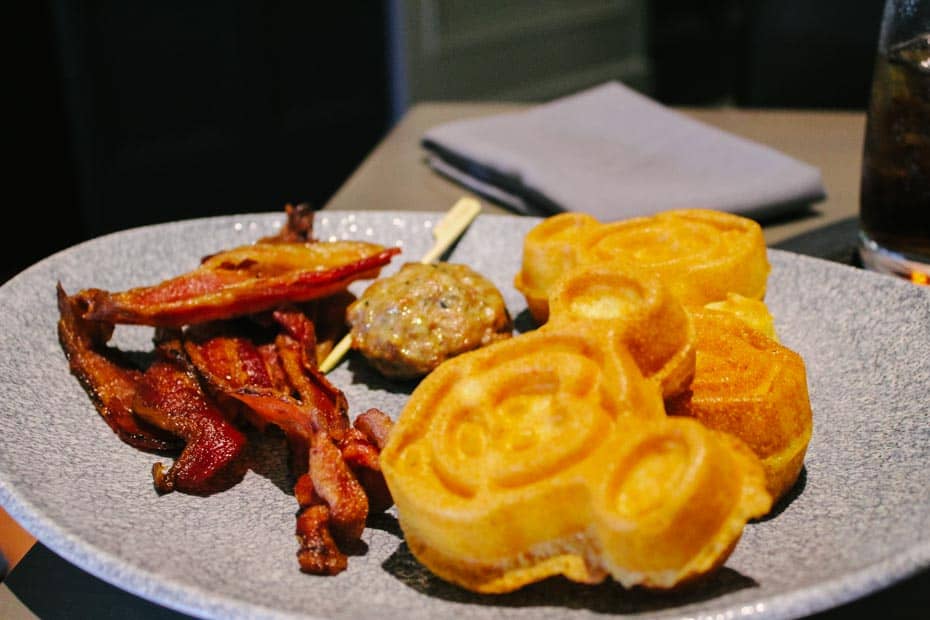 My food allergy diner loves to eat here. The chef at Ale and Compass comes out and talks to him about his order in advance. Disney chefs, in general, do a lot to accommodate food allergies, and we are so appreciative.
If someone in your party has their heart set on pancakes, they can make them as well. However, we have heard from multiple chefs that the waffle mix holds up much better preparation-wise.
On a previous visit, I ordered the open-faced skirt steak sandwich. Unfortunately, this item is not part of the current menu. However, it might return.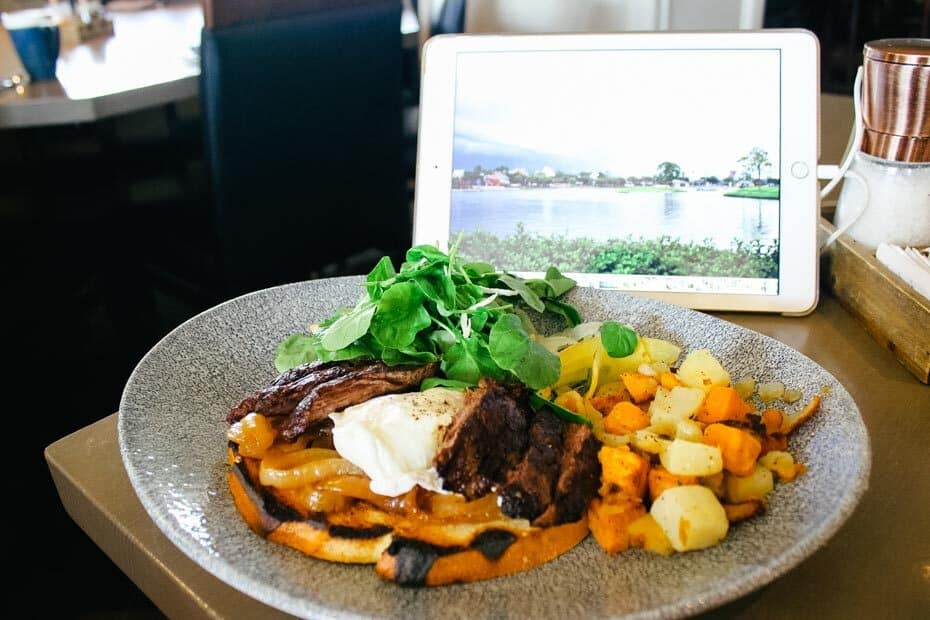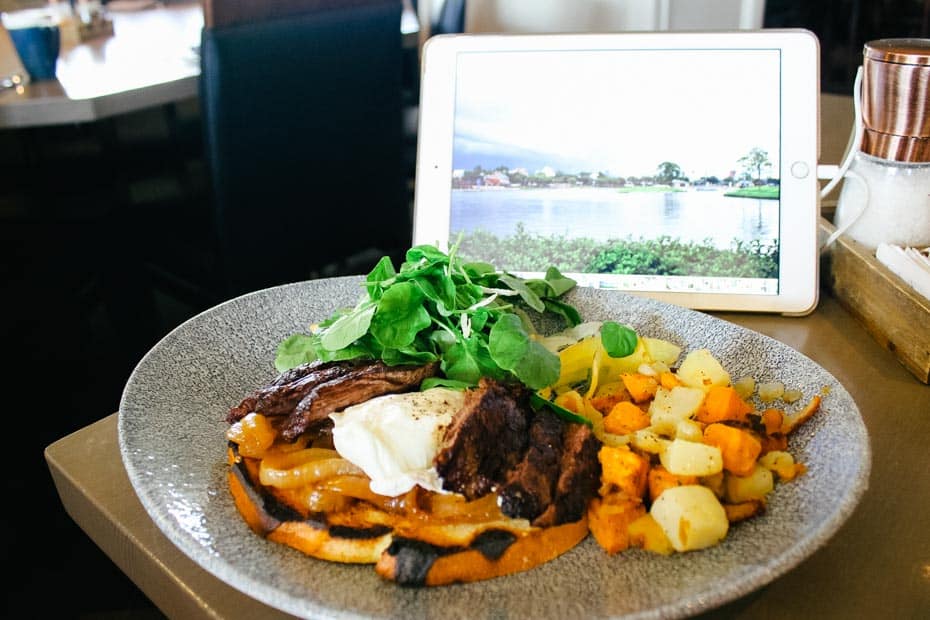 A recent update in 2022 shows that the breakfast flatbread has returned. Somehow I can remember that I planned to order the flatbread on this visit a few years ago.
The table next to me had ordered it, and I thought it looked delicious. However, my server suggested that it was not a well-received item. And later, I remember noticing how they had hardly eaten any of it.
As for my breakfast sandwich, it was the most expensive menu item at the time, making it a great value with the accompanying buffet.
The open-faced skirt steak sandwich comes with caramelized onion, a poached egg, sweet potatoes, fennel, watercress, tomato salad, and truffle vinaigrette. I opted to have the tomato salad portion left off my plate.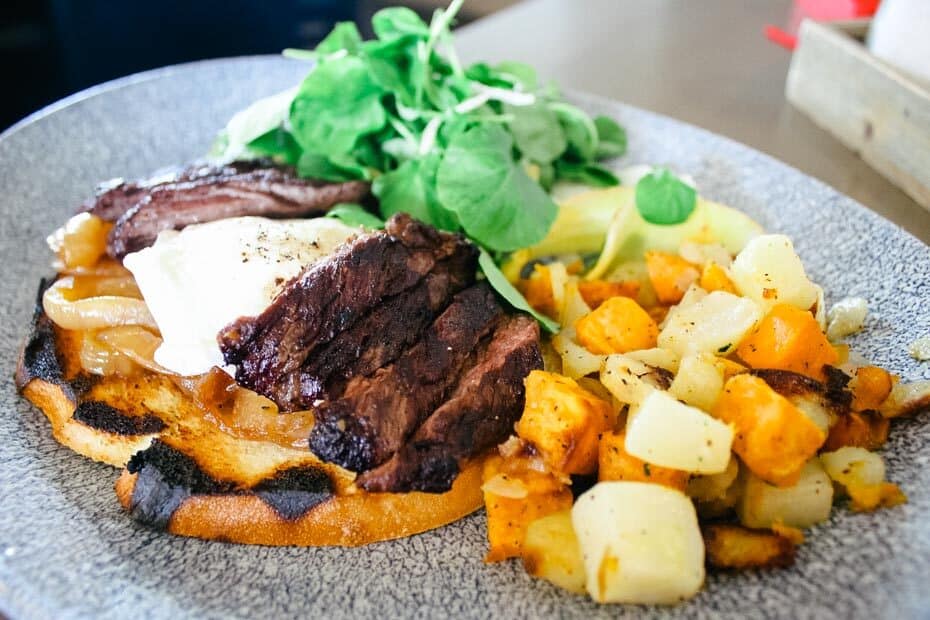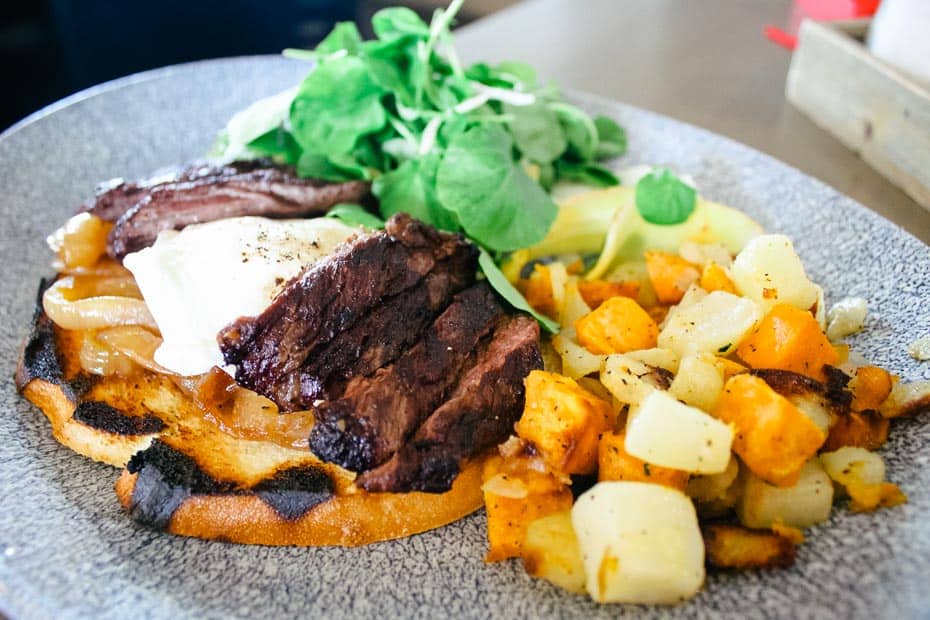 This entree was colossal, and the steak was well prepared. The watercress and poached egg complement the dish. On the side, there was a variety of potatoes in the mix, and I found them flavorful in their own right.
Hopefully, this item will return, and maybe the flatbread has improved.
Other items on the Ale and Compass breakfast menu include the following:
Country Ham and Cheddar Omelet (with arugula and seasonal fruit

)
Salted Caramel Apple French Toast (with choice of sausage, bacon, or fresh fruit)
Breakfast Flatbread (with sunny–side egg, Applewood-smoked bacon, ham, provolone, and arugula)
Crab Cake Benedict (poached egg, jumbo lump crab cakes, and arugula with lemon-herb hollandaise)
For kids meals, the following items are available:
Mini Parker House Egg, Ham, and Cheddar Sandwich
Mickey-shaped Waffles
Scrambled Egg
Fruit Plate
Blueberry Pancakes
You can review the entire menu here on Disney's site.
Ale and Compass Breakfast Buffet
Before we wrap things up, let's take a look at the breakfast buffet at Ale and Compass. The buffet returned in 2022. All of the photos below are from our original review.
Next time I'm over that way, I'll make a reservation to provide a few updated photos. However, from what I've seen, you can expect similar items like the ones shown below.
The Ale and Compass menu describes the buffet as "seasonal fruit, assorted yogurt parfaits, assorted breakfast pastries, house-made granola, cheddar biscuits with country gravy, and warm cinnamon rolls."
At the time of this update, the Ale and Compass buffet costs $23.00 and includes a choice of one entree and one drink. The drinks listed are coffee, tea, juice, or soft drinks.
Entree prices run anywhere from $14.00 to $18.00. Considering the price includes a drink, it's considerably reasonable to order the buffet option.
Most drinks run around $4.00, so if you order the most expensive entree with a drink, you're already looking at spending $22.00. That's only $1.00 more to add the buffet.
The buffet is not designed to serve as a complete meal. However, it could. It's unique as it's supposed to be more of an appetizer before the main course. Or you might like to get something sweet for dessert after your entree.
The breakfast buffet at Ale and Compass offers several selections of items. For starters, there was a charcuterie selection with different kinds of cheese.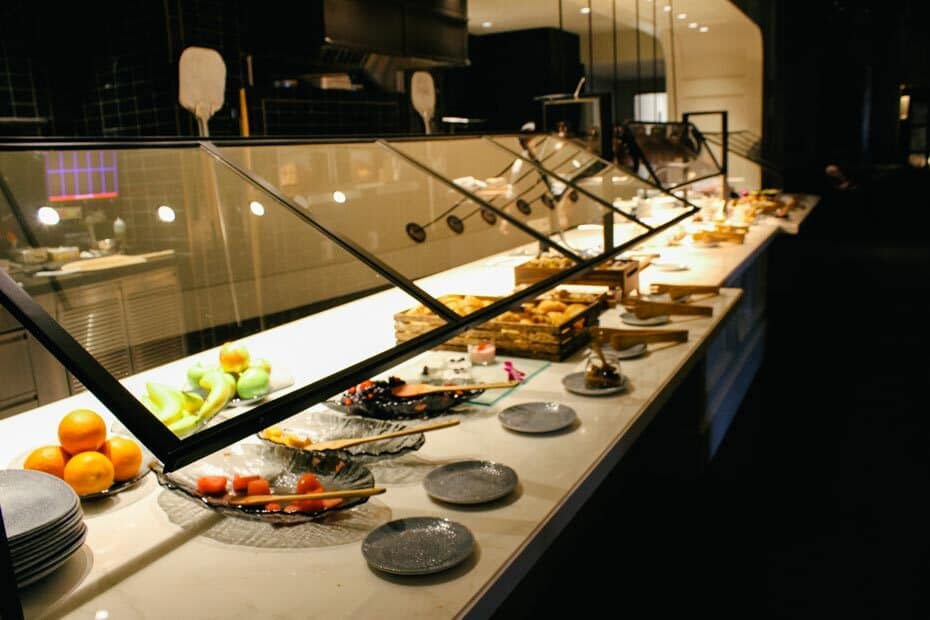 Additionally, there were items like smoked salmon and accompaniments. Those include cream cheese, capers, tomatoes, onions, and other typical sides.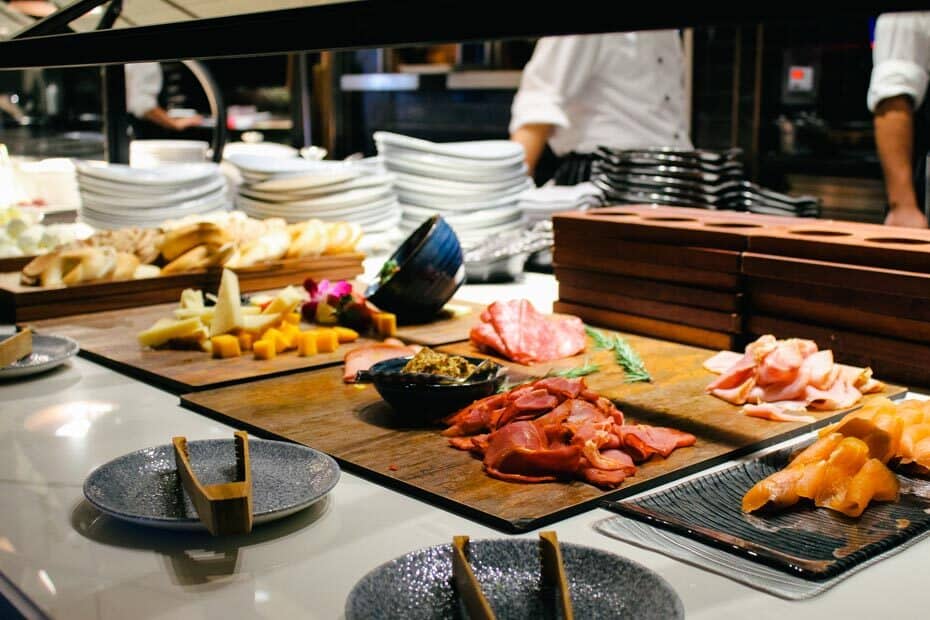 The breakfast buffet always had an excellent selection of fresh pastries.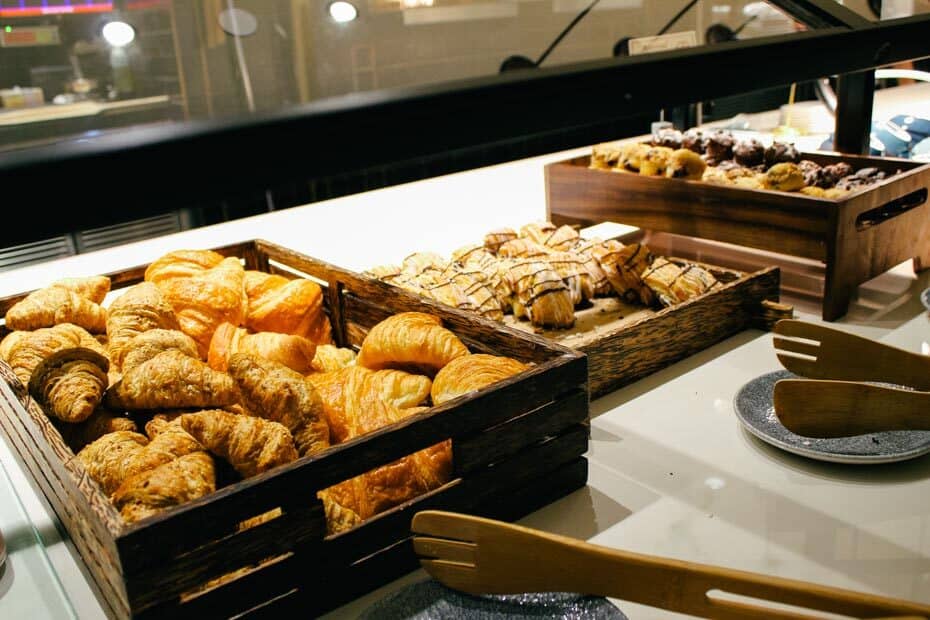 The buffet has an area for traditionally hot items like biscuits with gravy. Those are Parker House rolls next to the biscuits. I recommend trying them.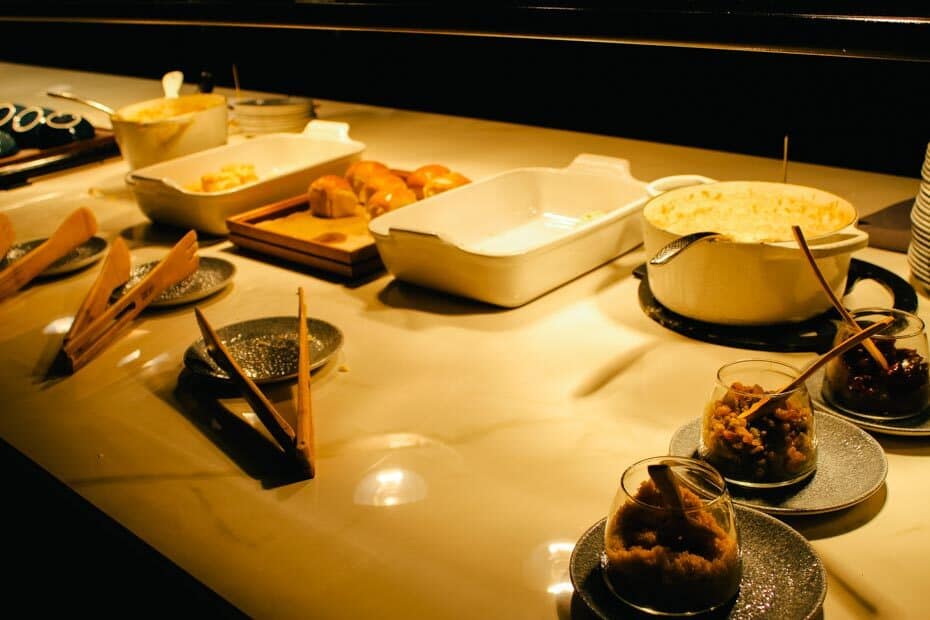 They are the same that the Ale and Compass Lounge serves next door. The rolls are soft and fabulous. You can't go wrong with them.
Ale and Compass's breakfast buffet has sweet items like cinnamon rolls. Of course, anyone wanting oatmeal will find it as well, along with its usual modern-day sugary toppings.
Fresh fruit is available. Make sure to get one of the cooler bowls for this option. Many of the plates on the buffet are warm and will heat your fruit if you're not careful.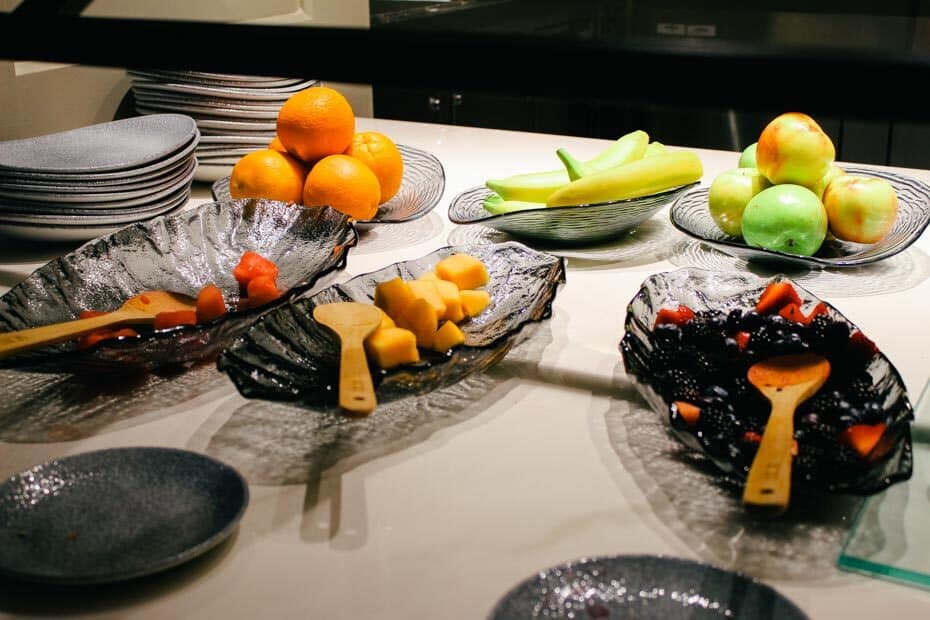 And whatever you do, don't go overboard on the buffet because your entree will not be far behind. You can always go back later if you desire something else.
Before we wrap things up, we'll look inside the restaurant. The interior of Ale and Compass has a modern, sleek look.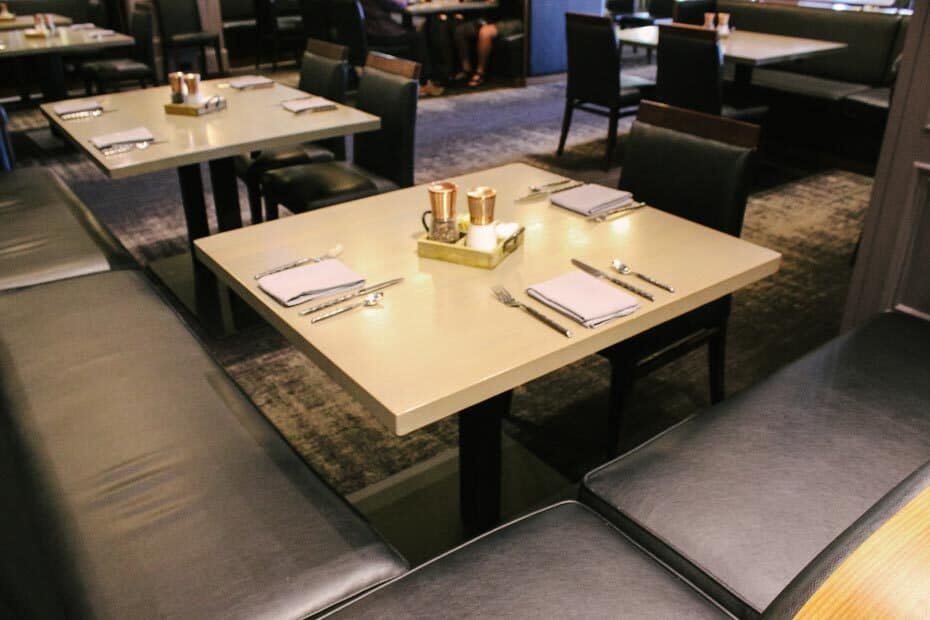 The theming is nautical like the rest of Disney's Yacht Club. But don't let the clean, sharp look make you feel the need to dress up.
This location is casual like most other restaurants at Disney World. There's no formal dress code required.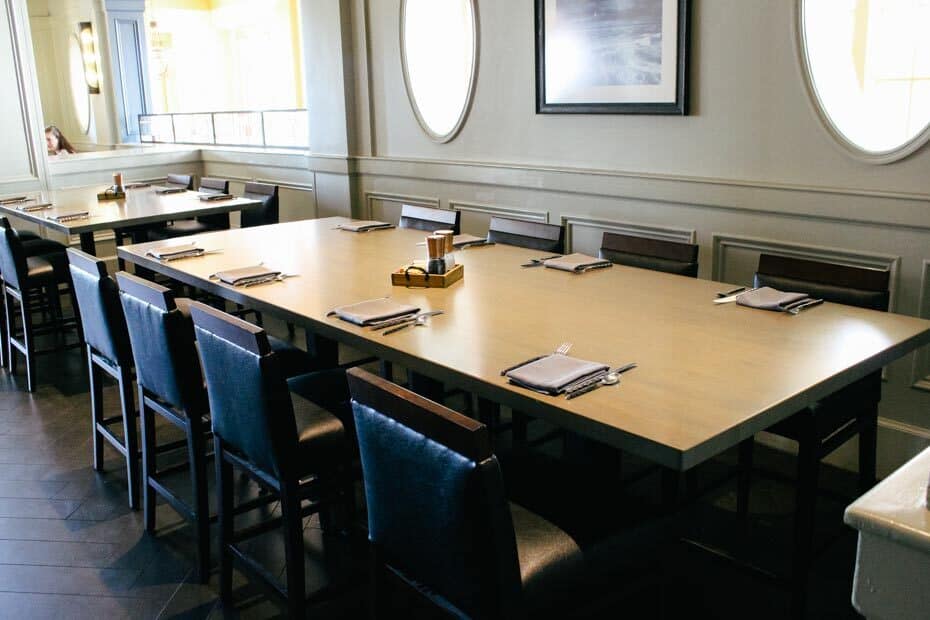 As far as dining at Ale and Compass for breakfast, I recommend making a reservation here on your Epcot or Hollywood Studios park day. You can enjoy a leisurely breakfast or brunch and then walk over to either park.
Additionally, if you stay at one of the Epcot Area Resorts, breakfast here is a no-brainer. There isn't any reason this restaurant ranks high on our best breakfasts list.
Related: Best Breakfast at Disney World Resorts
All of our articles are listed here for Disney's Yacht Club Resort for more information. Or you might enjoy browsing some of these individual reviews:
In the comments: Have you visited Ale and Compass for breakfast yet? Or are you planning a meal here? If so, what looks good to you? Leave a comment below and share your thoughts.