Crew's Cup Lounge at Disney's Yacht Club
If you're looking for a hole-in-the-wall hidden gem at Walt Disney World, look no further than Crew's Cup Lounge. Crew's Cup is the formal lounge for Yachtsman Steakhouse, the signature dining location at Disney's Yacht Club.
The lounge sits adjacent to Yachtsman Steakhouse in a long hall off the Yacht Club's lobby. It's the last stop for the Yacht Club before reaching the Beach Club side of the resort.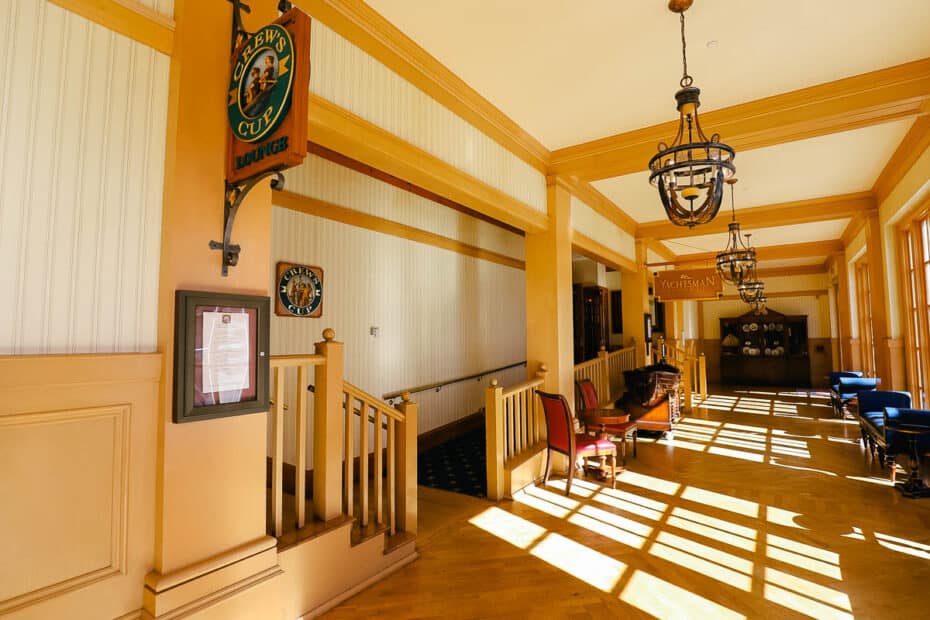 During our recent stay at Disney's Yacht Club Resort, we stopped at Crew's Cup for a bite to eat. You may remember we stayed at the resort primarily so we could walk to Disney After Hours at Hollywood Studios.
Related: Is After Hours at Disney's Hollywood Studios Worth It?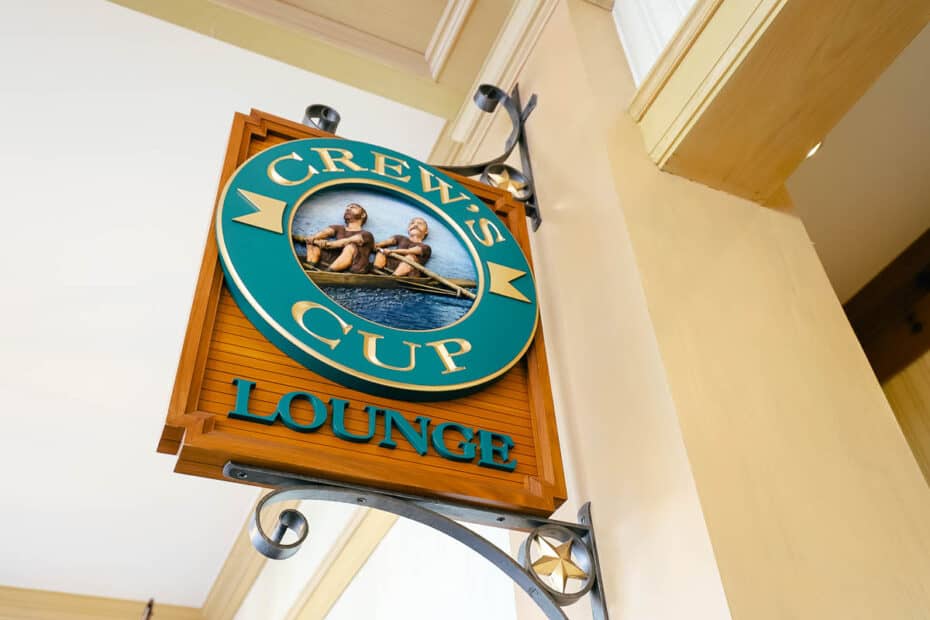 Crew's Cup Lounge is open daily from 4:00 p.m. until 11:00 p.m. However, they only serve food between 5:00 p.m. and 9:30 p.m.
So if you arrive before 5:00 p.m. and see the door open, you can help yourself to a seat and enjoy the lounge's bar service. Crew's Cup shares a kitchen with Yachtsman, so they don't offer any food until the restaurant opens.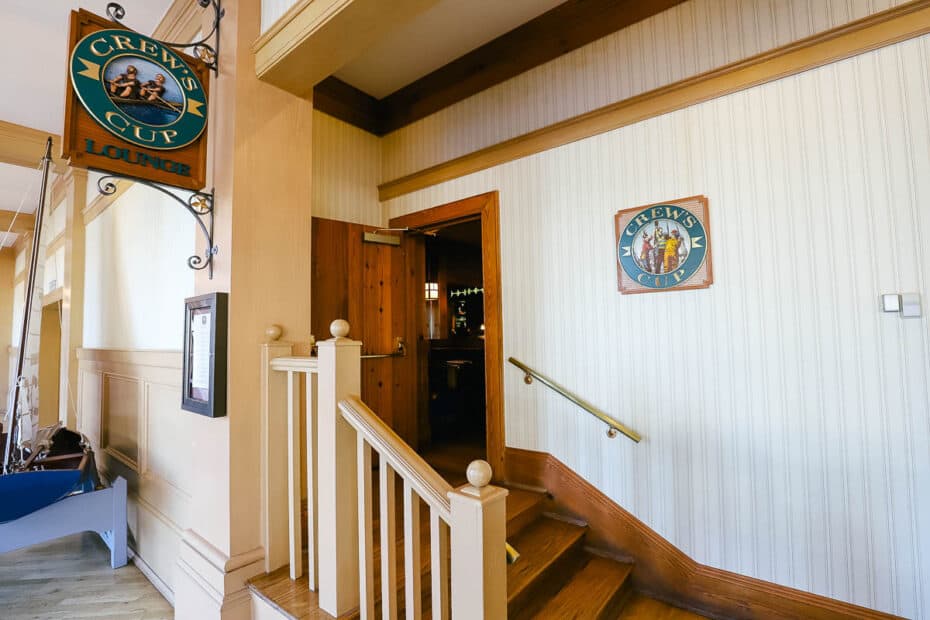 A menu is posted outside the lounge. We've eaten at Crew's Cup many times. However, their menu has been significantly reduced in recent years.
Since I walk through the resorts at least once a month, I always stop to see if Crew's Cup menu has changed. So I was delighted to see more options.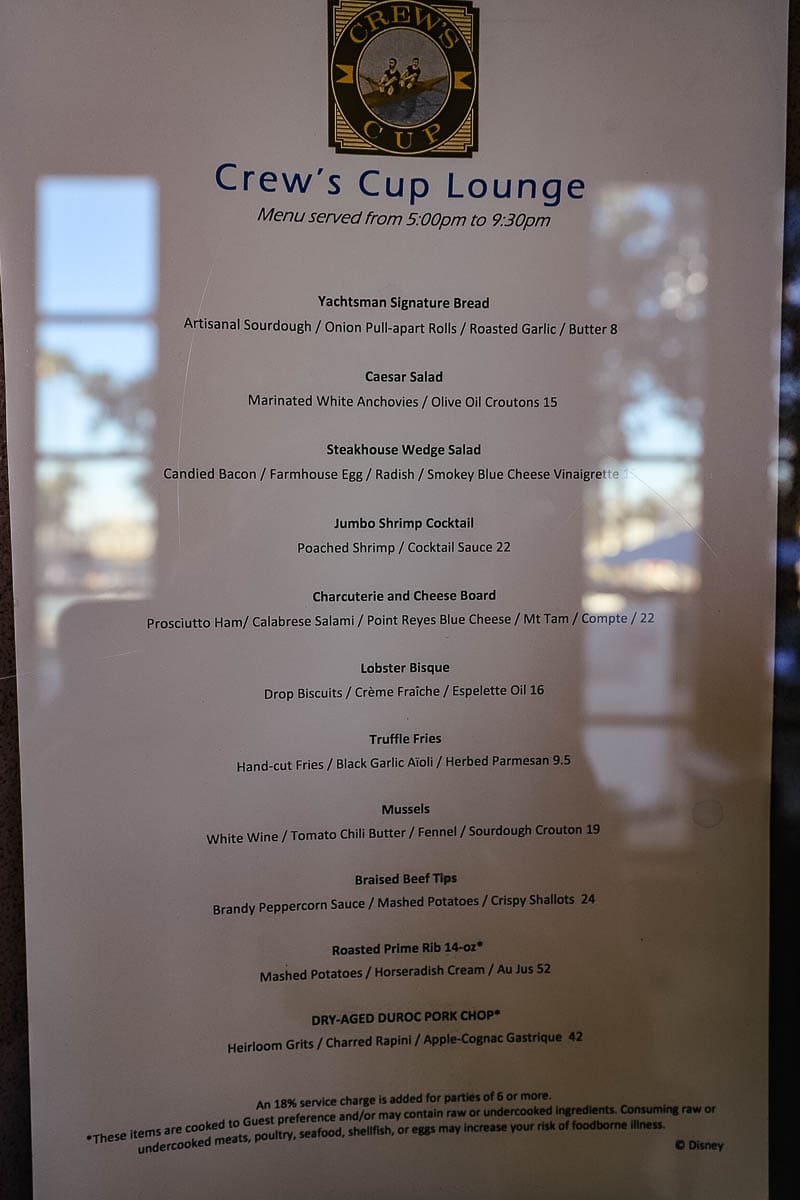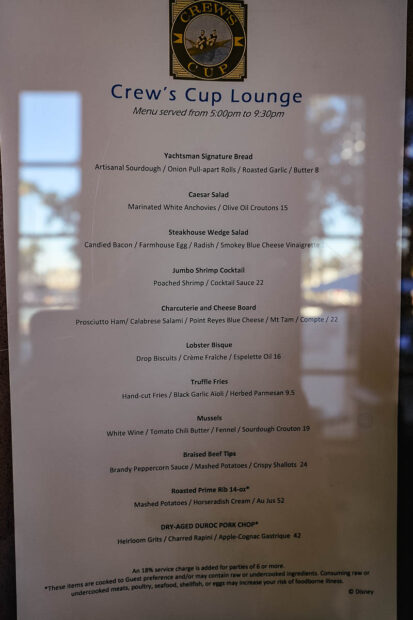 Here is a list of the menu items for Crew's Cup Lounge on our visit:
Yachtsman Signature Bread
Caesar Salad
Steakhouse Wedge Salad
Jumbo Shrimp Cocktail
Charcuterie and Cheese Board
Lobster Bisque
Truffle Fries
Mussels
Braised Beef Tips
Roasted Prime Rib
Dry-Aged Duroc Pork Chop
Unfortunately, the prime rib sliders haven't returned. But our server said that guests request them all the time. So maybe we'll see them again in the future.
In the past, we've had the Yachtsman signature bread. These are pull-apart style onion rolls that come with roasted garlic. They are amazing.
Related: Yachtsman Steakhouse Review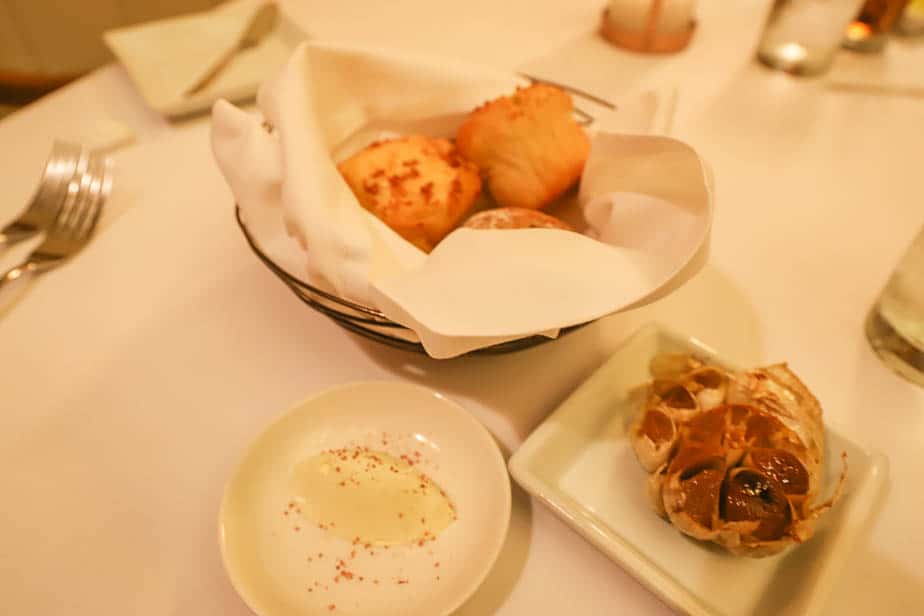 I've also stopped in for the Caesar salad on more than one occasion. However, for this visit, we decided to go with the Charcuterie and Cheese Board.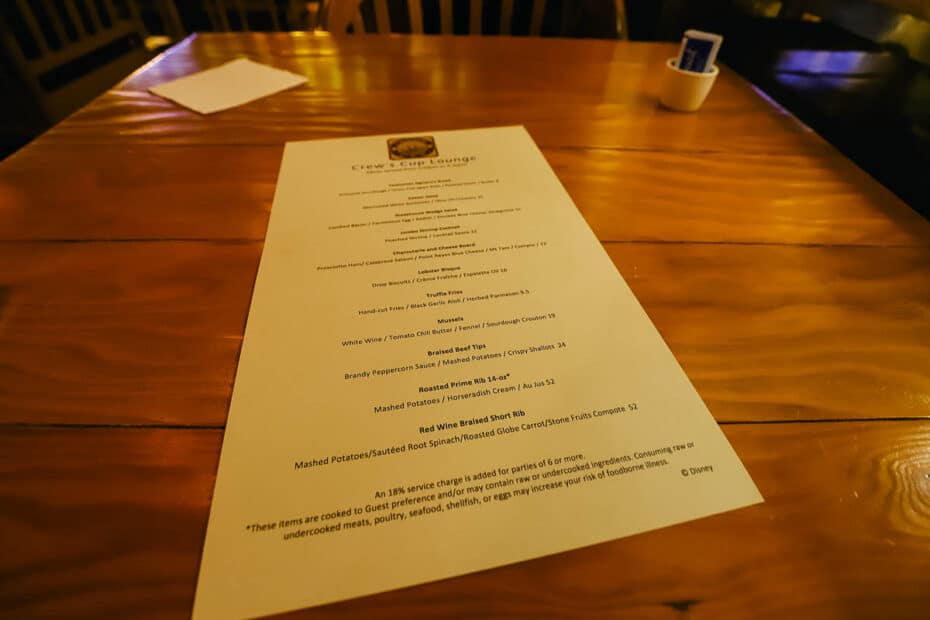 On the far right-hand side of the board, we have duck pastrami. It's hard to describe how delicious this cured duck meat tasted. It was the first item to disappear.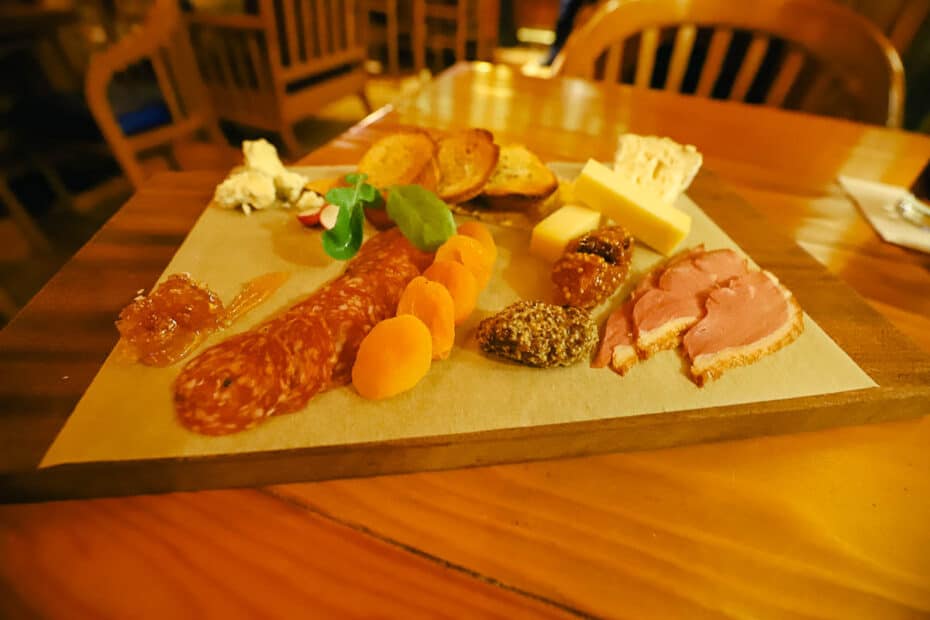 Other items on the board included: Calabrese salami, dried apricots, crostini, crackers, goat cheese, brie, Point Reyes blue cheese, honeycomb, mustard, radishes, and a cherry mostarda.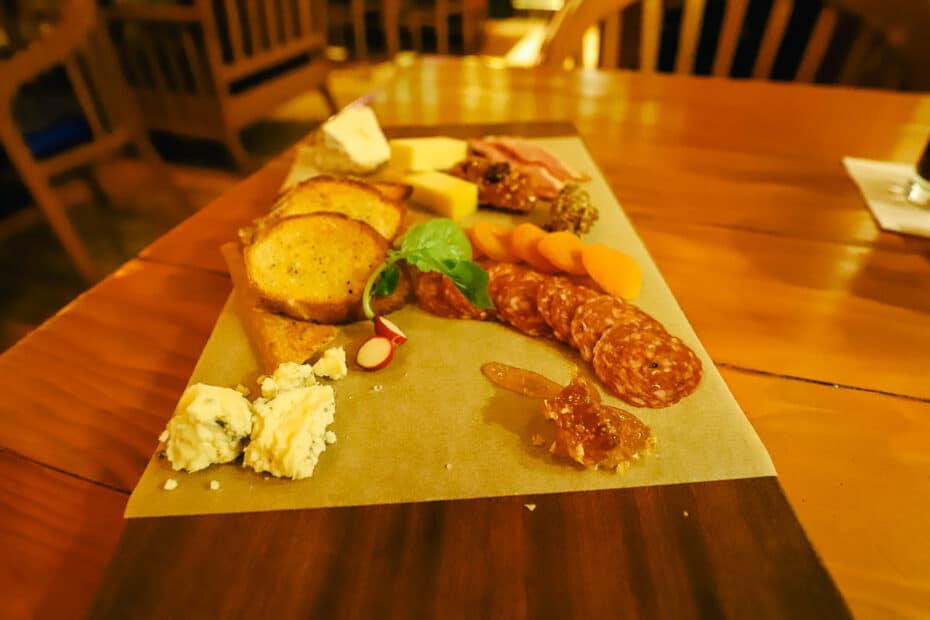 Overall, this board felt like an excellent value for the amount of food we received. Unfortunately, we couldn't finish the cheese selections or the dried apricots. No worries, I had them for a snack later that night.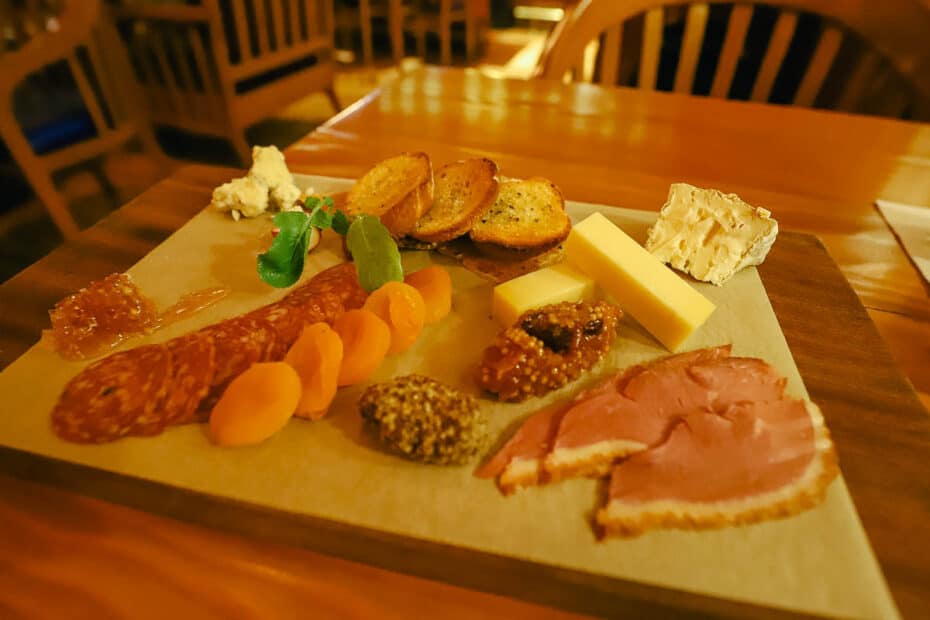 Sadly, this was the only item we tried this evening. However, I feel sure we'll be back soon to try a few more things.
Also, I couldn't help but take the opportunity to share this hidden gem with you. Crew's Cup Lounge is an excellent option if you don't have a dining reservation but would prefer something more elevated than counter service.
From our experience, the food and service have always been top-notch. So I hope you'll have the opportunity to stop for an appetizer or an entire meal during your next visit.
For more information about the Yacht Club, our resort guide lists our coverage:
Or you might enjoy these individual articles:
In the Comments
Have you ever visited Crew's Cup and Disney's Yacht Club? If so, what was your experience? Do any of the menu items sound appealing? What are your thoughts on dining at a lounge?