Disney's Yacht Club Room Tour (A Standard Guest Room with a Garden View)
This article previews a standard guest room with a garden or woods view at Disney's Yacht Club. Since we initially wrote this article, this view category is now considered a resort view.
It's been far too long since we visited Disney's Yacht Club. Before starting Resorts Gal, we stayed at this hotel often. We were even guests of the hotel when its nautical rooms debuted a few years ago. They were some of the first rooms at Walt Disney World to offer solid surface flooring.
So when several events in the Epcot Resorts Area coincided, I knew it was time to return for an updated look at the resort. Those events were Disney After Hours at Hollywood Studios and the start of the Epcot International Festival of the Arts.
Since the resort is within walking distance of both parks, it was convenient to stay here. Over the course of a few days, I spent quality time at the resort, attended an After Hours event, and walked back and forth to Epcot for the start of the festival.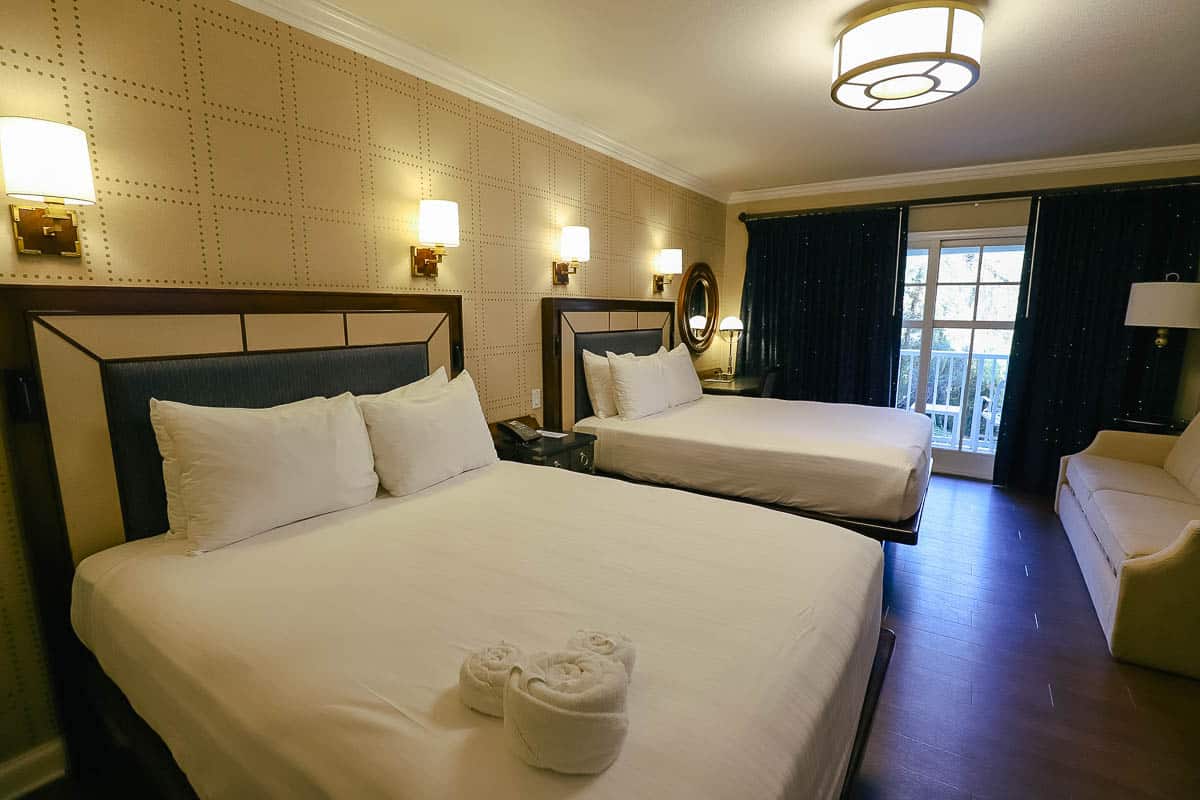 Disney's Yacht Club's rooms are among my favorite resort rooms in all of Walt Disney World. Unfortunately, if you look closely, you'll notice they are starting to show the slightest amount of wear and tear. However, that can be expected over time, and these rooms are by no means shabby.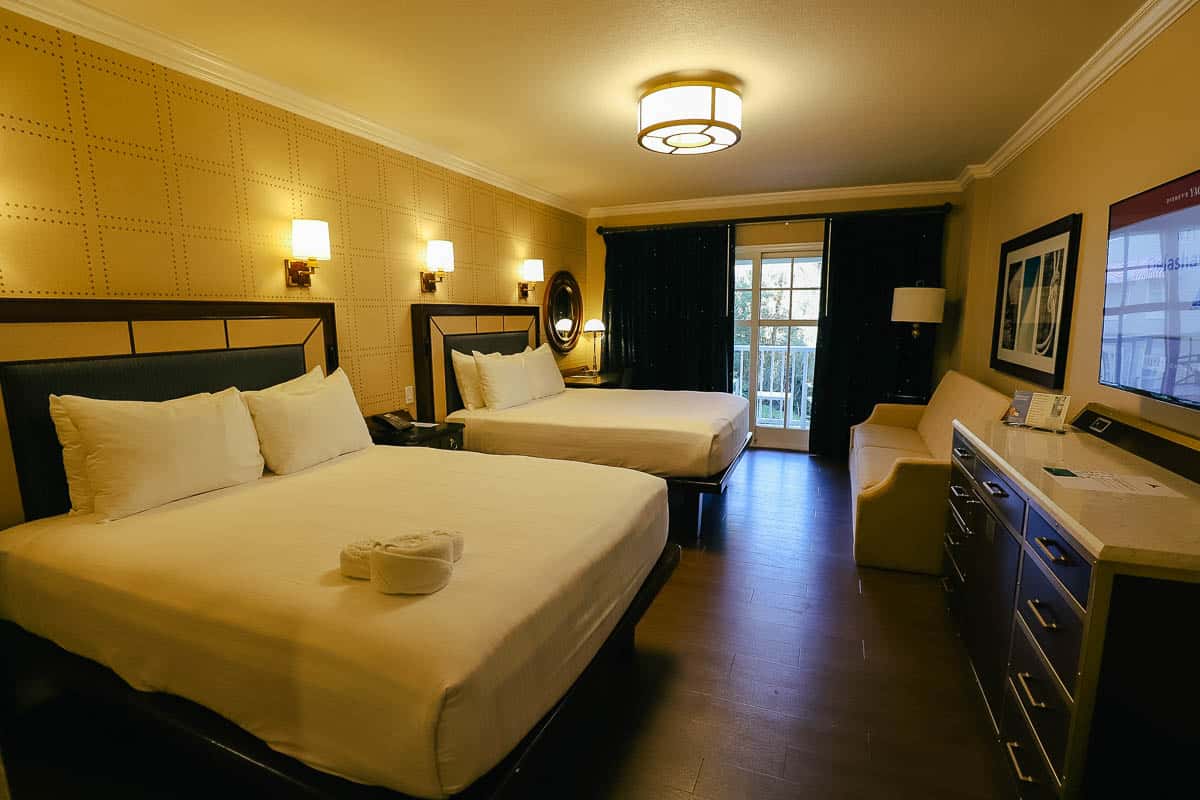 Behind the beds, the feature wall offers a patterned wallpaper. Lamps hang on each side of both beds. Everything in the room has a nautical look.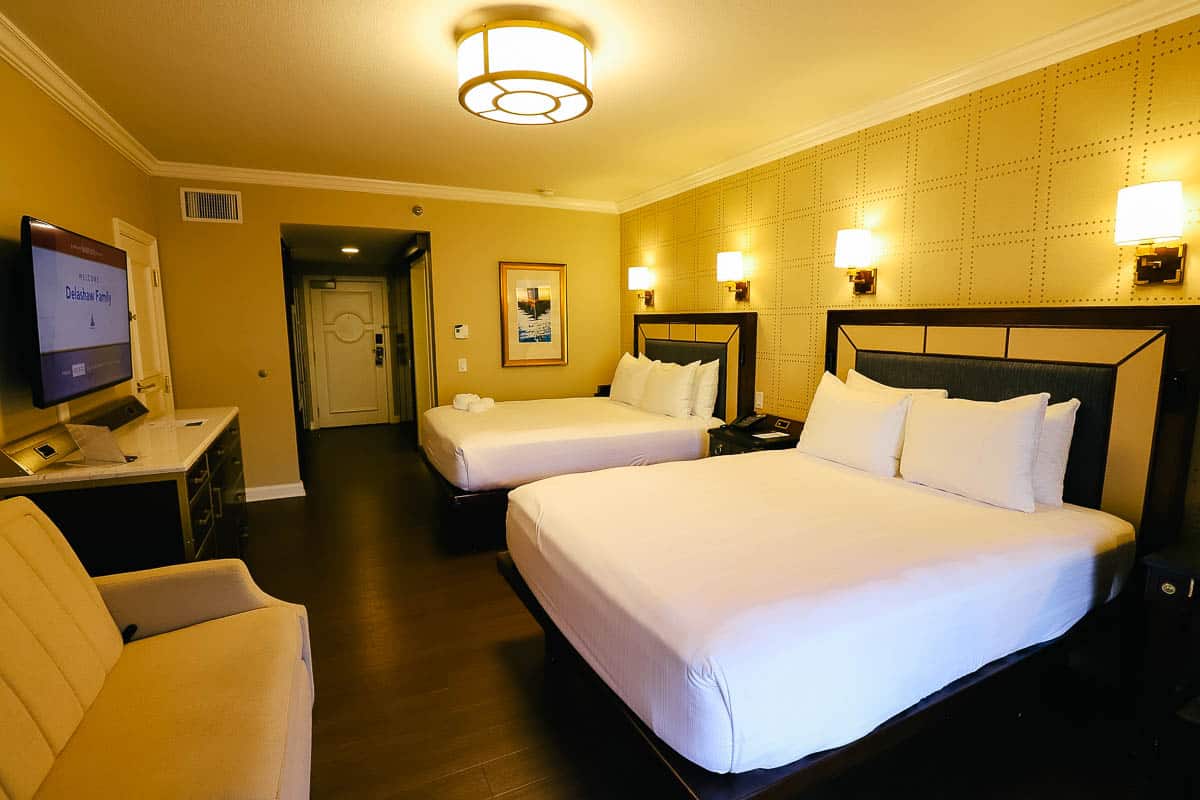 Most standard rooms at Disney's Yacht Club sleep up to five guests. This room has two queen beds and a pull-down sleeper sofa for one.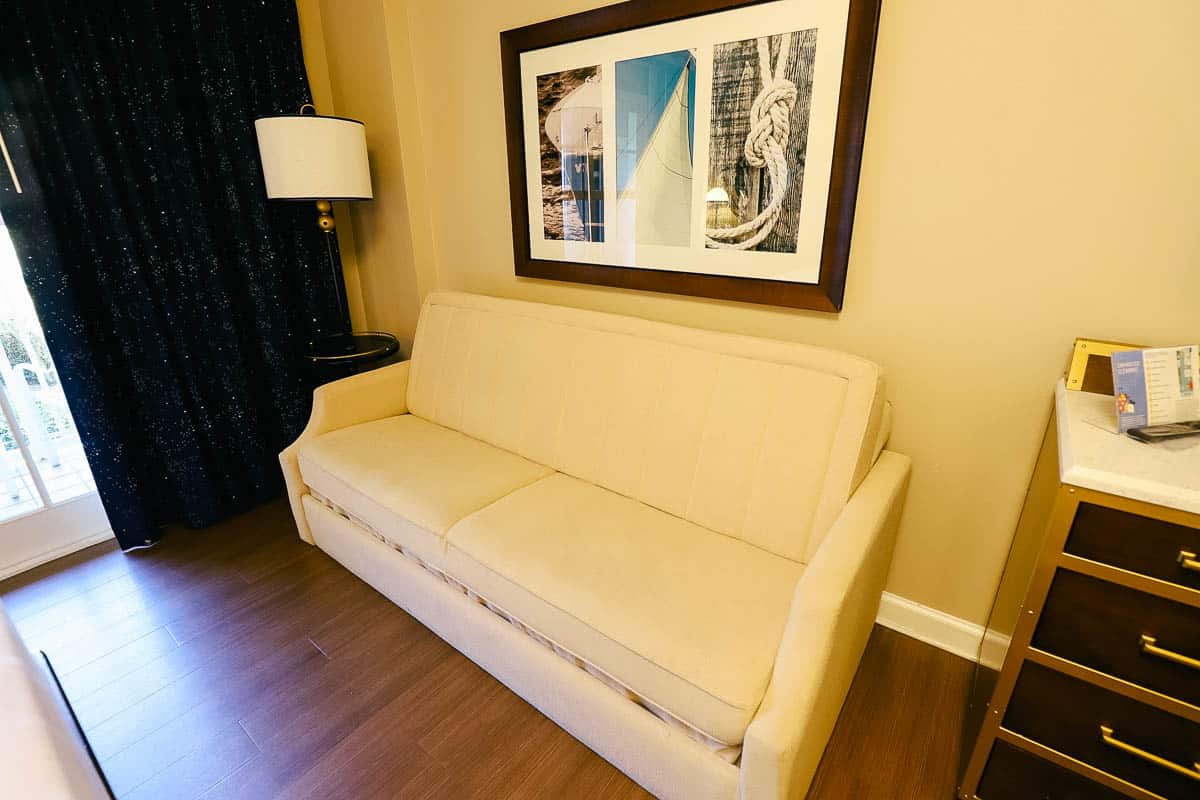 Below is a photo showing how the bed converts. You may remember we saw this same style of convertible bed in our stateroom on the Disney Wish and in the Incredible rooms at the Contemporary.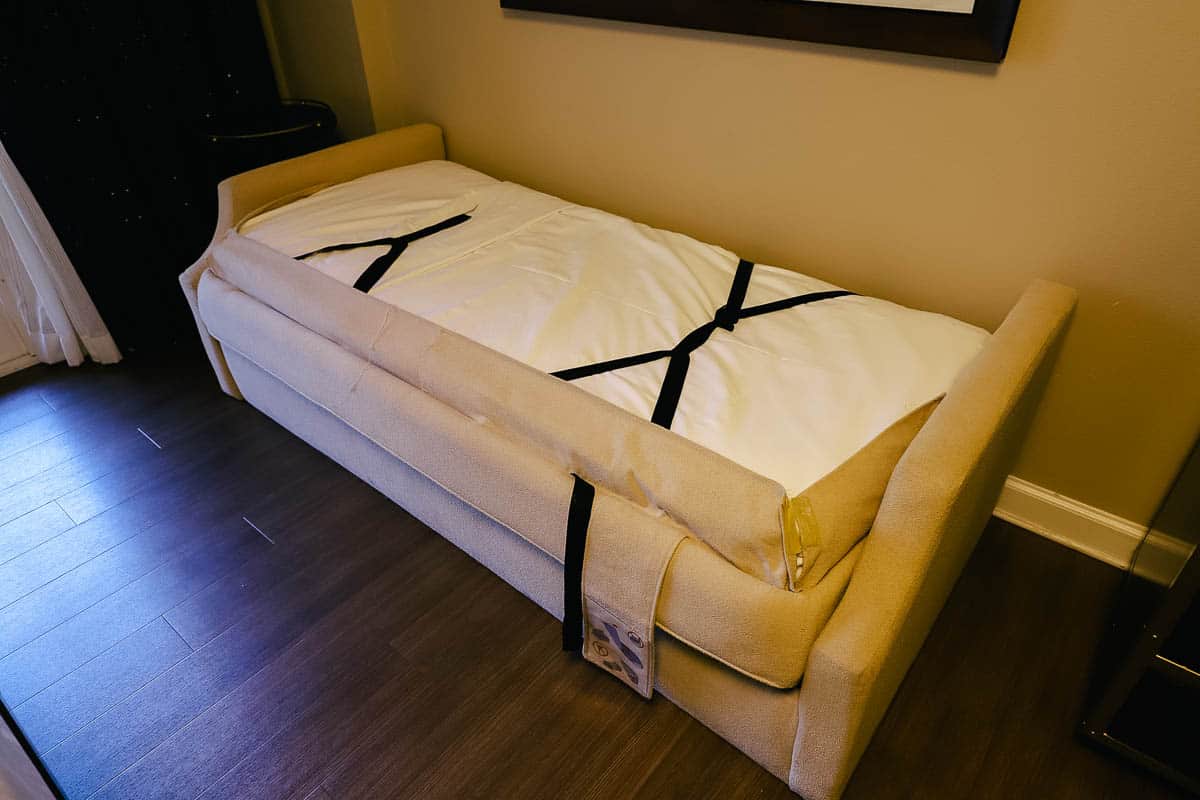 Even though these beds are smaller than a standard sofa-sleeper, I prefer them. They are much more comfortable.
Our room had plenty of storage space. Here is the dresser with various size drawers and a cabinet in the middle. You might also note there's plenty of counter space with several charging and USB ports.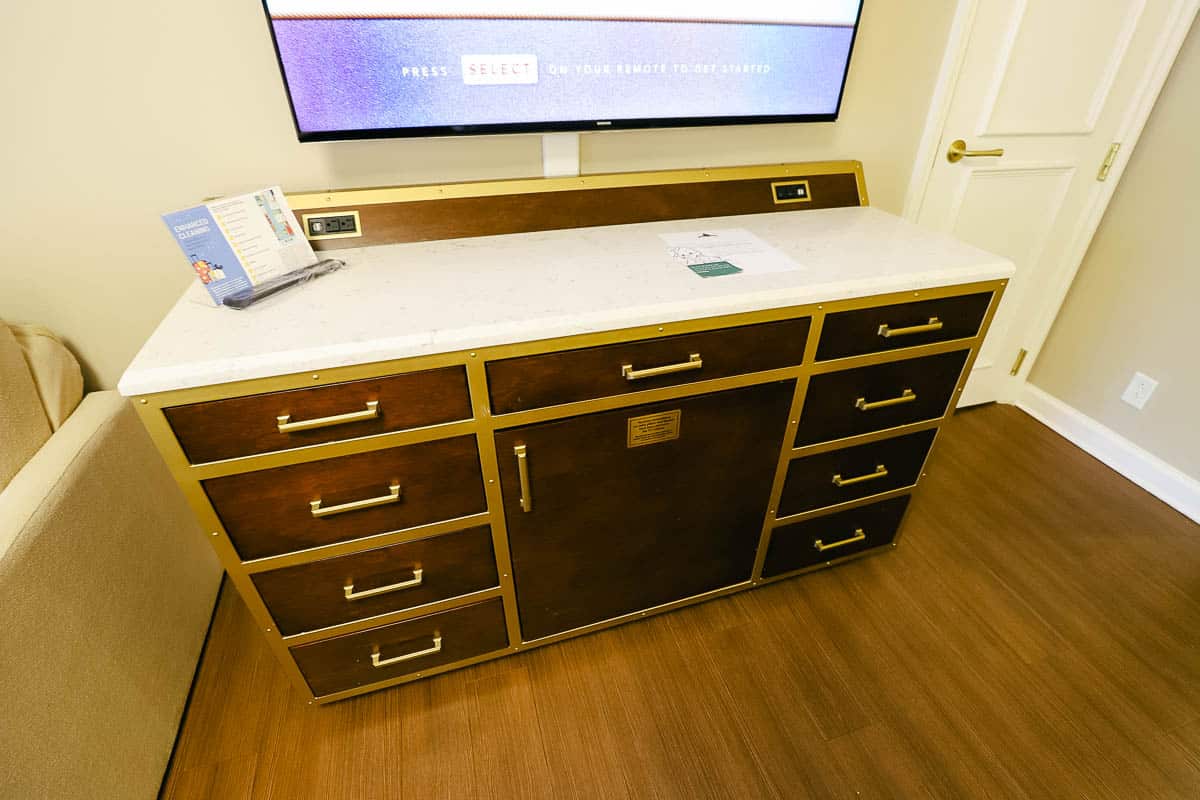 If you're anything like me, you'll have the extra pillow and blanket out in no time. Of course, if you need more, housekeeping will be happy to bring extra.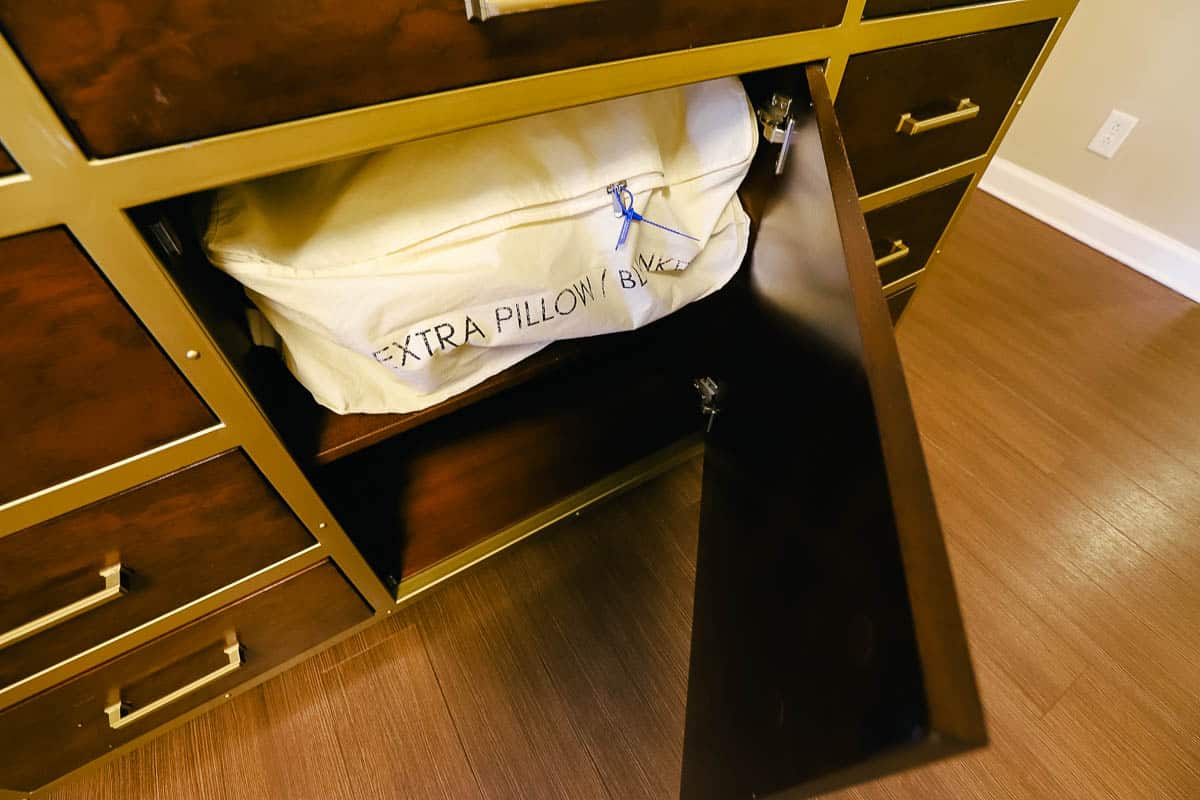 On the wall nearest the bed, there are a few convenient touches.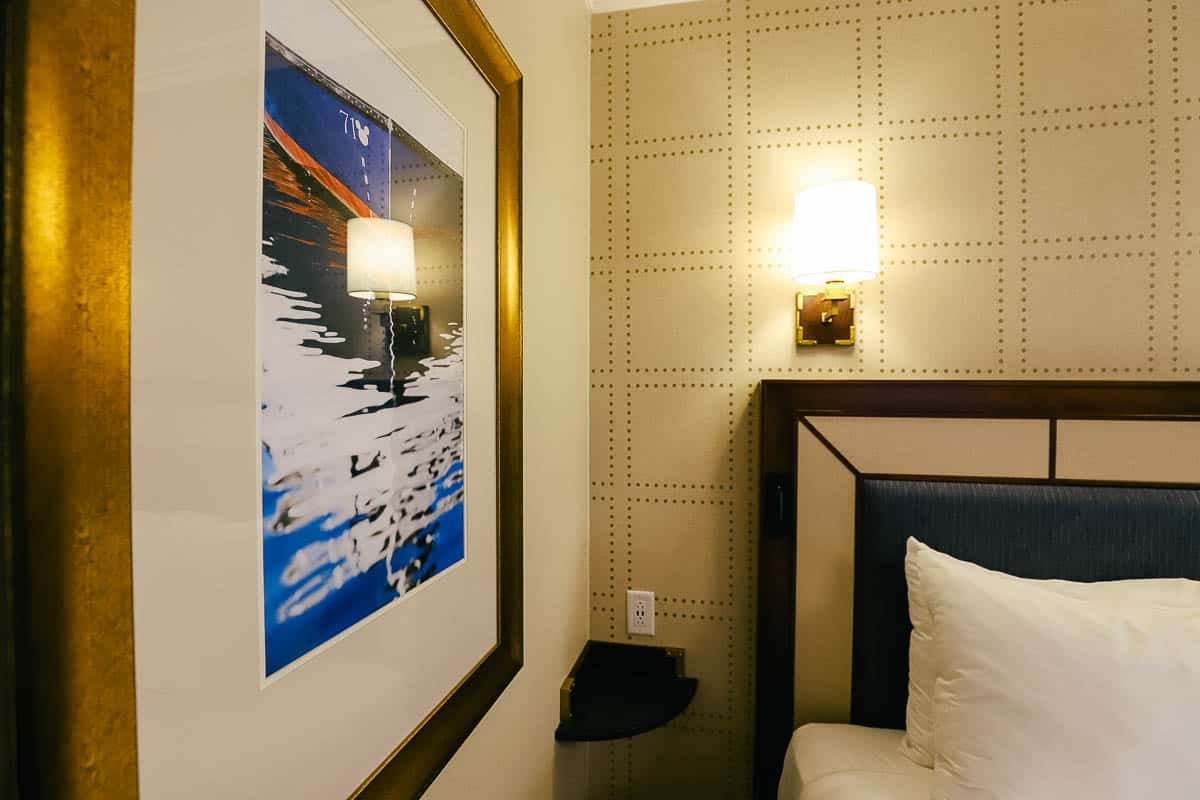 The artwork features a 1971 reference and a Mickey Mouse element.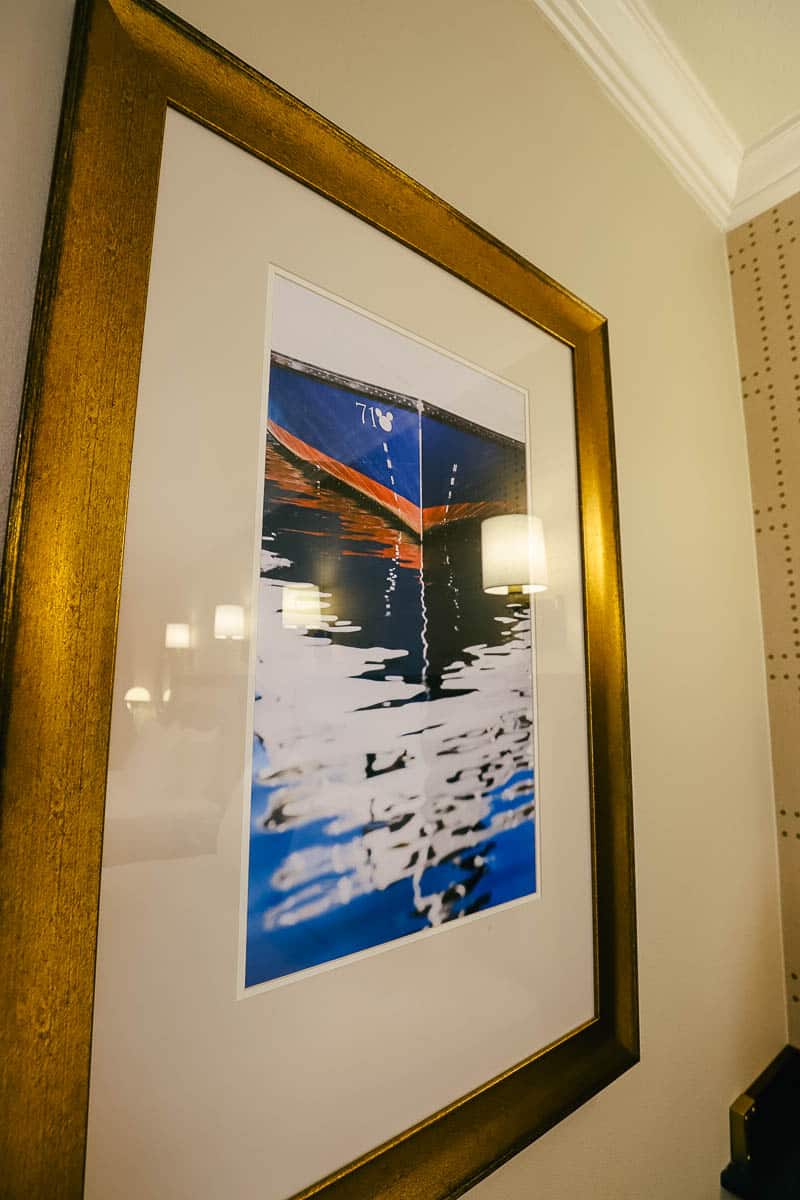 This attention to detail is one of the reasons I enjoy this room so much. It's nice for the person on this side of the bed to have a place to put their phone and charge it simultaneously.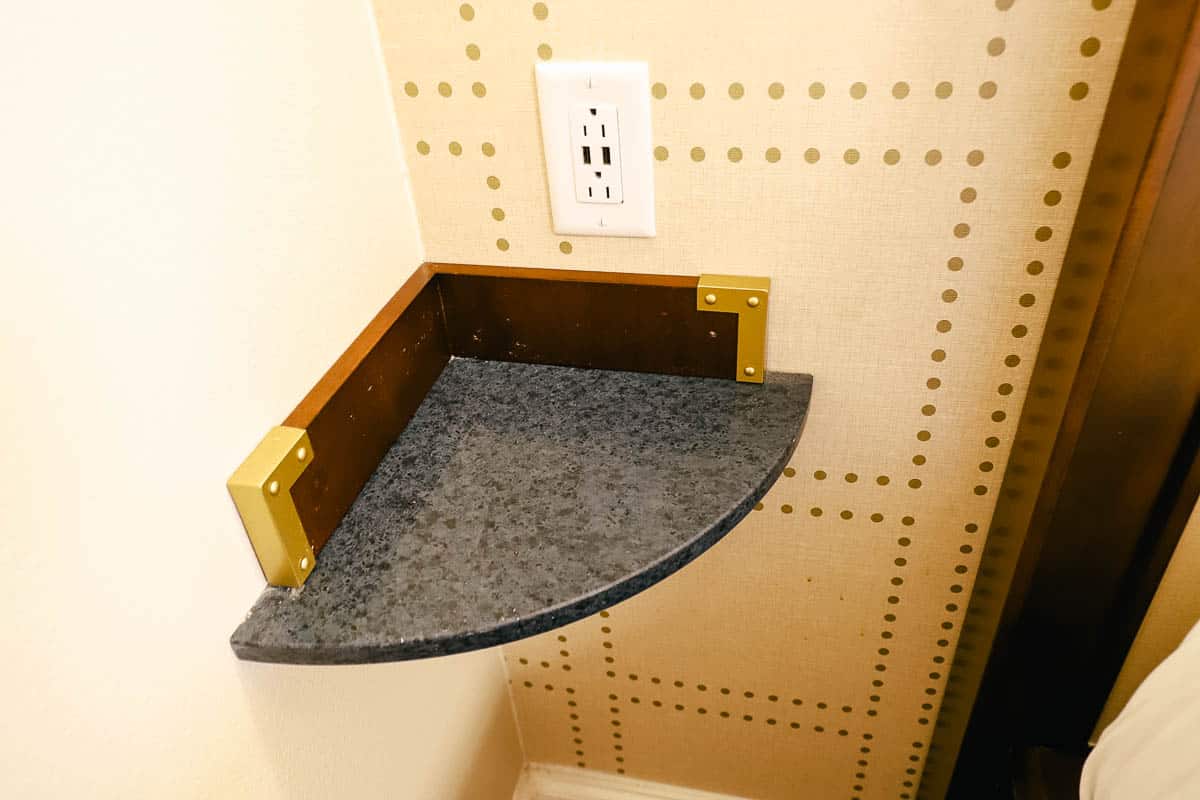 Here is the setup on the opposite side of the room.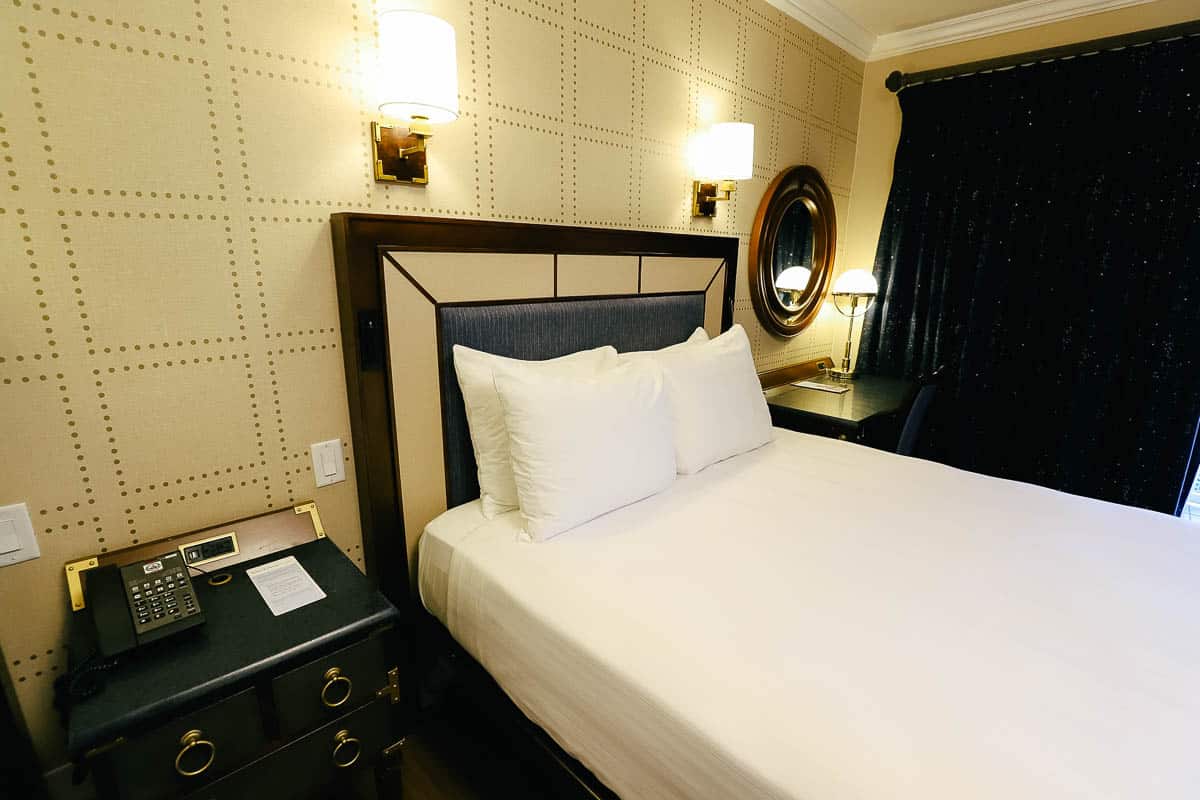 A nightstand provides a little storage and more charging ports.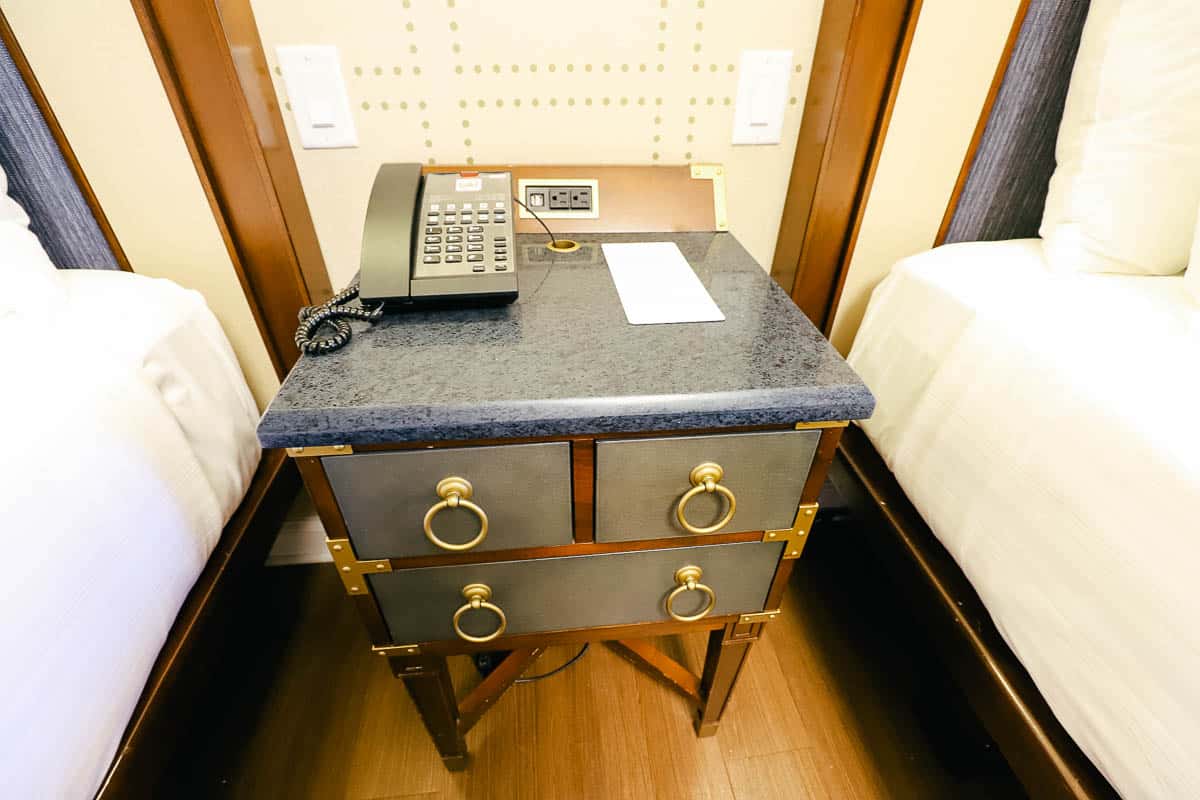 It's always nice to see Mickey.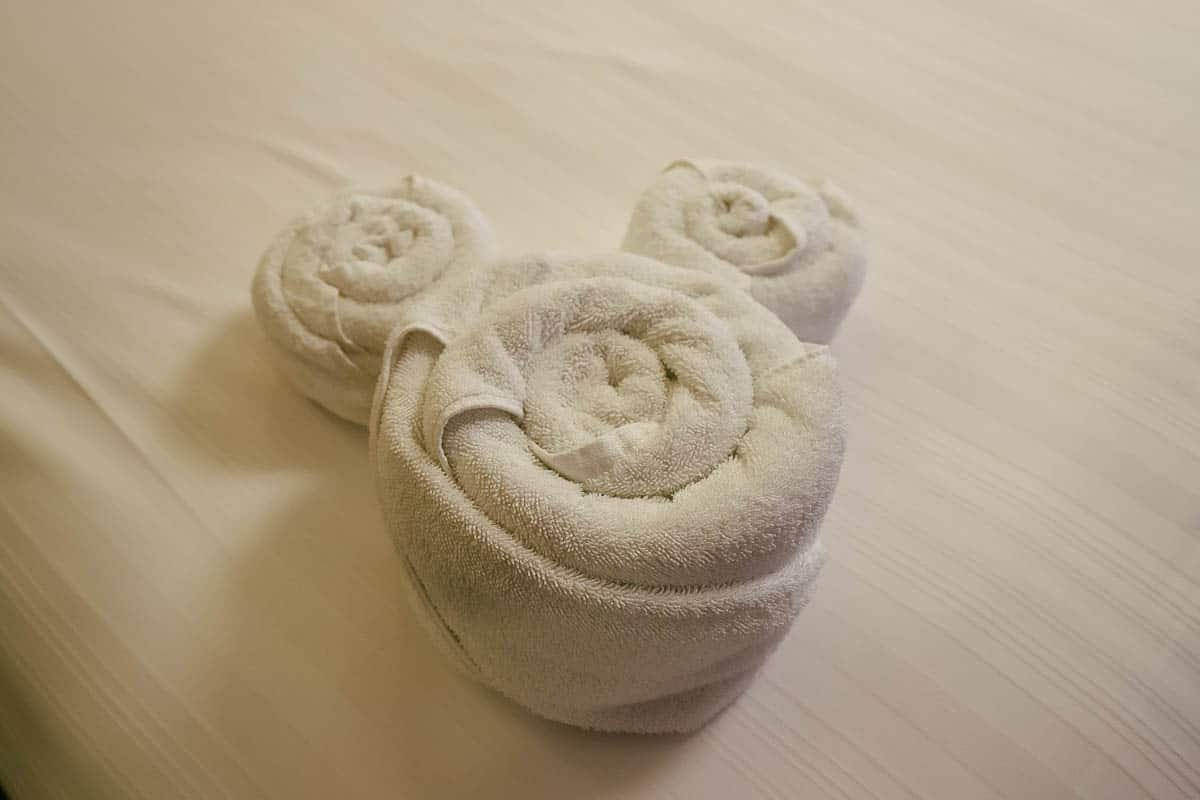 There's a desk with a lamp for those of us who have to work while we play.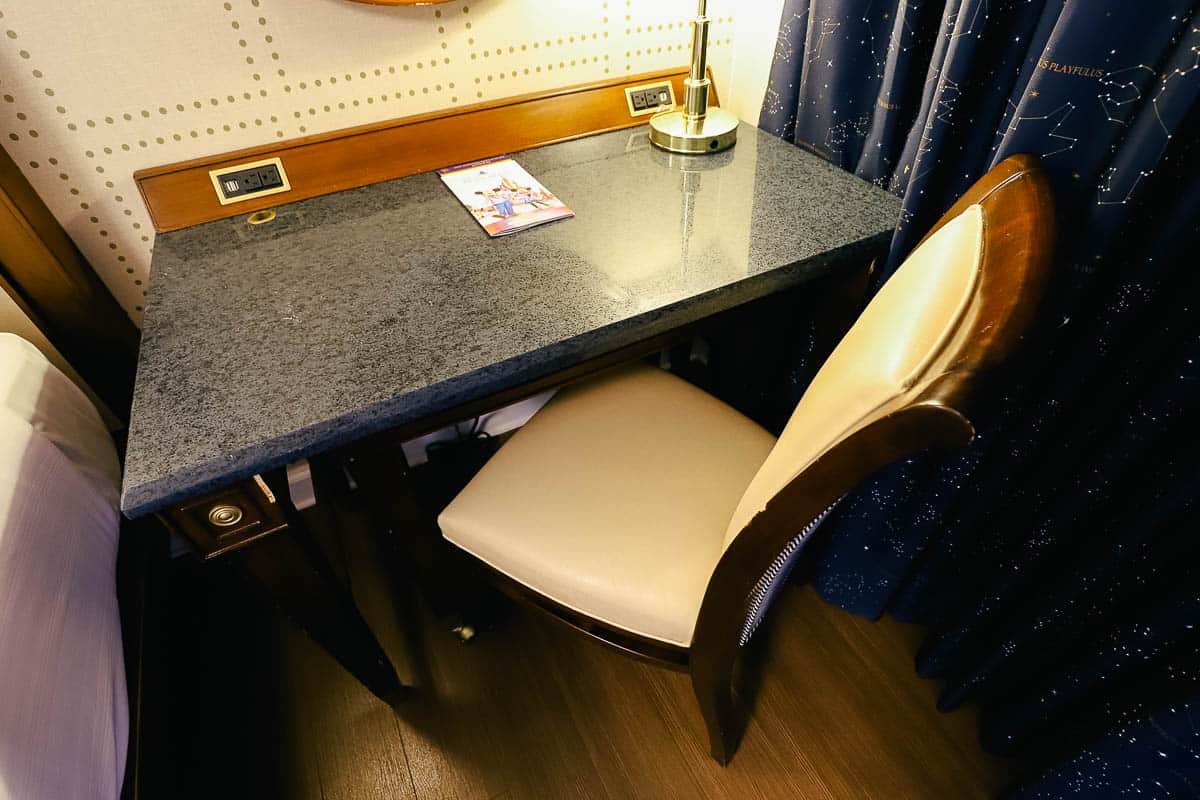 It doubles as a table on rollers. You can roll the table out and place it in front of the television. When my niece was younger, I would often utilize this feature.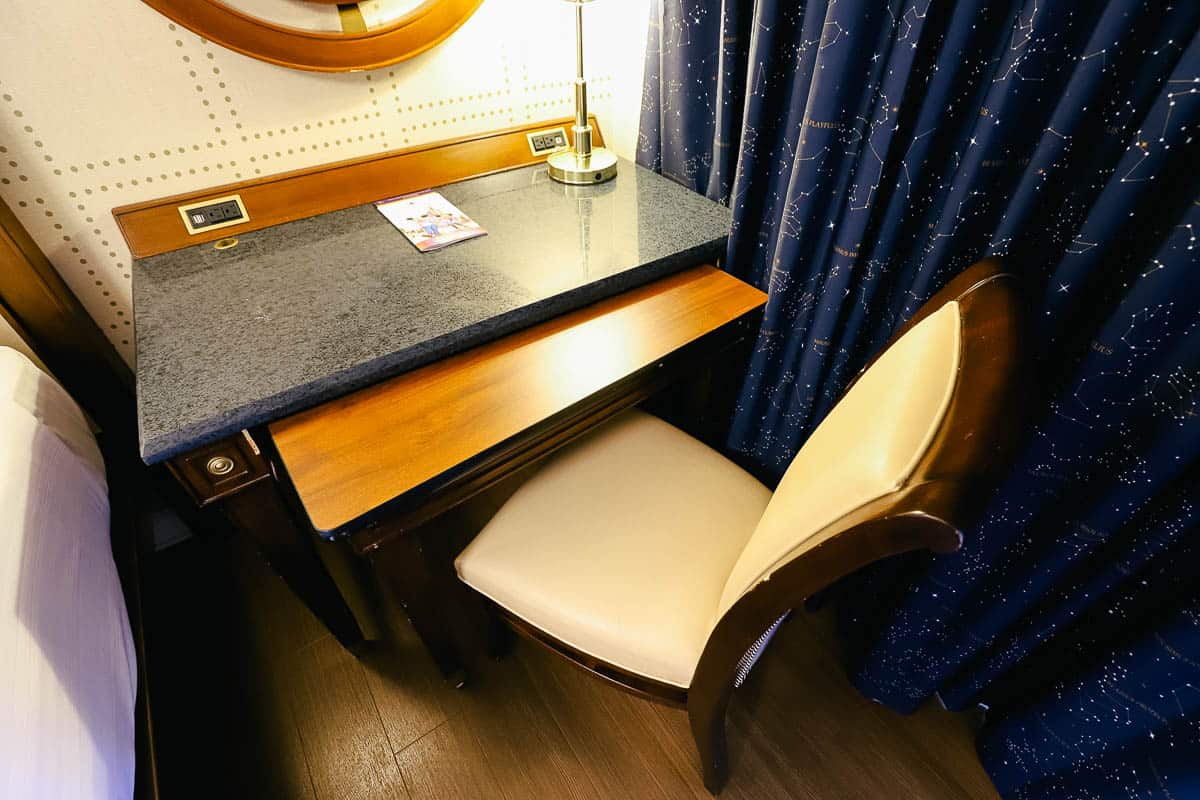 Here is a picture of the artwork placed over the futon-style sofa. It features touches of all things nautical like a knotted rope, a sail, and a boat.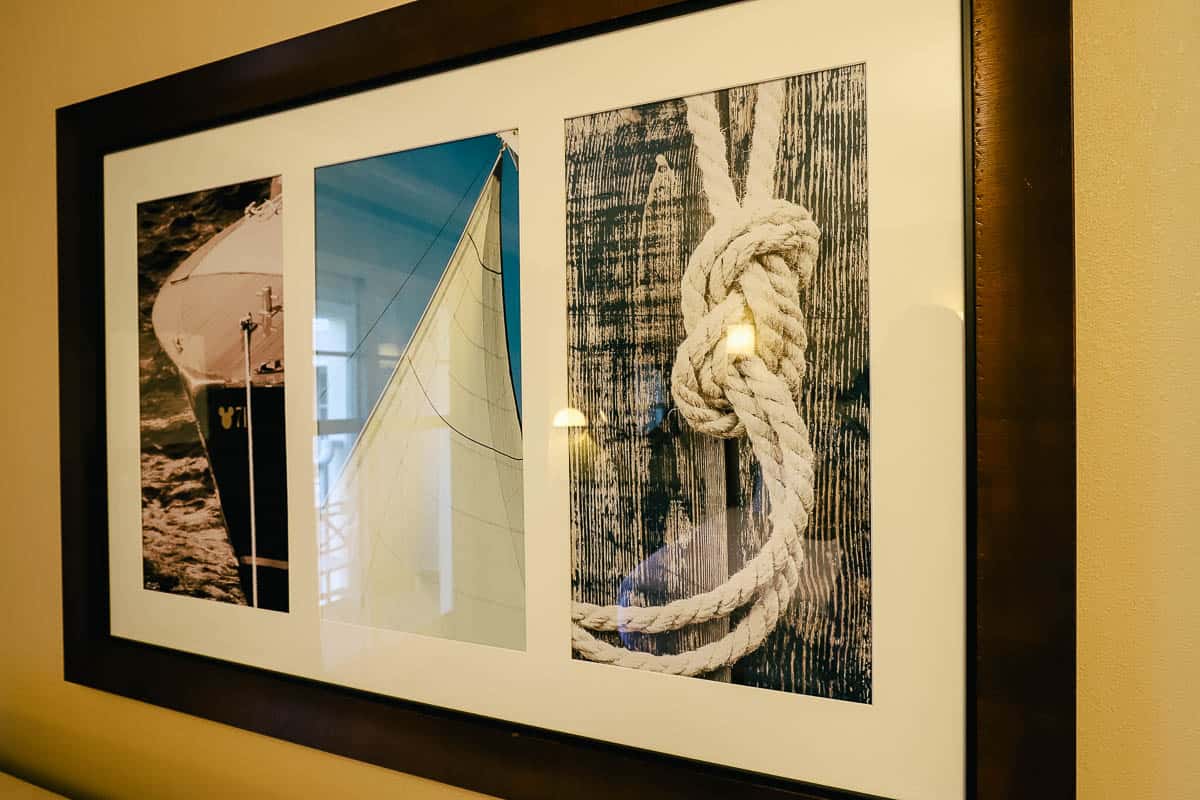 But perhaps, my favorite element of the room is the drapes. These dark, black-out curtains feature constellations. But they aren't just any constellations. A closer look reveals our favorite characters connected in the stars.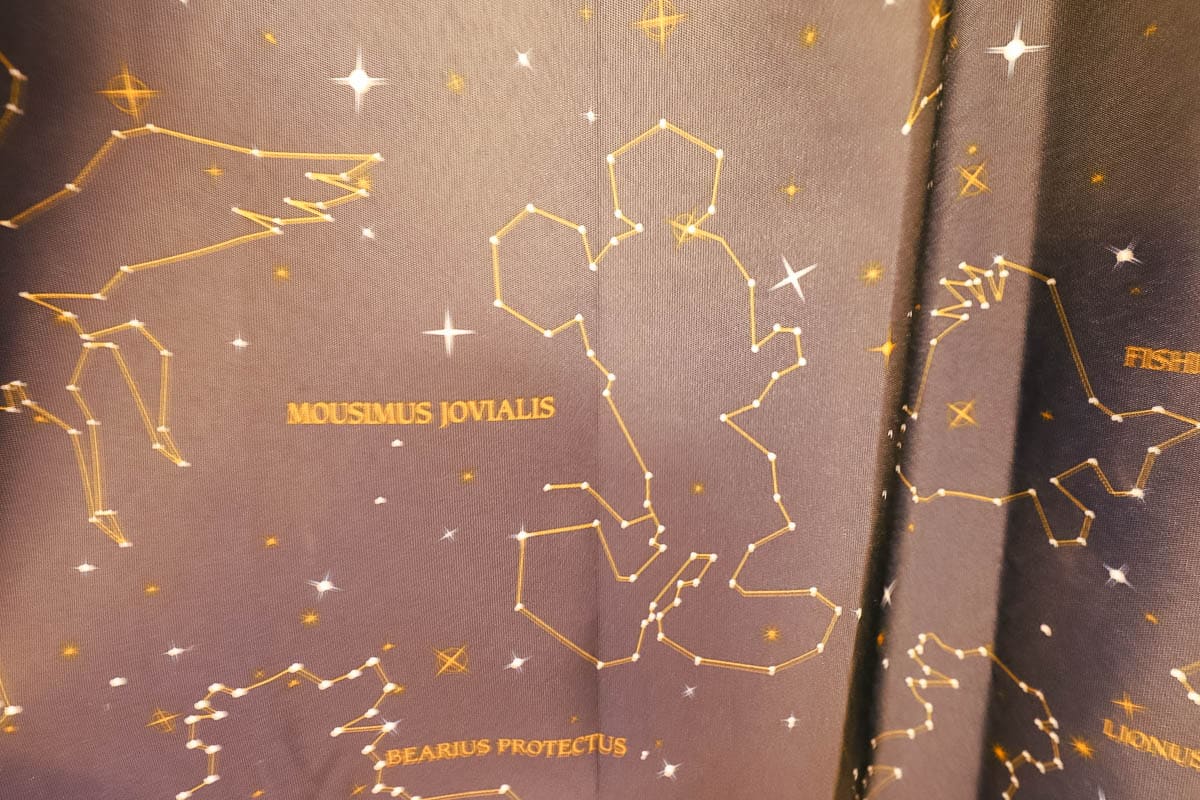 Another positive feature is that the beds are platform-style. They provide plenty of room to store luggage underneath the bed. With that said, I wouldn't say I like to unpack everything for shorter stays like this one. So a luggage rack would have been appreciated.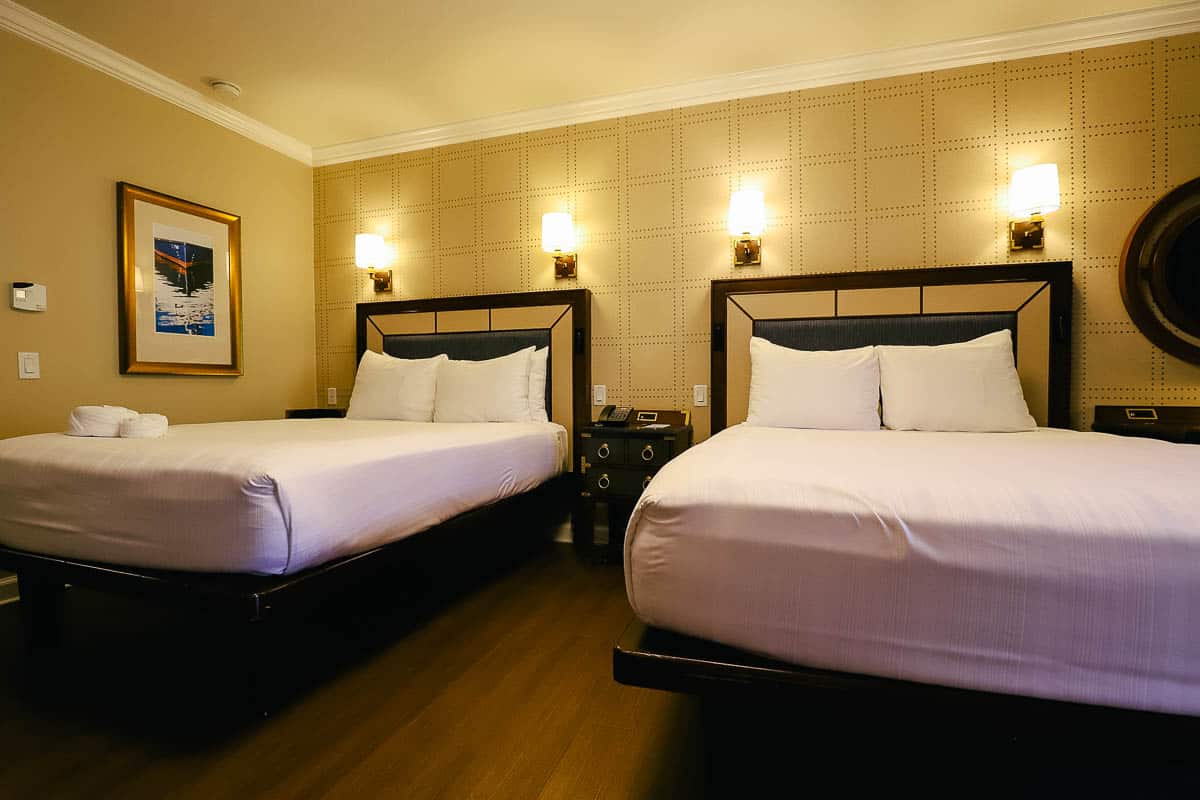 We see a split bath that allows multiple guests to get ready at once.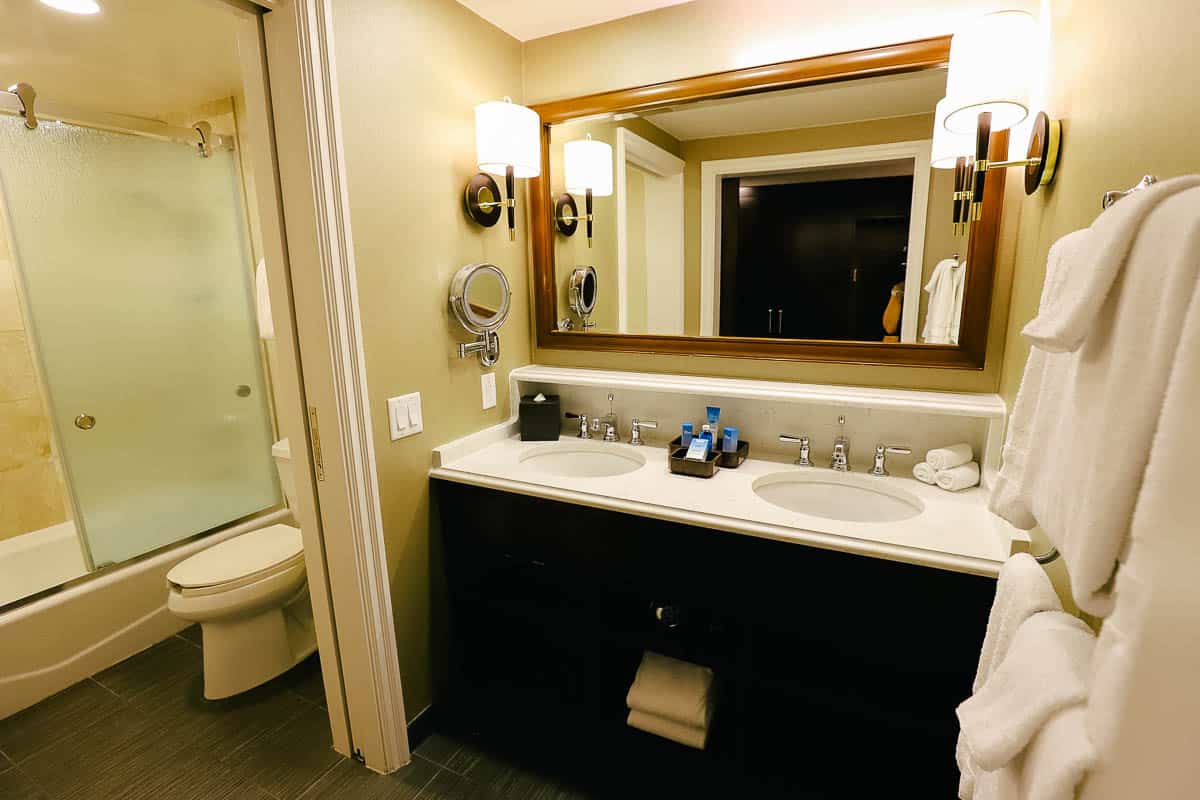 There are two sinks with additional storage underneath the vanity.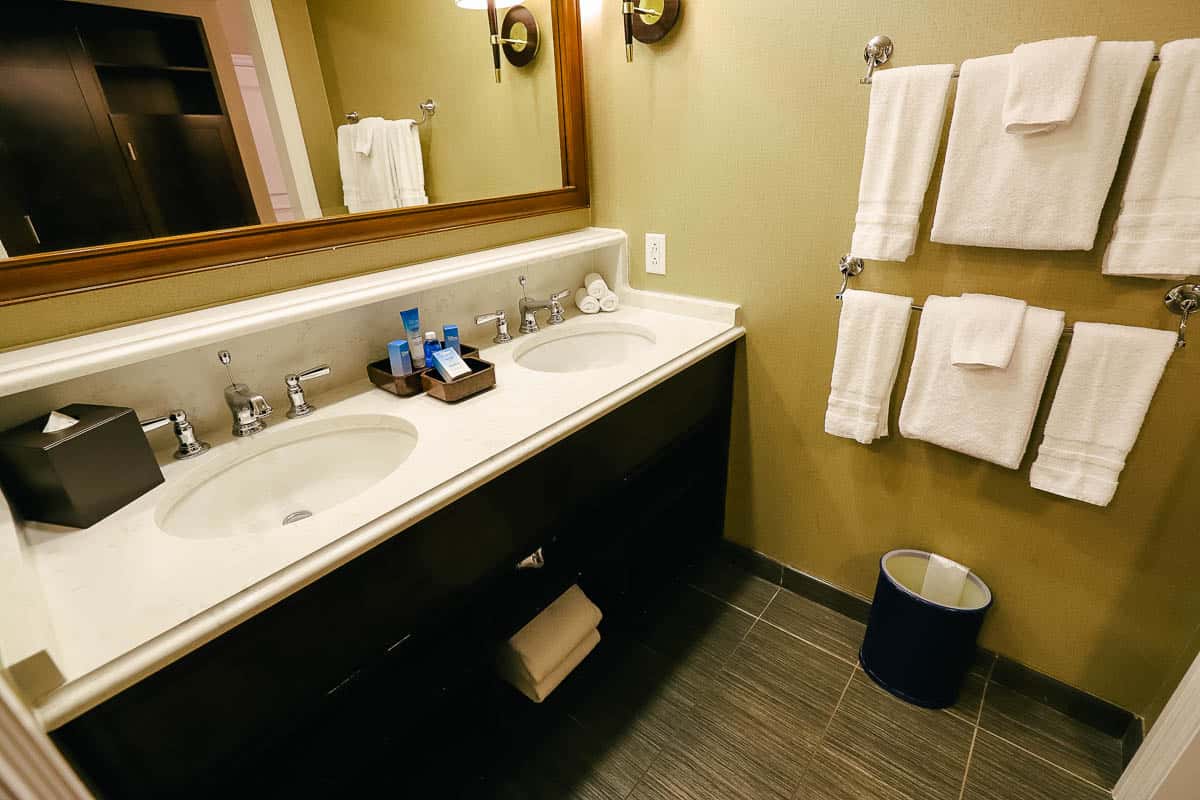 My favorite feature is the ledge over the sink area. The ledge above the counter provides plenty of room for guests to place personal items. Also, housekeeping can still clean around the sinks without moving personal items.
There was also a make-up mirror.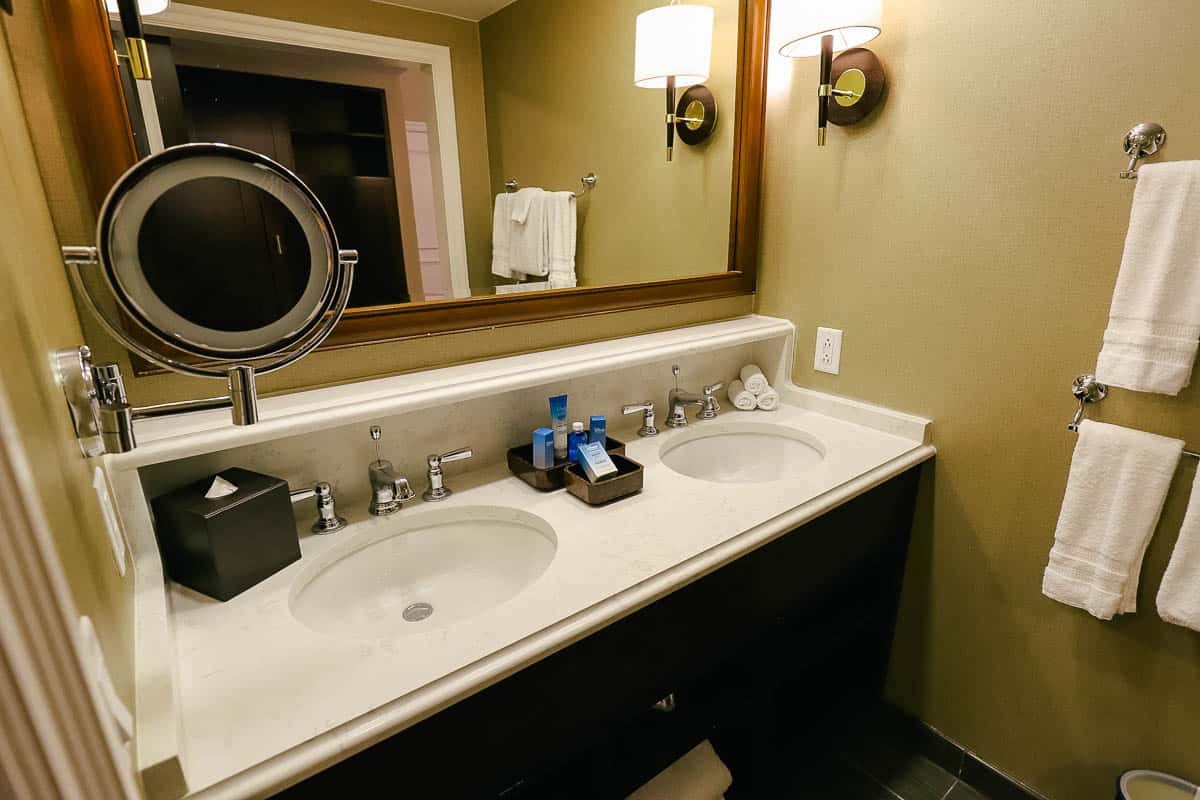 We always had a walk-in shower during our previous stays at Disney's Yacht Club. So I was surprised to see a tub with a shower combination.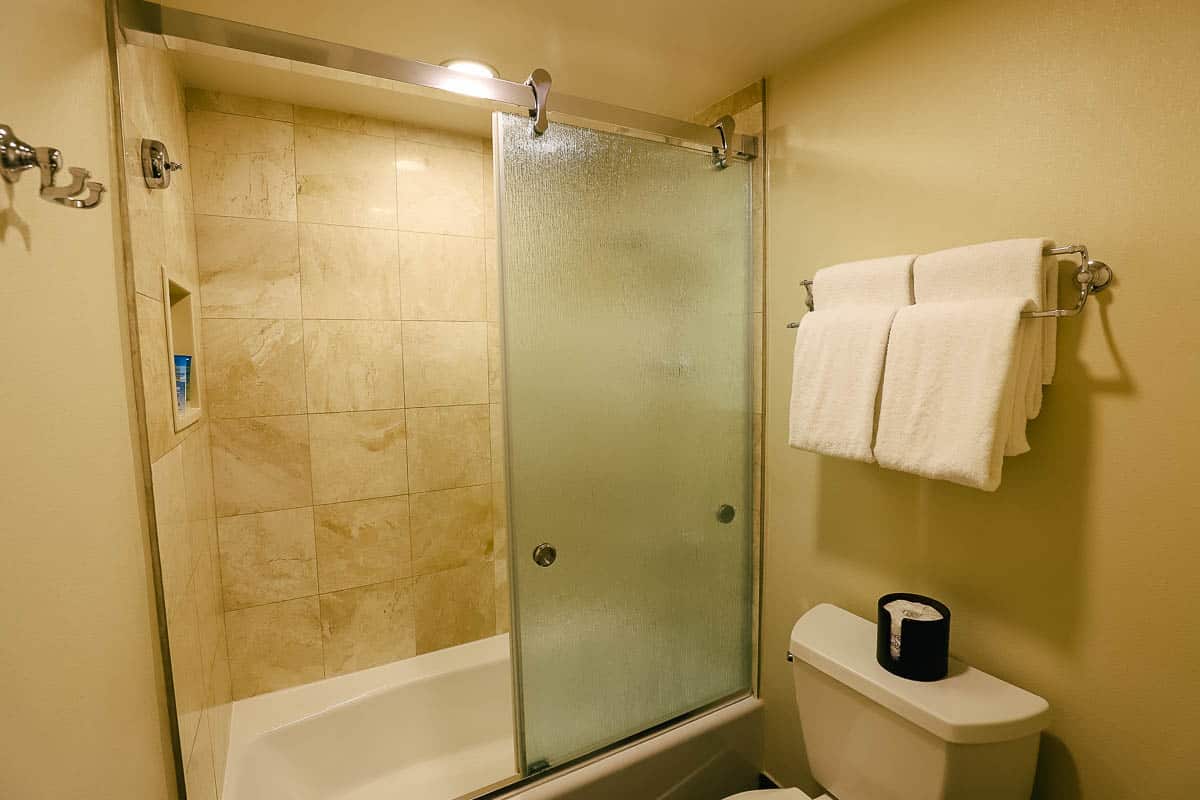 However, I appreciated the rain shower and detachable shower head. And there are no complaints about the water pressure or temperature at Disney's Yacht Club. Don't you hate staying at a hotel lacking water pressure or when the hot water runs out?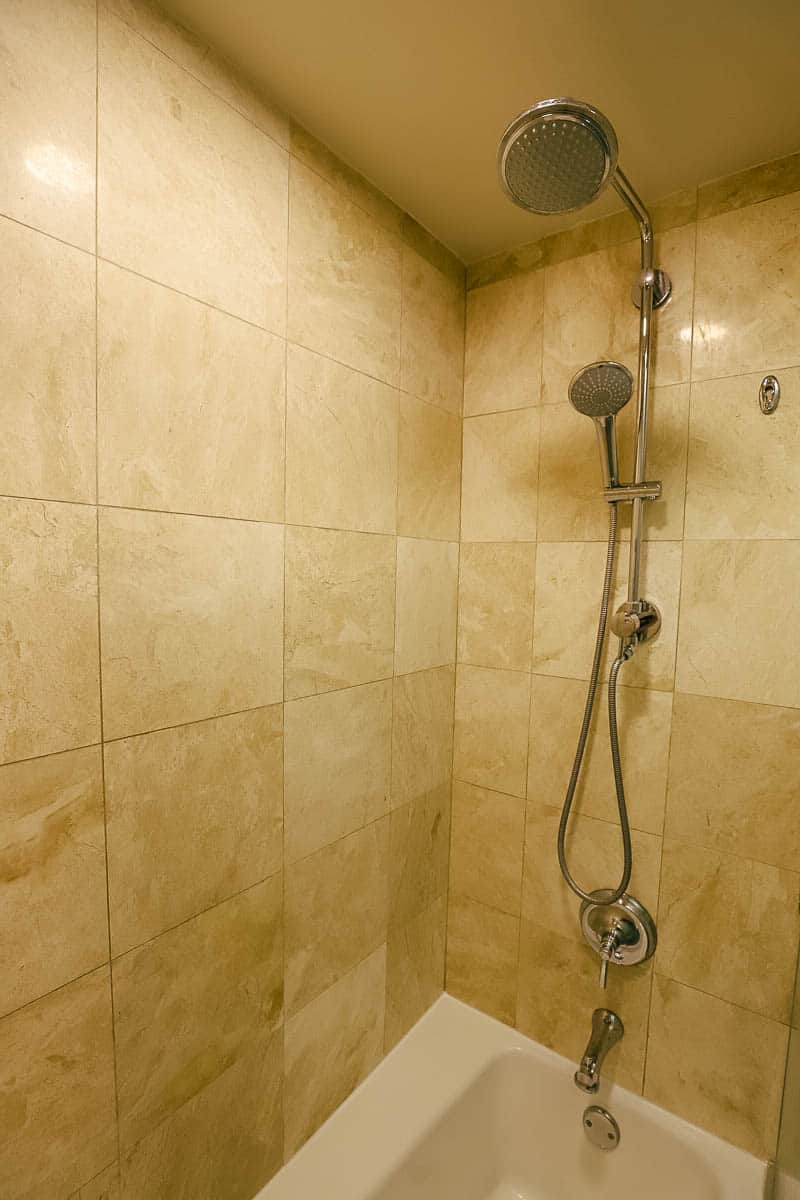 Individual toiletries were available. This is standard at Disney's Yacht Club and Disney's Beach Club next door.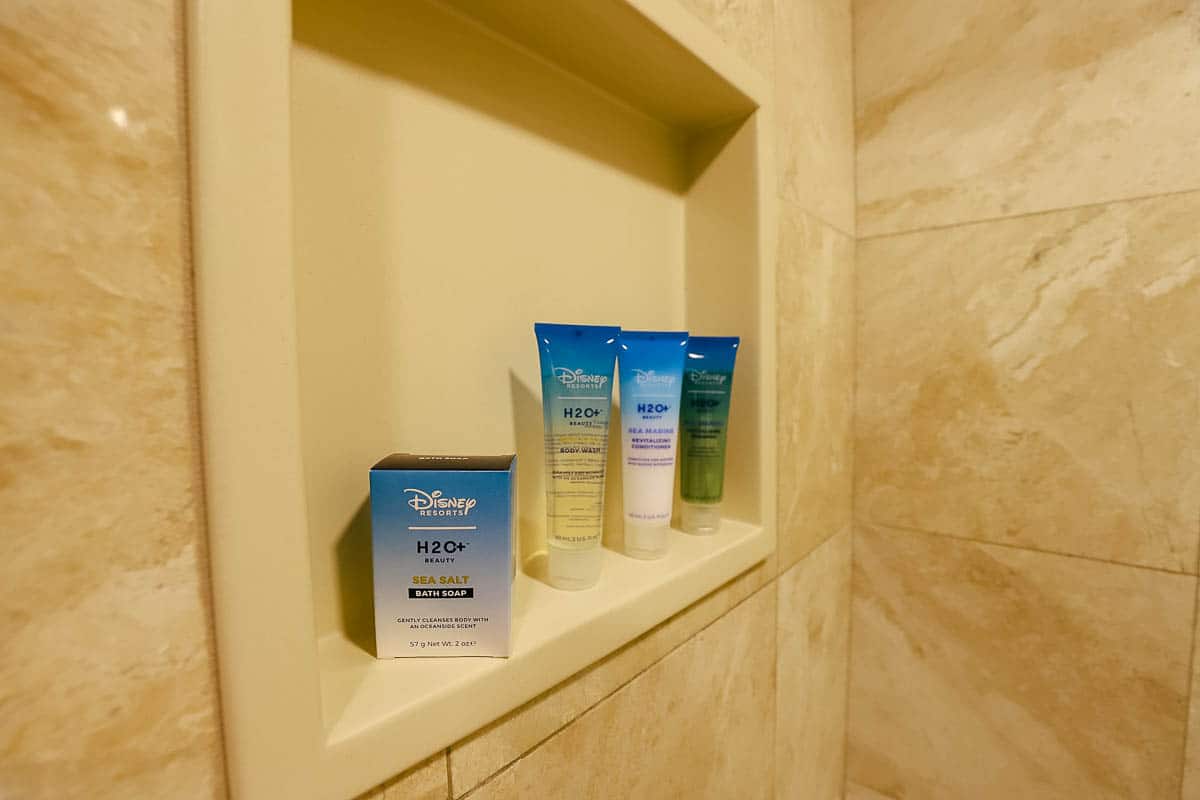 Our room's foyer had a built-in closet and wardrobe area.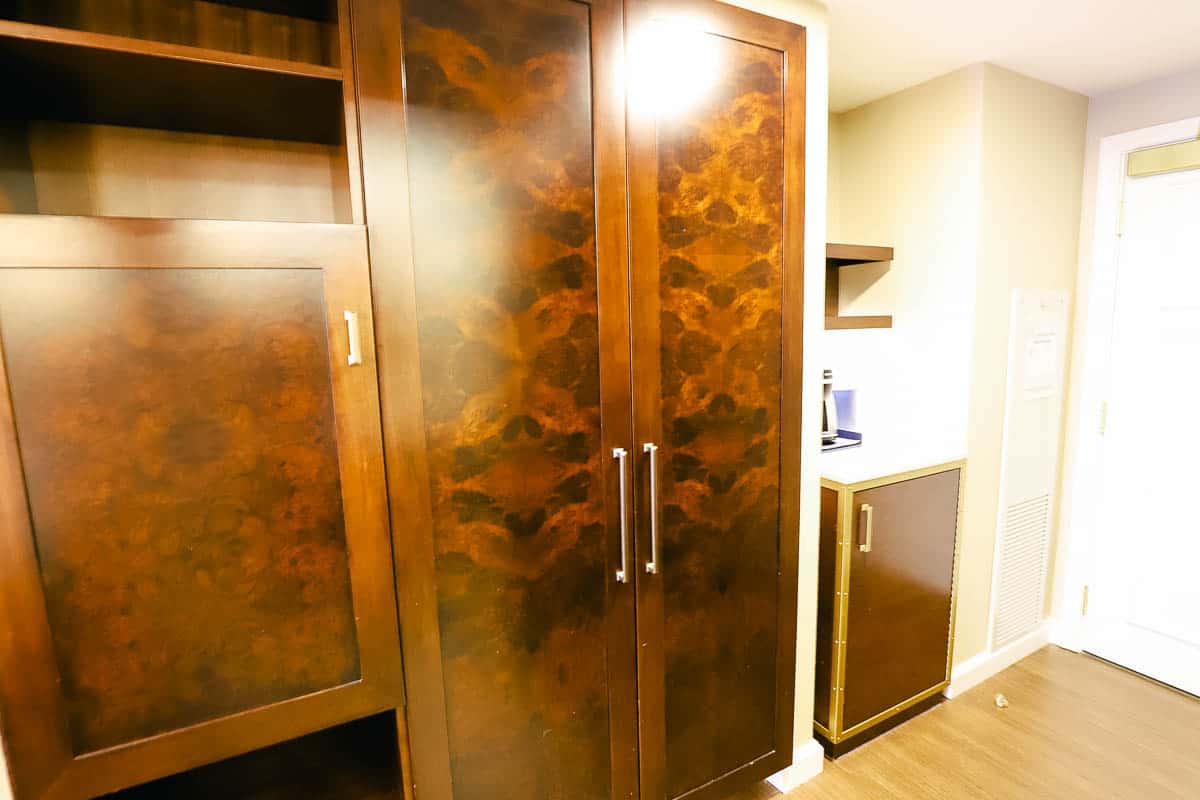 Inside the closet, I found plenty of room to hang and store personal items.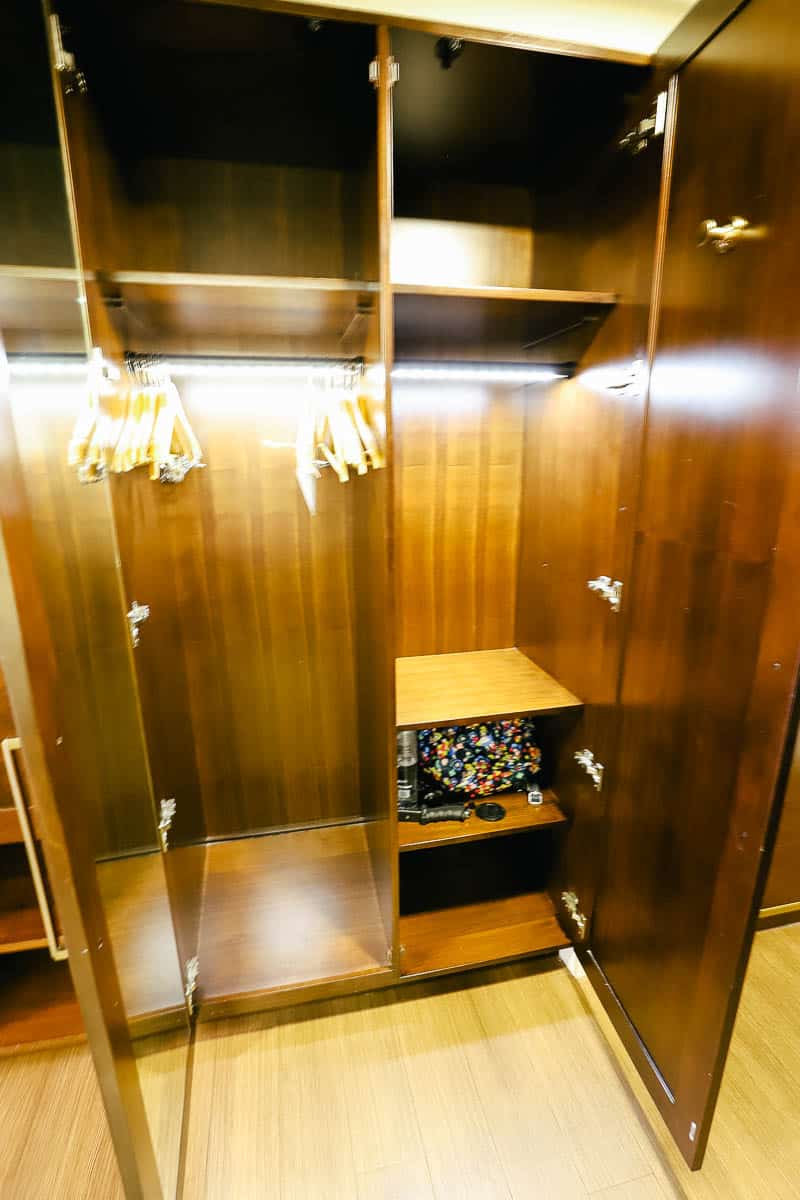 A door opens on the far side of the space to reveal an iron, an ironing board, and an in-room safe.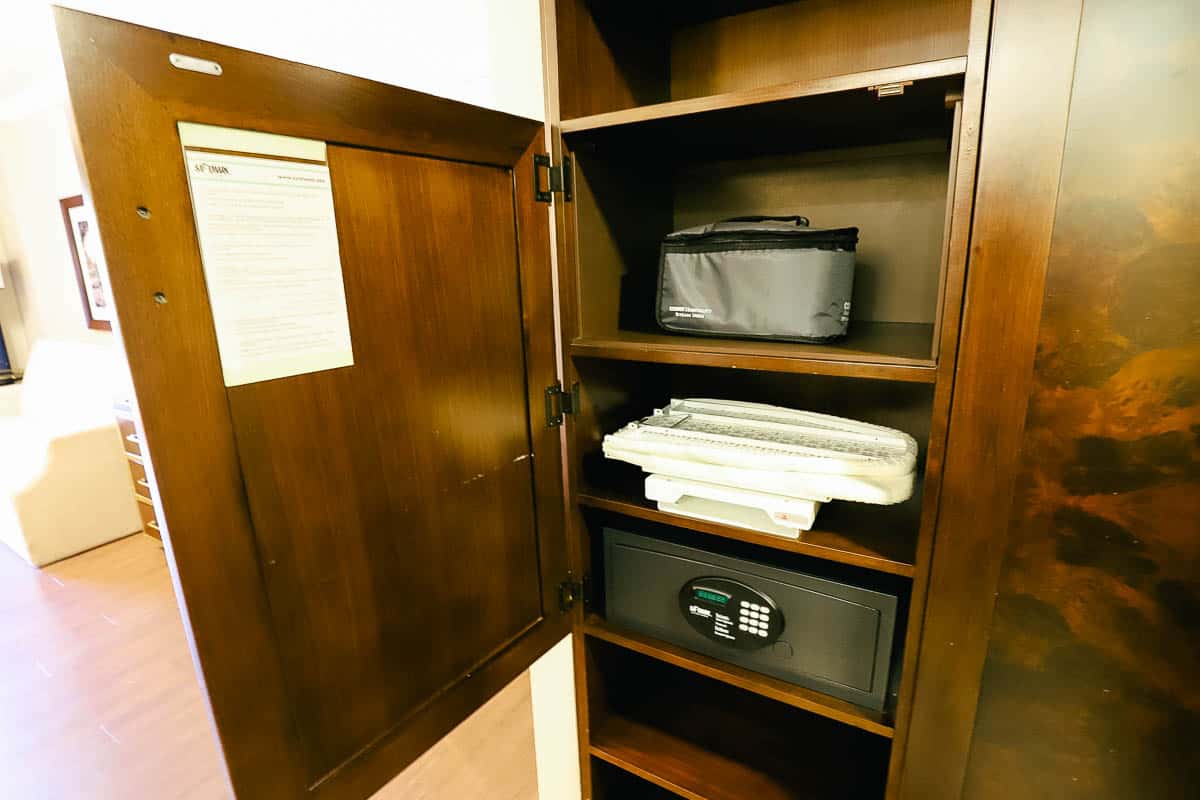 Near the room's entrance, we see an area designated for food and beverage items. You can store a few snacks on the upper shelves.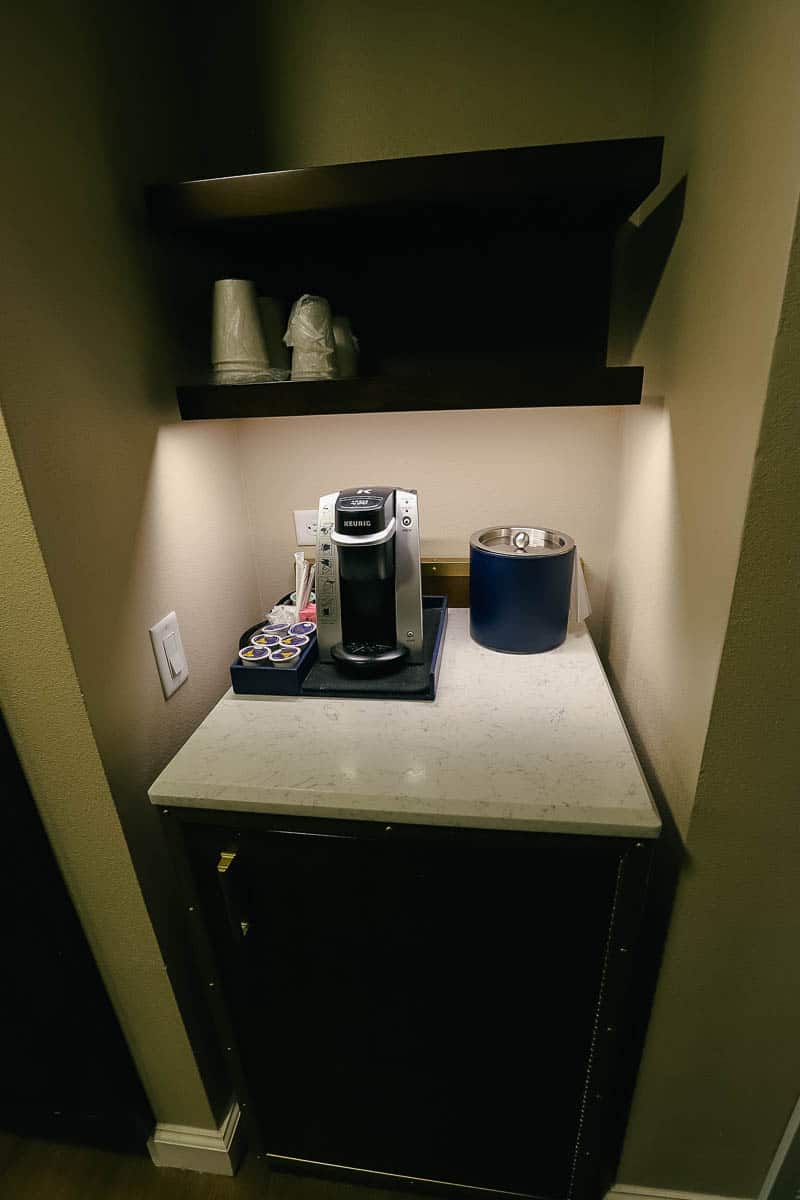 Here is the Keurig coffee maker with individual Joffrey's coffee selections and other accompaniments.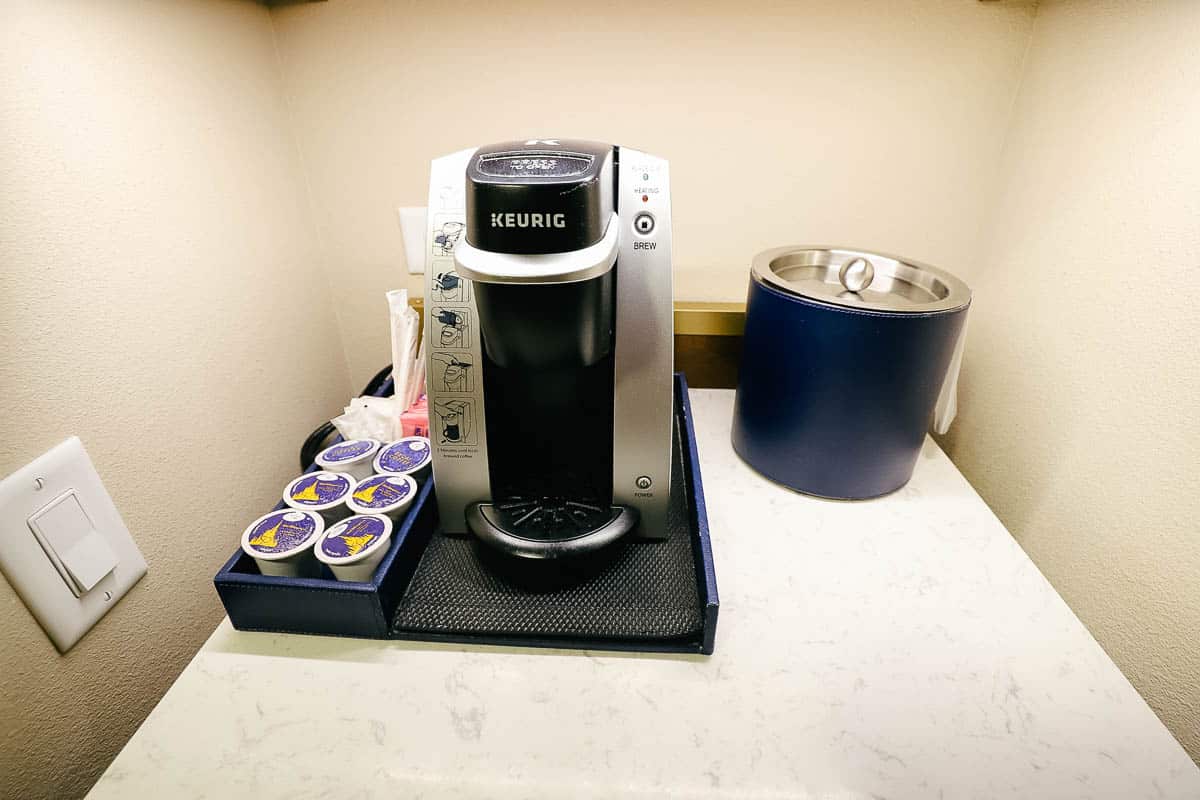 Underneath the counter, there's a drawer with additional storage space and a beverage cooler. These coolers are designed to chill drinks. They have a warning on the front that they only cool to 41 degrees, so use your best judgment with perishable items.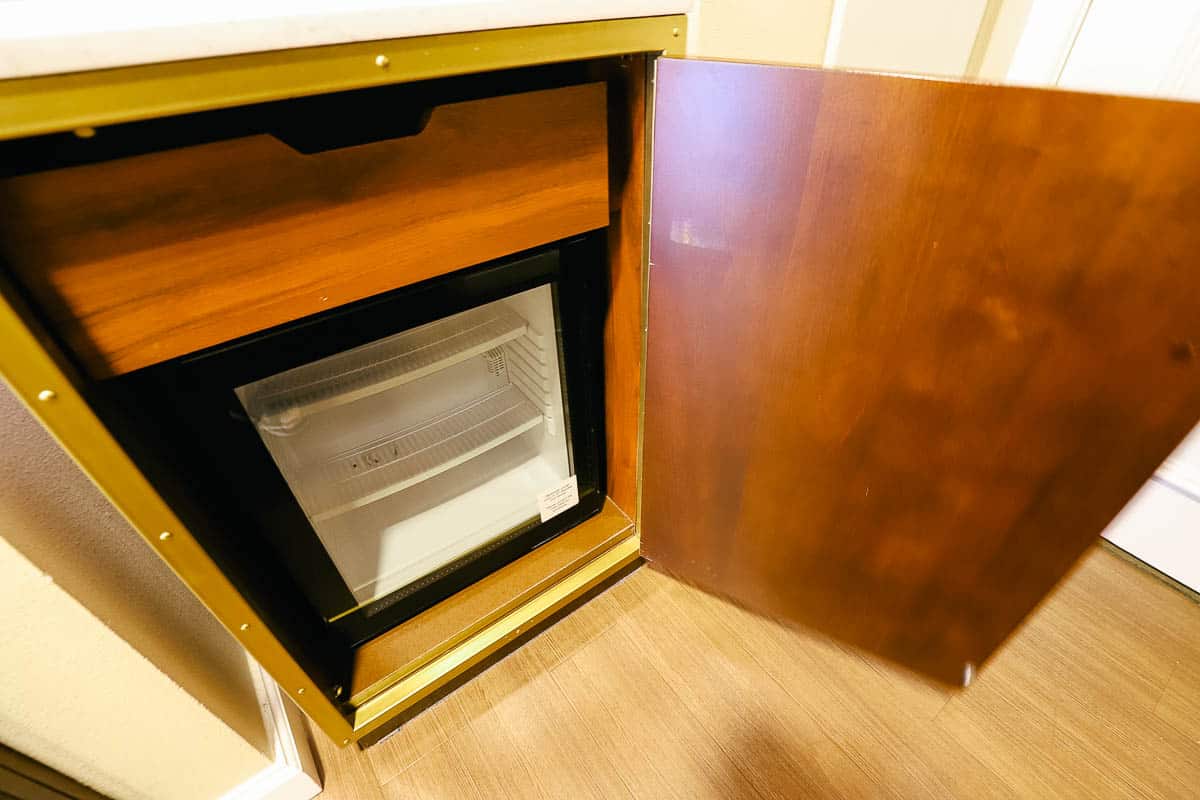 Lastly, we had a view of a garden area with woods in the distance. When I reserved this room, it said garden or woods view. So I guess we had a little of both.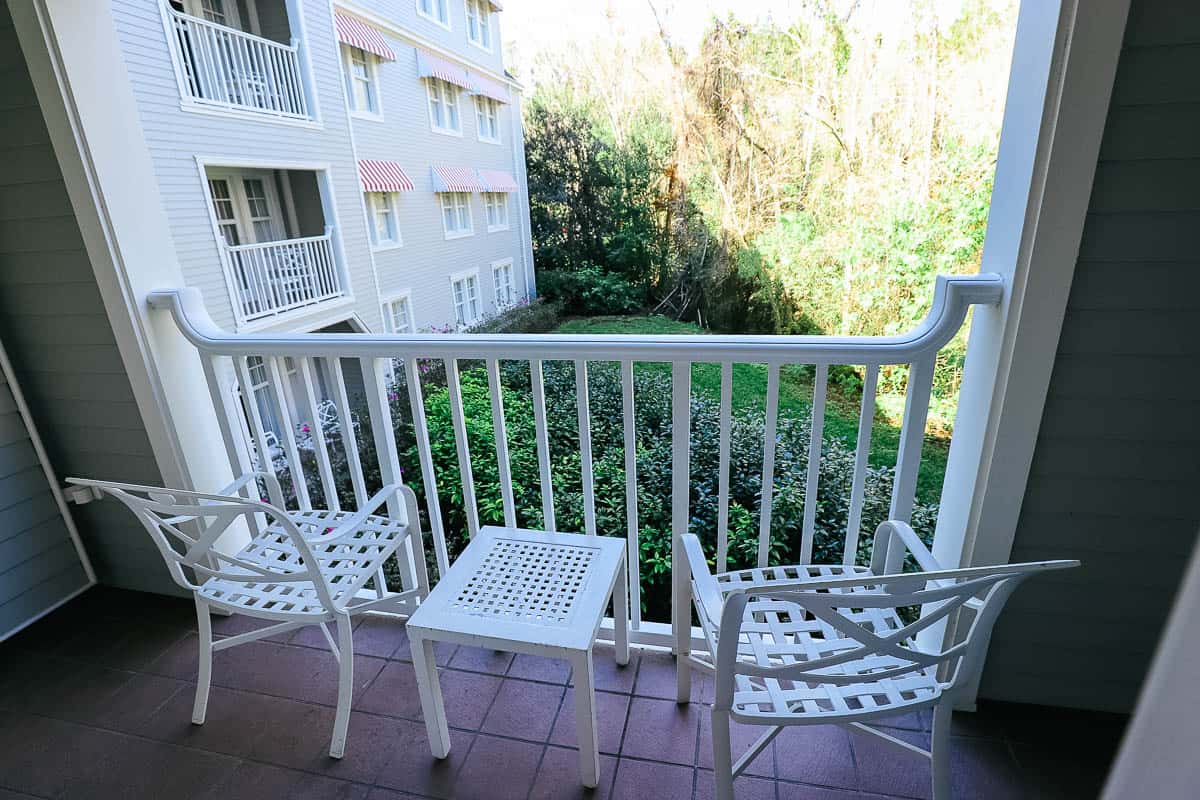 Most of the rooms at Disney's Yacht Club offer a full-size balcony with a small table and two chairs.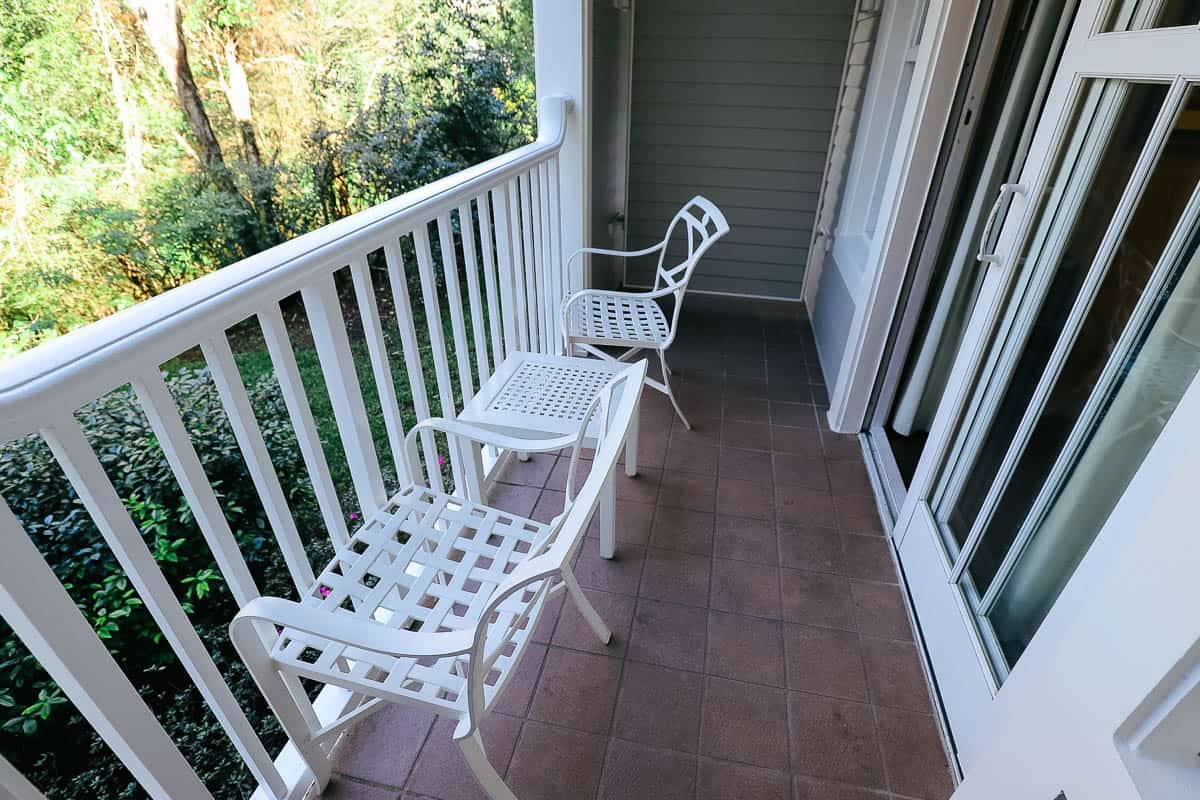 Here is the view.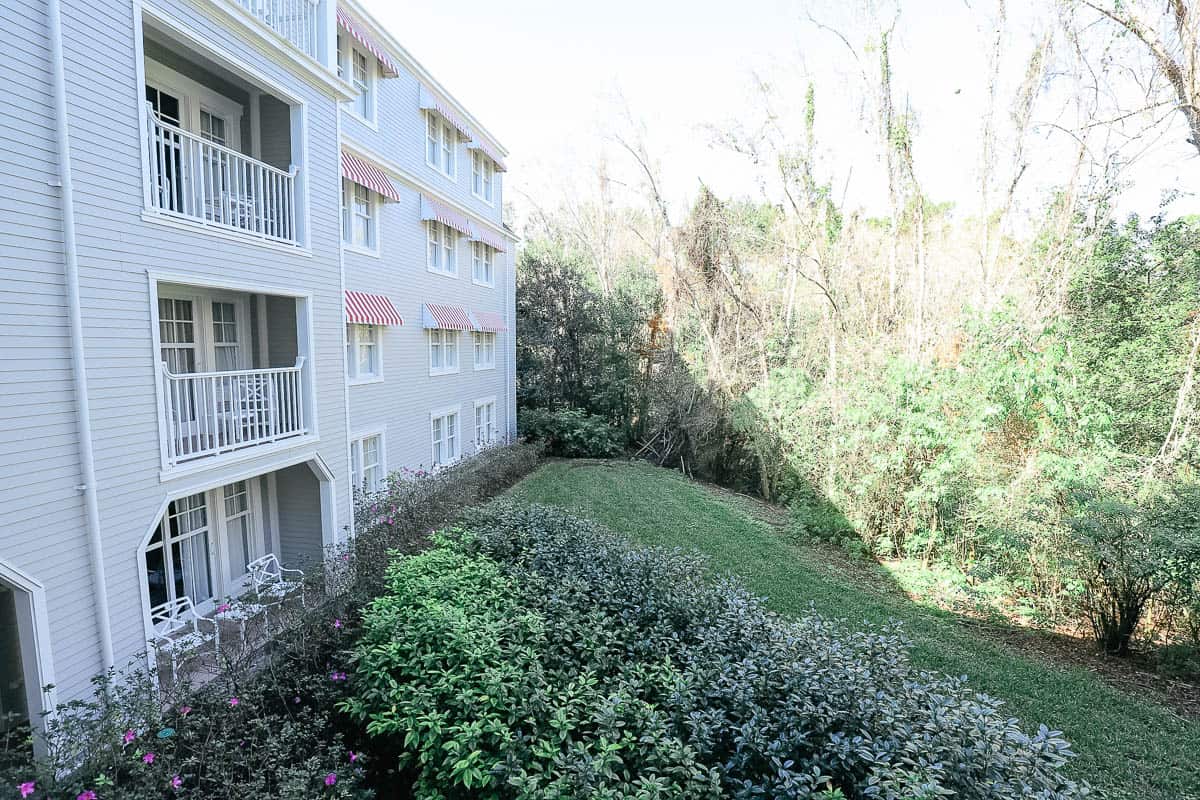 Room Tour of Disney's Yacht Club Guest Rooms
Okay, so I don't usually recommend upgrading to a higher room category for a view. But at Disney's Yacht Club, I make an exception.
Below is an older photo of the kind of room views we've enjoyed in the past. This was the first time I stayed at Yacht Club, where we didn't have a water view, and I missed it.
So if you think you would enjoy waking up to this kind of view every morning, you might consider it. However, this kind of upgrade is something we can all consider a luxury.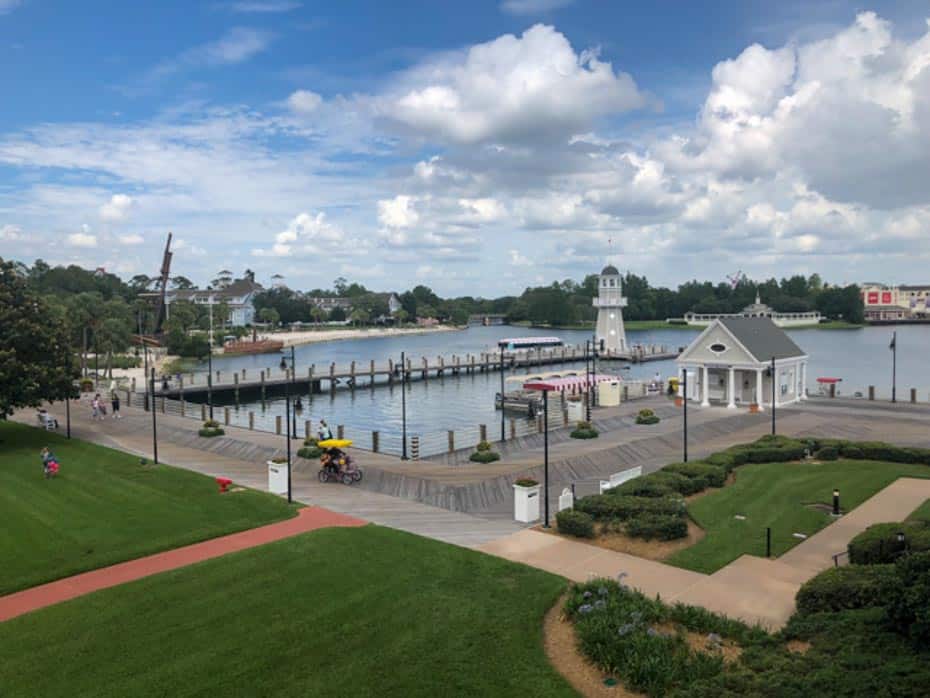 Of course, I think we can all consider a stay at Disney's Yacht Club a luxury in itself. That's probably why I enjoy it so much.
In the meantime, you can browse all of our articles for the resort in our guide:
Or you might like these individual articles:
In the Comments
What are your thoughts on this standard room at Disney's Yacht Club? Would you upgrade the room view? Did you care for the nautical touches in the room? Please, share your thoughts below.
Planning a Walt Disney World or other Disney Destination vacation?
Our friends and travel partner, Firefly Travels, excels at doing Disney differently. You can fill out a plan your trip form on their website, and someone will reach out shortly to discuss the specifics.