A Review of Jaleo at Disney Springs
Jaleo (pronounced huh-lay-owe) is a restaurant at Disney Springs offering Spanish cuisine. This dining establishment opened a few years back and is categorized as signature dining at Disney.
In this review of Jaleo at Disney Springs, we'll take a look at the menu and a few of the items we tried during our meal. Overall the entire meal was excellent, minus a small blunder that was thankfully corrected.
Before we get into this meal, I wanted to briefly mention that we visited Jaleo on the account of Magical Dining. For those unaware, Magical Dining is a limited-time engagement that happens every year in the Orlando area. A number of restaurants participate, and a portion of proceeds from each meal benefit the homeless community.
Aside from helping out this worthy cause, guests participating in Magical Dining get the opportunity to try a new or favorite place at reduced pricing. Each restaurant that participates offers a special menu with multiple courses for the price of $37.00 per person.
Since Jaleo predominately offers a tapas menu, they have five full courses this year for the dining experience. A majority of the restaurants will have three courses, usually consisting of an appetizer, entree, and dessert.
To learn more about Magical Dining (restaurants, dates, pricing, and menus), check out their website here.
Now for Jaleo. Or should I say the place you're going to want to secure a reservation for on your next vacation?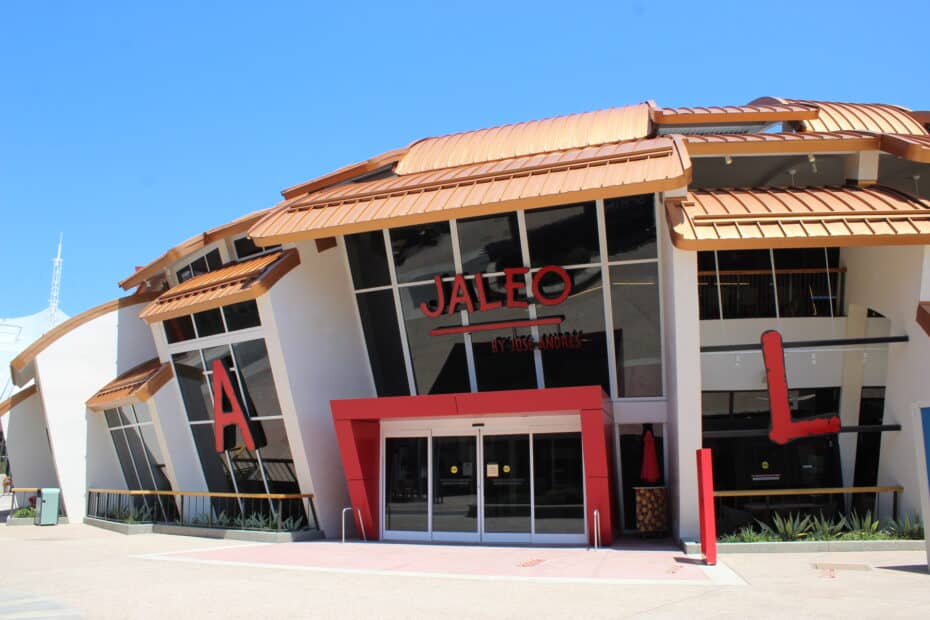 Jaleo Review
Jaleo is located on the West Side of Disney Springs. If you are visiting Disney Springs by personal vehicle, you'll want to park in the Orange garage. It is the first parking deck at the venue when traveling from the center of Disney World.
The Orange garage lets out near the movie theater, the Coca Cola store, and it's right around the corner from our destination, Jaleo.
Chef Jose Andres is the owner of Jaleo. He is a well-known celebrity chef whose philanthropic efforts have helped countless human beings around the world. He is most known for his work after Hurricane Maria, where he personally went and set up kitchens to feed those who had lost everything in the storm.
Not only is he a wonderful example, but he and many of his restaurants have received a lengthy list of accolades. They include huge awards from the James Beard Foundation, Michelin Stars (2), and Bib Gourmand.
Jaleo is a substantially large restaurant with seating on the first and second levels of the restaurant. Additionally, there is available seating on the back patio that overlooks the water.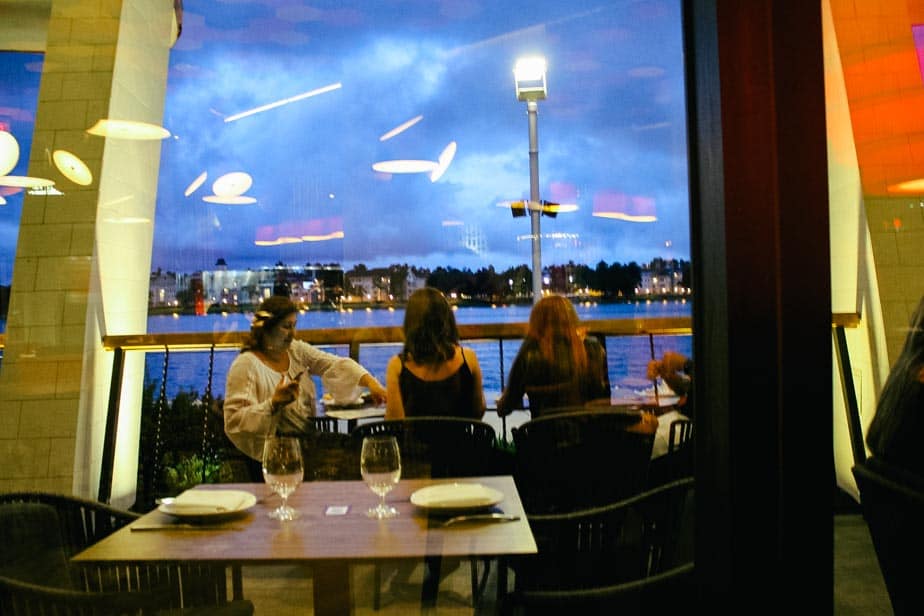 The interior is fairly dark, with bright bursts of red accents along with mustards and golds. The tables are mostly wooden tops with beautiful finishing that showcases the wood's grain.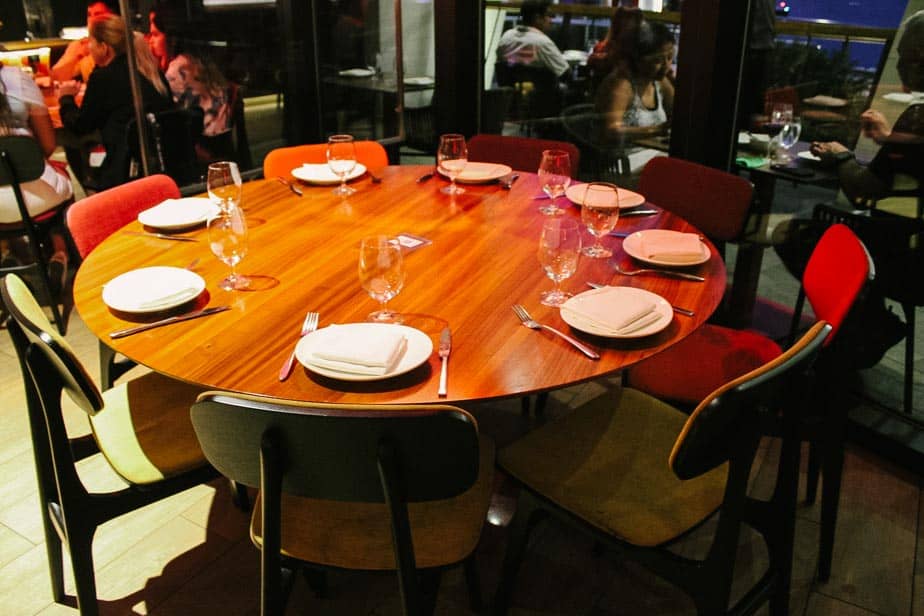 Jaleo is one of those restaurants that has a lot of hustle and bustle going on over the course of the meal. That means there will be a good deal of background noise throughout the dining experience.
It's one of those places where thankfully, you can't overhear the conversation going on at the table nearest you. Nor can tables nearby hear your conversation.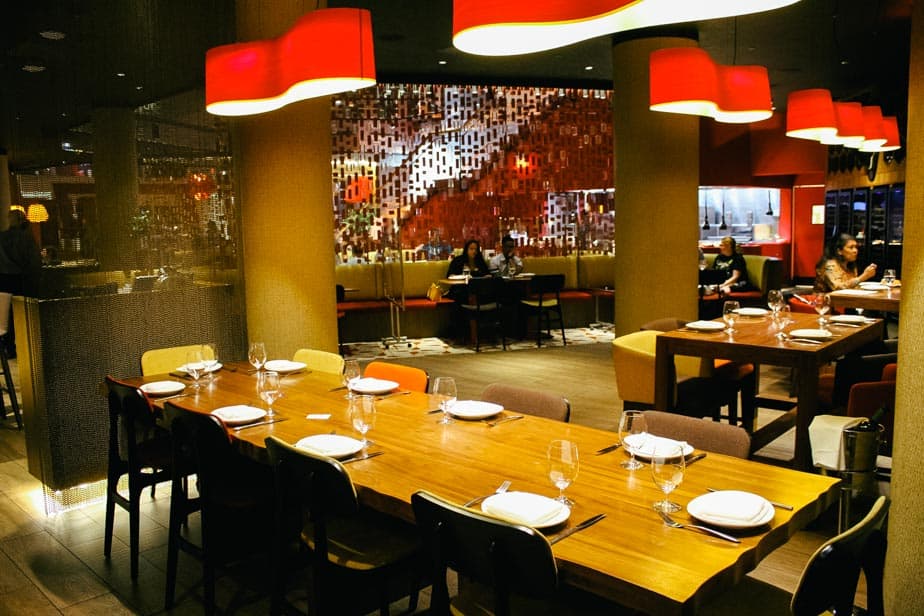 Additionally, you'll notice food runners coming in all directions. That's because there are multiple kitchens and food preparation areas throughout the restaurant. So, when the initial order is executed, depending on your food selections, you'll have several runners dropping tapas at your table.
For instance, there's a large meat case with the finest charcuterie selections you could imagine at the front of the restaurant. Below we have a look at a separate open kitchen area where the paella is prepared.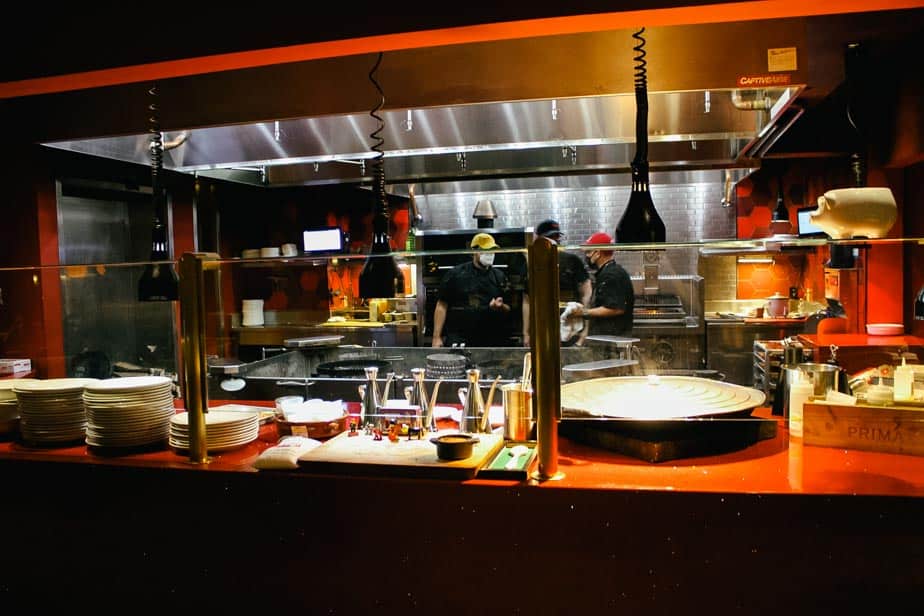 Paella is to Spain like pasta is to Italy. It's a dish that is commonly known for its preparation. The word paella literally means "frying pan" in the Valencian language. And paella is a rice dish that's traditionally prepared in a large frying pan.
In the picture above, the large covered pan is the paella at Jaleo. When it comes time for the signature dish to be served, there is a bit of a ceremony in the restaurant. You'll hear the clamor of a bell in the background and drum sticks rolling as they lead up to a finale where the entire restaurant shouts, "Paella!" at the end.
This happens about once every 45 minutes or so, which is the amount of time it takes to prepare the dish. At the beginning of the meal, our server noted that a tapas meal is a process and that things would come out slowly over the course of the meal.
As with most signature dining establishments, this is not a place you'll want to rush through. Keep this in mind when planning your evening. I would definitely plan to spend two hours minimum here, and maybe more with a larger group.
Now for the food. Over the course of our meal, we tried 14 different items at Jaleo. Most of our group did order from the Magical Dining menu. In addition, a few friends selected items from the regular Jaleo menu. (All of the items we tried are available on the regular menu as well.)
It is important to note that the special Magical Dining menu isn't offered until after 4:00 p.m. You'll want to let the server know if you want that menu upon arrival.
Here is a preview of what's offered with the Magical Dining menu. Larger here.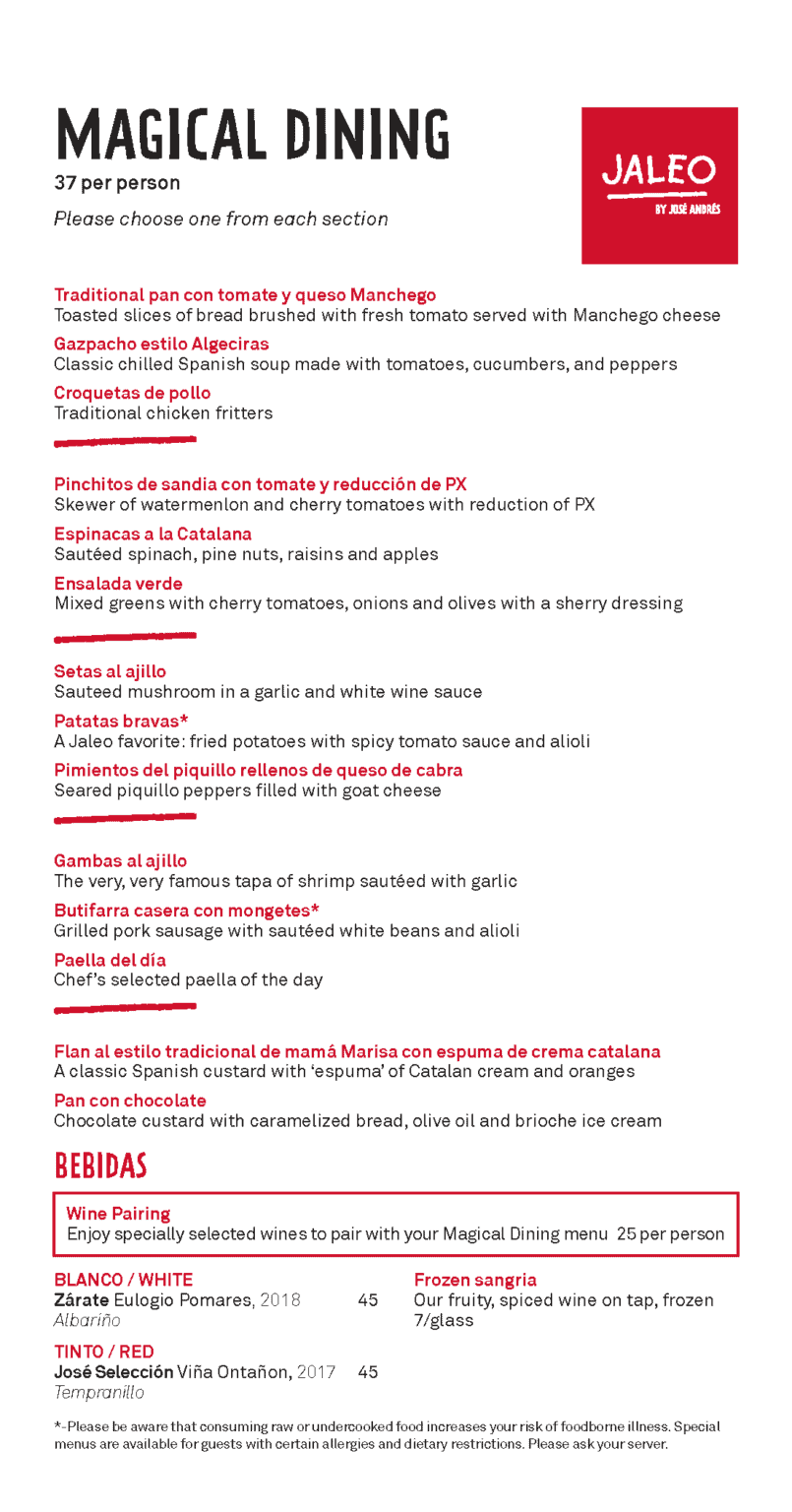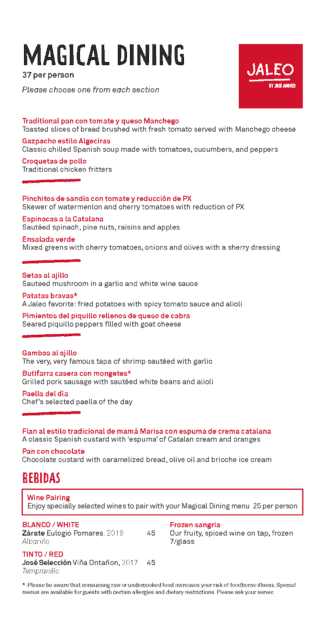 The full Jaleo menu is available here on their site.
For our first course, we ended up with the Traditional pan con Tomate y queso Manchego. This dish is described as toasted slices of bread brushed with tomato and served with Manchego cheese.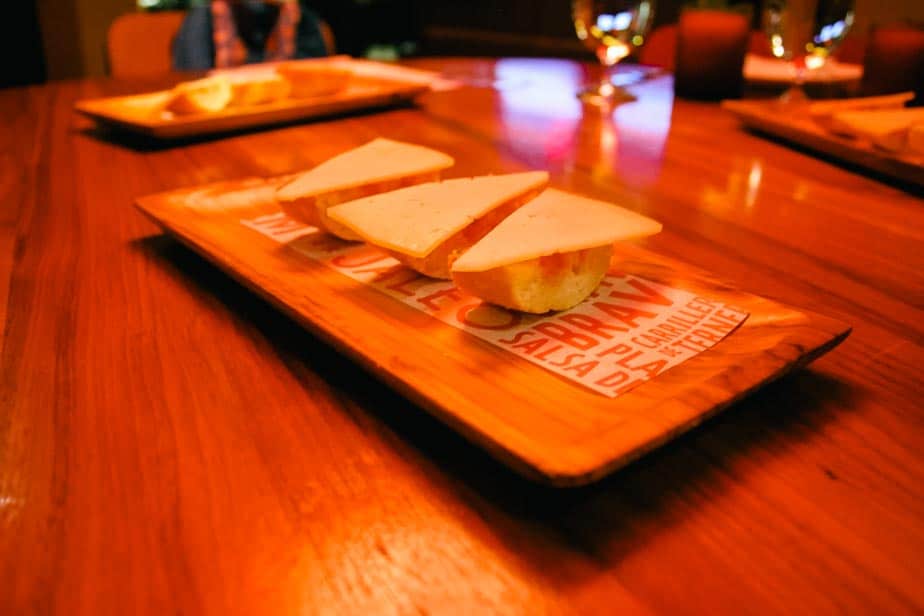 Since I'm personally not a fan of tomatoes, I was hesitant to order this as my first selection. However, I did try one and was instantly disappointed I hadn't ordered it. The Manchego was a fine quality of cheese, and the toasty bread with sauce was perfection. The bread was a tasty vessel for serving the main event, which was the cheese.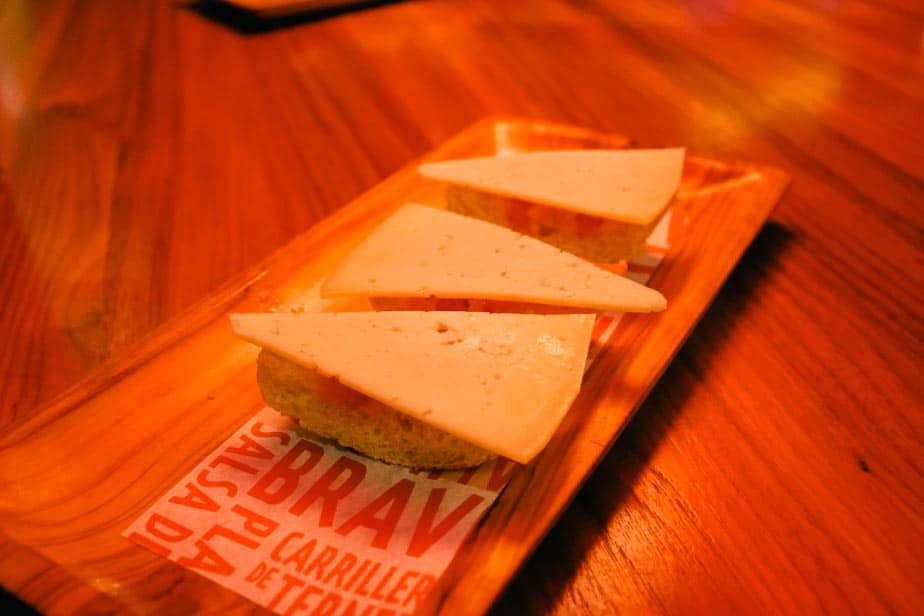 A few of us ordered the Croquetas de Pollo, described as traditional chicken fritters. These little bites were superb. When I try something new like I try to compare it to something I've had before. Several things came to mind, but then I reconciled them as not truly being comparable.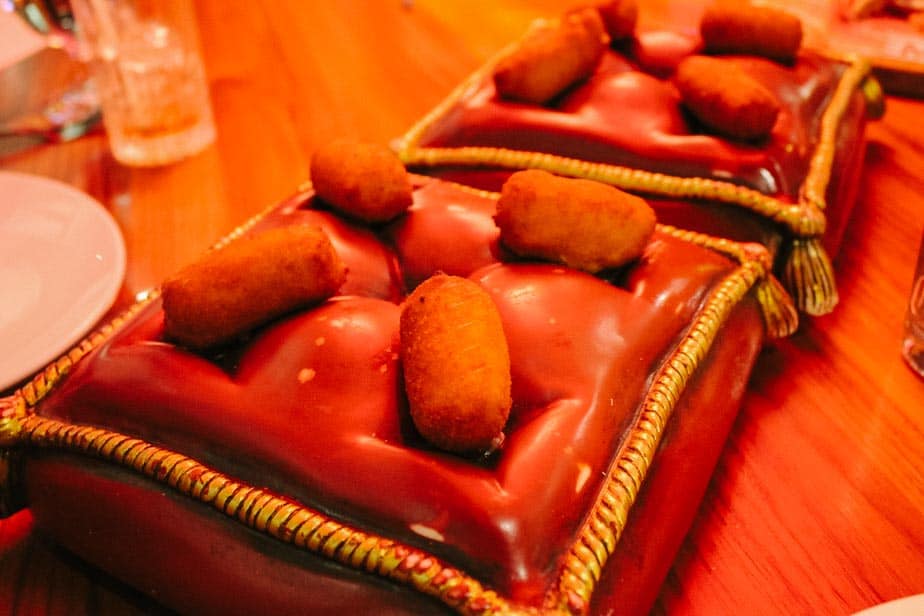 They were hot and creamy, chicken was involved, and melted cheese. Those items may sound like a chicken casserole. However, this was so much better and unique.
Unfortunately, we didn't try the gazpacho for our first course.
Moving on to our second round, we'll look at all three items listed on the menu. First, we'll start with the Pinchitos de Sandia con Tomate y reduction de PX. This is described as a skewer of watermelon and cherry tomatoes with a reduction of PX.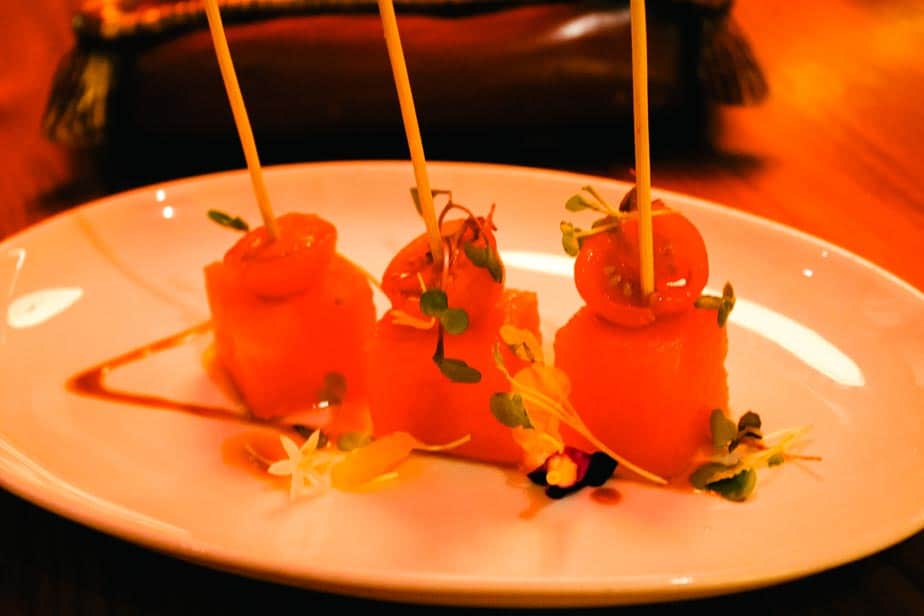 PX is a wine that is made in the Spanish wine region and is commonly used like sherry. You might even consider the flavor somewhat similar to Balsamic vinegar, yet sweeter.
As for this dish, it was beautifully presented and refreshing.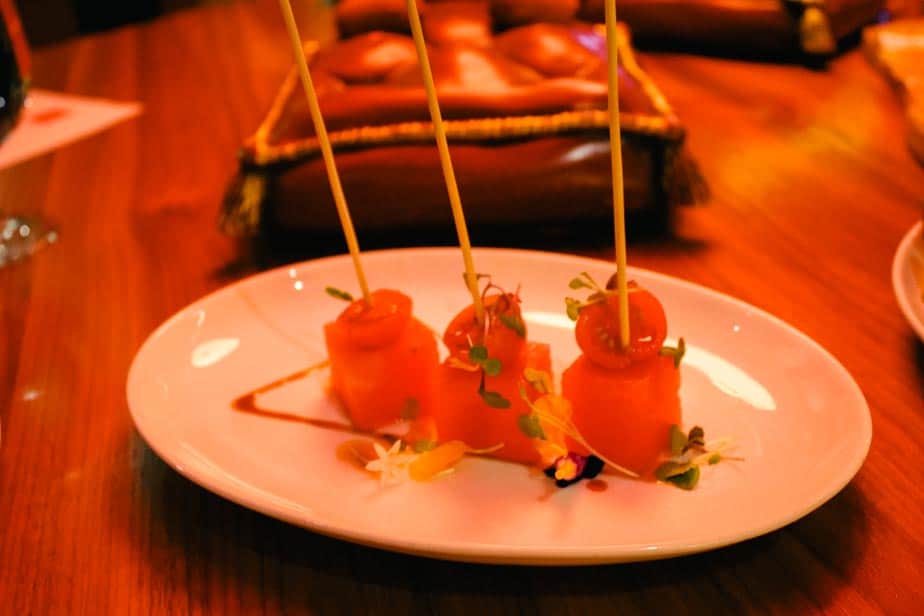 This course provided two other selections that we tried. Our next one was this Ensalada Verde. On the menu, it's described as mixed greens with cherry tomatoes, onions, and olives with a sherry dressing.
Can you see the olives? They were so flavorful. In fact, they were the largest and best olives I've ever had the pleasure of tasting. And the sherry dressing was divine! Everyone loved this salad.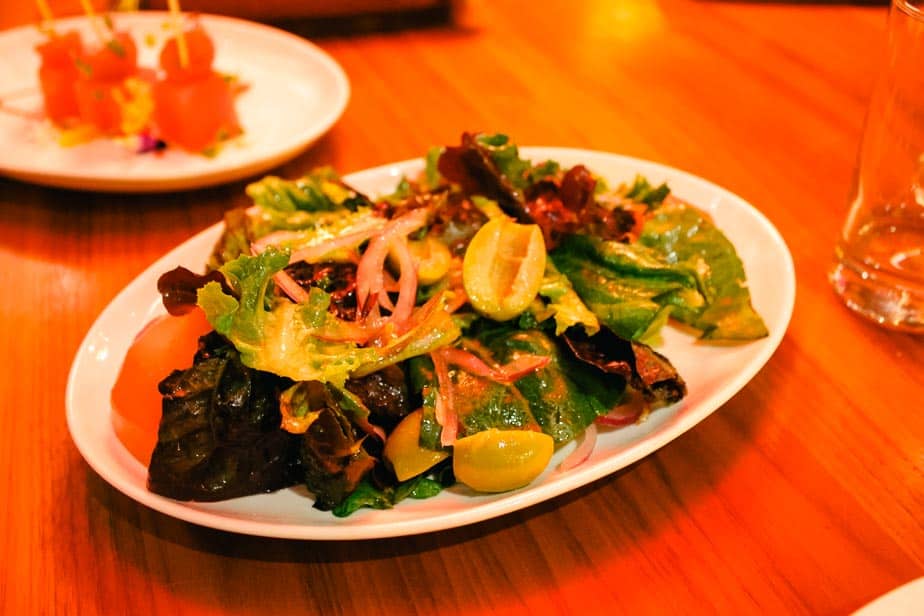 Speaking of loving a salad, this next dish was one of my favorites from the evening. This is the Espinacas a la Catalana. Described on the menu as sauteed spinach, pine nuts, raisins, and apples.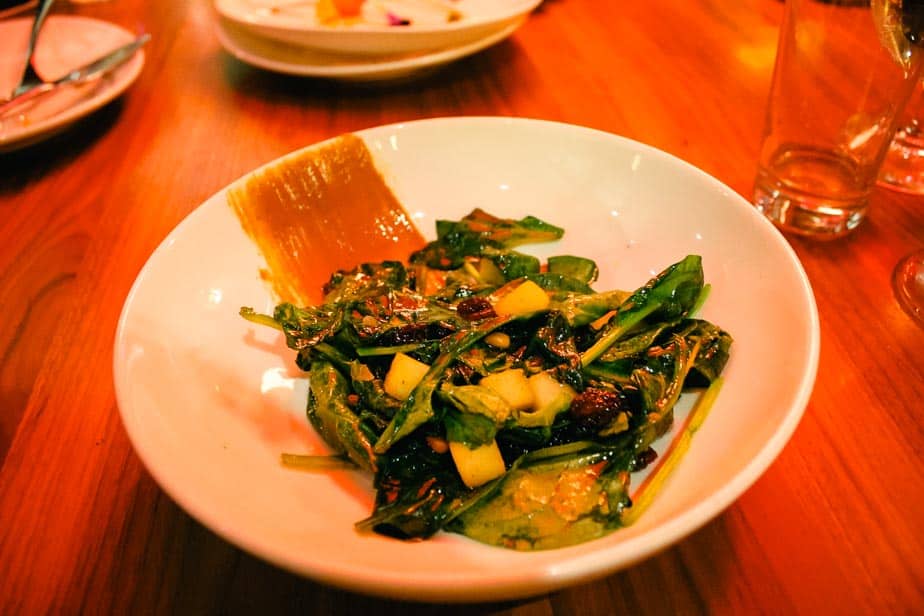 This was a semi-warm salad and was packed with flavor. The apples and raisins added just the right amount of sweetness to the bitter greens. The pine nuts were a perfect enhancement.
If you love these types of flavor combinations, don't hesitate to order this dish.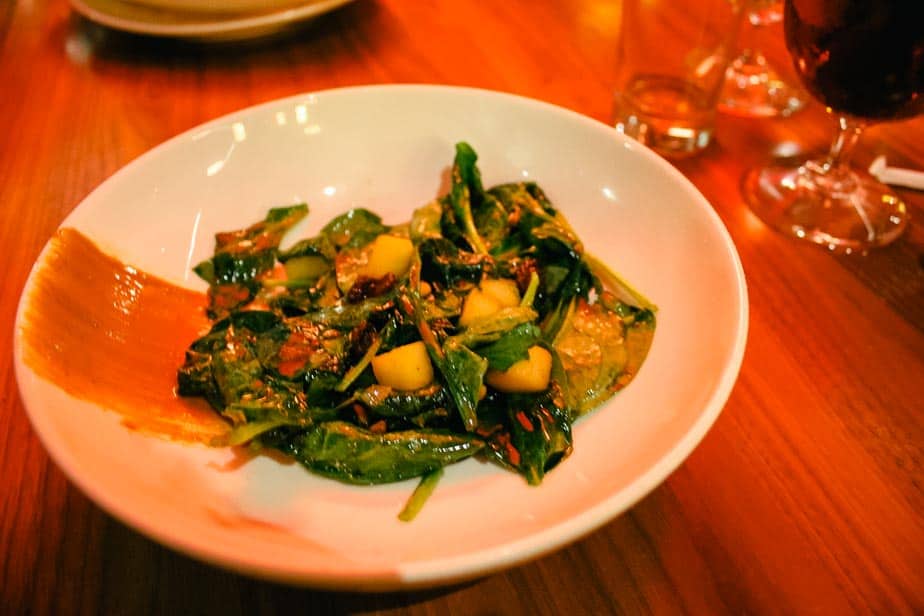 As we move on to course three, we'll preview two items that were available. Unfortunately, we didn't get a chance to try the Piquillo Peppers filled with goat cheese. Had I not been so overwhelmed with all of the choices, I would have ordered them. That way, we would have had the opportunity to try them as well.
However, I think most everyone in our group was laboring over choosing between the mushrooms and the potatoes dish. As a person who loves mushrooms, I knew that I would regret not trying these. Unfortunately, they turned out to be the one item we didn't finish.
The mushrooms per the menu were the Setas al ajillo, described as sauteed mushrooms in garlic and white wine. Our issue with this dish was the acidity.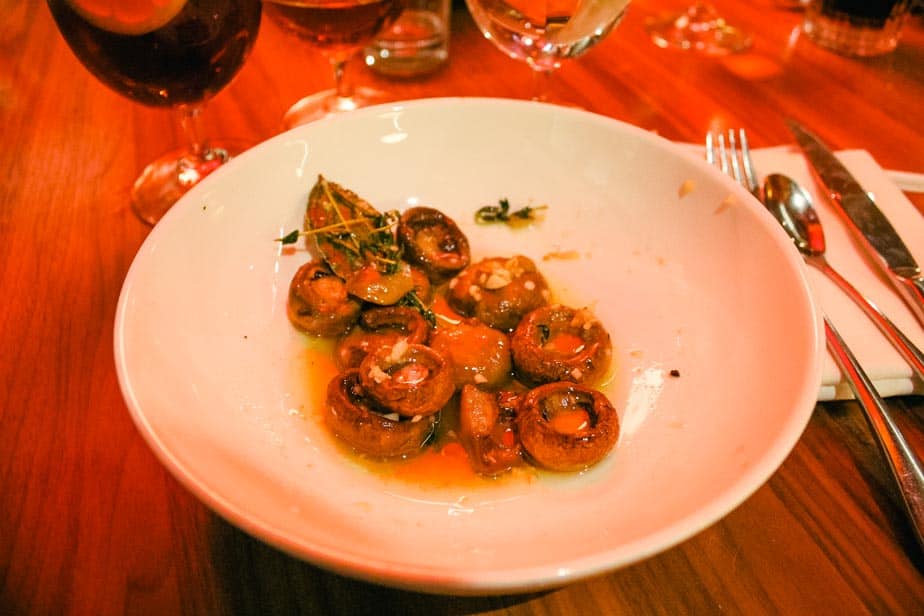 The broth-like sauce at the bottom of the bowl was pungent. For our entire table, it seemed to be the only disappointing item of the evening.
Thankfully the Patatas Bravas made up for the course. Described as a Jaleo favorite: fried potatoes with spicy tomato sauce and aioli.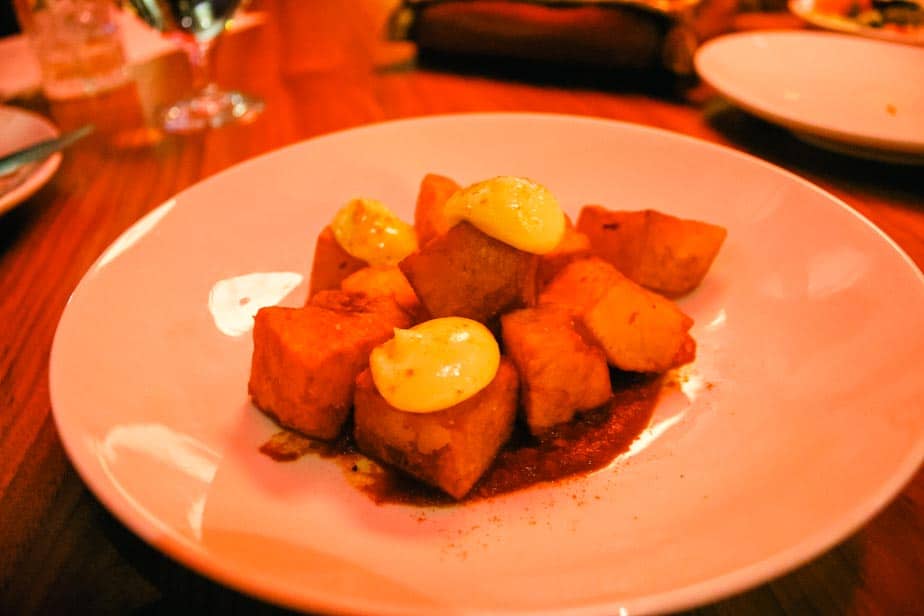 Okay, I do have to tell you. I didn't try the aioli part because I can't get past my aversion to mayonnaise. But I did try the spicy tomato sauce.
Heed the warning; it is spicy. When I say spicy, I mean in a chipotle-type way with earthy flavors that elevate the dish. SO GOOD. But I wouldn't have taken quite the initial bite that I did, had I known how spicy it would be a few seconds later.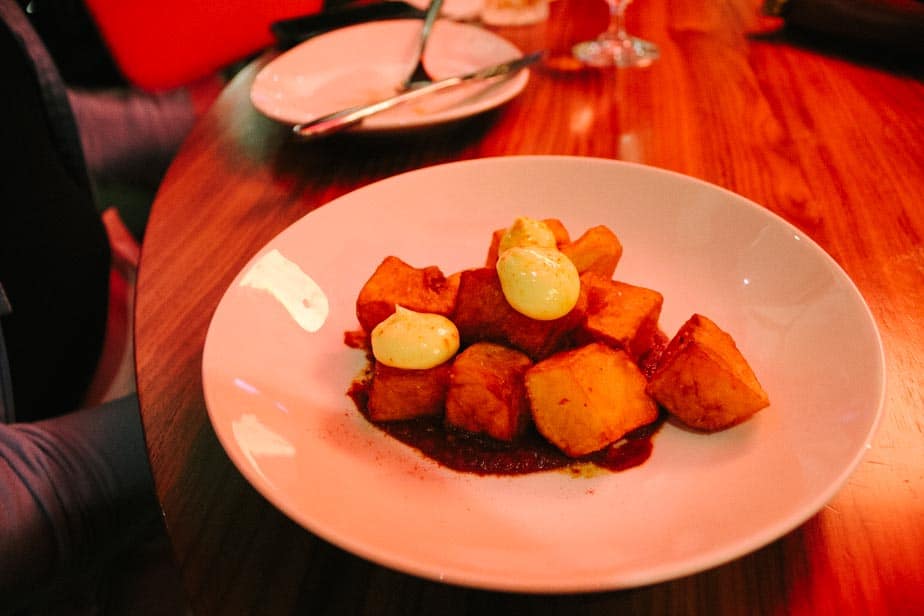 So here is where we really messed up. On our next course, our entire group ordered the paella. We were, including me, enamored with the paella.
But did we really mess up? Heavens no, it was excellent and lived up to our expectations.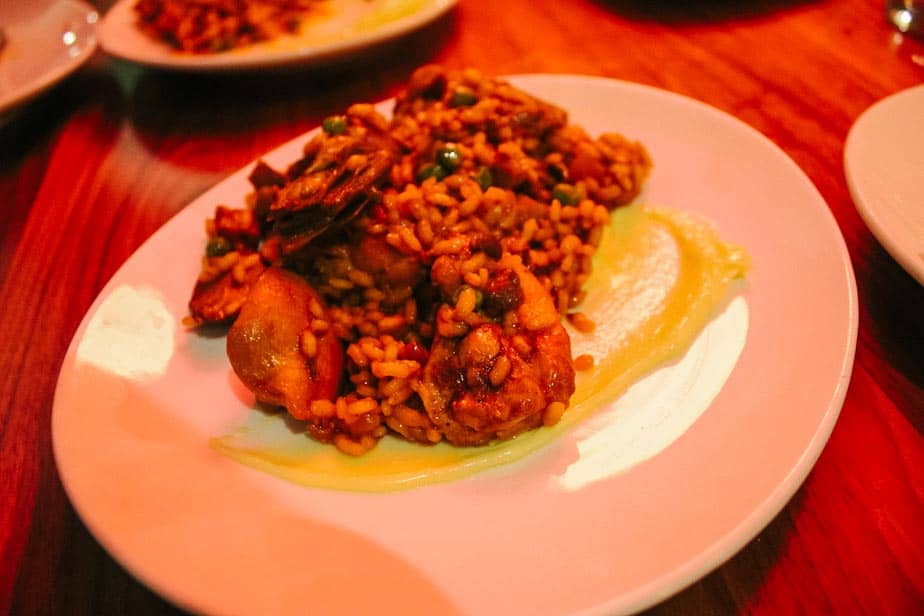 The savory paella was packed with large pieces of chicken, peas, mushrooms, and of all things, artichokes. It was absolutely delicious.
Additionally, a garlic aioli was present on the side of the dish. My fellow diners said it brought a new life to the already tasty dish.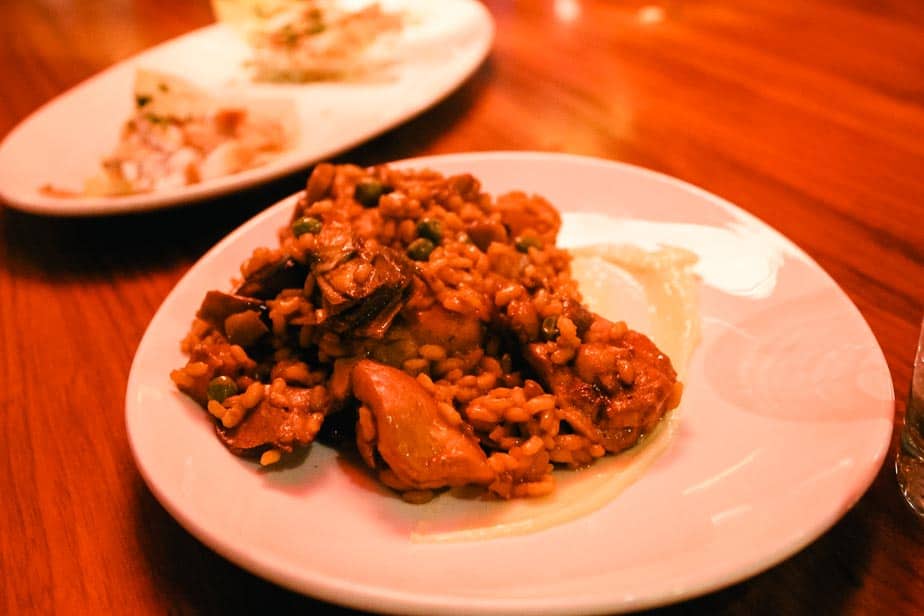 And if that wasn't enough, we still had the final course, dessert. There were two choices for dessert. The first was the Pan Con Chocolate, described as chocolate custard with caramelized bread, olive oil, and brioche ice cream.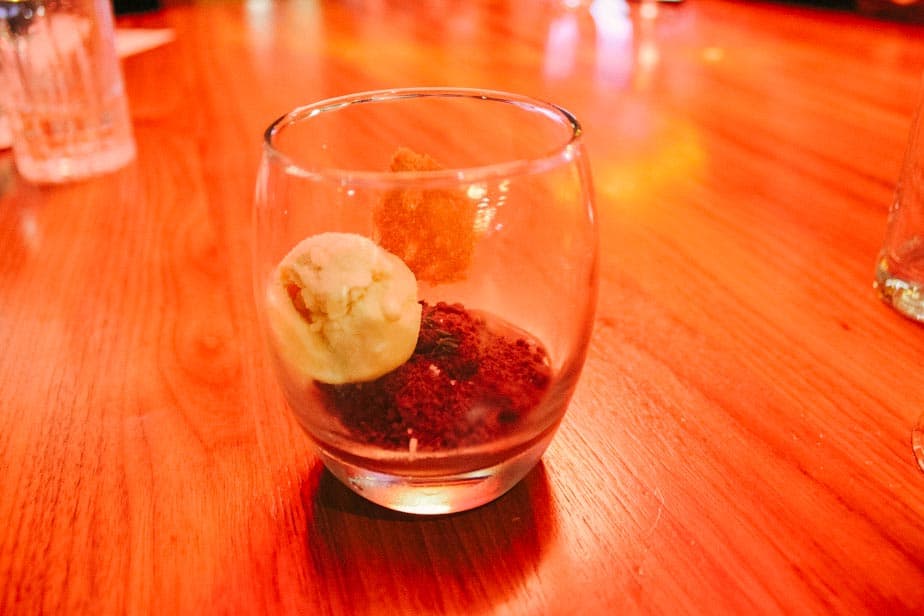 This one got mixed reviews at our table. Personally, I loved it, and it was one of my favorite bites of the evening. I felt as though the elements on the bottom of the cup needed to be mixed together to get the full flavor.
The caramelized bread on the top was the perfect, crisp bite. And that brioche ice cream left me wanting more. I could have definitely eaten two servings of this dish.
The main complaint was that the chocolate was dark and bitter. However, I felt like when I combined it with the other elements. It provided the perfect balance of flavor.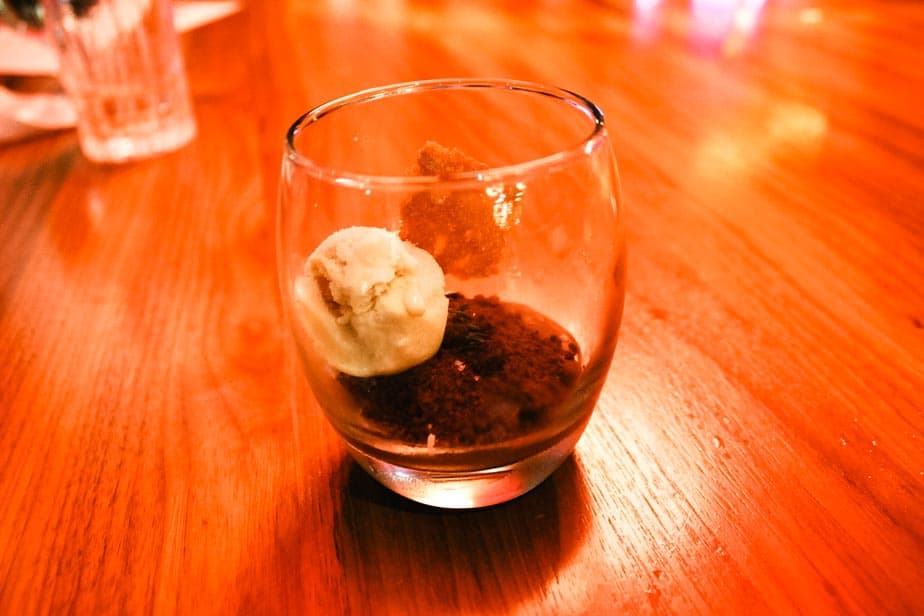 The second offering on the menu was the Flan al estilo tradicional de mama Marisa con espuma of Catalan cream and oranges. Described as a classic Spanish custard with espuma of Catalan cream and oranges.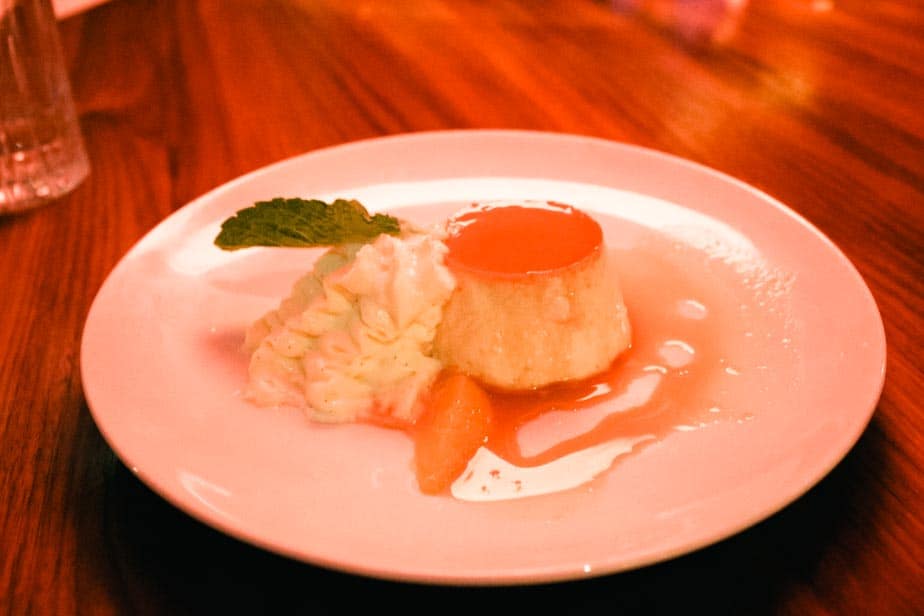 Flan is a traditional Spanish dish. It is a custard with a layer of clear caramel on top.
Our flan was elegant. The custard had a perfect, creamy consistency. The hand-whipped cream on the side was stacked beautifully against the dish with notes of mint and orange.
And that sauce! Caramel meets oranges combined with the custard and cream made for a luscious bite.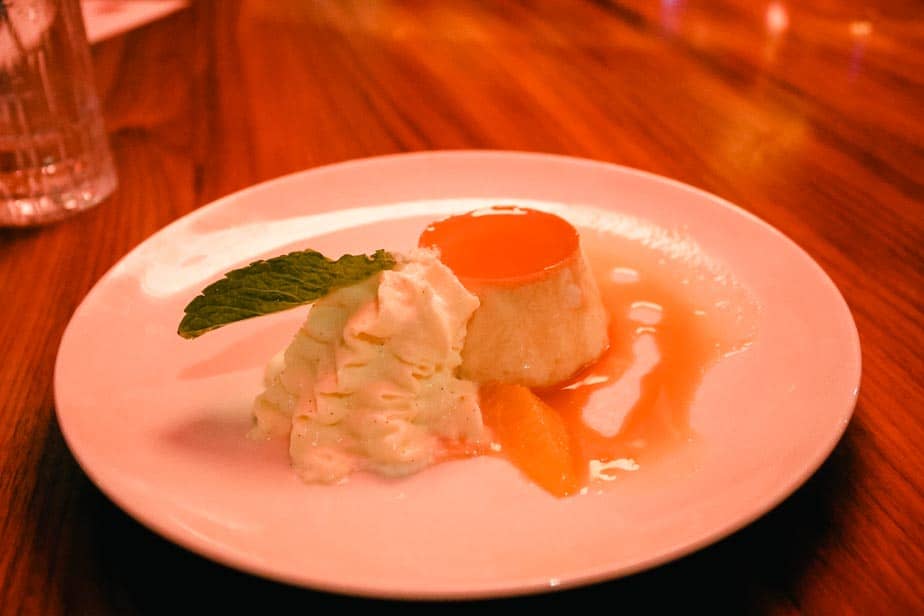 Perhaps, what I enjoyed most about these two desserts, was how light they were. Neither were heavy, overly sweet, or tremendous in size. As a result, anyone could happily enjoy either of the desserts and not leave feeling guilty about the indulgence.
I imagine that you thought we had reached a sweet ending to our meal. However, earlier on, I mentioned we ordered a few things off the regular menu as well. So, let's take a look at those items before we wrap things up.
First, we had a few diners order a sangria. This is the Sangria Roja La Sueca which came frozen. Sangria at Jaleo is available by the glass, half pitcher, or full pitcher.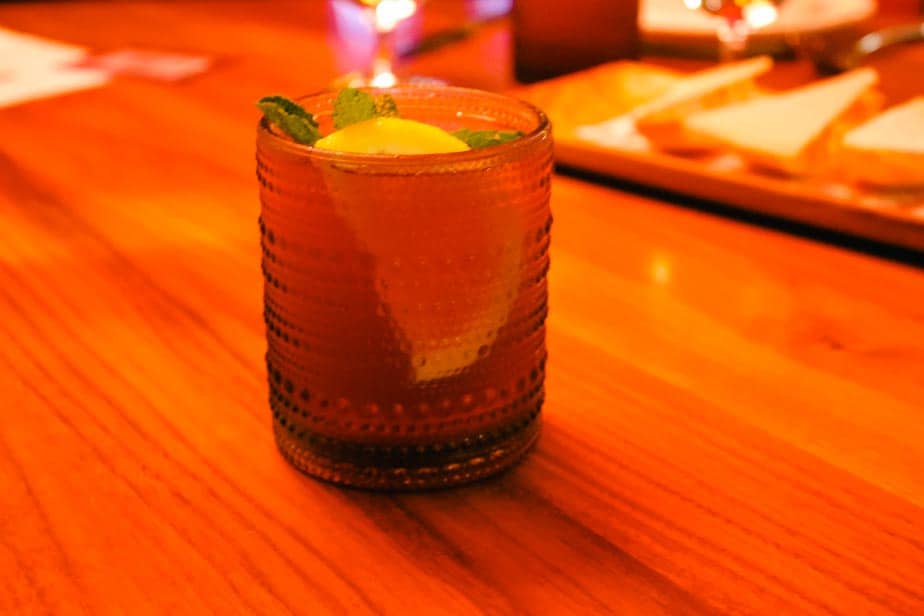 While I didn't try this particular drink, everyone was happy with it. And we all admired the charming glasses in which the drink was served.
Below we have the Cono de salmon crudoo con huevas de trucha. These little cones had salmon tartare and trout roe and were quite the scrumptious bite.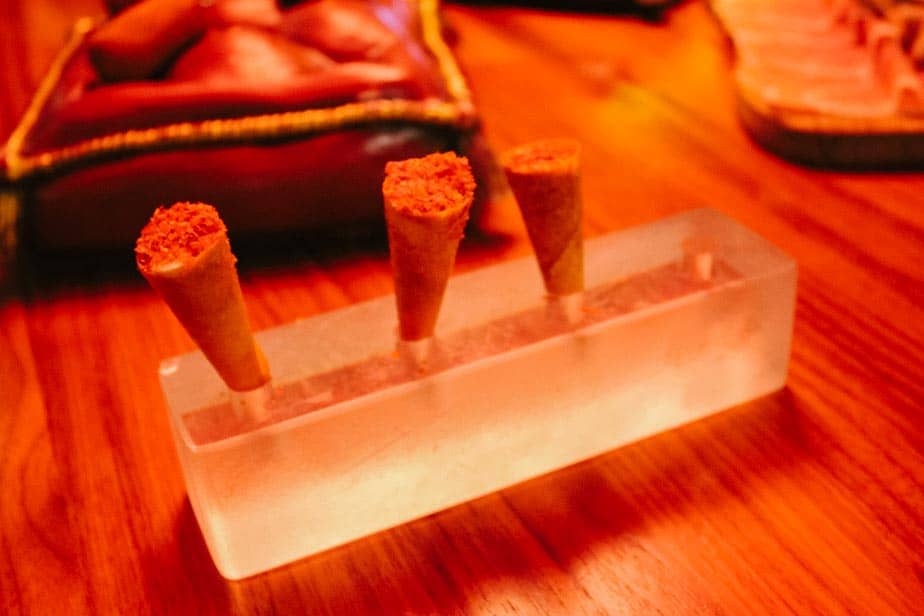 If food in a cone interests you, there are several options on the menu.
Another highlight we tried on this evening was the Jamon Serrano. This platter of Serrano ham was delightful. It came topped with these miniature breadsticks that leaned more crouton texture-wise. As for the deli meats selections, you cannot go wrong here.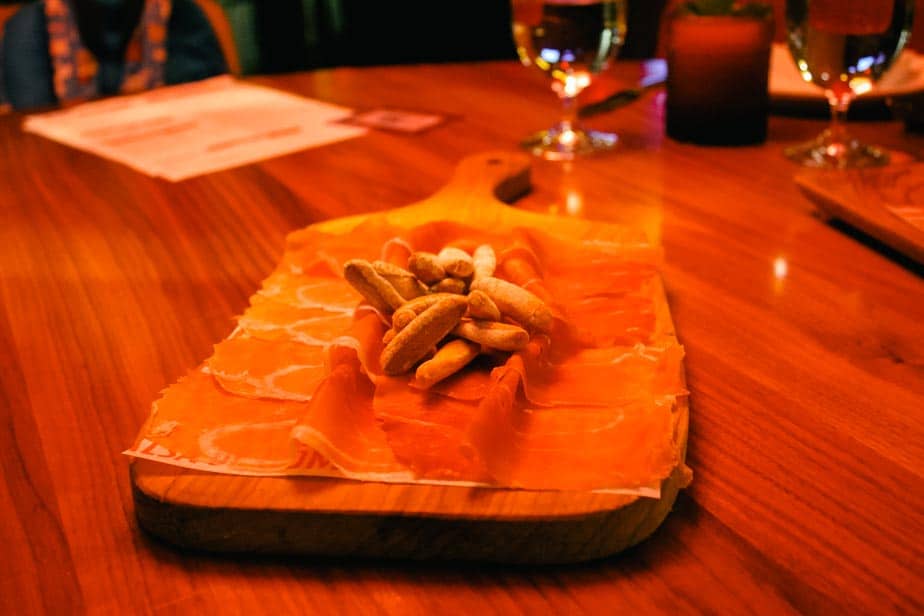 As you can see, this was a large portion, and even with five of us, there were still a few slices left at the end of the evening.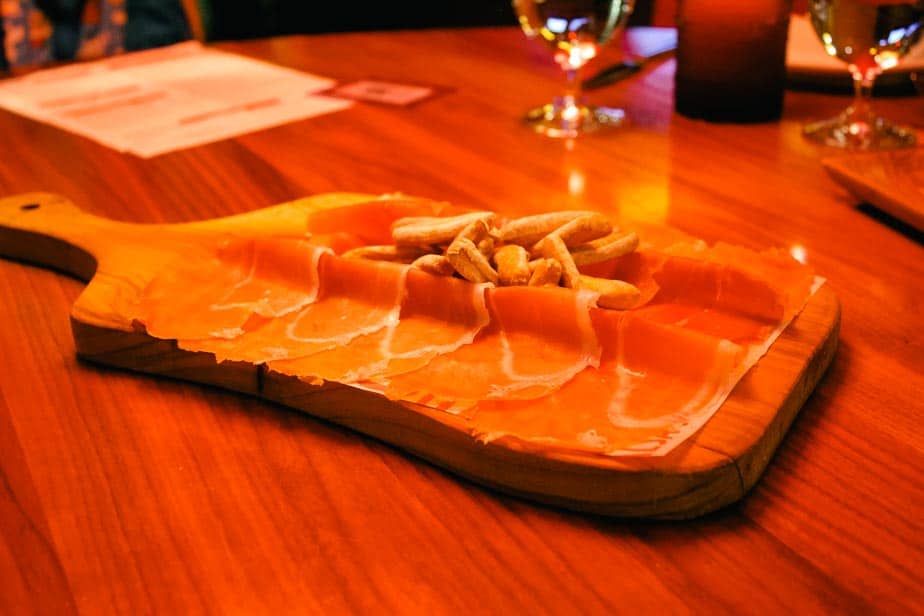 Next, we have the cheese platter. Again, you can order a selection of three kinds of cheese or a selection of five from the menu. If you love cheese as much as I do, you'll definitely want to consider adding this to your order.
Additionally, this is where we had our one mishap of the evening. You might notice the rosemary sprigs on the cheese platter. We had a rosemary allergy in our group, and somehow this made its way to our table.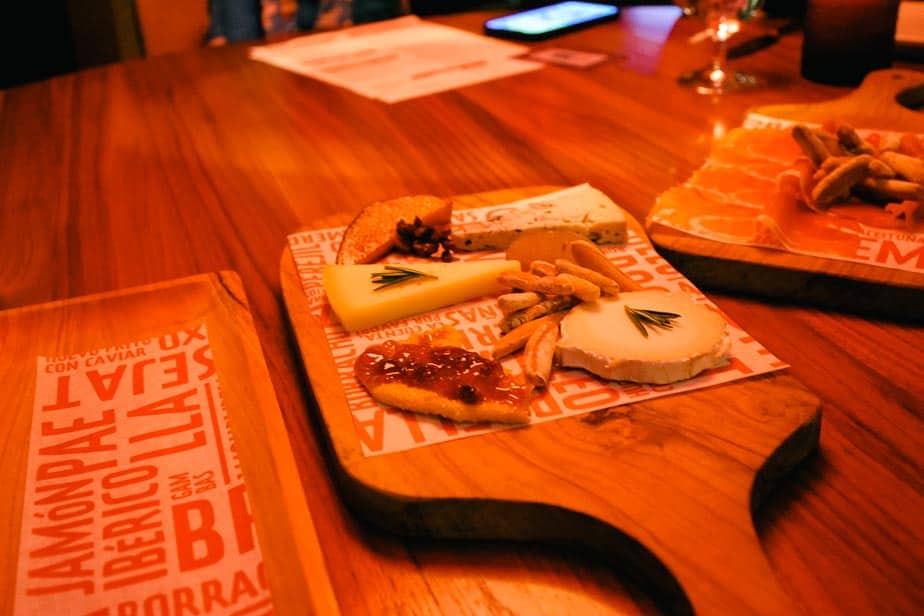 Before the runner left, he realized the issue and removed the platter. A new plate of cheese was brought to the table a little later.
The cheeses on this tray were the Cana de Cabra paired with bread and fig jam, Queso Manchego paired with compressed apple, and the Valdeon, an intense blue cheese paired with compressed pears.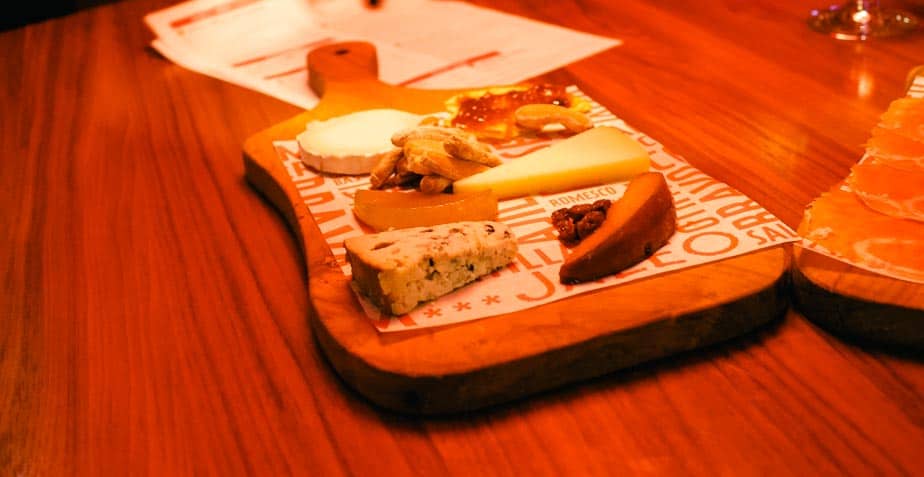 It was every bit as good as it looked.
Our last item was brought to the table toward the end of our meal to make up for the prior issue. This is the Endivias con queso de cabra y naranjas. Described on the menu as endives with goat cheese, almonds, and oranges.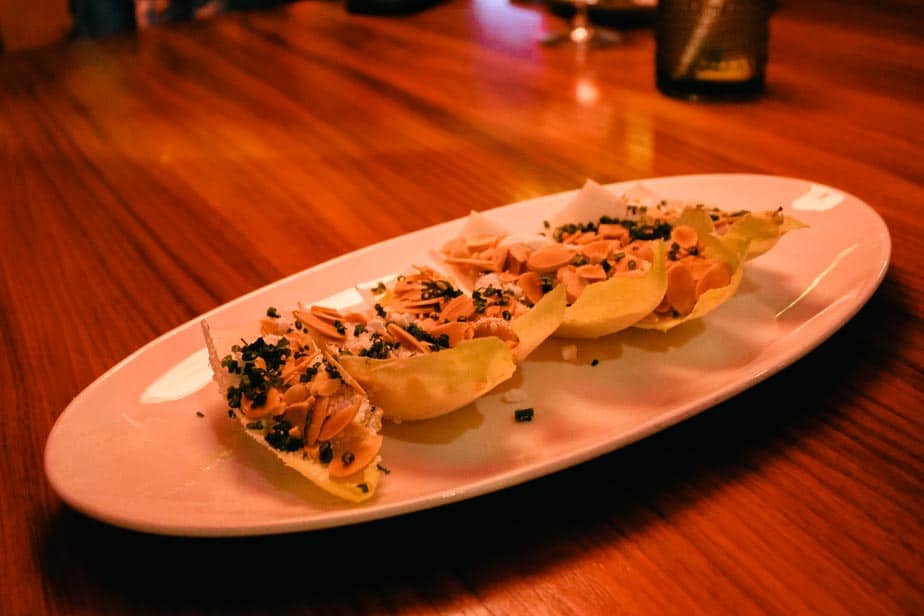 Oh my, this was another surprise! The dish, served cold, was so tasty. The almonds provided the right amount of crunch to the soft goat cheese. Meanwhile, the oranges brought a subtle sweetness to the overall flavor of the dish. Definitely consider ordering this tapa if you enjoy goat cheese.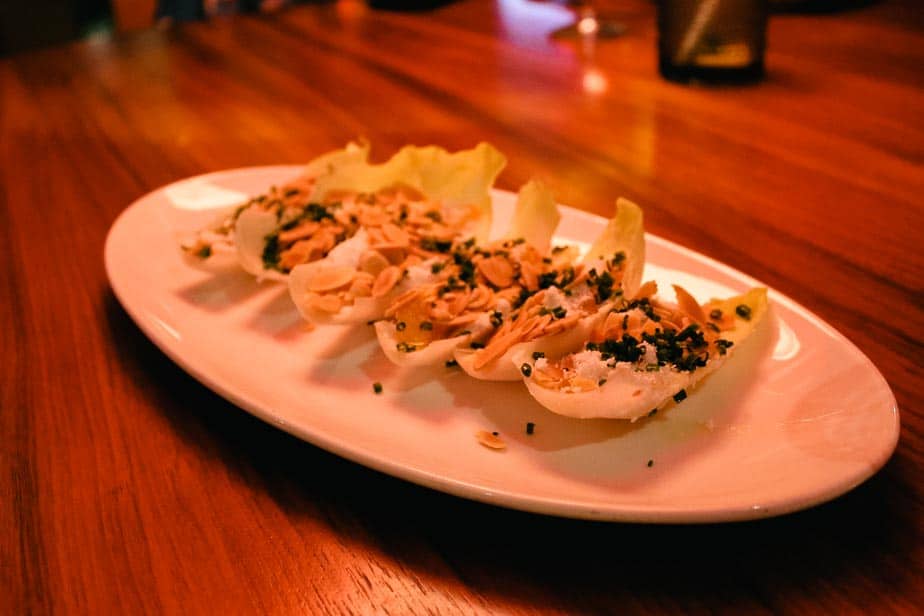 Sadly, we've come to the end of our meal. Due to the elaborate menu at Jaleo, there are still many offerings we've yet to try. When I return, I have my eye on the Rossejat Negra, which is a seafood paella that comes with head-on shrimp, squid ink, and calamari sofrito.
And there's a Quesada Asturiana, which is a Basque goat cheesecake served with sorbet. Basque cheesecakes are blackened on the outside while the interior remains soft and creamy. They are a bit of a trendy item at the moment.
Or I might go all out and order the Jaleo Experience. This is one of three tasting menus available at Jaleo. The other two are a wine and sherry tasting menu.
The Jaleo Experience provides a tasting of the classic and traditional tapas with several favorites. This meal costs $95 per person, which is more on par with what you can expect to pay when you enjoy a meal here.
We were very fortunate to be able to try the Magical Dining menu at Jaleo. That meal comes in at $37 per person and is an outstanding value. It lasts through October 17th this year. So if you're visiting in the next few weeks, I highly recommend taking advantage of the offering.
The best way to snag a reservation for Jaleo is through OpenTable. We use OpenTable to make all of our reservations at Disney Springs.
When it comes to dining at Disney Springs, there are so many great options. However, there's a reason that restaurants like Jaleo make our list of the best Disney Springs restaurants.
A few other options we've enjoyed at Disney Springs include these reviews:
Resorts Gal specializes in providing information on Walt Disney World Resorts, Characters, and Dining. If you are interested in learning more about dining at Disney World, we have a full list of Disney restaurant reviews.
Additionally, our guide to character dining at Disney World provides an updated overview of everything you can expect when it comes to enjoying a meal with characters.
Planning a Walt Disney World vacation? Make sure to check with our friends at Firefly Travels. They offer a concierge level service and know all the ins and outs when it comes to perfecting the Disney details.
Have you had the opportunity to eat at Jaleo yet? What are your thoughts? Leave a comment and let me know what you thought of our review of Jaleo. I'll be happy to answer any questions based off our experience.