Frontera Cocina Review at Disney Springs
Frontera Cocina is a restaurant offering Mexican cuisine at Disney Springs. If you visit the venue and have a craving for Mexican, you definitely want to consider a meal here. The food is absolutely sublime and probably not what you would expect at an average Mexican restaurant.
In this Frontera Cocina review, we'll take a look at some of the popular food items on the menu. Speaking of the food, I have to mention the food at Frontera is composed of true, high-quality ingredients.
Chef Rick Bayless, the owner, is a seven-time winner of the James Beard Foundation Award. He is also a well-known celebrity chef and owns several popular restaurants across the country.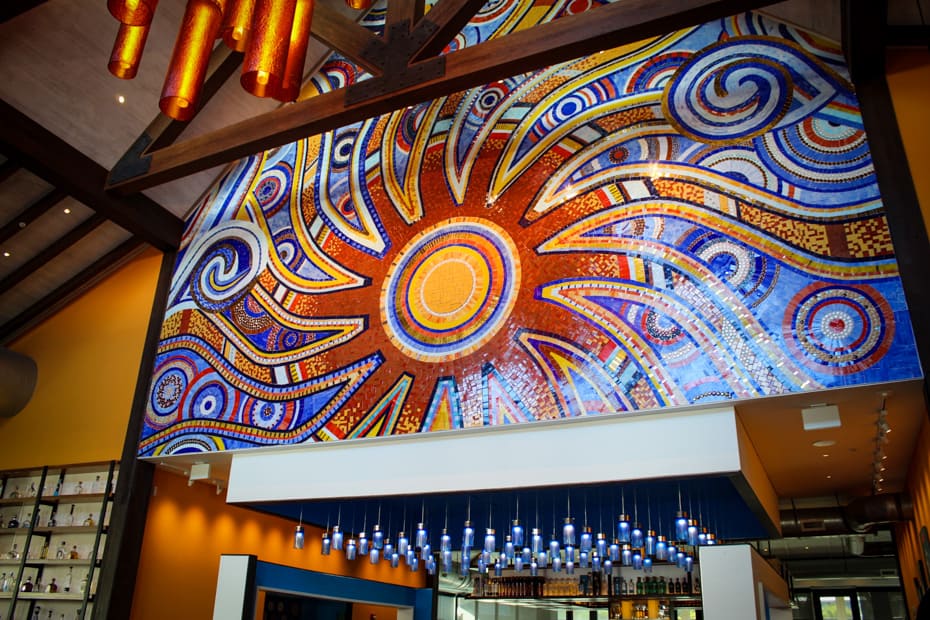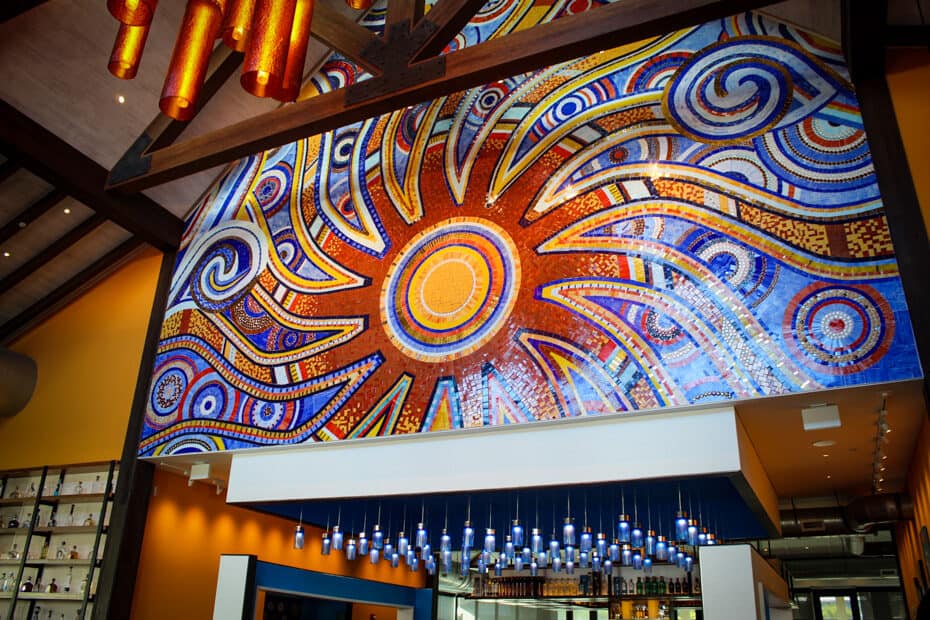 When you arrive at Disney Springs, Frontera Cocina is central to the new Town Center area. It sits adjacent to the Welcome Center. You'll find it just a short and straight walk away from the Lime parking garage.
Those unfamiliar with getting around the venue might want to check out my Disney Springs transportation guide. It includes tips for getting to, from, and around the area.
If you are coming from the Marketplace, Frontera Cocina is located across from Kipling and Pandora Jewelry.
Additionally, the far side backs up to one of the Springs areas overlooking the water. And it is the first building you will meet after crossing the bridge over from the Morimoto Asia and Raglan Road area.
There is an outdoor seating area that looks out on the water. It has reopened since I took this picture. They were doing a bit of construction at the time.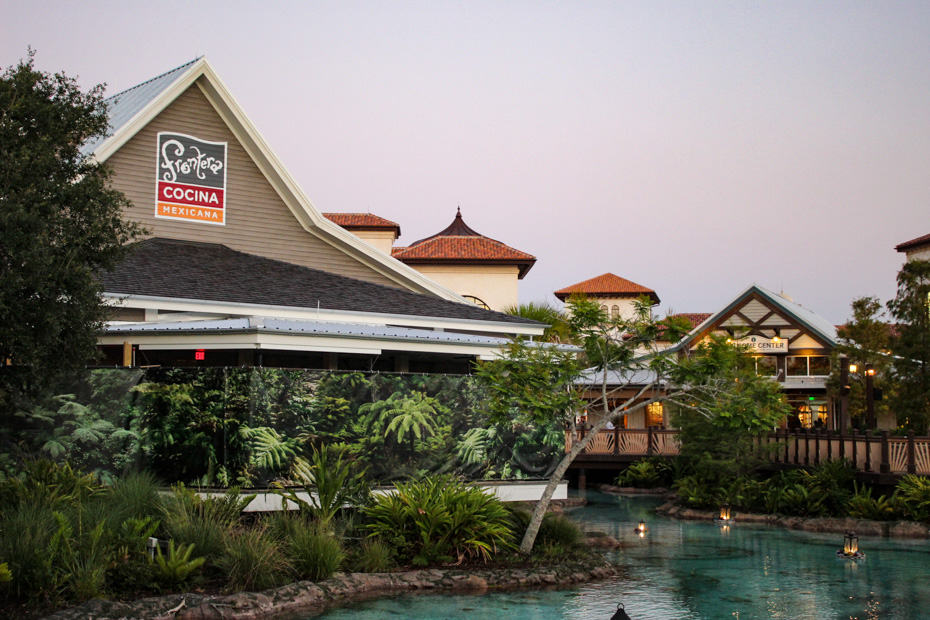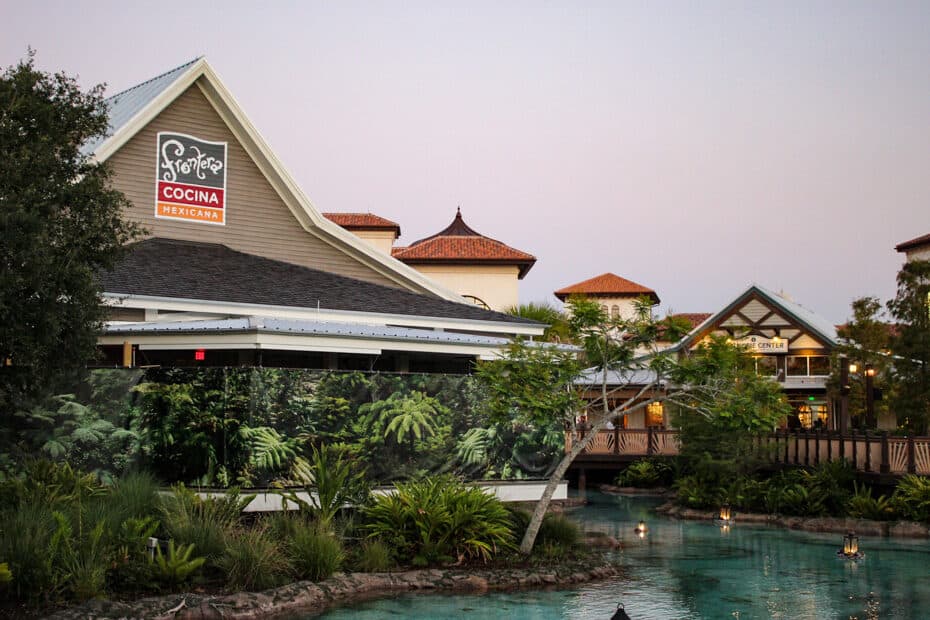 Below is part of the newer springs area. There is a bridge that adjoins the space between Frontera Cocina and Morimoto Asia.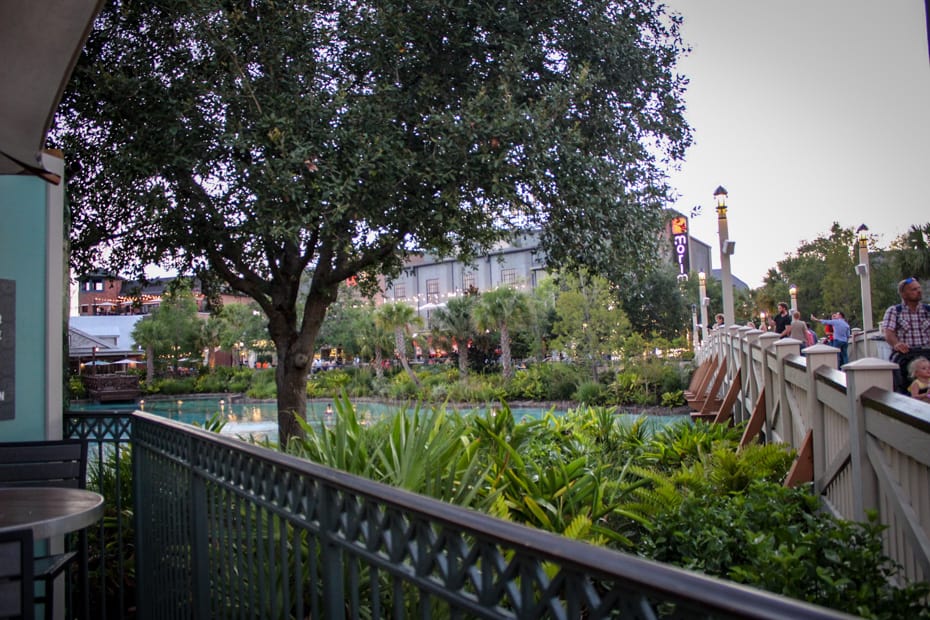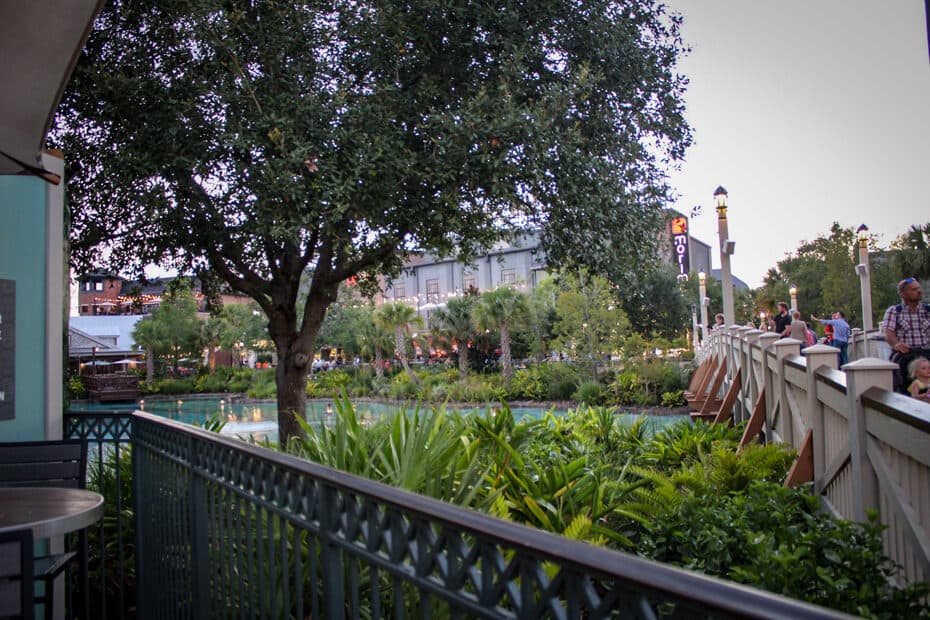 Here we have the front entrance to Frontera Cocina. The hostess stand is to the immediate left when you enter through the front doors.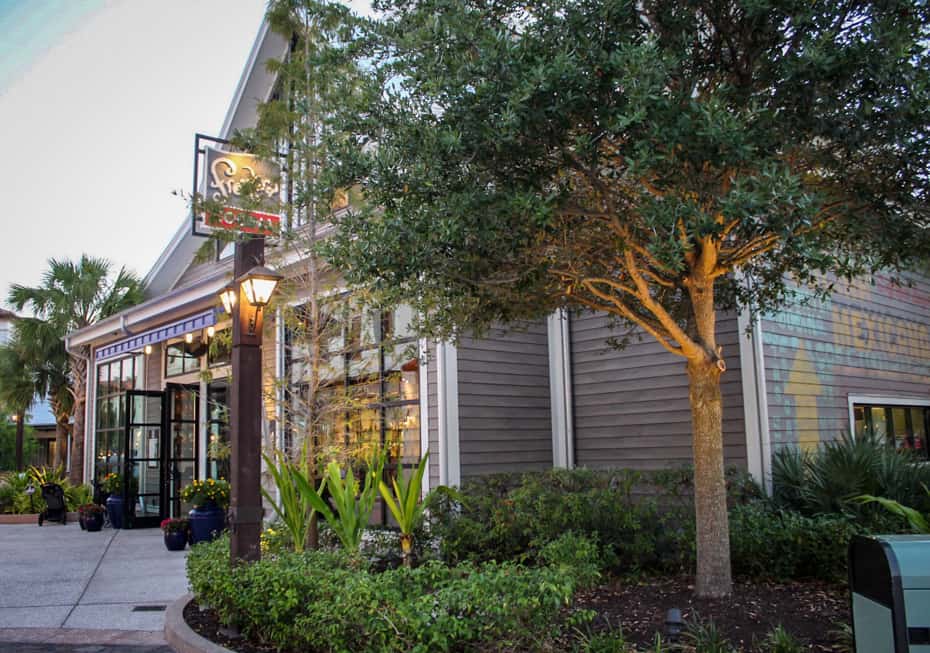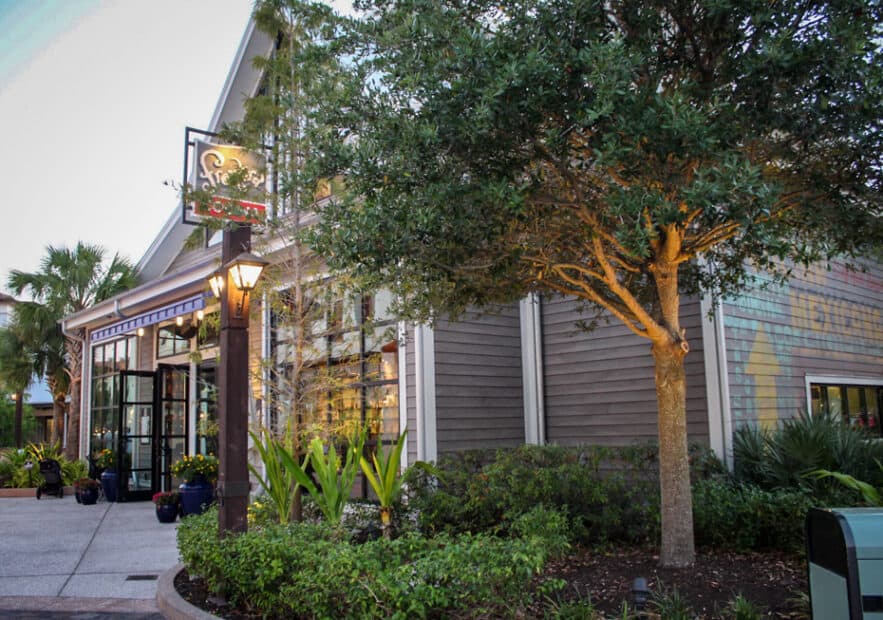 Frontera Cocina offers a menu that features authentic Mexican food items. There is something for everyone from steak entrees to salads. You can also expect to find a few items that you are more familiar with, like tacos and enchiladas. And then there are specialty items like pork belly carnitas and an Oaxacan grilled snapper.
From time to time, Frontera Cocina offers an additional menu featuring more seasonal items. For instance, on my last visit, a "Taste of Baja" menu was available.
You can preview the latest menu here on Frontera Cocina's site.
Frontera Cocina Review
Let's look at the overall restaurant before delving into some of the actual food items. Frontera Cocina gives off a warm and casual vibe. It feels classy, in a fun and inviting way. I don't think it's a restaurant that will make anyone feel out of place.
The open kitchen is located on the front right side of the house. This seems to be a more modern placement in newer establishments.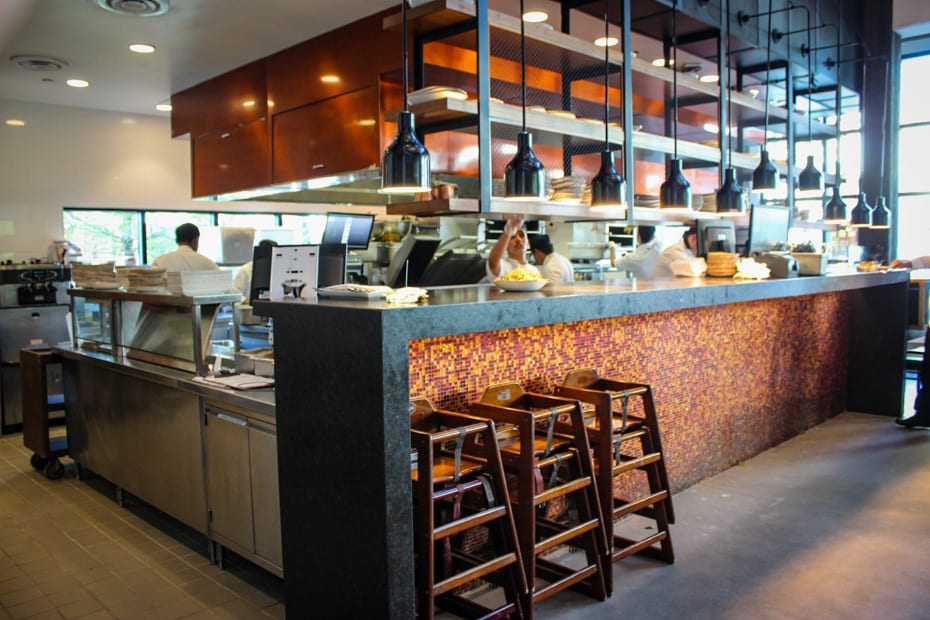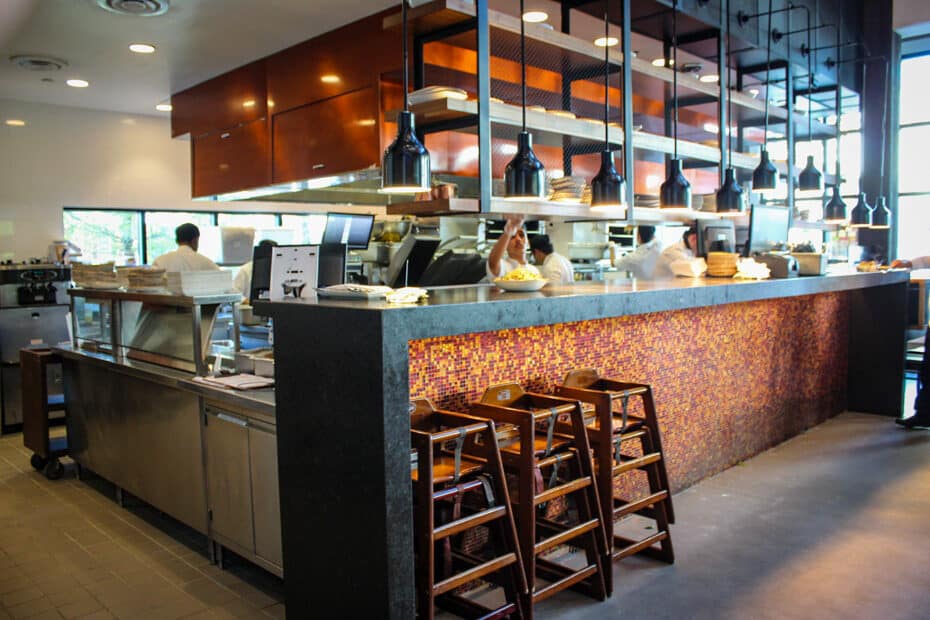 This long wall is painted a bright yellow and features a pop of color in the art display. At the back, there is an open bar.
If the restaurant is crowded, you can dine at the bar and choose from the full menu. I have done this in the past, and most people at the bar were partaking in a full meal. There is also a lower bar seating for anyone with accessibility issues.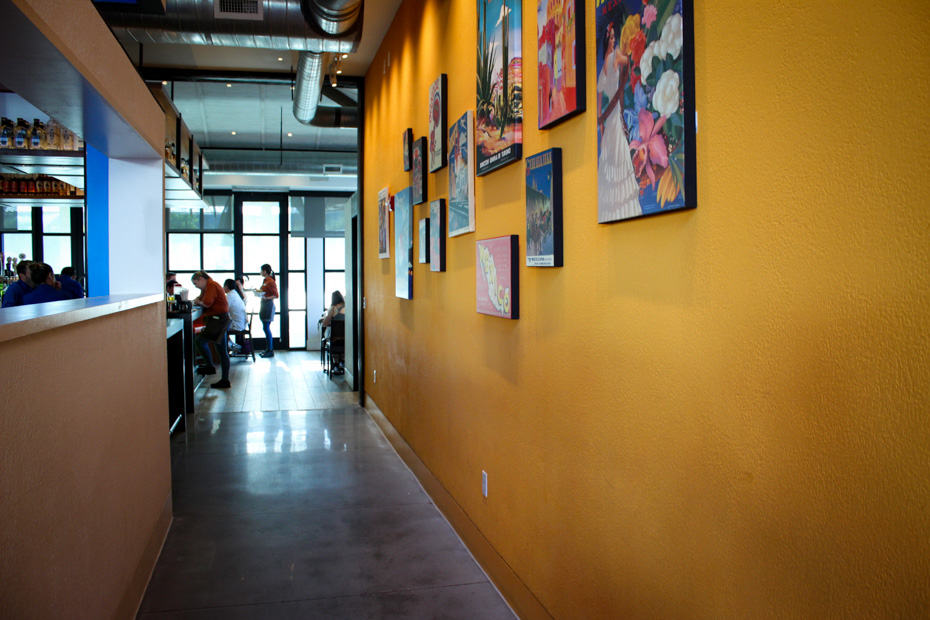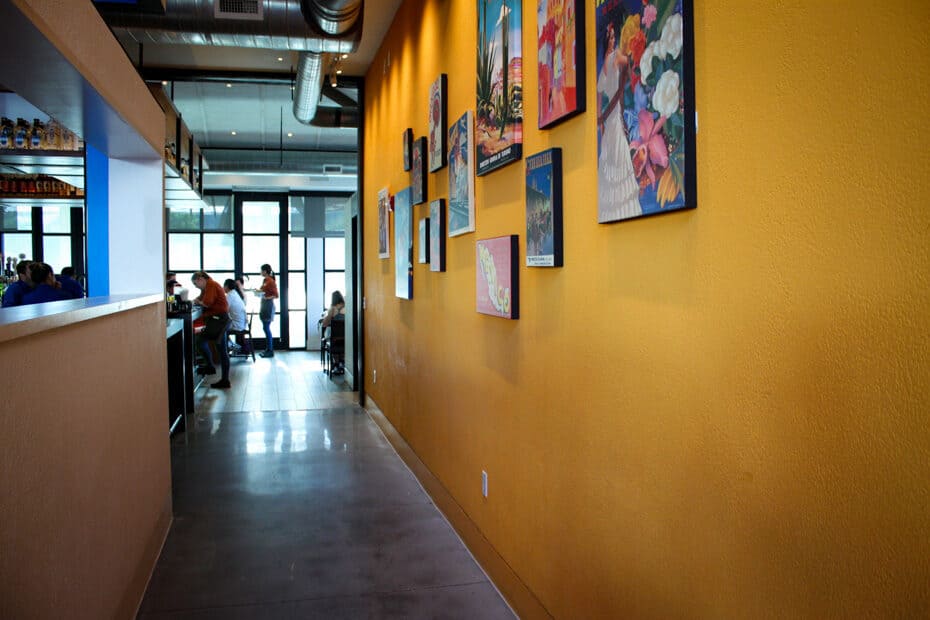 Frontera Cocina offers a lot of nice lighting and ambiance.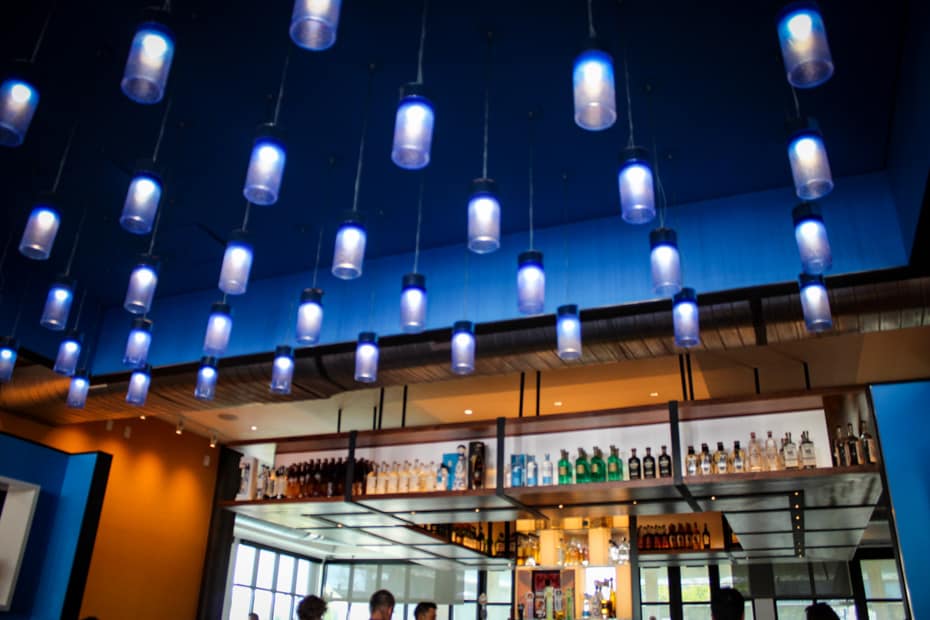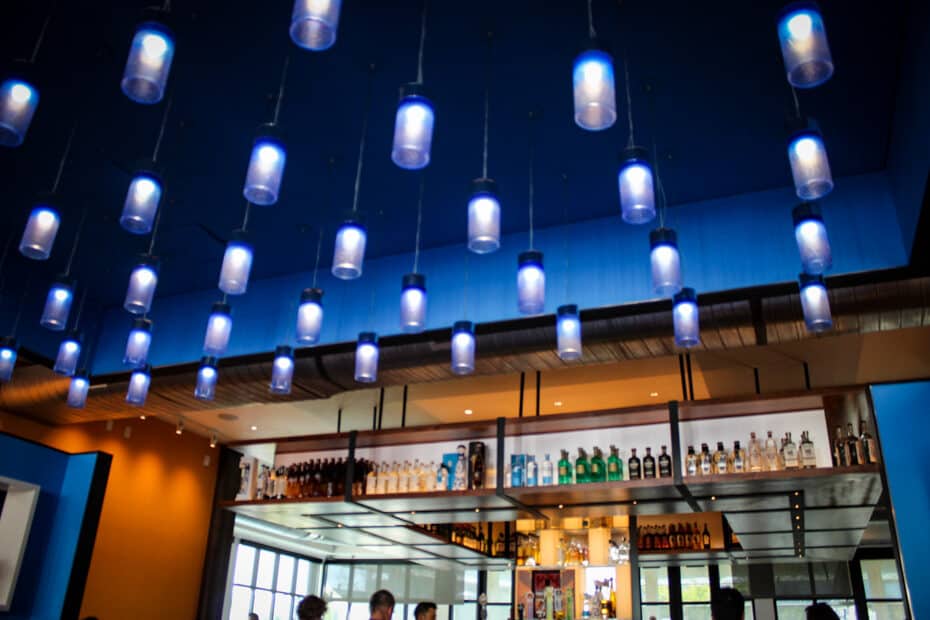 On this particular evening, we were seated in the center of the restaurant. This is a look at the artwork from the back of our booth. You can also tell the restaurant has an open ceiling with an industrial look from the ductwork.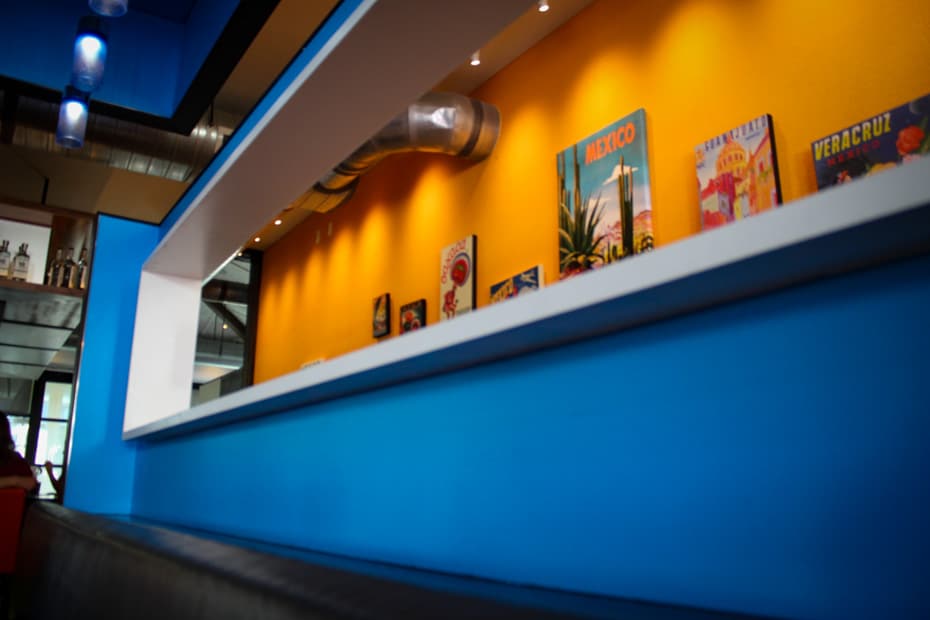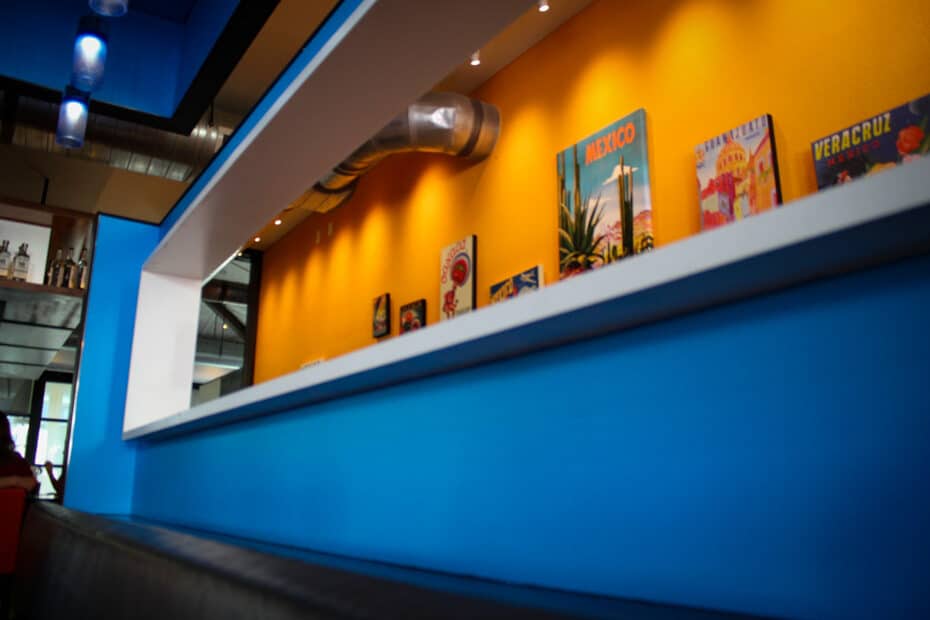 Most of the tables are booth-style on the back, and the opposite side has a table with chairs. Each table has a place setting and complimentary water glasses for everyone in your party. The server usually fills your water glass at the introduction or offers upgraded bottled water if desired.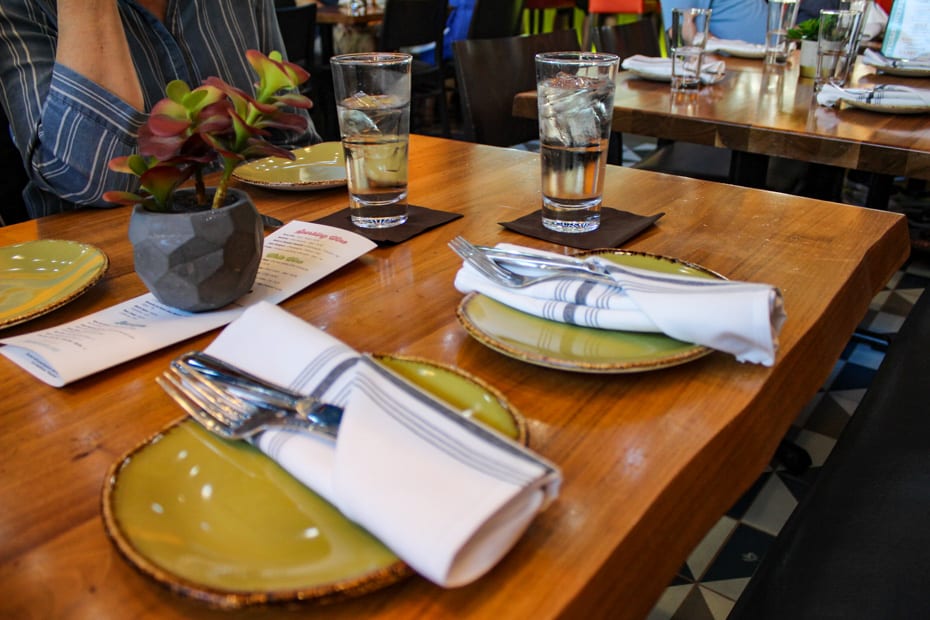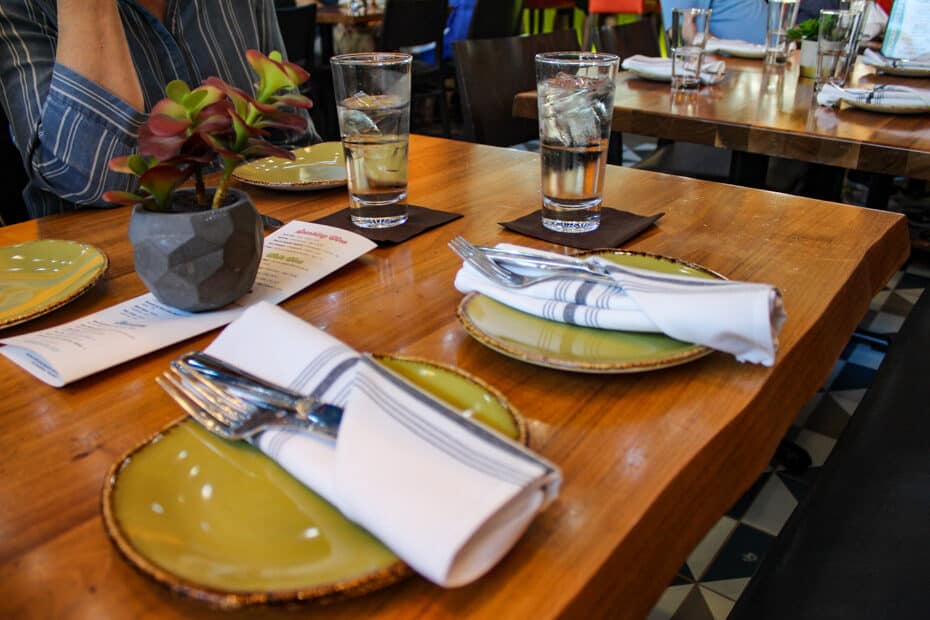 Frontera Cocina has been open for a little over four years at Disney Springs now. I have been fortunate enough to eat there probably close to ten times at this point.
Thinking about how to consolidate my dining experiences here into a summary is difficult. The food is flavorful. The service is excellent. Maybe I will leave it as I have never left wishing I had eaten somewhere else on those evenings.
There are so many Disney Springs restaurants, but Frontera Cocina consistently comes in at the top of my list. Let me share with you a few items from the menu.
First, we have the Taqueria Salad described per the menu as Arcadian lettuce, poblano rajas, crunchy tortilla strips, Cotija cheese, avocado-lime vinaigrette.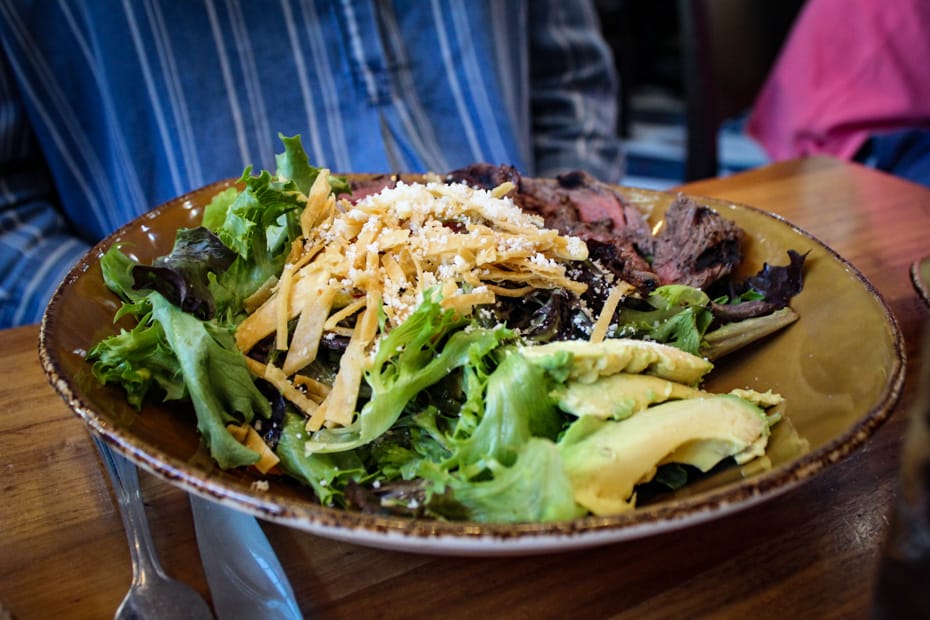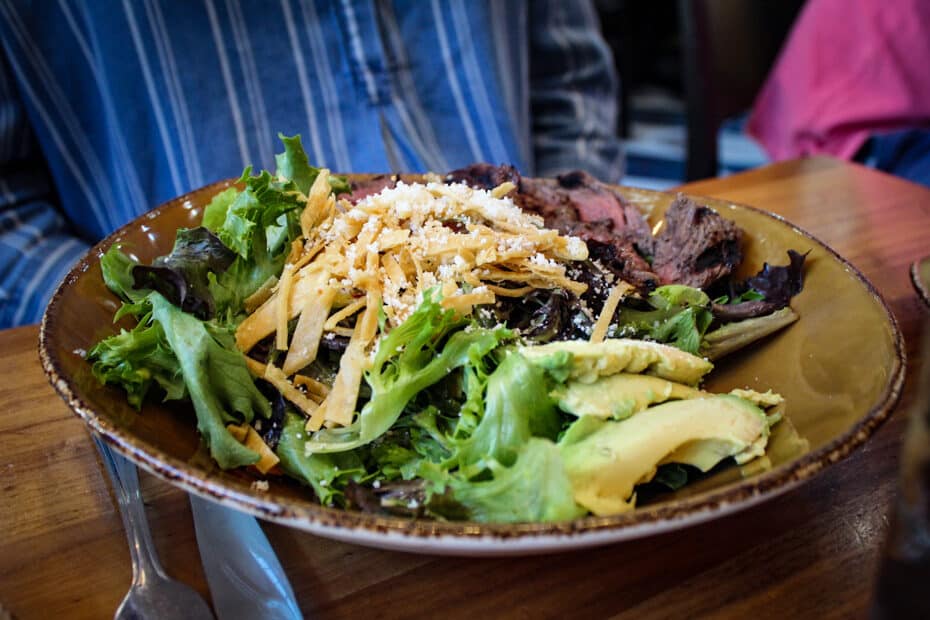 This salad comes in at around $10. As shown, the Creekstone Natural carne asada has been added for an additional $10. This is one of my favorite meals here at Frontera Cocina. While I didn't have it this evening, I suggested it to the diner, and they enjoyed it.
The price for the salad is a no-brainer if you are on a budget. There is also the option to add grilled chicken breast or Mojo garlic grilled shrimp. It is a filling meal, and the poblano rajas add just the right amount of spice to the salad.
Next on our list of Frontera Cocina menu items is the Pork Belly Tacos. This is what I had on my mind after reviewing the menu. The pork came out falling apart and had a smoky-sweet flavor. Warm corn tortillas come to the table to turn this into a delicious soft taco.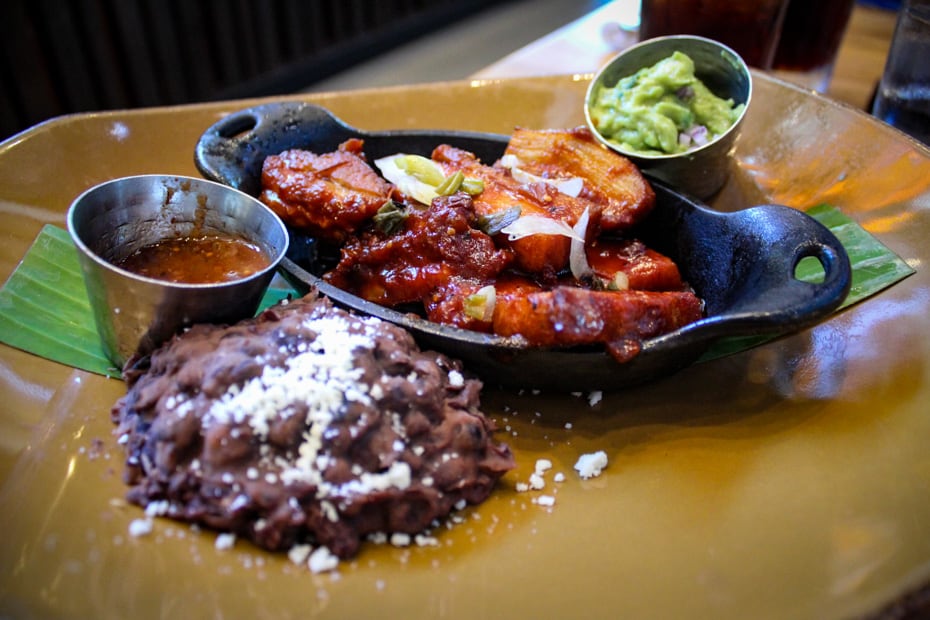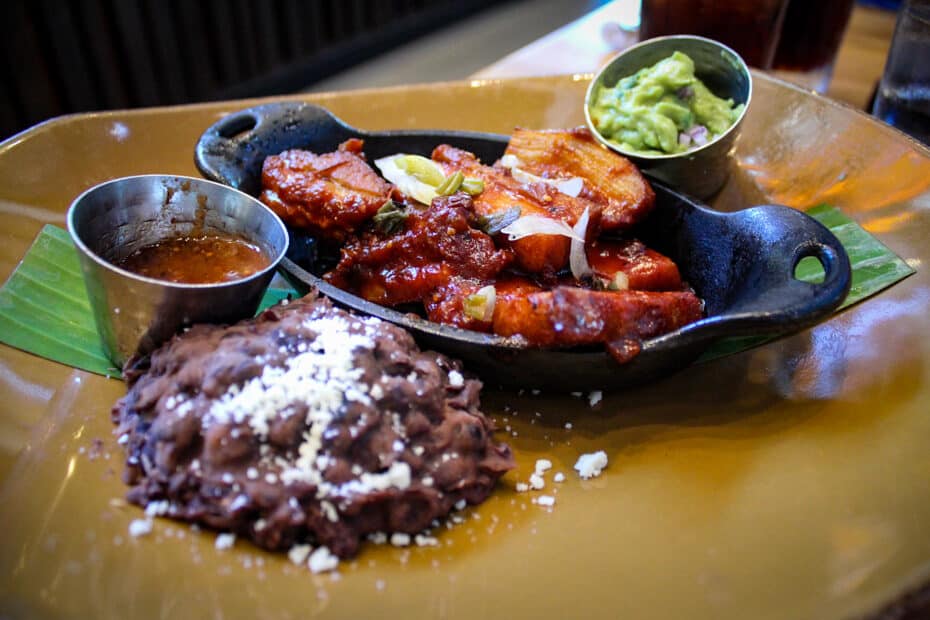 Pork Belly Tacos–Crispy pork belly, smoky bacon, grilled knob onions, black bean refritos with queso fresco, guacamole, red onion, cilantro, three chile-agave salsa
This meal comes in at around $24, and in the description, it notes "cilantro." I am not a fan of cilantro. I've read before that either you love it or hate it. Personally, I am the type that falls into the "hate it" category. However, I didn't notice any strong notes of cilantro with this dish.
Our third dish is the Carne Asada Tacos–Grilled steak, poblano rajas, black bean refritos with queso fresco, salsa verde, guacamole.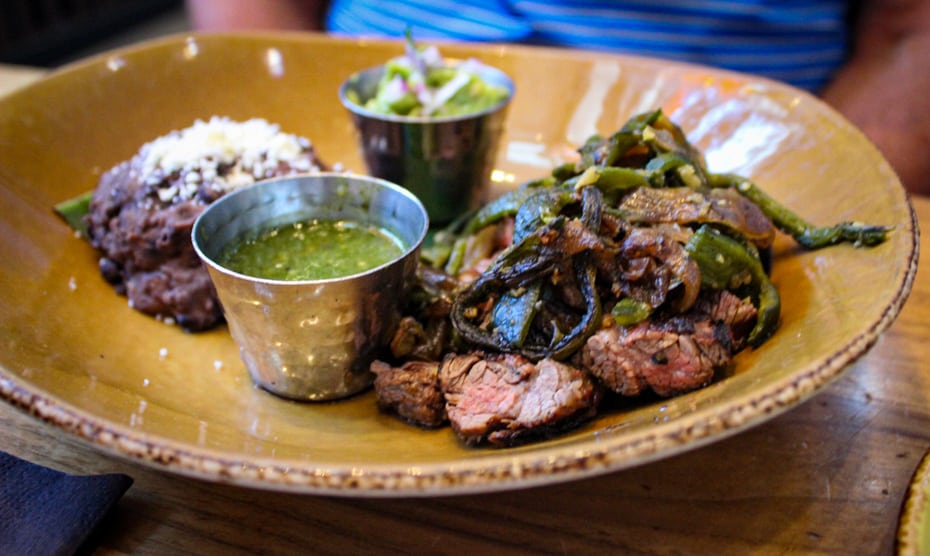 This is a very flavorful steak tacos dish. I've also ordered it on multiple occasions in the past. If you are looking for something more straightforward, this would be a good option. On another note, if you don't care for black beans, you can always substitute them for rice.
This menu item also comes in at $24 with fresh, warm corn tortillas on the side. The server will continue to bring fresh tortillas during the course of the meal as well. It is a good amount of food, and the picture probably doesn't do it justice to the actual portion size.
Carne Asada Tacos Food Allergy Preparation
This meal was prepared for our food allergy diner. Walt Disney World is known in general for preparing meals for food allergy diners. If you have read most of my other Disney restaurant reviews, you may recall that my son suffers from severe food allergies. He is allergic to all dairy, fish, eggs, peanuts, tree nuts, and tomatoes.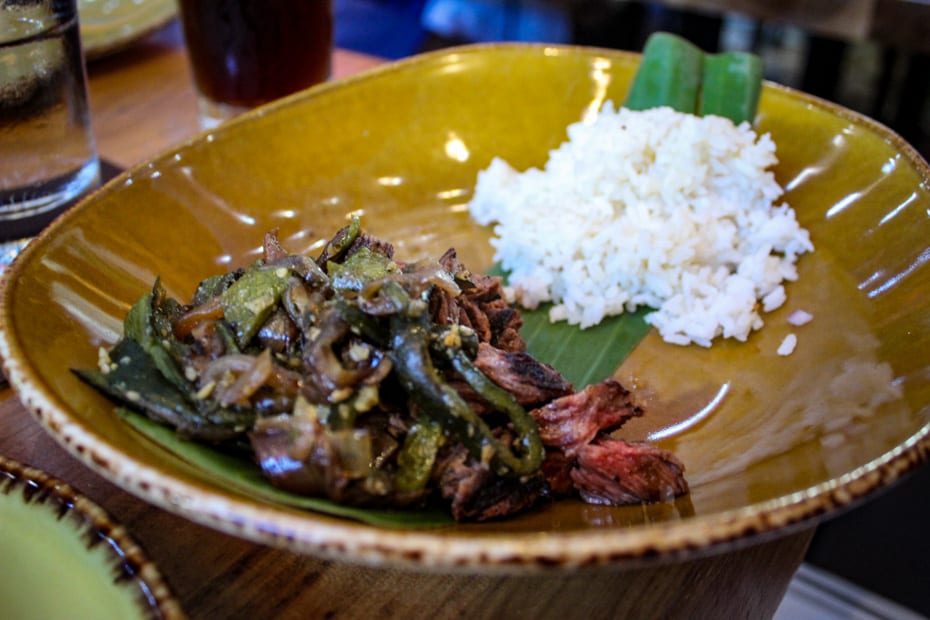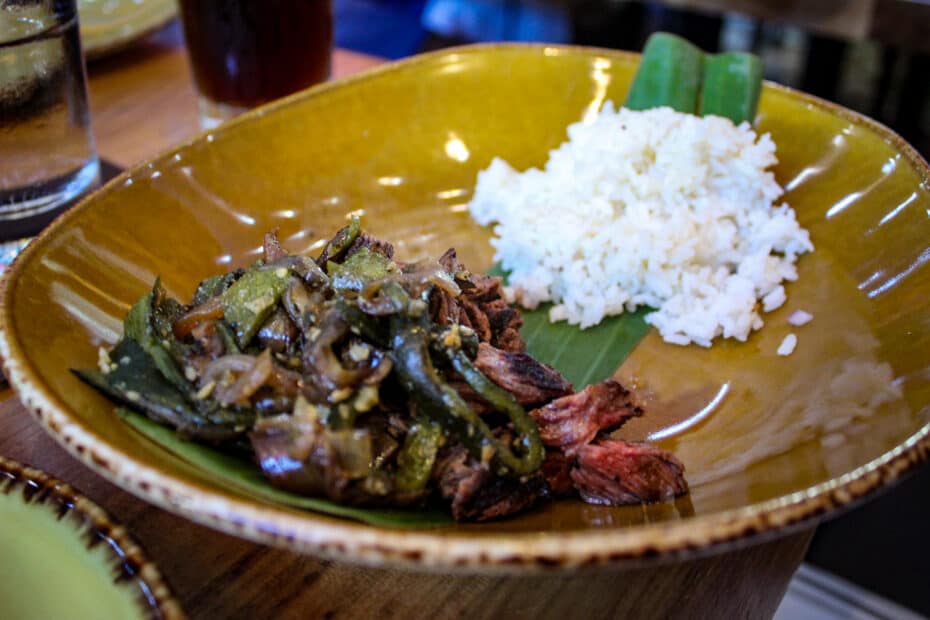 Frontera Cocina is one of the best places to eat for food allergies. Even the regular menu mentions common food allergies. The servers are trained in dealing with food allergies and note your items and what they will do to accommodate your meal.
In our instance, my son ordered his favorite thing here–the carne asada tacos. For him, they leave off the dairy and tomato items. He gets rice instead of beans as a preference.
They also note that his food will be prepared in separate cooking pans to avoid cross-contamination issues. His tortillas are allergen-free but are also brought out separately to avoid cross-contamination at the table.
Moving on, if you are planning to dine at Frontera Cocina, there might be few discounts available.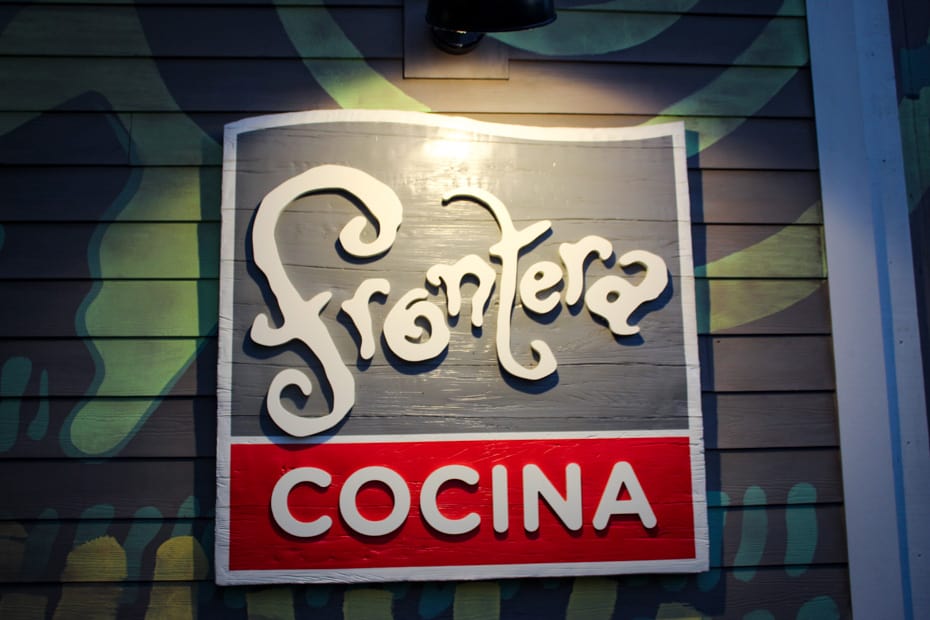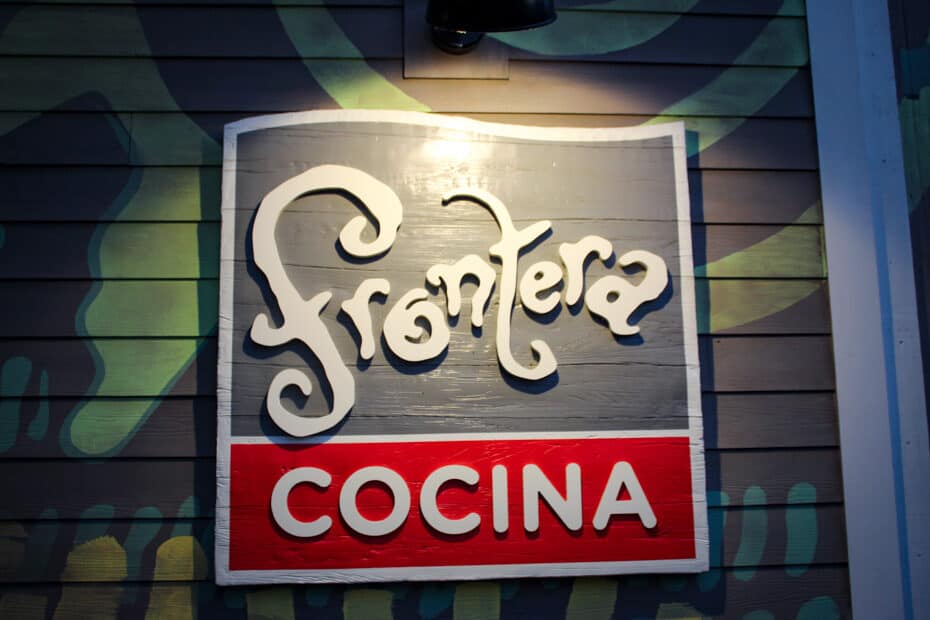 These discounts include (when available):
Tables in Wonderland–offers a 20% discount on food and beverage, including alcohol.
Walt Disney World Annual Passholders– receive a 10% discount for food and non-alcoholic beverages at lunch and dinner.
Disney Springs Cast Member Discount--on Monday-Thursday before 4 p.m. EST, Disney Cast Members receive 30% off food and non-alcoholic beverage purchases.
More info on these discounts can be found here.
During this visit to Frontera Cocina, we were given a coupon at the end of our meal to use on our next visit. The coupon is for $10 off your next meal and doesn't have an expiration date listed. As someone who enjoys Frontera Cocina regularly, I feel this is a really nice touch at the end of the meal.
One last note here is that they also offer specials throughout the week and sometimes on holidays. Right now, it looks like Margarita's for $5 on Mondays during a certain time, kids eat free with an adult meal-type purchase, and a few others are listed here.
Check before you go to see what is available. There has also been a more recent addition of $6 Tequila Tuesdays at Frontera Cocina.
Another item you might be interested in at the restaurant is their takeout window. Right now, the common theme at Disney Springs is "easy-to-go" type windows at their signature dining venues. There are quite a few that have popped up in recent years, including Frontera Express.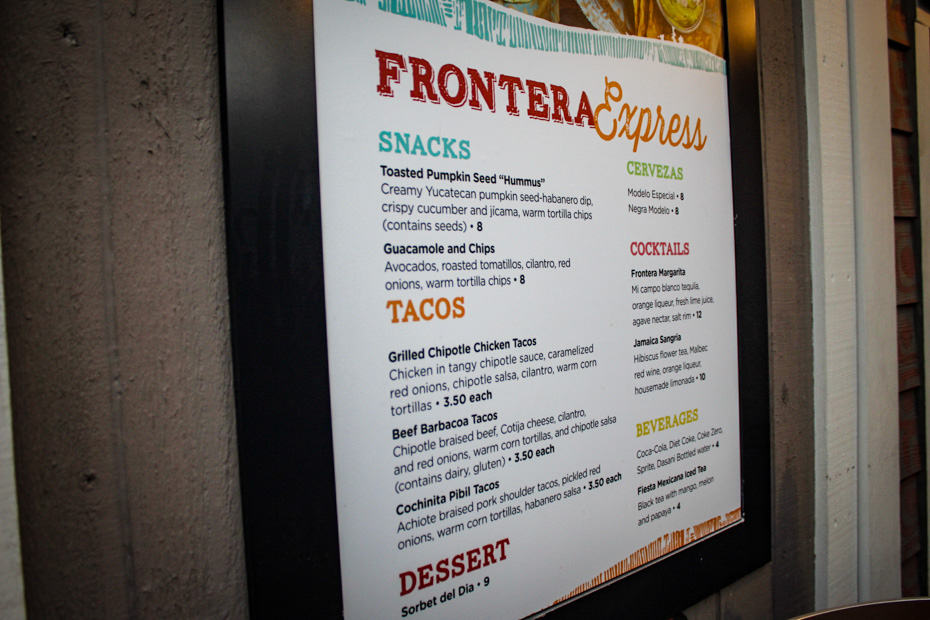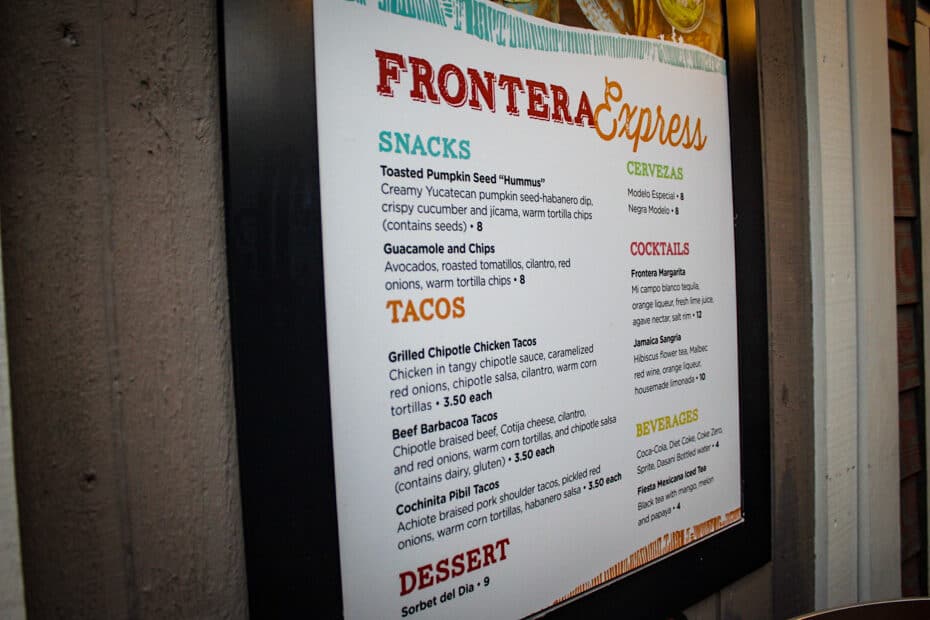 The express window offers the opportunity to pick something up and eat there or take it with you. This idea is actually very convenient, in my opinion. In addition, there are a few outdoor tables and chairs for dining in this area.
I've also noticed guests at Disney Springs picking up multiple items and gathering at one outdoor location to eat. As an example, a few evenings ago, I saw a family eating Morimoto Asia Street Food, Raglan Road, and Frontera Express at the covered outdoor Morimoto Asia location. This is a fun idea when everyone has a certain craving, and no one can decide on a destination.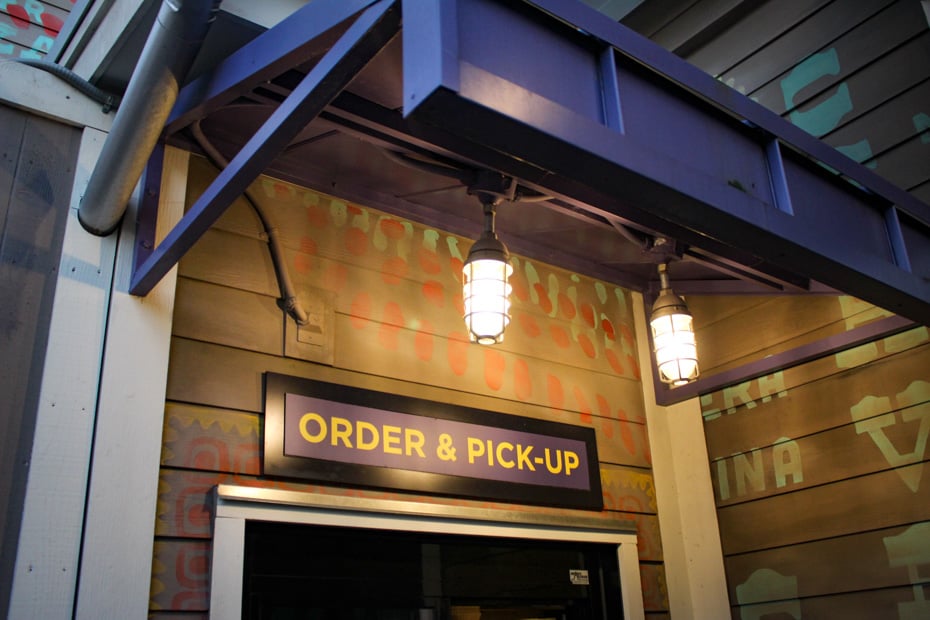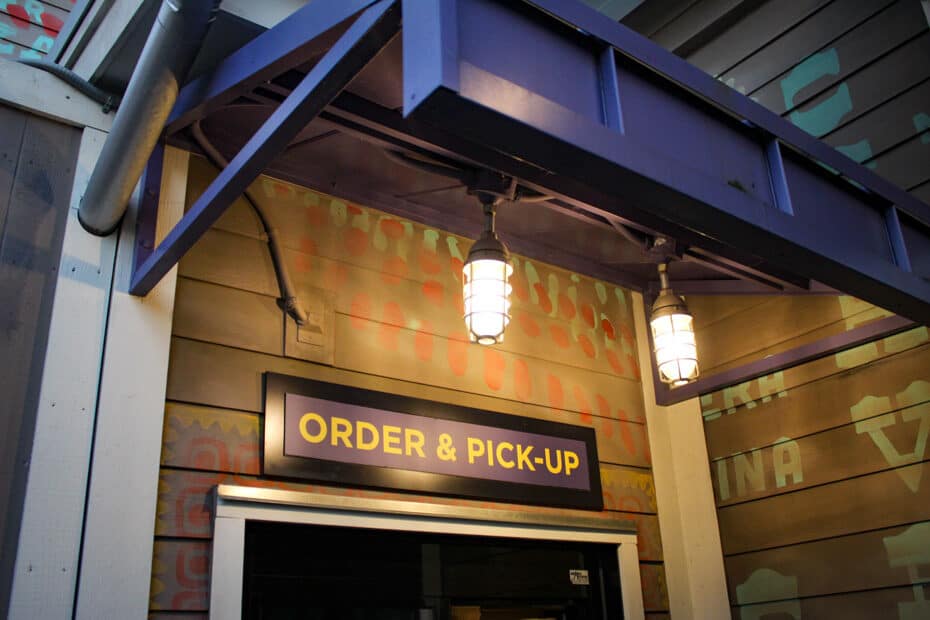 Just order your food and pick it up at the same window. It's very simple and a great way to indulge if you don't have time for a full sit-down meal or a reservation.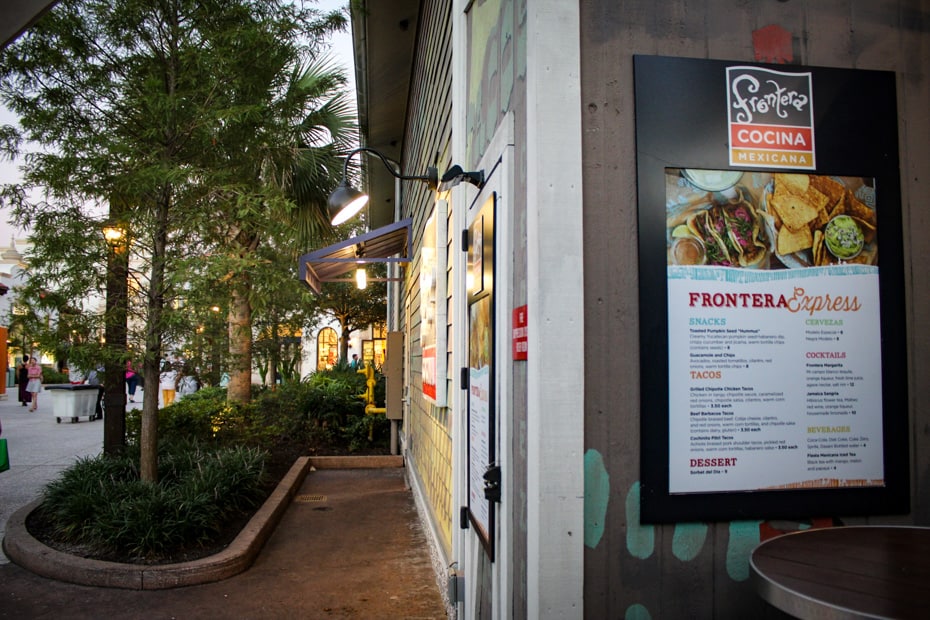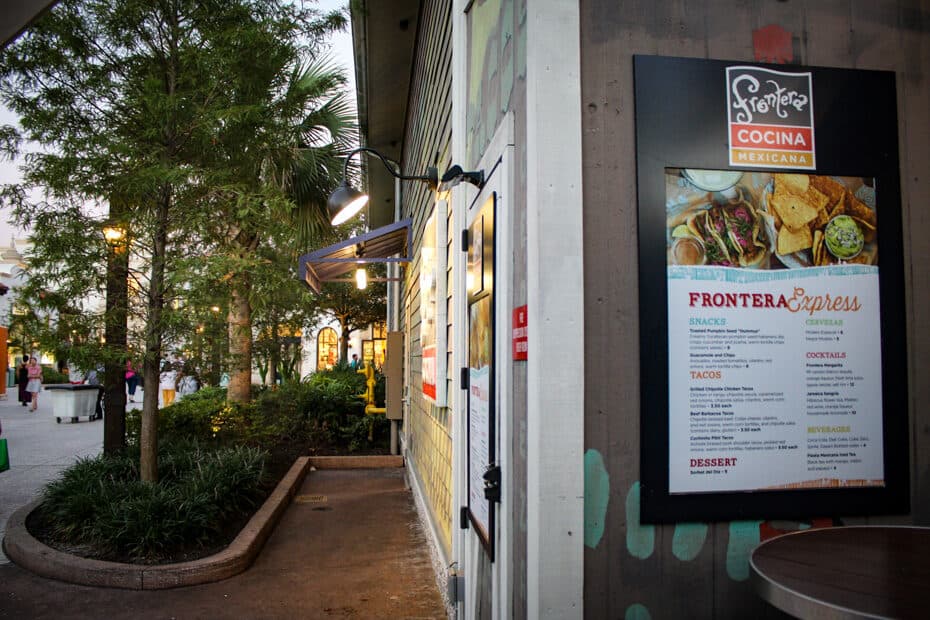 In conclusion, Frontera Cocina comes with exceedingly well recommendations in my book. If you have the opportunity to try it, I think you will find it a winner as well. There are not too terribly many places I return to with all the options in restaurants at Disney Springs. This is one of them.
Besides Frontera Cocina, I'm pretty partial to Morimoto Asia (review). You might enjoy The Polite Pig Review as well.
Here are a few other reviews, or you might care to browse the best Disney Springs restaurants list.
Leave a comment below and let me know if you have had the opportunity to dine here or any other thoughts or questions you have about dining here. I hope this Frontera Cocina review provided you with the encouragement needed to try a meal here!