A Review of STK Orlando at Disney Springs
STK Orlando at Disney Springs is a restaurant by day that turns into an atmosphere similar to a nightclub in the evening. In this STK Orlando review, we'll look at the menu and a few items you might want to try if you visit.
As I'm sure you probably know, there are many great restaurant choices at Disney Springs these days, making the decision on where to eat more and more difficult. When deciding to dine at STK Orlando, you are making a reasonably distinct choice.
The restaurant chain prides itself on its unique dining concept. STK Orlando provides elevated dining, specializing in dining with a modern lounge vibe. Most of their restaurants even offer a DJ in the evening. The idea is to get guests to enjoy fine dining while socializing with other guests.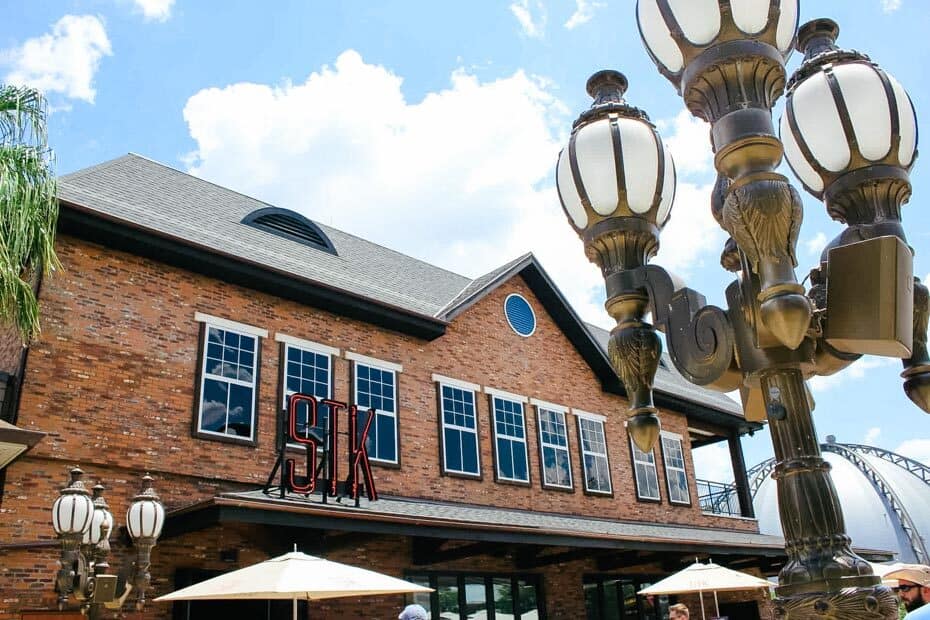 However, with STK Orlando now serving lunch through the week and brunch on Saturdays and Sundays, you can enjoy a casual meal during these times as you would anywhere else.
STK Orlando Review
The STK Steakhouse at Disney Springs is close to the waterfront and directly across from Maria and Enzo's and The Edison. If you are parking at Disney Springs, I recommend using the Lime Garage for this location. It is pretty central and straightforward when walking to STK. Those unfamiliar with Disney Springs, in general, might benefit from browsing my Disney Springs transportation guide. It includes tips for getting around the massive venue.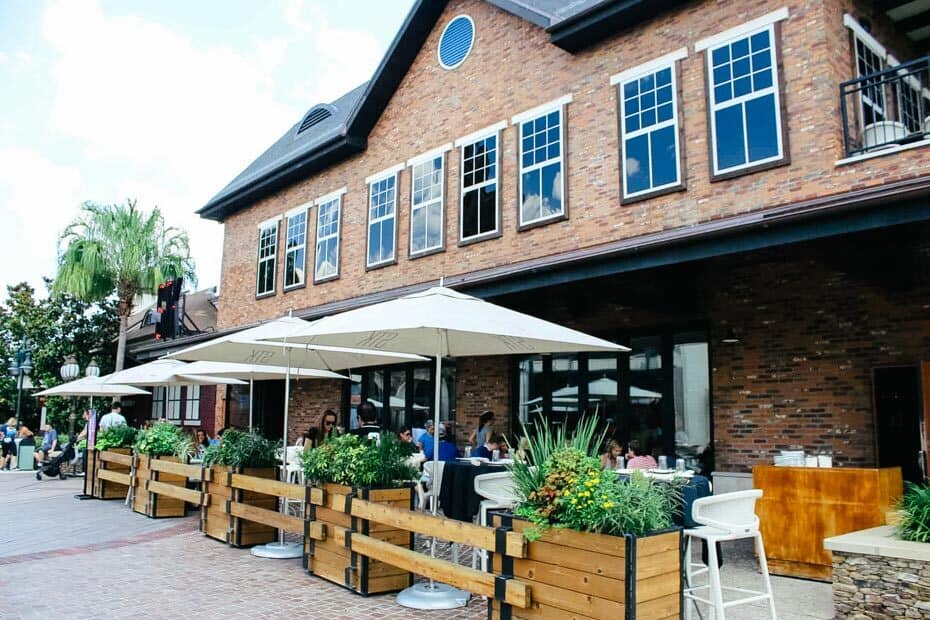 Here is a look at STK from the outside corner. They have a large sign over the entrance, but I've noticed it's not very visible, given the angle. A lot is happening in Disney Springs, and you can easily walk by a destination without even knowing it.
If you parked in the Orange Garage, you'd cross this bridge. STK Orlando will be the first building on your right on the opposite side.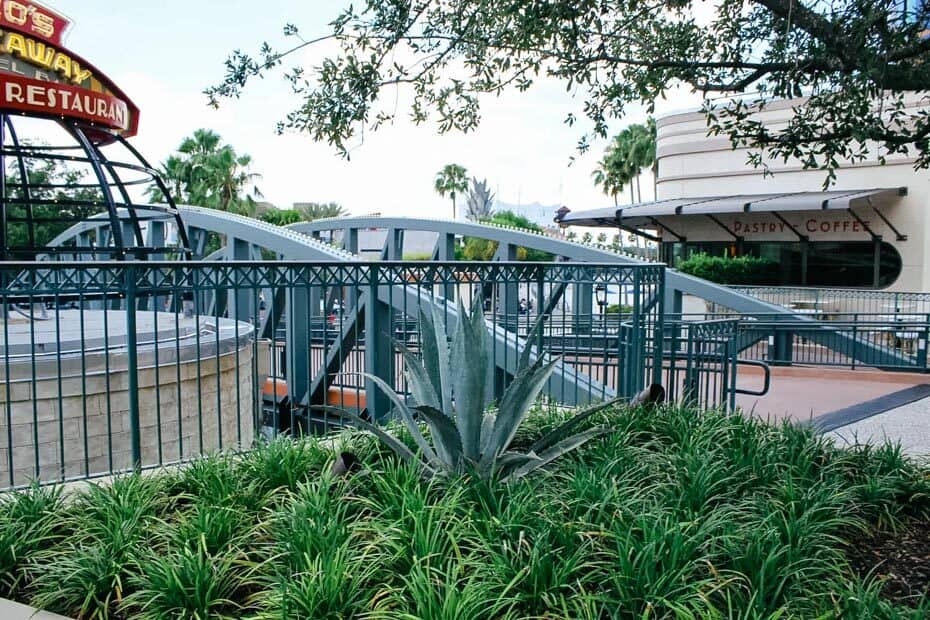 When coming from the Lime Garage parking deck, you will run straight into this area. You can go up the stairs here or continue straight and turn the corner to the right. You'll come out by the bridge and find yourself directly in front of STK.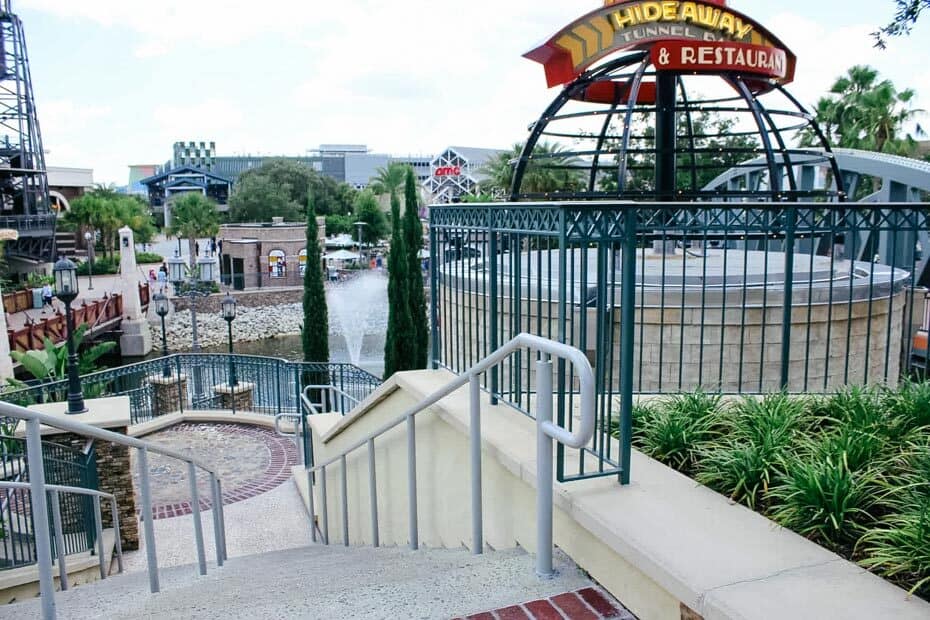 These directions with pictures might seem a little bit much. However, if you haven't visited Disney Springs, the former Downtown Disney, these images should provide good markers. The venue is quite large and laid out uniquely.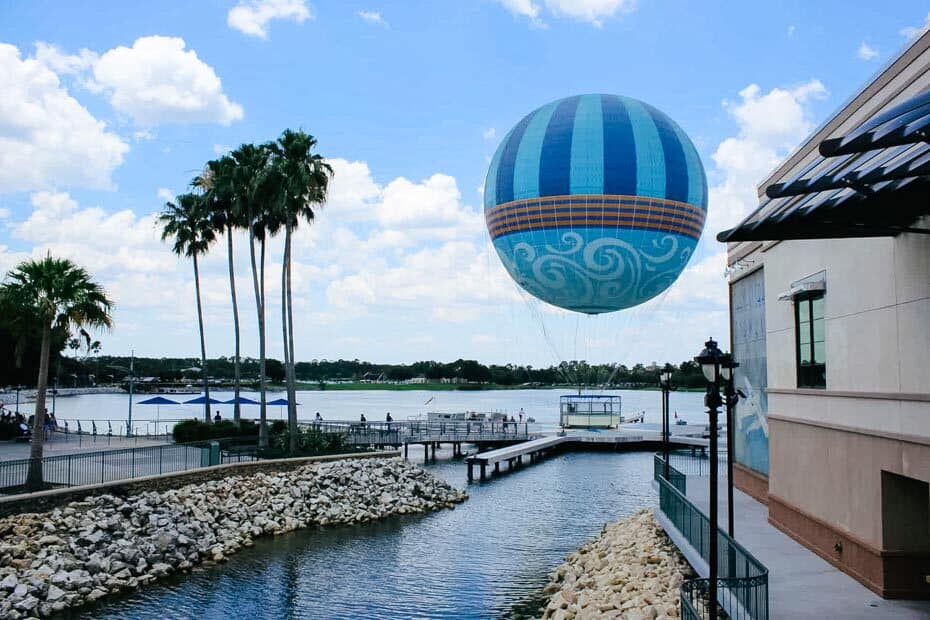 STK Orlando strongly suggests making dining reservations before your visit. Dining reservations can be made via the My Disney Experience App or on Open Table. If you have read any of my dining reviews, you know I'm a big fan of using OpenTable.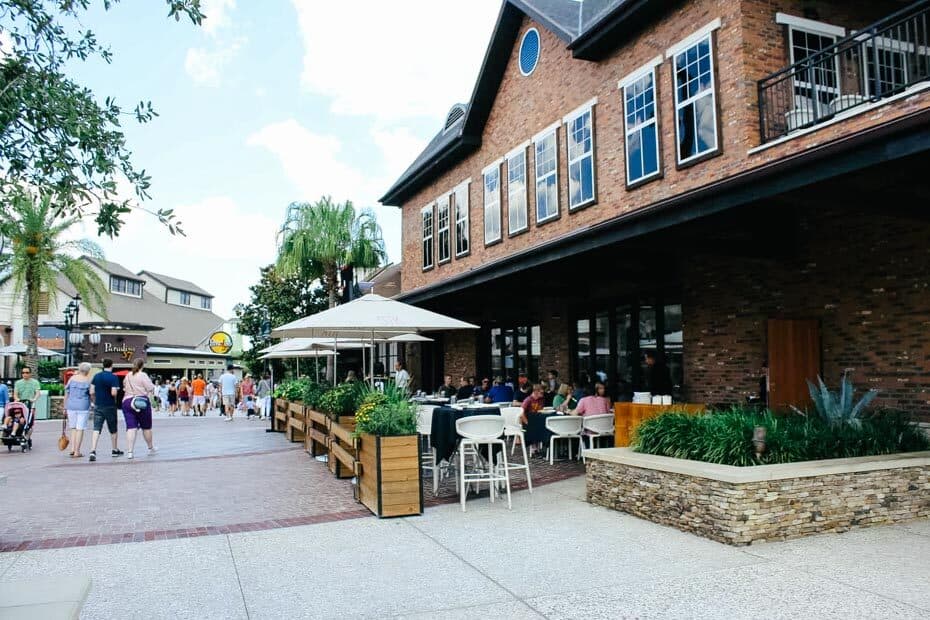 Usually, I try to make reservations on My Disney Experience first. Then, if you can't find one, go over to the Open Table site and locate a reservation. The site tells you to "Find a Table" and "Make a Reservation."
I will note from using this service that they don't continue to send a lot of emails after you use it. I have also had the luck of easily finding a reservation on Open Table when nothing shows up on My Disney Experience.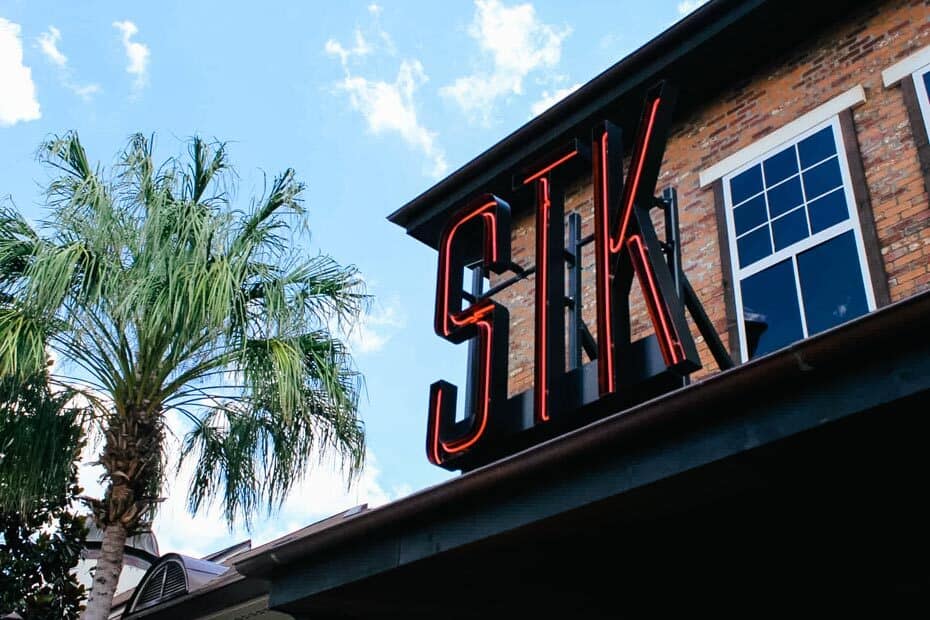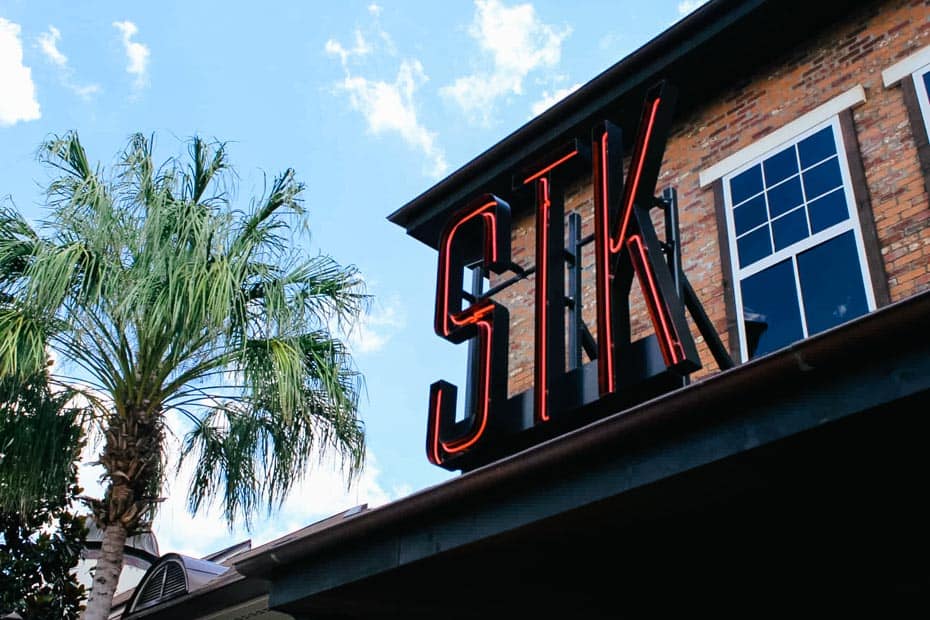 Most of the restaurants at Disney Springs offer a daily happy hour. STK Orlando is now offering happy hour between 3:00 p.m. and 6:00 p.m on Mondays through Friday.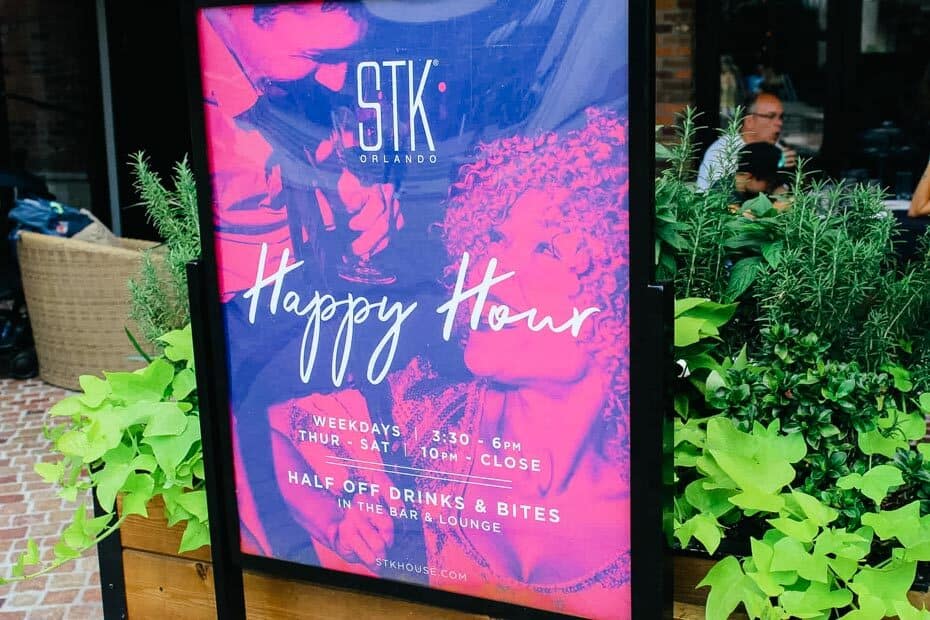 The happy hour menu is available here. You can expect half off select cocktails and bites running from $2-$8.00.

The menu at STK Orlando is divided into several categories.
Lunch offerings include Salads, Starters, Raw Bar, Burgers and Sandwiches, STK, Entrees, and Sides. Click here for a full current lunch menu.
Dinner offerings include Salads, Starters, Raw Bar, Seafood Platters, STK, Mains, Sides, Desserts, and Kid's Entrees. Click here for a full current dinner menu.
Lounge offerings include Social Hour Bites and Beverages. Here is the lounge menu.
Brunch offerings include Starters, Entrees, and Brunch Cocktails. The menu for brunch is here, and notes that this meal period is only available on Saturdays and Sundays from 11:30 a.m. –3:30 p.m.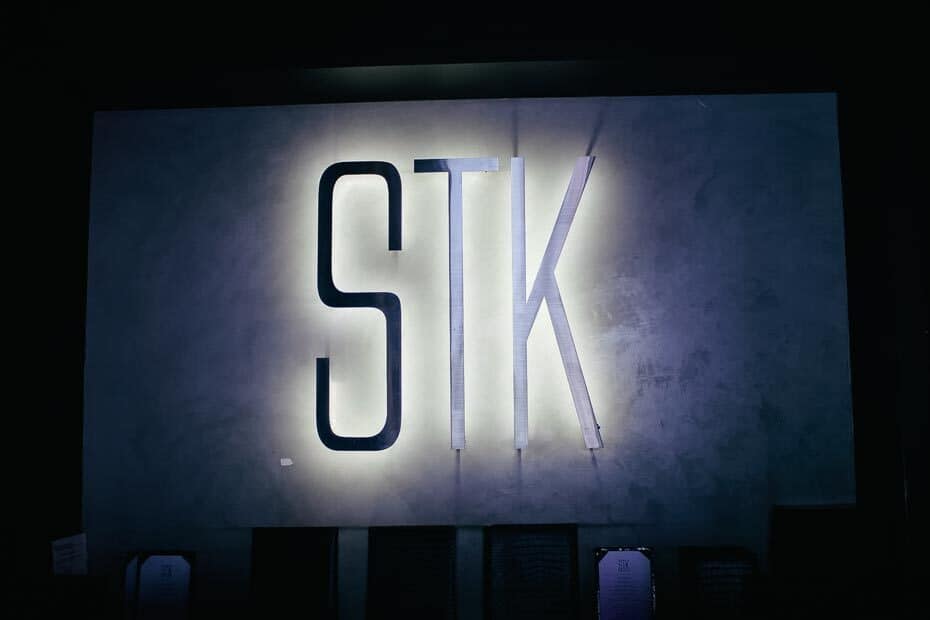 As far as the interior of STK Orlando goes, you will encounter a modern vibe. This Disney Springs restaurant is unique in design, and the tone is set with a black-and-white color palette. While not necessarily my style, I appreciate the contrast of the two colors.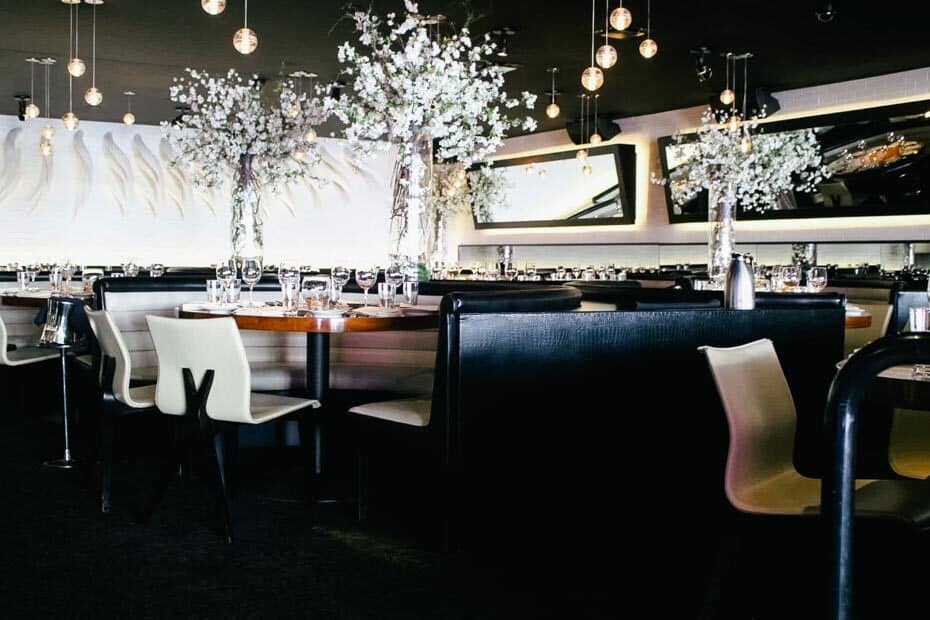 The atmosphere is quite trendy, and you might even feel a little bit out of place at first arrival. That is a good thing, though. By the time you have your meal, you will realize it's just that, a meal. This is a restaurant, and from my experience, the food offerings are choice and good quality.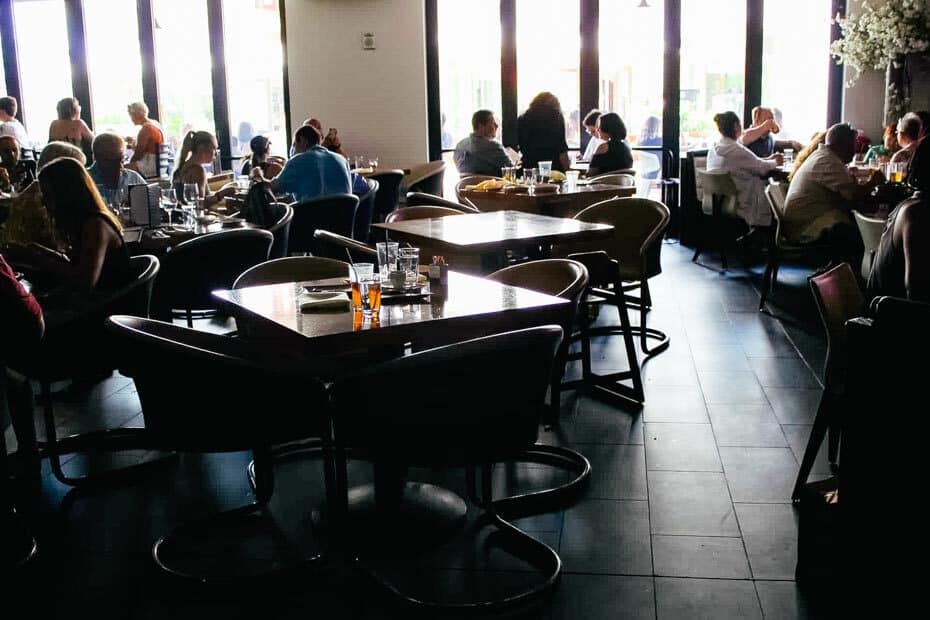 This is the area where I enjoyed my recent lunch. Had it been a little cooler, I probably would have opted to eat outside. However, even on a Saturday around 1:30 p.m., quite a few people were dining in and outside.
For starters, I went with a drink special off the brunch menu that day. This is the Frose' All Day–local raspberry sorbet dropped into a glass of Rose'.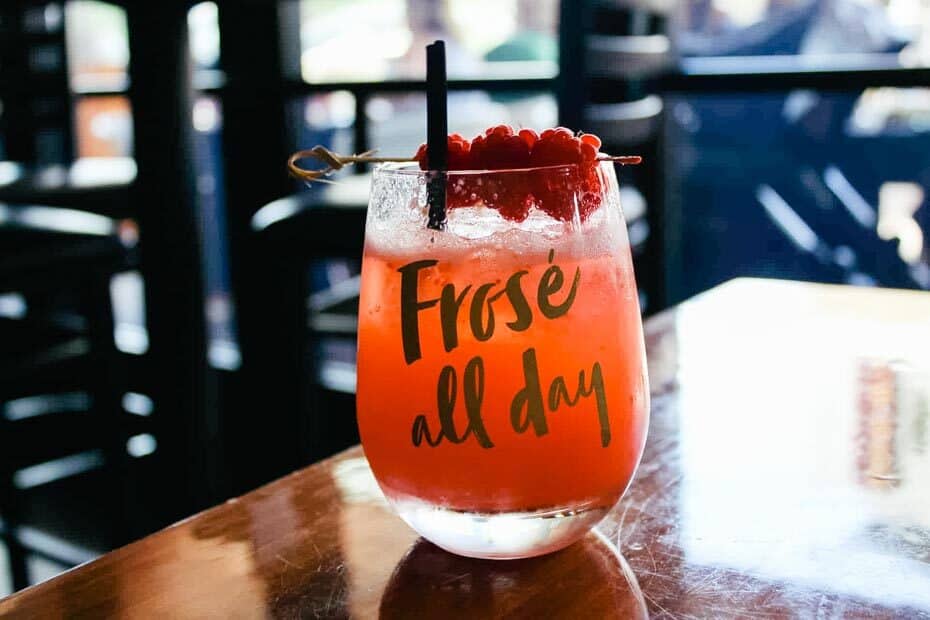 This drink was icy cold but not frozen, as the name suggests. It tastes like an icy glass of summer white wine with a mild amount of sweetener added. I really couldn't tell that raspberry sorbet was in the mix. It's a good choice if you like this style of drink, and comes in a cute presentation.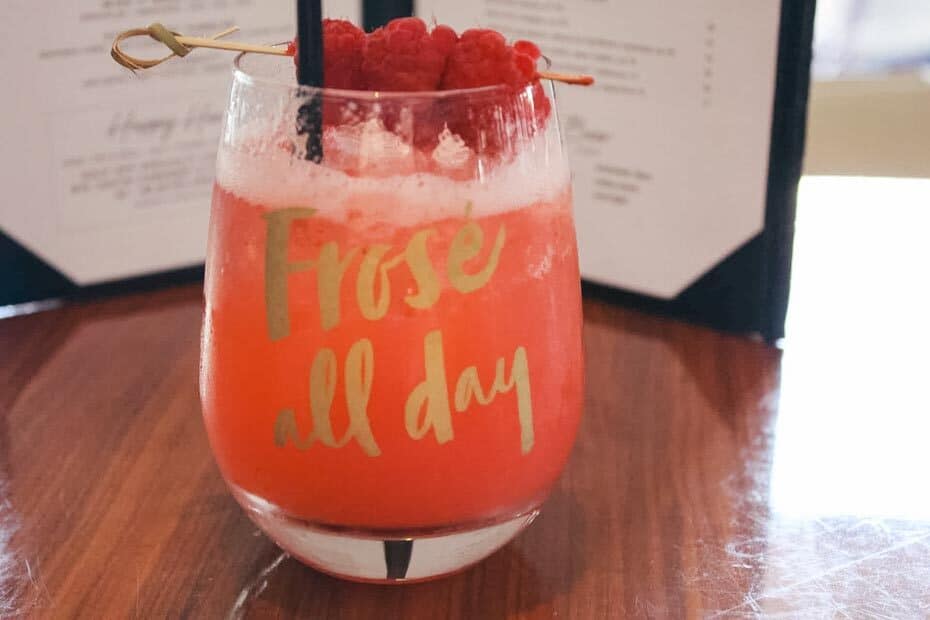 Before getting into my meal, I will remind you that I went to this reservation intending to have brunch. However, after noticing bison on the menu, I decided to ask the server her thoughts.
In brief, she highly recommended the bison burger, lobster club, and Wagyu meatball. Obviously, I chose the Blackened Bison Burger. Was it good?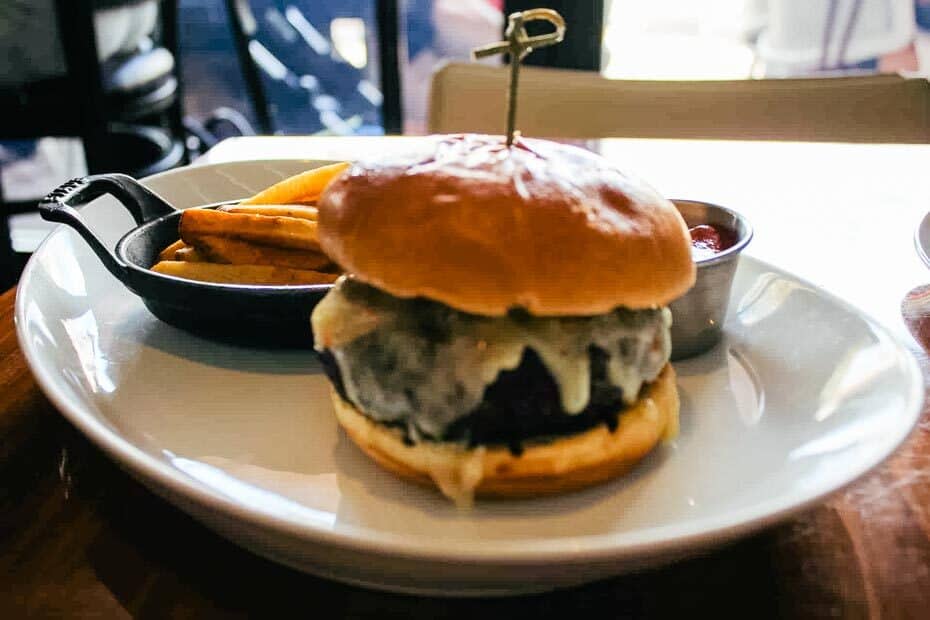 You bet! In fact, I would probably place it somewhere in the top five burgers I've had in my lifetime. I'm not a huge burger person, but this one reeked of substance and quality.
The menu describes this item as a Blackened Bison Burger with tomato fondue and blue cheese.
The tomato fondue was a sweet, almost barbecue-like sauce with a wonderful flavor. I am not a fan of blue cheese. Therefore, I had my cheese replaced with a white American style. The actual meat was the star of the entree. It had a great flavor and that true steakhouse taste.
Fries came on the side, and they were your basic order of French Fries. They were a nice accompaniment, but nothing special or out of the way about them.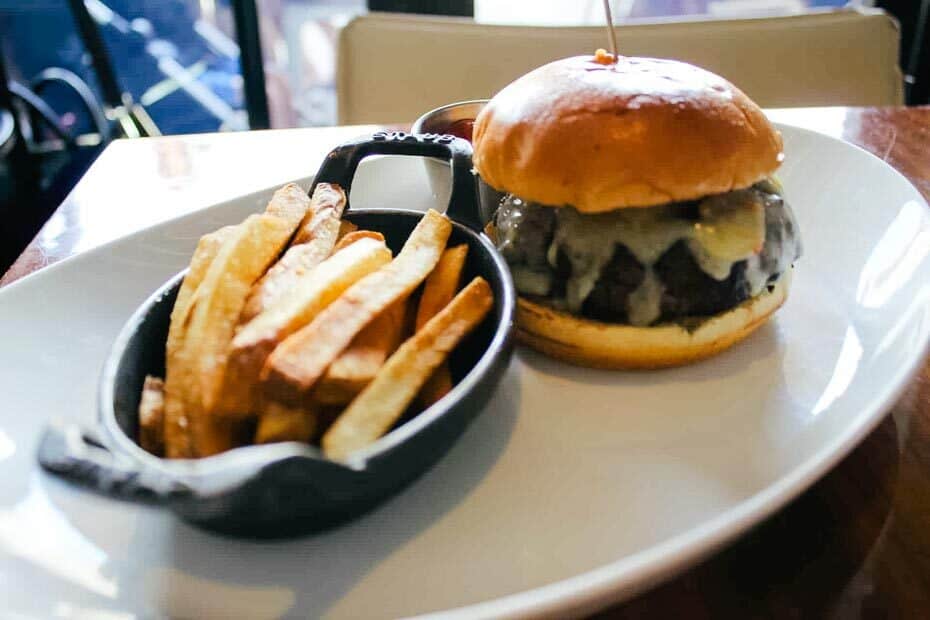 The burger was massive. I ended up cutting this in half and having them box the rest for takeout. I actually stuck it in the oven at my condo later that evening and enjoyed it for dinner. It was still an excellent burger, even with the reheat.
For me, being able to reheat a burger and enjoy it later is a huge deal. It is a testament to how good a quality burger this really was.
When at Disney Springs, I would suggest trying STK Orlando for lunch or brunch fare. The lunch menu was available during my brunch time. That will give your party a good variety of choices, given the brunch menu being somewhat limited.
Make sure to book your reservation before visiting Disney Springs. However, if you are there on the fly, don't be afraid to ask for walk-up seating. The least they can do is turn you away. If not, there are only a million other places to choose from. Not really, but there are quite a few.
You might also enjoy these other Disney Restaurant Reviews:
Resorts Gal specializes in providing information about travel to the Walt Disney World Resort in Orlando, Florida. You might enjoy some of our other hotel reviews:
If you have visited the STK Orlando location, please let me know about your experience. Leave a comment, and I'll be glad to answer any questions about my dining experience!