Regal Eagle Smokehouse Review (Crafts, Drafts, and Barbecue at Epcot)
In this Regal Eagle Smokehouse review, we visit the quick-service dining location at Epcot. We'll preview the menu, select menu items, and discuss a few tips for dining here.
What's more American than barbecue and the Muppets? I'm not sure. But Regal Eagle Smokehouse, a Muppets-themed barbecue restaurant, is the perfect fit for Epcot's American Pavilion.
Some time ago, the former Liberty Inn quick-service closed to make way for this newer restaurant. Previously, Liberty Inn was our go-to stop for allergy-friendly chicken nuggets in the World Showcase.
So we weren't too happy when we heard it would be replaced with a barbecue joint. However, the addition of the Muppet's theming helped soften the blow.
Several years later, Regal Eagle has become our go-to stop for an array of other menu items, including chicken, only this time-barbecued. And don't get me started on the sides!
Why can't every quick service be this tasty?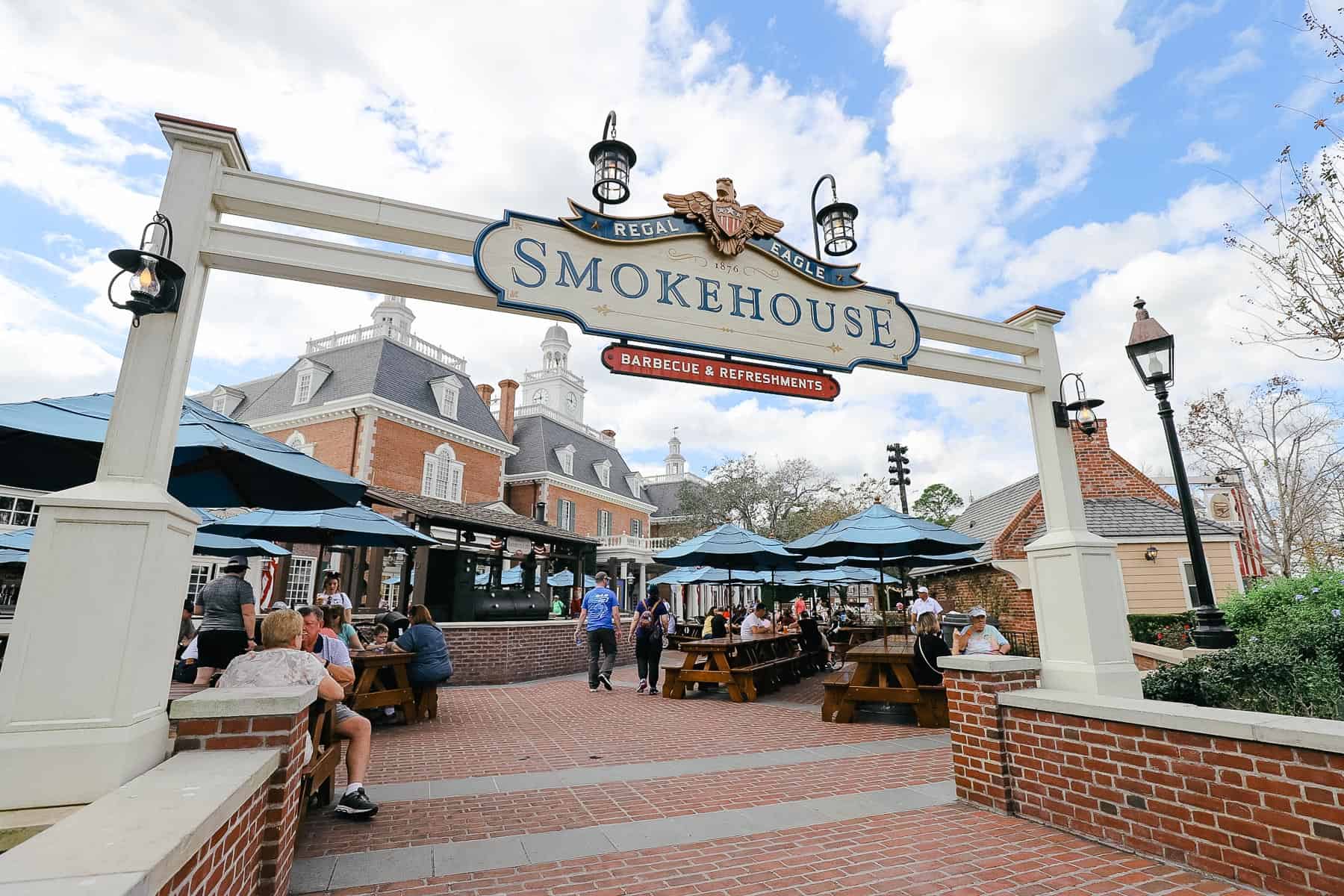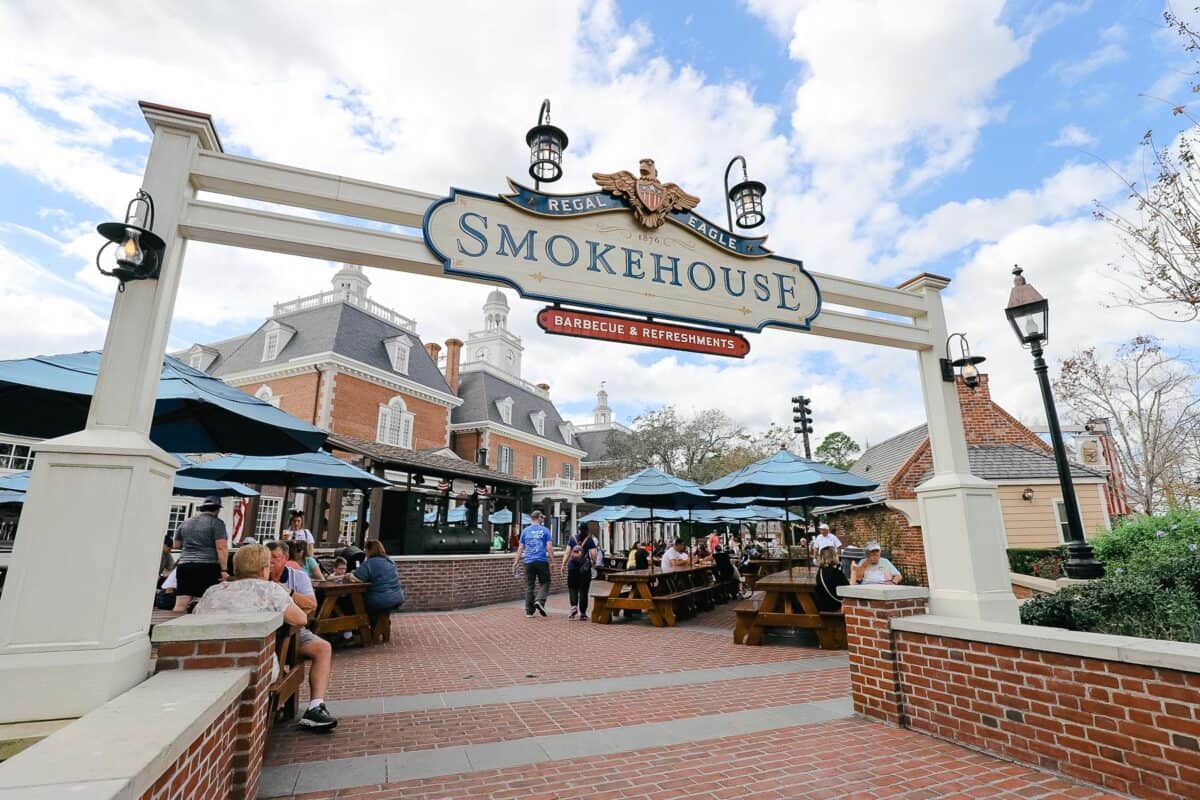 Regal Eagle Smokehouse Review
Regal Eagle Smokehouse sits on the far left side of the colonial mansion in the American Pavilion. If coming from the Italy Pavilion, you'll run into a separate walkway that leads up to the restaurant's outdoor eating area.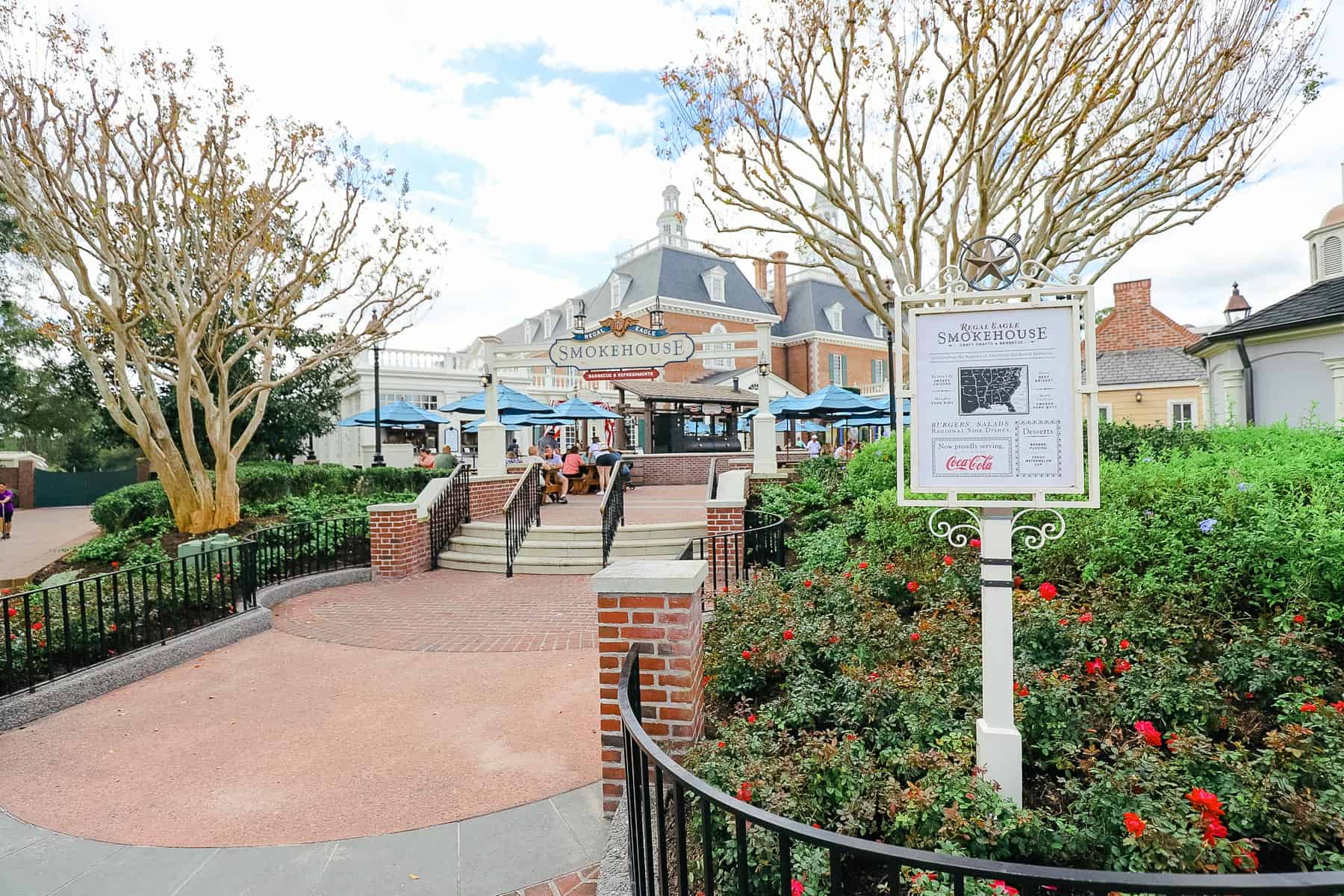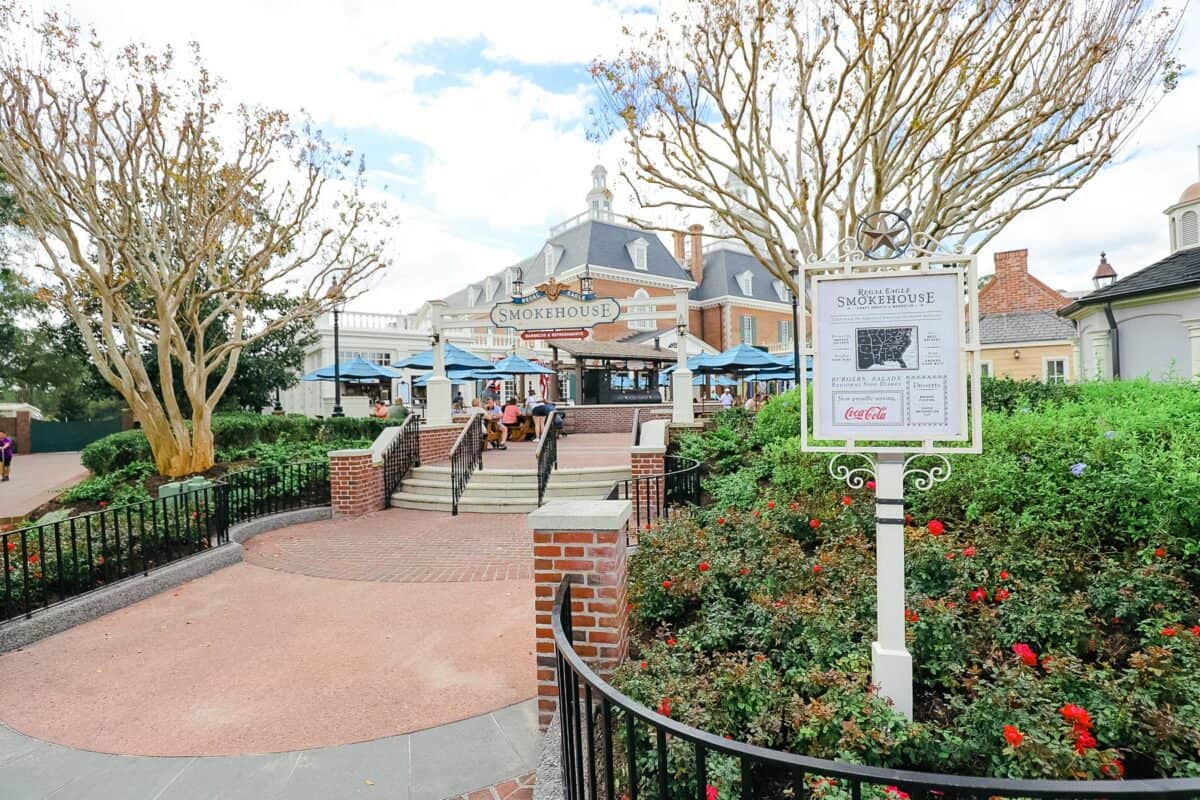 Regal Eagle Smokehouse is open daily from 11:45 a.m. until 9:00 p.m. Guests can order inside the restaurant or mobile order in advance.
You can place a mobile order and pay for your meal via the My Disney Experience app. Then you can pick it up when you receive the notification that your order is ready.
A sign on the walkway advertises Kansas City smoked chicken, Memphis pork ribs, Texas beef brisket, and North Carolina smoked pork butt.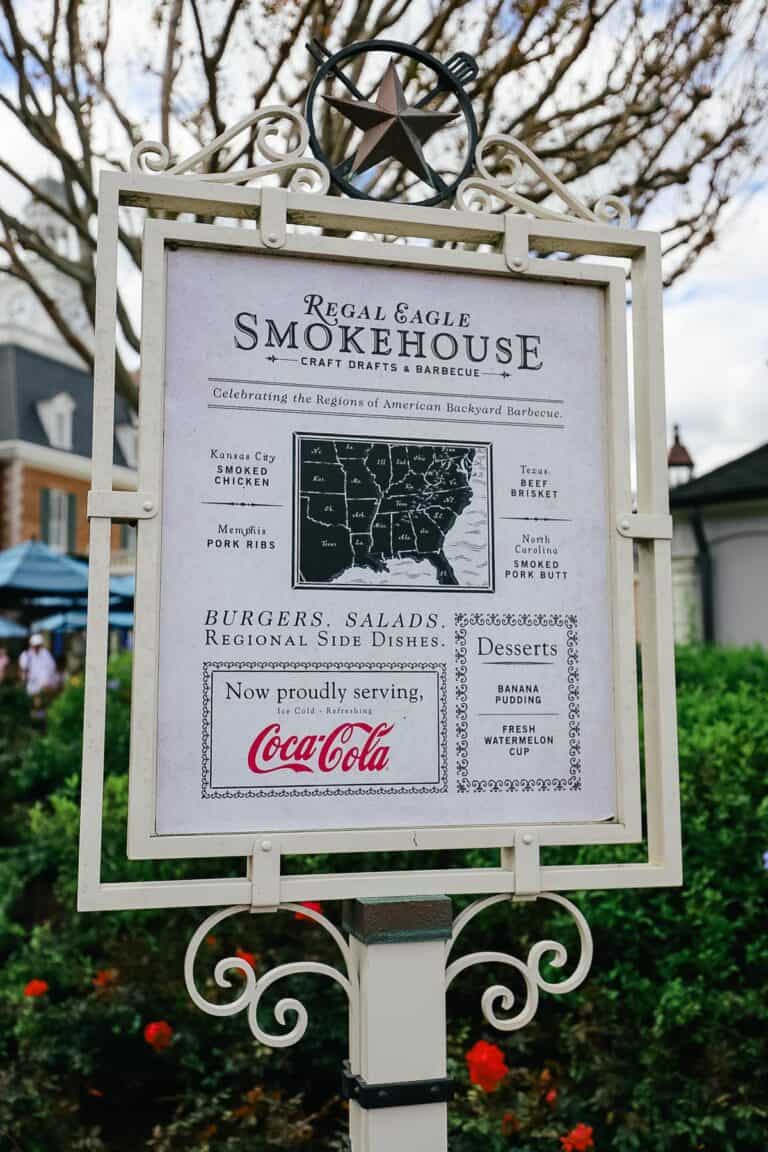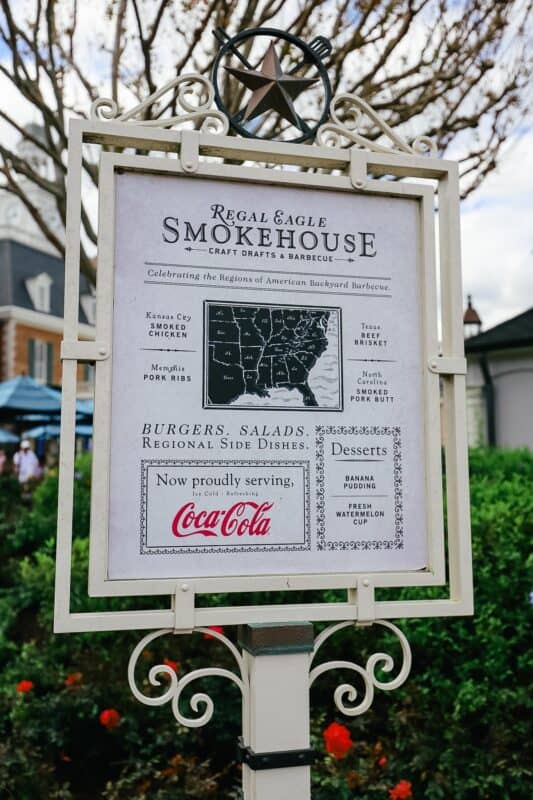 Additionally, the restaurant has burgers, salads, regional side dishes, and desserts. A Pemberton barbecue pit is staged in the center of the large outdoor dining area.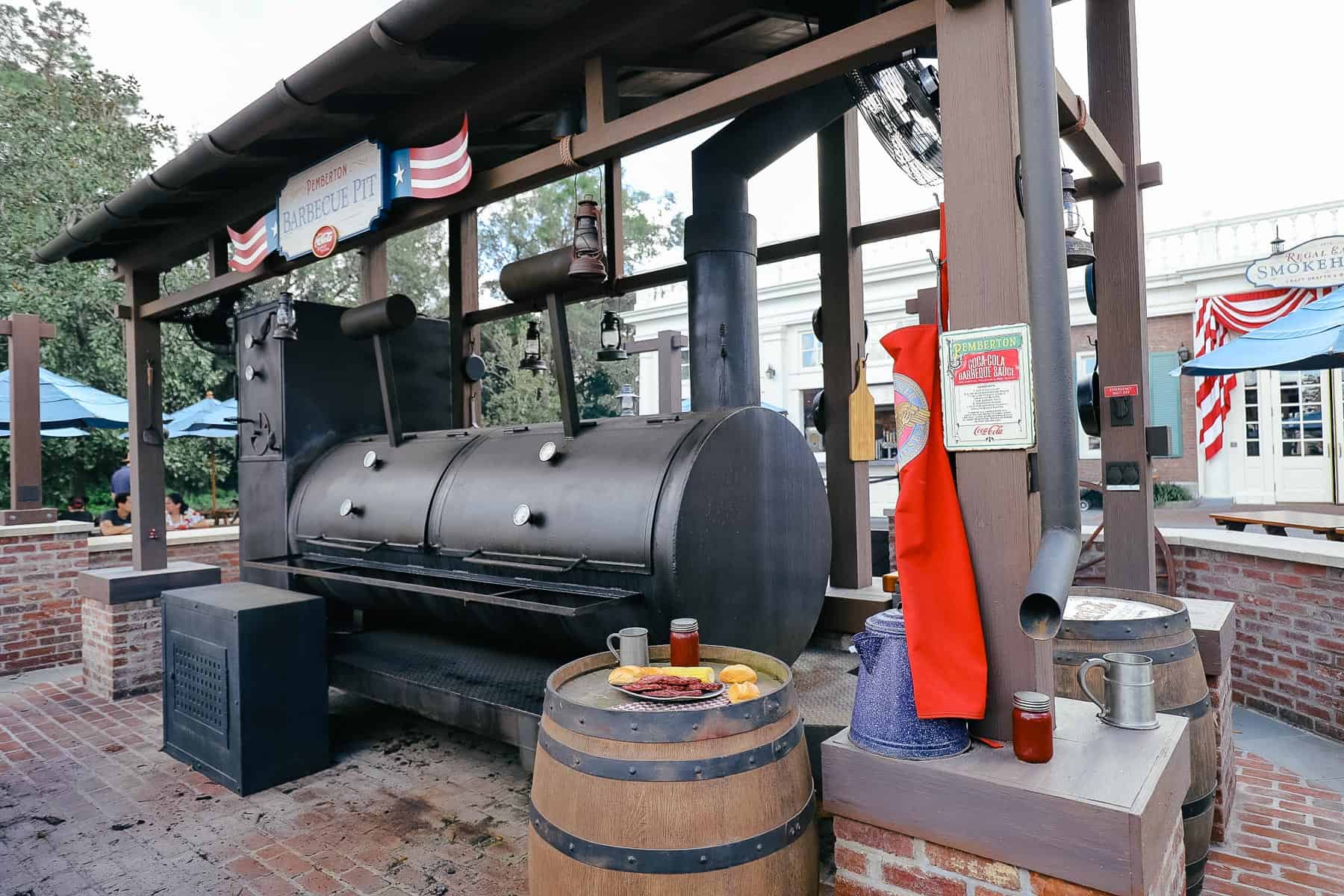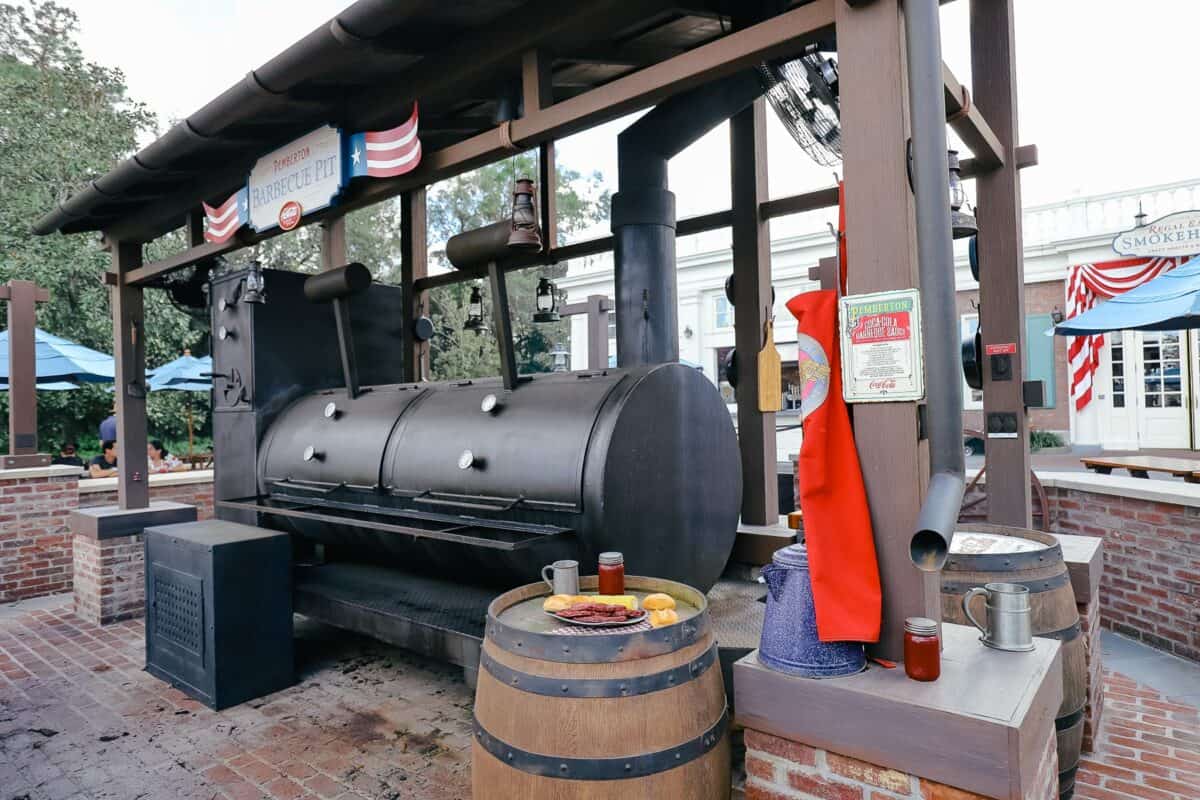 In addition to the outdoor seating area, guests can dine inside in an even larger, air-conditioned space.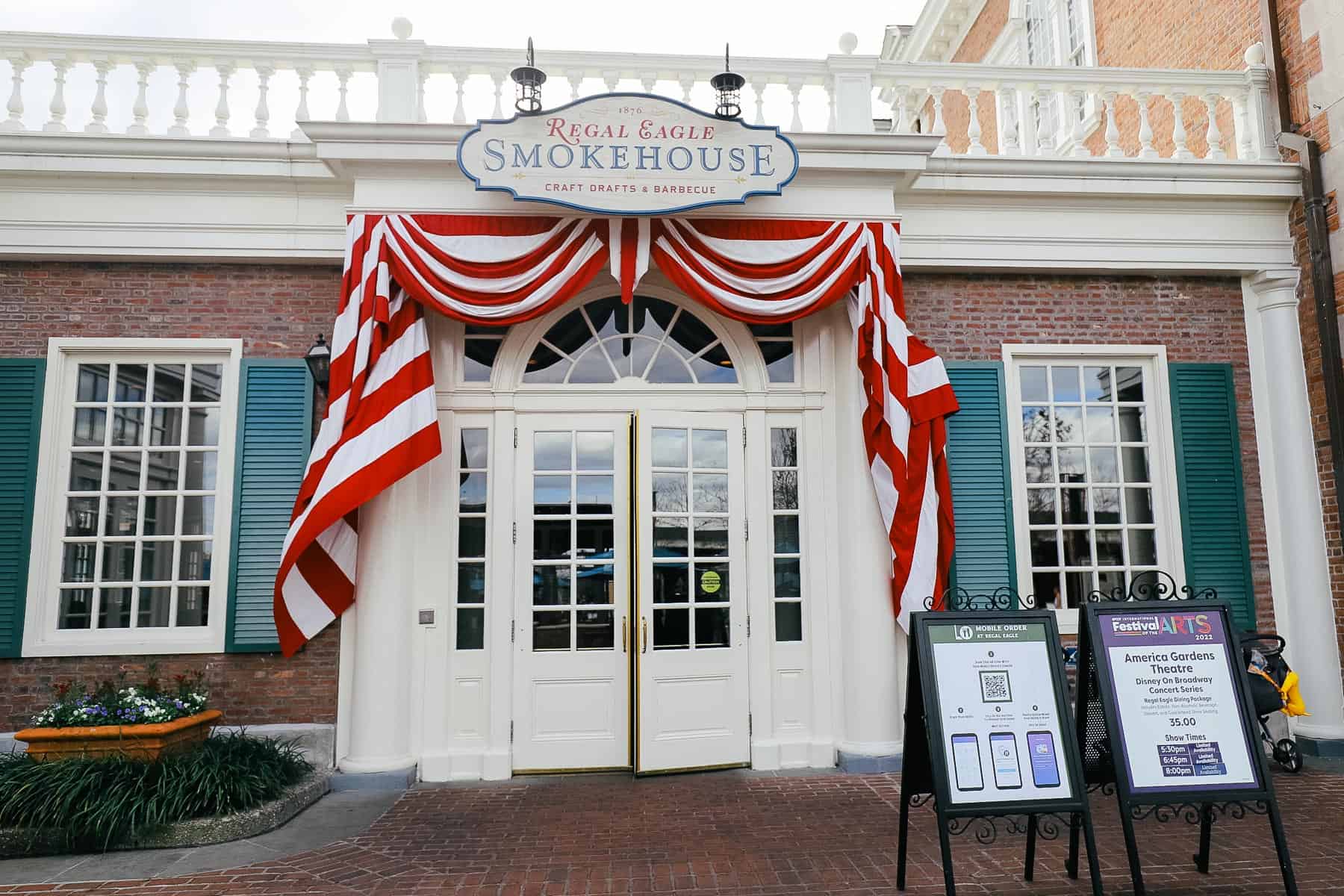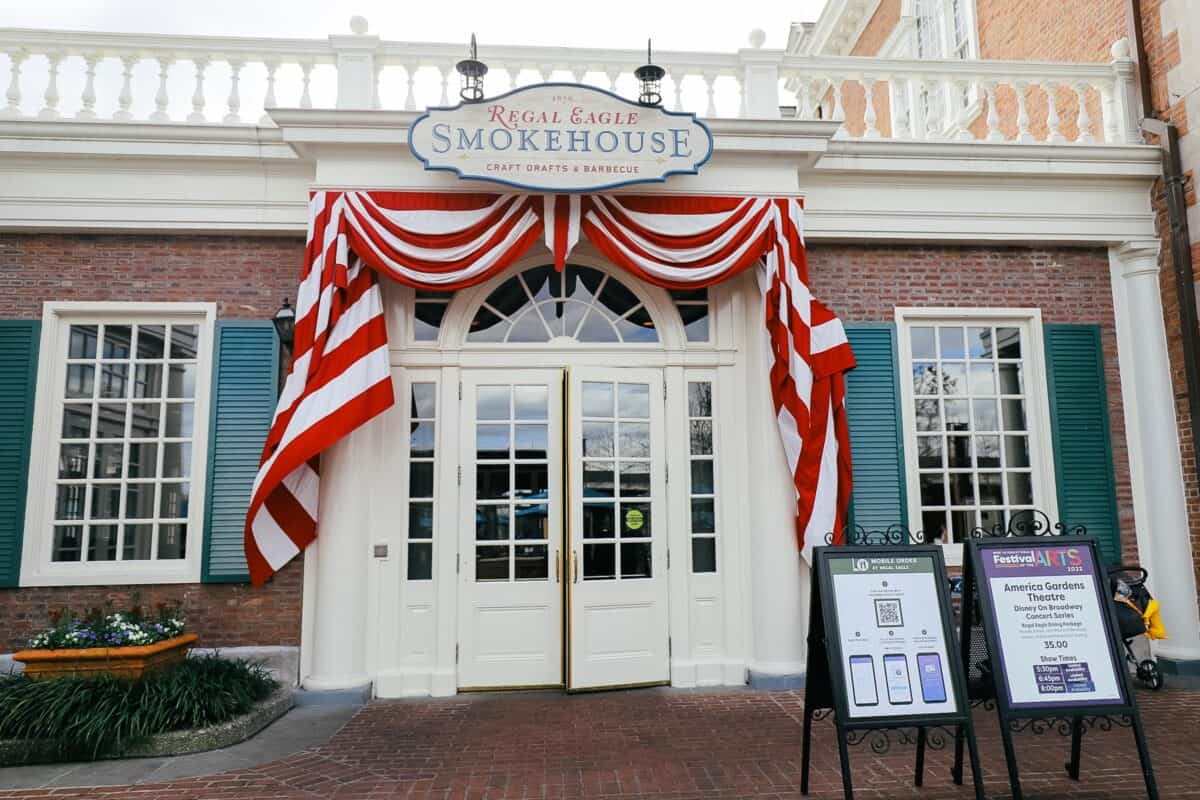 When you enter Regal Eagle Smokehouse, you're greeted with subtle Muppets theming. Sam Eagle is included in a mural on the wall near the entrance.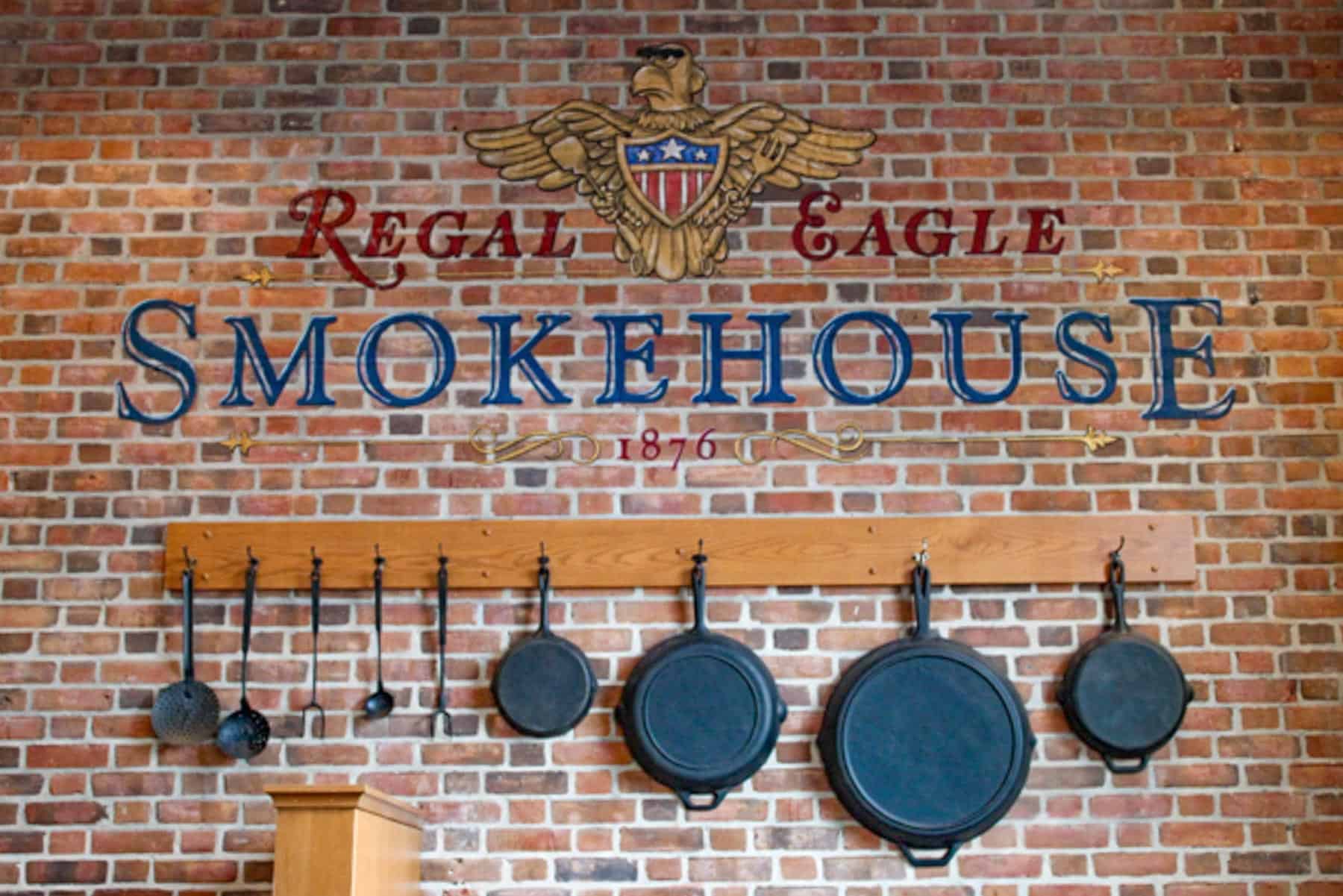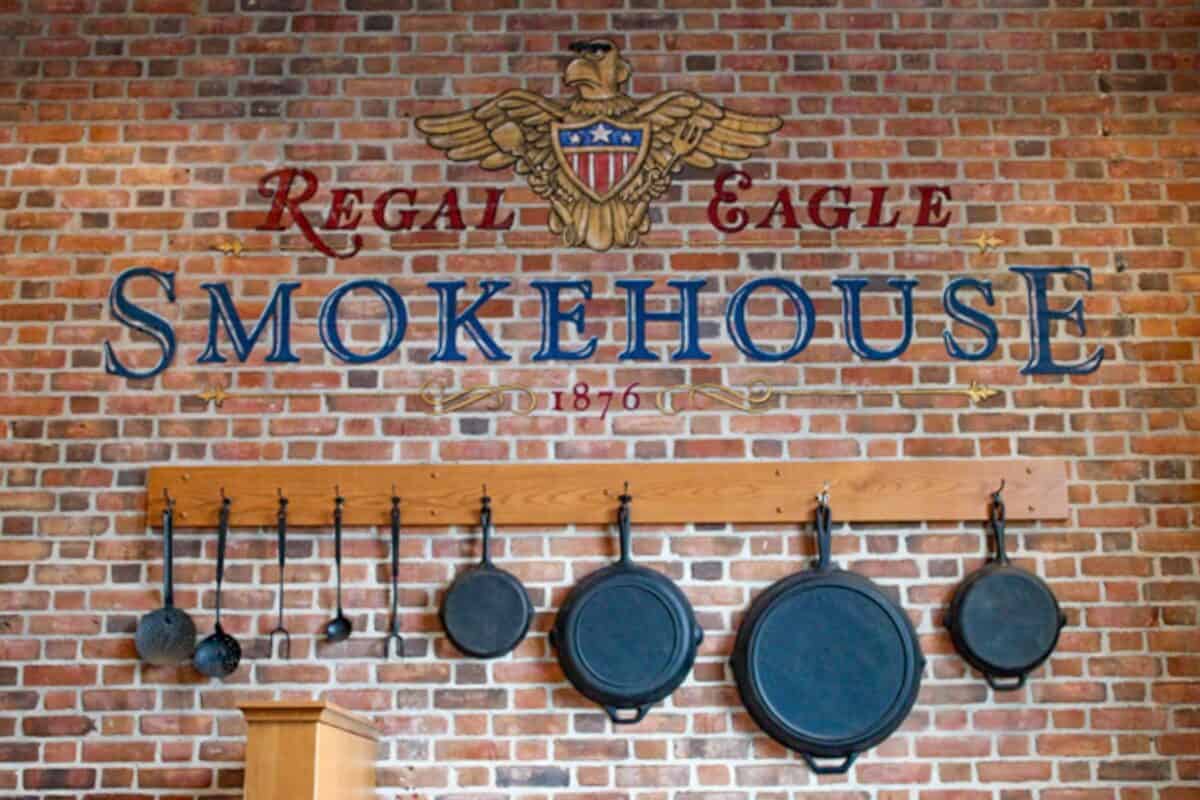 The quote in the photo below offers a spin on a popular Muppets phrase. It says, "A salute to all cook-offs but mostly barbecue."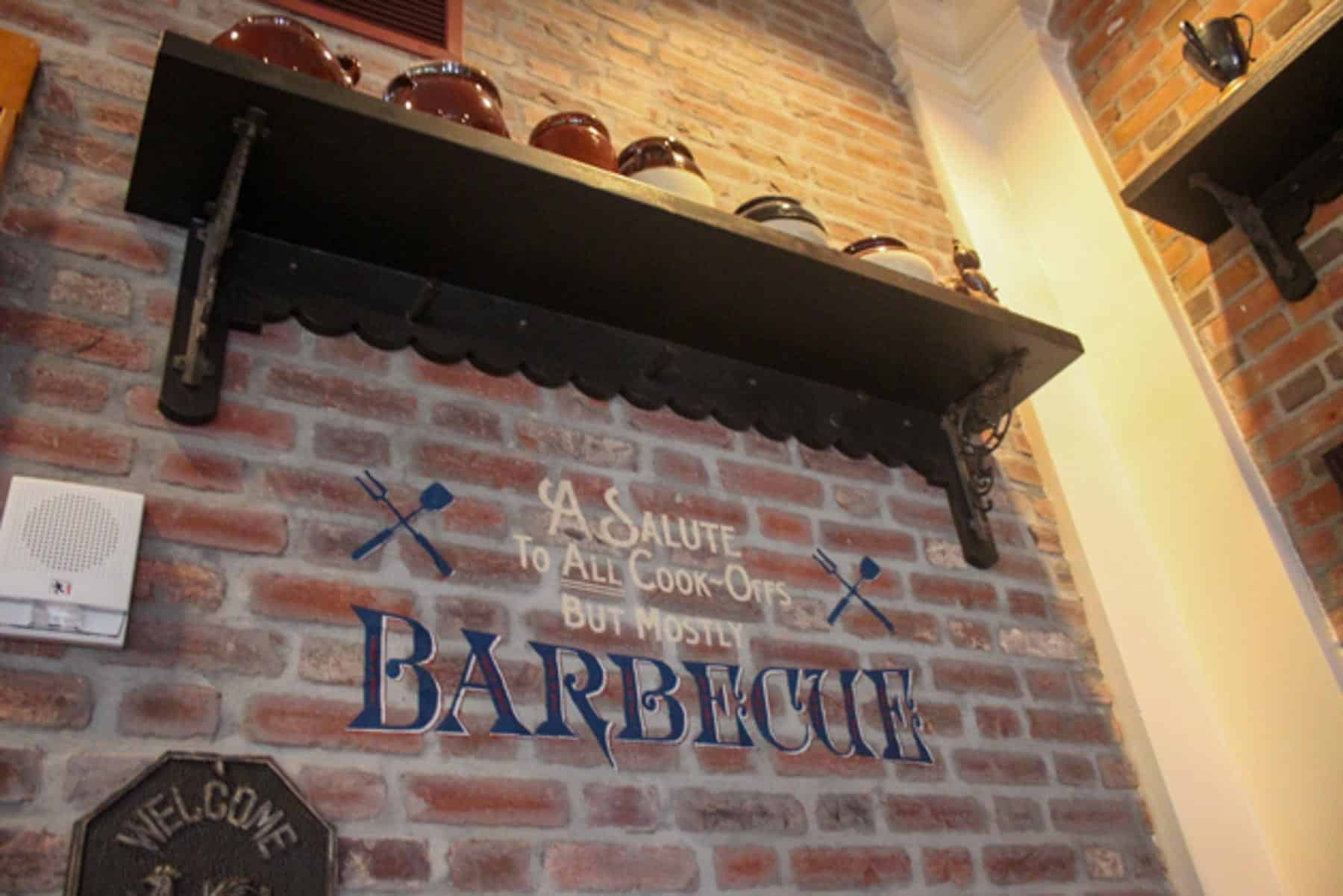 Here are the entree items:
Sliced Texas Beef Brisket Sandwich
Kansas City Smoked Half-Chicken
Memphis Dry-Rub Pork Ribs
North Carolina Chopped Smoked Pork Butt Platter
BBQ Burger
Power Greens Salad with Chicken (or without)
BBQ Jackfruit Burger (plant-based)
Loaded Burnt Ends Fries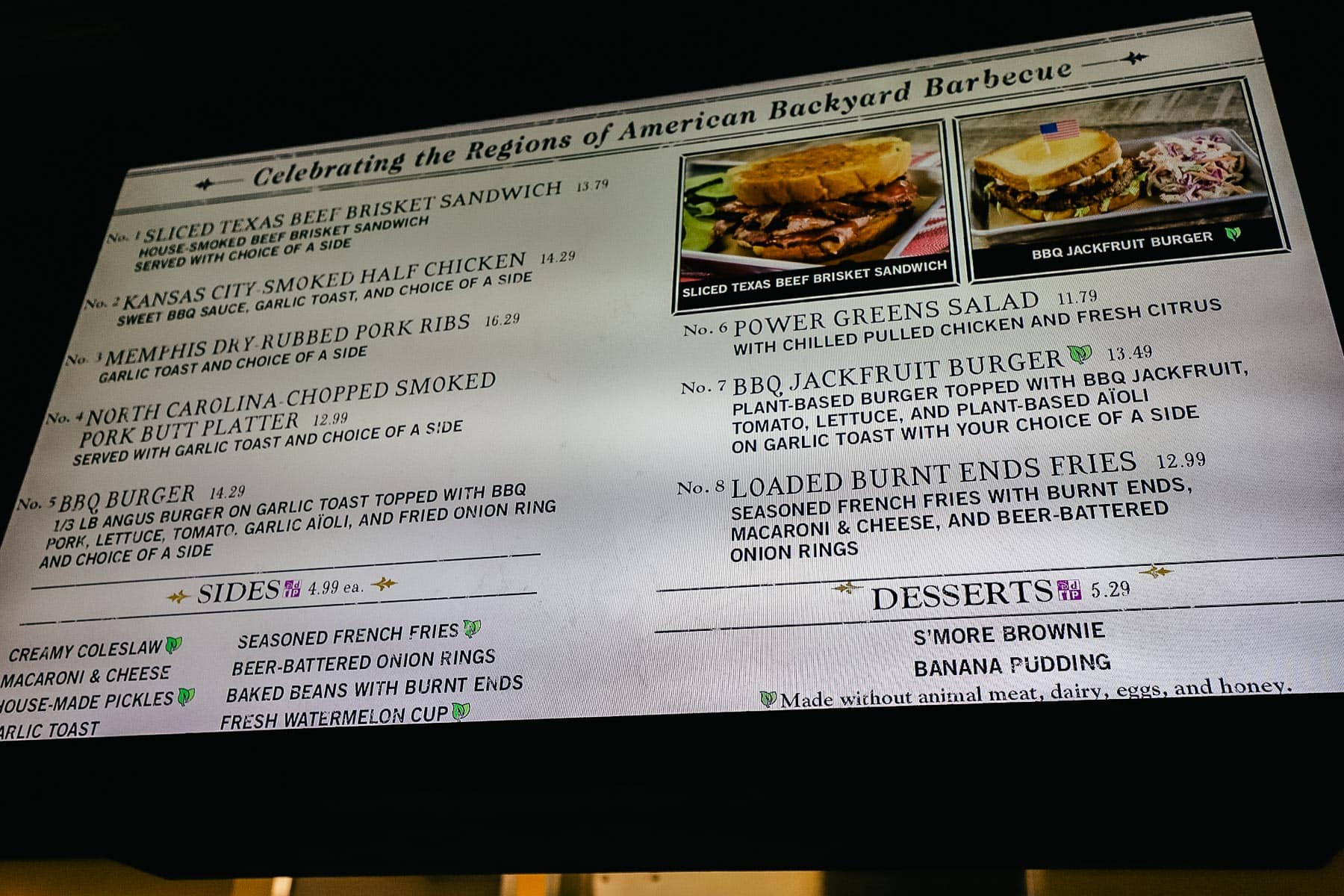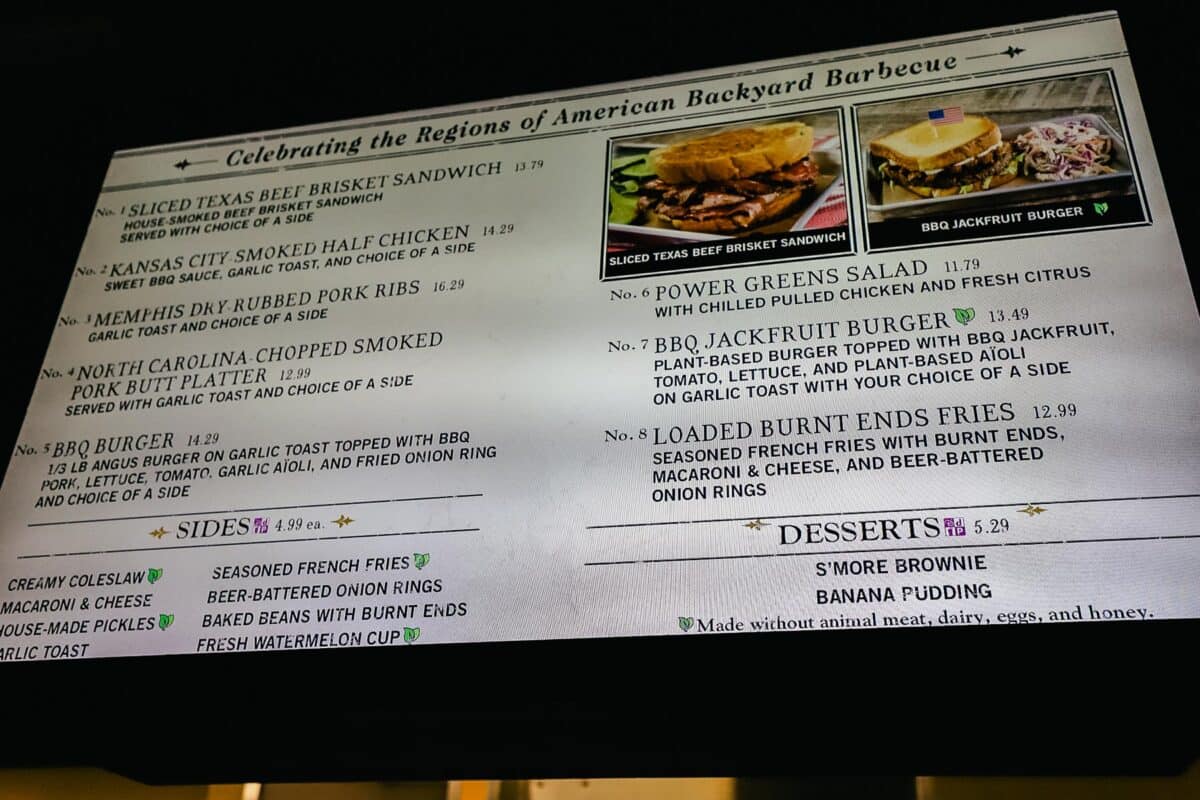 Sides include:
Creamy Coleslaw
Macaroni and Cheese
House-Made Pickles
Beer-battered Onion Rings
Baked Beans with Burnt Ends
Seasoned French Fries
Garlic Toast
Fresh Watermelon Cup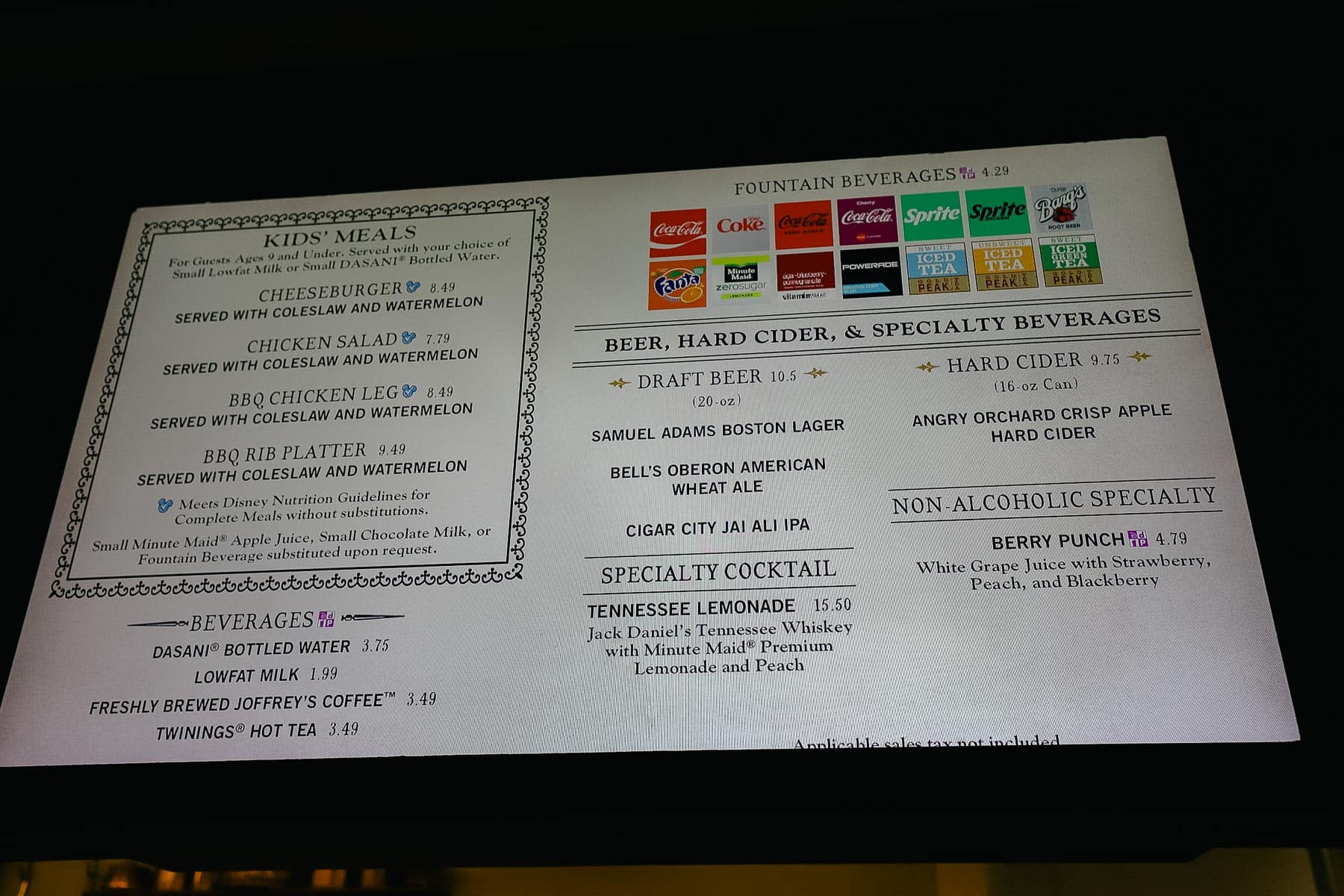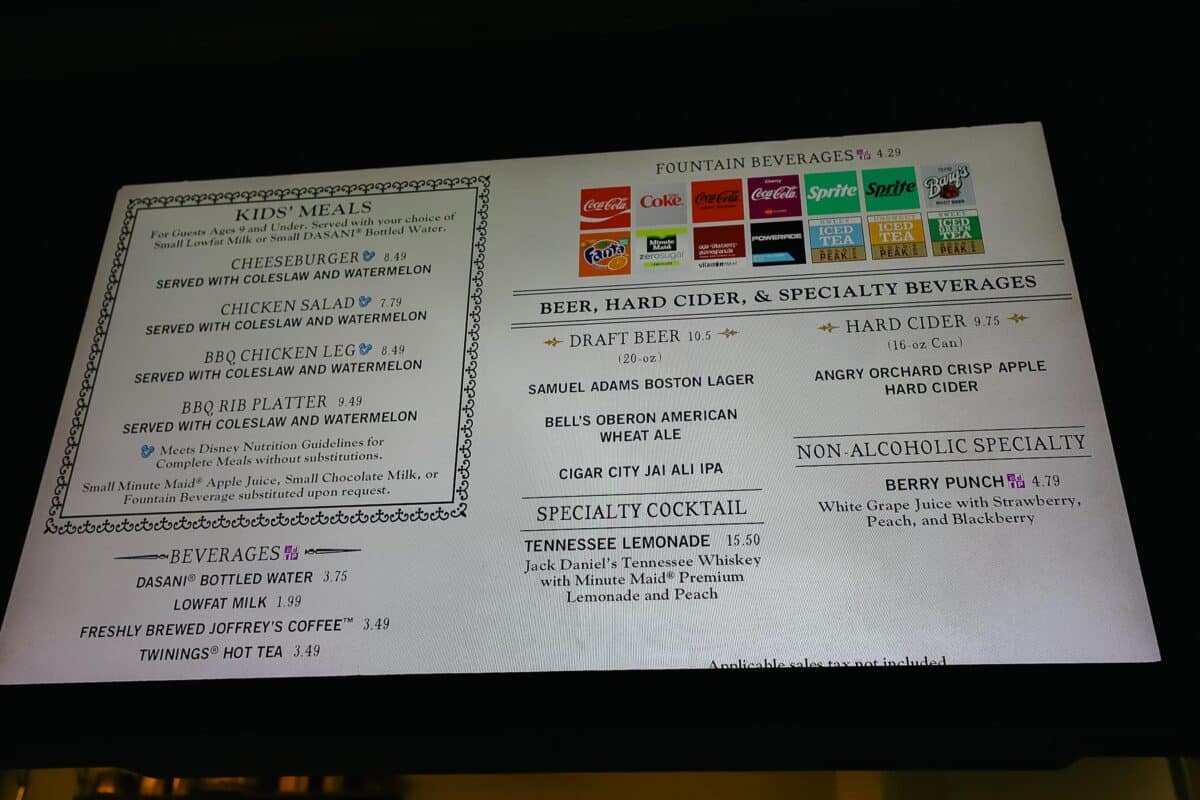 Kids' Meals:
Cheeseburger
Chicken Salad
BBQ Chicken Leg
BBQ Rib Platter
Desserts:
S'more Brownie
Banana Pudding
You can preview the entire menu with prices here on Disney's site.
Since we've been to Regal Eagle Smokehouse several times since it opened, we have tried a few menu items. On our first visit, I ordered the Power Greens Salad with Chicken.
The menu describes this item as "mixed greens tossed with citrus fruit, sunflower seeds, dried cranberries, and radishes with a citrus vinaigrette and chilled pulled chicken."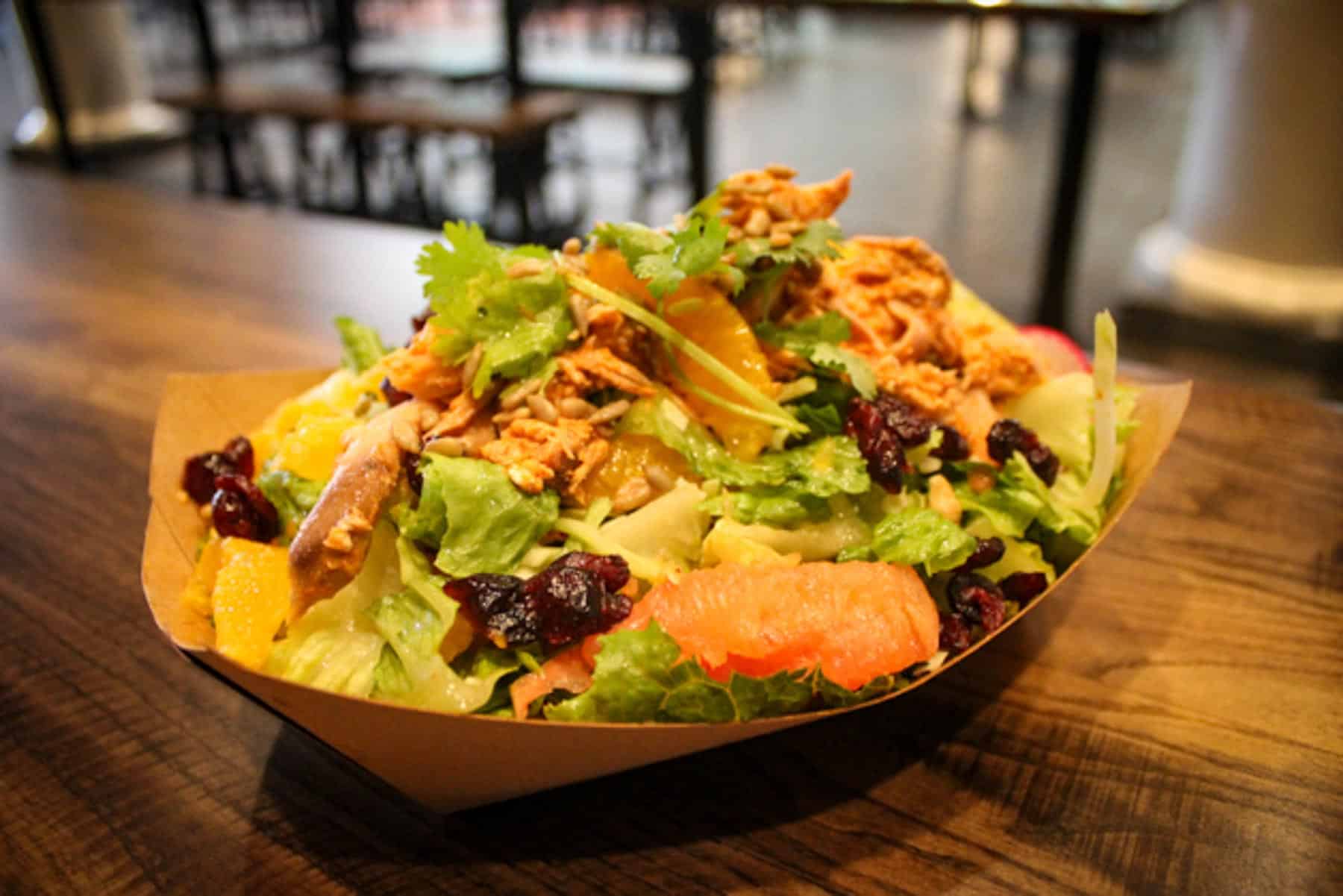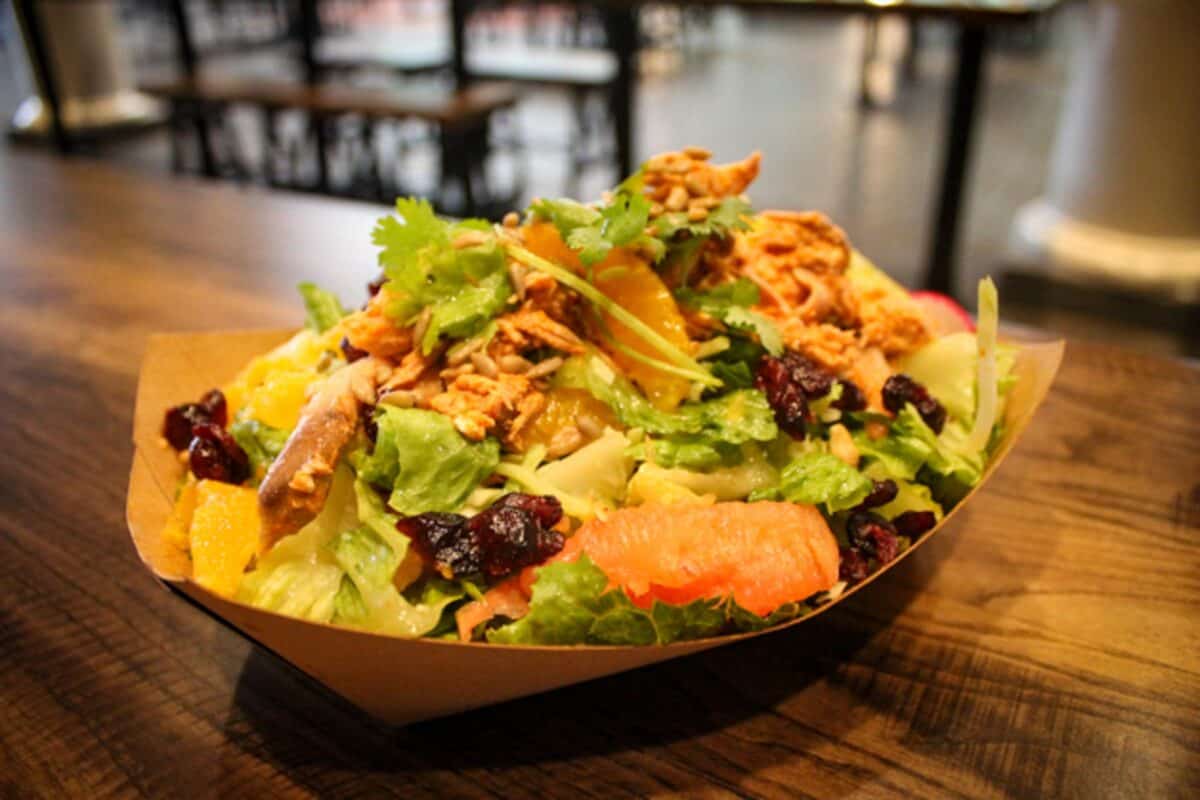 The salad was massive. It remains one of the best quick-service entrees I've had. So if you're looking for something reasonably priced and healthy, keep this option in mind.
Vegans or vegetarians might consider ordering this salad without chicken. Additionally, the restaurant has a plant-based BBQ Jackfruit Burger on the menu.
Next, we have an order of onion rings. Most food connoisseurs can decide by looking at these onion rings whether or not they will like them. They are beer-battered with a smooth coat and deliciously crunchy.
This is a full-size order of onion rings. However, you can order them as a side selection with any entree that comes with sides. Further down, I ordered them as a side with a kids' meal.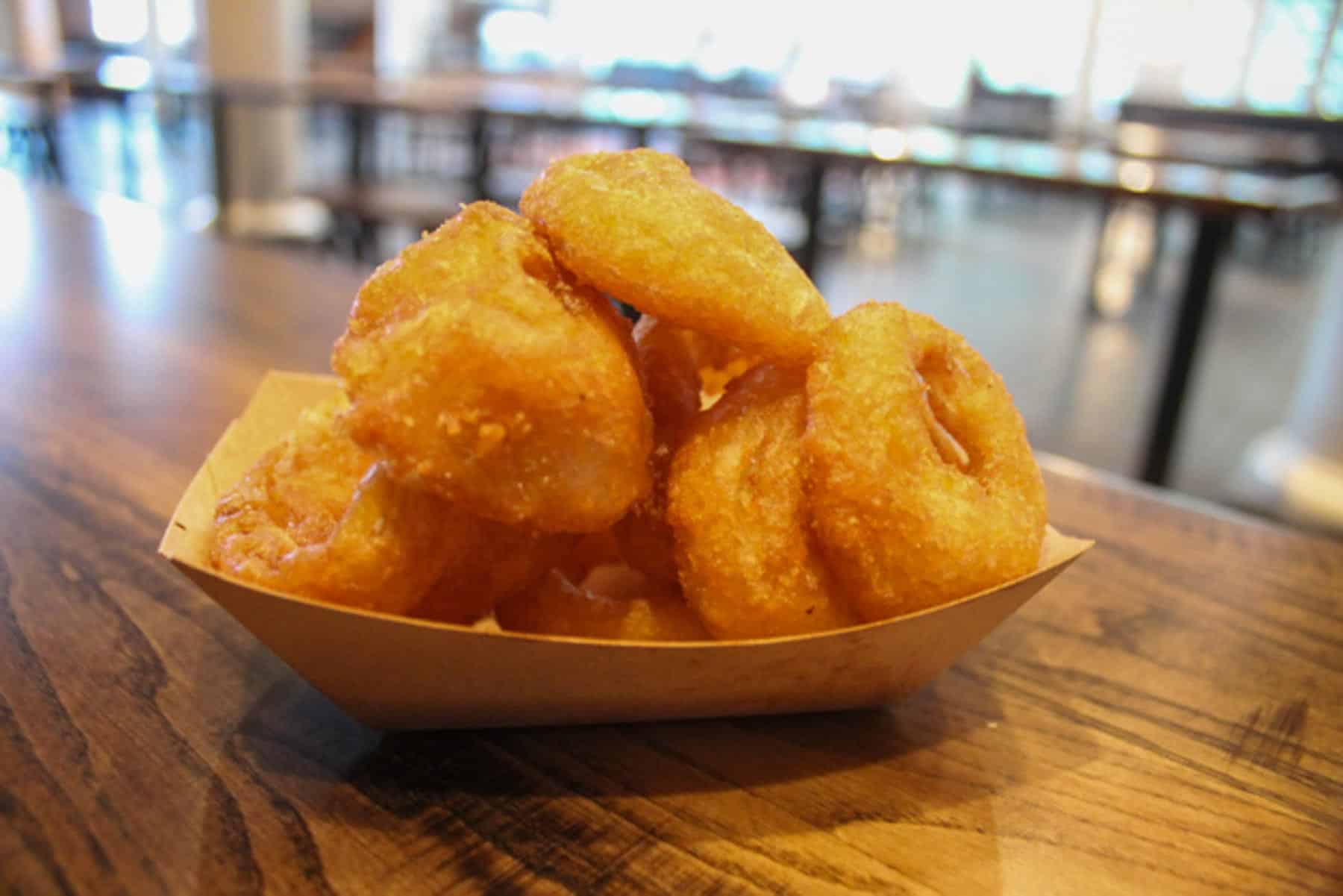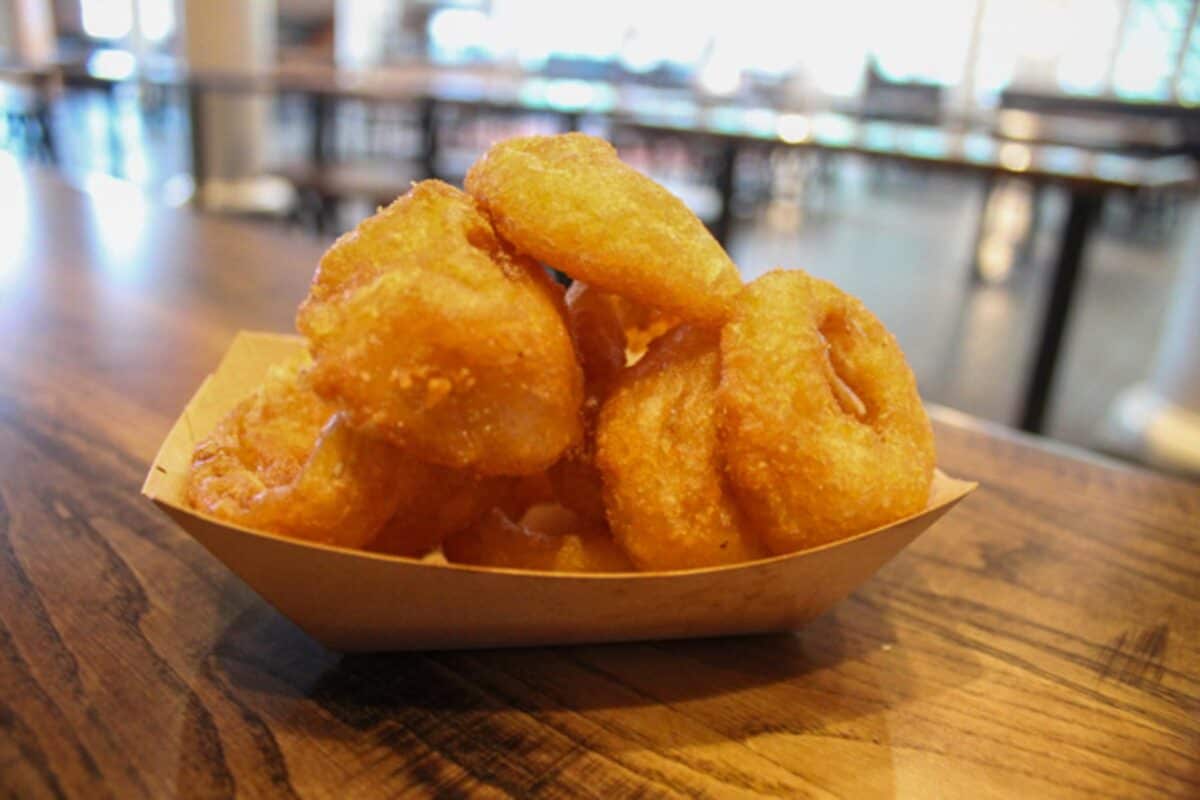 Moving on, we have the Kansas City smoked half chicken. This is what my son orders since it's allergy-friendly for his diet.
This entree comes with sweet barbecue sauce, garlic toast, and a choice of one side. He went with an order of fries. Additionally, the Texas toast is a special gluten-free bread. They also used a soy spread instead of butter to accommodate his food allergies.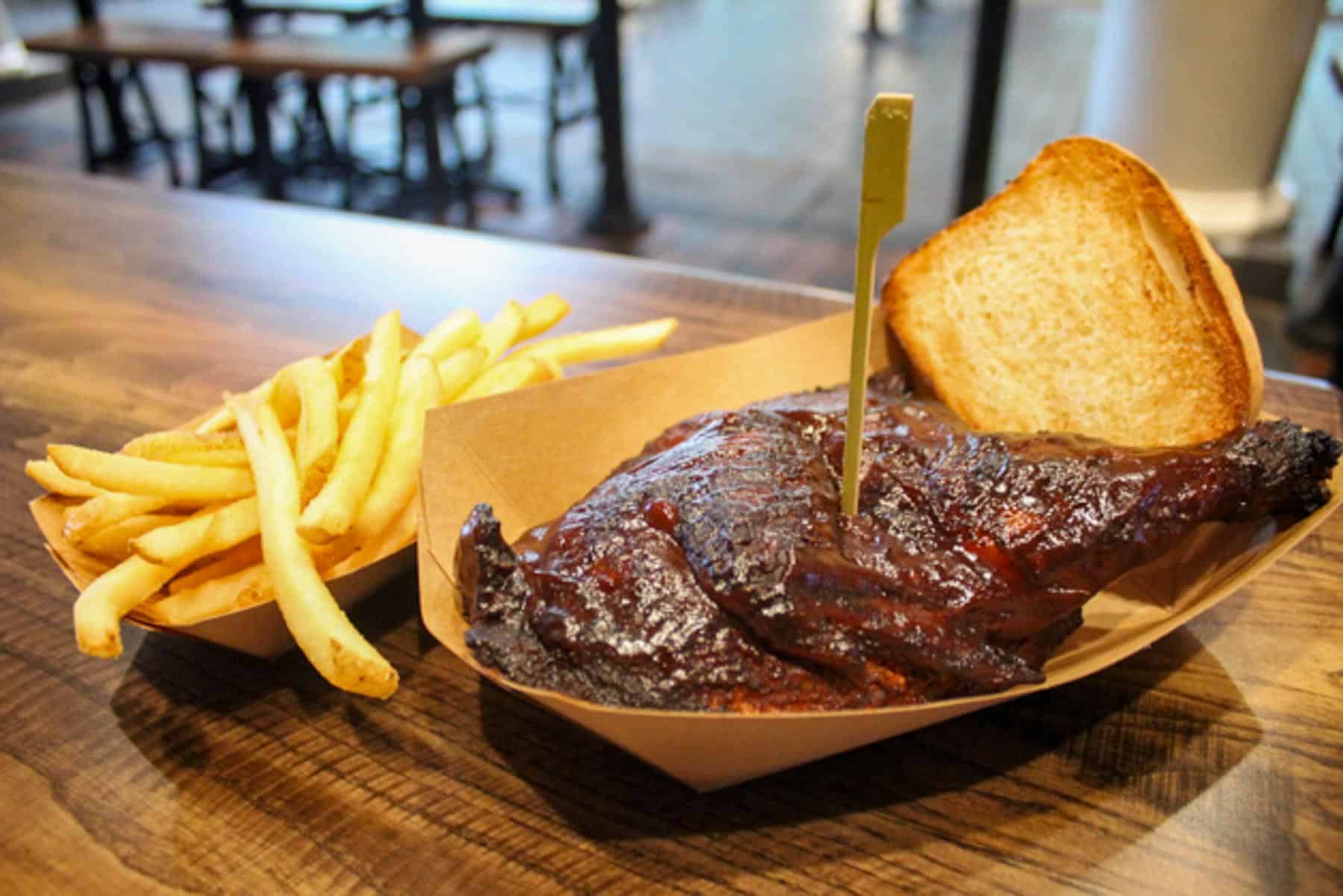 Overall, the chicken was a great size portion-wise, and there were no complaints about the taste. Was this dish stellar? No, but you'd have a hard time winning us over with any barbecue since we're from Alabama.
Anyone reading this website regularly knows I'm a huge advocate for ordering kids' meals at Disney's quick services. Often, I'm by myself and need to grab a quick bite to eat that doesn't break the bank.
A few months ago, I found myself looking for lunch (that wasn't festival food) at the World Showcase. Then, it occurred to me I hadn't stopped at Regal Eagle Smokehouse in a while.
After perusing the menu, I realized I could order a kids' meal and try two sides. So I ordered the BBQ chicken leg and selected onion rings and watermelon. (Kids' meals also come with a choice of water, milk, juice, or fountain drink.)
This was the perfect lunch, and I was able to enjoy every bite of it without feeling stuffed. It was also nice that I didn't feel wasteful with a ton of leftovers after my meal.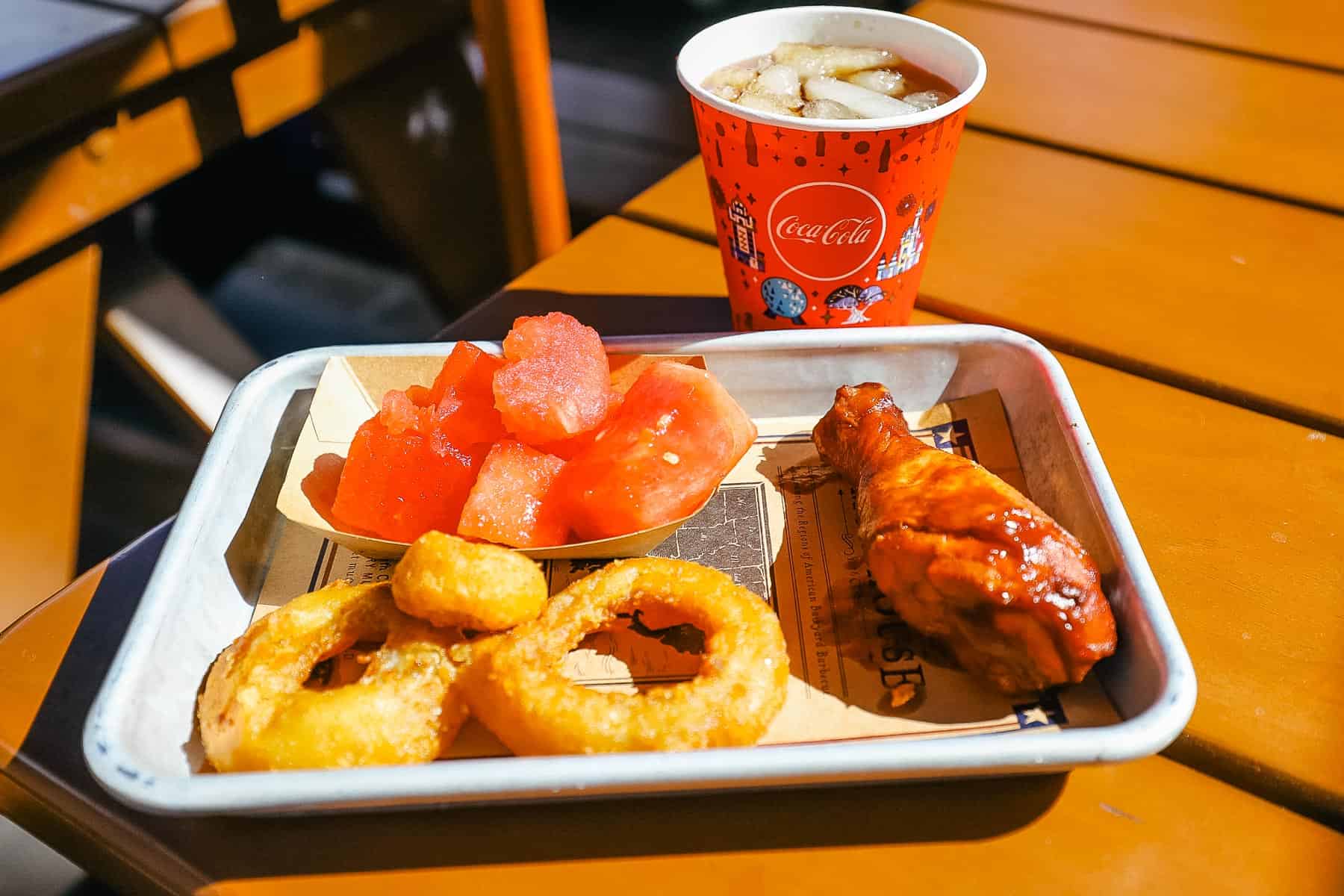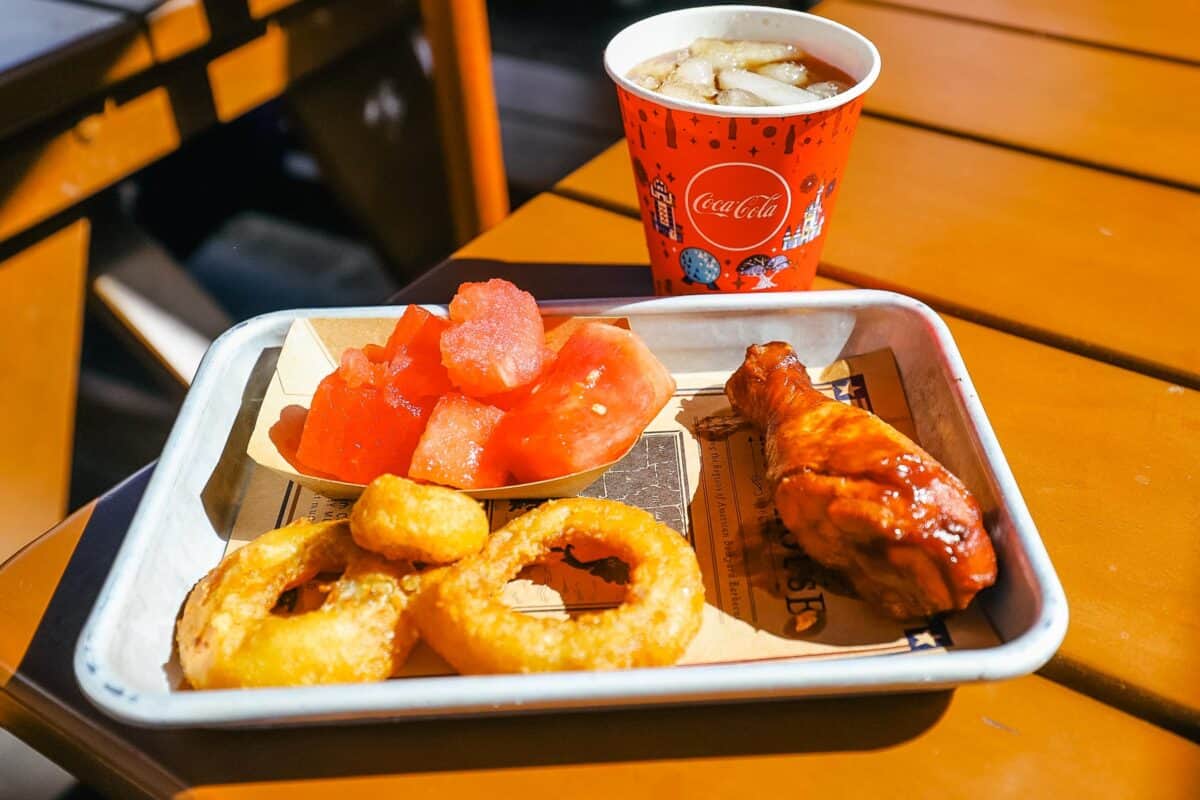 Then a few weeks ago, I was meeting some friends and needed a quick bite since they had already had lunch. So I stopped in Regal Eagle and got a kids' cheeseburger meal with watermelon and macaroni and cheese.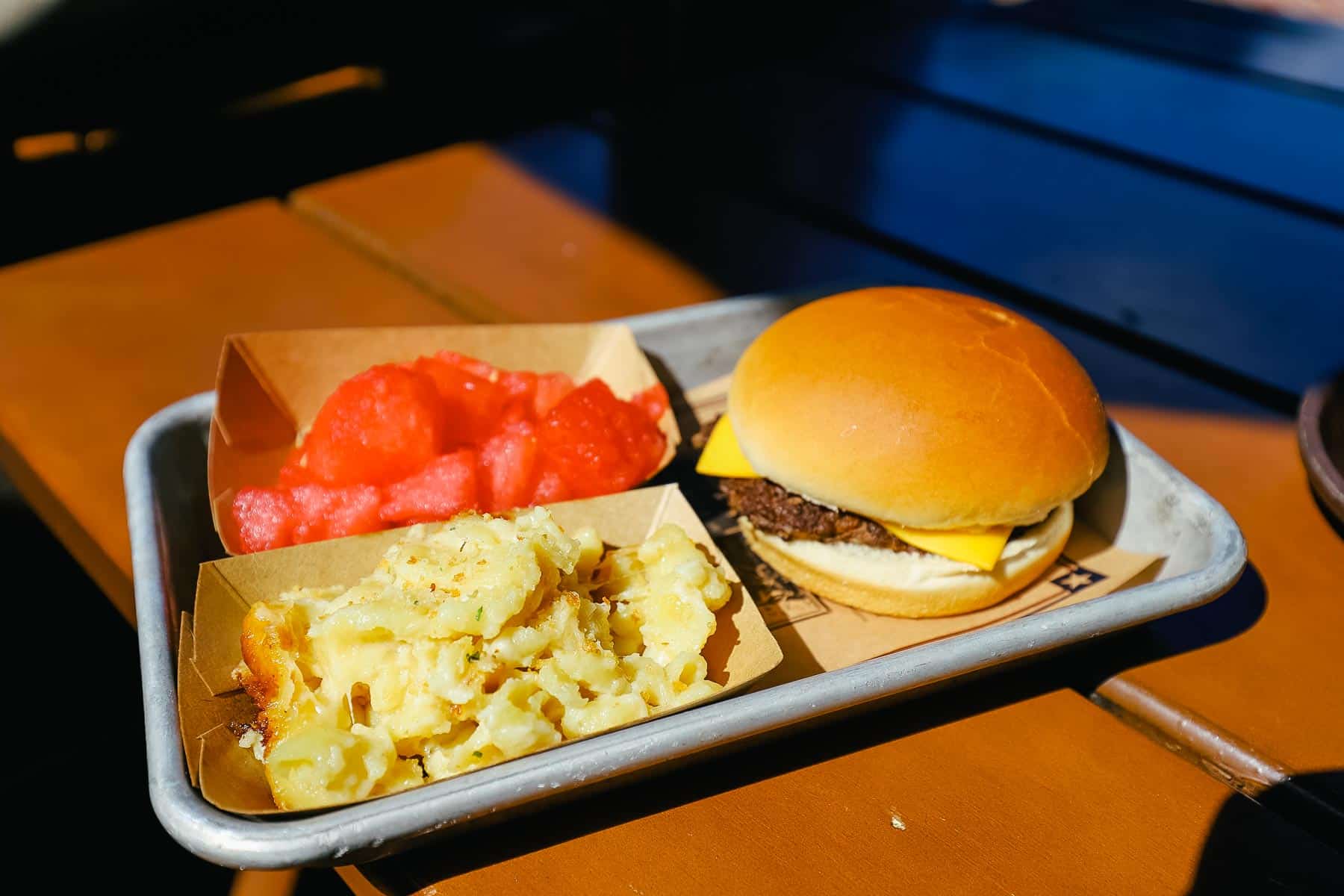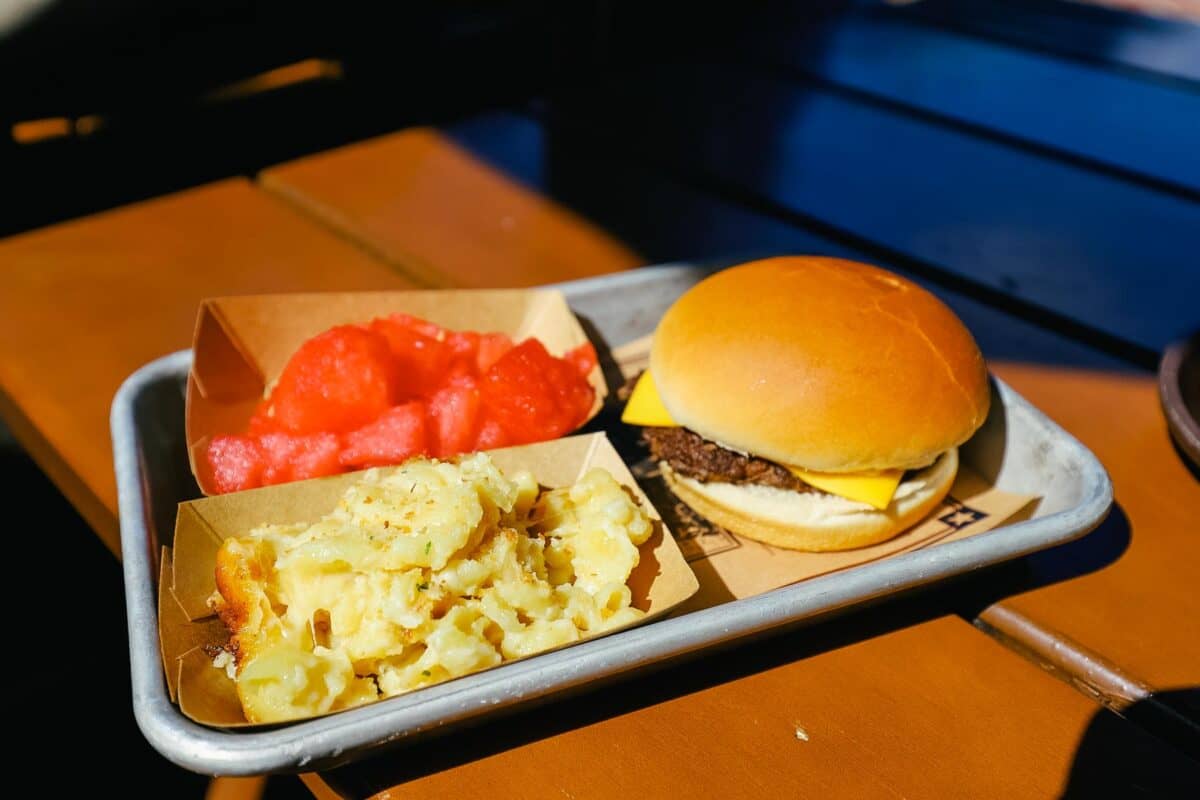 This was another excellent option, and the macaroni and cheese was delicious. I couldn't believe this was my first time trying it!
Next time, I plan to order a side of pickles and maybe those loaded burnt-end fries. They look like a large order, so I'll probably have to find someone to share them with.
In addition to barbecue, Regal Eagle Smokehouse has four unique barbecue sauces:
Blue Ribbon Brisket Sauce (Savory Spice Sauce)
Sizzlin' Pit Dry Rub Coalition (Classic Smokehouse Sauce)
Old Glory Mustard Guild (Sweet Mustard Sauce)
Blue Ridge Vinegar League (Vinegar Base Sauce)
*You can order any of these sauces with your meal.
A craft drafts walk-up window is located outside of Regal Eagle Smokehouse.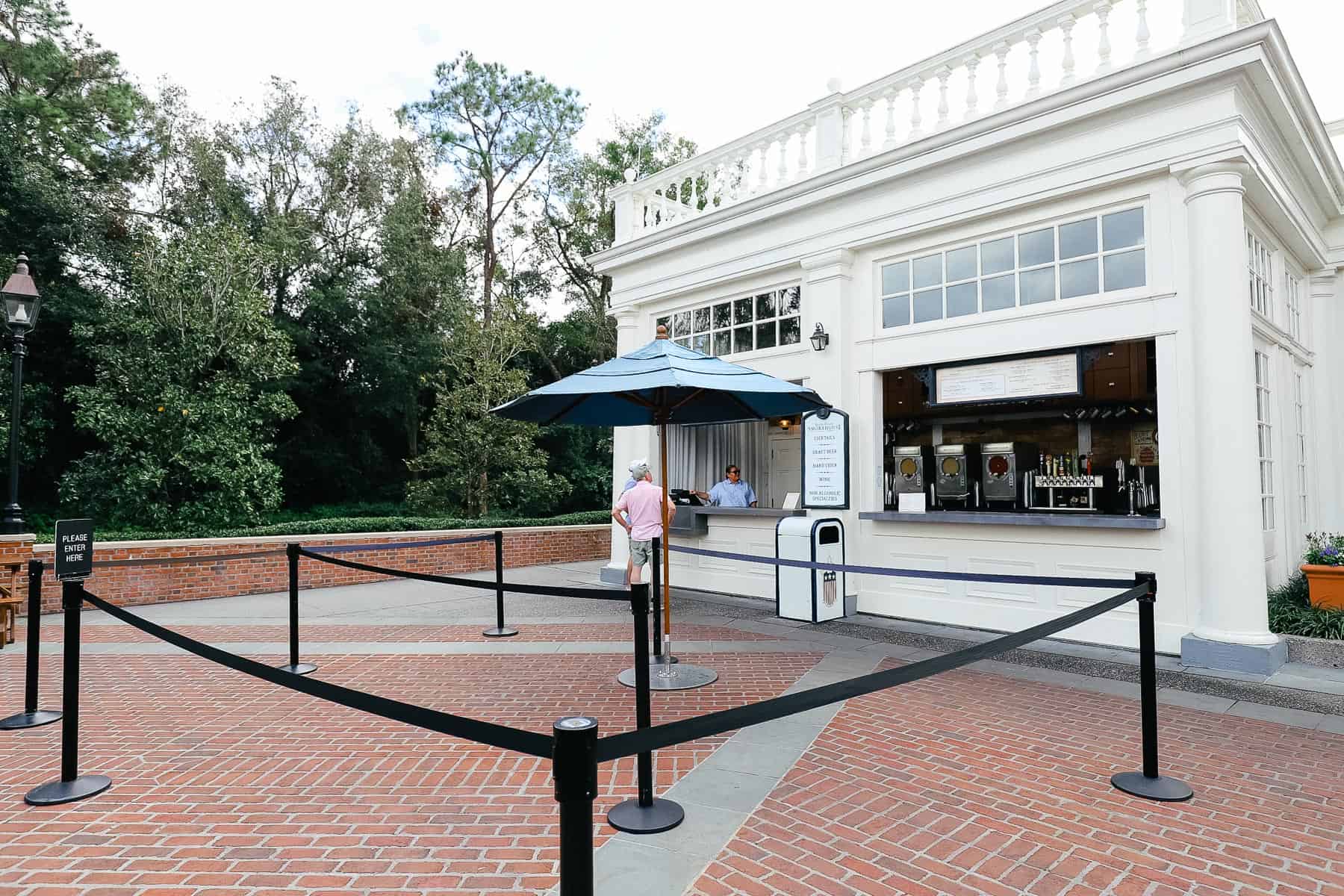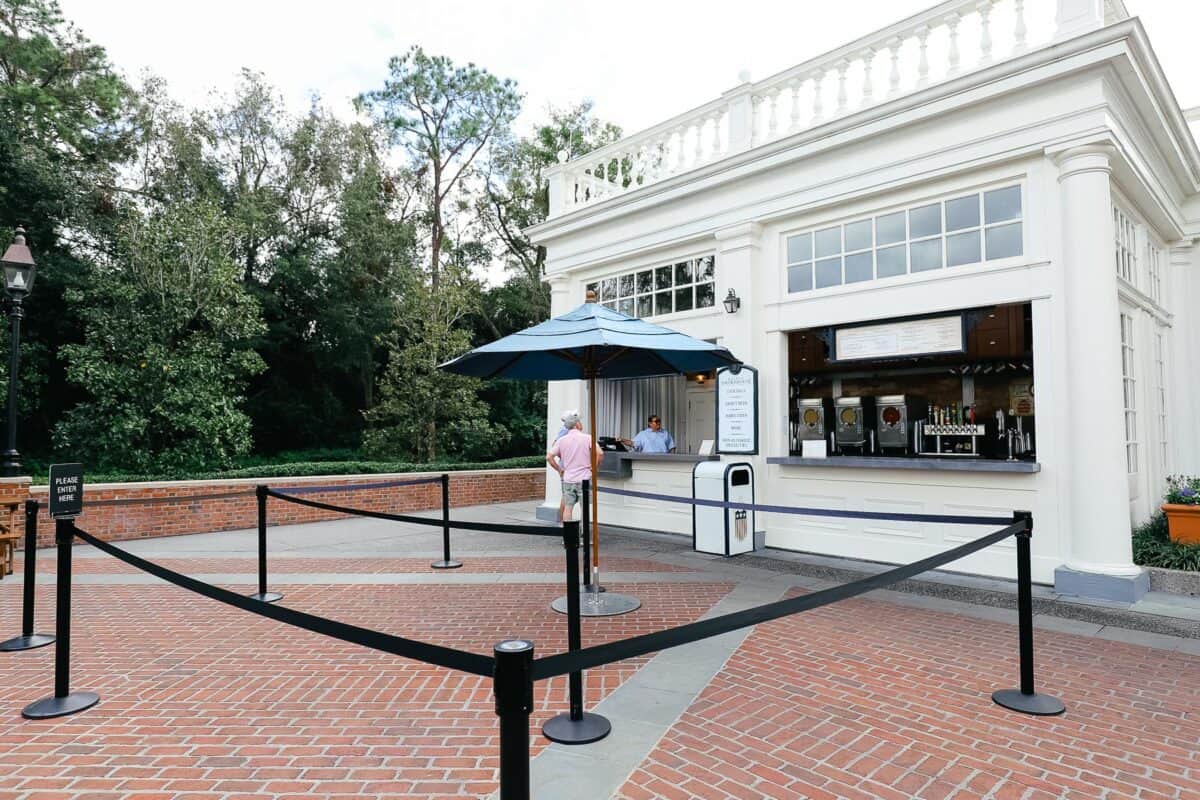 They have non-alcoholic specialties like a berry sparkler and frozen iced tea lemonade. In the South, we call that half and half.
They also sell specialty cocktails, draft beer, hard cider, and wine on tap.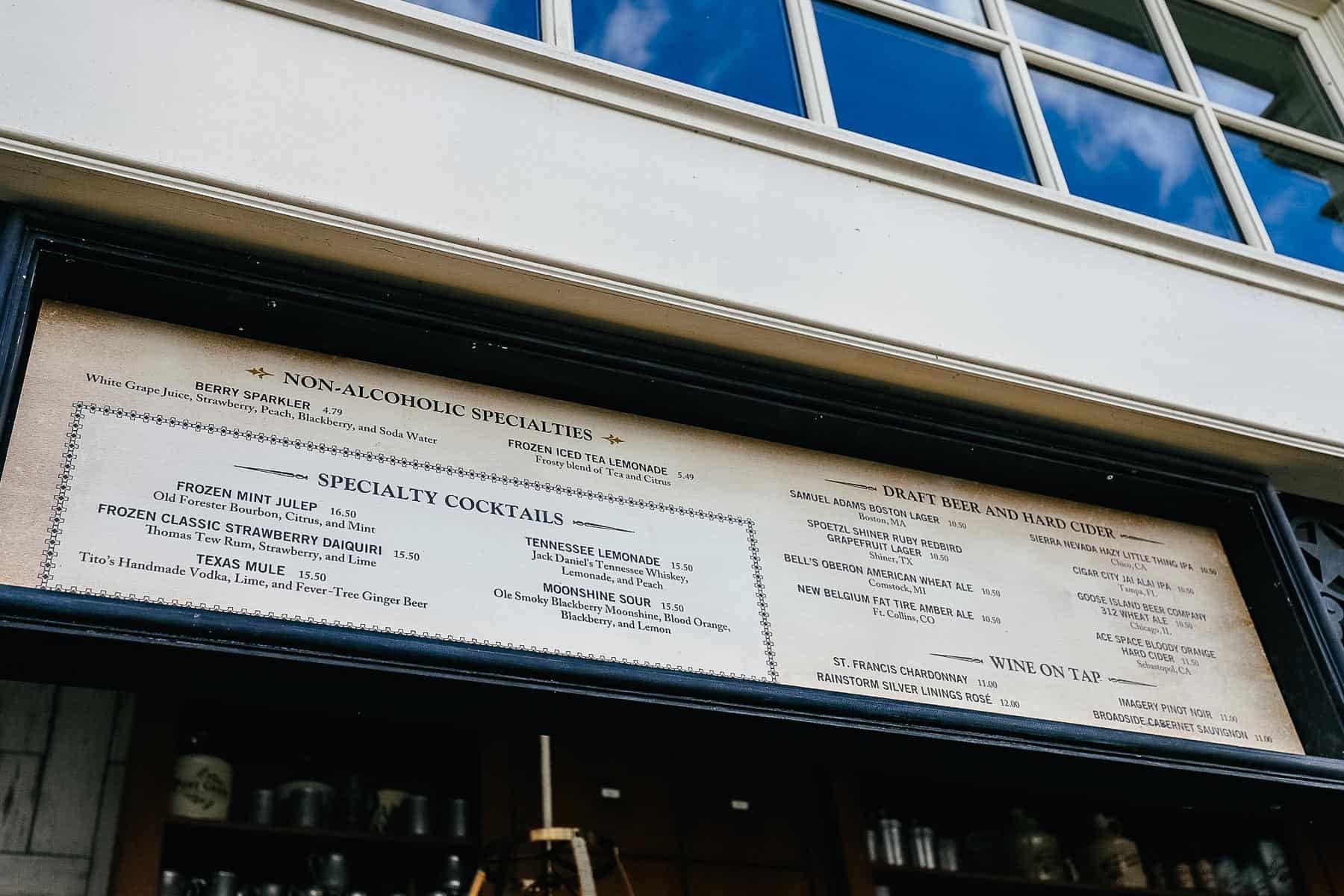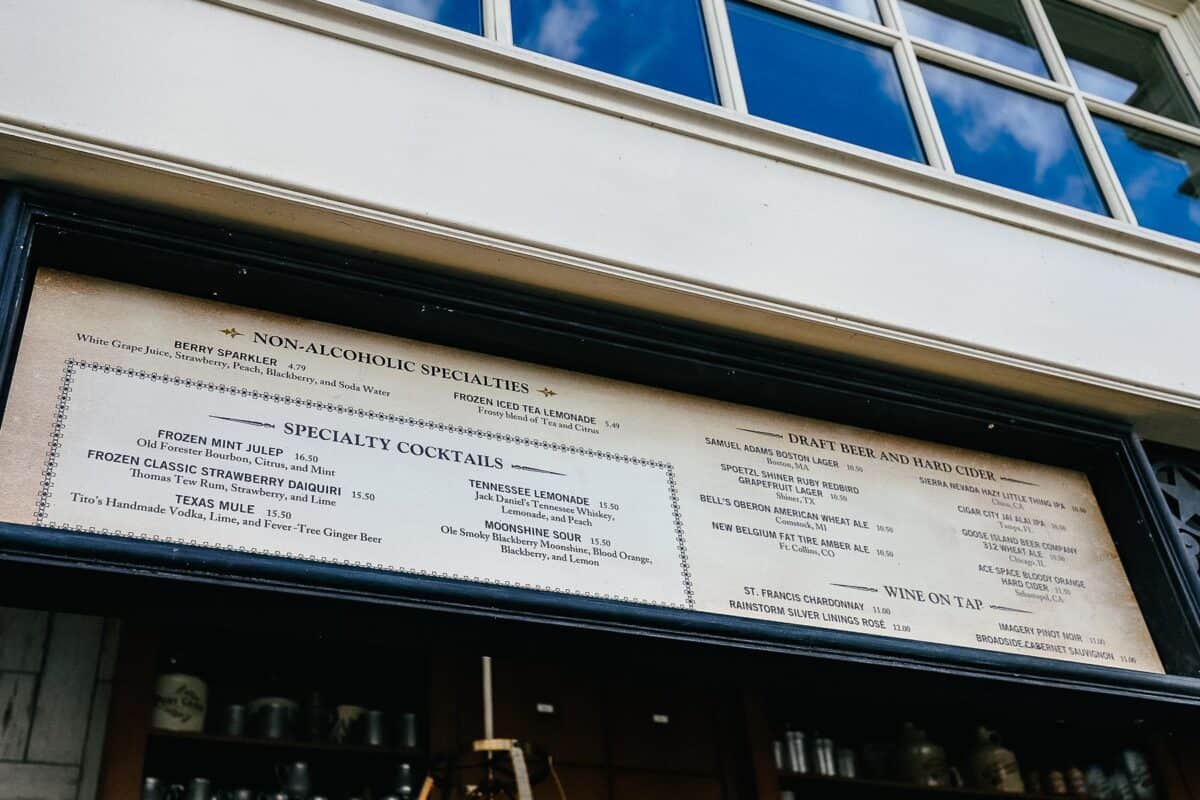 To sum things up, Regal Eagle Smokehouse has become an asset to the American Pavilion at Epcot. Whether it's a juicy burger or a heaping platter of barbecue, this quick service has a little bit of something for everyone.
If the weather is pleasant, you can't beat finding a seat outside. The pavilion is almost always busy. Watching the hustle and bustle of the crowds walking by while you dine is fun.
This location has quickly become one of our favorite places to have a quick-service meal at Epcot.
For more dining at Epcot, you might like:
Here are a few other favorites in the theme parks:
Preview all of our Disney Dining Reviews for more dining at Disney World. Or you might enjoy some of our most popular dining guides:
Resorts Gal specializes in Resorts, Characters, and Dining. Here are a few of our most popular articles on the site:
In the comments
Are you planning a meal at Regal Eagle Smokehouse? Did you find this review helpful? What menu items look good to you?
Planning a Walt Disney World or other Disney Destination vacation?
Our friends and travel partner, Firefly Travels, excels at doing Disney differently. You can fill out a plan your trip form on their website, and someone will reach out shortly to discuss the specifics.