Regal Eagle Smokehouse Review
Regal Eagle Smokehouse is a quick-service dining location at Epcot. The Muppets-themed restaurant is located in the American Pavilion of the World Showcase.
This Regal Eagle Smokehouse review will cover our experience dining at the quick-service restaurant. We'll preview the menu, select food items, and discuss mobile ordering.
Most of us tend to develop preconceived notions about things. For example, I willingly admit I didn't expect to like Regal Eagle. It turns out I was wrong.
Between the subtle charm of the restaurant and the menu selections, I look forward to trying more items here as long as said items come with a side of onion rings.
Let me explain.
This article was updated on March 11, 2022.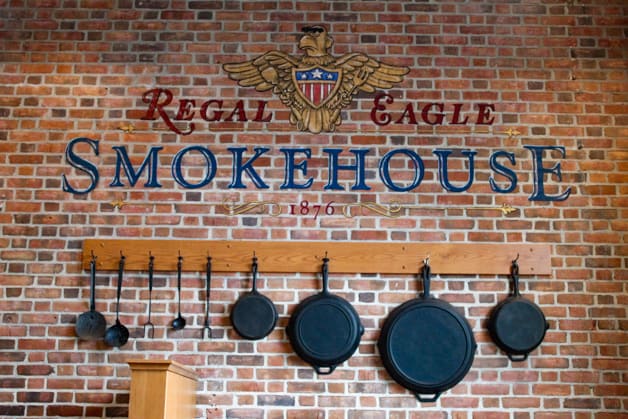 Regal Eagle Smokehouse Review
When dining in the parks, it's always a good idea to preview the menu. Thanks to the implementation of mobile ordering, you can preview up-to-date menus on your mobile devices these days.
The full menu for Regal Eagle Smokehouse is available here on Disney's site.
The menu includes a variety of smoked meats like ribs, brisket, chicken, pork, burgers, and more.
Here are a few of the entree items:
Memphis Dry-rub Pork Ribs
Sliced Texas Beef Brisket Sandwich
Kansas City Smoked Half-Chicken
North Carolina Chopped Smoked Pork Butt Platter
Power Greens Salad with Chicken (or without)
BBQ Burger
BBQ Jackfruit Burger (plant-based)
Sides include:
Beer-battered Onion Rings
Macaroni & Cheese
Creamy Coleslaw
Baked Beans with Burnt Ends
Seasoned French Fries
Kids' Meals:
When you enter the America Pavilion at Epcot, Regal Eagle Smokehouse is located on the left-hand side of the colonial mansion.
The Muppets theming at Regal Eagle is subtle. However, if you look at the decor closely, you'll begin to see the references.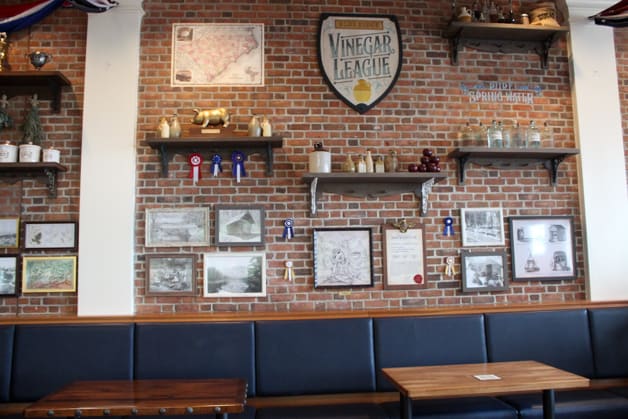 But if you're not paying attention, you might not even notice that the Muppets are involved. You might even eat there and later think to yourself, "Oh yeah, Muppets."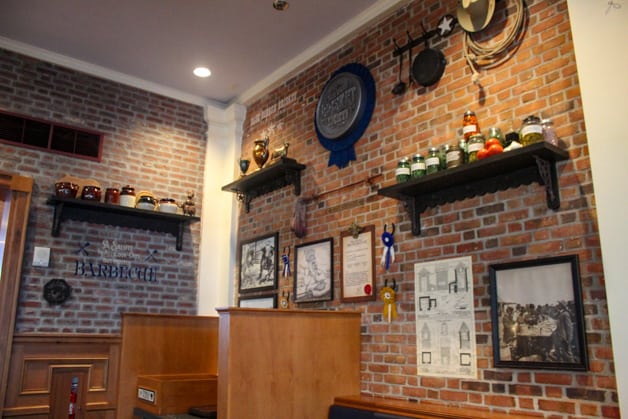 Looking back through my pictures and putting all of this together, I almost forgot. And I love the Muppets.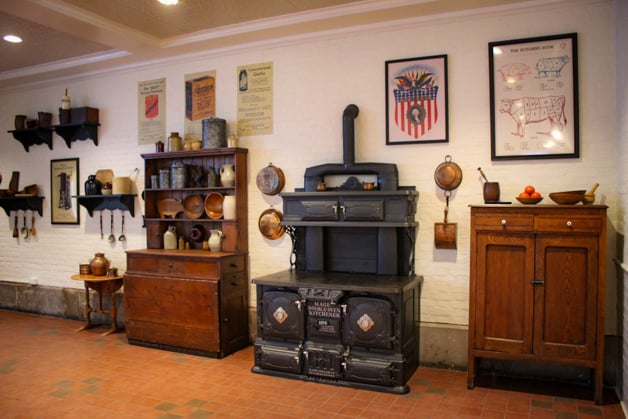 I did take a picture of this quote that offers a bit of a spin on a popular Muppets phrase. It says, "A salute to all cook-offs but mostly barbecue."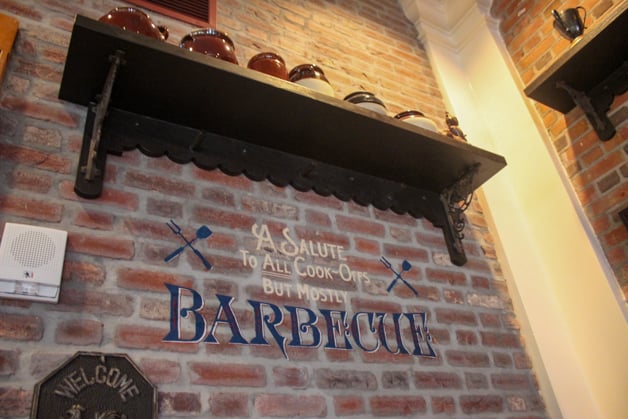 Regardless of whether you notice the Muppets or not, Regal Eagle Smokehouse is definitely American. And I feel that in most instances, Disney did an excellent job with the decor.
I say most instances because we enjoyed eating at the former Liberty Inn. And before the refurbishment, there was a beautiful fountain in the center of the room.
The former fountain offered a pleasant background noise. It echoed through the large dining area, dulling everyone else's conversations around you.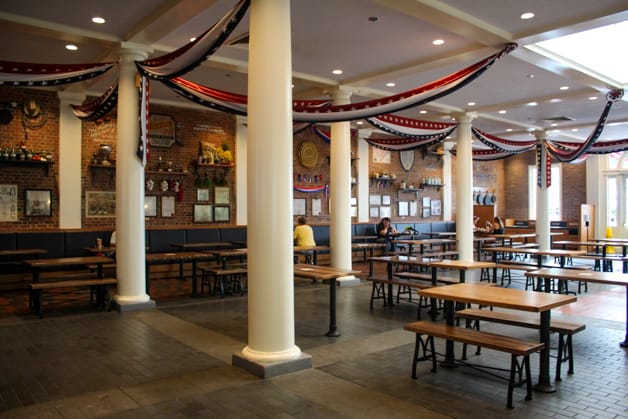 The ordering area is toward the back of the restaurant. I felt this space turned out well, given the use of darker colors and lack of natural light.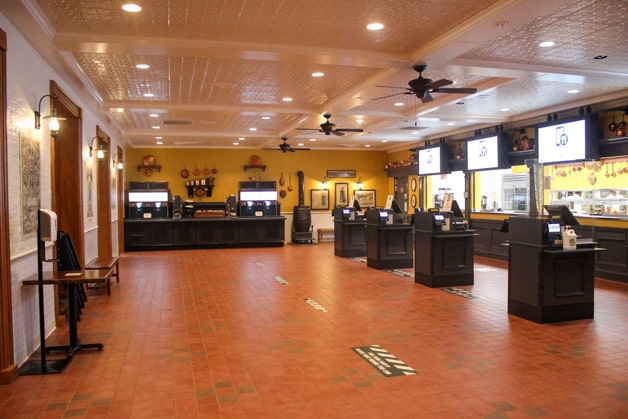 This is where you'll place your order or pick up a mobile order. Some of the screens will indicate the mobile order numbers.
For instance, your mobile order might say pick up at bay one. So you'll join the line for that particular number.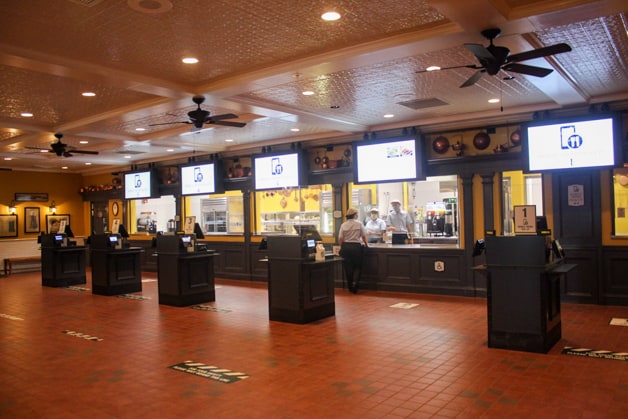 Disney prefers guests place orders on the app and not enter the restaurant until they get the notification that the meal is ready. However, since things are more relaxed, someone should be available to take your order.
A self-service beverage station is available.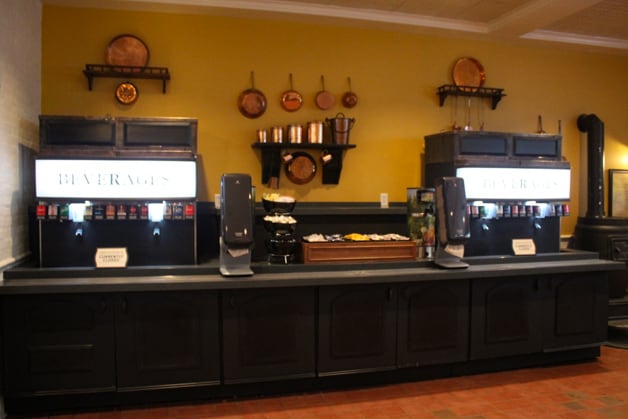 The dining room provides plenty of seating options.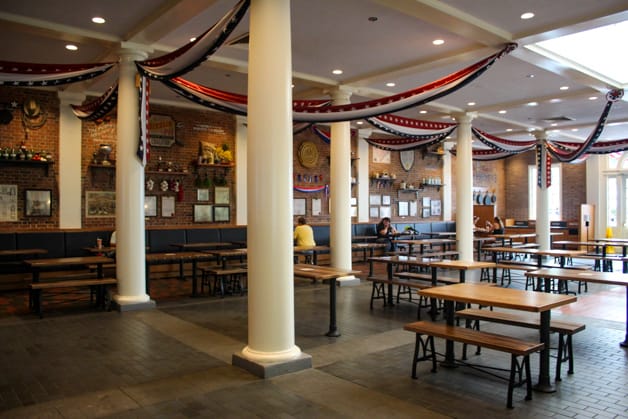 There is partial booth-style seating around the parameter of the room. Tables with benches are in the middle.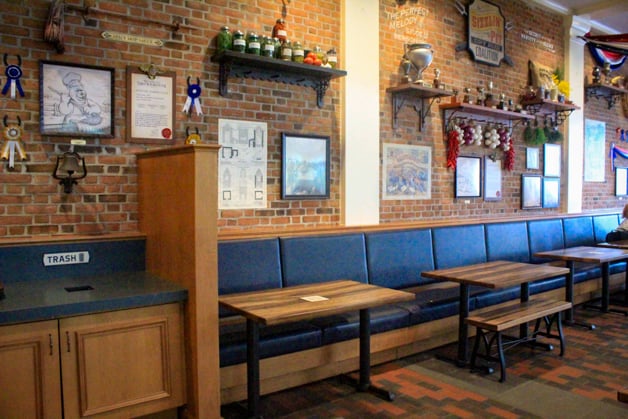 Outside there are picnic tables with benches. Some of the tables have umbrellas providing a little protection from the sun.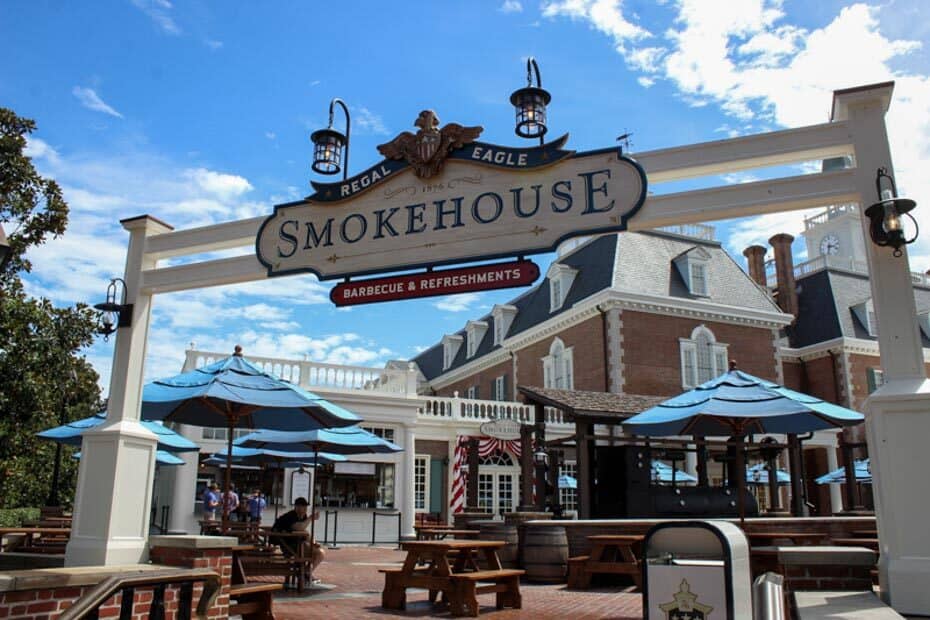 Going into our meal, I knew that I wanted to try an order of onion rings. They are just one of my guilty food pleasures, which didn't disappoint.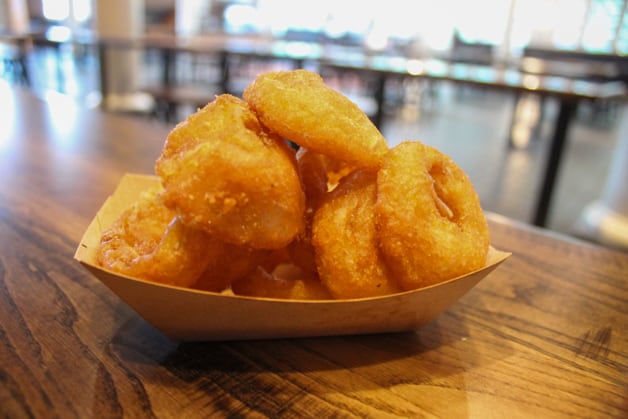 I think that most onion rings connoisseurs can decide by looking at them whether they will like them or not. These are beer-battered onion rings offering a smooth coat that is deliciously crunchy. I highly recommend them.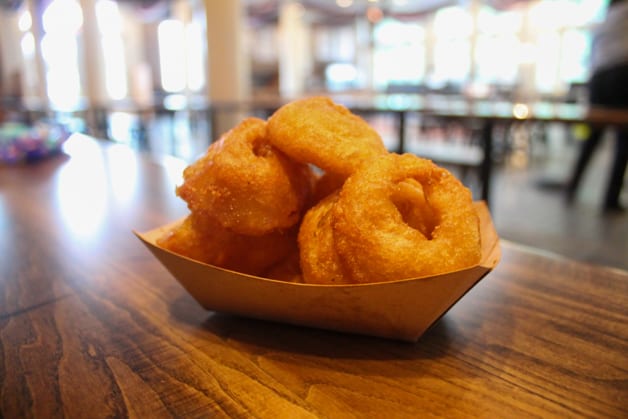 To balance out this side item, I ordered the Power Greens Salad with Chicken. The menu describes this item as "mixed greens tossed with citrus fruit, sunflower seeds, dried cranberries, and radishes with a citrus vinaigrette and chilled pulled chicken."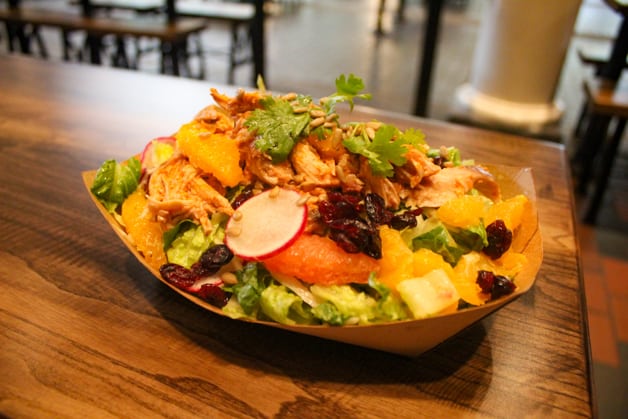 The salad was massive, and I felt like it was one of the best quick service entrees I've had in a long time at Disney. The salad cost a little over $11.00 on the date of my visit.
It definitely delivered taste and money-wise.
My only complaint about the salad is that I don't care for grapefruit, so I removed it. However, that didn't negatively impact my meal. My salad had a generous amount of toppings, as you can probably tell.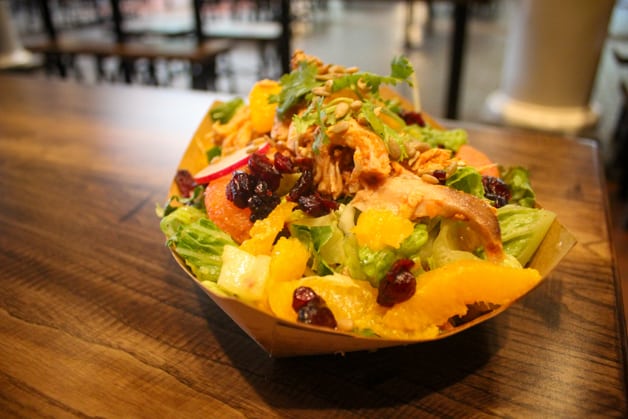 For vegans or vegetarians, you might consider ordering this salad without chicken. You'll need to check the contents of the dressing, though.
Additionally, Regal Eagle Smokehouse has a plant-based jackfruit burger. Unfortunately, I haven't had the opportunity to return and try it yet. But I have accumulated a list of the Disney World vegan food items that I have tried to date.
My son ordered an allergy-friendly meal. This meal was a win for us because the former Liberty Inn was our go-to stop in the World Showcase for allergy-friendly chicken nuggets.
Thankfully, Regal Eagle Smokehouse has several options to accommodate food allergies. For example, this is the Kansas City smoked half chicken.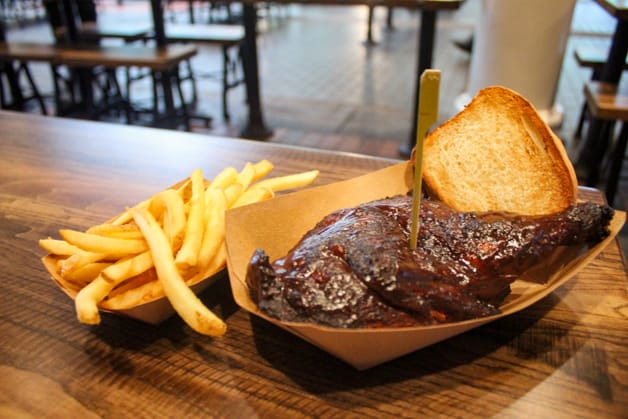 It comes with a side item, and fries cooked in a separate fryer always tend to be a simple option for him. And while that looks like buttered Texas toast, it's a gluten-free bread with a soy spread.
He doesn't have gluten sensitivity. However, allergies to eggs and milk often prevent him from eating bread in most restaurants.
This entree turned out to be an excellent option.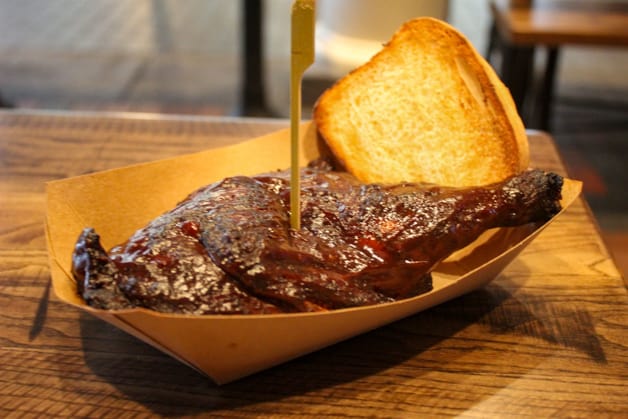 Since I'm from Alabama, I can't actually say it's the best barbecue chicken I've ever tried. But I also don't think you can expect to pick up a stellar barbecue at Disney unless you visit the Polite Pig at Disney Springs.
Related: The Polite Pig Review at Disney Springs
With that being said, I don't think anyone would find much to complain about with the chicken. This entree was a great size portion-wise, and the pricing was incredibly reasonable considering its theme park food.
Outside of Regal Eagle Smokehouse, there's a crafts and drafts walk-up window.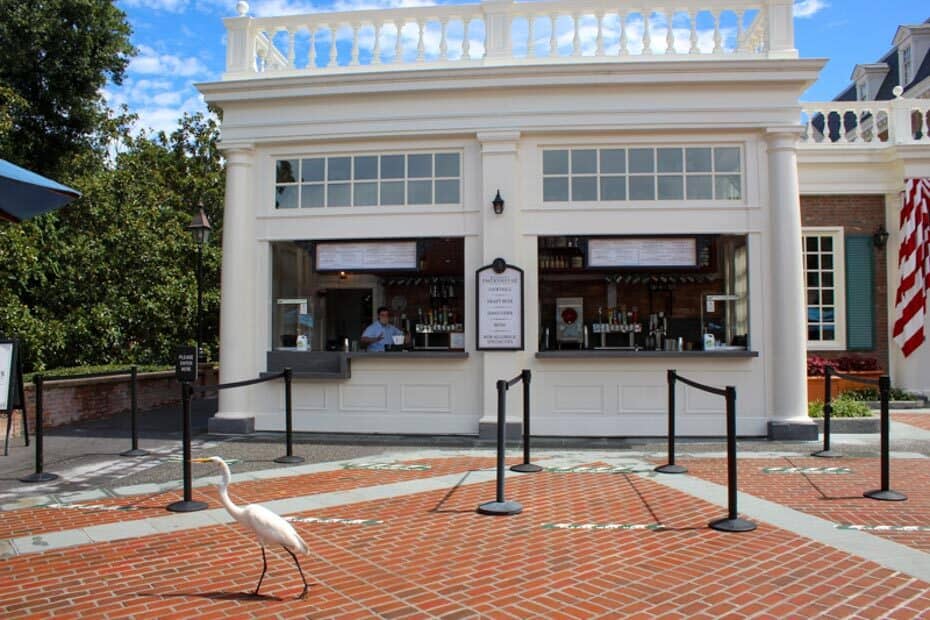 Here's a look at the different offerings you can pick up there. They have non-alcoholic specialties like a berry sparkler and frozen iced tea lemonade. In the South, we call that half and half.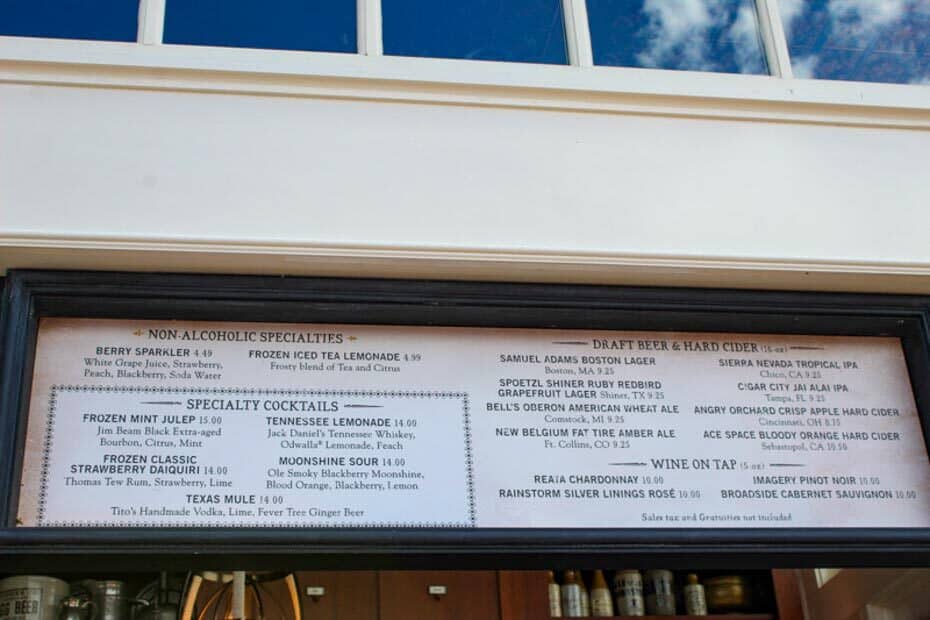 You can also pick up various specialty cocktails, draft beer, hard cider, and wine on tap. So what isn't on tap these days?
Even the margaritas at Frontera Cocina came on tap. And I have no complaints about dining there.
Related: Frontera Cocina Review
As it turns out, Regal Eagle Smokehouse is a wonderful addition to the American Pavilion. Hopefully, this review of Regal Eagle Smokehouse provided you with the details to decide whether or not a meal here is suitable for your party.
For those in the mood for something a little closer to home, stop in, and give Regal Eagle a try. I can't think of a better quick service location for a sit-down meal at Epcot.
If you're looking for a table service restaurant, I would recommend Via Napoli in the Italy Pavilion or Nine Dragons in the China Pavilion.
Via Napoli serves some of the best pizza I've ever had, entrees, and desserts. And Nine Dragons offers Chinese food at extremely reasonable prices.
Related: Via Napoli Review
For more dining at Disney World, preview all of our Disney Dining Reviews. Or you might enjoy a few of these articles:
You might also like to read more about Disney World Character Dining or the options for signature dining at Disney.
Lastly, those with plans to visit Disney Springs might enjoy our review of the best Disney Springs restaurants.
Resorts Gal specializes in Resorts, Characters, and Dining. Here are a few of our most popular articles on the site:
In the comments: Are you planning a meal at Regal Eagle Smokehouse? Did you find this review helpful? What menu items look good to you?