Contemporary Grounds (The Coffee Shop at Disney's Contemporary)
Coffee, anyone? If you're staying at Disney's Contemporary Resort, you might find yourself in need of a specialty coffee drink. Most coffee drinkers would probably agree the beverage is a necessity.
Who knows? Even those who don't typically consume the caffeinated beverage might find a cup is warranted during a Walt Disney World vacation. How else will you stay up when the Magic Kingdom is open until 1:00 a.m. for deluxe resort guests?
Insert–Contemporary Grounds, the coffee shop at Disney's Contemporary. Below, we'll go over a few need-to-know details for Contemporary Grounds and preview their menu.
If you're looking for a coffee that goes beyond the individual cup maker in the room or the canister at the resort's quick service–Contemporary Grounds is your new friend. They also have a few fruit smoothies and pastries if you want something more substantial with that cold brew.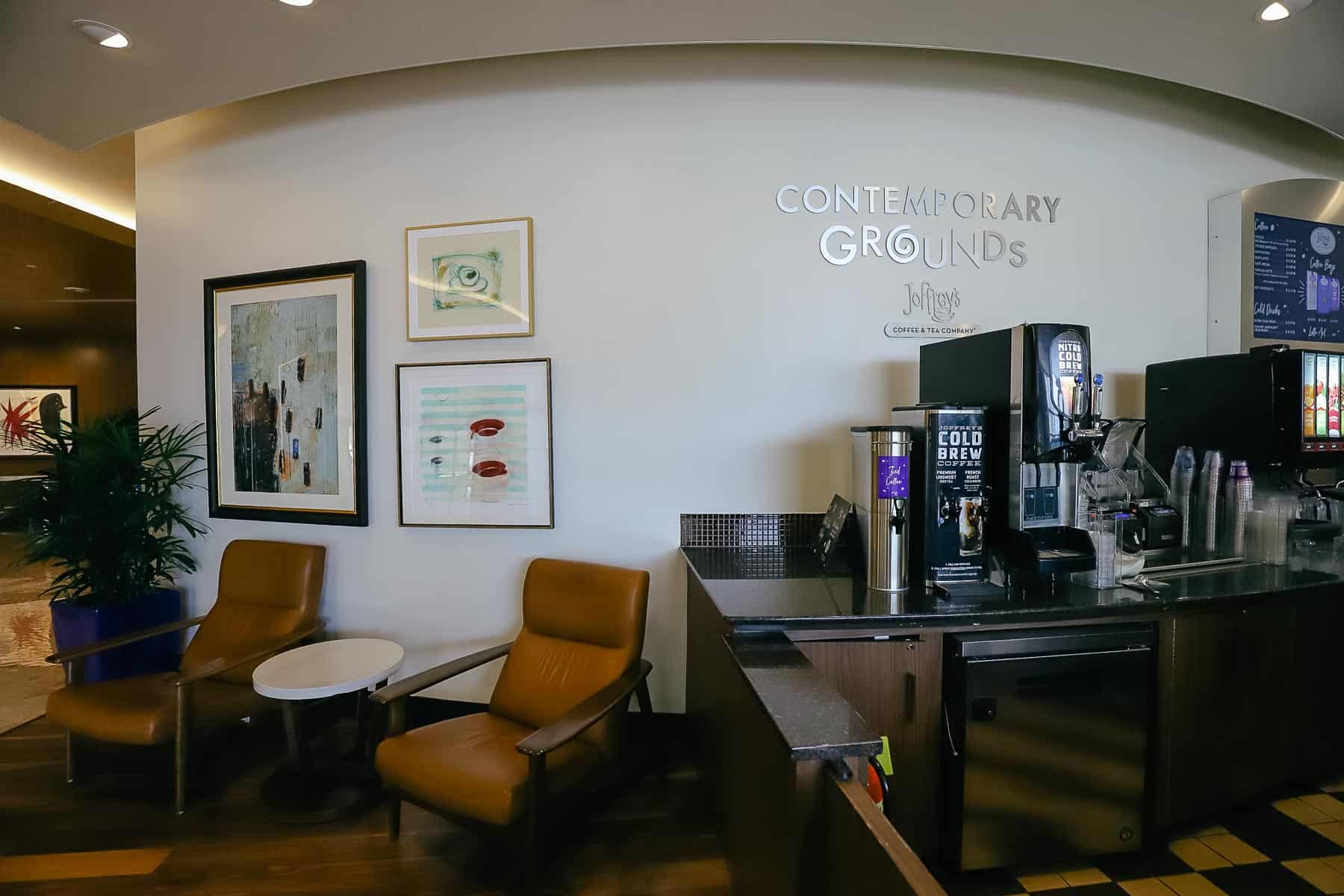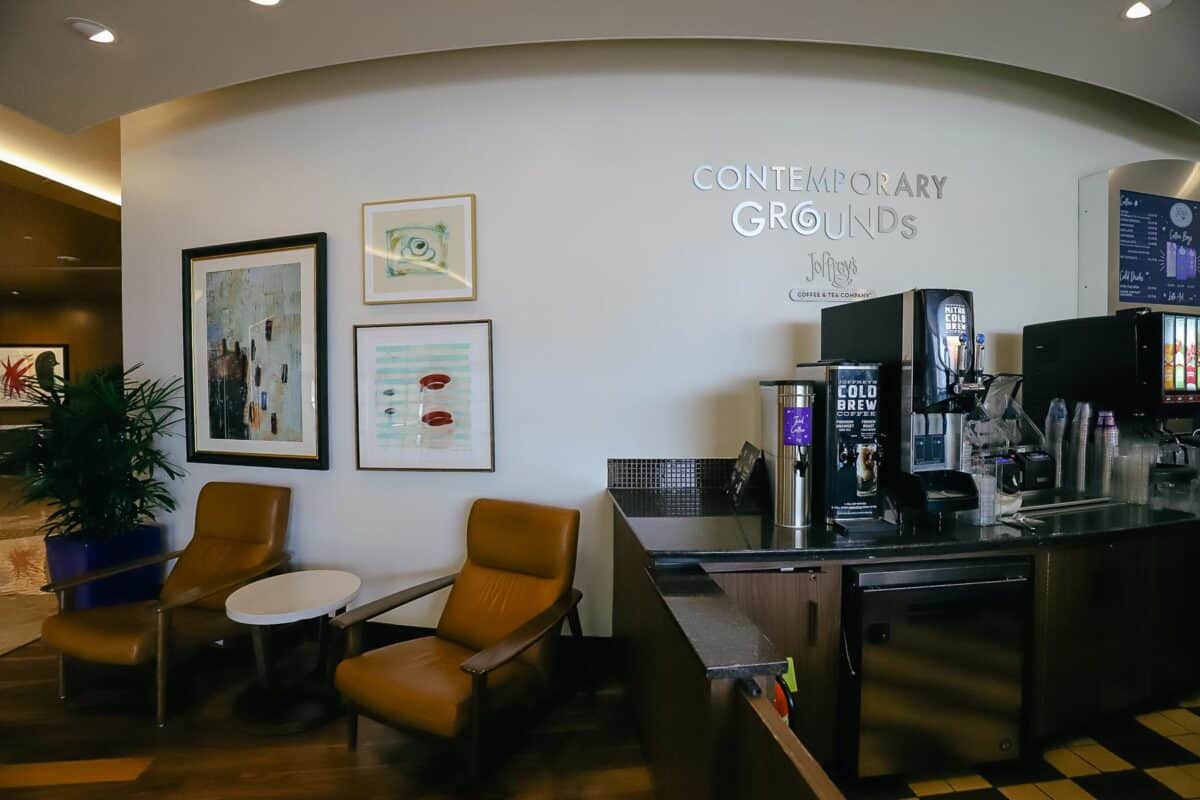 Contemporary Grounds is located inside the resort's main entrance. It sits on the far right corner of the lobby. For the past few years, the coffee shop has operated between 6:00 a.m. and 1:00 p.m.
However, a few weeks ago, I was at the resort later in the afternoon and wished I could order a cappuccino. But when I checked the time, it was almost 4:00 p.m. So I figured they were already closed. But, to my surprise, they were open.
A cast member who works at Contemporary Grounds told me that they were once again open until 9:00 p.m. every day. With that said, I double-checked their hours online, and they are still listed as closing at 1:00 p.m.
So, if you have an upcoming stay planned, you might want to check their hours of operation when you arrive. Next time I'm over that way, I'll try to stop and check again. But according to the time stamp on my phone, I was sitting outside sipping that cappuccino at 4:03 p.m.
Therefore we can conclude they are most likely open later than their listed online hours.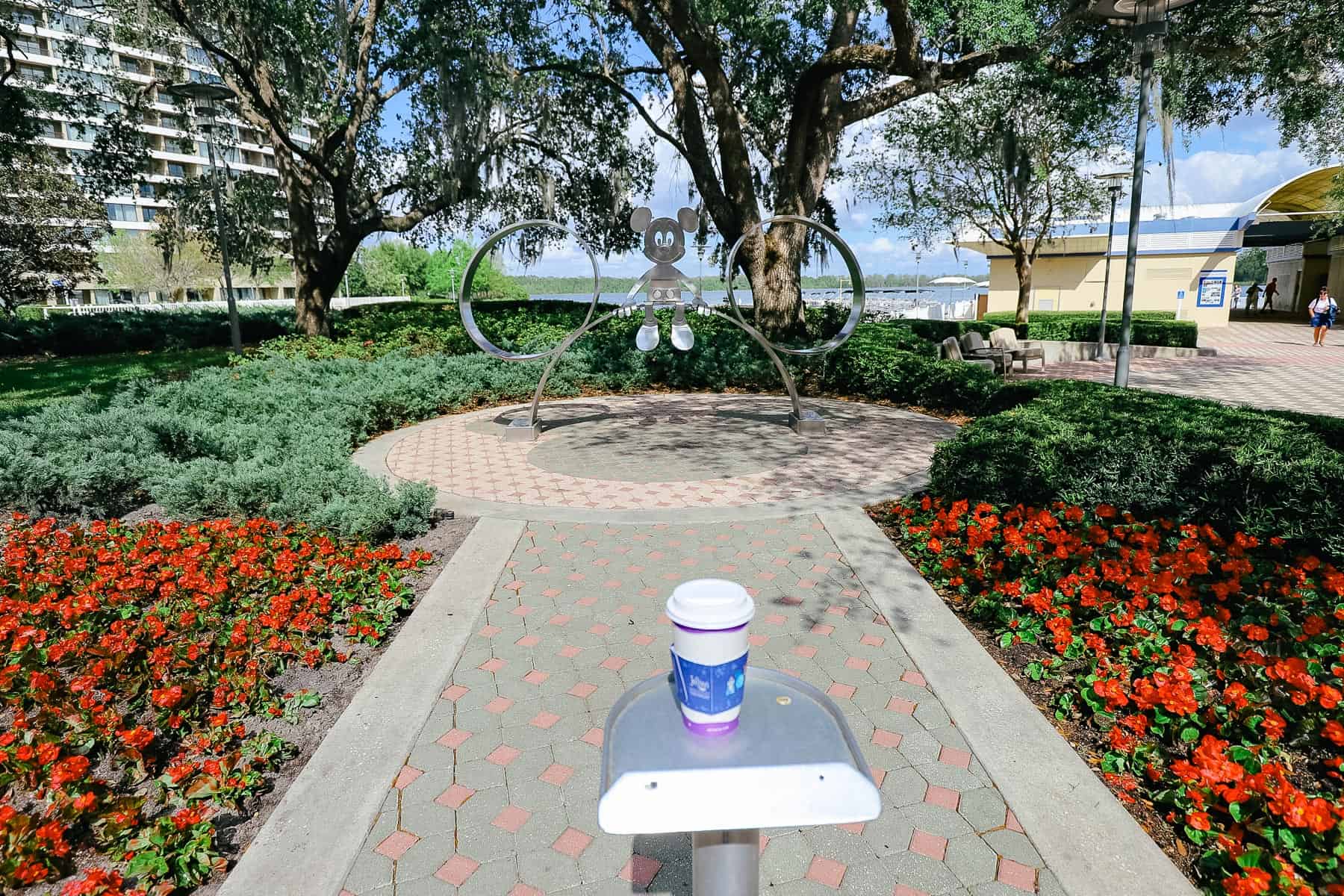 Contemporary Grounds has a small sitting area with tables and chairs if you prefer to sit inside. It's similar to Carousel Coffee at the Boardwalk, which was heavily criticized for being dull when it opened.
Thankfully, simplicity works for the Contemporary Resort and its modern design.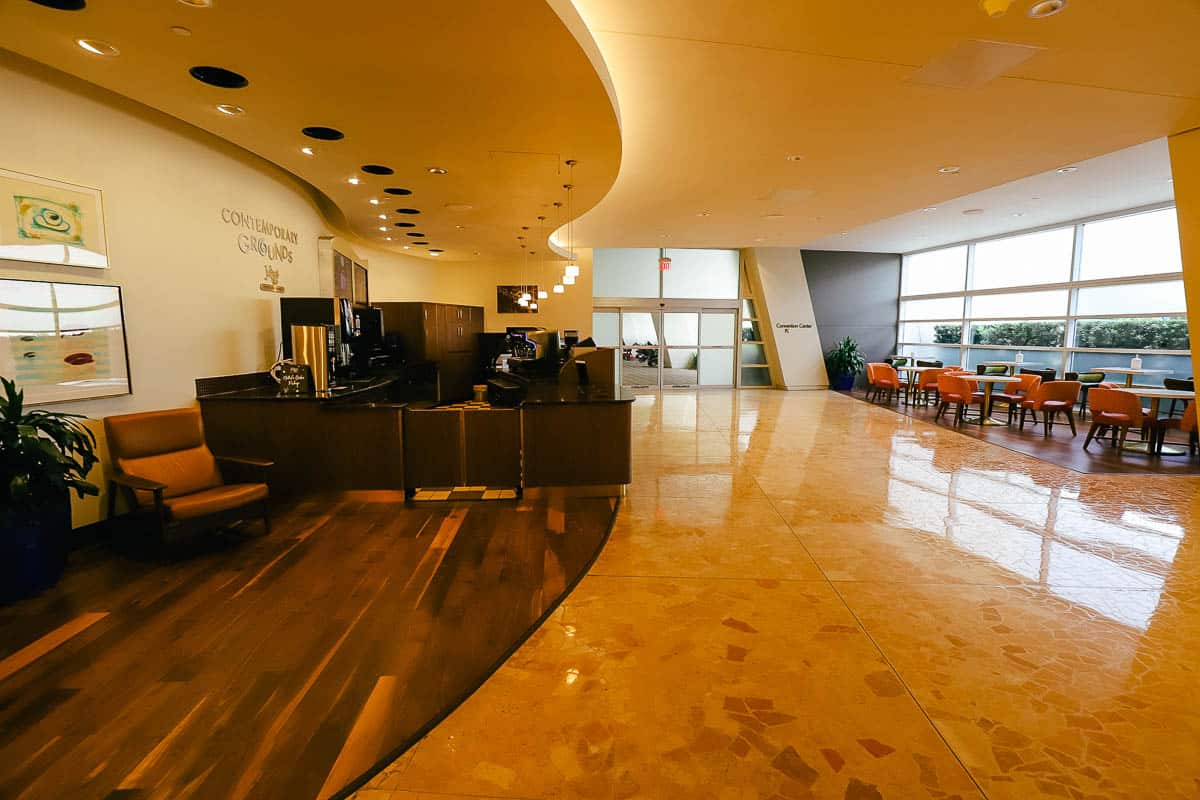 Here is a photo from a few months ago when the coffee shop wasn't open past 1:00 p.m.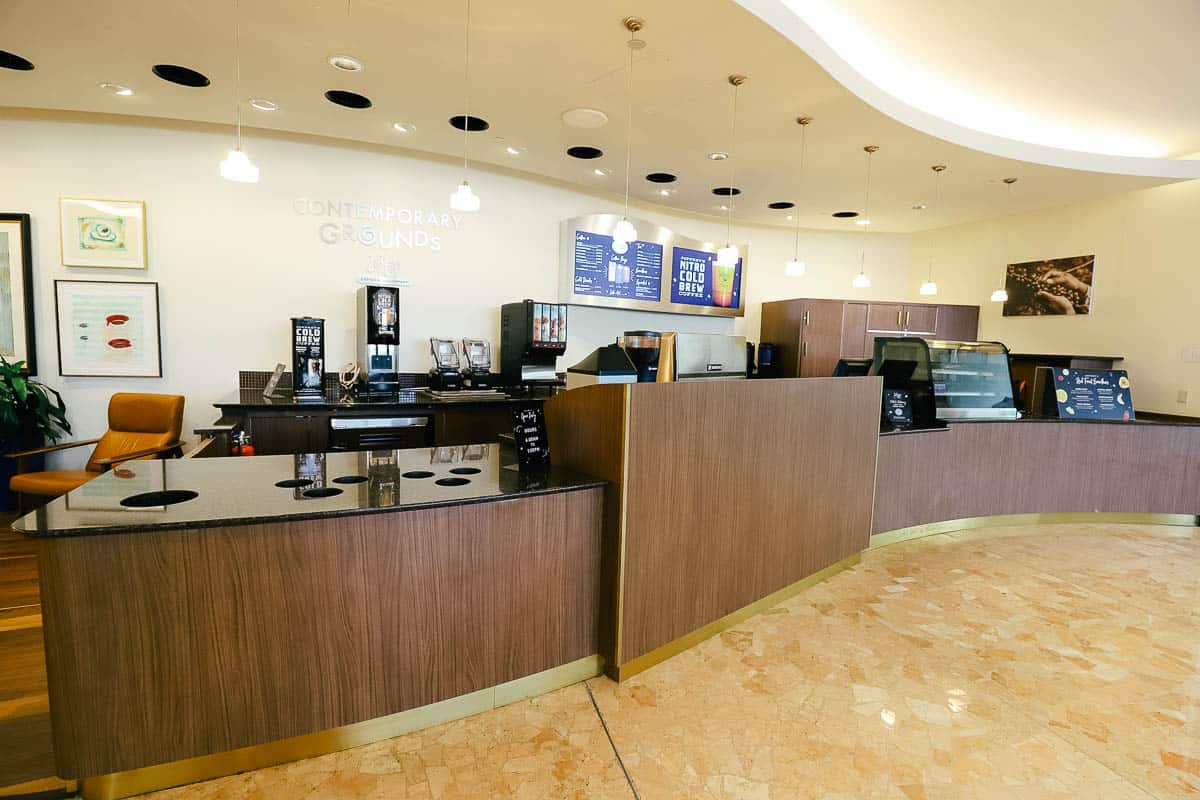 They have a variety of cold brews, including Nitro and Shakin' Jamaican cold brew.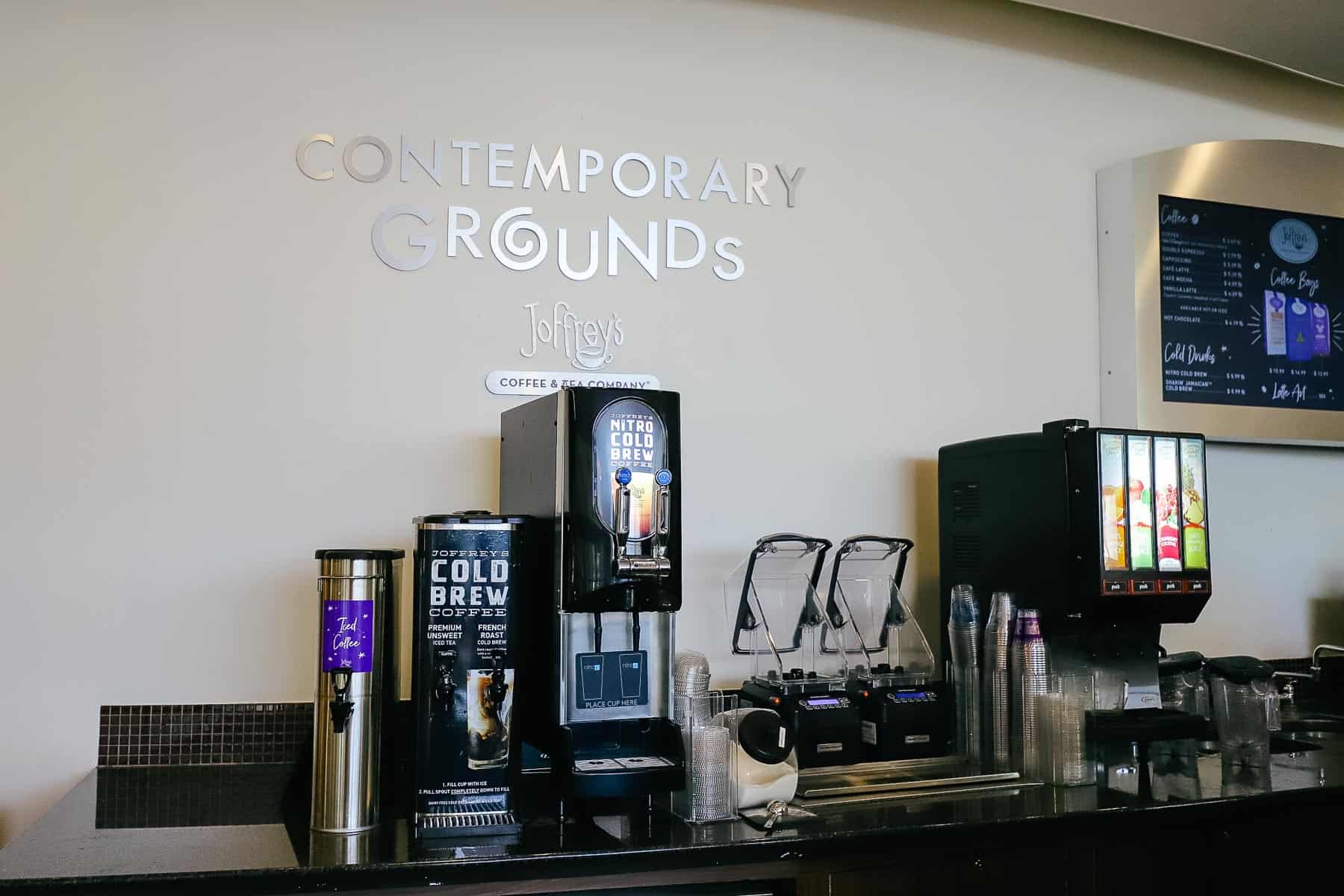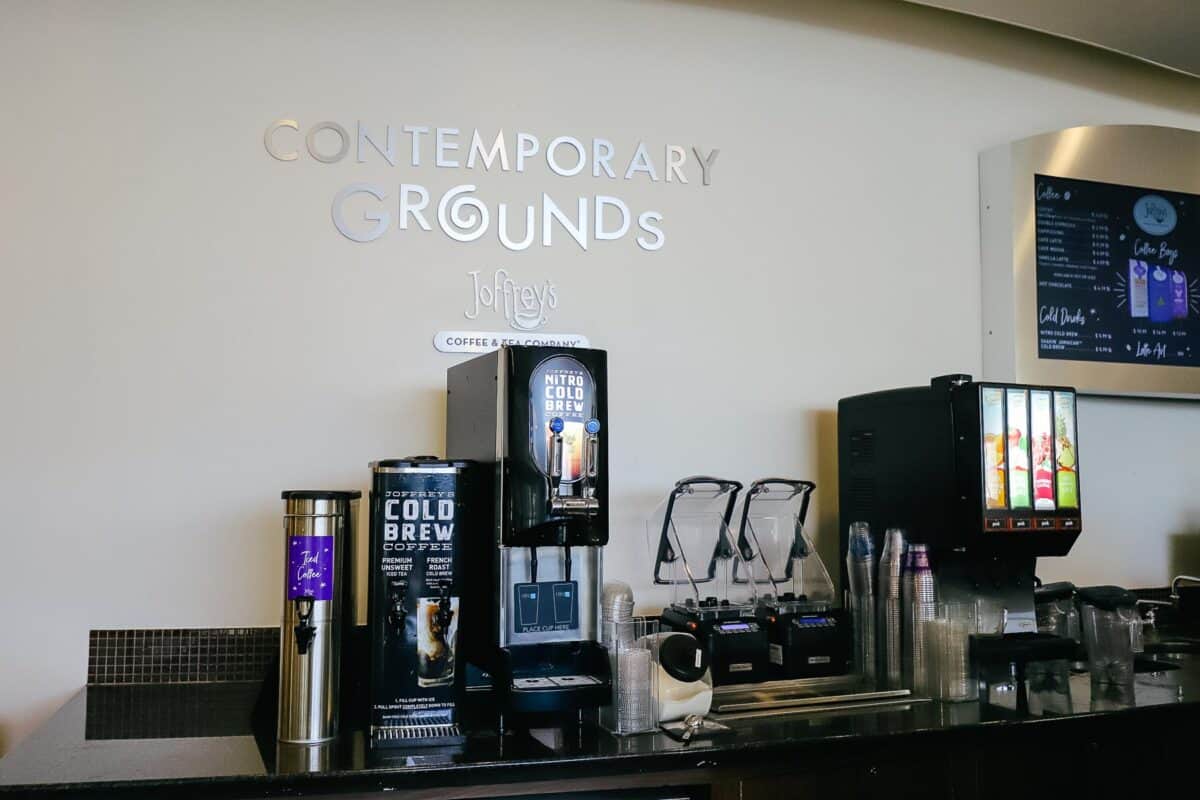 All of the coffee is Joffrey's brand, which is the choice of coffee at all the Walt Disney World Resorts. If you're looking for Starbucks, you'll have to venture into one of the four theme parks or Disney Springs.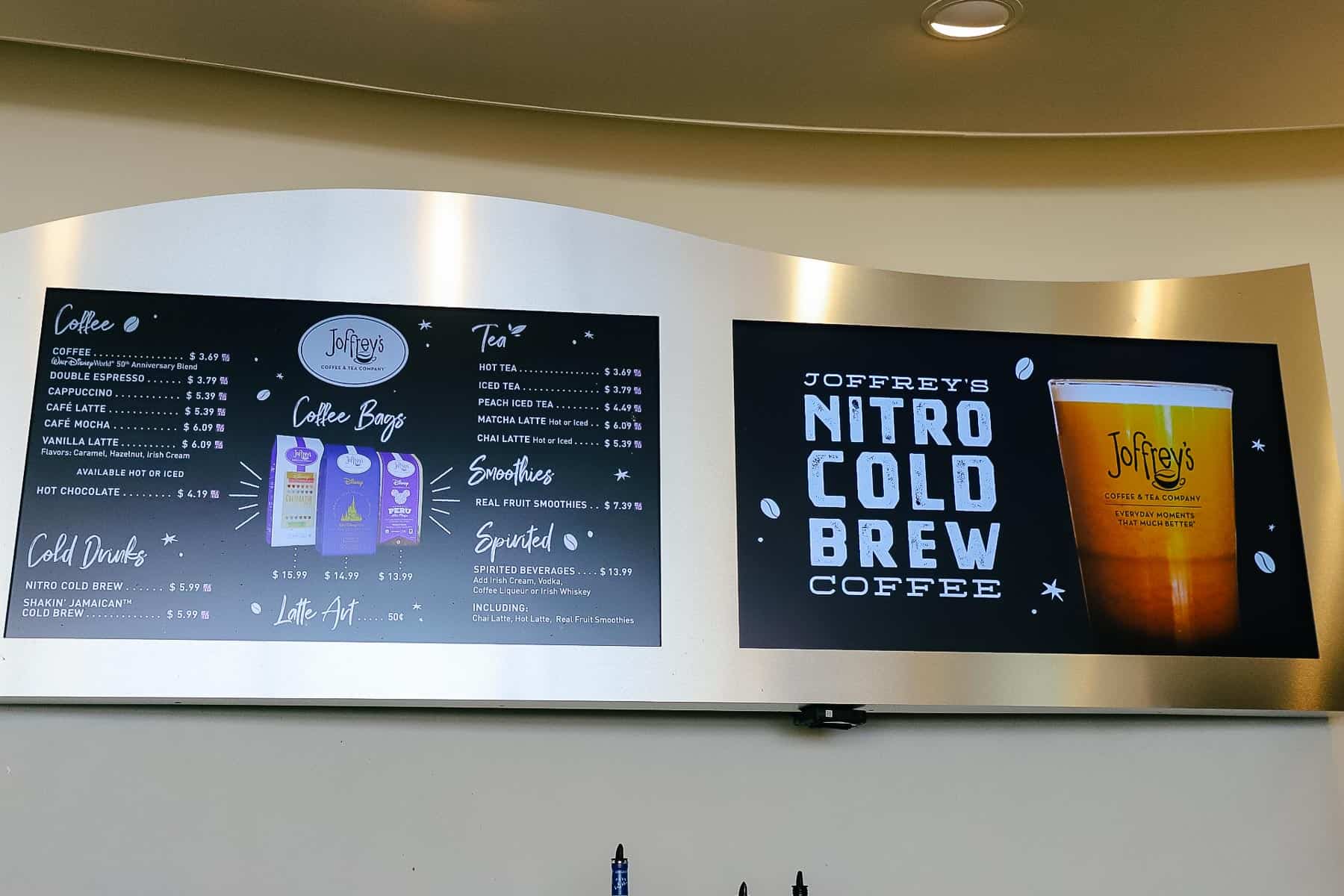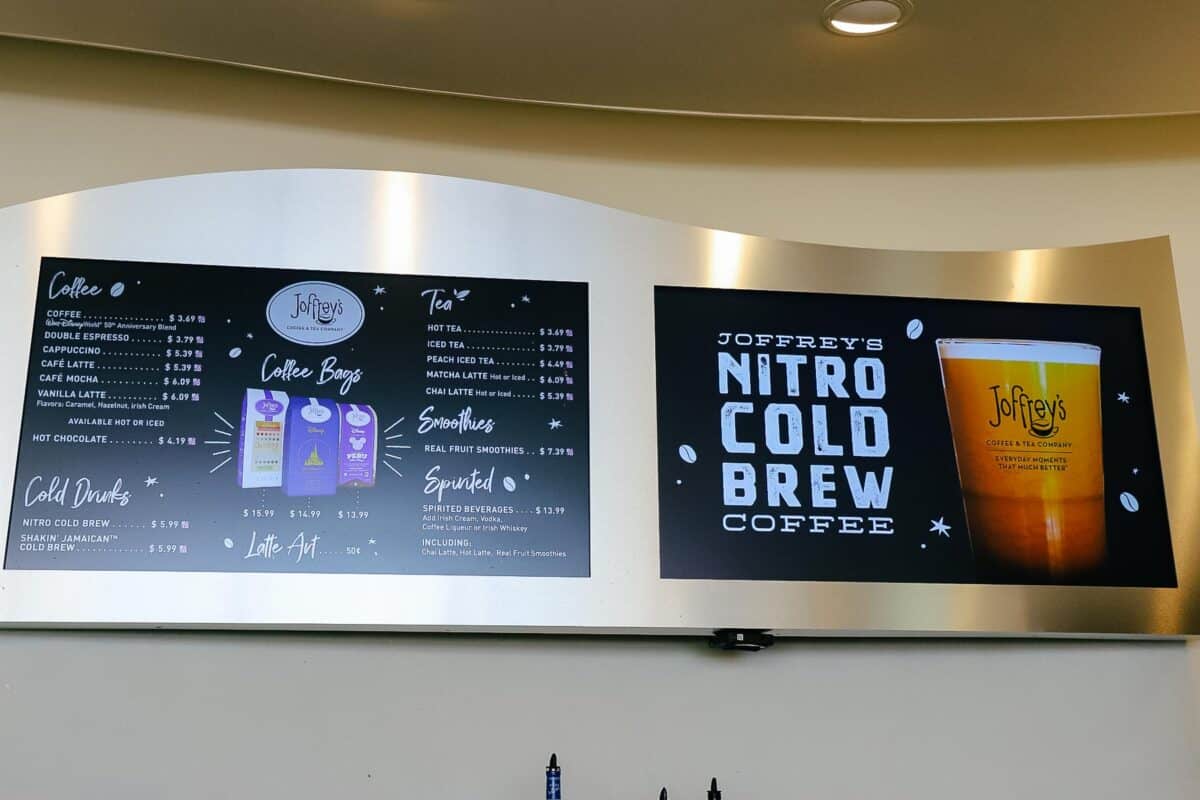 In addition to the typical coffee drinks, Latte Art is available. You can add Mickey or Minnie Mouse to your order. Those other coffee drinks include coffee, espresso, cappuccino, cafe latte, cafe mocha, and vanilla latte.
Several types of tea, smoothies, and spirited beverages are also available.


Here is a photo that shows the types of real fruit smoothies.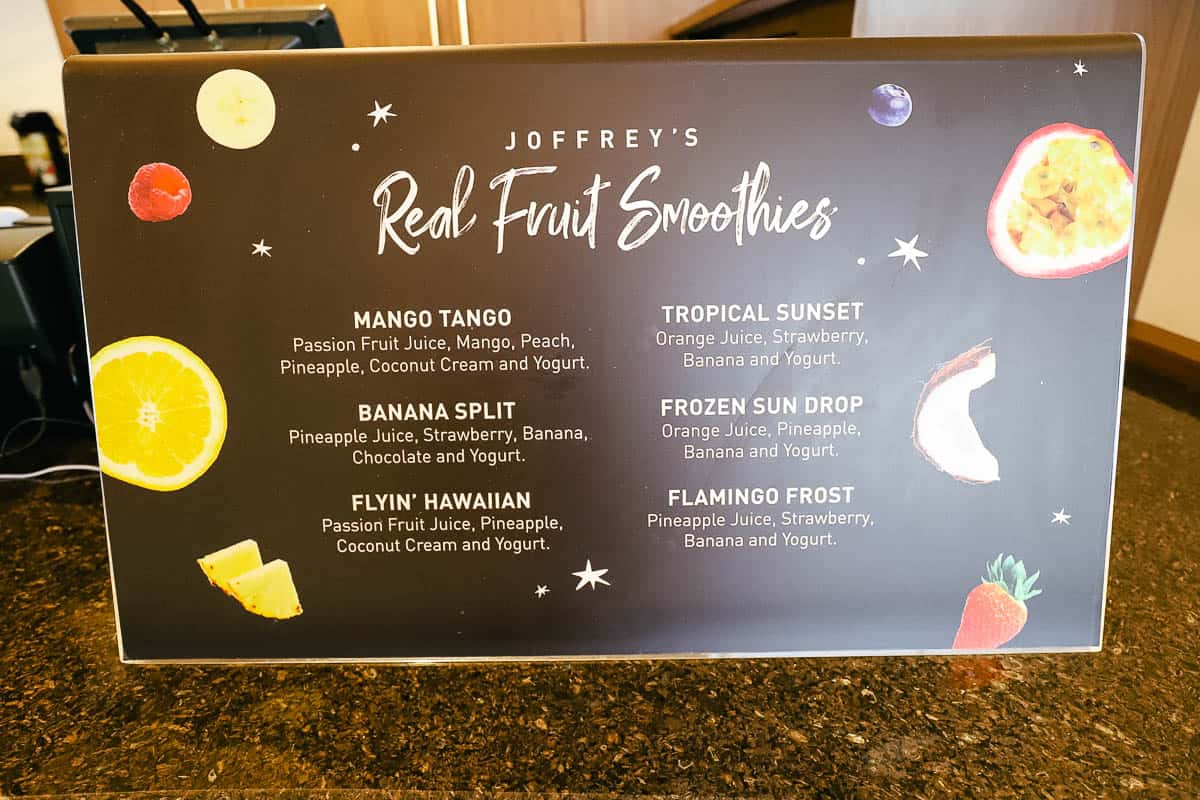 Additionally, the pastry case had items like butter croissants, pink donuts, white donuts, chocolate donuts, cinnamon rolls, chocolate croissants, apple fritters, croissant donuts, twist donuts, and guava cheese danishes.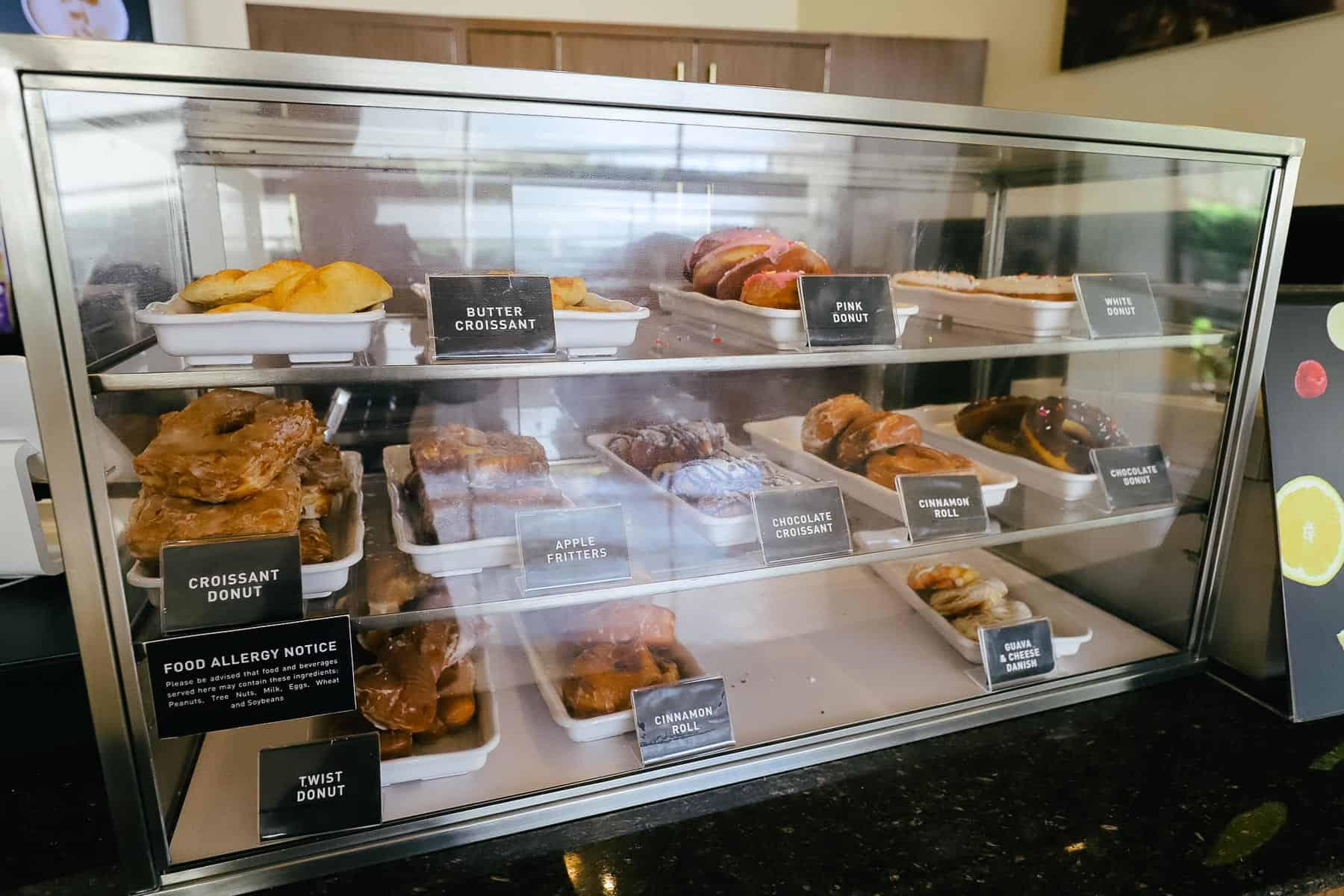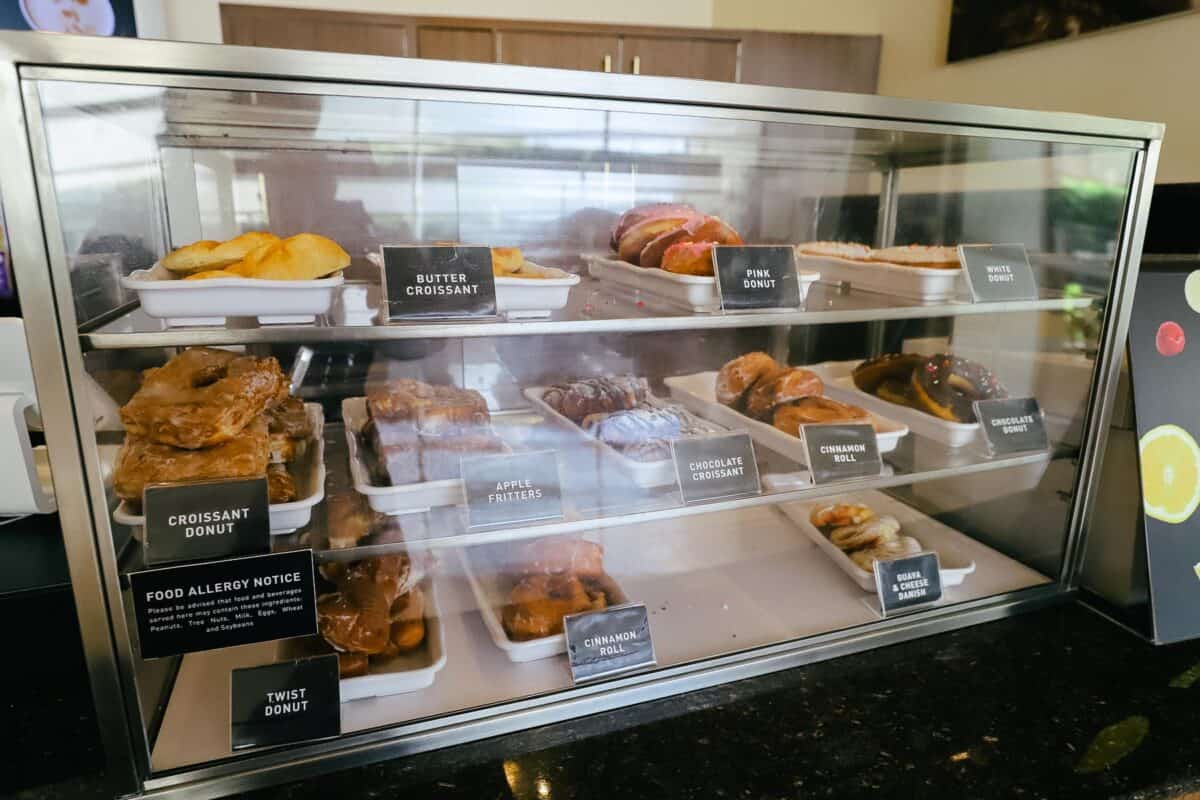 Overall, Contempo Grounds is an excellent stop for coffee and breakfast if you enjoy a breakfast of champions-type meal. Everything in the pastry case looked tasty and heavy-laden with carbs.
Hey, it's your vacation. You'll get no judgment from me. I must remind myself that I'm not on vacation almost daily.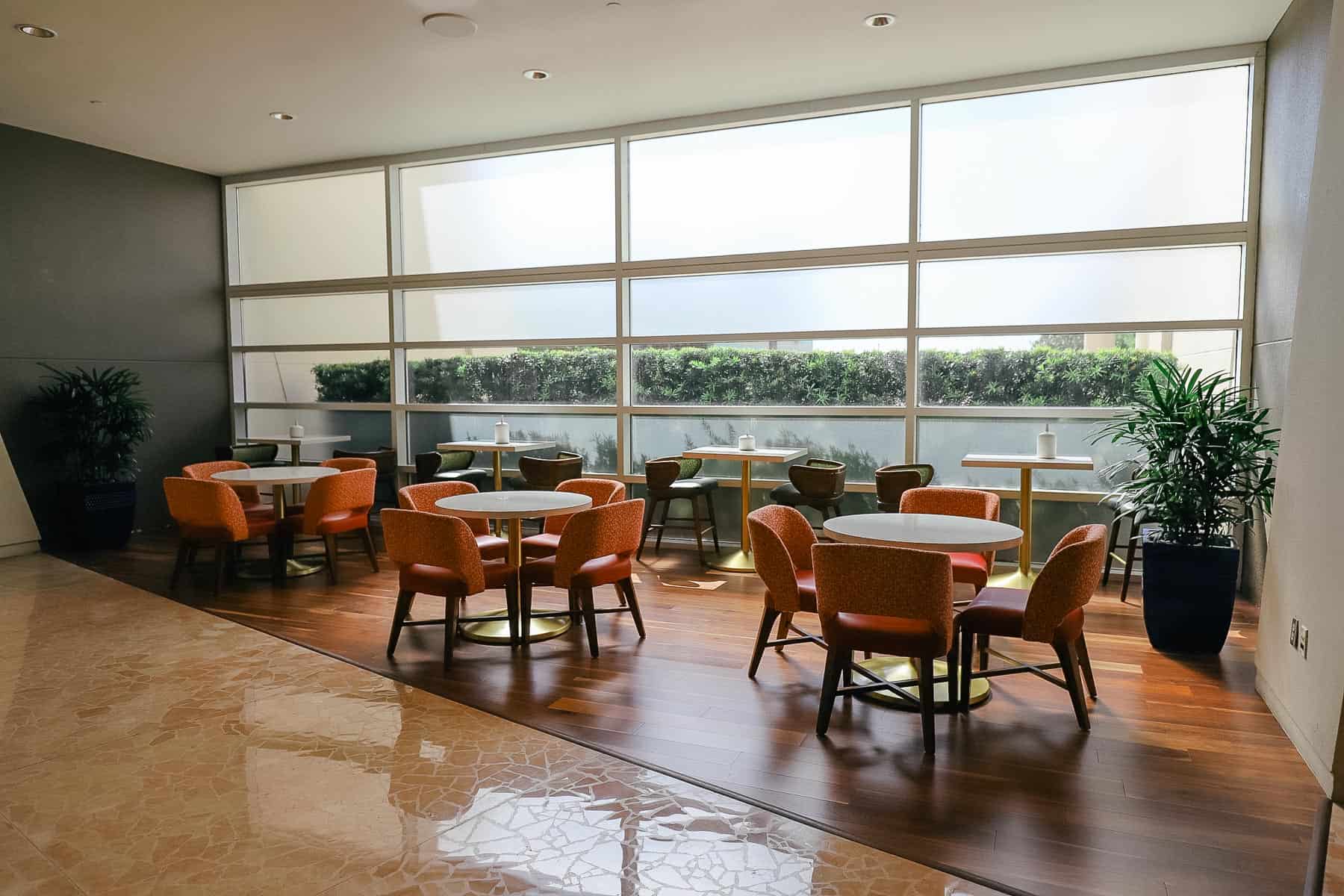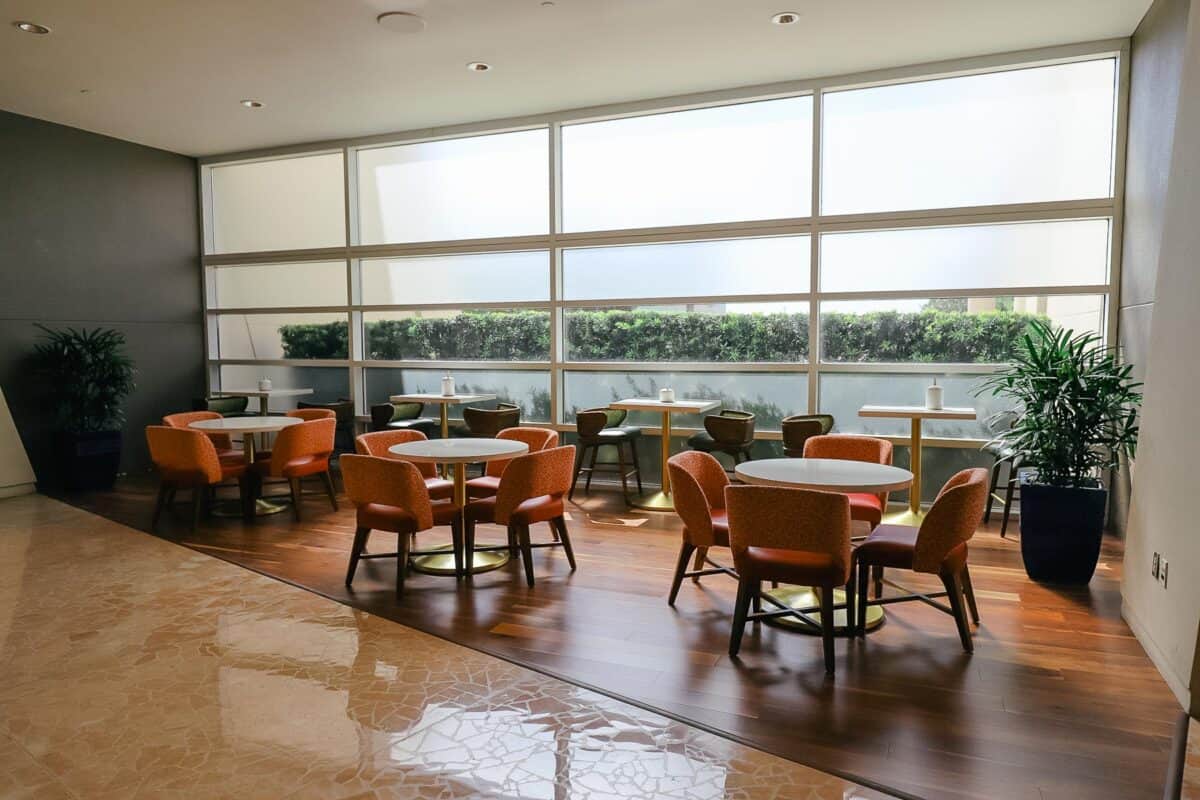 Some days you win, and some days–you have the croissant donut for breakfast.
For more information about the resort, our articles are listed in one guide:
Or you might like the following:
In the Comments
What do you think of the options at Contemporary Grounds? Do you prefer a specialty cup of coffee on vacation?