Territory Lounge Review (The Lounge at Disney's Wilderness Lodge)
In this review of Territory Lounge, we return to the popular lounge at Disney's Wilderness Lodge to try their latest charcuterie board.
Territory Lounge is the formal lounge at Disney's Wilderness Lodge. It is located a few steps from the resort's lobby and adjacent to Storybook Dining at Artist Point.
Inside Territory Lounge, you'll find a rustic yet chic atmosphere with natural wood accents and cozy furnishings. Their menu features a range of small plates to elaborate cocktails.
As you may know, several noteworthy lounges are available among the Disney Resort Hotels. Territory Lounge happens to be one of them.
We consider it a hidden gem, but if you're a regular–it's probably not so secret. If you've never visited Territory Lounge, it's well worth a stop on your next visit to Disney's Wilderness Lodge.
Below, I'll share a few reasons we love this location and what we've tried. Our primary reason for returning so soon was that the charcuterie selection completely changed almost immediately after our last visit.
So grab a blanket and cozy up to the gas logs in your living room. We're off to the coolest (literally) resort at Walt Disney World to see what its lounge has to offer.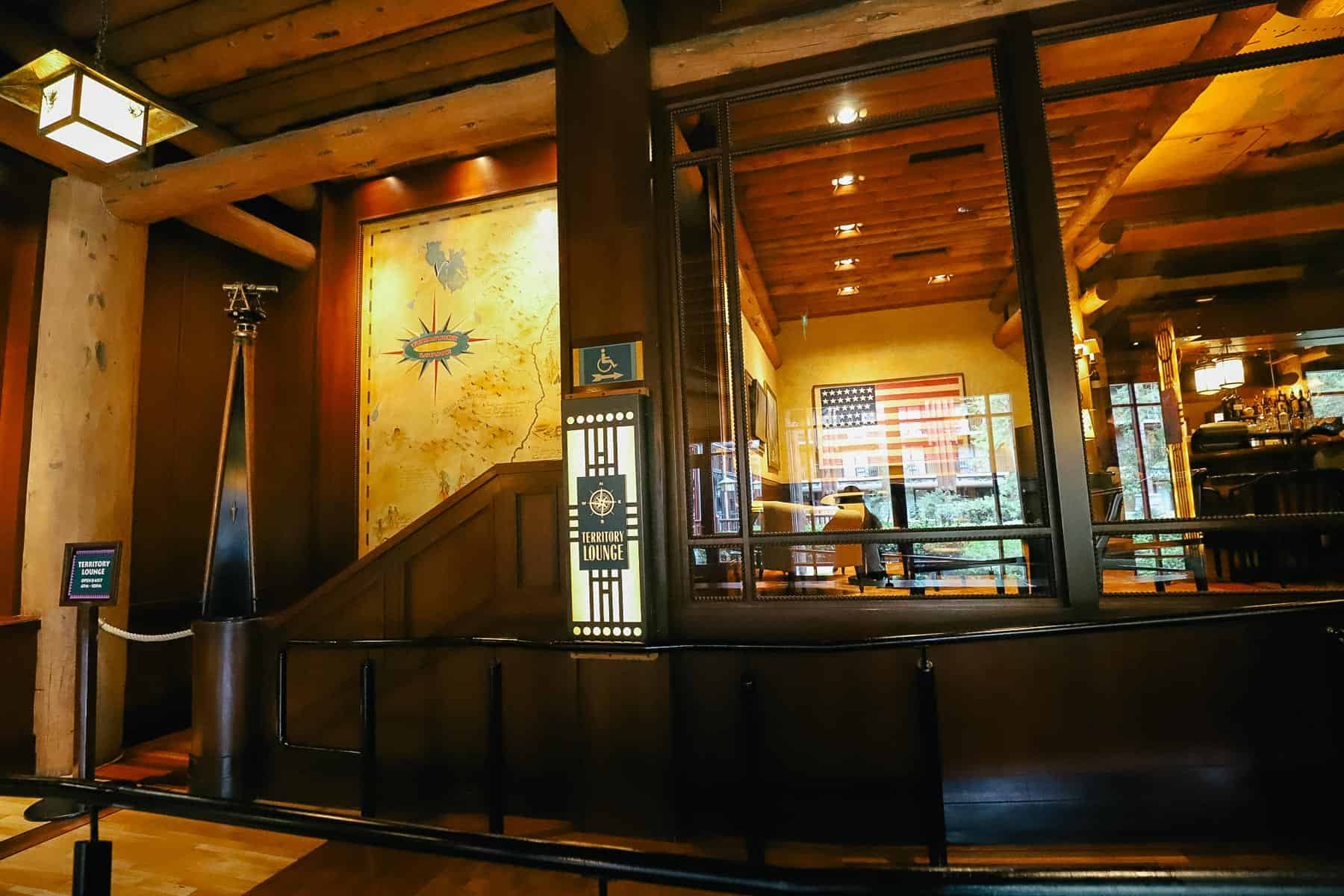 Territory Lounge is open daily from 4:00 p.m. until 10:00 p.m. Over the years, there have been times when those hours have been extended. If you're staying at the resort during a busier time of the year, especially the holiday season, you might double-check their hours for any extensions.
Since Disney's Wilderness Lodge attracts guests solely for its dining options, don't be surprised to find the lounge busy during prime hours on nights and weekends. However, it's not usually as active as Geyser Point Bar & Grill, which sits on Bay Lake.
If you arrive at Geyser Point and find a crowd, you might want to check availability at Territory Lounge. Since it's a walk-up location, seating is available on a first-come, first-served basis.
Rest assured, the regulars at the Wilderness Lodge are enough to keep the lounge pretty packed most evenings, especially when a major sporting event is televised.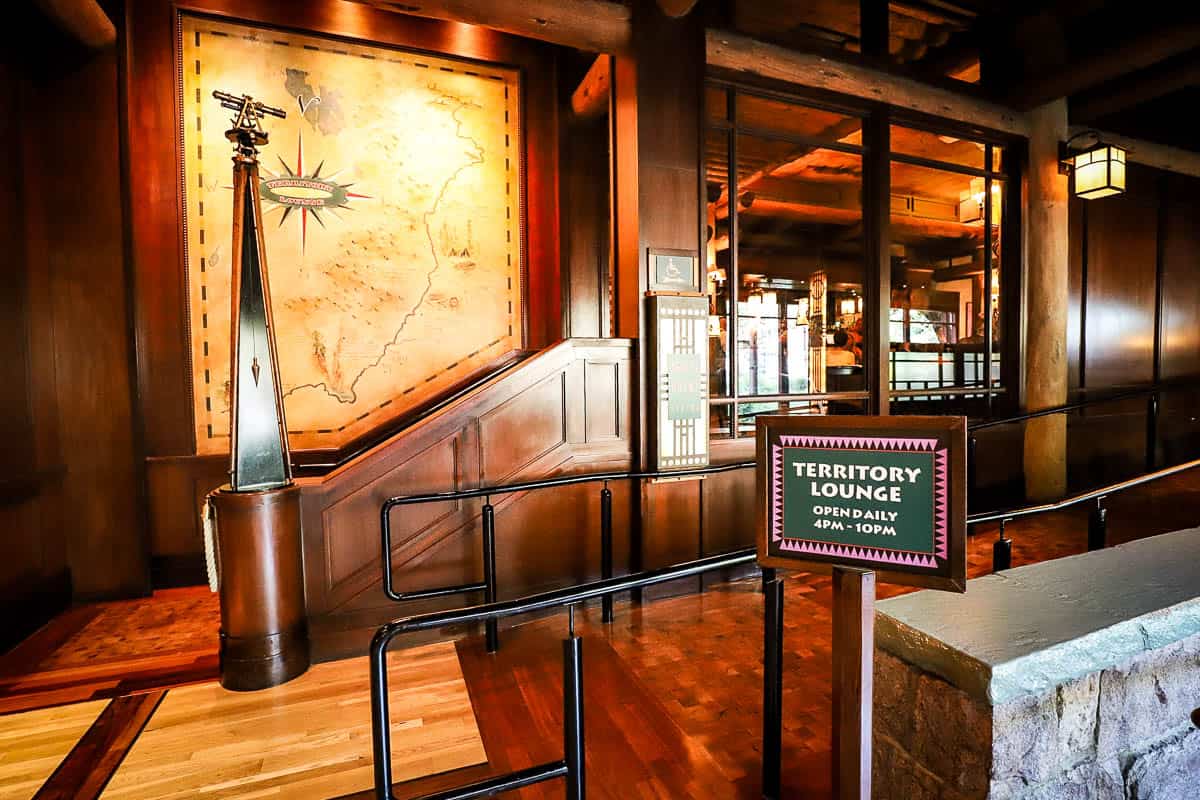 Inside the lounge, you'll find a variety of tables with chairs and informal seating areas.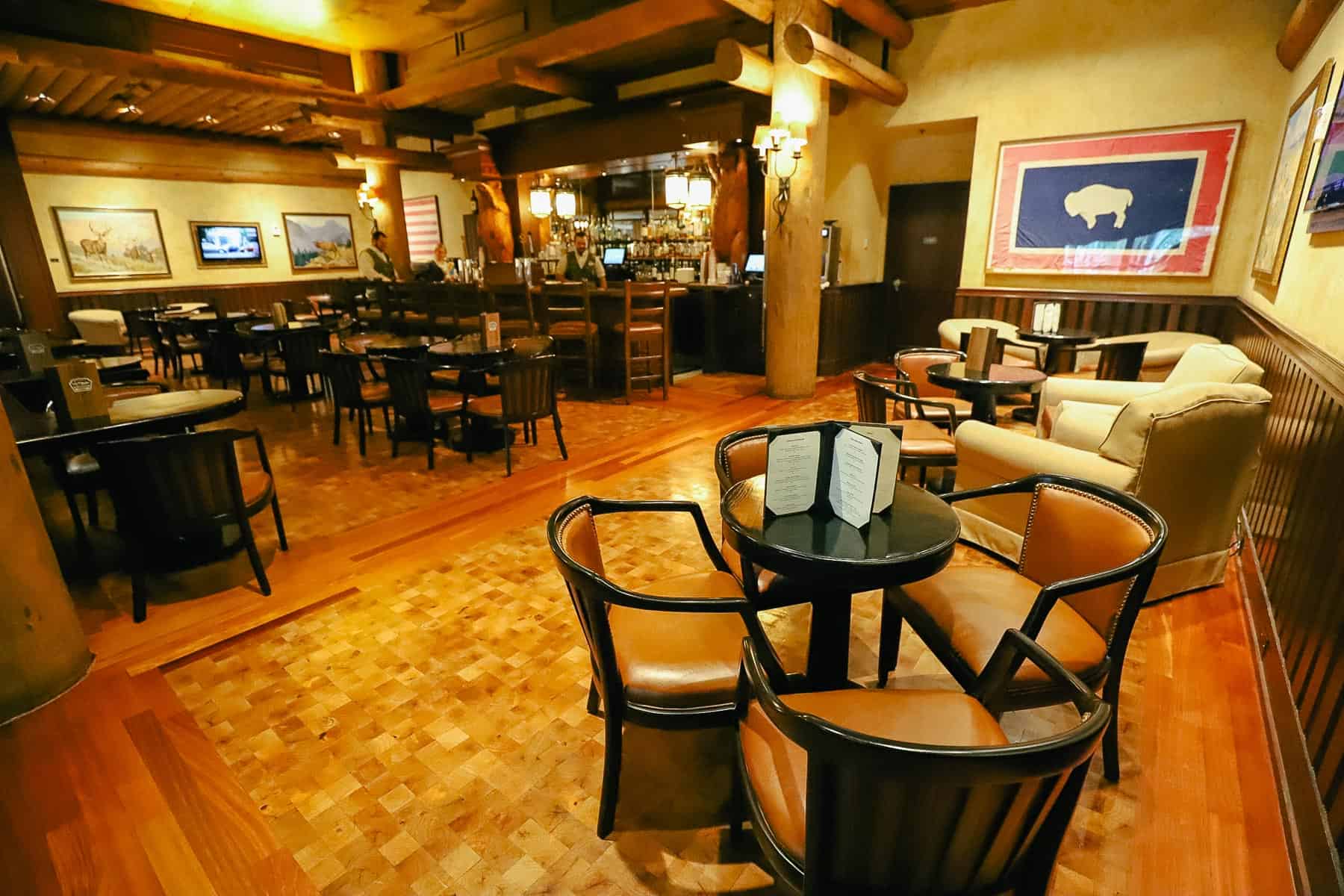 A large bar centers the room. Carved wooden bears are poised on both sides of the bar.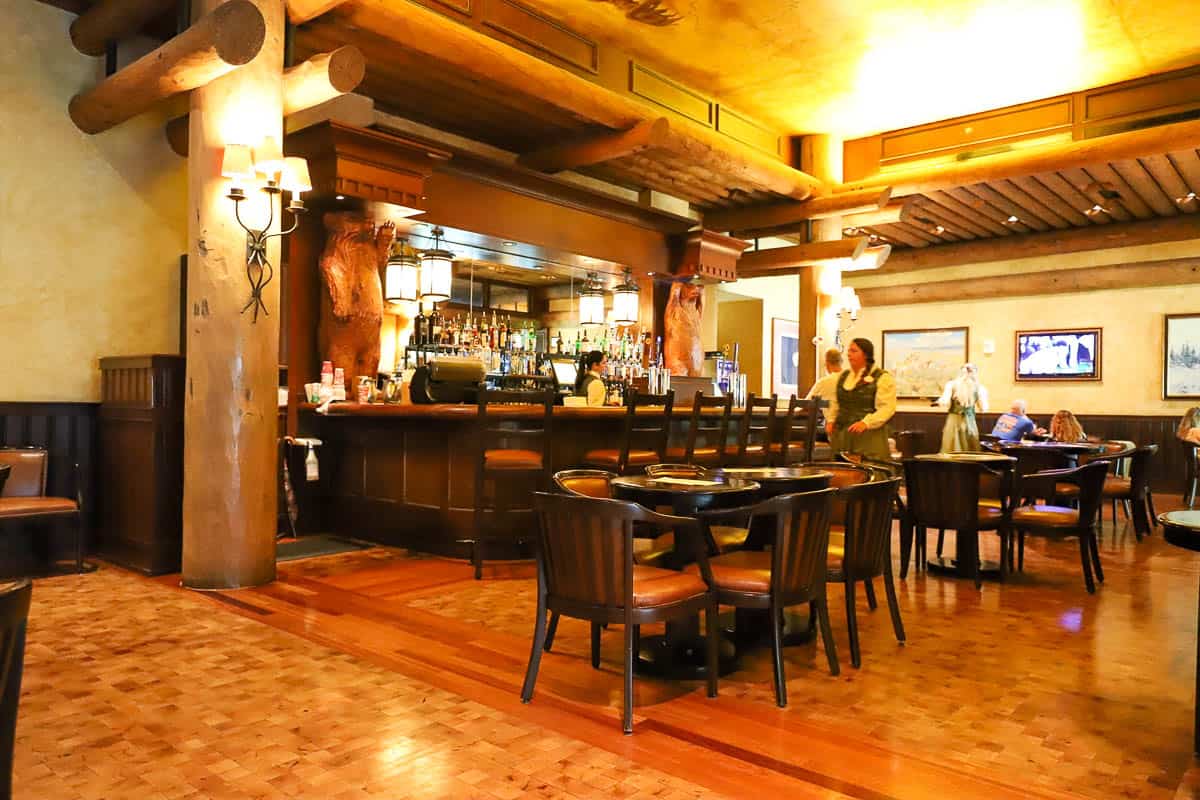 Territory Lounge has an Americana vibe mixed with touches of the greater Pacific Northwest. Televisions are subtly part of the decor.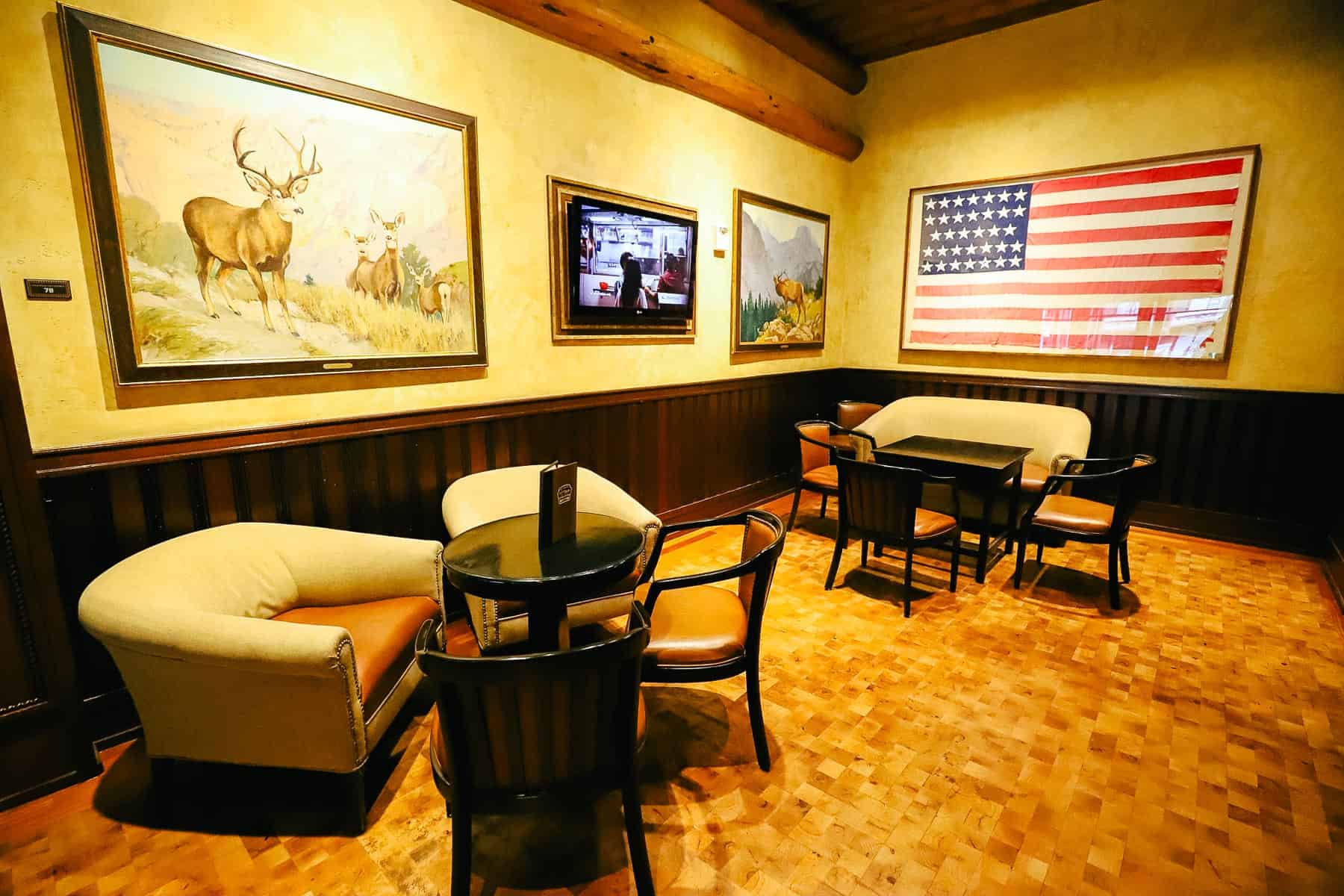 Don't forget to look up. The ceiling boasts a map of the original Northwest territories.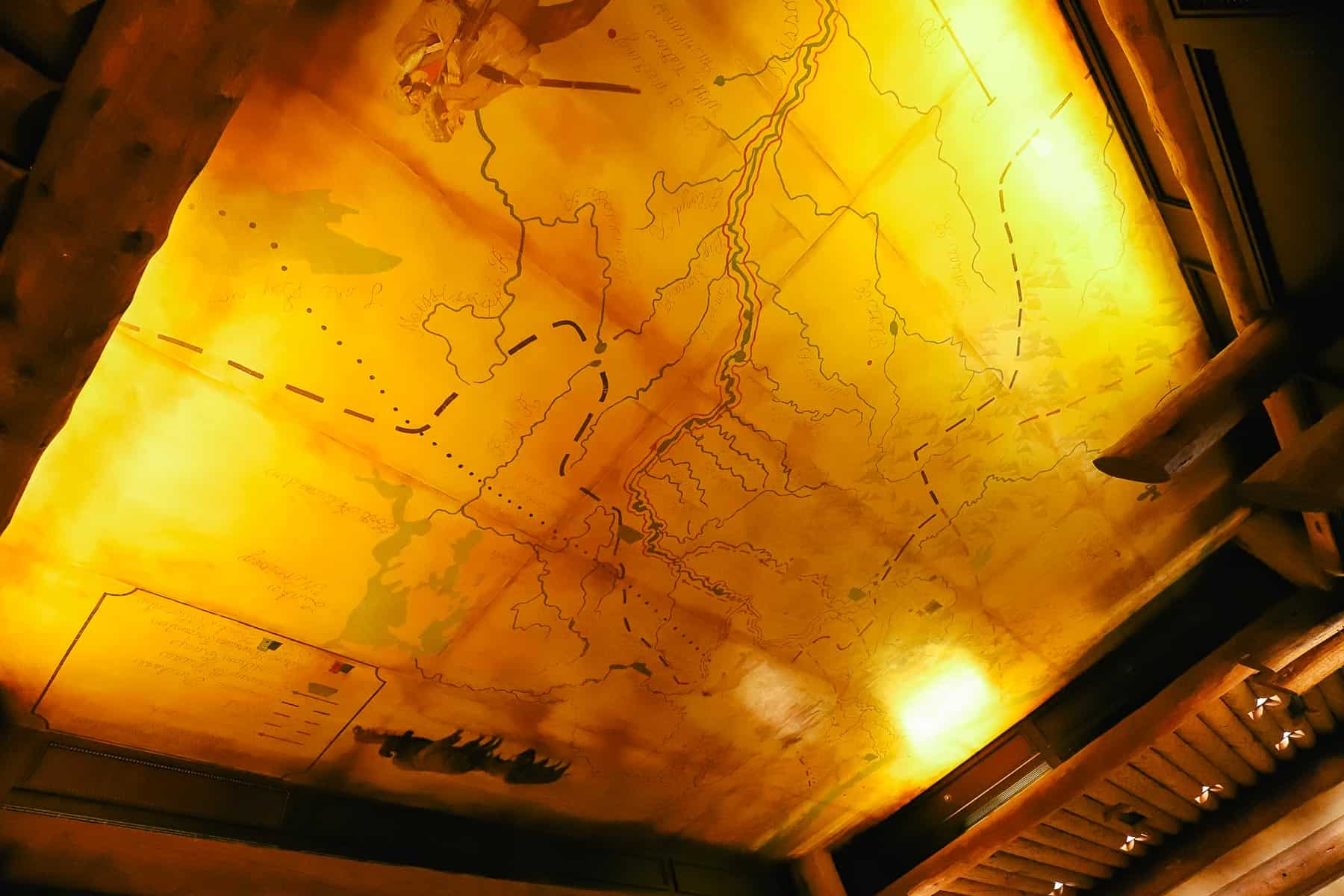 Here are a few photos of the shadowboxes on the wall opposite the bar.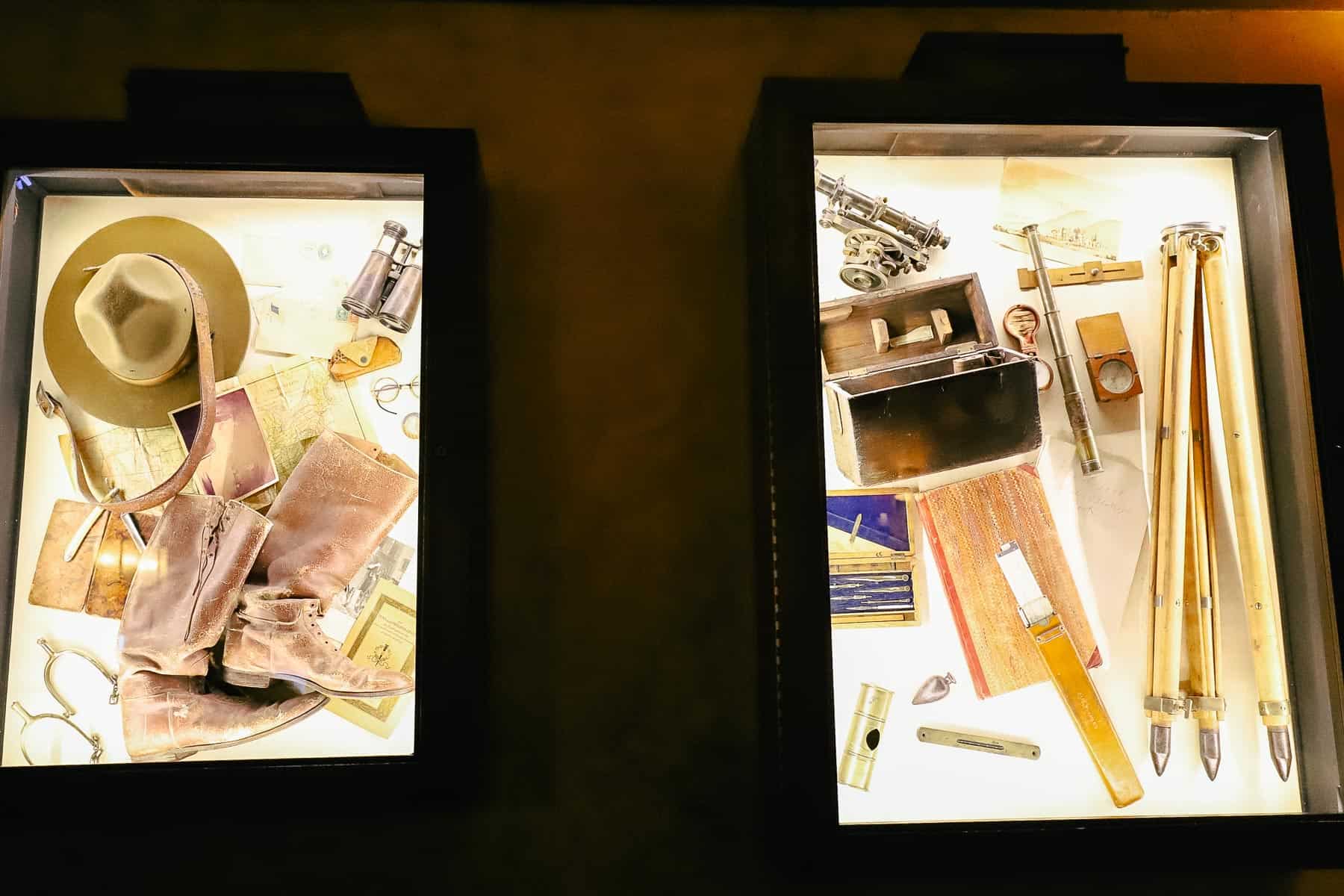 They reminded me of Lewis and Clark's exploration of the Pacific Northwest.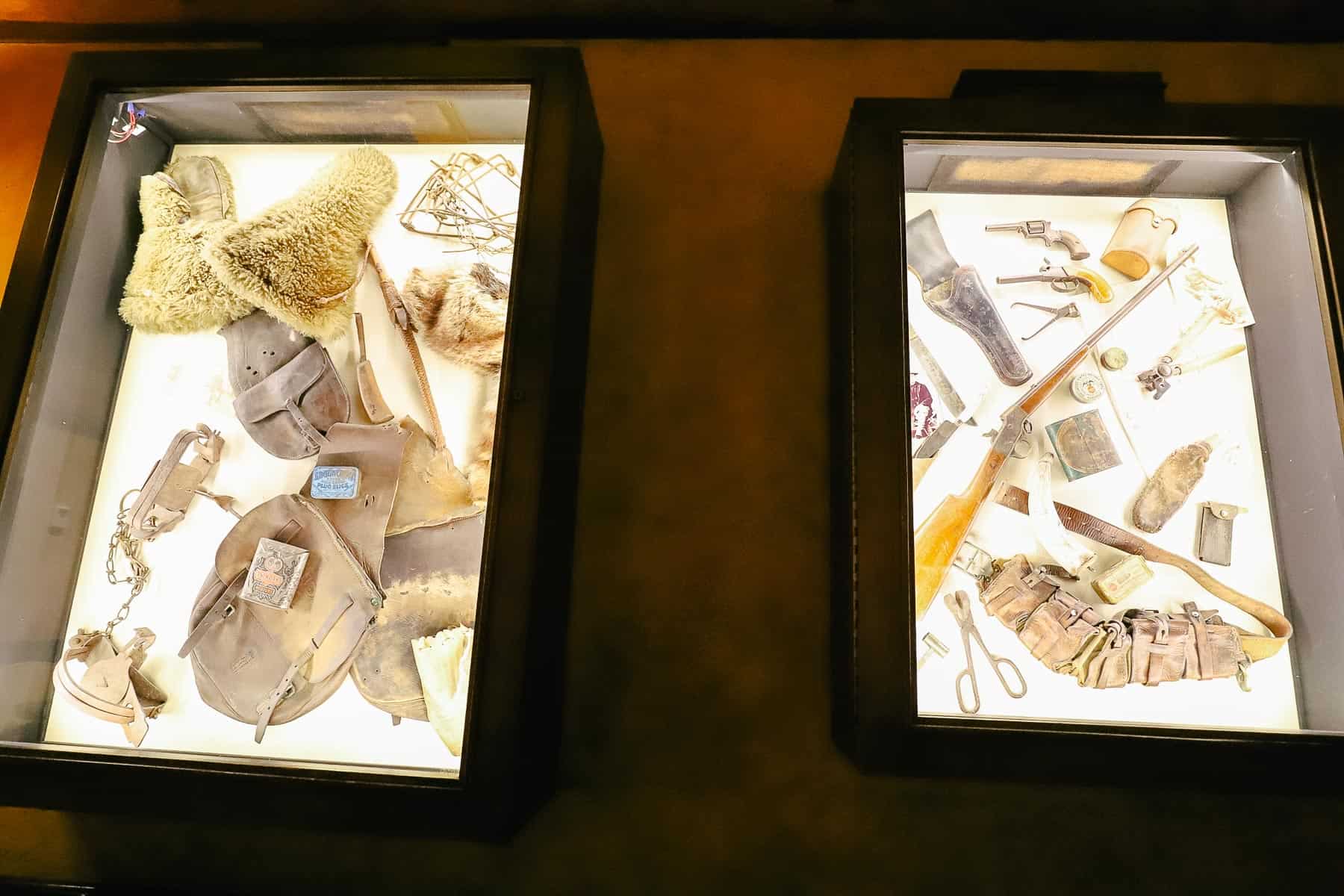 One contains a vintage camera with accessories and a few photos of Native Americans.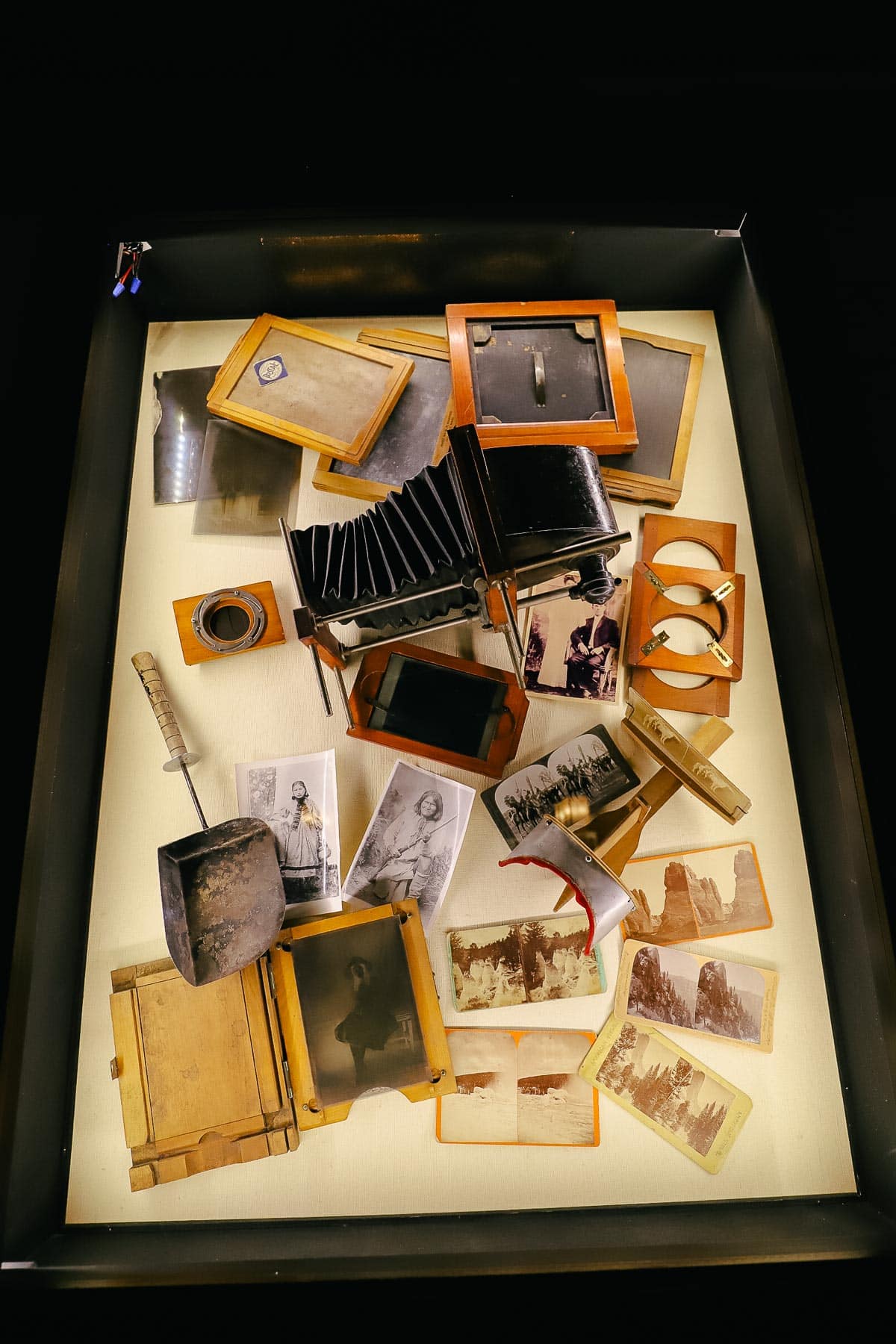 Since our last visit, the menu has somewhat changed, including the charcuterie. Menu items include:
Territory Popcorn Sampler
Artisanal Cheese and Charcuterie
Loaded Baked Potato Flatbread
Loaded Macaroni & Cheese (Plant-Based)
Salmon Run
Bacon on the Wire
Bone and Brie
Specialty Cocktails include:
National 95
The Northwoods
S'more Old Fashion
Timeless Elias
Orchards Bounty
L & C G & T
Orange-spiced Sangria
We didn't try any cocktails, but you can preview the entire menu with descriptions and prices on Disney's site.
Unfortunately, the seasonal bisque, glazed ribs, Oregon Chardonnay fondue, and other items are not on the current menu. One of the reasons Territory Lounge initially became a go-to destination for us was because of its mushroom bisque.
A few years back, the Wilderness Lodge was home to Artist Point, a signature dining location that served excellent food, including mushroom bisque. That restaurant was converted to character dining and is now Storybook Dining at Artist Point with Snow White.
Since that changeover, the quality of food has somewhat suffered. It's not all terrible, but most of the food options are mediocre compared to its predecessor. We have a review from when the restaurant opened if you want to learn more.
Related: Storybook Dining at Artist Point with Snow White Review
On our last visit to Territory Lounge a few months back, the mushroom soup had returned. Sadly, the bisque wasn't slightly reminiscent of the former one in taste or appearance. It didn't have a hint of mushroom.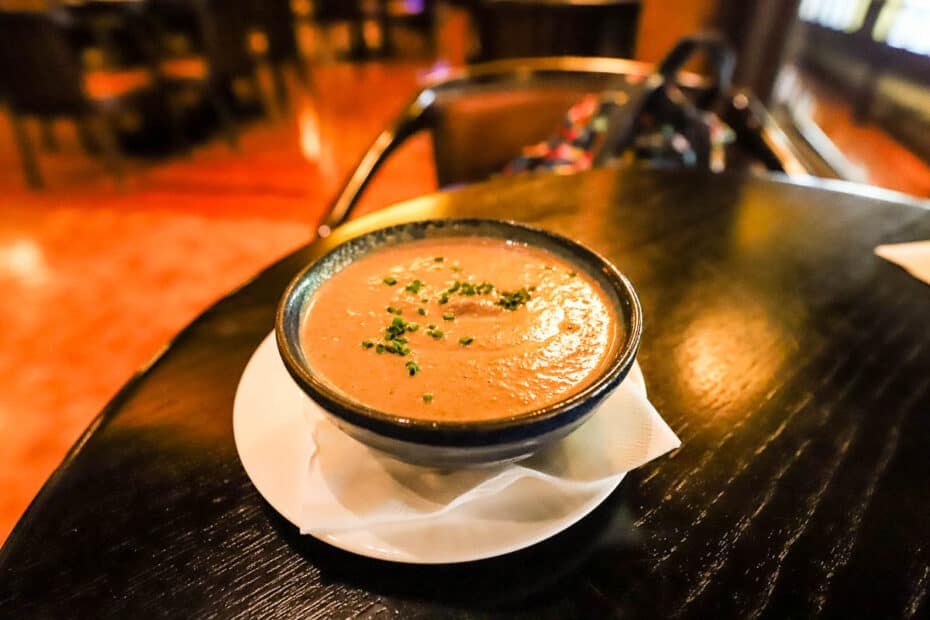 The cement color of the soup was not appealing, nor was the gritty texture. After a few bites, I thought it tasted more like pea soup.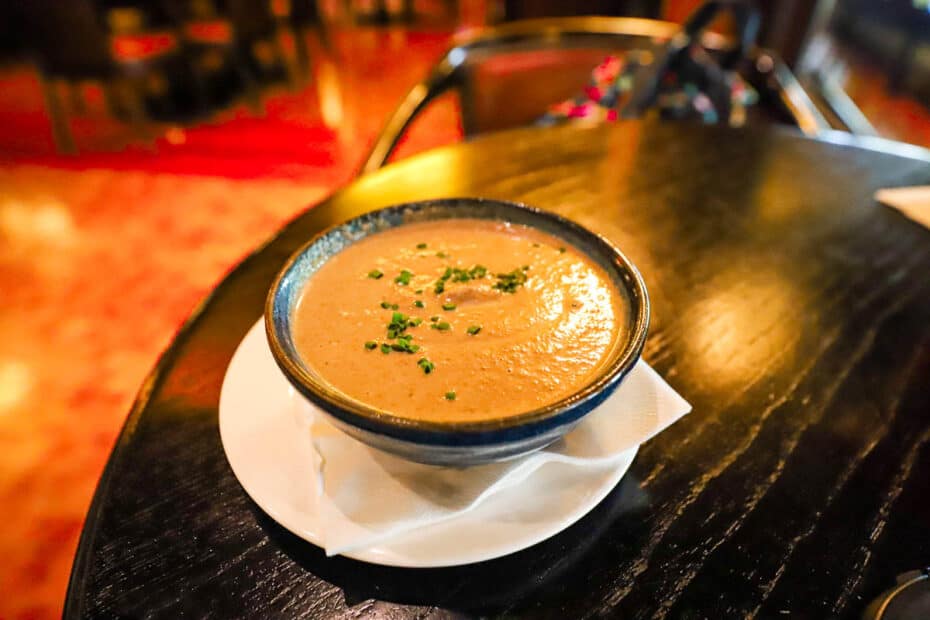 So I wasn't necessarily sad to see it go this time around. We also ordered the charcuterie board, which we thoroughly enjoyed.
That board included prosciutto, mortadella, duck rillette with cornichons, aged white cheddar, goat cheese, stone-ground mustard, and flatbread crisps. A spoon in the middle contained a bite of honeycomb with fresh honey.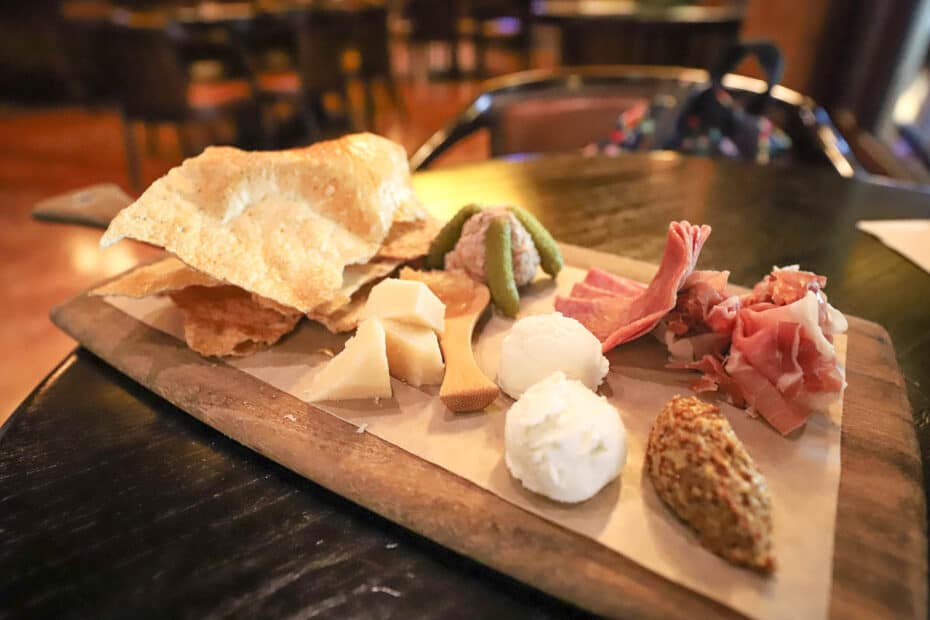 So for this visit, we ordered the new version of the charcuterie board. Can you imagine our surprise when they brought out this massive spread?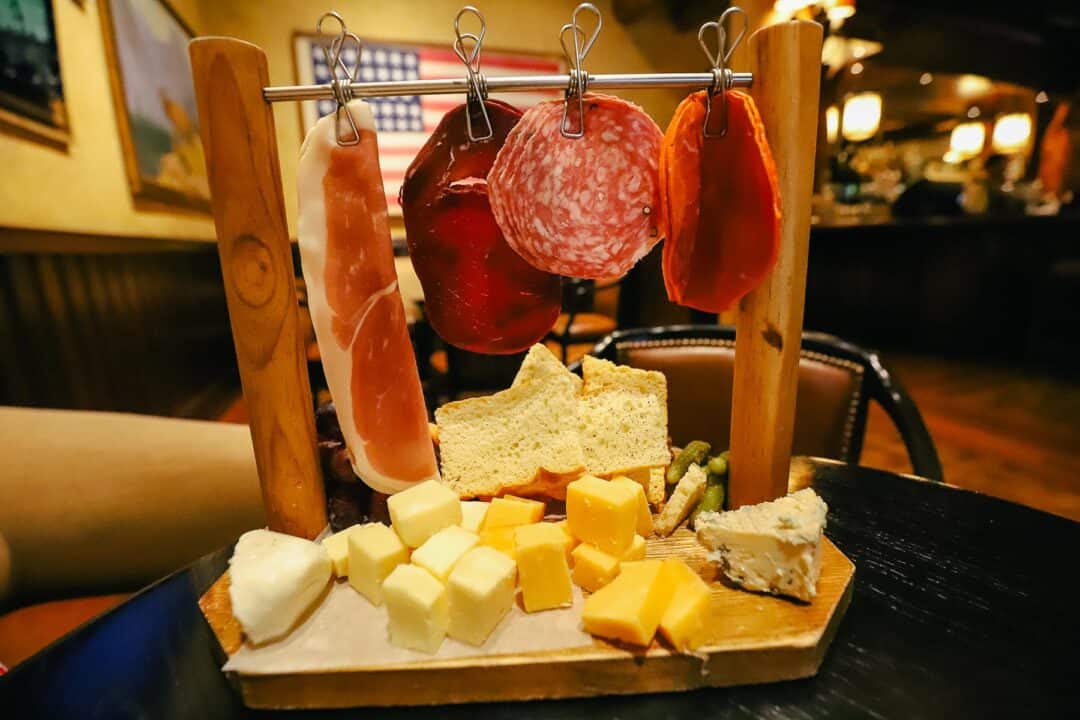 You can't even see what's on the opposite side! Our meats included salami, prosciutto, mortadella, and a bresaola. Each selection of meat had three to four pieces.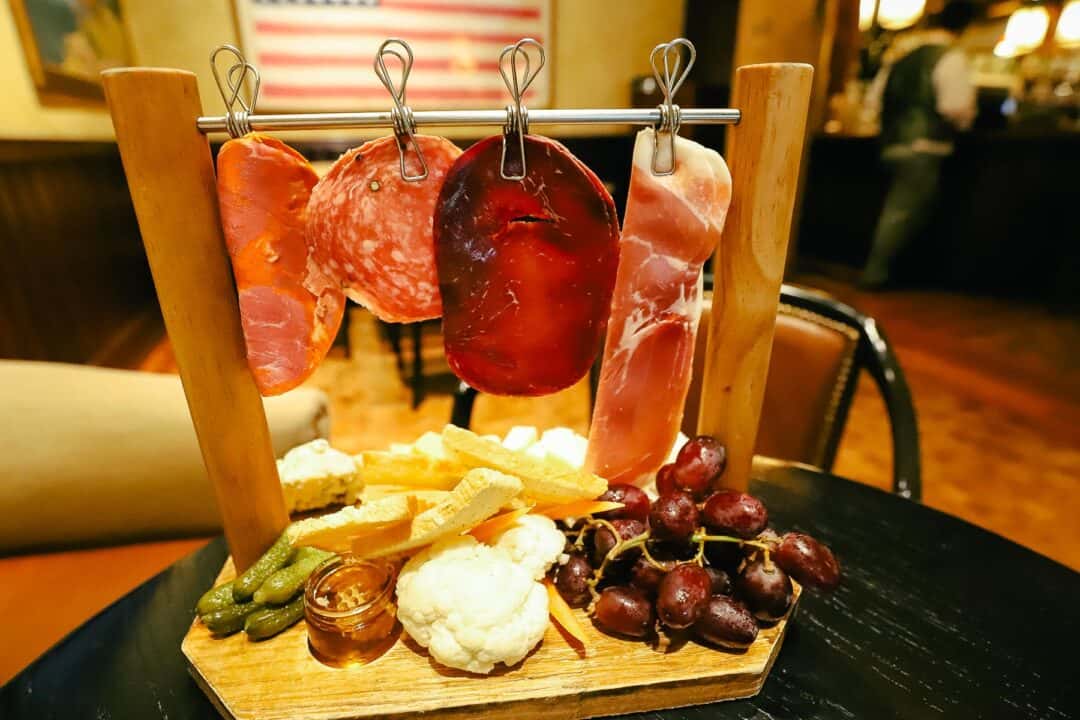 So while you're thinking, wow–this looks amazing, I had some issues with it. First, it was like someone heavy-handed had arranged these items on the board. I don't know about you, but I prefer quality over quantity when it comes to charcuterie.
This massive bunch of cauliflower was kind of gross. It had brown spots on it, which is probably pretty standard. But it looked unappealing and difficult to tackle without making a mess.
Our cheese looked as though it had been removed from an 8-oz wrapped block, cubed, and thrown on the plate. More than anything, I appreciated the grapes, honey, cornichons, and wedge of blue cheese.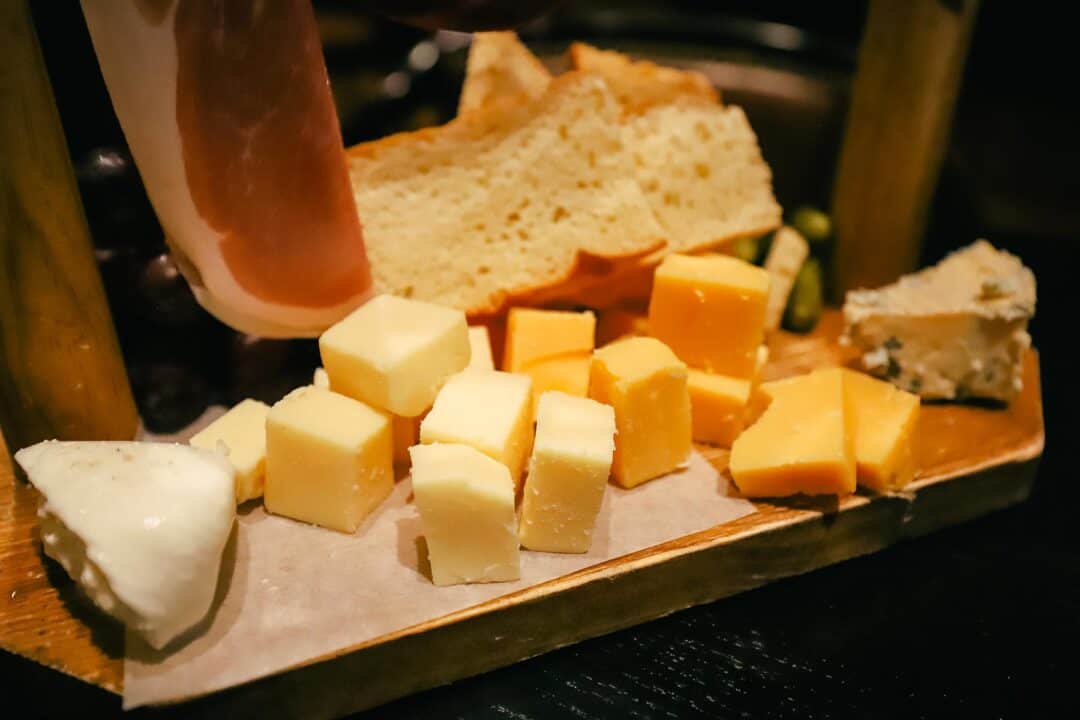 But for the most part, it felt like I had grabbed a few items out of my fridge and thrown them on a wire. So overall, we probably wouldn't order this again.
With that said, we did receive a good amount of food and thought this could easily be shared amongst a group of friends. My issue was more about quality than value.
A few other items on the menu intrigued us. For instance, the salmon run and bone with brie dishes sounded like the perfect small bites. While we love timeless classics, we're not opposed to fresh new menu items.
A Note on Disney Lounges
We often dine at Disney lounges when looking for something that's a step above quick service that doesn't require a reservation. When you hear the word "lounge," you might think "bar."
But at Disney, when I hear the word "lounge," my mind automatically goes to "good food that needs no reservation" and "family-friendly." Often, we see guests with their children having dinner in a lounge, and so have we in the past.
We have found that some of our favorite meals come from lounges. For instance, we love the Parker House Rolls at Ale and Compass Lounge. Another favorite is the truffle fries at Enchanted Rose Lounge. Then there's the clam chowder at Martha's Vineyard, and hopefully, the roasted prime rib sliders will eventually return to Crew's Cup. I could go on, but I think you catch my drift.
So if you're looking for a small meal or an early prelude to a dinner reservation, I would recommend Territory Lounge at the Wilderness Lodge any day of the week. It's a gorgeous venue, and any reason to visit the Wilderness Lodge is a good reason.
Final Thoughts
For more information about the resort, you might enjoy our resort guide:
Related: Disney's Wilderness Lodge Resort
Or you might enjoy some of these individual articles:
In the comments:
Do you ever enjoy any of the lounges at Disney World? Have you ever stopped in at Territory Lounge?