Vegan Food Finds at Walt Disney World
Vegan food options at Disney World have come a long way over the past few years. In the past, finding an actual vegan option listed on the menu at a table service restaurant was difficult.
This article will preview the vegan and vegetarian options at Disney World that I've tried to date. First, however, it's essential to know that I'm not a vegan, at least not at this time.
When I initially wrote this review, I was on a vegan diet for the better part of a year. Unfortunately, due to severe food sensitivities, I now incorporate some meat protein into my diet.
These days, vegan food options at Disney World are more plentiful than ever before. You can expect to find anything from simple items like a vegan cupcake or a veggie burger to the finest entrees prepared in Disney's signature dining restaurants.
Below I've composed a mini-review of every vegan and vegetarian option I've had to date at Disney. Where applicable, I'll link to the complete restaurant review if you would like to learn more.
We'll start with a look at the counter service vegan and vegetarian food before moving on to the table service restaurant items. Toward the end, I'll add a few things that I have on my list to try in the future.
Most of you probably know that Dole Whip (on its own) is a vegan treat at Disney. But, in my opinion, the best place to find this plant-based ice cream is at Aloha Isle or Sunshine Tree Terrace at Magic Kingdom.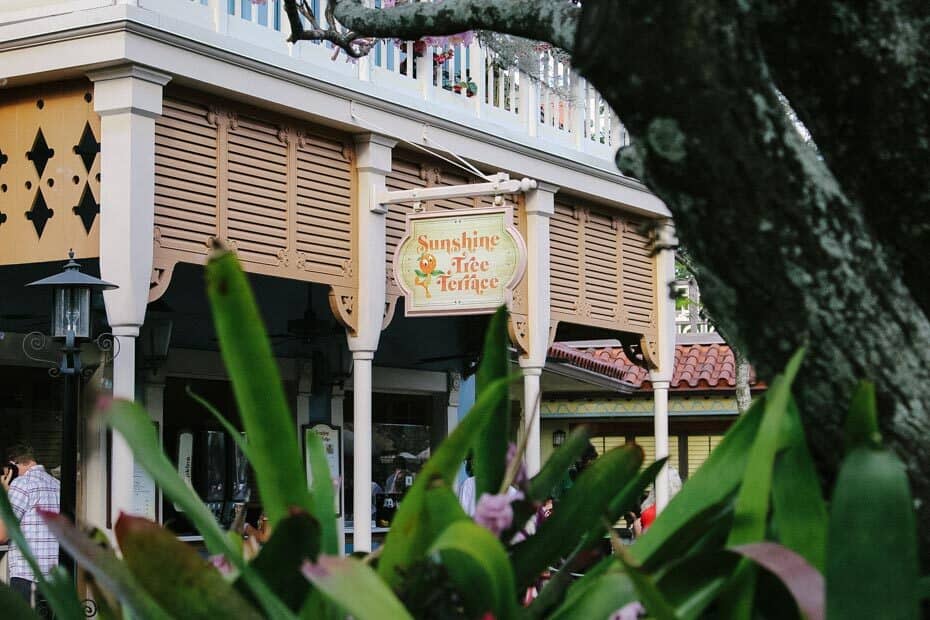 Pineapple is the traditional flavor, but more and more options have become available over the last few years. For instance, I recently tried the strawberry Dole Whip at Magic Kingdom. If you love strawberries, you will love this vegan ice cream!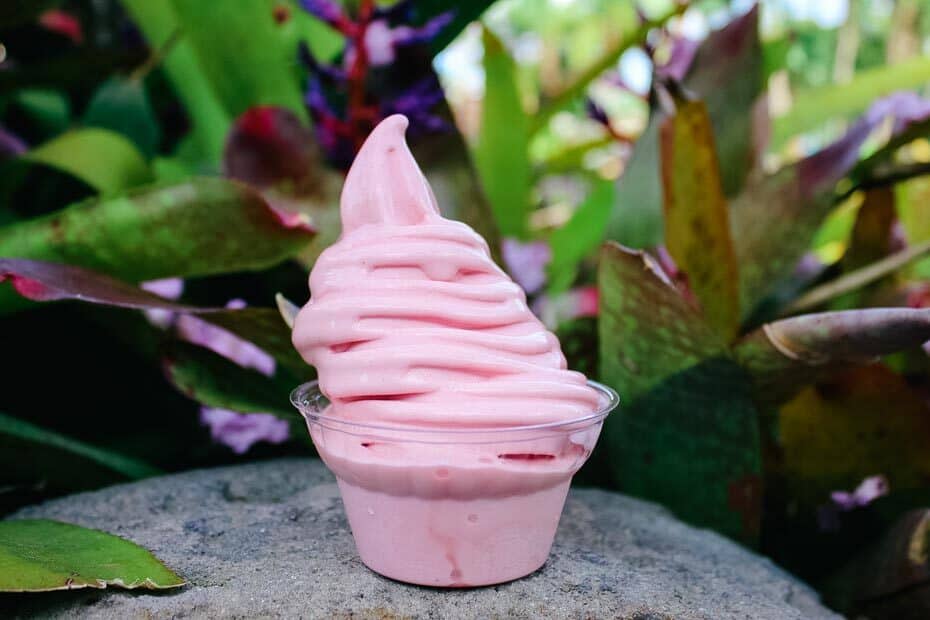 Make sure to grab a spoon and eat quickly, though. As you can probably tell from the picture, it melts fast! But, oh, so worth it!
Our next stop for vegan food finds at Disney World is Pizzerizzo at Disney's Hollywood Studios. This sub sandwich was an unexpected food find.
Why? Because I didn't expect the Italian "sausage" sub to be anywhere near the deliciousness that it was.
Think marinara, plant-based meatballs, and mushrooms with a bit of vegan cheese. I've even created my own recipe to make this dish at home! It's that good.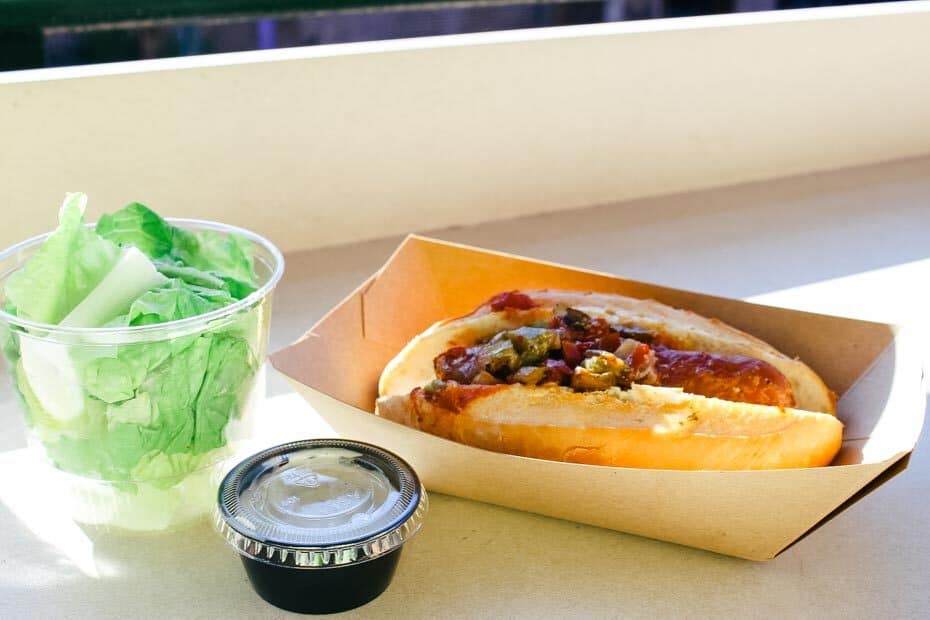 And it comes with a side salad and vegan dressing!
While on the subject of Hollywood Studios, I wanted to let you know that they seem to have the best vegan Disney World dining options available.
And if you like fine dining, make sure not to miss the Hollywood Brown Derby. They have an excellent local greens salad (not pictured) that's available outside at the lounge. The great thing about eating at the lounge is they take walk-ups.
Related: Disney's Hollywood Brown Derby Review
Now, we'll hop over to Disney's Animal Kingdom for three stellar vegan Disney food finds. The first is Satu'li Canteen, where we tried the chili-spiced crispy fried tofu bowl. I had no idea that tofu could be so good!
Related: Satu'li Canteen Review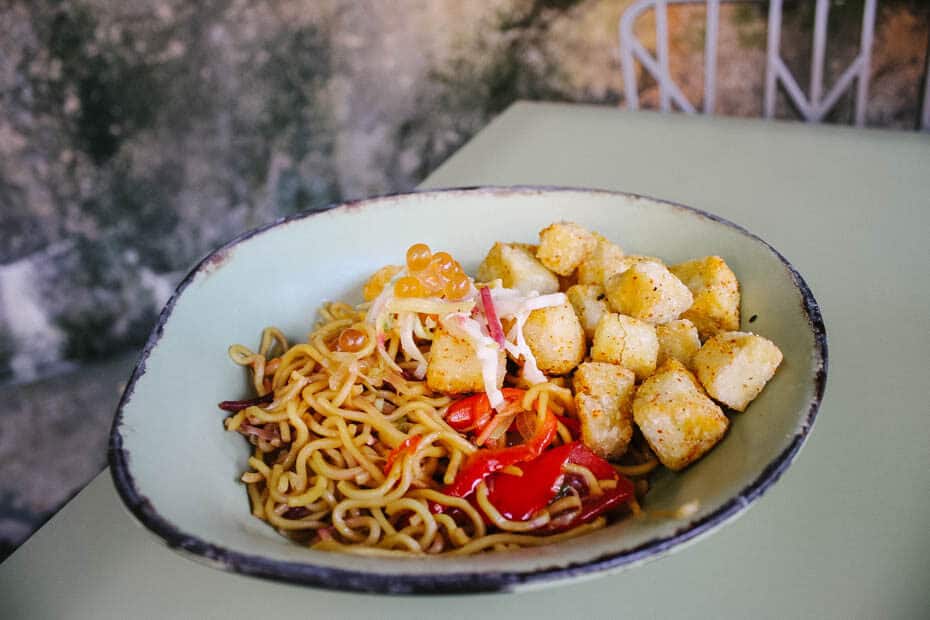 This bowl came with a bed of noodles, veggie slaw, and was topped with boba balls. The tofu was perfectly marinated, and I devoured every bite of this winning dish.
Moving on, this next vegan meal at Animal Kingdom is somewhat similar to the sub we had at Pizzerizzo. However, flavor-wise, the dish has an entirely fresh perspective. Here are the hot links sausage sandwich from Flame Tree Barbecue.
Related: Flame Tree Barbecue Review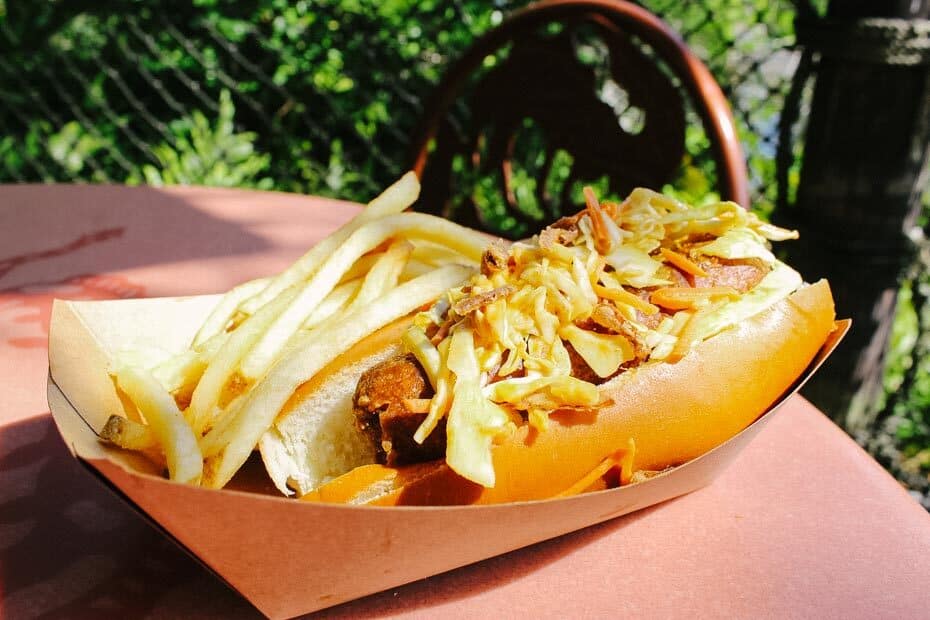 This sandwich was more than filling and came with a side of fries. It was topped with a mustard-vinaigrette slaw.
Keep this one in mind for a day when you feel like dining outside with a few stunning views of Expedition Everest in the background.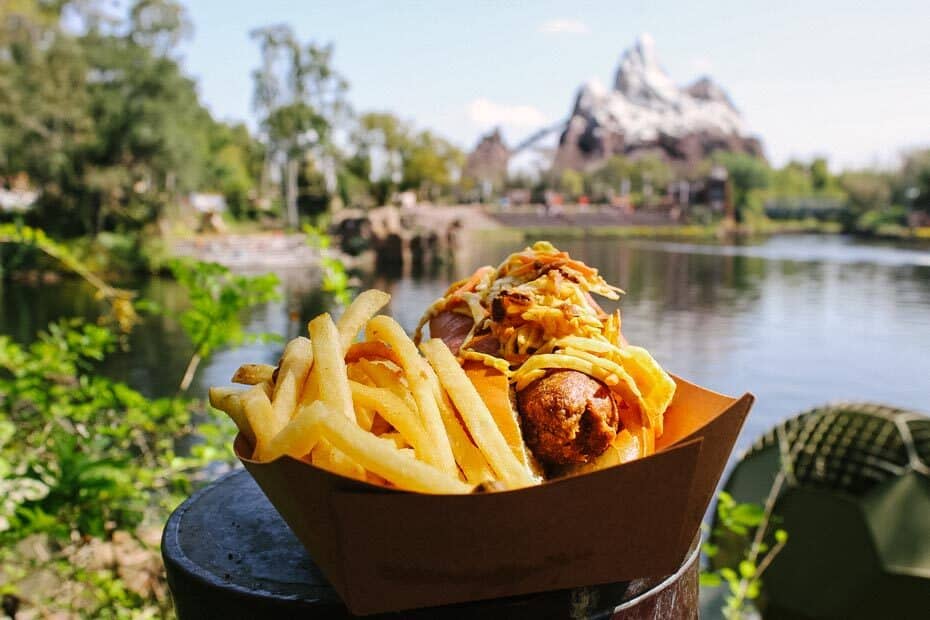 My last vegan Disney food find was at Nomad Lounge, of all places. If you've been to Nomad, then you know how enjoyable a lazy afternoon can be here. Add in some food and maybe a cocktail, and you might never leave. Well, until the park closes anyway.
Here are the Impossible meatball sliders with a side of yucca fries.
Related: Nomad Lounge Review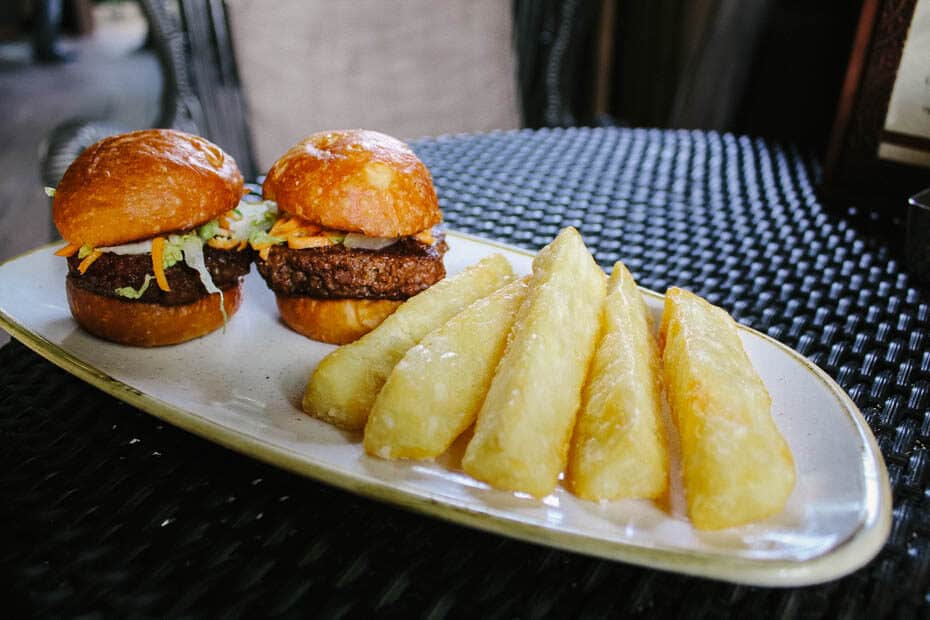 This visit was my first time trying yucca, and I can guarantee it won't be my last. Who knew how good these root vegetables turned into fries could be? I sure didn't.
Speaking of burgers and fries, I've had a vegan burger or two at Disney this last year. Captain Cook's has an excellent option with the plant-based red pepper and arugula burger.
Related: Captain Cook's Review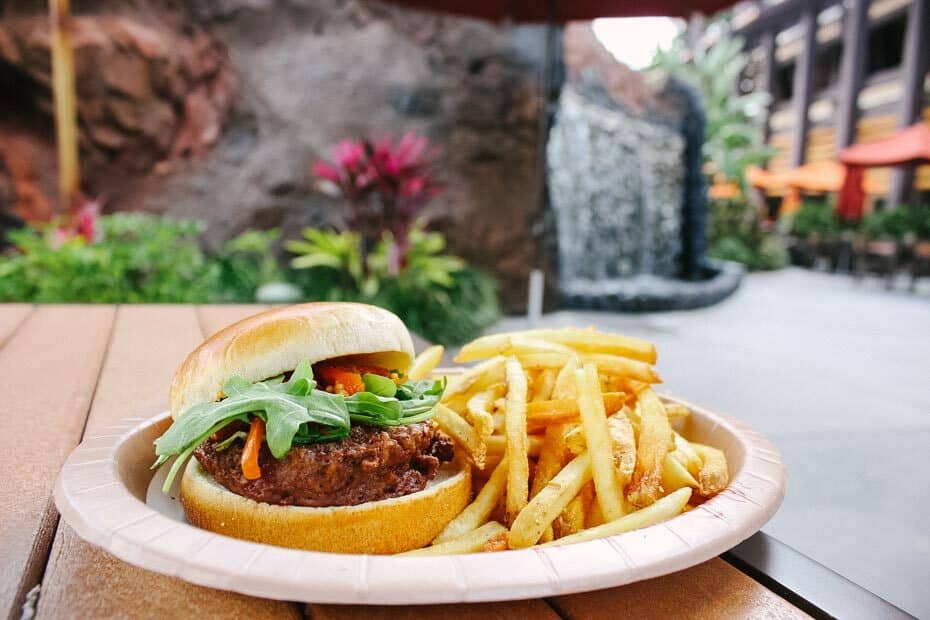 This counter service dining venue is located at Disney's Polynesian Resort.
I'm glad that Disney has incorporated so many new vegan items to their menus that aren't just another plant-based burger. However, I appreciate a veggie burger that packs a punch of flavor, and this one does.
Plus, the outdoor seating area isn't bad at all!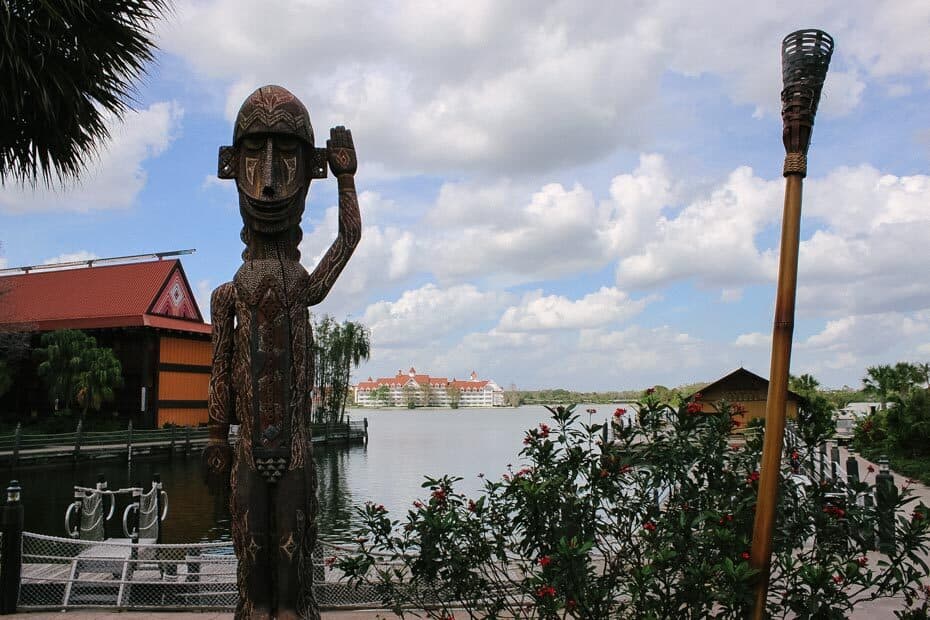 If you stay at Disney's Caribbean Beach Resort, you might want to try the plant-based burger at Centertown Market. It's pretty much a standard vegan burger.
However, it does come on a brioche bun. I don't know about you, but I'll say yes to brioche any day of the week!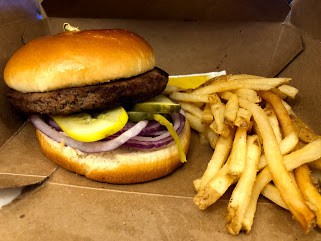 Since my stay at Caribbean Beach, they've added a new plant-based fried yucca bowl. I'm looking forward to getting back that way to try it out. You might want to consider it if you have an upcoming stay.
Related: Disney's Caribbean Beach Resort Review
Additionally, Disney's Riviera Resort sits next door to Caribbean Beach, where they have an excellent counter service Disney restaurant, Primo Piatto.
There I've enjoyed a vegetarian breakfast of lemon pancakes with a side of plant-based sausage.
Related: Primo Piatto Review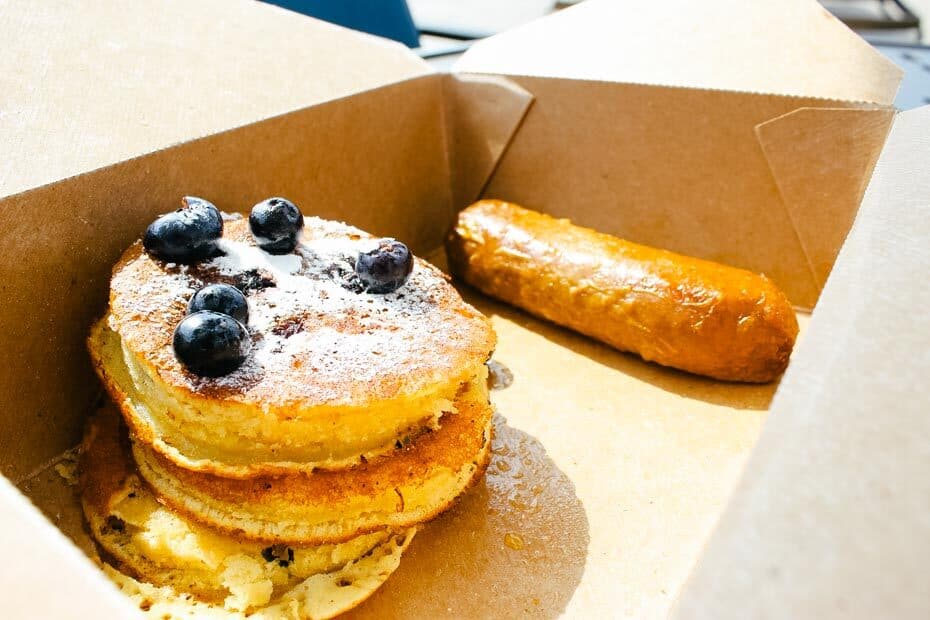 Additionally, I've had the veggie skewer that comes on a pita with vegan cucumber yogurt and quinoa. This wrap is one of my top vegan food finds at Walt Disney World.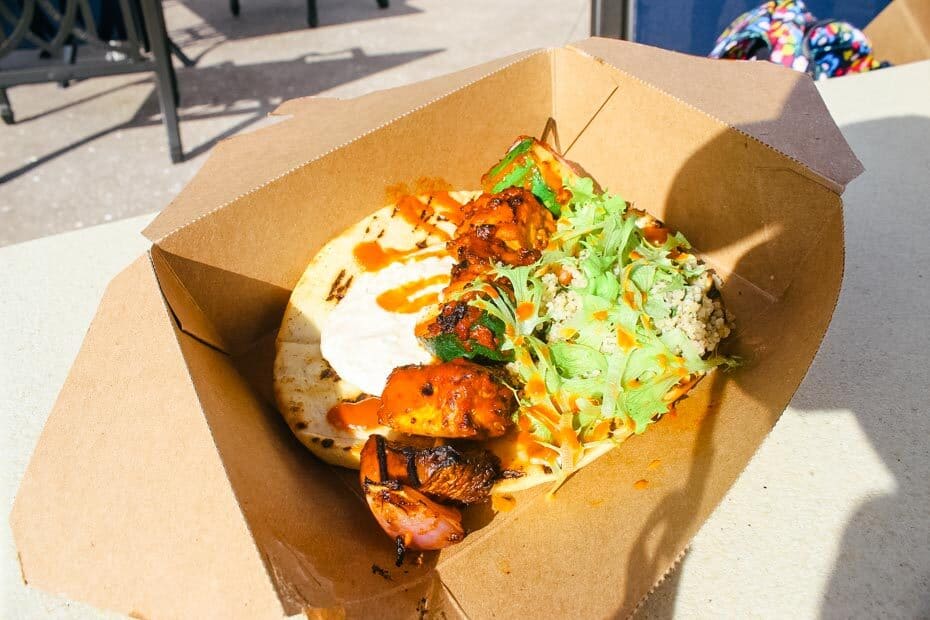 Unfortunately, the Epcot resorts don't have a ton of quality menu items for vegans. But I have to admit the Boardwalk Bakery has an excellent vegetarian item, the grilled cheese. (If you do dairy, that is.)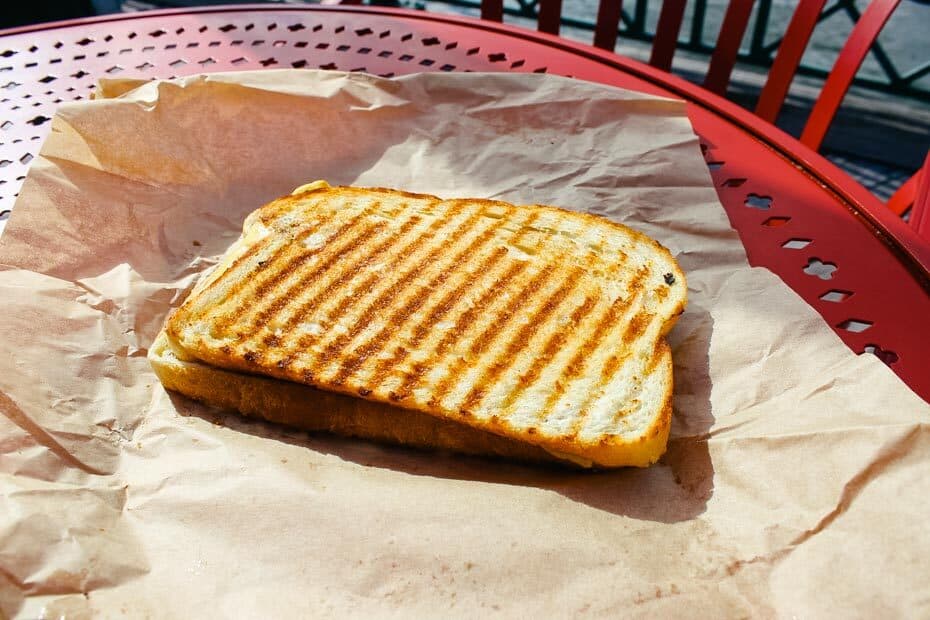 Sometimes a toasted cheese sandwich fits the bill after a long day in a theme park. Talk about comfort food. And it's always charming to enjoy a meal out on Disney's Boardwalk.
And even though I'm not a fan of pre-made items at Disney, in general, I did love this pre-packaged mixed berry salad from Boardwalk Bakery.
Related: Boardwalk Bakery Review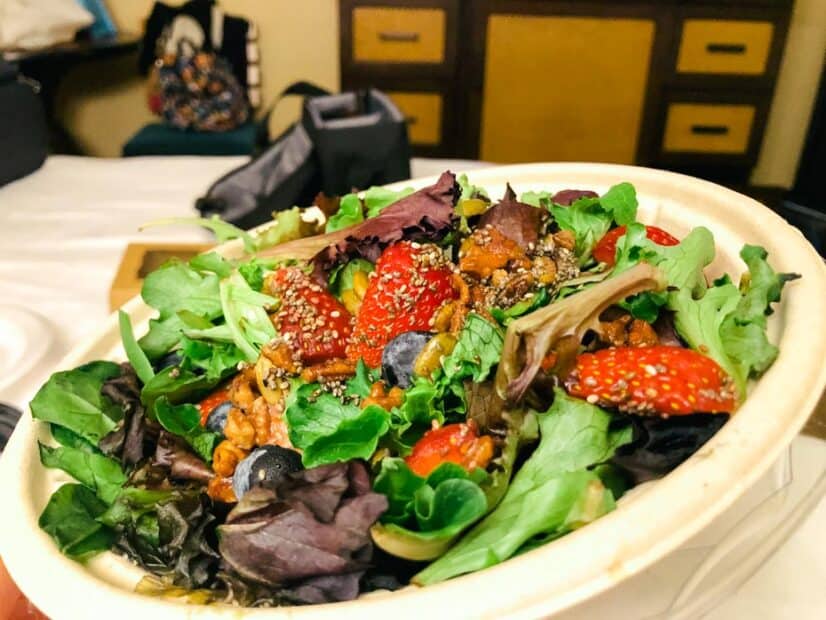 I wouldn't recommend the pre-made veggie sandwich at any of these Crescent Lake counter services. Unless you like a pile of slimy vegetables that's been sitting on bread for no telling how long.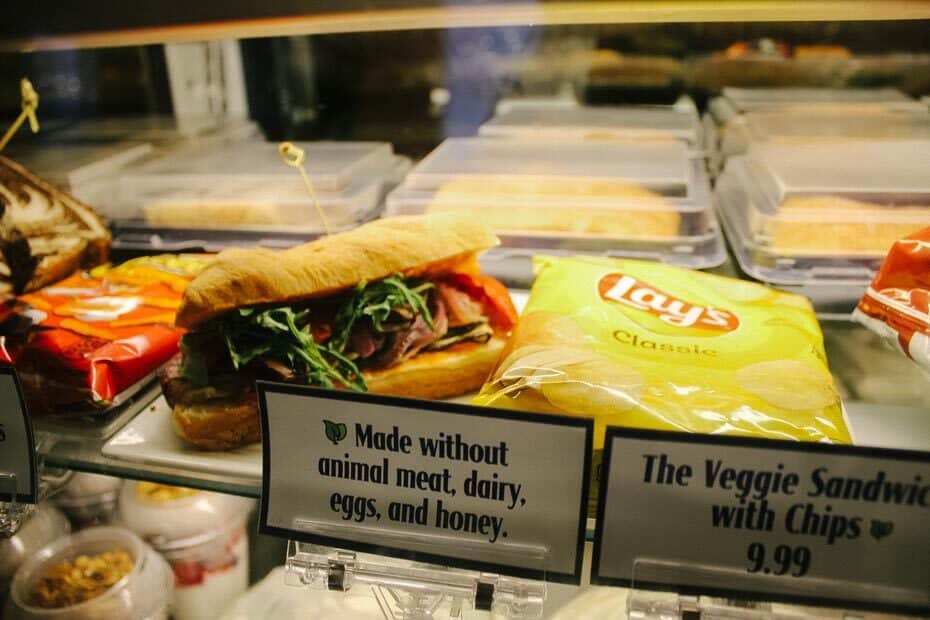 Back at the Grand Floridian, I ordered the sausage and pepper pizza from Gasparilla Island Grill and made it vegetarian by subtracting the sausage. I haven't tried any vegan pizza to date at Disney yet.
Related: Gasparilla Island Grill Review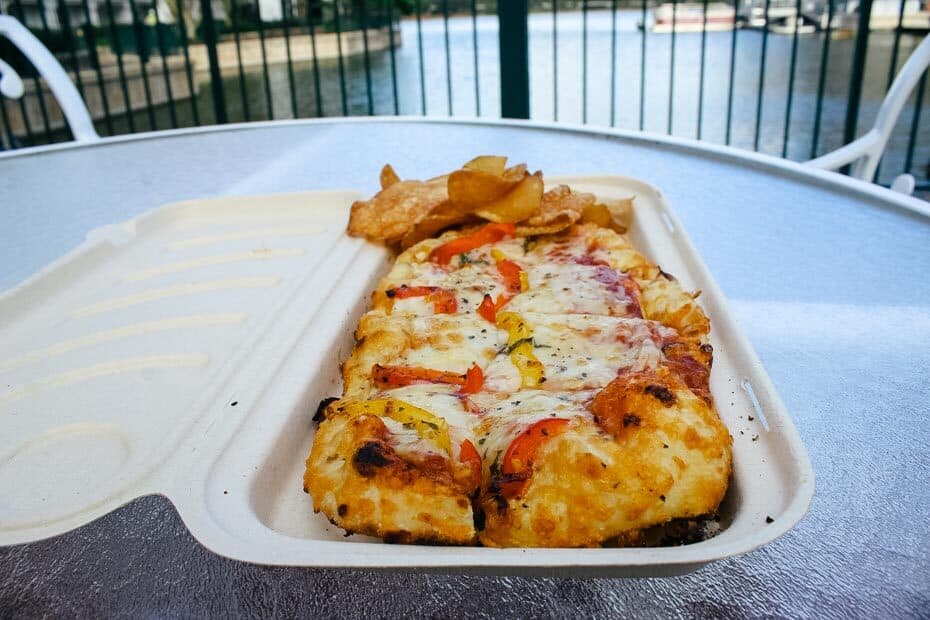 On this day, I was at the Grand Floridian and needed lunch but wasn't in the mood for a burger. So I compromised. If you eat dairy, this is a great choice and priced well.
Over at Disney's Contemporary, I mobile ordered the kale power greens salad one evening after leaving Magic Kingdom. I was impressed with this option and found it incredibly filling.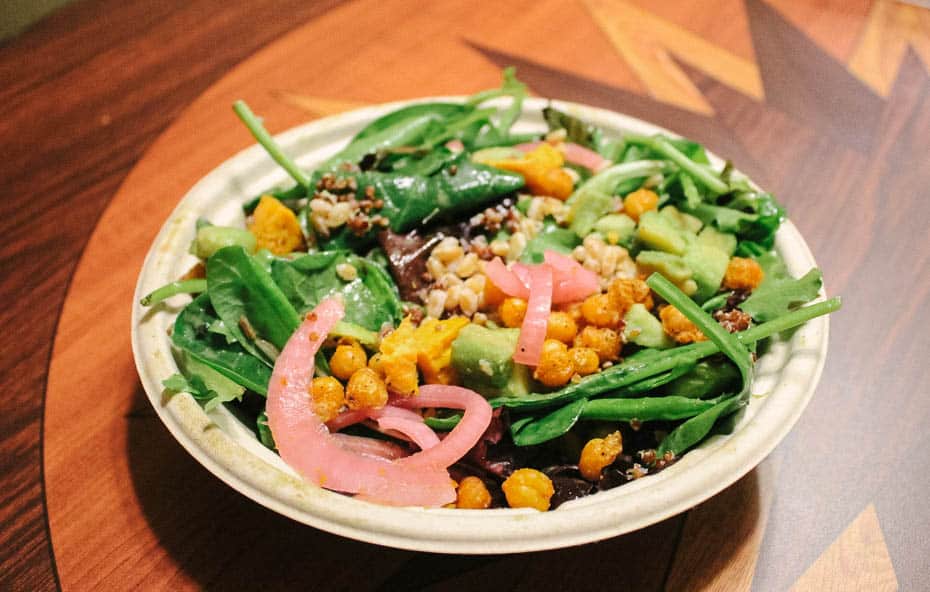 The salad was topped with roasted sweet potatoes, avocado, pickled onions, and toasted garbanzo beans. This was my first time trying roasted sweet potatoes in this preparation.
Since trying this dish, I now eat them almost weekly at home. They are so good!
We've covered the bulk of the vegan counter service items I've had at Disney to date. Now, let's look at a few vegan Disney food finds at the table service restaurants.
First, we'll hit up Skipper Canteen, a wonderful dining option at Magic Kingdom. At Skipper Canteen, I almost always order the Lost and Found soup, a vegetarian option. You will want to ask the server for exact ingredients when you visit.
Related: Skipper Canteen Review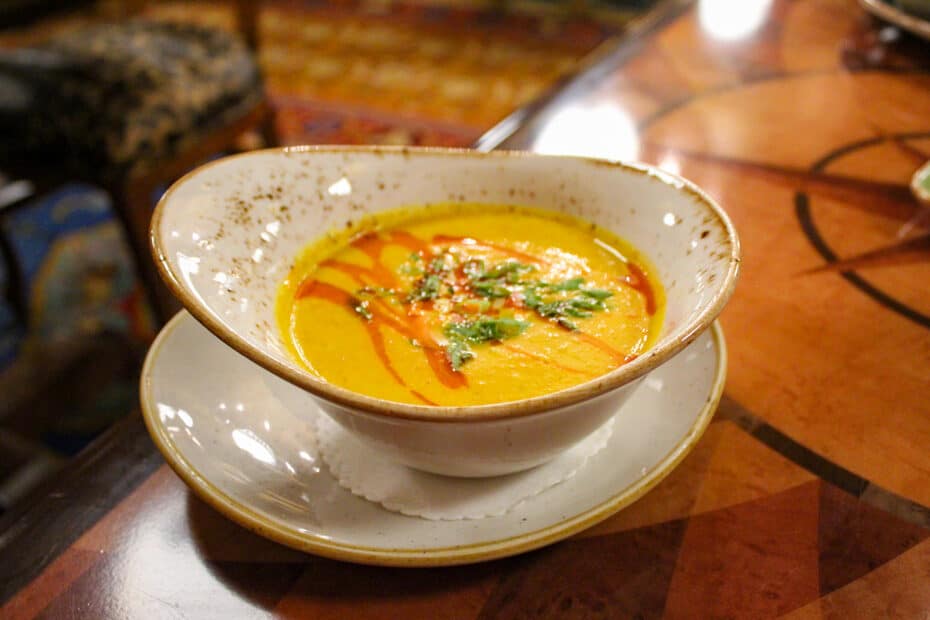 Additionally, I've had the Jungle Green Salad. This salad is another vegetarian food item at the restaurant.
The salad is topped with Shishito peppers, radish, hearts of palm, cucumbers, and pistachios. The part that makes it non-vegan is the pepper-yogurt dressing.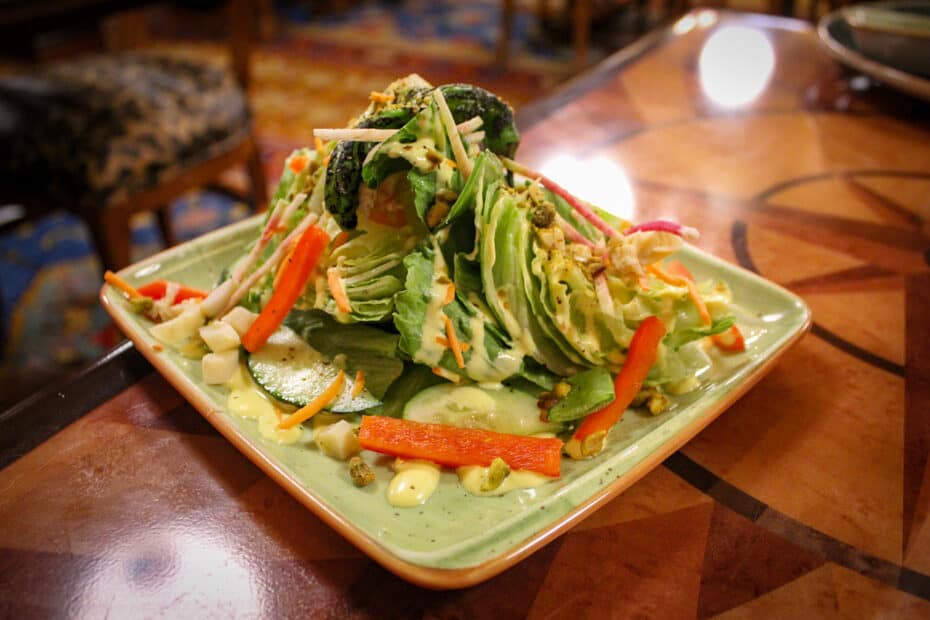 It's a flavorful salad and pairs nicely with the soup mentioned above for a complete meal. Not to mention, the pricing is extremely reasonable when ordering this way.
Someone recently asked me what was the best vegan option I've had at Walt Disney World. After giving it some thought, I knew there was one meal that stood out a little more than all the rest. Funny thing, I had this a full year before I went on a vegan diet.
Where was that meal? Toledo, Tapas, Steak, and Seafood at Disney's Coronado Springs Resort. I ordered the "plant-based seafood."
As you can tell from the picture, you'd probably never know it wasn't seafood.
Related: Toledo, Tapas, Steak, and Seafood Review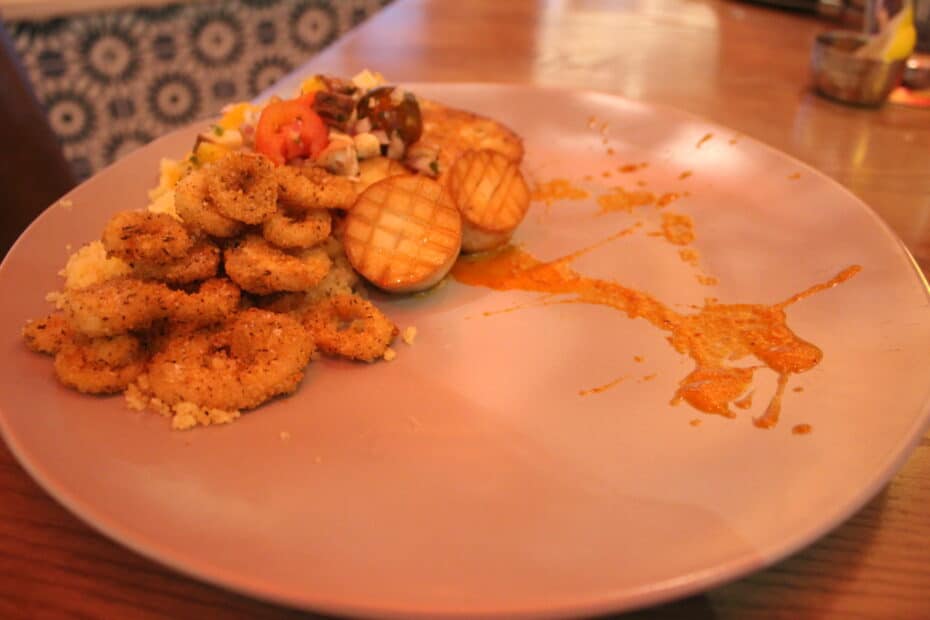 This meal was outstanding. I remember thinking, how could eating healthy taste so good? Thankfully, it does. And these experiences have helped me to become more conscientious of my diet and food intake.
This meal at Toledo was so impressive that I even ordered their plant-based dessert item, the chocolate avocado mousse with strawberry basil sorbet and coconut crumble. It was a complete hit.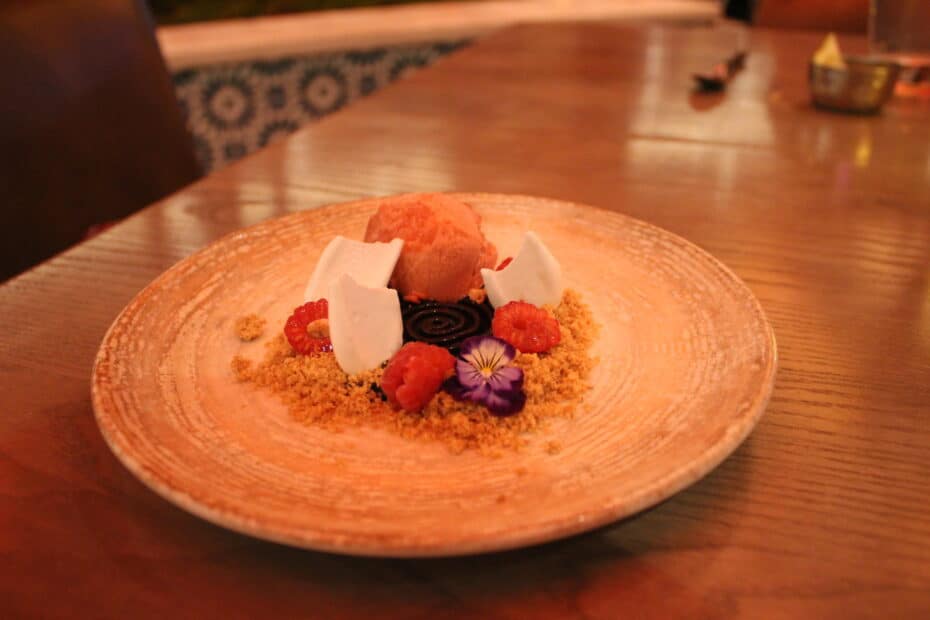 If you haven't tried a chocolate dish with an avocado base, this is a good place to start.
Next, we'll take a look at one of my regular dining stops, Grand Floridian Cafe, to preview a few vegan Disney food finds.
For breakfast, you might enjoy an avocado toast with a side of fruit. Sure it is avocado toast, but can you go wrong with a dish that looks and tastes so delicious?
Related: Grand Floridian Cafe Review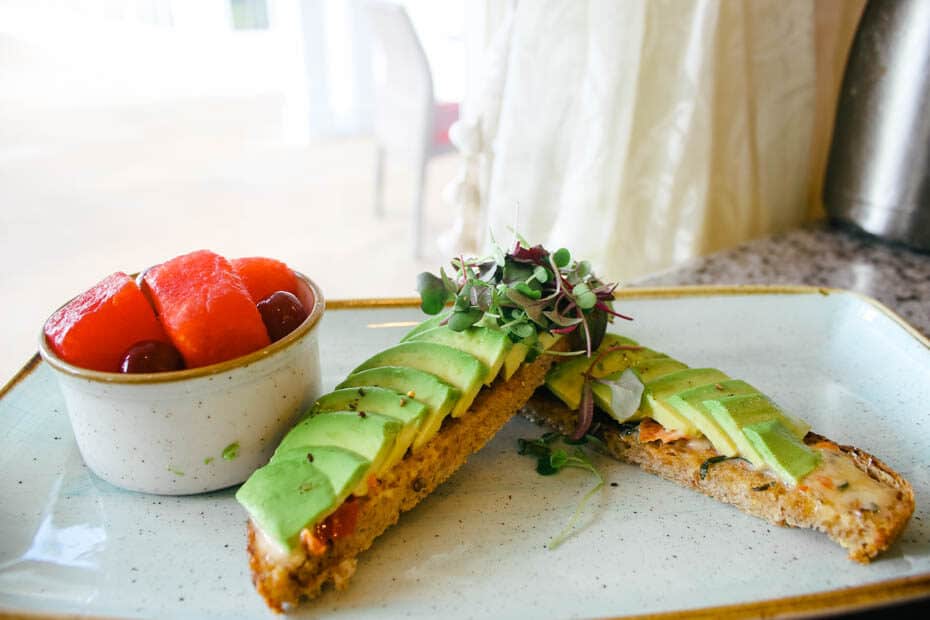 The Cafe is also where I've had my favorite vegan burger ever. The cafe's burger comes with caramelized onions and plant-based smoked gouda on a Kaiser roll.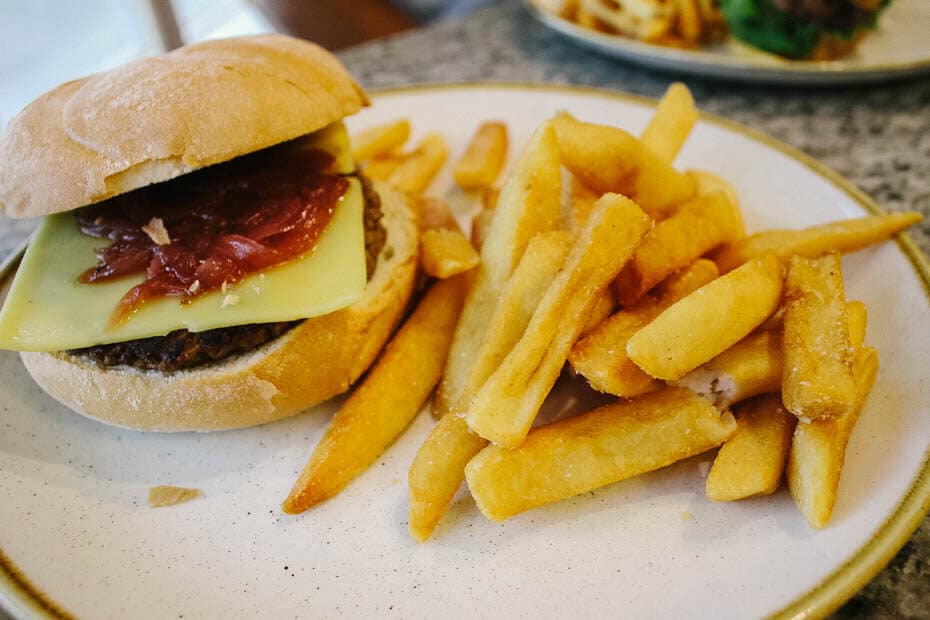 It's another dish I tried a few months before my diet change. At the time, it didn't register with me that the smoked gouda was vegan cheese!
My other regular dining stop at Disney is Ale and Compass. I eat breakfast here probably more than anywhere else at Disney. Thankfully, they have a hearty breakfast protein bowl that is a massive dish for the price.
Related: Ale and Compass Breakfast Review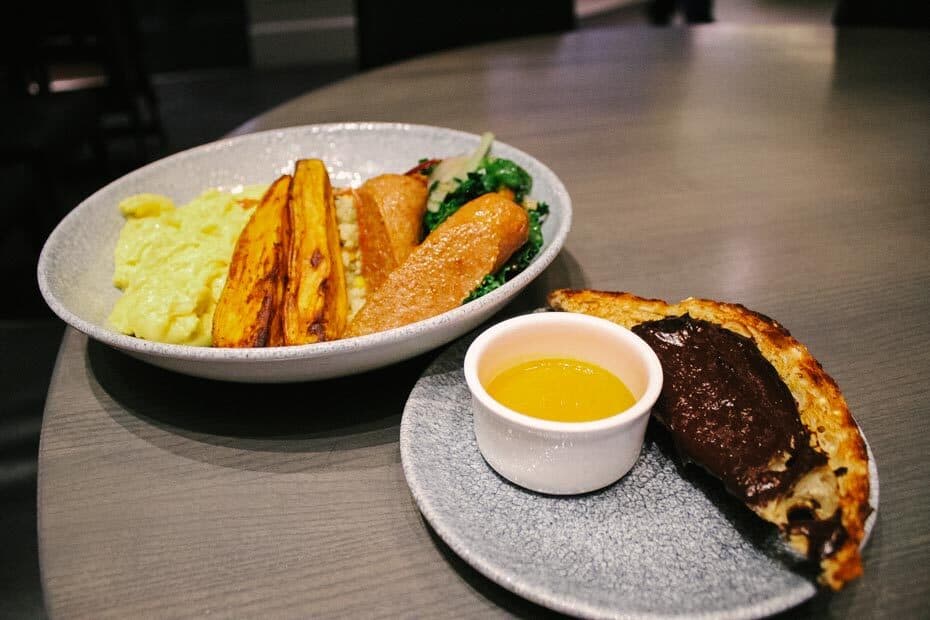 This dish comes with your choice of tofu scramble or plant-based eggs. Then there's plant-based sausage, quinoa, sweet potatoes, kale, and pickled carrots. It comes with a side of carrot-ginger dressing. And there's chocolate-avocado toast.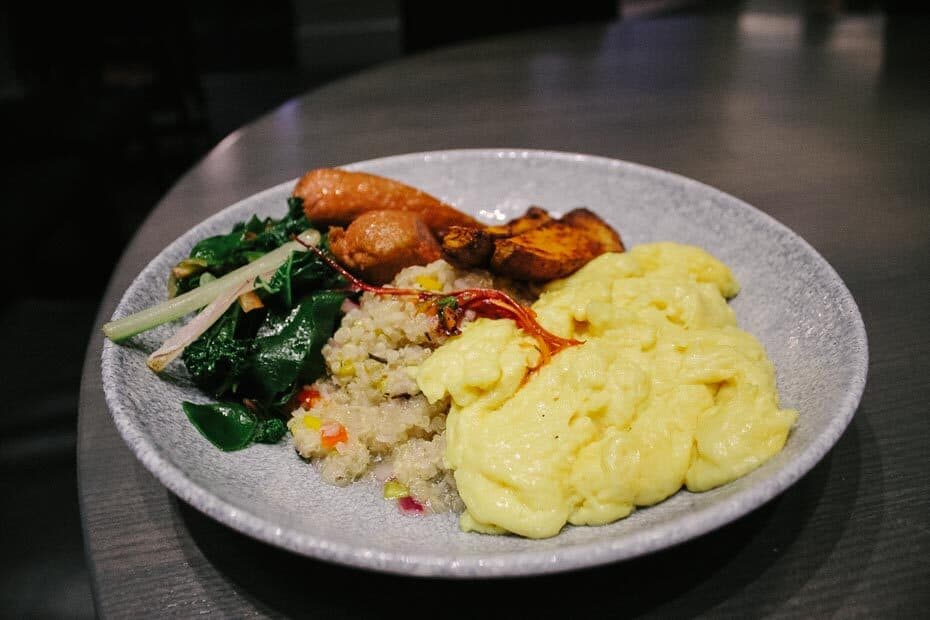 All good! Ale and Compass is located at Disney's Yacht Club.
When it comes to eating vegan for breakfast with characters, you might like to try the Breakfast a la Art with characters at Topolino's Terrace. Here we had the most appealing fresh fruit platter that tasted as good as it looked.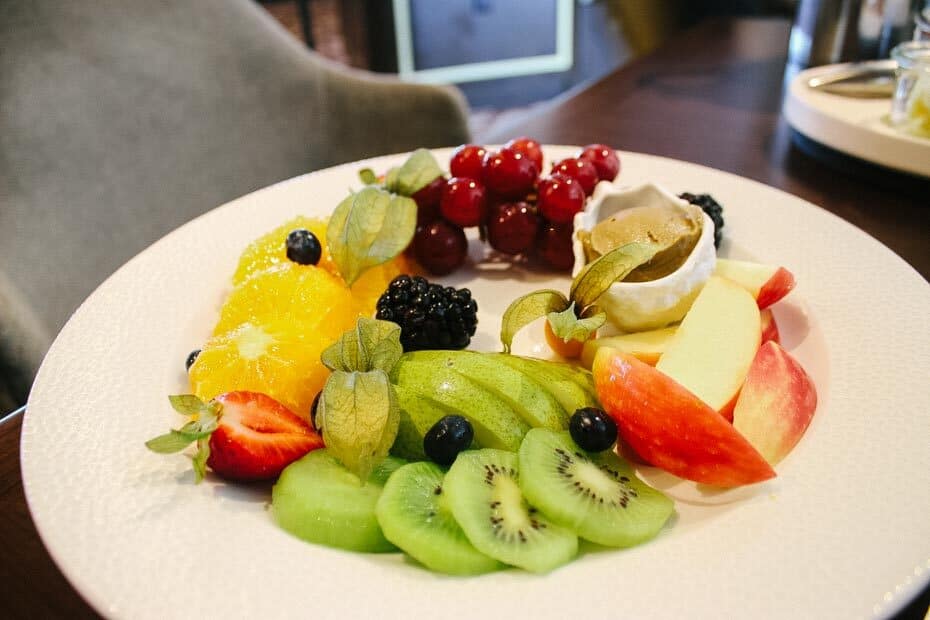 That's a side of sunflower vegan butter spread on the side. Another item that I was first introduced to at Disney.
Since my son has multiple food allergies, he often ends up with items like the vegan Mickey waffles since they don't include milk and eggs. So here is his order from Topolino's. You'll have to excuse the bacon. He's not vegan.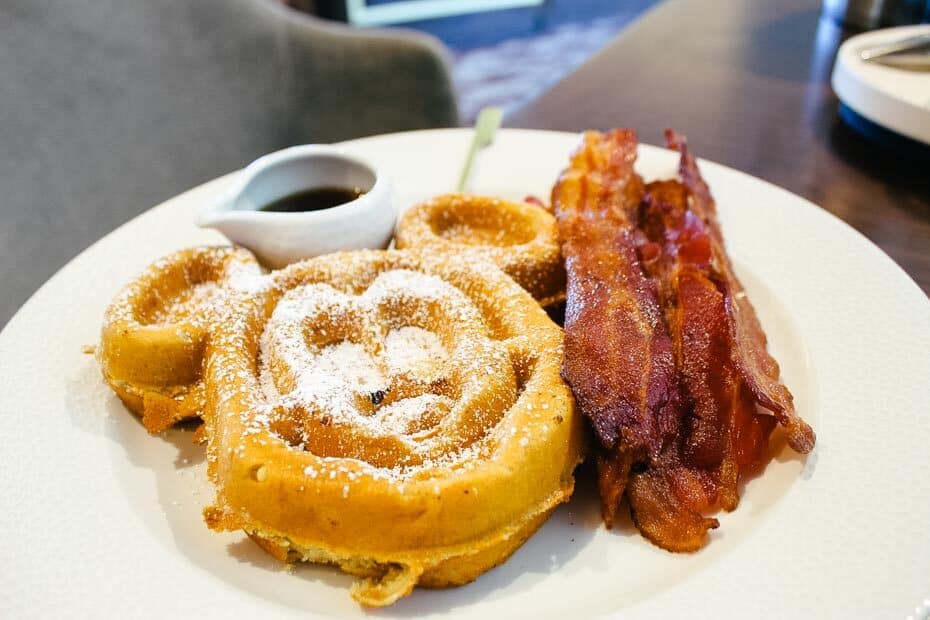 But I did want to share these with you so you'll know that the sour cream Mickey waffles can be substituted with these if you decide to eat there. Additionally, you can order these gluten-free if desired.
I had the Quiche Gruyere, which can be considered vegetarian fare if you eat eggs and dairy in your diet. Just ask them to leave off the house-made pancetta in the preparation.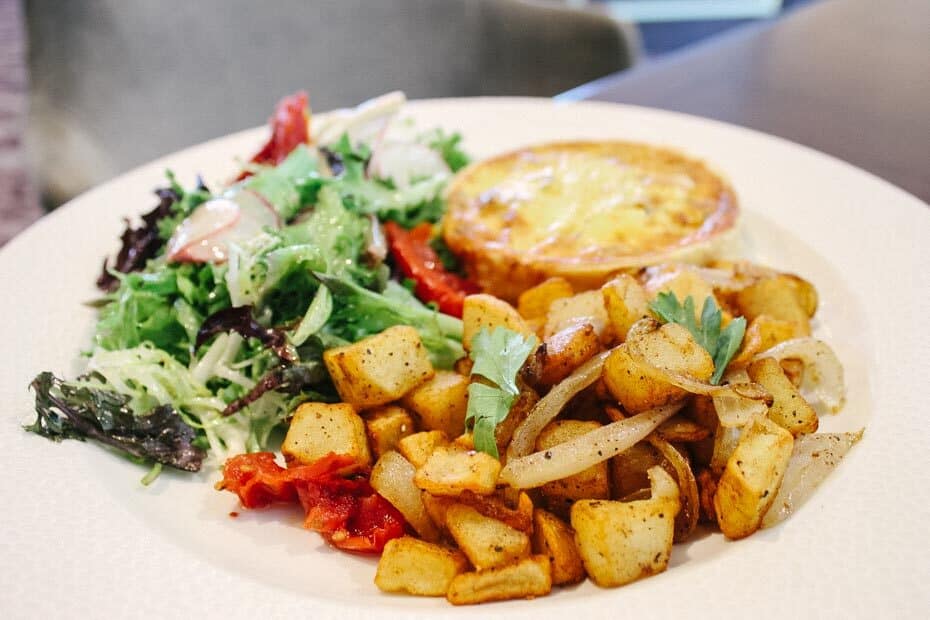 Sides include roasted potatoes and field greens with a lemon vinaigrette.
Another vegan breakfast I had was at The Wave, which is now Steakhouse 71. Unfortunately, this one was a bit of a letdown. I love to eat here, and they have some great vegan options, just not for breakfast.
Here is the avocado toast, and it should have been named guacamole toast. While I love guacamole, I don't want the strong, garlicky flavor on mini crisps of bread for breakfast.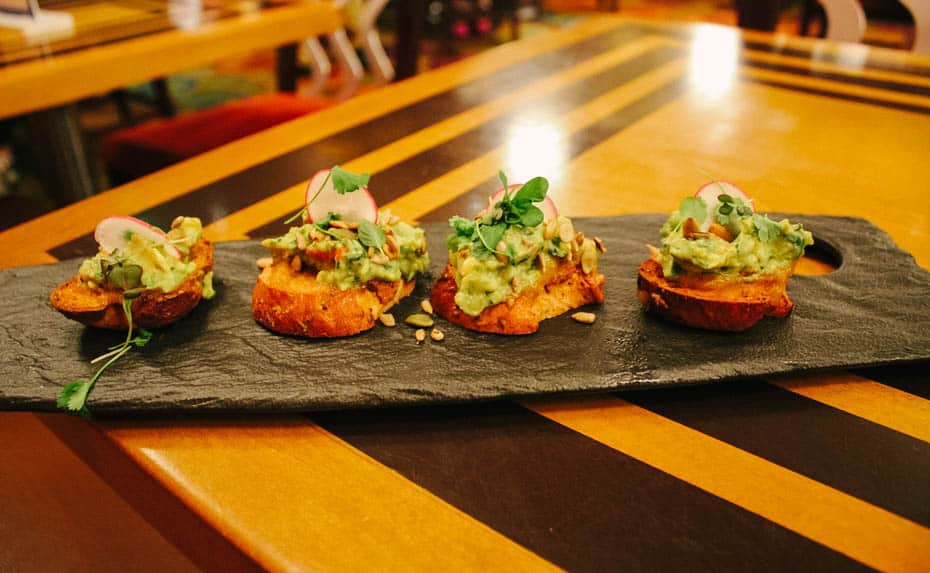 The menu had no mention of it being guacamole. And my server acted like avocado and guacamole were the same things when I mentioned it.
Related: Breakfast at Steakhouse 71
I try not to complain, but stuff like this grates at my nerves.
In addition, I ordered the fresh fruit platter, which I considered a safe backup dish. And I was presented with this mediocre plate of fruit. It was fine, I guess, but I regretted shelling out $10 bucks for it.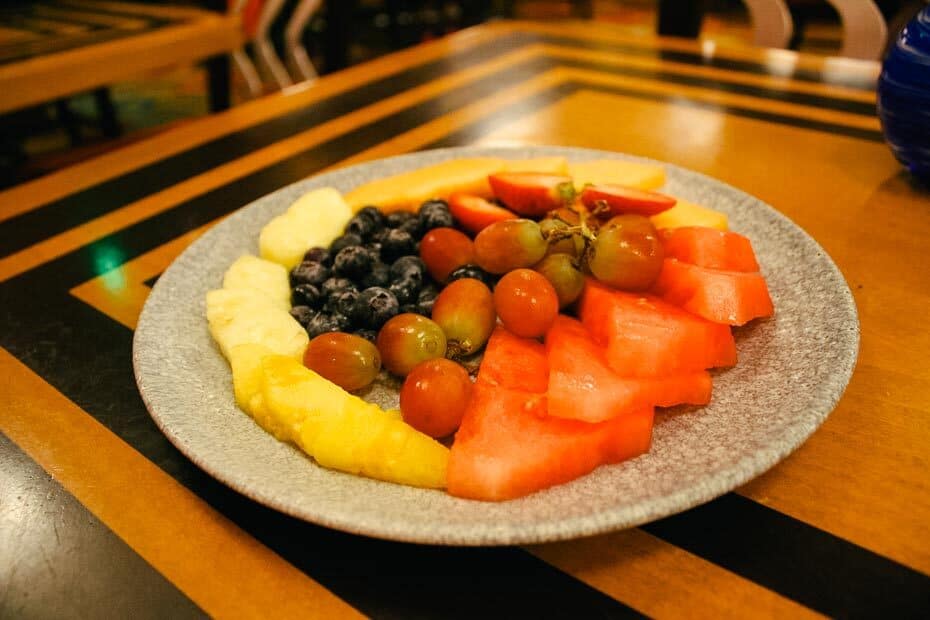 Come to think of it, this was the only vegan food at Disney that I've had so far that I didn't like. That says a lot about the vegan recipes the chefs are putting together.
Lastly, I have a familiar favorite that's vegetarian but could easily be made vegan. The bread service at Disney's Sanaa is phenomenal. Sanaa is located at the Kidani Village portion of Animal Kingdom Lodge.
Related: Sanaa Review with Bread Service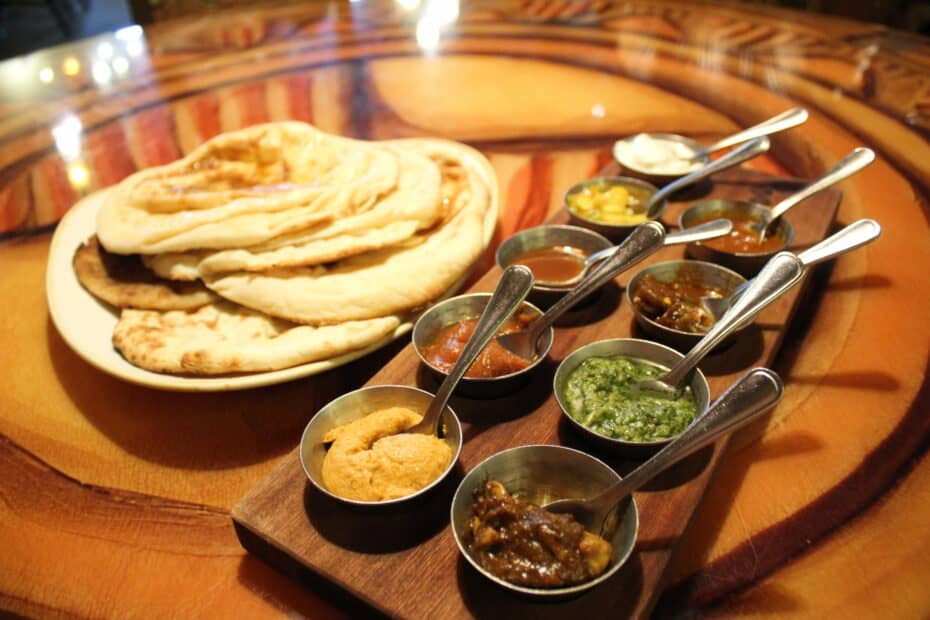 If you haven't had the opportunity to dine at Sanaa, it's a must-do! Lunch or an early evening meal is perfect because most of the tables face the savanna with views of the animals.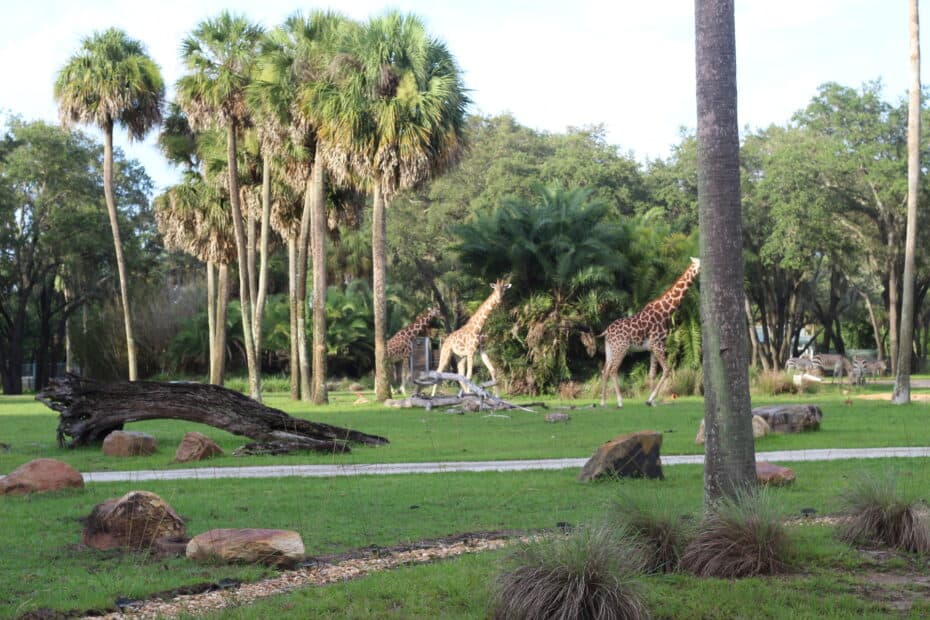 For vegetarians, order the bread service as it comes. And for vegan, let your server know, and they'll replace or remove the yogurt sauce that comes with the dish.
To wrap up this review, I wanted to share with you a few items on my list that I anticipate trying in the future.
Since I write about dining at Disney World, I browse the online menus for updates fairly often. So, when I see something that looks interesting, I note it so I won't forget.
Here they are:
Make sure to check out all of our Disney Restaurant Reviews here for more information. You might also enjoy our Disney World Character Dining guide or the Best Restaurants at Disney Springs.
Hopefully, this review was able to help you add some Disney vegan food finds to your list of items to try. Please let me know in the comments below about your favorite vegan options in any Disney park, Disney Springs, or a Disney Resort.
If you are looking to plan your next Disney vacation, make sure to check out our guide to the Best Resorts at Disney World.
In the comments: What are your favorite vegan food finds at Disney World? Have you enjoyed a memorable plant-based meal at Disney in the past?