Adventurer's Outpost (Meet Safari Mickey and Minnie Mouse)
Adventurer's Outpost is the dedicated character meet location for Safari Mickey and Minnie Mouse at Disney's Animal Kingdom. This character meet is extra special because it's the only place to meet Mickey and Minnie Mouse at Disney World.
Not only that, but the duo is wearing safari suits!
This article will cover the Adventurer's Outpost character meet, location, and tips to include this on your next visit. Per the Disney Parks Blog here, this character meet will re-open in the upcoming months.
Unfortunately, we don't have an exact date yet. However, traditional character meets will return to Disney World starting April 18, 2022.
This article was updated on April 5, 2022.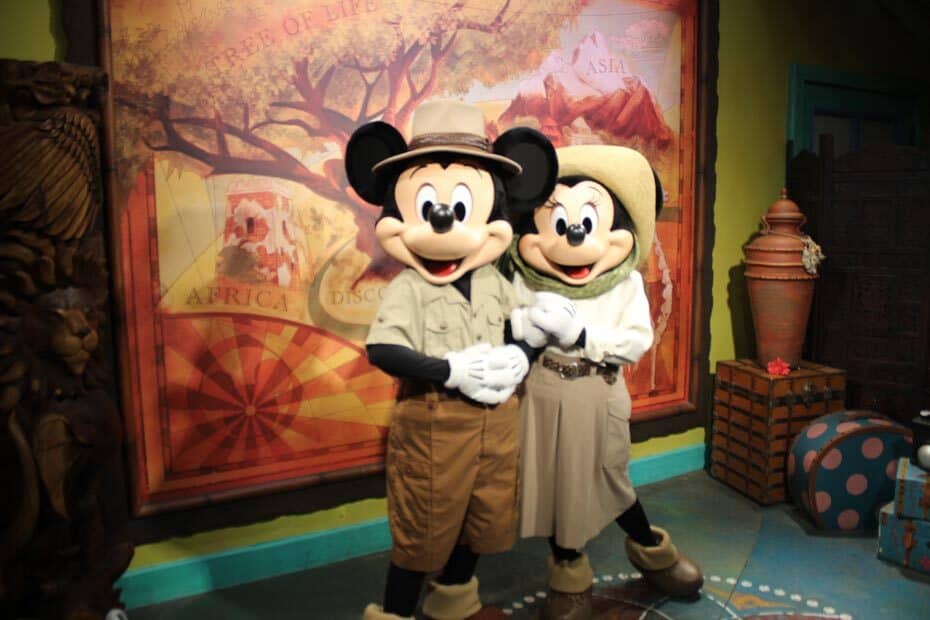 Mickey and Minnie Mouse are not easy to find together at Walt Disney World. A few years ago, they met together at Magic Kingdom for an entire year to celebrate Mickey's 90th birthday.
However, after that special character meet concluded, Mickey went back to meeting guests by himself at Town Square Theater.
Related: Meet Mickey at Magic Kingdom
Additionally, you can meet both Mickey and Minnie Mouse at Red Carpet Dreams in Hollywood Studios. However, these meets are held separately.
Related: Meet Mickey and Minnie at Red Carpet Dreams
And at Epcot, Mickey is currently meeting in an area inside the Disney and Pixar Short Film Festival. Unfortunately, Minnie only makes pop-up appearances at Epcot during this time.
Related: Meet Mickey at Disney and Pixar Short Film Festival
If and when construction at Epcot concludes, we'll likely see the return of a true character meet for the classic characters. Until then, we'll continue to keep up with their locations.
This leaves Adventurer's Outpost at Animal Kingdom as the dedicated location to meet and get a photo with Mickey and Minnie Mouse.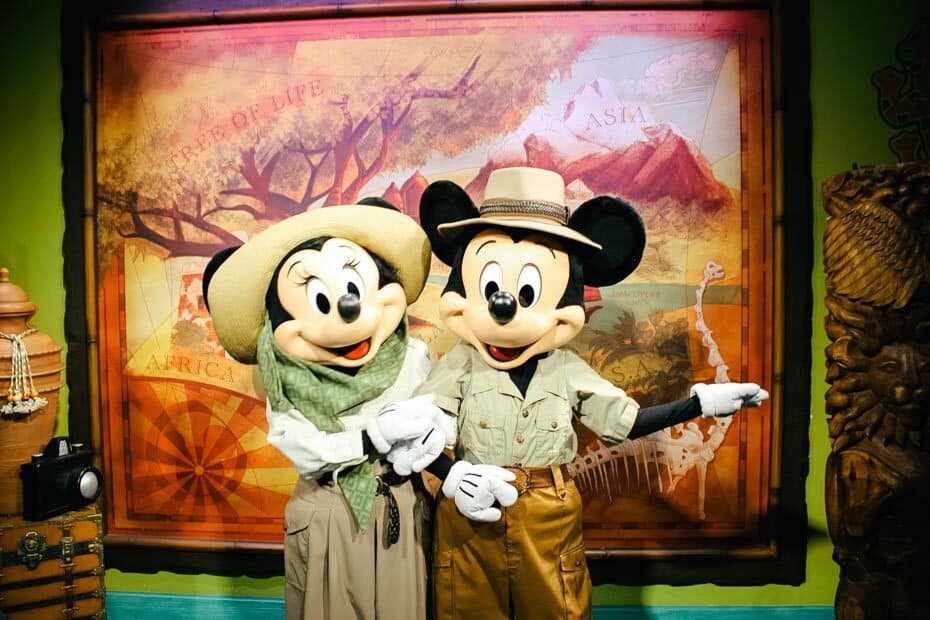 Adventurer's Outpost is relatively easy to find. It's located on the walkway from Discovery Island to Asia.
You'll run into the character meet location before crossing the bridge into Asia. It is on the immediate right before the bridge.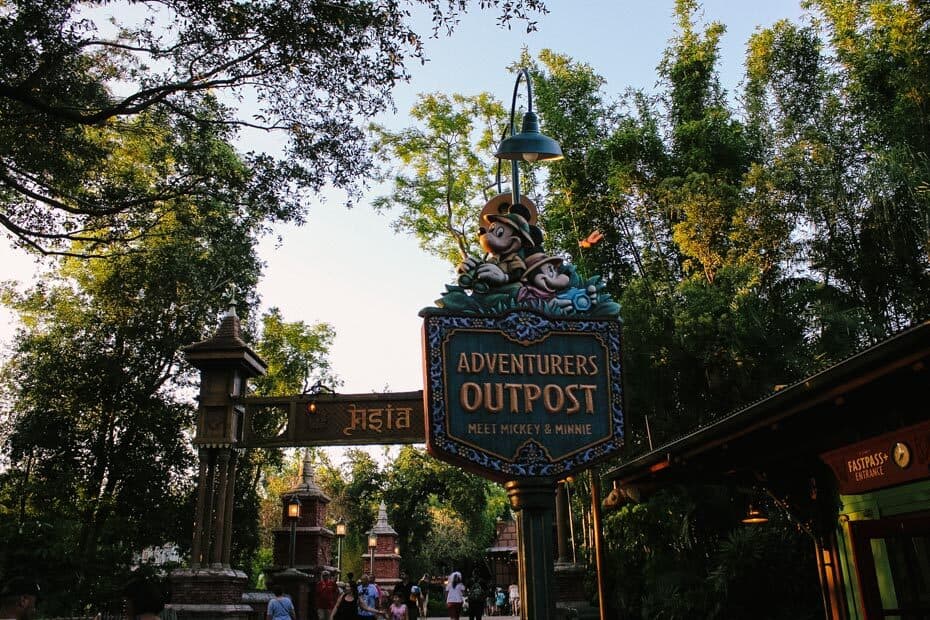 For reference, this walkway is the one to the immediate right when you are facing the Tree of Life.
One of the fun things about Adventurer's Outpost is the adorable costumes they wear. Of course, everyone needs a custom safari hat to go over their Minnie Mouse ears!
Related: Minnie Mouse Ears at Disney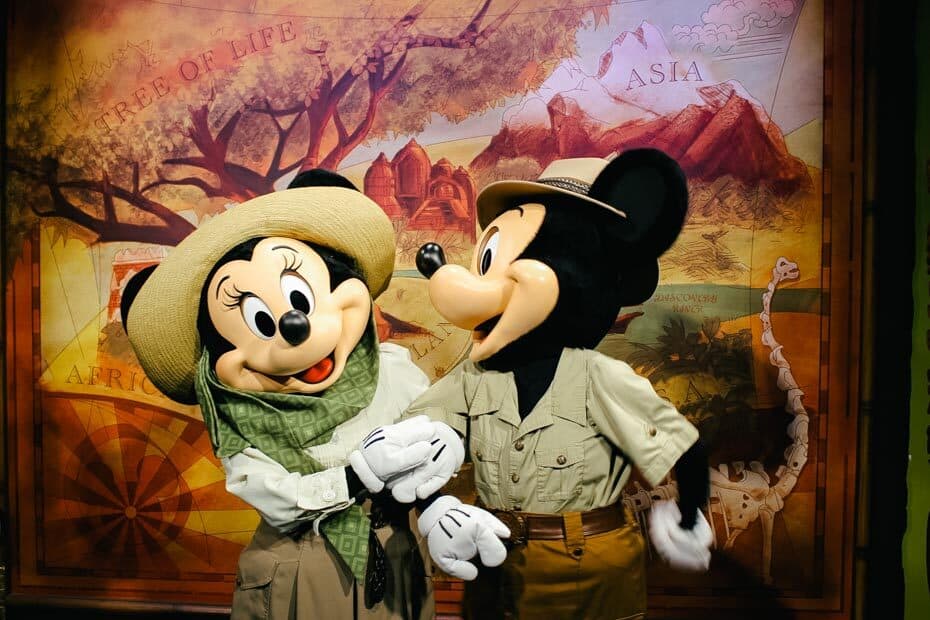 The visit is quite endearing. I love the way he looks at her.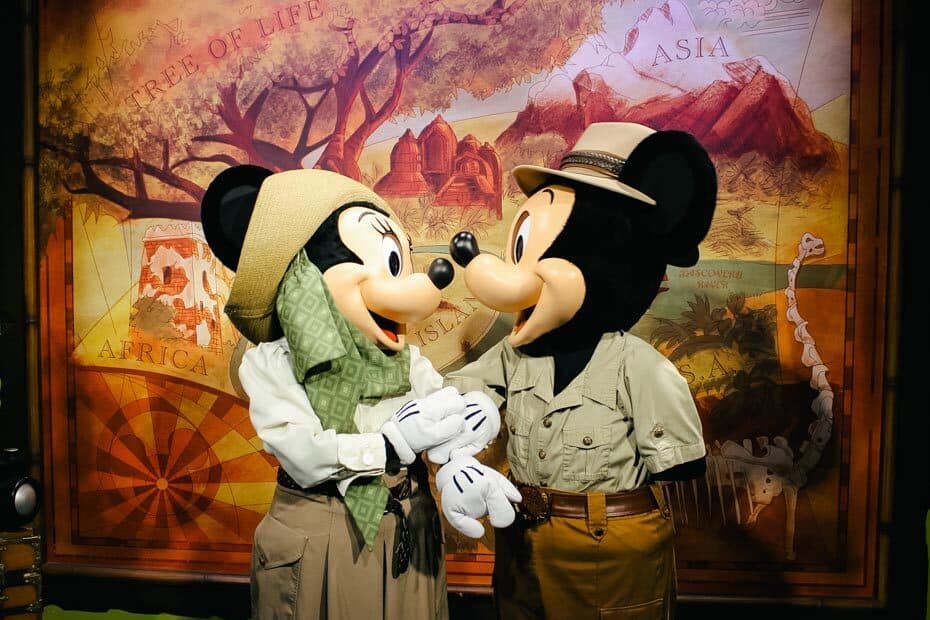 Mickey Mouse is always eager to meet guests, while Minnie is courteous and friendly. The characters always do an excellent job at pulling everyone in for a photo opportunity.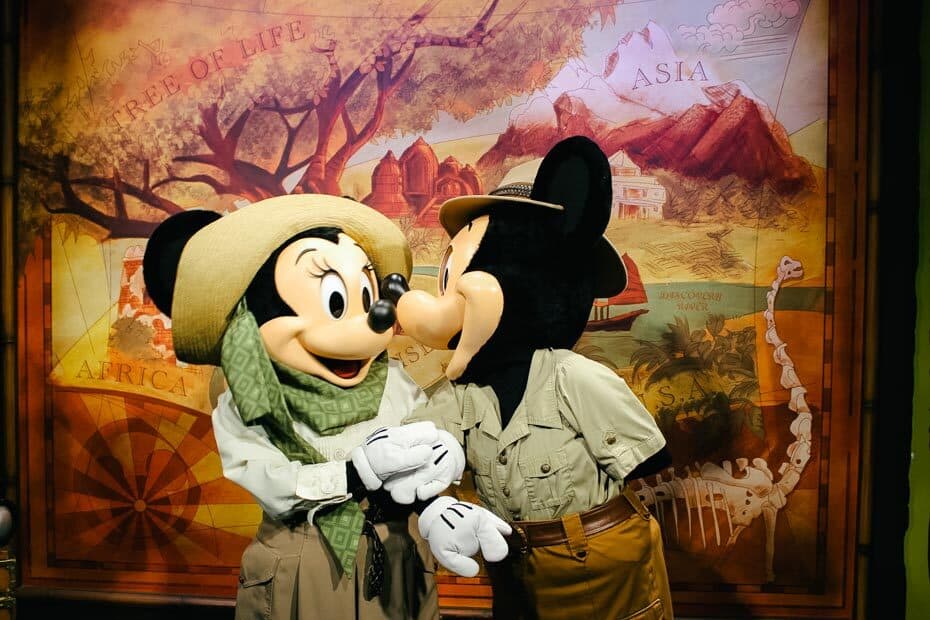 This character location formerly offered FastPass+. So it is likely we'll see Genie+ availability here in the future.
I don't know about you, but I'm not a huge proponent of purchasing extras to ride attractions and meet characters.
When the character meets get back underway, I plan to spend some time updating the entire Disney World Character List here on the site. It will take some time, but I don't anticipate a significant difference in the best time to meet the characters.
Formerly, the best time to visit Adventurer's Outpost was within two hours of park closing. Or anytime you walk through and see a low wait time posted.
One of the most important things to remember when meeting characters is that your wait will solely depend on the groups ahead of you. You may be in line between people who are very respectful of everyone's time and whisk through the meet in a matter of seconds.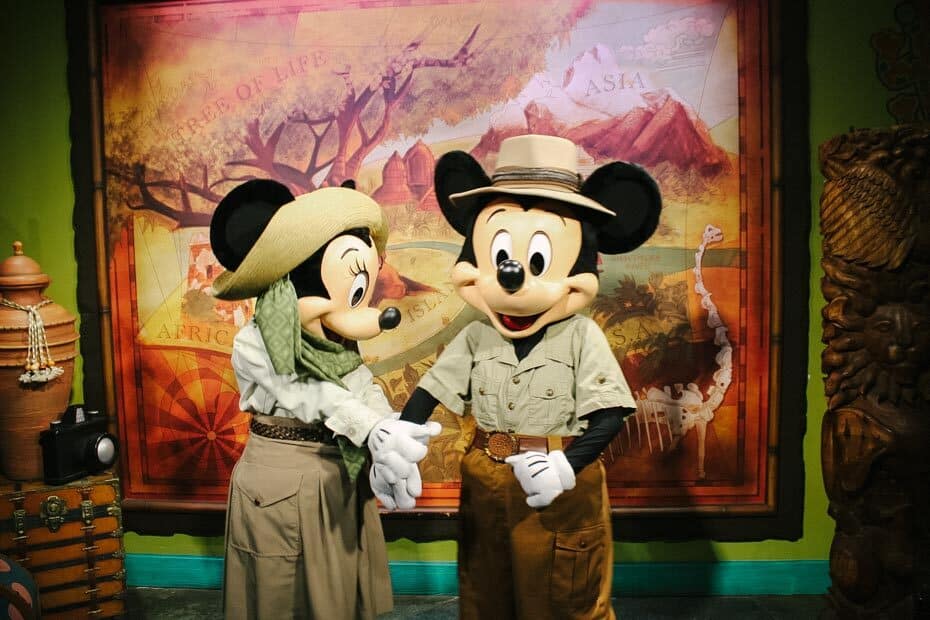 Or you could be in line behind a large group who decides to take every photo arrangement possible and is oblivious to the fact that other guests are waiting.
It's part of it.
Here is a look at the queue for the character meet a little after 8:00 p.m. on the evening I last visited several years ago. That sounds crazy, but it's been that long since this meet was available.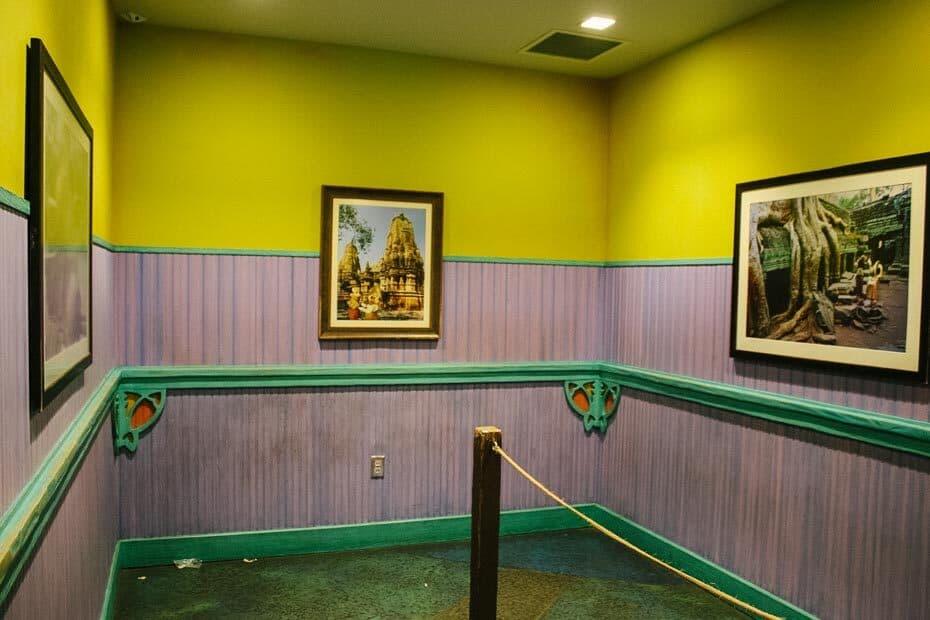 In the past, character meets typically peaked mid-afternoon and waits decreased as the later evening hours approached. Hopefully, this remains true when character meets resume.
The Adventurer's Outpost meet is usually available from park opening until about 30 minutes before the park closes. Make sure to check the daily time guide or the My Disney Experience app for exact times on the day of your visit.
Additionally, here are a few thoughts about meeting characters that I guarantee will ring true for many of you.
Over the years, I've met nearly every standard character within Walt Disney World. I used to get aggravated with others ahead of me who took numerous photos. I often felt like they were being discourteous to the guests behind them.
But after several times witnessing a few memorable interactions with those far less fortunate than me, I began to look at things differently. These characters probably don't offer any significant influence on most of us.
However, they do offer a lot of love, compassion, memories, and maybe even hope for those who need it.
In fact, I have found myself allowing more and more people ahead of me lately. People tend to share their stories about characters with me while waiting in line. I value their stories and need to write them down.
One of my favorite memories was a lady who was meeting 50 characters for her 50th birthday. She had a picture frame and had all the characters sign it.
She intended to use it to frame her favorite character picture. It was an excellent way to celebrate her love of Disney and characters.
The point I'm making is to give others a little grace while waiting in line for these meets. Go into the line knowing someone might take way too many pictures even though you've been waiting for what seems like forever.
Or they might have a need entirely unknown to the world that brings tears to their eyes and causes the characters to linger a bit more. They could also be sick and need a Mickey Mouse hug more than most of us will ever know.
Sometimes a long line is just part of it.
For more character meets at Disney World, try these articles:
Former Animal Kingdom character meets we hope to see return include the following:
Additionally, check out our complete Disney World Character Dining Guide for 2022. It is a lengthy guide, but it includes everything you'll want to know about dining with characters and a list of every meal.
P.S.–I almost forgot! Safari Mickey Mouse and Minnie Mouse both sign autographs! Make sure to have an autograph book available when meeting characters!
Yes, hugs and autographs are returning!
Do you plan to meet Mickey and Minnie Mouse at Adventurer's Outpost? What do you think about the safari suits?