Adventurer's Outpost at Disney with Safari Mickey and Minnie Mouse
Adventurer's Outpost is located at Disney's Animal Kingdom theme park and is the home of their dedicated Mickey and Minnie Mouse character meet. This meet is a little extra special because it's the only place to meet the pair together in all of Walt Disney World. Not only that, but they are wearing safari suits!
This review will cover the Adventurer's Outpost character meet's, location, and a few tips for your visit.
2021 Update: The following characters meets were available at Animal Kingdom prior to last year's closure. Make sure to check out the Character Cruises and Social Distancing Characters reviews for meeting characters.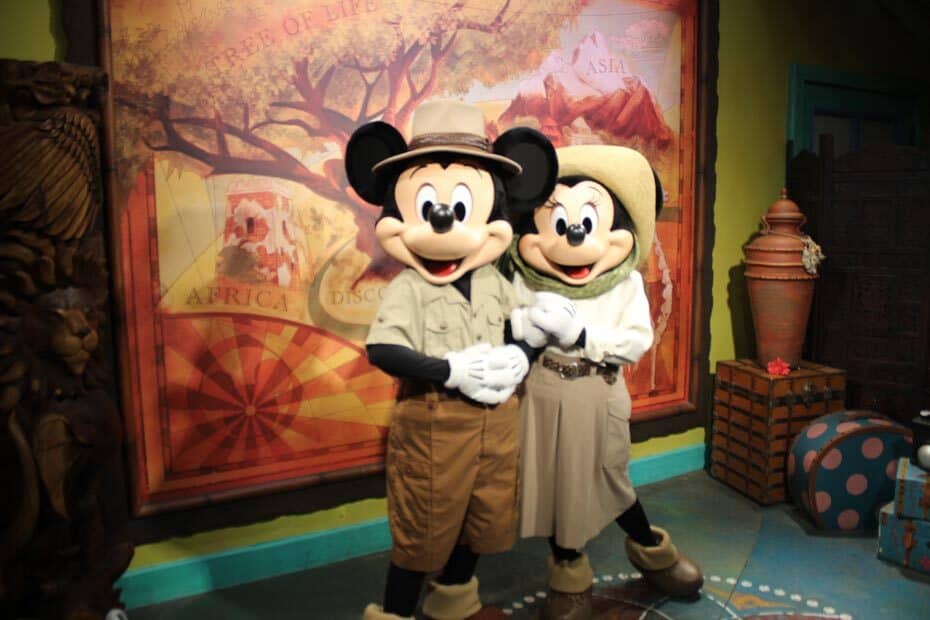 Mickey and Minnie Mouse are not the easiest to find together at Walt Disney World. In 2019, they concluded almost a full year of meeting together for Mickey's 90th birthday celebration at Magic Kingdom. They are once again meeting in separate locations at Magic Kingdom.
This leaves this safari character meet as the only place to get a photo with both of them together. You can, of course, meet them at the recently moved Epcot Character Spot in Future World. Over at Epcot, they share the stage with Goofy and do not meet as a duo.
At Hollywood Studios, they meet in the same location, but each has a separate character meets in different rooms. Currently, this Adventurers Outpost location at Animal Kingdom is the only designated meet for this duo.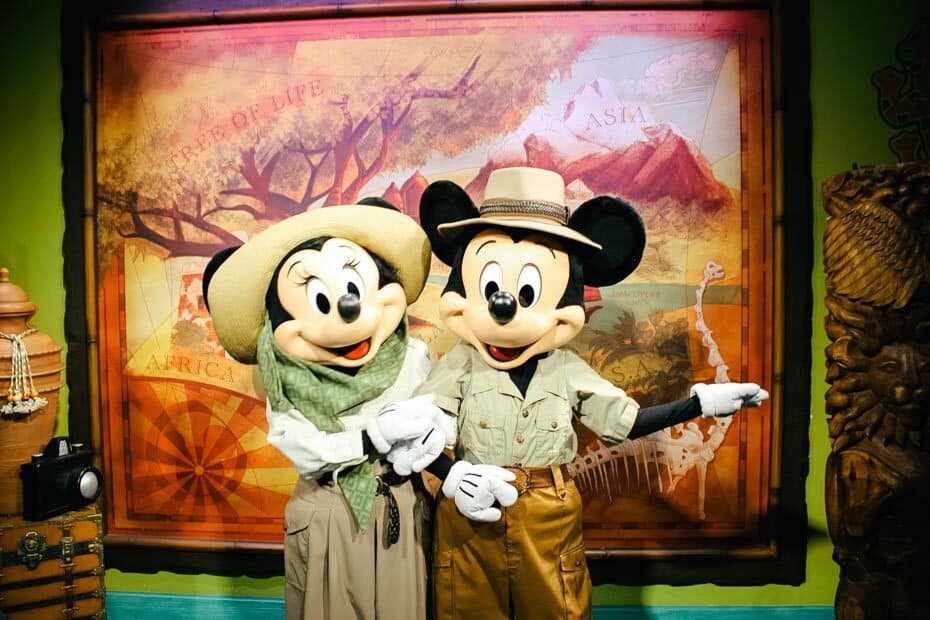 Safari Mickey and Minnie Mouse are located at Adventurer's Outpost. This location is extremely easy to find within the Animal Kingdom theme park. It will be to your immediate right by the Discovery Island trails before crossing over the bridge into Asia.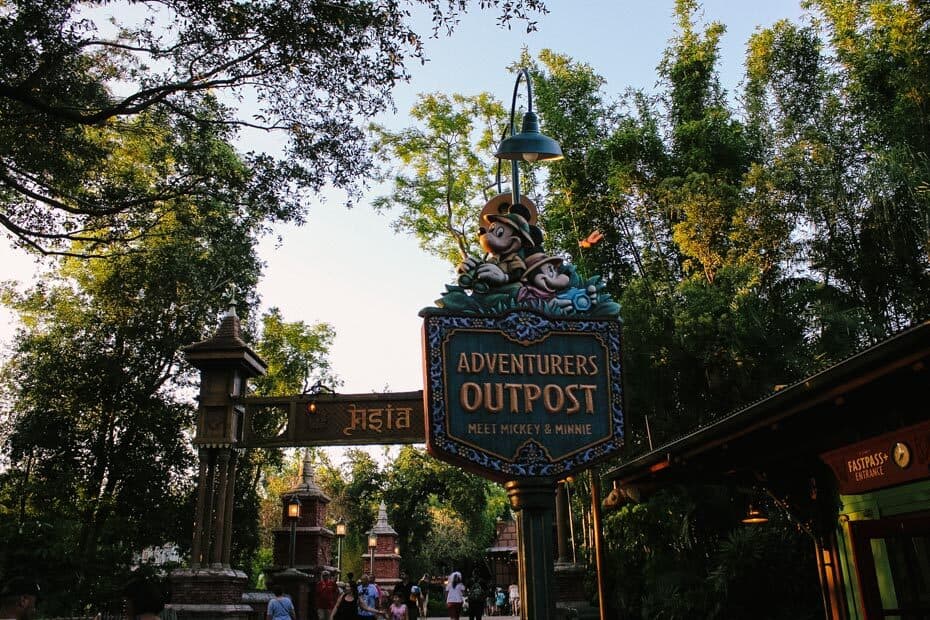 For guidance, when you are facing the Tree of Life from the park entrance the path to Asia will be on the right of the tree.
One of the fun things about this meet is their safari outfits! Everyone needs a custom safari hat made to go over their Mickey Mouse ears!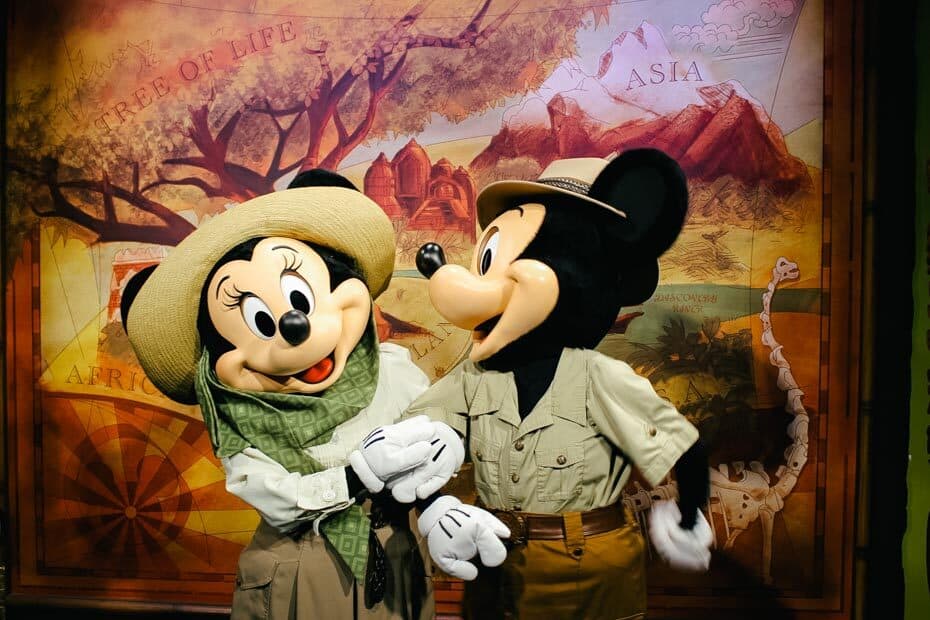 The visit is quite endearing. I love the way he looks at her.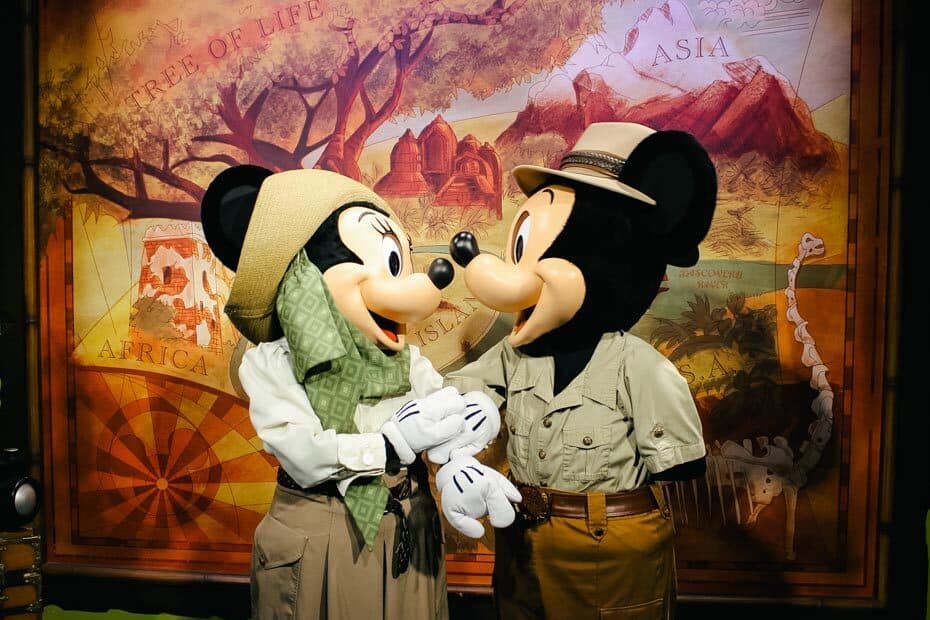 Mickey Mouse is always eager to meet guests, while Minnie is very courteous and friendly. These types of characters do a good job at pulling everyone in for a photo opportunity.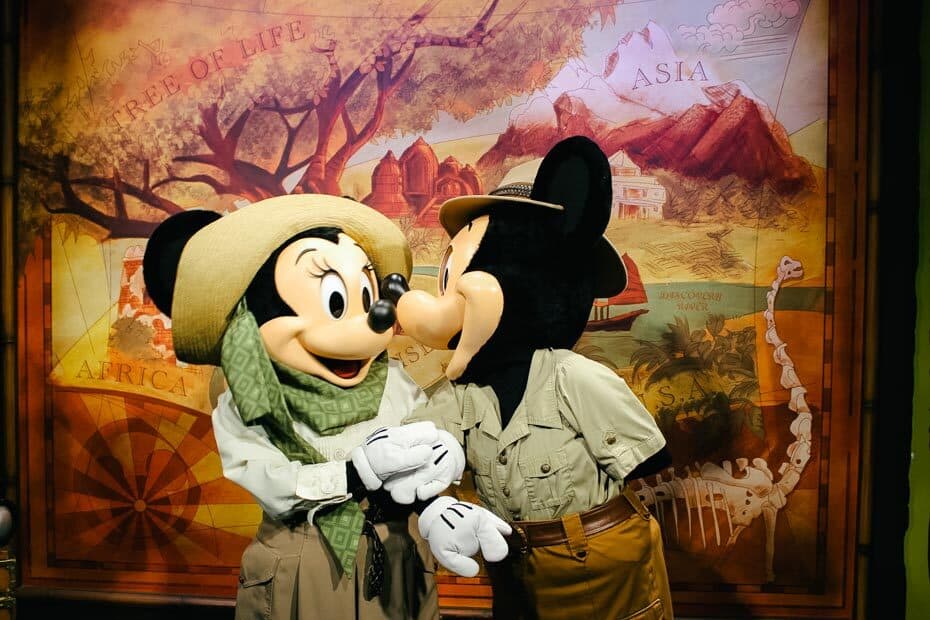 Over the last few months, I visited this specific attraction on two different occasions. One visit, I elected to do this meet with a 4th FastPass+. That means I had used my original three FastPass+ and then proceeded to book this character meet as my next option.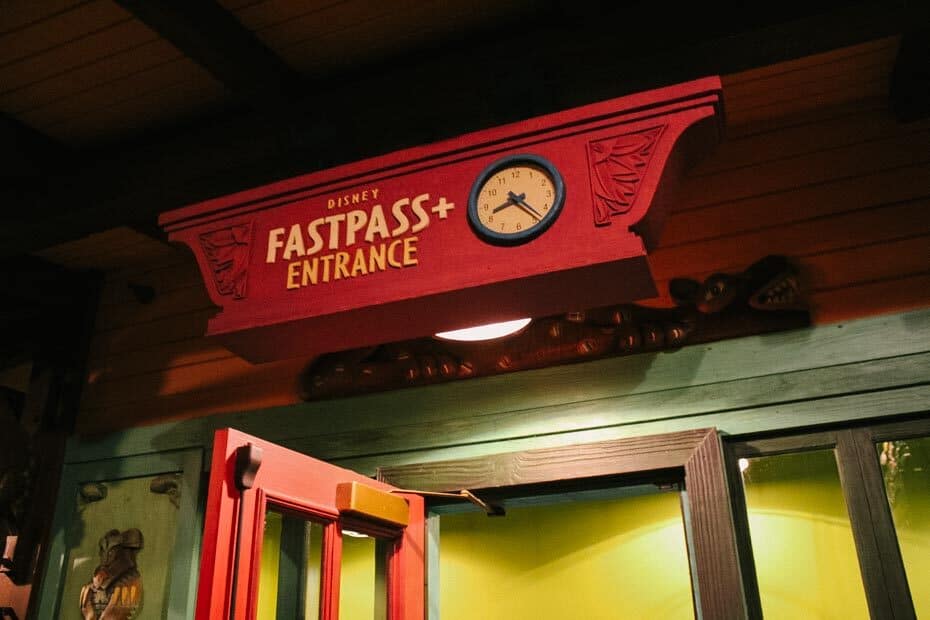 Above is a picture of the FastPass+ entrance to the Adventurer's Outpost character meet.
With my FastPass+ for Adventurer's Outpost, I met Safari Mickey and Minnie Mouse within about 15 minutes. There were about 3-4 families in front of me when I entered the line.
In mentioning those ahead of me, I would like to make an observation. While gauging specific wait times for character meets, it depends on the groups ahead of you. I'll go a little more in-depth on this thought toward the end of the post.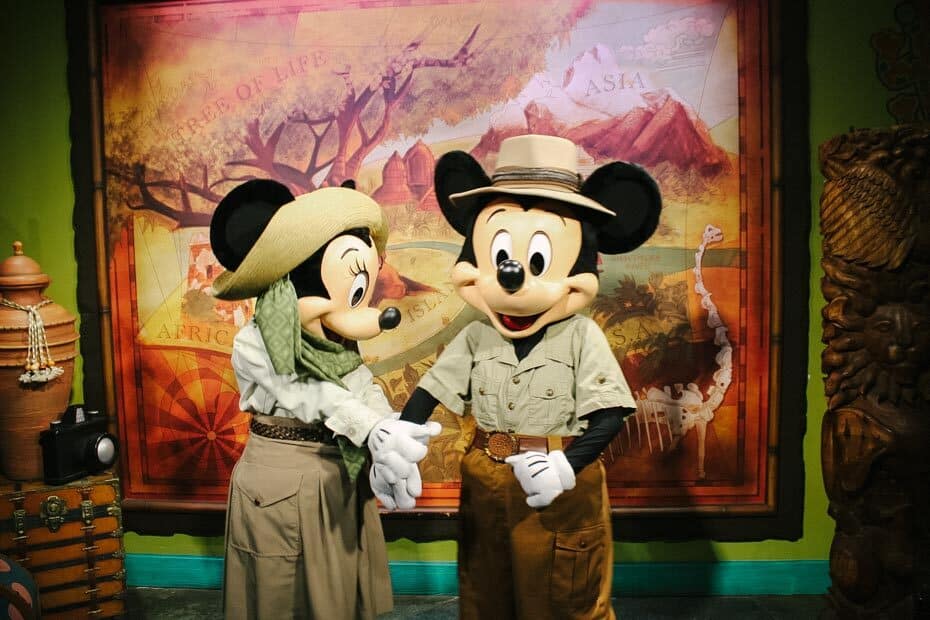 If visiting Safari Mickey and Minnie at Adventurer's Outpost is a priority, I would try to reserve an initial FastPass+ for the meet. However, if you are going later in the day and the two aren't at the top of your list, try for a 4th or 5th FastPass+. You can also check the line later in the day, and typically it won't be quite as long.
Fast forward about two months later, I decided to do this character meet in standby toward the end of one evening. I went in at about 8 p.m. on a 9 p.m. close.
This meet actually ended up being a less wait than my original FastPass+ visit. That was largely due to the fact that I waited until later in the evening. Character meets at most theme parks typically peak mid-afternoon and waits decrease as the later evening hours approach.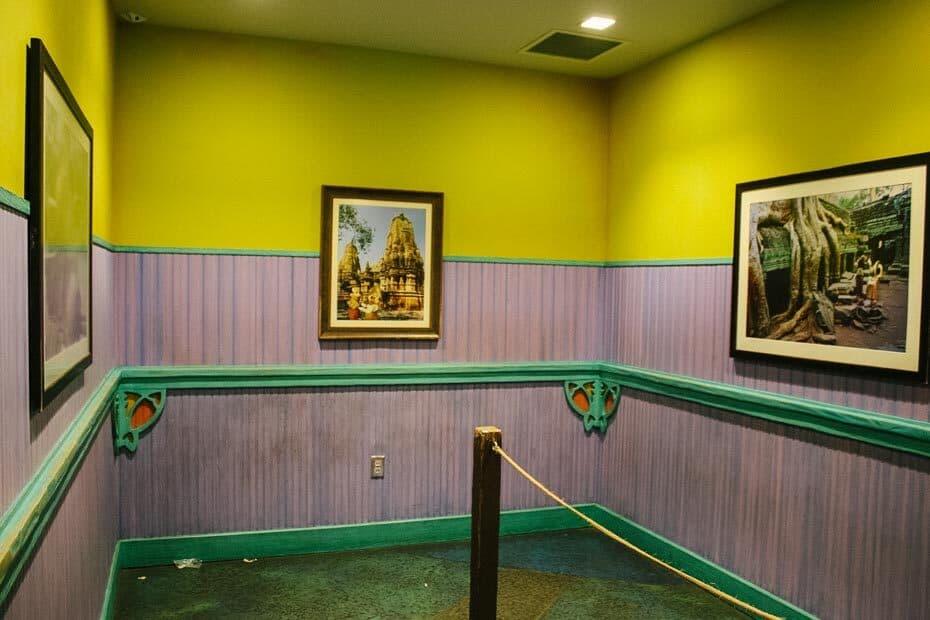 I even took a picture to document there was not one person in line in front of me this evening. There was one family ahead of me in the actual meet and greet area.
The Adventurer's Outpost meet is usually from park opening until about 30 minutes before park close. Make sure to check the park's times guide or the My Disney Experience app on the day of your visit for exact times.
I've met nearly every standard character within Walt Disney World this past year. Initially, I was aggravated with others ahead of me taking so many photos and feeling like they were wasting everyone's time.
But after several times of witnessing a few special interactions of those far less fortunate than me, I began to look at things a little differently. These characters probably don't offer any large influence to anyone. However, they do offer a lot of love, compassion, memories, and maybe even hope for those who need it.
In fact, I have found myself allowing more and more people ahead of me lately. People tend to share their stories about characters with me while waiting in line. I value their stories and really need to write them down.
One of my favorites was the lady that I talked to who was meeting 50 characters for her 50th birthday. She had a picture frame mat and was having all the characters sign it. She intended to use it to frame her favorite character picture. It was something fun she could do for herself.
The point I'm making is to give others a little grace while waiting in line for these meets. Go into the line knowing someone might take 40,000 pictures right in front of you to get that one Instagram-worthy post.
Or they might have a need completely unknown to the world that brings tears to their eyes and causes the characters to linger a bit more. They could also be visibly sick and in need of a Mickey Mouse hug more than most of us will ever know.
Understand if you have waited in line or used your FastPass+ for a character meet, then sometimes a long line is just part of it.
If you are interested in character meets at Walt Disney World, make sure to check out our full section of Disney World characters meets.
Additionally, there is a full review about meeting characters from Up! like Russell, Dug and Kevin at Disney's Animal Kingdom.
Or you might be interested in checking out the Pocahontas character meet.
For those wanting to plan character dining on their next vacation, make sure to check out the full guide to Disney World character dining. It is a lengthy guide, but it includes every single thing you'll want to know about dining with characters, and a list of every meal available.
P.S.–I almost forgot! Safari Mickey Mouse and Minnie Mouse both sign autographs! Make sure to have an autograph book available when meeting characters!
Adventurer's Outpost at Disney