Adventurer's Outpost (Meet Mickey and Minnie Mouse at Disney's Animal Kingdom)
Adventurer's Outpost is the character meet location for Mickey and Minnie Mouse at Disney's Animal Kingdom. This character meet-and-greet is one-of-a-kind because it's the only dedicated place to meet Mickey and Minnie Mouse as a couple.
Below, we'll cover the specifics for meeting Mickey and Minnie Mouse at Adventurer's Outpost. We'll discuss the location, the best times to meet the pair, and other tips.
This article was updated on February 5, 2023.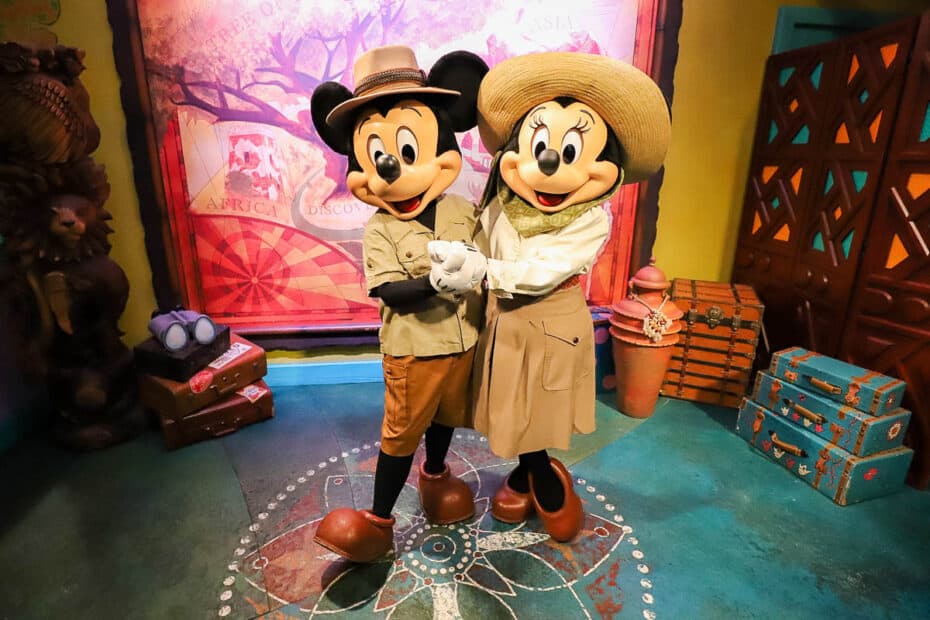 Where is Adventurer's Outpost?
Adventurer's Outpost is located on Discovery Island at Disney's Animal Kingdom. You'll find this character meet-and-greet on the right-hand side of the walkway before you get to the bridge that leads to Asia.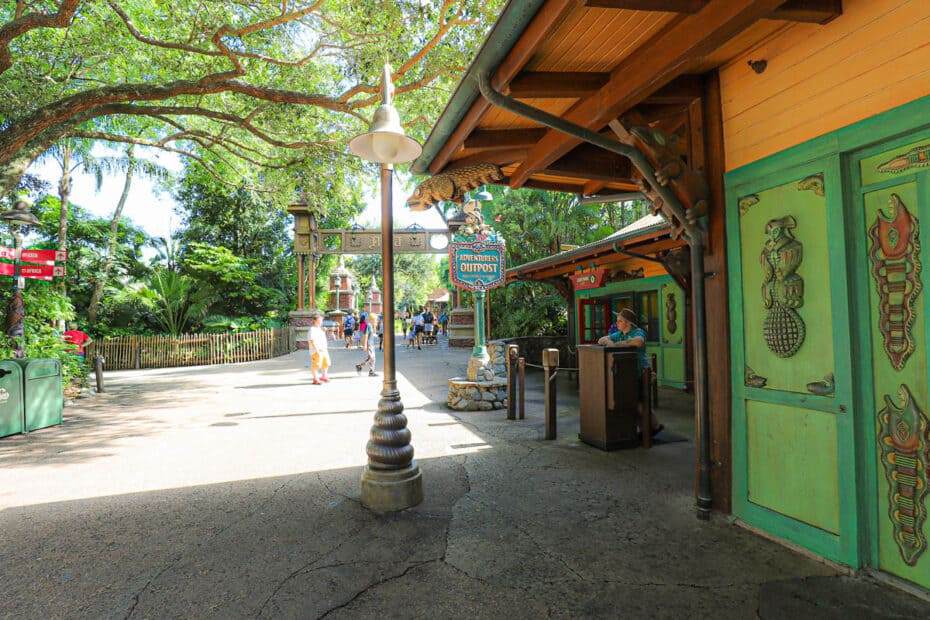 Adventurer's Outpost is usually open daily from 8:00 a.m. until 6:30 p.m. You can check the exact hours for the meet-and-greet in the My Disney Experience app on the day of your visit.
Hours are also available here on Disney's site. You'll want to use the calendar to select the day you plan to be at the park.
When you arrive at Adventurer's Outpost, you'll notice two lines. One line is for stand-by, and the other is a Lightning Lane.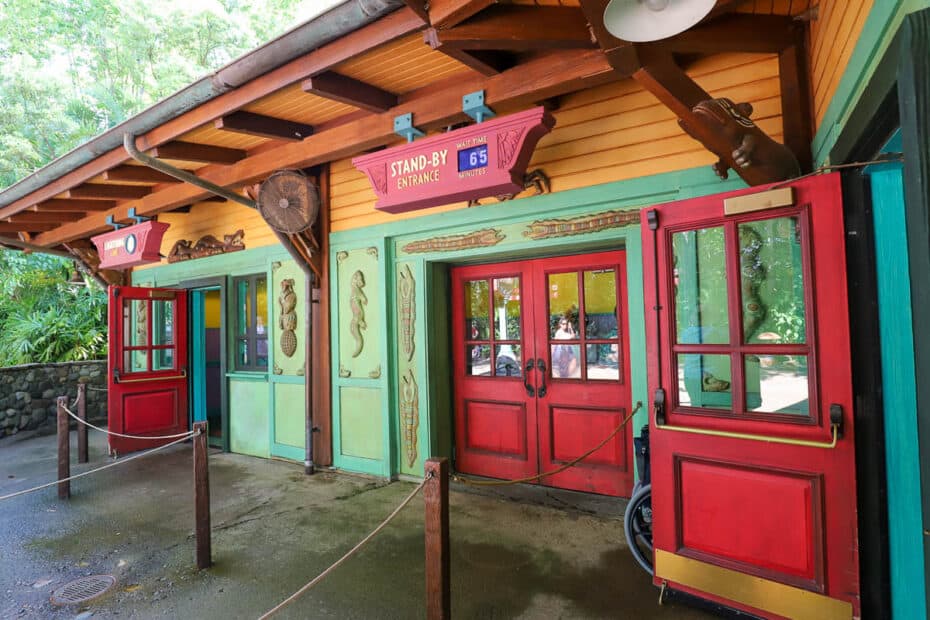 Adventurer's Outpost falls under the regular Genie+ offering. So if you purchased Genie+, you could use this meet-and-greet as one of your selections.
How Long it Took to Meet Disney Pals at Adventurer's Outpost
Given the wait was posted at 65 minutes on the day of my visit, this is probably one of the better options for using Genie+ at Animal Kingdom.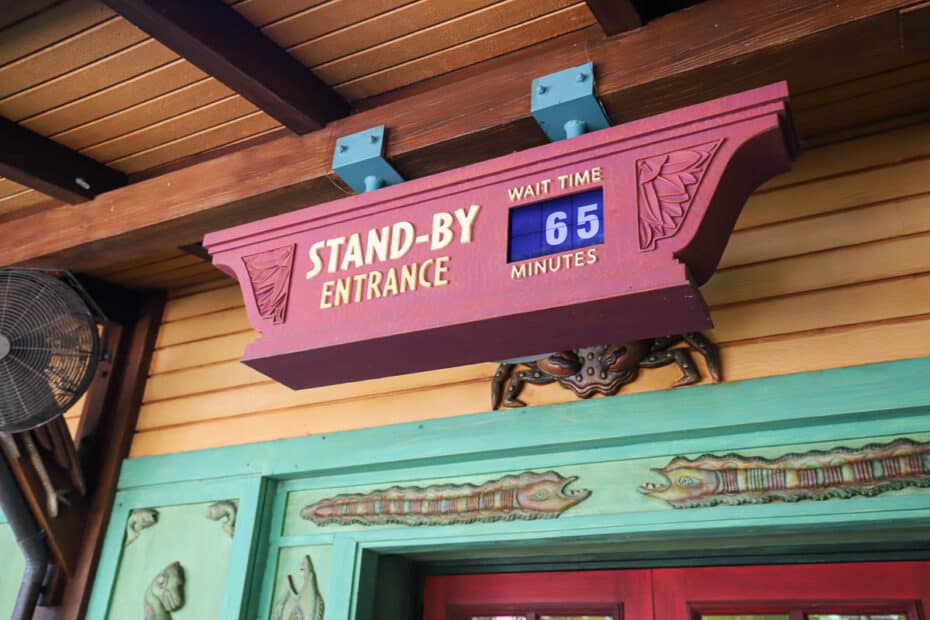 While I was prepared to wait 65 minutes, I can assure you this would not have been the best use of my time. This walk-through was completed the last week of July when crowds were moderate.
In the past, I always recommended doing this meet-and-greet later in the day. But I know not everyone stays so late at Animal Kingdom, so I decided to try it out before lunch.
It was 10:05 a.m. when I got in line for the posted 65-minute wait. Here is the line ahead of me.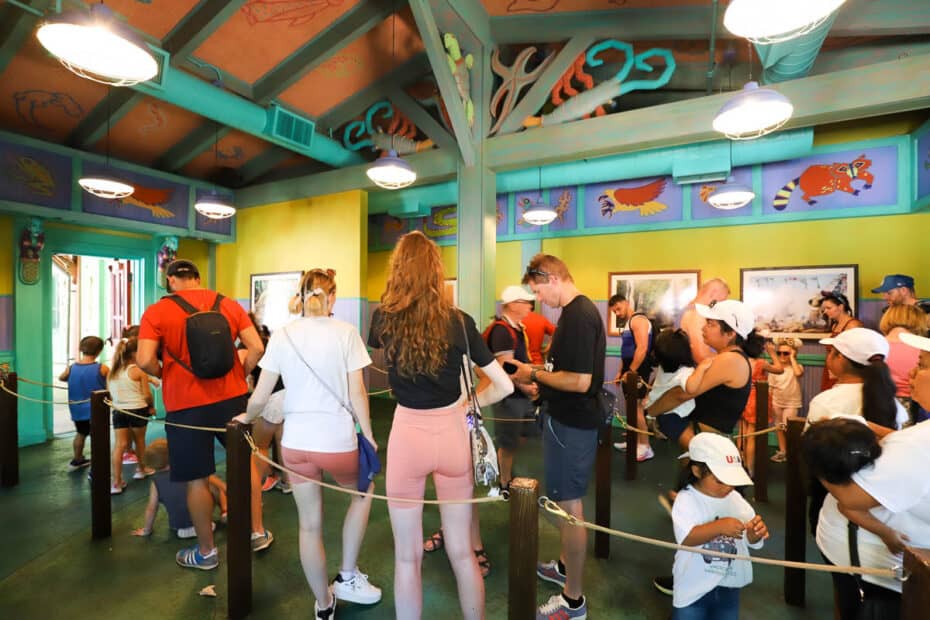 Kevin came meandering outside after I had been standing there for a few minutes. Several people were so excited to see him that they got out of line and rushed out to meet him.
Related: Meet Kevin from Up! at Disney's Animal Kingdom
Even worse, a cast member came out and told everyone that Mickey and Minnie would take a five-minute break but would be back shortly. At that point, another group of guests heaving in frustration got out of the line.
Two things here baffled me. First, you know staffing is pretty low when a cast member announces that characters at an indoor meet are taking a break.
You know these dedicated meets have several rooms where multiple sets of characters can meet guests simultaneously, right? That's why cast members collect two to three sets of guests at a time.
Then they lead them into an empty room. Afterward, they lead the next set of guests into another empty room. All the while, new cast members pull those guests into the character meets.
It all works smoothly because you never realize what's going on with the line after you're separated. And it allows guests to continue meeting one set of characters while the other set takes a break.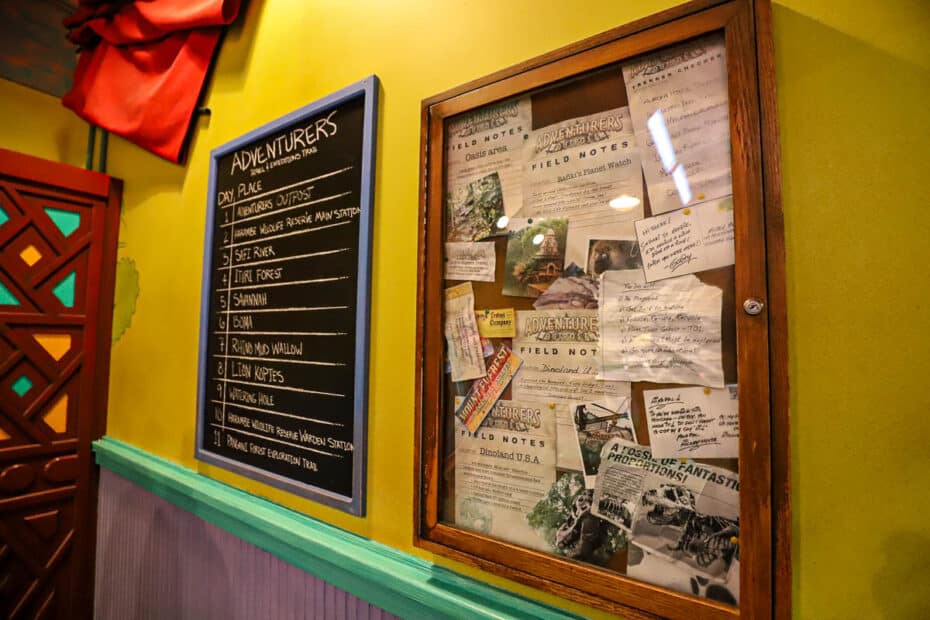 Secondly, why did these people leave the line? They had already invested a decent amount of their time waiting. And in the overall scheme of things, a five-minute break was nothing compared to the 65-minute posted wait.
What were they thinking? Was it something like, "Oh no, I signed up for 65 minutes but not 70?" I'm not sure.
Anyway, I got in line at 10:05 a.m. and met Mickey and Minnie at 10:41 a.m. for a total wait time of 36 minutes.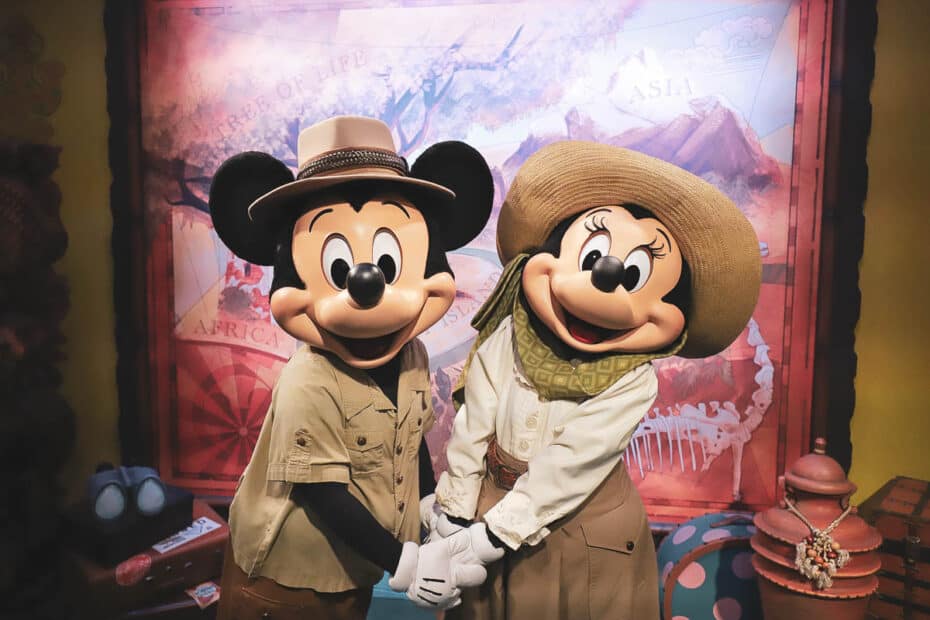 Ultimately, I was happy with the 36-minute wait to meet the pair. However, if I had returned in the last hour before the location closed, I probably could have gotten in and out of there in less than 10 minutes.
But by that time, you might have already taken the bus back to your resort for an afternoon nap. And that's probably why the wait times are much lower later in the day.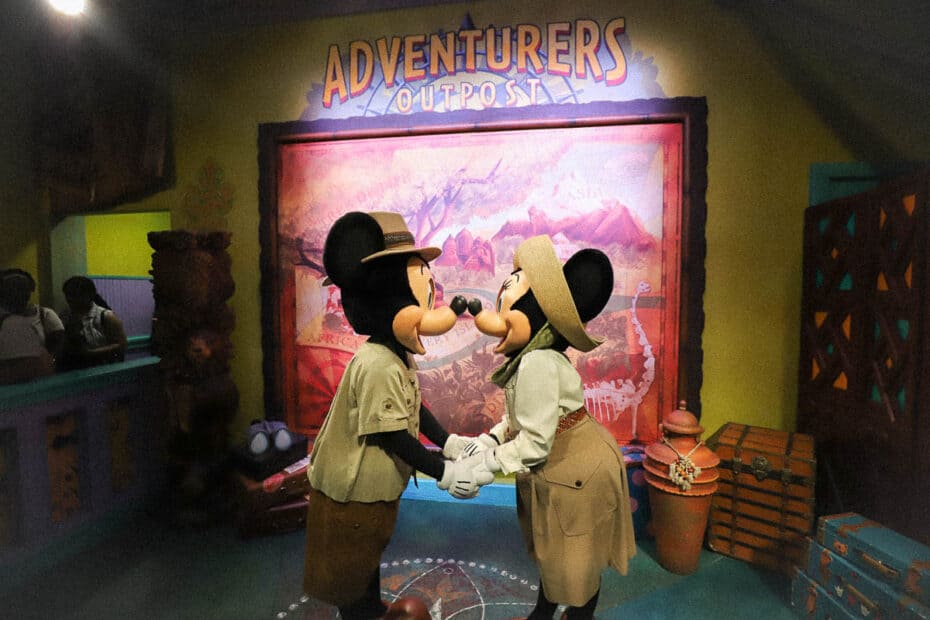 Mickey and Minnie will take their time meeting with each guest. One of the most important things to remember when meeting characters is that your wait will almost solely depend on the groups ahead of you.
You may be in line behind people who respect everyone's time and whisk through the meet in seconds. Or you could be in line behind a large group who decides to take every photo arrangement possible and is oblivious to the fact that other guests are waiting.
It's part of it.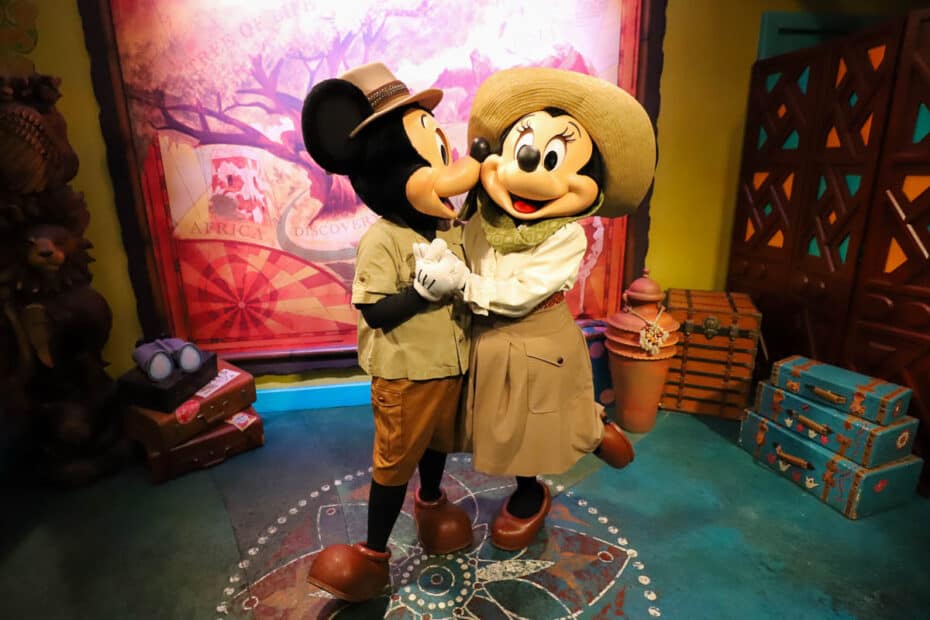 Additionally, Mickey and Minnie both sign autographs at this location. So make sure to have your pen and autograph book out and ready.
A PhotoPass photographer was available at this character meet-and-greet on the day of my visit. However, when I returned to meet them in December, the photographers had been replaced by those hideous boxes that do a terrible job of taking photos.
With that said, they do spruce up a bit at Adventurer's Outpost for the holidays. Mickey wears a red shirt with a holiday tie. Minnie has a pretty red scarf that accents her safari suit.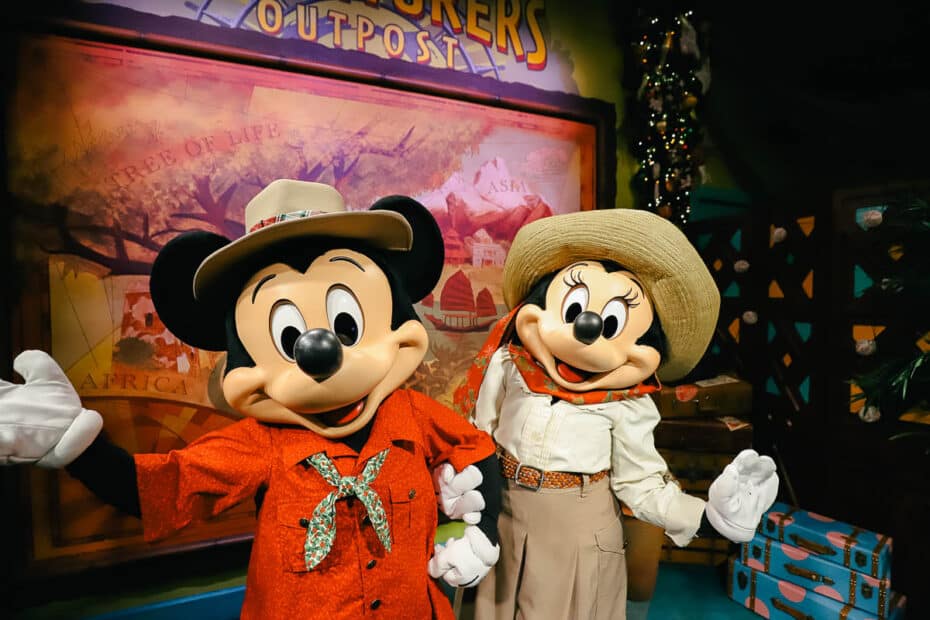 I hope this article helped you with the specifics of meeting Mickey and Minnie Mouse at Adventurer's Outpost. For more character meets, try our complete guide.
Related: Every Character Meet at Walt Disney World
Some other character meets you might enjoy:
Here are a few former character meets at Animal Kingdom. We hope to see them return eventually:
Additionally, check out our complete list of Disney World Character Meals. It is a lengthy guide, but it includes everything you need to know about dining with characters.
In the comments
Do you plan to meet Mickey and Minnie Mouse at Adventurer's Outpost? What do you think about the safari suits?