Meet The Mandalorian and Grogu at Disney's Hollywood Studios (Walt Disney World)
If you want to meet The Mandalorian and Grogu at Disney's Hollywood Studios-this is the way. In all seriousness, we were flabbergasted to see the companions greeting guests at Hollywood Studios in Walt Disney World, seemingly out of nowhere.
Of course, looking at the situation retrospectively, it all makes sense. Season three of The Mandalorian debuted yesterday on Disney+, and this character sighting has been a huge hit at Disneyland.
So what are your chances of seeing The Mandalorian and Grogu on your next visit to Walt Disney World? At the moment, hopeful.
According to reporter Scott Gustin via Twitter, "Disney says The Mandalorian and Grogu will make regular appearances in Star Wars: Galaxy's Edge at Walt Disney World–joining other regular characters in the land. It's not a "limited time" offering."
Time will tell how often this special character sighting is available. But it appears they will join the list of roaming characters in Galaxy's Edge.
Below, we'll look at the details of how we met The Mandalorian and Grogu and what to expect. Warning, attempting to meet this pair is not for the faint of heart.
The crowd's energy was similar to a mosh pit. Except we're talking a mix of Disney and Star Wars fans here. So thankfully, the majority of us aren't strong enough to send anyone crowd-surfing. I'm certainly not.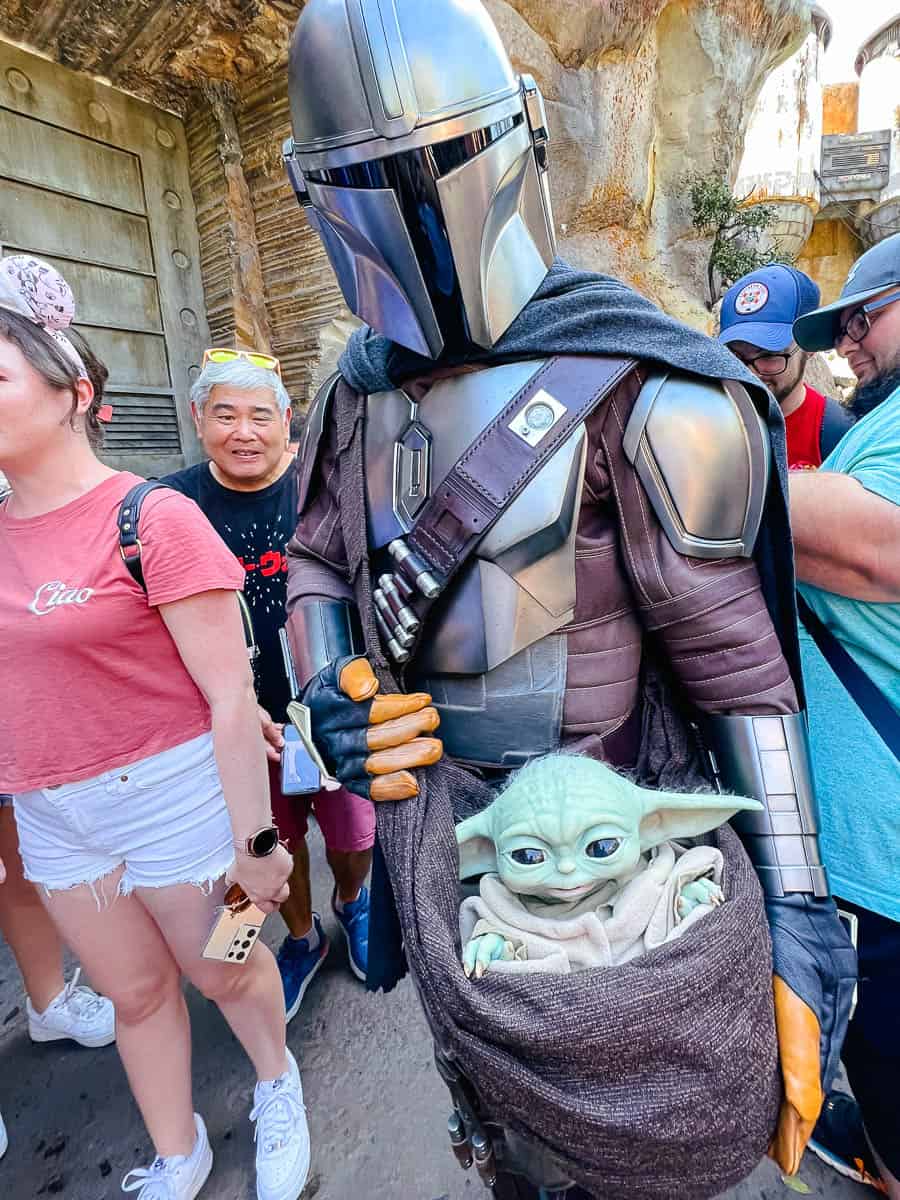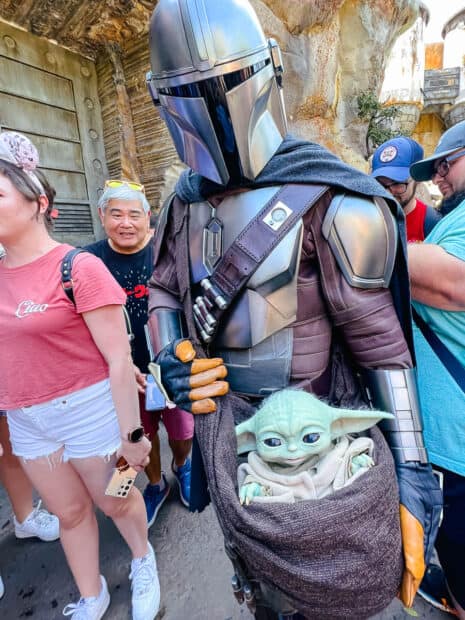 Meet the Mandalorian and Grogu
We headed straight to Galaxy's Edge when we arrived at Hollywood Studios. After making a few laps around the Star Wars-themed land, we finally ran into a crowd at the front of the Black Spire Outpost Marketplace.
One cast member told us that The Mandalorian and Grogu could often be found around Ronto Roasters. Later, another cast member said they could roam anywhere, but most likely, they could be found in the Marketplace.
Ronto Roasters is connected to the Marketplace near the Millenium Falcon, while the other end of the Marketplace lets out closer to Rise of the Resistance. This is where we found a host of guests waiting to get a glimpse of the new roaming characters.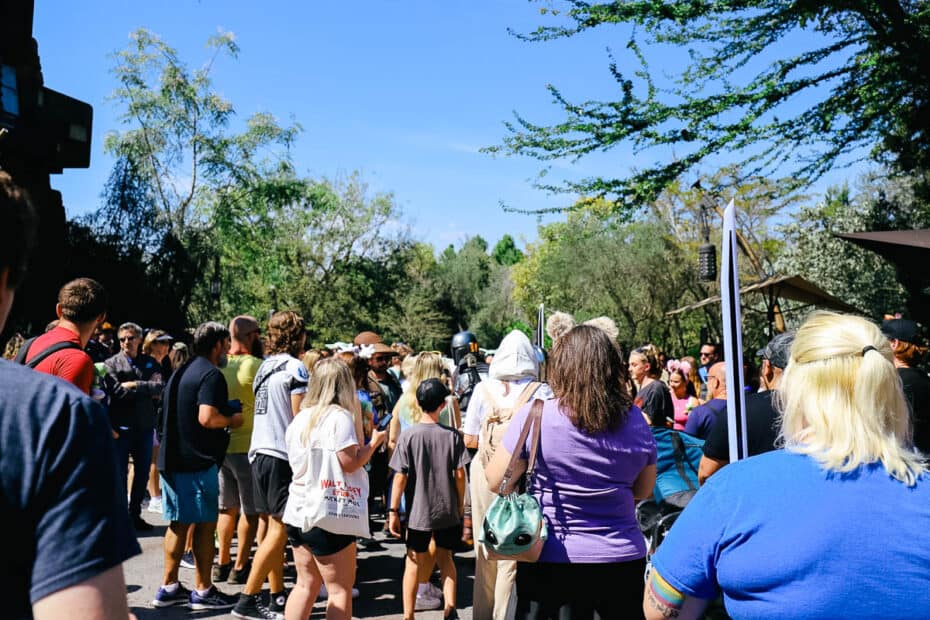 It wasn't long before the crowd began to shift. Guests began moving toward the Marketplace. Some squealing with delight, a true indicator that The Mandalorian and Grogu had arrived.
Further down, I'll share a video that better represents the crowd. These photos are only from when The Mandalorian reached our immediate area, where he could be seen at face level.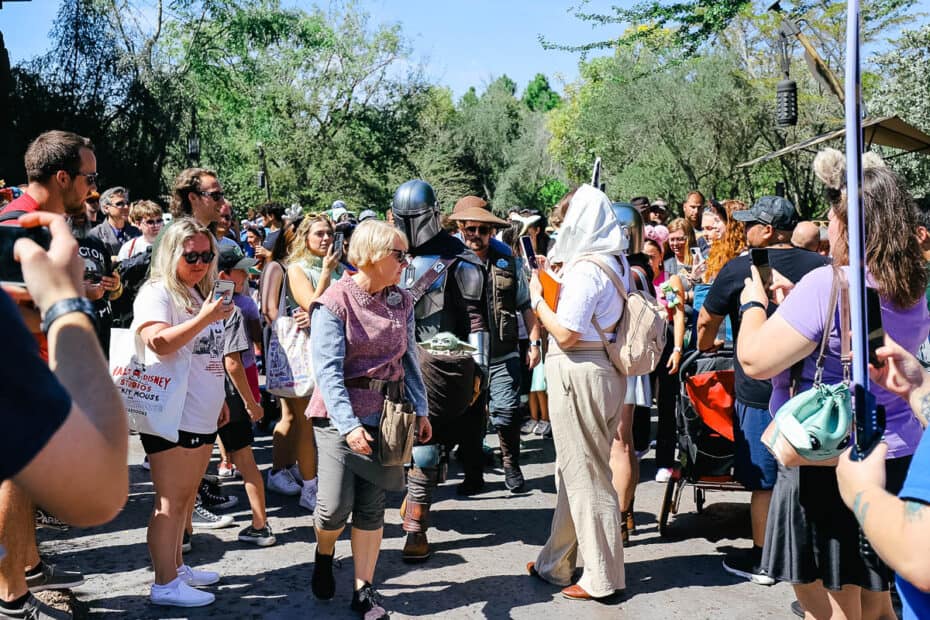 When he got closer, the crowd somewhat parted to allow some space.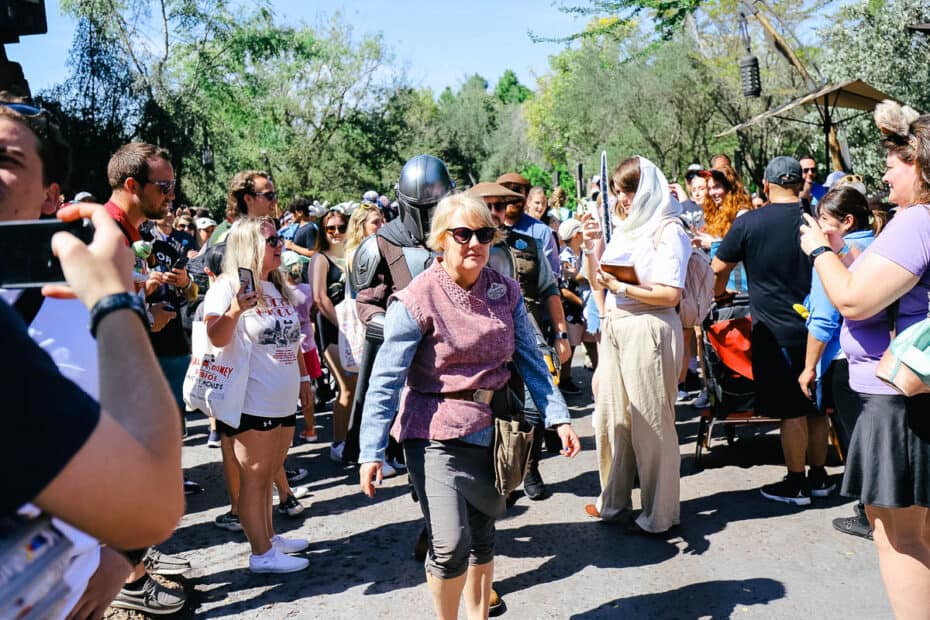 It was as though they had stepped out of the television and into our lives. I've never seen a more realistic character sighting. They are both beyond impressive.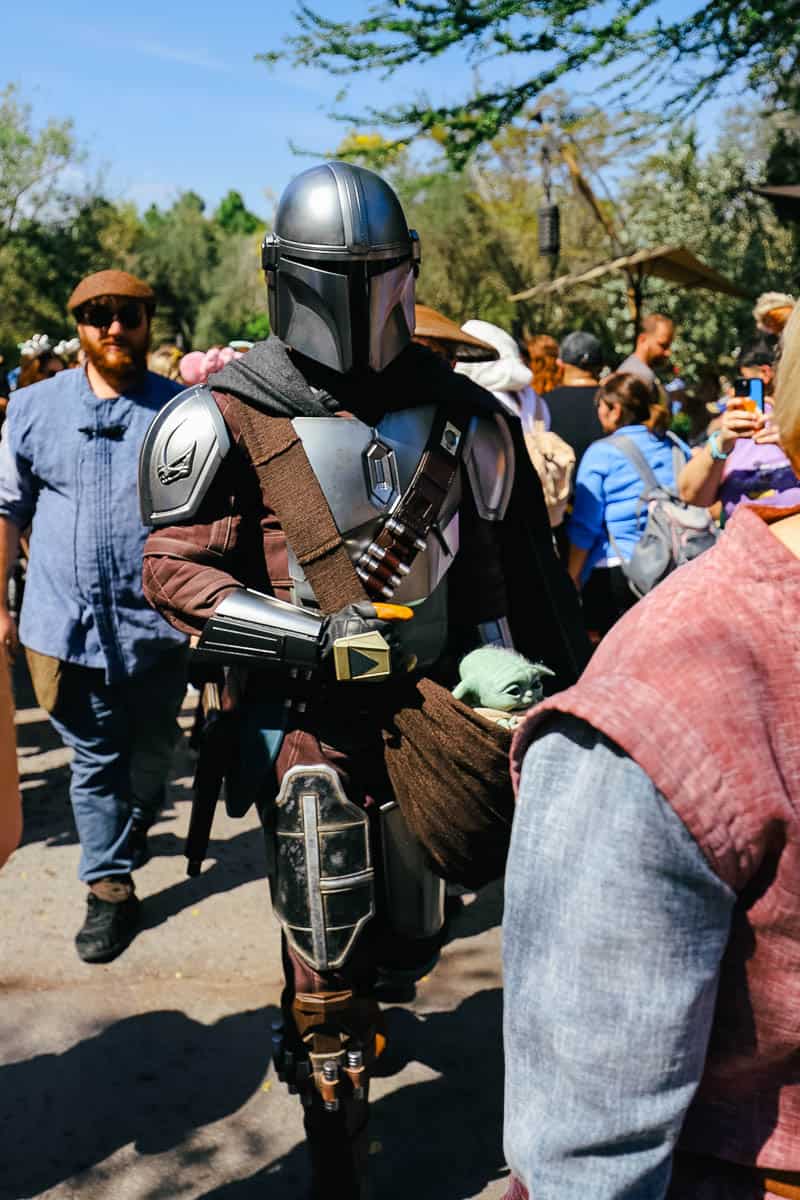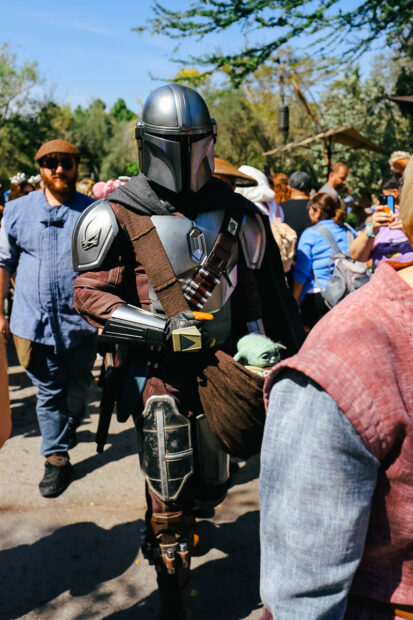 Grogu is life-like. He blinks his eyes and turns his head to survey the crowd.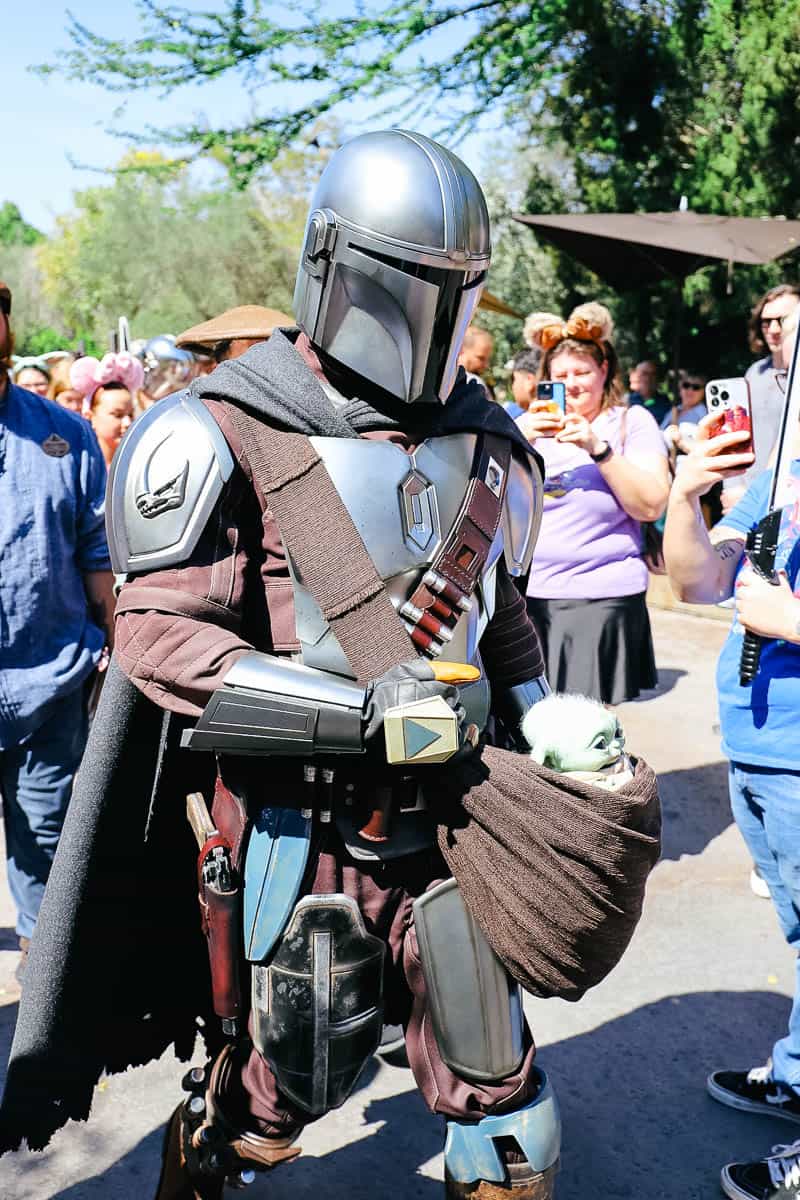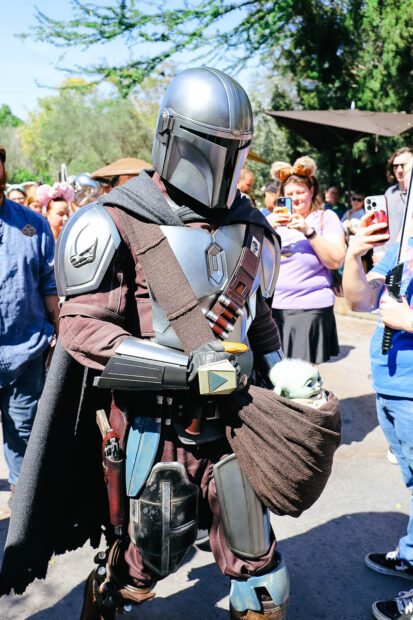 We got a "This is the way" as he passed.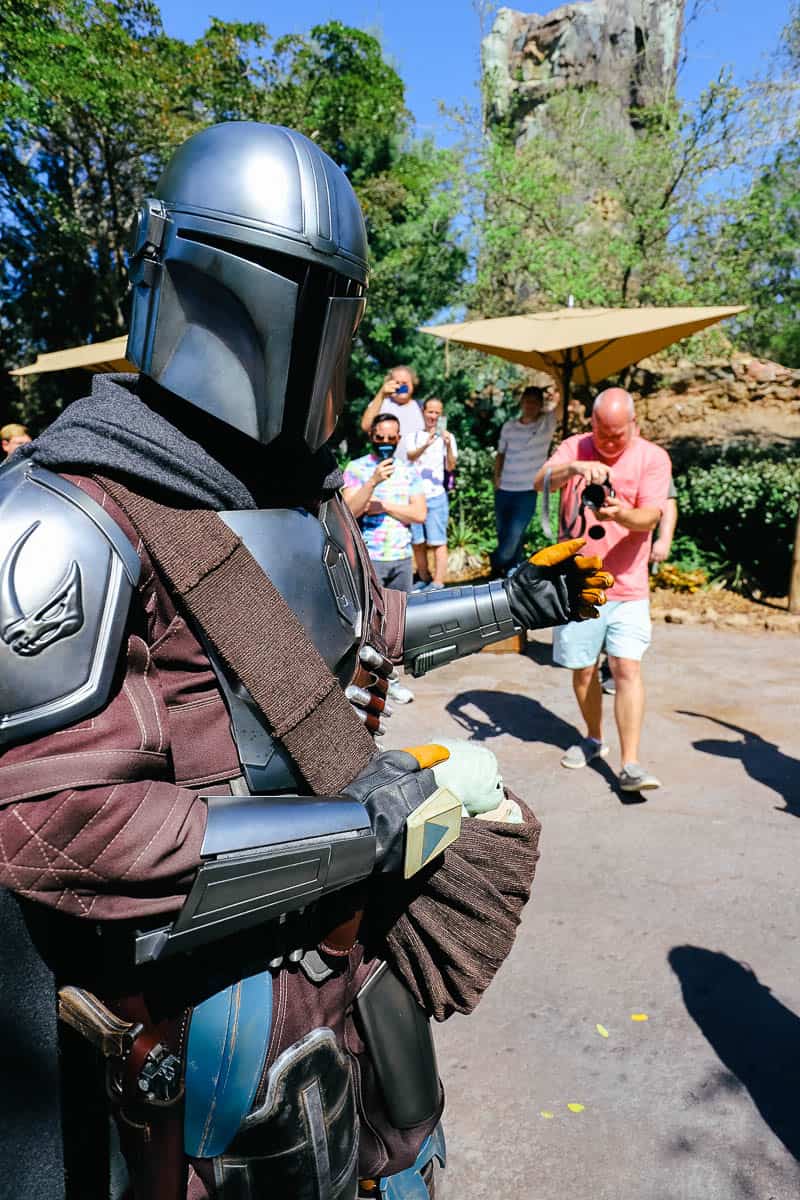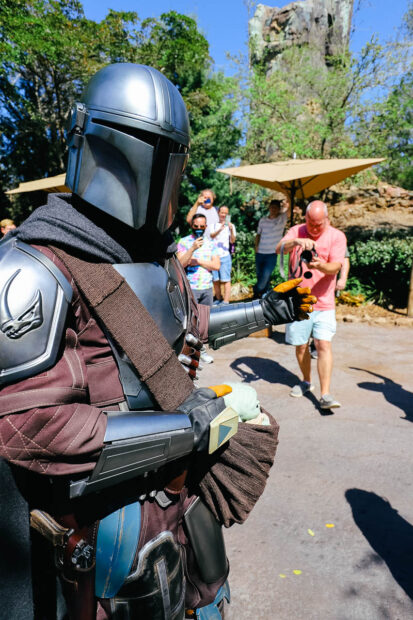 The Mandalorian is a talking character. Many guests would ask to pose for a selfie, and he often obliged. However, note that it is up to him, and he cannot stop to meet everyone.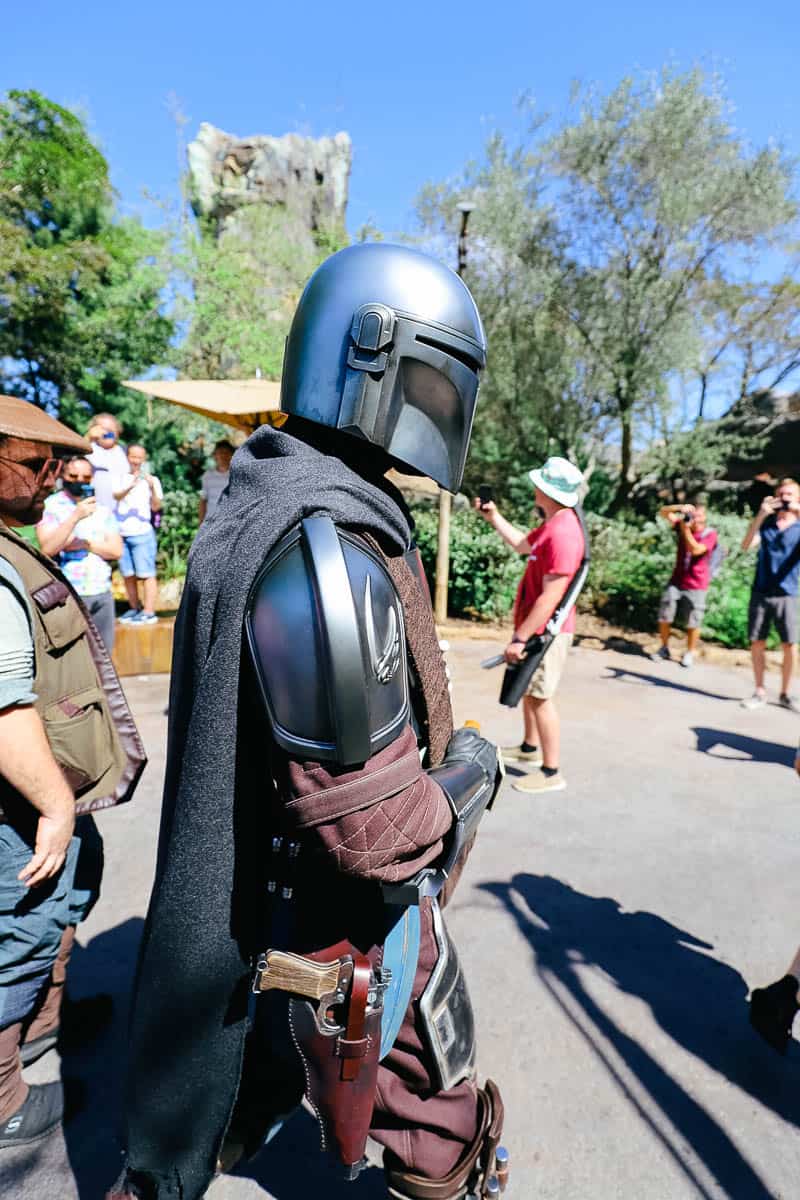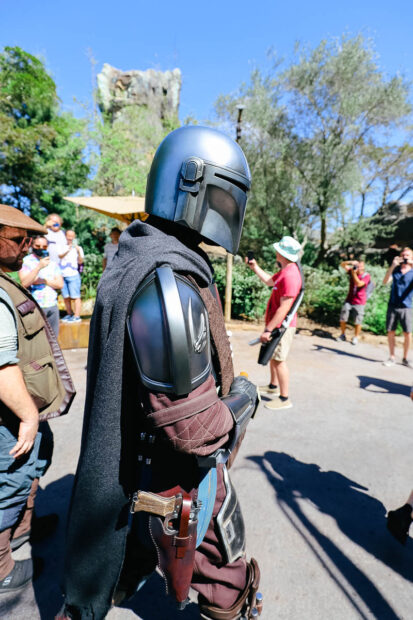 Here is a video of our first encounter meeting The Mandalorian and Grogu. This video will give you a better idea of what to expect.
After the pair passed us, they went inside, and the majority of the crowd dispersed. Thankfully, we decided to let everyone clear out before attempting to leave.
Within a few moments, we heard The Mandalorian talking again. He had come back out and was posing for a few photos! Most everyone asked for a selfie, but I asked if he would pose for a few pictures of him and Grogu.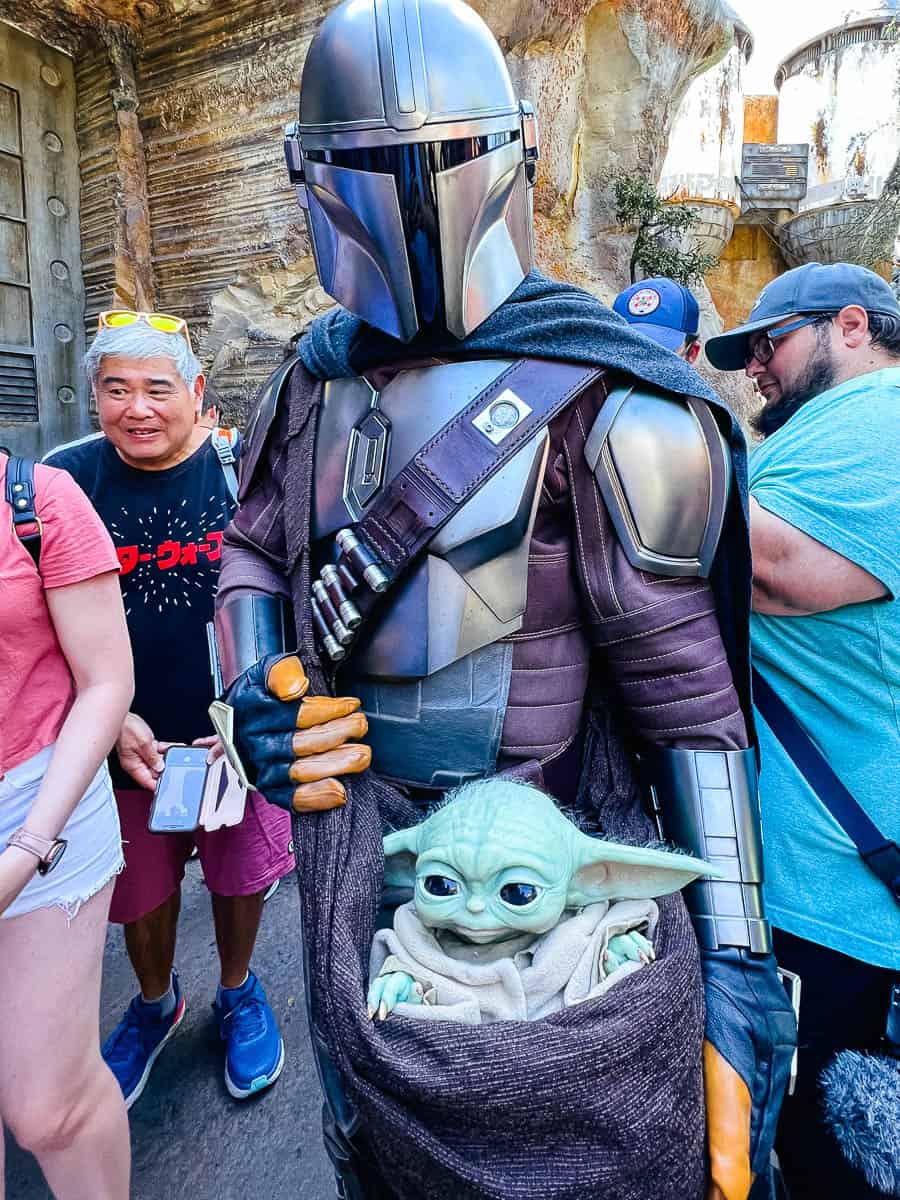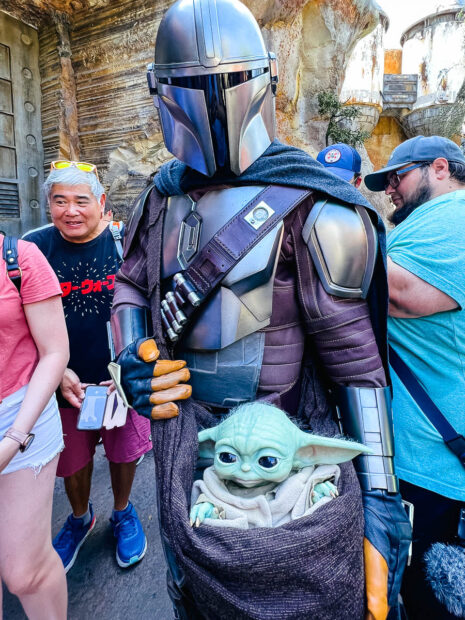 As you can see, he was still surrounded by guests. But it was fun to see both of them up close.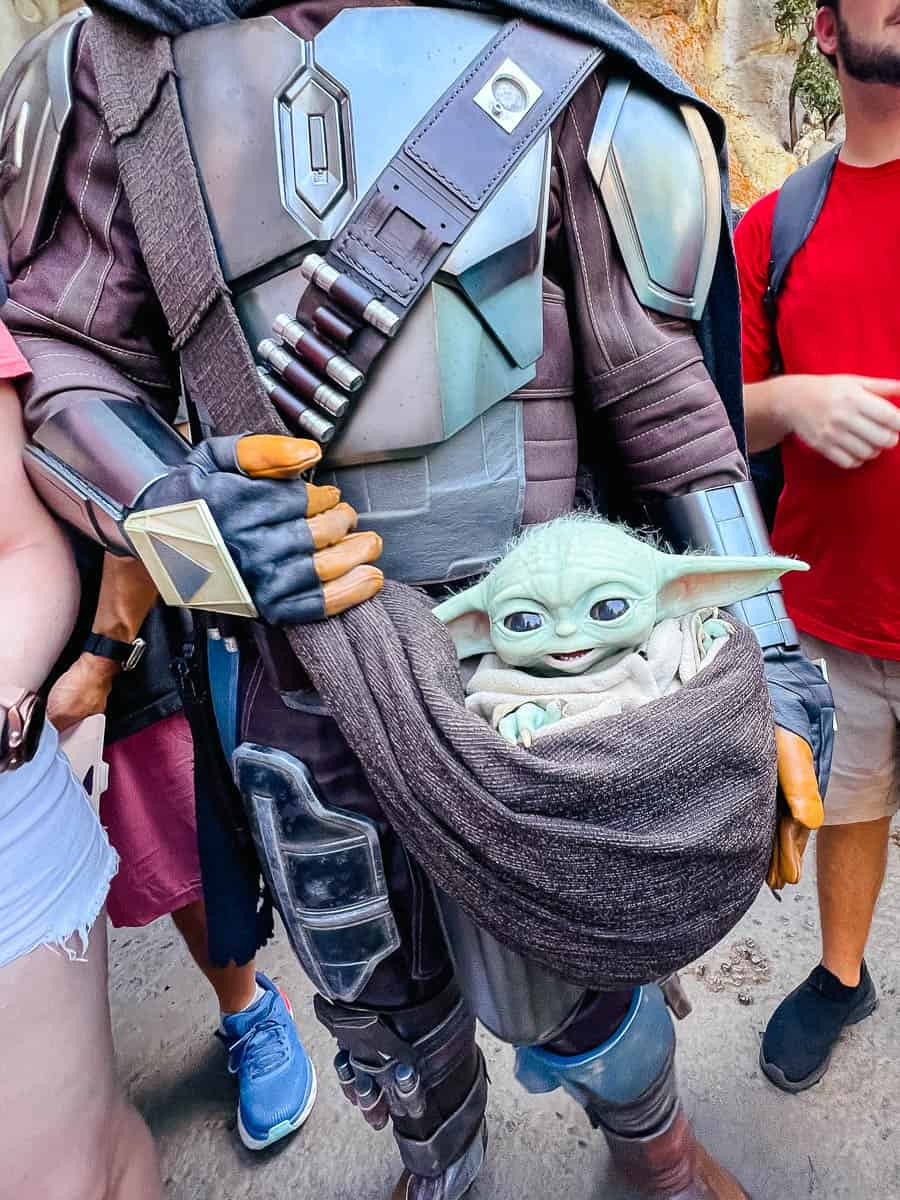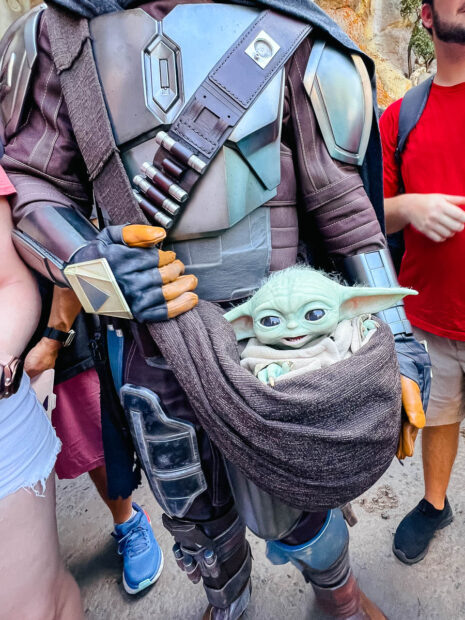 Here is one where I caught some of Grogu's eye movement. Or maybe he was just sleepy from all the excitement.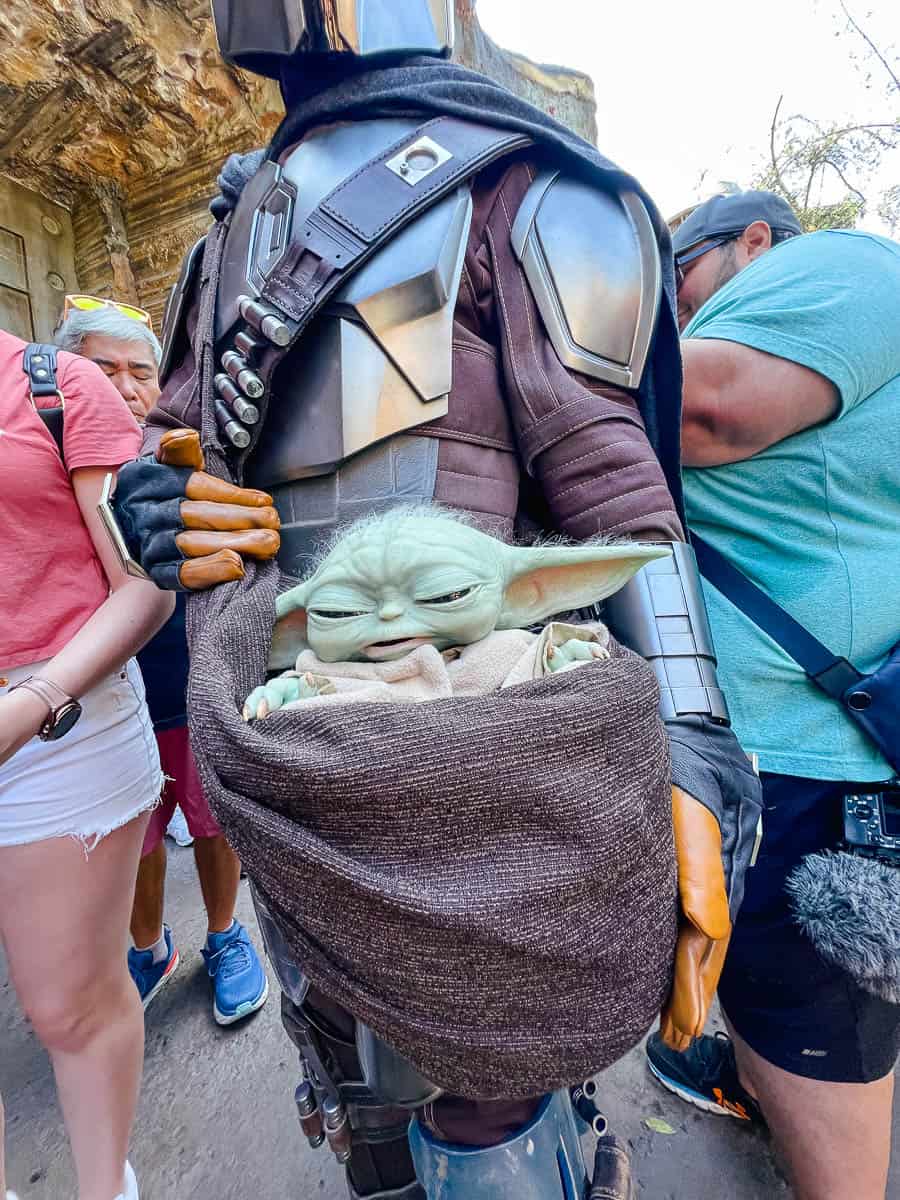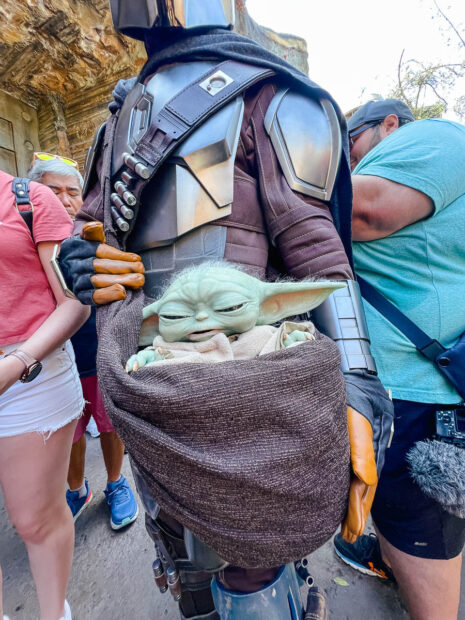 Ultimately, this character sighting is a treat, and we hope it's here to stay indefinitely. From my point of view, these types of character meet-and-greets help fill in some of the blank spots at Galaxy's Edge.
When the land first opened, we expected to see more characters, including droids. So this is a win-win for everyone.
Hopefully, you can see the pair on your next visit. For more characters at Hollywood Studios, you might enjoy these:
Related: Every Character Meet at Walt Disney World
In the Comments
What do you think of this character meet-and-greet? Are you hoping to meet The Mandalorian and Grogu on your next visit?
Planning a Walt Disney World or other Disney Destination vacation?
Our friends and travel partner, Firefly Travels, excels at doing Disney differently. You can fill out a plan your trip form on their website, and someone will reach out shortly to discuss the specifics.