Meet Mickey and Minnie Mouse at Red Carpet Dreams (Disney's Hollywood Studios)
In this article, we visit Red Carpet Dreams to meet Mickey and Minnie Mouse at Disney's Hollywood Studios. We'll preview the meet, photos, and their character autographs.
Red Carpet Dreams is a dazzling character meet location at Disney's Hollywood Studios. This location is home to the character meet-and-greet for Mickey Mouse and Minnie Mouse.
Both Mickey and Minnie meet daily at Hollywood Studios. However, they meet in separate rooms. So you won't have the opportunity to meet them as a pair.
If you're hoping to meet them as a pair, there is only one place to do so at Walt Disney World. Mickey and Minnie Mouse meet together at Adventurer's Outpost at Disney's Animal Kingdom.
Related: Meet Mickey and Minnie Mouse at Adventurer's Outpost
This article was updated on February 5, 2023.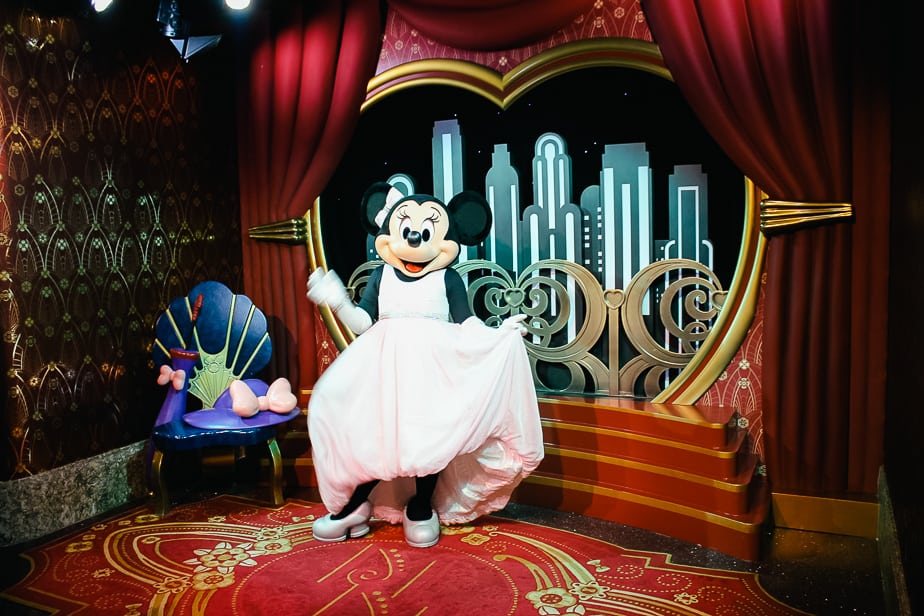 Red Carpet Dreams is located toward the end of Commissary Lane at Disney's Hollywood Studios. Specifically, the building is located across the walkway from the Sci-Fi Drive-In Theater.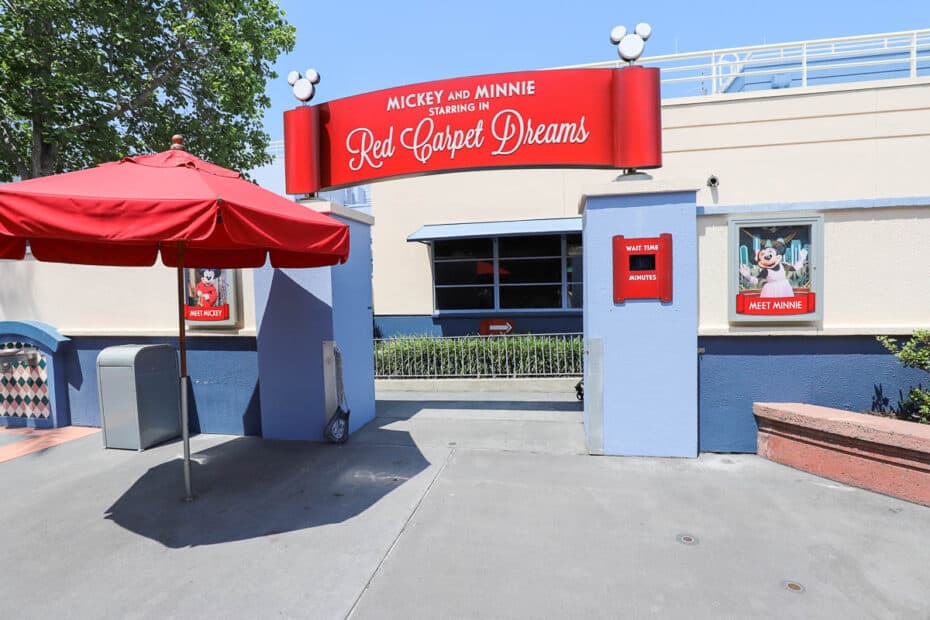 Wait times are posted at the entrance of Red Carpet Dreams. Once you enter the line, you'll join the outdoor queue. On this visit, a 45-minute wait time was posted.
Since the outdoor portion of the queue is covered, you're not standing in direct sunlight. However, if the weather is hot, the partially enclosed area feels stuffy.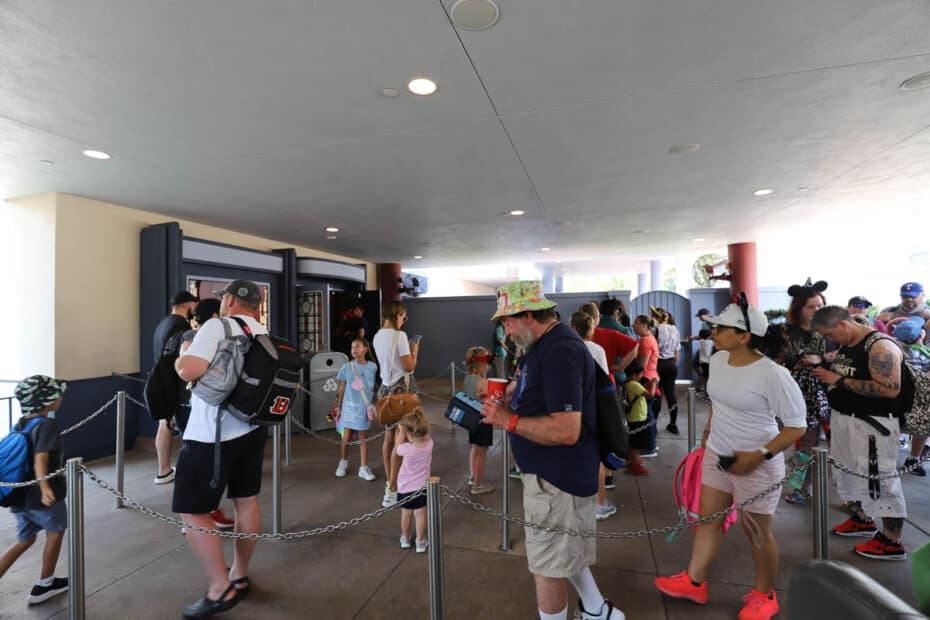 It was 2:49 p.m. when I entered the line. Then, at precisely 3:34 p.m., I walked in for my turn to meet Minnie Mouse. Therefore, the posted wait time was pretty accurate.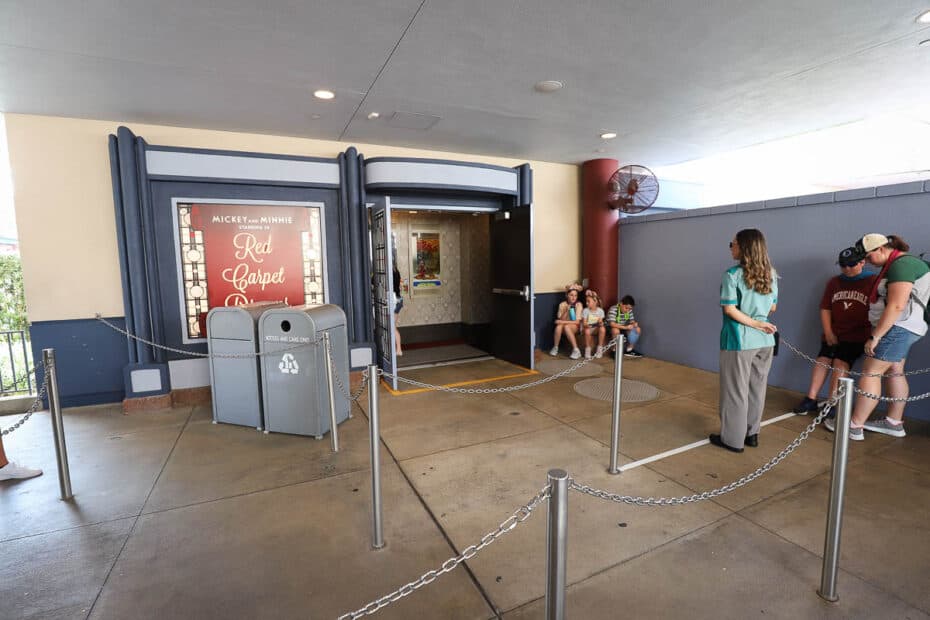 However, let me share a word of caution. Predicted wait times are not always accurate when meeting characters.
Waits depend on how many guests are ahead of you. Even more so, wait times vary, given how much time each guest spends with the character.
For instance, you might encounter a family who doesn't take much time. These people will walk in, say hi, get a photo, maybe an autograph, and move on to something else.
On the contrary, a large group might visit with the characters for an extended amount of time. They could break into multiple groups to take photos or spend a while visiting with the character.
Ultimately, everyone who has waited has their turn and can do with it what they want. So while it is important to be considerate of others, some guests will take more time.
And that's okay.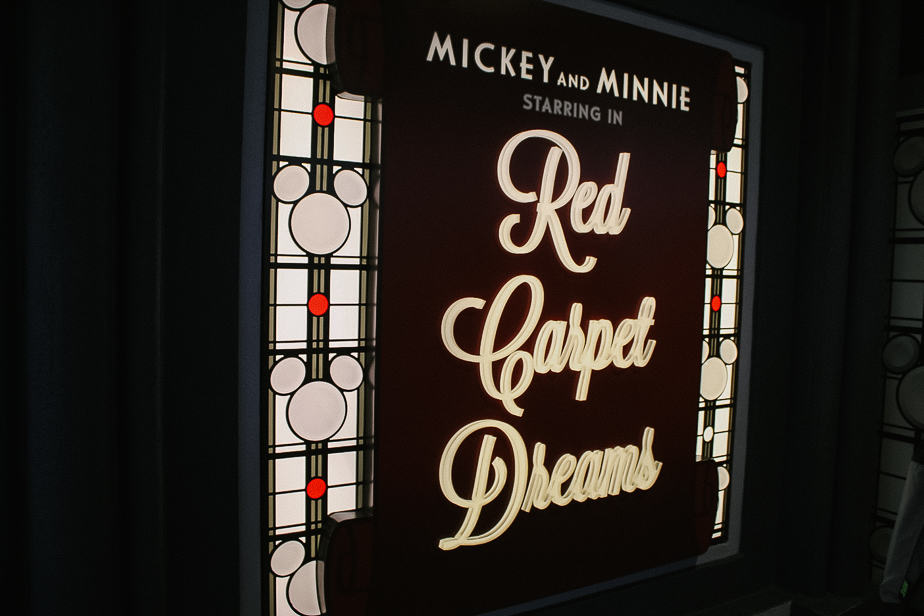 Once you reach the interior portion of the queue, you won't have much longer to wait. There are typically several groups ahead of you at that point.
Inside this location, you'll encounter signs similar to the ones in Mickey and Minnie's Runaway Railway.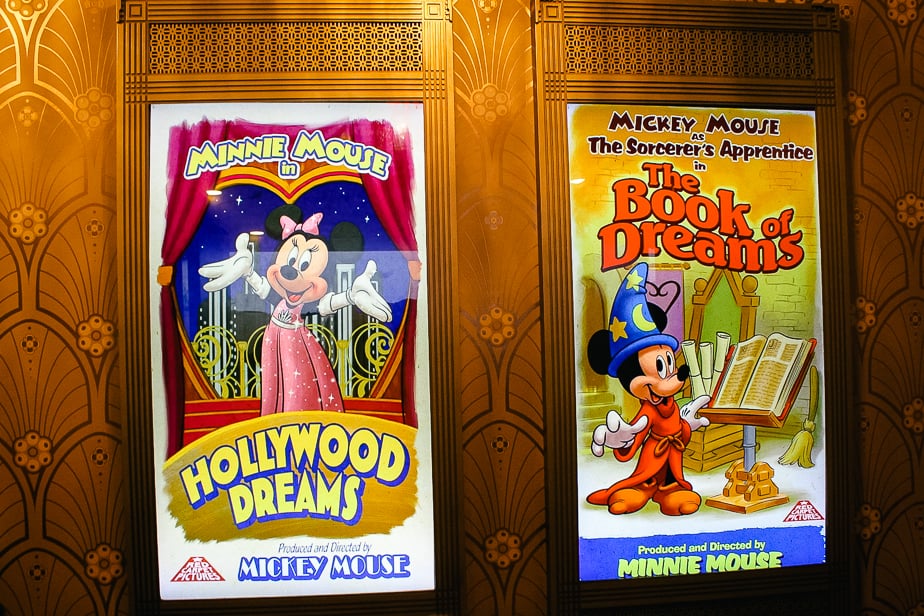 Minnie is waiting in her dressing room at the end of the hall.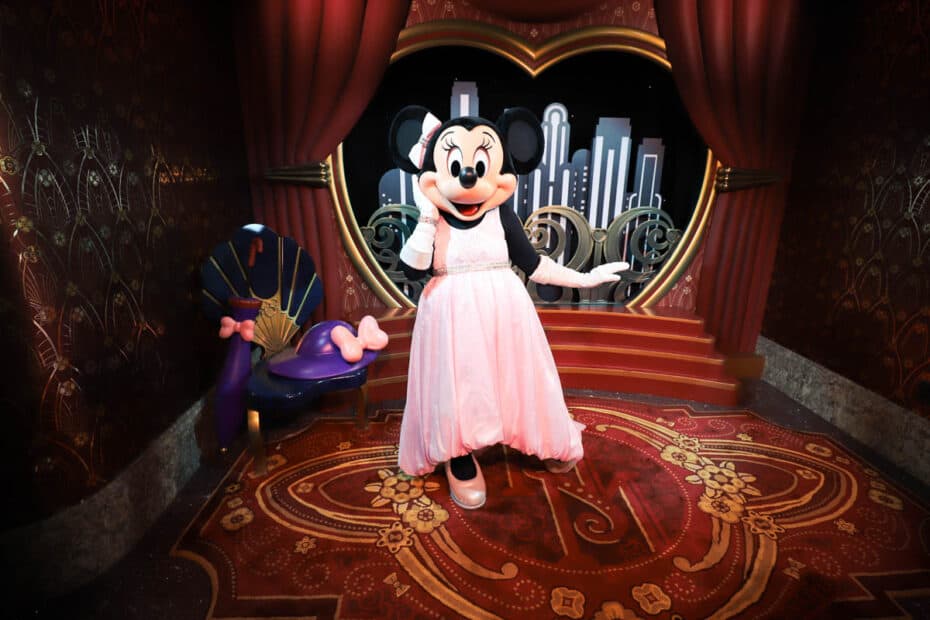 She is wearing one of her red-carpet gowns and can't wait to meet you!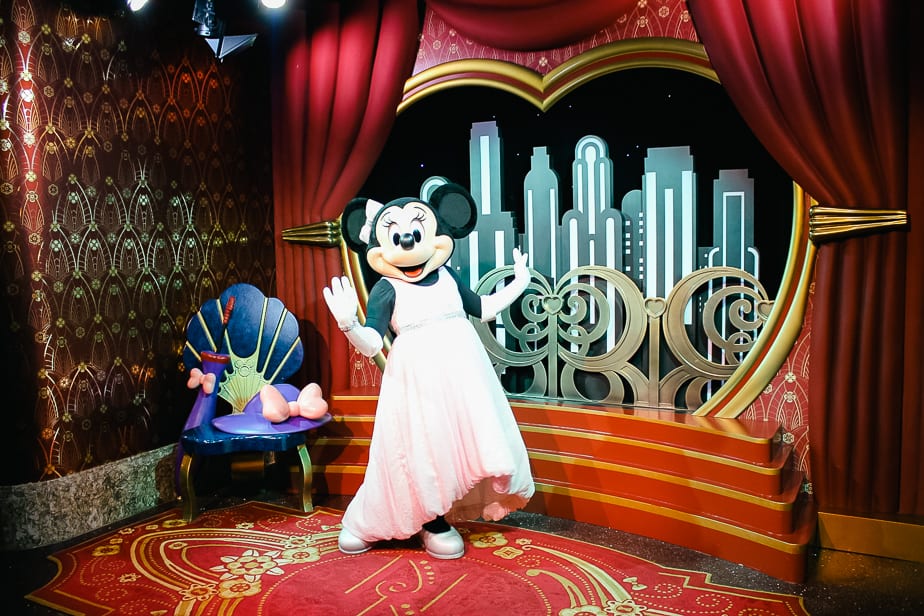 Minnie Mouse is an autograph-signing character. Additionally, there is usually a Photopass photographer available at this location.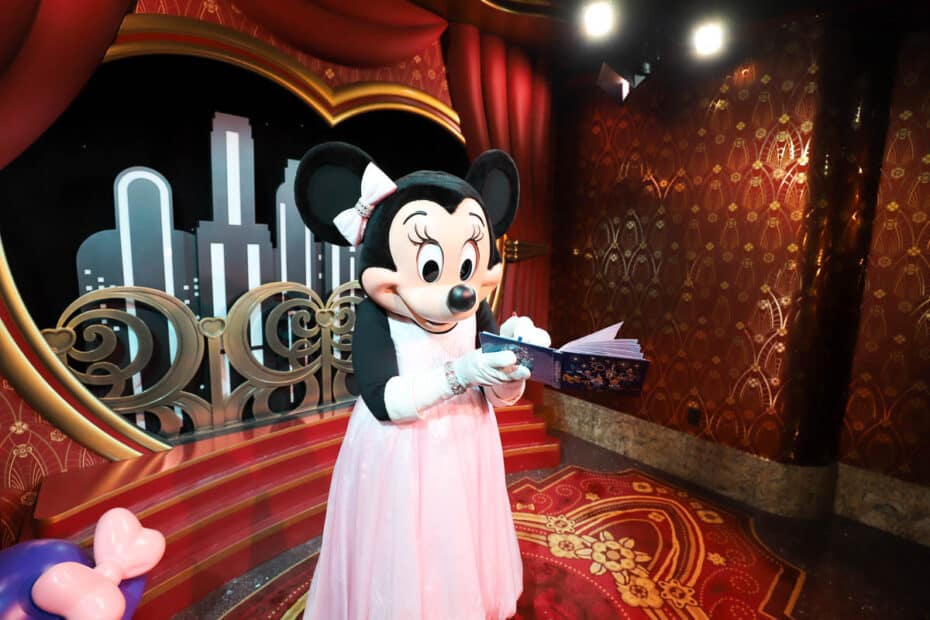 Here is a look at her autograph.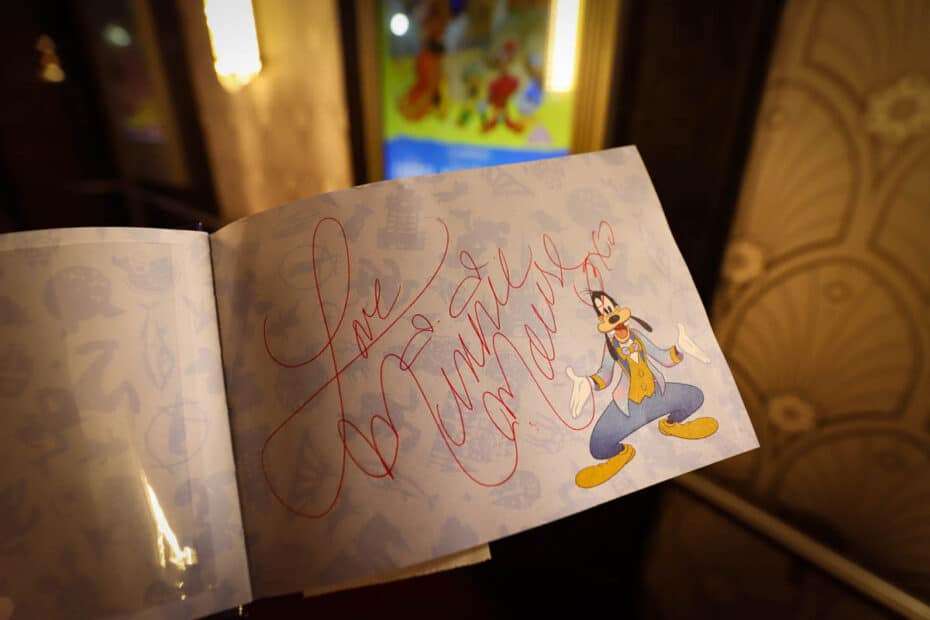 Once you finish meeting with Minnie, you'll walk into another hallway and wait to meet Mickey Mouse. Typically, there are only a few people ahead of you at this point.
Mickey Mouse meets at Red Carpet Dreams in his sorcerer outfit.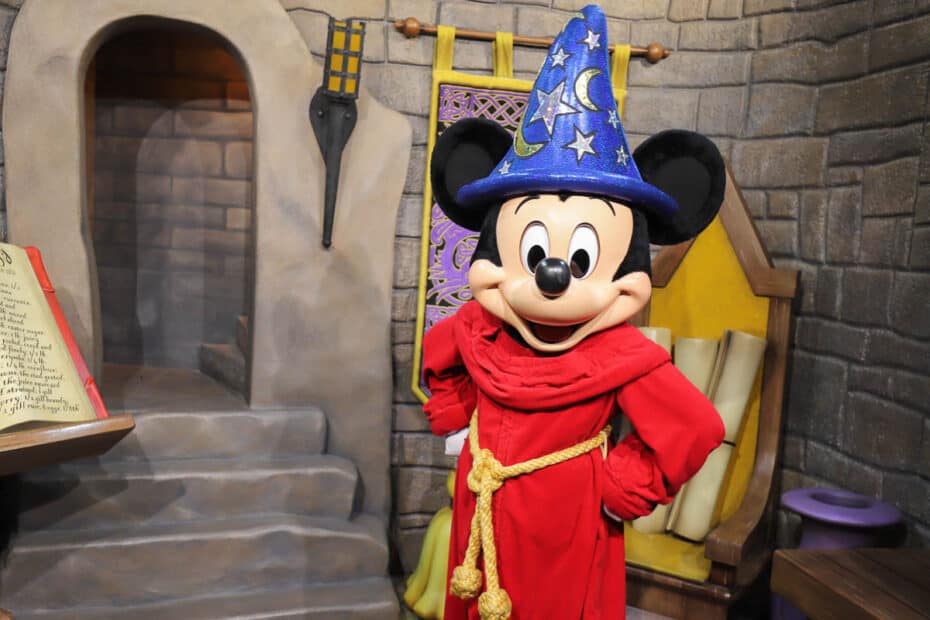 When he saw I had a camera, he was ready to pose.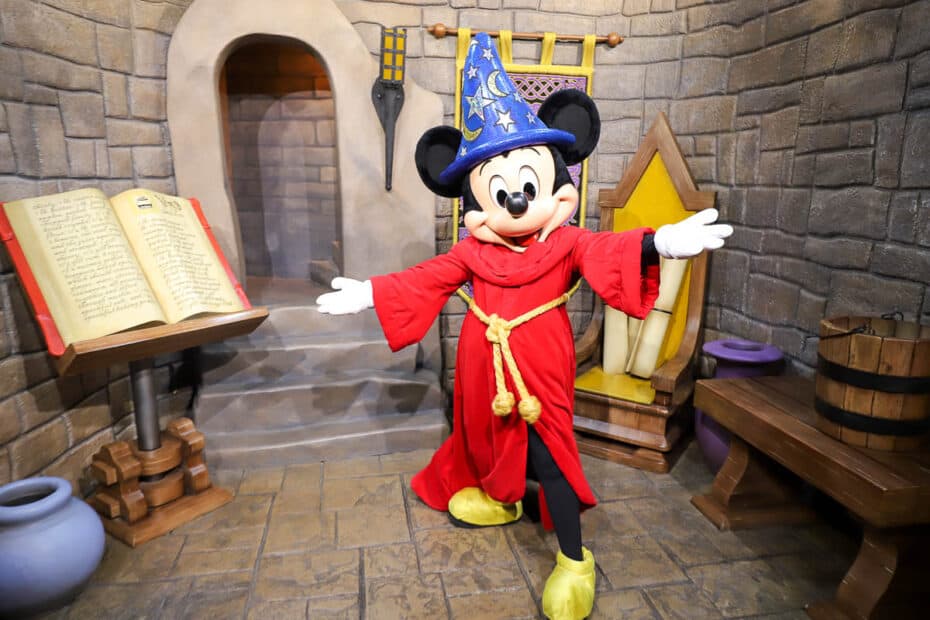 After a fun photoshoot, he signed my character autograph book.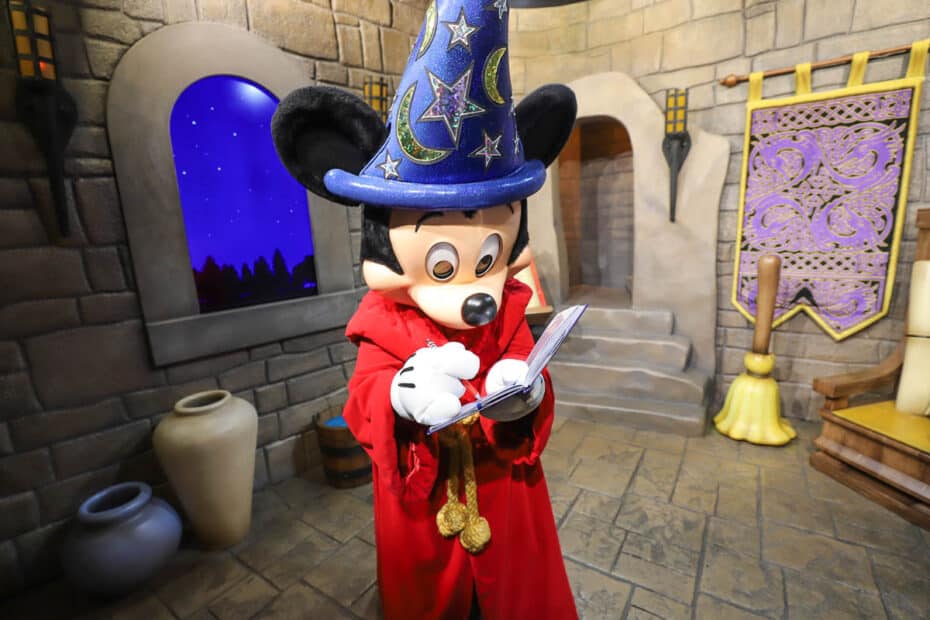 Here is his autograph.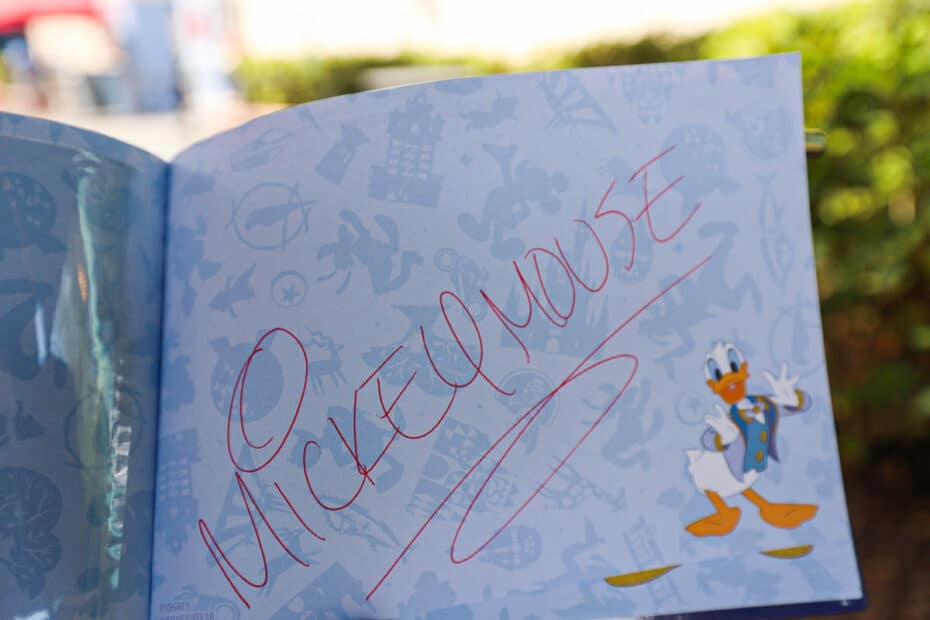 Mickey and Minnie Mouse are usually available at Red Carpet Dreams daily between 9:00 a.m. and 7:00 p.m. You'll want to check the My Disney Experience app for the exact times on the day of your visit.
Or you can preview the times here on Disney's site.
For instance, for the past few weeks, they've been meeting until 5:30 p.m. However, when the parks stay open later, those hours are usually extended until 7:00 p.m.
You'll usually find a much shorter line if you can wait until the end of their meet. However, character meets are extremely popular, and these two tend to hold a long line.
For more information, we have a list of character meets at Hollywood Studios. Some of them include:
In addition, here are a few other popular Disney character meet-and-greets:
In the Comments
Do you have plans to meet Mickey and Minnie Mouse at Red Carpet Dreams on your visit to Hollywood Studios? Leave a comment with your thoughts or questions below.