Hollywood Studios Character Motorcades & Route
The Motorcades at Hollywood Studios are a fun pop-up parade that many of us have come to adore. This article will look at the different Hollywood Studios character motorcades.
2022 Update: Unfortunately, the Mickey and Friends character motorcade ended on February 12, 2022. However, Mickey Mouse returns to his home at Red Carpet Dreams the following day.
Additionally, Mickey Mouse shares this meet-and-greet location with Minnie Mouse. You'll stand in one line with the opportunity to see both characters in separate rooms.
Related: Meet Minnie Mouse at Red Carpet Dreams
For now, the Pixar Pals Motorcade remains on the daily schedule for Hollywood Studios. Showtimes for the motorcade are listed in the My Disney Experience app.
Here is an idea of what the motorcade schedule looks like for a Saturday:
10:00 and 10:30 a.m.
11:00 and 11:30 a.m.
12:00 and 12:30 p.m.
1:00 and 1:30 p.m.
2:00 and 2:30 p.m.
3:00 and 3:30 p.m.
4:00 and 4:30 p.m.
5:00 p.m.
Make sure to check the My Disney Experience app on the day of your visit for availability and exact timing.
For further information about meeting characters at Hollywood Studios, make sure to check out our complete park guide: Characters at Disney's Hollywood Studios.
Our Disney World Characters Guide provides a simple list of all the available character meets at Disney World.
Over at Magic Kingdom, character cavalcades continue. A new character cavalcade, Disney Adventure Friends Cavalcade, includes almost 30 characters. And the Festival of Fantasy parade returns in March of 2022!
Related: Festival of Fantasy Parade Route with Tips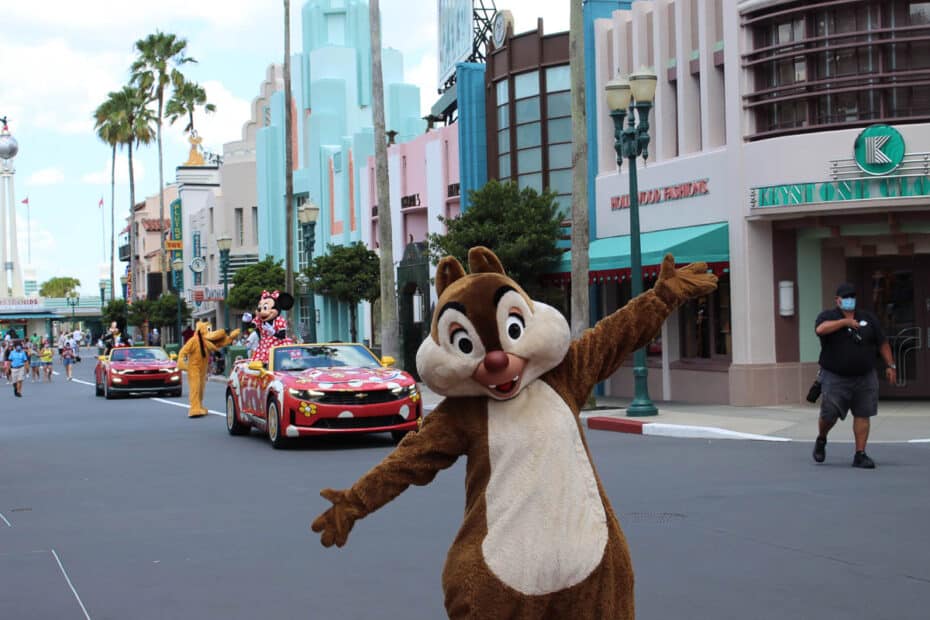 The original three motorcades at Hollywood Studios were:
Disney Junior Stars Motorcade
Pixar Motorcade
Mickey & Friends Motorcade
However, as of February 2022, only the Pixar Motorcade remains. The Disney Junior Stars have returned to their former home in Animation Courtyard.
Related: Meet Disney Junior Characters
Feel free to continue reading about the motorcade route at Hollywood Studios. However, remember that most of the character motorcades at Hollywood Studios have concluded.
Hollywood Studios Character Motorcades Route
All three of the different motorcades follow the same route at Hollywood Studios. They start close to the park entrance and make their way down Hollywood Boulevard.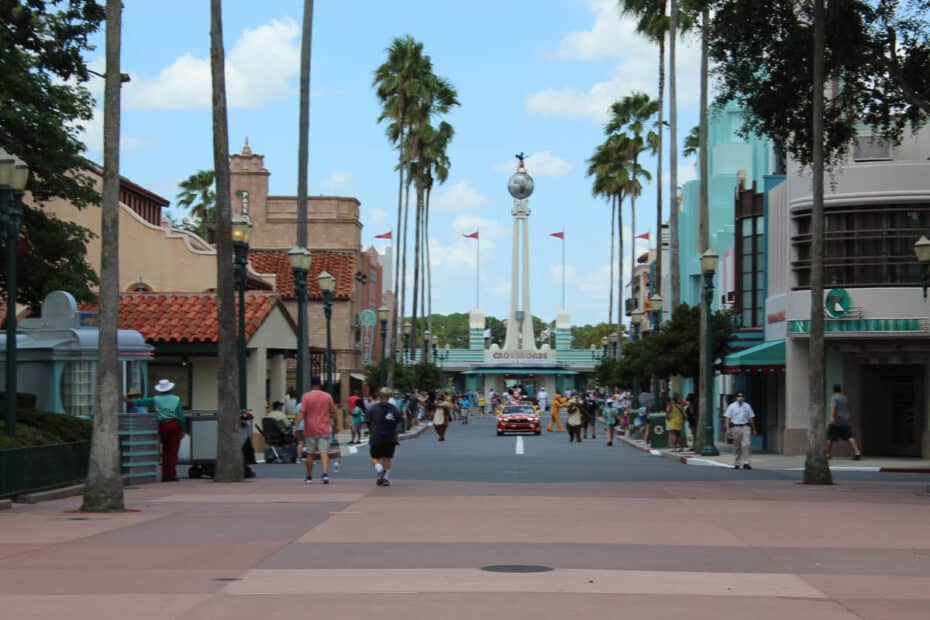 The main boulevard is an excellent area to see the motorcades and makes for some fun pictures opportunities. As you can see, there aren't many guests waiting, and no crowds are forming.
The character motorcades continue down Hollywood Boulevard and turn in front of the Chinese Theater. Then, they make a broad curve to the left, continuing down between the Hyperion Theater and Echo Lake.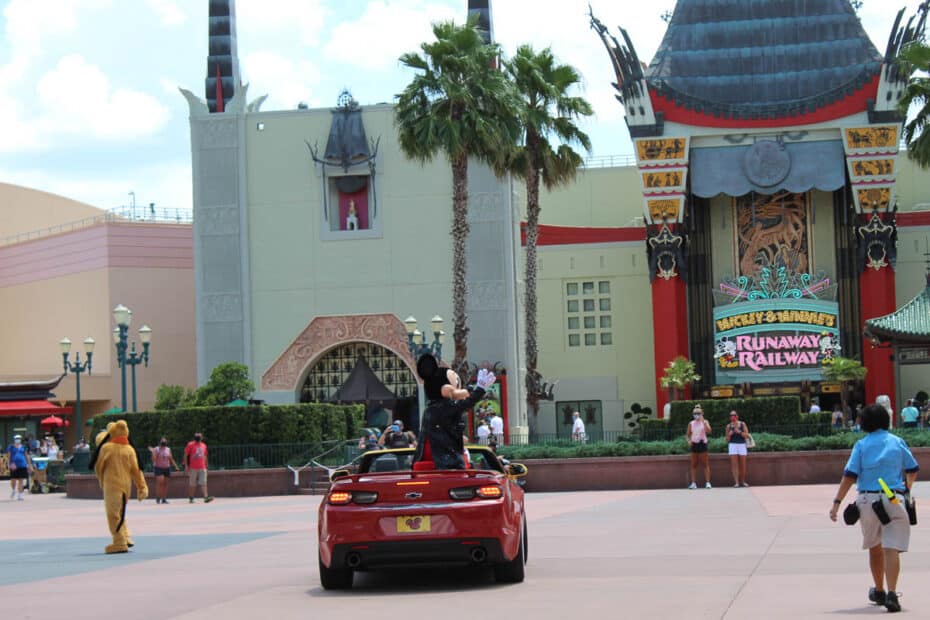 Eventually, they end up in this area, where the backstage gate opens between Backlot Express and Star Tours.
If you are touring anywhere in the vicinity of the area, you'll notice the music gets louder as the motorcades get closer. If it's convenient, you can walk over closer to the route to get a better glance as it passes.
The Disney Junior Stars Motorcade offers a chance for younger children to see some of their favorite characters.
*Disney Junior Stars Motorcade ended in late 2021.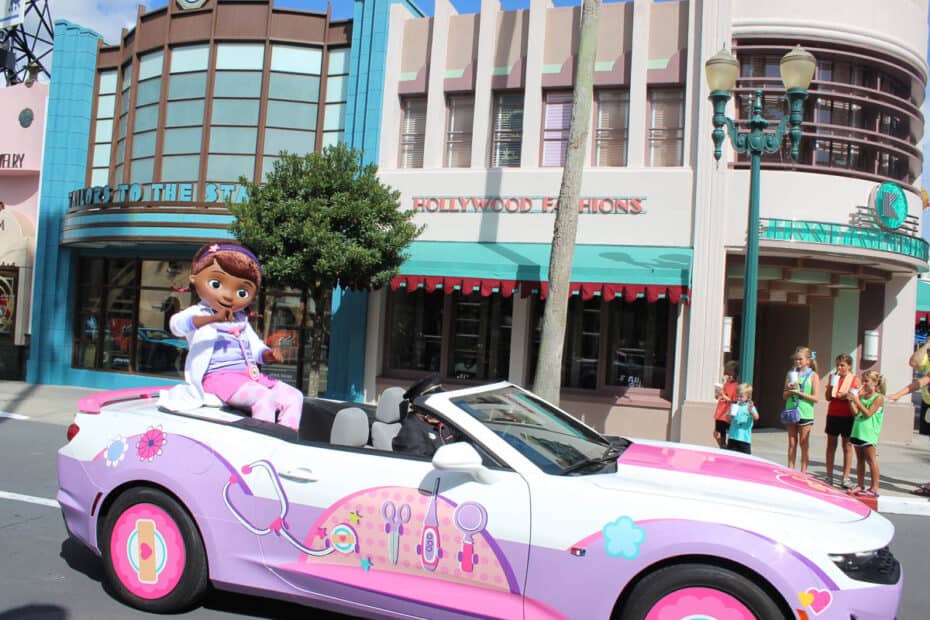 Hollywood Studios usually has a lot to offer smaller children in the way of favorite characters.
Doc McStuffins comes through first wearing her stethoscope and waving to the crowd. Given current circumstances, she is probably the most appropriate character of all time. At least, that was the first thing that came to my mind when I saw her approaching.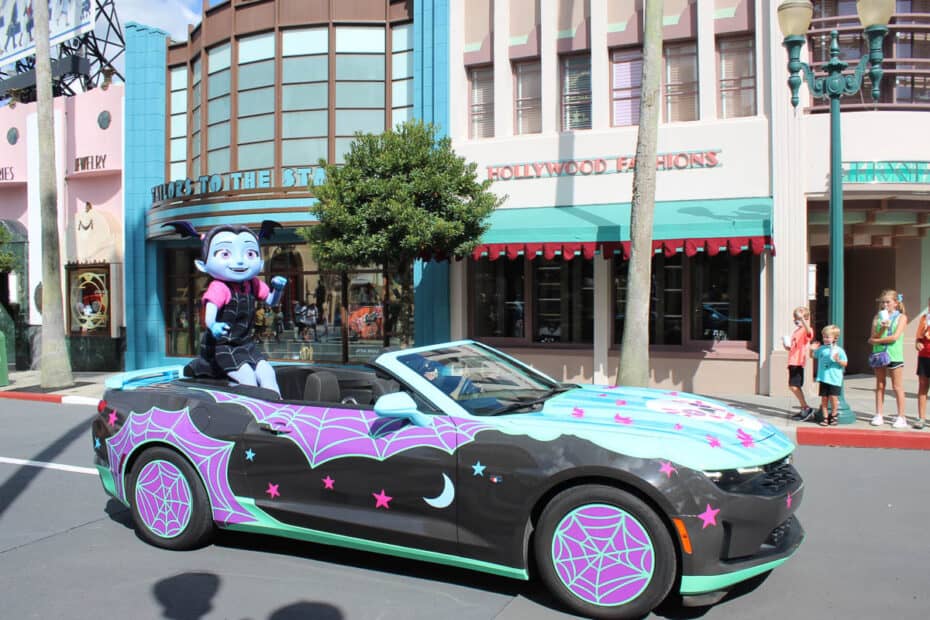 She is followed up by Disney Junior favorite, Vampirina. Vampirina is as bouncy as ever, full of energy and eager to see all her friends. My niece and nephew enjoy this show, so I'm incredibly familiar with her.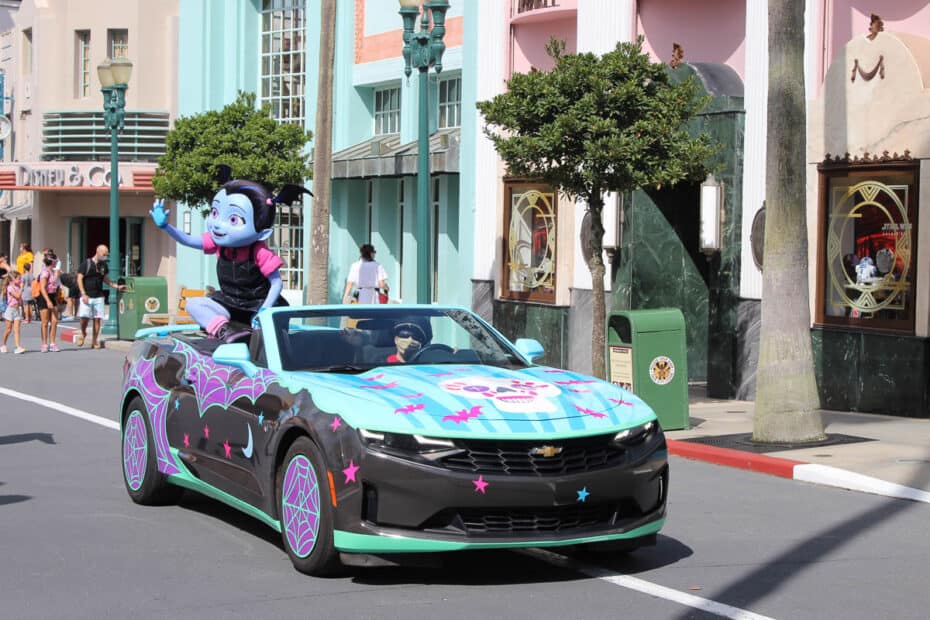 Next up, I have a video of the Pixar Motorcade passing by the Echo Lake area. This one was a lot of fun for everyone.
You'll see Mr. and Mrs. Incredible head up the motorcade, and the one and only Edna Mode rides in a car right behind them. She deserves her own motorcade.
Edna is followed by Sully from Monsters Inc. and the Green Army Men from Toy Story. After that, Woody and Jesse walk ahead of Buzz Lightyear, riding along in his decked-out vehicle.
The Pixar motorcade offers the opportunity to see the most characters at once. However, I feel like some of these characters might change out from time to time moving forward.
So I wouldn't necessarily expect to see every one of the characters on your visit, and you might even see someone different.
Lastly, we look at the most classic Hollywood Studios Character Motorcades, Mickey and Friends. Everyone will want to see these classic characters as they make their way through the park.
*Mickey and Friends Motorcade ended on February 12, 2022.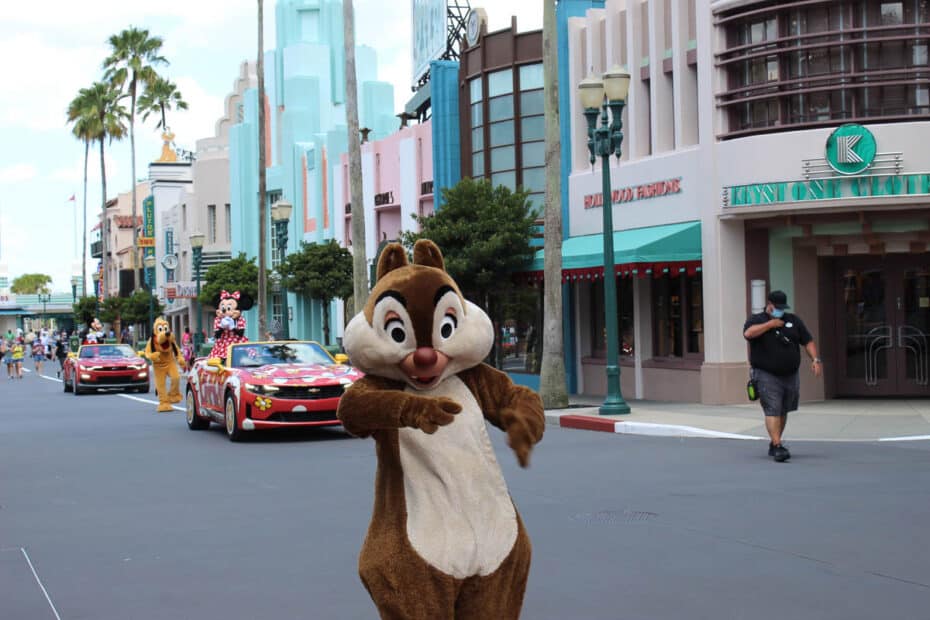 Chip was leading this motorcade on my visit. You can tell he was so grateful to see guests in the park again.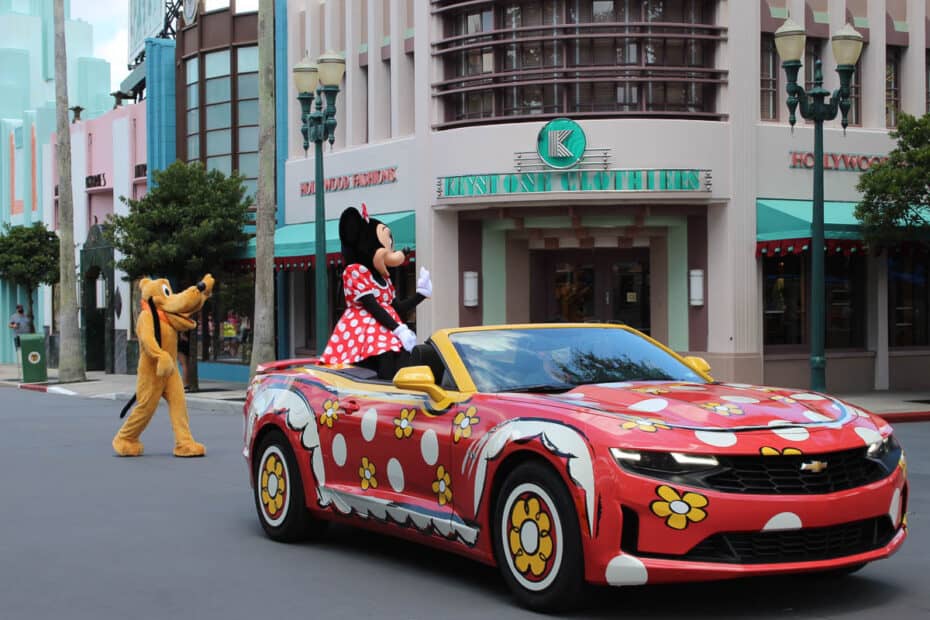 Minnie Mouse comes along, rocking the dots in her souped-up ride.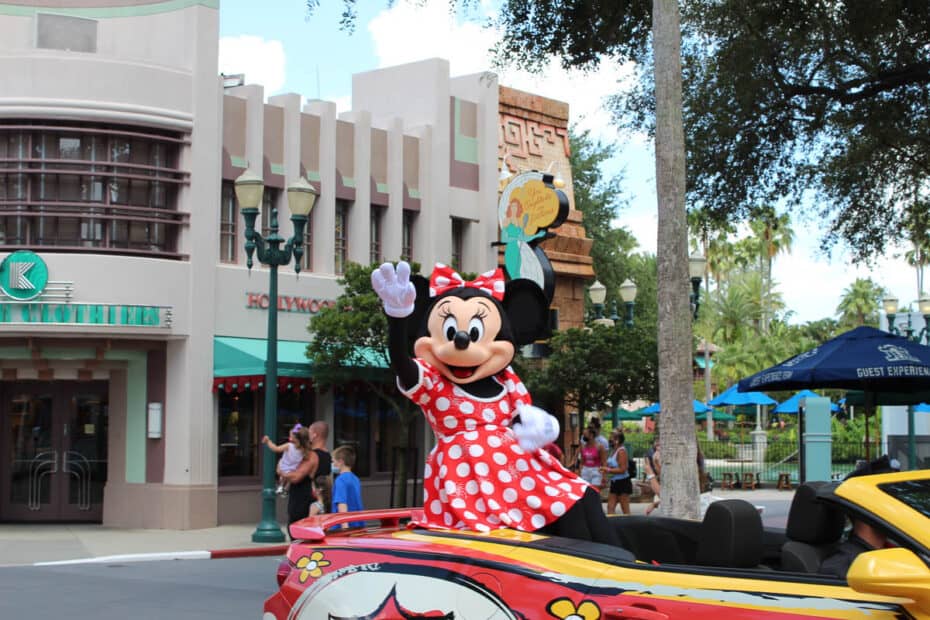 She will be glad to pose for a picture.
Pluto walks behind Minnie Mouse greeting guests from a distance.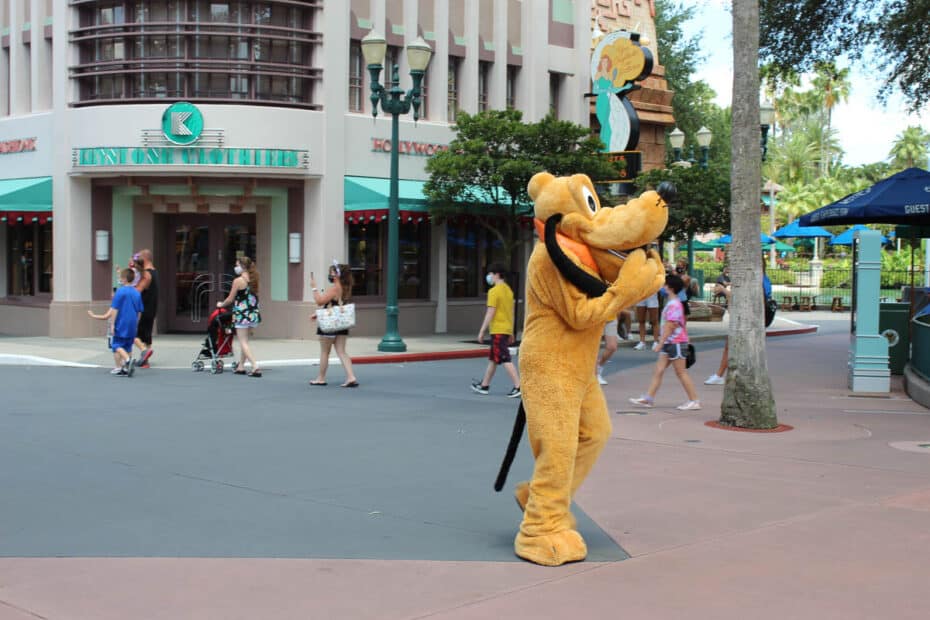 And then Mickey follows up the motorcade looking dazzling as ever in his finale suit from Fantasmic!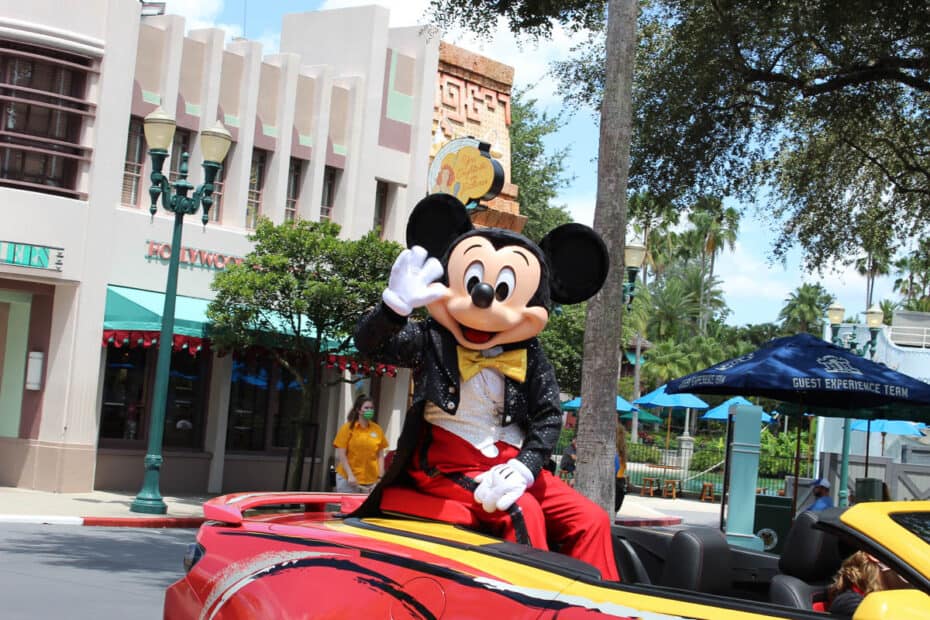 Here's a picture as they pass, making the turn toward the Hyperion Theater.
The Hollywood Studios Character Motorcades are a lot of fun. You might even be surprised at how much these pop-ups enhance your vacation experience.
The ability to still see these beloved characters as they motorcade throughout the park has been a nice touch.
For more information about meeting characters, here are a few favorites:
Additionally, you might enjoy our guide to character dining at Disney World. It contains updates for 2022 and a list of recommendations.
In the Comments: What are your thoughts on the motorcades at Hollywood Studios? Do you enjoy this form of entertainment?