Review: Oga's Cantina Drinks with Menu
Oga's Cantina is one of the most unexpected, immersive experiences at Galaxy's Edge. While the Star Wars-themed bar isn't an attraction, it is a place that fans of the movie franchise will not want to miss.
One of the things that people most look forward to when visiting Galaxy's Edge at Hollywood Studios is that feeling of immersion. And that's where Oga's Cantina delivers.
Oga's Cantina, along with the rest of Galaxy's Edge, offers guests an opportunity to leave the everyday world behind. And it truly feels like stepping into your favorite galaxy. A galaxy that was previously only seen on-screen.
In this Oga's Cantina review, we will take a complete look at the establishment, several drinks, and the menu. Since I initially wrote this article, we've returned several times. Those new items are included below.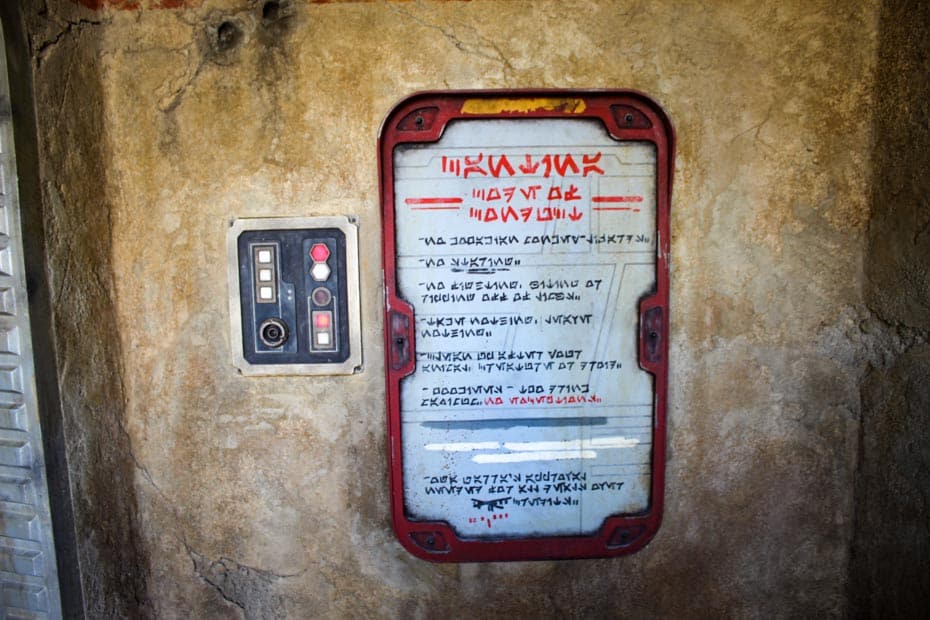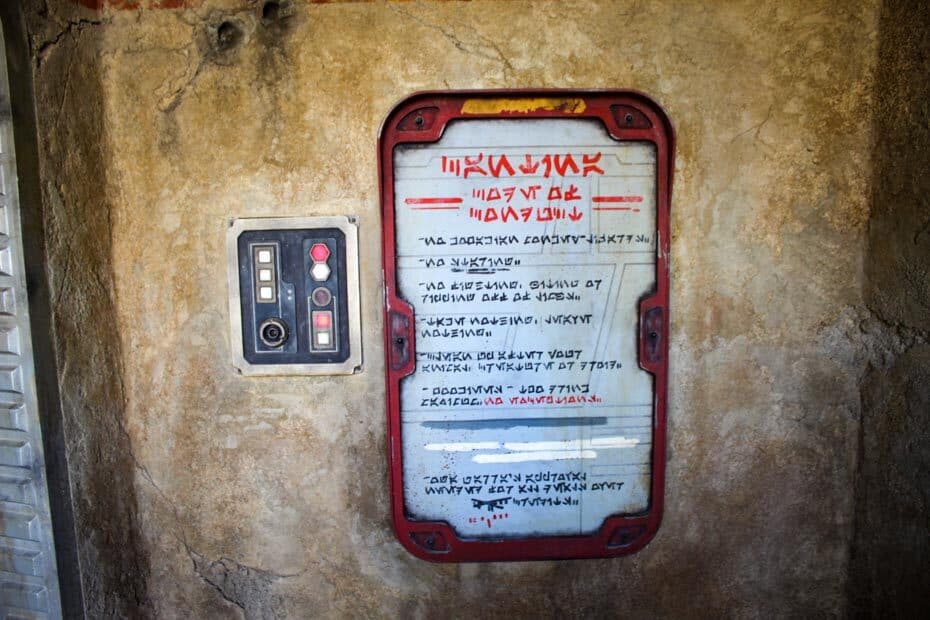 For starters, the theming at Oga's Cantina is truly straight out of a Star Wars movie.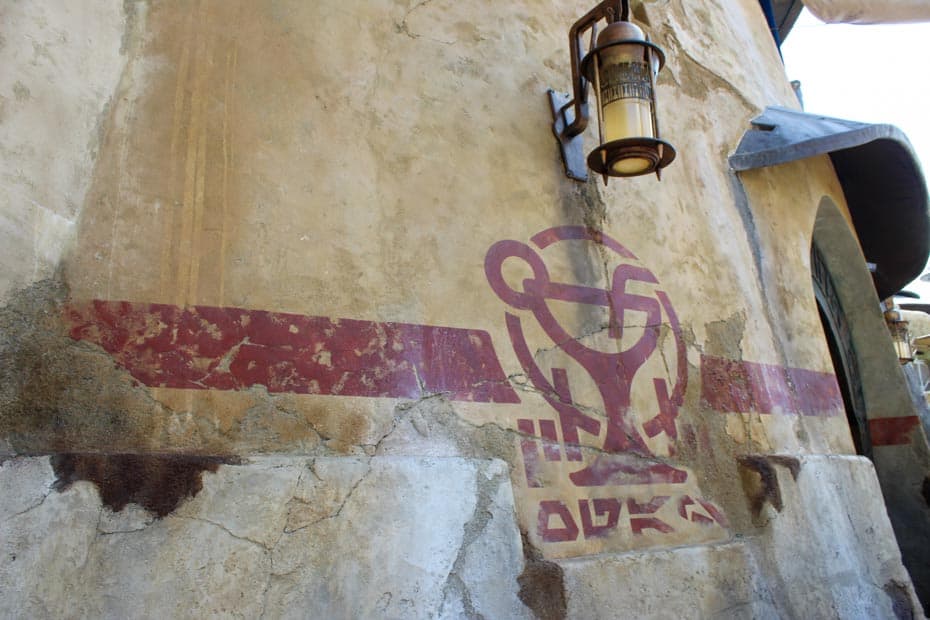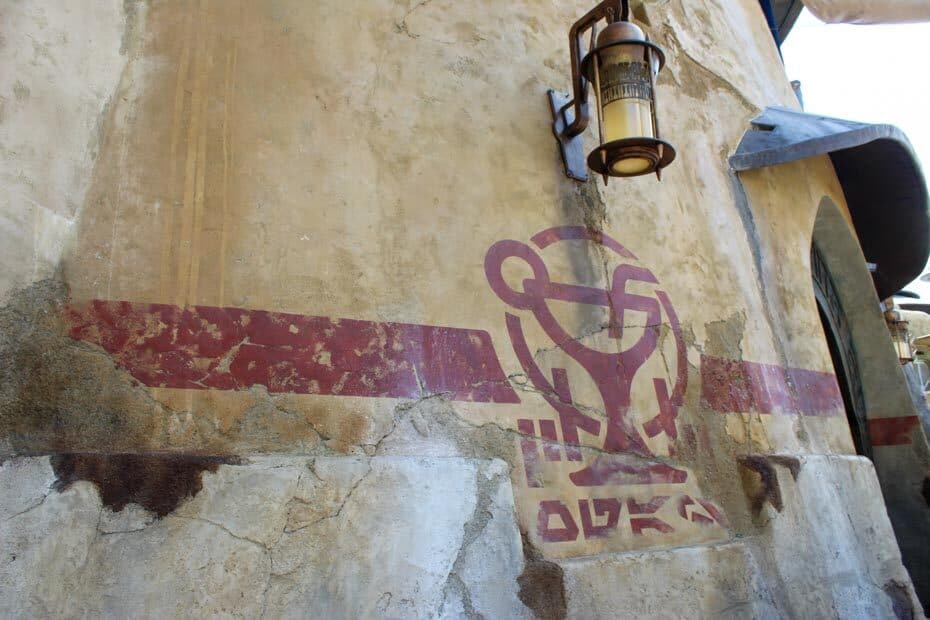 Oga Garra, the proprietor of Oga's Cantina, admits all guests, including the likes of bounty hunters, smugglers, traders, and more. With that being said, Disney has a few rules about age limits at Oga's Cantina.
All guests are welcome, and the menu offers both alcoholic and non-alcoholic concoctions. However, at least one member of your party must be 14 years or older when accompanying minors.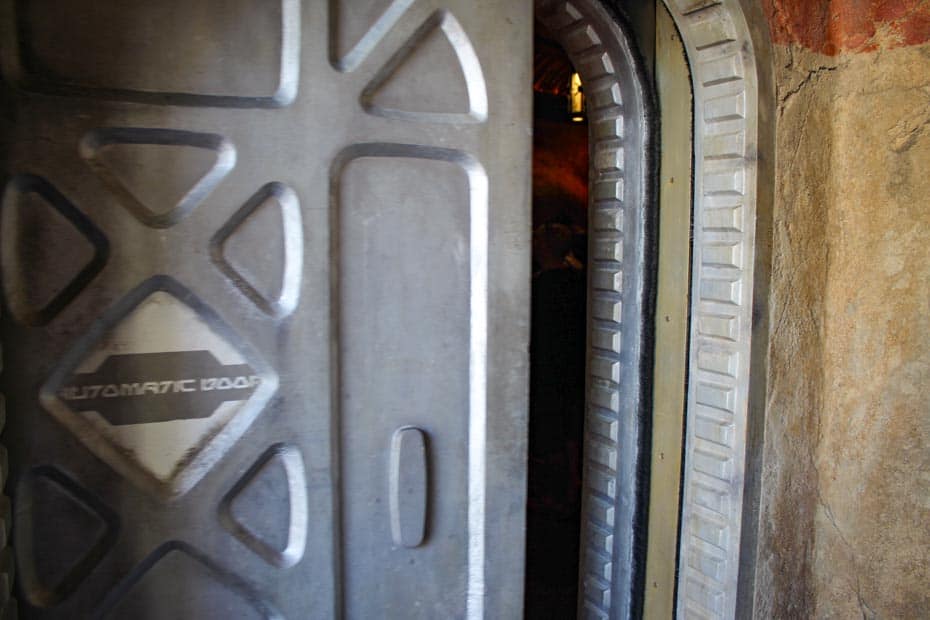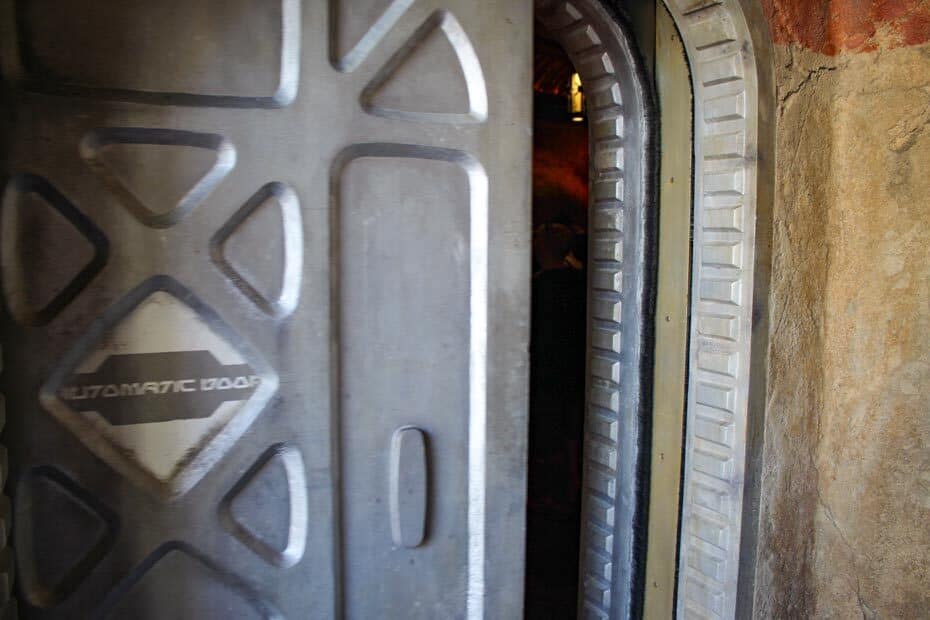 It's also imperative to make reservations for Oga's Cantina before your visit. While the cantina might elect to take walk-ups, they will be on a first-come, first-serve basis.
When Galaxy's Edge is crowded, Oga's Cantina has been known to turn away guests after reaching capacity limits. So do everything you can to secure that reservation in advance.
Another thing to mention is the standby line for Oga's Cantina is pretty much in direct sunlight. So it's not a place you want to find yourself waiting for an extended period of time.
Oga's Cantina Menu
Here we have a look at the actual menu you receive upon entering Oga's Cantina. One side of the menu offers concoctions without alcohol, as you can see in the image below.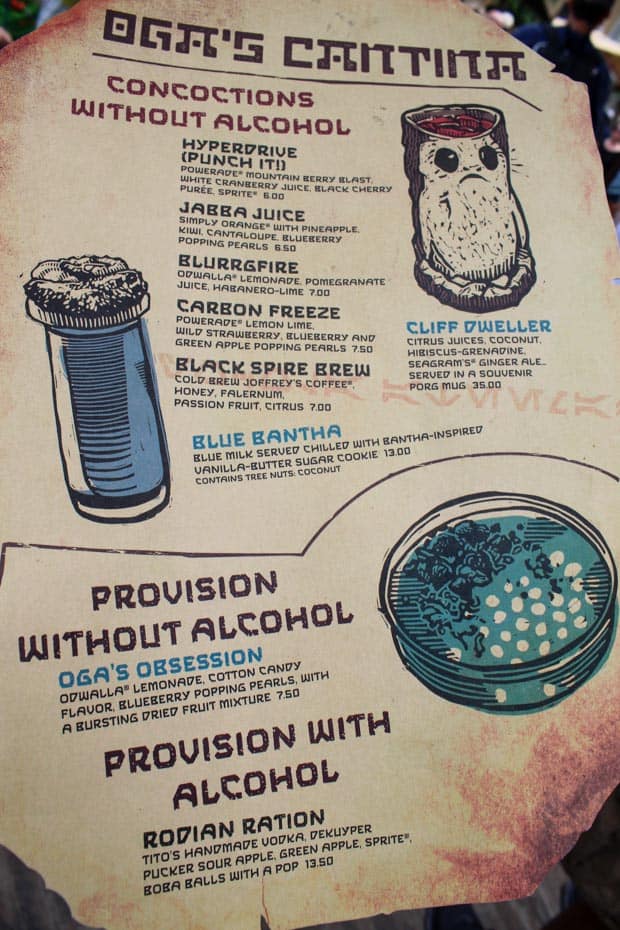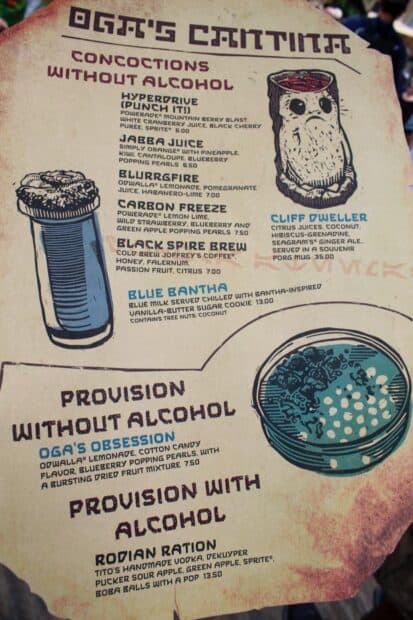 Next, we have a look at the flip side of the menu, offering concoctions with alcohol. If you look at this menu, you will see that Oga's Cantina features some fairly different items.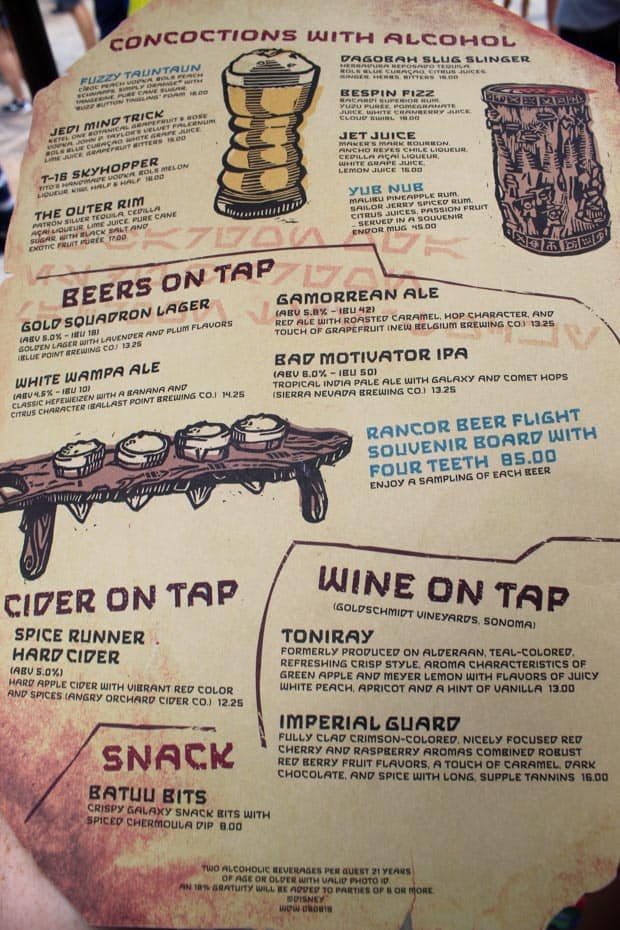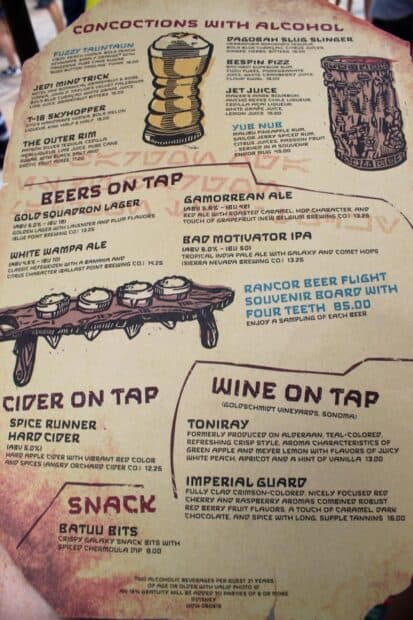 If this menu is hard to read, or you want to take a look at the most current prices, you can check the online menu here on Disney's site.
When you first step inside Oga's Cantina, there is so much to take in, especially given the smaller size of the establishment.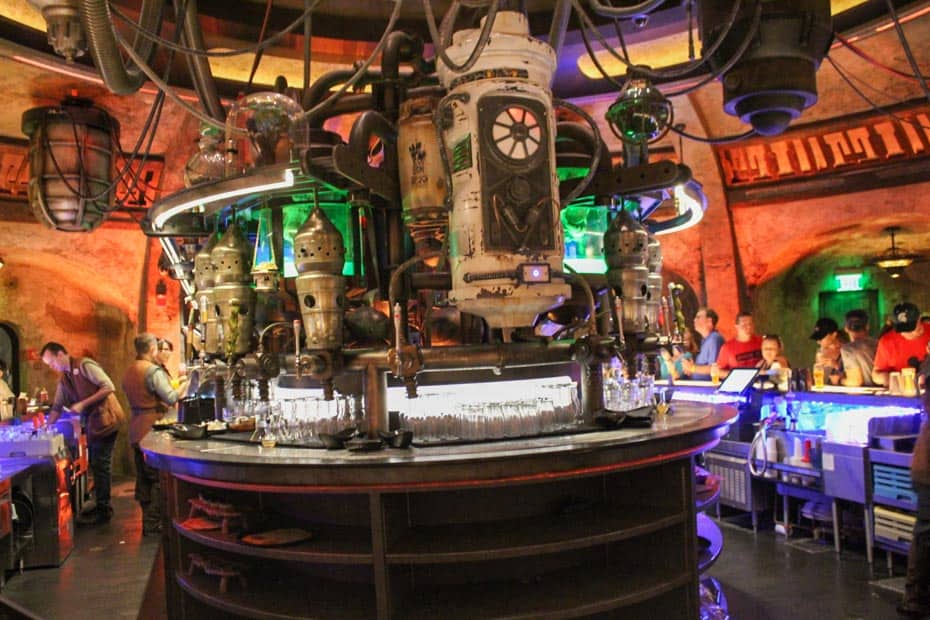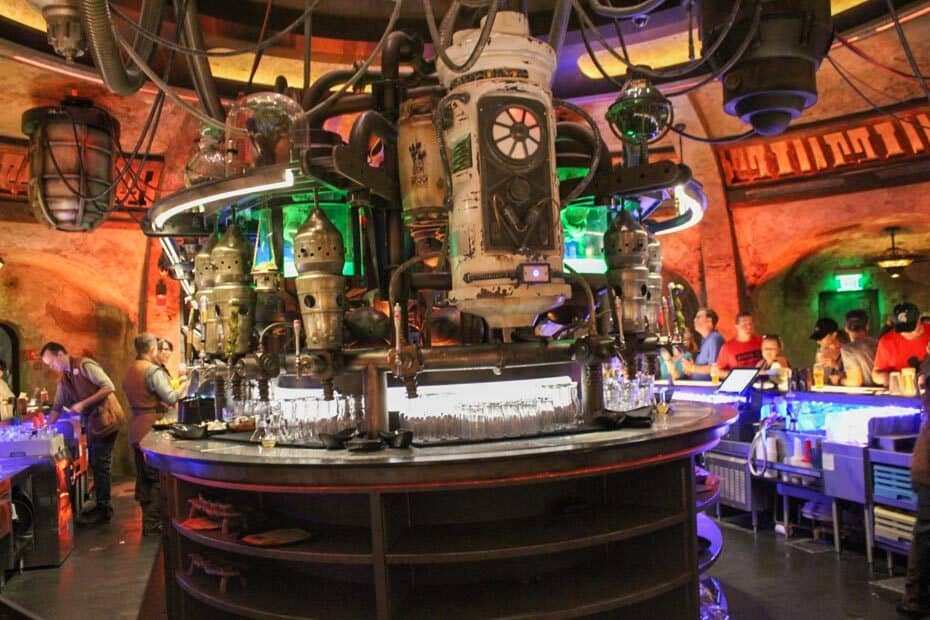 You'll more than likely look up to the ceiling first as you are escorted to your area. As far as placement options go, there's the inner rim bar, bar tables circling the inner rim bar, and a few coves around the outskirts.
The coves around the outskirts are typically for large parties and are the only areas that offer seating.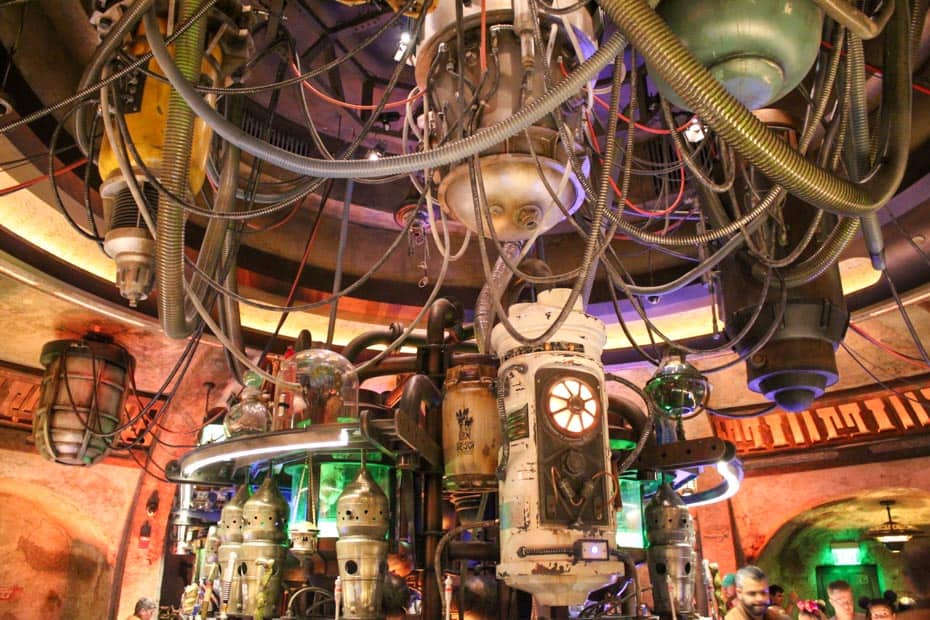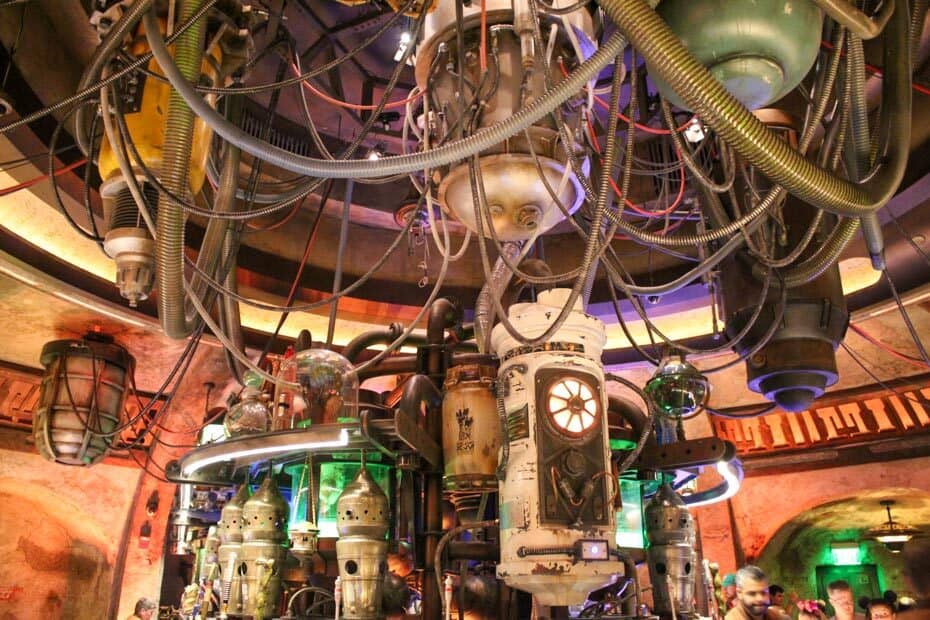 Most everyone in Oga's Cantina will be standing or leaning perhaps around a bar or a bar height table.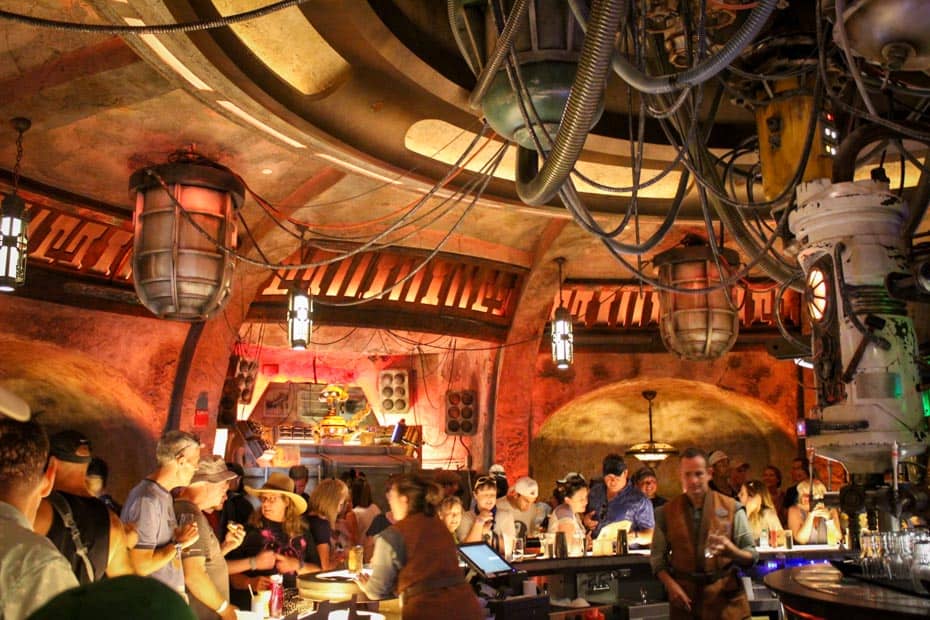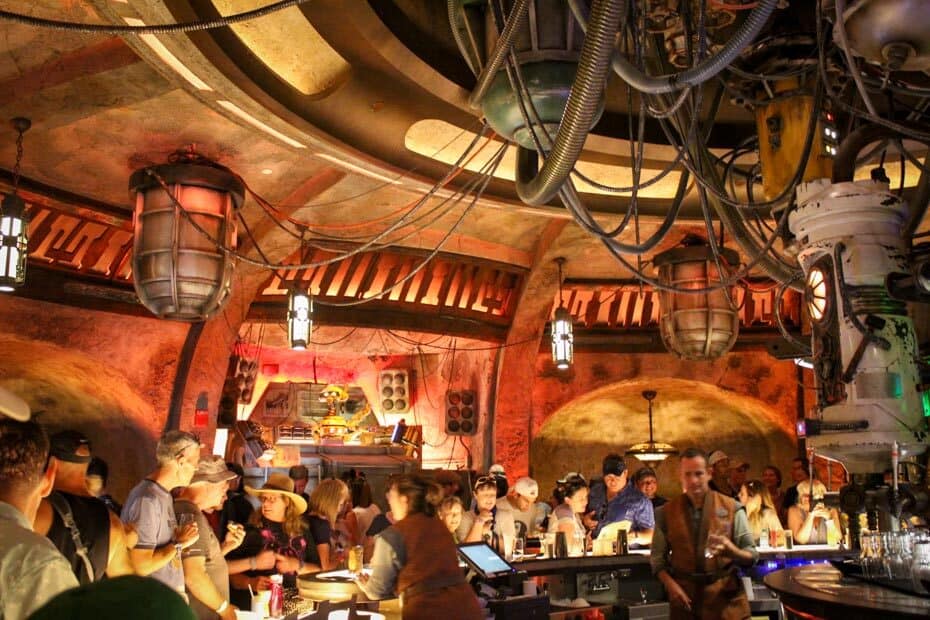 Another critical thing to know is that Disney limits each visit to Oga's Cantina to 45 minutes. This is due to restrictions on capacity, low lighting, and the smaller enclosed space. So the time limits are relatively strict.
While 45 minutes might not seem like a long amount of time, it is plenty of time to order a concoction or two and enjoy your time here. The time limits also help in making the service more efficient. In all my visits to Oga's Cantina, someone has been around to take my order within the first initial moments of entering.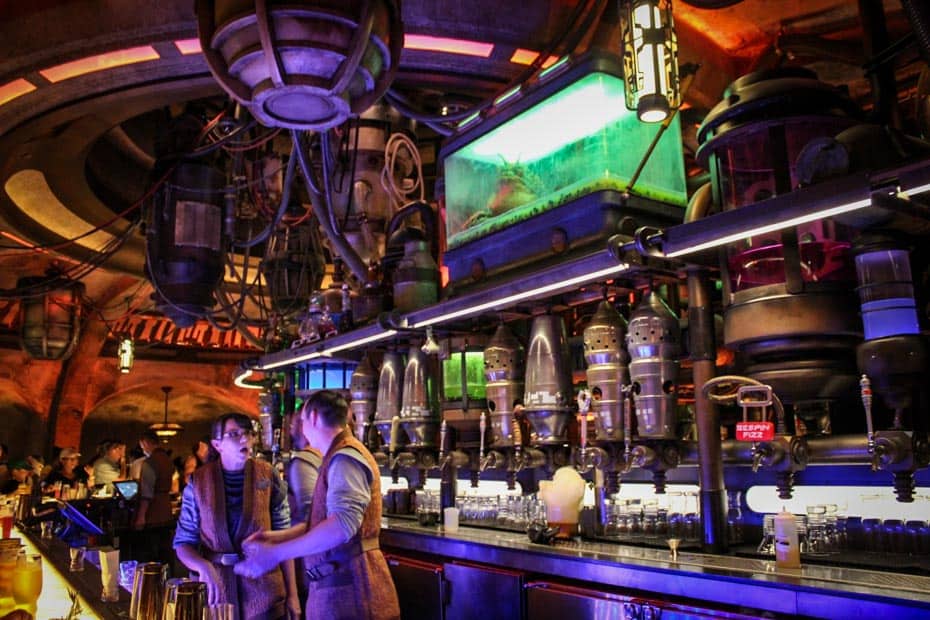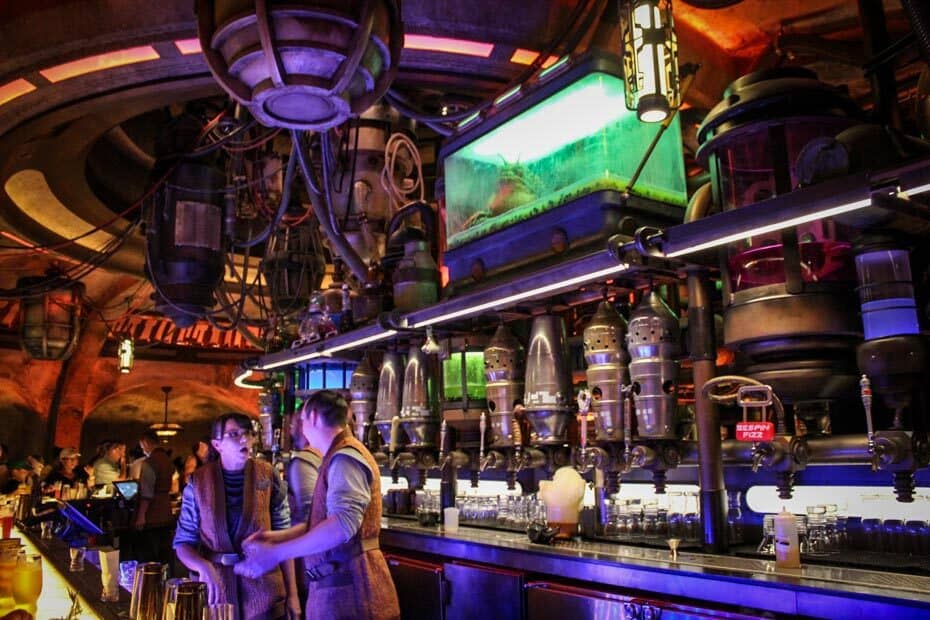 I would recommend enjoying your concoction first and then taking some time to walk around and explore Oga's Cantina before leaving. The theming is out of this world.
Even the concoctions on tap are in some pretty cool containers.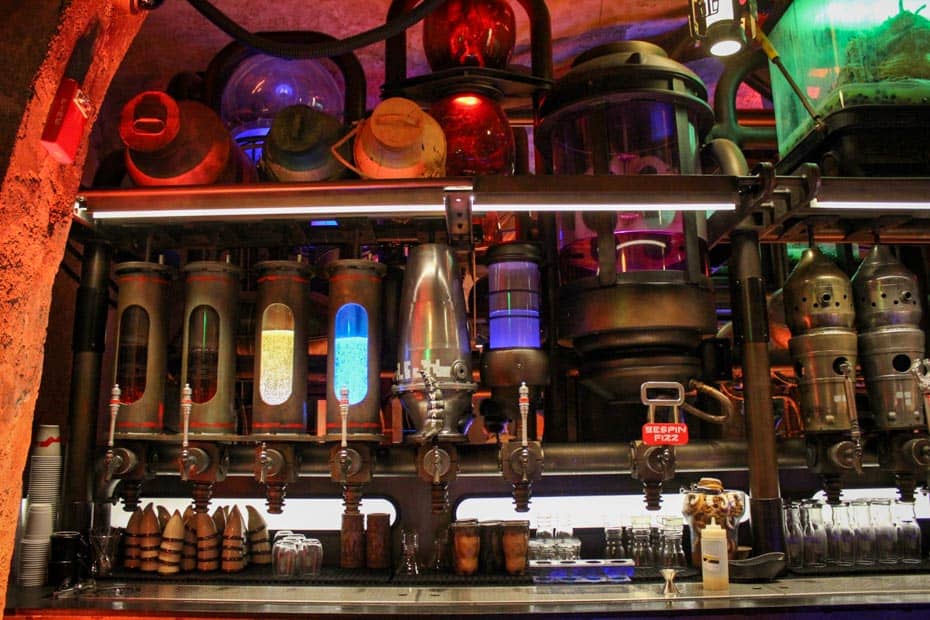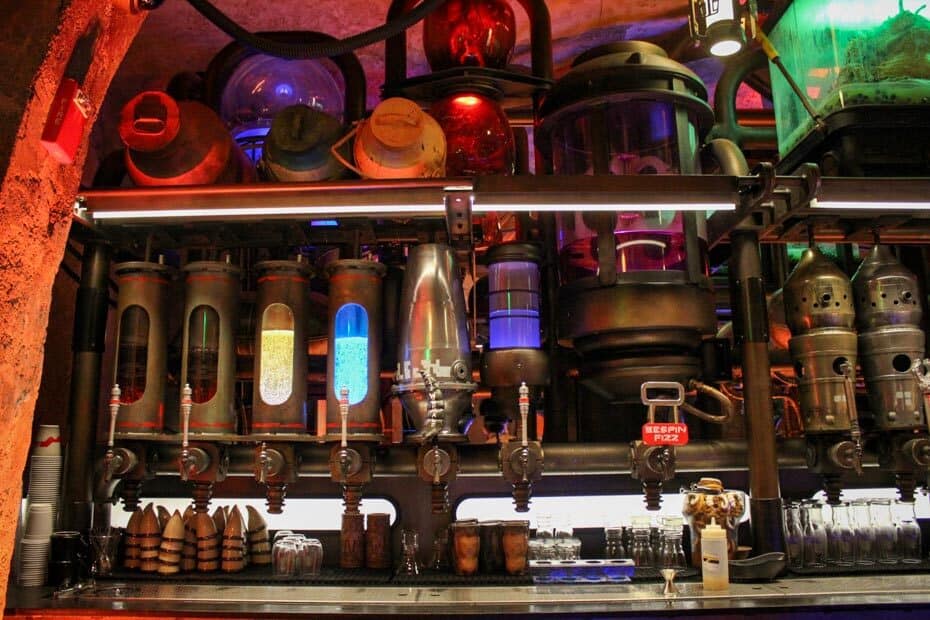 DJ R-3X at Oga's Cantina
For those expecting a little entertainment in this type of establishment, no worries, DJ R-3X is on duty. This little droid stationed on the outer rim of Oga's Cantina keeps the tunes spinnin'.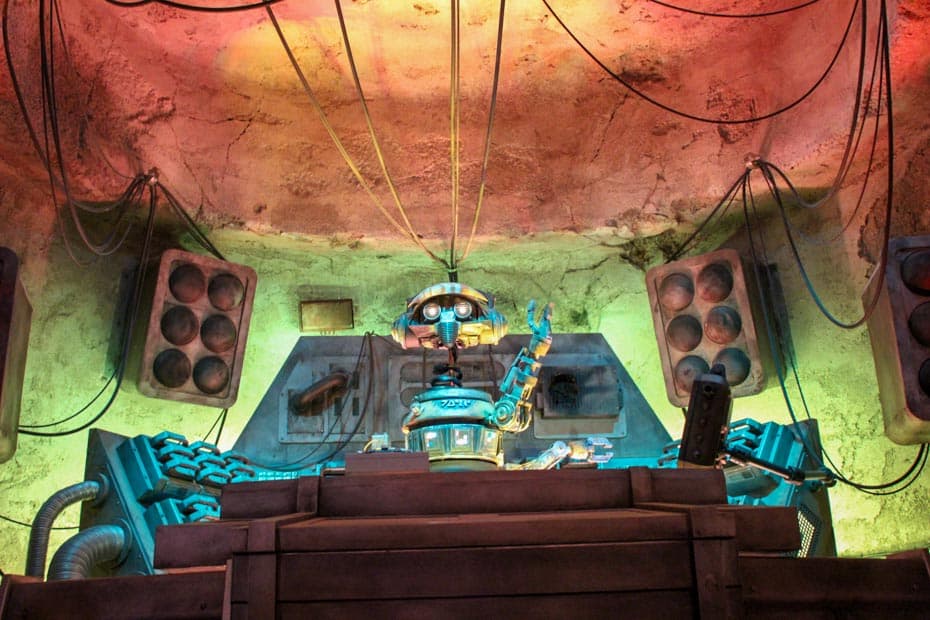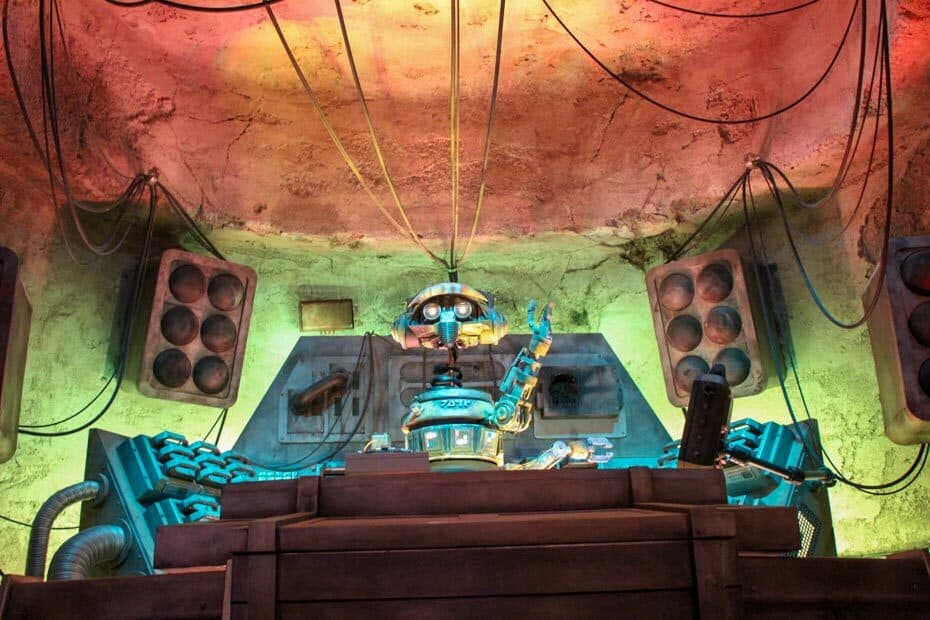 Oga's Cantina Drinks
Since Oga's Cantina opened, I've visited about three to four times. Each visit has been delightful, and I continuously find myself looking forward to returning.
In all actuality, that's probably why I haven't gotten around to writing more about Oga's Catina until now. Once I complete this kind of review, it tends to be a while before I get back to the subject at hand.
Below are a few drinks I've had here.
Bespin Fizz
First, we have the Bespin Fizz. This drink was from my initial visit to Oga's Cantina on Galaxy's Edge's opening weekend. And it's also my favorite concoction that I've tried so far.
The Bespin Fizz is described on the menu as Bacardi Superior Rum, yuzu puree, pomegranate juice, white cranberry juice, and cloud swirl.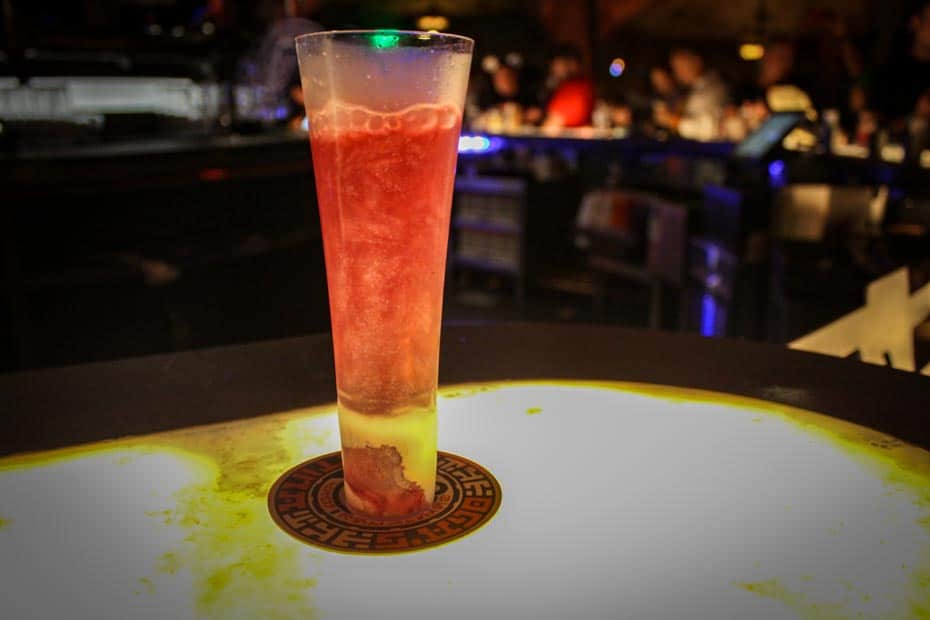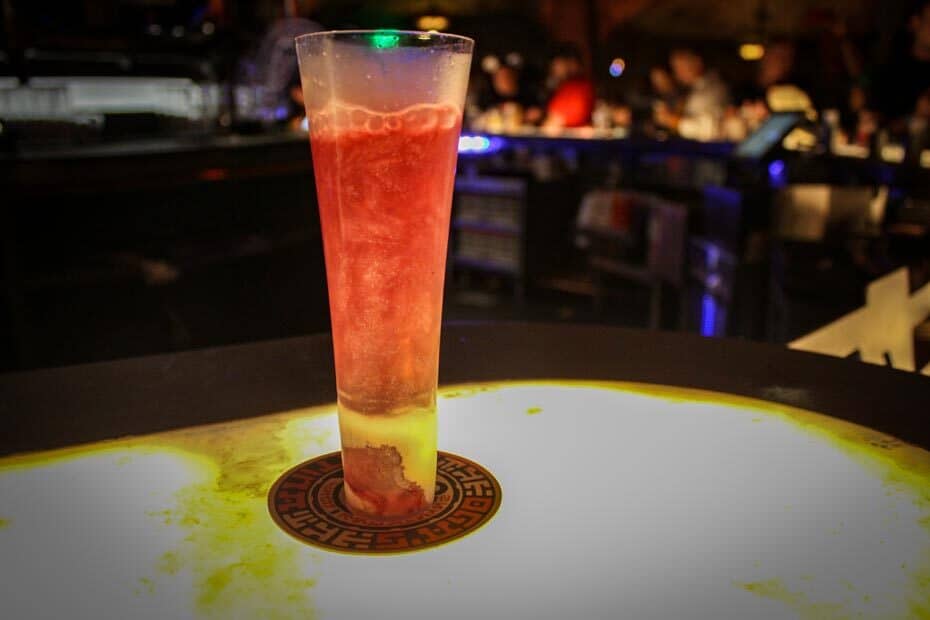 The Bespin Fizz comes out bubbling like some sort of formula that was just whipped up in a lab. You even expect it to bubble over at any given moment as smoke rises from the rim of the glass.
My first sip of the drink was disappointing. However, the server saw my expression and instructed me to give it just a minute. When the bubbles died down, this became the perfect concoction providing that authentic sweet and sour twang you often get from cranberries and pomegranate.
The Outer Rim
I decided to see what the foam fuss was all about on a different visit and ordered The Outer Rim. This drink is described as Patron Silver Tequila, Cedilla Acai Liqueur, lime juice, pure cane sugar with black salt, and exotic fruit puree.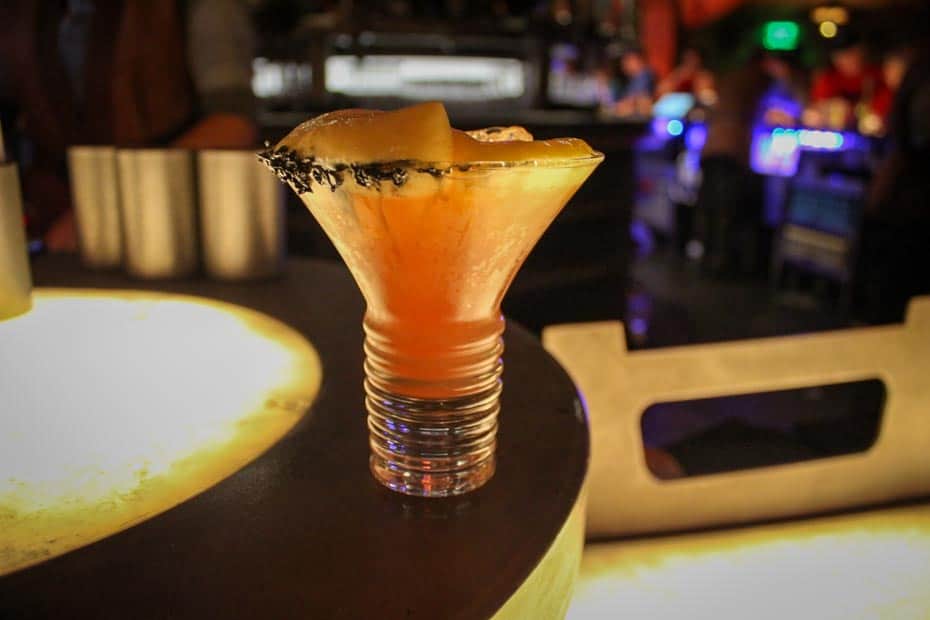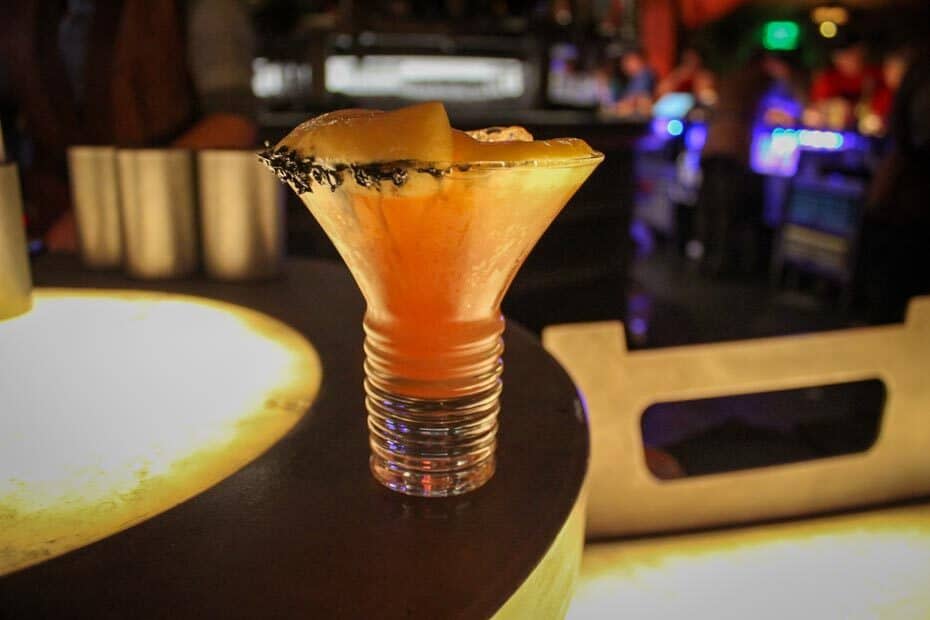 The Outer Rim drink is a fun play on a margarita. But the fruit puree does lean a bit toward banana flavor throwing the whole margarita force a bit out of balance. Nevertheless, it is an enjoyable drink, and I doubt many people have ever had something like this with such an unusual presentation.
Yub Nub
On one of my last visits to Oga's Cantina, I tried a different drink for the sake of sharing a review with you. I also wanted to give you a preview of the Endor souvenir mug.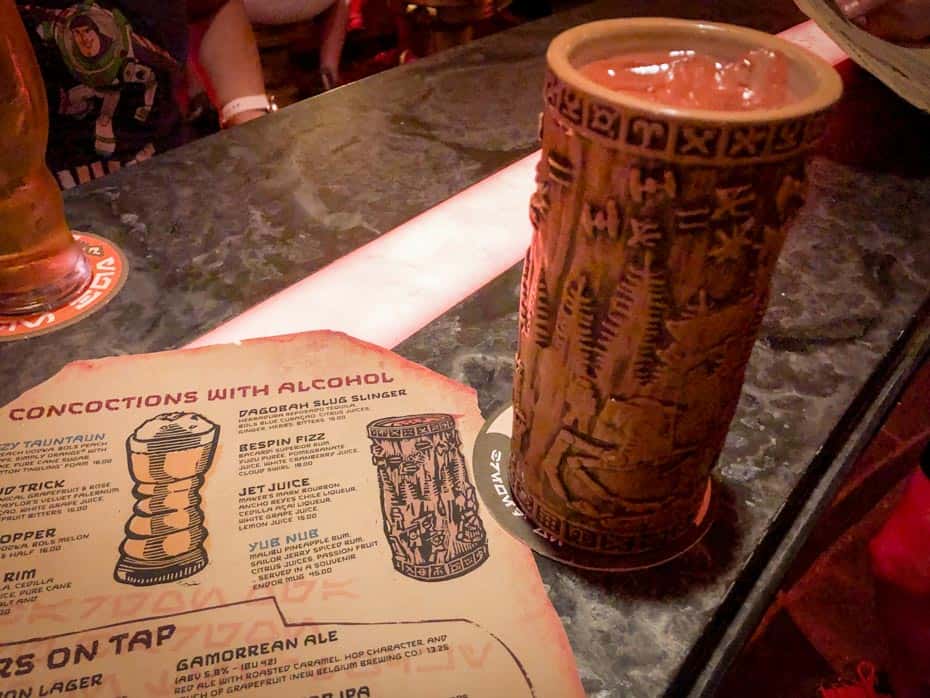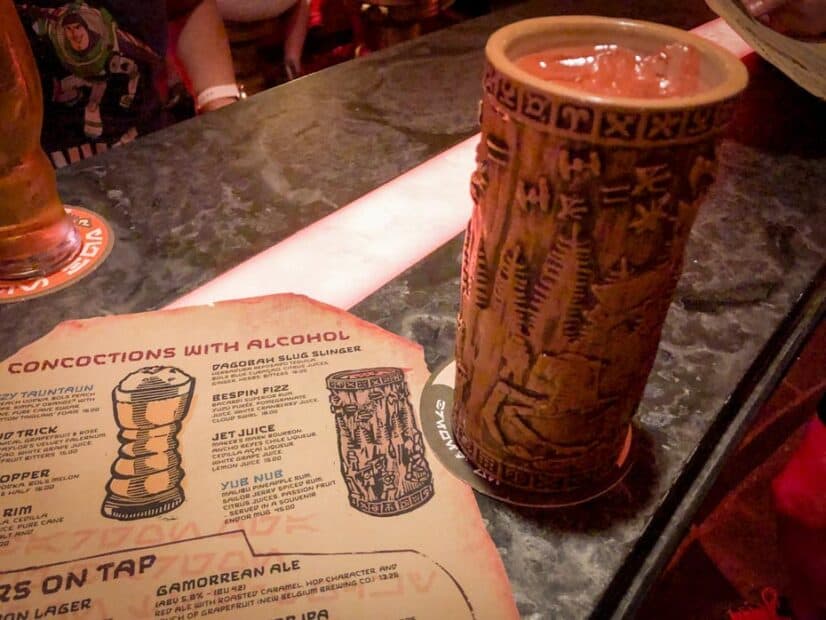 The Yub Nub that I was served was strong. It's a fruity drink made up of Malibu Pineapple Rum, Sailor Jerry Spiced Rum, citrus juices, and passion fruit. The drink comes in a souvenir mug, but you don't have to purchase the mug if you only want the drink.
The mug was nice if you are looking to take home this kind of souvenir. There are a few of these types of options on the menu. You'll want to let your server know whether or not you wish to keep the mug.
Fuzzy Tauntaun
Here is a look at the fuzzy Tauntaun. This drink has foam that will give your mouth a tingling sensation.
Per the menu, it's described as Cîroc Peach Vodka, Bols Peach Schnapps, Simply® Orange with Tangerine, Pure Cane Sugar, and "Buzz Button Tingling" Foam.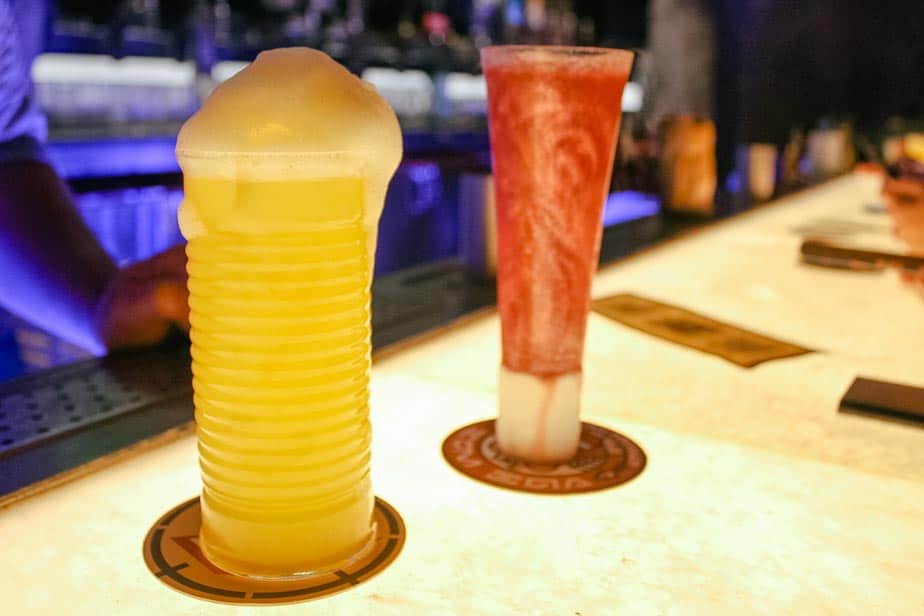 For some reason, I thought I had already tried this drink and realized afterward that I must have confused it with The Outer Rim drink. Anyway, my friend Tammy tried this drink, and she enjoyed it. She also confirmed that the foam did make your mouth feel funny for a few minutes.
T-16 Skyhopper
On another visit, I tried the T-16 Skyhopper. I was going back and forth between this and the Jedi Mind Trick, which I haven't tried.
Anyway, I decided to try this one out and was glad I did. Like the Tiki Room drink at Trader Sam's Tiki Terrace, this drink has a dairy component.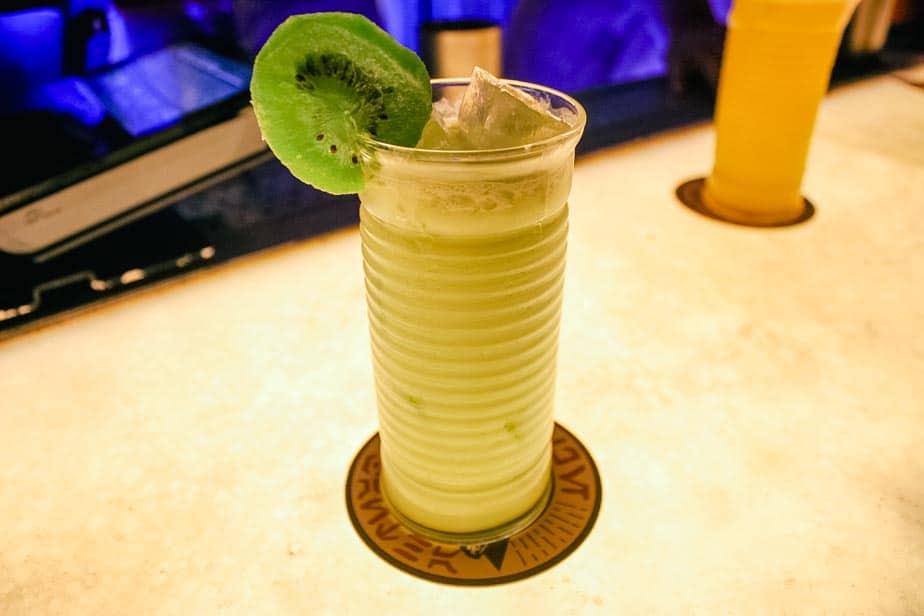 The menu describes this item as Tito's Handmade Vodka, Bols Melon Liqueur, Kiwi, and Half and Half.
I'm always surprised when I order something like this and end up enjoying it. The drink was cold and refreshing, with the perfect hint of fruit flavors. Meanwhile, the dairy adds an unexpected richness with a unique contrast between the opposing flavors.
Rodian Ration
Oga's menu has one provision with alcohol available called the Rodian Ration. The menu describes this item as Tito's Handmade Vodka, Dekuyper Pucker Sour Apple, Green Apple, Sprite®, and Boba Balls with a Pop.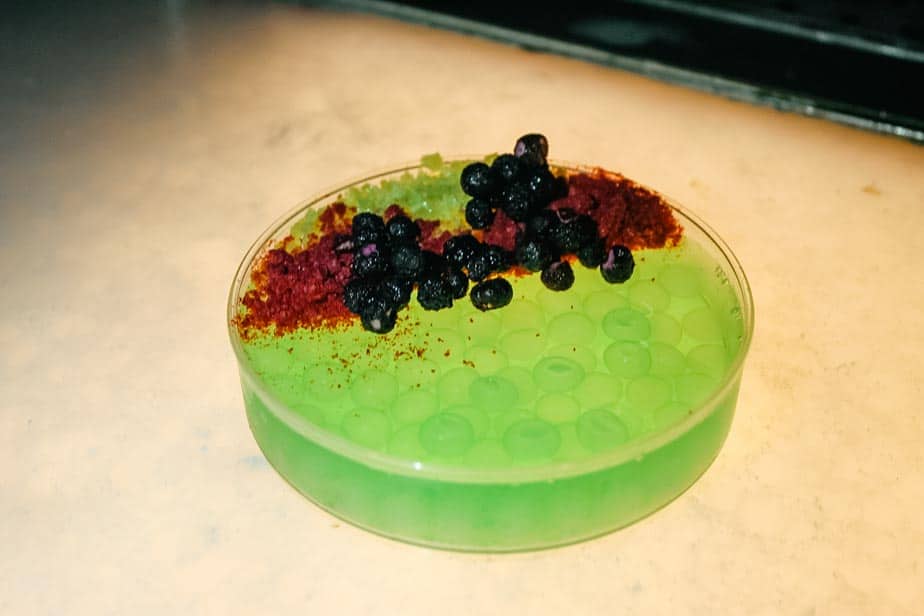 I haven't tried this item, but the cast member brought one out and told me to take a photo of it. So this is what it looks like, in case you were curious.
Batuu Bits
Oga's Cantina doesn't really have much to offer food-wise. A few items are on the breakfast menu, but I haven't made it over for an early morning experience yet.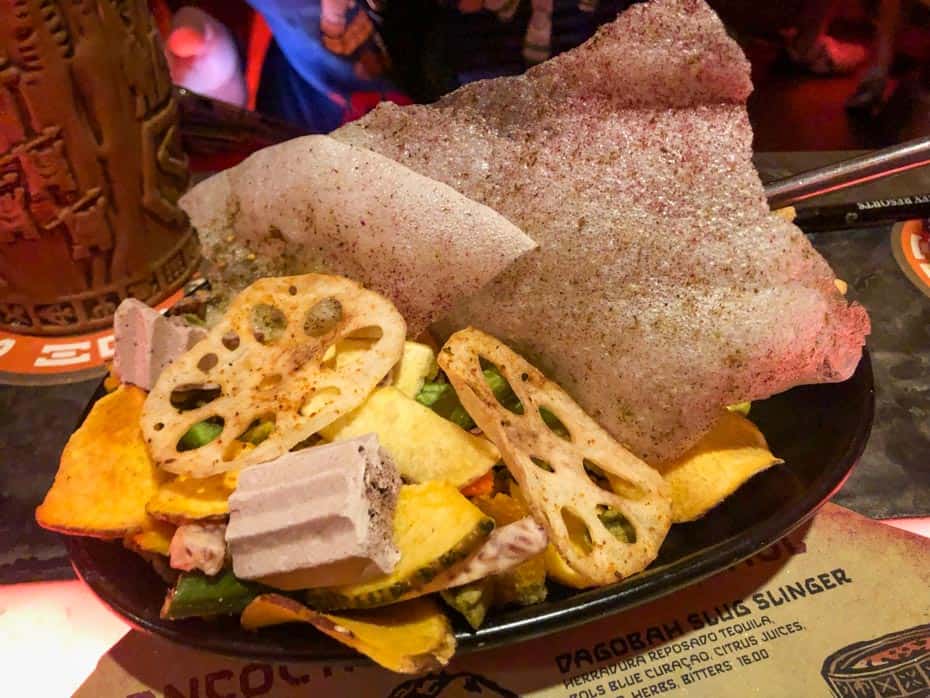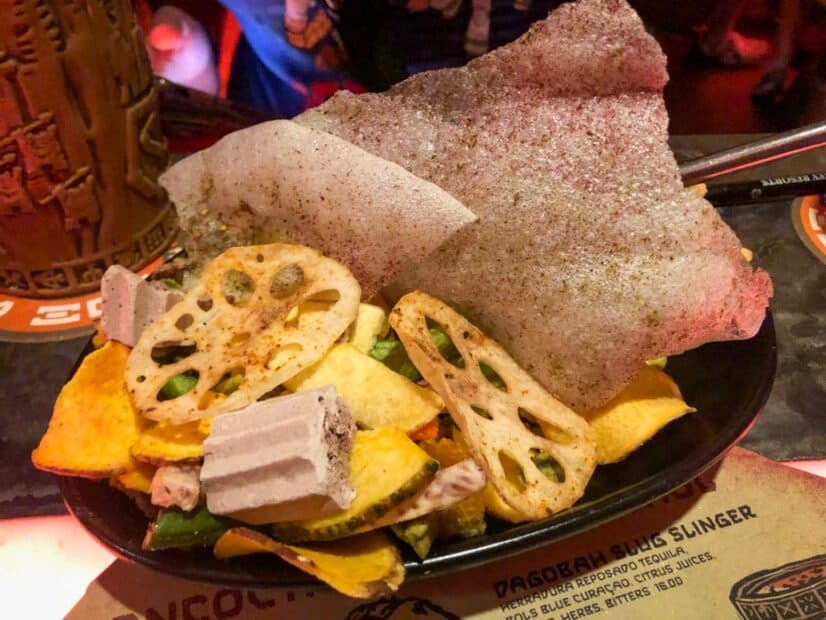 These are the Batuu Bites listed on the menu. It's a decent serving of salty, crunchy bar-style snacks. There's a chermoula dip that comes along with the platter.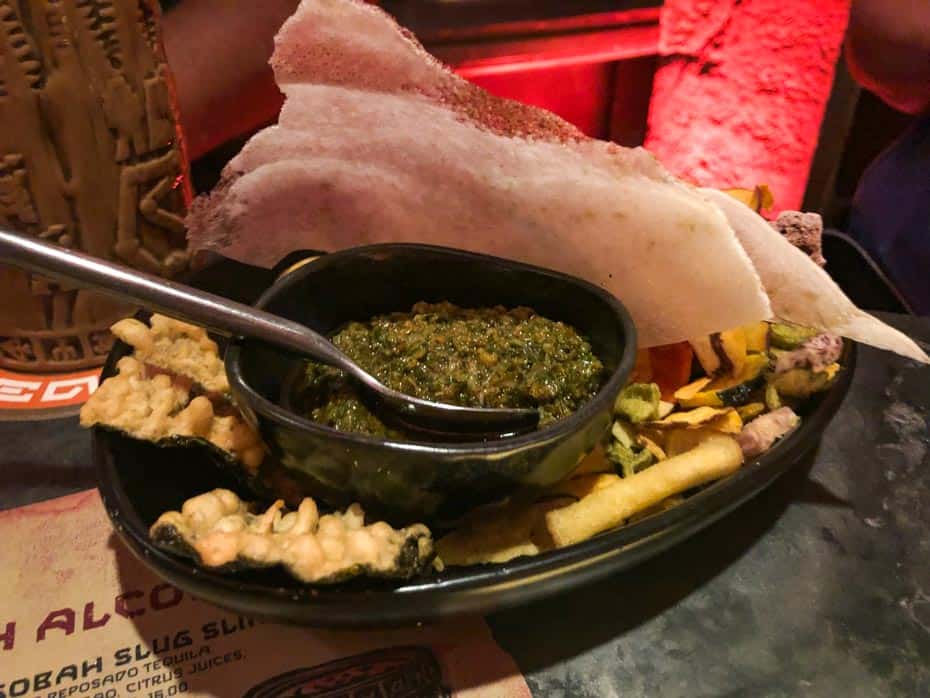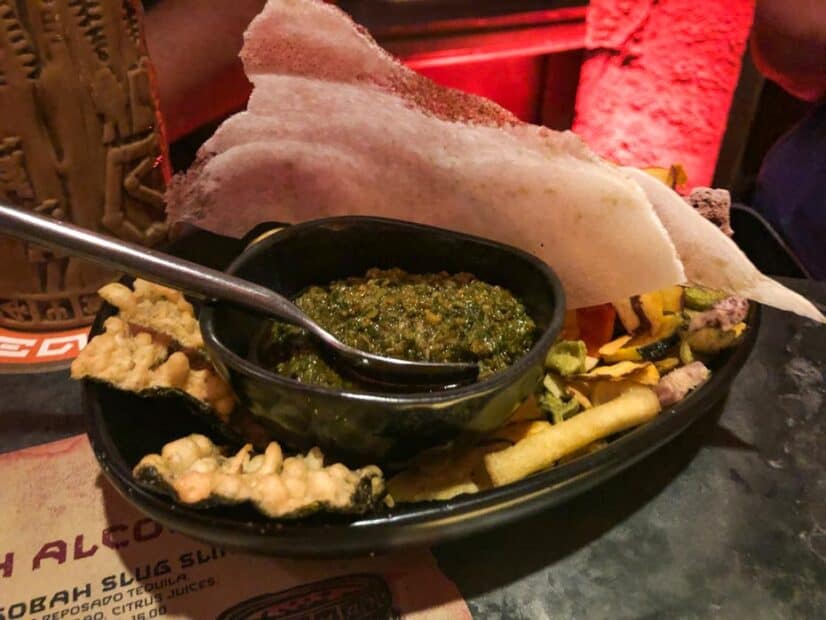 If you just have to have something to snack on while at Oga's you might want to try this. But other than that I wouldn't recommend it. It's a fairly expensive snack and unfortunately, there's nothing special to write home about with this one.
Additionally, a charcuterie platter has been added called the Happabore Sampler. Per the menu, it has cured and roasted meats, cheese, and pork cracklings.
Final Thoughts about Oga's Cantina
When planning a trip to Galaxy's Edge I really believe that Oga's Cantina warrants a visit. If you consider yourself a fan of anything Star Wars-related you are going to fall in love with the place.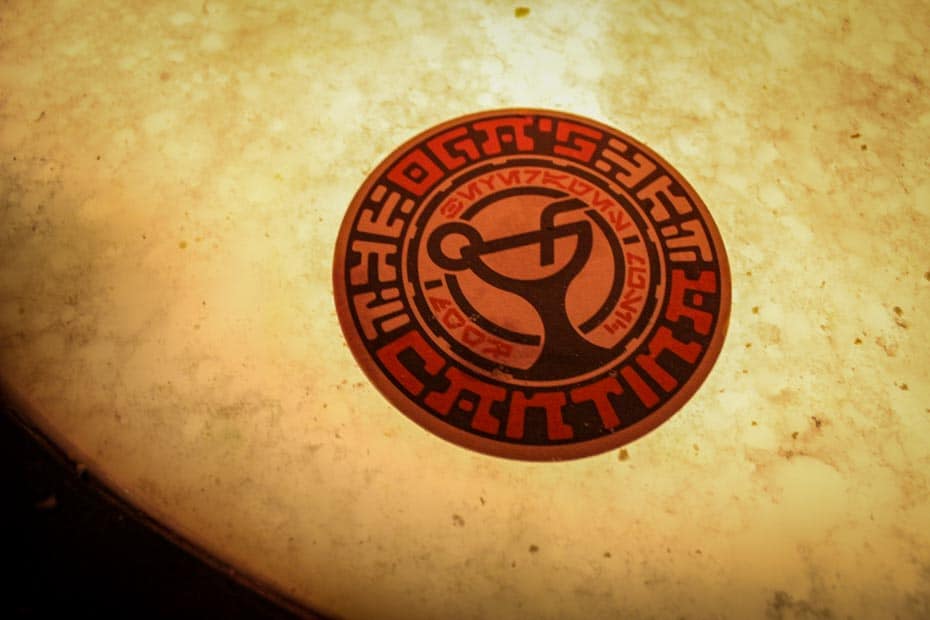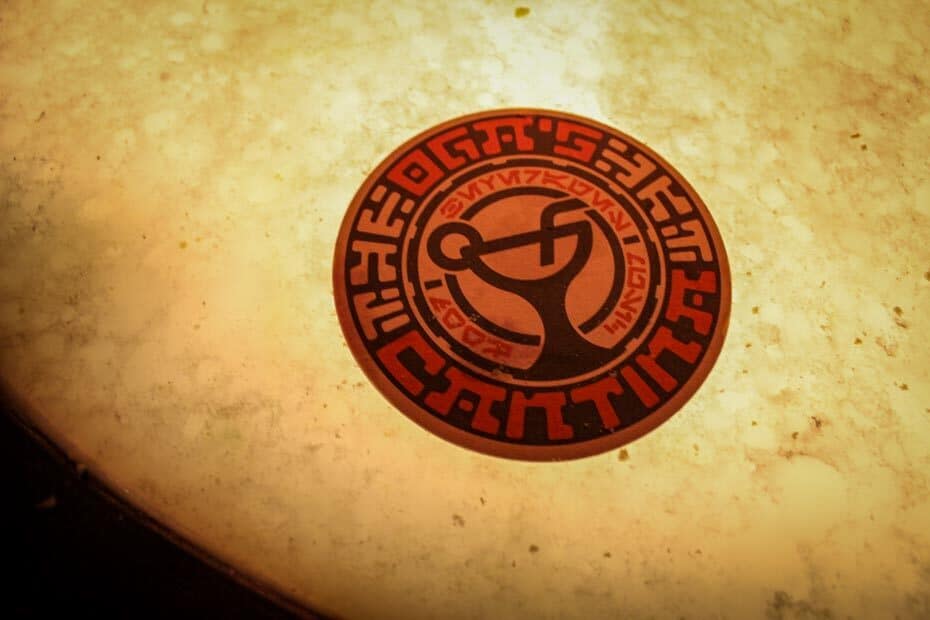 For more information about Galaxy's Edge at Disney World check out the following reviews:
Planning a trip to Walt Disney World? You might love staying near Hollywood Studios? We have reviews of all the Disney World Resorts. Here are the ones close by:
And the Star Wars Hotel is scheduled to open in 2022! We can't wait to share more details with you on that new resort!
Disney has done a really good job with Galaxy's Edge, but for me, Oga's Cantina is the place that brings it all together. Have you had a chance to visit Oga's yet? What are your thoughts? Feel free to share them in the comments below.
Planning a Walt Disney World or other Disney Destination vacation?
Our friends and travel partner, Firefly Travels, excels at doing Disney differently. You can fill out a plan your trip form on their website, and someone will reach out shortly to discuss the specifics.