Avatar Flight of Passage at Disney's Animal Kingdom
Avatar Flight of Passage is a top priority attraction for almost anyone visiting Disney's Animal Kingdom. Unfortunately, this popular attraction often has long waits, well over an hour.
In this article, we'll preview Flight of Passage and what to expect. Flight of Passage is a 3D screen-based attraction that requires the use of special effects glasses.
We'll also look at a few tips for the best time to ride this attraction and whether or not it's worth the a la carte Lightning Lane purchase.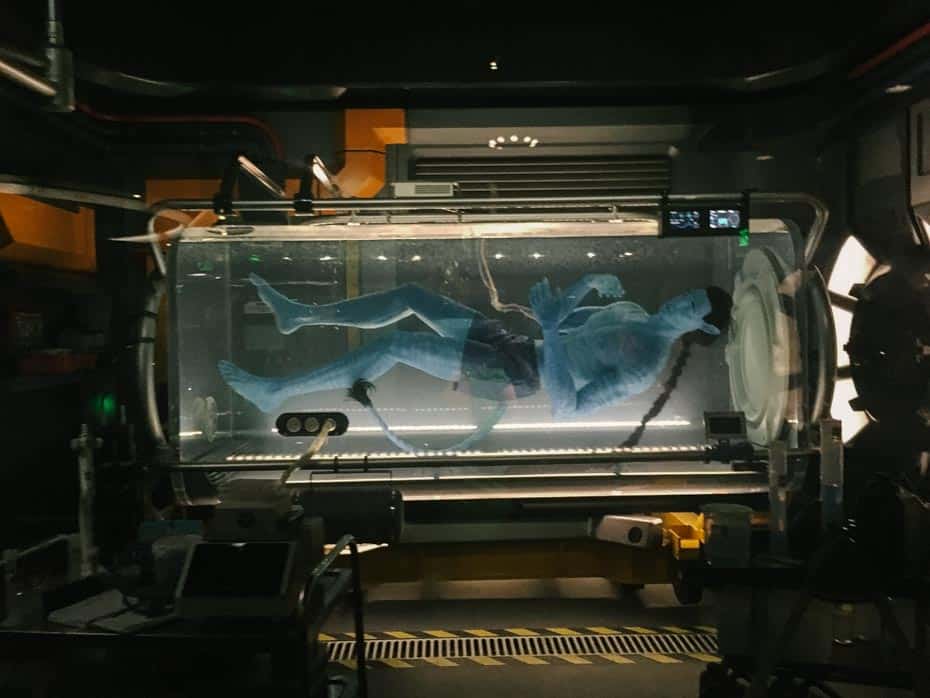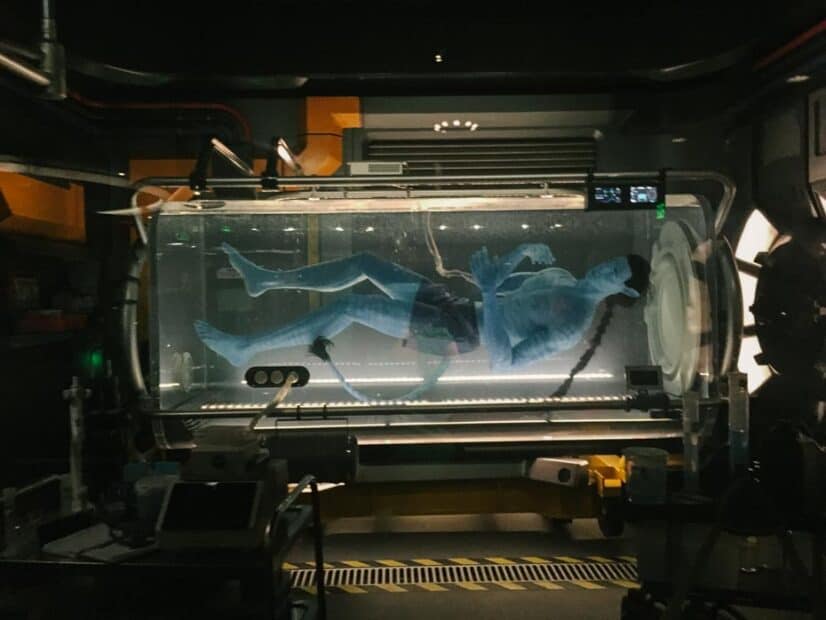 Here are the quick reference details for Flight of Passage.
| | |
| --- | --- |
| Avatar Flight of Passage | Animal Kingdom |
| Location: | Pandora, The World of Avatar |
| Disney Height Requirement: | 44″ |
| Genie+ | Yes, a la carte purchase |
| Ride Type: | Screen-Based Thrill Attraction |
| Seats Per Vehicle: | Individual Seats |
| Rider Switch: | Yes |
| Good For: | Tweens, Teens, Adults |
| Scary Factor: | Medium |
| Must-Do List: | High Priority |
| Perfect For: | Thrill Seekers |
| Special Mention: | I recommend riding standby at least once to see the extraordinary queue. |
Avatar, Flight of Passage Review
It is not uncommon for Flight of Passage to have some of the longest wait times in all of Walt Disney World. As Animal Kingdom's headliner attraction, Flight of Passage is the only a la carte Lightning Lane attraction in the park.
This means you can purchase an exclusive Lightning Lane to ride Flight of Passage on the morning of your visit without having to purchase the entire Genie+ bundle.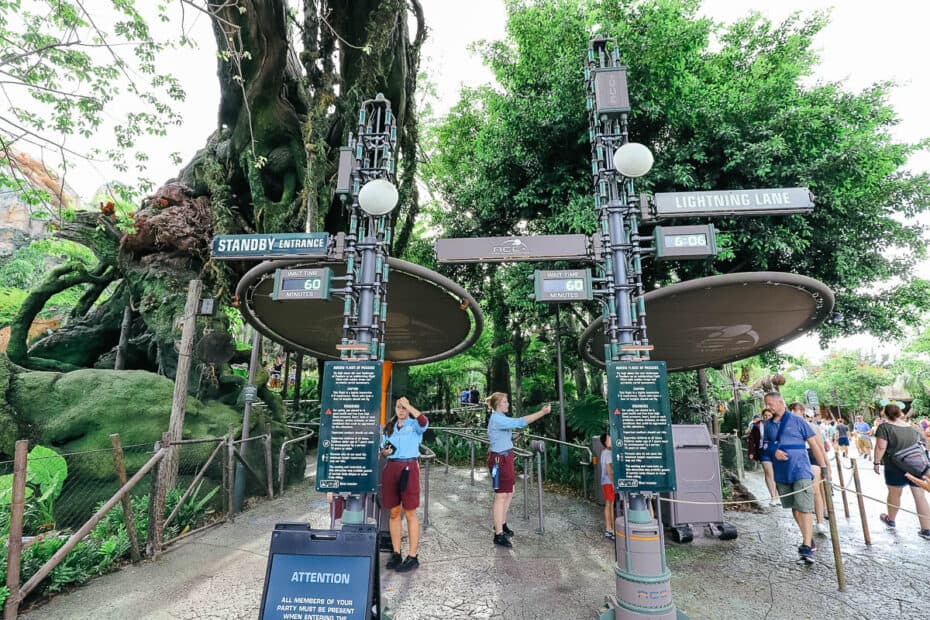 Since Flight of Passage is so popular, it's the primary rope-drop attraction at Disney's Animal Kingdom. Guests will go directly to Pandora, World of Avatar, and join the queue at the park open.
This attraction remains busy throughout the day. Therefore, I would consider riding it once in standby and then again with Lightning Lane if possible.
When you approach Flight of Passage, you'll probably be in awe of your surroundings. The Valley of Mo'ara is like no other place I've ever visited.
Flight of Passage has a standby queue that begins outside and offers tremendous views of the entire land.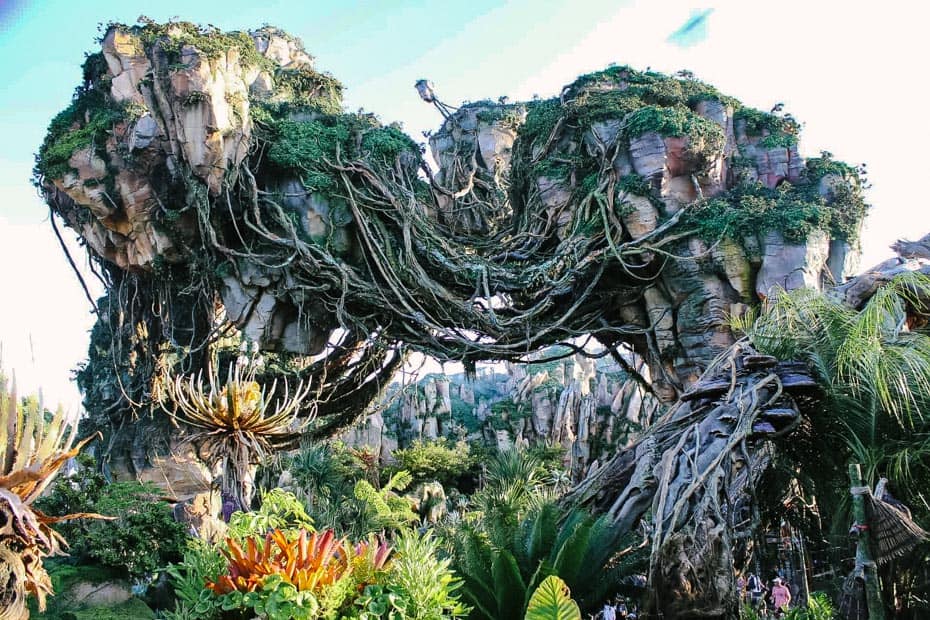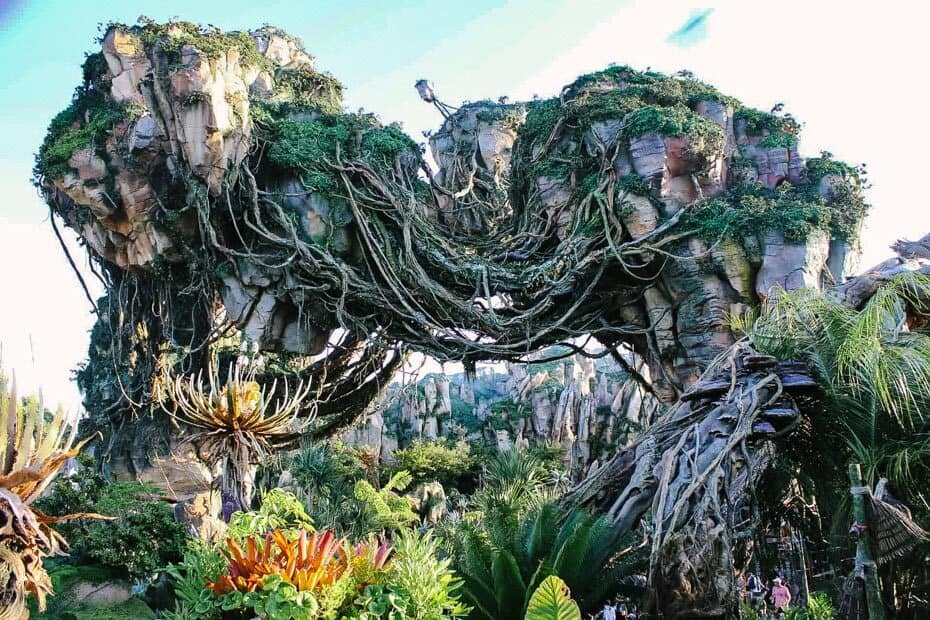 Entering the interior portion of the queue, you'll find yourself in an area similar to a cave with ancient Na'vi carvings and artwork. The details of the area are all nicely done, and the experience is enhanced as you make your way toward your own Flight of Passage.
It's important to point out that the line for this attraction can be extremely long. On a busy day, you might find yourself in a line that extends well beyond the queue.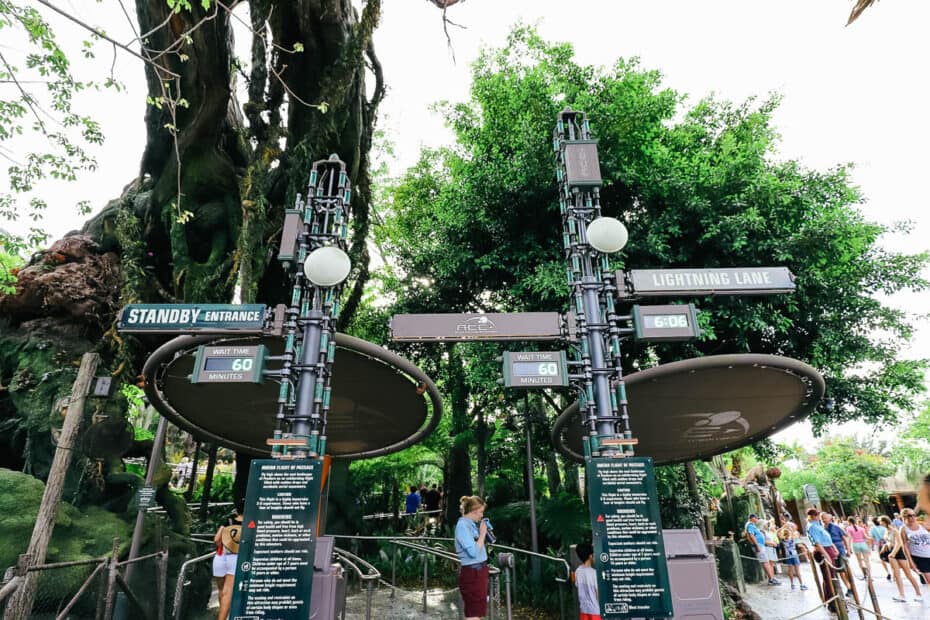 Flight of Passage Queue
Eventually, the queue runs into a laboratory, and things get even more interesting. You'll begin to see glimpses of a real Avatar in containment ahead of you.
Most everyone that hasn't previously experienced the attraction will stop for a picture. One important thing to note is that if you elect to ride with Lightning Lane, you won't see any of this.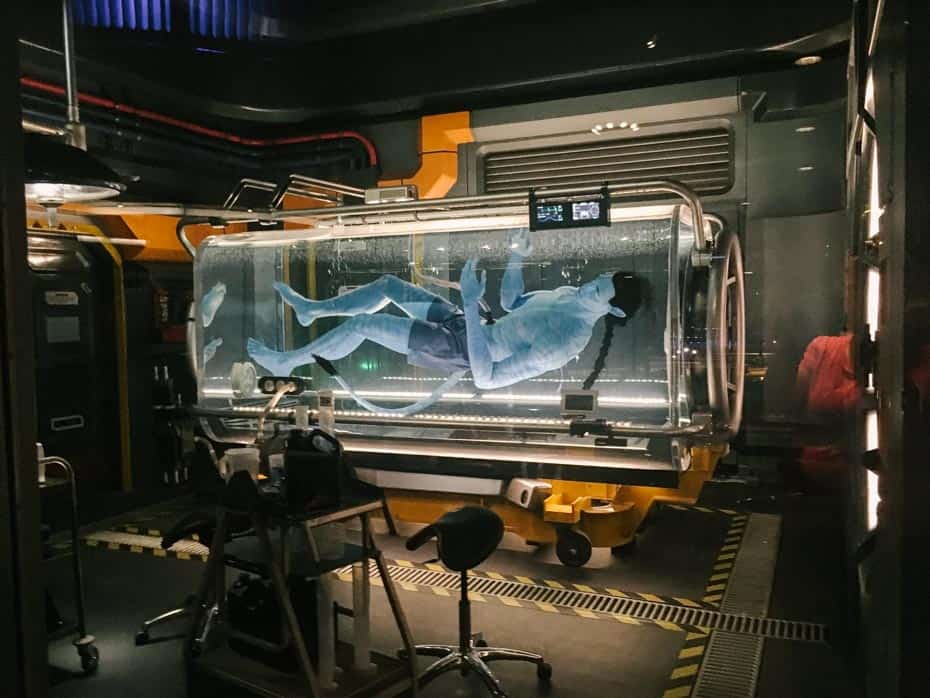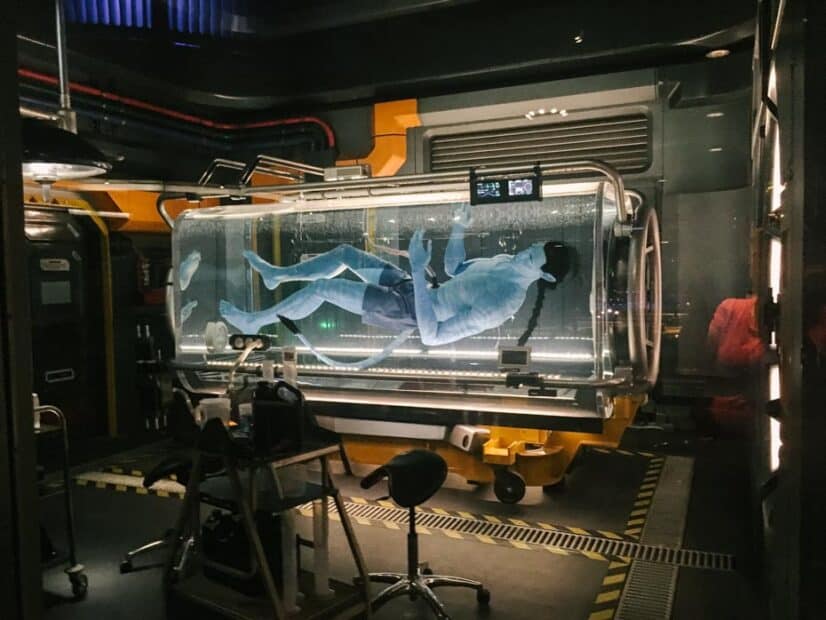 Is it worth the wait to see the queue? I recommend going through the queue at least once on your Animal Kingdom visit if you haven't had the opportunity to prior.
From my experience, the best times to ride Flight of Passage in standby is either first thing in the morning or last thing at night.
We typically like to get in line for Flight of Passage at around 5-10 minutes before the park closes. This works well because Lightning Lane ends at the park close, and there won't be guests boarding ahead of you via the Lightning Lane.
Additionally, I like getting in line at the end of the night best because you won't feel like you're wasting valuable touring time standing in line. There's also no need to worry about getting back to the room. Disney continues to operate buses until everyone has returned to their resort.
Is Avatar, Flight of Passage scary?
For those with a fear of heights, you might take into consideration that this attraction is a simulated flight experience. Granted, you are flying into a screen.
The theater moves, and if you end up on a higher level, you will be able to look down, similar to a third-floor balcony setting.
The actual ride vehicle is similar to mounting a bicycle. You'll hop on, and in a few moments, a brace comes up behind you.
This secures you in pretty snuggly. But if you haven't ridden before, the extra restraint is a bit of a surprise.
Like similar thrill rides, I have seen a few children panic last minute. At this point, it's good to reassure them that this is a normal part of the ride.
From what I can tell, this is more of a fear of the unknown. Additionally, waiting in line for a long time can cause anxiety to grow.
Try to remember that children who become more and more silent approaching any ride might be internalizing their fears.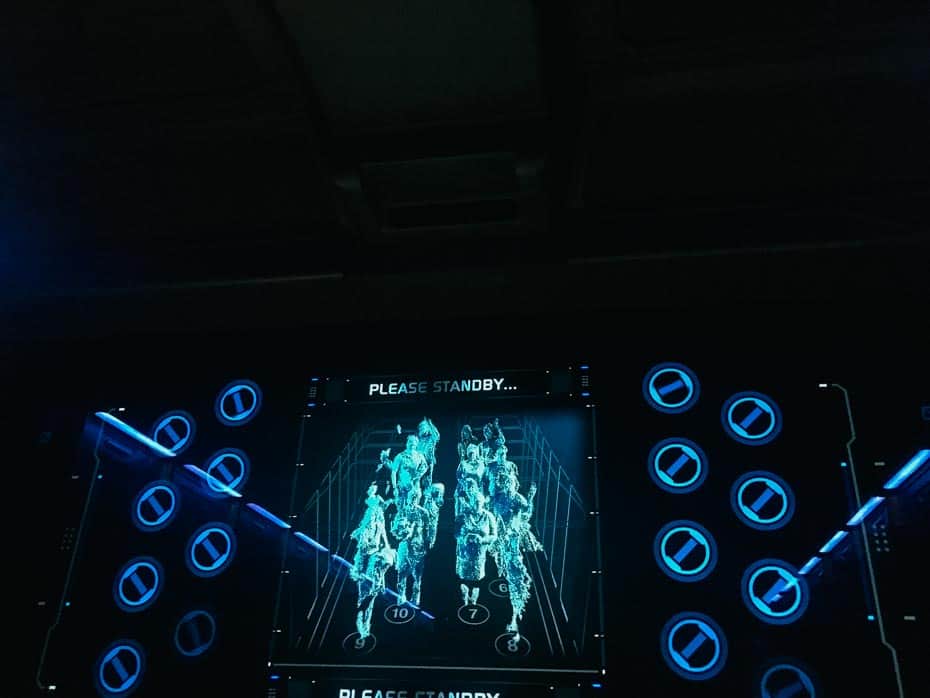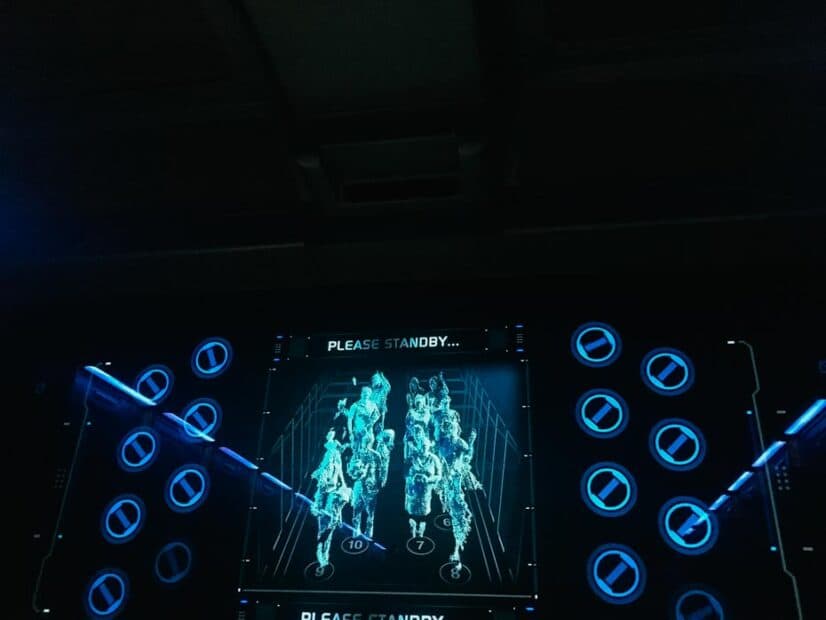 Recently, I was riding, and a child next to me panicked when the ride first started. There's this bit of a pause, and the computer tells you they are going to transform you into an Avatar.
You see a computerized reflection of yourself, and it begins to change to an Avatar. The poor child thought that it was real and exclaimed, "No, I don't want to be that!"
A part of me got a little tickled because I hadn't heard that one before. But I also felt bad for her and was once again reminded that children can easily be intimidated.
Next, the room darkens, and you'll begin to go through the process of transforming into a Na'vi so you, too, can ride a banshee. During this portion, a screen will appear before you on your ride vehicle. You'll be able to see yourself before the screen ahead of you opens to the actual ride part.
When you begin your Flight of Passage, be prepared to be blown away by the scenes. It's really beautiful and unexpected.
Since I've been fortunate enough to experience the attraction many times, I always love to hear the responses of others nearby. You always know who hasn't ridden before because it's hard not to express yourself in some way.
After about three to four minutes, your theater will readjust back down, and the restraints will drop back behind you. A cast member will enter the room and direct you to gather your belongings and exit.
Across the room, behind every ride vehicle, there are storage areas for personal items. Don't forget to gather your belonging before exiting.
I hope you enjoy your Flight of Passage! For more attractions at Disney's Animal Kingdom, you might enjoy the following:
Are you planning a Walt Disney World vacation? You might enjoy browsing the list of Walt Disney World Resorts. Some of our favorites include:
In the Comments
Have you had the chance to ride Flight of Passage yet? Do you have any questions about this ride?
Planning a Walt Disney World or other Disney Destination vacation?
Our friends and travel partner, Firefly Travels, excels at doing Disney differently. You can fill out a plan your trip form on their website, and someone will reach out shortly to discuss the specifics.