Disney's Coronado Springs Resort Review
This review of Disney's Coronado Springs Resort discusses the resort in its entirety. We'll look at what it's like to stay at Coronado Springs, including rooms, dining, recreation, and other amenities.
I don't know about you, but I always get excited when I have a stay booked at one of the Walt Disney World Resorts. But for this stay, I was a little more excited than usual.
Our original Coronado Springs review was one of the first resort reviews we provided when we started the site a few years ago. So naturally, with all of our other resort coverage, it had been a while since we stayed at Coronado Springs.
Formerly, we would stay at Coronado Springs at least once per year. Coronado always seemed to rise to the top when considering the price, value, and other amenities. Plus, we enjoy hanging out at The Dig Site.
Below, we'll look at a few details about the resort and how our stay went. So find the nearest hammock on a white sand beach (or the closest comfortable spot), and settle in for this Coronado Springs Review.
This review was updated on December 9, 2022, to cover our most recent stay.
Coronado Springs Review
Disney's Coronado Springs Resort is located near Disney's Animal Kingdom at Walt Disney World. You can expect to find many of the same amenities at Coronado Springs that you might find at a higher-end hotel.
Coronado Springs is classified as one of Disney's moderate category resorts. It's inspired by Spanish, Mexican, and American Southwest cultures.
With so many different influences, Coronado Springs offers one of the most gorgeous and unique settings in central Florida. You'll feel like you crossed the border to Mexico instead of just getting off a plane in Orlando.
We love the resort so much that it is our top choice for a moderate resort at Disney World.
You may have heard that Coronado Springs is substantial when it comes to the size of the property. That is correct.
However, the entire property received a complete refurbishment a few years ago. A new hotel, Gran Destino Tower, was added during that time.
Gran Destino sits near the front entrance of Coronado Springs. It's attached to El Centro, the main lobby, by a long interior hallway.
Gran Destino is unique because it's the only moderate resort that offers interior room access, similar to a deluxe resort. Other rooms at Coronado Springs are spread out into buildings called villages that sit around Lago Dorado, the lake that centers the property.
So if you're planning a vacation at Disney's Coronado Springs, you'll want to decide if you would prefer to stay in Gran Destino Tower or in one of the villages. Of course, the villages are more affordable, but the tower is more convenient.
We cover Gran Destino Tower in its entirety in a separate review. A stay at the hotel is vastly different from the villages.
Related: Gran Destino Tower Review
With that said, during the refurbishment, bridges were put in place across Lago Dorado. Those bridges extend from El Centro to each village.
Now, instead of having to walk the parameter of the lake to get from El Centro to your village, you can cross the bridge. Not only that, in the center of the lake, there's a restaurant, Three Bridges Bar and Grill at Villa del Lago.
Therefore, if you are concerned about the layout, know that it's been simplified in recent years. Additionally, each village has a bus stop. So you don't have to trek across the resort to get to the bus stop.
Villages at Coronado Springs
Several villages comprise Coronado Springs:
In addition to those villages, there are a few other large areas that take up significant portions of the resort:
Coronado Springs Convention Center
The Dig Site
El Centro
Gran Destino Tower
Here is a map that provides the layout.
Each village has its pros and cons. For example, most of the Casitas buildings are considered preferred. Preferred rooms are an upgrade because they are the closest in proximity to El Centro.
Additionally, the Casitas are nearest the convention center. Therefore, the crowd in this section might be more business-class guests mixed in with families.
As far as the convention center goes, I wouldn't consider it a huge concern. But Coronado Springs does have a tremendous convention center that stays reasonably booked throughout the year.
One of the things I've noticed is that you might encounter more guests in line for food, especially around dinnertime, when meetings tend to end for the day.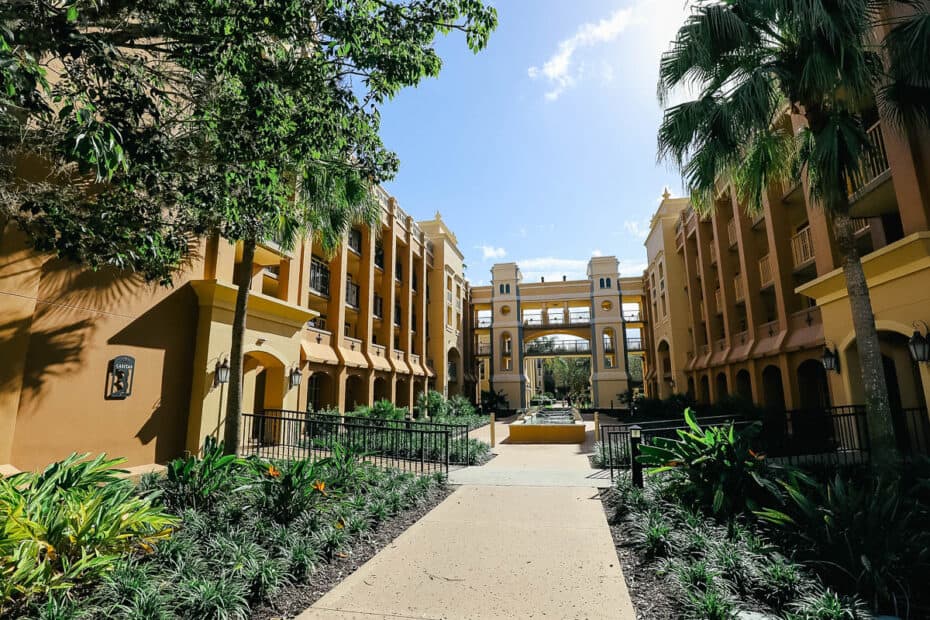 Ranchos sits directly behind The Dig Site and will be the furthest away from El Centro. However, this area has some of the most beautiful landscaping of the different villages.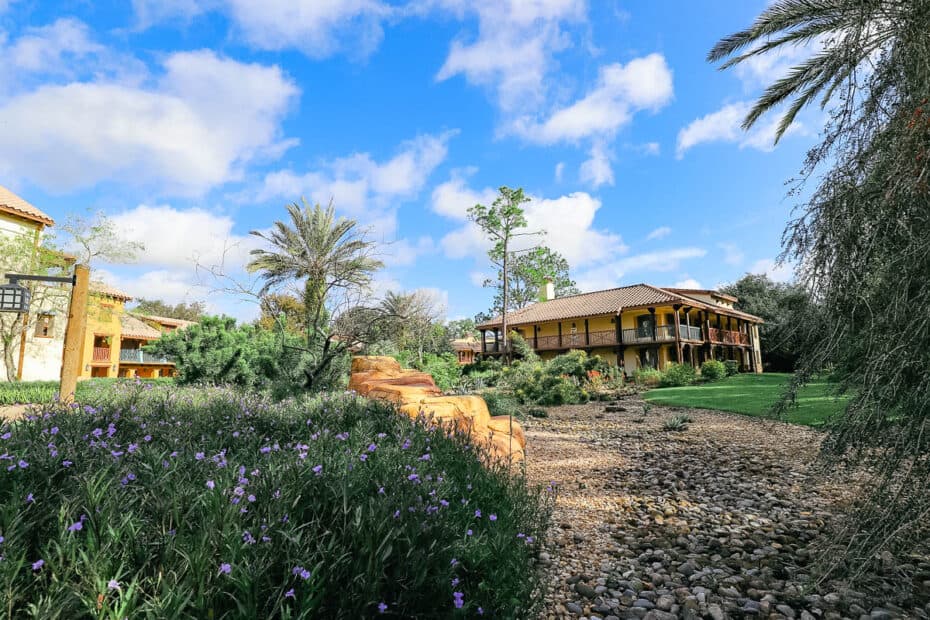 Lastly, the Cabanas sit directly between Gran Destino Tower and The Dig Site. This is my favorite village of the resort because of its location.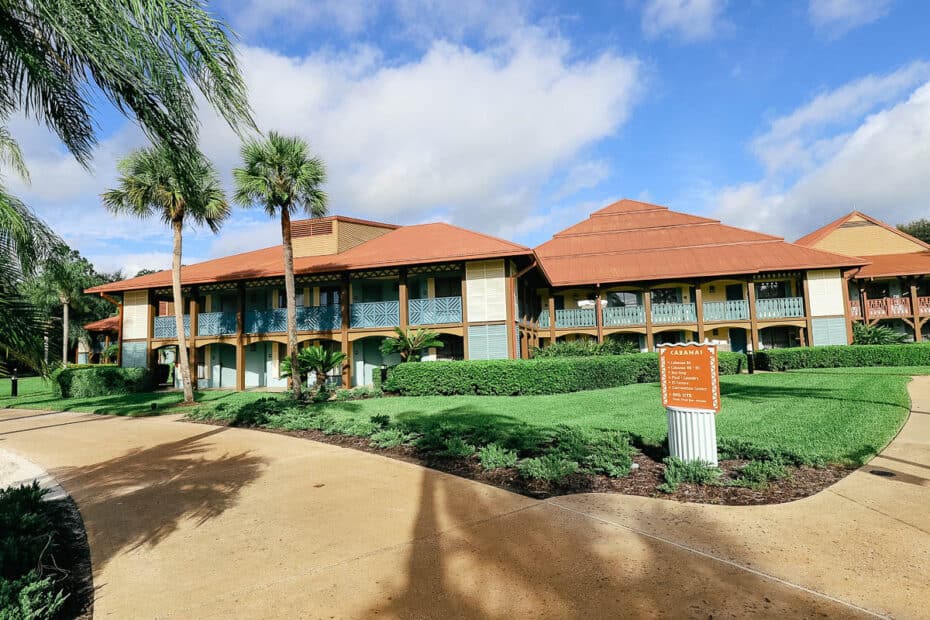 El Centro, the resort's main lobby, is home to multiple dining locations, a gift shop, and a formal check-in area. A beautiful fountain sits right inside the entrance.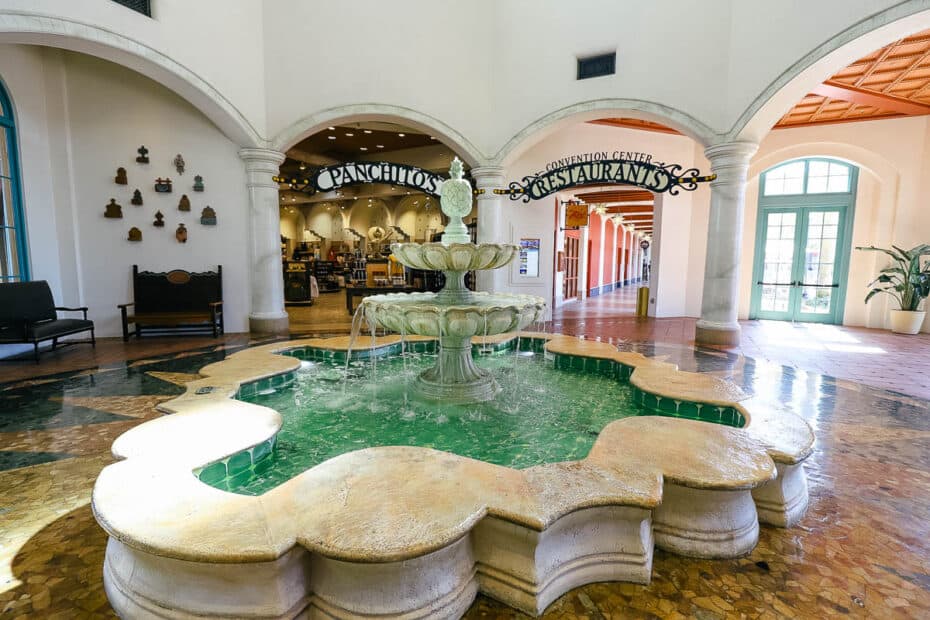 Then we have The Dig Site, home to a 50-foot pyramid and Coronado Springs feature pool. There's even a massive hot tub and water slide!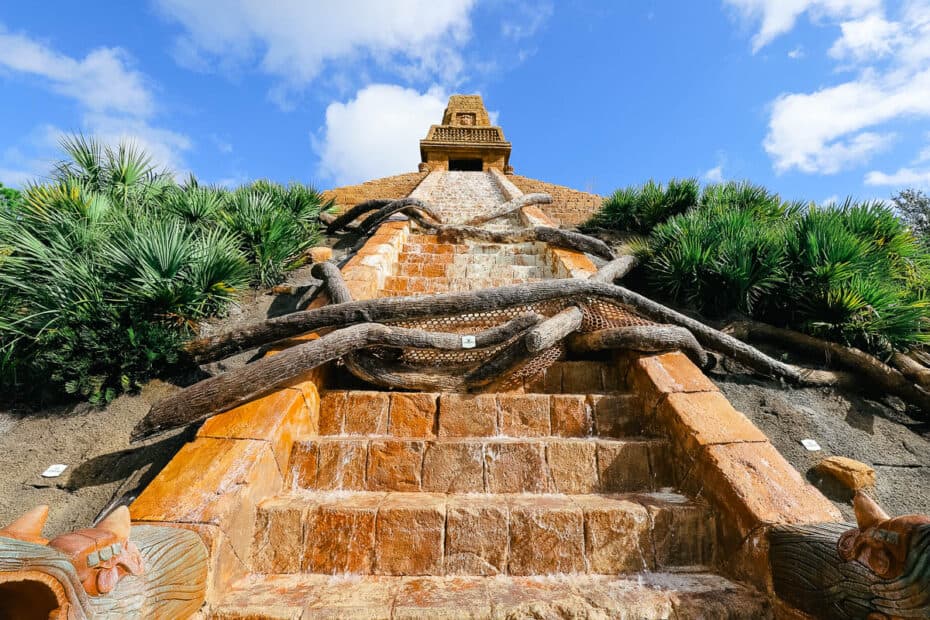 Benefits of Staying at Coronado Springs
Since Coronado Springs is a Disney-owned and operated hotel, guests are privy to several benefits. One of those benefits is early theme park entry, which has been extended through 2023.
All resort guests can visit the parks 30 minutes early with early entry. This means you can access the parks before any guests visiting from off-property.
Early theme park entry applies to every park for every day of your vacation. Buses at the resort will begin running approximately one hour before the early theme park entry time begins.
Guests of Coronado Springs will also have access to Disney's bus service to and from the resorts to the parks and Disney Springs. So you won't have to worry about driving anywhere during your vacation.
We have a separate article for an extensive list of Walt Disney World Resort benefits. Some categories of resorts differ in their offerings.
Related: Disney World Hotel Benefits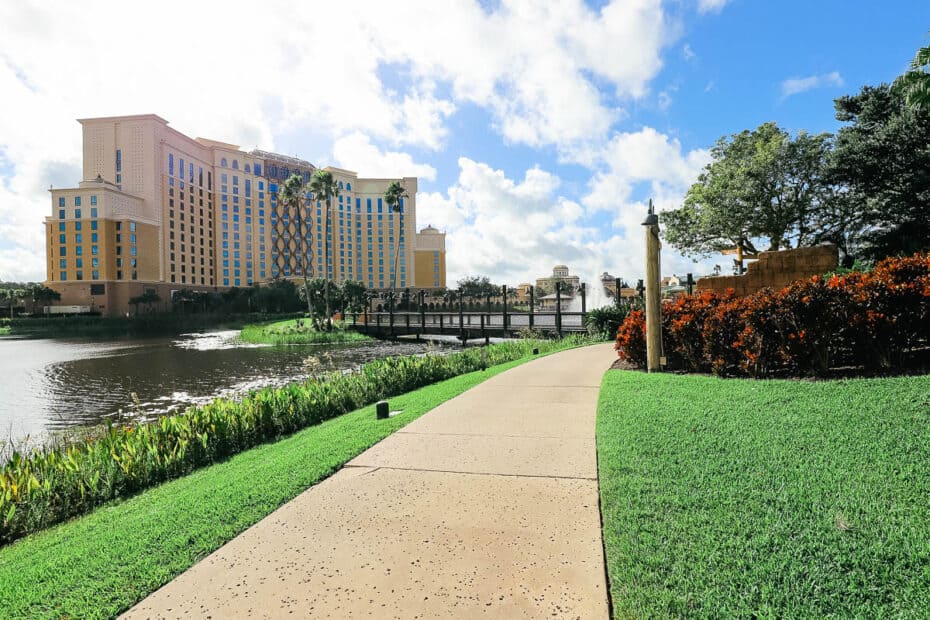 Rooms
There's a wide range of options for rooms at Coronado Springs. Below are the different room categories:
Preferred Room
Water View Room (King)
Preferred Room (King)
Standard View
Water View
One-Bedroom Suite (King)
King Bed (Standard)
Casitas One-Bedroom Suite
Casitas Executive Suite
Additionally, the following rooms are available in the Tower:
Tower Standard View
Tower Standard View (King)
Tower Water View
Tower Water View (King)
And then there are the following club-level rooms and suites:
Tower Deluxe Suite (Club)
Tower One-Bedroom Suite (Club)
Tower Presidential Suite (Club)
Tower Standard View (Club)
Those looking for the most budget-friendly option will want to stick with a standard view. Anything else is considered an upgrade and will cost more.
Briefly, I'll discuss what to expect with a few of the room types to give you a better idea of whether or not they're worth the upgrade. Of course, some upgrades might depend on your circumstances.
For instance, preferred rooms at Coronado Springs are located in buildings one, two, or three of the Casitas. If you reserve a preferred room, you'll be within close proximity to El Centro, dining, shopping, and transportation.
However, you won't be close to The Dig Site. But there is a quiet pool nestled in the center of the Casitas.
Additionally, being next to the main bus stop isn't necessarily a big deal. Since Coronado Springs has an internal bus system, each section has a bus stop.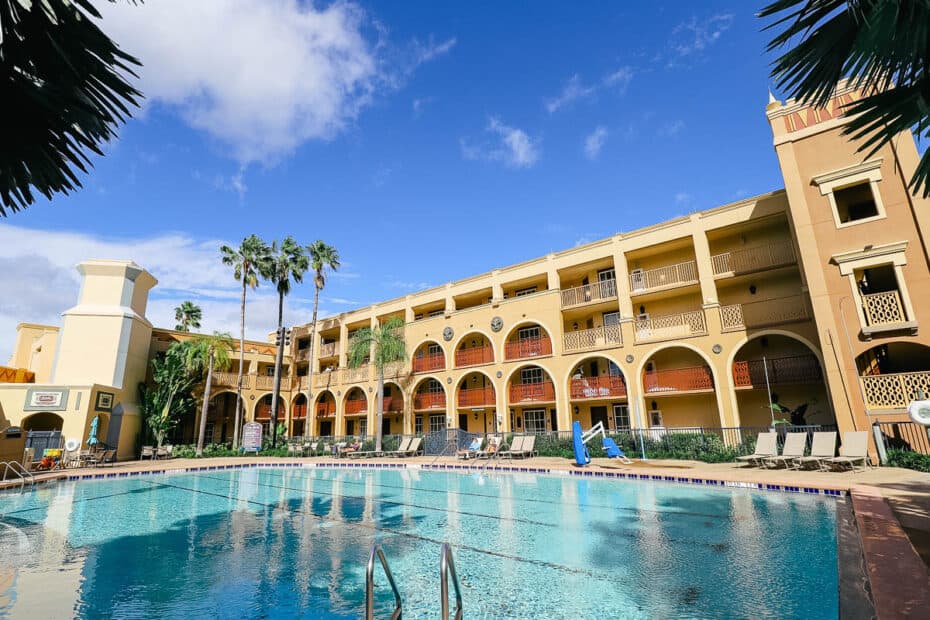 Another extra some might consider is upgrading to a king-size bed. For whatever reason, these rooms cost more, and they are few and far between. So if a king-size bed is important, you might consider paying extra.
Additionally, there is an option to upgrade to a water-view room. A water view room offers a view of a pool or a lake.
While I consider upgrading room views when I'm staying at a deluxe, I wouldn't at a moderate unless it were Gran Destino.
First, none of the rooms at Coronado Springs have balconies. Secondly, each room has exterior access.
This means there is an overhang and a walkway outside your room. Therefore, other guests will walk past your window when they are walking back and forth to their rooms.
In my opinion, a room upgrade in this type of room is not worth the price. When we stay in these rooms, we rarely open the curtains. I know I don't want others staring into my room when they walk by, and you probably don't either.
Now, we did enjoy our room view upgrade at Gran Destino, and you can see why.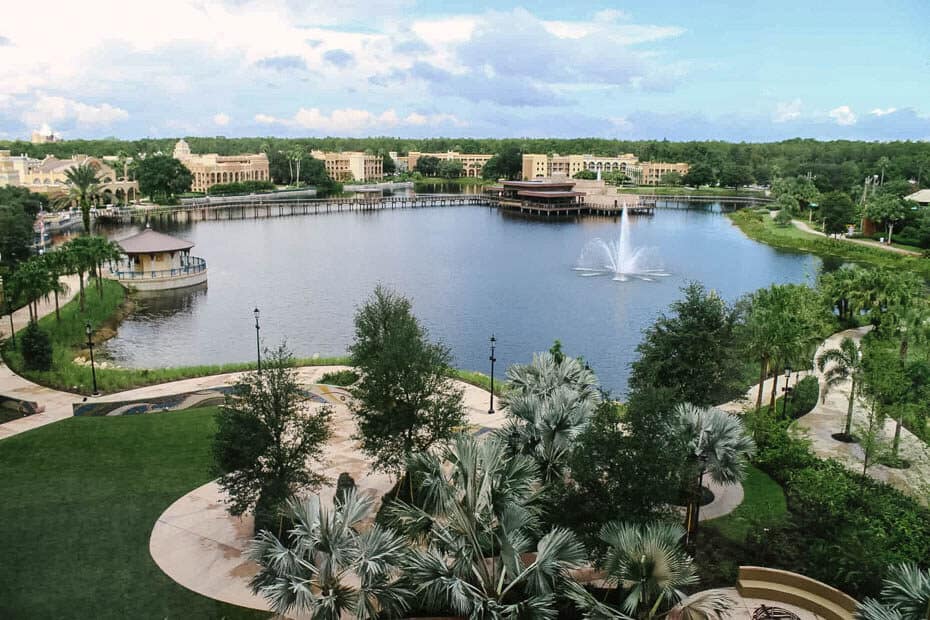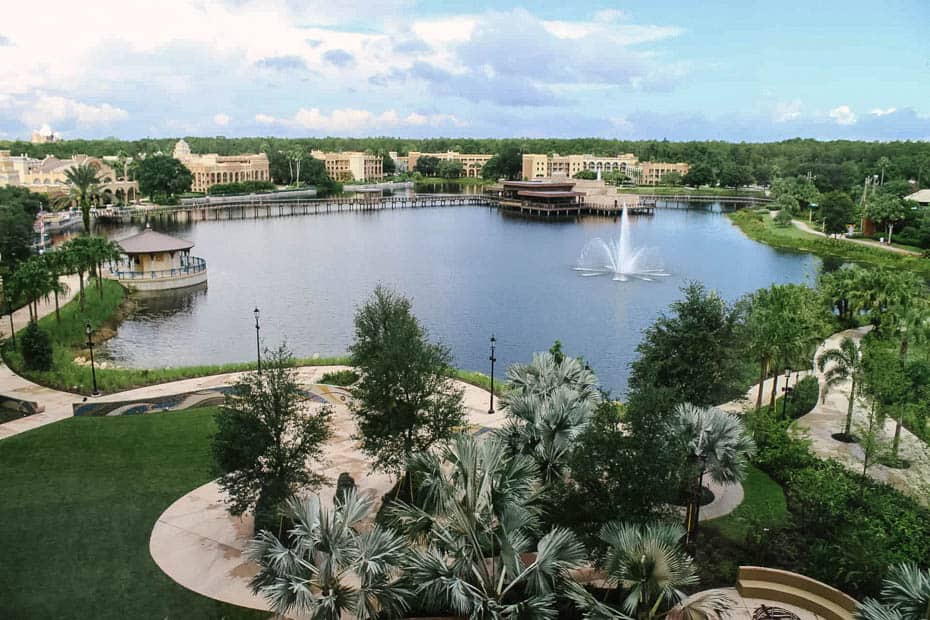 While this room didn't have a balcony, the view was stunning, and there wasn't the possibility of anyone walking directly outside the window.
Not only was the view stunning during the day, but it was particularly gorgeous at sunset.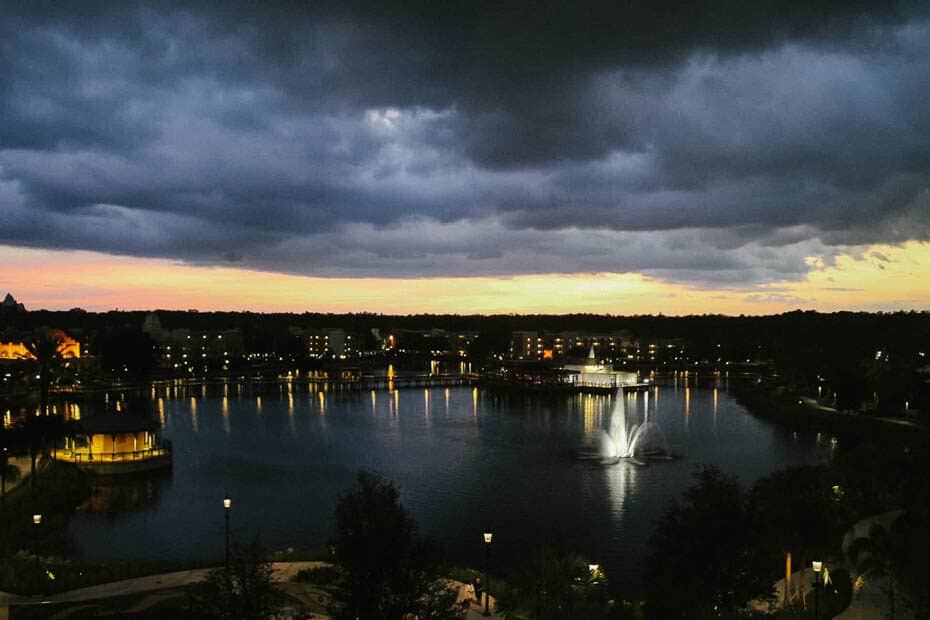 As for the other rooms listed above, they vary. Some suites will accommodate a larger number of guests at a higher price.
For instance, a one-bedroom suite will accommodate up to six people. Additionally, the executive suite accommodates up to eight.
If you are part of a larger party, you might want to browse our overview of the Disney Vacation Club Resorts to see other options. These resorts have amenities like kitchenettes and sleep five or more guests, depending on the suite.
Related: Disney World Villa Resorts
Those who want to feel pampered during their stay might consider club level. Chronos Club is located at Disney's Gran Destino Tower.
Chronos Club is a private lounge that club-level guests can access throughout the day. Club lounges offer items like a continental breakfast, snacks, beverages, appetizers, and desserts in the evening, among other things.
We have an independent review of the club level at Disney's Beach Club. It will give you an overview of what to expect during your stay.
All of the club levels at Disney World have pretty much the same setup. However, some of the food options will vary between each one.
Before we discuss aspects of the resort, I thought we would look at a few photos of a standard room at Disney's Coronado Springs.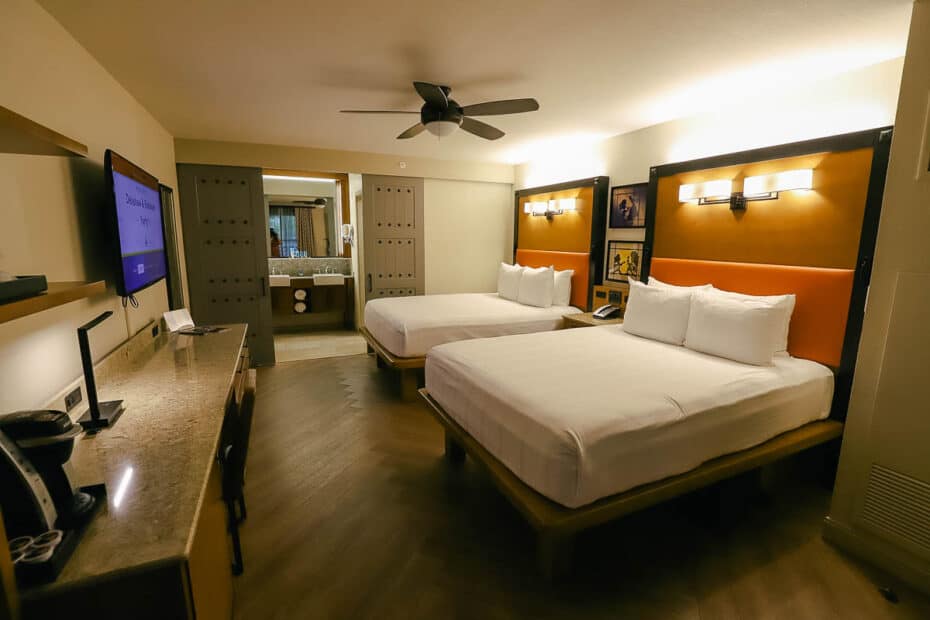 Our room had two queen-size beds, a nightstand, and several outlets.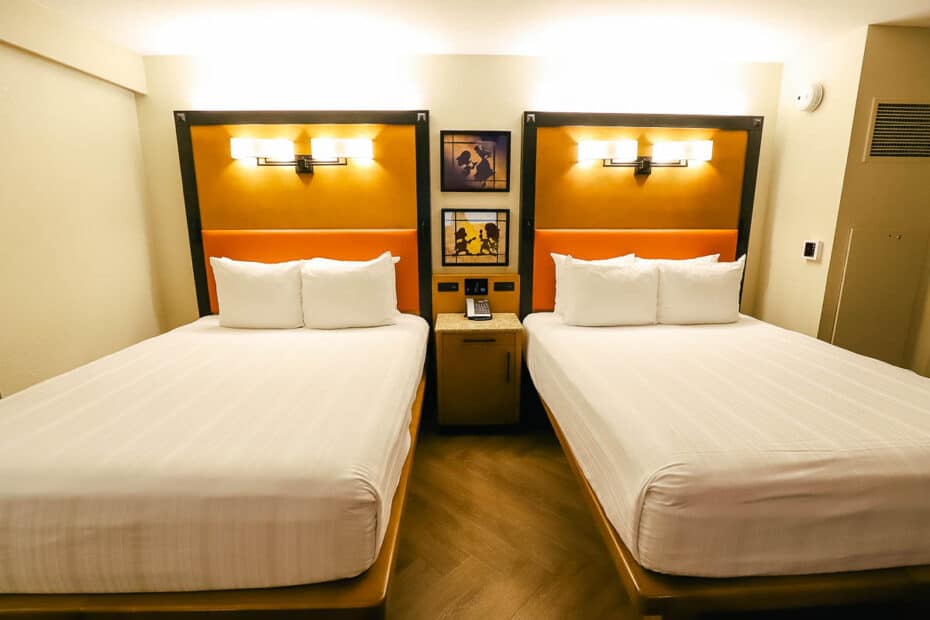 A desk doubled as a dresser and provided a built-in beverage cooler on one end. Other amenities included a coffee maker, disposable cups, and an ice bucket. In addition, several more outlets and USB ports were built into the countertop.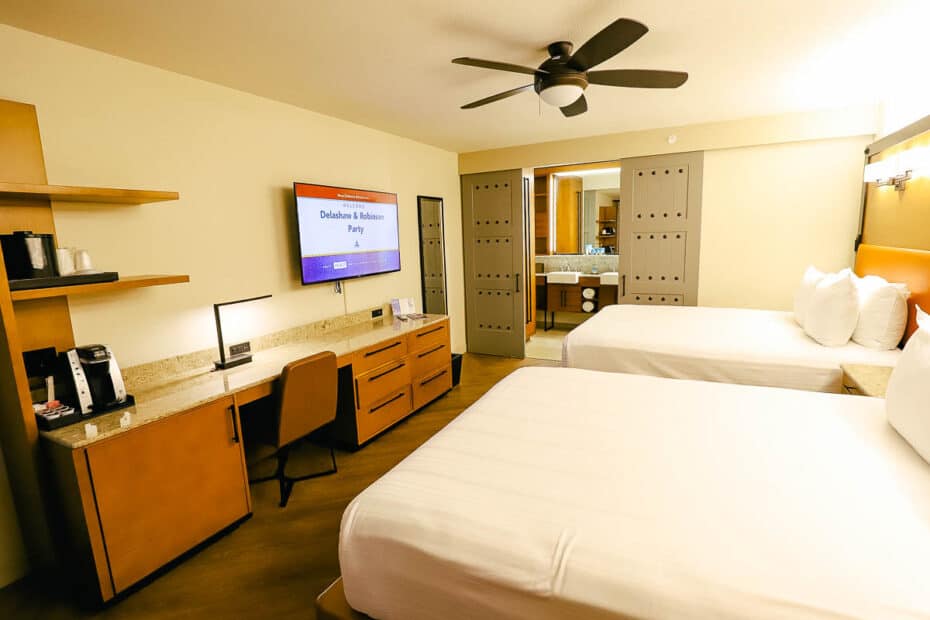 As far as guest bathrooms in a hotel room go, I don't think you could ask for more. A pocket door separates the toilet and shower area.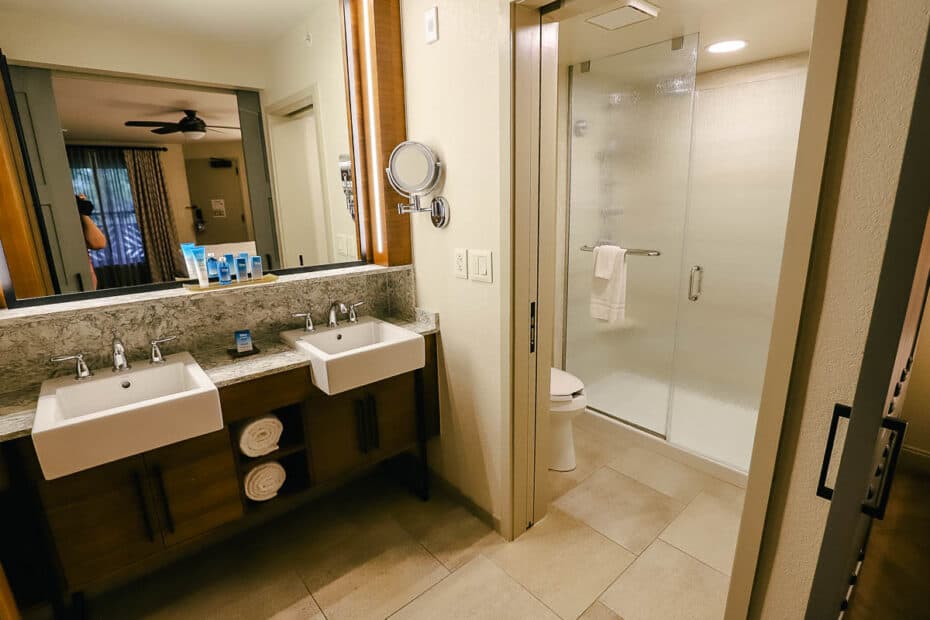 Additionally, a second set of pocket doors separates the vanity area from the rest of the room. Other amenities included a make-up mirror, toiletries, a hair dryer, an in-room safe, an iron, and an ironing board.
We have a separate article that provides a photo and video tour of the room if you want more details.
Related: Coronado Springs Resort Standard Room Tour
Recreation
Coronado Springs is home to a vast recreation area called The Dig Site. It's going to be a hard pool area to beat.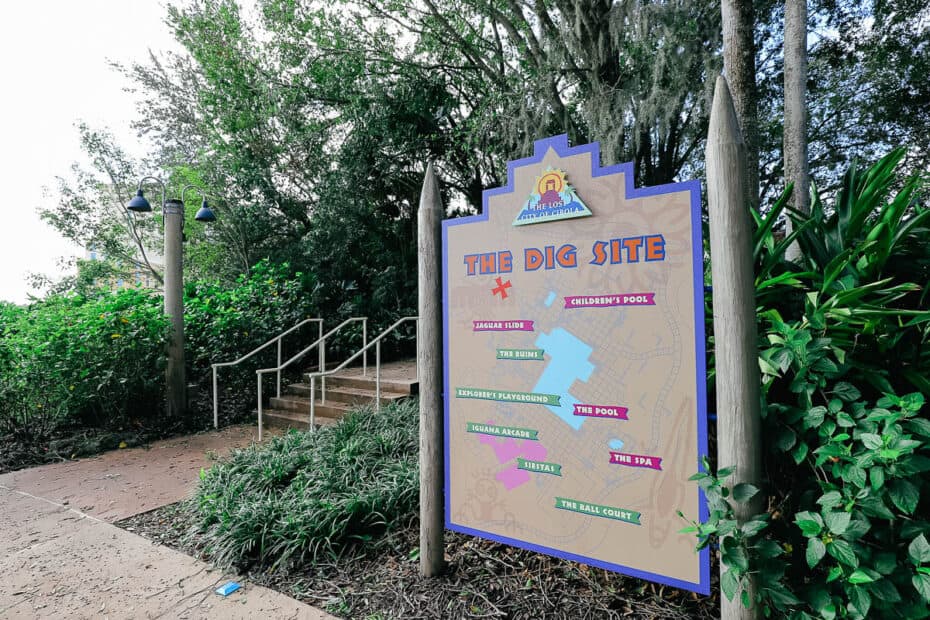 The substantial Dig Site pool provides multiple activities, from swimming to sports to games. There is something for everyone.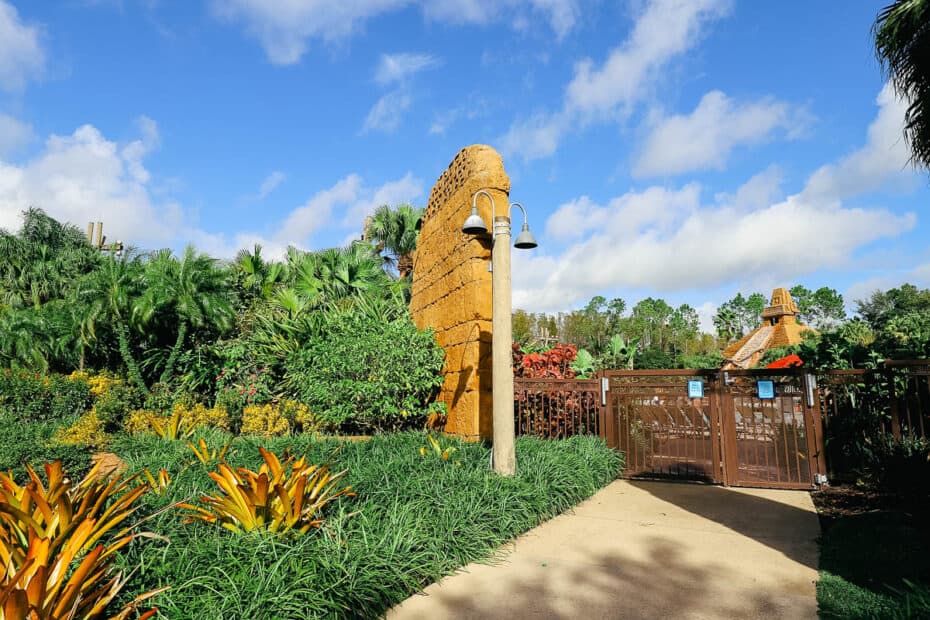 Coronado Springs feature pool is known as The Lost City of Cibola pool. This pool area is so extraordinary that we include it in our list of the best pools at Walt Disney World.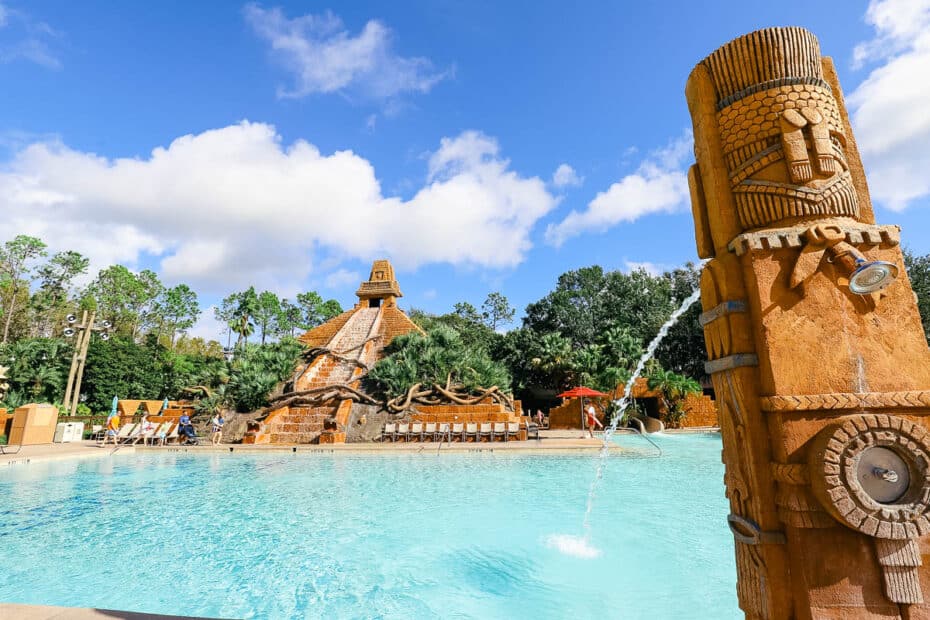 It has a 123-foot-long jaguar water slide.
Children and adults alike can climb the steps of the Mayan pyramid to access the jaguar slide.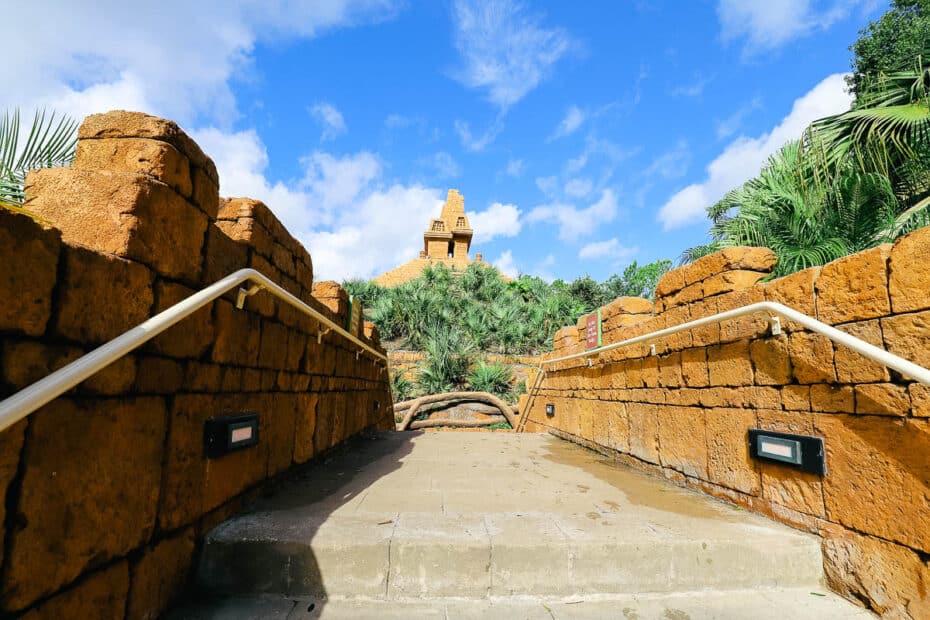 Additionally, Coronado Springs has the most oversized whirlpool tub at Walt Disney World. This massive hot tub can seat up to 22 guests.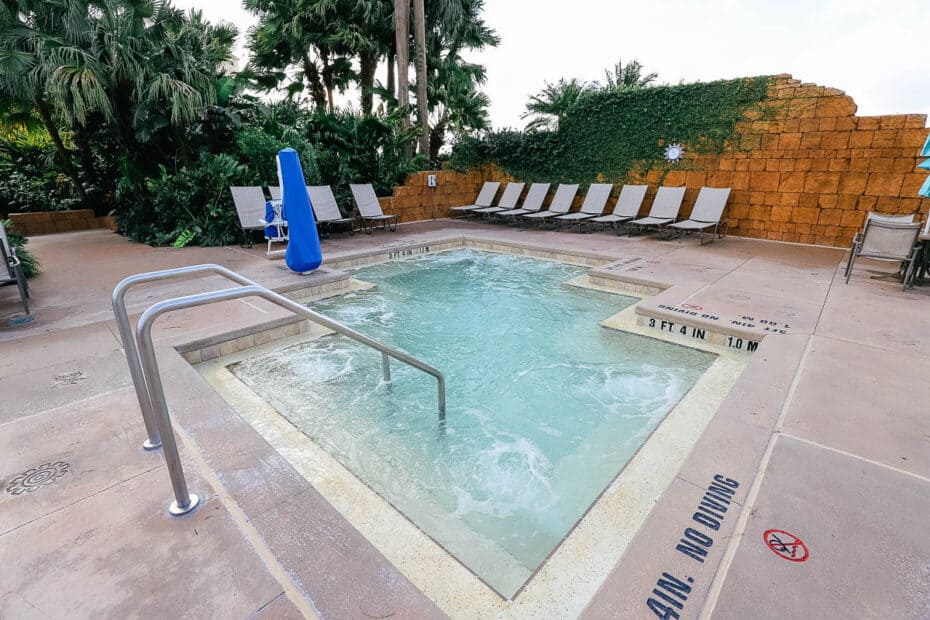 Thankfully, a separately fenced kiddie pool is also available at The Dig Site.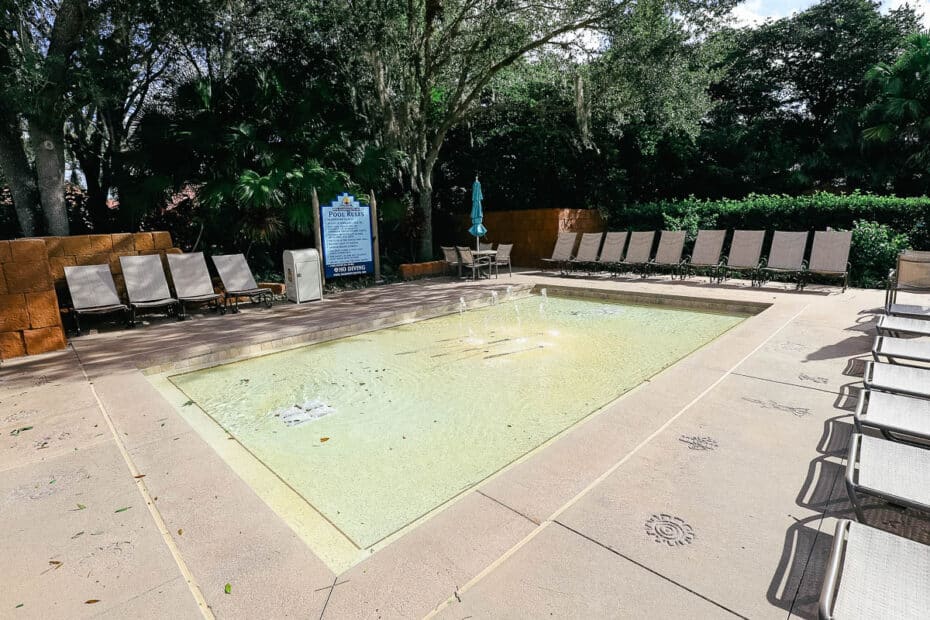 In addition to the pool, a few other recreational options are available. For instance, a large sand volleyball court sits near the front of the area.
To the pyramid's far side is a sizable playground with rubber flooring.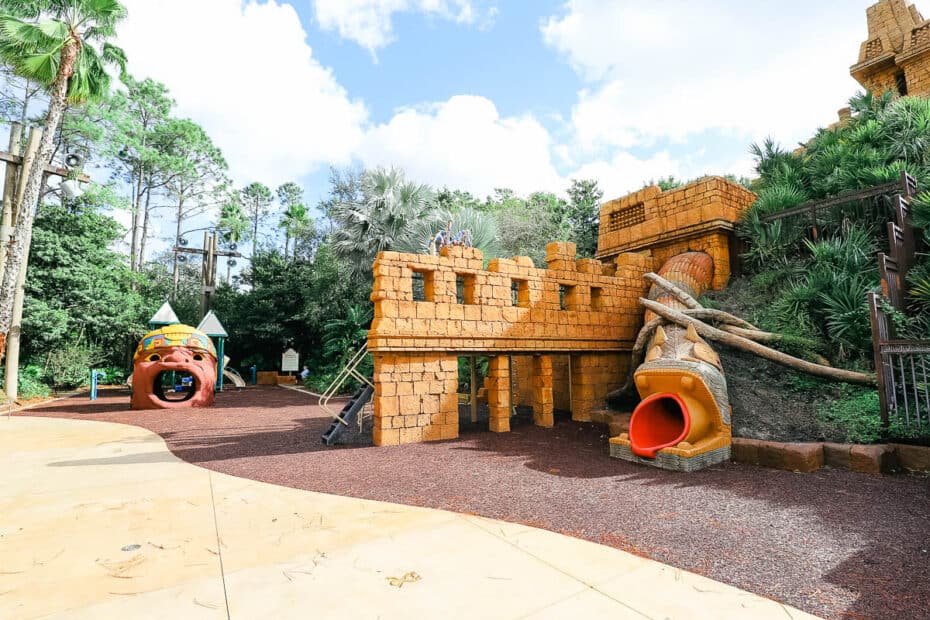 Explorer's Playground is one of the best play areas at Walt Disney World.
It has sections for older and younger children.
Across from Explorer's playground, you will find Iguana Arcade.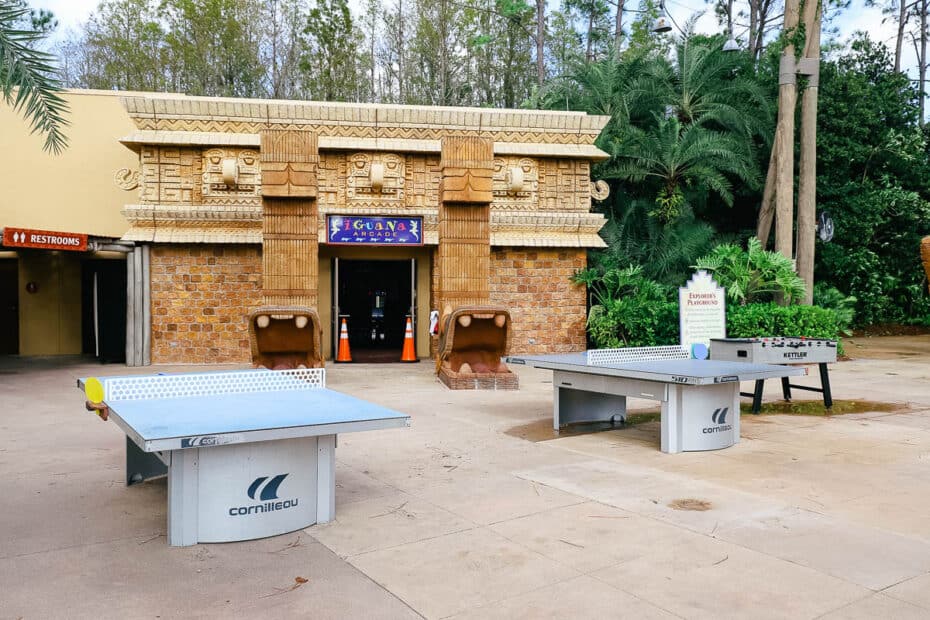 A few outdoor game tables are set up in front of the arcade.
Overall, there are many benefits of having numerous activities available in one place.
Children and adults alike can enjoy the pool. And if someone doesn't want to swim, there are other things to do.
Additionally, you'll find a substantial restroom at The Dig Site with a separate changing area. This is a great space to utilize on check-in or check-out day when your room is unavailable.
Siestas, the resort's pool bar, also doubles as a quick service. It's an excellent place to grab a meal by the pool. We'll cover Siestas in more detail in the dining section.
Aside from the resort's feature pool, the three villages each have a leisure pool. Below is a look at the quiet pool in the Casitas.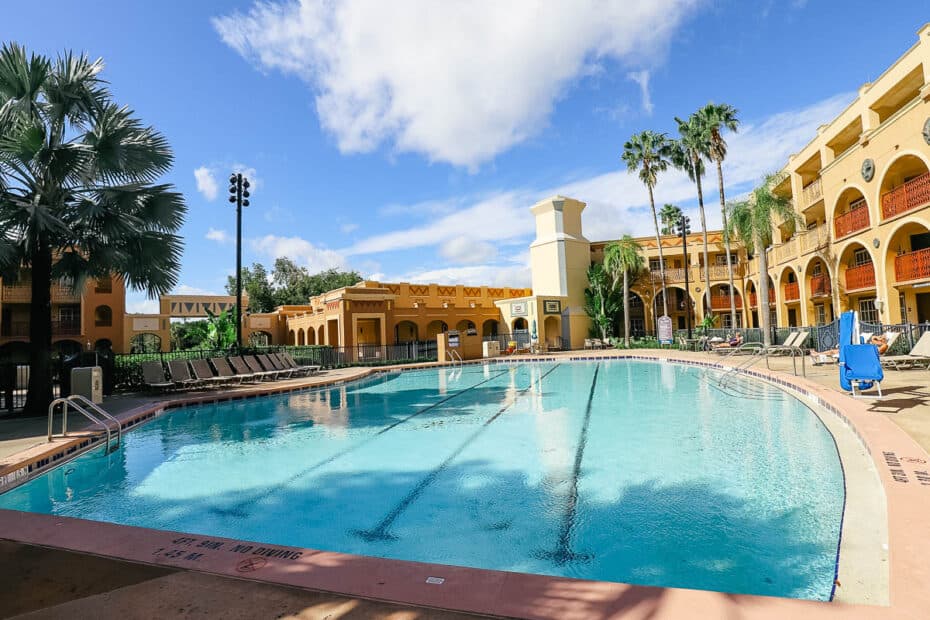 Ranchos has a pleasant leisure pool. Note the leaves were from a hurricane that had just passed through.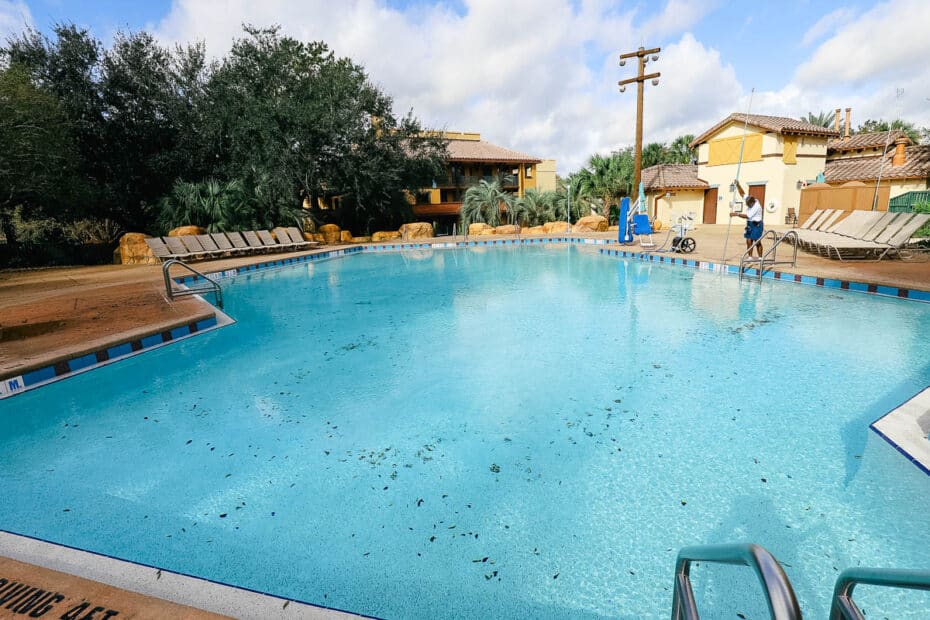 And here is the quiet pool at the Cabanas section.
Related: The Pools at Disney's Coronado Springs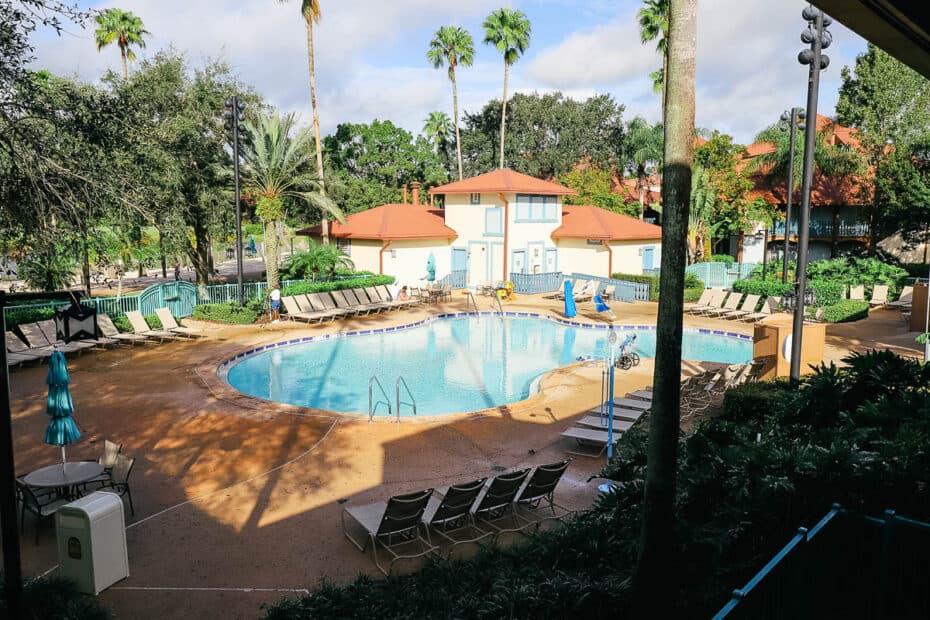 Typically, most guests take advantage of The Dig Site. Meanwhile, the quiet pools remain almost empty.
Coronado Springs has a jogging trail for those who like to get a run or two while on vacation. Signage indicating the path is posted at the resort.
Related: Jogging Trails at Disney World
One evening, a while back, I ran out by the parking lot area after dark. While I'm sure it was probably safe, it did feel a little more isolated than I would have liked.
So now, when I jog here, I stay in the interior circle around the lake and run through some of the villages.
If you prefer a strength or other cardio workout, two gyms are available at Coronado Springs. First, there's La Vida Spa and Fitness Center, located in the resort's Casitas section.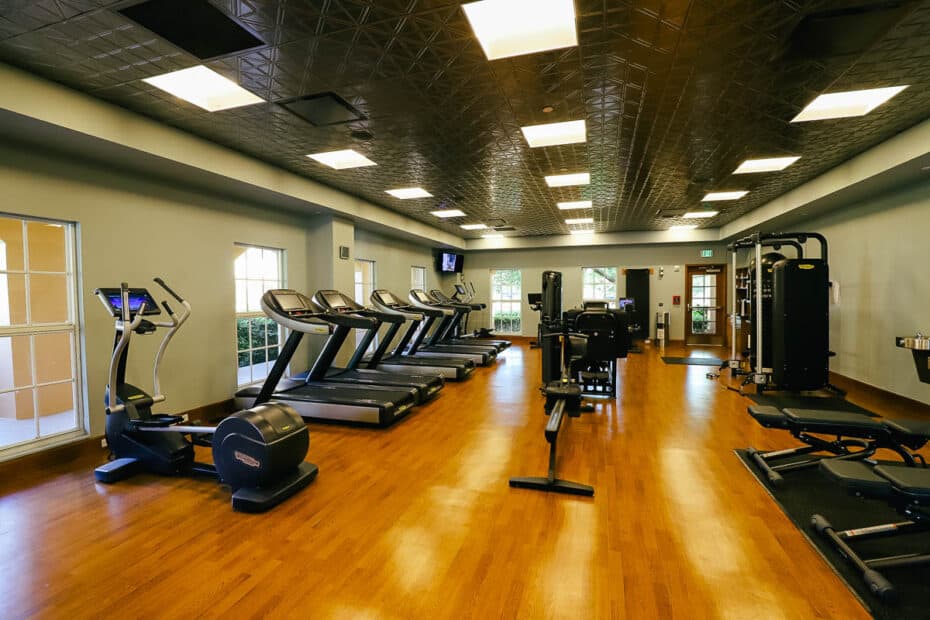 This gym is entirely adequate, with plenty of equipment for various workouts.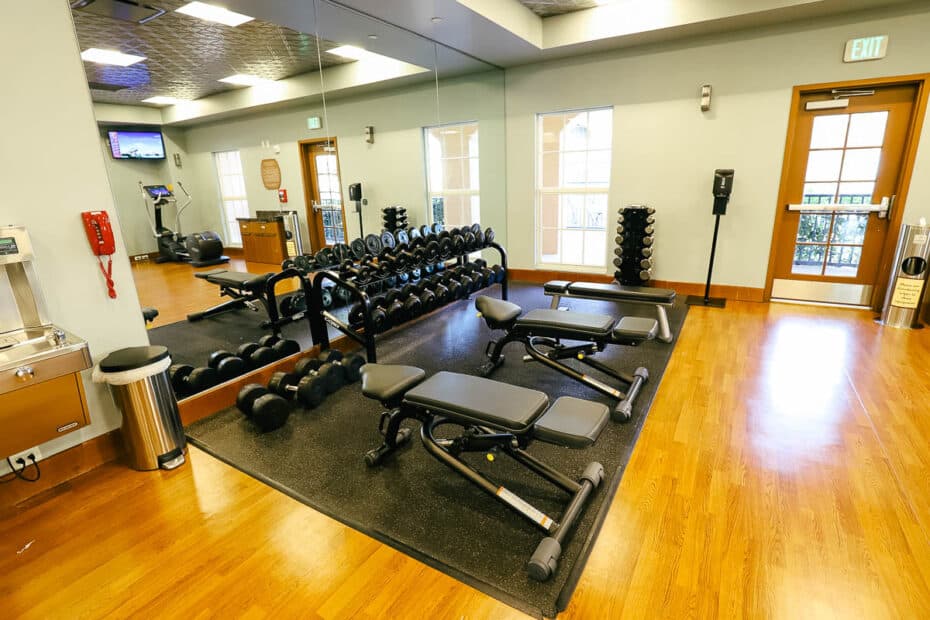 Coronado Springs's other fitness center is located inside Gran Destino Tower. I walked over and used this gym during my last stay at the Cabanas.
Guests staying at the resort have access to either of the hotel gyms.
Related: Resorts with Gyms at Disney World
Also, Coronado Springs has a laundry room located near each quiet pool. So if you need to do a load of laundry, you might enjoy a little time at the pool simultaneously.
Related: Laundry Facilities at Disney's Coronado Springs
Dining
Another important aspect of planning your vacation is considering what dining options you'll have immediate access to at your hotel. Luckily, Coronado Springs has an impressive number of restaurants.
First, El Mercado de Coronado is Coronado Spring's primary counter service dining location. El Mercado serves breakfast, lunch, and dinner.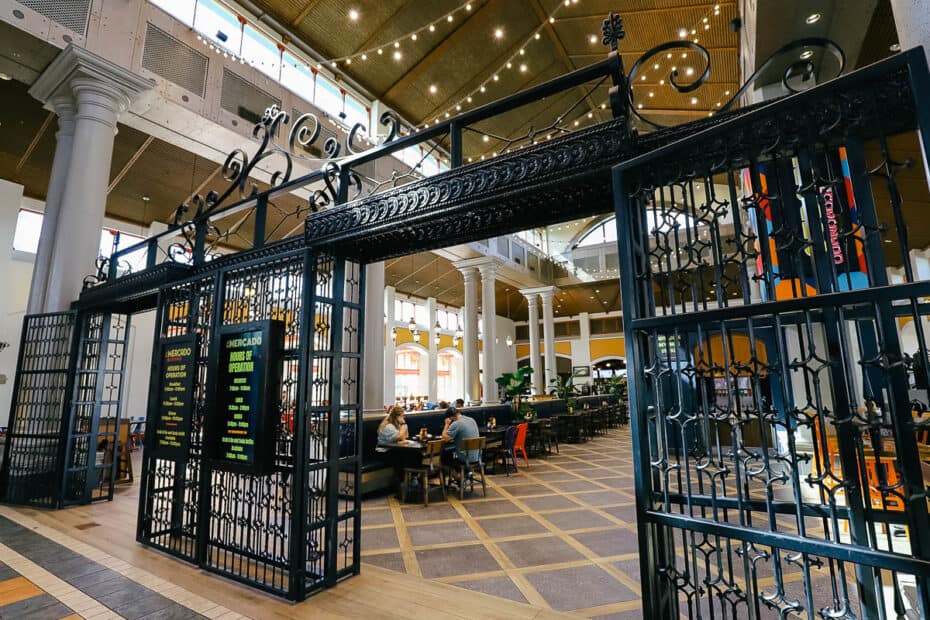 Formerly called Pepper Market, this counter service location has unfortunately gone downhill in recent years. I was giving El Mercado the benefit of the doubt for a while.
However, on my most recent stay, I noticed they were still serving items that were not freshly prepared. So instead of walking up to a station and ordering something, you grab hot or cold items from various cases.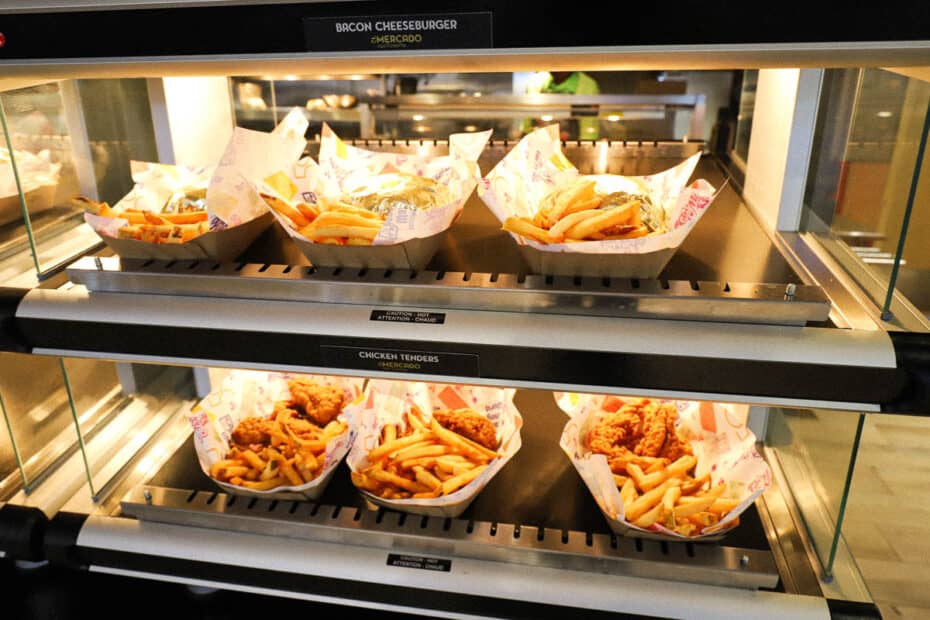 When the resort was refurbished a few years ago, this entire area was completely redone, and the food offerings were satisfactory. But now you've got chicken fingers and fries that have been sitting under a heat lamp for no telling how long.
Some other stations include Mexican food like nachos, American fare like burgers, and Italian, which always involves pizza.
Here are your grab-and-go nachos. I hope your chips aren't stale and that the cheese is okay.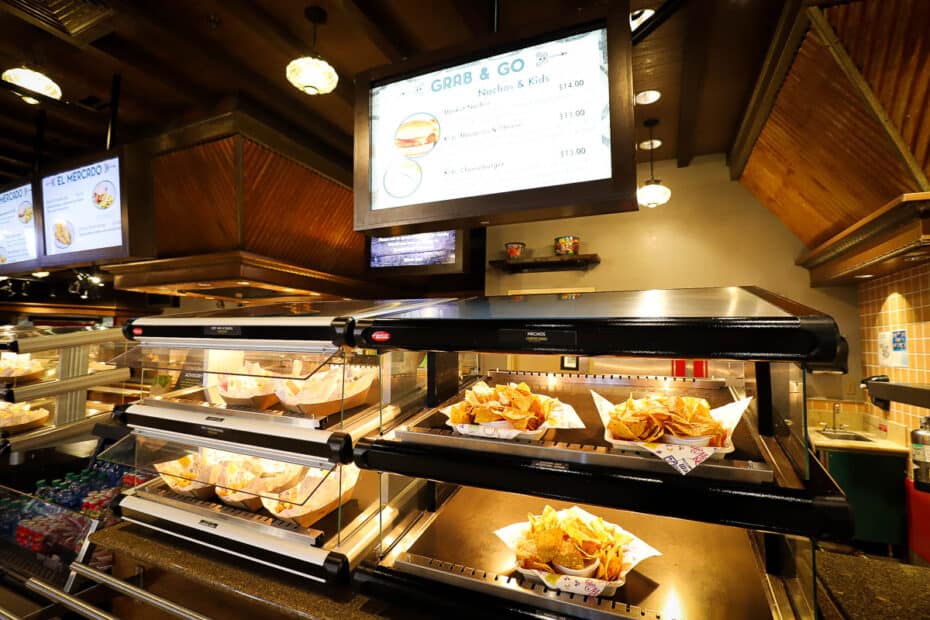 We've been through a rough couple of years, but sometimes it feels like we've taken too many steps backward. What happened?
As far as El Mercado goes, they will have a kids' meal at every station. Pre-made salads and sandwiches are available in the cooler, like a gas station. And there are a variety of drinks available in the cases.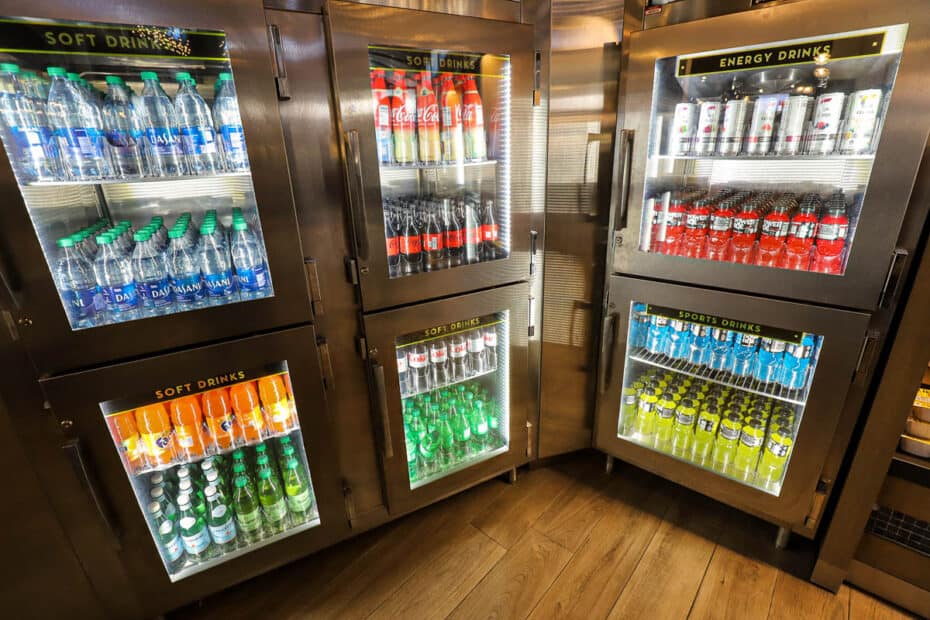 Oh, and that fantastic bakery case that used to be in El Mercado is gone. Instead, you have a few convenience store racks of items that are arguably not freshly baked.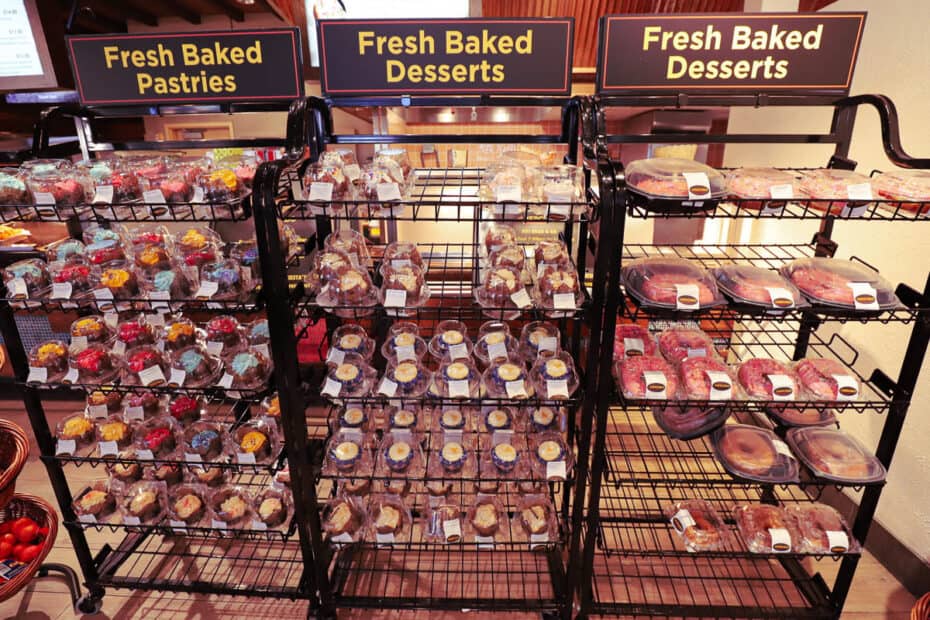 Coronado Springs is home to a few table-service restaurants. Maya Grill is open several nights per week, offering Mexican cuisine.
Their menu lists tacos, tortilla soup, enchiladas, and other Mexican-inspired dishes. Unfortunately, I haven't had the opportunity to eat here yet.
Rix Sports Bar and Grill is a table service restaurant and lounge that has become popular. I stopped in here during this stay to see what all the fuss was about.
It turns out it was delicious. I had a colossal turkey sandwich. It was so huge I had half of it for lunch and enjoyed the other half in my room for dinner later that evening.
When I asked my server if they had coffee, she offered to prepare me a specialty cup. I went with a cappuccino.
Cafe Rix, similar to El Mercado, underwent a complete makeover. Unfortunately, the last few times I've visited, they've either been closed or had hardly anything available.
In the past, they had pastries, sweets, coffee, and a gelato case.
This was the case on my last visit.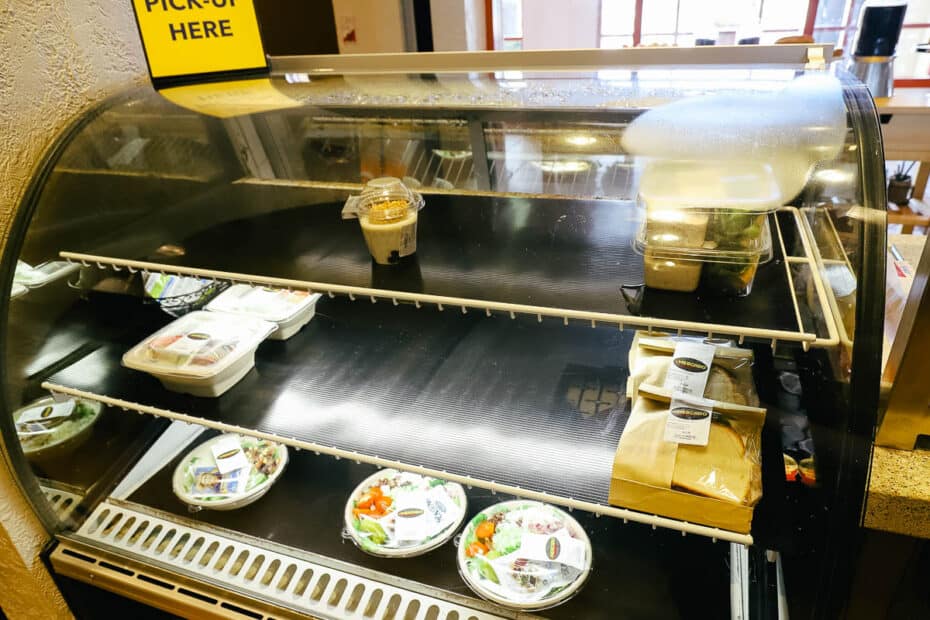 Laguna Bar is another option for beverages at Coronado Springs. It's located directly outside the back entrance to El Centro.
It's a nice place to grab a drink and enjoy the sunset.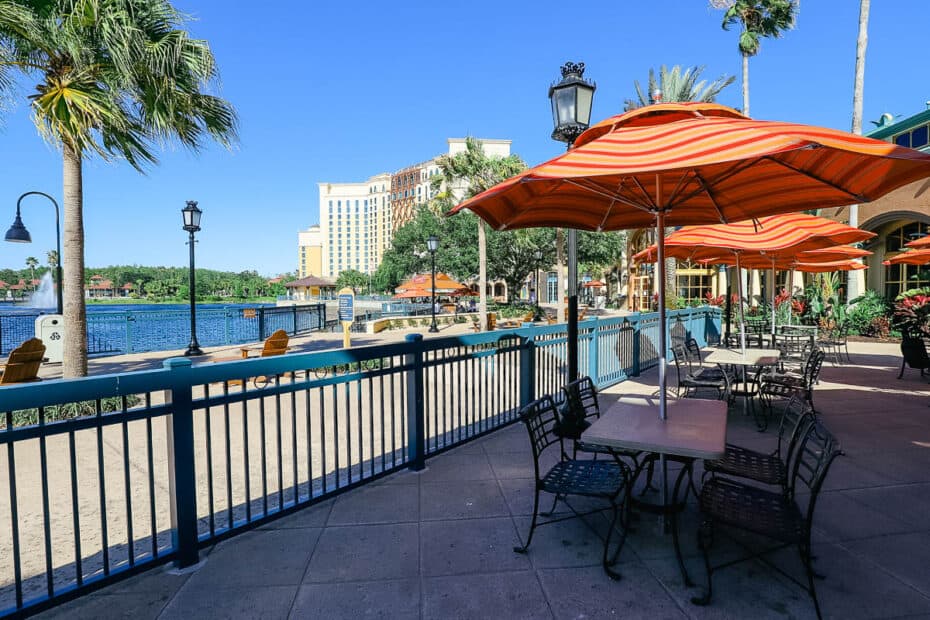 Siestas Cantina is the pool bar I mentioned earlier at The Dig Site. Here is their current menu.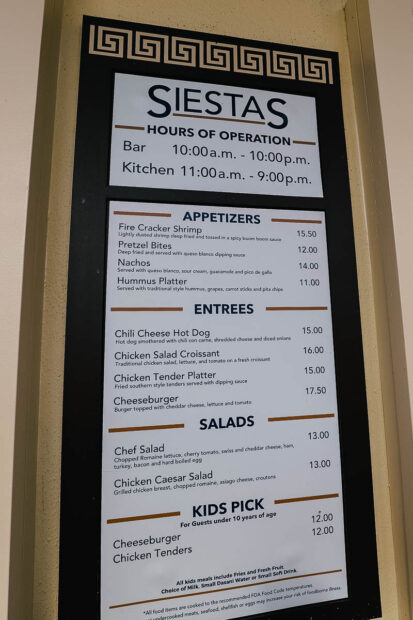 Below are the Mahi-Mahi tacos from Siestas. Unfortunately, these are no longer on the menu. However, if they return, they are an excellent option.
Three Bridges Bar and Grill is another casual table service restaurant. It is located in the middle of the three bridges over Lago Dorado.
You can preview their menu here on Disney's site.
Toledo, Tapas, Steak, and Seafood is a table service restaurant located on the top floor of Gran Destino. We enjoyed a delicious meal here when they first opened.
Related: Toledo, Tapas, Steak, and Seafood Review
Across the foyer from Toledo is Dahlia Lounge. They offer small plates, cocktails, and a variety of beverages.
Lastly, Barcelona Lounge is located on the ground level of Gran Destino Tower. It doubles as a coffee bar during the morning.
When I initially wrote this review of Coronado Springs, I raved about the hotel's dining options. It is rather unfortunate that the counter and quick service options have become more of a miss than a hit.
With that said, plenty of restaurants are spread out across the resort. But you're better off dining at a table service until things improve.
Related: Restaurants at Disney's Coronado Springs
Transportation
For most, the lack of transportation options at Coronado Springs is negative. However, it is nice to have Disney's bus transportation available.
Here are the destinations you can visit via the bus service:
Magic Kingdom
Epcot
Disney's Hollywood Studios
Animal Kingdom
Disney Springs
Typhoon Lagoon
Blizzard Beach
*For Disney's water parks, you must take a transfer bus. It will take you to one location. Then you'll transfer to a bus to get to the water park.
As we touched on earlier, each village has a bus stop. Therefore, the bus stops are relatively easy to locate.
Coronado Springs buses run a dedicated route. In most cases, they'll stop at bus stops two, three, and four before heading to El Centro.
Additionally, if you don't want to walk to El Centro, you can always take one of the buses to the lobby. Just ask the next bus driver to make sure they will stop at the lobby on the way out.
We have a complete guide that details traveling to and from Coronado Springs to various other destinations at Walt Disney World.
Related: Transportation Options at Disney's Coronado Springs
*Unfortunately, Disney's Magical Express service ended last year. Anyone traveling to and from the airport will need to make travel arrangements.
Panchito's Gifts and Sundries
Panchito's Gifts and Sundries is the resort's gift shop at Disney's Coronado Springs. It sits directly behind the fountain at the resort's front entrance.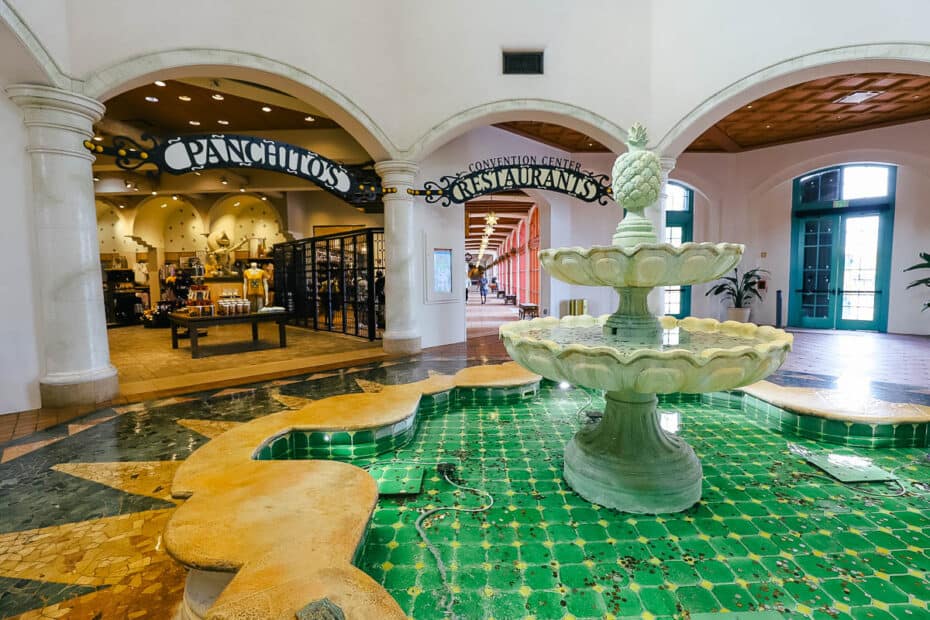 Inside, you'll find anything from resort-branded merchandise to fun Disney-themed apparel.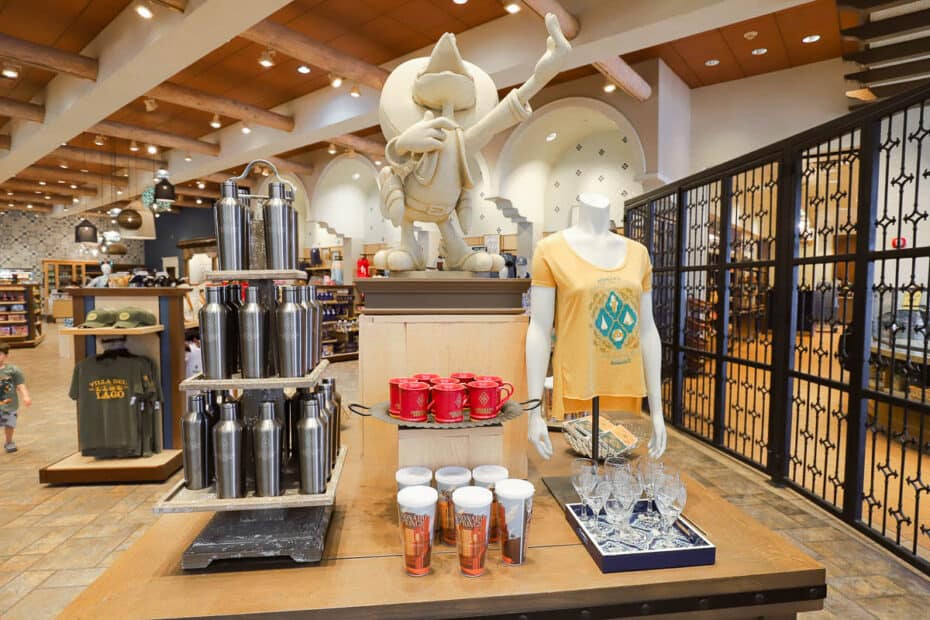 You should be able to find almost anything you need.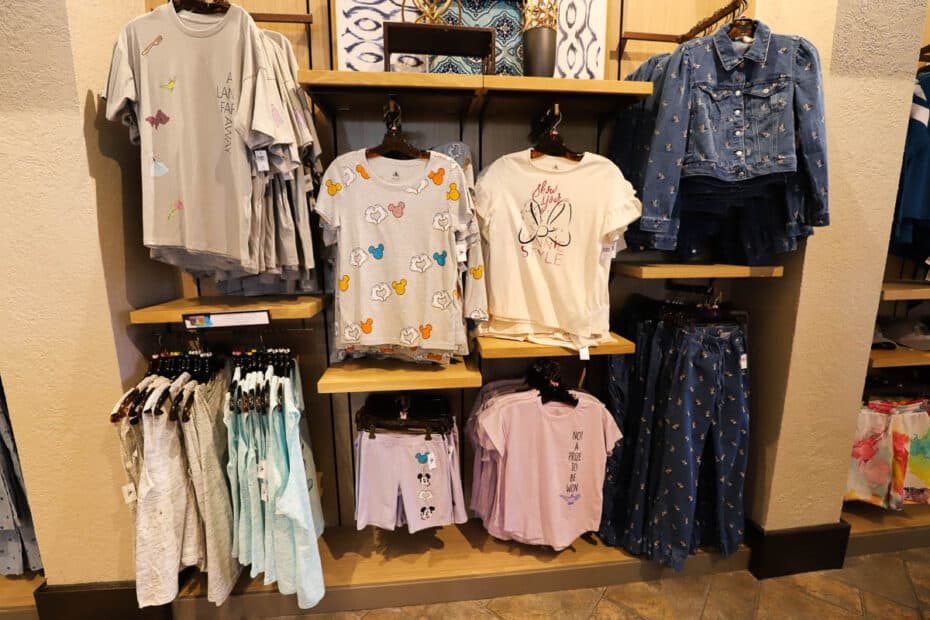 Toward the back of the store, there are pantry items and other staples.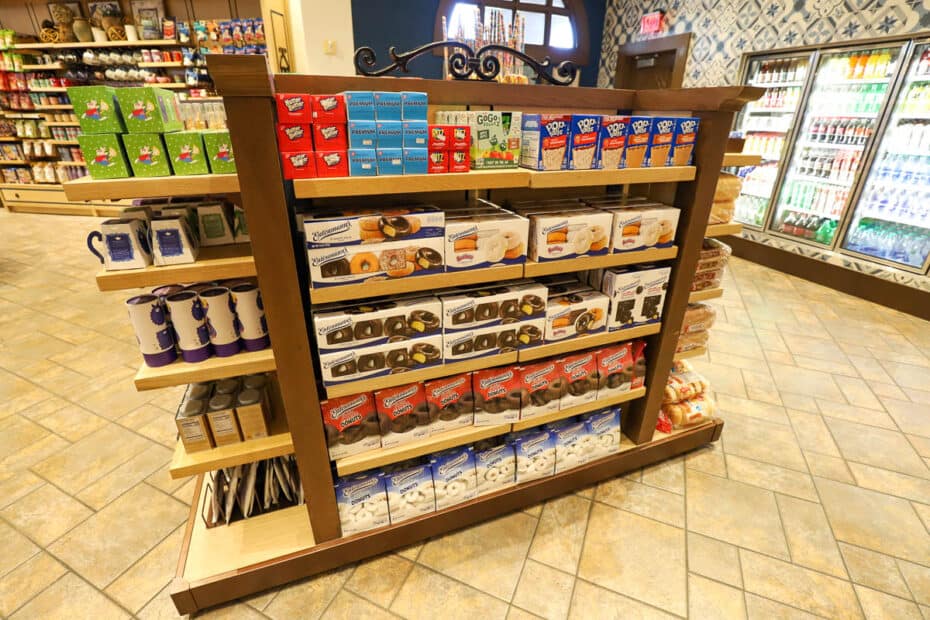 There is a refrigerated case with anything from bottled water to milk and soda.
Related: Panchito's Gift Shop at Coronado Springs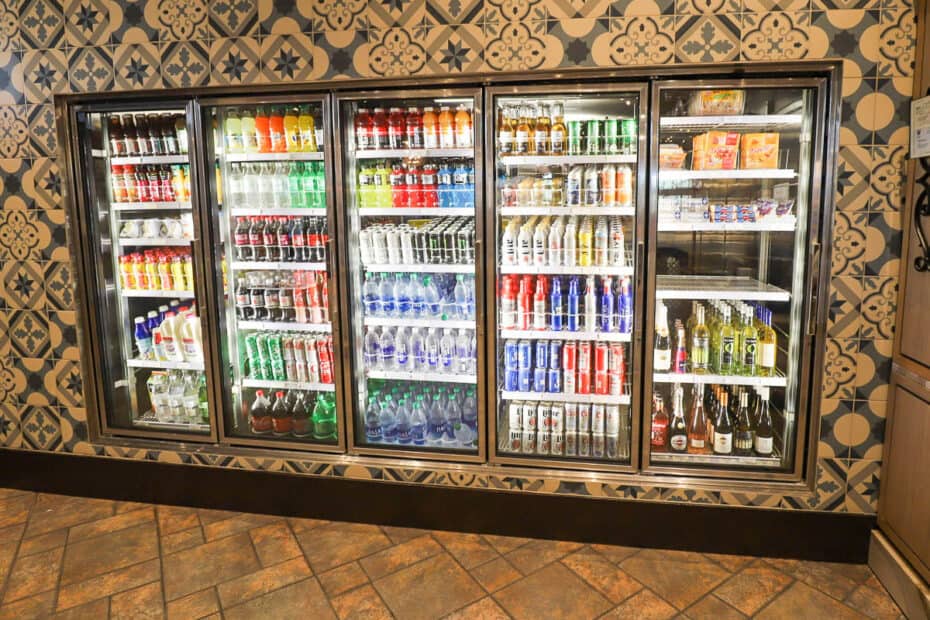 Final Thoughts on Coronado Springs Resorts
Overall, Disney's Coronado Springs Resort has much more positives than negatives. Even with the lack of decent counter service at this time, I was still pleased with my stay.
Ultimately, it only meant I spent more on food in the theme parks than at the resort. But it would have been nice to have more convenient choices at the resort.
As far as Coronado Springs goes, the main distinctions between it and a deluxe resort are the lack of an additional transportation option and the fact that the rooms are spread out in villages.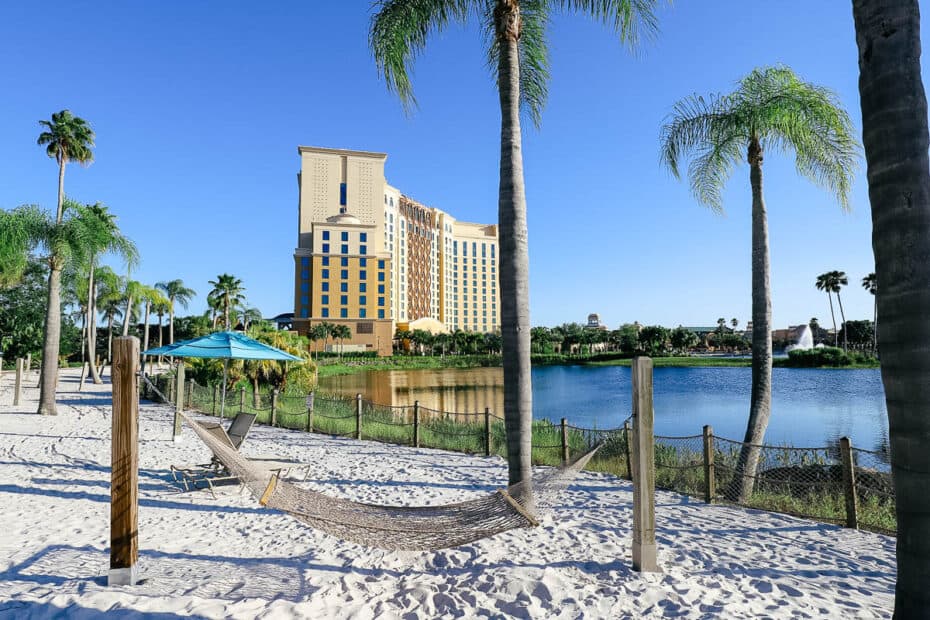 However, the price is significantly less when compared to the higher-end hotels. So there's that.
For those who are budget conscientious and concerned about the lack of amenities at the value resorts, it might be time to visit Coronado Springs. It's an excellent option.
Just remember, if you stay here, there's plenty to do. So you'll want to plan a resort day.
Hopefully, you enjoyed this Coronado Springs Resort review. Coronado Springs will always be my favorite of Disney's moderate resort hotels.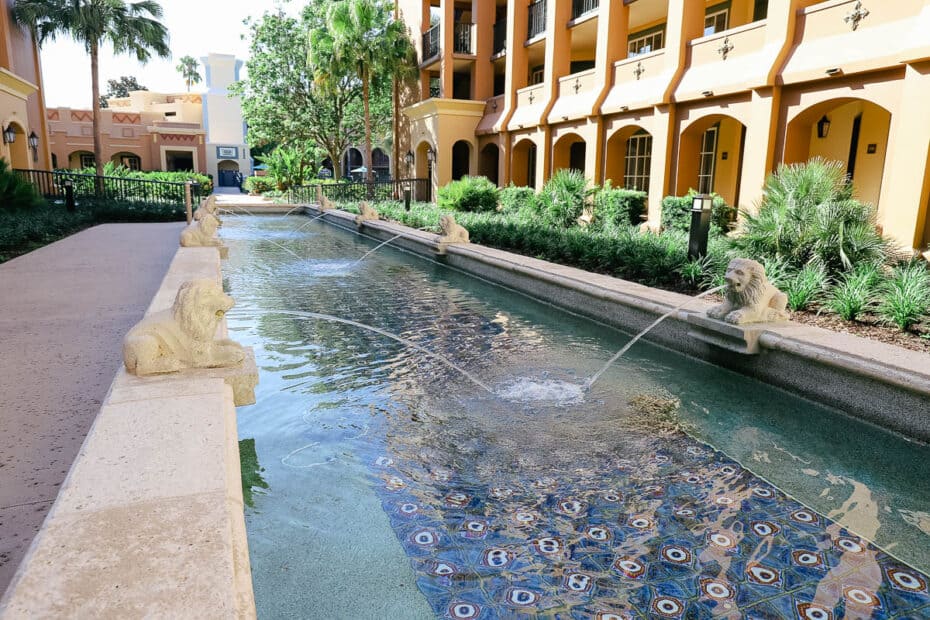 For more information, all of our articles are listed in our resort guide:
Here is a list of our other moderate hotel reviews:
Or browse an overview of all our Disney World Resort Reviews.
Additionally, you might enjoy our complete list of Disney Restaurant Reviews. It includes some of our most popular articles:
In the comments:
What are your thoughts on Disney's Coronado Springs? Did you find this review helpful? Do you have any questions about staying here?