Disney's Coronado Springs Resort Review
Disney's Coronado Springs Resort is one of the most pleasant places to spend a week on your Walt Disney World vacation. In this Coronado Springs Resort review, we will take a look at everything you can expect to find here on your next vacation.
Coronado Springs is one of Disney's moderate resorts. When it comes to the Walt Disney World Resorts there are three categories: value resorts, moderate resorts, and deluxe resorts.
The resort as a whole is inspired by Spanish, Mexican, and the American Southwest cultures. Most will find the variety of landscapes across the resort to be absolutely gorgeous.
Coronado Springs Resort Review
For those looking to plan a stay here, there are a few things you might want to consider. First is whether or not you want to stay in the new Gran Destino Tower.
This tower is a modern hotel with interior room access. In addition, there is an interior walkway that connects it to the resort's main lobby. Those that wind up staying here will have quick access to dining and the main bus stop sits right outside the front entrance. However, you will have to walk a bit further to access the Dig Site, which is the resort's main pool and recreation area.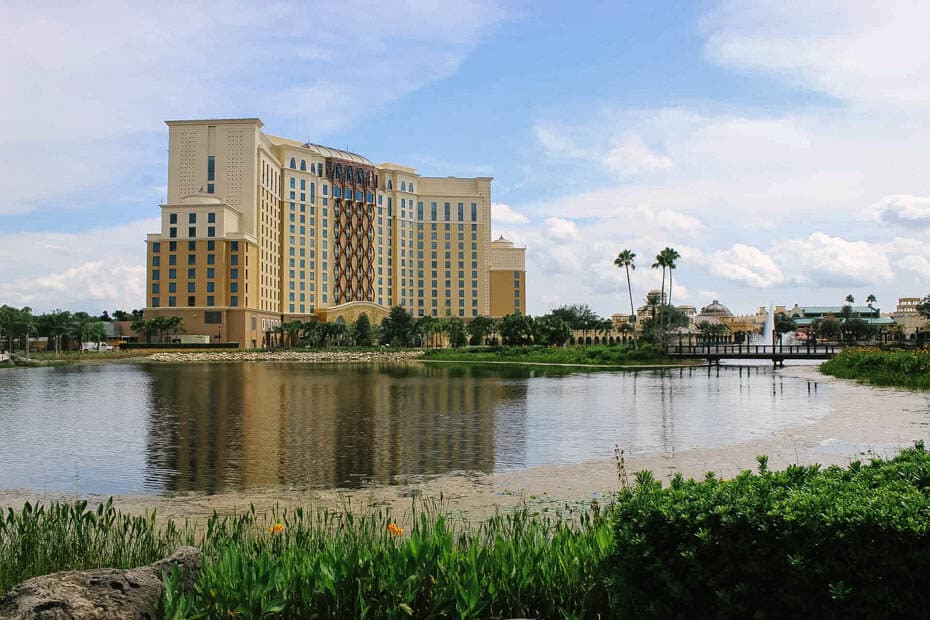 Next, you will also want to decide whether your vacation warrants a special room location request. Coronado Springs is a large property, and while it's efficiently laid out, some of the villages might require a little extra walking to access an amenity or transportation.
You can probably already tell that the resort is large. And the more you know before your trip, the better advantage you'll have.
Whether you have visited Disney's Coronado Springs Resort before or this is your first time, this review will cover everything you need to know to plan a stay here. That includes things like the main pool, dining options, guest rooms, and other resort amenities.
For those that haven't stayed at Disney's Coronado Springs since it got a new look, you are in for a surprise. The resort is nearly unrecognizable with the addition of the new tower. Additionally, a bridge has been added across the lake. This makes going back and forth across the property a breeze! More on that later.
As for Coronado Springs, my opinion is that, in most instances, you really can't go wrong with a stay here. And it's definitely Resorts Gal's top choice for best moderate resort at Disney World.
Location
Location-wise, Disney's Coronado Springs is located off Buena Vista Drive and is considered part of the Animal Kingdom resorts area. Buena Vista is the central road that cuts across Disney property.
The location is extremely close to Disney's Animal Kingdom. Additionally, Blizzard Beach water park is located practically across the street. This convenient location provides quick access to off-property restaurants and groceries at the nearby Four Corners neighborhood off Highway 192.
Disney's Coronado Springs Resort Address:
1000 W Buena Vista, Orlando, FL 32830
While Coronado Springs does have an Orlando address, it is located in the Lake Buena Vista area. And Kissimmee is a stone's throw away.
Additionally, the other Disney theme parks are a short 10-15 minute drive away from Coronado Springs. Disney Springs will take the longest to reach because it is located on the other end of Buena Vista. While it's a straight shot to the large entertainment venue, it's probably the longest distance.
Below is a look at the Coronado Springs map. One of the largest changes at this hotel is the bridges that were added across the lake, Lago Dorado. Previously, you would have had to walk around the lake to access El Centro (main lobby). Formerly the walk was quite a journey given the sizable property.
Now the walk is very manageable given the straight-a-ways across the water.
For reference, I have stayed at Disney's Caribbean Beach (review) since their latest refurbishment and find it quite comparable, with a few exceptions. You can read that review if you would like to compare the two.
The other options for moderates are Port Orleans and French Quarter. These are located in the Disney Springs Resort area.
Disney's Fort Wilderness Cabins also fall into the moderate category. But that's a completely different type of stay.
Those unfamiliar with the different Disney resorts might not be aware of the unique theming you'll find at each property. The only place you'll find true specific to Disney theming is at a Disney value resort like All-Stars, Pop Century (review), or Art of Animation (review).
Let's take a look at the layout of Coronado Springs. As mentioned above, you'll find the property has a touch of Spanish, Mexican, and Southwest American vibe. The four different villages around the lake are as follows:
Ranchos
Cabanas
Casitas
Tower
Each village is nicely situated around a large body of water called the Lago Dorado.
While the main lobby isn't actually a village, most guests will want to consider the proximity between it and their guest room location.
So for reference, El Centro is the name of the main lobby. There you will find the resort's gift shop, different restaurants, and the main parking area. (However, each village does have parking directly behind its location). There's also a great outdoor seating area behind the lobby for anyone wanting to enjoy a few spectacular views of the sunset in the evening.
Here is a look at the entrance to El Centro from the backside of the lobby. You can tell the theming offers fun Spanish colors and the little strings of light provide great ambiance in the evenings.
Leaving El Centro and traveling clockwise, we'll run into the first village, the Casitas. They are located on the convention center side next to El Centro. This portion of the resort offers a fitness center and a quiet pool with a laundry facility.
Yes, Coronado Springs does have a convention center similar to Disney's Yacht Club. While there might be large groups of people visiting here for business trips, I have never felt that it took away from my experience at this resort.
Most guests staying here for business will usually find themselves in the Casita section.
If you reserve a preferred room category at Coronado, you'll end up in the Casitas section in buildings 1, 2, or 3. The Casitas are located next to the main lobby.
However, given the large size of this section, you might have a bit of a walk if you receive an assignment in one of the buildings closer to the parking lot.
Next, the Ranchos village sits directly across Lago Dorado and is probably the furthest walk away from El Centro. Thankfully, Coronado does have an internal bus system. Therefore if walking is an issue, you can take a bus from your section back around to El Centro.
I'll add a few more notes about doing this in the transportation area a little further down. But I wanted to mention this here in case you didn't know this was an option.
The Ranchos village reminds me of a more desert-style landscape with lots of rocks and unique shrubbery. It's an area that is beautiful in a different way than what probably most of us are accustomed.
Moving on, we have now reached the Cabanas, which will be our last stop before reaching Gran Destino and making it back full circle to El Centro.
The Cabanas are my personal favorite section of Disney's Coronado Springs. I like this village for several reasons. One is because the leisure pool has a great laundry area. Due to the layout of the Cabana village, you'll more than likely be within proximity to it, which is another bonus.
Cabanas is the smallest village and the closest area to The Dig Site. The Dig Site is where you'll find the large Cibola pool and recreation area. A new walkway has been added that makes accessing the main pool area even more convenient.
Other than my Tower stay, the last three times I've stayed at Disney's Coronado Springs Resort, I requested the Cabana section. If you look at the map, you can get an idea of why it has so many things going for it location-wise.
Lastly, we have a brief look at Gran Destino Tower. A stay here will be entirely different because the tower is basically a hotel with multi-level floors and interior access. That's also why I ended up writing a separate, lengthy review of it here.
Guest Rooms at Coronado Springs
Standard rooms here are similar to what you might find at a regular hotel room. There will be a pair of queen beds, solid surface flooring, and the usual amenities. Each room comes with a mini-fridge, coffee maker, iron, built-in safe, and places to store your personal items.
The photos below are from my stay in one of the tower rooms. The last time I stayed in the Cabanas, the rooms hadn't been redone. All of them have since been updated.
You can also expect to receive a guest bath at the Tower that has a walk-in shower. However, if you stay in the villages, those rooms still have a traditional tub with a shower combination.
Between the villages and the tower, there are various options for rooms when making reservations. For instance, if you don't want a queen bed, you can upgrade to a king bed.
There are also different view preferences like standard or water. Naturally, a water view will cost you more unless you are fortunate to receive a complimentary upgrade.
And if you want to go all out, ask your travel agent about a one-bedroom, deluxe, or one of the presidential suites. A suite is a great option if you are a larger group. In fact the, casitas executive suites sleeps up to 8 guests.
If you are looking for an authorized Disney travel agent, I recommend Firefly Travels. The owner knows all about the higher-end rooms and club level rooms. They specialize in providing concierge level packages.
Club level is scheduled to return in September of 2021. You can read more about the exact dates for each resort here.
Recreation
When staying at a moderate, I don't think you can do any better as far as recreation goes. Disney's Coronado Springs Resort offers a huge recreation area called The Dig Site. In addition, they have two fitness centers, a great jogging trail, a wilderness walk, and more!
The thing I love most about The Dig Site pool area is there are so many recreation activities combined in one location. Meaning there's always something for everyone.
The swimming area alone is pretty amazing. In fact, it's so amazing that we included it in our best pools at Disney World review.
The Lost City of Cibola Pool has a 123-foot long water slide with a jaguar water feature included in the design.
Children will spend their day climbing the steps of the Mayan pyramid to access the jaguar slide.
You'll also find a spa hot tub that can sit up to 22 people.
The Dig Site also has a separate children's pool. (Not pictured.)
A large sand volleyball court sits on the outskirts of the recreation area.
The backside of the pyramid has a playground with rubber-style flooring.
I think the Explorer's Playground is one of the best play areas at Walt Disney World.
There are even sections for older and younger children.
Across from Explorer's playground, you will find Iguana Arcade.
Here they have a few outdoor ping pong tables set up.
You can probably see there are a lot of benefits to having so many activities available at The Dig Site. Children and adults alike tend to enjoy the pool area. But there's also plenty of things to do for those who don't care to take a swim.
To the left of the arcade, there's a restroom with a separate changing area. Then further to the left, you will find Siestas quick service location. We will cover that down below in the "places you'll want to eat" section.
There are three different swimming areas aside from the main pool. Each village has its own leisure pool, except for the Tower. Below is a look at the quiet pool in the Casitas.
And the quiet pool at the Cabanas section.
These pictures were taken on a hot August day so you can tell why they are called quiet pools. Most guests like to take advantage of The Dig Site.
Even with the two fitness centers, sometimes you might like to get a run or two in while on vacation. Thankfully, there's the perfect place to do that here. The picture below is of a sign you'll see at the resort. You can run the full circle. I also wanted to mention that you can change some of the paths up if you like.
I did run out by the parking lot area in one section when it was later in the evening. While I'm sure it was probably safe, it did feel a little more isolated than I would have liked. I would recommend staying on the dotted line path in those specific areas if you are jogging alone and late in the evening.
The La Vida Spa and Fitness Center is located in the Casitas section of the resort. I'm not familiar with the spa or salon services here.
Here is a list of all the spa services provided at the La Vida Health Club.
Moving on, I've worked out here and can assure you it's fully adequate. As you can see they have plenty of equipment.
Coronado Springs has two gyms on the property.
You can use either/or but I don't think you will find too much of a difference.
The resort has three different laundry facilities on the property. You will find each of these within the nearby vicinity of the resort's quiet pools.
Dining
Coronado Springs offers a tremendous amount of dining options. Below you'll find a brief overview of these options. If you would like to expand on these, I have a full guide to the Coronado Springs Restaurants.
El Mercado de Coronado is Coronado Spring's large counter service dining location. I took this picture below because I thought it might help any of you who are staying here. More than likely the average family ends up eating here a few times while on vacation, if not more.
This dining venue can be found just down the hall from the lobby at Disney's Coronado Springs. And the food court has really good options, it's even included in our best quick service at the Disney World Resorts article.
Here is a look at the overall counter service interior. This area has been recently refurbished as well. Each section has a station offering specialty food items. There are stations offering Mexican cuisine, American items like burgers, Italian (pizza), and more.
Each station provides the opportunity to order a kids' meal as well.
Ordering a kids' meal is something I would recommend for anyone. Kids' meals are usually a reasonable size for a decent price. I find myself ordering them more and more.
This next paragraph discusses the Disney Dining Plan which is not available at this time.
Of course, if you are on the Disney dining plan you probably don't have to worry about food costs because you have paid in advance. A helpful hint here is to ask a cast member what the best value is on the dining plan for a snack. A seasoned cast member will be able to quickly point you in the right direction to get the most bang for your buck.
Below, we have a few grab-and-go items that are located at El Mercado.
And a menu for The Grill station which has more American style items.
You might notice the cheeseburger kids' meal is $7.99. It comes with two sides and a drink. I always recommend fries for one side, then grabbing an item from the cooler that has additional sides. It usually has items like packs of grapes, carrots, yogurt, juice boxes, small waters, etc.
You can work it however you would like. For me, a hamburger with fries, an additional side, plus a drink for $7.99 is decent considering it's Disney.
El Centro offers several additional places to dine like Maya Grill, a table-service restaurant offering Mexican cuisine.
Their menu has items like tacos, tortilla soup, enchiladas, and other inspired Mexican dishes.
Rix Sports Bar is a bar with a small menu of appetizer-style items. It's located next door to El Mercado.
Cafe Rix has undergone a complete makeover and is a fairly unique stop in comparison to what's available at other hotels.
They have items like pastries, sweets, coffee, and even a gelato case.
Here is a look at all the toppings on the far wall of the store. Café Rix is a nice place to find a snack or high carbohydrate breakfast item.
If you walk out the back steps of El Centro, you will run directly into Laguna Bar. It typically opens later in the day. But it's a nice place to grab a drink and enjoy the sunset.
It's also a nice stop after a late evening check-in to pick up a margarita. Maybe they will have one waiting for you.
Surprisingly, my favorite stop for food at Disney's Coronado Springs Resort is Siestas Cantina. This is the pool bar mentioned earlier that's located at The Dig Site.
The menu at Siestas has always been unique and refreshing. I've eaten here several times and always walk away impressed with my meal and happy with the price.
This is the Mahi-Mahi Tacos that came with a side order of fries. I've had these twice and always enjoy them. They are also a nice option that's a little on the healthier side. Well, healthier without the fries anyway.
Three Bridges Bar and Grill is another restaurant on the property that floats out in the middle of Lago Dorado. As much as I would love to say it's good, I haven't had the chance to eat here yet.
But I can say the menu looks really good.
As you can see it's a beautiful location with outdoor seating that faces out toward the water. The menu also appears to offer a nice variety of choices.
It's crazy when you realize how many places you can get a bite to eat here, isn't it?
And we haven't even gotten to the new offerings that Gran Destino brings to the table. Or the wonderful plant-based meal I had at Toledo. The Toledo, Tapas, Steak, and Seafood review is located in the restaurant section of the site, but here's a mini-preview of the interior.
And here's that plant-based meal I ordered. These items were made to look like real seafood. Believe it or not, I couldn't taste the difference and it was quite delicious.
Then across the way from Toledo, is Dahlia Lounge offering small plates, cocktails, and a variety of other beverages.
If you are just wandering around the resort, you might enter the lower level of Gran Destino and pick up something at Barcelona Lounge.
There are just so many options for food and drinks here. Anyone staying as a guest should be able to easily find meal choices that work for them.
For me, the only negative factor is the lack of transportation options at Coronado Springs. The resort provides Disney bus transportation to and from the following Disney theme parks and other destinations:
Magic Kingdom
Epcot
Disney's Hollywood Studios
Animal Kingdom
Water Parks
Disney Springs
As we touched on earlier, each village has a bus stop. Therefore, the bus stops are fairly easy to locate. However, each bus coming and going services every stop.
For example, if you are at bus stop four, you will leave directly and head to your destination. But when returning you will be the last stop.
Here is a look at the bus stops and a few reminders. At the beginning of this review, I mentioned that you could take the bus stop around to the lobby if you didn't want to walk across the resort. If you are going to do this make sure to take the internal bus or water park bus.
And don't be afraid to ask the bus driver if you are unsure. Most of the time they know where they are going.
Additionally, if you are going to a water park you must go to El Centro (Bus Stop 1) and transfer to a water park bus. As of late, the water park buses have been delivering directly to the water parks. If you have been in recent years you might have found yourself transferring to Animal Kingdom or Disney Springs for a change.
Lastly, Disney's Magical Express will end service in late 2021. Anyone traveling to and from the airport might need to make additional arrangements.
Lobby
The lobby of Coronado Springs is commonly called El Centro. It is the hub of the resort and I find it very pleasant and efficient.
A beautiful fountain greets you in the main foyer.
Below is the check-in desk if needed. If I get to a resort earlier than planned, I always check to see if my sleeping quarters are ready. Hopefully, you'll receive a room ready text before arrival.
In general, when things work at Disney they tend to work well. Unfortunately, when they don't work it can be sort of a hassle.
Off the main lobby, you'll find Panchito's gift shop. Panchito's is truly a name synonymous with Disney's Coronado Springs Resort.
I've always loved this store, but have to admit that it feels a little bland since the remodel.
They do have a nice selection of merchandise and resort-specific items.
You should be able to find almost anything you need.
Toward the back of the store, you should be able to find items like wine and candy.
There is also a refrigerated case with anything from bottled water to milk and soda.
Staying at a moderate resort like Disney's Coronado Springs is much more reasonable than a deluxe like Disney's Polynesian. We have a full review of Disney's Polynesian if you would like to learn more.
Personally, I have stayed all over Disney property during my lifetime. And can tell you that the main difference when choosing a Disney deluxe resort is the location. Meaning at most of those there's the option to walk to a theme park like Magic Kingdom or similar.
When comparing Coronado Springs to a deluxe, the other factors I find lacking are transportation and having access to interior rooms like a hotel. Sure there might be a few more differences, but they certainly aren't deal-breakers.
I feel like if you are budget conscientious and dreading a value resort stay, it might be time to take a look at Coronado Springs. If you have stayed here in the past and weren't crazy about it, then it's a great time to return.
Final Thoughts on Coronado Springs Resorts
I hope that you enjoyed this Coronado Springs Resort review. It took quite a few visits and good bit of effort to put it all together.
As for my take on Coronado Springs, it will probably always be my favorite of Disney's moderate resort hotels category. Sure Caribbean Beach has had a lot of changes and now offers the Disney Skyliner gondolas. There's a full review of the travel times and using the Skyliner here.
But I wouldn't recommend it over Coronado Springs. It would be my second choice of the moderates.
And while I do like the Port Orleans resorts, they remind me of where I'm from. Meaning they aren't quite as special to me personally. Don't get me wrong, they are beautiful resorts.
Coronado, however, takes me to a place I haven't been. There's just something special about the grounds and landscaping here that always makes me smile.
If you decide to stay here, take some time to explore the resort and all its offerings. I think you will find yourself quite at home here.
And if you are looking to reserve a room at Disney's Coronado Springs, make sure to check with Resorts Gal's preferred travel planner, Firefly Travels. You can fill out a travel quote form here on their site and someone will contact you shortly.
For more Disney Resort Reviews not mentioned in this article, you might enjoy learning about some of the other resorts like our review of Disney's Beach Club. And our best ranked resort at Disney is none other than the Animal Kingdom Lodge (review).
Those wanting to know more about the Disney World Villas Resorts might enjoy our review of Bay Lake Tower of the Grand Floridian Villas.
Additionally, you might enjoy browsing our full list of Disney Restaurant Reviews. And while Coronado Springs doesn't offer character dining, many of the other resorts and parks do. You can read all about them in our character dining at Disney World guide.
Leave a comment below and let me know your thoughts on our review of Coronado Springs? Have you stayed here yet? Are you planning to in the near future?