Disney's Yacht Club Resort Review (Why We Love This Nautical-Themed Hotel)
This review of Disney's Yacht Club discusses the resort in its entirety. We'll look at what it's like to stay at the Yacht Club, including rooms, dining, recreation, and other amenities.
Often, I forget how much I enjoy a resort until we get to stay there again. However, Disney's Yacht Club is not one of them.
I'll never forget the first time I stepped ashore at the Yacht Club's dock in the misting rain one cold December evening. It was nearly dark and probably the worst time to visit a resort for the first time.
But I had heard many nice things about the Yacht and Beach Club. So, I was determined to visit during this vacation.
"This is where we're staying next time," those words rang through me. That's when it all started, my love for the resorts at Walt Disney World.
We felt warm and welcome upon entering the lobby and seeing the massive globe and holiday decor. Eventually, we figured out how to weave our way around to the Beach Club.
Both resorts are charming in their unique way. Yacht Club is the more formal masculine side of the resort, while Beach Club is soft and casual.
Anyone with love for sailing or all things nautical will find themselves at home at Disney's Yacht Club. Between its prime location and a long list of amenities, the resort is hard to top.
As we continue this review of Disney's Yacht Club, we'll share our latest stay at the resort. Additionally, I'll include a few pros and cons to consider when planning a stay.
Let me unravel the knot for you.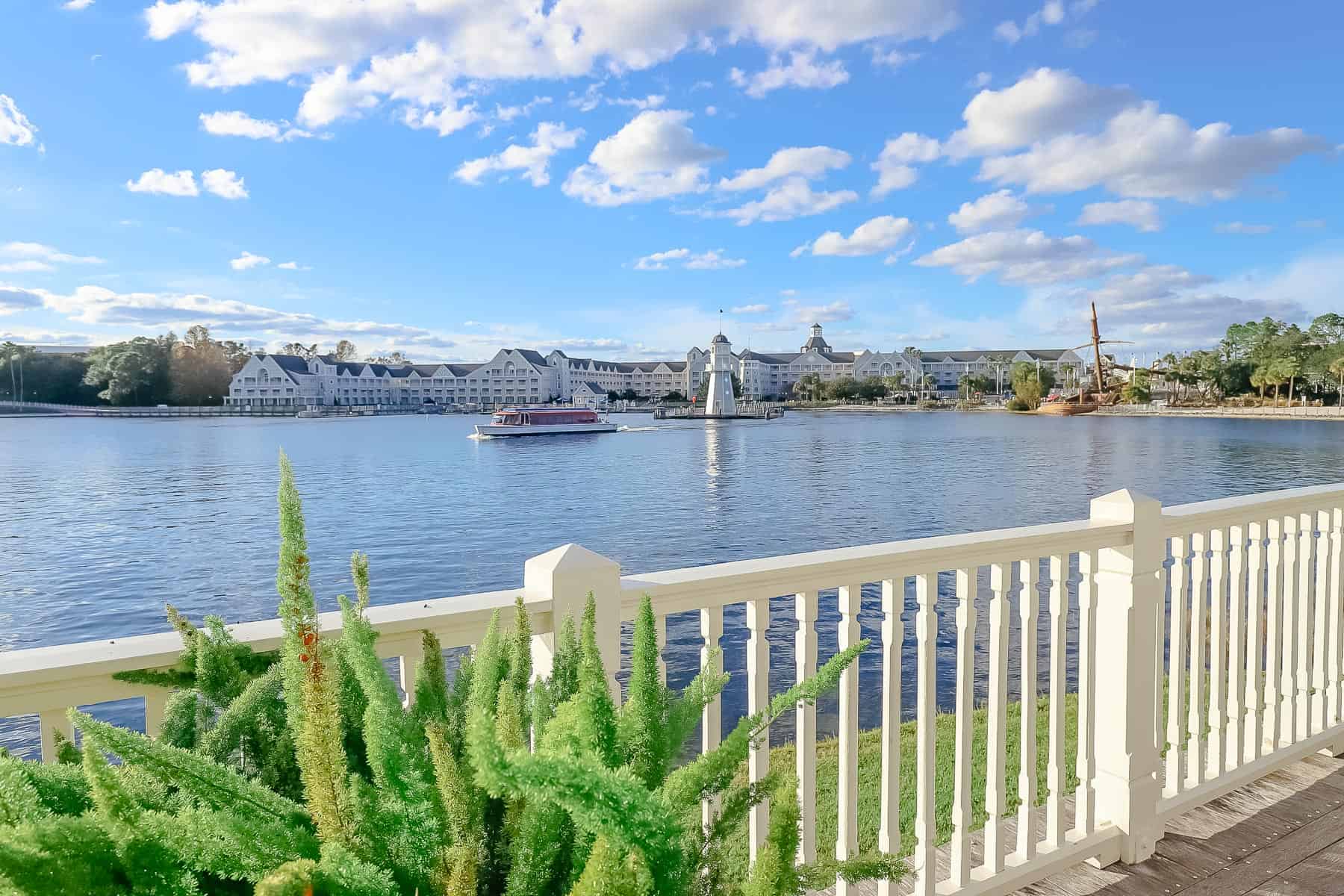 Disney's Yacht Club Review
Over the years, I've overheard many describe the New England-style Yacht Club as stuffy. I find it anything but that. Since our initial visit, it's become a place I call home.
Disney's Yacht Club indeed has a more formal feeling than its sister resort, Disney's Beach Club. However, I find the resort to be stylish while remaining casual.
Of course, the Beach Club offers a more beachy vibe with a softer color palette. Those considering both resorts will likely want to read that review as well.
Related: Disney's Beach Club Review
Before we go any further, there is one other essential item you might like to consider. Disney's Yacht Club is a dog-friendly resort.
That means there are designated rooms or floors of the resort that allow you to bring a dog. You can read more about dog-friendly resorts here on Disney's site.
Disney's Yacht Club underwent a complete refurbishment several years ago. As a result, nearly every portion of the resort received an update.
Yacht Club's exterior boasts a pretty grey siding with white trim. Its subtle colors make for a lovely backdrop against the luscious green grass and landscaping.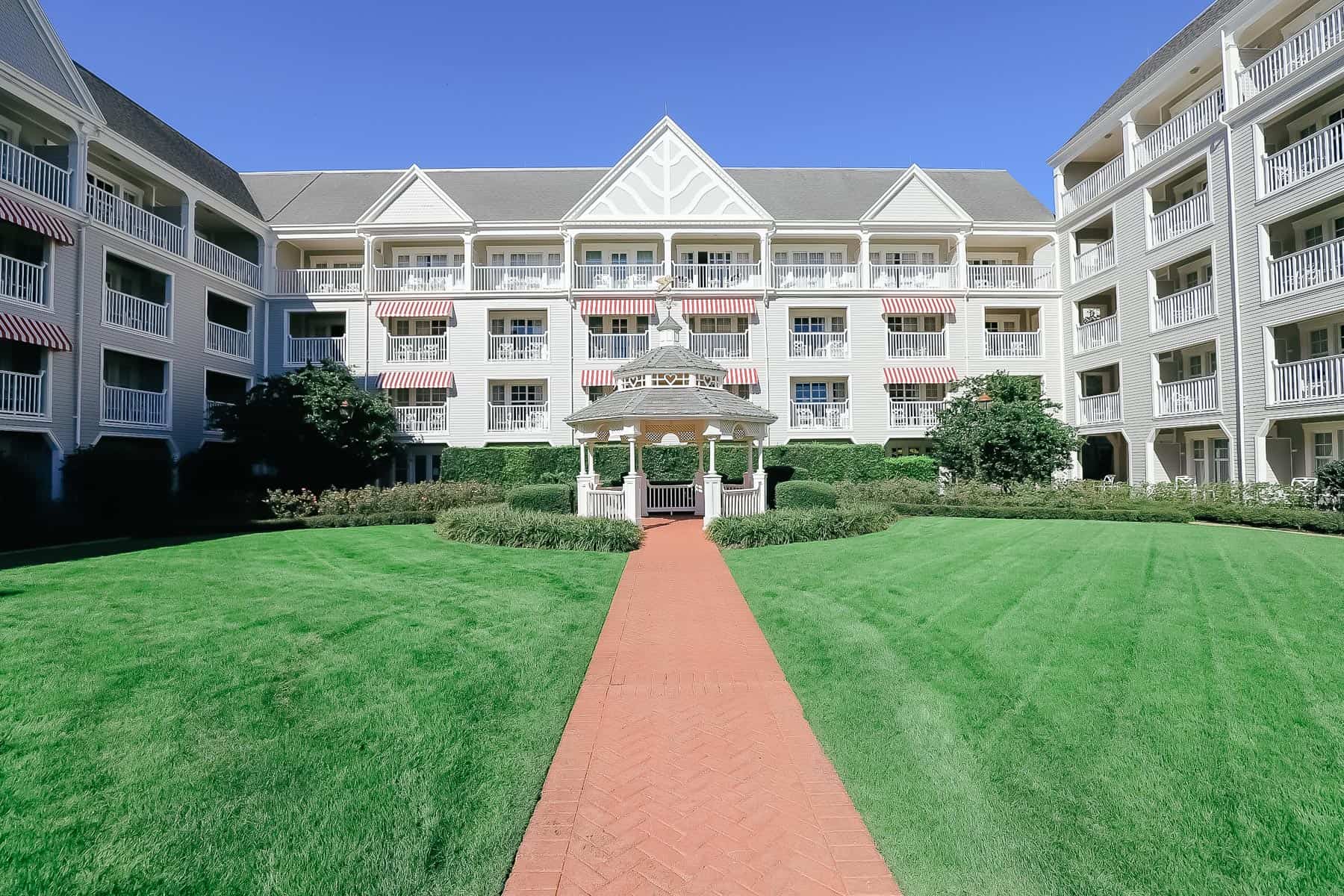 Disney's Yacht Club Location
If you've been following along with our recent coverage of the resort, you know we planned a stay at Disney's Yacht Club in early 2023 for a variety of reasons. But, first and foremost, it was time for several updates here on the site regarding the resort.
Additionally, Disney announced the return of After Hours at Disney's Hollywood Studios. And as it turned out, the week we picked for After Hours was the same week the Epcot International Festival of the Arts began.
Related: Hollywood Studios Disney After Hours Review
For reference, Disney's Yacht Club is part of the Epcot Resorts Area. So the resort sits directly between Hollywood Studios and Epcot.
Therefore you can walk from the resort to both theme parks. This location will be hard to beat in comparison to other alternatives. Furthermore, staying here made it convenient for us to get back and forth between our planned priorities.
Not only is walking to two parks a considerable benefit, but the hotel resides on beautiful Crescent Lake. So it's one of the most pleasant places to take a leisurely stroll at Walt Disney World.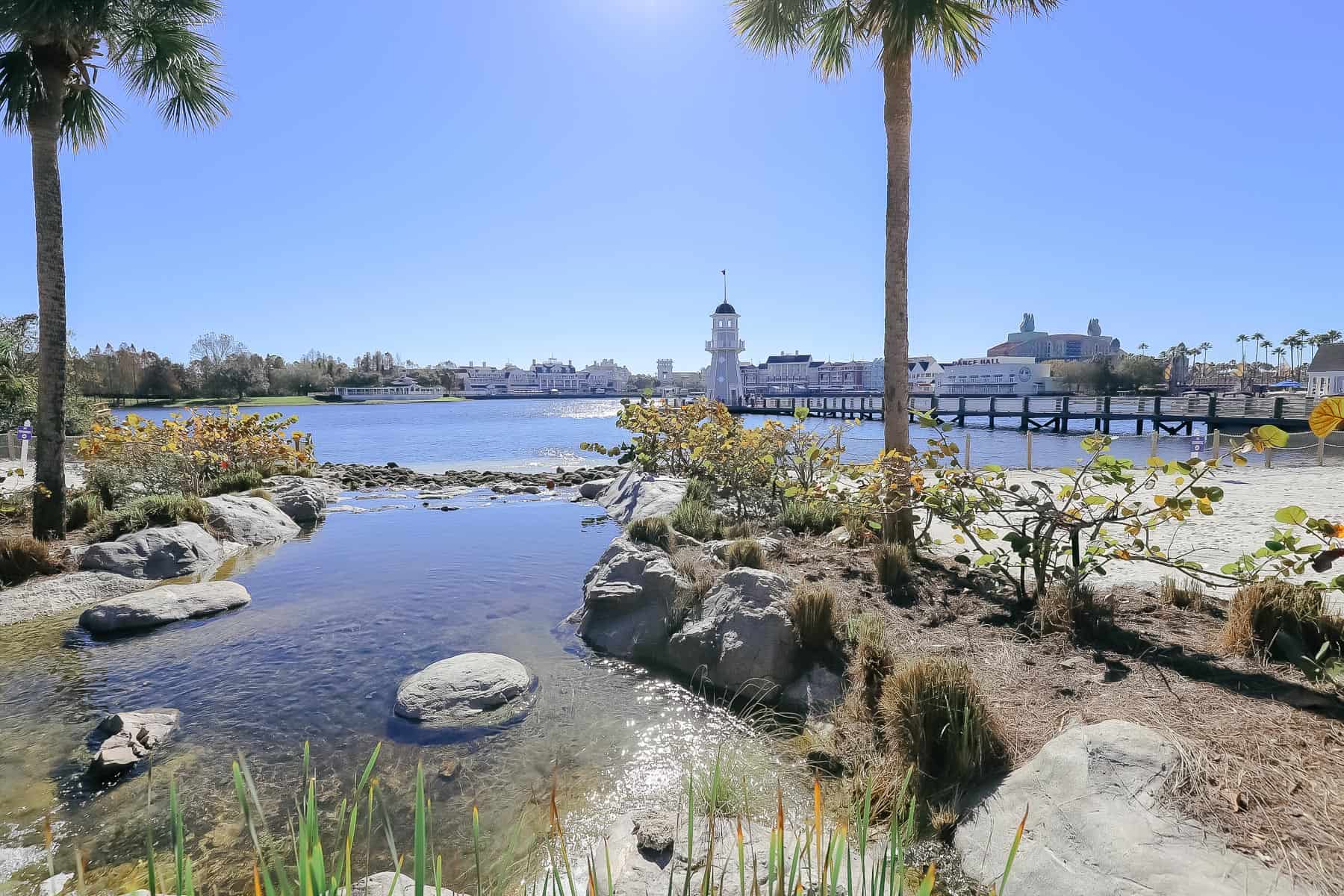 So if you plan to spend a decent amount of time at Epcot or Hollywood Studios, I strongly suggest considering any resorts within walking distance of the parks.
Other resorts in this area include:
Another reason I love this area is that it provides teens with a great place to roam without worrying too much. When my son turned 14 (the age at which you can enter a park without an adult), he loved that I gave him some freedom to walk over to the nearby parks.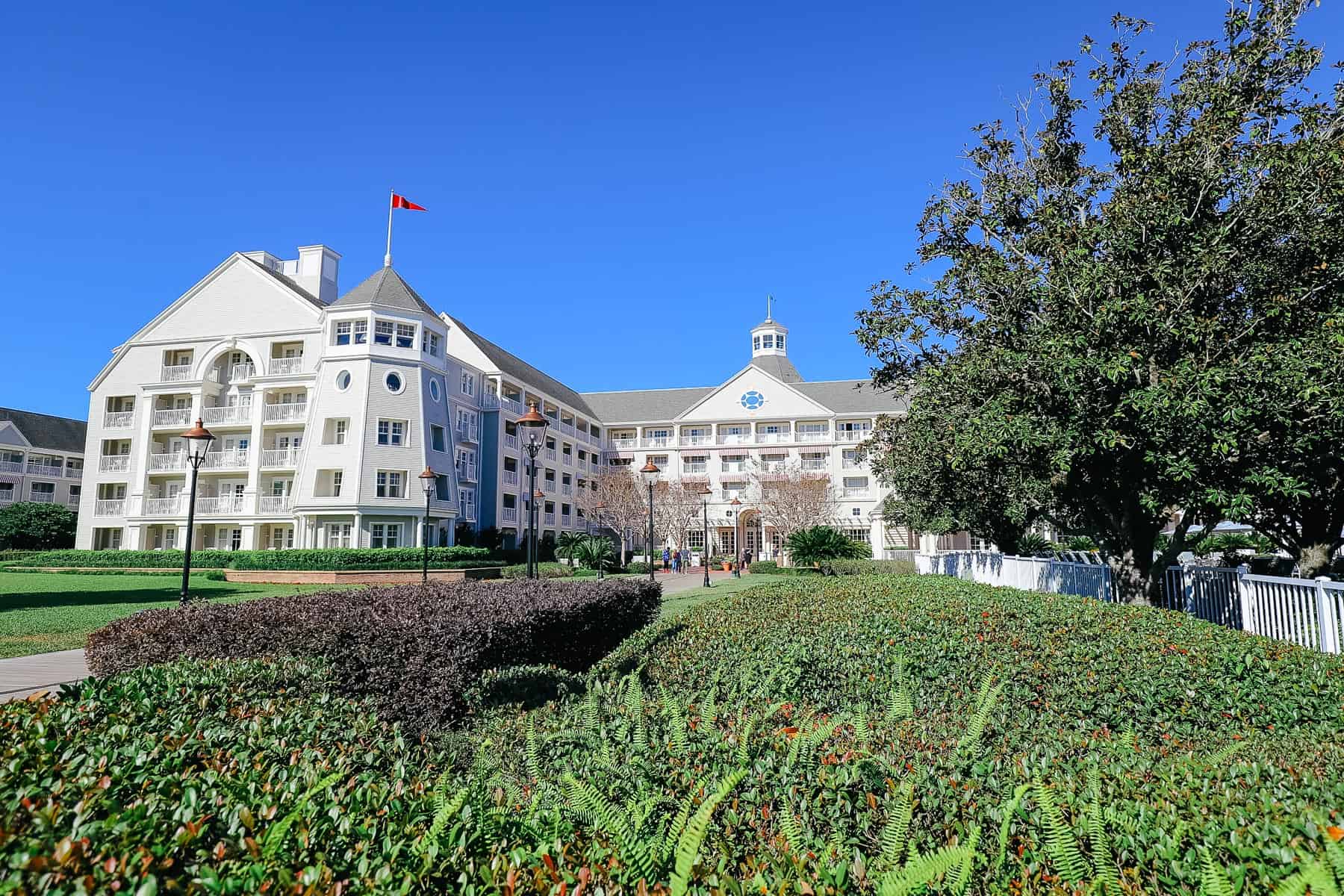 Tip: Epcot has multiple festivals throughout the year. If you plan a vacation primarily to visit any of the festivals, Disney's Yacht Club is an excellent hotel option.
Related: Epcot Festivals
Theming of the Yacht Club
Disney's Yacht Club has a classic interior with elements like sailboats, knots, and leather mixed with pretty shades of blue and gold. Modern furnishings were added to the lobby during its latest refurbishment.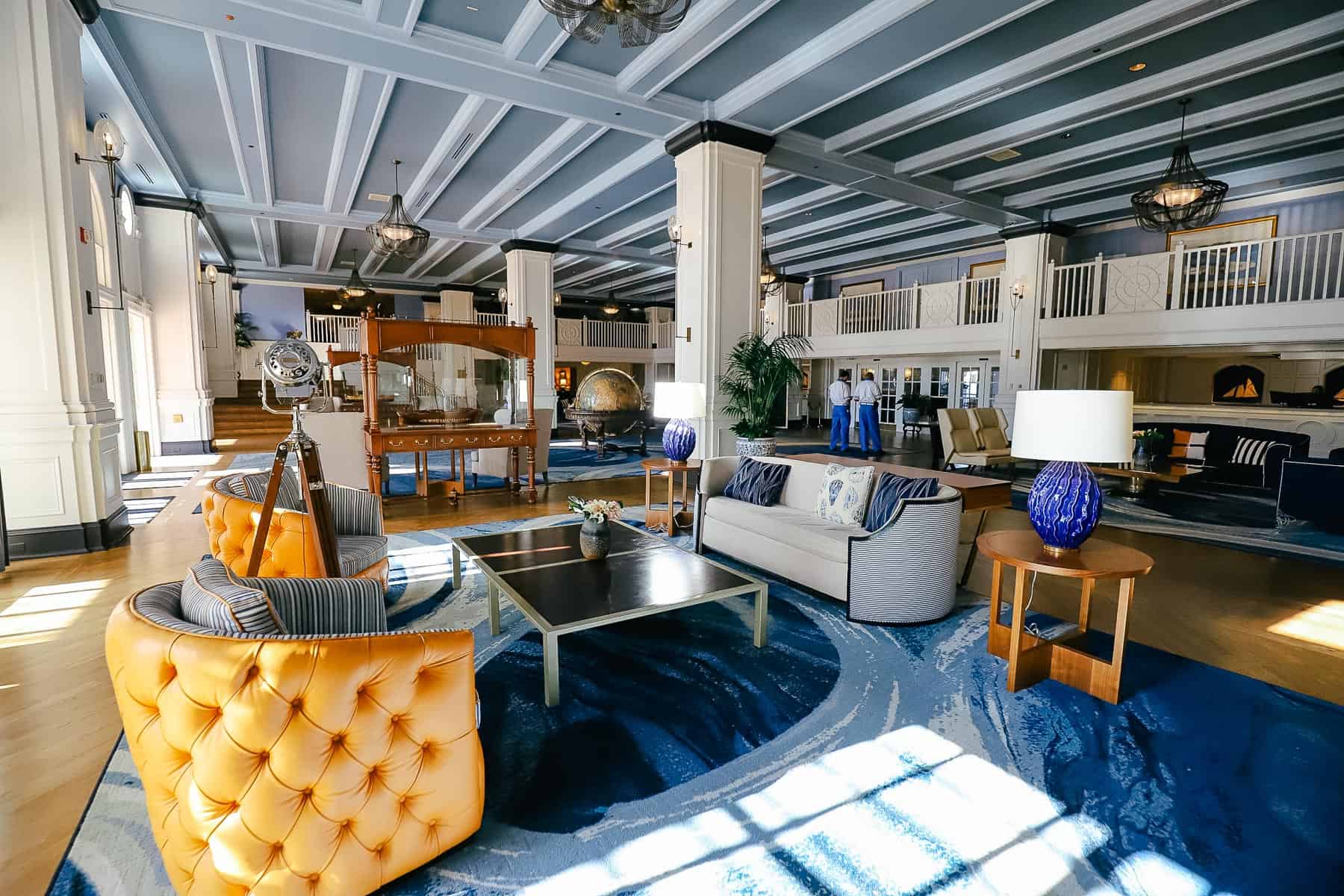 You might even catch a glimpse of a giant hidden Mickey in the central rug. It's the largest one I've encountered.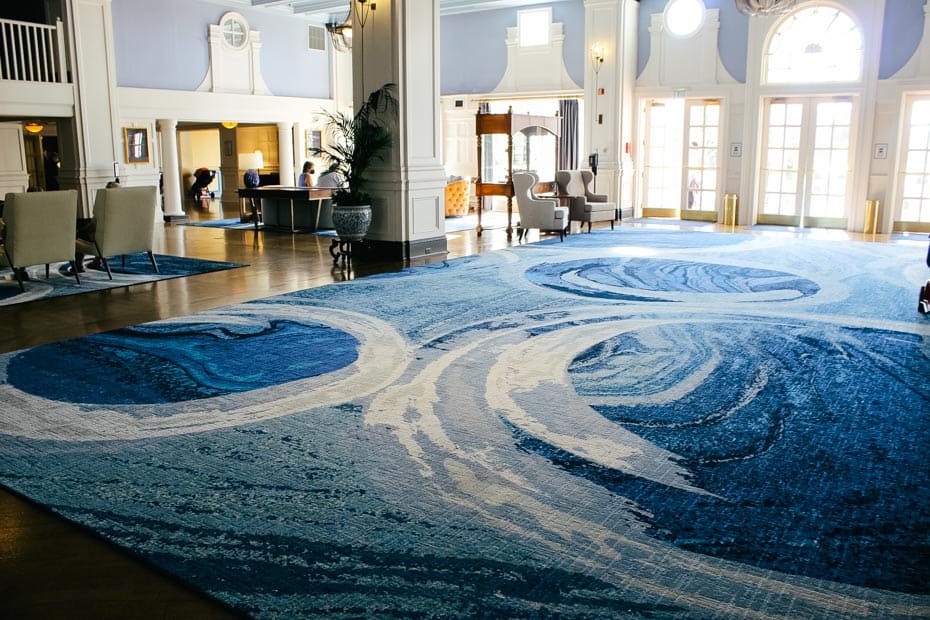 A massive globe, the lobby's centerpiece, sits prominently on display.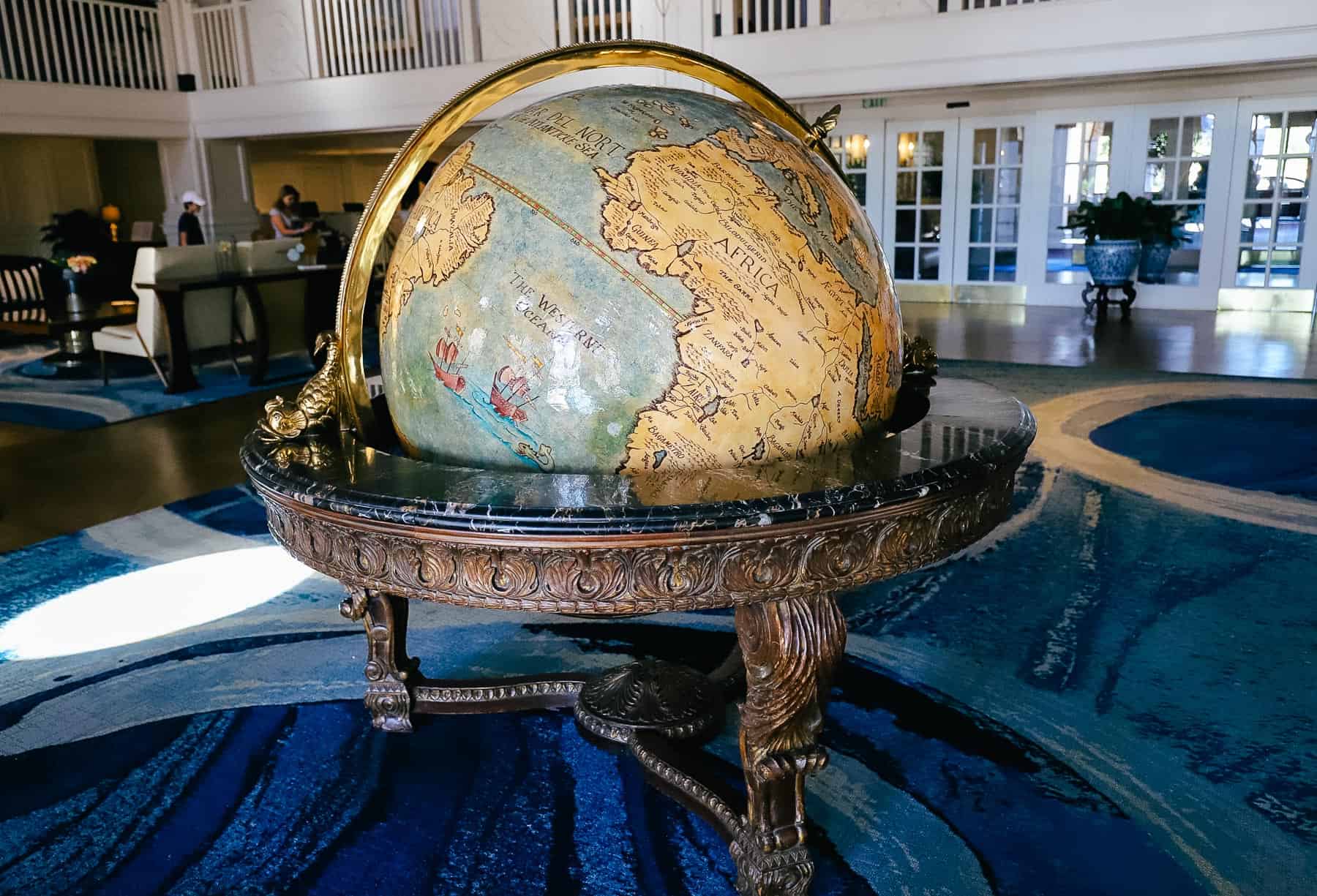 On this visit, we were in room 2126, which was only a short walk down the second-floor hallway. We enjoyed walking out of our room and down the stairs to the lobby so quickly.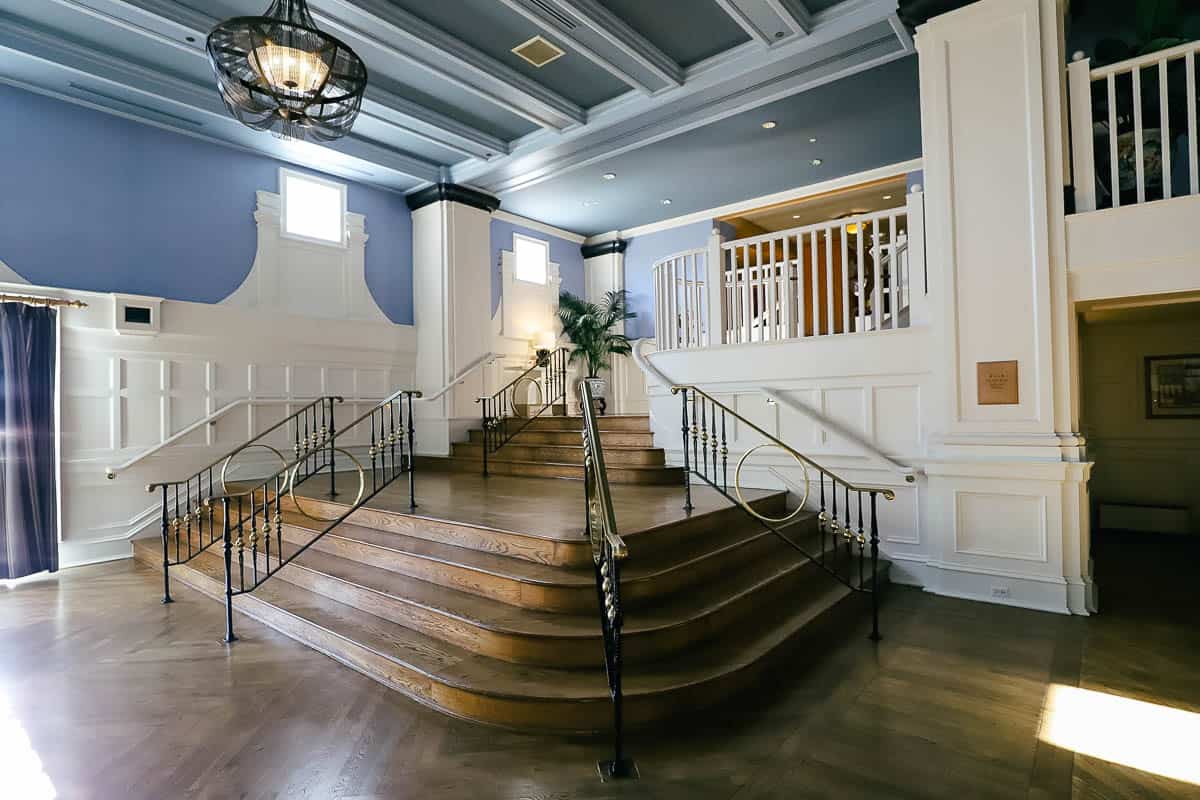 There's a small sitting area at the top of the stairs if you want to enjoy a more private space.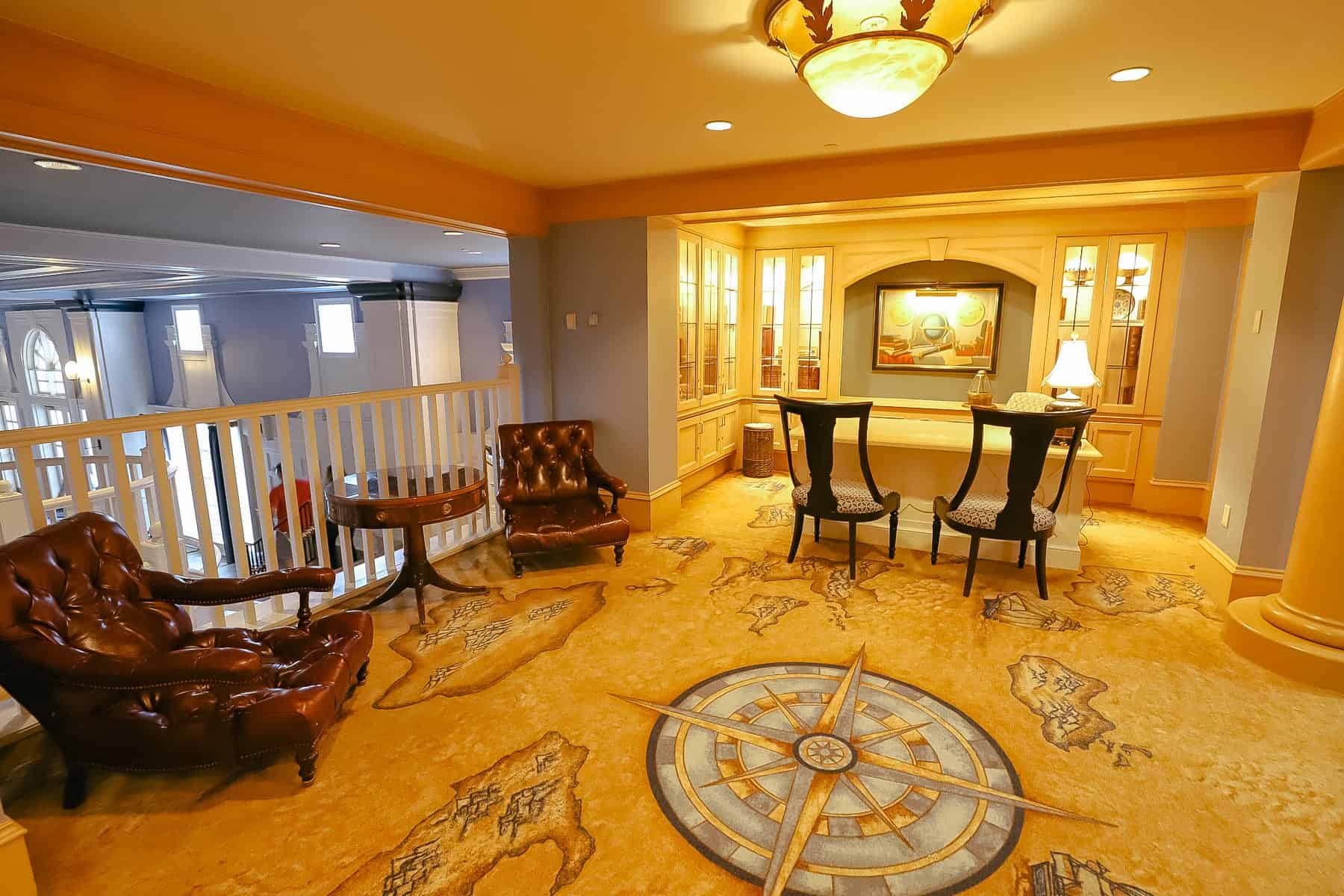 You might also notice the carpet is on point. No pun intended. It features a compass pattern.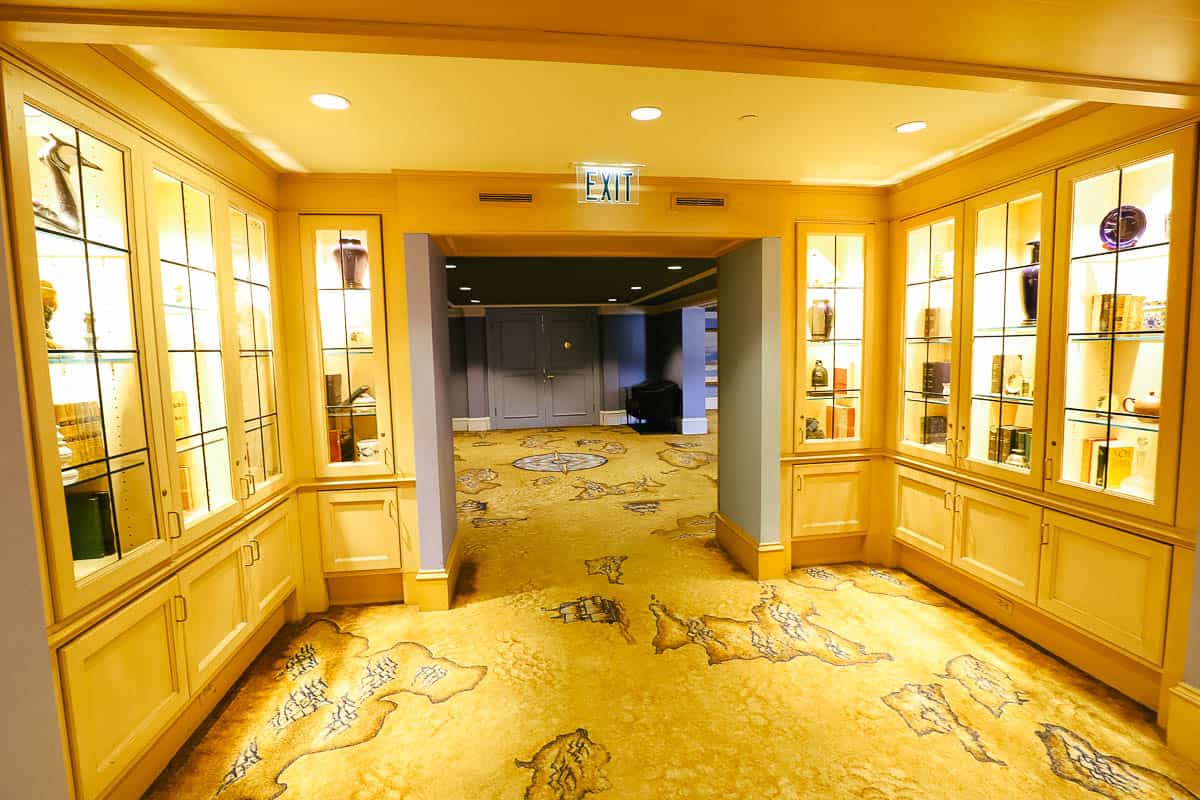 Our Room at Disney's Yacht Club
Disney's Yacht Club is slightly different from the other deluxe resorts regarding accommodations. It's the only upscale resort that doesn't have a separate Disney Vacation Club.
However, next door, Disney's Beach Club is home to the Beach Club Villas, a Disney World Villa Resort. All of the villa resorts are Disney Vacation Club (DVC) Resorts.
Related: Disney's Beach Club Villas Review
Most of Disney's Yacht Club rooms sleep up to five guests. However, club level rooms usually sleep four guests. We have an entire article covering the experience if you're curious about club level.
Related: Club Level at Disney's Beach Club
Here are the following room view categories at Disney's Yacht Club:
Standard View (Roof or Parking Lot View)
Garden or Woods View (View of Gardens)
Water View (View of Crescent Lake or Stormalong Bay)
Additionally, the Yacht Club has several two-bedroom suites for those needing a larger space. Those suites sleep up to six guests.
We booked a standard guest room with a garden or woods view for this stay. Our room had two queen-size beds and a futon-style sleeper.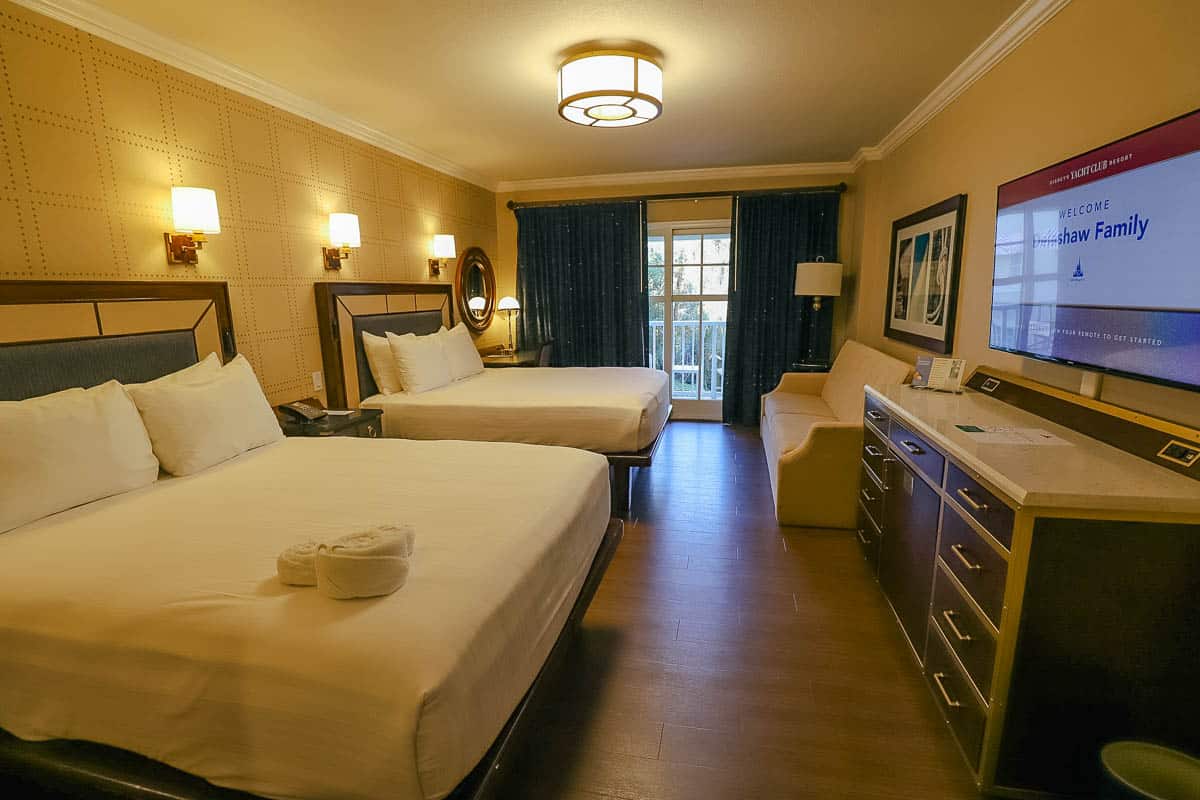 Some rooms have king-size beds with a daybed. However, those rooms are usually considered an upgrade.
Rooms at Disney's Yacht Club have solid surface flooring that resembles hardwood. Here is the fold-down sofa that converts to a fifth sleeper.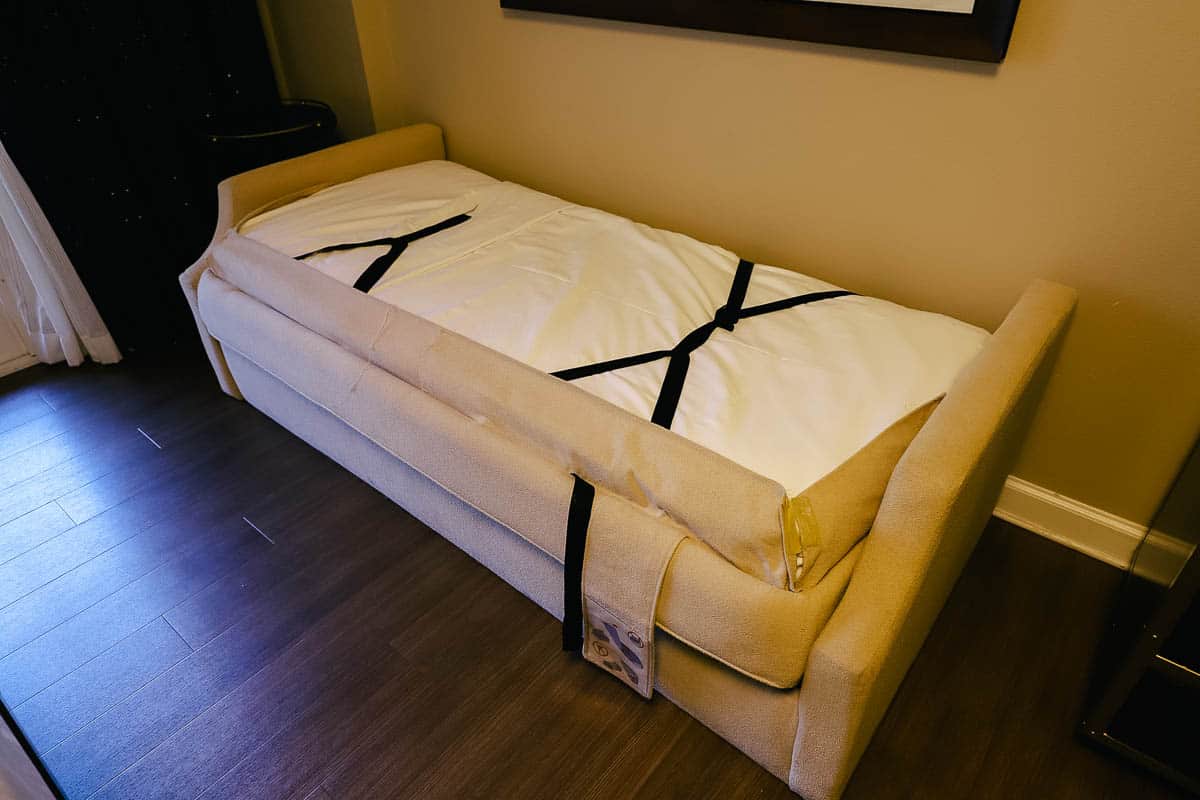 Our guest bath was split with a separate vanity area from the water closet. There were two sinks, and our bath had a tub with a shower combination.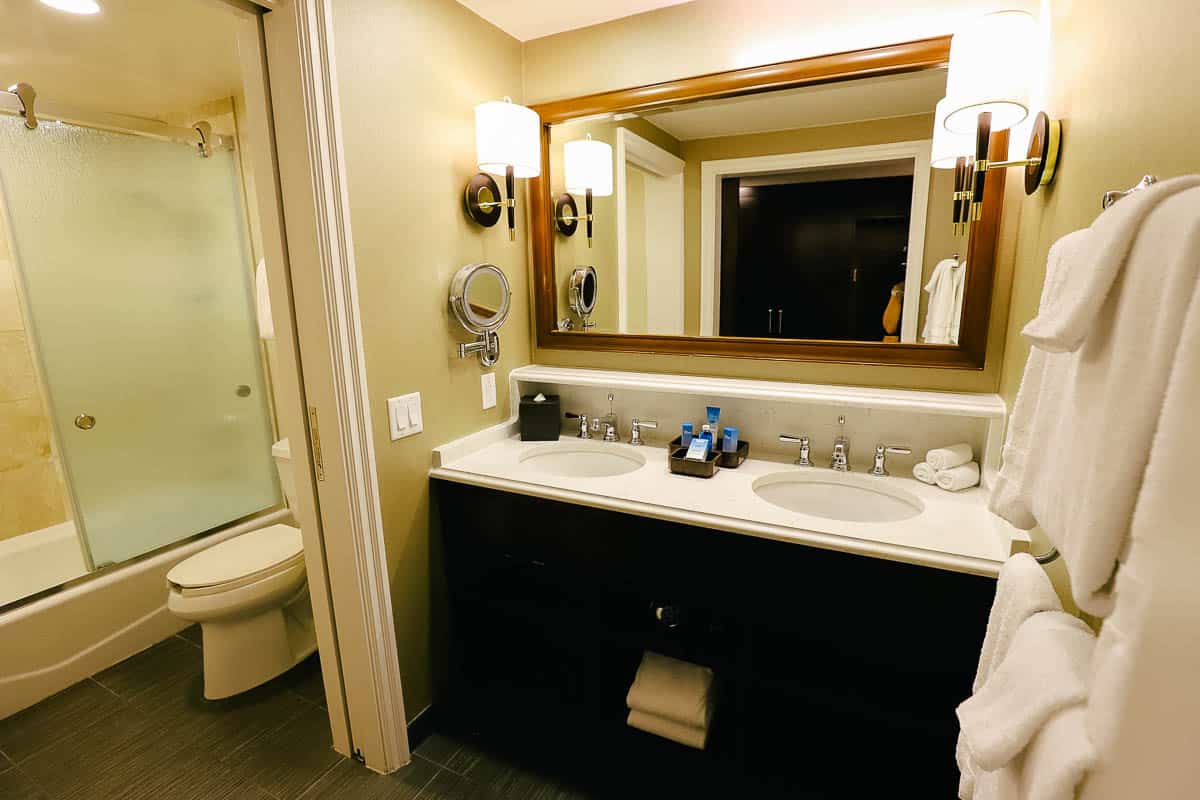 While our view was private, there wasn't anything outstanding about it.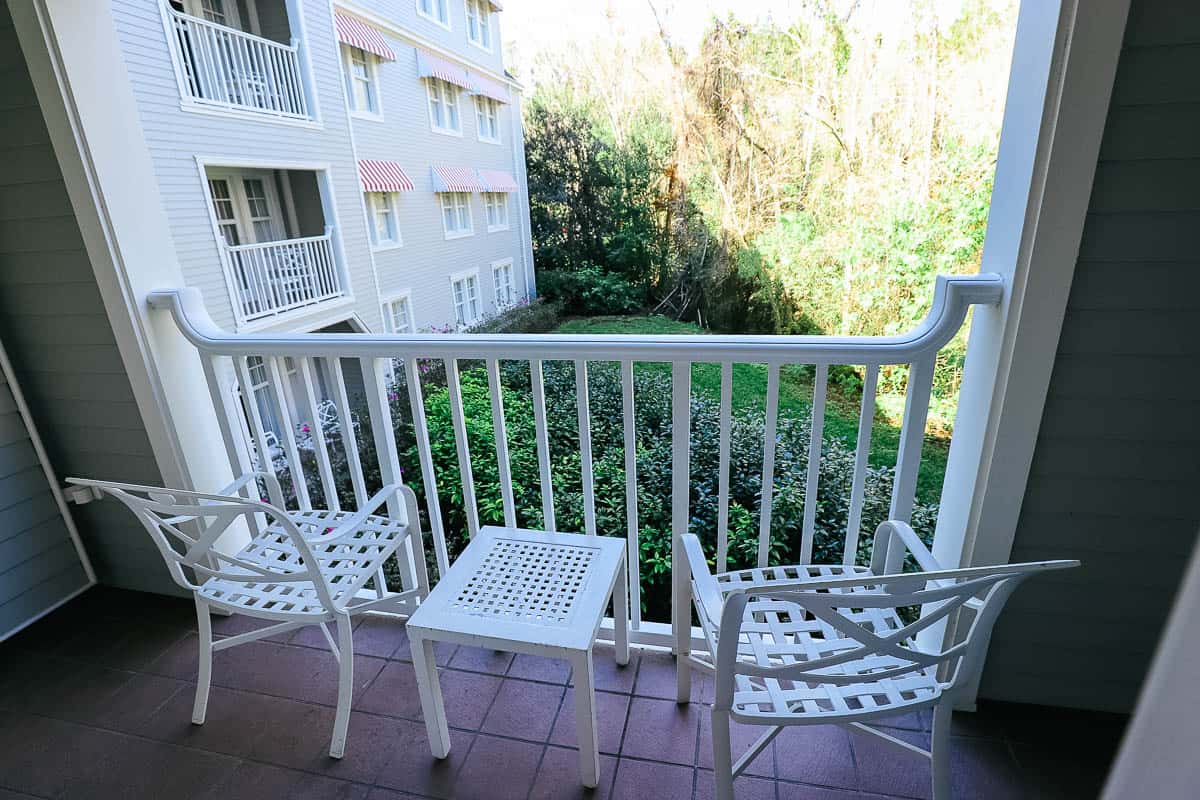 In the past, we've stayed in a water-view room at Disney's Yacht Club. This is my all-time favorite room view at Walt Disney World, and I've stayed at many resorts.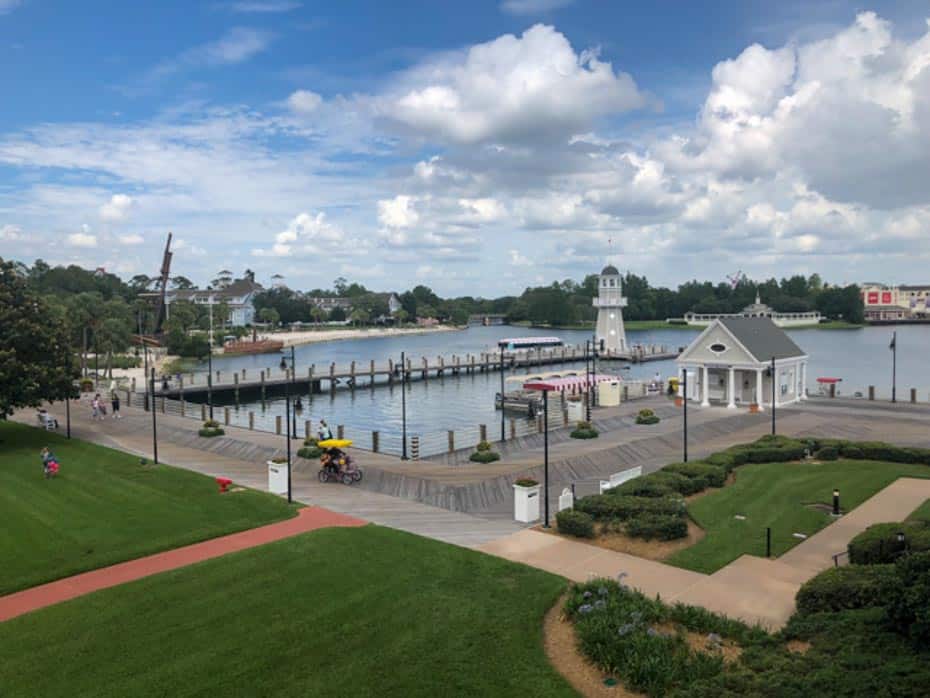 I enjoyed this view so much that I woke up every morning and sat on the balcony. During the day, we would visit the parks for a bit before coming back for a break. My first thought upon entering the room was to head out to the balcony.
We would get ready for dinner in the evenings and enjoy a drink on the balcony before leaving. Then, when we returned to the room after dark, we would enjoy the view of the fireworks from Epcot.
I could have sat there all day and indulged in the comings and goings below.
Overall, the guest rooms at Disney's Yacht Club are relatively simple and modern. Beds are platform-style, which allows room to store luggage underneath. One of the items that I liked the most was the curtains. They feature Disney-inspired constellations.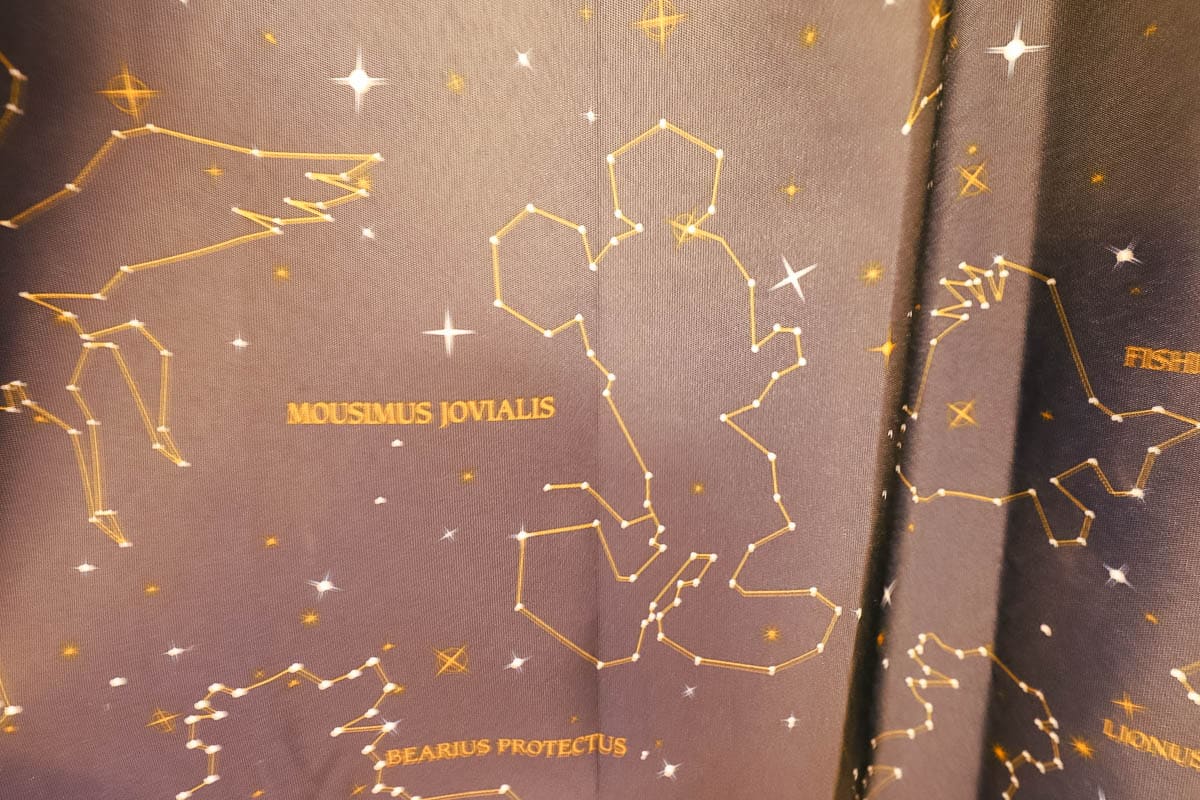 In addition, our room had a built-in closet with a safe, coffee maker, and mini-refrigerator across from the bath area. We have a separate article that features a video tour of the room and photos of all the details.
Related: Room Tour of a Standard Guest Room at Disney's Yacht Club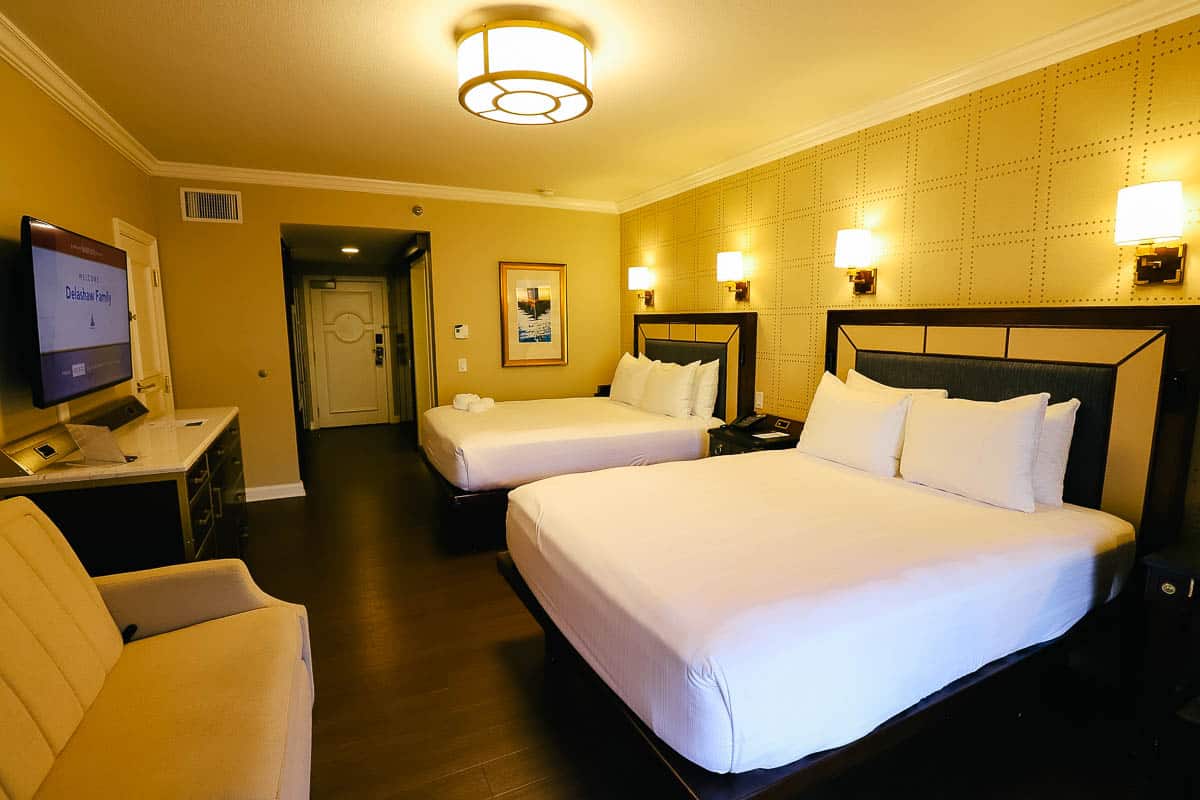 Dining Options at Disney's Yacht Club
When it comes to dining at Disney's Yacht Club, there are plenty of options at the resort and within the nearby area. However, all of the resorts in the area are lacking when it comes to counter-service options.
The Market at Ale and Compass
The Market at Ale and Compass is the primary counter-service dining option at Disney's Yacht Club. Unfortunately, most of the items are pre-made, which is not a good look for a high-end hotel.
Related: The Market at Ale and Compass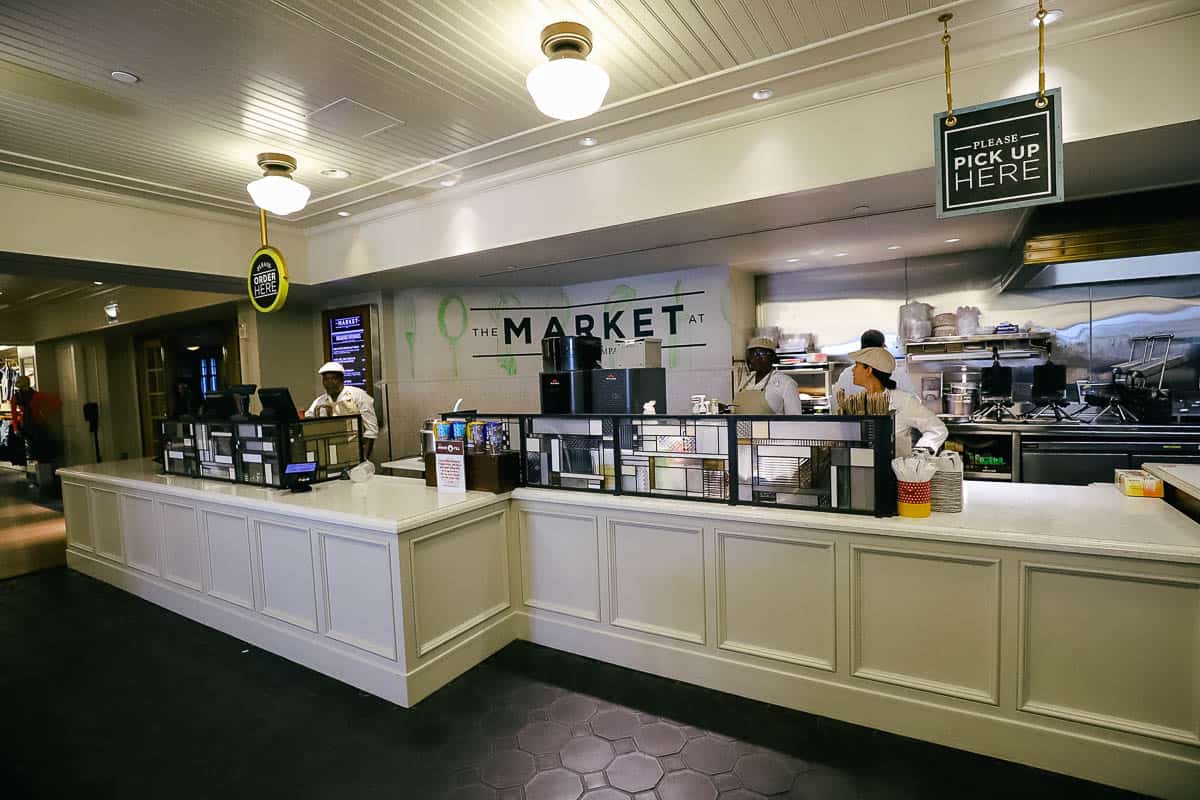 During our stay, I stopped for a few updated photos. But not much has changed from our last visit.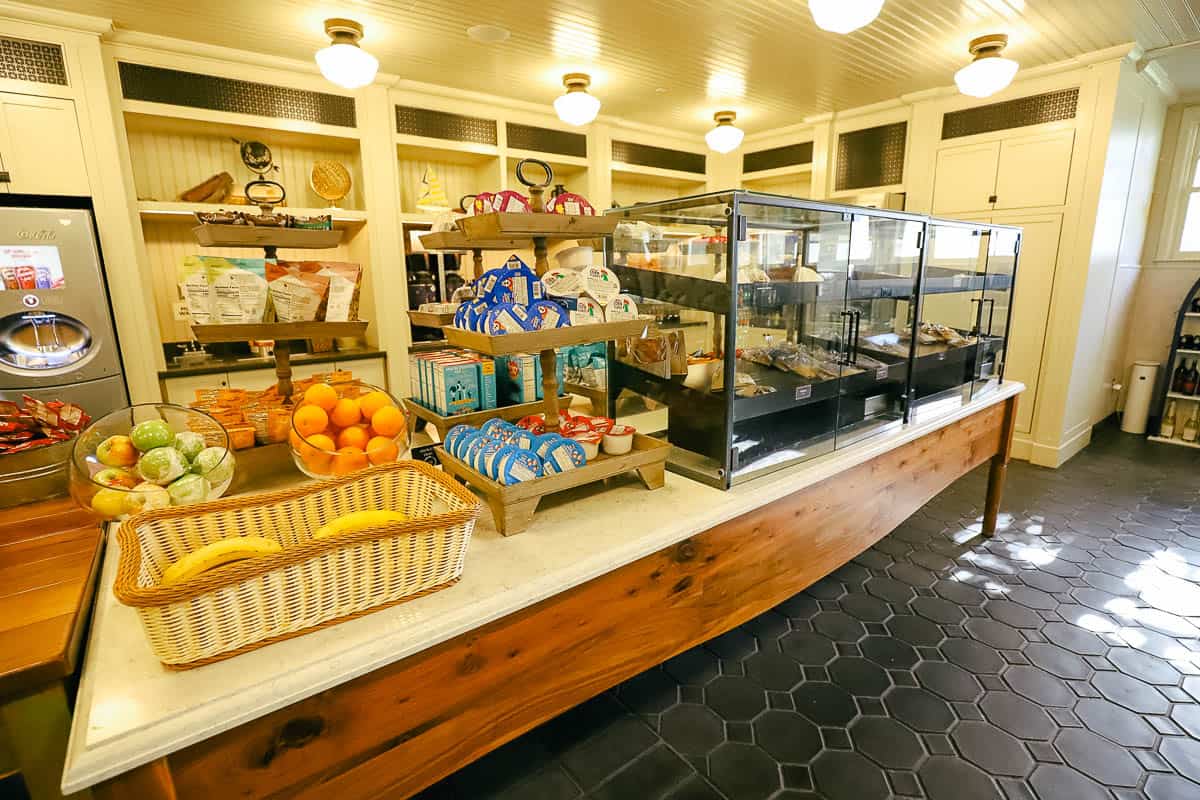 Plenty of chips, candies, and allergy-friendly alternative snacks were available.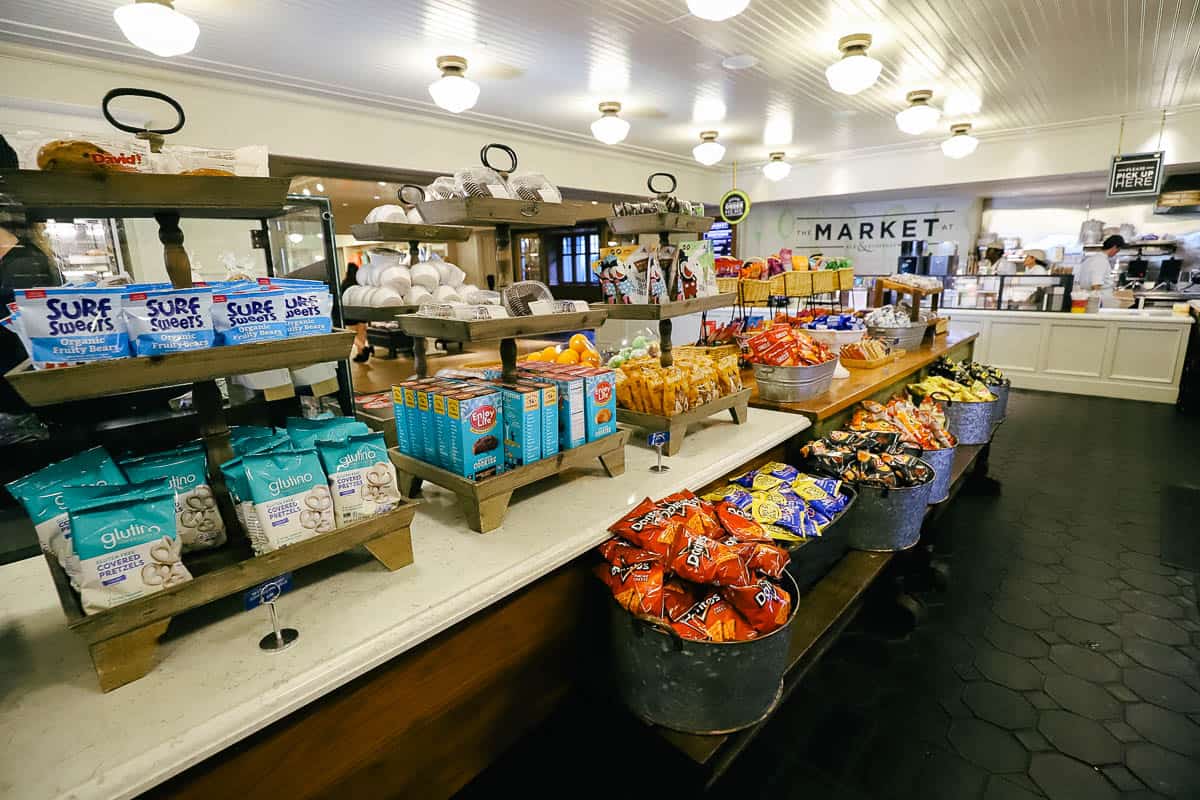 Here is the refrigerated case with various bottled waters, beverages, soda, juice, and pre-packaged meals.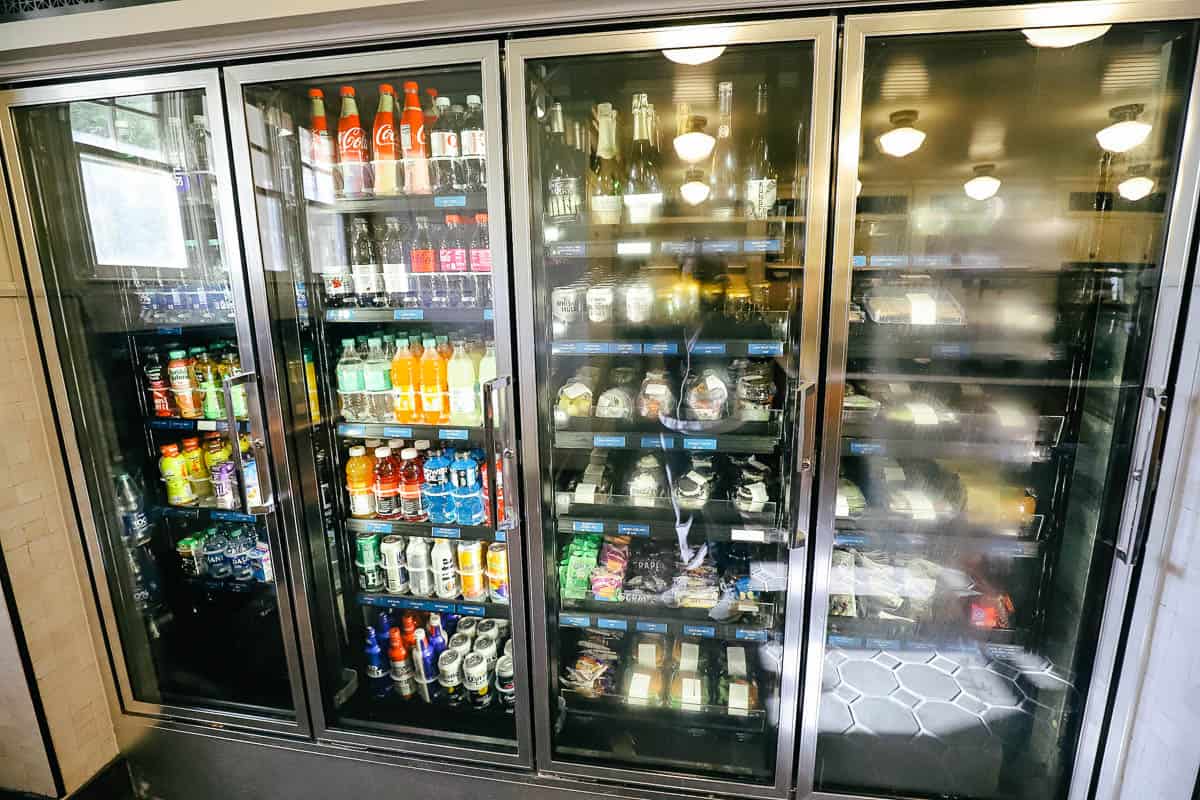 There's a case with several novelty ice cream treats toward the back. To the left of the case, there's a microwave for anyone to use.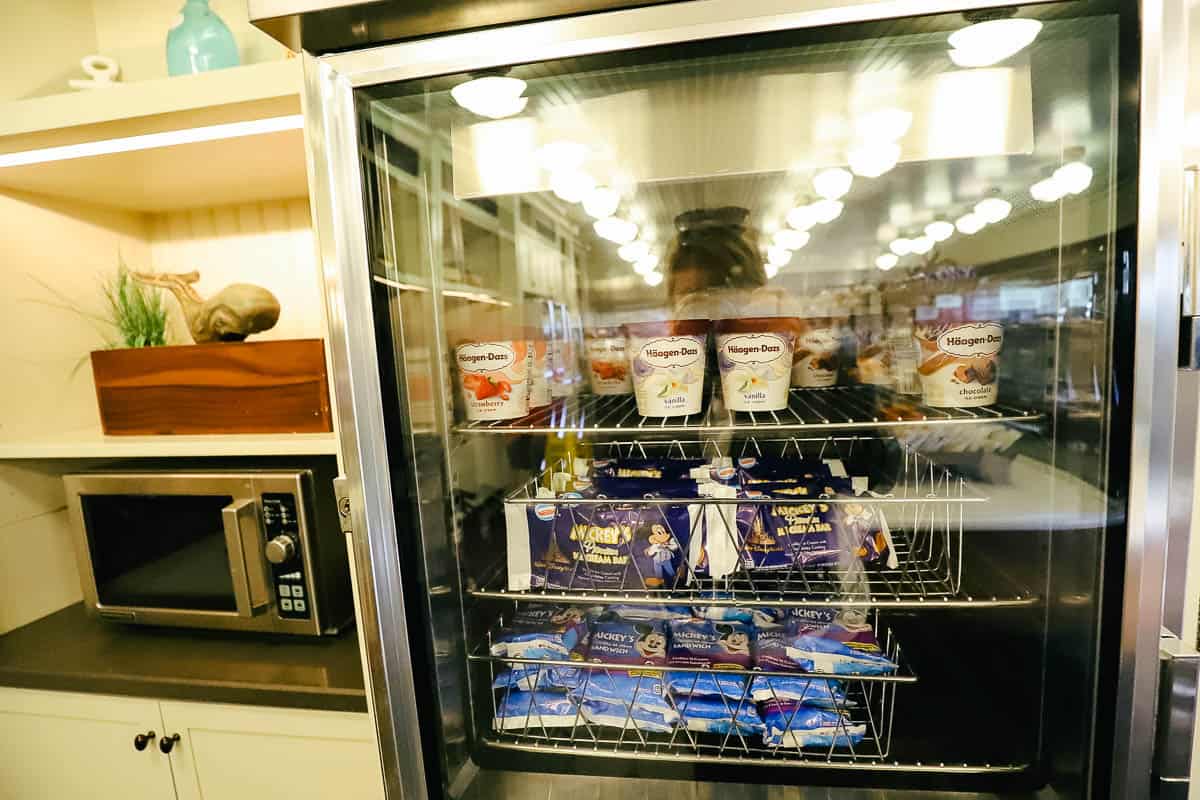 Disney Rapid Fill Mugs are available for purchase at The Market. At the time of this review, they are $21.99 for the entire length of your stay.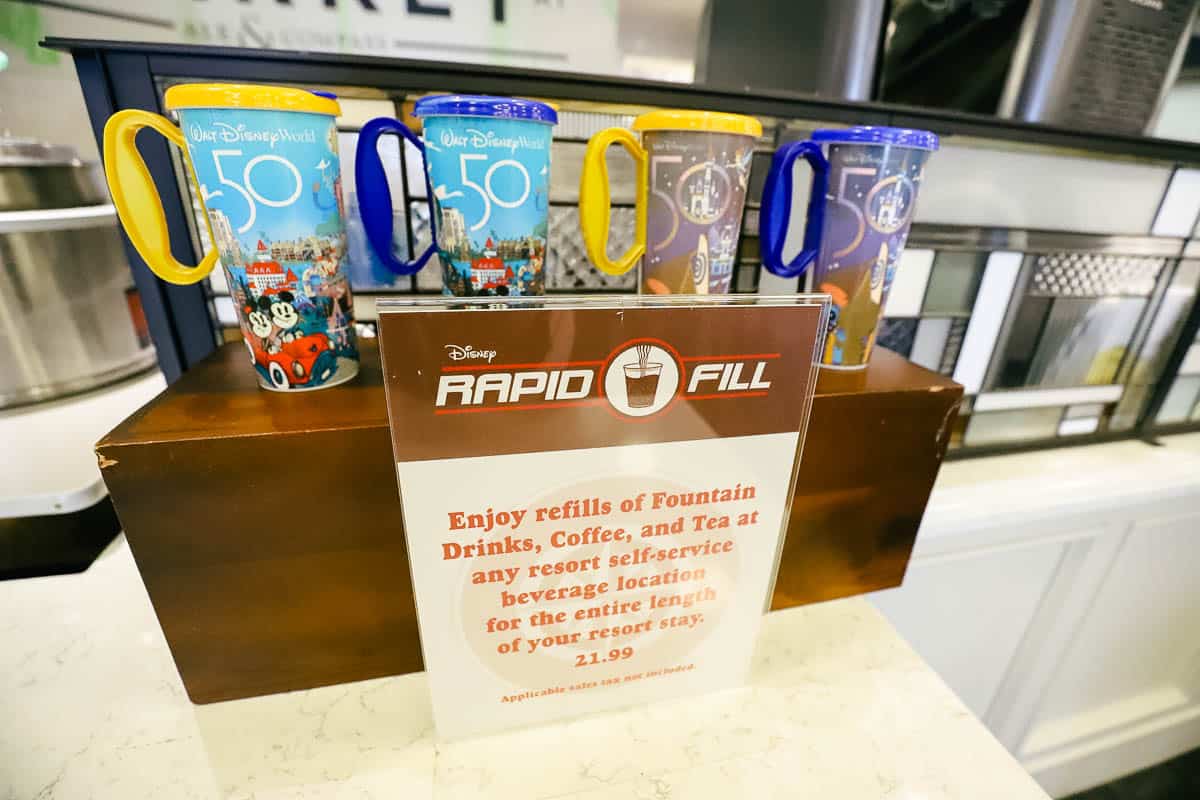 Additionally, The Market at Ale and Compass has a decent coffee bar. Here are a few of the available items.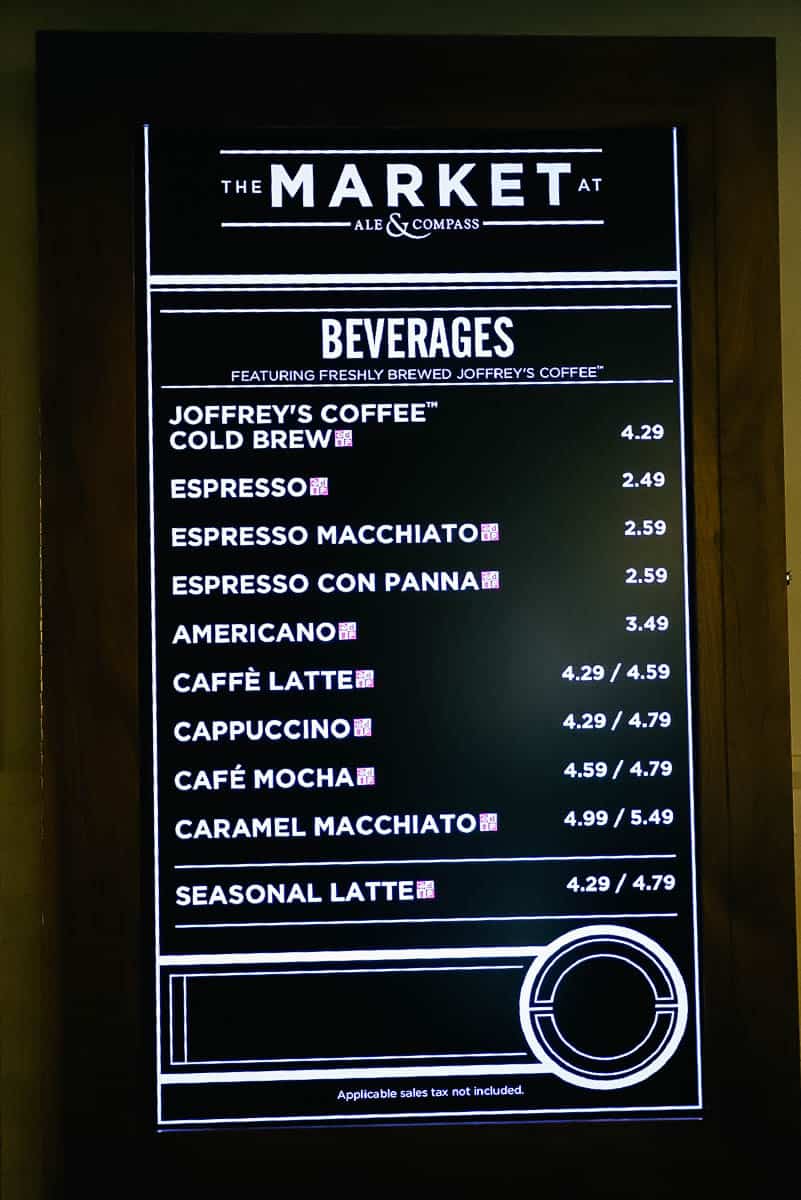 You can preview the full breakfast, lunch, and dinner menu here on Disney's site. Below is a photo of the dining area inside the counter service.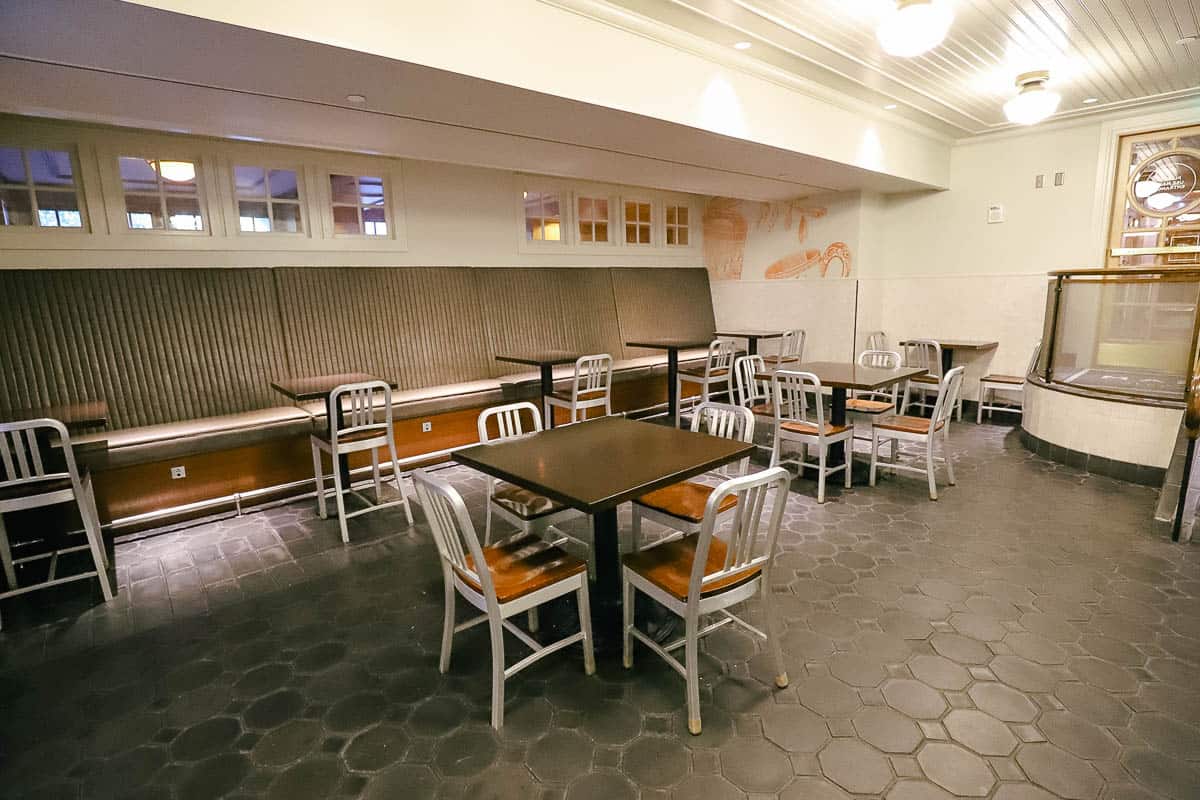 Ale & Compass Lounge
Ale and Compass Lounge is located off the resort lobby. This location offers a small appetizer menu with a fairly unique selection of cocktails. We often enjoy stopping in for an order of Parker House rolls.
Related: Ale and Compass Lounge Review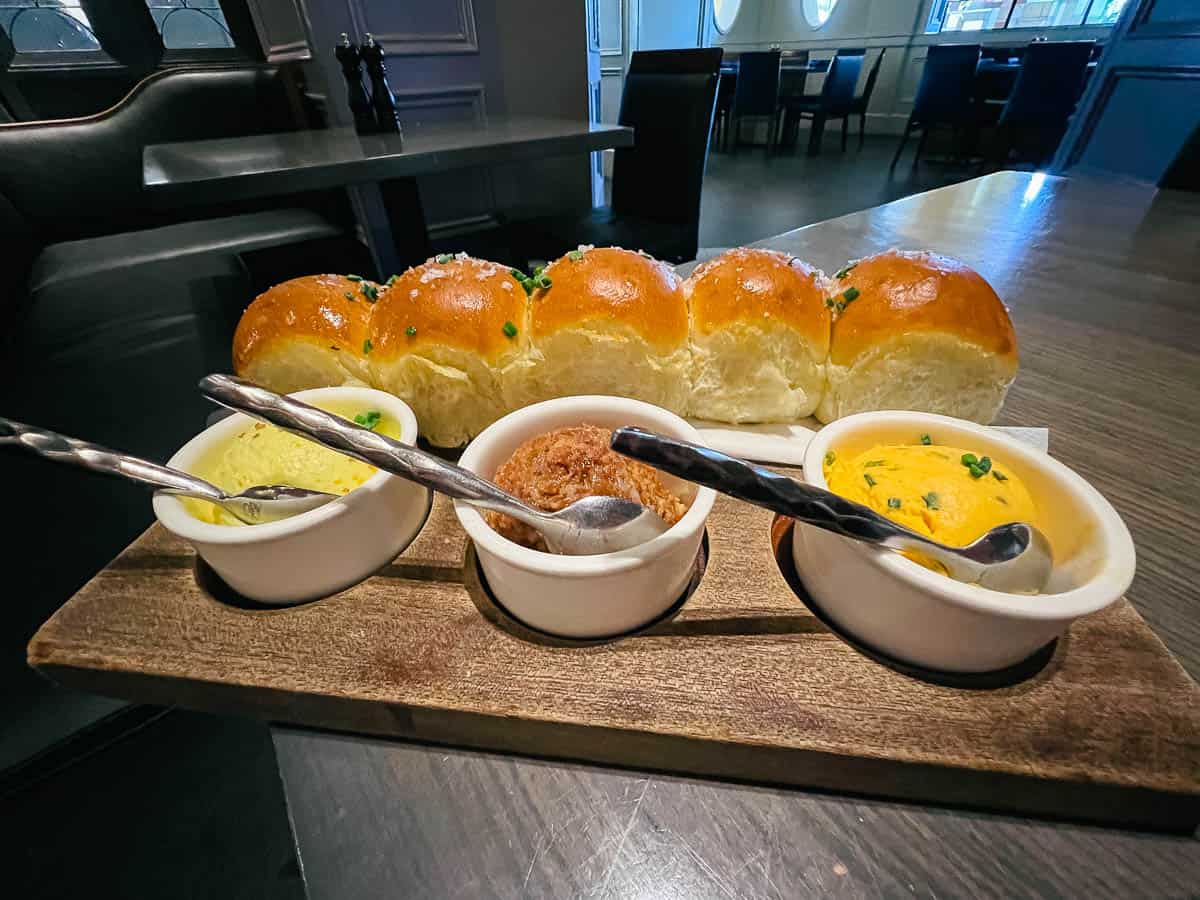 Ale and Compass Restaurant
Ale and Compass is one of our favorite restaurants at Disney's Resorts. Not only does this location serve one of the best breakfasts at Disney, but it also serves lunch and dinner. Plus, they have a to-go menu on the mobile-order portion of the My Disney Experience app.
We had breakfast one morning during this stay, and I had the Salted Caramel Apple French Toast. It was divine. But as you already know, my favorite item here is the chocolate waffle.
Related: Ale and Compass Breakfast Review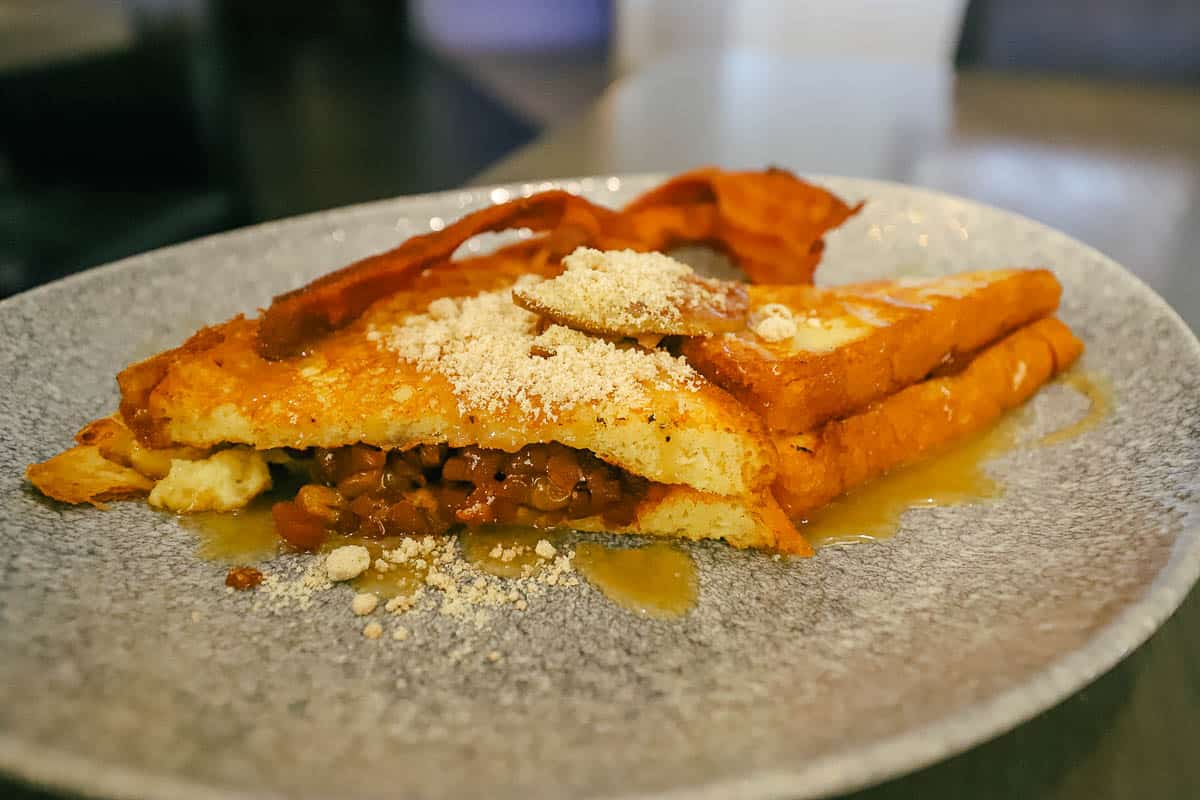 We've had everything from the Vermont Cheddar Burger to the Fish with Fries for lunch and dinner.
Related: Ale and Compass Lunch and Dinner Review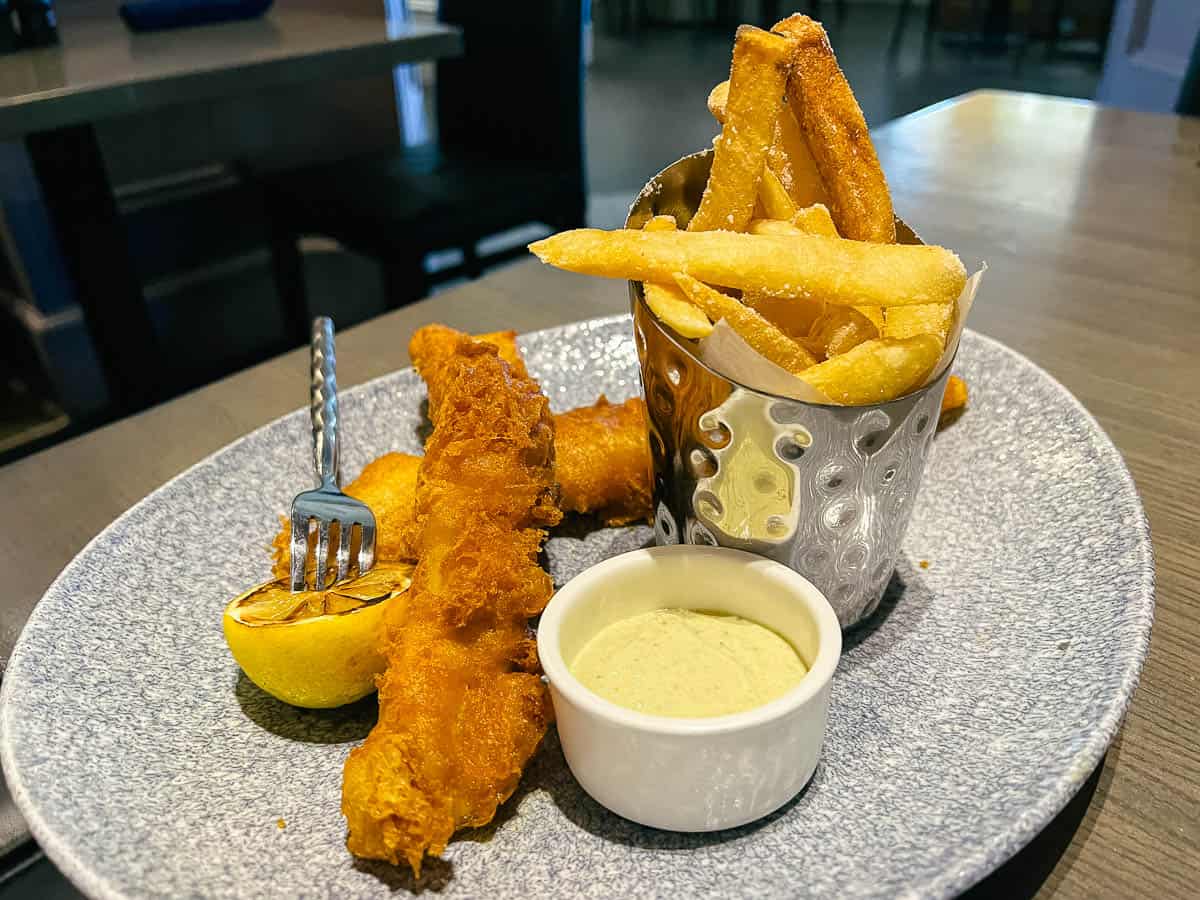 Crew's Cup Lounge
Crew's Cup Lounge is located down a hall off the Yacht Clubs' lobby. This location serves as the lounge for Yachtsman Steakhouse.
Don't skip out on this location, thinking it's just "another lounge" because it's not. Crew's Cup doesn't require reservations and has a full menu with food and beverage options.
On this visit, we stopped in to try the charcuterie board. It was delicious and more than enough for two people to share.
Related: Crew's Cup Lounge at Disney's Yacht Club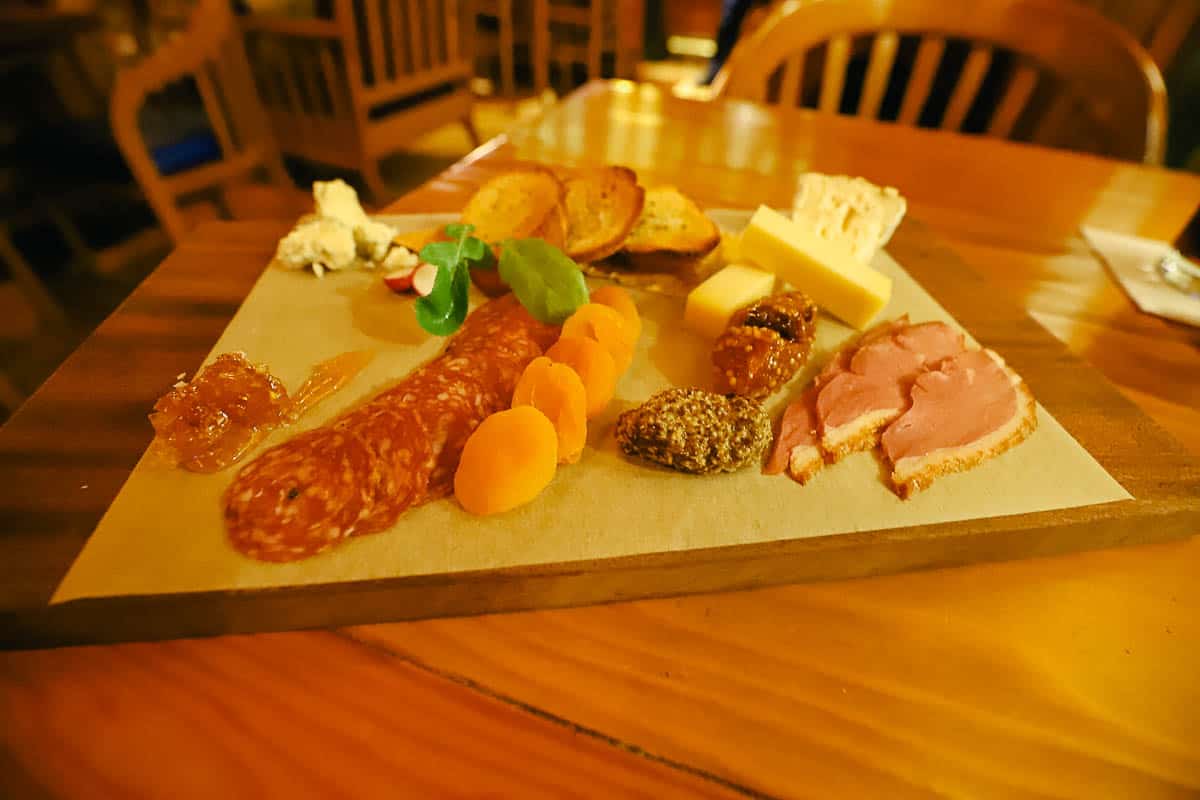 Yachtsman Steakhouse
Yachtsman Steakhouse is the signature dining location at Disney's Yacht Club. We've had the opportunity to dine here several times in the past.
Yachtsman specializes in serving prime cuts of beef. You will pass a butcher-style display of said meats on your way to the table.
However, the best part about dining at Yachtsman Steakhouse? Onion rolls. They are delicious, and the server will bring roasted garlic to the table to enjoy with them.
Related: Yachtsman Steakhouse Review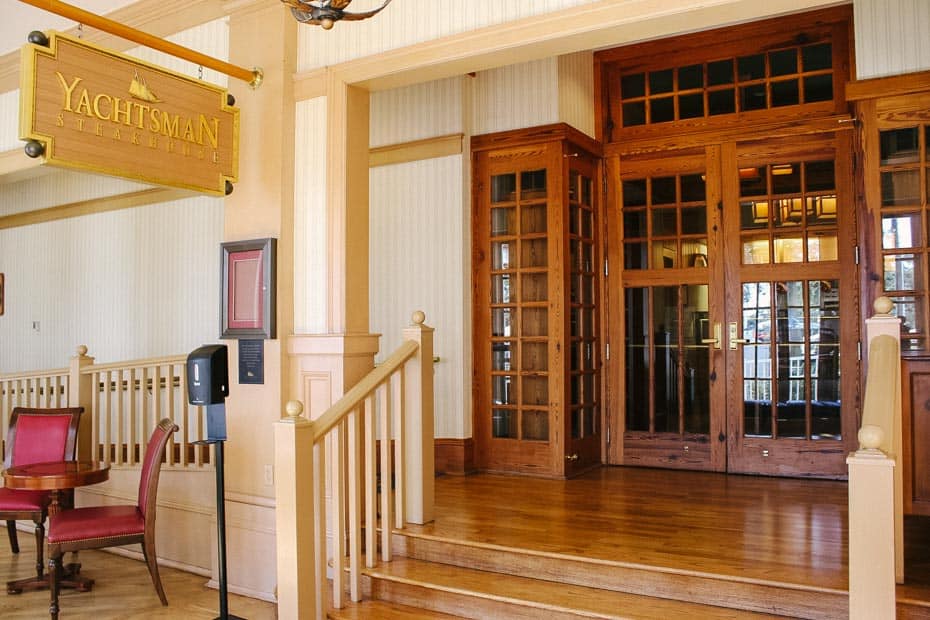 Hurricane Hanna's
Lastly, we have Hurricane Hanna's, a walk-up waterside bar and grill that services Stormalong Bay, the pool area. This counter service location offers burgers, chicken nuggets, sandwiches, and similar items.
Related: Hurricane Hanna's Review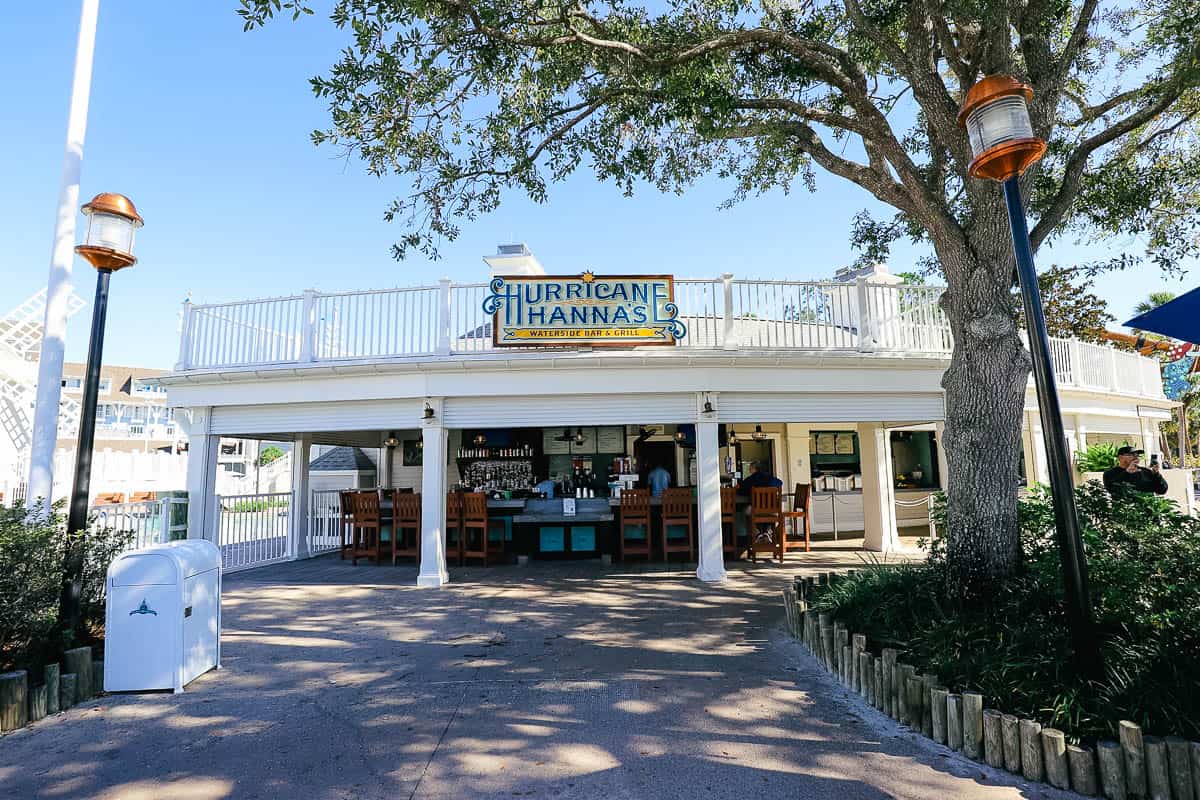 Additionally, you might enjoy a meal at one of these restaurants located on the Beach Club side of the resort:
Cape May Cafe Seafood Buffet
Martha's Vineyard
We also have a complete guide that lists the options at both resorts.
Related: Restaurants at Disney's Yacht and Beach Club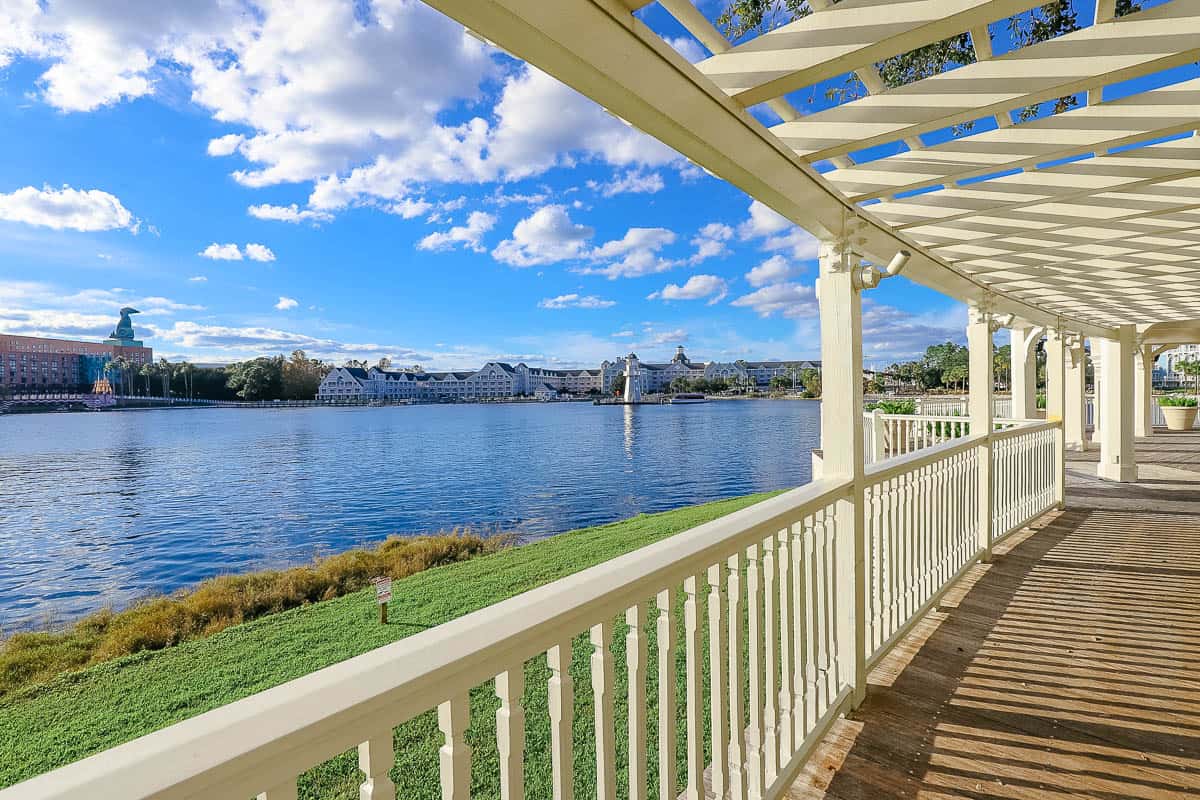 Recreation
In addition to its location, the Yacht Club has one of the best pools at Walt Disney World. Stormalong Bay is a huge feature pool that's more of a water park than a pool.
Stormalong Bay has the following: a lazy river, a water slide, a sand bottom pool, multiple hot tubs, a kids' pool, and much more!
Related: Everything You Need to Know for Stormalong Bay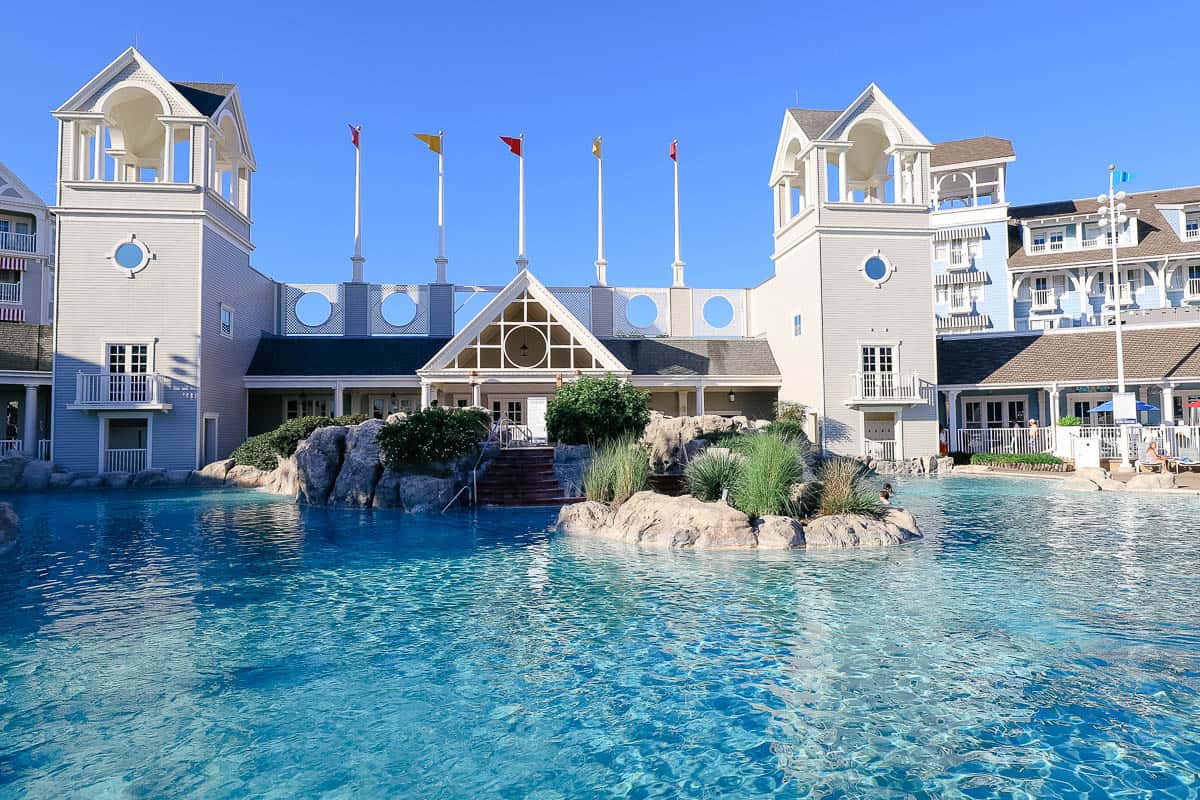 We always plan an entire day at Stormalong Bay during our visits. We checked into the hotel early for this trip to spend the day at the pool.
Since our room was ready upon arrival, we were able to put our things away and then head directly out to the pool. However, a large bathroom behind the pool has a changing area for guests.
Additionally, there's a shower with toiletries for guests. So if you have a late flight, you could spend the day at the pool. Then you could shower and change before heading to the airport.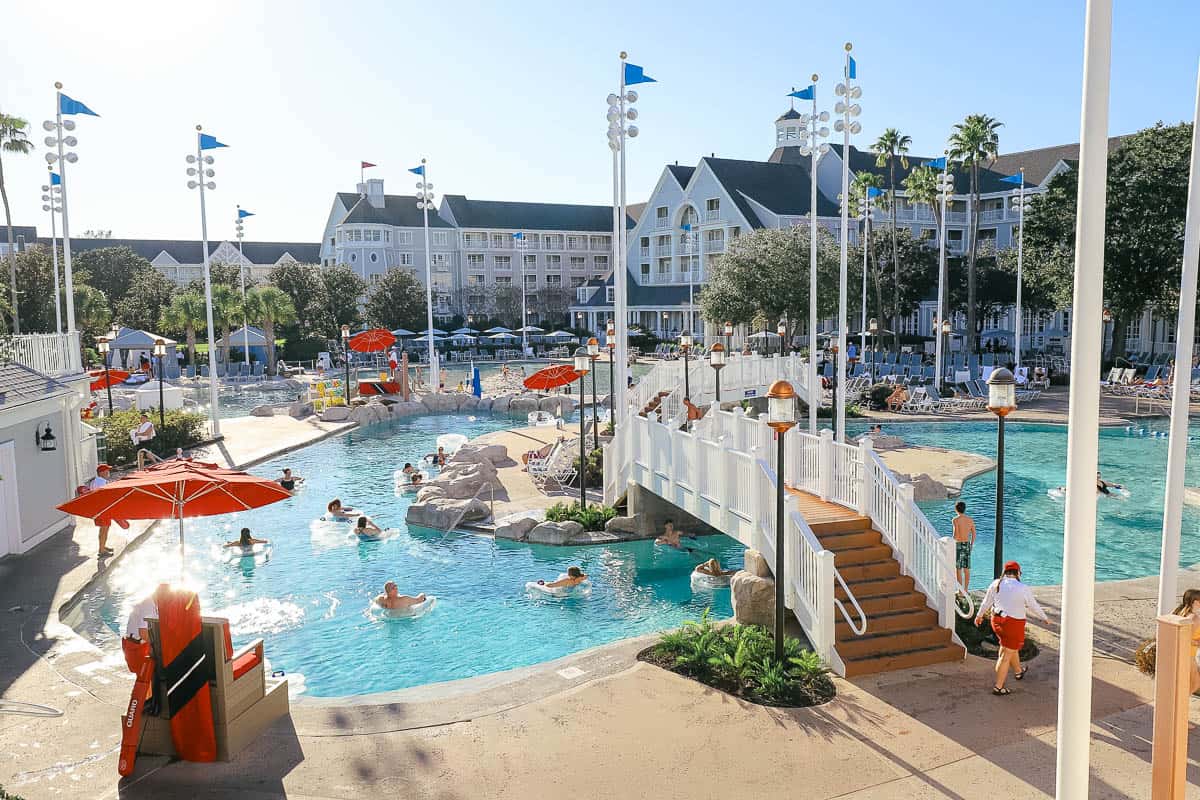 There's one other thing I wanted to mention about the pool. Yacht Club's water slide sits across the walkway from the pool area at the top of the shipwreck.
Sometimes, guests complain that children have to leave the pool area to enter the water slide. However, I'm sure most guests are unaware that there's a kiddie pool inside the shipwreck. It's a hidden surprise to those who dare to take on the Flying Jib water slide.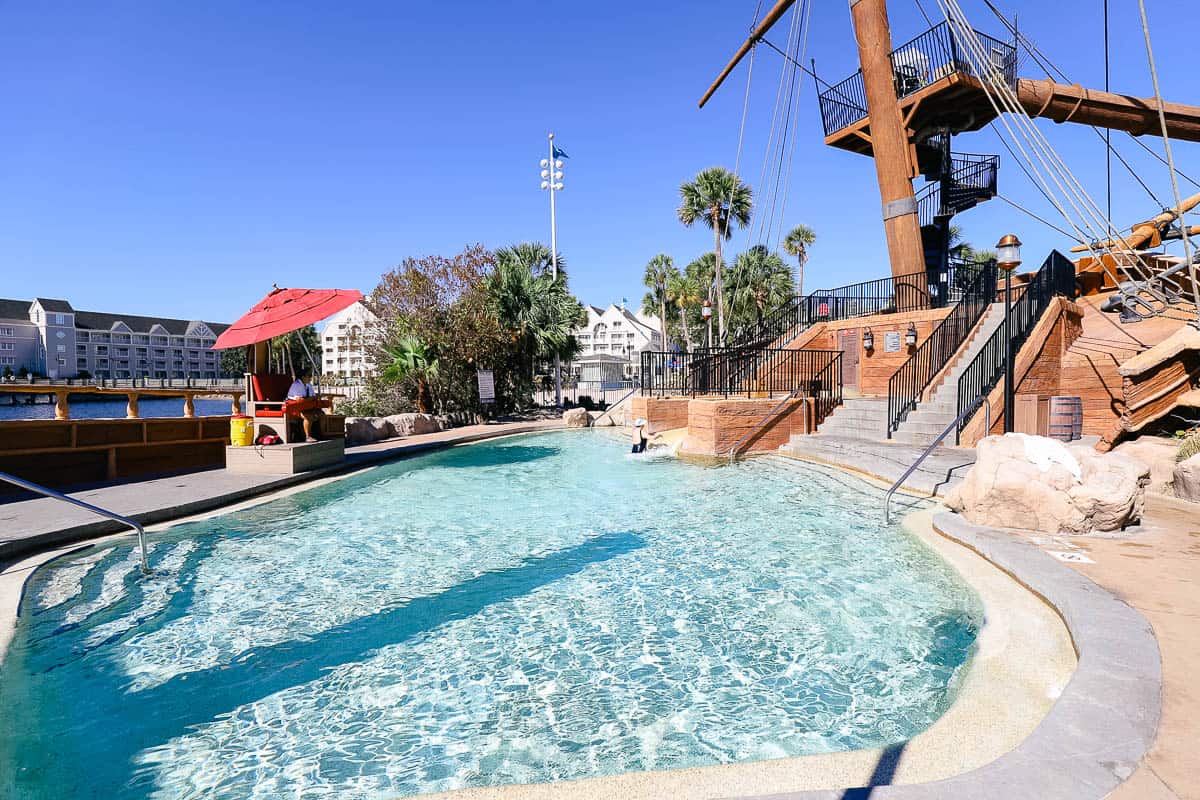 We splurged on a cabana rental at Stormalong Bay on a previous visit. While the cabana rental was pricy, it was an experience we won't soon forget. We have a separate article that details our day.
Related: Poolside Cabana Rentals at Disney World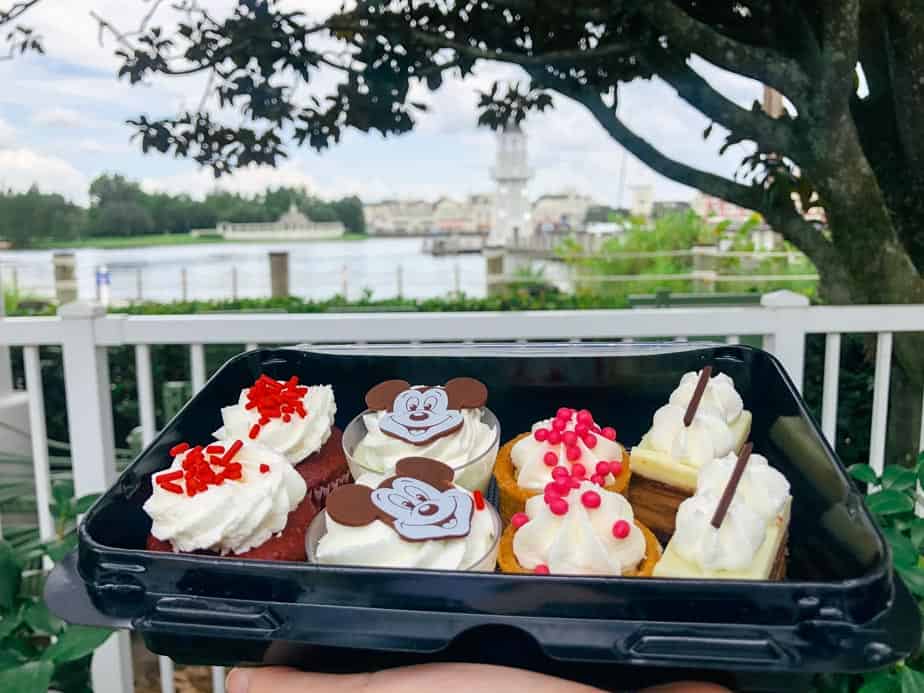 Outside the pool area, several beaches are available with chairs and swings. Below is a fire pit where marshmallows are roasted each evening. Additionally, Movies Under the Stars are usually held in this area on the beach when it's warm.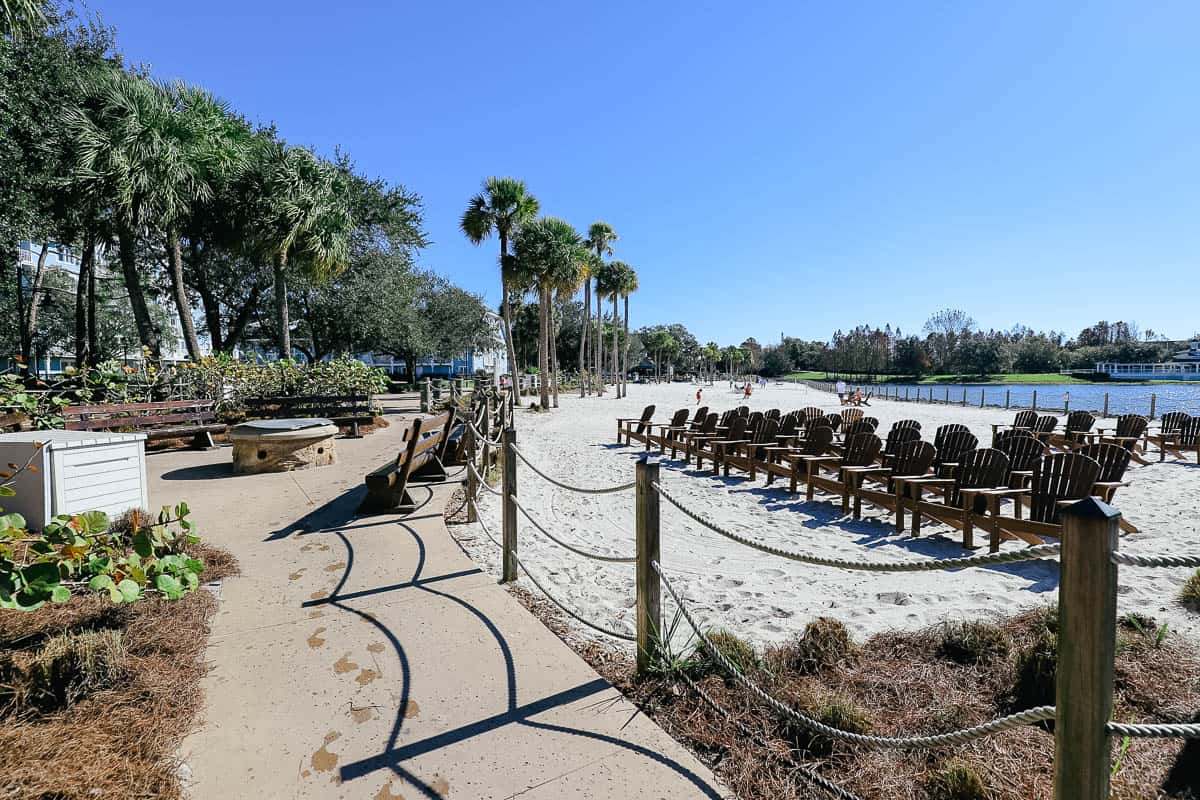 There should be several activity schedules posted around the resort.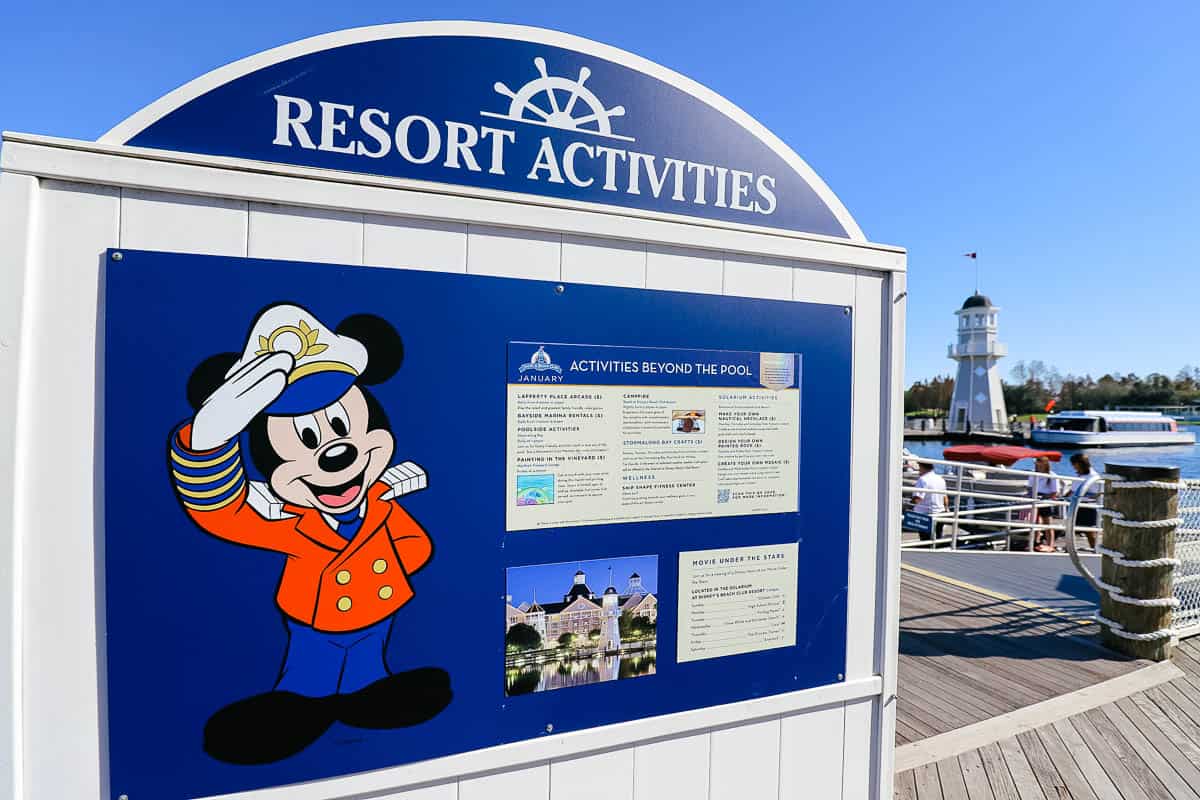 These schedules list the times for the campfire, poolside activities, crafts, and other various recreational items. Toward the bottom, it lists the nightly movie schedule.
It was cooler in the evenings during our stay, so movies were being held at the Beach Club's Solarium.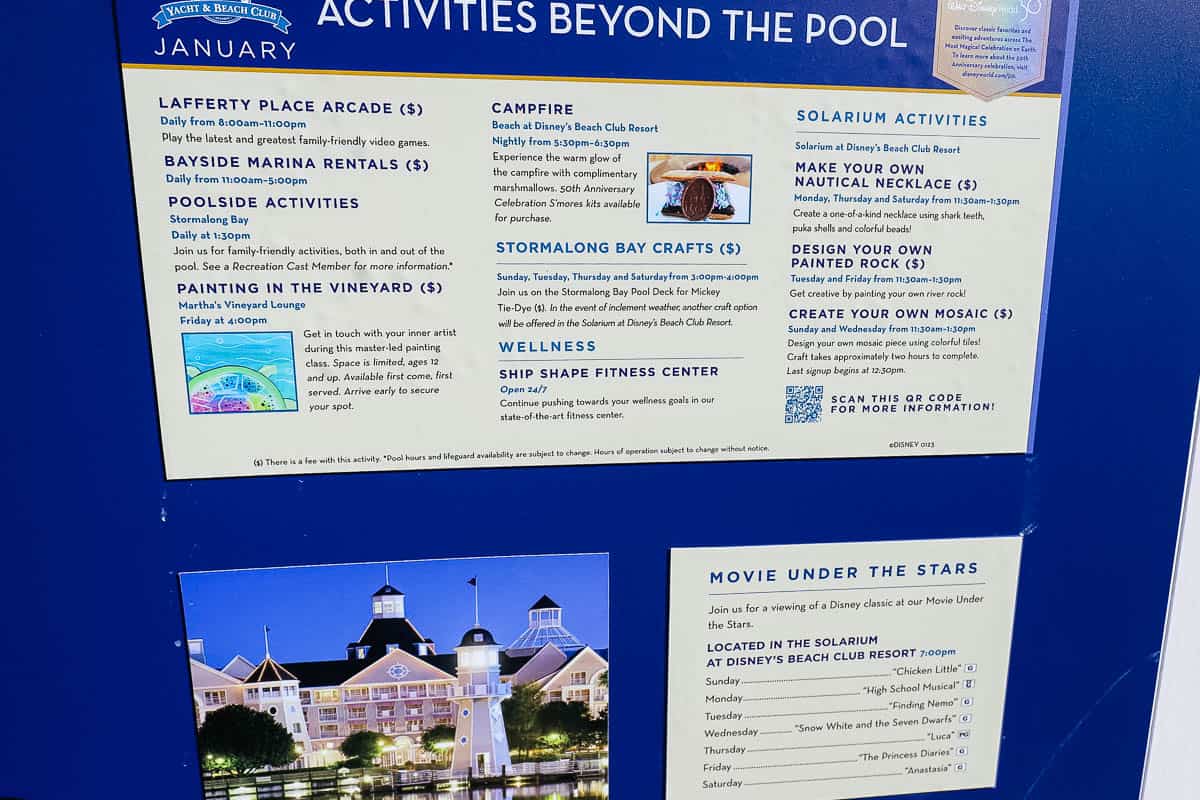 Guests looking for a more private relaxing spot at the Yacht Club will enjoy the resort's quiet pool, the Admiral Pool.
Related: The Pools at Disney's Yacht and Beach Club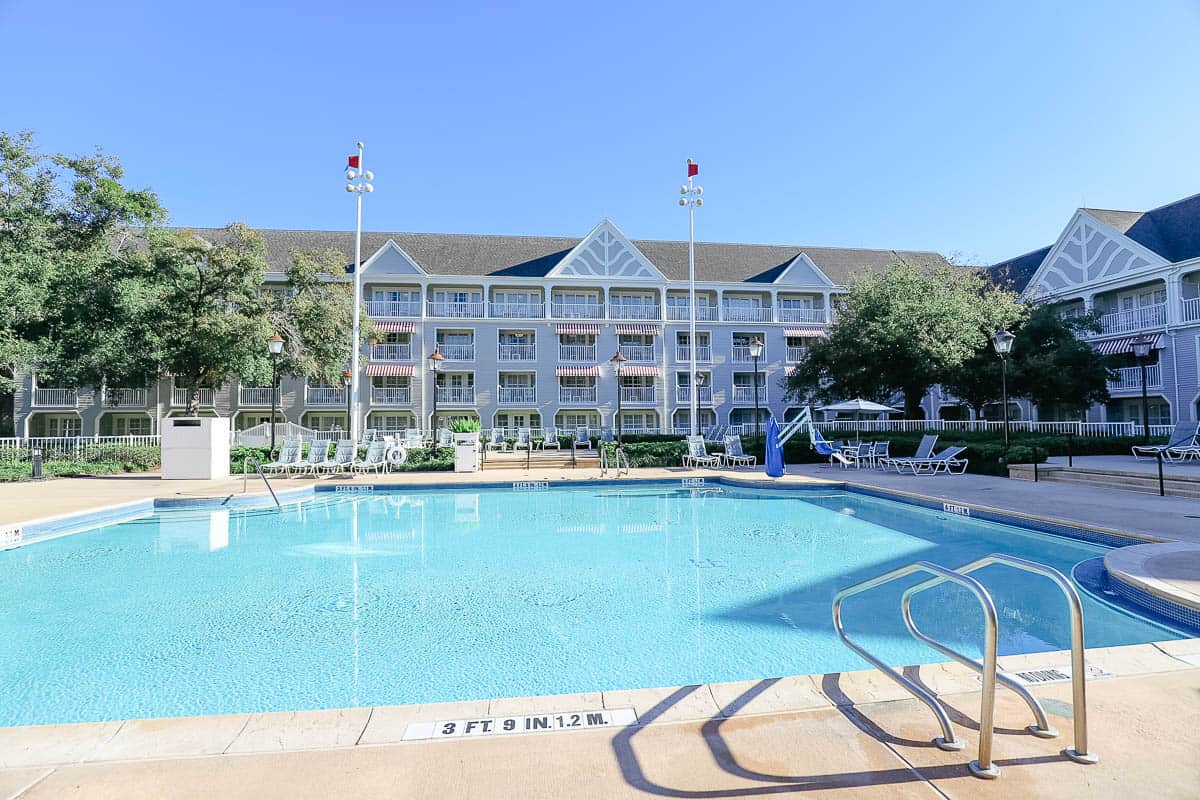 It has a whirlpool spa.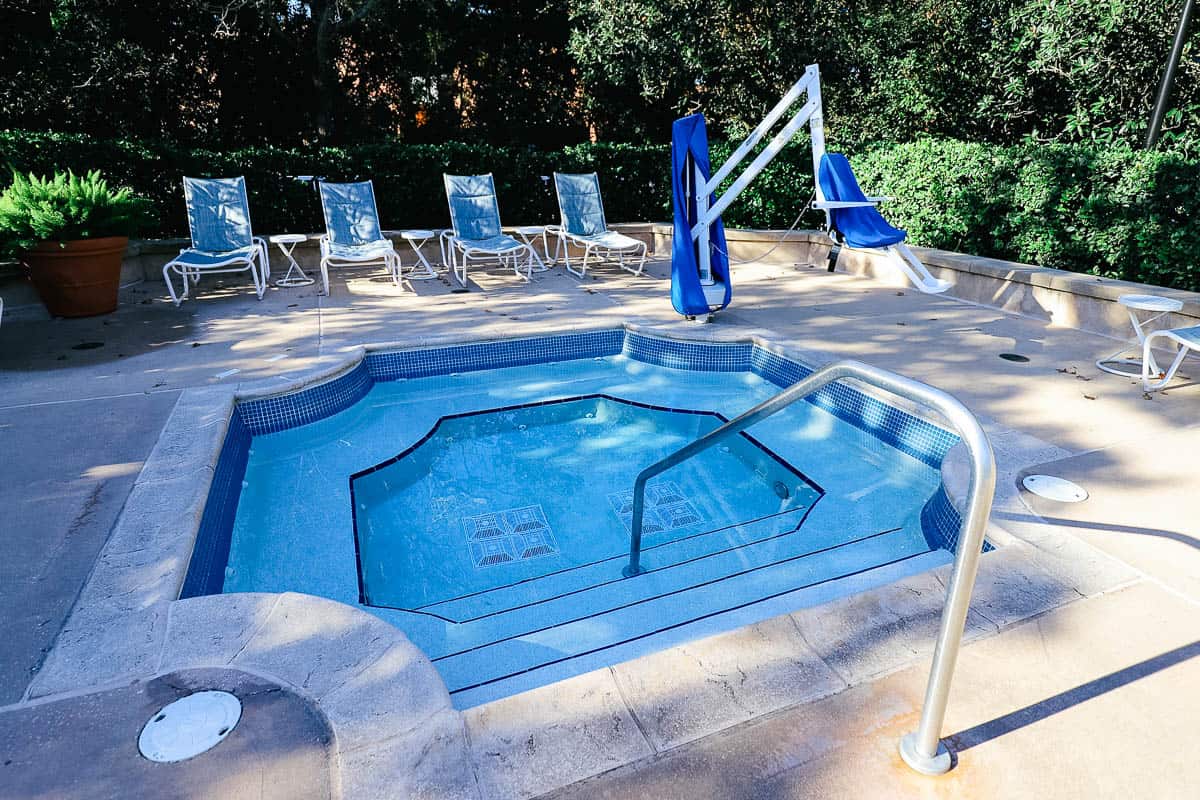 There is even a tennis court.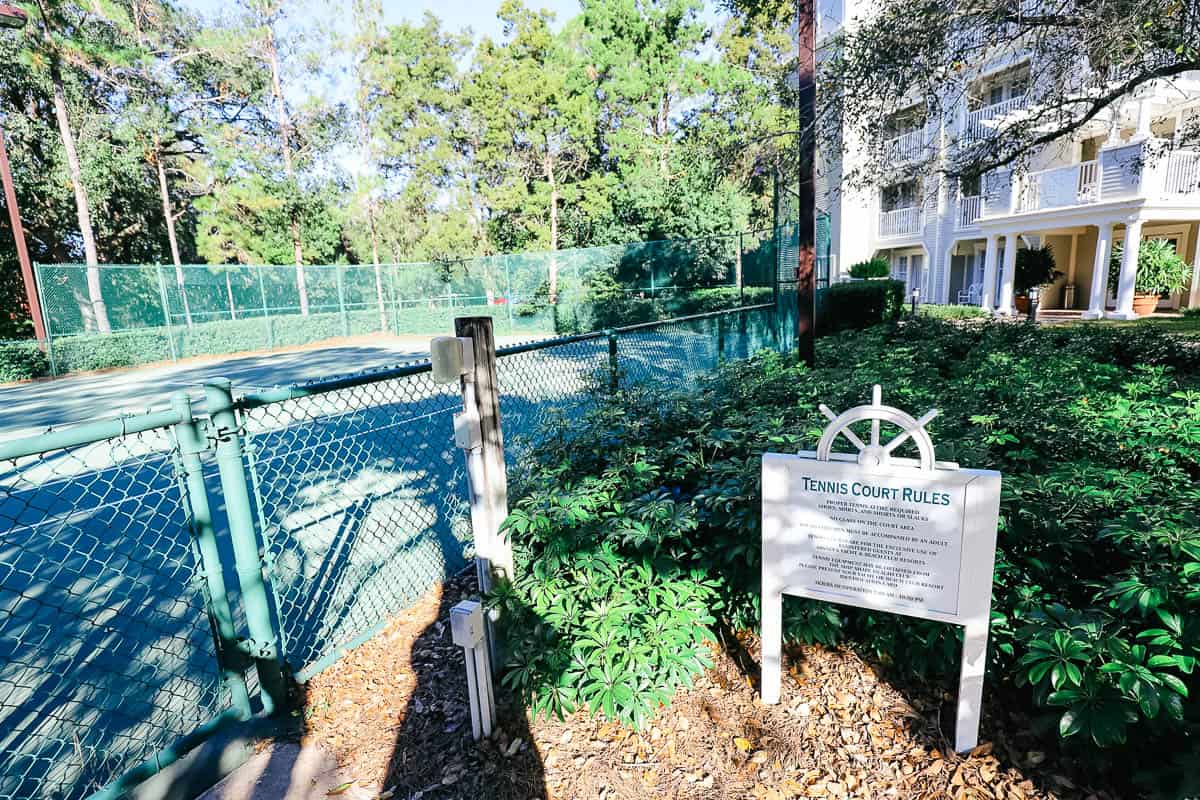 Additionally, the resort's main laundry facilities are located near the quiet pool. So, if you need to do a little laundry, this is an excellent location. Usually, I like to start our laundry, then grab a bite to eat and enjoy a peaceful lunch by the pool.
Related: Laundry Facilities at Disney's Yacht Club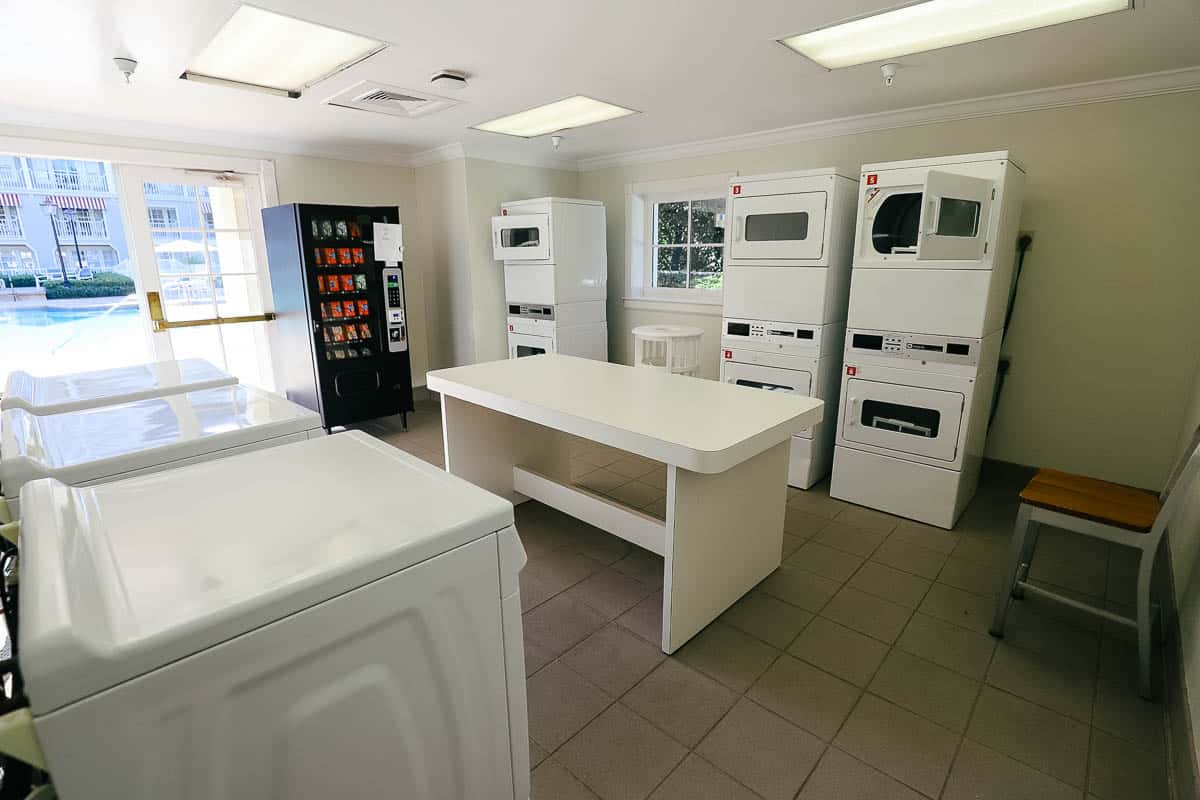 Disney's Yacht Club is home to Bayside Marina. The marina offers motorized boat rentals that you can reserve in advance here on Disney's site.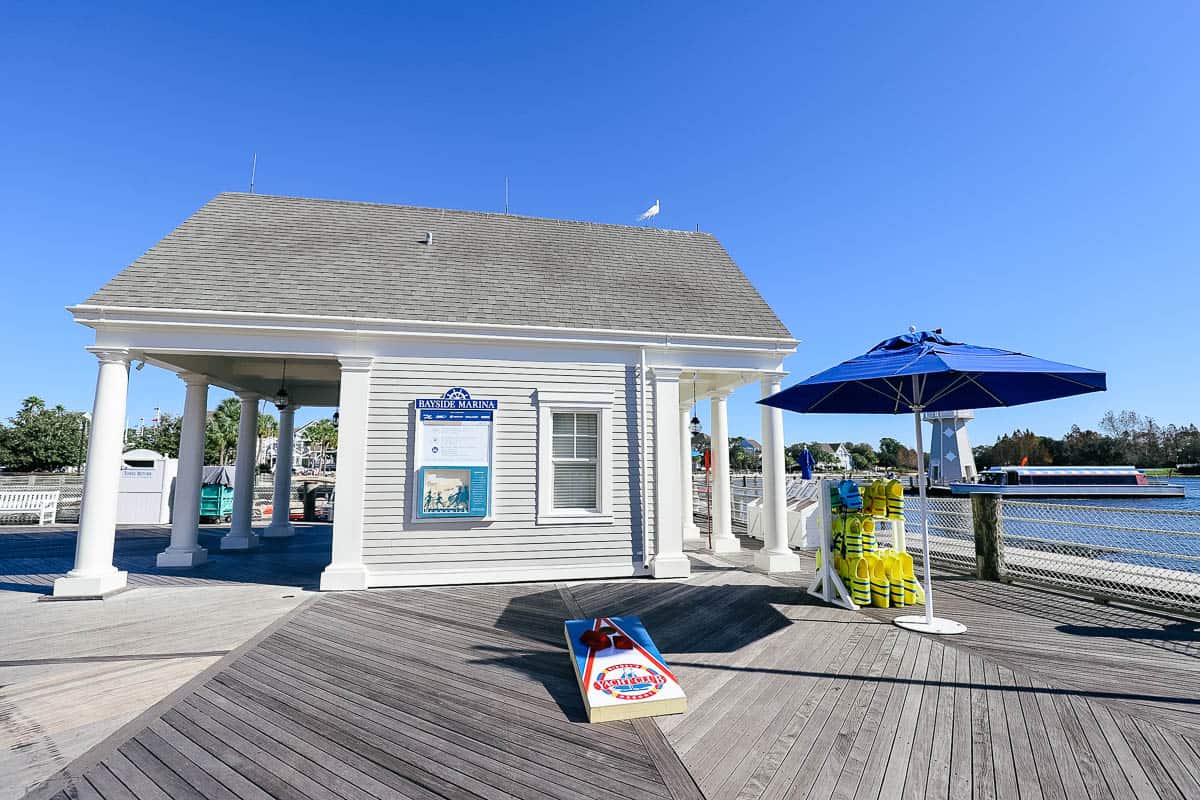 This is also the location to meet for Epcot's fireworks cruises. Prices and reservation information are available here on Disney's site.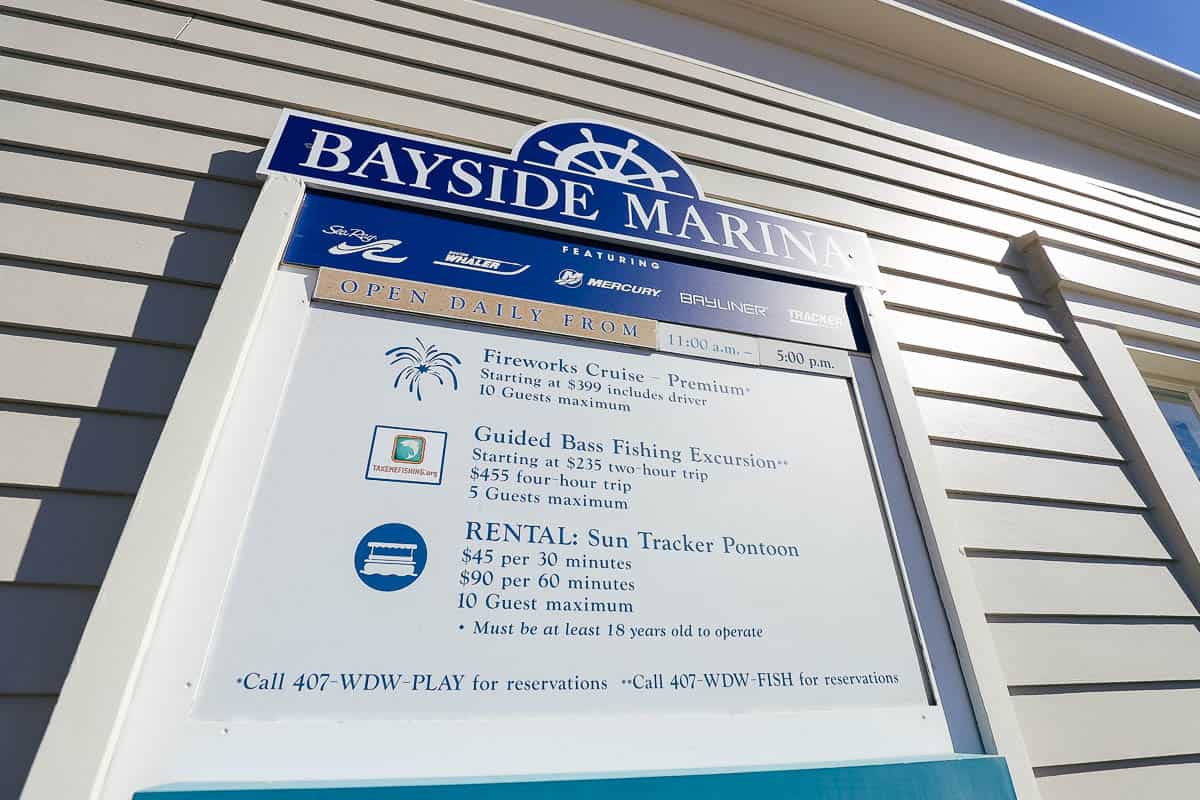 Disney's Yacht Club has a fitness center called Ship Shape Health Club. It sits directly behind Stormalong Bay and is shared with the Beach Club.
Ship Shape is a convenient facility that offers anything needed to get a good workout while on vacation. In addition, the gym has cooling towels and a place to refill a water bottle.
Related: Fitness Centers at Disney World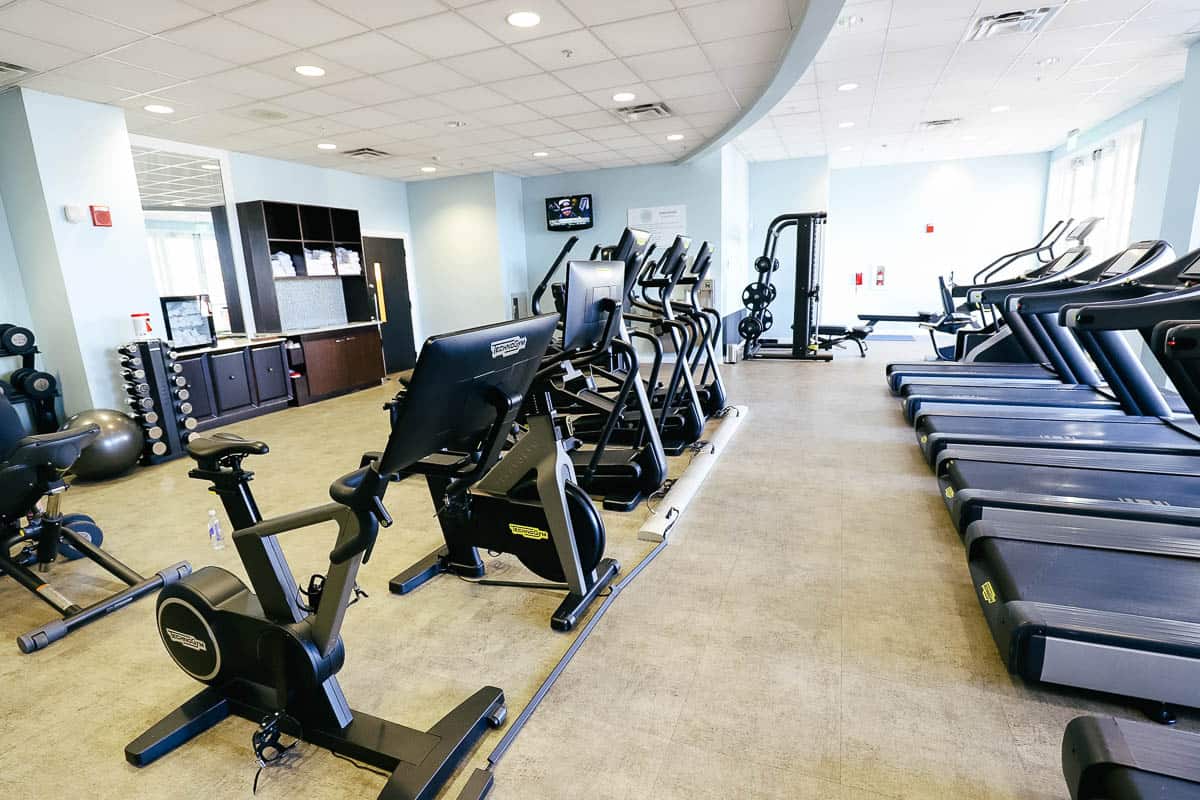 If you prefer to run outside, there's no better place than the running trail around Crescent Lake. You'll run into several trail maps around the resort during your stay.
Related: Best Jogging Trails at Disney World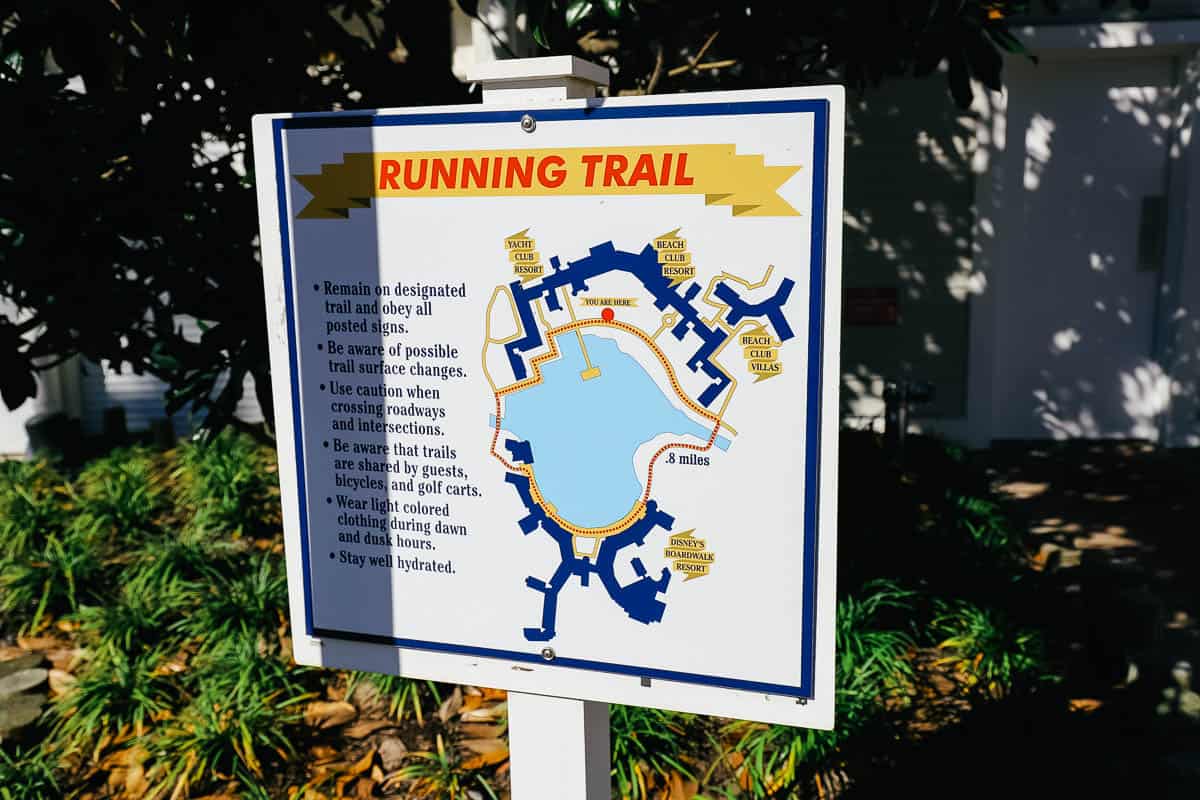 Lastly, Disney's Yacht Club shares an arcade with the Beach Club. Lafferty Arcade sits next door to the Ship Shape Health Club. Here is a look inside.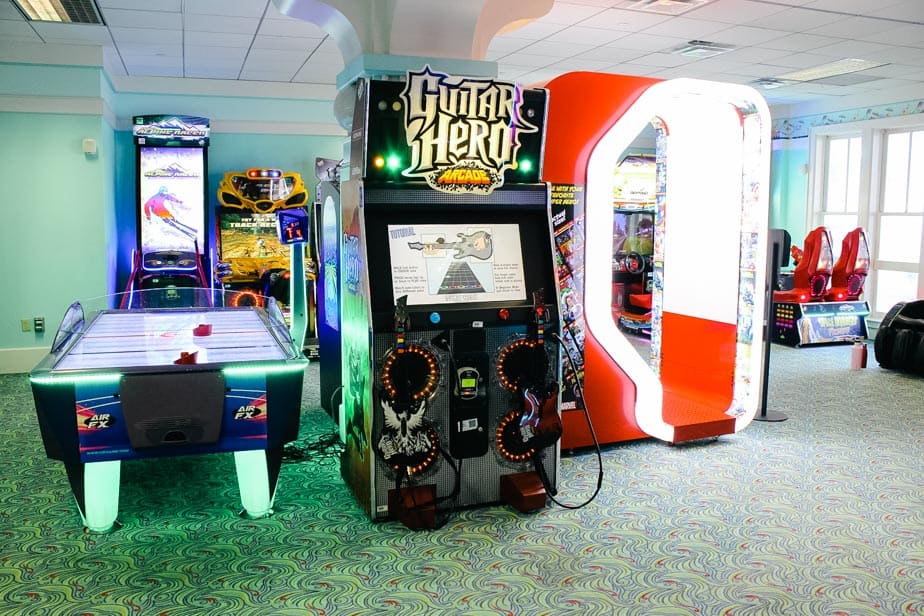 Transportation
As we discussed earlier, the Yacht Club's location is one of the resort's most significant benefits. In addition to being able to walk to two parks, the resort offers boat and bus services.
Yacht Club has a dock right outside its back door at the lighthouse. Disney's Friendships boats provide transportation to the surrounding resorts, Epcot, and Hollywood Studios.
Related: Disney's Friendship Boat Service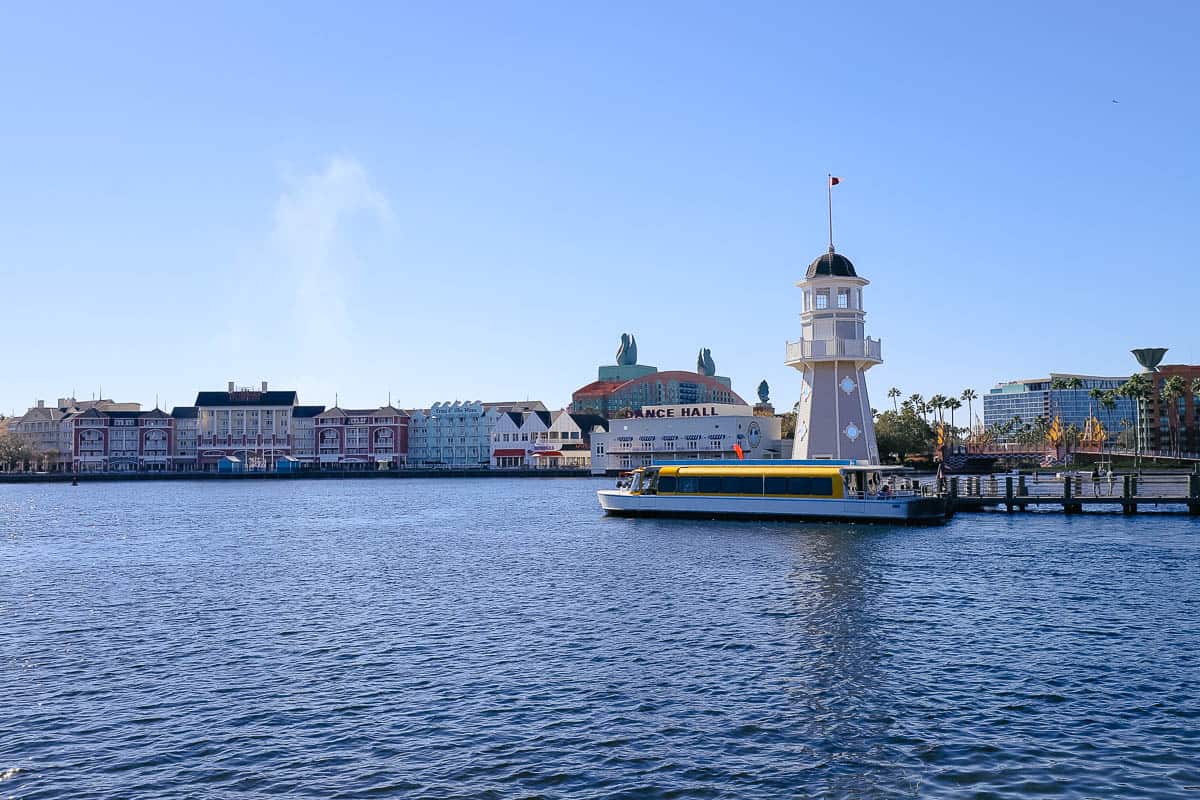 If you prefer to walk, Epcot is less than 10 minutes away. For Hollywood Studios, the walk takes approximately 15-20 minutes. Walking on the way back to the resort is a great way to decompress after visiting the parks.
Guests traveling to the following theme parks and destinations will want to take a bus from the Yacht Club.
Magic Kingdom
Animal Kingdom
Disney Springs
Blizzard Beach
Typhoon Lagoon
Yacht Club's bus stop is outside the resort's main entrance.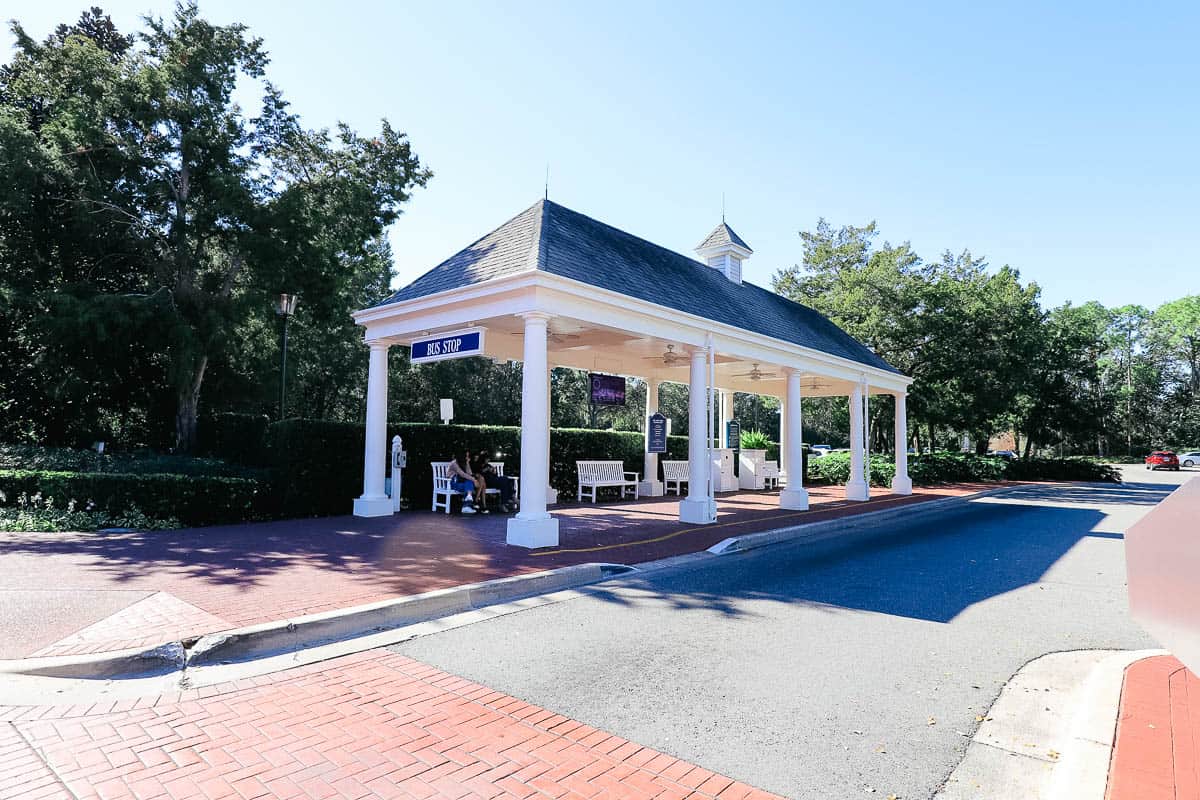 Both resorts (Yacht and Beach) share bus service, so don't be surprised if your bus stops at Beach Club before heading to your destination. Yacht Club is the first stop upon return.
Guests can also walk to the International Gateway or Hollywood Studios to use the Skyliner gondola transportation. This is a great option for anyone visiting Caribbean Beach or Disney's Riviera Resort for a meal.
Related: Disney's Skyliner Resorts with Travel Times
For more information, we have a guide with tips on the best way to get to and from the Yacht Club.
Related: Disney's Yacht Club Transportation Guide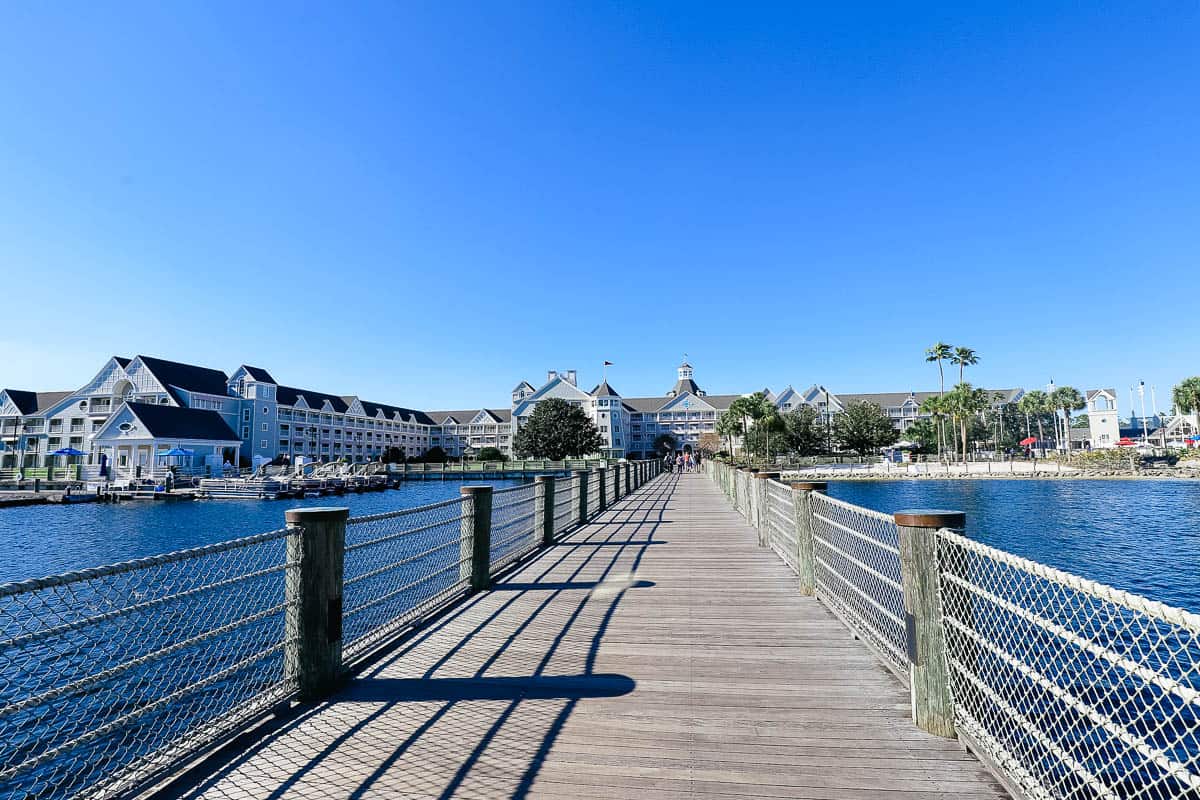 Is Disney's Yacht Club Worth It?
Is a stay at Disney's Yacht Club worth the price? My answer is that it's entirely up to your budget. However, if you can reasonably afford to stay at the Yacht Club, I don't think you'll regret it.
We love to stay at Disney's Yacht Club because we enjoy the classy style of the resort, the pool, and the location. It's our vibe.
That said, Disney has a ton of excellent deluxe resorts that might be more what your idea of a vacation is than mine. All of the great options can make the decision difficult.
For example, while I love the Yacht Club for its location, you might enjoy a resort like Disney's Polynesian. It has a tropical Hawaiian feel that you might consider more relaxing.
Related: Disney's Polynesian Resort Review
Another favorite is the Animal Kingdom Lodge. While this is not my favorite resort, it ranks as our choice for the best resort at Walt Disney World due to its uniqueness.
Related: Disney's Animal Kingdom Lodge Review
Additionally, we love to stay at Disney's Contemporary Garden Wing. However, the Contemporary is not for everyone.
Related: Disney's Contemporary Resort Review
Final Thoughts on this Disney's Yacht Club Review
We hope this review of Disney's Yacht Club provided an overview of whether or not the resort will work for your family. We love staying at both the Beach and Yacht Club.
Even during this most recent stay, I thought about how I've never tired of staying here. These are also the resorts I almost always compare with other hotels.
As someone fortunate to travel often, I always eventually get a little homesick for this place I love dearly. Some of the days we've spent at Stormalong Bay are my best Disney memories.
I hope you'll enjoy it as much as I do.
Wrapping up this Disney's Yacht Club review, I wanted to add a few points to remember about the resort.
Staying at Disney's Yacht Club offers the opportunity to save a considerable amount of travel time between two parks. Additionally, the ease of being close to Galaxy's Edge at Hollywood Studios and Guardians of the Galaxy: Cosmic Rewind at Epcot only add to the convenience.
Since Yacht Club is owned by Disney, resort guests are eligible for early theme park entry.
Resort guests of the Yacht Club will also have access to extended evening hours for deluxe resort guests. You can view the schedule here on Disney's site.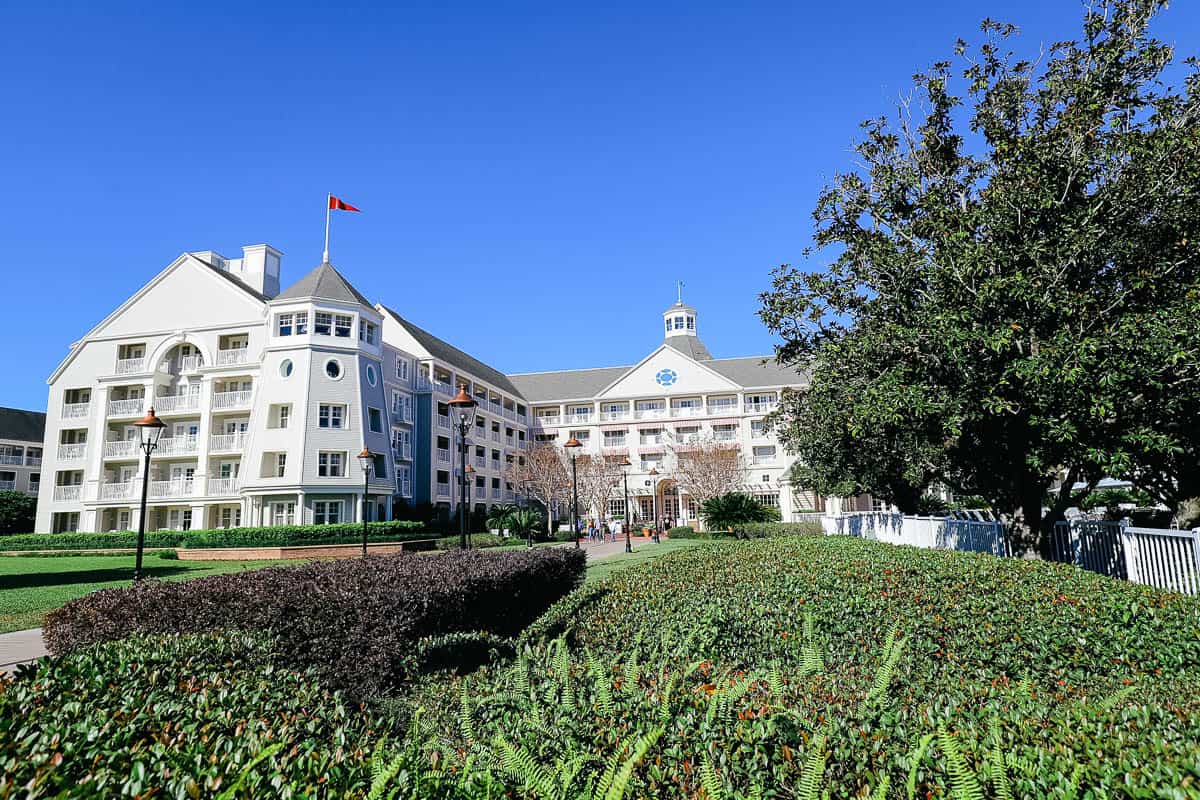 For more information, all of our articles for the resort are listed in a complete guide:
For more nearby Disney World Resort Reviews, try these articles:
In the comments
What do you think of Disney's Yacht Club Review? Have you had the chance to stay at this resort? Do you hope to stay here in the future, or do you have any reservations about the resort?