A Full Review of Disney's Yacht Club Resort
"I'm not afraid of storms, for I'm learning how to sail my ship." –Louisa May Alcott
Disney's Yacht Club Resort is one of the most difficult Walt Disney World Resorts to describe. Anyone who loves sailing or all things nautical will find themselves entirely at home at this deluxe resort.
In this review of Disney's Yacht Club, we'll look at the resort in its entirety. We'll cover rooms, amenities, dining, recreation, and a few pros and cons for staying at the Yacht Club.
Between its prime location and long list of amenities, this resort is hard to top. So, I'm excited to share what it's like to stay at this charming resort.
Let me unravel the knot for you.
This article was updated on February 5, 2022.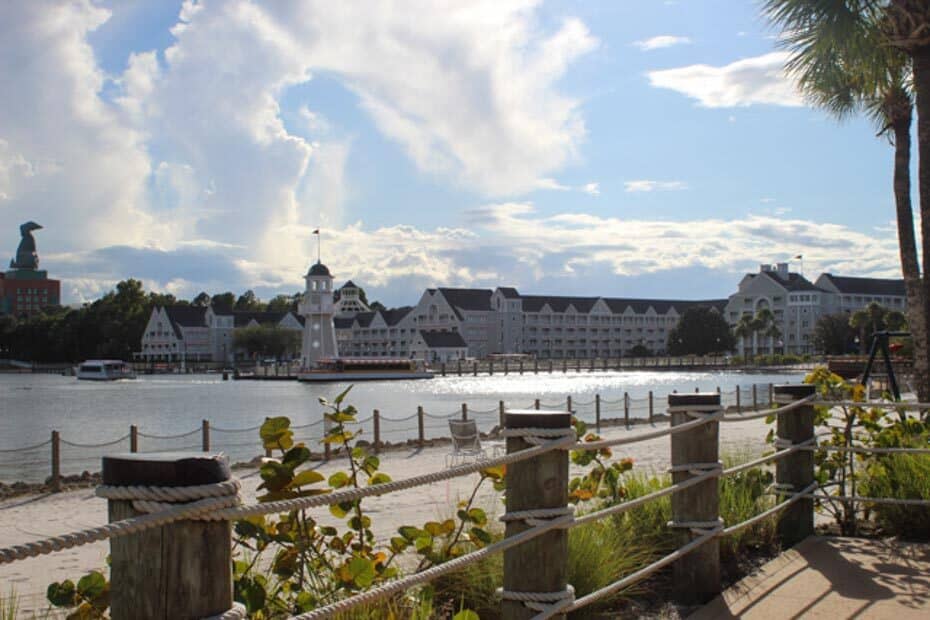 Disney's Yacht Club Review
Over the years, I've heard many describe the Yacht Club as stuffy feeling. I find it anything but that. In fact, it's a place I've called home often.
While it's true, the Yacht Club does have a more formal feeling than its sister resort Disney's Beach Club. I find the resort to be stylish while remaining casual.
Of course, the Beach Club does offer more of a beachy vibe with a softer color palette. Those considering both resorts will likely want to read that review as well.
Related: Disney's Beach Club Review
Before we go any further, there is one other essential item you might like to consider. Disney's Yacht Club is a dog-friendly resort.
That means there are designated rooms or floors of the resort that allow you to bring a dog. You can read more about dog-friendly resorts here on Disney's site.
Disney's Yacht Club has been completely refurbished in recent years. Nearly every portion of the resort received some kind of update in the process.
The resort's exterior boasts a pretty grey siding with white trim. The subtle colors of the resort offer a lovely backdrop for the luscious green grass and landscaping.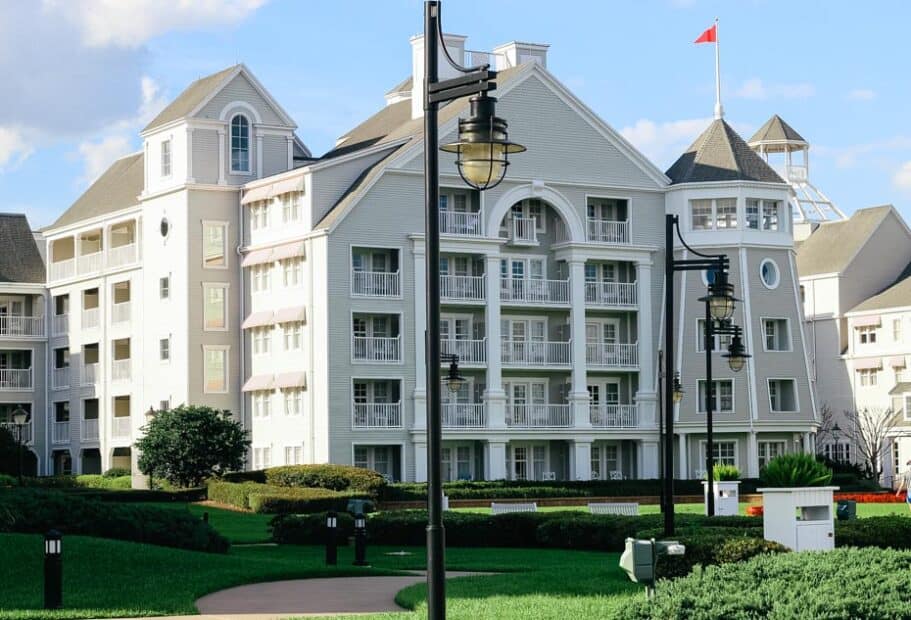 Location
Disney's Yacht Club is part of the Epcot Resorts Area. This location will be hard to beat in comparison to other resorts.
The hotel resides on beautiful Crescent Lake and is within walking distance of two theme parks. You can walk to both Epcot and Hollywood Studios when you stay here.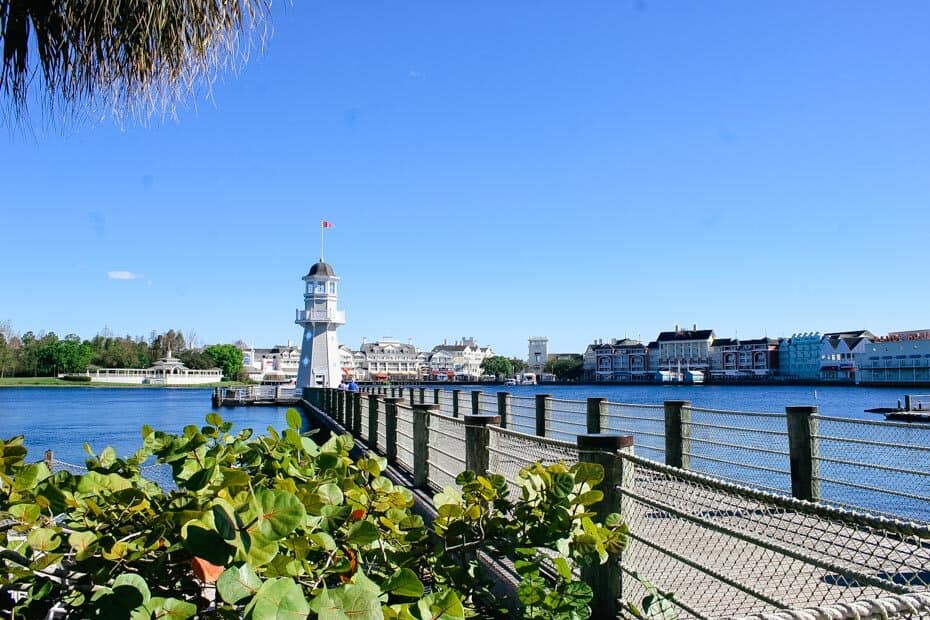 The resorts within this specific location are the only ones that offer the ability to walk to more than one theme park.
For instance, most of the Magic Kingdom Resorts offer the ability to walk to Magic Kingdom. And while that is a huge perk, you can't walk to multiple parks like you can from the Yacht Club.
Related: Resorts Within Walking Distance to Disney Parks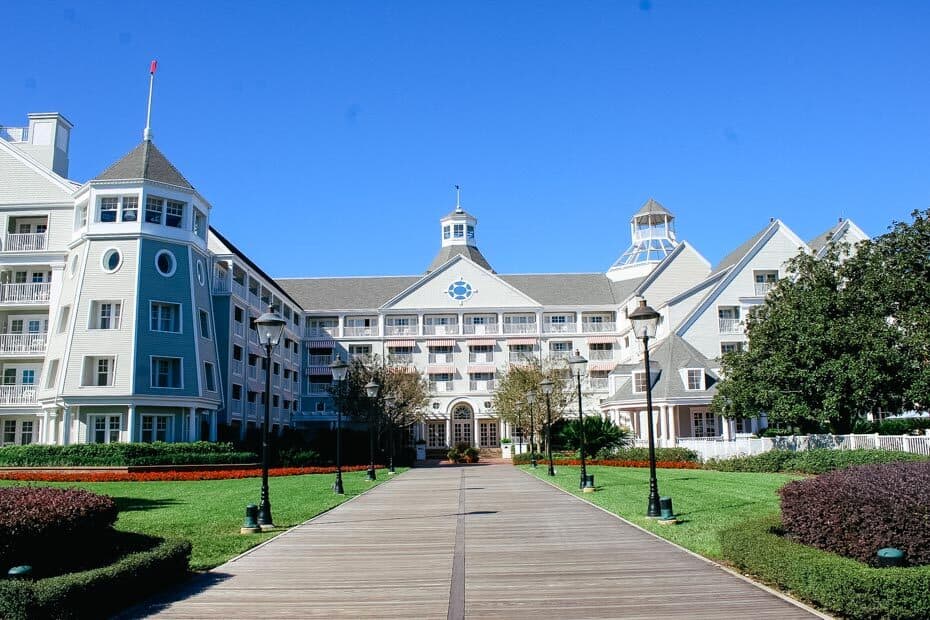 Therefore, if you plan on spending a decent amount of time at Epcot or Hollywood Studios, you should consider the walkability. The other resorts in this immediate area include:
If you want to view the resort's map, you can do so here.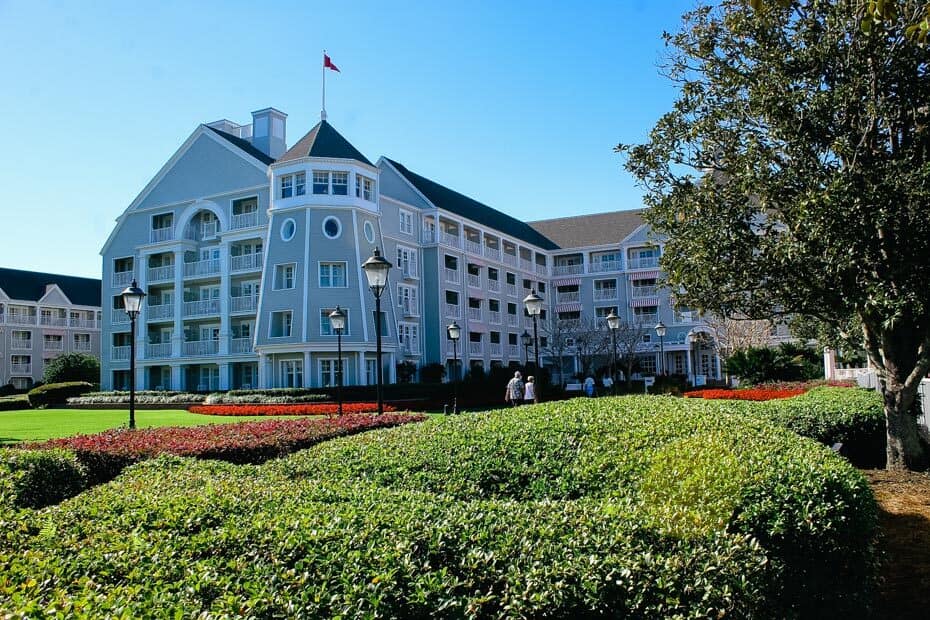 Another reason I love this area is that it provides teens a great place to roam without having to worry too much. When my son turned 14 (the age you can enter a park without an adult), he loved that I gave him some freedom to walk over to the nearby parks.
As you can see, the Yacht Club's prime location is a huge factor.
Theming
When you step inside the Yacht Club, expect elements like sailboats, knots, and leather mixed with pretty shades of blue and gold. Along with the resort's refurbishment, the lobby received a bit of a facelift.
Modern furnishings were added to the lobby, which is truly the heart of the resort. In addition, the entire lobby was repainted with more subtle paint colors.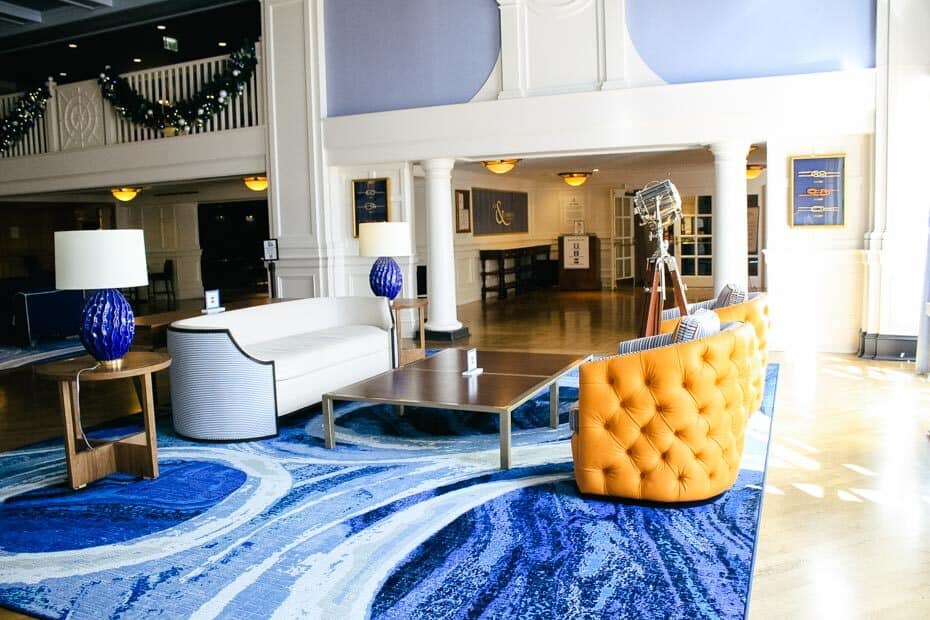 The Yacht Club is now home to this giant hidden Mickey in the rug. It's the largest one I've ever encountered.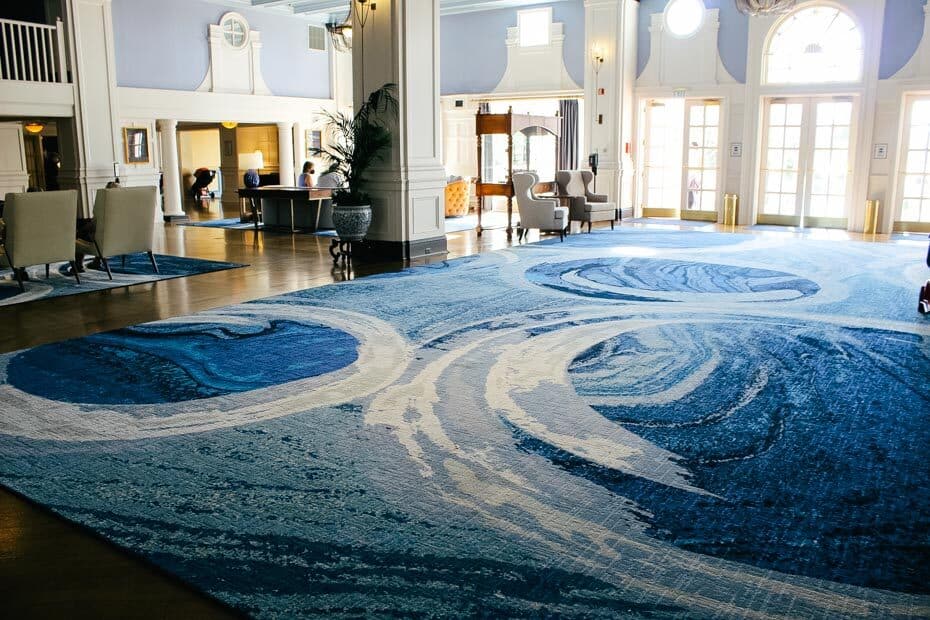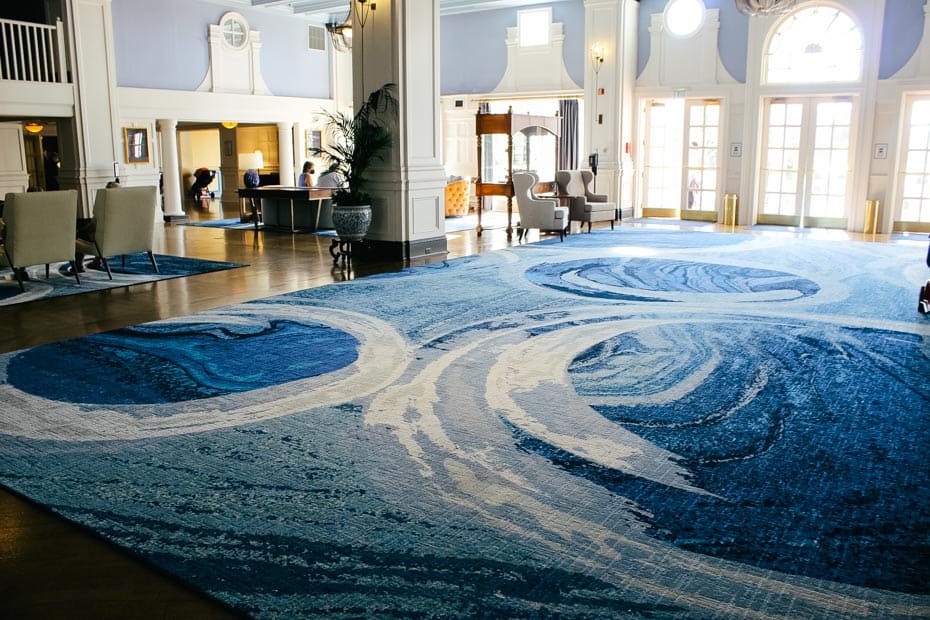 The lobby's centerpiece, the massive globe, is still prominently on display.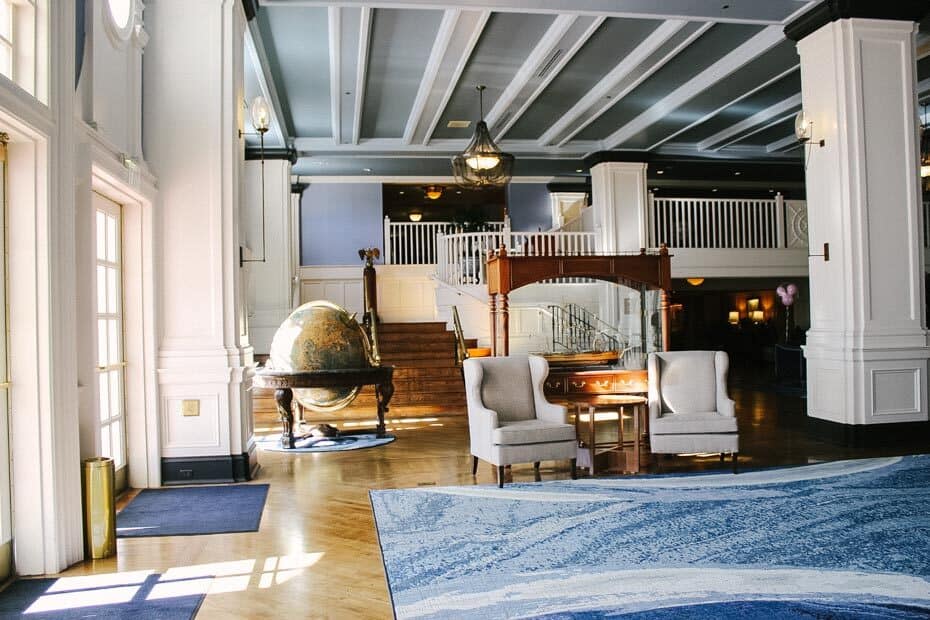 The lobby has a staircase that leads up to an additional seating area. If you enjoy traditional theming and Americana art, you'll want to take a moment to browse the area during your stay.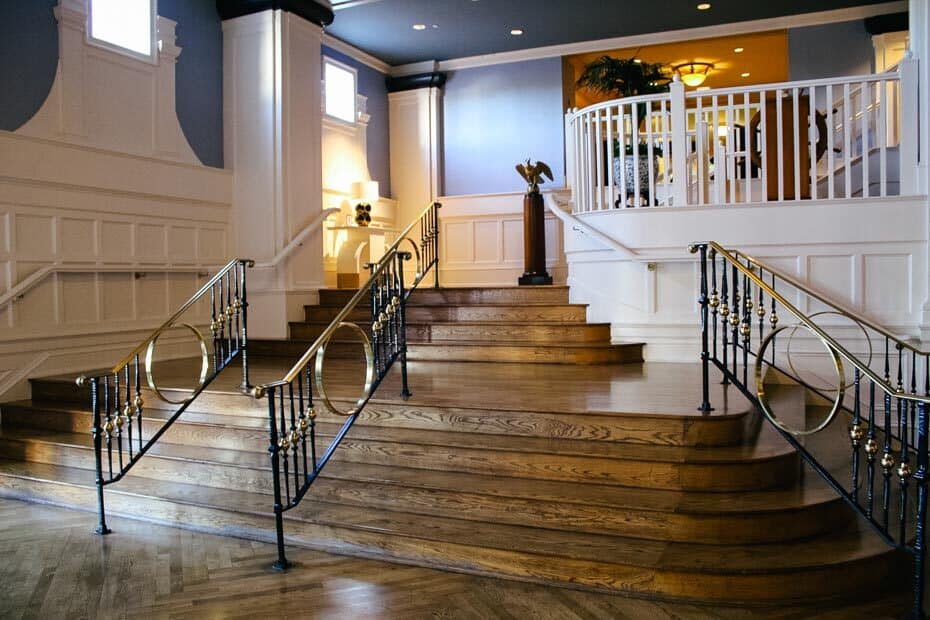 Several handsome eagle statues are on display in and around the lobby area.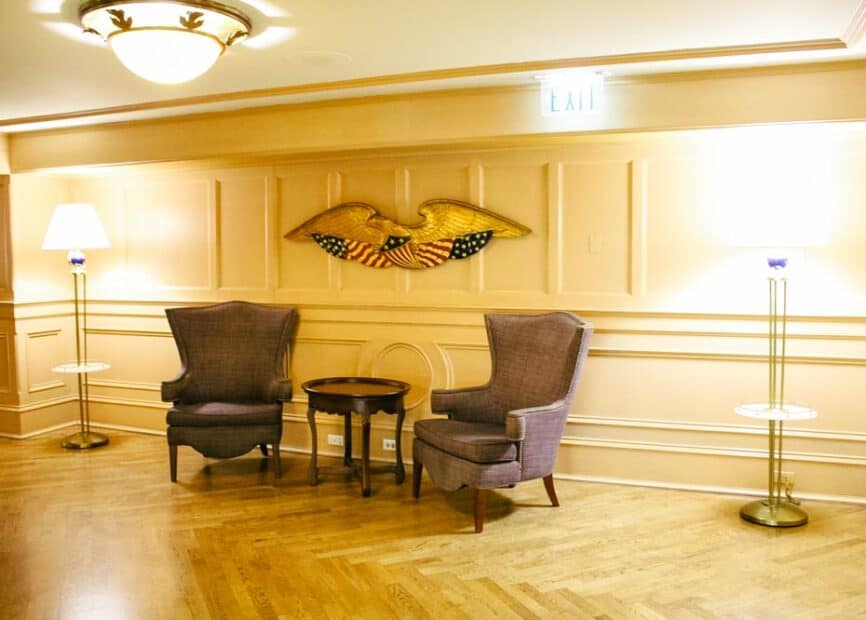 The carpet is even on point. No pun intended. It features a compass pattern.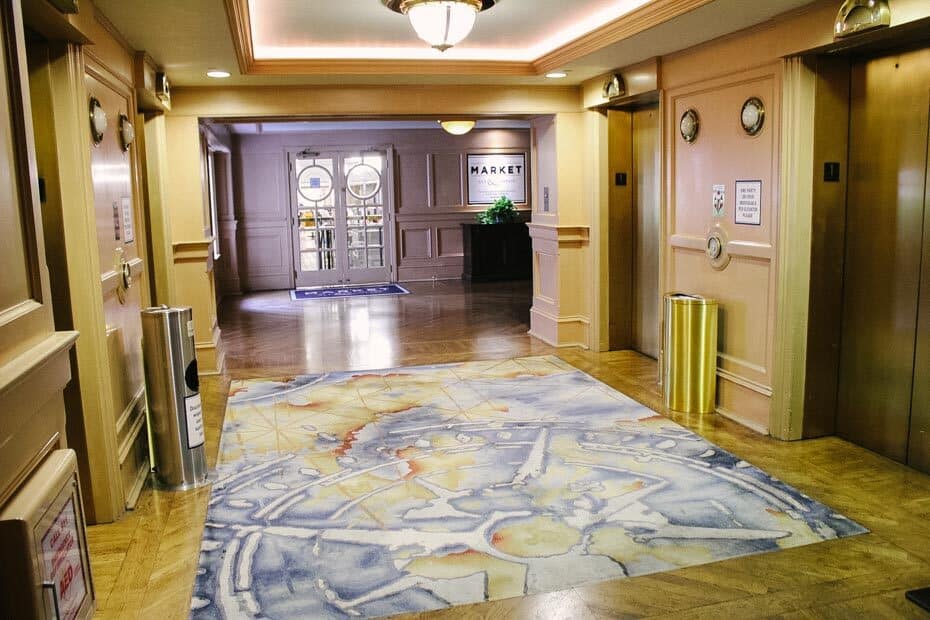 Rooms
Disney's Yacht Club is a little different from the other deluxe resorts regarding accommodations. It's the only upscale resort that doesn't have a separate Disney Vacation Club attached.
That's probably because the sister resort Beach Club is home to the Beach Club Villas, a Disney World Villa Resort. The villa resorts are all Disney Vacation Club properties.
Related: Disney's Beach Club Villas Review
The majority of the standard rooms sleep up to five guests. Club level rooms sleep up to four guests. Here are the following room view categories:
Standard View (Roof or Parking Lot View)
Garden or Woods View (View of Gardens)
Water View (View of Crescent Lake or Stormalong Bay)
If you're curious about club level, we have an entire article covering the experience.
Related: Club Level at Disney's Beach Club
Additionally, two-bedroom suites are available for those needing a larger space. The two-bedroom suite at the Yacht Club sleeps up to six guests.
Anyone wanting the comforts of home might consider staying next door in the two-bedroom villa at Beach Club. That unit sleeps up to eight guests.
Most of the standard rooms at Disney's Yacht Club have two queen-size beds and one day bed. Some rooms will have a king-size bed and a daybed.
Along with the rest of the resort, the rooms were updated a few years ago. The flooring is a solid surface tile that resembles hardwood. I have a few mobile phone pictures of our room at the Yacht Club.
These pictures aren't great but should give you a general idea. Unfortunately, they were taken more for fun before I started the website.
Below is the water view from our room at Disney's Yacht Club. I have stayed on this wing of the Yacht Club twice in the last few years.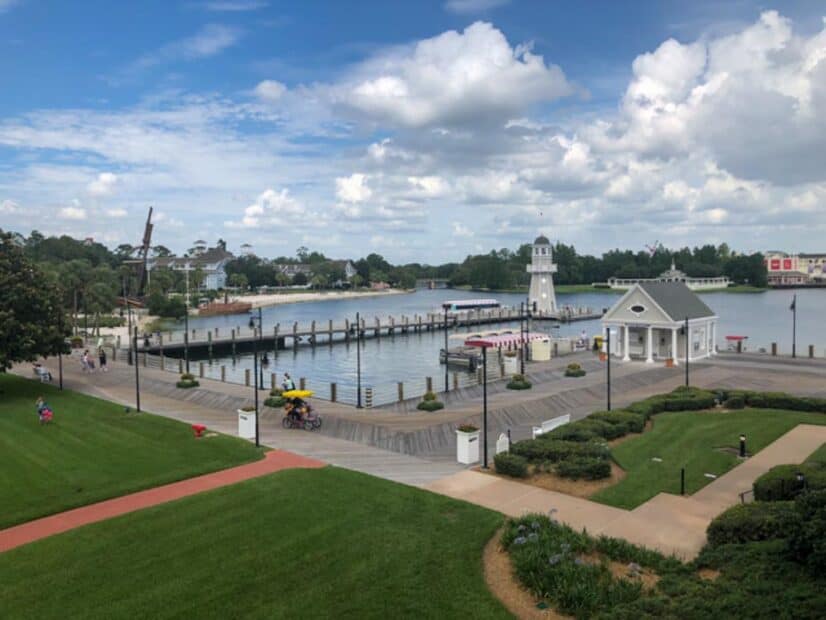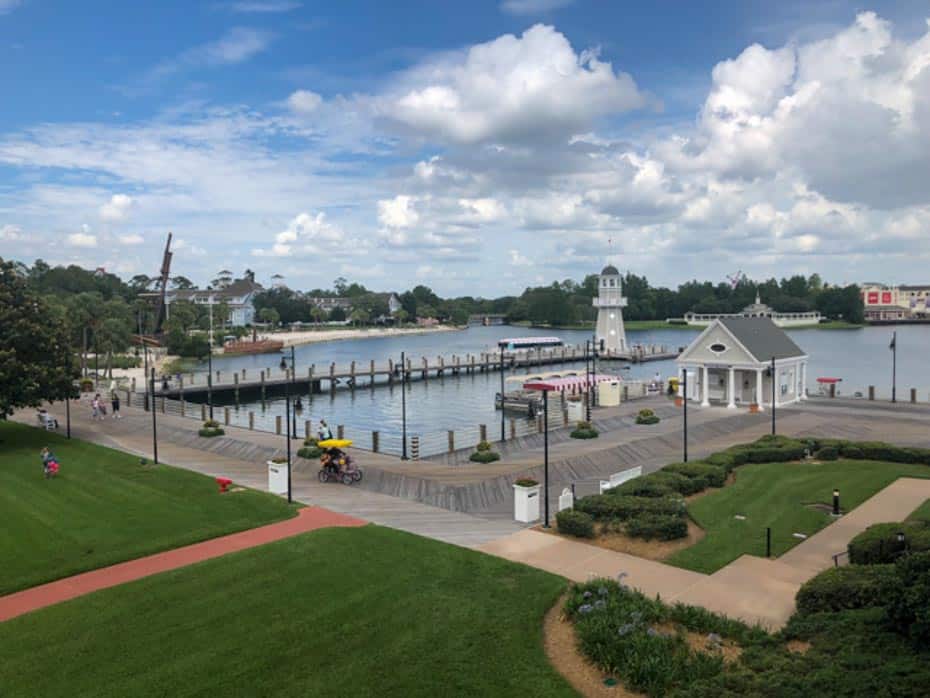 To date, this has been my favorite room view at Disney World, and I've stayed at a lot of resorts. I spent a reasonable amount of time on the balcony, as you can probably imagine.
To give you an even better idea, I woke up every morning and sat out on the balcony. During the day, I would go to the parks for a bit before coming back for a break. My first thought upon entering the room was to head out to the balcony.
In the evenings, we would get ready for dinner, and I would enjoy a drink on the balcony before we left. And when we got back to the room after dark, I would sit out there and enjoy the fireworks from Epcot.
I could have sat there all day and indulged in the comings and goings down below.
The guest rooms at Disney's Yacht Club are relatively simple and modern. If you take the time to notice, there are many regal details in the furnishings.
The beds are all platform-style, with storage areas underneath them. One of the items that I liked the most was the curtains with Disney-inspired constellations.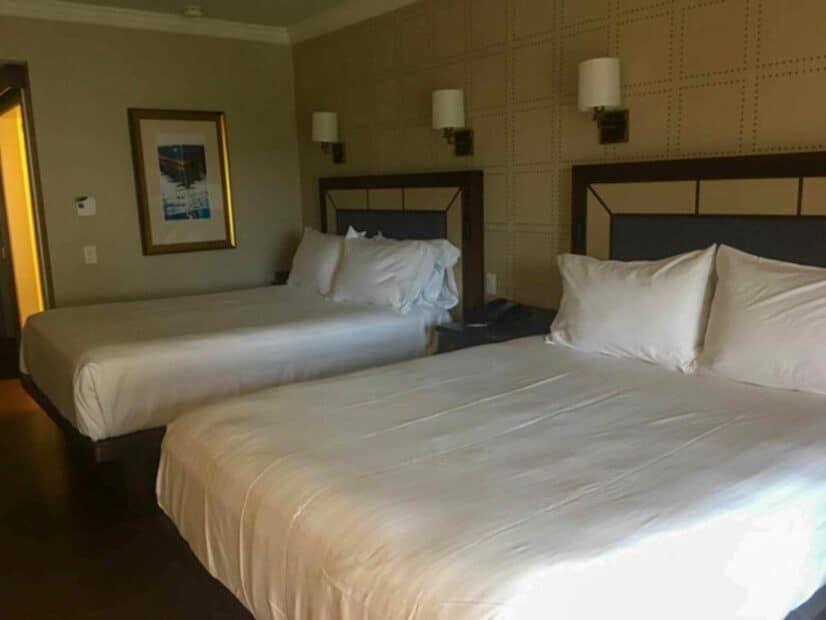 You'll find a couch that converts into a futon-style bed. The futon is your fifth sleeper.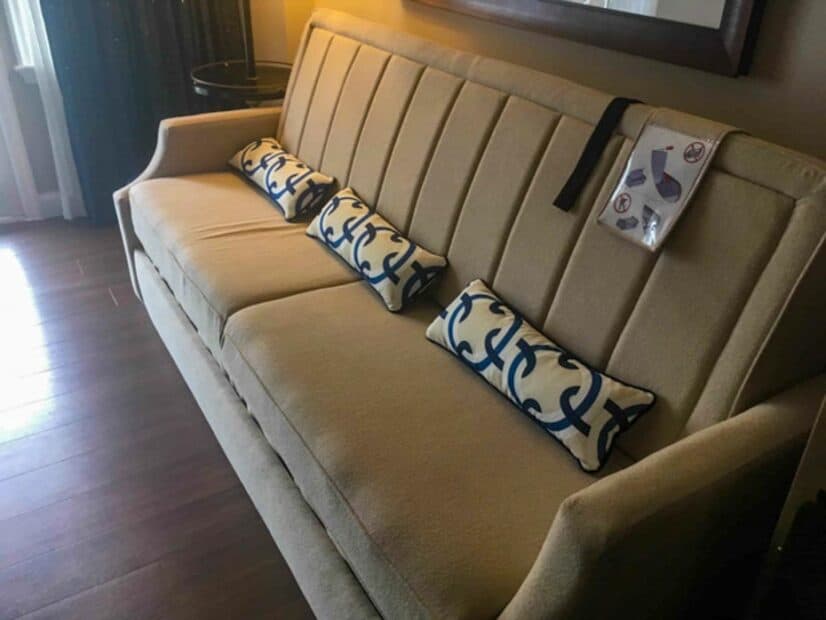 The bathrooms offer a double vanity with ample storage underneath. In addition, a raised ledge over the sink area provides extra counter space.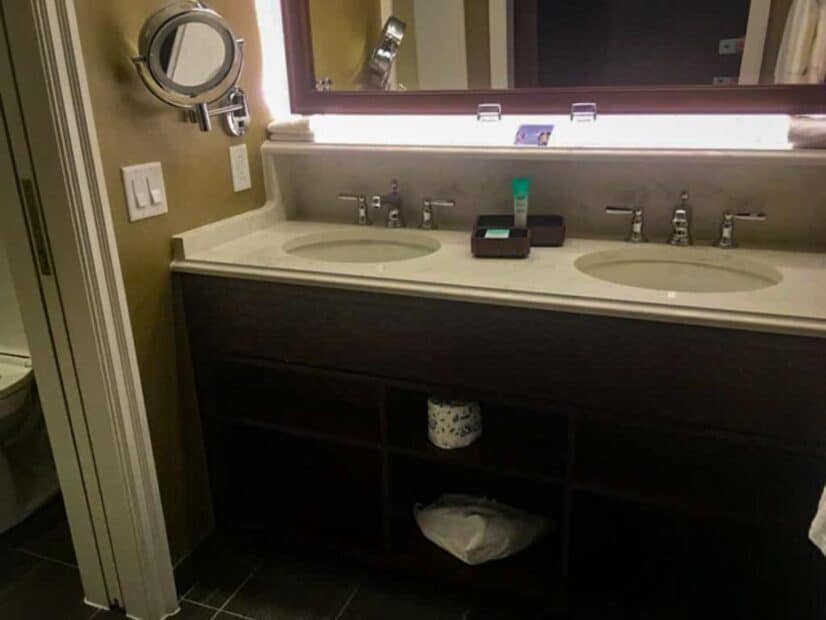 During the last refurbishment, the guest baths at Disney's Yacht Club were changed to tile walk-in showers.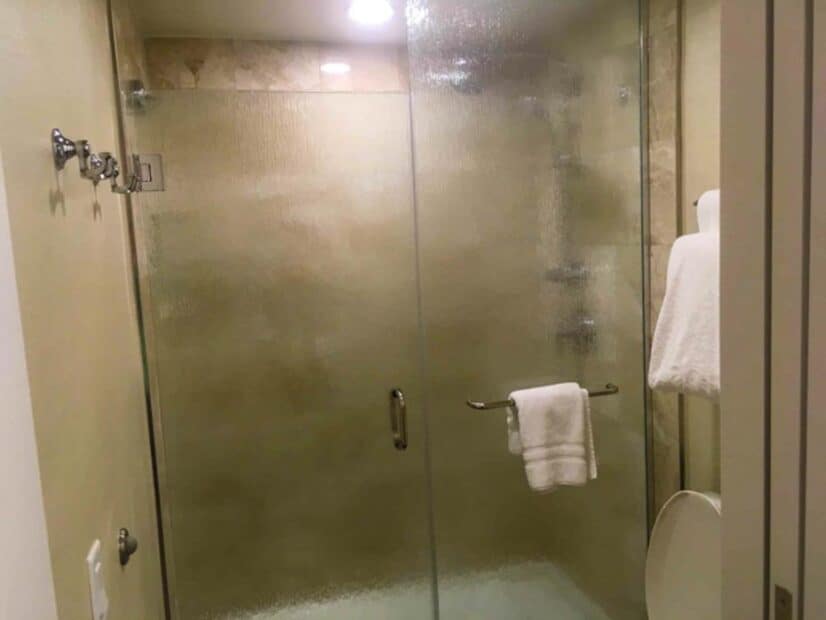 The showerhead is removable for anyone concerned about bath time for younger children. However, if you prefer an actual bathtub, you can still find them next door at Disney's Beach Club.
In addition, the rooms have a built-in closet with a safe, coffee maker, and mini-refrigerator across from the bath area.
Back to that room with a view! You might see why I spent so much time on the balcony. Everywhere you look, something interesting is happening.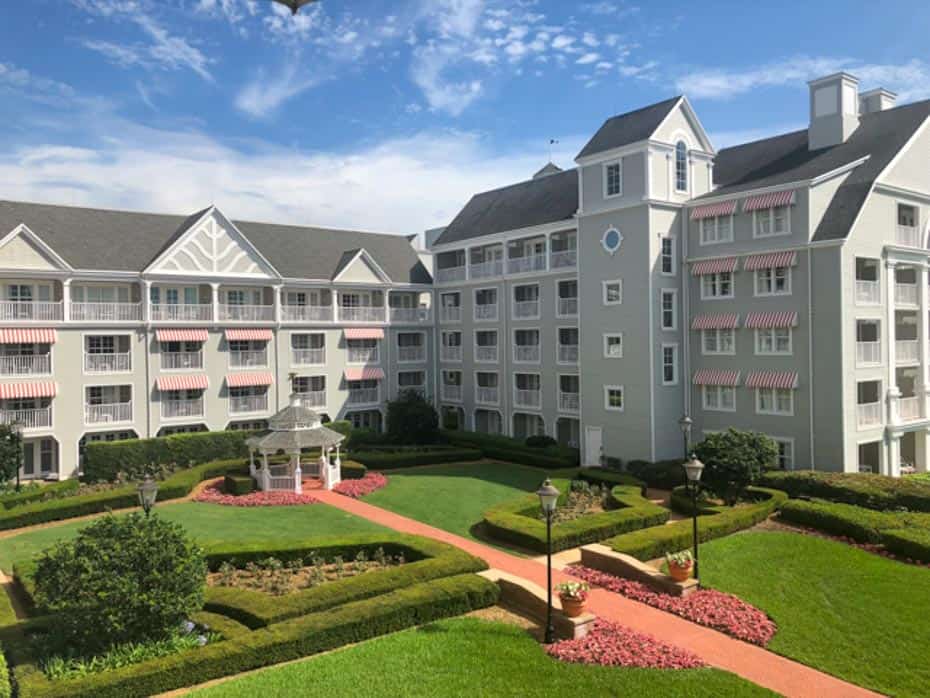 Often in the afternoon shade, I would sit out here and watch bunnies frolicking on the lawn. It's these little things at Disney that make me happy.
In the evening, the sunset hour never disappoints on Crescent Lake.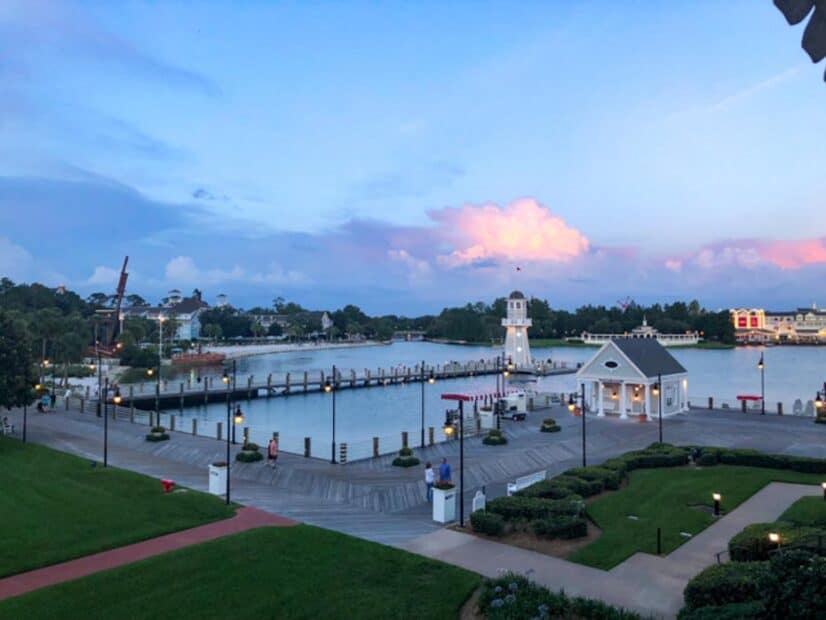 In case you can't tell, the grounds at Disney's Yacht Club are stunning. Everything is well-manicured, and there are gorgeous pops of color everywhere you look.
In my opinion, the only negative factor for staying here is how much it costs. In 2022, standard room view pricing with no discounts averages approximately $625 per night.
Depending on the time of year, the rates range between $522.00 and $915.00 for standard. Or course, the highest rate is over the Christmas holidays, when pricing is extreme everywhere.
For those of you who visit Disney World often but have reservations about the Yacht Club's pricing, I recommend taking time to tour the area on your next vacation.
Often guests return to Disney multiple times over the years. So it's nice to have a place where you can say, "we're staying here next time."
That's how I fell in love with this area. Many years ago, when my son was a toddler, we visited the area as convention guests.
Due to an overbooking error at the Swan and Dolphin, we wound up at Disney's Boardwalk Inn. Our room faced the actual boardwalk, and Disney's Beach and Yacht Club became that "next time" place for me.
Related: Disney's Boardwalk Inn Review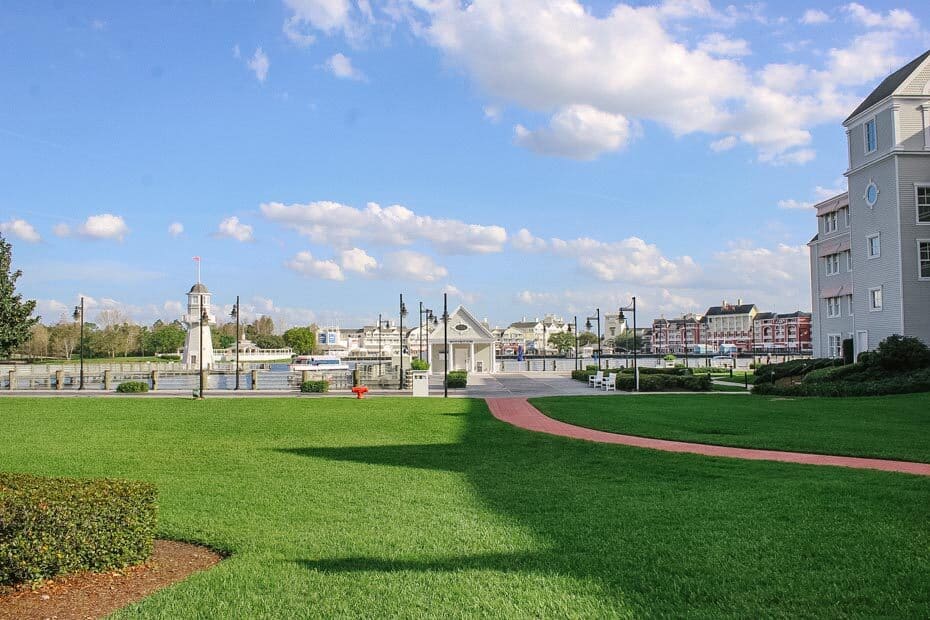 Dining
Our Disney's Yacht Club review includes a brief look at the dining options available at the resort. While there are many dining options in the area, I have mixed feelings about the counter service offering at the resort.
Don't get me wrong, the table service and lounge options here are excellent. But quick-service dining is lacking in the entire area.
I'll have a resort dining guide coming up in the next month or so, and I'll link it back here when I'm finished. In the meantime, here is a summary of your choices.
The Market at Ale and Compass is Yacht Club's main counter service dining option. The majority of items at this counter-service are pre-made. Unfortunately, pre-made items are not a good look at a high-end hotel.
Related: The Market at Ale and Compass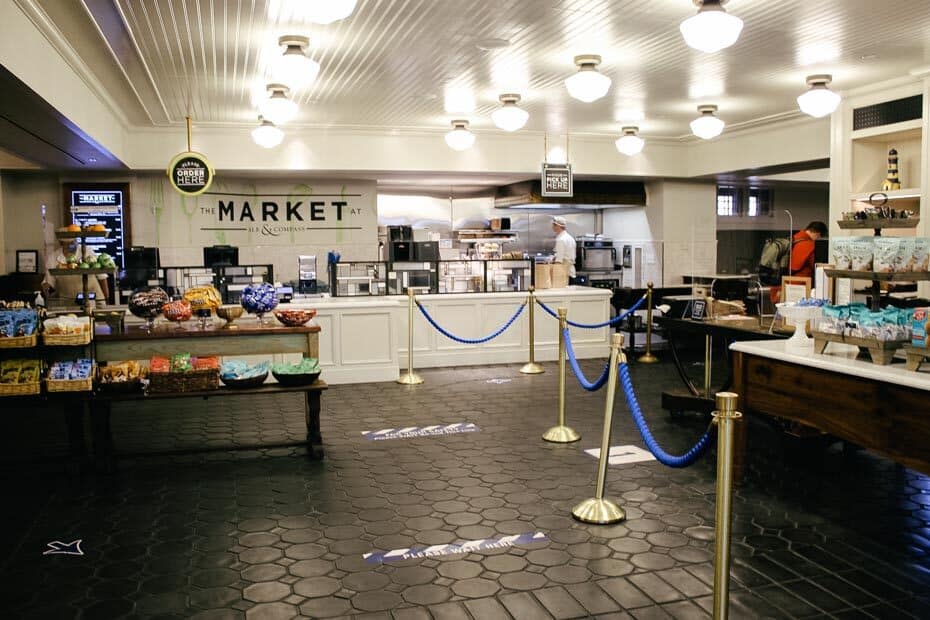 The opposite side of The Market is where you'll find the resort's gift shop.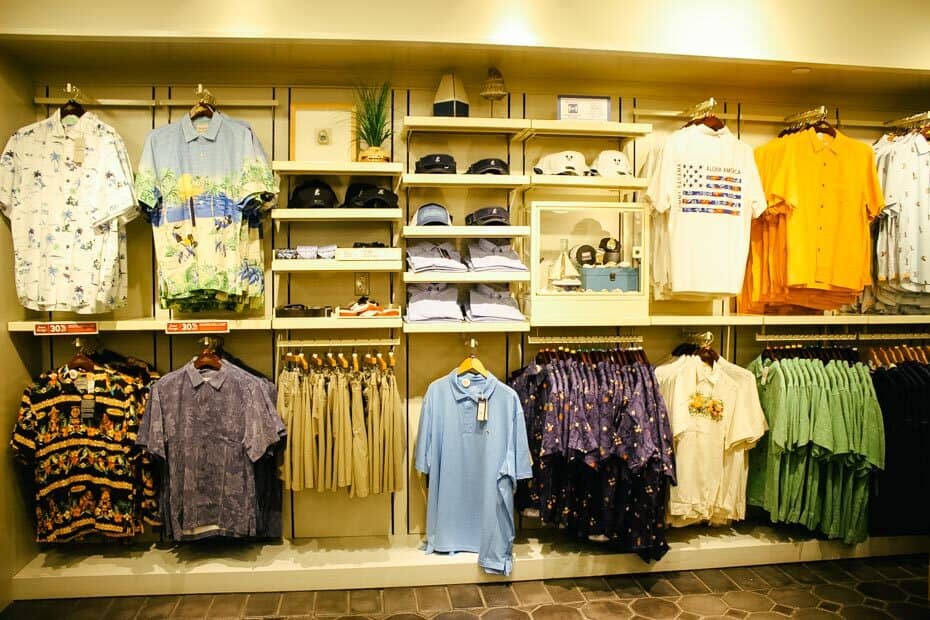 Inside, you'll find a variety of higher-end clothing items, Disney backpacks, and even Yacht Club-specific merchandise.
Related: Disney's Yacht Club Gift Shop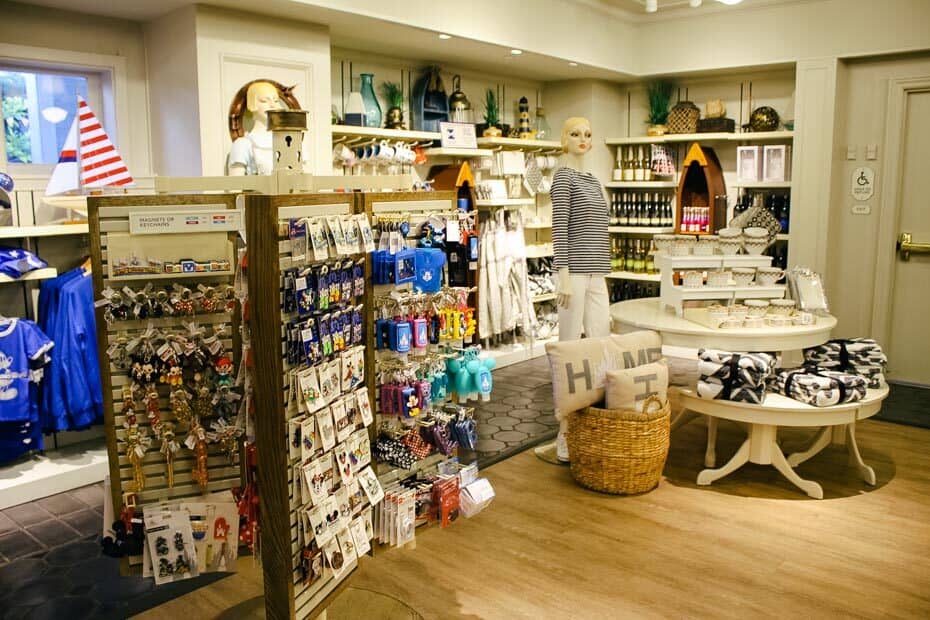 Ale and Compass Lounge is located off the resort lobby. The lounge has several appetizers and a fairly unique selection of cocktails. I highly recommend picking up an order of Parker House rolls.
Related: Ale and Compass Lounge Review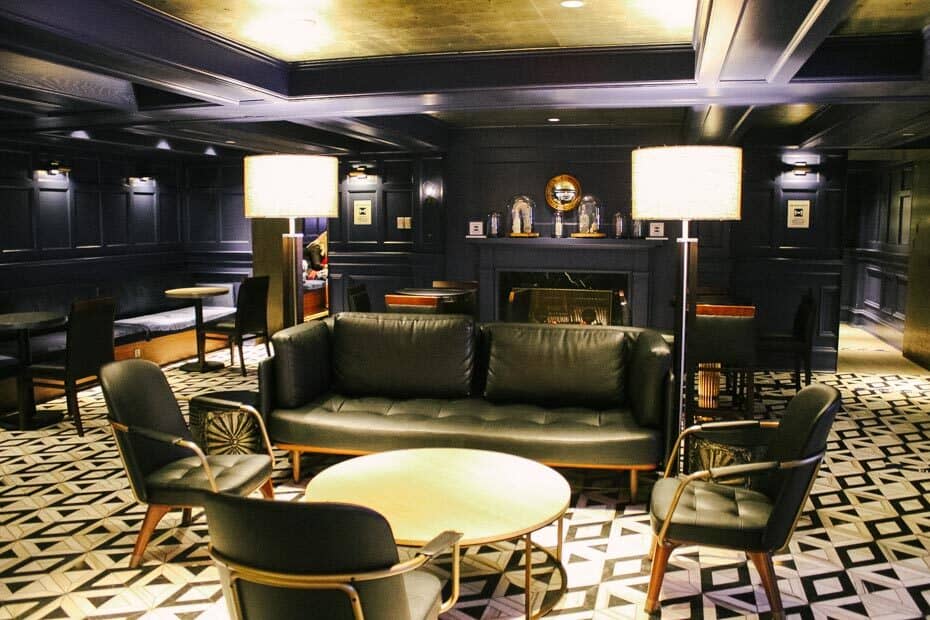 Speaking of recommendations, Disney's Ale and Compass Restaurant is located off the resort's lobby. It was formerly home to the Captain's Grille.
Not only does this location serve one of the best breakfasts at Disney, but they also serve lunch, dinner, and offer to-go orders. We have yet to go wrong at this casual table service restaurant.
Related: Ale and Compass Breakfast Review
As far as signature dining goes at the Yacht Club, there is one offering, Yachtsman Steakhouse. I've had the opportunity to eat here multiple times and find myself recommending it to anyone looking for signature dining at Disney World.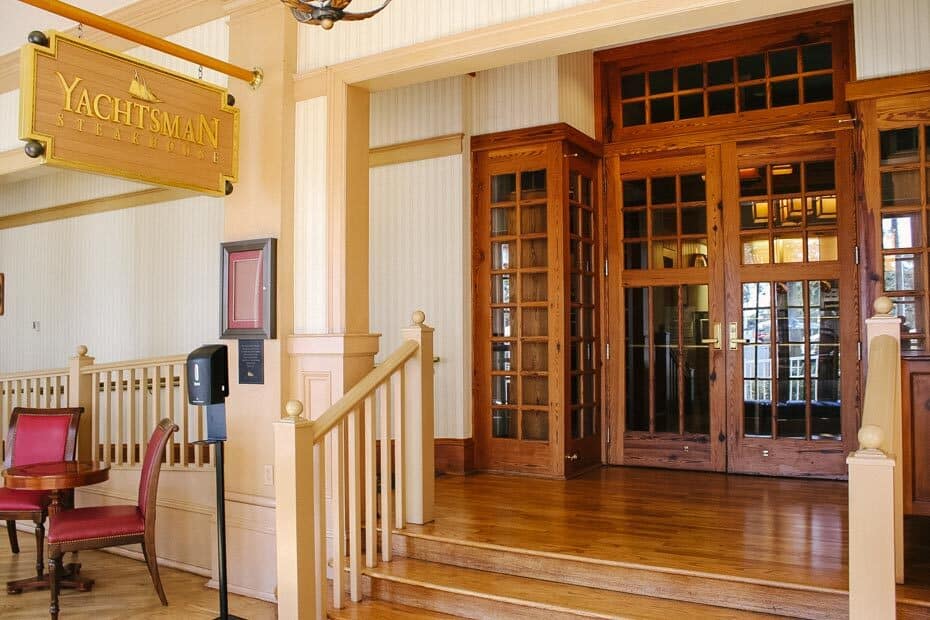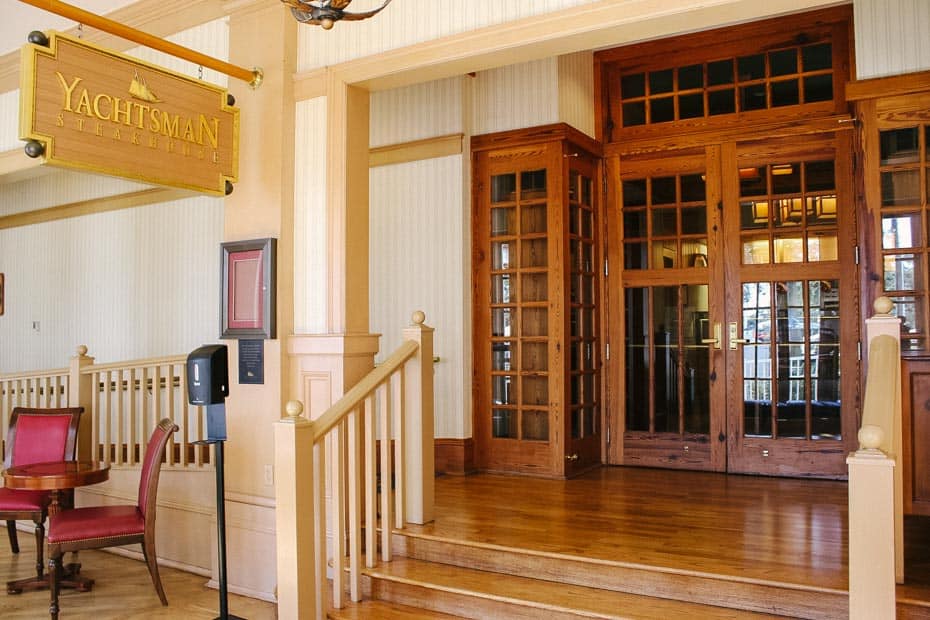 Yachtsman specializes in prime cuts of beef. You will more than likely encounter a butcher-style display of said meats on your way to the table.
The best part about dining at Yachtsman Steakhouse? Onion rolls. They are delicious, and the server will bring roasted garlic to the table to enjoy with them.
Related: Yachtsman Steakhouse Review
Next door to Yachtsman is Crew's Cup Lounge. The lounge has a variety of seating and is considered family-friendly. It's become a hidden gem type hideaway for me over the last few years.
Lastly, we have Hurricane Hanna's, a walk-up waterside bar and grill that services Stormalong Bay. You'll place an order here and pick it up in the same area. Exterior seating is available nearby.
Related: Hurricane Hanna's Review
Additionally, you might enjoy a meal at one of these restaurants located on the Beach Club side of the resort:
Beaches and Cream Soda Shop
Beach Club Marketplace
Martha's Vineyard
Cape May Cafe (Character Breakfast)
Recreation
As far as this review goes, it would not be complete without looking at the recreational activities provided at the Yacht Club. Besides the hotel's walkability factor, recreation is the second-largest benefit of staying here.
Yacht Club shares a tremendous feature pool area with Disney's Beach Club. The area is known as Stormalong Bay and is considered more of a water park than an actual pool.
To give you a mini-review of the pool area, it has the following: lazy river, waterslide, sand bottom pool, hot tubs, kiddie pools, and much more!
Related: Everything You Need to Know for Stormalong Bay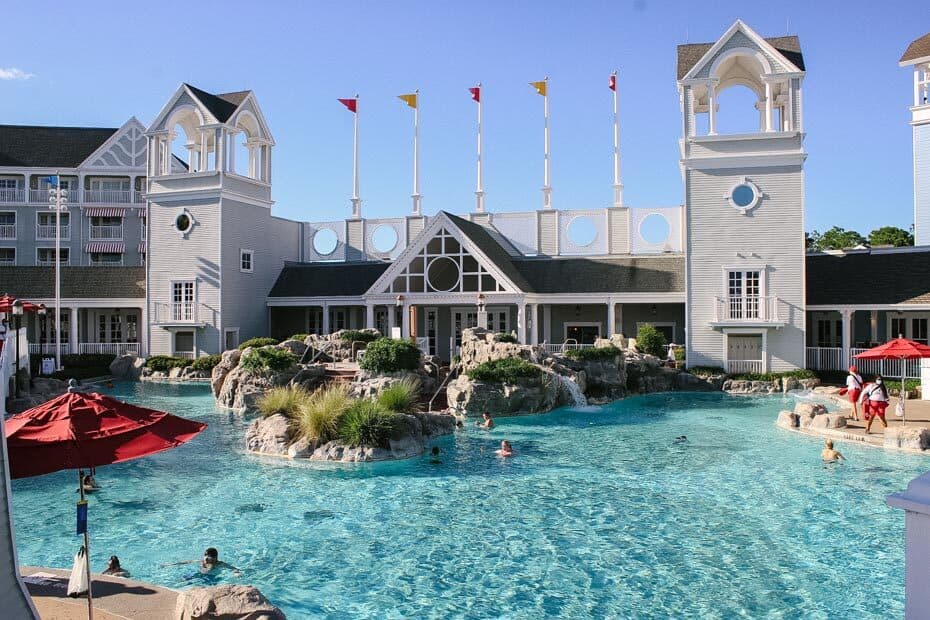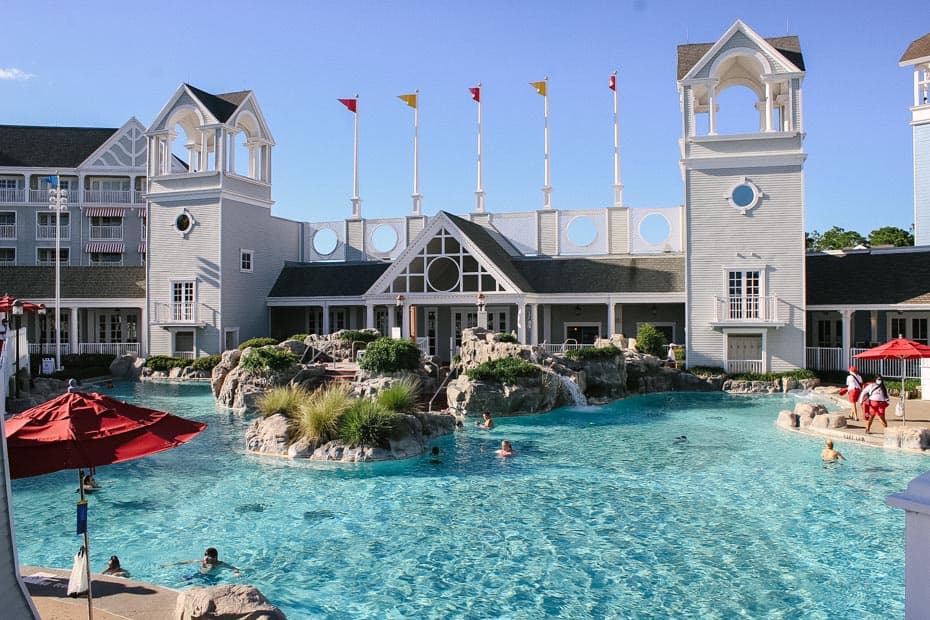 Usually, I recommend planning a day at one of the water parks, like Blizzard Beach. However, if you are staying at Yacht Club, my advice is not to bother.
Related: The Best Pools at Disney World
There's so much to do at Yacht Club's feature pool that you could easily spend an entire day here. We recently did just that and splurged on a cabana rental for the day.
While the cabana rental was pricy, it was an experience we won't soon forget. And it's an excellent option for a large group to have guaranteed seating together at the pool area.
So, I put together an article that suggests several scenarios where a cabana might come in handy.
Related: Poolside Cabana Rentals at Disney World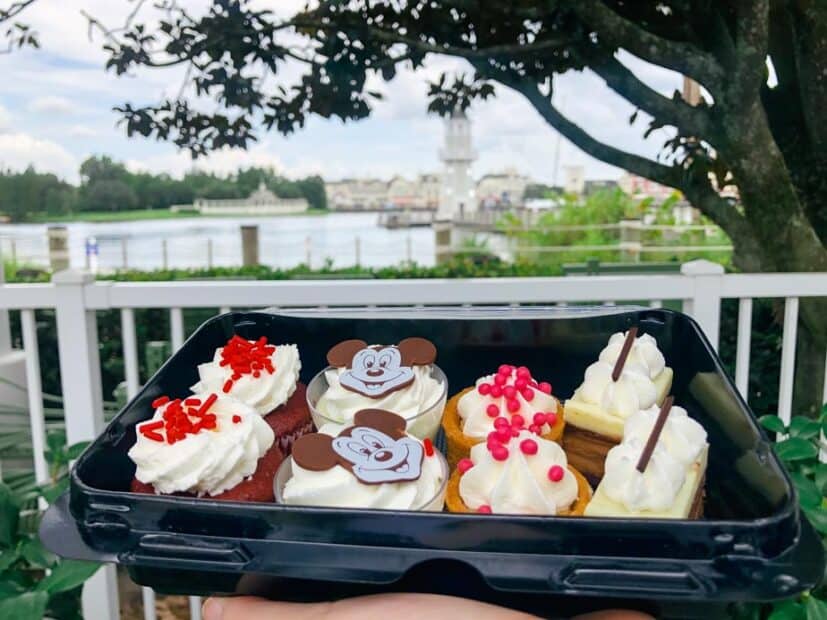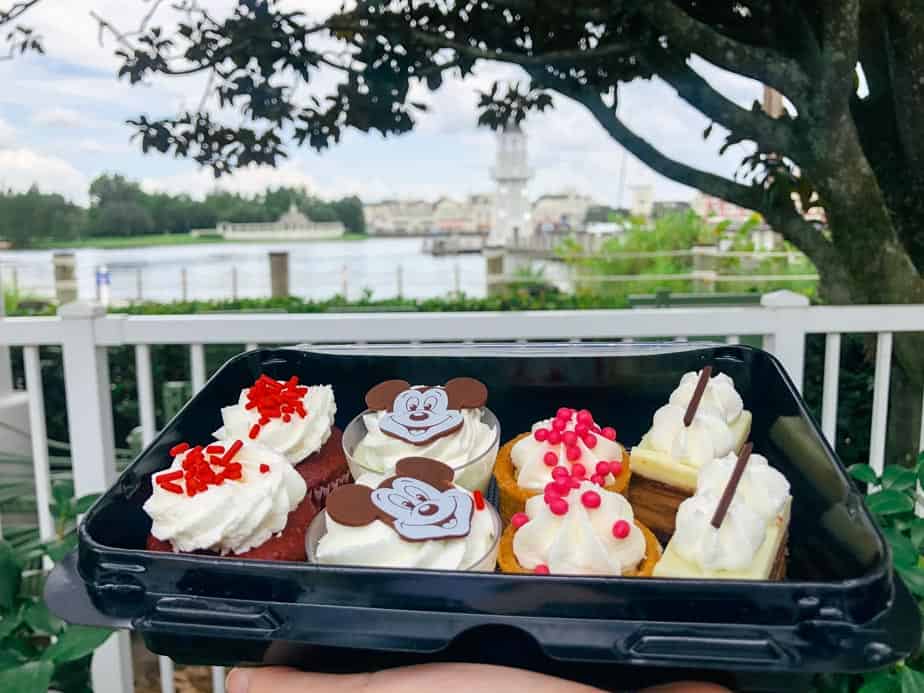 In addition, guests looking for a more private spot to relax at the Yacht Club will enjoy the resort's quiet pool.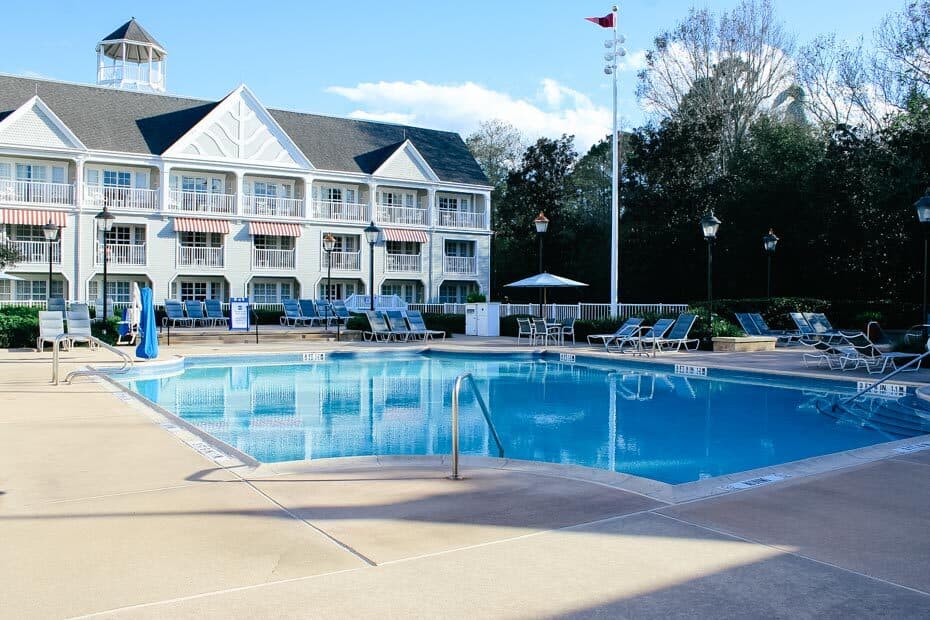 I have spent a little time out here and can attest to the peacefulness.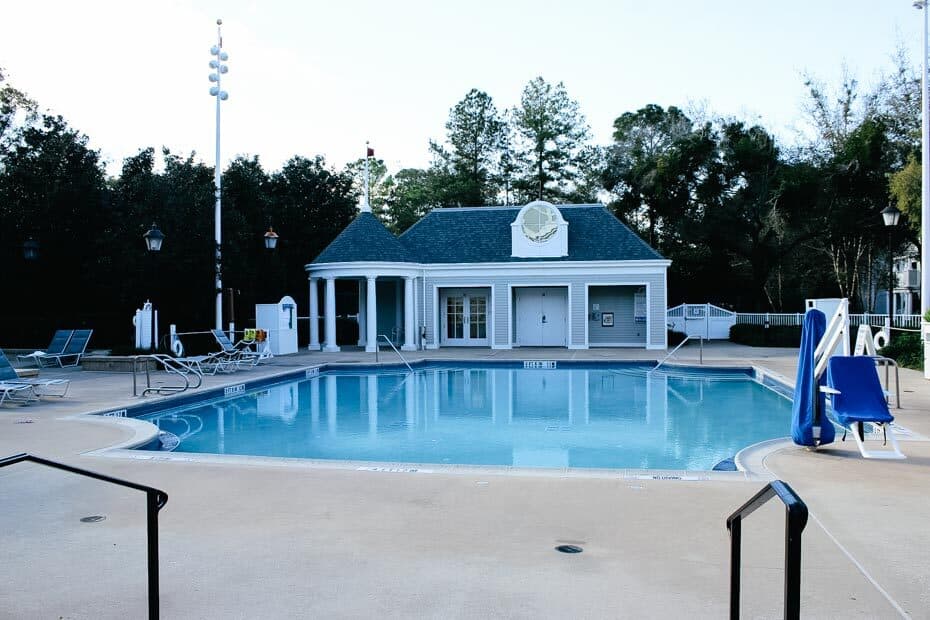 You'll rarely find anyone out here.
Related: The Pools at Disney's Yacht and Beach Club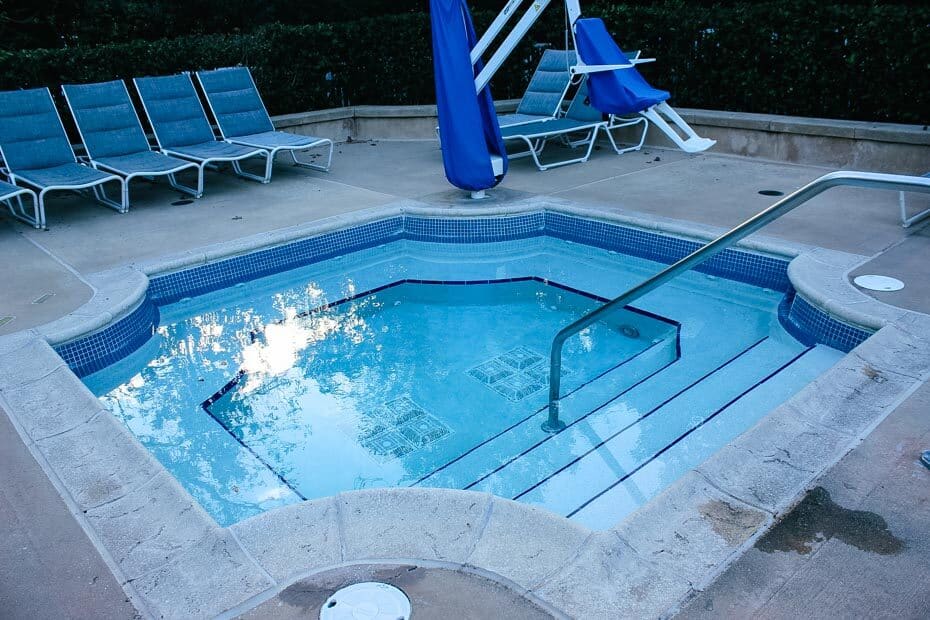 There is even a tennis court.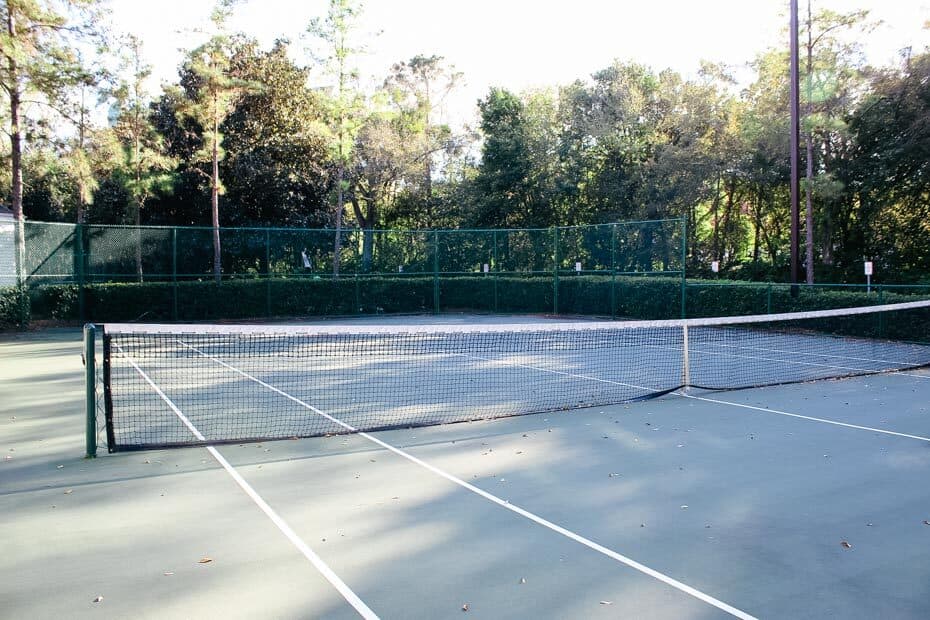 Additionally, the Admiral Pool is where the resort's main laundry facilities are located. So, if you need to do a little laundry, this is an excellent location. Usually, I like to start our laundry, then grab a bite to eat and enjoy a peaceful lunch by the pool.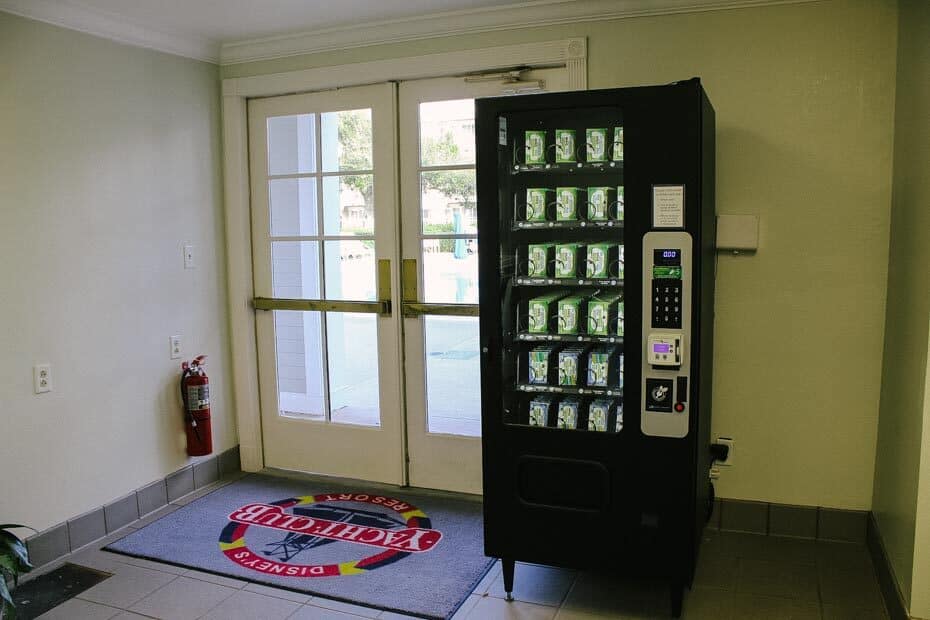 There are a couple of washers and dryers available.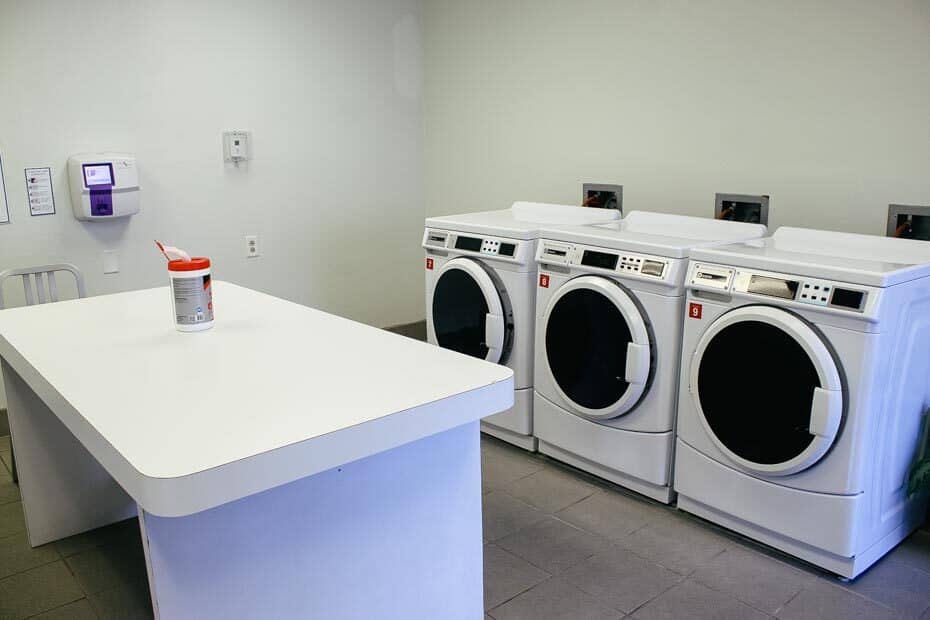 If you have concerns that the machines might be in use before heading down, you can check the Laundry View site here. This site confirms how many washers and dryers are available. It also tells you the time left on each cycle.
The machines and detergent dispensers only take credit or debit cards.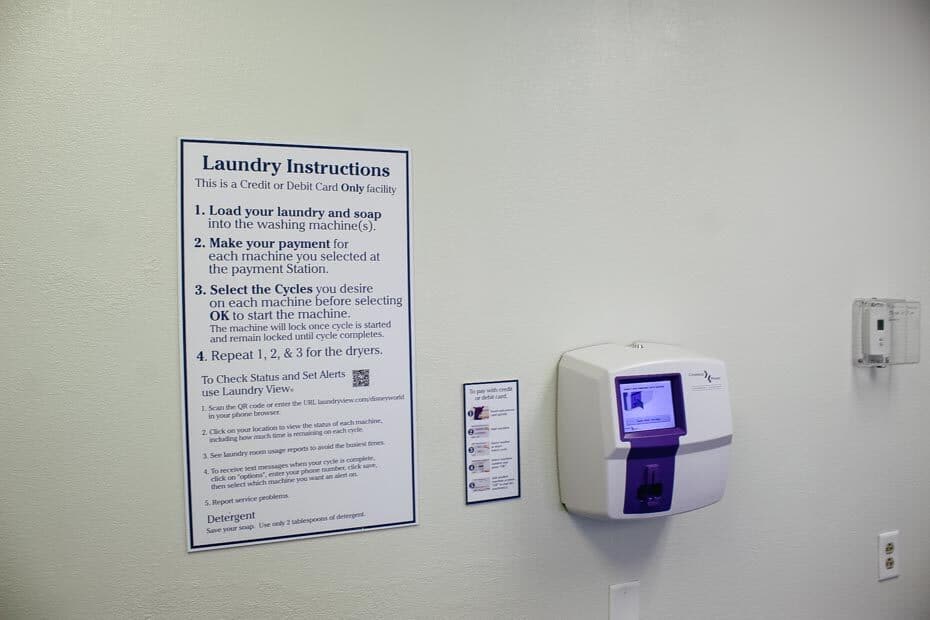 Disney's Yacht Club is home to Bayside Marina. The marina offers motorized boat rentals that you can reserve in advance here on Disney's site.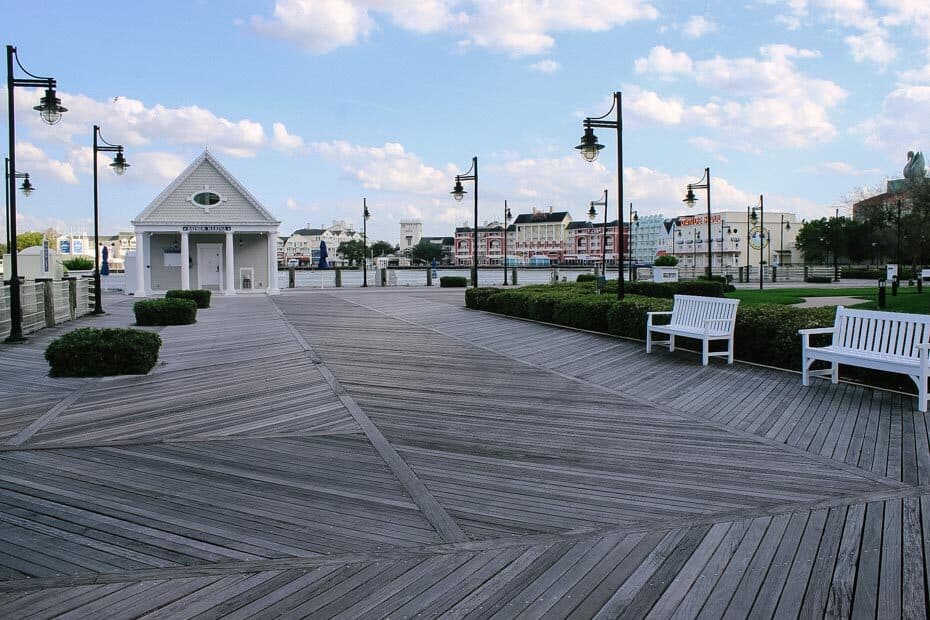 The marina is also where you'll show up if you reserve an Epcot's fireworks cruise. Fireworks cruises have resumed for Disney's Enchantment and Harmonious. You can read more about them here on Disney's site.
Disney's Yacht Club has a fitness center called Ship Shape Health Club. The gym sits directly behind Stormalong Bay and is shared with Beach Club.
Related: Fitness Centers at Disney World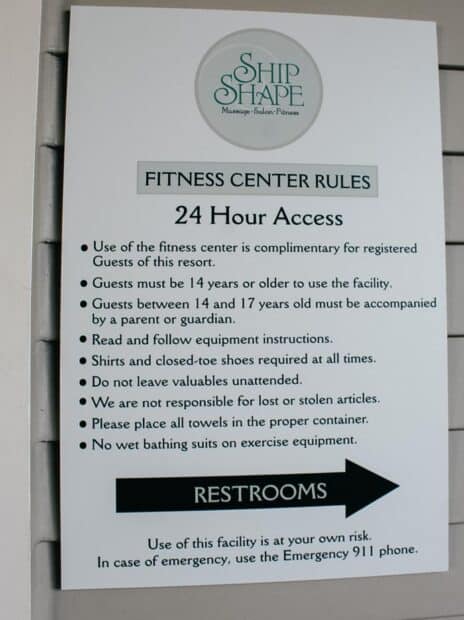 Ship Shape is a convenient facility that offers anything you could need to get in a good workout while on vacation. In addition, the gym has cooling towels and a place to refill your water bottle.
I like to mention the water and towels if you elect to jog the Crescent Lake area. You can stop here after a run if needed to get a water and cool off.
Related: Best Jogging Trails at Disney World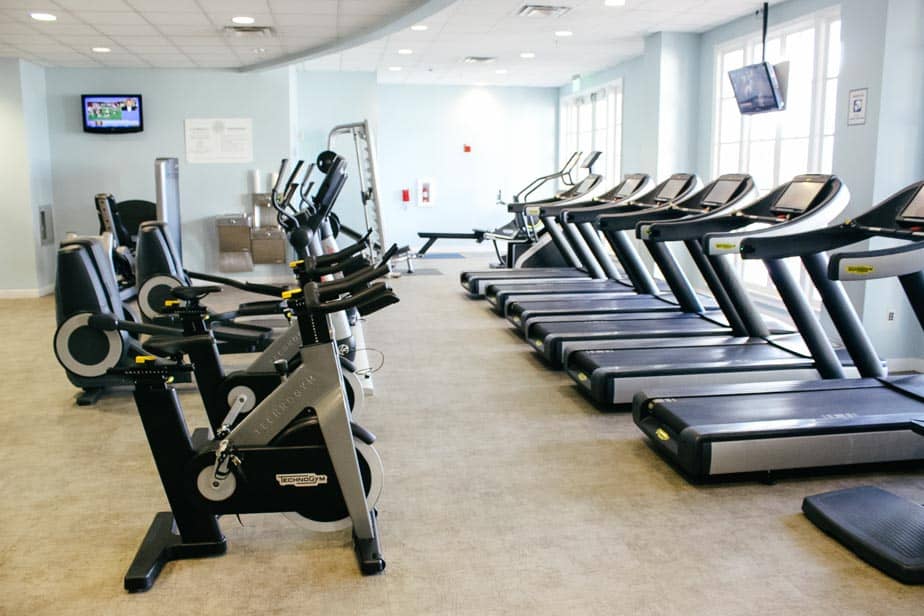 Lafferty Arcade sits next door to the Ship Shape Health Club.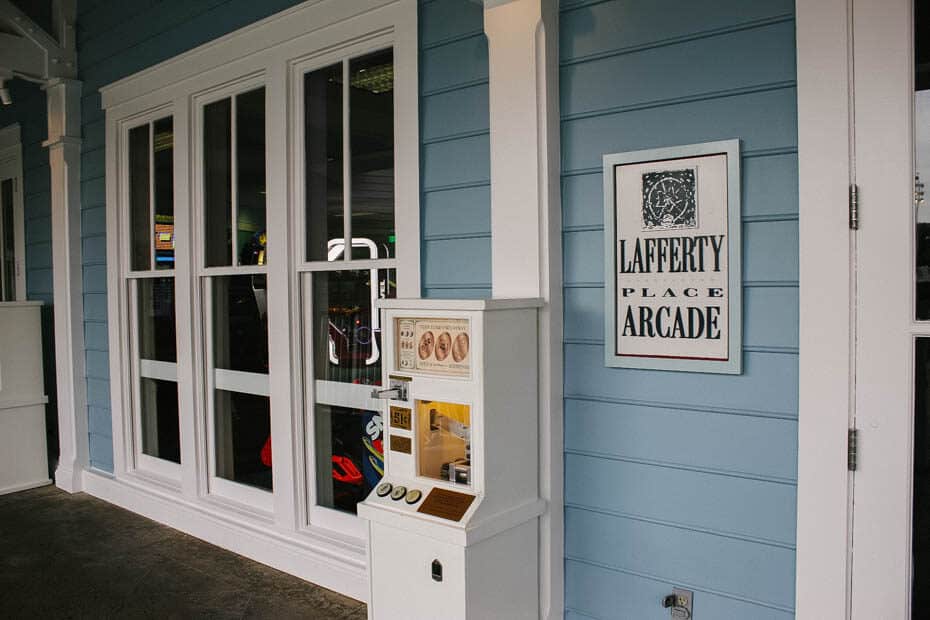 Here is a look inside.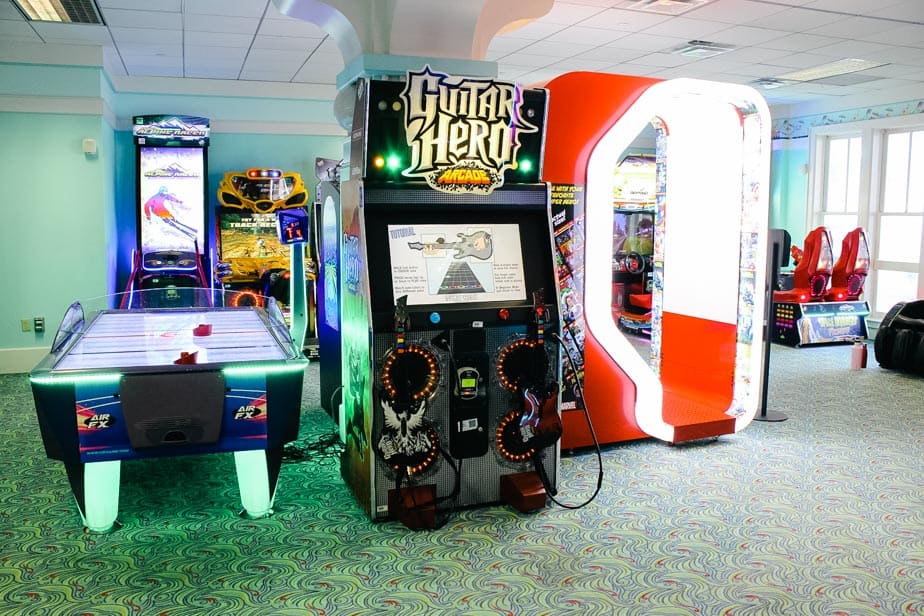 When visiting Disney's Yacht Club, you want to pick up the resort's recreation calendar. Below there's a sample calendar from a previous visit.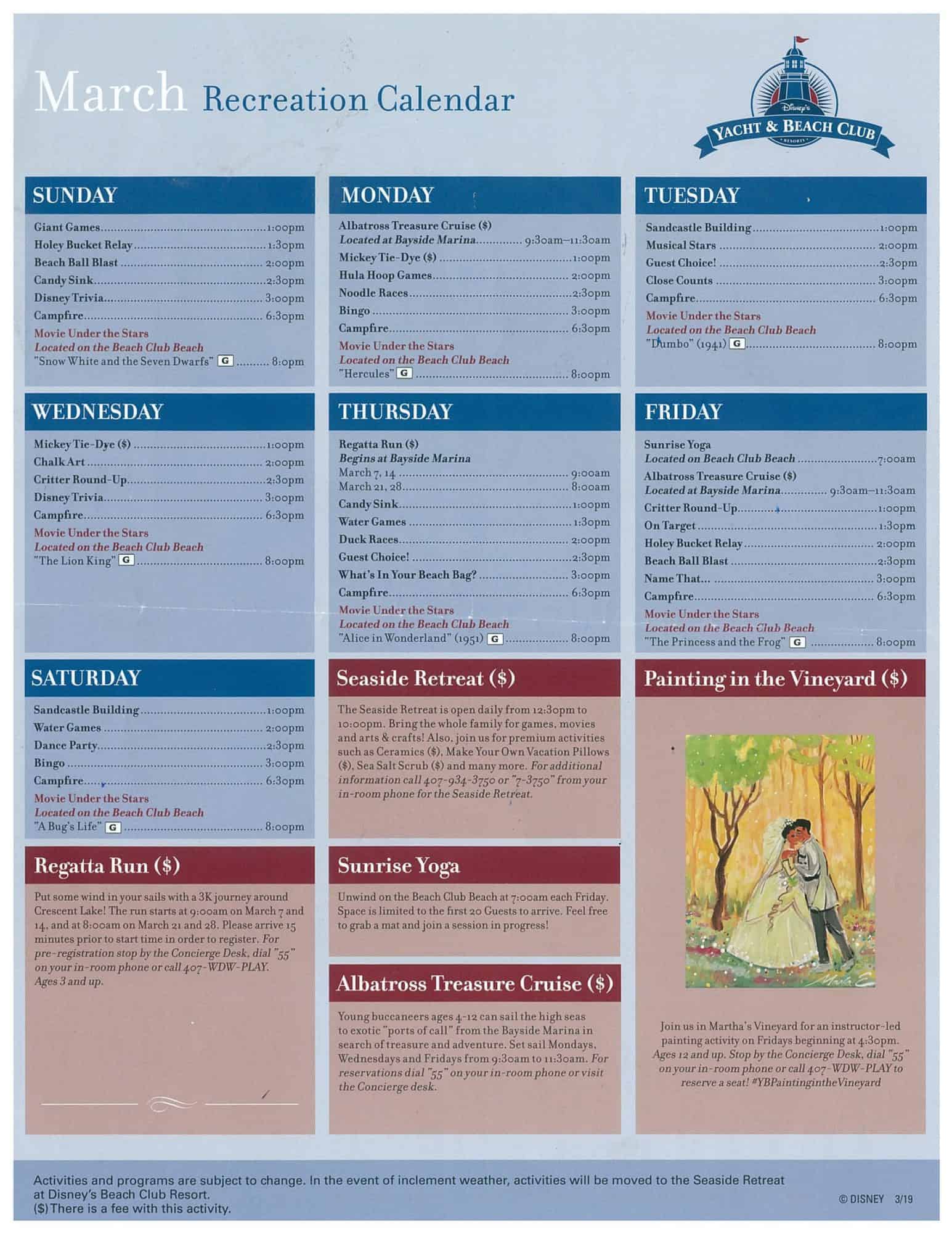 At the bottom of each day, the calendar lists that day's movie. Additionally, it lists the other recreation activities held in the afternoon by the pool.
Movies Under the Stars is held nightly on the beach of Crescent Lake. Cast members set up a movie projection screen out on the beach. Guests sit in lounge chairs with blankets made from towels and enjoy the nightly movie.
If you are lucky, the resort might have someone making fresh popcorn for guests. I highly encourage you to take an evening to do this with your family.
Movies Under the Stars is much more delightful than it probably sounds. Plus, there's always a day when you'll need a little extra rest from the theme parks.
Transportation
Another huge factor to consider in our Yacht Club review is the transportation options offered at the resort. In addition to walking to two parks, the resort offers boat service and bus service.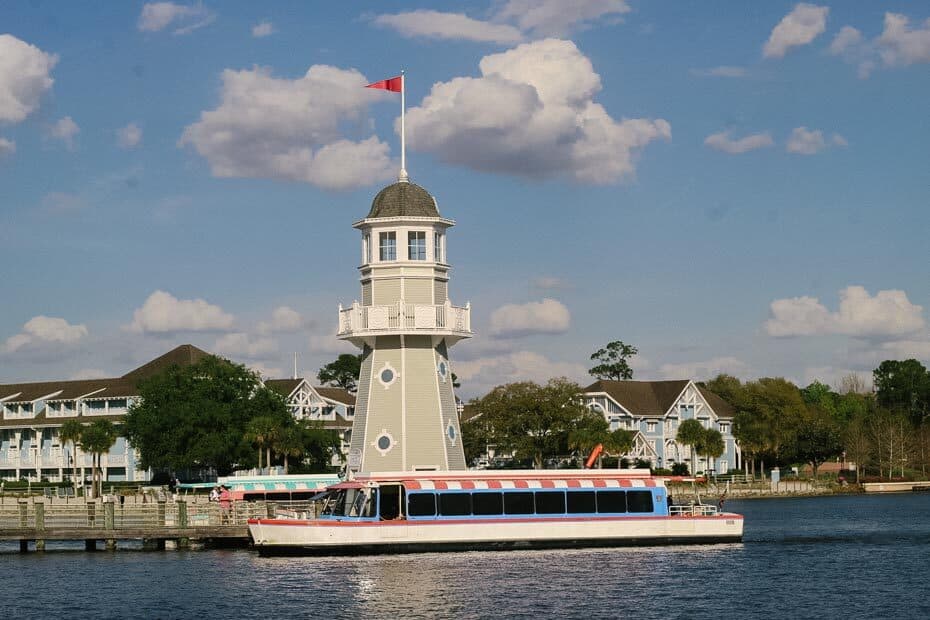 Yacht Club has a dock right outside its back door at the lighthouse. The boat service provides a convenient boat ride that delivers you to the surrounding resorts, Epcot, and Hollywood Studios.
Related: Disney's Friendship Boat Service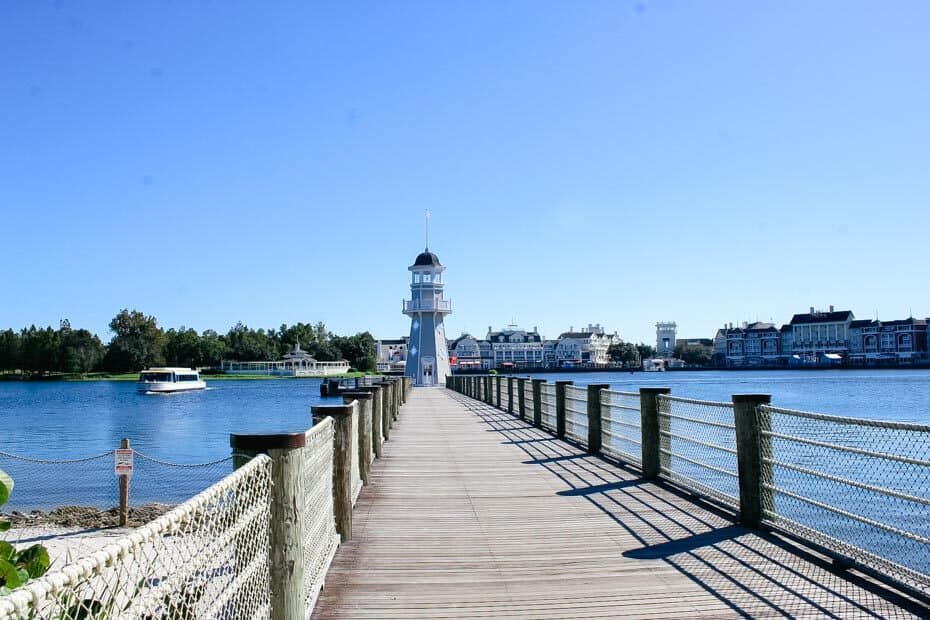 If you prefer to walk, Epcot is less than 10 minutes away. And it takes 15-20 minutes to walk to Hollywood Studios. The walk is pleasant, and I often mention it's a great way to decompress after visiting the parks.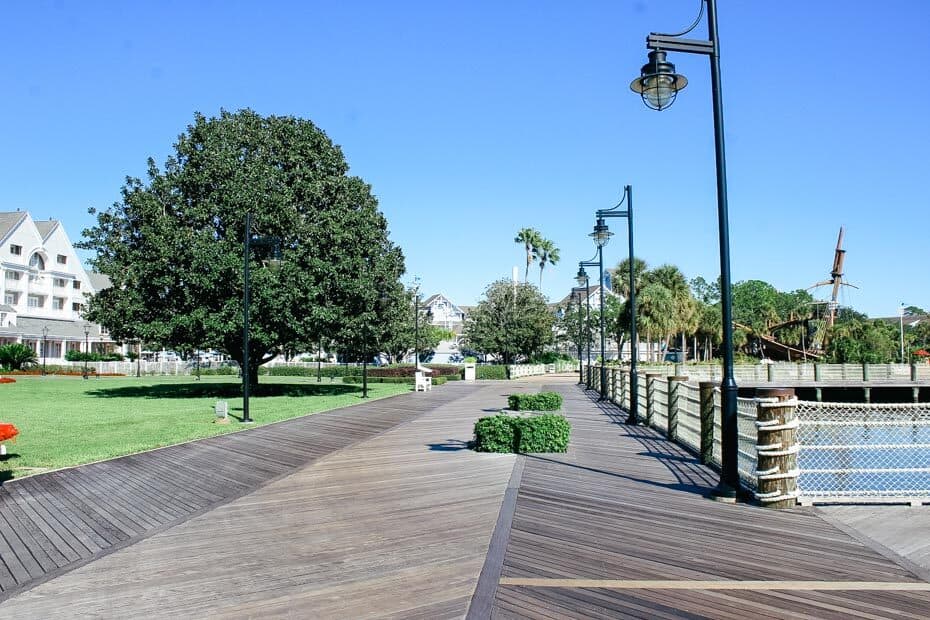 Guests traveling to the following theme parks and destinations will want to take a bus from the Yacht Club.
Magic Kingdom
Animal Kingdom
Disney Springs
Blizzard Beach
Typhoon Lagoon
The bus stop is outside the resort's main entrance.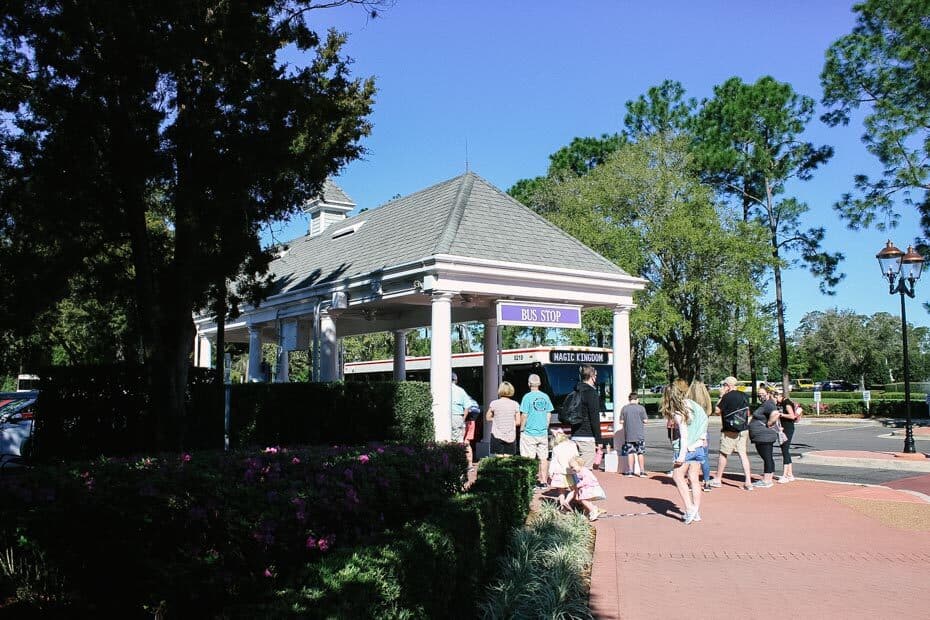 Both resorts (Yacht and Beach) share bus service, so don't be surprised if your bus stops over at Beach Club before heading to your destination. Yacht Club will be the first stop upon return.
Additionally, guests can also walk over to the International Gateway or Hollywood Studios to use the Skyliner gondola transportation. This is a great option for anyone visiting Caribbean Beach or Disney's Riviera Resort for a meal.
Related: Disney's Skyliner Travel Times
Is Disney's Yacht Club Worth It?
Many ask if a stay at Disney's Yacht Club is worth the price? My answer is that it's entirely up to your budget. If you can reasonably afford to stay at the Yacht Club, I don't think you'll regret it.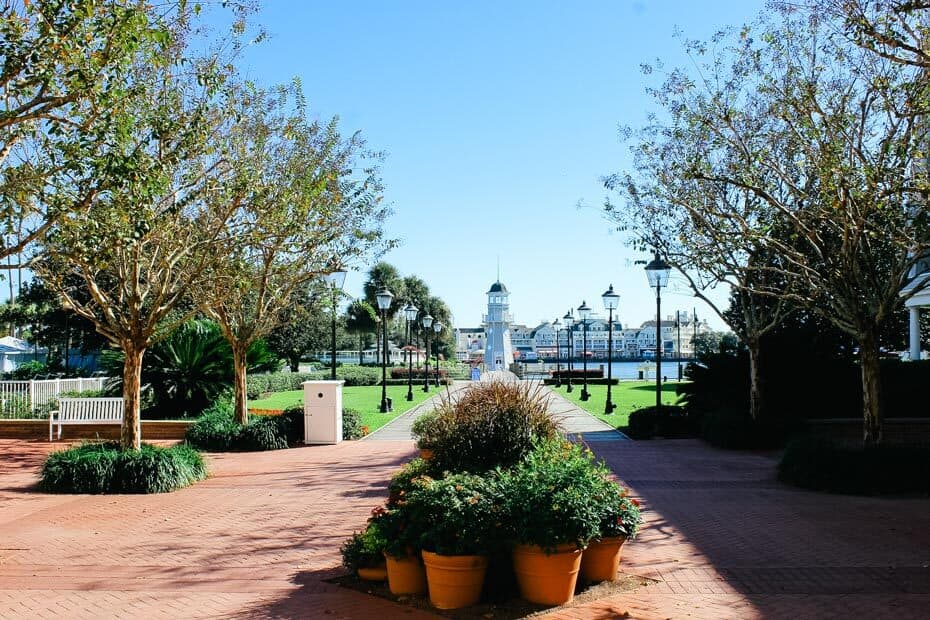 However, Disney has a ton of excellent deluxe resorts that might be more what your idea of a vacation is than mine. All of the great options can make the decision difficult.
Related: Best Disney Deluxe Resorts Ranked
For example, while I love the Yacht Club for its location, you might enjoy a resort like Disney's Polynesian. It has a tropical Hawaiian feel that you might consider more relaxing.
Related: Disney's Polynesian Resort Review
And don't sleep on the Animal Kingdom Lodge. You might remember that one of my last stays here provided a lot of needed vacation feel and solace that I haven't gotten anywhere else on the property.
Related: Disney's Animal Kingdom Lodge Review
Our stay at Disney's Contemporary Garden Wing was extremely unexpected in a good way as well. And there's always the option to stay next door to the Contemporary at Bay Lake Tower.
Related: Bay Lake Tower Review
Hopefully, these reviews will help you get an idea of what might work best for your family. As for me, given a choice, it's almost always going to be Disney's Yacht or Beach Club.
I love being able to walk to Epcot and the surrounding resorts. And the days I've spent at Stormalong Bay are some of my best Disney memories. Crescent Lake is that area where I always get that "I'm home" feeling in my heart.
Final Thoughts on this Review of Disney's Yacht Club
Wrapping up this Disney's Yacht Club review, I wanted to add a few points to remember about the resort.
Staying at Disney's Yacht Club offers the opportunity to save a considerable amount of travel time between two parks. In addition, the ease of walking over to Galaxy's Edge at Hollywood Studios or visiting a favorite country in the World Showcase at Epcot only adds to the convenience.
New during the 50th Anniversary: If you stay at Disney's Yacht Club, you can take advantage of early theme park entry for resort guests. In addition, you'll have access to evening hours for deluxe resort guests. You can view the schedule here on Disney's site.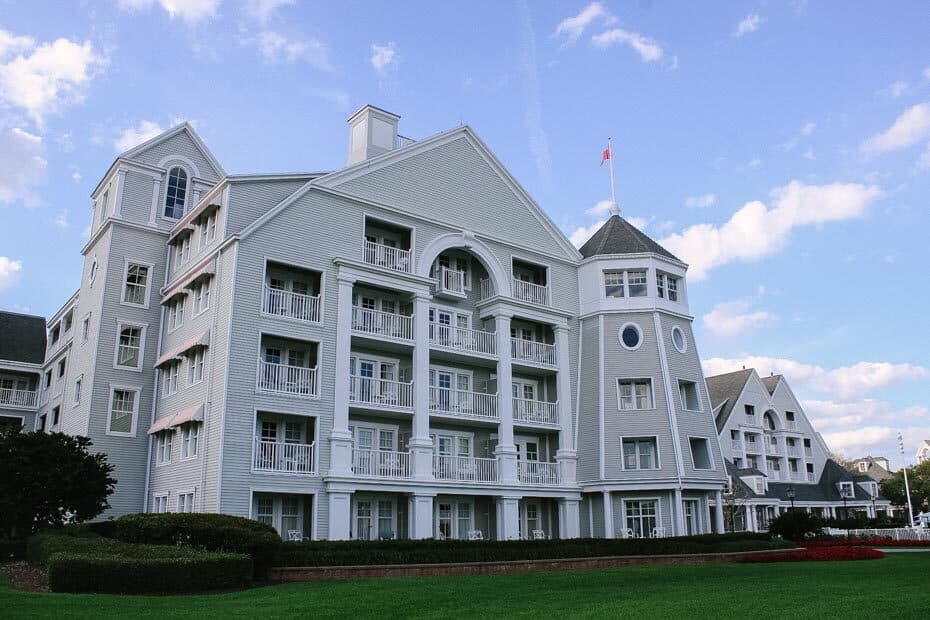 Disney's Yacht Club is an excellent option for so many reasons. I hope this review provided you with the details needed to plan a stay here.
I know I never want to leave when I visit.
All of our articles related to Disney's Yacht Club are available here. For more Disney World Resort reviews, try these articles:
Or you might enjoy browsing our overview of Disney's Value Resorts or Disney's Moderate Resorts.
One last note, I have added for the Yacht Club. While the resort is pretty simple to get around, there are several entrances and exits that you might want to familiarize yourself with upon arrival.
Here is a picture of one below. These provide a little shortcut if you would like to bypass the lobby when heading back to your room from one of the parks.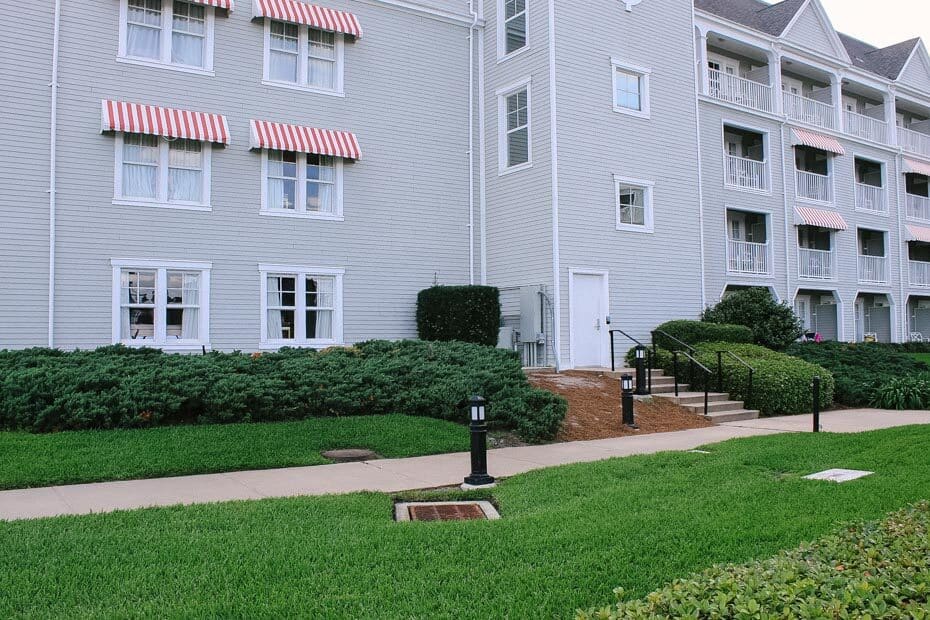 In the comments: What did you think of this Disney's Yacht Club Review? Have you had the chance to stay at this resort? Do you hope to stay here in the future or have any reservations about the resort?