Disney's Boardwalk Inn Review (We Love This Hotel for So Many Reasons-Except These!)
Below, we provide a review of Disney's Boardwalk Inn. We recently returned to the resort to check out its new rooms and other updates. We'll discuss dining options (or the lack of them in some instances), recreation, amenities, why we love this hotel, and things we think can be improved upon. 
"Welcome Home." Those words are my first-ever memory of staying at Disney's Boardwalk Inn many years ago. I fondly remember cast members greeting us in this manner as they opened our car doors the moment we pulled under the Boardwalk's porte-cochere. 
We were treated as though we were Disney royalty. But in reality, we were just an average family who had splurged on a trip to Walt Disney World and had been upgraded to a deluxe hotel. We even received a room assignment with a view of the Boardwalk. Back then, we didn't realize that was a big deal. 
Since that first stay, we fell in love with the entire Epcot Resorts area and have returned to the Boardwalk numerous times. Our last visit was a few years back.
Initially, I had decided to wait until refurbishments were complete at Disney's Boardwalk before planning a fresh stay. But as someone who walks through the hotel area at least twice a month, it's become apparent that this multi-year refurbishment has no end date in sight.
So with the room refurbishment nearing completion on the Inn side, we planned a stay over the 4th of July. While we enjoyed the festivities for the holiday, the resort portion of our trip was pretty bland. I spent almost an entire day at the pool and encountered several issues that have left me hesitant to recommend a stay here.
As someone who finds the Boardwalk endearing, it pains me to say that. So let me explain.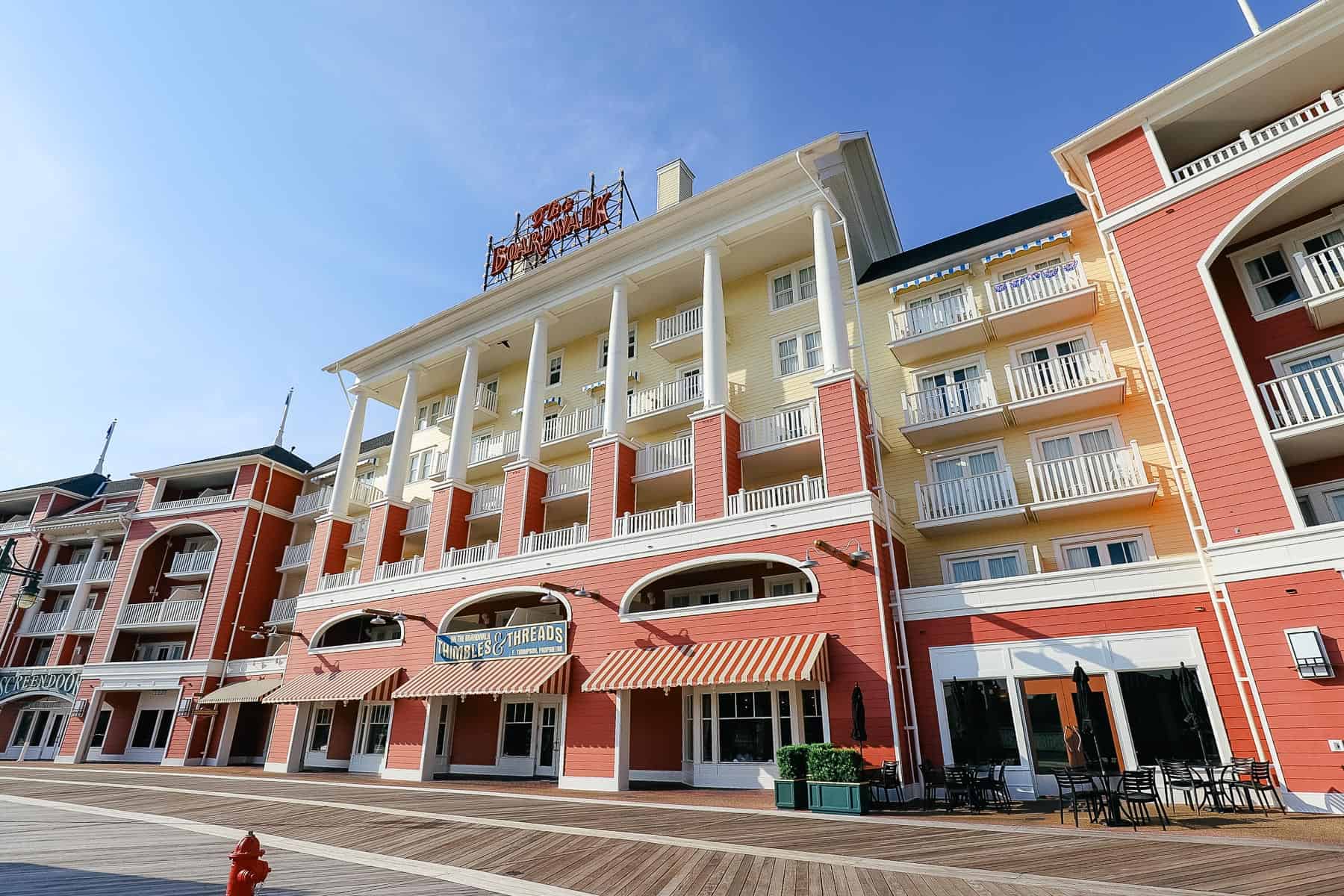 Disney's Boardwalk Inn Review
We arrived at the Boardwalk early on the first day of our trip. Since I live nearby, I always like to see how early we might receive a room assignment if the resort knows we've arrived. 
Like clockwork, we drove past the guard shack after verifying our reservation and began receiving texts that our room wasn't ready. These texts invited us to enjoy the rest of the resort while we waited.
It was only 9:30 a.m. I hoped to leave the luggage with bell services, park the car, and get photos of the pool when it opened at 10:00 a.m. I didn't expect the room to be ready that early. So I packed a swimsuit and a book in my backpack. After the pool pictures, I was going to hang out at the pool all day.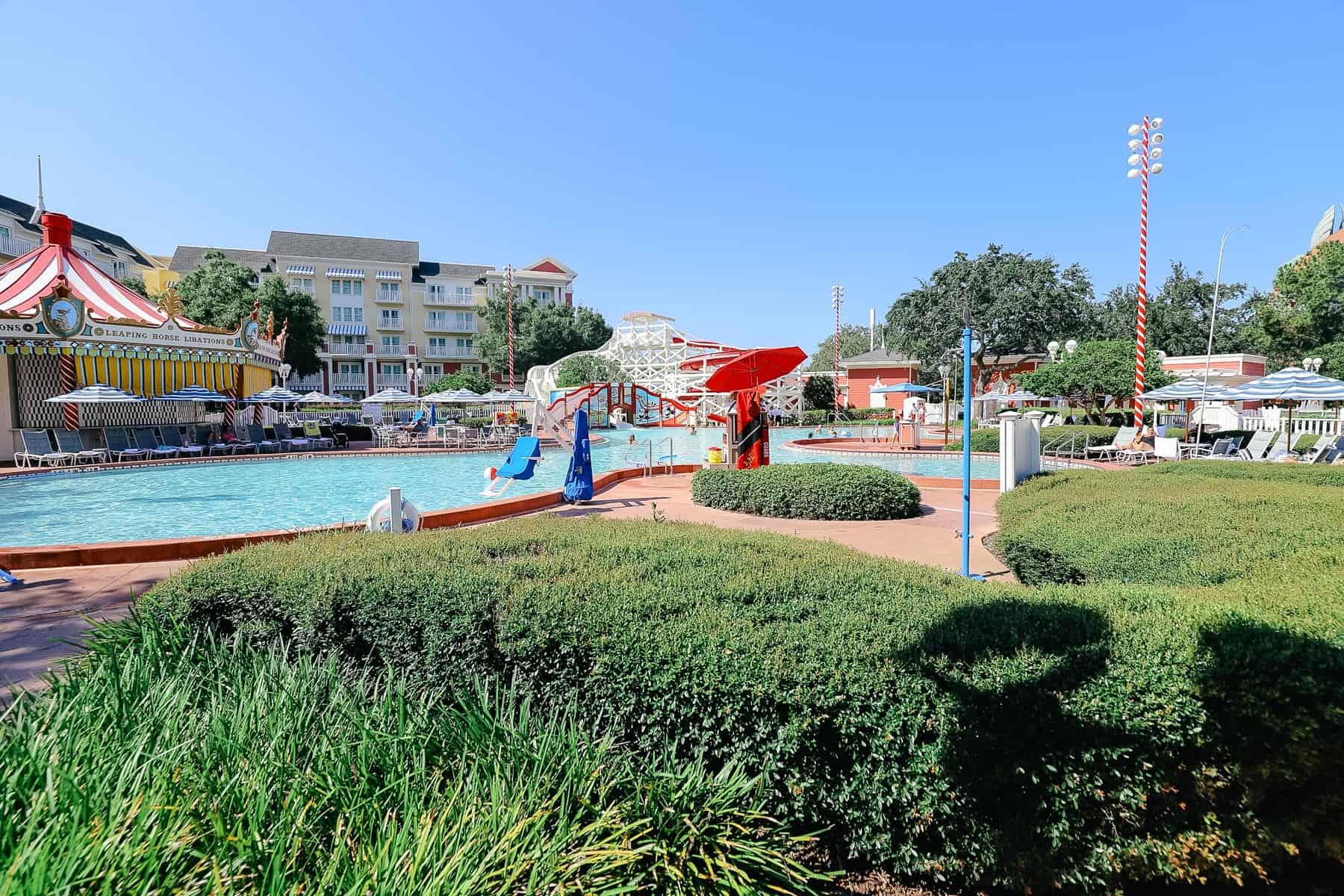 Disney's Boardwalk Inn has three pools: a feature pool and two leisure or quiet pools. The feature pool is the Luna Park Pool, where you'll find Leaping Horse Libations, the pool bar. This pool has a hot tub, a kiddie pool, and a separately fenced playground.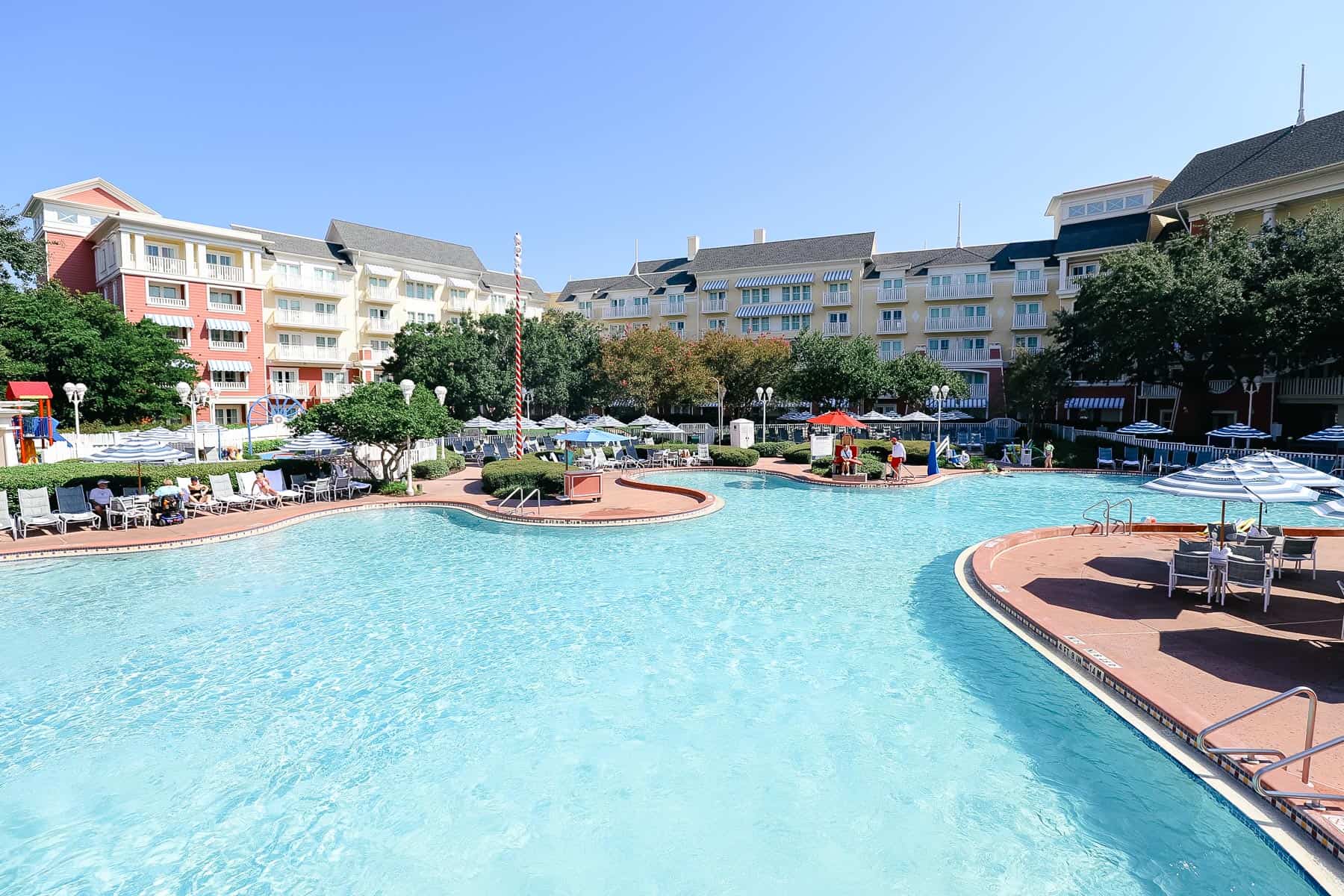 Additionally, this pool is home to the Kiester Coaster waterslide, a slide shaped like a wooden roller coaster. This newer Mickey and Friends panel replaced the Boardwalk's clown about three years ago.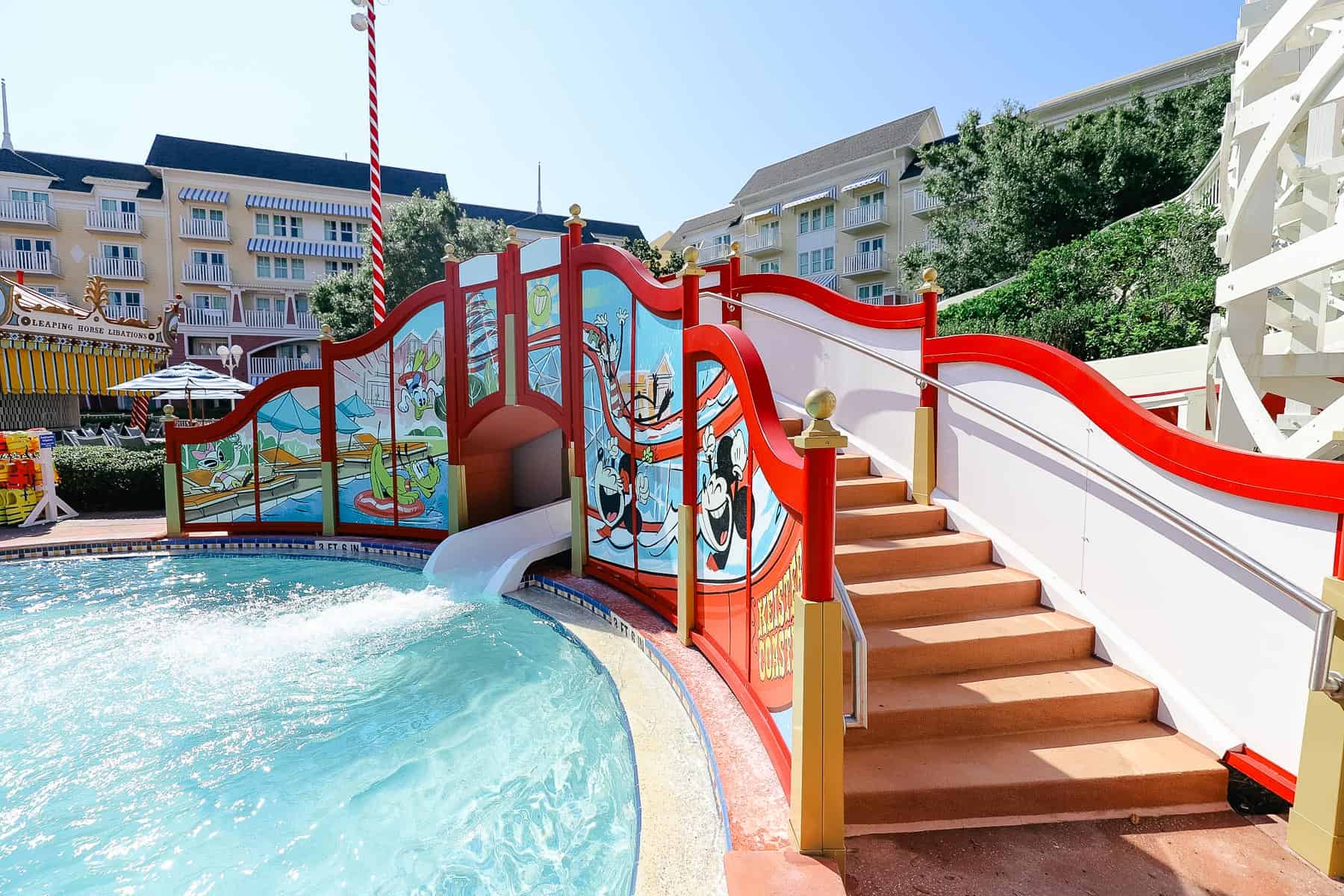 Here is a photo of the water slide. It's a fun aspect of the pool.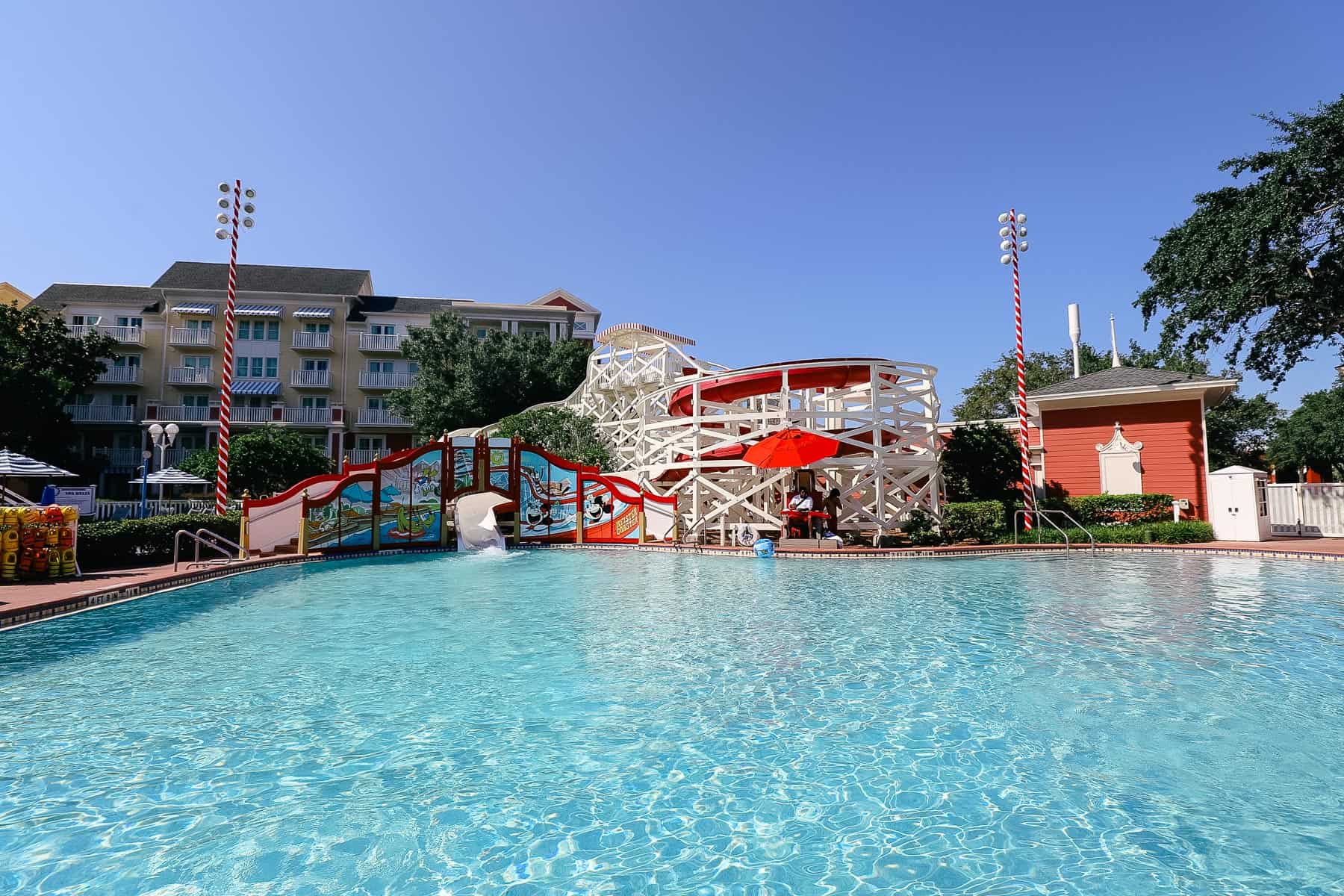 For the sake of this review, I won't elaborate on the specifics of the pool. We have a separate article that discusses the pools at Disney's Boardwalk if you want to learn more. 
After taking photos, I located the pool's restroom to change into a swimsuit. Unfortunately, the restroom only had a few stalls and no changing area or shower. Of all the times staying at the resort, I was unaware of this issue. I had to change in one of the stalls, and by the time I was finished, several other ladies were complaining about the same thing. 
This is a big deal for anyone who arrives early or has a late flight out and wants to use the pool area. I was appalled by the lack of a place to shower or change. Most hotel pools have changing rooms, toiletries, towels, hair dryers, and similar items so guests can freshen up if needed. 
Anyway, I changed and found a seat under an umbrella a few feet from the pool. By this time, it was 10:15 a.m., and the pool was already busier than I expected. So I took a quick dip and returned to my seat. 
By this time, I was pretty thirsty and realized Leaping Horse Libations, the poolside bar, didn't open until 11:00 a.m. Sure, it wasn't long, but I would estimate that at least a hundred guests were already at the pool area. Did they not think a few of us might want a $5.00 soda or something? 
Not long after 11:00 a.m., the pool bar opened, and a server brought us menus. By this time, all the chairs immediately surrounding the pool were taken. I couldn't help but notice when someone would leave, another family would jump up and take their seats.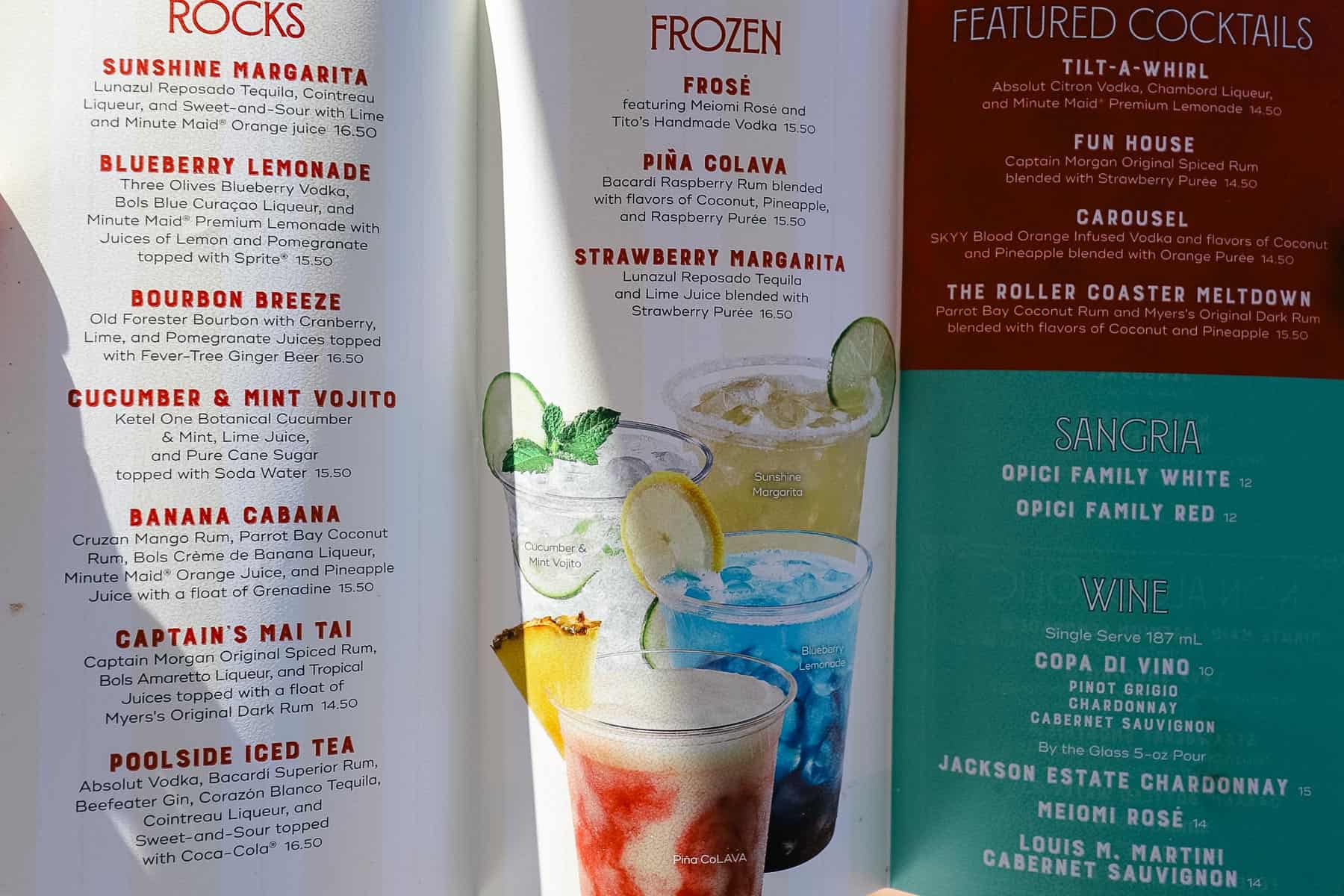 We all had excellent service from the cast member working in our pool deck area. Throughout the day, he would stop by about every 15 minutes to see if we needed anything. 
When it came time for lunch, he told us to check the My Disney Experience app for food items at Leaping Horse Libations. These were our options:
Pre-made Poolside Salad
Pre-made Greek Salad Sandwich
Cheese or Pepperoni Ciabatta Pizza
Pretzel Dog
Kid's Ham and Cheese Sandwich or Ciabatta Pizza
Needless to say, lunch looked dismal. Meanwhile, the smell of burnt pizza hovered over us in the sauna-like heat. So I thought about nearby alternatives.
Unfortunately, those options were the Pizza Window and Boardwalk Deli (formerly Boardwalk Bakery). I'll give the Boardwalk this: they have several excellent table service restaurants. No one will argue that. But the pickings are slim if you're in a pinch and need a quick decent meal.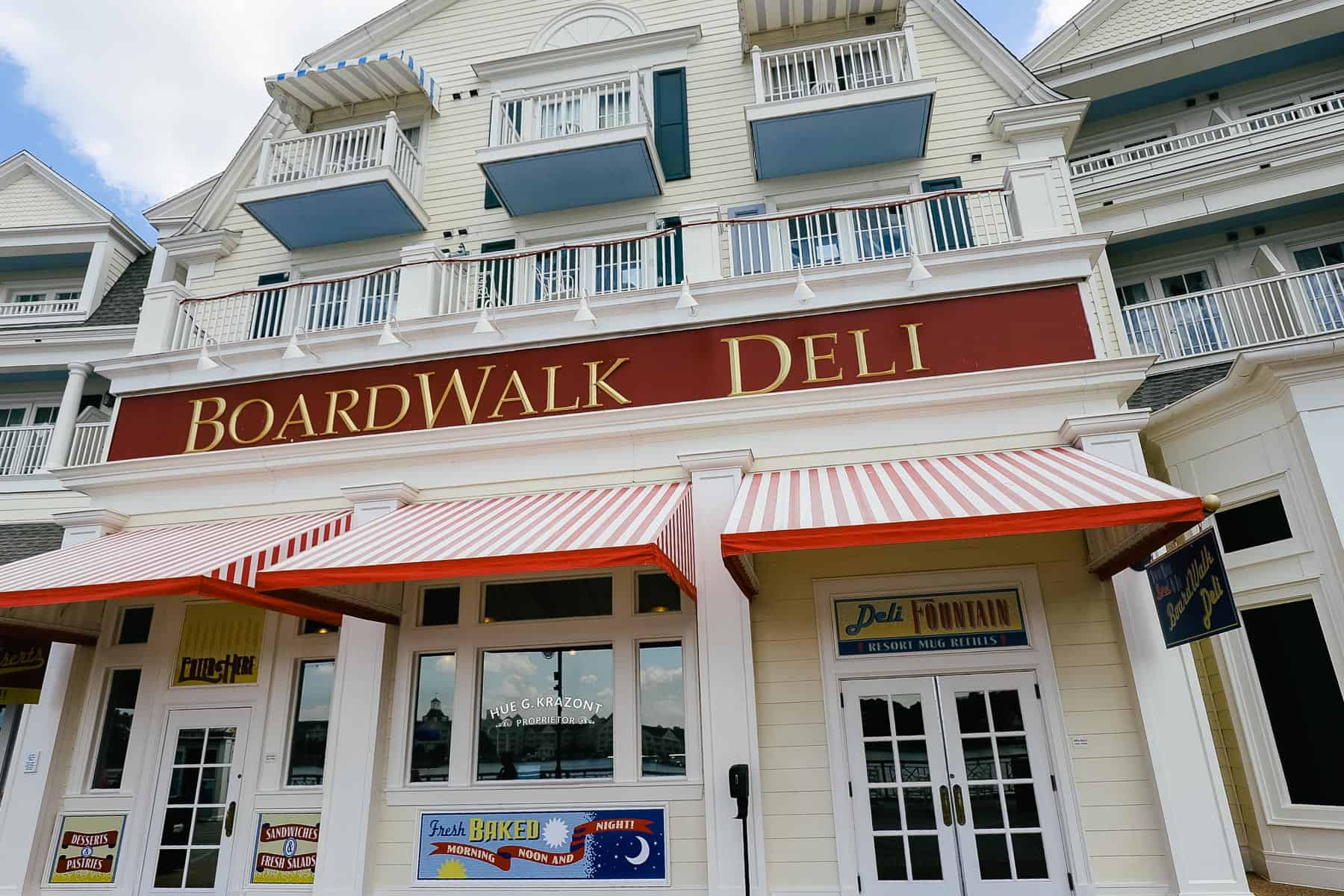 I decided to order a sandwich from the Deli using mobile order. That way, I could quickly grab it and bring it back to the pool. However, for whatever reason, this location doesn't allow you to customize your mobile order. 
So I had to get dressed, gather my belongings, and walk to the Deli to order a sandwich and then wait while it was being prepared. Some people will tell you that the Boardwalk Deli isn't too far. But here's the deal, I had to walk out of the pool area, across the large lawn, and down the Boardwalk to get a freshly prepared sandwich.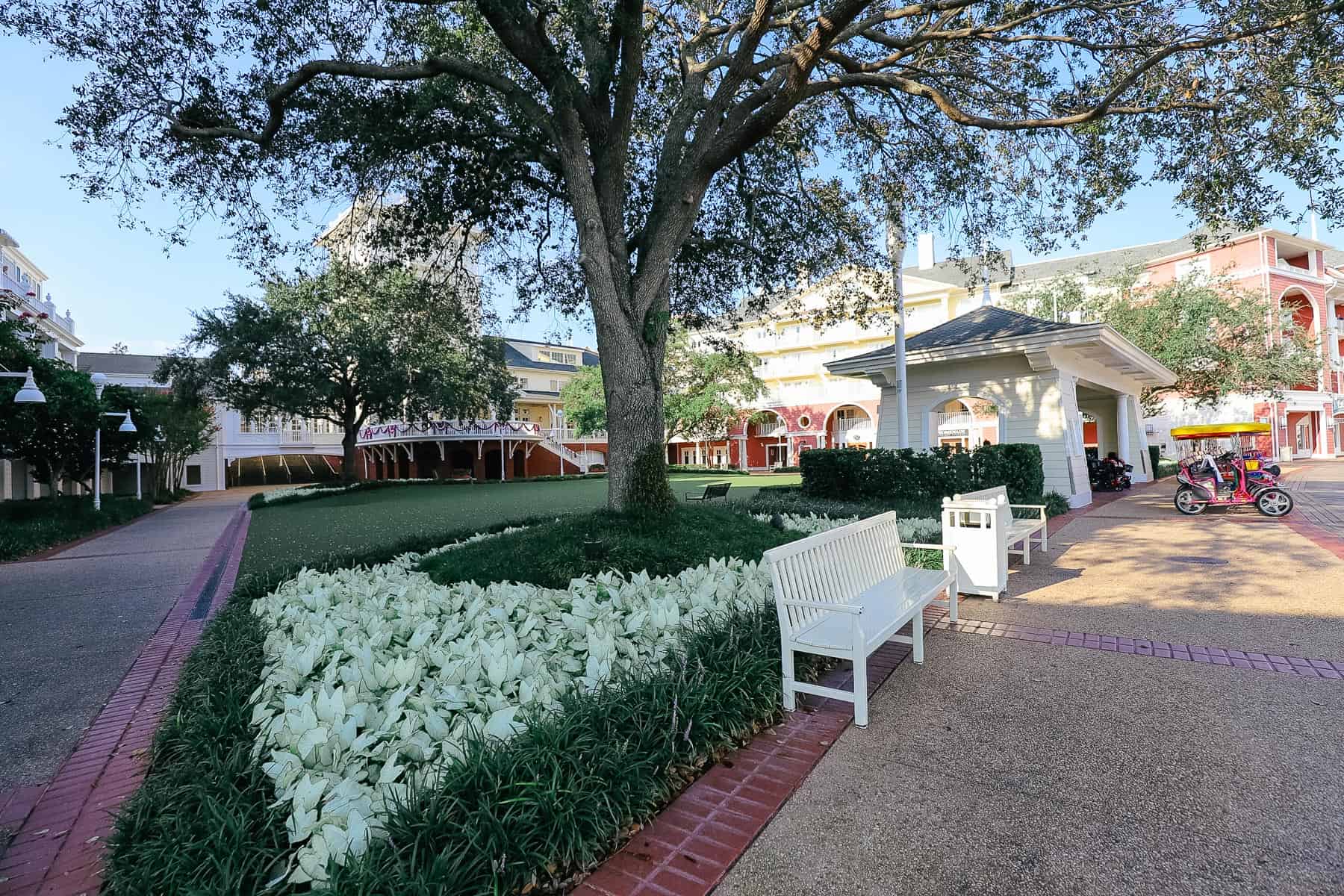 Say, you were in your room during a rain storm and decided to get something to eat. You would run into the same issue. You'd have to exit the hotel, walk across the lawn, and walk down the Boardwalk in the rain to get food. 
While the Boardwalk is pleasant, these glaring issues are a nuisance. It's hard to conceive why they haven't been addressed. 
Anyway, I got my sandwich and had a little picnic at the pool, which I did enjoy. When my soda ran out, though, I was going to have to walk back to the Deli to refill it. Thankfully, our server said not to worry about it, that he knew it was a problem, and brought me a fresh one. 
Side Note: If you buy a Rapid Fill mug, you must walk to the Boardwalk Deli or the pool area to fill it. The pool area doesn't open until 10:00 a.m. So in the mornings, your only option is the Boardwalk Deli. Carousel Coffee is in the lobby, but they do not have a soda refill station.
By 1:00 p.m., the pool was covered up. Guests were walking around with their belongings. If you so much as moved, someone would ask if you were leaving and if they could get your seat. I was shocked. This was not turning out to be a fun day at the pool.
Thankfully, by 1:30 p.m., I received a text with our room assignment. So we begrudgingly gave up our poolside seats, knowing it would be difficult to find another seat when we returned.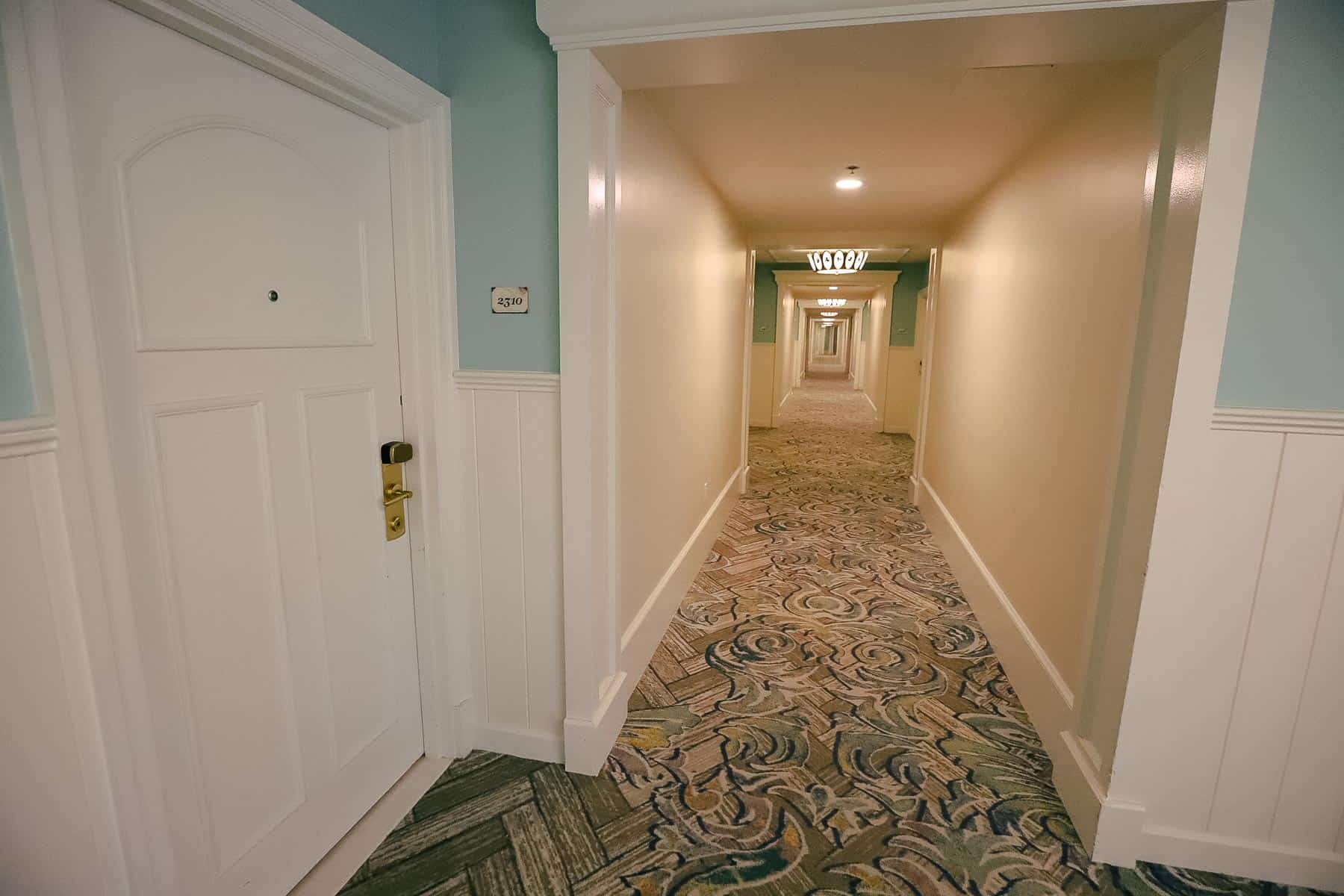 Our room assignment was on the second floor, off the resort's lobby. It was a corner room that ended up having two balconies, which wasn't a great thing. If you saw our room tour, you know that we had issues with light streaming in from the second balcony at night. 
Other than that, we loved the room. I couldn't help but smile over the touches of Mickey Mouse and friends throughout the space. Here are a few photos of our standard room with one king bed and a couch that transitions to a day bed.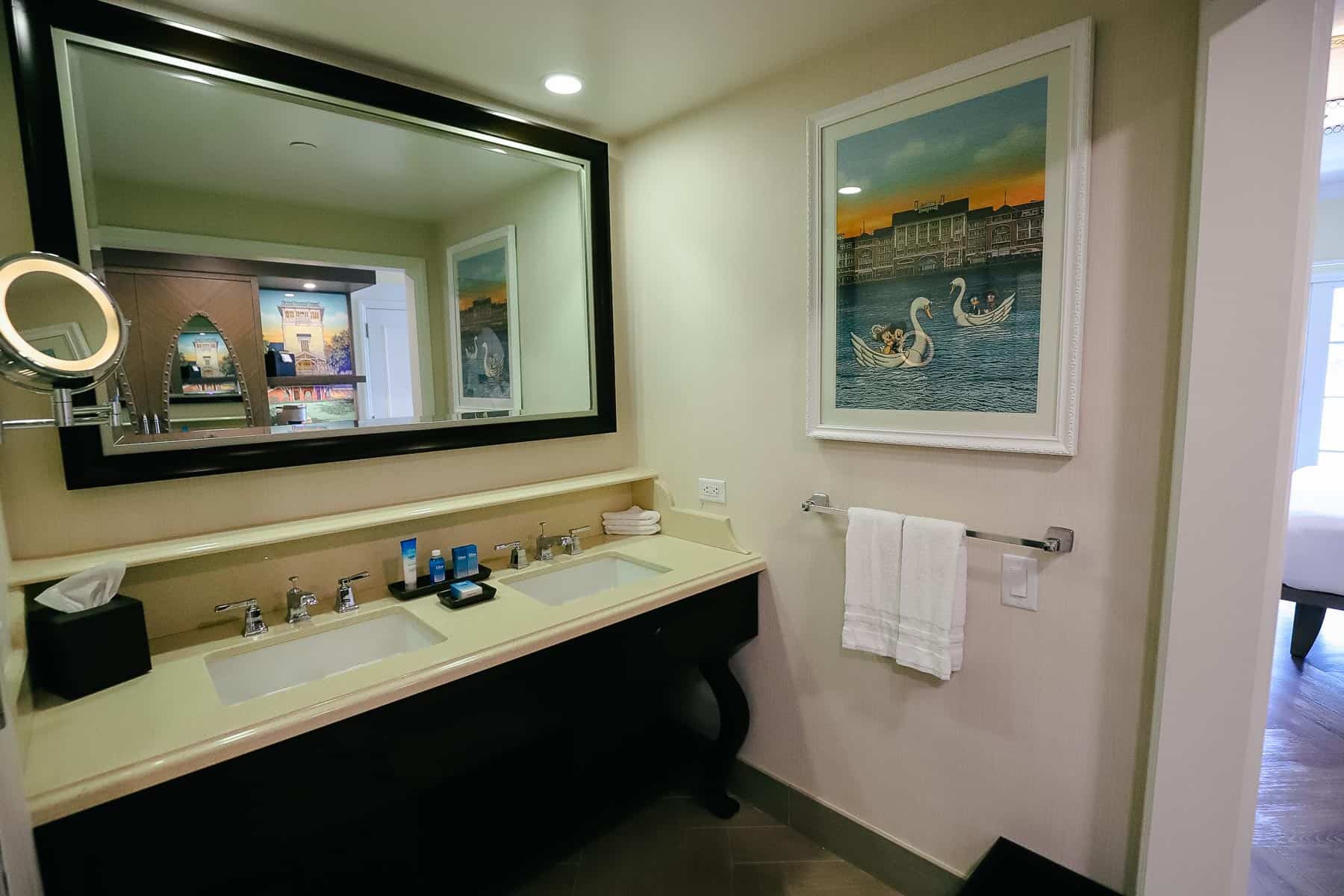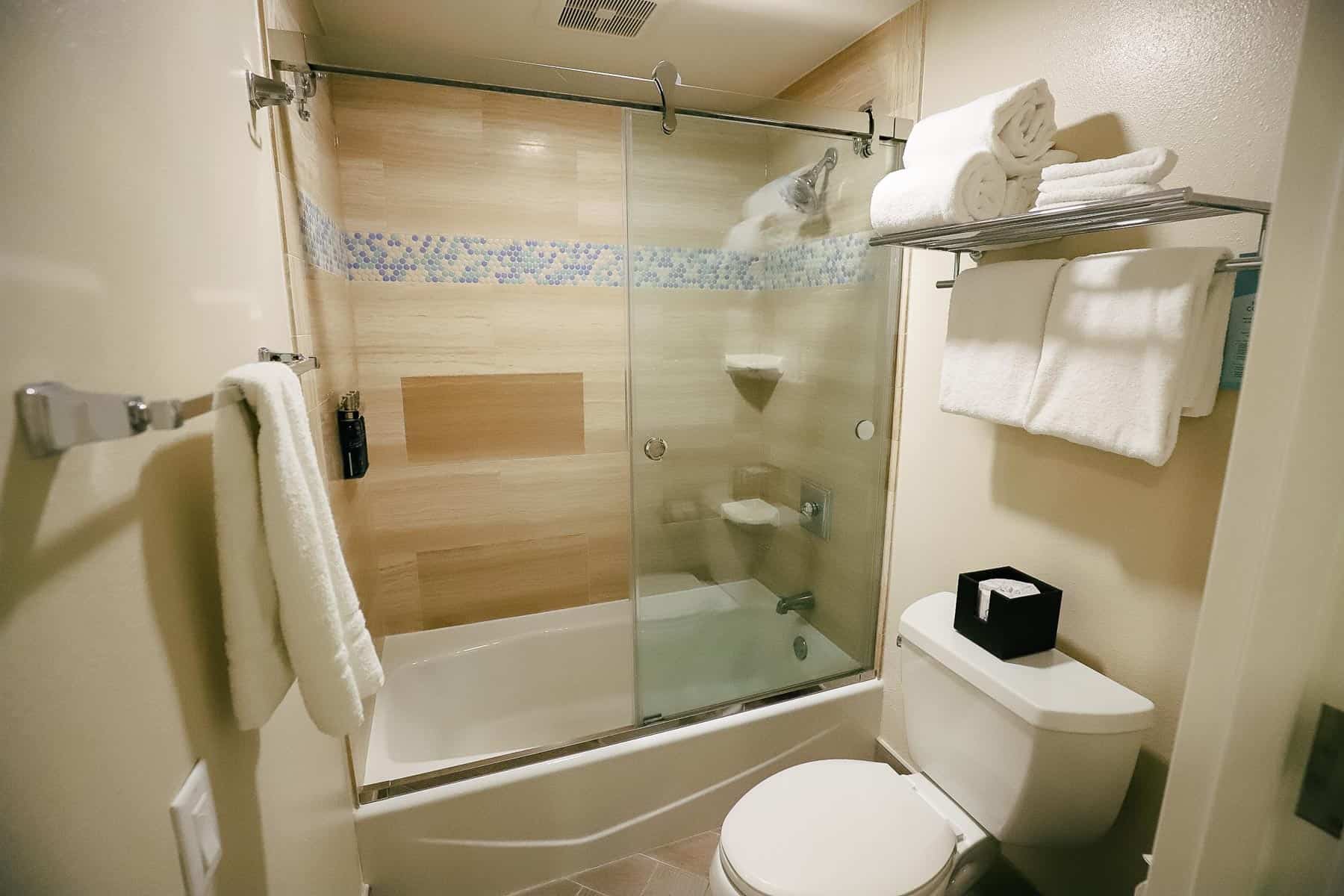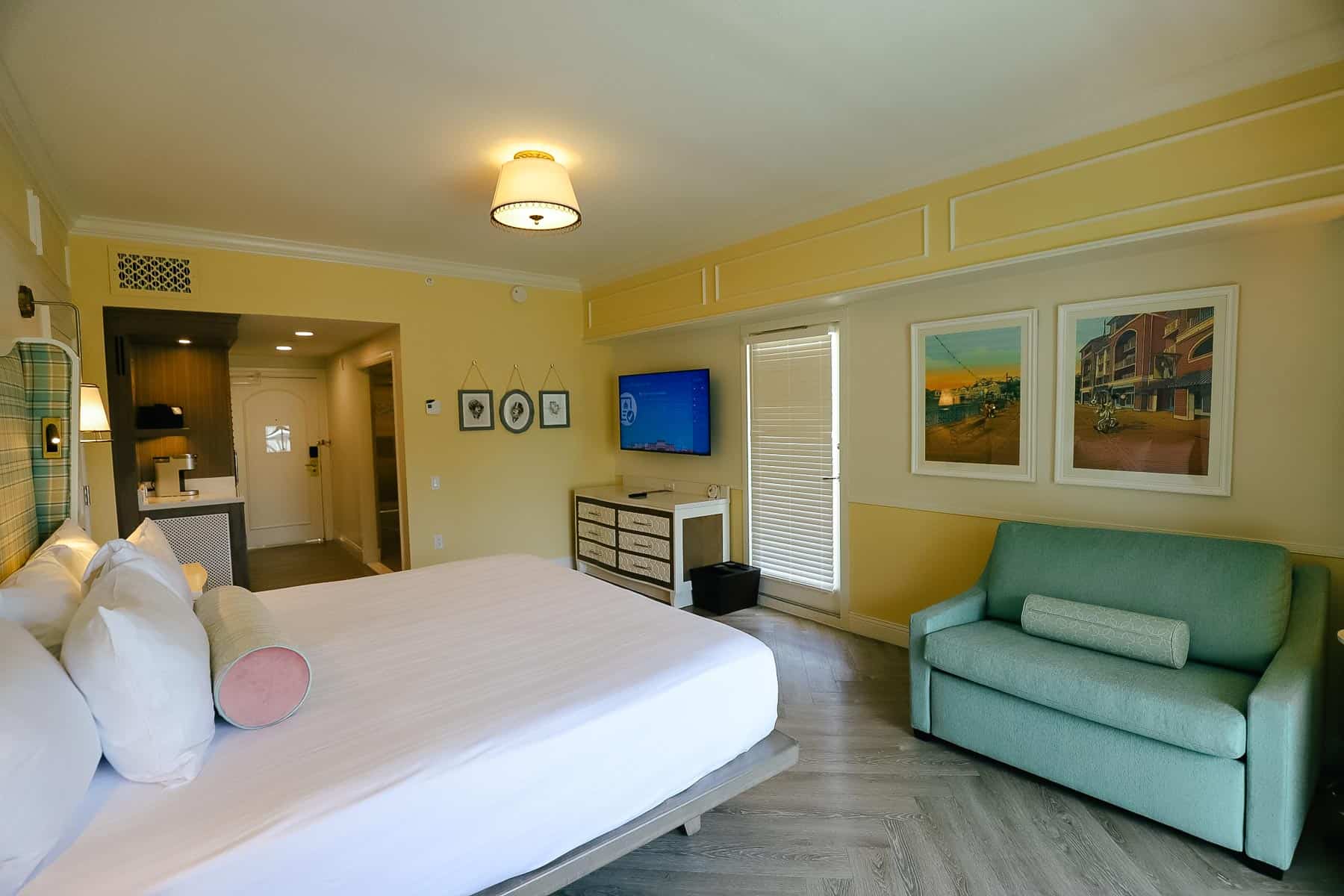 We have a separate Boardwalk room tour with a video and photos if you want to see every room detail. That article discusses specific room types and the available sleeping arrangements.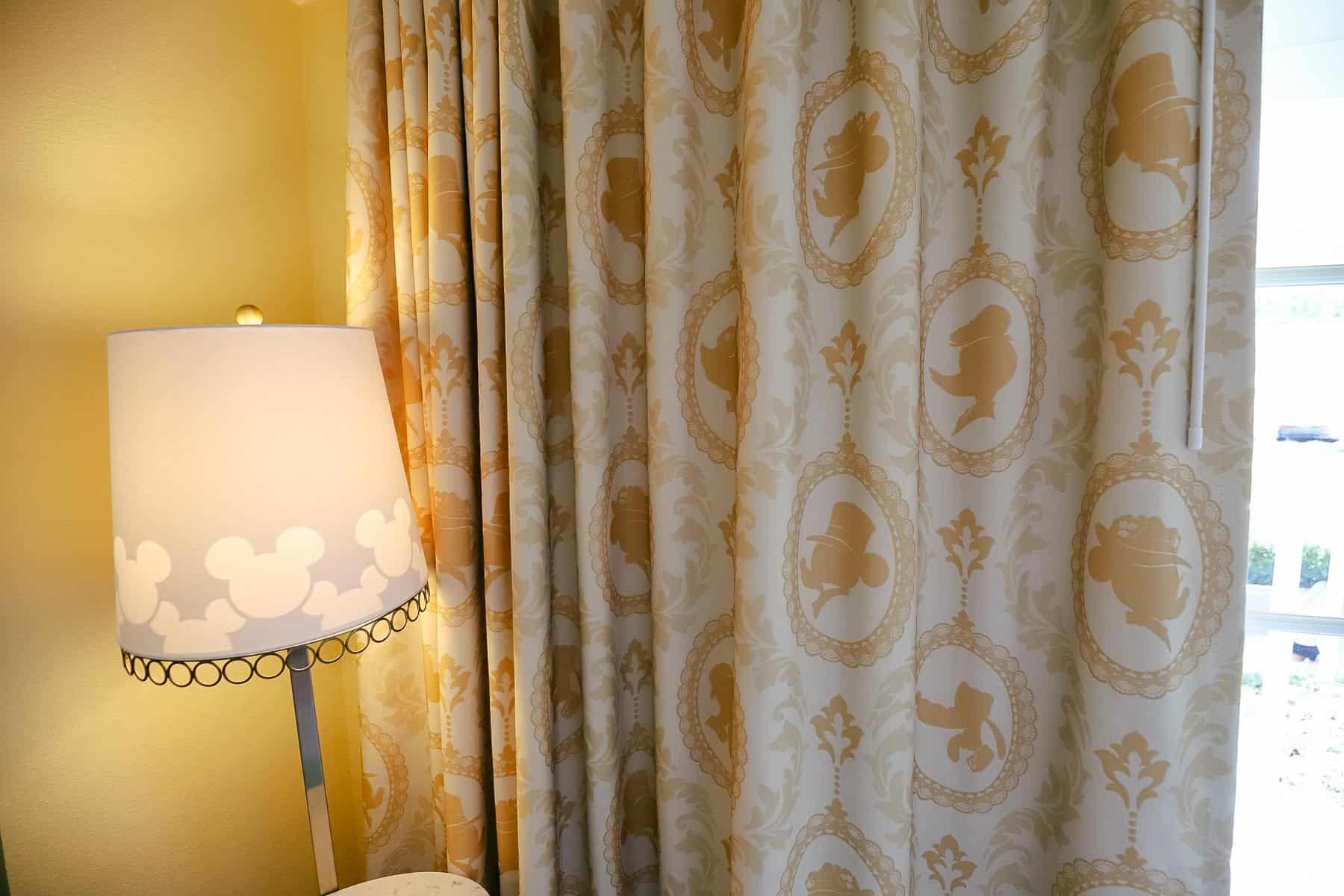 After taking photos and a video of the room, I revisited the pool. We went to Magic Kingdom later that evening to see the holiday fireworks offered on the 3rd and 4th of July, so I had a little more time to kill than usual.  
When I returned to the pool area, I decided I might have better luck at the Community Pool on the Disney Vacation Club (DVC) side of the resort. So I continued around the outside path to the secondary pool. Unfortunately, no seats were available here either. But after a few minutes, someone left, and I found what I thought was a quiet spot in the shade.  
Since it was so hot, I decided to get in the pool for a few minutes to cool off. The concrete was so hot that I'm lucky I didn't have blisters. Several guests were screeching and jumping in the pool as soon as possible to avoid the burn. 
After another quick dip, I returned to my seat and attempted to read. But the people behind me were having a loud conversation that was uncomfortable to overhear. I do not know why so many seem to have lost their filter these days.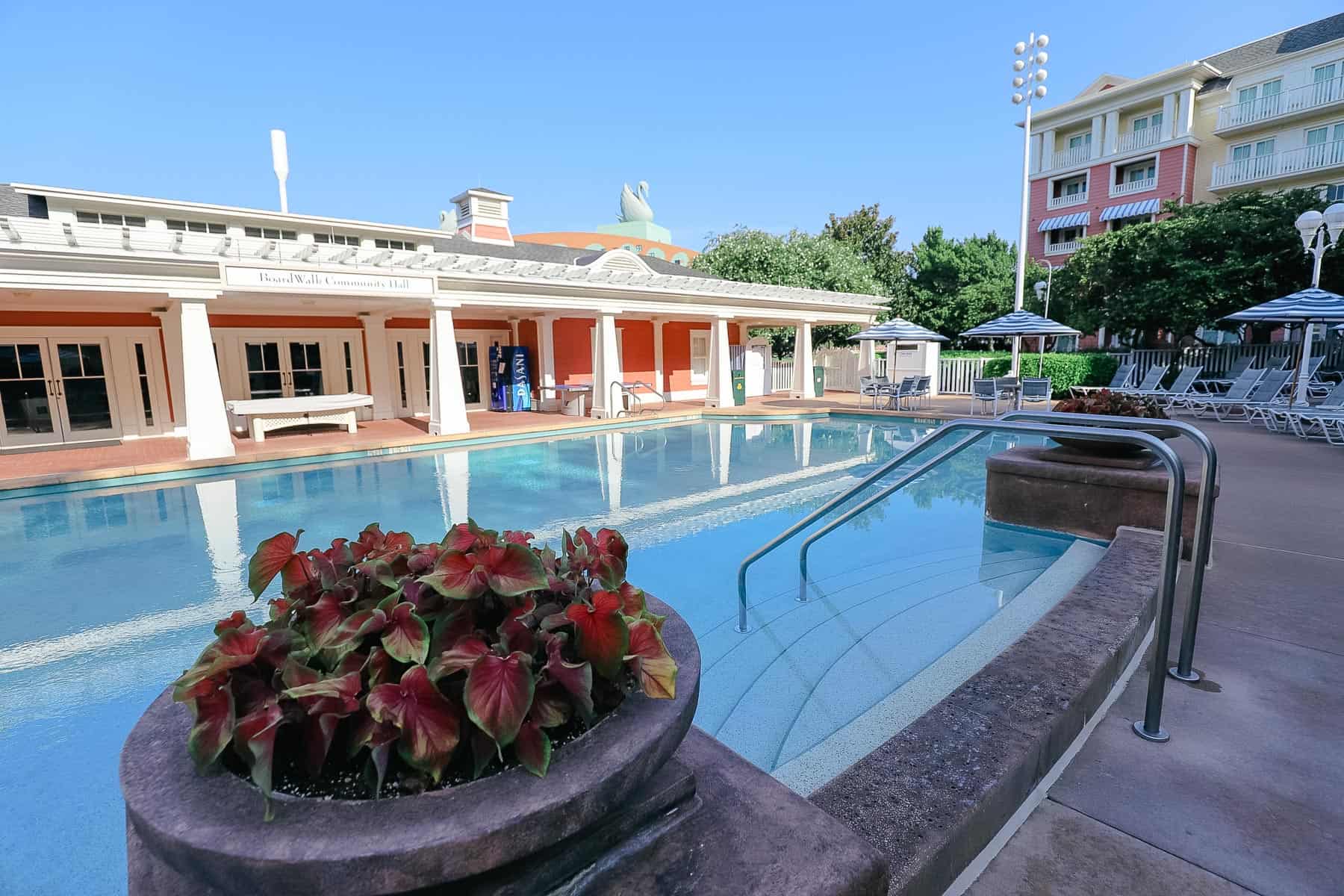 (Here is a photo of the other leisure pool on the opposite side of the resort.)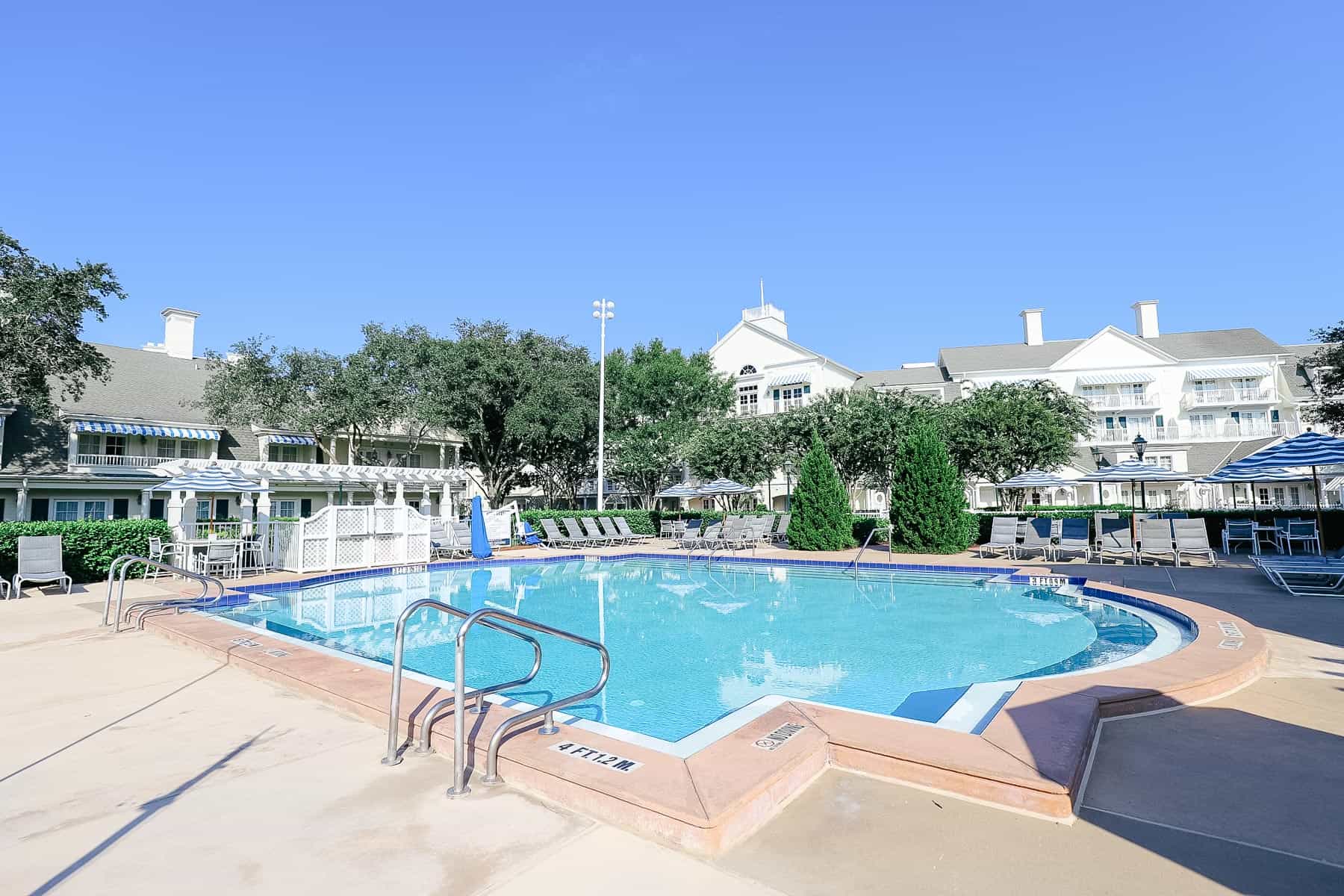 So I gave up and went back to the room to rest. On the way, I decided to pick up a cup of coffee at Carousel Coffee. If we were out late, I knew having a little extra caffeine would be a good idea. 
Unfortunately, Carousel Coffee was closed when I arrived at 3:45 p.m. They closed at 3:30 p.m. Again, why even bother to have a coffee shop off the lobby? This is a hotel where you provide amenities for your guests. 
So I had to settle for the coffee in my room, which was complimentary. But I would have preferred to pay $6.00 for a cappuccino since I was on vacation.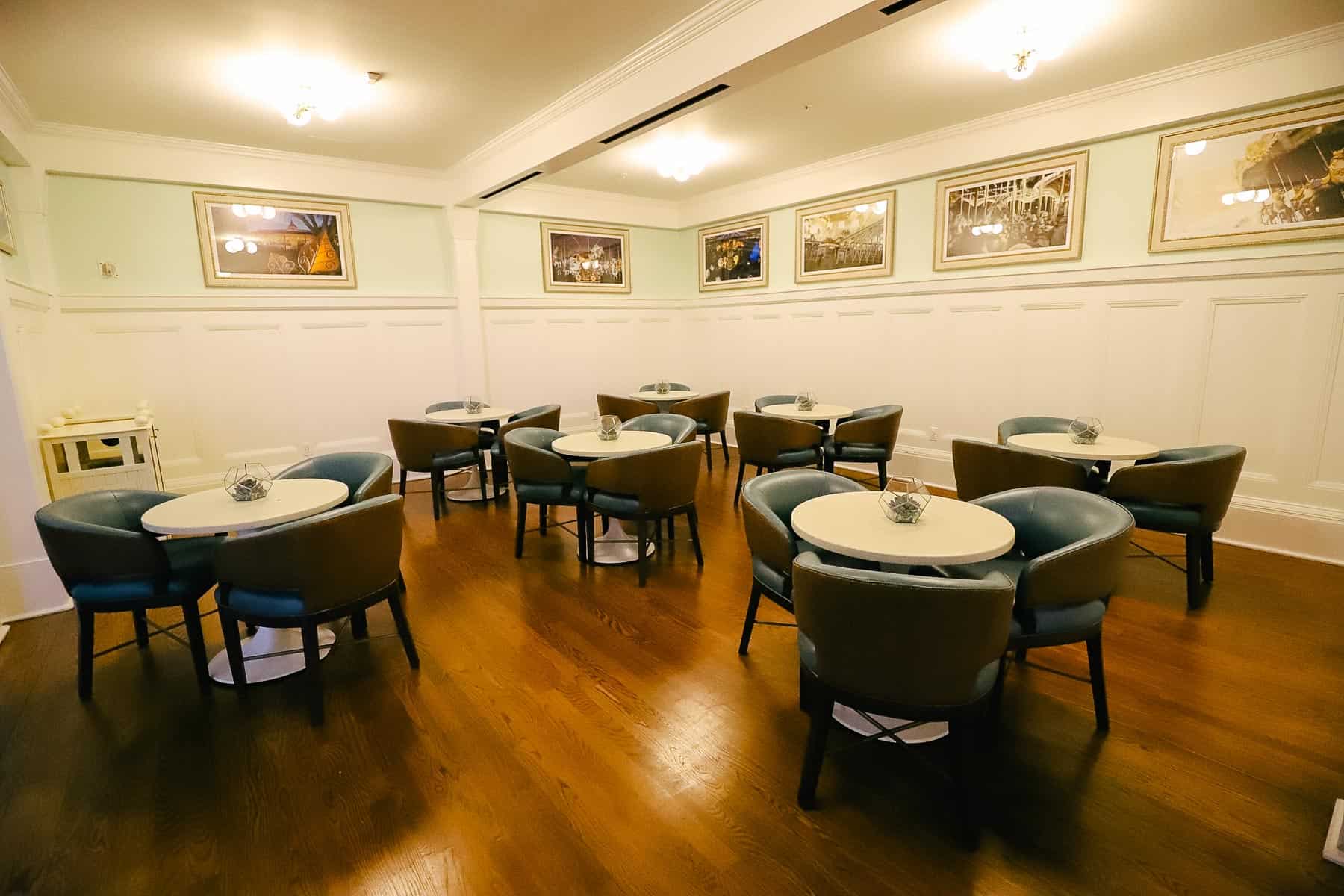 Not long after that coffee, we headed to Magic Kingdom, where we enjoyed a stunning sunset while waiting for the fireworks. After the fireworks, we waited around to let the crowds clear out. 
I realized it would be after 11:00 p.m. when we returned to the room. So we opted for a quick meal at Cosmic Ray's. This is the part that gripes me the most. Both Magic Kingdom and Epcot were open late that evening. But everything at the Boardwalk closed up by 10:00 p.m. 
Under some standards, being open until 10:00 p.m. might seem late enough. But if you were hitting the parks hard and wanted a late-night snack or a meal, you have no options at the hotel. A hotel that was designed to accommodate guests who were visiting said parks. 
When I stayed at the Drury Hotel at Disney Springs a few weeks ago, they had Pizza Hut until midnight. They also told me they open the store for any guests who arrive late to purchase food items. 
Disney's Boardwalk doesn't have a similar store with food items or the option to get something late. However, some small grocery items are available at the Screen Door Store on the Boardwalk.
As far as pizza, they serve cheap pizza–like we're talking old-school concession stand pizza. In this day and age, it seems like Disney could provide quick service food that people sought out. Or, at the very least, partner with a familiar brand that would satisfy the masses.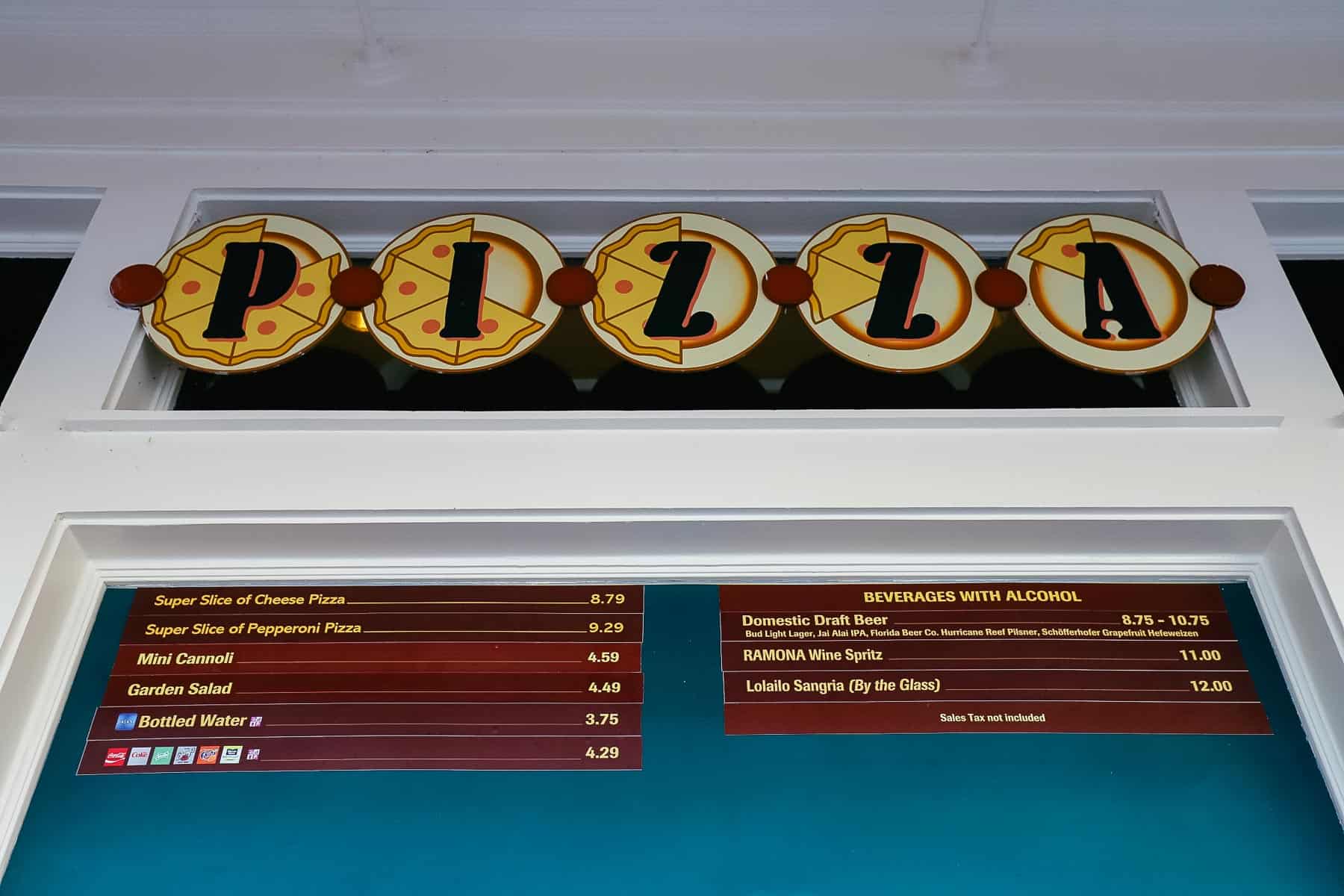 So it's 10:15 p.m., and I'm sitting in Cosmic Ray's munching on a child's chicken tenders because it's my only option between there, the bus stop, and the hotel. The hotel that we paid over $400.00 per night to stay at–do you see the problem?
What did we do for dinner the next night? We drove to Chick-Fil-A and got sandwiches and fries.
When the Boardwalk began renovating a few years ago, I hoped a dining solution would be addressed. Just because the Boardwalk is considered a higher-end hotel doesn't mean guests only want to enjoy table service meals.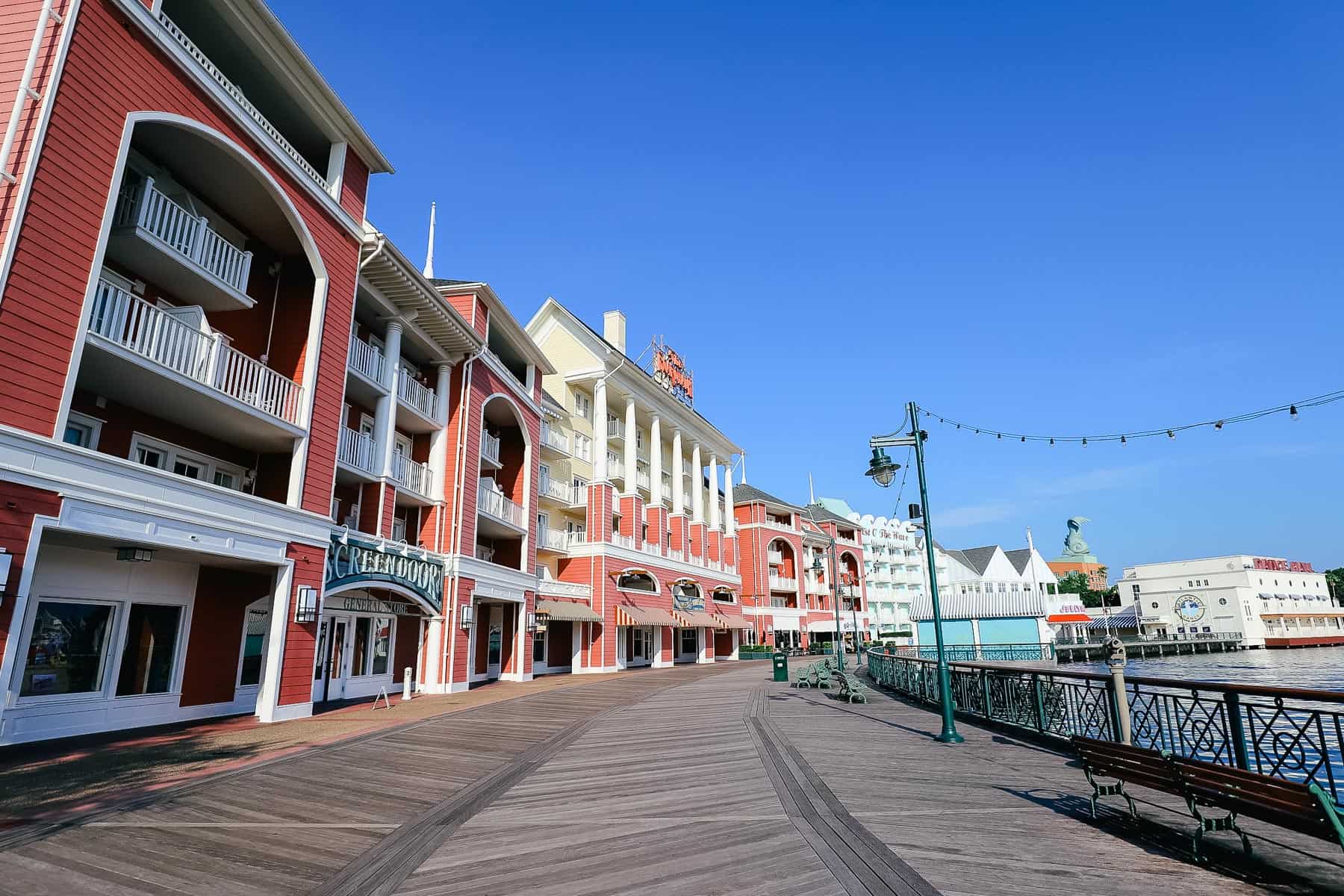 I try to be as objective as possible and consider others' perspectives. Some guests say you are next to Epcot and can enjoy their restaurants too. Sure, you can–with a ticket and, at this time, a theme park reservation. You might also need a park-hopper upgrade if you visit another park earlier in the day.
It is also likely that I might put more of an emphasis on food than some. But I believe that food is an integral part of the vacation experience at Walt Disney World. These are essential factors whether you're burning twice as many calories as usual or only want to enjoy something out of the norm. 
Anyway, with these negative factors out of the way, let me share a few things I love about the resort. As mentioned earlier, you will have excellent table service options at Trattoria al Forno (breakfast and dinner), Flying Fish (signature dining), and Big River Grille and Brewing Works (casual table service and microbrewery).
Big River Grille is going to be your best bet as far as reasonable pricing goes. They have great sandwiches, salads, and similar items. Big River Grille also has one of the property's best kid's meal menus.
Related: Disney's Big River Grille Review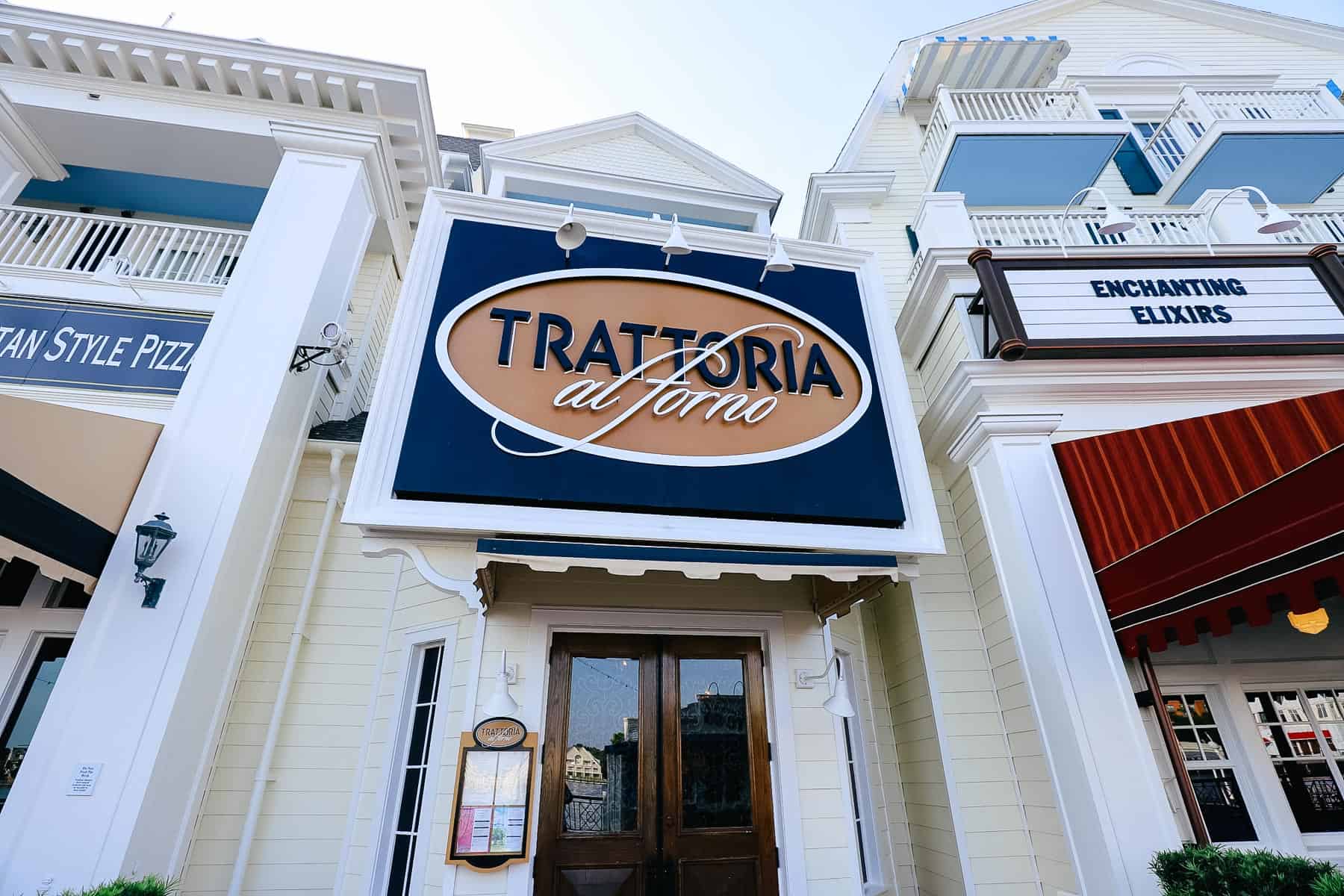 A new restaurant called The Cake Bake Shop is under construction, replacing the former ESPN Bar and Grille. However, its construction is moving at a snail's pace. It's so slow that I'm skeptical the restaurant will ever come to fruition. But if and when it does, you can dine in the restaurant or pick up a slice of cake in a separate shop that adjoins it.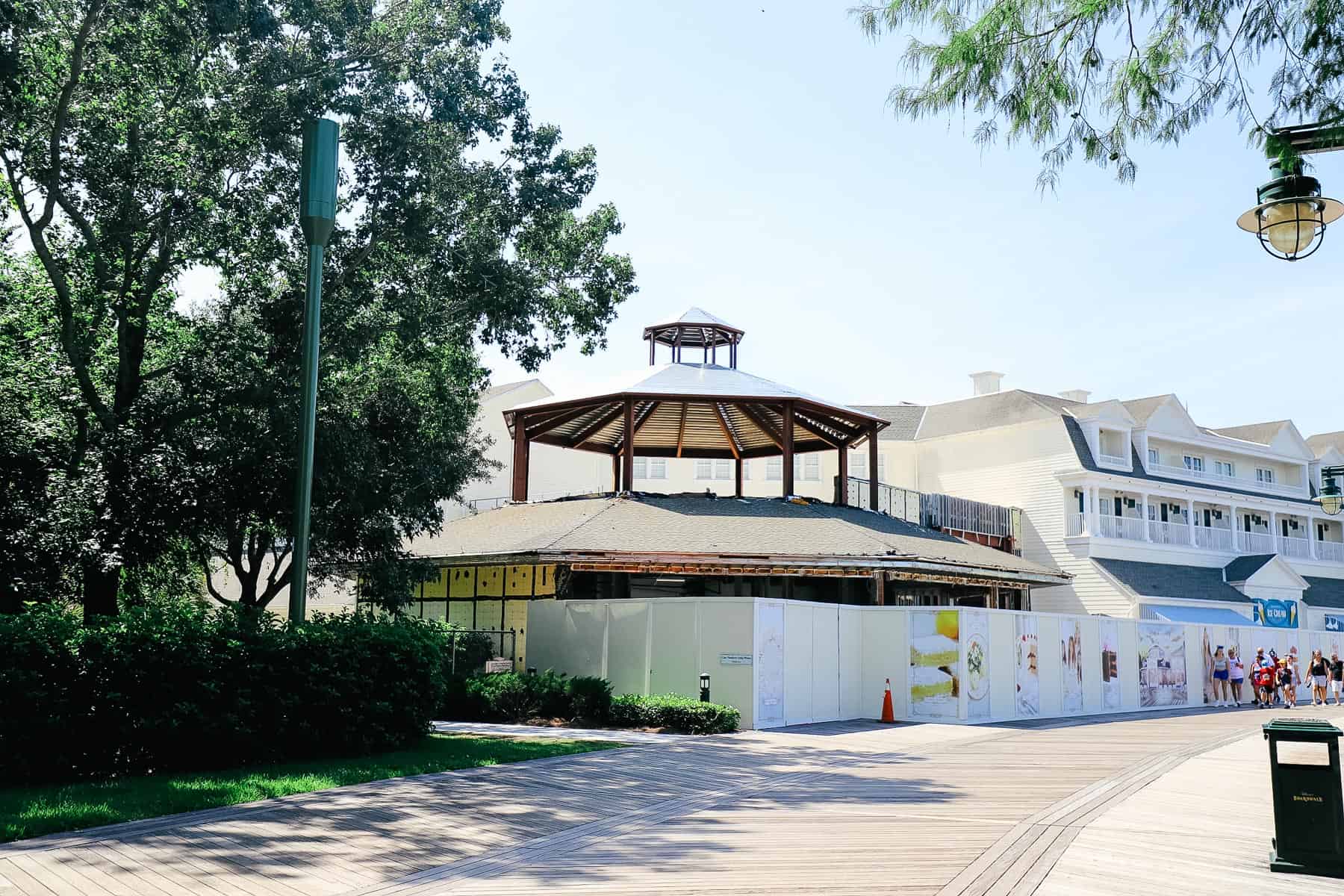 Speaking of shops, when I went to pick up my sandwich at the Boardwalk Deli, I thought I would step in and check out the ice cream selections at the Boardwalk Ice Cream Shop. But they were closed. They are only open from 3:00 p.m. until 11:00 p.m. (On the weekends, they open at 12:00 p.m.)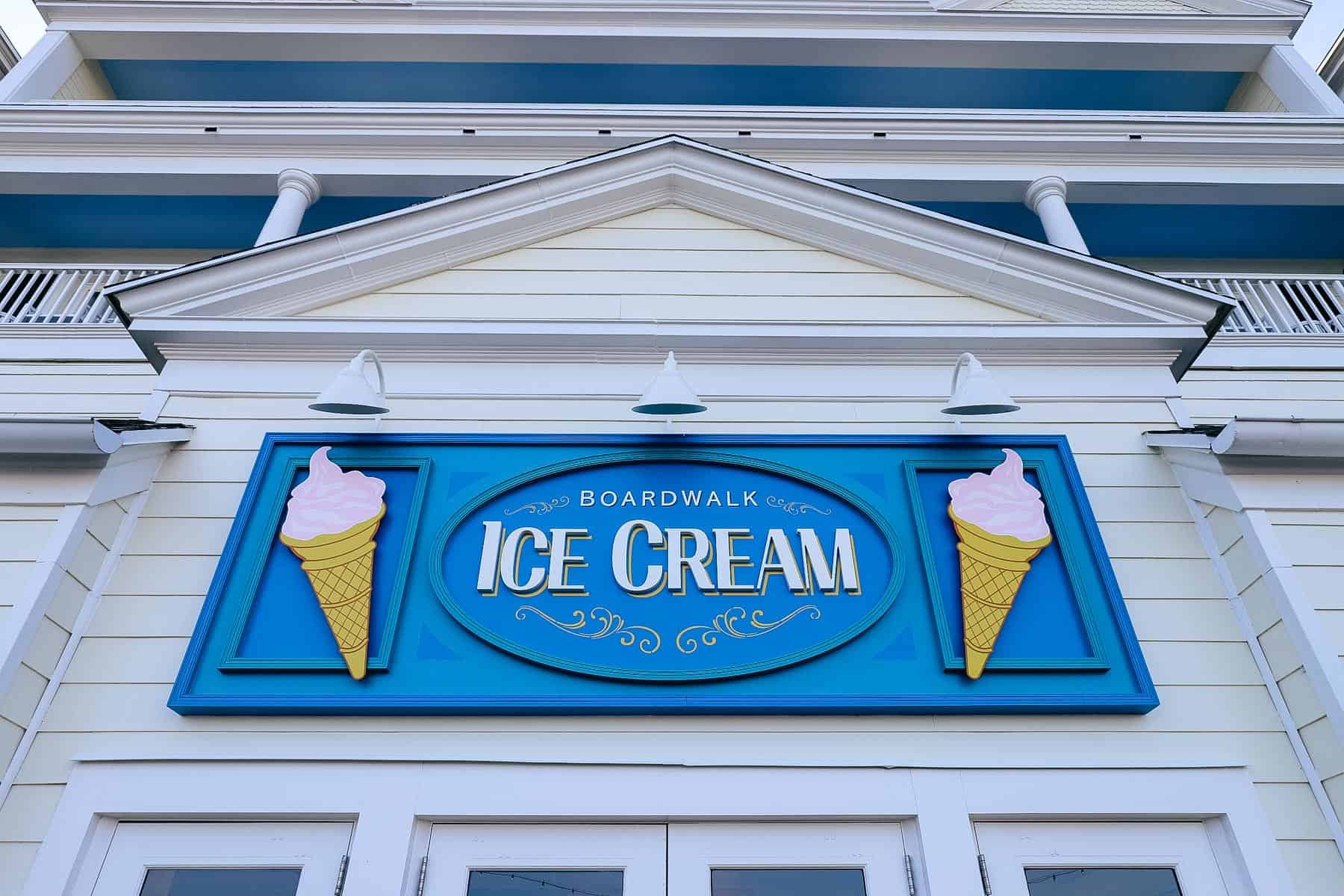 I thought I might get an ice cream cone when we returned from Epcot during the 4th of July fireworks. It was probably because of the holiday, but the line extended well outside the door. I would guess at least fifty people were waiting for ice cream. 
Boardwalk Joe's Margaritas sits out on the Boardwalk if you enjoy a margarita. Other lounges at Disney's Boardwalk include Belle Vue Lounge and AbraCadabar.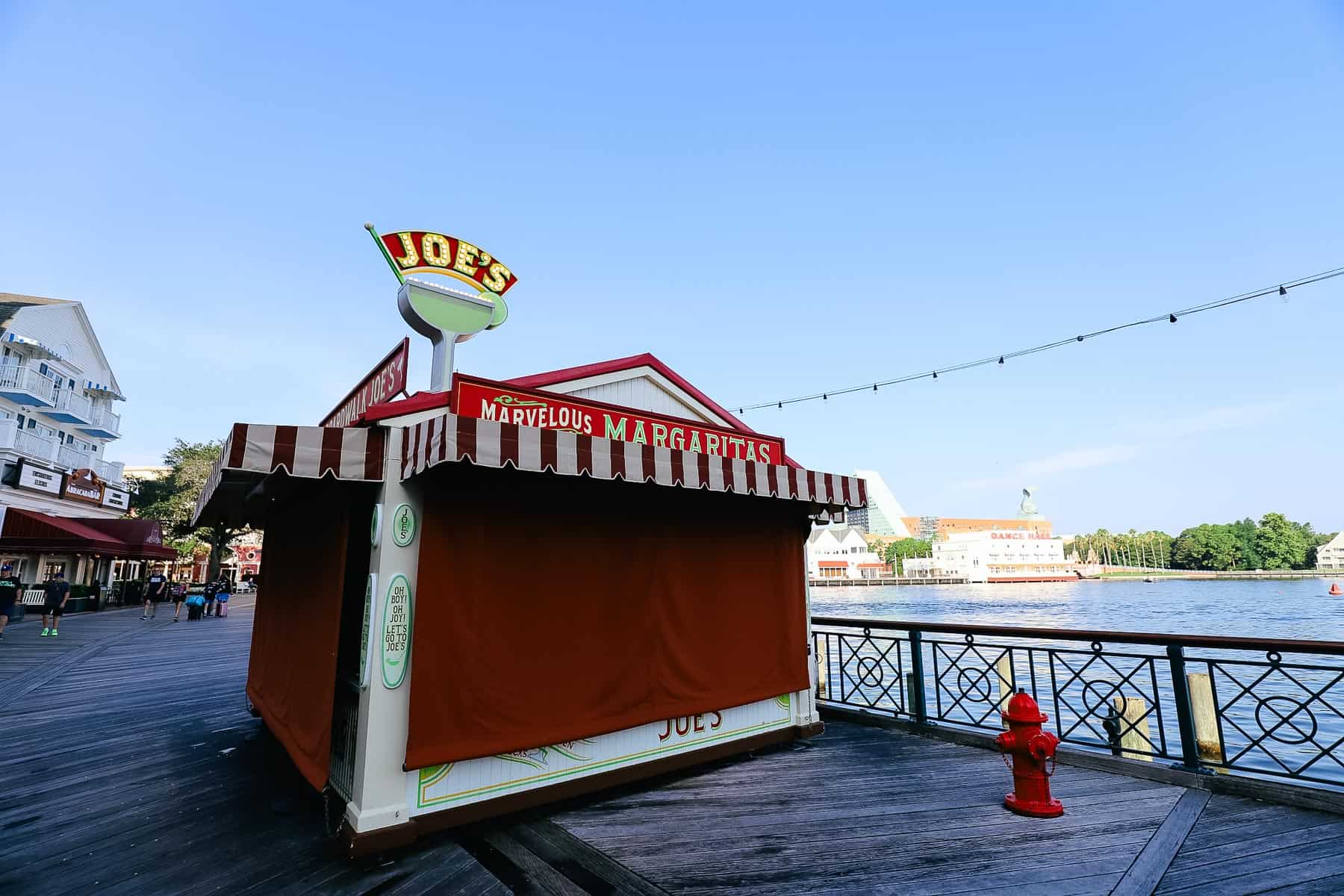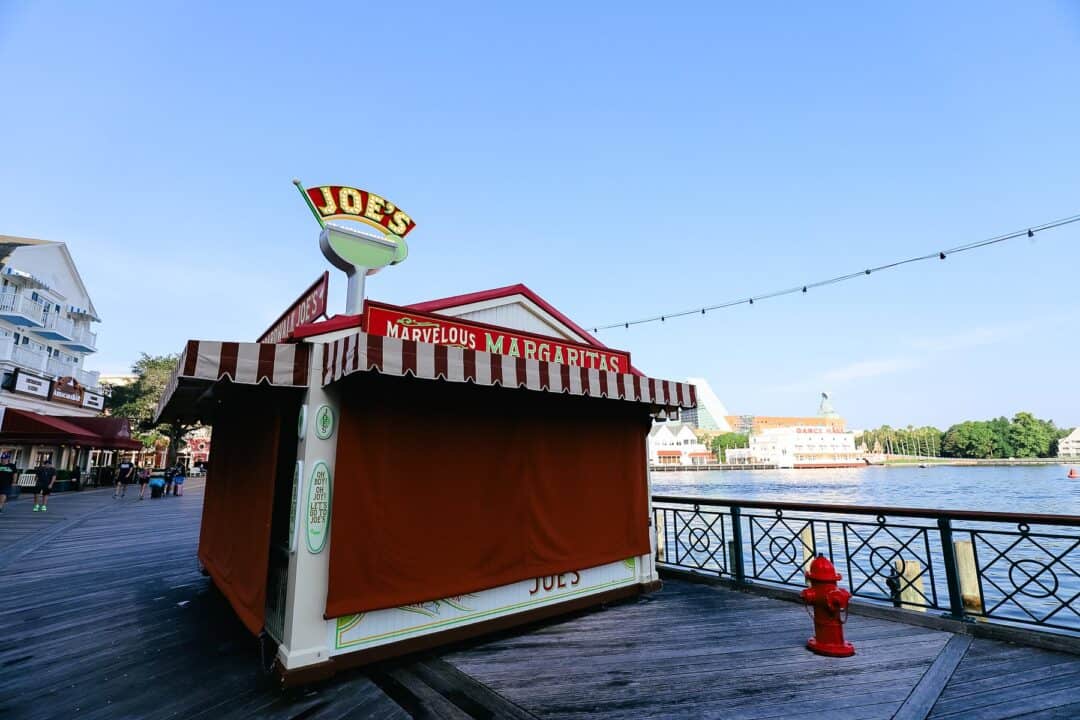 Disney's Boardwalk formerly had a funnel cake cart and a To-Go Cart that sat on the Boardwalk. The To-Go Cart was popular and served quick service items like chicken fingers and sandwiches. But both locations appear to have permanently closed.
However, it was recently announced that Blue Ribbon Corn Dogs would replace the To-Go Cart. From my understanding, they are a popular treat at Disneyland.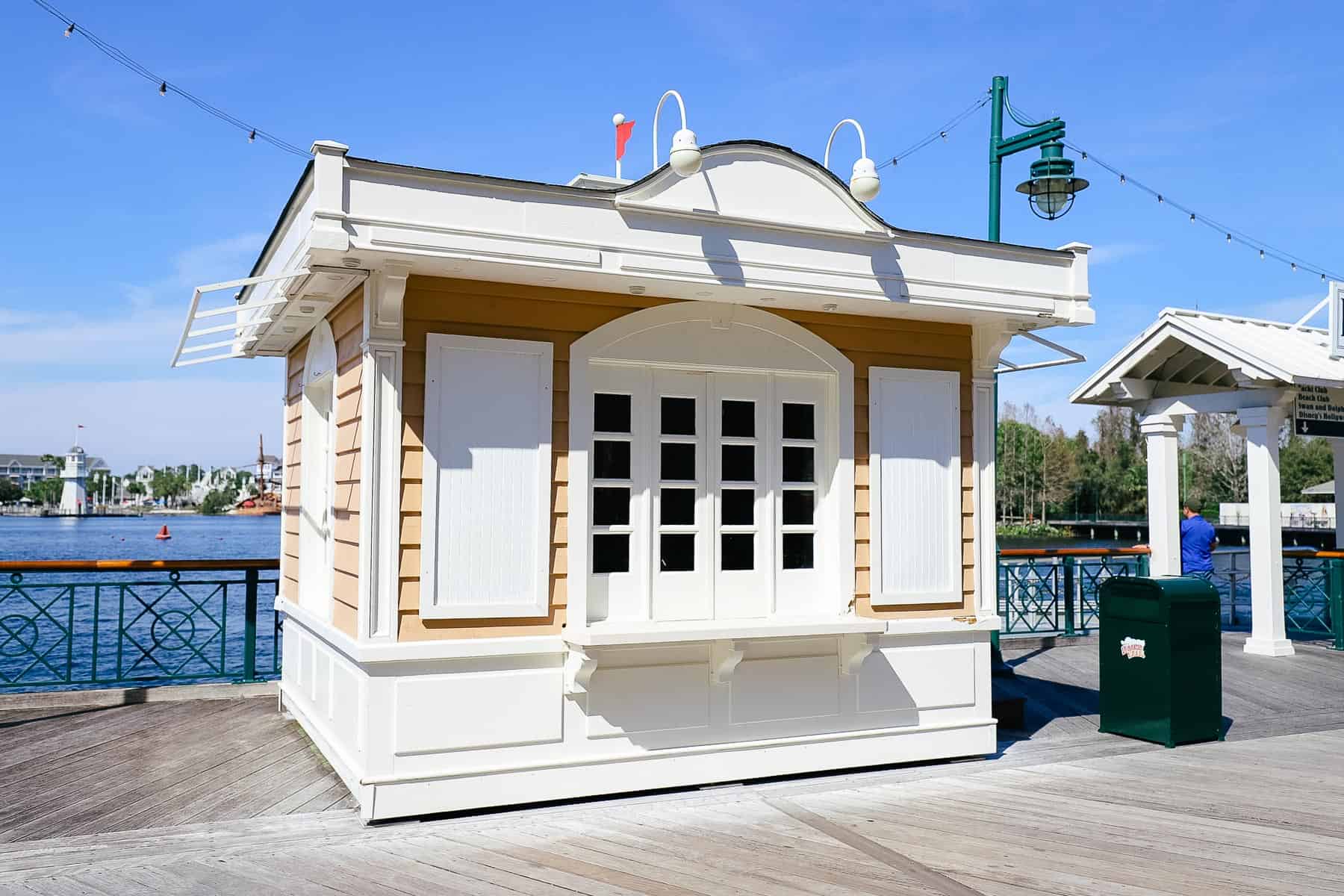 Boardwalk offers nightlife at Jellyrolls and Atlantic Dance Hall. Jellyrolls is open nightly. They have a dueling piano bar where guests are invited to sing along. Atlantic Dance Hall is open Thursday through Sunday evenings. Both of these venues are for guests ages 21 and older.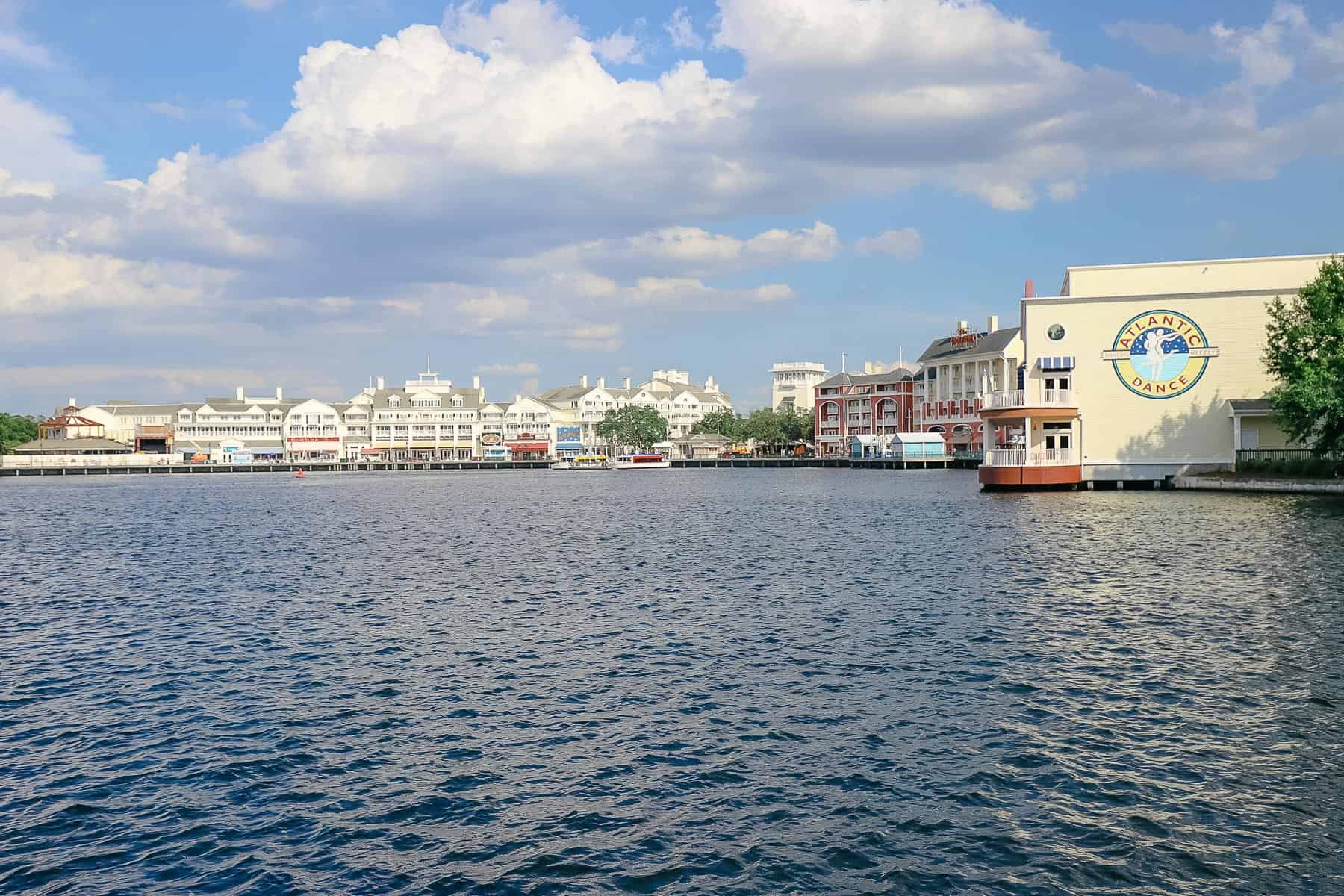 Several carnival games are available on the Boardwalk during the evening. From time to time, various performers offer live entertainment. However, it is not guaranteed.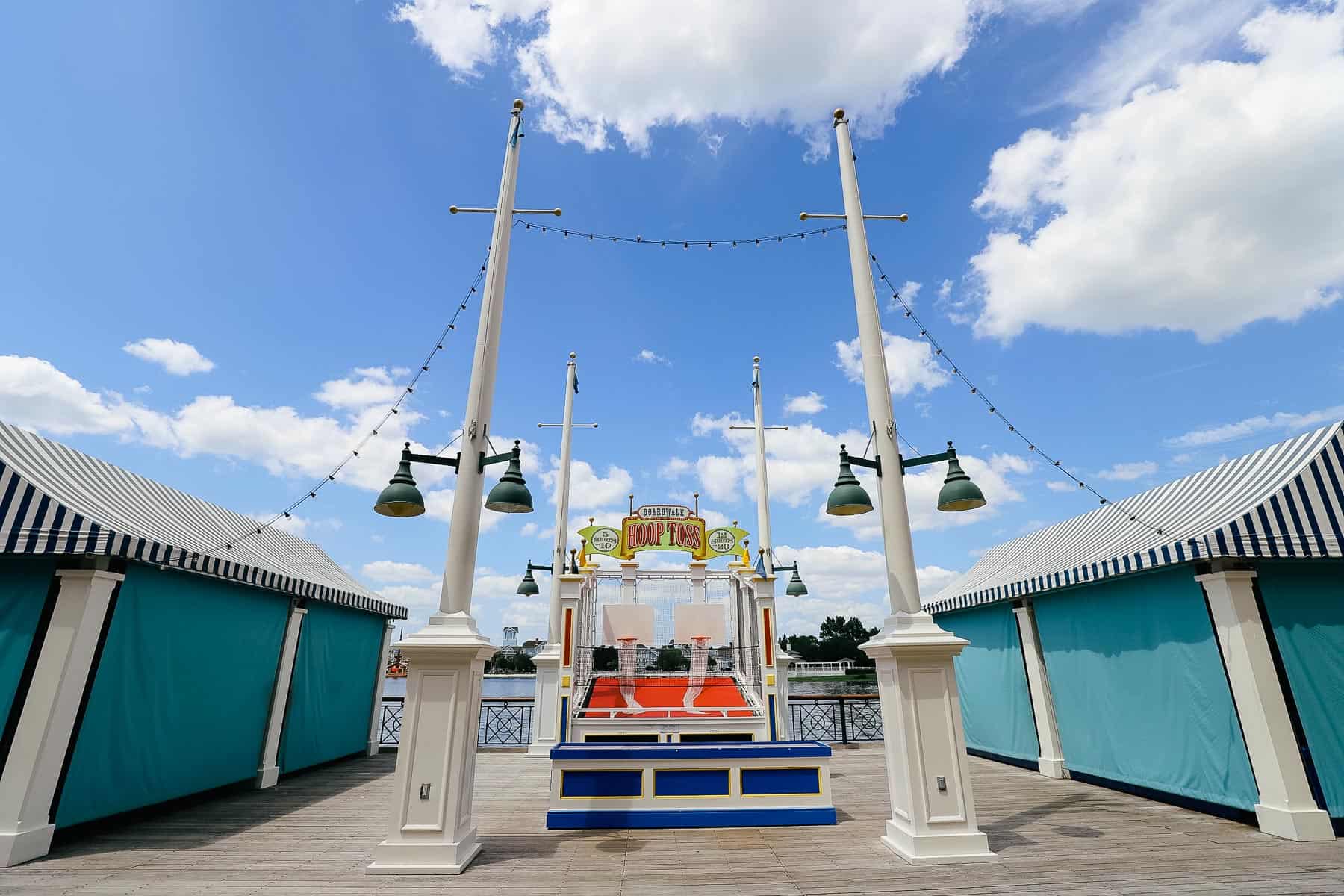 Here is a novelty photo booth where you can have a photo strip made.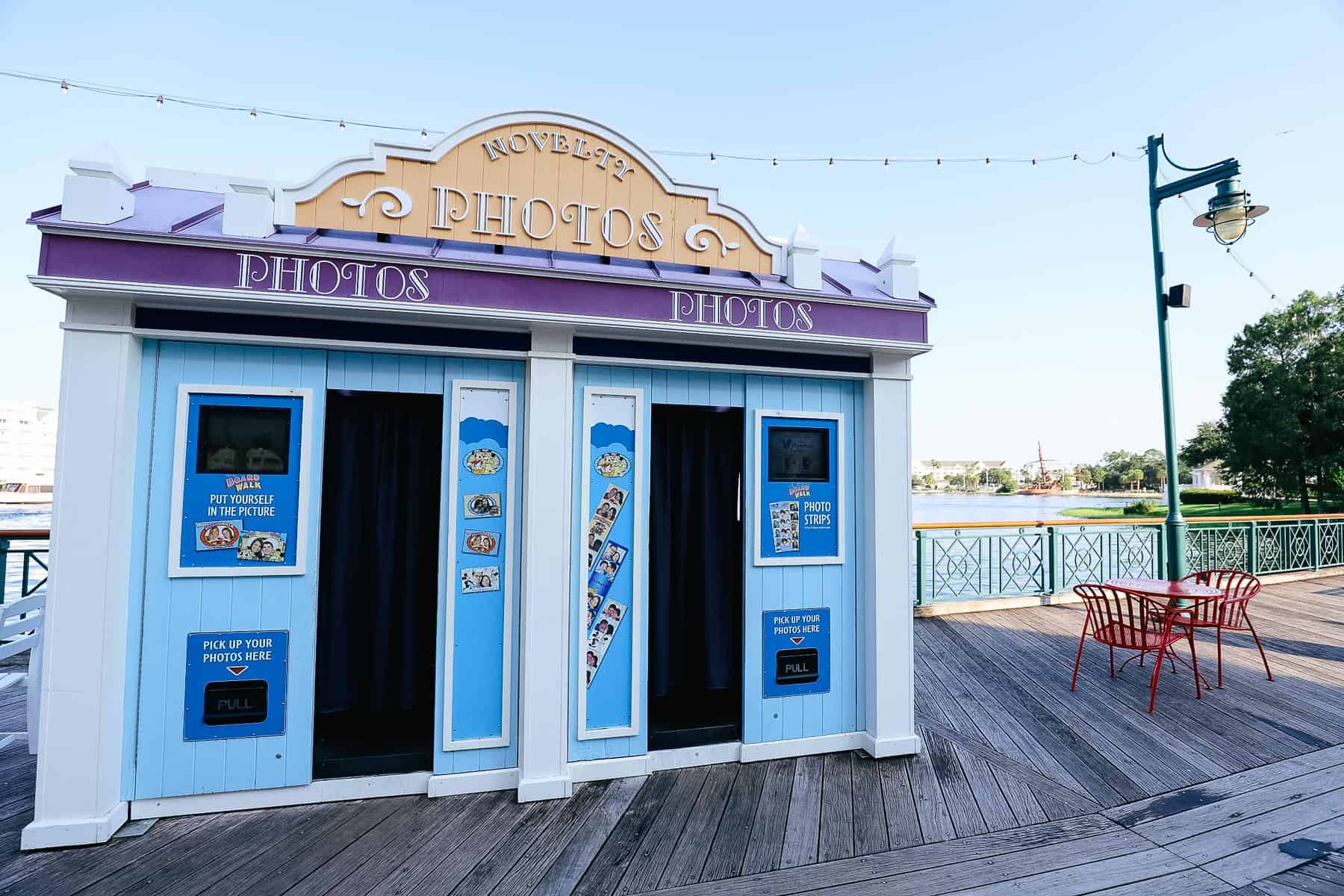 An art gallery called the Promenade opened last year. It replaced the former Wyland Gallery.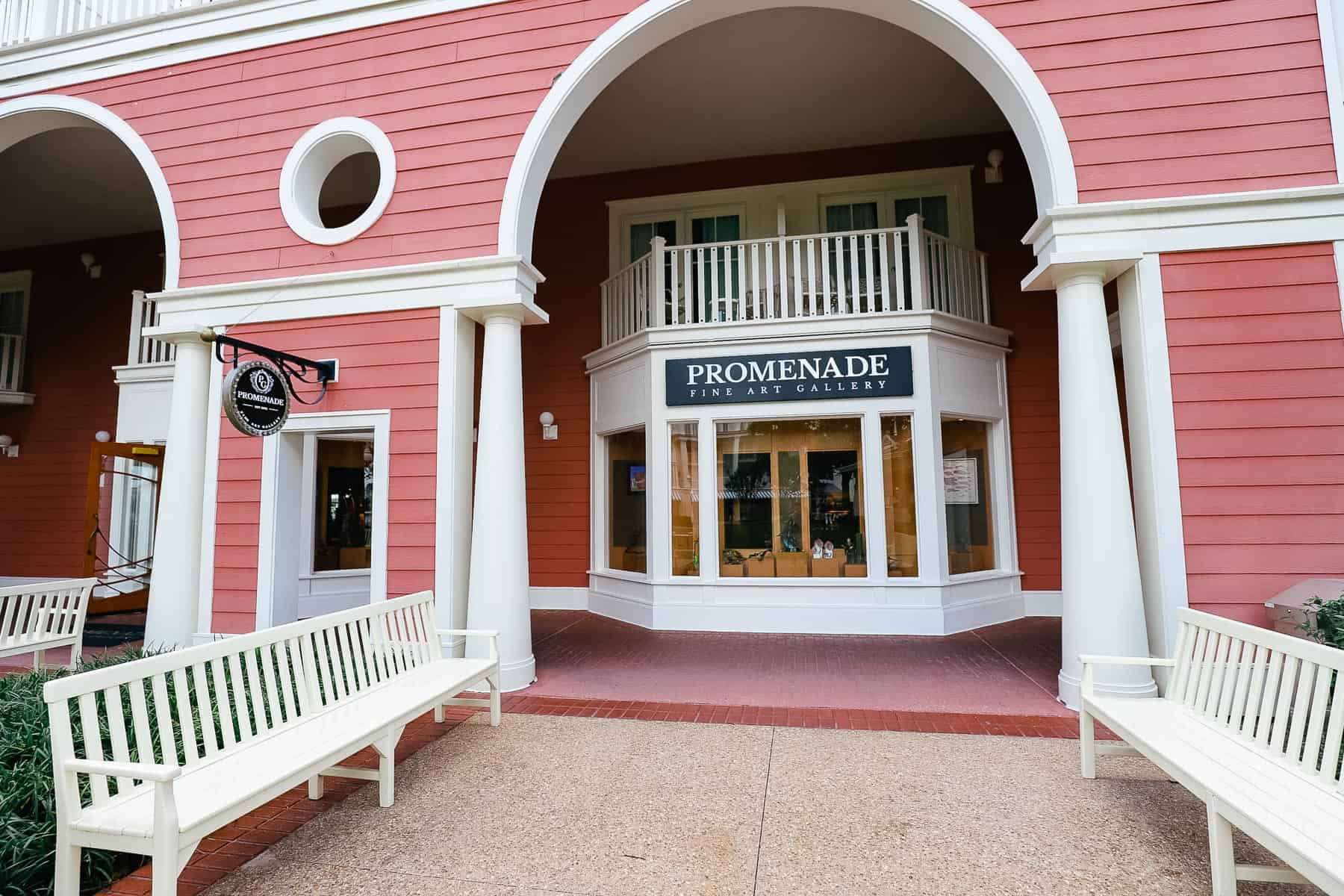 Surrey bikes are available for rent on the Boardwalk.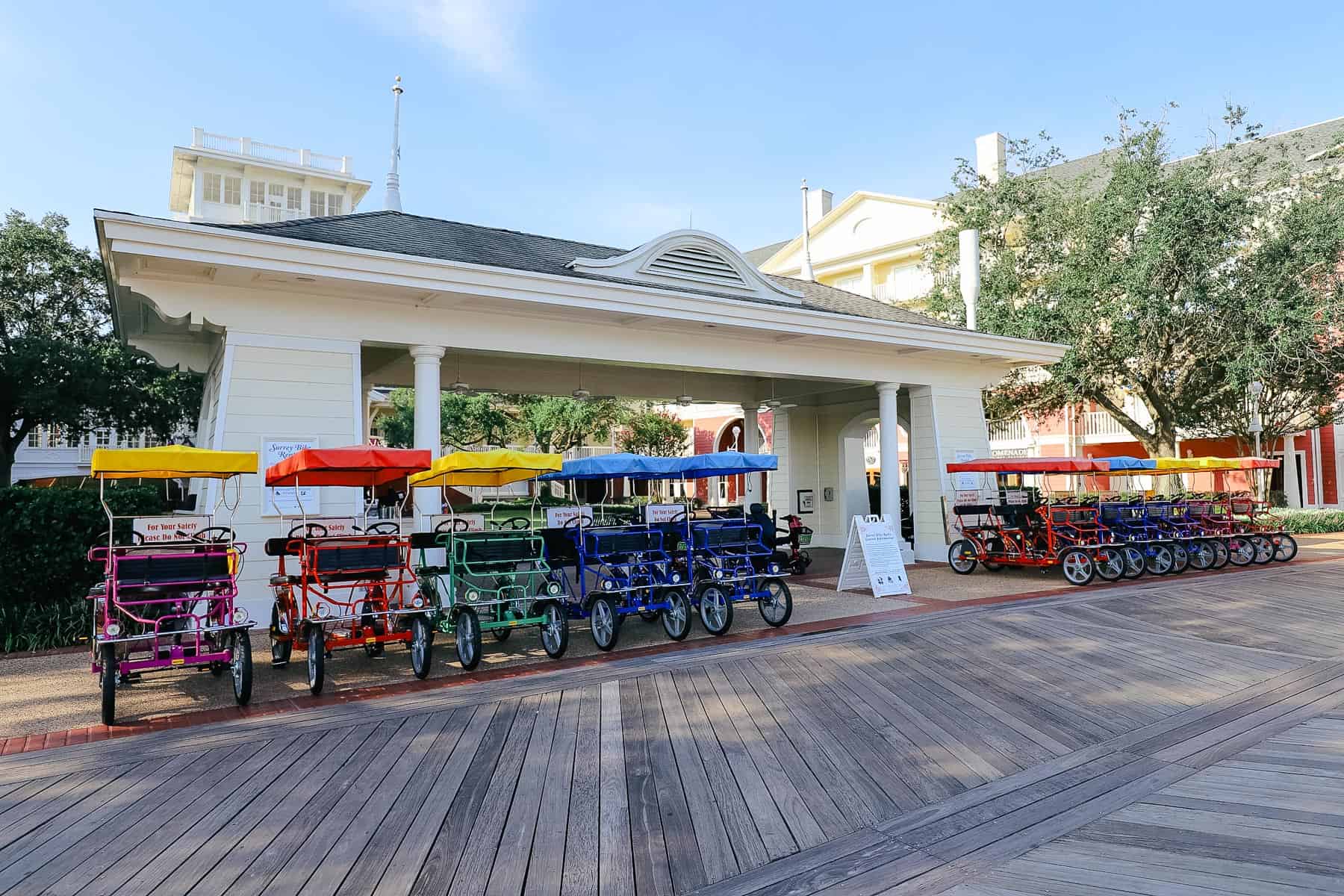 They cost $25.00 per half hour.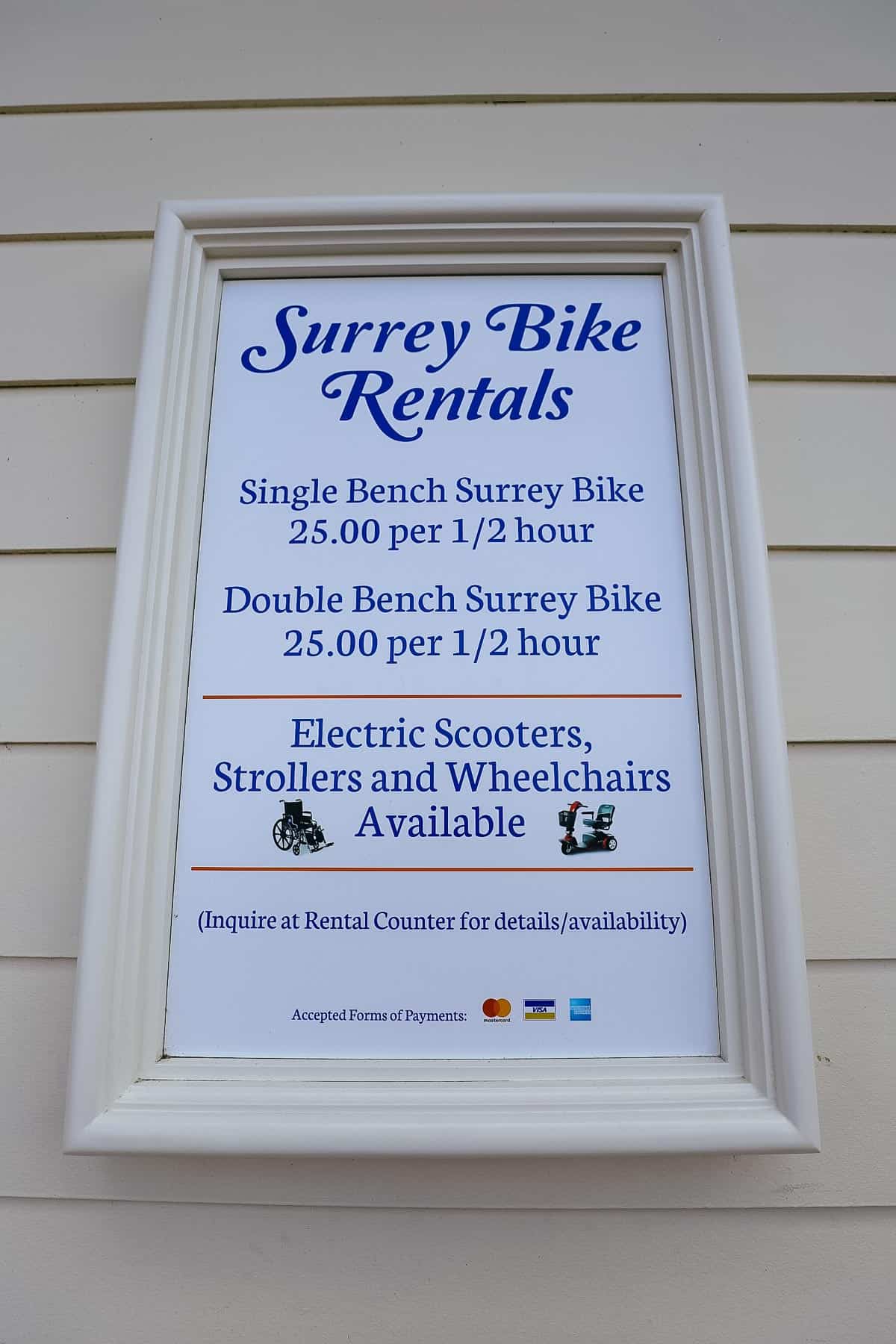 You'll also find the resort's recreation calendar nearby.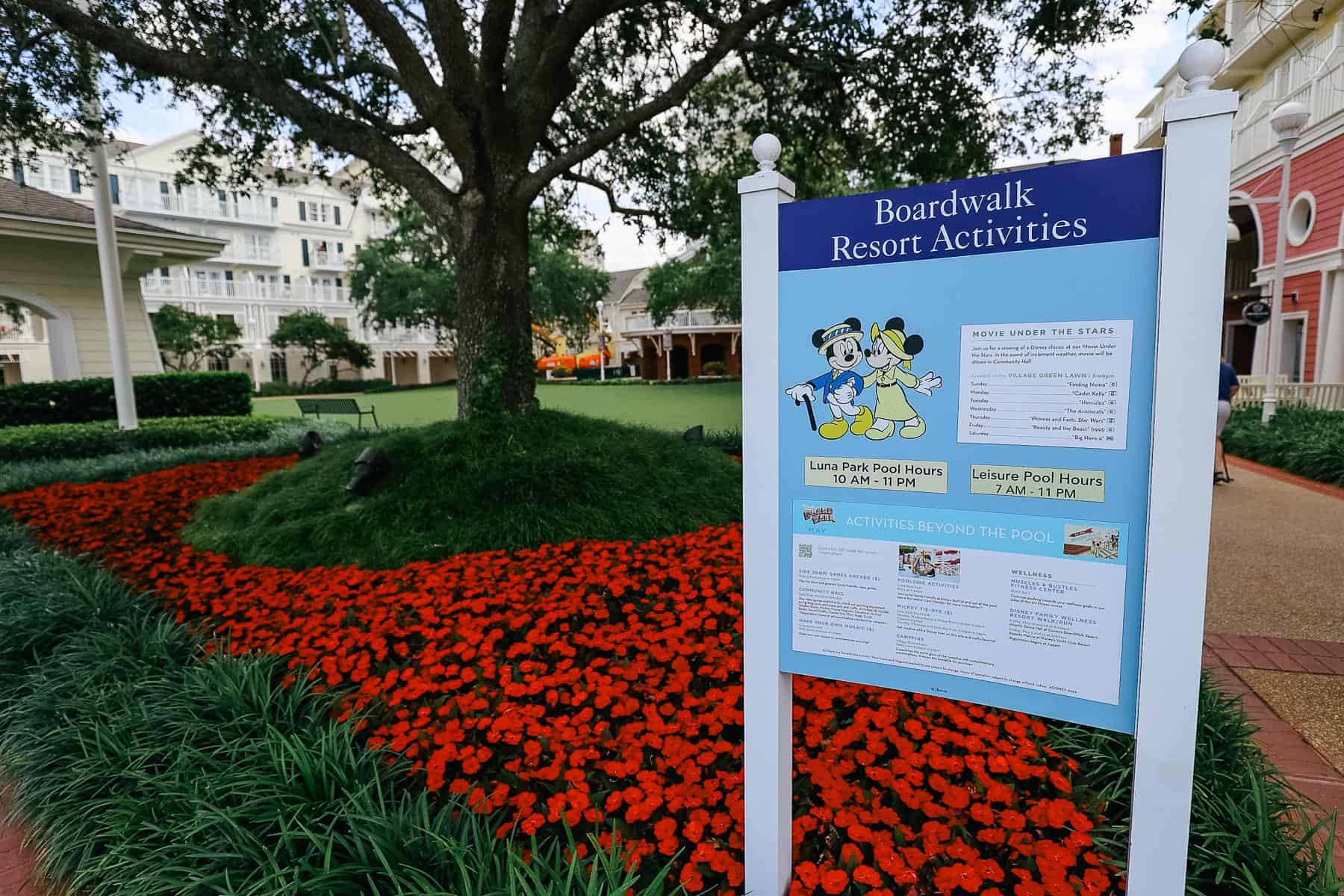 Disney's Boardwalk has a series of gift shops that appear to be unique shops from the outside. However, if you step inside, they are all connected.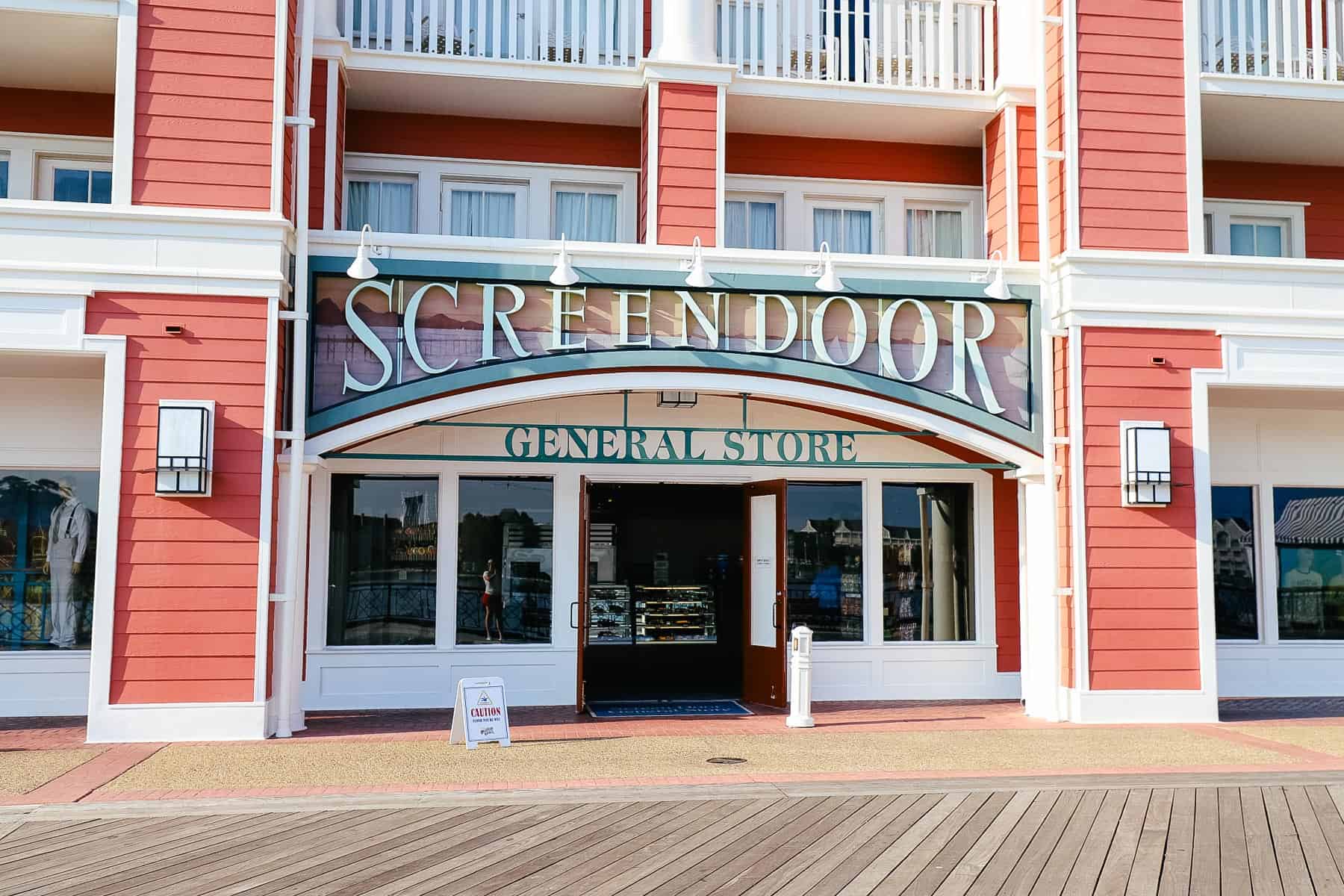 An arcade is available near the pool.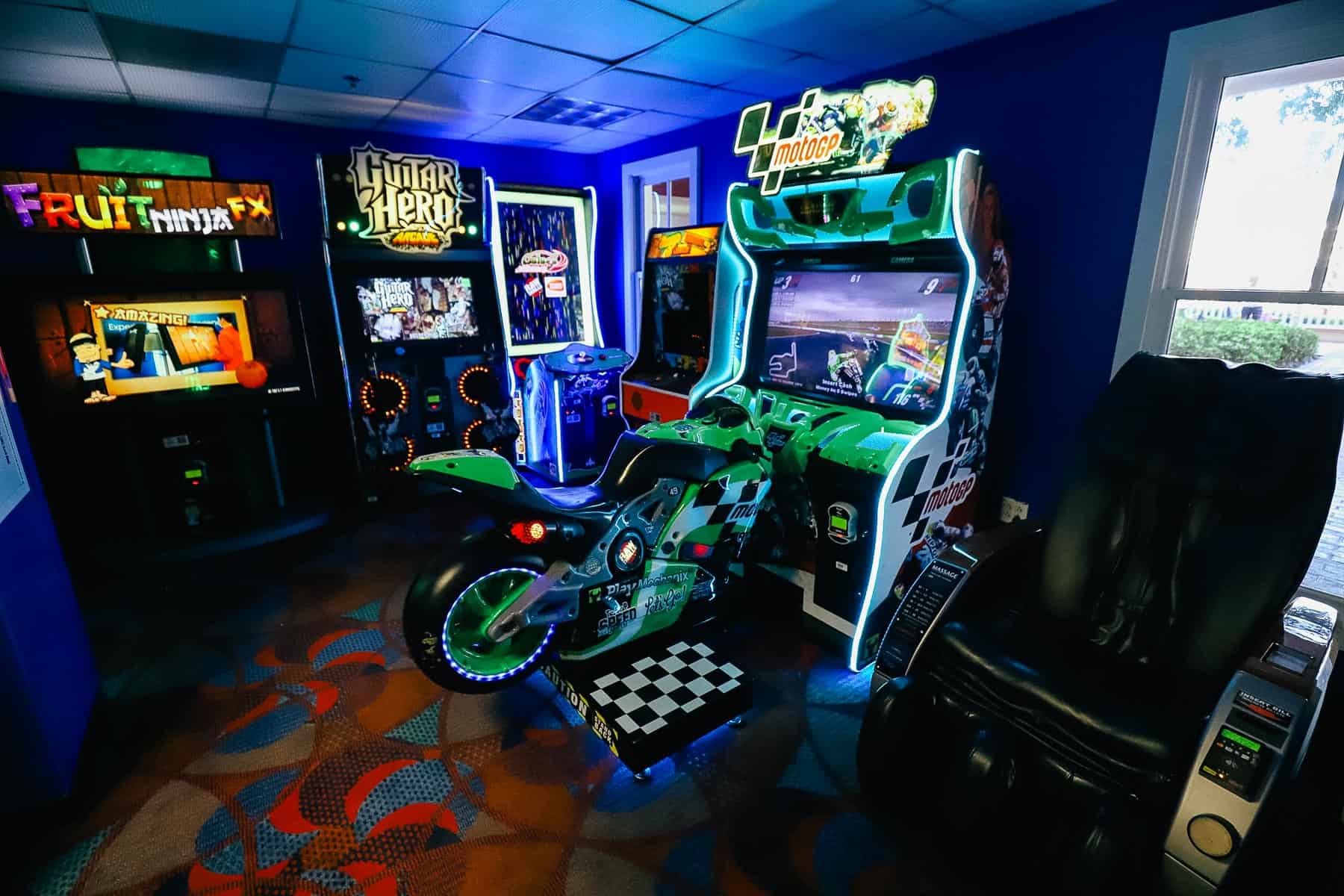 Muscles and Bustles is the fitness center at Disney's Boardwalk.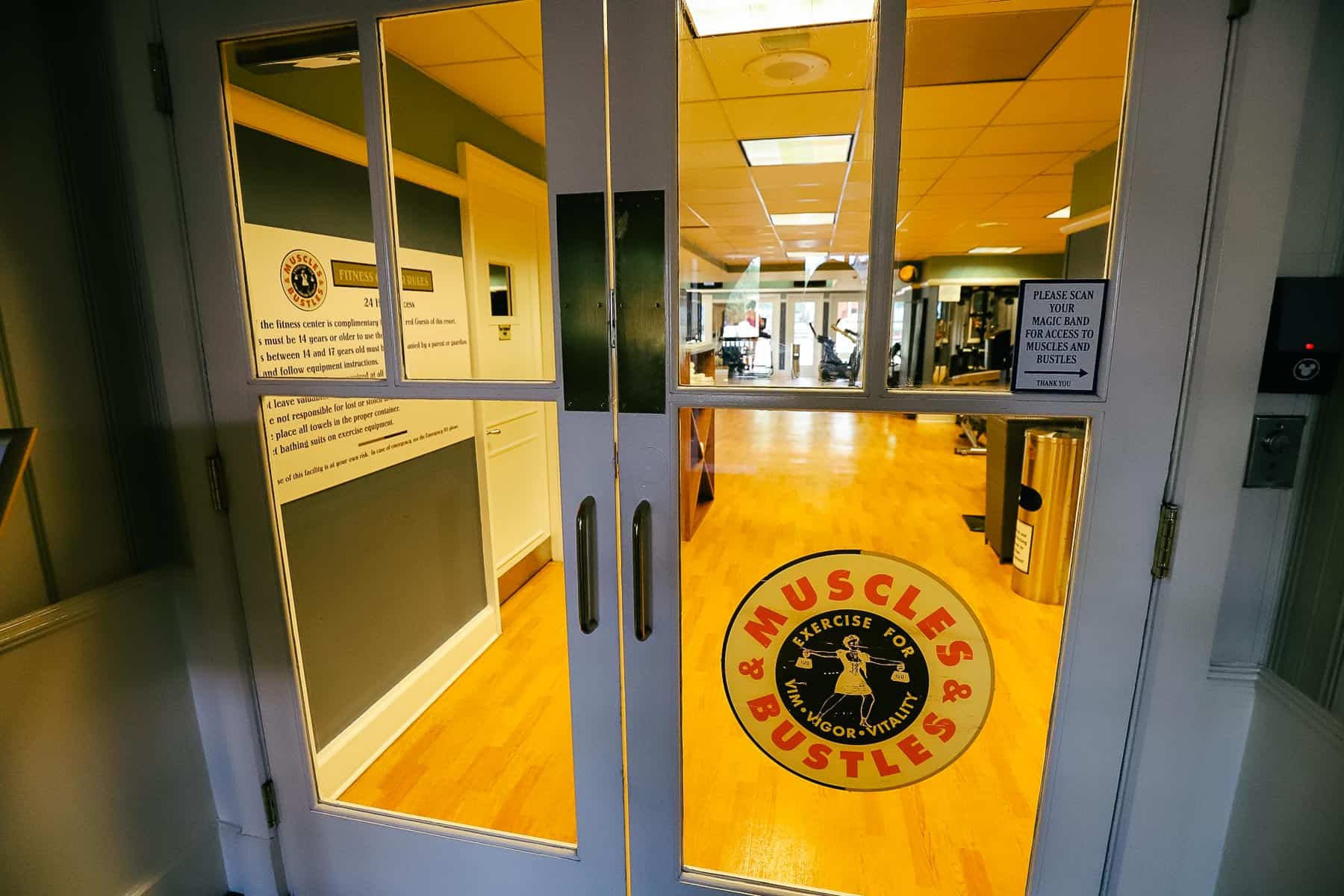 Here are a few of the aerobic machines.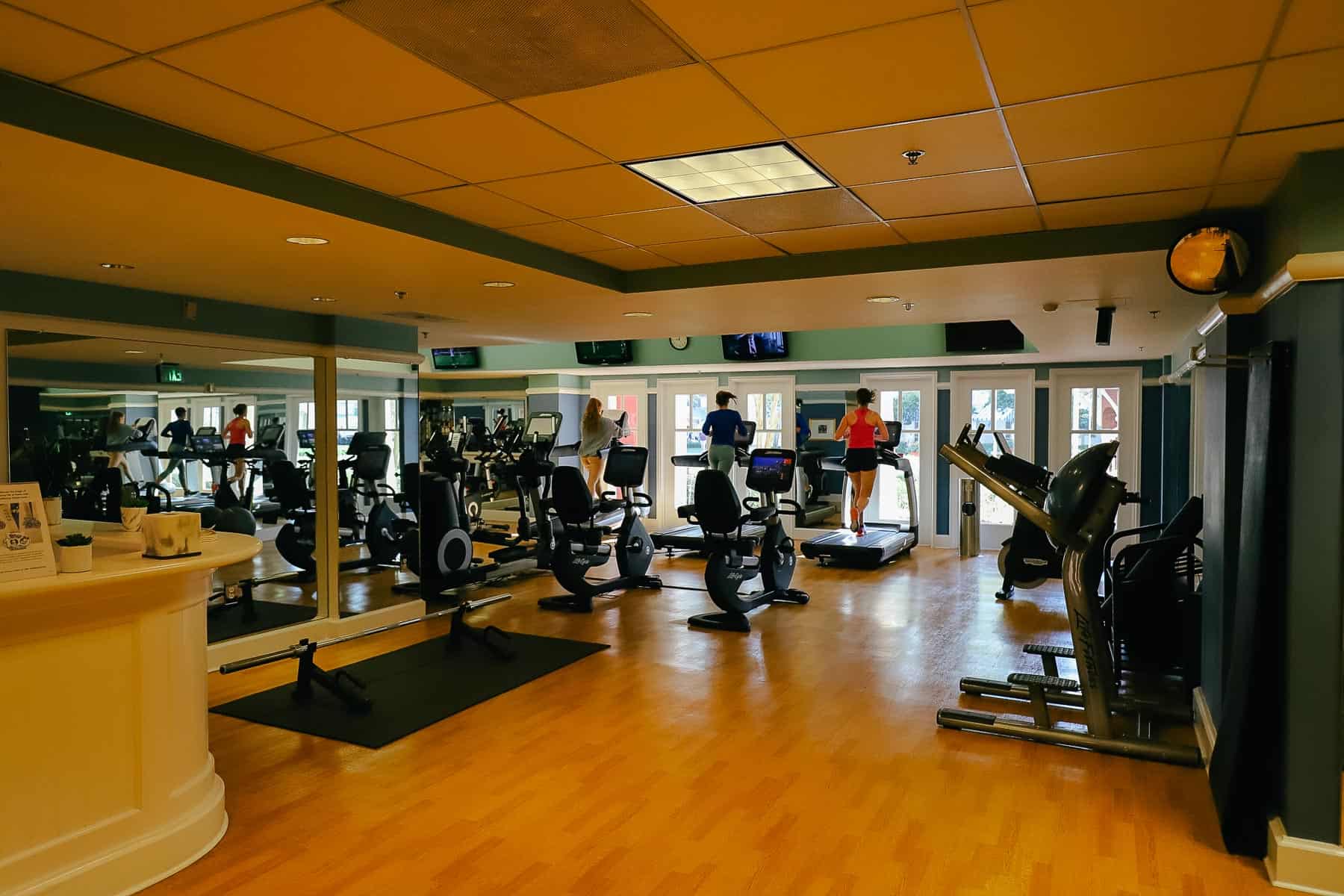 Plenty of free weights and other equipment are available.
Crescent Lake sits directly in front of Disney's Boardwalk Inn.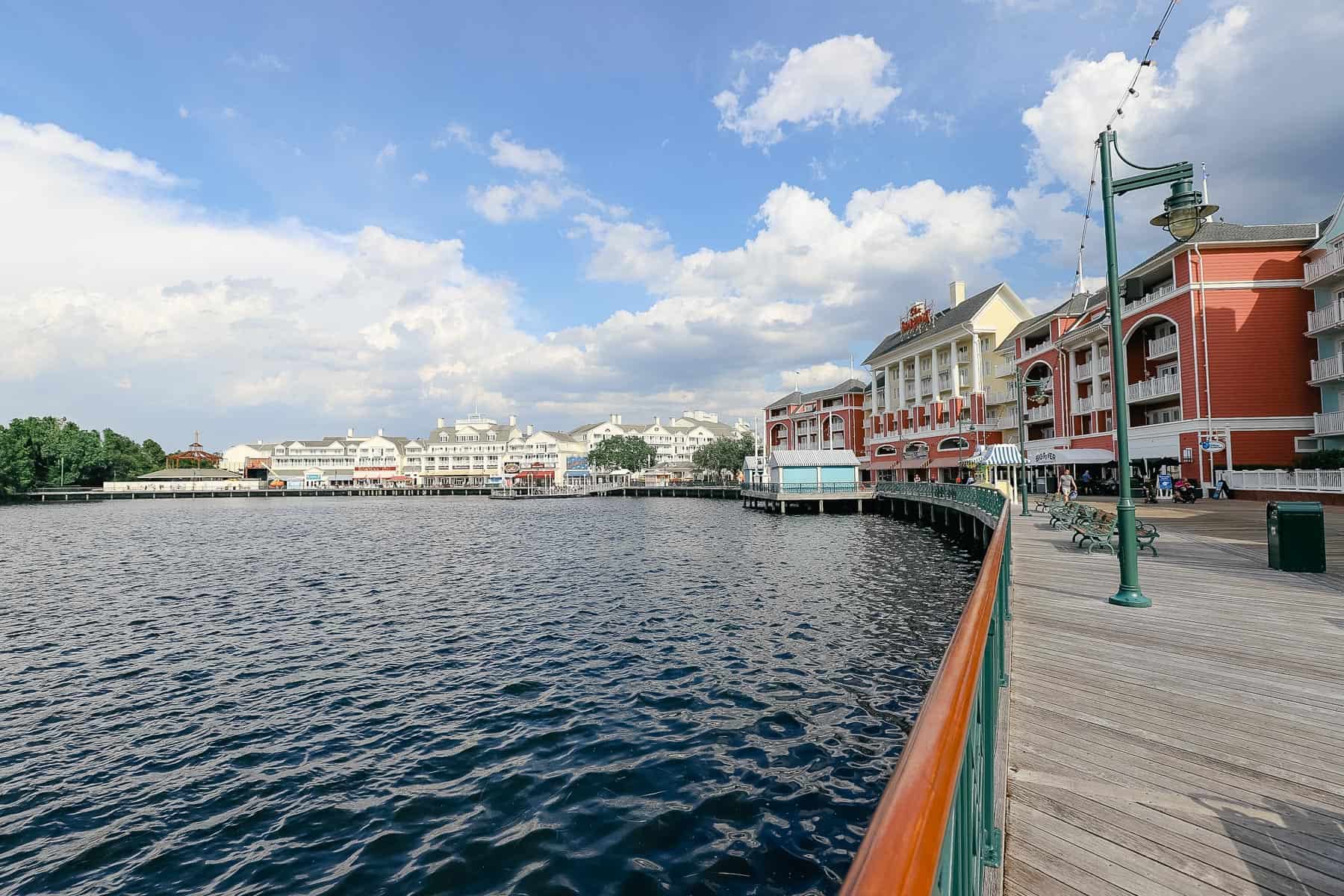 Disney's Yacht and Disney's Beach Club Resort sit across Crescent Lake from the Boardwalk. Disney's Swan and Dolphin Resort is also part of the resort area. If you are considering the Boardwalk because of its location, you might like our other reviews of hotels in the area:
One of the perks of the area is having access to so many table service restaurants. However, the counter-service issue we've discussed extends to the entire area.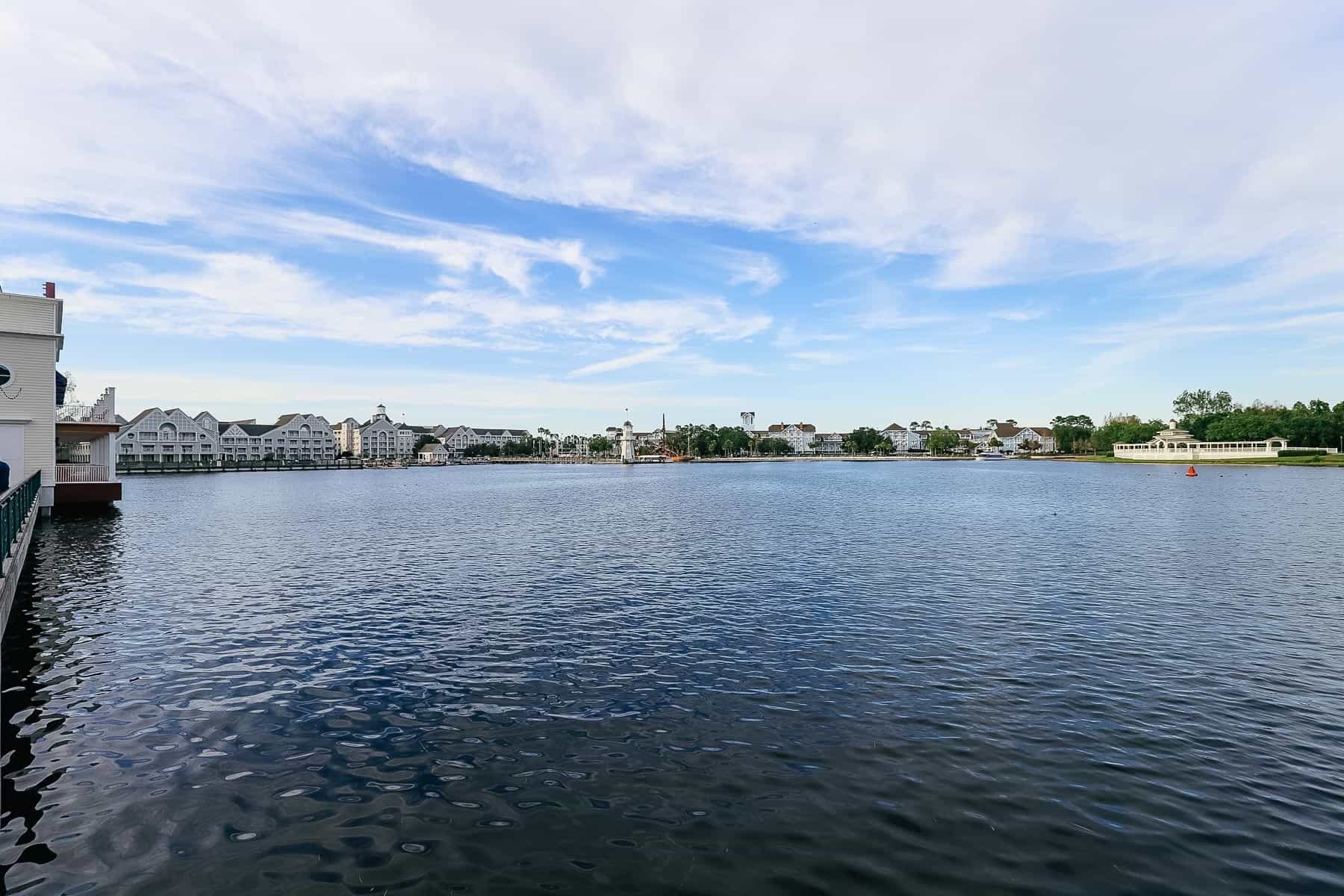 Regarding transportation, a boat dock for the Friendship Boats sits on the Boardwalk. Guests can boat to the surrounding hotels, Epcot, and Disney's Hollywood Studios.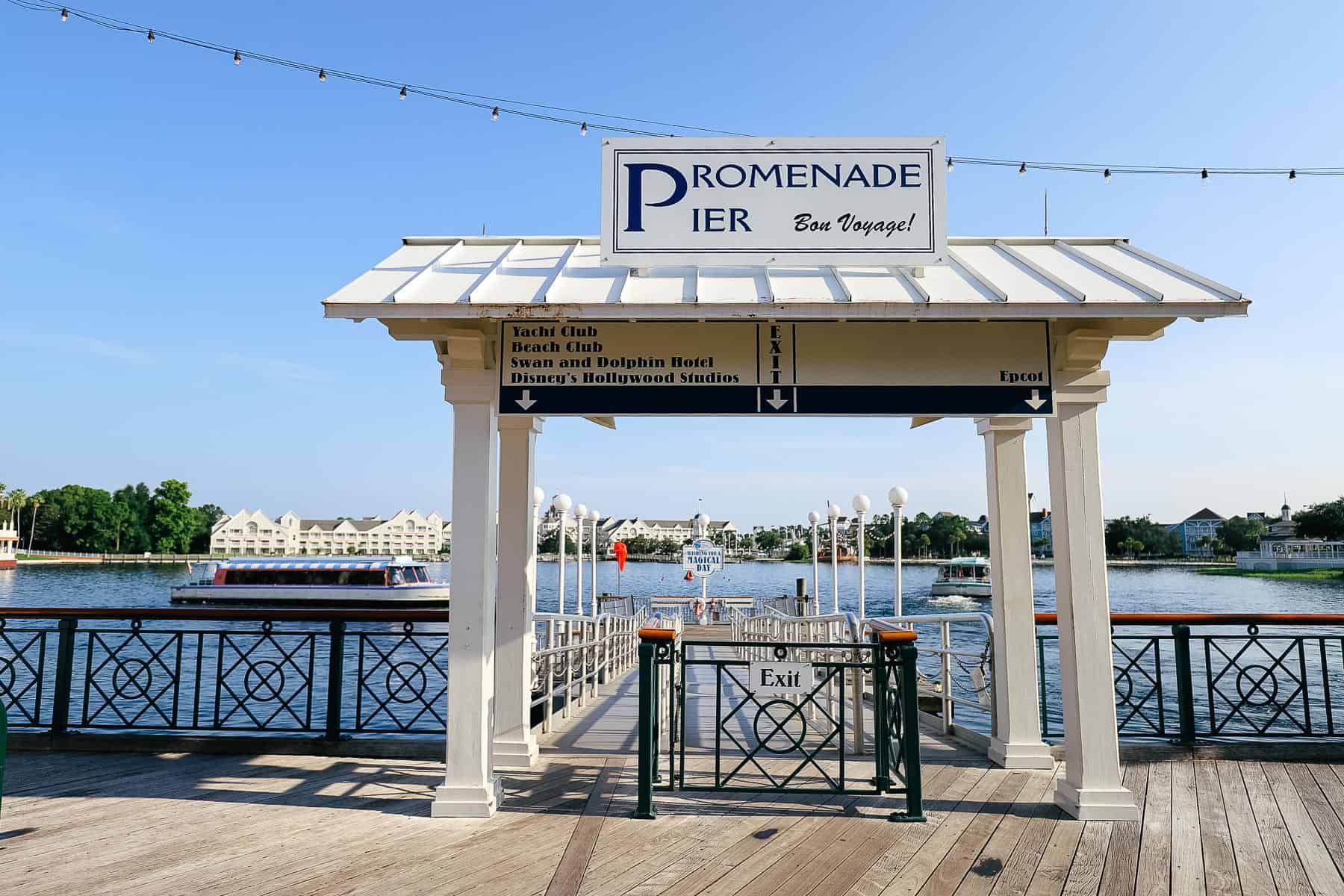 Disney's Skyliner is available at the Epcot International Gateway. So it is within a short walking distance of the resort if you want to take it to another hotel.
Ultimately, the primary benefit of Disney's Boardwalk is its location. In addition to the boat service, you can walk to both Epcot and Hollywood Studios. That means you don't have to deal with transportation lines at the end of the day (or the beginning). You can skip all the hassle and walk.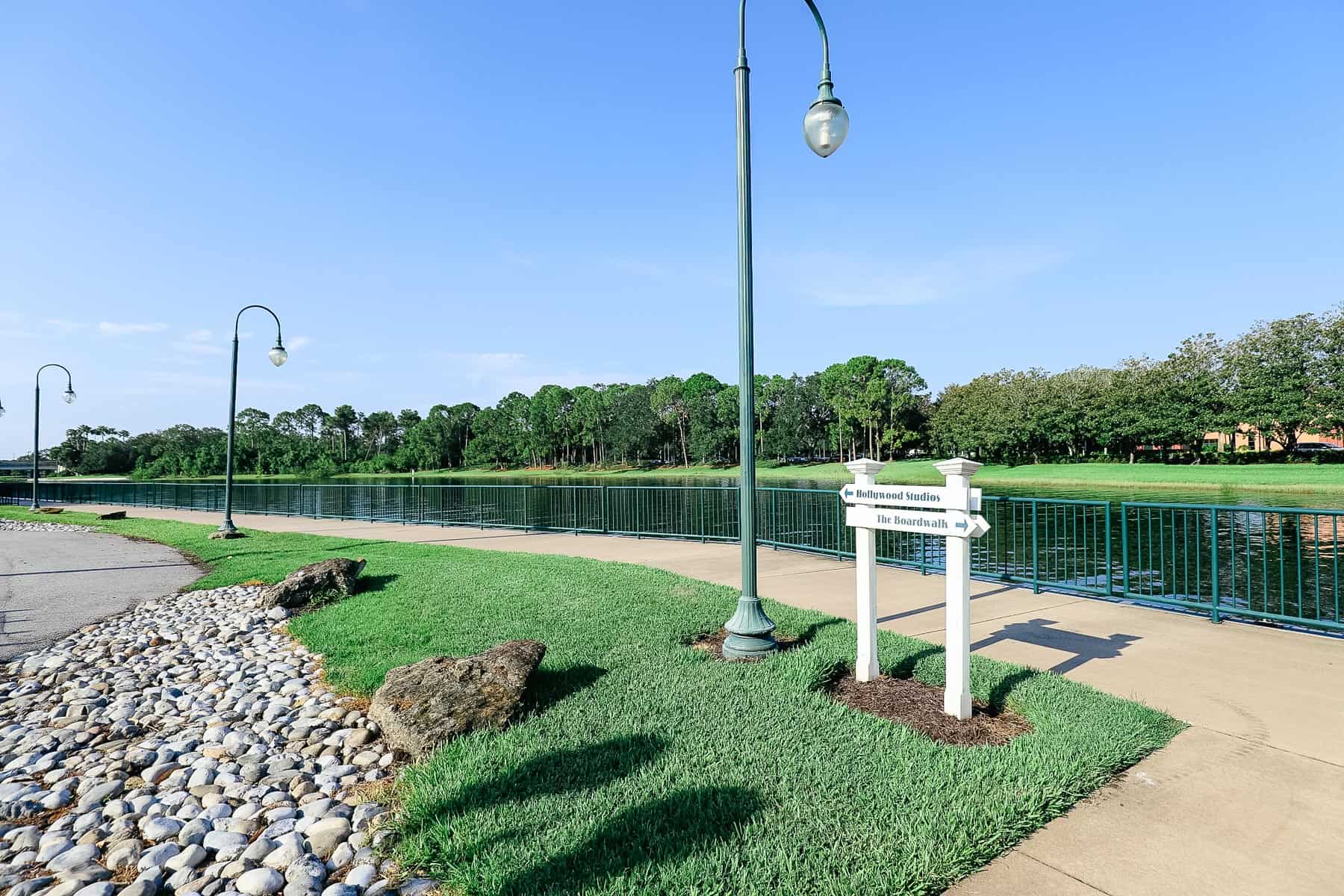 Bus transportation is available to Magic Kingdom, Disney's Animal Kingdom, Disney Springs, and the water parks.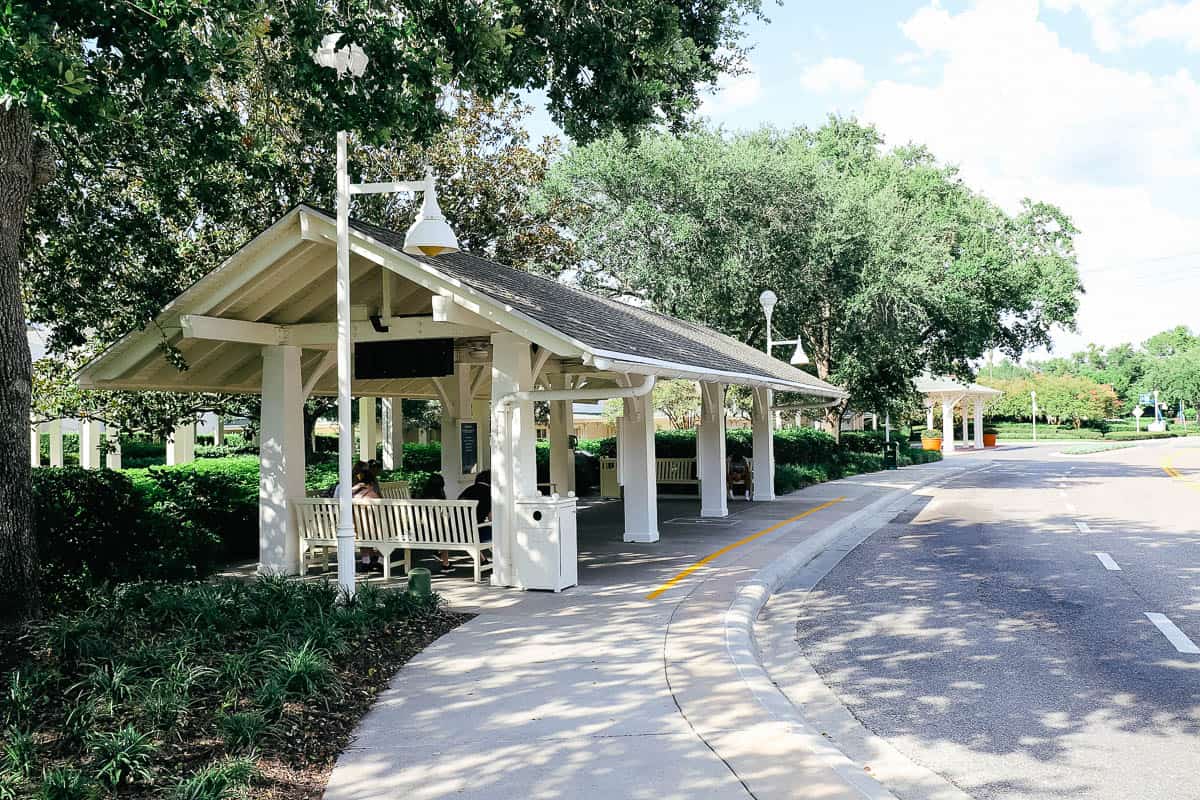 Disney's Boardwalk is a destination within itself. Initially themed after a turn-of-the-century Atlantic City Boardwalk, the resort attracts outside guests with its charm and table-service dining restaurants.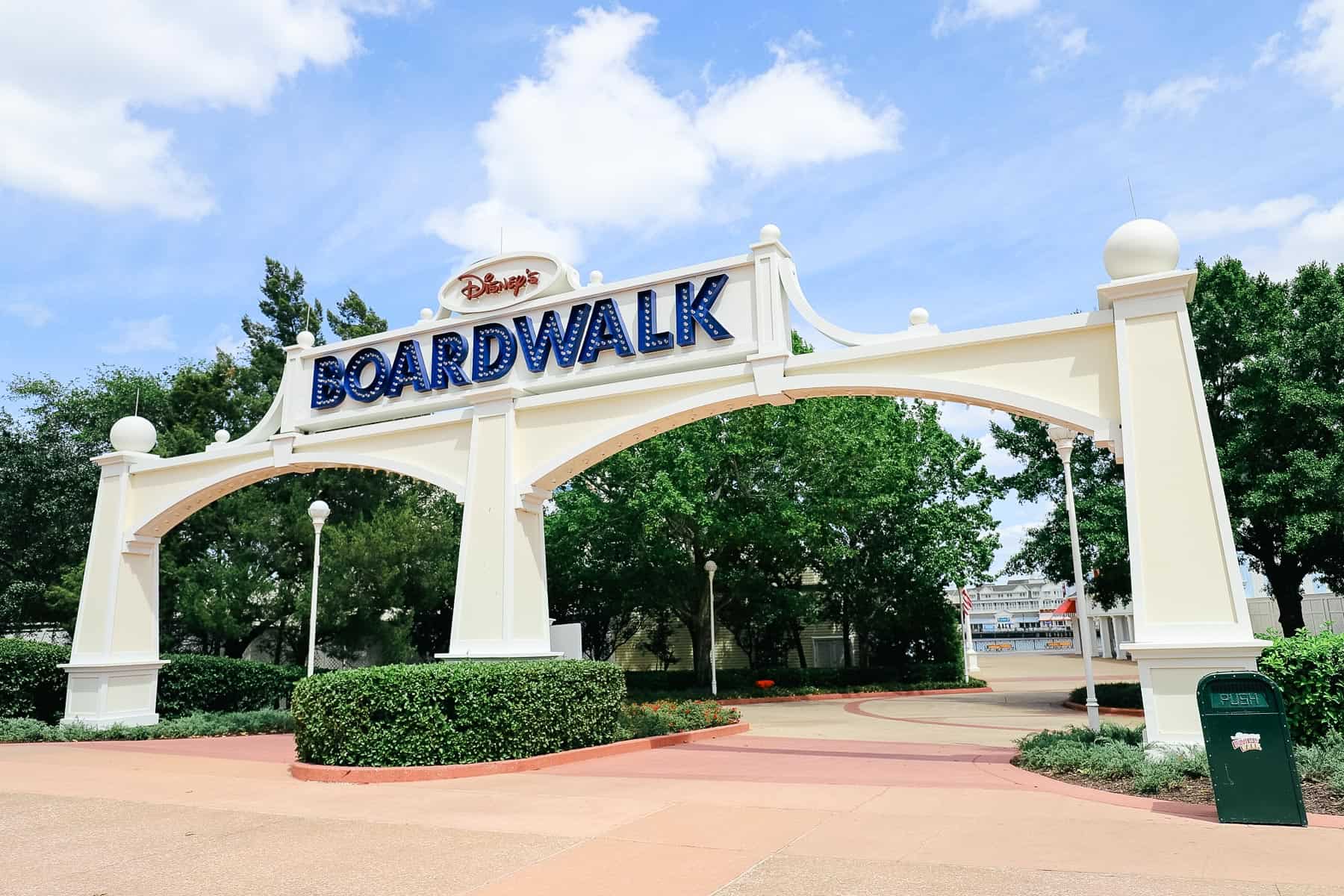 So far, we haven't seen any significant updates to the lobby besides adding a new customer service counter. We keep a timeline of Boardwalk construction updates if you want to learn more.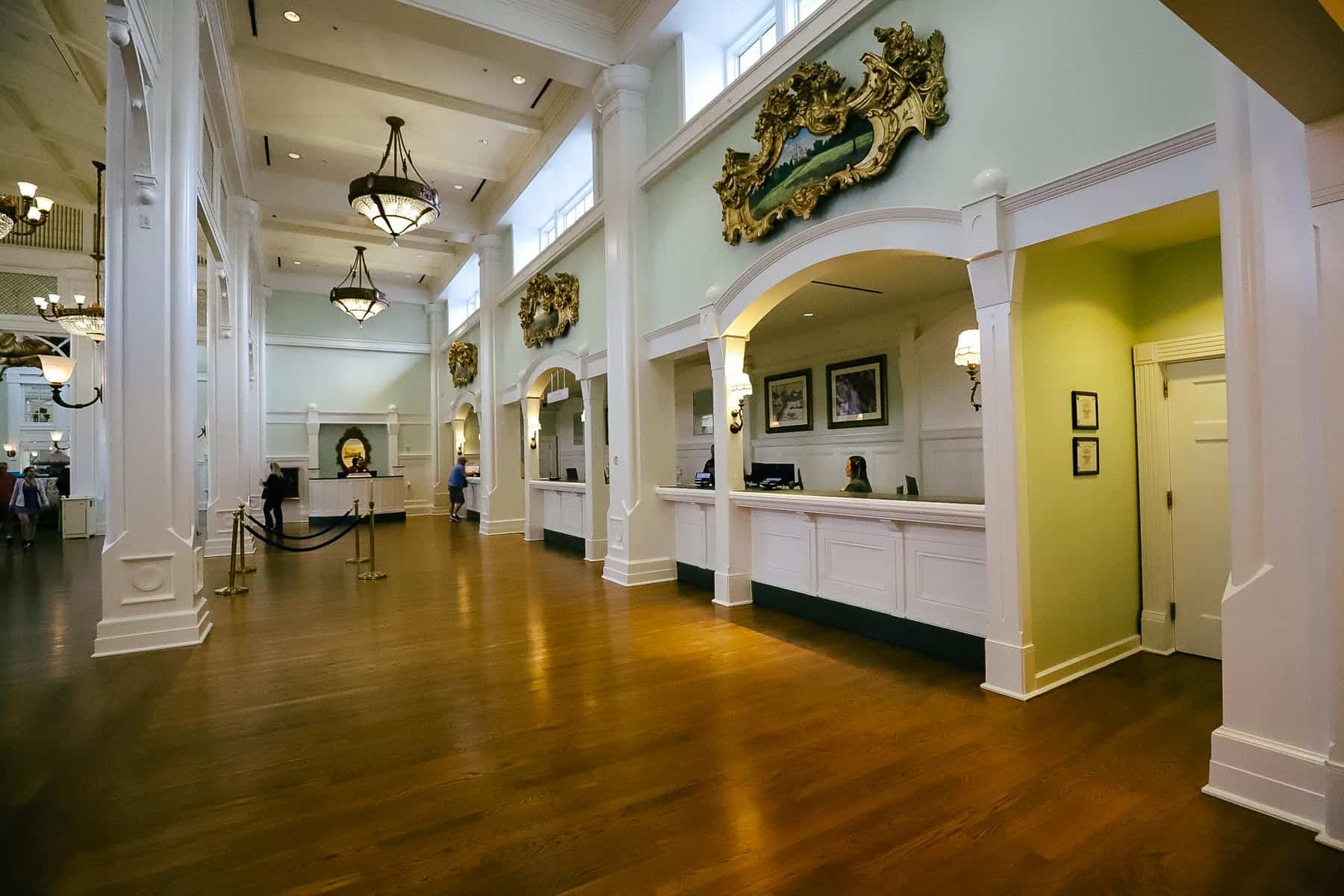 Hopefully, we'll see new rugs and furniture in the lobby.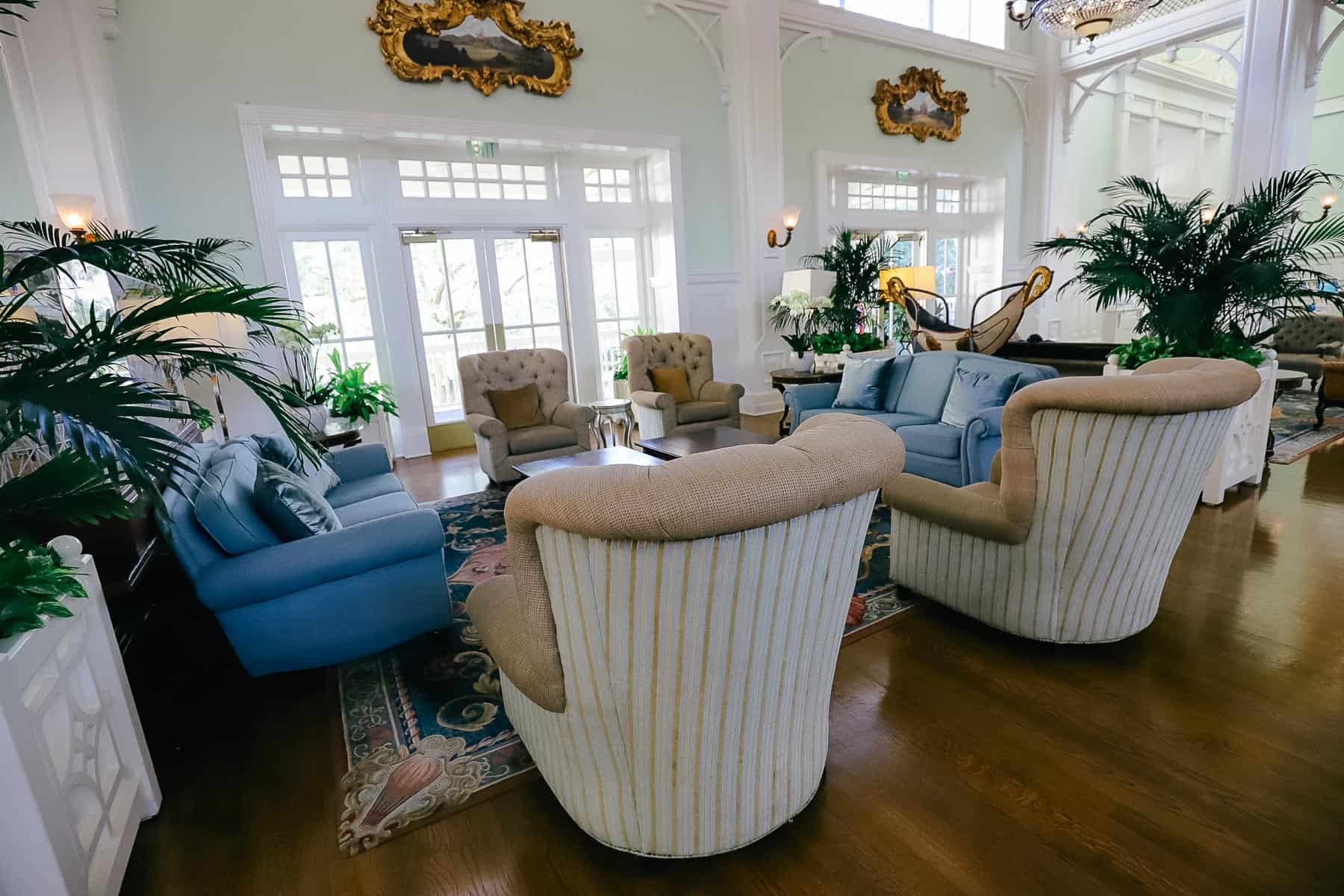 In some instances, the lobby and surrounding area feel timeless.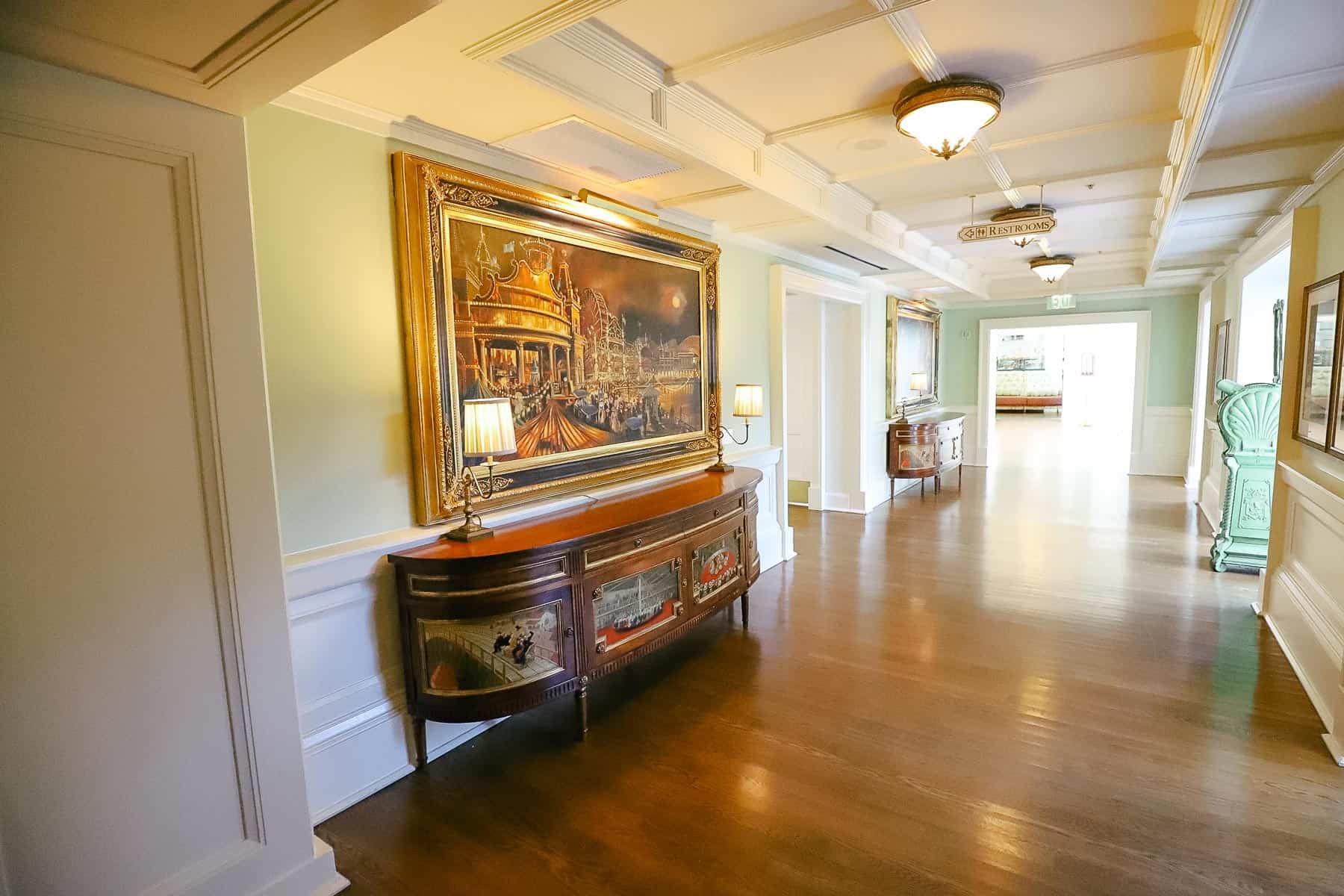 I don't know about you, but I would hate to see the half-horse, half-mermaid chandelier disappear.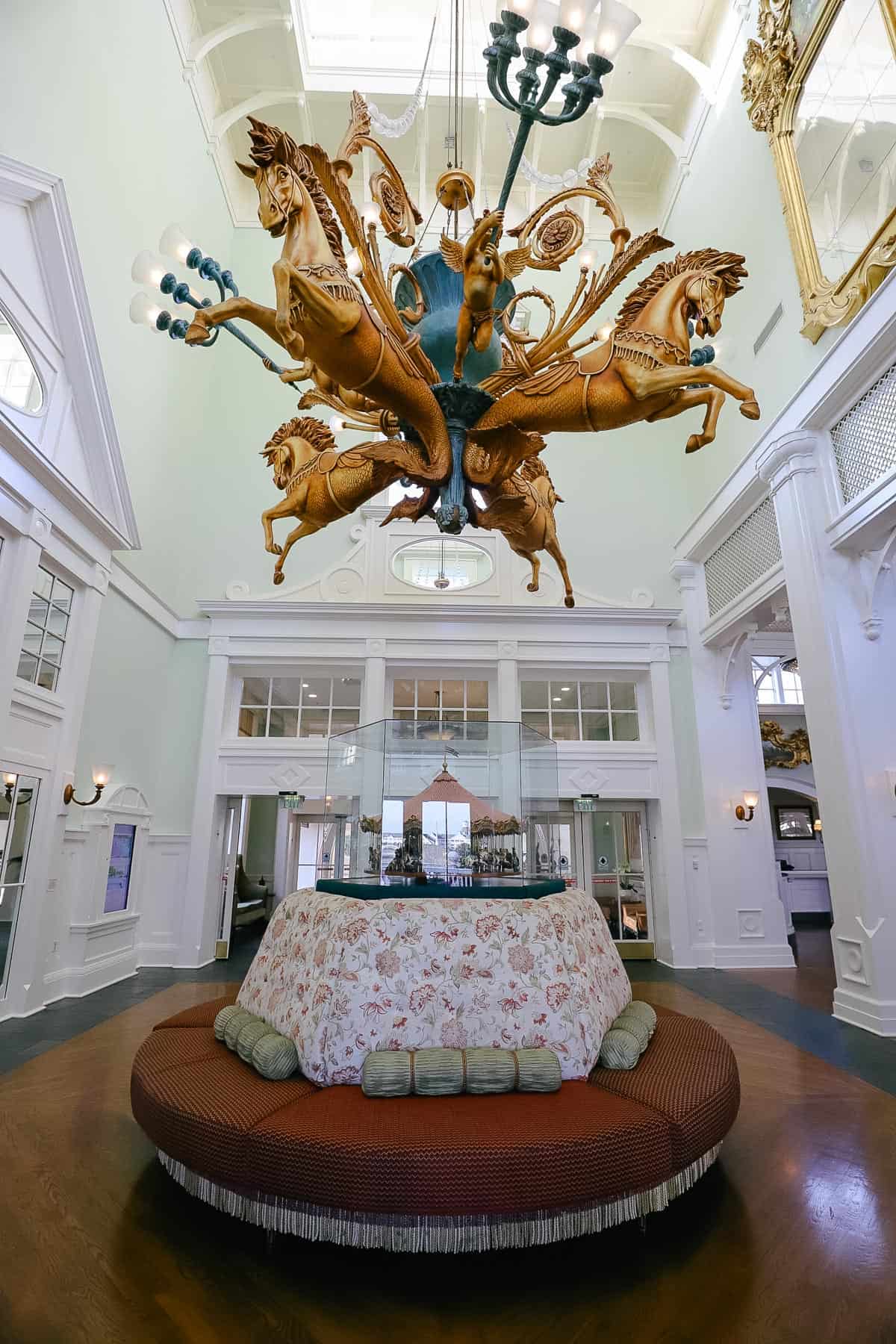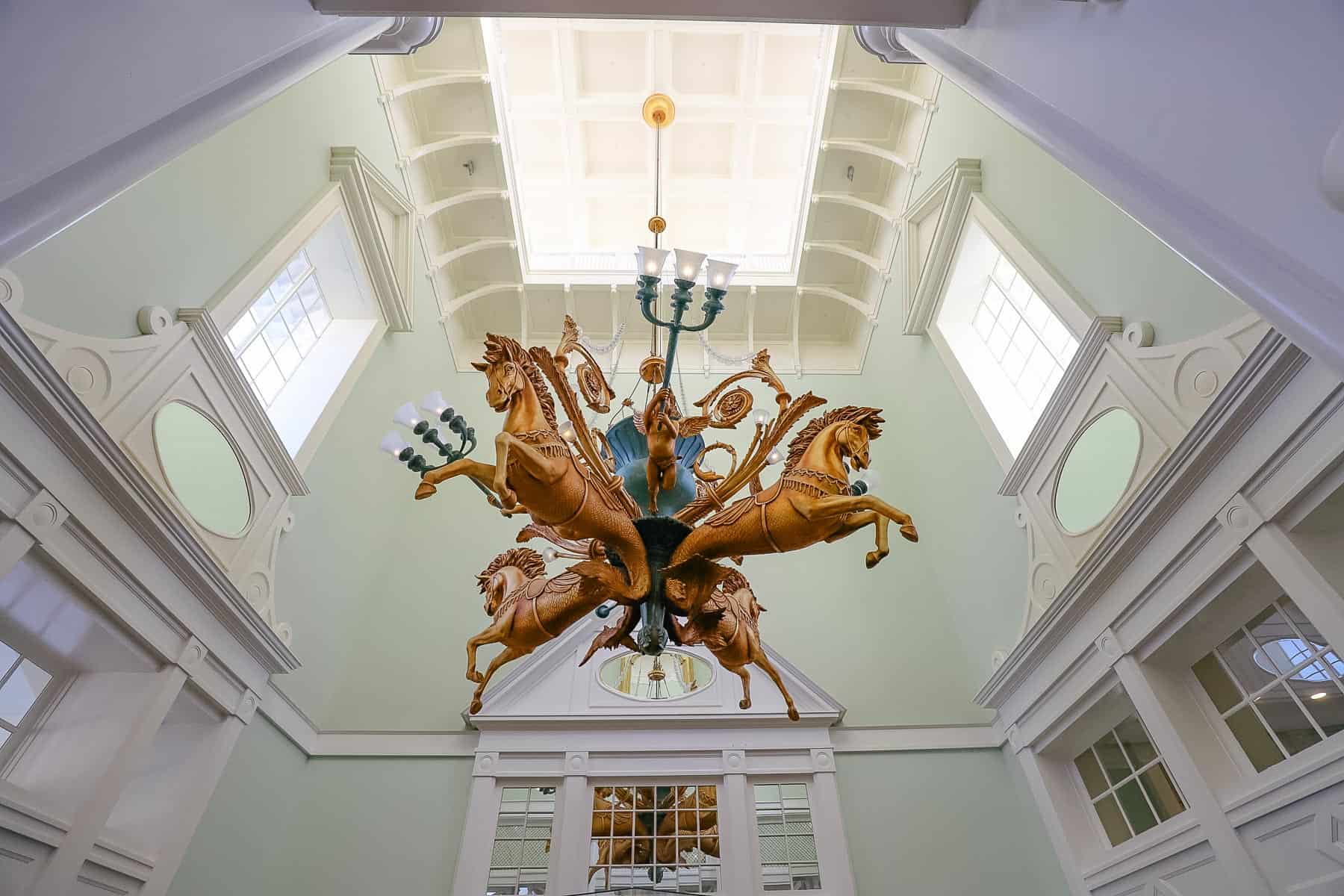 New carpet and fresh paint were added to the interior stairwell that leads to the Boardwalk.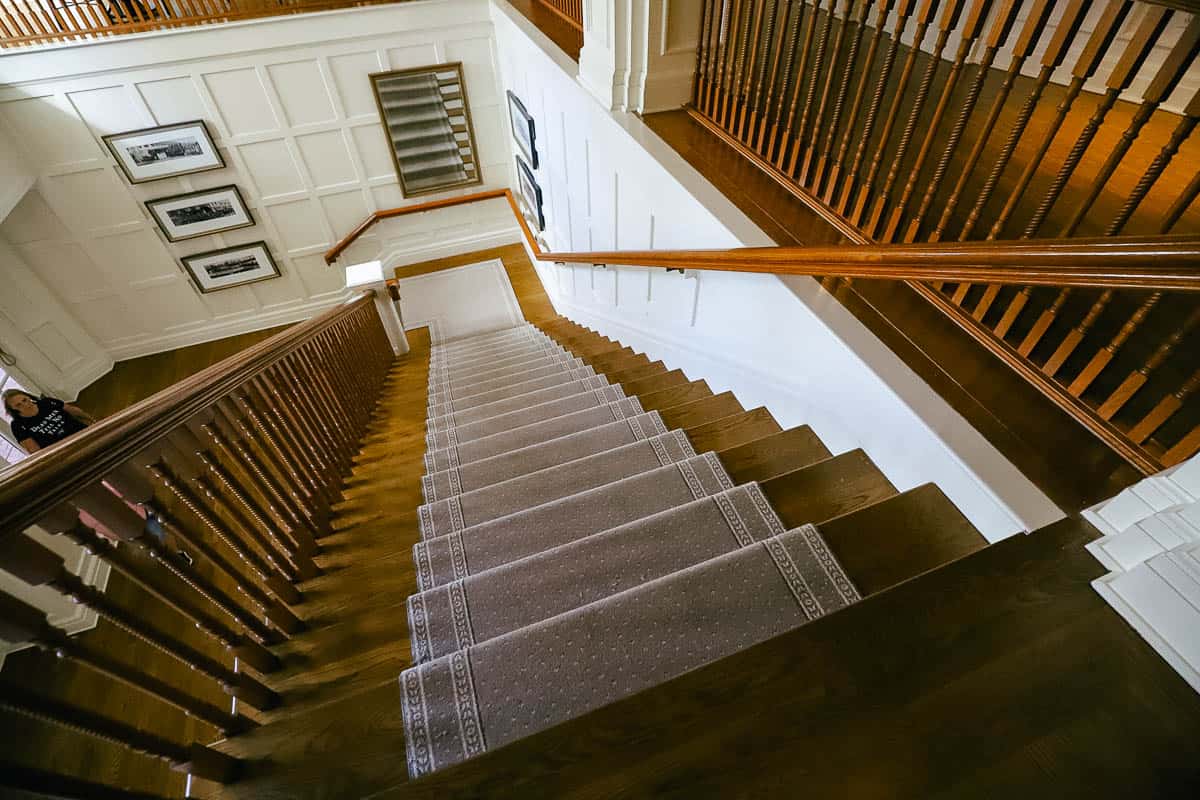 Belle Vue Lounge has been entirely updated. It is different, but I assure you the space is as comfortable as before. It turned out nicely.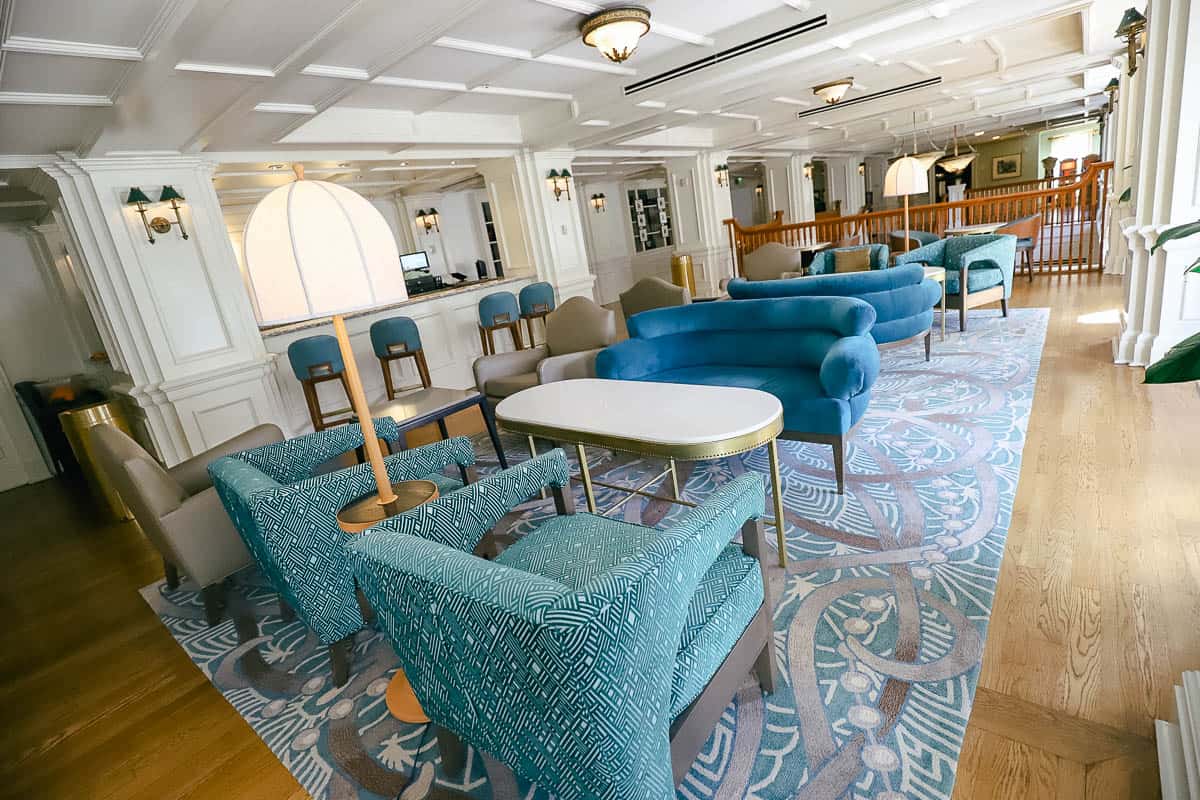 You might find a hidden Mickey if you look for him.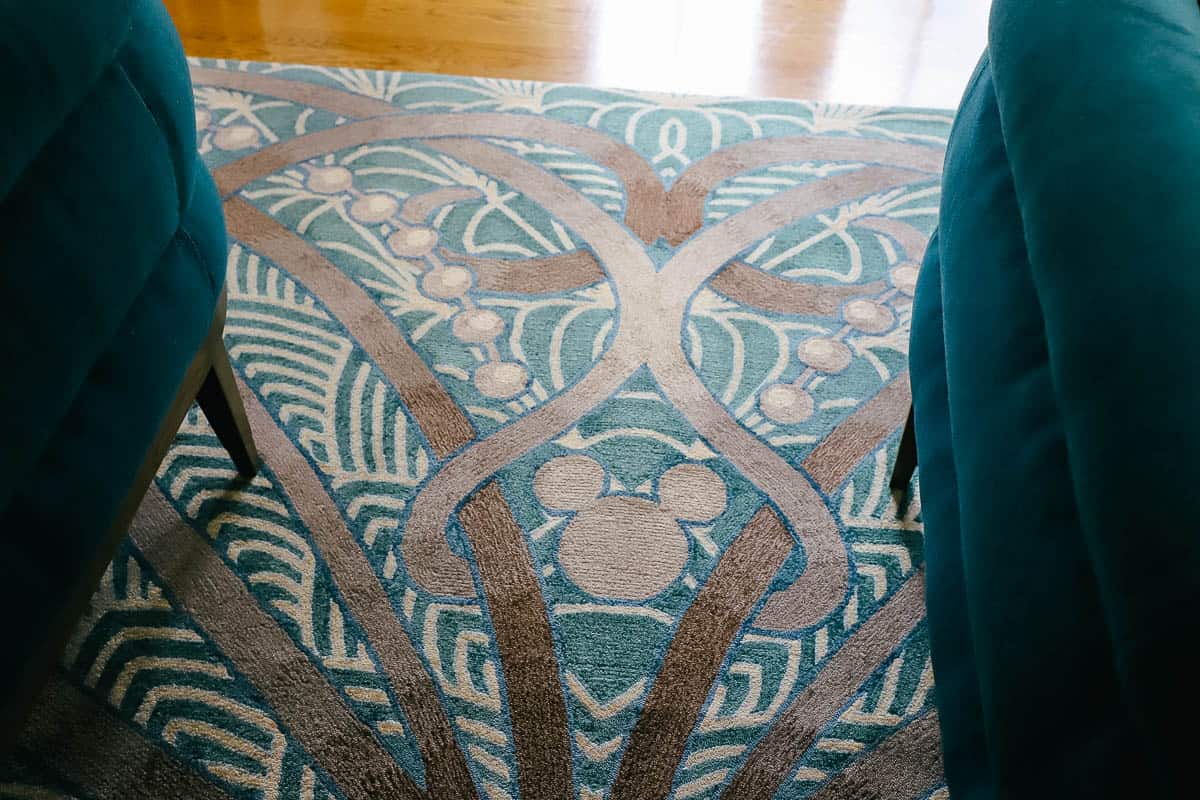 Nightly Movies Under the Stars are outside on the Boardwalk's lawn.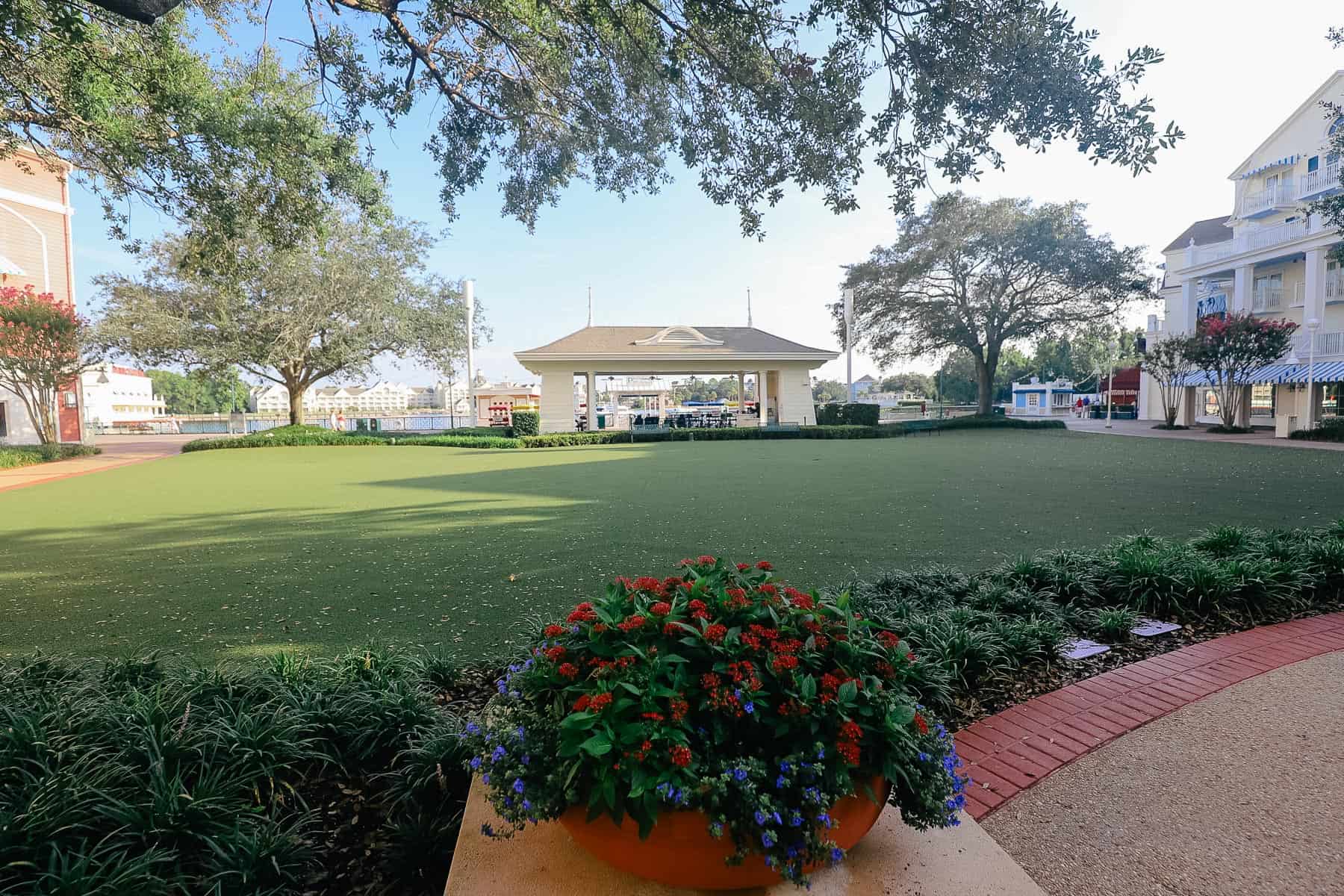 Key Benefits of Staying at Disney's Boardwalk Inn
Disney's Boardwalk is within walking distance (or a Friendship Boat ride) of Epcot and Disney's Hollywood Studios.
Disney's Boardwalk Inn has newly updated rooms.
Guests of all deluxe resorts and deluxe villas can enjoy extended evening hours at select parks on select evenings. These hours are typically offered at Magic Kingdom and Epcot. Although, from time to time, Hollywood Studios is added to the schedule. You can preview the schedule on Disney.com. 
Guests of all Disney Resort Hotels are eligible to enter any theme park on any day 30 minutes before the park's scheduled opening time. 
Disney's Boardwalk has excellent table-service dining locations.
Related: Benefits of Staying On-Property at Disney World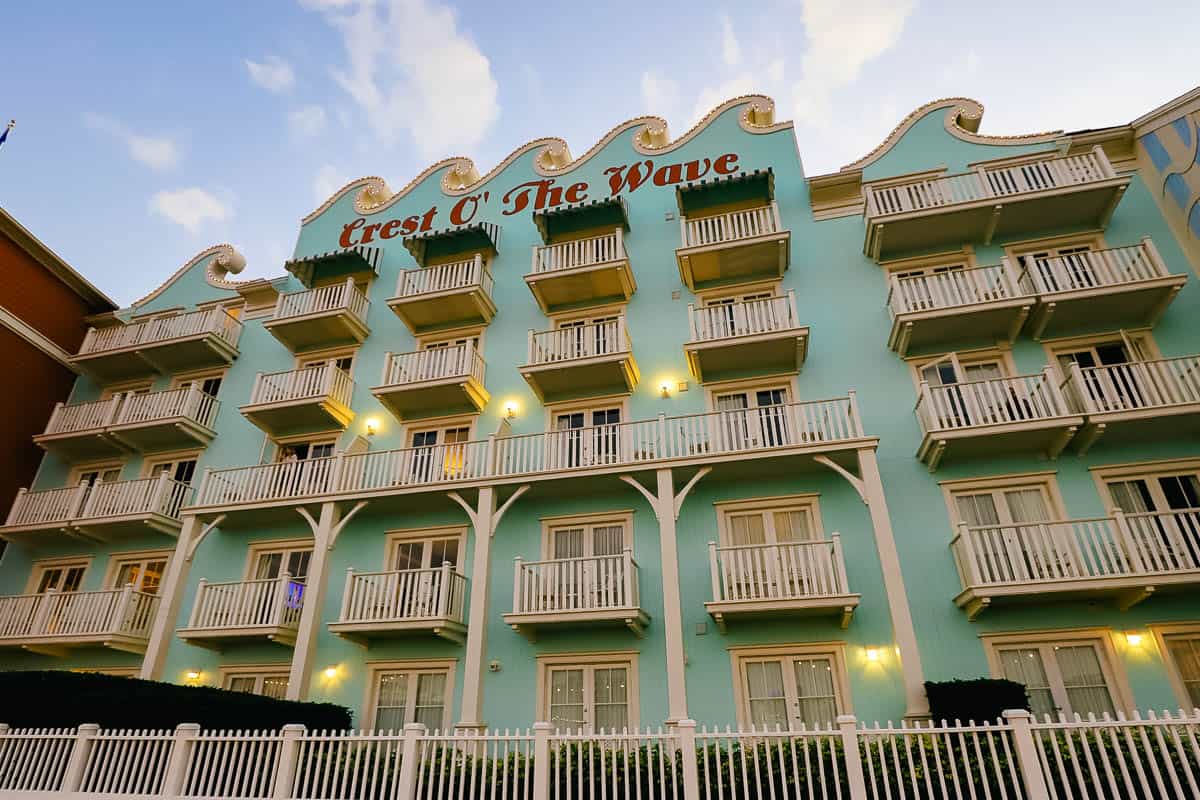 Final Thoughts
Overall, Disney's Boardwalk is a beautiful resort. It's one of those places I hate to find fault with because I enjoy staying there. However, as you may know, we have stayed at all the hotels at Walt Disney World and the surrounding area. Our experience allows us to identify issues that might be problematic for you.
Since this stay, I've wanted to put off writing this review of the Boardwalk. The new rooms are great, and you can't beat the location. But when I stay at an expensive hotel, I want to feel like the resort has me as a guest in mind. I want to say, "Wow, they thought of everything!" That's how I felt the first time I ever visited. To this day, I remember that "welcome home."
So while my nostalgia is strong for the Boardwalk, that wow feeling is missing. Hopefully, it will eventually return. It's such a pretty resort.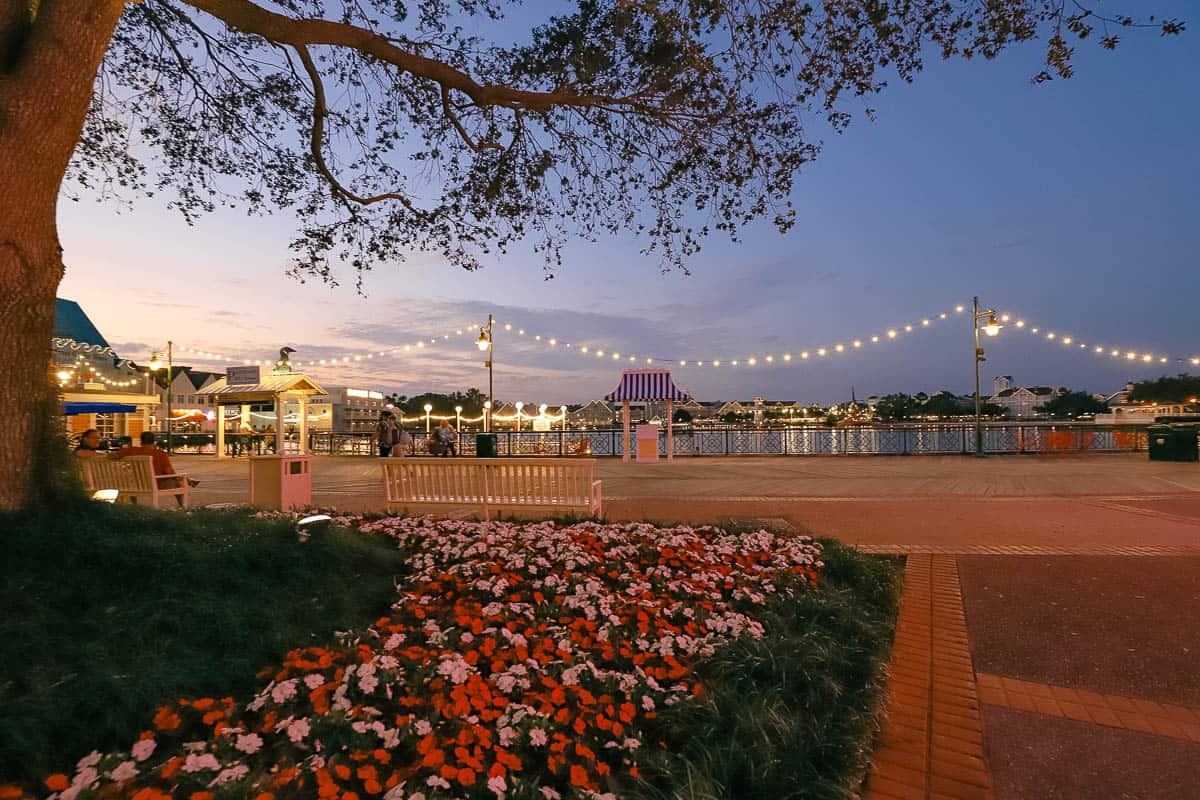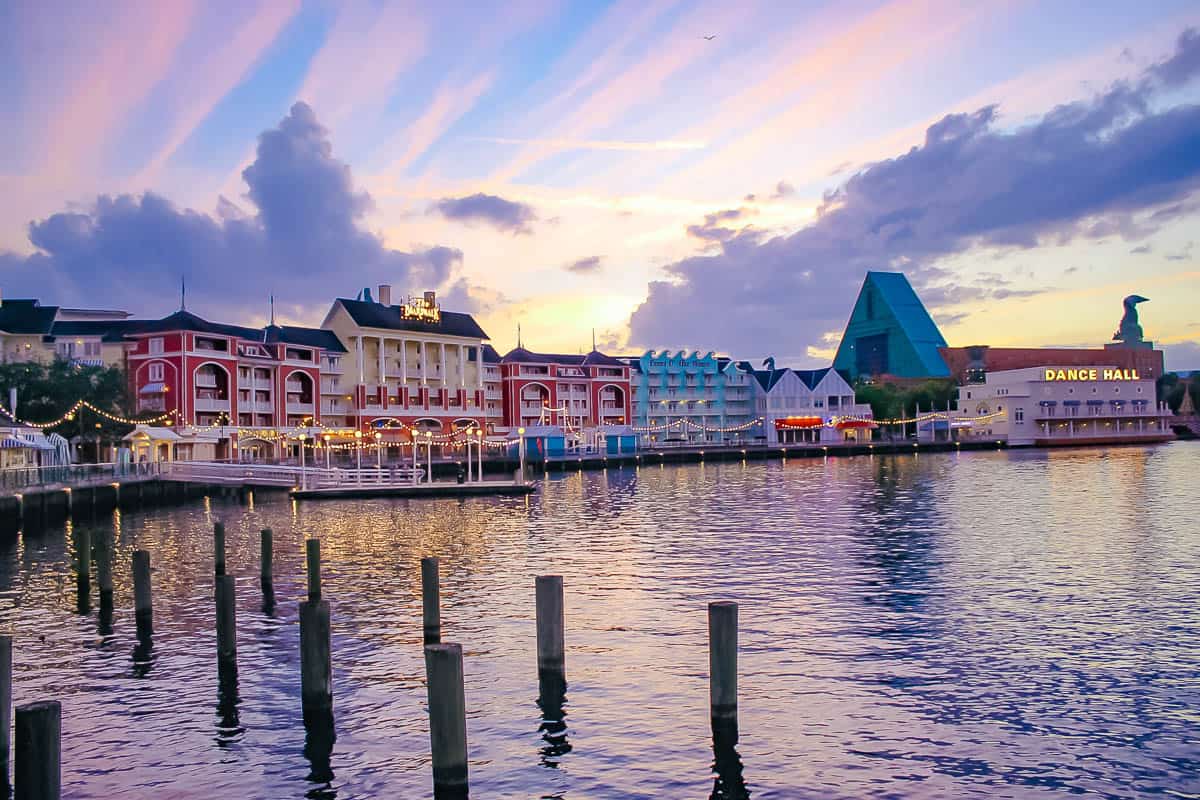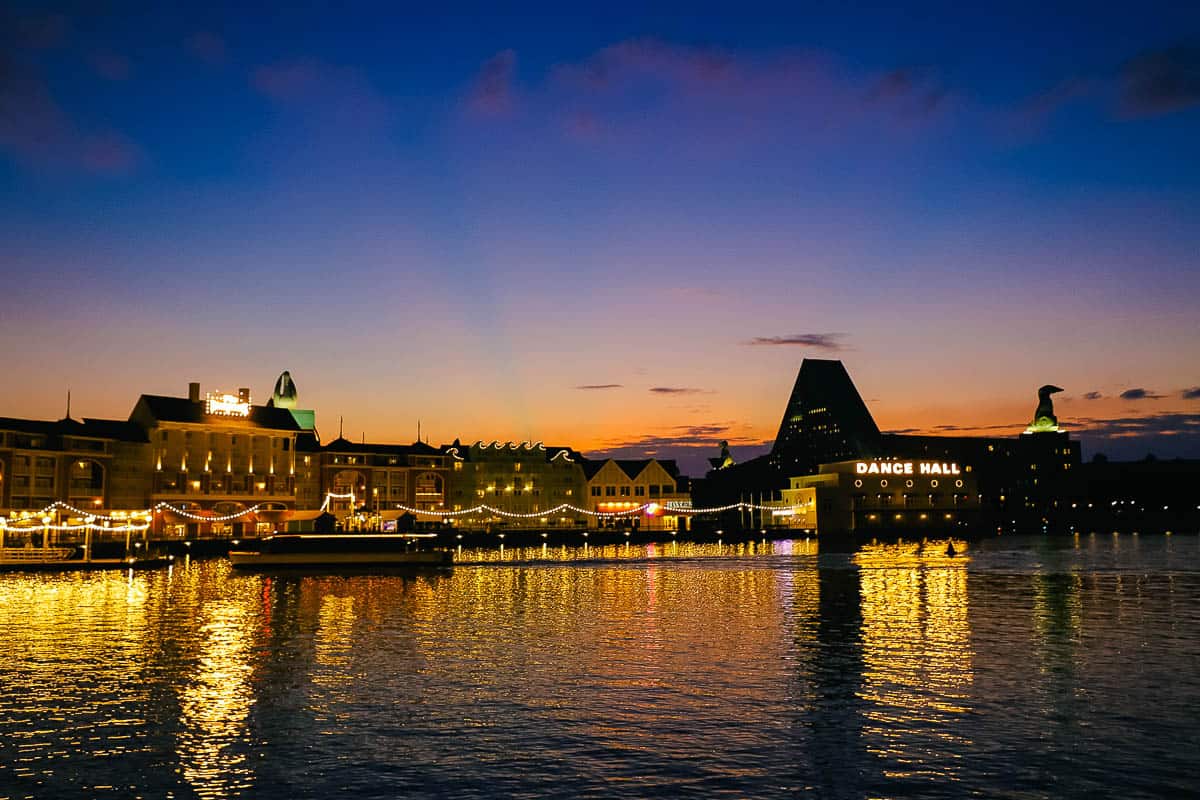 Hopefully, this hotel review provided the information you need to decide whether this was the right resort for your next visit. For more information, our articles for the resort are located in our guide:
Or you might enjoy the following articles:
Or you can browse our entire list of Disney World Hotel Reviews.
In the comments
What do you think of this Disney's Boardwalk Inn review? Do you agree with our issue of the lack of quick-service dining options? Do you think the positives outweigh the negatives?
Planning a Walt Disney World or other Disney Destination vacation?
Our friends and travel partner, Firefly Travels, excels at doing Disney differently. You can fill out a plan your trip form on their website, and someone will reach out shortly to discuss the specifics.