Christmas at Disney's Animal Kingdom in 2022
It's beginning to look a lot like Christmas at Disney's Animal Kingdom. So those visiting the park over the holidays are in for a treat.
In this article, we'll look at what to expect over the 2022 Christmas holidays at Animal Kingdom. This will mainly be a photo post featuring holiday photos from this year and last.
But I will provide tips on things you don't want to miss during your visit. We'll start at the park's entrance and work our way through.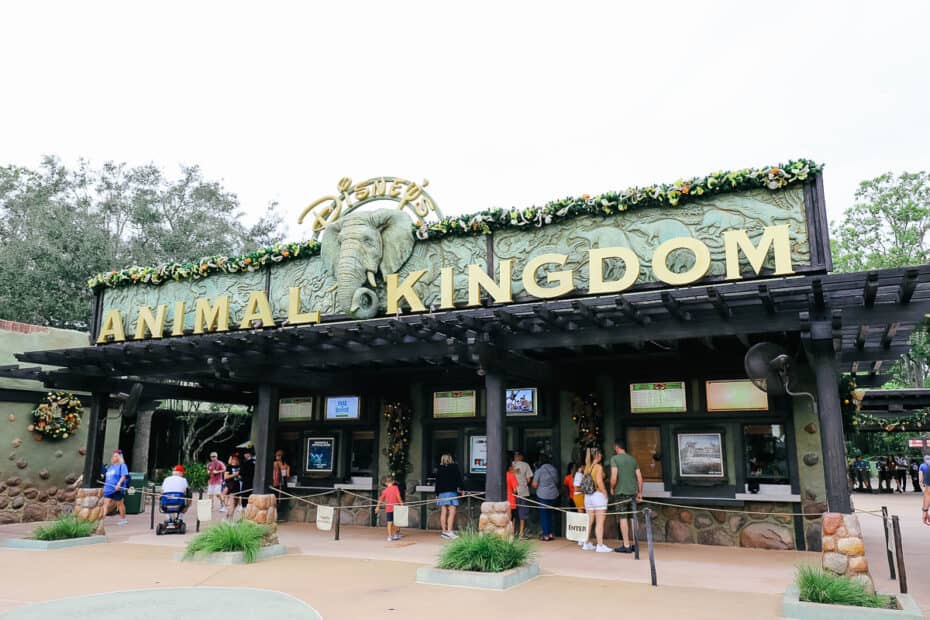 When you arrive at Animal Kingdom, you're greeted with the park's giant Christmas tree.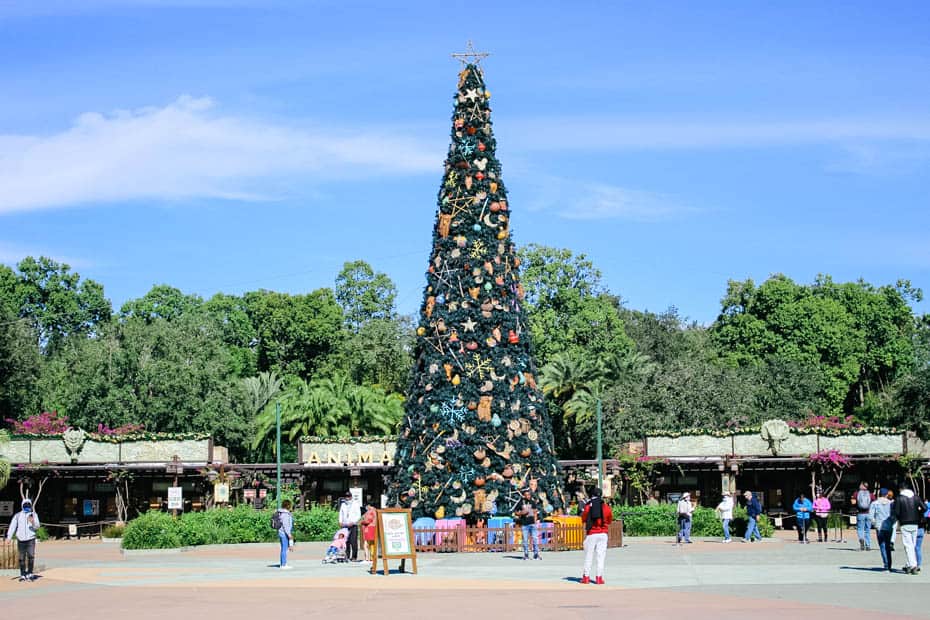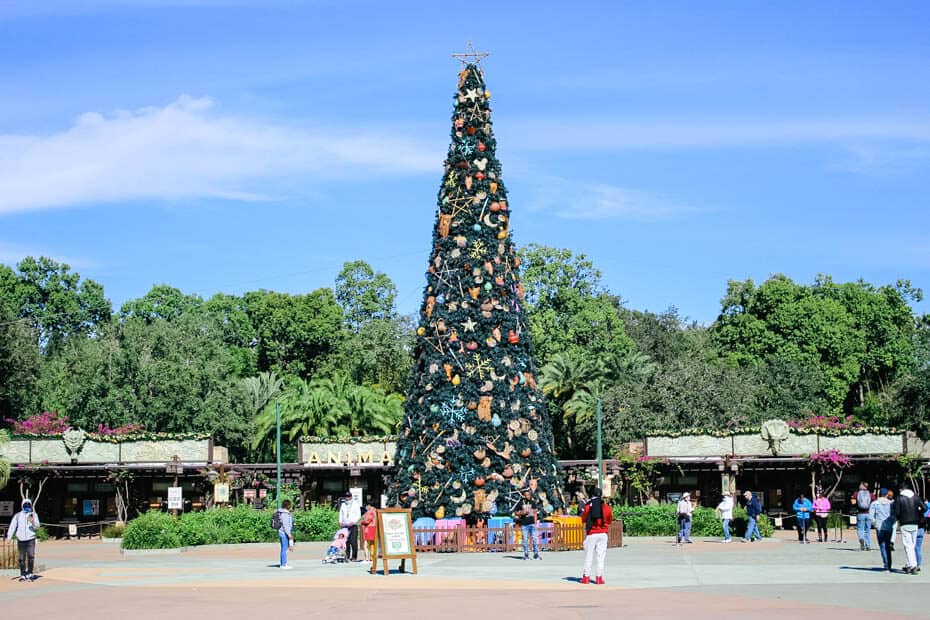 If you walk up to the tree, you'll notice toys, gifts, animal cut-outs, and Winnie the Pooh and Friends surround it.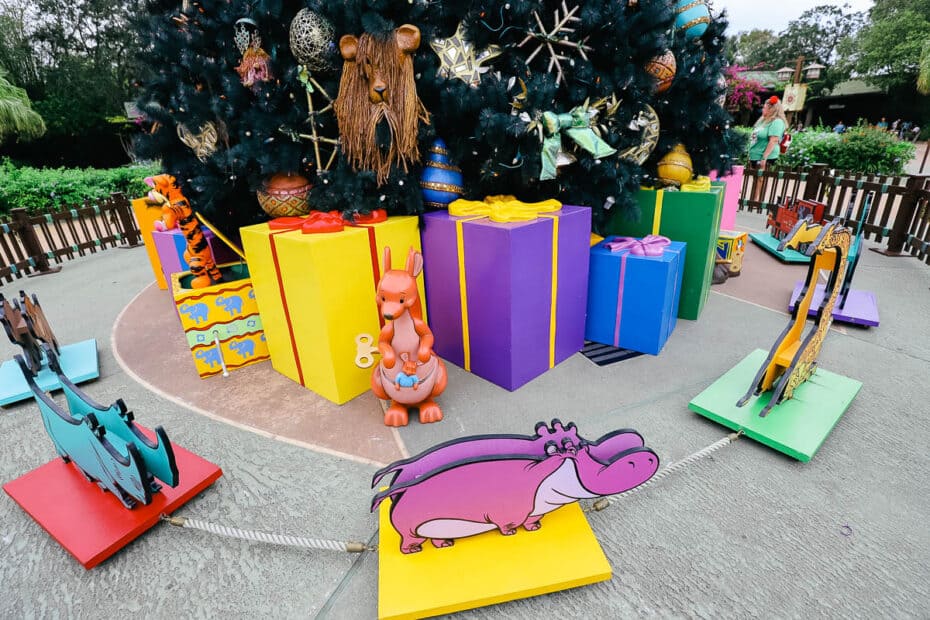 Here's dear Piglet.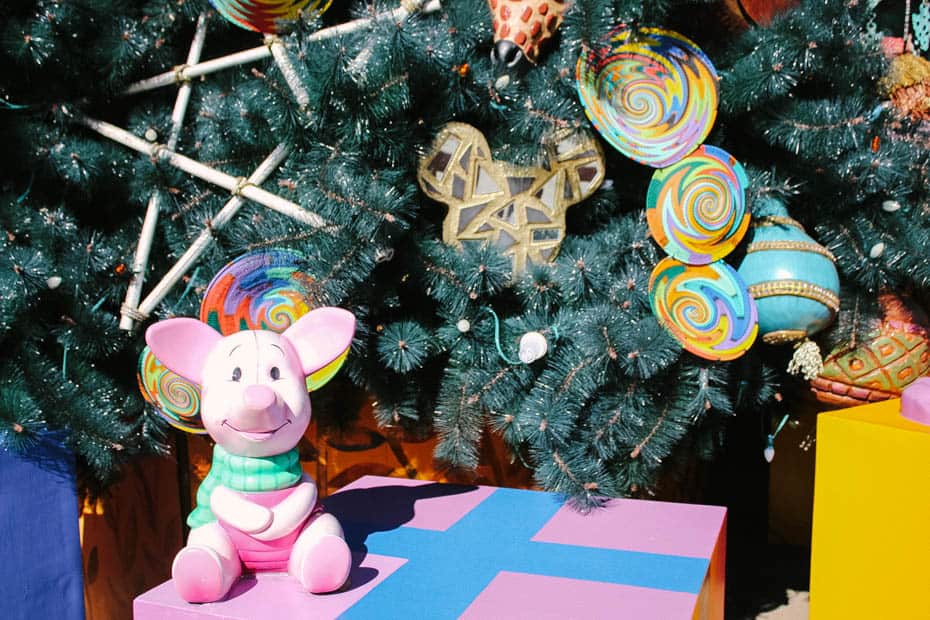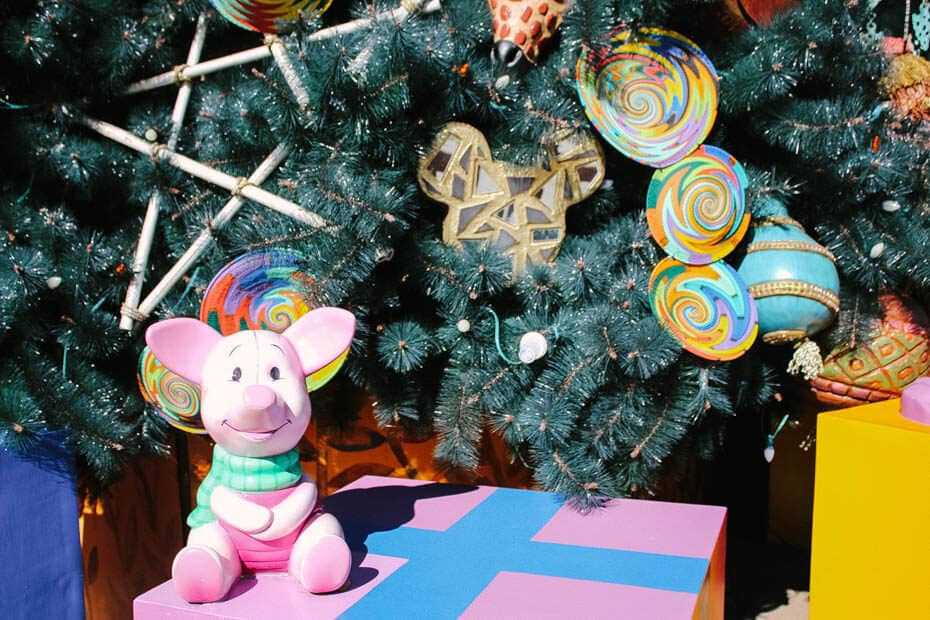 Gorgeous African ornaments adorn the tree.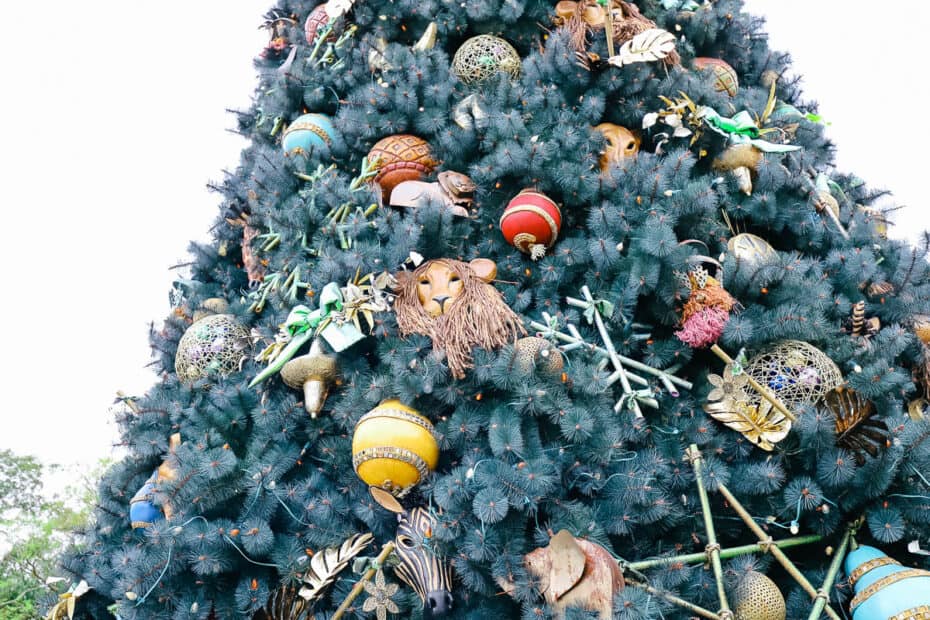 A holiday step-in photo opportunity is available. Usually there's a PhotoPass photographer in the area to take photos.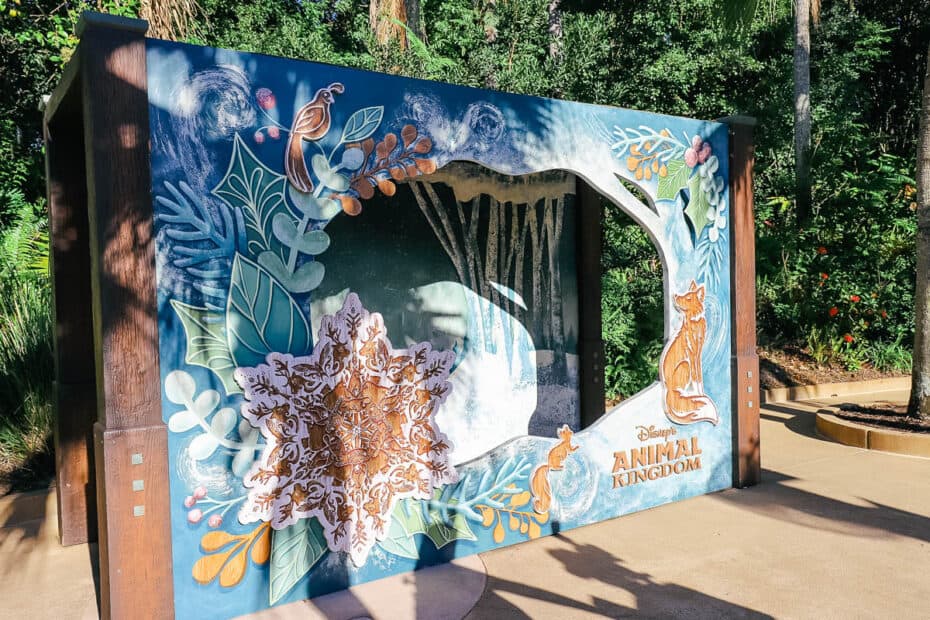 Festive holiday displays hang near the ticket window.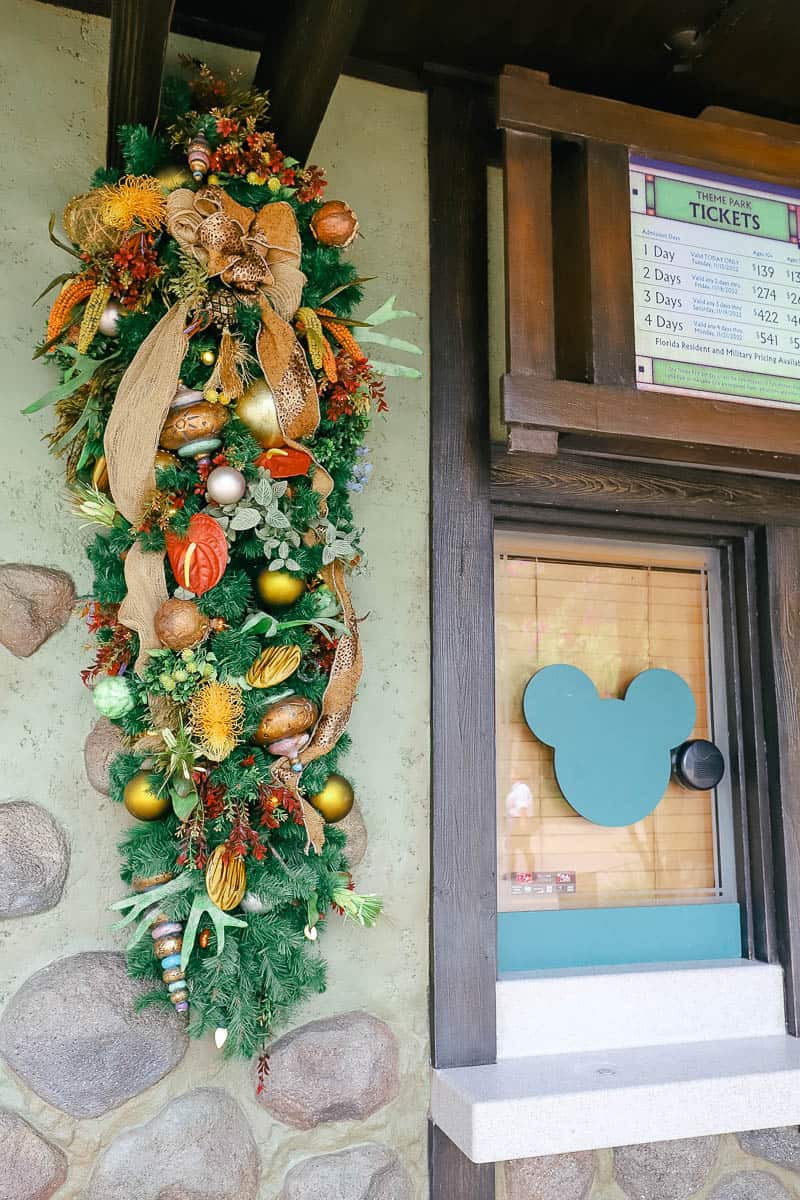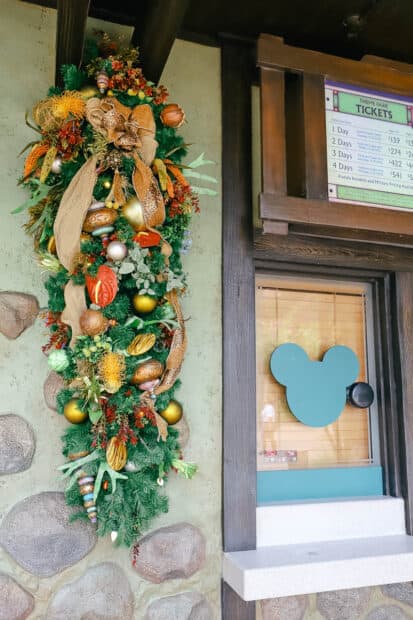 Matching wreaths are positioned on the sides of the building.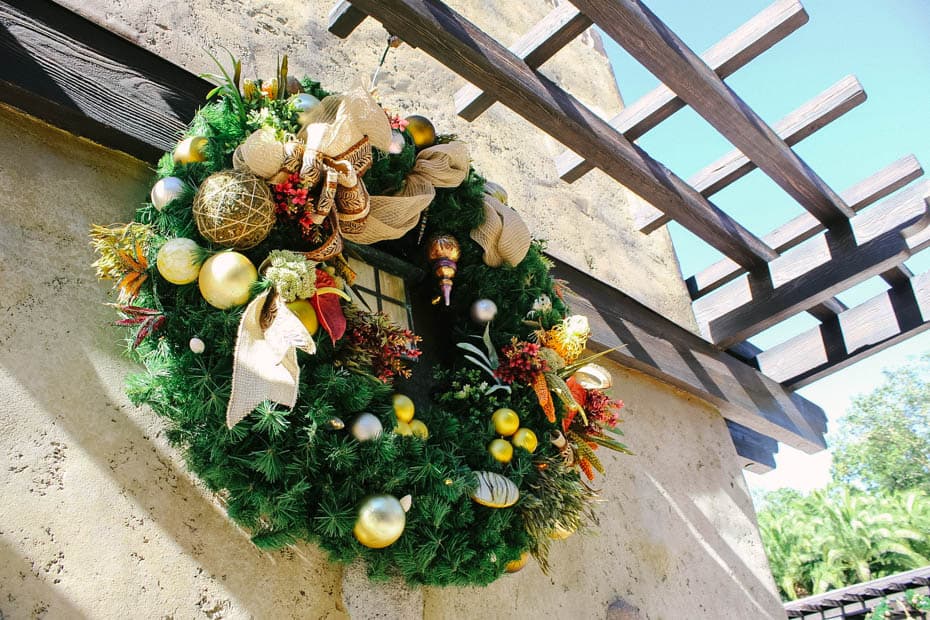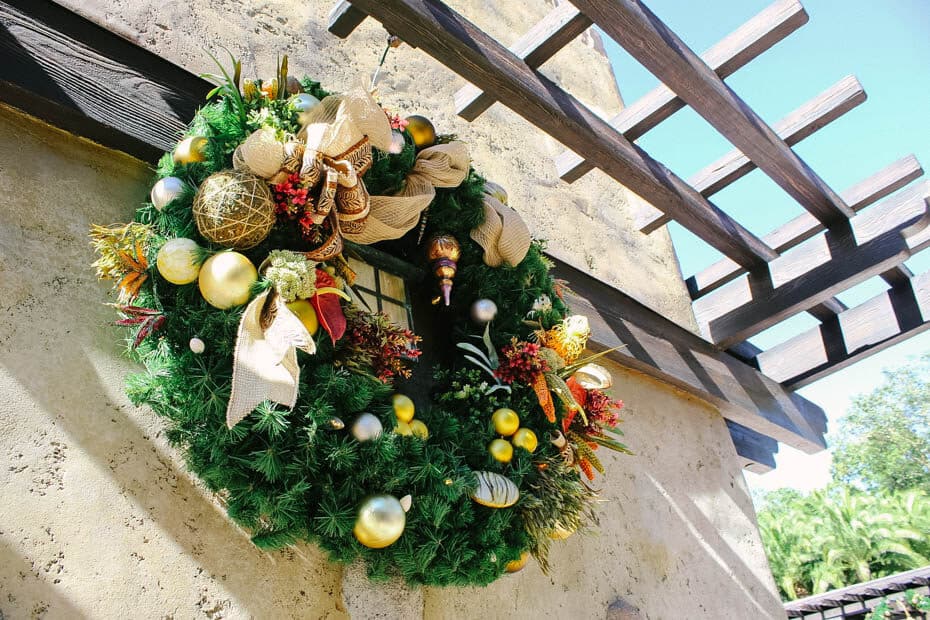 Garland is delicately hung above the turnstiles.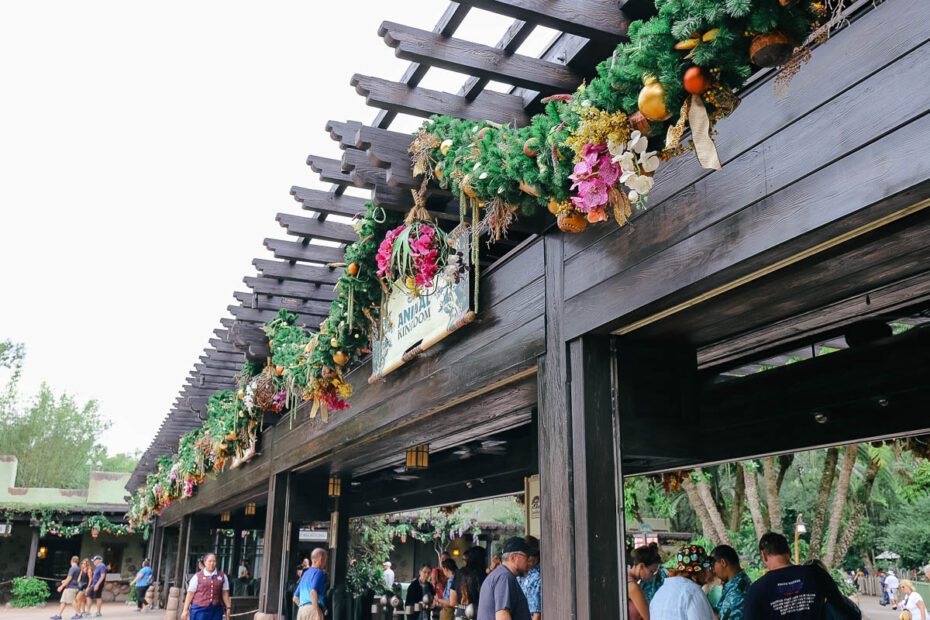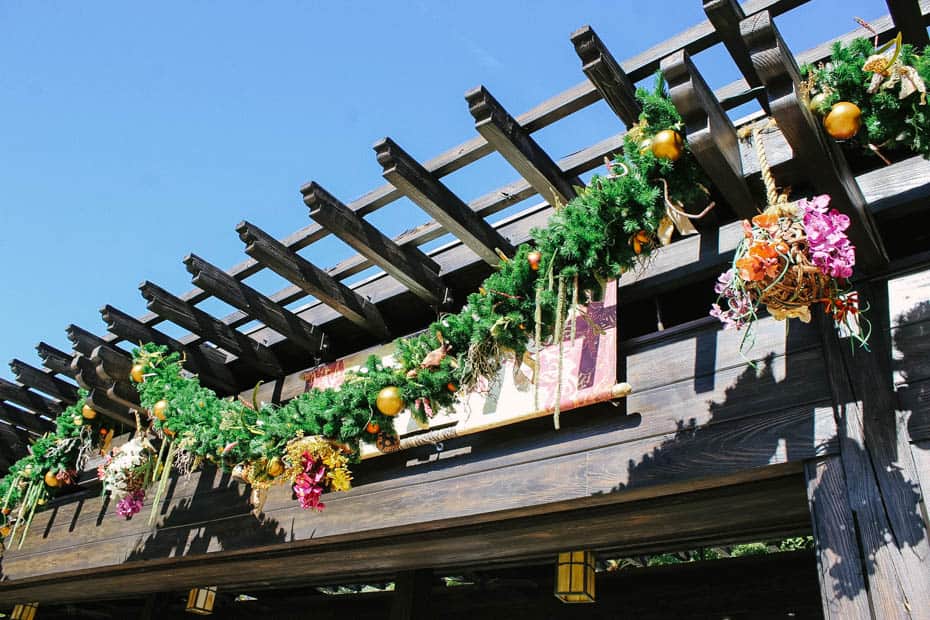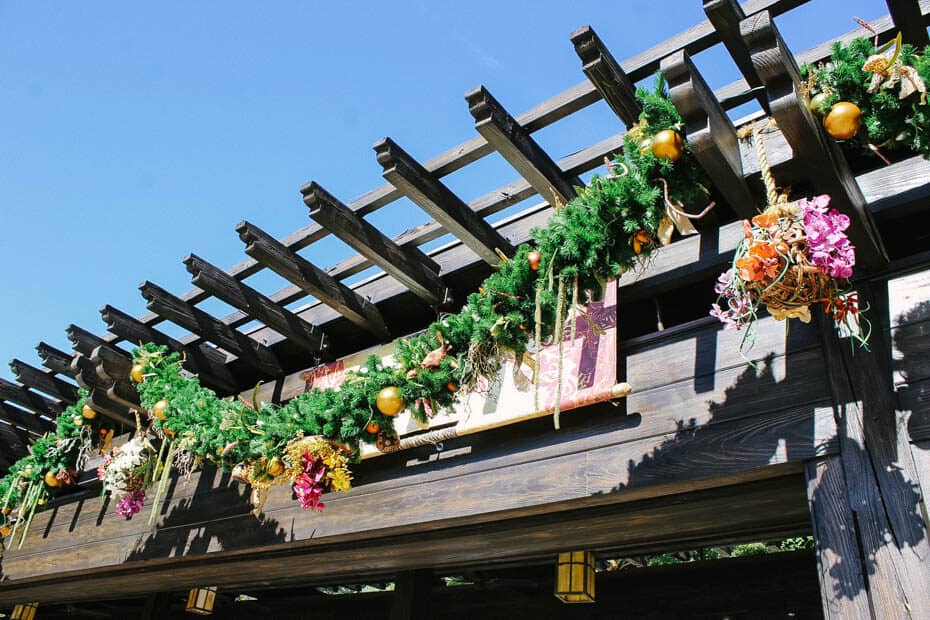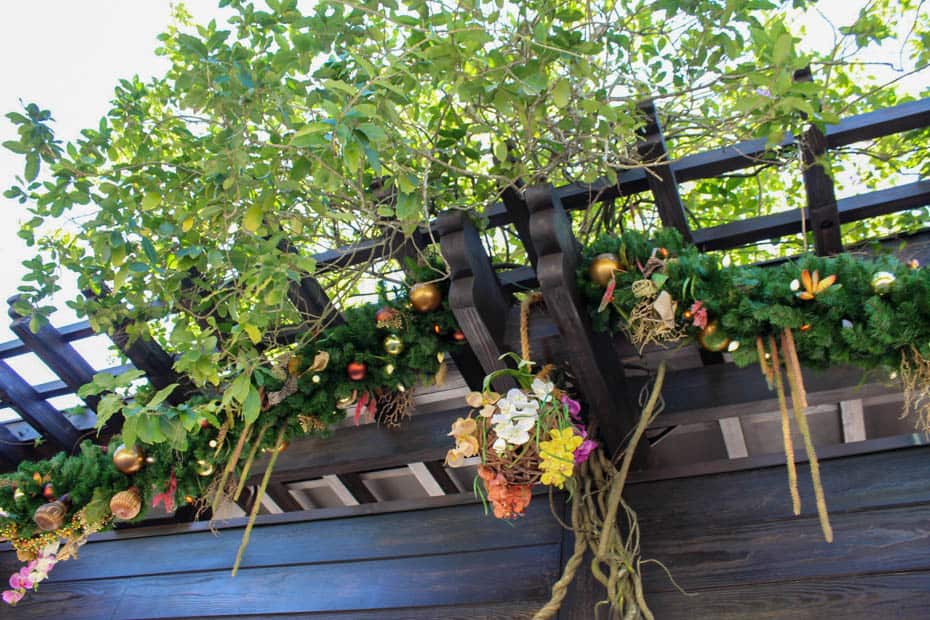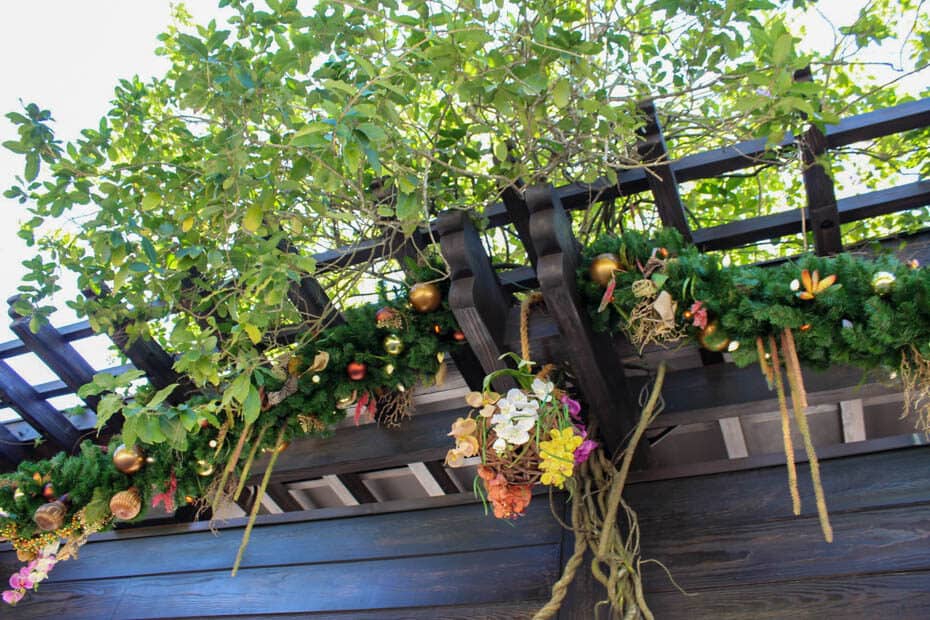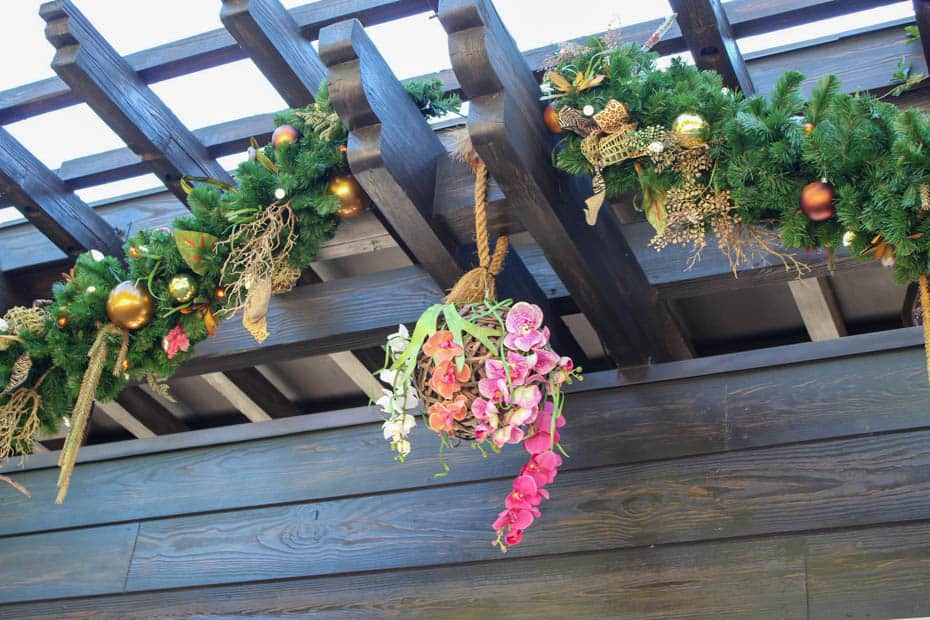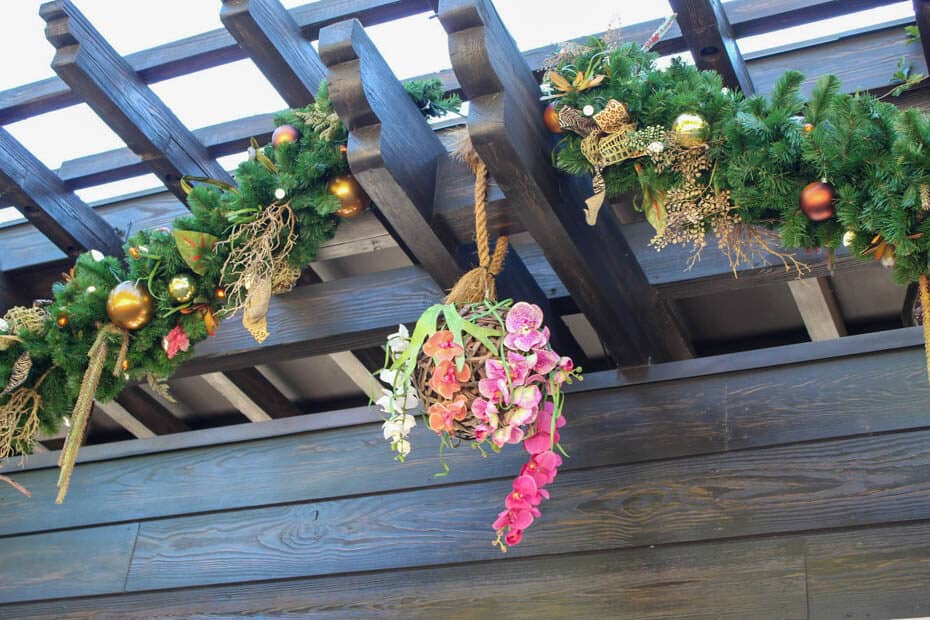 Decorations continue on Discovery Island.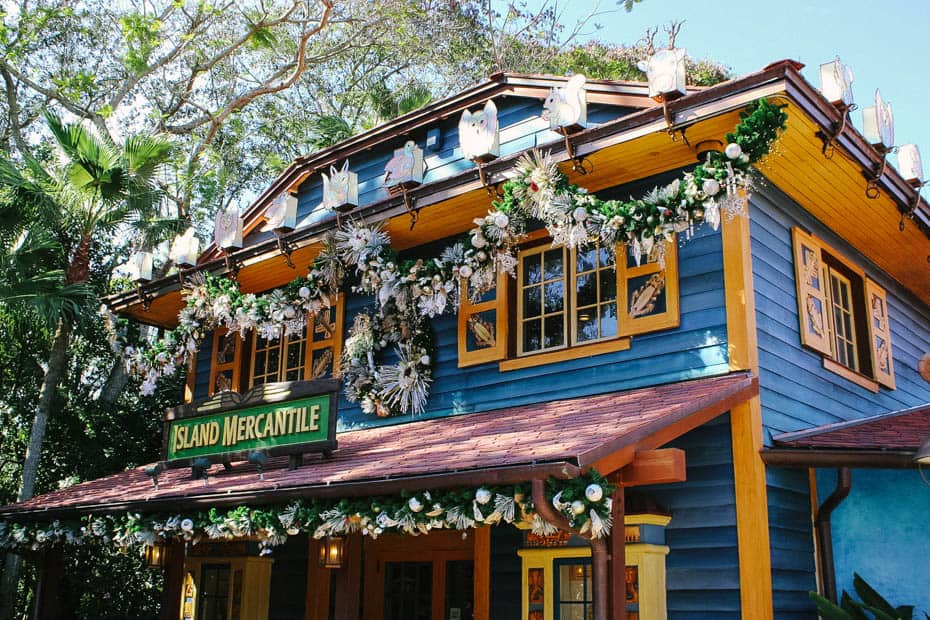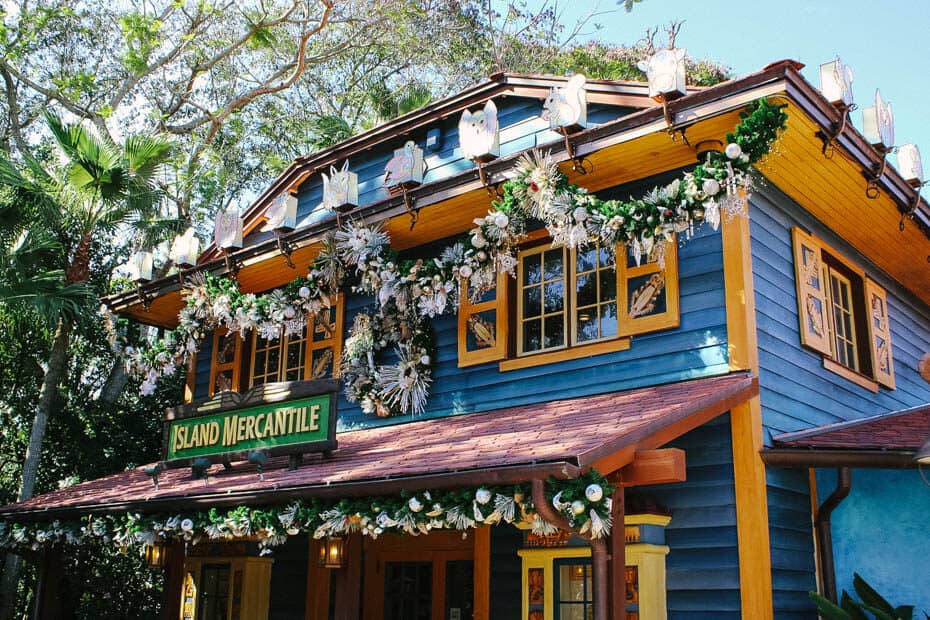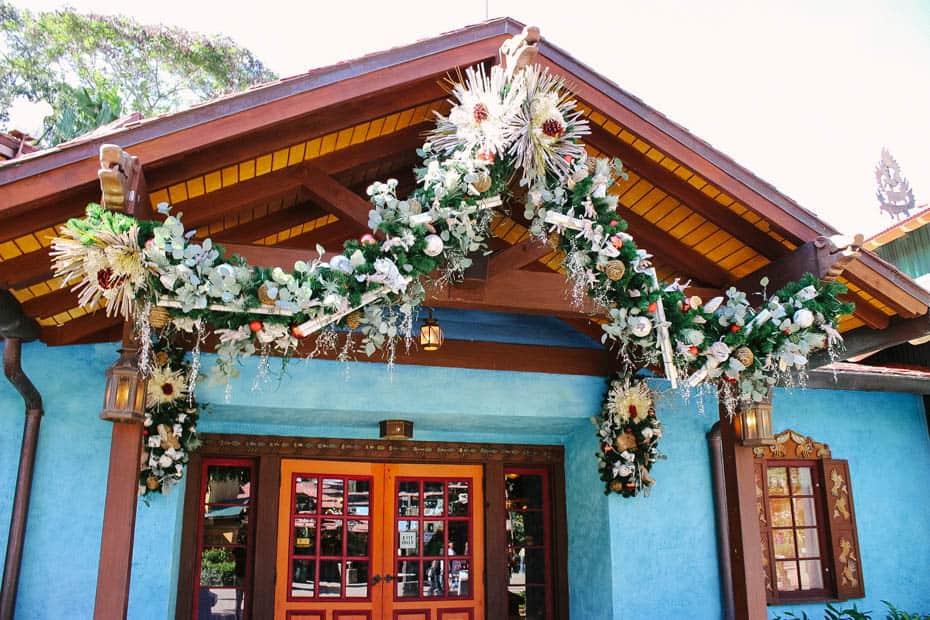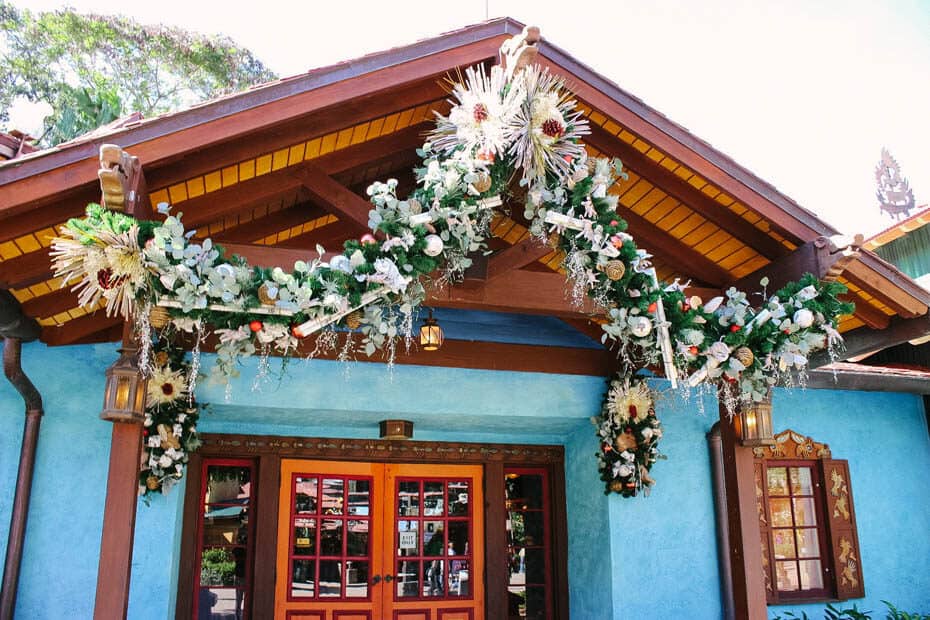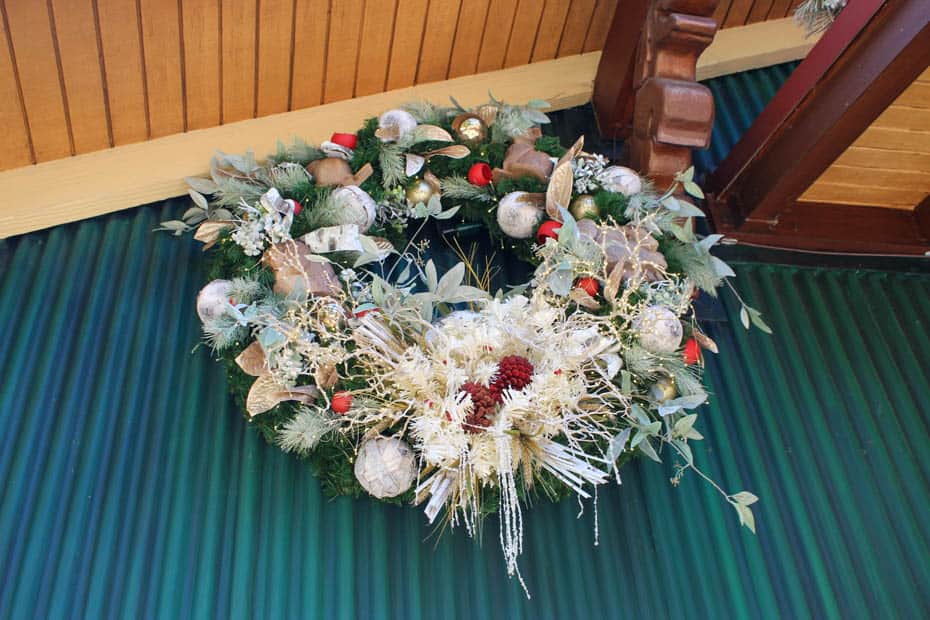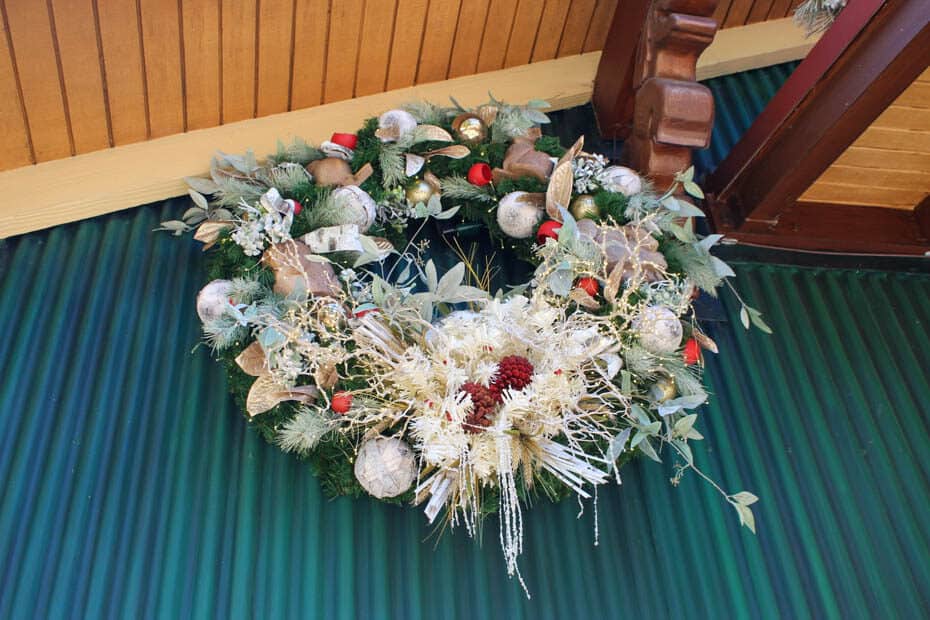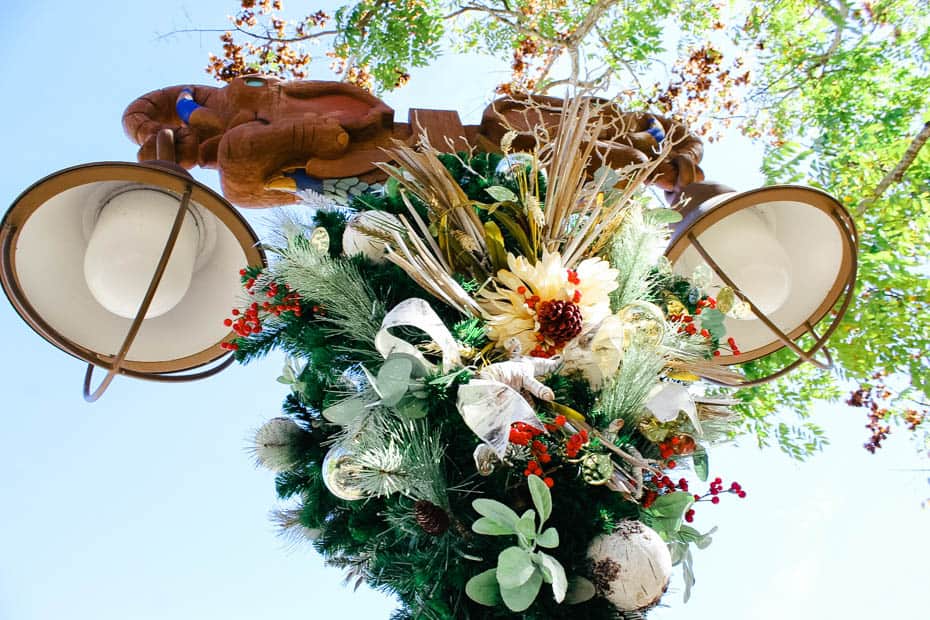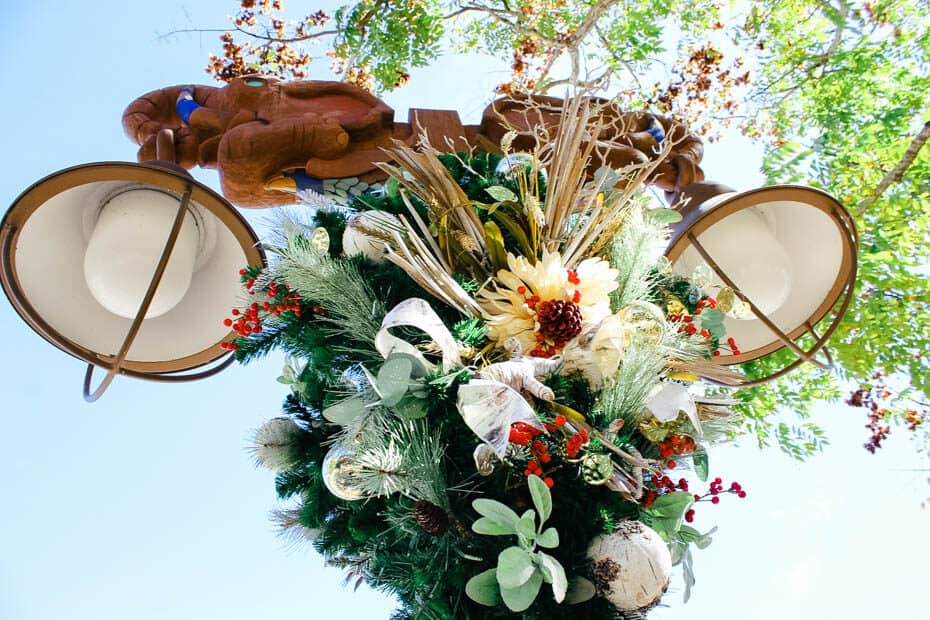 Disney's Animal Kingdom is always beautiful. However, the striking Christmas decorations are an extra touch during the holidays.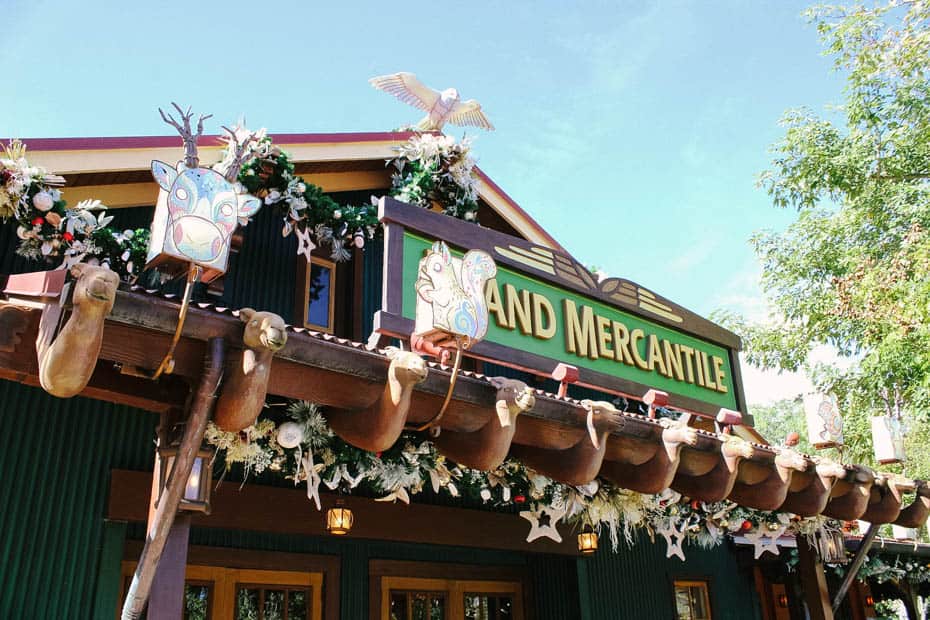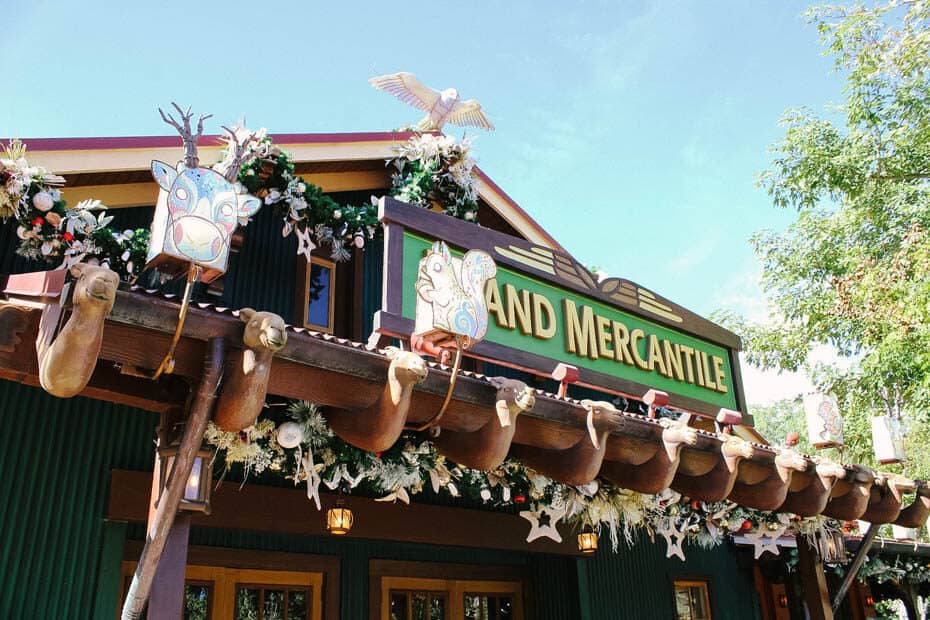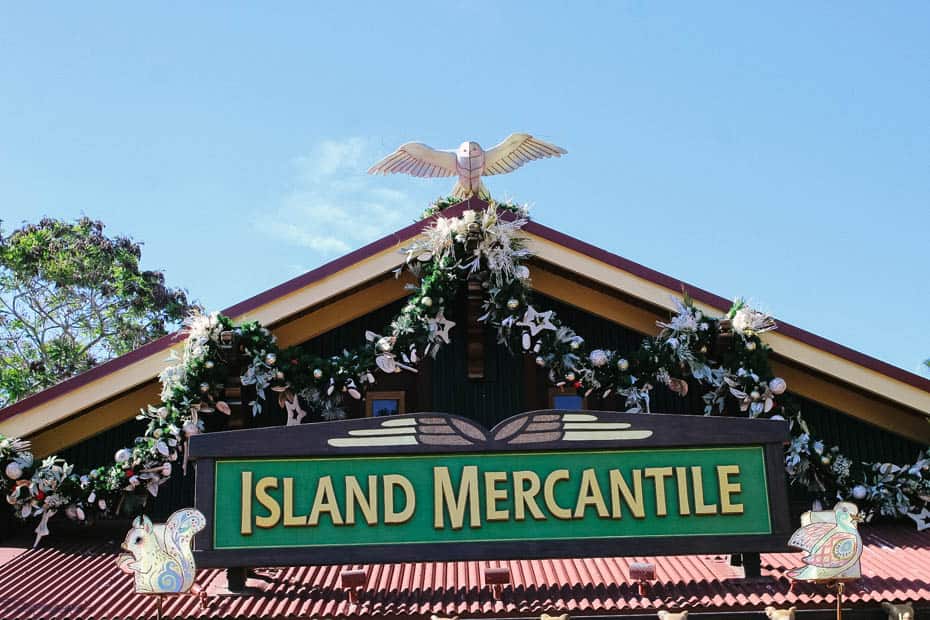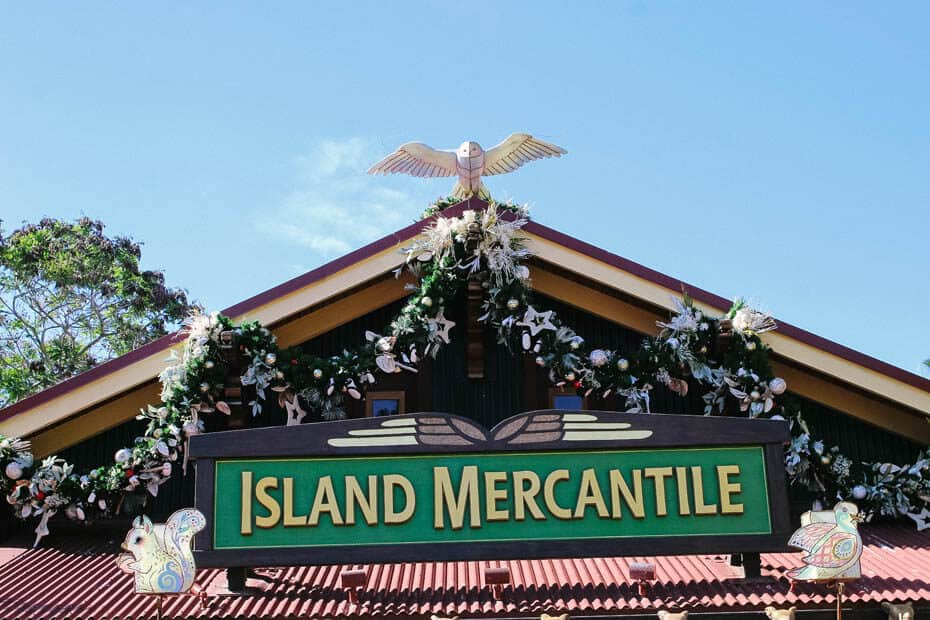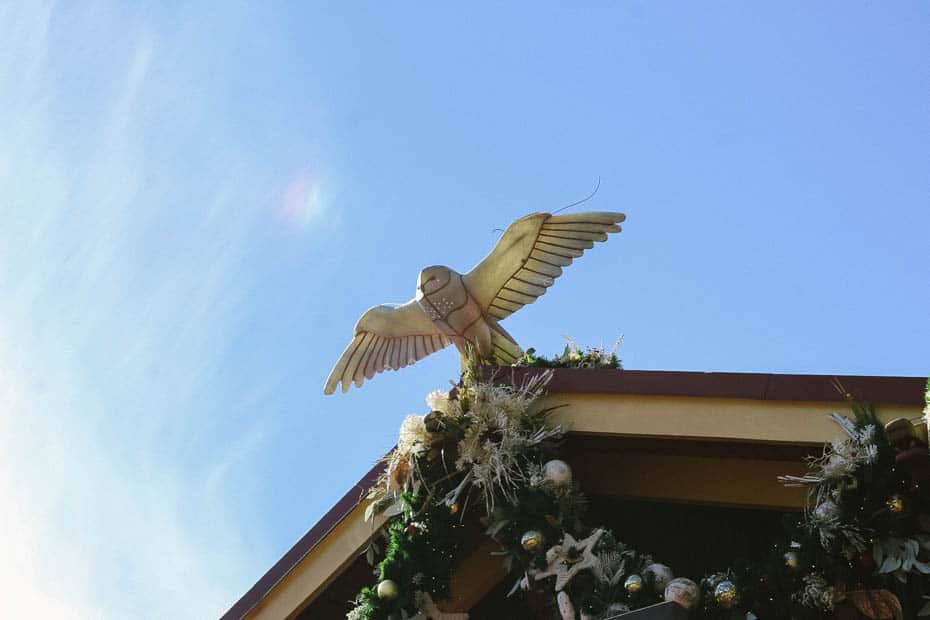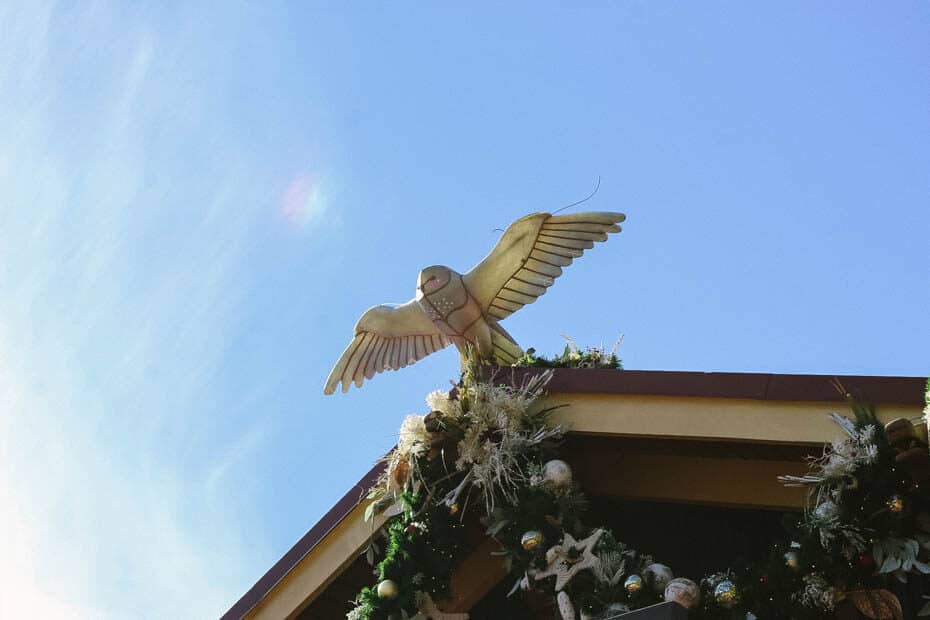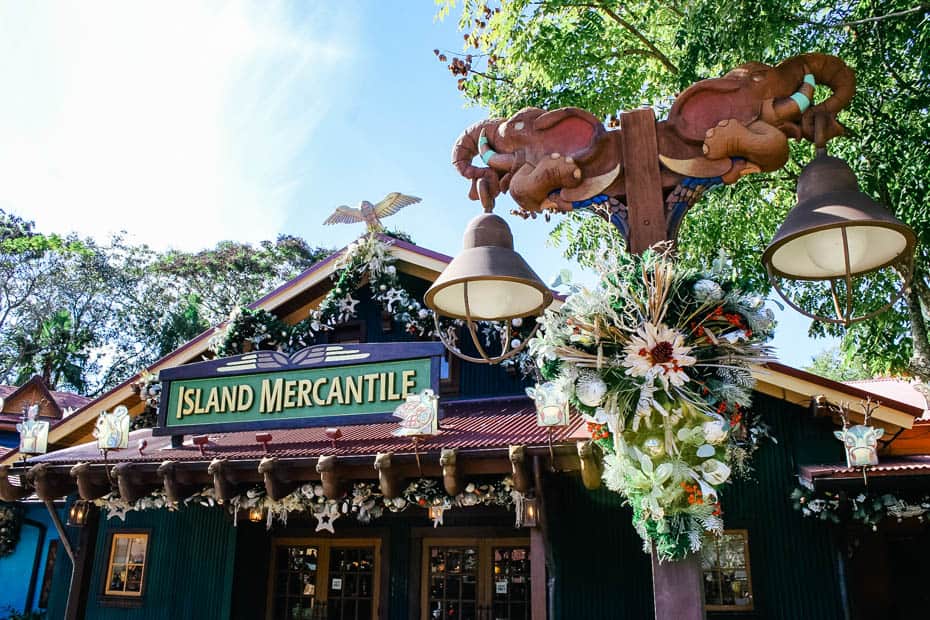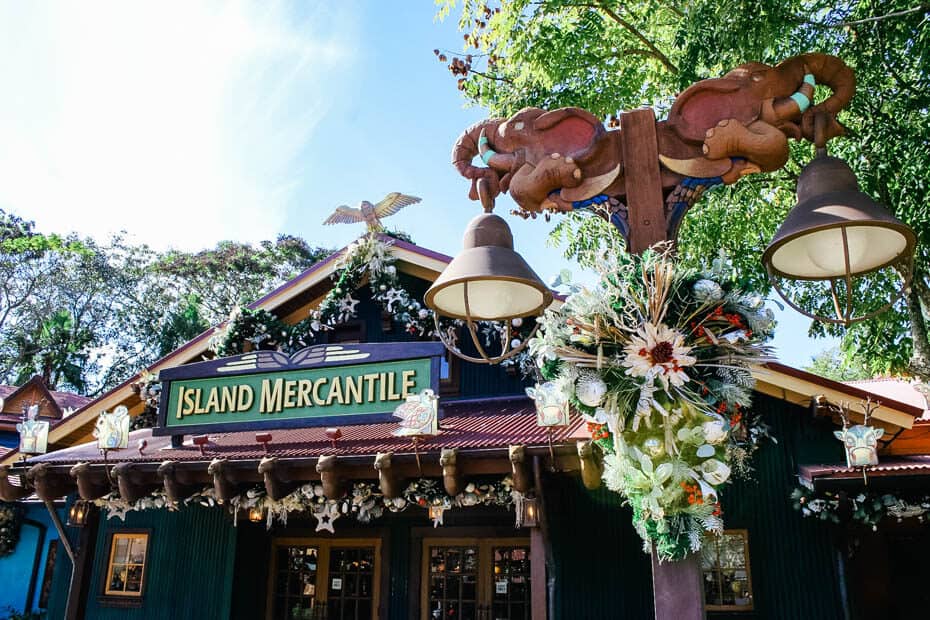 Beautiful bird sculptures have been placed in the landscaping.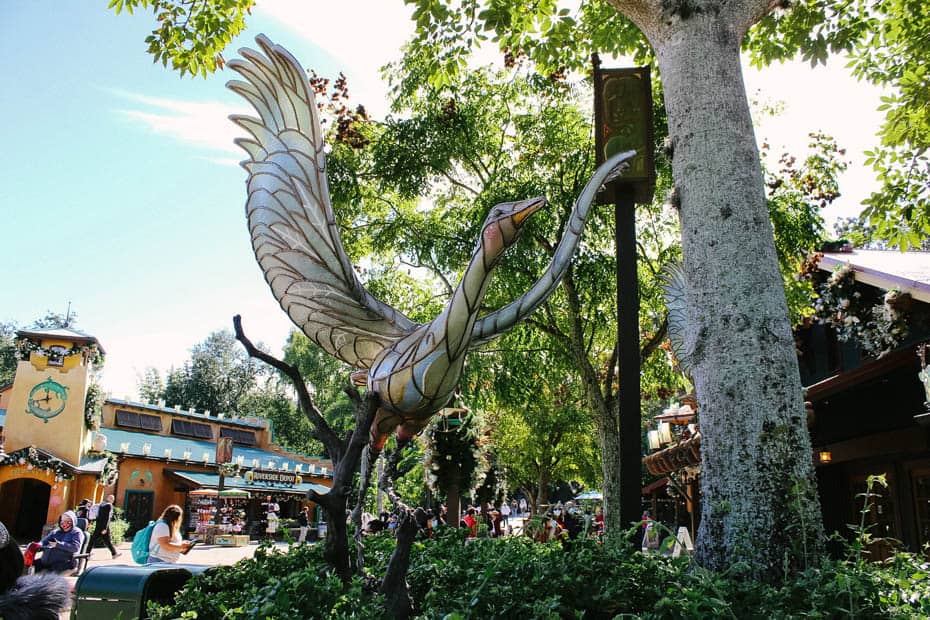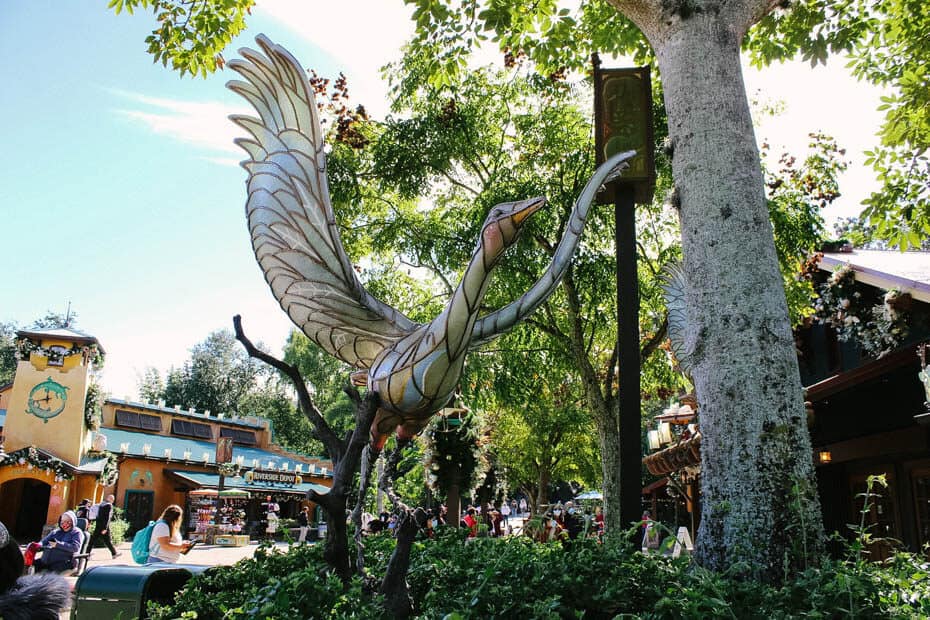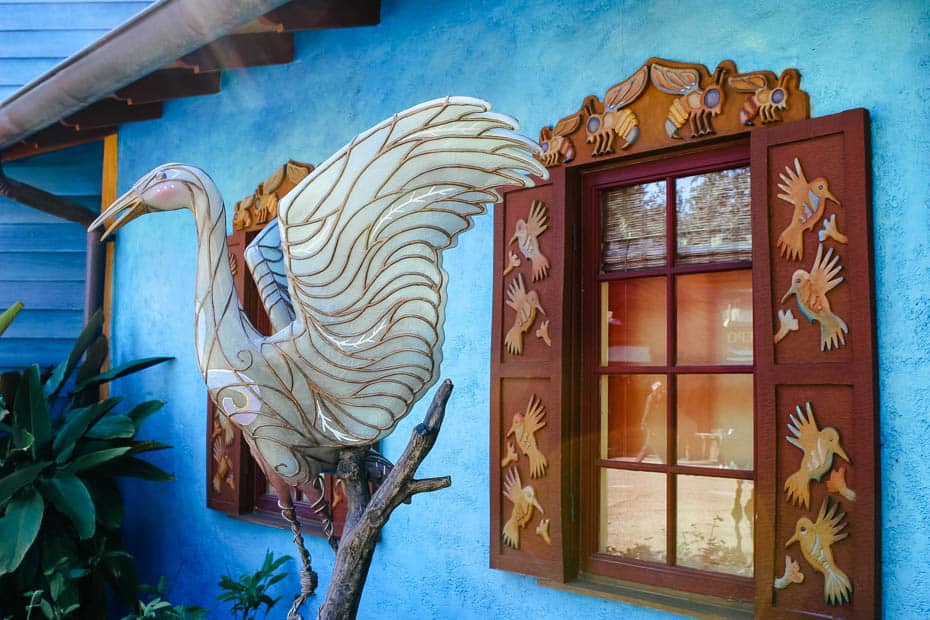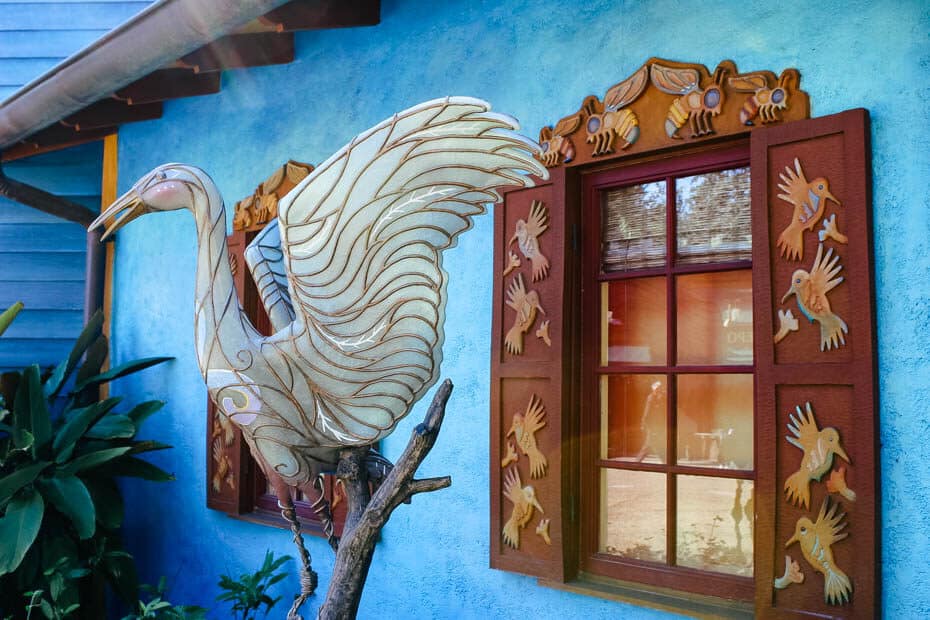 And the most adorable luminaries installed on the roof lines.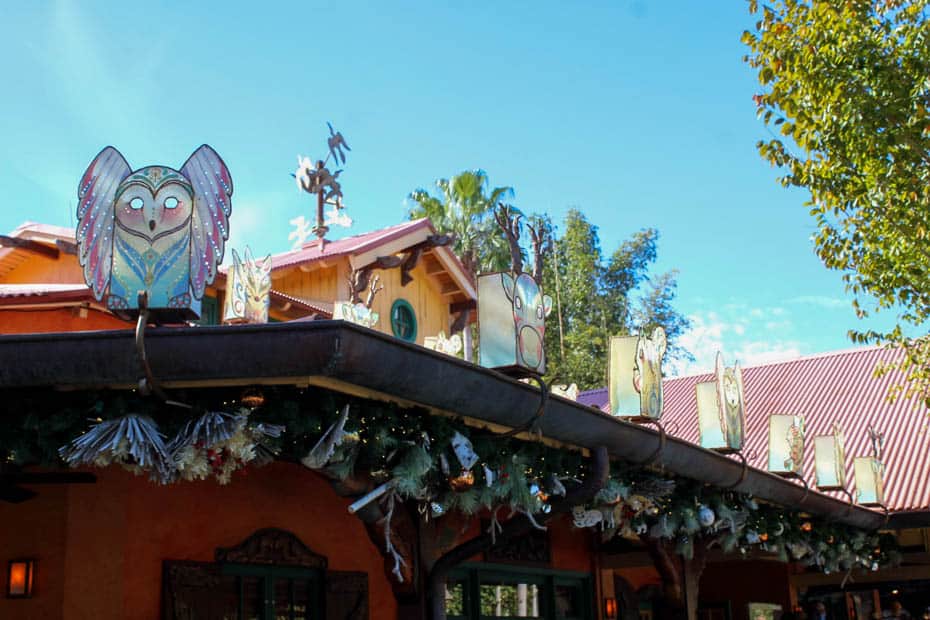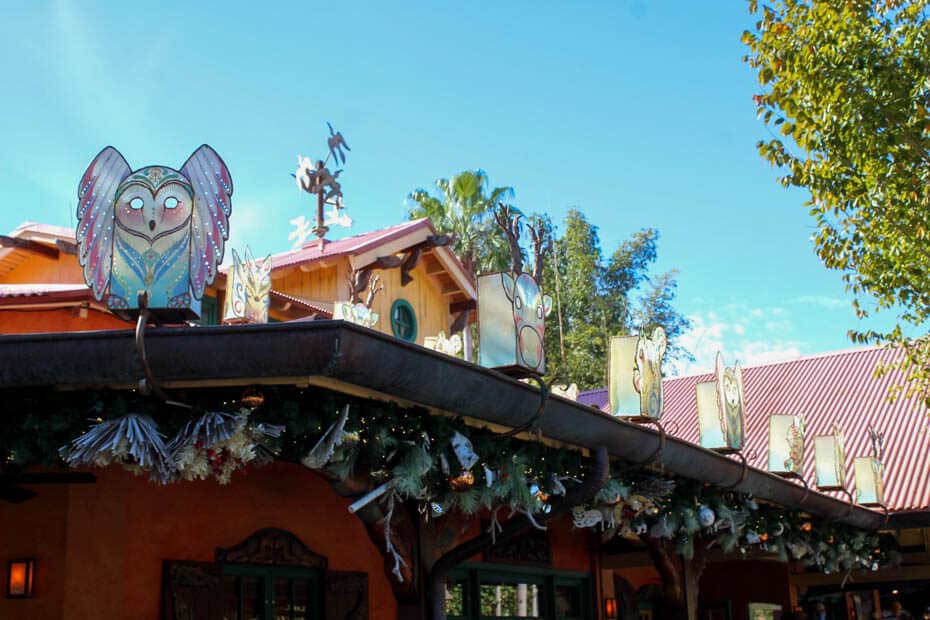 Every little detail leaves you to marvel over the talent it took to create this look.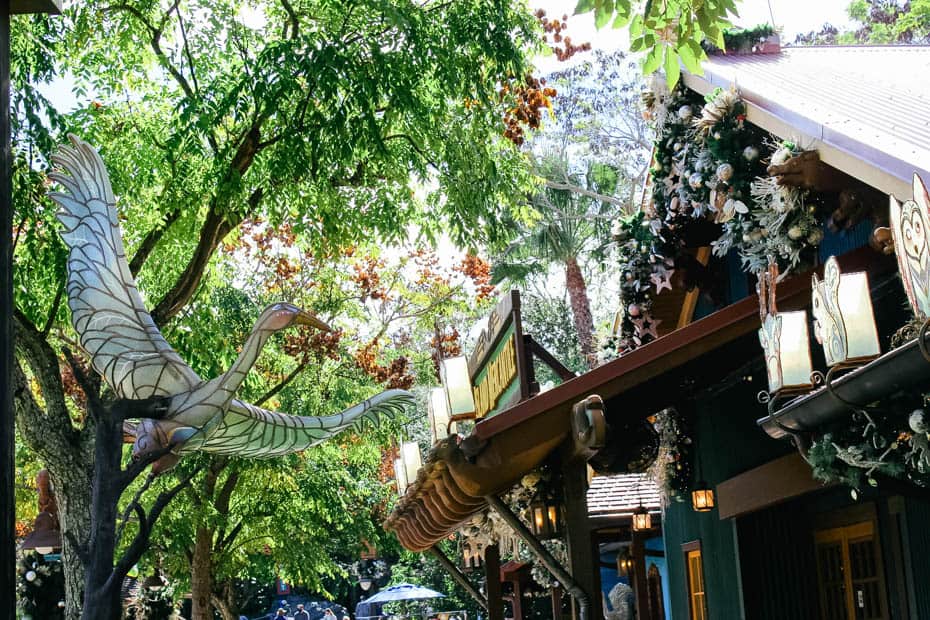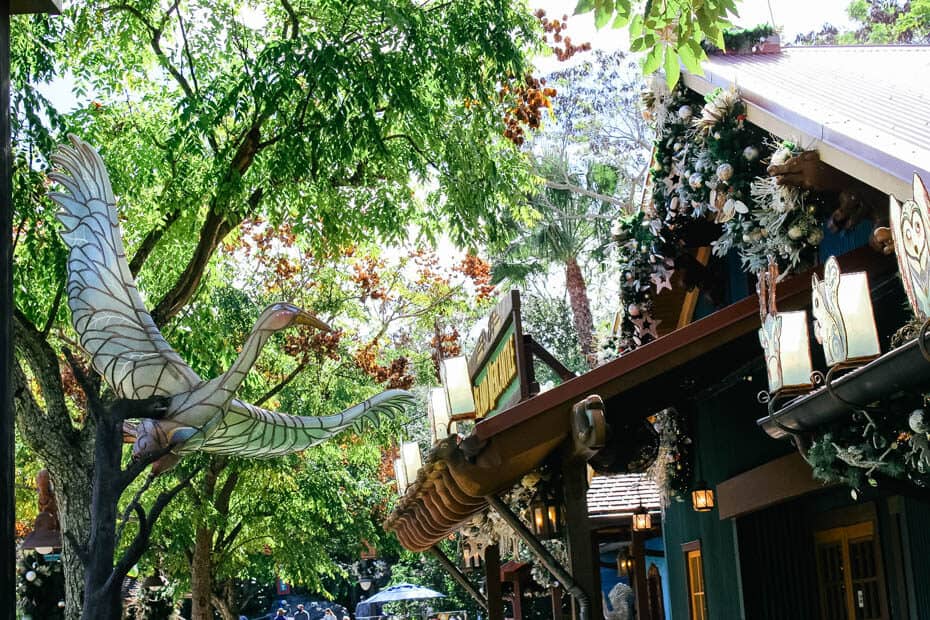 True artistry.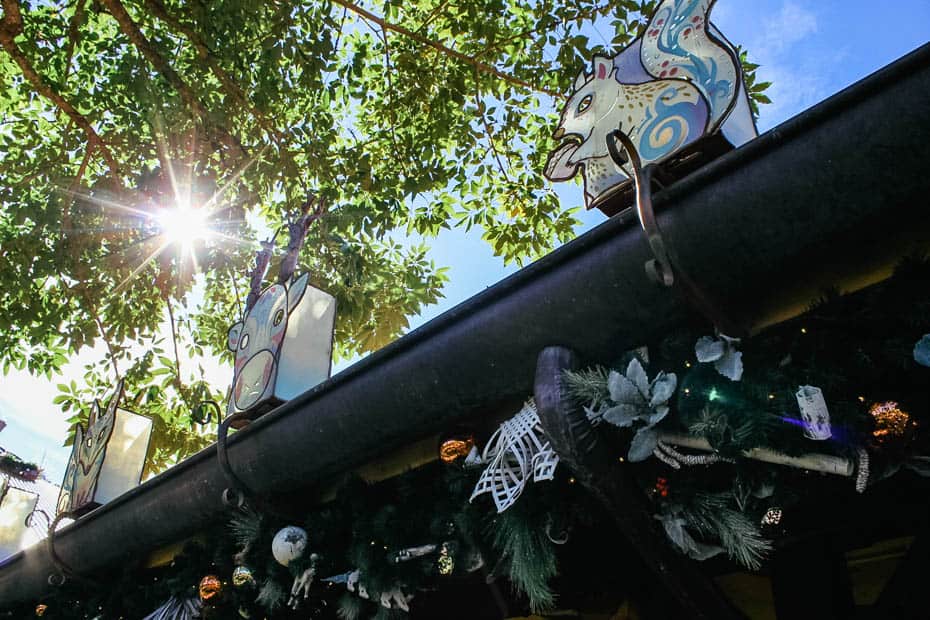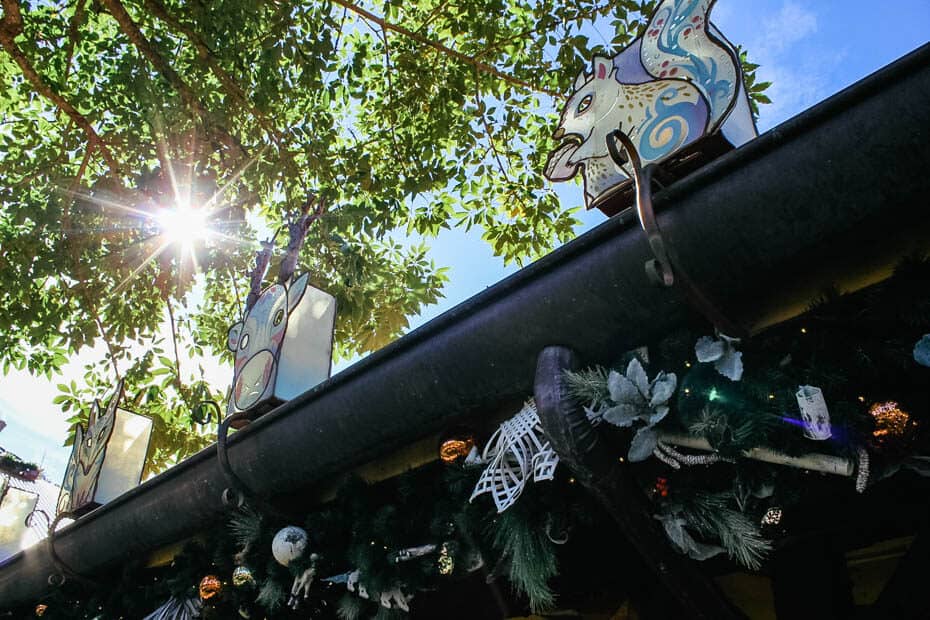 Even the snowflakes are woven like delicate wicker.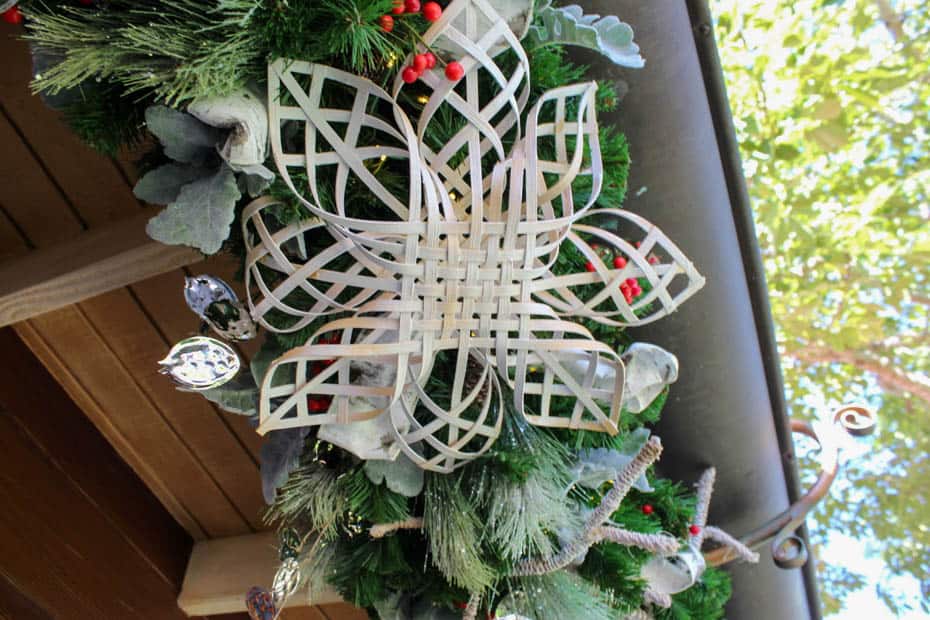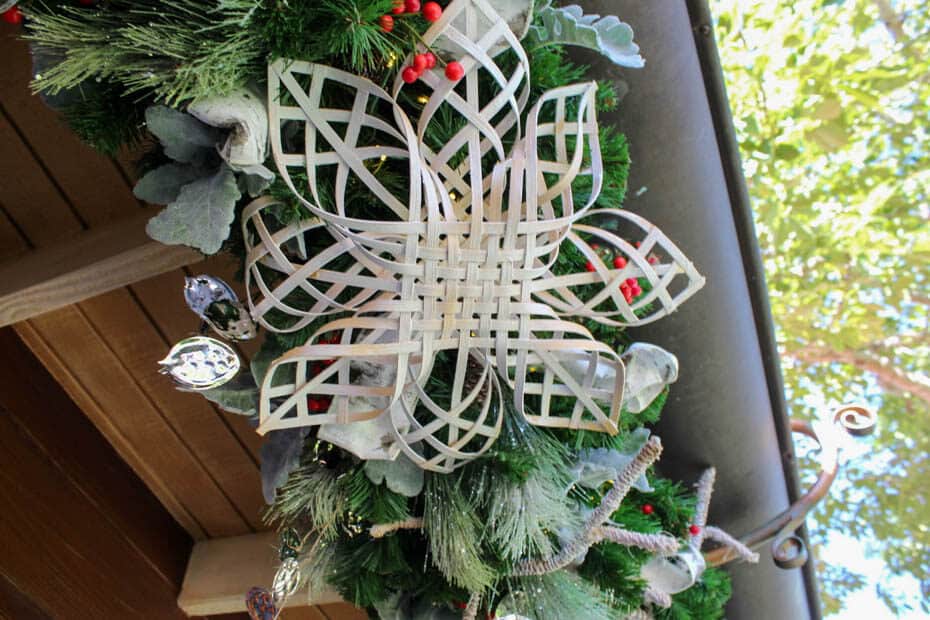 And the subtle decor pops on the warm color tones.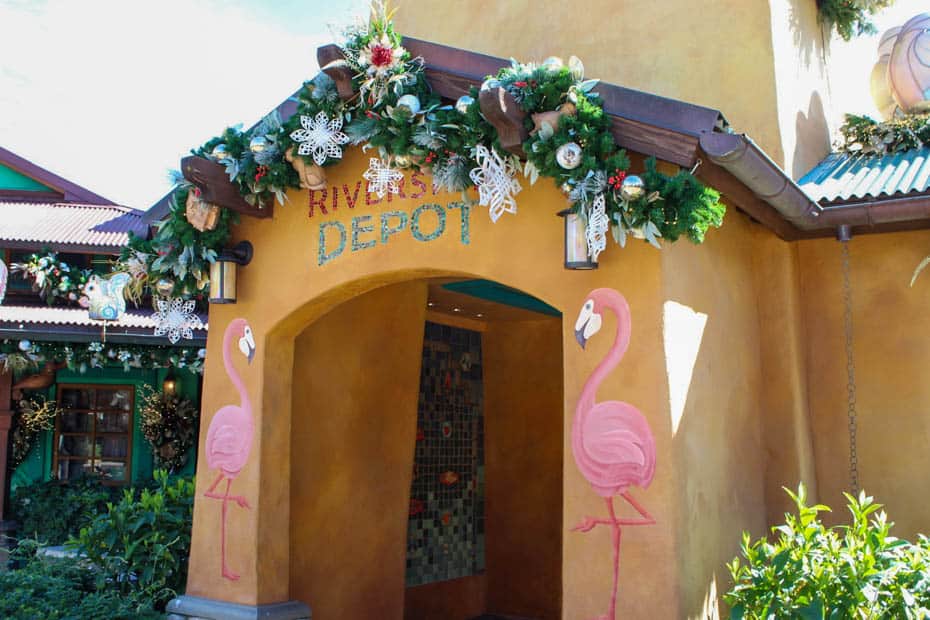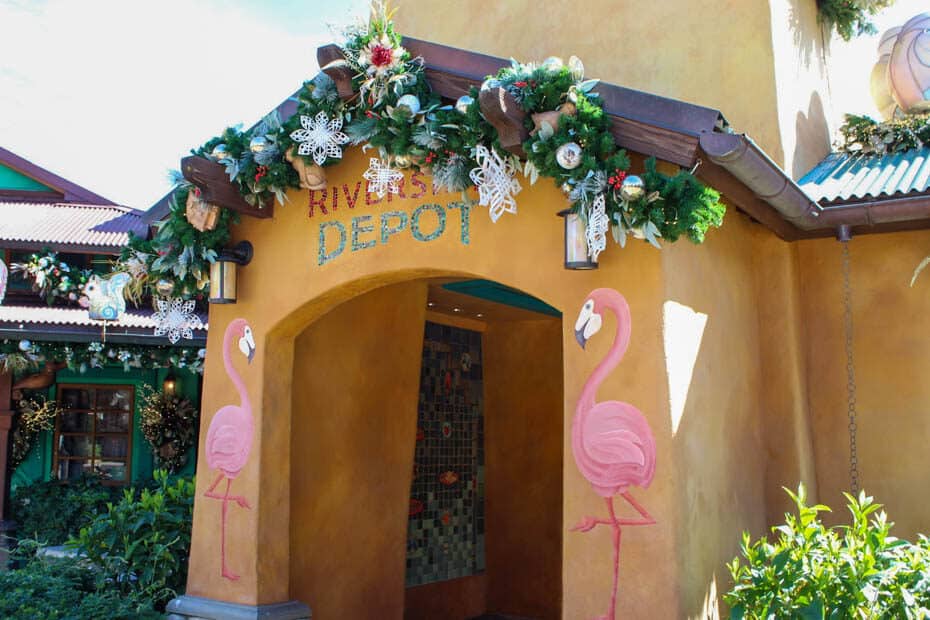 Two love birds are perched on the clock tower.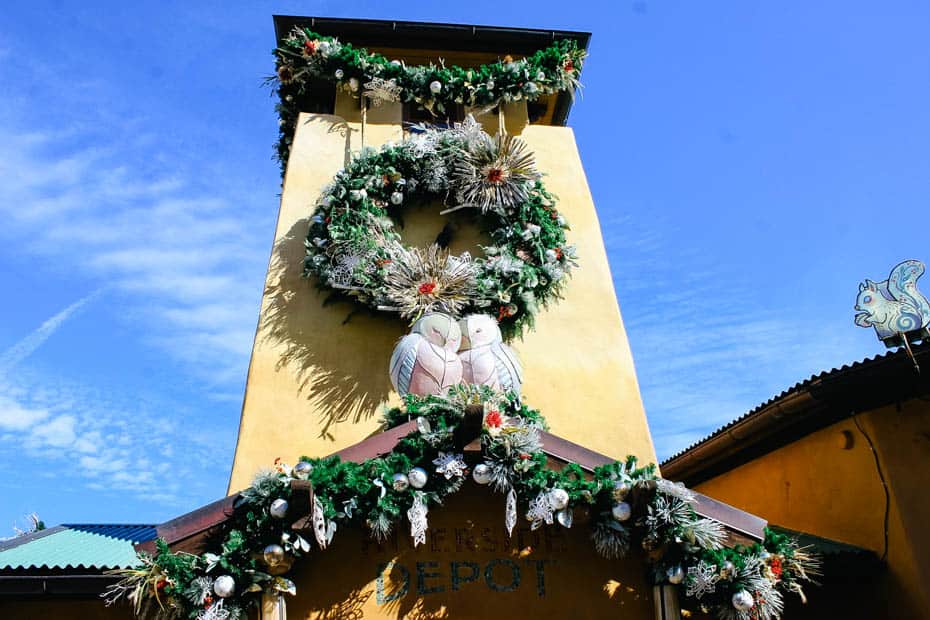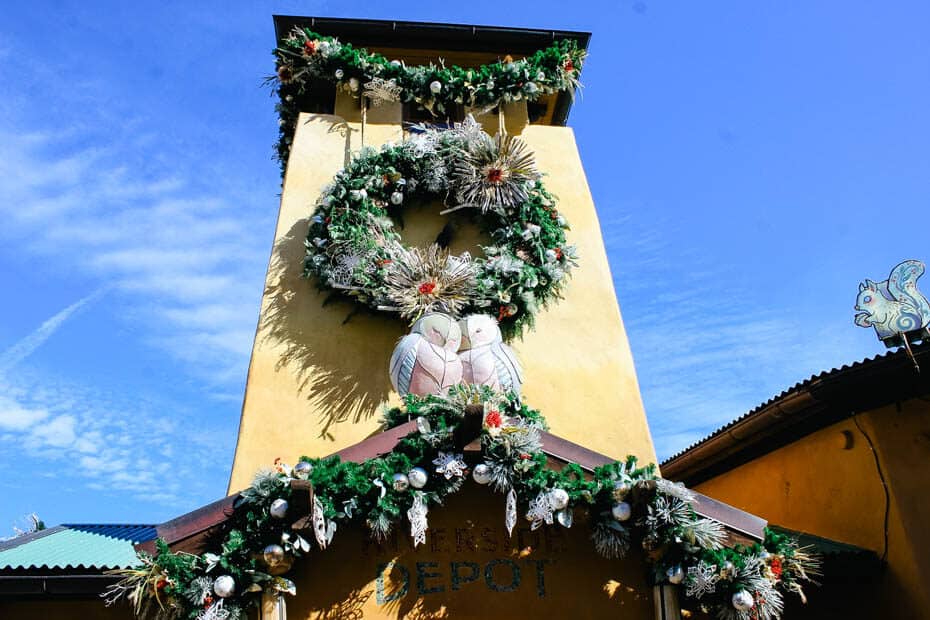 They appear to be keeping each other warm.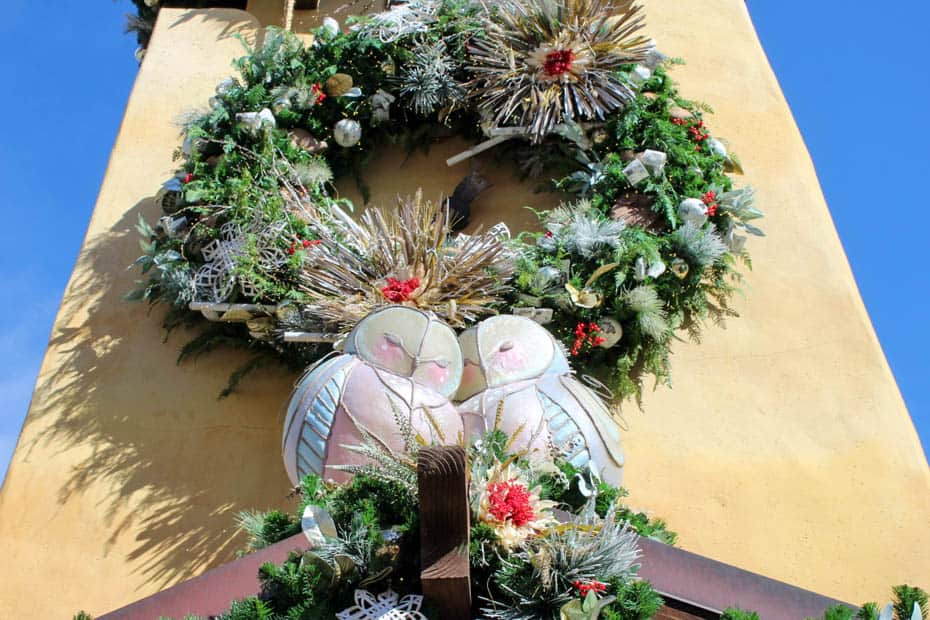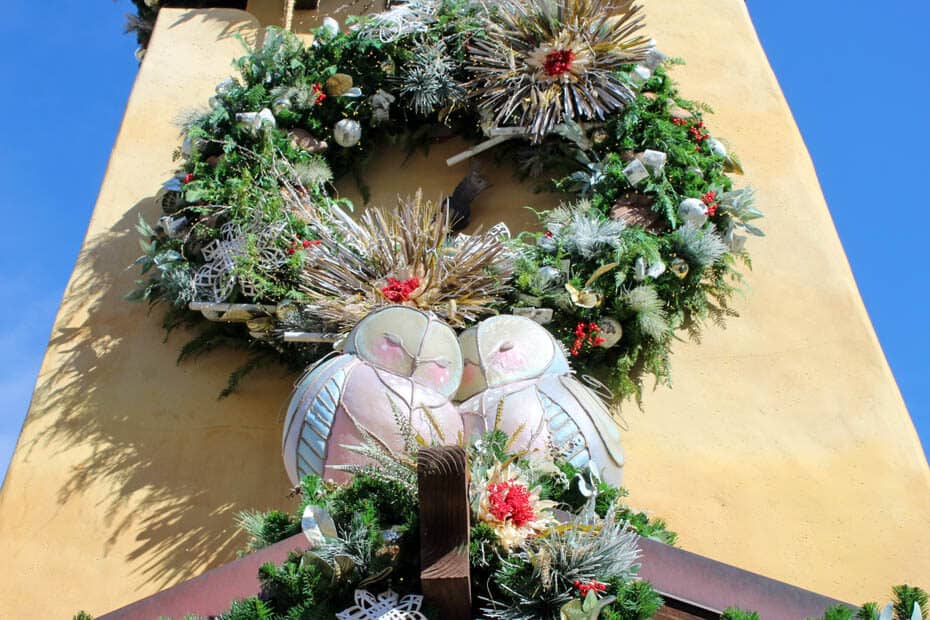 These two are trying to decide if the wreath was hung evenly outside their home.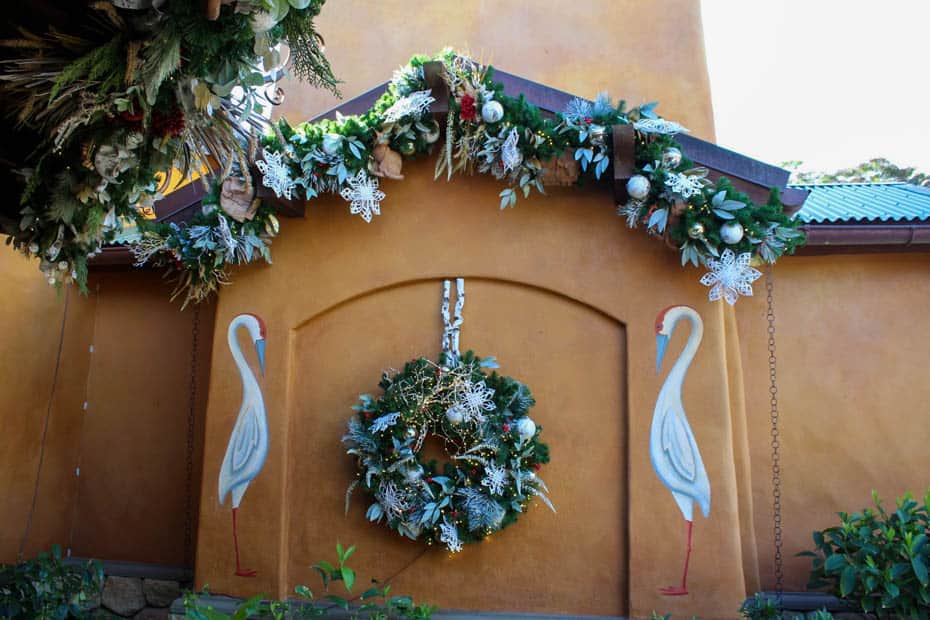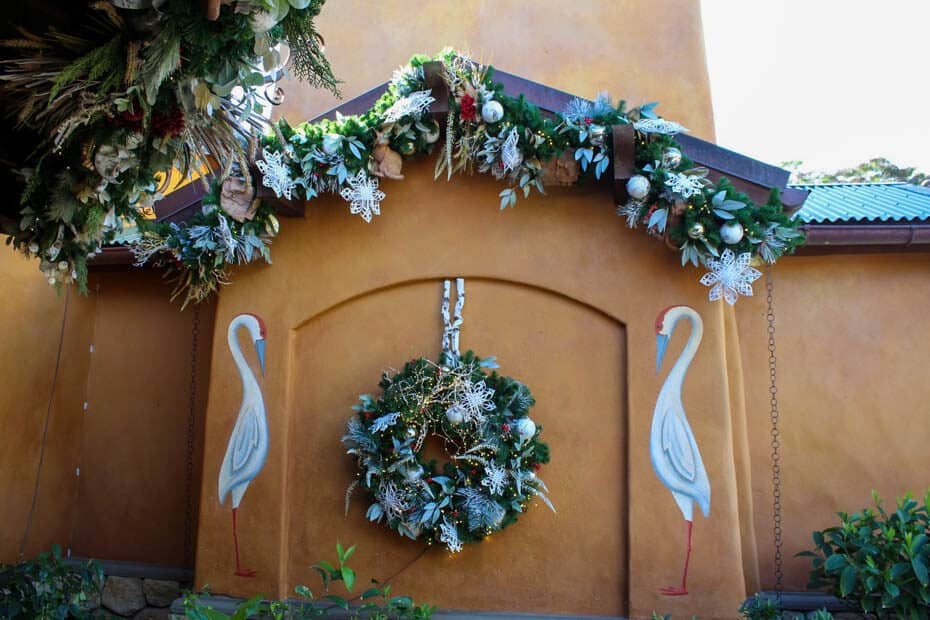 The overhangs are tremendous.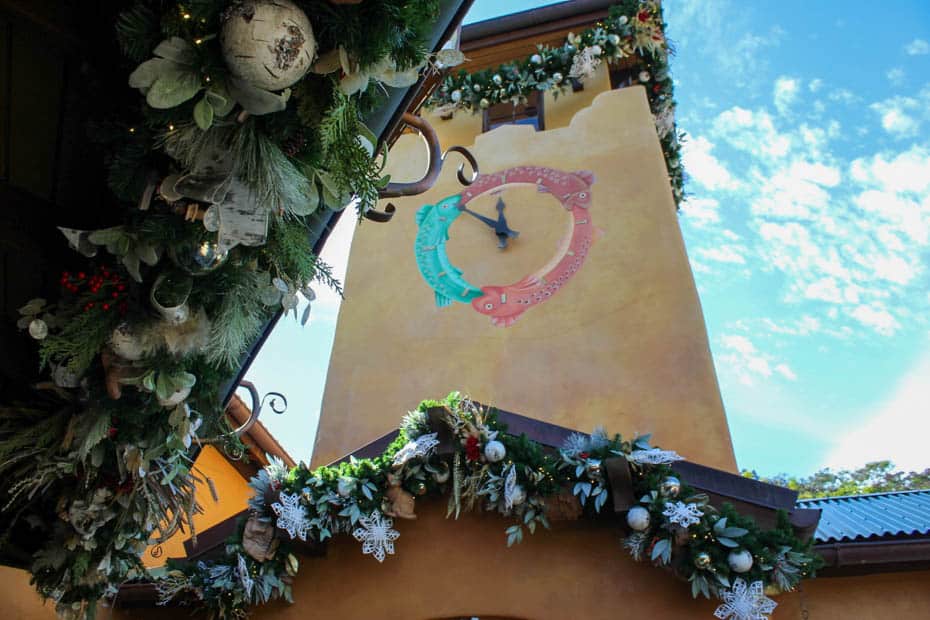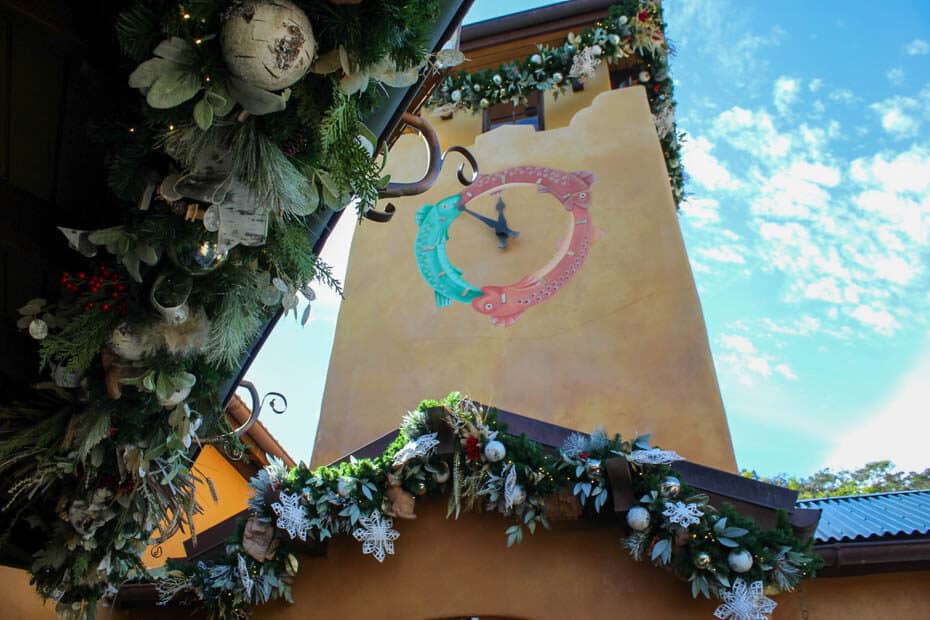 Here is a momma bird.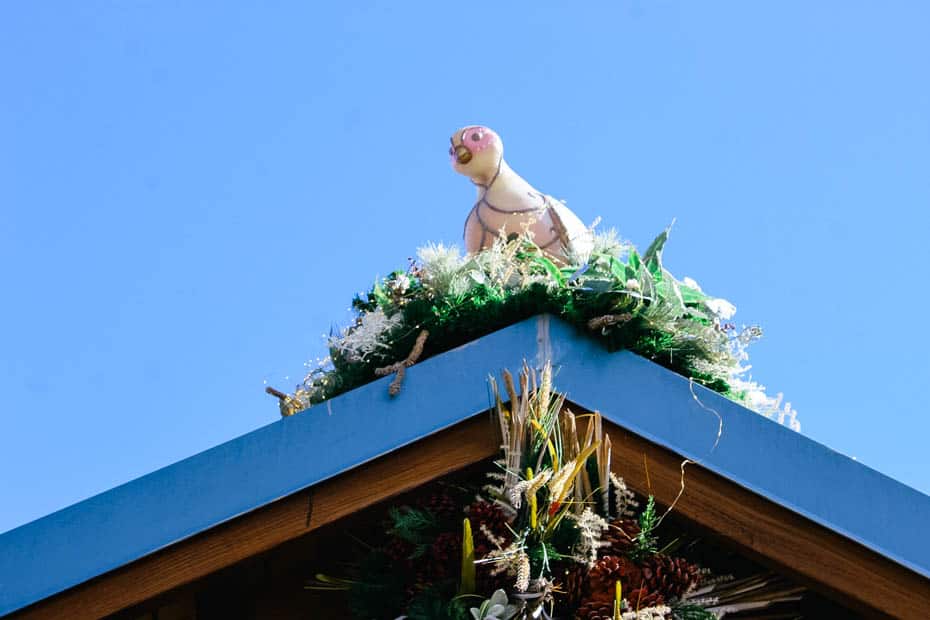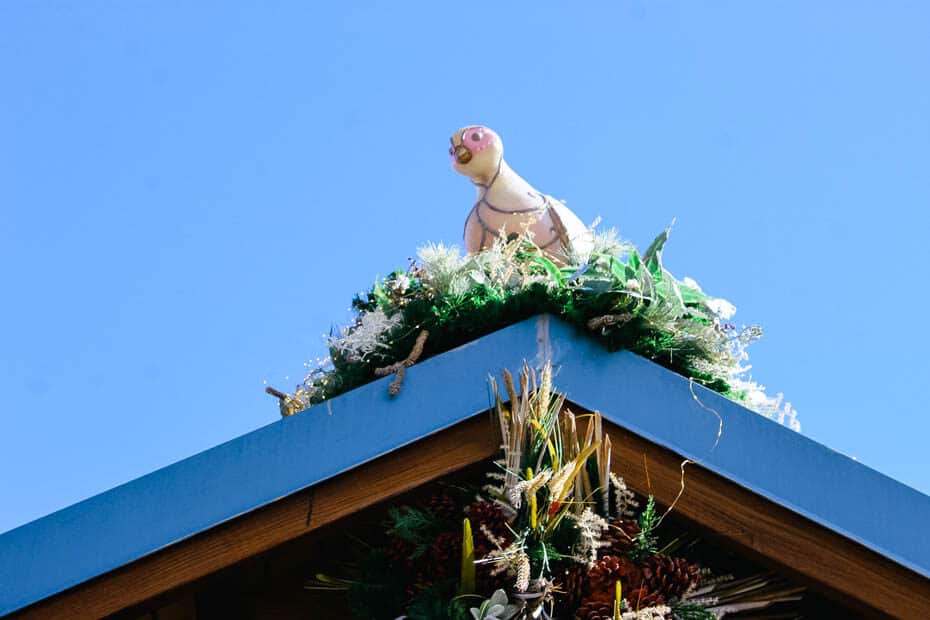 And her growing baby bird.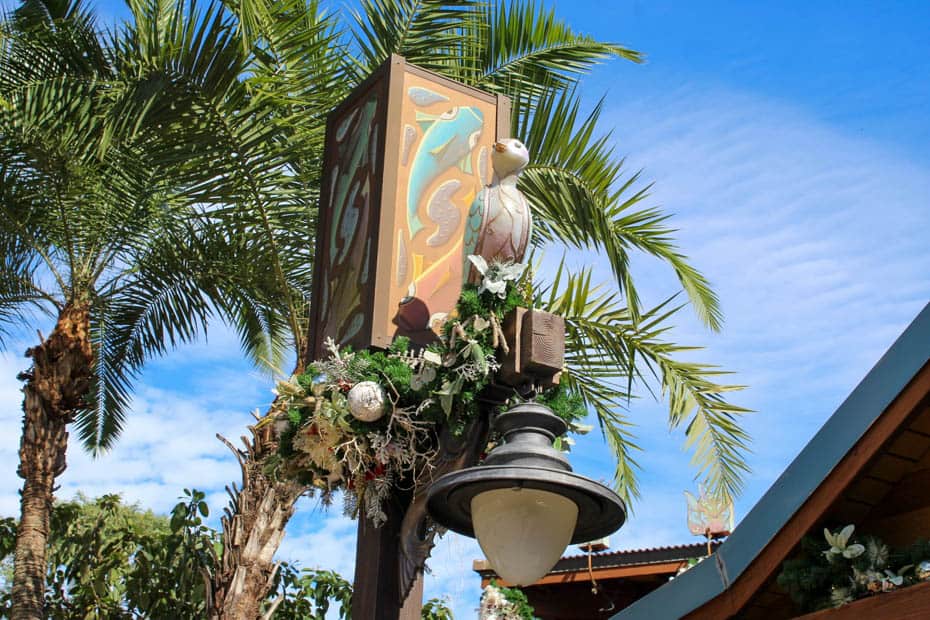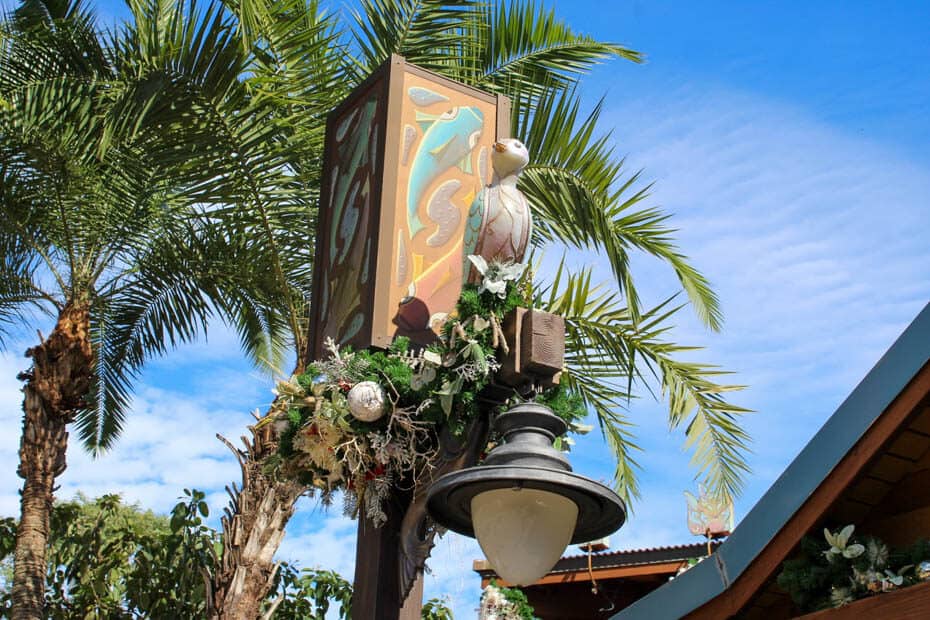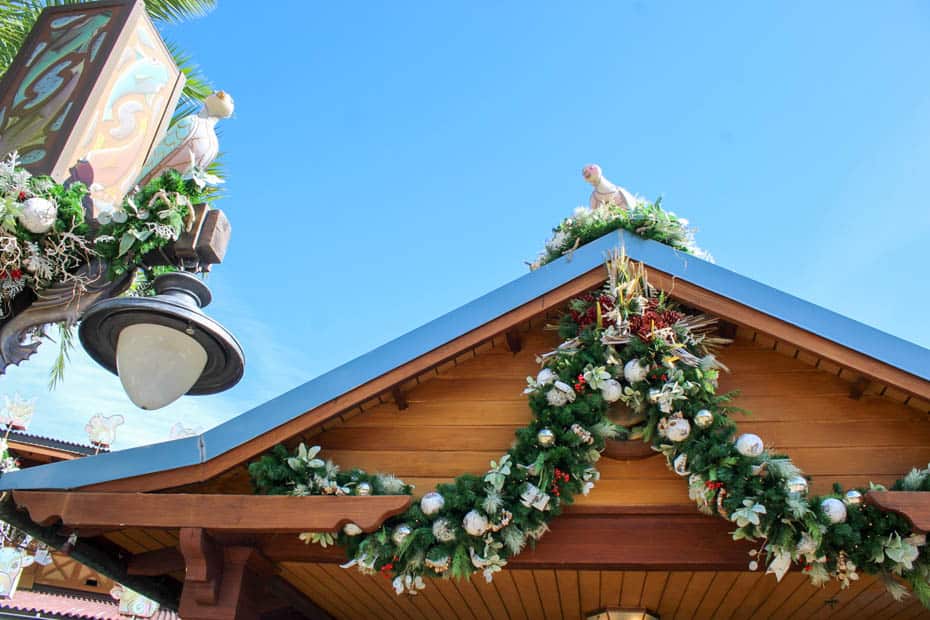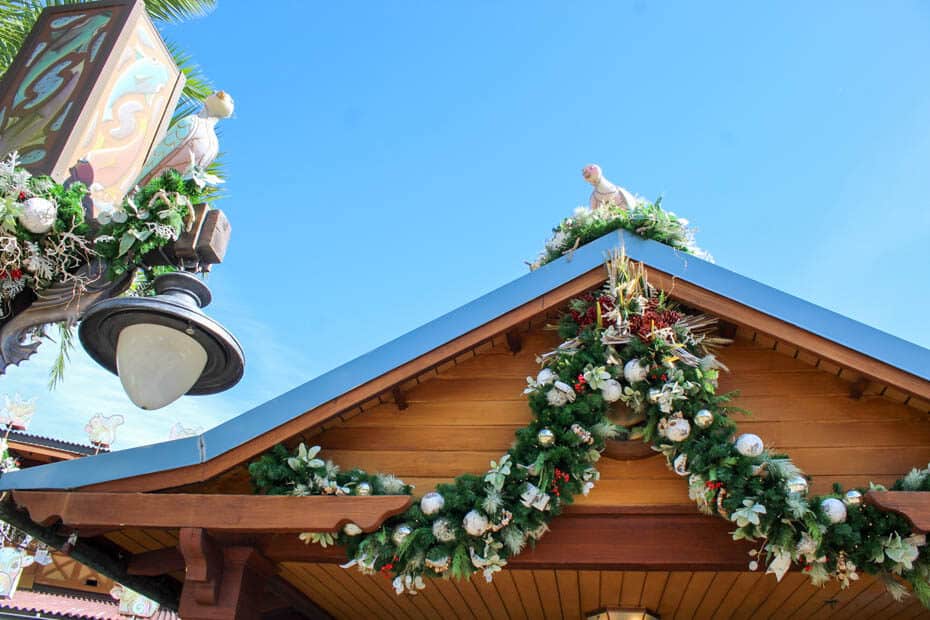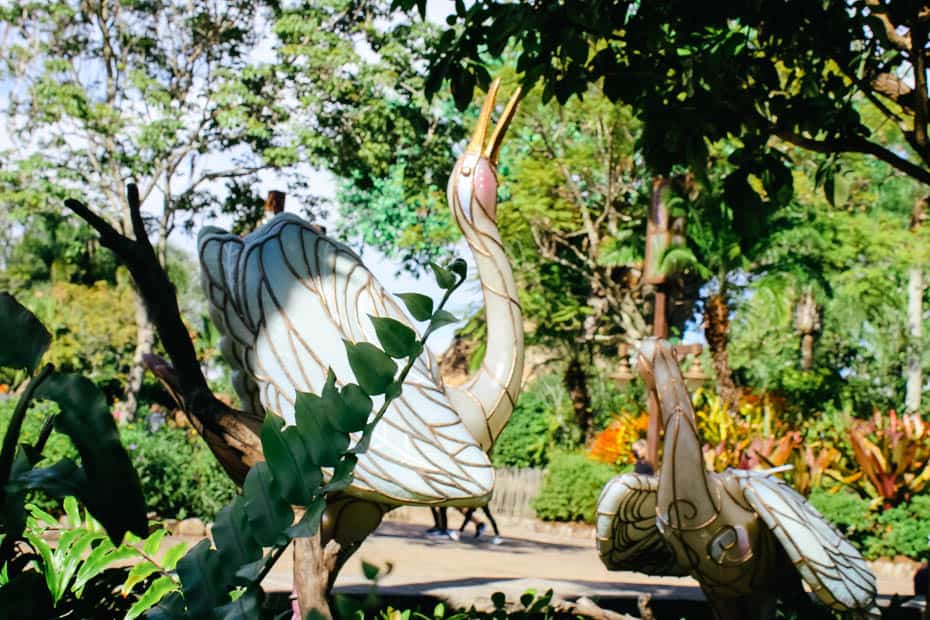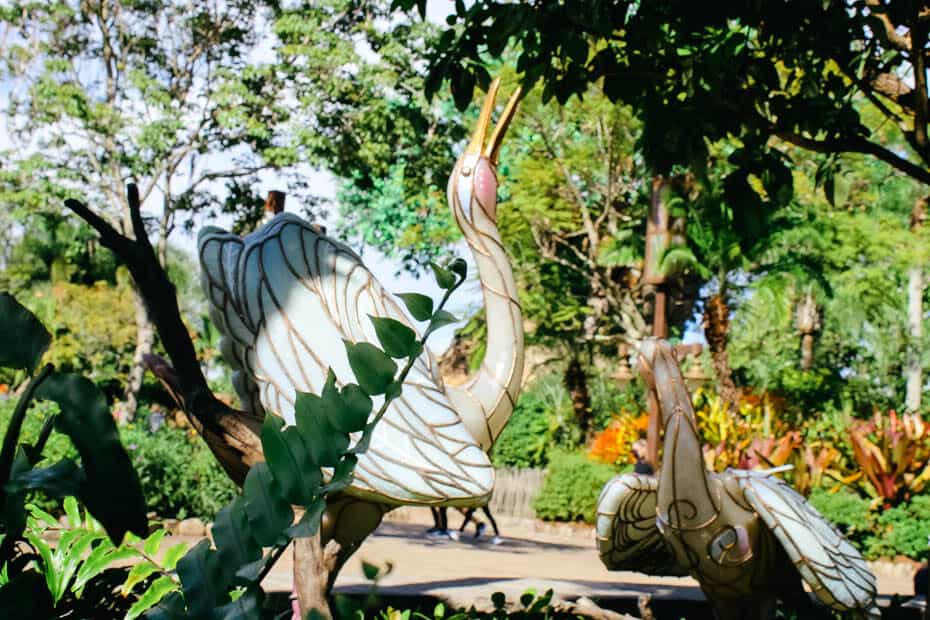 Some of the garland around Discovery Island contains wood carvings.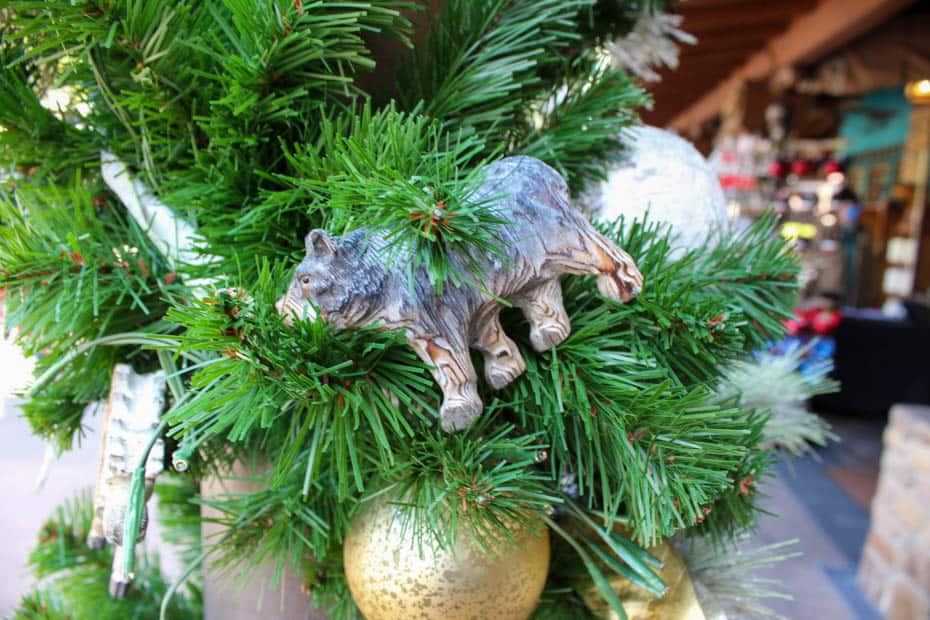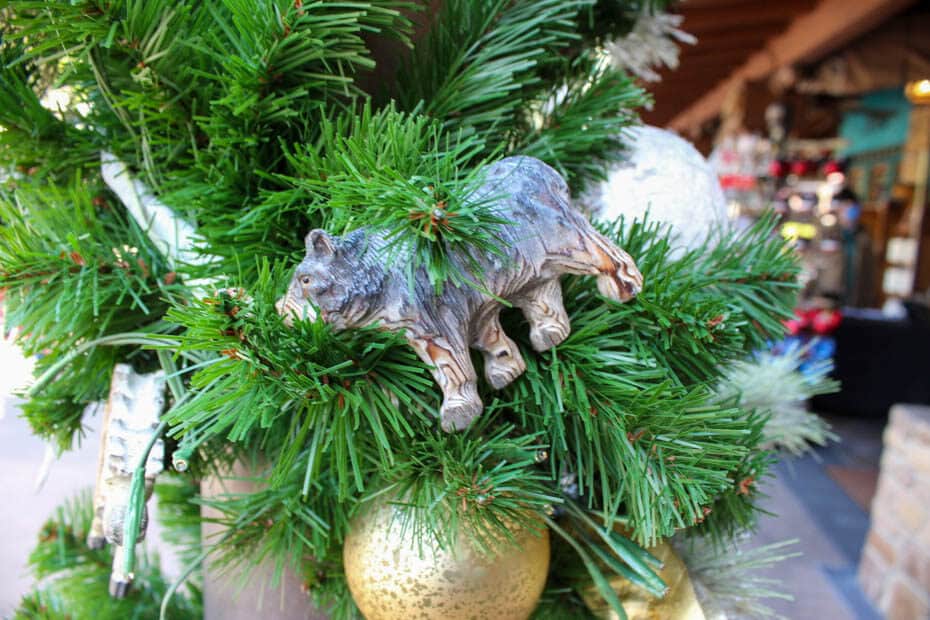 Here are a few more photos of this area.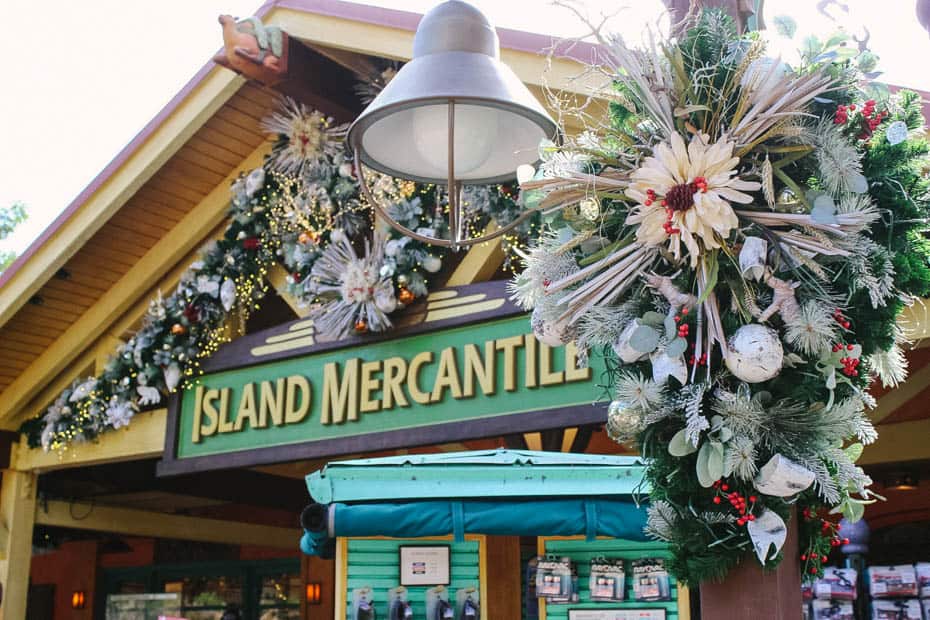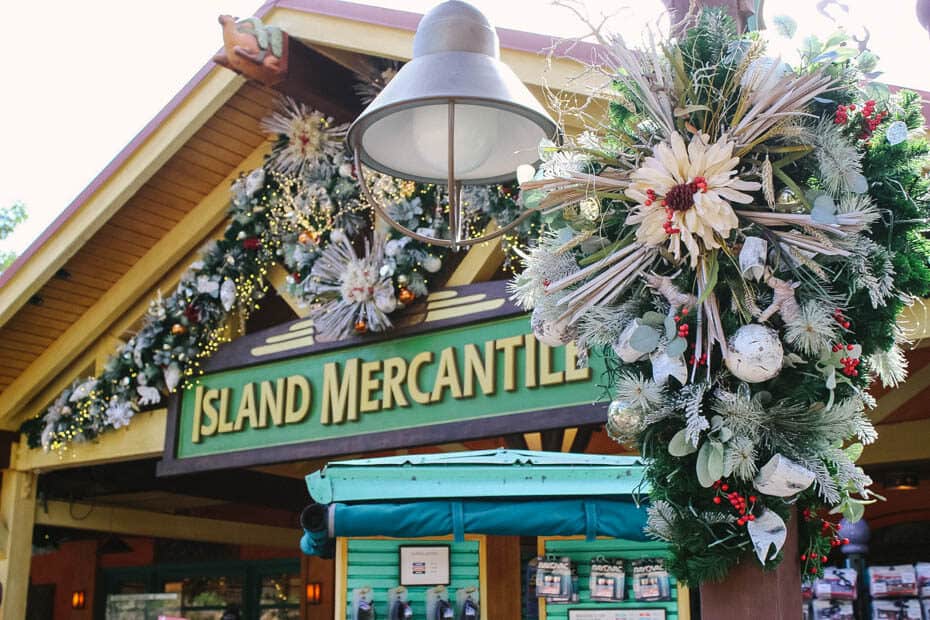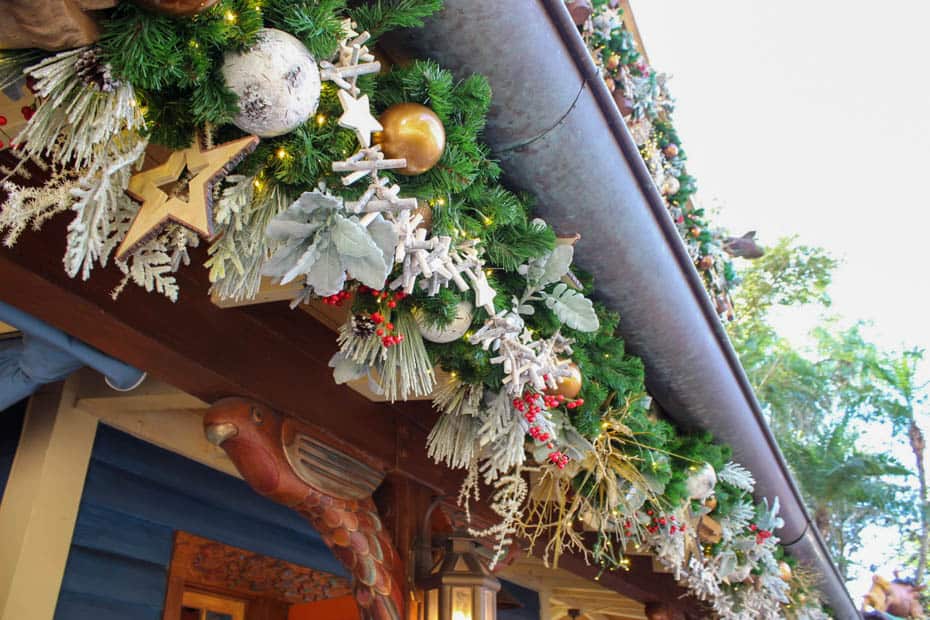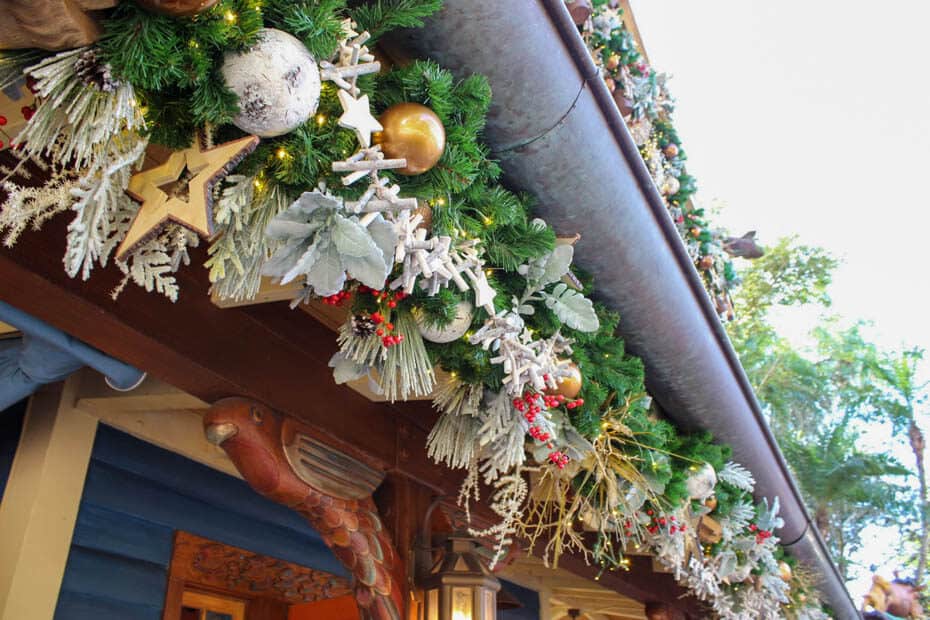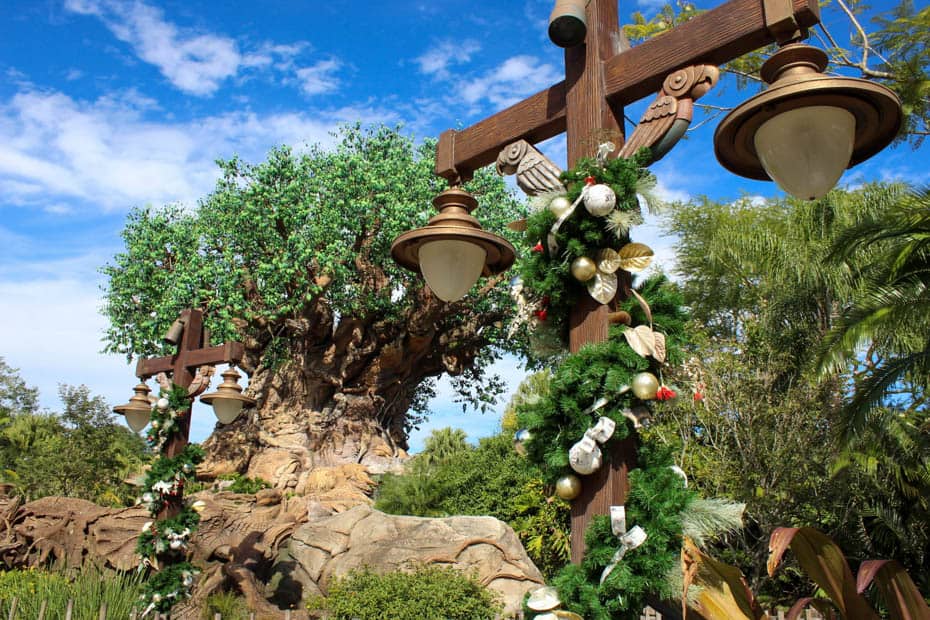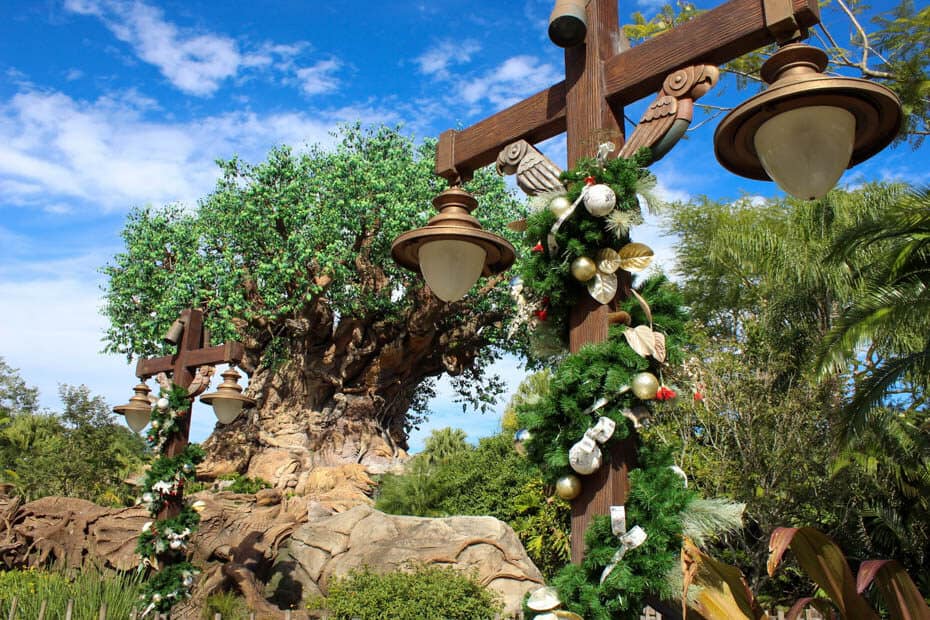 When the sun sets, the space begins to transform again.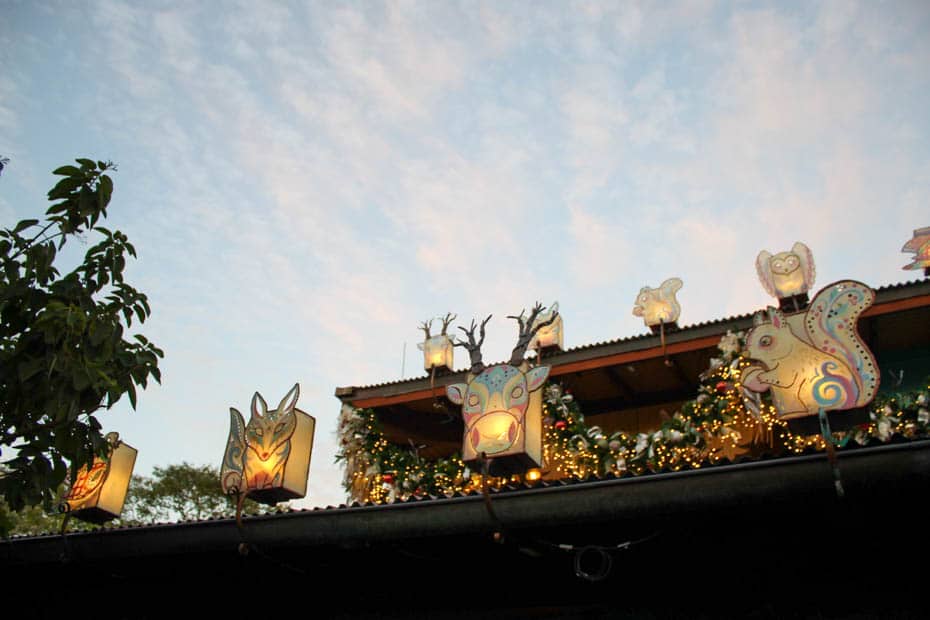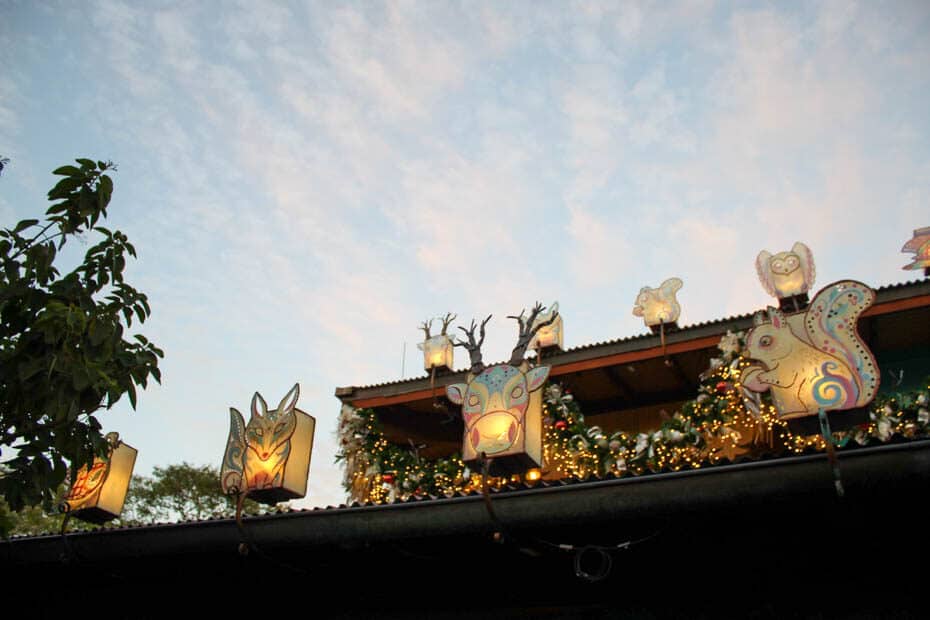 Every little detail begins to light up.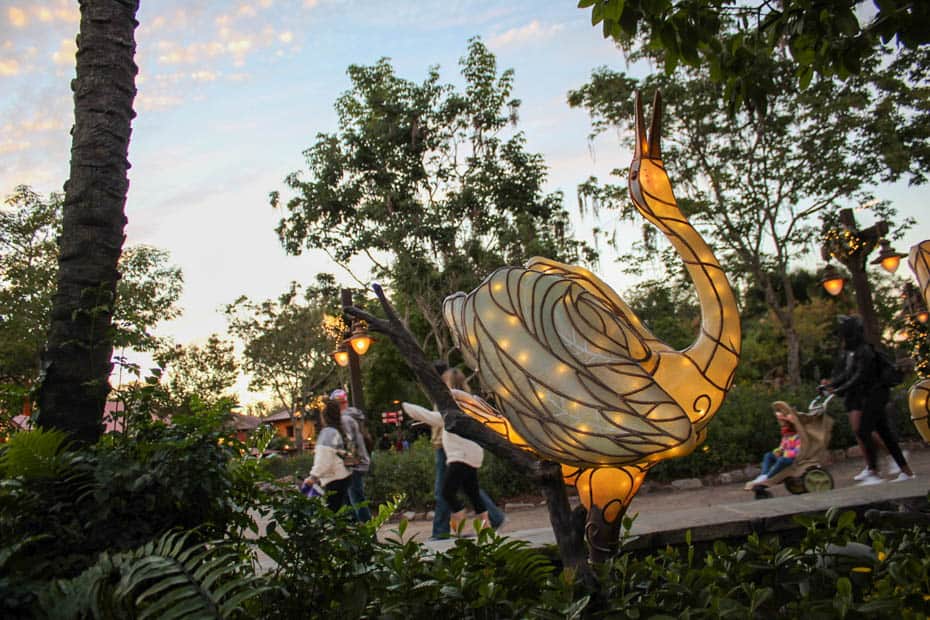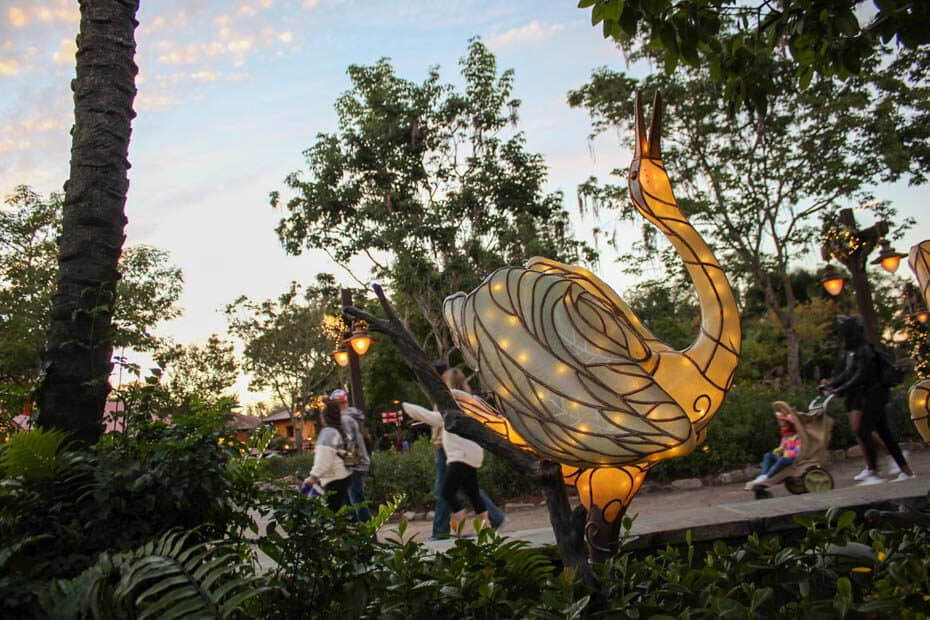 It's the most serene setting.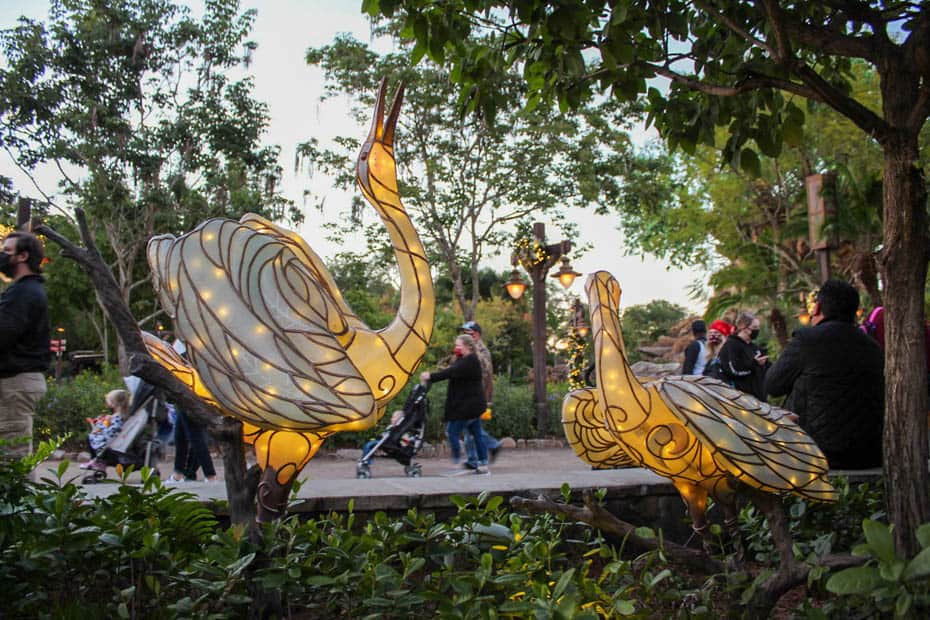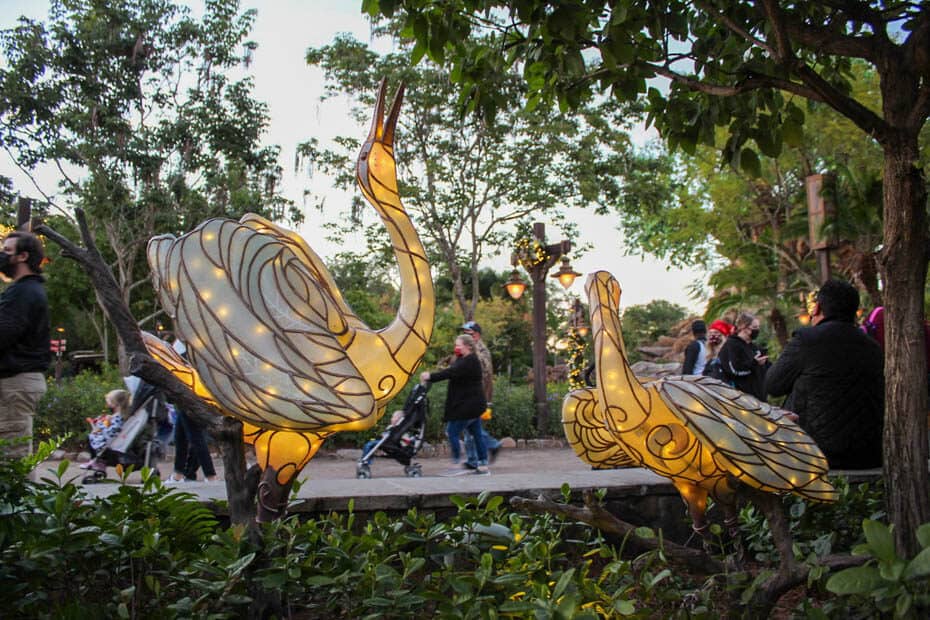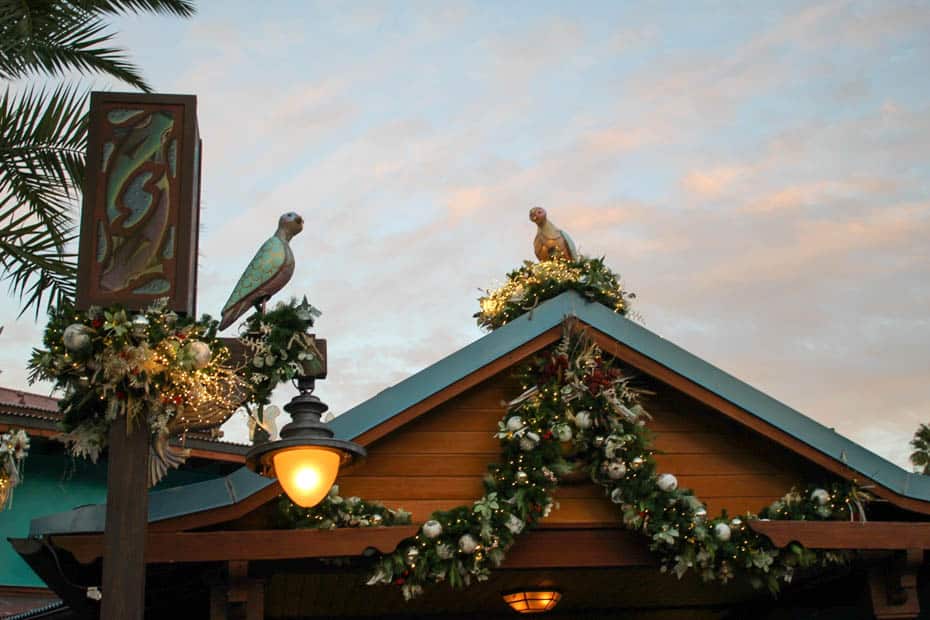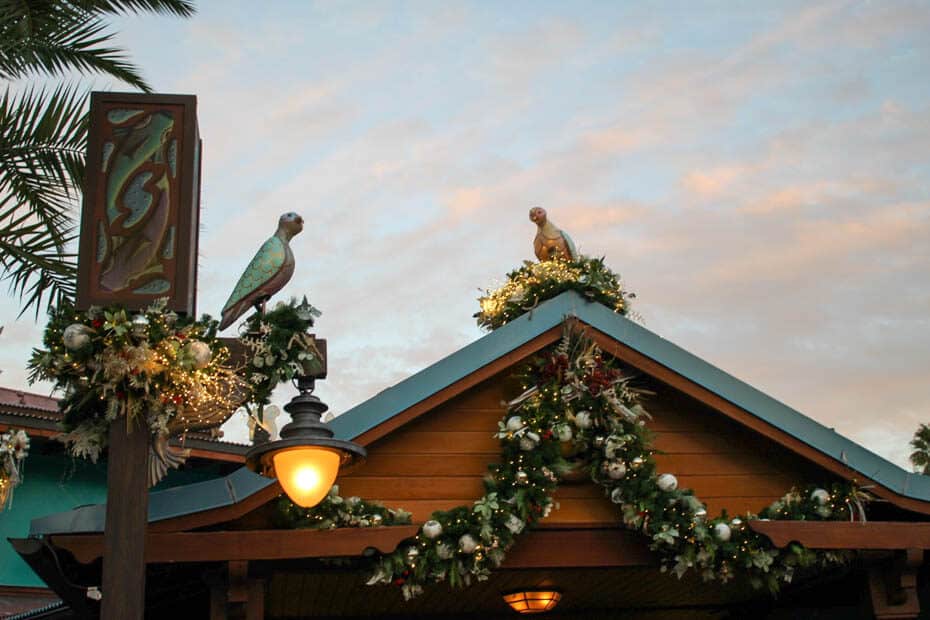 Somehow, the entire area becomes even more breathtaking.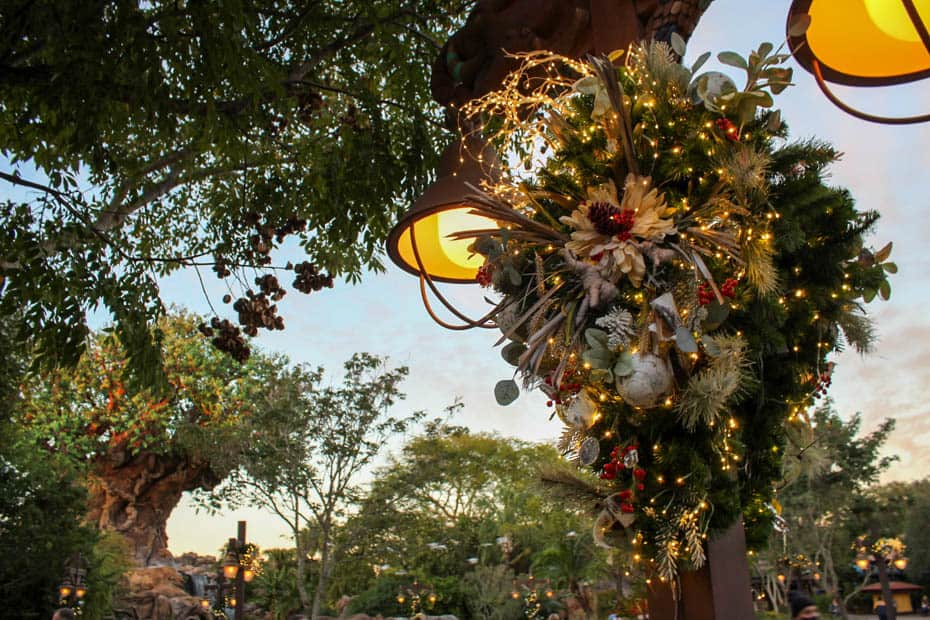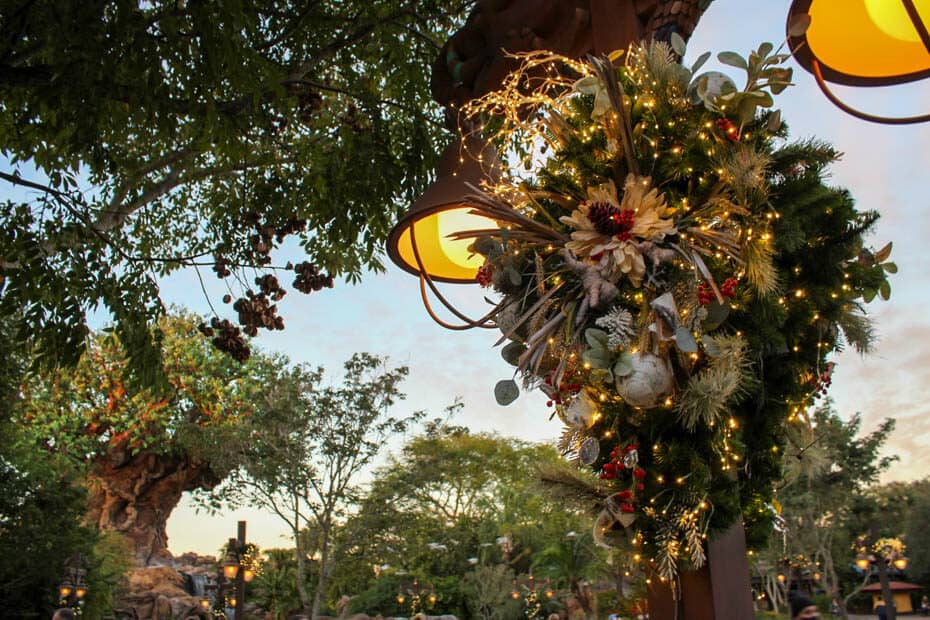 I'll let the park speak for itself.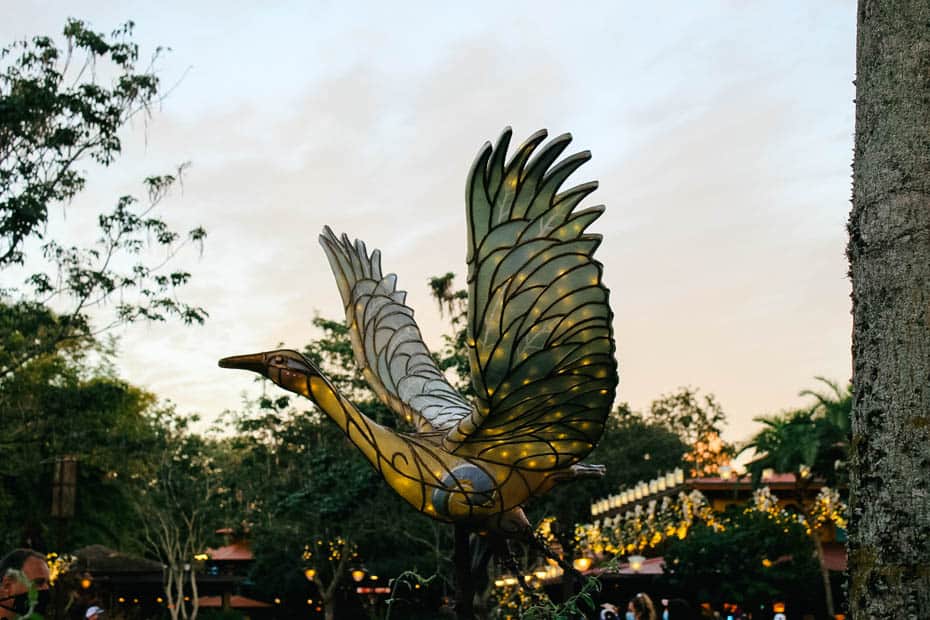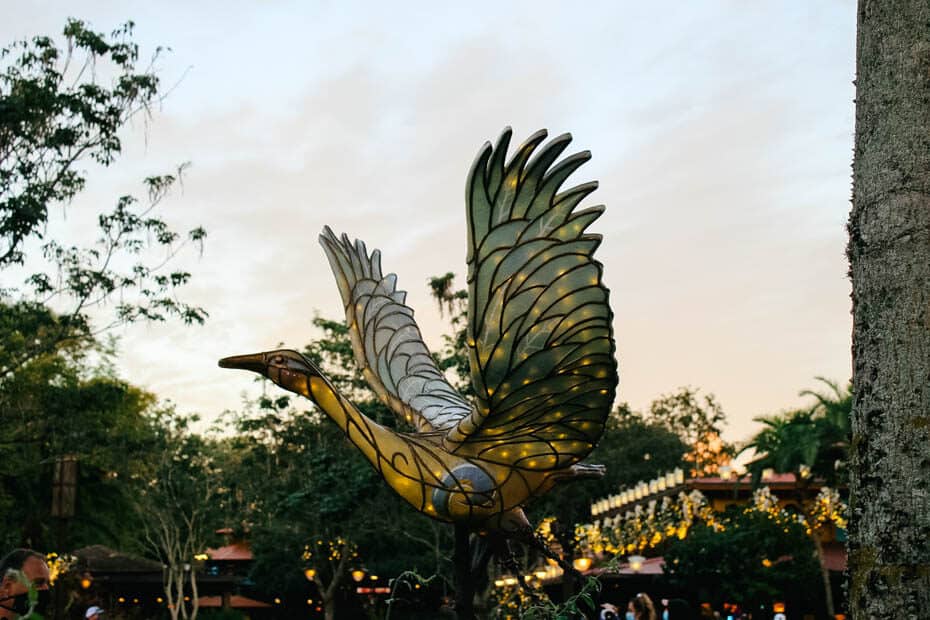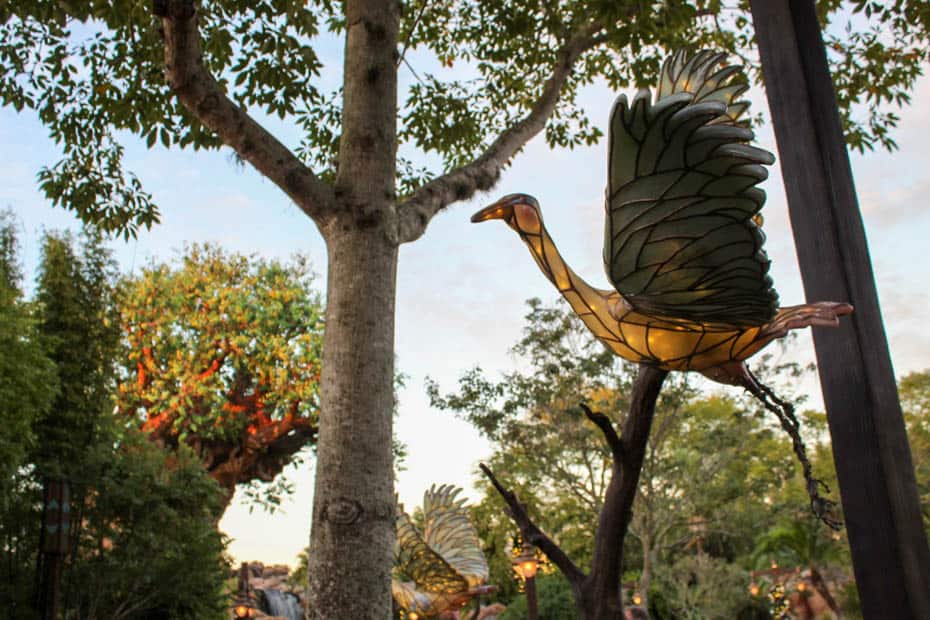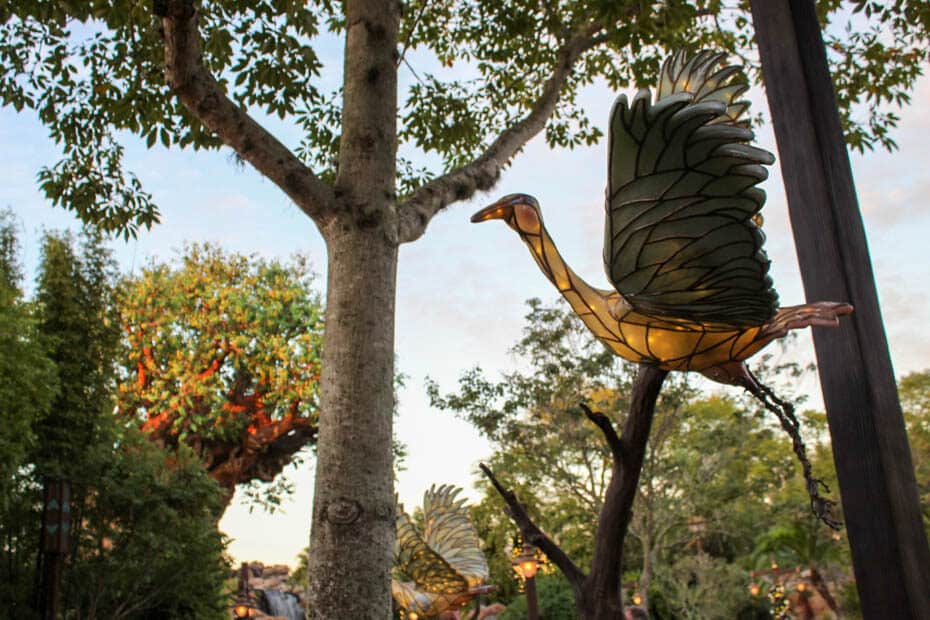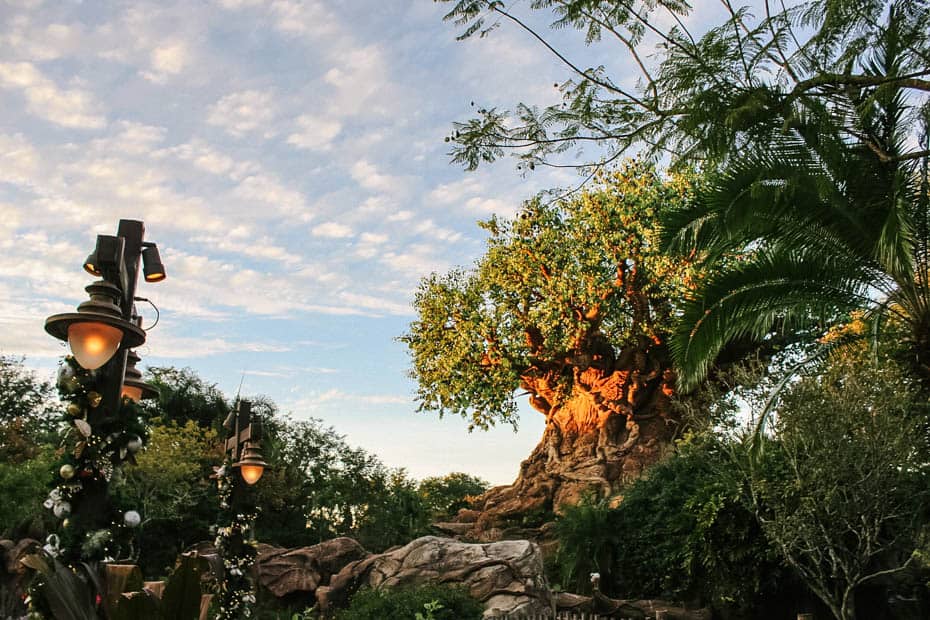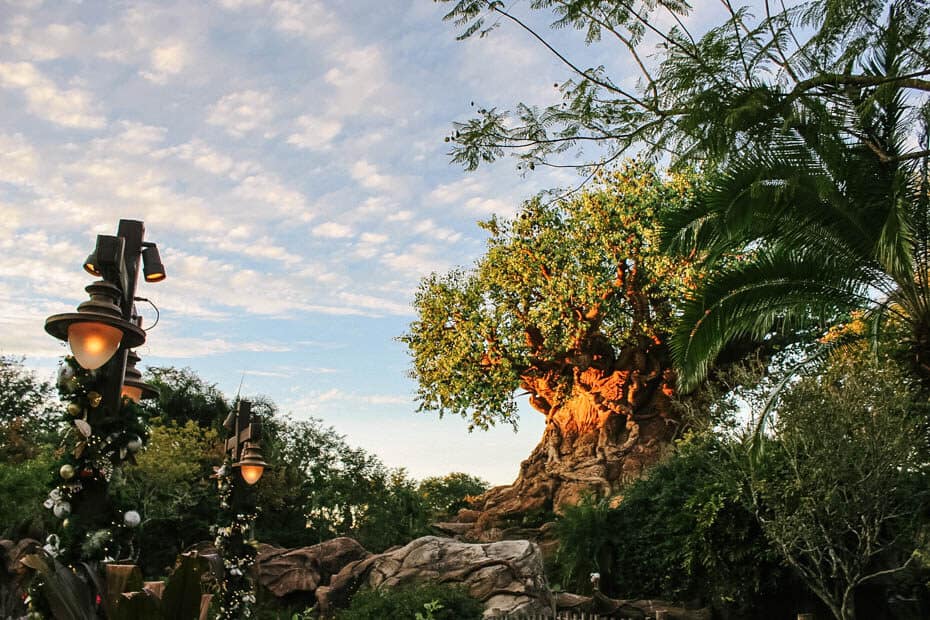 In addition to the gorgeous holiday decoration at Disney's Animal Kingdom, a troupe of performers called the Merry Menagerie are available.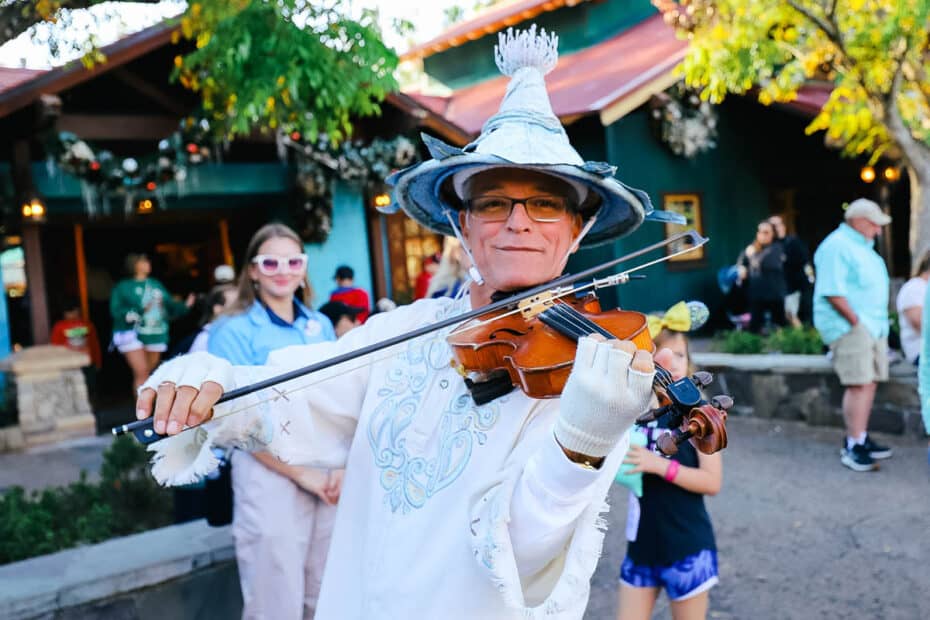 You can check for their exact timing on the day of your visit in the My Disney Experience app. Typically, you'll see the Merry Menagerie on Discovery Island off and on between 9:45 p.m. and 5:00 p.m.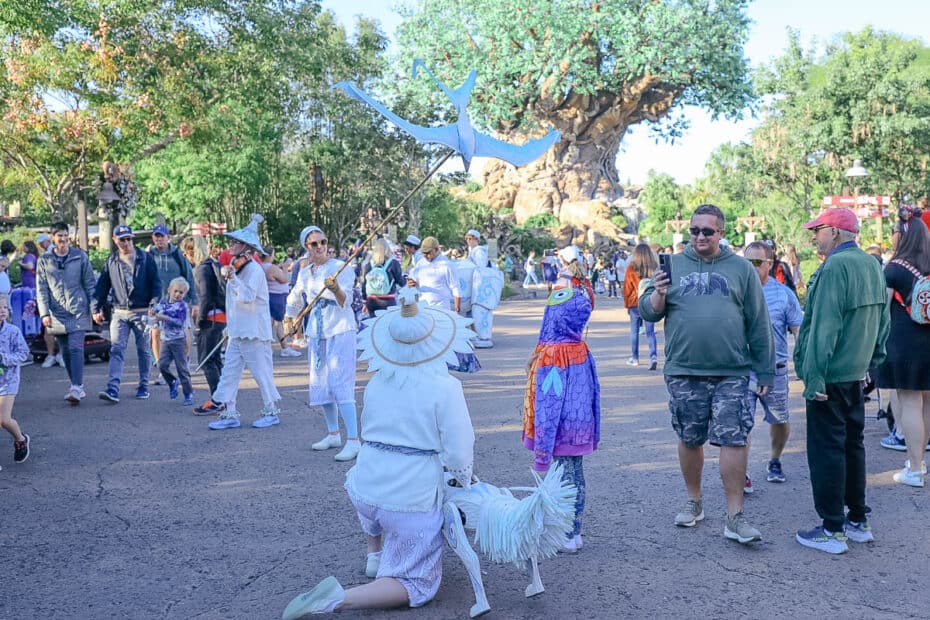 Their life-size artisan puppets are extraordinary.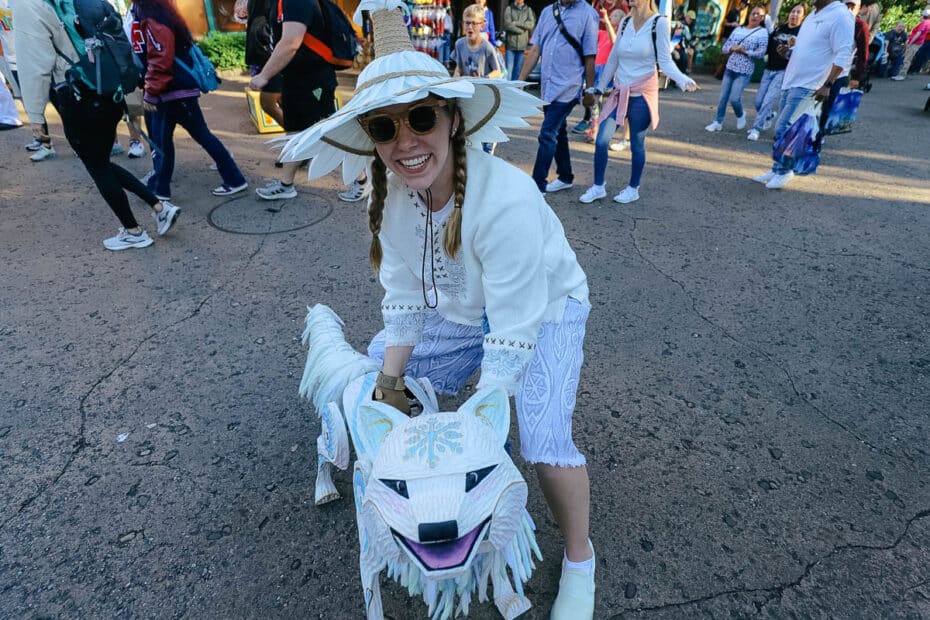 It takes two performers to pull off this polar bear.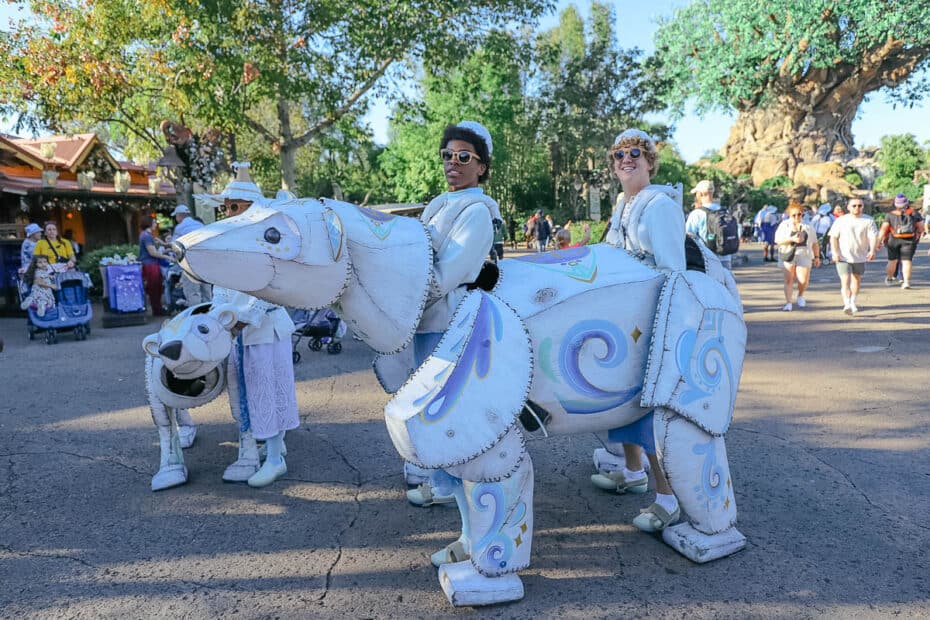 Guests are allowed to walk up and interact with the puppets.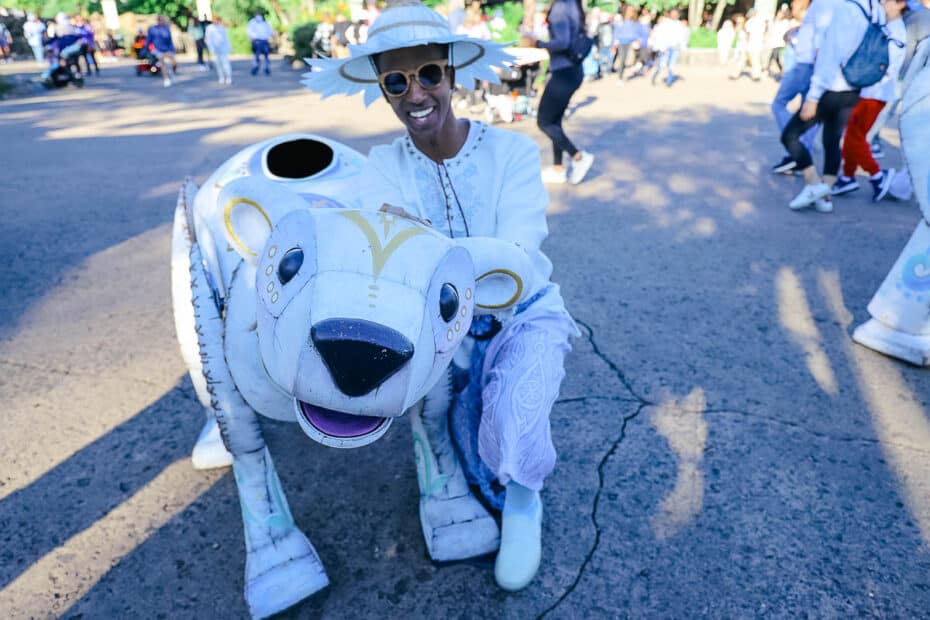 Most children enjoy petting them.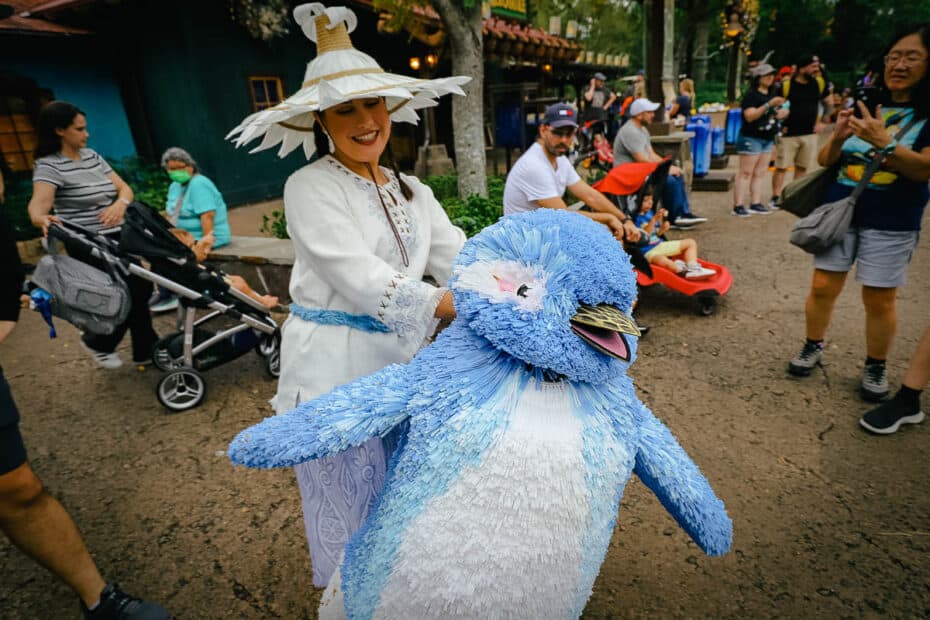 It's an endearing experience and something most will want to see during their visit.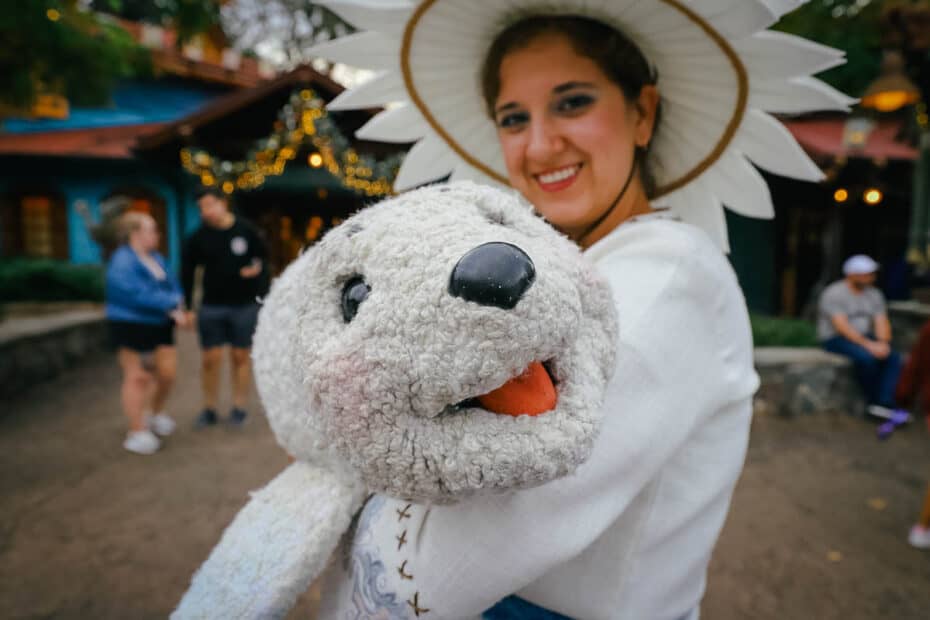 I think the baby penguin is my favorite.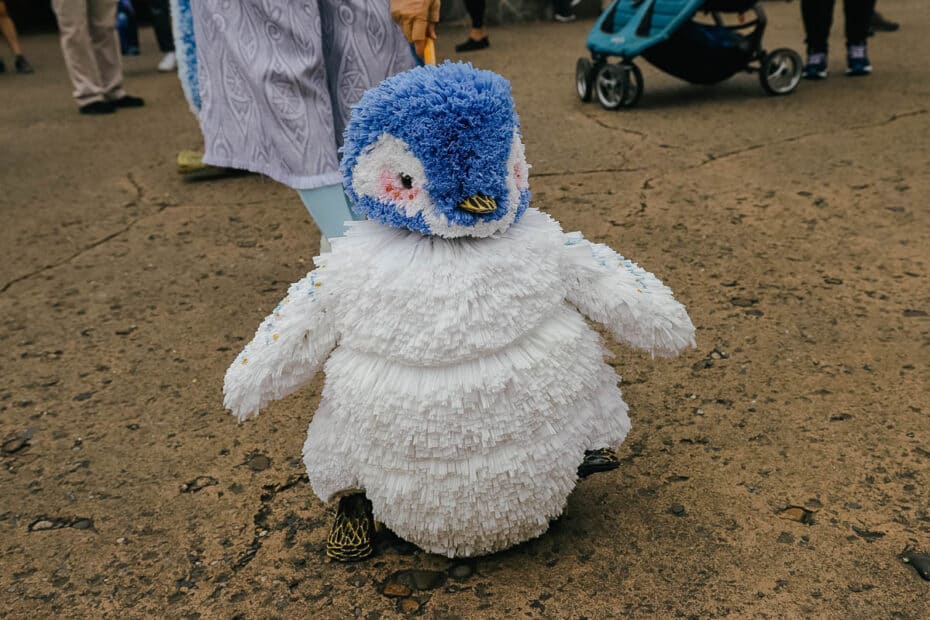 In addition to the puppeters, there are a few musicians in the mix.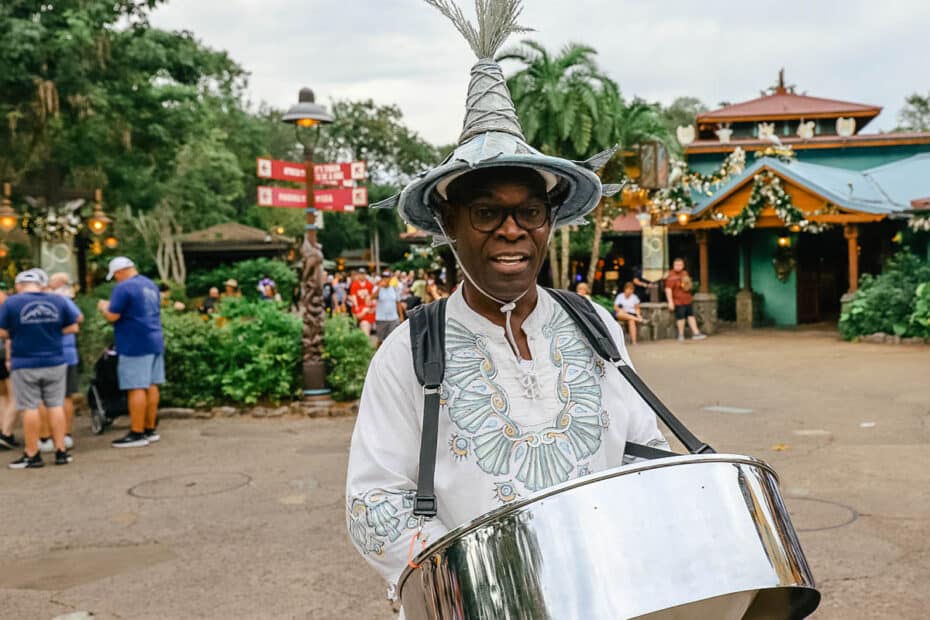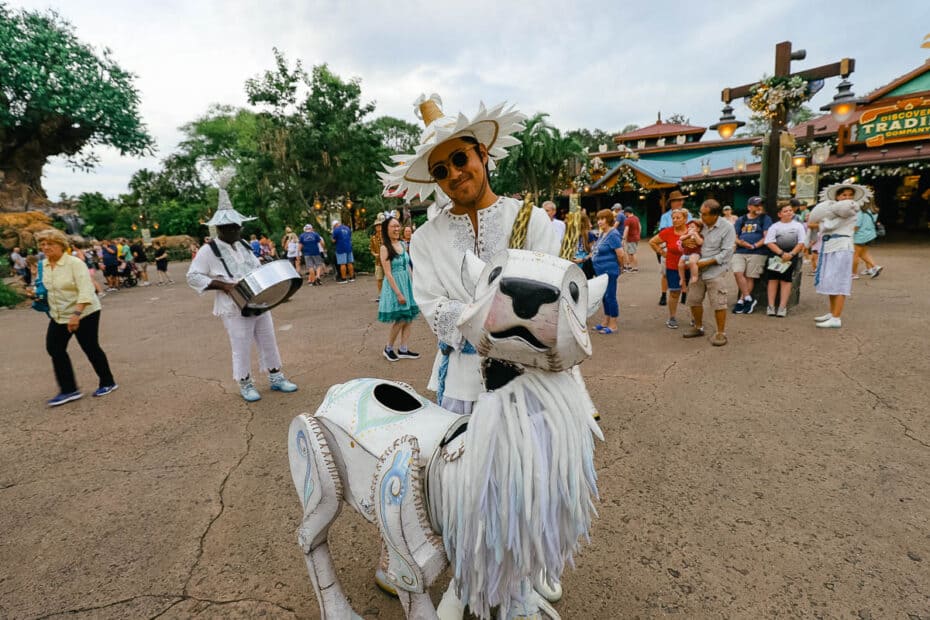 So if you see the Merry Menagerie out, take a moment to stop and visit with them.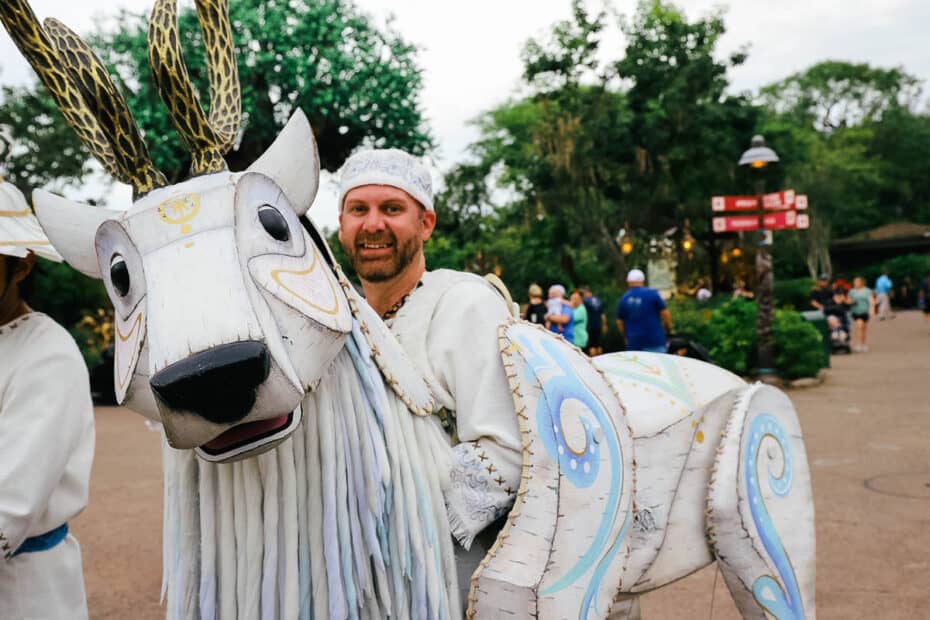 As we continue through the park, we head toward Africa. You might notice a hidden Mickey in the wreath on the bridge from Discovery Island to Harambe.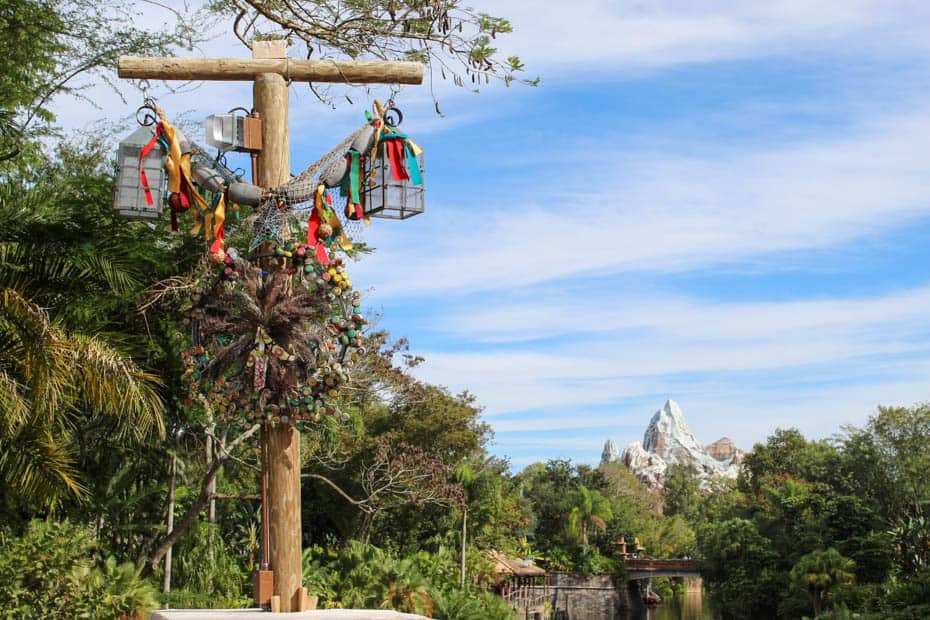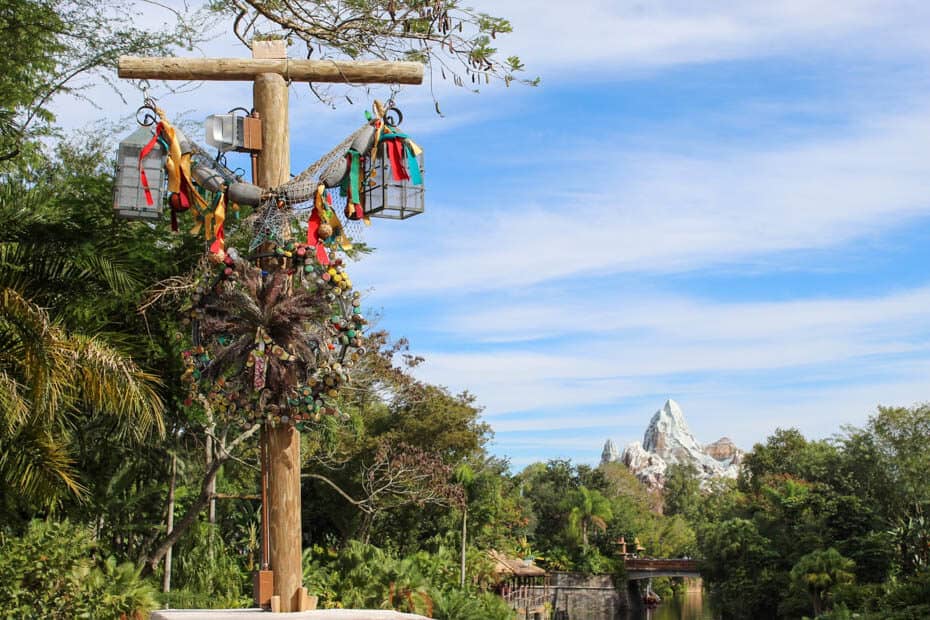 This garland appears to contain a mix of wildflower and African herbs.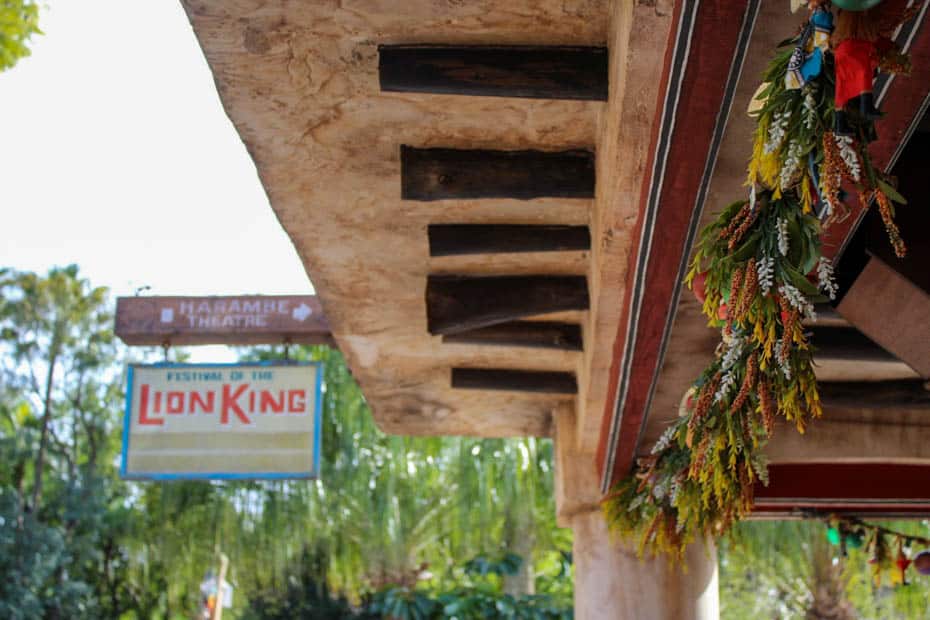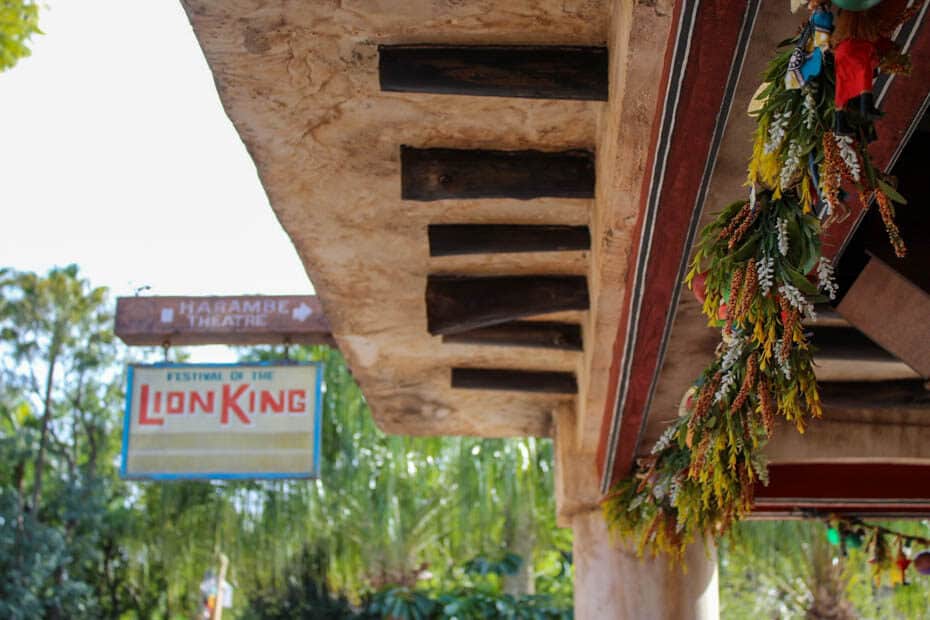 The colors are incredibly vibrant.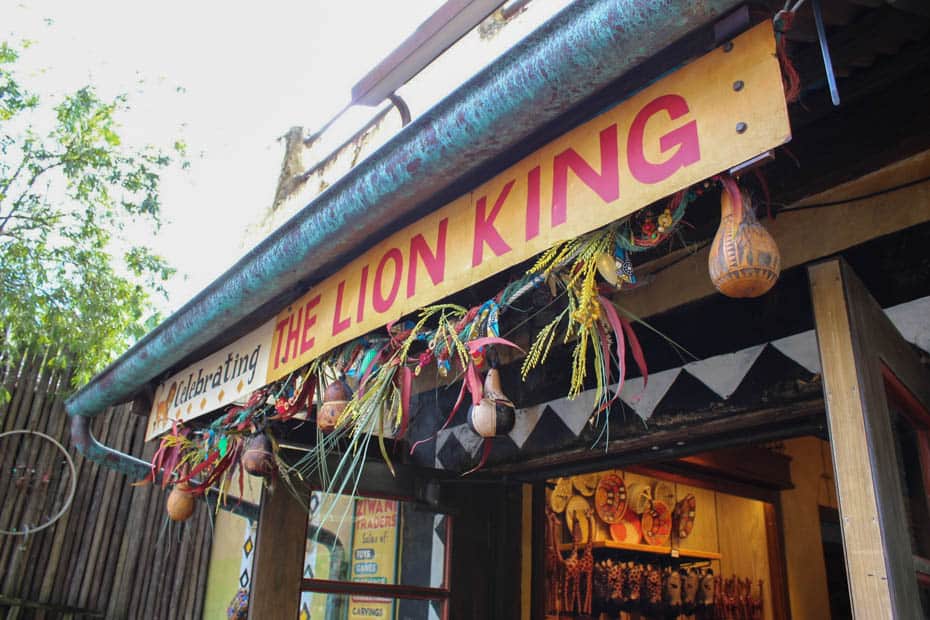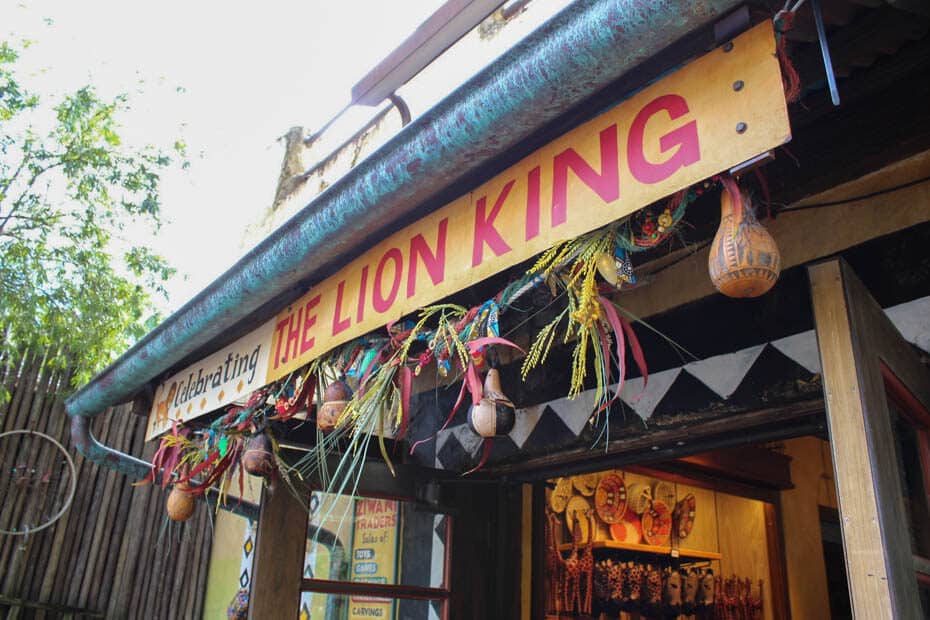 Over at Mombasa Marketplace, you'll see Christmas decorations inspired by The Lion King.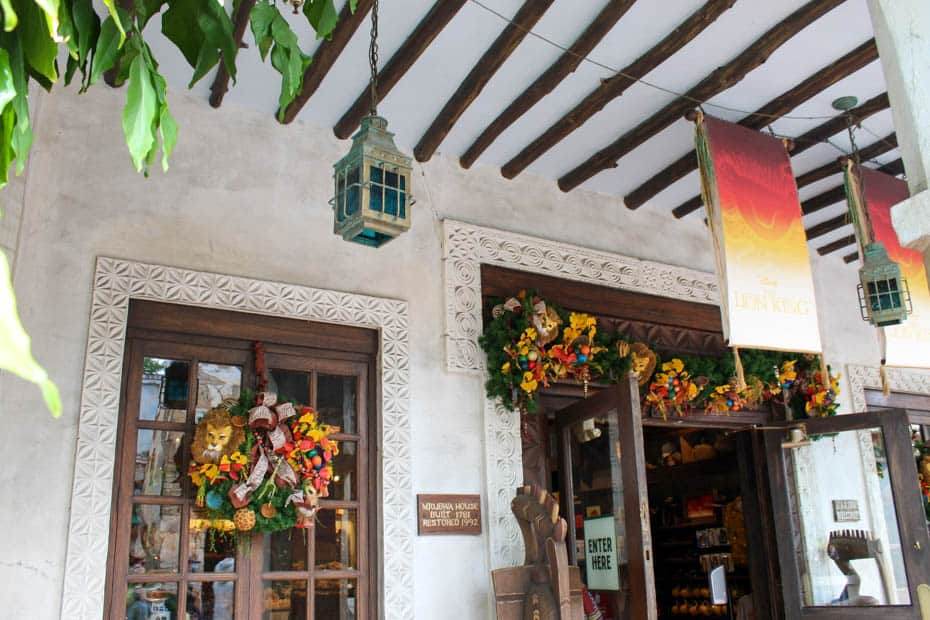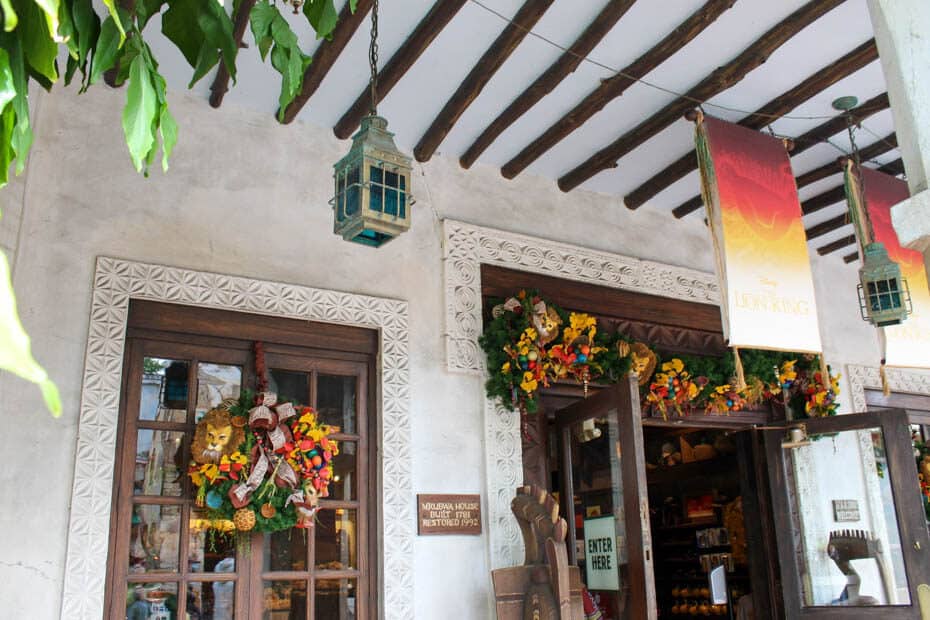 These wreaths are exquisite.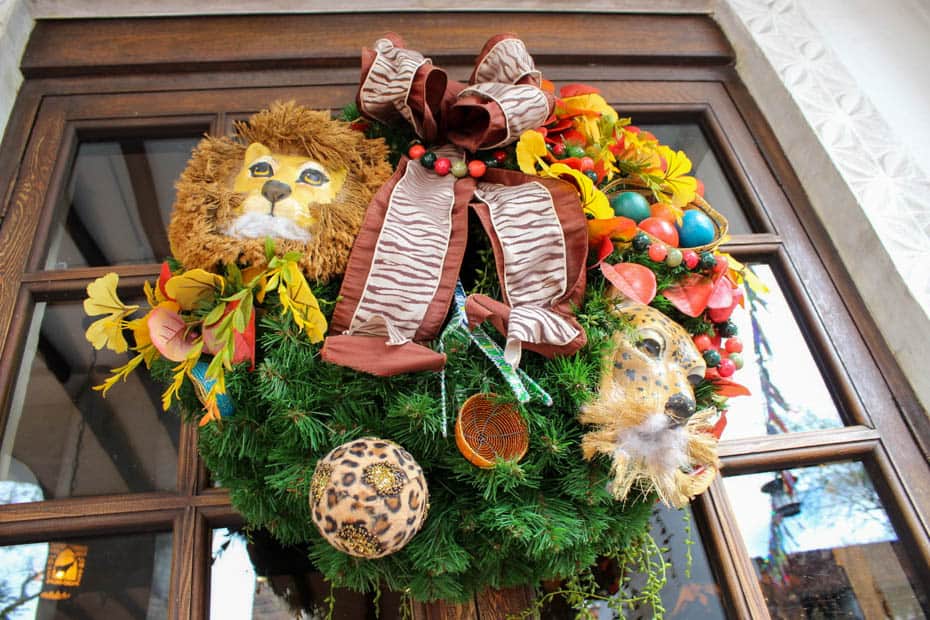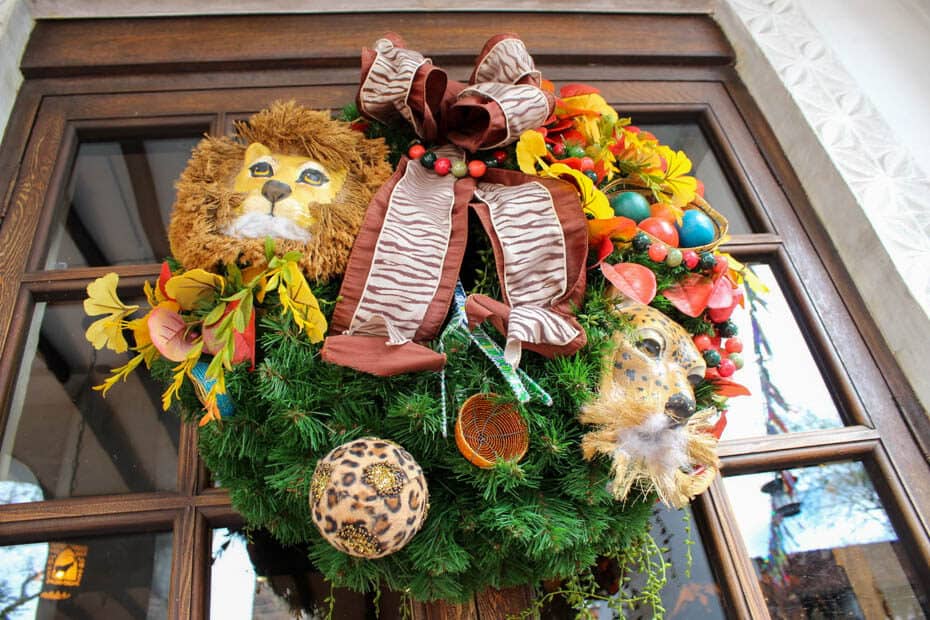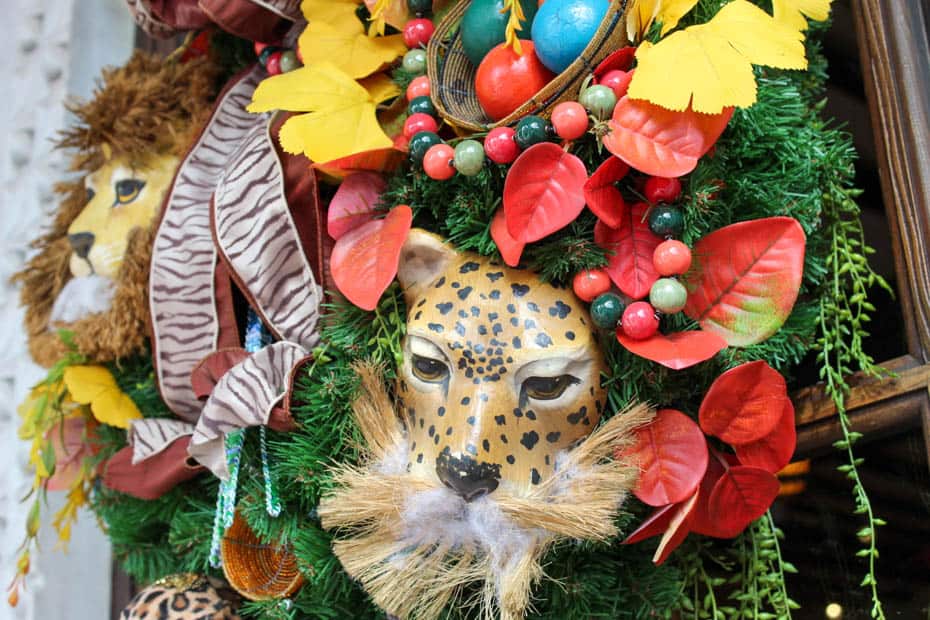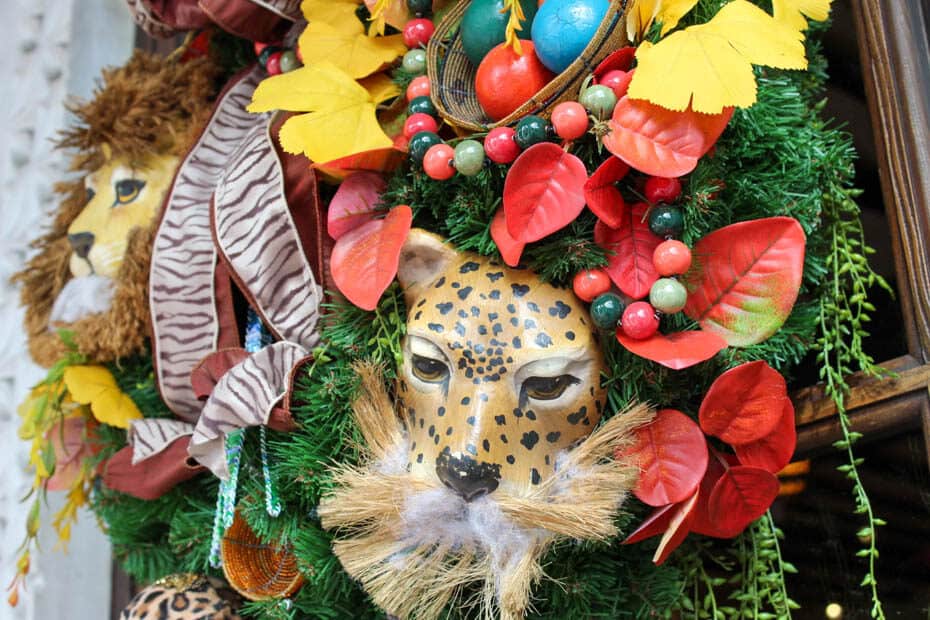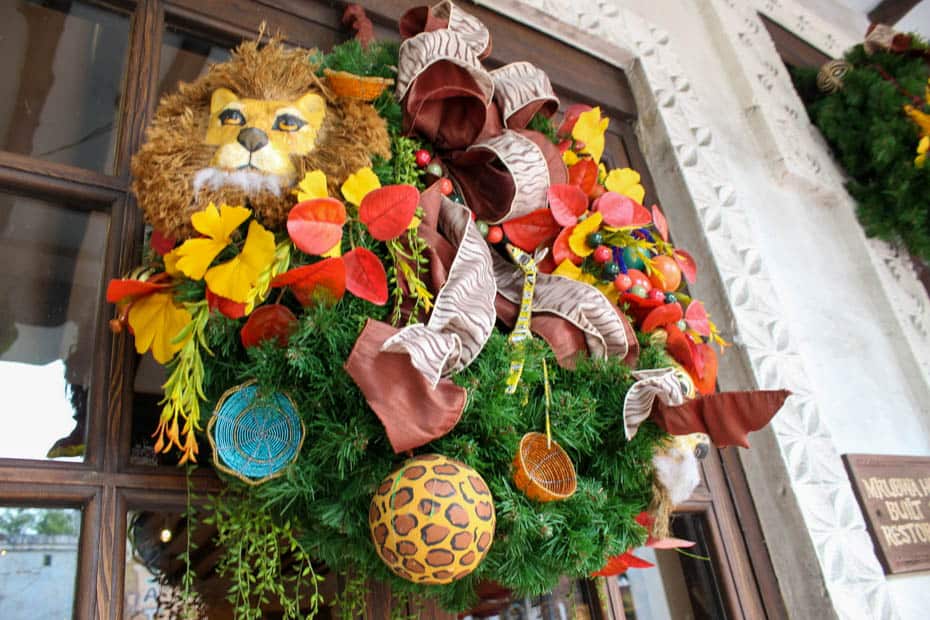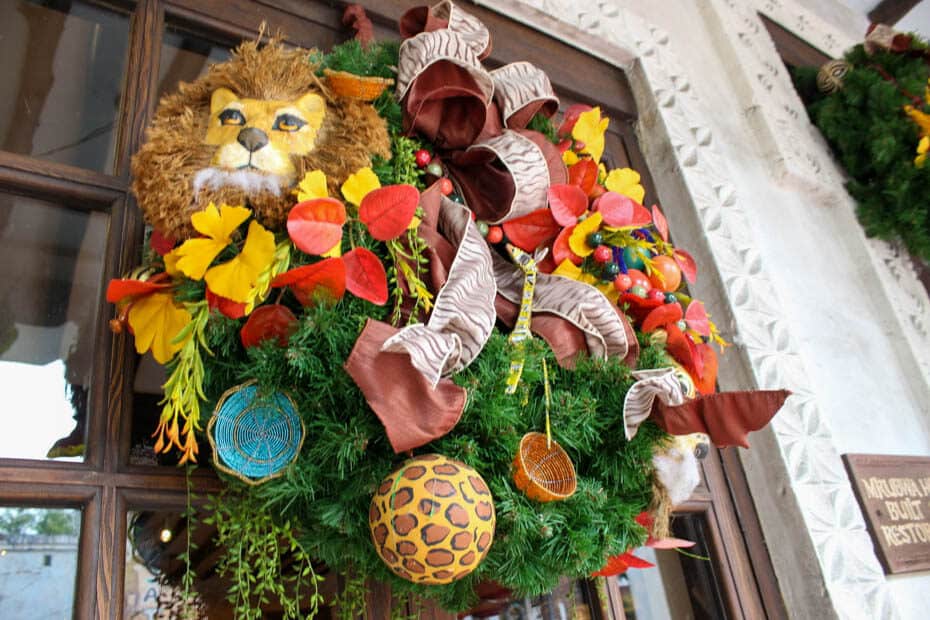 But I think I like the charm of the odds-and-ends decorations best.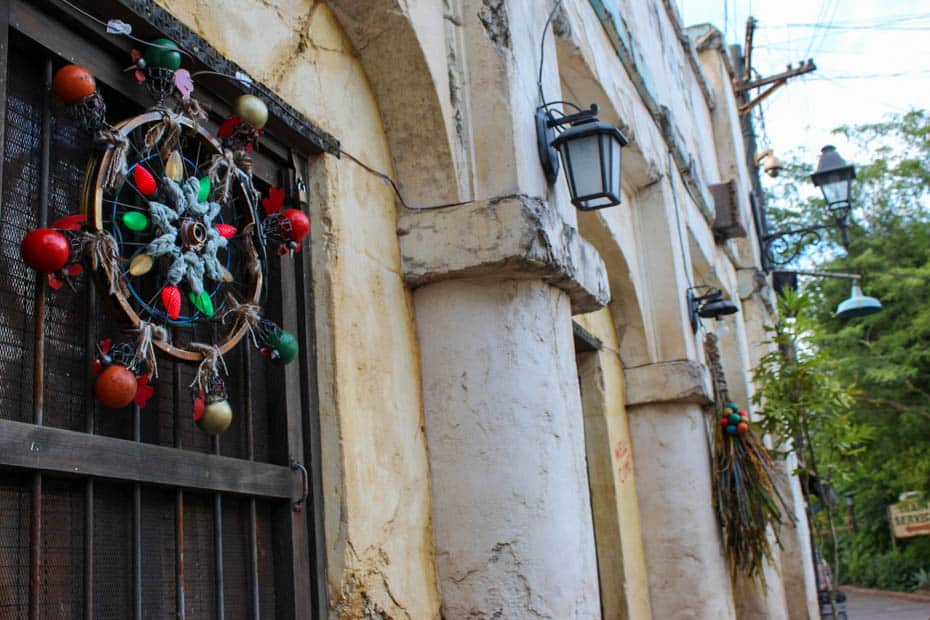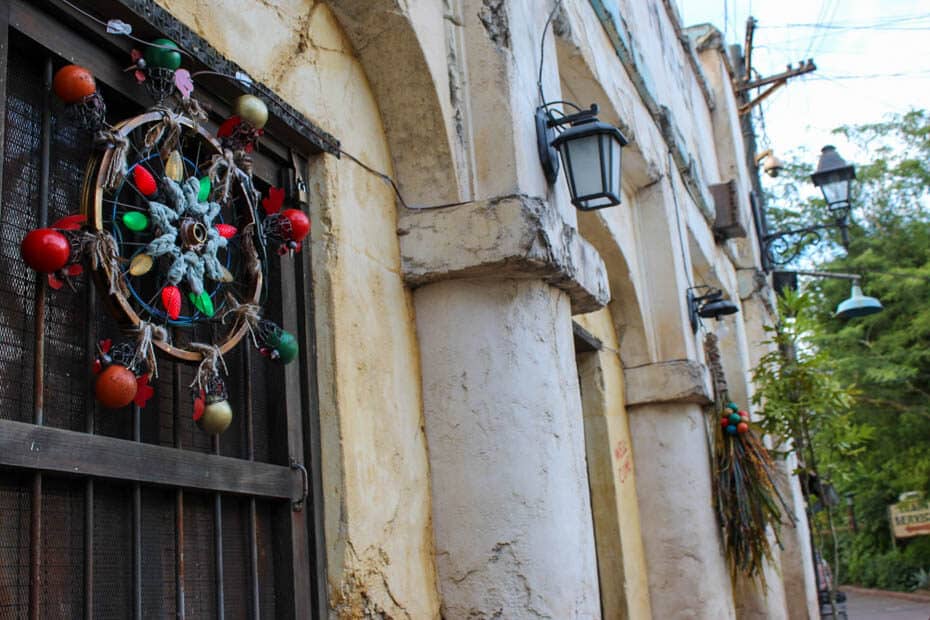 If only we could be so creative to recycle more and turn discards into treasure.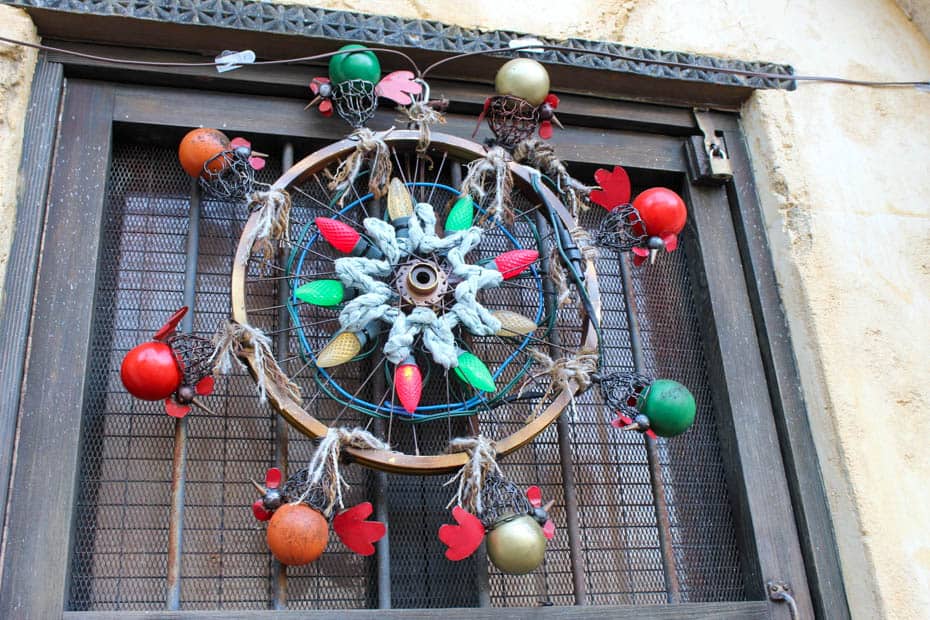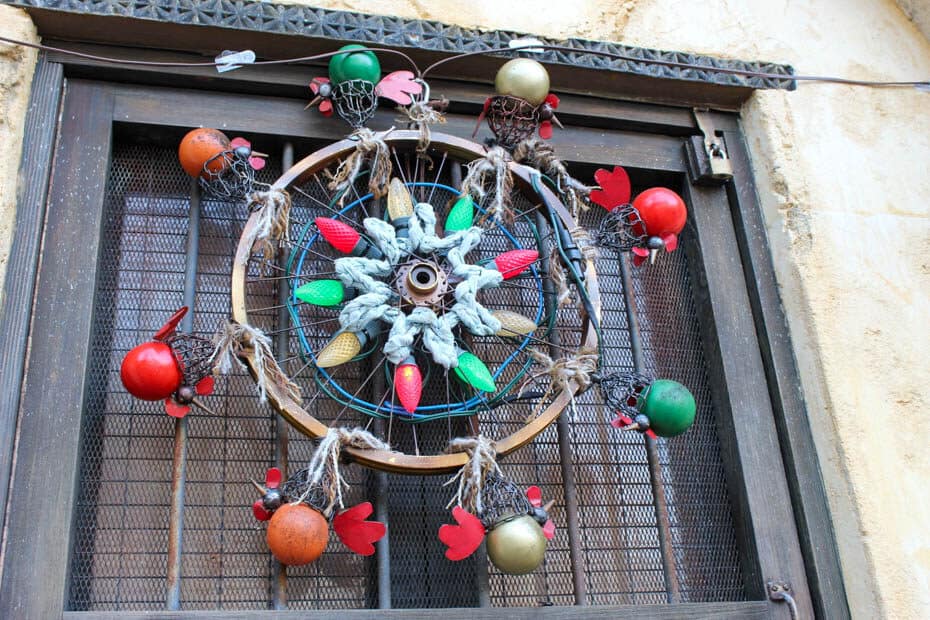 Some of the wreaths are made from bottle tops.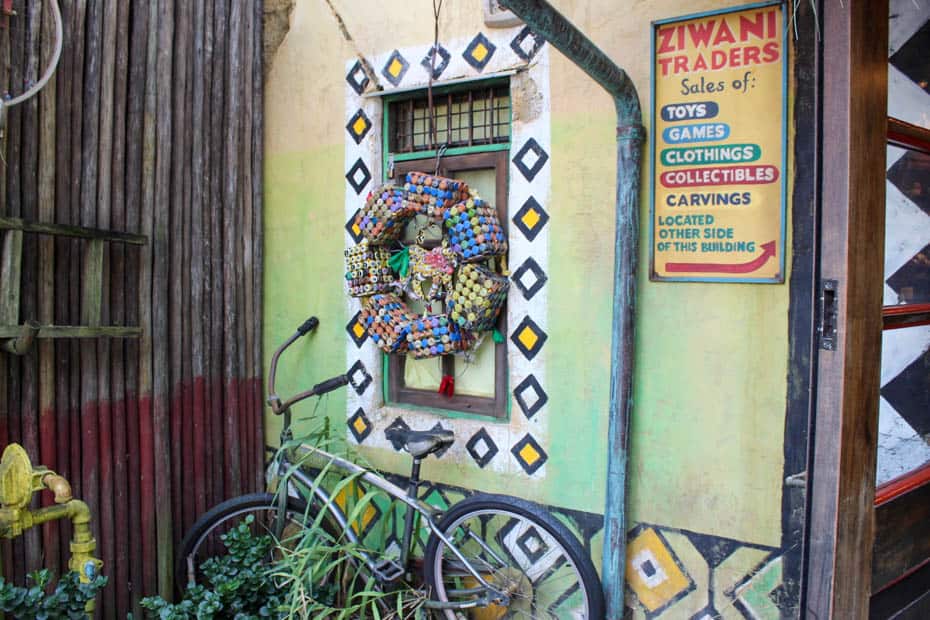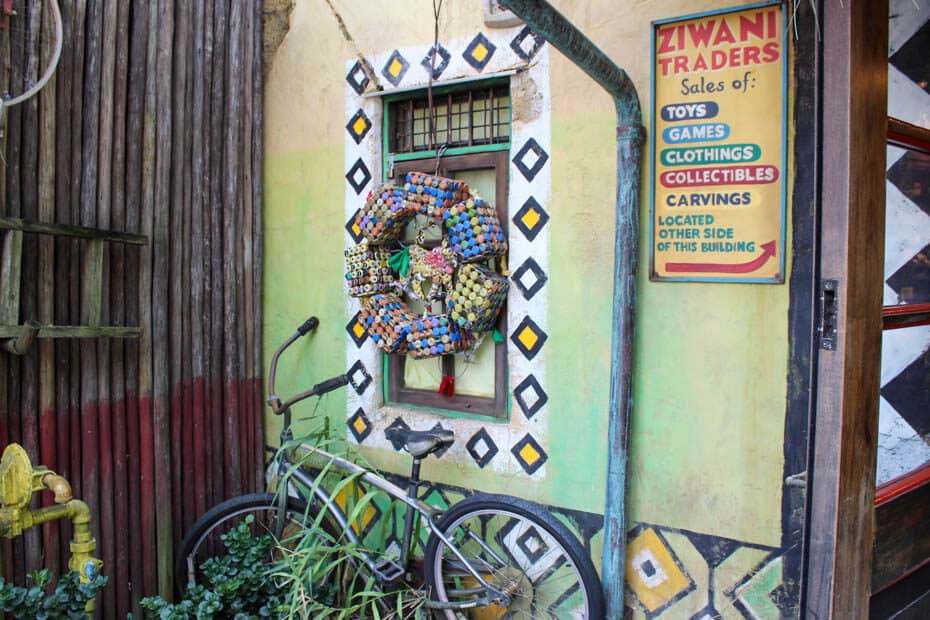 There are several in the area.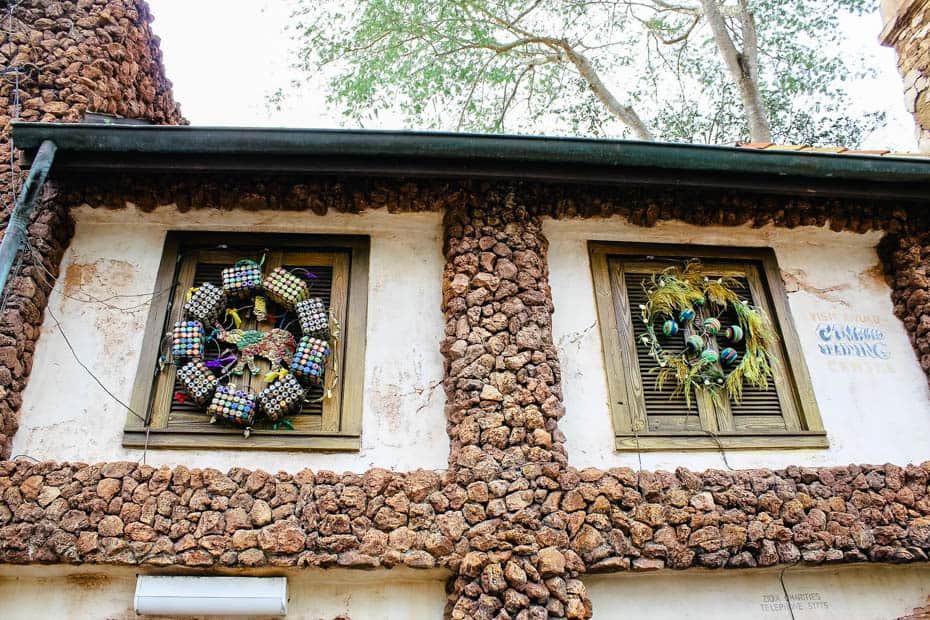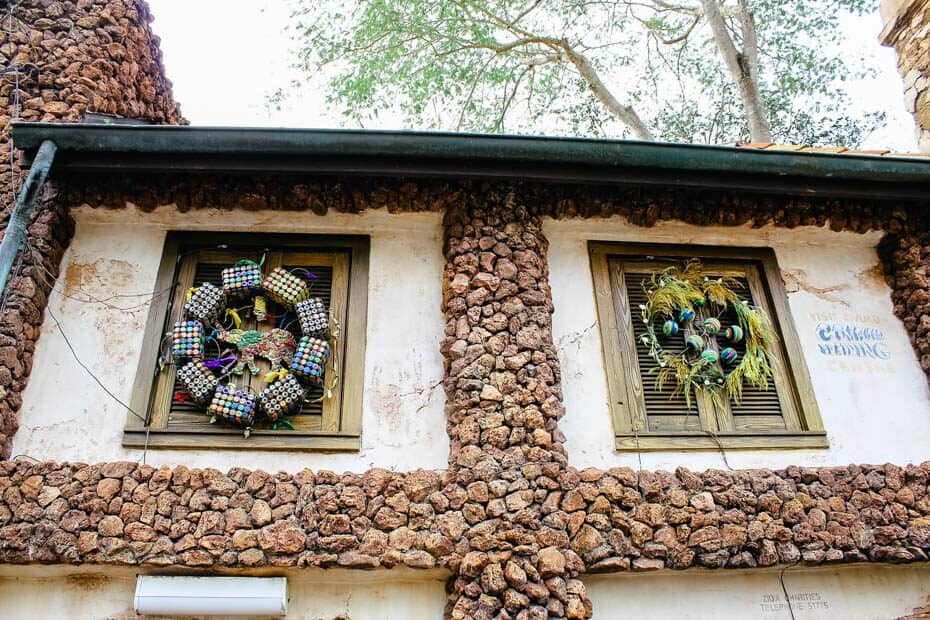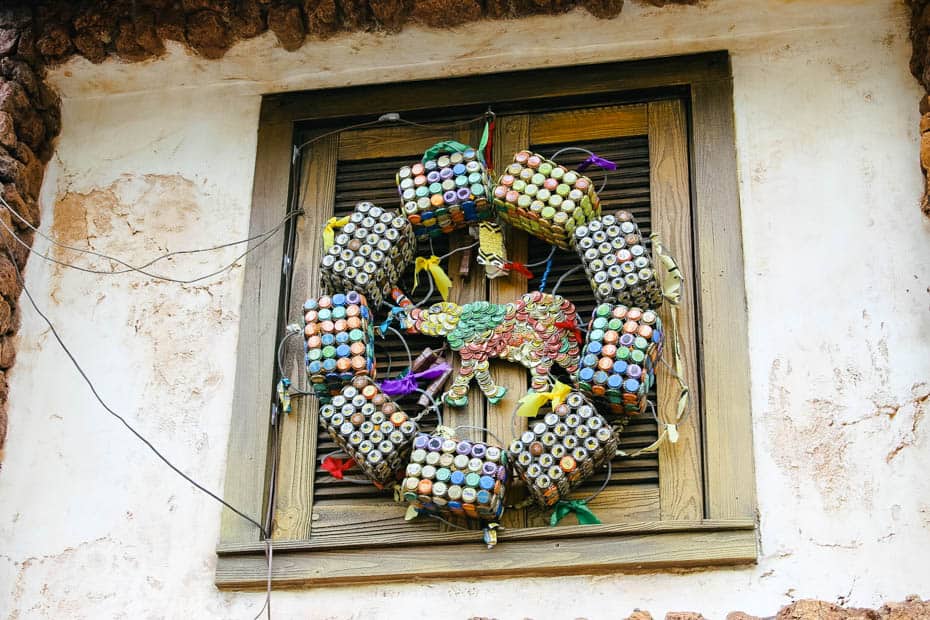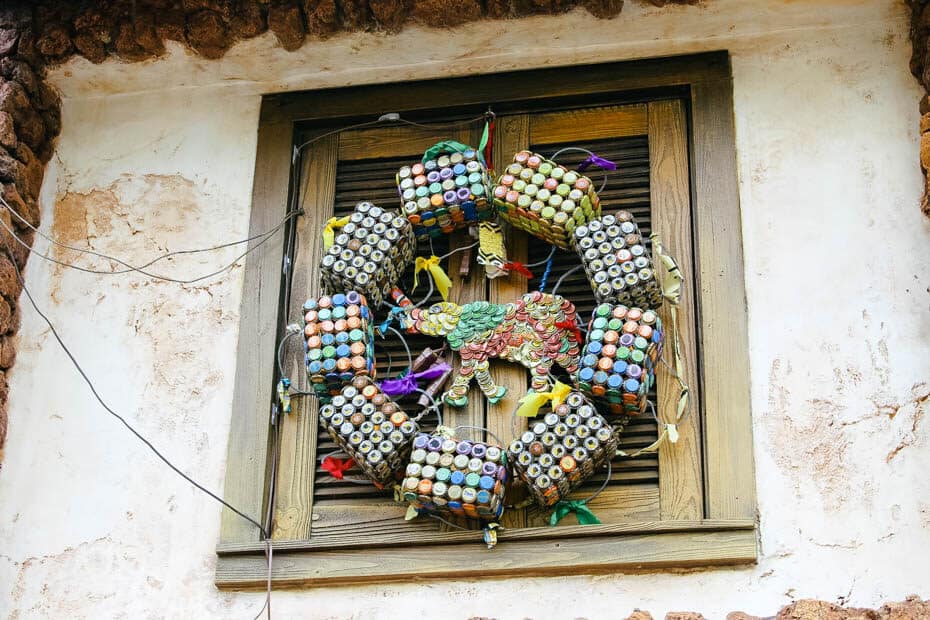 In front of Kilimanjaro Safaris, there's a Christmas tree made from wires. I thought it was pretty.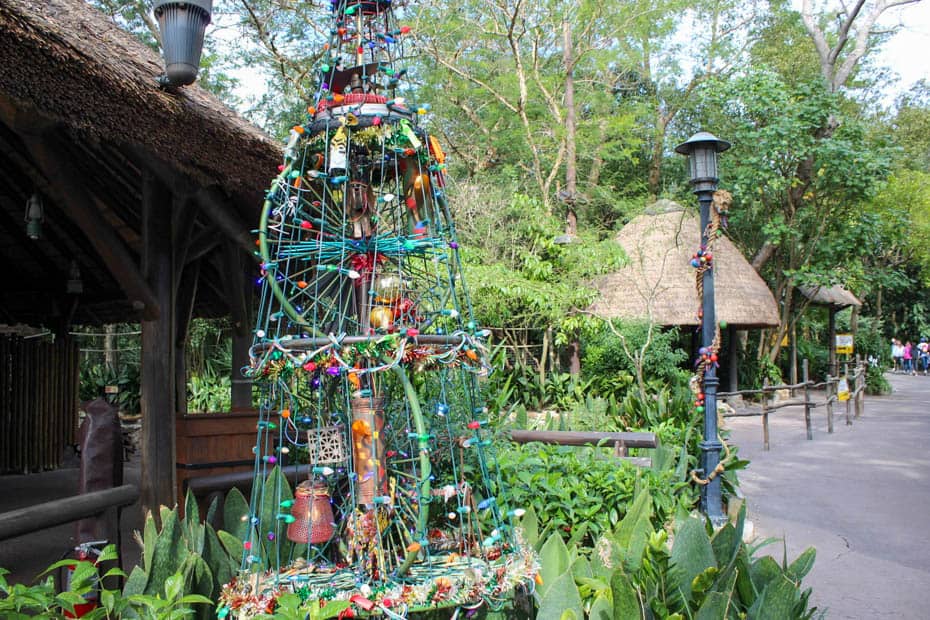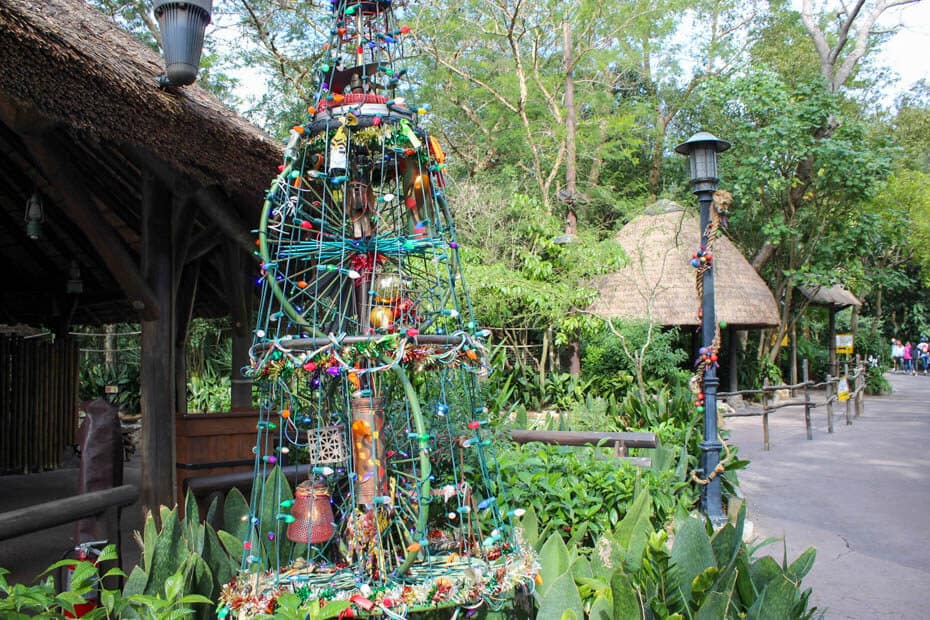 Here are a few photos of the holiday decorations in Africa.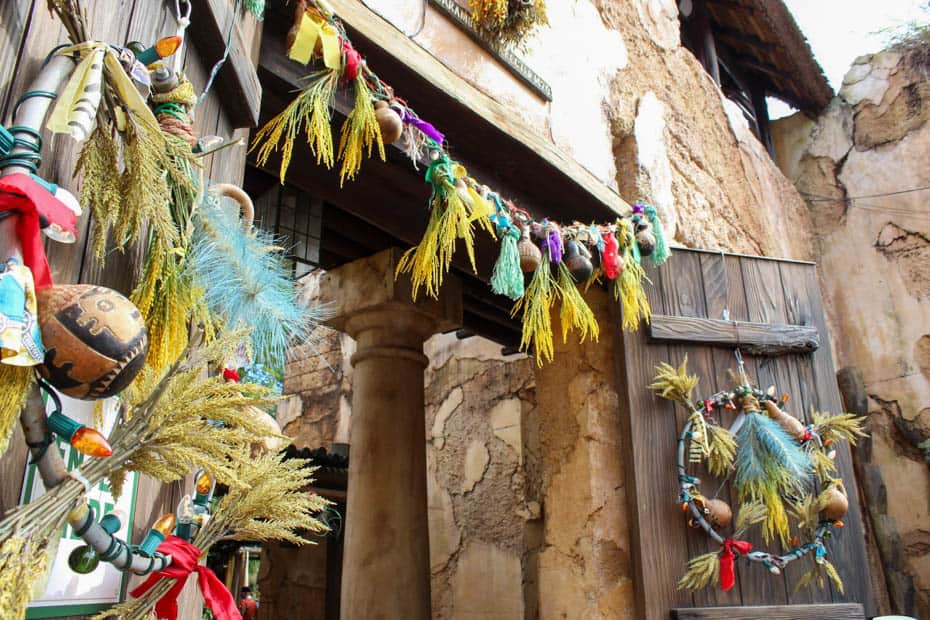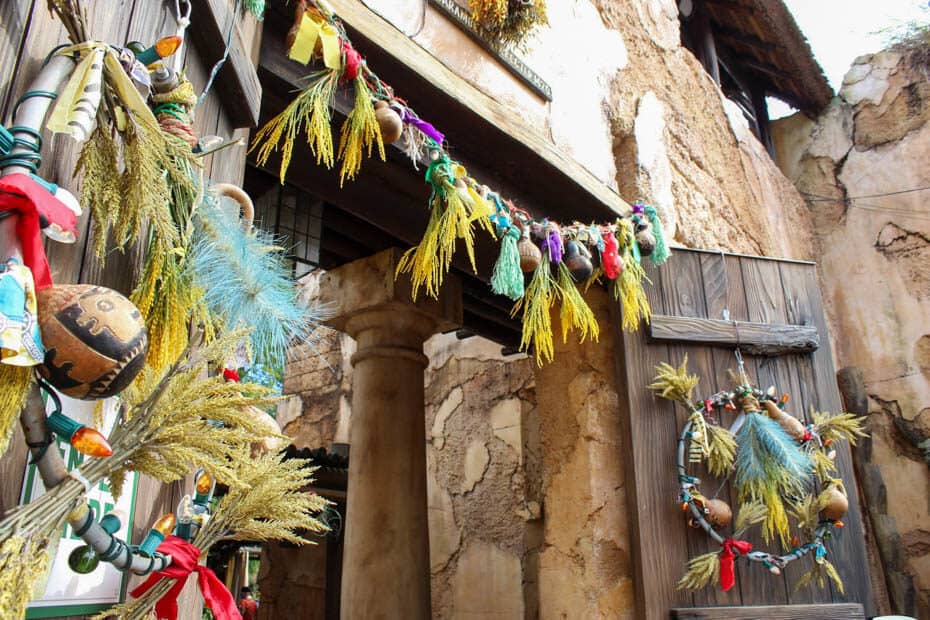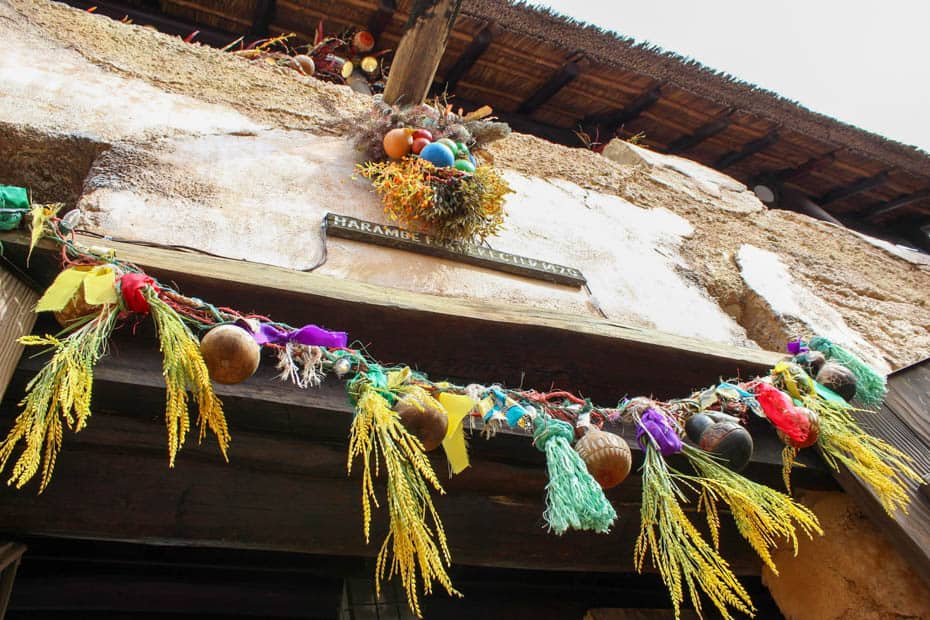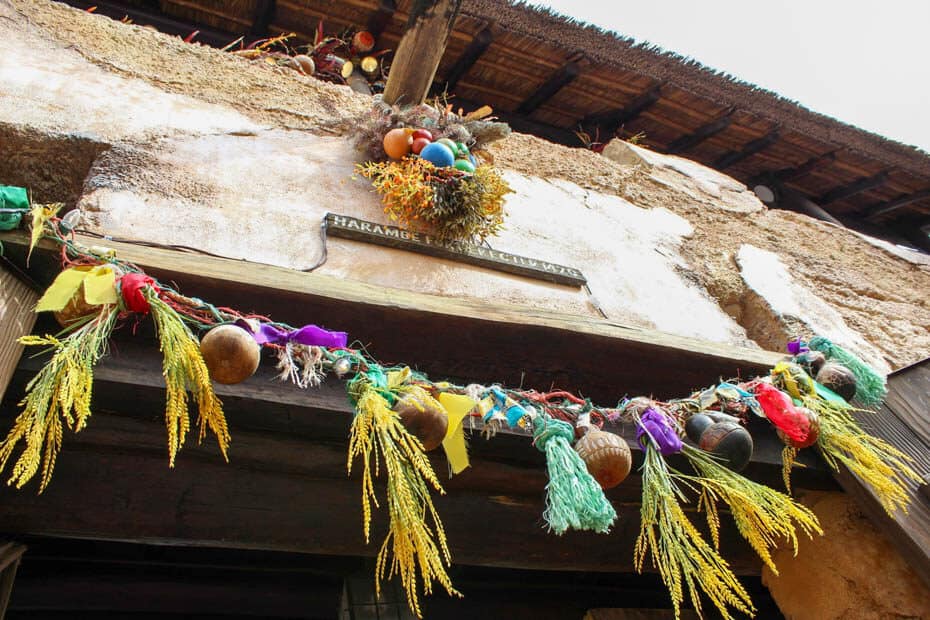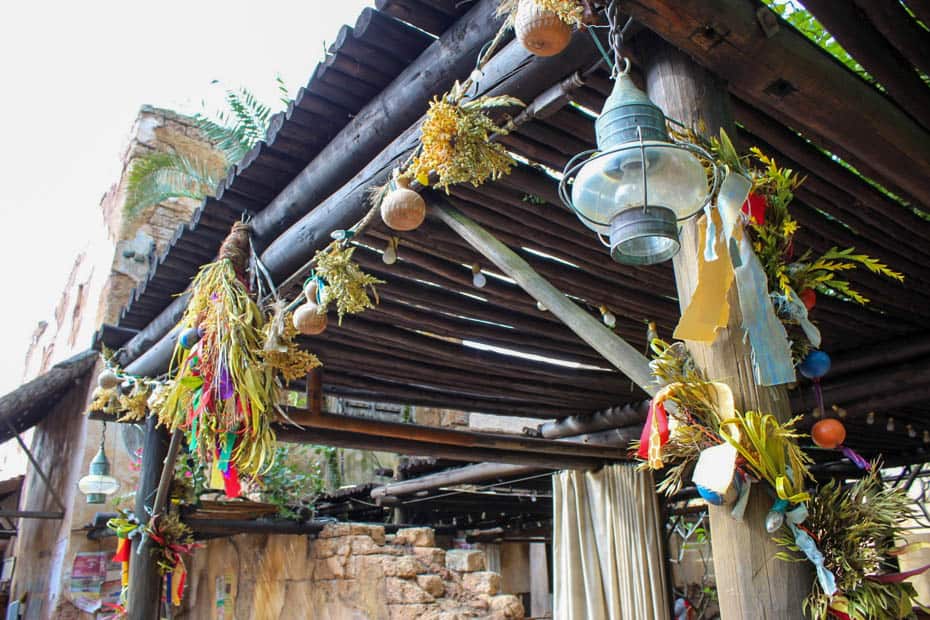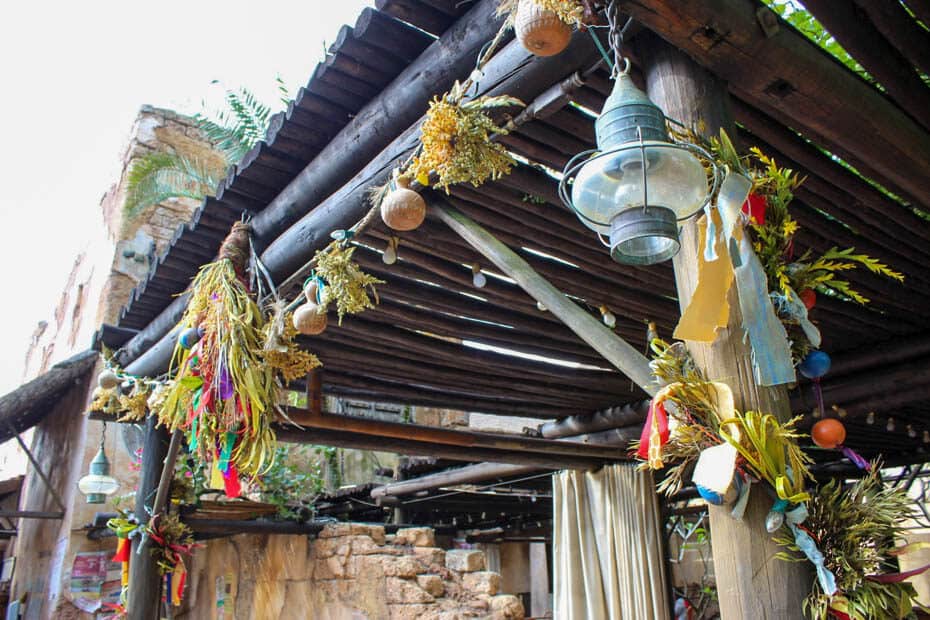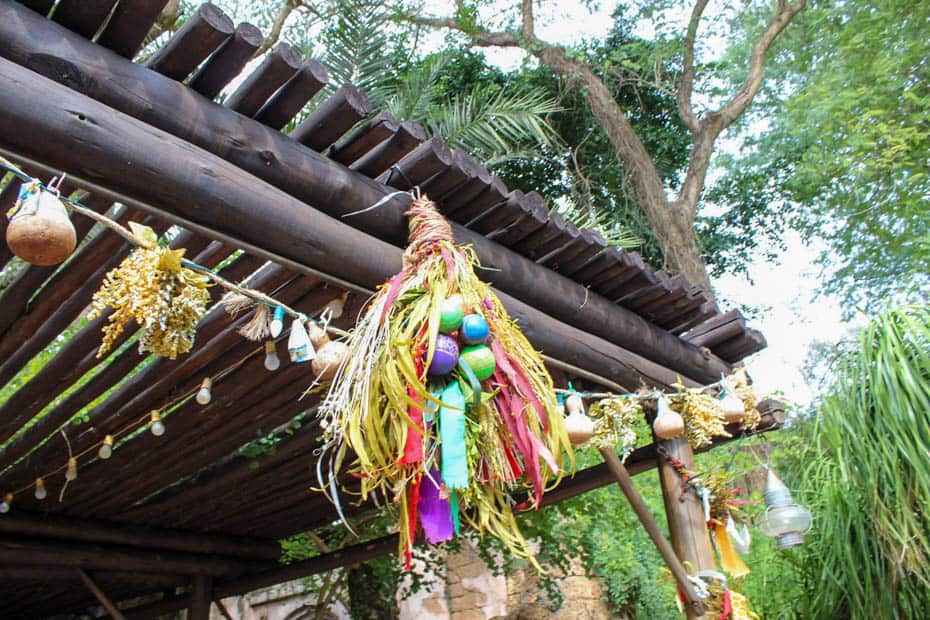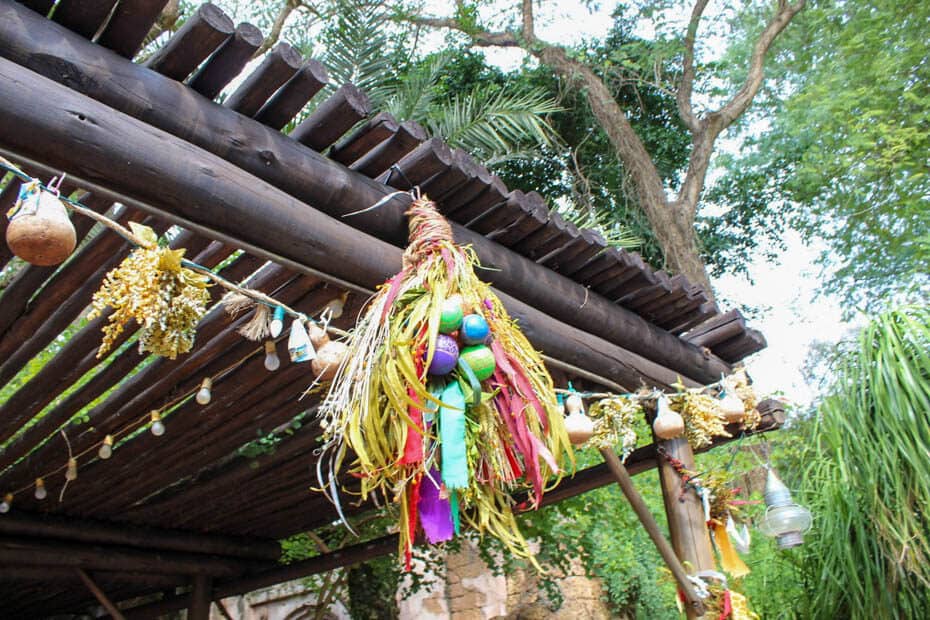 If you take the time, you'll begin to notice the tiniest of details. I thought these miniature figures tied into the garland were interesting.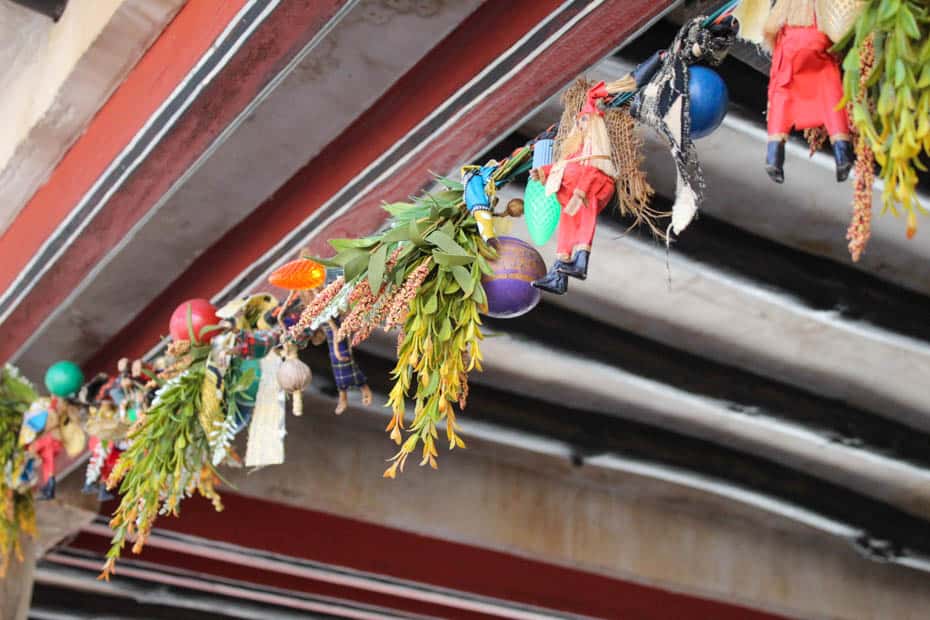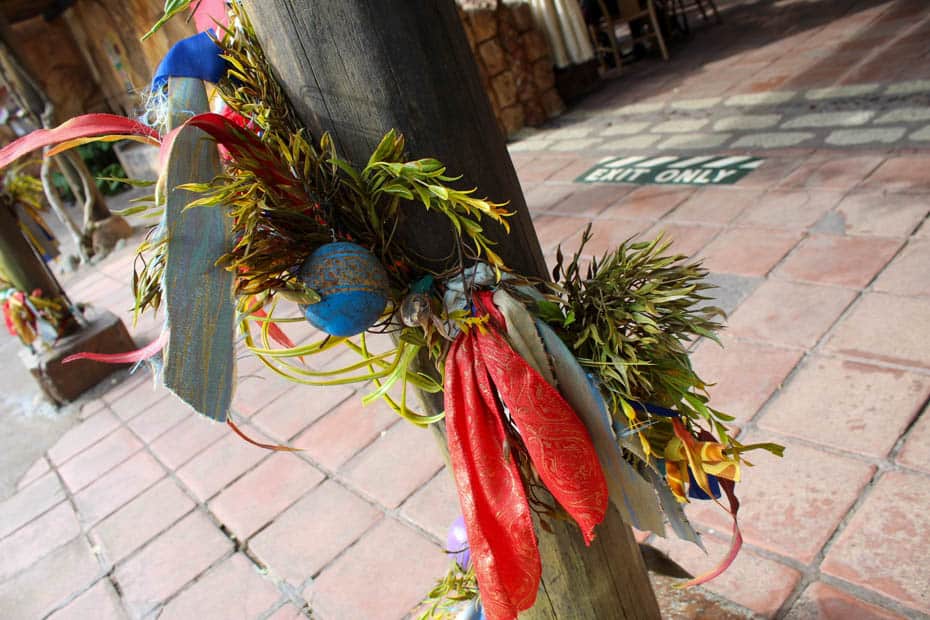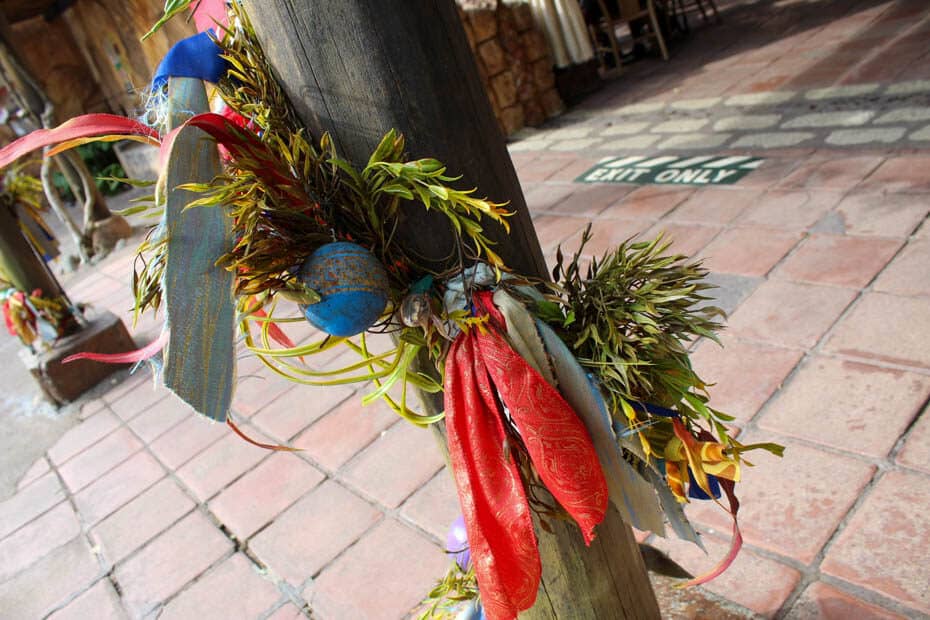 As typical to the country, you won't find much in the means of holiday decor in the Asia section of the park. However, a few lanterns were recently added to the area in front of Feathered Friends in Flight.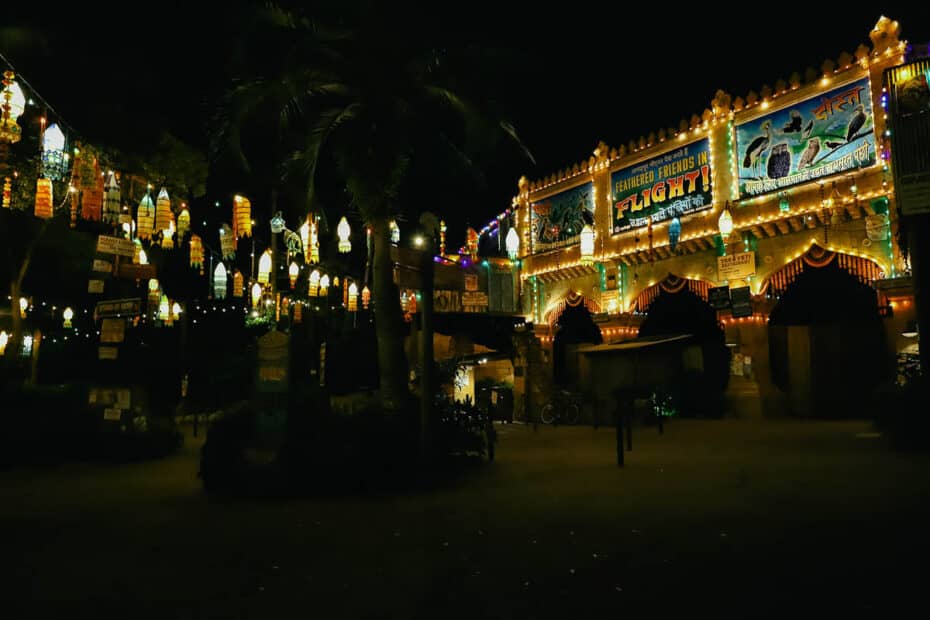 I'm not for sure if they will remain after the holidays or not. But they were installed around the same time the holiday decorations started to go up.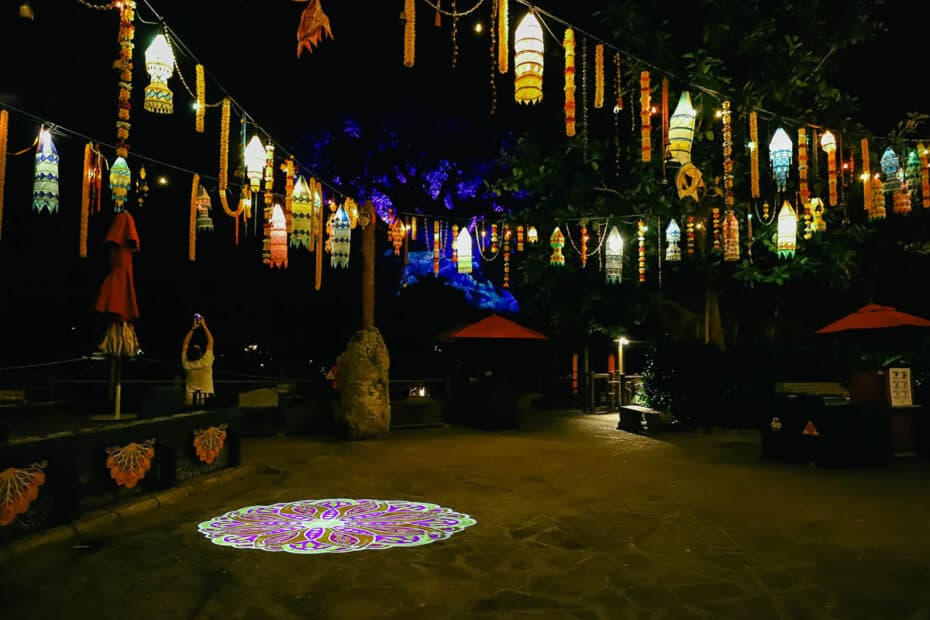 Pandora, World of Avatar has a few festive trimmings you might see when touring the land. But there isn't much detail.
So we'll hop over to Dinoland. Here we see a few other holiday decorations.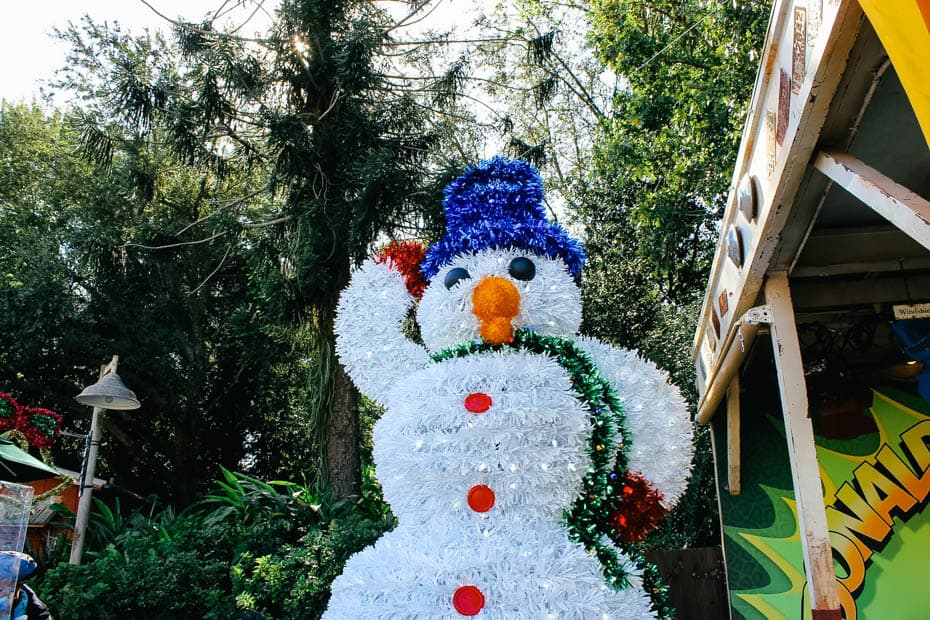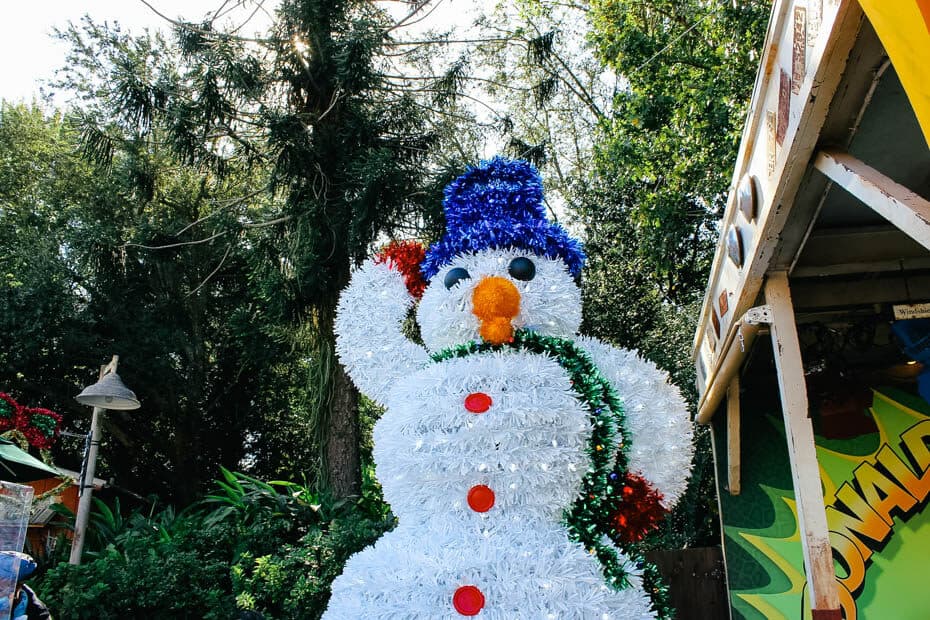 You won't want to miss the dinosaur bridge. It's covered in dancing lights coordinated to the music playing in the background.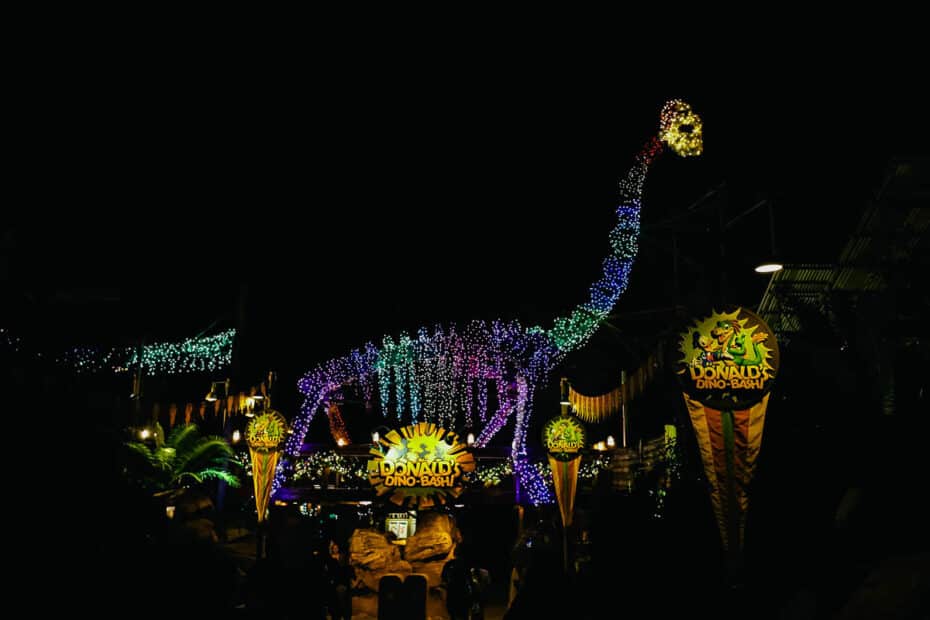 Several areas in the land are bright with colored light strands.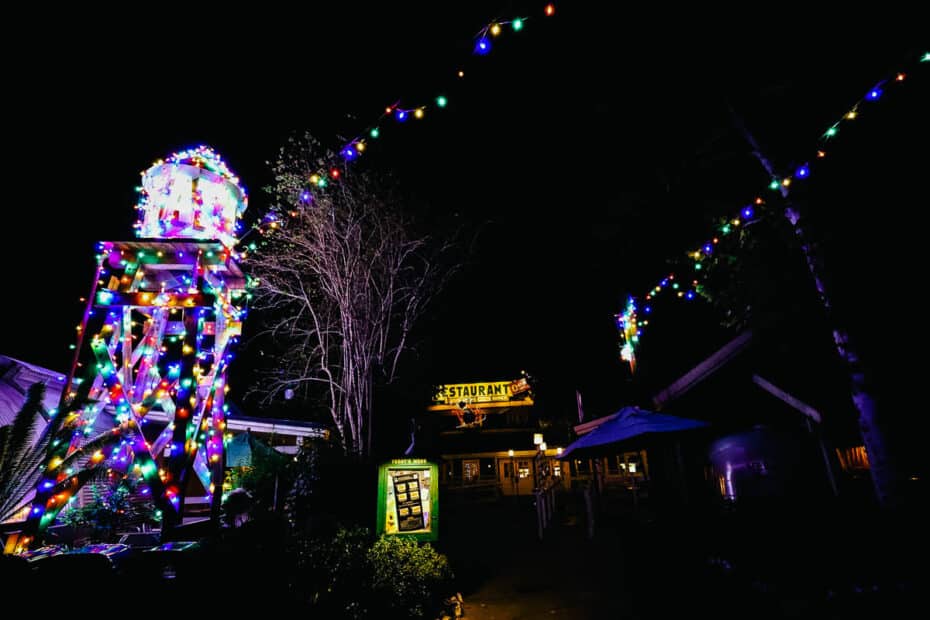 Some of Donald's Dino-Bash meet-and-greet areas are bursting with decor. I couldn't help but appreciate the festive look at Daisy's location.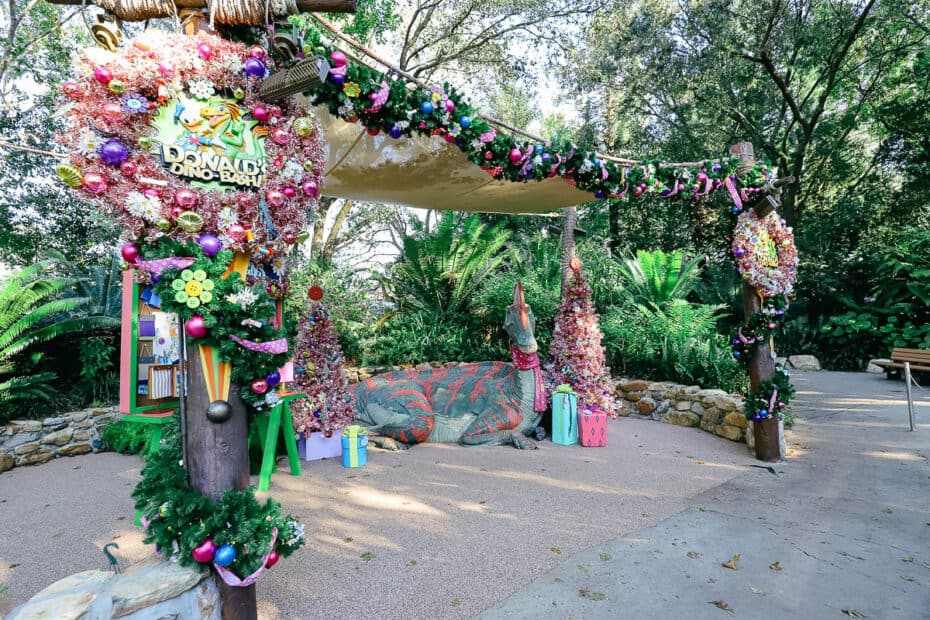 There were even a few island-themed strands of Christmas garland above the stage where Viva Gai Street Band performs.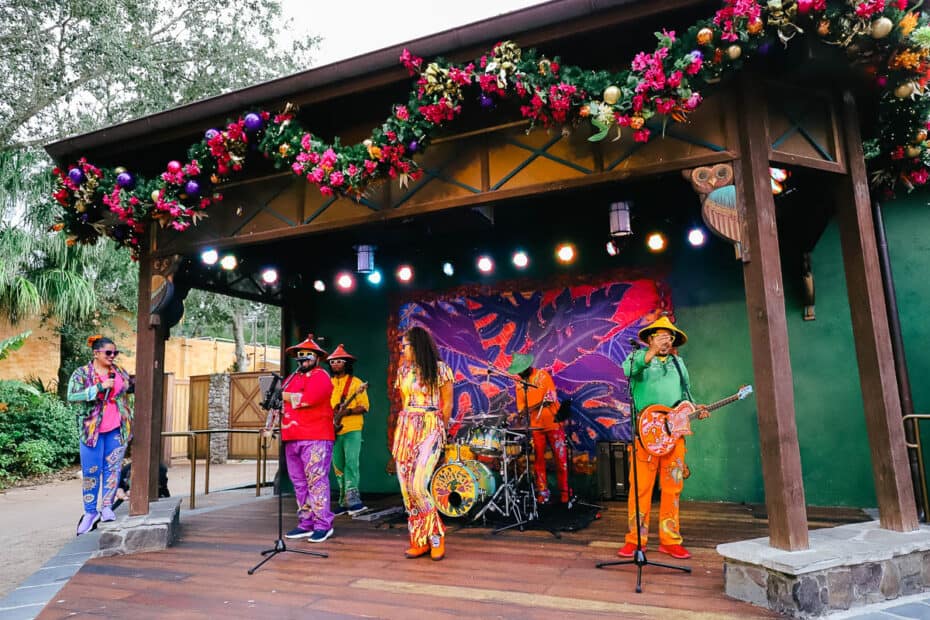 Lastly, Mickey and Minnie have a touch of holiday flair in their outfits. They meet guests at Adventurer's Outpost.
We'll start to update our list of Christmas characters at Disney World in the coming weeks. And if you have plans to attend Mickey's Christmas Party, don't miss our character guide.
Related: Characters at Mickey's Very Merry Christmas Party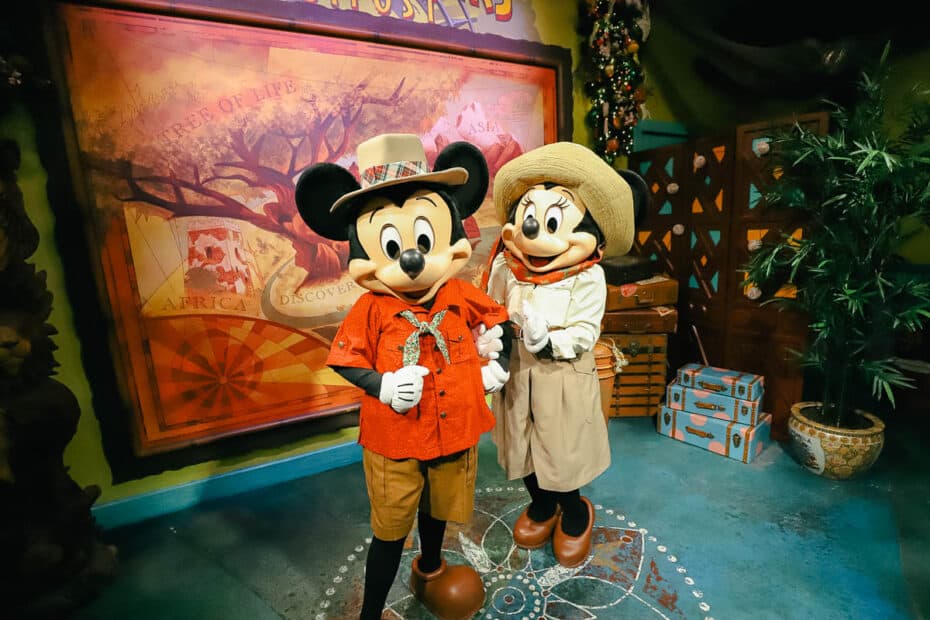 We'll close with a few photos of the Christmas tree at Disney's Animal Kingdom around sunset.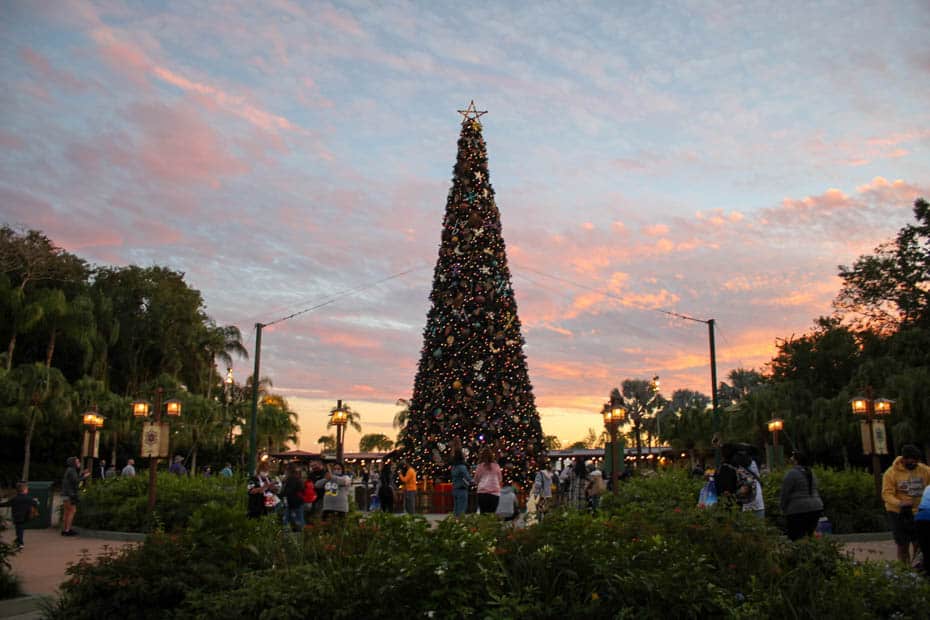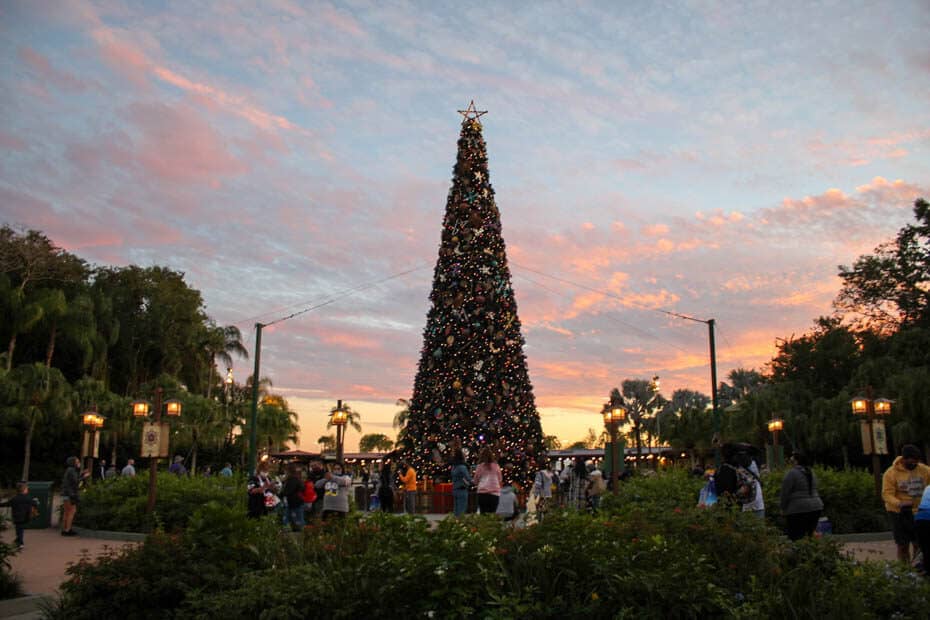 It's the most wonderful time of day. However, most will want to stay inside the park until it gets dark.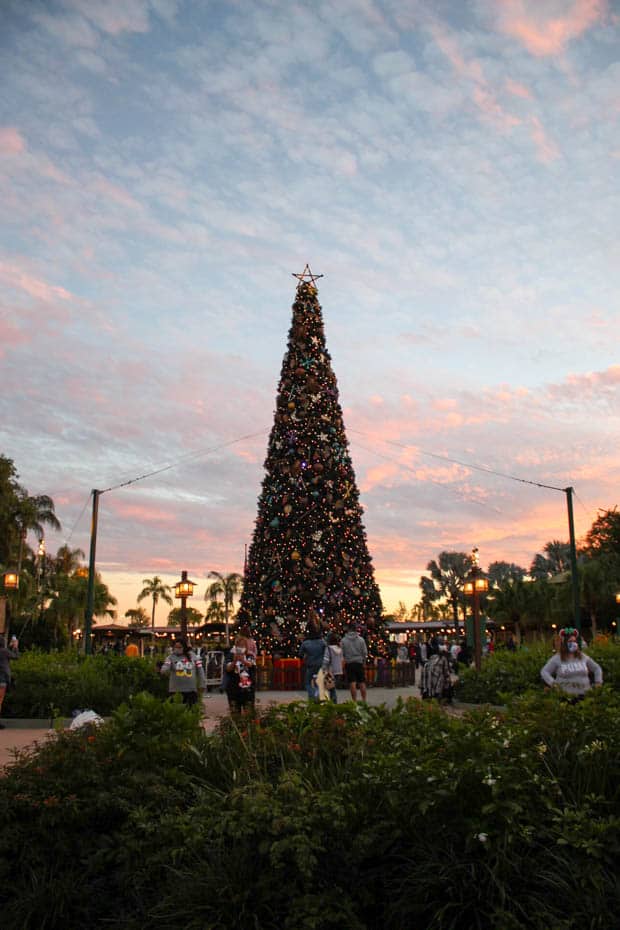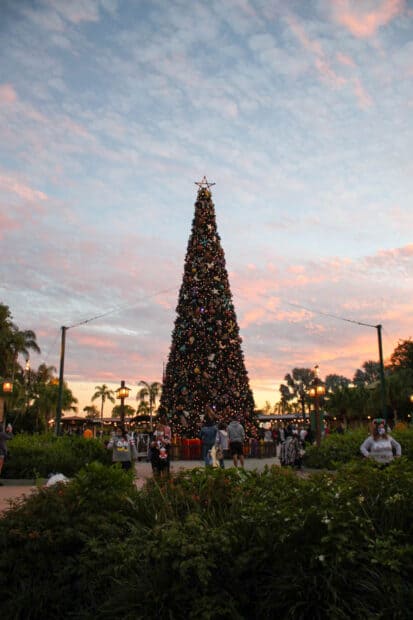 Since it's getting dark earlier, the Tree of Life Awakenings have returned. The show begins at appoximately 6:00 p.m. and lasts for about five minutes.
If you're not at the front of the park for the first show, don't worry. Shows begin every ten minutes after dark until the park closes.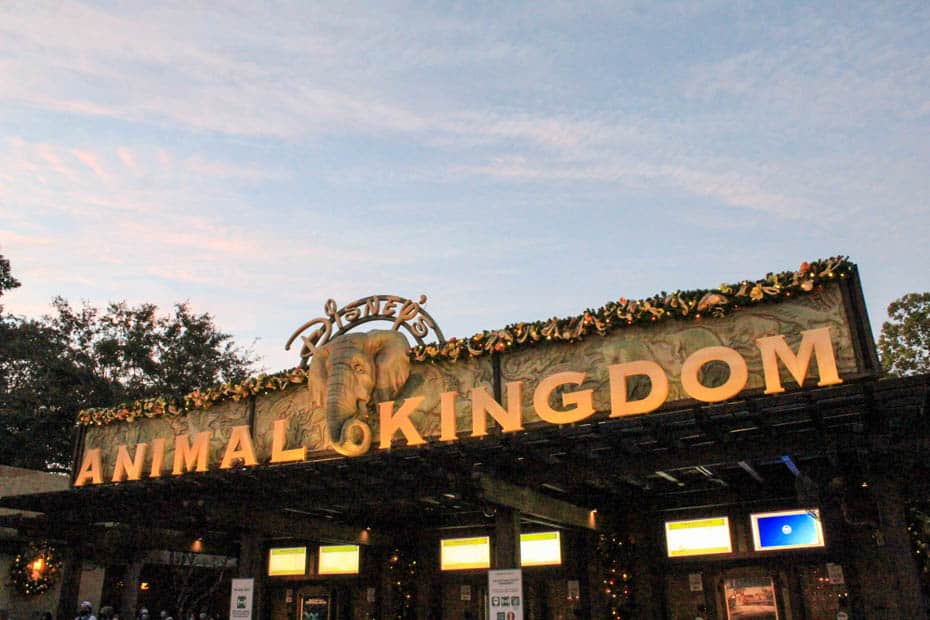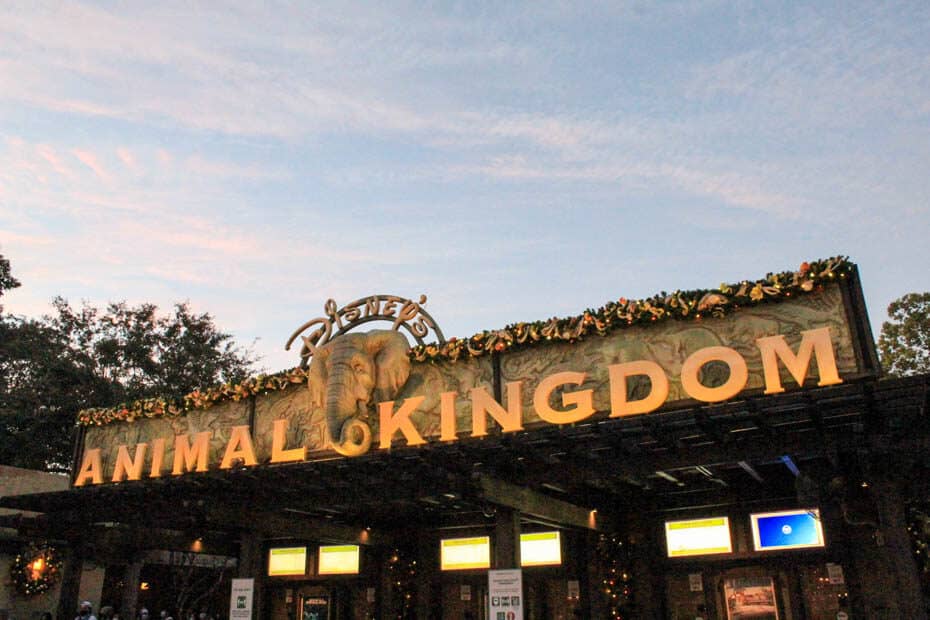 Hopefully, you enjoyed this photo tour of the Christmas decorations at Disney's Animal Kingdom. Don't forget that the Merry Menagerie, holiday decor, and special Christmas vesion of the Tree of Life Awakenings are must-do's if you're able to visit over the holiday season.
Here are a few other Christmas at Disney World articles you might enjoy:
If you are planning a trip to Disney World, you might enjoy checking out some of our most popular articles.
Most of all, I wish you and your family a happy and healthy holiday season.
Have a merry Animal Kingdom Christmas!
Planning a Walt Disney World or other Disney Destination vacation?
Our friends and travel partner, Firefly Travels, excels at doing Disney differently. You can fill out a plan your trip form on their website, and someone will reach out shortly to discuss the specifics.