Everything Christmas at Disney's Animal Kingdom
We'll begin our walkthrough of everything Christmas at Disney's Animal Kingdom toward the entrance of the park. If you've been joining along, you already know we are taking a walk through each of the Disney Parks to enjoy the Christmas decorations.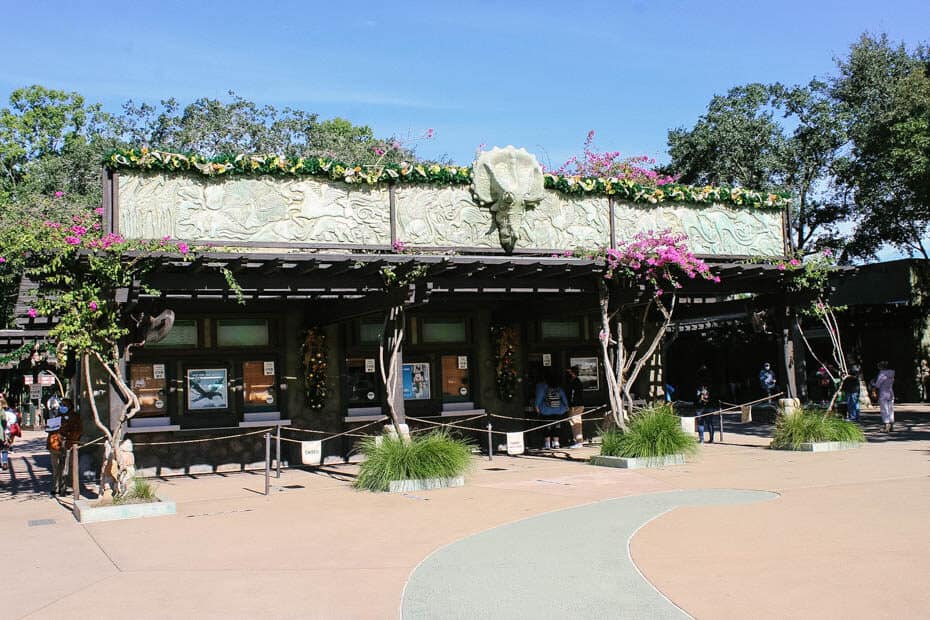 If you haven't, I'll put a link at the bottom of this post with the others we have covered to date.
Now to begin our walk. Right before you go through the turnstiles of the Animal Kingdom you'll begin to notice a bit of festive flair.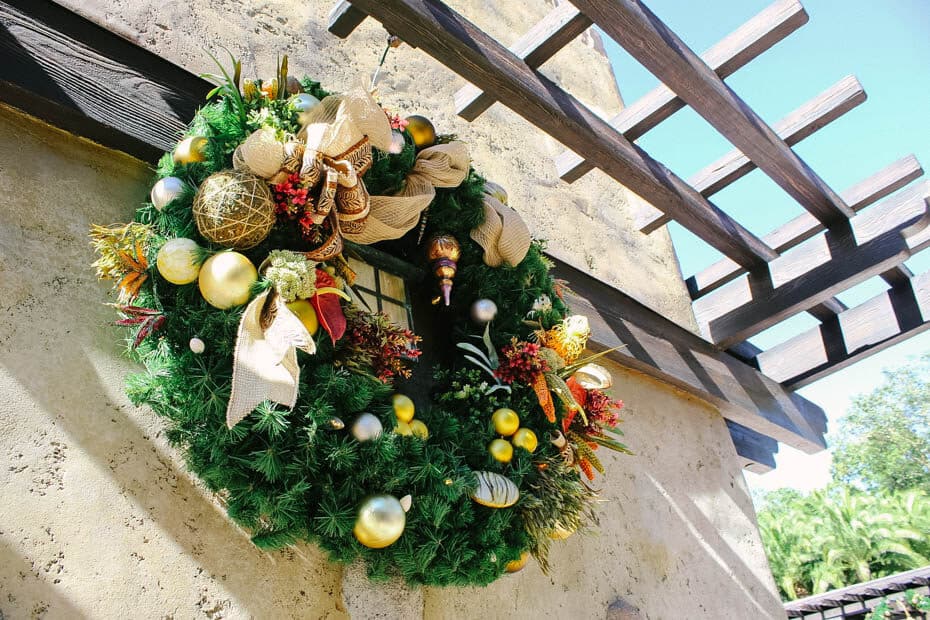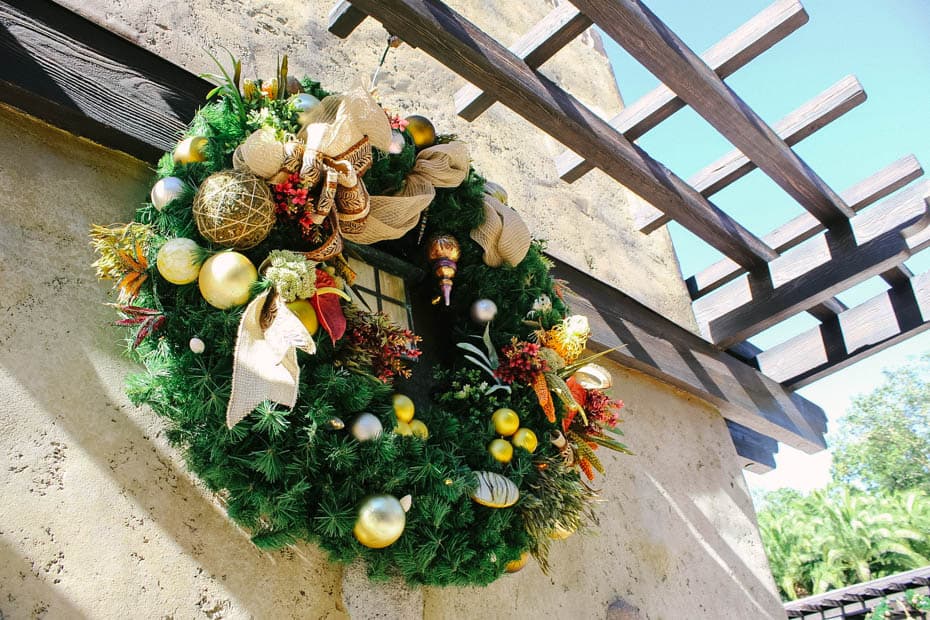 Like the wreath above and strings of garland below.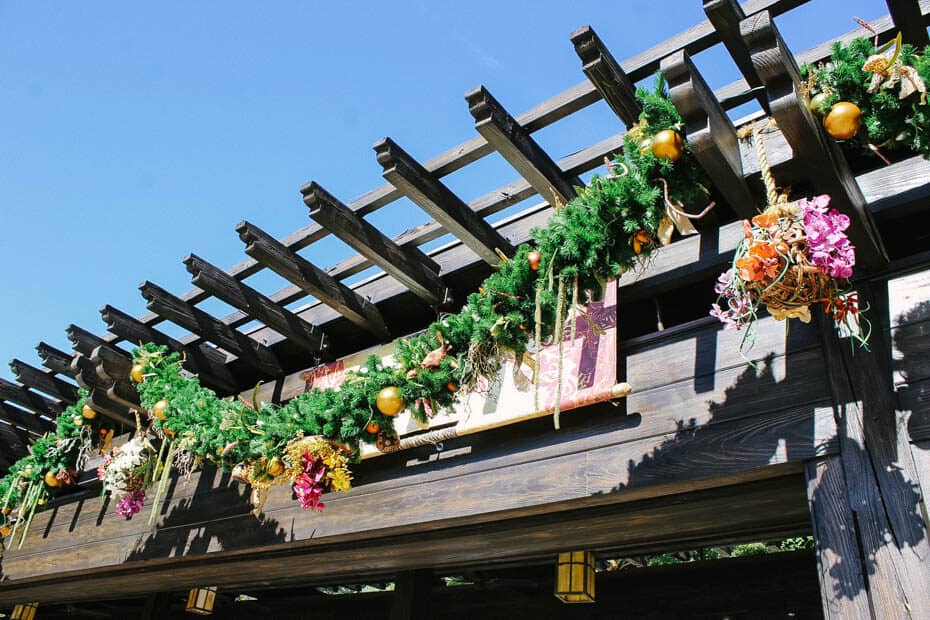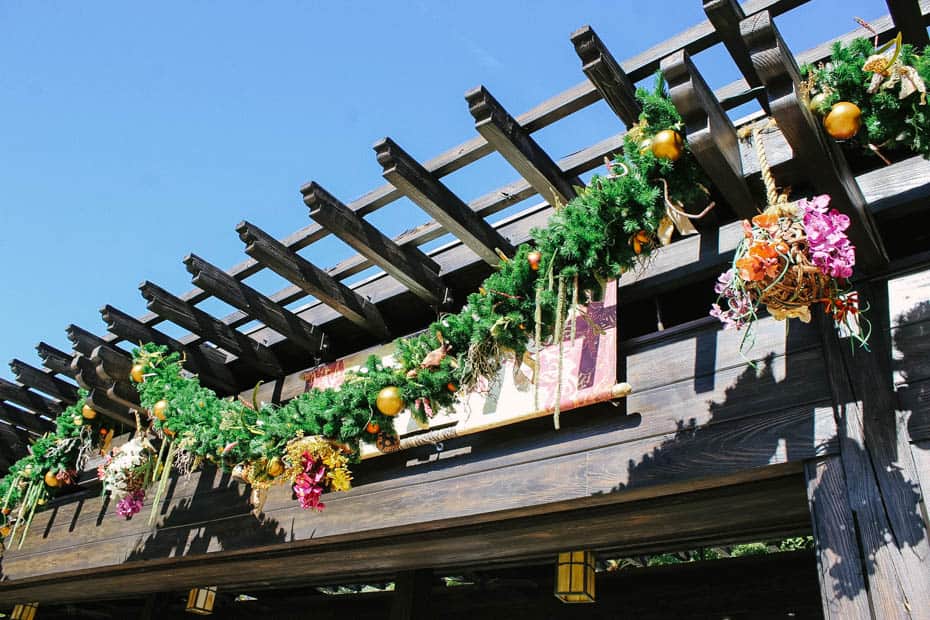 And these floral hanging balls.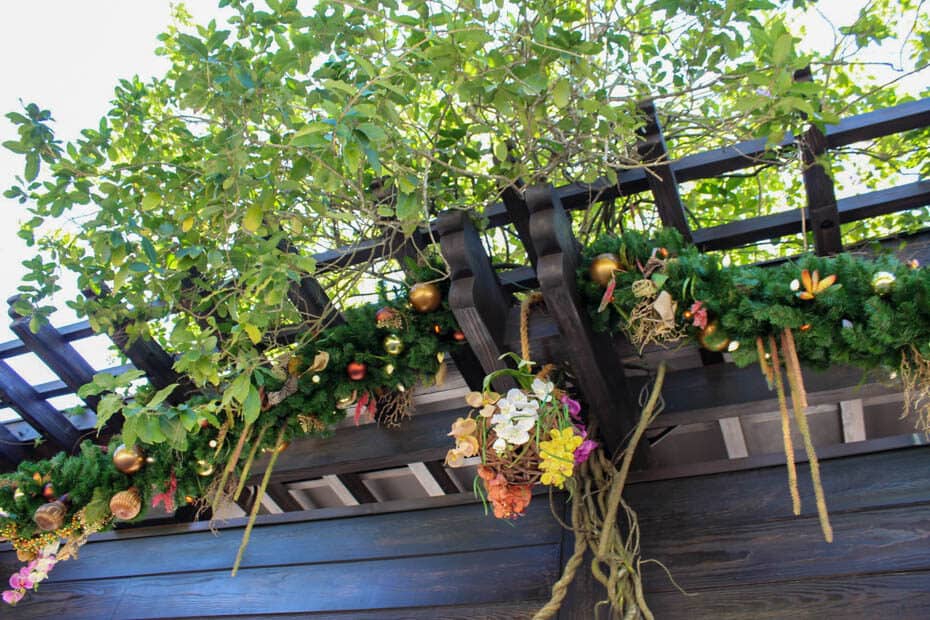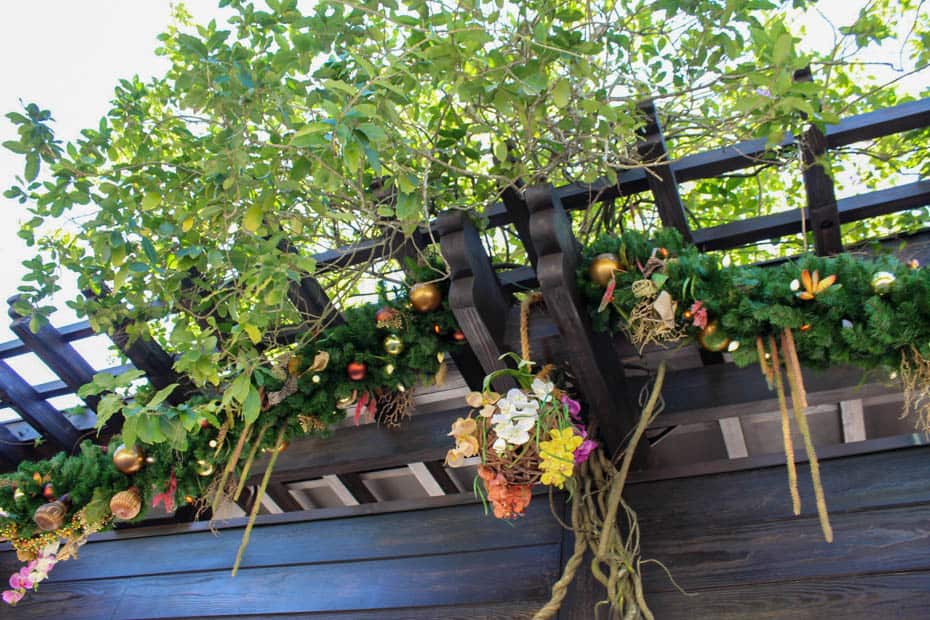 Anyone who has a chance to visit and loves Christmastime is going to be blown away by the decor.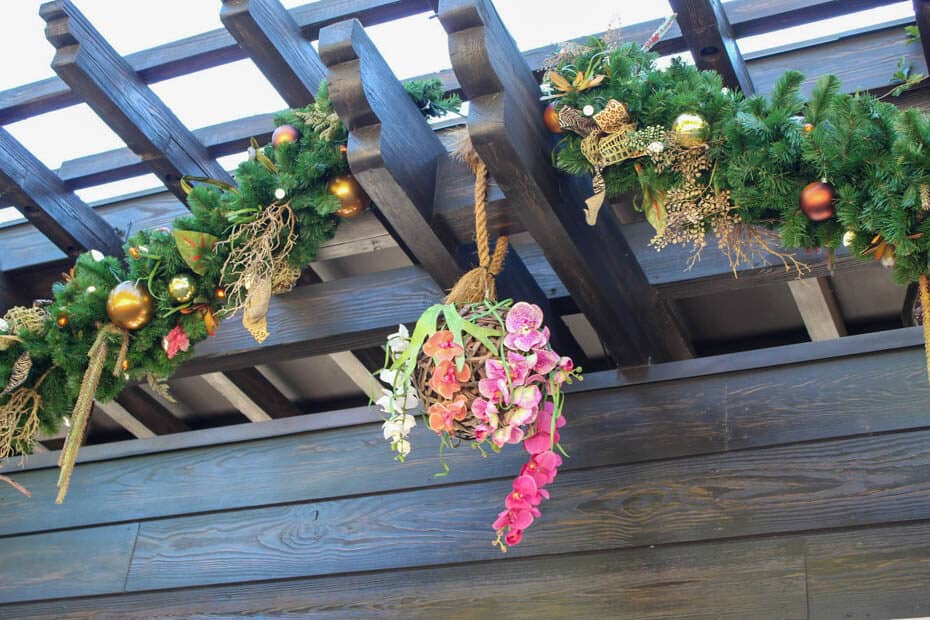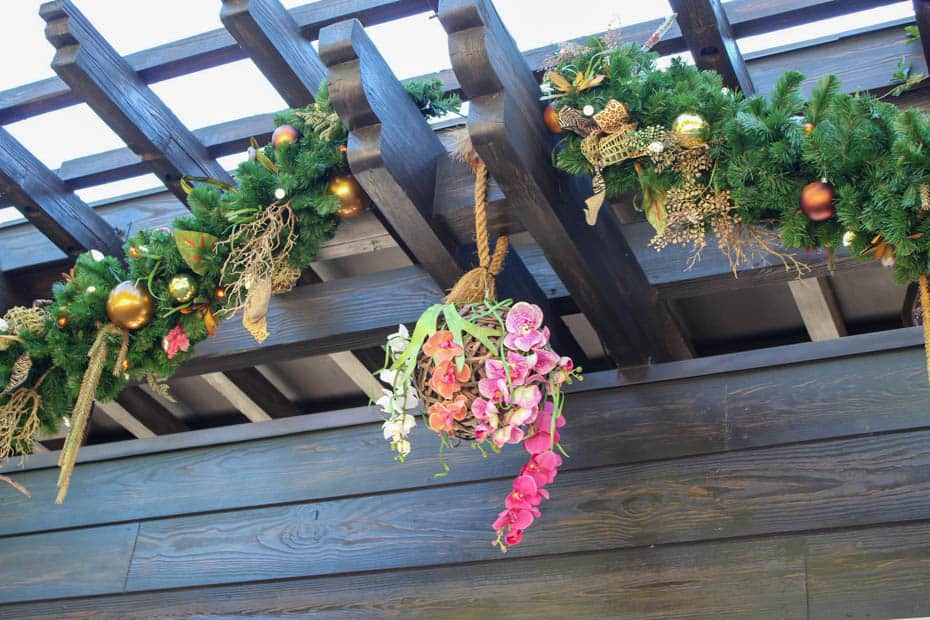 I highly recommend taking the time to explore the park and all of these details up close. For those that can't visit, I hope you can at least enjoy these photos.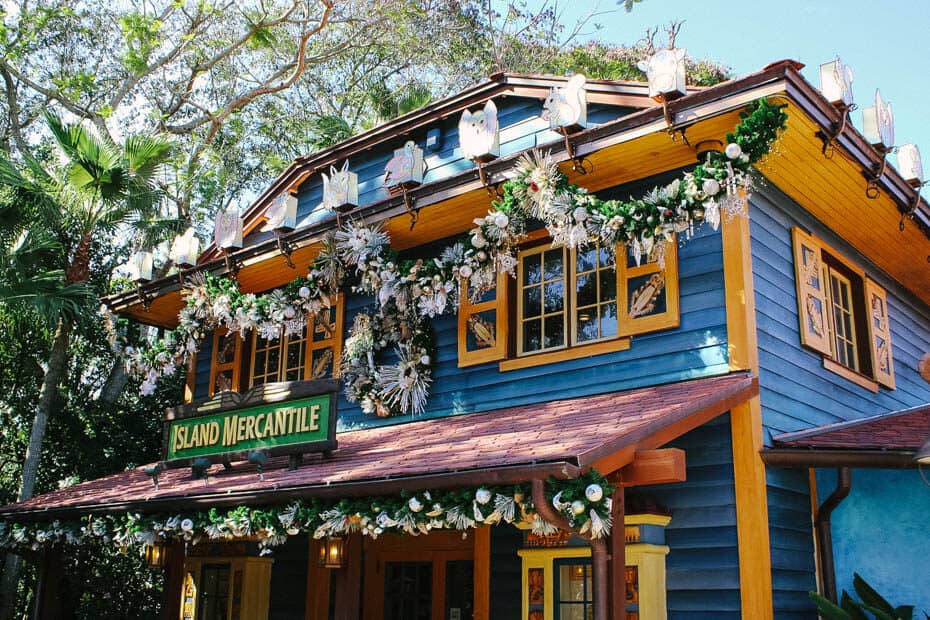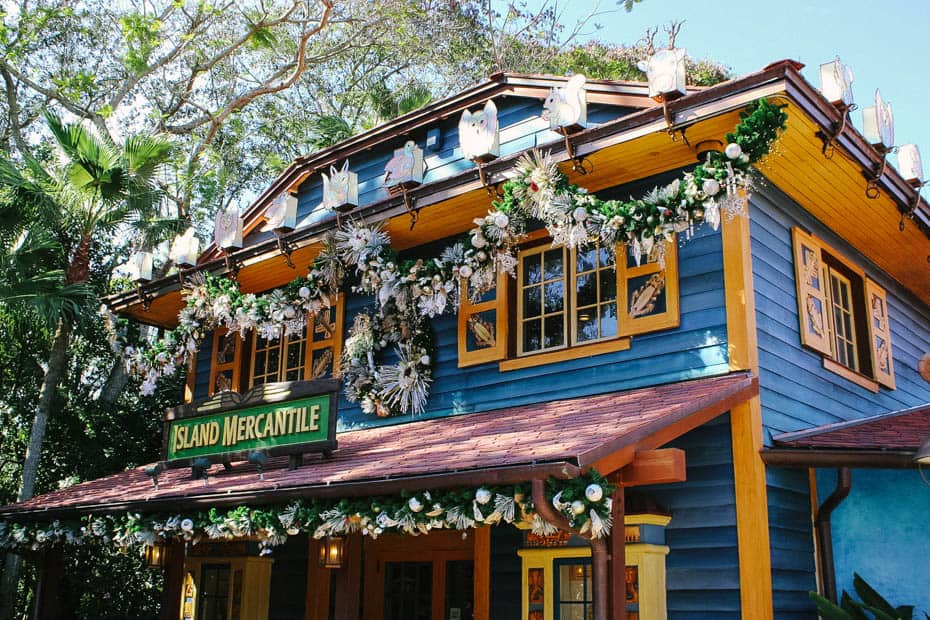 Maybe they'll inspire you to plan a Christmas visit for next year.
These photos actually come from two recent visits to the park. On both days, I mainly walked around the park. I spent most of my time taking photos and visiting the animals.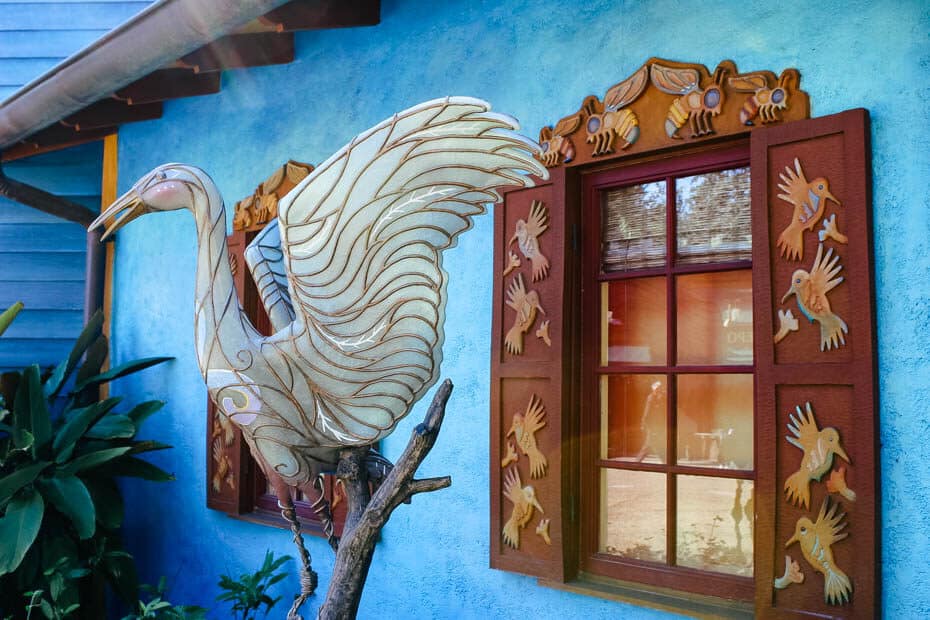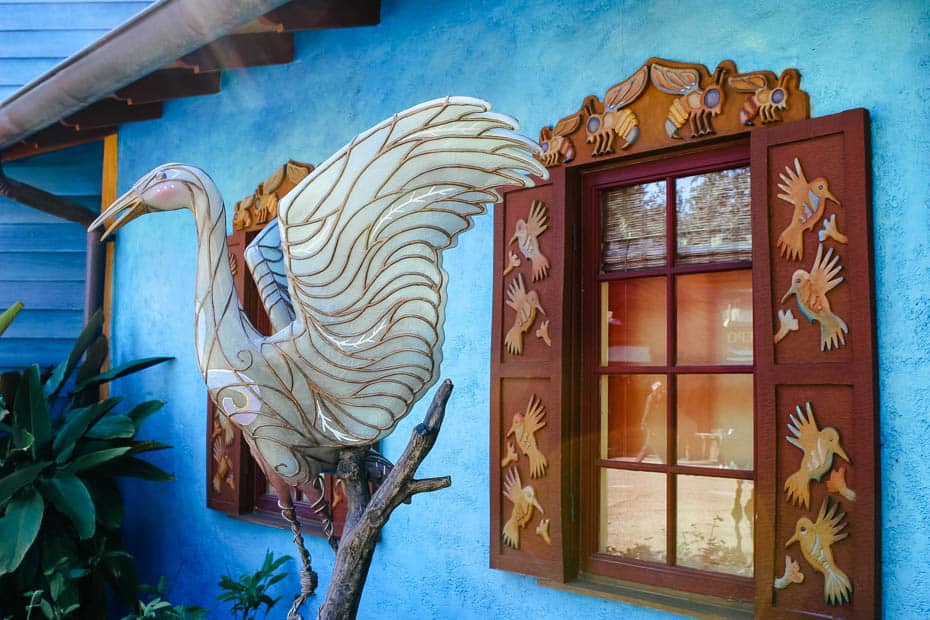 The only thing I can recall riding was Kilimanjaro Safaris and Tricera Top Spin. Go figure.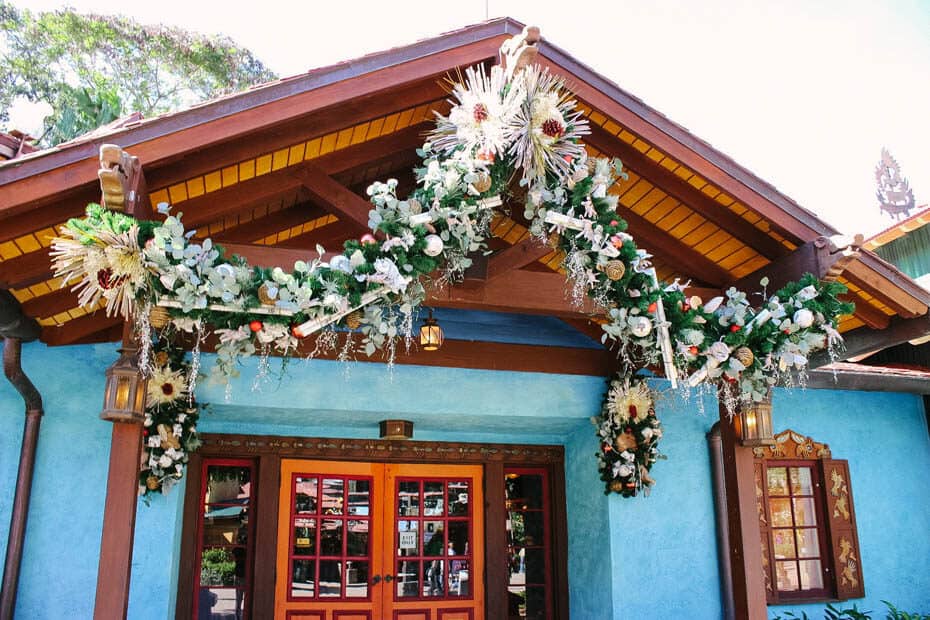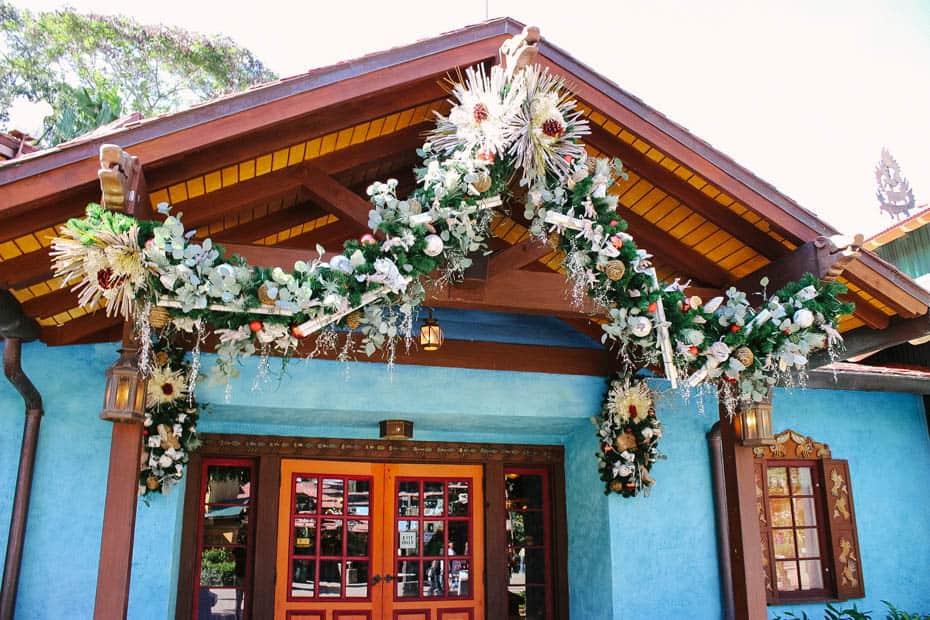 Anyways, they were two of the best days that I had spent in the parks in a long time.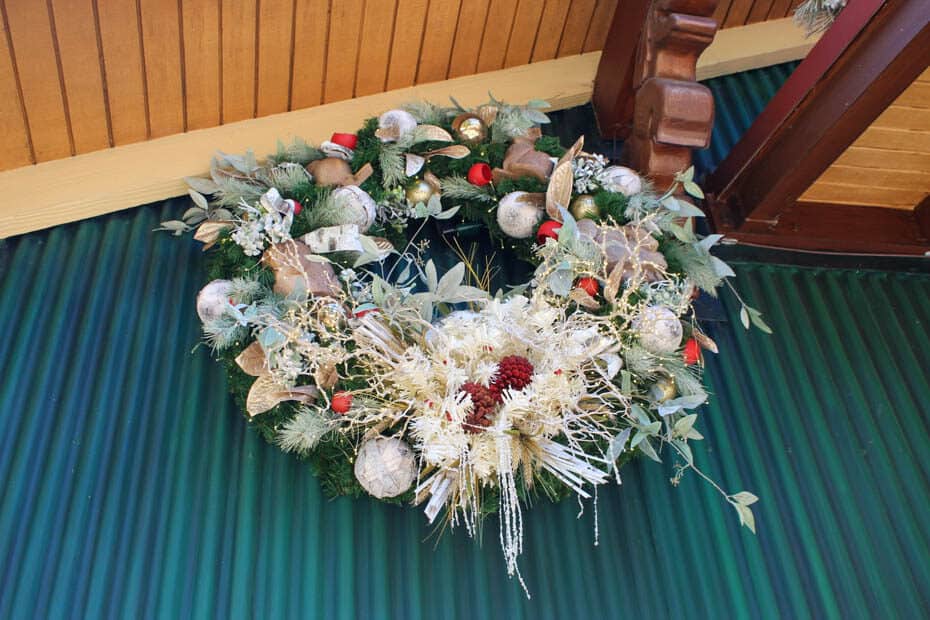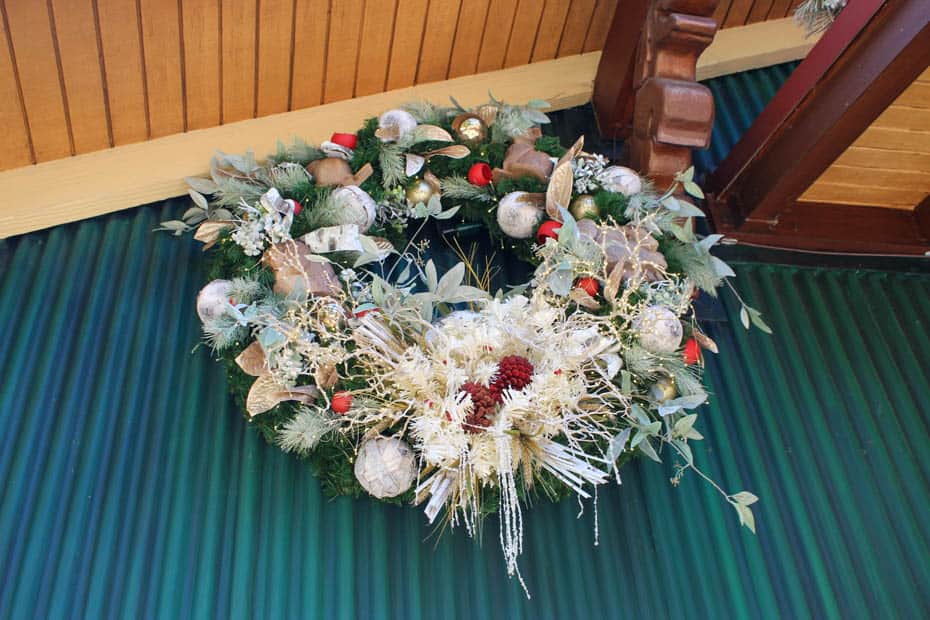 The thing about Animal Kingdom is there's so much to do that doesn't require waiting in a line or constantly heading to the next ride. And right now there's a lot of extra to see with all of the Animal Kingdom Christmas decorations.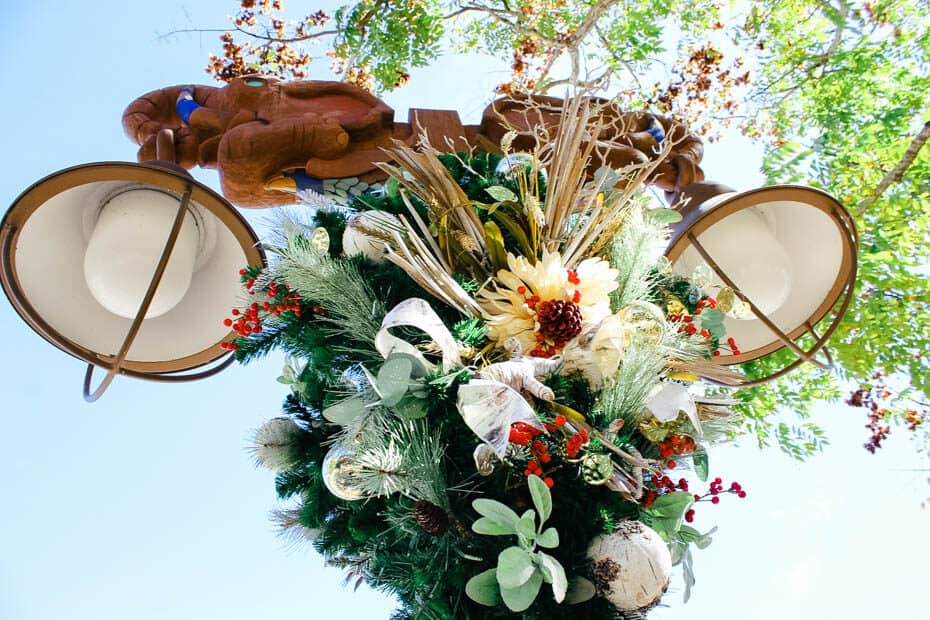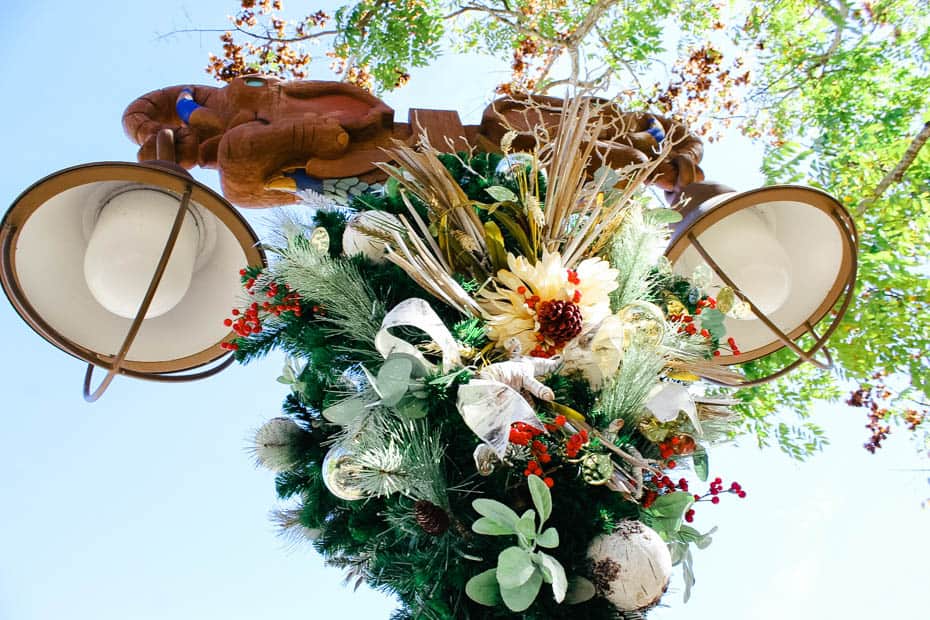 It's absolutely gorgeous. If you were to ask what my favorite park was for Christmas, I would tell you I couldn't possibly choose between them.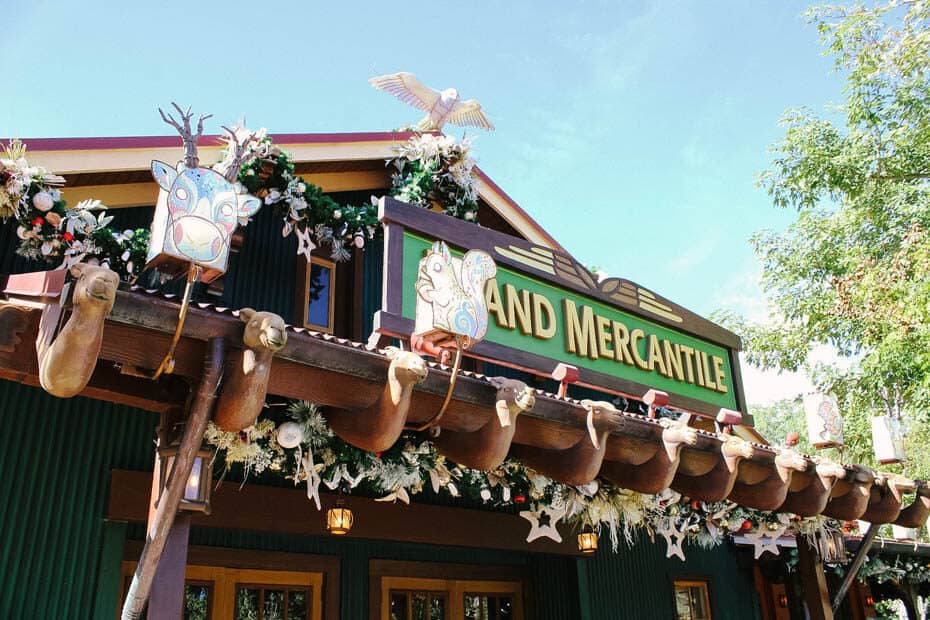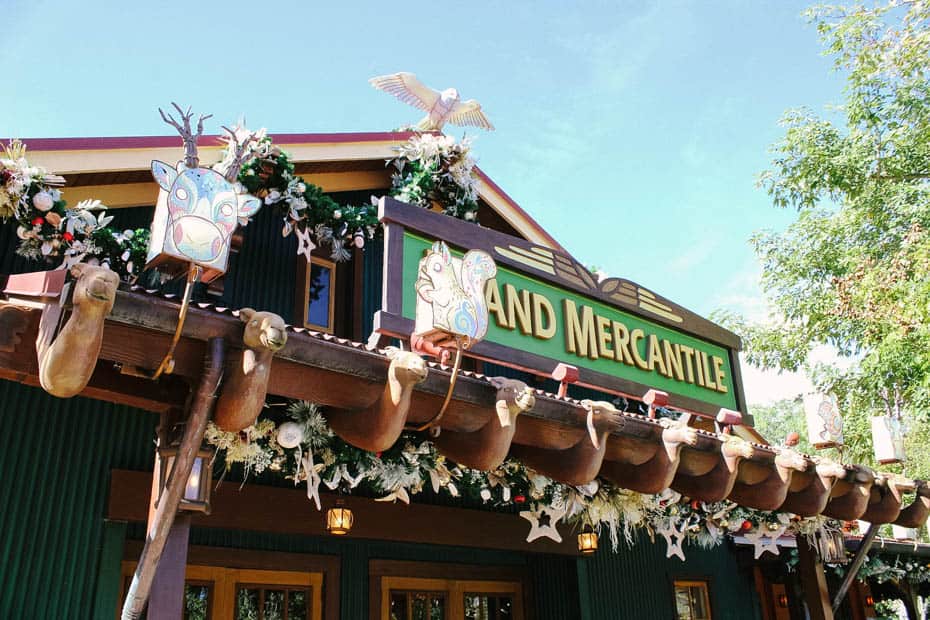 But I think you know, it's most definitely Animal Kingdom.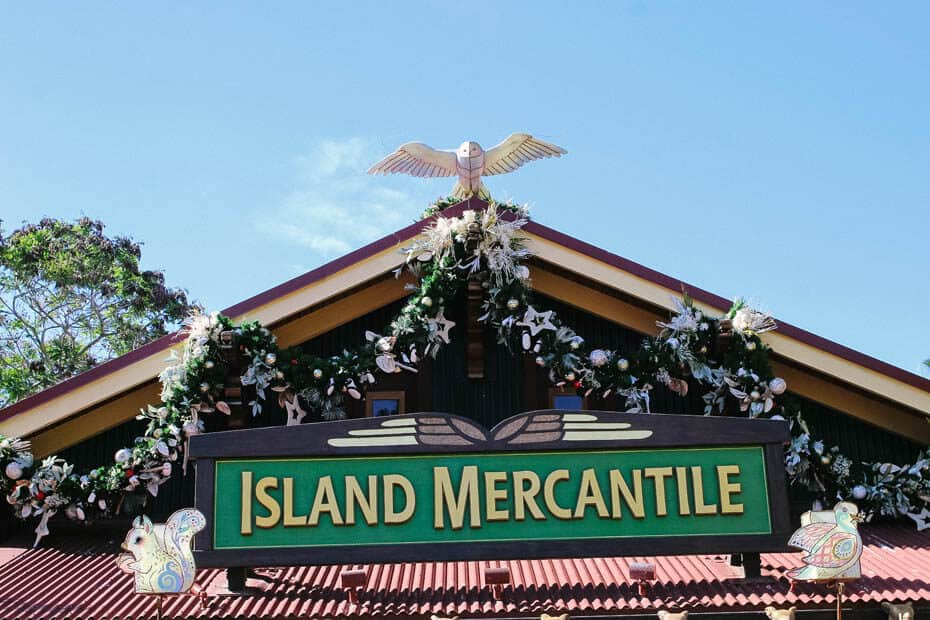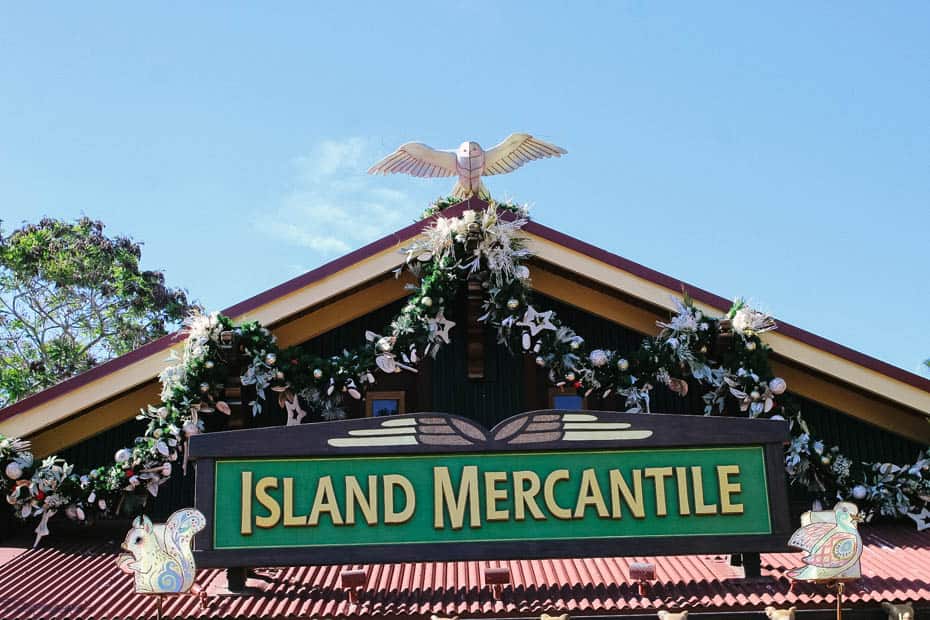 Moving on past the Oasis, you'll notice that the retail shops in the area have literally been frosted with Christmas decorations.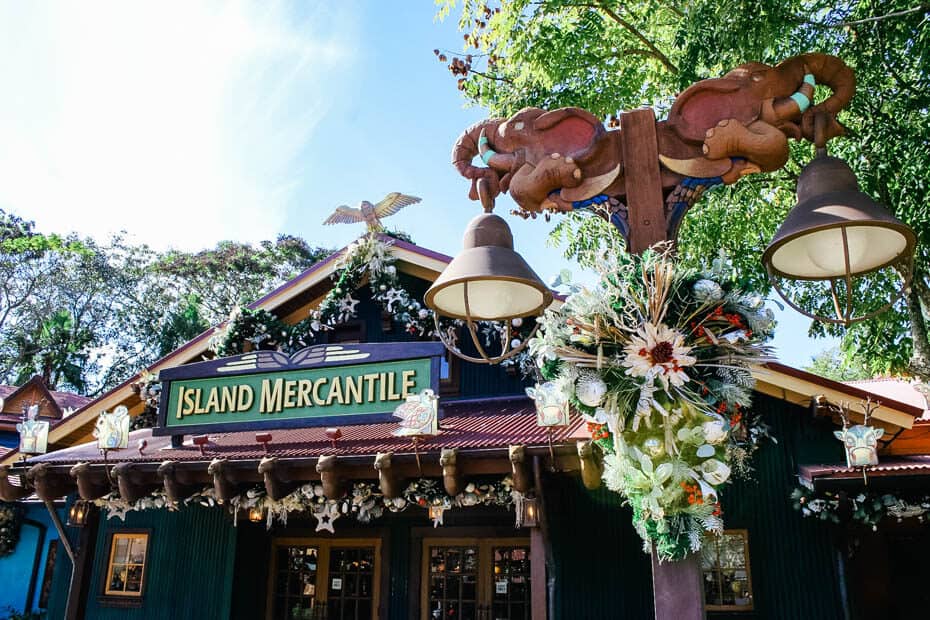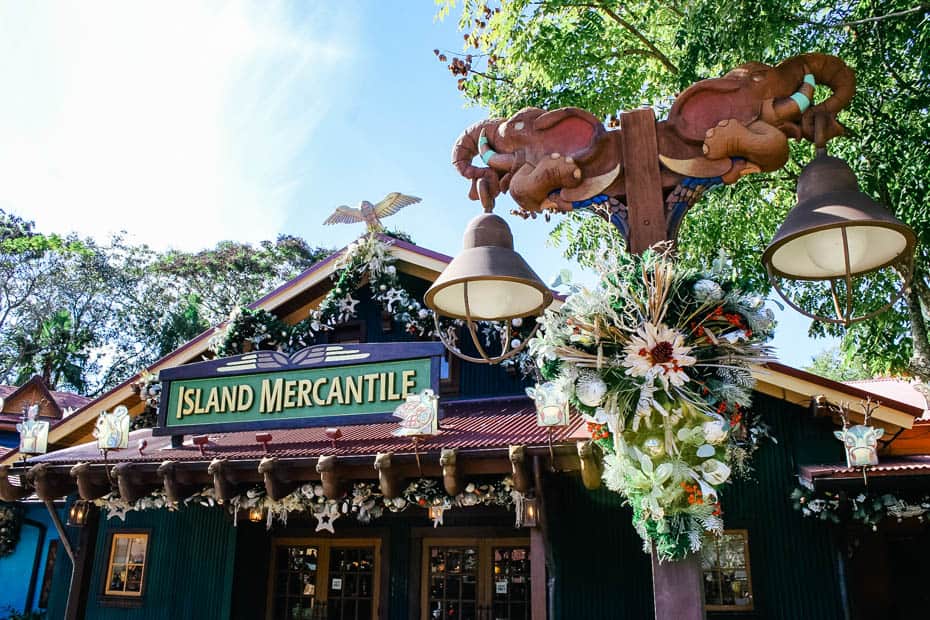 Animal Kingdom's Christmas decor is by no means traditional. Neither is the park.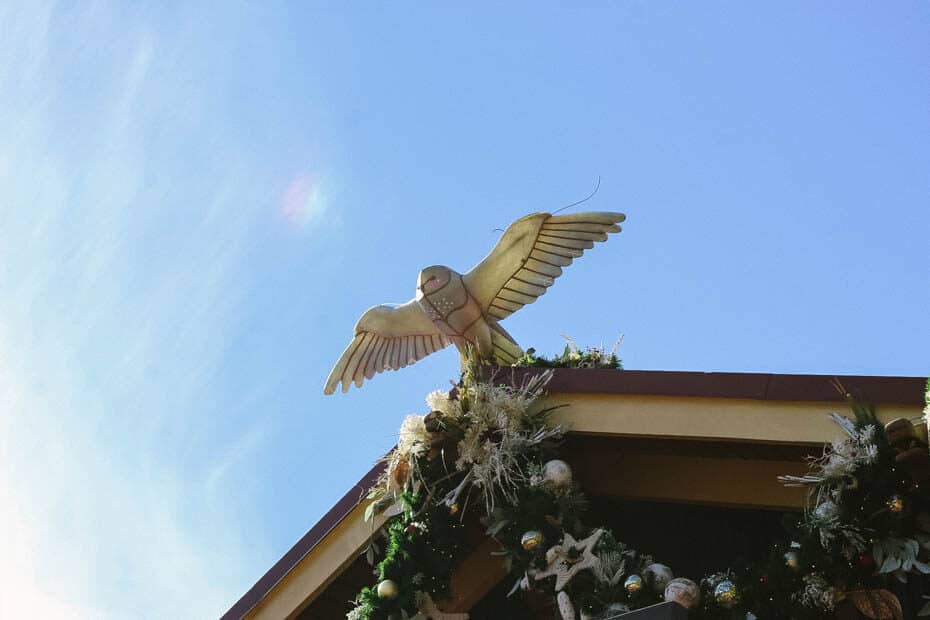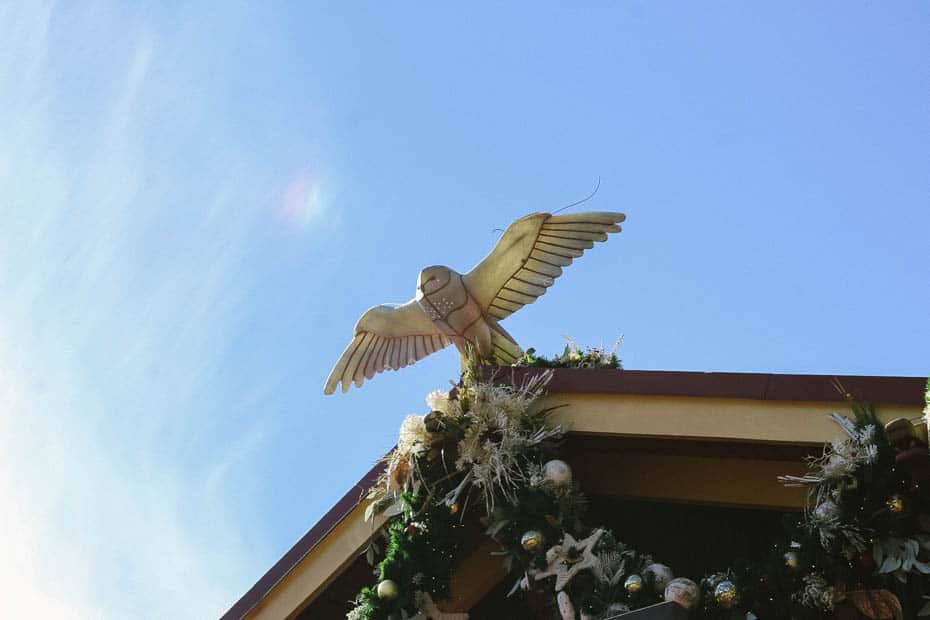 The most beautiful bird sculptures have been placed in the landscaping.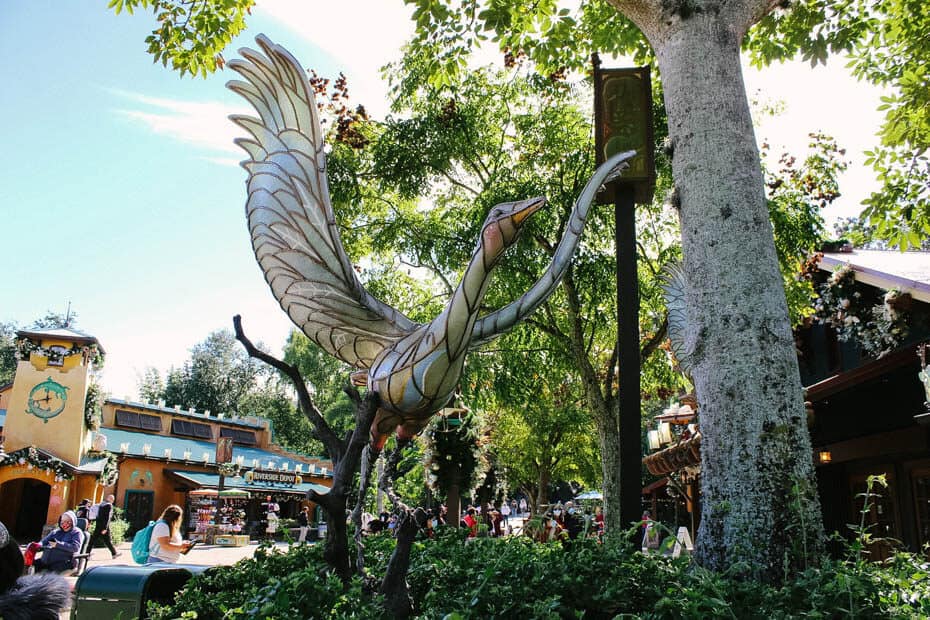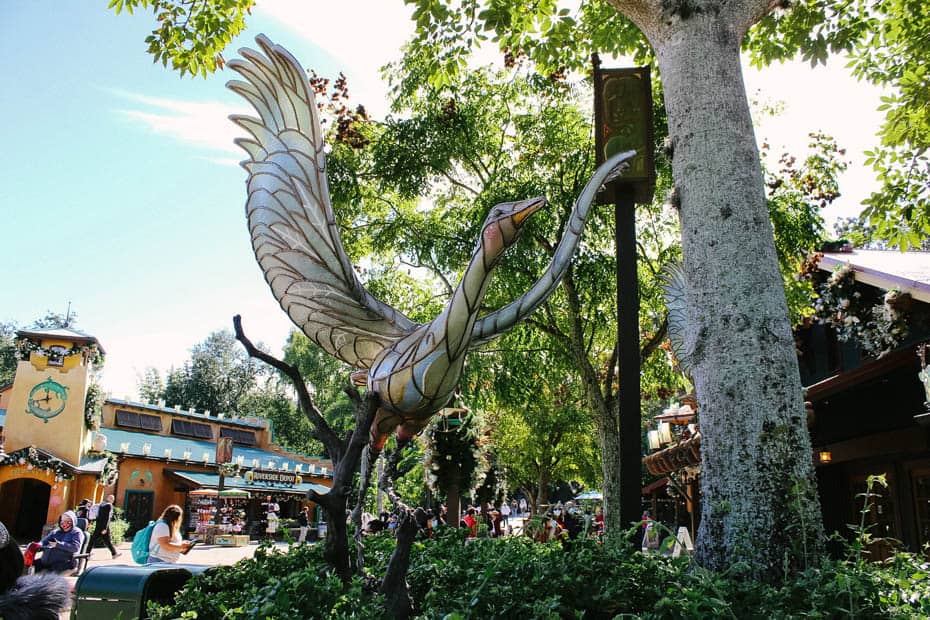 And the most adorable luminaries are installed on the roof lines.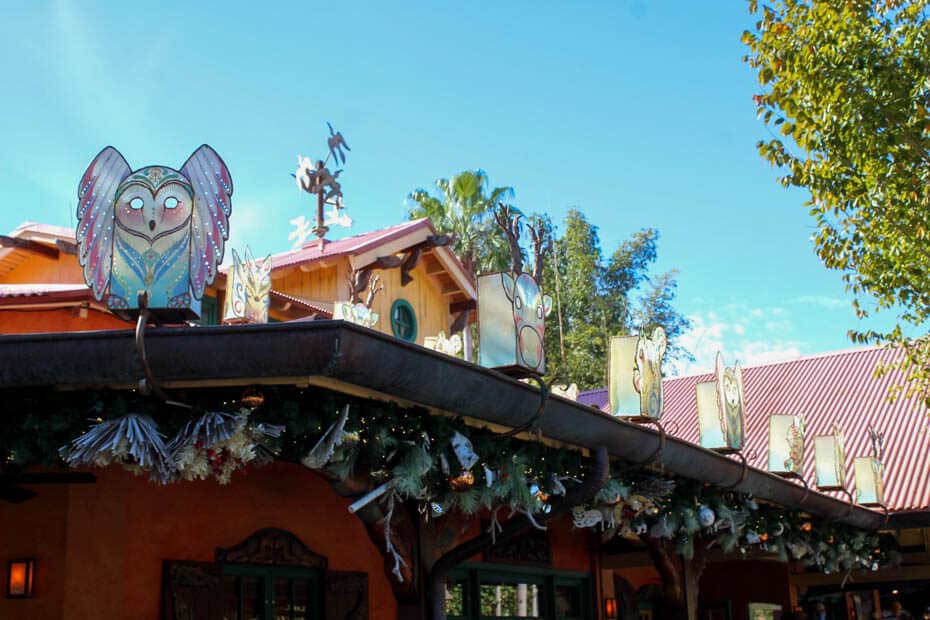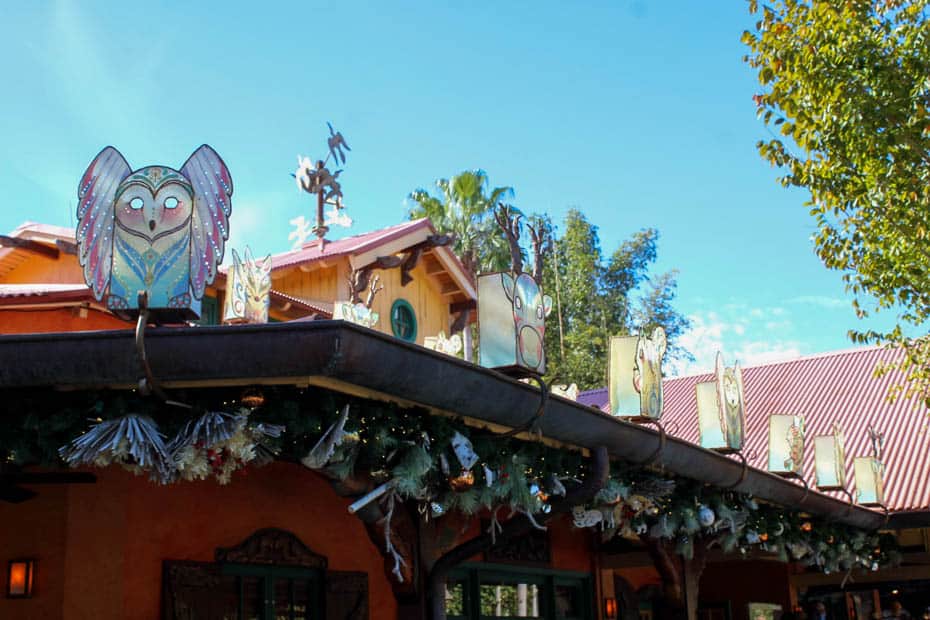 Every little detail will leave you to marvel over the talent it took to create this look.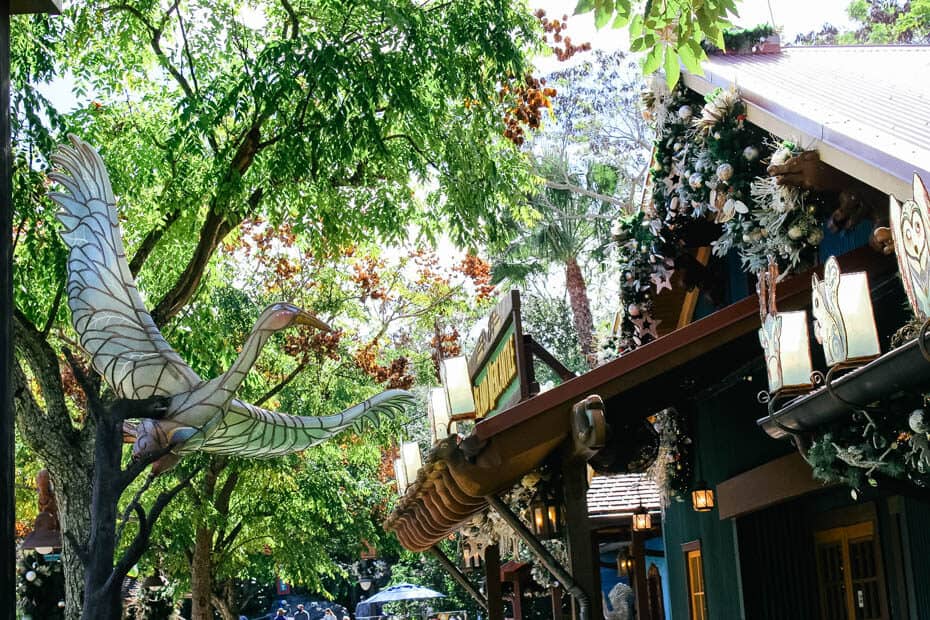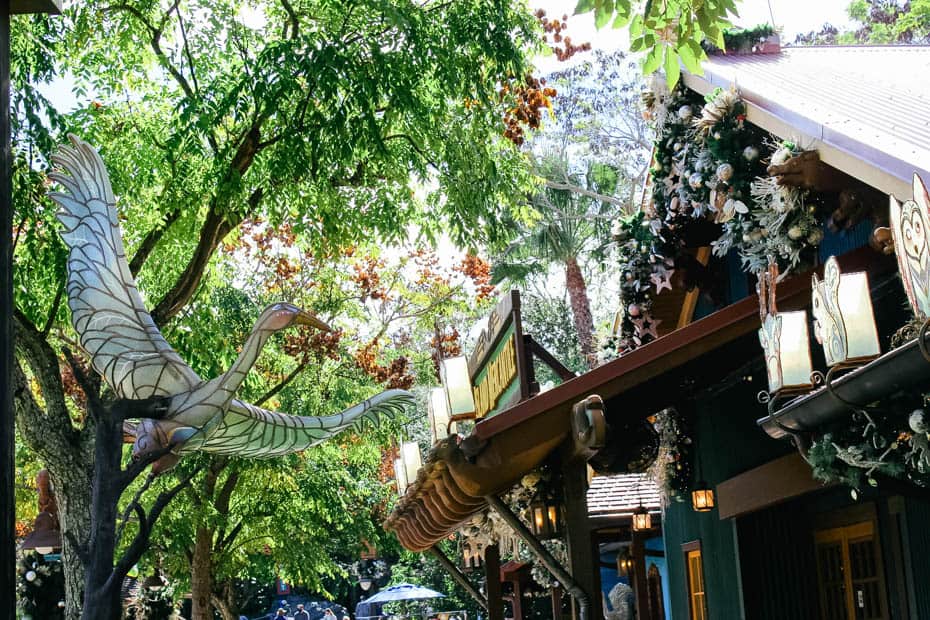 True artistry.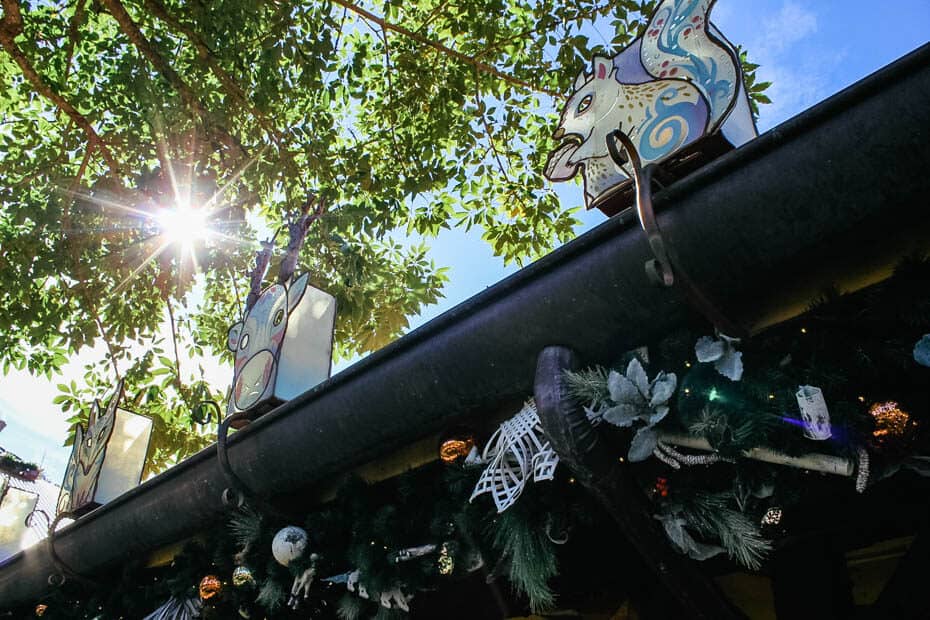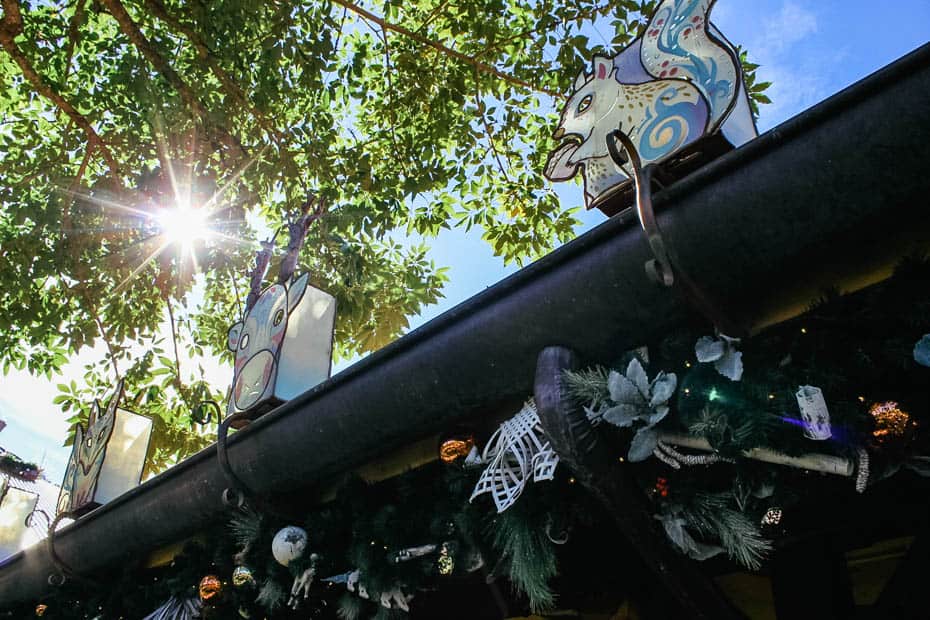 Even the snowflakes are woven like a delicate wicker.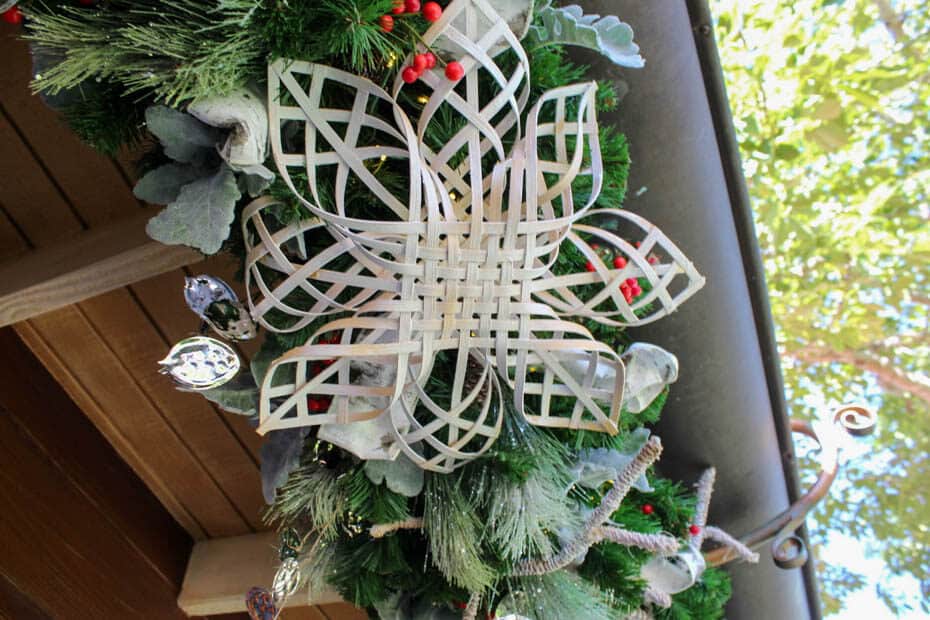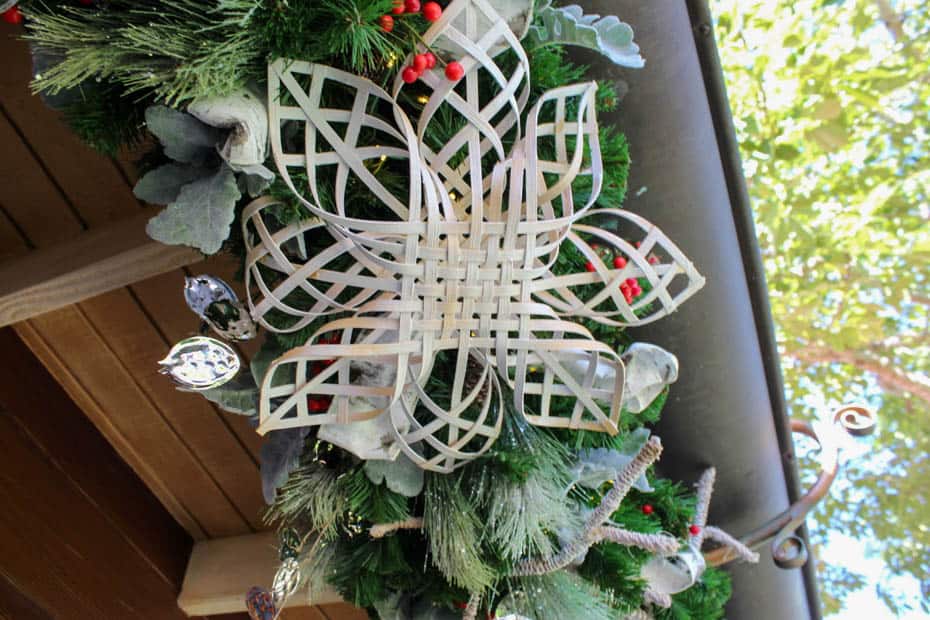 And the subtle decor pops on the warm color tones.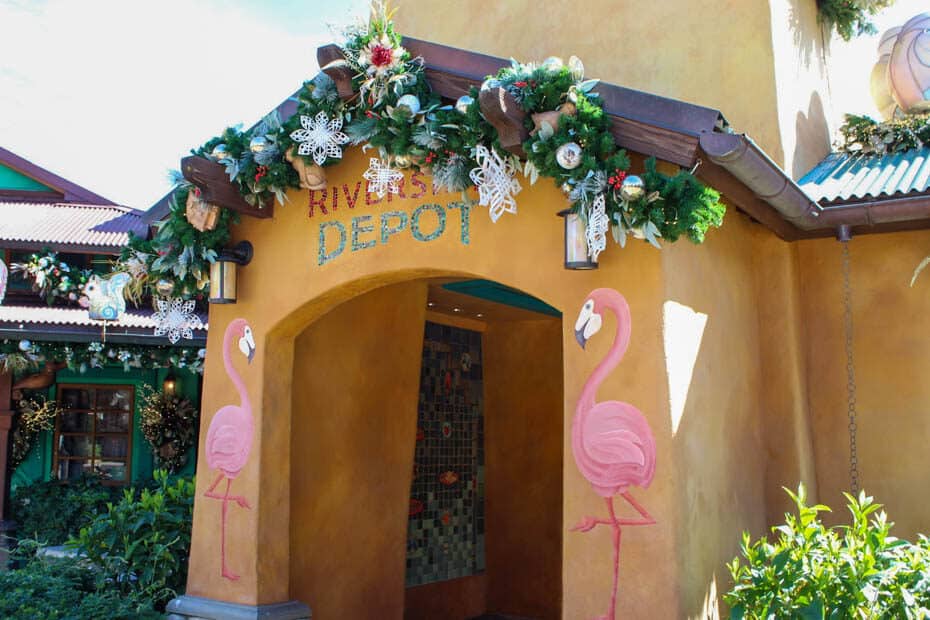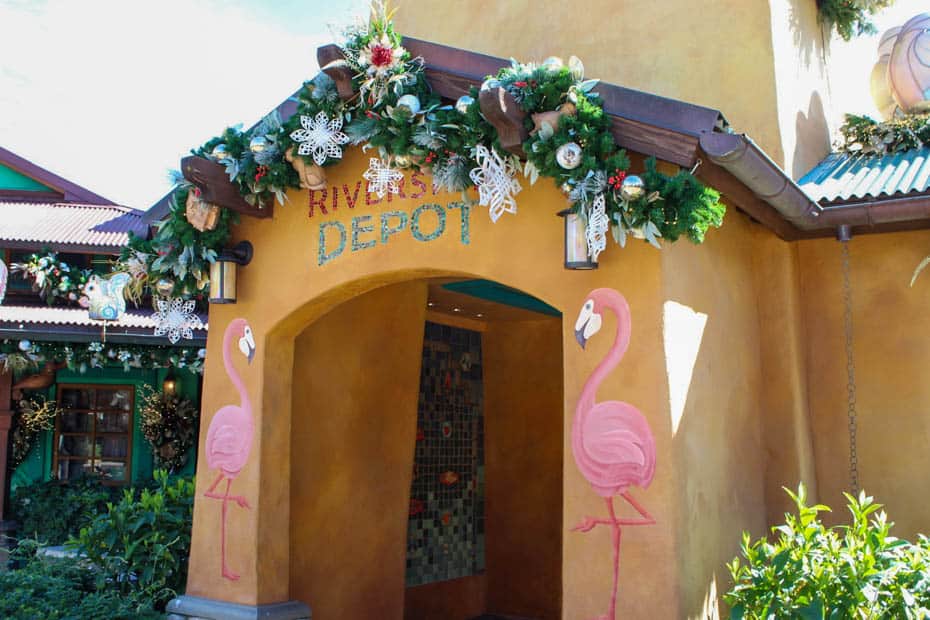 The clock tower has two love birds perched on top.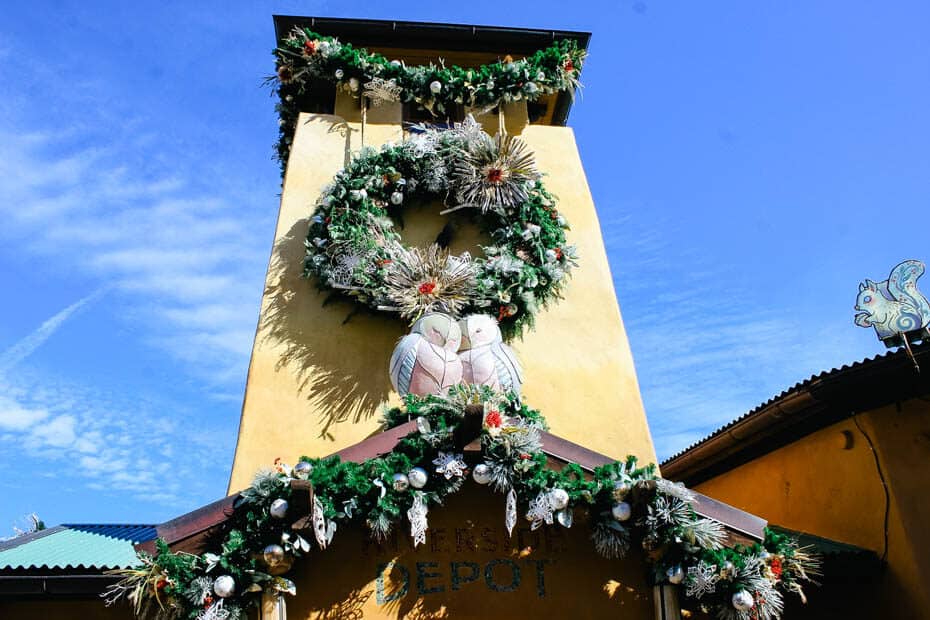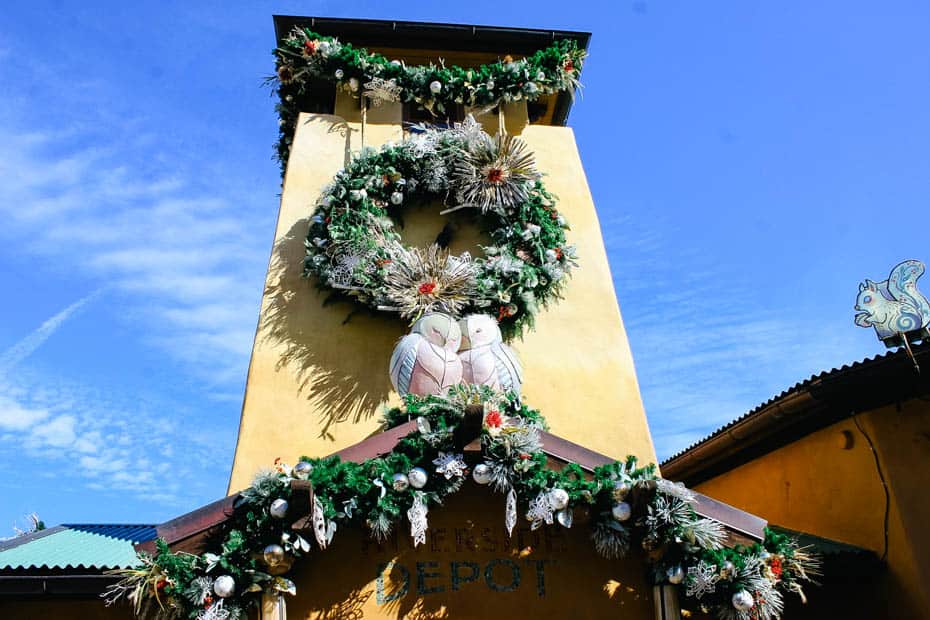 They appear to be keeping each other warm.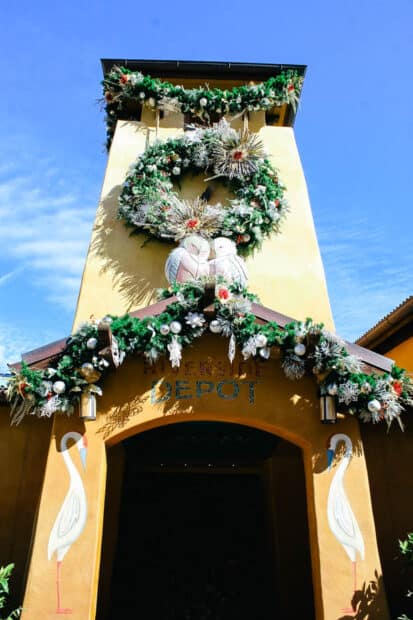 They kind of symbolize how we have to take care of each other. To me, anyway.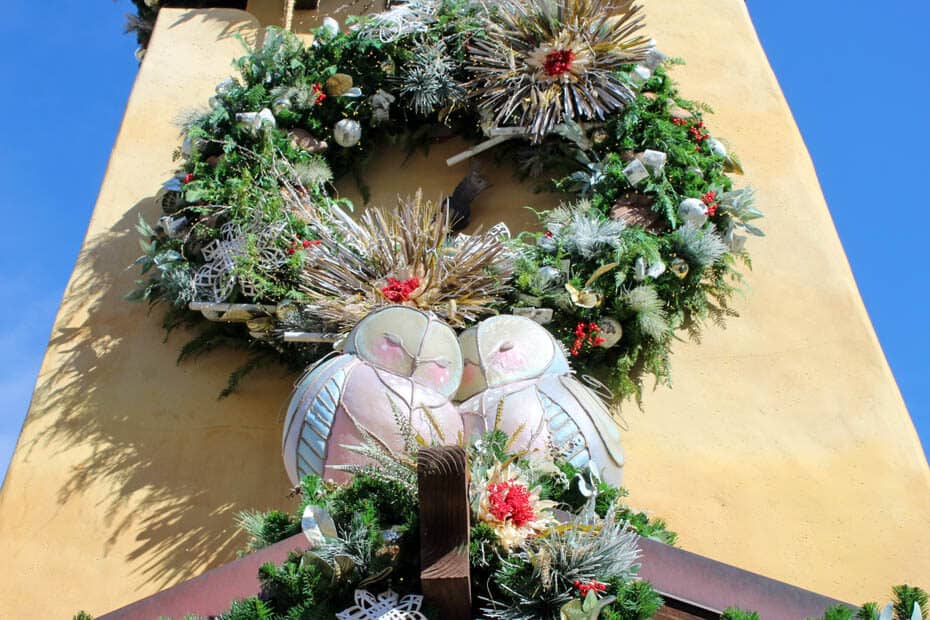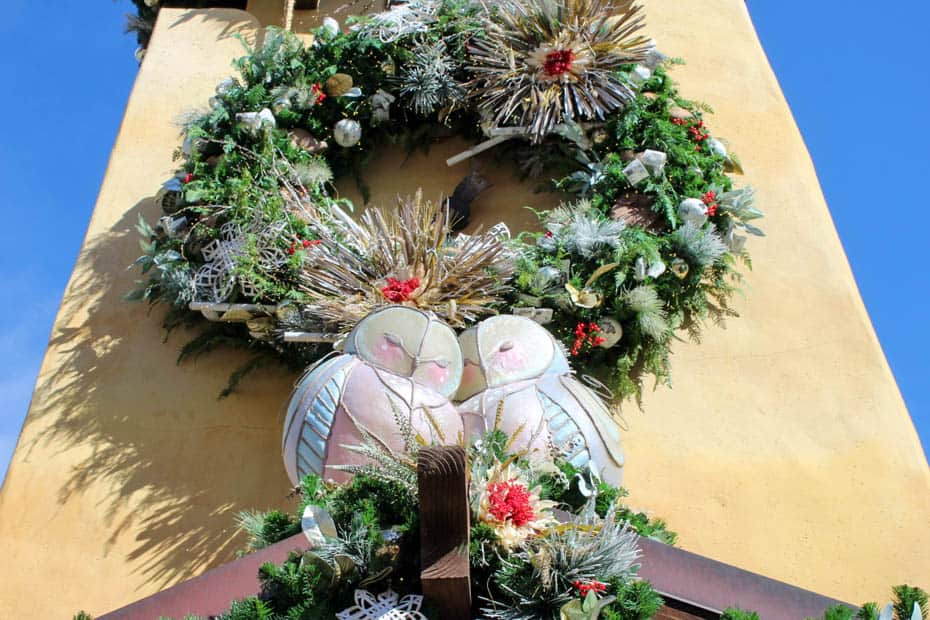 These two are trying to decide if the wreath was hung evenly outside their home.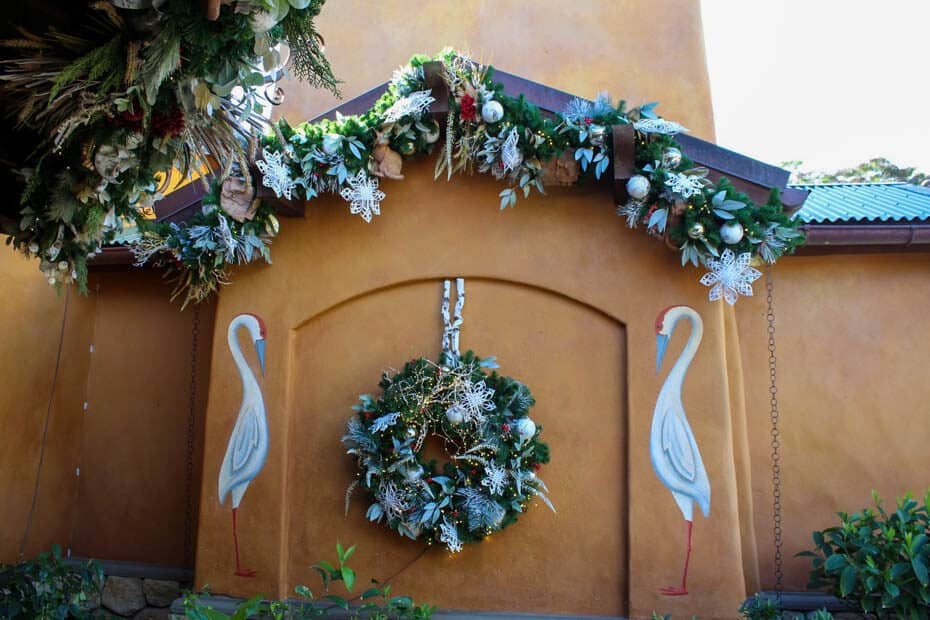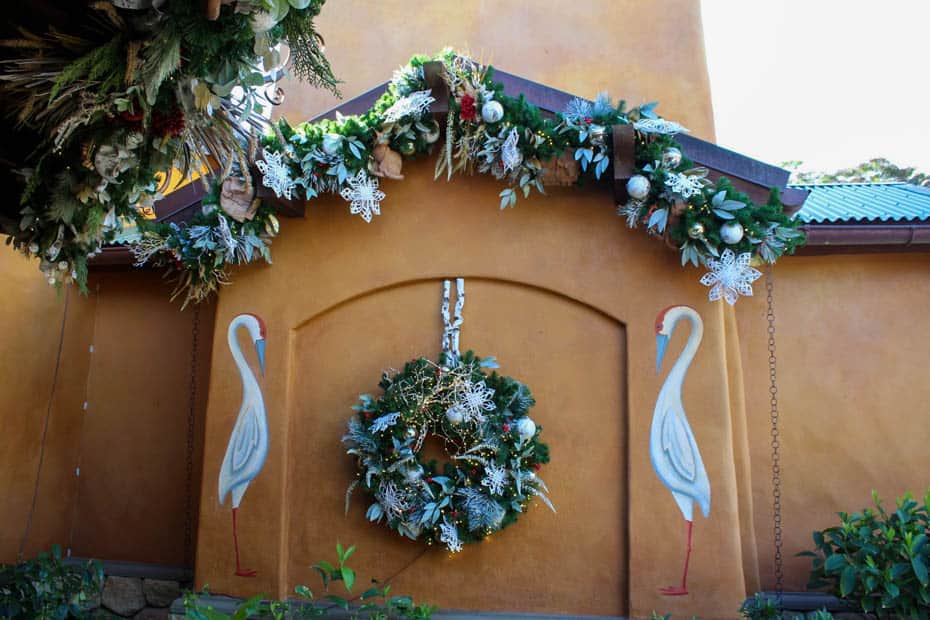 The overhangs are tremendous.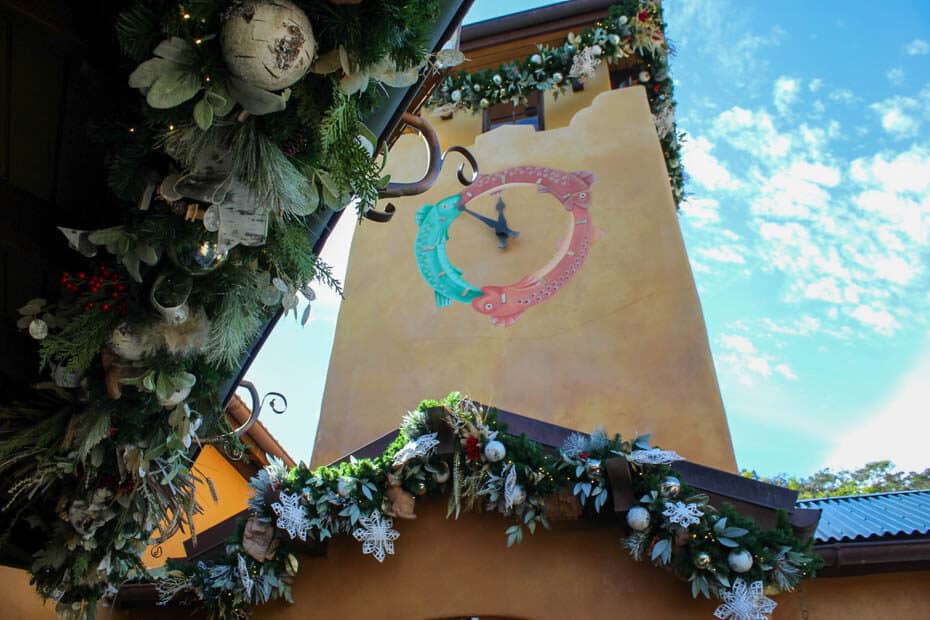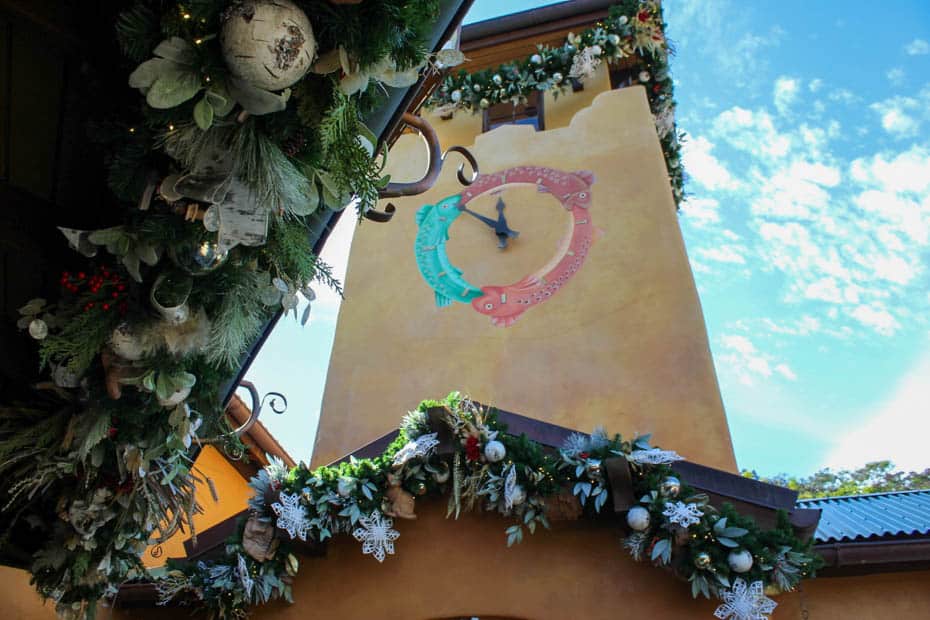 And now for the birds that resonated with me the most this year. They remind me of a mom and her teenage son.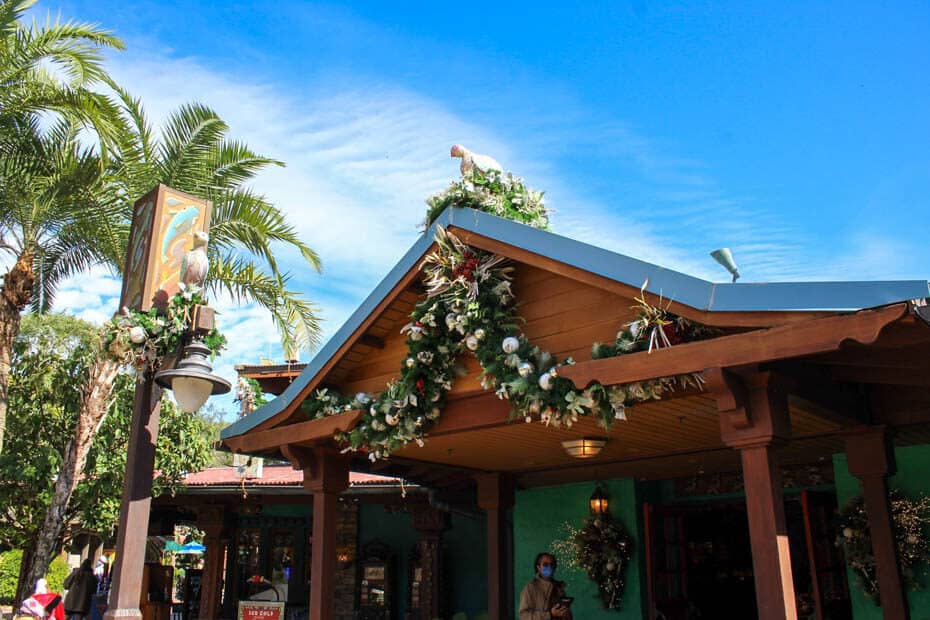 The momma bird is saying get back in the nest.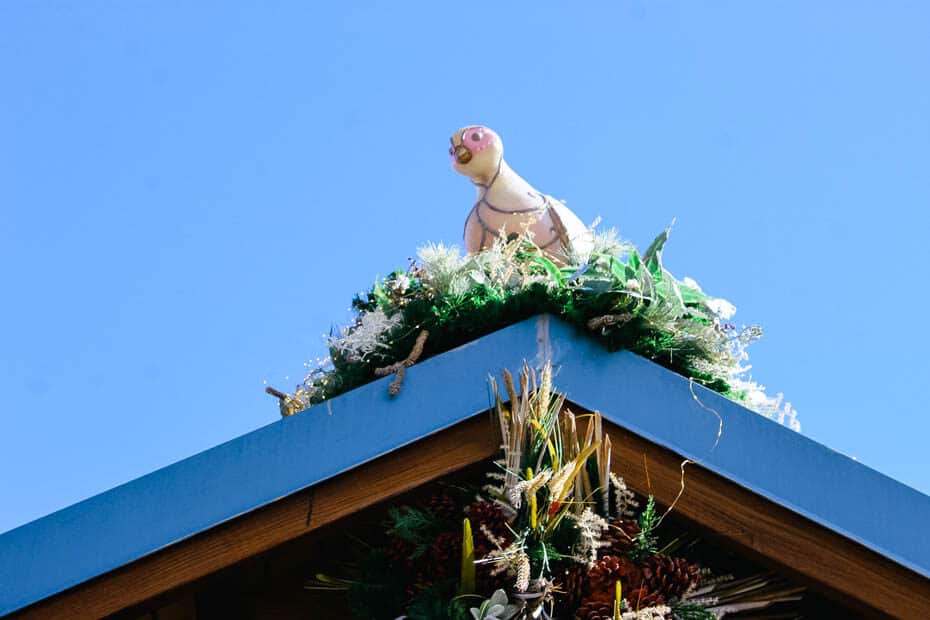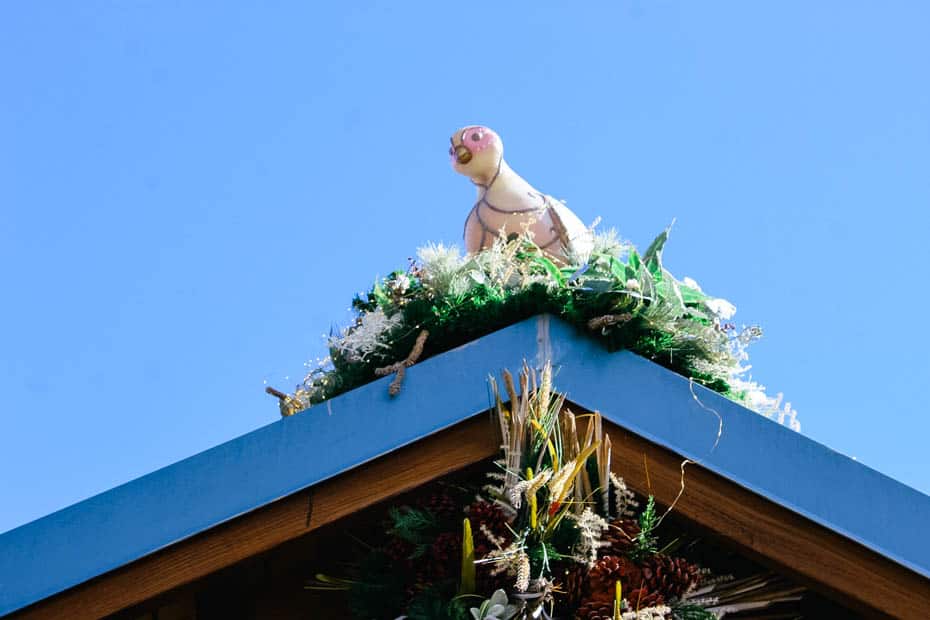 And the teenage bird is saying no.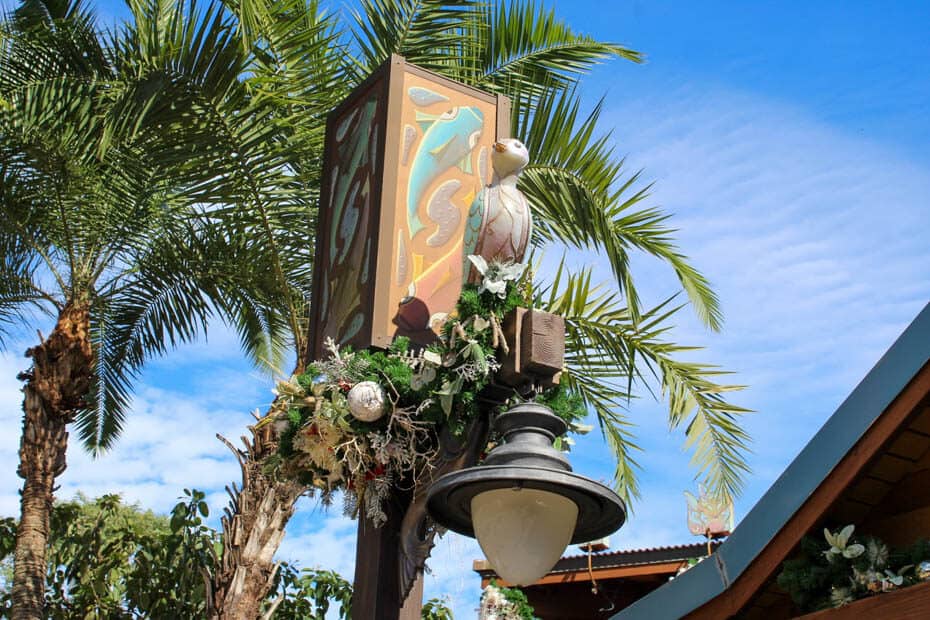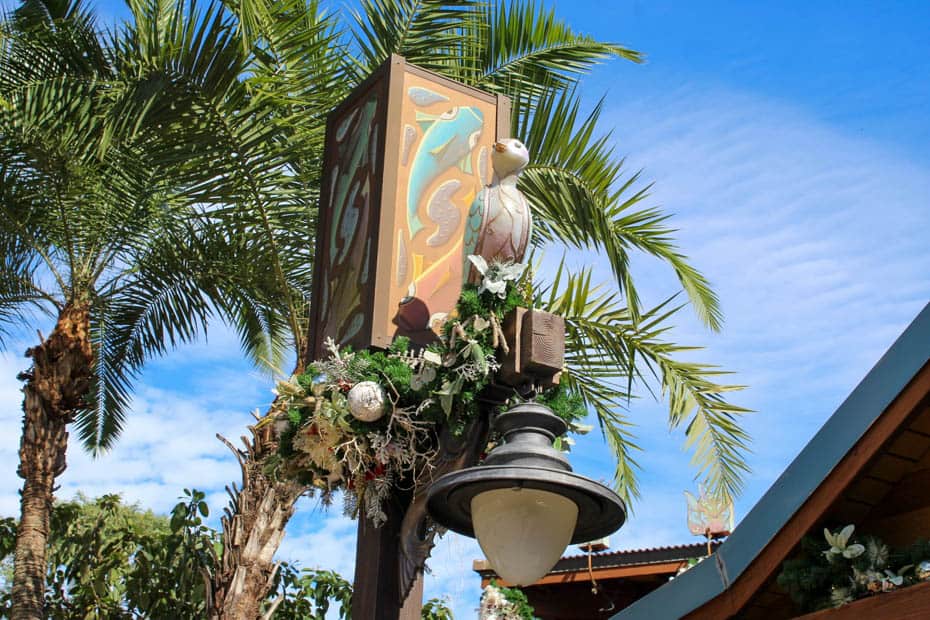 Do you want to go to Disney World? No.
Do you want to watch a movie? No.
Do you want to build a snowman? Sigh.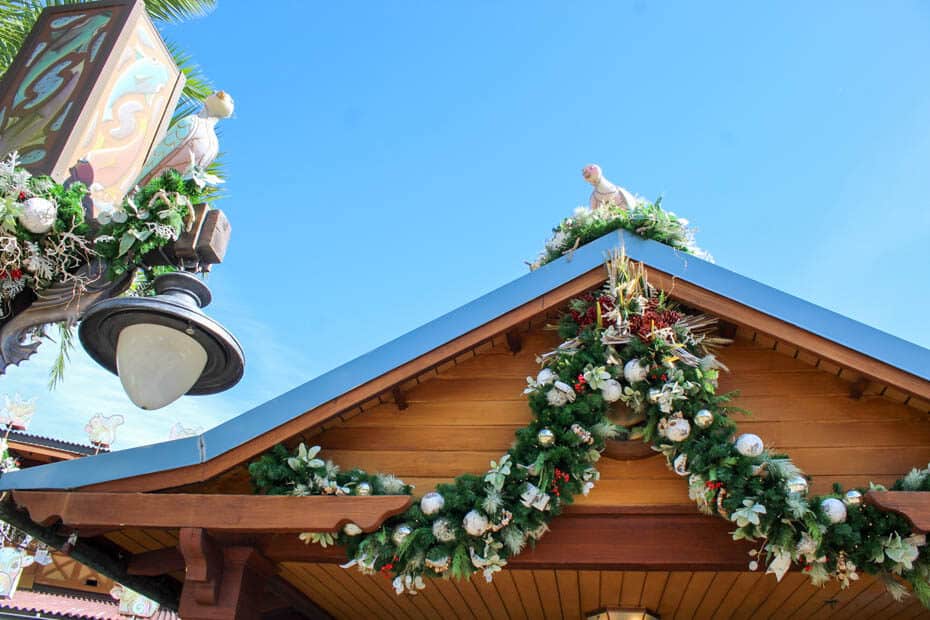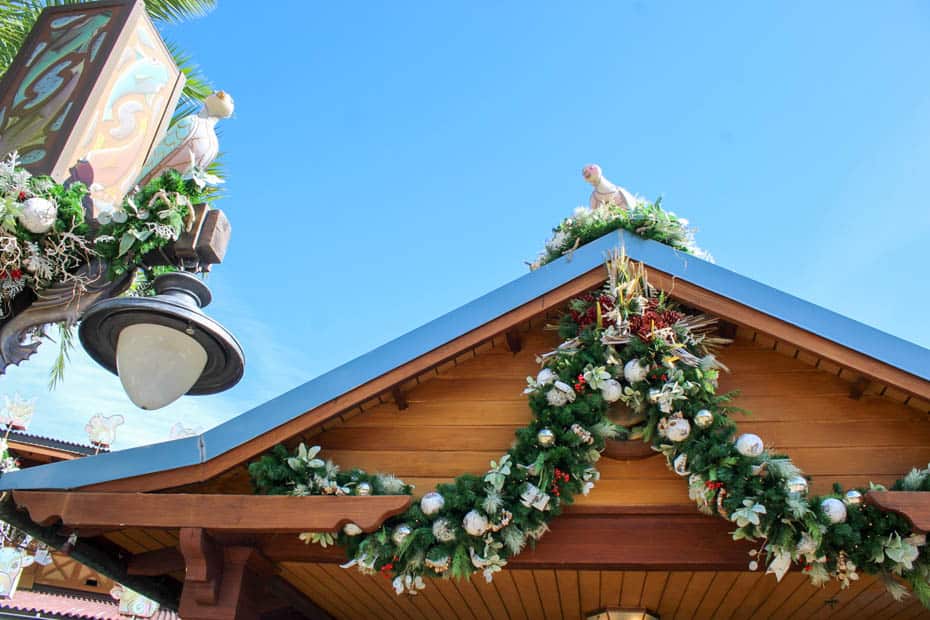 Sigh.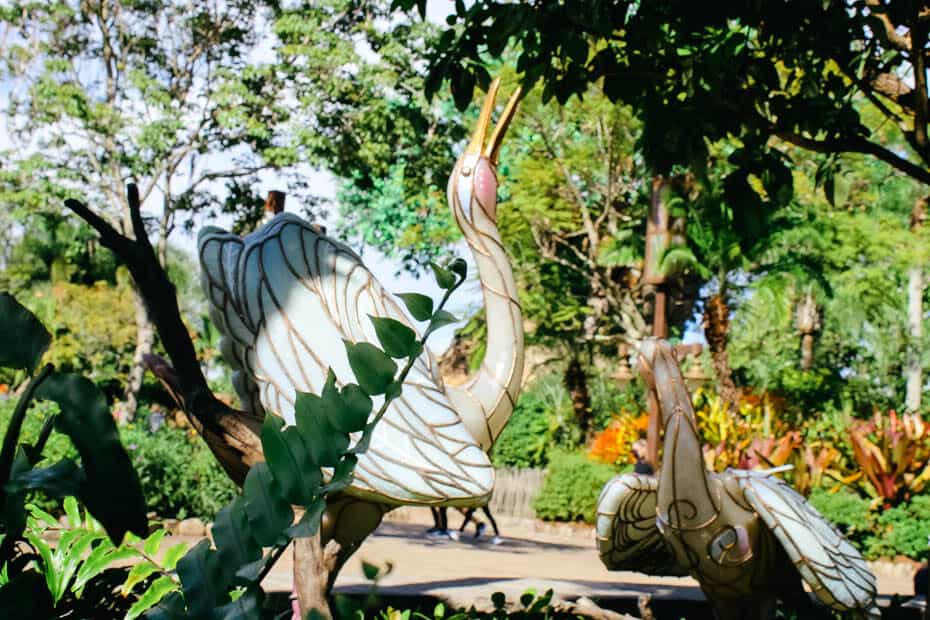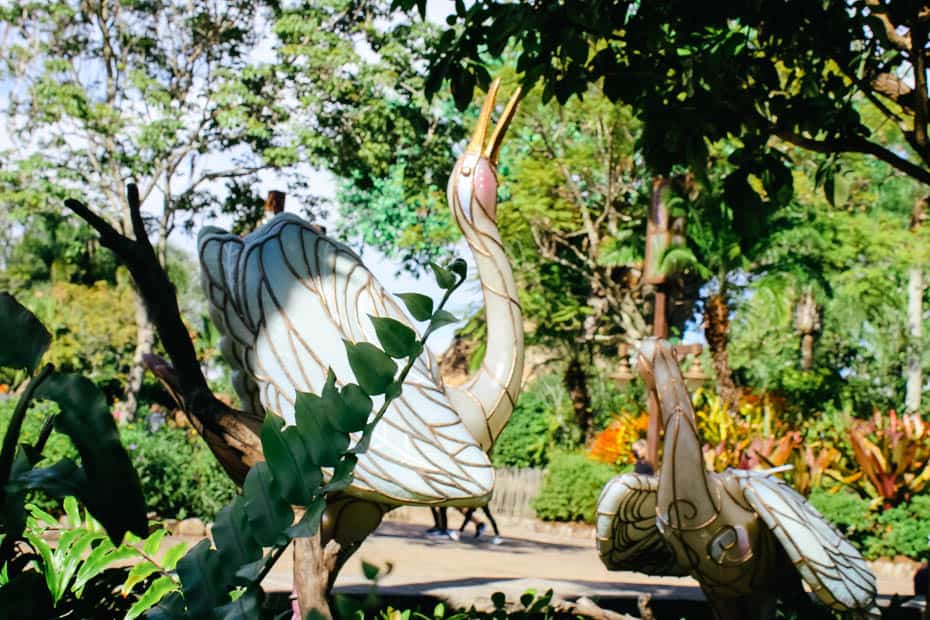 Thankfully, the Animal Kingdom is a nice place to get away from the drama of life.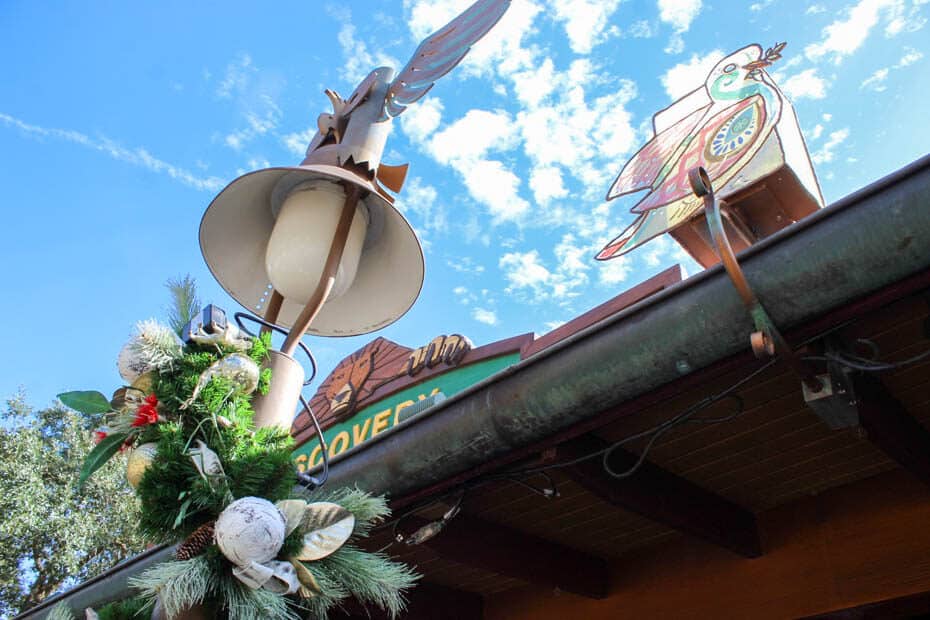 If you look closely, you'll notice that some of the garland around Discovery Island has little wood carvings.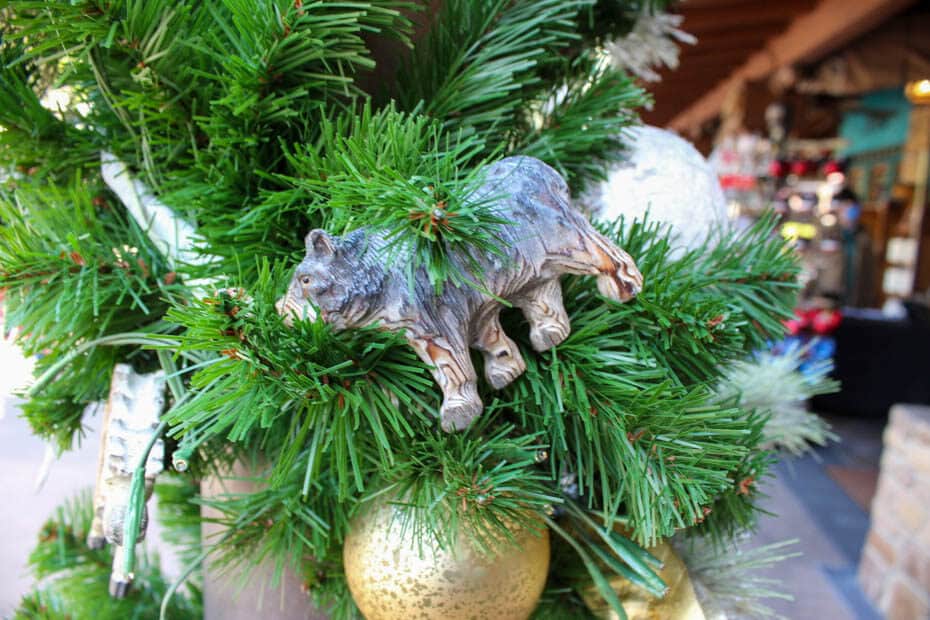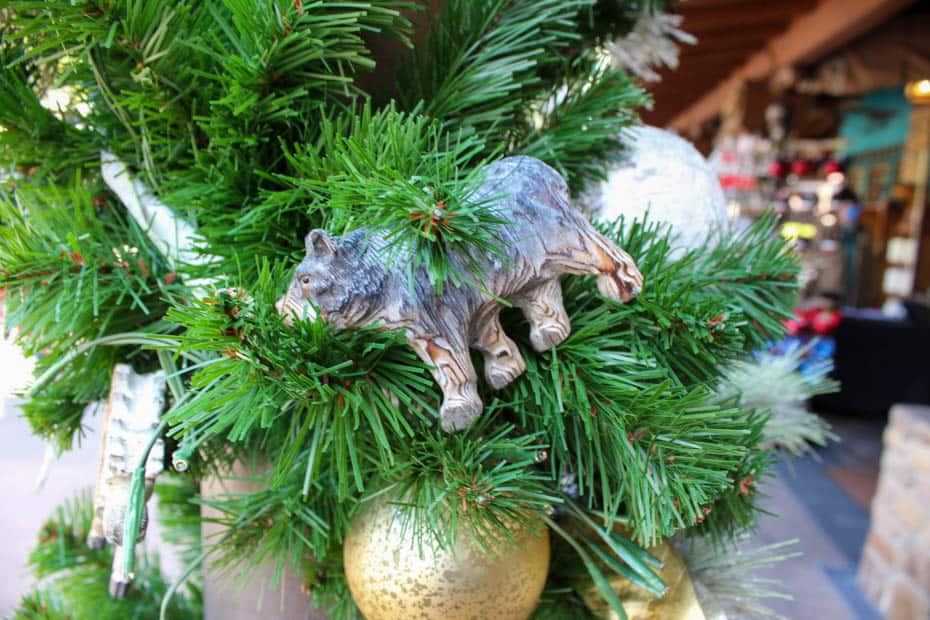 A few more photos of this area.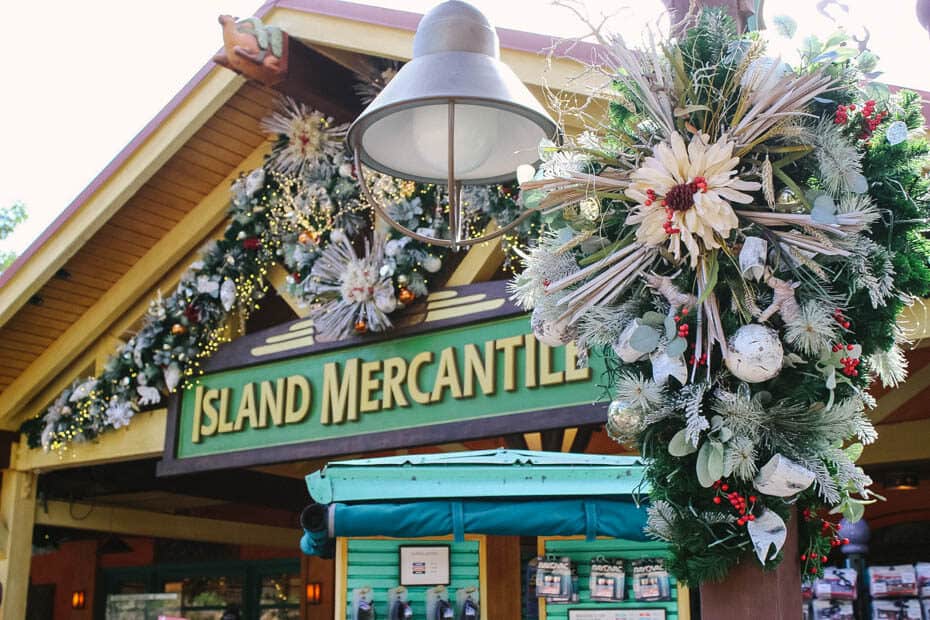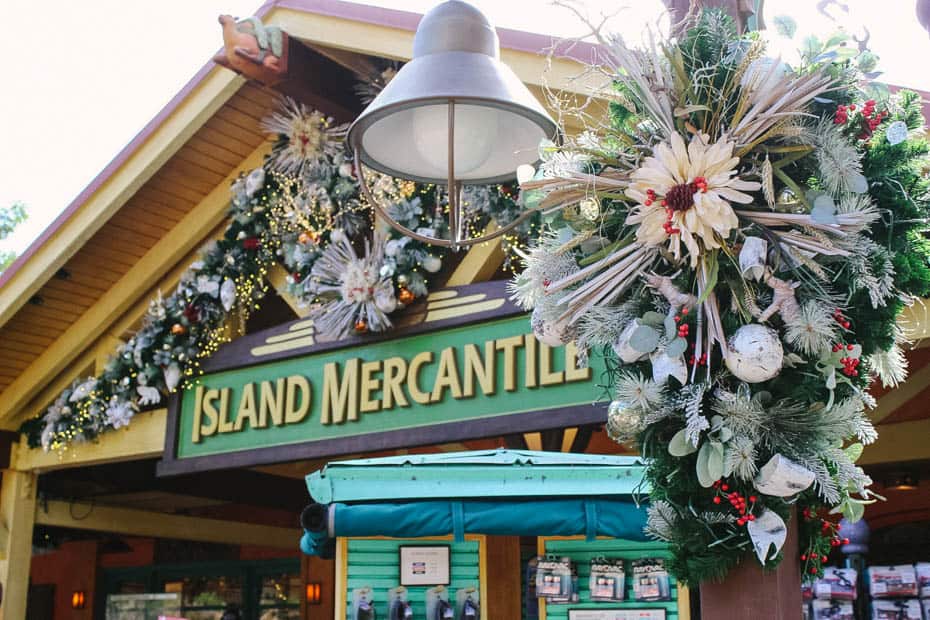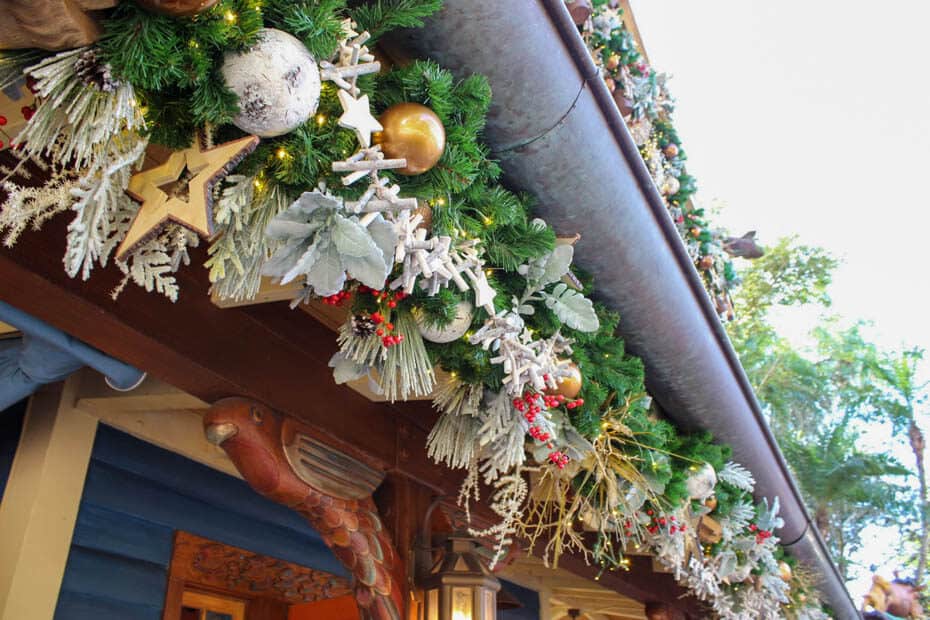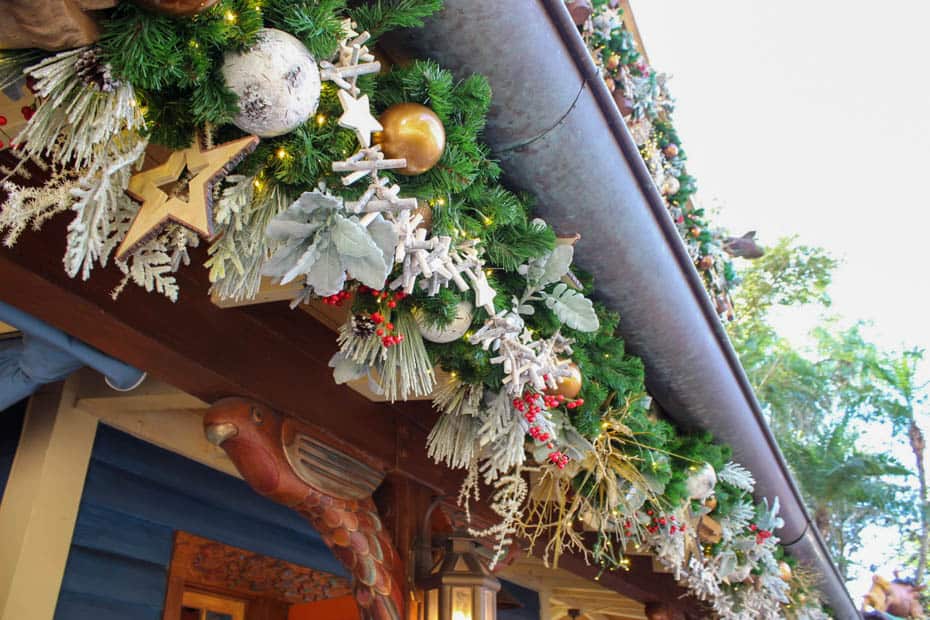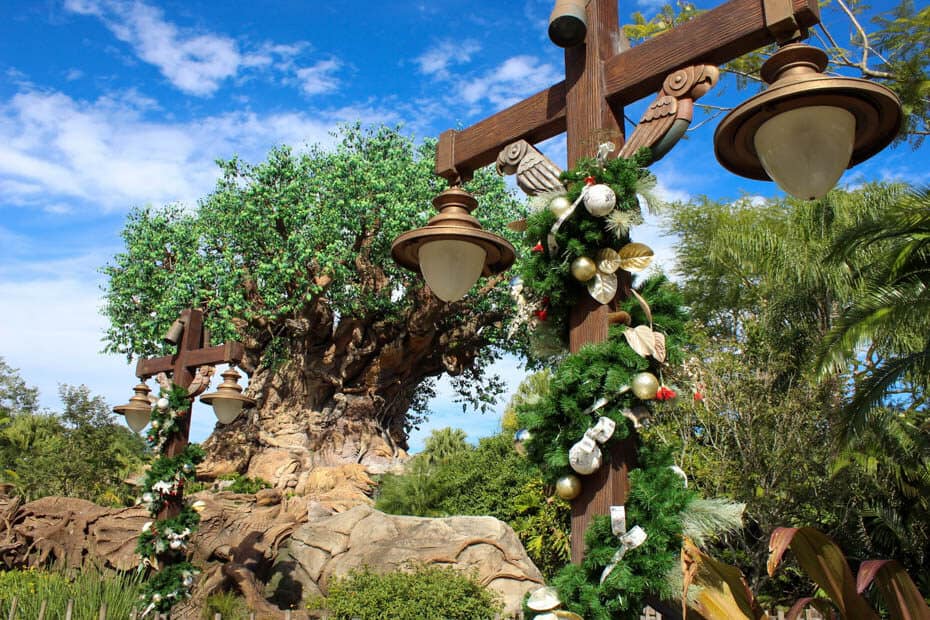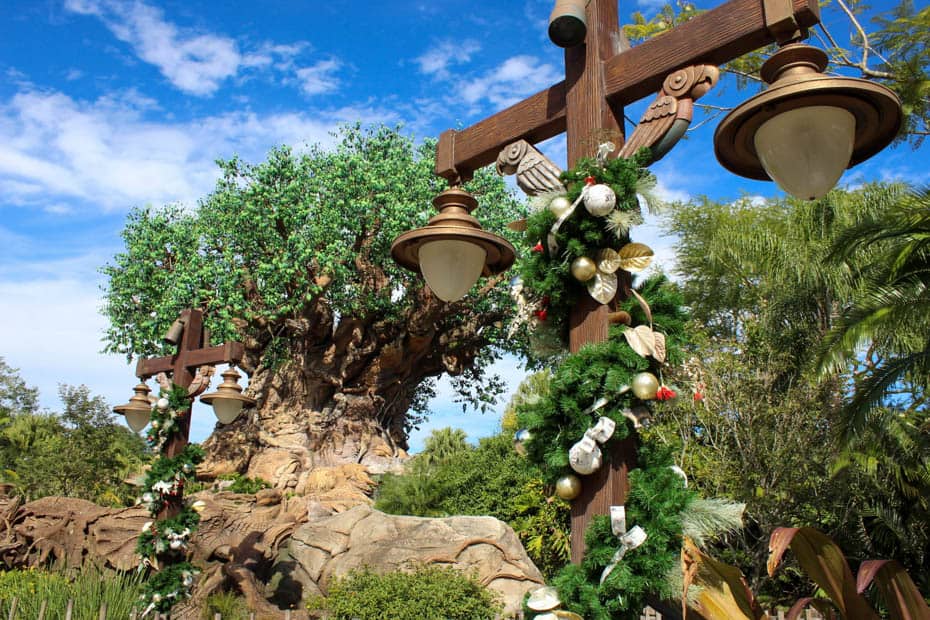 When the sun sets the space begins to transform again.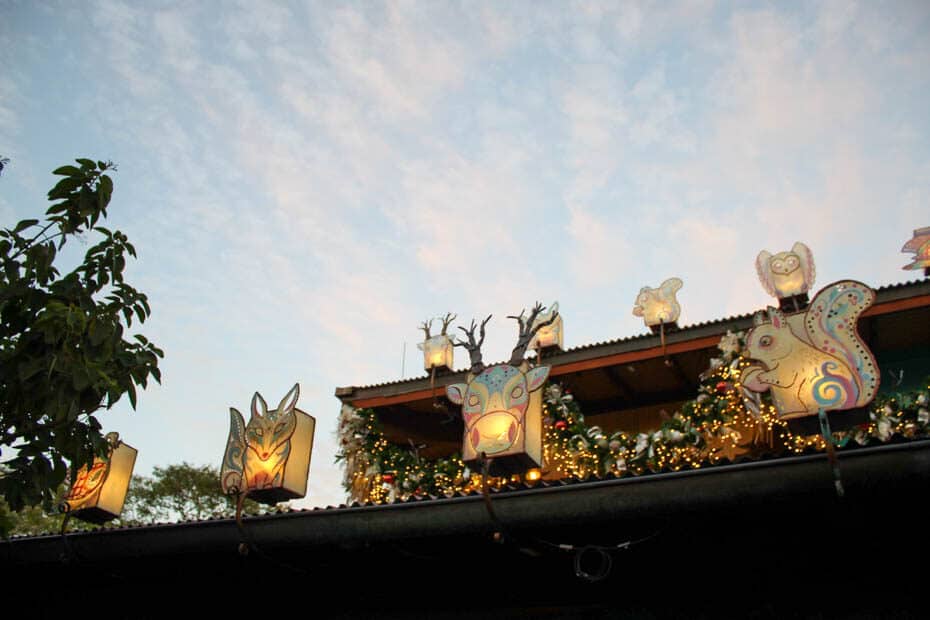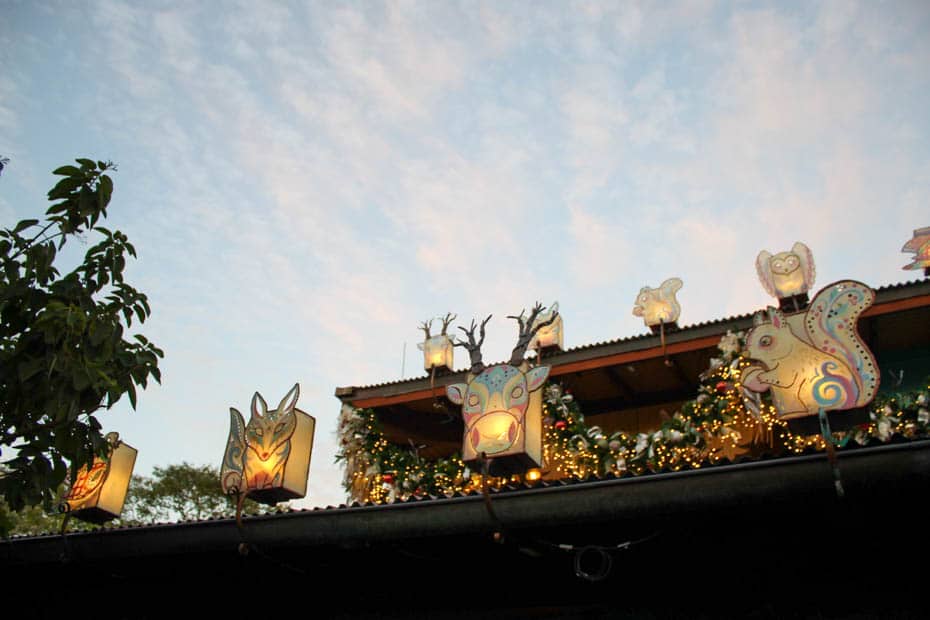 Every little detail begins to light up.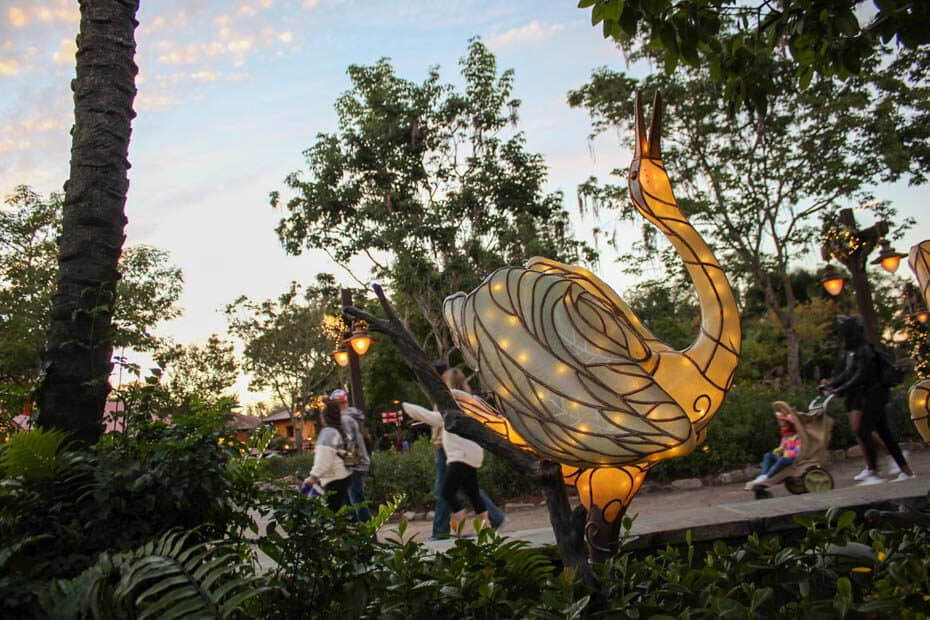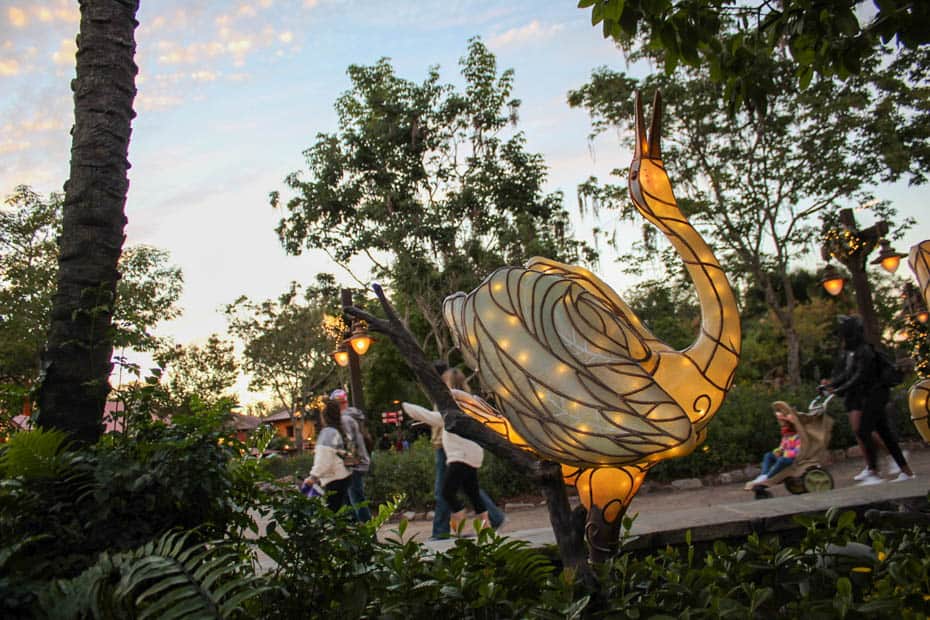 It's all very calming.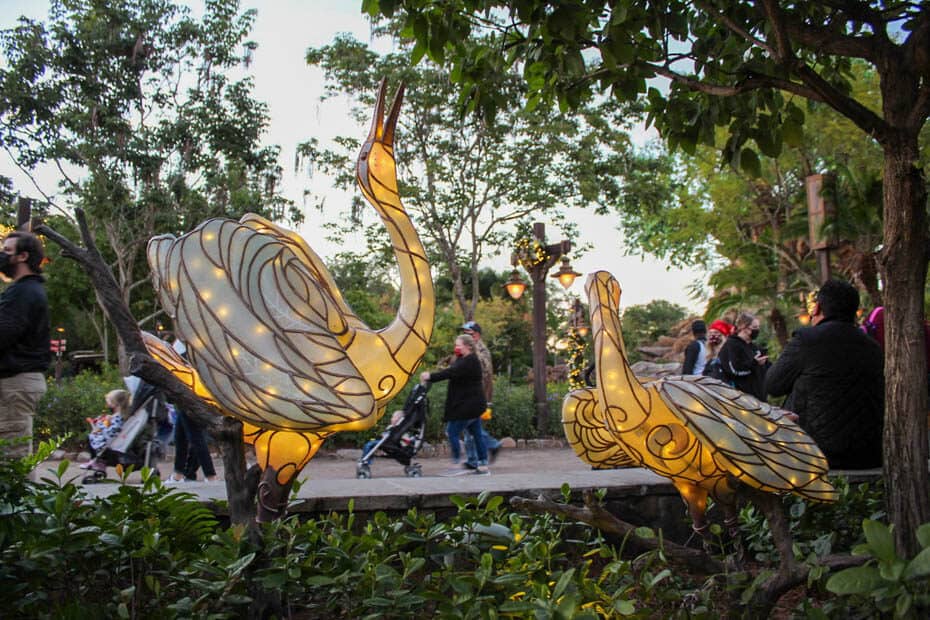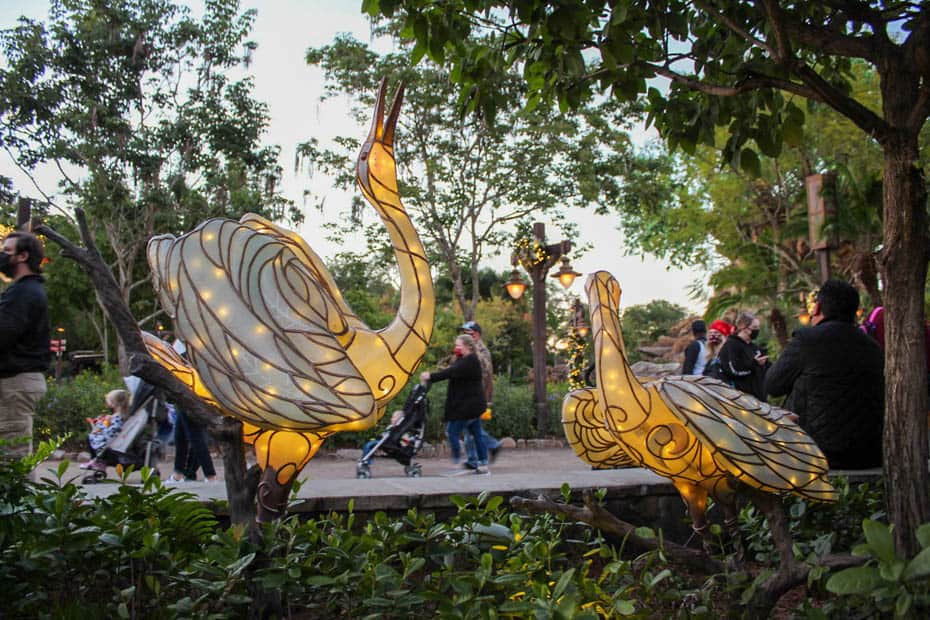 Even momma bird calls to her baby that she made his favorite dinner. You can tell he's starting to have a change of heart.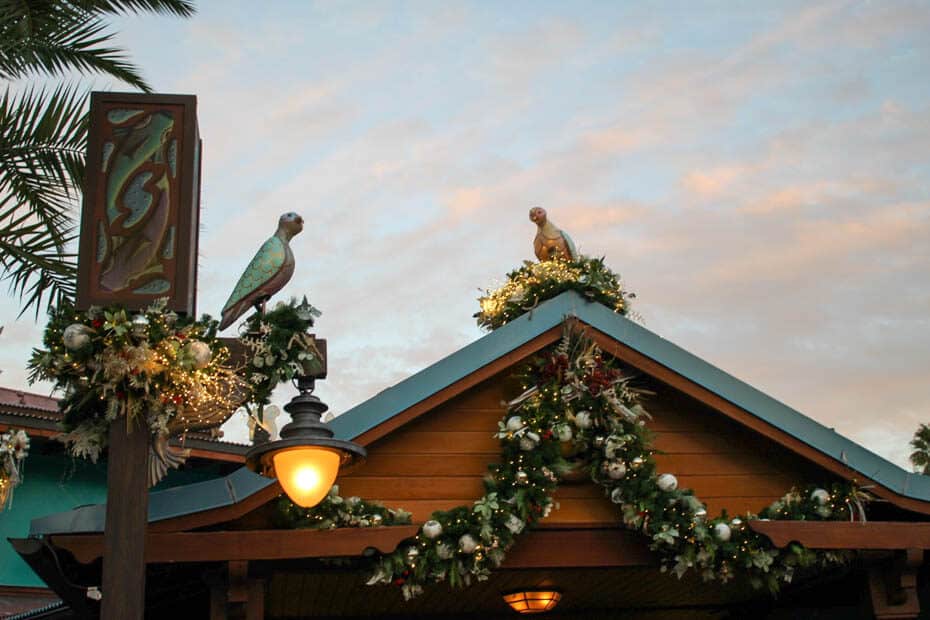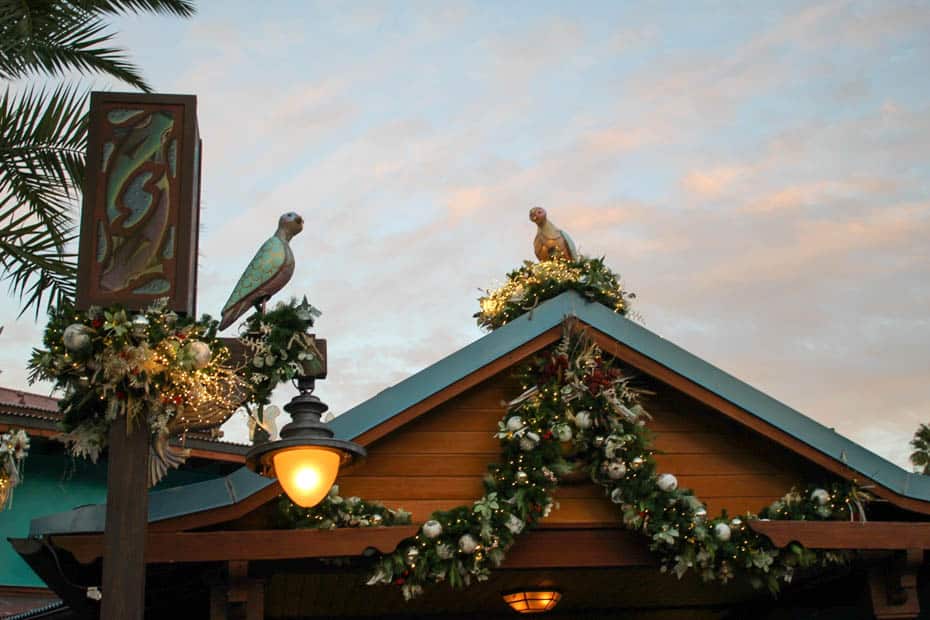 You might not have thought it possible, but the whole area becomes even more breathtaking.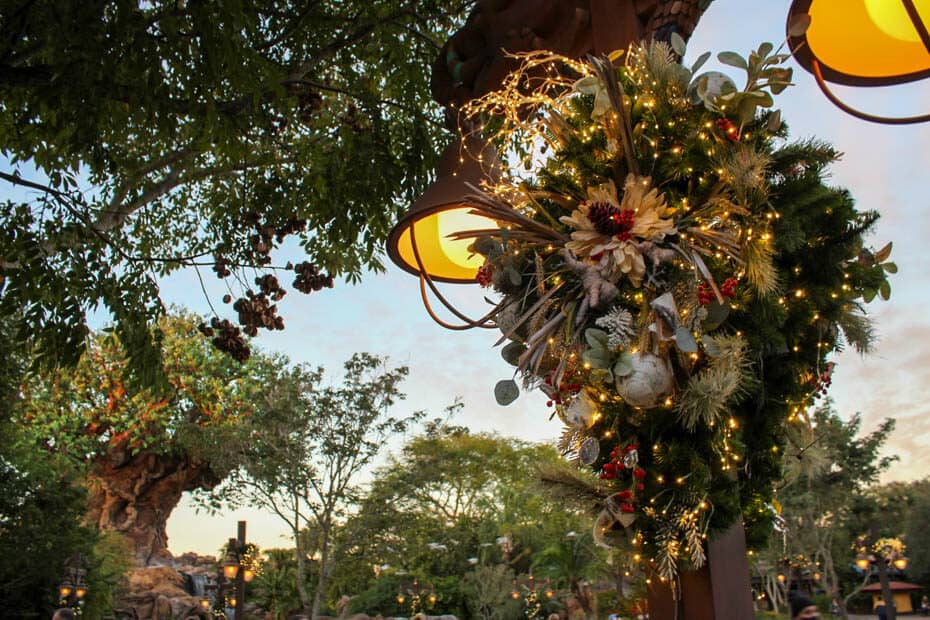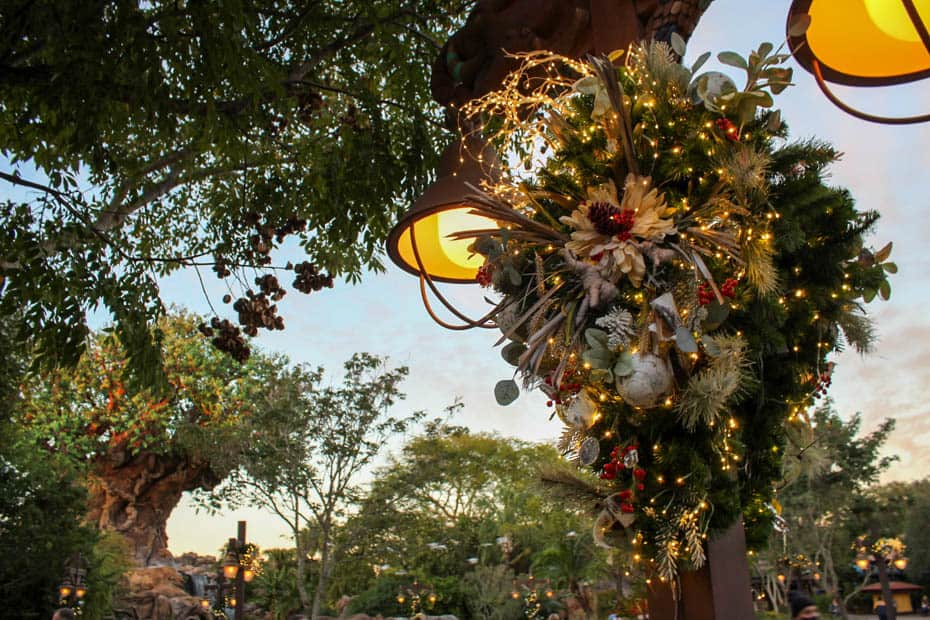 I'll let the park speak for itself.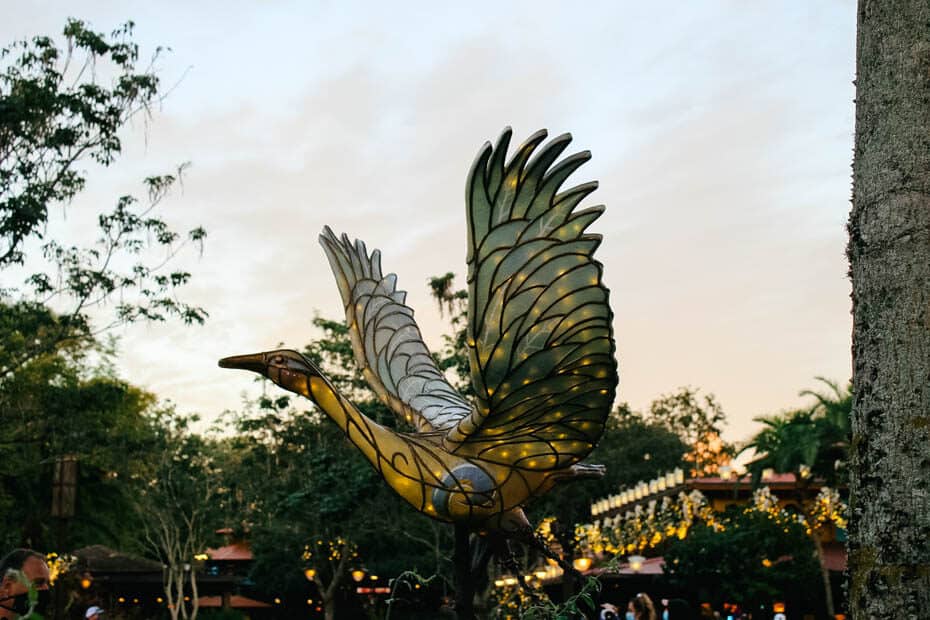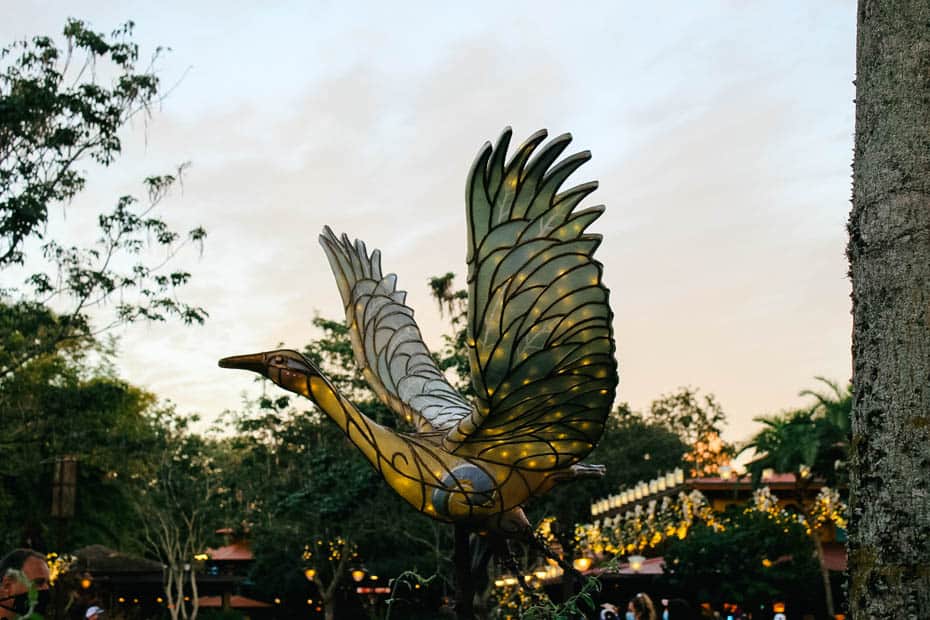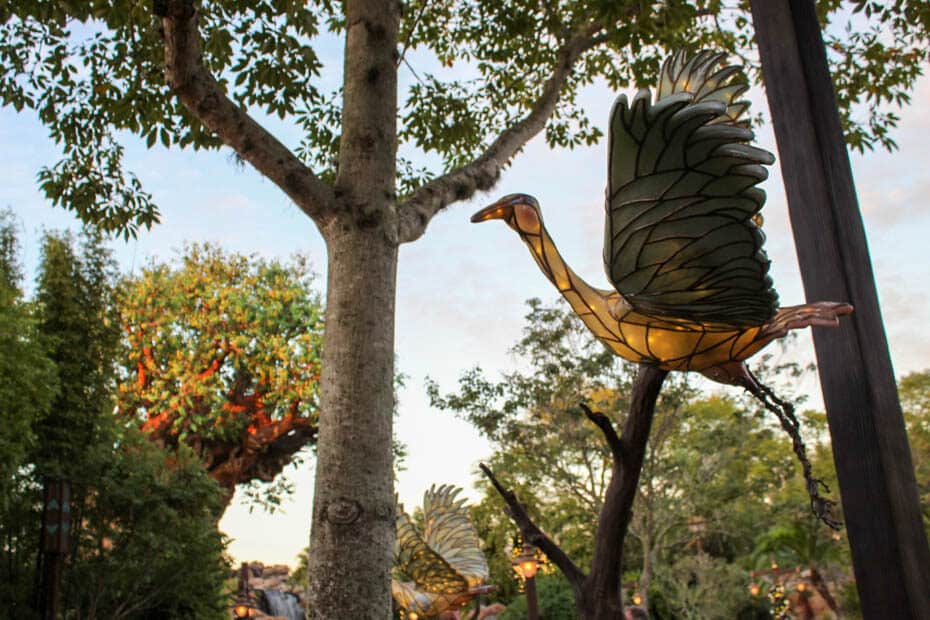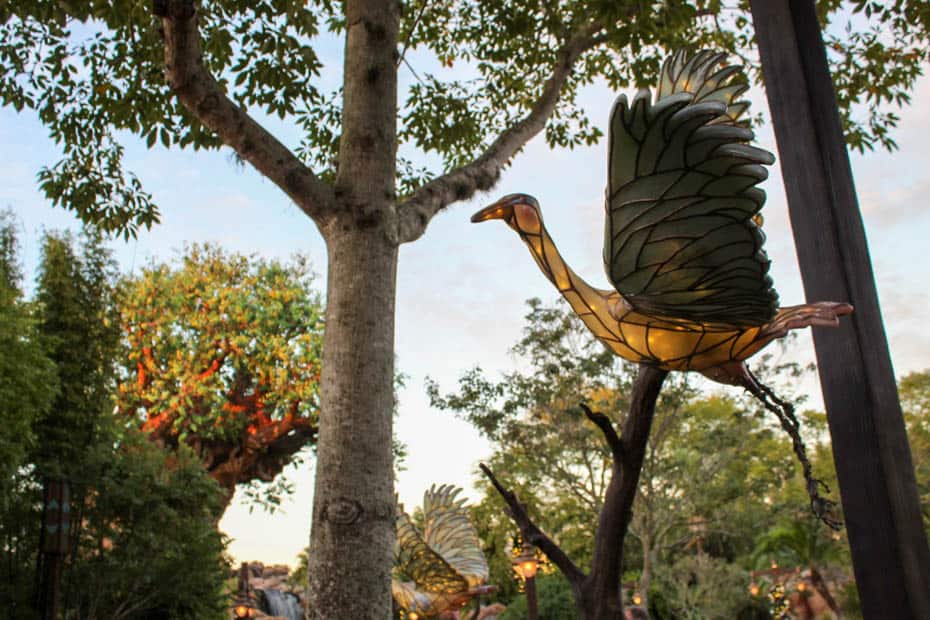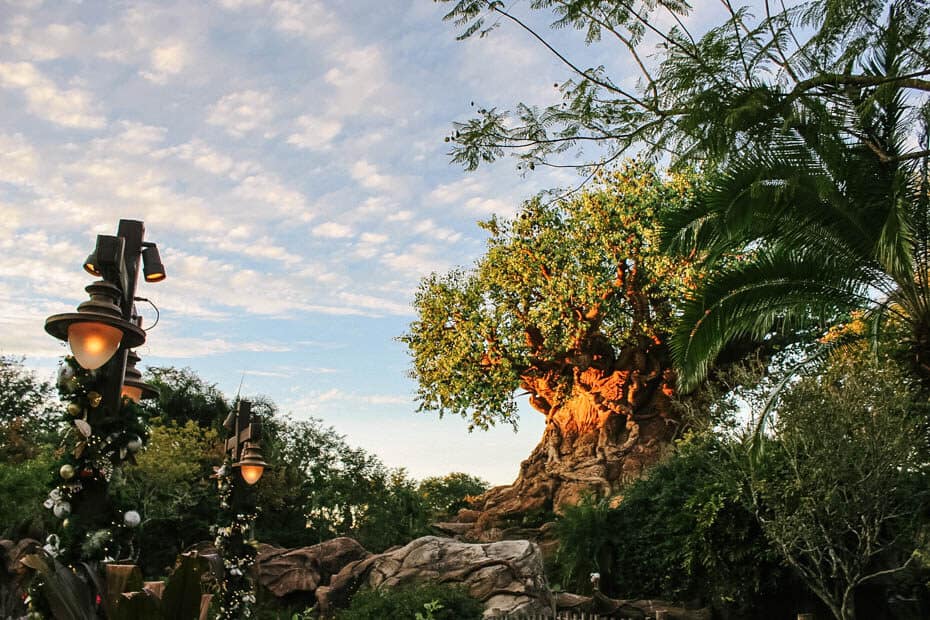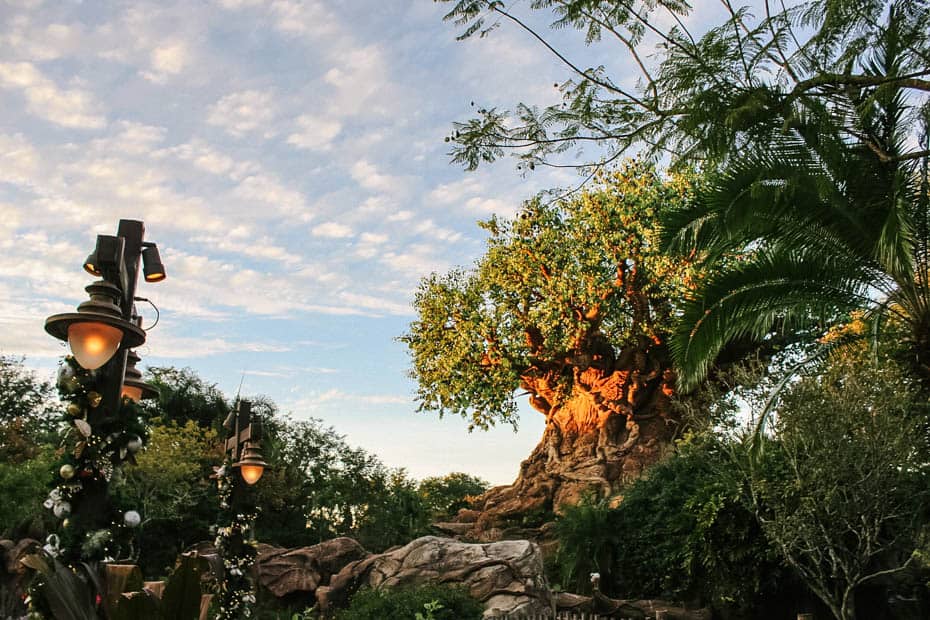 I know you might have been thinking we weren't even going to leave the front of the park. Alas, it's time to cross the bridge to Africa. You might also notice a bit of Mickey in the wreath on the bridge.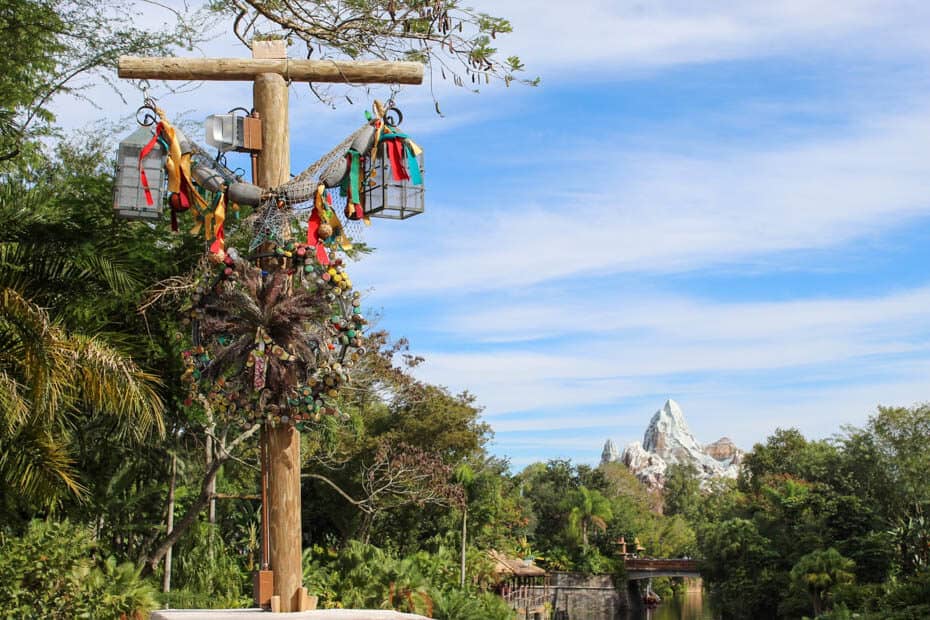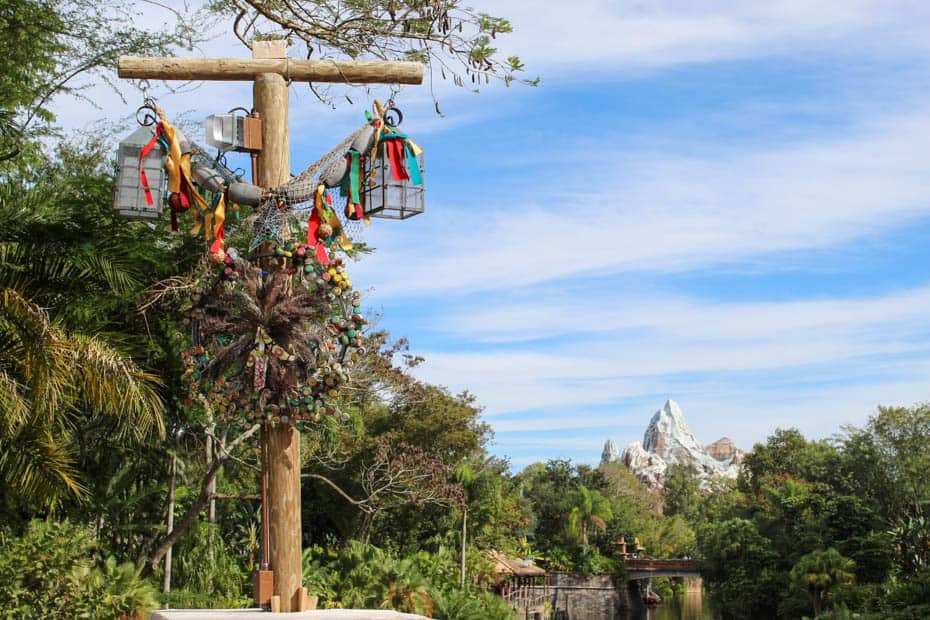 This garland appears to be some mix of wildflower and African herbs.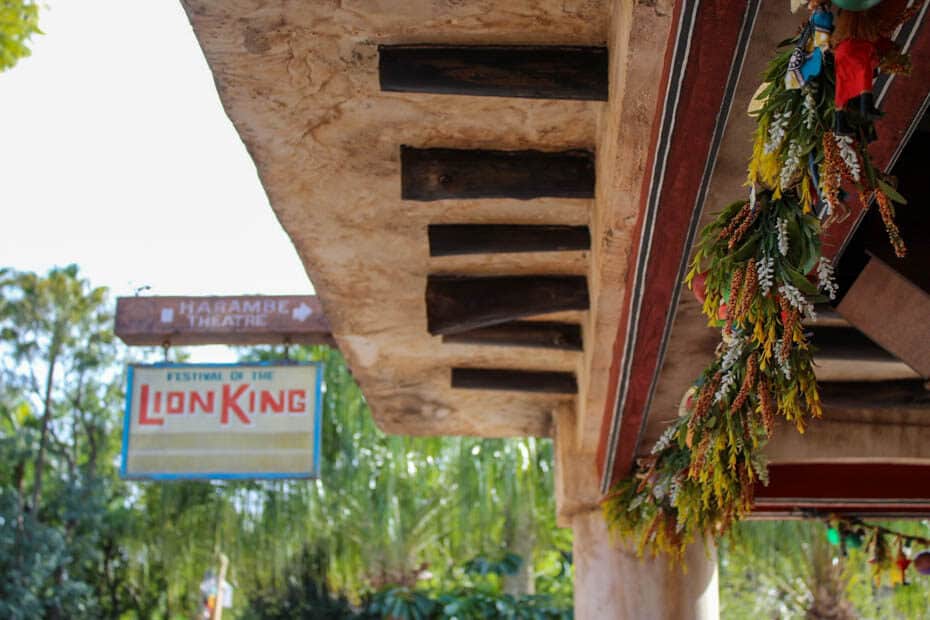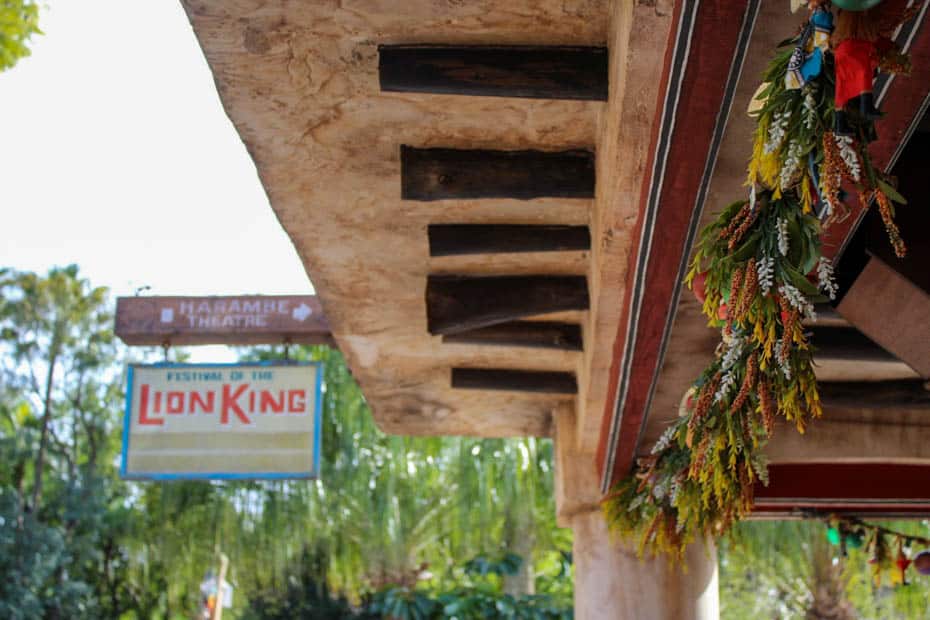 The colors are extremely vibrant.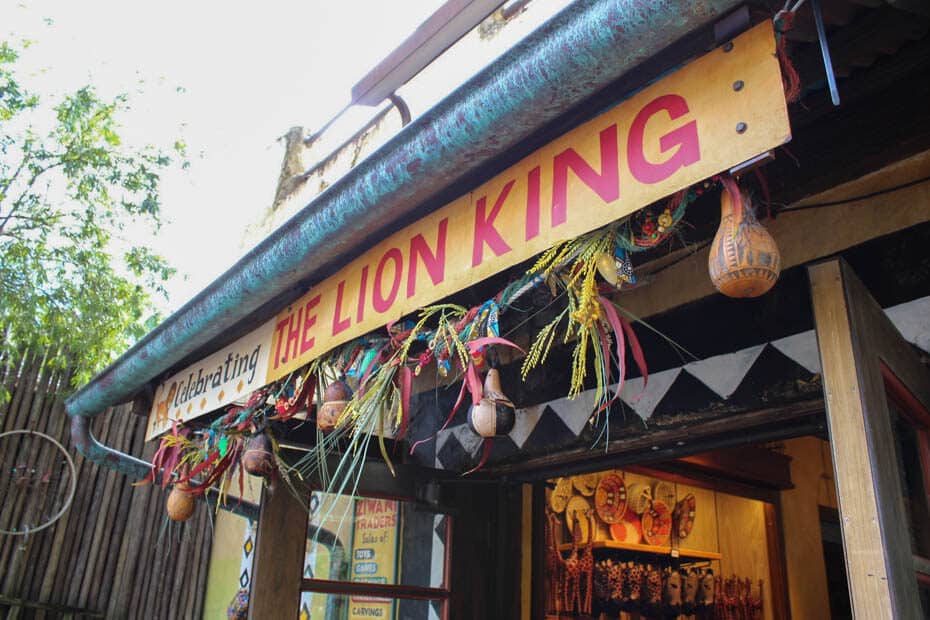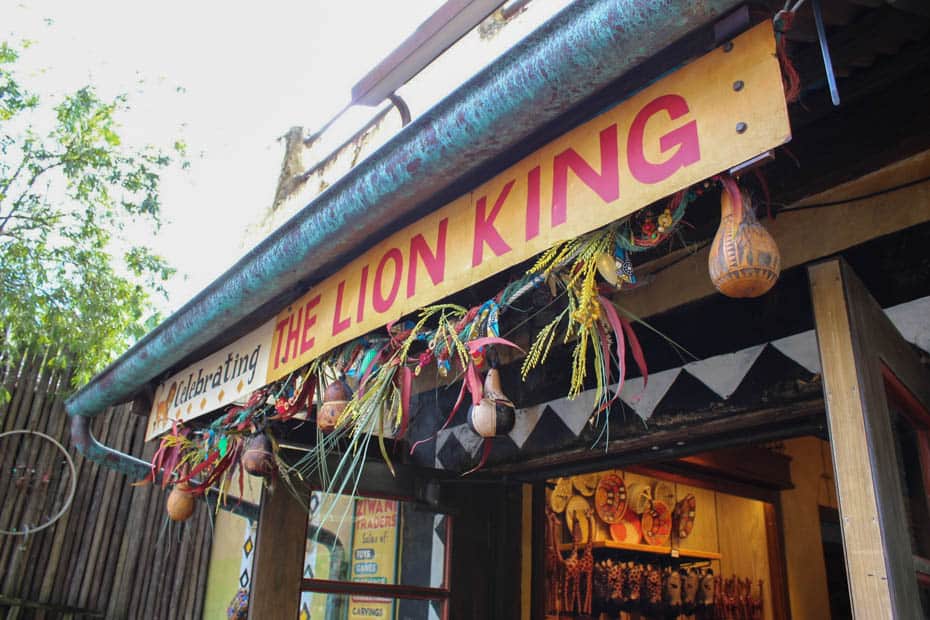 Over at Mombasa Marketplace you'll see some Christmas decorations inspired by The Lion King.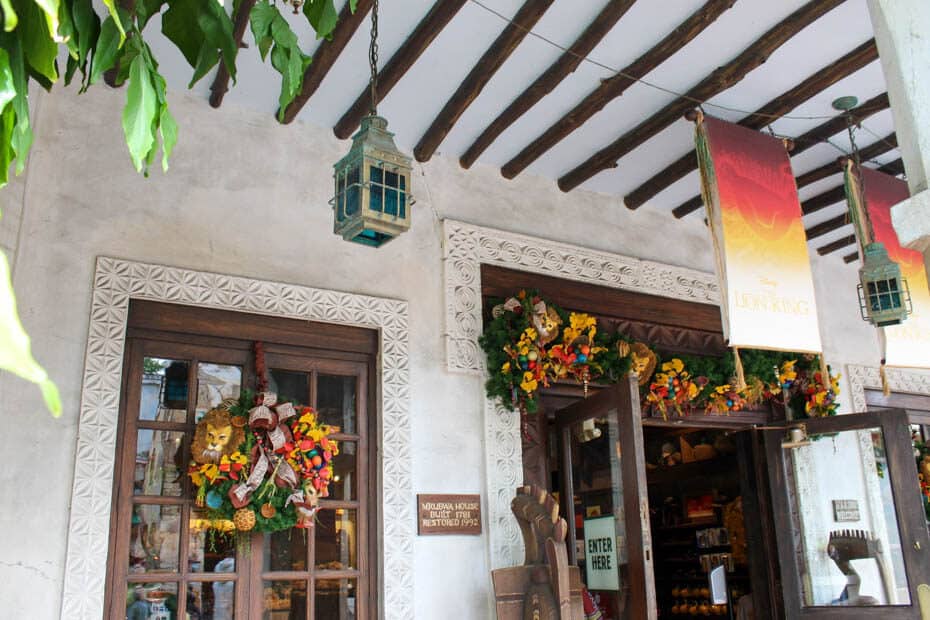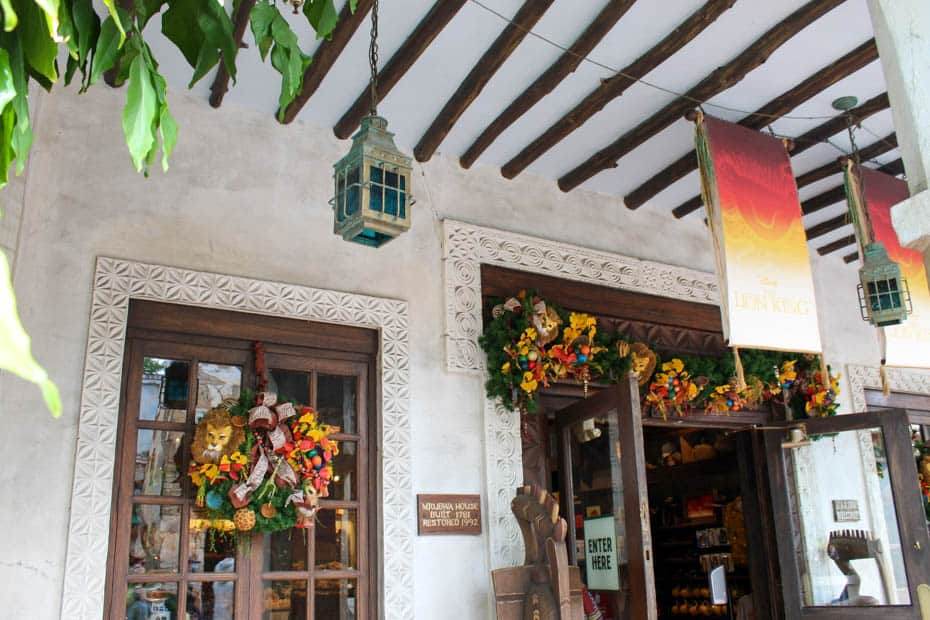 These wreaths are exquisite.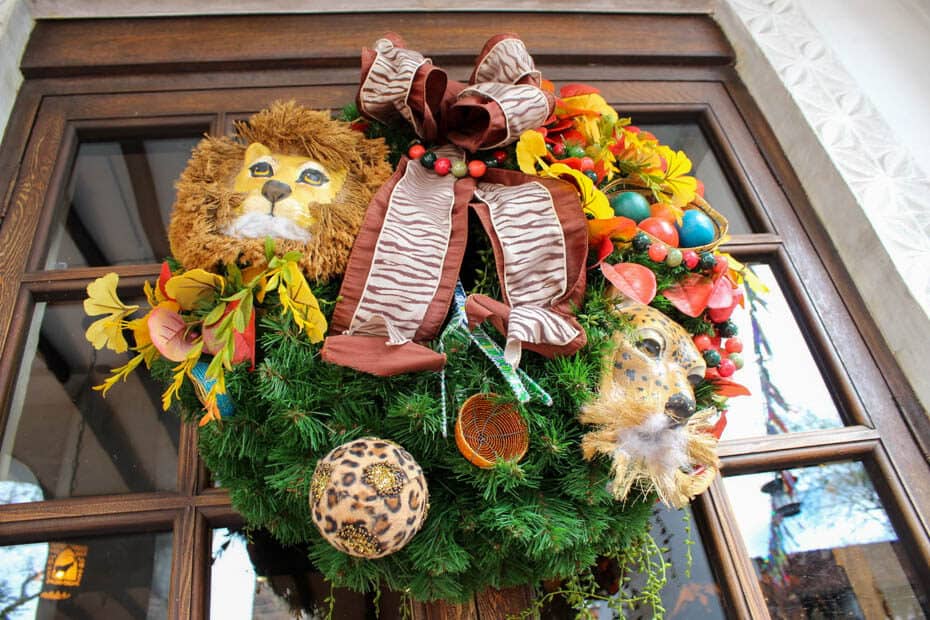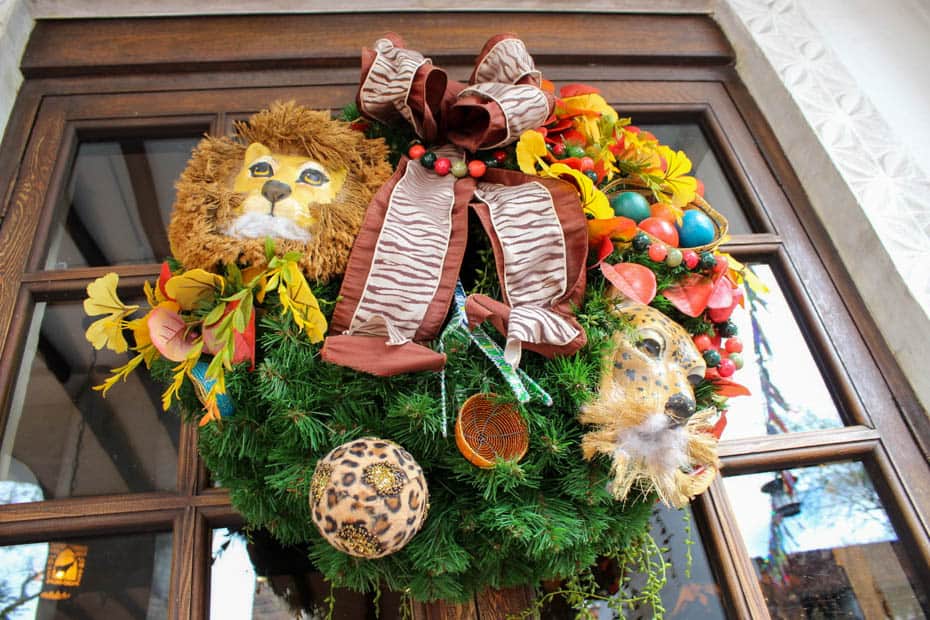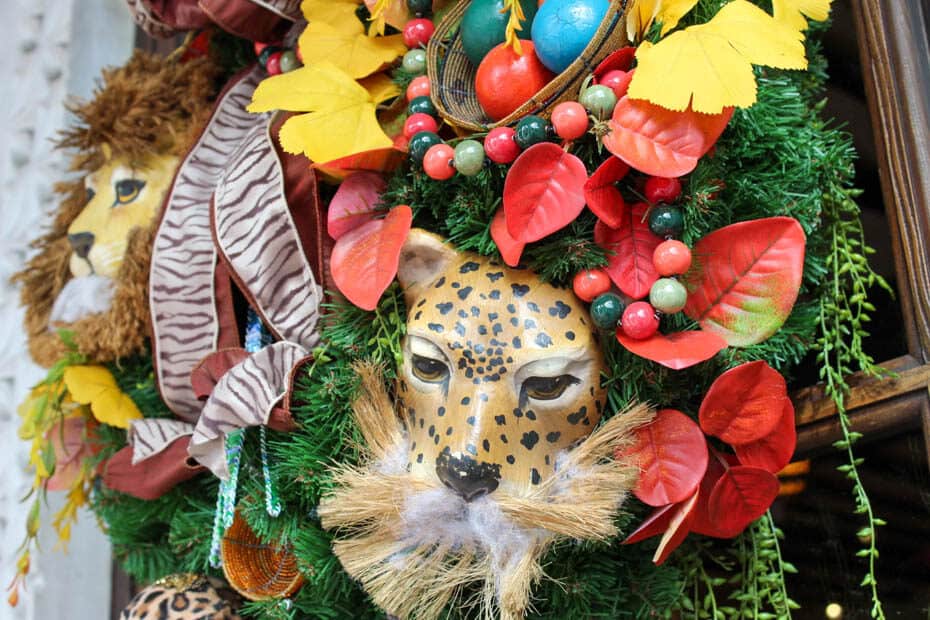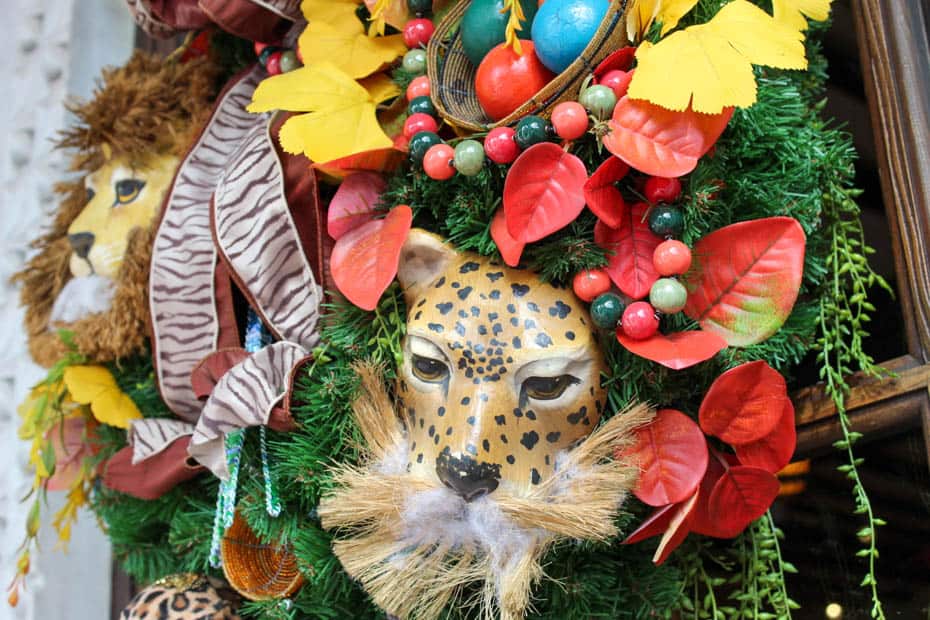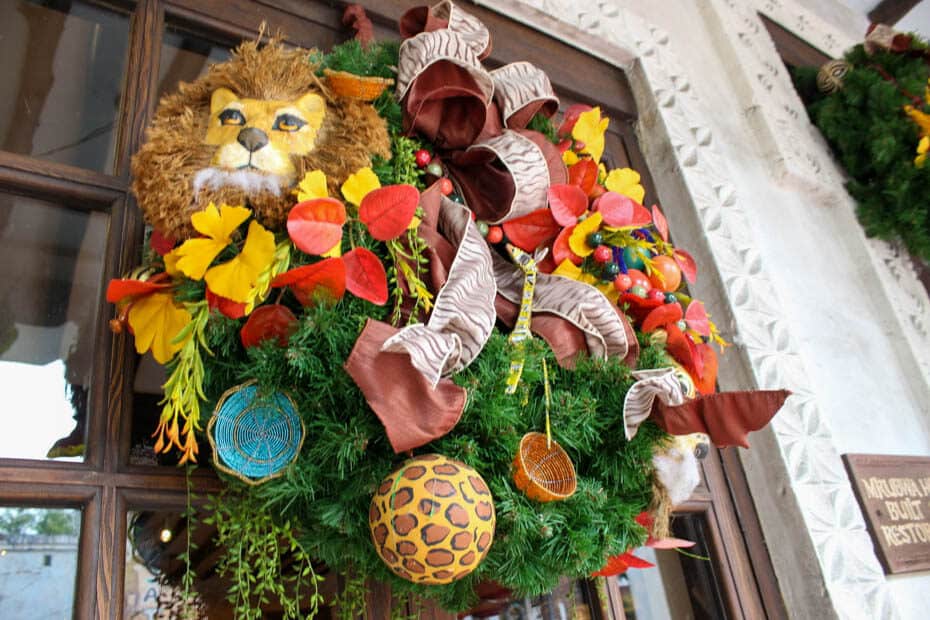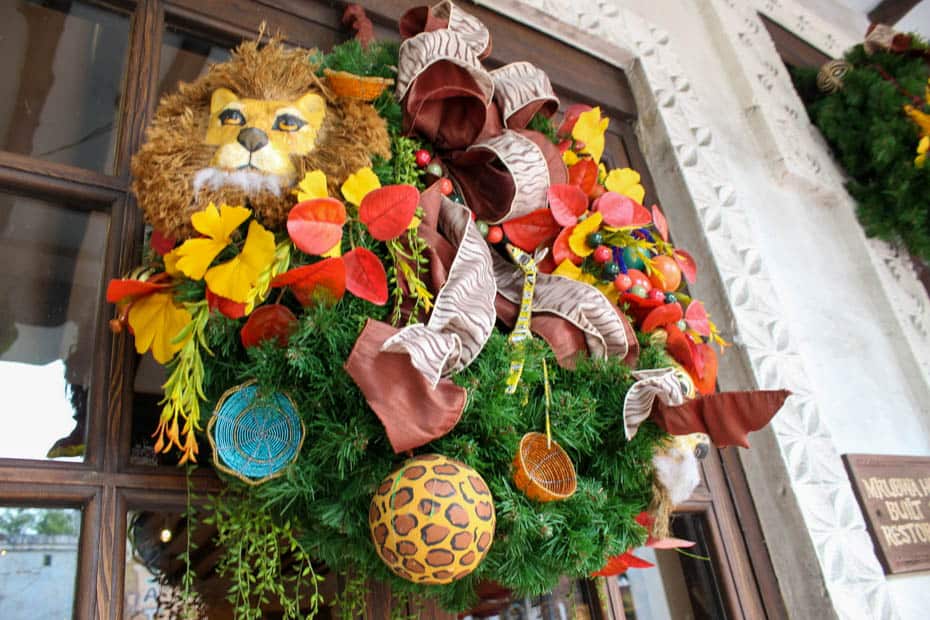 But I think I like the charm of the odds and ends decorations best.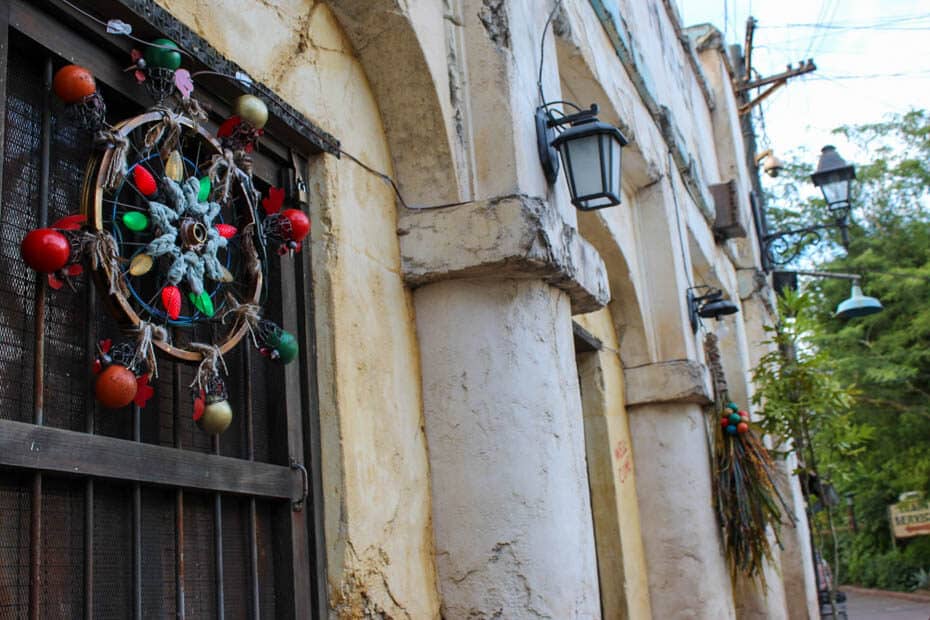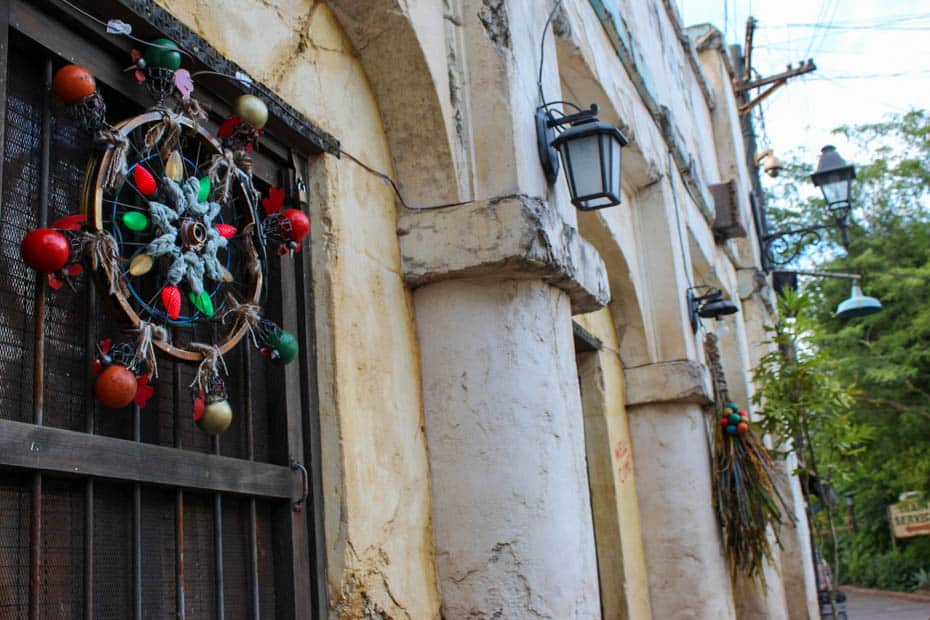 If only we could be so creative to recycle more and turn discards into treasure.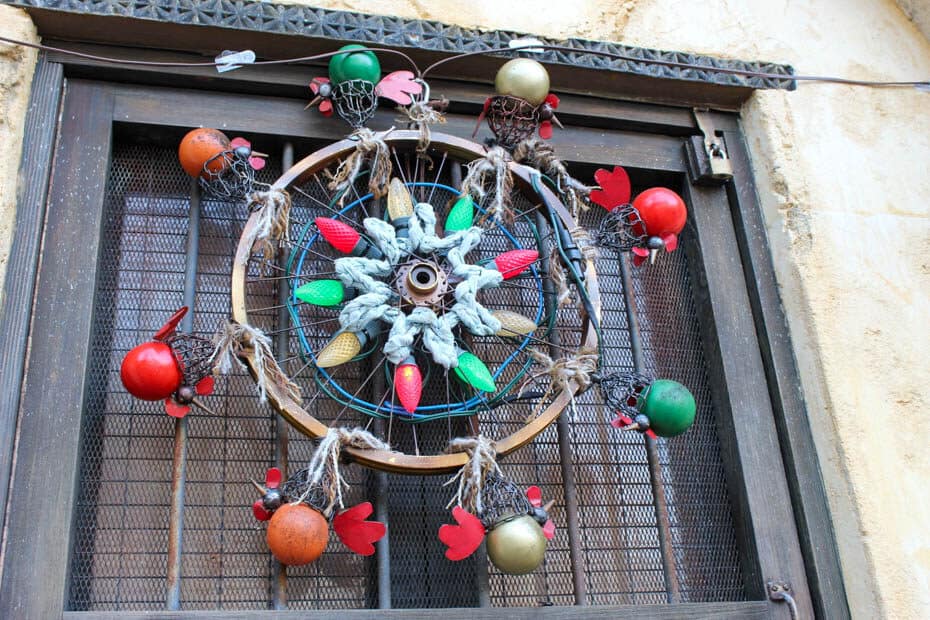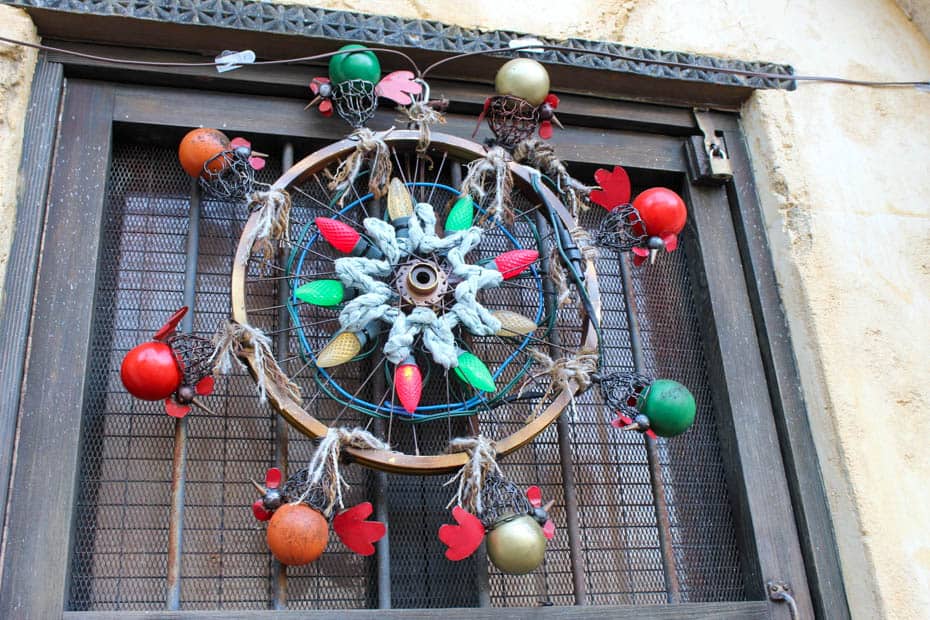 These wreaths below are made from bottle tops.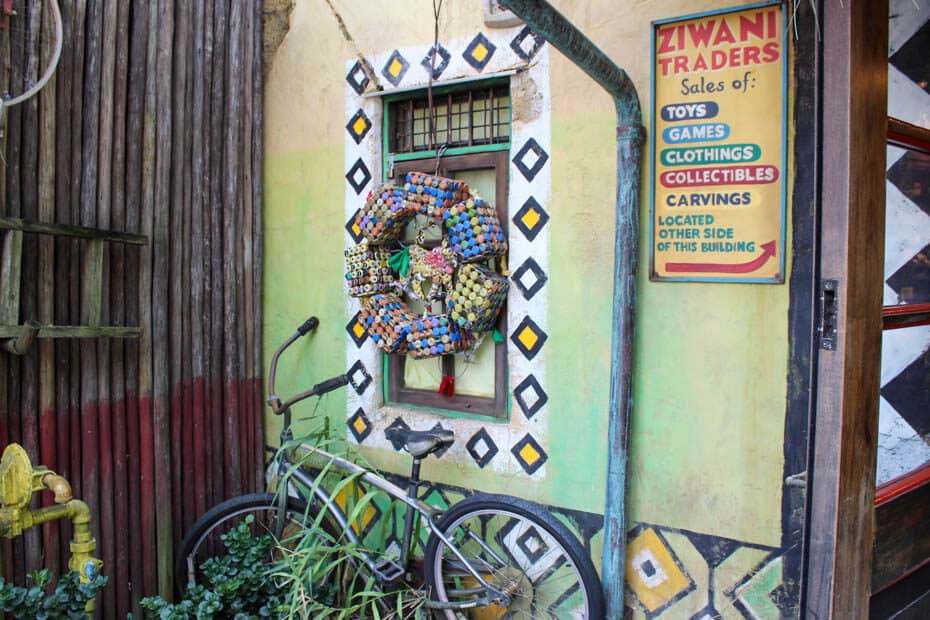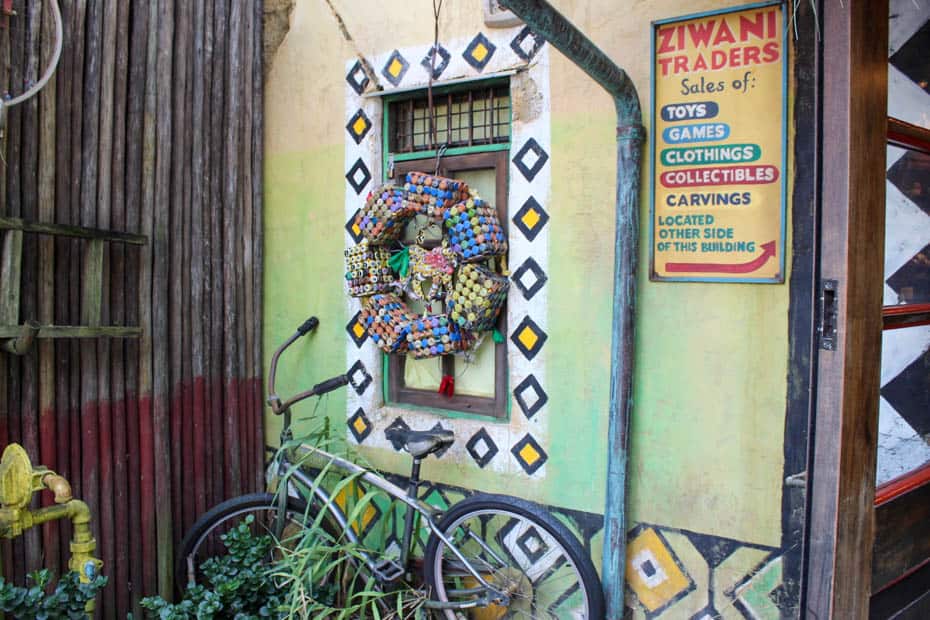 There are several in the area.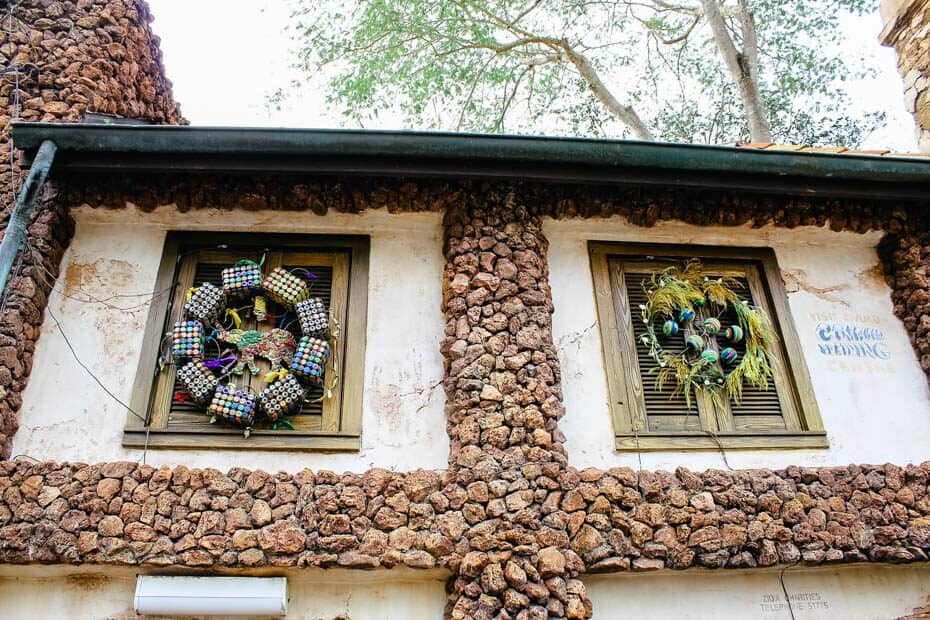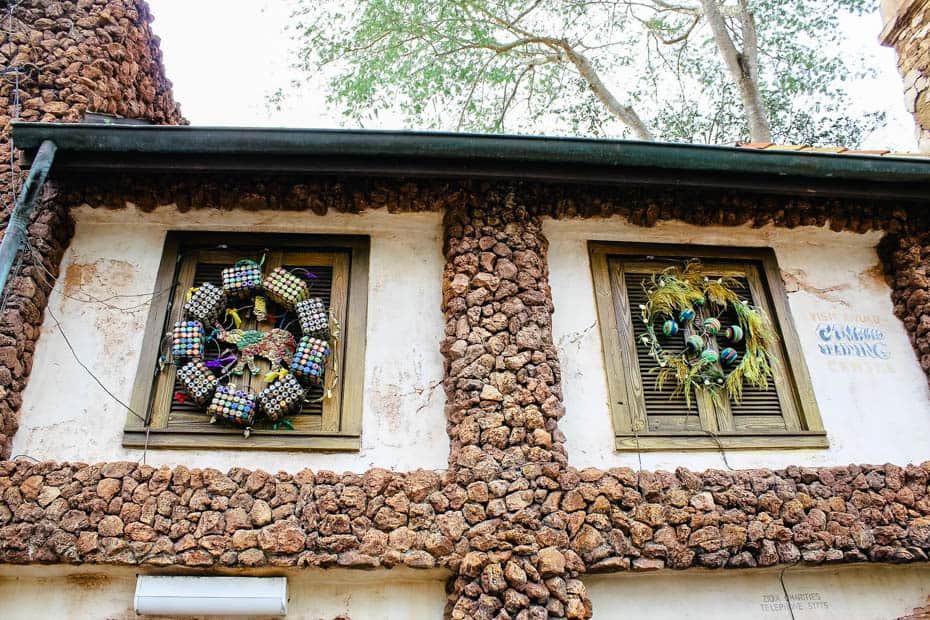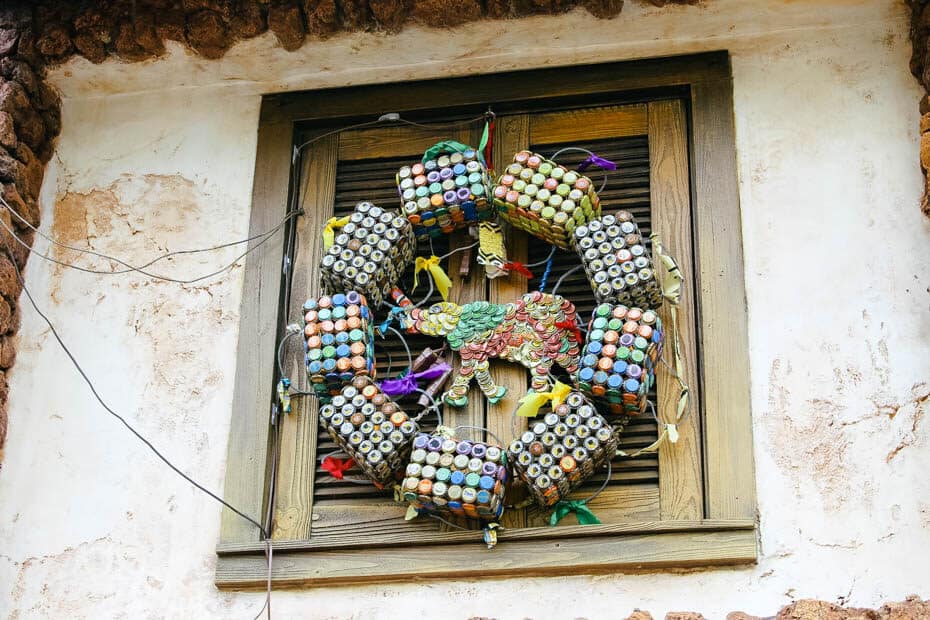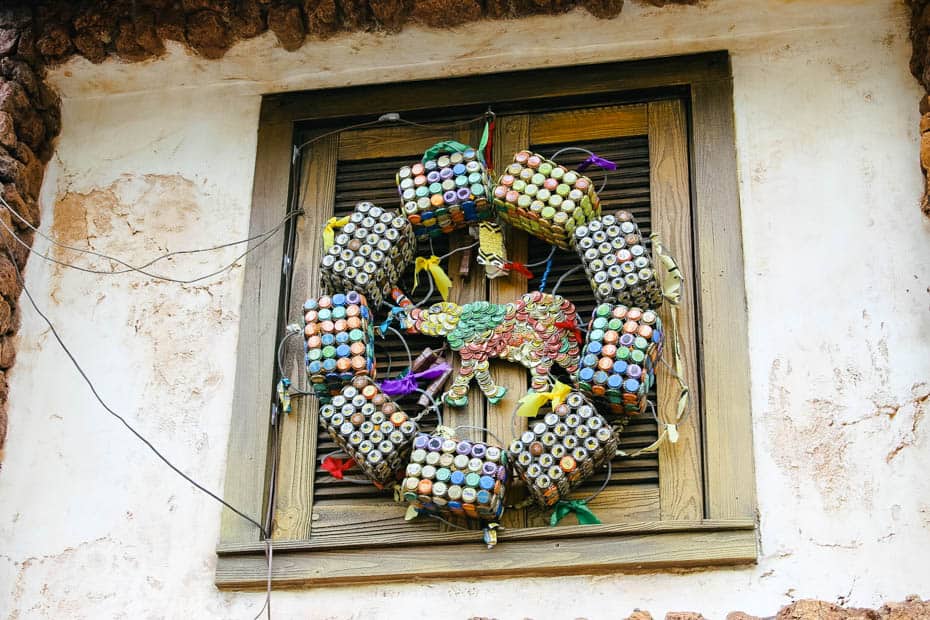 In front of Kilimanjaro Safaris, there's a Christmas tree made from wires. I thought it was pretty.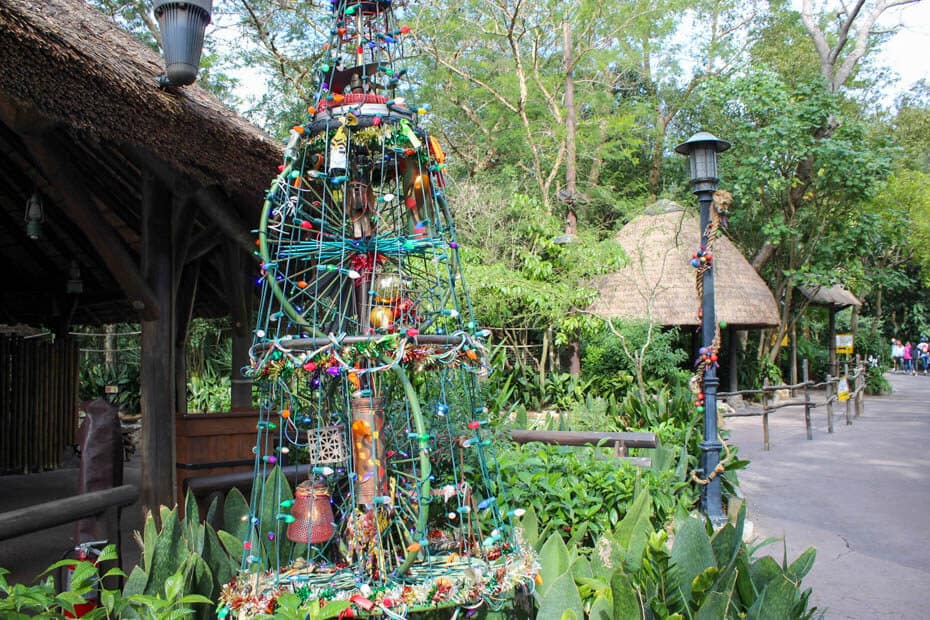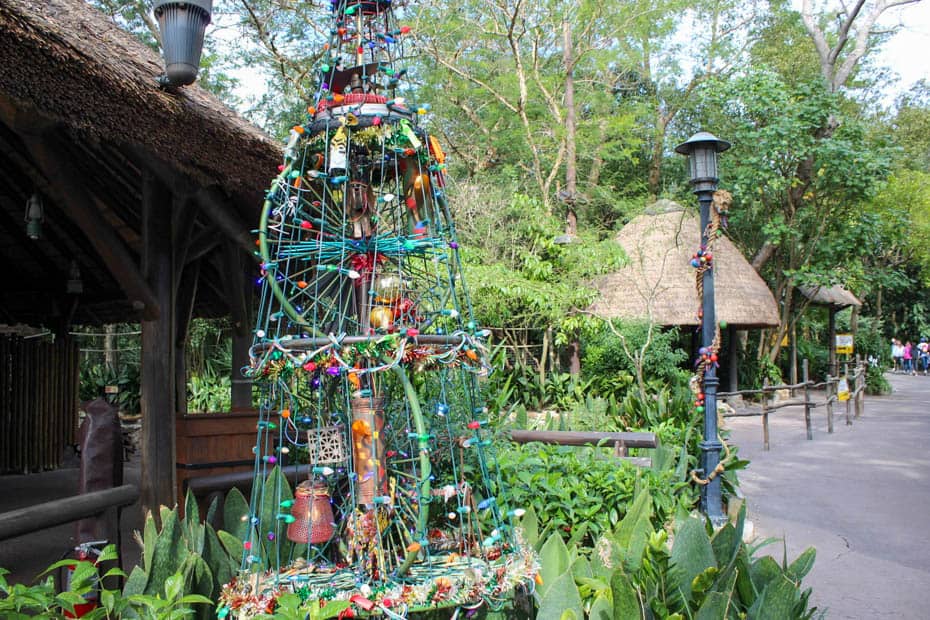 These remind me of Jerusalem Sage, maybe?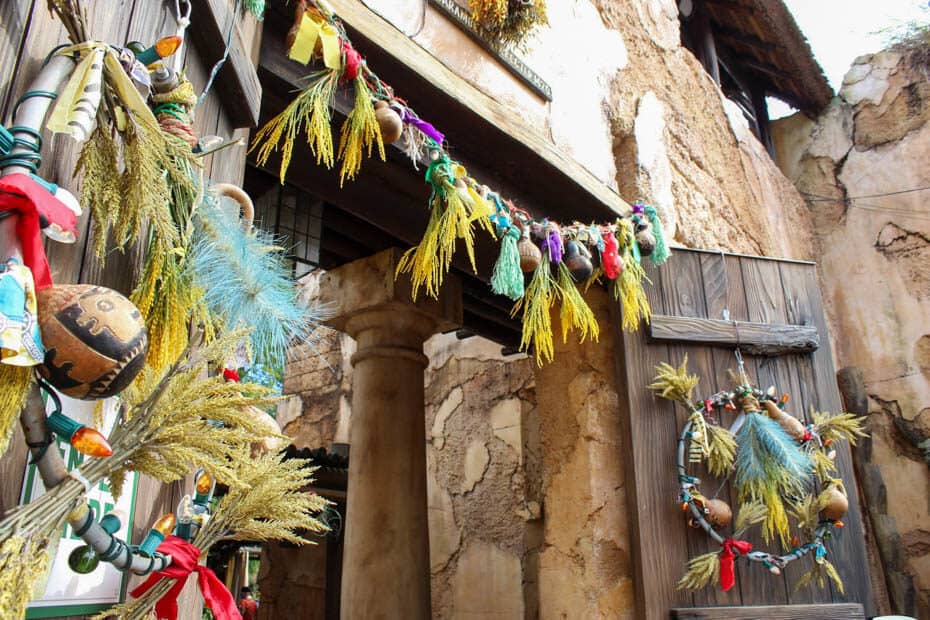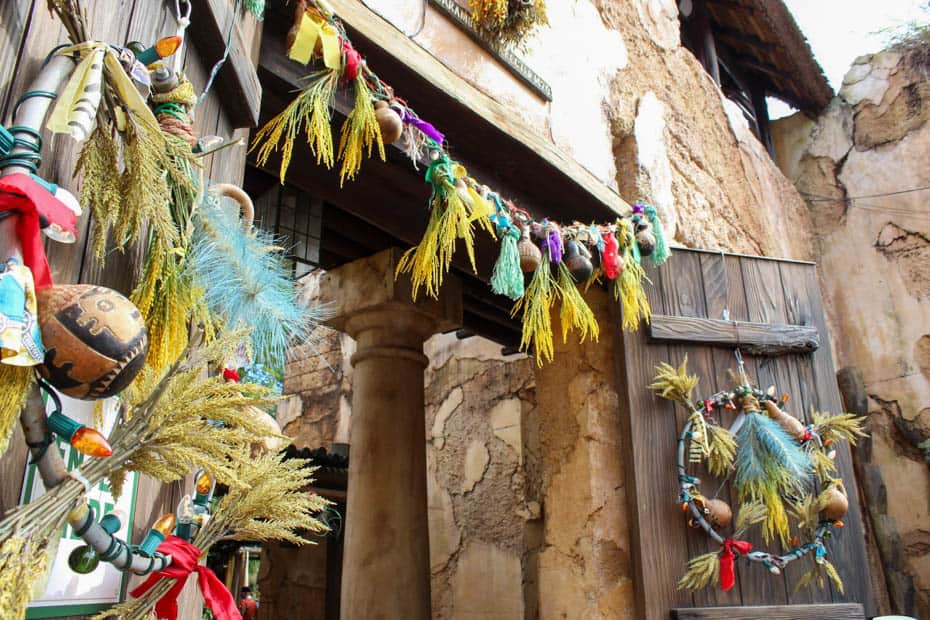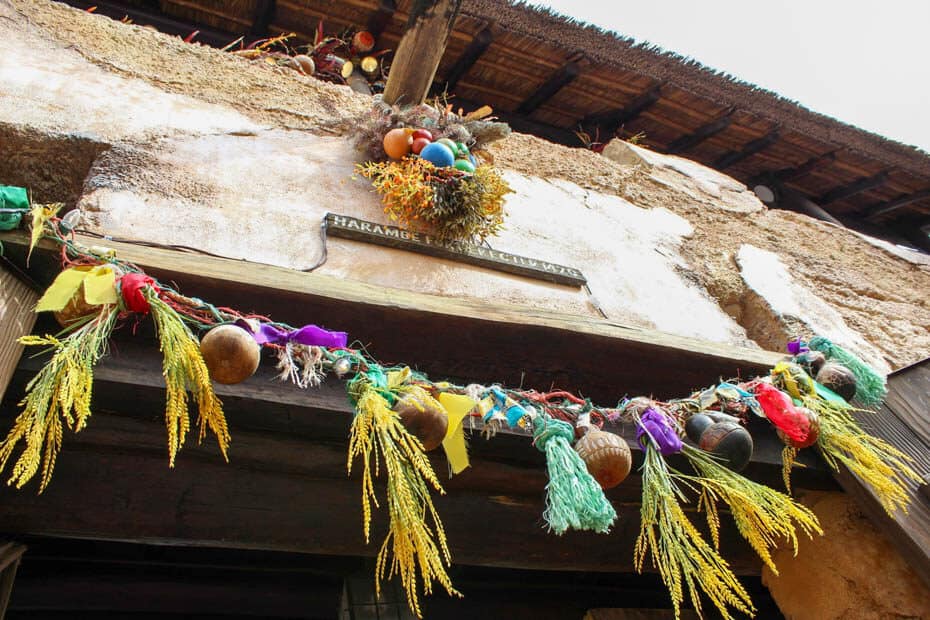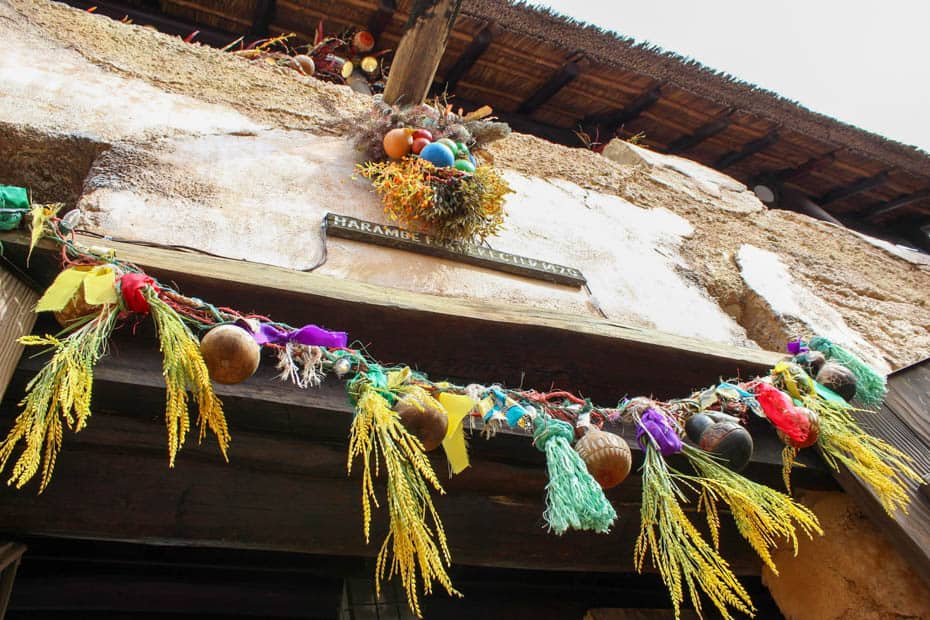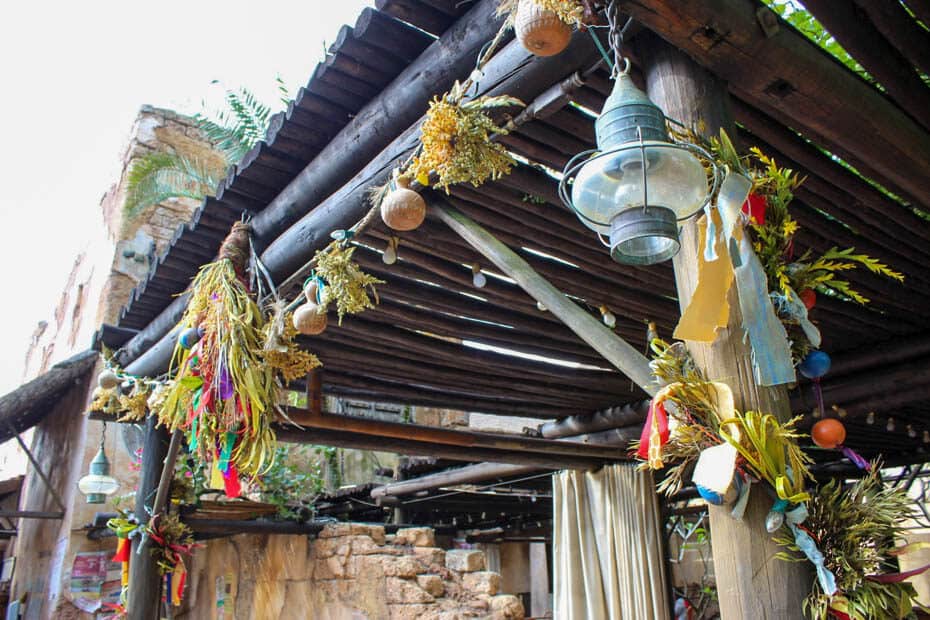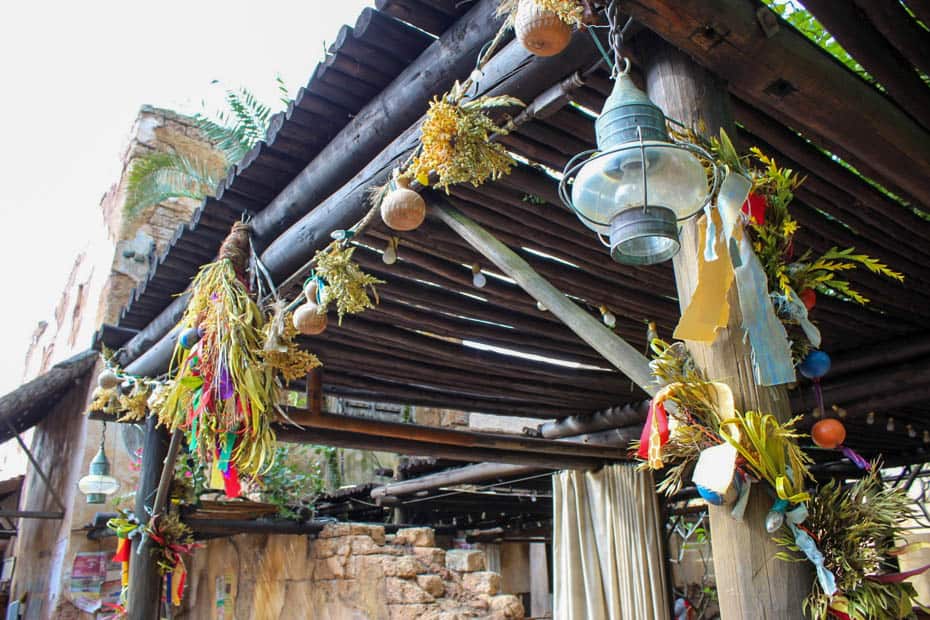 Whatever it is designed to resemble, it's all well done.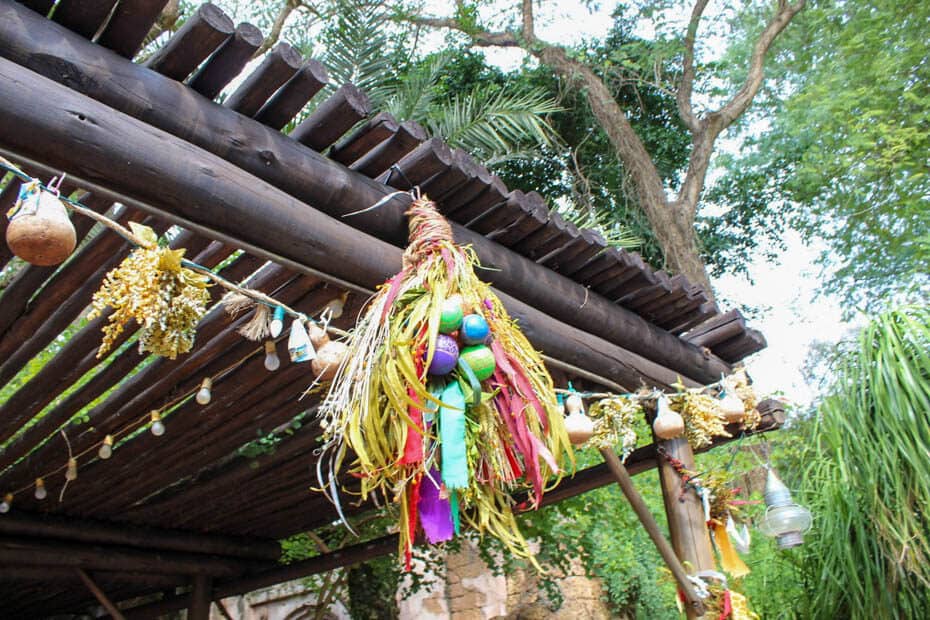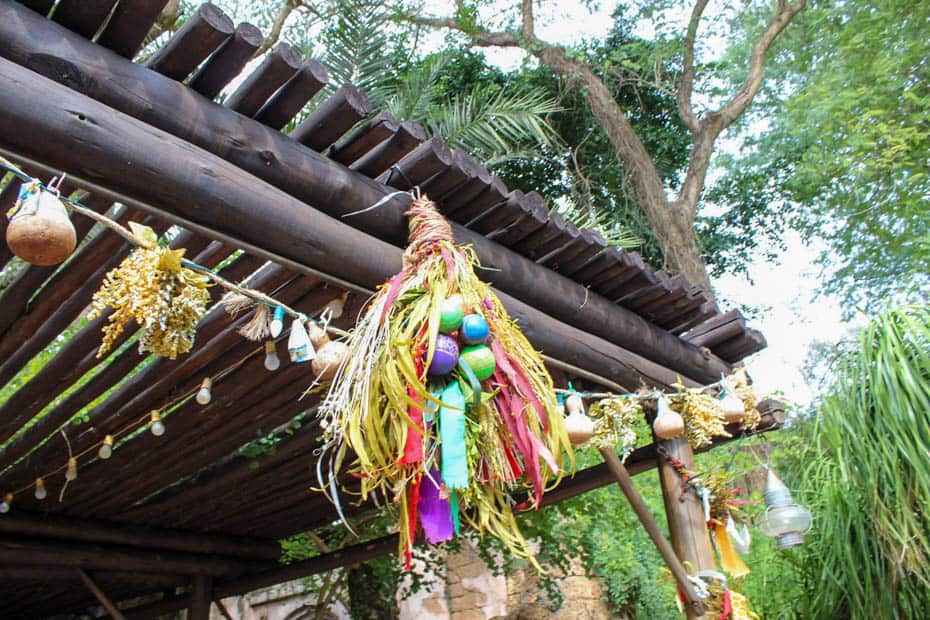 Be sure to notice even the tiniest of details like these mini figures tied into the garland.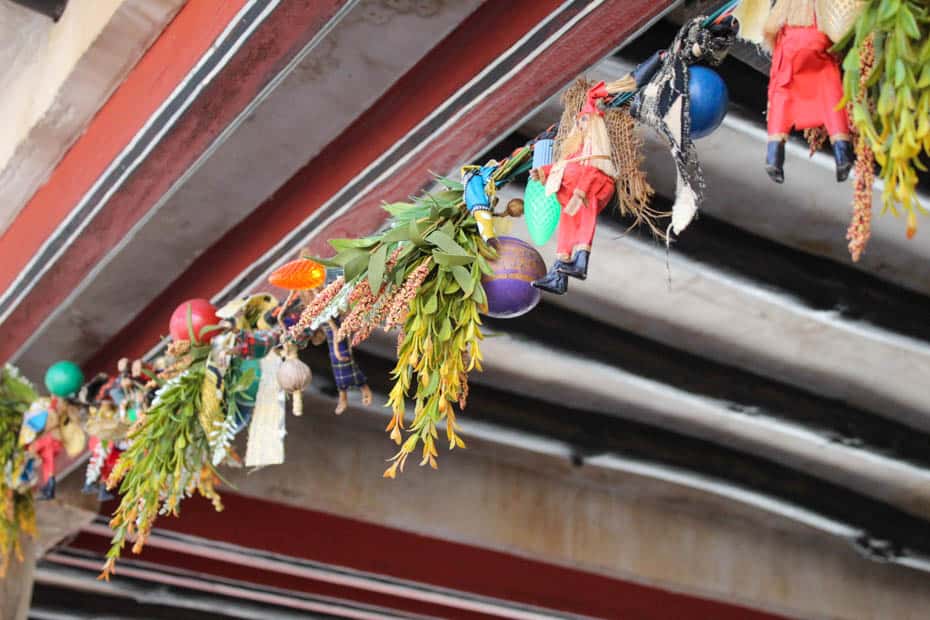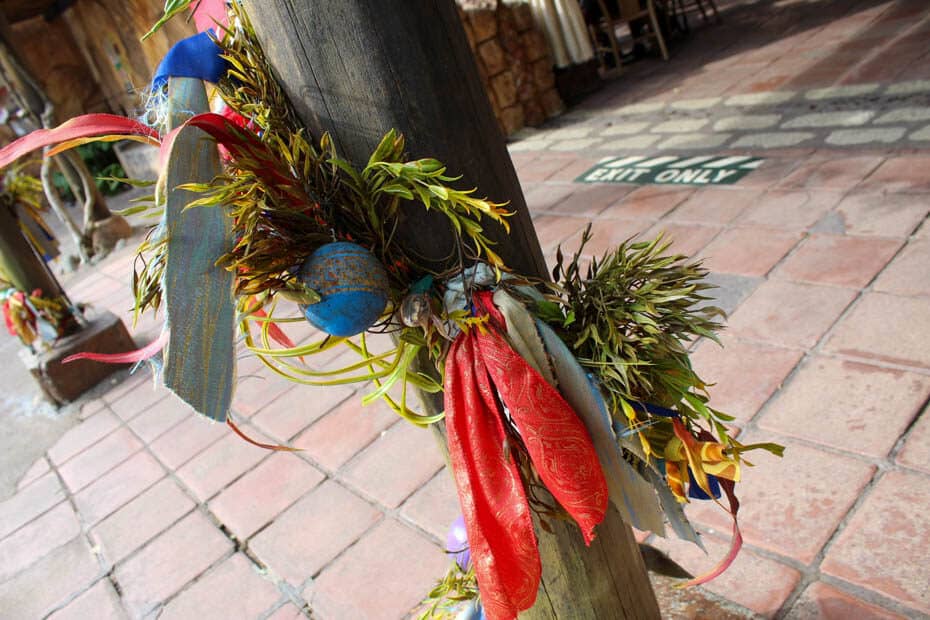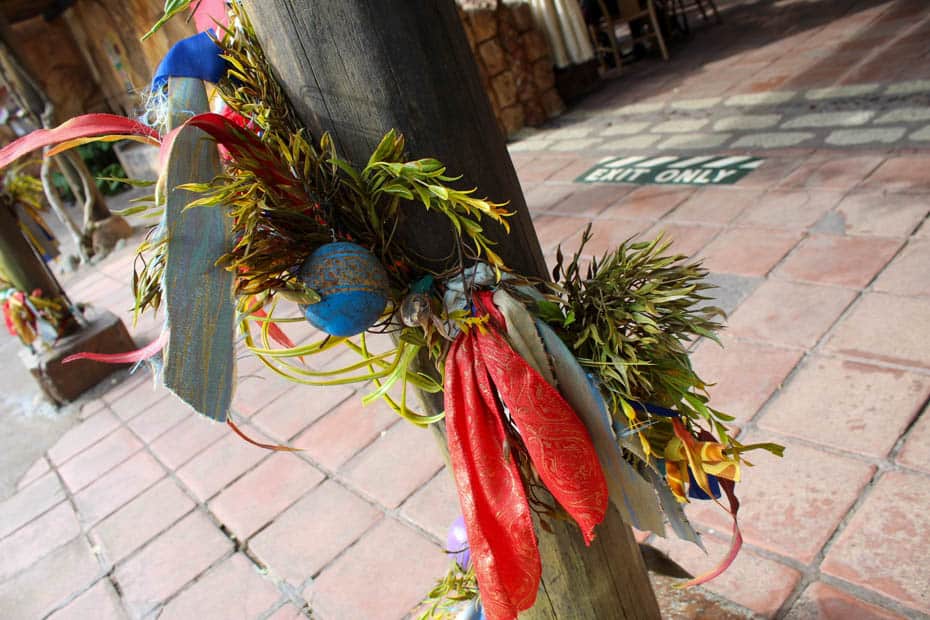 Over in Asia, you won't find many Christmas decorations at Animal Kingdom. In Pandora, World of Avatar, there are a few lights and a bit of garland. But nothing worth going out of your way to see as far as Christmas goes. The land itself, however, is always worth a walkthrough.
For the sake of our Christmas tour, we'll hop on over to Dinoland. There is a tiny bit here to see, but not as much this year as normal.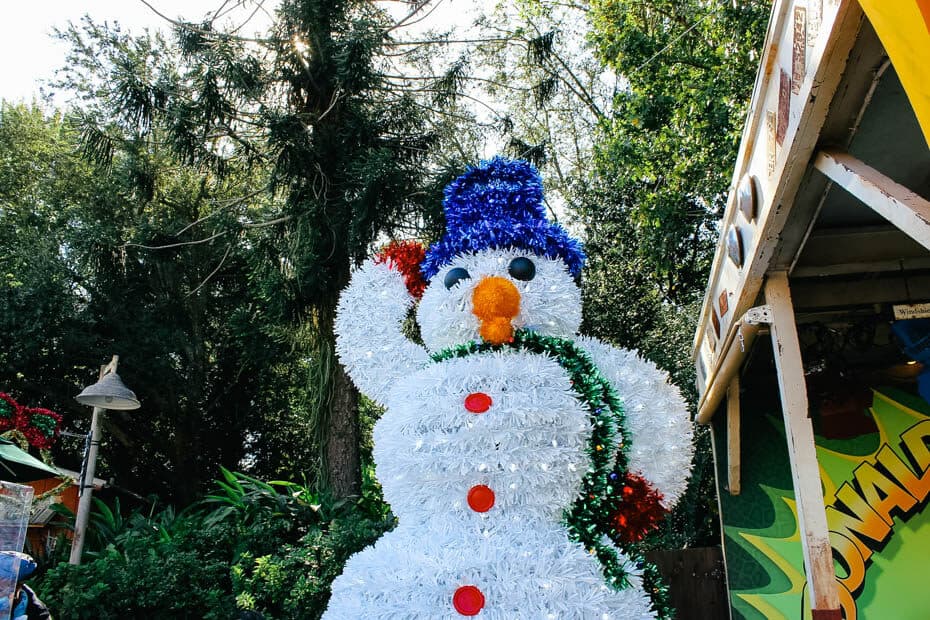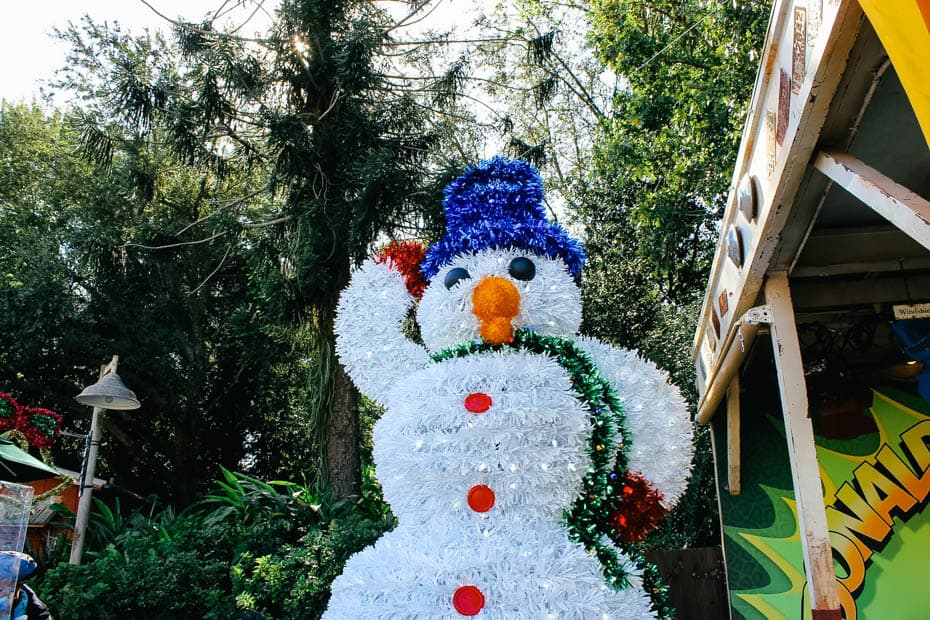 The main event is the Dinosaur bridge that's covered in lights. These are the kind that are coordinated to music.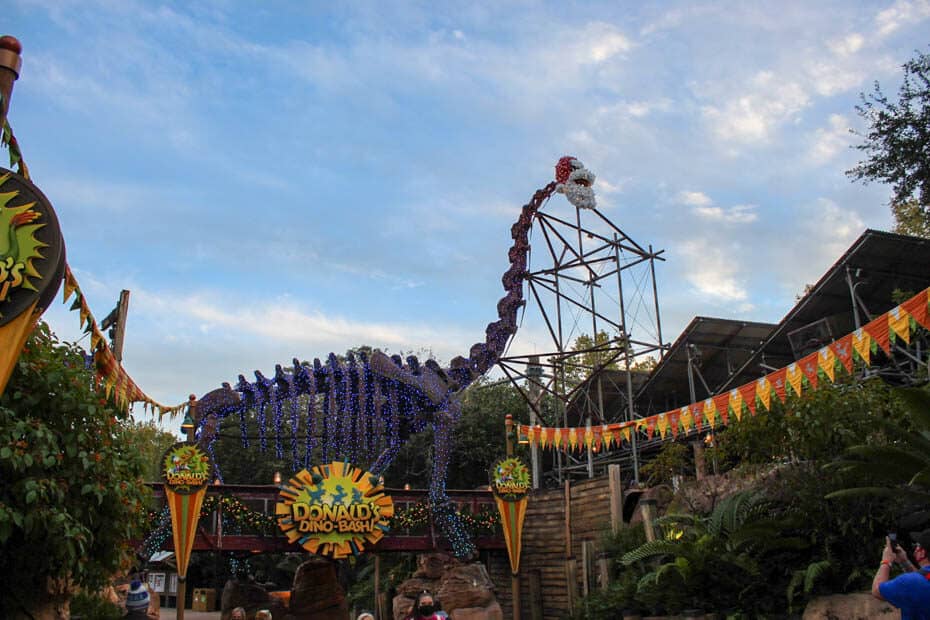 As the day darkens the lights and music tend to get louder. But it's fun to check them out. There's even a Santa hat hanging on the dinosaurs head.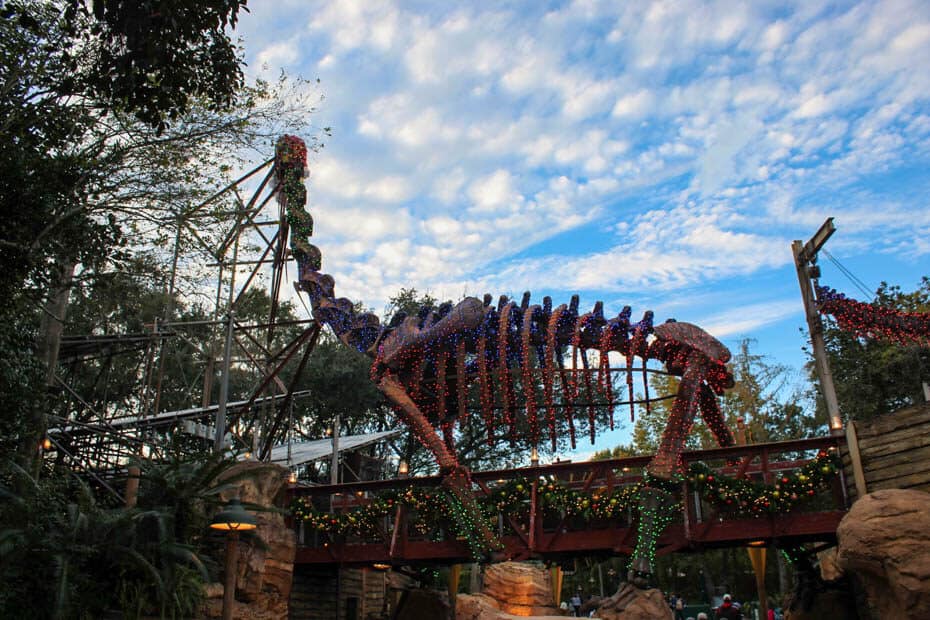 Finally, we'll take a look at Animal Kingdom's famous Christmas tree that is centered outside the entrance.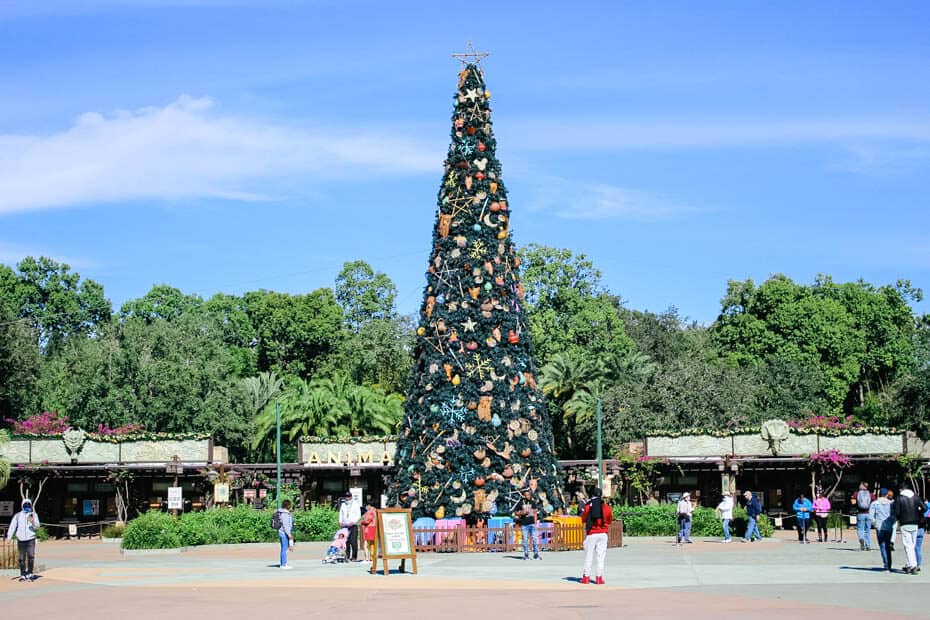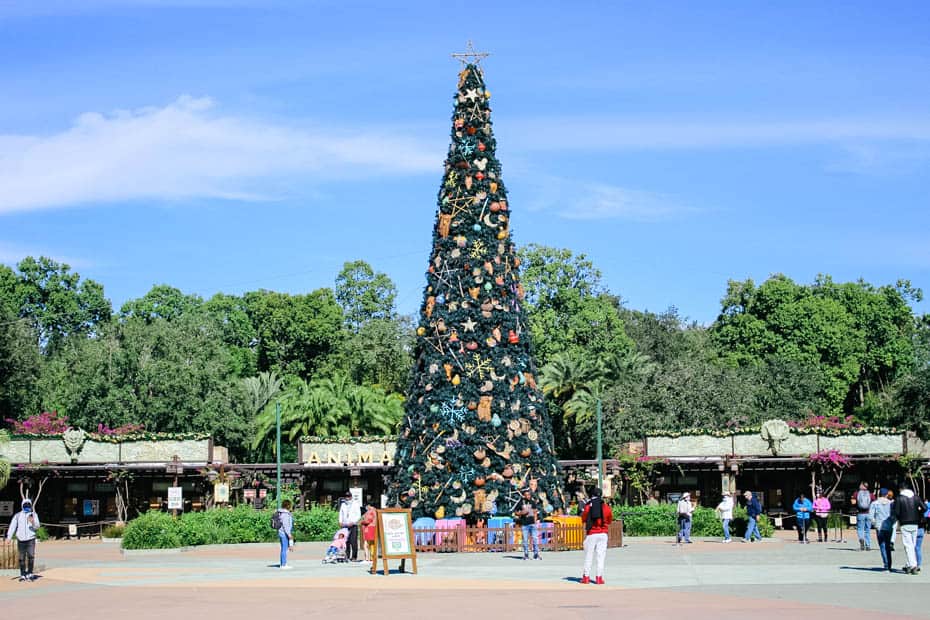 It's quite a large tree and provides not only a fun photo opportunity, but a lot to look at the closer you get to it.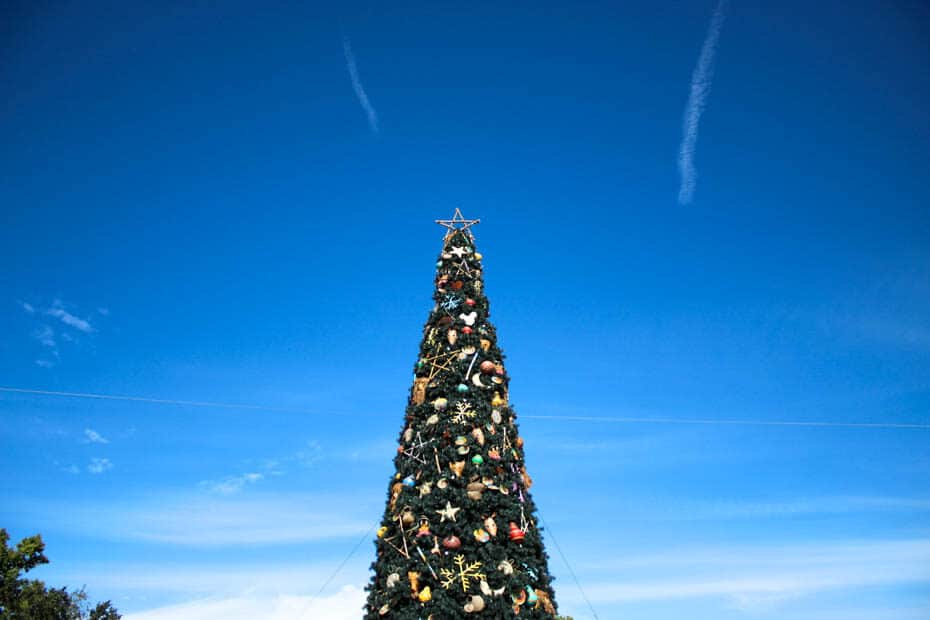 There's usually a PhotoPass photographer outside the entrance. It's definitely worth the wait to get your family photo made.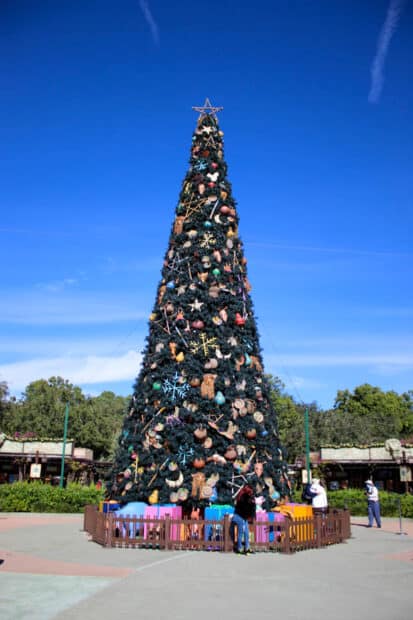 The tree is covered in all different kinds of animal masks and African decorations.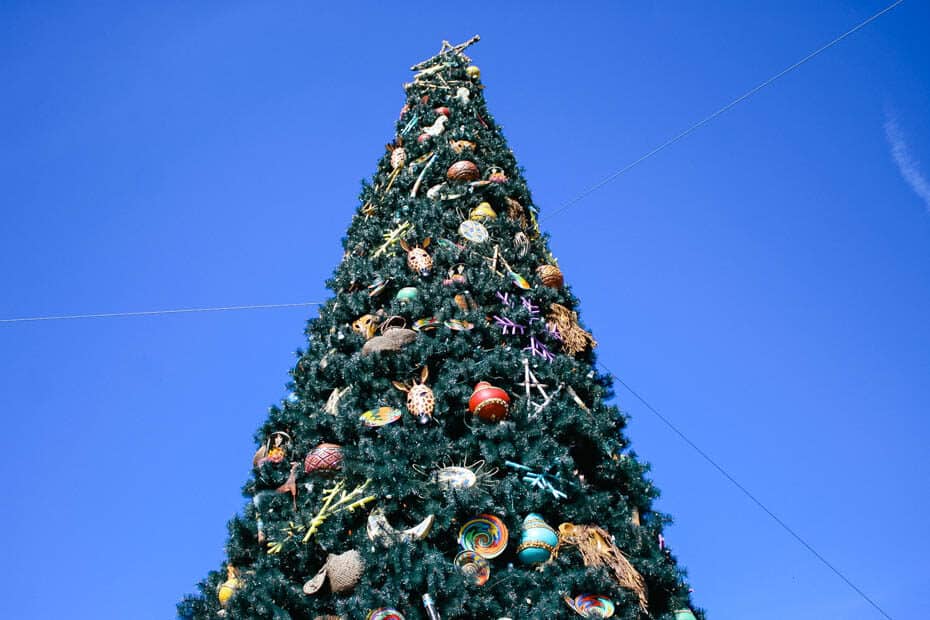 It's hard to tell in some of the overall photos but the decor is scaled to match the large tree.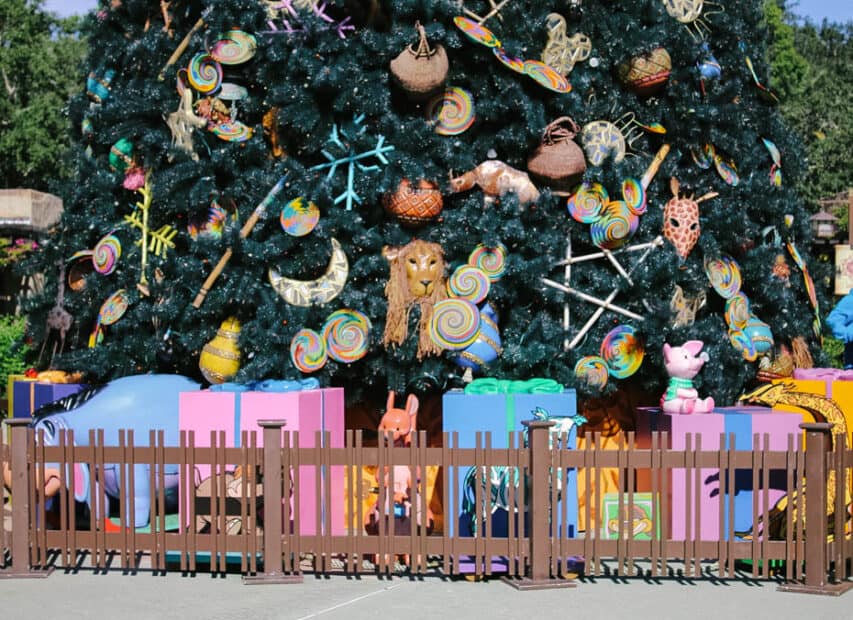 And the base of the tree is surrounded by some favorite Disney animal characters. Like Piglet from Winnie the Pooh.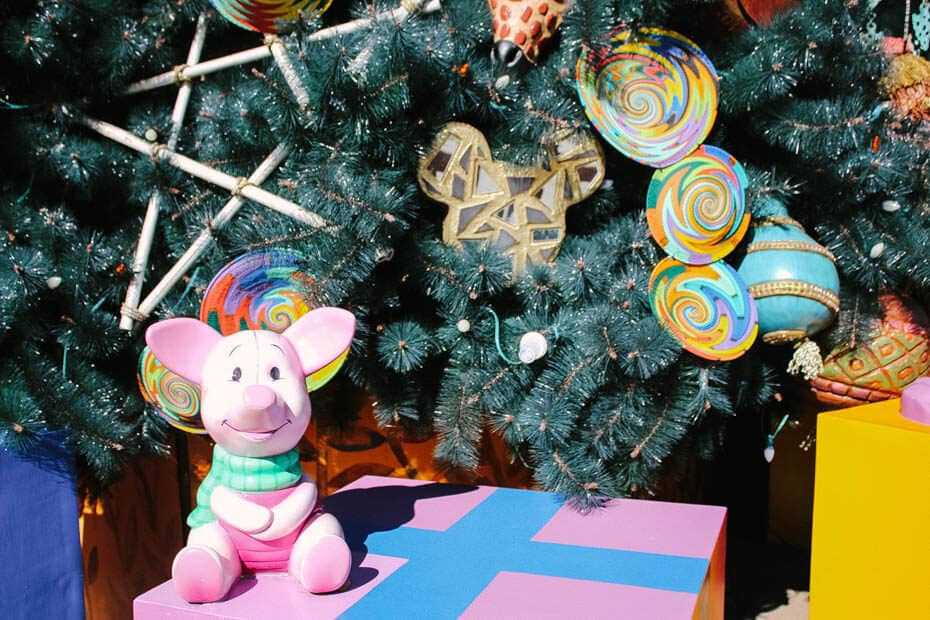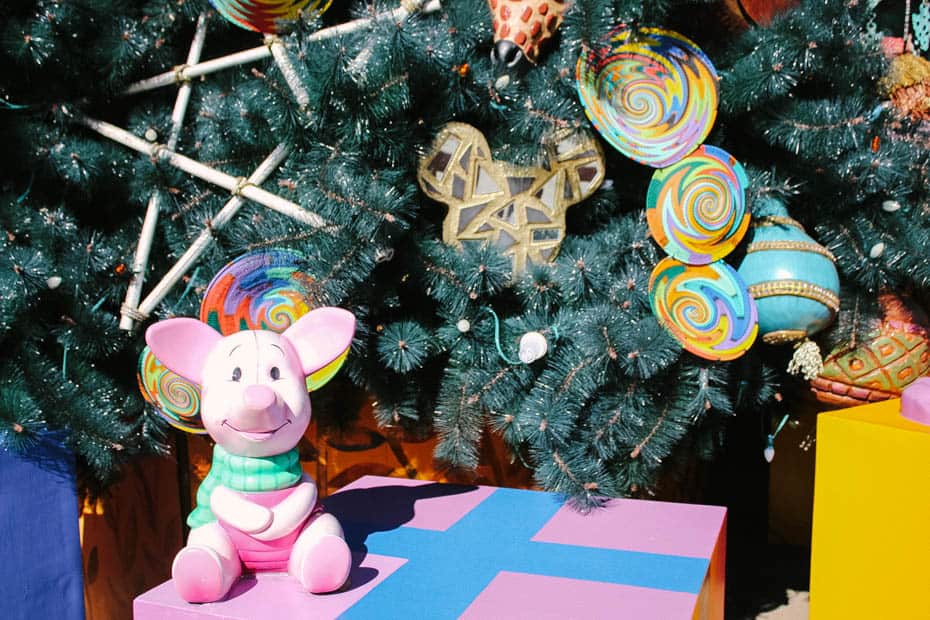 The lion masks and spinning plates are gorgeous.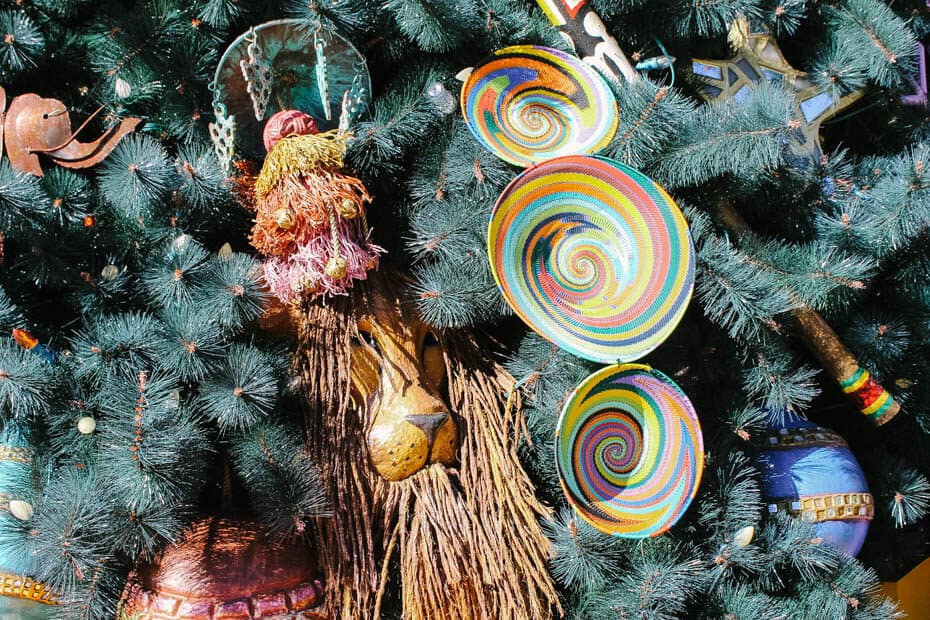 I spot a hidden Mickey below.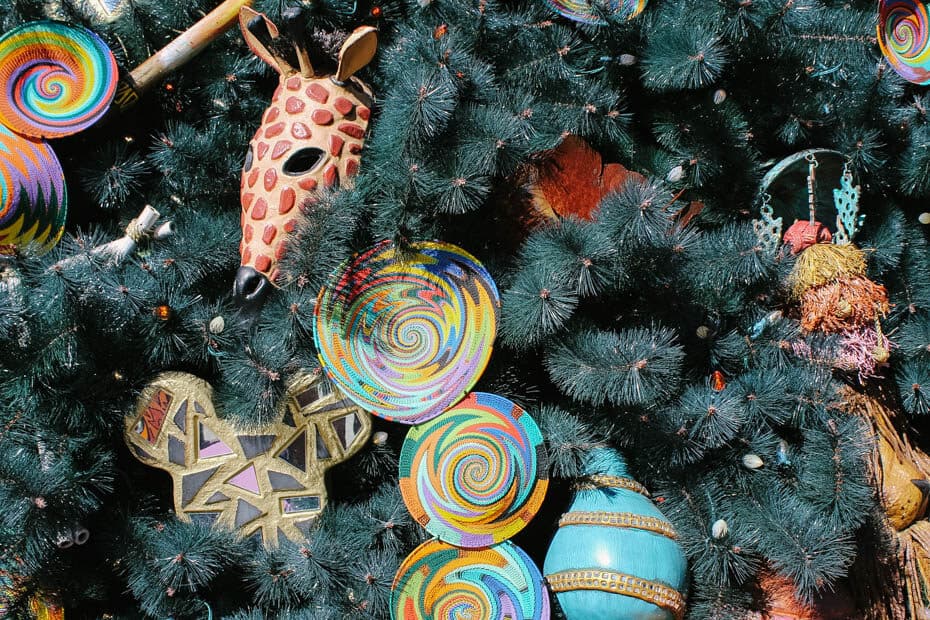 Moving on around the tree, there's a wind up Kanga with Roo.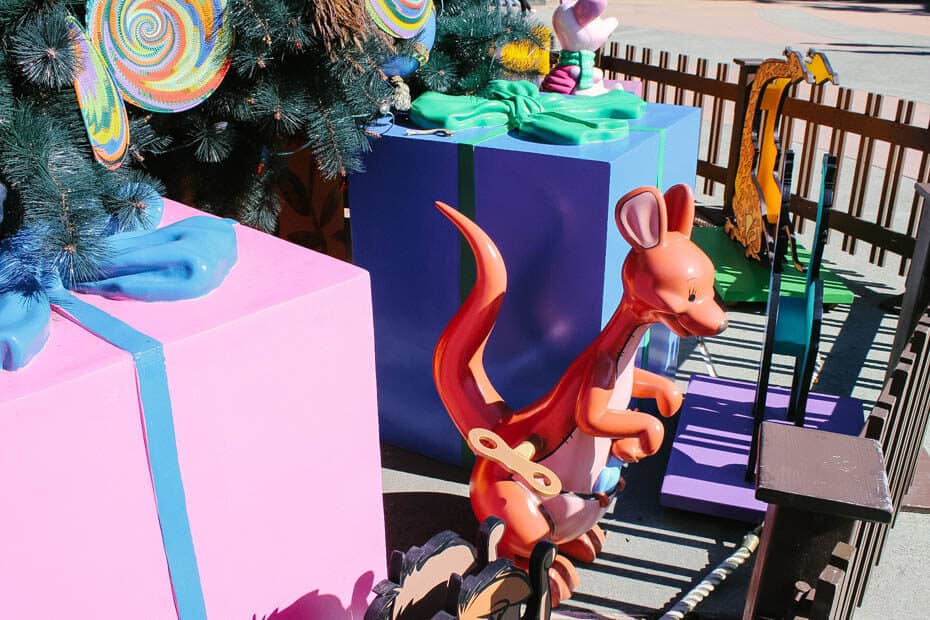 Of course, Eeyore is present. I think that might be a smile.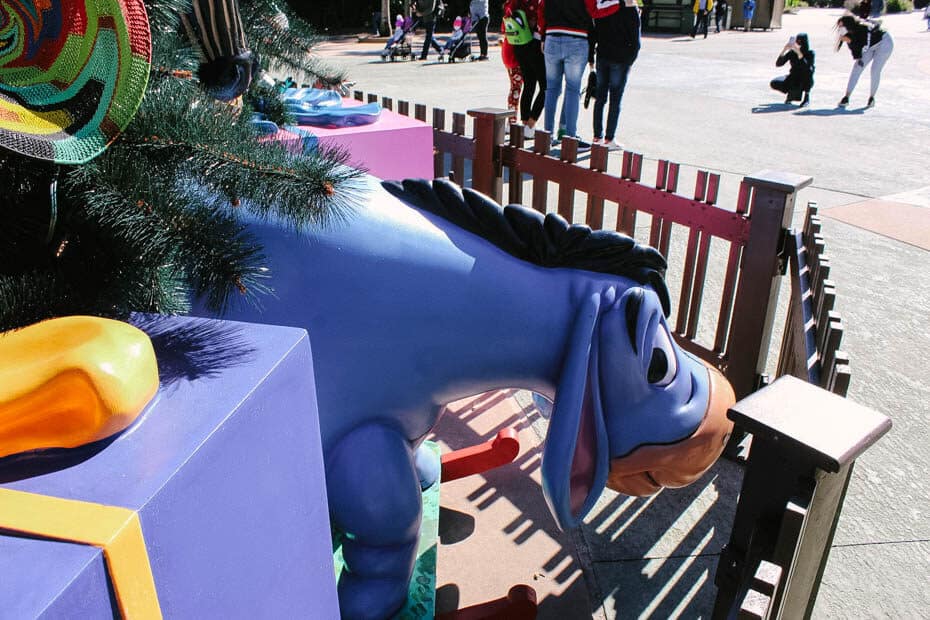 King Louie from The Jungle Book is checking out the tree.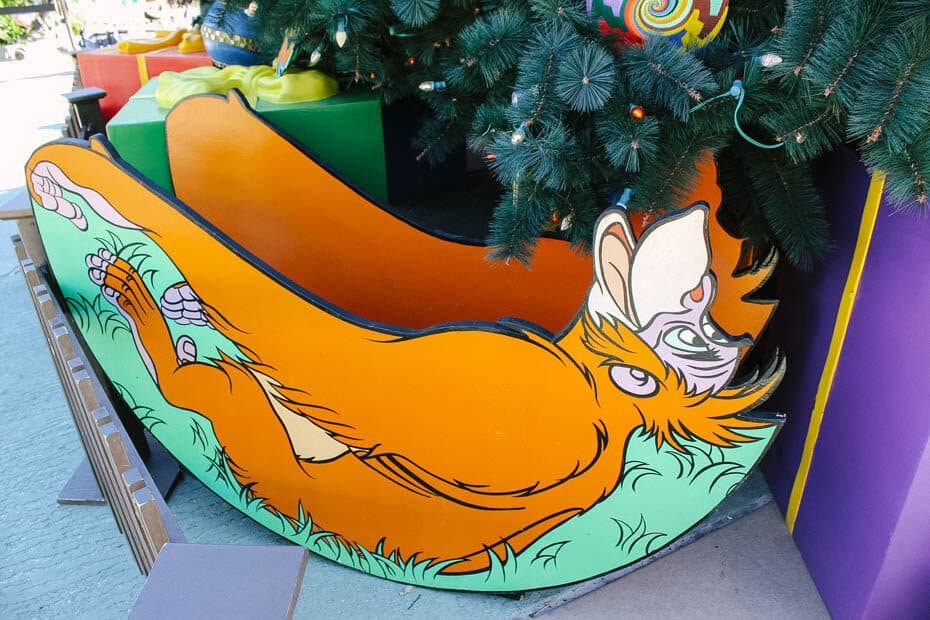 And Tigger is doing what Tiggers do best.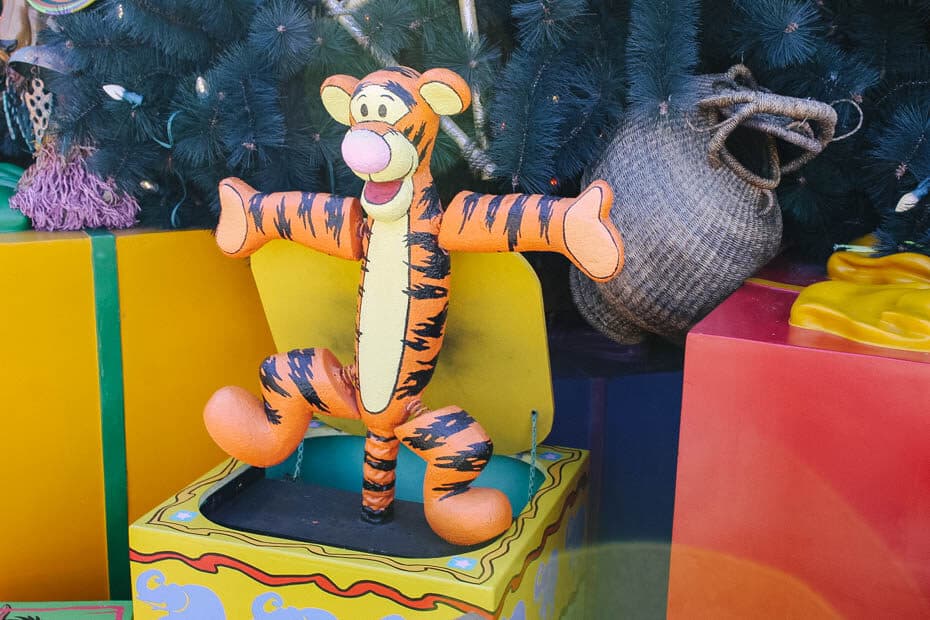 For those that visit on the day that the park closes around sunset, you are in for a real treat. Because the sunsets in this part of the world are stunning all year round.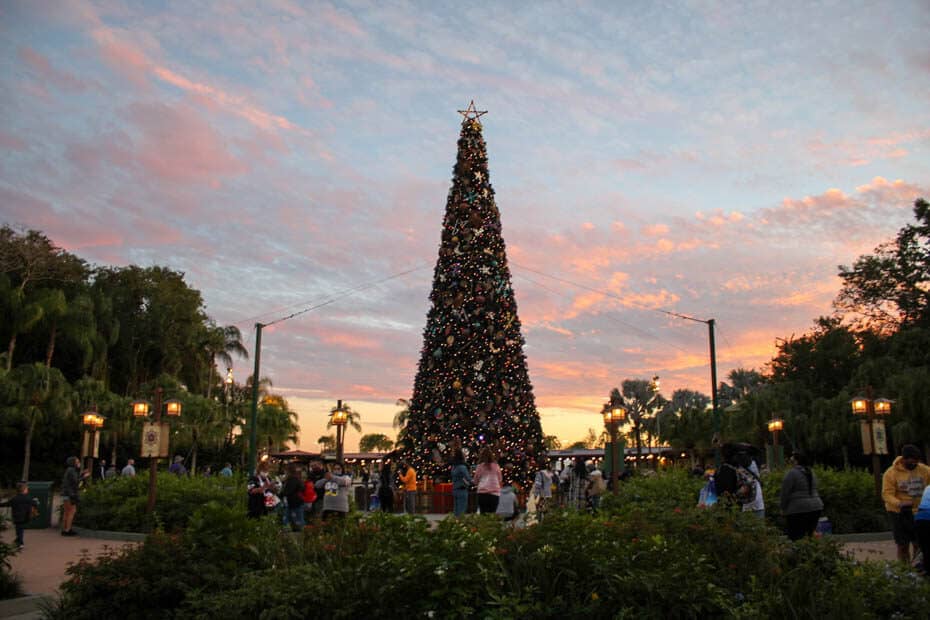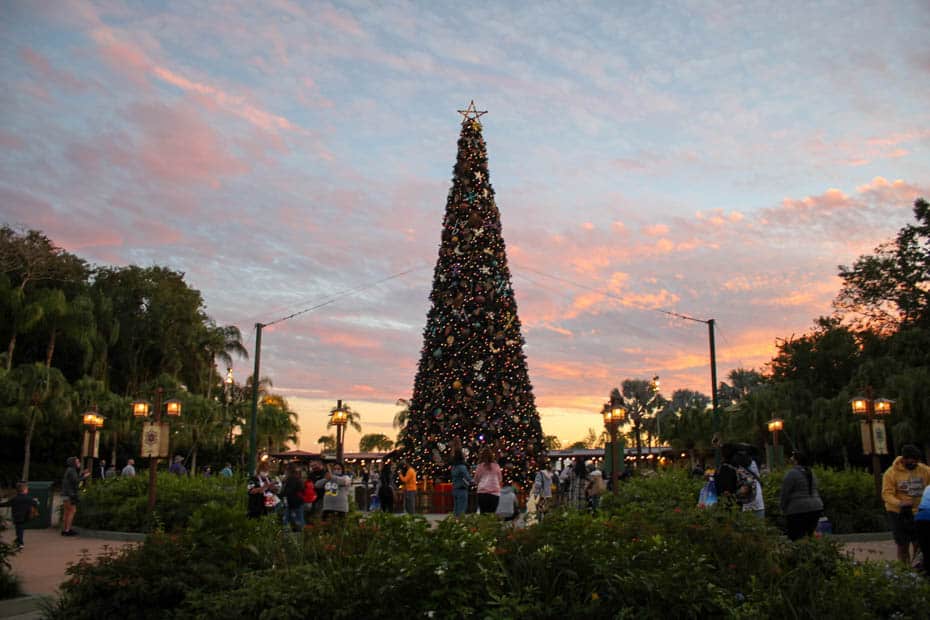 I can tell you this confidently because when I am in Kissimmee the Animal Kingdom is my neighbor. And my little sunset turn at the end of the day is just up Sherberth Road onto Highway 192.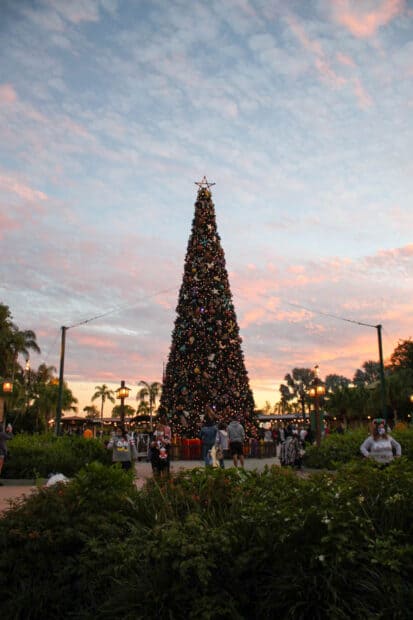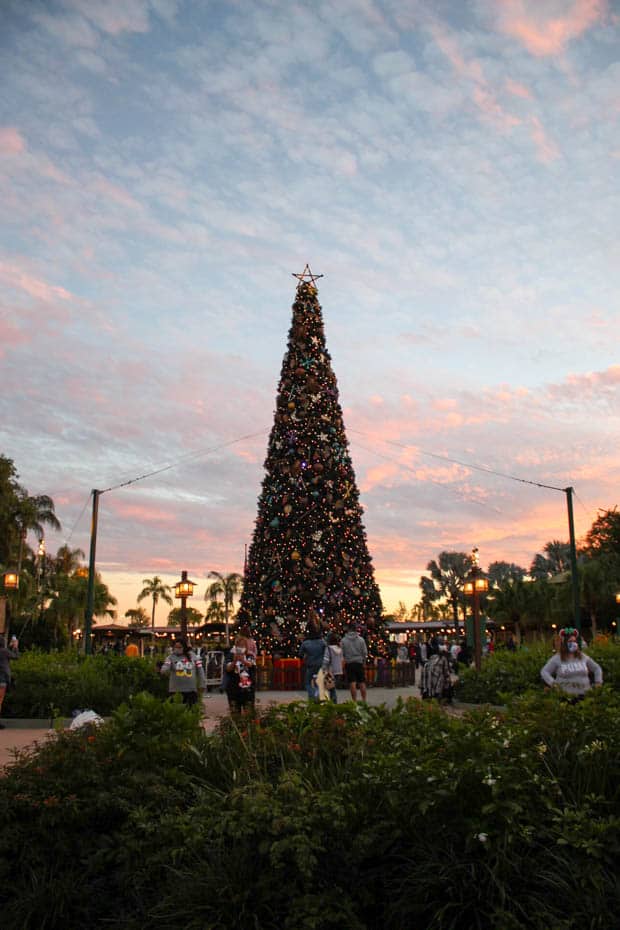 Anyone visiting by car can easily drive over to this portion of HWY 192 in less than 3 minutes when leaving the Animal Kingdom parking lot. There's a wonderful Target, Publix, and several different food options you might enjoy.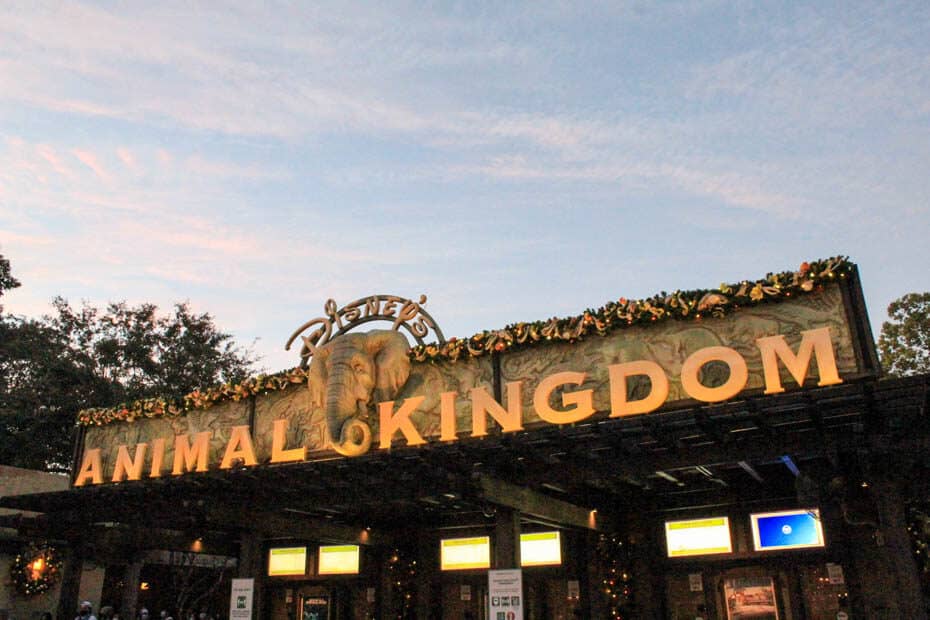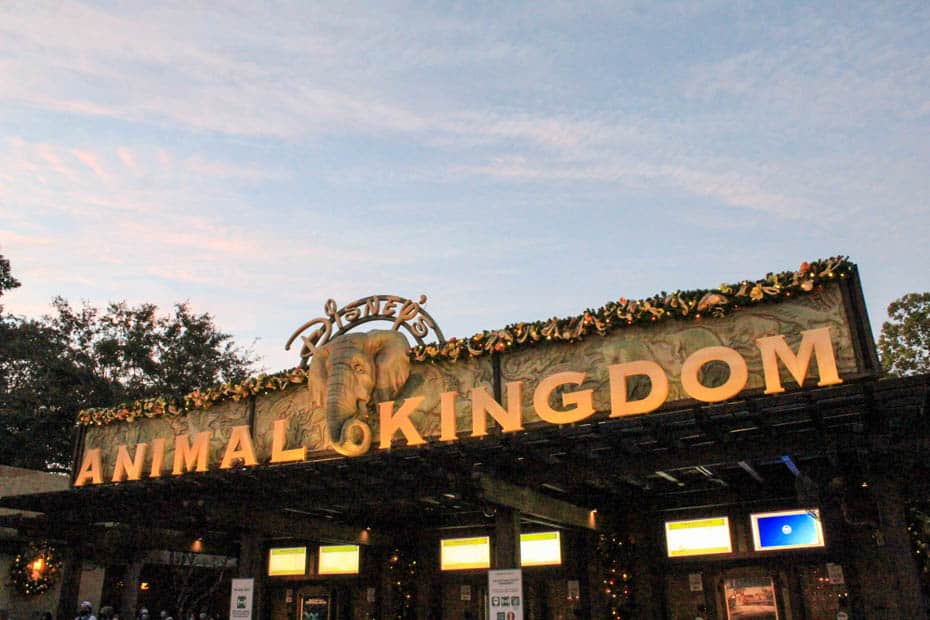 Not to mention the massive cheese-y souvenir shops that line the first block or so of the street. They have become quite endearing to me over the years. No, I don't ever stop.
Well, now that I've shared my top-secret short cut with you, I'm going to have to wrap this one up. If you do decide to take the shortcut over or if you drive anywhere on Disney property, please watch out for deer. They are prevalent on Disney property.
As promised, here are the links to the other Christmas at Disney articles we have covered thus far:
If you are planning a trip to Disney World, you might enjoy checking out some of our top reviews. They include:
Most of all, my wish is that you and your family will have a happy and healthy holiday season.
Have a merry Animal Kingdom Christmas!