Yak & Yeti Review at Disney's Animal Kingdom
Yak and Yeti is a restaurant located at Disney's Animal Kingdom theme park. The restaurant is a longtime favorite dining option for regular guests.
In this Yak and Yeti Review, we'll look at the table service restaurant in detail. I'll add a few tips for dining here and we'll briefly discuss the quick-service location next door.
Yak and Yeti is located on the outskirts of Animal Kingdom's Asia. The restaurant offers a mixture of American, Asian, and Indian cuisine.
The restaurant is unique because it offers casual table service dining and an additional outdoor quick service option next door.
Additionally, Yak and Yeti is part of Landry's restaurant chain. Toward the end of this review, I'll add a little information about dining at any of their locations.
A membership to the Landry's Select Club provides a few benefits that most guests won't want to miss.
This article was updated on March 10, 2022.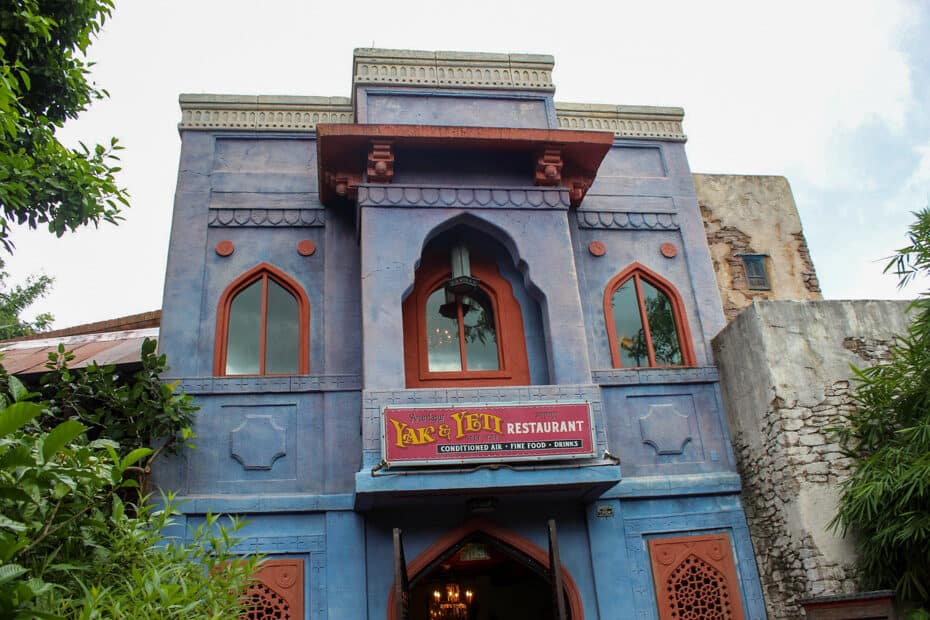 Yak and Yeti Disney Review
Yak and Yeti is known for consistently providing delicious menu items at reasonable prices. The restaurant is splendidly themed and the food always delivers.
Inside the restaurant, you'll find a plethora of Southeast Asian artifacts, which is fitting given its location within the theme park.
There are two different levels inside Yak and Yeti. If you're fortunate enough to receive a table next to the window, you can watch guests coming and going throughout the park.
If not, there are plenty of conversations pieces throughout the restaurant. The place feels like you've walked into a cafe in a remote Asian village.
Yak and Yeti is truly worthy of a home at Disney's Animal Kingdom, given the exquisite detailing of the park in its entirety. Now, as for what to eat.
If you have read any of my prior dining reviews, you know I'm often joined by my son, who deals with severe food allergies.
We rarely eat at Asian restaurants due to so many offering peanuts and the scare of cross-contamination. Yak and Yeti, thankfully, has a peanut-free kitchen.
We typically ask to see a chef due to the severity of his allergies. For us, it seems to work better to talk with the person responsible for preparing the food.
Occasionally, we will have a server that expresses enough knowledge about the menu to feel okay ordering with them.
The reason I try to make this point is there are so many different levels of food allergies. Those with inexperience might not take your allergy to be as serious as it is.
For this meal, the server offered to get the chef after we spieled off the list of food allergies. An allergy-friendly menu was brought to the table for him to review while we waited.
The result, chicken lo mein. This was a huge dish packaged with noodles (egg-free), chicken, cabbage, carrots, and green onions.
The lo mein really hit the spot and was something different from his usual options. Additionally, it was a rather large portion.
Portion sizes at Yak and Yeti are comparable in size across the board. We have eaten here often over the years and rarely can finish our servings.
Some of the more popular menu items at Yak and Yeti include the Ahi Tuna Nachos and the Chicken Tikka Masala.
And then there's the Kobe Beef Burger. As many times as I've eaten here, this was something that I had never ordered.
So for this visit, it was on my radar due to its rave reviews.
I am so ashamed to admit that I ate nearly the whole burger. Although to be fair, I had skipped breakfast that morning and was feeling a little famished.
The flavor of the beef was really delicious and kept me wanting more.
Now I do understand that there's a little hype when it comes to higher grades of beef. Since I love to cook, I have experimented with different types of beef over the years, and Kobe has always been an excellent grade.
Why? Because it's full of fat which makes the burger moist and savory.
If you are looking for taste when it comes to burgers, I have found that the most expensive and the cheapest grounds are the best for flavor.
The leaner cuts naturally provide less fat, which in essence, is somewhat healthier. But those cuts don't provide near the flavor.
Anyways, back to this burger. It was smothered in cheese, a scallion compote, and shiitake mushrooms. This entree comes with a choice of scallion compote or Asian slaw.
There's also a sesame-soy aioli which I had come on the side. And what I assume were house-made pickles were divine.
The Kobe Beef burger comes with standard toppings like lettuce, tomatoes, and onions. It is well worth the price tag and something you might even consider sharing, given the 10 oz portion. Unless, you didn't eat breakfast that morning, of course.
Moving on, we'll take a look at the outdoor quick service. Yak and Yeti Local Food Cafes has a sign above the entrance with the name Anandapur Local Food Cafe.
The location is right next door to the table service restaurant. I've always found it very confusing that the sign doesn't actually indicate the correct name for the quick service location.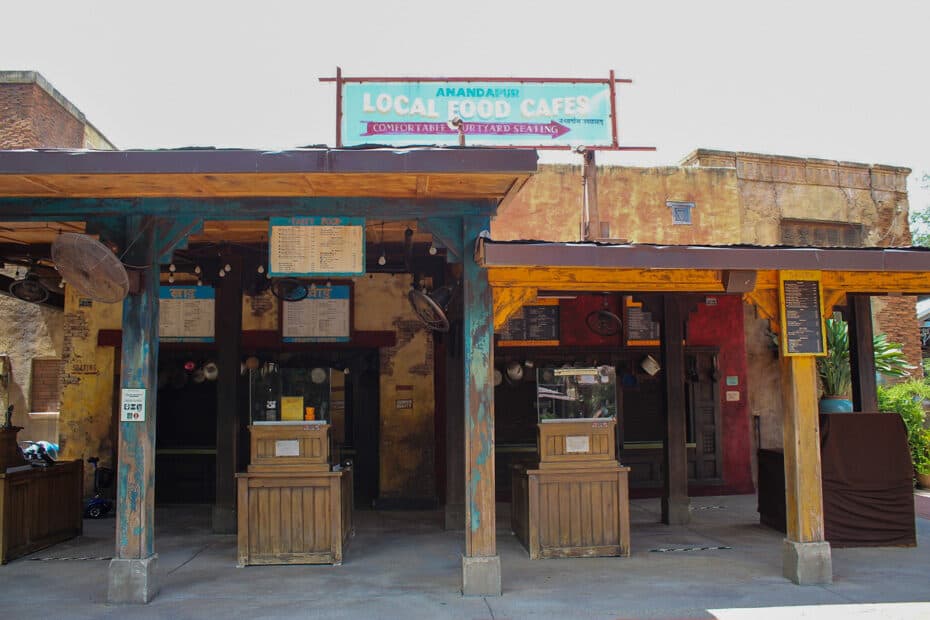 There are several walk-up ordering areas.
While there isn't immediate seating, you'll find several delightful areas to sit across the pathway. Most of them look out at the water and the Tree of Life. The areas aren't exactly hidden, but you might have to look for them.
Yak and Yeti Local Food Cafes serve breakfast, lunch, and dinner. Below is a picture of the lunch and dinner menu posted at the restaurant.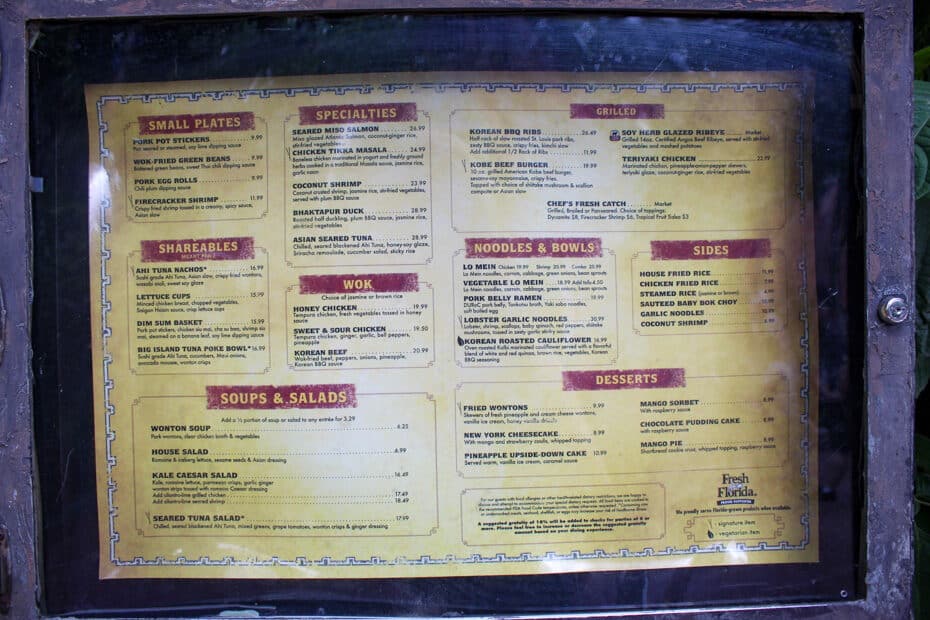 And here is a link to the menu on Disney's site. You might notice that this is a good place to pick up a cheeseburger or chicken nuggets kids' meal if you are dealing with picky eaters.
The fried rice options here tend to be popular due to the portion size versus the price. I don't think you should expect anything more than standard fried rice, but the cost should be agreeable to most budgets.
Landry's Select Club at Yak and Yeti
Before we wrap up this review, I wanted to briefly touch on the benefits of becoming a Landry's Select member. We have been members since 2014 and have used the card multiple times throughout the years. Here's how it works.
The cost of the card is $25 for a lifetime membership, there are never any other fees. Subsequently, the initial $25 is immediately returned on your first visit to any Landry's restaurants.
The biggest perk of the card for me is priority seating. If you have ever visited Animal Kingdom on a busy day, you know it isn't easy to get a last-minute reservation.
With a Landry's Card, you can walk right up to the check-in stand and let them know you are a member.
The host will shortly seat you ahead of waiting guests. This works well at the Rainforest Cafe too. If you look above the check-in stand, there are usually signs for two lines.
Make sure you join the line for members. Hint: There usually isn't anyone in that line.
Other benefits include a yearly $25 reward that can be used on any day of your birthday month. When we signed up for the card, we chose December as our birthday month.
None of us have birthday months in December, but we knew this was a time we would be more likely to use it. The manager said it could be considered our celebration month.
Lastly, members get one point for every $1 spent at Landry's restaurants. When you reach 250 points, you will receive a $25 reward for your next visit.
Animal Kingdom has two Landry's locations, Rainforest Cafe and Yak & Yeti.
Additionally, you'll find a Rainforest Cafe at Disney Springs and TREX. We find Yak and Yeti to be the superb choice of the three.
Rainforest Cafe has good, standard options similar to a local chain restaurant. And TREX has a cool dinosaur theme going for it, but we weren't impressed with the food on our last meal.
The information about the card is here on Landry's site. And I have no motives in suggesting the membership. It's just been an asset for my family that I like to share.
Yak and Yeti is a great choice for standard table service dining at Disney's Animal Kingdom. Expect large portions, reasonable prices, and a pleasant atmosphere on your visit.
I forgot to mention that they often have a separate seasonal menu offering limited-time items. The restaurant does a good job of providing consistent traditional entrees, along with new specials here and there.
Final Thoughts on Yak and Yeti
Hopefully, this review of Yak and Yeti gave you a good idea of the food offered. Ask around, and I'm sure most will agree, it's a great place to enjoy a meal on your Animal Kingdom.
However, in my opinion, Animal Kingdom has the best dining options when considering the theme parks.
If you're looking for something more formal, you'll want to try Tiffins, which is signature dining. And we rarely visit Animal Kingdom without a visit to Nomad Lounge. You can stop in there for a cocktail or small plate-style meal.
Related Articles:
Additionally, there are several excellent quick service locations like Satu'li Canteen and Flame Tree Barbecue.
Related:
Or you can browse our list of Disney Restaurant Reviews.
Lastly, if you are looking for other Disney restaurant reviews. Some favorites include:
Trying to decide where to stay? Try these resort articles:
In the comments: Have you had a chance to eat at Yak and Yeti? If so, what did you enjoy? Do you have a Landry's card? Where have you used it?