Yak & Yeti Review (Why This Animal Kingdom Restaurant is a Fan Favorite)
This article reviews Yak and Yeti at Disney's Animal Kingdom. We'll preview the restaurant, menu, and a few items we've tried on multiple visits.
When spending the day at a Walt Disney World theme park, you have to decide where to eat lunch or dinner. Often, you'll want to plan that meal in advance and secure a reservation.
But where should you eat when you visit Disney's Animal Kingdom? Thankfully, the park has plenty of good dining options. So many that it can be difficult to choose.
Unfortunately, that's not always the case for some of the other parks. But we tend to visit one place at Disney's Animal Kingdom a little more often than others–Yak and Yeti Restaurant.
Yak and Yeti is unique because it's owned by Landry's, the same company that owns Rainforest Cafe. However, they have an entirely different menu that specializes in Asian cuisine.
That said, the menu at Yak and Yeti isn't entirely Asian. Nevertheless, this table service restaurant has plenty of options that should suit even the pickiest of diners.
Let's take a closer look!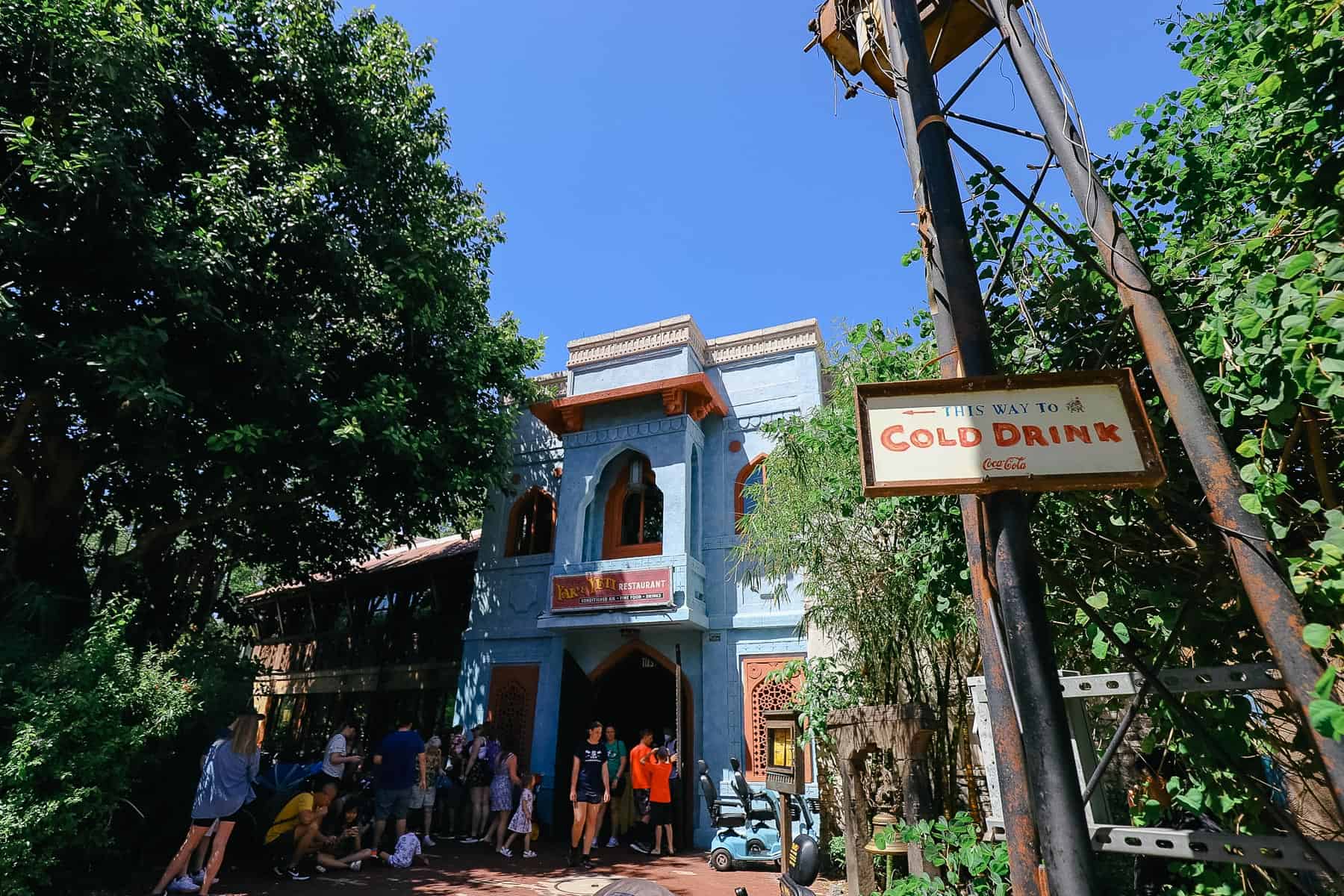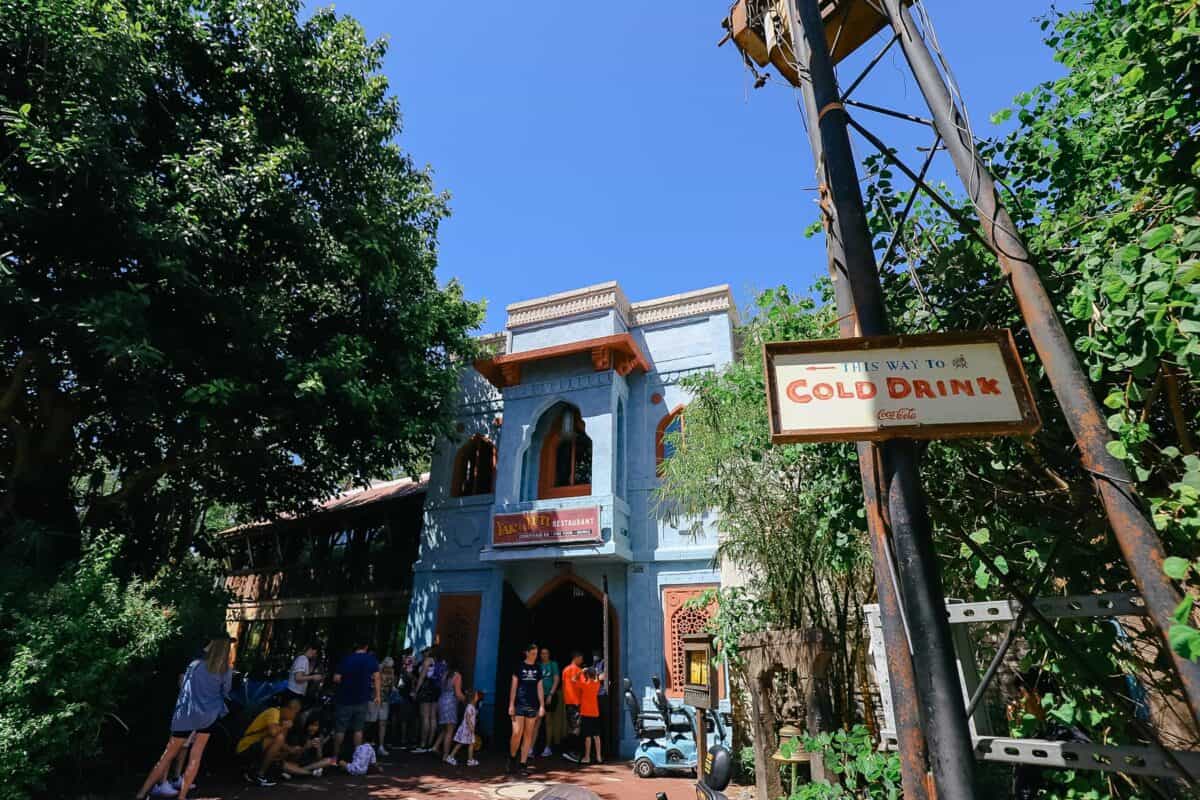 Yak and Yeti Review
Yak and Yeti sits on the outskirts of the Asia section of Disney's Animal Kingdom. Their menu offers a mixture of Asian, Indian, and American cuisine.
This restaurant is unique because it offers casual table service dining and an additional outdoor quick service option next door.
Yak and Yeti Local Food Cafes is the name of the quick-service location. It sits on the right-hand side of the restaurant and is usually open daily from 9:00 a.m. until 7:00 p.m. Of course, those hours might fluctuate depending on the park's operating hours.
This quick service is one of the few restaurants serving breakfast at Disney's Animal Kingdom. They have several breakfast bowls, English muffin breakfast sandwiches, and kids' meals available in the mornings.
For lunch and dinner, you can pick up a carton of their exceptionally popular fried rice. They also have an American Kobe cheeseburger that's delicious. It's similar to the one served inside the restaurant.
Other items include a Korean fried chicken sandwich, sweet-and-sour shrimp tempura, honey sesame chicken, and a teriyaki chicken salad. Plant-based options include vegetable tikka masala and a veggie burger.
On a recent visit, I ordered the honey sesame chicken. Per the menu, this dish is described as tempura chicken, fresh vegetables, honey sesame sauce, and white rice.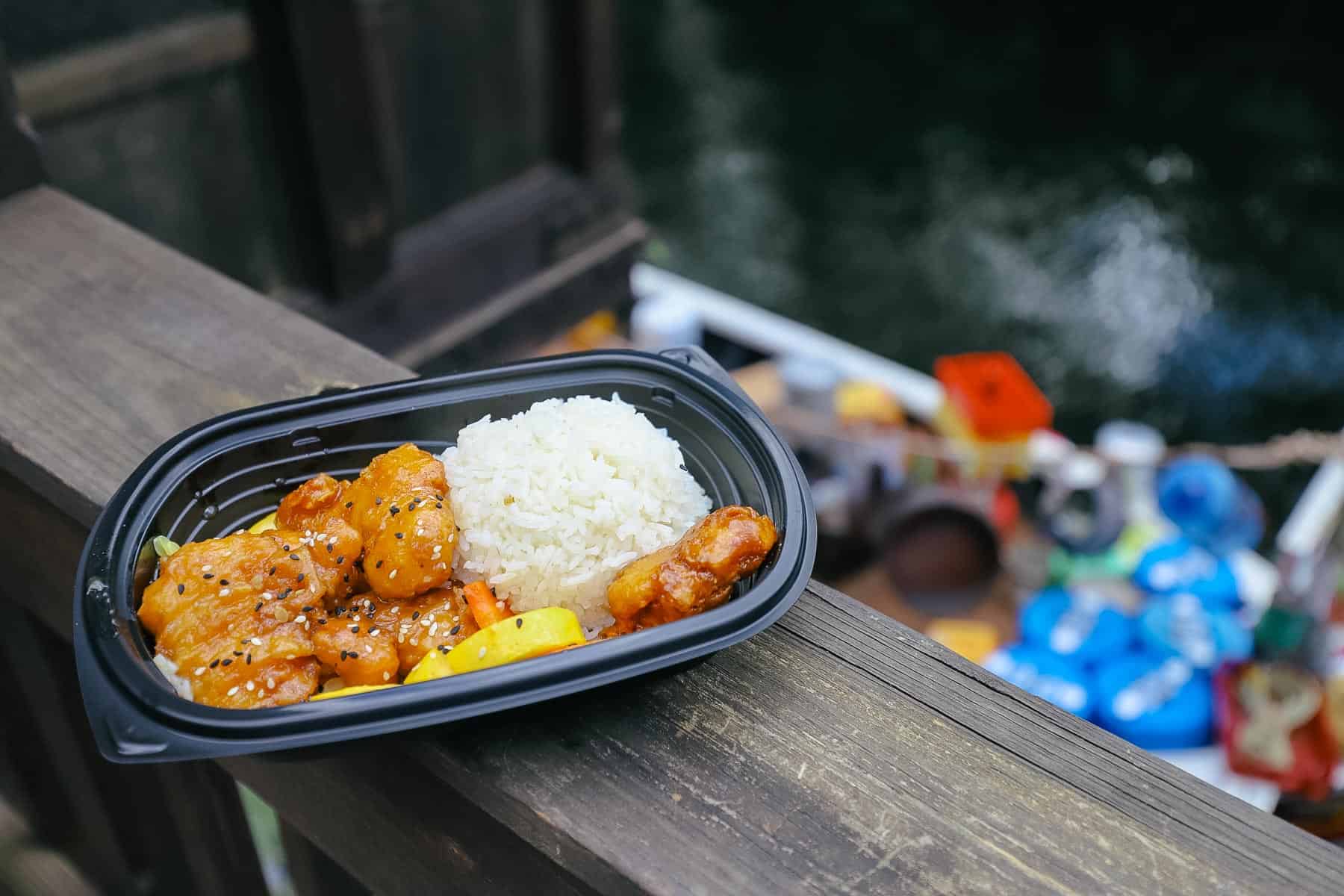 My dish came with carrots and yellow squash. For $15.00, I thought this was an excellent meal of good quality. I also appreciated the large serving size of veggies. It's probably hard to tell from the photo, but a layer of vegetables sat underneath the chicken.
You can preview the quick-service menu with prices here on Disney's site.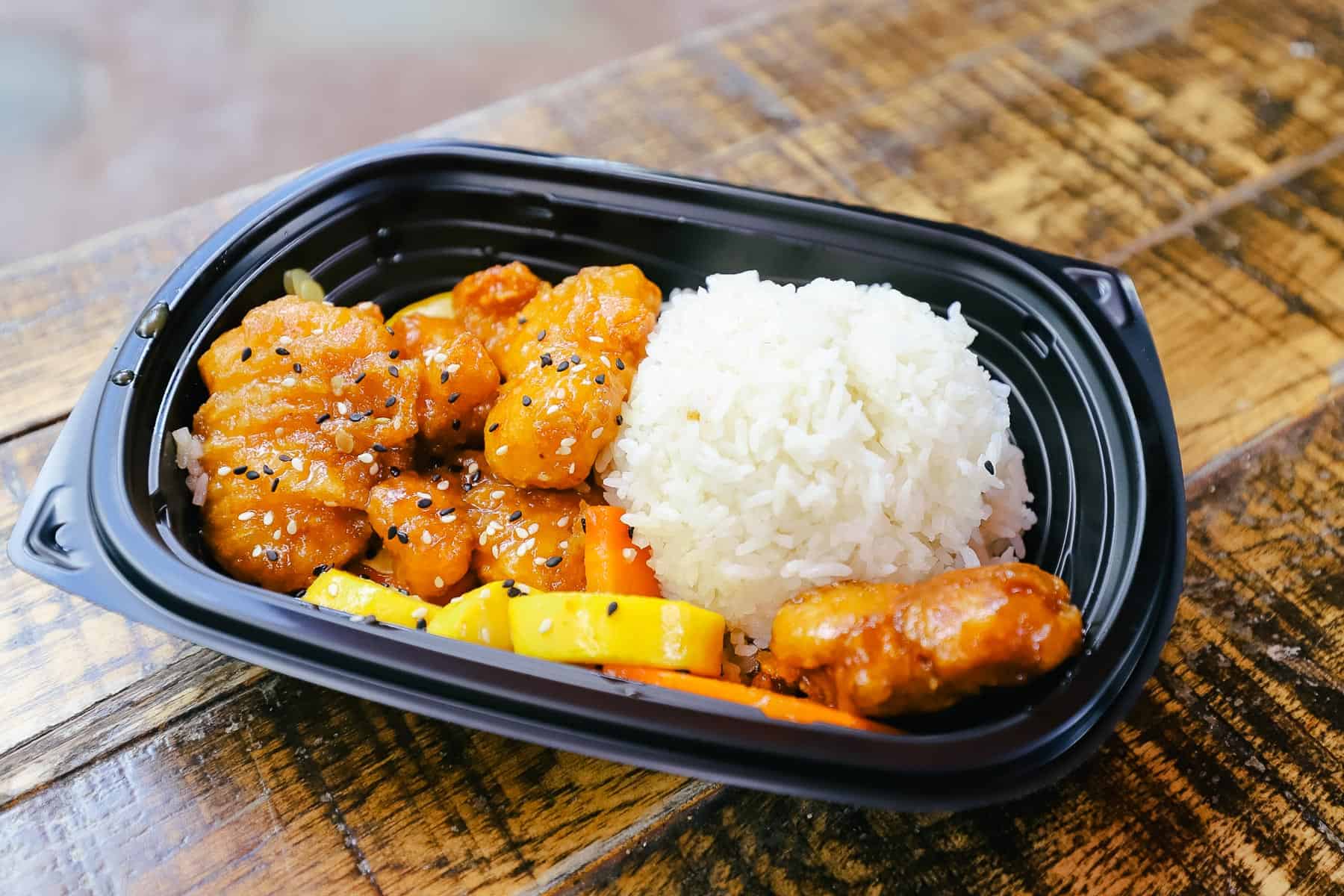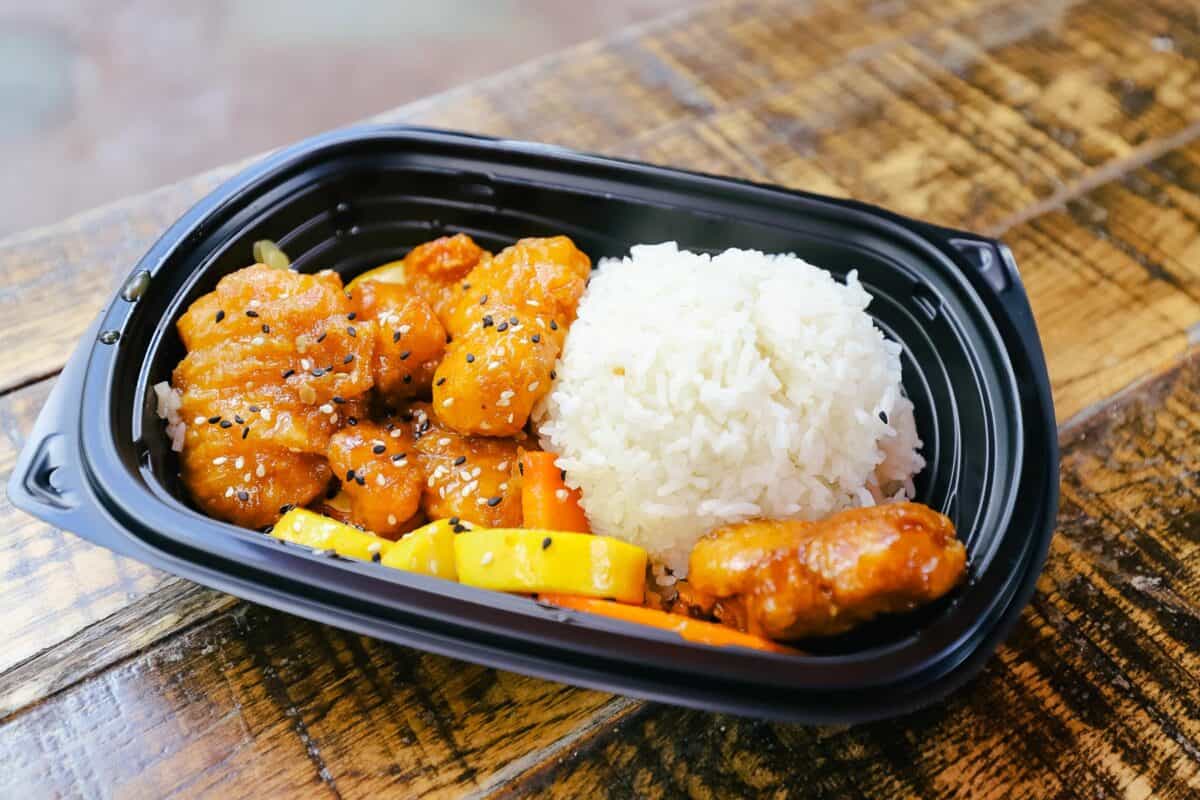 On another visit, I decided to pull out my Landry's card and see if I could get a table inside the restaurant without a reservation. Toward the bottom of this review, I'll provide some information about the benefits of having a Landry's card.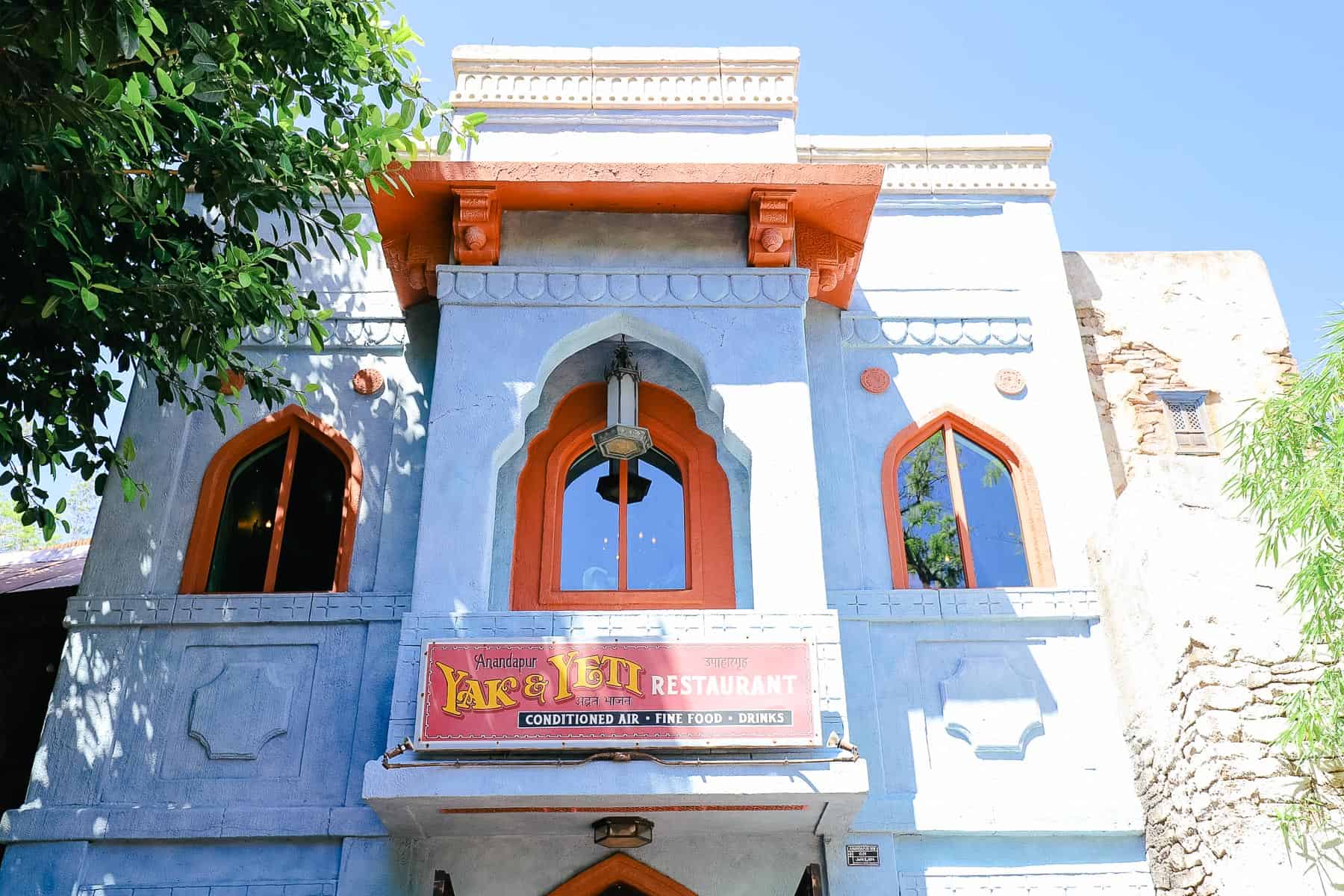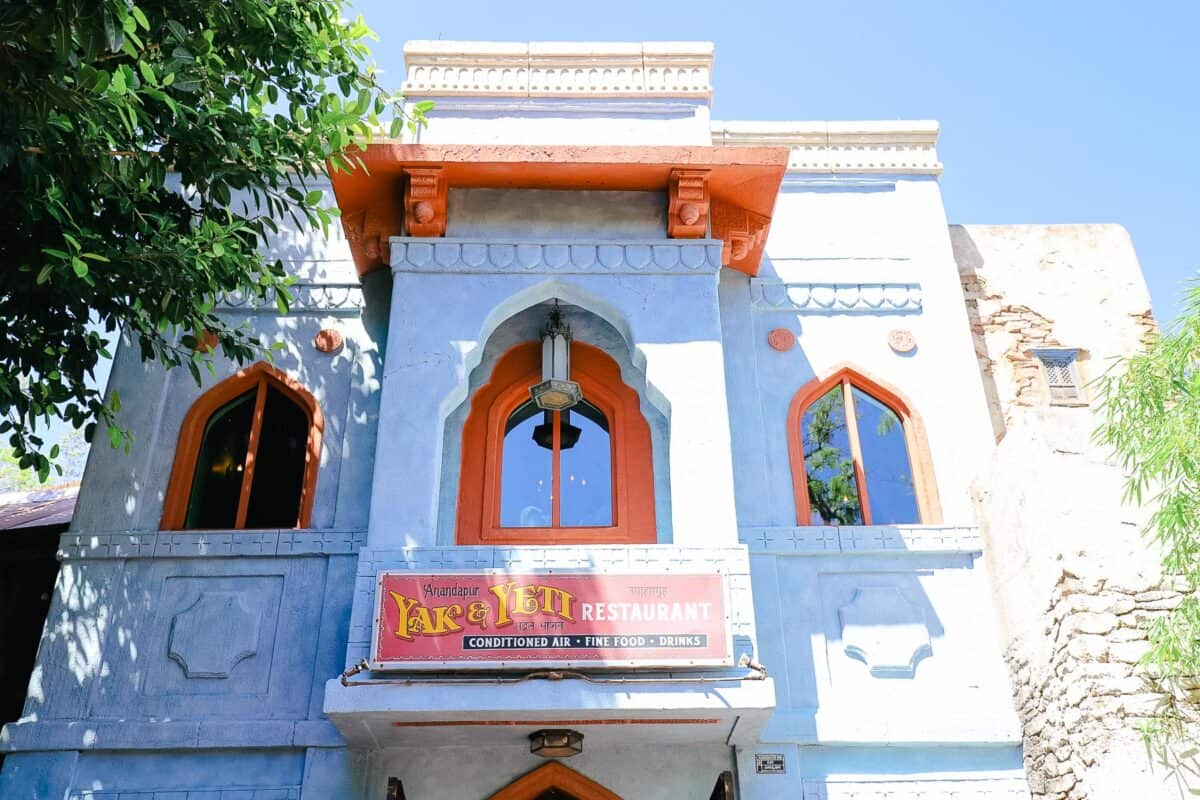 One of the perks is receiving priority seating at any of their locations, even if you don't have a reservation. So it's a nice benefit, especially if you can't get a reservation beforehand. It's a pretty popular restaurant.
Like most of the Animal Kingdom, Yak and Yeti is elaborately themed with Southeast Asian artifacts. Unfortunately, it's pretty dark inside the restaurant, and given its busyness, getting decent photos is challenging.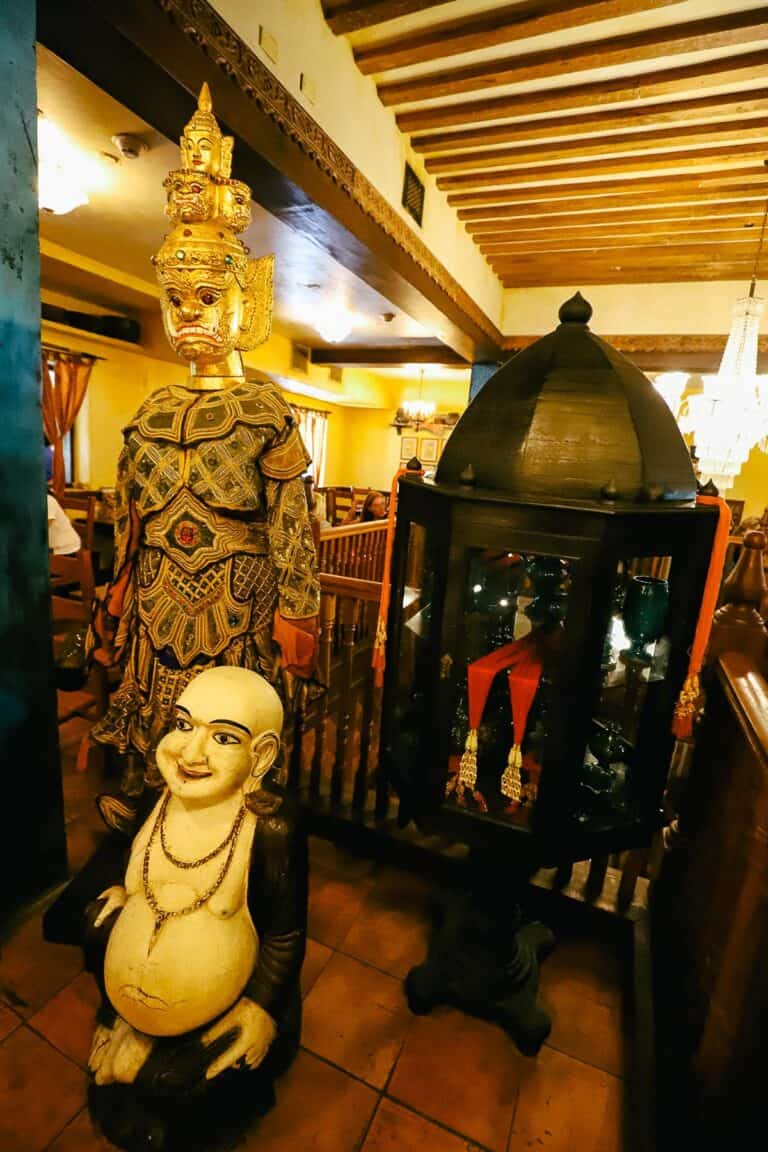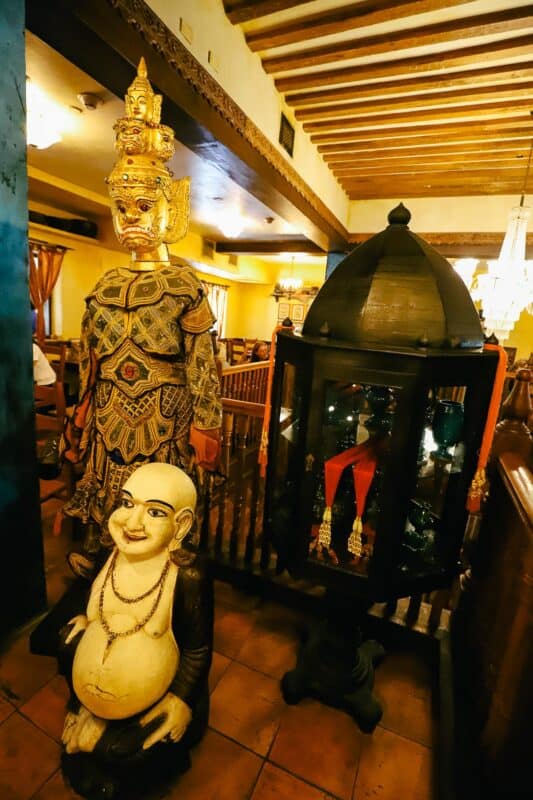 Yak and Yeti has a first and second floor. When the host arrives, they'll escort you to your table. If your table is upstairs, they'll ask if you're okay with taking the stairs or if you would prefer to use the elevator.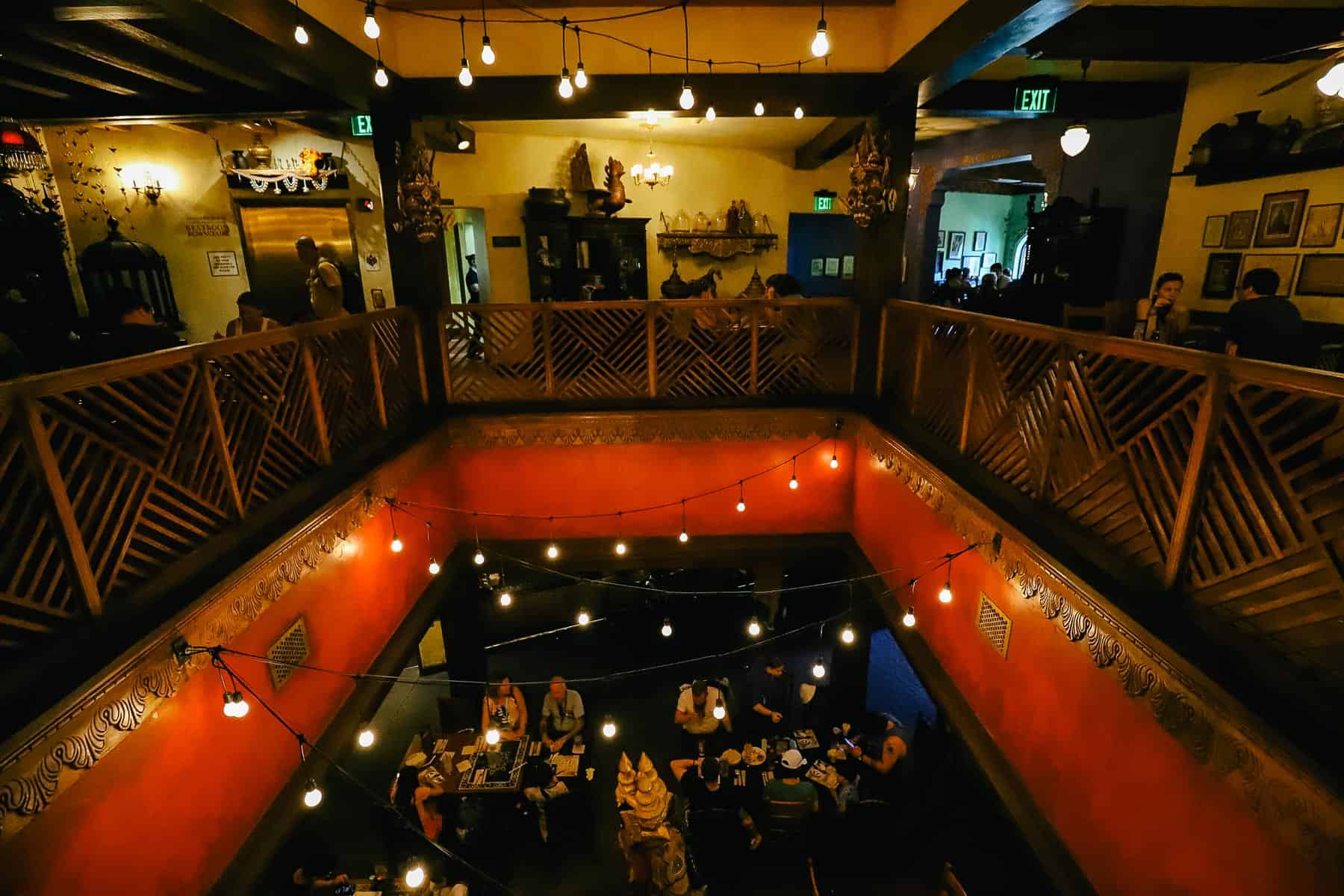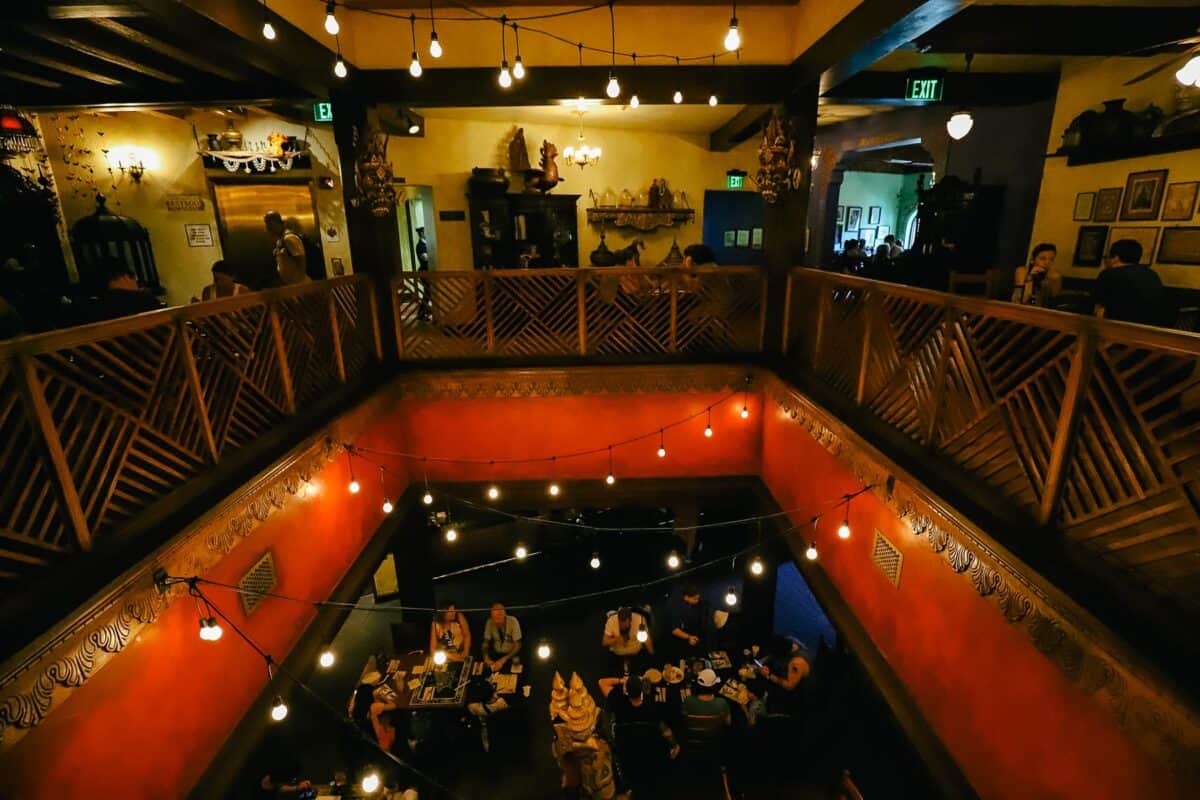 Those fortunate enough might be seated on the upper level at a window seat. If so, you can watch the hustle and bustle of guests down below as they travel between the Asia and Africa sections of the park.
If not, there are plenty of conversation pieces throughout the restaurant. It feels like you've walked into a cafe in a remote Asian village.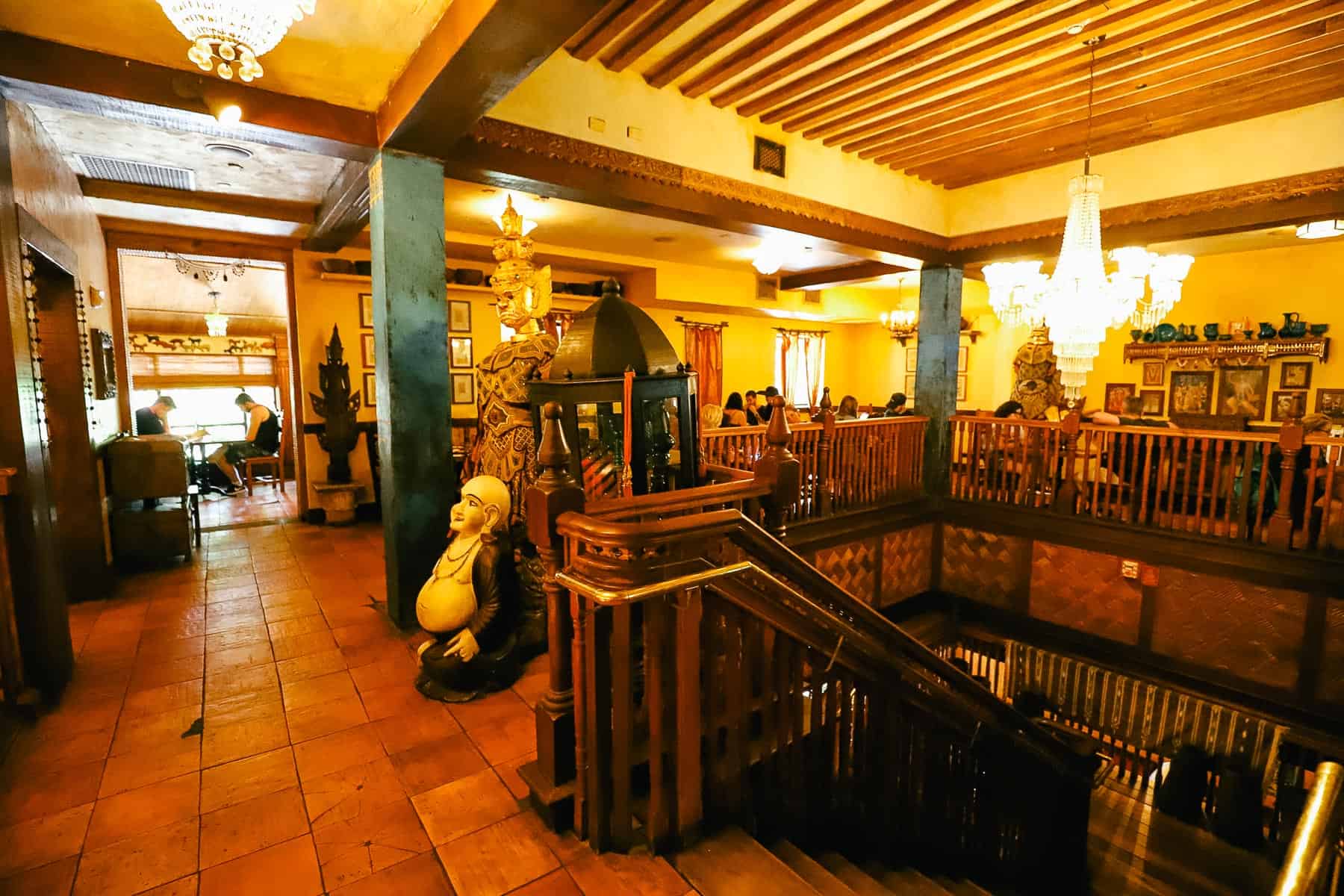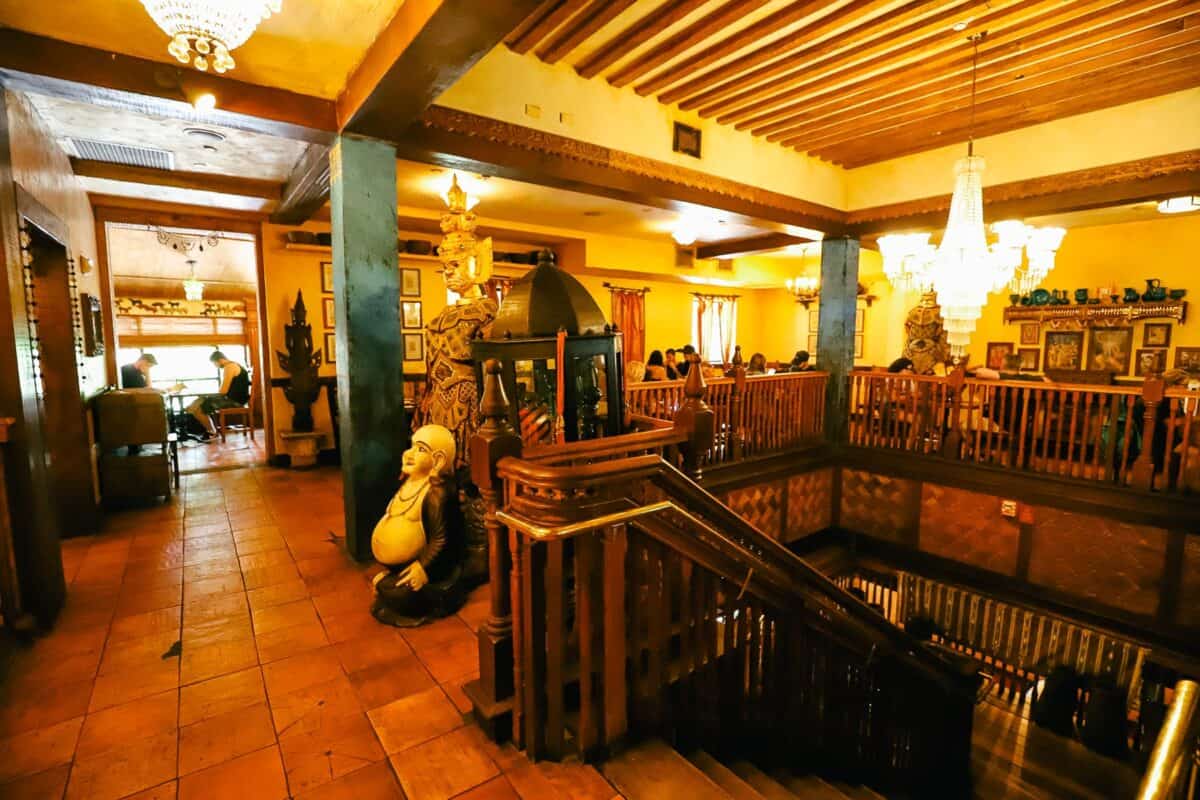 A Quick Note for those with Food Allergies
If you have read any of my prior dining reviews, you know I'm often joined by my son, who deals with severe food allergies. We rarely eat at Asian restaurants because of peanuts and the scare of cross-contamination. Thankfully, Yak and Yeti has a peanut-free kitchen.
We typically ask to see a chef due to the severity of his allergies. For us, it seems to work better to talk with the person responsible for preparing the food.
On a previous visit, the server offered to get the chef after we spieled off the list of food allergies. An allergy-friendly menu was brought to the table for him to review while we waited.
The result– chicken lo mein. The chef prepared a massive dish of egg-free noodles, chicken, cabbage, carrots, and green onions. For my son, this was a unique offering from the usual allergy-friendly chicken tenders.
On other visits to Yak and Yeti, they've prepared grilled chicken and steak with fries and stir-fried vegetables. Unfortunately, we've lost many older photos because of a hard drive issue.
But I wanted to mention that Yak and Yeti has always provided excellent care for our beloved diner with food allergies. This is one of his favorite places to eat in the parks.
In addition to his allergy-friendly meals, I've tried several items. My go-to dish used to be the shrimp lo mein. It's a hearty meal packed with noodles and plenty of shrimp.
On another visit, I tried the Kobe Beef Burger, which gets rave reviews. After ordering it, I can see why. It is a deliciously juicy burger.
When it came to the table, I thought there was no way I could eat all of it! But somehow, I managed to eat every single bite. It was that good!
Yak and Yeti's Kobe burger comes smothered in cheese, a scallion compote, and shiitake mushrooms. It also has a sesame-soy aioli, which I had come on the side. My burger was topped with house-made pickles that were divine.
Other popular menu items at Yak and Yeti include the Ahi Tuna Nachos and the Chicken Tikka Masala. Unfortunately, I haven't tried these items yet. But they might be worth your consideration.
On my most recent visit, I stopped outside the restaurant and looked over the menu. I noticed that a dragon roll bowl had been added since my last visit, and it looked like something I would enjoy.
You can preview the entire Yak and Yeti menu with prices here on Disney's site.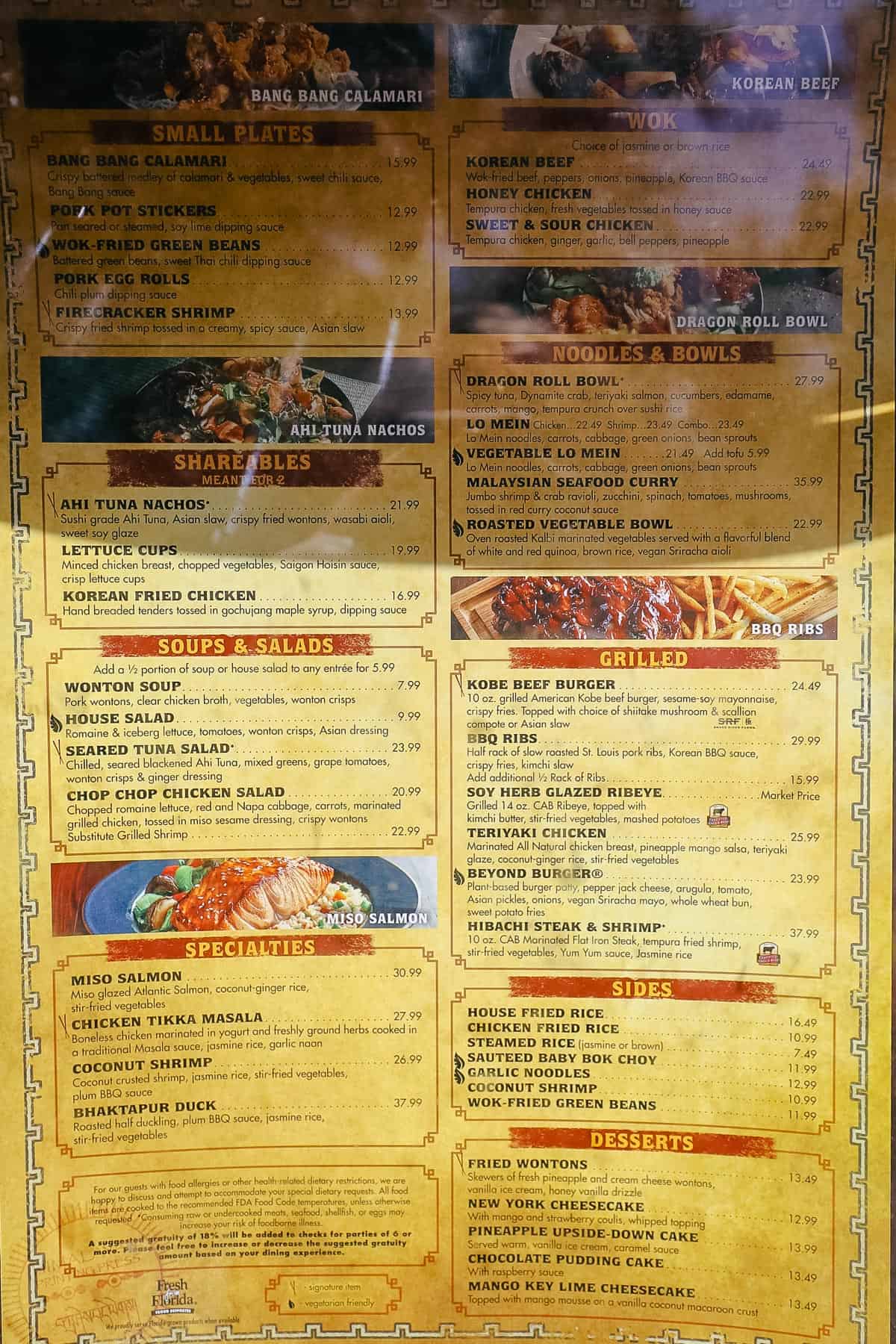 So I checked for availability and was told it would be about a 15-minute wait for a table with my Landry's card. Other parties were being quoted a 45-minute wait.
Approximately 10 minutes later, I received a text that my table was ready. After being seated, I ordered the dragon bowl.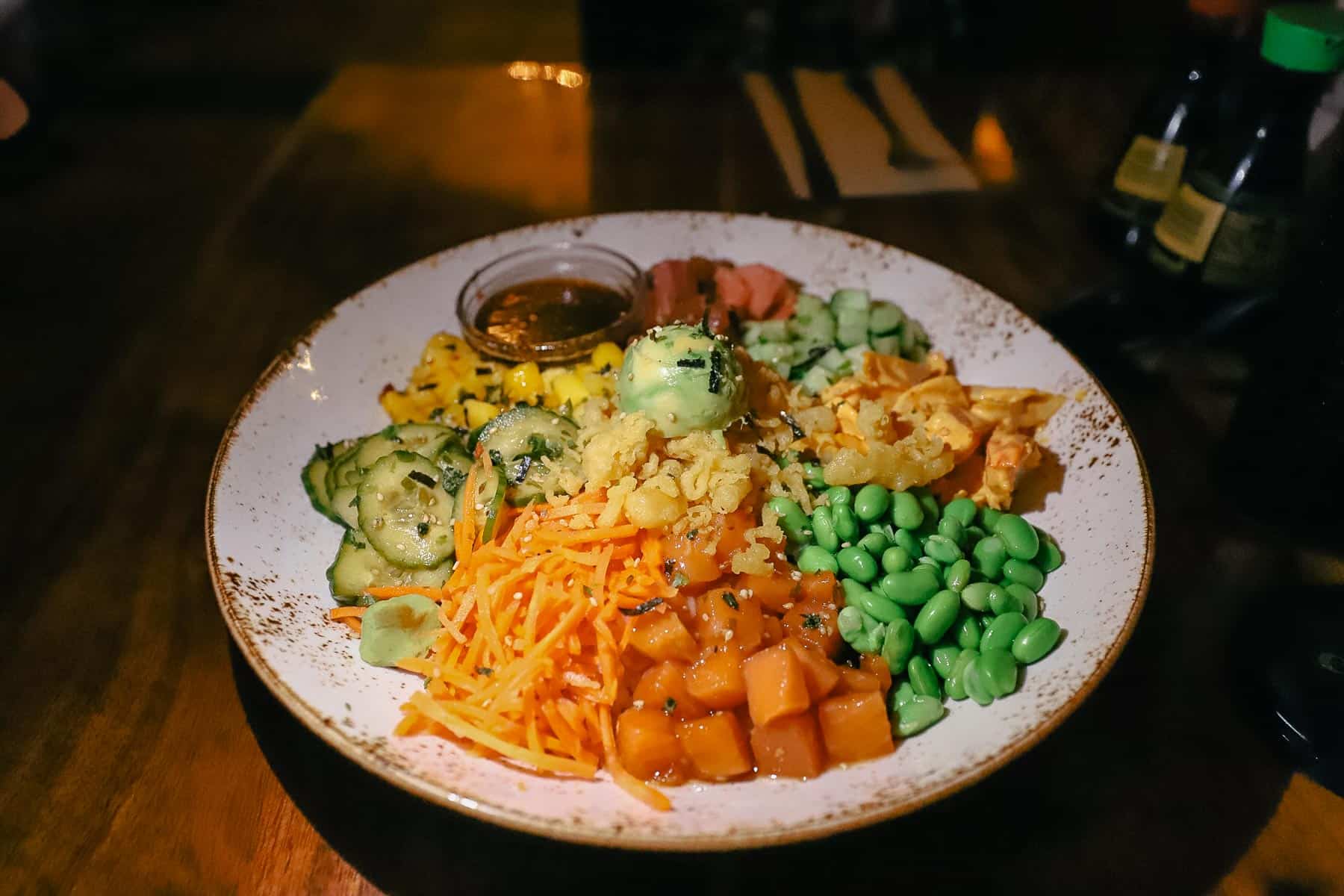 The dragon bowl is perfect for sushi lovers. It's described as spicy tuna, dynamite crab, teriyaki salmon, cucumbers, edamame, carrots, mango, and tempura crunch over sushi rice. A sweet soy glaze comes on the side.
Basically, this is a deconstructed sushi where you can pick and sort which bites you want to enjoy. I loved it. My only complaint was that this portion was way too much for me to tackle by myself. Unfortunately, I wasn't in a position where I could take leftovers home.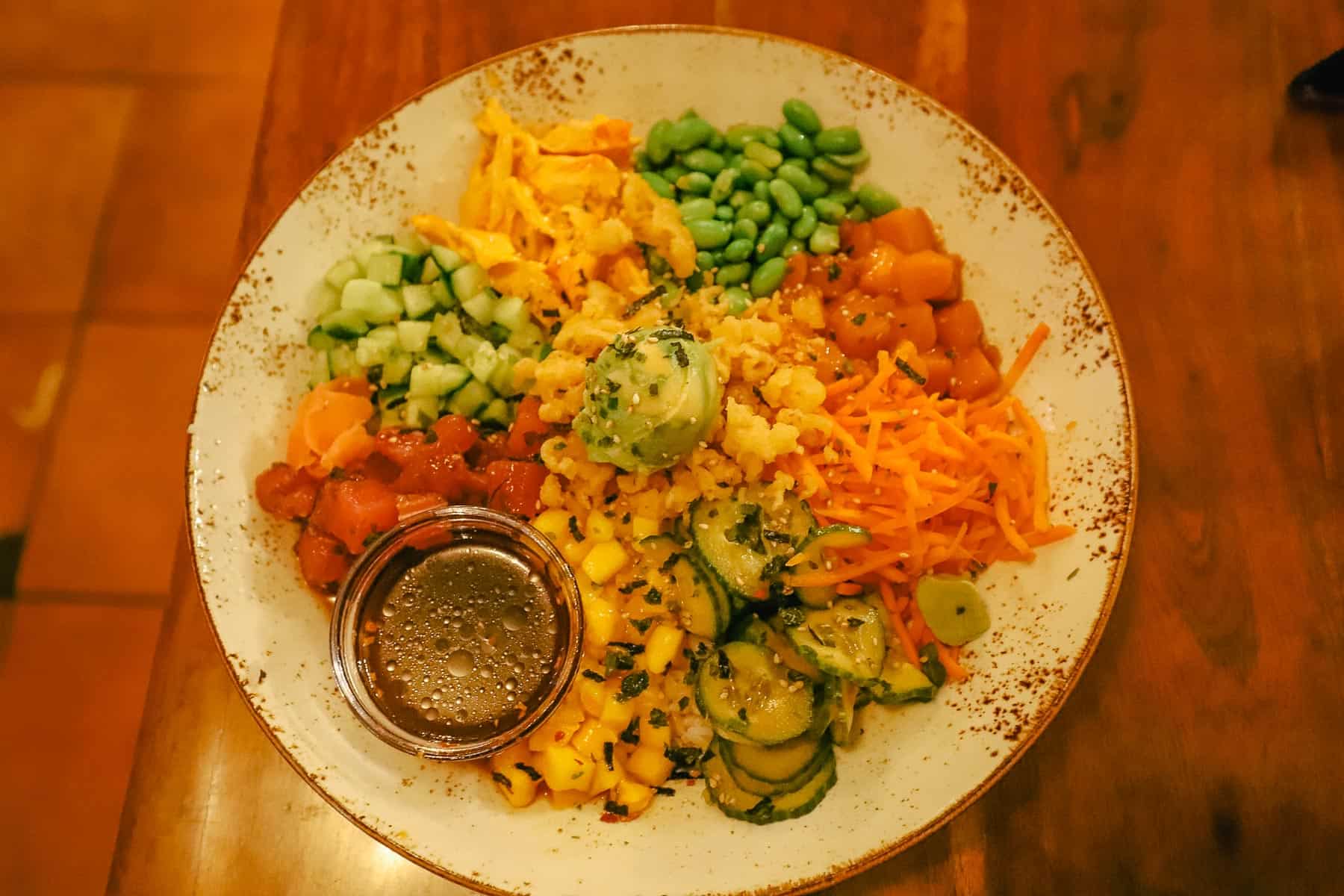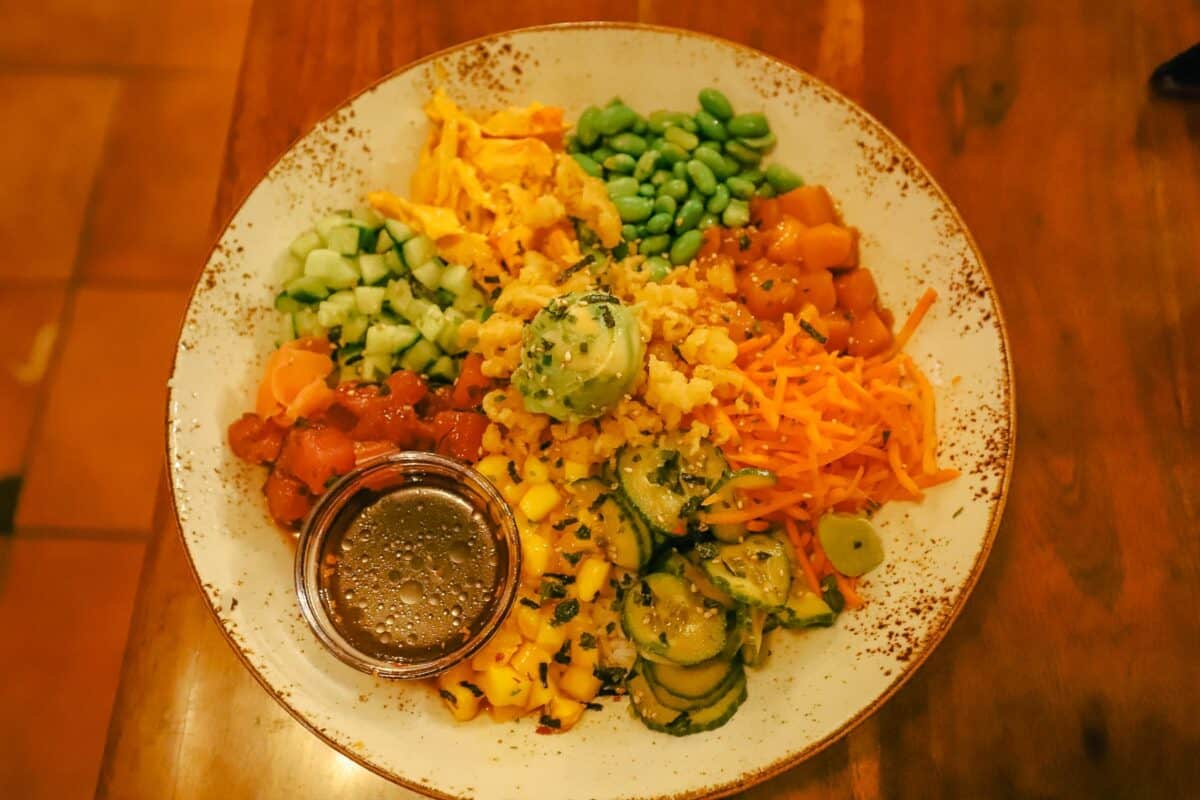 Landry's Select Club at Yak and Yeti
Before we wrap up this review, I wanted to briefly touch on the benefits of becoming a Landry's Select Club member. We have been members since 2014 and have used the card multiple times. Here's how it works.
A Landry's card costs $25.00 for a lifetime membership. There are never any other fees. Subsequently, the initial $25.00 is immediately refunded on your first visit to any of Landry's restaurants.
For me, the biggest perk of the card is getting priority seating. If you have ever visited Animal Kingdom on a busy day, you know it isn't easy to get a last-minute reservation.
With a Landry's Card, you can walk right up to the check-in stand and tell them you are a member. They will do their best to seat you, even when other guests are waiting.
This works well at Rainforest Cafe too. There is a Rainforest Cafe at the entrance of Disney's Animal Kingdom and at Disney Springs. T-Rex is another option at Disney Springs.
Other benefits include a yearly $25.00 reward that can be used on any day of your birthday month. When we signed up for the card, we chose December as our birthday month.
None of us have birthday months in December, but we knew this was a time we would be more likely to use it. So, the manager said it could be considered our celebration month.
Lastly, members get one point for every $1.00 spent at Landry's restaurants. When you reach 250 points, you will receive a $25.00 reward for your next visit.
You can find more information about the card here on Landry's site. On a side note, I get no benefit from sharing this with you. We love Landry's restaurants and think the membership is a no-brainer.
Final Thoughts on Yak and Yeti
Hopefully, this Yak and Yeti review gave you an overview of what to expect at the restaurant. It's an excellent place to enjoy a meal during your visit to Disney's Animal Kingdom.
Of course, the park has so many great options when it comes to dining. Here are a few other favorites:
Or you can browse our entire list of Disney Restaurant Reviews.
Some of our other favorites in the theme parks include:
Lastly, here are our most popular dining guides:
In the comments:
Have you had a chance to eat at Yak and Yeti? Did you find this review helpful?