Nomad Lounge Review at Disney's Animal Kingdom
Nomad Lounge is a stop you will want to remember on your next visit to Disney's Animal Kingdom. This charming location provides guests an opportunity to pick up a unique cocktail or order a small plates-style meal. The menu even offers a variety of nice appetizer selections that could easily serve as an entire meal.
In this Nomad Lounge review, we'll look at the menu including a few cocktails and appetizers we've enjoyed. It is rare for us to spend an entire day at the theme park without a visit to the lounge. Between the tranquil vibe and refreshing cocktails, you'll find this is the perfect place to recharge.
Nomad Lounge is connected to Disney's Tiffins restaurant (review). It is located on the right before you get to the bridge that crosses over into Pandora, World of Avatar.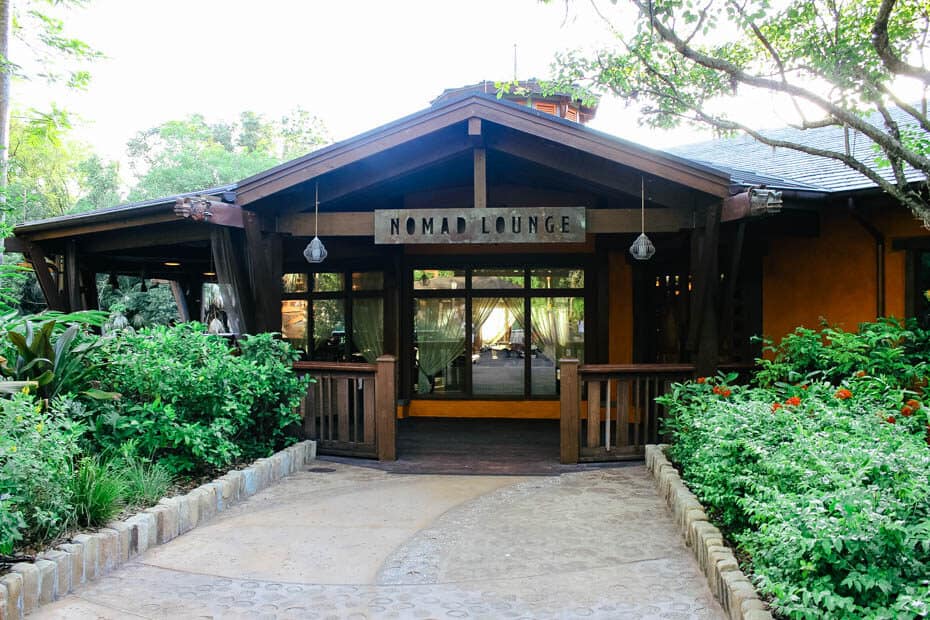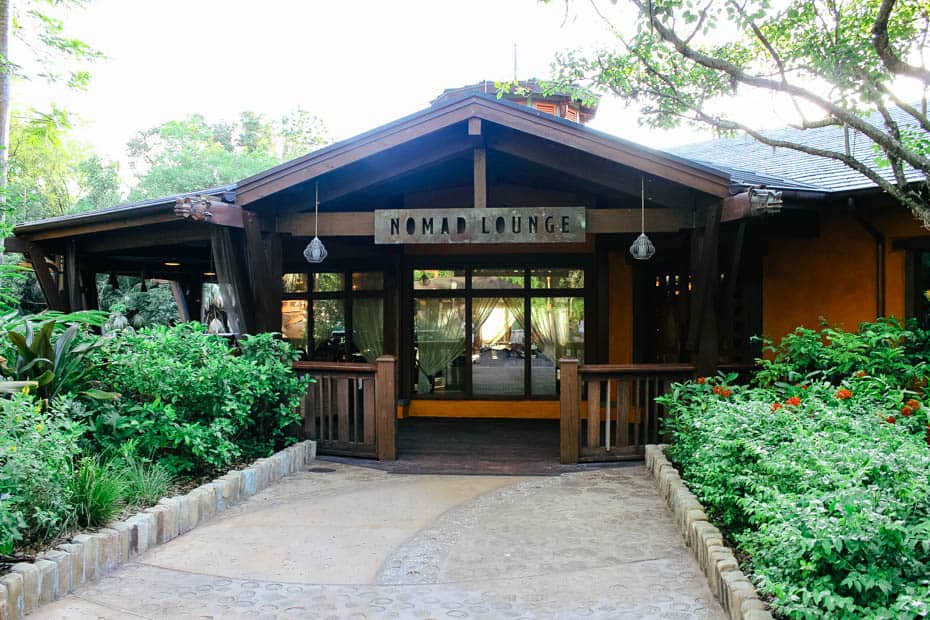 Below is a picture of the outdoor deck sitting area for the lounge.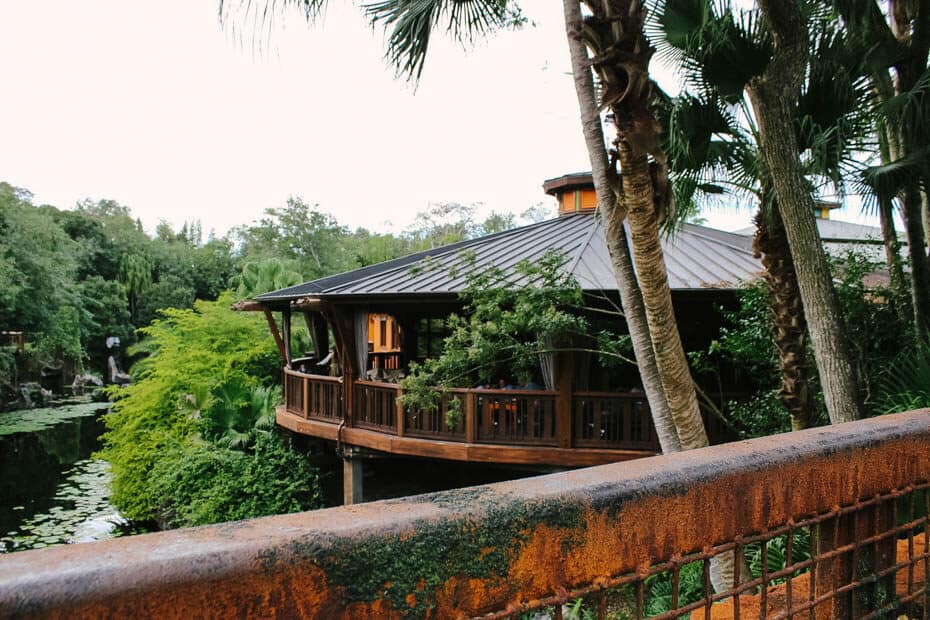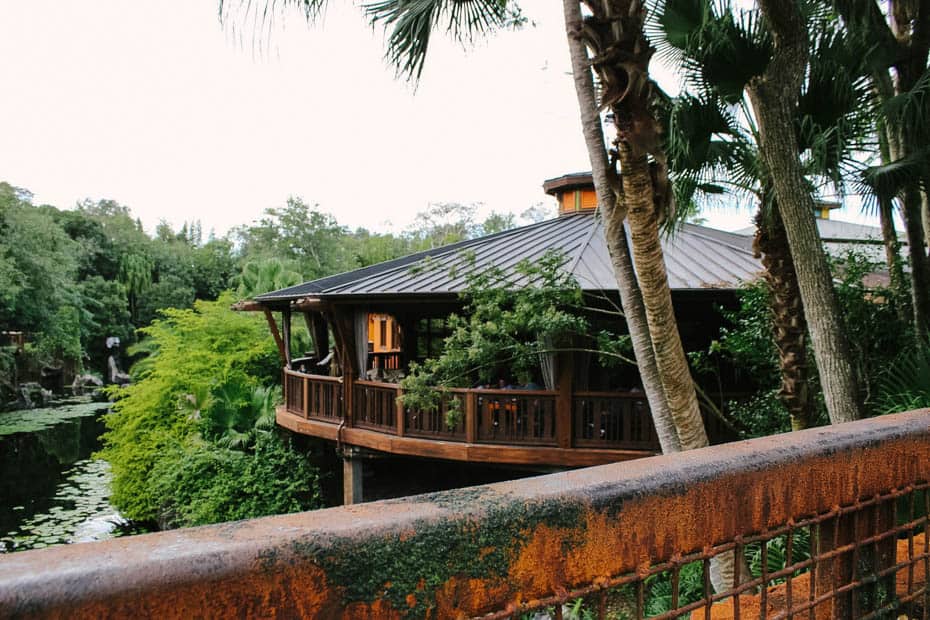 Outside of Nomad Lounge, there's usually a menu available. Seating is normally first come, first serve. However, on my last visit, a cast member took my information and sent me a text about 30 minutes later when a seat came available.
The deck portion of Nomad Lounge is my preferred place to sit. I have enjoyed more experiences here over the last few years than my pocketbook would like to admit.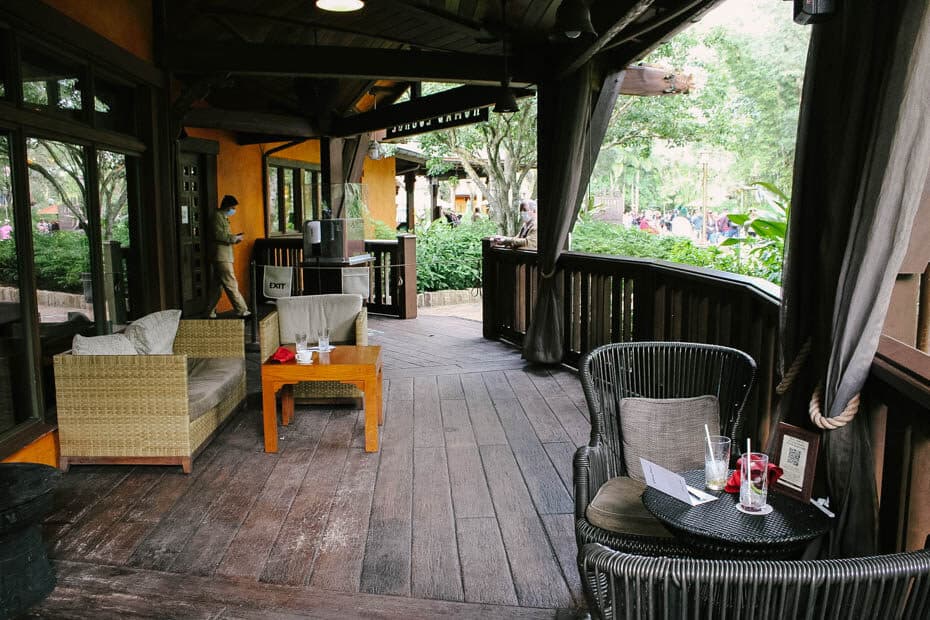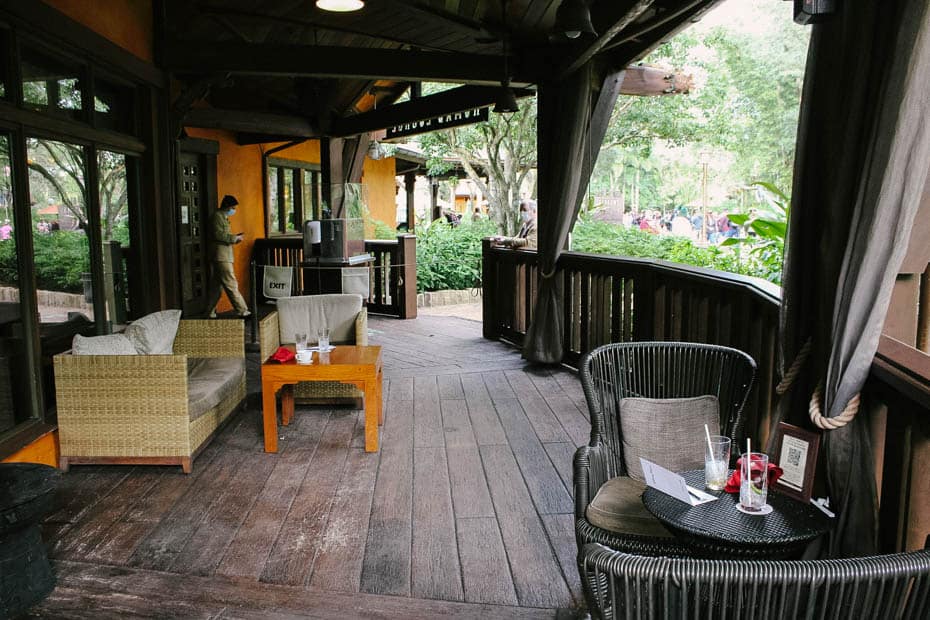 And I don't regret any one of them. You see, Nomads are people that are considered wanderers. They travel from place to place with no permanent home. That's kind of how I feel when I'm out wandering around Disney World. There are so many things to see and do that you'll rarely find me in the same spot, except for this lounge.
But even more so, I have come to think of this place in a different light.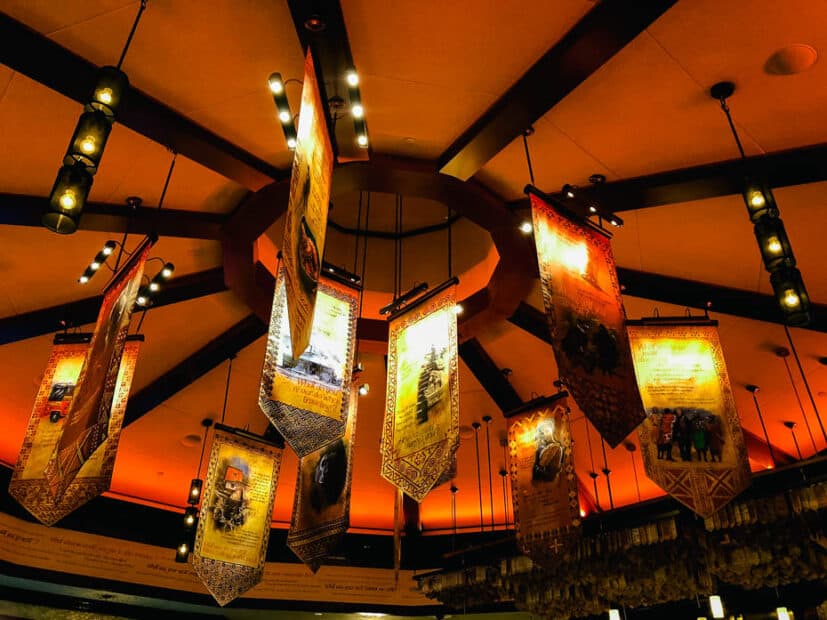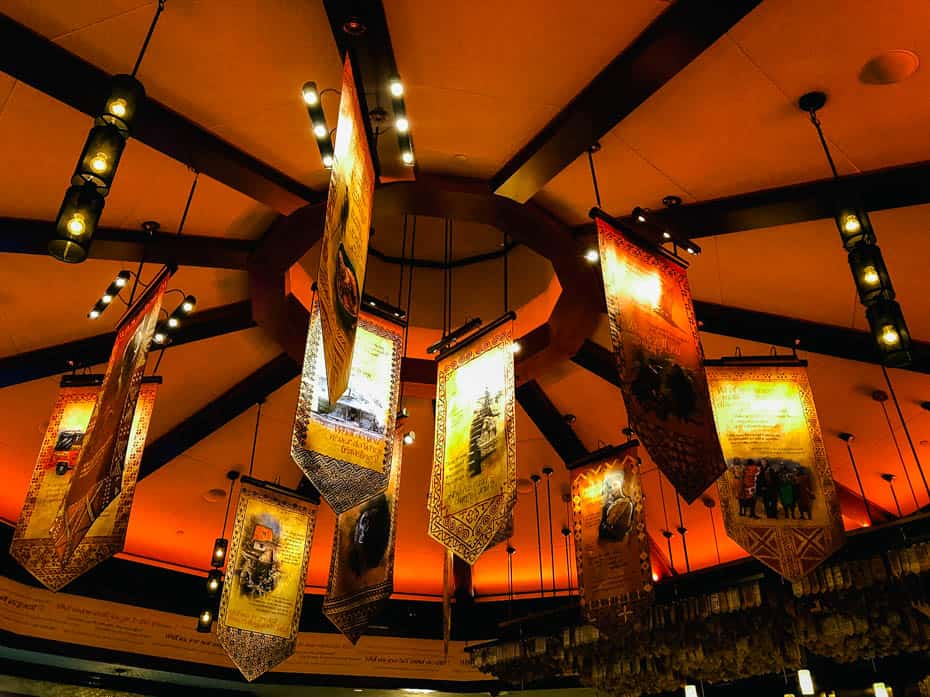 When I'm sitting underneath the light at Nomad Lounge, I'm no (well, not) mad. It's a very chill place to be, and you should most definitely try it out on your Disney vacation.
As you can see there are plenty of nice seating areas inside as well. A long bar sits toward the front. When I'm in Florida, I prefer to spend as much time outside as the weather allows.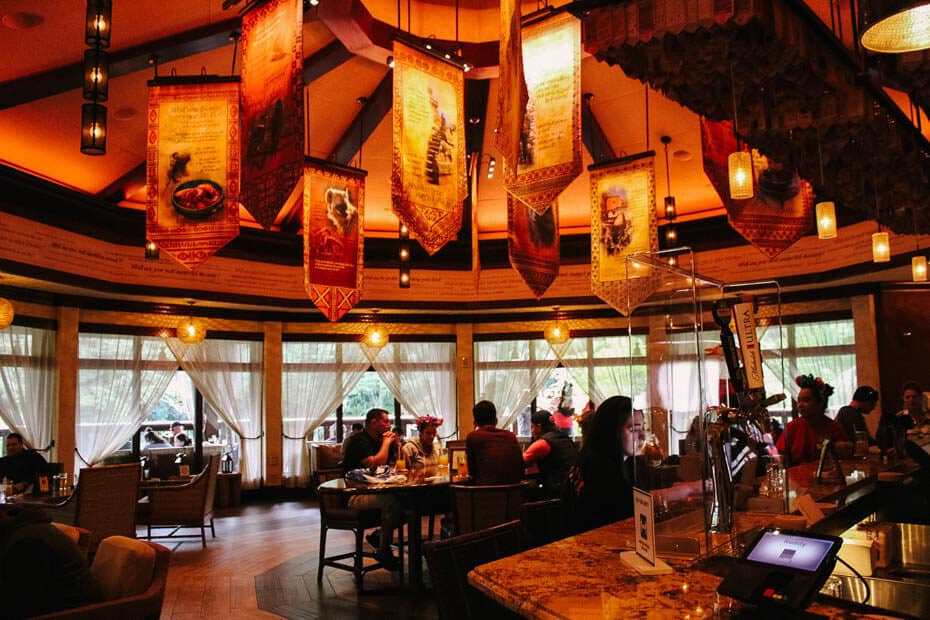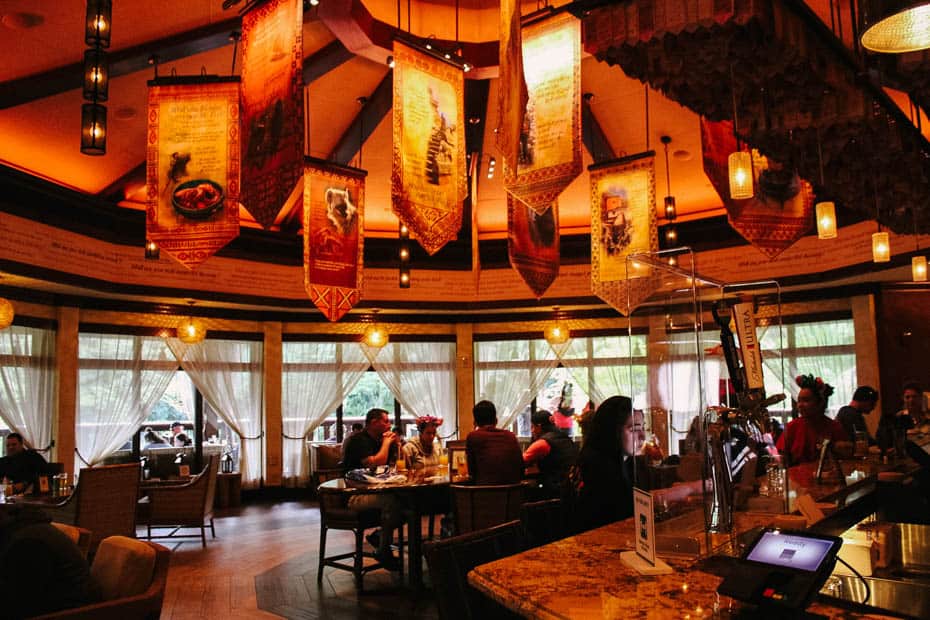 However, if the weather is a bit cooler than I would like, you might also find me inside.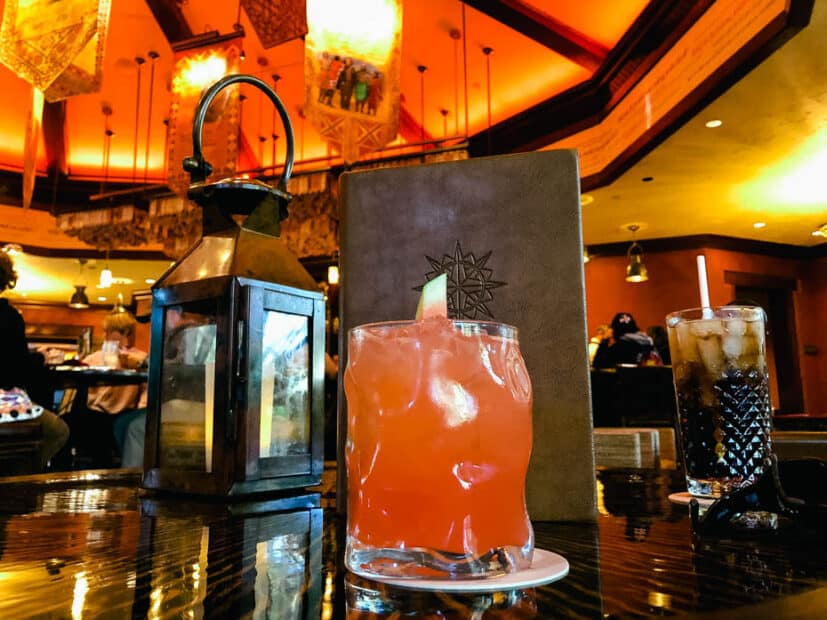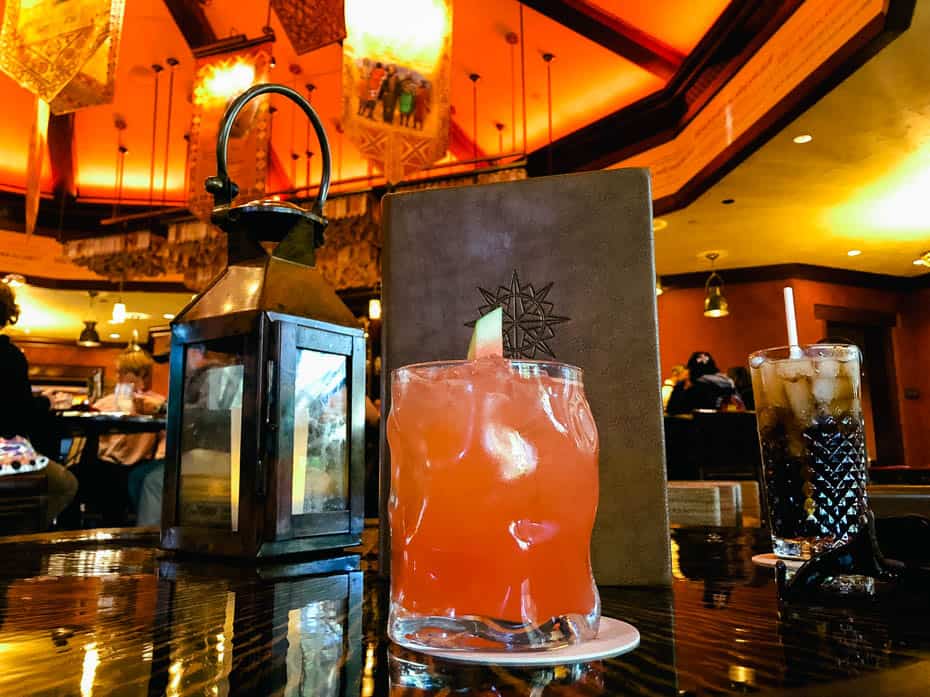 The lounge is most known for its drink menu. Below is a list of the popular cocktails that are staples to the Nomad Lounge menu. I say staples because I'm pretty sure most of these were available on the original menu.
Hightower Rocks–Casa Dragones Blanco Tequila, watermelon, sweet and sour, lime juice
Tempting Tigress–Russell's Reserve 10 yr Bourbon, St. Elizabeth Allspice Dram, Tamarind syrup, and lime juice.
Snow Leopard Salvation–Snow Leopard Vodka, Belle de Brillet Pear Liqueur, mint, lime juice, and ginger beer
Lamu Libation–Starr African Rum, Cruzan Banana Rum, guava puree, tropical juices, Gosling's 151 Rum Float
Jenn's Tattoo–Ketel One Vodka, Watermelon juice, hibiscus, and lime juice
Annapurna Zing–Bombay Sapphire Gin, Passion Fruit puree, mint, lime juice, ginger beer, and glowing Lotus Flower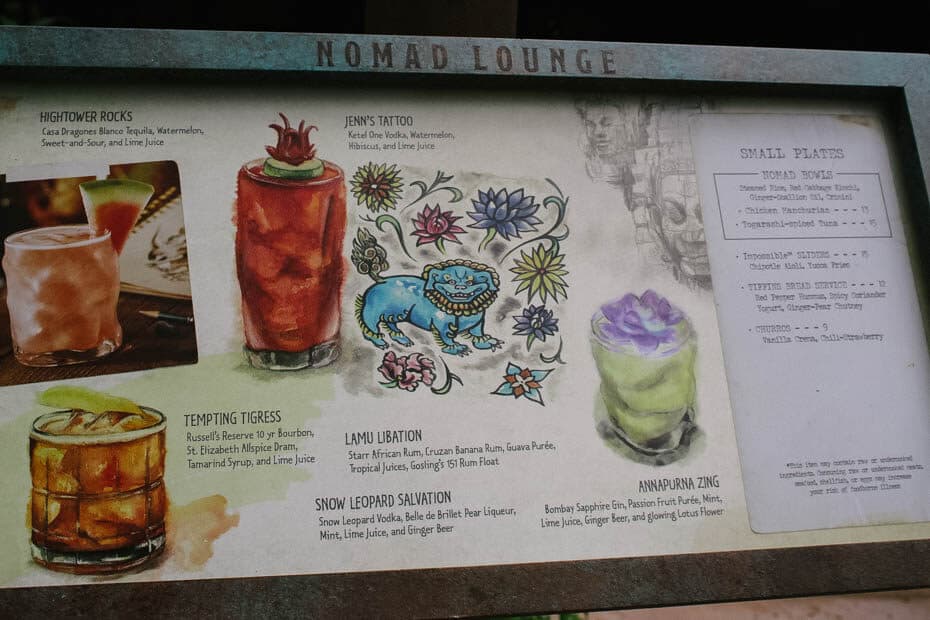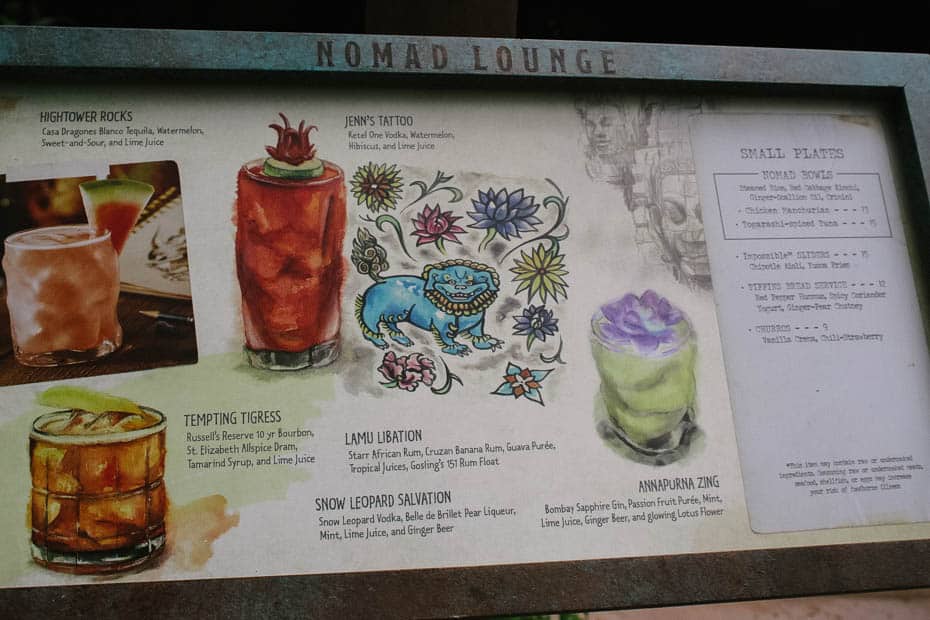 As a person who rarely indulges in a cocktail, I will say there is one drink here that keeps me coming back. The Hightower Rocks, as shown below, is a personal favorite. I often joke that it even comes with a snack since there's usually a watermelon garnish.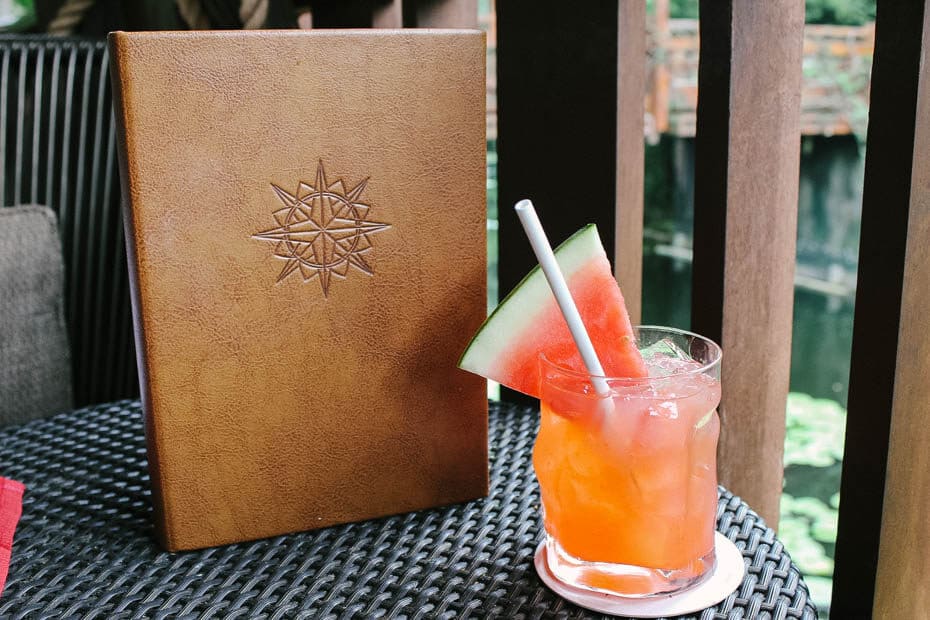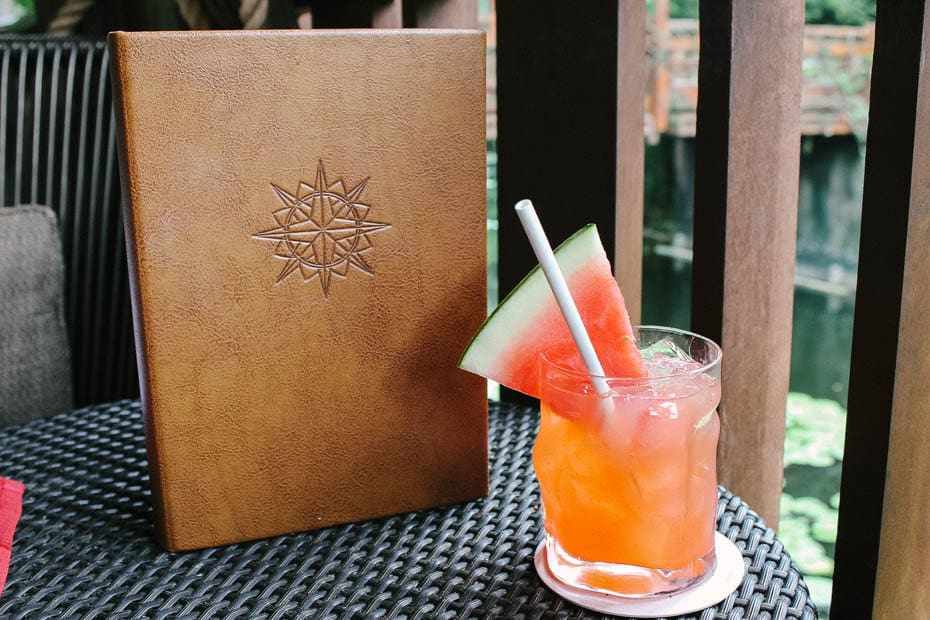 The Hightower Rocks drink is light and refreshing. I seldom feel that I've enjoyed an actual alcoholic beverage when I order this one.
On my last visit, I decided to order something different for the sake of finishing up this review. So I went with Jenn's Tattoo as shown below.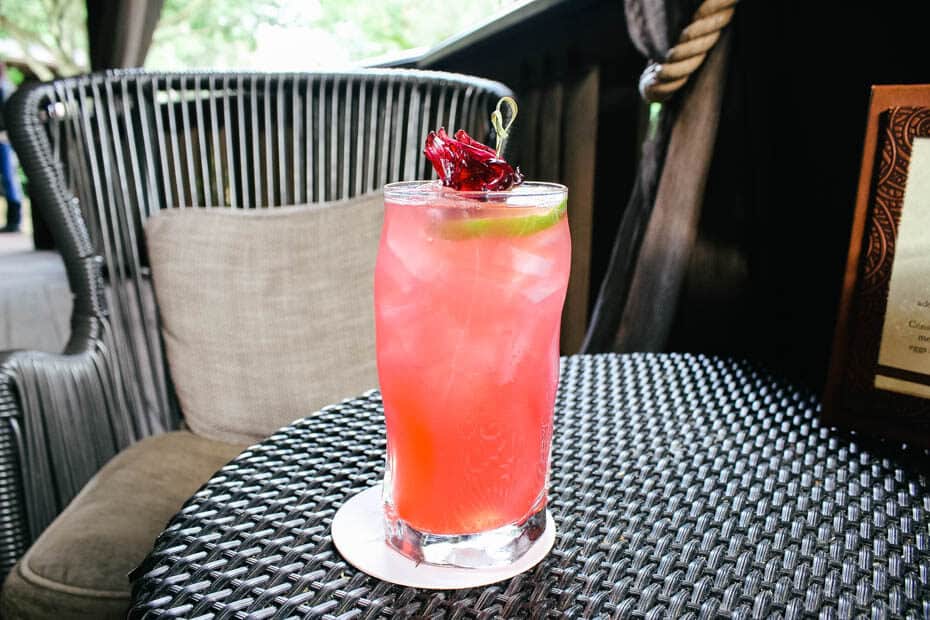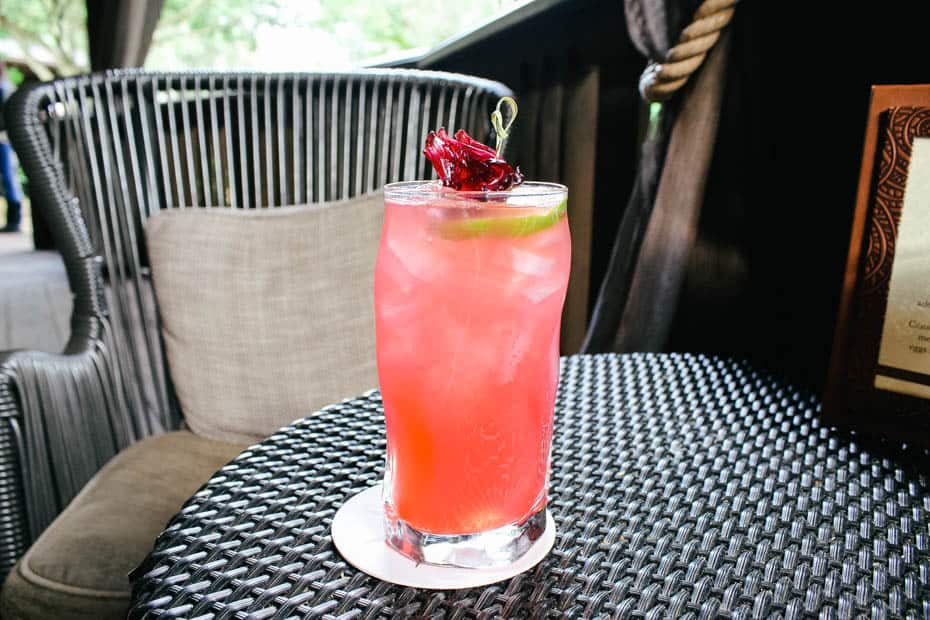 After taking my first sip, I found myself almost laughing. It's not much different from the Hightower Rocks. A review of the menu shows that the ingredients are very similar. I will say that Jenn's Tattoo wasn't quite as sweet and sour as the other. It probably more resembles a flavored soda taste, while the Hightower goes more margarita.
As far as the food items on the menu at Nomad Lounge go, you can make a small meal or share items to make a nice snack. We usually prefer to make this a late lunch or early dinner when we eat here.
Unlike the cocktail menu, you can expect the food options to change regularly here. With that being said, I have seen some items come and go over the years. For instance, these satay chicken skewers are not available at this time. But I felt they were a wonderful option providing a little protein without a lot of carbs.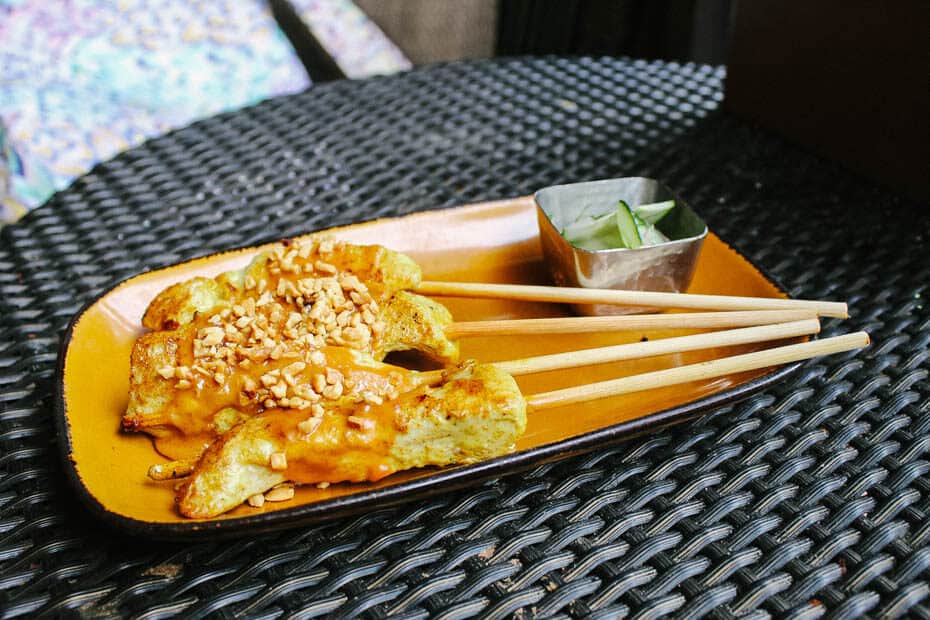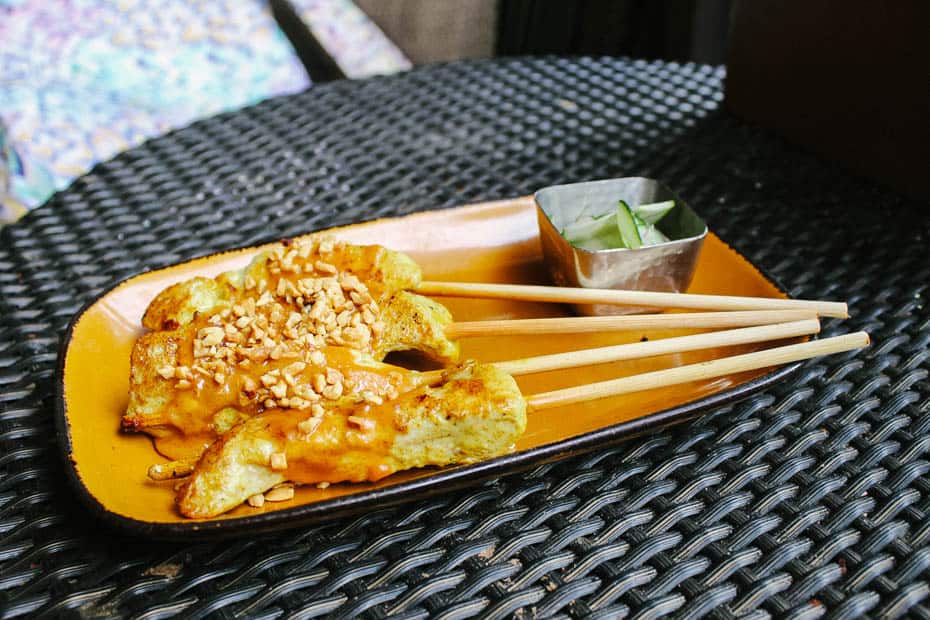 And on my last visit, I had recently started a vegetarian diet. Therefore, I selected the Impossible Sliders with yucca fries. Who knew that yucca fries were so good?
When they came to the table, they were a nice, crispy golden color. They almost reminded me of potato wedges, but they were quite a good bit lighter.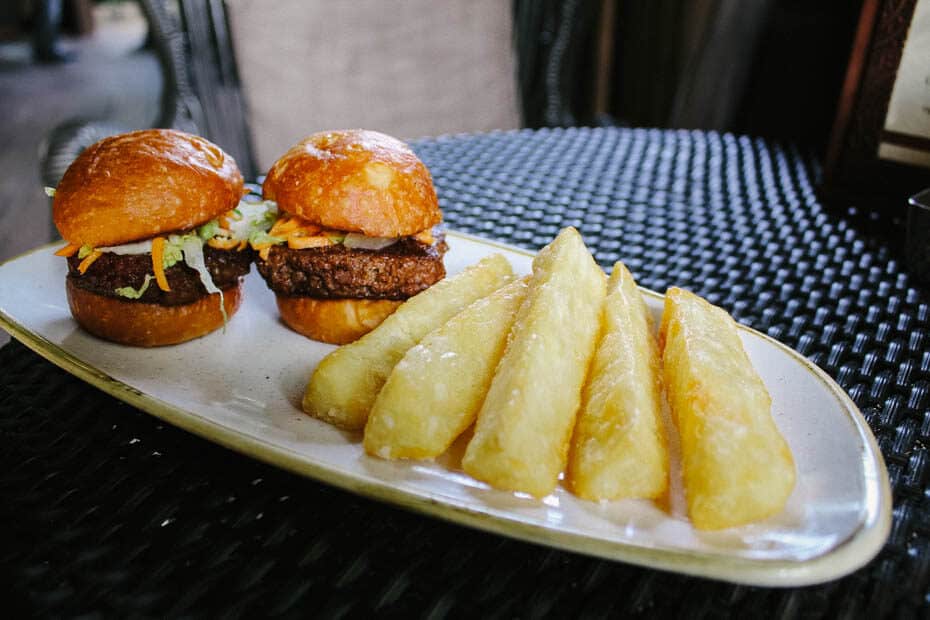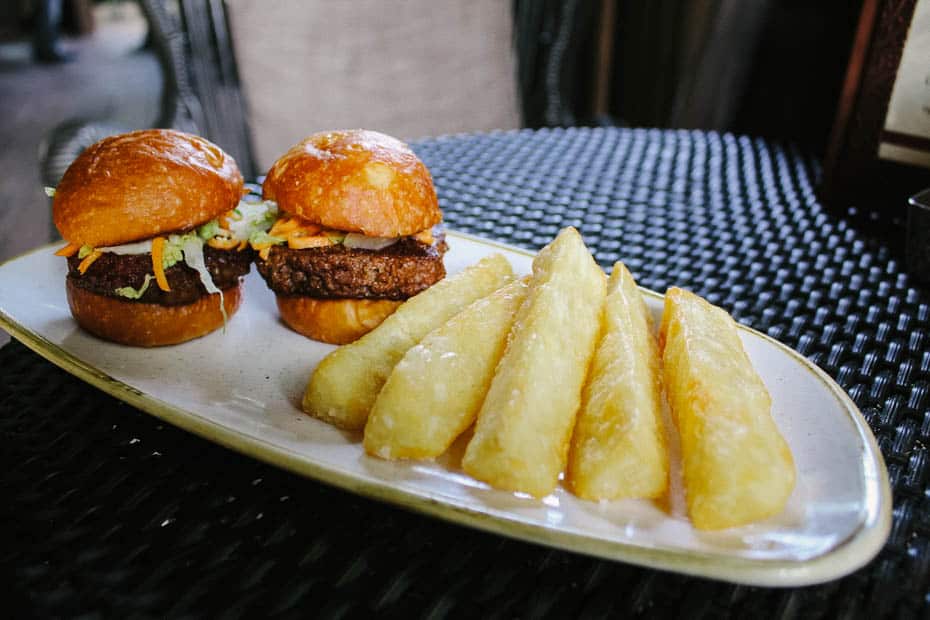 The sliders were a nice option as well. While I'm not crazy about so many quick services at Disney offering a plant-based burger in place of other vegan options, I do appreciate the slider with veggie slaw topping here.
If you are looking for another plant-based option at Animal Kingdom that doesn't include "burger" in the name try the spicy tofu bowl at Satu'li Canteen (review). Or you might be interested in browsing my vegan Disney World food finds list. It includes a summary of every vegan item I've had at Disney to date.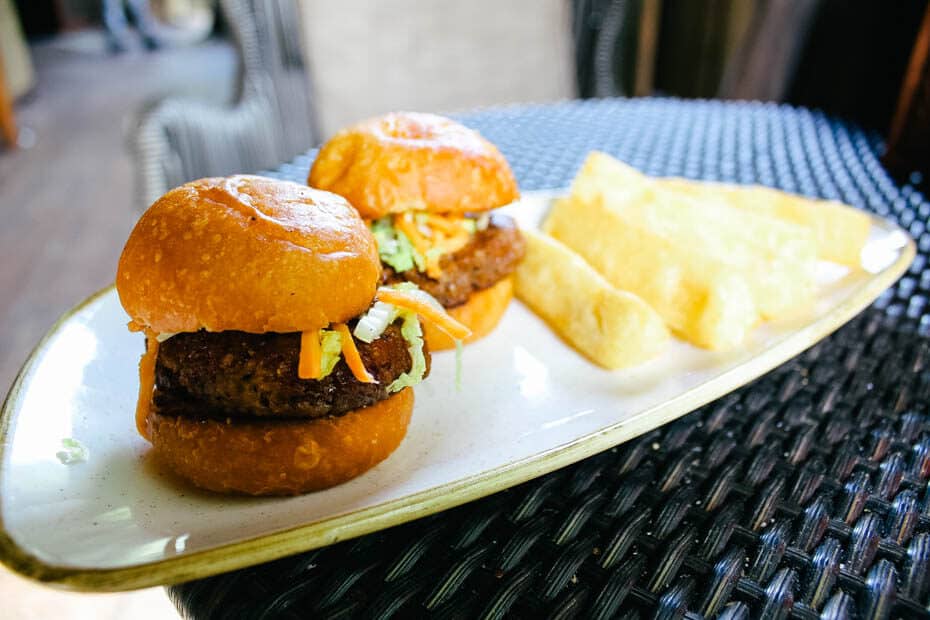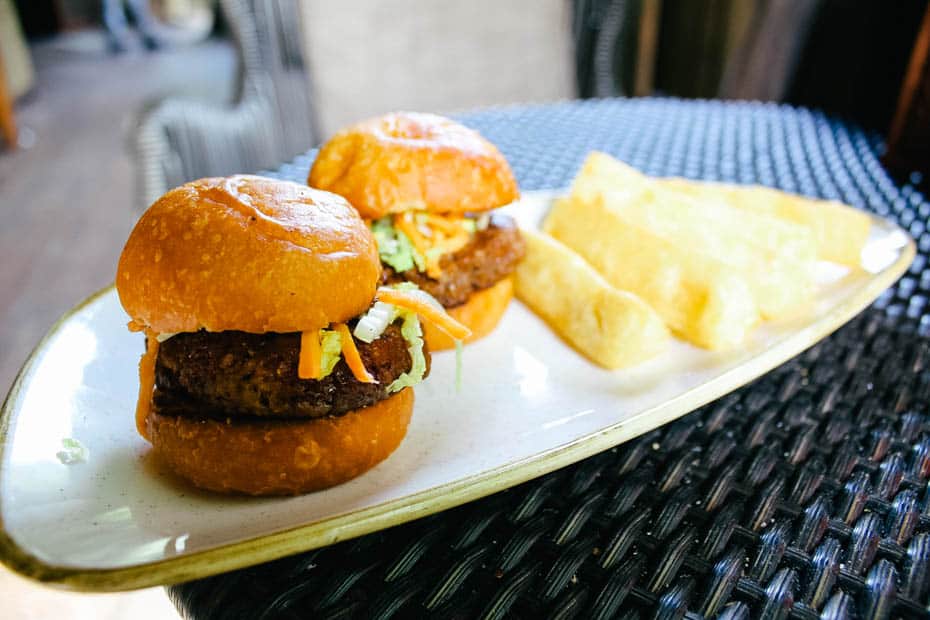 Additionally, I've had other items here (not pictured like a cheese board, regular sliders, and bread service) that were all enjoyable. However, this is not to be confused or compared with the amazing bread service at Sanaa. That's kind of a rite of passage for us regular visitors.
The deck at Nomad Lounge offers stunning views of the Discovery Island River. The view is another perk when selecting an outside seat.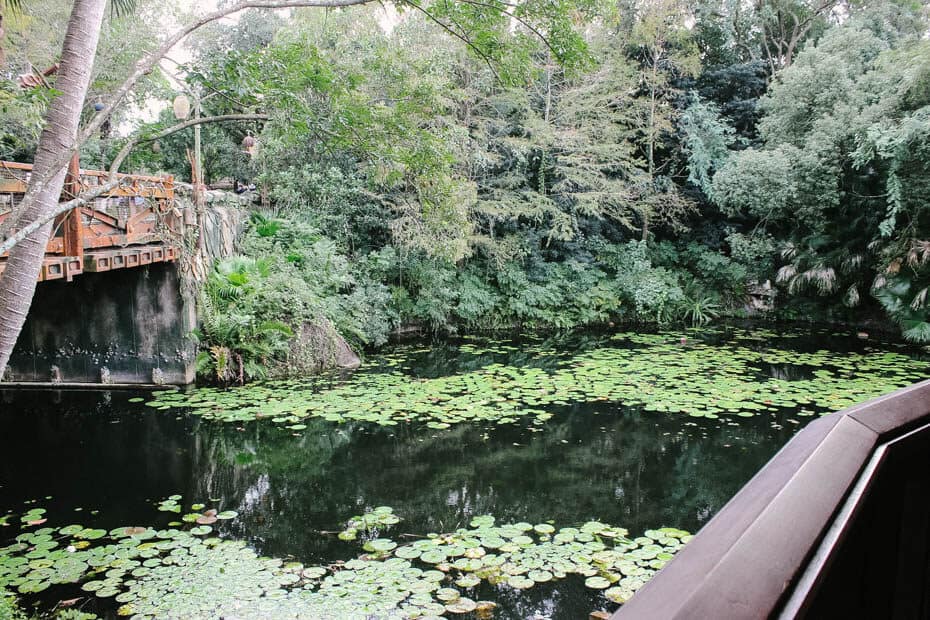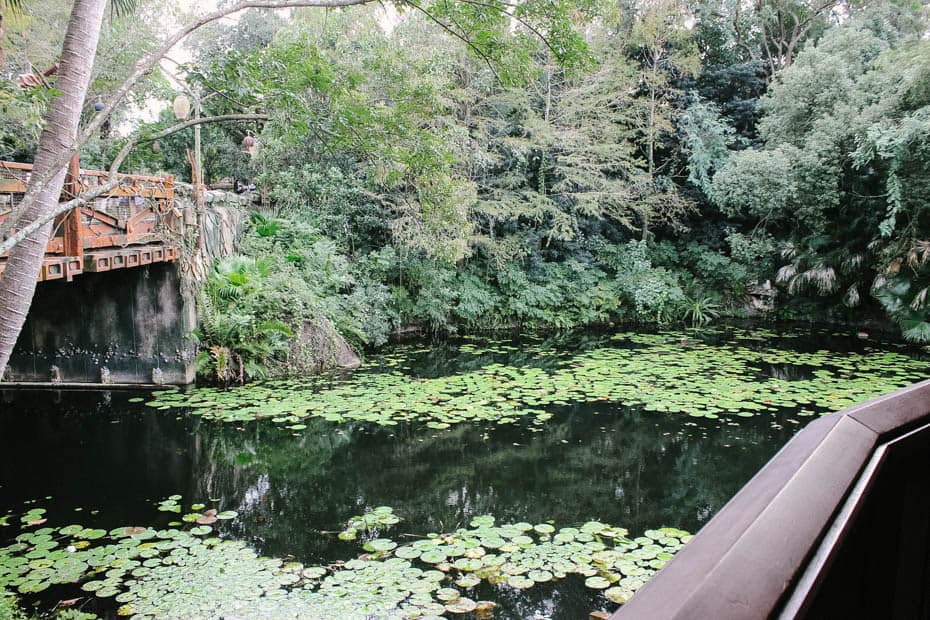 Since the character cruises are available right now, you might can enjoy seeing them as they sail by.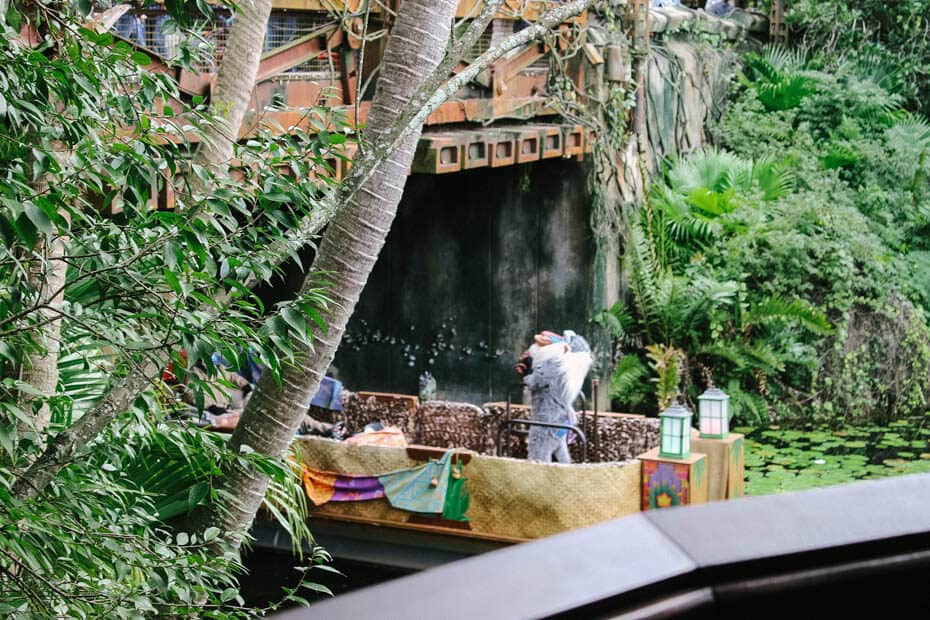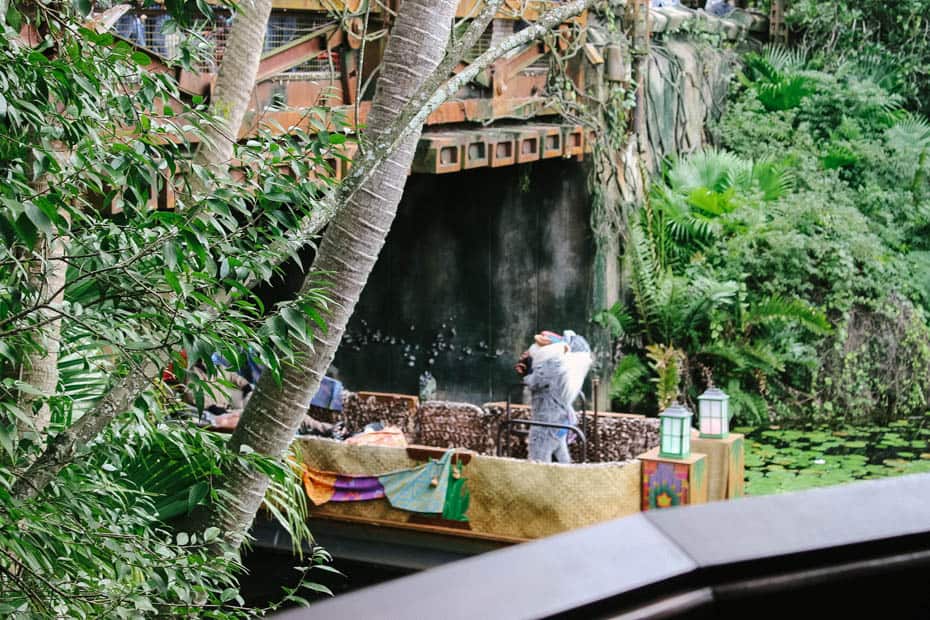 Your children might even want to stay a little longer in hopes of seeing a few more.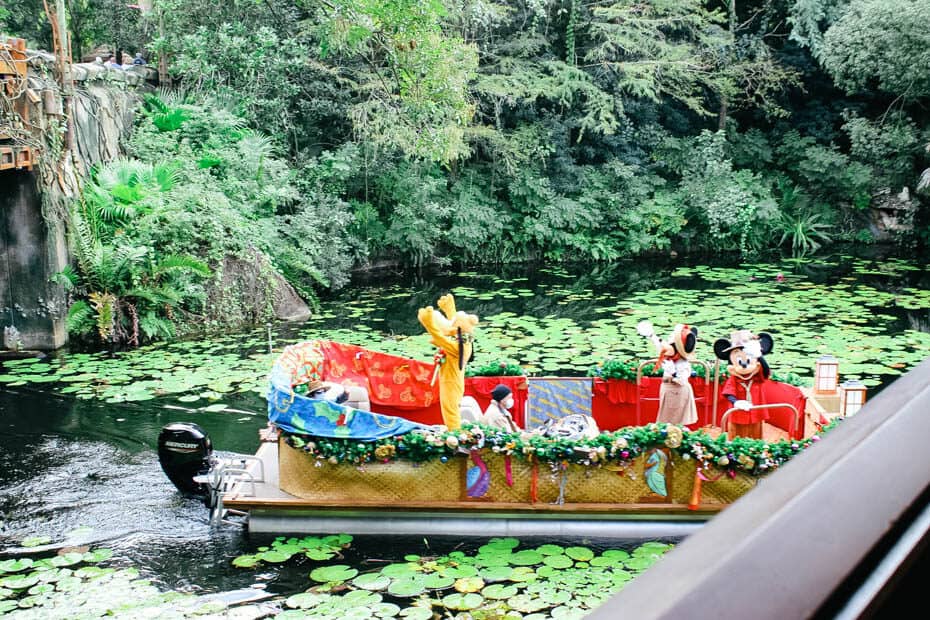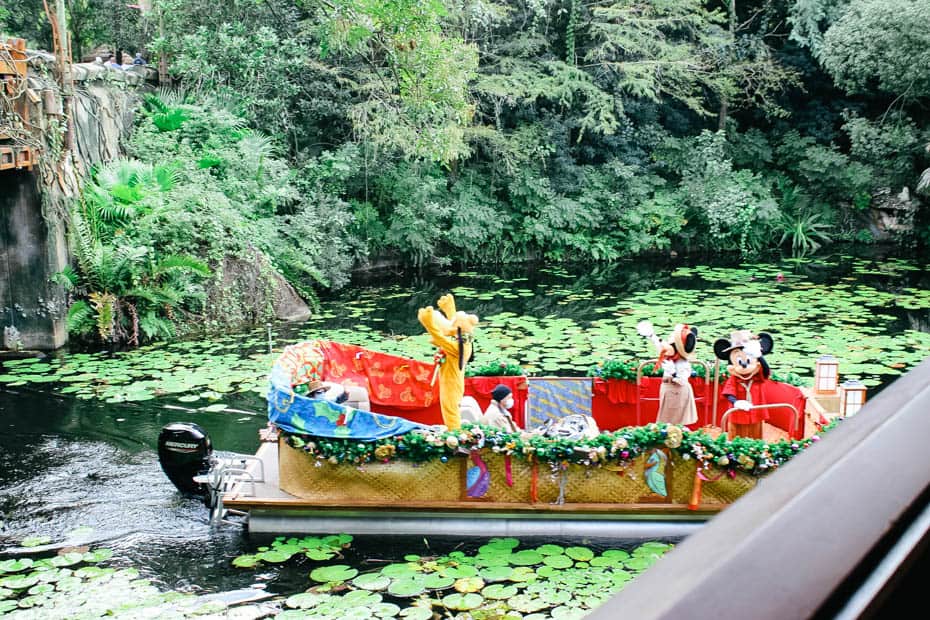 And I bet you won't mind, not one bit.
For more places to dine at Animal Kingdom or the neighboring Lodge enjoy these other reviews:
Disney's Animal Kingdom Quick Service Locations
Animal Kingdom Lodge Restaurant Guide
I hope this review of Nomad Lounge was helpful in providing you with enough information too enjoy a meal or snack here.
If you've been to Nomad Lounge, make sure to leave a comment below and let me know what you have enjoyed the most.