A Photo Walk Around Disney's Animal Kingdom
We don't visit the parks too terribly often here on the website. As you already know, the majority of my time is spent at the resorts. With over 20 resorts at Walt Disney World alone, that leaves a good deal to cover.
So in this article, we'll look at a few photos of Disney's Animal Kingdom. I took these photos on different days between late October and December.
Since I'm a creature of habit, I've developed a system of how I do things when I'm in the area. Often, I joke that the Animal Kingdom theme park is my neighbor. That's because I stay in a little neighborhood outside the park.
However, lately, my longer stints have been spent in Reunion. And I have to admit, I really enjoy life on the golf course. It takes approximately 20 minutes to get to the Animal Kingdom from Reunion.
So, most of my time in the area is spent working on the blog. Often, I'll work on the website in the morning. And when I get to a good stopping point, I'll head out to a resort or a park.
Usually, I'll go to the resorts closest to the theme park I'm visiting. For instance, I recently spent some time at the All-Stars Music Resort. Then, when I finished up, I drove over to Animal Kingdom.
For me, the Animal Kingdom is more of a park-like setting than an amusement park. It's a great place to visit for a whole day or only a few hours. It's not uncommon for me to come over around mid-afternoon and leave right after sunset.
I always feel a little lighter after a walk around the park. And I hope you will too after joining me for this photo walk.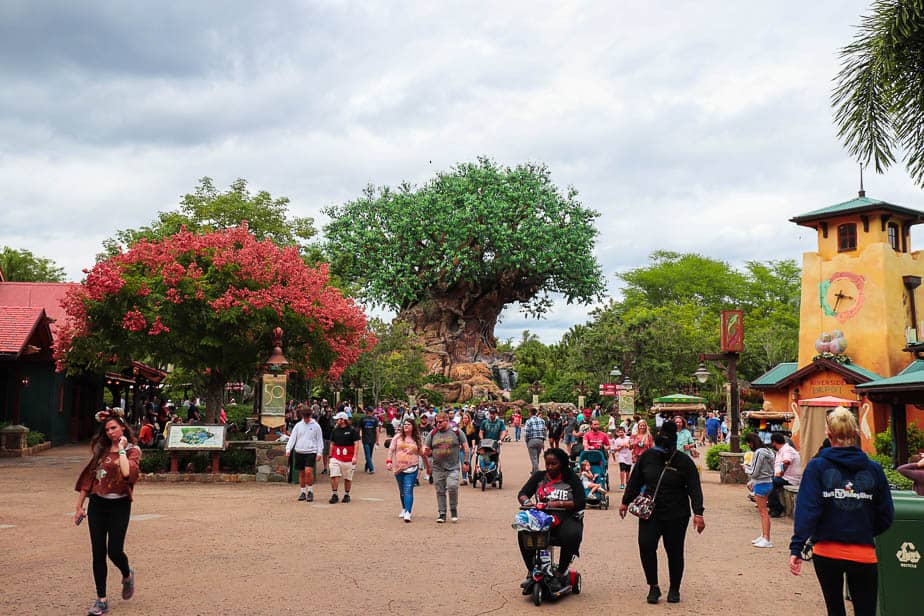 When you enter the park through the turnstiles, you are greeted by The Oasis. This is a large walkway with two different paths. You can go right or left. It really doesn't matter.
What does matter is that you take the time to see the different animals along the way. While subtle, the habitats are there and worth taking a few moments to see.
Seriously, when was the last time you saw a Babirusa?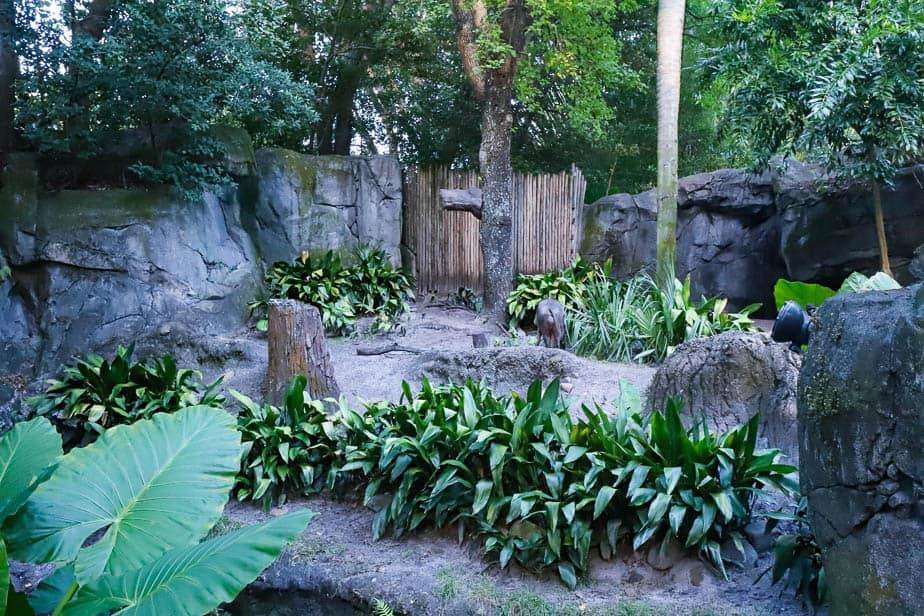 Anyway, shortly you'll be greeted by the Tree of Life at Disney's Animal Kingdom. Right now, you'll run into a couple of golden character statues celebrating the 50th anniversary.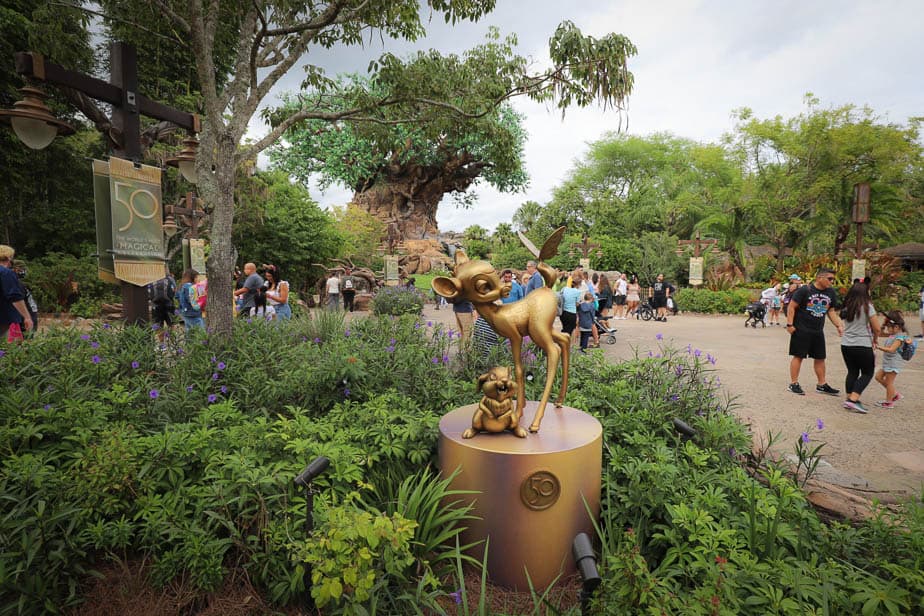 I always like to walk up close to the viewing area and see if any animals are out. It's probably hard to tell, but there is a Red Kangaroo in the photo below. He's kind of behind a smaller tree grazing.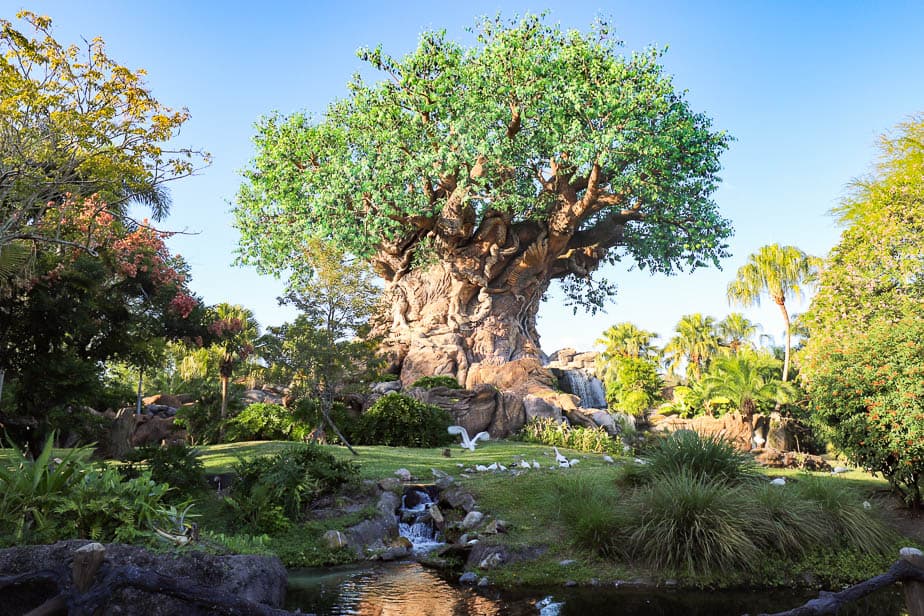 We'll continue to the pathway that is on the left-hand side. It leads toward Africa. If we were to go to the right of the tree, we'd head toward Asia.
Briefly, we'll check out the Greater Flamingo habitat.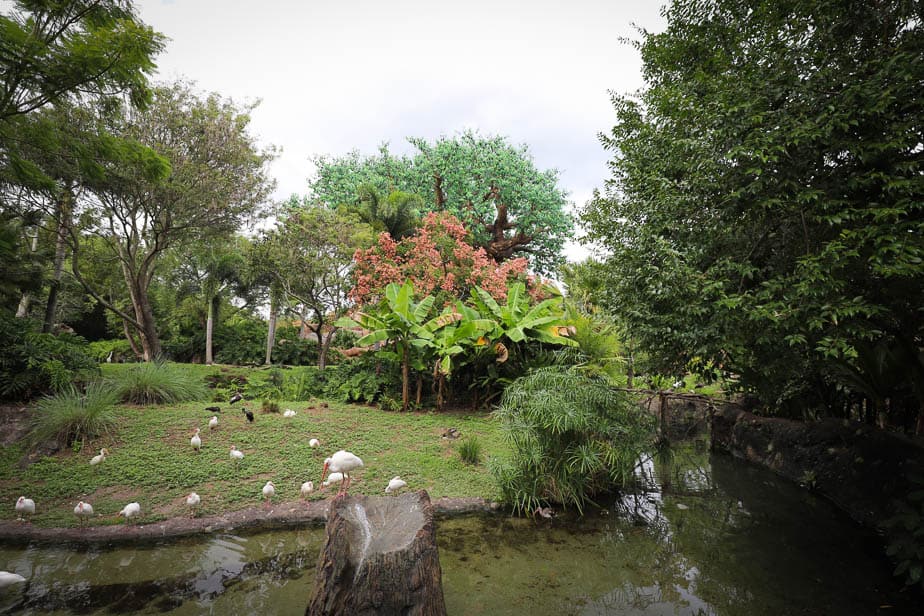 After waving hi to our flamingo friends, I stopped in to see if any otters were out and about.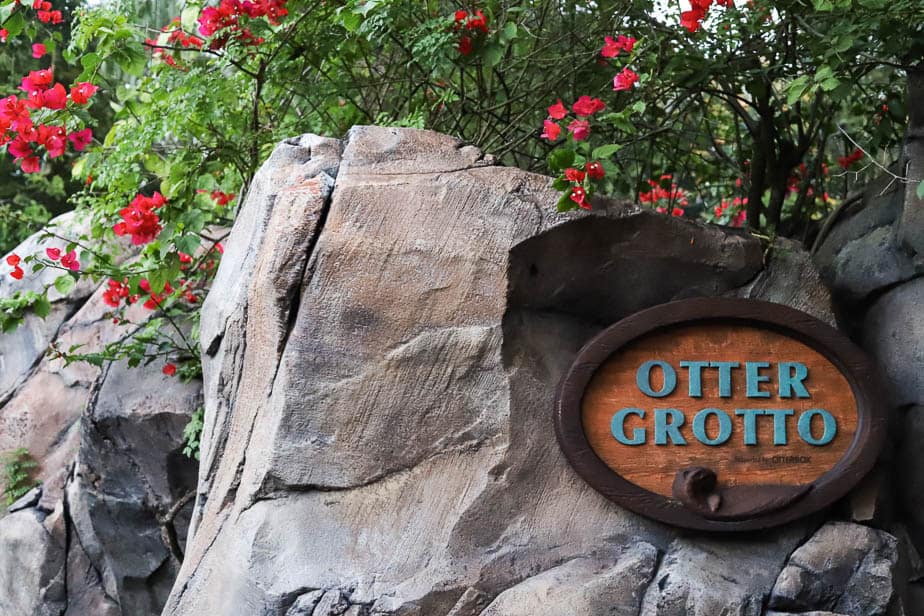 Unfortunately, there were not. However, I did take the time to photograph the beautiful Bouganvillea.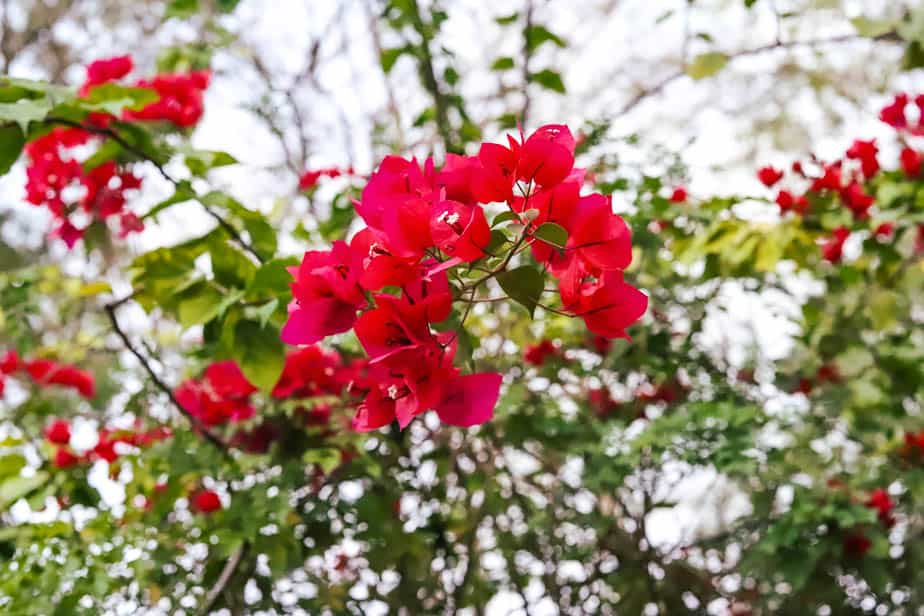 After passing the otter exhibit, you'll come across a couple of (almost unnoticeable) pathways to the right. Even though we're not stopping to check out the trails on this visit, I can't pass them by without a mention.
You'll want to make sure to take the time for these trails during your trip. Children will love the feeling of exploring, and you might be surprised at how relaxing they are. You can read more about them here if you like.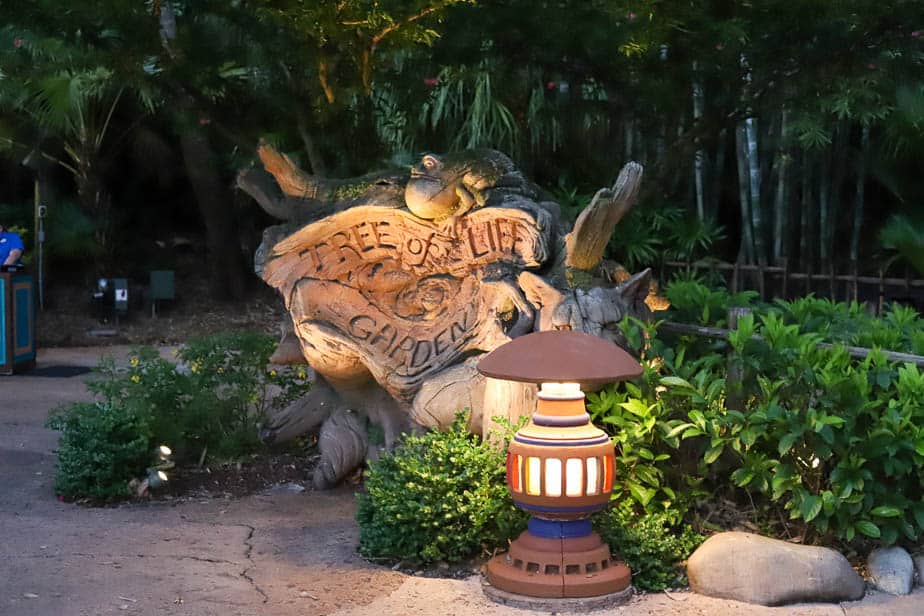 The photo below was taken on the bridge from Discovery Island to Africa at Disney's Animal Kingdom.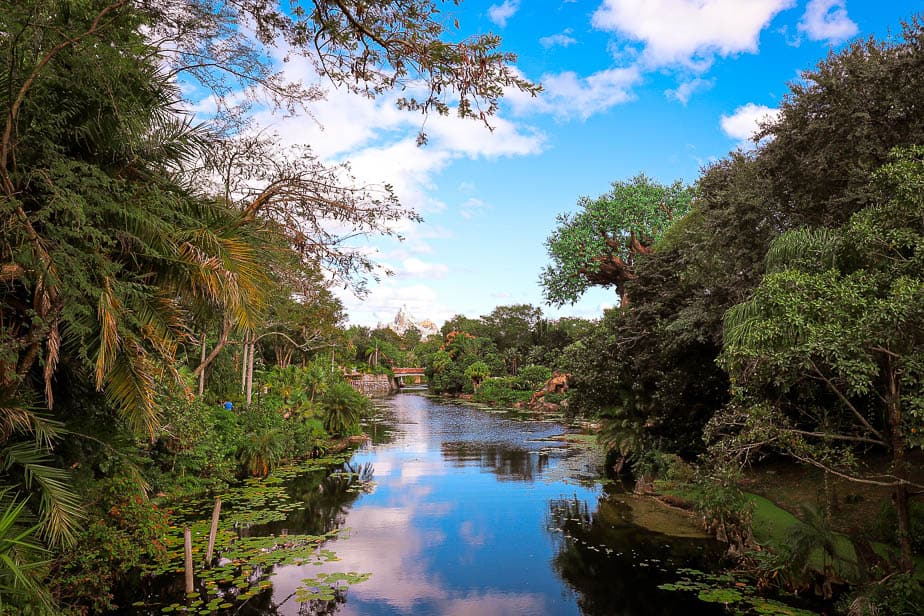 Anyway, after crossing the bridge, I usually head straight back to check out the line for Kilimanjaro Safaris. Fortunately, the wait time tends to drop for this attraction later in the day.
And if it's reasonable, I'm always up for a safari ride. You know what they say, "No two safaris are alike."
Before I knew it, I was headed out onto the Harambe Wildlife Preserve. The first spotting was an Okapi, cousin to the giraffe.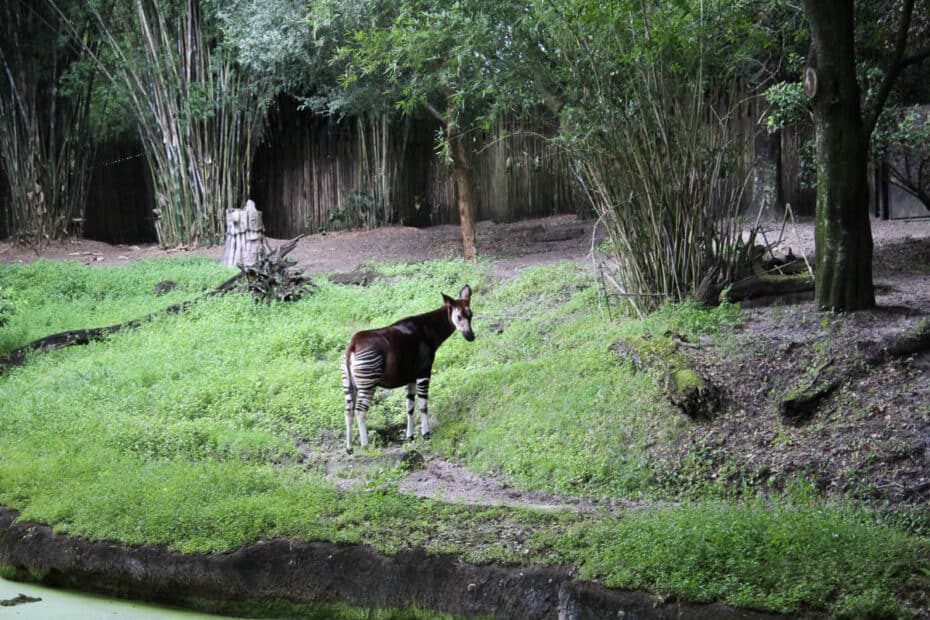 The usual animals were out and about along the way. However, I was most excited to see the hippopotamus on this particular safari.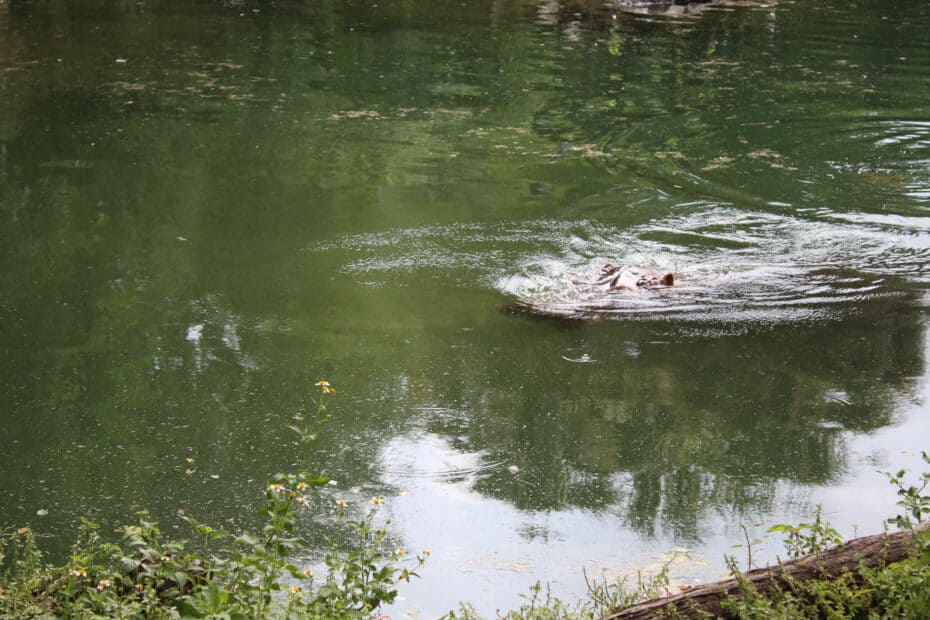 And the safari didn't disappoint!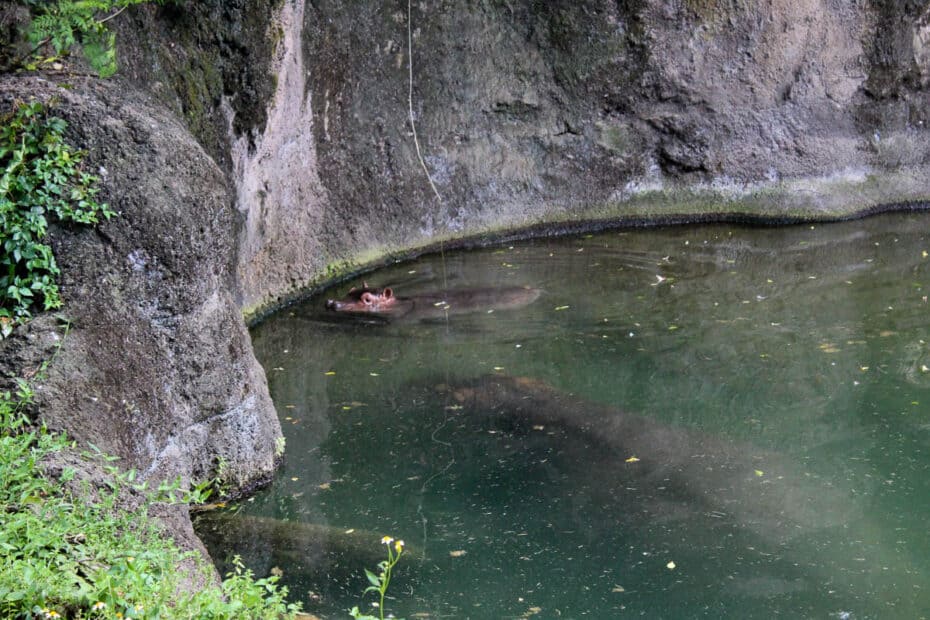 Thankfully, I was able to get a decent photo of baby Greta and her mom.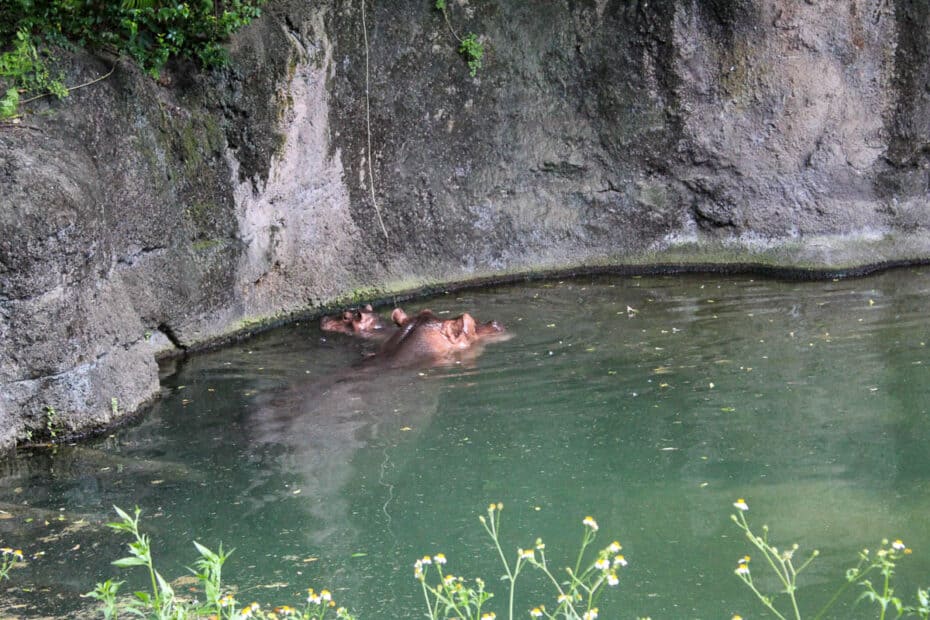 It's not every day you see a baby hippo.
Moving on, the painted dogs were out on top of their den.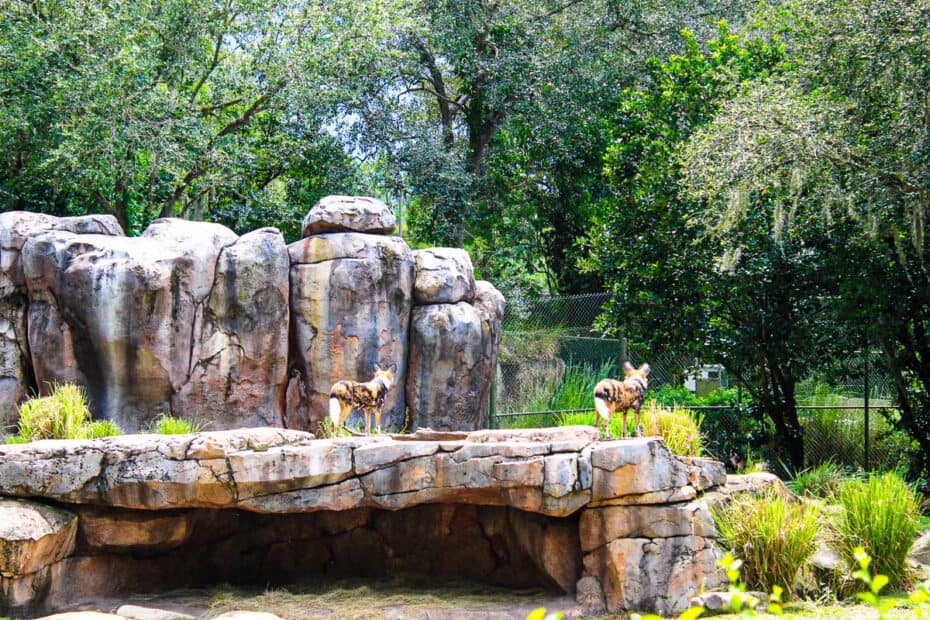 Across the savanna, zebras were grazing. This one in the photo below was pretty close to our safari vehicle.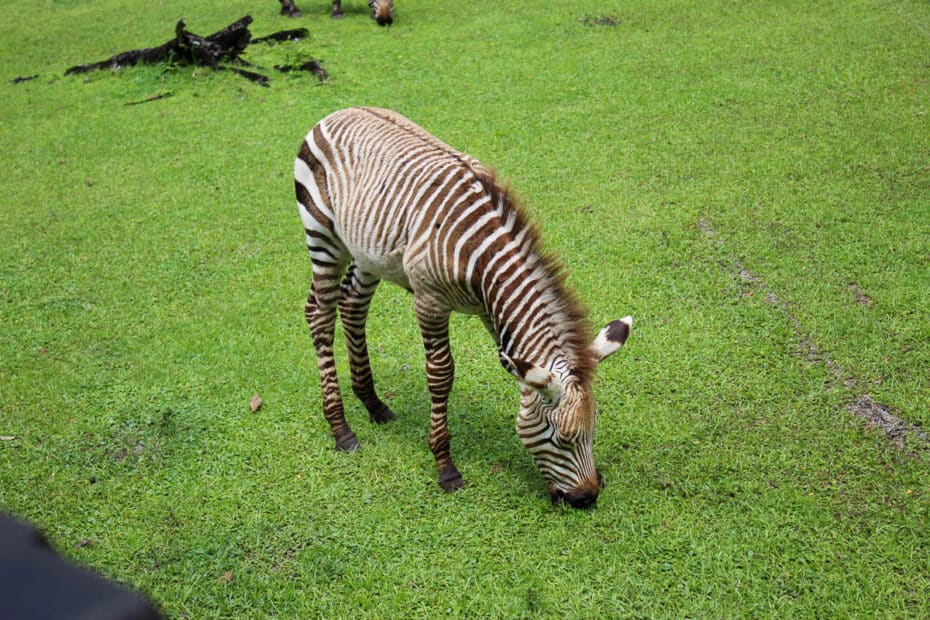 And there was a tower of giraffes.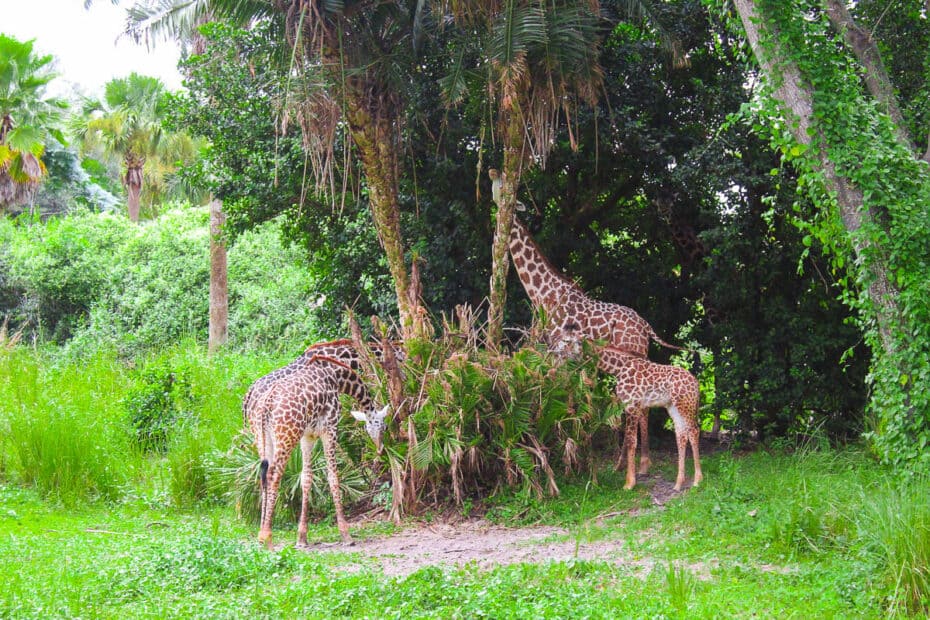 Another animal I was excited to see was the Mandrill. There are two in the picture below.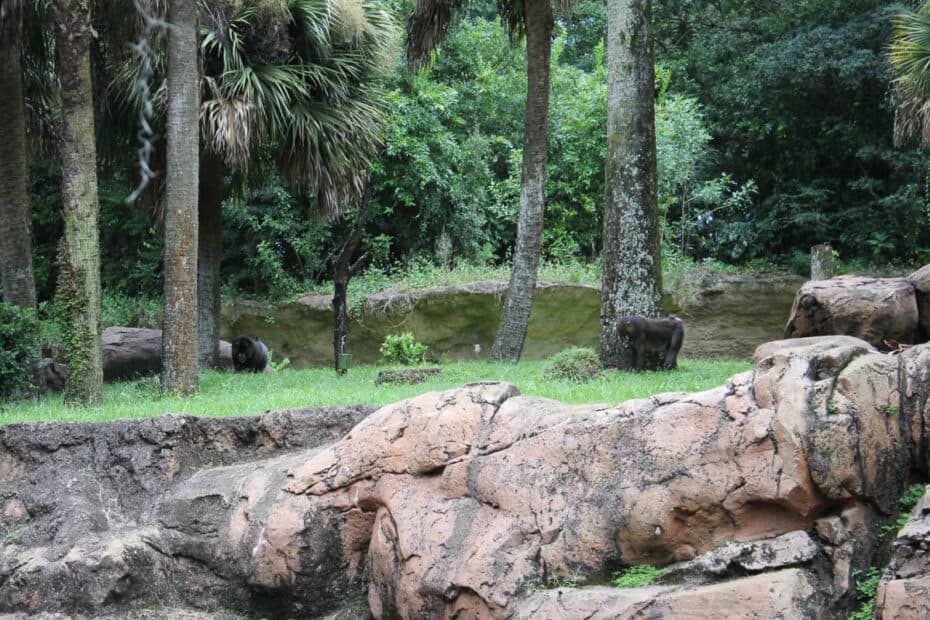 I have noticed that most of my safari drivers rarely stop or mention these amazing animals. Sometimes, they are difficult to see given their size and the distance from the vehicle.
If you're interested in seeing them, their habitat is on the left-hand side after the giraffes and before the elephants. Or you could ask your safari drive to point them out, I guess.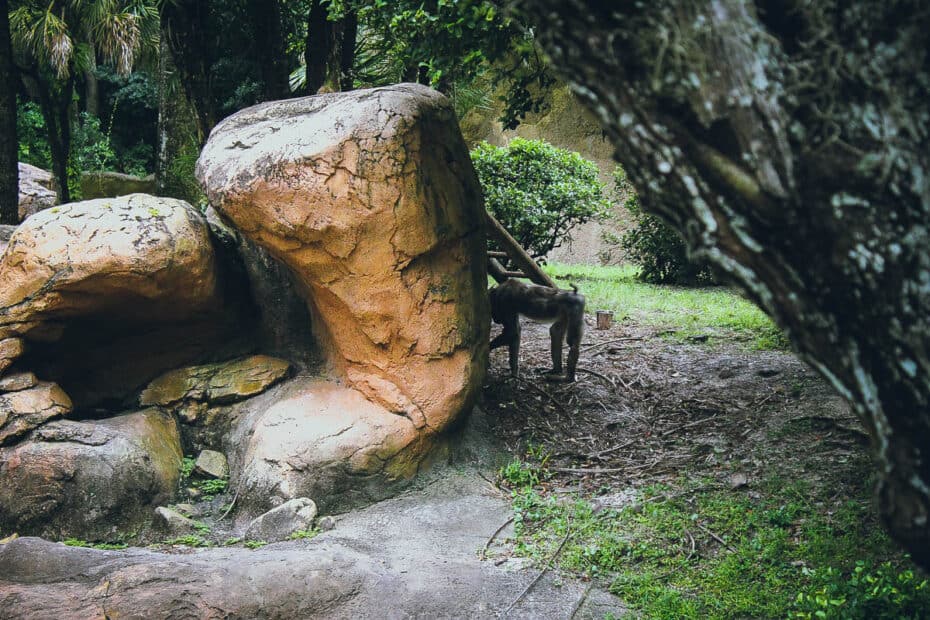 We didn't see too many elephants on this particular day.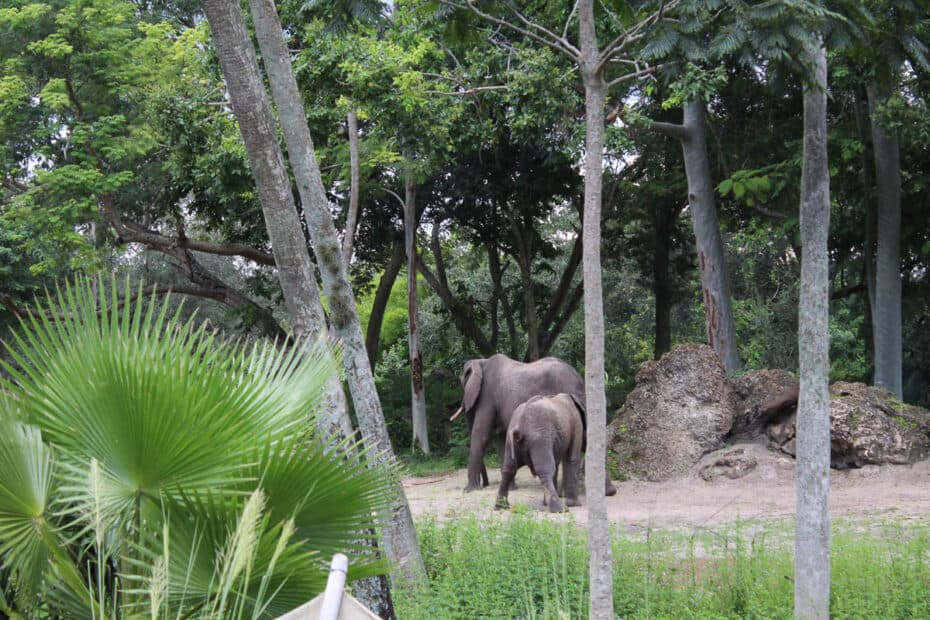 But a rhino was grazing nearby.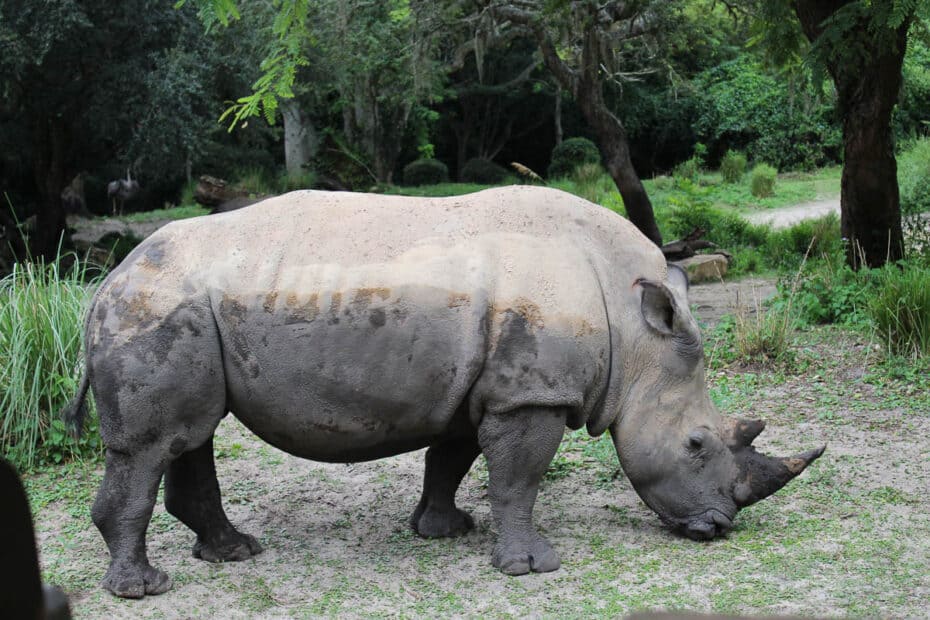 Unfortunately, we didn't see any lions either. However, I was happy to see the hippopotamus, so I couldn't complain.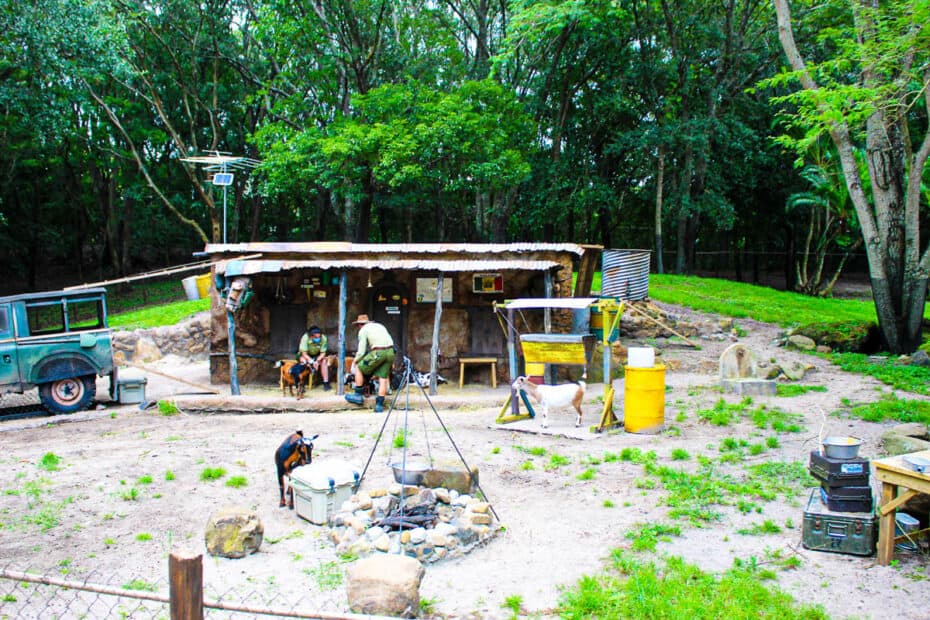 When you exit the safari, Gorilla Falls Exploration Trail is to the immediate right. I don't know about you, but I wish I could sleep as good as this gorilla.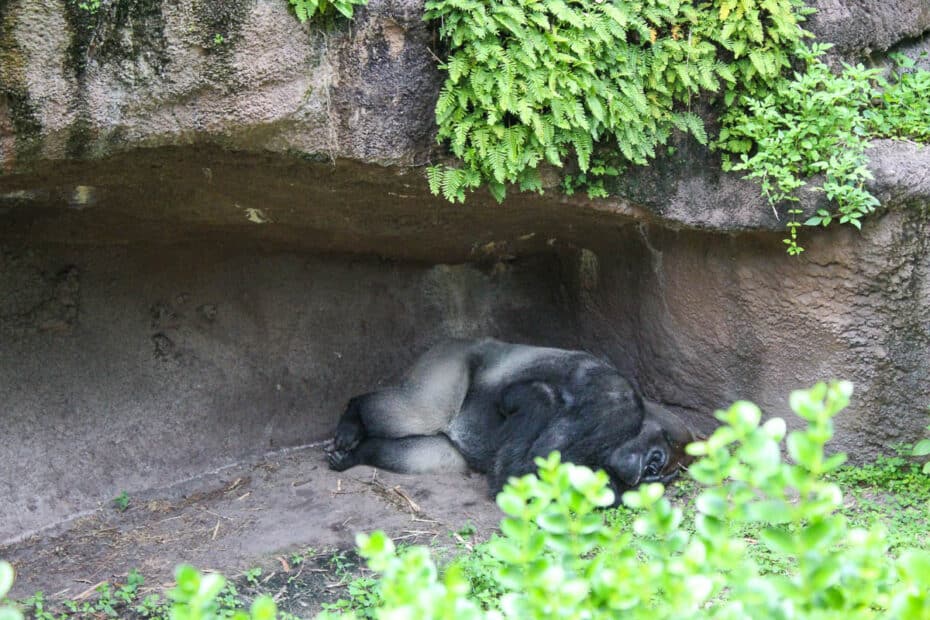 The trail is gorgeous. In my opinion, every trail in the park is a must-do when spending an entire day here. You'll quickly find out that the Animal Kingdom is by no means a half-day park.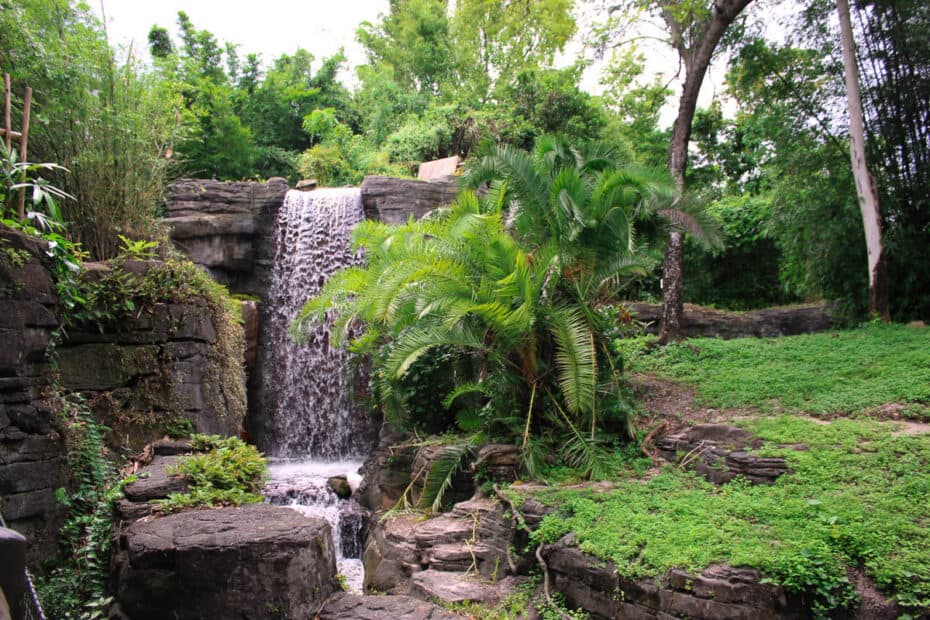 Gorilla Falls is also where you can see the Colobus monkeys.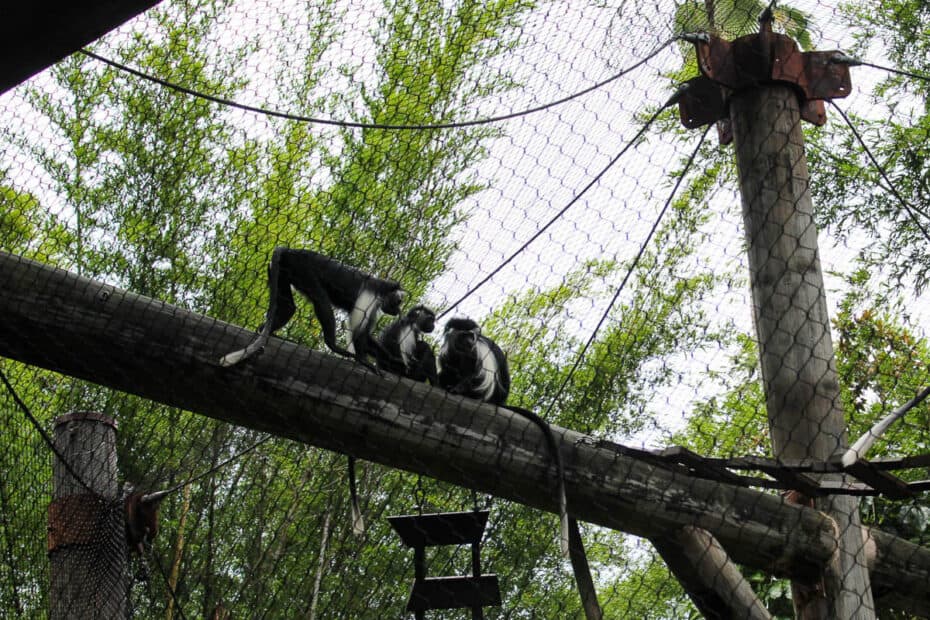 And there is an aviary with plenty of birds.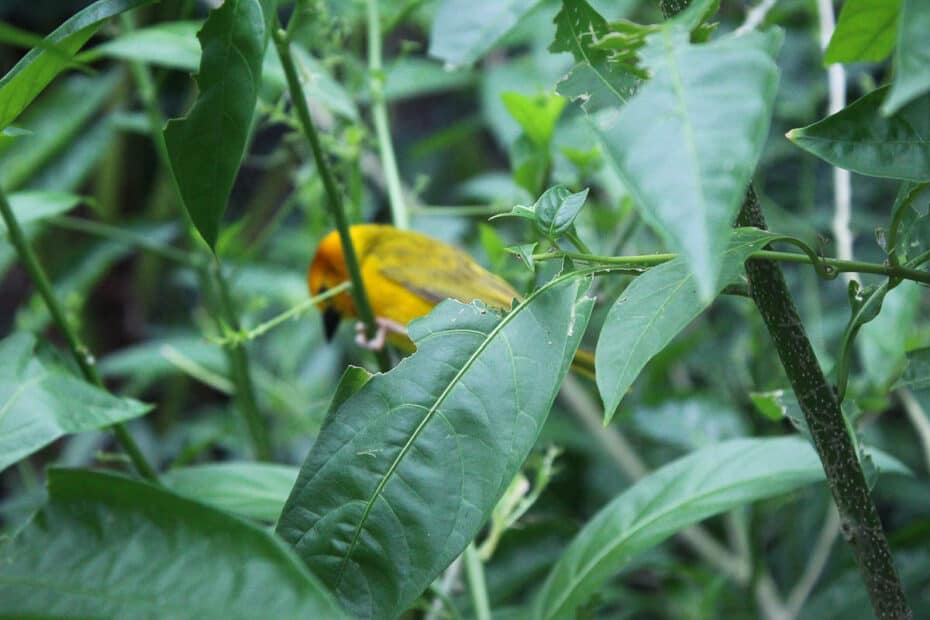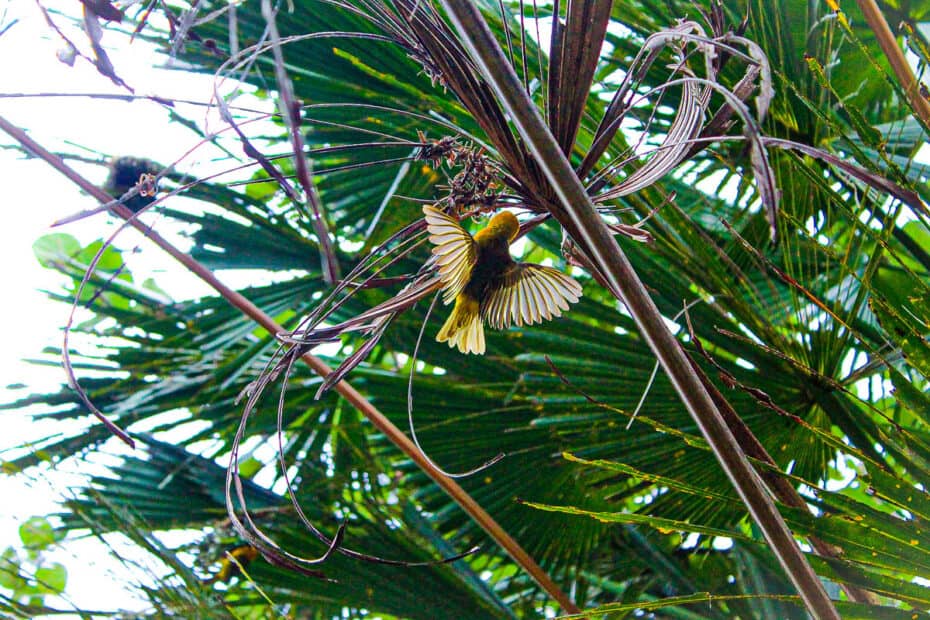 Tropical florals adorn the trail.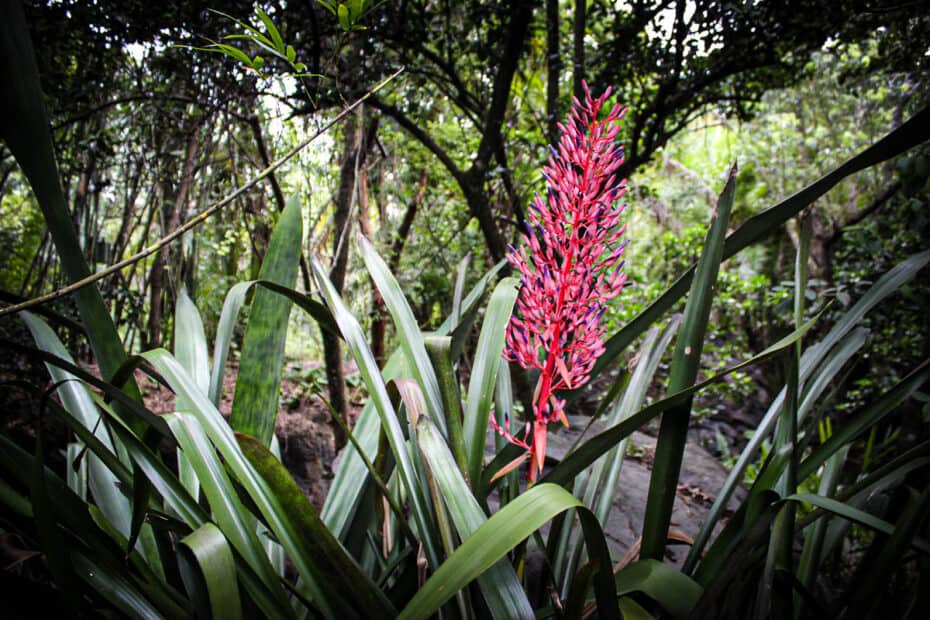 But the main draw is the gorilla habitat.
In the photo below, this silverback was crossing the waterfall.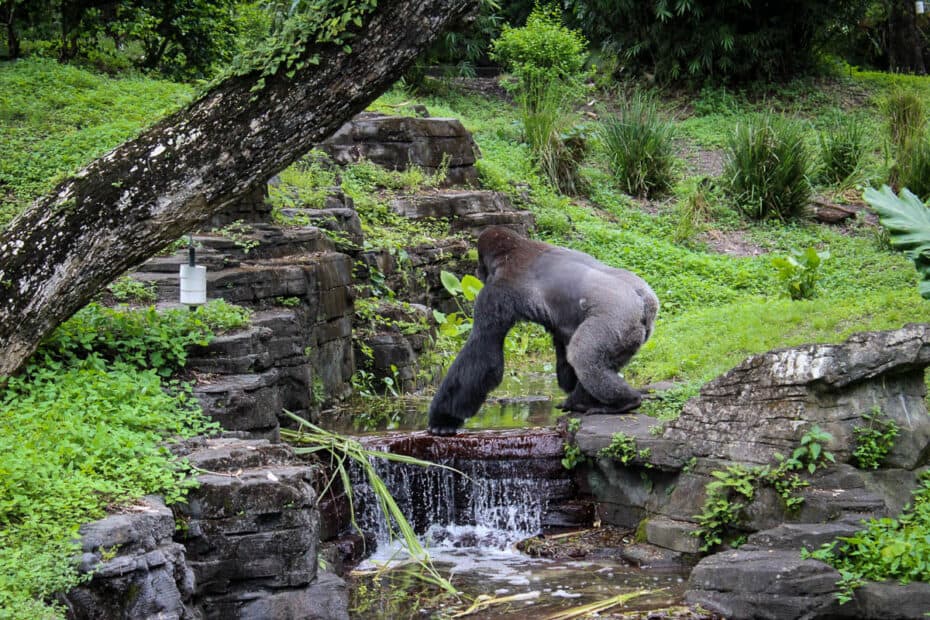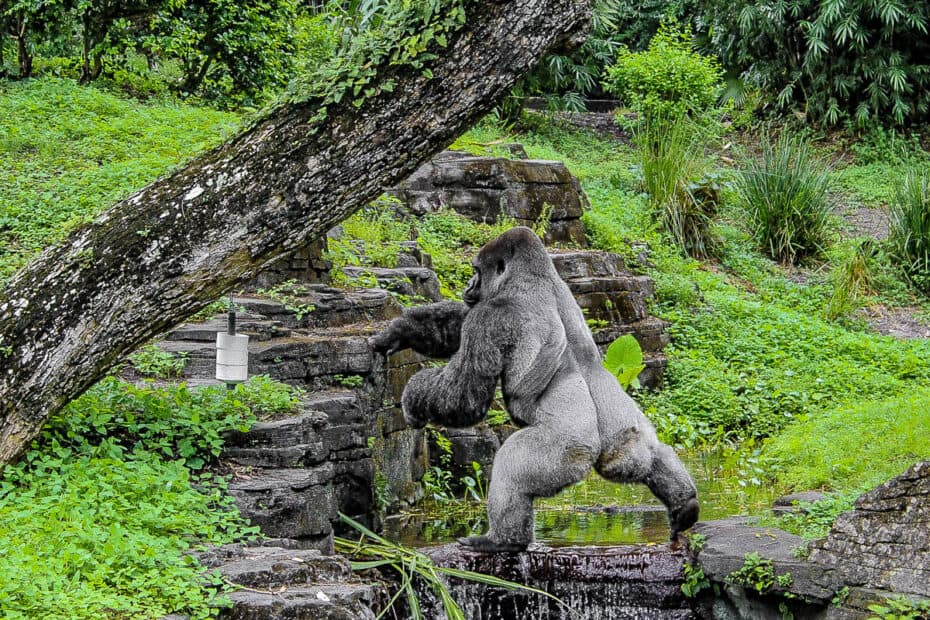 Back in Harambe, we'll continue our walk. On this particular day, it was around sunset.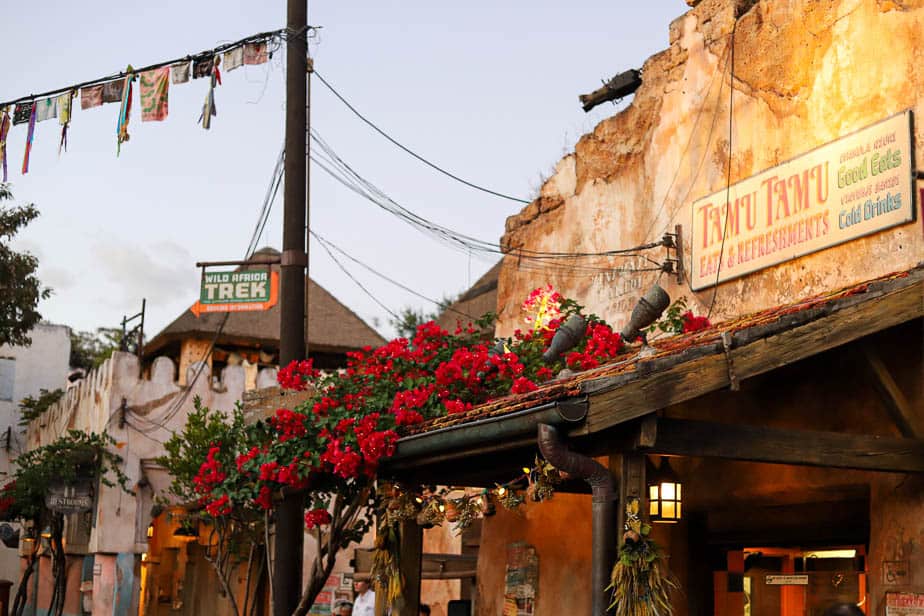 And Harambe was practically empty.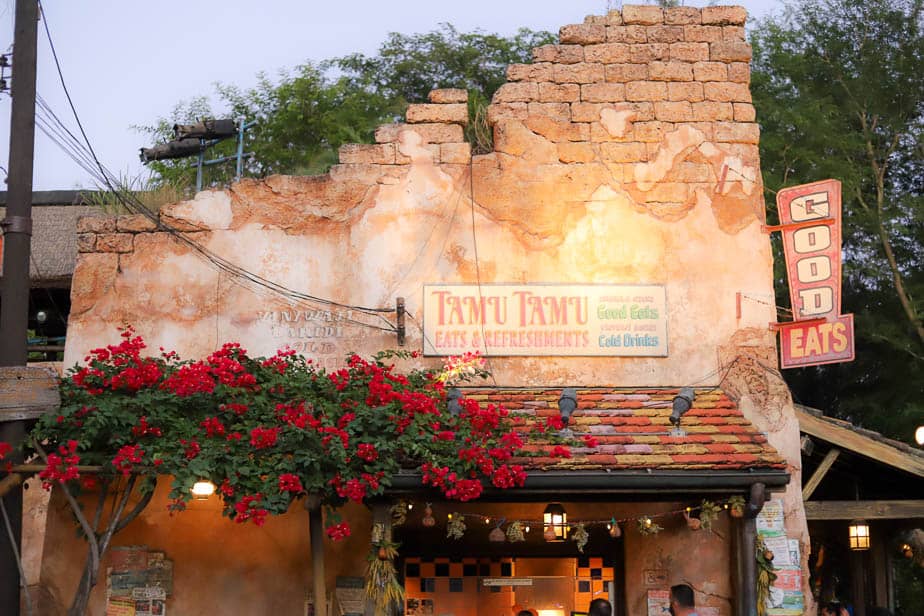 So I decided to walk around and photograph all of the signs, I mean art, in the area. This sign below indicates the entrance to Tusker House.
Related: Character Dining at Disney World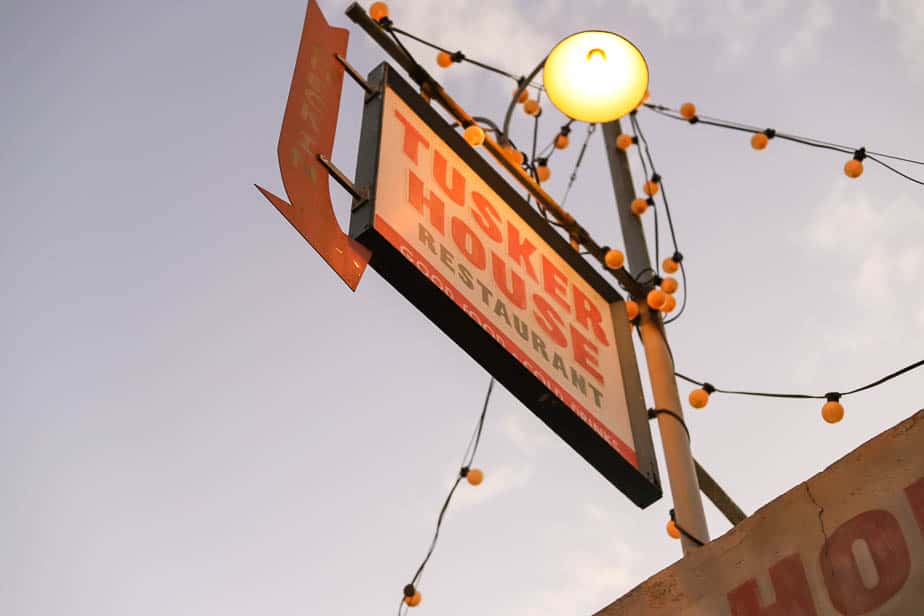 Additionally, nearby Harambe Market is a quick-service dining area with a large seating area.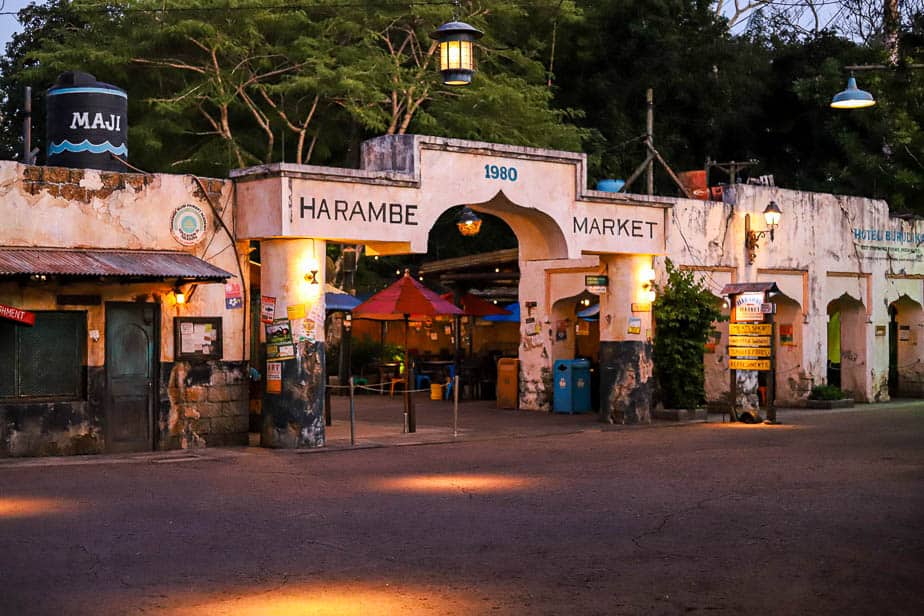 They serve sausages, grilled foods, and refreshments.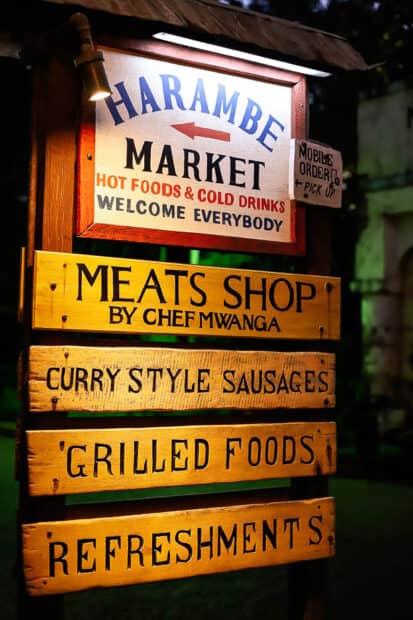 This little sign pretty much represents my daily well-wishes on Twitter. I hope you have a fine day too.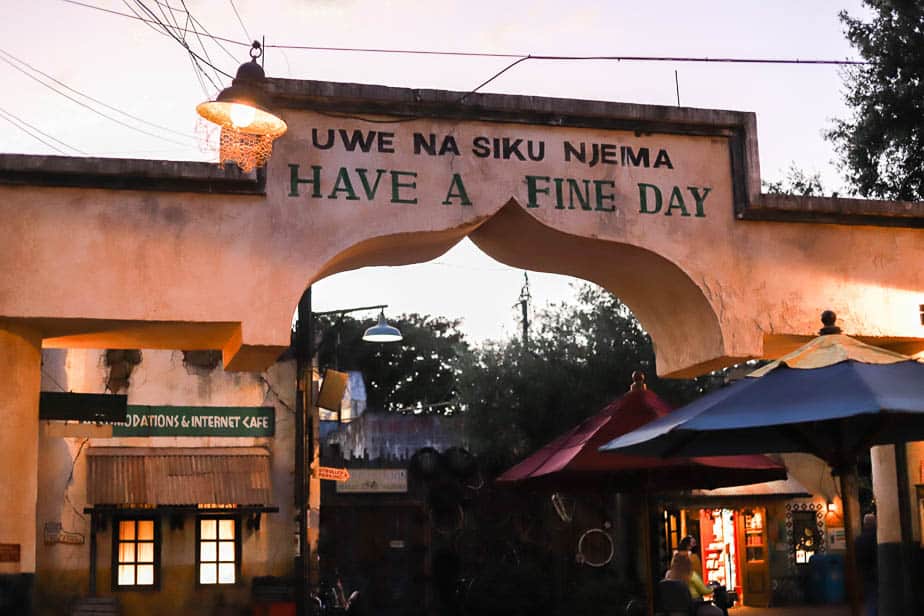 The entire Harambe area does its job at transporting you to a different place.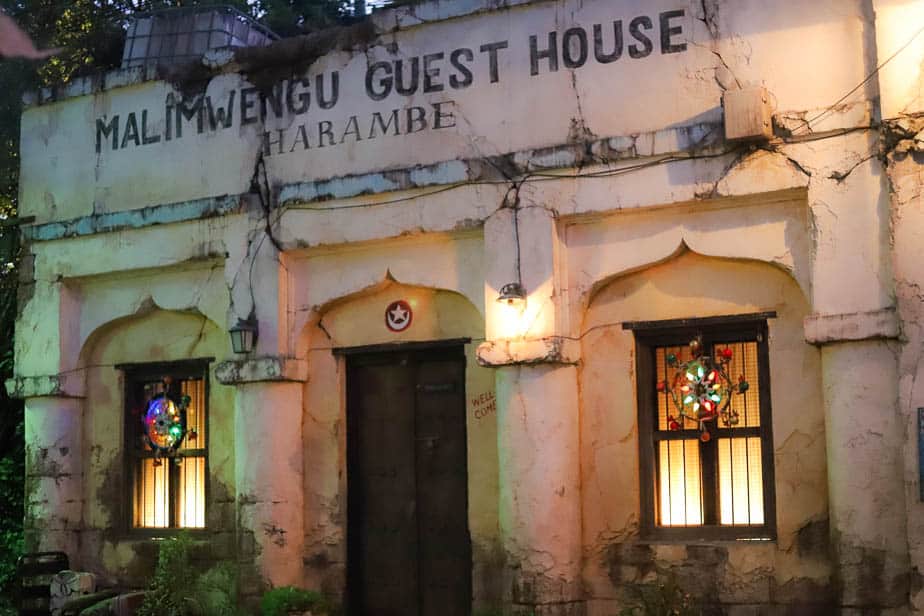 And the signage in the area is fascinating.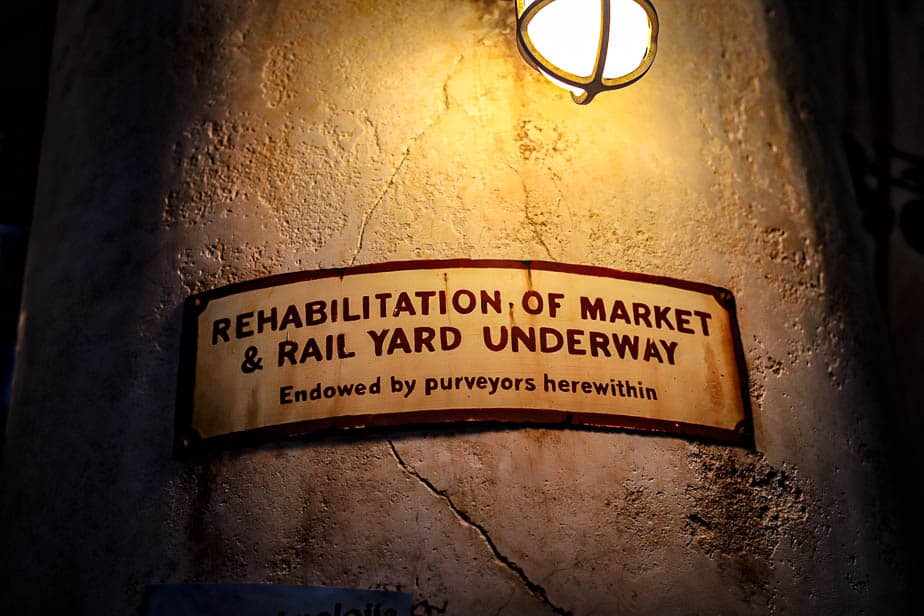 "Clean hands means clean food."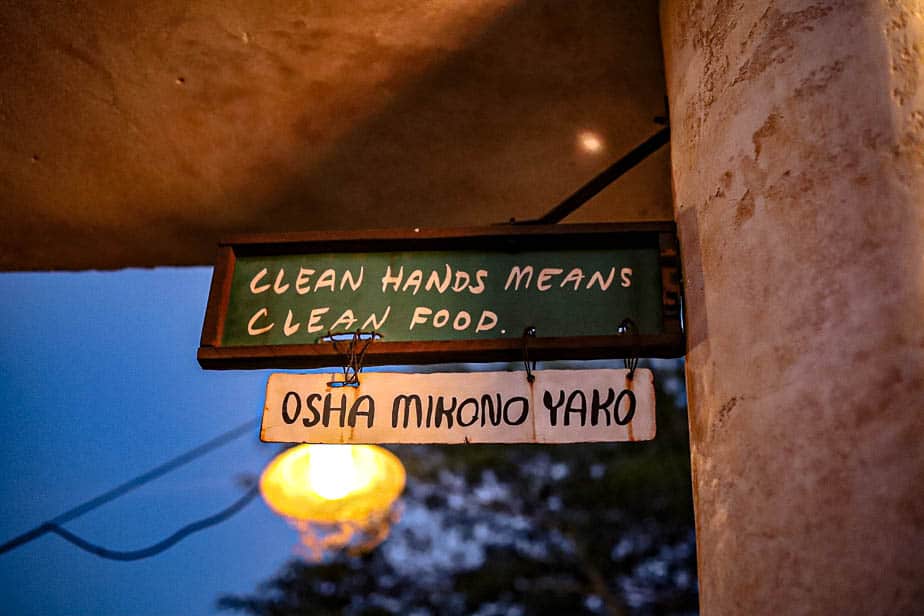 This sign below asks if you would like to learn Swahili? It indicates you could meet at Hotel Burudika for classes.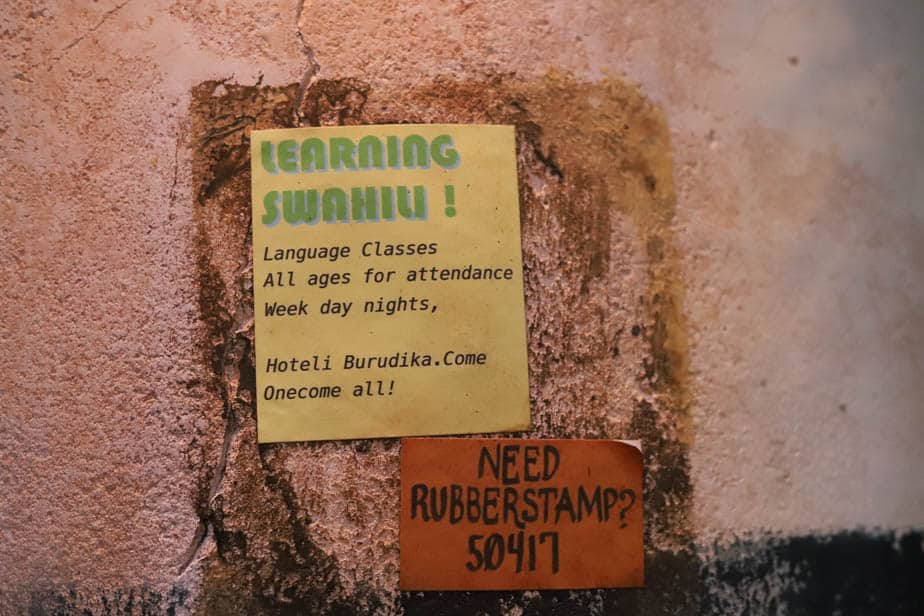 Most weekdays, you can find a catch down by the beach.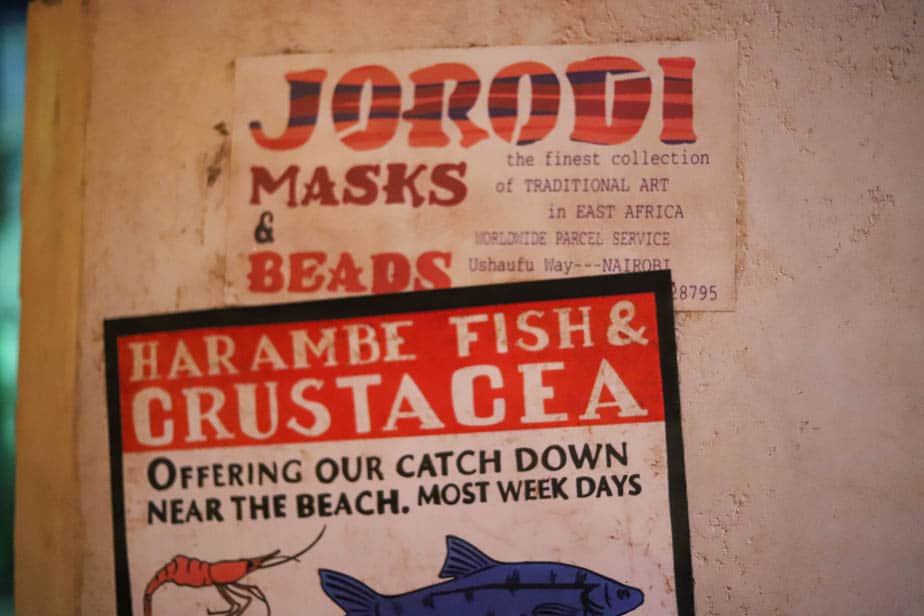 And this photo portrays Mickey Mouse sipping on a cup of coffee.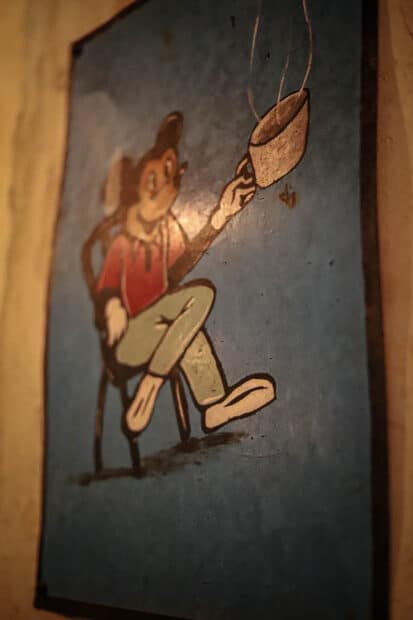 Several real estate advertisements are posted.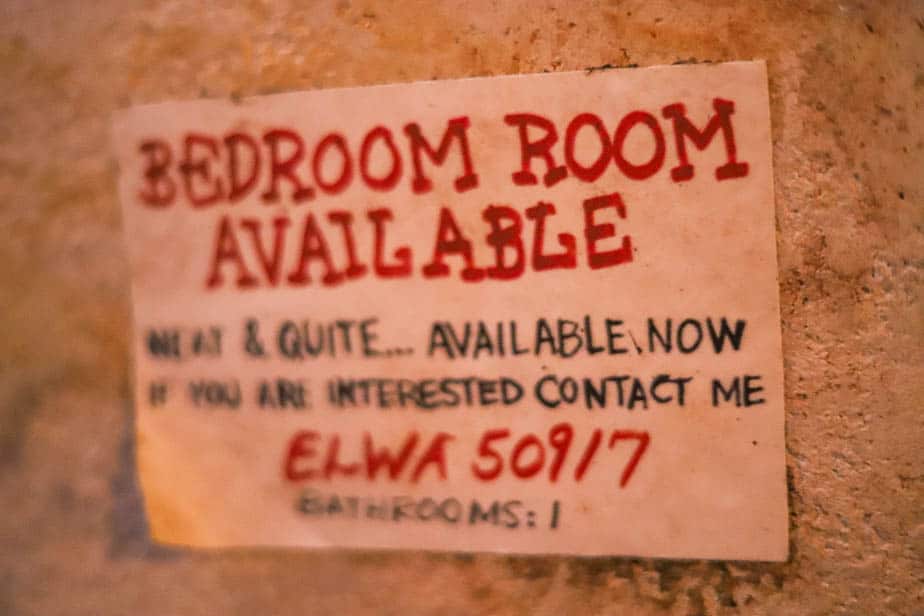 And I would like to think that most of us have explored the Animal Kingdom enough to see the art in the photo below.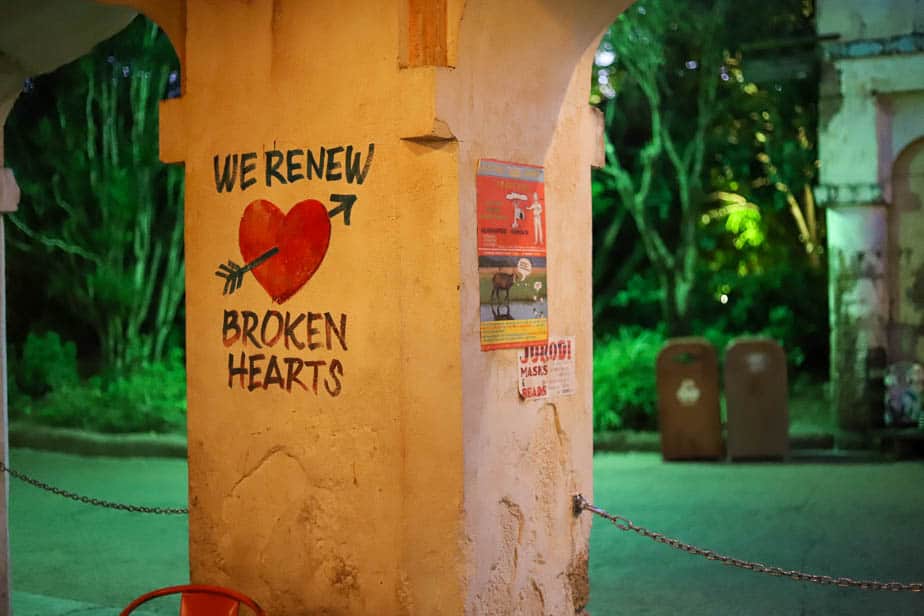 This particular evening, I felt inspired to take these photos. I had recently returned from a trip to Jamaica and felt a little ambivalent.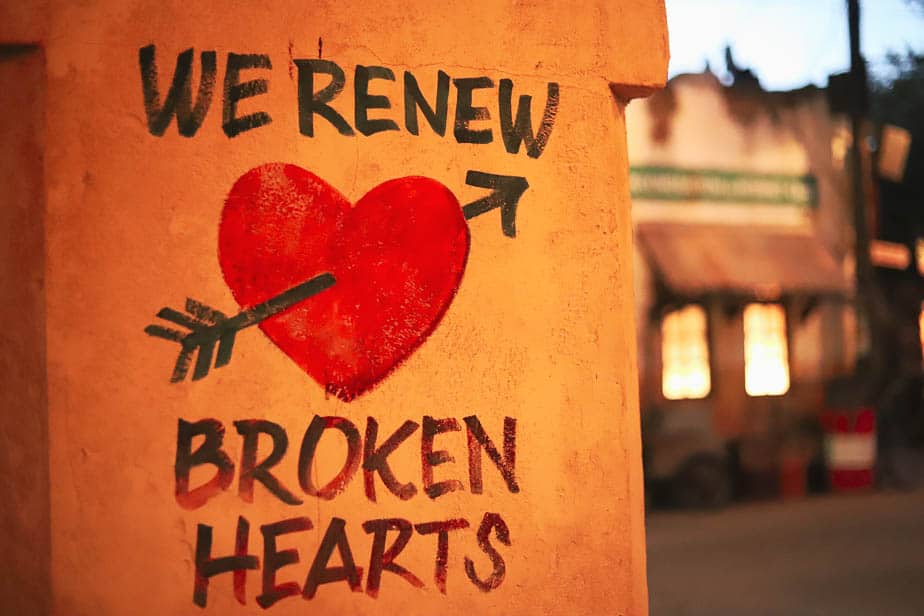 As most of you know, things at Disney World have been kind of meh lately, like probably everywhere else. And I knew I needed to shake my mood.
That's how I ended up here this evening, renewing my broken heart.
Now, this sign in the photo below is sure to make you laugh. "If plumber not available, call her sister."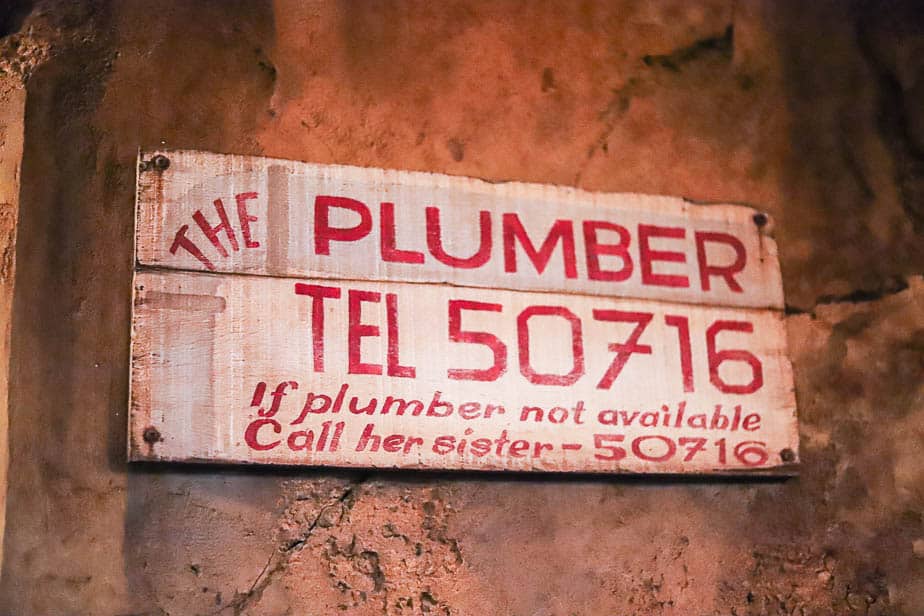 The announcement for the Friday night disco is a personal favorite of mine. I love that it says "around 9:30" for the time. Punctuality has never been my thing.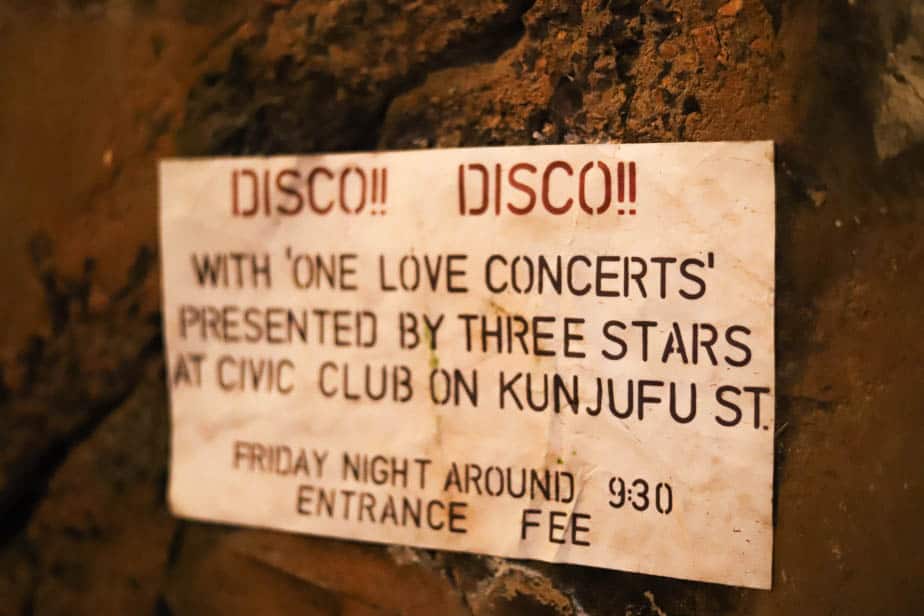 Do you see the acronym in the travel agency advertisement below?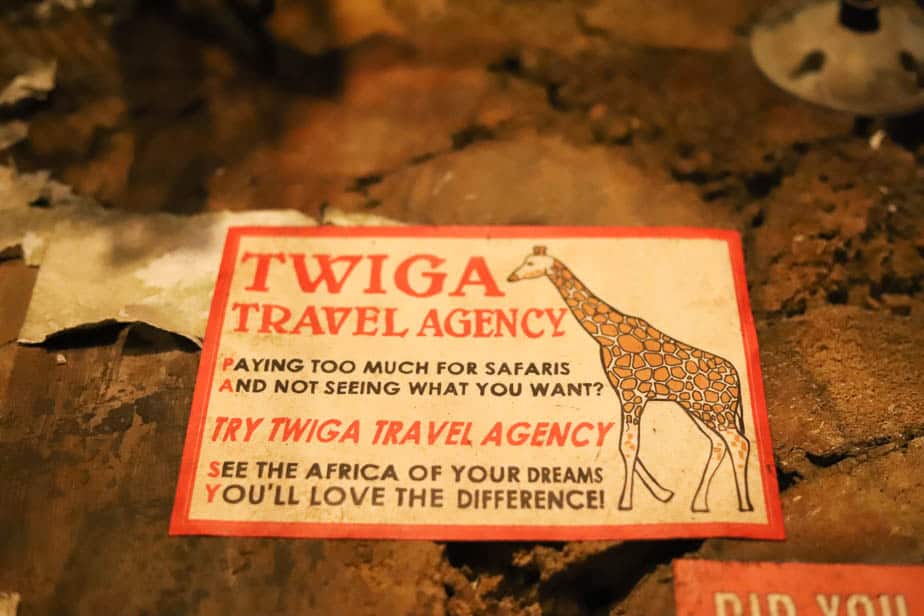 Did you ever think you may enjoy sausage?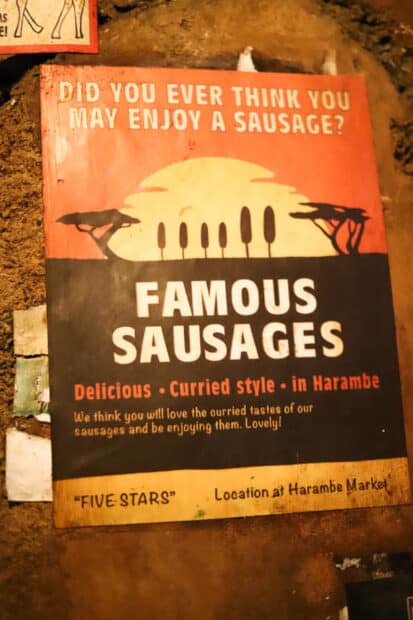 "Five Stars"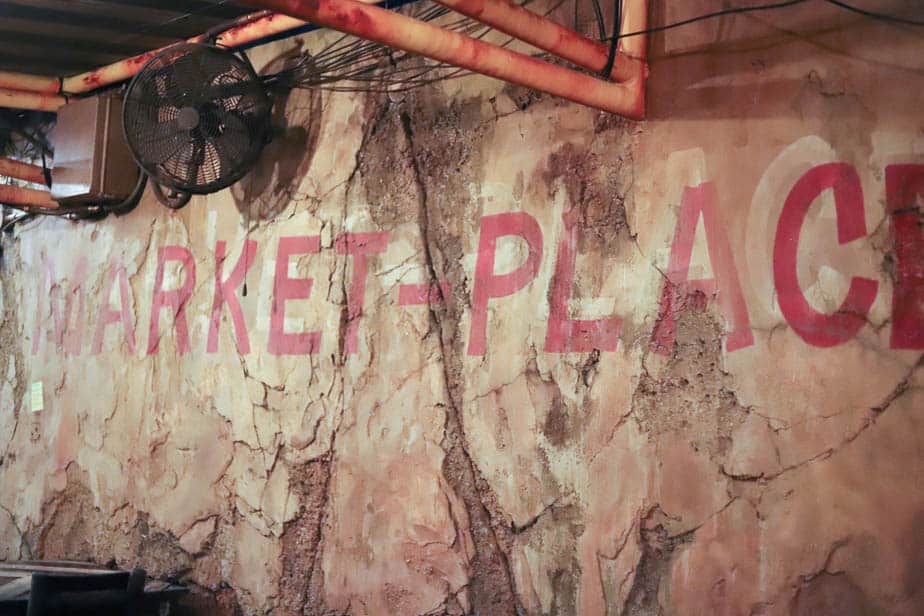 Below is a photo indicating where you can go for a good read.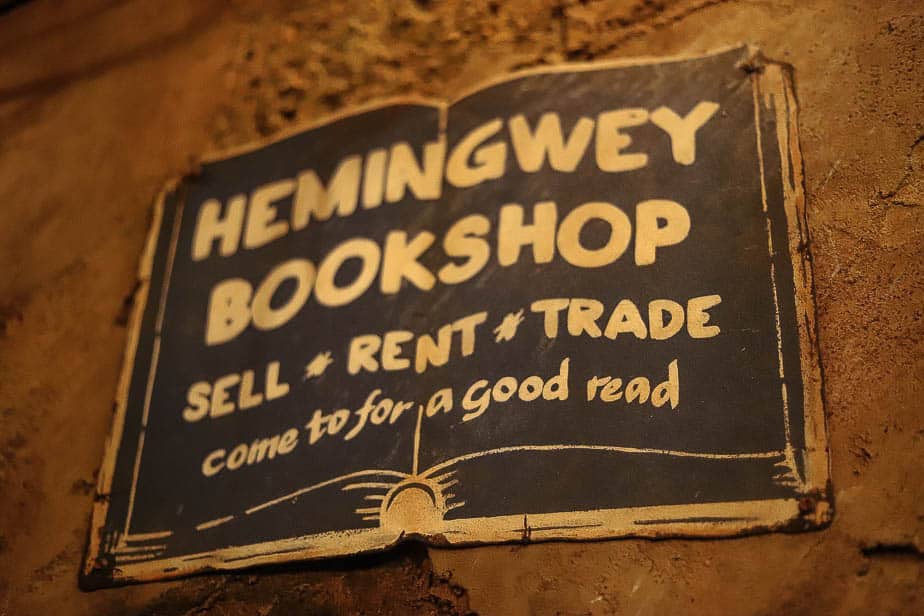 Just in case this blog isn't enough.
And here is an advertisement for Kilimanjaro Safaris.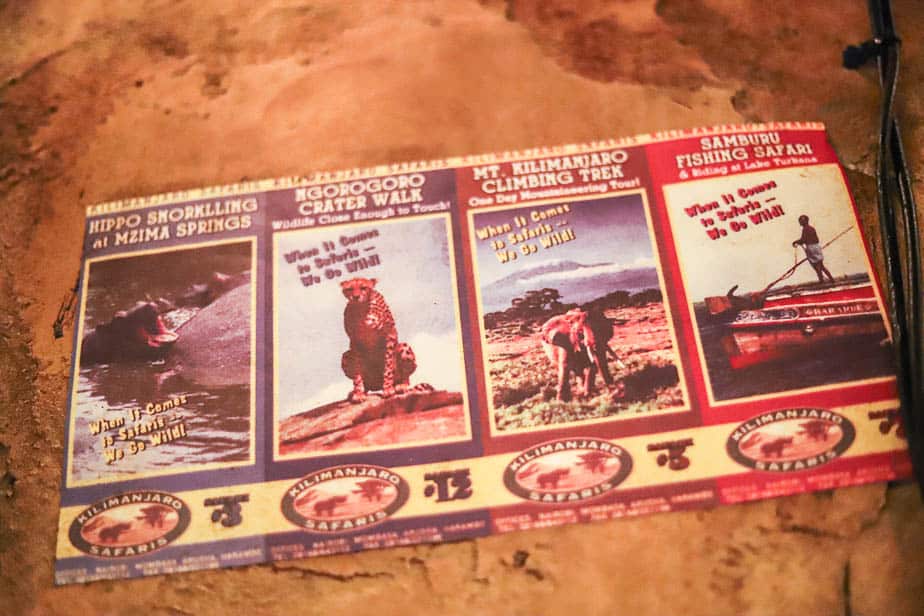 Here is another favorite, "Beauty is your birthright!" It's hard to argue with that one.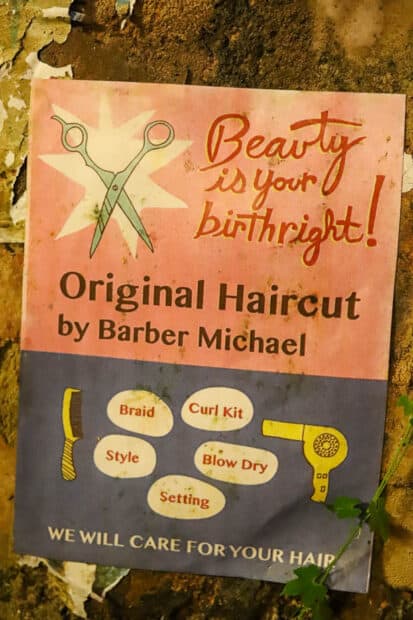 Do you need a rubber stamp? There's a guy for that…in Harambe.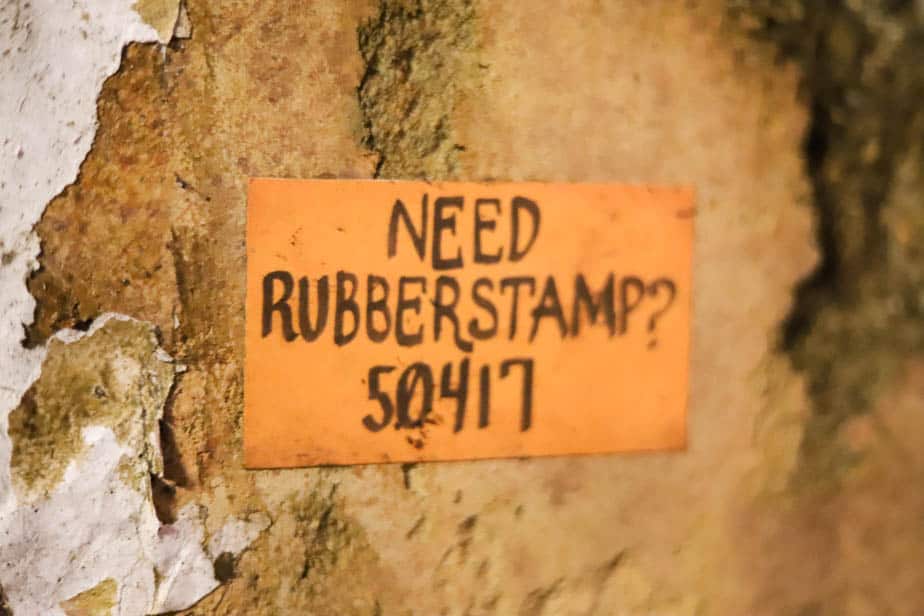 What do dreamy ribs taste like?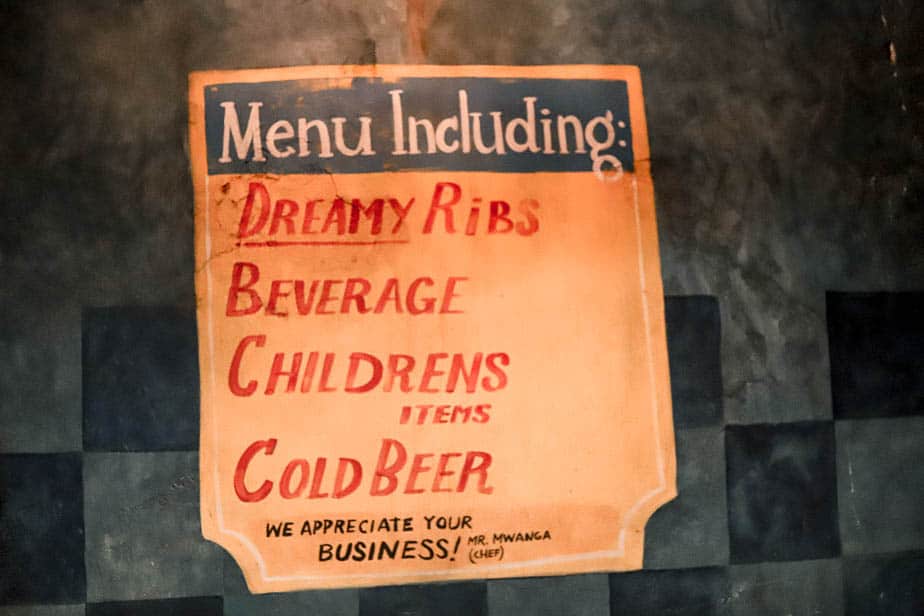 Here is another popular wall that many of you will recognize.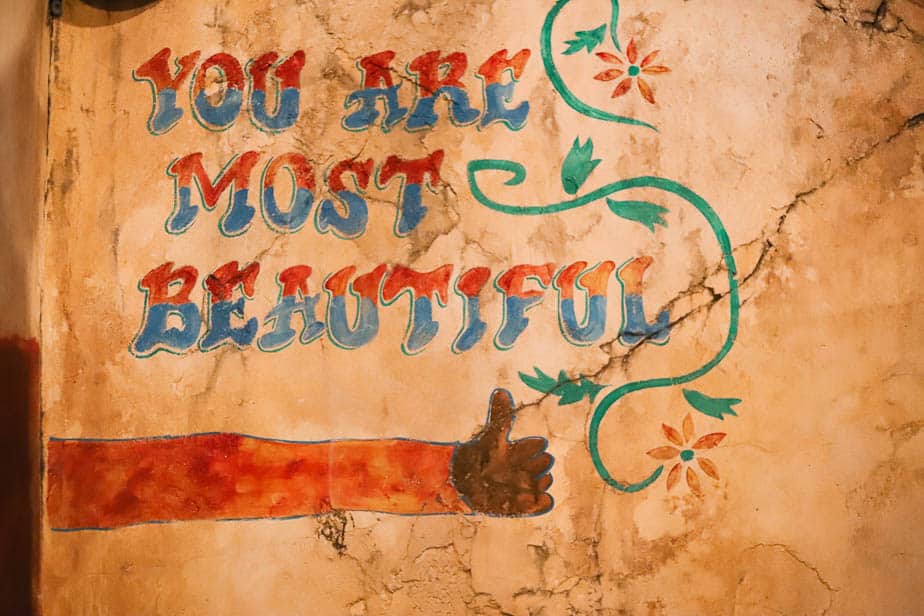 But the simpleness of this sign is probably more my speed.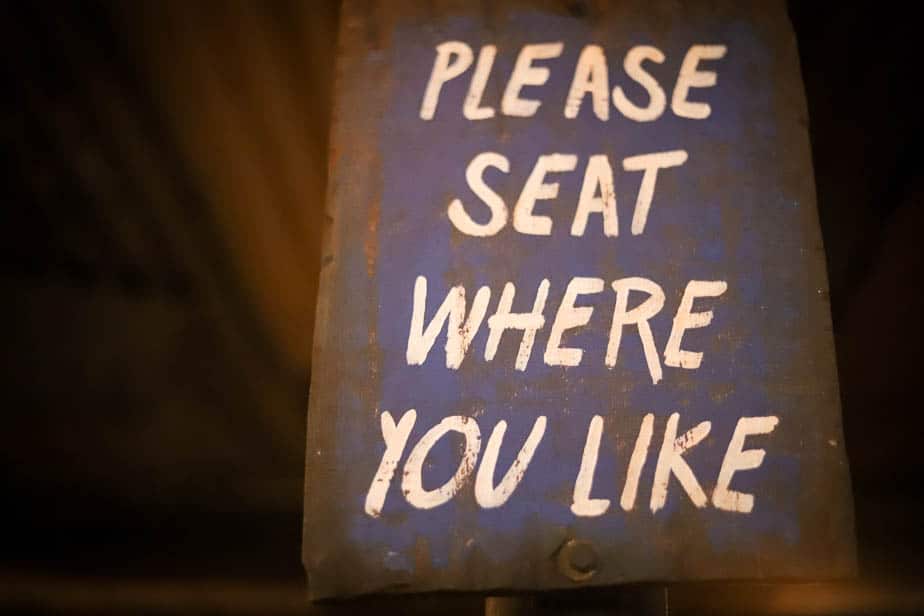 Apparently, a bachelor is looking to let a one-bedroom.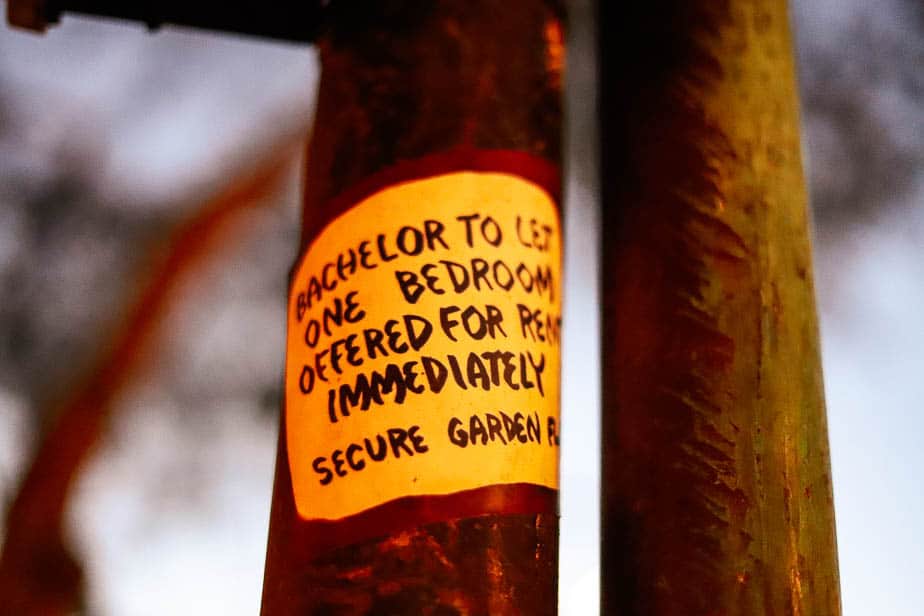 And a lady is looking for a flat.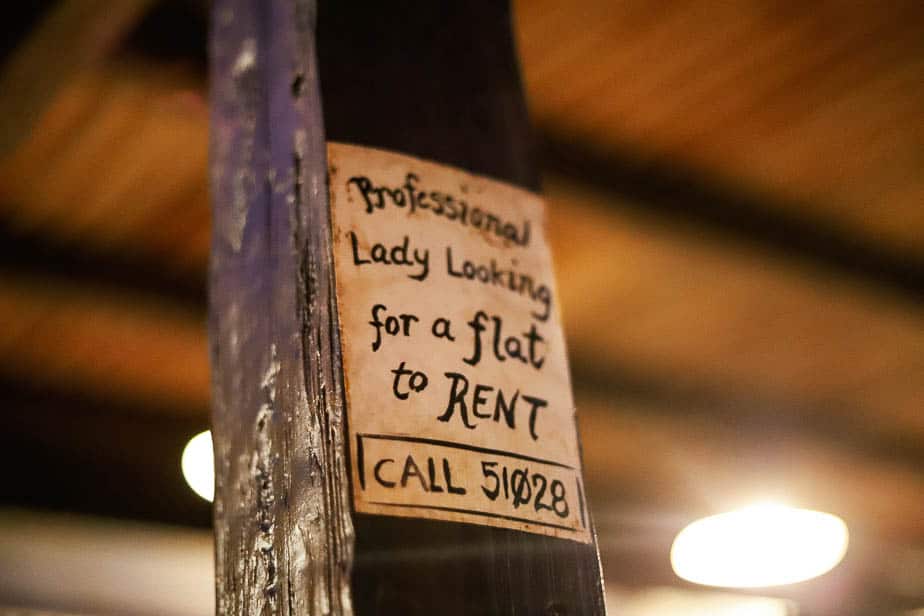 I had no idea what this one says, so I looked it up. The translation, "Every door has its own key. There is a correct way of doing things."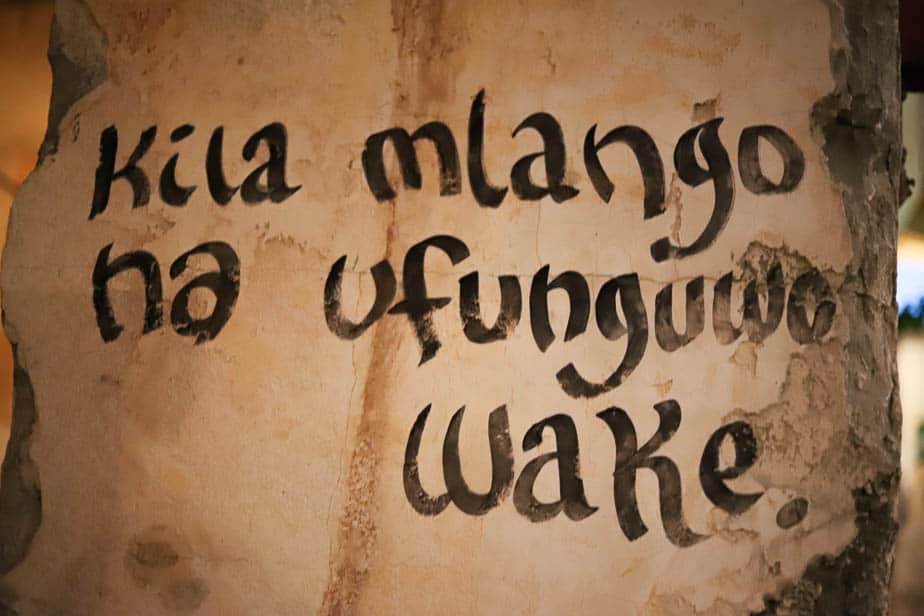 I happen to have a lot of experience with the wrong keys. And did not read (or maybe comprehend) the manual on the correct way of doing things.
Here are a few more.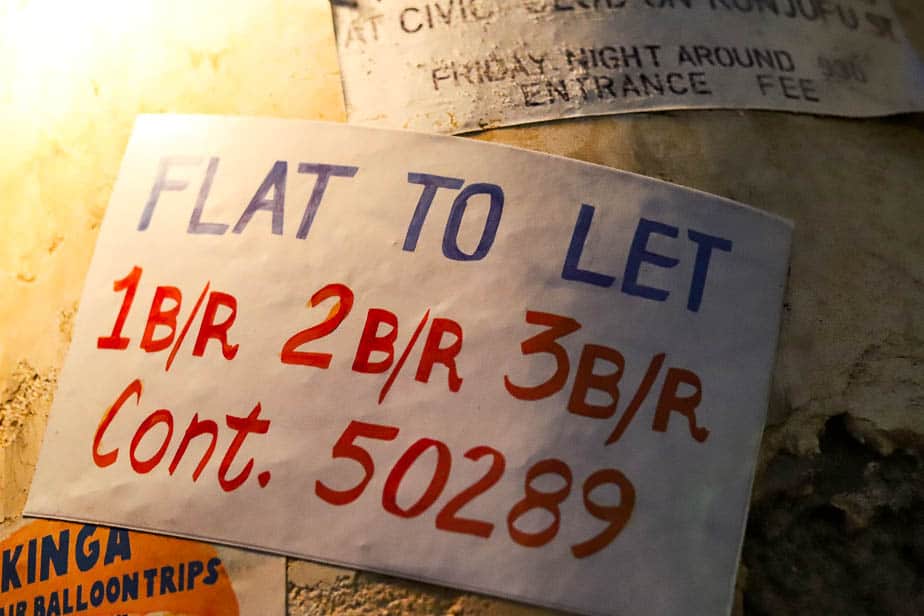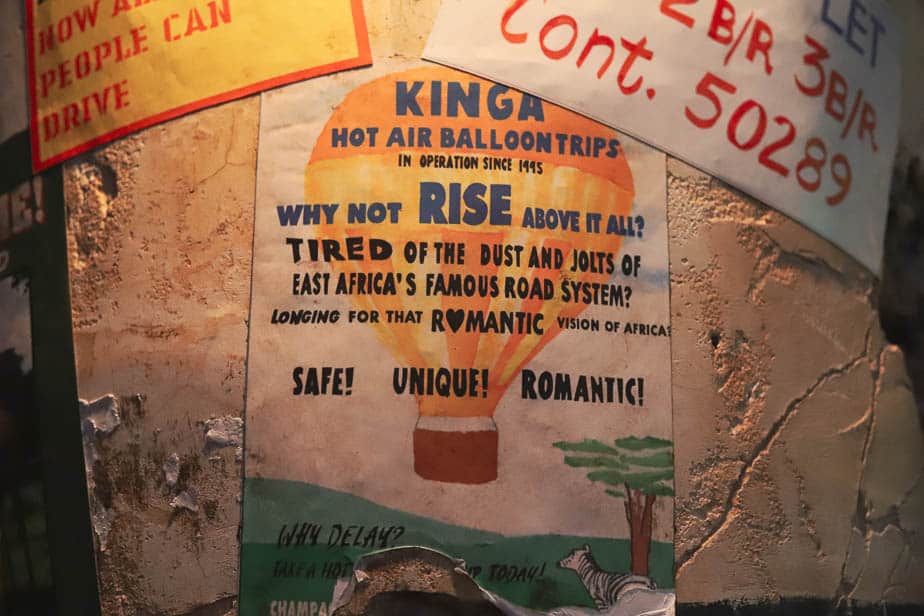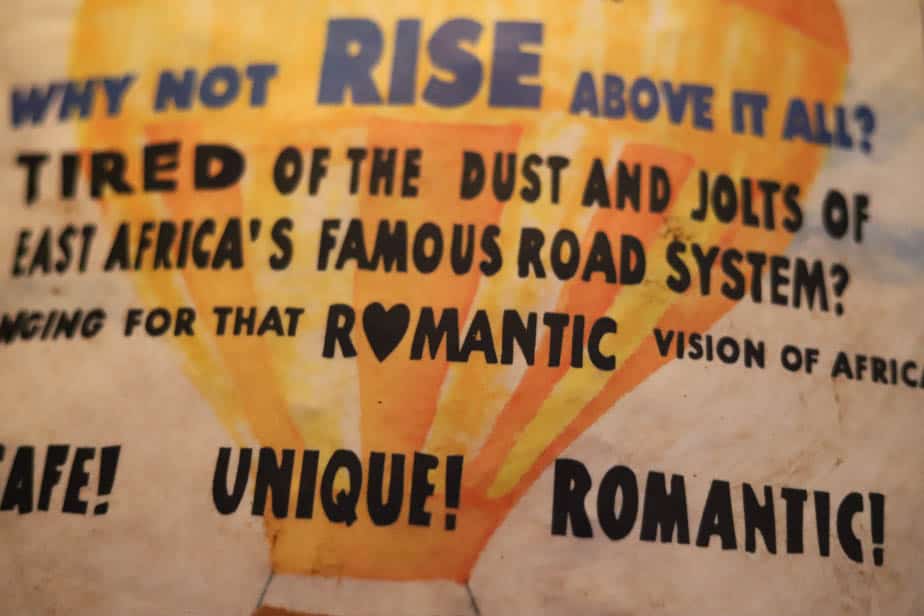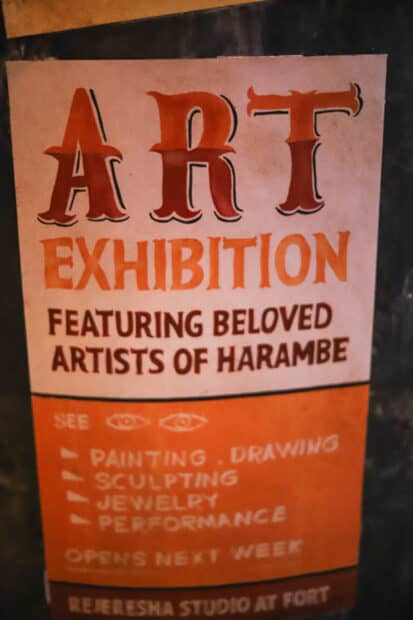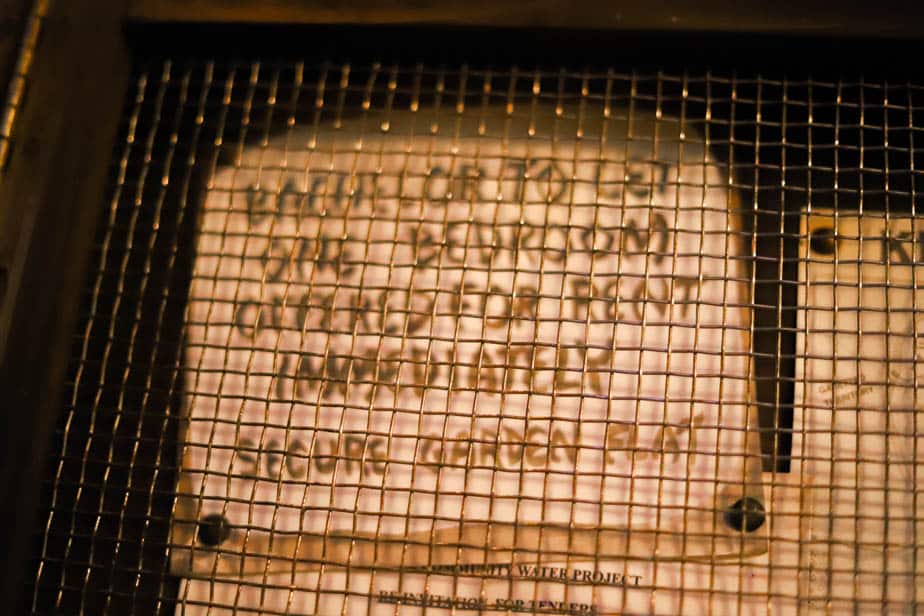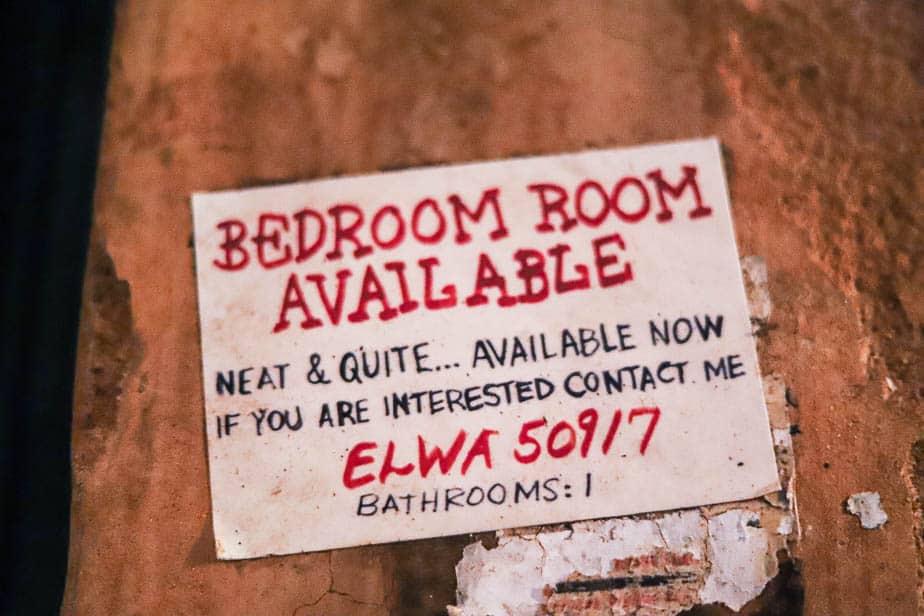 Oh, and Hotel Burudiki is located "just other side of town."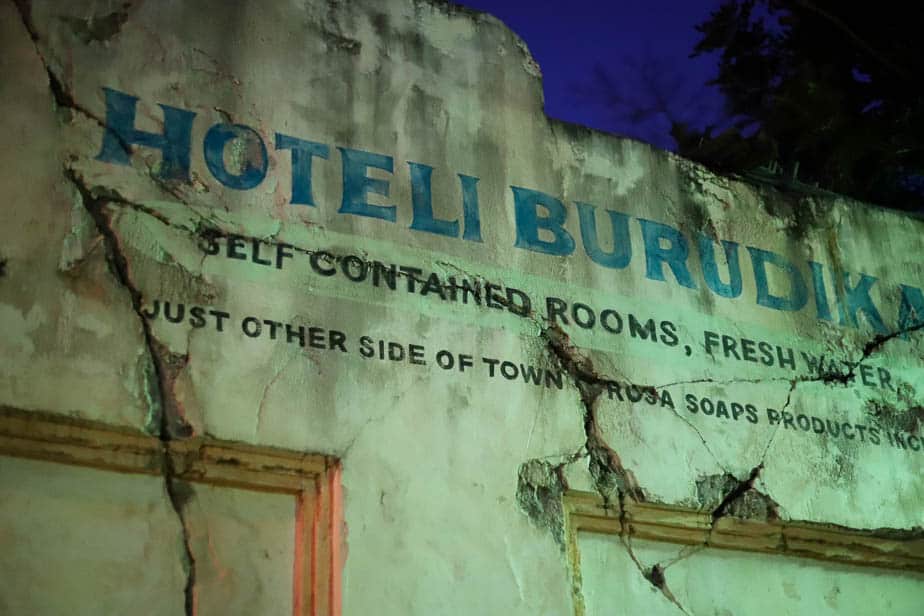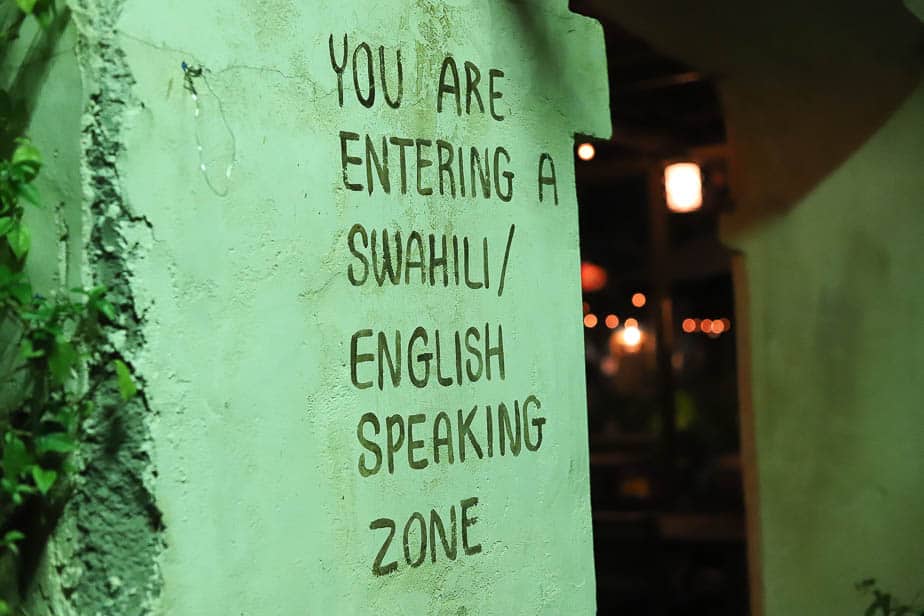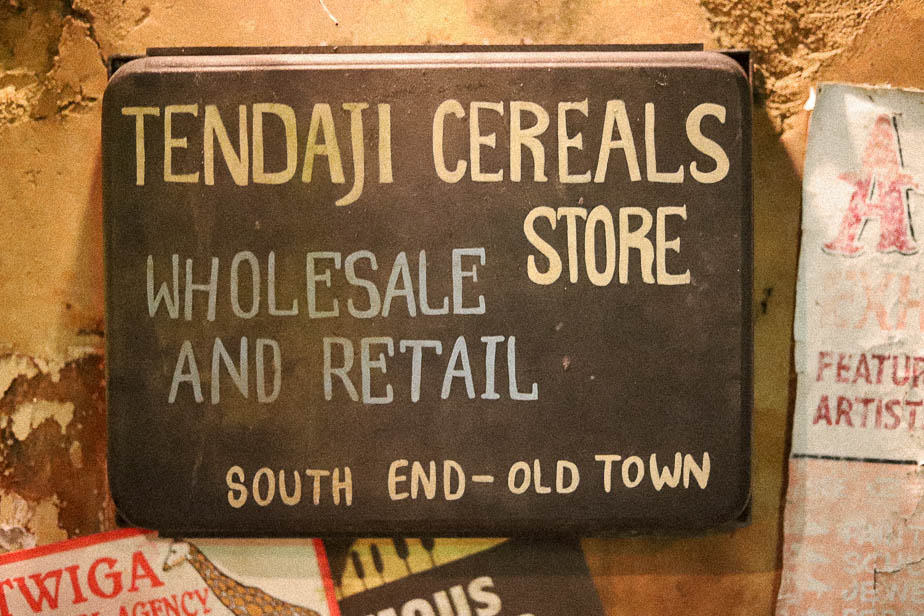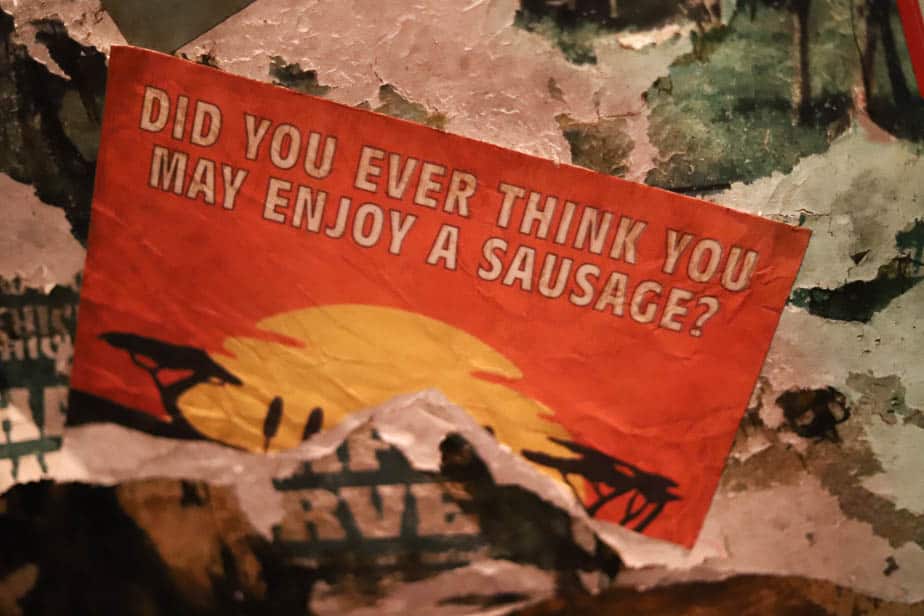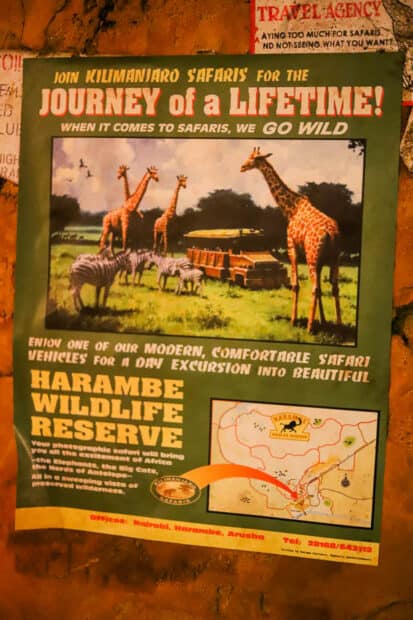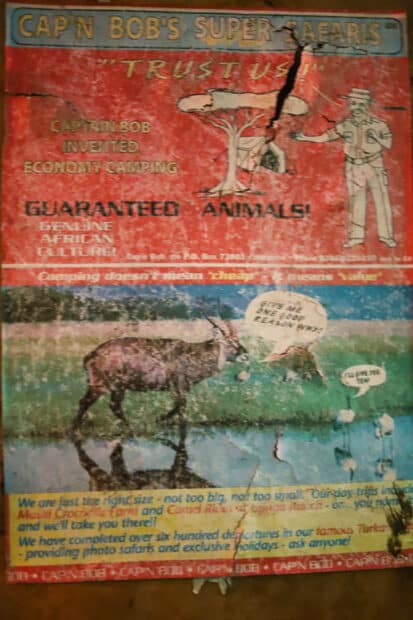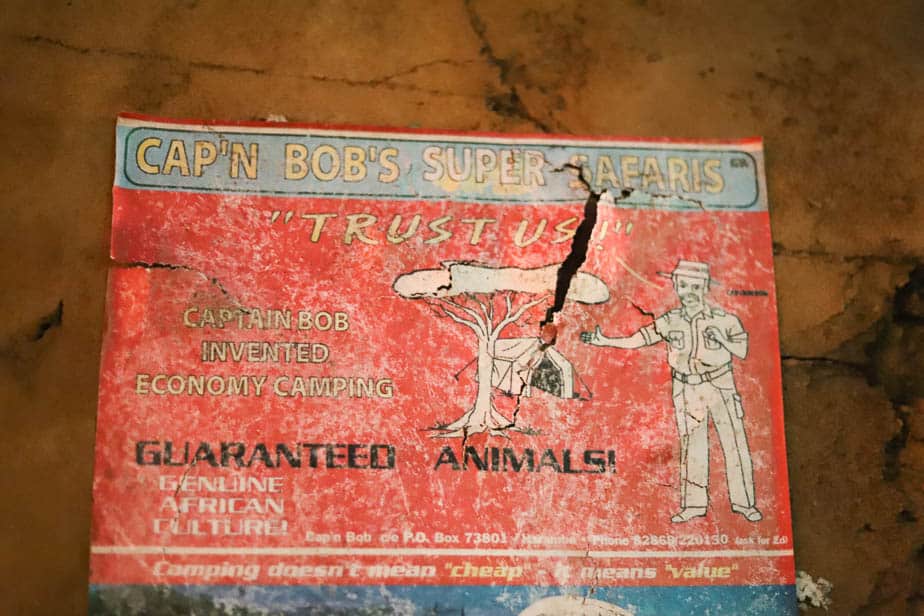 By the time I finished taking these photos, my mood was much-improved.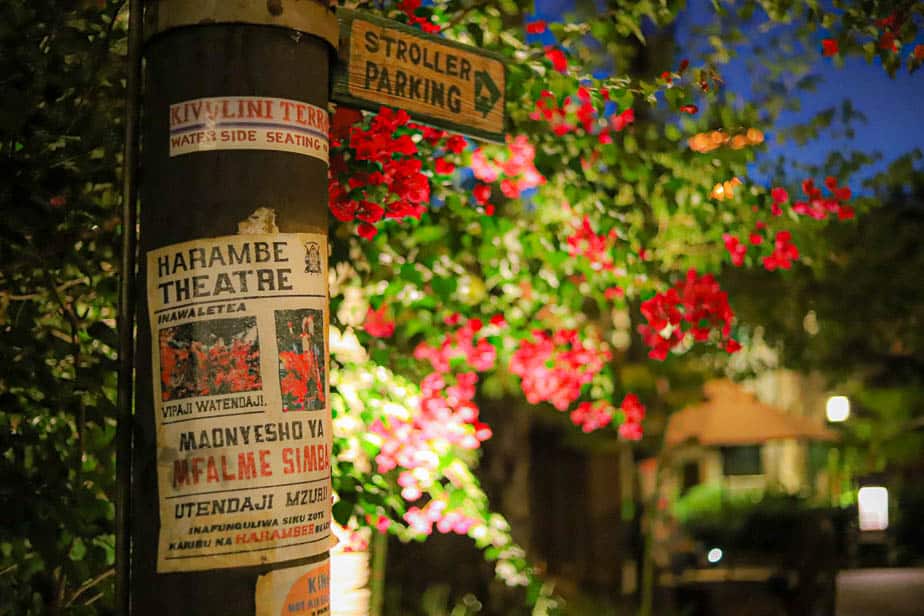 How could it not be? I love this place.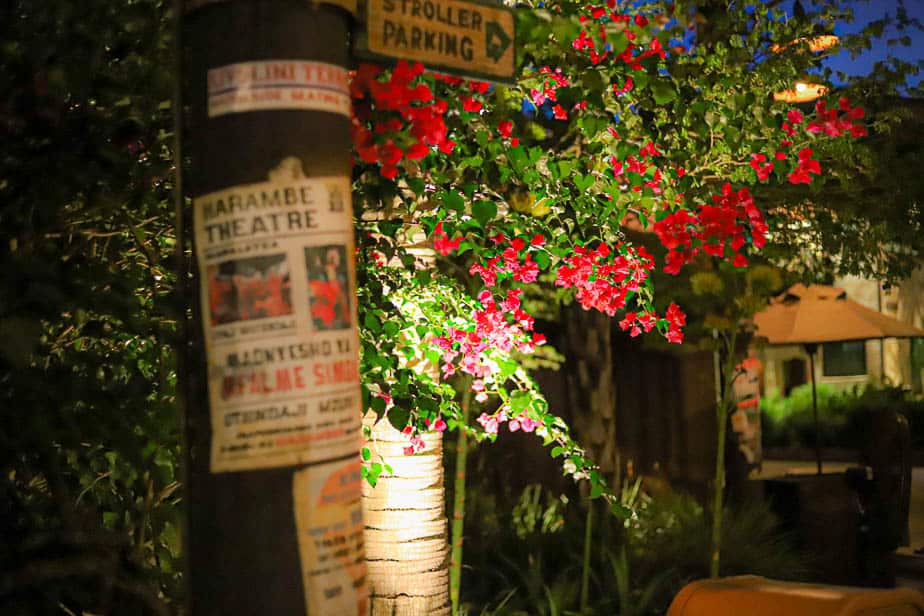 And to think we didn't even make it over to Asia or Dinoland. You'll want to check out the Maharajah Jungle Trek on that side of the park. That's where the tigers are.
On my way to the front of the park, I took the back entrance to Pandora, World of Avatar.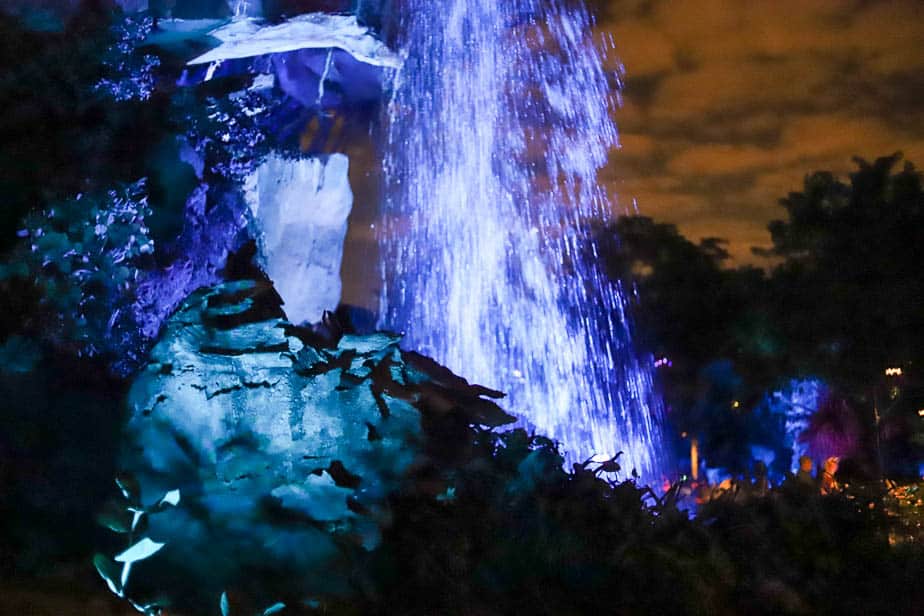 Unfortunately, night photos are not my thing.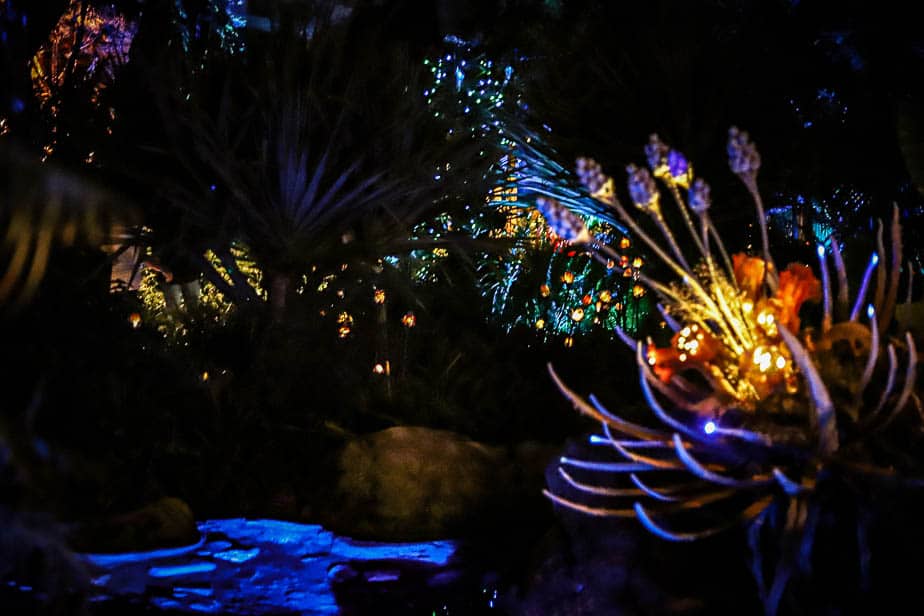 But I do try.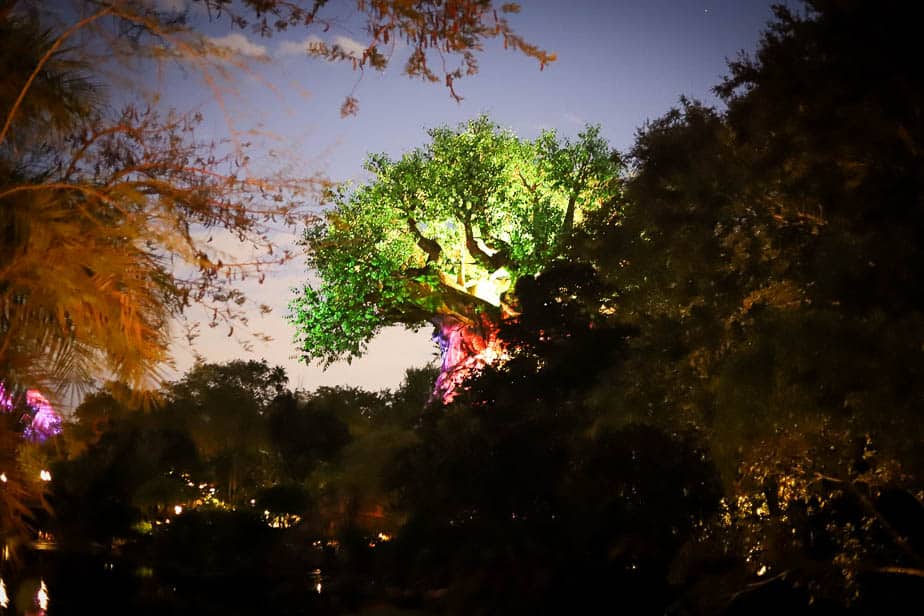 Thanks for coming along today on our photo walk through Disney's Animal Kingdom. Many of these photos are near and dear to my heart, and I hope you enjoyed them. It's nice to take a break sometimes, isn't it?
In case you missed it, I shared a huge photo post earlier this week of Christmas photos around Disney World. It's sure to put you in the holiday mood.
We'll take a break over the upcoming holiday weekend and have a fresh start next week. I have a review of Yachtsman Steakhouse coming up, and I have to tell you it was phenomenal. In fact, we enjoyed the food more than the 50th anniversary dinner at California Grill.
Are you a fan of the Animal Kingdom? Did you enjoy these photos of the park? Leave a comment down below and share your thoughts.