Rafiki's Planet Watch at Disney's Animal Kingdom
Rafiki's Planet Watch is located at Disney World's Animal Kingdom! If you haven't had the opportunity to visit the area before you might be unaware that it was closed for a fairly extended amount of time. Rafiki's Planet Watch reopened to guests in the summer of 2019 and looks to remain open for some time into the future.
Since they've reopened, a new Animation Experience is offered in the area. This review will take a look at one of Animal Kingdom's most hidden gems and why you might want to visit with your family.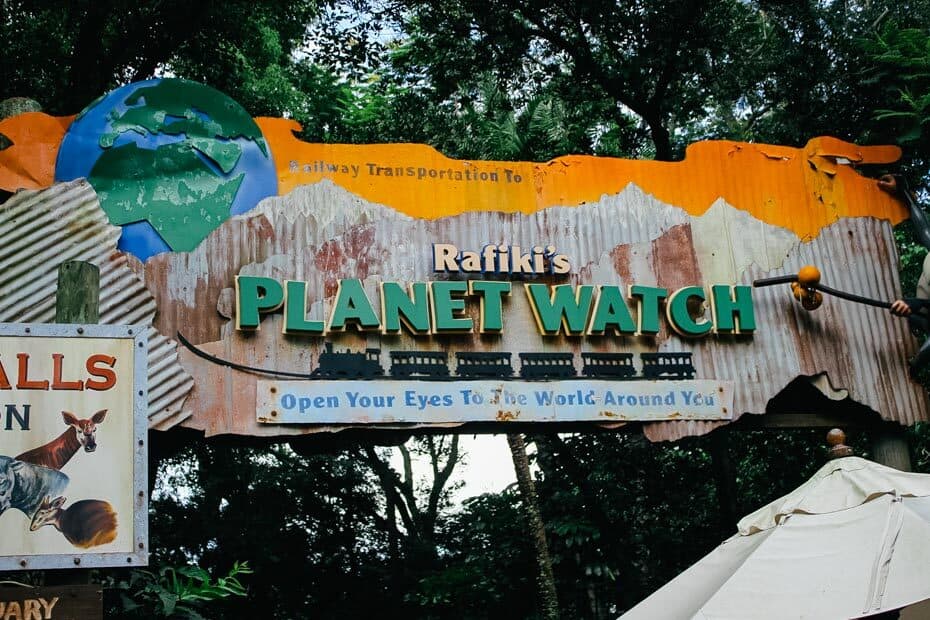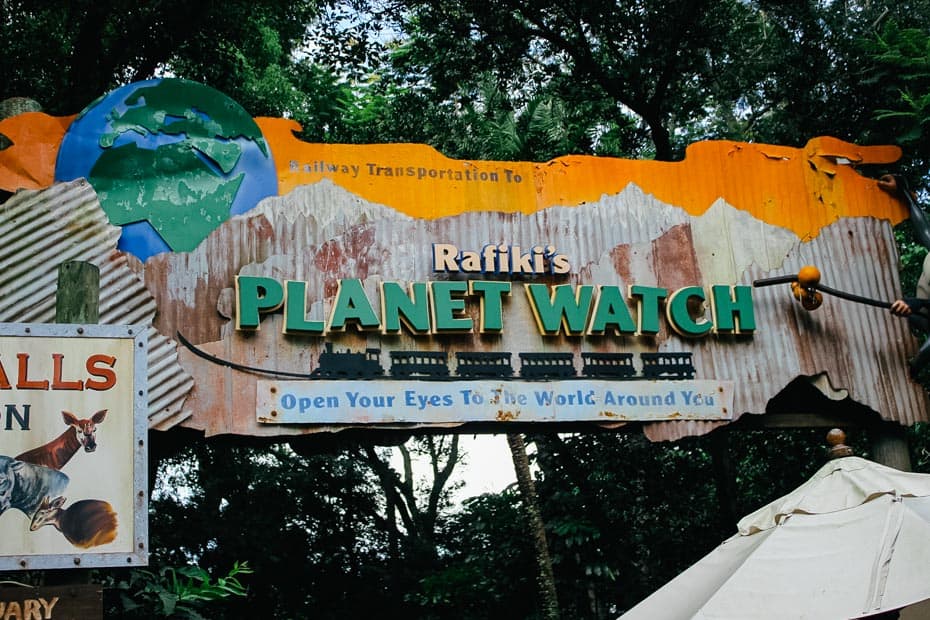 Rafiki's Planet Watch Review
Rafiki's Planet Watch is home to some unique experiences and attractions. The area is almost like a land itself and is only accessible by train ride. That's one of the things that makes the area so special. I am certain that many people are unaware that these attractions even exist.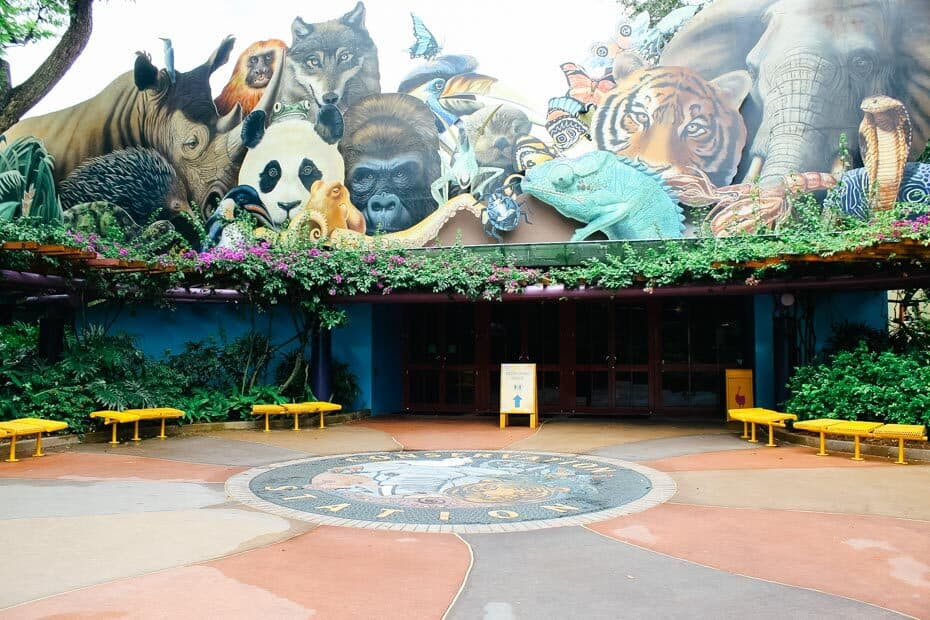 When you visit Rafiki's Planet Watch you'll have the opportunity to ride the Wildlife Express train. After disembarking the train you'll walk down to spend some time at Conservation Station.
This is a great place to participate in a friendly petting zoo called Affection Section or draw a favorite Disney character at the new Animation Experience. After that spend some time observing the museum-like setting that features a look at a few rare live insect habitats. Let's break down what you can expect to find here.
Getting to Rafiki's Planet Watch
The entrance to Rafiki's Planet Watch is right past Kilimanjaro Safaris. A good time to visit Rafiki's is in the later morning or early afternoon after a safari ride.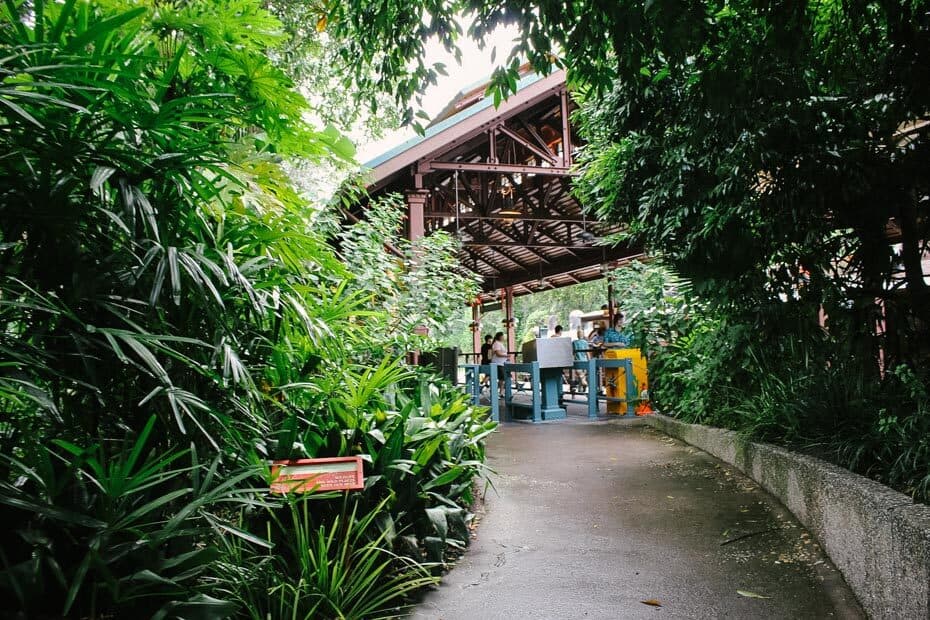 You will walk down the pathway to the Wildlife Express train station. One train runs back and forth between Rafiki's Planet Watch. It drops you off there and then collects guests returning to Harambe.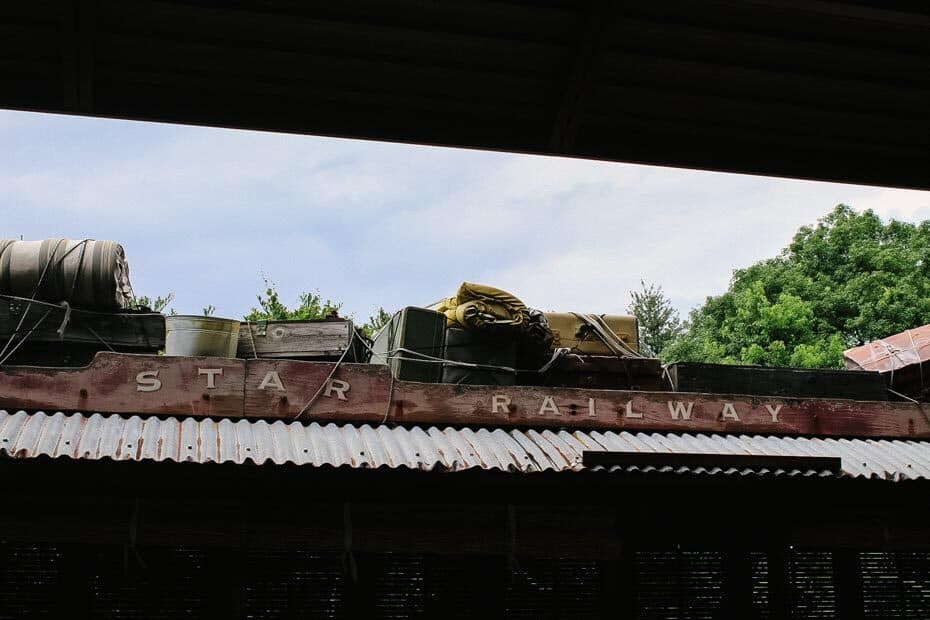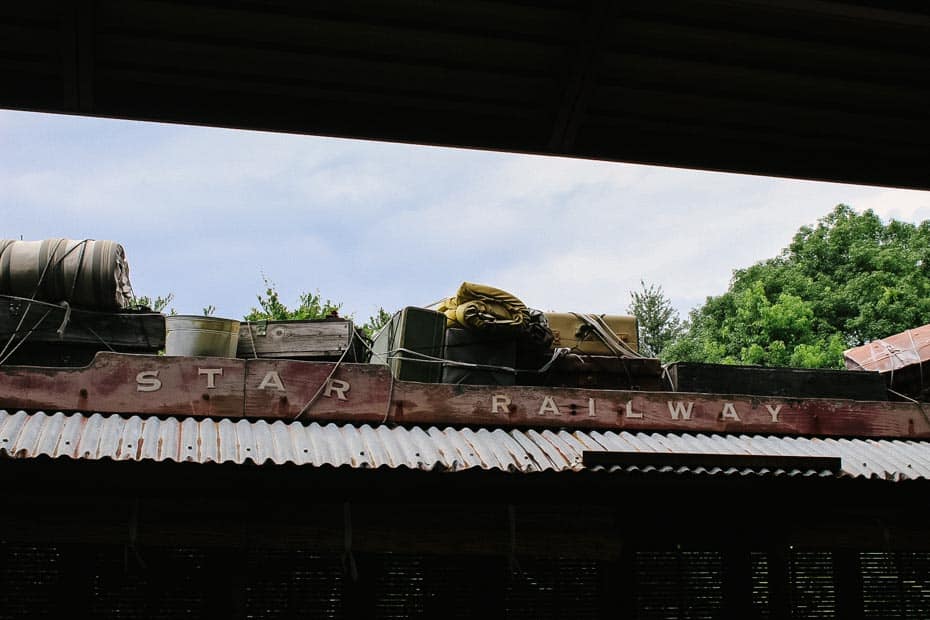 The reason I'm explaining is that this area is so off the beaten path. Many people walk down to this area trying to figure out what there is to do. I hear people say things referring to this as just a train station. Or they get to Rafiki's Planet and still have no idea what they are doing or where they are going.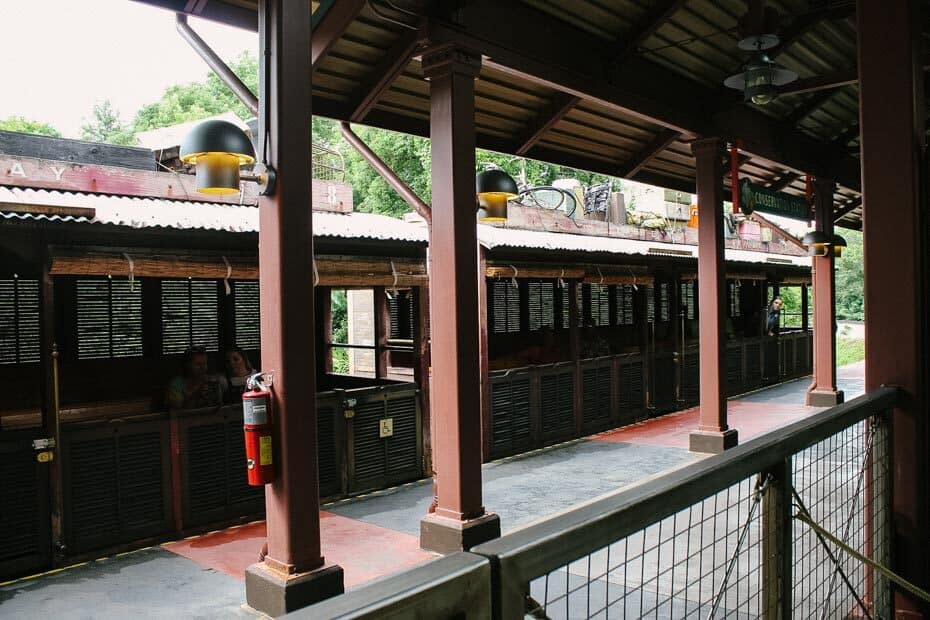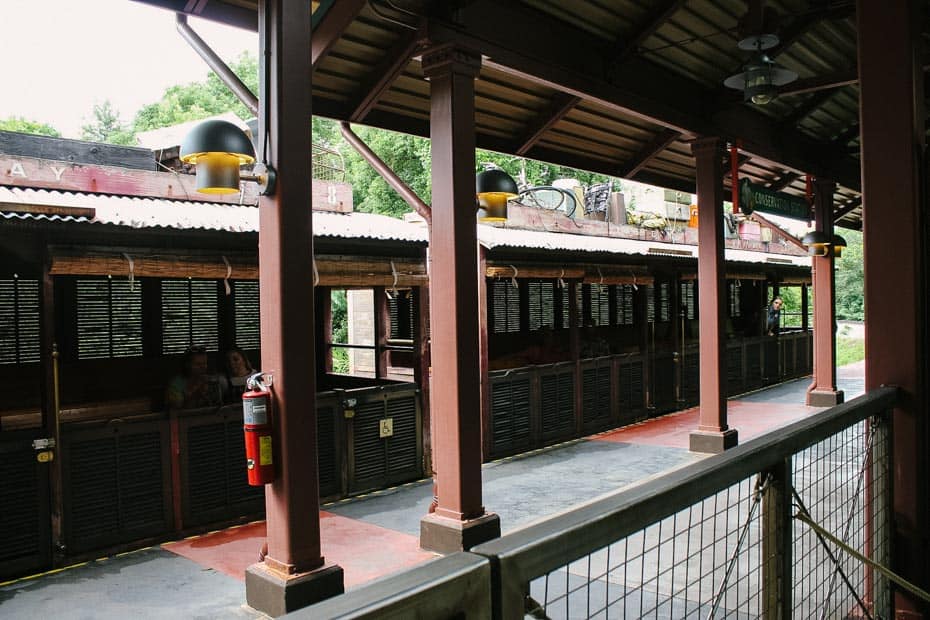 If you would like to just take a break and ride the train around you are more than welcome to do that as well. I fondly remember the first time I ventured down to this area years ago. The Star Railway really blew me away and I couldn't believe that a train like this existed. I assume these may be common in some places, but I had never seen anything like it and was completely enthralled. A train that faces out to the view. That might sound silly to you, but for this Alabama native, I was more than delighted.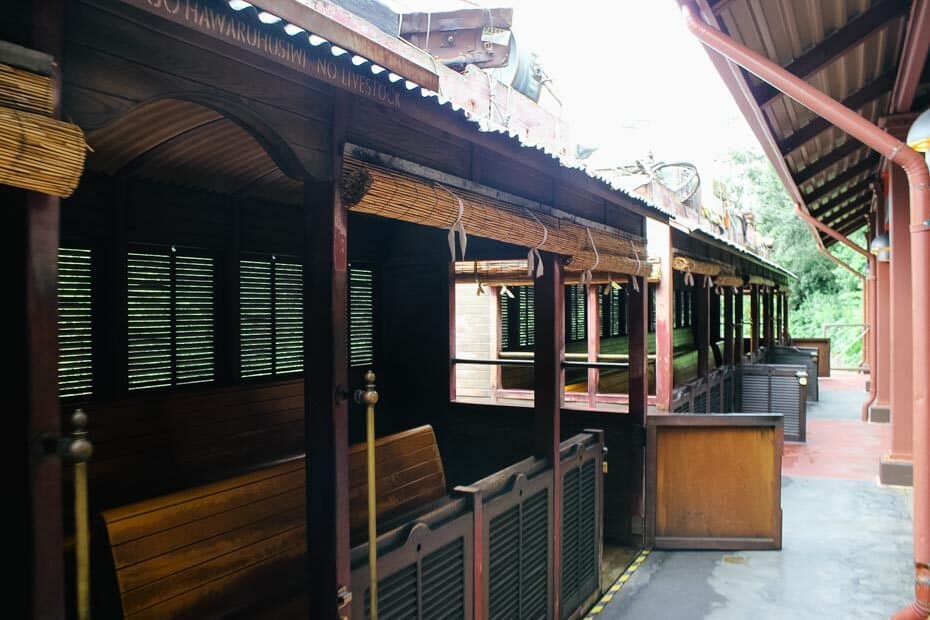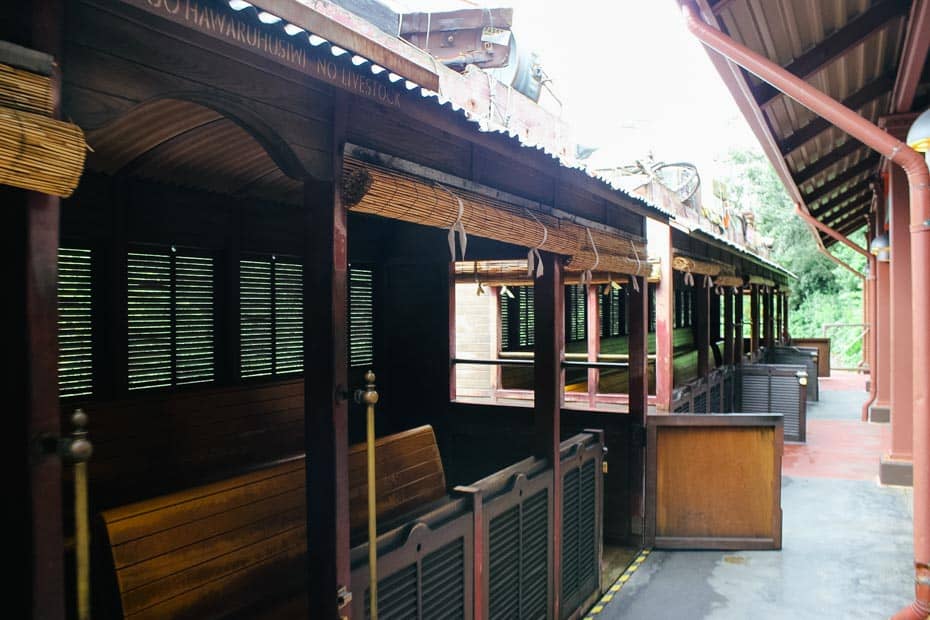 Do you remember the first time you ever rode a train? I don't think too many children get to travel by train these days. Make sure to take advantage of the train rides offered at Disney. Right now the train isn't running over at Magic Kingdom due to Tron construction. But this train here at Rafiki's and the one at Magic Kingdom are both worth taking the time to ride when available.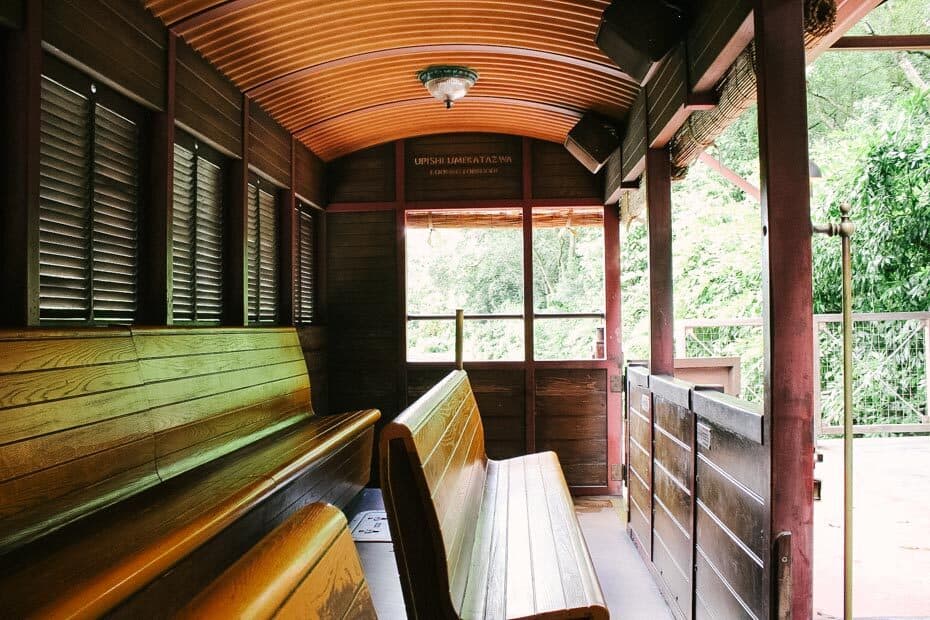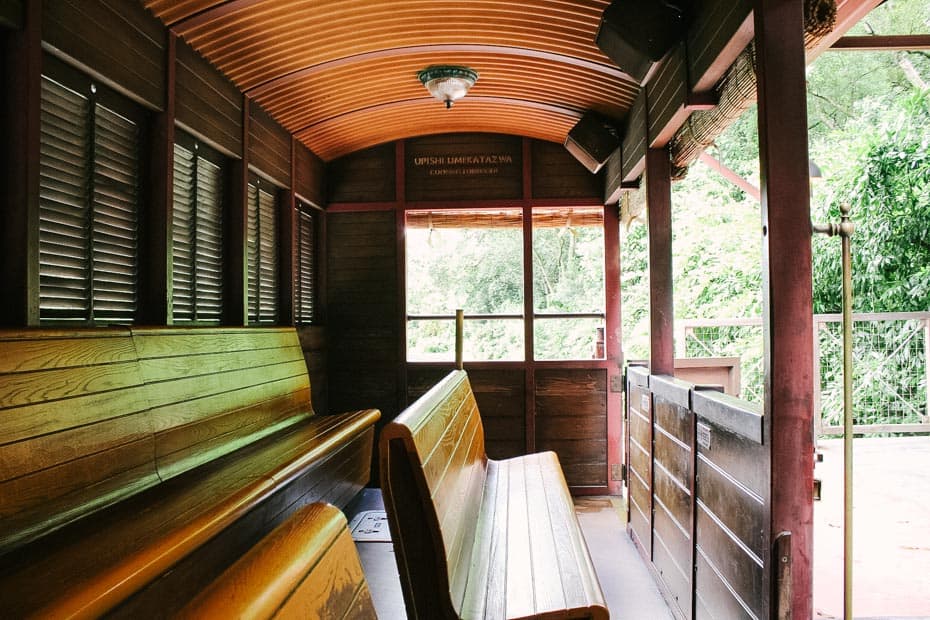 Anyway, you will end up at Conservation Station where you will exit and make your way down to Rafiki's Planet Watch. You might have the opportunity to see a few animals in the backstage area of Animal Kingdom on your journey as well.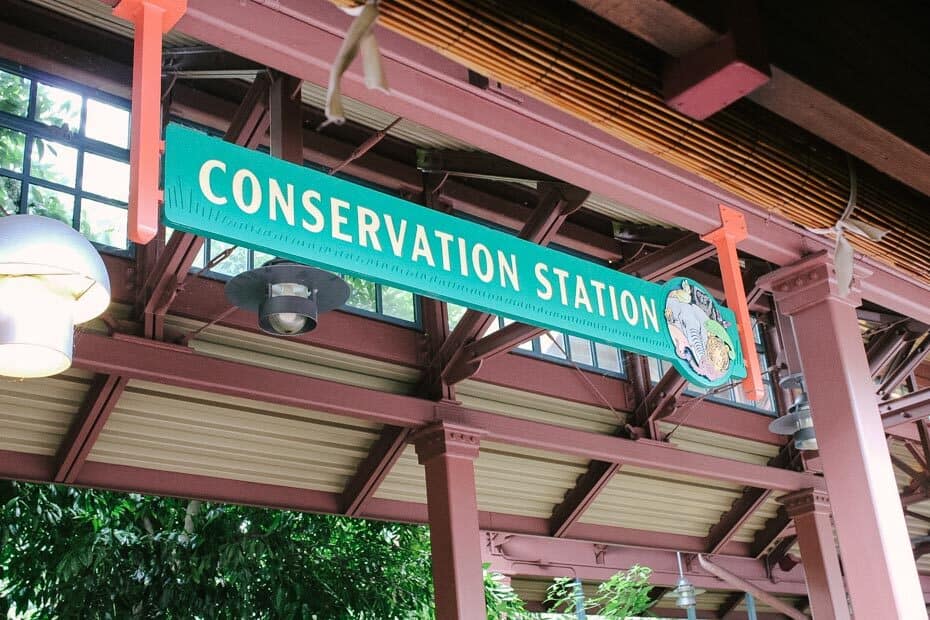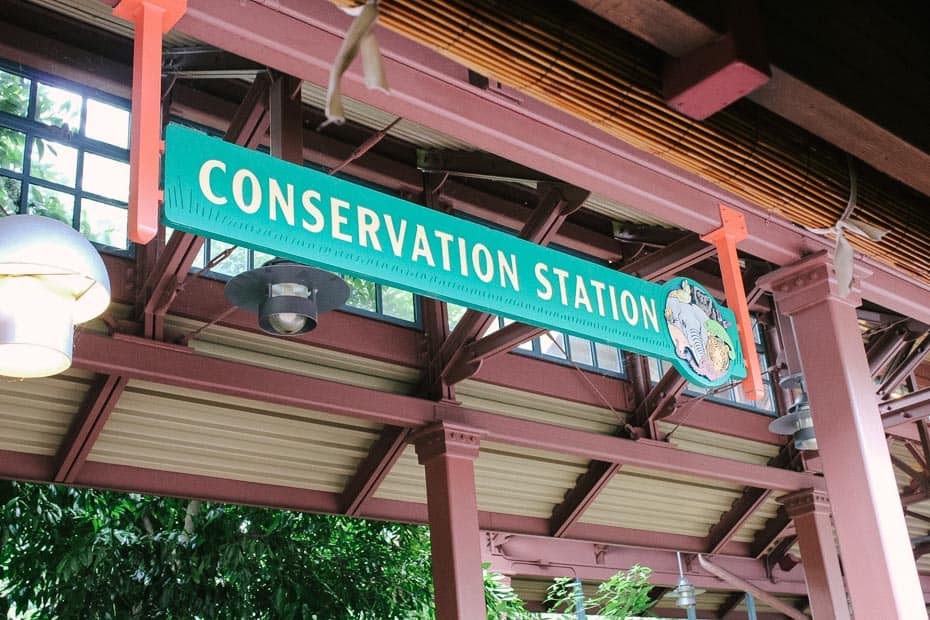 Conservation Station at Rafiki's Planet Watch
After your train ride up you will walk down to Rafiki's Planet Watch to visit Conservation Station or Affection Section. Conservation Station is the large building at the end of the pathway to the right.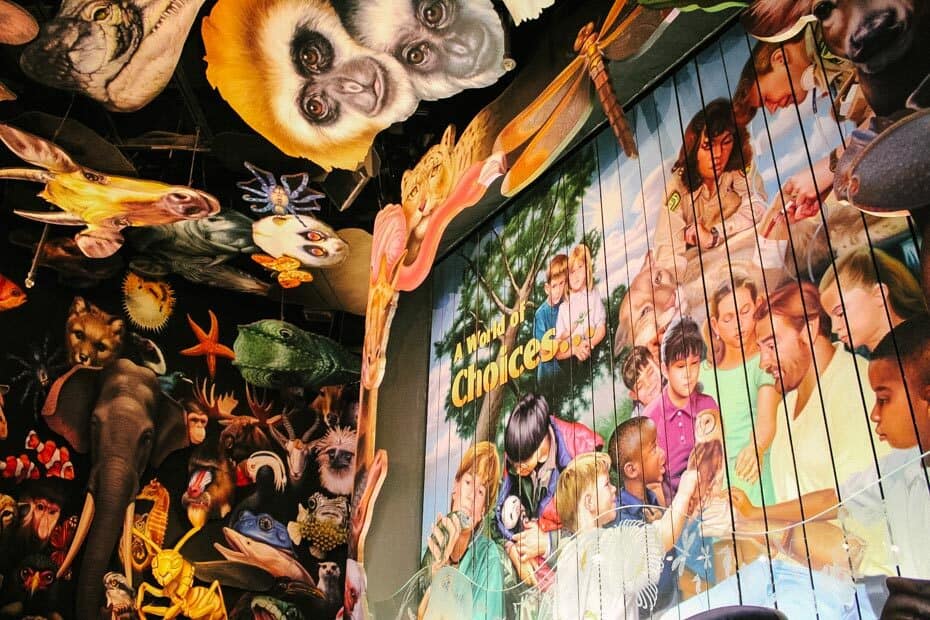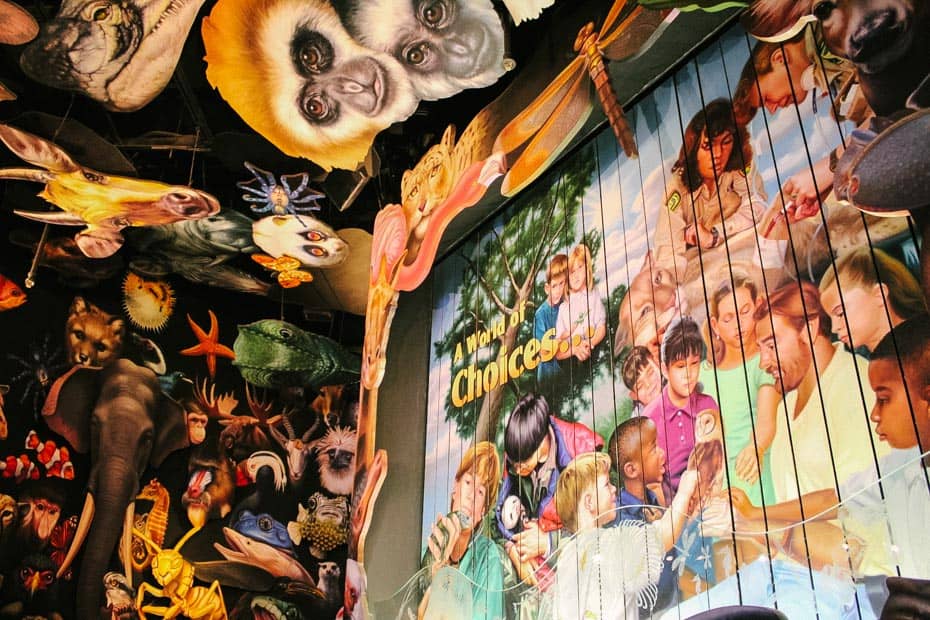 Inside the Conservation Station building, you will find cast members working on a variety of different items.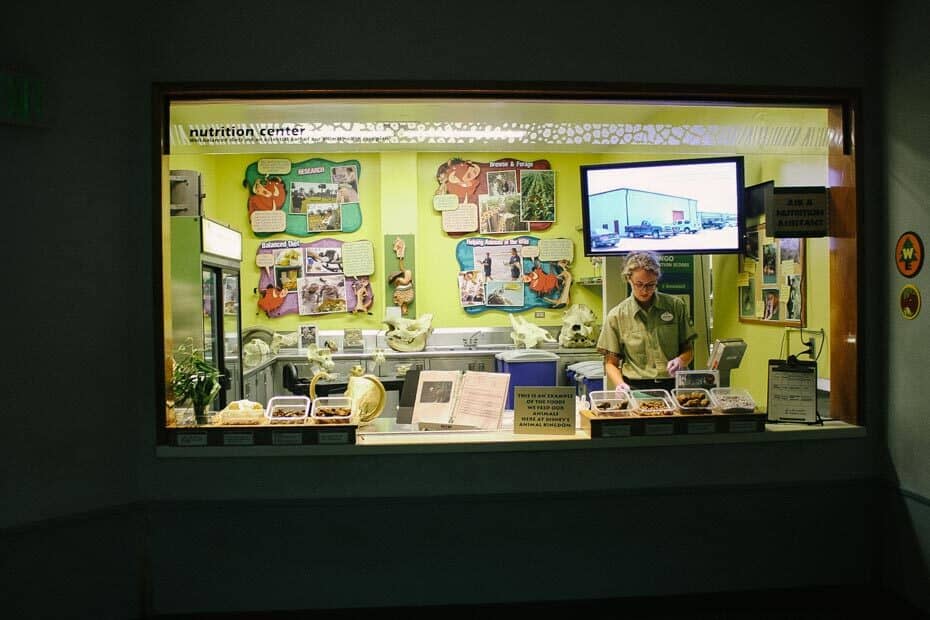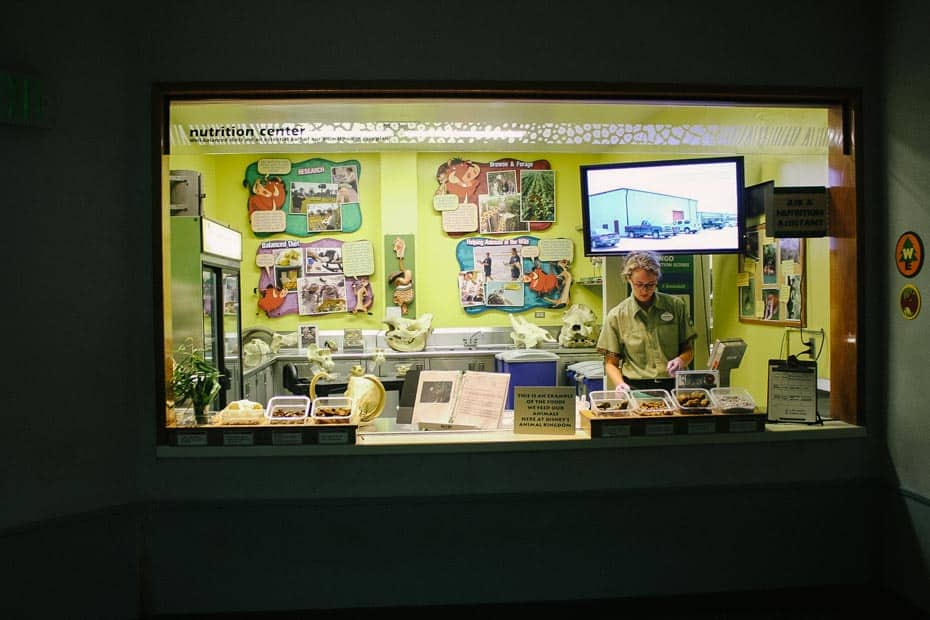 This is an invertebrates section. Right here might be a good opportunity to mention that if you have a science or animal fan in the family this is a must-do on your vacation.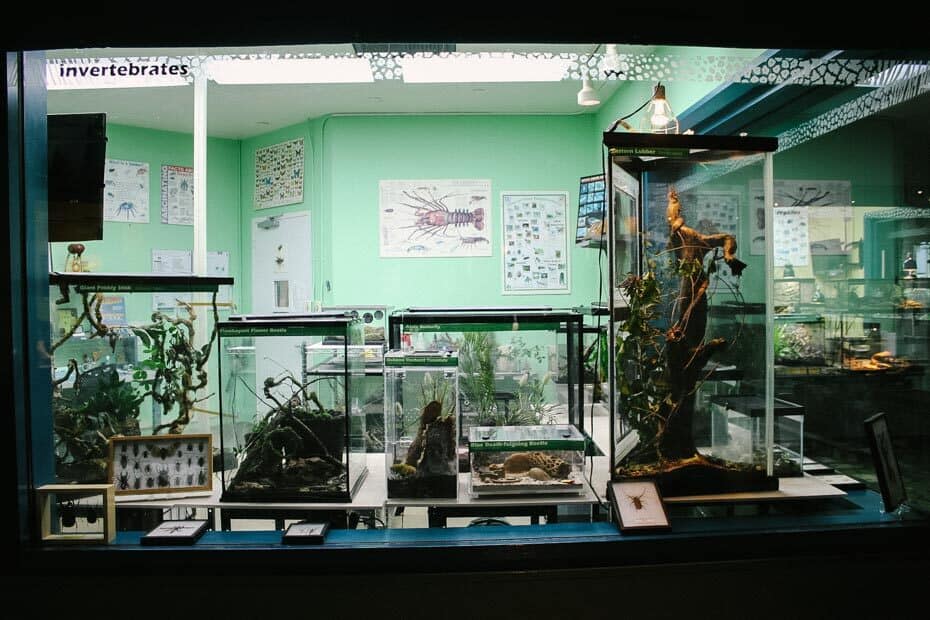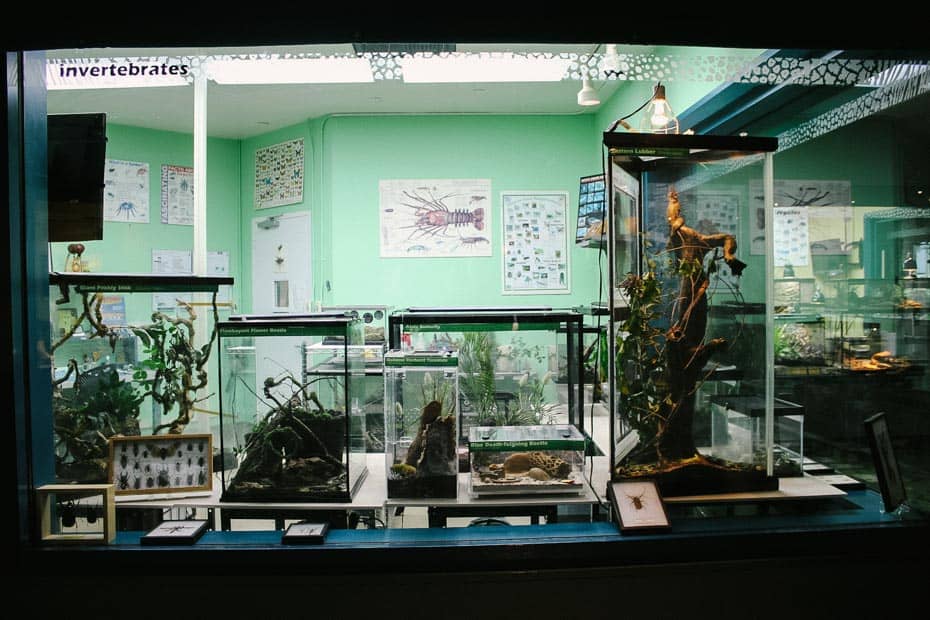 As you can tell there are a lot of interesting items to explore and learn about. This is kind of the theme of Disney's Animal Kingdom anyway, except for when you are touring Pandora, World of Avatar. Okay, there's not too much to learn over at Dinoland USA either. But you can dig for dinosaur fossils at The Dig Site so there's that.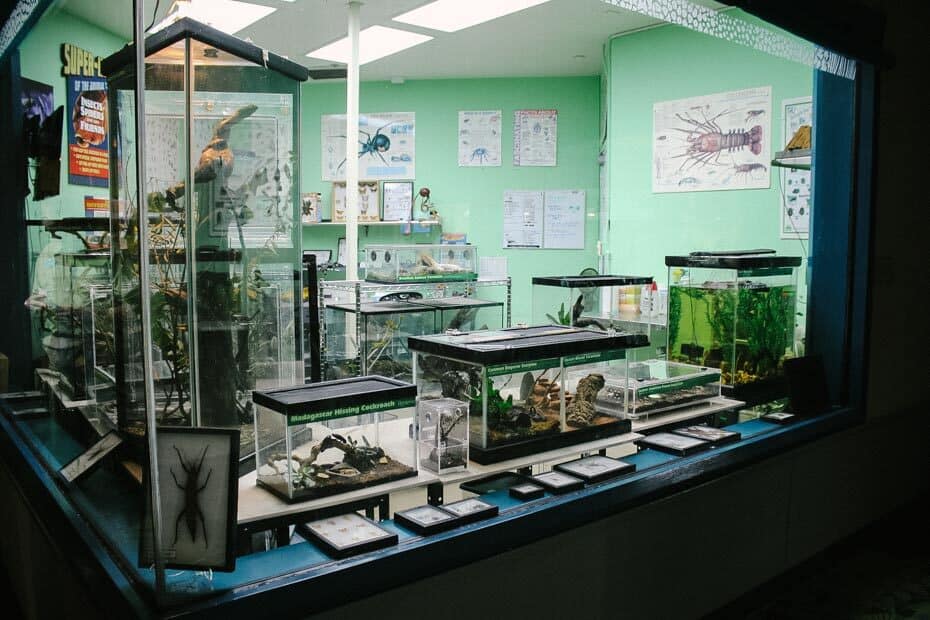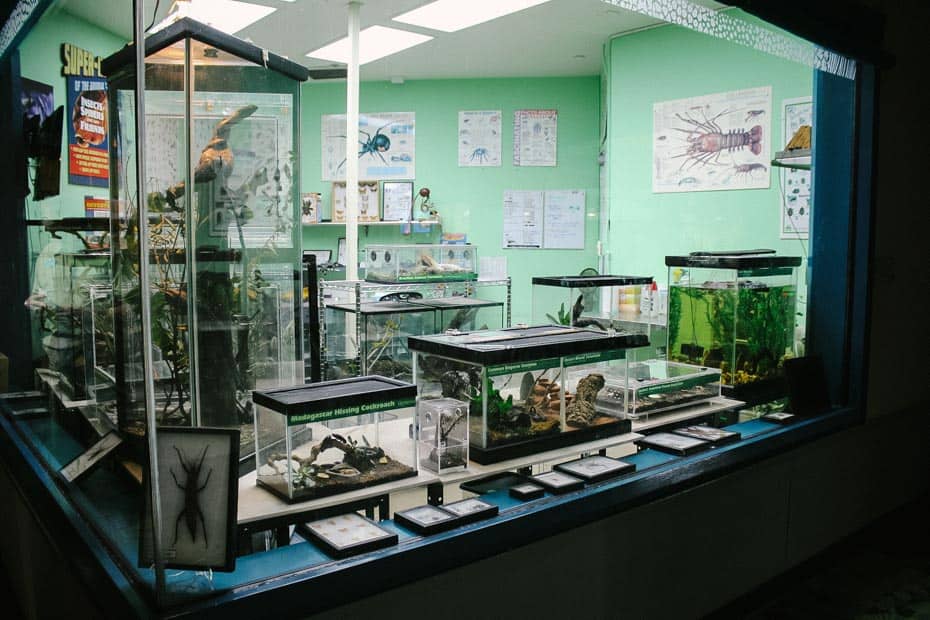 What kid doesn't want a close look at these giant bugs anyway? Sure, maybe there's a few that wouldn't.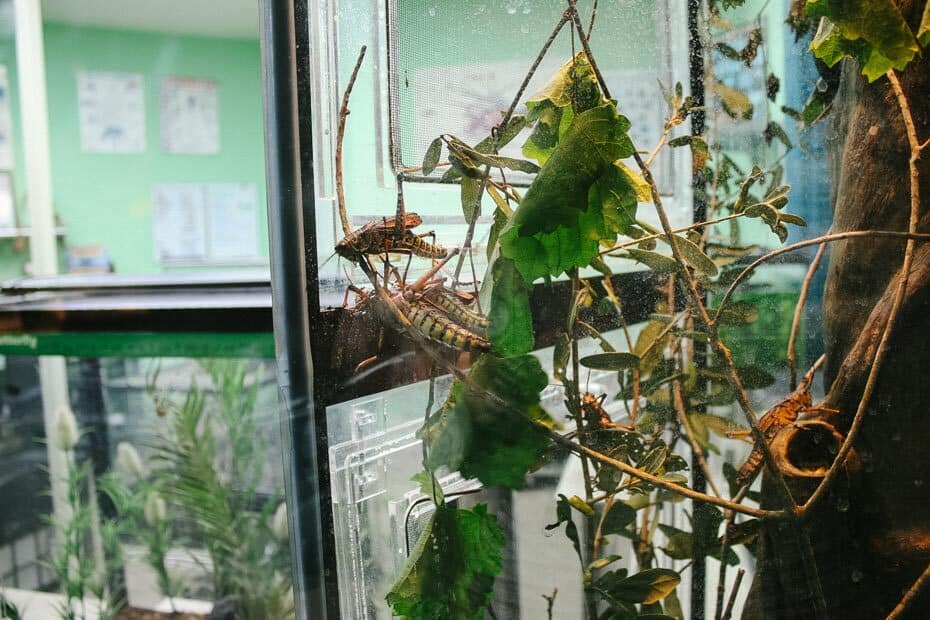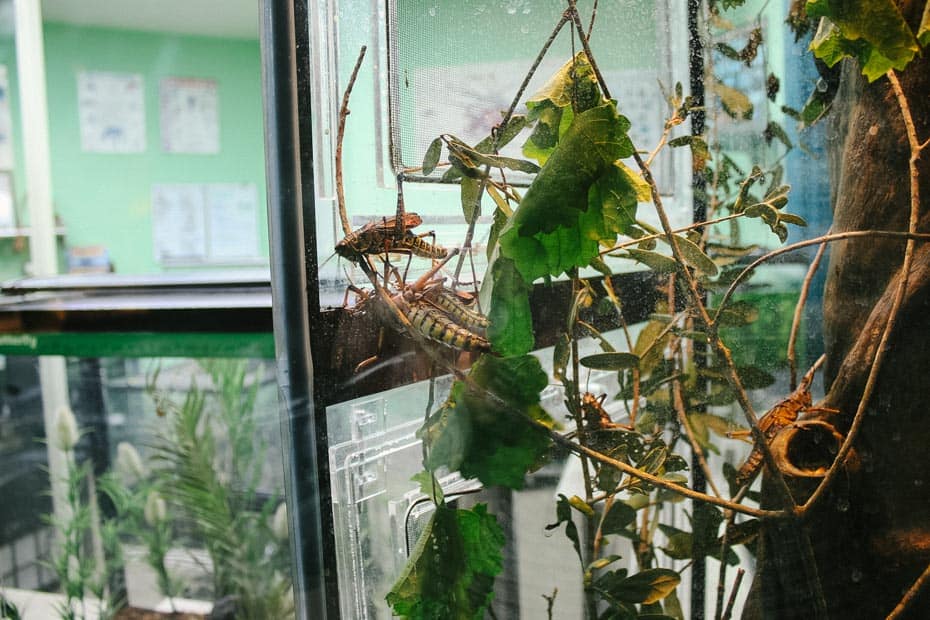 If it makes you feel better Conservation Station has some nice displays of preserved insects. Does this take you back to your science teacher assigning a bug collection back when you were in school or what? Maybe being an adult isn't too bad after all!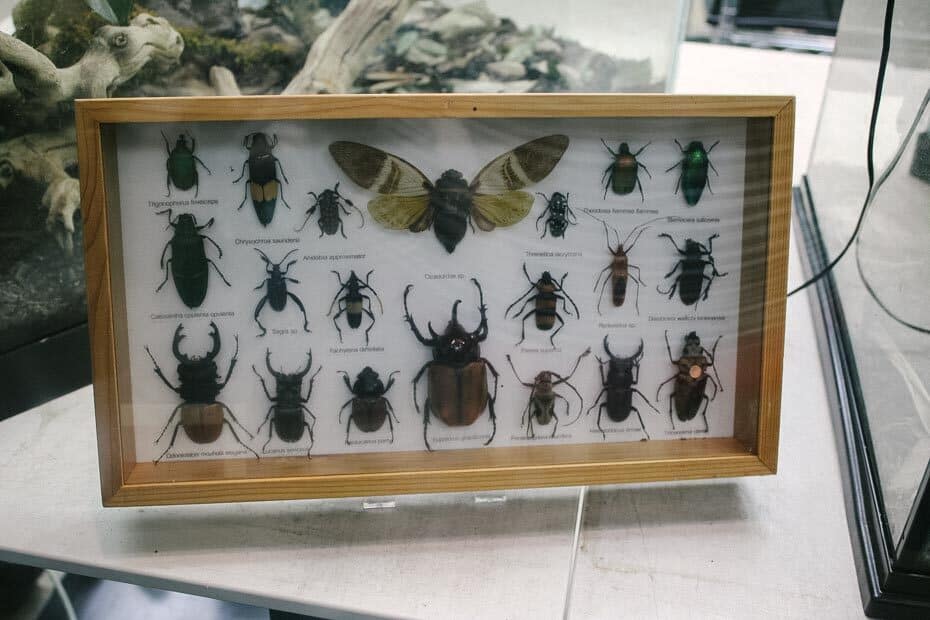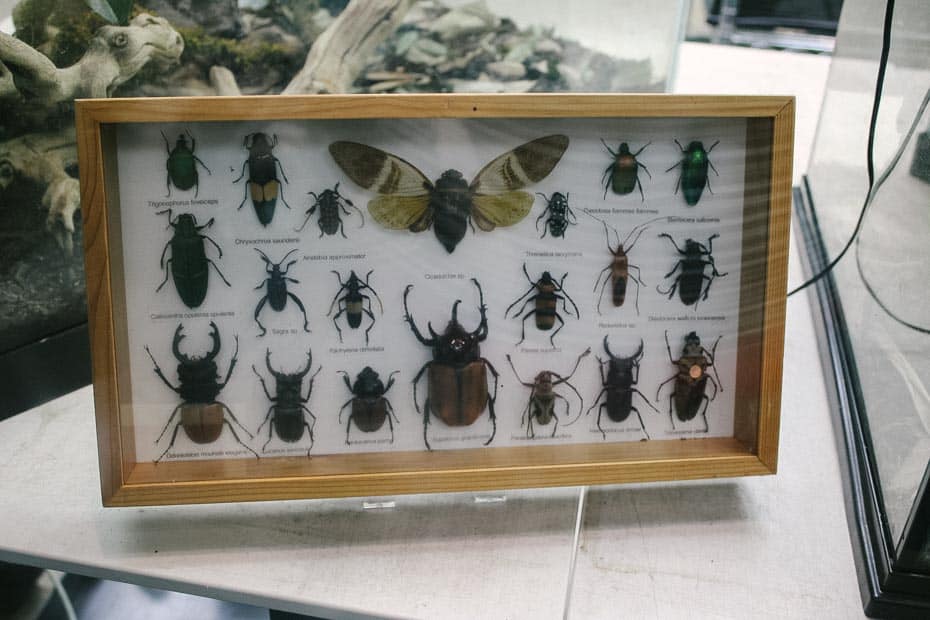 You can also learn about how they take care of the animals here at Disney's Animal Kingdom.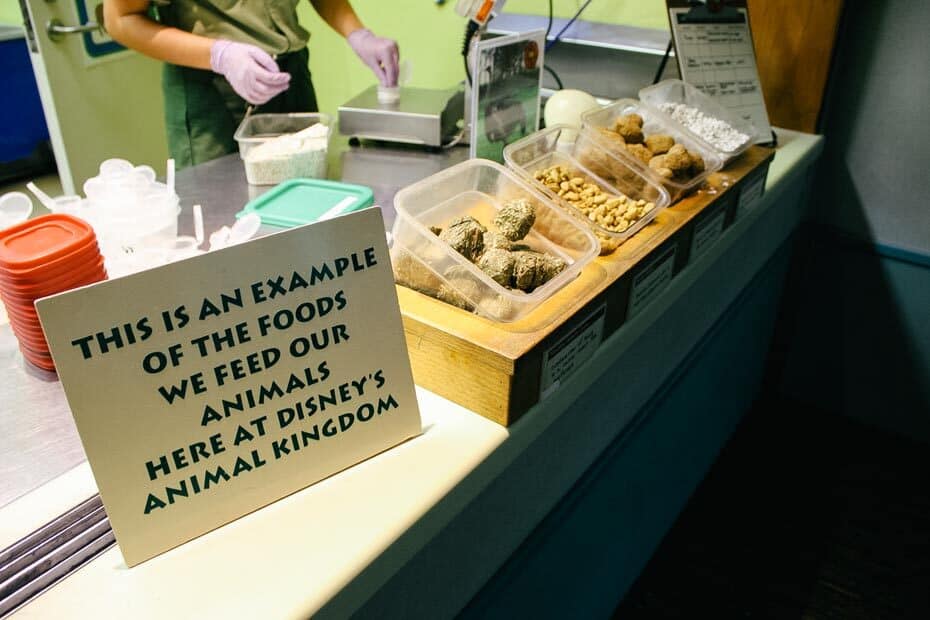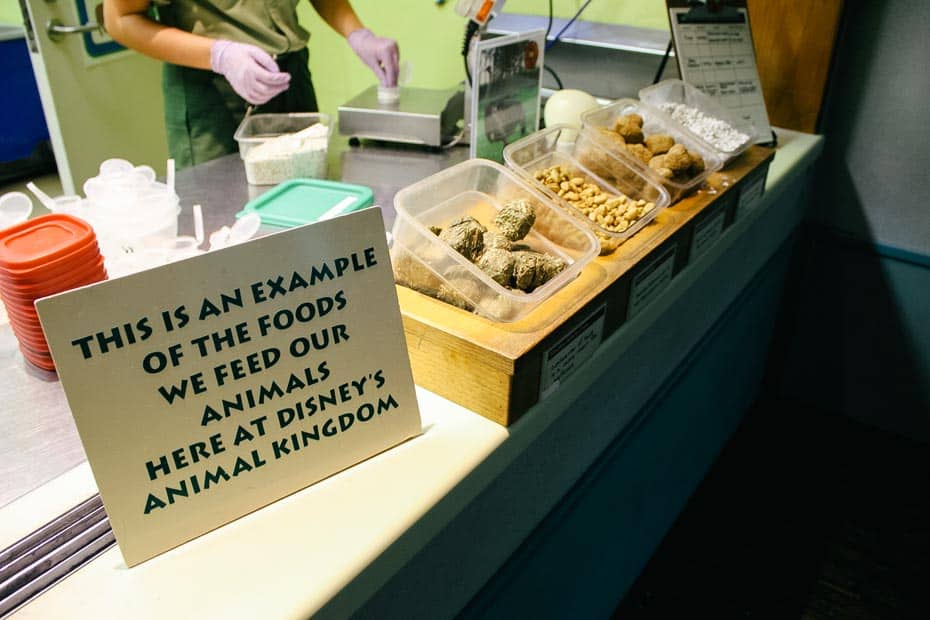 There is a good variety of observations to make.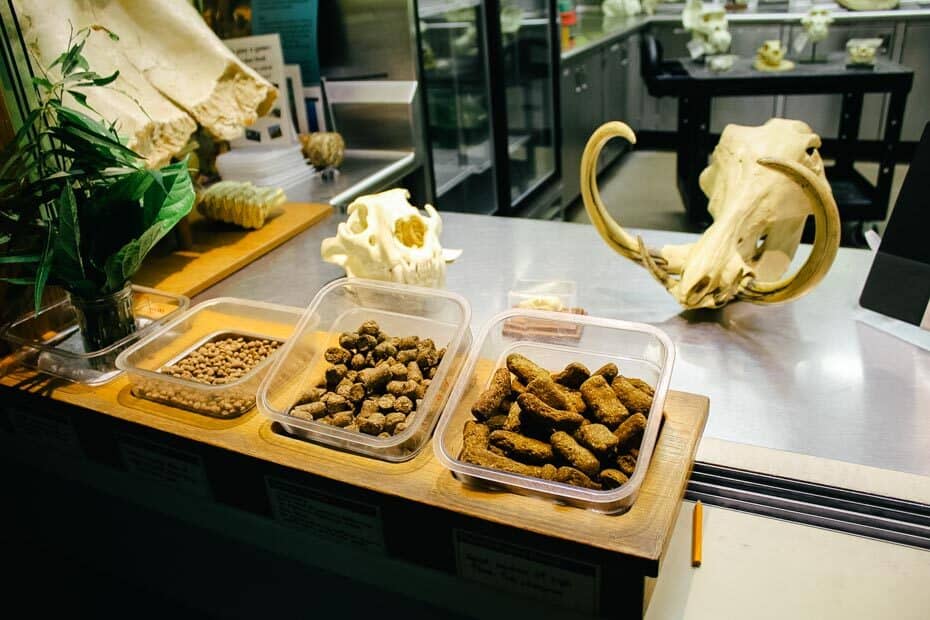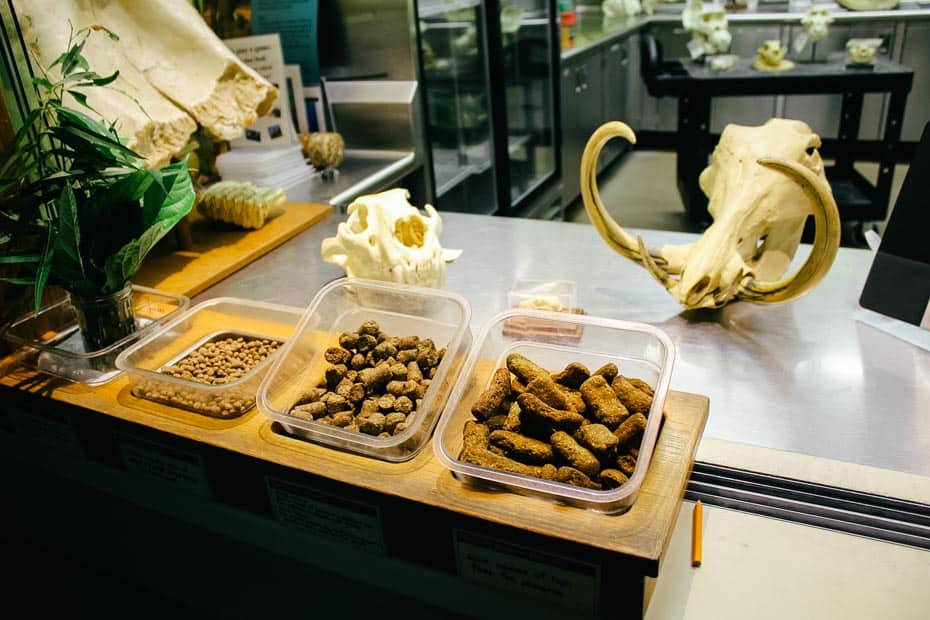 Don't forget to check out the reptile area. I've been at Rafiki's in the past where a cast member had a snake out for children to touch and they were teaching about how a snake sheds its skin. This was one of the highlights of my niece's vacation.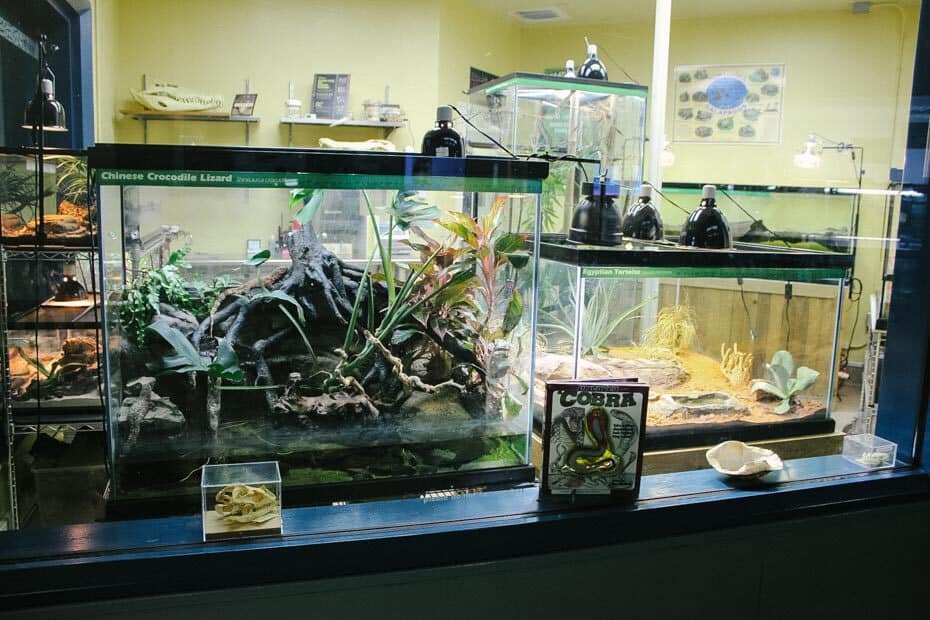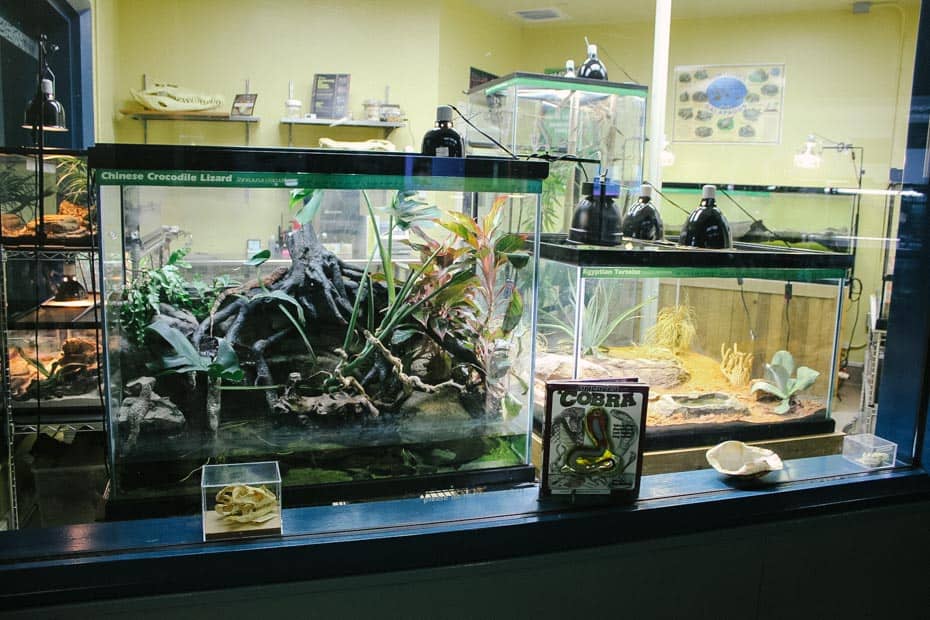 I'm not a huge science person myself but even I enjoy seeing what all they have on display up here.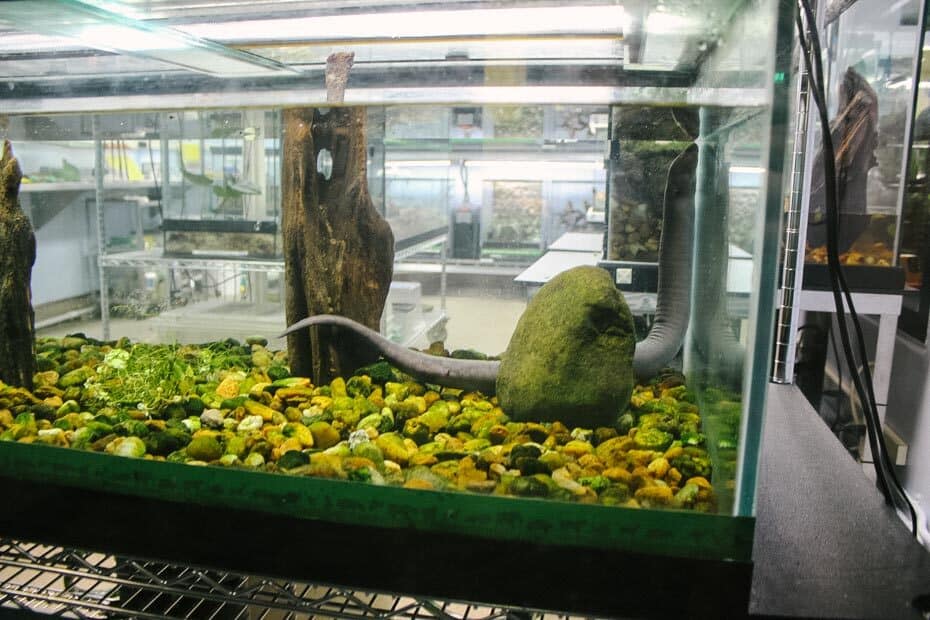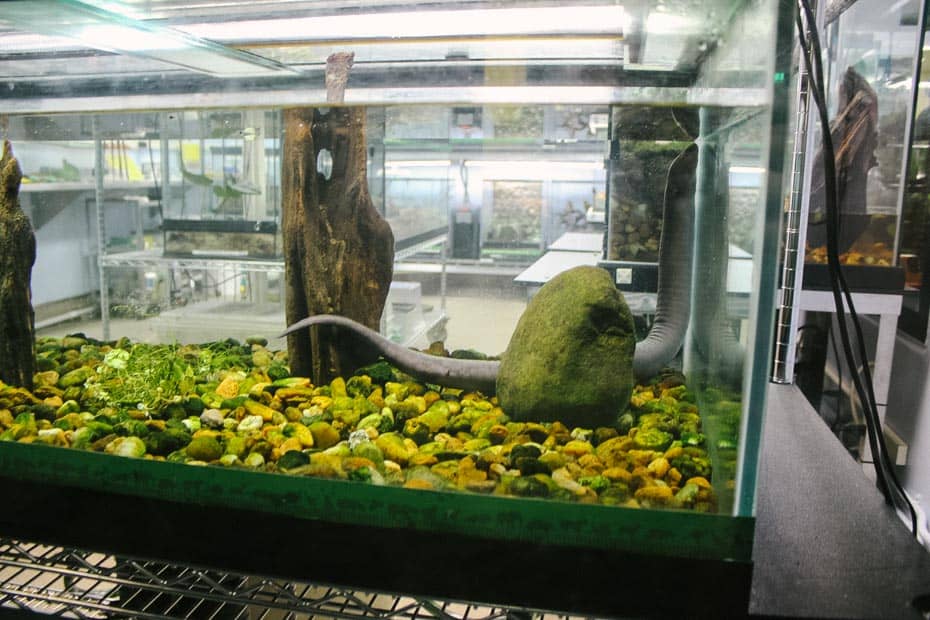 The African Bullfrog below is really large and sometimes can be seen on display at the Gorilla Falls Exploration Trail.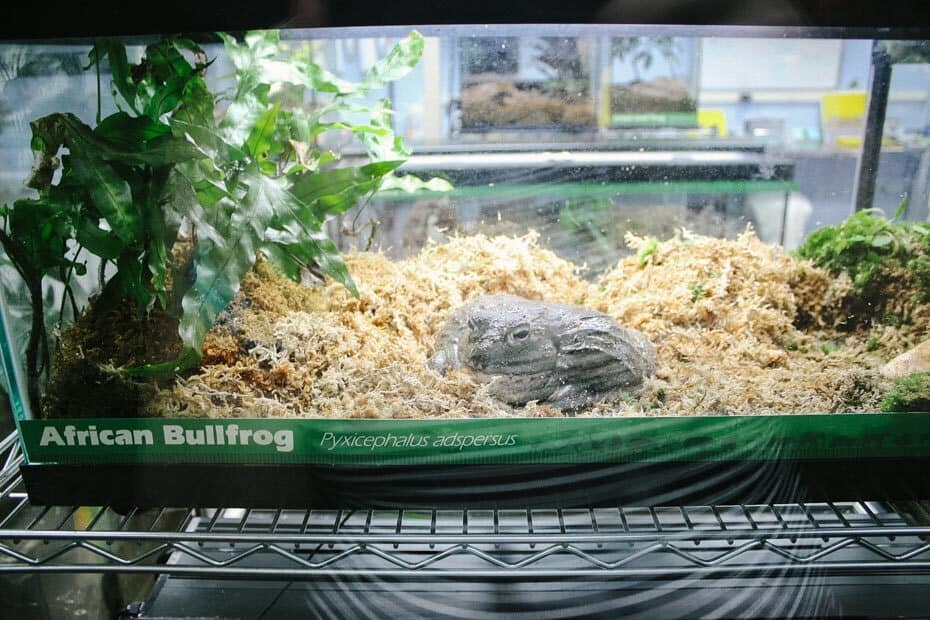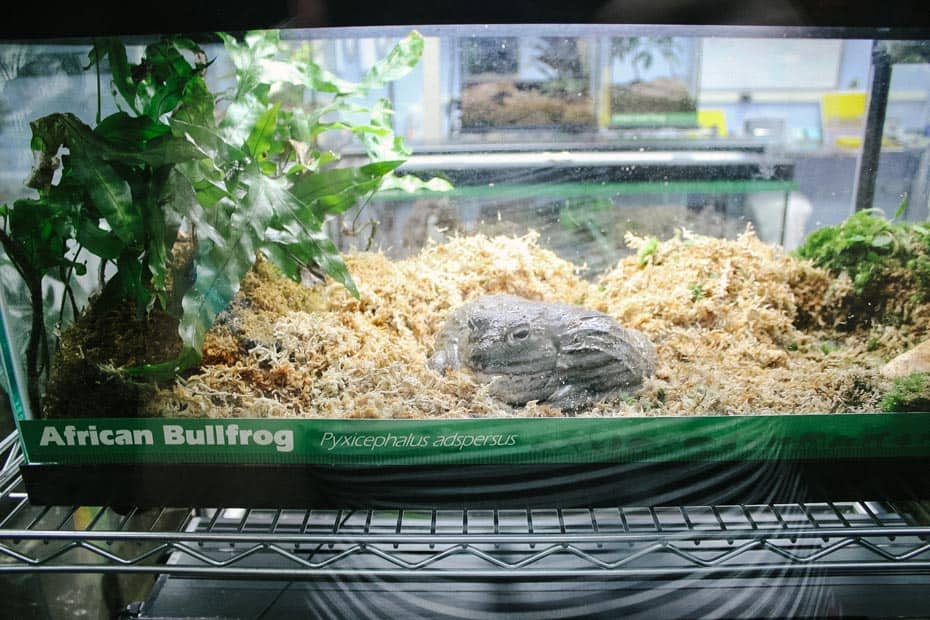 If you are really fortunate you might run into a live surgery or examination.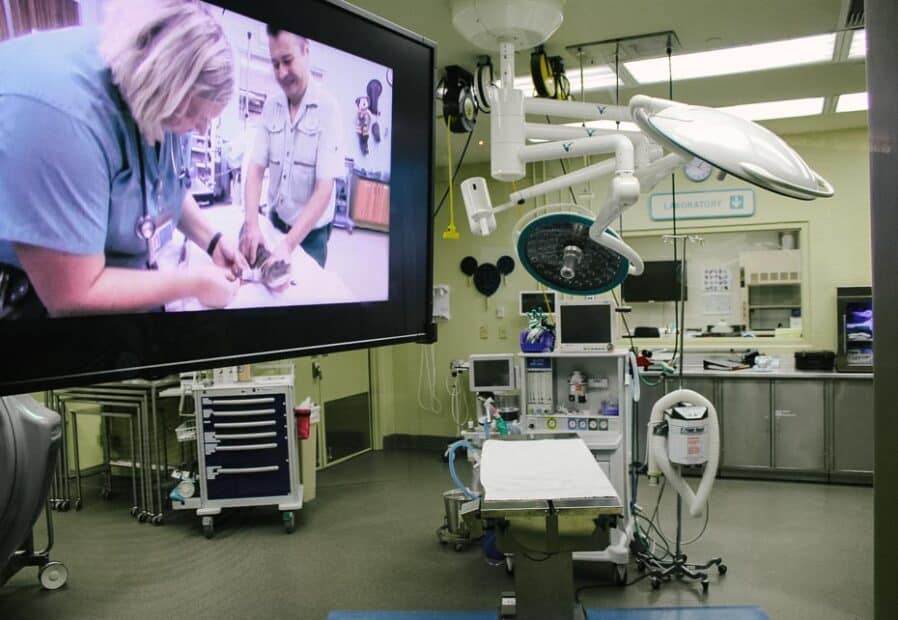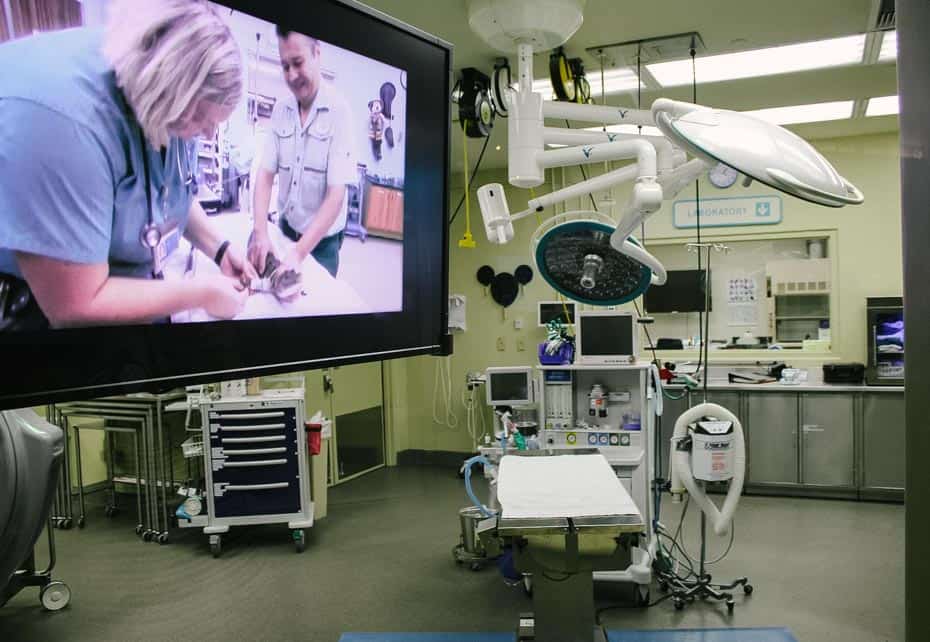 They have a little video playing when the room is not in use showing some of the ways they care for the animals.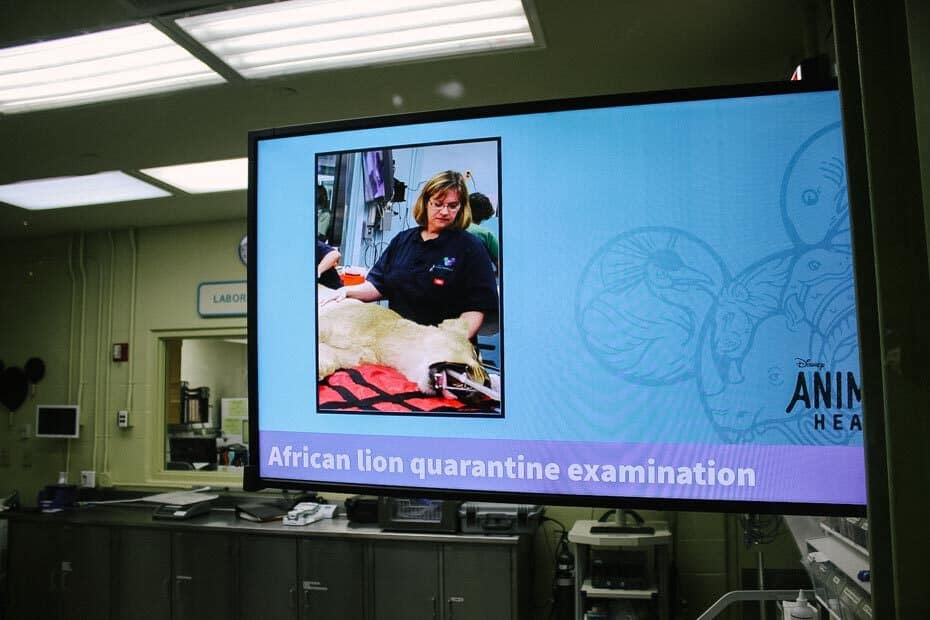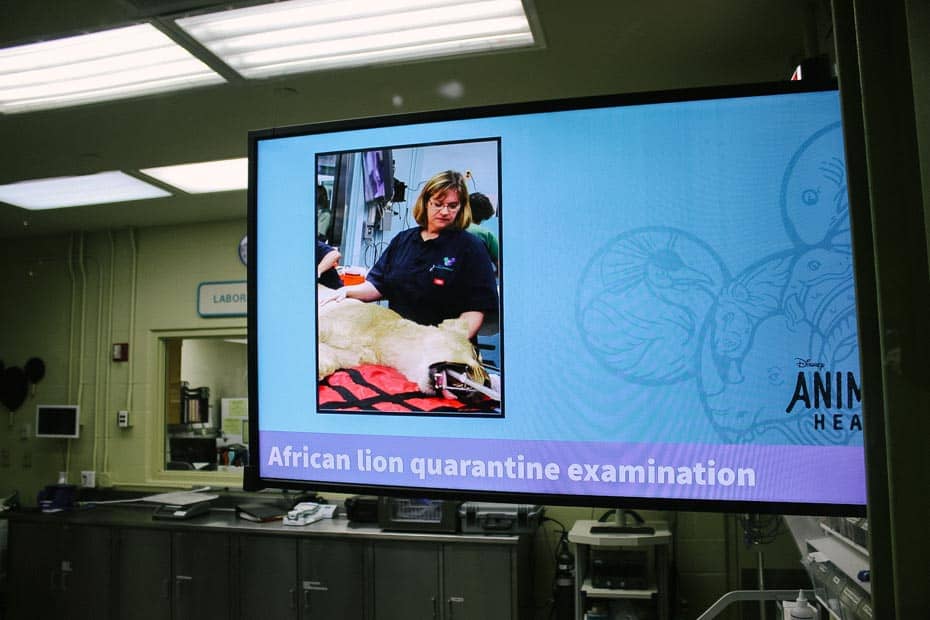 Next door is this sizable laboratory where tests are being run. Earlier in the day there are usually cast members working behind the glass here.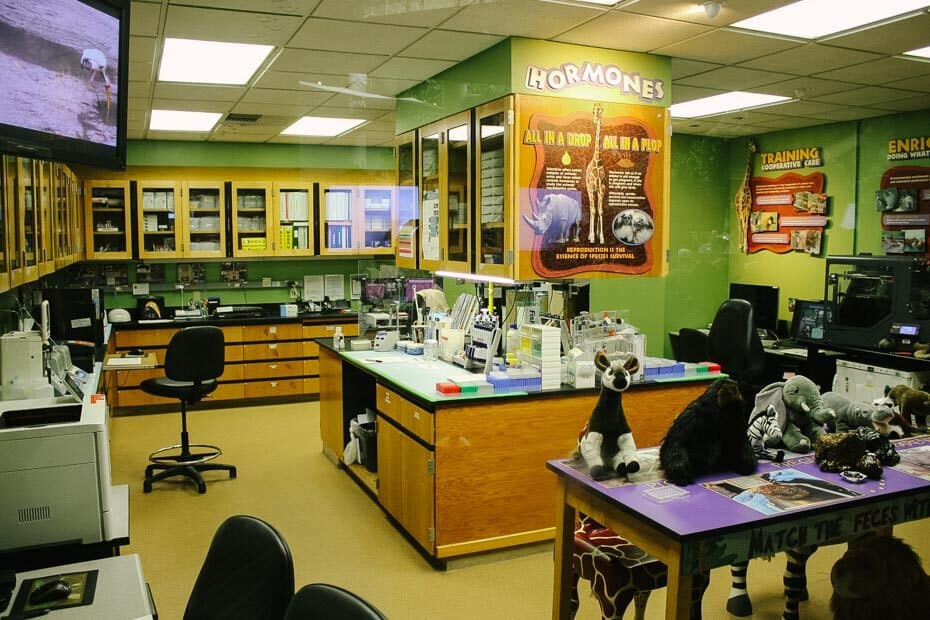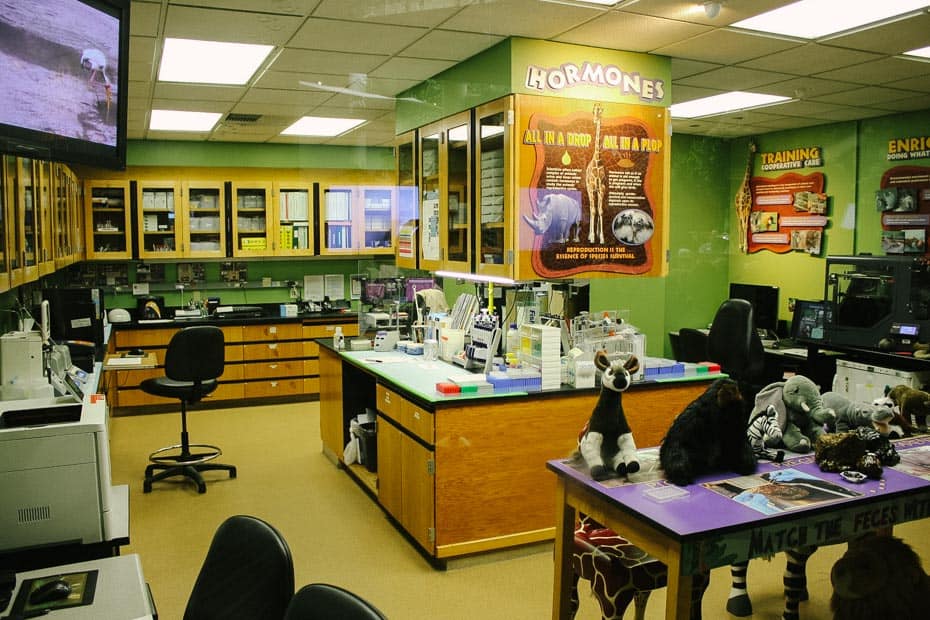 The picture below is kind of an overview of how each section is set up.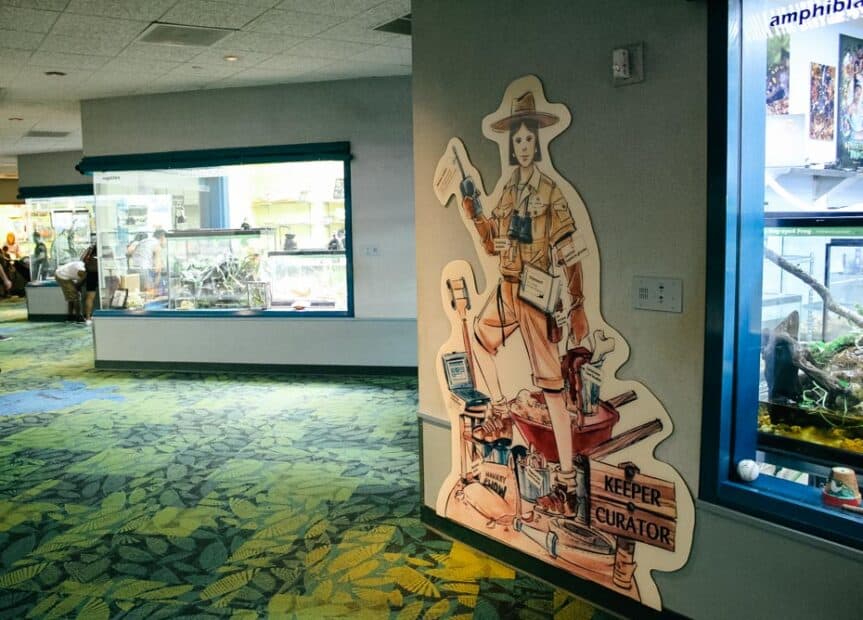 There is also additional conservation information about butterflies hanging on one of the outer walls. Butterflies are vital to the food chain like bees and other pollinators.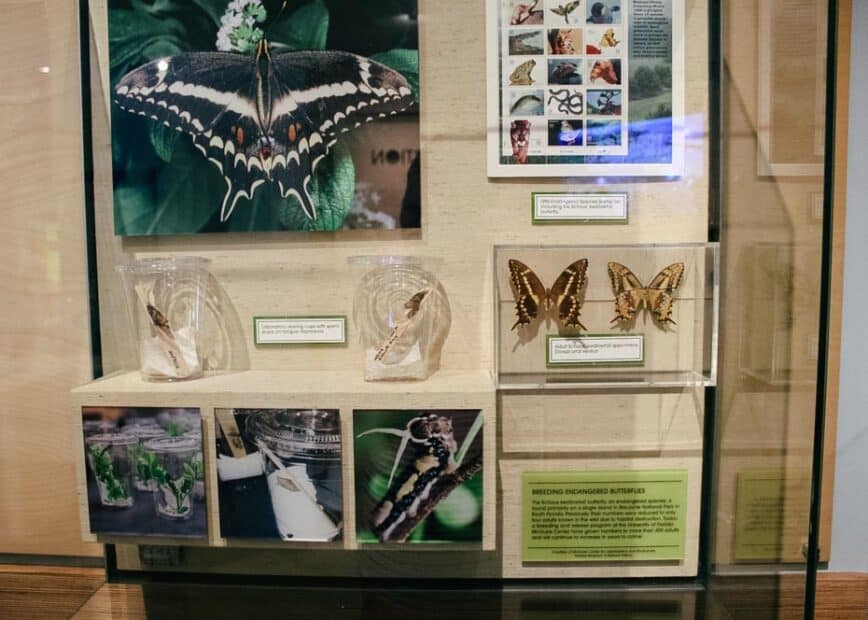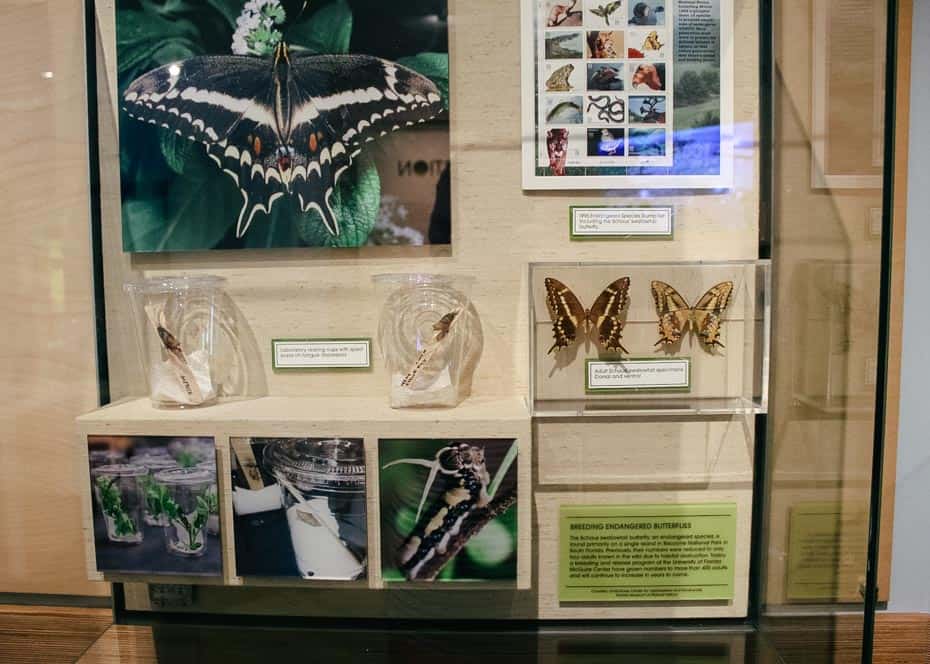 The Animation Experience
The newest attraction at Rafiki's Planet Watch is the Animation Experience at Conservation Station. This is similar to the old Animation experience that was located at Hollywood Studios.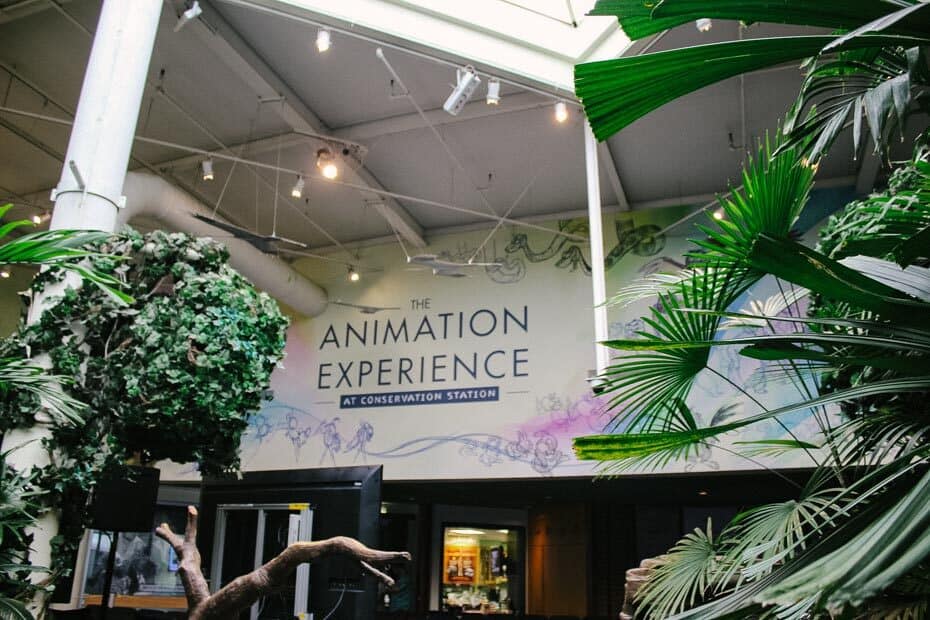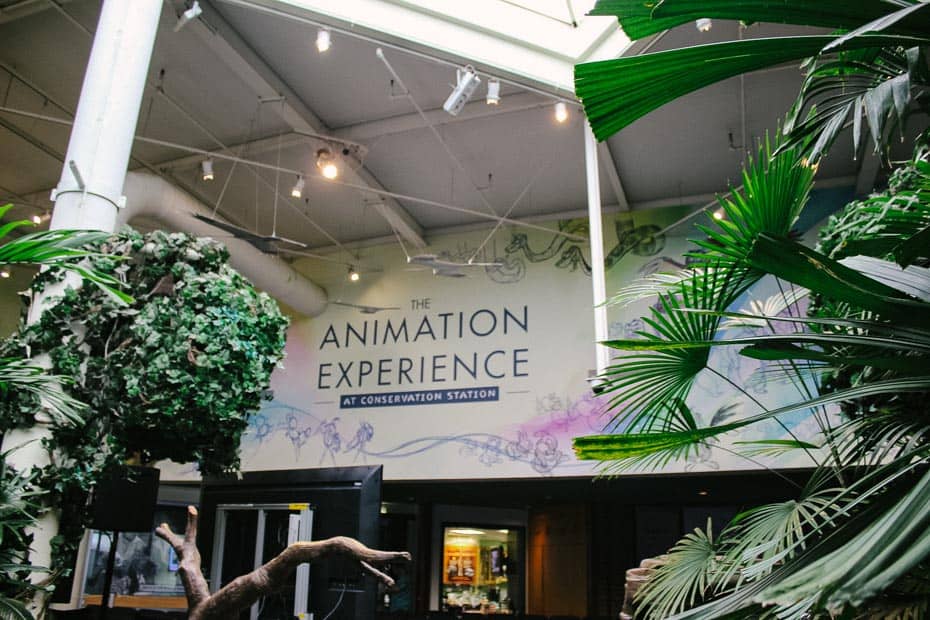 This area is located in the center of the Conservation Station area and surrounded by the lab areas we just toured above.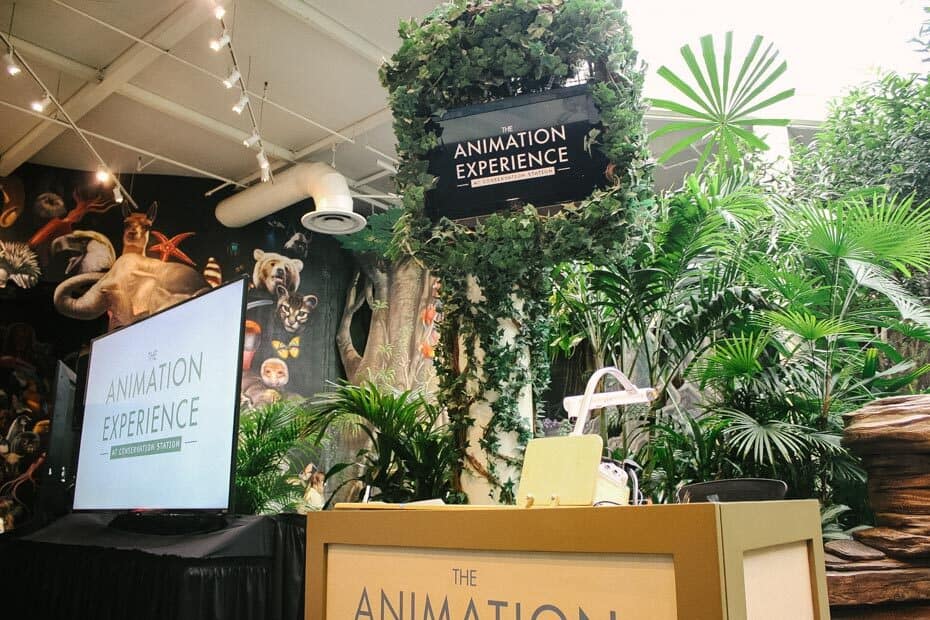 Update: FastPass might not be available on your vacation.
There is the option to FastPass the Animation Experience. Do you need it? Probably not. From what I've seen this is an easy 4th or more FastPass+ to get. I would, probably, book my initial experiences prior to 1:00 or 2:00 p.m. Then I would try to have my Safari last and book this one after scanning my Safari FastPass+ if it's available.
The only thing you will receive with this Animal Kingdom FastPass+ is priority and guaranteed seating. There would have to be a lot of people in the area to run out of seating, but this could possibly happen during the upcoming holiday season. In most cases, you won't need this for a FastPass+ option.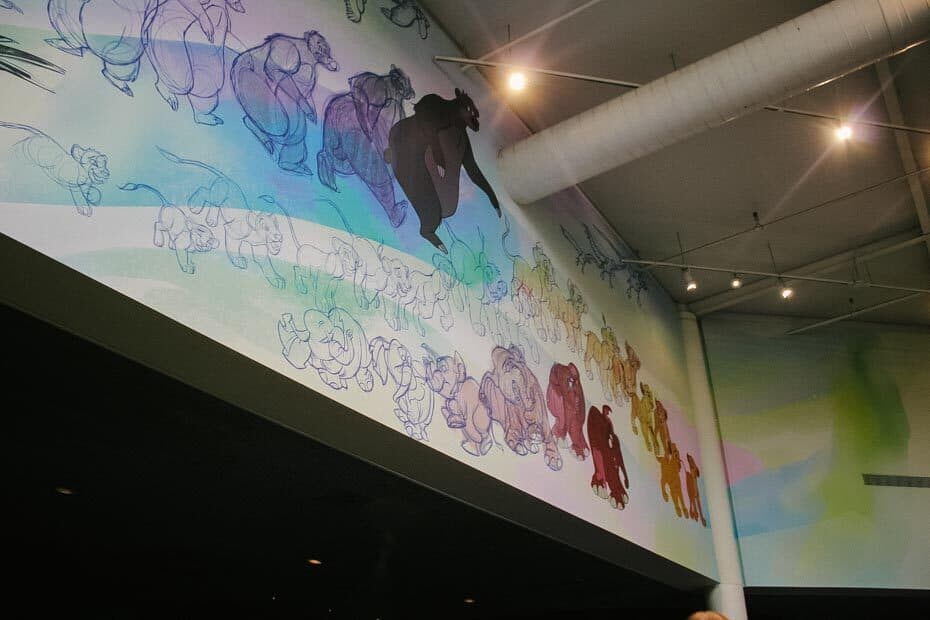 When it's your allotted time they will lead you around to chairs with sketch boards. On your way to the seat, there will be pencils and paper to pick up.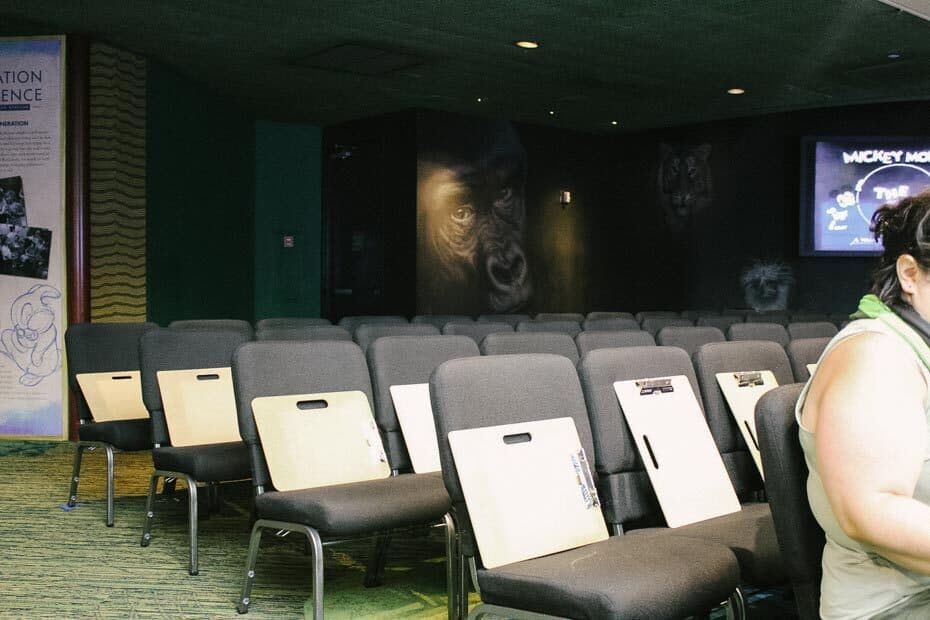 The paper attaches neatly to your board and has a few pre-drawn focus points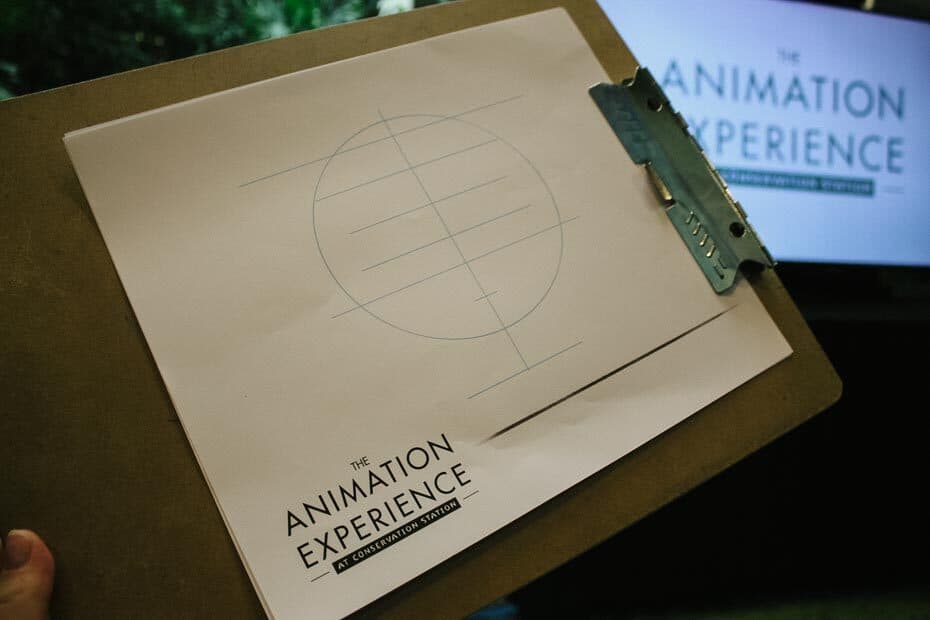 On the screen ahead of you, there is a projection of what the instructor is drawing. When I went to this experience the options were Simba, Timon, and Pumba. Our instructor decided to draw Simba on this day. Recently it was announced that they have also added a few Disney villains to the experience.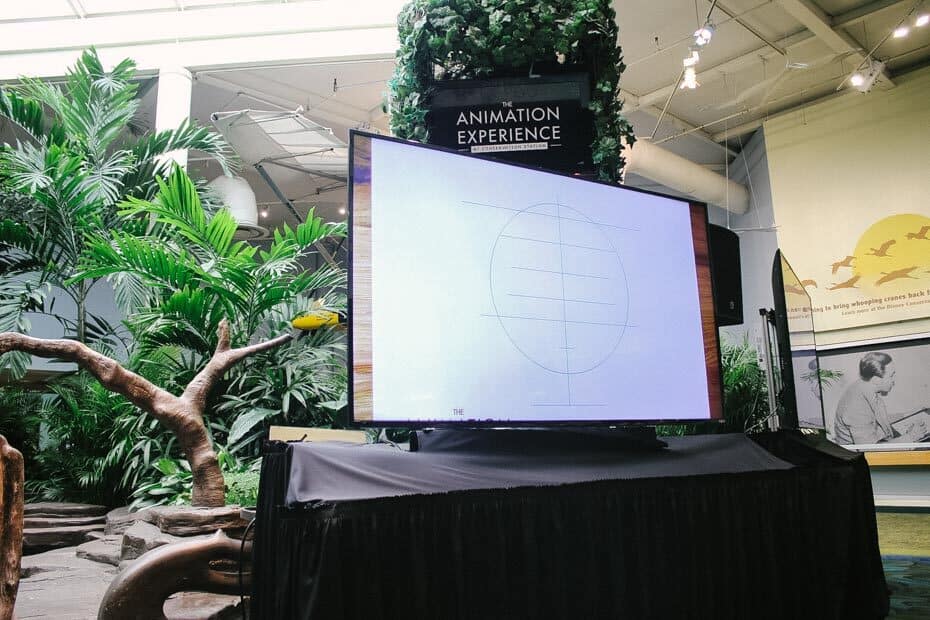 I was happy with Simba. Below is a picture of how the instructor's final drawing turned out.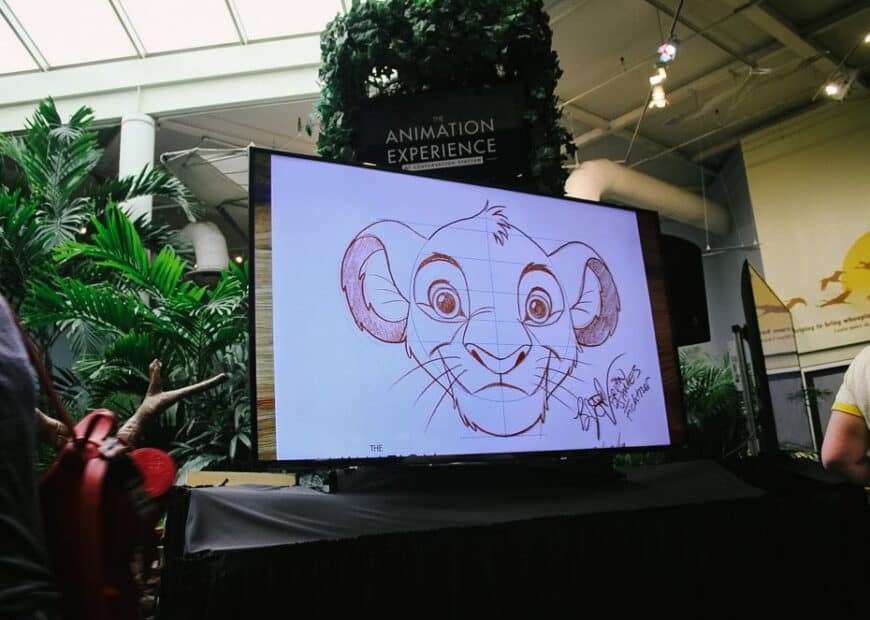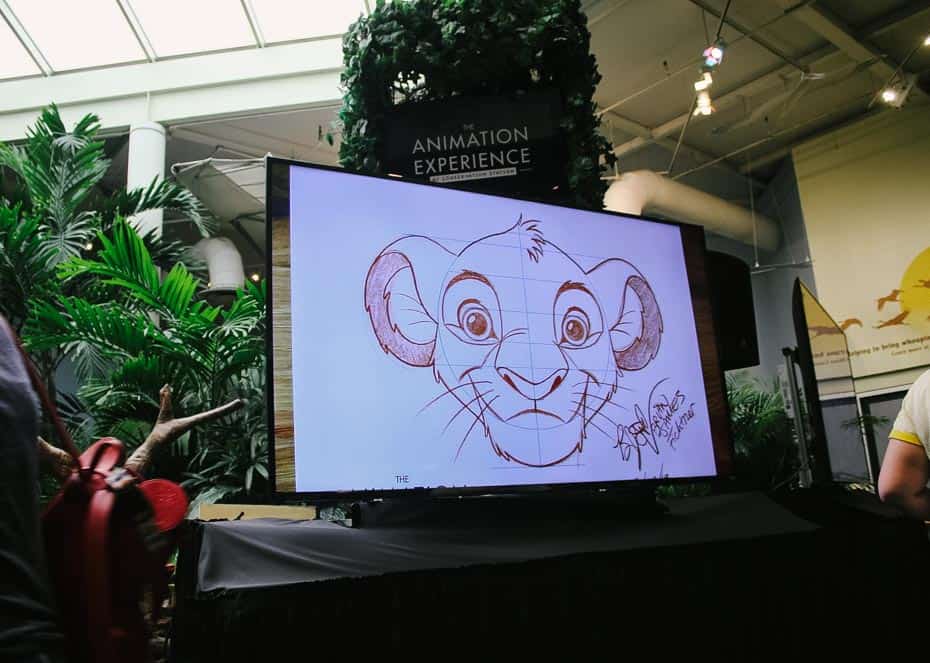 And for comparison here is my Simba. In the beginning, the instruction seemed a little slow. But I must admit when it came to adding the finishing touches it sped up a good bit.
I'm not one to draw face characters, but I was happy with how my sketch turned out. In fact, most people's character drawings turned out really great and many end up surprised. It's all done really well.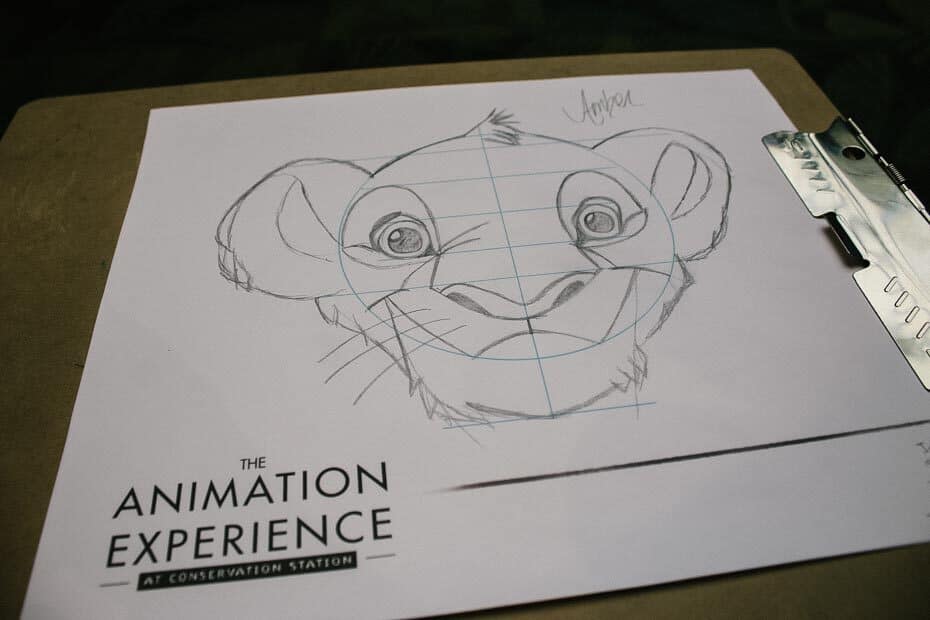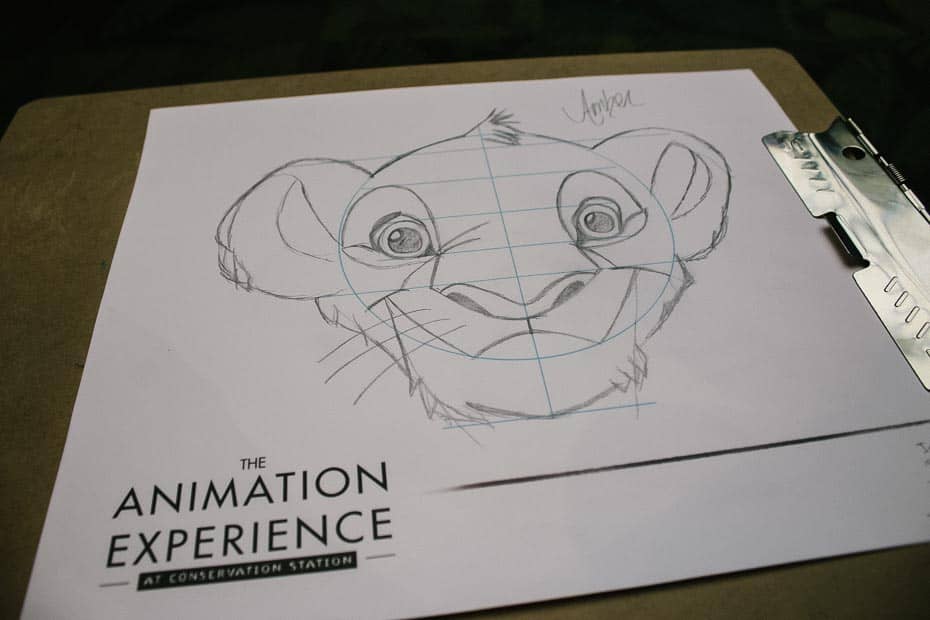 Another thing I would like to mention here is that at first thought I wondered why they decided to put such an experience here. How does art have anything to do with science and animals? It didn't make sense.
But the more I think about it, this opportunity allows Rafiki's Planet Watch to really have an attraction for everyone. Plus you are drawing animals and who knows? These types of experiences might awaken a new or lost talent living within you or your children. Those are the kind of memories that make Disney really special to many people.
Affection Section
The last main event at Rafiki's Planet Watch is possibly the most fun for children. The Affection Section is a large interactive petting zoo with a variety of gentile animals.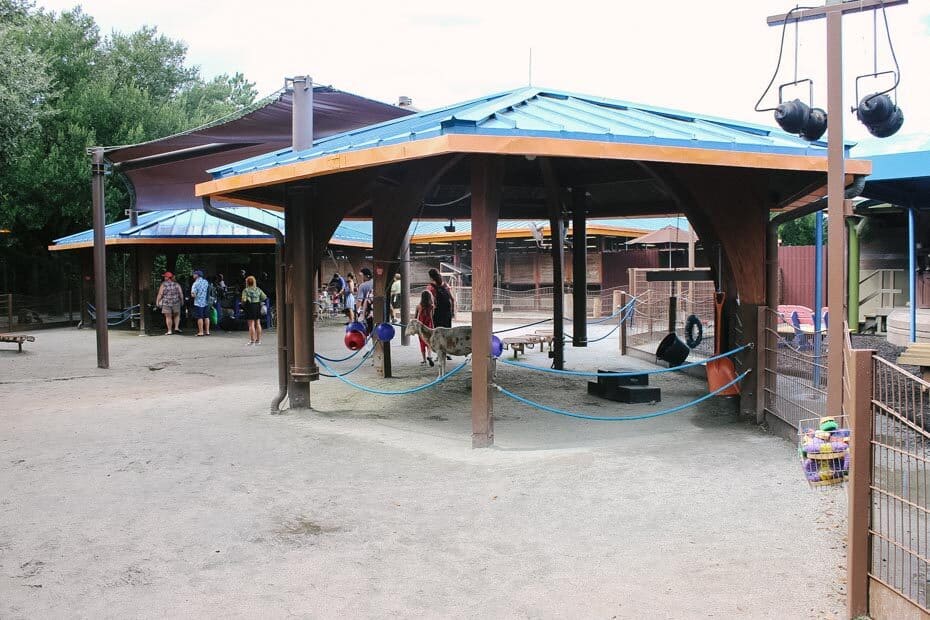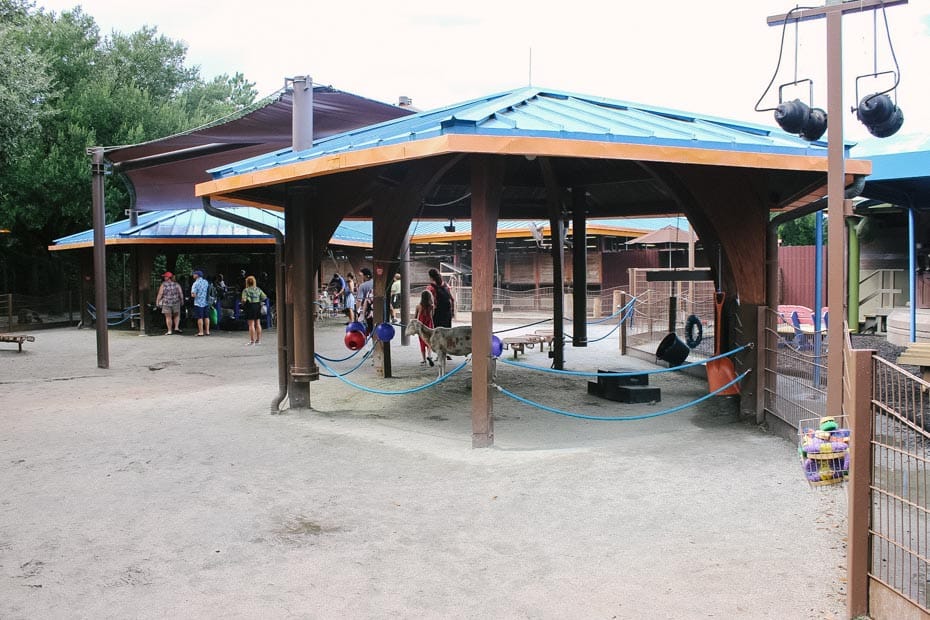 Most of the sheep are shaved but you can still give them a brush if you like.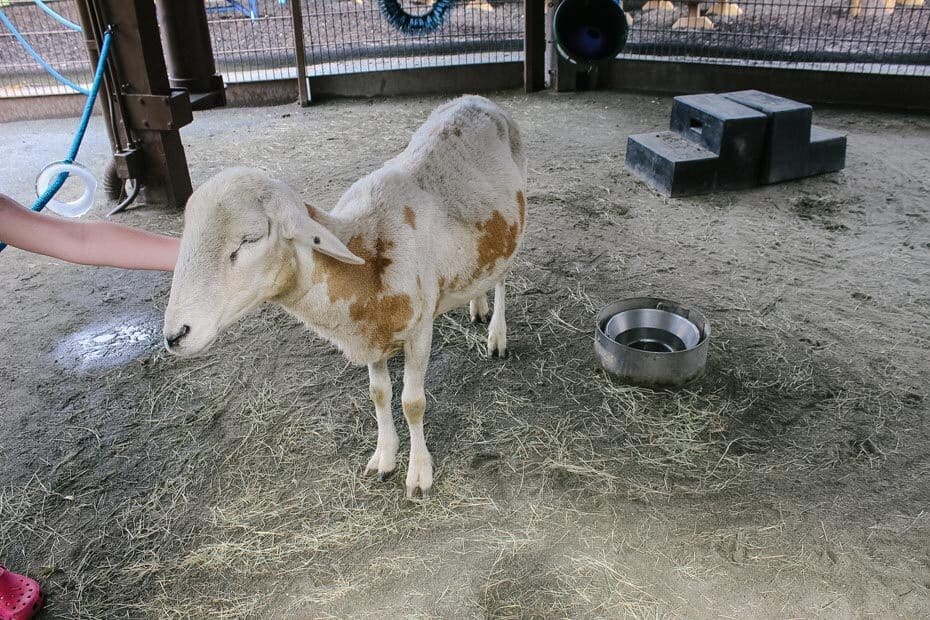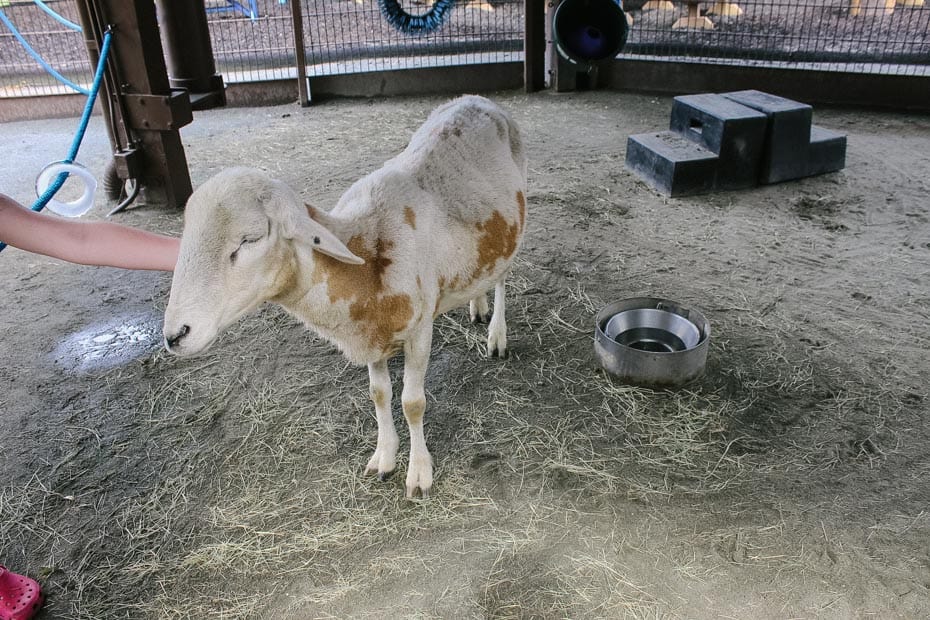 There are several areas with different animals to visit within the Affection Section.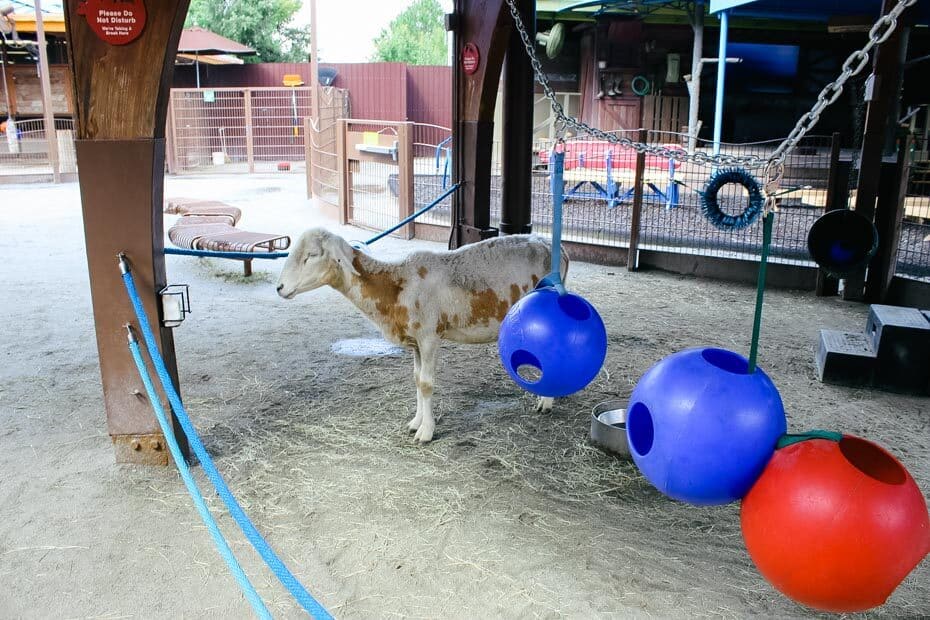 Here is a large grouping of goats and sheep. You can kind of tell when they've had a long day. The animals are more prone to shy away than actually approach you.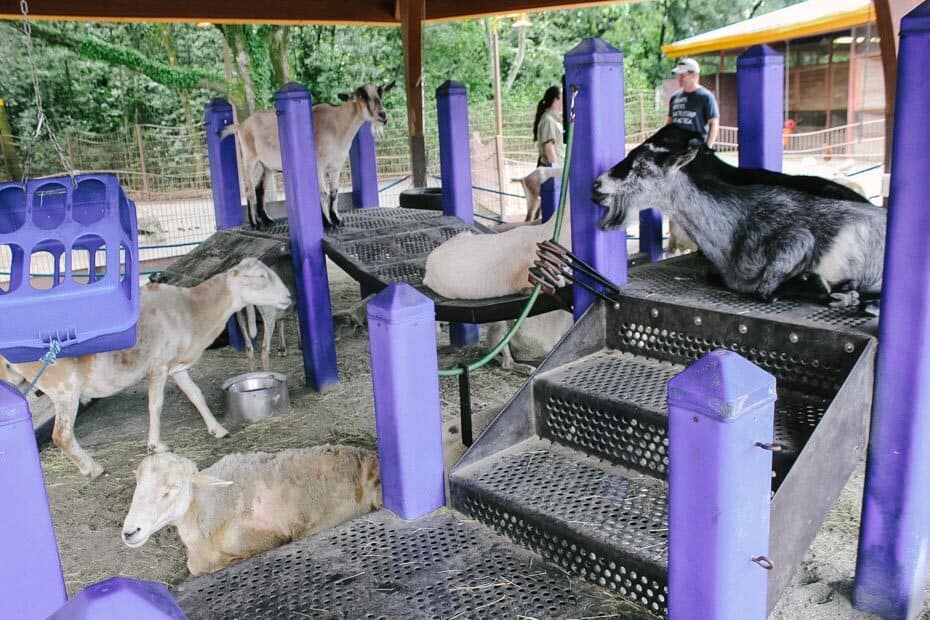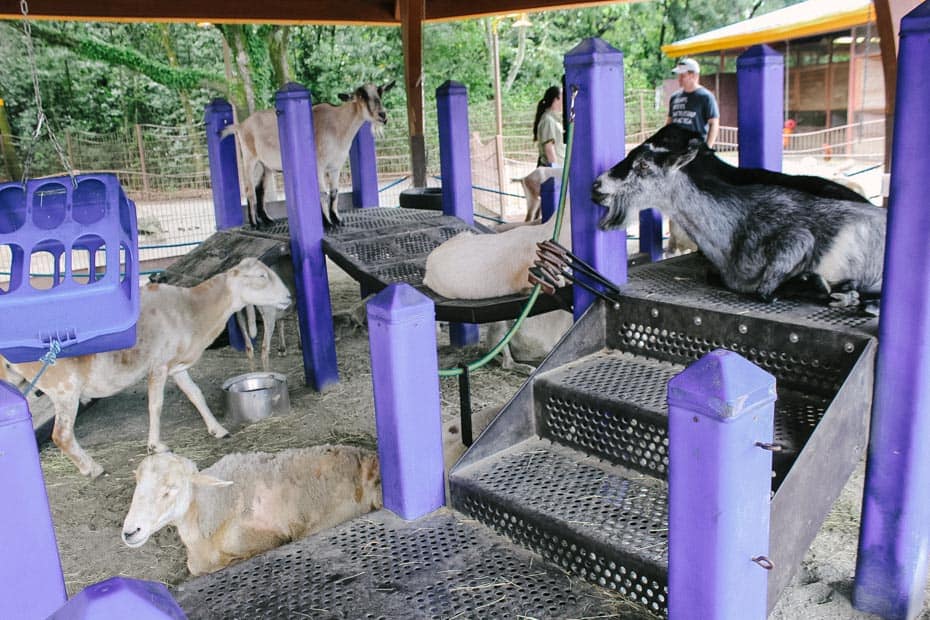 There are sometimes a few larger animals out in an area.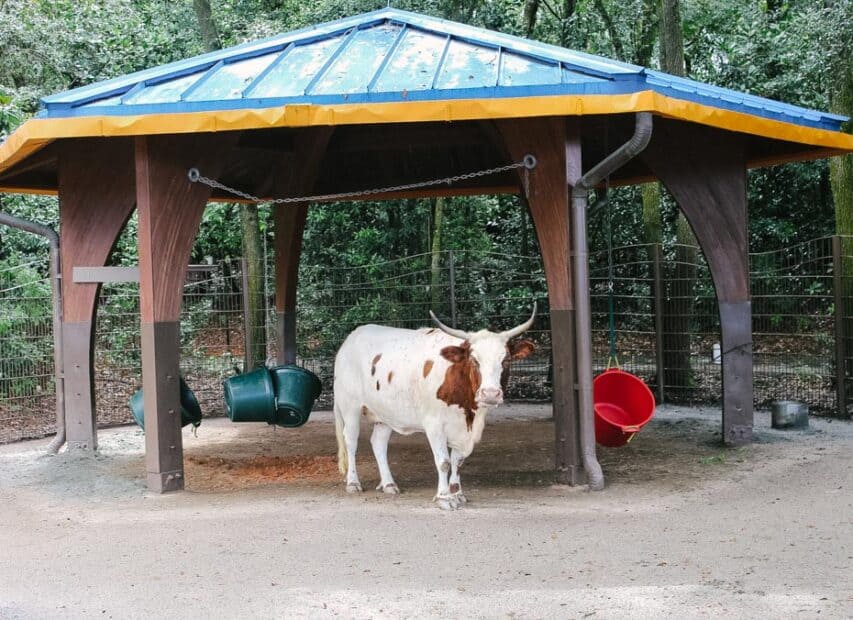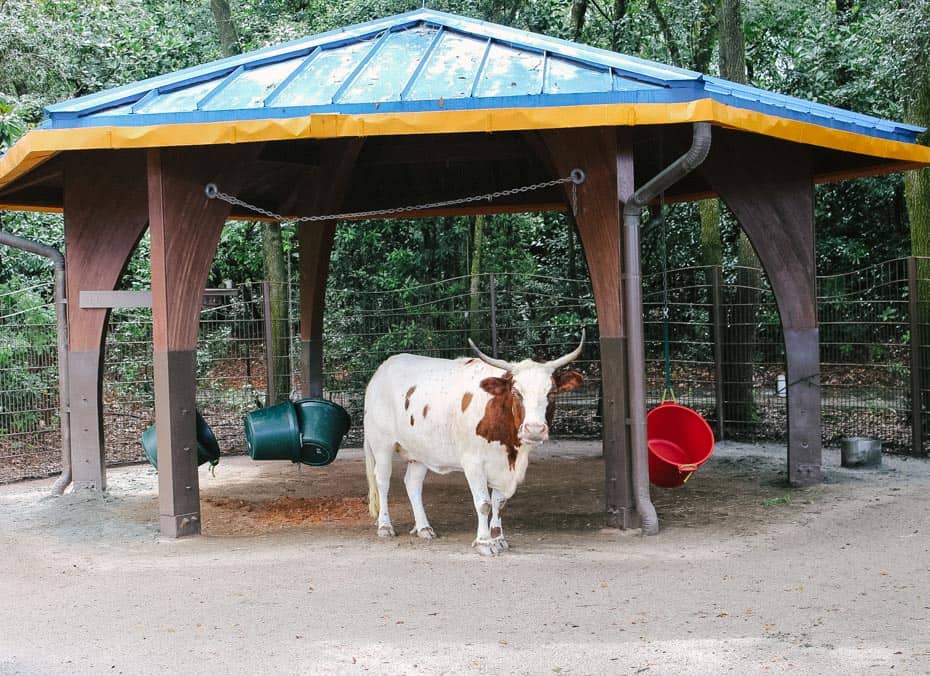 These little donkeys were really funny. They are in an enclosed area but walk in a funny pattern over and over.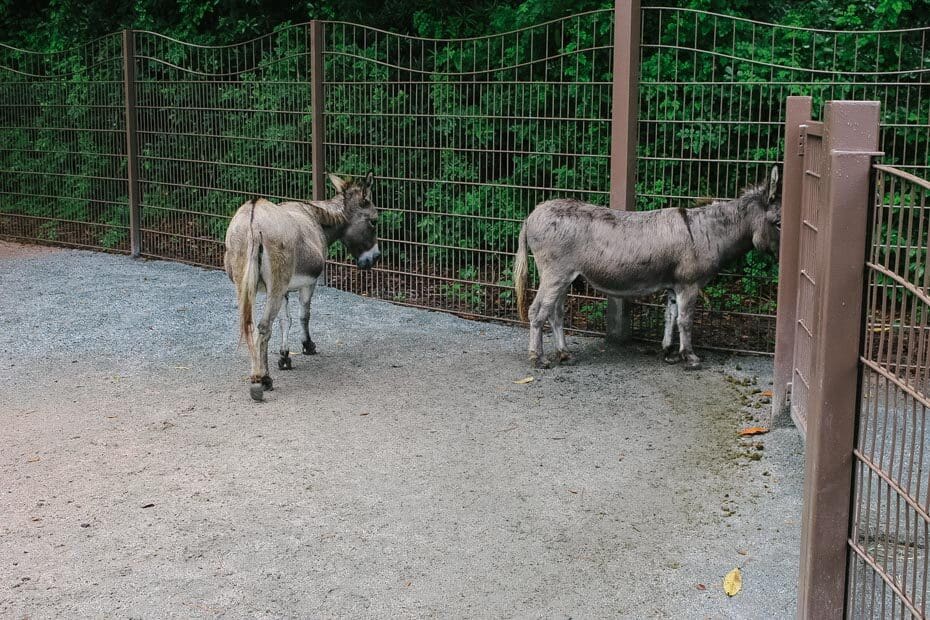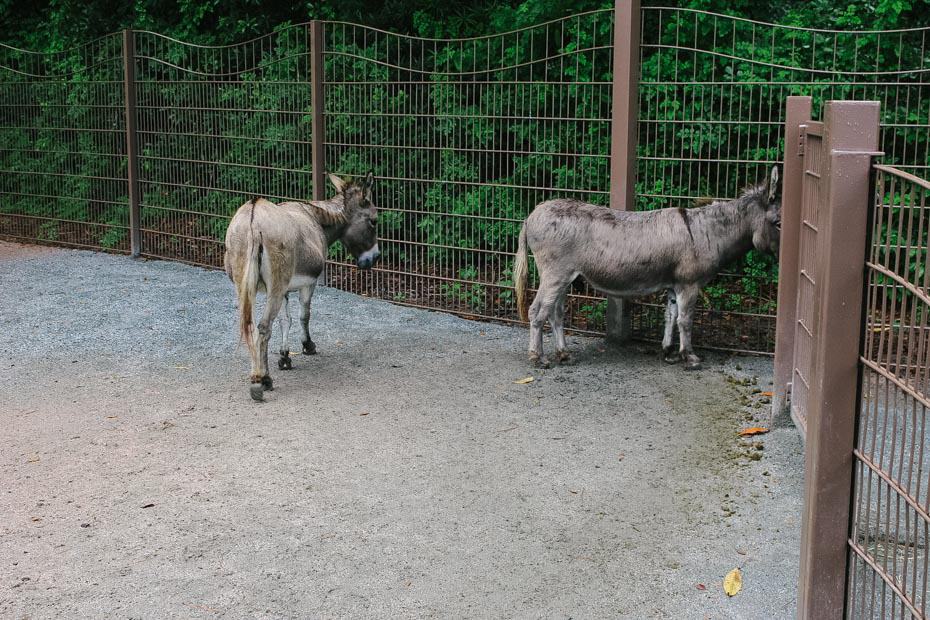 Here's a look at the brush station. Feel free to pick one up to groom a few of the animals.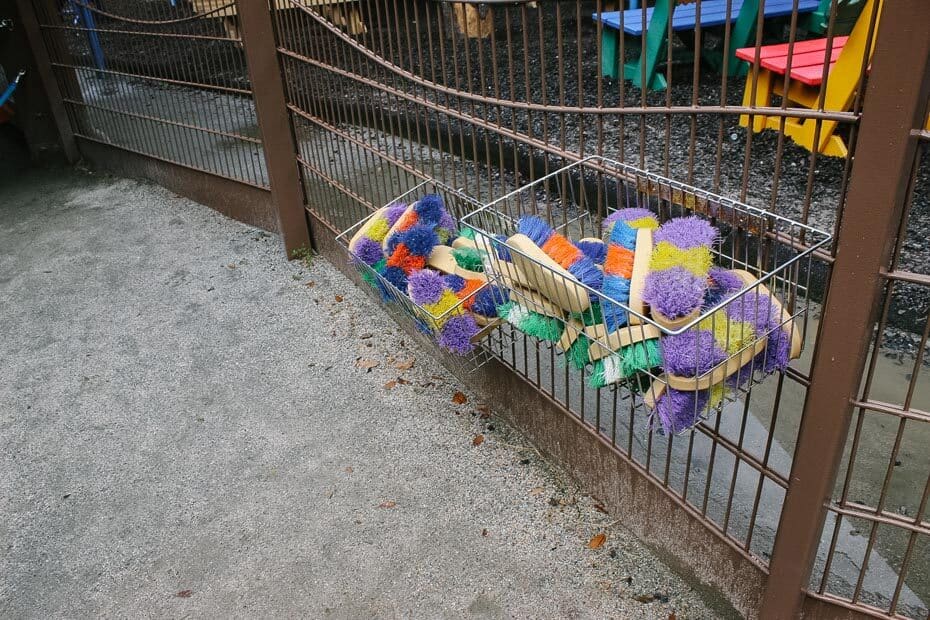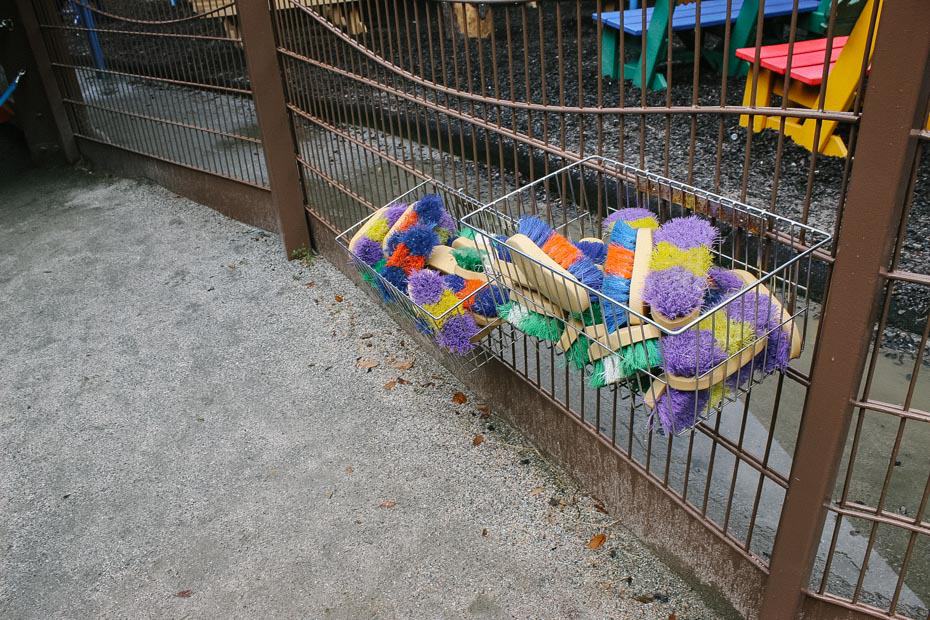 Next door to Affection Section there is a little theater where they have a Care Story.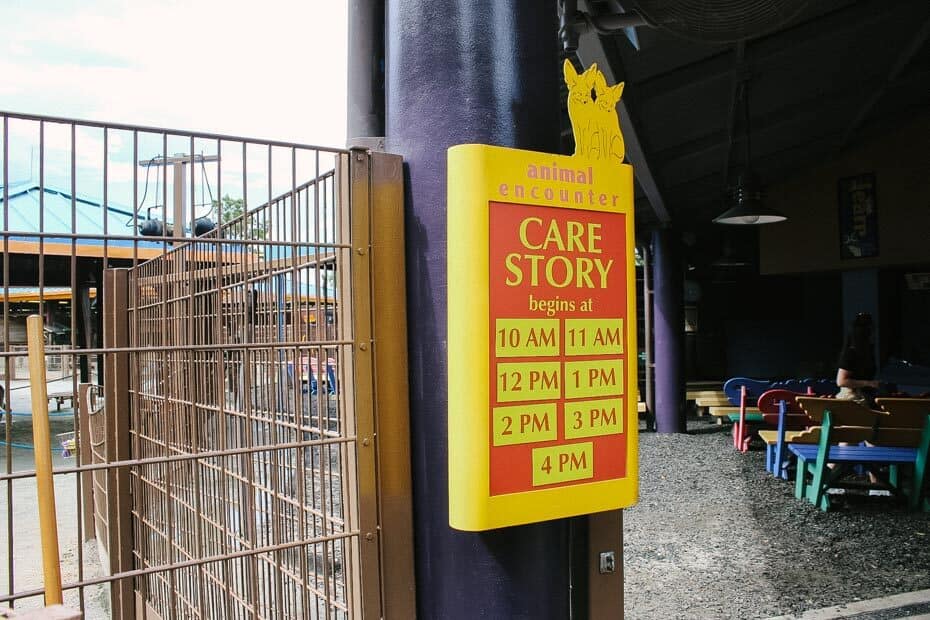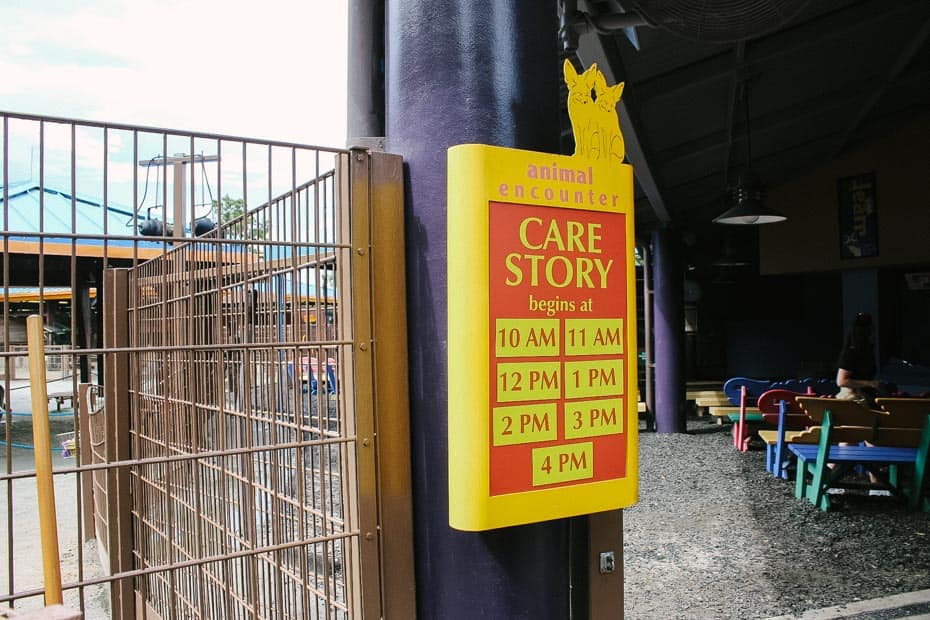 If you are anywhere near the right time make sure to take a break to see it. They bring animals out on the stage and provide some good information about caring for animals.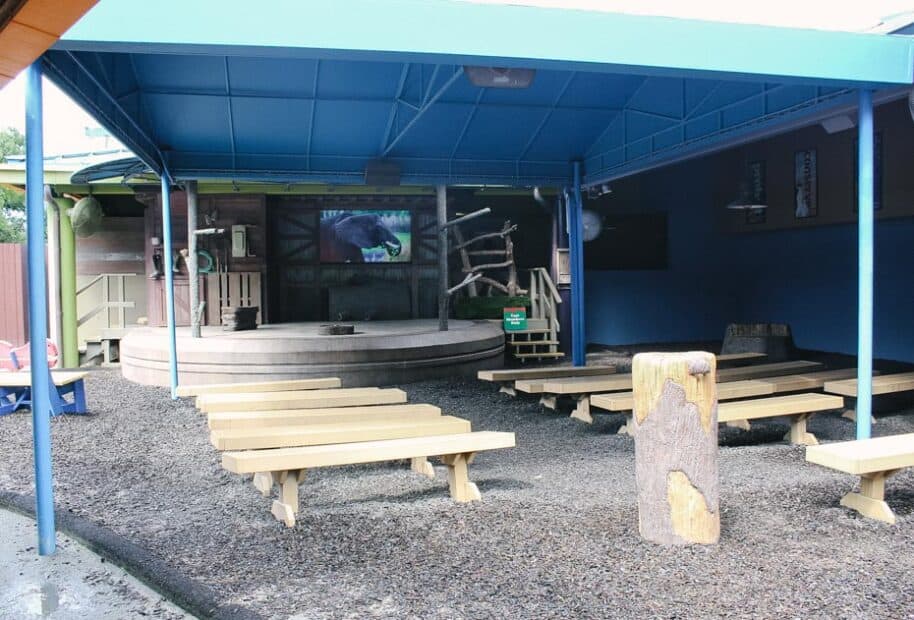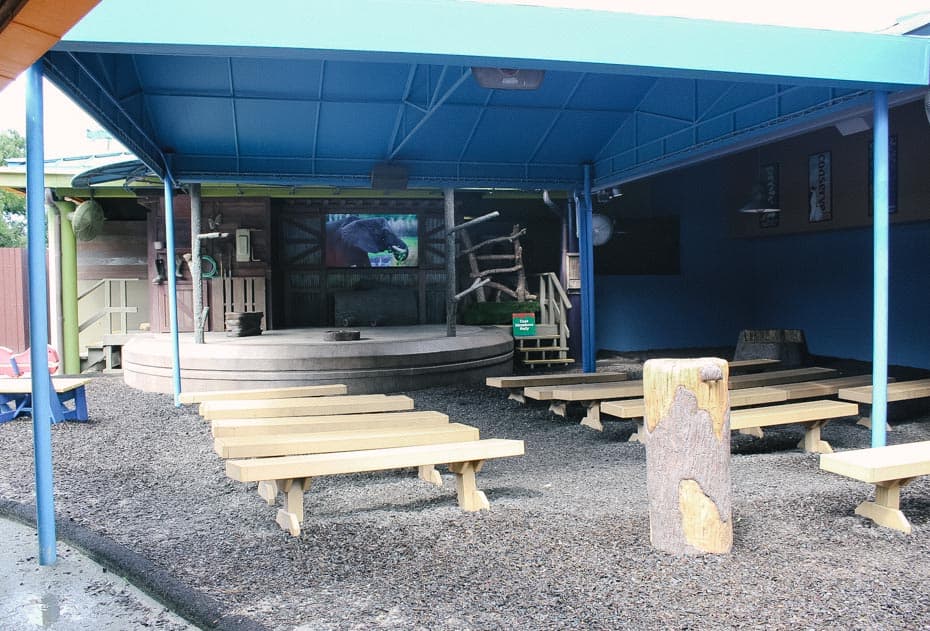 When you exit the Affection Section there are several places set up to wash your hands and signage posting that it's a requirement before exiting.
Rafiki's Planet Watch Pollination Garden Area
Disney has quite a few Pollination Gardens spread out over its property. You can find one of those gardens at the top of Rafiki's Planet Watch.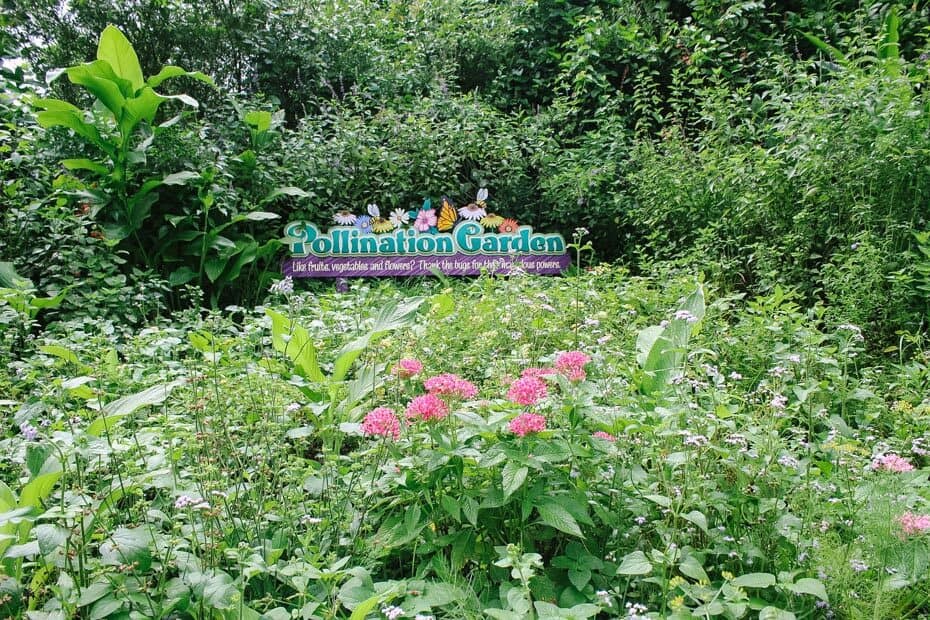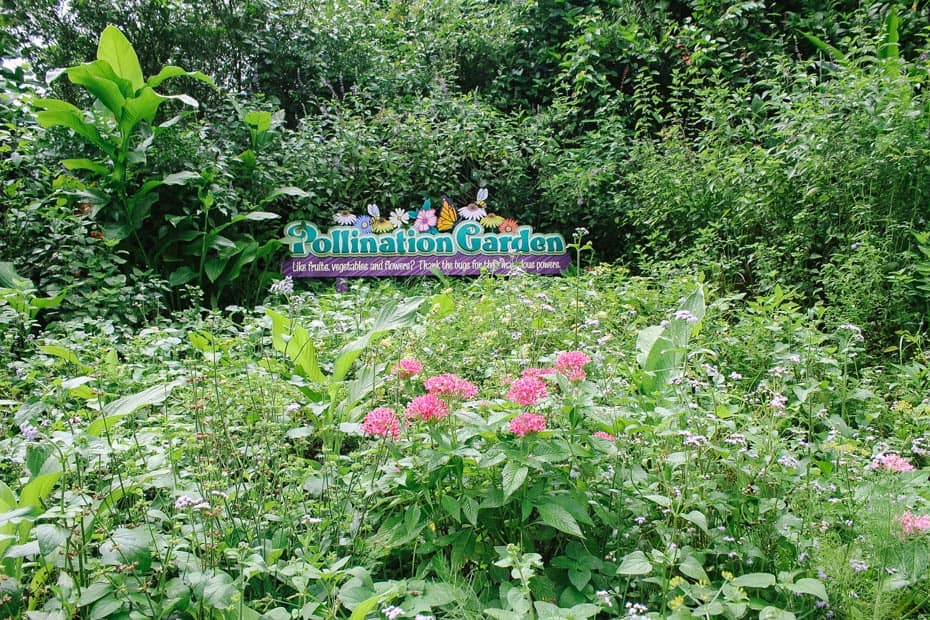 They have some additional information about how it's important not to kill pollinators (especially bees.)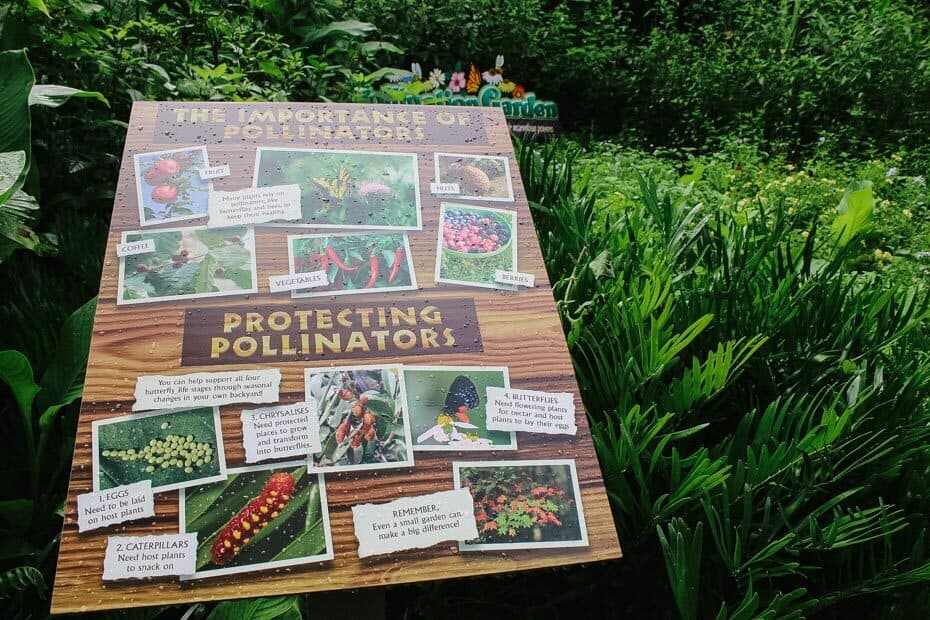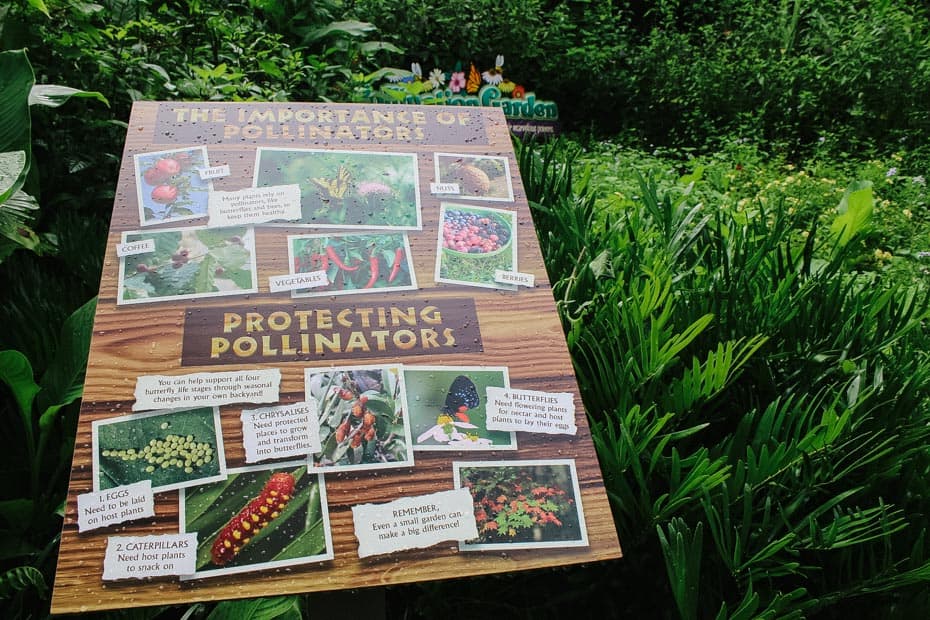 Another spot in this area offers a look at America's National Parks. If you haven't had the opportunity to visit many National Parks this is a great place to locate the ones nearest to where you live.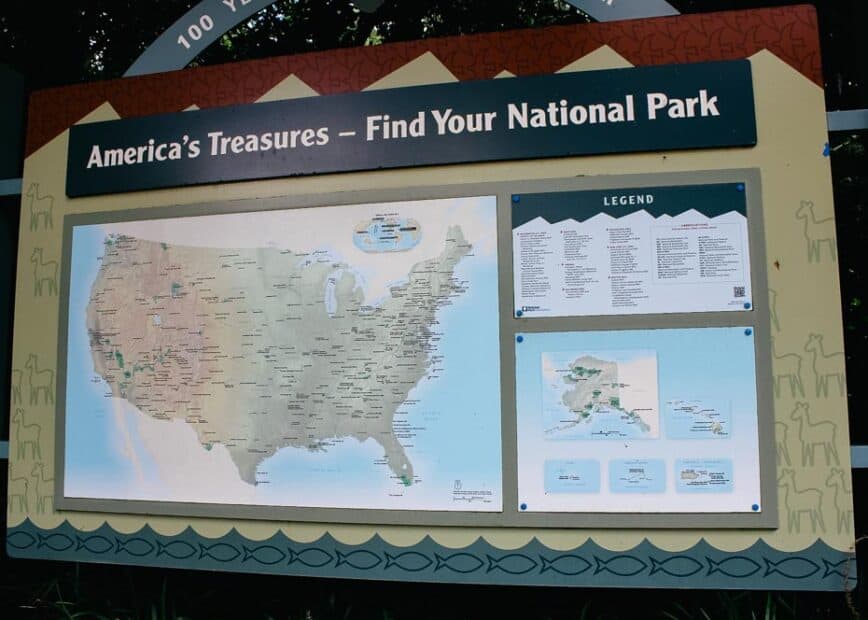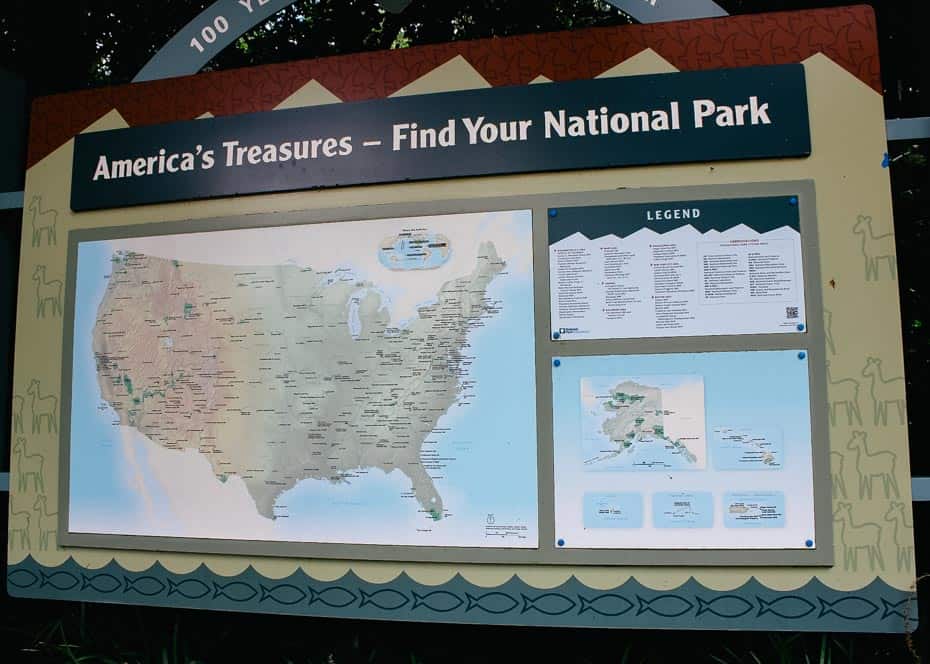 Lastly, there is also a retail opportunity at Rafiki's Planet Watch. They have a nice variety of animal plush. I always think that these are a nice souvenir if your child finds a favorite animal here at their visit to the Animal Kingdom. You would have to read on their tags to confirm, but a lot of these have a portion donated to conservation effort with purchase.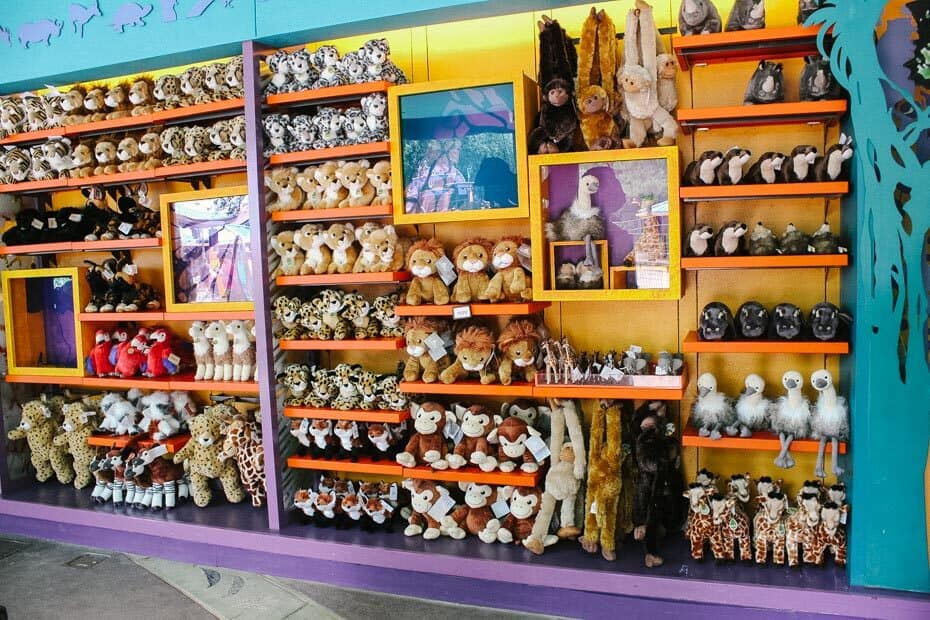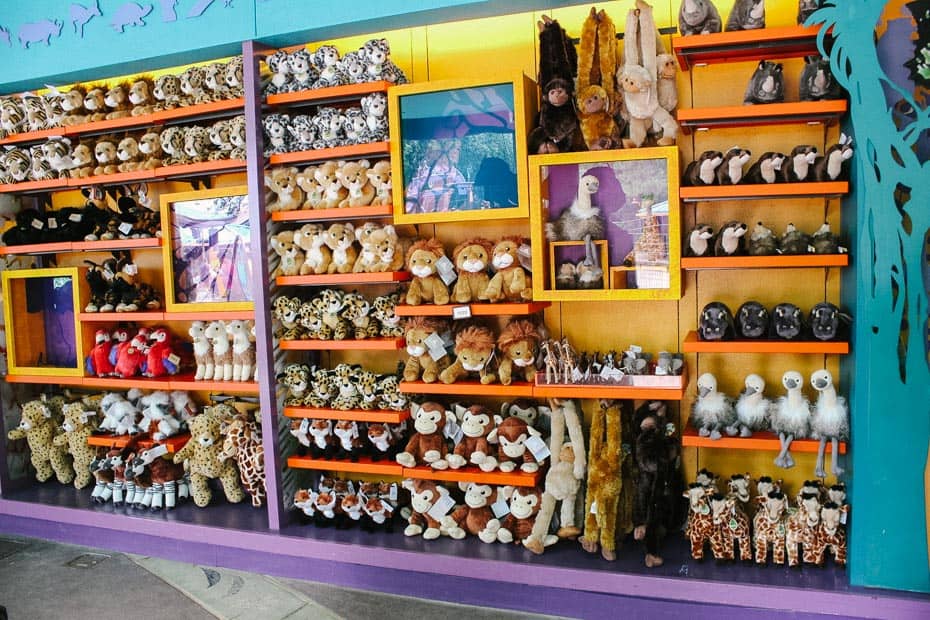 We don't spend a lot of extra money outside of dining and snacks in the parks. But I sure wouldn't have a problem with a two-for-one purchase that benefits more than just my family.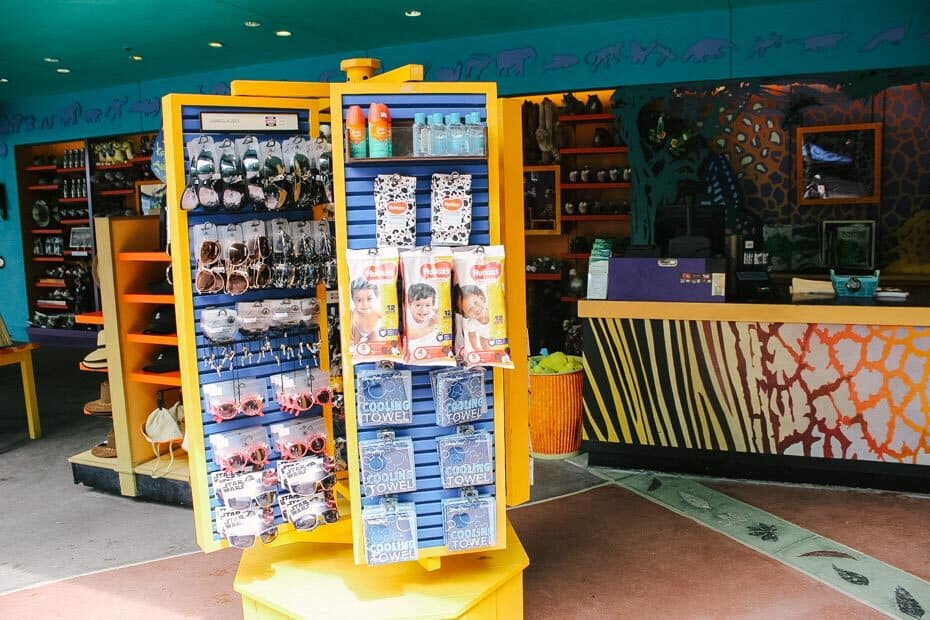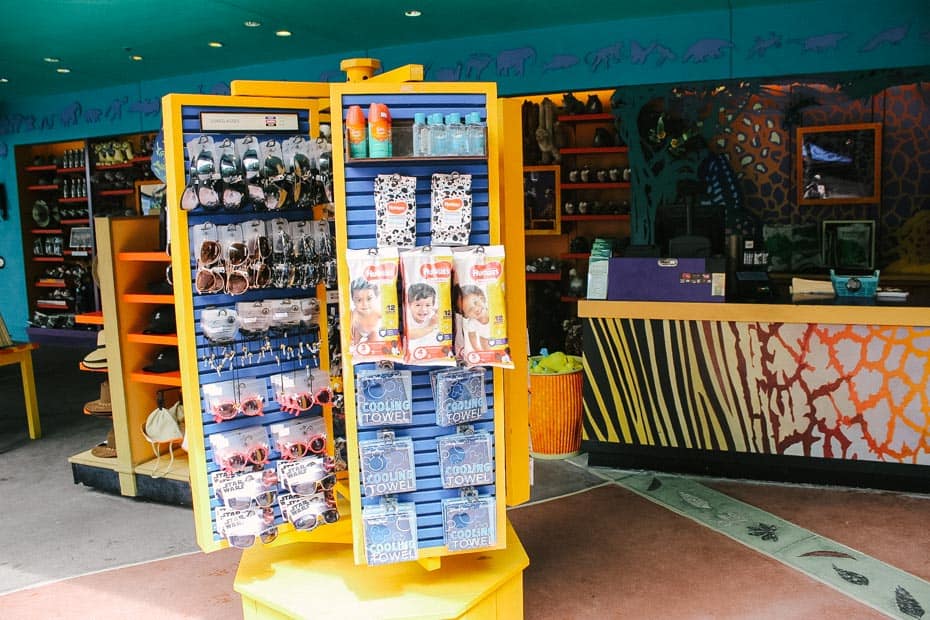 I almost forgot to mention there is an additional Wilderness Explorer stop at Rafiki's Planet Watch. If you pick up a copy of the guide (Wilderness Explorer kiosk) near the front of the park you can collect a badge here.
Final Thoughts on Rafiki's Planet Watch
Rafiki's Planet Watch does close early daily so make sure to check the times guide on the day of your visit. The area is not open after dark.
There are no food options when you visit the area. Make sure to have a snack before visiting if you think you might run into a case of the hungry's.
I would plan to spend 1 hour to an hour and a half at Rafiki's Planet Watch if you plan to participate in the Animation Experience. You will have to wait on the trains return to get back to Harambe. You shouldn't have to wait more than 15 minutes if you just missed it.
This sums up my spin on visiting Rafiki's Planet Watch. When I'm visiting with younger children these are all must-do experiences in my Animal Kingdom day planning.
I hope you will enjoy the area as much as my family when you visit.
If you are looking for more animal experiences on your vacation you might want to try these posts:
If you are interested in learning more about resort options at Disney, you might like to check out our Disney World Hotel Reviews. And if you plan to stay near Animal Kingdom, you might love a Disney deluxe resort like Disney's Animal Kingdom Lodge (review).
For those on a tighter budget, you might consider Disney's Coronado Springs (Resort Review) or a value like Disney's Pop Century Review.
I hope you'll enjoy your time at Rafiki's Planet Watch on your vacation. Leave a comment and share with me what you are most looking forward to doing!