Eat to the Beat Concert and Dining Package Review
The International Food and Wine Festival at Epcot is upon us, along with the popular Eat to the Beat concert series. This review covers one of the opening acts for this year's festival. It also features a dining package review, including guaranteed seating and a meal at Via Napoli.
This concert took place on the evening of September 9, 2019. Lauren Daigle is the act for this evening and September 10th. The Eat to the Beat concert series offers 36 performances this year.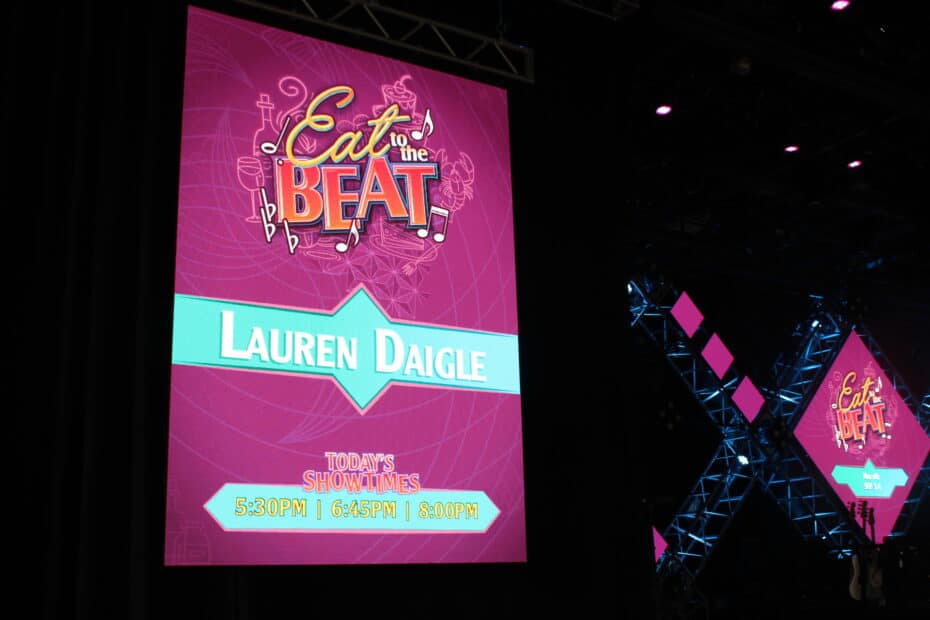 When you participate in the Eat to the Beat dining package, you will receive a ticket like the one above at the end of your meal. This ticket is actually a sticker that you will use to identify you as a premium guest when you get to the concert.
Eat to the Beat Dining Options
There are 14 different restaurants you can pick from for the Eat to the Beat dining package. The meal includes a selection of an appetizer, one entree, and a dessert.
After reviewing the list, I immediately decided to go with Via Napoli. For starters, it's my favorite restaurant at Epcot. Secondly, I always eat pizza here (it's terrific), and I wanted to try an alternate entree on this visit.
Here are the restaurants that are included:
Biergarten
Chefs De France
Coral Reef
Garden Grill
La Hacienda de San Angel
Nine Dragons
Restaurant Marrakesh
Rose & Crown Dining Room
San Angel Inn Restaurante
Spice Road Table
Teppan Edo
Tokyo Dining
Tutto Italia
Via Napoli
They come at different prices for the meal, from $52 up to $82 in range. I went with the $54 lunch plan at Via Napoli. Here's how my meal turned out.
Appetizer–Calamari Fritti–$19.00
Entree–Ravioli di Ricotta e Spinaci–$26.00
Dessert–Coppa di Brutta Ma Buoni–$15.00
For a total of $60.00
Plus tip, of course. Also, a nonalcoholic beverage is included, which saved me an additional $3.00.
It was about $9 less than if I had ordered these items individually. Plus, I received guaranteed seating for the concert.
Here is the full menu if you would like to preview the selections. An individual-size pizza counts as an entree if you want to go that route.
Eat to the Beat Dining Review
If you haven't had the opportunity to eat at Via Napoli, I recommend booking a reservation as soon as possible. It is excellent whether you go in for pizza or a regular entree.
I love the pizza at Via Napoli so much that it's hard to branch out and try something different on the menu. But I'm so thankful that I did.
I asked the server what his recommendation was for starters, and he answered "Calamari" without hesitation. And he was right. This dish, plain and simple, is still on my mind.
The calamari comes out in large ringlets. The batter is a light, golden color but still not too heavy.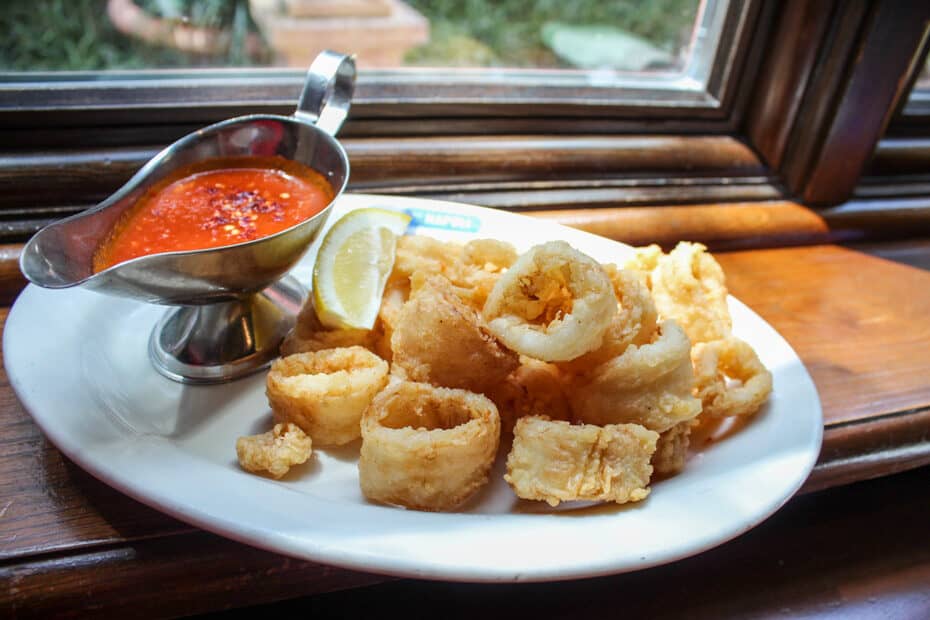 There was just the right balance of salt and citrus on the platter. The tomato sauce is spicy, adding the perfect hint of heat to the dish yet still not too hot.
I'll be back, and I will order it again. Another mention here is what I consider so great about this dining package. Usually, I wouldn't have even looked at the appetizer section on the menu. Let alone order something from it.
But now I'm a calamari fan, and it will be at the top of my list when I return. This is a perfect shareable dish if you are dining there with others.
I could not finish mine and hated that I couldn't box it to go because I spent my entire day in the park. However, they will box any leftovers if you want to take them back to your room.
Since I had gone way overboard with fried food, I decided to eat vegetarian and go with the Ravioli di Ricotta e Spinaca. It came out as I was finishing my appetizer.
The server recommended the Pollo al Marsala for this round, but I wasn't in the mood for chicken this day. I mentioned pasta, and he said this was the way to go. He recommended another great choice.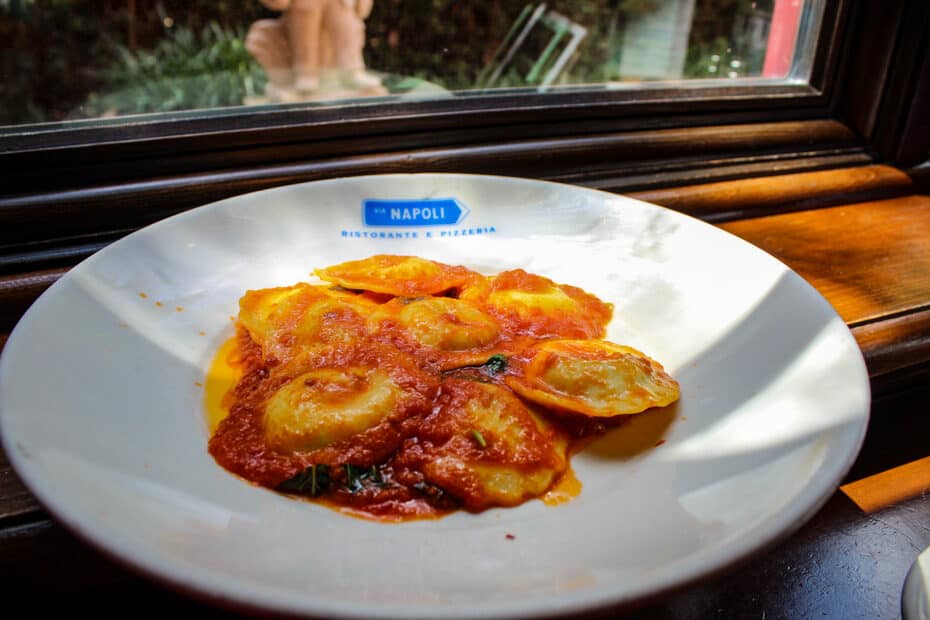 There was plenty of ravioli on my plate, and as you can tell, it had a nice, light brown texture. These were also not drowned in the sauce, so you could enjoy the inner filling.
The ricotta filling was warm and creamy. I even cut one in half so you could preview the interior. After the large calamari appetizer, this felt like the right way to proceed in my lunch course. You know you have to leave room for dessert while dining here.
I didn't know that before this meal. I've eaten pizza here many times over the years, but nothing else. Now dessert is high up on the list for must-haves as well. So rare is the day I order something like this, and I was surprised by all the different options.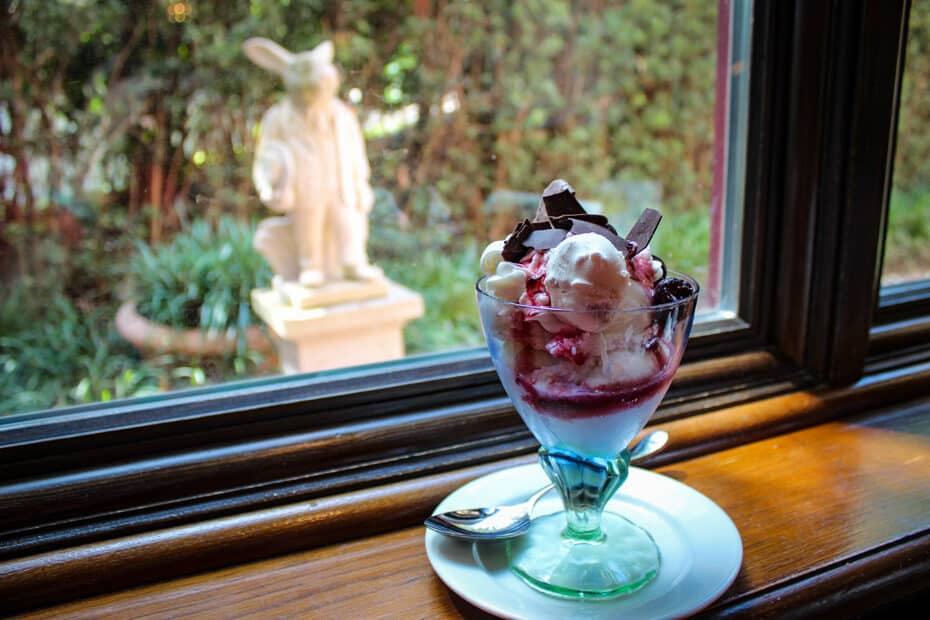 For dessert, I was inclined to order the Zepolle di Caterina warm donuts with chocolate sauce. The server said his favorite dessert was the Tiramisu and that it seemed hot outside to order the Zepolle.
However, Italy is quite famous for its twist on sundaes. And I have a recipe for a sundae I am interested in making. But I'm not sure about the flavor combinations.
As I waffled back and forth over my options, the server noted that his second choice might be the Coppa di Brutti Ma Buoni. So that was the direction I went, hoping to keep this meal progressing sweetly to the end. The name of the dessert means "ugly but good."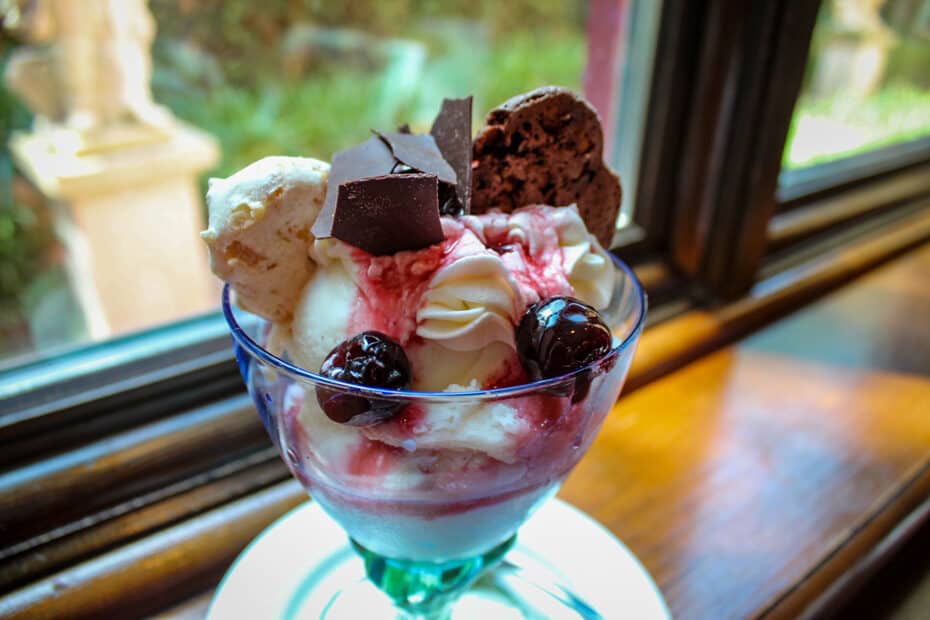 Within a few moments, this divine concoction was brought to my table. You can look at it and tell me I made the right choice, can't you?
Those dark things are Amarena cherries, no, not the kind that comes in the questionable red syrup that is highly processed. Instead, they are a darker cherry that Italians bottle in syrup and serve on decadent chocolate desserts.
On one side was a hazelnut cookie, and a crispy meringue-type offering was added to the other side. Chocolate shavings topped off the vanilla gelato with natural whipped cream added in the right places. There was nothing false or artificial on this extreme sundae.
I took my spoon from time to time and broke up the toppings by lightly tapping them as I ate the dish. The crispness of the cookies added the perfect contrast to the dish. How did I not know that dessert was so good here?
It was a meal I hated to retire from but had no other choice because I was so full. I even joked that I would have to walk about 80 laps around the World Showcase to make up for some of the calories consumed. But did I regret them? No, not a single one.
If you haven't been to Via Napoli, I'll take you on a quick tour around the restaurant. There are three dining rooms. One large center dining room with an open kitchen is the restaurant's center, with an additional dining room on each side.
Here is a look at the massive open kitchen where the food is prepared. Of course, you are welcome to take a walk through and check out all the activities if you like.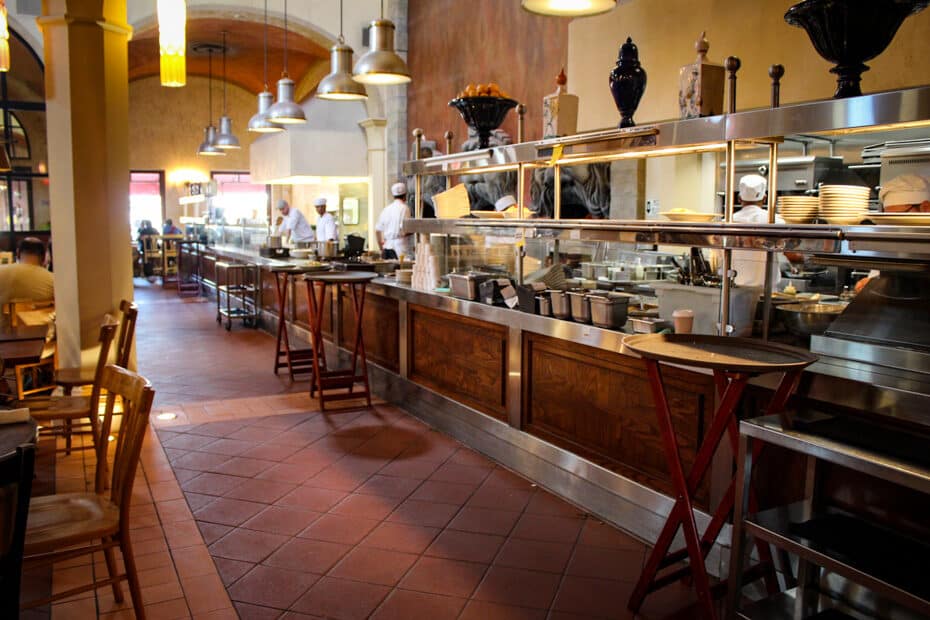 The wood fire ovens are centered in the main dining room, where pizza is shuffled in and out for finishing.
There is a large family-style dining table here where some lucky families get to eat.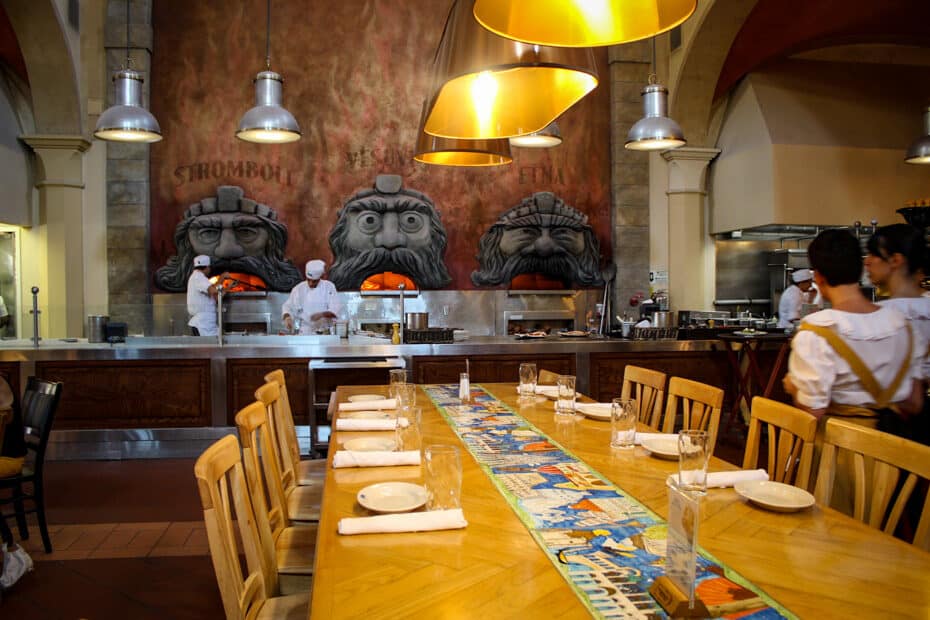 Here is a bit of a closer look at the pizza preparation. Below chefs are sliding a pie into the wood fire oven.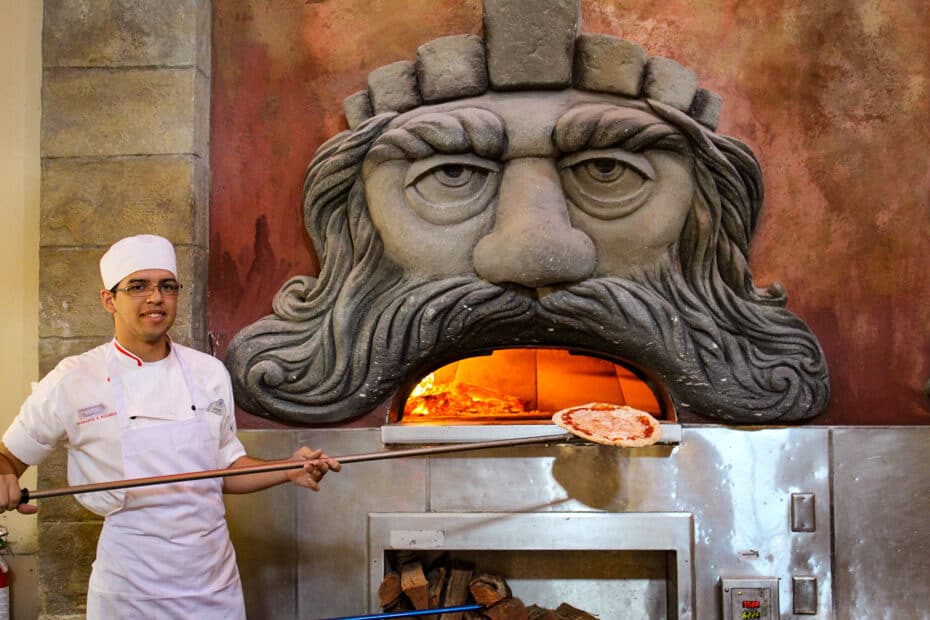 They kindly obliged by letting me take a photograph.
Related: Via Napoli Review at Epcot
Eat to the Beat Concert Review
When I left this Eat to the Beat dining package meal, I had about two hours until the concert started. The ticket they give you indicates the time of your show and notes that you need to be in line 15 minutes until showtime.
I'm just going to say here I write better than I read. At least, I hope. For me, 15 minutes before, turns out to be–oh, it's 5:00 p.m., and I'm at The Land Pavilion.
I better wrap this up and head over to America ASAP. I'm one of those who belong in an Alice in Wonderland novel because I'm always running late, even for significant dates.
And this date was significant for me because I have become a fan of Lauren Daigle this past year. I'm not even going to pretend that I know all of her songs or much of anything about her. But I know she is a Christian pop artist who sings about serious business.
I also know that my sister and my best friend are big fans and listen to her regularly. So when I saw that she was going to be at Epcot, I knew I had to see her. I've also learned since then that she has a huge fan base, and a lot of people had come out from all over to see her.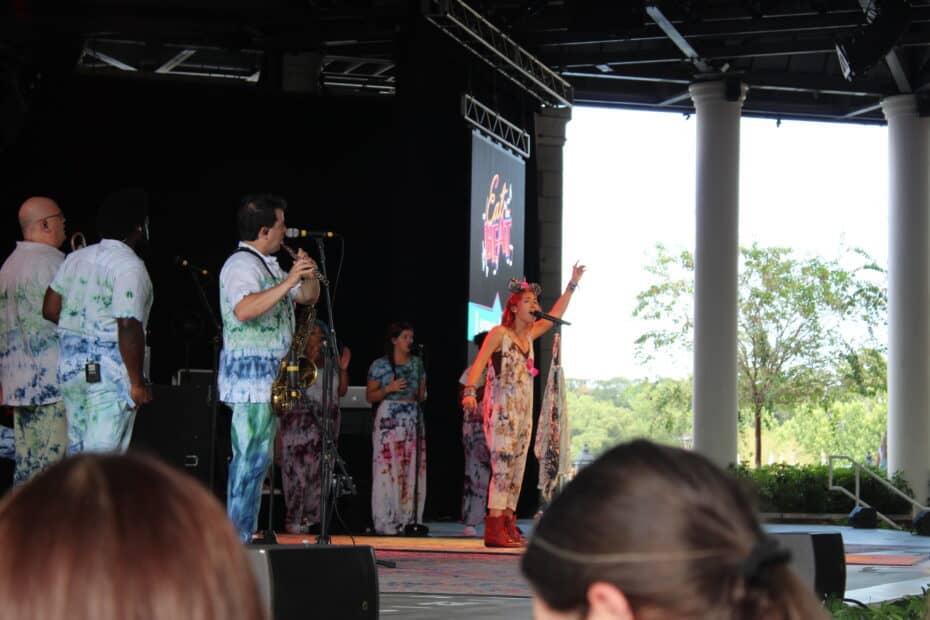 I took the picture above to show I could sit on the second row when I arrived at 5:20 p.m. Had I been there on time, I'm sure I could have gotten closer to the center.
Below is the picture I took when I sat down. There were already this many people there. I felt like I was the one blessed this evening.
Not only had I had the most fantastic meal at my favorite Italian restaurant, but I was able to take my reserved seating in front of this crowd even though I was a few minutes late.
And no, I'm not advocating being late here, but sometimes it does happen. I'm usually okay with that as long as the people I love can accept it.
Within a few moments, Lauren's band and backup singers came out on stage. And then the crowd started singing Happy Birthday to Lauren. It turns out it was her birthday, and her mom was in the crowd and had told some people. So that was a nice touch.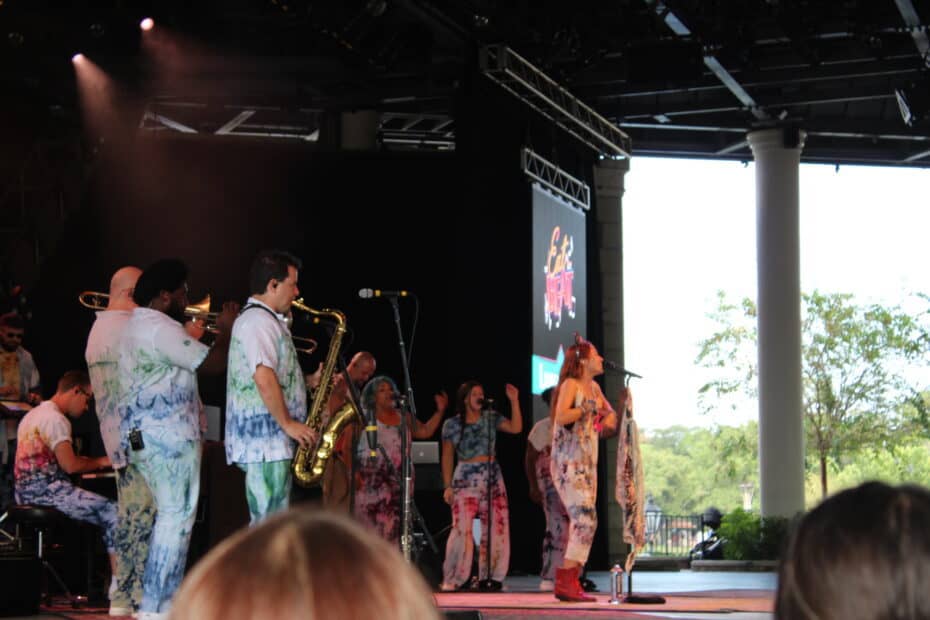 Then she ran out onto the stage, full of energy, and put on the best show. Her voice and music are so inspiring. Her band played various instruments, including the saxophone, trombone, and even a flute!
The show lasted for 30 minutes, and Lauren Daigle ended up performing about five songs. Toward the end, she stopped for a minute and acknowledged the crowd, and thanked everyone for taking time out of their day to see her perform.
She also finished the concert performing her famous hit, "You Say." The whole event was a lot of fun, and I left the park feeling excellent about my day.
Should you book the Eat to the Beat dining package?
The easy answer–yes. But if I were going back and forth about it, I would take these things into account.
Are you going to have only one day at the Epcot Food and Wine Festival? If the answer is yes, are you going to be eating at the festival booths throughout the day and not have time for a sit-down meal? If the answer is yes, then maybe this large meal isn't the best fit for you.
Is there someone on the concert list that you are interested in seeing? Then yes, this is going to be your best way to get a seat without having to spend valuable park time in a long line.
Do you have any interest in trying a new restaurant or something different here at Epcot? Then yes, for sure, add this with the added benefit of a concert. The meal alone was a lower price than it would have been without the package. Just consider the concert a bonus.
I think you understand where I'm going with these different scenarios. Hopefully, you will be able to book a dining package.
I know a few people reached out to me on social media last night saying they didn't know Lauren Daigle would be there and couldn't get a reservation for the next evening. If that's the case for any performers, you will want to get in line 30-45 minutes before the show.
Those planning a vacation primarily to visit Epcot for one of their many festivals might like to browse our list of Disney World Resort Reviews. The ones specific to the Epcot area include:
Leave a comment below and let me know what Eat to the Beat concert you hope to see. Or if you've been before, I'd love for you to share your experience.