Disney's Swan and Dolphin Resort Review
Disney's Swan and Dolphin is a unique resort owned and operated by Marriott that resides in the Epcot Resorts area. In this Swan and Dolphin Hotel review, I'll share details of my latest stay and other considerations for planning a visit.
As I left the doctor's office that morning, I received a text notification. Surprisingly, it was Disney's Swan and Dolphin texting that my room was ready.
Looking down at my phone, I noticed it was 9:30 a.m. meaning that it was 10:30 a.m. in Orlando. I didn't know whether to be impressed that my room was already prepared or disappointed because I had a long drive ahead.
It was more like 9:30 p.m. when I rolled into town. Let's look at how things went.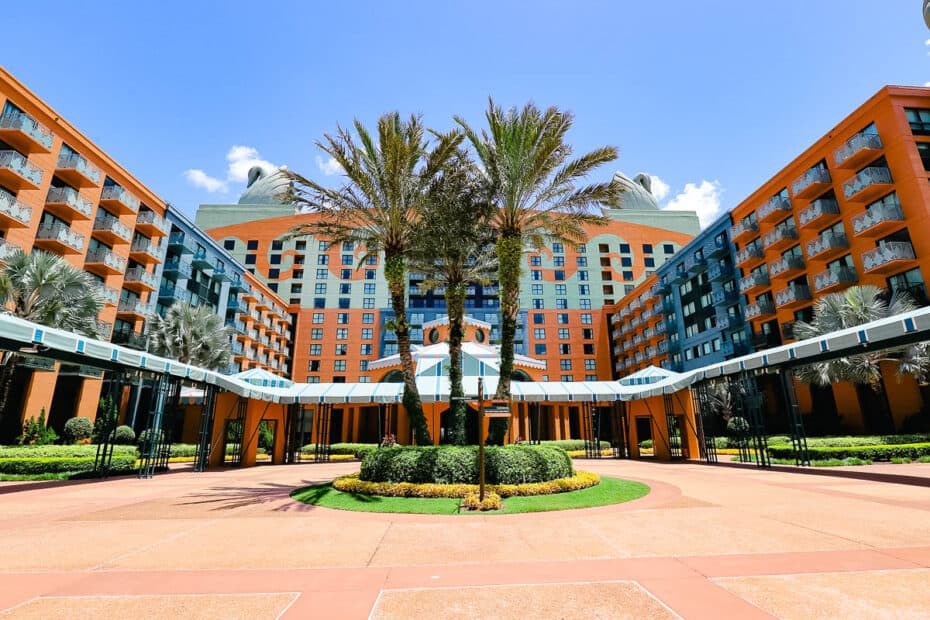 Disney's Swan and Dolphin Review
When I turned onto Epcot Resorts Blvd, I couldn't help but smile. Finally, I'm home, I thought.
Things only improved as I pulled up to the Swan's front entrance. A valet man immediately greeted me, asking if I needed luggage assistance and if I would like to park my car in the valet.
Both, please. You know I always park valet when I stay here. It's convenient.
Of course, convenience is what I'm after when I stay at Disney's Swan and Dolphin. That and a bit of a plush feel that's not too over the top.
Bell services. Since I raised my son as a single mom, I learned long ago the advantages of staying in a hotel that offered luggage assistance.
Unfortunately, my luggage load is not always light, given I often travel for extended periods. But I'm sincerely trying to do better.
I felt spoiled as the bellman happily loaded my luggage (all ten pieces). Then he told me he would wait nearby while I picked up my room key.
You might think that's normal. But bell services, among other things, have been almost extinct at most hotels over the past few years.
At the Swan's front desk, I was greeted by a kind young woman who welcomed me and assured me she would get me straight up to my room. It was nearing 10:00 p.m., and I wanted to grab a snack before the hotel's quick service closed. Plus, I had work to do.
Within moments, I had my room key and told bell services my room number. Somehow, he managed to get all the way up to the top floor with my luggage before me.
The Hotel Room
After checking in, most of us like to crash on the bed, take a long shower to freshen up, or just sit for a few moments checking out the view. However, my work as a blogger begins when I arrive at the hotel room.
Okay, I know some of you like to head straight to the parks. I get it. We used to do that too.
For me, I'm hiding luggage, taking videos of the room, and adjusting the light for the best possible photo outcome. The scenario is kind of a one-shot rodeo. You and I both know the hotel room will never look the same after unpacking.
Here is a photo of my room. This standard guest room has a king-size bed and no view upgrade.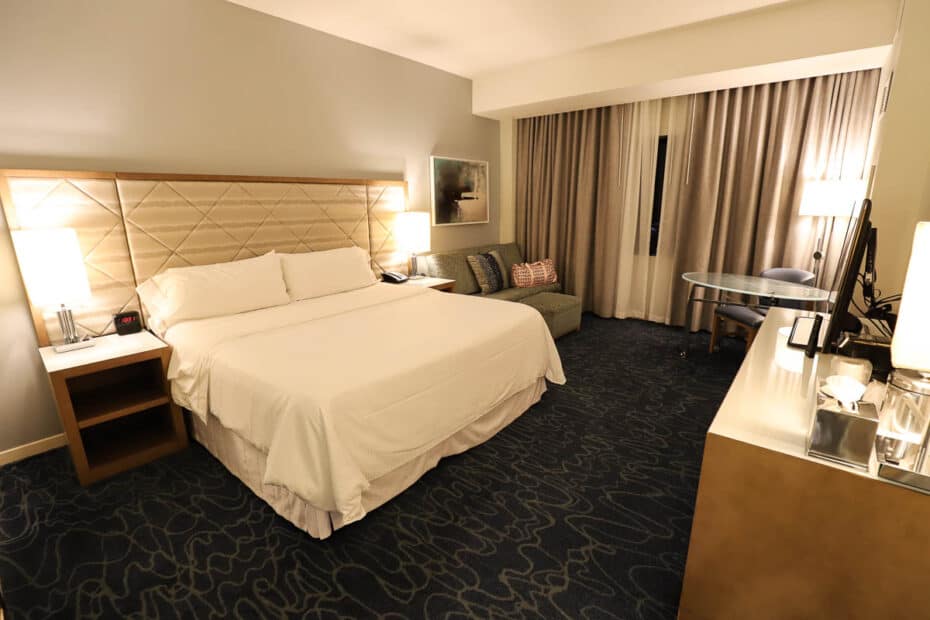 On the opposite side of the bed, there was an adorable mini-sofa.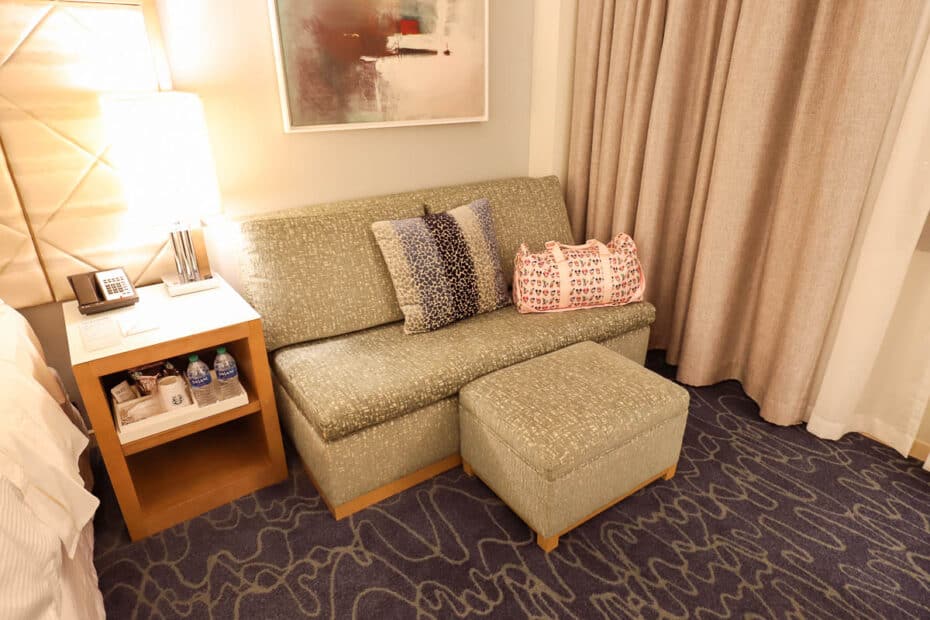 And the guest bath was large with two separate vanities.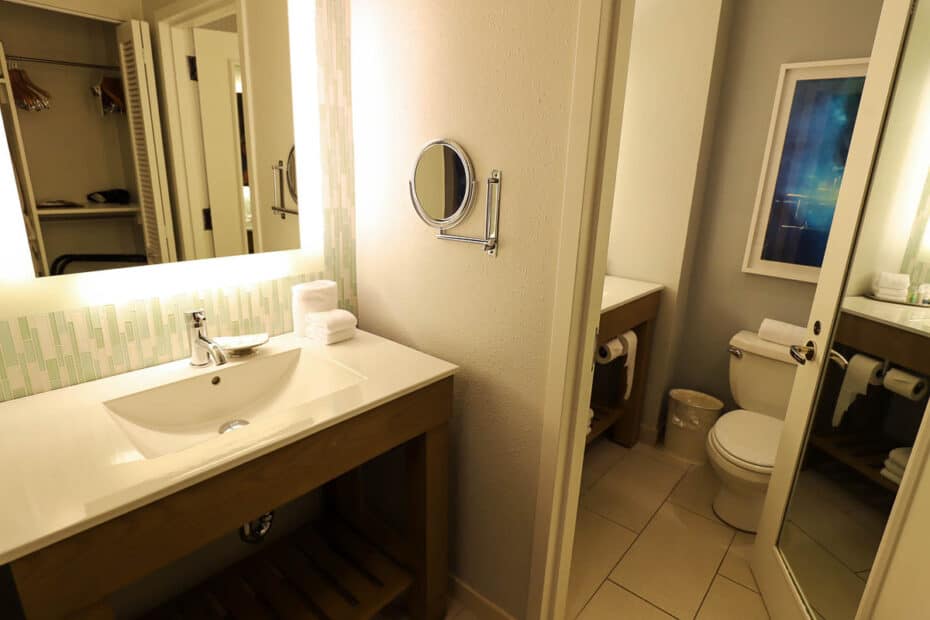 Instead of a tub with shower combination, the guest bath had a walk-in shower.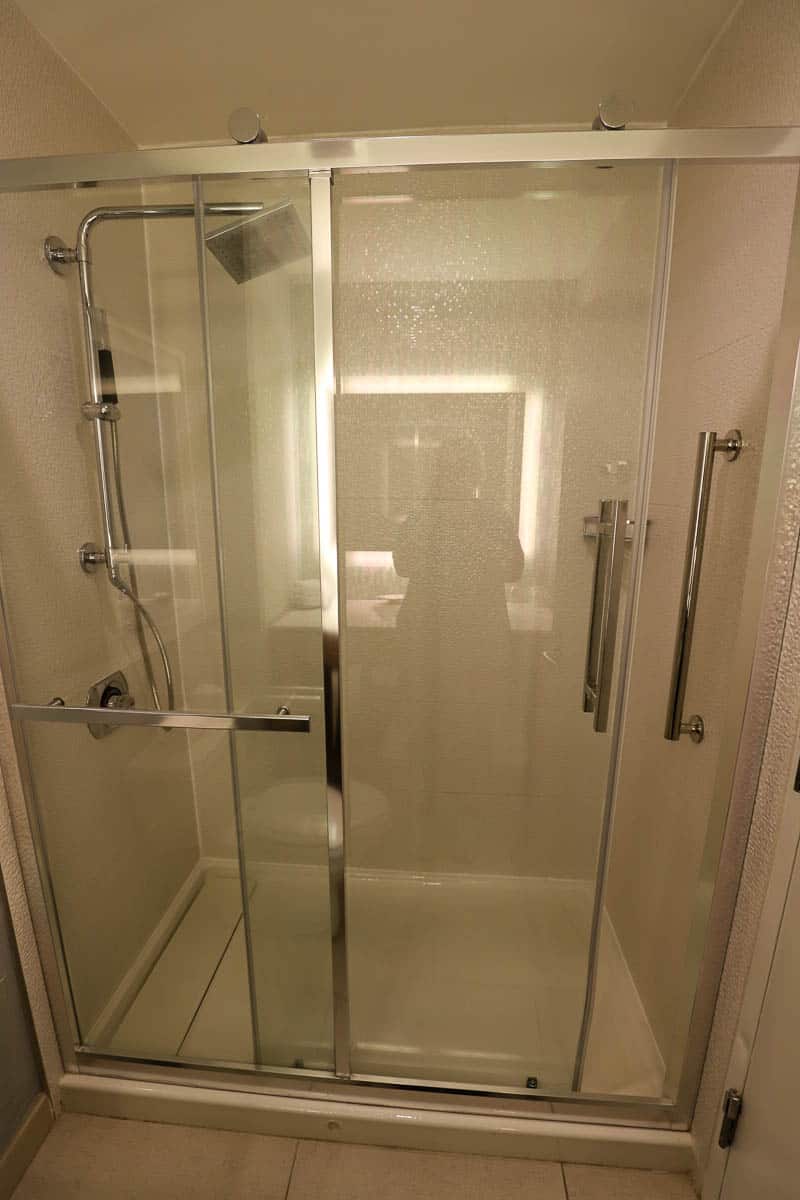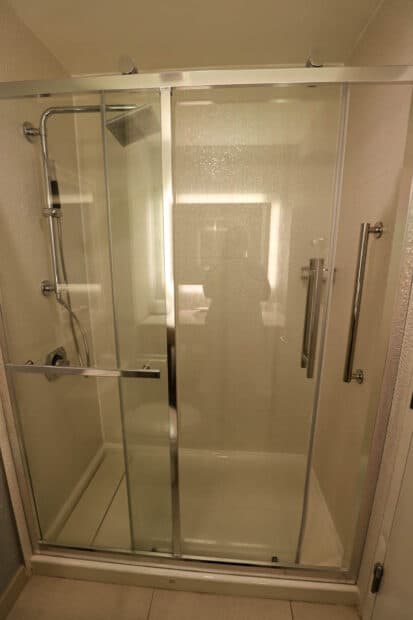 We have a separate room tour with photos and videos for more specifics about this room.
Related: Disney's Swan Room Tour
By the time I finished taking photos, it was after 10:30 p.m. I was unsure whether or not I would find anything open at the hotel.
But I decided to venture out anyway. At the very least, I could enjoy the nighttime dancing light show on the breezeway between the two hotels.
I took my time as I walked over to the Dolphin side of the resort. I hoped that Fuel was still open and I could grab a bite to eat.
When I got to the Dolphin, I noticed a good deal of guests at Phins, a bar in the Dolphin's lobby. Since the Dolphin has a large convention center attached, it's not uncommon to find more of an adult crowd at the hotel.
Thankfully, Fuel was still open. But as I walked to the entrance, I noticed the manager was locking things up.
Again, I was greeted with kindness. She told me to go on in and get whatever I needed. So I quickly grabbed a soda and a Caesar salad to take back to the room.
In the past, Picabu, the primary quick service at the Swan and Dolphin, was my late-night dining spot when I stayed in the area. Picabu used to be open 24 hours. But they had started closing early a few years back.
However, since this stay, I saw an announcement that Picabu is now open until midnight. So if you're staying at any of the hotels in the Epcot Resorts area, you can walk over to the Dolphin and get something from Picabu.
By the time I got my salad, I was ready to head back to the room for the night. It was late, and I needed a good night's sleep to prepare for the next day.
That evening, I fell asleep before my head hit the pillow. To my surprise, I woke up to the most beautiful view the next morning.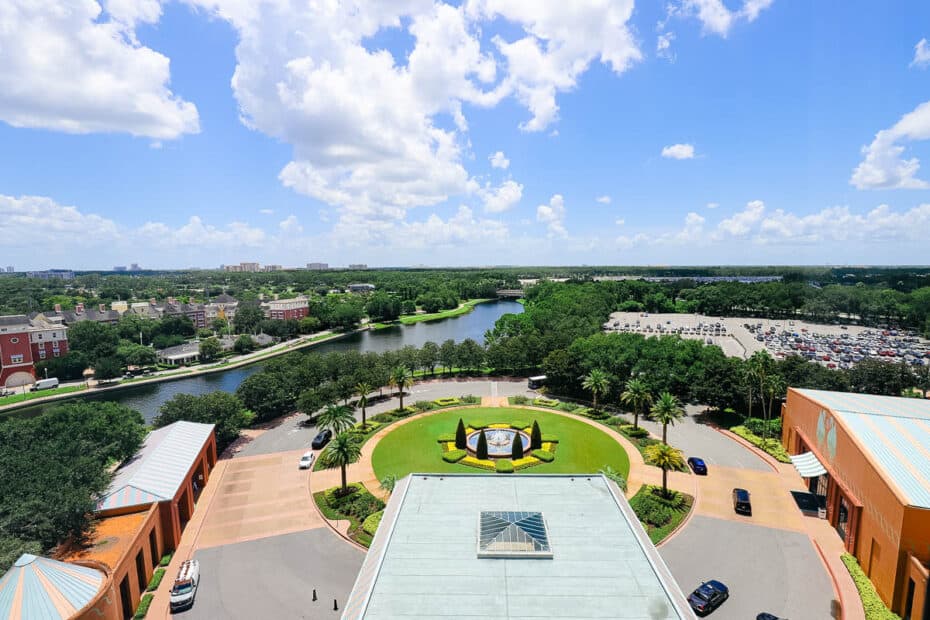 When I arrived the night before, everything was so dark that I could not see much of anything. I knew I could see the Tower of Terror from Hollywood Studios, but it wasn't lit up.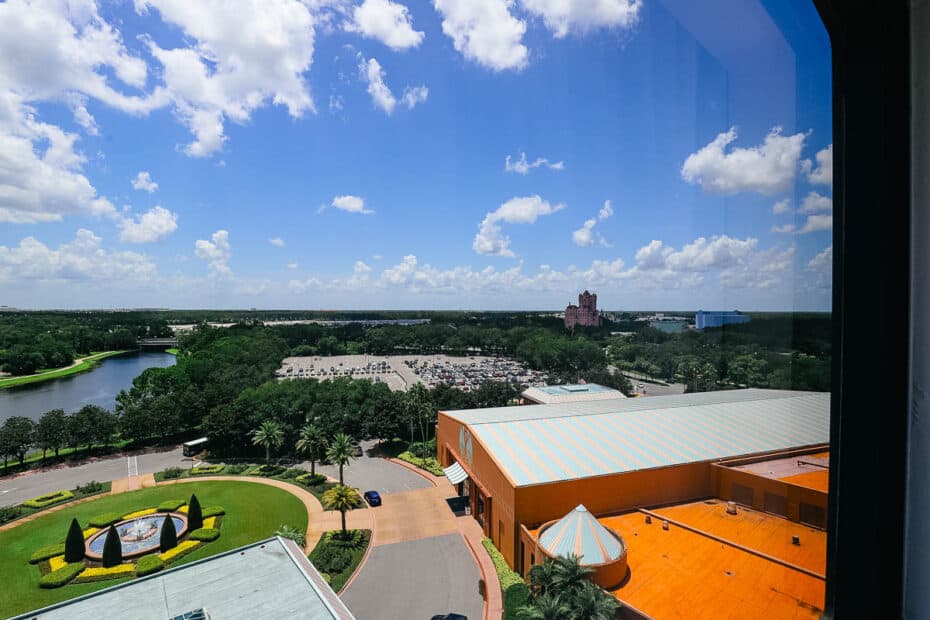 So, for the record, this is a standard view. Over the years, I have found that most of the rooms at the Swan and Dolphin have pleasant views. However, we have had a few rooftop views from both hotels that were not anything special.
I don't know about you, but I'm not always in a position where I can afford to upgrade to a room with a view. And I don't typically recommend paying the extra expense.
But looking back, I remember some of my trips here more fondly than others. That's likely due to receiving complimentary room view upgrades or standard rooms that offered decent views like this one.
So if you plan to spend a decent amount of time relaxing at the resort, you might benefit from an upgraded room view. But if not, you could still luck up and receive a room with a beautiful view.
Here are a few other considerations for choosing a room at the Swan or Dolphin:
Disney's Swan and Dolphin offer a variety of rooms between the two hotels. First, you'll likely want to decide which building you prefer and then look at the room choices.
The Swan is the boutique side of the resort. While the Dolphin is more extensive and where you'll find most of the resort's amenities.
Budget is typically the deciding factor for our travel party. That often translates to picking the least expensive room available on our travel dates.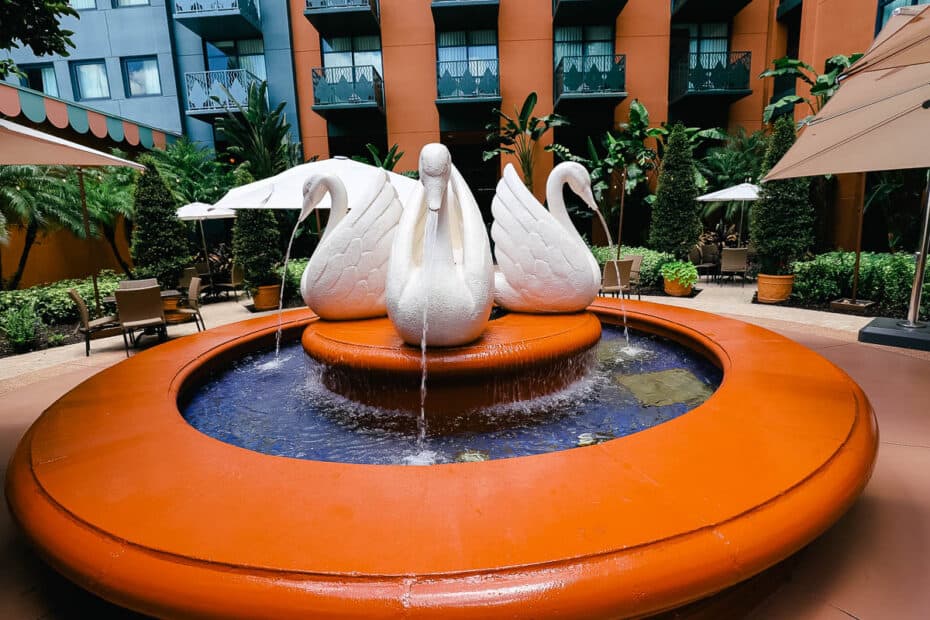 The following room types are available between the Swan and Dolphin Resorts:
Traditional Room
Deluxe Room
Family Room
Additionally, there are several suites available:
Junior Suite
Executive Suite
Grand Suite
Signature Suite
Governor's Suite
Chairman's Suite
Presidential Suite
If you compare the standard rooms at the Dolphin and Swan, there is one significant factor you'll want to consider. Standard rooms at the Swan have two queen-size beds, while the Dolphin's rooms have two double beds or full-size.
Since we are usually a party of two, this is not a huge factor. However, if we were traveling as a party of four, those few extra inches might make a difference.
Other than the size of the beds, there won't be any significant differences between the standard guest rooms at either hotel. However, there might be a few nuances in the overall decor.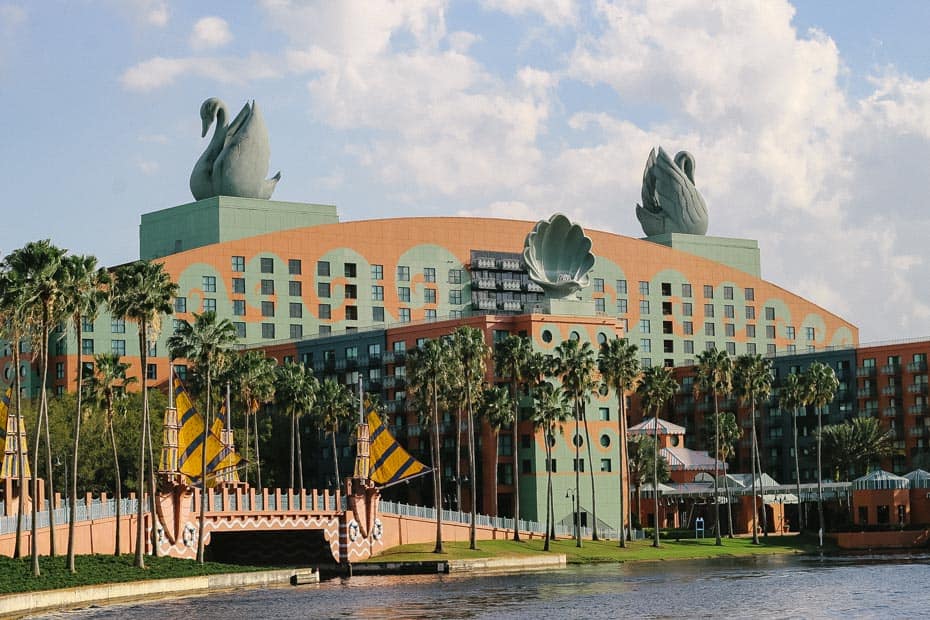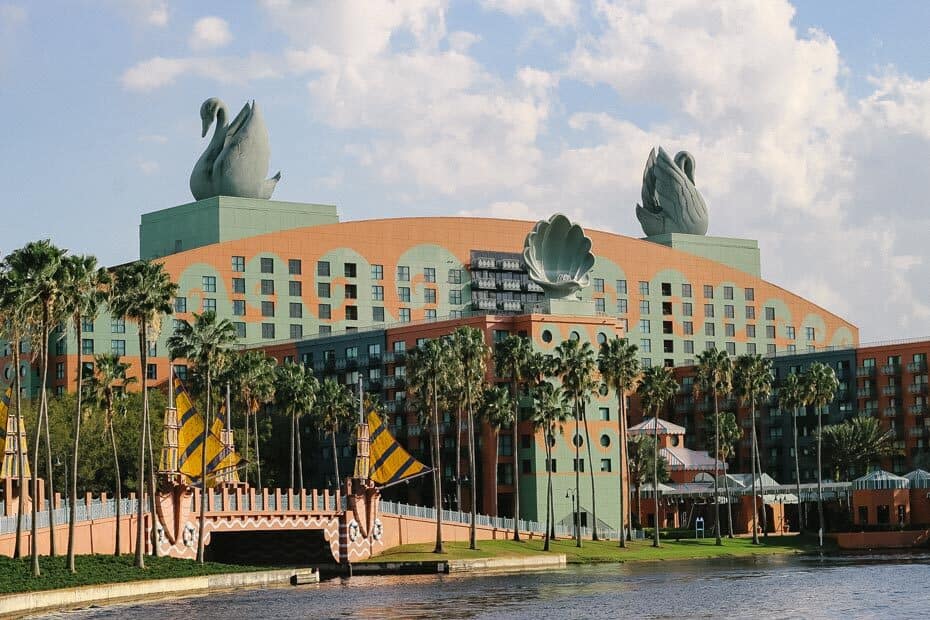 Benefits of Staying at the Swan and Dolphin Hotel
When you stay at Disney's Swan and Dolphin Hotel, you'll enjoy a variety of benefits. These benefits are comparable to what you would receive at a neighboring Disney Resort Hotel, like Disney's Beach Club.
For starters, Disney's Swan and Dolphin guests can take advantage of the early theme park entry benefit. This benefit gives you a 30-minute head start in the parks over guests visiting from off-property.
While an extra thirty minutes might not sound like much, you'll at least be able to head straight to one of the more popular rides and get it out of the way before long lines begin to form.
Related: Resorts with Early Theme Park Benefits
*Early theme park benefits have been extended to last through 2023.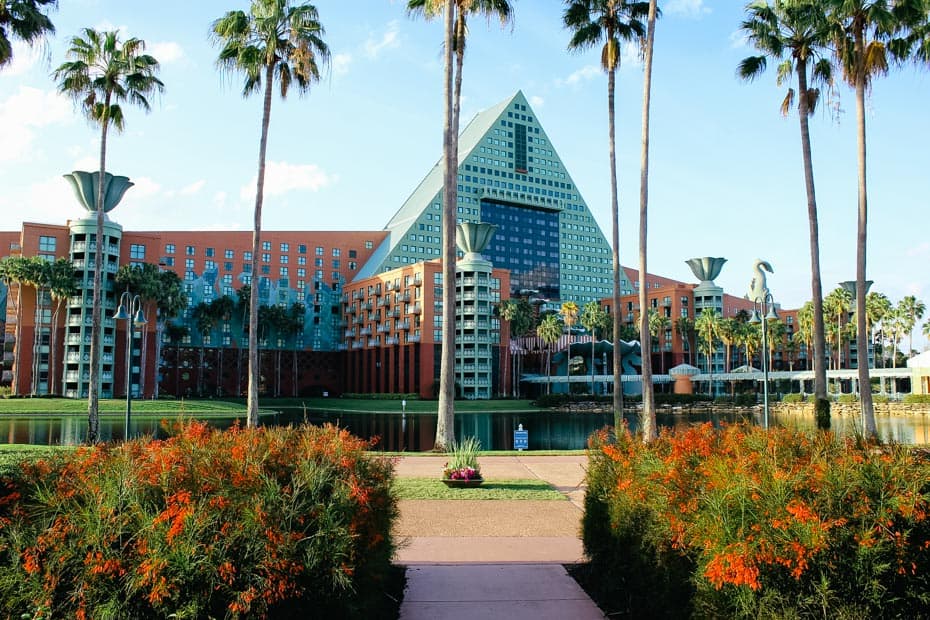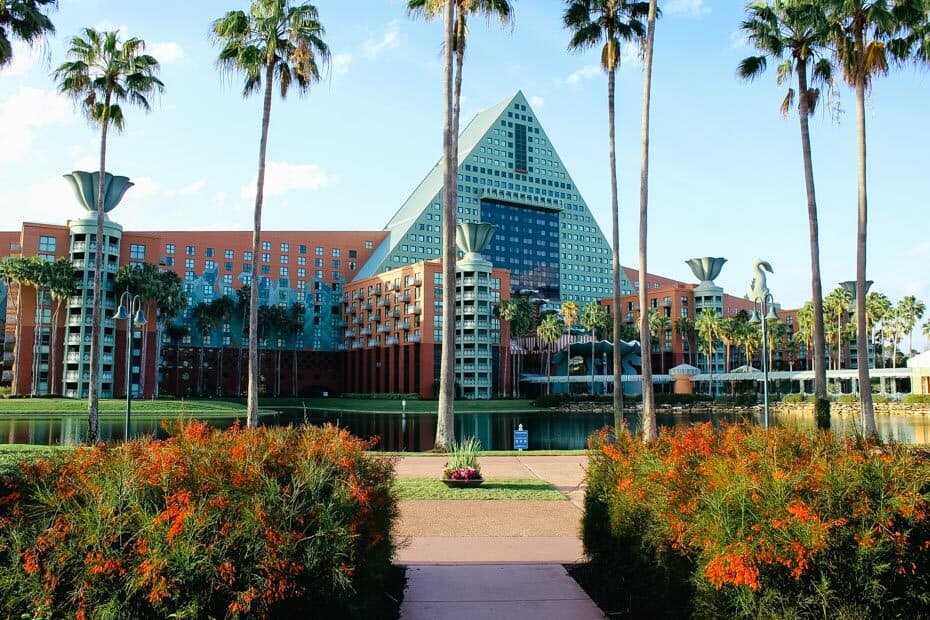 In addition, you'll receive access to extended theme park hours on select evenings at select theme parks. Typically, these nights are held twice weekly and last for two hours after the park closes.
You can view the theme park's extended hour schedule here on Disney's site.
Another benefit available to guests of the Swan and Dolphin is the option to purchase Disney Genie+ individual Lightning Lane selections starting at 7:00 a.m.
Per Disney, guests of Disney Resort Hotels and other select hotels can make their first individual Lightning Lane purchase starting at 7:00 a.m. on the day of their visit. (This includes Walt Disney World Swan and Dolphin Hotels.)
All other guests can begin making selections for individual Lightning Lane at the park open. Therefore, you'll be able to secure individual Lightning Lane selections for desired times before guests who are visiting from an off-site hotel.
In addition, guests of the Swan and Dolphin have access to complimentary transportation, special offers, on-site planning concierge, and complimentary parking at the theme parks.
We'll look at how transportation works at the resorts further below. You can preview all the benefits of staying at the Swan or Dolphin here on their site.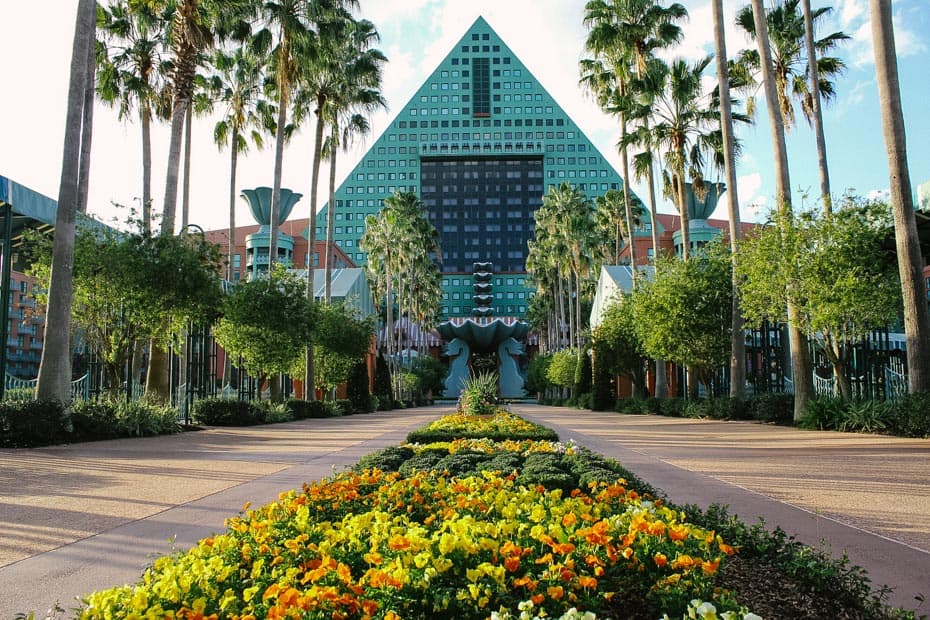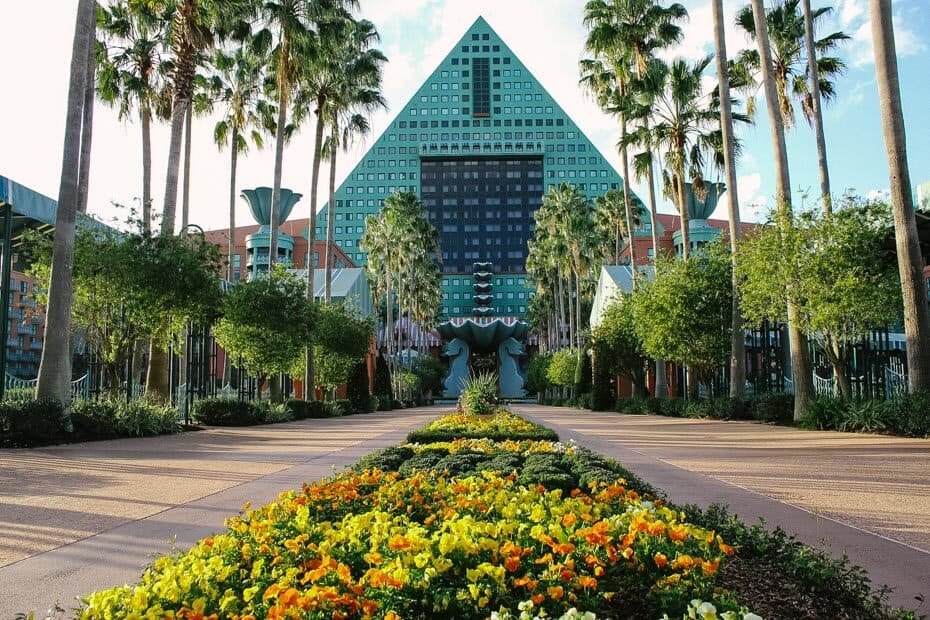 Recreation
It's no secret that Disney's Swan and Dolphin offers a serene outdoor setting. Between the luscious green landscaping and surrounding views, the entire atmosphere is relaxing.
Outdoor amenities include swimming pools, sports courts, and a white sand beach.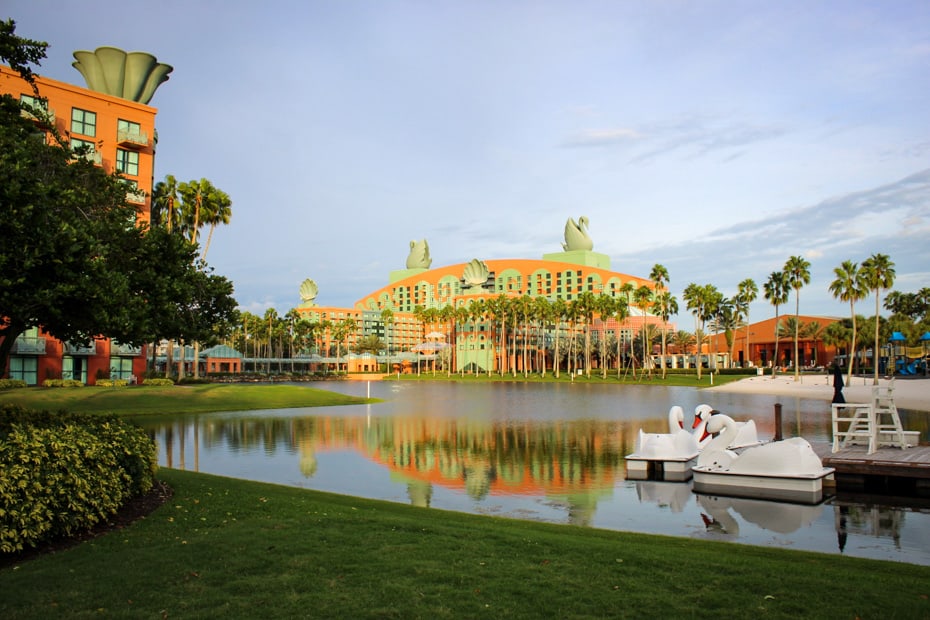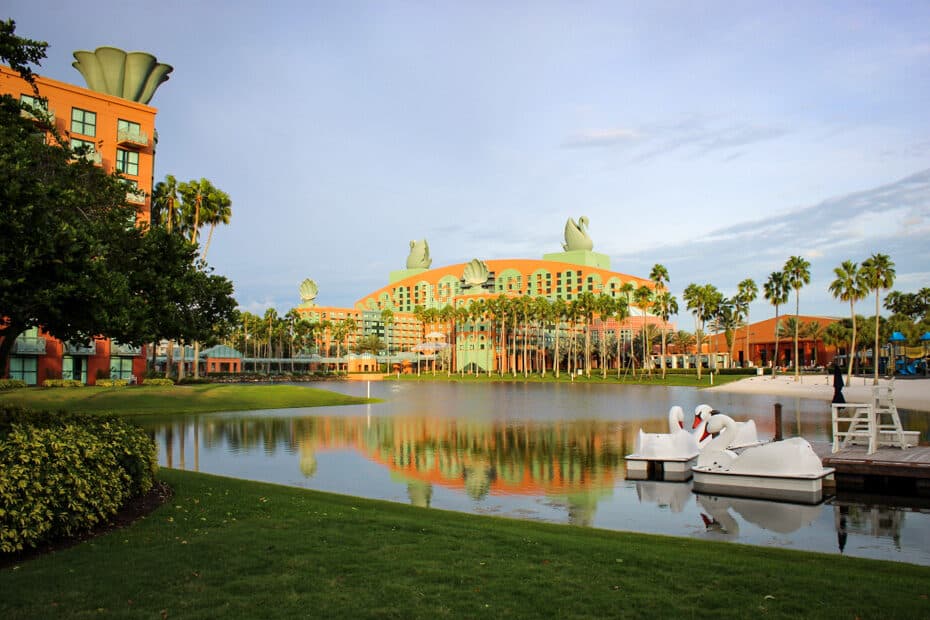 The Swan and Dolphin's Grotto Pool area provides a continuation of the calm retreat feel offered at the hotels. This sizable pool area comes in near the top of our list of the best resort pools at Disney World.
Like its name, the pool has a large grotto area underneath a waterfall. We have a separate article that covers the pools at the resort in their entirety.
Related: The Swan and Dolphin Hotel Pools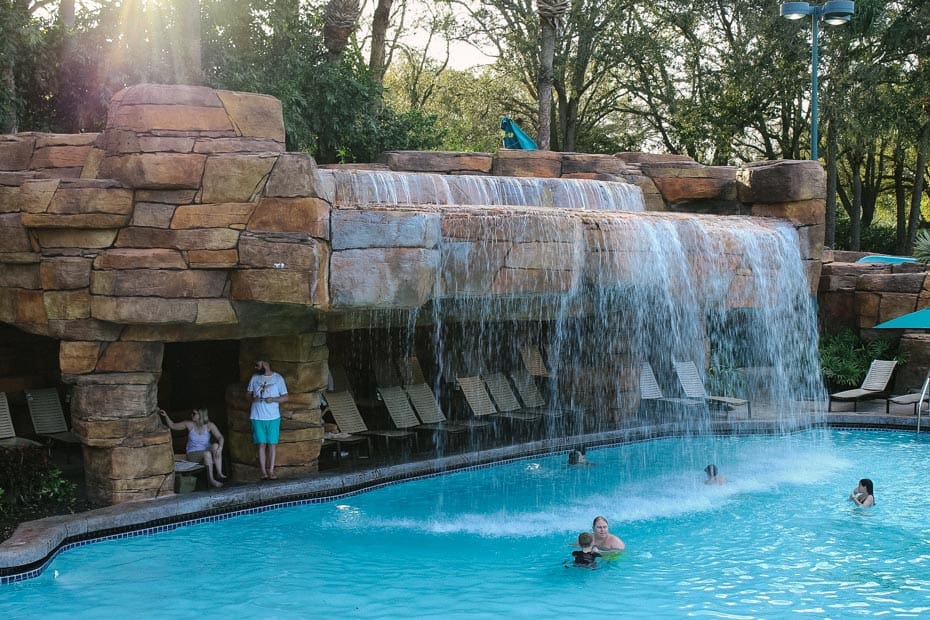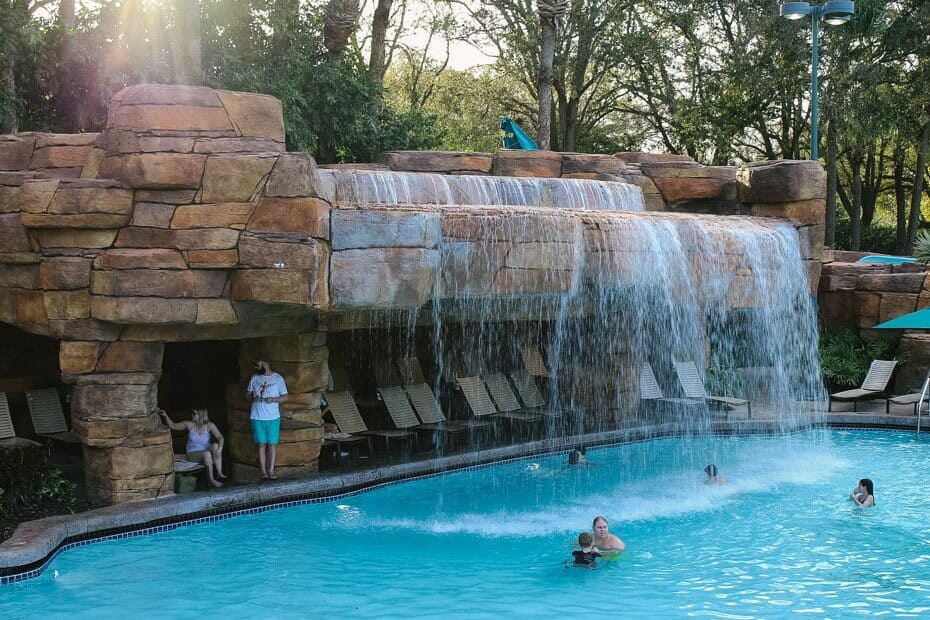 The Grotto Pool is expansive, with a waterslide and several water features.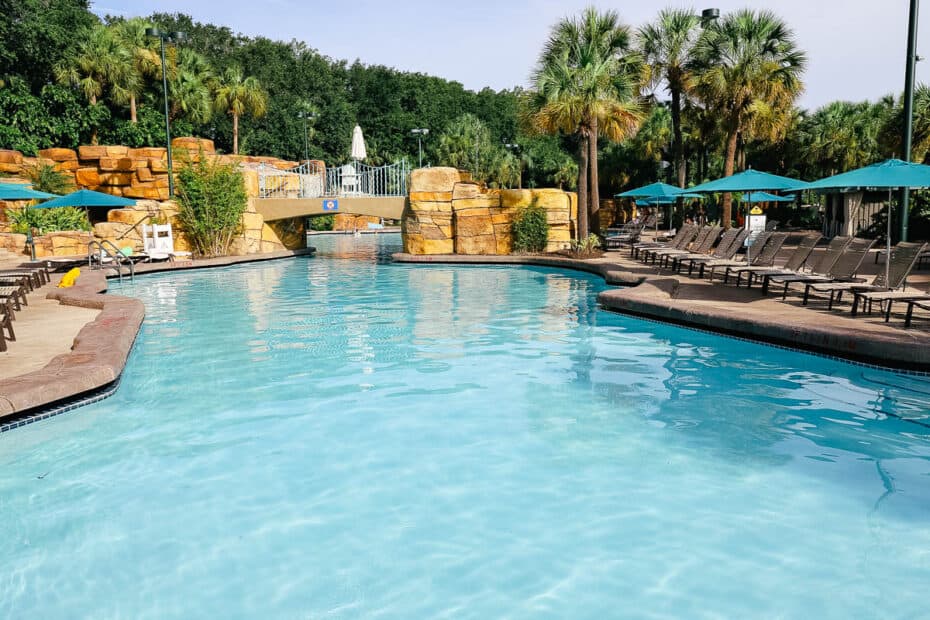 Additionally, there's a long lap pool that's separate from the Grotto Pool.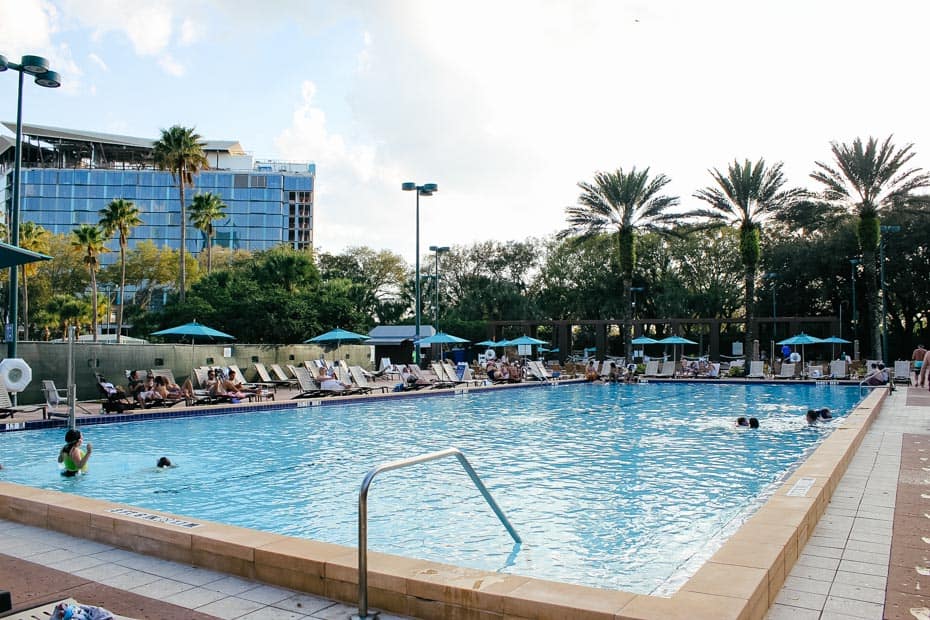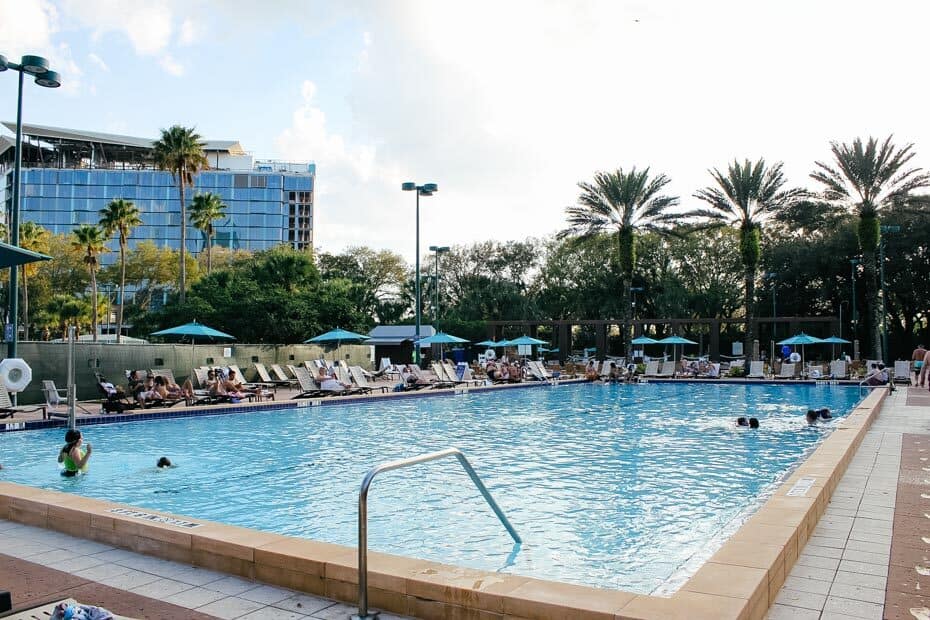 On the Swan side of the resort, there's a second quiet or leisure pool.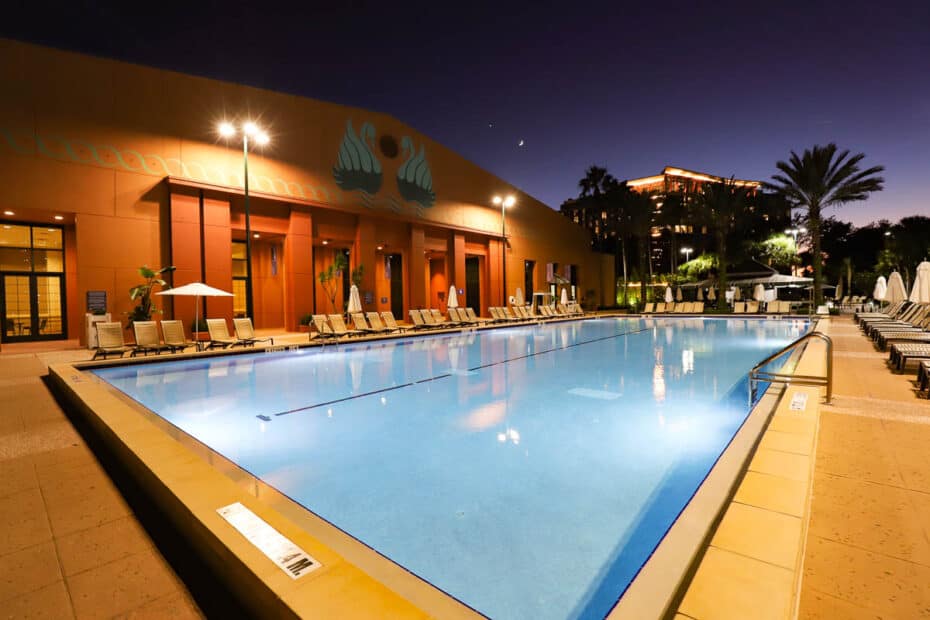 You'll also find four whirlpool spas spread out between the two resorts.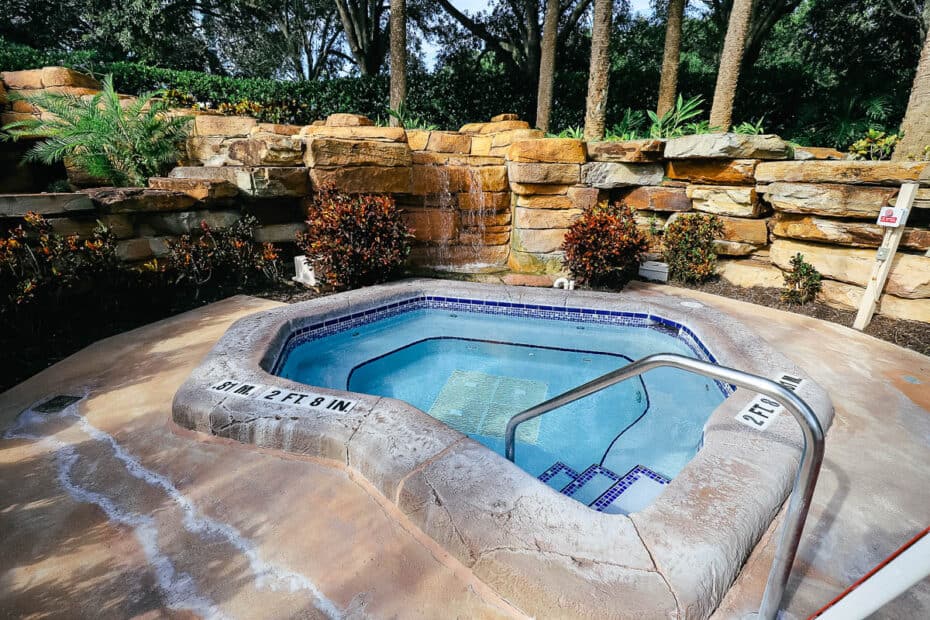 A kiddie pool sits toward the back of the Grotto Pool area.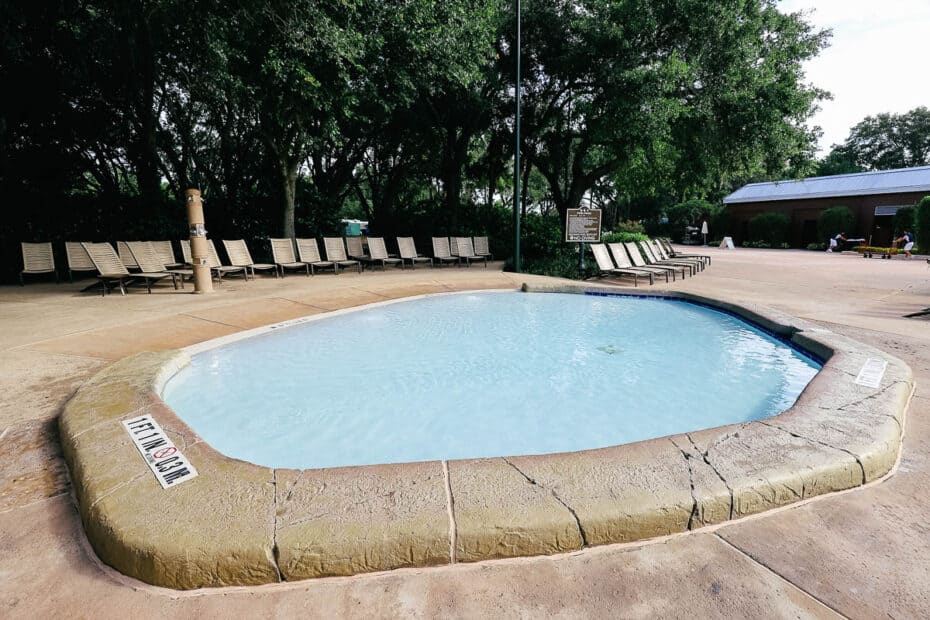 Adding to the recreation options, there's a significant white sand beach between the pools and the lake. This area has two volleyball courts, loungers, a beachside playground, and rentals.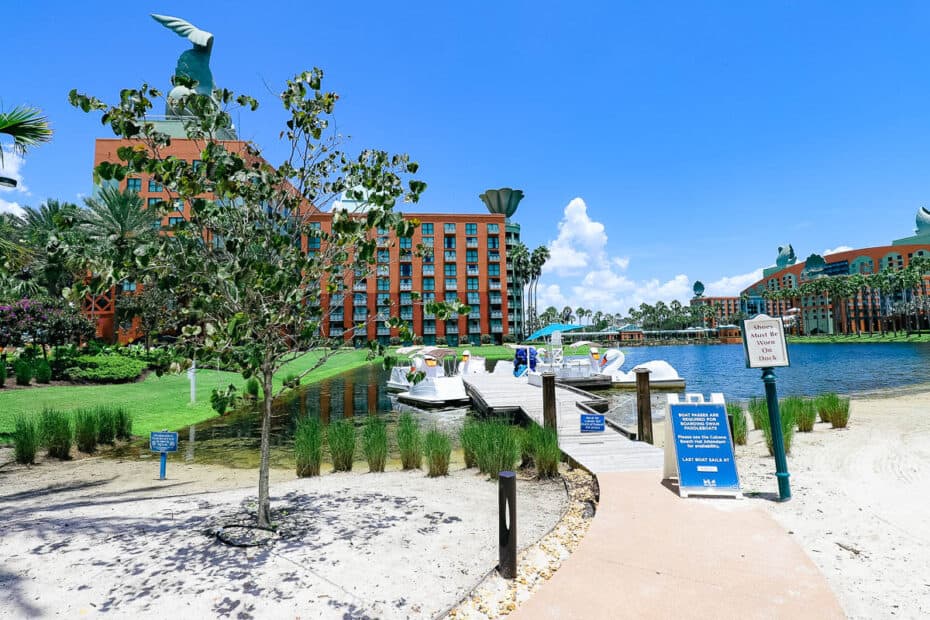 Here is a photo of the large sports court area behind the pool.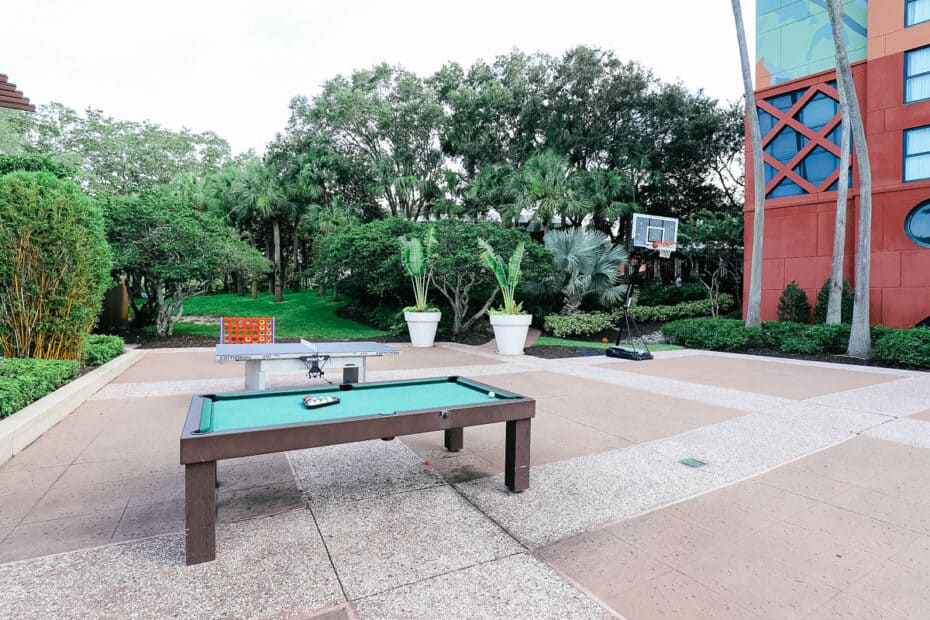 And below, we see the outdoor playground.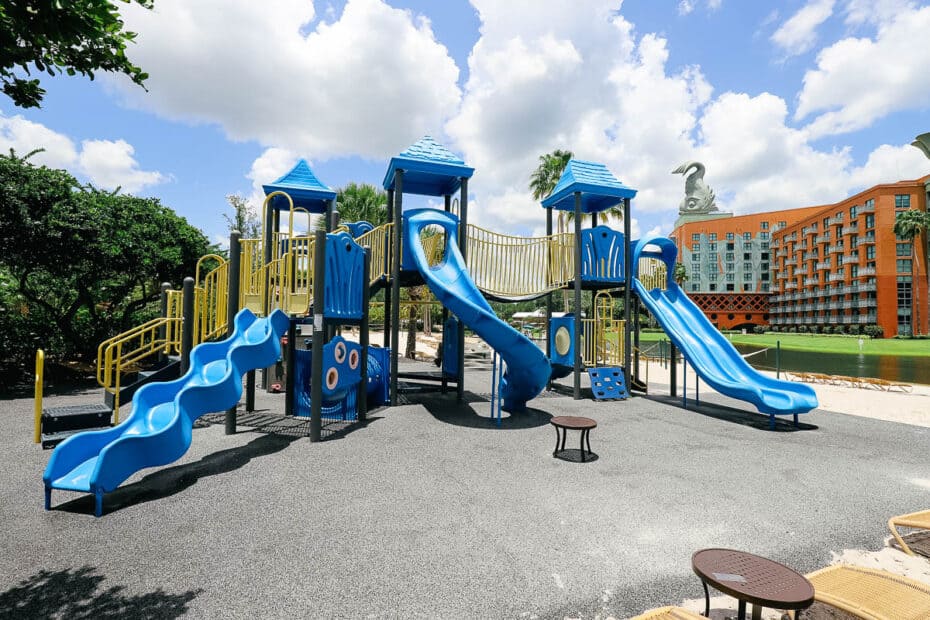 Anyone who enjoys jogging can take advantage of the trail around Crescent Lake. It's a wonderful place to run at Disney World.
Related: The Best Places to Jog at Disney World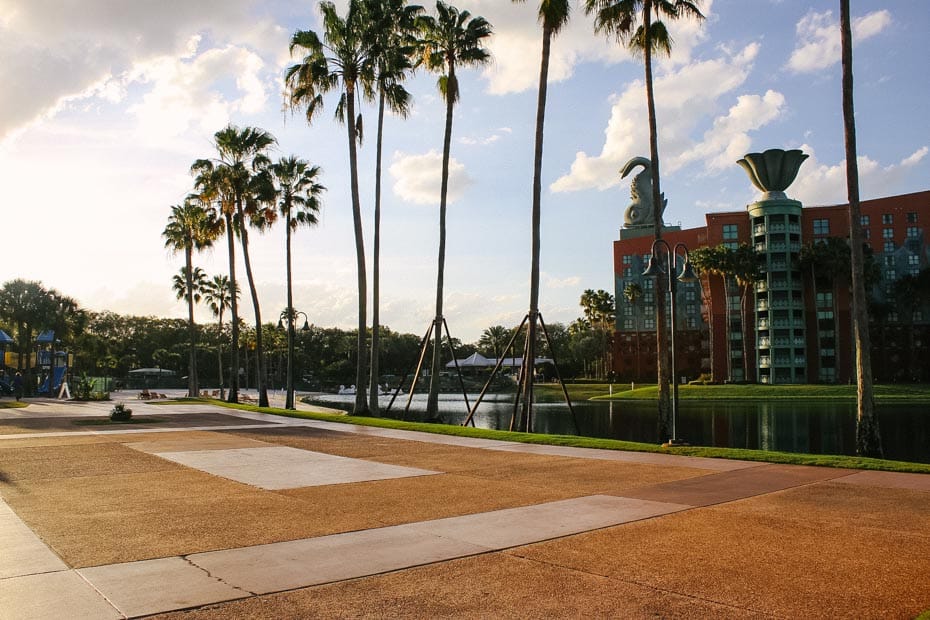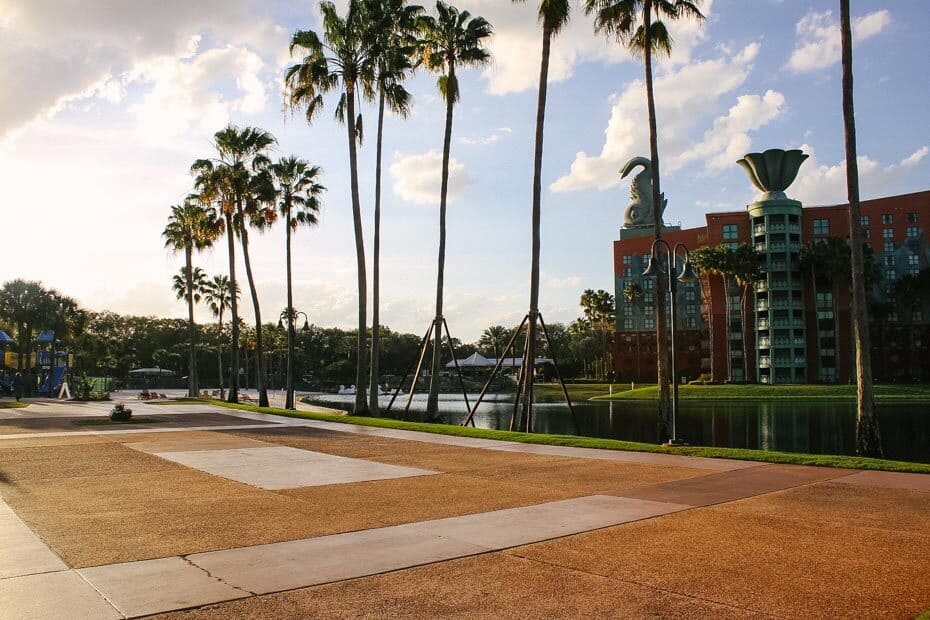 A few other activities at the Swan and Dolphin include:
Camp Dolphin
Health Club
Arcade
Mandara Spa
Camp Dolphin is a kids' club for children ages 5-12. It's open in the evenings from 4:00 p.m. until 11:00 p.m. You can read more about the club here on the hotel's site.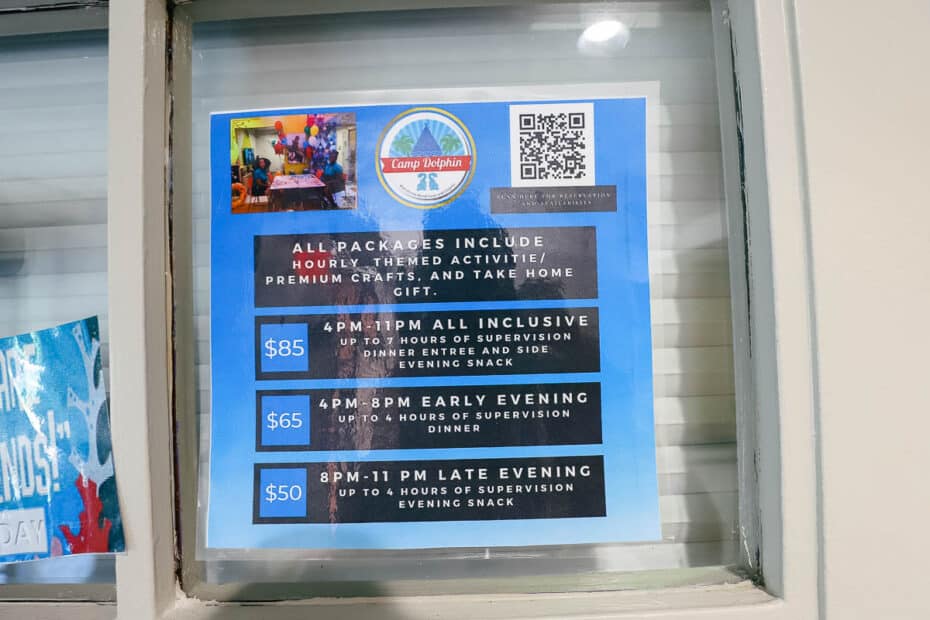 Disney's Swan and Dolphin each have a fitness center. Both gyms are located near the pool area.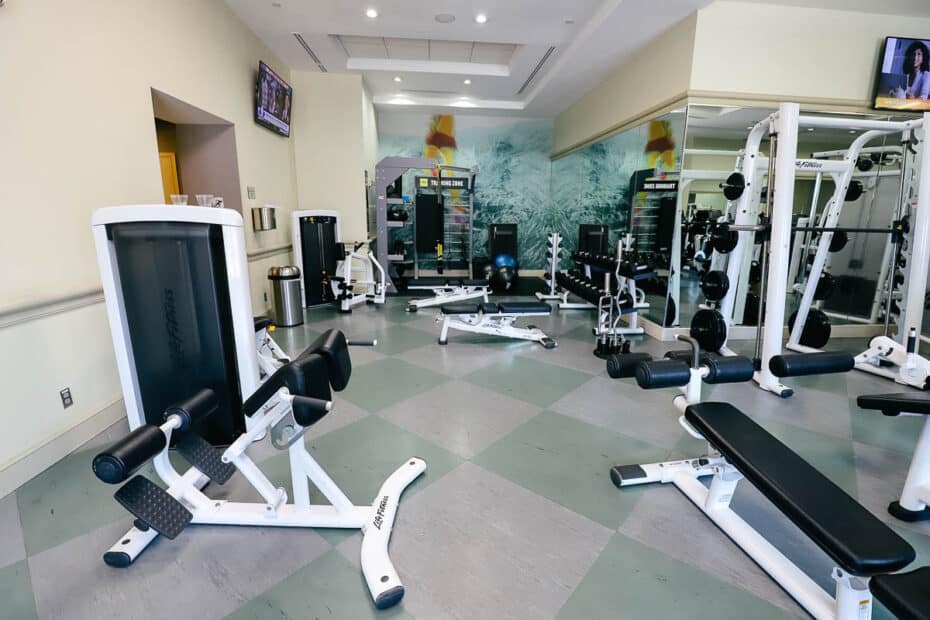 Dining
Disney's Swan and Dolphin has numerous dining options. So many that we have a separate restaurant guide for dining at the resort.
For this review, we'll briefly preview the restaurants. But I recommend checking out the complete guide for dining specifics.
Related: Disney's Swan and Dolphin Restaurants Guide
For those interested in signature dining at Disney World, you'll likely want to plan at least one meal during your stay. Disney's Swan and Dolphin are home to several signature dining locations.
The first of those signature restaurants is Shula's Steak House. This restaurant is located on the Dolphin side of the resort.
Shula's Orlando location has a lengthy list of awards and is well worth securing a reservation. You can preview the Shula's Steakhouse menu here.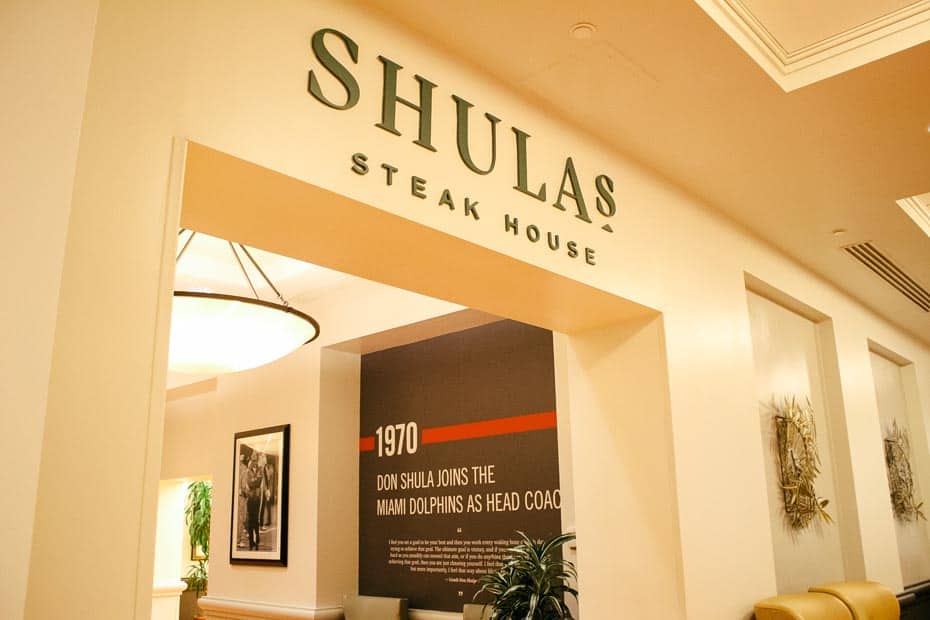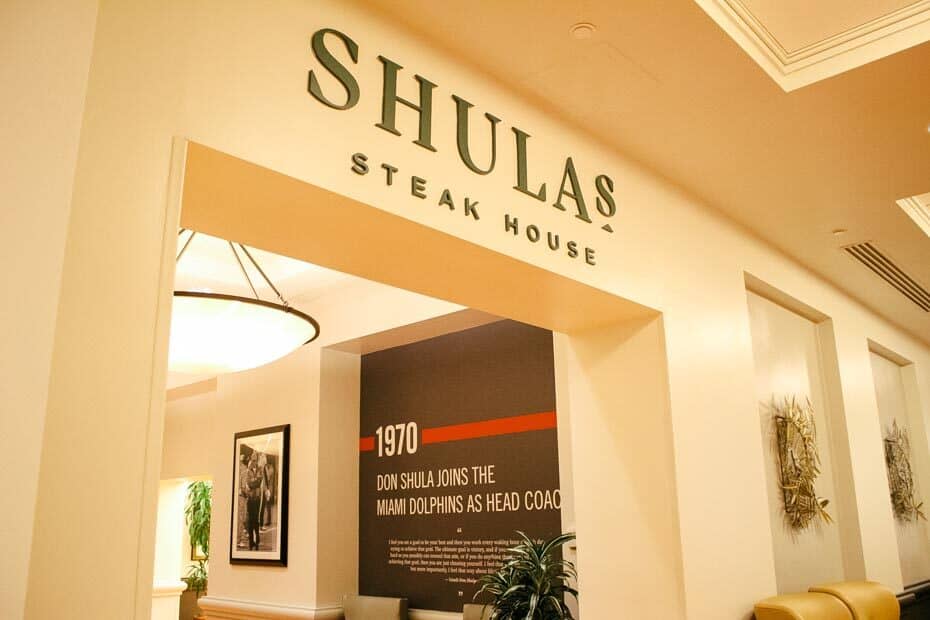 Todd English's Bluezoo, another fine dining location, is located on the Dolphin portion of the resort. Bluezoo is predominately a seafood restaurant with a long list of accolades. Preview their menu here.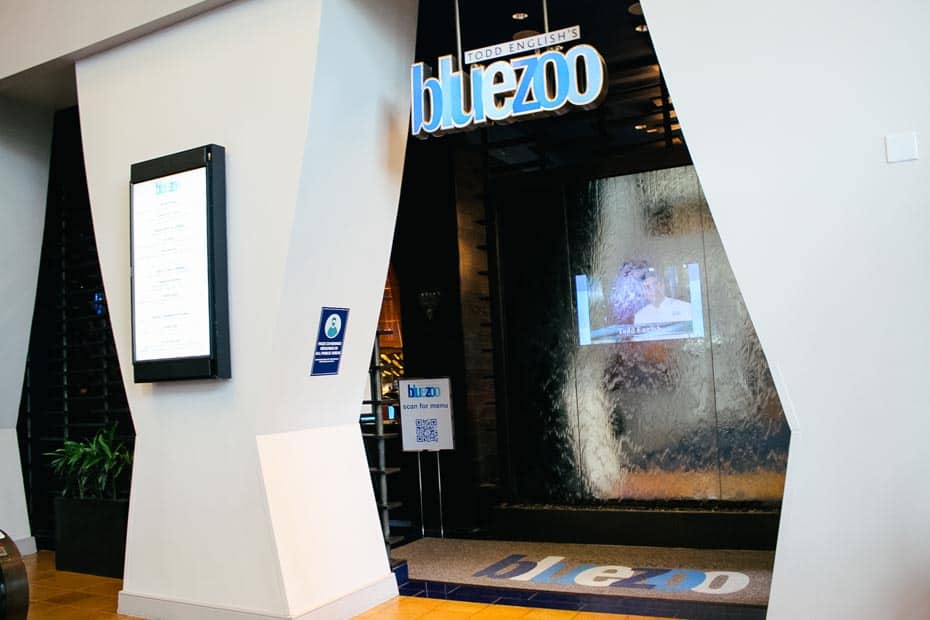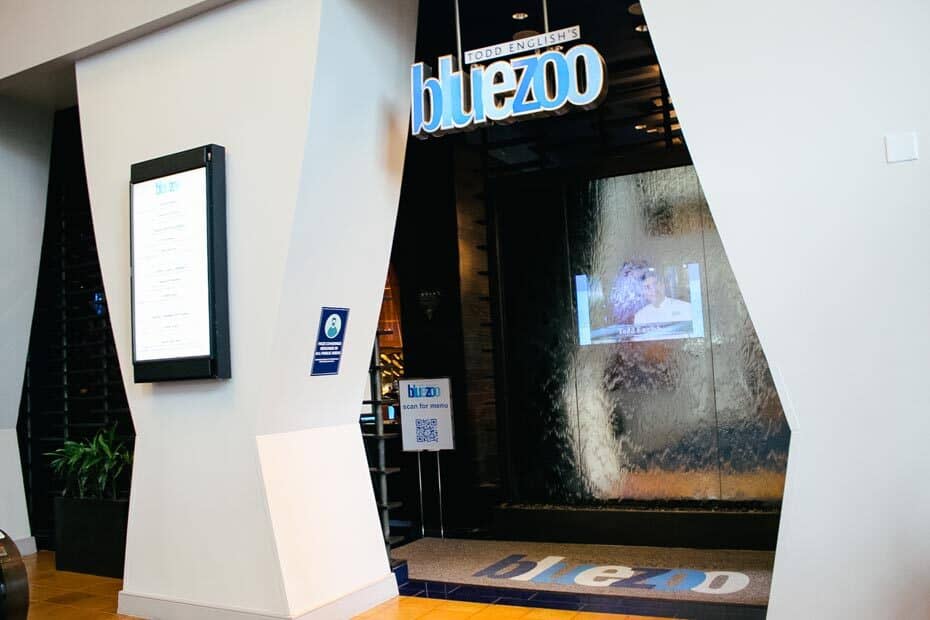 On the Swan side, there's Il Mulino, which offers Italian cuisine. While I don't have a current review, we've dined at Il Mulino in the past and look forward to returning.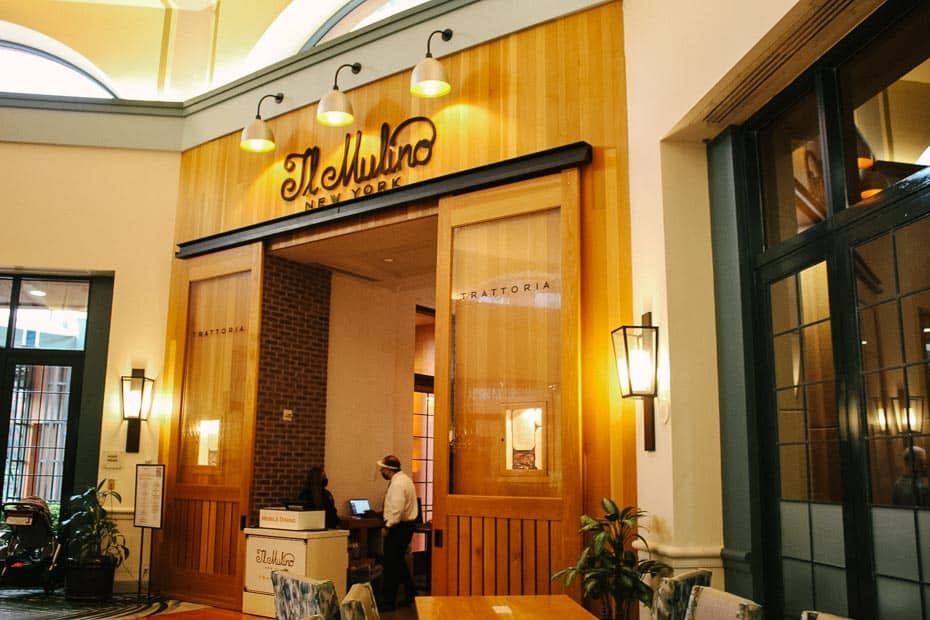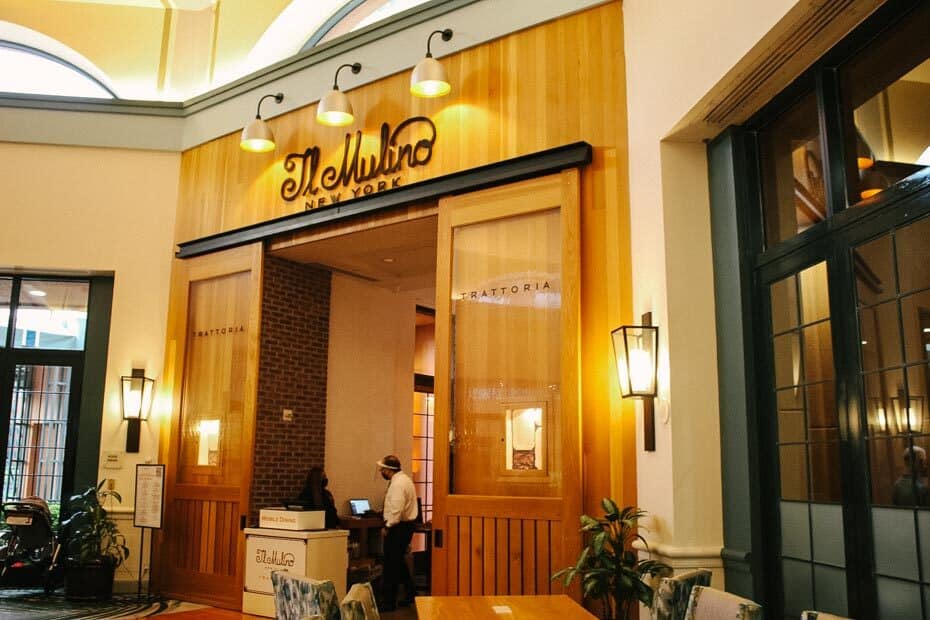 Lastly, as far as fine dining goes, there's Kimonos, also located on the Swan side of the resort. Kimonos serves a menu predominately made up of high-end sushi offerings and other Asian cuisines.
Related: The Best Sushi at Disney World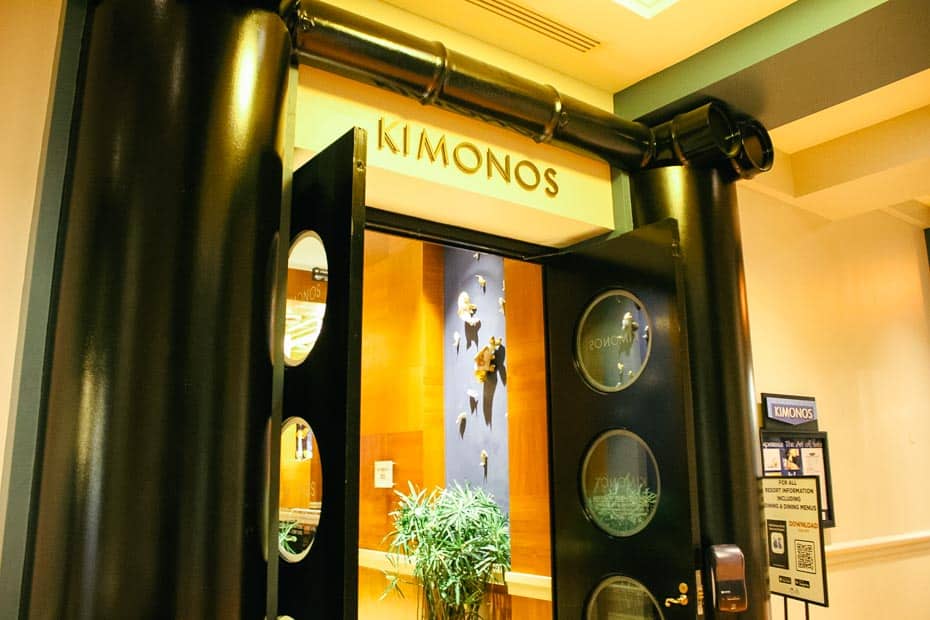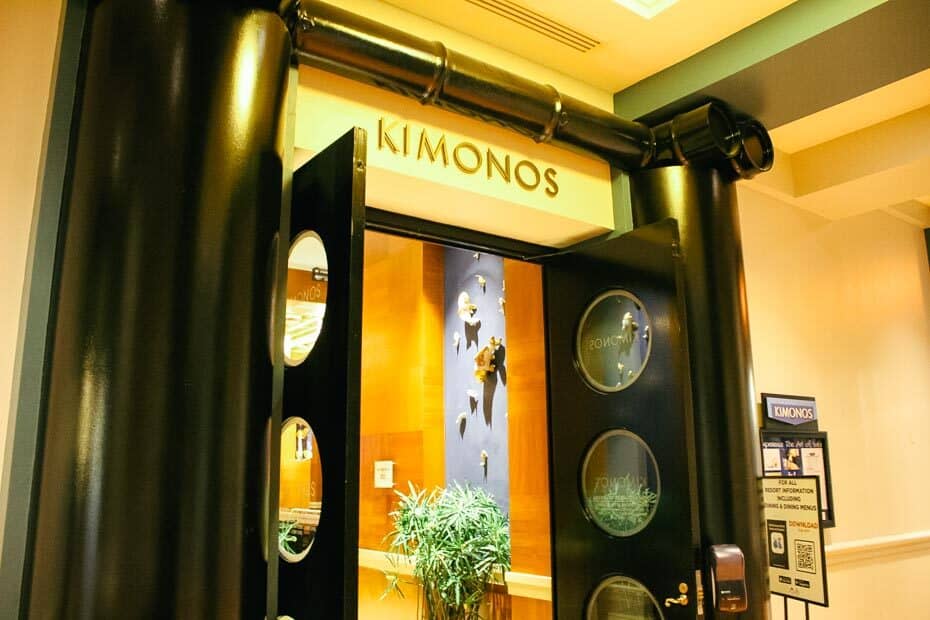 Disney's Swan is home to Garden Grove, formerly a popular character dining location at Walt Disney World. Unfortunately, this location does not offer characters at this time.
You might consider having breakfast here at some point during your stay. This is a great location to pick up an order of Mickey waffles, among other things. Preview the menu for Garden Grove here.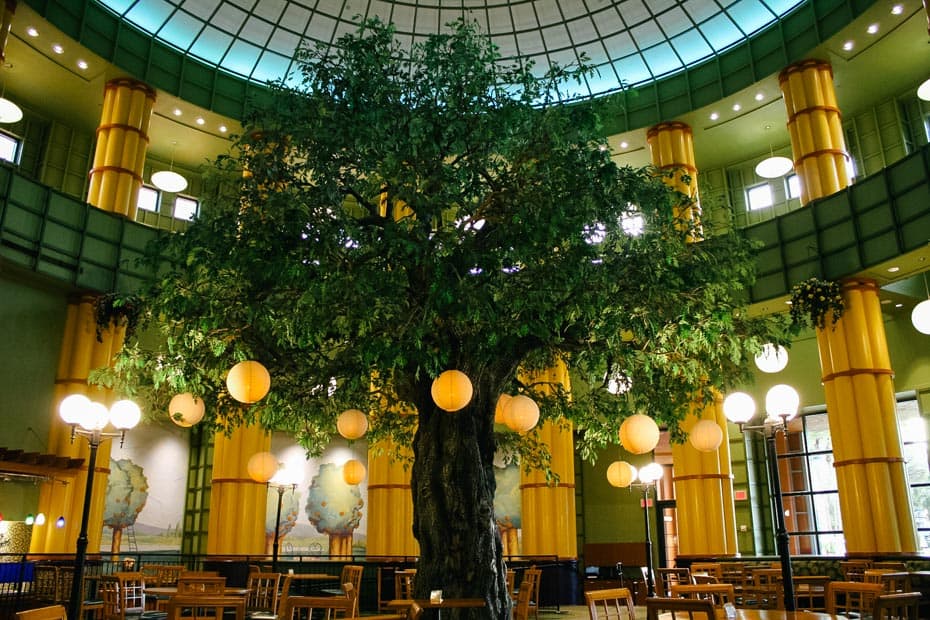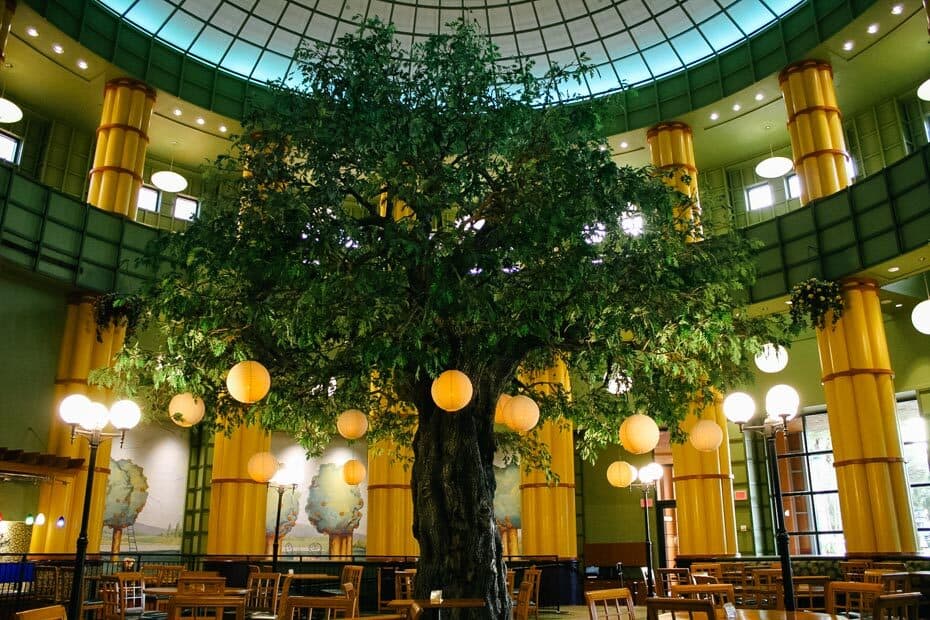 The Fountain is a casual table service located on the ground level of the Dolphin. This restaurant is one of our favorite hidden gems at Disney World.
Expect casual, diner-style food along with a few healthy options. Preview the menu here.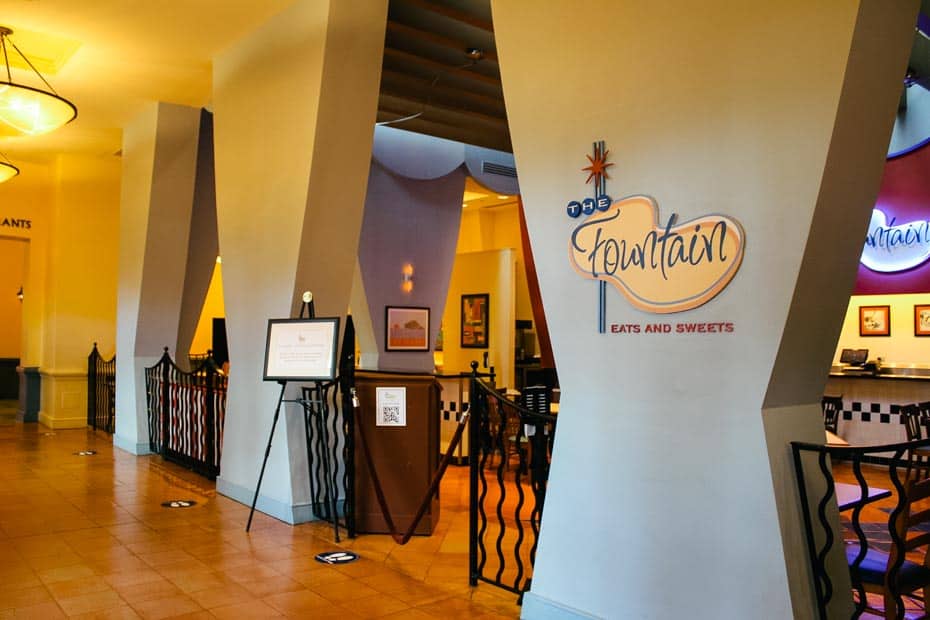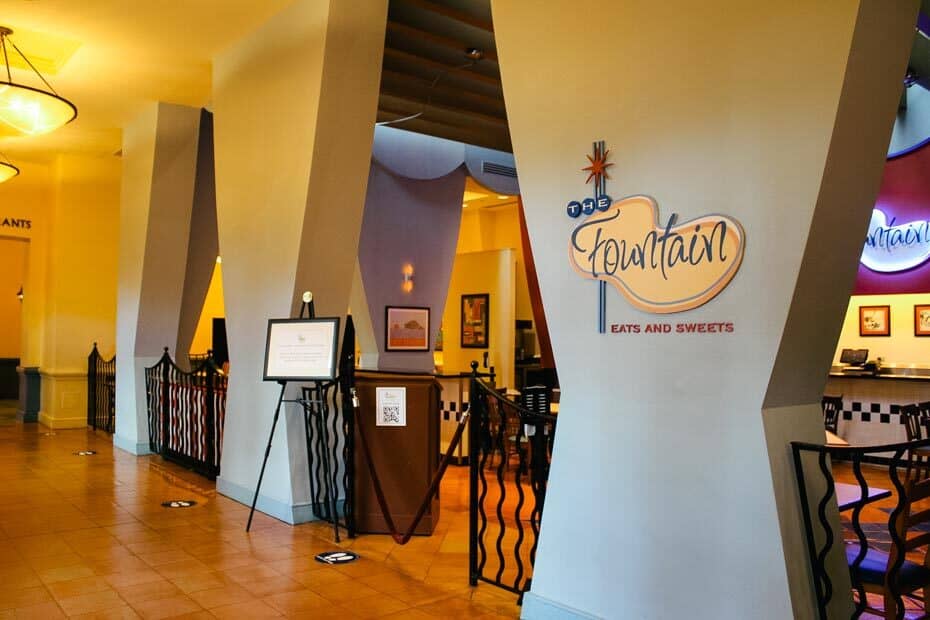 One of the things I love about The Fountain is that it's usually open until 11:00 p.m. This restaurant provides a great late-night spot to grab a meal after a busy park day.
Additionally, Rosa Mexicano is located on the lower level of the Dolphin. This location offers a daily breakfast buffet. Additionally, they serve a regular menu for lunch and dinner.
We recently had lunch there and thought it was reasonably priced with a nice variety of food. If you're looking to enjoy a leisurely meal without having to leave the hotel, check it out.
Related: Rosa Mexicano Review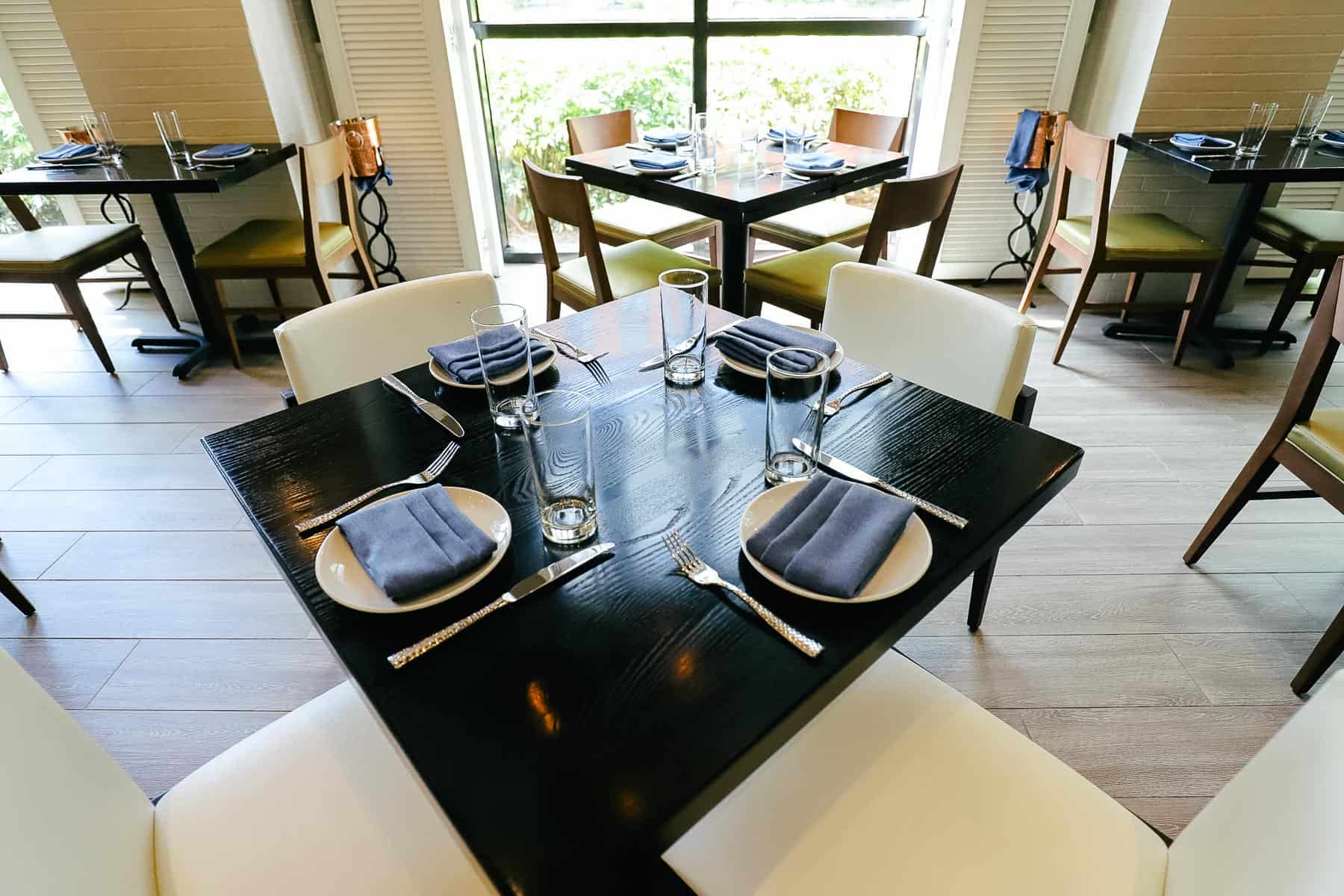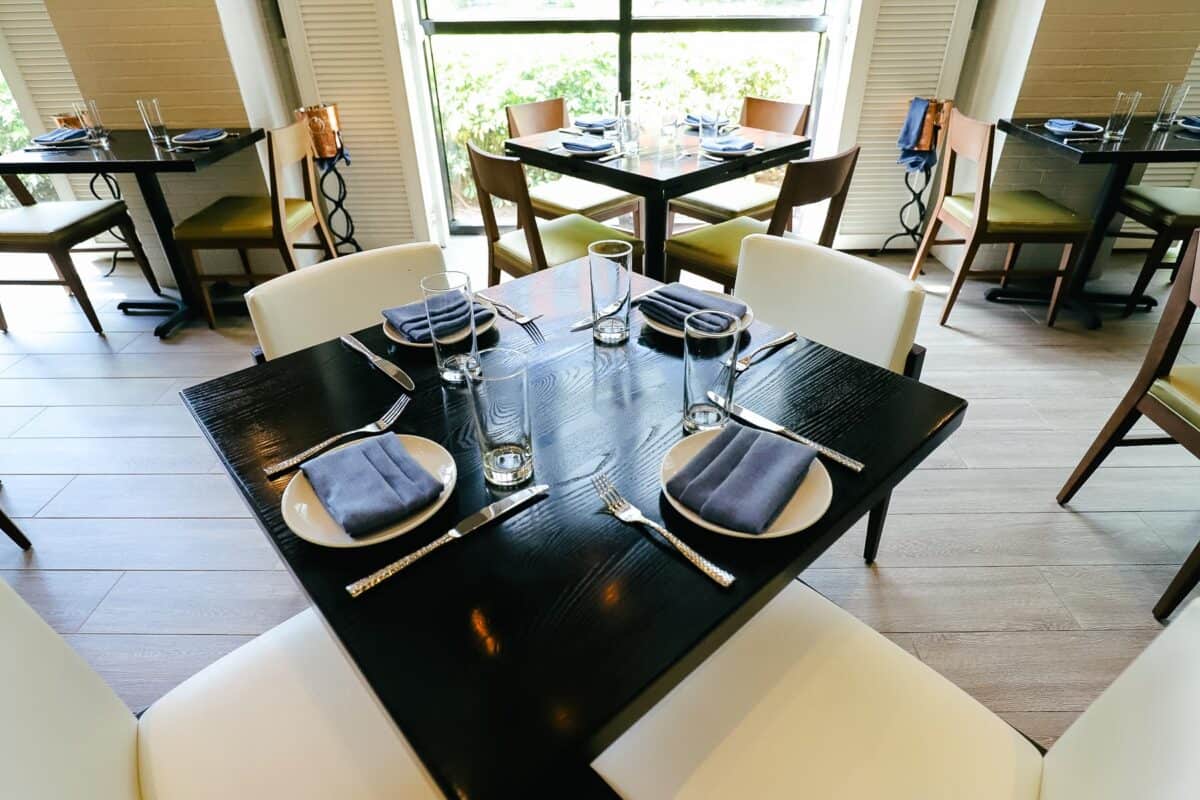 Those looking to spend a day or evening out at the pool will want to have a meal at the Cabana Bar and Beach Club. This location is perfect for enjoying an alfresco meal, and they have several unique menu items.
Additionally, toward the Swan side, the Splash pool bar serves up cocktails and snacks.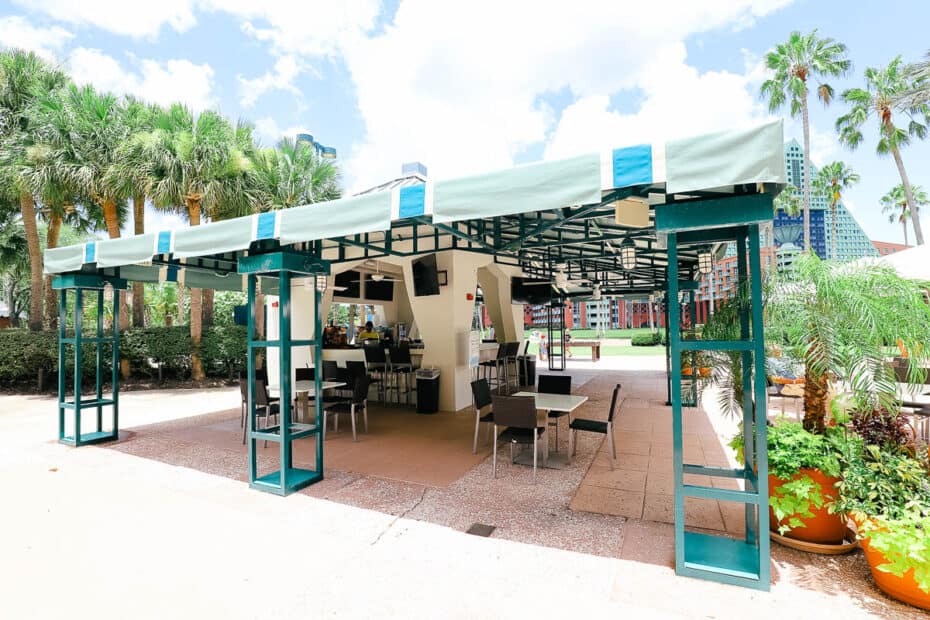 If you have ever stayed at Disney's Swan and Dolphin, you have probably wound up at Picabu during your visit.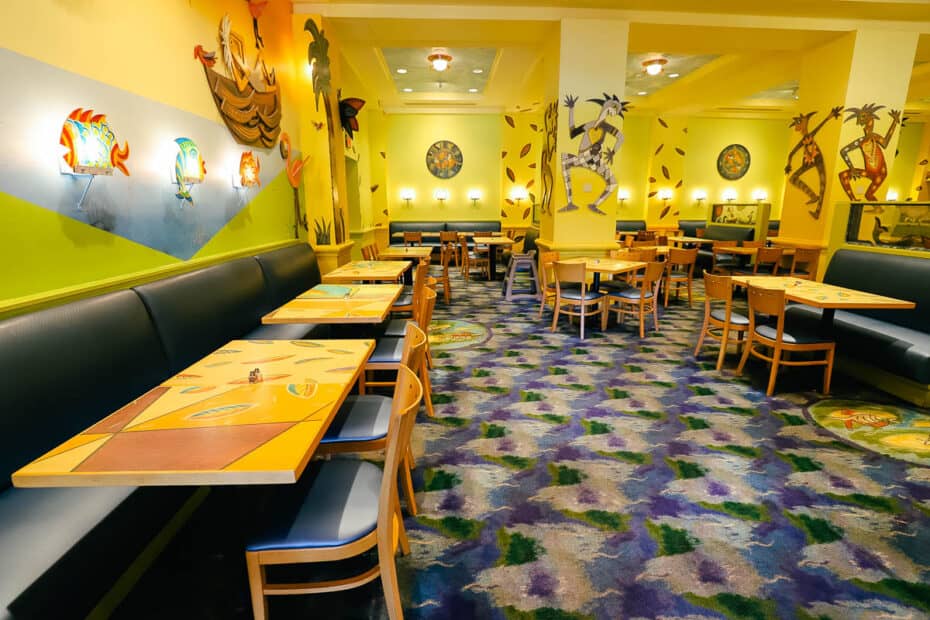 Picabu doesn't have an online menu. Instead, expect an old-fashioned cafeteria with various grab-and-go items and a few cook-to-order selections. Here is a photo of the menu.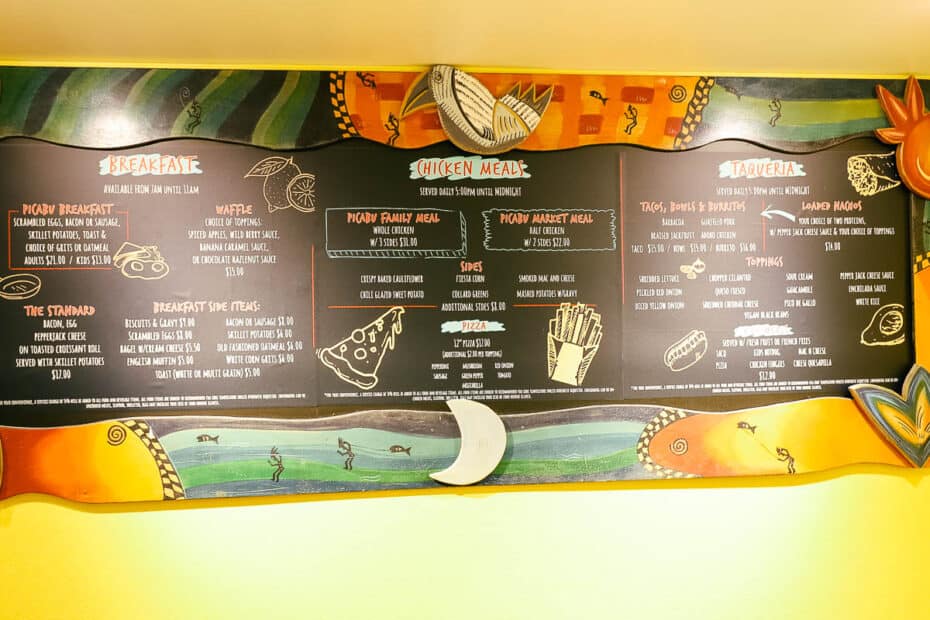 Lastly, there are three other quick-service options between the Swan and Dolphin. Each location is set up similar to a convenience store offering deli-style options.
They are Java, Chill, and Fuel.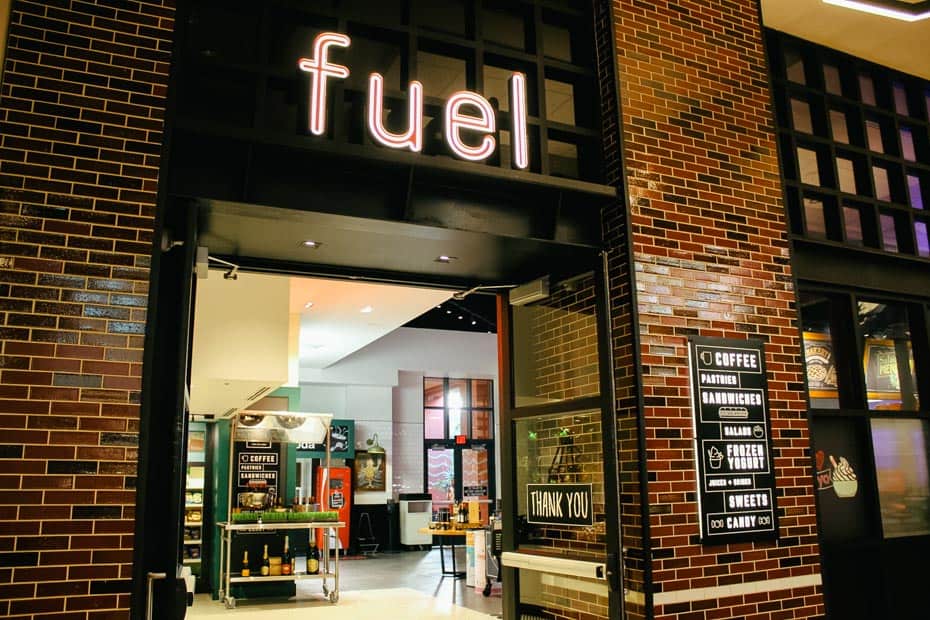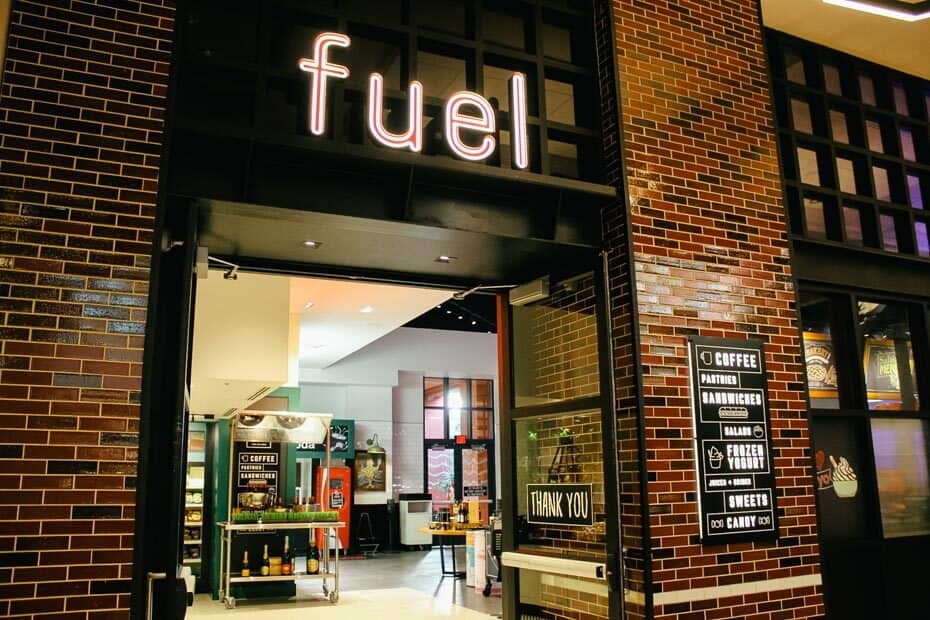 And if these choices weren't enough, you can walk over to the Disney Boardwalk or Disney's Yacht and Beach Club to enjoy their dining choices. The following articles will help with those selections.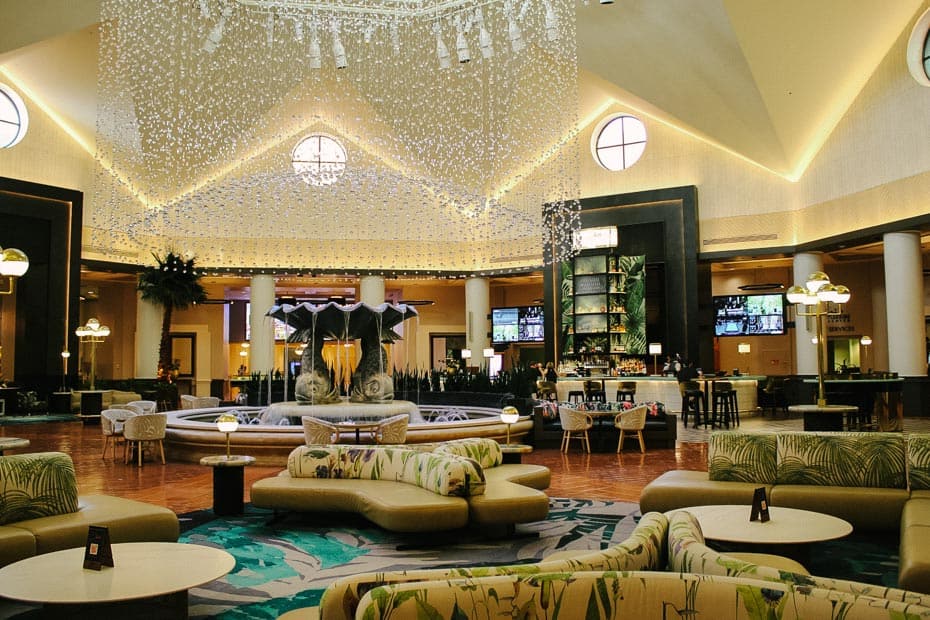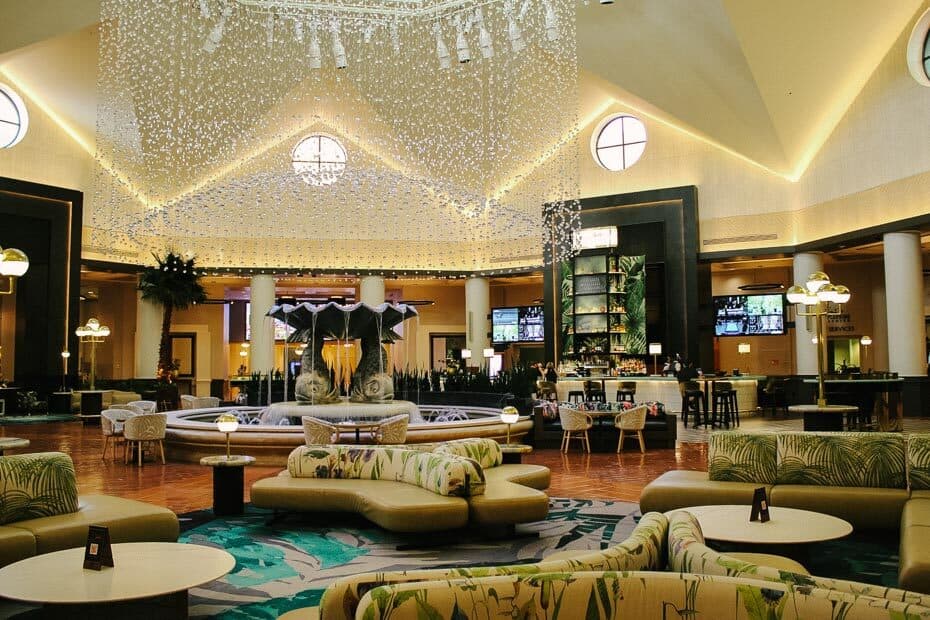 Transportation
Disney's Swan and Dolphin Resorts offer multiple transportation options to the theme parks, water parks, and Disney Springs. You can walk, boat, or bus from either resort to specific locations.
Walking is the biggest perk. You can walk from Disney's Swan and Dolphin to Epcot and Hollywood Studios. The walk to either park averages 15 minutes at a steady pace.
Related: Disney Resorts Within Walking Distance of the Theme Parks
Additionally, Disney's Friendship Boat services the Swan and Dolphin Resorts. You can always catch a boat if you don't want to walk. The Friendship Boats travel back and forth in this order to the following locations:
Epcot
Disney's Boardwalk Inn
Disney's Yacht and Beach Club
Disney's Swan and Dolphin
Hollywood Studios
Check out our complete guide to learn more about timing and other details for the boats.
Related: Disney's Friendship Boat Service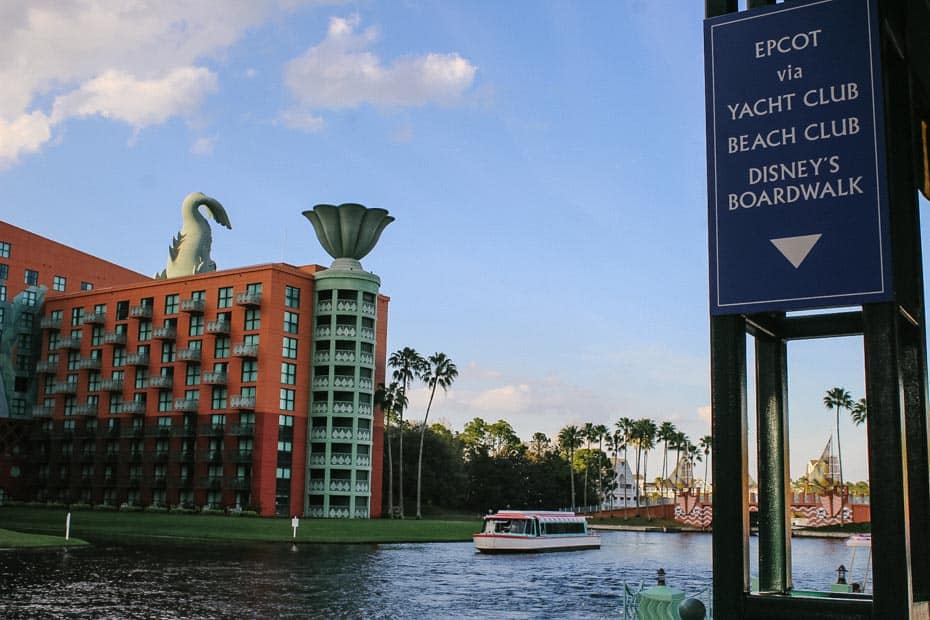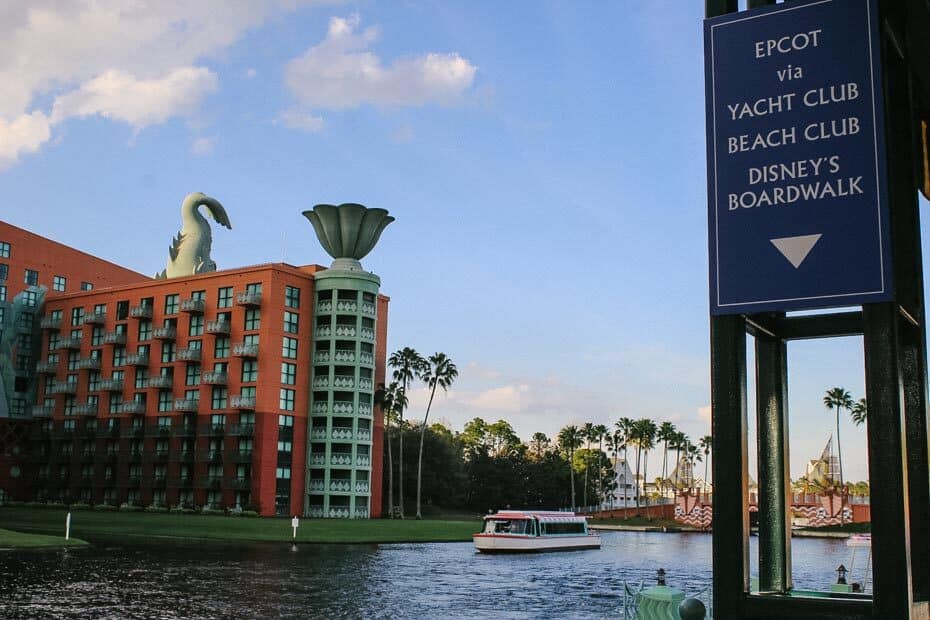 When traveling to other parks and Disney Springs, you'll likely want to take advantage of the bus transportation offered at the resort.
Disney's Swan and Dolphin provide Mears bus service to and from the following locations:
Magic Kingdom
Animal Kingdom
Disney Springs
Typhoon Lagoon
Blizzard Beach
Both the Swan and the Dolphin have their own bus stops but share bus service. Guests of the resort are welcome to use whichever bus stop is convenient.
I mention this because I nearly always get off the bus at the Swan and walk back over to the Dolphin when I'm staying there.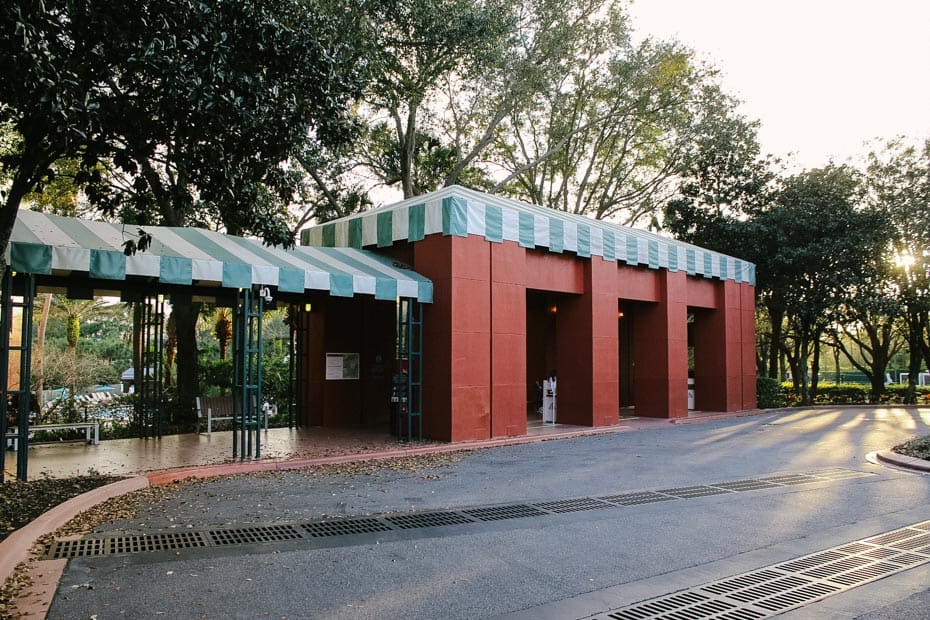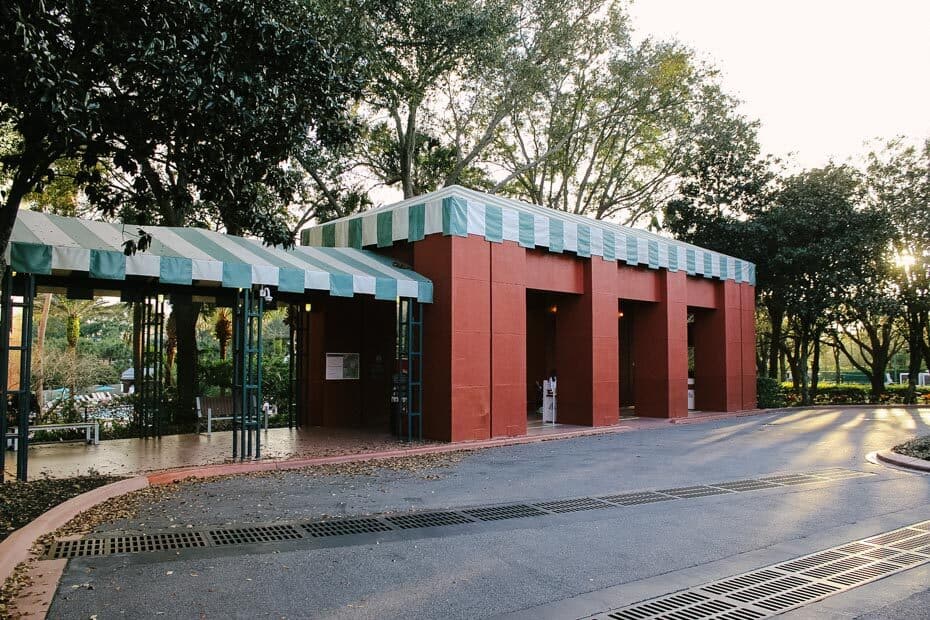 Since the Swan and Dolphin bus service changed, there are a few differences you'll want to be aware of in advance. For instance, when you visit Magic Kingdom, you are now dropped off at the Transportation and Ticket Center.
Therefore, you'll have to take the monorail to Magic Kingdom, or you can take the ferry. Unfortunately, this change will add 15-30 minutes to your arrival time for Magic Kingdom.
It will also add an extra hassle when leaving in the evening.
While it's frowned upon by some, there are a few ways you can circumvent this issue. For instance, you can take a bus from Magic Kingdom back to Beach Club, Yacht Club, Boardwalk Inn, or vice-versa.
Then you'll have to walk back over to the Swan and Dolphin. I'm in several forums and groups where I often see people mention this tip, only to be shot down by others who disagree.
Objectively, I can see why it's unfair to resort guests when a non-resort guest uses their bus. But, on the flip side, Disney's transportation is accessible to all who visit.
It's one of the few extras available to anyone staying on or off-property. I wouldn't hesitate to take a Disney bus to a theme park to shop, dine, or explore a resort where I'm not staying.
Anyway, keep that tip in mind and use it at your discretion.
When visiting Animal Kingdom, Disney Springs, or the water parks, I don't see where there's a convenience issue with the bus. The bus stop at Animal Kingdom is closer to the park entrance than Disney's bus stop.
Related: Disney's Swan and Dolphin Transportation Options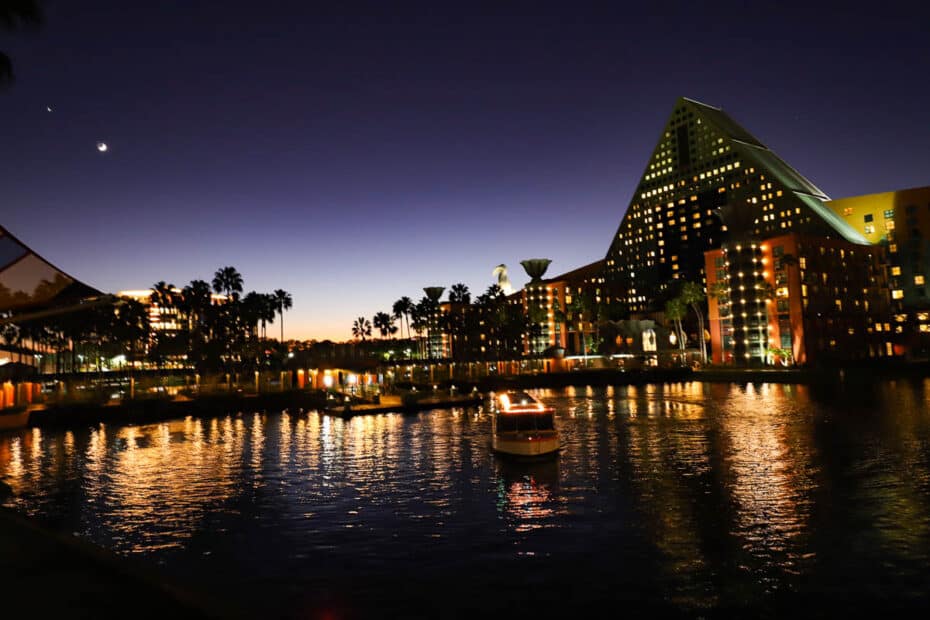 Other Amenities at the Swan and Dolphin
In addition to what we've already discussed, there are a few other extra amenities available at the Swan and Dolphin. For starters, the surrounding resort area offers plenty to do.
You can read about the neighboring resorts in these reviews:
Disney's Swan and Dolphin each have a hotel gift shop. Disney Cabanas is located off the lobby on the Swan side of the resort.
The Cabanas gift shop is a great place to pick up anything from a pair of Minnie Mouse Ears to a pair of sunglasses you might have forgotten to bring. In my case, that would be a pair of broken sunglasses.
Related: Disney's Swan Gift Shop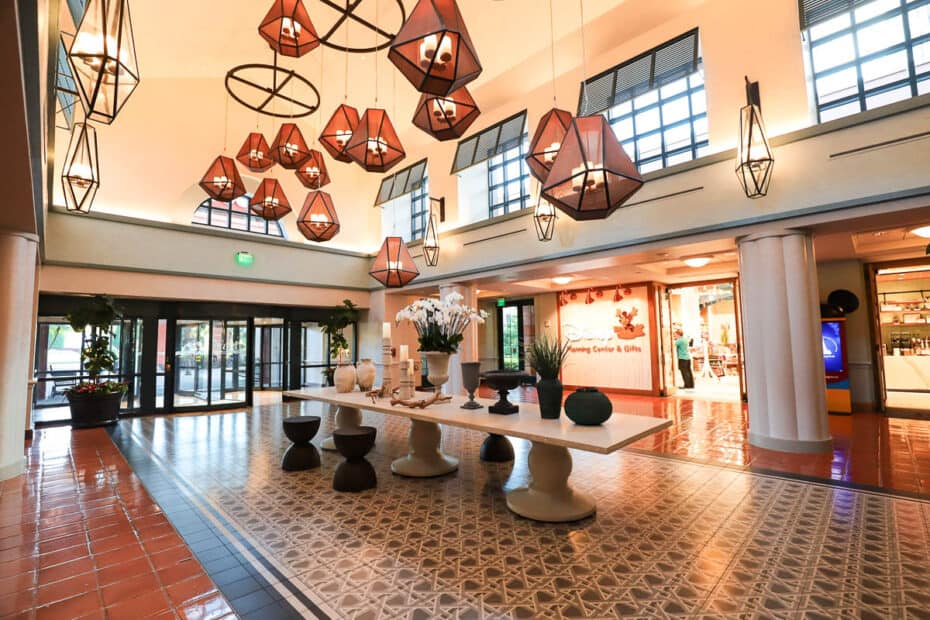 On the Dolphin side of the resort, there's a Disney Gift Shop that's comparable to Cabanas at the Swan.
Related: Disney's Dolphin Gift Shop
Of all the shops, I enjoy browsing Accents the most. Accents is a boutique store offering higher-end merchandise. Unfortunately, they've had reduced hours lately.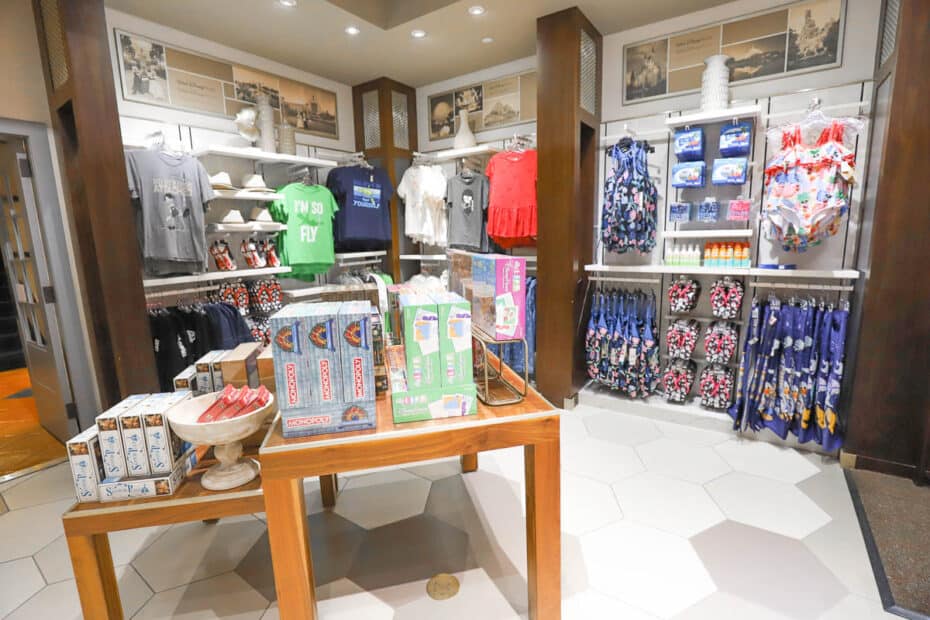 If you're looking for a place to do laundry during your stay, there's a large laundry facility on the ground-level floor of the Dolphin.
Related: Laundry Facilities at the Swan and Dolphin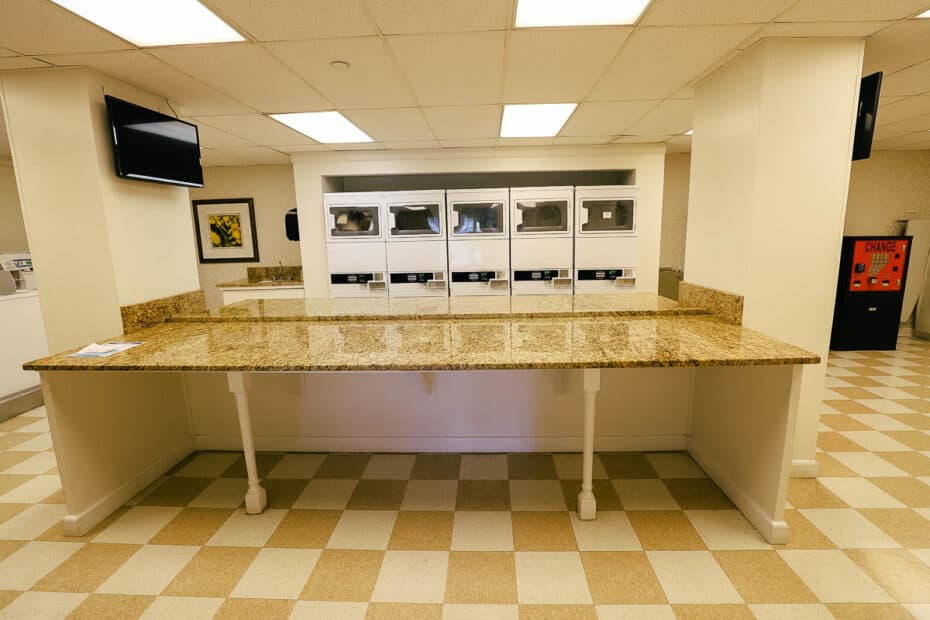 Next door to the Swan Reserve, you'll find Fantasia Gardens, a mini-golf course. Mini-golf is an extra cost experience, but it might be worth a visit on a more laid-back vacation.
Lastly, there's a nightly light show on the causeway between the Swan and Dolphin. Each evening, the walkway between the row of palm trees lights up in pretty colors while inviting music plays in the background.
And it's those kinds of little things that make me love this resort so dearly.
Extra Fees at Disney's Swan and Dolphin
Overall, Disney's Swan and Dolphin have a lot of pros and a few cons. Unfortunately, those cons include a daily resort fee of $35.00.
While resort fees are typical at nearly every off-property resort, Disney-owned-and-operated hotels do not have them. So you'll want to factor this extra cost in when comparing the price of rooms to on-property resorts.
Additionally, the Swan and Dolphin charge $32.00 per day for self-parking. So while you can take advantage of complimentary parking at the theme parks, you'll still have this daily charge at the resort.
For comparison, Disney offers complimentary parking to their resort guests. (This is new in 2023.)
Valet parking runs $42.00 per day at the Swan and Dolphin. For the $10.00 per day difference, I will almost always choose valet over self-parking.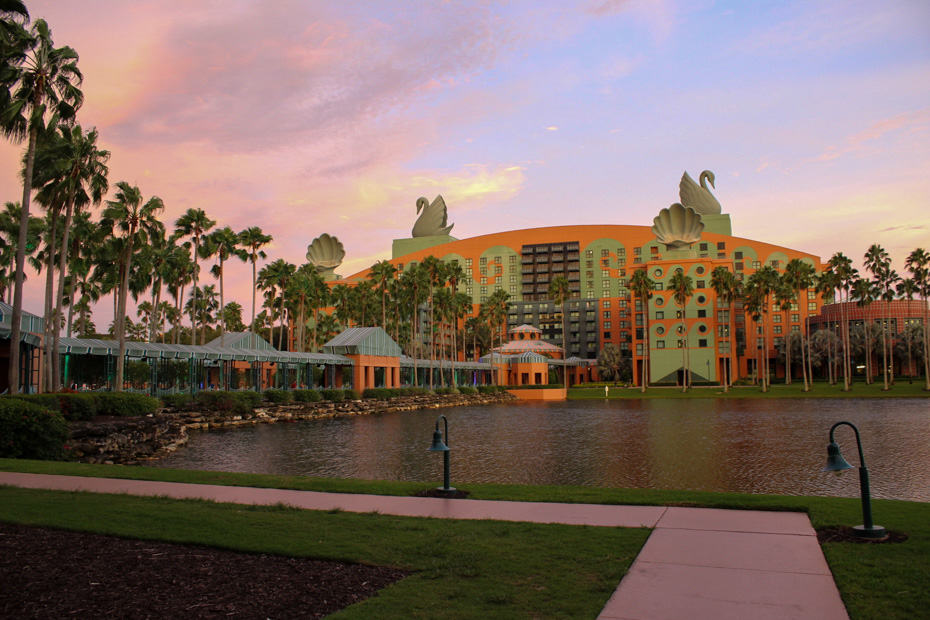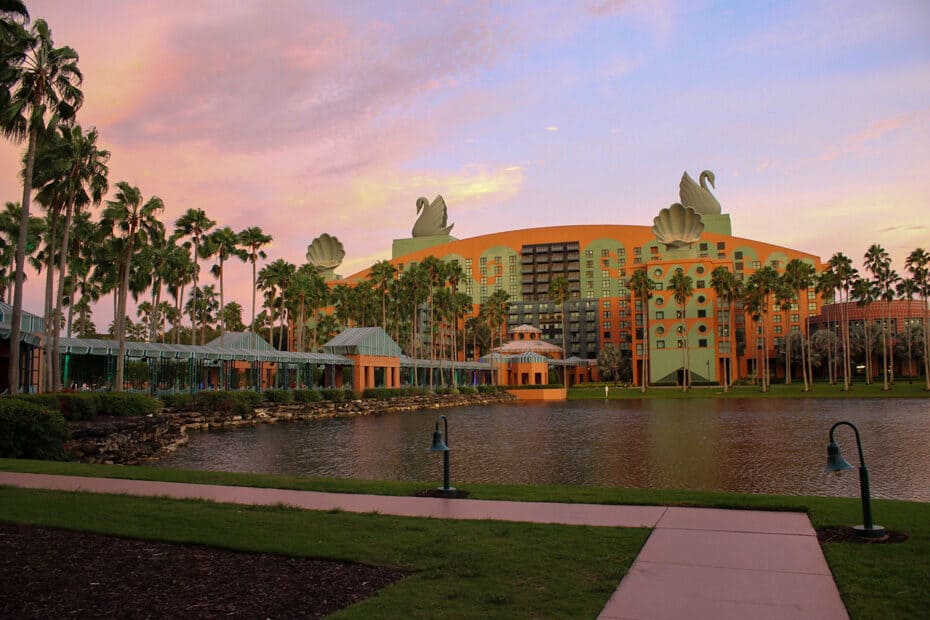 Disney's Swan and Dolphin Review (Final Thoughts)
Hopefully, this Swan and Dolphin review provided you with enough information to decide whether a stay here is suitable for your group. Like every other resort at Disney, it has a lot of positives and a few negatives.
I have always enjoyed our stays here with only minor complaints. And I've been fortunate enough to stay here many times since the resort first opened.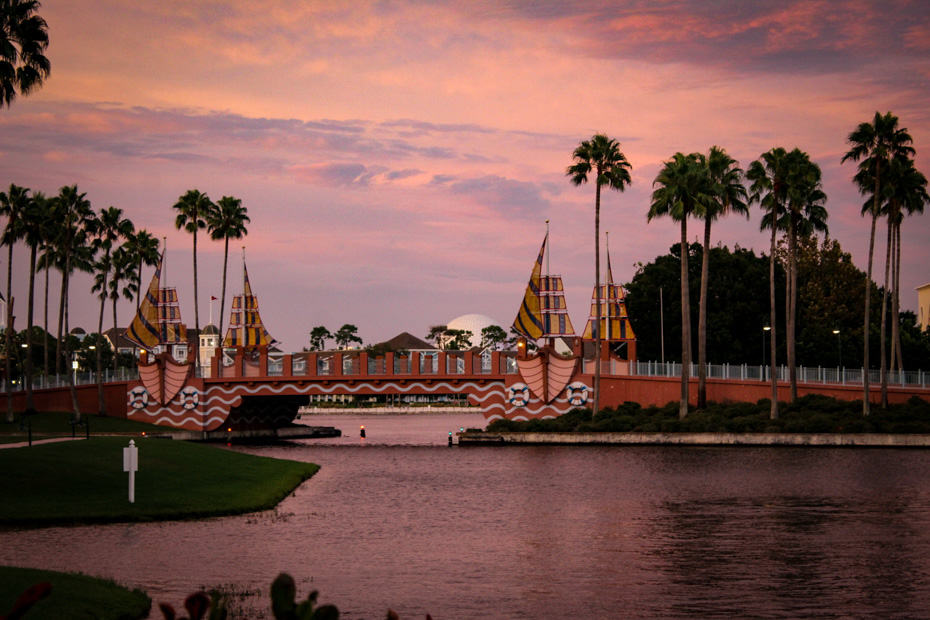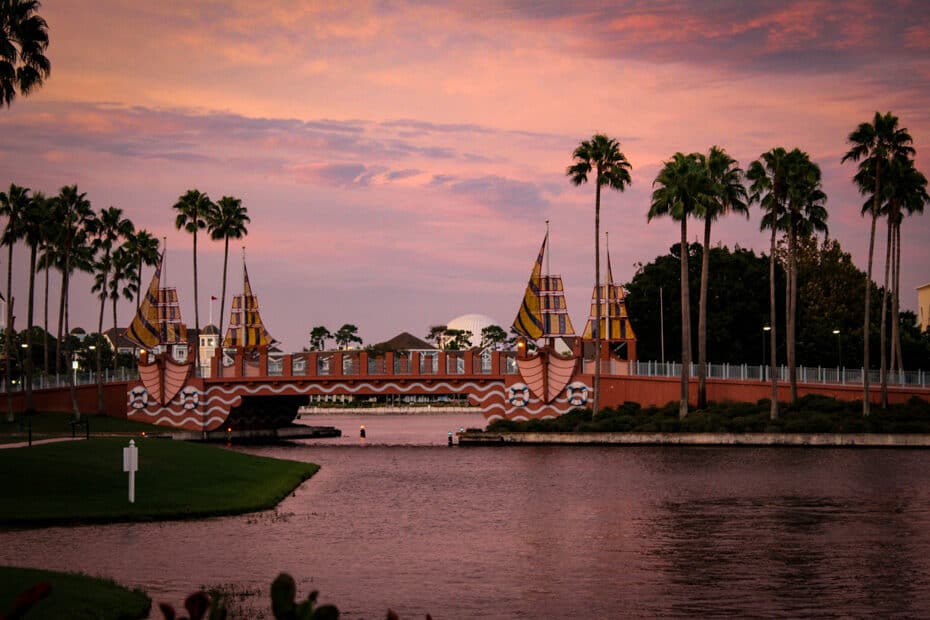 Whatever you decide, you can hardly beat a Disney vacation at any resort, including the Walt Disney World Swan and Dolphin.
Are you planning a Disney World vacation? Our articles related to Disney's Swan and Dolphin Hotel are in our resort guide.
Or you might be interested in some of these other Disney World Resort Reviews:
For more details, browse our complete list of Disney Restaurant Reviews and Disney Character Meets.
If you enjoy staying at Marriott hotels, we have a complete guide to the best Marriotts near Disney World. It includes budget-friendly to high-end accommodations that are actually near Disney World.
In the comments:
Did you find this Swan and Dolphin review helpful? What are your thoughts on planning a stay here? Do you have any questions about the Swan or Dolphin?
Planning a Walt Disney World or other Disney Destination vacation?
Our friends and travel partner, Firefly Travels, excels at doing Disney differently. You can fill out a plan your trip form on their website, and someone will reach out shortly to discuss the specifics.