Disney's Swan and Dolphin Resort Review
Disney's Swan and Dolphin Resort is highly recognizable in the skyline of Walt Disney World due to its distinctive architecture. You can see the large triangular structure from most viewpoints on the property. In this review of the Swan and Dolphin hotel, we'll go over the resort's restaurants, amenities, rooms, and recreation.
While the Walt Disney World Dolphin and Swan are part of the Epcot Resort Area, it is important to note that the resort is not owned or operated by Disney.
Marriott International actually manages these Disney hotels. Those that participate in the chain's reward system can accrue points for staying here.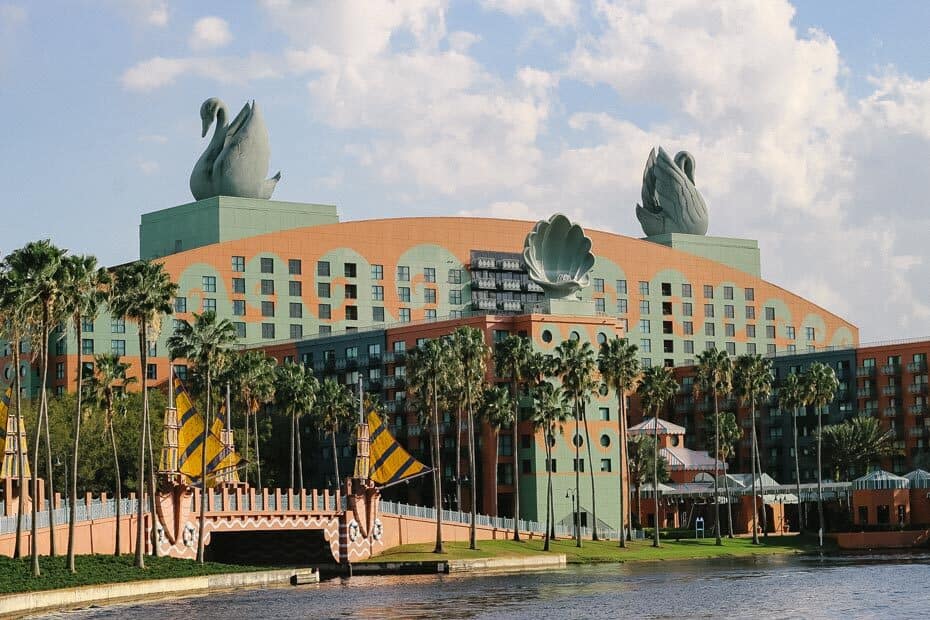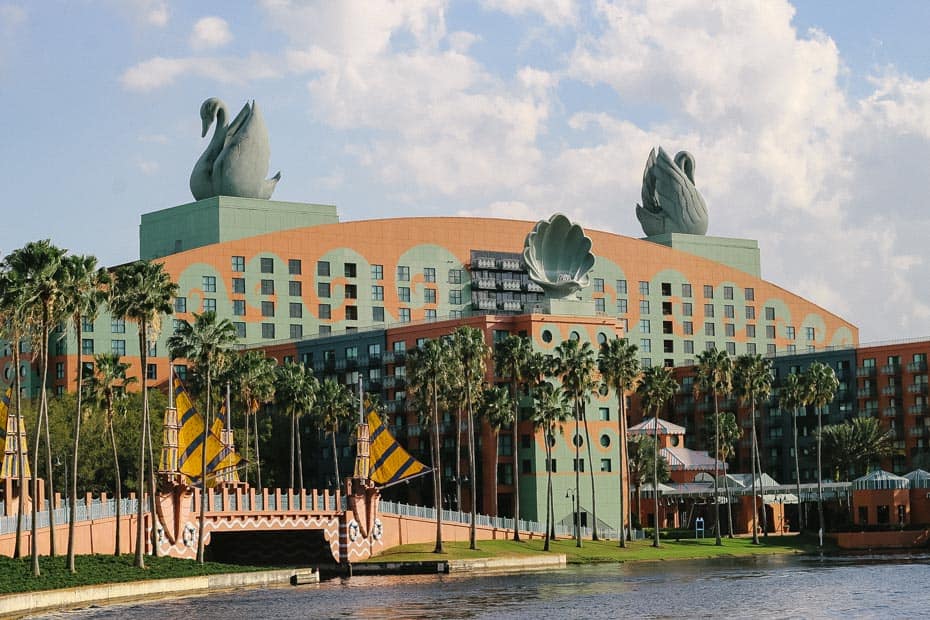 What else does this mean for you as a guest? While most will enjoy their time at the hotel, there are a few Disney perks you will miss out on when staying here. Let's take a closer look at those differences.
If you would like to jump ahead, here are the specific topics we'll cover in this review:
This review is based on Resorts Gal's personal experiences and research. We have stayed out-of-pocket as guests of Disney's Swan and Dolphin numerous times over the years.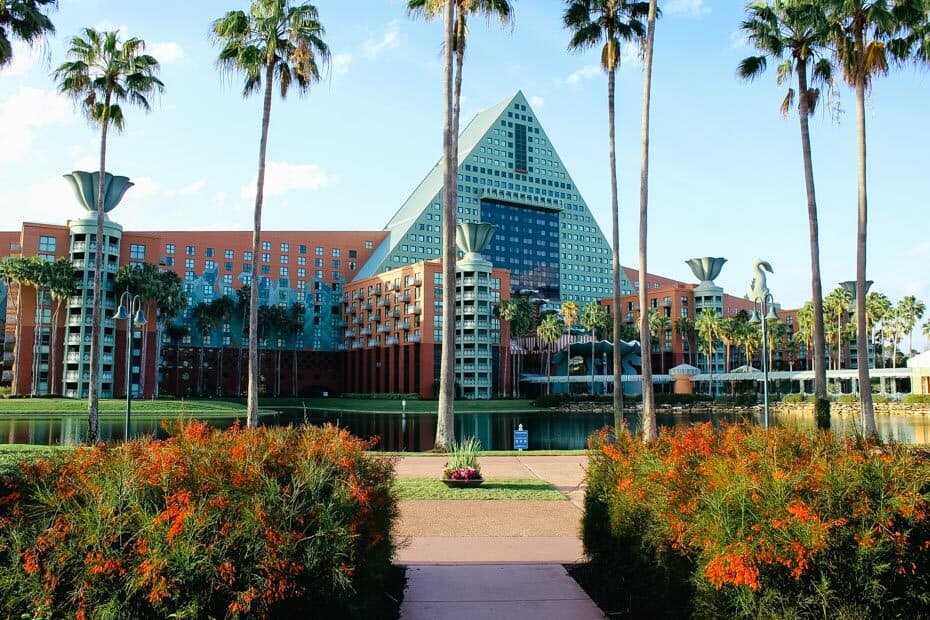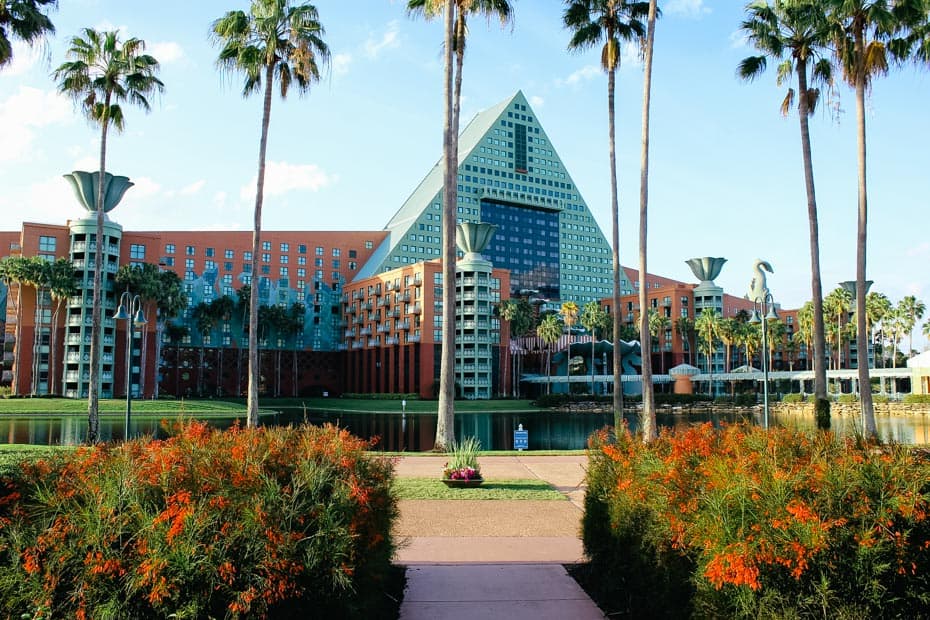 Swan and Dolphin Review
Before we fully dive into this review, I felt it would be good to go over the key differences between staying here versus a Disney hotel.
For starters, here are some of the special Disney benefits that are available:
Purchase delivery is complimentary from a theme park to the resort.
Advance Tee Times Scheduling
Complimentary Parking at the Theme Parks
Complimentary Transportation
FastPass (Based on availability)
Extra Magic Hours (Based on Availability)
At the time of this update, Extra Magic Hours and FastPass service have not returned to any of the Disney Parks. Those extra perks will be based upon availability.
Additionally, the Swan and Dolphin have had a pretty significant bus change. I've updated the details in the transportation section of this review. But in a nutshell, the resort now offers Mears bus transportation to the parks instead of Disney bus transportation. However, that doesn't apply to Epcot and Hollywood Studios, because they are within walking distance.
Guests of the Swan and Dolphin Resort do not have access to these special Disney benefits:
Magical Express Transportation to MCO airport
Disney Bus Transportation
Magic Band Privileges
Disney's Magical Express service is ending in late 2021. So that will no longer be a factor when comparing resorts. Additionally, Mears has announced that they will be offering a new bus transportation service between MCO (Orlando Airport) and the Walt Disney World Resort. No specifics are known yet. Hopefully, Mears will extend this service to non-Disney resorts in the area.
Unfortunately, there is another factor to consider when planning a stay at the Swan and Dolphin. That is the daily resort fee of $35.00. The fee does not include parking which is an additional charge of $35 per day, and valet parking is $39 per day. (Per Disney site, here.) For comparison, Disney charges $25 per day for parking at a deluxe hotel and $33 for valet.
Since you are paying for parking at the resort, you will not incur parking fees if you elect to park at one of the theme parks. This only applies to guests of the Walt Disney World Resorts and a few choice resorts like the Swan and Dolphin. You'll have to show your key card in order to park at the theme parks.
When I stay at the Walt Disney World Swan or Dolphin and have my car, I always elect to use valet parking. Oftentimes, I prefer to drive my car when I visit Magic Kingdom or Disney's Animal Kingdom.
It is extremely convenient to use a valet for a minimal price difference. To me the pricing between regular and valet parking is worth the price difference including a tip, especially in a Florida downpour.
Additionally, the Swan and Dolphin does not operate on Disney's magic band system.
Since Disney no longer provides complimentary magic bands to guests of their resorts, that probably won't make a difference either. However, guests can still purchase a magic band if they like to attach their tickets. Guests of the Swan and Dolphin just won't have charging privileges like you would at one of the other resorts.
Given all the changes, I believe the main comparison factors to consider are the additional daily resort fee and the new bus transportation service. I'll add in a few tips below to help with the bus service.
The Swan and Dolphin hotels fall under the category of a Disney deluxe resort. Deluxe hotels are considered to be the most desirable places to stay on Disney property. Underneath those categories are moderate resorts and Disney values.
You can expect multiple forms of transportation, dining, and most are within short proximity to a Disney theme park from the deluxe resorts. The only exception is the Animal Kingdom Lodge because they only offer bus transportation.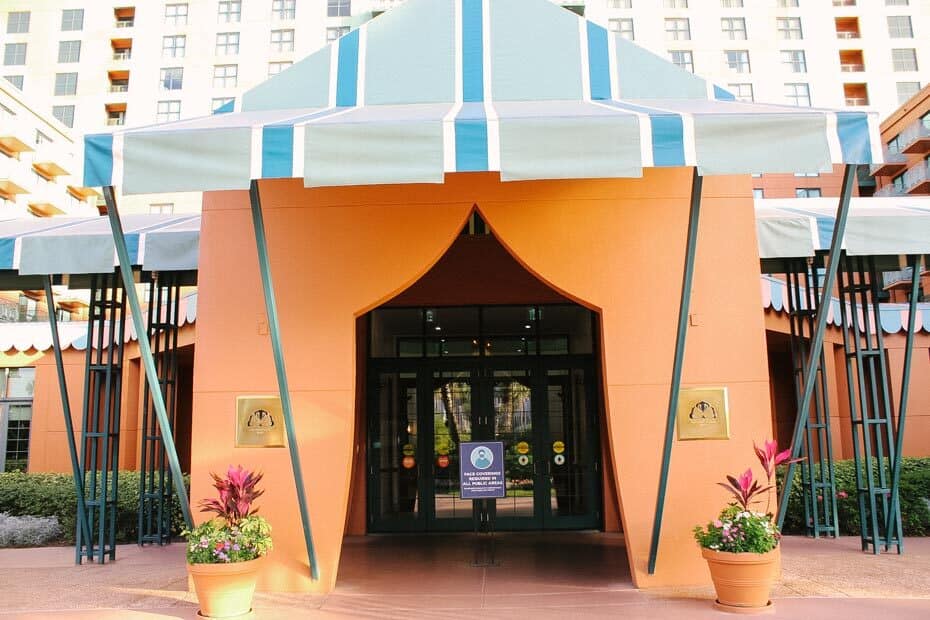 The Walt Disney World Swan sits on the left-hand side of the resort from the Crescent Lake area. While the Dolphin Resort sits on the opposite side. A partially covered outdoor walkway connects them.
Not only is the area one of the most scenic spots on Disney property, but the location is central to many amenities. Resort guests can walk to Disney's Hollywood Studios and Epcot.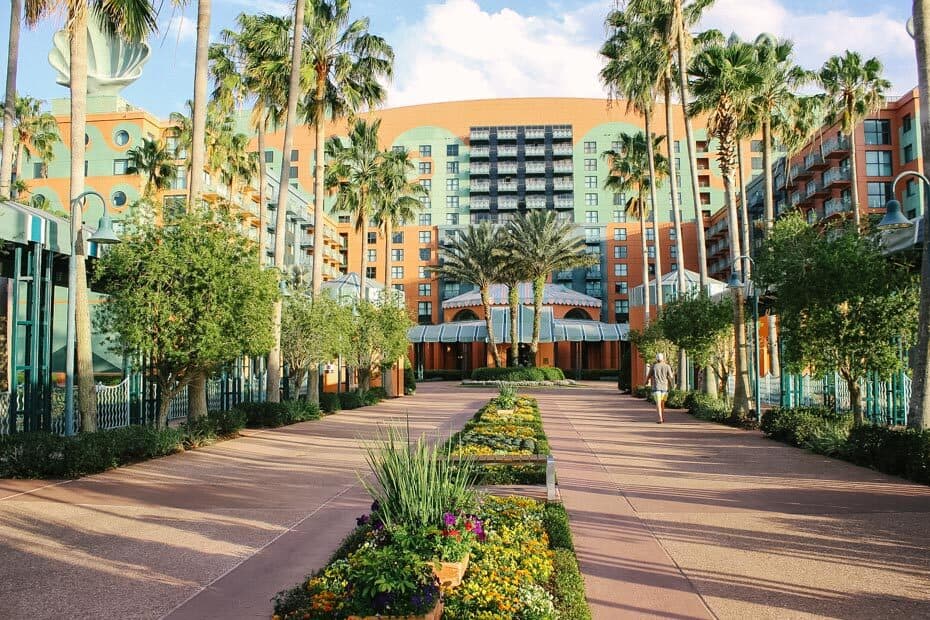 Besides walking to a theme park, other amenities in the area include dining options and entertainment at the Boardwalk. Furthermore, Fantasia Gardens is a mini-golf course that sits directly behind the Dolphin resort.
Motorized boat rentals are available next door at Disney's Yacht Club. Surrey bikes are in front of Disney's Boardwalk Inn for an additional cost. Even the Swan hotel has a swan paddle boat rental.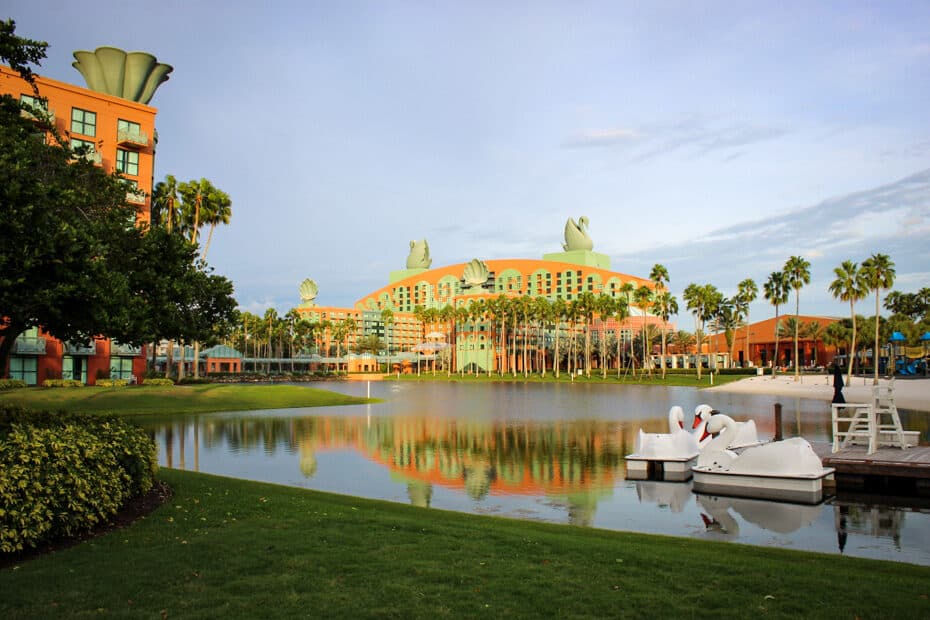 Disney's Swan and Dolphin Lobbies
While I thoroughly enjoy sharing what I consider Disney's Swan and Dolphin's beauty, I also get that it's probably not something for everyone. Here is the Swan's lobby that is apparently receiving a remodel. This picture is from March of 2021, so I imagine that most of the work has been finished.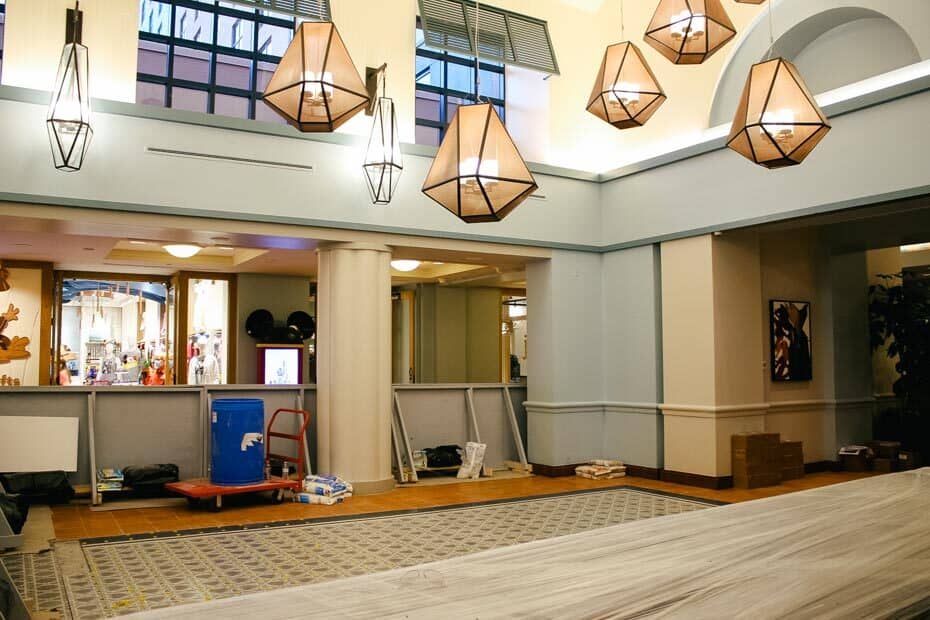 I'm sure this ceiling is well-known around the Disney community. I actually have a screenshot of it as the background wallpaper on my phone.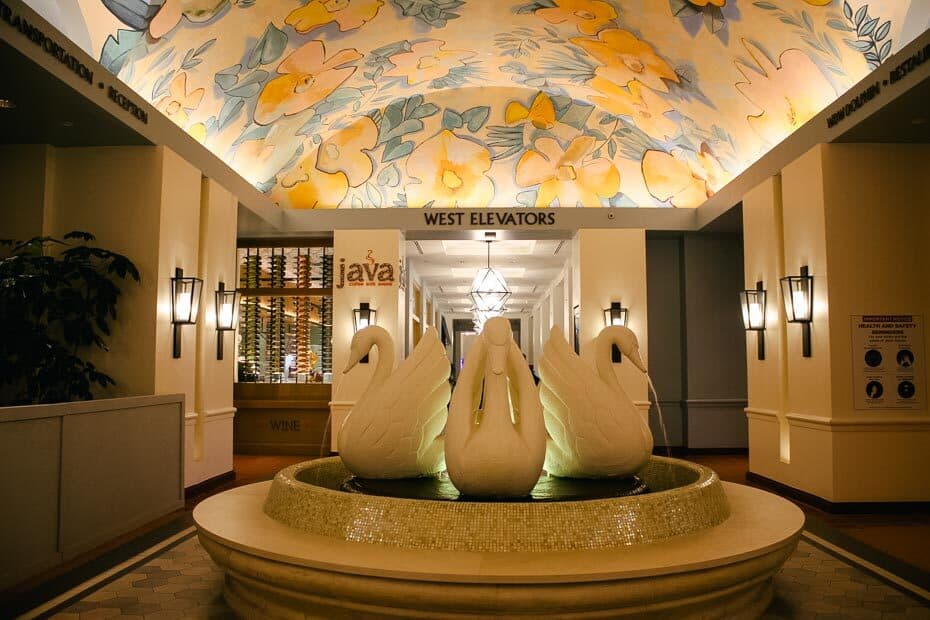 I'll even share it with you.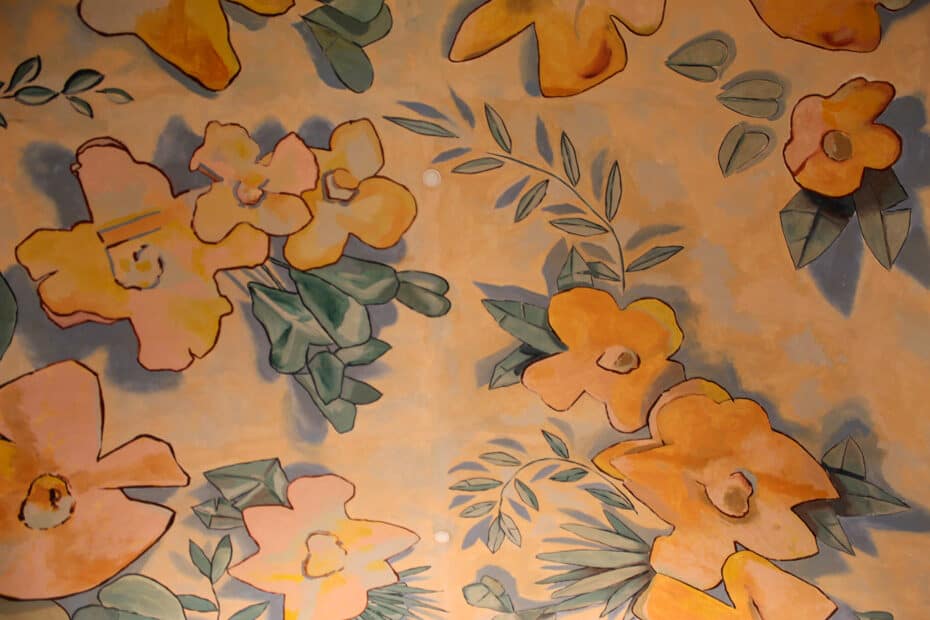 There are outdoor gardens located off the Swans lobby. I find these areas provide pleasant opportunities to relax.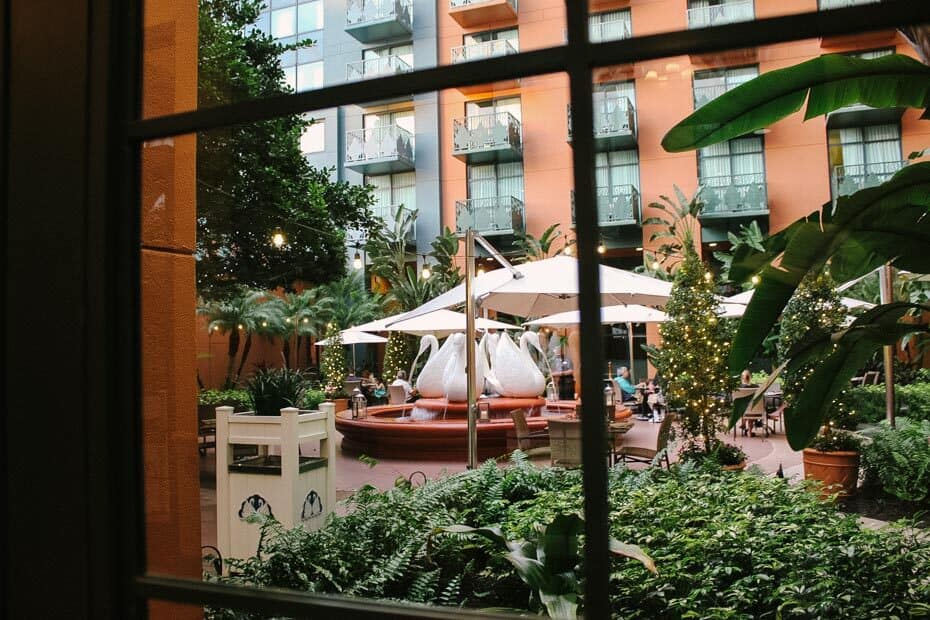 The Swan resort is separated from the Dolphin by a covered walkway. Disney's Dolphin has a pretty extravagant entrance. Normally, this fountain is flowing water from the top tiers all the way down to the base.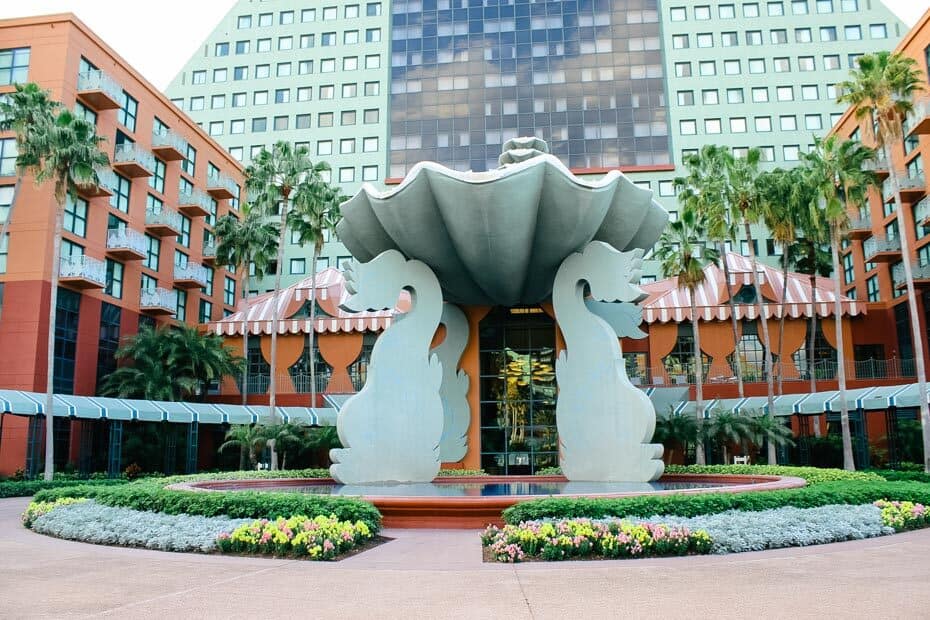 Once you enter, you'll more than likely want to take the escalator up to the main lobby.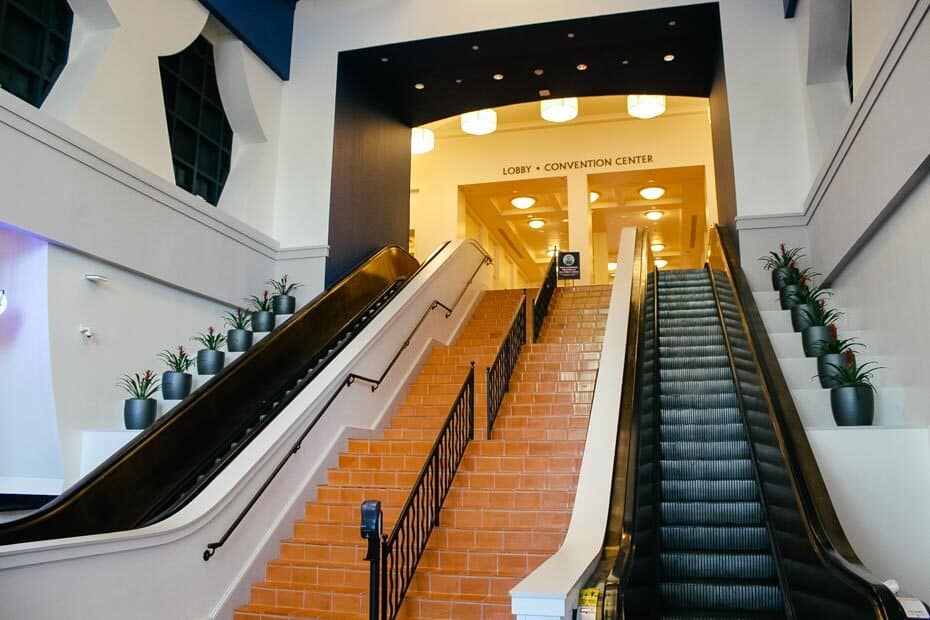 The Dolphin is the larger of the two resorts and is also considered a convention resort. As far as theming goes, you won't find any actual Disney theming here. These resorts were designed with "entertainment architecture" in mind. Aside from being on Disney property, you won't find any other semblance.
The lobby at the Dolphin is substantially large, with plenty of room for guests to lounge. While I happened upon the lobby during an uncrowded time for this picture, it's usually fairly busy with guests coming and going.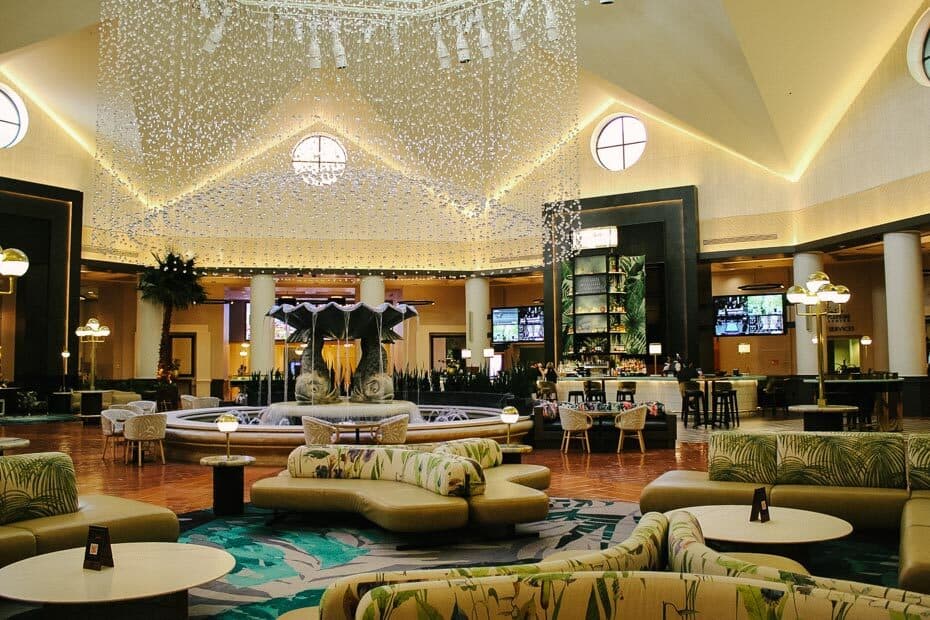 Guest Rooms at the Dolphin Resort
Below are a few photos of an updated guest room at the Walt Disney World Dolphin. The Dolphin rooms are similar to the Swan Resort in comparison. However, there might be a few nuances in the overall decor. Both hotels provide the amenities you would expect to find in a standard guest room.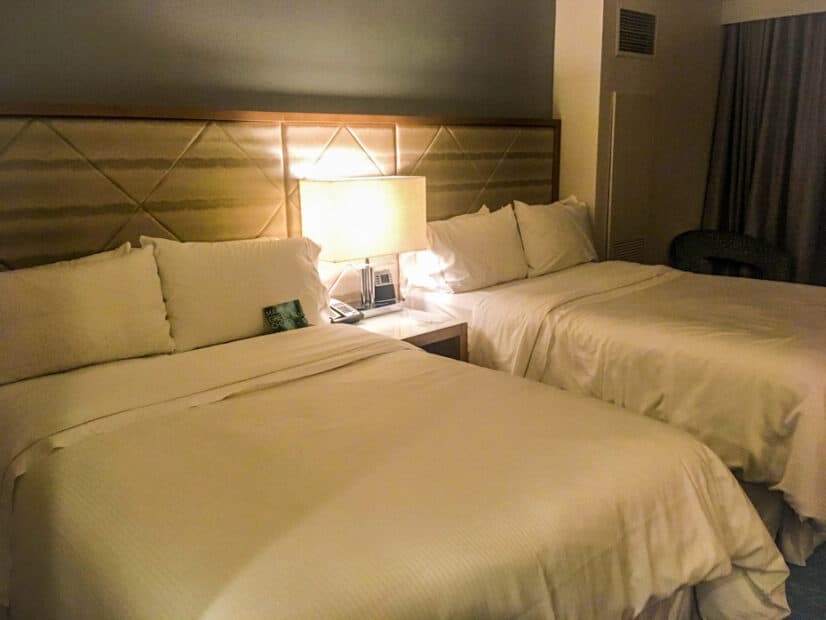 Our room had a Keurig-style coffee maker with better-than-average coffee options. Additionally, you'll find an ice bucket, bottled water, toiletries, hairdryer, private vanity, makeup mirror, iron with ironing board, and mini-fridge.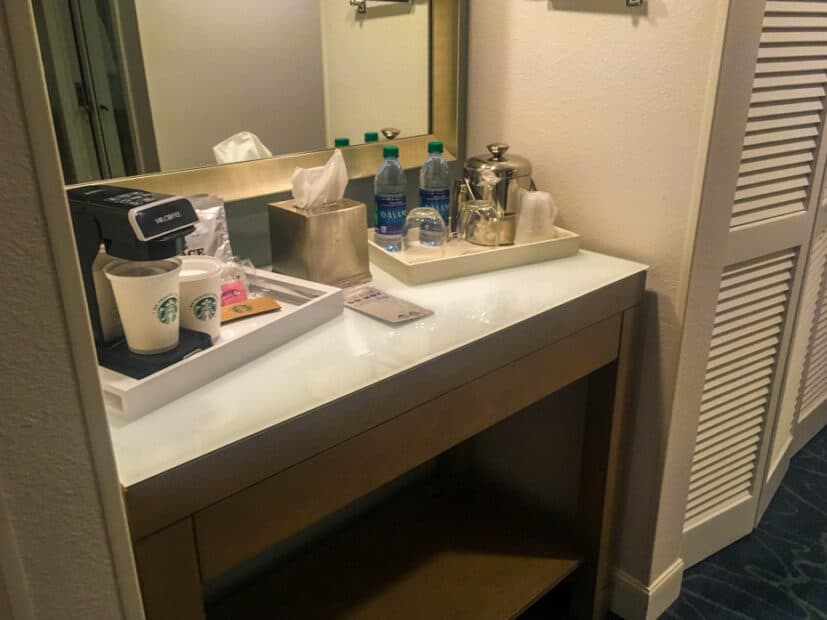 Here's a look at the bath. It had a walk-in shower with a glass door. It wasn't quite as nice as the fancy guest bathrooms we saw in our deluxe studio at the Riviera Resort.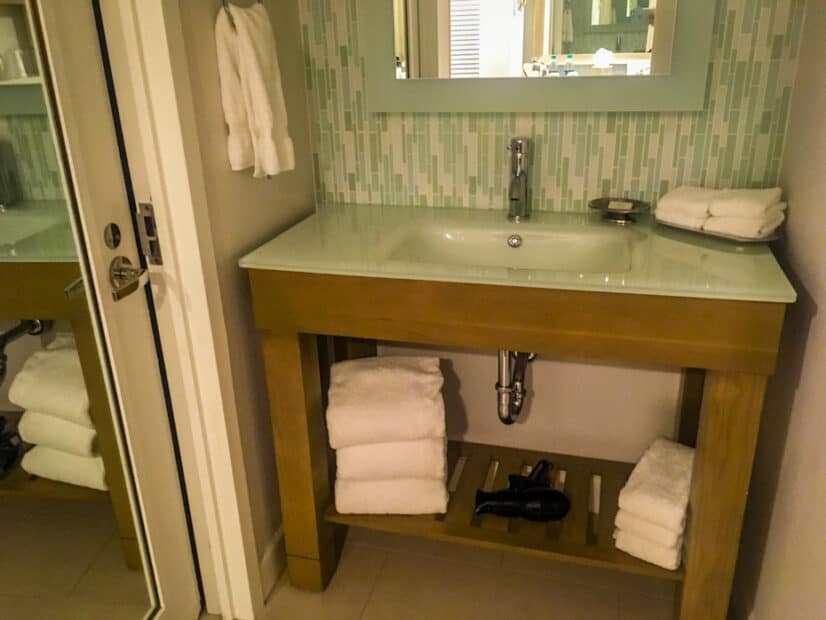 We have been guests of the Walt Disney World Swan and Dolphin many times over the years. On one particular visit, we received a complimentary theme park view. This room didn't have a balcony, but that upgrade is available if you prefer one.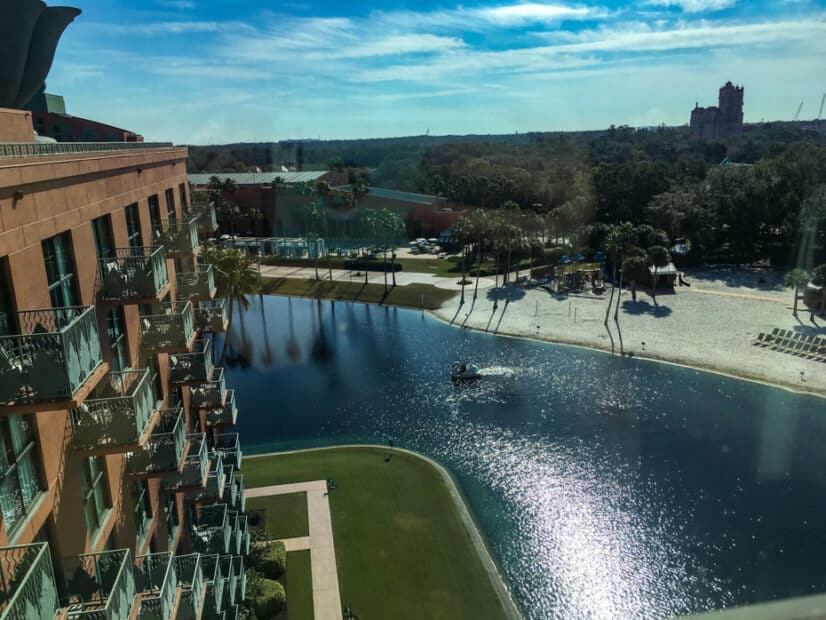 What was fun about this view was waking up every morning to the Hollywood Studios Tower of Terror in the distance. And in the evening, we could see the nightly fireworks from our room, and that was something special I have remembered since.
Below is a resort view room we had on a different stay. While I don't have any quality pictures taken at nighttime, this was another pleasant room view.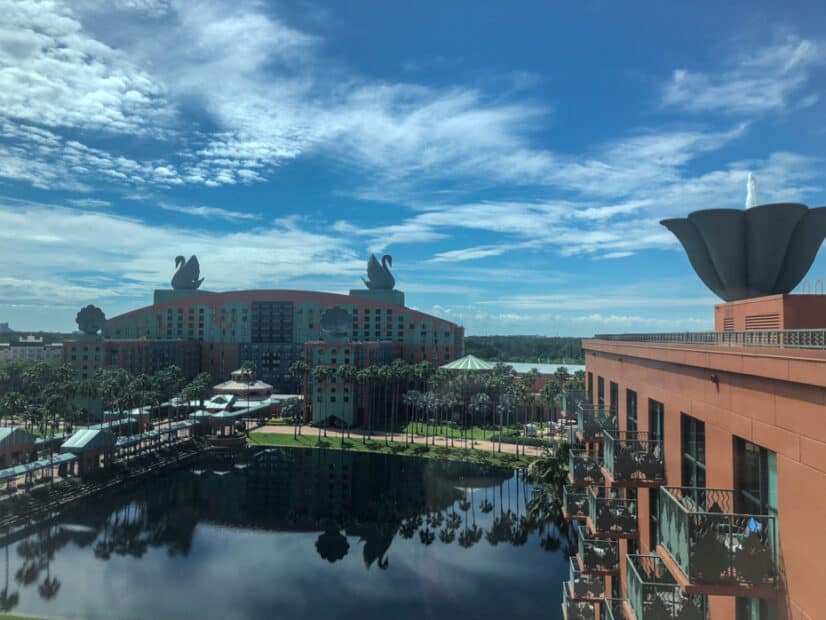 As far as upgraded views go, they are great when you get them by surprise. However, I wouldn't typically recommend paying for an upgrade. That is unless you plan to spend a large amount of time in the room. If that is the case, you might benefit from being able to enjoy a special view.
Pools
Our review would not be complete without a look at the tremendous recreation at the Swan and Dolphin. Outdoor amenities include swimming pools, sports courts, and a white sand beach.
Below we have the Swan and Dolphin's feature pool, the Grotto Pool.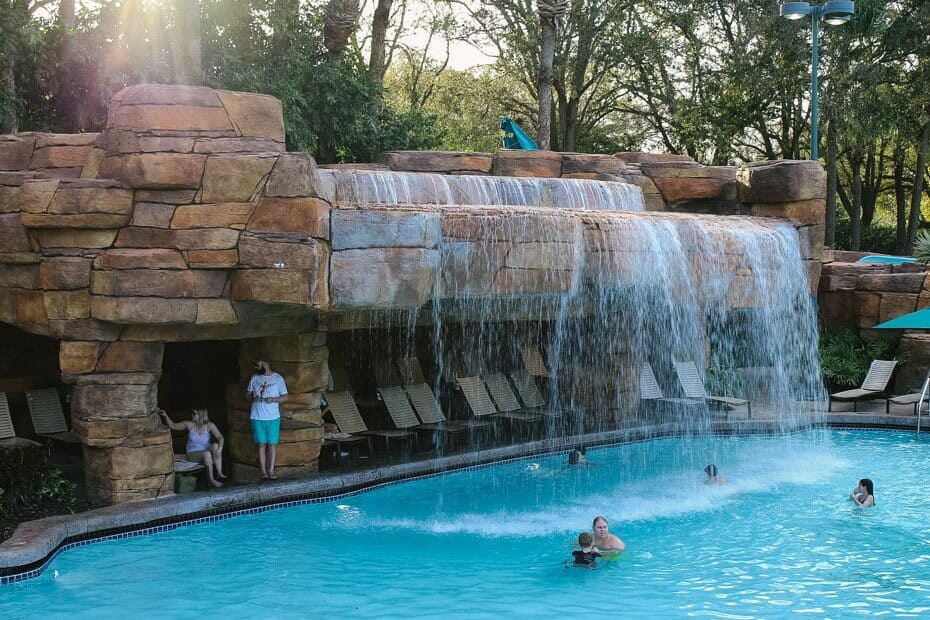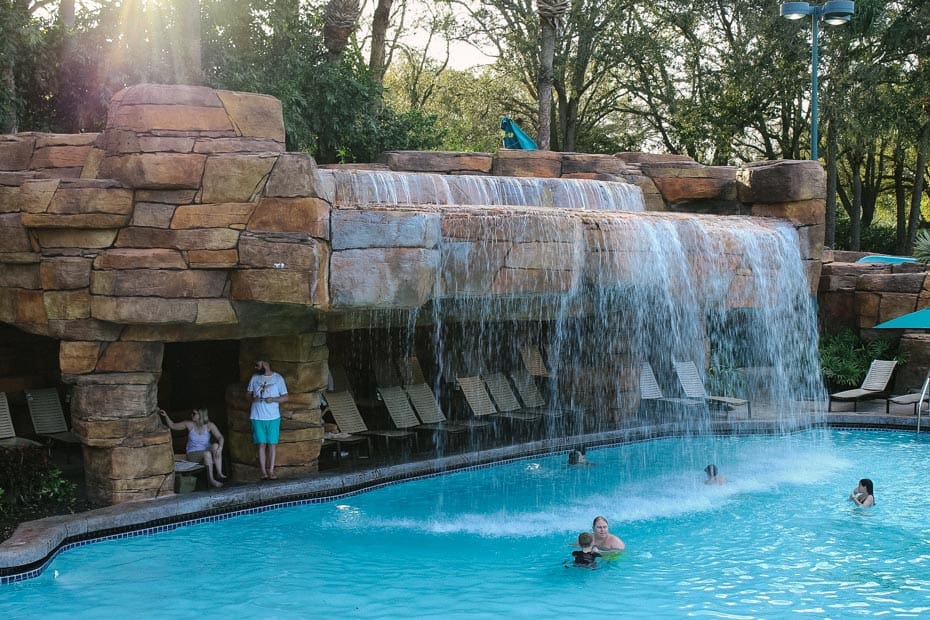 The pool is expansive with a waterslide and several waterfalls. Make sure to check out where it falls in our list of the best pools at Disney World.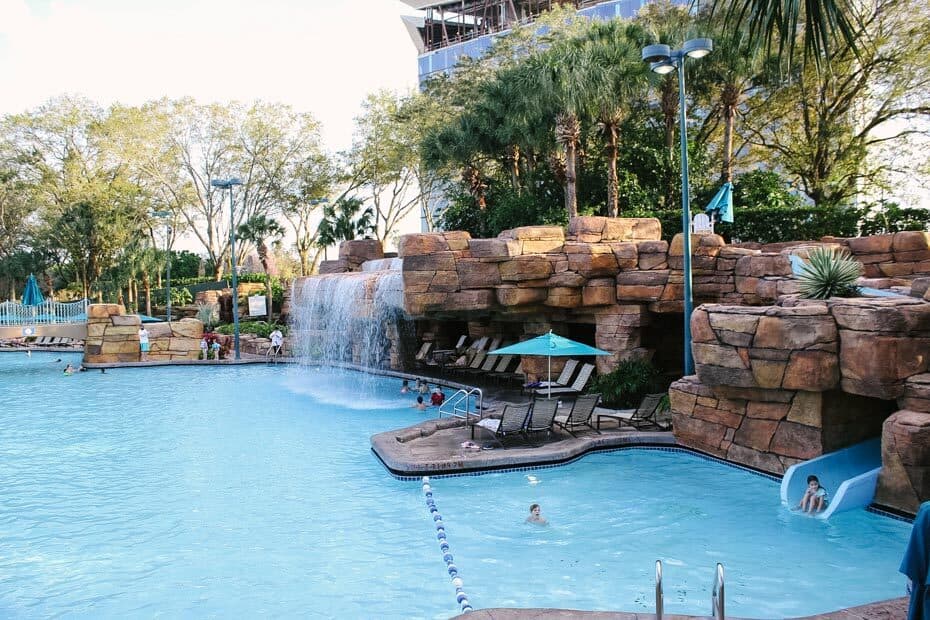 Additionally, the hotel has 2 lap pools, a kiddie pool, and 4 whirlpools.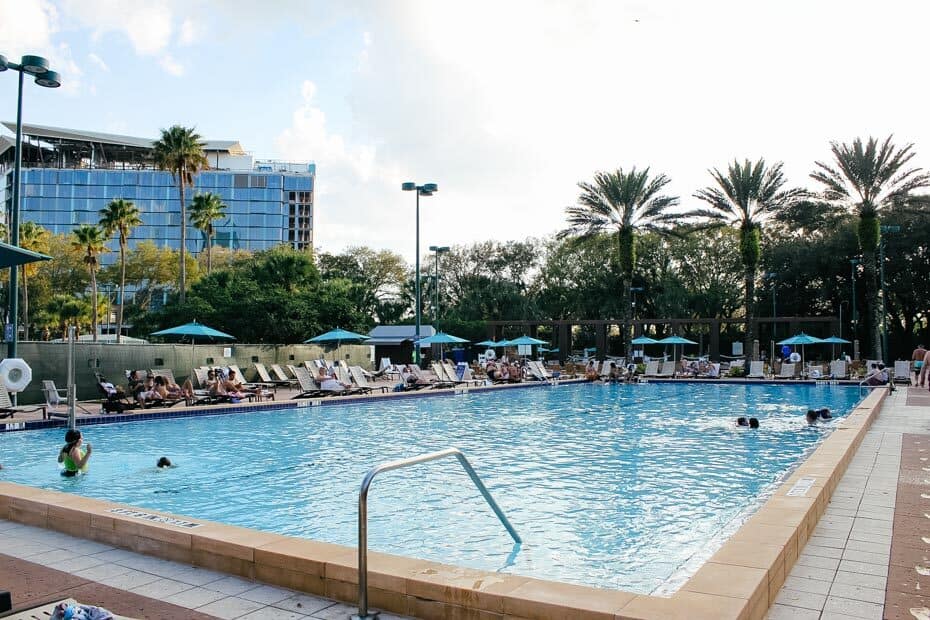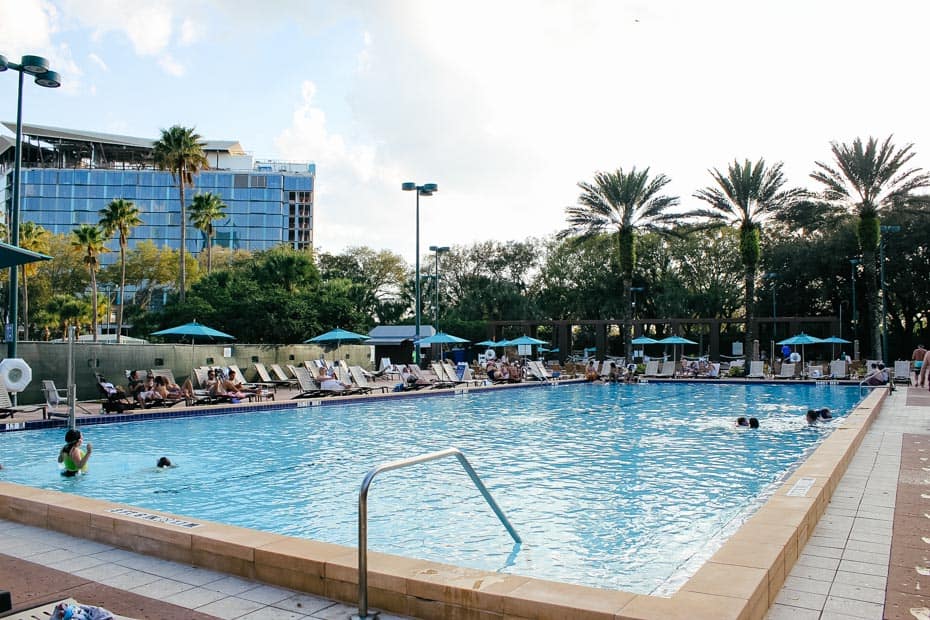 A significant white sand beach fronts the pool areas providing two volleyball courts, loungers, a beachside playground, and rentals.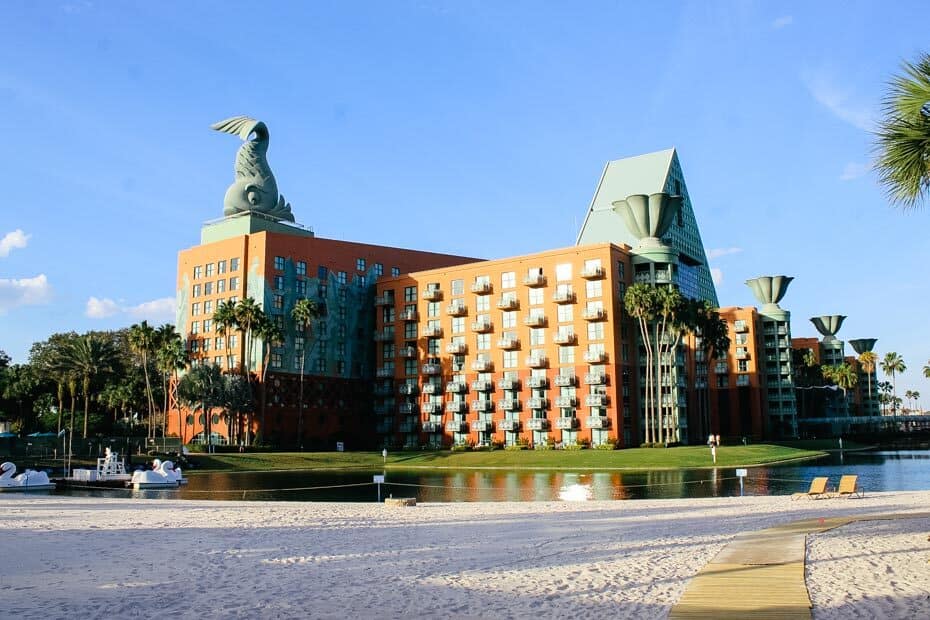 Here is the large sports court area behind the pool.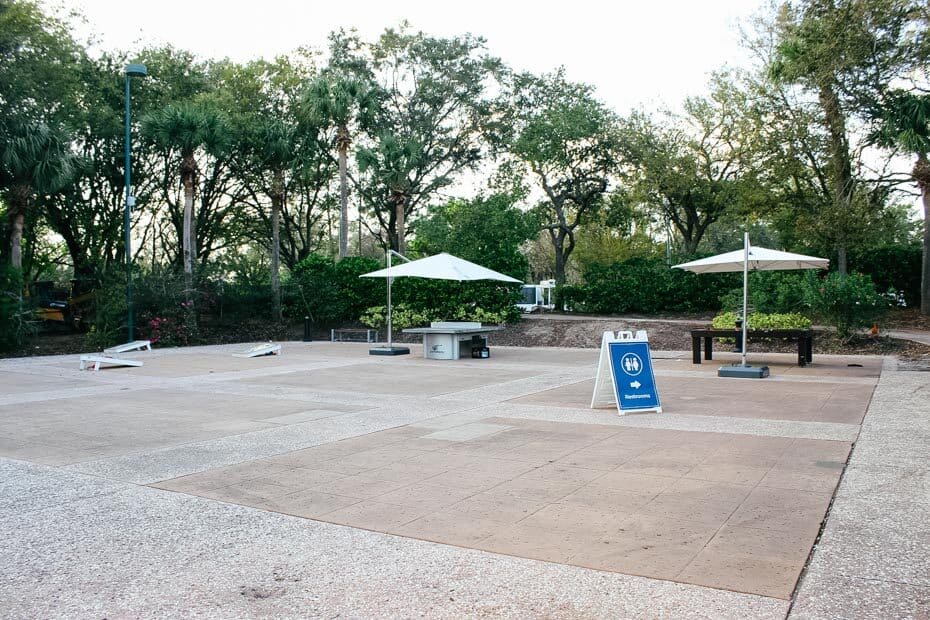 And the outdoor playground.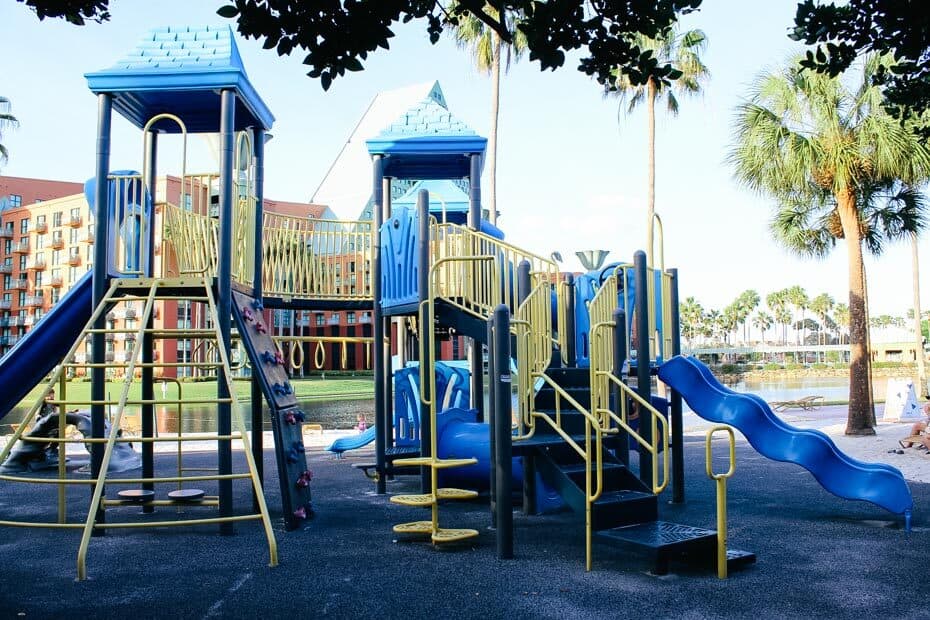 Anyone wanting to jog can take advantage of the trail around the entire Crescent Lake area. It's a wonderful place to run at Disney World.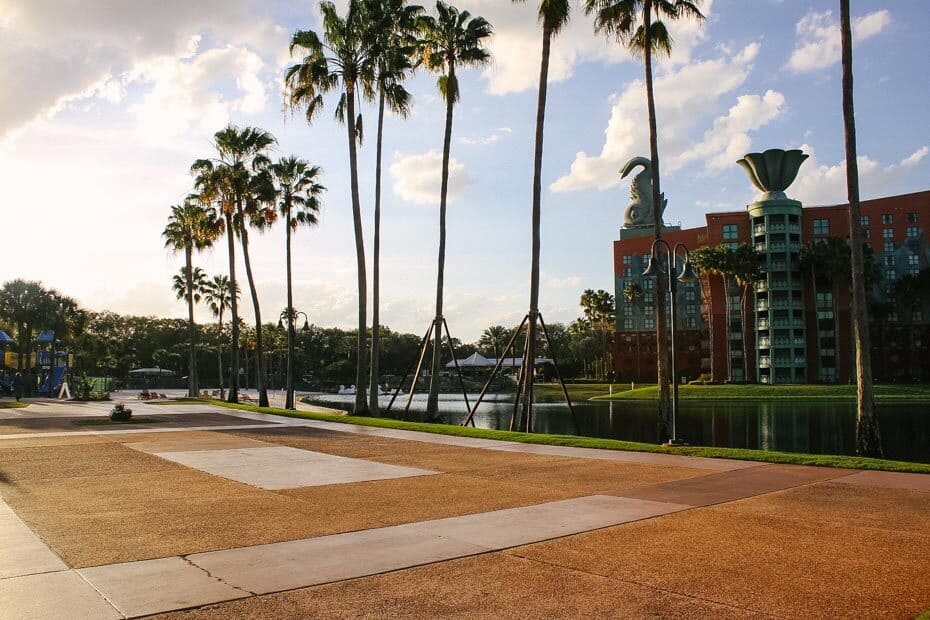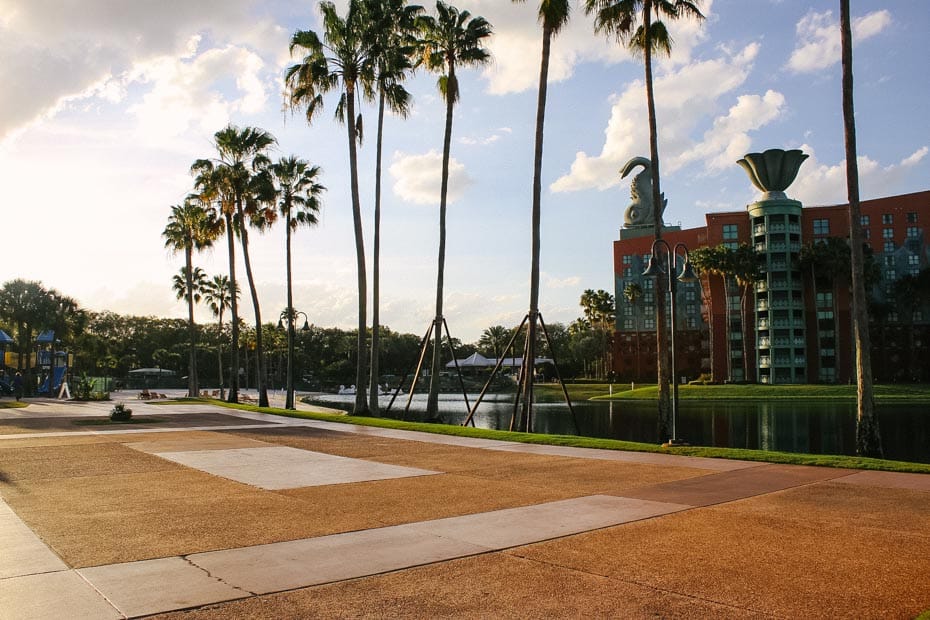 A few other activities at the Swan and Dolphin include:
Arcade
Mandara Spa
Disney World Gift Shop
Disney World Cabanas Shop
Accents
Health Club
Dining
It would take a full review to cover the numerous restaurants available at the Swan and Dolphin. Additionally, the resort is home to several signature dining options.
The first is Shula's Steak House. This signature restaurant is located on the Dolphin side of the resort. The Orlando location has a lengthy list of awards and is well-worth seeking out a reservation. You can preview the Shula's Steakhouse menu here.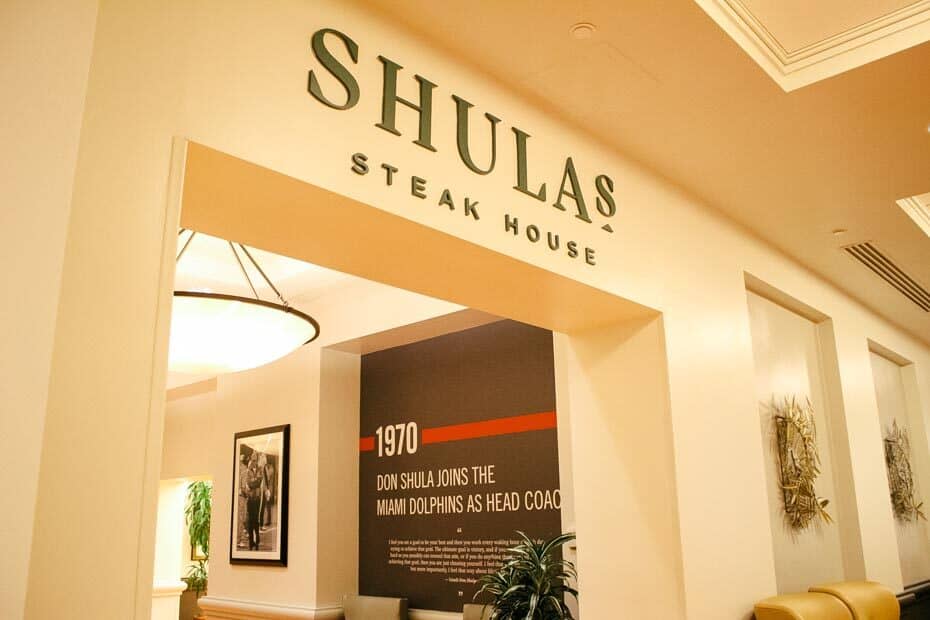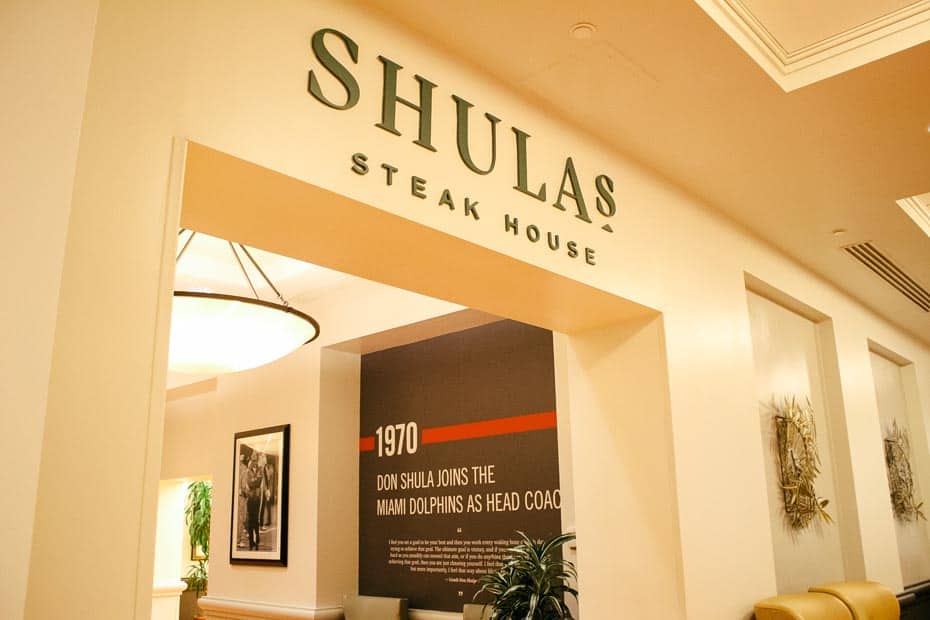 Todd English's bluezoo is located on the Dolphin portion of the resort. bluezoo has a long list of accolades and is predominately a seafood restaurant. Preview their menu here.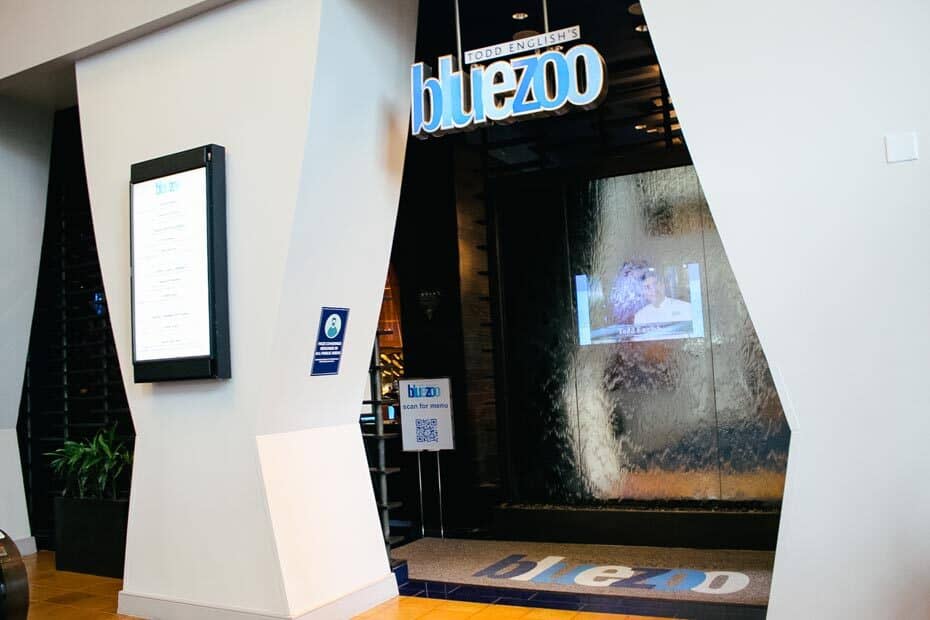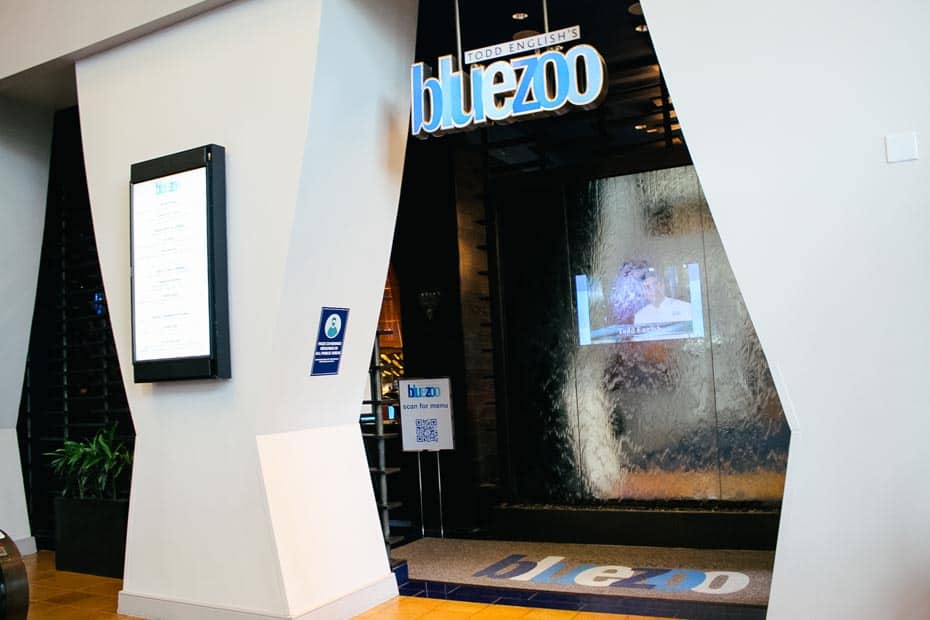 On the Swan side, the signature restaurants are Il Mulino, which offers Italian cuisine.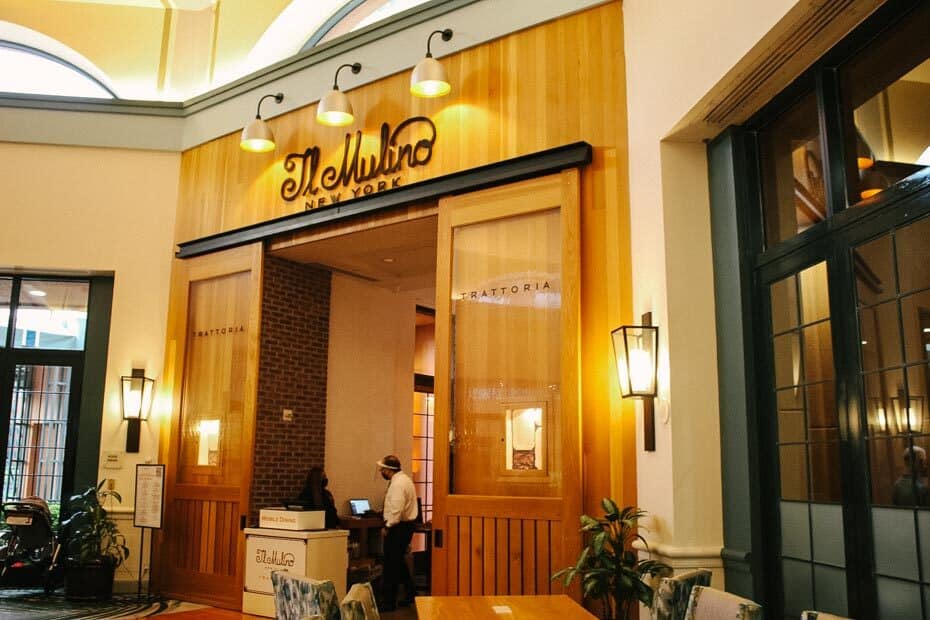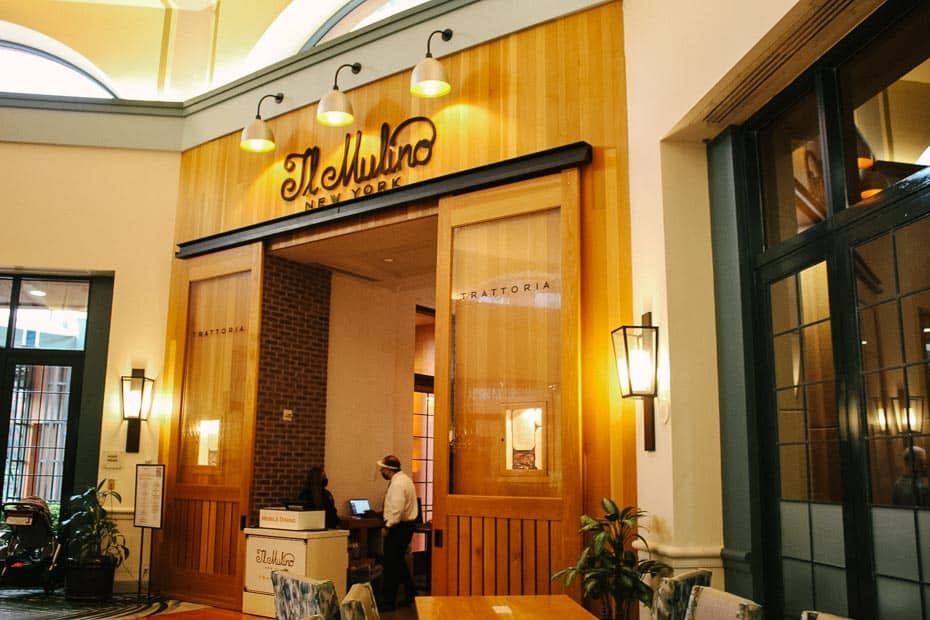 And the other signature is Kimonos. Kimonos serves Asian cuisine and is widely known for its sushi preparations.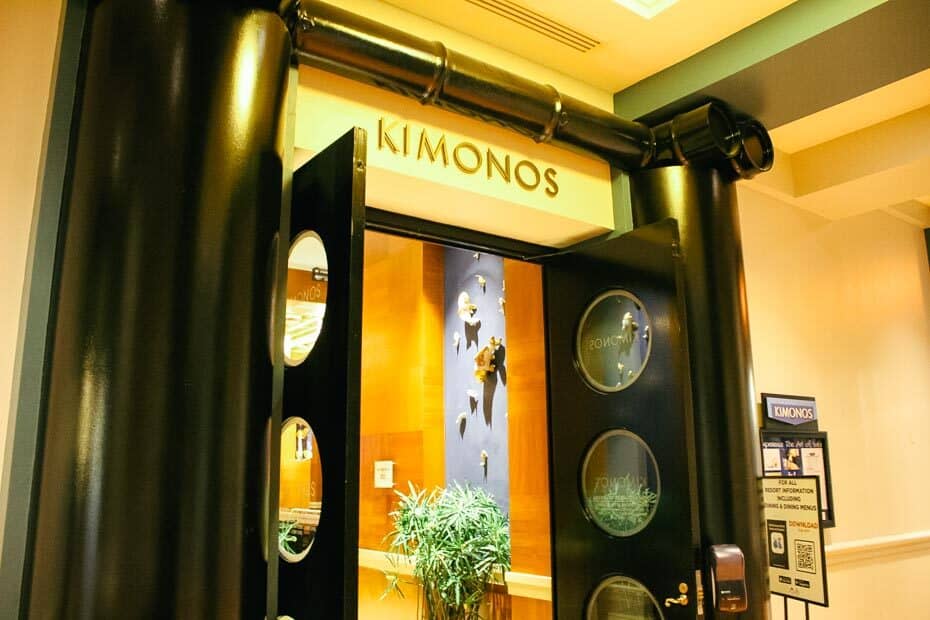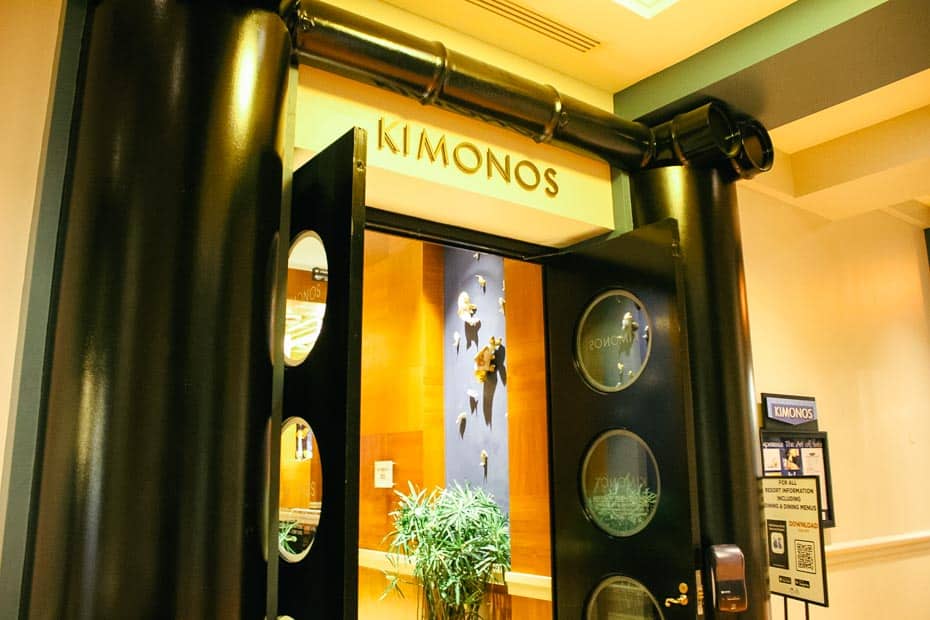 As mentioned earlier, one of the perks of staying at the Swan and Dolphin is that they normally have a character dining option on the weekends. Garden Grove is typically open for breakfast, lunch, and dinner.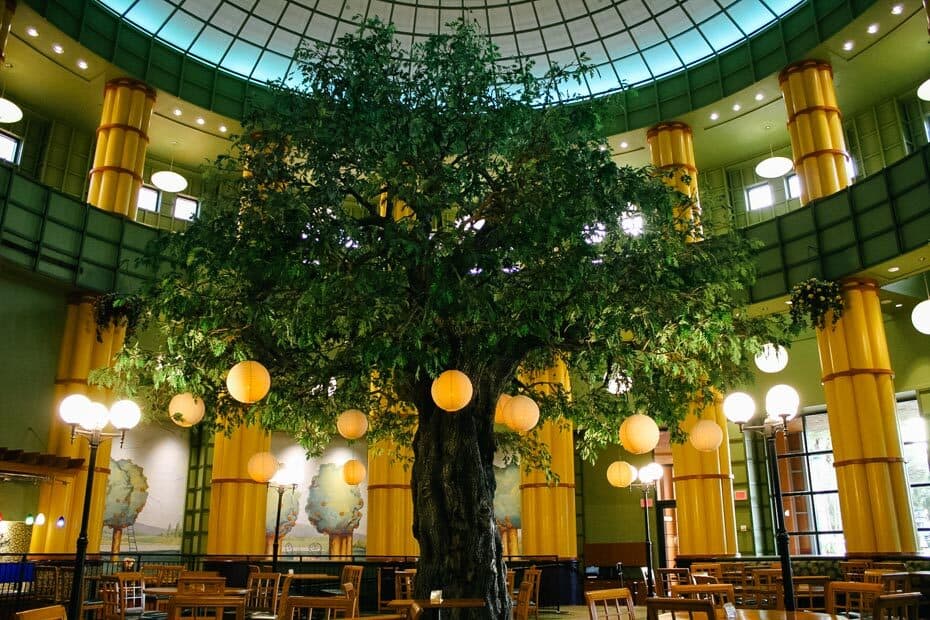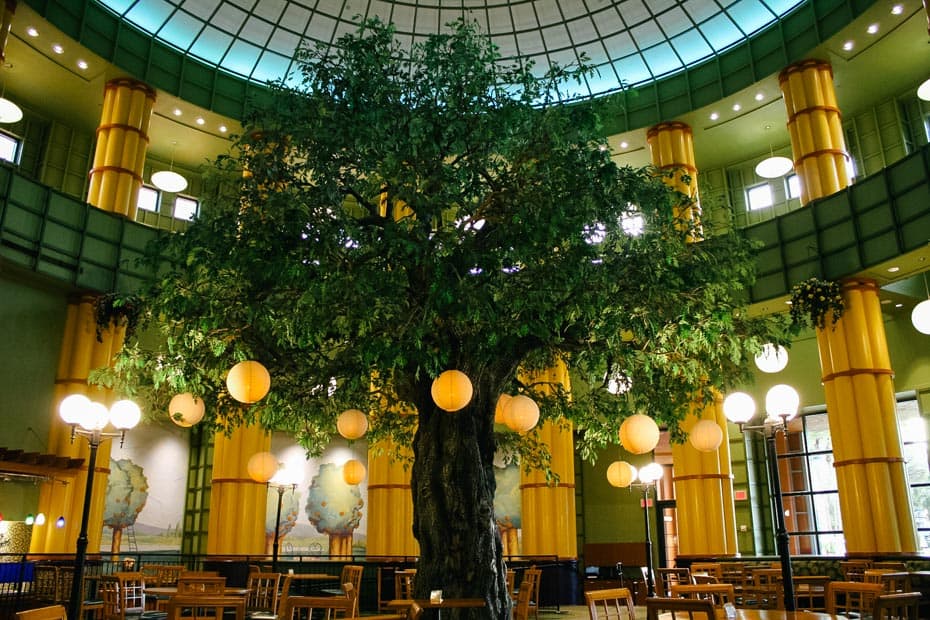 As far as casual table service goes, I recommend grabbing a bite to eat at The Fountain. It's located on the ground level of the Dolphin. The Fountain is a casual restaurant that has a fun menu with burgers and fries similar to a diner.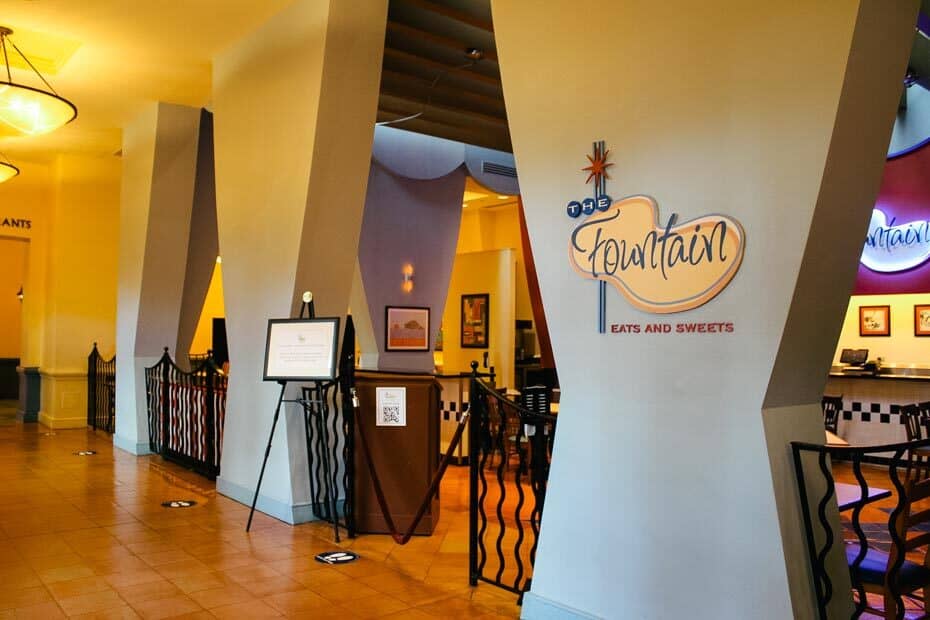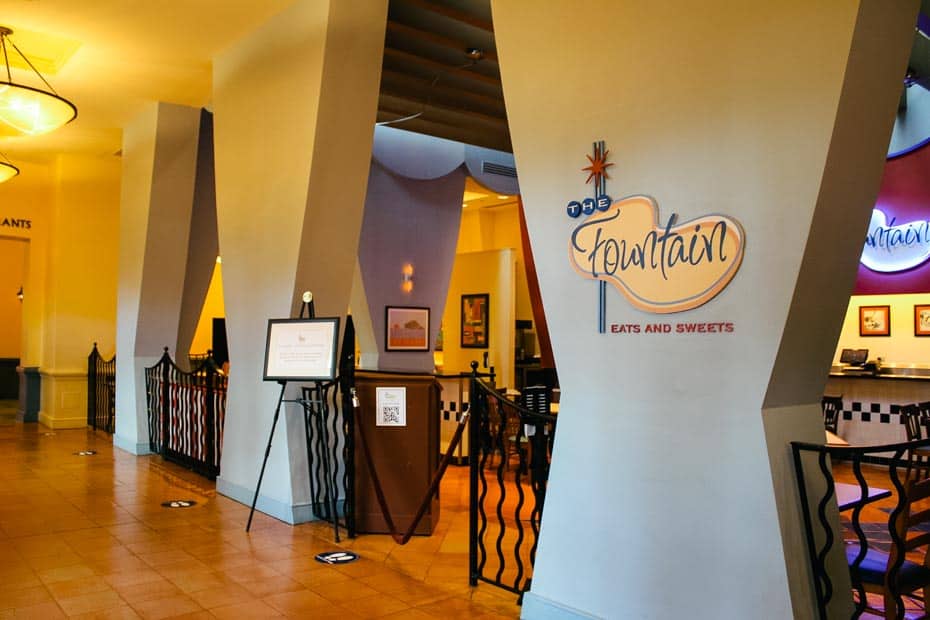 The menu includes veggie and turkey burgers, grilled cheese sandwiches, salads, and the likes. The menu is available here.
One of the things I love about this stop is that it's normally open until 11:00 p.m. The Fountain makes a great late-night spot to grab a meal after a busy day in the parks.
Anyone looking for a breakfast or lunch that focuses on healthy choices will want to try Fresh Mediterranean Market on the Dolphin's lower level.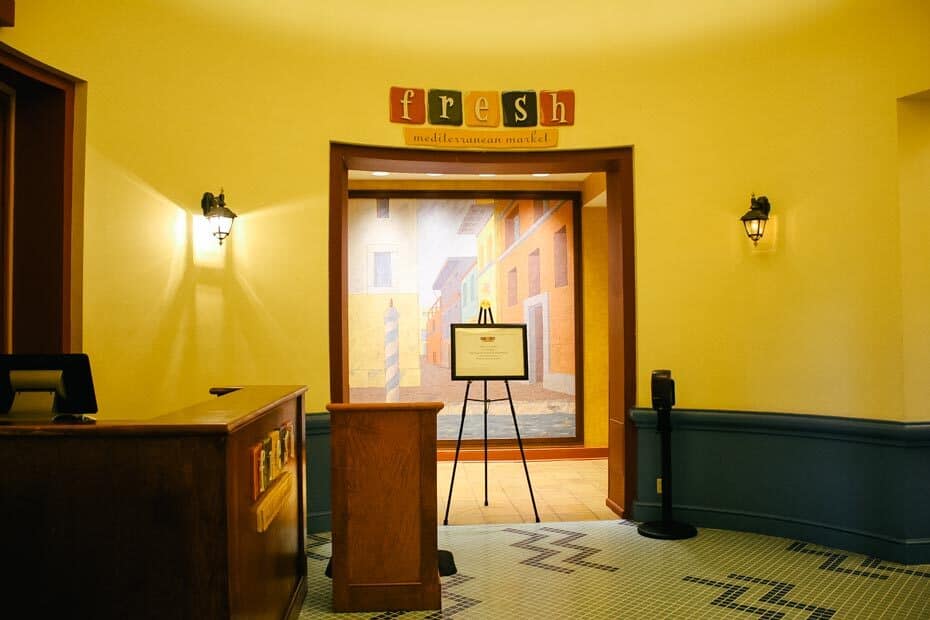 Those looking to spend a day or evening out at the pool will want to have a meal at the Cabana Bar and Beach Club. That review shows a few things I tried on my last visit. Toward the Swan side, the Splash pool bar serves up cocktails and snacks.
If you have ever stayed at Disney's Swan and Dolphin, then you have probably wound up at Picabu at some point during your visit.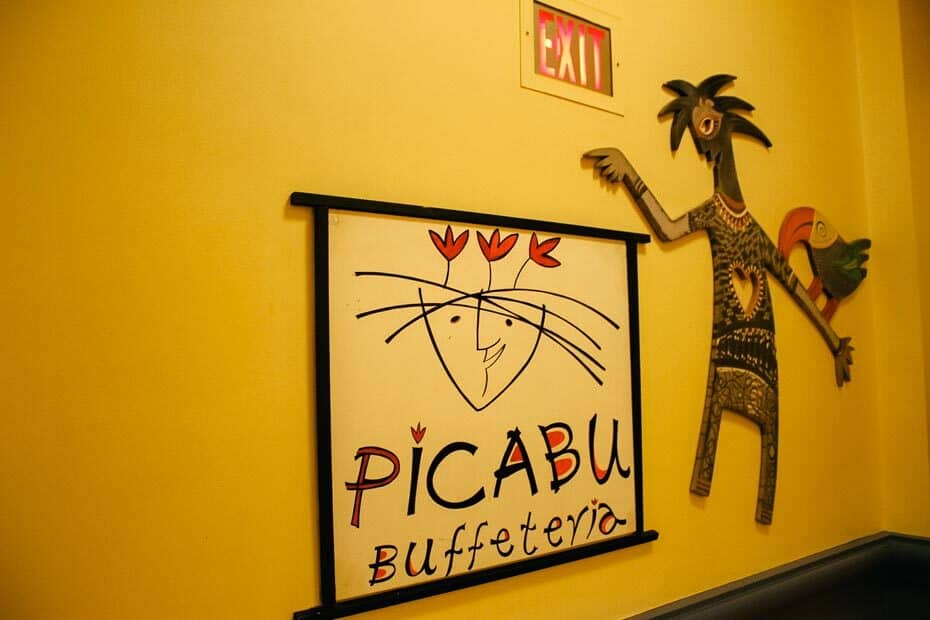 Picabu doesn't have an online menu, but you can expect a kind of old-fashioned cafeteria with buffet items. They also offer a few cook-to-order selections. If you order something that requires time, they will box it to-go and bring it out to you.
There are three more quick-service options between the two resorts set up similar to a store with deli-style options. They are Java, Chill, and Fuel.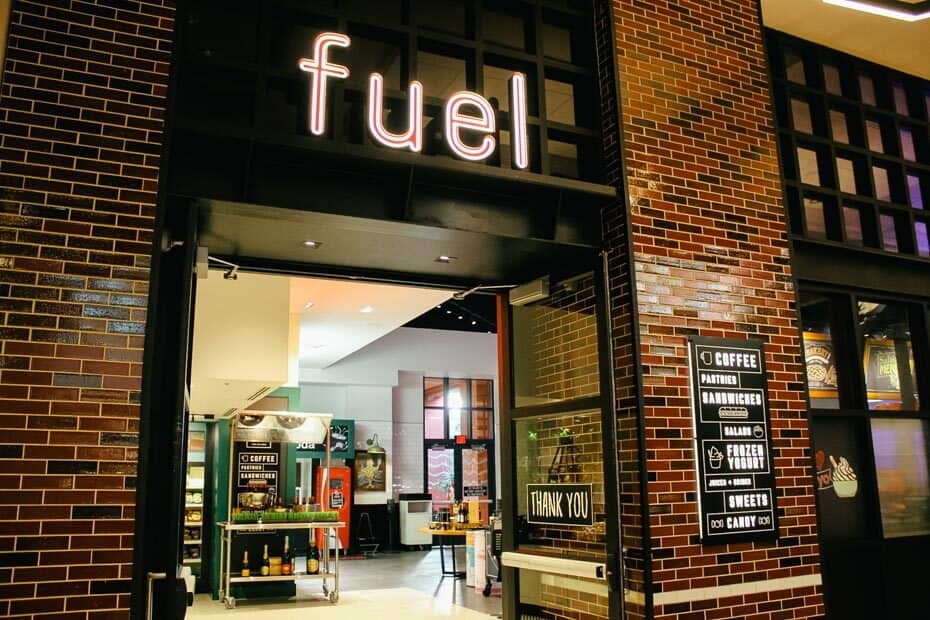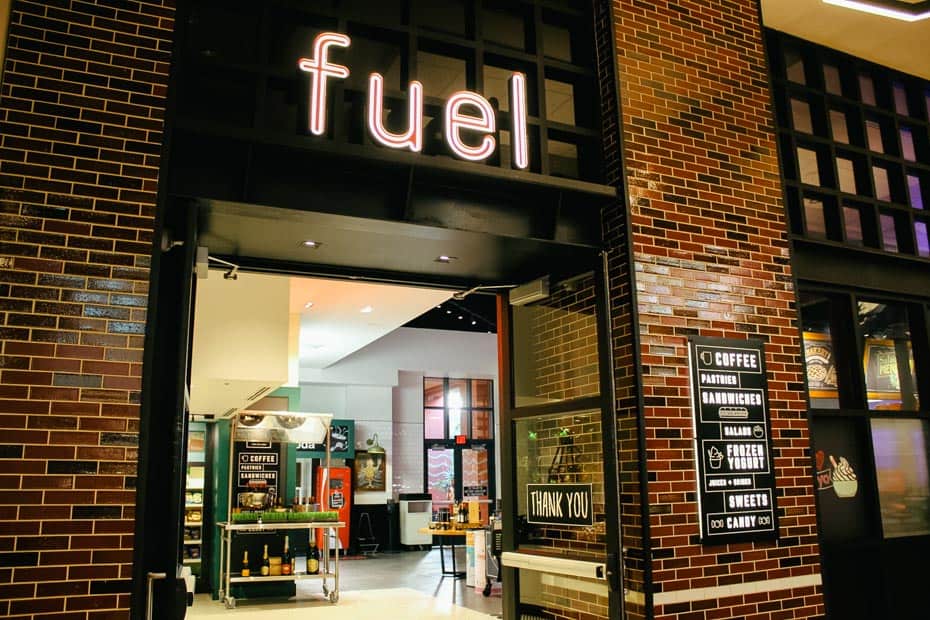 And if these choices weren't enough, you can walk over to the Disney Boardwalk or Disney's Yacht and Beach Club to enjoy their dining choices. Those with park hopper tickets can visit Epcot for dining at a plethora of restaurants. I prefer the pizza at Via Napoli, and don't forget dessert!
And the newer Disney Skyliner makes it possible for guests to easily access choices like the superb breakfast with characters at Riviera's Topolino's Terrace. Speaking of transportation options, let's take a closer look at what to expect when staying at the Swan or Dolphin.
Related Articles: Swan and Dolphin Restaurant Guide
Transportation
The transportation options provided by the Disney Swan and Dolphin have undergone several changes. Last year both resorts ceased using Disney's bus transportation to the parks and Disney Springs.
Now, Mears provides bus service at the two resorts. In March of 2021, I visited the resort to see how these updates were working. The bus transportation signs remain the same, indicating when the next bus will arrive.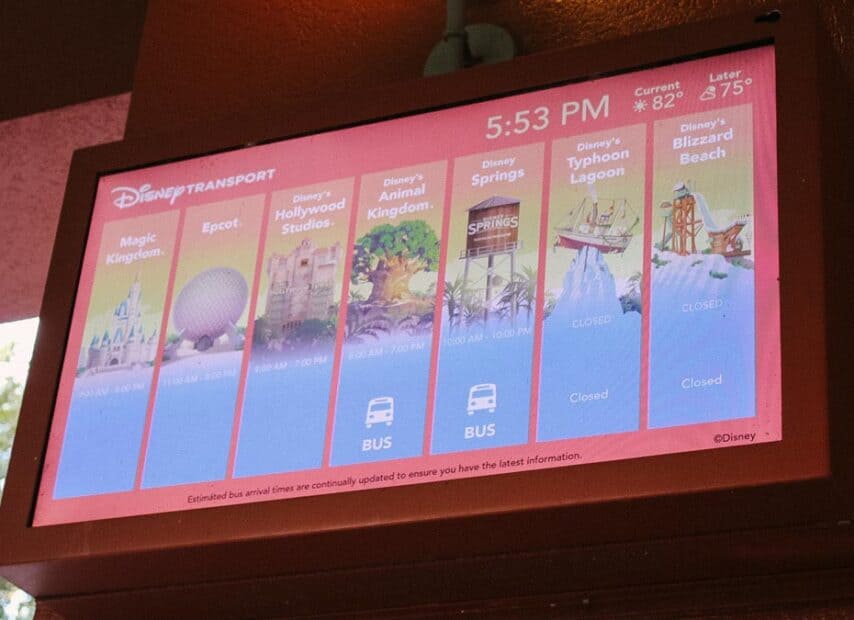 Here are the different destinations where the bus travels:
Magic Kingdom
Disney's Animal Kingdom
Disney Springs
Blizzard Beach and Typhoon Lagoon
The main difference is that when visiting Magic Kingdom, you'll be dropped off at the Transportation and Ticket Center. This will require having to take the monorail to Magic Kingdom, or you can take the ferry.
These buses used to drop off close to the entrance with all of the Disney World Resorts. So this change adds anywhere from an extra 15-30 minutes on average to get to Magic Kingdom. It will also be a hassle when leaving in the evening.
I have a few tips to help you get around this issue. While it's not advertised, you can take a Beach Club, Yacht Club, or Boardwalk Inn bus to and from Magic Kingdom. Then you'll have to walk back over to the Swan and Dolphin.
I've done this for years when staying at any of these resorts. This may or may not save you a few minutes, and it will definitely add extra steps. My reasoning for doing this is usually stopping to pick up a meal along the way. And sometimes I enjoy taking a walk around Crescent Lake in the evening.
When visiting Animal Kingdom, Disney Springs, or the water parks, I don't see where there's a convenience issue. The bus stop at Animal Kingdom is actually a little closer to the entrance than the Disney bus stop.
Another thing you might want to consider when visiting Magic Kingdom is using one of the various car services (like Uber or Lyft) and getting dropped off at Disney's Contemporary Resort. You can walk over to the park from there.
The Swan and Dolphin both have their own bus stop, but the service is shared between them.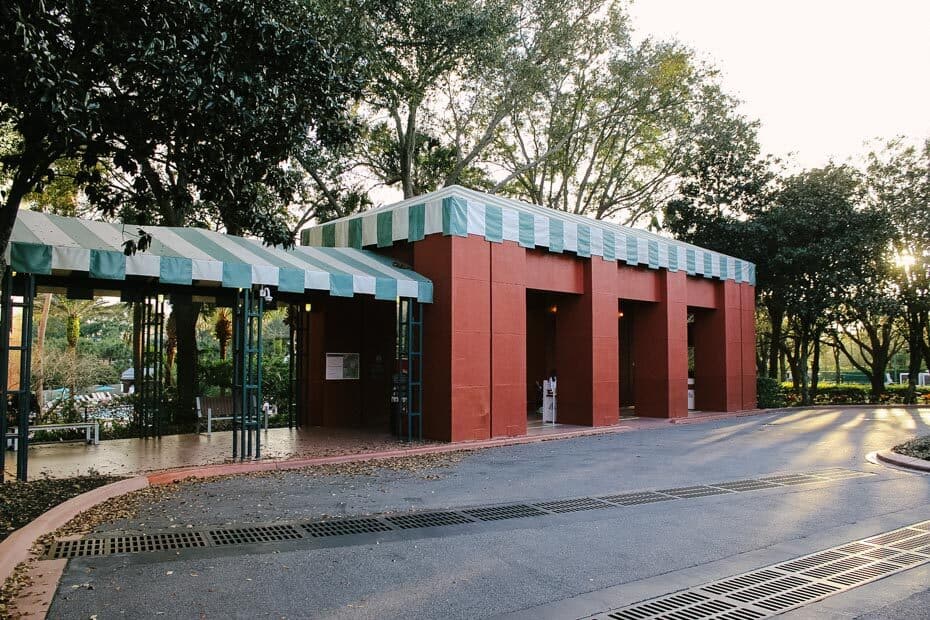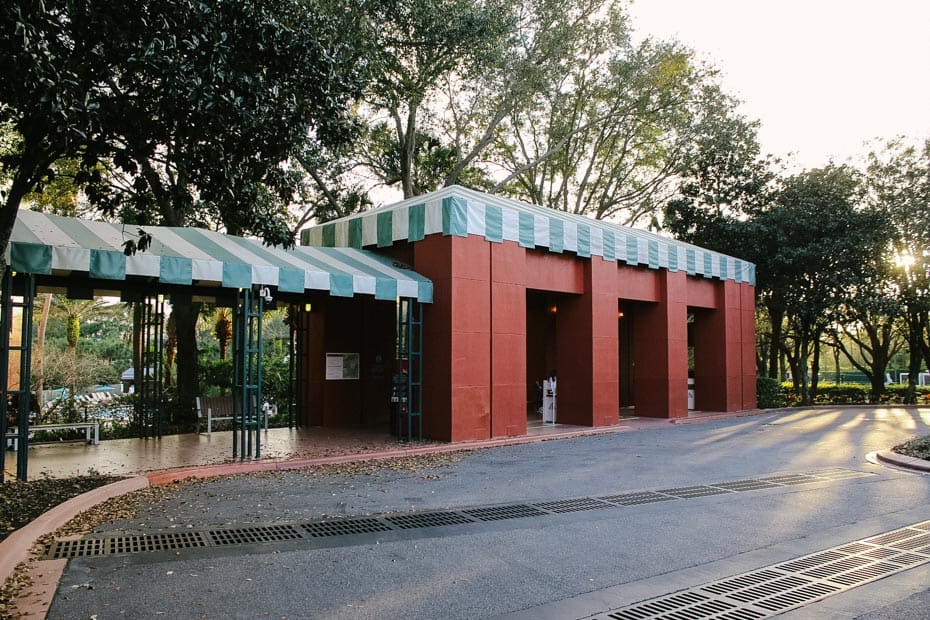 The immediate types of transportation available to or near Disney's Swan and Dolphin's hotel are:
Disney Friendship Boats
Walking to Epcot and Disney's Hollywood Studios
Ability to walk to the Disney Skyliner
Disney's Friendship Boat service is located between the two resorts. These boats run back and forth daily between Epcot, the surrounding resorts, and Hollywood Studios. If you plan a stay here, make sure to familiarize yourself with how the Friendship Boat service works.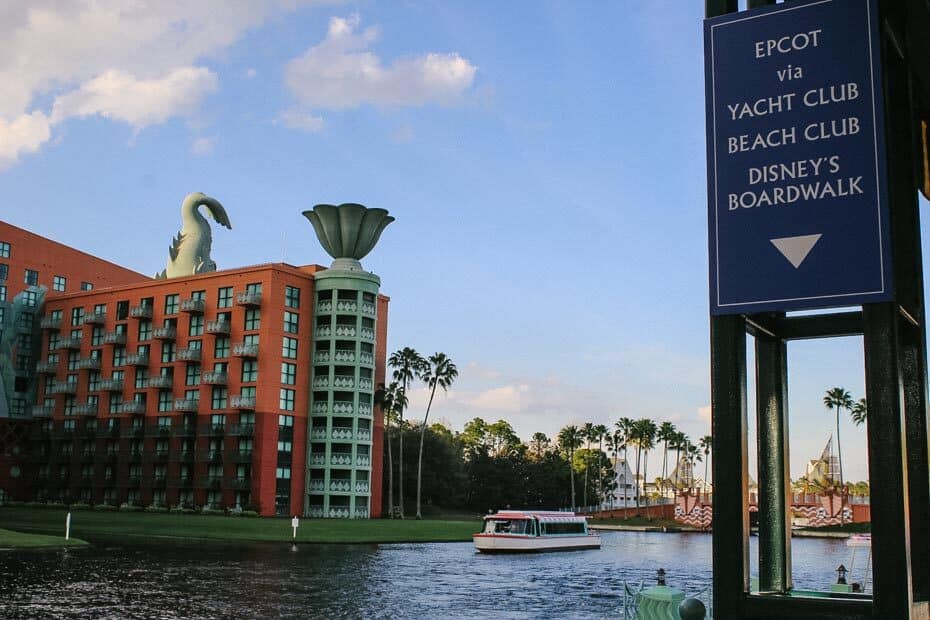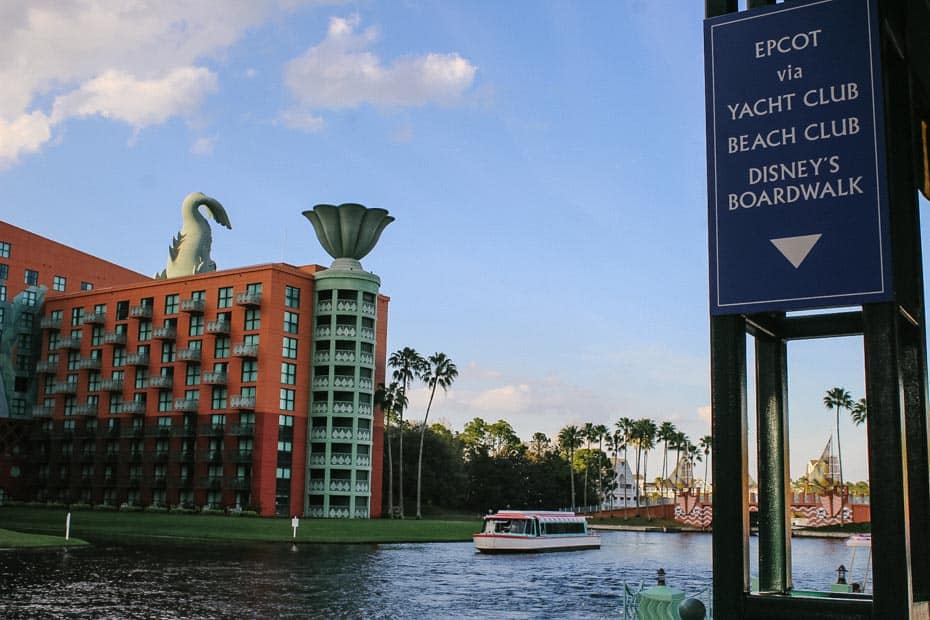 Final Thoughts on this Swan and Dolphin Review
I hope this Swan and Dolphin review provided you with the information you need to decide about staying here. Like every other resort at Disney, it has its pros and cons. Staying at Disney's Swan and Dolphin might end up being a great choice for your next vacation. I have always enjoyed my stay here, with little to no complaints.
The only thing that I failed to mention so far in the review is that the Dolphin portion has a large convention center. Disney's Yacht Club next door has a massive convention center as well.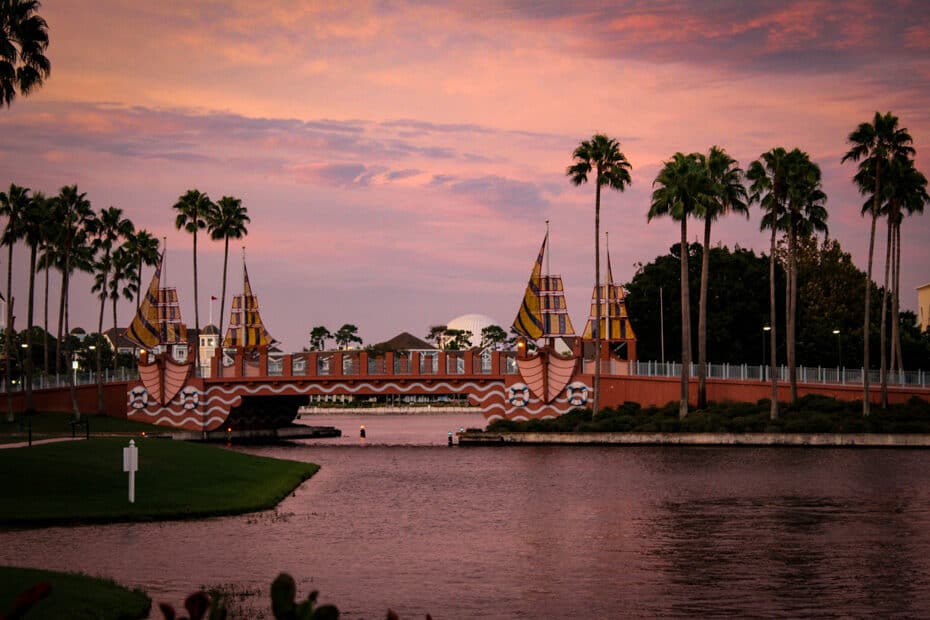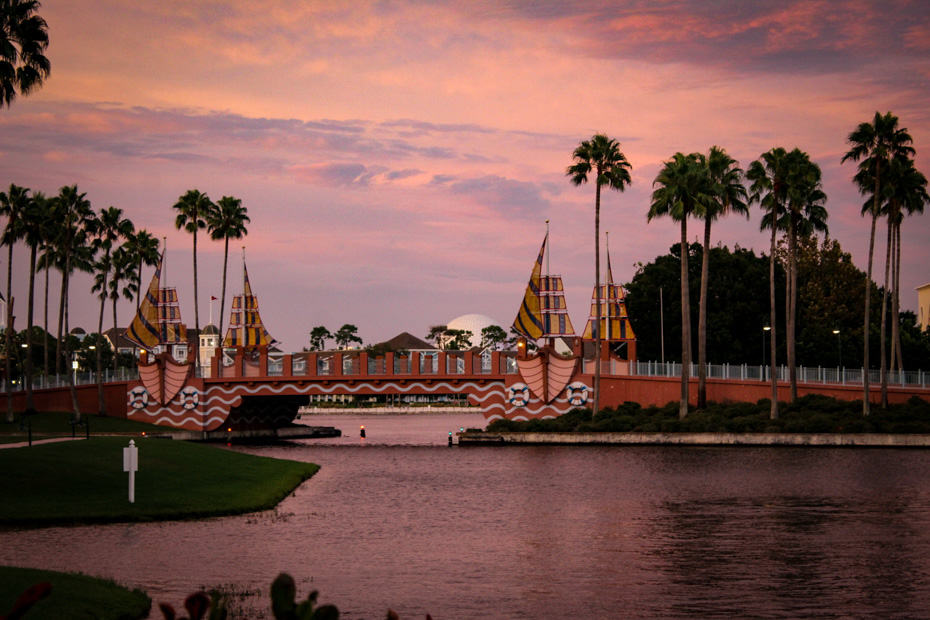 This means you might encounter a bit of a different crowd during your stay. But in most instances, it won't be a major concern.
Whatever you decide, you can hardly beat a Disney vacation at any resort, including the Walt Disney World Swan and Dolphin.
Anyone that might need help planning and making reservations for your next Walt Disney World vacation can contact our friends at Firefly Travels. Their services are always helpful. You can check with them here for more details.
Planning a Disney vacation? These other Disney World Hotel reviews might interest you:
Or you might enjoy browsing out full list of Disney Restaurant Reviews here.
If you enjoy staying at Marriott hotels, we have a full guide to the best Marriotts near Disney World. It includes budget-friendly to high-end accommodations that are actually near Disney World.
Leave a comment below and let me know your thoughts on the Swan and Dolphin. I'd also love to know if you have visited since the bus changes, and what was your experience?