Hops and Barley Marketplace Review at Epcot Food and Wine (2022)
Hops and Barley represents the American Pavilion at Epcot's Food and Wine Festival. Until this year, I haven't made it to this booth to review formally.
As you probably know, there are so many options at Food and Wine. Therefore, choosing what to try on a limited vacation can be challenging.
When I finish these individual reviews, I plan to go back and put together a best of the best guide for the festival. I can tell you now that two items at the Hops and Barley Marketplace will be included.
Admittedly, I wished I'd stopped in here sooner. Let's see why.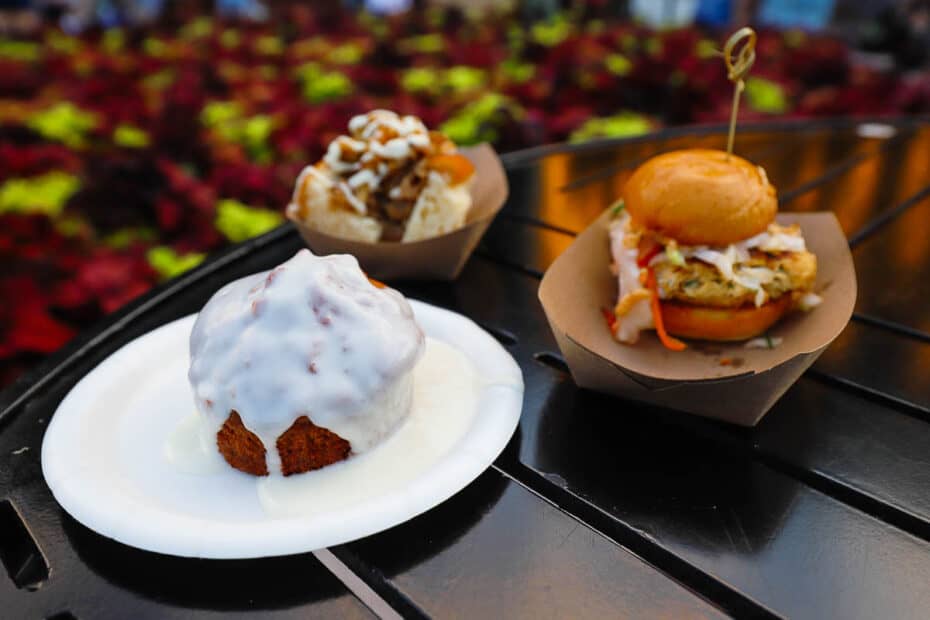 Hops and Barley Menu Items with Prices
Below are the menu items with prices for Hops and Barley.
Chesapeake Crab Slider ($7.00)
Hot Beef Sandwich ($6.50)
Freshly Baked Carrot Cake ($4.50)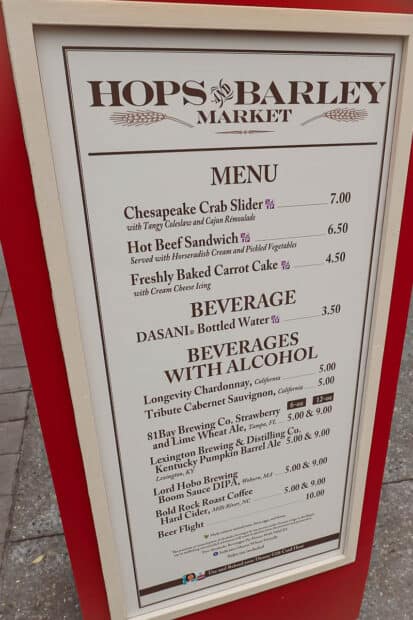 Beverages:
81Bay Brewing Co. Strawberry and Lime Wheat Ale ($5.00 or $9.00)
Lexington Brewing and Distilling Co. Kentucky Pumpkin Barrel Ale ($5.00 or $9.00)
Lord Hobo Brewing Boom Sauce DIPA ($5.00 or $9.00)
Bold Rock Roast Coffee Hard Cider ($5.00 or $9.00)
Longevity Chardonnay ($5.00)
Tribute Cabernet Sauvignon ($5.00)
Beer Flight ($10.00)
Hops and Barley Marketplace is on the far right-hand side if you're facing the American Adventure. There is usually a decent line, and plenty of tables are set up in the immediate area, unlike other booths.
Finding a table after picking up your food is half the battle at many booths.
Chesapeake Crab Slider ($7.00)
We'll start with the Chesapeake Crab Slider. This slider looks promising, but I found it to land on the mediocre side of things.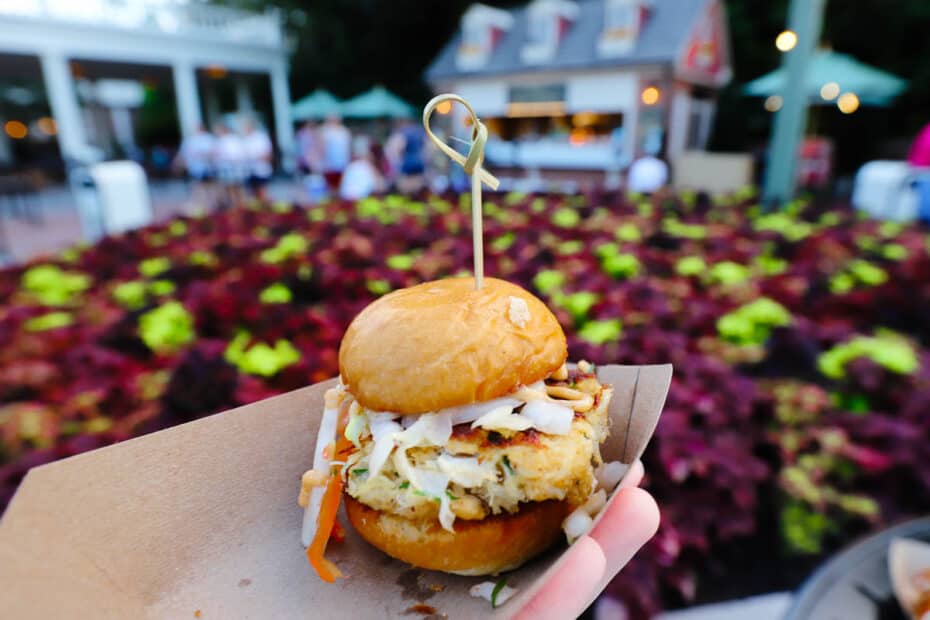 In my notes, I put that it wasn't great and it wasn't bad. My main issue is the crab didn't taste as fresh as I'd hoped. The slaw topping was okay but nothing worth bragging over.
And the bun, which looked fresh, tasted stale. I don't know about you, but I don't care for stale bread.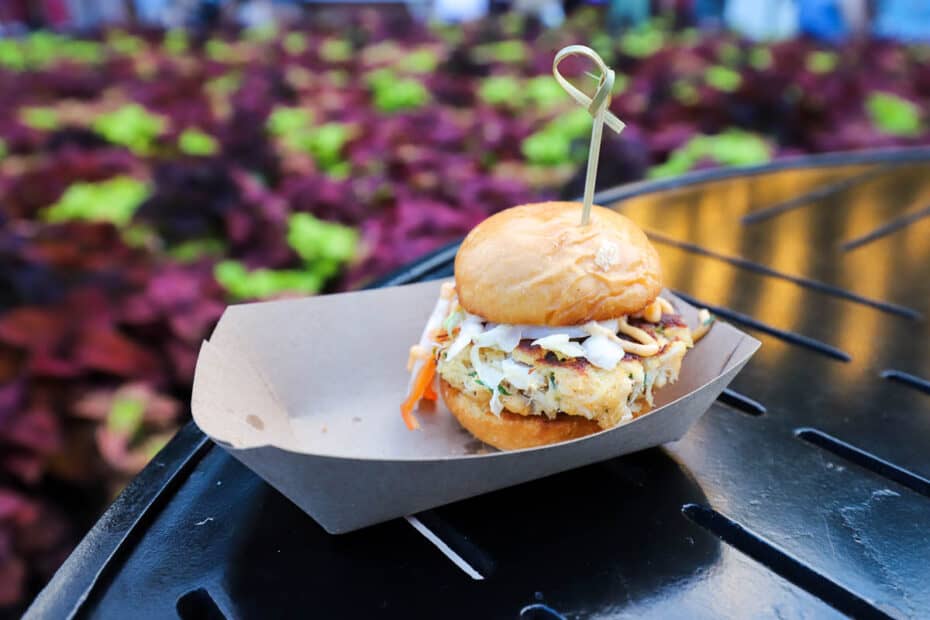 It probably didn't help that I had just consumed one of the best dishes I'd had at the festival before trying the slider.
Hot Beef Sandwich ($6.50)
I wasn't expecting much from the hot beef sandwich other than a warm roast beef on a bun. However, this dish was bursting with flavor.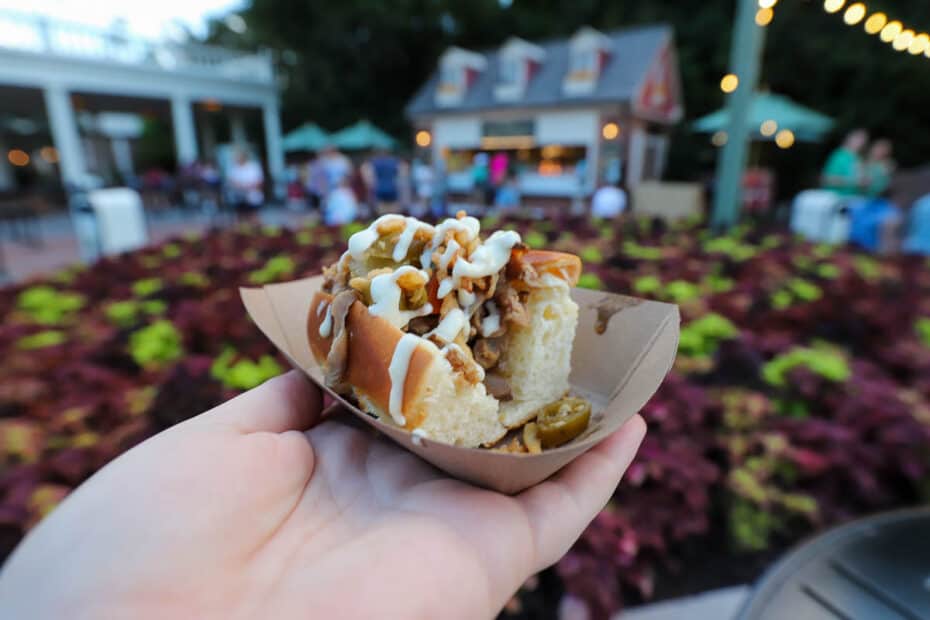 Additionally, this bun was so fresh and buttery that I thought, "Wow, America has great bread." Of course, we know how that turned out.
If you like spicy hot things, you'll appreciate the peppers that top this sandwich. If not, you can easily pull them off.
Unfortunately, I wasn't crazy about the horse radish cream. If I order this again, and I probably will, I'll ask the cast member to leave it off. But that's probably just a personal preference.
The roast beef on this sandwich was warm and flavorful. It's the kind of sandwich that should be served at the resort quick services. I'd order this item and pay a premium for the quality.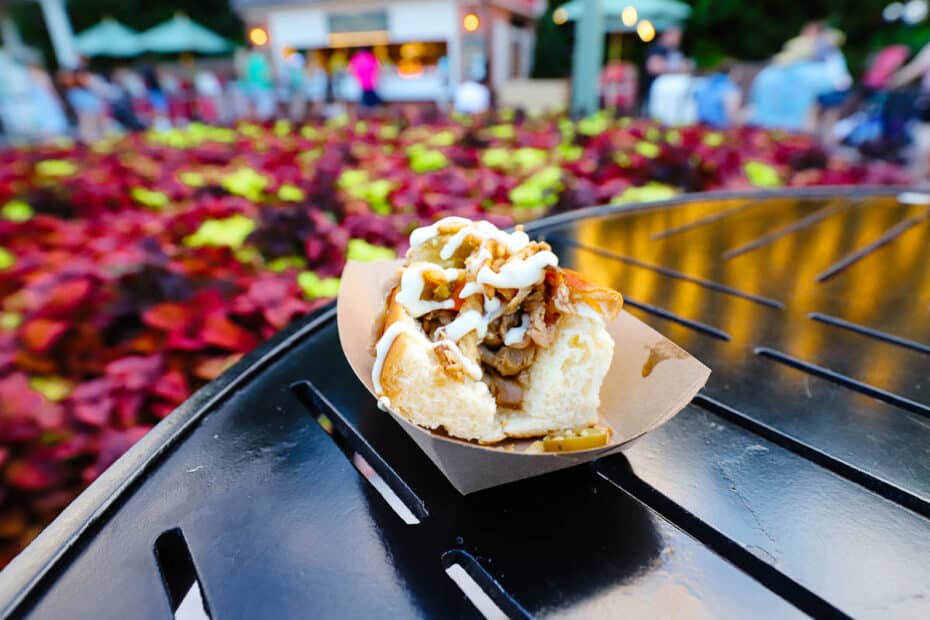 Needless to say, I was impressed.
Freshly Baked Carrot Cake ($4.50)
To finish off my hearty American meal, I picked up an order of freshly baked carrot cake. Yum.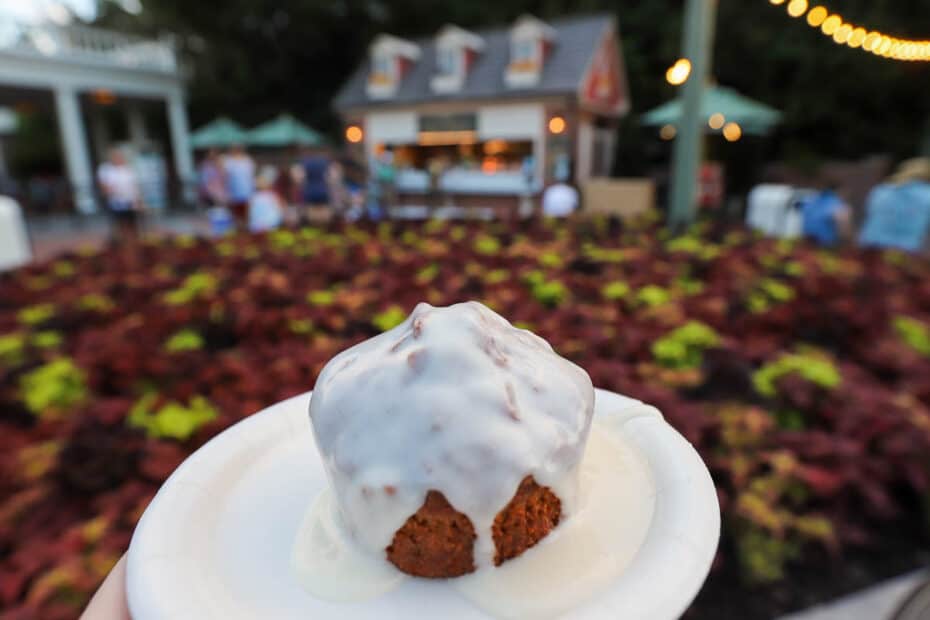 The carrot cake comes in the shape of a muffin or a cupcake if you like. It's then saturated with cream cheese icing. However, the icing is more of a sauce. But that's completely okay.
If you love carrot cake, you won't want to miss this item. My only other dessert favorite so far is the pudding cake at the Ireland Marketplace. And then there is the chocolate bread pudding at the Mexico Marketplace.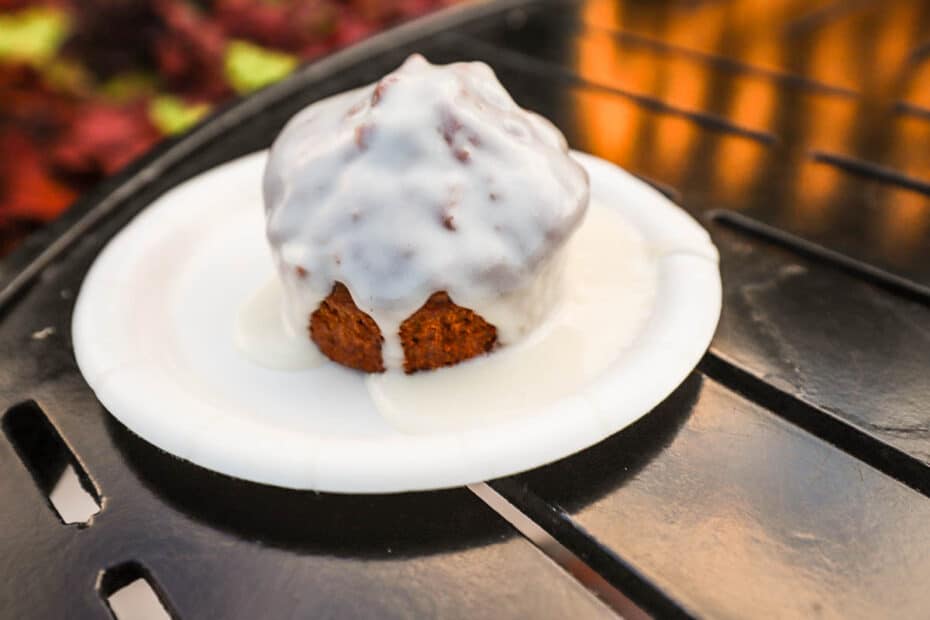 Overall, Hops and Barley is a strong contender at the 2022 Epcot International Food and Wine Festival. Don't miss the hot beef sandwich and carrot cake!
For more food booth reviews, try these:
If you're planning an upcoming visit to the festival, you might enjoy staying at one of the resorts near Epcot. Disney's Beach Club is a favorite for those who enjoy pools because of Stormalong Bay. Here are the other options:
Return to Epcot Food and Wine Festival Guide.
What are your thoughts on Hops and Barley? Will you add anything from this menu to your list of items to try?