Coastal Eats Review at Epcot Food and Wine (2022)
In true Resorts Gal fashion, I saved what I consider the best booth at this year's Food and Wine Festival for last. So this review of Coastal Eats at Epcot's 2022 Food and Wine Festival will look at a few must-try items during your vacation.
First, I have to say how impressed I was with the booth. Coastal Eats has a menu item that includes three oysters on the half shell.
Seriously, this is the exact kind of higher-end menu item that many of us expect at a Food and Wine Festival. Unfortunately, the other global marketplaces that offer similar items are few and far between.
And if you don't care for oysters, there's another dish that will likely win your favor. It involves shrimp, cheese-y dip, and bread. Unless you have a seafood allergy, you will want to try it.
Everything here was so good. Let's take a closer look.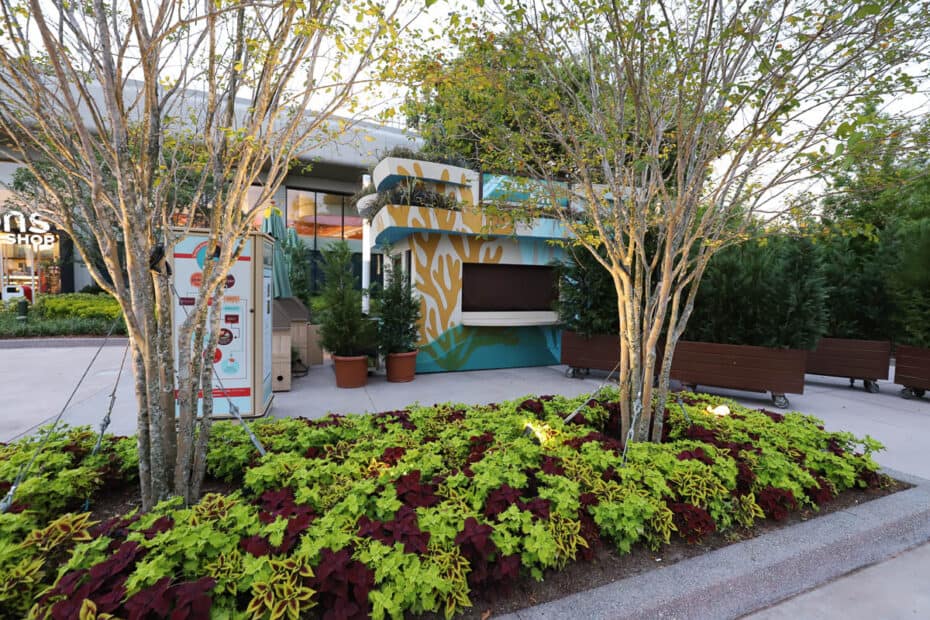 Coastal Eats Menu Items with Prices
Below are the menu items with prices for Coastal Eats.
Baked Scampi Dip with Shrimp, Scallops, and Baguette ($6.00)
Oysters Rockefeller ($7.50)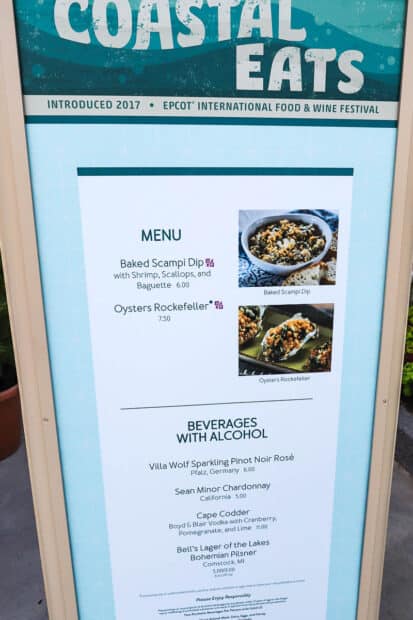 Beverages:
Bell's Lager of the Lakes Bohemian Pilsner ($5.00 or $9.00)
Villa Wolf Sparkling Pinot Noir Rose ($6.00)
Sean Minor Chardonnay ($5.00)
Cape Codder ($11.00)
Coastal Eats is located immediately next to Mac and Eats. Both food booths are located toward the back of the Creations gift shop.
Baked Shrimp Dip with Shrimp, Scallops, and Baguette ($6.00)
We'll start with the baked shrimp dip with shrimp, scallops, and a baguette. Our baguette was sliced into four pieces.
Ideally, you'll want to grab a spoon and pile the hot, sultry dip onto each slice of bread. Of course, doing this also makes the dish easily shareable. But it's so yummy, why would you want to share it?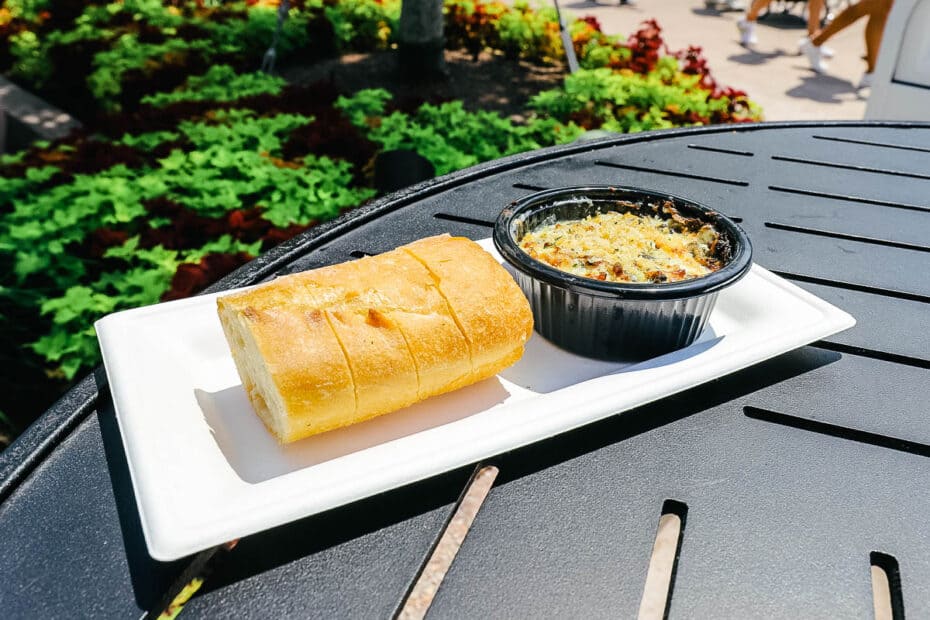 I'm not a fan of scallops, but they didn't bother me a bit. Additionally, my portion was packed with plenty of shrimp.
While this isn't a new dish, the portion I received was piping hot and much better than when I last ordered it a few years ago. I'm sure, like anything else, enjoyment can vary if you receive a portion that's not up to temperature or even overcooked.
Oysters Rockefeller ($7.50)
Oysters. As I reflect on my Food and Wine adventures for 2022, some fiascos, the Oysters Rockefeller, stands out in the crowd. Between the oysters and the bread pudding at Mexico's Marketplace, I'll have a tough time deciding which was the best.
These oysters were cooked to perfection. On top of the oyster, there's a bed of creamy spinach with panko. It's almost like the best hot spinach dip you can imagine was spooned over an oyster.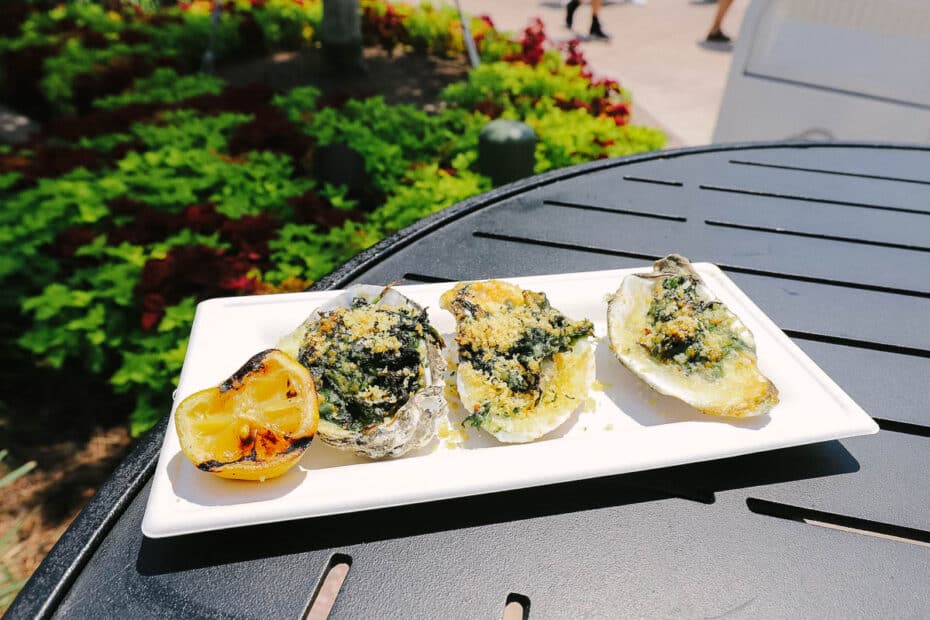 After consuming the first two, I noticed the grilled lemon on the side. I went back and forth over whether or not to squirt it on my last oyster.
And I was so glad I did. The lemon added a zestiness to the oyster that I wasn't expecting. The entire combined flavor profile was perfection.
For $7.50, you can't beat picking up an order of three oysters. And it's rare to find oysters, in general, at Walt Disney World. The only place I can think of off the top of my head is The Boathouse at Disney Springs.
Related: The Boathouse Review at Disney Springs
Overall, Coastal Eats offers two dishes on their menu that make the booth worthy of a stop…or two during your vacation.
For more 2022 Epcot Food and Wine Reviews, try the following:
You might also enjoy our list of the best desserts at Epcot's Food and Wine Festival in 2022.
In the comments
Do you think you'll try the oysters or scampi dip from Coastal Eats? What looks good to you?