The Fry Basket Review at Epcot's Food and Wine Festival (2022)
As if we needed more theme park fries…but it turns out we did. The Fry Basket is one of those booths at Epcot's Food and Wine that proves you don't have to reinvent the wheel to achieve success.
Like its name, the Fry Basket offers fries. You can get the fries in a flight or an individual serving. However, at less than $8.00, the fry flight is easy to reconcile.
And you know how I love a good two-for-one. Well, in this case, it's a three-for-one (even better). So let's look closer at the flavors.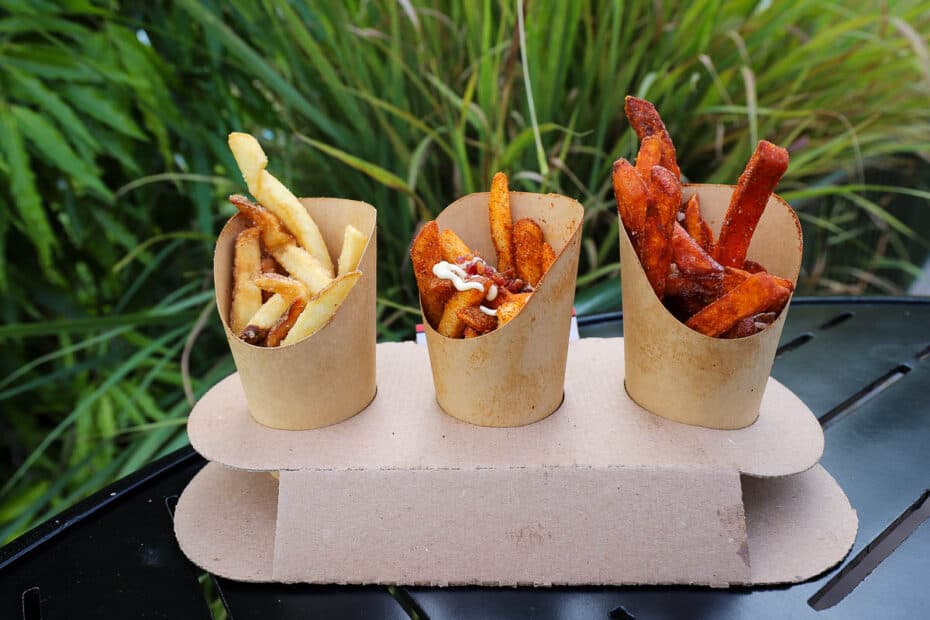 Fry Basket Menu Items
Below are the menu items with prices at the Fry Basket.
Adobo Yuca Fries ($5.50)
Fry Flight ($7.50)

Sea Salt and Malt Vinegar Fries
Barbecued Bacon Fries
Sweet Potato Casserole Fries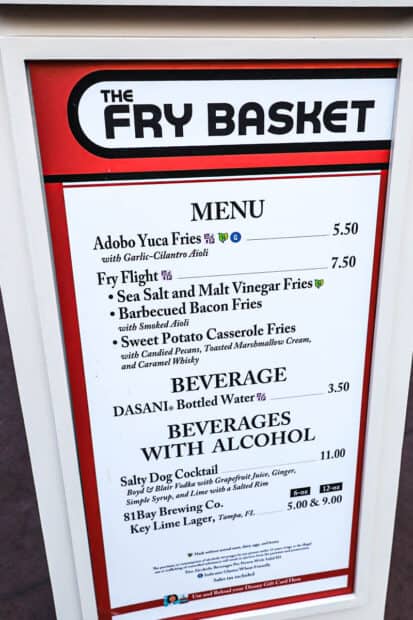 Beverages:
Salty Dog Cocktail ($11.00)
81Bay Brewing Co. Key Lime Lager ($5.00 or $9.00)
The Fry Basket is located between Test Track and the back of the new Creations Gift Shop at Epcot. Specifically, it's directly across from Cool Wash, the cooling station that mists water and sometimes serves frozen Coke drinks.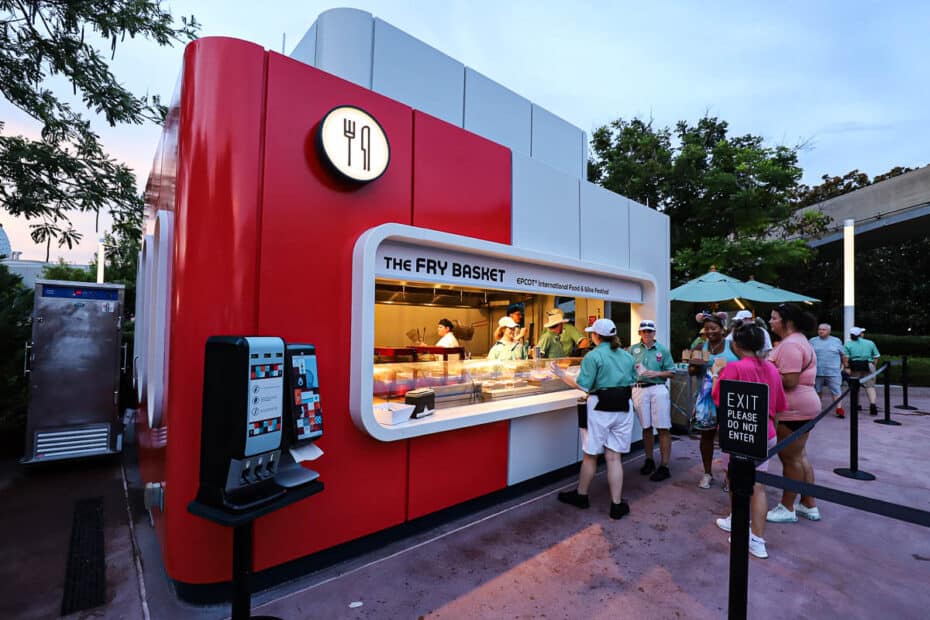 You're sure to know when you're anywhere near Fry Basket territory. Guests are walking by every which way, proudly carrying a flight of fries.
Additionally, I noticed that all of the blacktop tables in the area were extra greasy. So I decided to take my fry flight to a table a little further away from the booth.
Here is my flight.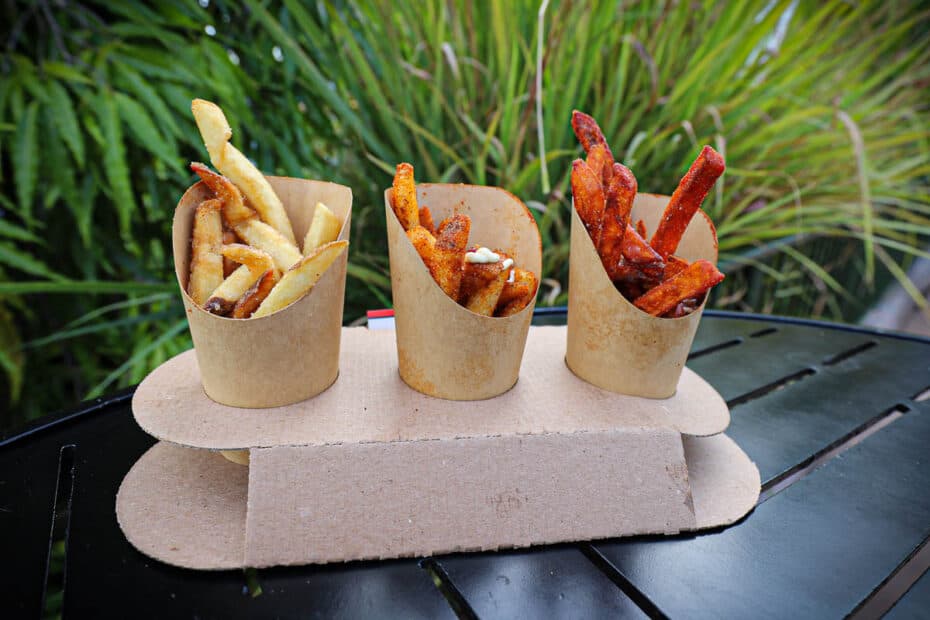 I started with the Sea Salt and Malt Vinegar fries pictured on the far left. Unfortunately, while tasty, these fries were difficult to eat due to being over-salted.
Don't get me wrong, I love the flavor, and it might have just been my particular order, but they tasted like they had been fried in salt rather than grease.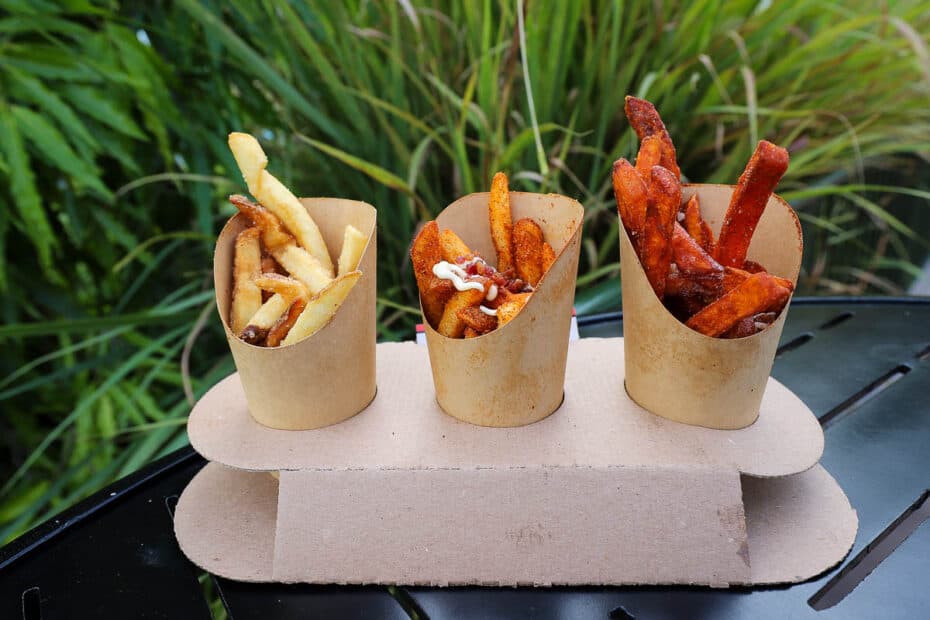 Next, I went with the Barbecued Bacon fries. These fries came with chunks of smoked bacon and aioli.
Okay, the chunks of smoked bacon were delicious and lent a unique bite that complemented the fries. The aioli was fine. There wasn't really enough of it to make a difference either way.
And the fries tasted as though they had been dipped in a chili-like seasoning. These were fries I kept trying. Part of me liked them, while part of me didn't. But, ultimately, I kept trying them, which says something about the seasoning.
Do you know how they say to save the best for last? Well, that's what I recommend doing with the sweet potato fries.
This order of fries was so much more than I would have thought. The menu describes them as "sweet potato casserole fries with candied pecans, toasted marshmallow cream, and caramel whisky."
These indulgent fries were the star of the entire flight. The marshmallow topping melted immediately, coating the fries with an extra layer of sweetness.
And I thoroughly enjoyed the candied pecans. When I finished my fries, I grabbed a fork and scraped out the rest of the nuts from the bottom of the container. Yes, they were that yummy.
Unfortunately, I haven't tried the Yuca fries, which are a separate order and a plant-based item. However, if they're anything like the Yuca fries over at Nomad Lounge, they are sure to be a home run.
So far, we've visited these booths:
And over the next few days, we're headed to:
What do you think about The Fry Basket? Is this a booth where you'll make a purchase, or are you holding out for something else?