Germany Marketplace at Epcot Food and Wine (2022 Review)
Our journey around the World Showcase continues as we make our way to Germany. For those who have visited the Epcot International Food and Wine Festival before, you probably already know that Germany's Marketplace is a popular stop.
This year leaves no exceptions, so anticipate a lengthy line. Most guests will leave said line touting the apple strudel or maybe all three items offered in 2022.
Whatever you decide, I think you'll be pleased with this year's offerings. So let's take a closer look.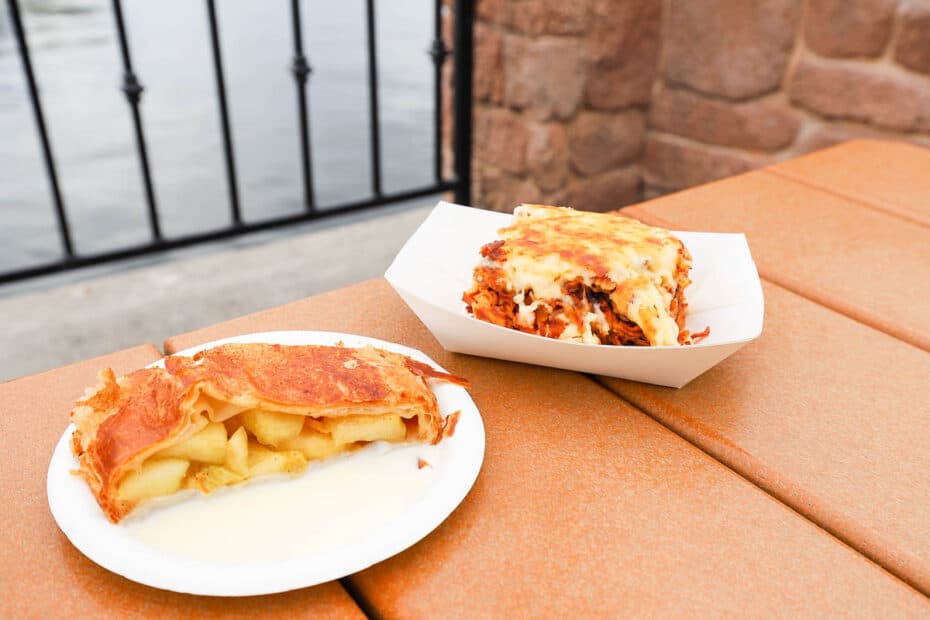 Germany Marketplace Items with Prices
Here are the items with prices at the 2022 Germany Food and Wine booth at Epcot.
Schinkennudeln ($5.00)
Roasted Bratwurst ($5.75)
Apple Strudel ($4.25)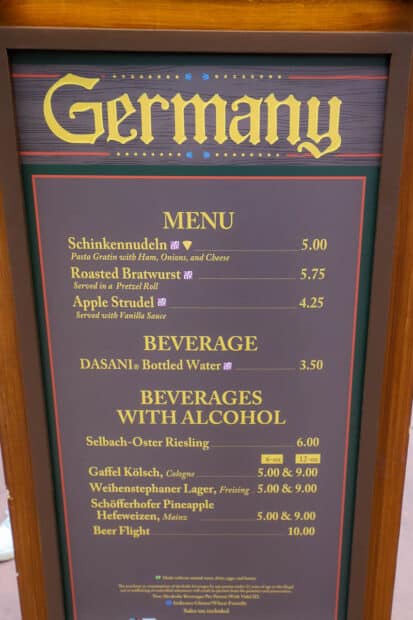 Beverages:
Gaffel Kolsch ($5.00 or $9.00)
Weihenstephaner Lager ($5.00 or $9.00)
Schofferhofer Pineapple Hefeweizen ($5.00 or $9.00)
Selbach-Oster Riesling ($6.00)
Beer Flight ($10.00)
Roasted Bratwurst ($5.75)
We'll start with the Roasted Bratwurst. This classic dish comprises a sausage link served on a pretzel bun. Make sure to grab some mustard.
This particular photo is from a previous festival. Rest assured, the dish hasn't changed. I was tempted to order another one this year and probably will at some point.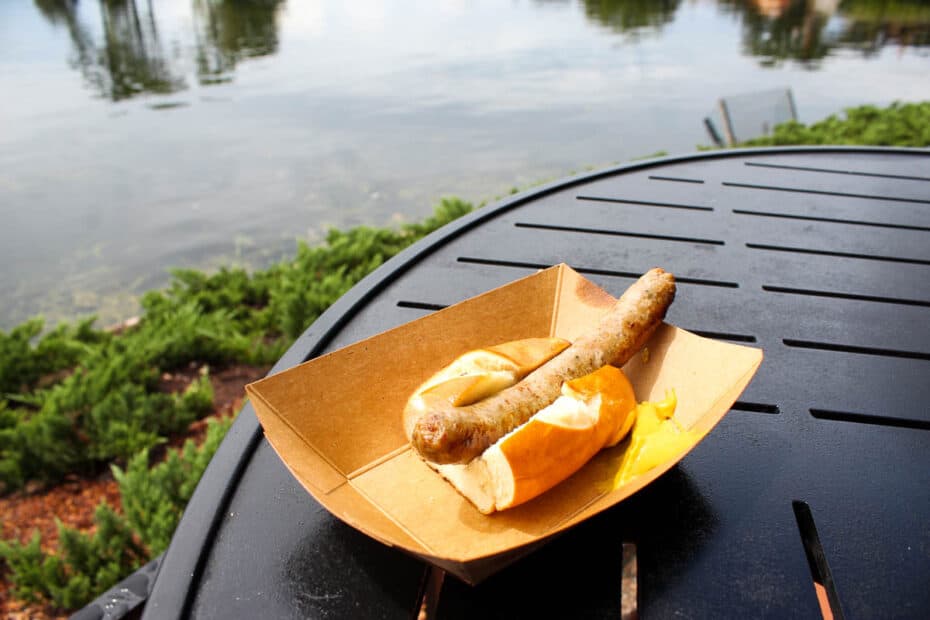 For $5.75, the pretzel with sausage is an appetizing snack, or combined with the other items at the booth, you can make it part of a full meal.
Schinkennudeln ($5.00)
This is my first year trying the Schinkennudeln at Germany's Marketplace. This noodle dish is a pasta gratin with ham, onions, and cheese.
What you have here is a yummy macaroni cheese that reads more on the drier side than creamy. But that's okay. Not every mac-and-cheese can be gooey.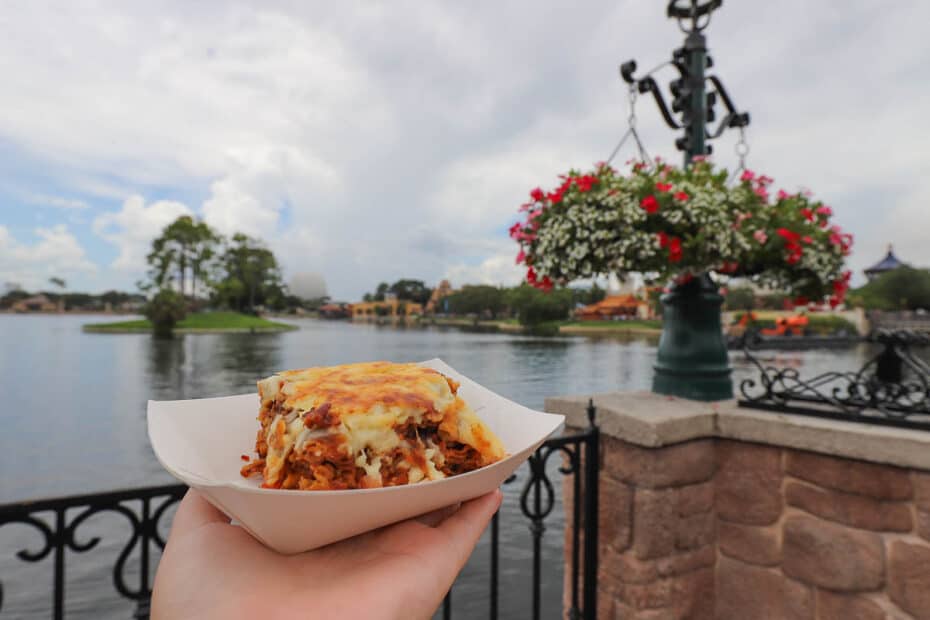 I had to make myself put my fork down with this one. If you think this is a potato dish, think again. The layered casserole is presented like lasagna and smothered with a mix of melted cheese.
This Schinkennudeln is comfort food at its finest. And for $5.00, you get a heaping portion.
Apple Strudel ($4.25)
Lastly, we have the apple strudel, which is served piping hot with a vanilla cream sauce. The strudel is another one of those "you don't have to re-invent the wheel" dishes.
It's hard to go wrong with an apple pie mixture enveloped in pastry. Additionally, I appreciated the vanilla cream sauce on the side.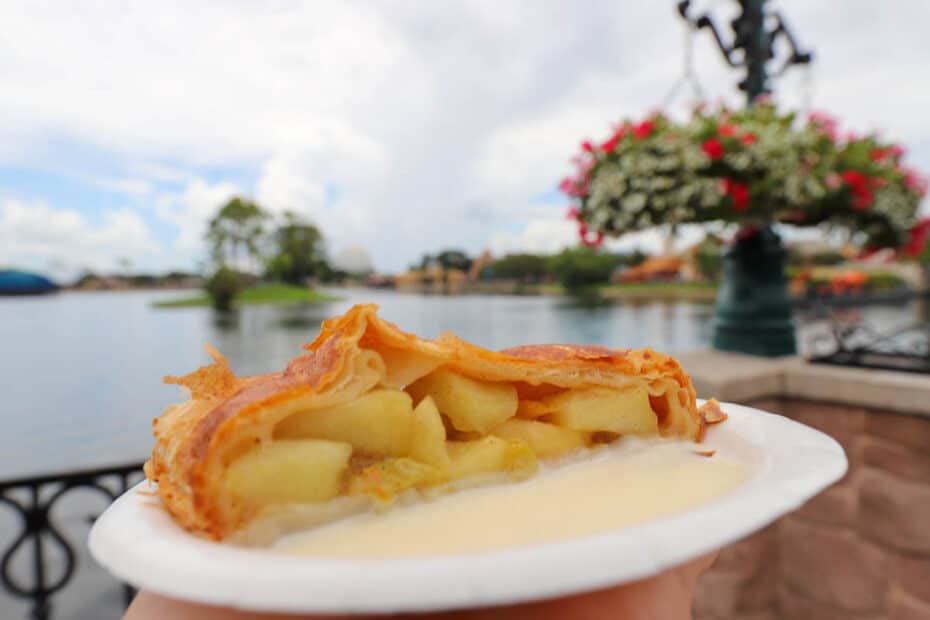 The sauce is intended to mimic vanilla ice cream. However, the lack of a contrasting cold was notable. But would that stop me from ordering this dish again? No.
Pick up a strudel if you're in the mood for an apple dessert. Since this dish is served warm, I found it much more desirable than the chilled apple tart I received at the Appleseed Orchard.
For more festival reviews, try the following:
Or try our complete festival guide: 2022 Epcot Food and Wine Festival Guide
Do you have plans to attend this year's festival? Then, you might enjoy browsing a few of our Disney World Resort Reviews. The following hotels are located within walking distance of Epcot.
What do you think about the three food items at Germany's Marketplace at Epcot's Food and Wine? Will you stop in to try anything?