Japan Marketplace Review at Epcot's Food and Wine Festival (2022)
Japan's Marketplace at the Epcot International Food and Wine Festival is usually a no-brainer. But unfortunately, this year's items are more hit-and-miss.
Perhaps, that's because I decided to eat here closer to the end of the day. Often, when I've ordered food later, it has not looked to be near the quality of food served earlier.
Since I'm at the Festivals often, I've tested this theory. Nearly always, the dishes served later appear withered, dry, or as though they've been sitting around longer than you or I would want.
For instance, my lamb and berry bush shrimp at Australia's Marketplace looked rough when I ordered them around 7:00 p.m. one evening. The lamb ended up flavor-wise being one of my favorite dishes of the festival. But the shrimp tasted as rubbery as it looked.
However, there are always exceptions to the rule. After leaving this booth, I went to Hops and Barley. There, I had one of the freshest meals I'd received to date. So there's that.
Now let's look at what you want or don't want in Japan's Marketplace.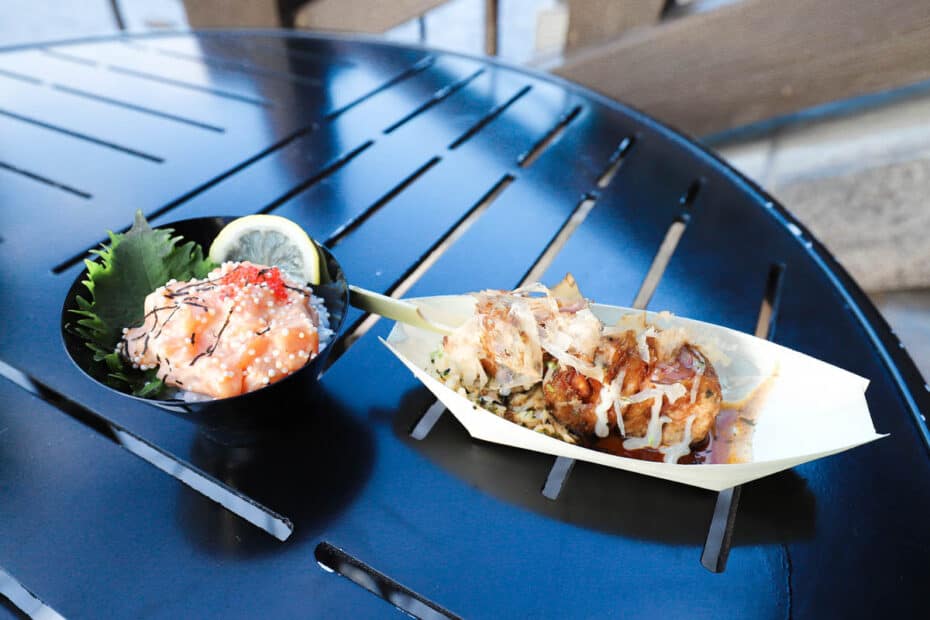 Japan Marketplace Menu Items
Below is a list of the menu items at the Japan Marketplace.
Teriyaki Chicken Bun ($7.50)
Takoyaki ($8.50)
Spicy Salmon Donburi ($8.75)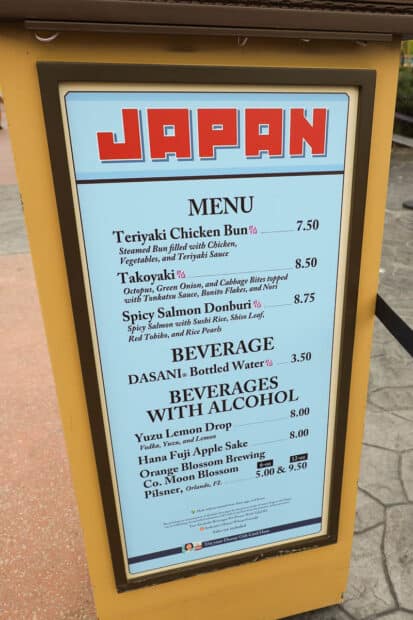 Beverages:
Orange Blossom Brewing Co. Moon Blossom Pilsner ($5.00 or $9.00)
Hana Fuji Apple Sake ($8.00)
Yuzu Lemon Drop ($8.00)
Japan's food booth at the Food and Wine Festival is pretty simple to find. It sits outside the pavilion along the World Showcase Promenade.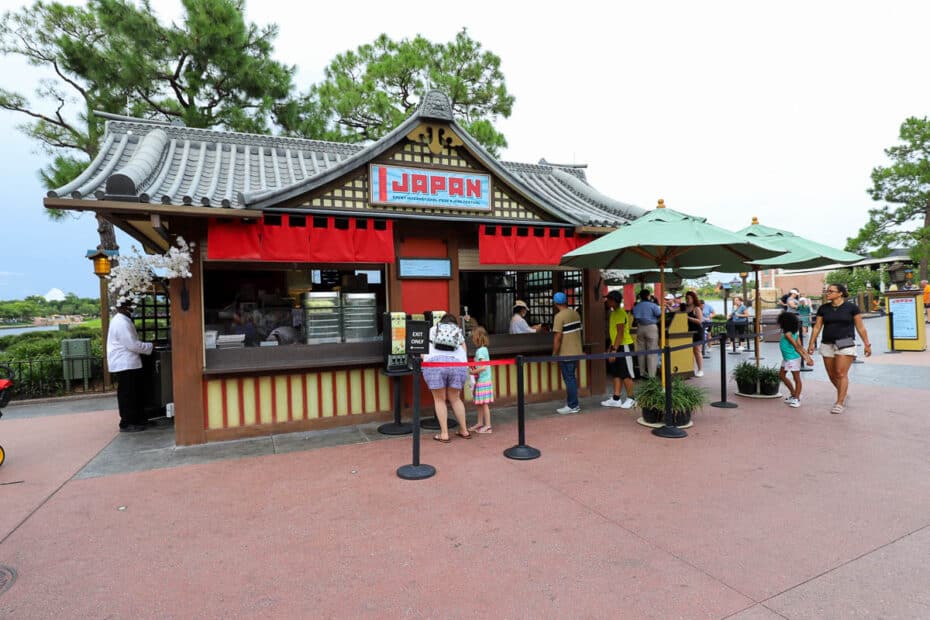 If you're in the vicinity of the area, you can't miss this booth.
Teriyaki Chicken Bun ($7.50)
While I didn't try the Teriyaki Chicken Bun this year, I've had it at prior festivals. Below is a photo of the bun from the last time I had it.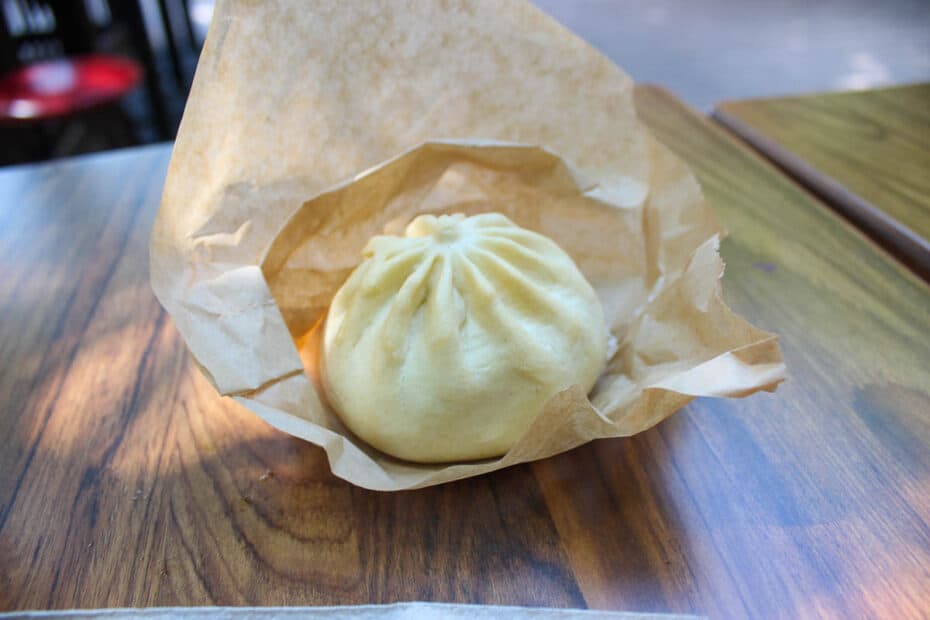 Japan's chicken bun is a safe fan favorite. The flavors are nice, and it's a simple hand-held item that most anyone should enjoy.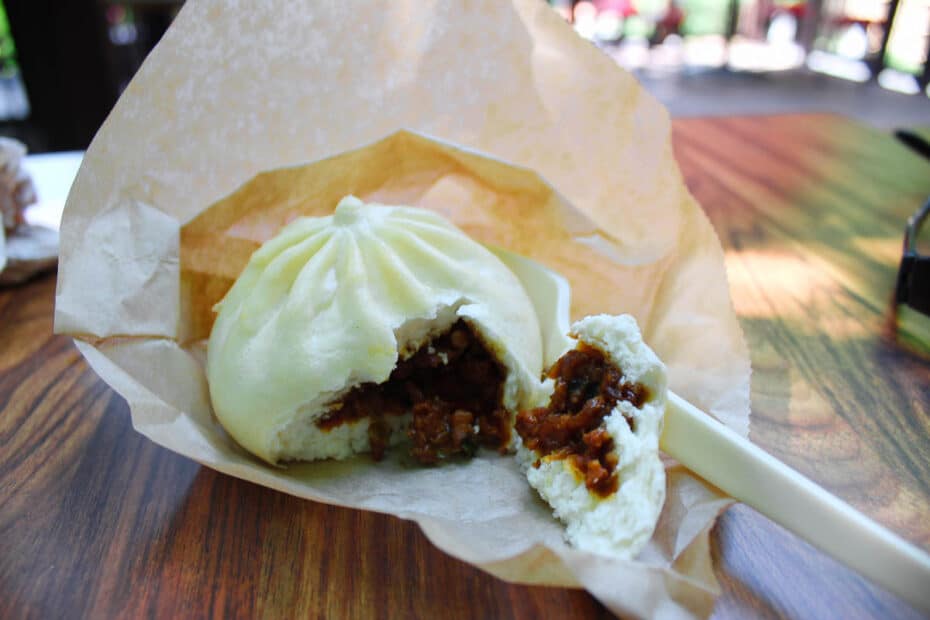 Additionally, I think the teriyaki bun is a kid-friendly item. I wouldn't go out of my way to order one at $7.25. But you could do much worse.
Takoyaki ($8.50)
Next, we have an example of what I meant by not always receiving a fresh dish when ordering later in the day. This is the Takoyaki described as "octopus, green onion, and cabbage bites topped with Tonkatsu sauce, Bonito flakes, and Nori.
The Takoyaki was a dish I was looking forward to enjoying. However, since I watched My Octopus Teacher, I'd pretty much decided I wouldn't consume octopus anymore.
For the festival's sake, I abandoned my new practice and ordered the octopus. Truthfully, I had seen several others enjoying this dish over the past week and was interested in trying it.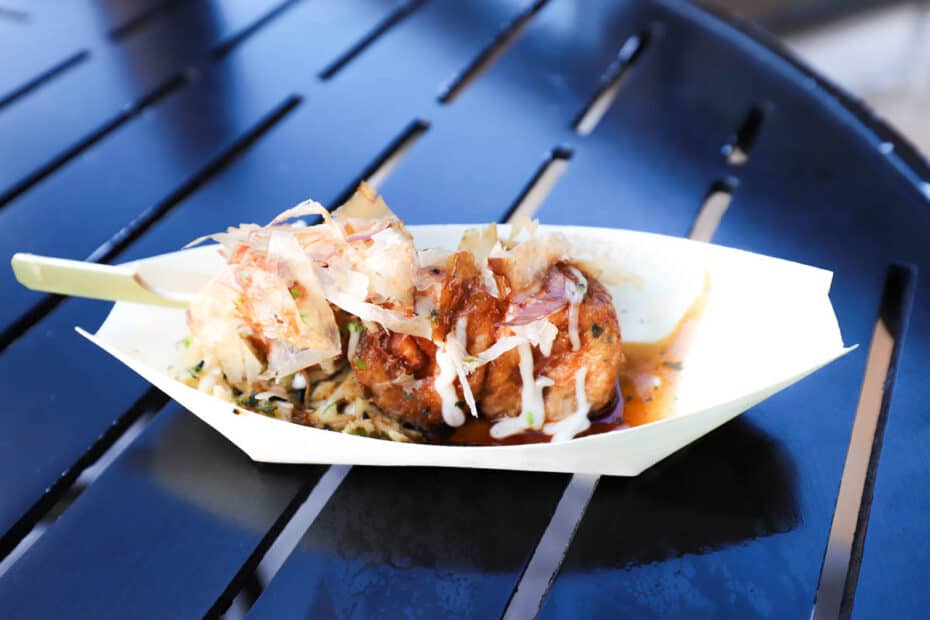 When they handed me a skewer, I knew mine wasn't the quality of others I had seen. And I noticed several trays sitting around that they were giving out to guests.
This dish consists of three fritter-like balls that are fried and contain bits of octopus and veggies. As far as the octopus goes, it was good quality.
But each fritter contained one tiny octopus bite, and the rest was cabbage. I should have taken a photo of the inside to show you that the pieces of octopus were probably not even a full half-inch.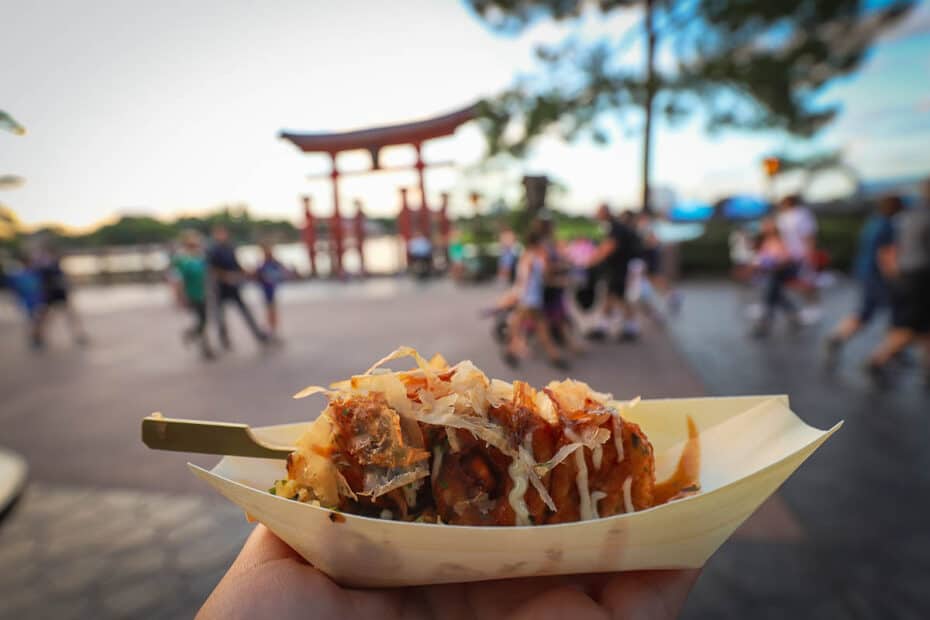 In addition, to the misleading portion of octopus (it is listed as the primary ingredient), the rest of the dish was soggy. I don't know about you, but I don't want anything fried to be served soggy.
So if you decide to order this dish, ensure you get it earlier in the day. I would order when there's a decent line of people. That way, your dish will more than likely be freshly prepared.
Spicy Salmon Donburi ($8.75)
You may or may not like the Spicy Salmon Donburi. For me, this dish had too much of a fishy taste. As a person who loves sushi, especially salmon nigiri, I anticipated enjoying this version.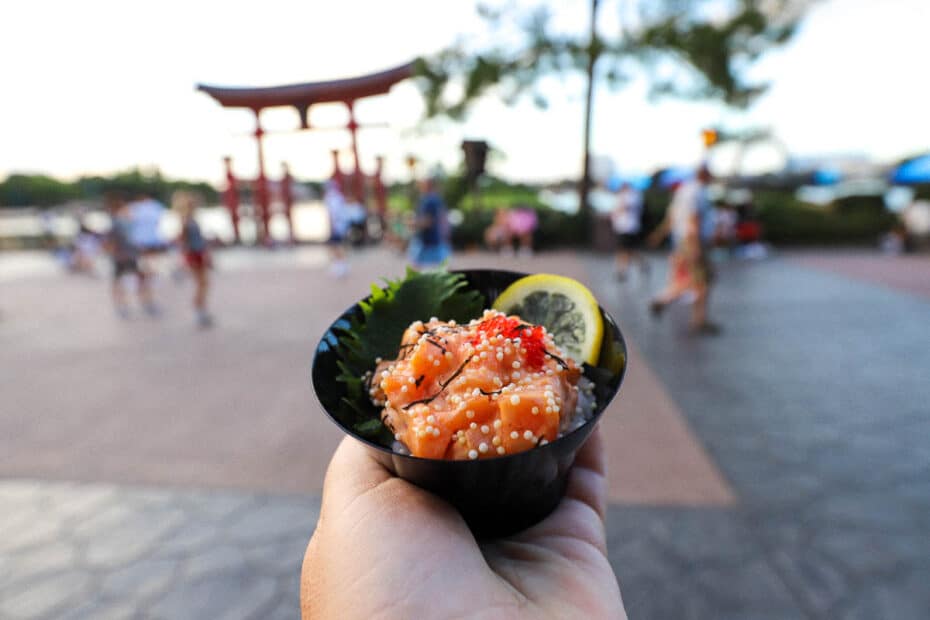 The salmon sits atop a bed of sushi rice. A Shiso leaf, red Tobiko, and rice pearls accompany it.
Again, this could have been because it was prepared earlier and sitting in the refrigerator. However, since this is a dish served cold, I'm not sure.
I do know that both my dishes were previously prepared and handed to me immediately after ordering. It feels as though both dishes are potentially much better than the portions I received.
Good luck.
For more Epcot Food and Wine Reviews, try the following:
Additionally, you might enjoy learning more about staying at nearby resorts. They include these via the Skyliner Resorts:
Return to Epcot Food and Wine Guide.
What are your thoughts? Do you think you'll try any of the items at the Japan booth at Epcot's Food and Wine Festival?