Ireland Marketplace Review at Epcot Food and Wine (2023)
Ireland's Global Marketplace at the Epcot International Food and Wine Festival returns with the same menu in 2023. As always, it's a show-stopper.
Below, we'll preview the menu with prices for Ireland. Then we'll look at the items we've previously tried. Since these items are returning, we didn't purchase a fresh batch this year. However, this is one of our favorite booths, and we'll likely be stopping here for lunch when the weather cools off a bit.
It's so good.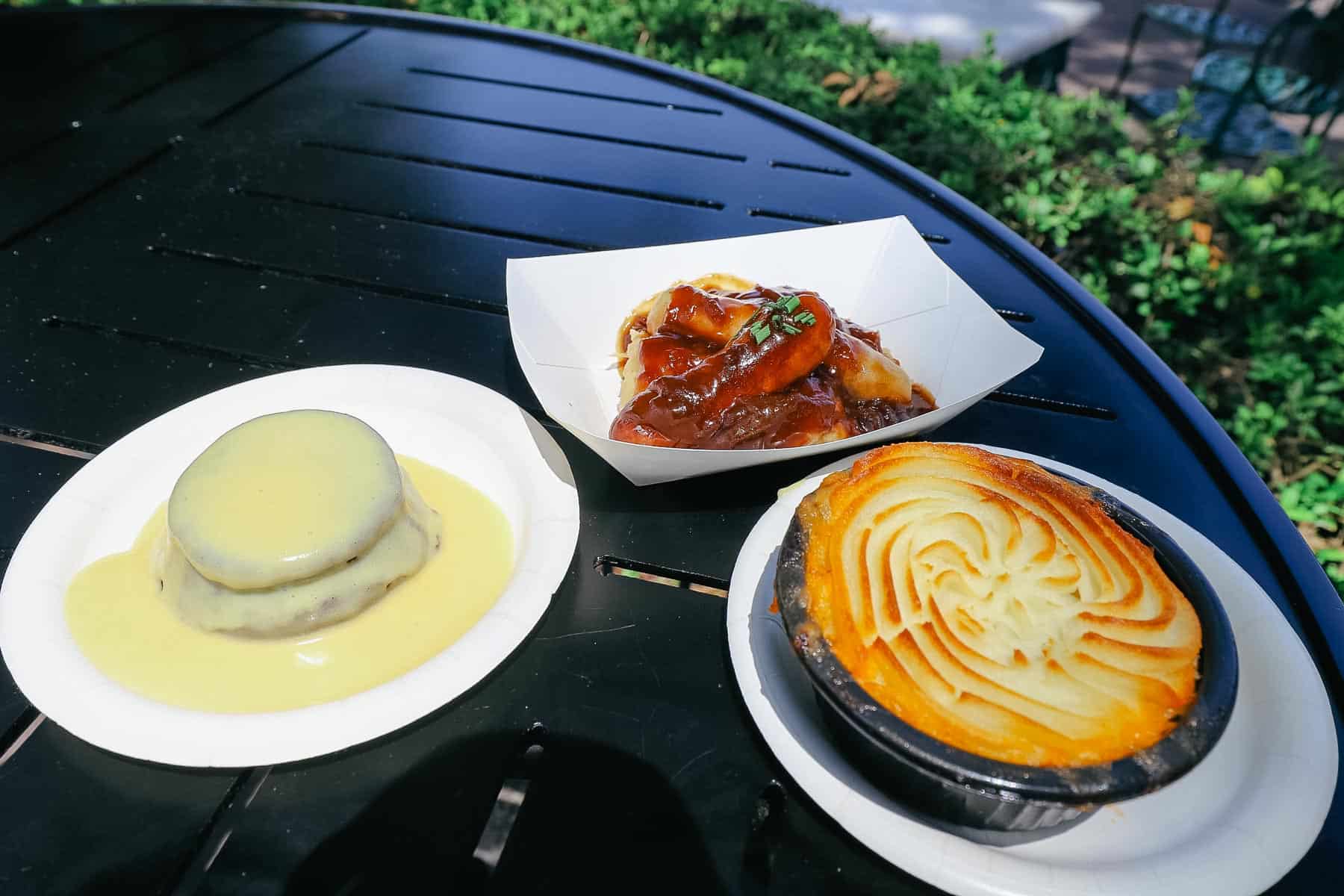 Ireland Marketplace Menu Items
Below are the items and prices for Ireland's Food and Wine booth.
Fisherman's Seafood Pie ($7.00)
Roasted Irish Sausage ($5.75)
Warm Chocolate Pudding Cake ($4.75)
Beverages:
Bunratty Mead Honey Wine ($6.50)
Guinness Baileys Coffee Shake ($12.50)
Kilkenny Irish Cream Ale ($5.50 or $9.50)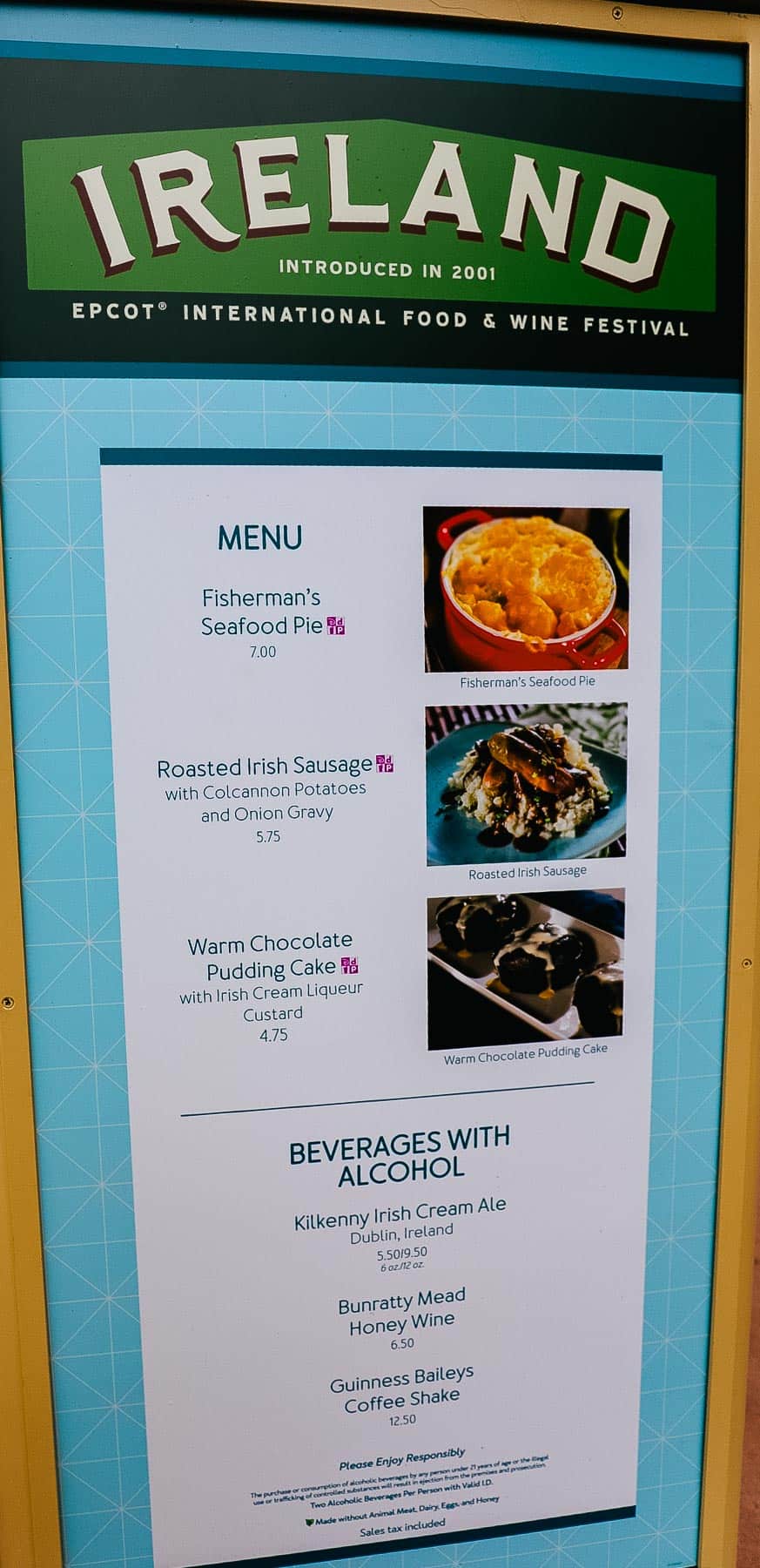 Ireland's booth is located in the United Kingdom Pavilion at Epcot. It sits to the left of Rose and Crown.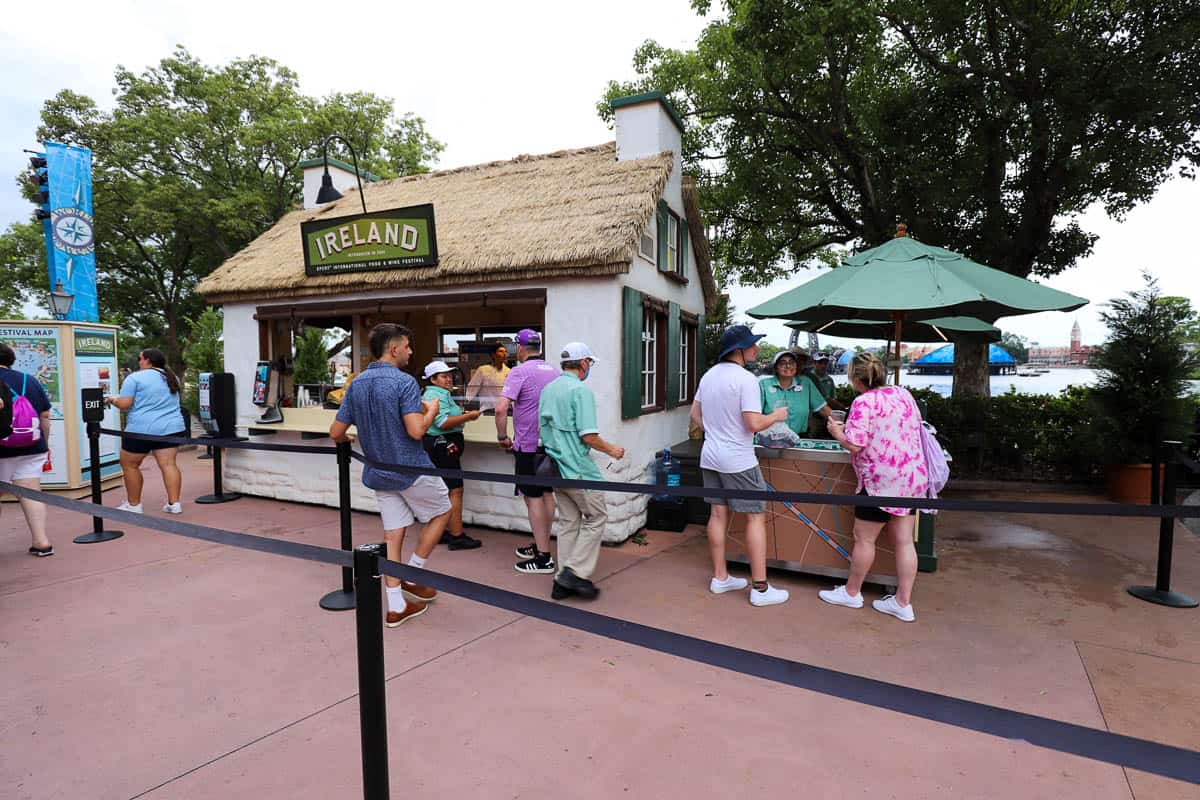 Fisherman's Seafood Pie
Upfront, I thought I would enjoy the Fisherman's Seafood Pie. But it wasn't like anything I expected. Silly for me to have expectations about anything. But it is human nature to anticipate how a dish will be prepared.
I expected a pot pie-style dish similar to a chicken pot pie with a bread-like crust. In reality, it was a meat pie packed with seafood in a stew that read similar to a rich (deliciously rich) lobster bisque and topped with a decorative swirl of mashed potatoes.
It tasted every bit as good as it looked. My only complaint is it was so hot outside that sometimes a dish like this is hard to eat.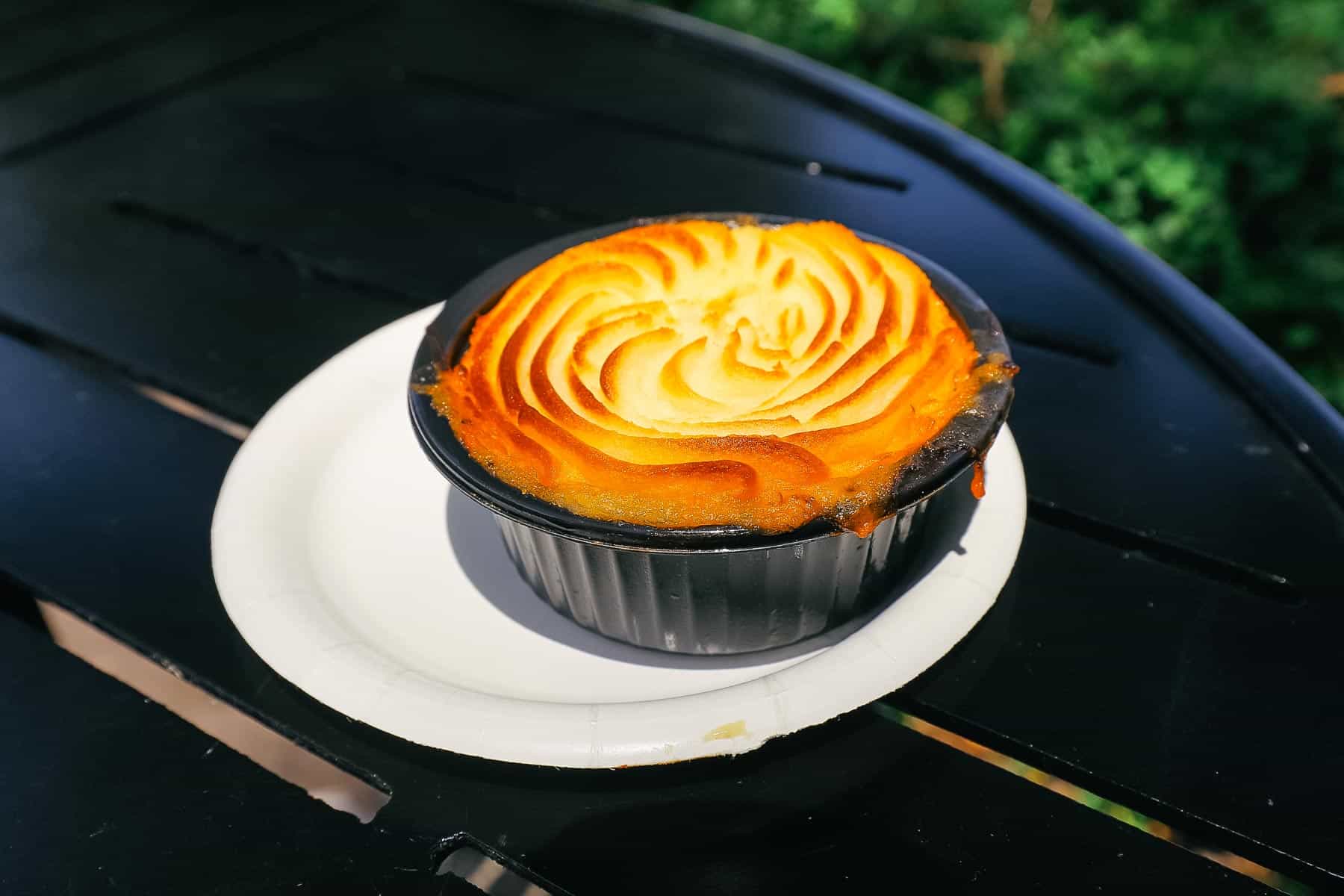 Roasted Irish Sausage
Next, we have another Irish classic, roasted sausage. This is another dish I would order again and again. My serving comprised two sizeable links of sausage smothered in onion gravy and served on a bed of creamy potatoes.
If you don't care for onions, you might want to order this dish without the gravy or skip it entirely. However, that will leave plenty more for the rest of us who enjoy an order of bangers with mashed potatoes.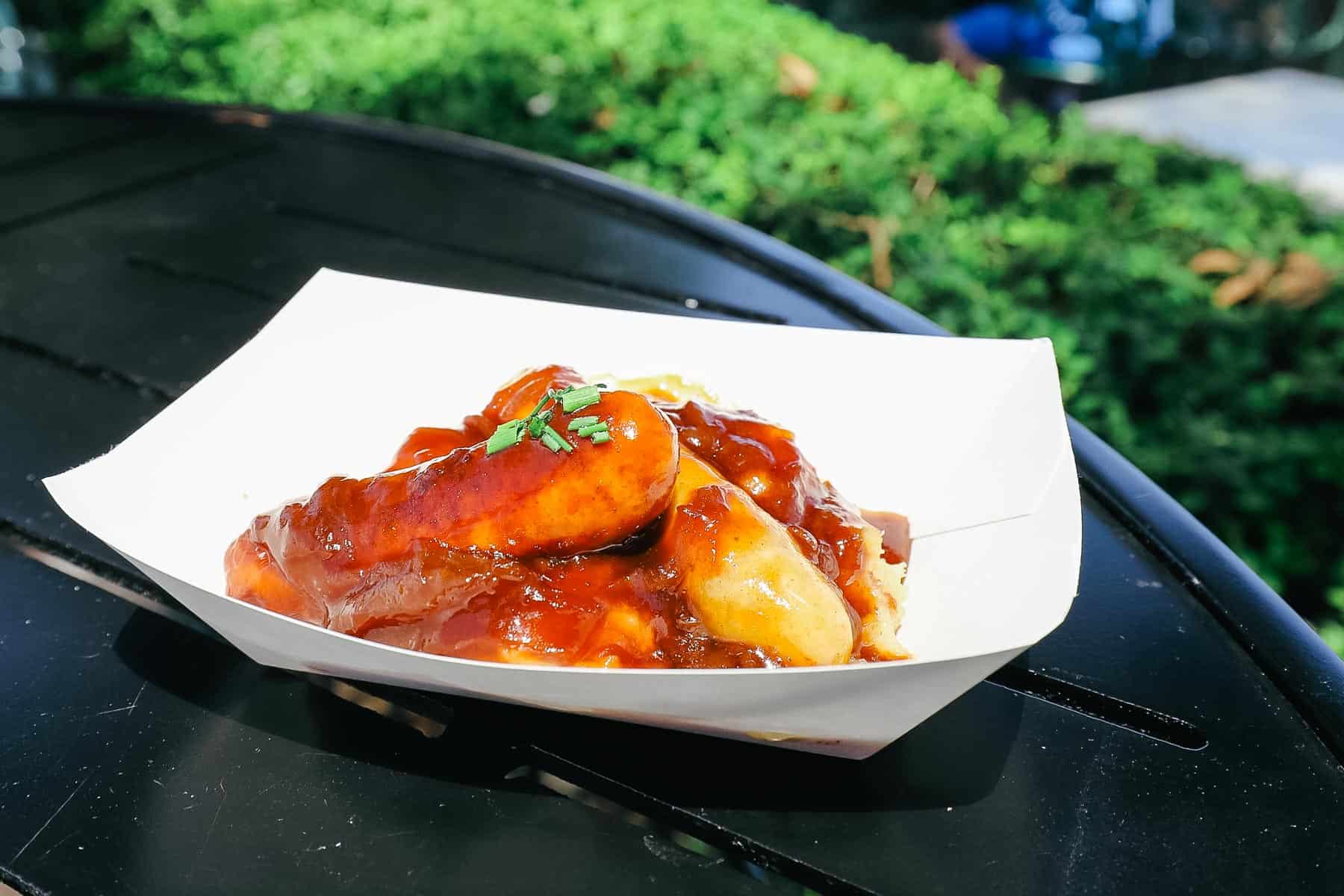 Speaking of the potatoes, they laid anything but delicately underneath the sausage and onion gravy. Per the menu, they were Colcannon potatoes, which traditionally means they are prepared with cabbage or kale.
My order didn't appear to have any cabbage. But thick chunks of smoked ham or possibly bacon added a rich buttery taste to the entire dish.
Warm Chocolate Pudding Cake
Lastly, we have the warm chocolate pudding cake. Ireland is one of those booths where each dish brings its own celebration to the party.
Remember to be careful about taking photos of anything with a runny sauce. A few years back, I learned how easily you could dump dessert on yourself. But it's a bit fun to live on the edge sometimes.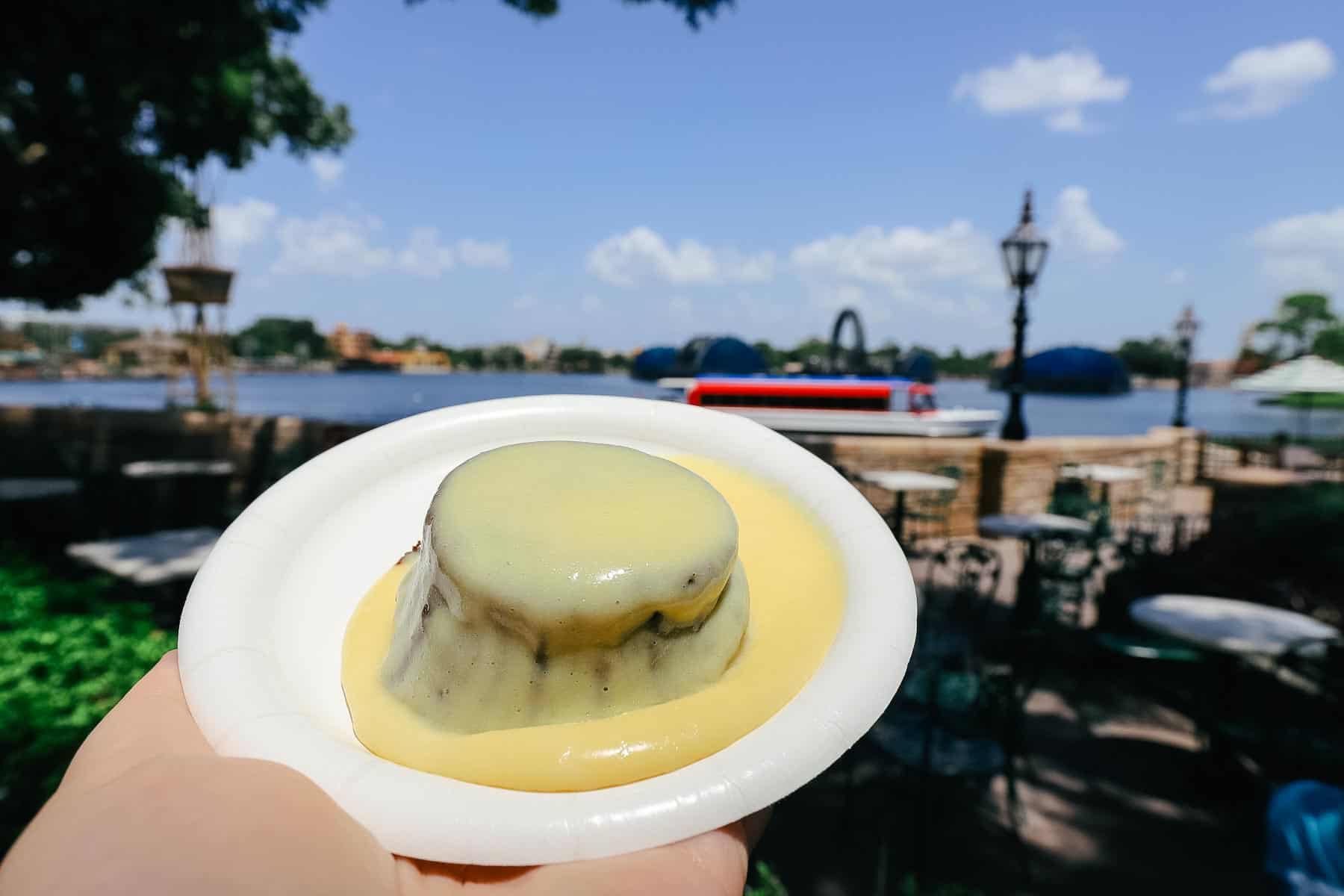 The texture of the pudding cake was as you would expect. It had a warm, soft center and an authentic chocolatey taste.
The sauce is described as Irish Cream Liqueur Custard. Upon tasting this dish, I immediately sensed the richness of sweetened condensed milk. And if you know how good that flavor is, you already know to add this to your list of items to try at the festival.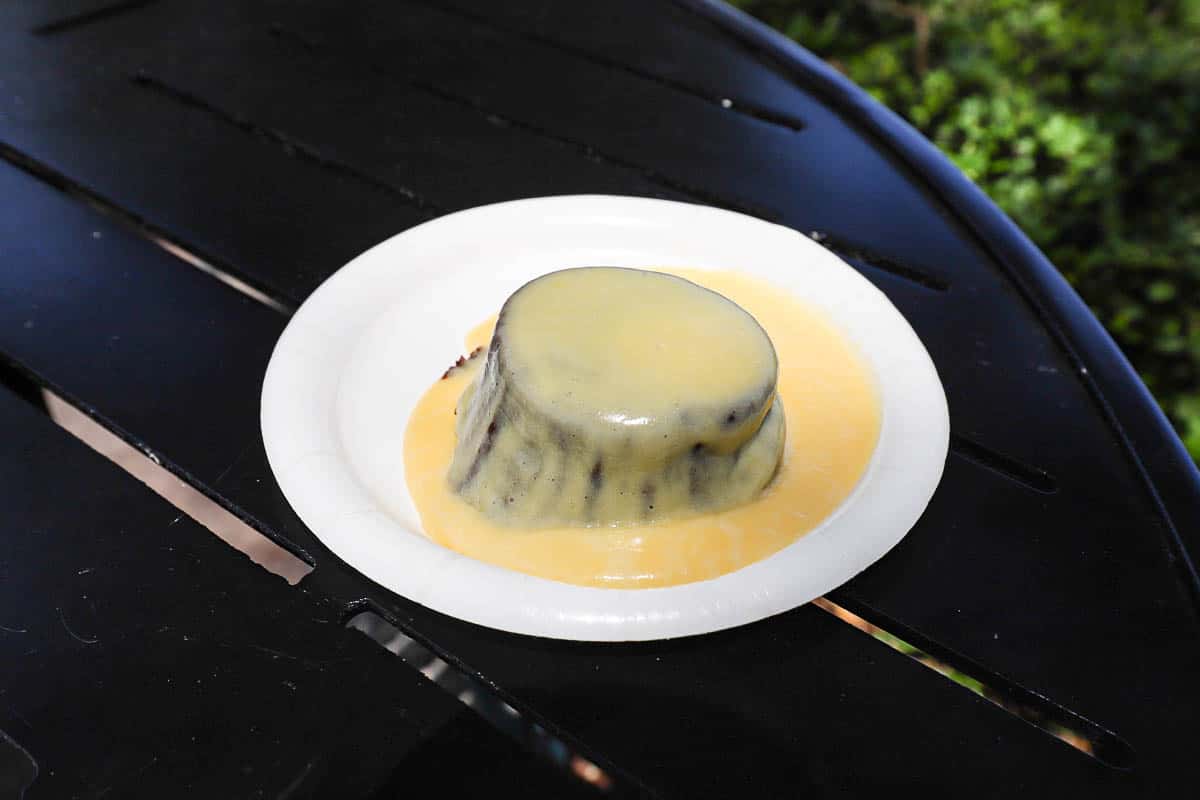 Overall, everything excelled at the Ireland Global Marketplace at the International Food and Wine Festival. This is a booth I look forward to revisiting again and again.
Here are a few other festival booth reviews:
Or try our entire list of menus for the 2023 Epcot Food and Wine Festival.
In the Comments
What are your thoughts on the Ireland booth at Food and Wine? Will you stop in for one or all of these items?
Planning a Walt Disney World or other Disney Destination vacation?
Our friends and travel partner, Firefly Travels, excels at doing Disney differently. You can fill out a plan your trip form on their website, and someone will reach out shortly to discuss the specifics.