Greece Marketplace Review at Epcot Food and Wine (2023)
Greece is yet another marketplace at the 2023 Epcot International Food and Wine Festival that returns with an almost identical menu. However, they have added another item to this year's menu.
Unfortunately, we found the returning menu items over-promising and under-delivering at last year's festival. So we'll preview the updated menu with prices below and look at the items we didn't care to try again this year.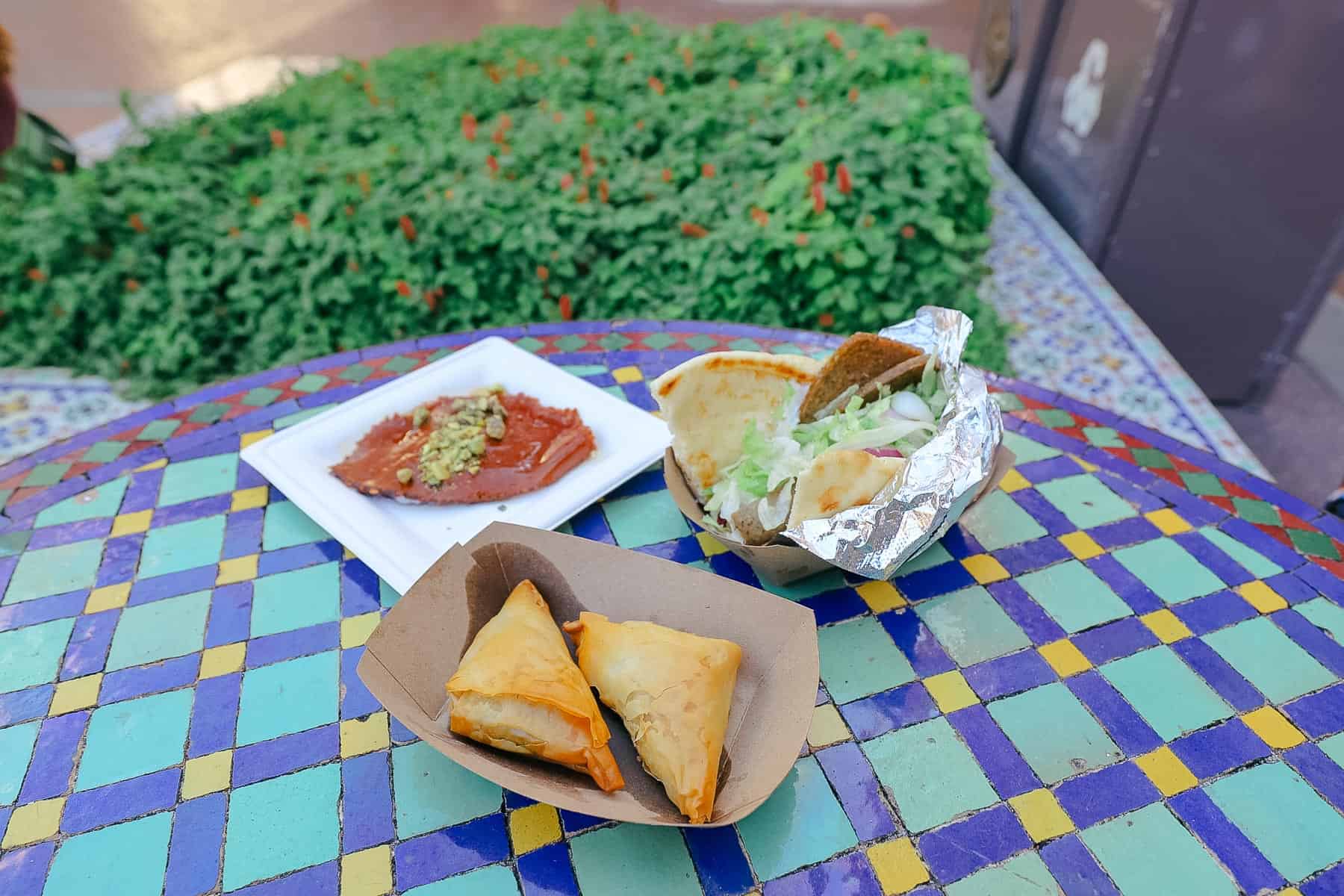 Greece Marketplace Menu Items with Prices
Below is a list of the menu items and prices for the Greece Marketplace.
Impossible Moussaka ($5.50)
Spanakopita ($4.75)
Griddled Cheese ($5.00)
Lamb Gyro ($6.75)
Beverages:
Mylonas Assyrtiko White Wine ($6.50)
Skouras Zoe Rose ($6.00)
Kir-Yianni Naoussa Xinomavro Dry Red ($6.50)
Wine Flight ($7.50)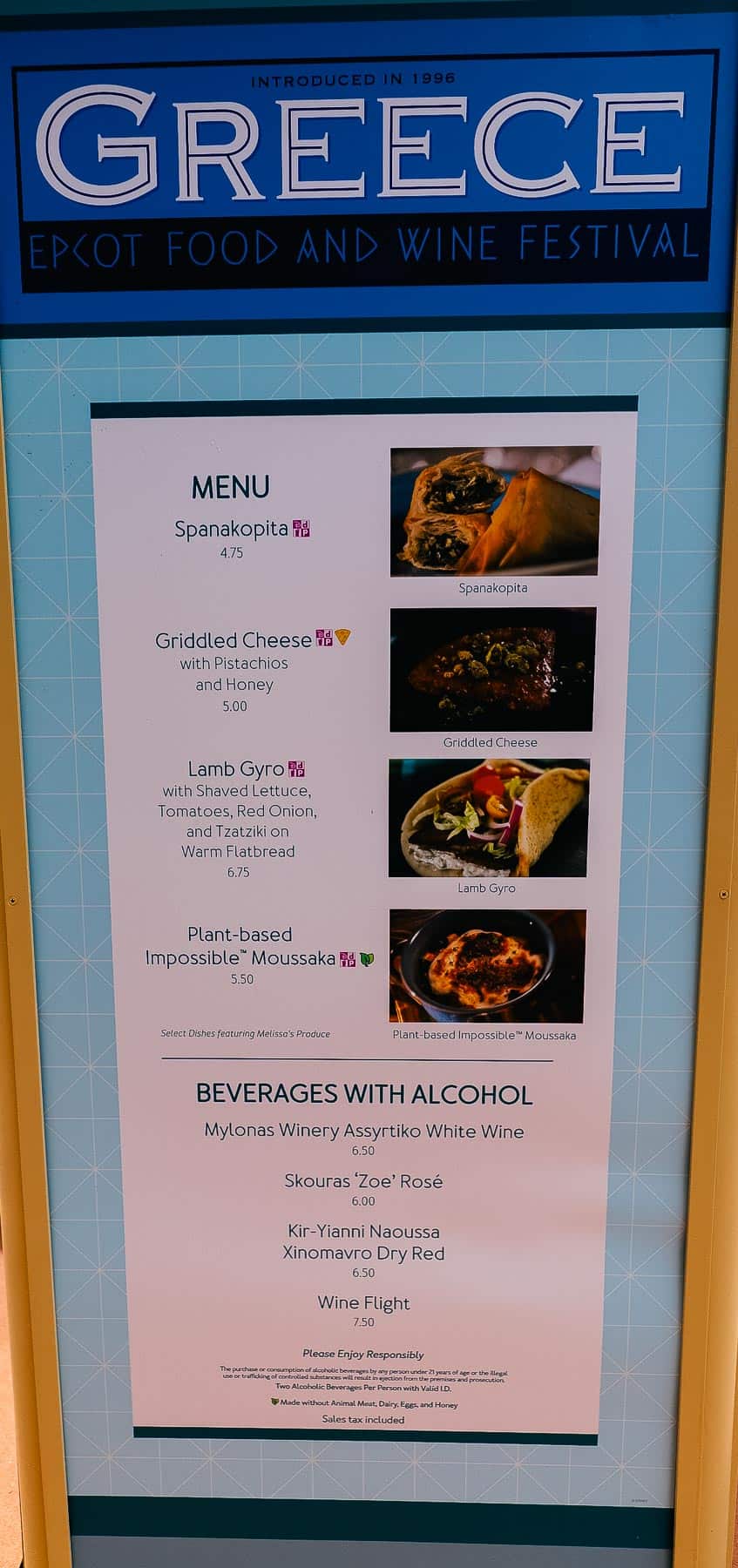 Greece's Marketplace is located on the outskirts of the Morocco Pavilion at Epcot. The booth is located in the former Morocco Marketplace location. Morocco's Marketplace (Flavors of the Medina) is inside Tangierine Cafe.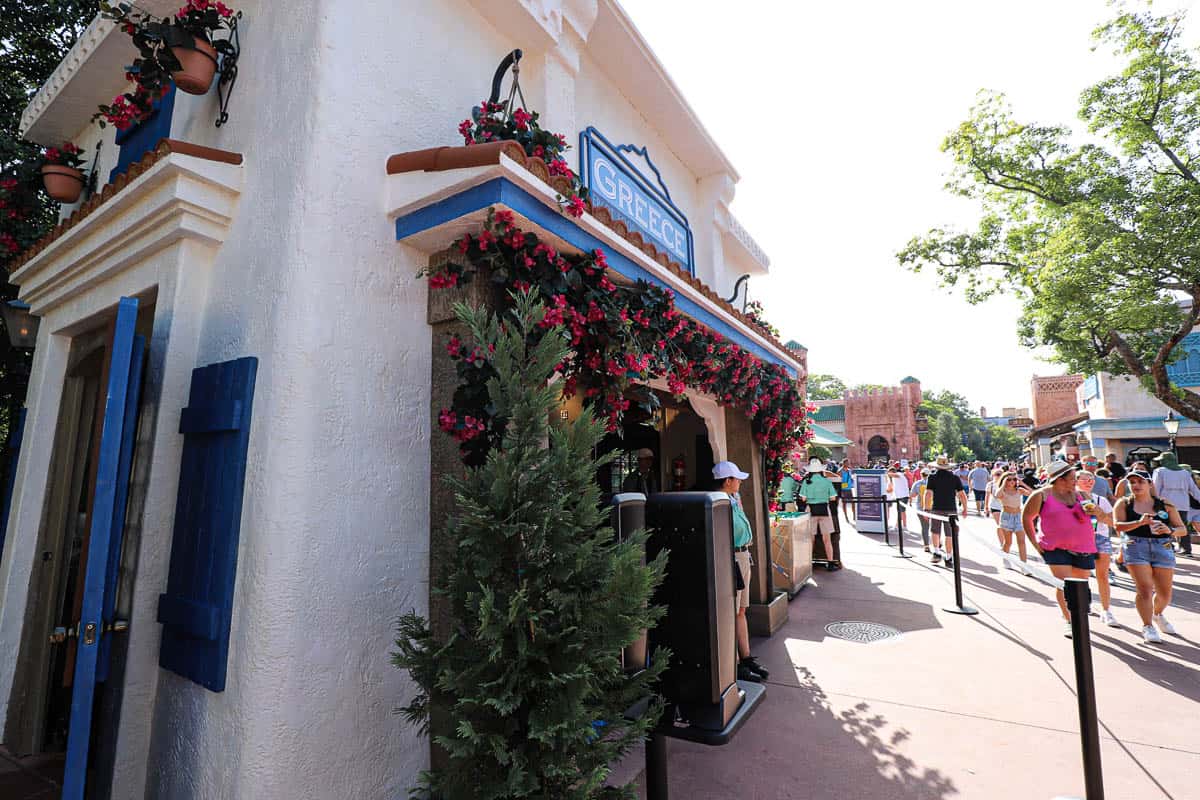 Spanakopita
If it isn't somehow evident from the picture, my first issue with the Spanakopita is that it's sitting in a puddle of oil. When I think of Spanakopita, I think of cheap, frozen appetizers from your local warehouse store. They are almost always present at buffet-style wedding receptions.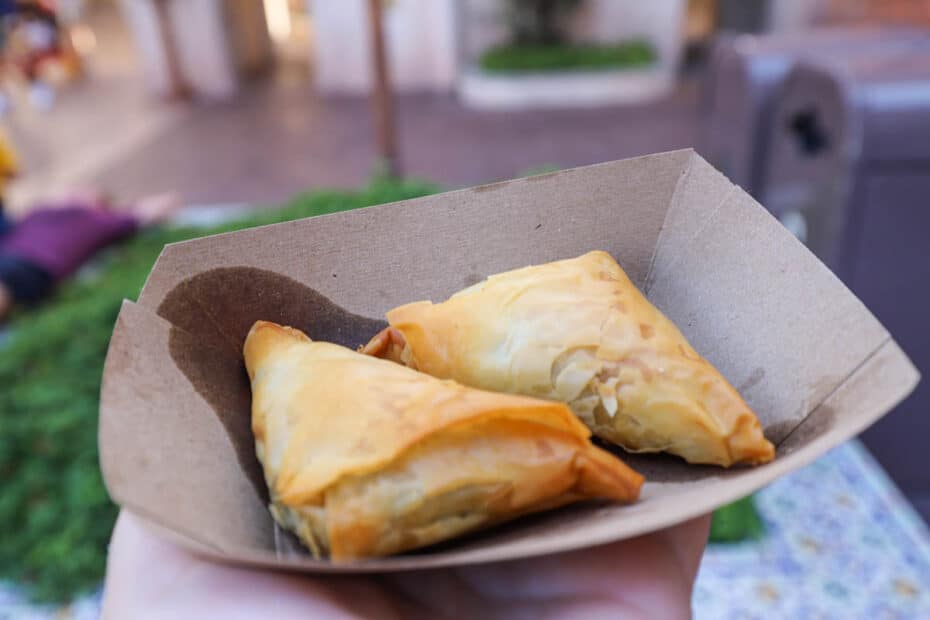 I don't know about you, but I expect much better as far as the presentation goes. The whole point of Epcot's Food and Wine is to try small bites of unique food you likely wouldn't find anywhere.
The idea is that you'll be inspired by the various cuisines and introduced to something new. Not some simple dish you can pick up in your grocer's freezer.
The other issue I had with this particular Spanakopita was that it was roughly 90% Phyllo dough with 10% filling. It felt like I was biting into layers of flaky pastry with little to nothing else involved.
Unfortunately, it ended up being the best dish at the booth. Of course, that's not saying much.
Griddled Cheese
I spotted another couple eating this griddled cheese dish. Since I was looking forward to trying it, I asked them how it tasted. One's reply was, "It's cheese," with a face reminiscent of a grimacing emoji. I concur.
Here we have said cheese topped with pistachios and supposedly honey. Maybe the honey is what helped griddle the cheese. However, there wasn't the slightest hint of sweetness in my dish.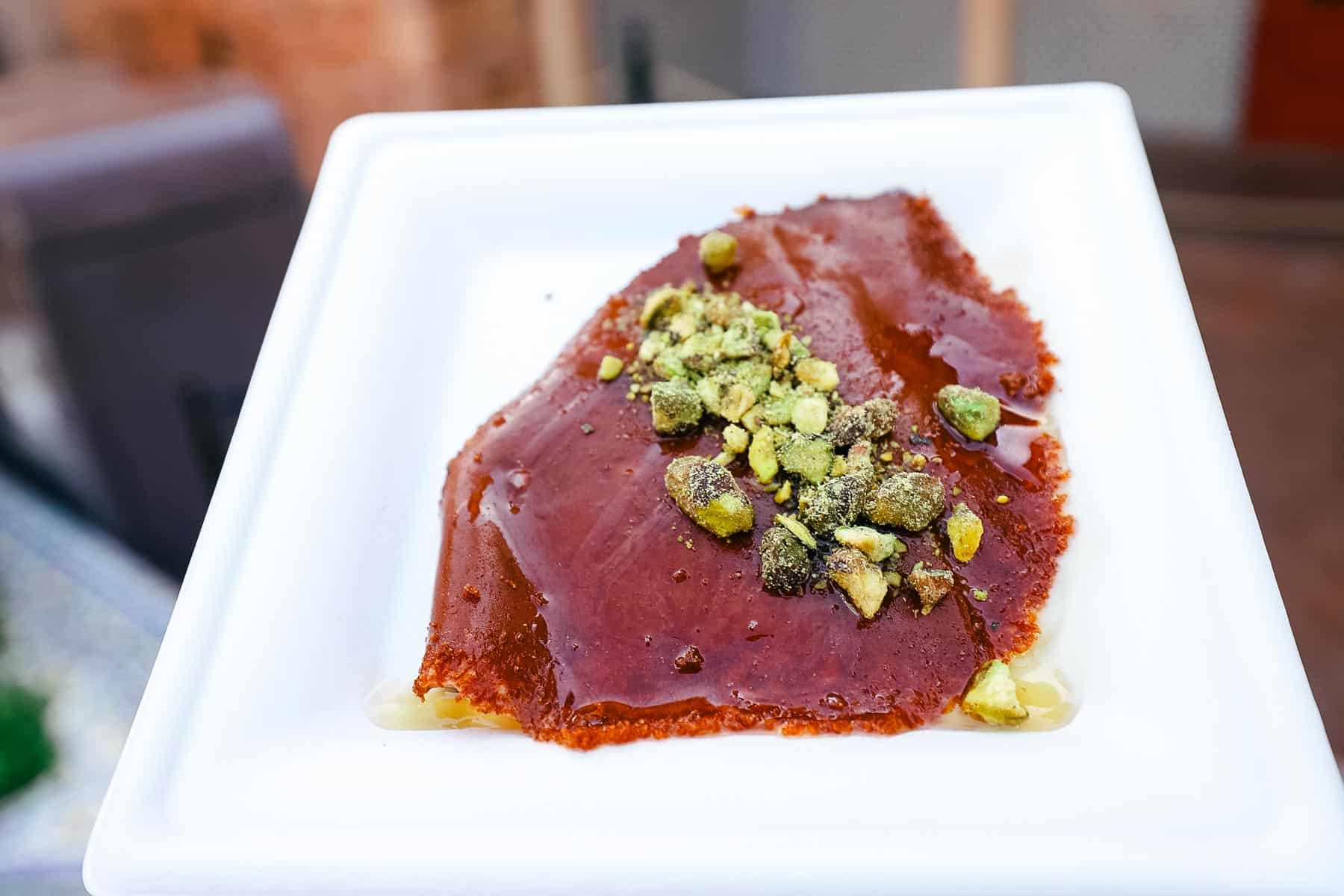 This was literally a pre-cut slice of what appeared to be Manchego cheese that had been burnt on the grill and topped with a few nuts. If you enjoy The Alps Marketplace, you might also enjoy this.
It seems a booth with a name like Greece might come up with something original for dessert. For instance, if you google "original Greek desserts," griddled cheese is nowhere to be found.
Lamb Gyro
Unfortunately, things didn't get any better with the lamb gyro, which I expected to enjoy. However, my issue here is probably more of a personal taste preference than the actual execution.
First, the gyro is enormous, but given it's a handheld serving drowning in Tzatziki sauce, it will probably be challenging to share. The gyro is topped with lettuce, red onion, and tomatoes. I ordered mine without tomatoes.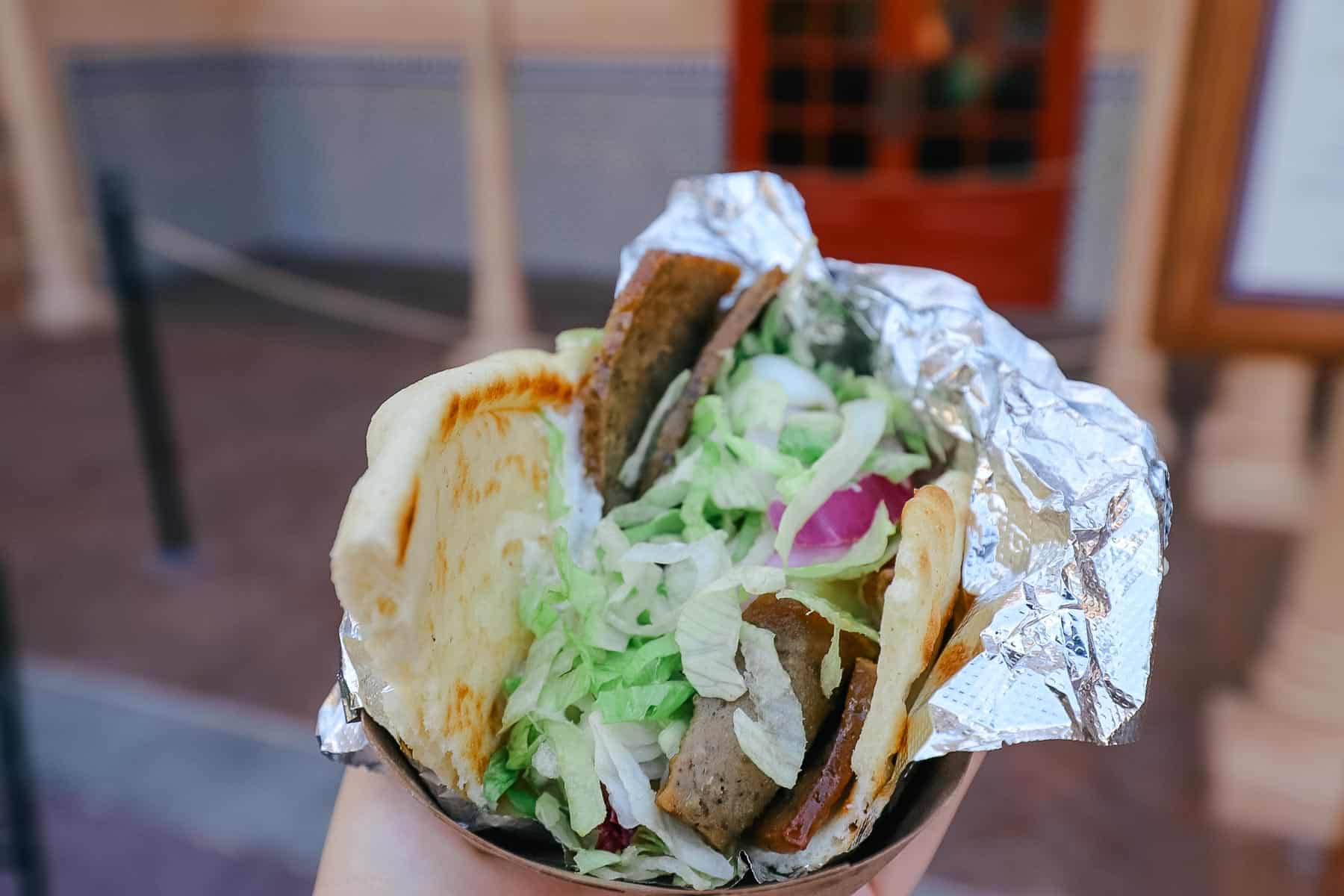 Anyway, the lamb sausage was not agreeable to my taste buds. Its texture resembles jerky, but the seasoning used to flavor the meat was off-putting. As a result, I only ate a couple of bites before dumping the rest in the trash.
We have not tried the new plant-based Impossible Moussaka…and probably won't.
Overall, I was disappointed to see mostly the same items at Greece's Marketplace. In my opinion, far better booths are available at the festival. However, in 2023, the festival in its entirety is pretty lacking.
Here are a few other booths we've reviewed:
In the Comments
What do you think about the Greece Marketplace at Epcot's Food and Wine? Are you a fan of griddled cheese?