Italy Marketplace at Epcot Food and Wine (The 2022 Version)
Italy's Marketplace at Epcot's Food and Wine Festival is long known for receiving scathing reviews based on its usual food offerings. So much so that I had to delete my entire former review to provide a fresh look.
Mainly, that's because Italy is offering an entirely new menu for the 2022 Food and Wine season. Secondly, the booth has managed to provide a few items worthy of a fair review this year.
Let's not get too excited. It will take the festival booth years of positive reviews to overcome its terrible reputation. But for this year, I think it's safe to stop in and try any of the dishes. There's usually not that long of a line.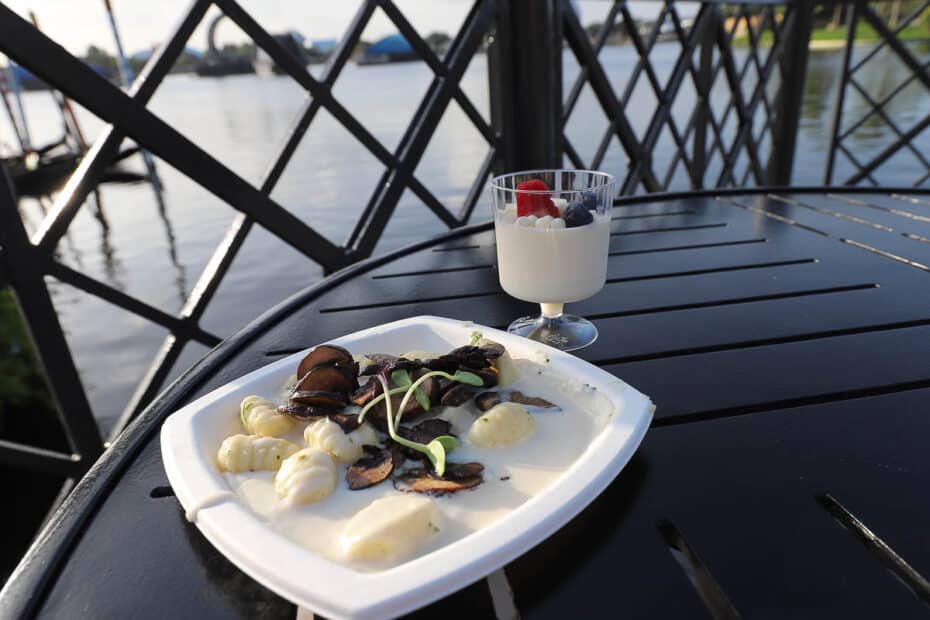 Italy Marketplace Menu Items with Prices
Below are the menu items available at this year's Italy Marketplace.
Gnocchi di Patate with mushrooms ($9.00)
Gnocchi di Patate with crispy bacon ($9.00)
Panna Cotta ($8.00)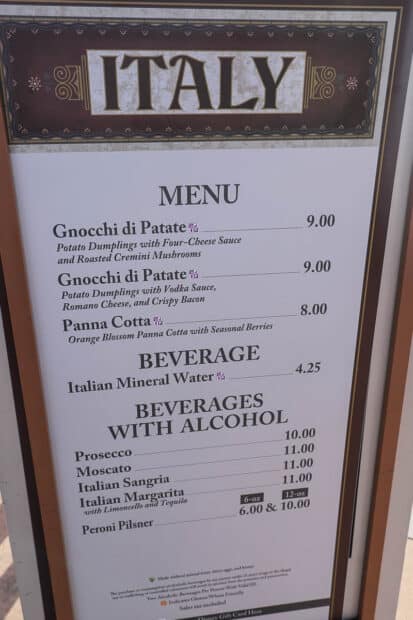 Beverages:
Italian Mineral Water ($4.25)
Prosecco ($10.00)
Moscato ($11.00)
Italian Sangria ($11.00)
Peroni Pilsner ($6.00 or $10.00)
Italy's Marketplace is located outside the Italy Pavilion in the World Showcase at Epcot. There are usually plenty of tables nearby. However, most of them are standing in direct sunlight.
As much as I love the sunshine, and you probably know I do, it can be challenging to eat a hot meal standing directly underneath it.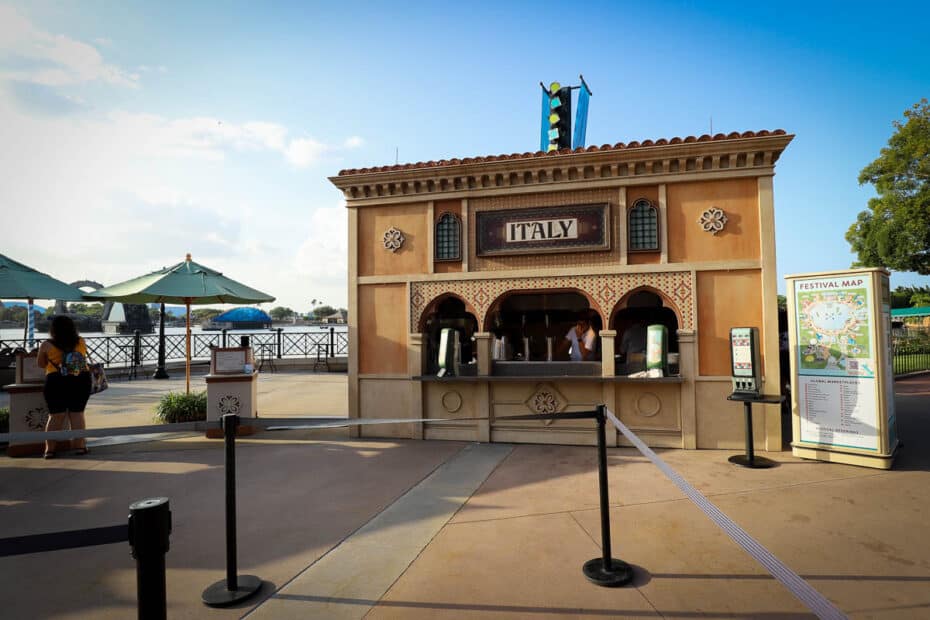 Gnocchi di Patate with mushrooms ($9.00)
We'll start with the Gnocchi di Patate with mushrooms. The menu describes this dish as potato dumplings with a four cheese sauce and roasted Crimini mushrooms.
Italy is notorious for selling higher-priced items than all the other food booths at the festival. This year leaves no exception. The meatless pasta comes in at $9.00 per serving.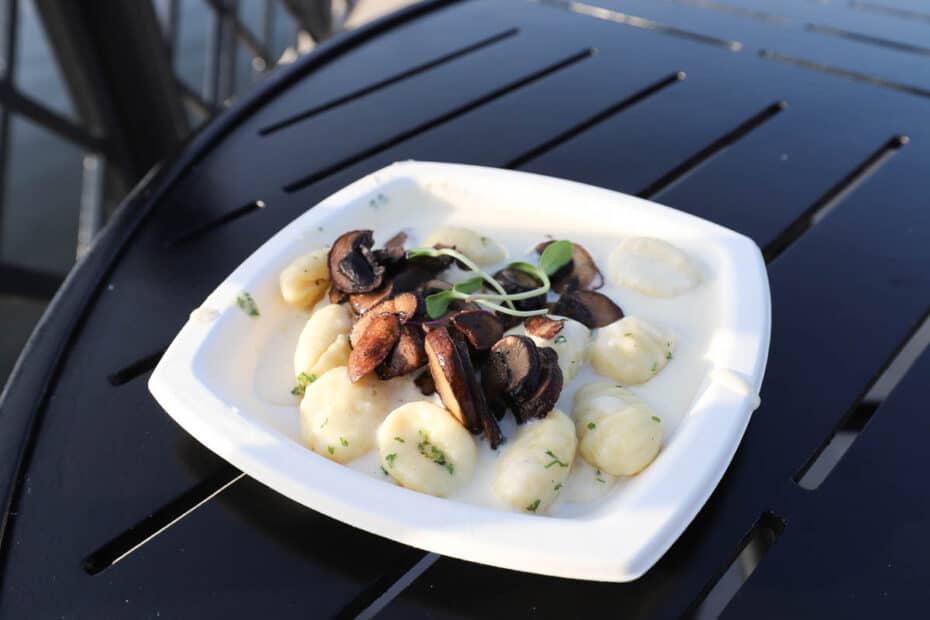 That said, the gnocchi's quality was on par with what you might receive at an Italian restaurant. The Crimini mushrooms are a nice touch and provide an earthy flavor to the dish. The four cheese sauce sits on the bottom of the plate and is reminiscent of an Alfredo.
In addition, this same dish comes with a vodka sauce and crispy bacon. However, since I wasn't in the mood to consume two pasta dishes and a dessert, I skipped the one with the red sauce.
Panna Cotta ($8.00)
So about this panna cotta. I wasn't expecting to consume it so quickly. But I thoroughly enjoyed it and ate every single bite. The gelatinous dessert was ice cold and so refreshing given the heat.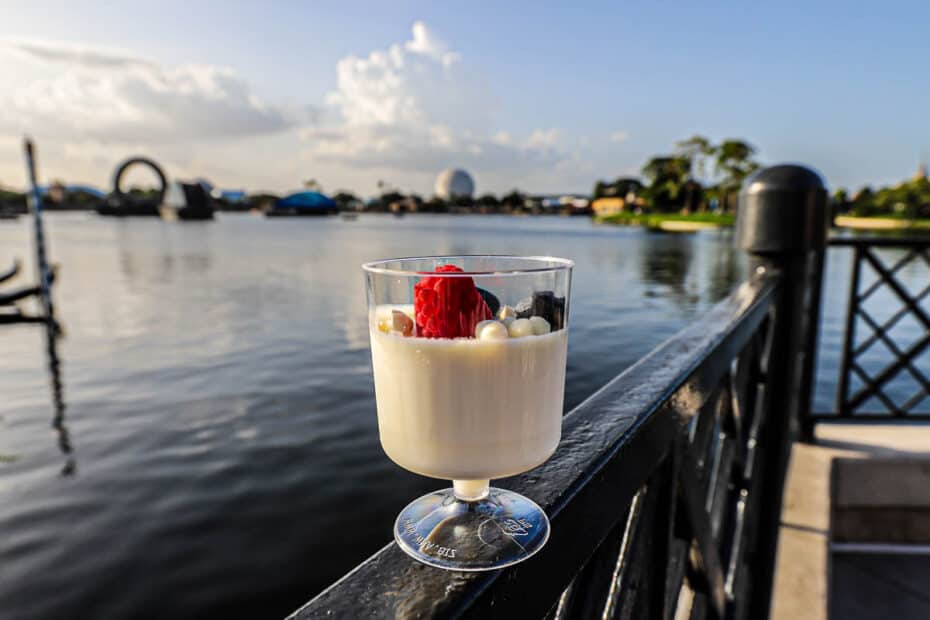 The small cup was topped with white chocolate pearls, blueberries, and a raspberry. The blueberries added to the dish more than anything. I would have appreciated a few more.
At an $8.00 price point, this is an expensive dessert. But is it worth $8.00? I'm not sure, but ultimately, I didn't feel bad about it.
However, I might have been in shock that the food was so impressive this year. For more Food and Wine Festival reviews, try the following:
You might enjoy browsing our list of Disney World Resort Reviews for more information. Some of the ones nearby Epcot include the following:
Return to Epcot Food and Wine Festival Guide.
Do you ever stop in at the Italy Marketplace during the festival? What are your thoughts?