India Marketplace Review (2023 Epcot Food and Wine Festival)
Like many other booths, India returns to the Food and Wine Festival with the same menu as last year. However, we have no major complaints about any of the items.
In fact, there are plenty of good things to say. For starters, all of the dishes are massive proportion-wise. Each dish could be eaten alone or easily shared with someone.
My portions from last year were all so huge that I didn't come close to finishing anything. And after taking a moment to glance over the options this year, I was happy to see nothing had changed.
Additionally, these dishes come packed with flavor. You'll want to have bottled water nearby to help with the heat. Some have a spicy kick.
Let's look at each option.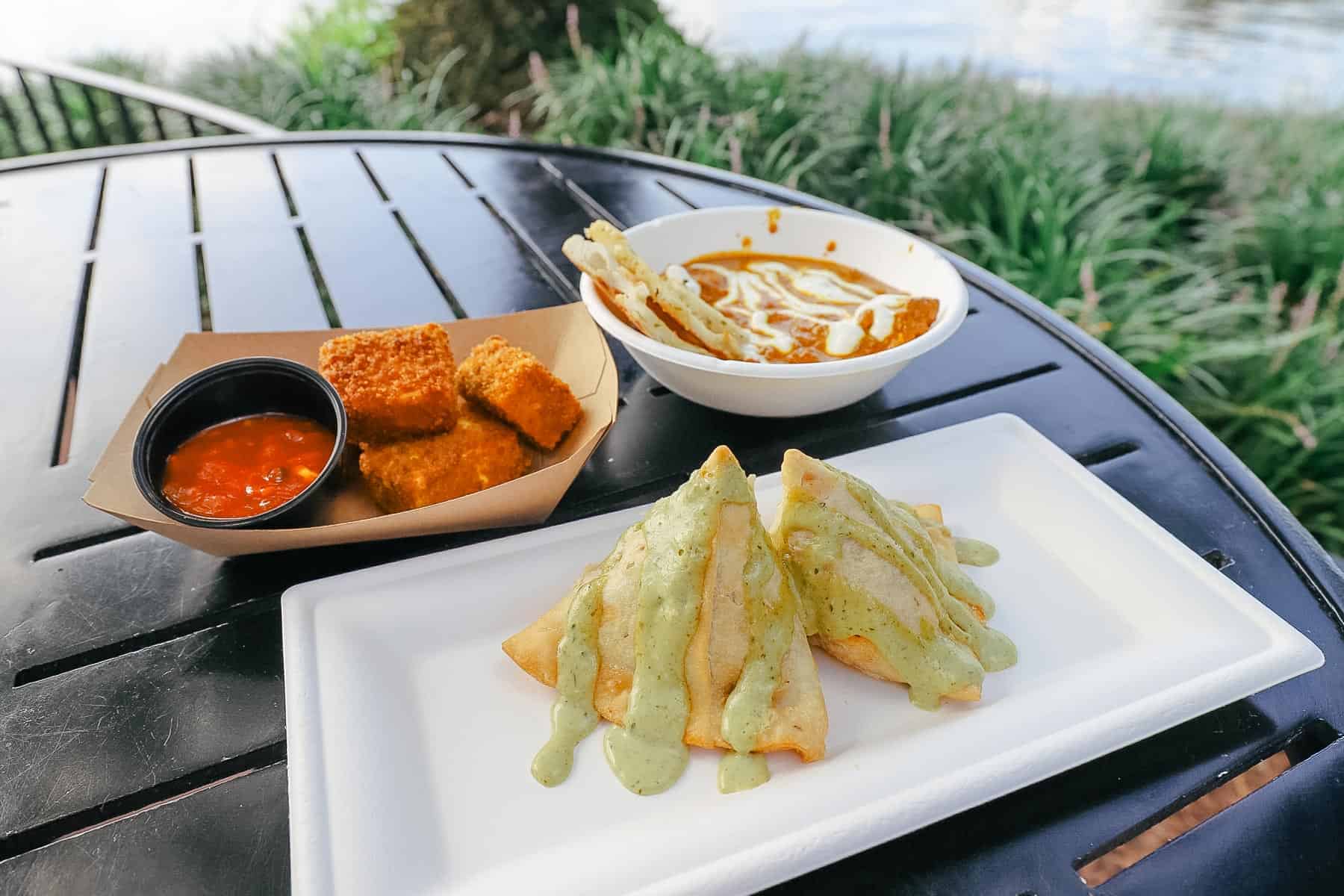 India Marketplace Menu Items with Prices
Below is a list of the available menu items with prices at India's Food and Wine booth.
Curry-Spiced Crispy Cheese ($5.25)
Potato and Pea Samosa ($5.50)
Chicken Tikka Masala ($6.25)
Beverages:
Magno Lassi (non-alcoholic) ($5.00)
Sula Brut Tropicale Sparkling Wine ($7.50)
Sula Chenin Blanc ($6.00)
Mango Lassi with Somrus Cai Cream Liqueur ($11.00)
Taj Mahal Premium Lager ($5.50 or $9.50)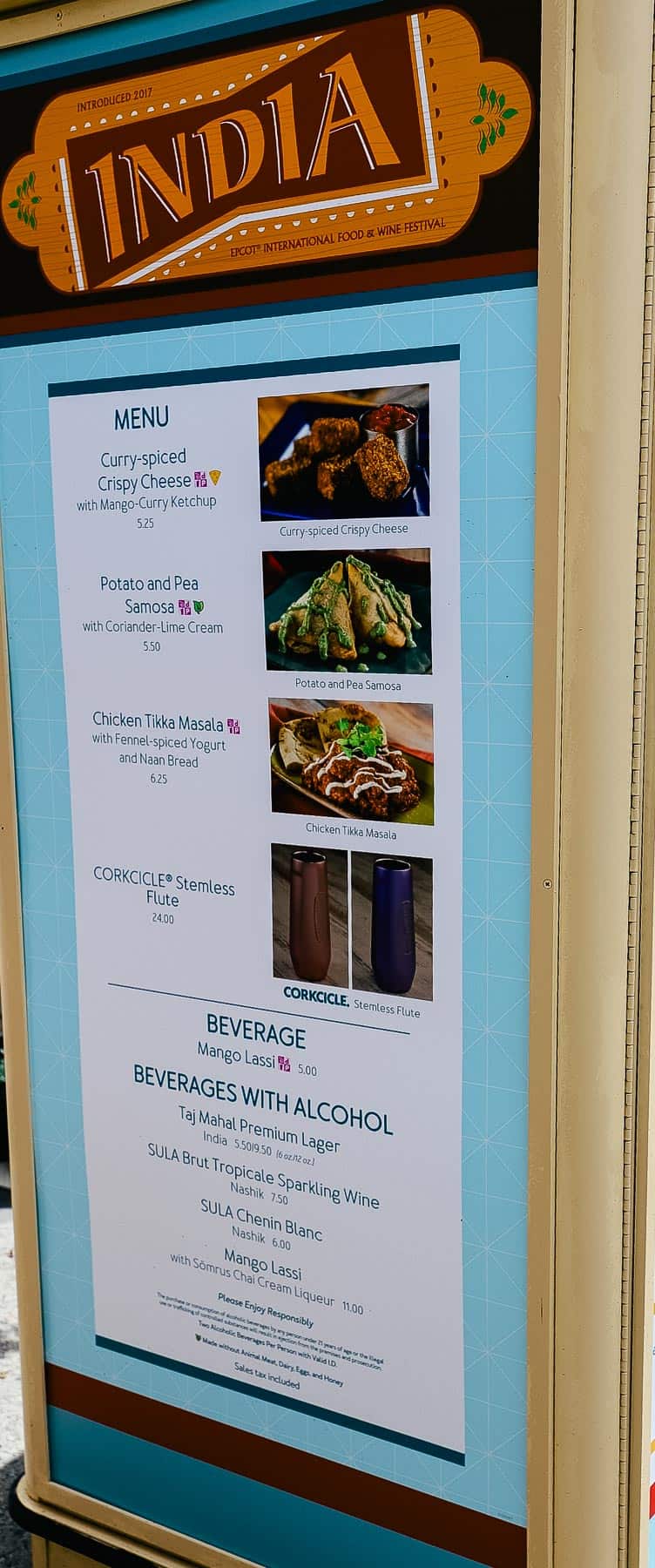 India is located along the walkway right outside Epcot's China Pavilion. It's on your left before you get to the bridge if you're headed toward the Germany Pavilion.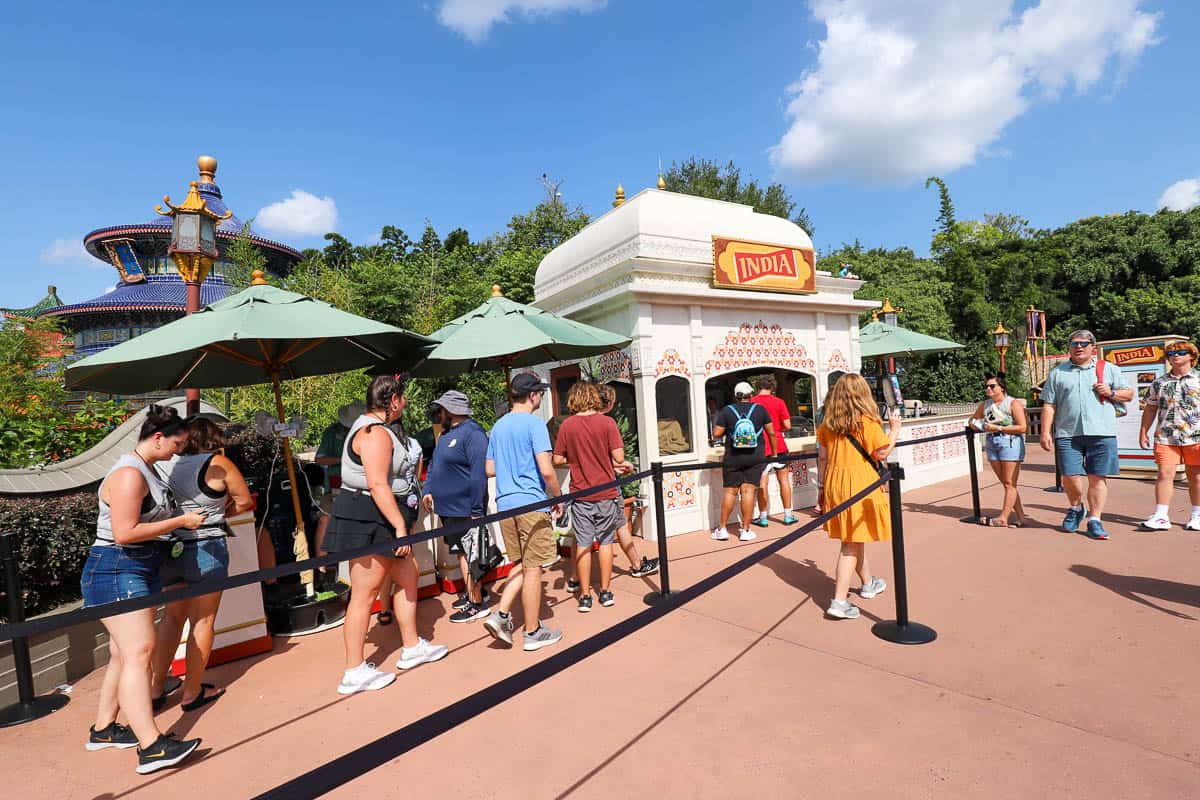 Curry-spiced Crispy Cheese
Last year, the curry-spiced crispy cheese was called crispy Paneer. It was a popular dish, and I assume the name change is to help even more guests identify it as cheese.
Paneer is India's version of cottage cheese. However, the texture is unlike the cottage cheese we are accustomed to here in the United States.
This is a fried cheese dish that comes with mango-curry ketchup. I'll take this version any day over a marinara. It was absolutely delicious.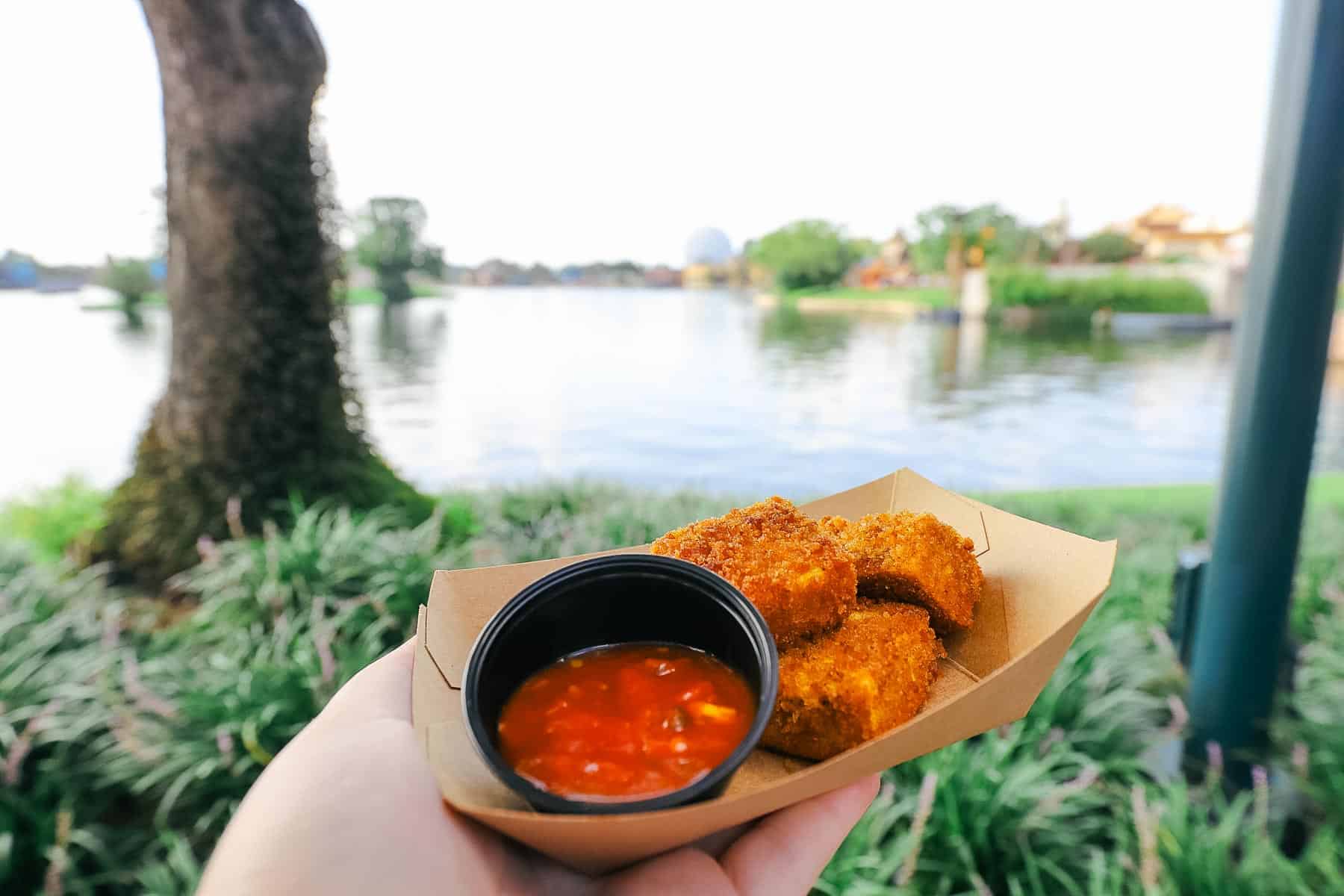 Unfortunately, Paneer is not a melting cheese. Therefore don't expect it to be stringy on the inside. Instead, you'll find an almost tofu-like texture when you bite into it.
Overall, this dish is an excellent value, and while you can't tell from the photo, my dish has five pieces of Paneer. It felt like a good deal for the price.
Potato and Pea Samosa
Next, we have another popular dish, the potato and pea samosa. These yummy dumpling-like shells were packed with a stuffing mixture of potatoes and peas.
The coriander lime cream added the right amount of spice and balanced the dish. While I cannot consume much pea protein, I found this an excellent plant-based option.
Additionally, it should serve as a tasty snack for anyone interested in trying the dish. With two pieces per serving, the samosas are easily shareable.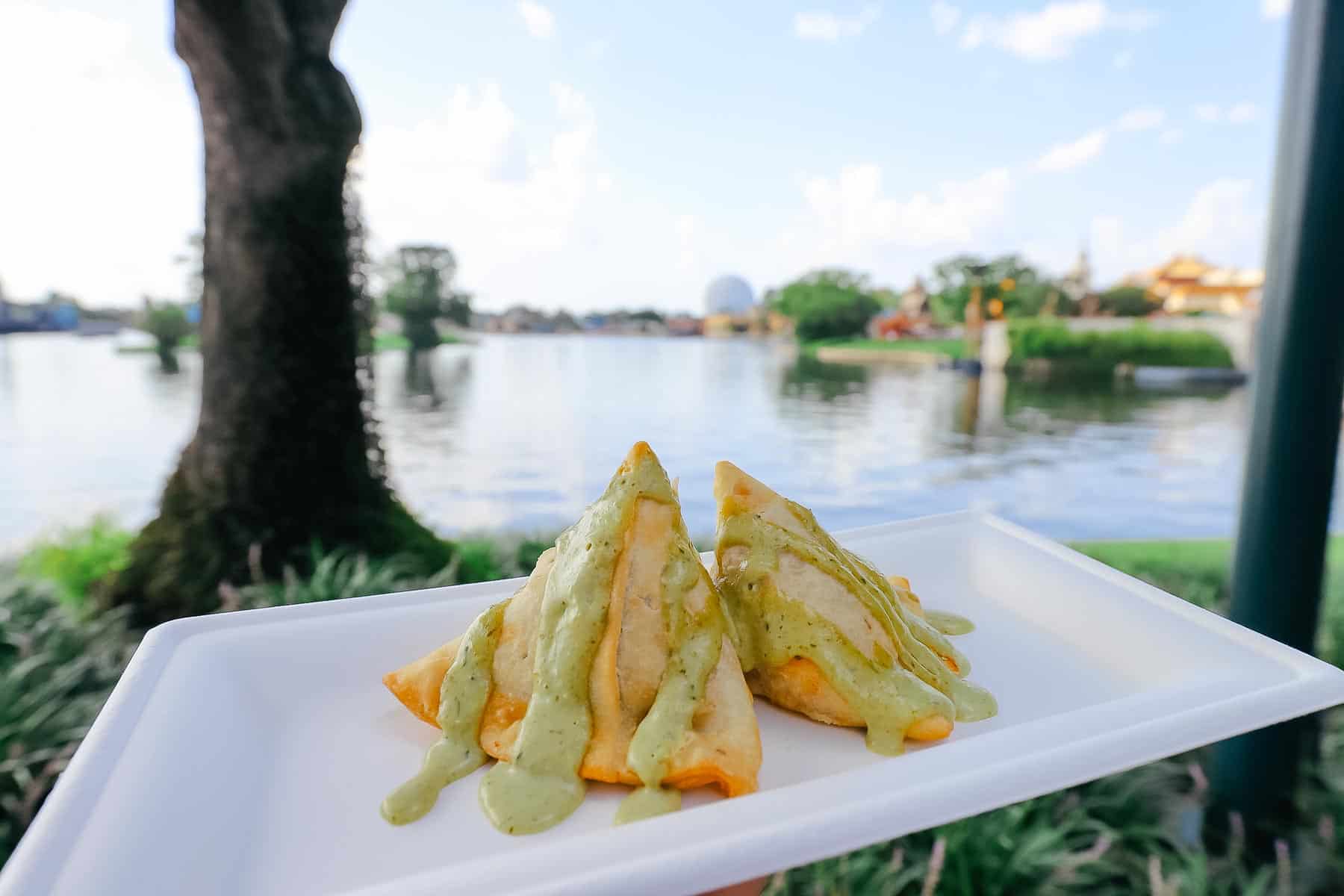 Chicken Tikka Masala
Lastly, we have the Chicken Tikka Masala from India's food booth. This dish can easily serve as a complete meal.
As I carried the Tikka Masala away from the pick-up window, I thought about what was in this heavy dish. And I wondered how I could keep from getting it all over me.
This curry-like soup was packed with chicken. Crispy rice lined the bottom of the bowl. And the fennel-spiced yogurt on top added the perfect contrast.
The yogurt helps cool off the spiciness of the masala. A few slices of Naan are positioned in the corner to enjoy with the meal.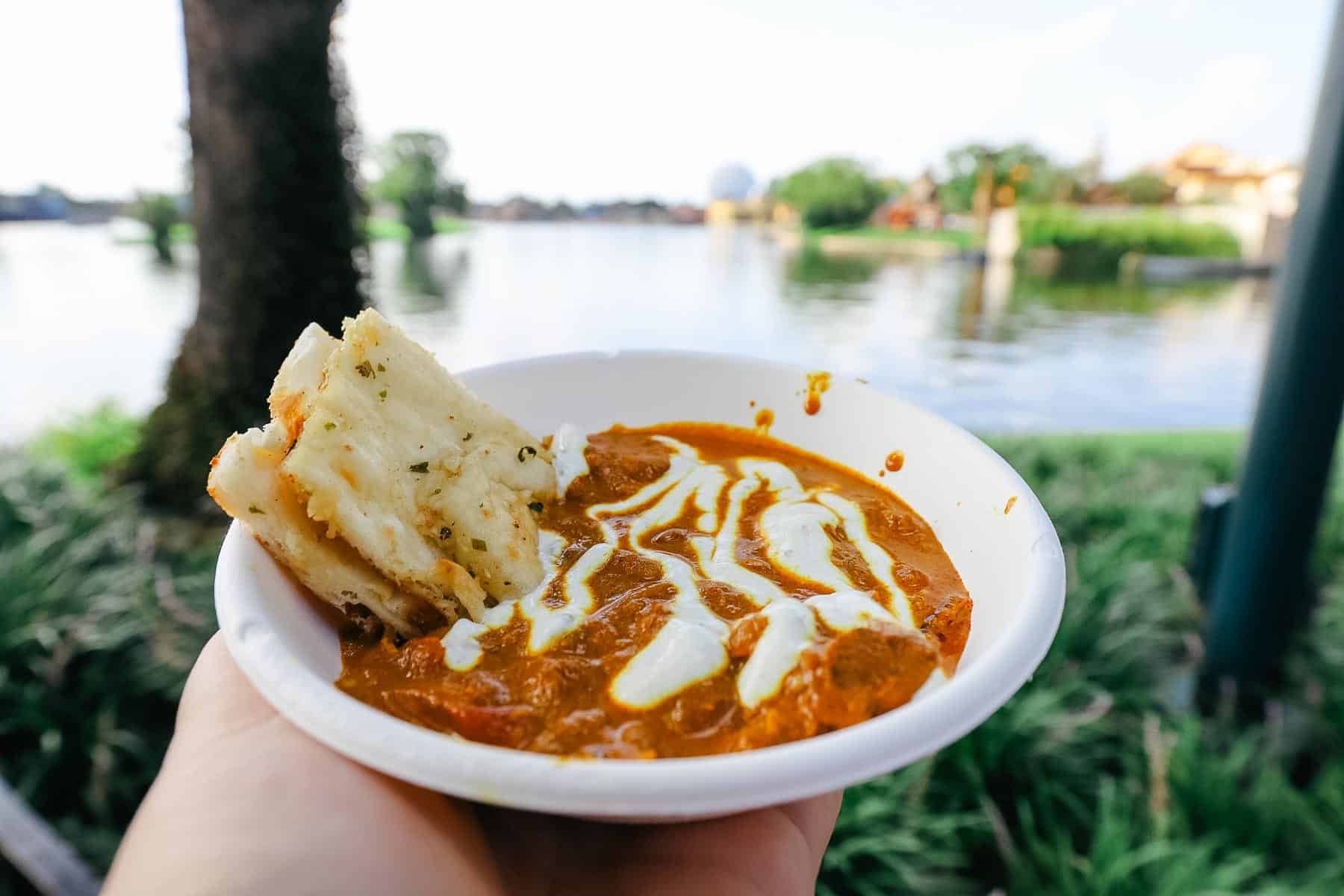 Overall, India hit it out of the ballpark with all its dishes. However, you will want to skip this booth if you can't handle the heat. Everything here has a kick, including the marinara that comes with the crispy Paneer.
For more Food and Wine Reviews, you might enjoy the following:
In the Comments
What are your thoughts on the India Marketplace at Epcot's Food and Wine? Is there anything you plan to try?