Turtle Talk with Crush is an attraction located in The Seas Pavilion at Epcot. This attraction is an interactive screen performance where children discuss all things "big blue world" with Crush.
Turtle Talk is a really great attraction for children and the cast members do a good job getting interaction while parents can sit back and rest a bit. This review will go over all the specifics for adding Turtle Talk into your next visit.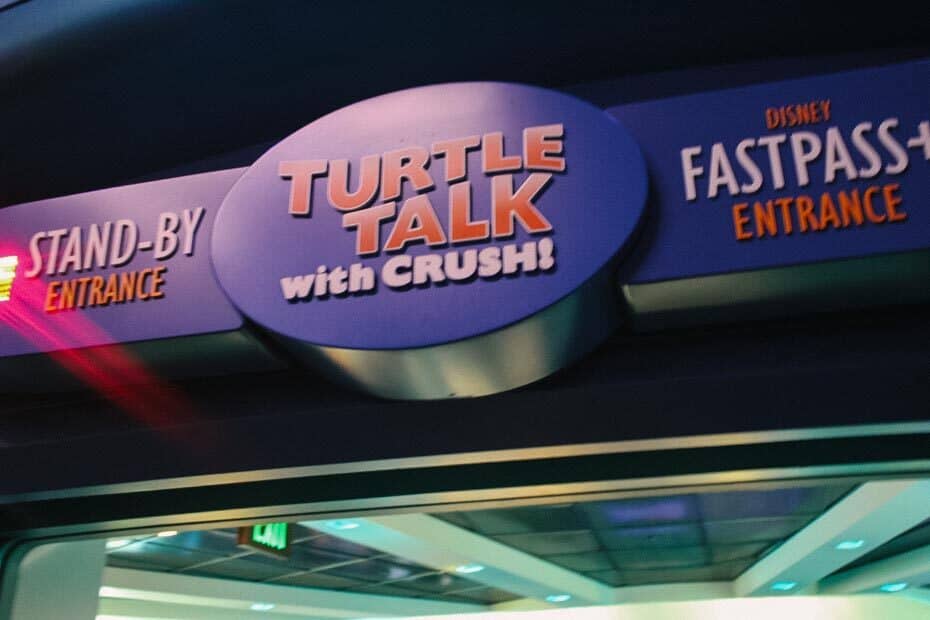 Below is a quick reference table with the need-to-know details.
Turtle Talk with Crush
Epcot Attractions

Location:

The Seas Pavilion

Disney Height Requirement:

None

Genie+ Eligible

Yes, but not needed

Ride Type:

Interactive Performance

Seats Per Vehicle:

Theater Show

Disney Rider Switch:

None

Good For:

Everyone

Scary Factor:

Low

Must-Do List:

Low

Perfect For:

Children with interest
in marine life.

Special Mention:

The longest wait should be for
the next show to begin.
Turtle Talk with Crush
Turtle Talk with Crush can be accessed from inside the Seas Pavilion. Most will enter the pavilion via The Seas with Nemo and Friends ride. If you elect not to ride this attraction, you can enter through the retail shop area.
You'll want to walk around to the side of the standby line in the direction where you see people coming toward you. They are likely exiting, and you can enter through the same area. Once inside, Turtle Talk with Crush is located on the first level to your right.
There is a waiting area of sorts outside Turtle Talk with Crush. Typically the wait time screen will project a fifteen-minute or less wait. That's because Turtle Talk with Crush has a duration of 15 minutes. The longest wait you should experience is waiting for the next show to begin.
Turtle Talk isn't necessarily a must-do experience, but I think it is delightful for children around the ages of 10 and under. When you enter Turtle Talk with Crush, several rows of benches are set up and a taped-off section on the carpet upfront. Cast members will encourage children to sit in the front area and for parents to grab a seat nearby on one of the rows.
When the show begins, Crush the turtle will appear and start talking with the audience. Naturally, he focuses on the children and will ask questions as he interacts with them. A cast member toward the front will assist in carrying a microphone so children can be heard.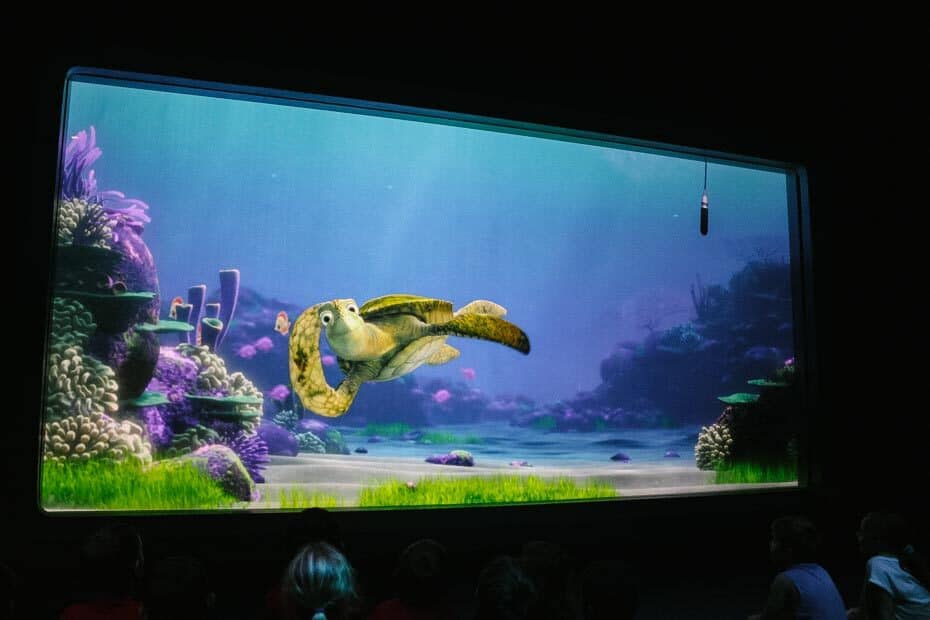 This is not an attraction where the room is crowded. There are probably less than 40 people attending each performance if that. So it's not really intimidating, and children face the screen talking to Crush, not the audience.
As a parent, I would remind children to sit still in their dedicated area during the show. I have witnessed a show where the cast member tripped over a child who had gotten behind her while assisting.
And remember, it is pretty cool for a cartoon turtle to get to talk to your kid from a TV screen. Children will get a huge kick out of it. They will also probably be extra glad if you helped them figure out a good question about turtles to ask before showtime. Crush will definitely ask for "turtle-related" questions from the audience.
For other ride reviews at Epcot, make sure to check these out:
While we cover a good deal of information on the site, Resorts Gal specializes in providing detailed information about the Walt Disney World Resorts. Browse our Disney World Resort Reviews to begin planning your next Disney vacation.
If you are traveling with smaller children they might be fascinated with one of Disney's Value Resorts. For instance, in our Disney Art of Animation Resort Review, we discuss all of the reasons you should visit the resort while your children are young.
If you make it over to Turtle Talk on your vacation, say hi to Crush for me!