Turtle Talk with Crush at Epcot
This article discusses the details of experiencing Turtle Talk with Crush at Epcot. We'll discuss its location, the best time to see a performance, and a few tips for talking to Crush.
Yes, Turtle Talk With Crush involves talking with a turtle. Technically, you could talk to any turtle. But since this one is computer-animated, he talks back.
Turtle Talk with Crush is an interactive attraction that's located on the first floor of The Seas Pavilion at Epcot. This live 15-minute chat allows children the opportunity to ask their most burning questions to a turtle. (Hopefully, those burning questions are about turtles.)
When you get to the Seas Pavilion, most will enter via the Finding Nemo attraction. You'll join the queue for The Seas with Nemo and Friends. After you exit the ride, you're dropped off in the middle of the pavilion.
Typically this attraction is open between 9:40 a.m. and 8:40 p.m. However, you can check the exact times for the day of your visit in the My Disney Experience app.
Turtle Talk with Crush has been around since 2004. However, elements of the show have been updated. For instance, some of the characters from Pixar's Finding Dory were added to the show a few years ago.
Fun Fact: Since this attraction was so popular, it was replicated at Disney's California Adventure Park, Hong Kong Disneyland, and Tokyo DisneySea. Additionally, Walt Disney Imagineering installed a version of this attraction in the Orange County Children's Hospital.
You can also find a similar version aboard a few Disney Cruise Line ships, like the Disney Dream and the Disney Fantasy. Who knew such a little attraction could have such a big impact?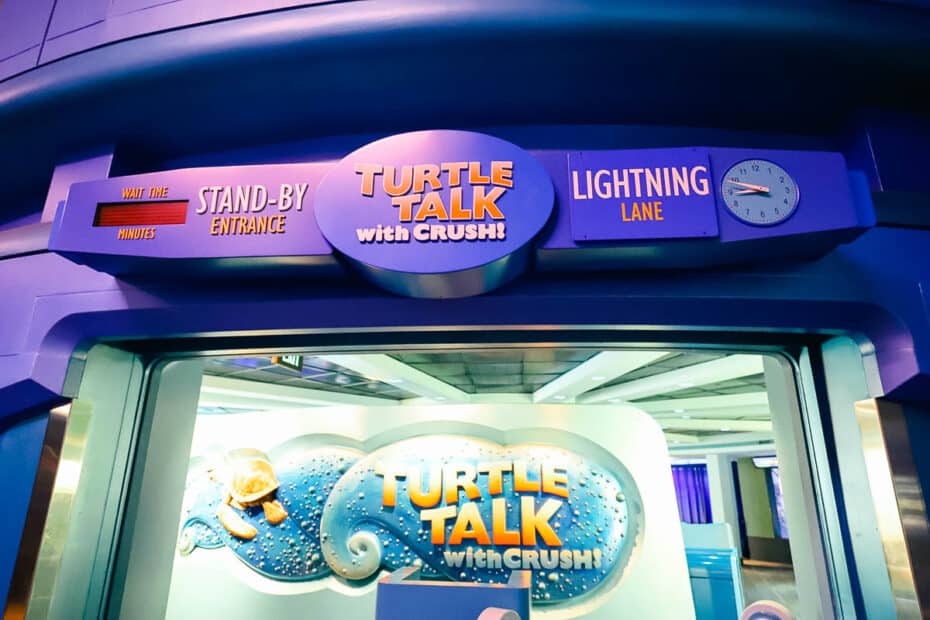 Below is a quick reference table with the need-to-know details.
Turtle Talk with Crush
Epcot Attractions

Location:

The Seas Pavilion

Disney Height Requirement:

None

Genie+ Eligible

Yes, but not needed

Ride Type:

Interactive Performance

Duration:

15 minutes

Disney Rider Switch:

None

Good For:

Everyone

Scary Factor:

Low

Must-Do List:

Medium

Perfect For:

Children with interest
in marine life.

Special Mention:

The longest wait should be for
the next show to begin.
Turtle Talk with Crush
Above the entrance to Turtle Talk with Crush, you'll notice that there's a stand-by side and a Lightning Lane. There is little to no benefit to using Lightning Lane here unless there's a line waiting outside the attraction.
A wait time is displayed above the entrance. Since Turtle Talk with Crush has a duration of 15 minutes, the longest you should have to wait is for the next show to begin.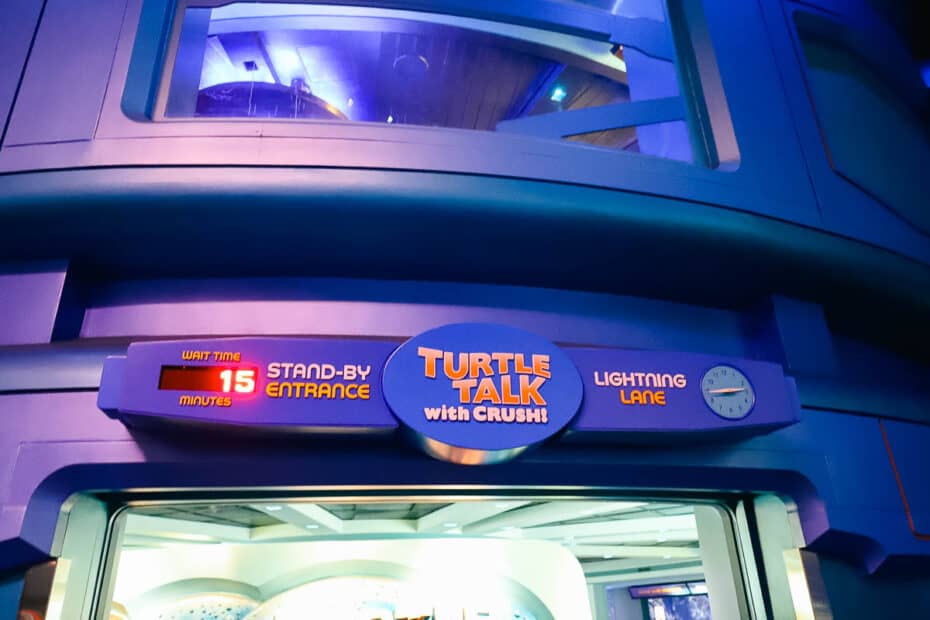 While you're waiting, there are several mini-attractions in the theater's lobby.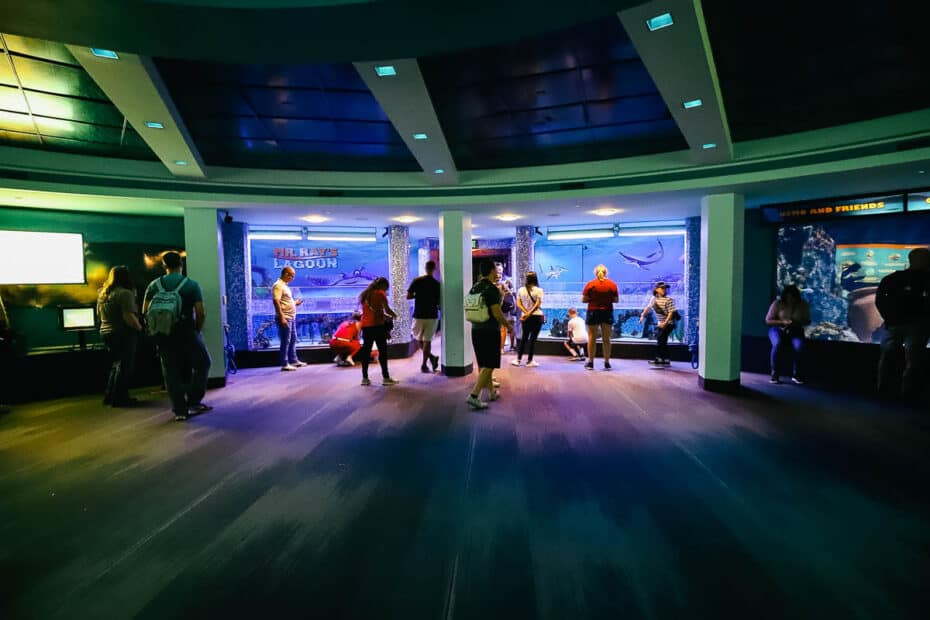 Toward the front, there's Mr. Ray's Lagoon.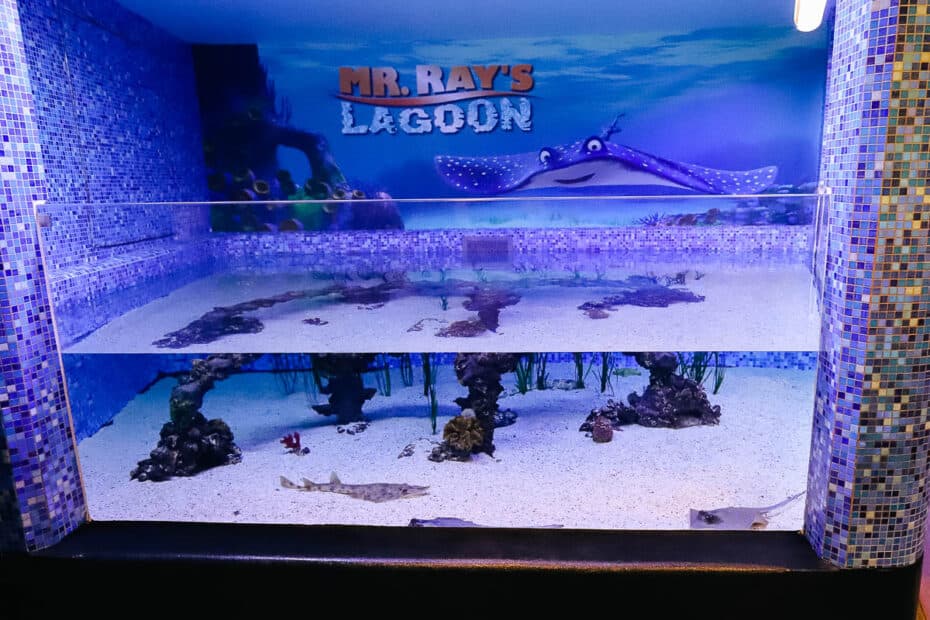 This area is home to baby sharks and sting rays.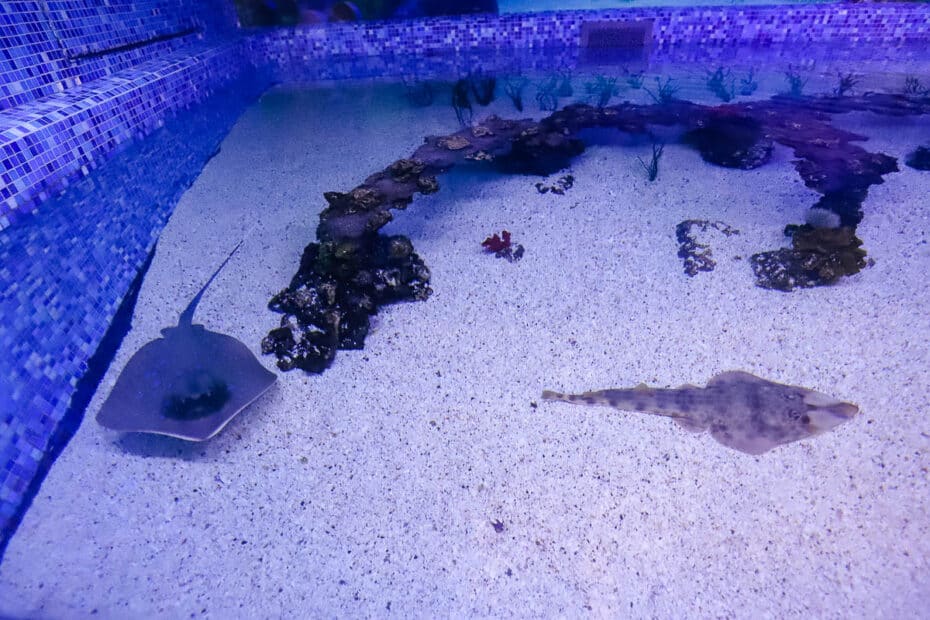 Additionally, there's a jellyfish tank and a few other aquariums.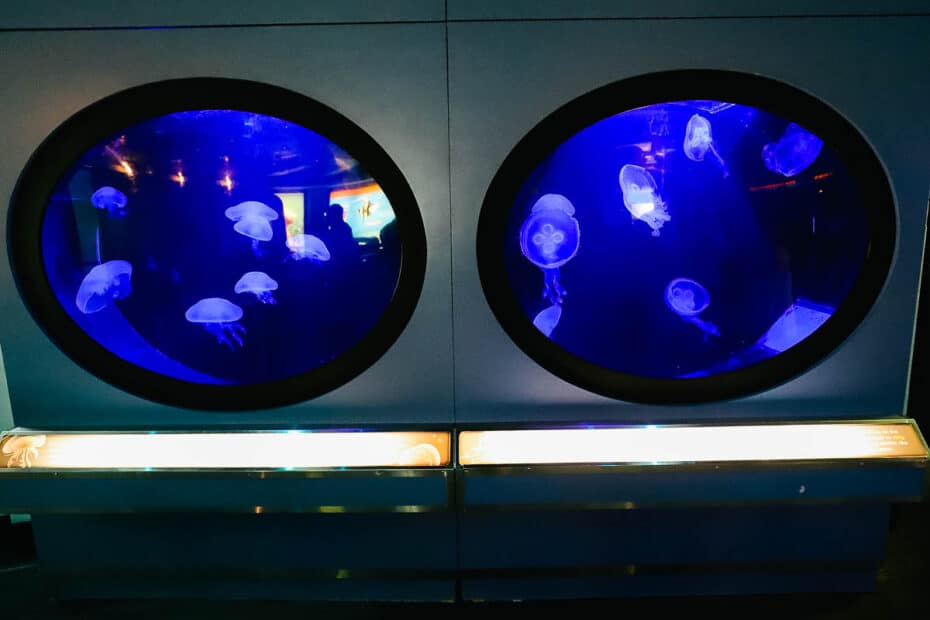 These aquariums are all specific to Turtle Talk with Crush. You won't see them anywhere else in the pavilion.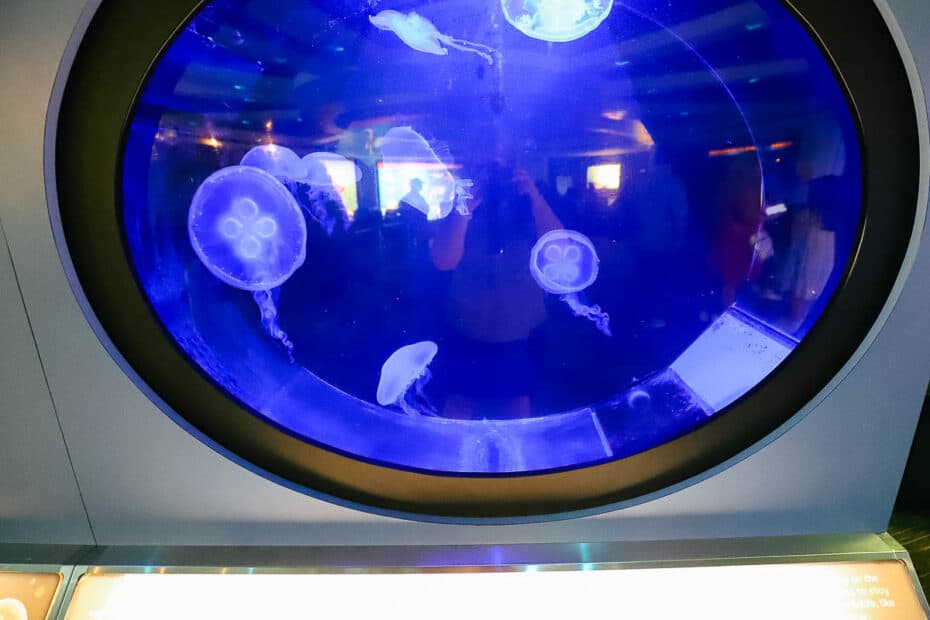 There are several displays that provide information about jellyfish.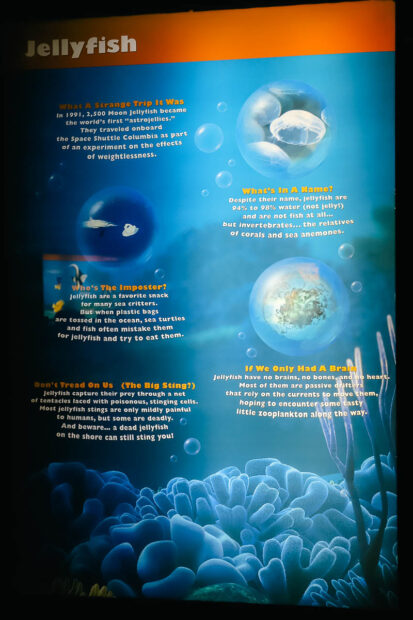 Additionally, you can learn more about Green Sea Turtles.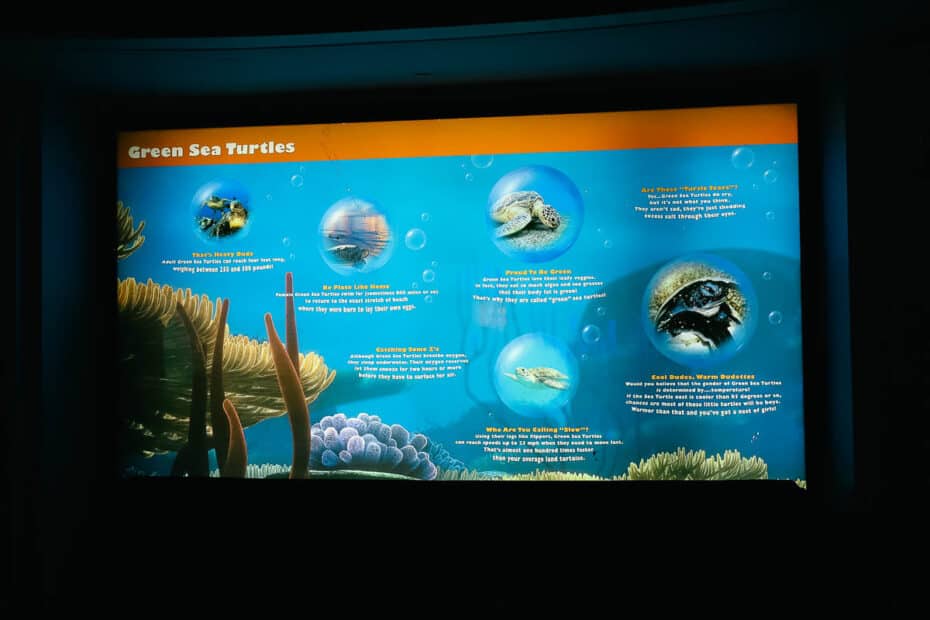 Turtle Talk isn't necessarily a must-do experience for everyone. However, it is delightful for children around eight years and under.
When you enter Turtle Talk theater, there's a taped-off section on the floor toward the front for children. Behind this area, there are several rows of benches.
Cast members will encourage children to sit in the front area. Parents need to grab a seat nearby on one of the rows.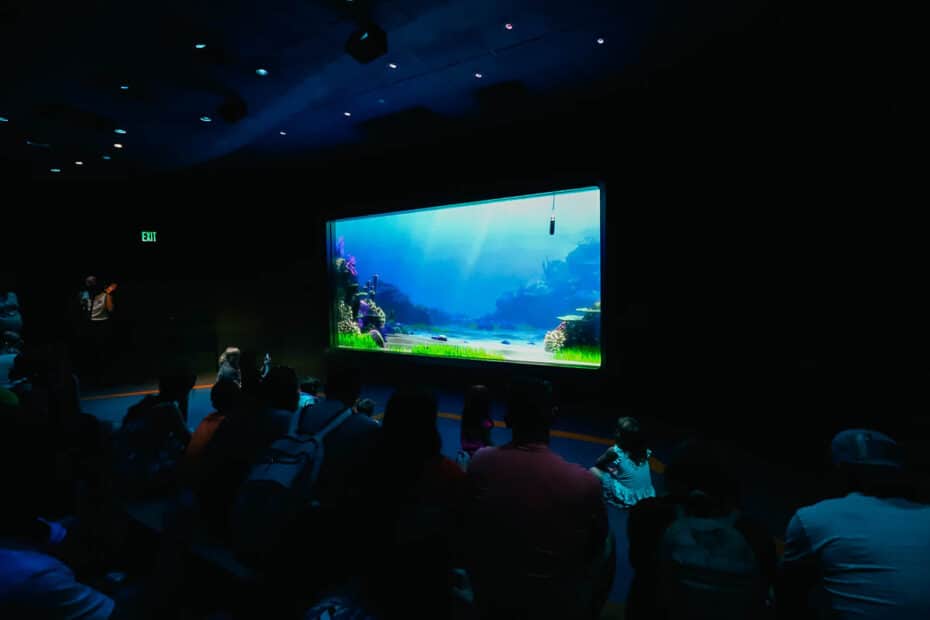 When the show begins, Crush appears and begins to talk with the audience. Naturally, he focuses on the children and will ask questions as he interacts with them.
A cast member toward the front will assist in carrying a microphone so children can be heard. Crush uses the amazing technology of the hydrophone to communicate back.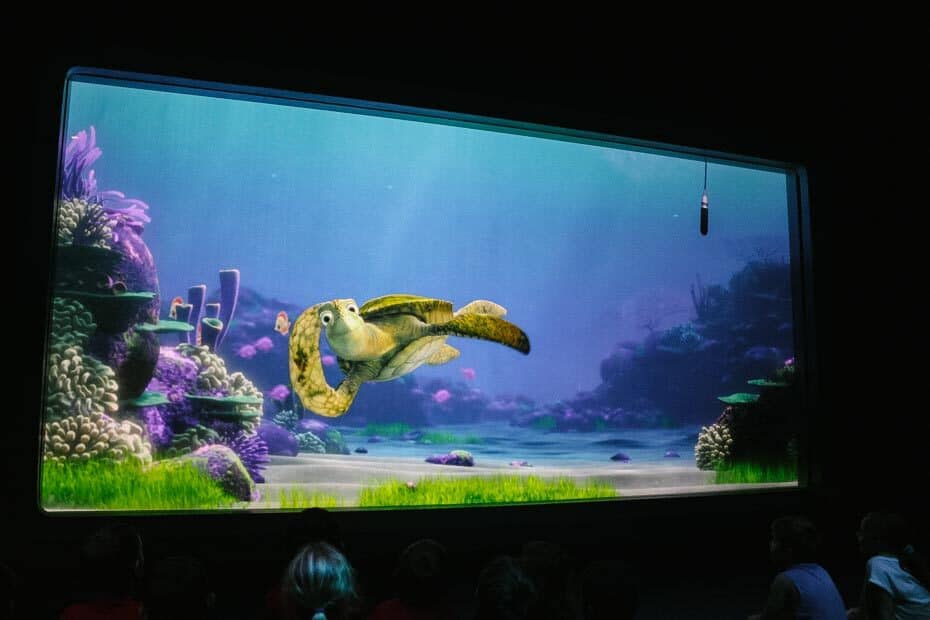 Often the room is not too crowded. There are usually approximately 40 guests or so attending each performance when I've visited.
Therefore, it's not intimidating. Additionally, children are facing the screen when talking to Crush. So they aren't standing up in front of the audience.
As a parent, I would remind children to sit still in their dedicated area during the show. I have witnessed a show where a cast member tripped and fell over a child who had gotten behind her while another child was asking questions.
Also, remember that it's a big deal for kids to get to talk to a cartoon character. Your children will likely get a huge kick out of it.
Crush lives on the East Australian Current and will address the audience as land-based dudes and dudettes. He'll encourage you to ask "turtle-related" questions. So you might want to help your child think of a few questions before showtime in the event they get called upon.
You could ask him about his favorite foods, marine biology, or what it's like to be a turtle!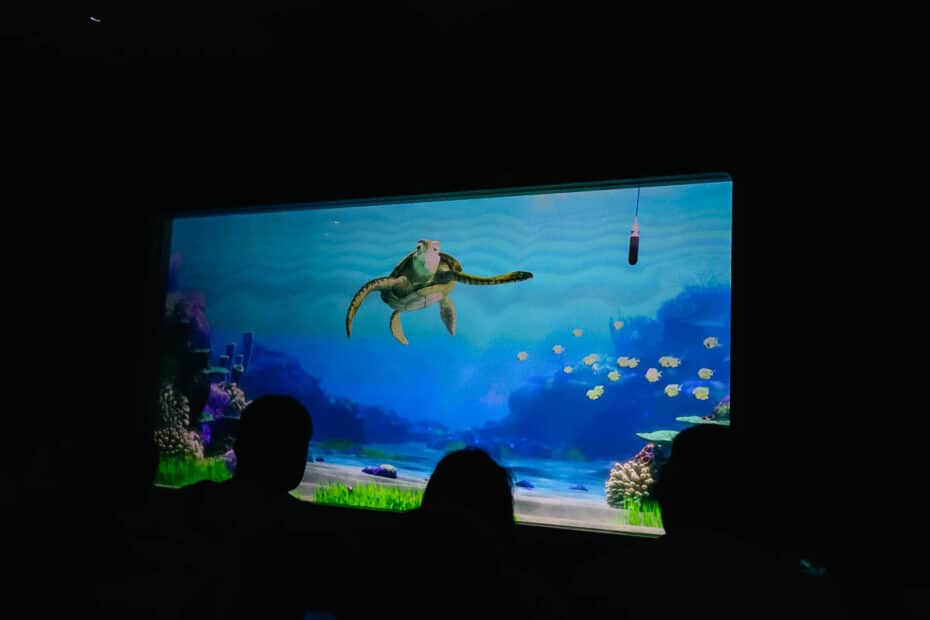 During the show, some of Crush's friends would swim by. For instance, we saw Bailey the Beluga whale and Hank the octopus from Pixar's Finding Dory. We also saw Crush's pals Marlin, Nemo, and Squirt from Pixar's Finding Nemo.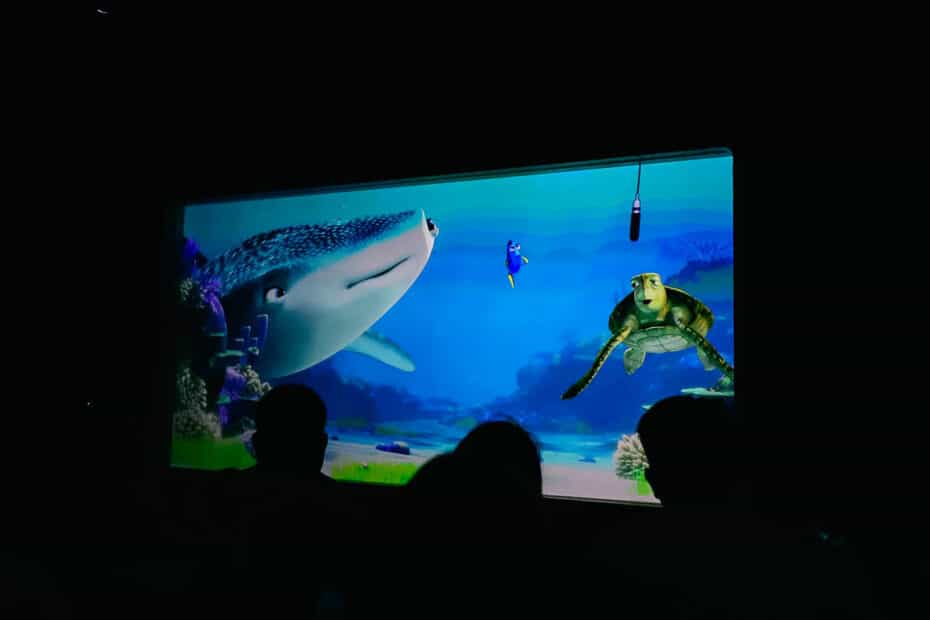 Ultimately, Turtle Talk with Crush is a fun attraction that children enjoy. The Seas Pavilion is an excellent place to tour during the hotter portion of the day or in the event of rain. There's a good deal to see and do inside.
For other ride reviews at Epcot, you might enjoy the following:
While we cover a good deal of information on the site, Resorts Gal specializes in providing detailed information about the Walt Disney World Resorts. Browse our Disney World Resort Reviews to begin planning your next Disney vacation.
Some of the favorites for children are the Disney Value Resorts:
In the Comments
Do you have plans to visit Turtle Talk with Crush on your next Epcot visit? What are your thoughts on this attraction?