Disney's All-Star Movies Resort Review
This article provides a review of Disney's All-Star Movies Resort. We'll share details of our stay at the resort, including thoughts on the rooms, dining, and other amenities.
Over our years of traveling to Walt Disney World, often, our budget required staying at one of Disney's value resorts. So from time to time, we found ourselves at one of Disney's All-Star Resorts since they are the most budget-friendly of all the Walt Disney World Resorts.
For whatever reason, probably price and availability, we almost always stayed at Disney's All-Star Music Resort when we stayed at a value resort. However, there was a time or two that we ended up at the All-Star Sports.
While we've visited Disney's All-Star Movies and explored the grounds, we had never stayed there until recently. So I felt it was time to plan a stay and provide a formal review of the All-Star Movies Resort.
As you may know, the Disney All Stars Resorts are almost entirely identical. The main difference is that each one has a unique theming.
So if you're more into movies than sports or music, you might consider planning a stay at Disney's All-Star Movies for your next vacation. Let's take a look at what to expect.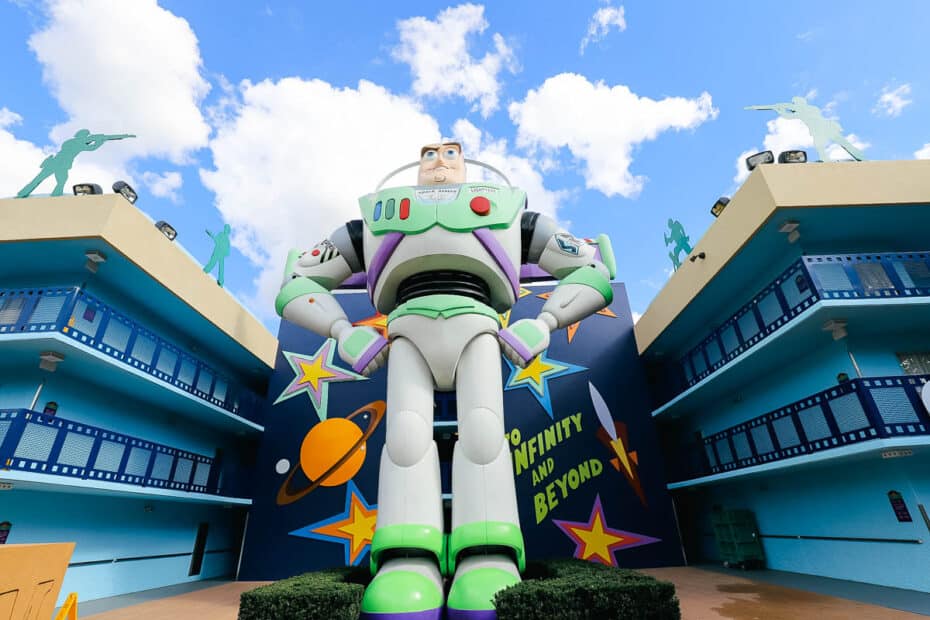 Disney's All-Star Movies Review
When we booked this stay at All-Star Movies, we found a reasonable price for a preferred room. If you've read our other resort reviews, the cost is usually one of our top priorities when reserving a room.
We pay for our resort stays out-of-pocket to provide unbiased reviews. So finding a decent deal is always a win.
Typically, we wouldn't consider a preferred room because of the price difference. But for this stay, that was the only room available with the current room discount. So I thought this would be an opportune time to discuss whether or not a preferred room was worth it.
What is a preferred room at Disney's All-Star Movies?
Most value and moderate resorts at Disney World have a preferred room category. These rooms will be closer to the amenities of the resort.
Per Disney, at All-Star Movies, preferred rooms are closer to Cinema Hall, dining, shopping, and transportation. So you won't have to walk far from your room to get to these locations.
The following buildings at Disney's All-Star Movies have dedicated preferred rooms:
Toy Story Buildings 9 and 10
Fantasia Buildings 5 and 8
101 Dalmations Building 1 and 4
These buildings also have some standard rooms. Additionally, all the rooms in Love Bug and Mighty Ducks have standard rooms.
Our room was in the Toy Story area (room 9805) on the second floor. Here is a view from the walkway outside our room to Cinema Hall.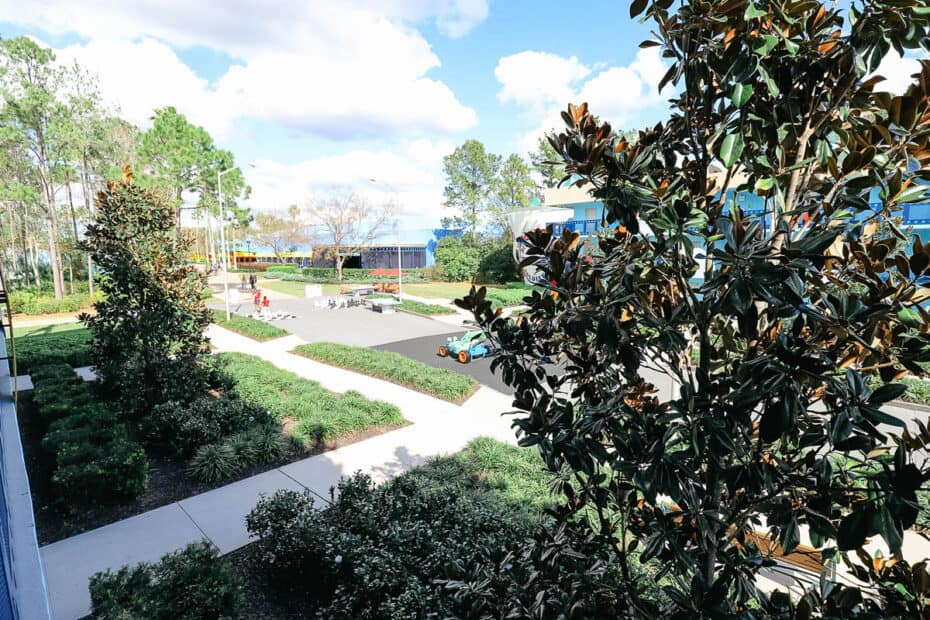 It took us approximately 0.19 miles (less than five minutes) to get from the room to the bus stop. That was the longest distance of the major amenities. We passed the feature pool, lobby, gift shop, and food court on the way to the bus stop.
So if you want to minimize walking at the resort, you might consider a preferred room. However, the furthest room locations from the lobby aren't a terrible distance.
That said, when you've been walking through the theme parks all day, you may get stiff on the bus ride back to the resort. If your room is toward the back of the resort, it will feel like another hike to get there.
Rooms
When we arrived at the resort, we almost immediately received a text that our room was ready. Since we drove, we had to pass through the security gate on arrival.
From there, the security guard alerts check-in that you've arrived, which usually generates a text response about whether your room is ready. If it is prepared, you will receive the room number and can head directly to it.
Unless there is an issue, you never have to worry about visiting the front desk for check-in or check-out. It all works seamlessly.
Most of the rooms at All-Star Movies will have a queen-size bed and a queen-size pull-down (Murphy-style) bed. These rooms sleep up to four guests.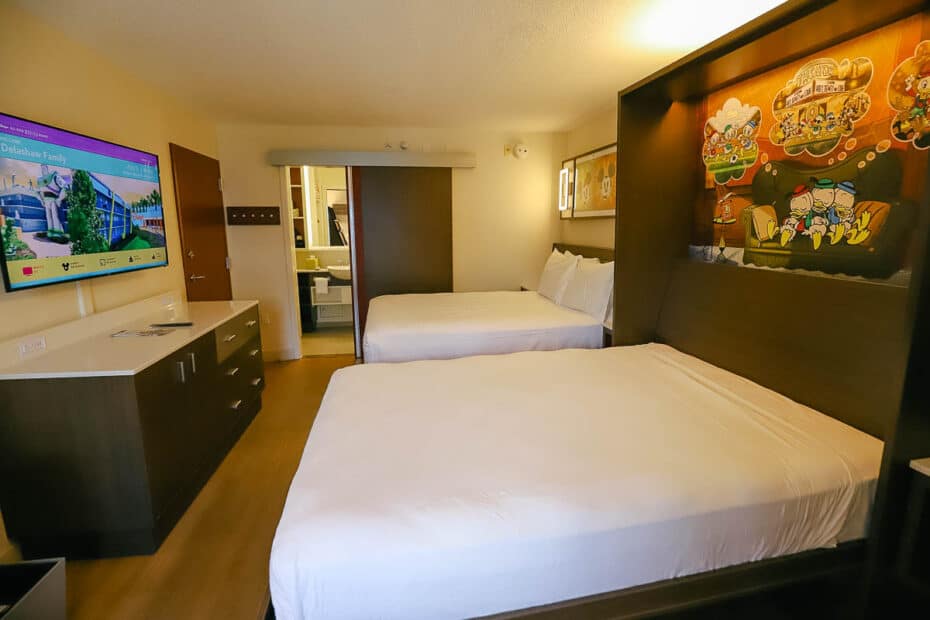 When the bed is not in use, it doubles as a table with two chairs.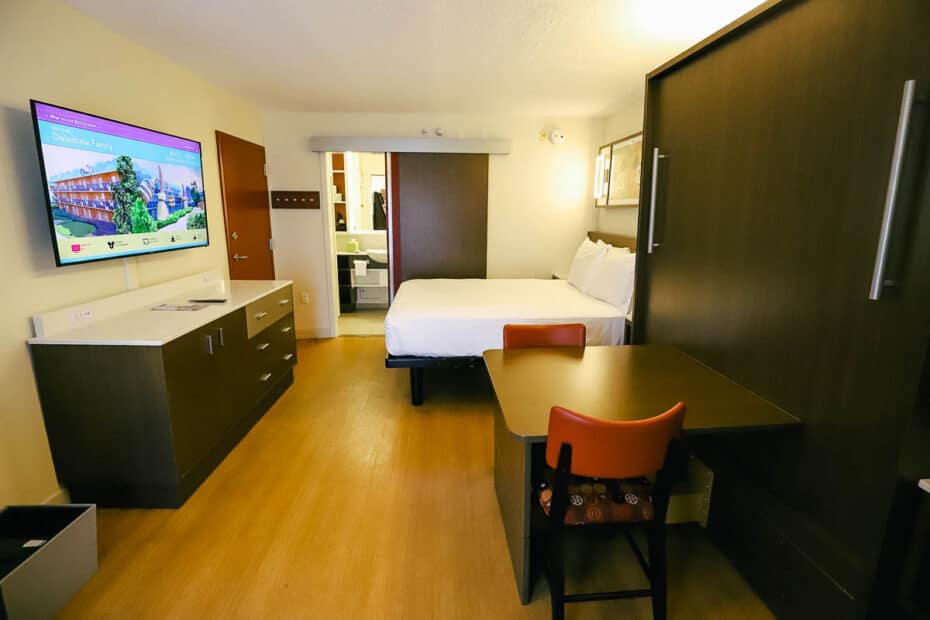 Here is a look at the vanity area. This space has a sliding door that divides the room. So it provides privacy when getting ready or if others are still sleeping.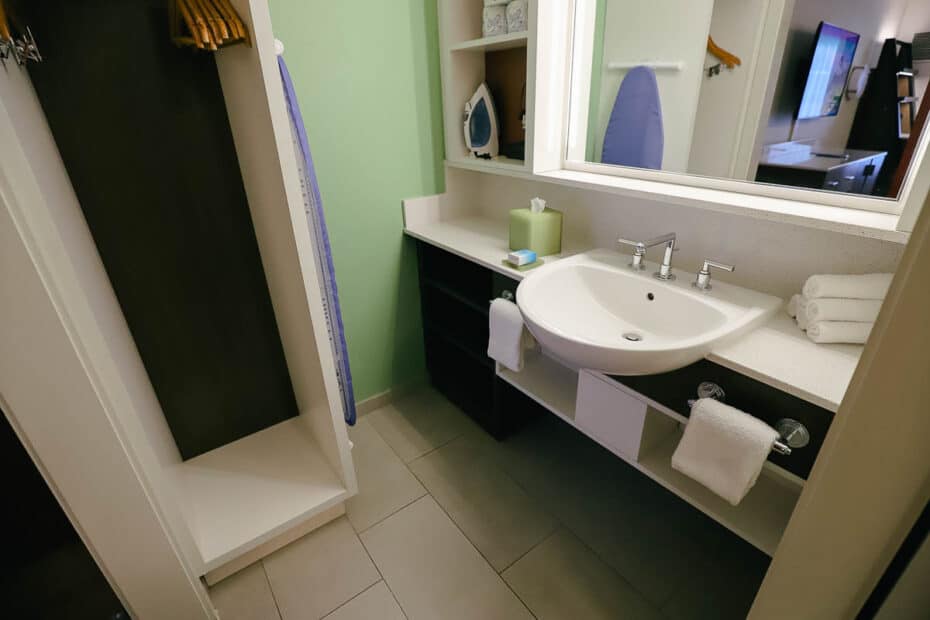 Bathrooms at the All-Star Movies have a tub with a shower combination.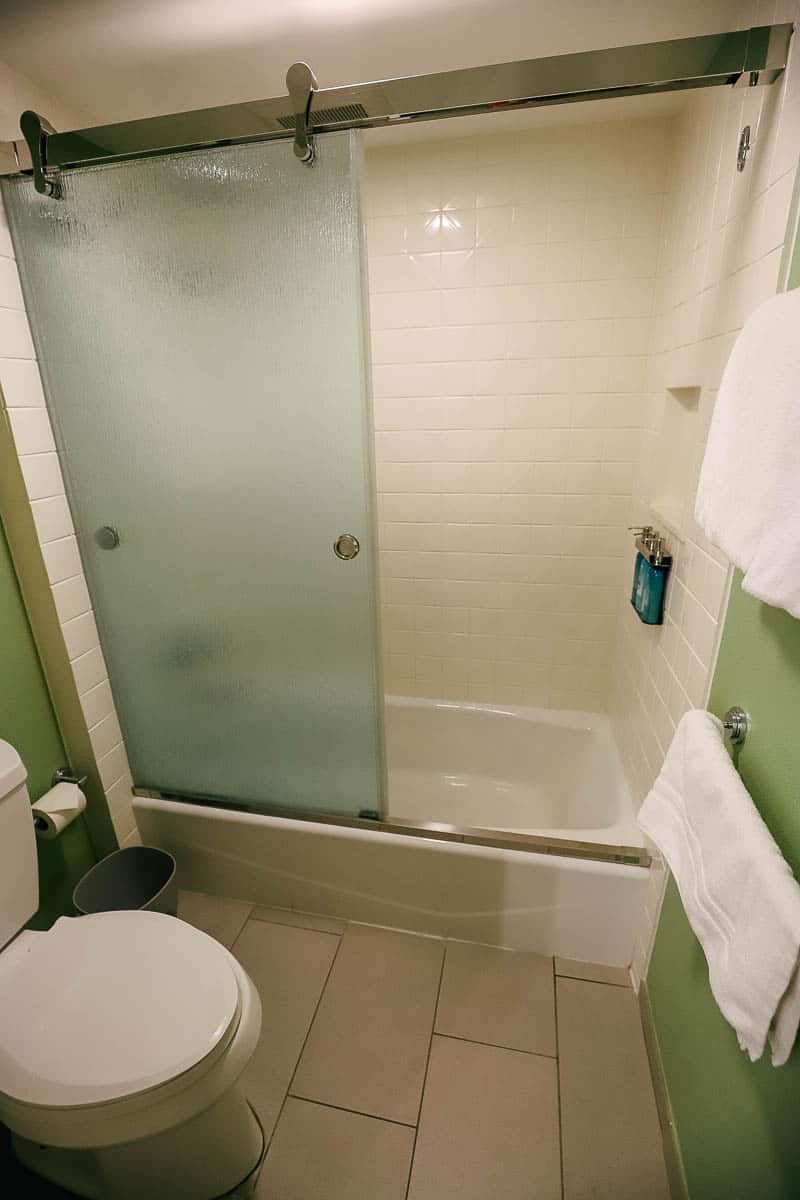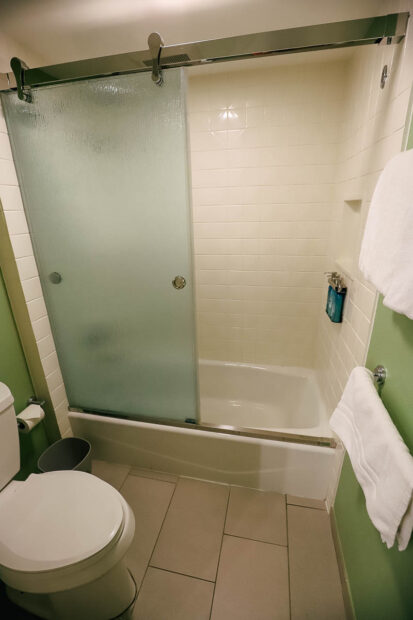 Rooms have a coffee maker and a beverage cooler. Note that this beverage cooler is not the same as a mini-fridge. They have a warning on the front that they are only designed to cool items, not necessarily keep perishable items.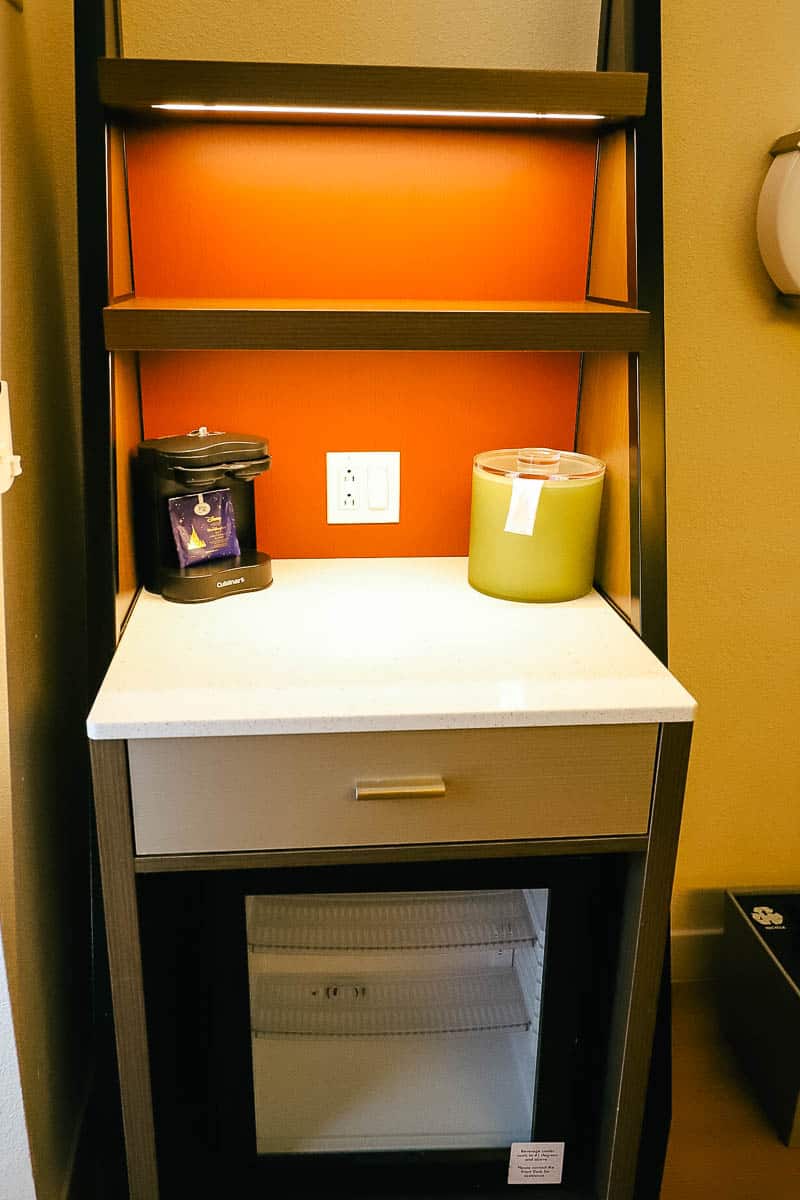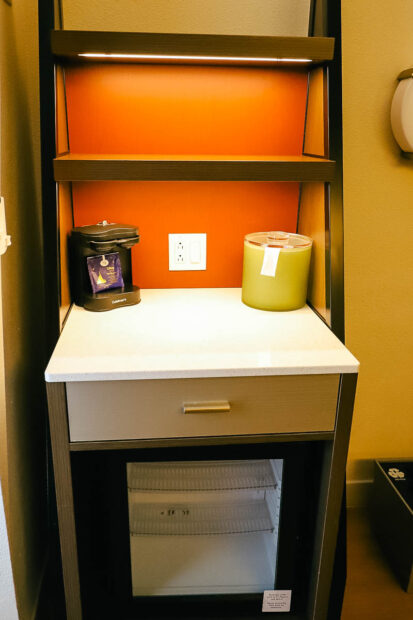 Toiletries include body wash, shampoo, and conditioner. There's also a hair dryer, iron, and ironing board available.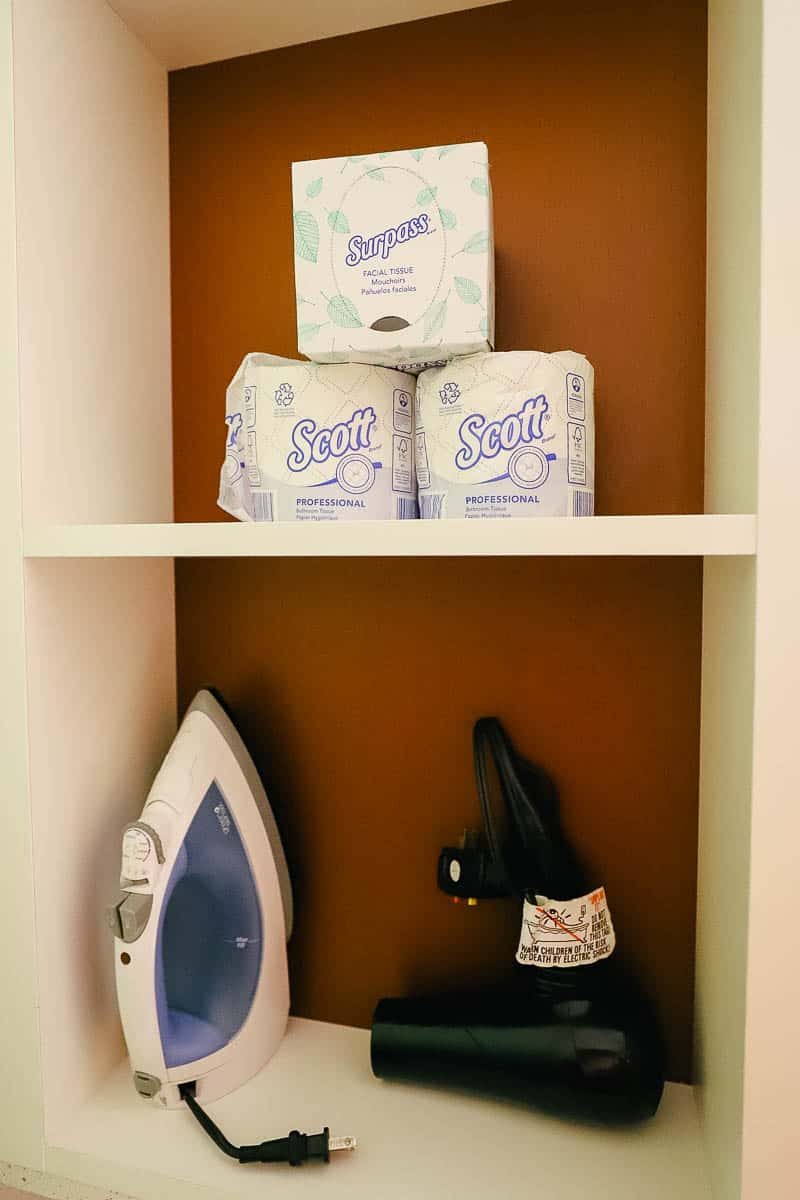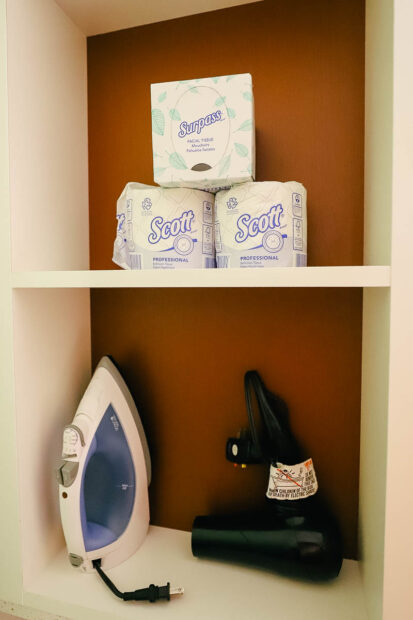 If you want to preview more details of the room, we have a separate article with extra photos and a video tour.
Related: All-Star Movies Room Tour with Video
Dining
When dining at All-Star Movies, you have one primary choice, the World Premiere Food Court. Additionally, there's a pool bar, Silver Screen Spirits Pool Bar, that will have a few snack items and cocktails.
World Premiere is a large food court with four stations and one large grab-and-go area. They are usually open daily from 6:30 a.m. until 11:00 p.m. and serve breakfast, lunch, and dinner.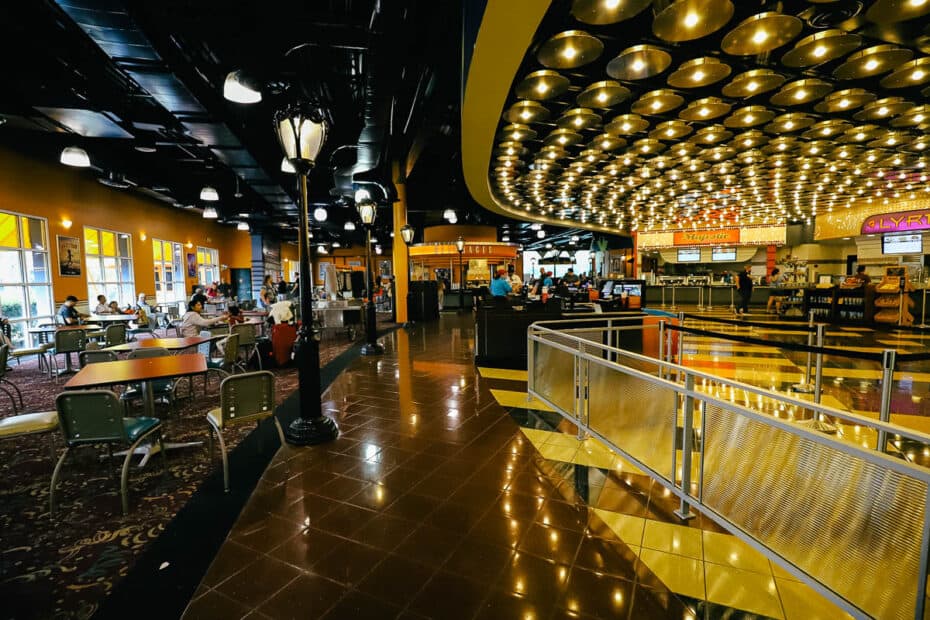 For breakfast, you can find anything from bagel sandwiches to Mickey-shaped waffles. During lunch, selections include pizza, burgers, and chicken strips. One station has healthier items like salmon with green beans.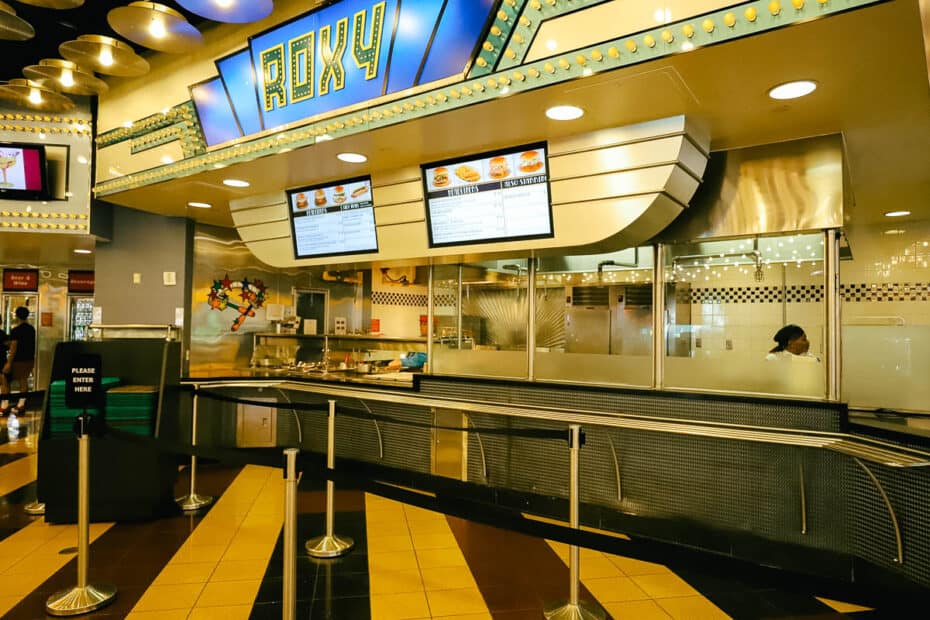 As far as snacks, the grab-and-go area has plenty of items. You'll find chips, candy, crispy rice treats, cereal bars, protein bars, individual fruit cups, and a pastry case full of items.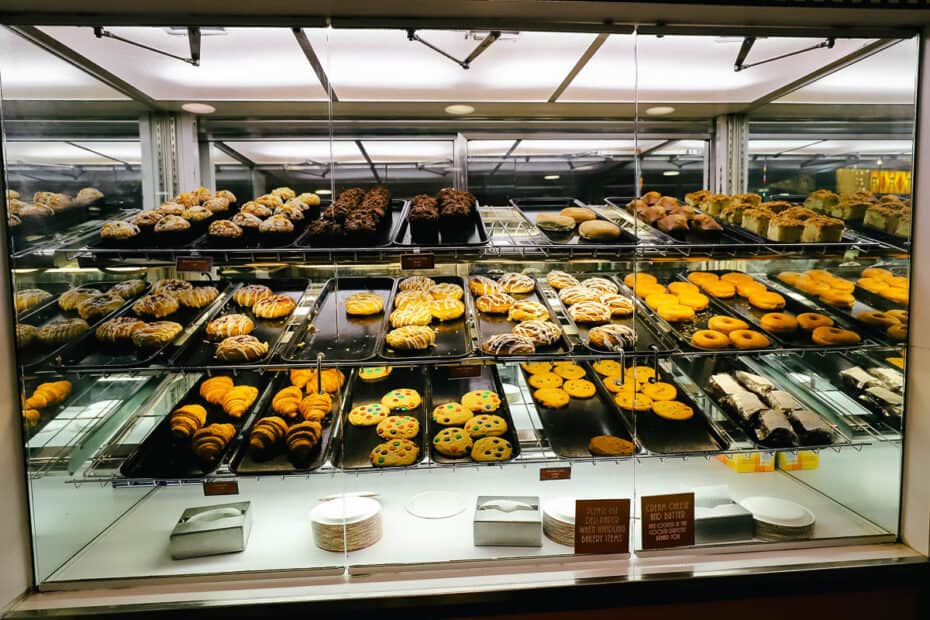 During our stay, I photographed every item available at the food court, along with the menus for breakfast, lunch, and dinner. Since there were too many photos to include in this review, we created a separate dining guide.
Related: Dining Options at Disney's All-Star Movies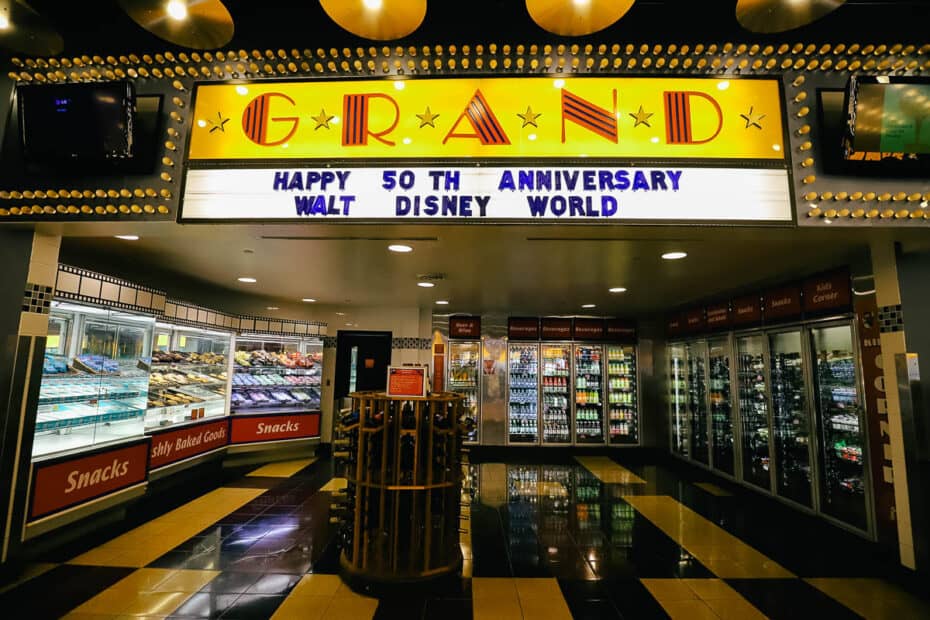 Pools
Like the other value resorts, All-Star Movies is different when it comes to pools. All-Star Resorts have two pools, a feature pool and a quiet pool. Unfortunately, these pools will not have a water slide or a hot tub.
Disney's All-Star Movies feature pool is the Fantasia Pool which sits directly behind Cinema Hall. This pool has a water feature with Sorcerer Mickey on a large stage backdrop.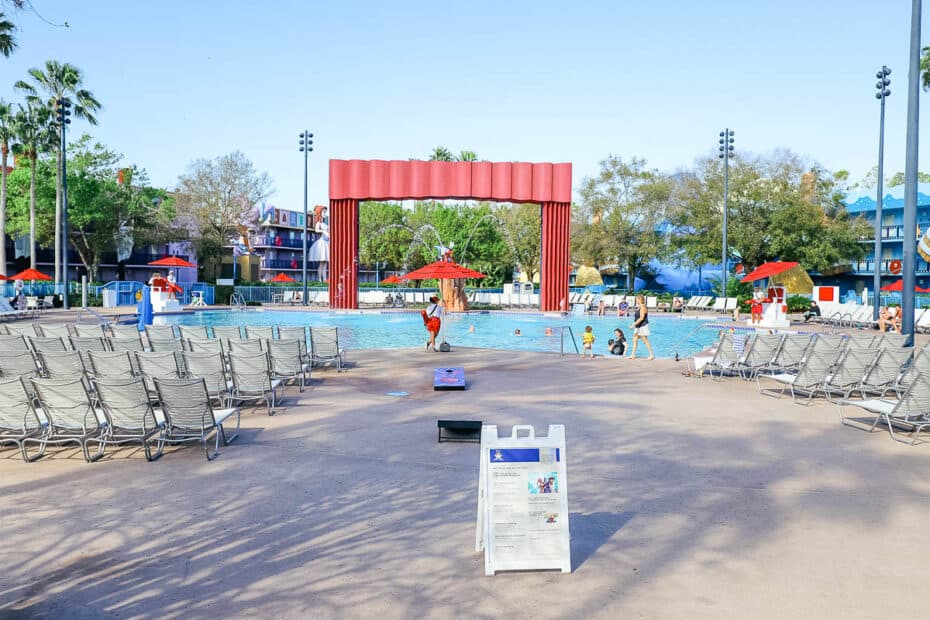 It's a fun pool with tons of seating. During the afternoon, cast members are available to play trivia and a few pool games. This help keep the kids entertained.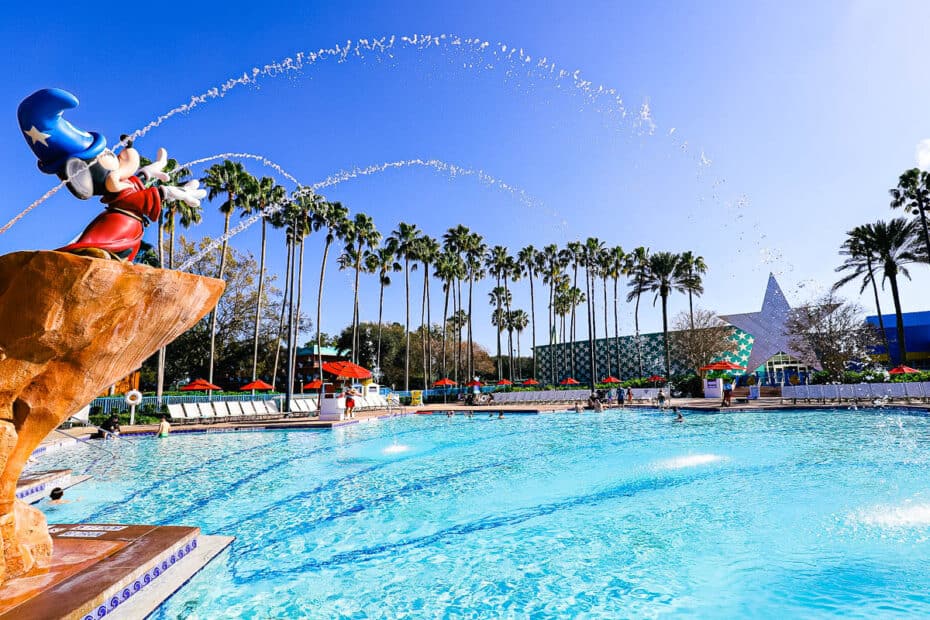 Additionally, this pool has a separately fenced kiddie pool and splash area for children.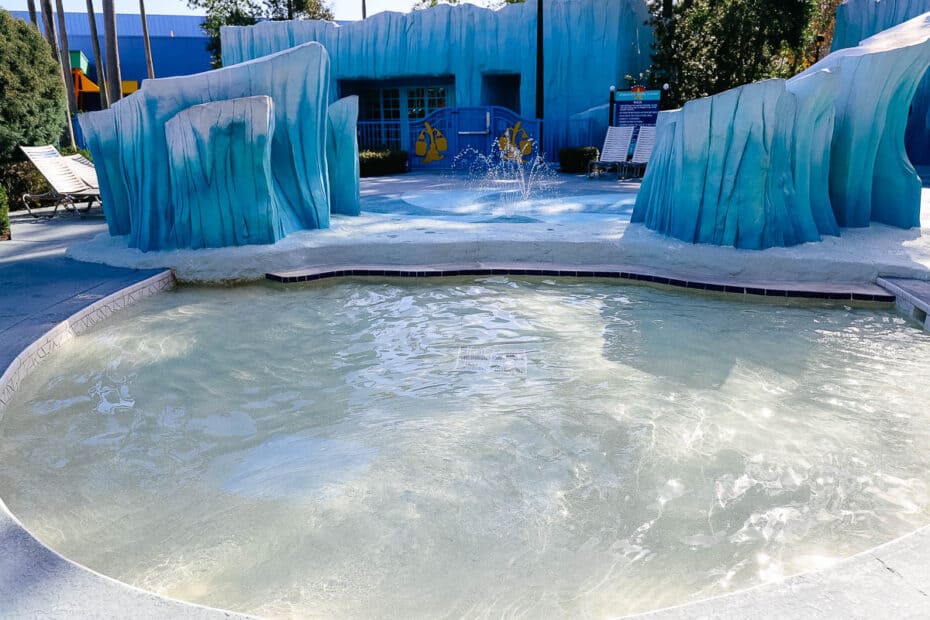 The splash area sits in front of the main laundry room. In addition, you'll find a laundry room near each of the pools.
Related: Laundry at Disney's All-Star Movies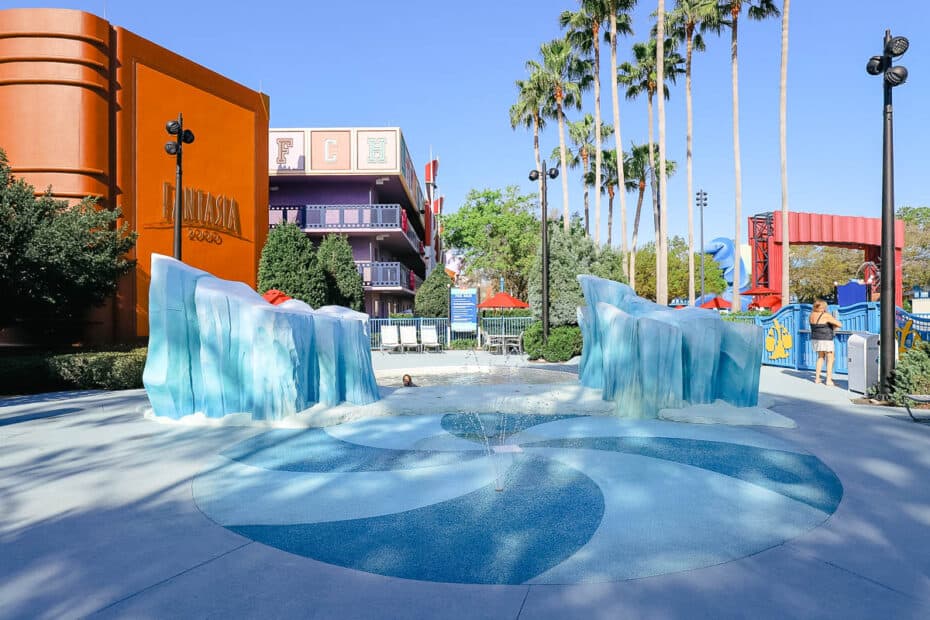 For those wanting a quieter experience, you may prefer to visit the Duck Pond Pool at the Mighty Ducks section of the resort.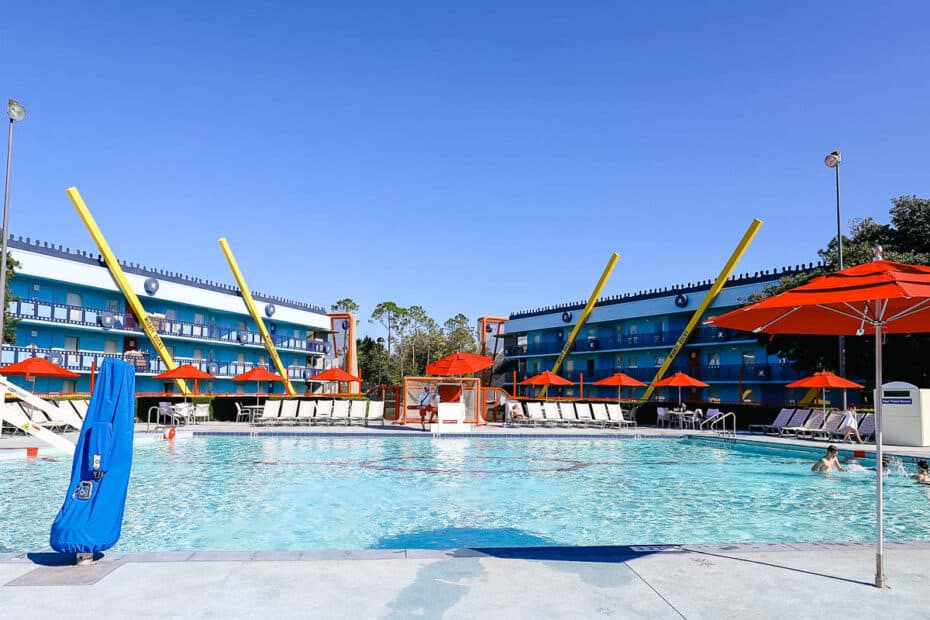 While this is considered a quiet pool, it's still a decent size and can get crowded. So it might not necessarily be quiet during your visit.
Related: The Pools at Disney's All-Star Movies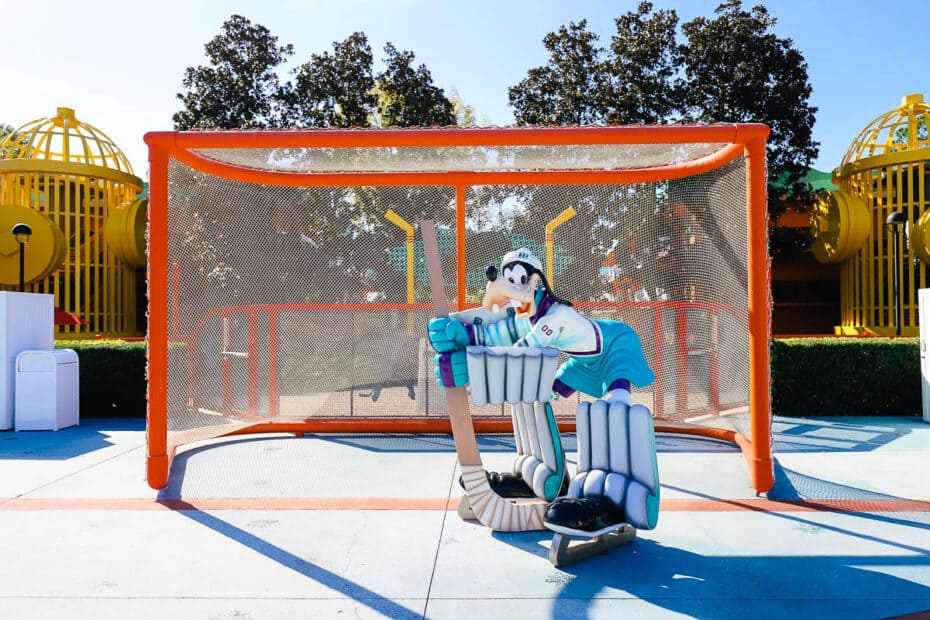 Most of the resorts offer nightly Movies Under the Stars near the pool. However, at All-Star Movies, there's a separate covered area where movies are held.
You'll find The Reel Spot immediately next to Cinema Hall. It's only a few steps away from the Fantasia Pool.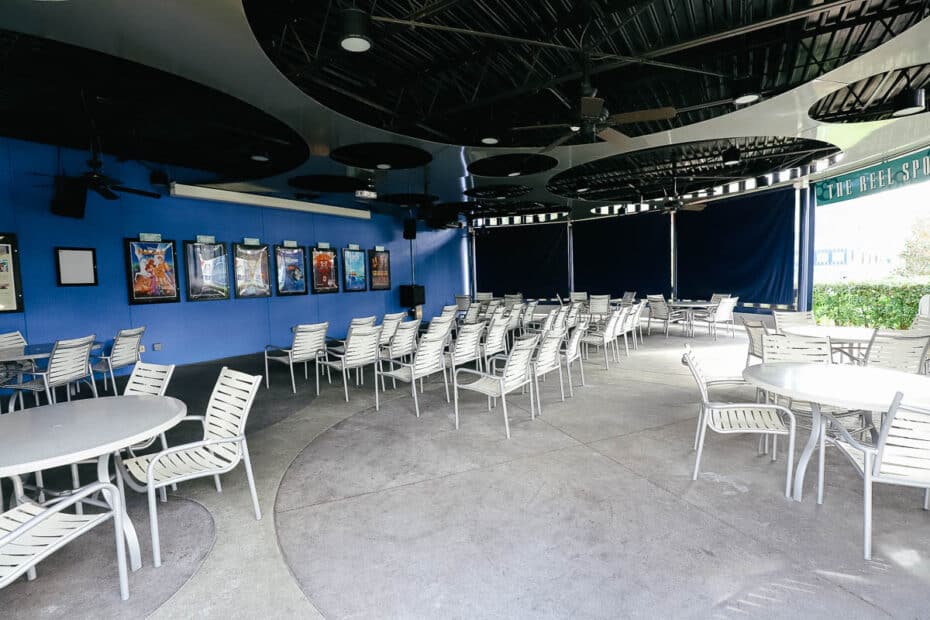 Upon arrival, you'll probably want to snap a photo of the recreational activities during the week of your stay. You can usually find a sign that lists the schedule in the lobby and near the pool area.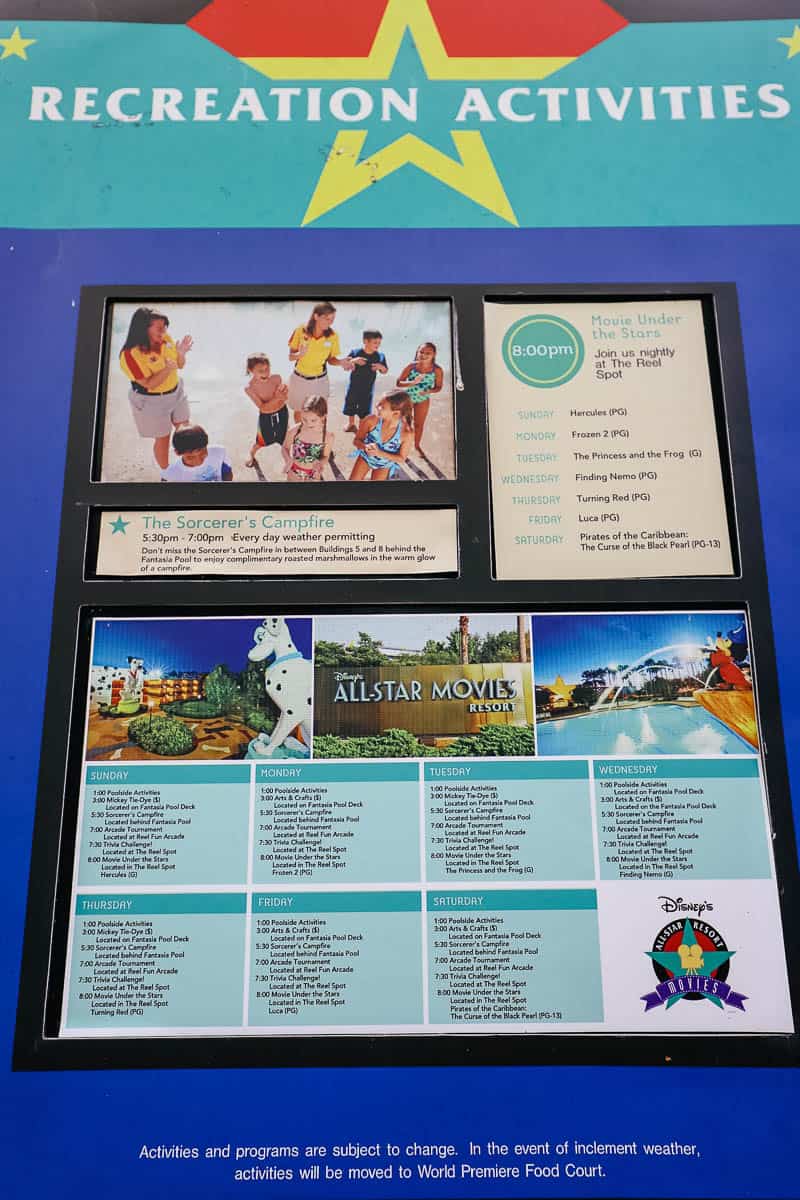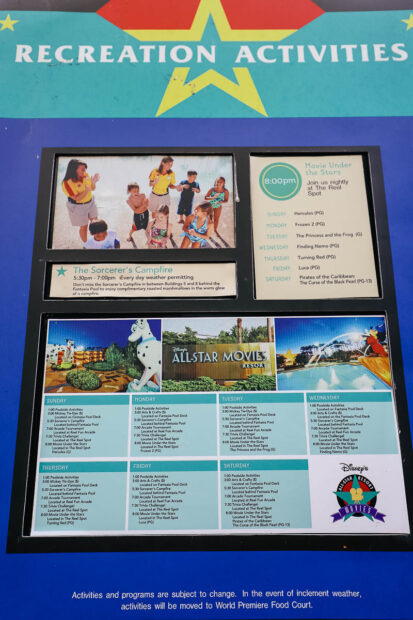 Here is a closeup showing the pool's daily activities and the movie schedule. Each night various Disney films are available. This is a fun way to spend the evening on a day when you need some extra rest.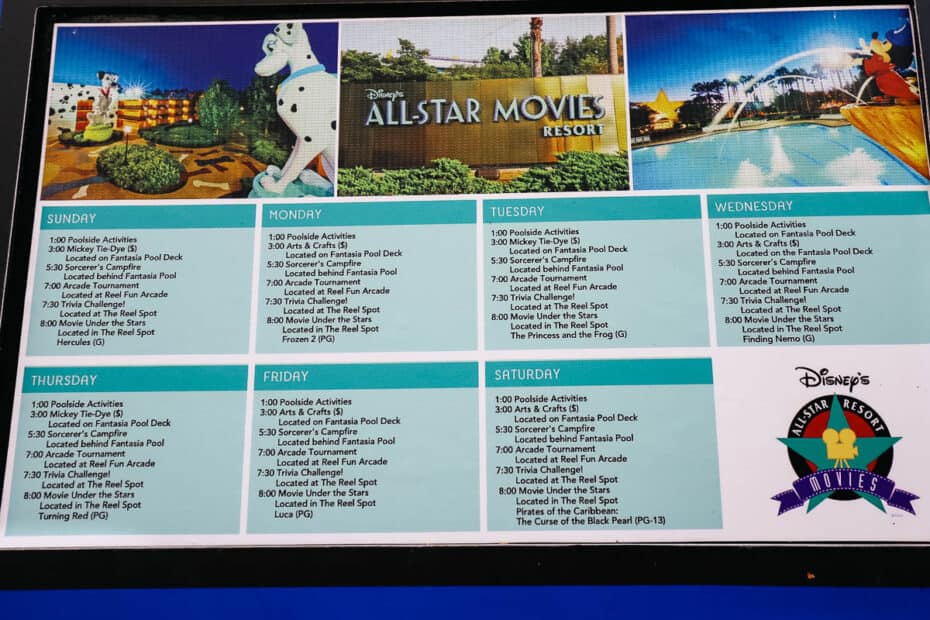 Recreation
Regarding recreation, there are a few other things you may want to be aware of during your stay. For example, the resort has a large playground. There's a small pathway between the Toy Story section of the resort and Cinema Hall that leads to it.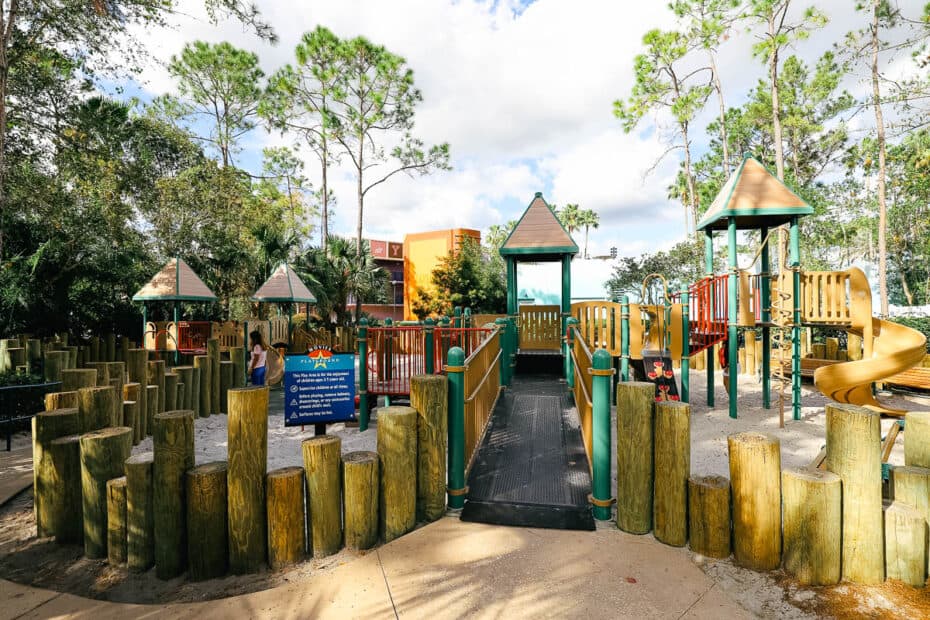 Toward the left side of the playground, a separate play area is designed for children ages 2-5.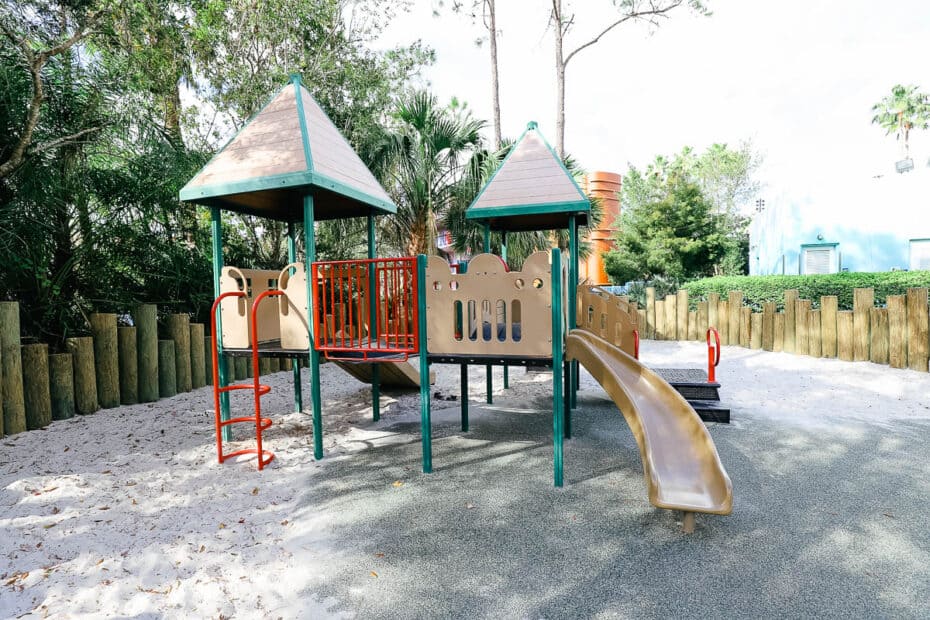 Additionally, there's a giant chess board and a few game tables in front of the Toy Story buildings.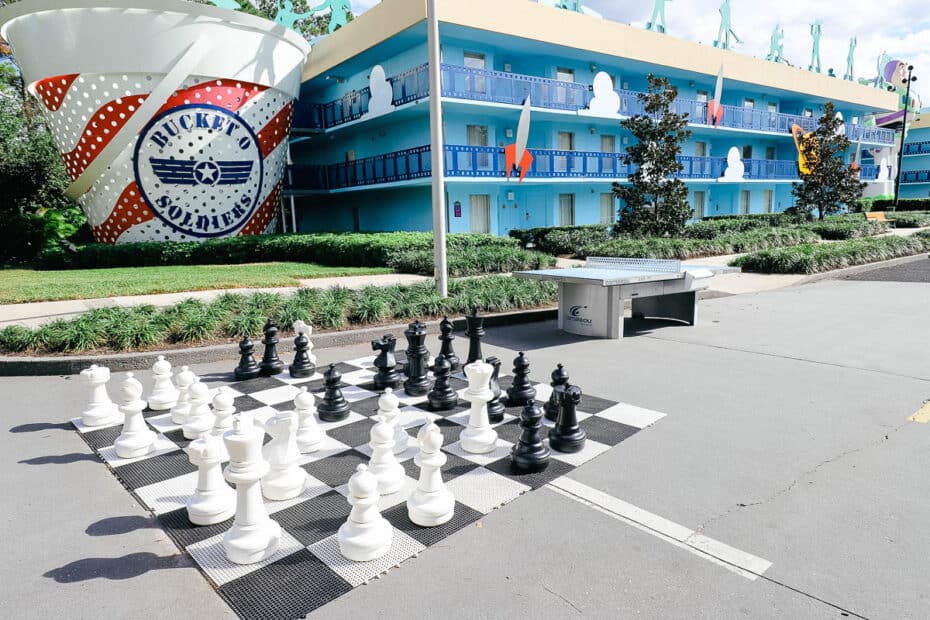 We saw multiple guests playing ping-pong during our stay.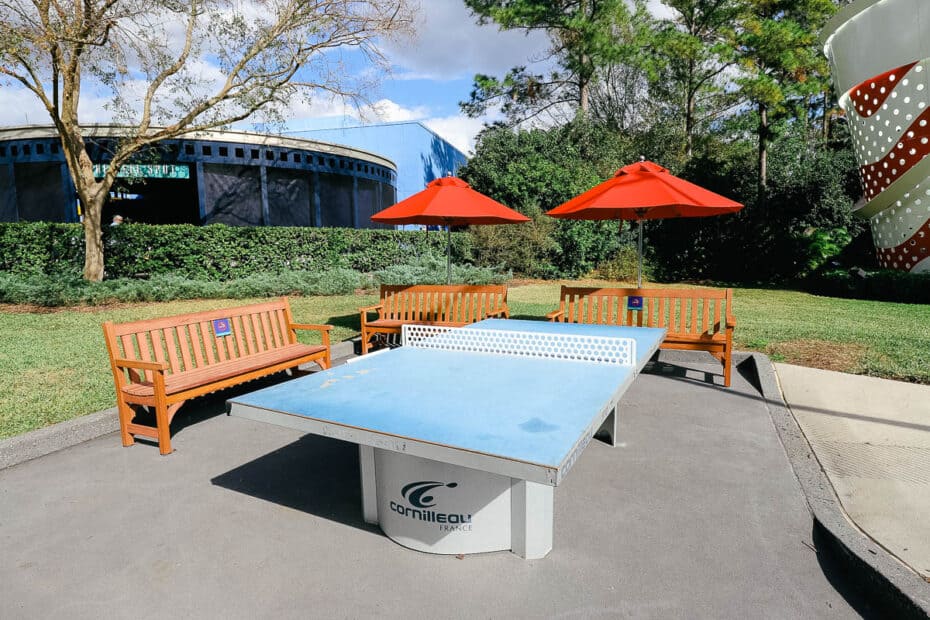 Right inside Cinema Hall, you'll run into the Reel Fun Arcade.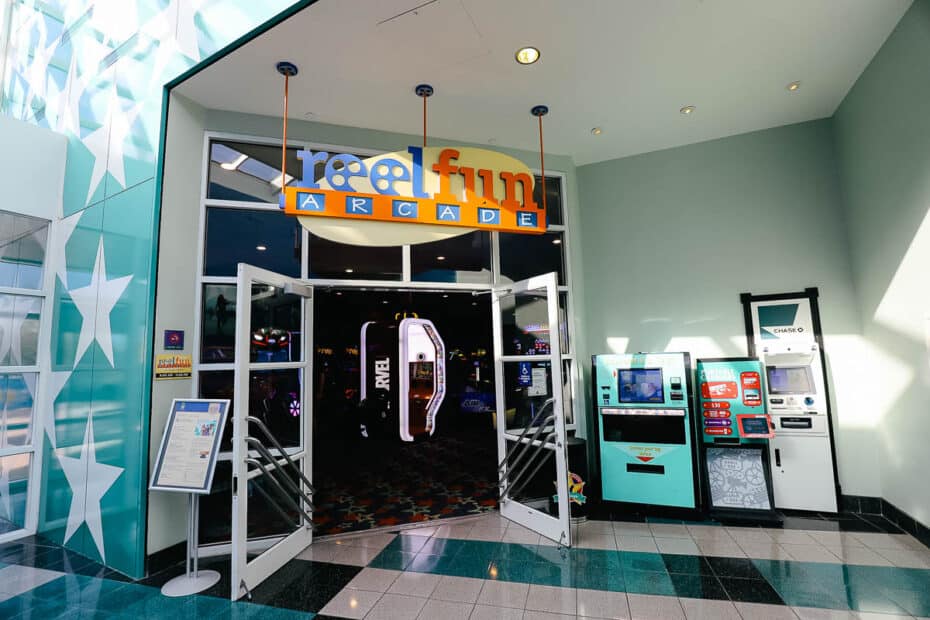 It's an excellent arcade with plenty of games.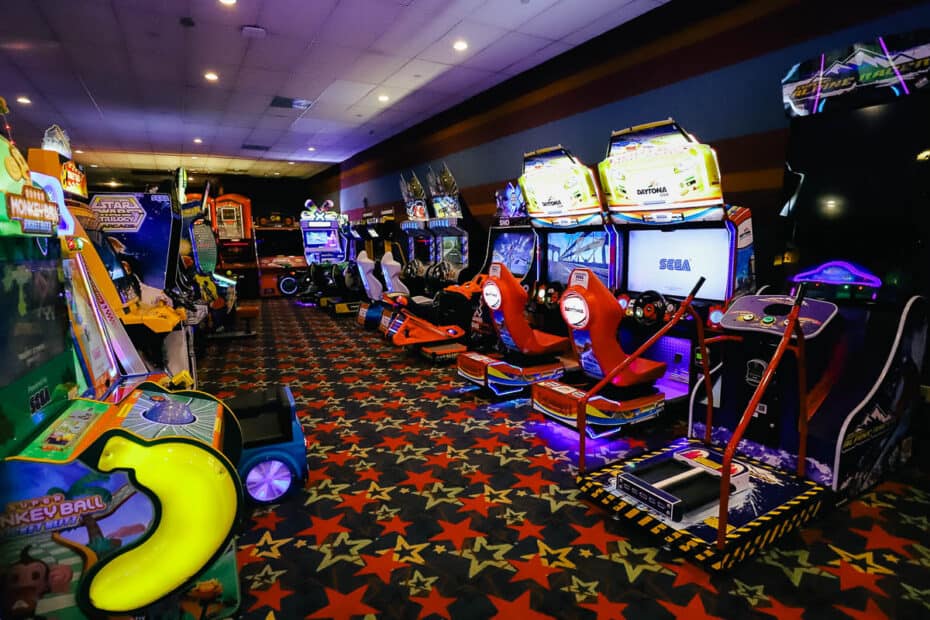 Additionally, I noted a few new cornhole games by the pool featuring Moon Girl, a new series premiering on Disney+.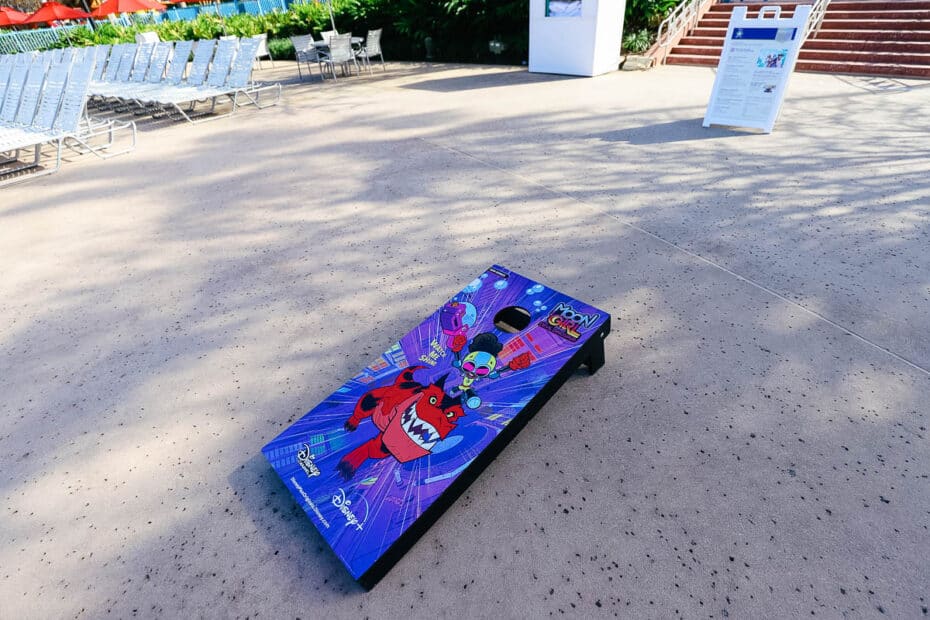 Transportation
Value resorts only offer one form of transportation to the Disney Parks–buses.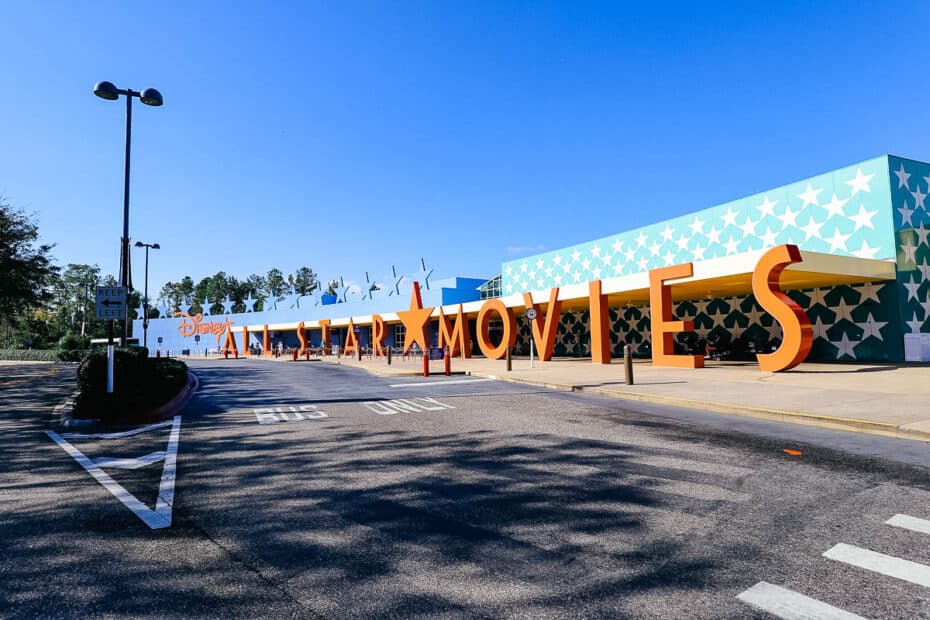 All-Star Movies buses take you to and from the following locations:
Magic Kingdom
Epcot
Disney's Hollywood Studios
Disney's Animal Kingdom
Blizzard Beach
Typhoon Lagoon
Disney Springs
*You'll often have to take a transfer bus to the water parks. If so, the bus driver will drop you off at the transfer location. Then you'll find the bus stop for the water park at the drop-off.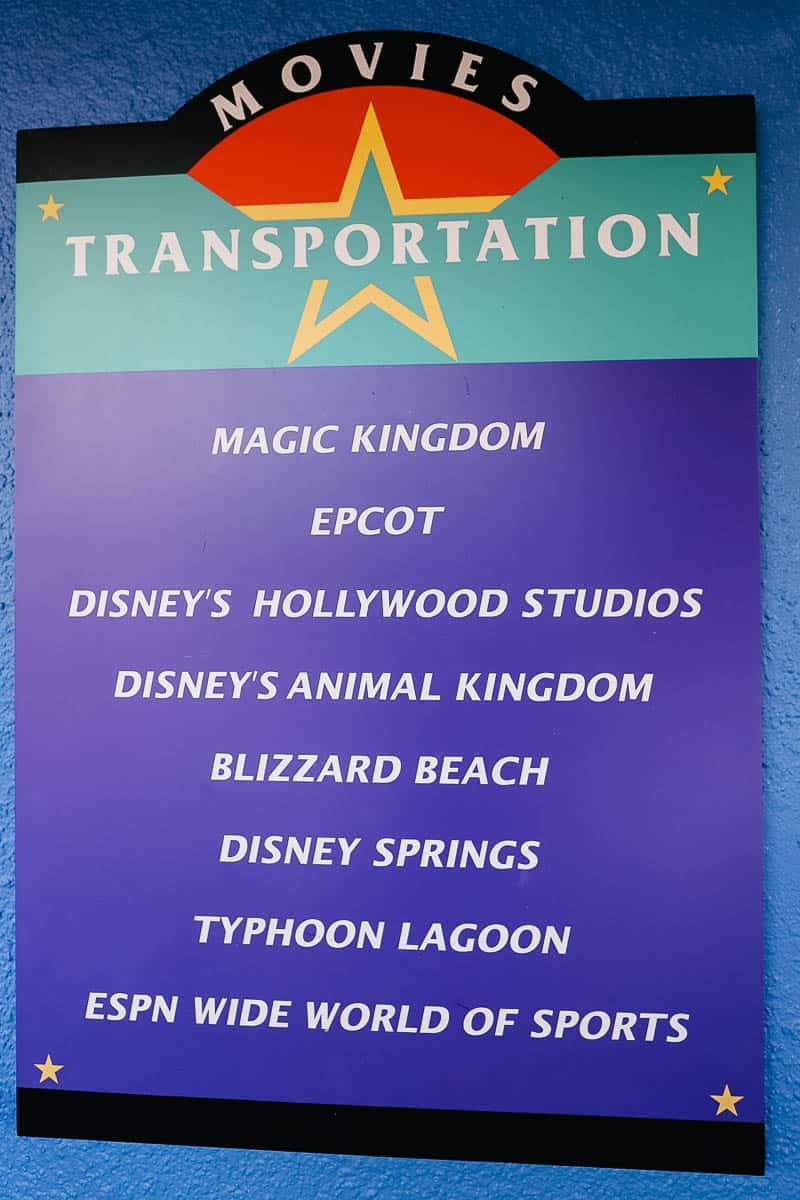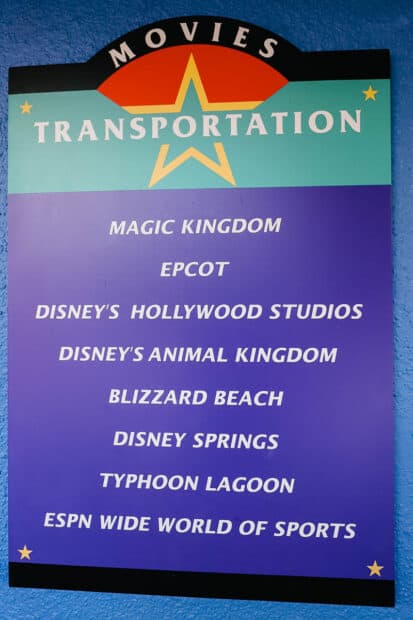 During our stay, we took advantage of the bus transportation provided at the resort. We only used our car a handful of times to pick up fast food.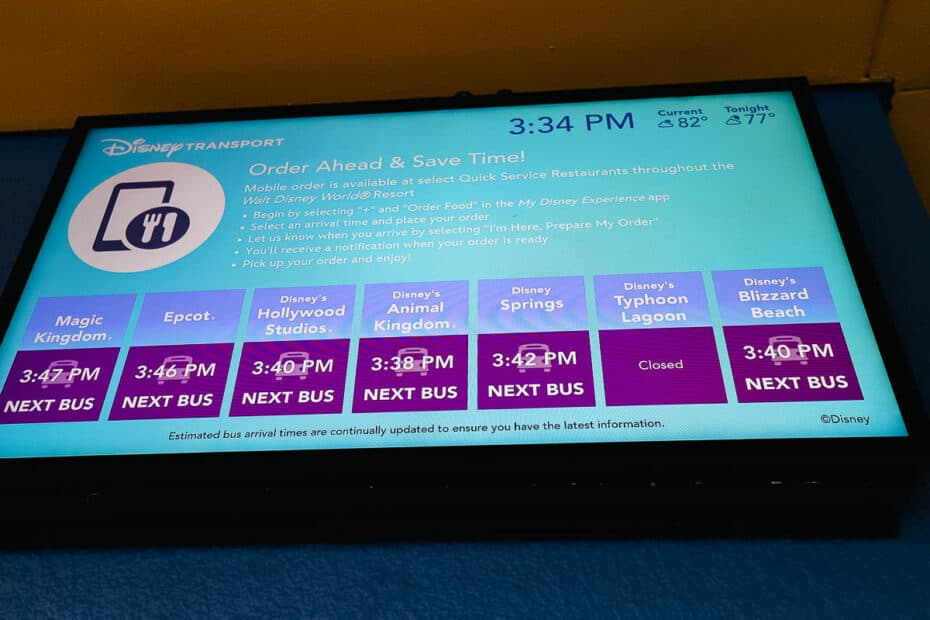 All bus stops are located on the front side of Cinema Hall near the resort's gift shop. We never waited more than 10 minutes for a bus.
But that is not always the case, no matter where you stay. Sometimes, the buses run slower than others for various reasons.
If you reserve an airport shuttle, they have a designated bus stop in the same area. We saw many Mears buses and Sunshine Flyers pick up guests during our stay.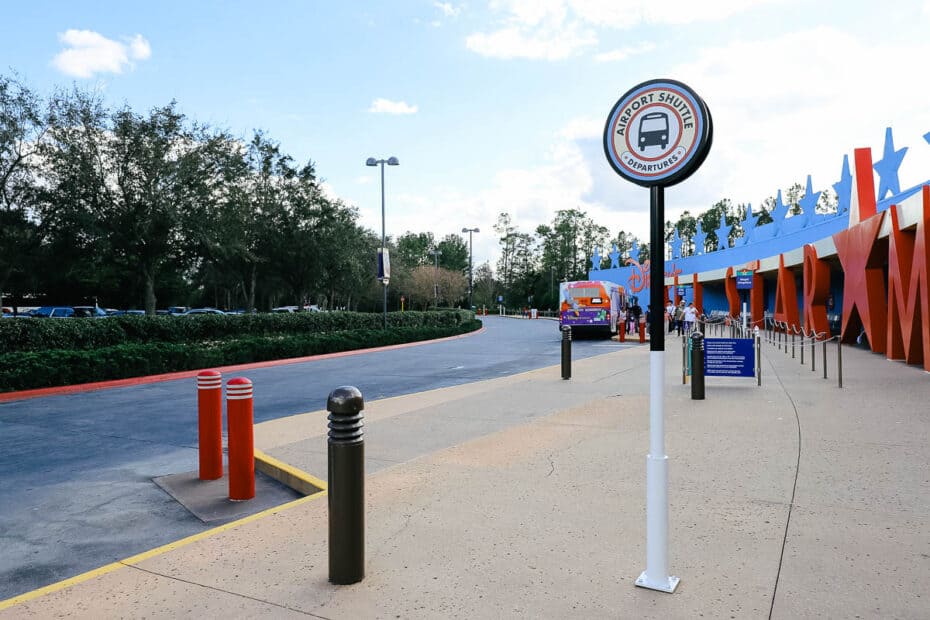 Theming
Before we wrap things up, let's look at the different sections of the resort. That way, you'll have a good idea of where you might end up if you plan a stay here.
Directly behind the feature pool, sits the Fantasia area of the resort. It's modeled after the popular Fantasia cartoon films.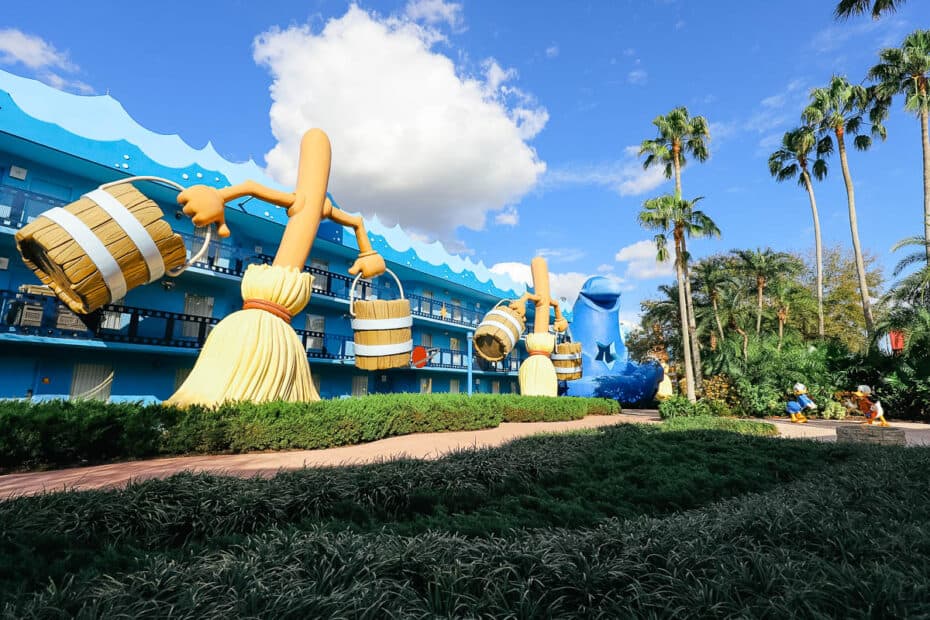 Staircases on each end of the building are wrapped with books that say Fantasia 2000. Speaking of staircases, each building at All-Star Movies has an elevator.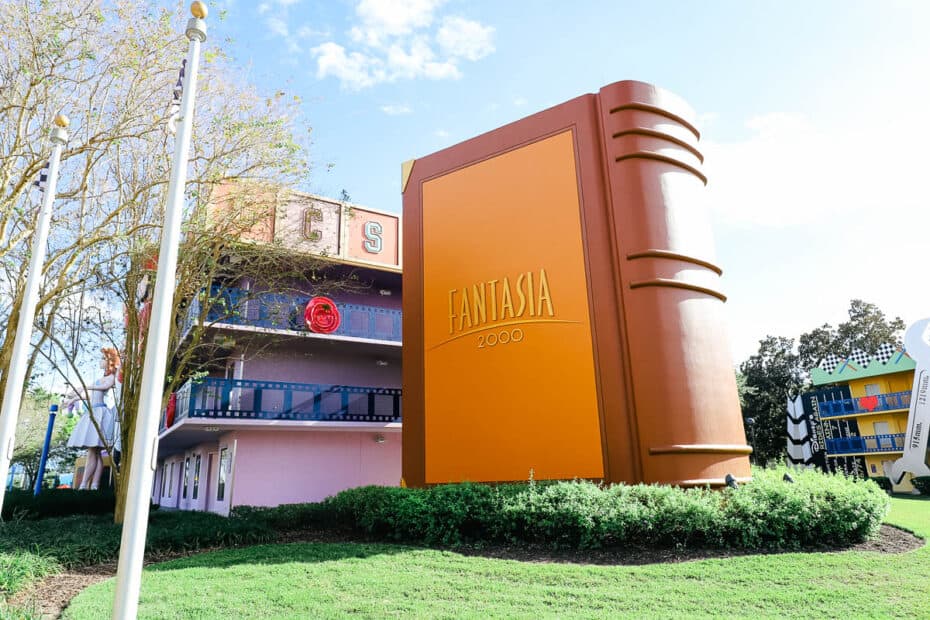 Here are a few more photos of the Fantasia section.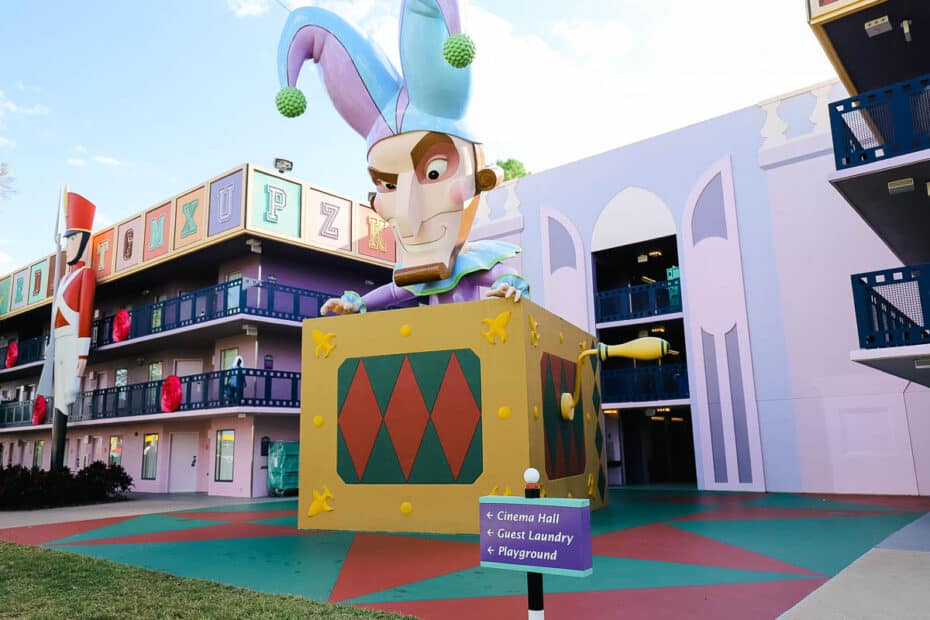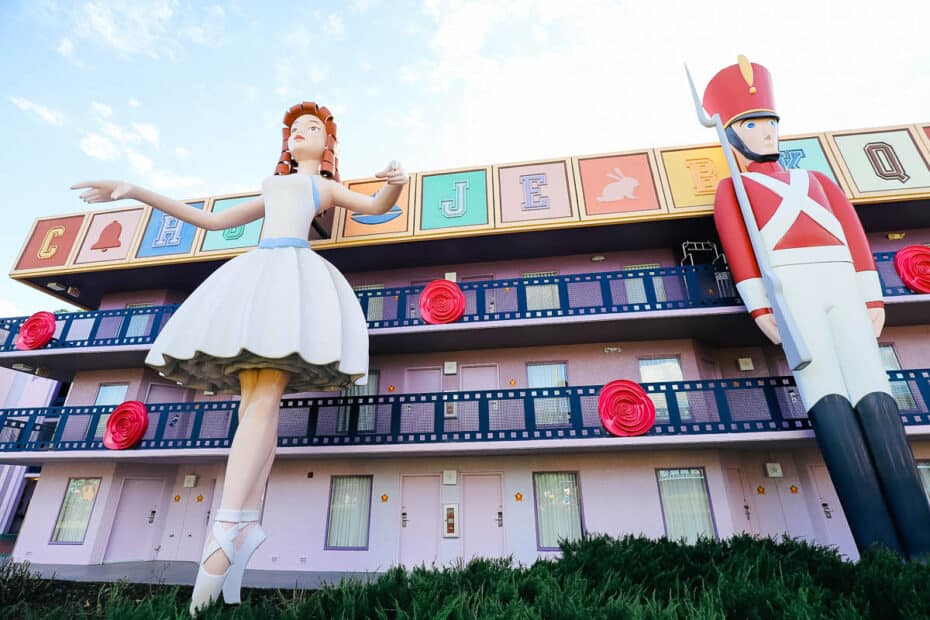 Directly behind Fantasia sits the Love Bug area, modeled after the darling The Love Bug movies.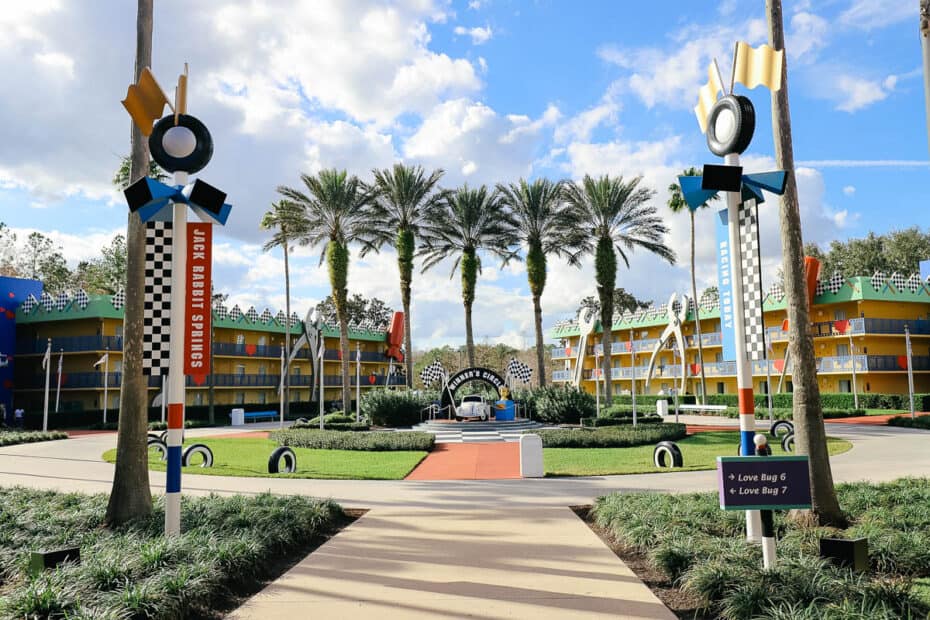 Herbie is sitting in the winner's circle. He probably drove himself up there.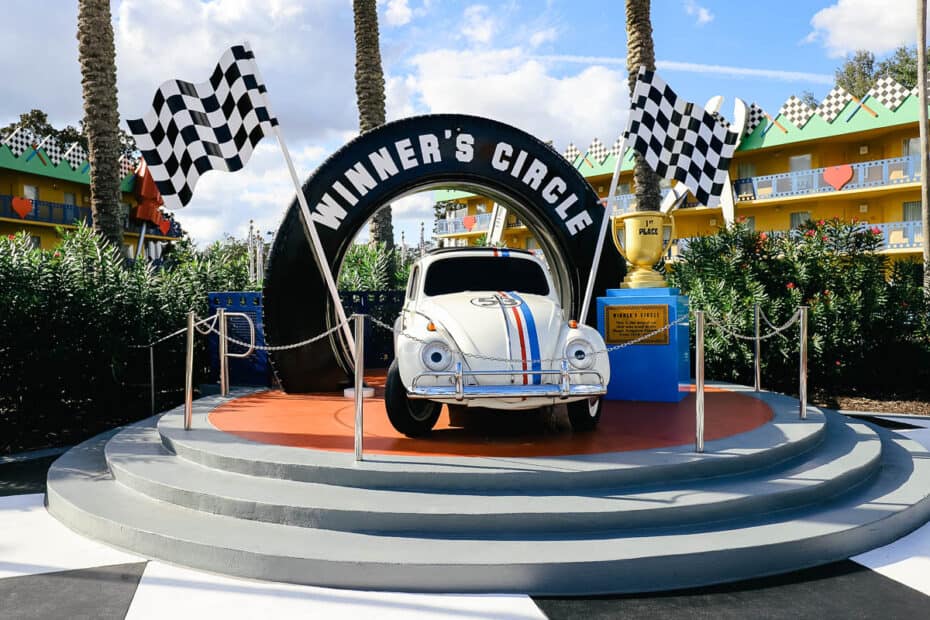 Each building has checkered flags and other tools.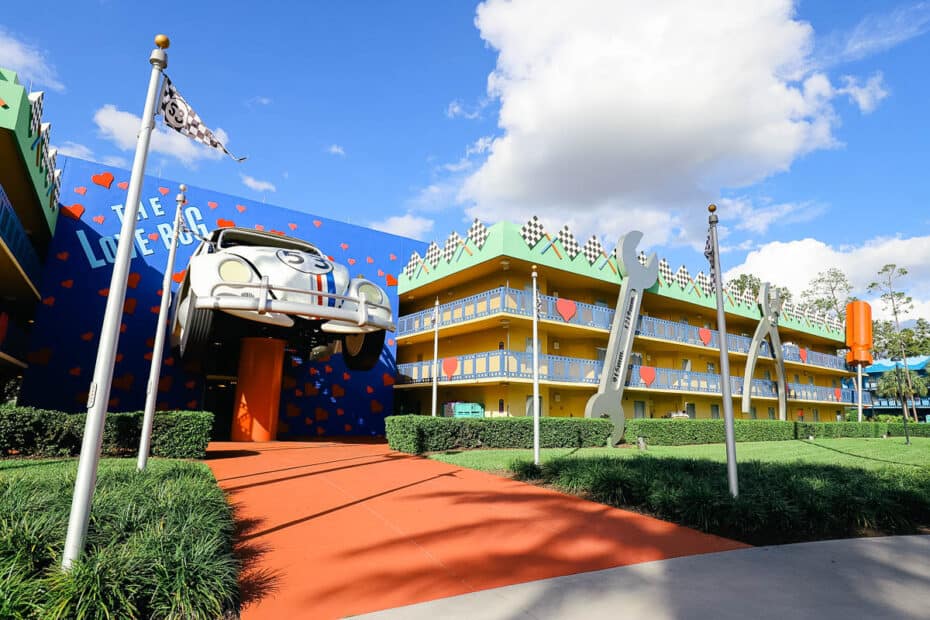 And hearts.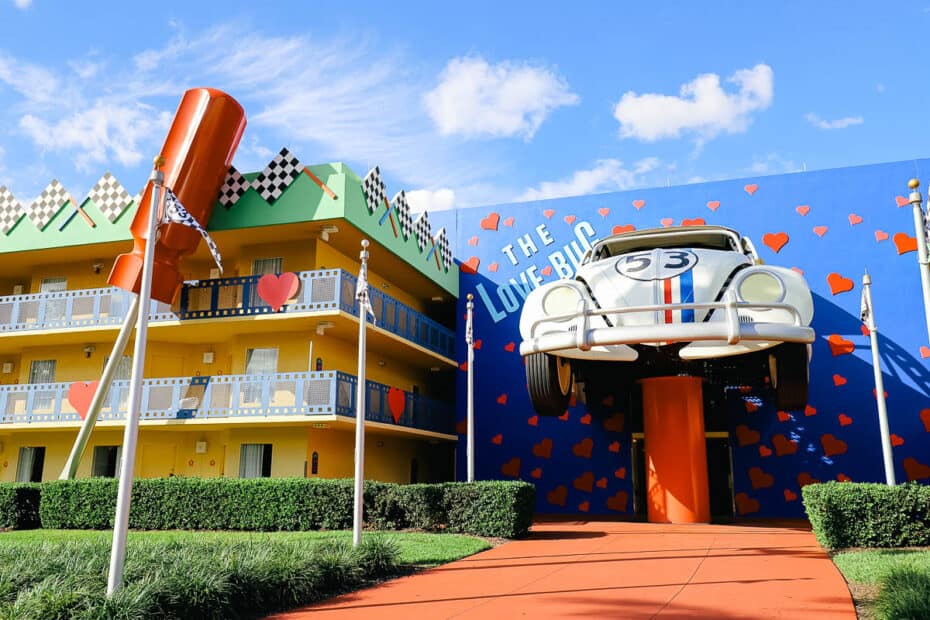 If you spend time exploring the grounds, you may notice some fun imprints left in the concrete.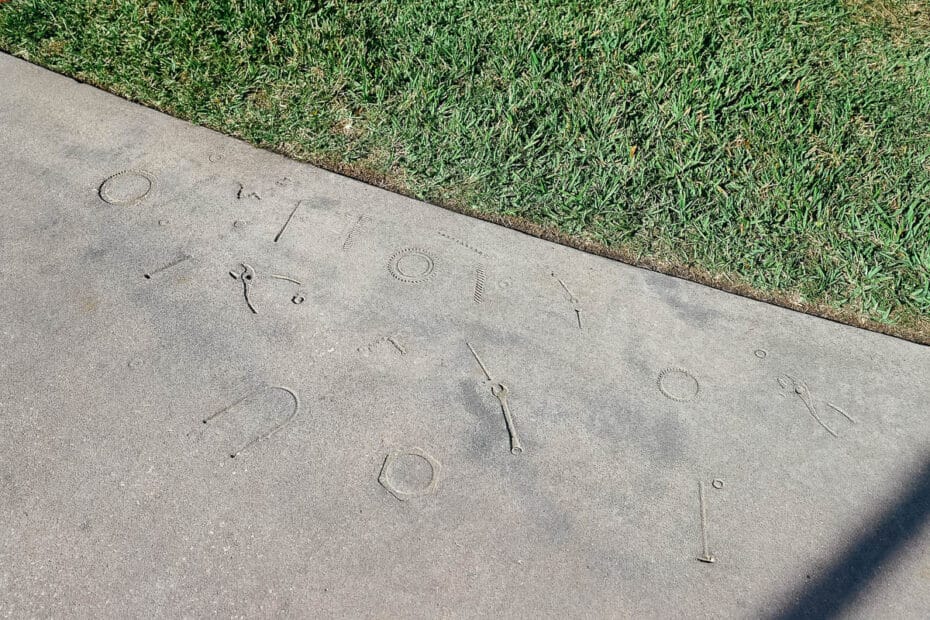 Perdita and Pongo overlook the 101 Dalmatians section of the resort.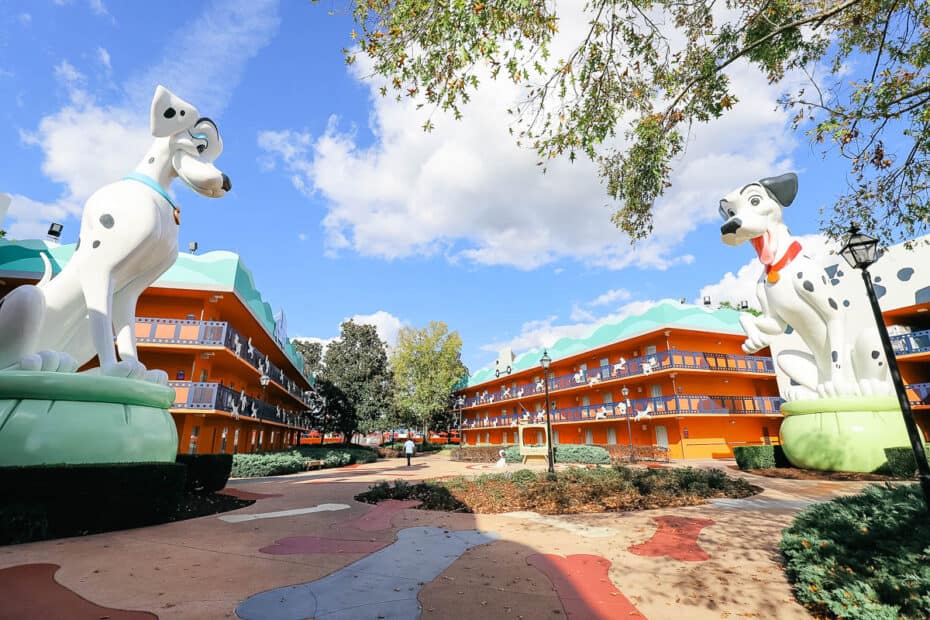 All the characters are larger-than-life, making this kind of Disney Resort fun for children.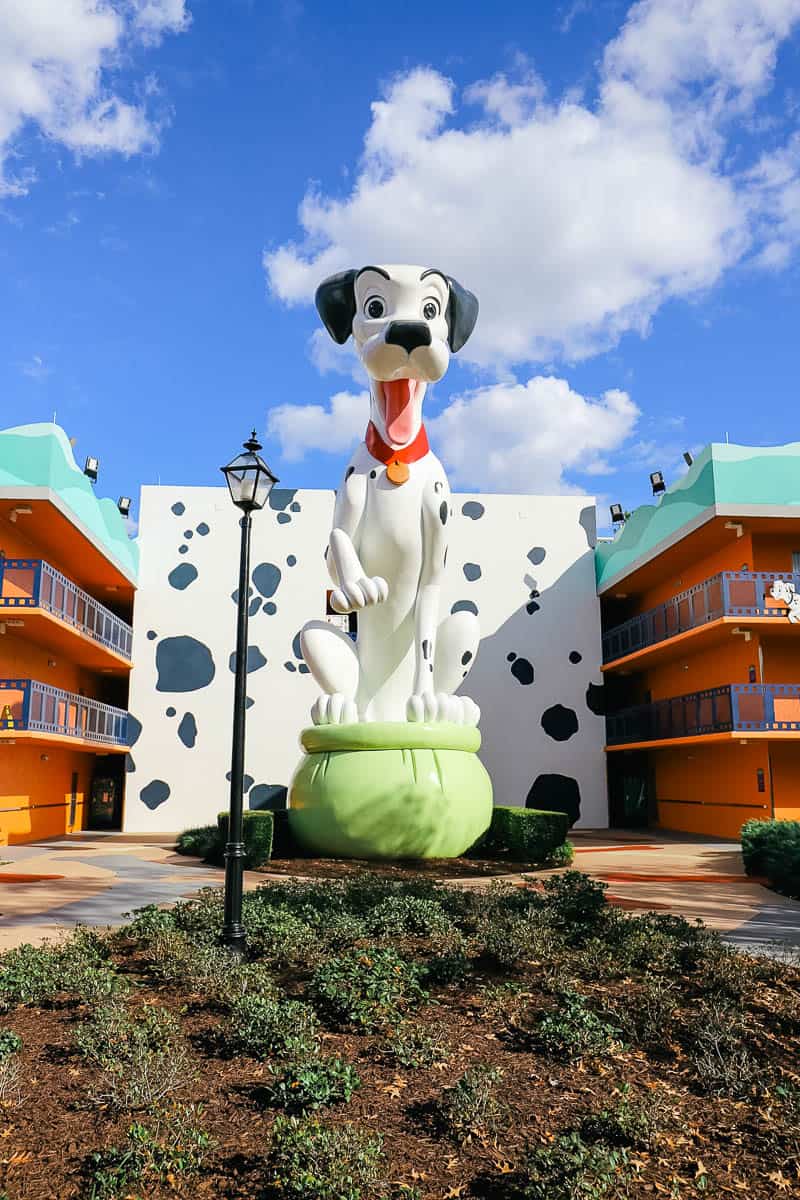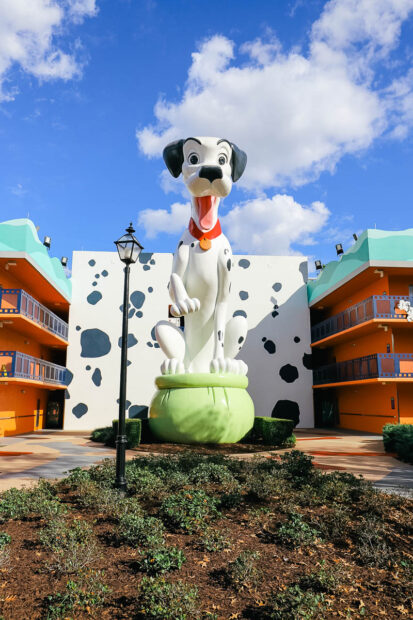 There's also a fun photo opp where you can stand inside the faux television screen.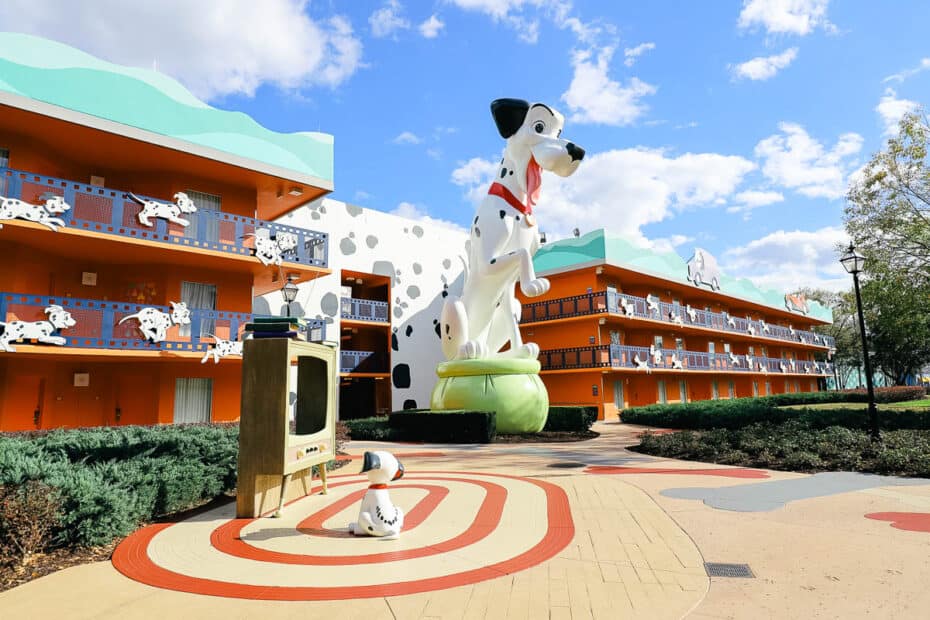 Even the pavement in the area has bones.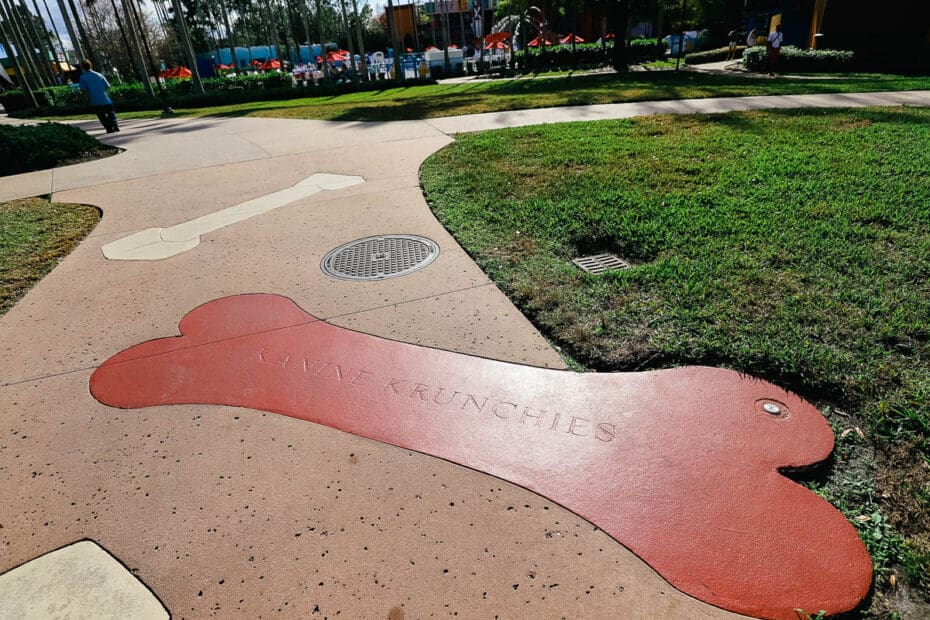 On the opposite side of 101 Dalmatians sits the Mighty Ducks. This portion of the resort will be a little further away. It also sits directly across the parking lot from Disney's All-Star Music Resort.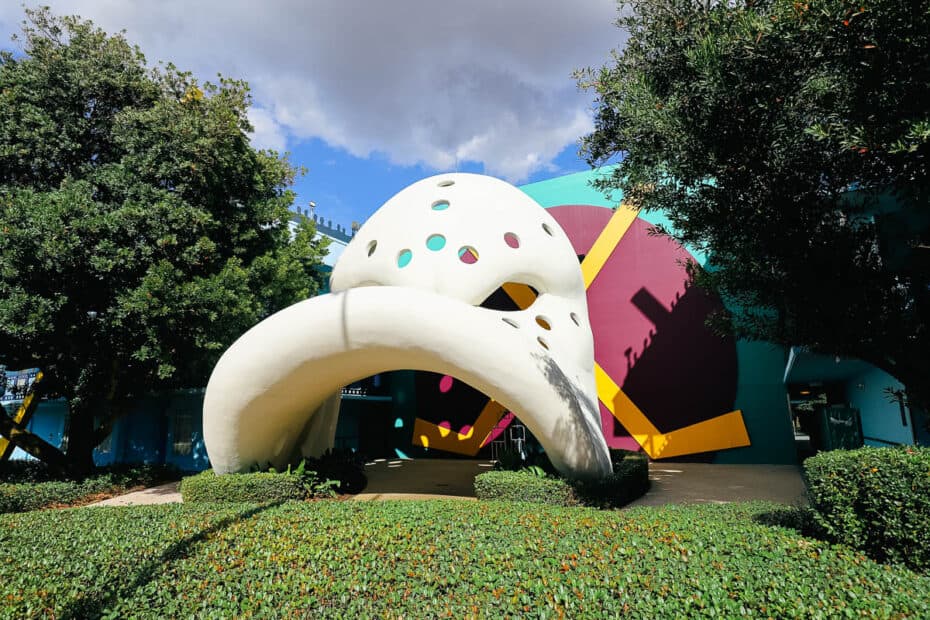 You'll find tons of hockey sticks, pucks, and other references here.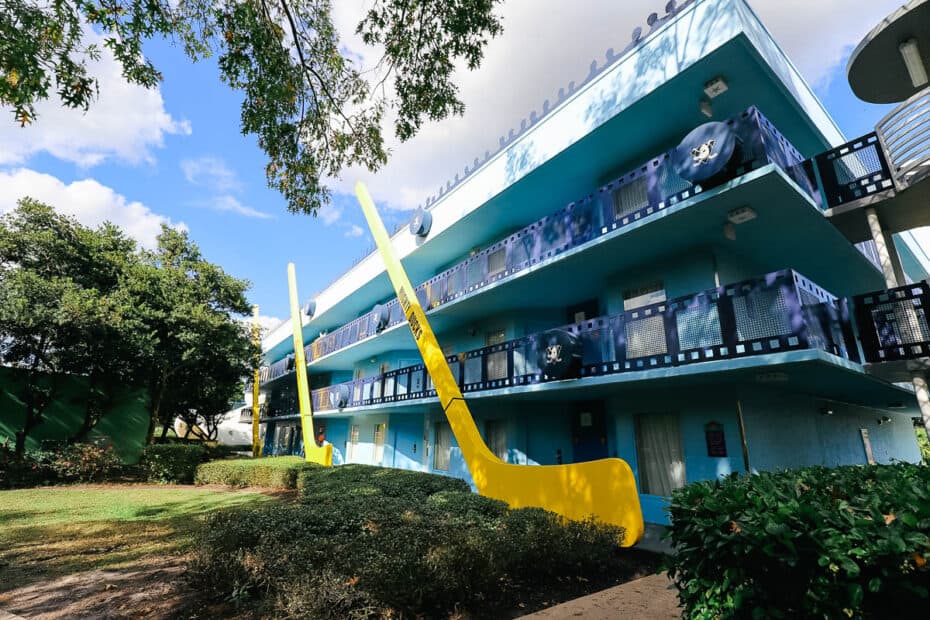 Each staircase is wrapped with a hockey goal.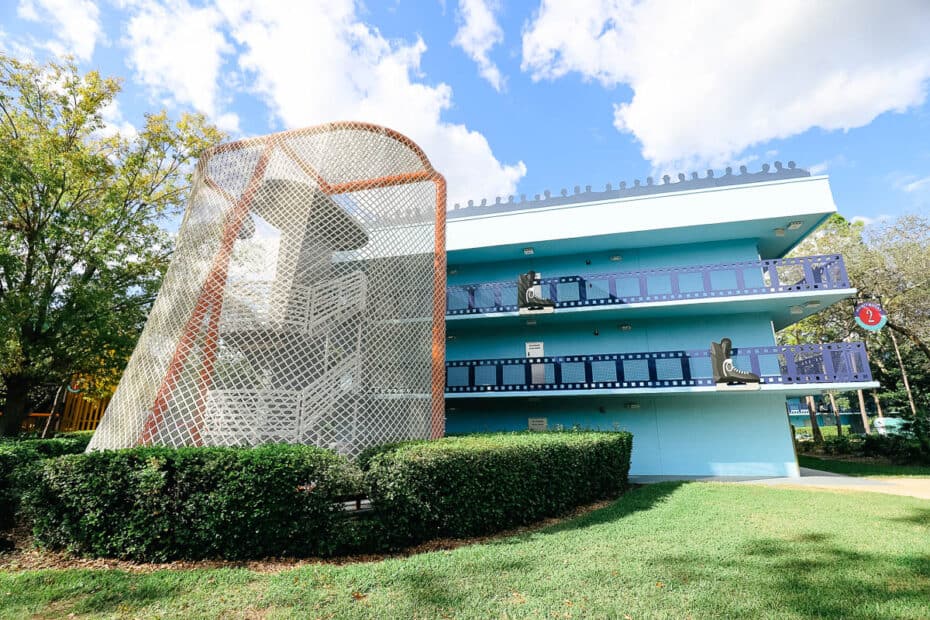 Lastly, we stayed in the Toy Story section of the resort. It's fun because when you first walk up to the section, you'll enter through a large door with a sign that says, "Andy's Room, Keep Out."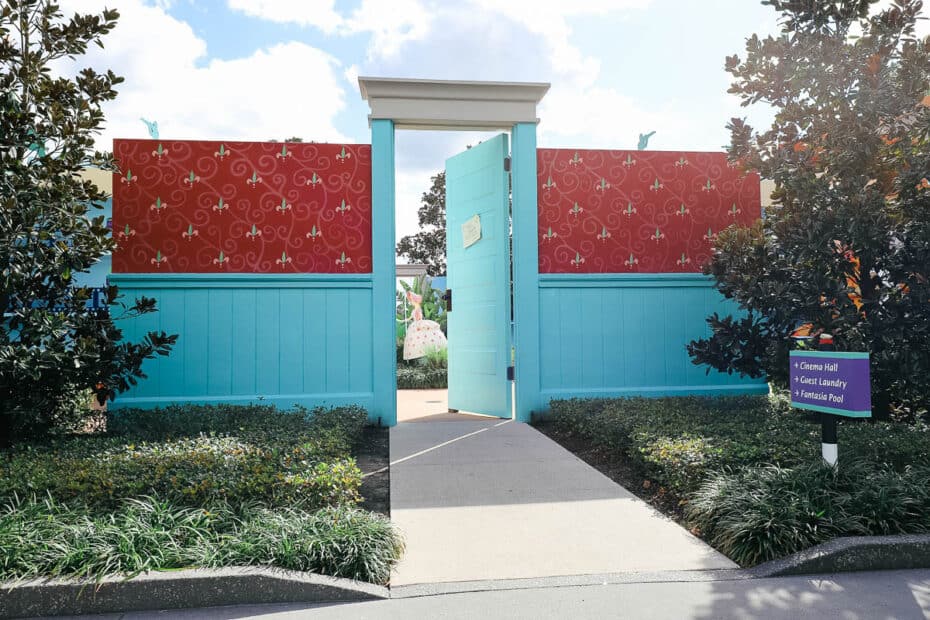 Once inside, you'll see the familiar cloudy sky wallpaper. We noticed several guests had come over to take a few photos, likely for their Insta accounts. Most were wearing the popular cloudy sky dress.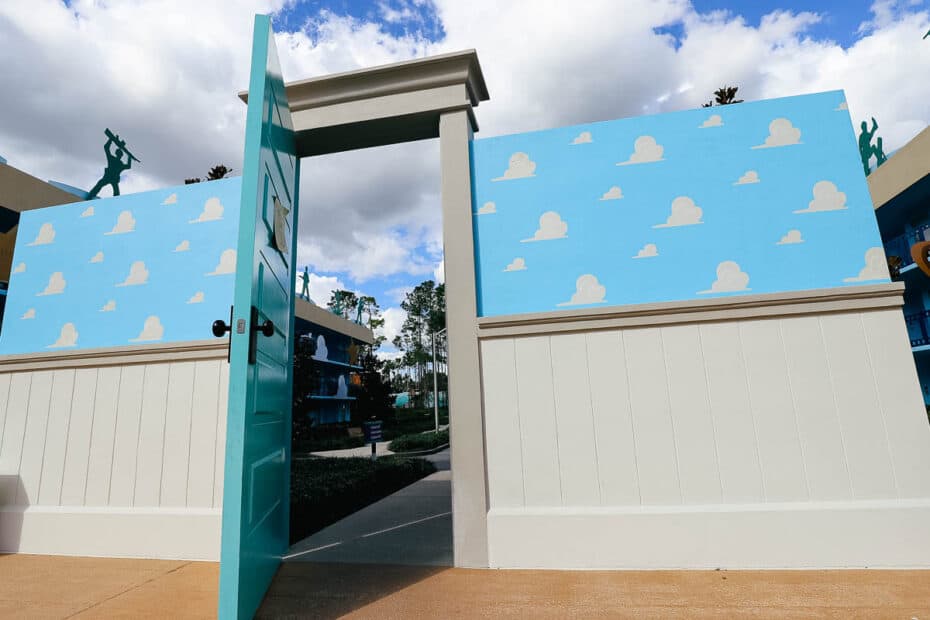 Inside Andy's room, you'll find favorite Toy Story characters like Woody, Bo Peep, Rex, and Buzz Lightyear.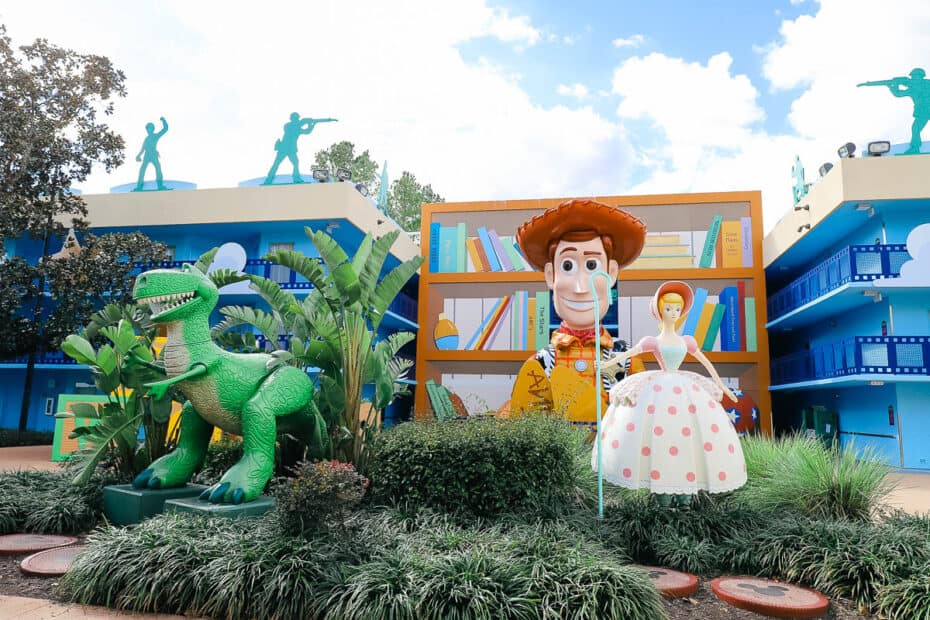 Several blocks are stacked to spell out the characters' names.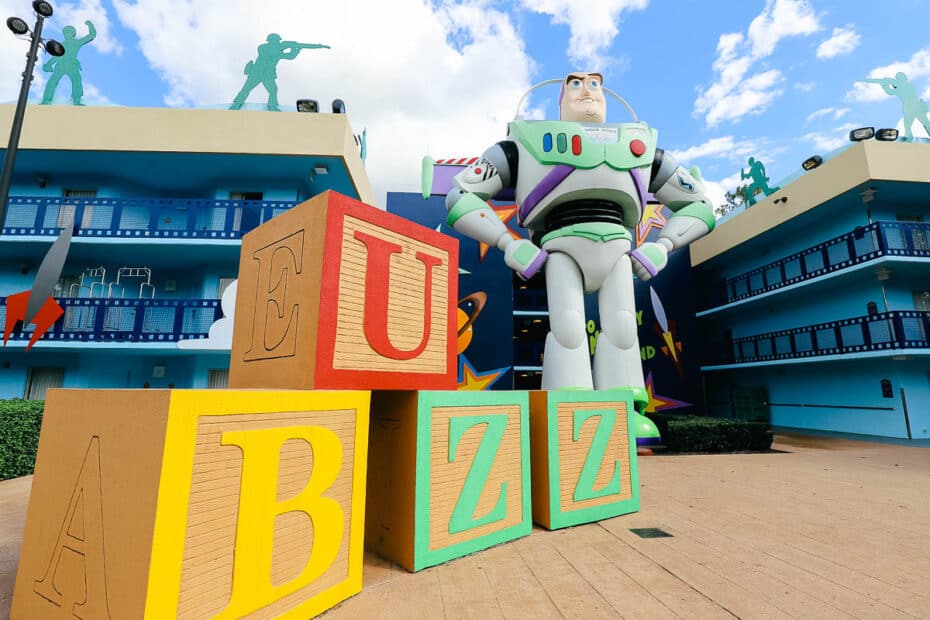 Rex had a few checkers with hidden Mickey's.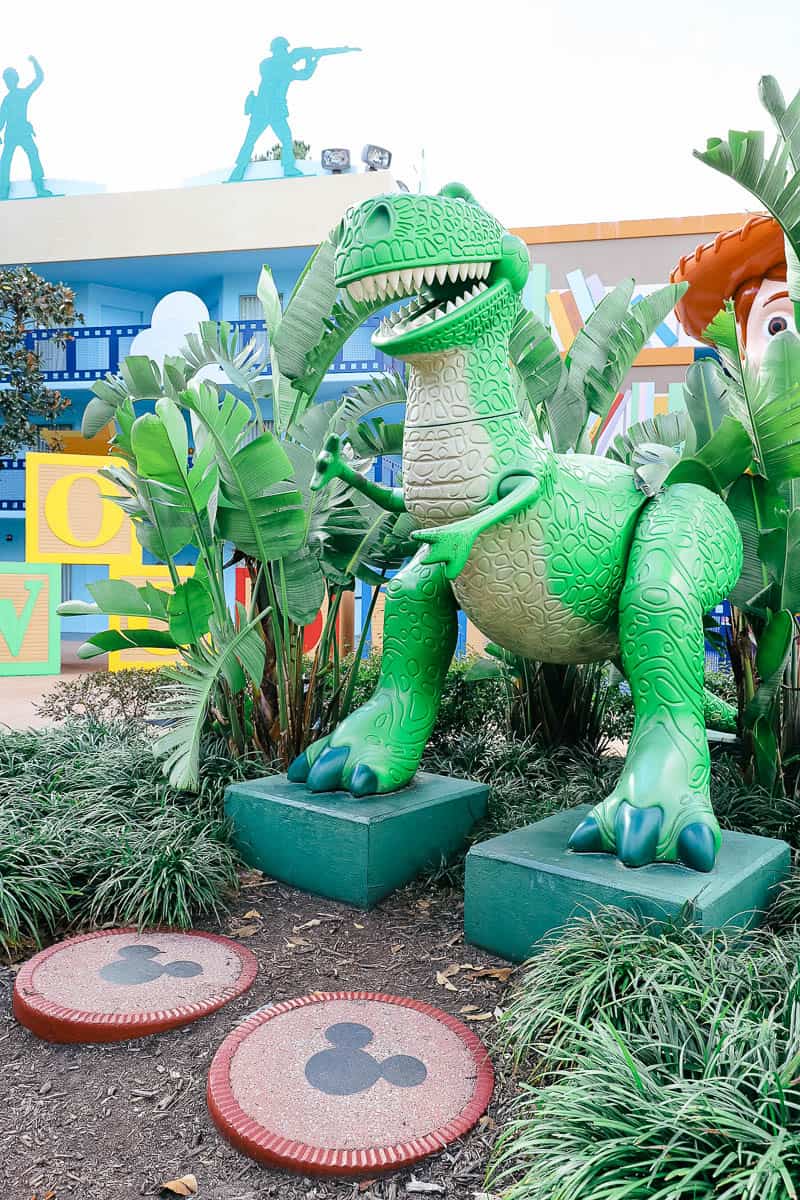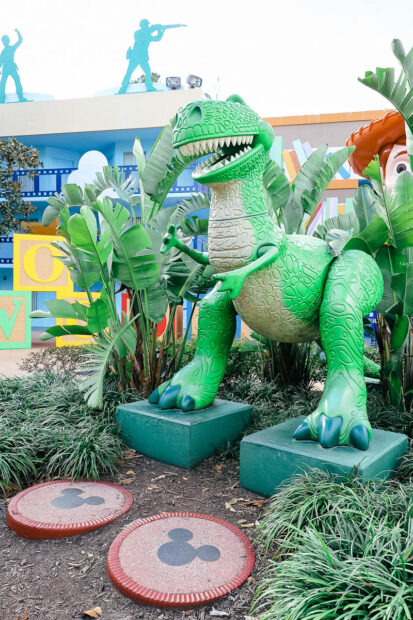 Here is our old pal Woody.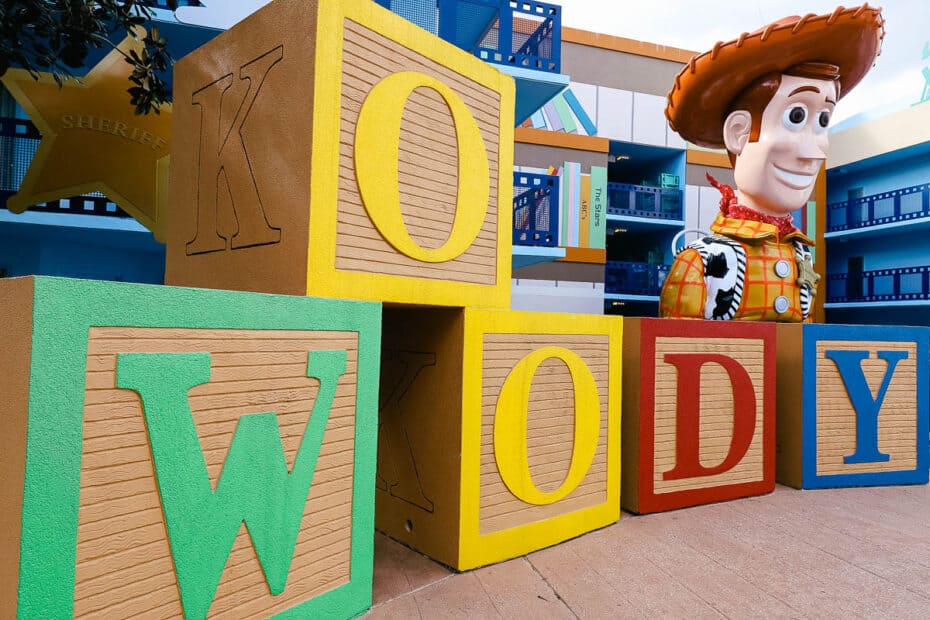 And make sure not to miss the Bucket o' Soldiers staircase wrap. The Green Army Men are climbing out of the bucket and surrounding the parameter. You may have noticed them on all of the rooftops.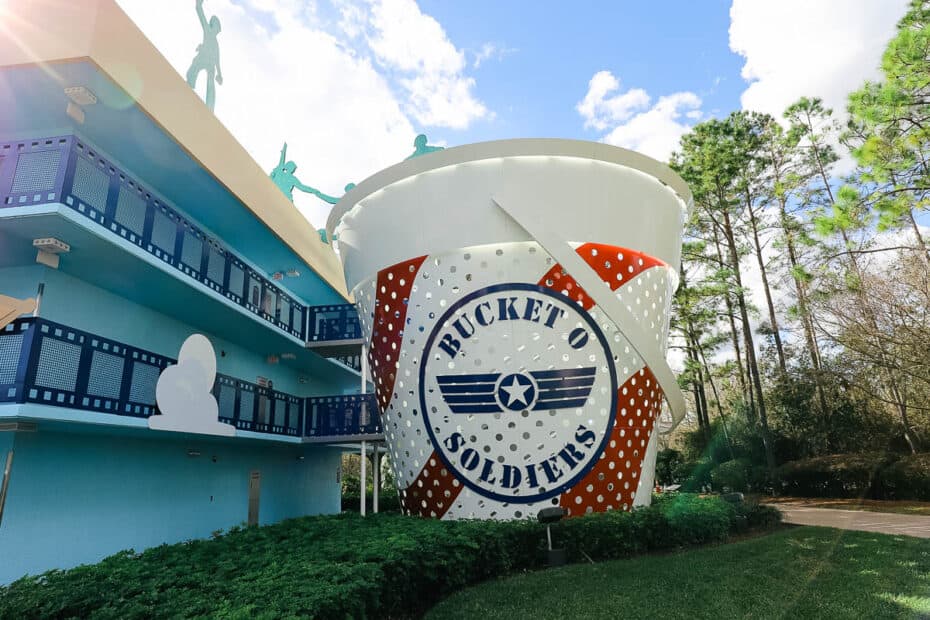 Pros and Cons of All-Star Movies
Overall, we enjoyed our stay and think the All-Star Movies is suitable for those who want to say on Disney property and remain in a certain price range. However, there are a few negatives.
For starters, the rooms at All-Star Movies have thin walls. During our stay, we had someone next to us who was very sick and coughed all night long. This kept me from sleeping one evening, and it added stress.
Additionally, other than a few snacks and coffee, we had most of our meals in the parks and at nearby off-property locations. Over the years, we've had plenty of Mickey-shaped waffles, Disney cheeseburgers, and pizza.
While I think there are a good number of options at the food court, it seems there could be better options. Anyone spending an entire week at the resort will likely be burnt out by the food options long before the end of their vacation.
With that said, smaller children love the All-Star Resorts. They don't know the difference between a cheap motel room with exterior access and a high-end hotel room with interior entry.
Most children are enthralled with the character statues, pools, and the resort's playground. You won't find all those items at the deluxe resorts at Disney World.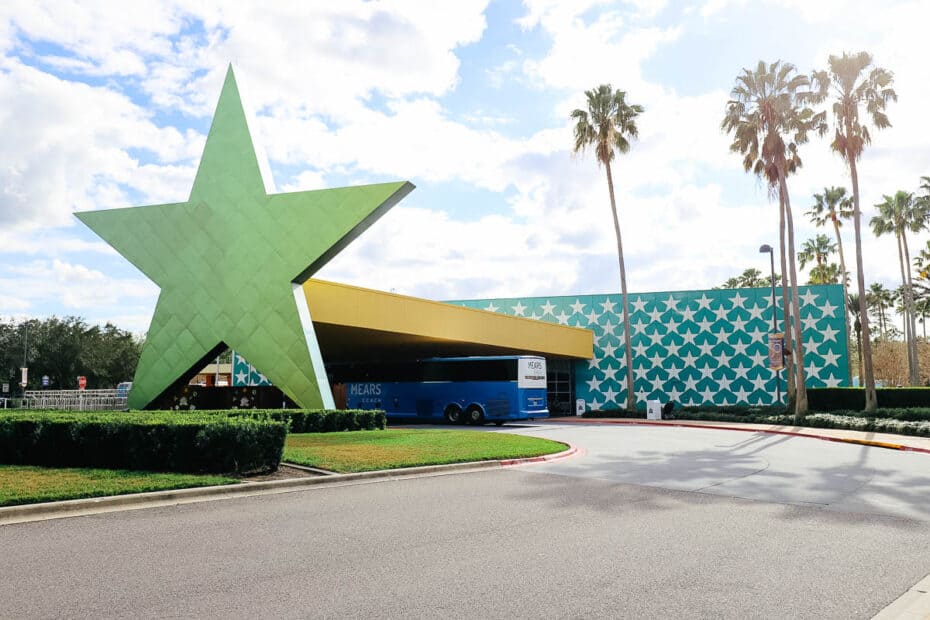 Final Thoughts
Hopefully, you found this All-Star Movies Resort Review helpful in planning your stay. We love the resort for what it is and find the theming fun.
As much as we love the nicer on and off-property resorts in the area, we know they aren't always feasible for everyone's budget. (Not even ours!) So we try to provide as many options as possible, no matter the price range.
For more information, we have a guide for the resort that lists all of our articles:
Or you might like to browse these articles for these other value resort reviews:
In the Comments
What do you think of this All-Star Movies Resort Review? Do you have any questions about staying at the resort?