Disney's All-Star Music Resort Review
This article provides a review of our stay at Disney's All-Star Music Resort. We'll preview updated rooms, dining, transportation, and recreation. Then, we'll discuss the pros and cons of staying at this resort.
Sometimes, the overall cost of the hotel is the deciding factor on whether you can take a Walt Disney World vacation. After scanning the results on Disney's site, you might realize the only hotel that fits your budget is Disney's All-Star Music Resort.
Ugh! Isn't that one of the cheap hotels where they lump all the school groups like bands, baseball teams, and cheerleading conventions? Do we really want to deal with that?
Or maybe you're the type who won't spend any real time in the room, and you're looking for the cheapest option available. You might also consider off-property options within a few miles of the theme parks.
But by the time you add extra costs like paying double to park at the hotel and theme parks, is it worth it? Plus, you don't want to deal with traffic or not knowing your way around the area.
Wouldn't it be simpler to stay within the Disney bubble? It's your vacation. You want to get there and let Disney take care of the rest.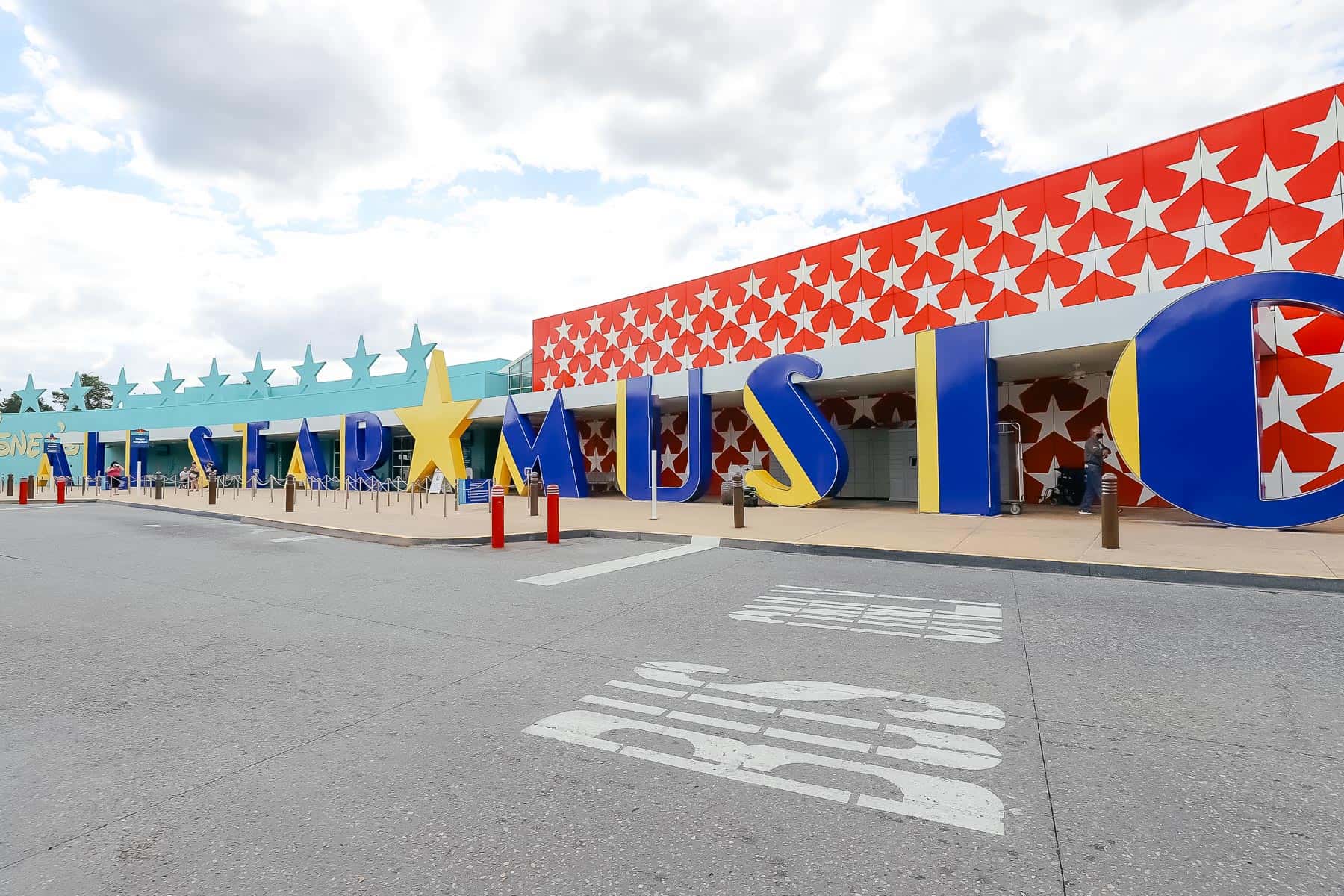 Our first vacation at Disney's All-Star Music was due to a lack of availability for a last-minute trip. We visited during Spring break–and it was crowded. It was peak band season, and the resort was packed with teenagers.
Surprisingly, they were well-behaved and heavily chaperoned. Instead of leaving and complaining about a bunch of unruly kids–I left impressed. Sure, it was busy. It was busy everywhere we went!
Unless you're lucky enough to visit off-season, whenever that is, it will be crowded. So don't show up on some random day like February 6th, thinking you'll have the place to yourself. (Also, don't ask about my experience on February 6th!)
Years after our first trip to All-Star Music, we were booked for Christmas at Disney's Beach Club. Unfortunately, a few unexpected expenses came up before our trip. Our options? Downgrade to Disney's All-Star Music or cancel entirely.
We went to Walt Disney World for Christmas, and to this day, I have some of the best memories from that trip. My son and niece didn't care that we were skipping our, at the time, annual club-level trip to Disney's Beach Club.
They were happy to be out of school and visiting the Most Magical Place on Earth. Our fondest memory was taking a packed bus to the Magic Kingdom on a chilly Florida evening. A little insider info–All-Star Music has the best buses because they play great hits!
Sweet Caroline came on over the audio system, and the entire bus belted the lyrics in unison. We were just a bunch of happy people excited to be at Disney World. Sometimes, it's the little things that make your heart sing.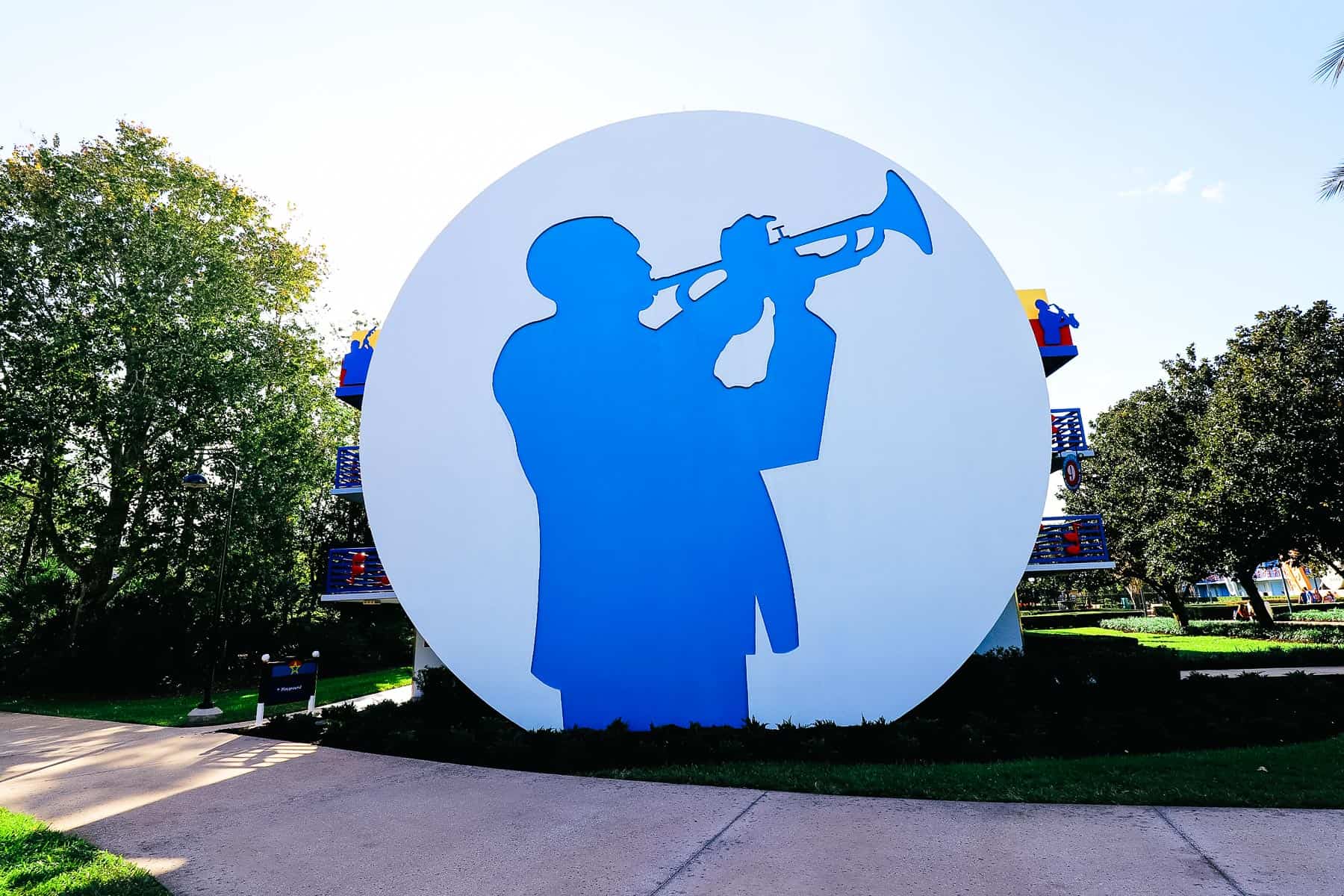 Since that last stay, the rooms at Disney's All-Star Music have been completely refurbished. So, when I found a rate for less than $100.00 a night in late August, I knew it was time to return.
Disney's All-Star Music Resort is one of five value resorts at Walt Disney World. It's located in the Animal Kingdom Resorts Area and sits immediately between Disney's All-Star Sports and All-Star Movies Resort.
All-Star Music consists of five themed sections:
Calypso
Jazz Inn
Rock Inn
Country Fair
Broadway Hotel
Each section of the resort is appropriately themed to the type of music it represents. For example, Broadway Hotel is themed to famous Broadway musicals.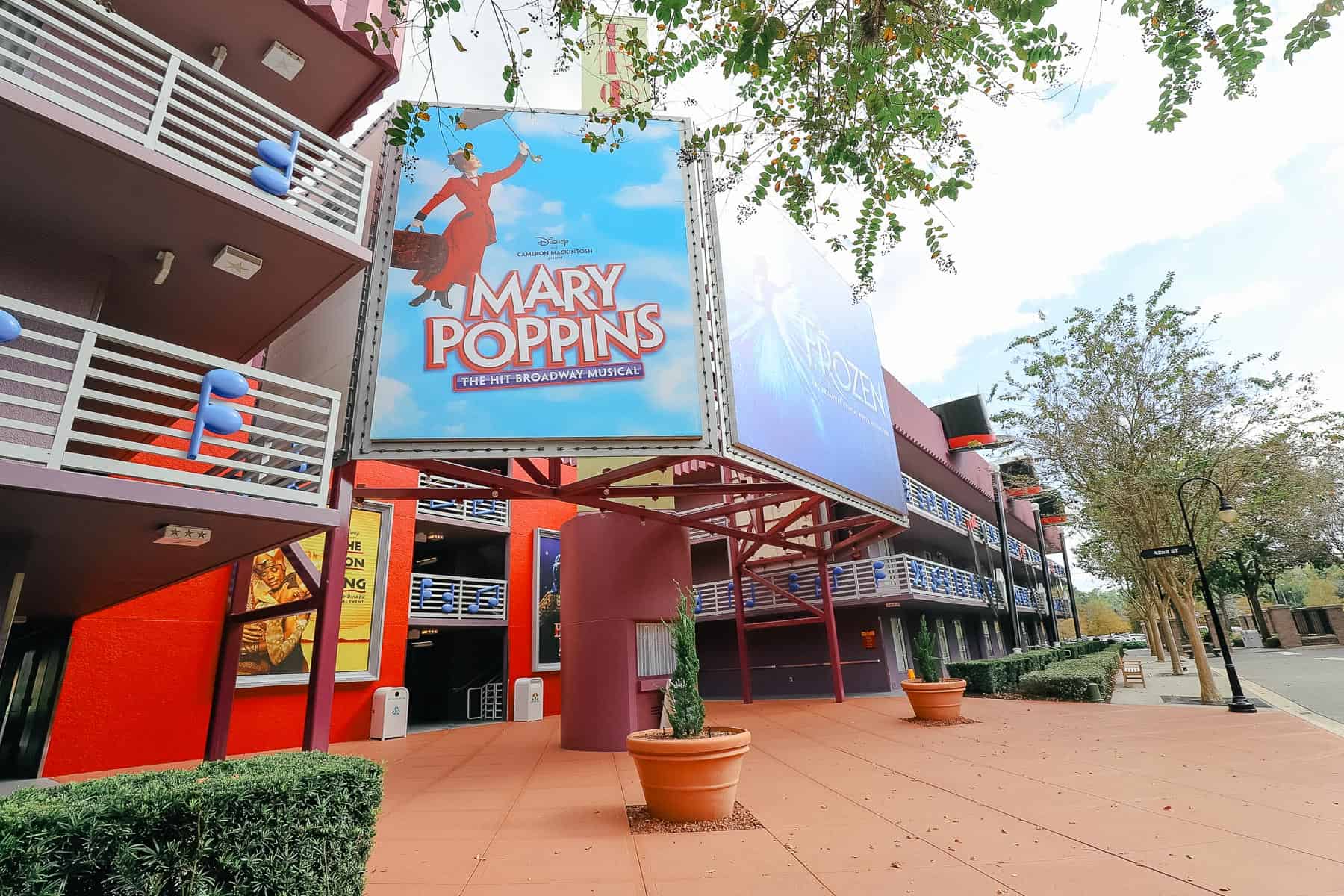 Of course, they are all famous Disney musicals.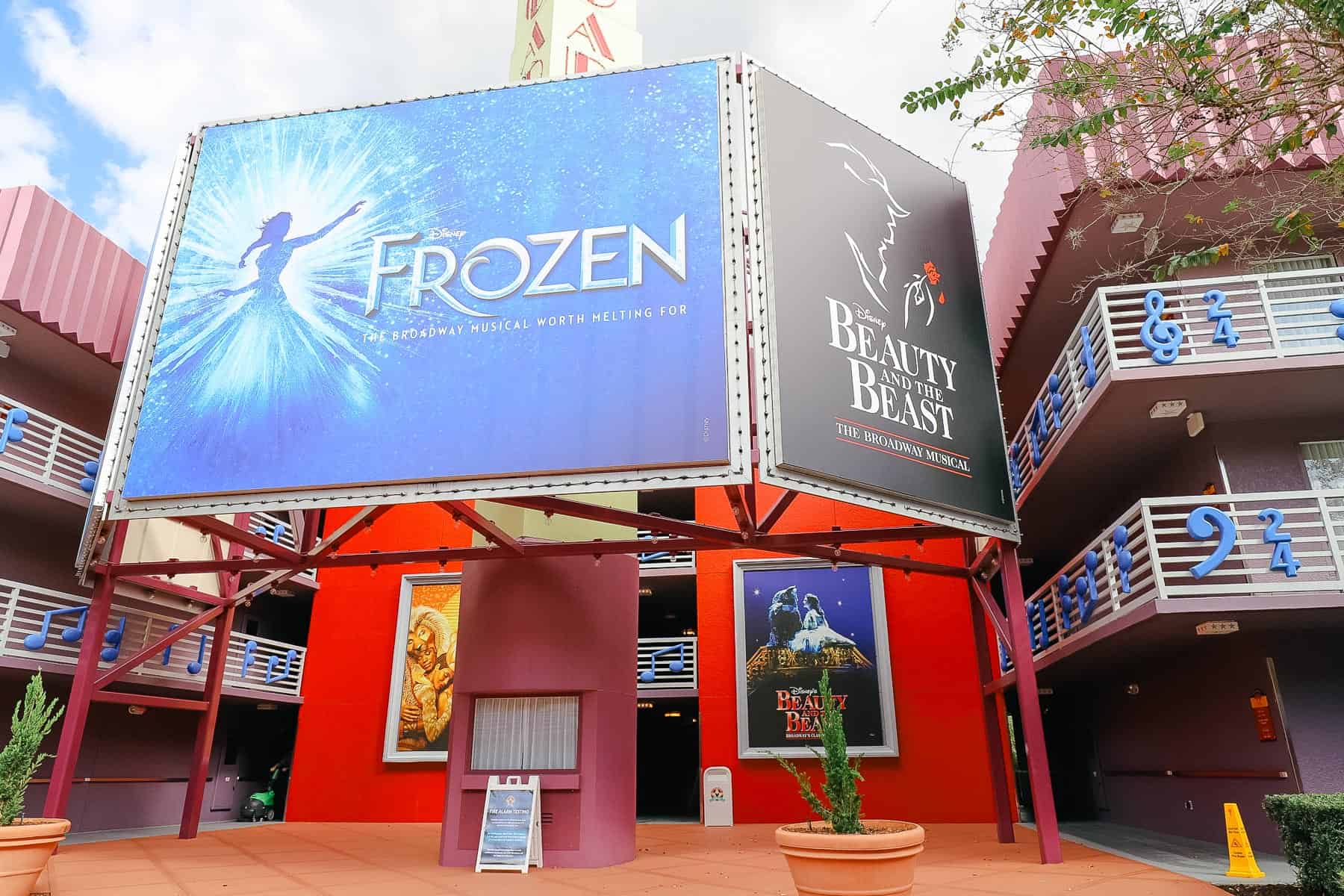 Each railing has a Fred Astaire-like tuxedo, cane, glove, bowtie, and top hat.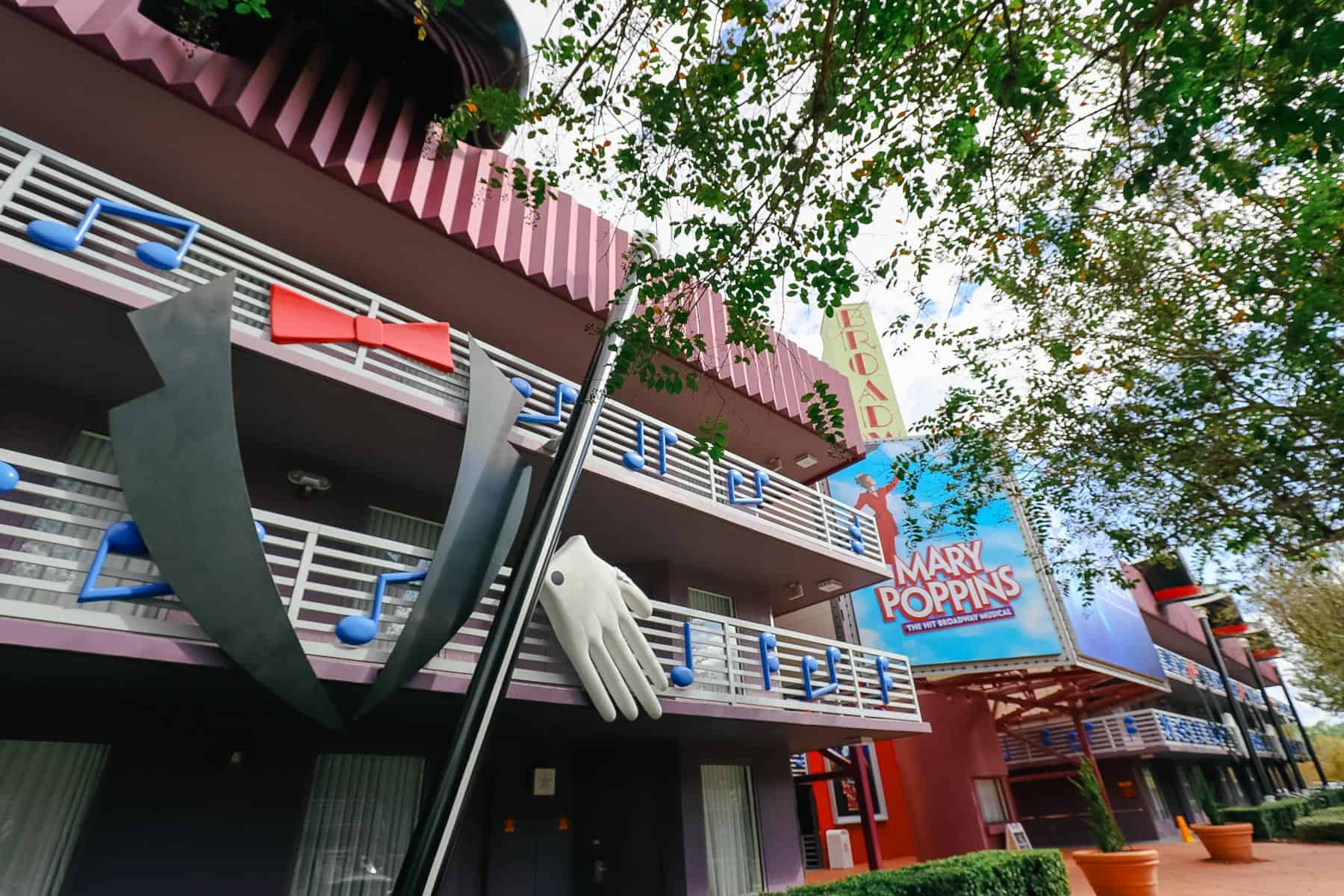 Our room assignment was in the Country Fair section. This section is at the back of the resort. Giant cowboy boots outside our room gave the area a Western feel. Look closely for our favorite pal.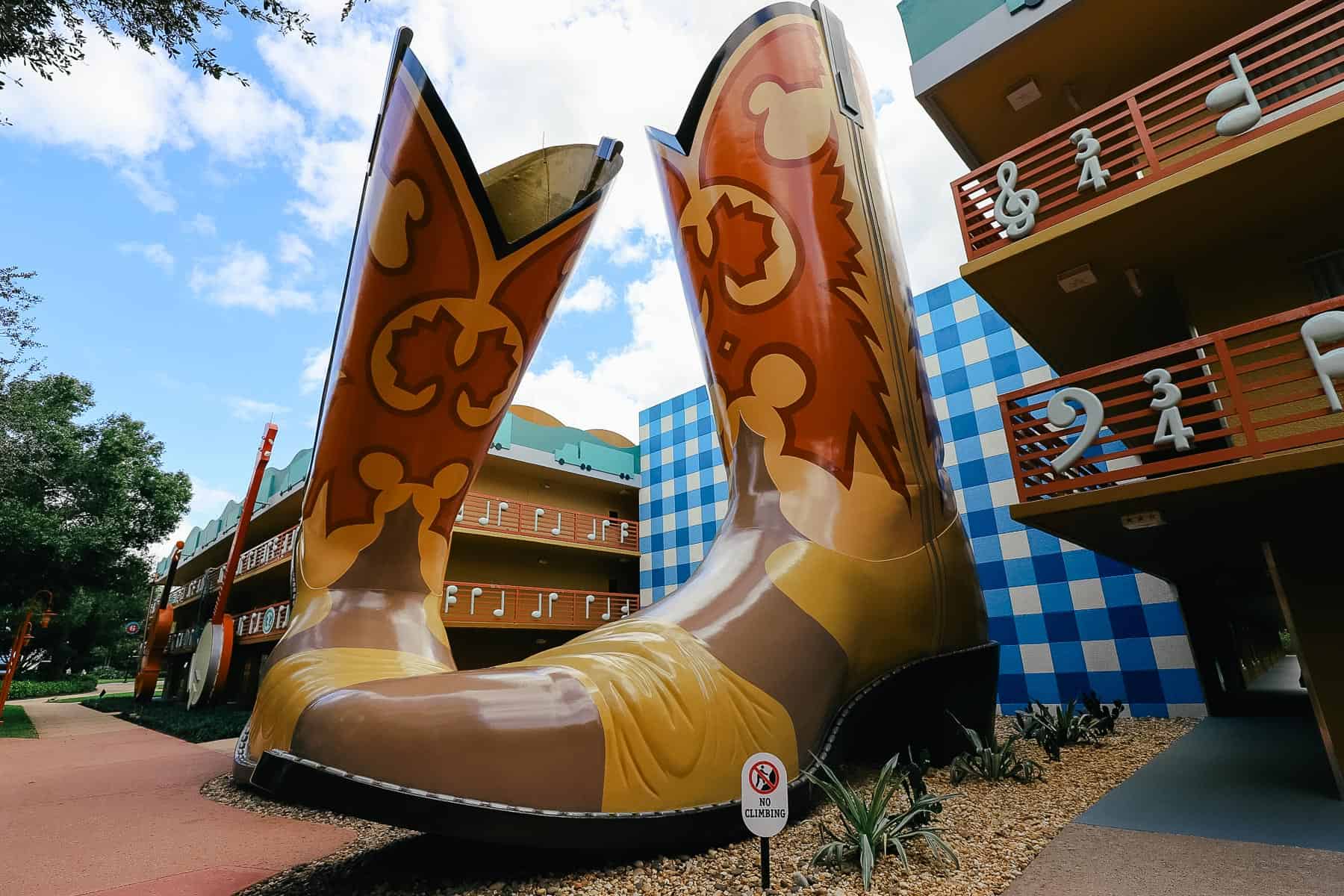 These Adirondack chairs have been added since my last visit. A couple of picnic tables were also available.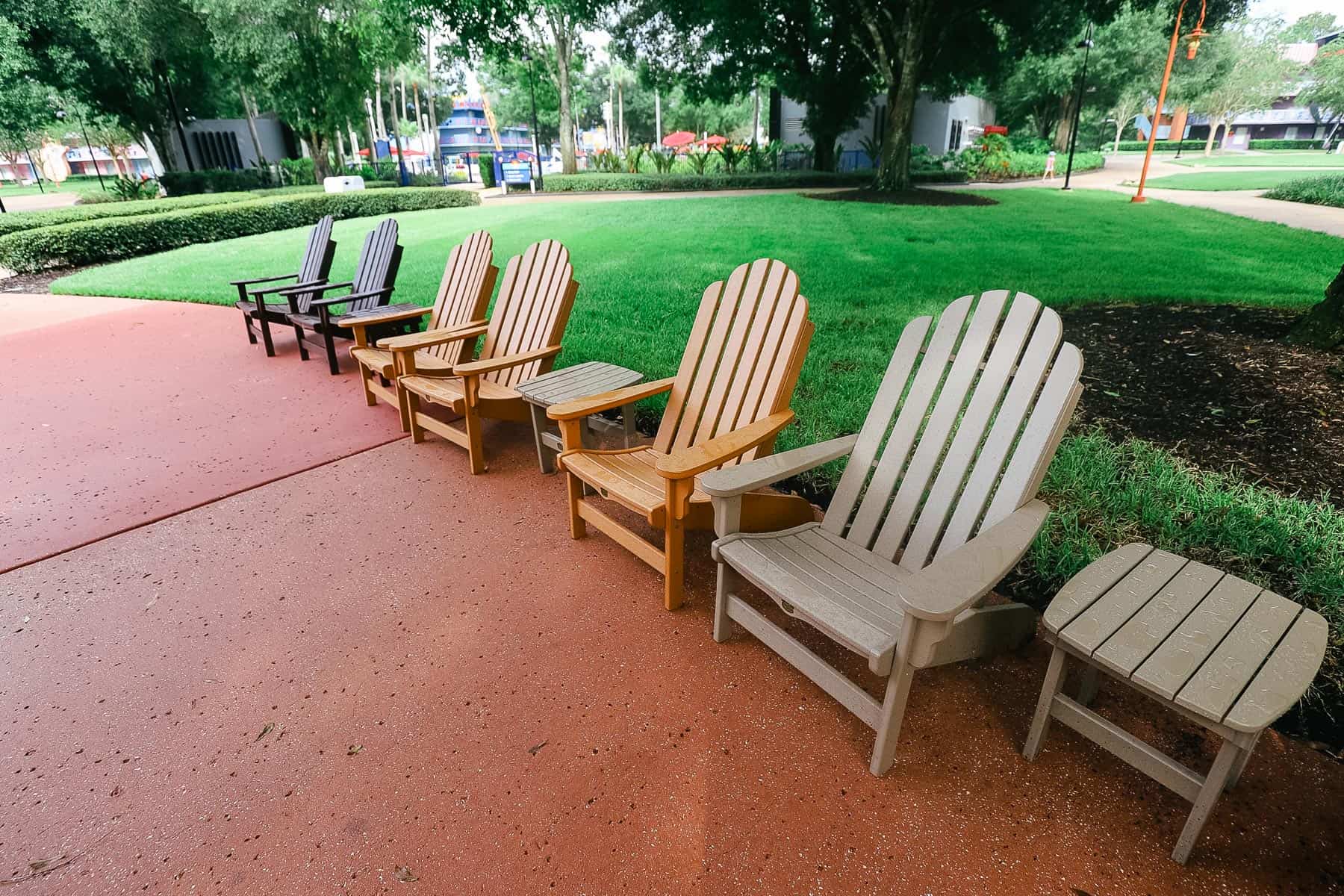 Guitars, banjos, and stars decorate the railings. All the buildings at All-Star Music are similar to this layout. Each building has three floors with exterior room access. An elevator is available in the center of each building.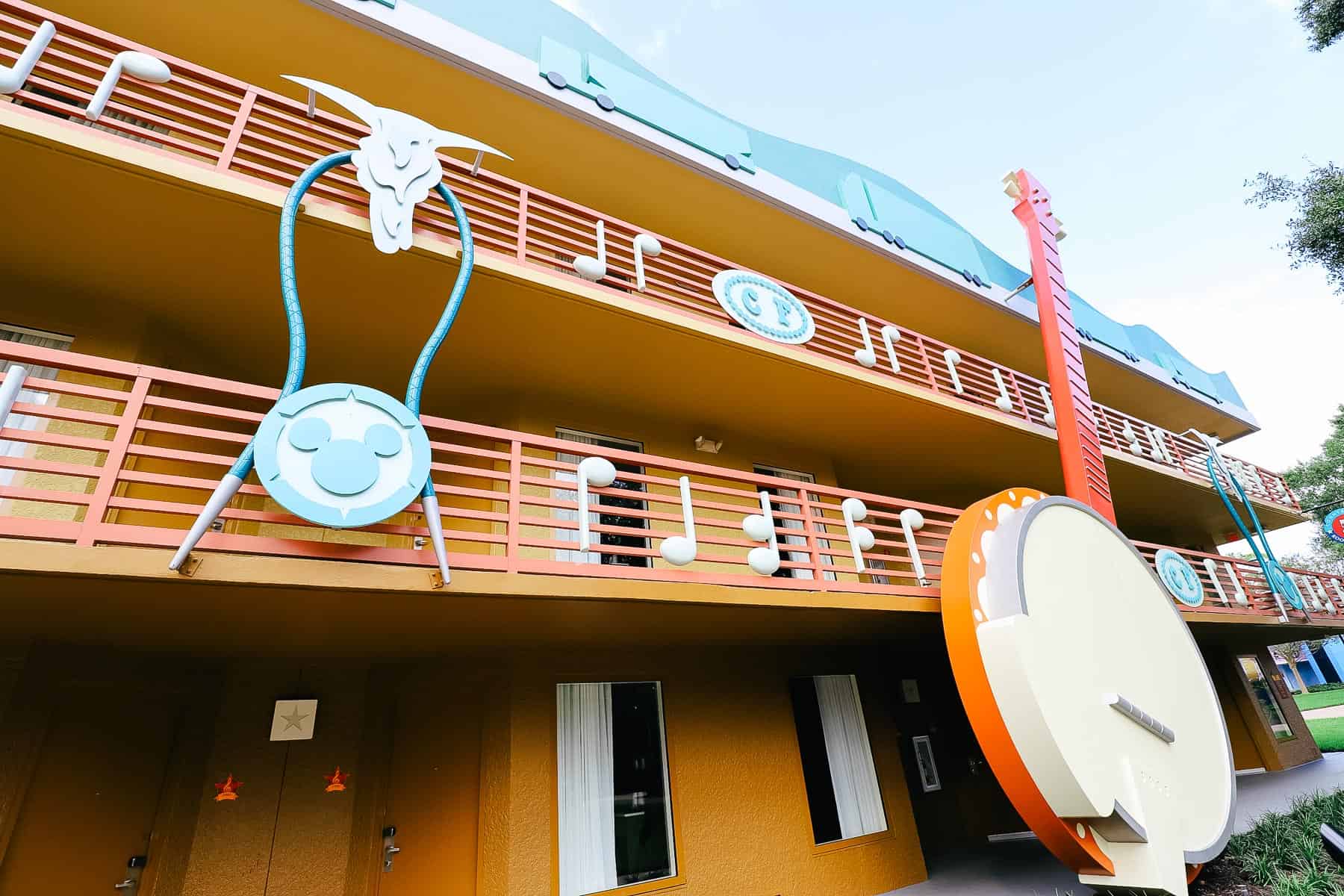 Rock Inn is the next section of the resort. This area represents rock n' roll.
It has a '60s look with purples, yellows, pinks, and turquoise.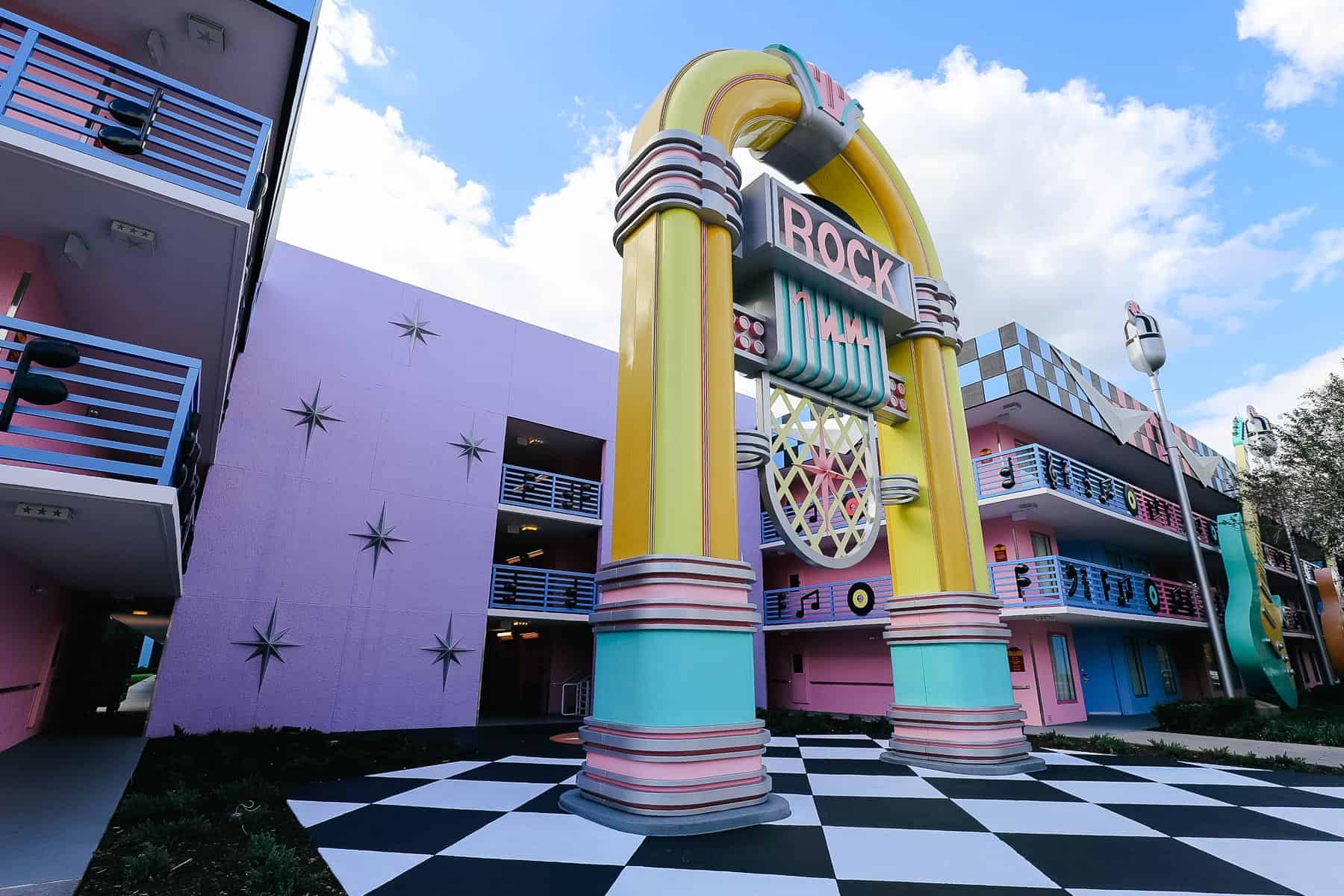 A vintage Chevrolet sits between the buildings.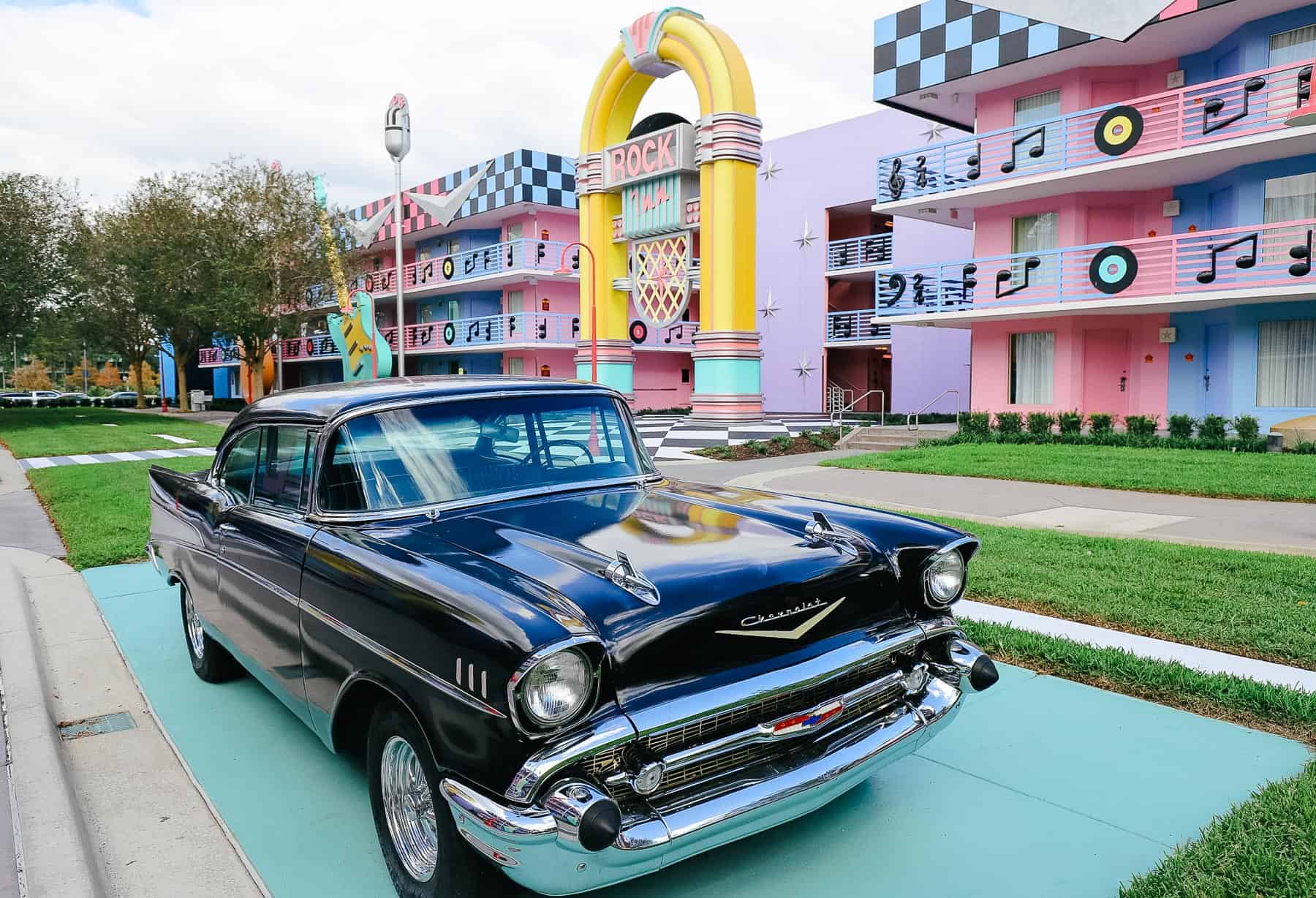 Electric guitars, records, and microphones line the railings.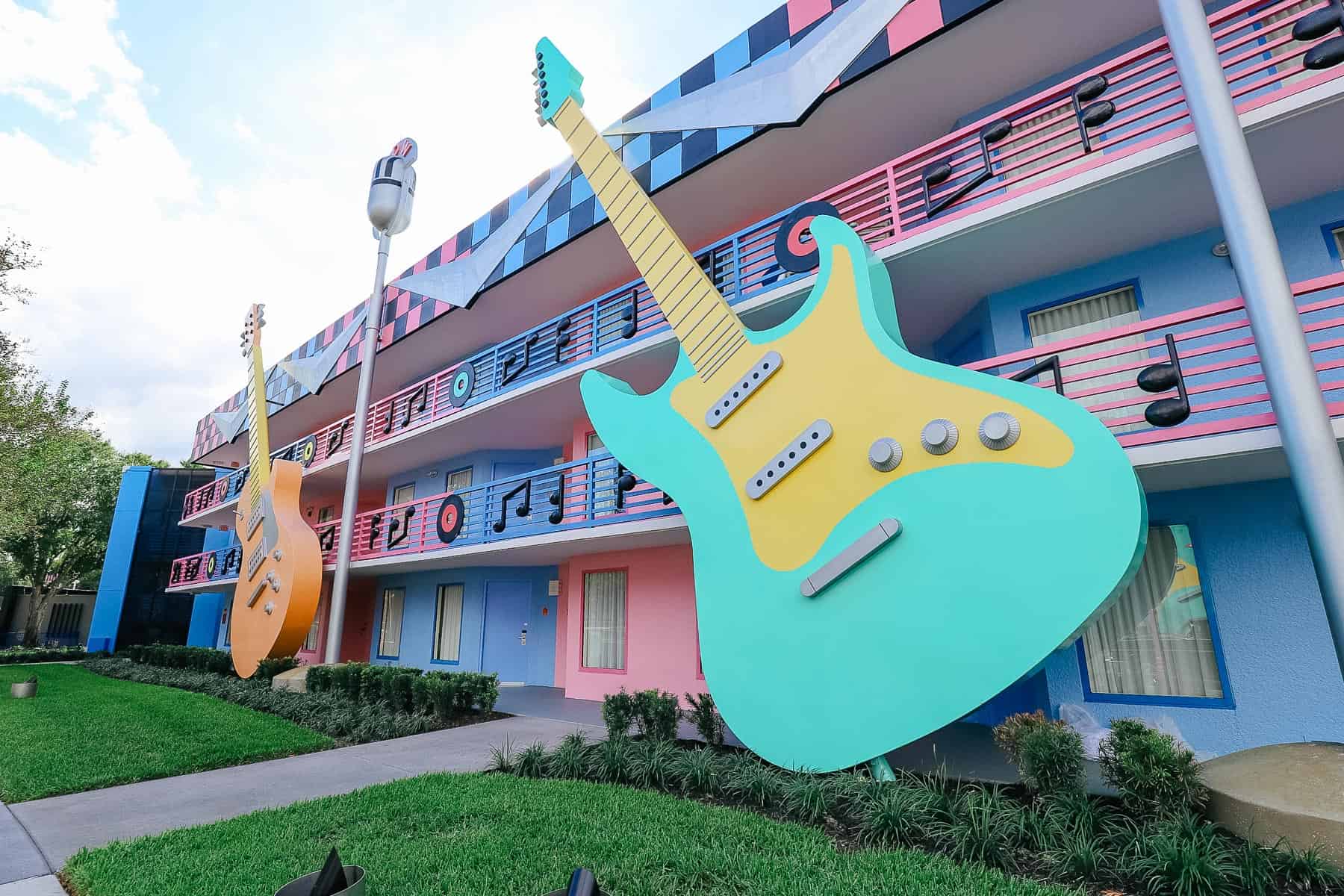 Jazz Inn is home to both standard and preferred rooms.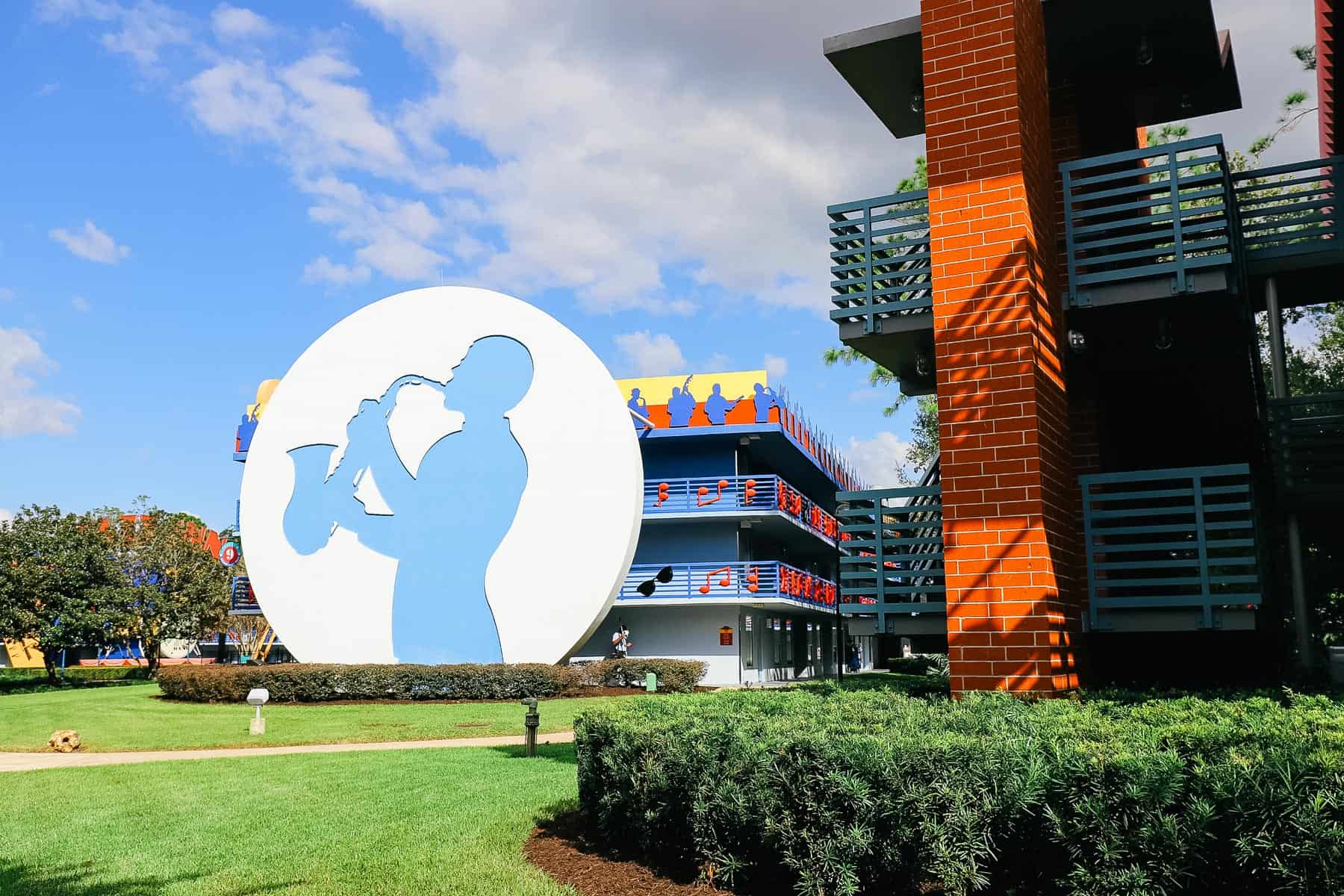 Railings feature saxophones, trumpets, and trombones.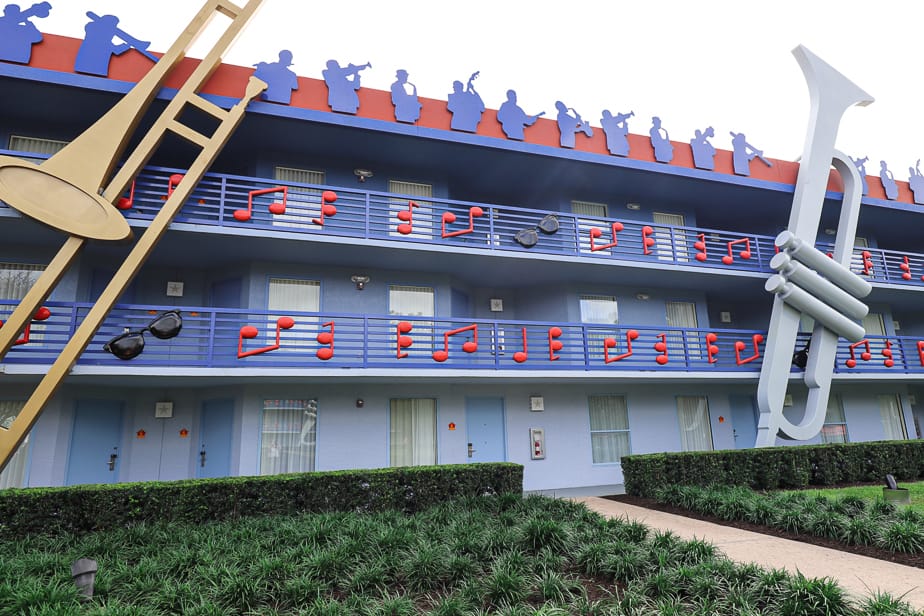 An All-Star Jazz Band faces the courtyard.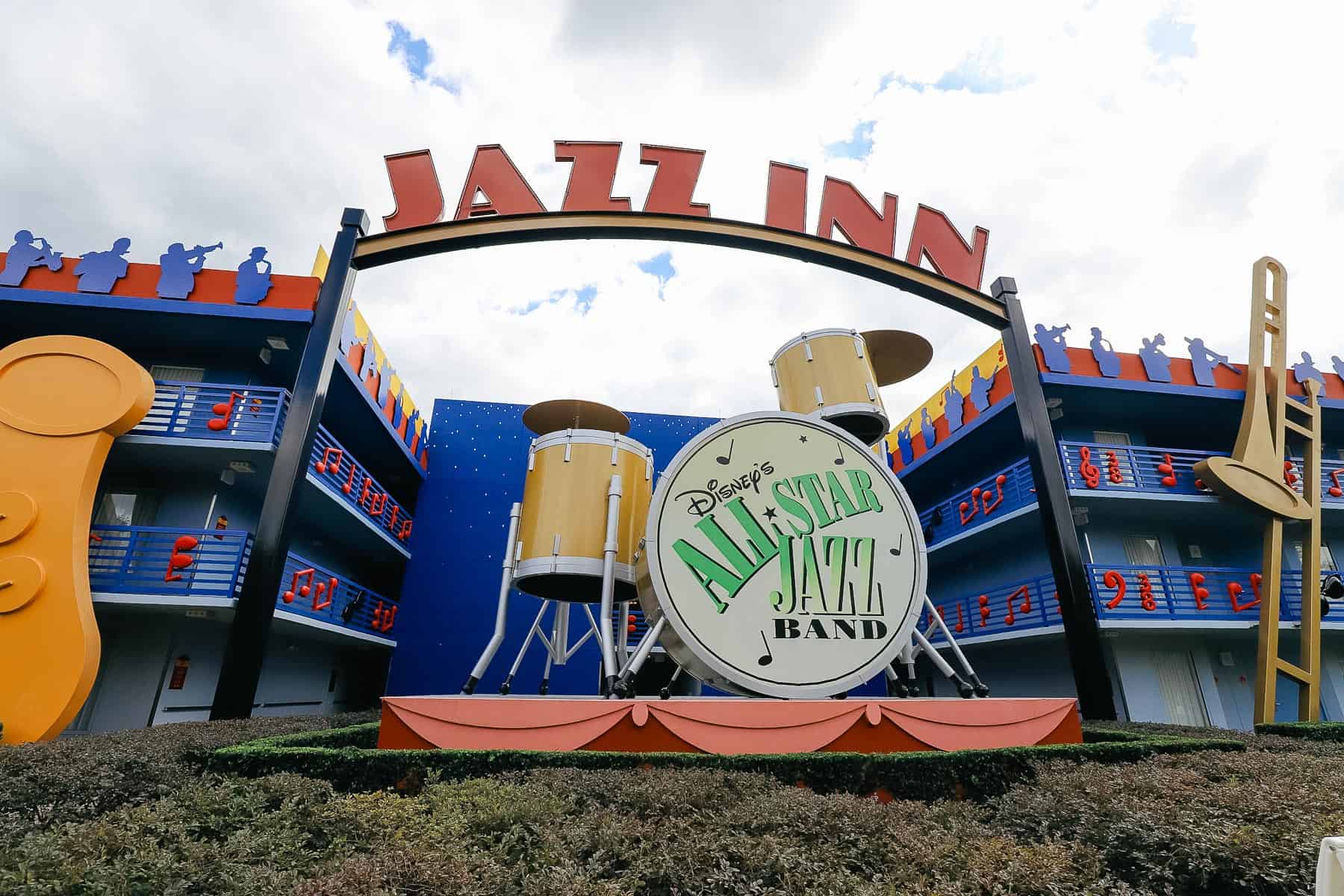 Calypso is the brightest section. Situated toward the front of the resort, it's near Melody Hall, the resort's lobby. A portion of the rooms in Calypso are preferred, which is a room upgrade.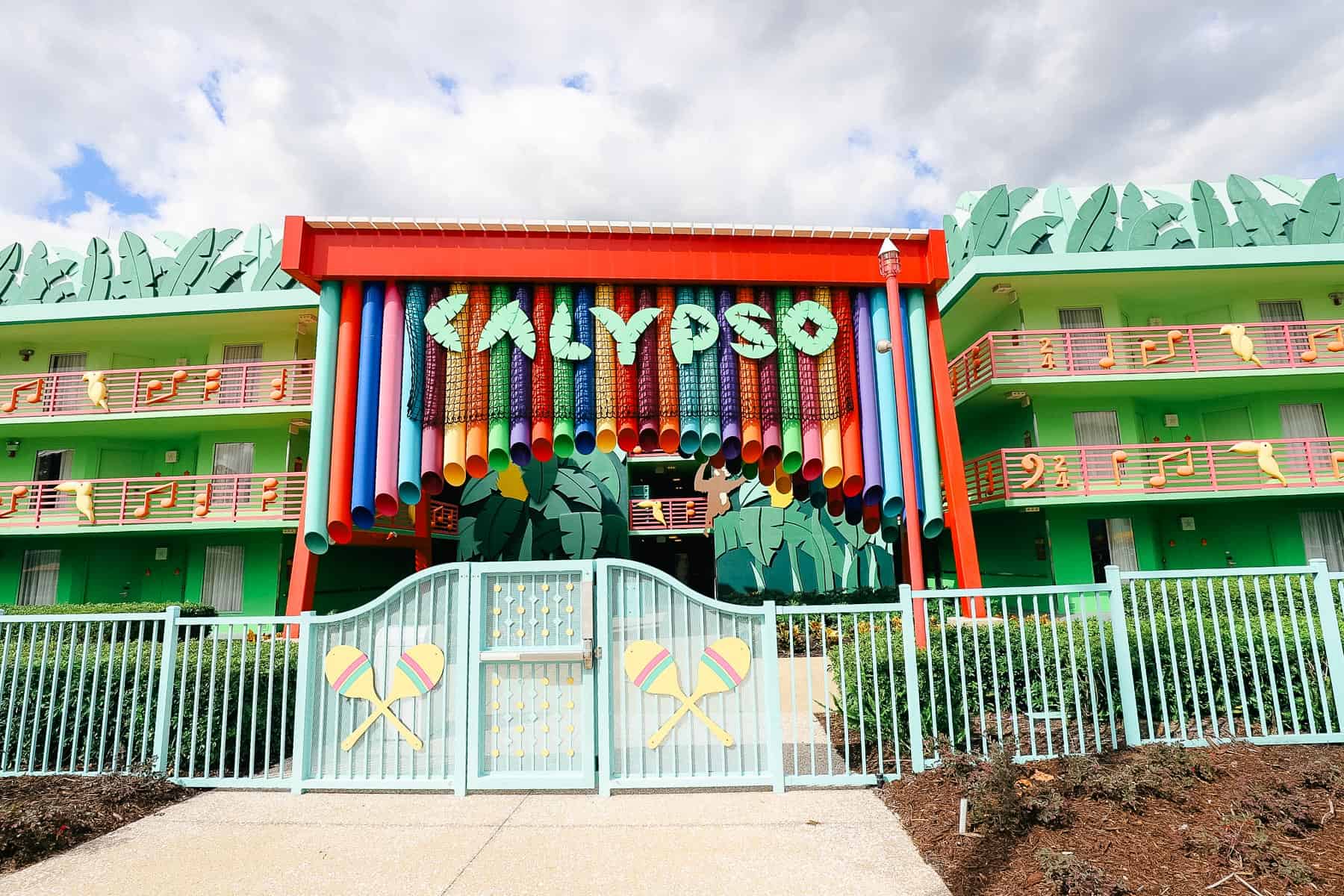 Family suites are located in both Calypso and Jazz Inn.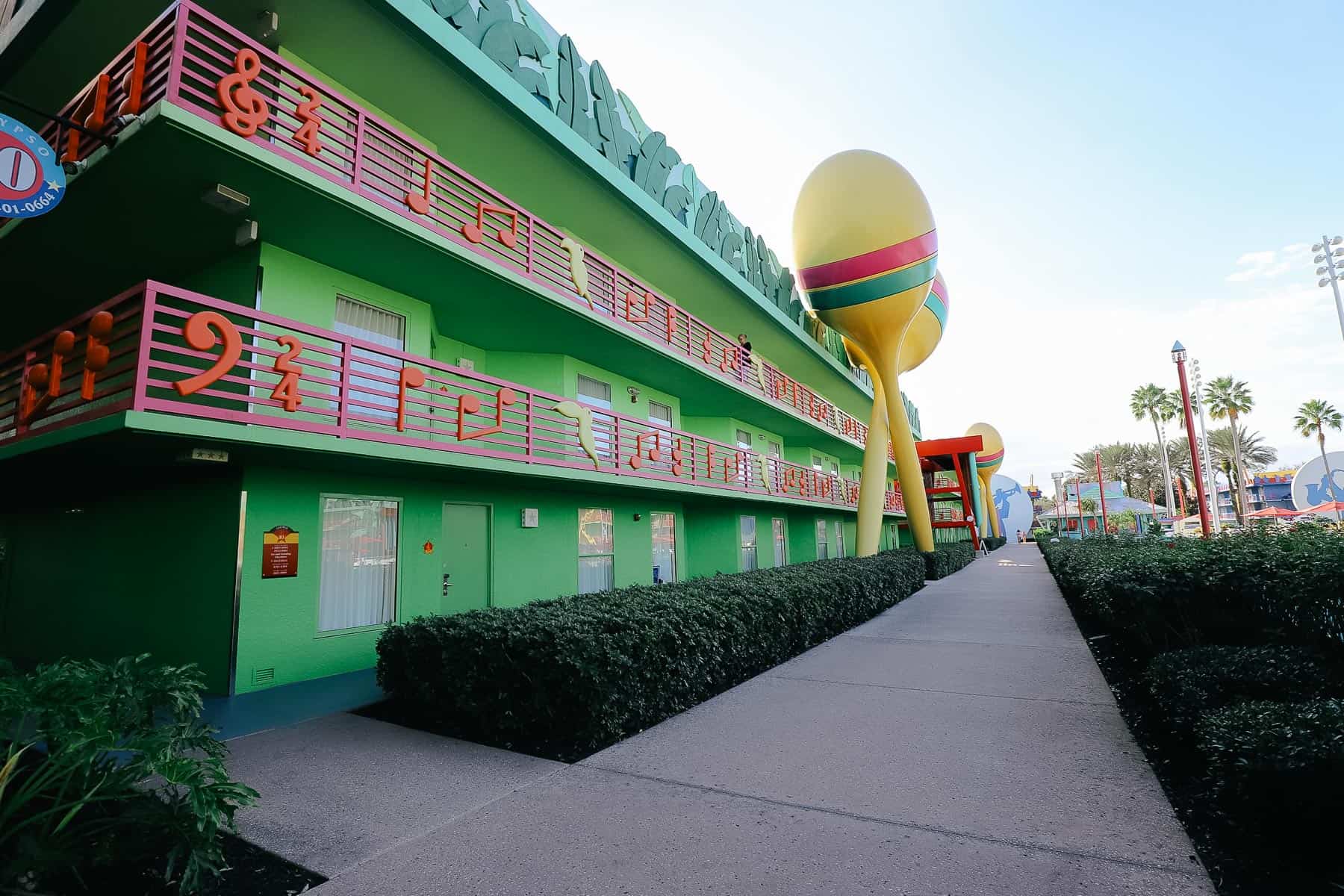 Rooms
All-Star Music underwent an entire resort refurbishment a few years ago that included entirely new guest rooms. Queen-size beds replaced full-size beds. Music's new rooms are nearly identical to the ones that debuted at Pop Century some time ago.
All-Star Music has three room types: standard, preferred, and family suites. Standard and preferred rooms sleep up to four adults. Family suites have an extra bedroom and sleep up to six adults.
You can expect the same room if you stay at any of the All-Star Resorts. Here is our All-Star Movies room tour from earlier this year. Below is a photo of our room at All-Star Music.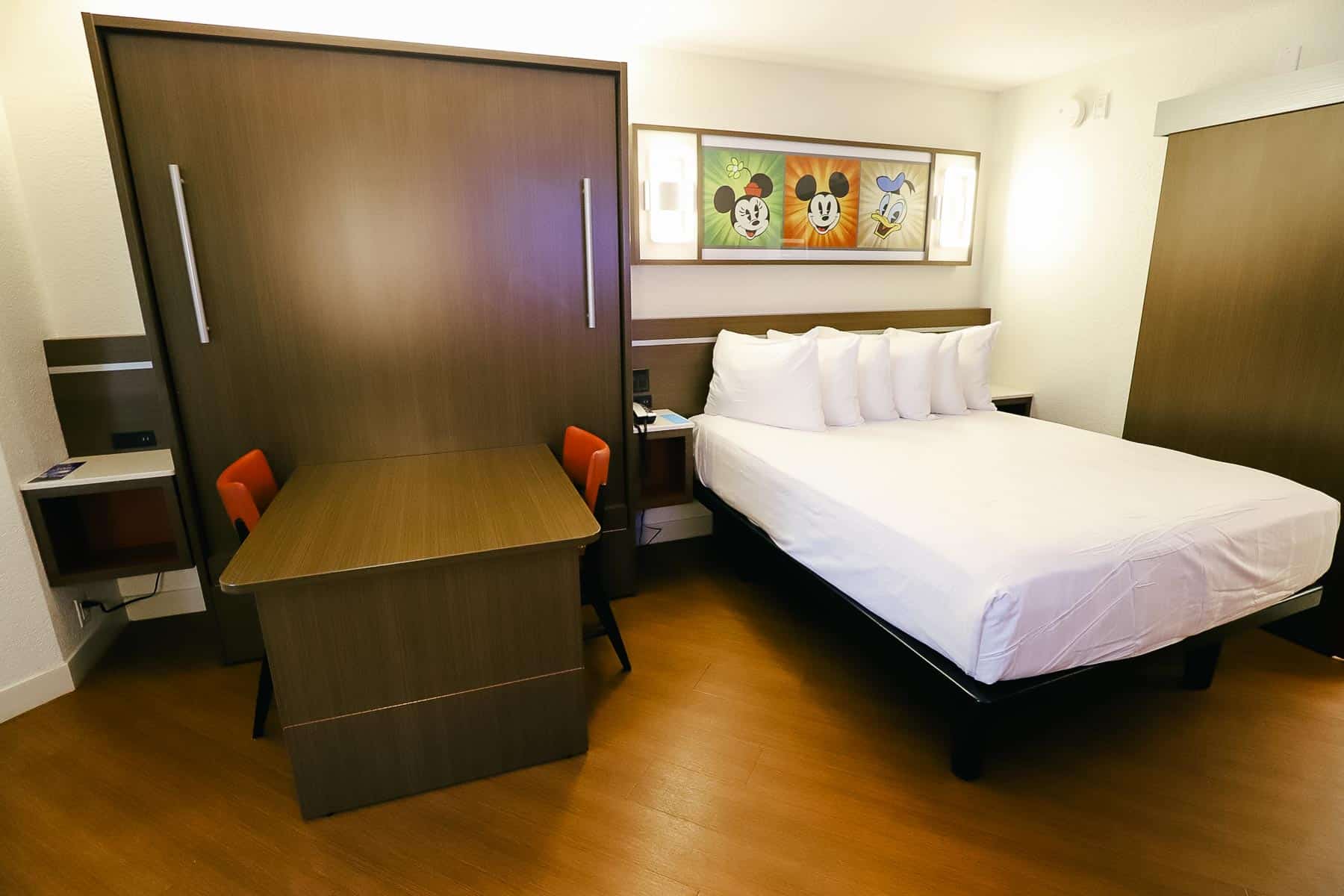 We were beyond impressed with the room and felt it was an incredible value at less than $100.00 per night. However, rates are often higher based on seasonality. But if you want to come to Orlando and save money, this is the way to go.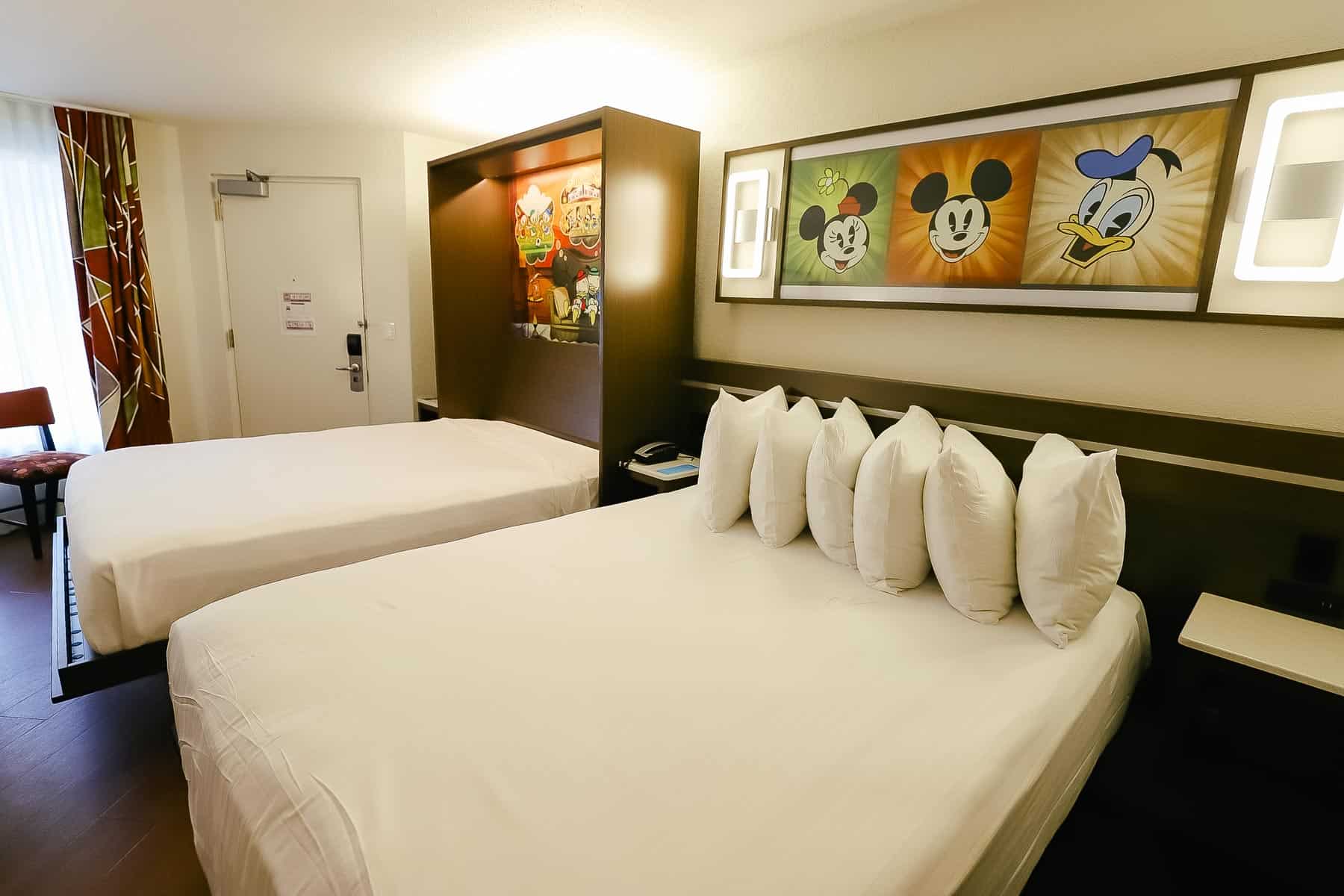 Bathrooms feature a vanity with one sink. A separate water closet houses the toilet and shower/tub combination. This makes it possible for multiple guests to get ready simultaneously.
A sliding door closes to separate the entire bath from the bedroom area. So, if you're up early to get ready, others can continue to sleep without being bothered by the light from the bathroom. Also, the sliding door creates a better sound barrier than the previous curtain used to separate the space.
Room amenities include one sink, a hair dryer, an in-room safe, an iron, and an ironing board. Other items include an individual cup coffee maker, a beverage cooler, and free wifi.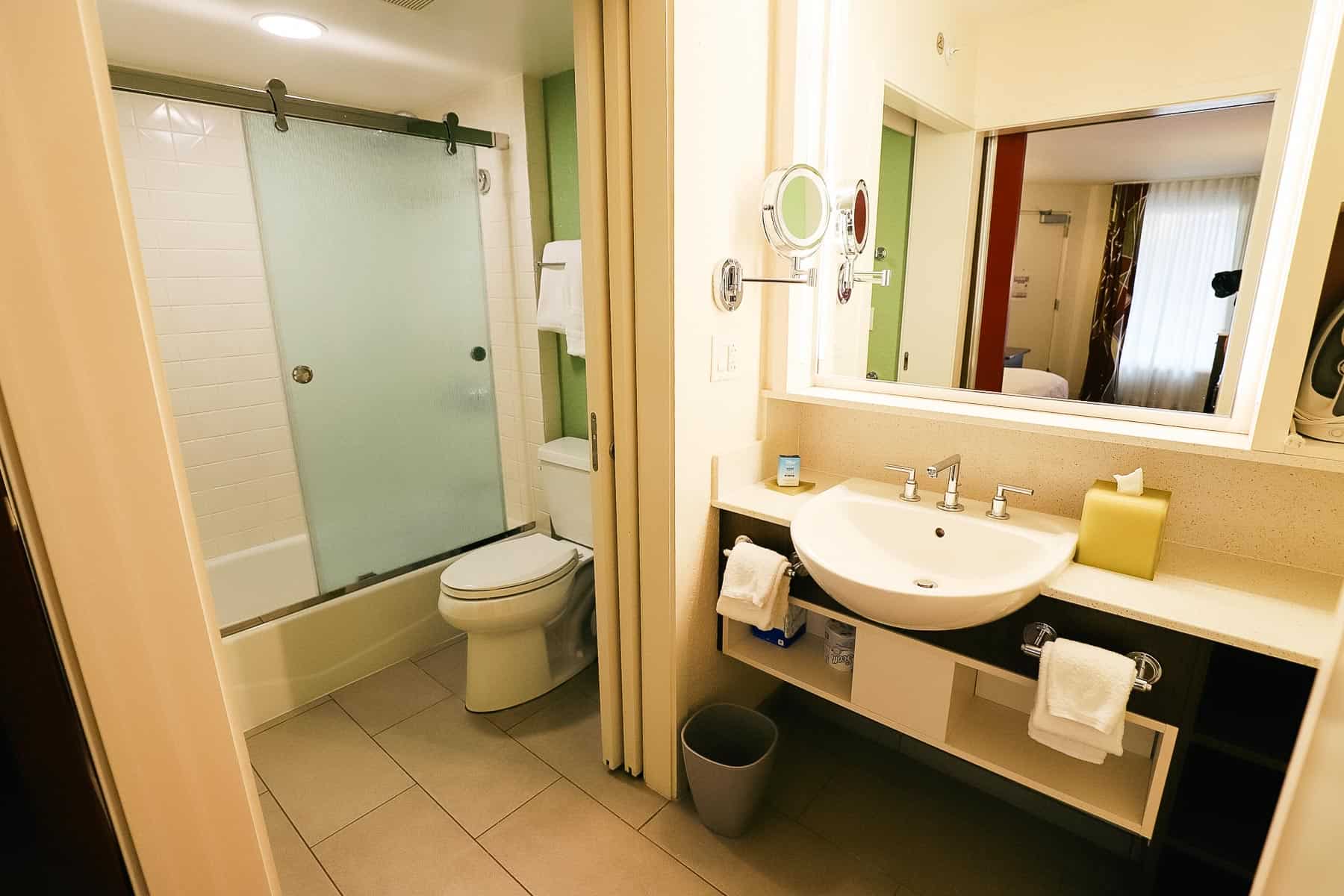 Here is the tub with a shower combination.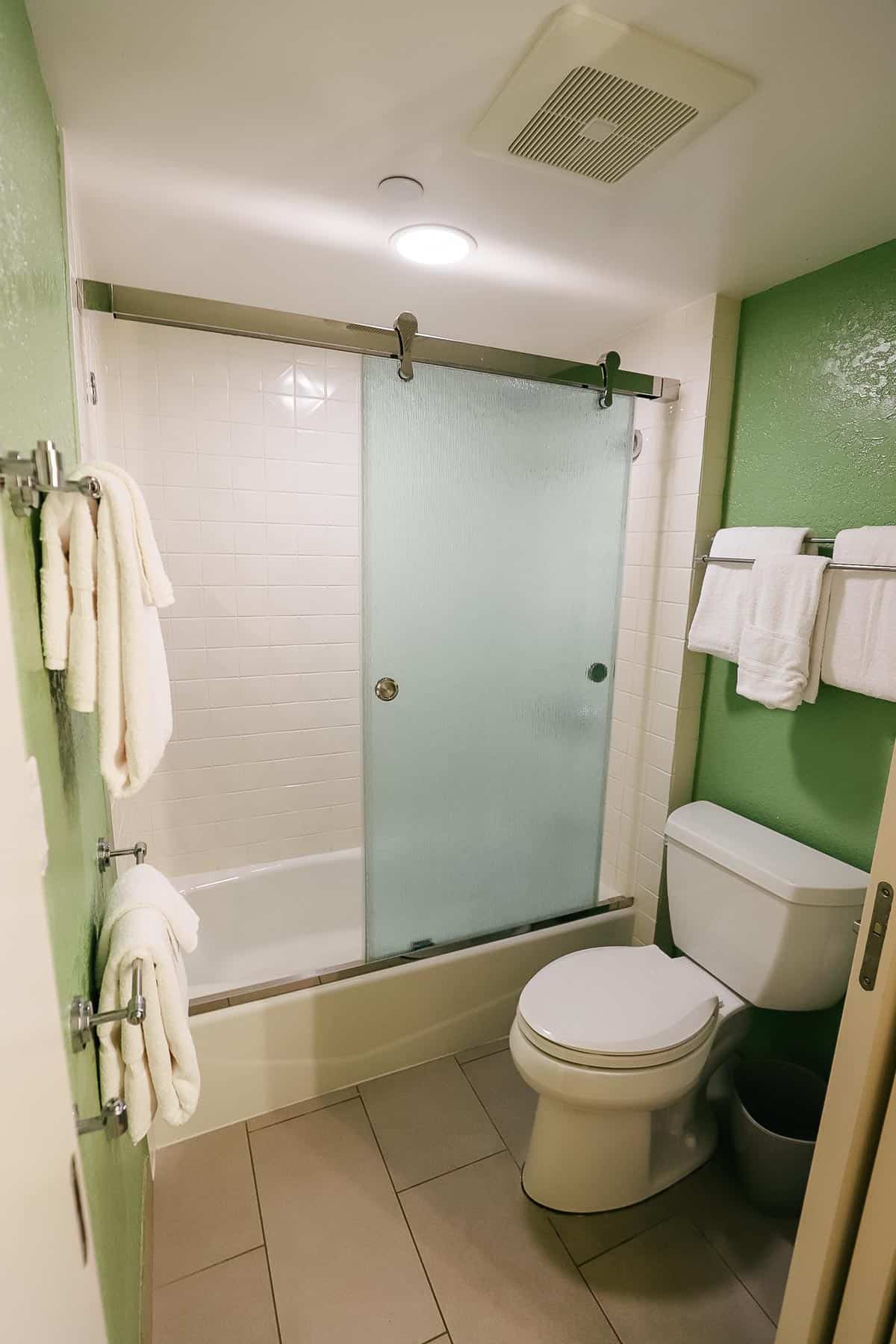 A Murphy bed appears when you pull down the table from the wall.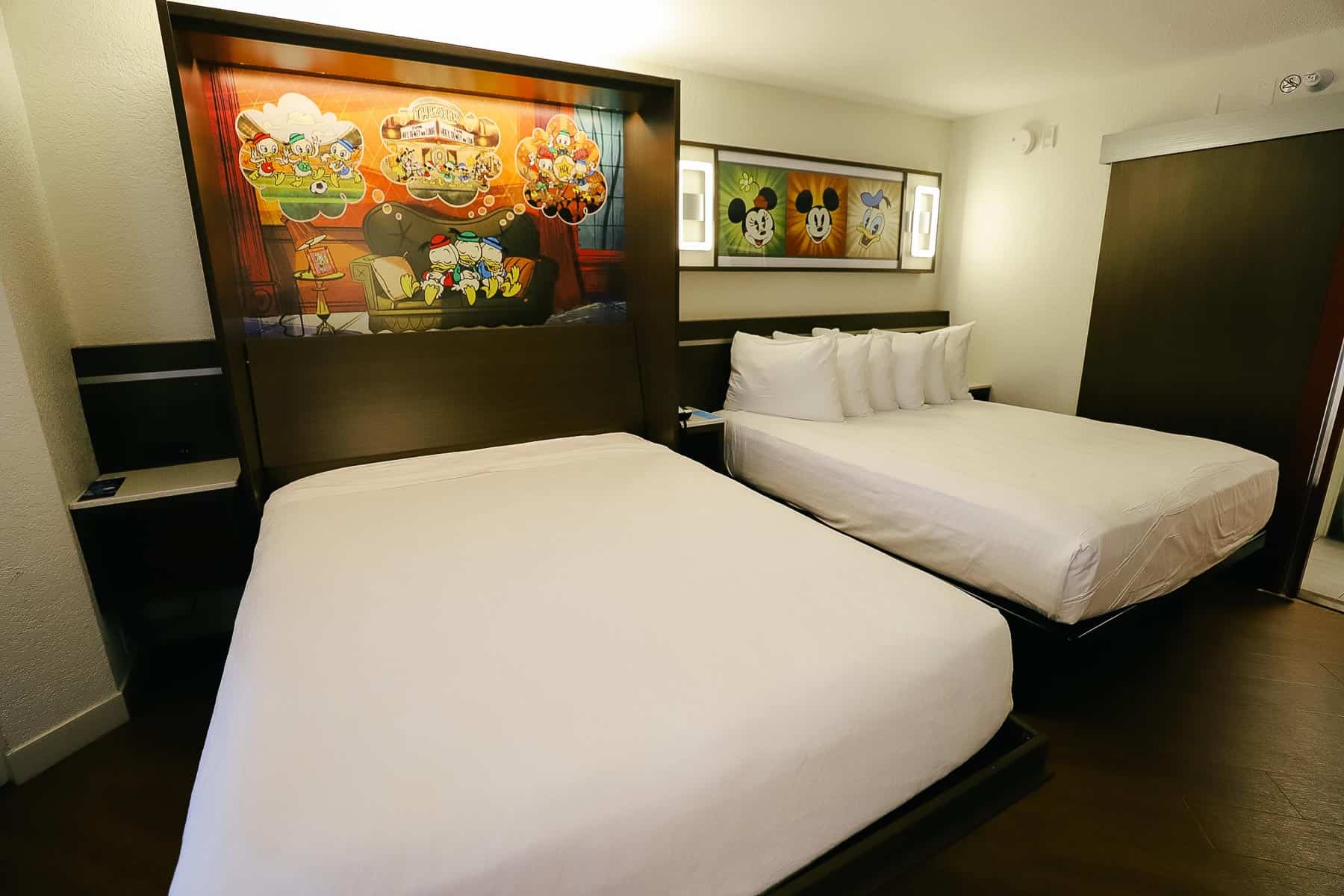 Those who want to be close to the lobby, bus transportation, or dining will want to consider a preferred room. The following buildings house preferred rooms:
Calypso 1
Calypso 10
Jazz Inn 2
Jazz Inn 9
We have a separate review of All-Star Movies that details our stay in a preferred room. You'll have to discern whether or not it's worth it to pay more to be closer. For some, it's a no-brainer. But for others, it might not be worth the extra cost.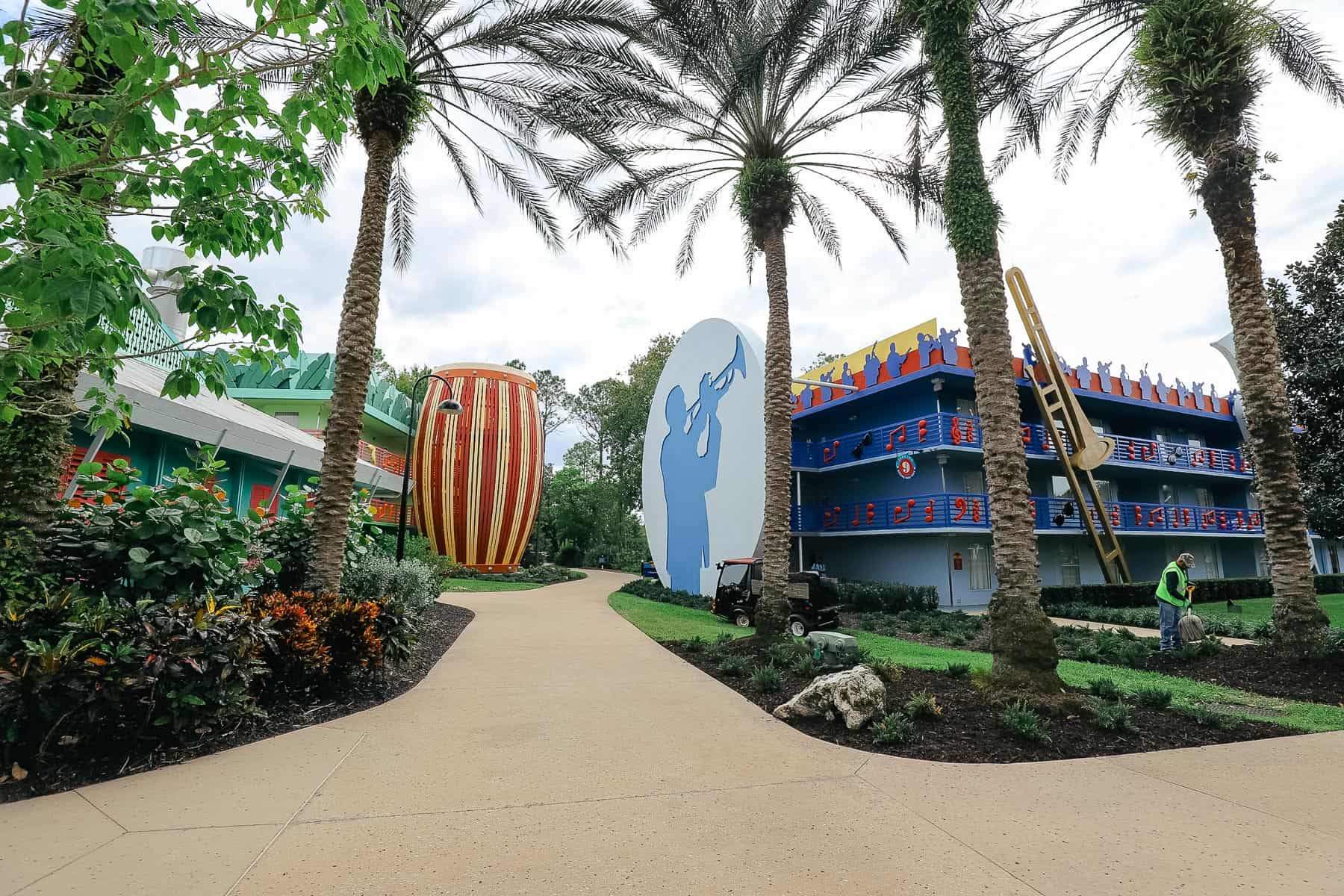 Dining
Disney's All-Star Music is home to Intermission Food Court, the resort's only quick-service restaurant. They are open daily between 7:00 a.m. and 11:00 p.m., serving breakfast, lunch, and dinner.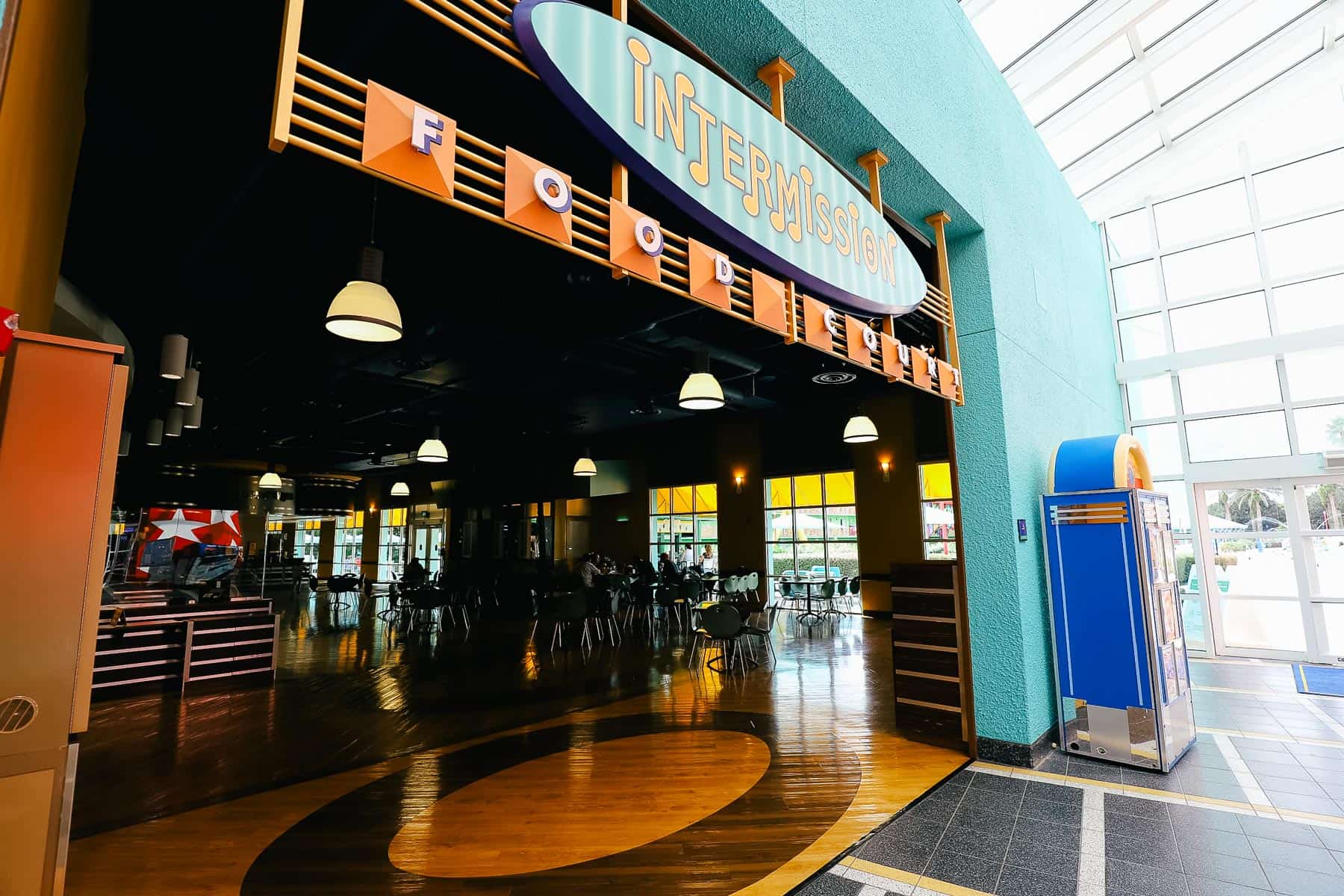 Intermission Food Court is off Melody Hall between the resort's gift shop and feature pool area. It has a tremendous dining room with a variety of seating arrangements.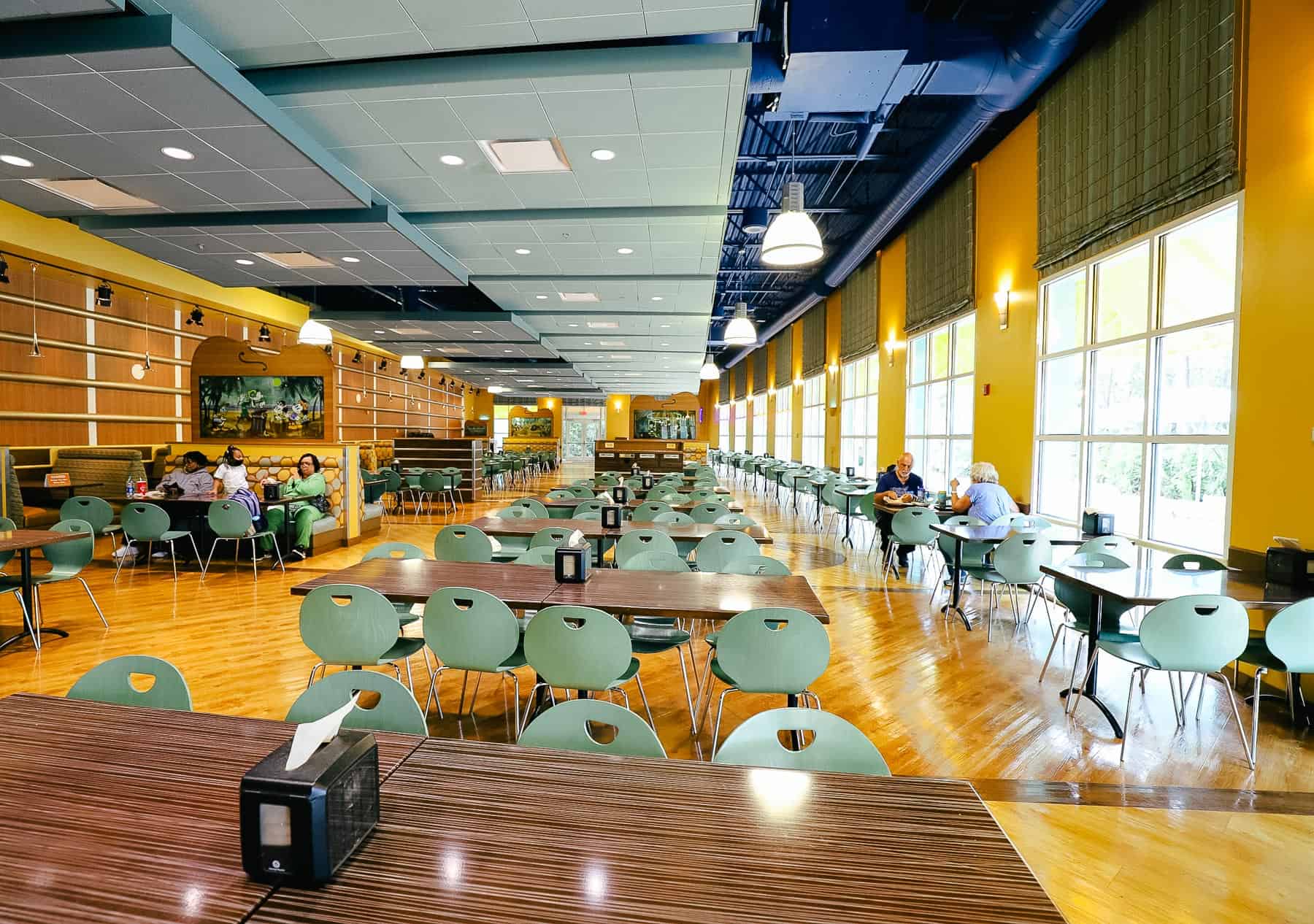 Similar to a food court, each section offers various items. If you prefer, you can mobile order and pick up your items at a separate window.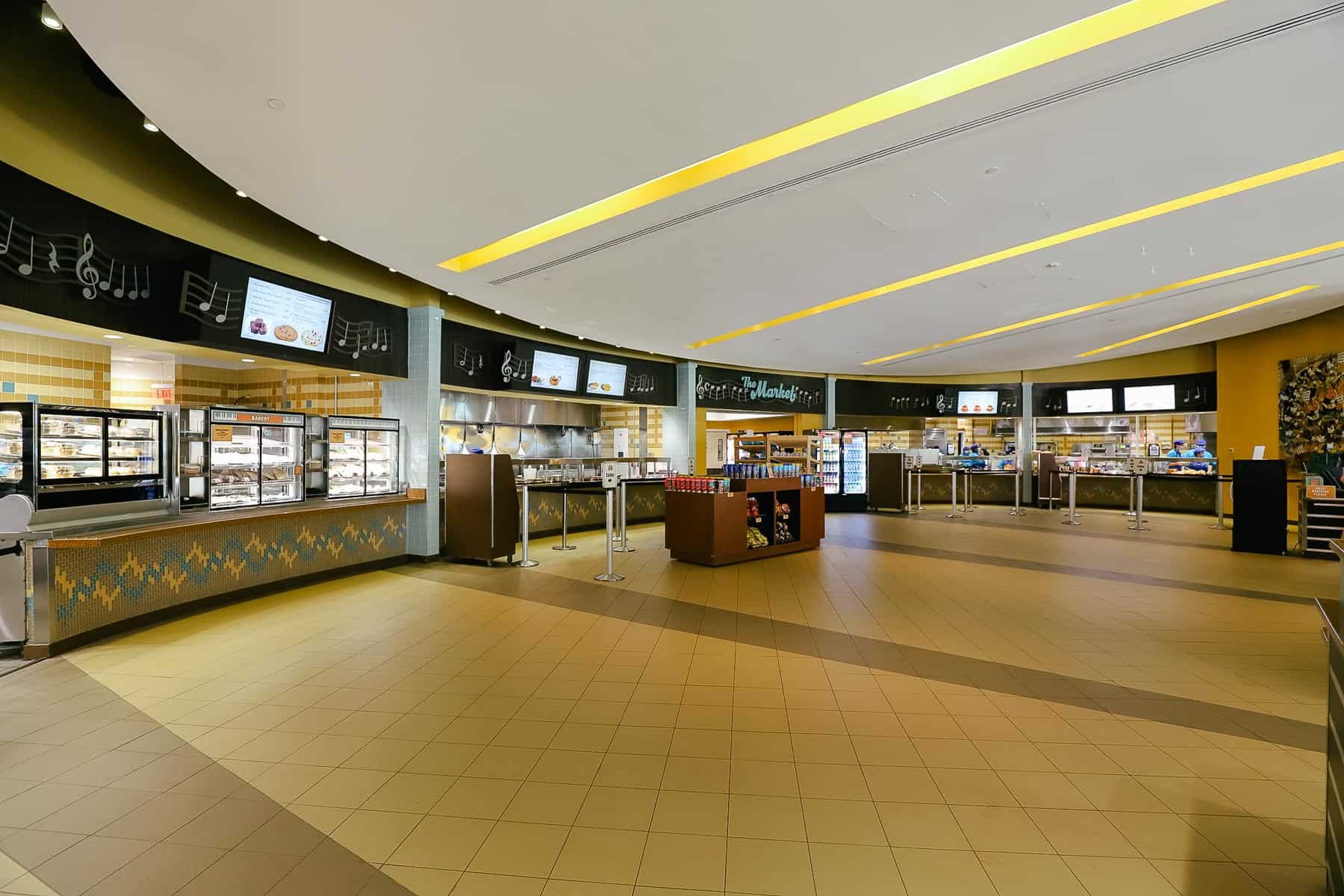 Rapid Fill mugs are available for $21.99. They are refillable in the food court.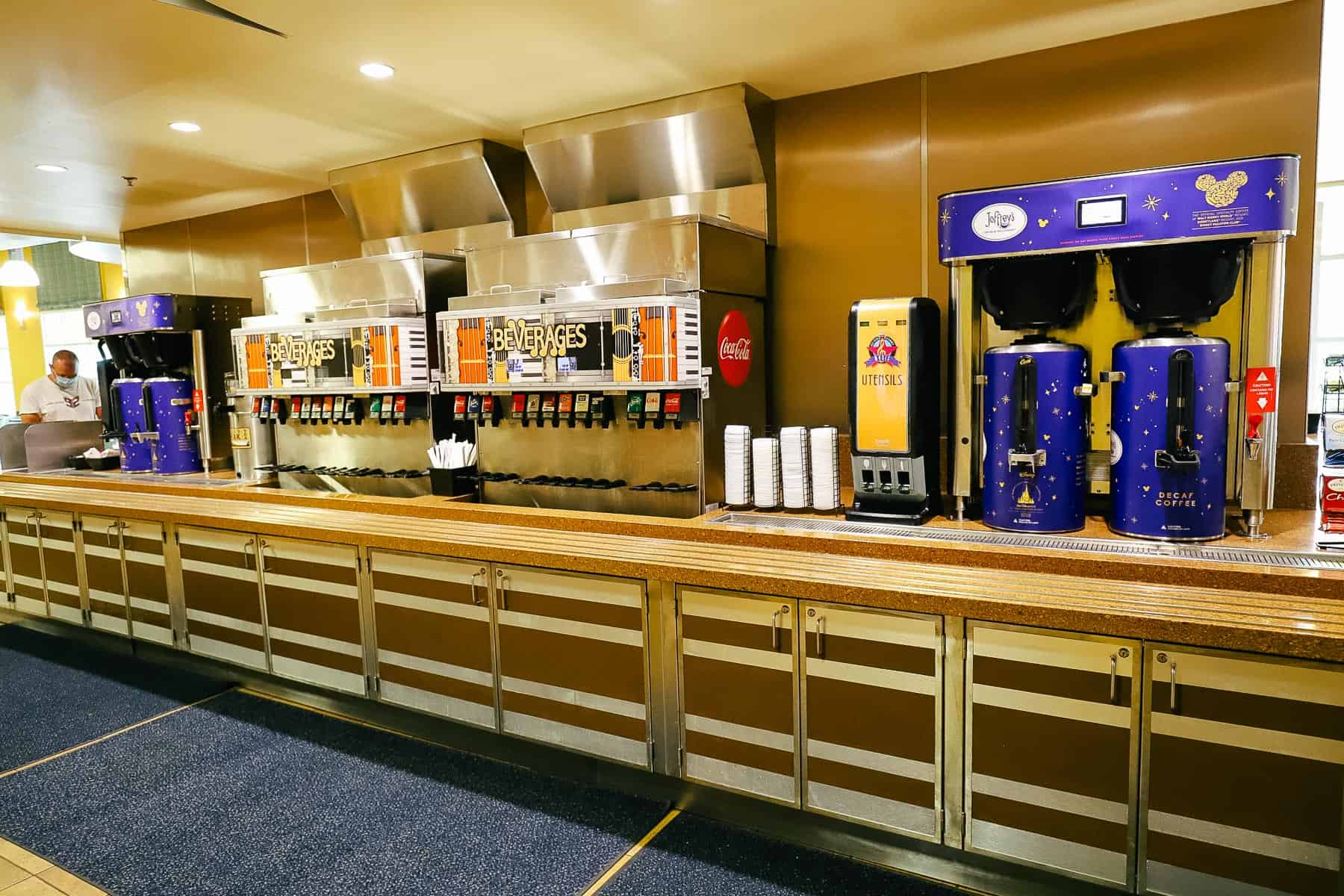 Regarding food offerings, you'll find basics like burgers, pizza, pasta, and salad. Kids' meal options include pizza, macaroni and cheese, pasta, burgers, and chicken strips.
Several grab-and-go cases contain pastries and other desserts. Refrigerated cases contain Coca-Cola products, sports drinks, juice, milk, water, beer, and wine.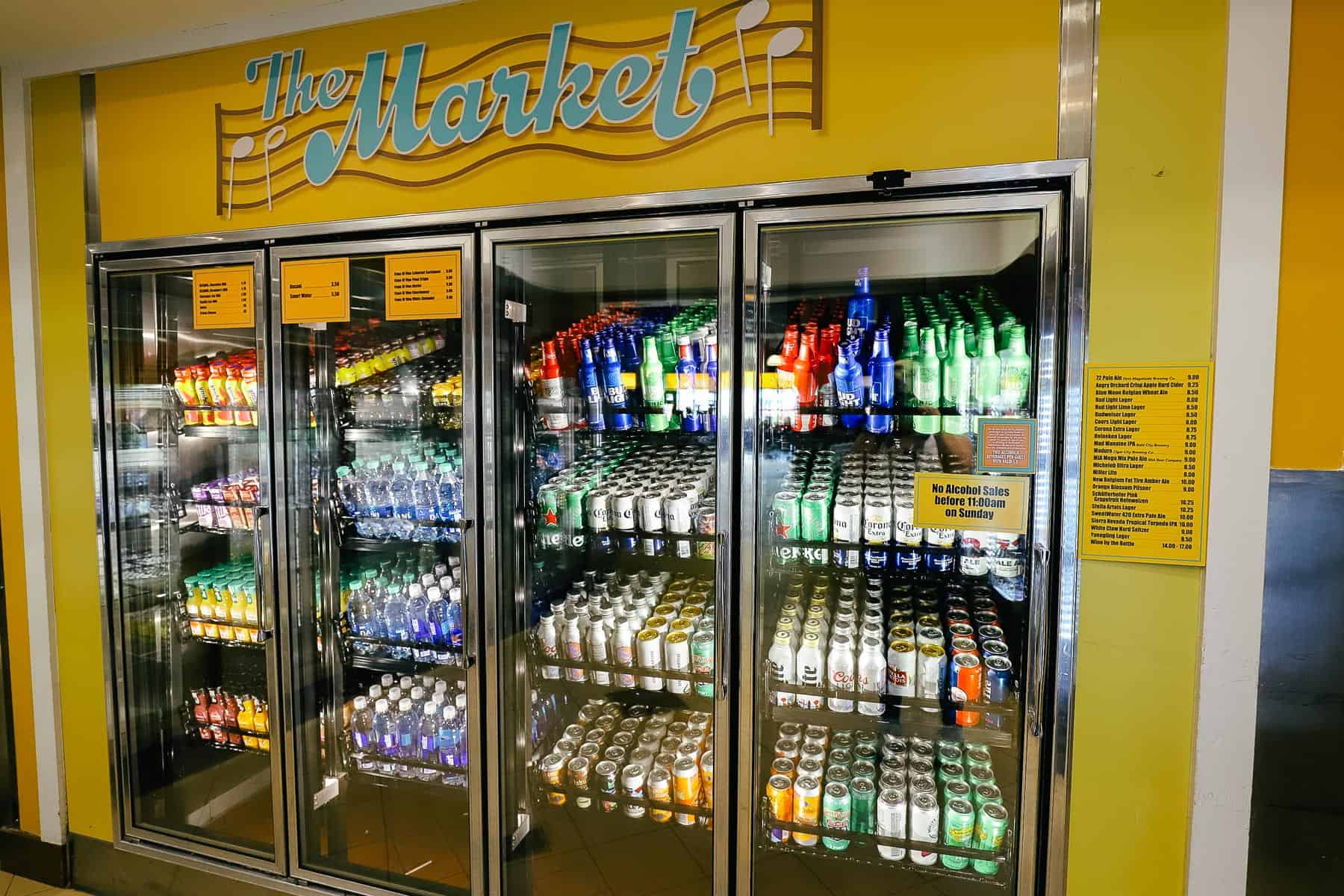 A separate window is provided for pizza and mobile orders. You can preview the menu items for each meal period on Disney's site: Intermission Food Court Menu.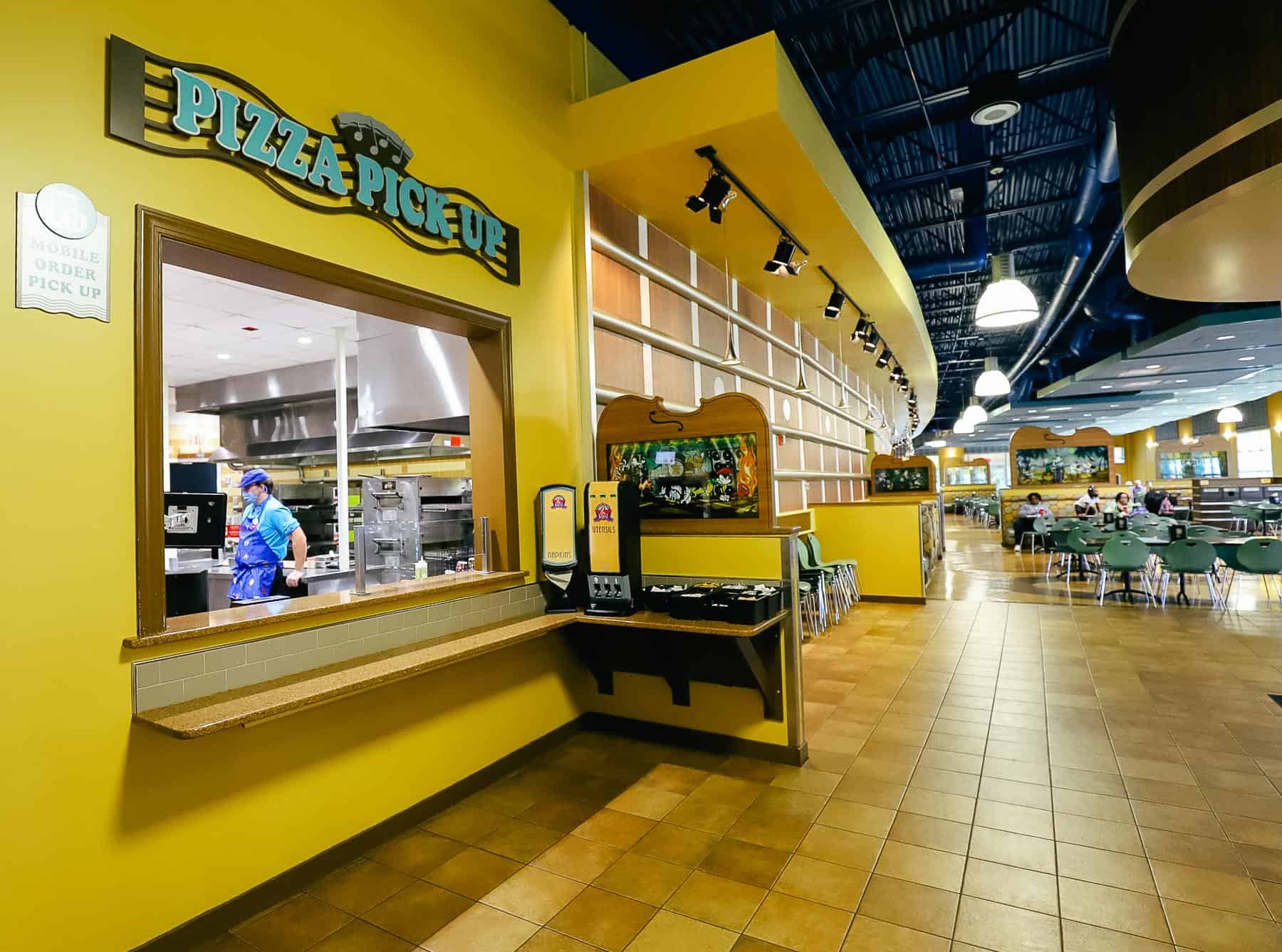 Singing Spirits Pool Bar is the resort's poolside bar. It is located outside Melody Hall, directly behind the food court. They are usually open between 12:00 p.m. and 10:00 p.m. However, hours will vary based on the season.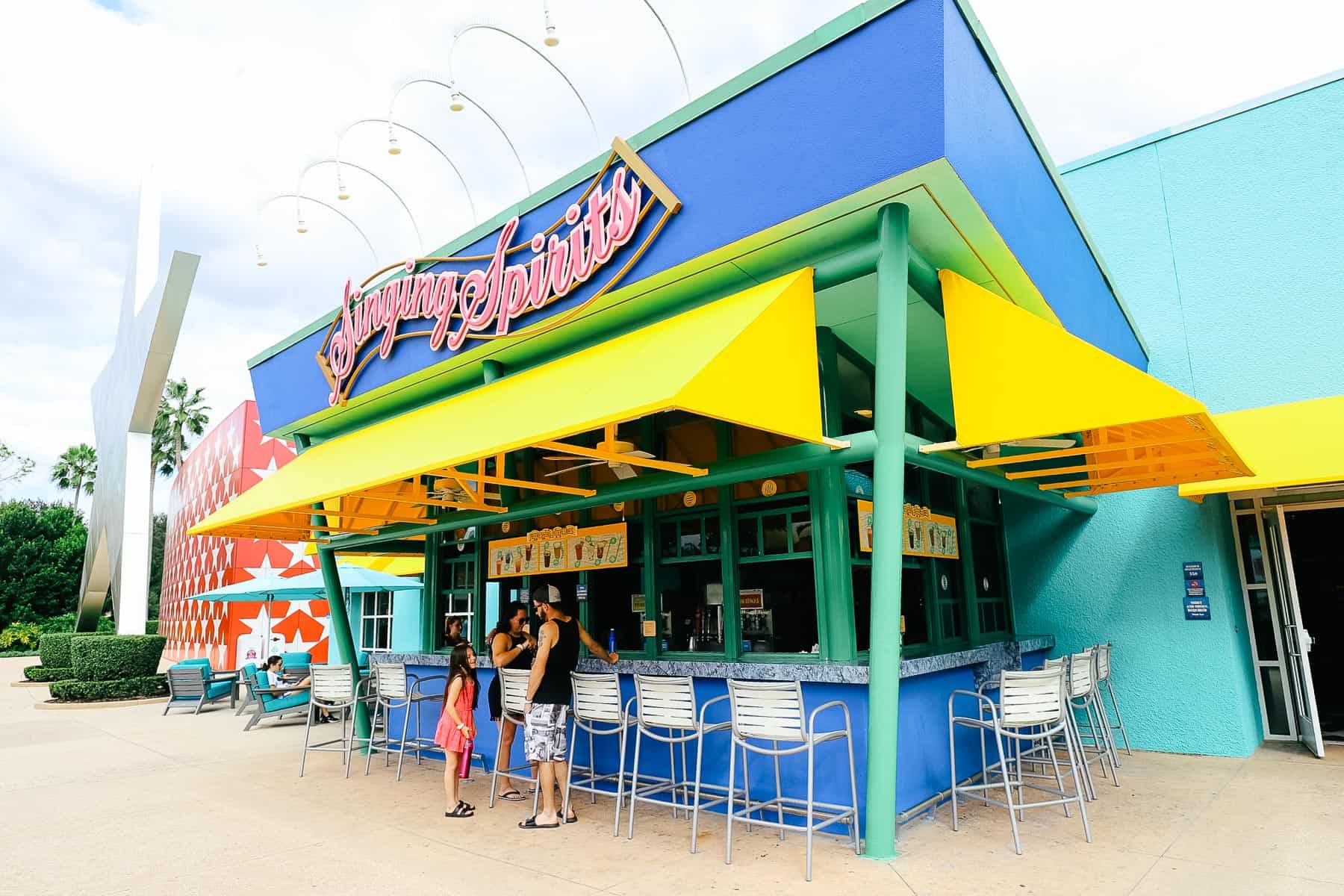 This location serves beverages like cocktails, mocktails, and beer. If you want to enjoy a meal or snack at the pool, you'll likely want to order from the food court.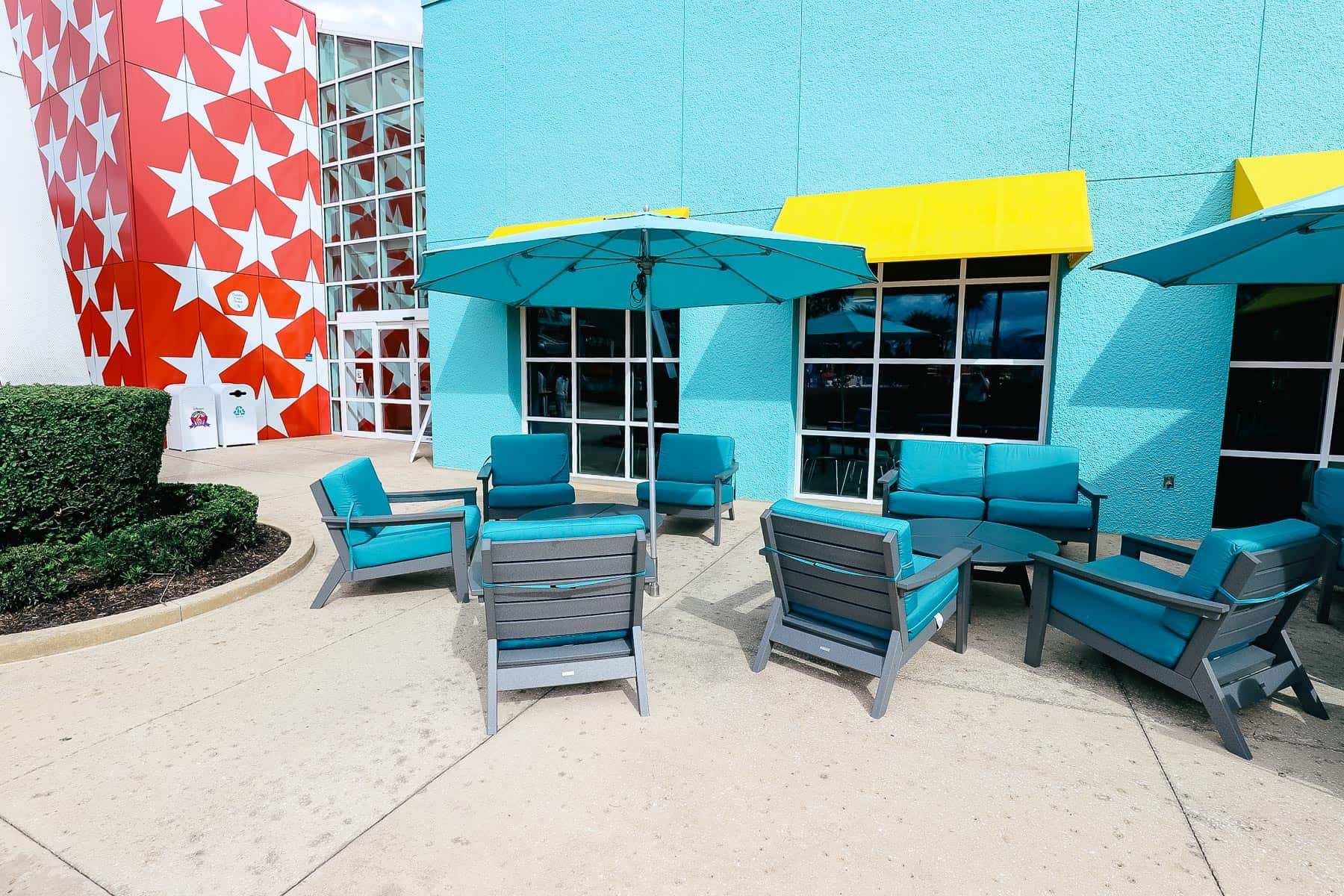 Recreation and Amenities
Disney's All-Star Music has two pools: the Calypso Pool and the Piano Pool. They are usually open between 10:00 a.m. and 11:00 p.m. in the summer. At other times of the year, they often close at 10:00 p.m.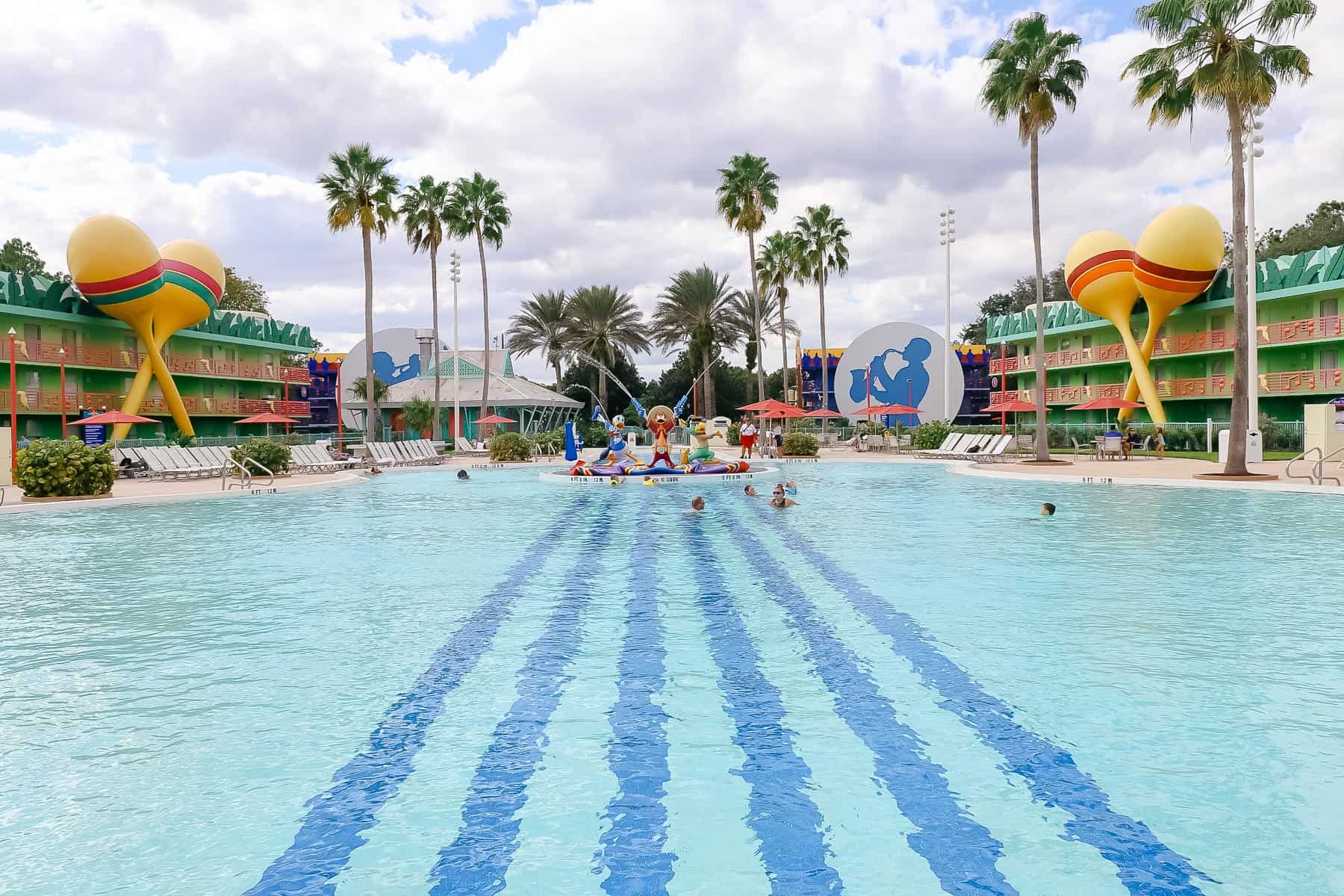 The Calypso Pool is considered the primary feature pool at the resort. It has a fun water spray element in the center featuring The Three Caballeros.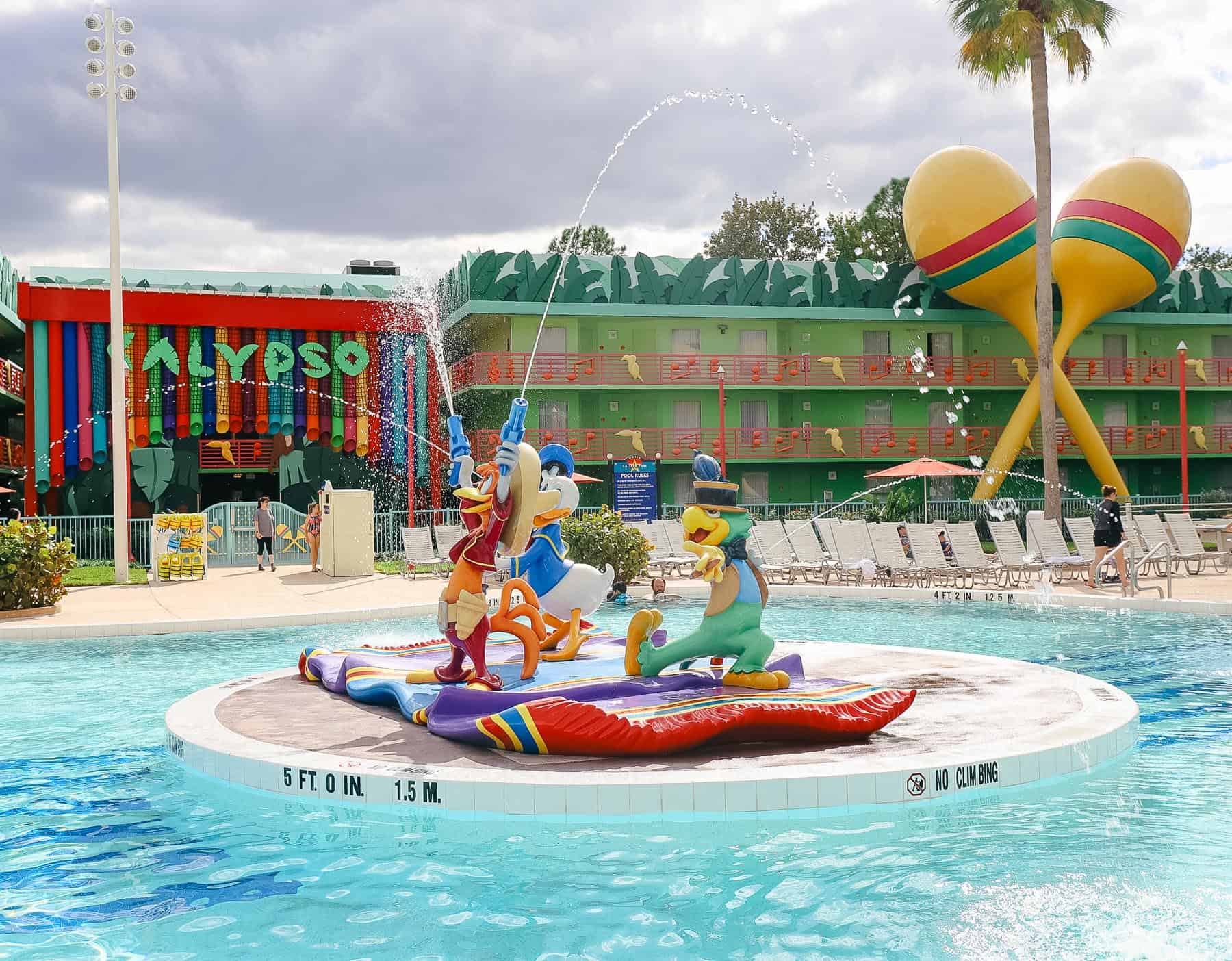 It's hard to tell from the picture, but the pool is shaped like a guitar, which is appropriate considering it's a music-themed resort.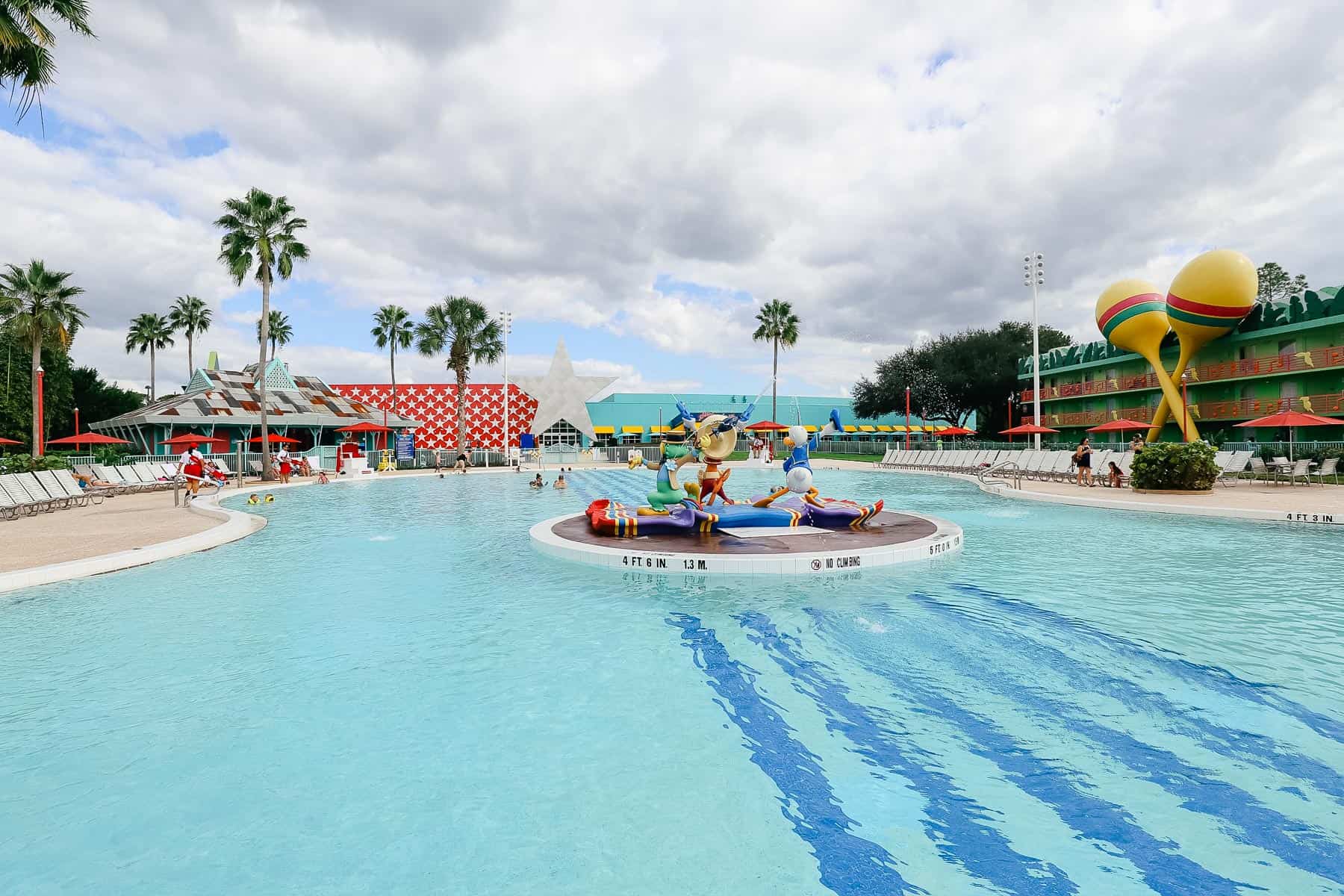 A separate kiddie pool sits toward the back of the Calypso Pool. Unfortunately, this pool does not feature a water slide. Slides are considered upgrades and are only available at moderate and deluxe resorts.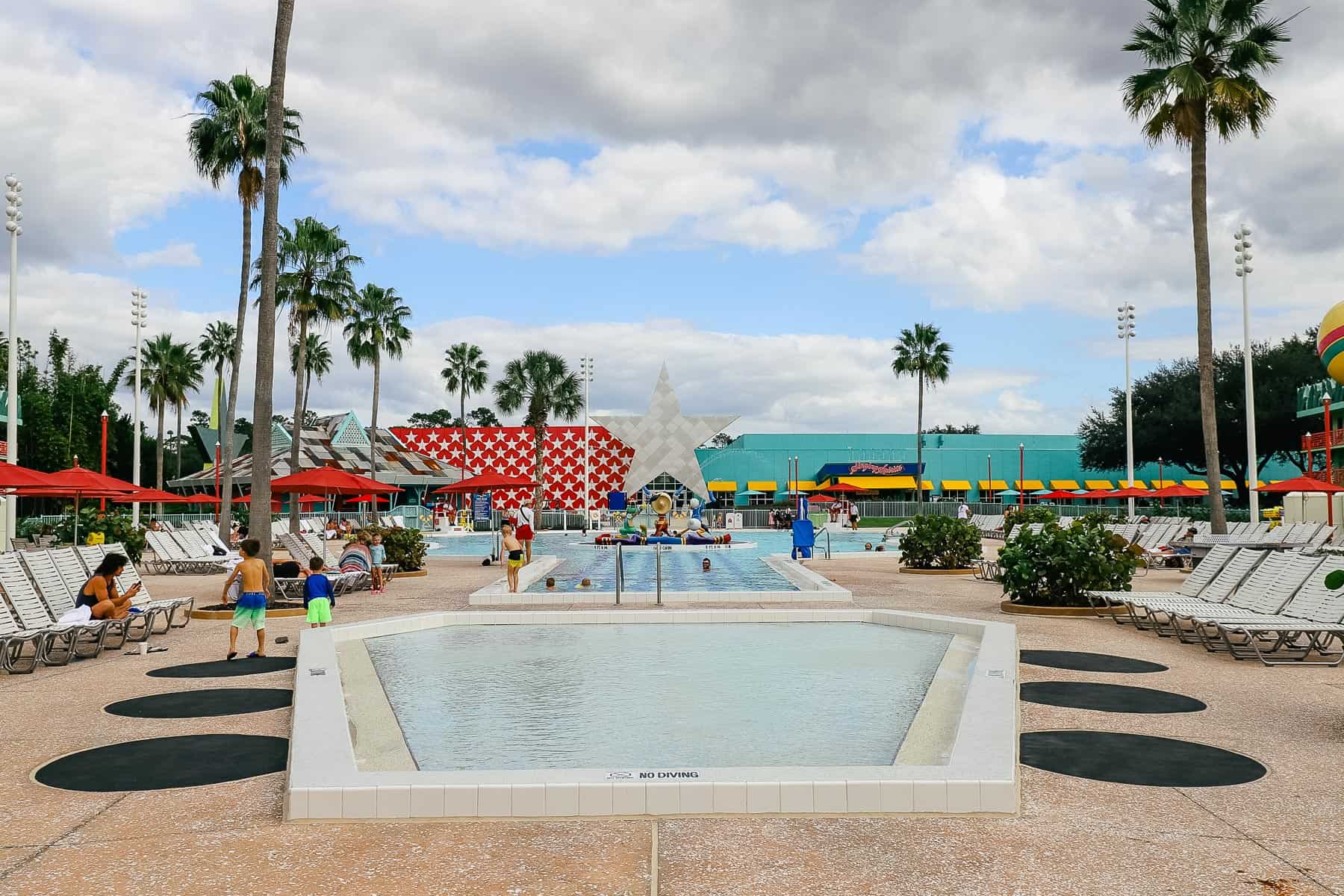 The Piano Pool is the secondary pool at All-Star Music. It's on the opposite side of the resort in front of the Country Fair.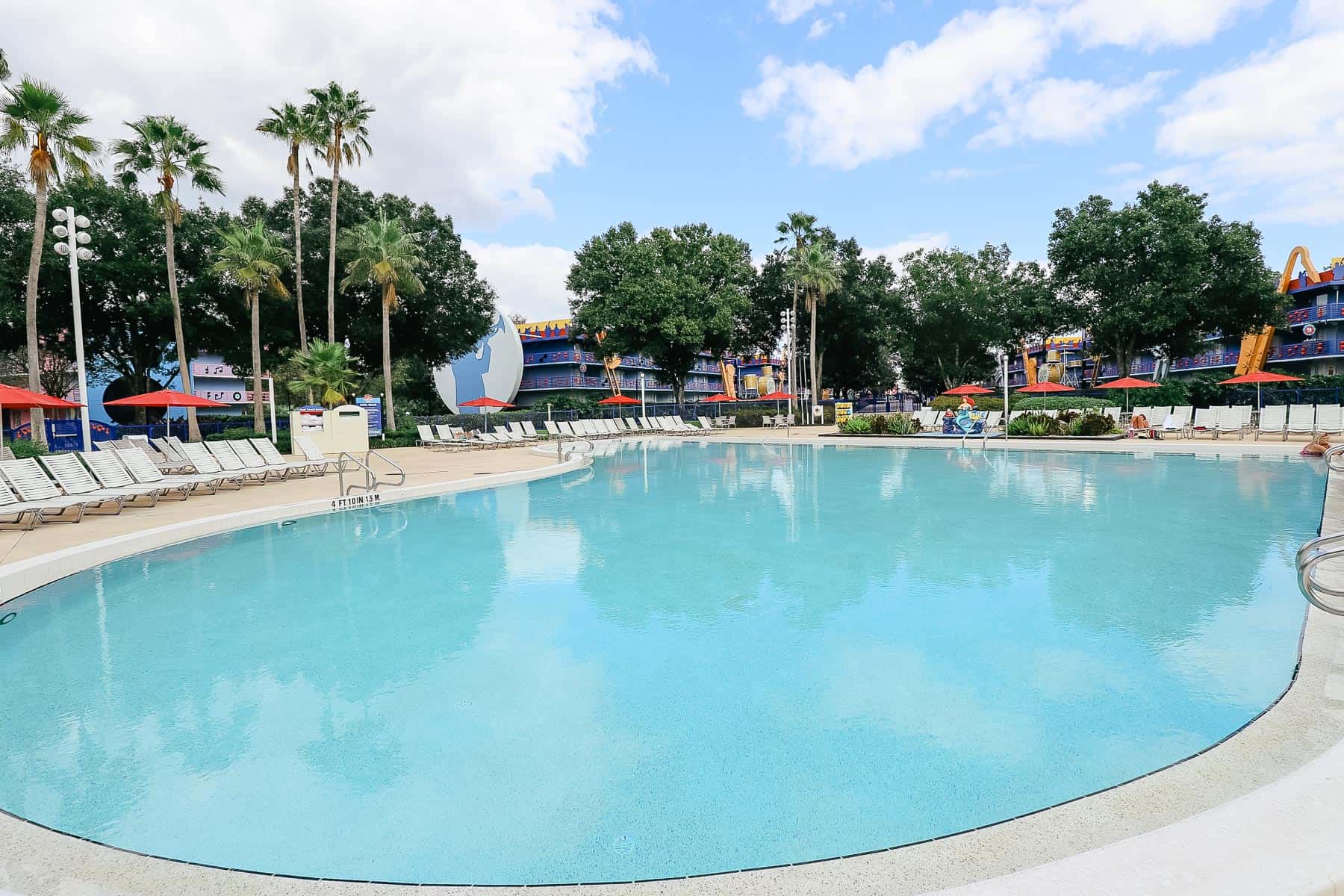 This pool is shaped like a baby grand piano. Ariel and friends sit near the pool. We have a separate article with lots more photos of the pools at All-Star Music.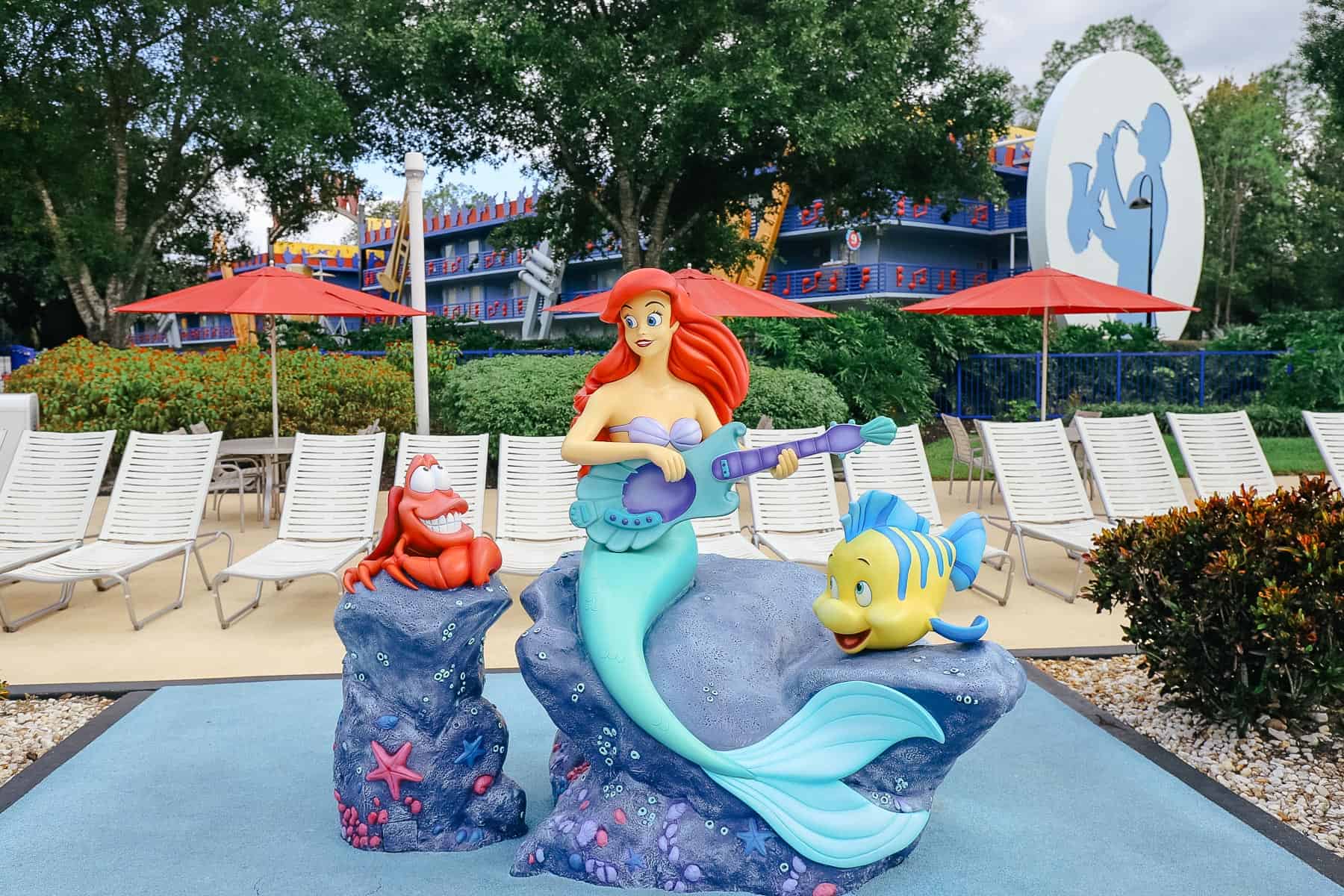 Both pools have lifeguards on duty, complimentary towels, complimentary life jackets, and a laundry room. We always try to catch up on laundry during pool time. Maybe doing laundry is a good excuse to spend an afternoon at the pool?
Related: Laundry at All-Star Music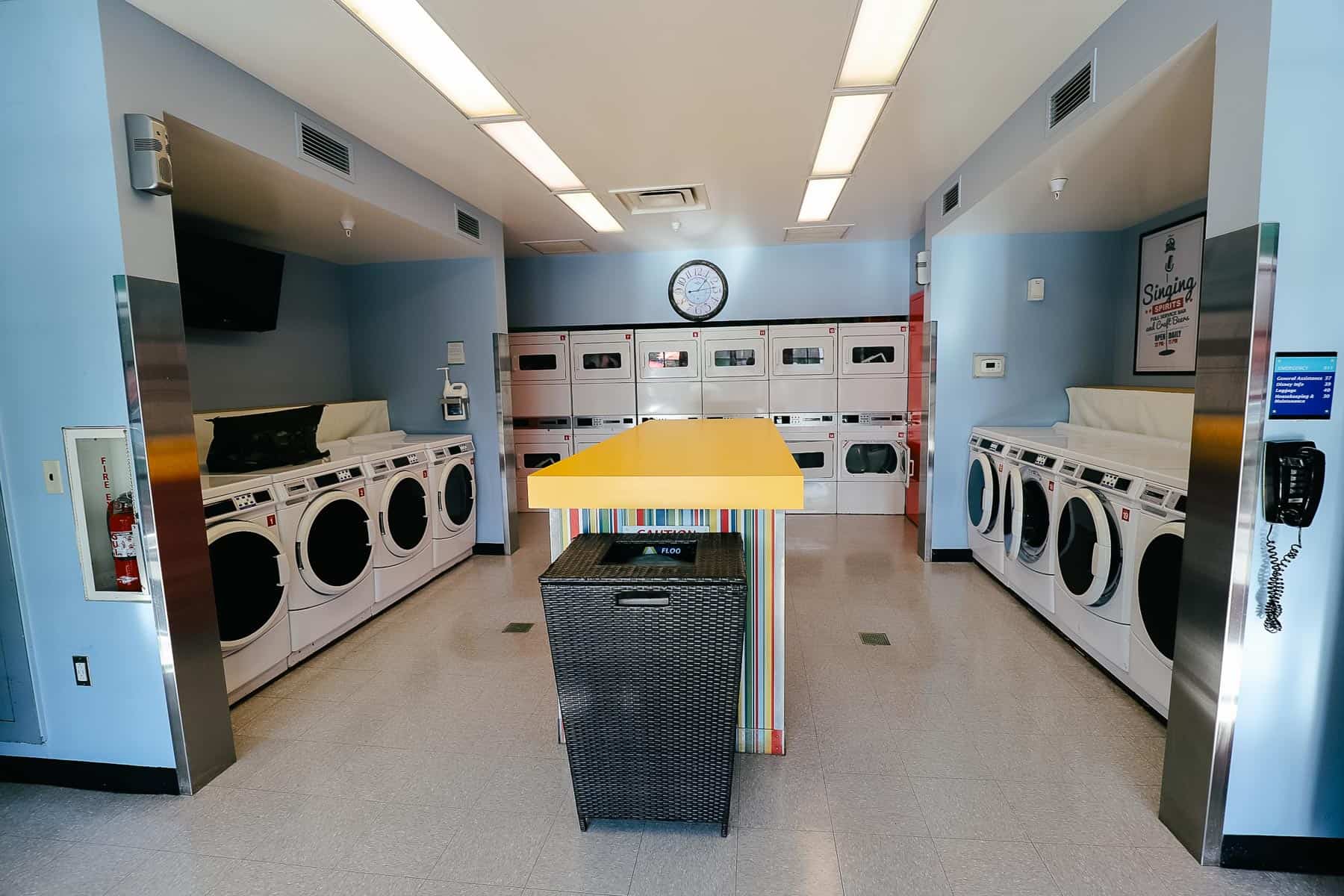 All-Star Music has a playground. It sits in an almost hidden area near the parking lot between buildings nine and ten.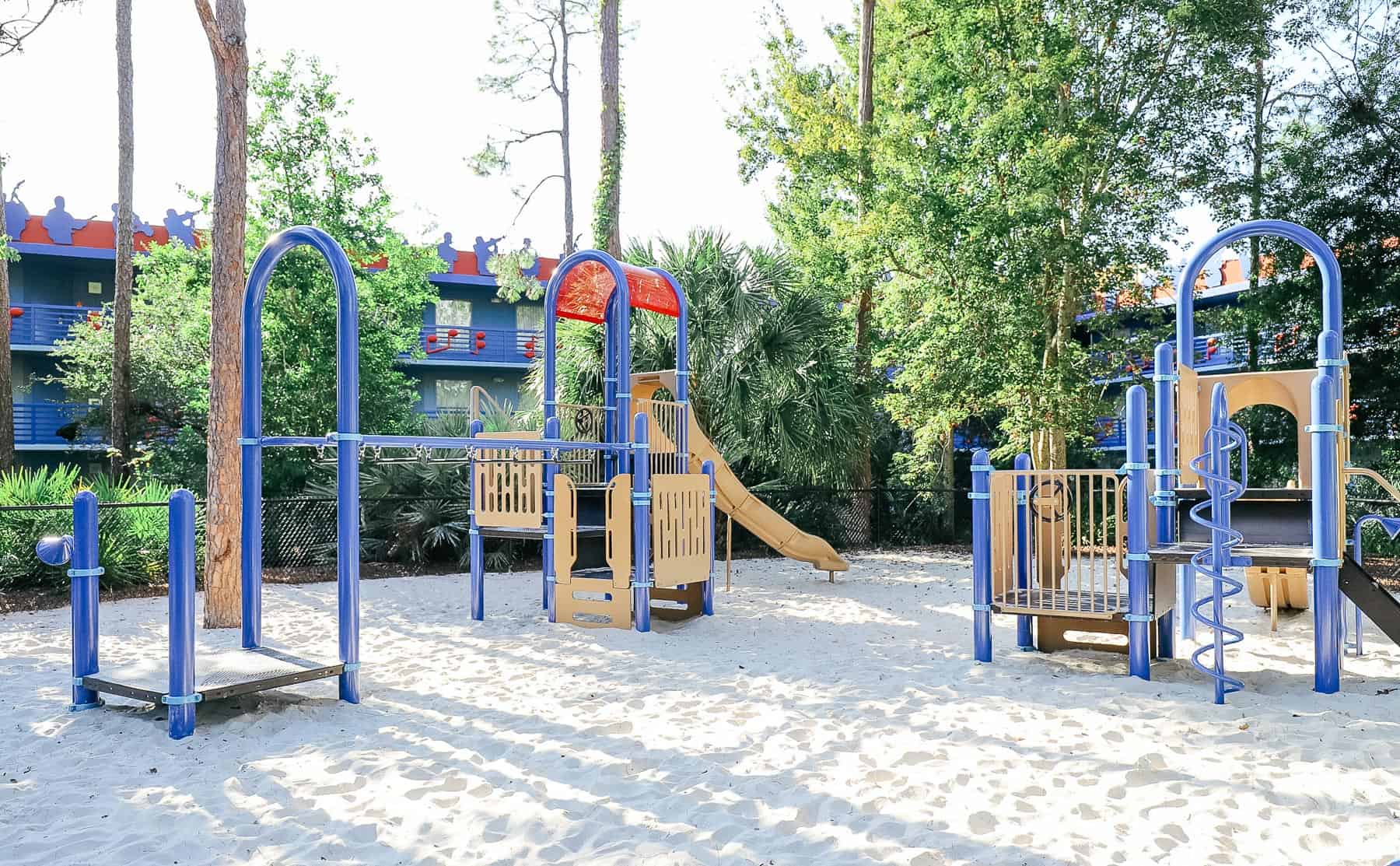 Note'able Arcade, the resort's arcade, sits across from Intermission Food Court inside Melody Hall.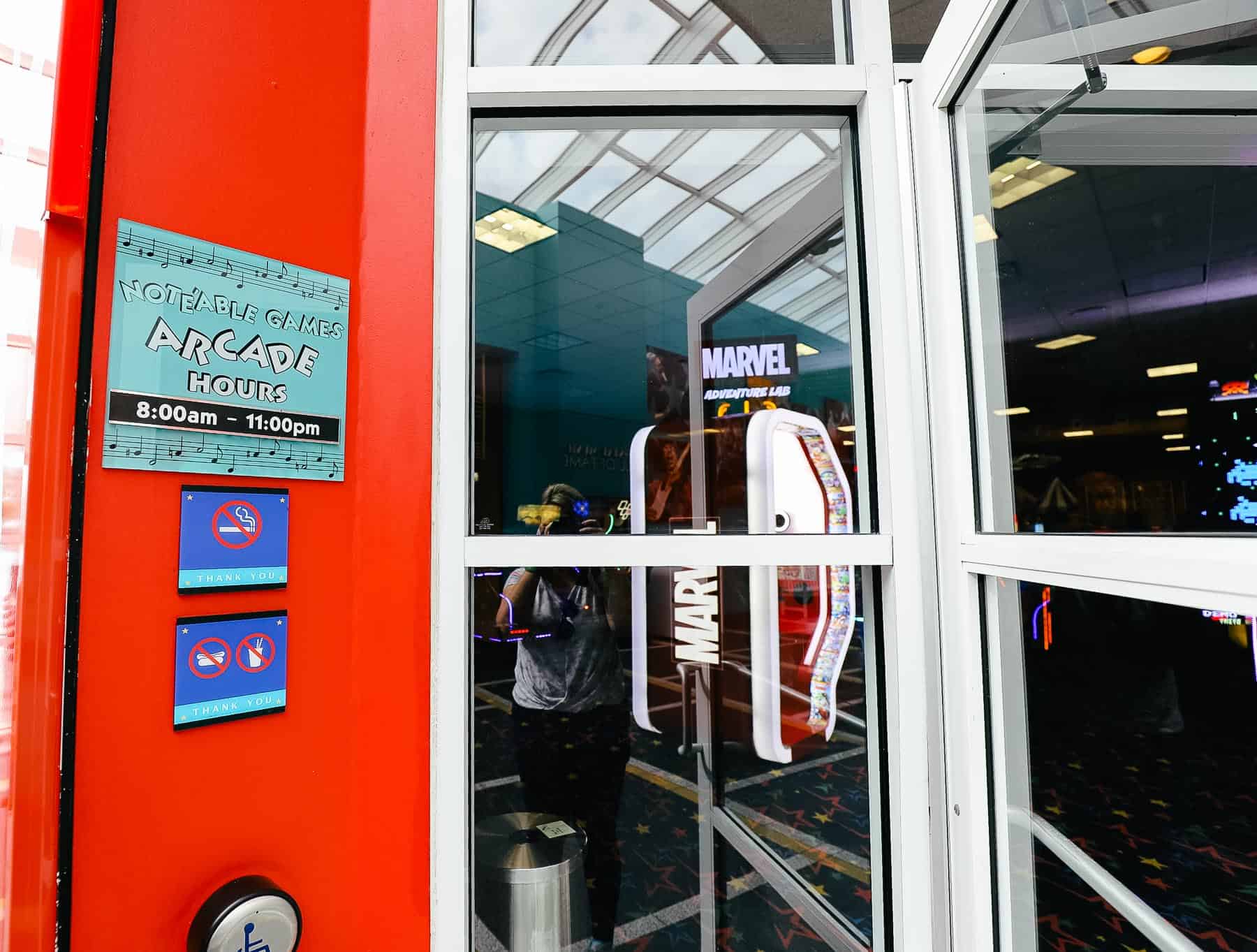 It's easy to locate the arcade because you'll pass it every time you head to or from the bus stop. Like all the arcades at Disney Resorts, you'll find plenty of games inside.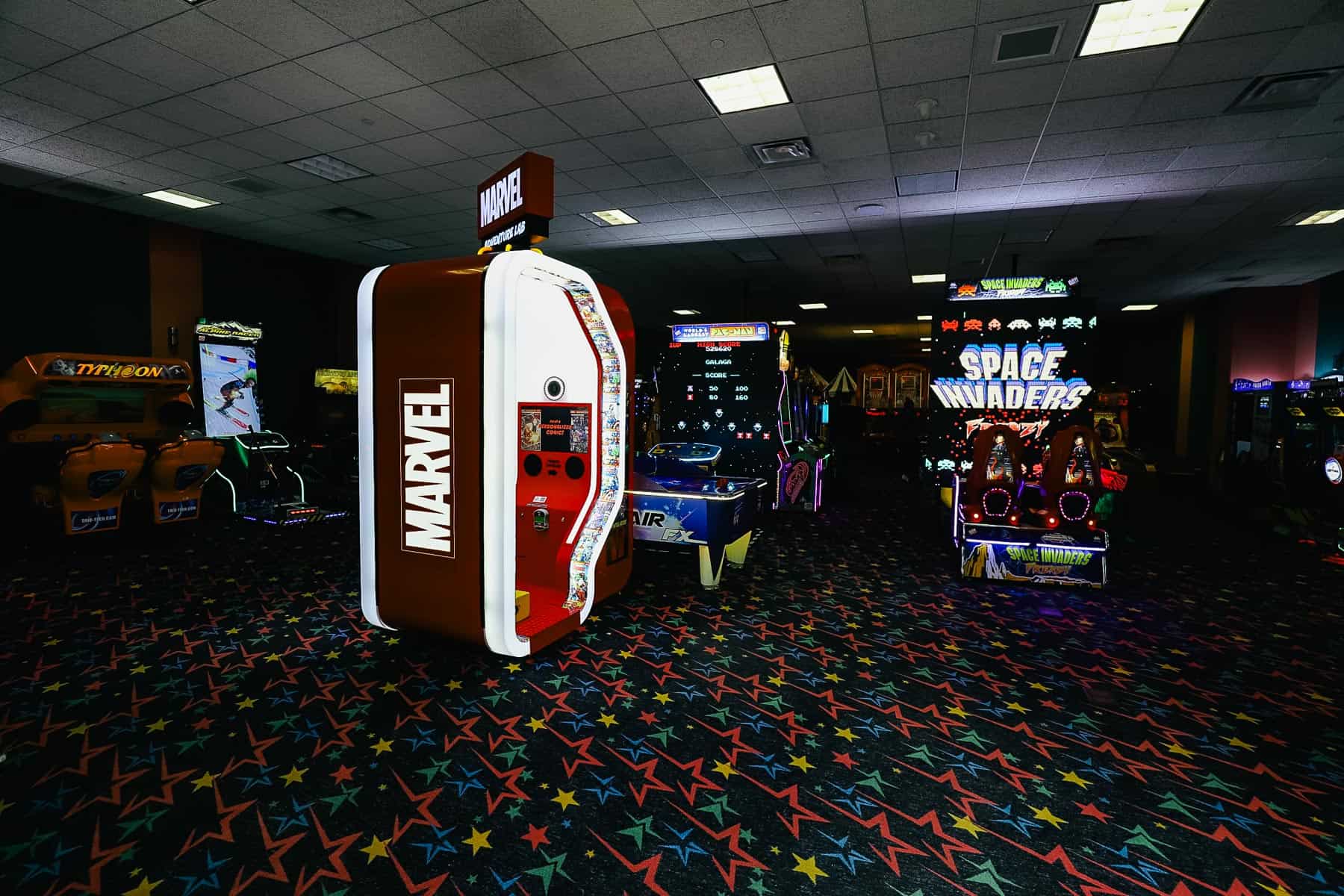 Disney's Movie Under the Stars program is held nightly by the pool. A different Disney movie or animated film is featured each night. We post each resort's movie schedule monthly.
Guests can also jog the parameters of the entire All-Star Resorts complex. It's a decent place to run and relatively simple to stay on course. However, you'll have to cross the street a few times.
Maestro Mickey's, the resort gift shop, is located inside Melody Hall with a separate entrance from the bus stop. It's a sizable shop with plenty of Disney souvenirs and sundries.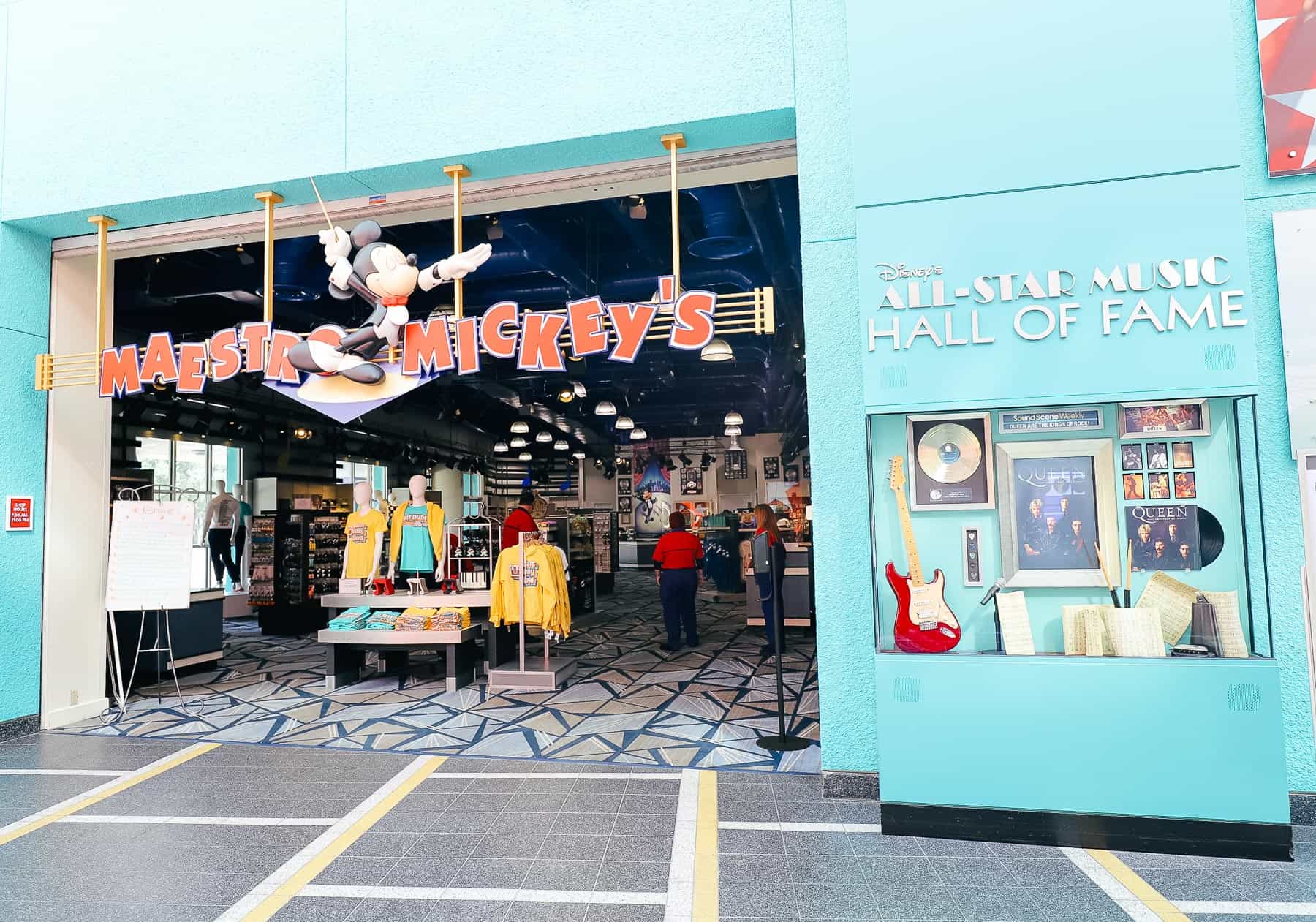 A nod to the history of music is represented inside Melody Hall.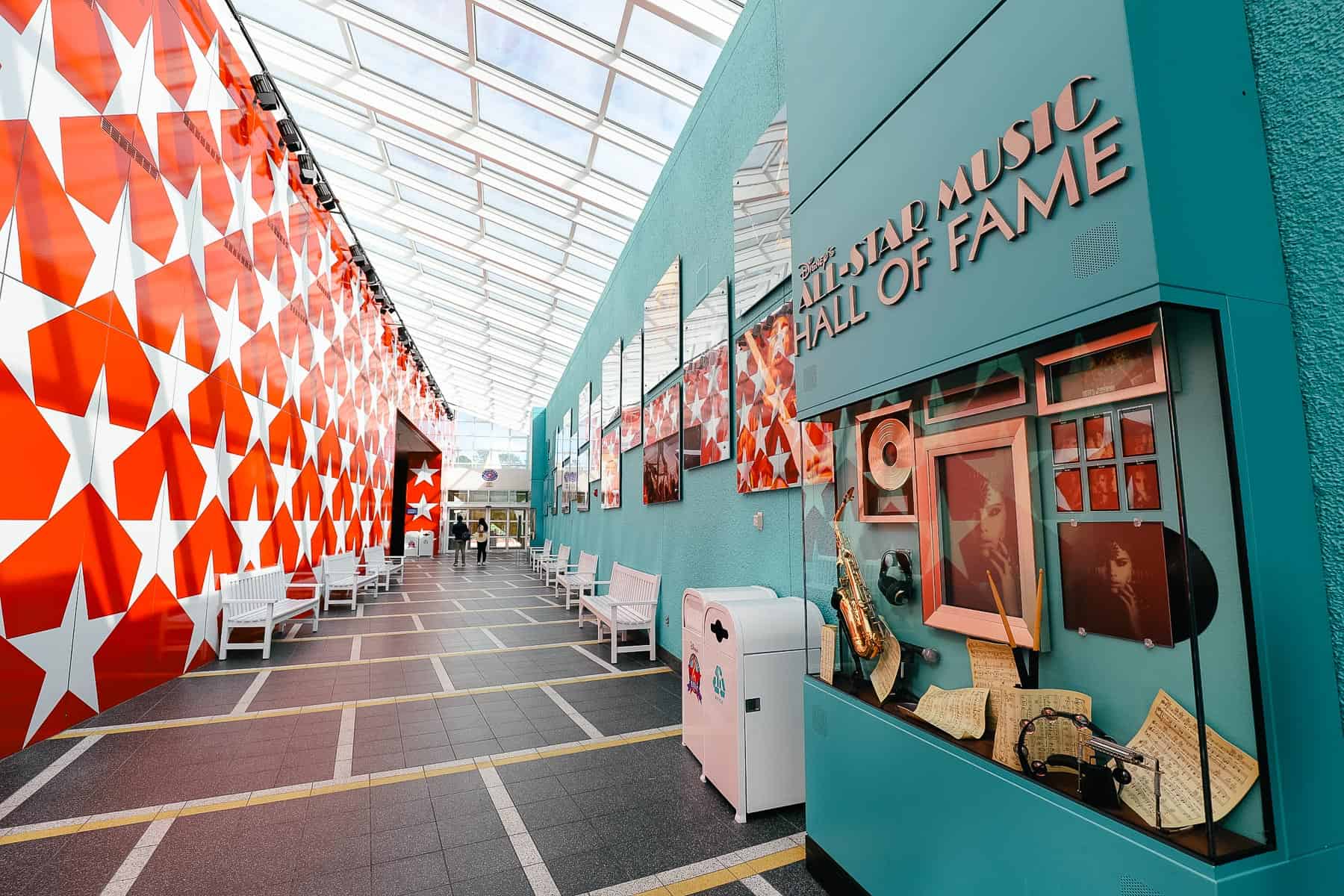 Whether you're a Swiftie, a member of the Nippy fan club, or enjoy a plethora of music genres, you'll want to take the time to browse the memorabilia in Melody Hall.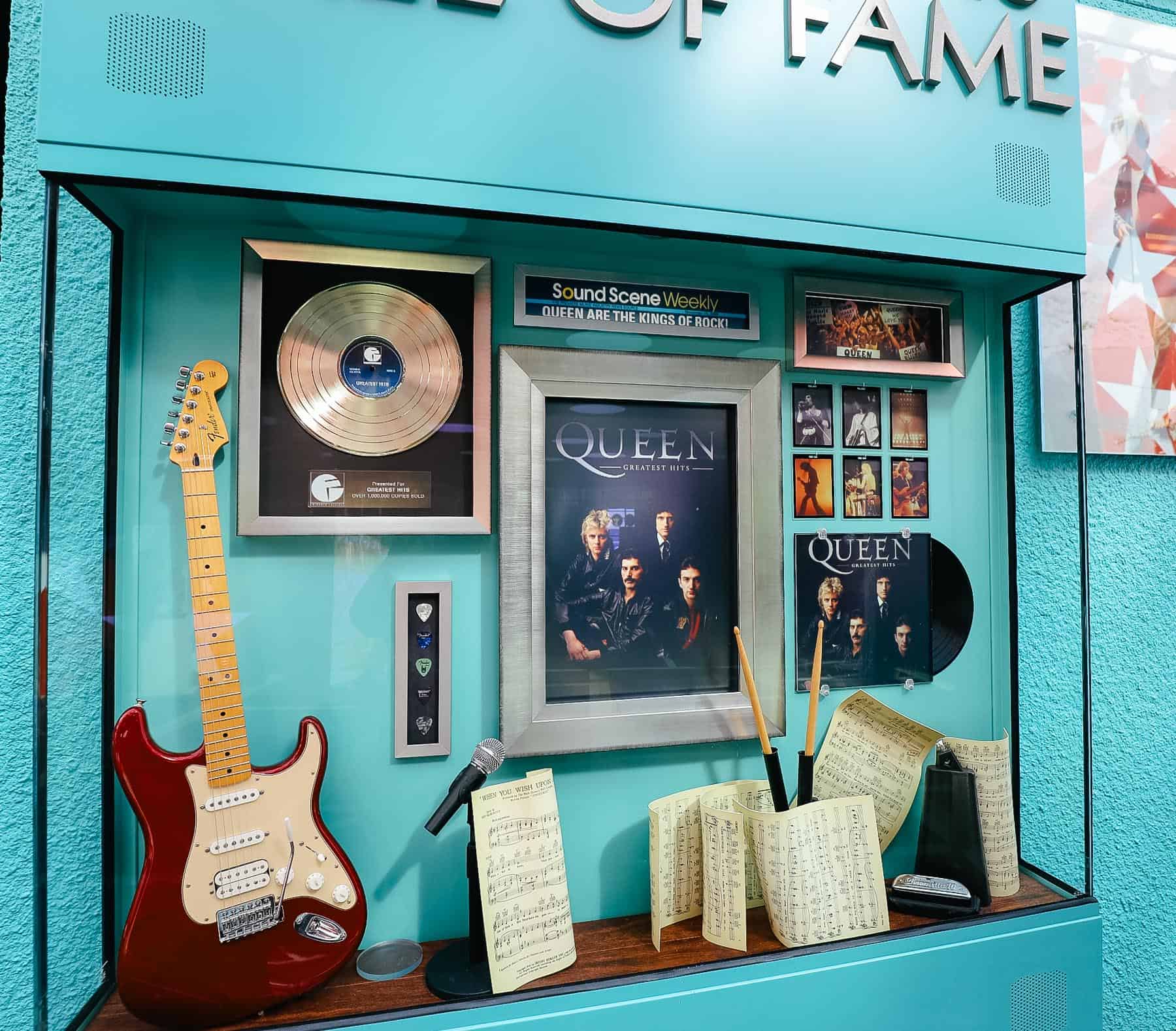 Photos of famous musical artists line the walls. You might notice how the wall of stars across the hall reflects their images while the skylights above allow light to flood the space.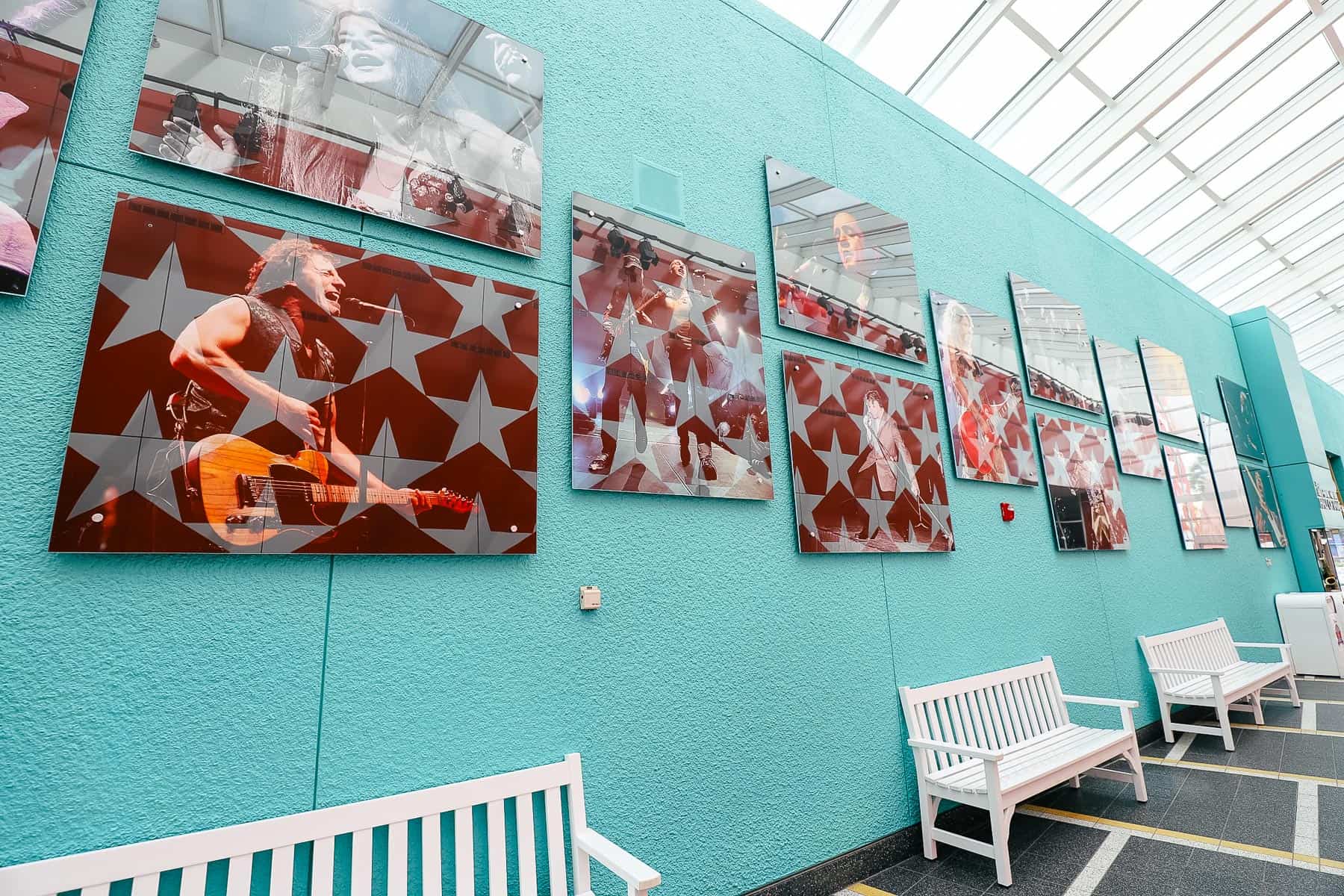 Transportation
Like the other Animal Kingdom Area Resorts, transportation at All-Star Music is limited to Disney's bus service. These resorts aren't near a park that offers multiple forms of transportation.
A large bus stop sits in front of Melody Hall. You can take a bus to the following locations:
Magic Kingdom
Epcot
Hollywood Studios
Animal Kingdom
Disney Springs
Typhoon Lagoon Water Park
Blizzard Beach Water Park
We never waited more than nine minutes for a bus during this stay. Some might argue that the All-Star Resorts are far from everything or take forever because they stop at each resort.
Our experience (we track the times) is that they are not significantly farther away than most other resorts. Also–they do not always stop at the other resorts.
We have rarely experienced where a bus stopped at each resort before heading to a park. So, I talked with a bus driver to clarify the situation. She told me that they only do so when radioed to share buses, which usually happens at the slower times of the day. For instance, you might share a bus with another resort between 10:00 a.m. and 5:00 p.m.
Each resort has a bus stop at the park. So, this scenario will likely only happen when traveling from the resort to the theme park.
*A separate bus stop is provided for anyone taking an airport shuttle to and from the airport. Disney does not provide those services, and they are an additional cost.
Related: Transportation Options at Disney's All-Star Resorts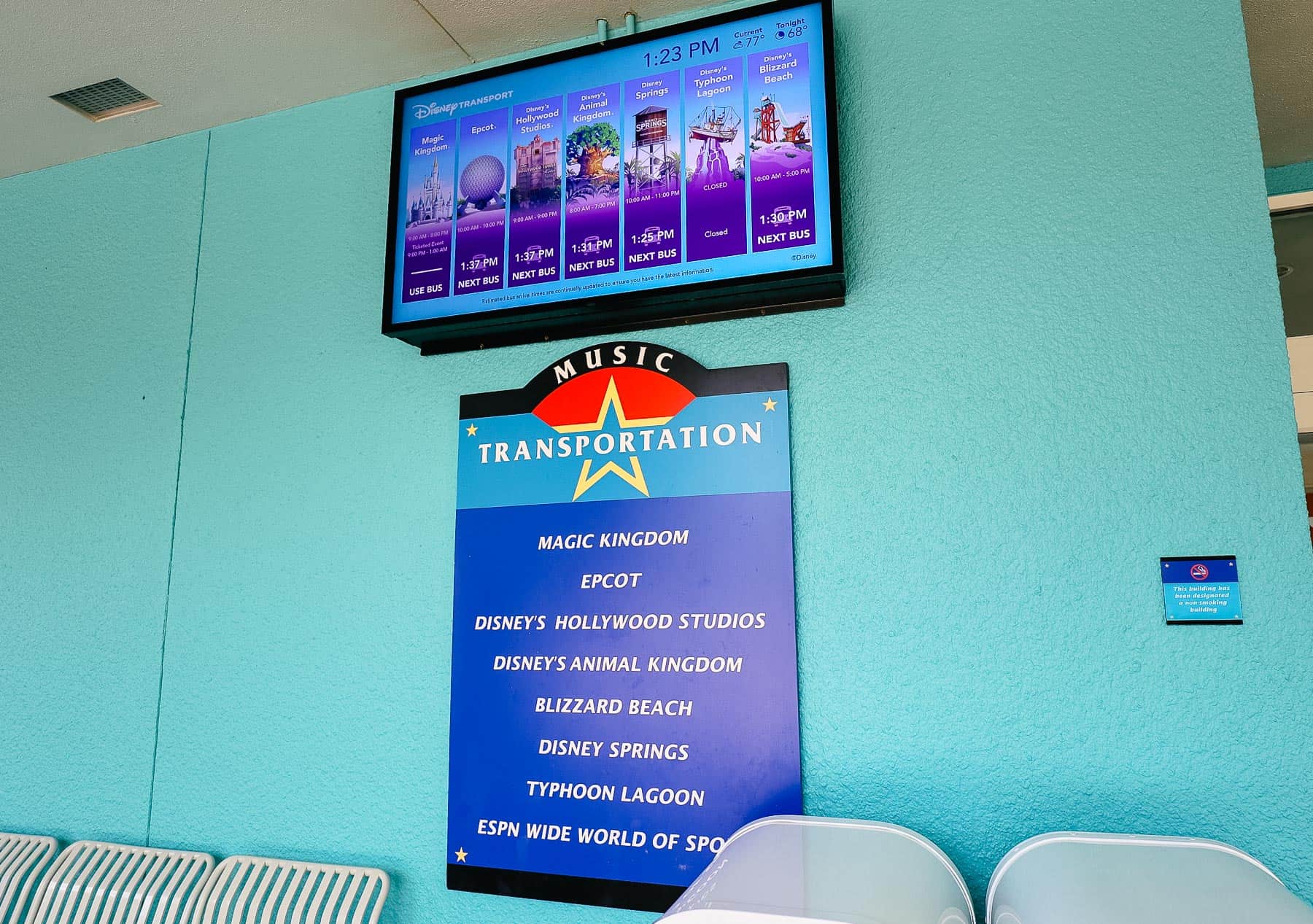 Pros and Cons of Staying at All-Star Music
Overall, the positives far outweigh any negatives at Disney's All-Star Music. It's hard to complain about the rates if you find one for $150.00 or less per night. Anything over that, I might compare elsewhere. However, remember, you won't have to pay for parking or resort fees at All-Star Music.
As far as children, they usually love the larger-than-life theming at the resort. It's doubtful they'll know the difference between a fancy hotel and a cheap one. Plus, the resort has two pools, a playground, and an arcade! So there's plenty to keep them busy on a rest day at the resort.
Unfortunately, All-Star Music is limited to only having one food court. So, if you're expecting restaurant-quality meals at the resort, you'll be disappointed. However, the food court has plenty of items and will suffice for several meals during your stay. But I wouldn't rely on having to eat there every day.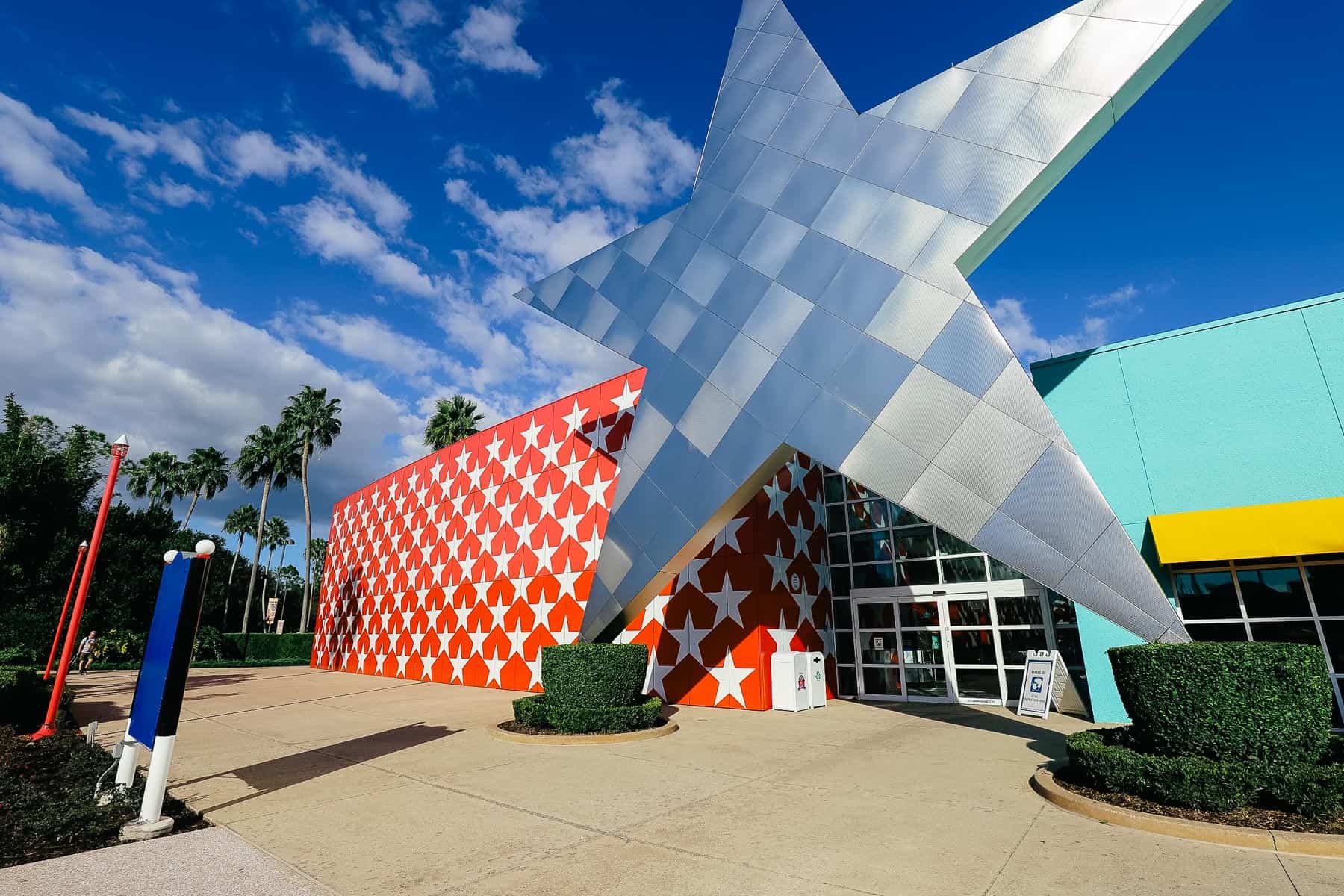 And while the rooms have recently been refurbished, you will have to walk outdoors to access them. While this isn't necessarily a huge deal, you'll want to plan how to handle inclement weather in advance.
The last thing you'll want is to come back from a theme park in the pouring rain and have to walk to Country Fair to return to your room. So don't forget to pack plenty of ponchos. It rains often in Florida.
We experienced this issue once during our stay at Country Fair. Thankfully, we almost always carry a rain jacket and umbrellas. So it wasn't a big deal. But if we had gotten caught in a downpour, we'd have been completely soaked by the time we returned to the room.
Review Rankings for All-Star Music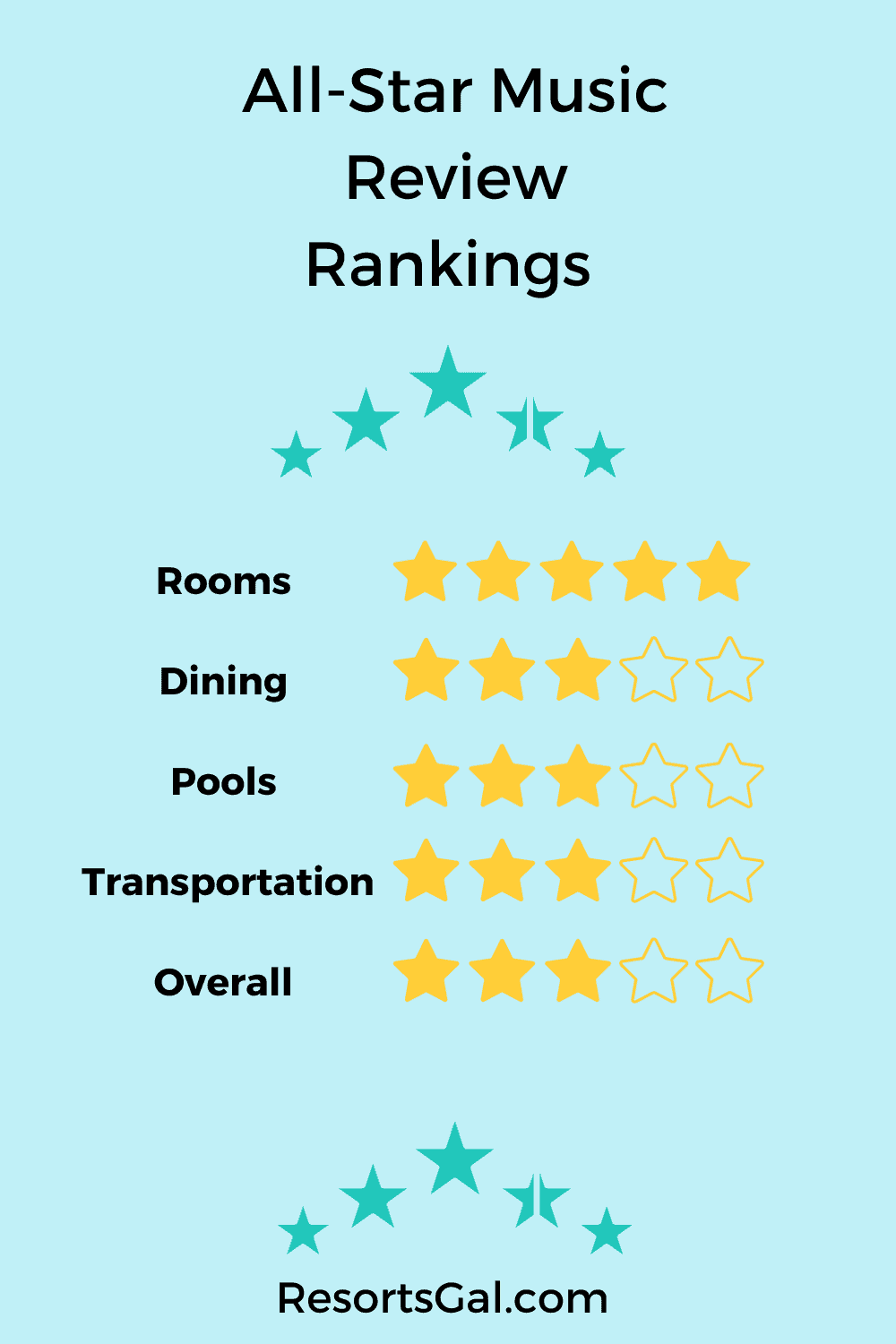 Final Thoughts
Disney's All-Star Music Resort is an excellent option for those with small children or anyone not wanting to break the bank for a hotel stay. The resort has a fun pool, decent dining options (that often work well for picky eaters), and recently renovated rooms.
However, if those aren't the majority of your concerns, you may be happier at a resort with better dining options and other amenities. In those cases, you might consider upping your budget to a moderate resort or deluxe resort.
Most of those resorts will offer better locations, larger rooms, more amenities, and dining options on-site. However, several off-site hotels might wow you, too!
As for my family, All-Star Music has a special place in our hearts. Sure, we love to stay at the nicer resorts and splurge on lavish things like club level. But there's something humbling about a stay at the All-Stars that always reminds me of what's most important–spending time with your loved ones.
For more details about this resort, you may enjoy our resort guide:
Some of our other value resort reviews include:
Or you might enjoy these other planning articles:
In the Comments
What do you think of this All-Star Music Resort review? Have you ever stayed here or had a similar experience?