Disney's All-Star Music Resort Review
Disney's All-Star Music Resort is one of five value resorts at Walt Disney World. The resort is located in the Animal Kingdom Resorts Area, which means Animal Kingdom is the closest theme park in proximity to the resort.
This All-Star Music review will cover what you can expect in terms of staying at the resort. We'll discuss rooms, dining, transportation, recreation, and amenities.
Additionally, I'll add a few pros and cons to consider before booking a stay here. Upfront, I think that All-Stars Music is worth considering if you're looking for an affordable stay on Disney property.
The resort has a fun theming, and anyone who enjoys music can appreciate the references throughout the resort. And between us, All-Star Music has the most fun buses at Disney because of the music!
Sometimes it's the little things that make your heart sing.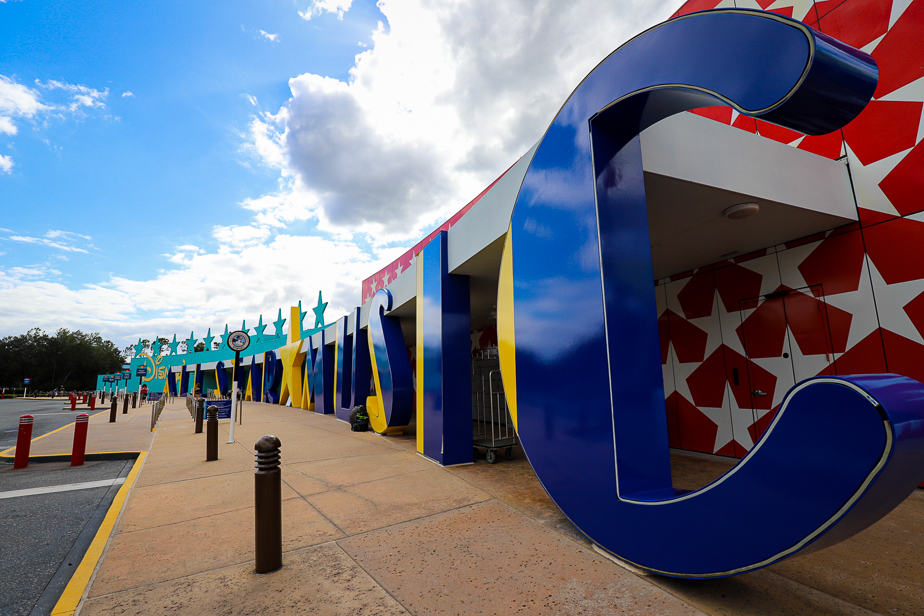 All-Star Music Resort Overview
Disney's All-Star Music Resort is one of three All-Star Resorts at Walt Disney World. The other All-Star Resorts are Sports and Movies.
The resort consists of five groupings of buildings, each their own theming. Those themes are:
Calypso
Jazz Inn
Rock Inn
Country Fair
Broadway Hotel
Each section of the resort is appropriately themed to the type of music it represents. For example, if you stay in the Broadway Hotel section of the resort, you'll see posters for Broadway musicals outside your room.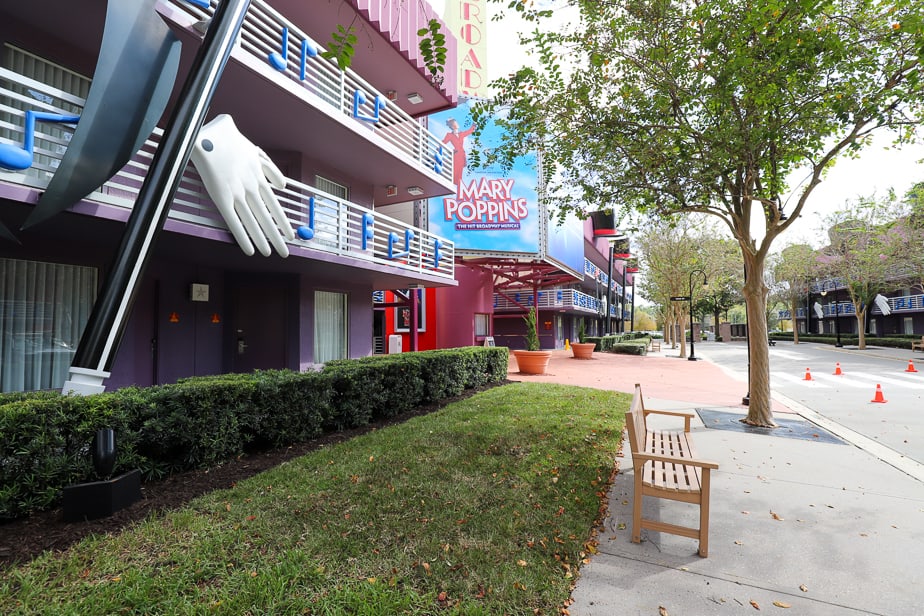 Here is one with The Lion King and Newsies is on the side.
And here's Frozen alongside Beauty and the Beast.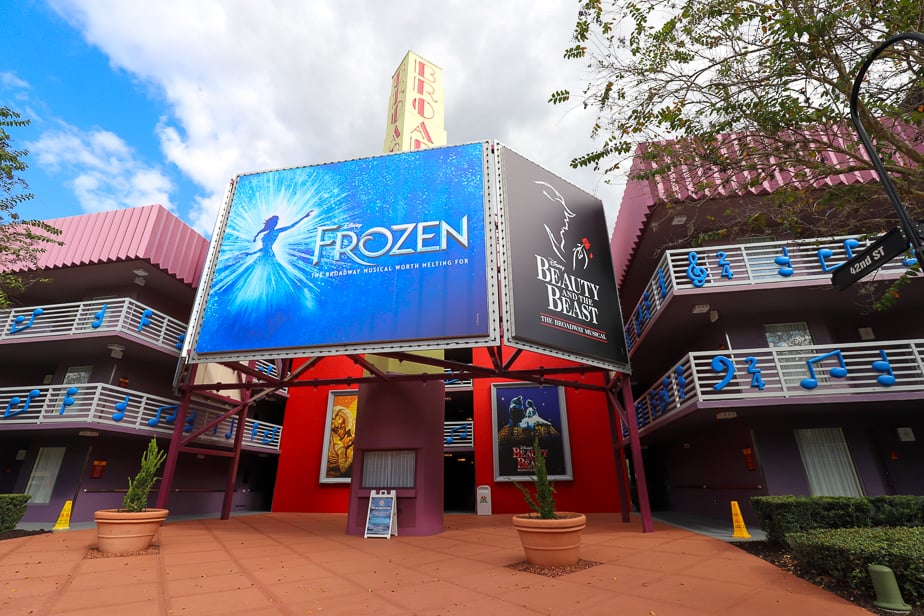 While this section is a little further out than the preferred rooms, it's my favorite.
Country Fair represents country music. Here, you'll see these fun cowboy boots that feature a few hidden Mickey's.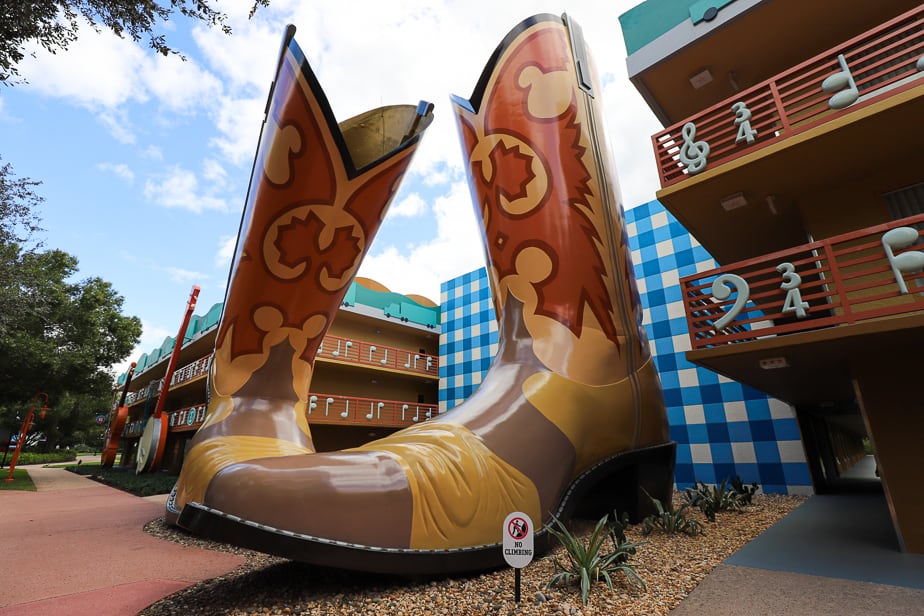 All of the landscaping at Country Fair contributes to the area's overall look. There are several picnic tables in the center of this section.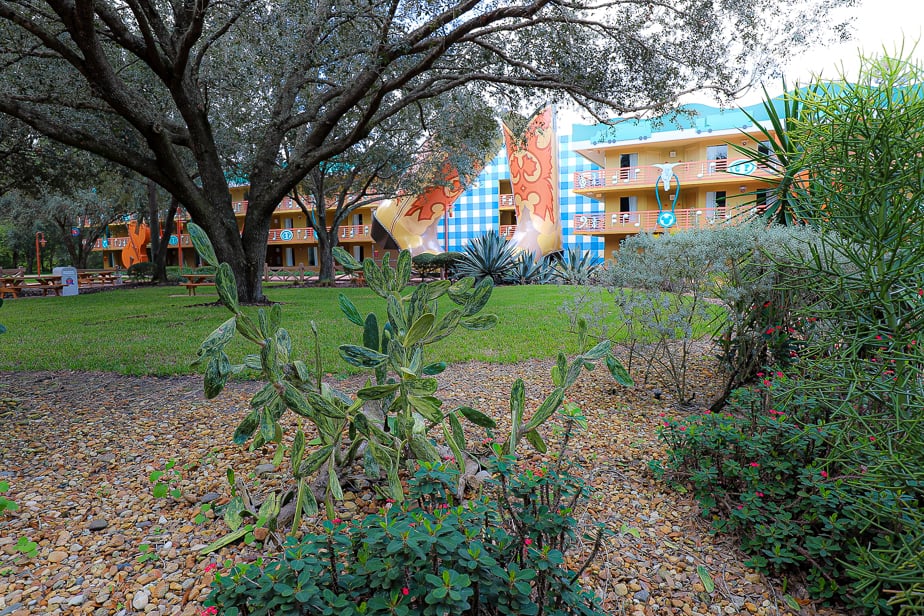 You'll see plenty of guitars, banjos, and stars decorating the different buildings.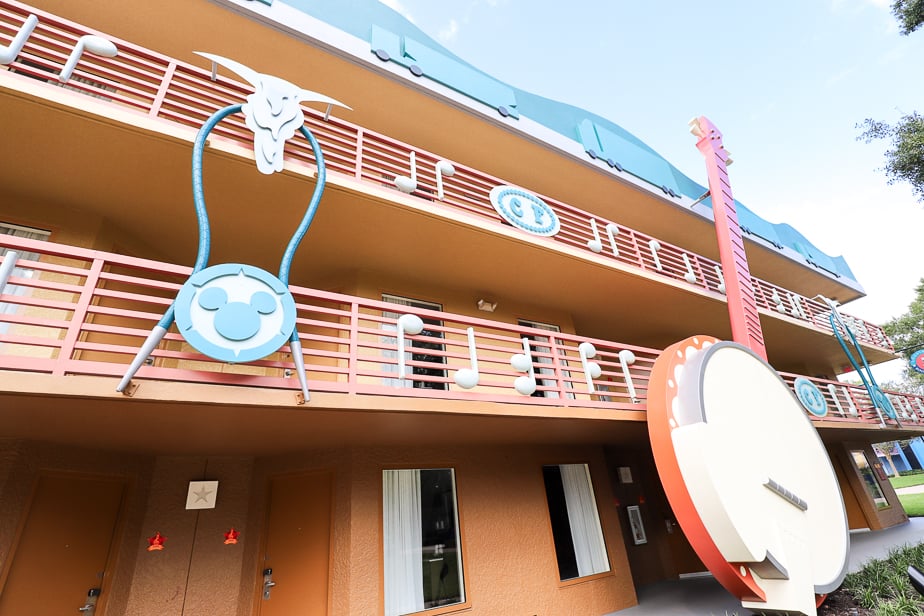 Country Fair is the furthest section from Melody Hall. You can preview the map here.
Rock Inn is another fun section with its Rock 'n' Roll theme.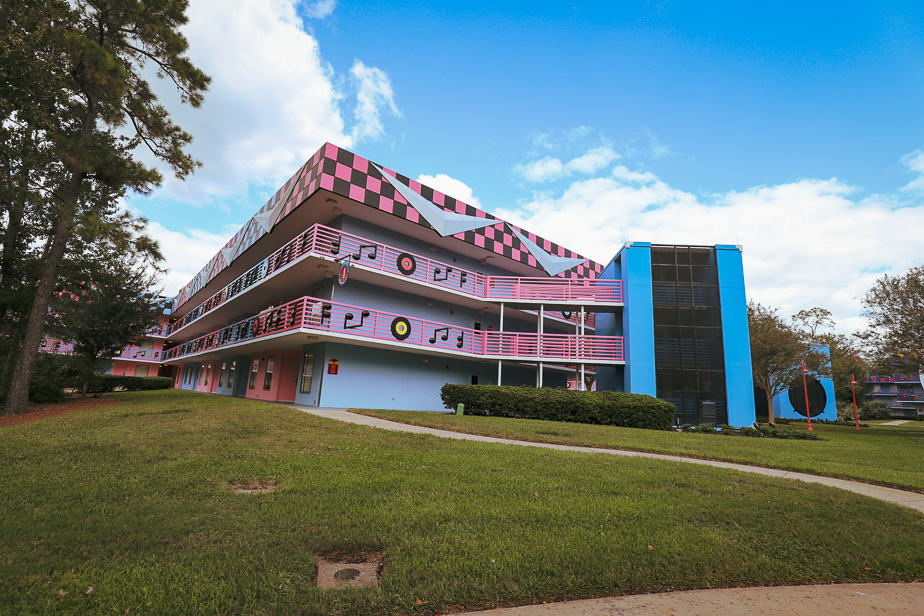 This section has that 60's look with purples, yellows, pinks, and turquoise colors.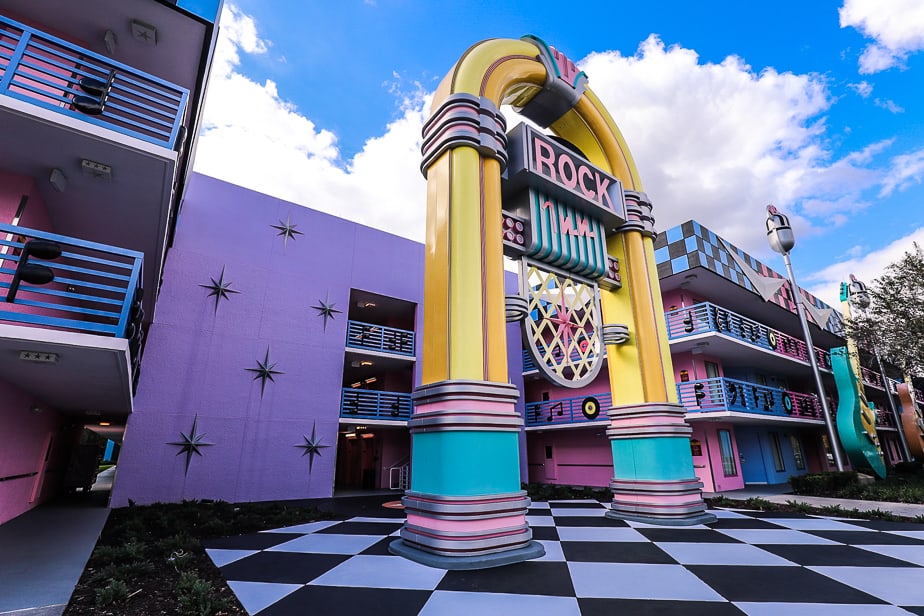 This vintage Chevrolet sits between the buildings. I think it's easy to see how children love all of these elements.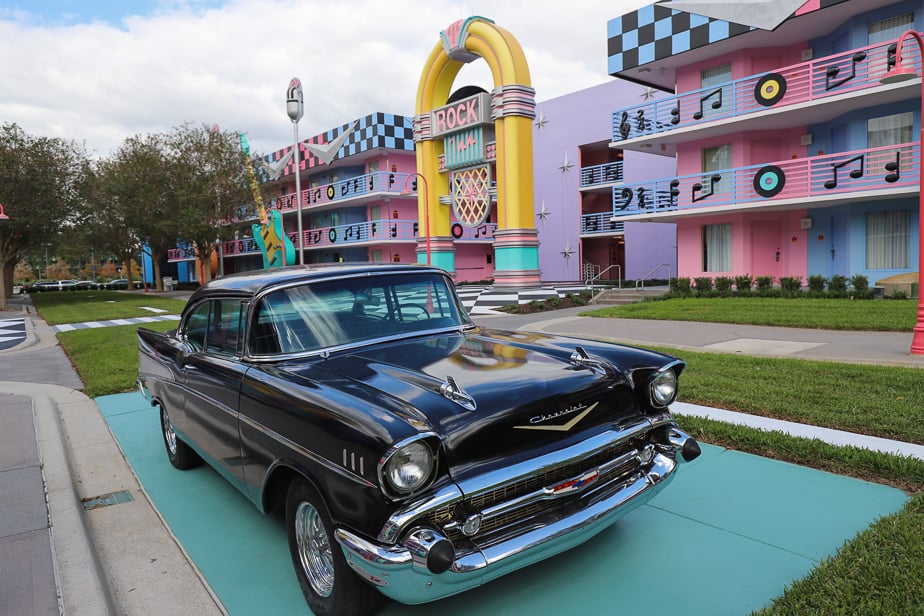 Jazz Inn offers rooms in both the preferred section and standard section.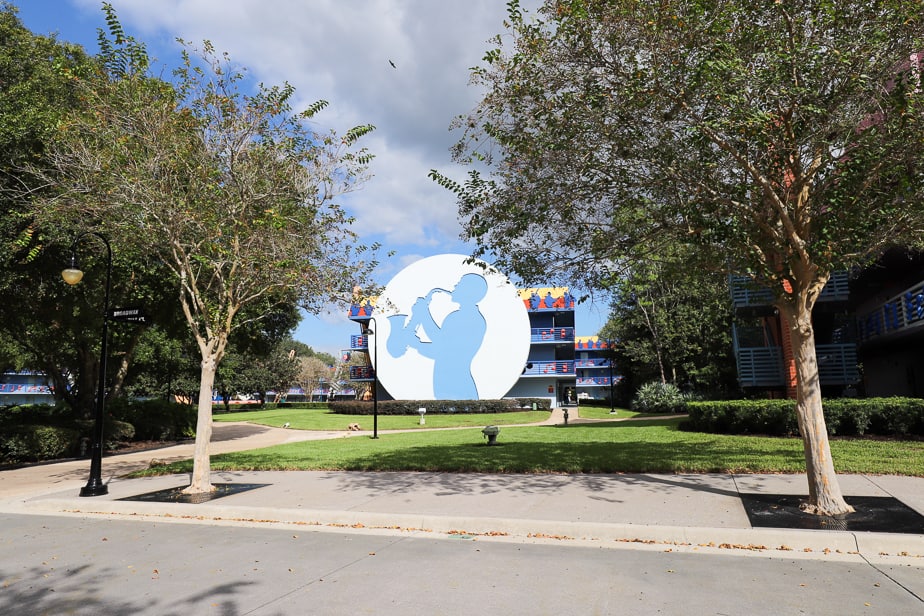 It's all saxophones, trumpets, and trombones.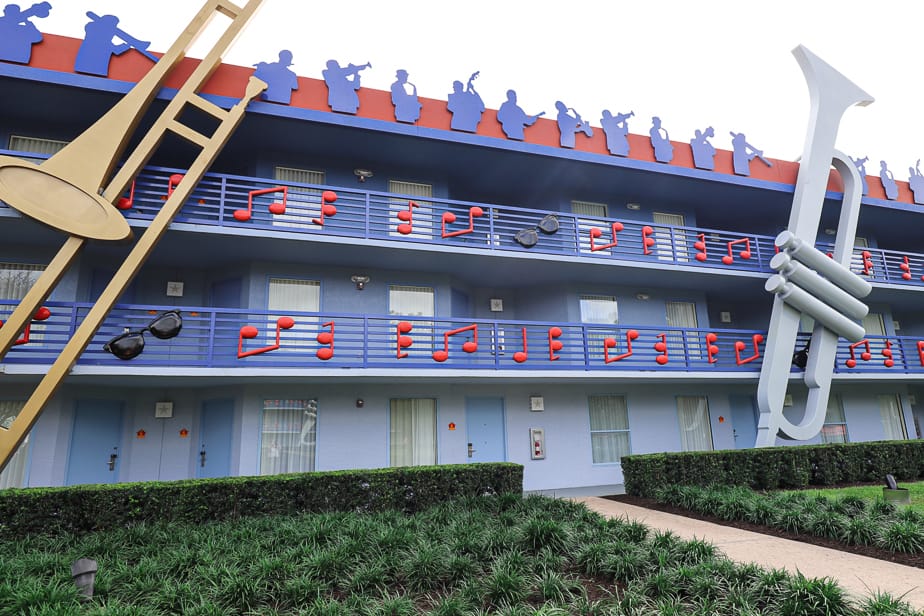 Oh, and there's a set of drums for the All-Star Jazz Band.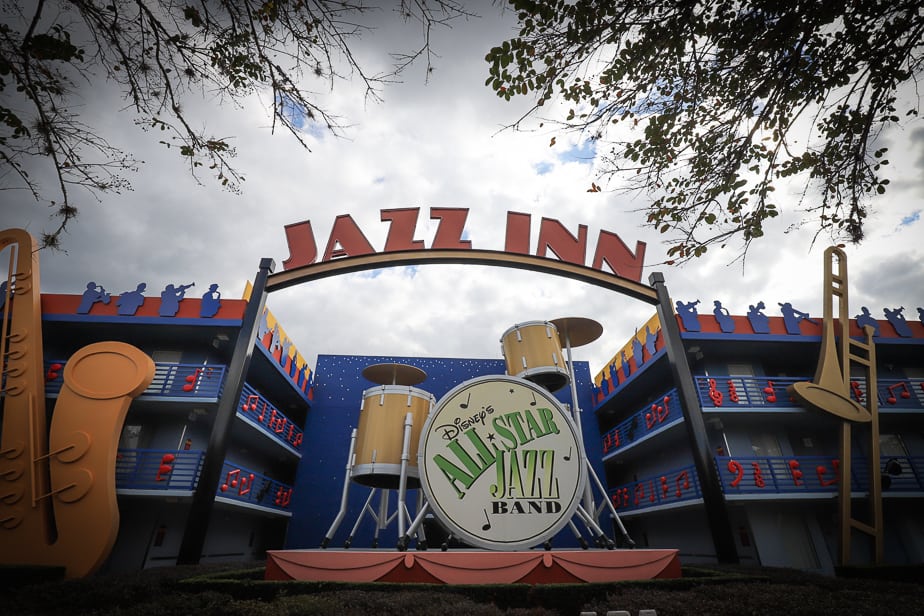 Calypso is the brightest section of the resort. Additionally, it's the closest section to Melody Hall, the resort's lobby. The rooms in Calypso are preferred.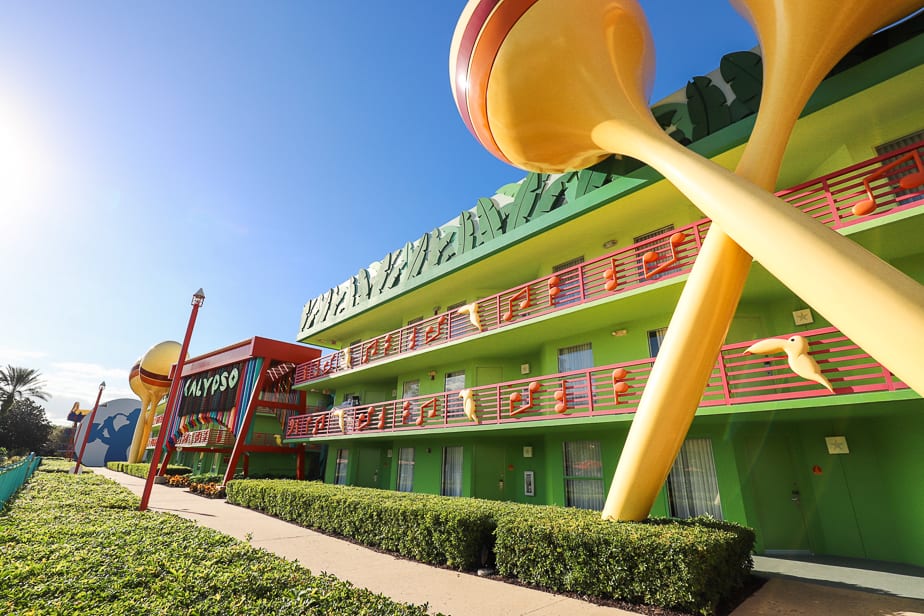 The family suites at the resort are also located in this section.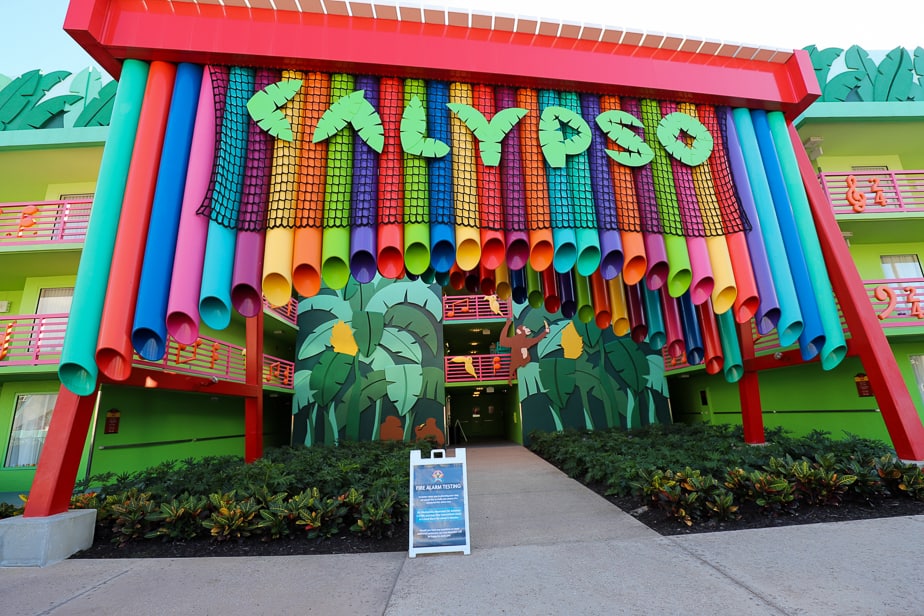 All of the buildings at All-Stars Music offer exterior entrance to the rooms. Unfortunately, this means you'll have to walk the resort's grounds to get to your building.
Each building has multiple stairwells, and there's an elevator available in the center. None of the value resorts, including Music, have rooms with balconies.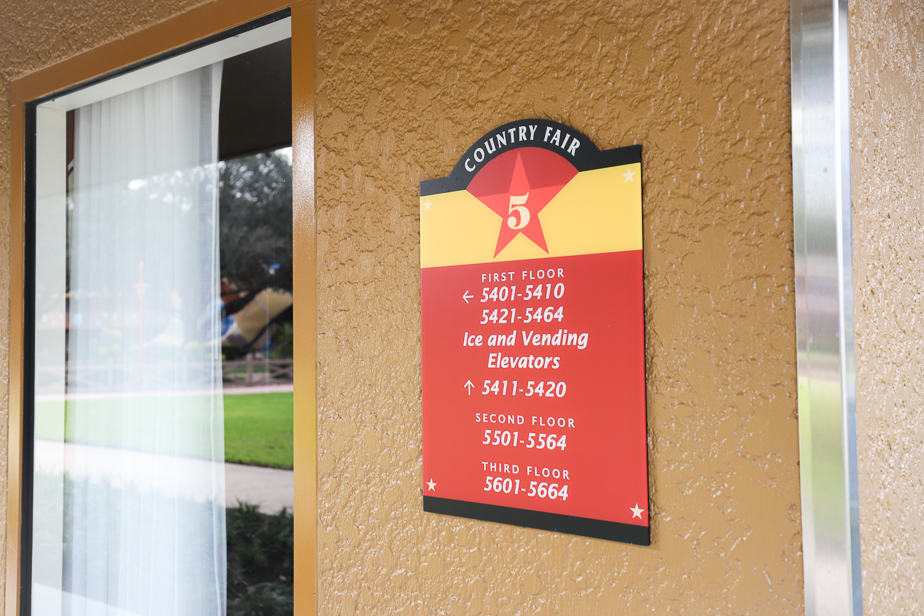 Rooms at All-Star Music Resort
All-Star Music recently underwent an entire resort refurbishment. The resort re-opened with new guest rooms. Formerly, the guest rooms offered double or full-size beds.
However, the resort now offers queen-size beds. And the new rooms are almost identical to what we saw when Pop Century was remodeled a few years back.
There are three different types of rooms available at All-Star Music Resort. Those rooms are standard, preferred, and family suites.
Standard rooms sleep up to four adults and offer a queen-size bed along with a queen-size Murphy bed. When the Murphy bed isn't in use, it converts to a table with two chairs.
For the sake of this review, we'll look at a few photos of the Pop Century room. Or you can preview the new room photos for All-Star Music here on Disney's site.
While I've spent a good deal of time at the All-Stars over the last few months, I haven't had a chance to stay here since the rooms were updated. But rest assured, I've stayed here many, many times over the years.
The only noticeable difference in these rooms is the artwork featured over the beds.
Bathrooms are tight, but it's nice that the vanity is located in a separate area, making it possible for multiple people to get ready simultaneously.
Those who want to be close to the lobby, bus transportation, or dining will want to consider a preferred room. The following buildings are considered a preferred location:
Calypso 1
Calypso 10
Jazz Inn 2
Jazz Inn 9
And lastly, the All-Star Music Resort has family suites for larger groups or anyone wanting a little extra space to spread out. The family suites sleep up to six adults and offer two queen-size pull-down beds in the main living area. Additionally, there's a separate bedroom with one queen-size bed.
Family suites have a few extras like a kitchenette with a mid-size refrigerator, microwave, and counter space. You can easily prepare breakfast or reheat meals in this type of room.
Dining at All-Star Music Resort
All-Star Music has one quick-service location and a pool bar. The quick-service, Intermission Food Court, serves a decent variety of food items for breakfast, lunch, and dinner.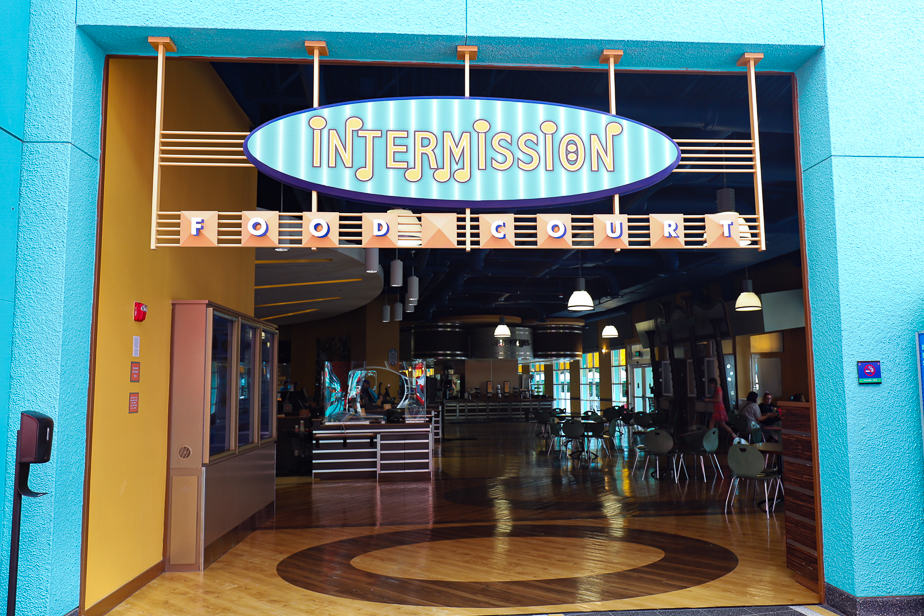 The food court is located in Melody Hall behind the resort's gift shop. The food court is themed after a concert hall. Seating inside Intermission is a combination of booths and tables with chairs.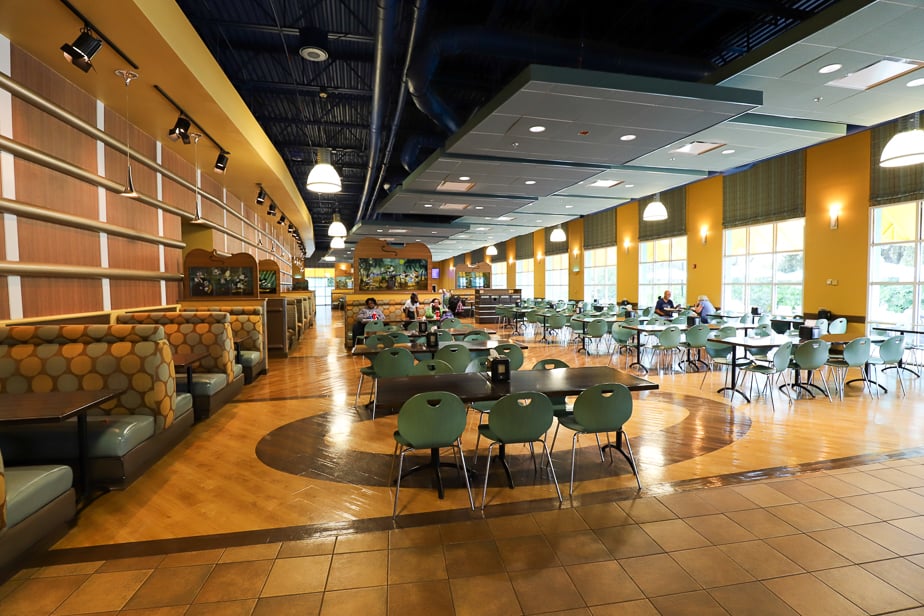 Here is an overall look at the entire food court area.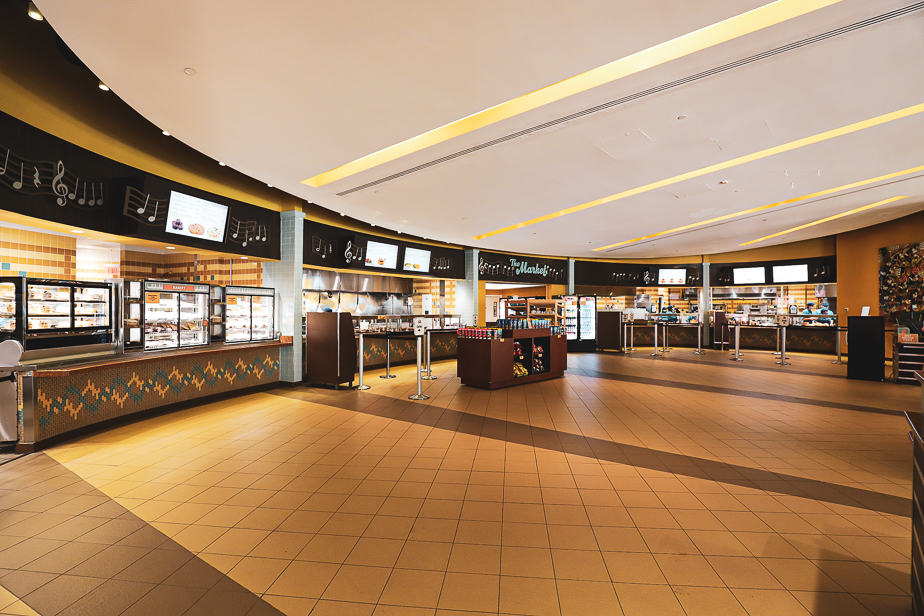 And the drink and beverage station sits between the food court and dining area.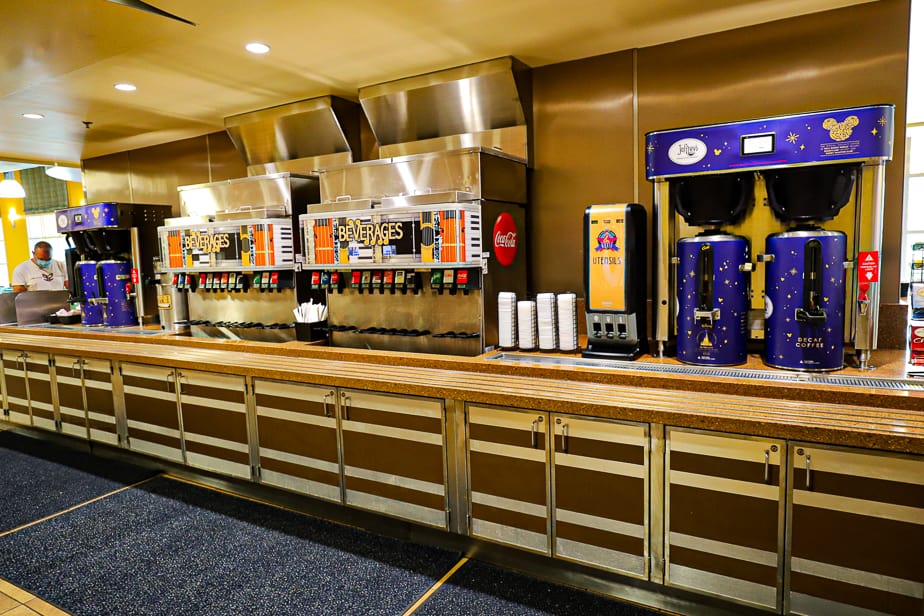 Here are some examples of what you might see at the All-Stars Food Court: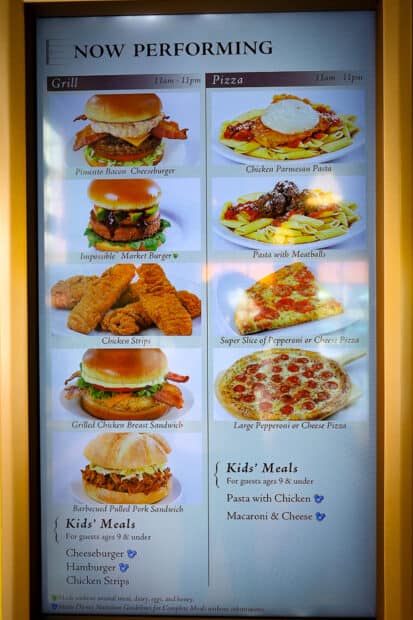 There are plenty of simple options for kids' meals like pizza, macaroni and cheese, pasta, burgers, and chicken strips.
Several grab-and-go cases contain plenty of baked items and sweet treats.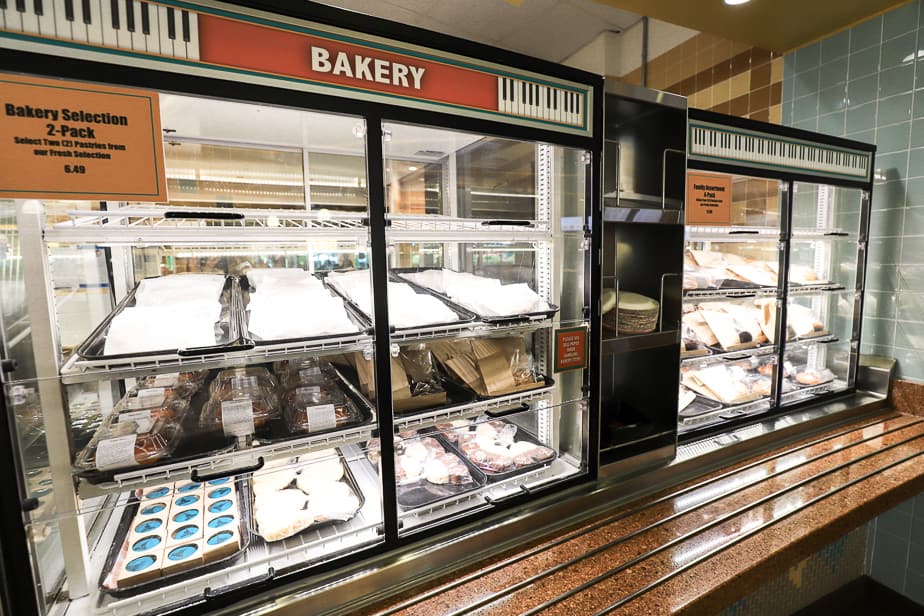 Refillable mugs are available. You'll have to walk to the food court anytime you want to refill them.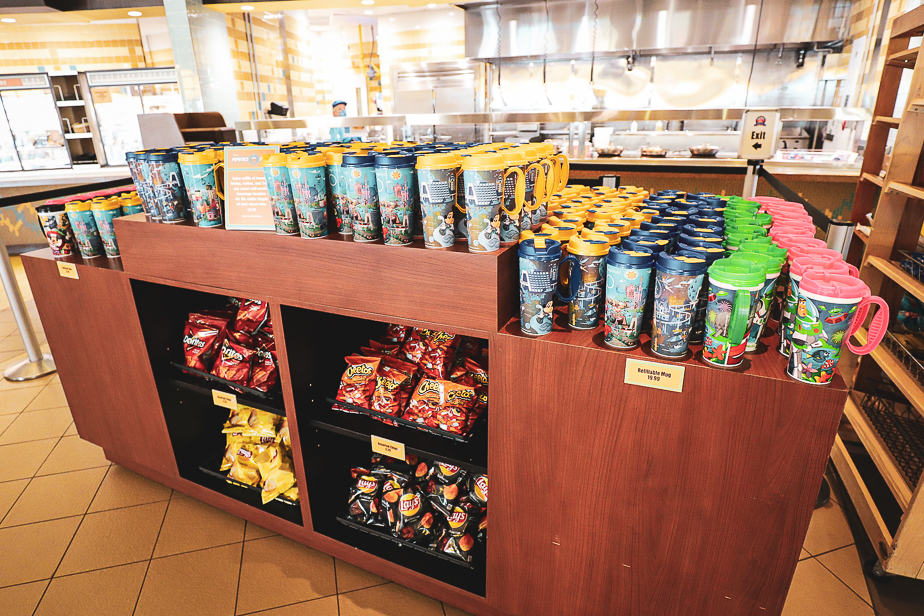 There were several pieces of fruit, cereals, and a few allergy-friendly items.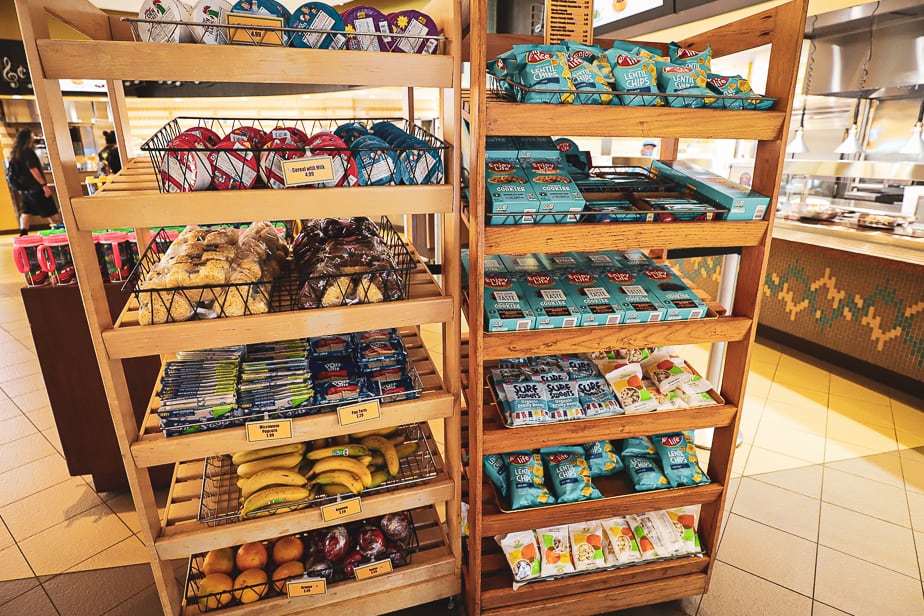 This case contained a large number of Coca-Cola products.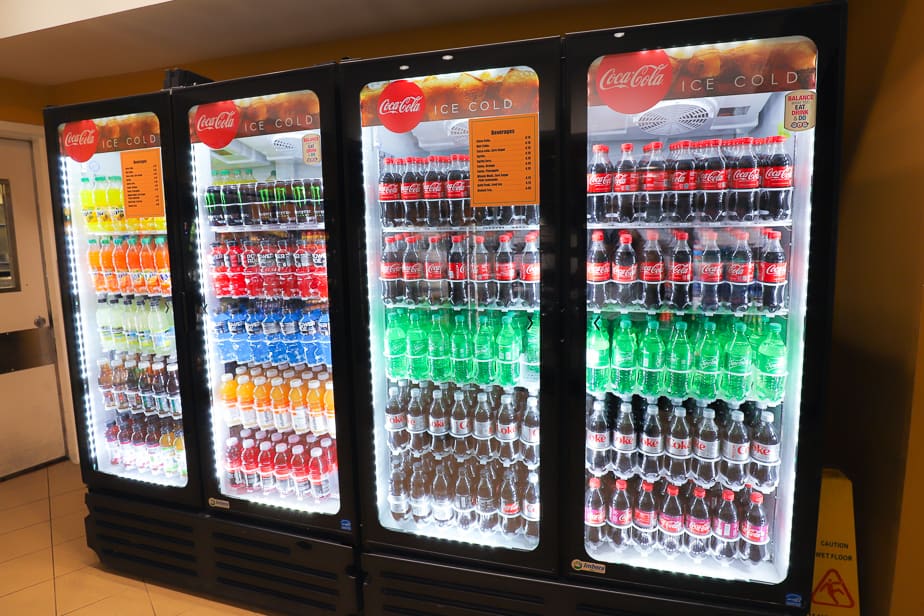 If you decide to order pizza or do mobile order, you'll pick it up at this window.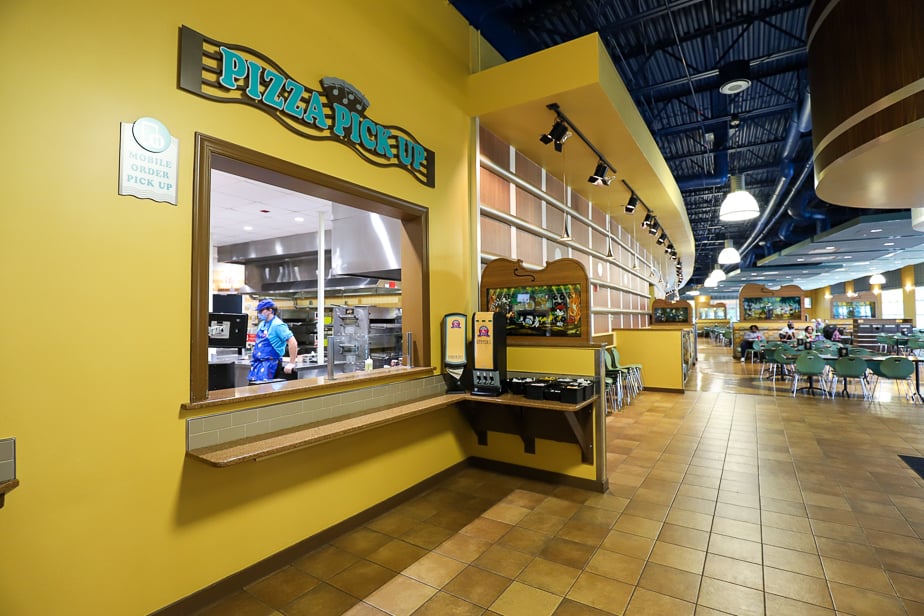 Singing Spirits Pool Bar is the resort's pool bar. It is located outside Melody Hall, directly behind the Intermission food court.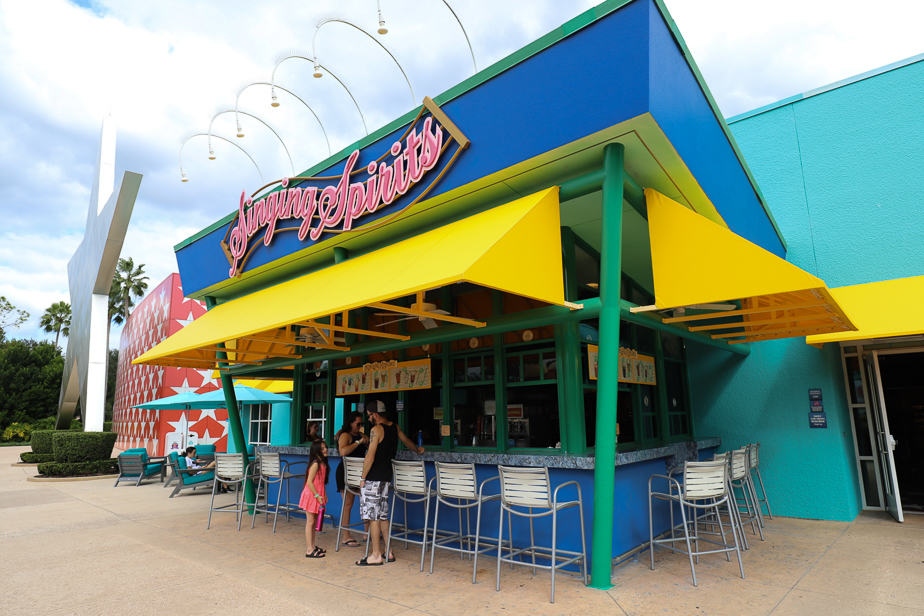 The pool bar is open daily from 12:00 p.m. until 11:00 p.m.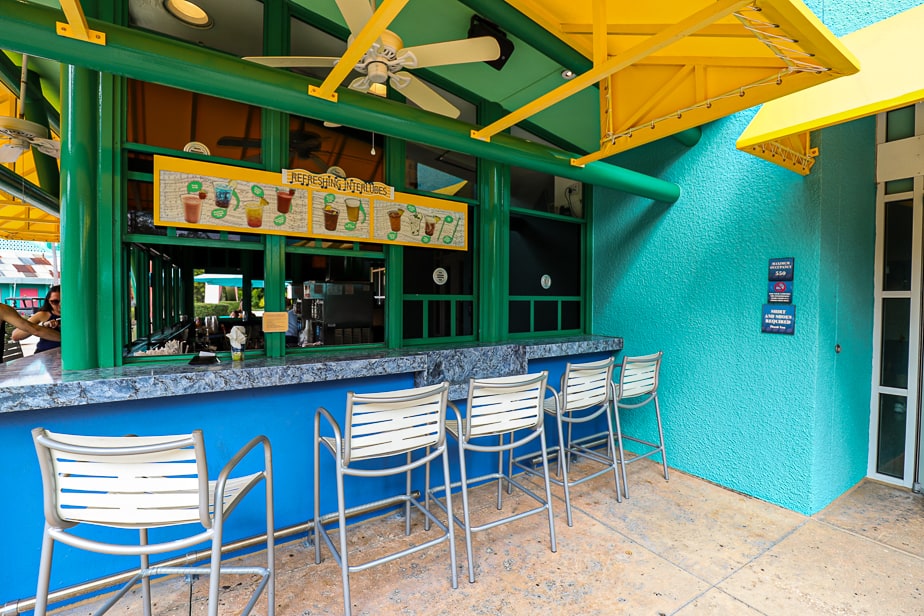 This location serves a variety of beverages like cocktails, mocktails, and beer. If you want to enjoy a meal or snack at the pool, you'll want to step inside the food court or mobile order and pick it up.
Unfortunately, there are no other pool bars or dining options at the resort.
Recreation and Amenities
Music has two main pools: the feature pool, the Calypso Pool, and the Piano Pool, the leisure pool.
The Calypso Pool is located directly behind Melody Hall, which is closest to the preferred rooms and family suites. The feature pool is typically open from 10:00 a.m. until 10:00 p.m.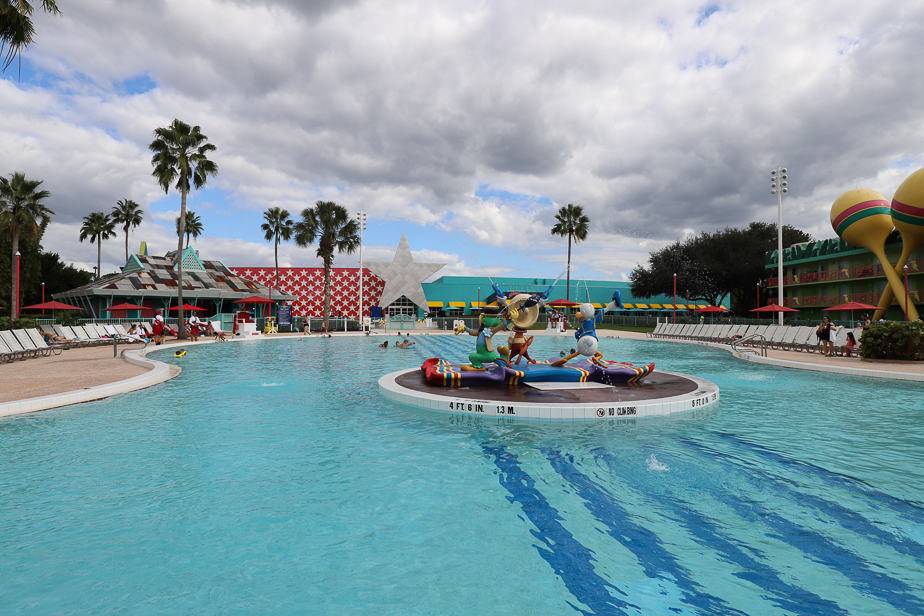 The center of the pool has a fun water spray element featuring The Three Caballeros.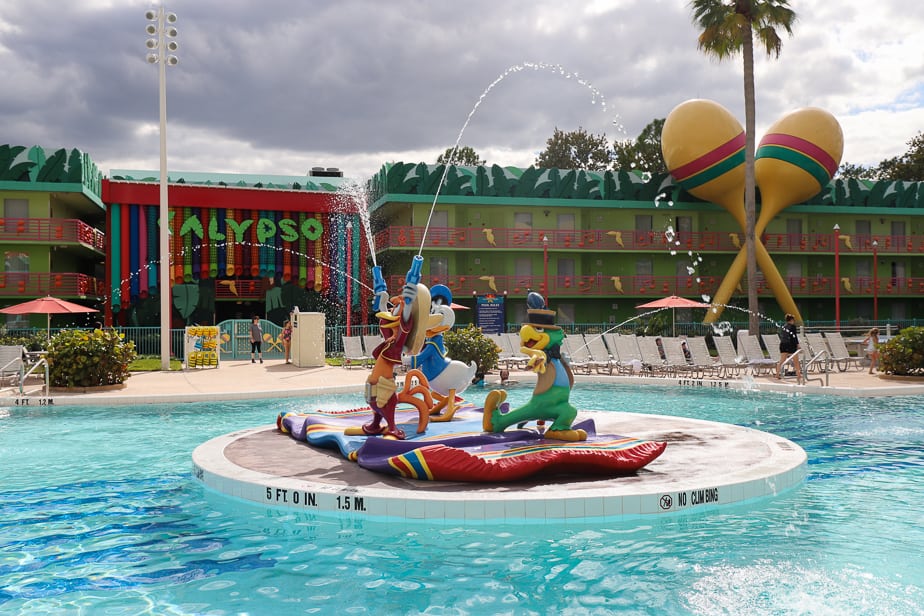 It's hard to tell from the picture, but the pool is shaped like a guitar, which is appropriate considering it's a musical resort.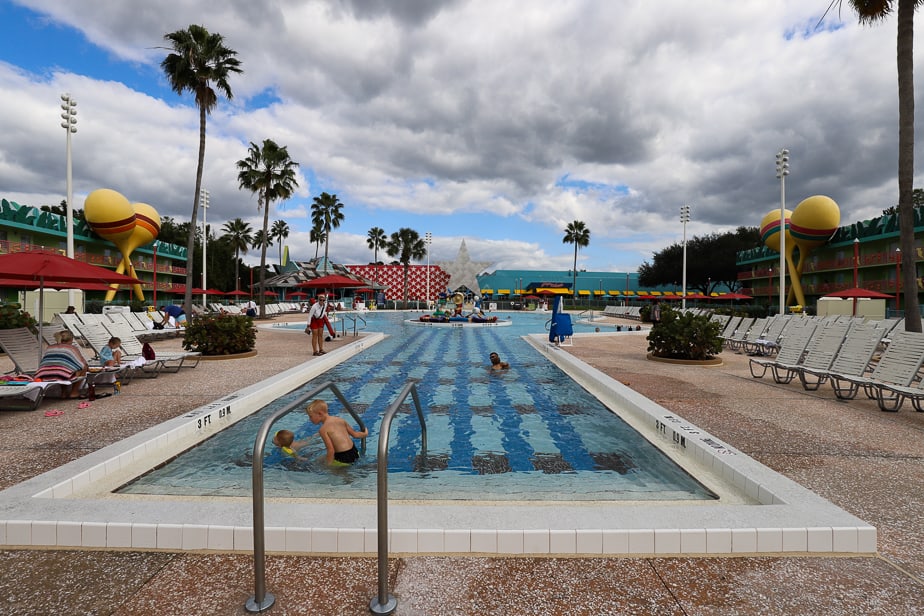 Additionally, there's a separate kiddie pool.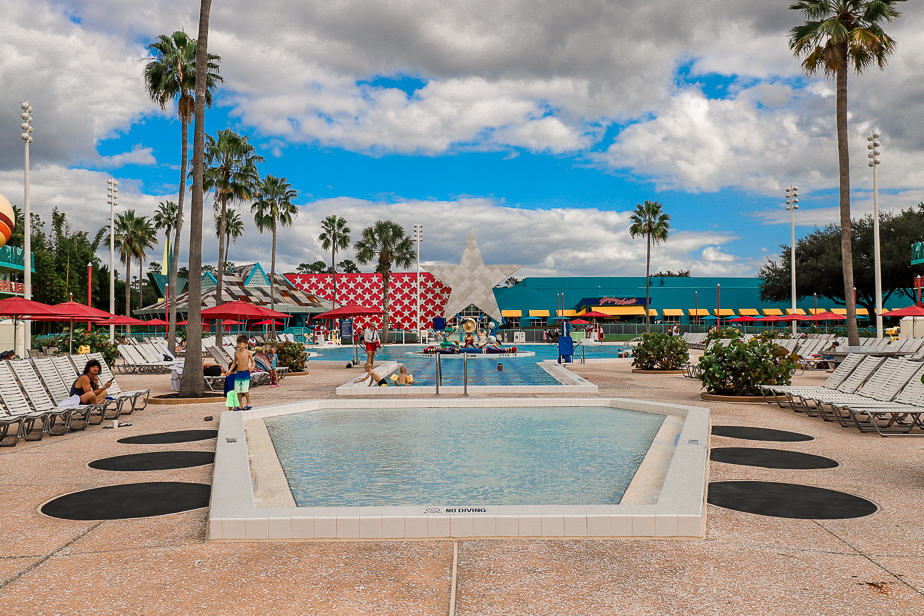 And there are plenty of table games and other activities around the pool deck. Cast members are out in the pool area during the afternoons.
The pool staff does an excellent job at getting children involved in games and other activities. It's a lot of fun for children up to around 12 years old.
What you won't find at the pool is a water slide. Unfortunately, none of the value resorts have water slides.
The Piano Pool is the secondary pool at All-Star Music. It's located on the opposite side of the resort in front of Country Fair.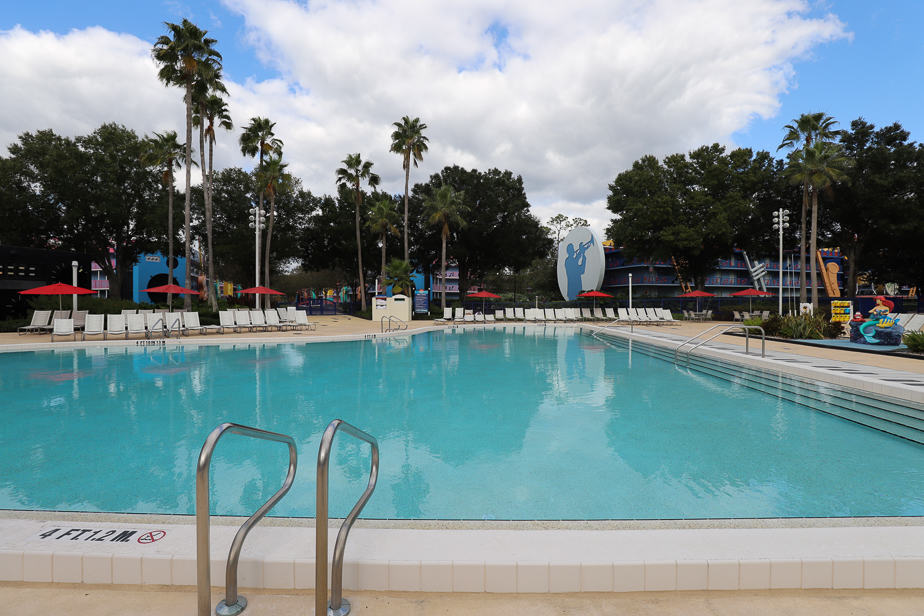 This pool is shaped like a baby grand piano.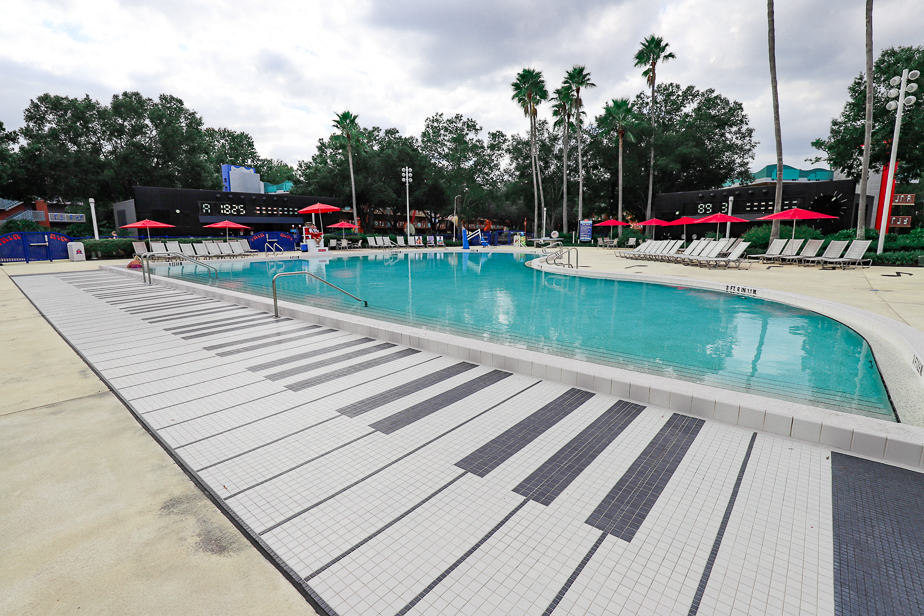 Both pools have life jackets available and a laundry room.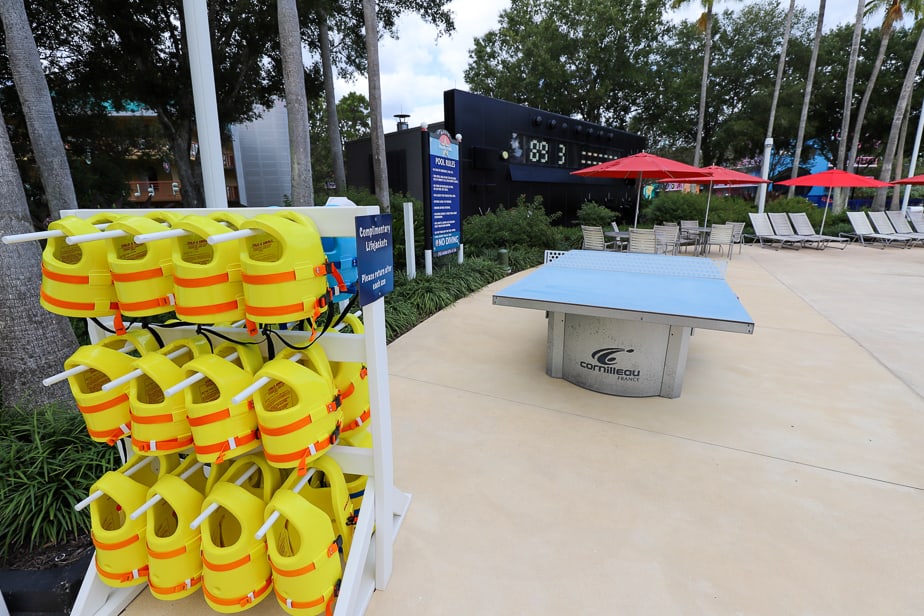 We always try to catch up on laundry during pool time. Maybe doing laundry is a good excuse to spend an afternoon at the pool?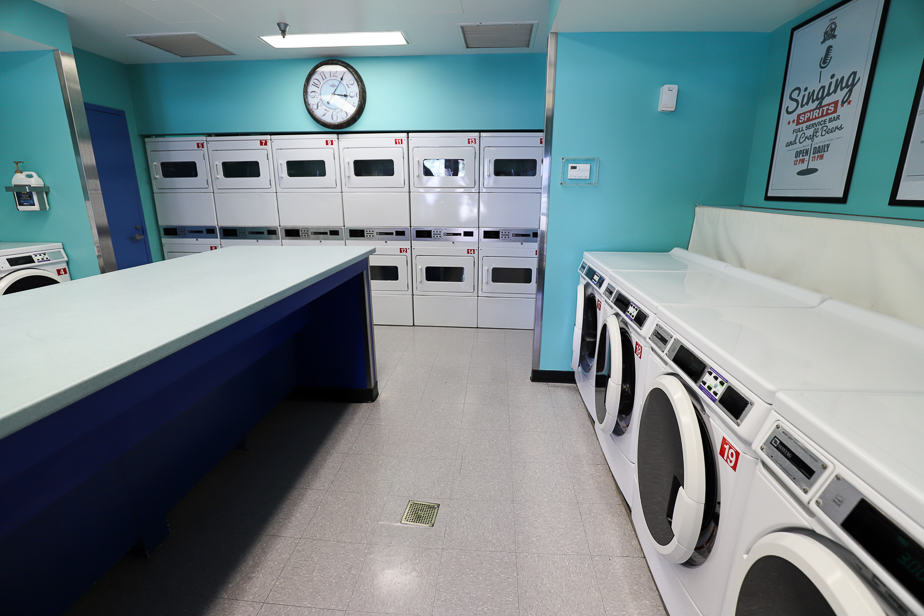 For more information, there's a separate article that covers the resort's pools in detail.
Related: The Pools at All-Star Music Resort
In addition, All-Star Music has a playground located on the parking lot side between buildings nine and ten.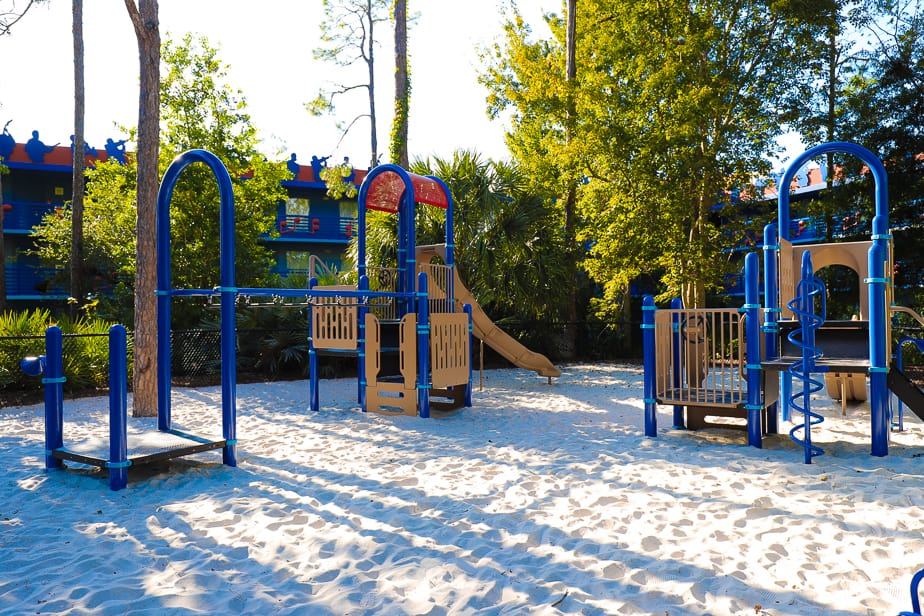 The resort's arcade, Note'able Arcade, is located across from the food court inside Melody Hall.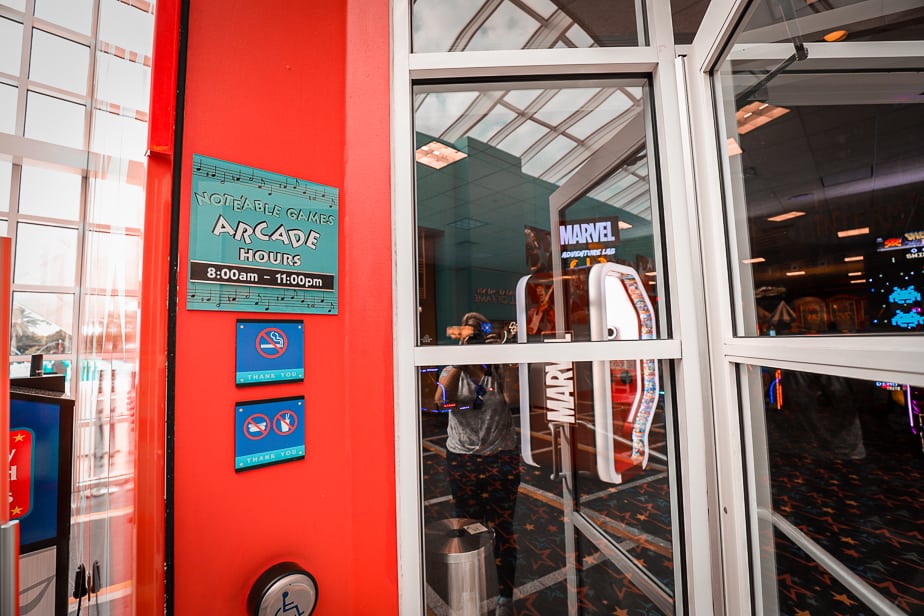 It's easy to locate the arcade because you'll pass it every time you head to or from the bus stop. Like all of the arcades at the Disney Resorts, there are plenty of games to keep you entertained.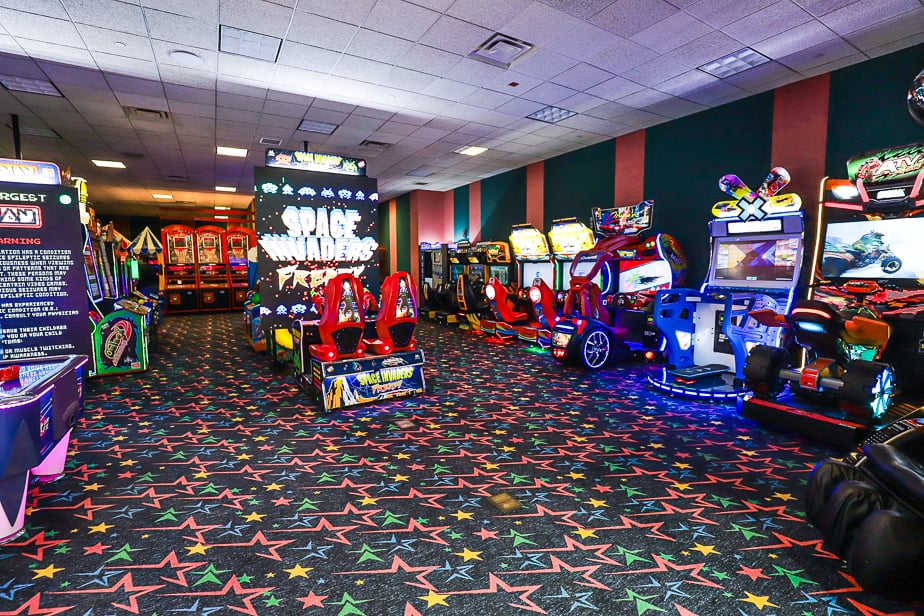 Additionally, All-Star Music participates in Disney's Movie Under the Stars program. The resort plays a different Disney movie or animated film out by the pool area each night.
There is a schedule that lists which movies are playing nightly at the resorts. For me, this has always been one of those experiences that is more fun than it sounds. I recommend planning an evening to do this if time allows.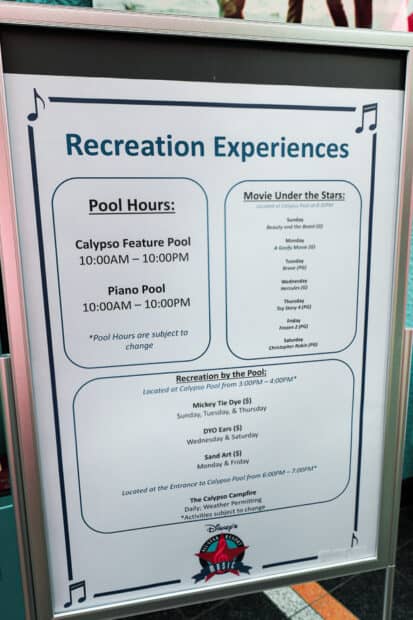 For those wanting to get a jog in during their stay, there's a designated sidewalk around the entire All-Stars Music complex. The path is a great place to run, and it's reasonably simple to stay on course.
Related: Jogging Trails at Disney World
You'll also find a gift shop in Melody Hall. It's a pretty sizable shop with plenty of Disney souvenirs and sundries.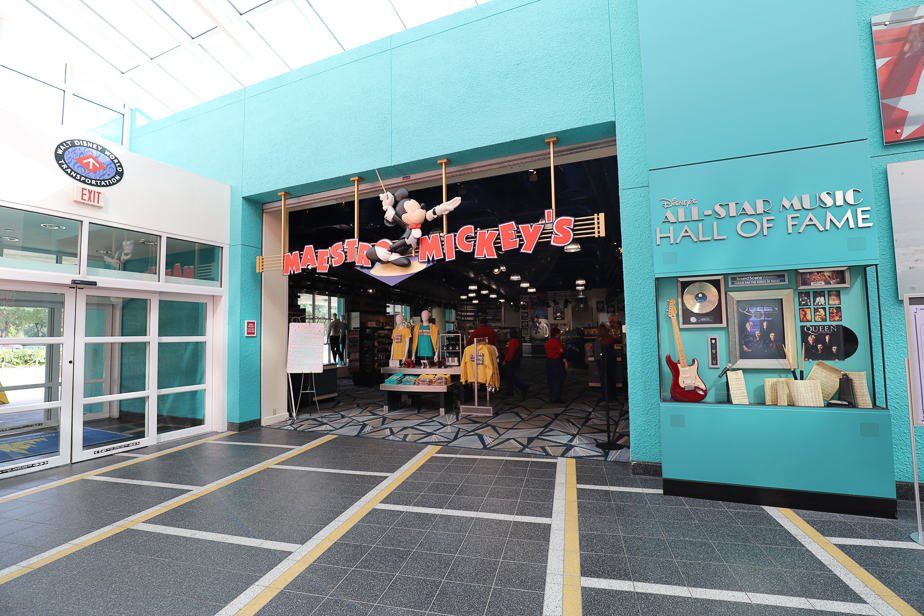 Here is a look inside.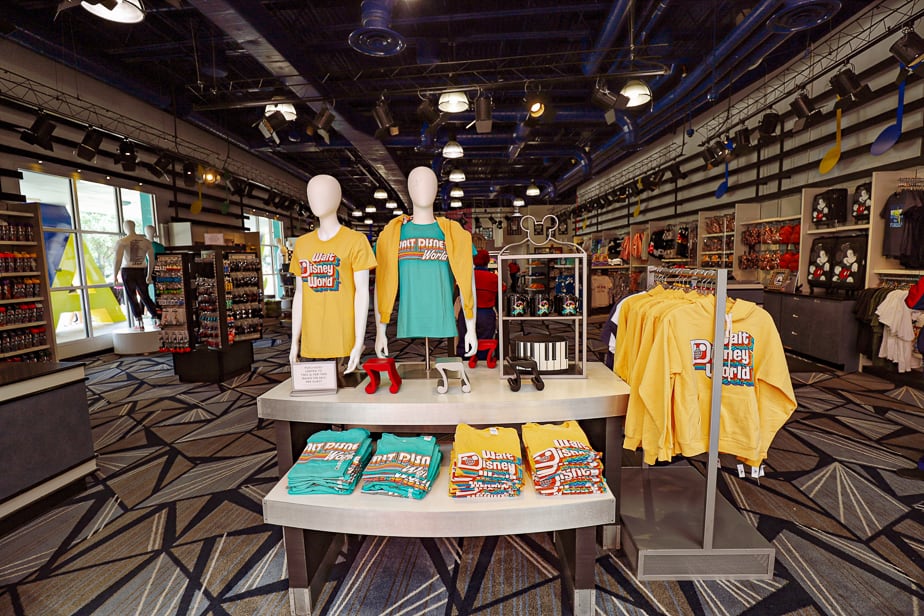 If you want to see more items in detail, there's a separate article with photos of everything available on my last visit.
Related: Maestro Mickey's Gift Shop at All-Star Music
Transportation
One of the things that set the Animal Kingdom area resorts apart is that they only provide bus service. These resorts aren't near a park that offers multiple forms of transportation.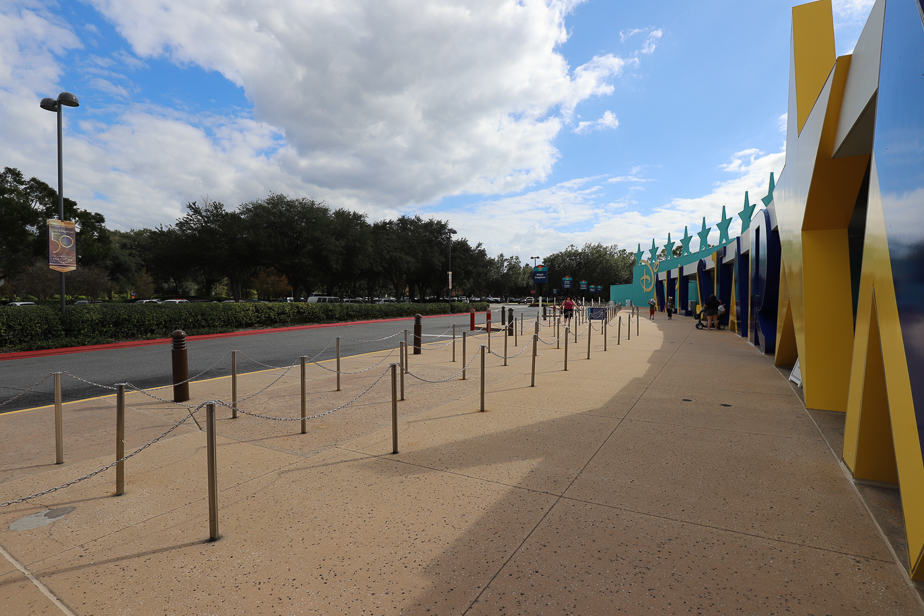 There is one large bus stop at the All-Star Music Resort. From the resort you can take a bus to the following locations:
Magic Kingdom
Epcot
Hollywood Studios
Animal Kingdom
Disney Springs
Typhoon Lagoon
Blizzard Beach
Animal Kingdom is the closest park at only a five-minute drive. Magic Kingdom will be the furthest out, taking approximately 15 minutes of travel time.
Epcot and Hollywood Studios will also average around 10 minutes of travel time. Keep in mind this is not how long you might have to wait for a bus to arrive.
Wait times for a bus largely depend on timing. You might have what I like to call good bus luck and never wait more than 5 minutes for a bus to appear.
Or you could have lousy bus luck where it takes 15 minutes or more for a bus to show up after you get in line. And I can tell you waiting at a bus stop for 15 minutes can sometimes feel like you've been there for an hour!
Try to check the time when you get to the bus stop. I have found that it's easy to over exaggerate the wait time when I'm in a hurry to get somewhere.
Oh, and don't forget, the All-Star Music buses play the best music. So every day, there's a different musical theme on the bus.
One of my favorite Disney memories was riding a bus to Magic Kingdom one evening from the All-Star Music. Sweet Caroline started playing.
My son, niece, and I looked at each other and laughed. Then the entire bus started singing along. We could have ridden around on that bus all night singing together.
Pros and Cons of Staying at All Star Music
When it comes to staying at All-Star Music, there are a lot of positives along with a few negatives. But, for the most part, the good outweighs the bad.
There's plenty for children to do at the resort. And smaller children love the larger-than-life outdoor theming.
The resort has two pools, a playground, an arcade, and Movies Under the Stars. There's even a fun gift shop and loads of musical details.
The food court is decent but not great as far as dining goes. So if you're expecting restaurant-quality meals at the resort, you'll be disappointed.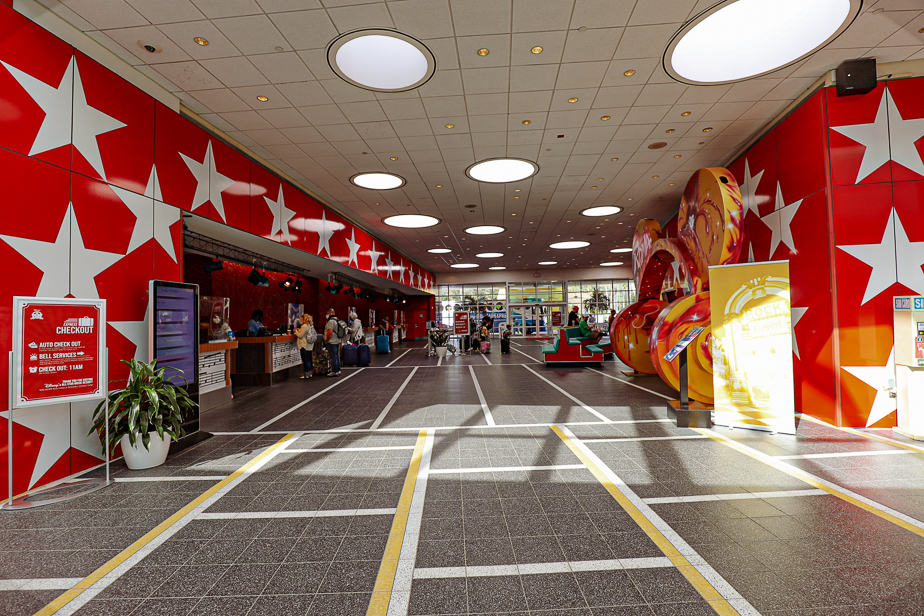 And while the rooms have recently been refurbished, you will have to walk outdoors to access them. While this isn't necessarily a huge deal, you'll want to plan how to handle inclement weather in advance.
The last thing you'll want is to come back from a theme park in the pouring rain and have to walk back to Country Fair to get to your room. So don't forget to pack plenty of ponchos. It rains a lot in Florida.
Lastly, the price of a value resort like All-Star Music will be more reasonable when it comes to your budget. On the other hand, a moderate or deluxe resort stay will be considerably higher.
And for many of us, budget is the most critical factor when planning a vacation.
Final Thoughts: All Star Music Review
In summary, if you have small children and don't want to break the bank for a hotel stay, All-Star Music Resort is a great option. There's an entertaining pool, dining options that work for picky eaters, and recently renovated rooms.
However, if those aren't the majority of your concerns, you may be happier at a resort with better dining options and other amenities.
In those cases, you'll want to consider upping your budget and staying at a moderate or deluxe resort. Most of those resorts will offer better locations, larger rooms, more amenities, and dining options on-site.
As for me, All-Star Music is my favorite of the All-Star Resorts. However, if you love sports, stay at All-Star Sports. And the same goes for All-Star Movies.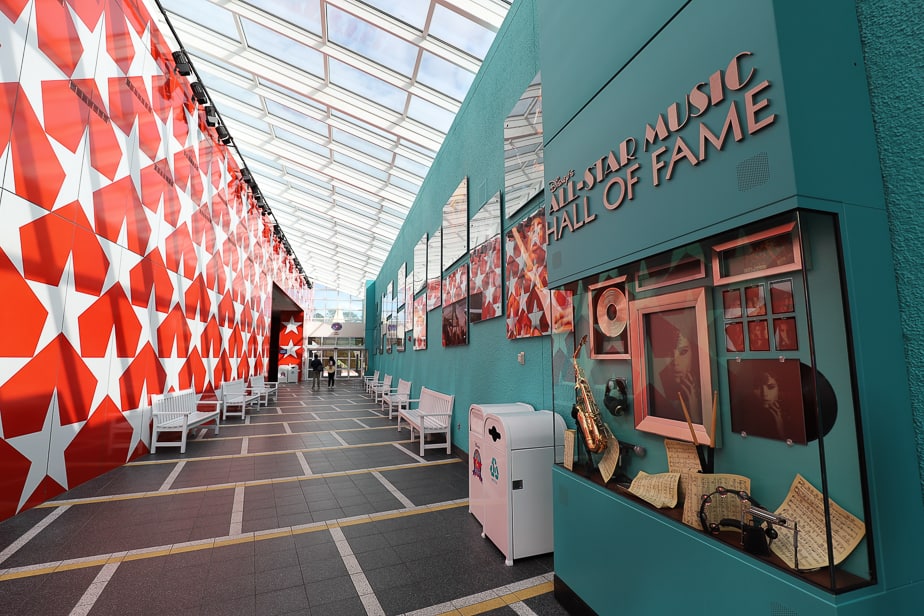 Of all the value resorts, Pop Century is my top choice. It will cost a little more than Music, but you'll have access to the Skyliner and can take it to Epcot and Hollywood Studios.
Additionally, you can use the Skyliner to access dining options at nearby resorts like Caribbean Beach and the newer Riviera Resort.
Related: Pop Century Resort Review
For more information about visiting Walt Disney World, you might enjoy browsing all of our Disney World Resort Reviews. Or try these individual options:
In addition, every article we have related to All-Star Music is available here.
Overall, I love the All-Star Music Resort. While I enjoy staying at the fancier resorts, I've never had a bad experience staying at a value. I also wouldn't have that sweet bus memory if I hadn't stayed at the All-Star Music. And I wouldn't trade that experience for the world.
What are your thoughts on All-Star Music? Do you have any similar memories from hotel stays past? There's a comment section down below if you'd like to leave your thoughts.