Disney World Deluxe Resorts (Everything You Need to Know Plus Rankings)
This article discusses the deluxe resorts at Walt Disney World. Additionally, we rank the best deluxe resorts based on overall amenities.
It's no secret that the deluxe resorts are the most expensive resorts at Walt Disney World. But that doesn't mean they're not worth the high price tag.
Disney's deluxe resorts offer amenities and features that make for an unforgettable vacation. These hotels have a way of making you feel spoiled rotten.
Can you imagine waking up each morning to a view of Cinderella Castle in the distance? Or leaving your room and taking the elevator down a few floors to hop on the monorail?
These kinds of luxuries are only available at Disney's deluxe resorts.
Below we've provided an overview of what makes a resort fall into the deluxe category. If you're considering one of these resorts, you'll want to weigh these conveniences and extra perks against resorts in lower categories.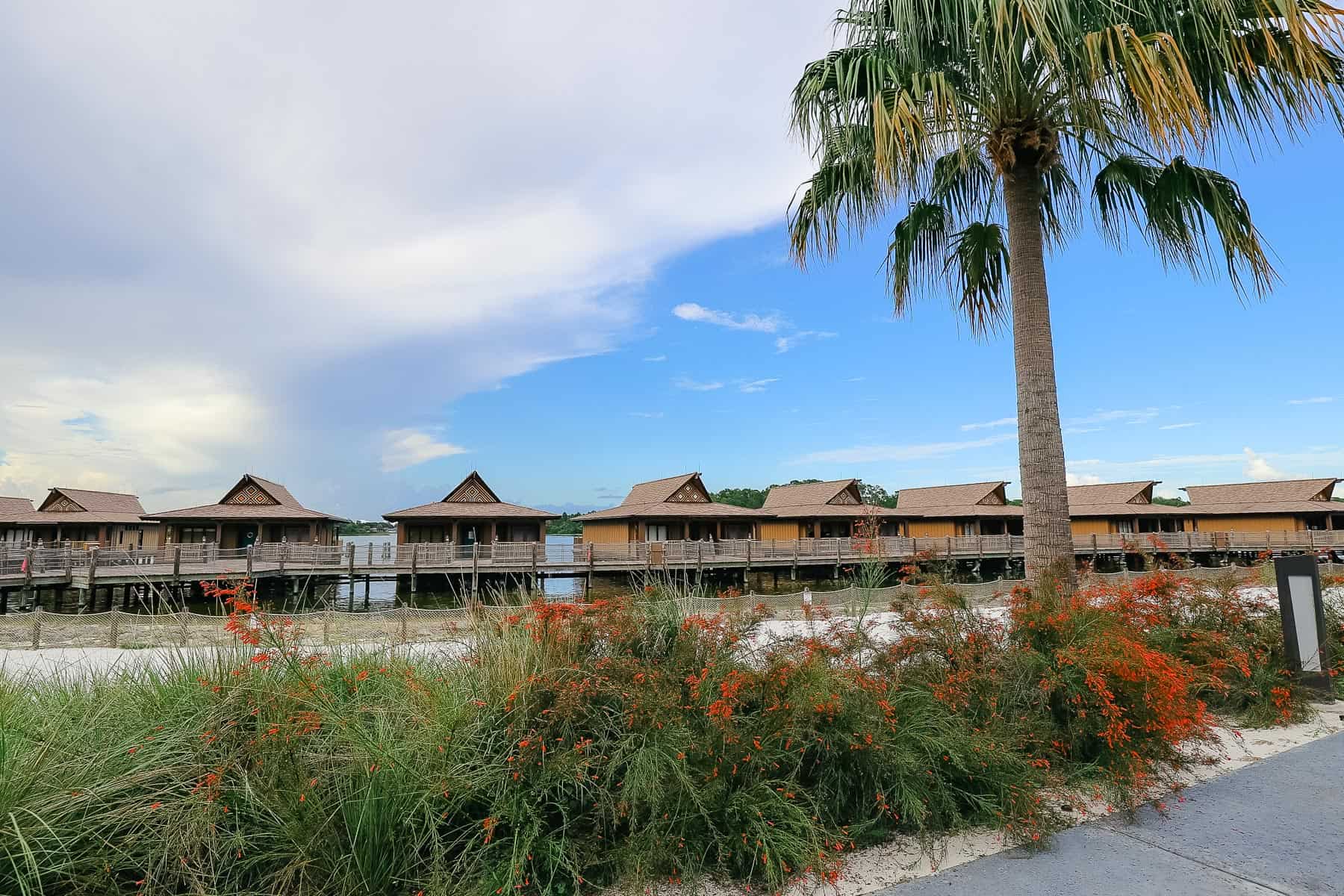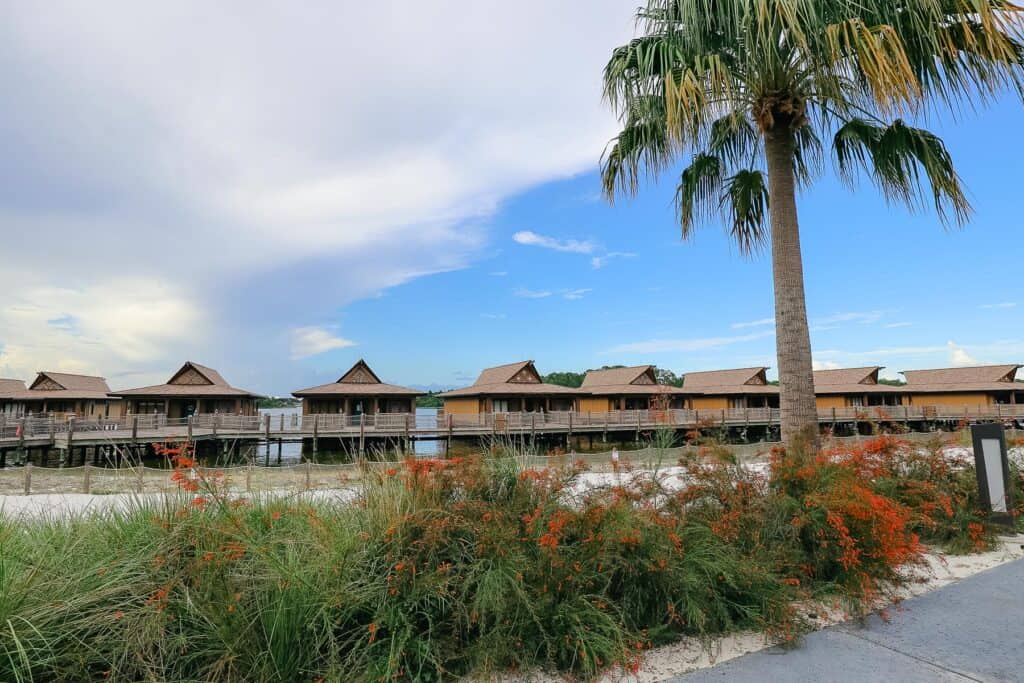 List of the Disney Deluxe Resorts
Here is a list of the deluxe resorts at Walt Disney World.
We include Disney's Swan and Dolphin Resort because it is considered a deluxe resort. However, this resort is owned and operated by Marriott and operates a little differently. We'll discuss those discrepancies below.
For a list of the other resort categories at Disney, you can refer to these articles: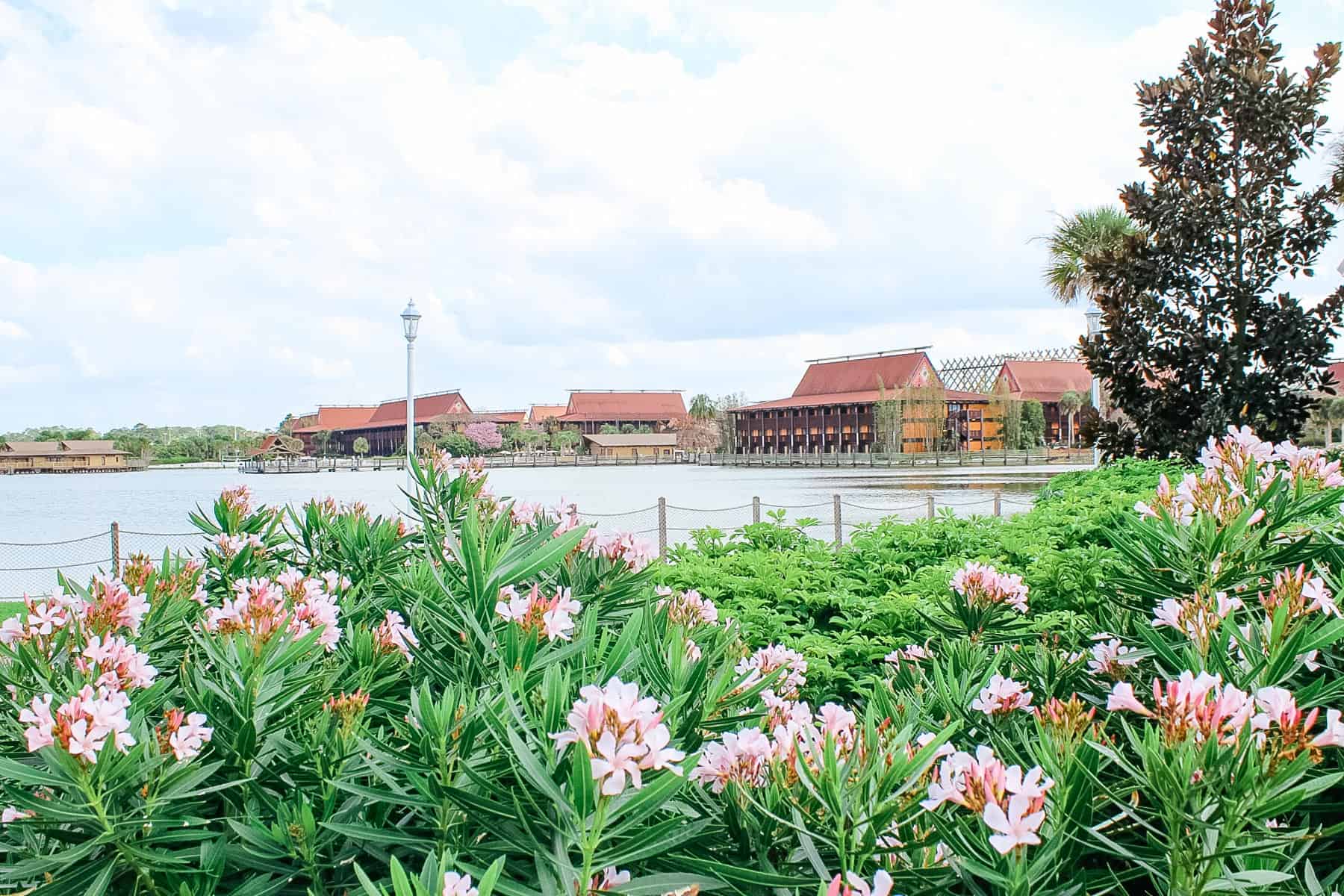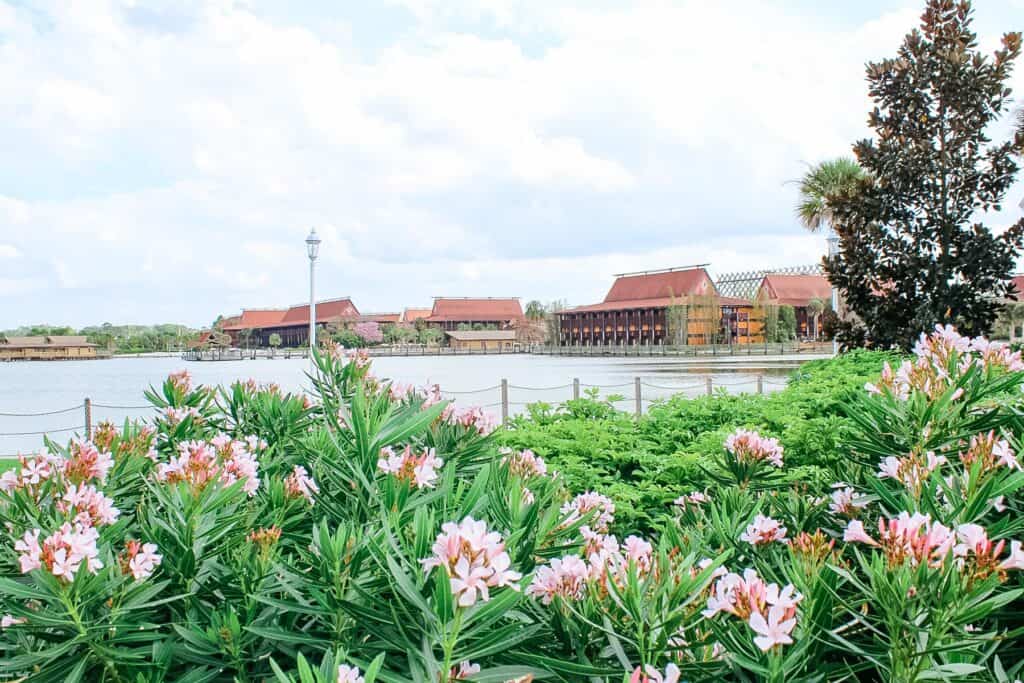 Disney Deluxe Resorts Amenities
Deluxe resorts are the finest of the Walt Disney World Hotels. When choosing a deluxe hotel, you can rest assured that it will offer the best location, amenities, dining, and recreation options.
Let's look at a few of these amenities in more detail to understand better how they will benefit your vacation.
Location! Location! Location!
For many, location is a key factor when choosing a resort. One of the perks of deluxe resorts is that they are within walking distance of at least one theme park.
Of course, there's always an exception. For example, Disney's Wilderness Lodge and Animal Kingdom Lodge are located in more remote areas where walking to a park is not an option.
If you want to stay near Magic Kingdom, consider Disney's Contemporary, Disney's Grand Floridian, or Disney's Polynesian Village Resort. These resorts offer multiple forms of transportation and are all within walking distance of Magic Kingdom.
Think about it. You can wake up early and quickly get to Magic Kingdom without any hassle. Then, when you get tired, you can hop on the monorail and take it back around the loop to your resort.
You can spend the hotter portion of the day napping or relaxing at the pool. Then, later on, you can return to the park for fireworks and a few more rides. The location makes it so simple to return to Magic Kingdom.
Similarly, the Epcot Resorts sit centered around Crescent Lake between Epcot and Hollywood Studios. These resorts include Disney's Boardwalk Inn, Disney's Beach Club, Disney's Yacht Club, and Disney's Swan and Dolphin.
From these resorts, you can walk or boat back and forth between both parks. When the crowds leave Epcot at night by the masses, you can sneak right out of the International Gateway and walk back to your room. It's perfection!
Related: Disney Resorts Within Walking Distance of the Parks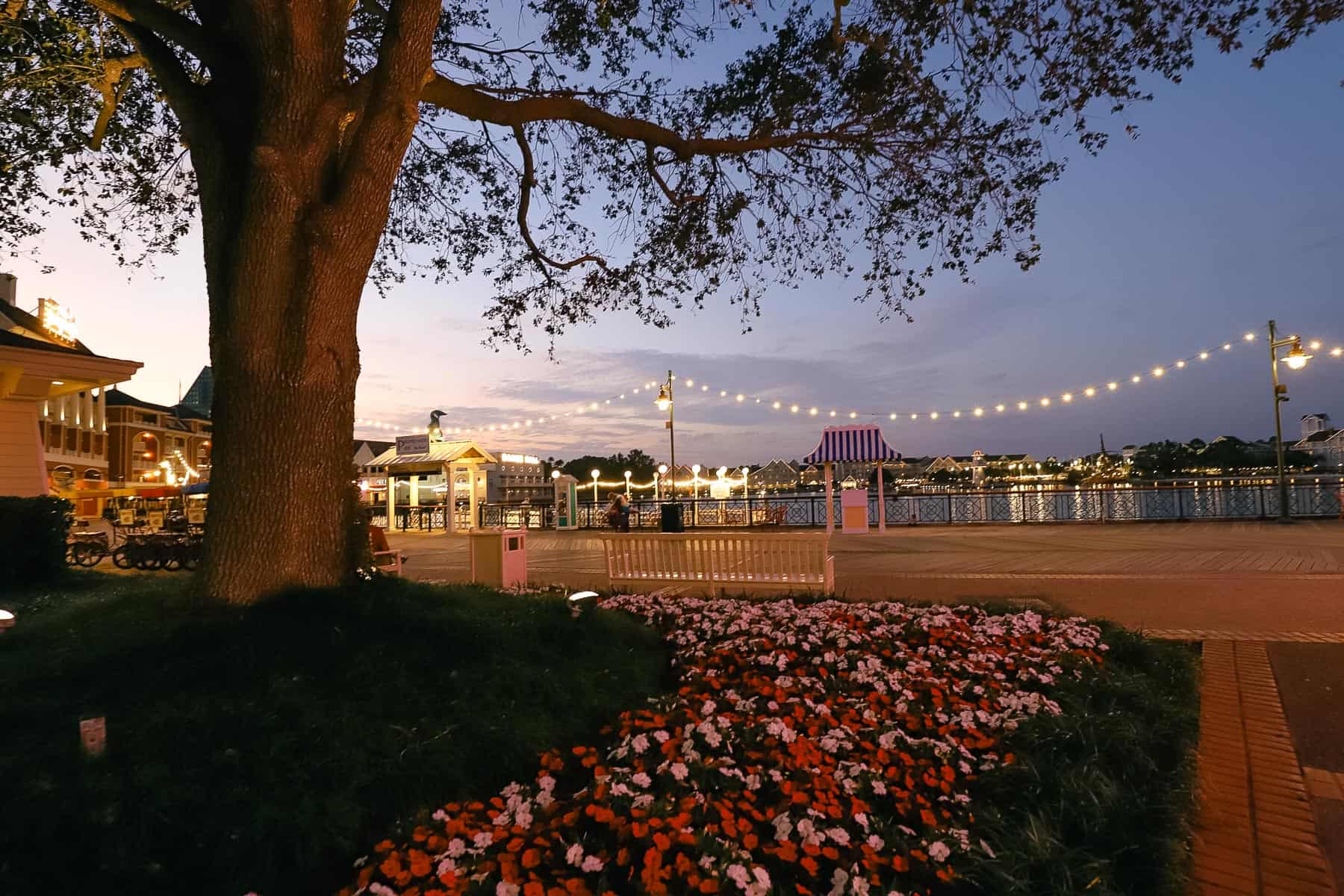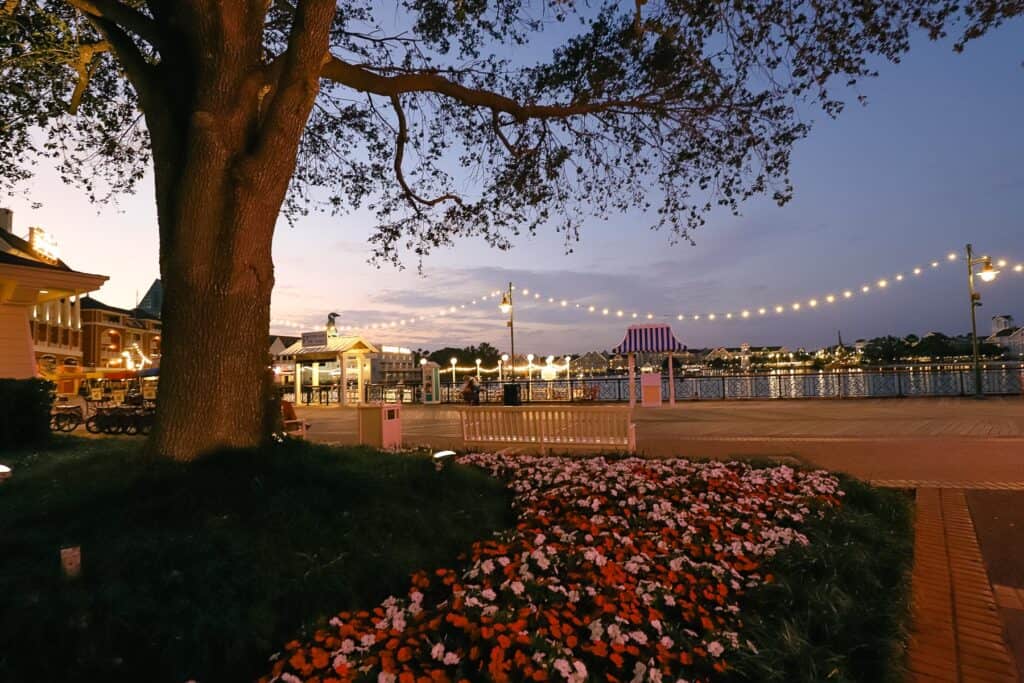 Early Theme Park Benefit
This next perk applies to all of the resorts at Walt Disney World, including deluxe resorts. Deluxe resort guests are eligible for the early theme park benefit.
If you're an early bird, this is another huge asset since each park opens a half hour early for resort guests daily. Getting into a park 30 minutes before it opens will allow you to tackle at least one or two popular attractions. That's a considerable touring advantage.
Related: Resorts Eligible for Early Theme Park Benefits
Extended Evening Hours for Deluxe Resort Guests
Whoa–we get to visit the park early and stay late? Not only do you get early access to the theme parks each day, but deluxe resort guests receive another extraordinary perk on select evenings.
This is one of the factors mentioned above that you'll want to consider when deciding on a resort. Guests of deluxe and deluxe villa resorts receive extended evening hours on select evenings at select parks.
Usually, these nights are offered twice a week. Epcot is often open two hours later on Monday nights for deluxe guests.
Then on Wednesdays, Magic Kingdom usually stays open for extended hours. You can preview more information about extended hours on Disney's site.
On these evenings, deluxe resort guests have a third opportunity to join the virtual queue for popular attractions like Tron Lightcycle Run and Guardians of the Galaxy: Cosmic Rewind. This means you have the chance to secure multiple virtual queues in one day.
Extended evening park hours are a significant reason to consider staying at a deluxe resort. You'll want to ensure you have these hours planned into your itinerary. Most attractions will have little-to-no waits on these evenings.
Spacious Rooms and Views
Another thing that sets deluxe hotels apart is their room size. Most deluxe resort rooms average 350 square feet. This is significantly larger than the 260-315 square footage range at the lower category resorts.
I don't know about you, but every bit of square footage matters when we spend a week in a hotel room. We spent a few evenings at Pop Century Resort a while back before moving to the garden wing at Disney's Contemporary Resort.
Our room in the garden wing felt huge compared to the one we left behind at Pop Century. This vacation was one of those split stays where we'd saved the best resort for last.
Related: Planning a Split Stay at Disney World
Additionally, most deluxe resorts offer room view upgrades. In some instances, you might be able to reserve a theme park view. An upgraded view might be warranted if you plan to spend a decent amount of time in your room.
One other difference regarding the layout is worth noting when comparing the deluxe hotels to others. All deluxe hotels have interior room access.
Interior rooms are a step up from the moderate and value category of resorts. Those resorts have exterior room access.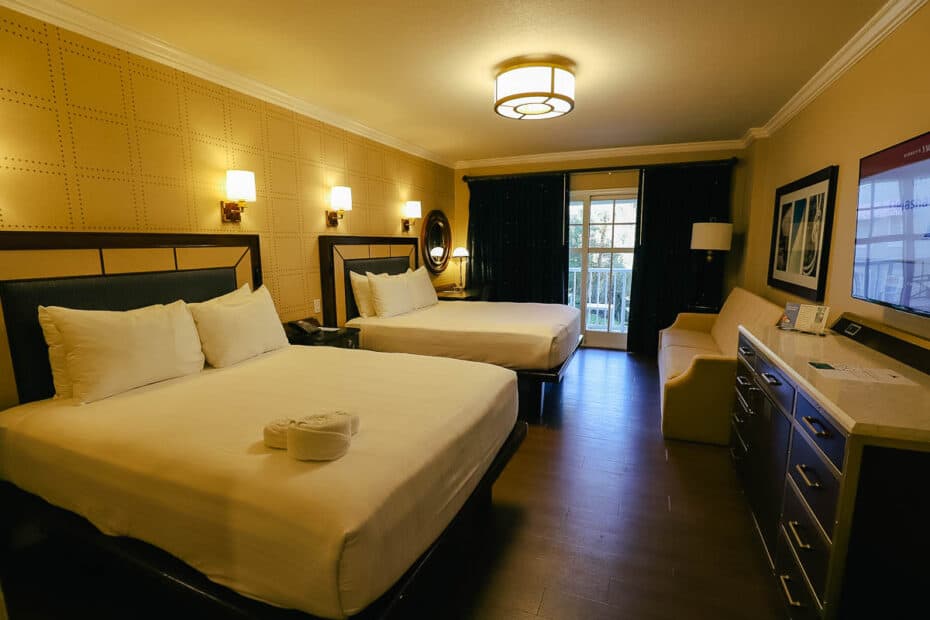 Better Dining Options
Dining is another tremendous amenity when it comes to deluxe resorts. You'll have access to more restaurants, lounges, and quick services.
For comparison, the value resorts only have one food court and one pool bar. Moderate resorts have a food court, lounge, pool bar, and one table service restaurant.
At Disney's deluxe resorts, you'll find pool bars with quick-service dining options, a counter-service dining location, a formal lounge, at least one table-service restaurant, and a signature dining location.
Of course, there are a few exceptions to this rule. For instance, Disney's Grand Floridian has three signature dining locations. Additionally, many of the deluxe resorts offer character dining. We have a separate guide that covers all character dining at Disney World.
By far, the deluxe's have you covered when it comes to dining choices. If you want to learn more, we have a complete list of every Disney Hotel restaurant in one convenient location.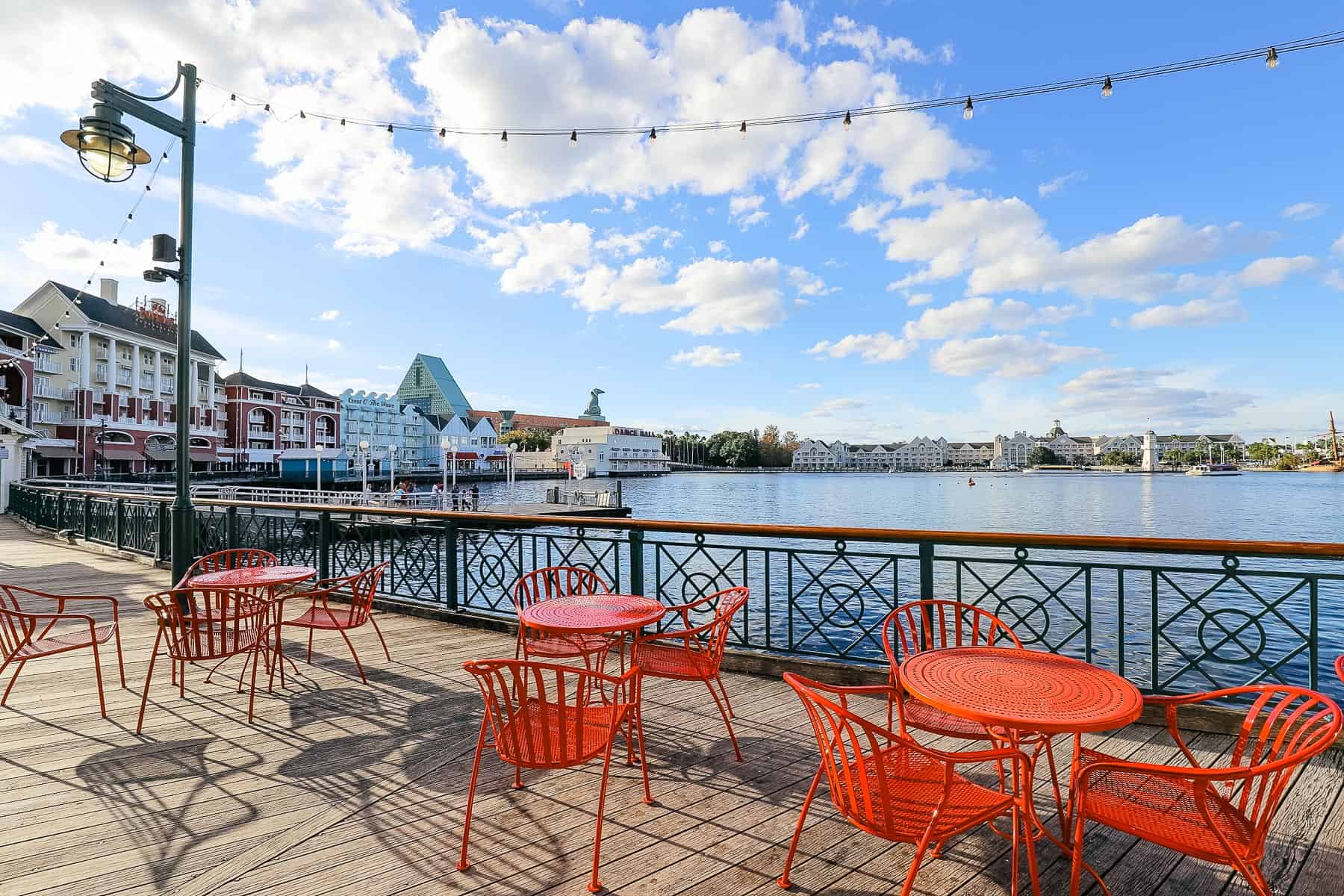 Better Pools and Recreation Options
Our next consideration is the recreation options at the deluxe resorts. All deluxe resorts have two pools at the minimum. Some resorts offer a feature pool and a quiet or leisure pool, while others have two feature pools.
The only exception is Animal Kingdom Lodge, which has one large feature pool. However, a second feature pool is available at Kidani Village. All guests of the lodge or village have access to either pool.
If you plan to spend a decent amount of time at the pool, you might choose a deluxe resort based on its pool. In our guide to the best pools at Disney World, almost every deluxe resort makes the list because of its pools.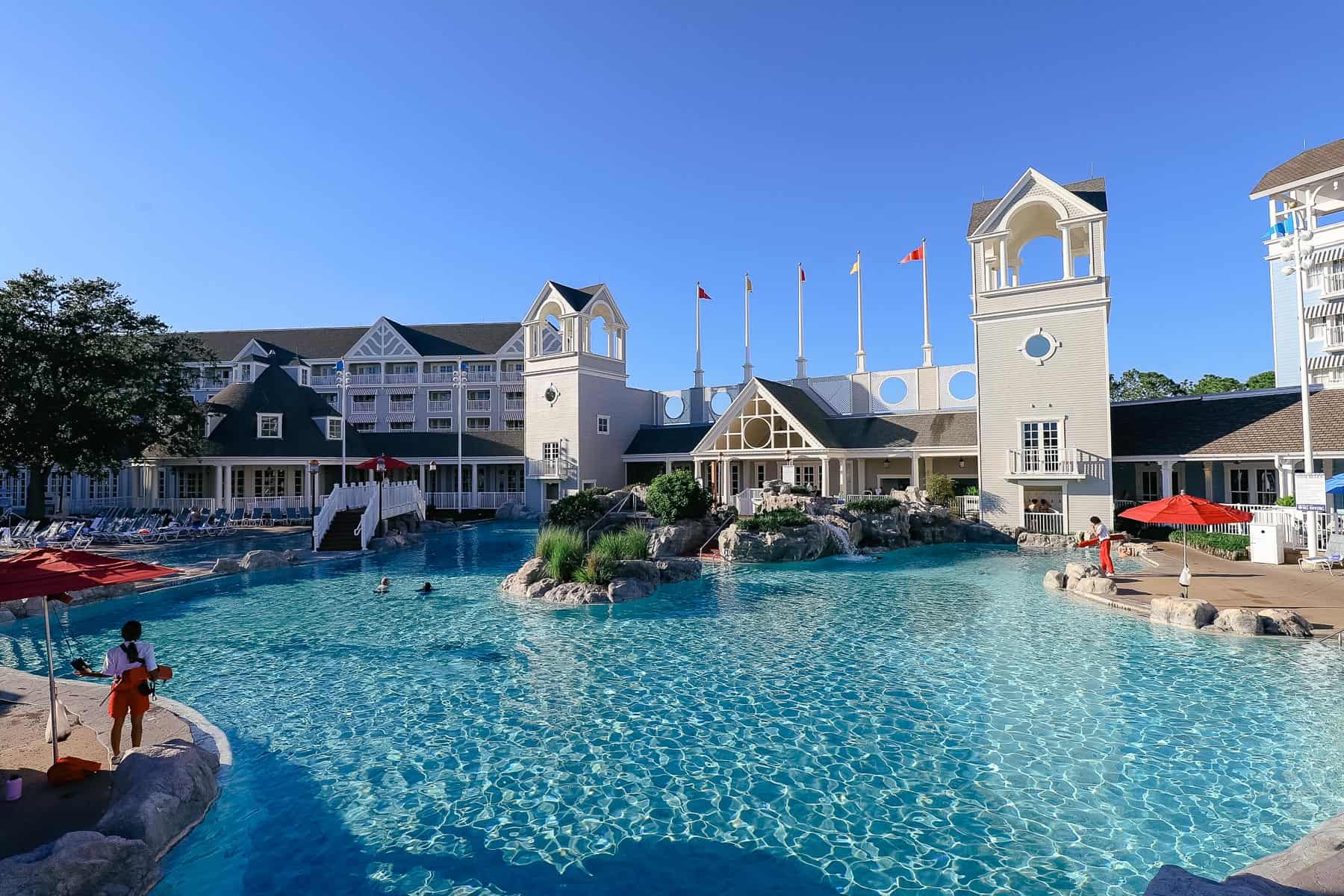 For instance, Disney's Beach and Yacht Club share a pool called Stormalong Bay. It's so large that it feels more like a water park than an actual pool. Stormalong Bay is one of our favorite places to spend the day at Disney World.
Additionally, several of the deluxe resorts offer private cabana rentals. You won't find these cabanas at the value or moderate resorts.
We rented a cabana at the Beach Club to see if it was worth the price. And while our experience had a rocky start, it's something we ultimately enjoyed and look forward to doing again.
Feature pools at the deluxe resorts have zero-entry areas and a water slide. You can also expect most of these resorts to have servers on the pool deck during the busier portions of the day.
Related: Renting a Cabana at Disney World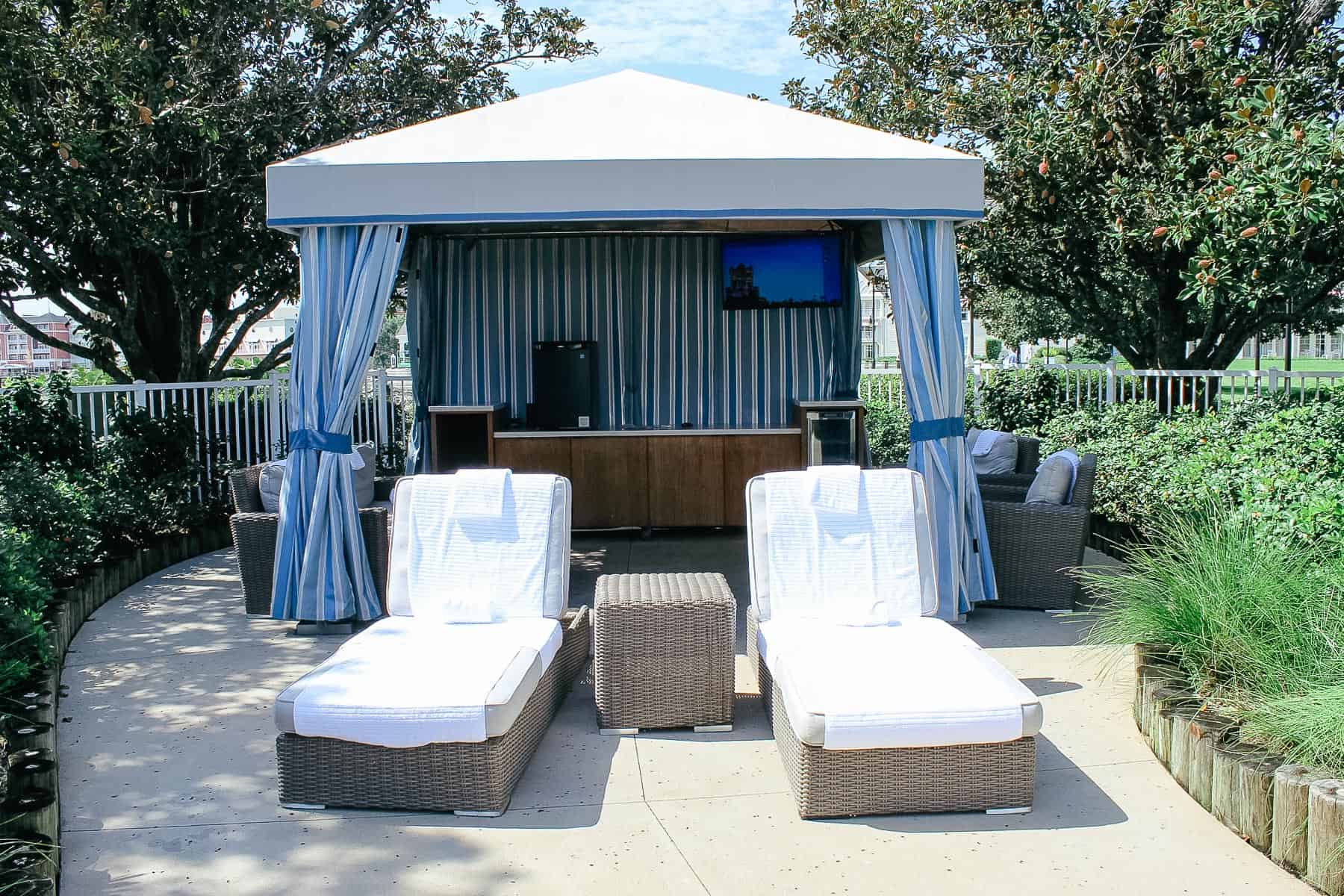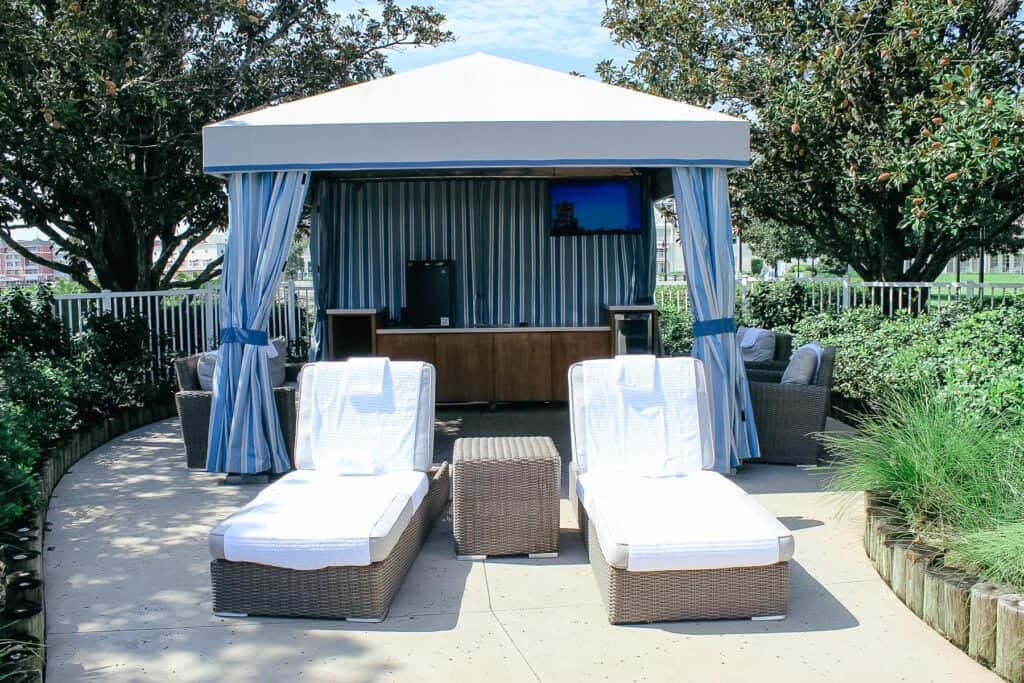 More Transportation Options
Before we get into our rankings, it's important to note that deluxe resorts offer multiple forms of transportation. Again, the Animal Kingdom Lodge is an exception because they only provide bus transportation.
If you want to stay on the monorail, you'll want to consider the Magic Kingdom Resorts. Wilderness Lodge is an exception because they don't offer monorail access. However, they do provide boat transportation to Magic Kingdom and a bus service for other places.
Epcot area resorts provide boat transportation to Hollywood Studios and Epcot if you don't care to walk. Additionally, you can access the Disney Skyliner to travel to other resorts or between the two parks if desired.
Bus service is provided at all of the deluxe resorts to various other Disney destinations.
Best Disney Deluxe Resorts Ranked
So, what are the best deluxe resorts at Disney? Unfortunately, there's no simple answer to that question. Disney does an excellent job with the theming of all their hotels.
To determine the best deluxe resort for you, you must decide what's most important to you and your family. That can be tough if you've never visited. So here are a few ideas to help you envision what your dream hotel stay might look like.
For example, some of you might like the idea of waking up to views of Cinderella Castle every morning. If that sounds like your kind of luxury, plan a stay at the Grand Floridian or Polynesian.
Disney's Contemporary Resort is another option when it comes to theme park view rooms. You can watch Magic Kingdom's fireworks from your private balcony. But if you ask me, I prefer the peaceful views of Bay Lake on the opposite side of the tower.
For those that like the idea of waking up to animals in your backyard every morning, you'll want to reserve a savanna view room at Disney's Animal Kingdom Lodge. This is as close as you can get to a once-in-a-lifetime safari-style trip domestically.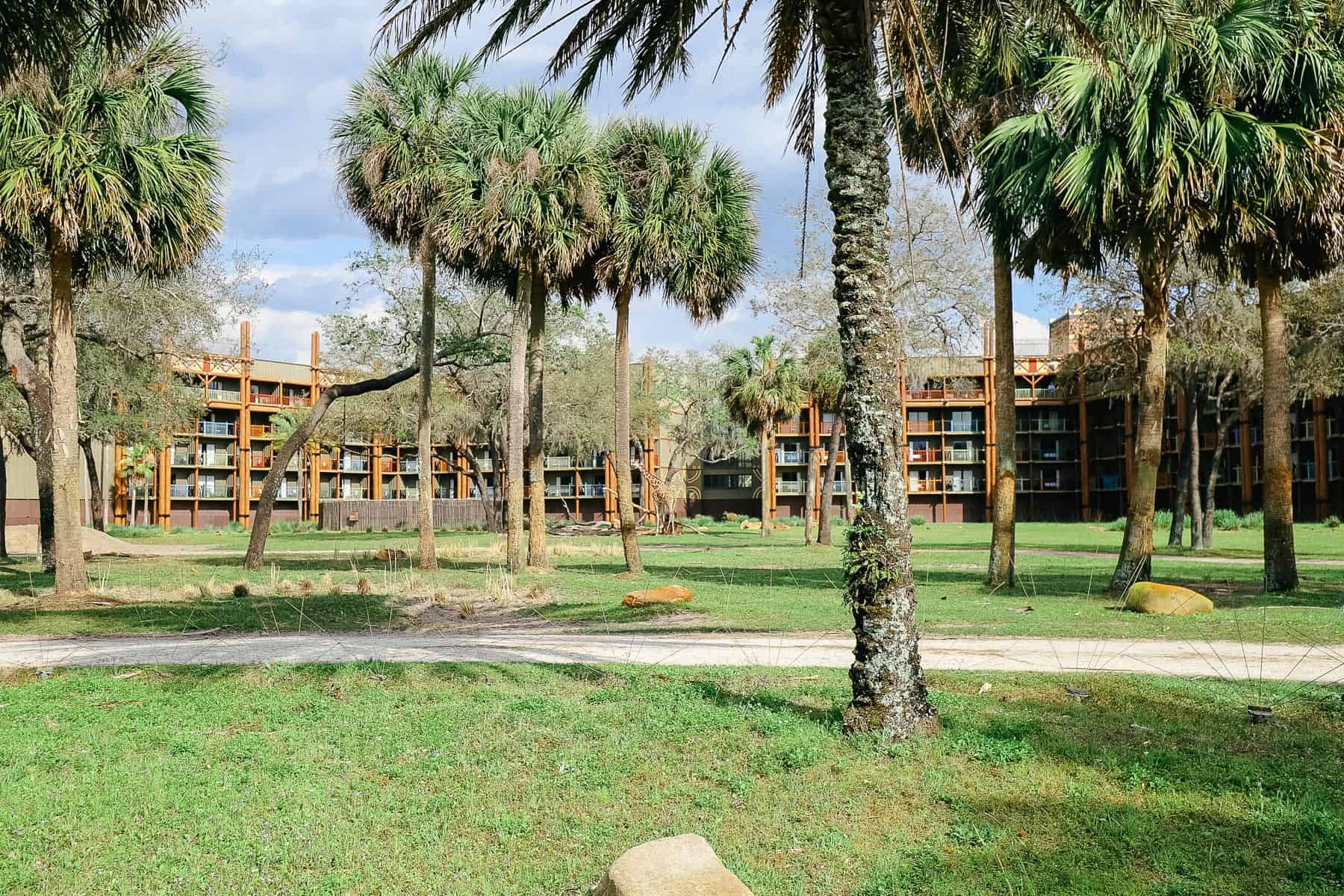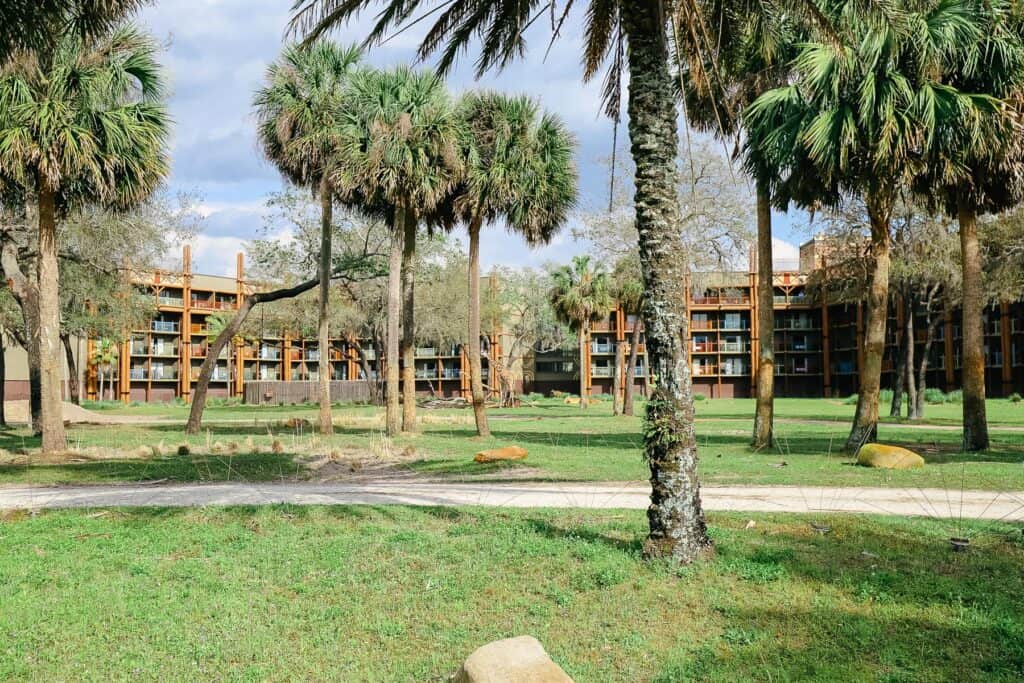 For those who dream of full resort days at the pool, you probably want to consider Disney's Beach Club or Yacht Club. However, some guests get frantic at the idea of their small children getting out of sight at such a large pool.
If so, you might consider a hotel like Disney's Boardwalk Inn or the Contemporary, where the pool areas are more manageable. Or you might even spend pool days at one of the resort's quiet pools.
Our main piece of advice is don't get too caught up in the rankings below. Every single one of these Walt Disney World Resorts is number one to somebody.
As the saying goes, "To each their own." So everyone will have their take on how these should or could be arranged.
We don't even rank our personal favorite resort first because our top pick is so fabulous that we strongly feel all guests should consider staying there at least once.
Therefore, if one resort resonates with you more than the others, it's probably the best place to start. Once you narrow down the options, we have resort reviews and guides that provide specifics for each hotel.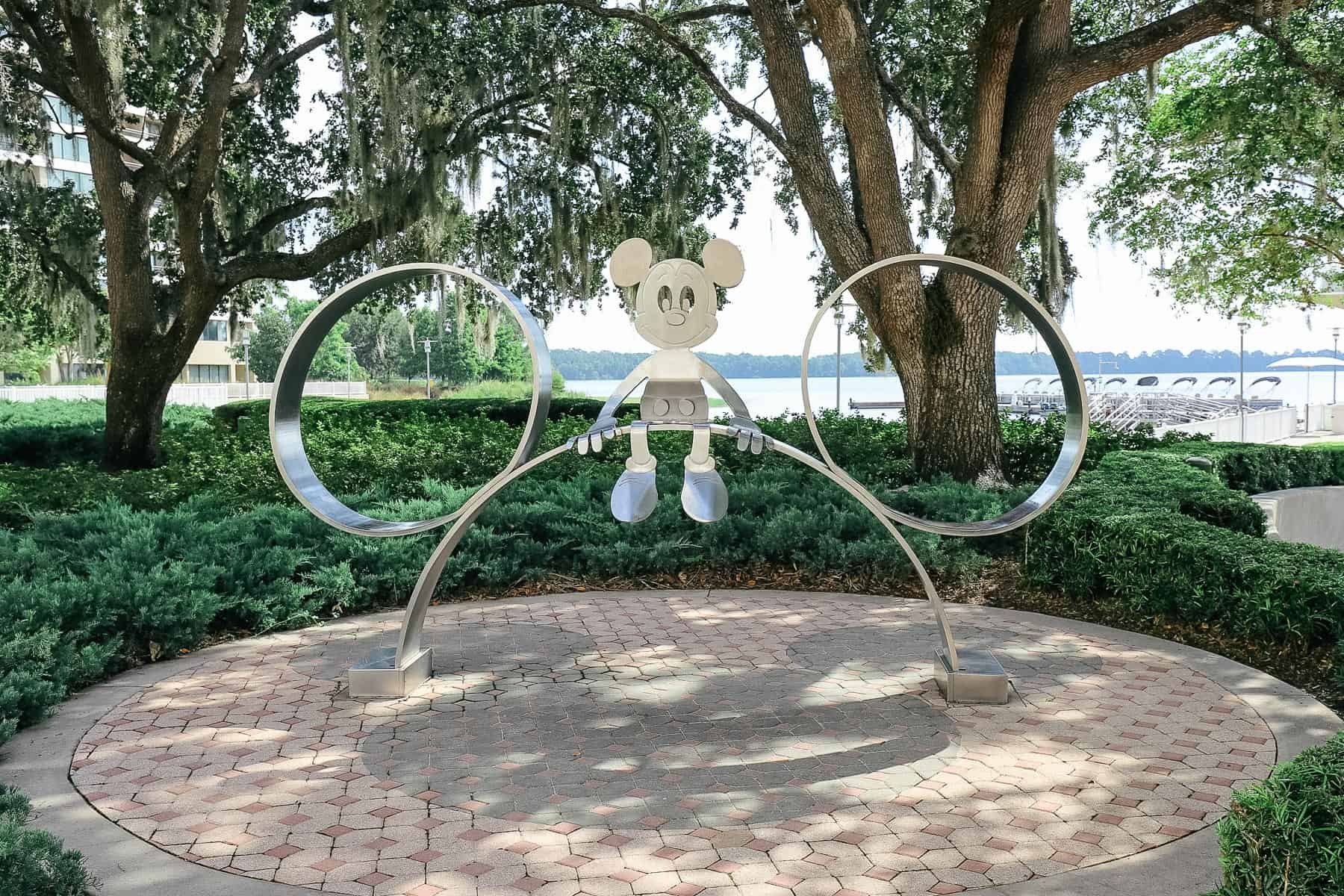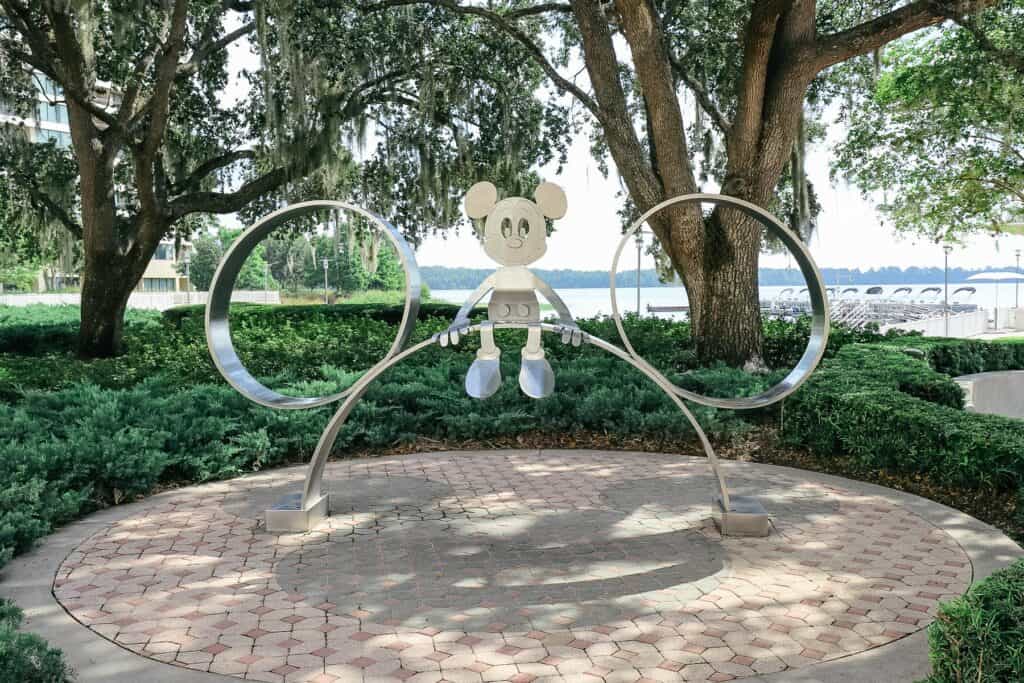 #9 Disney's Boardwalk Inn
If you are looking for charm, you might consider Disney's Boardwalk Inn. This hotel is a bit of a destination within itself, with all the dining, entertainment, and nightlife that takes place on the Boardwalk.
Themed after turn-of-the-century New England seaside towns, the entire area is beautiful. Guests who reserve rooms with a Boardwalk view can enjoy the hustle and bustle below.
When it comes to dining, Disney's Boardwalk has several excellent table service options, like Trattoria al Forno and Flying Fish. But, unfortunately, this hotel is somewhat lacking in quick-service food.
However, the newer Boardwalk Deli and Carousel Coffee have improved options. If you're looking for a sweet treat, you can always pick up an ice cream cone at the Boardwalk's ice cream shop.
Related: Restaurants at Boardwalk Inn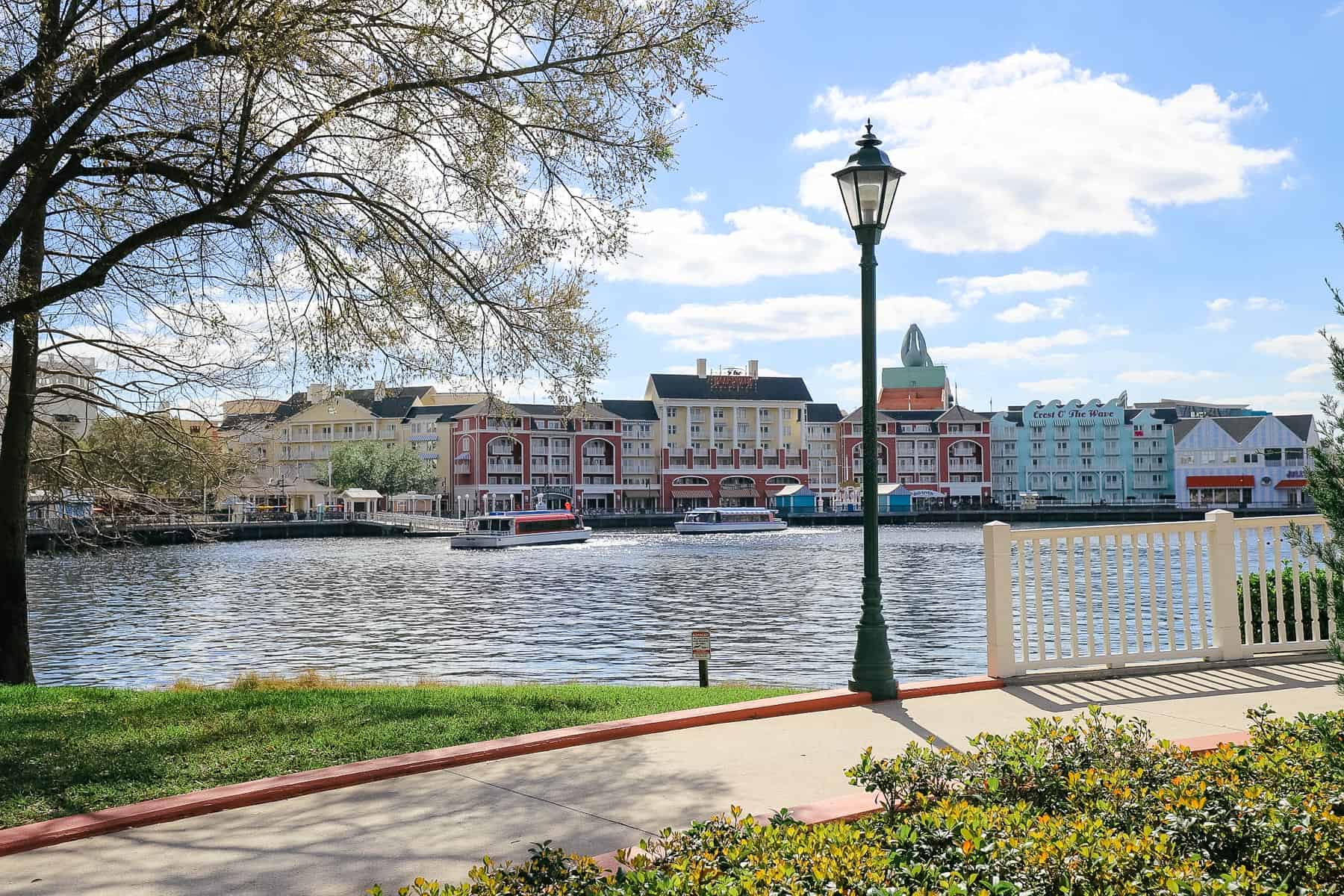 Regarding recreation, Boardwalk Inn's pool area is fun, especially for children. Kids love the Keister Coaster, a water slide at the Luna Park Pool designed to look like an old-fashioned wooden roller coaster.
When staying at the Boardwalk, you'll have easy access to Epcot and Disney's Hollywood Studios. You can walk to both parks in a matter of minutes. This is a tremendous advantage because you won't have to wait for other forms of transportation to get to either park.
Lastly, Disney's Boardwalk is undergoing significant refurbishment. All of the resort's standard rooms have recently received complete makeovers.
Related: Disney's Boardwalk Inn Review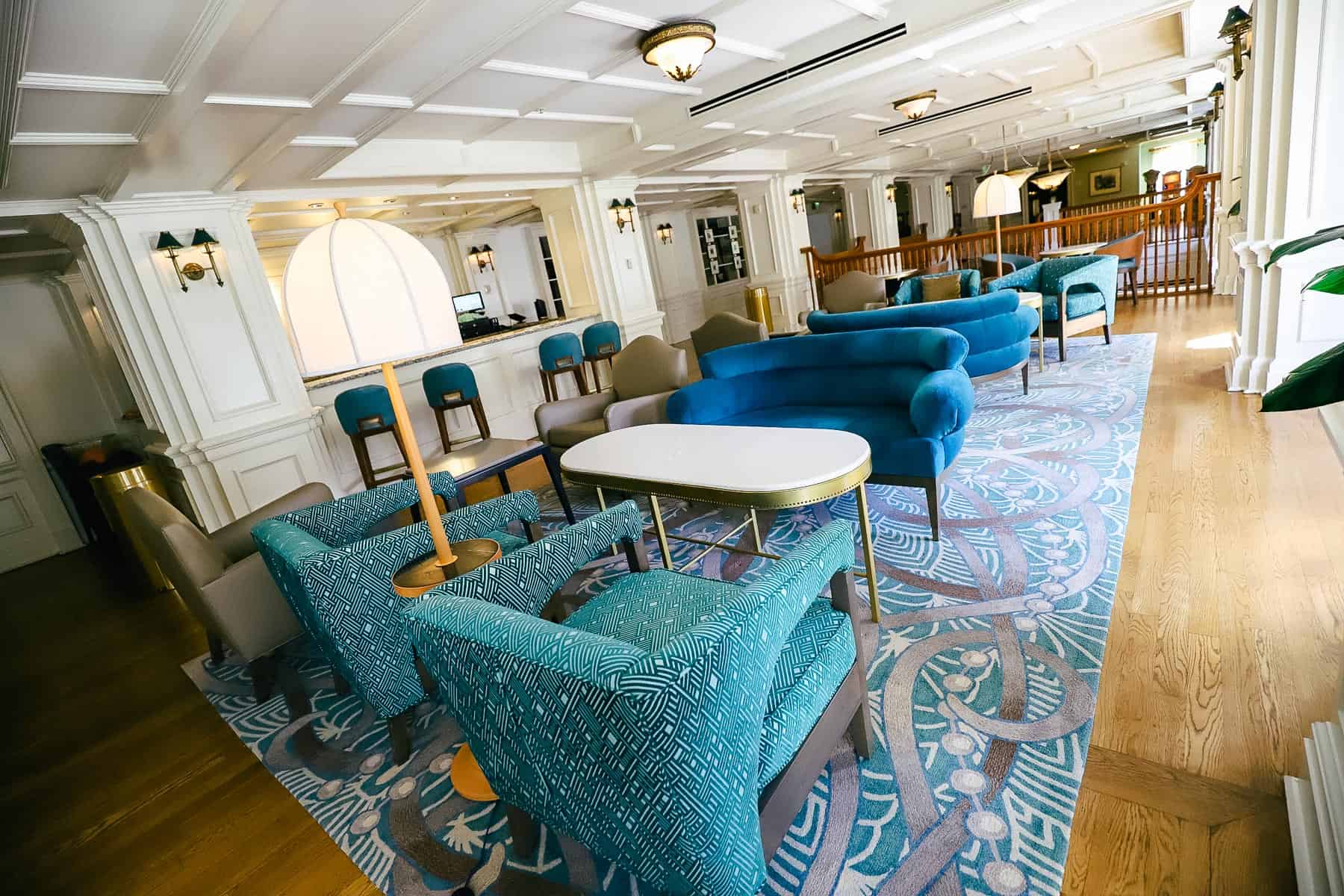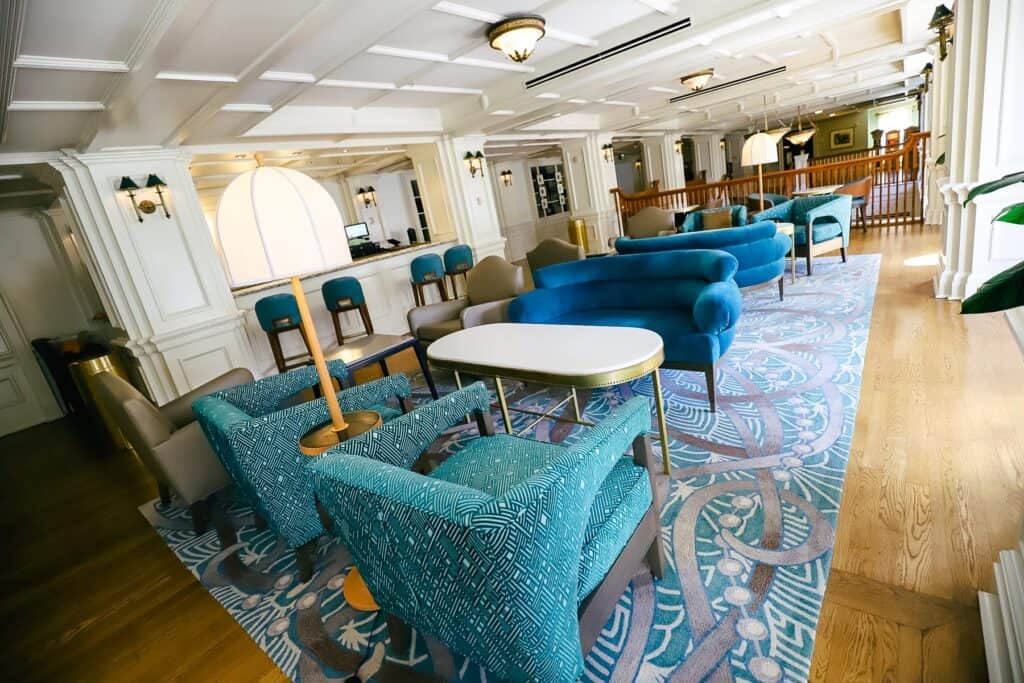 #8 Disney's Swan and Dolphin Resort
Our next stop for the best Disney deluxe resorts is one of our favorites, Disney's Swan and Dolphin Resort. While the Swan and Dolphin aren't owned and operated by Disney, you'll still find deluxe accommodations.
From the Grotto pool area to the stunning architecture, there is much to see and do here. This Disney Resort Hotel boasts over eleven dining options, including four signature restaurants.
Fan-favorite Shula's Steakhouse is located inside the Dolphin wing of the resort. If you love a good steak, don't miss planning a dinner reservation here! It's a wonderful experience.
Related: Swan and Dolphin Restaurant Guide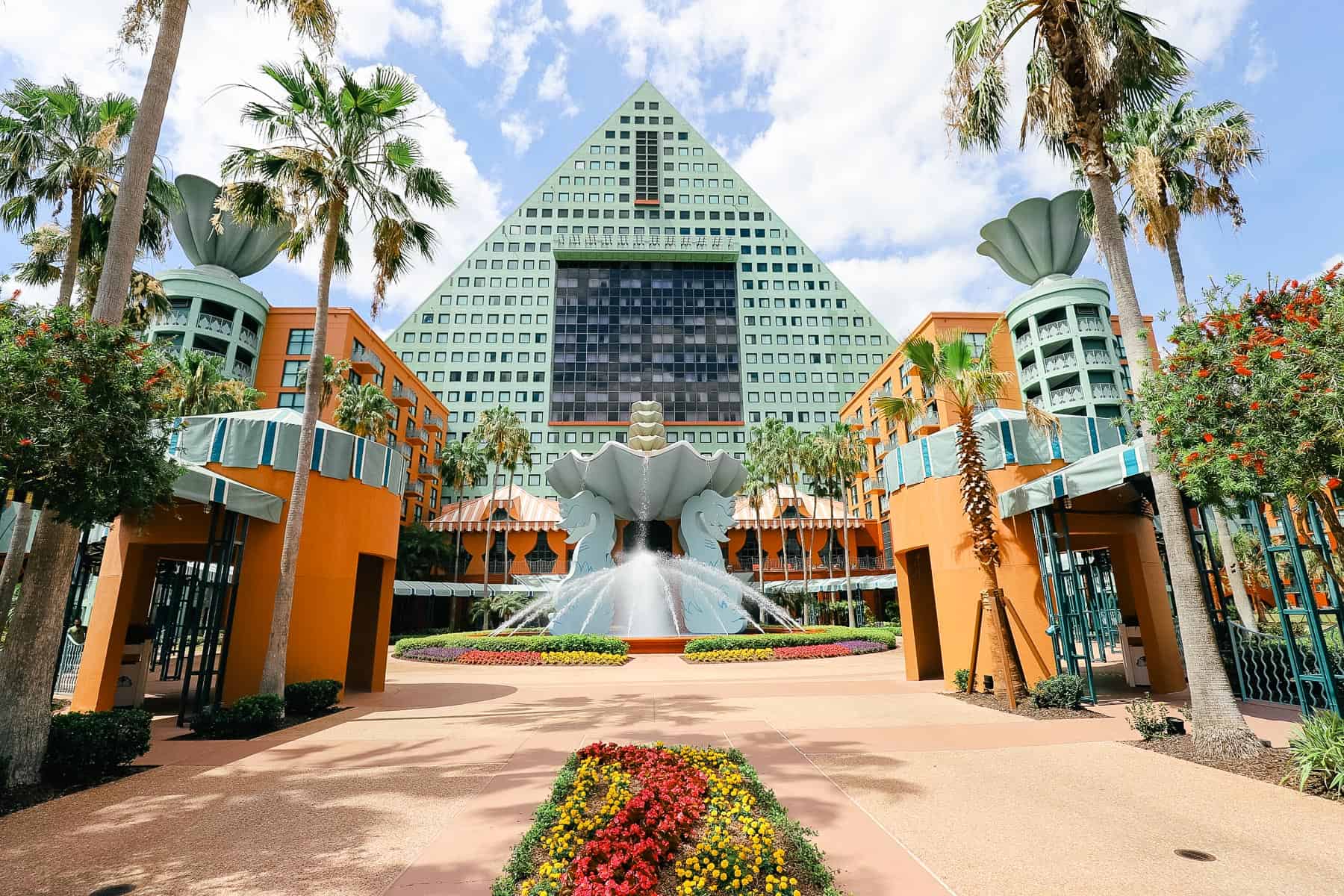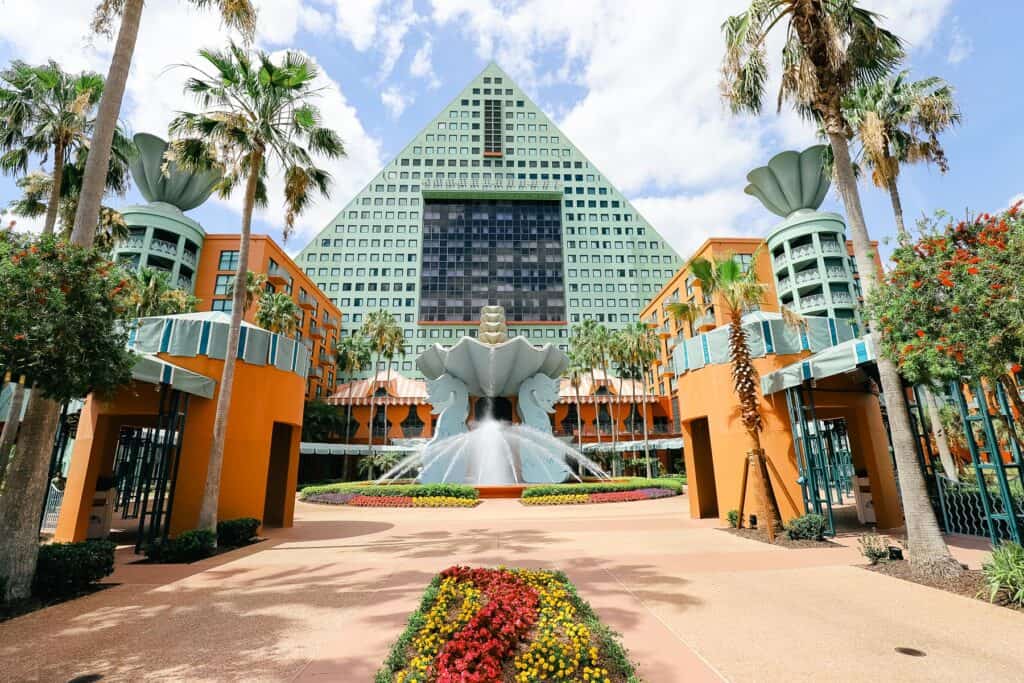 Since the Swan and Dolphin (and Swan Reserve) are located in the Epcot Resorts Area, you can walk to Hollywood Studios and Epcot. Friendship boat transportation is available, and bus transportation is provided to the other Disney Parks.
However, not everything works exactly the same at this resort. For instance, the buses to Animal Kingdom and Magic Kingdom drop off guests in the same area as other off-property hotels.
Additionally, since this hotel is independently owned and operated by Marriott, you'll want to consider not-so-obvious charges like daily resort fees and parking. While prices are often more reasonable at these hotels, these extra fees are add-ons that should be considered.
Disney-owned-and-operated resorts do not charge resort or parking fees.
On a positive note, Marriott Bonvoy members can spend or accumulate points at this hotel. You'll want to ensure your membership is noted on the reservation.
Related: Disney's Swan and Dolphin Hotel Review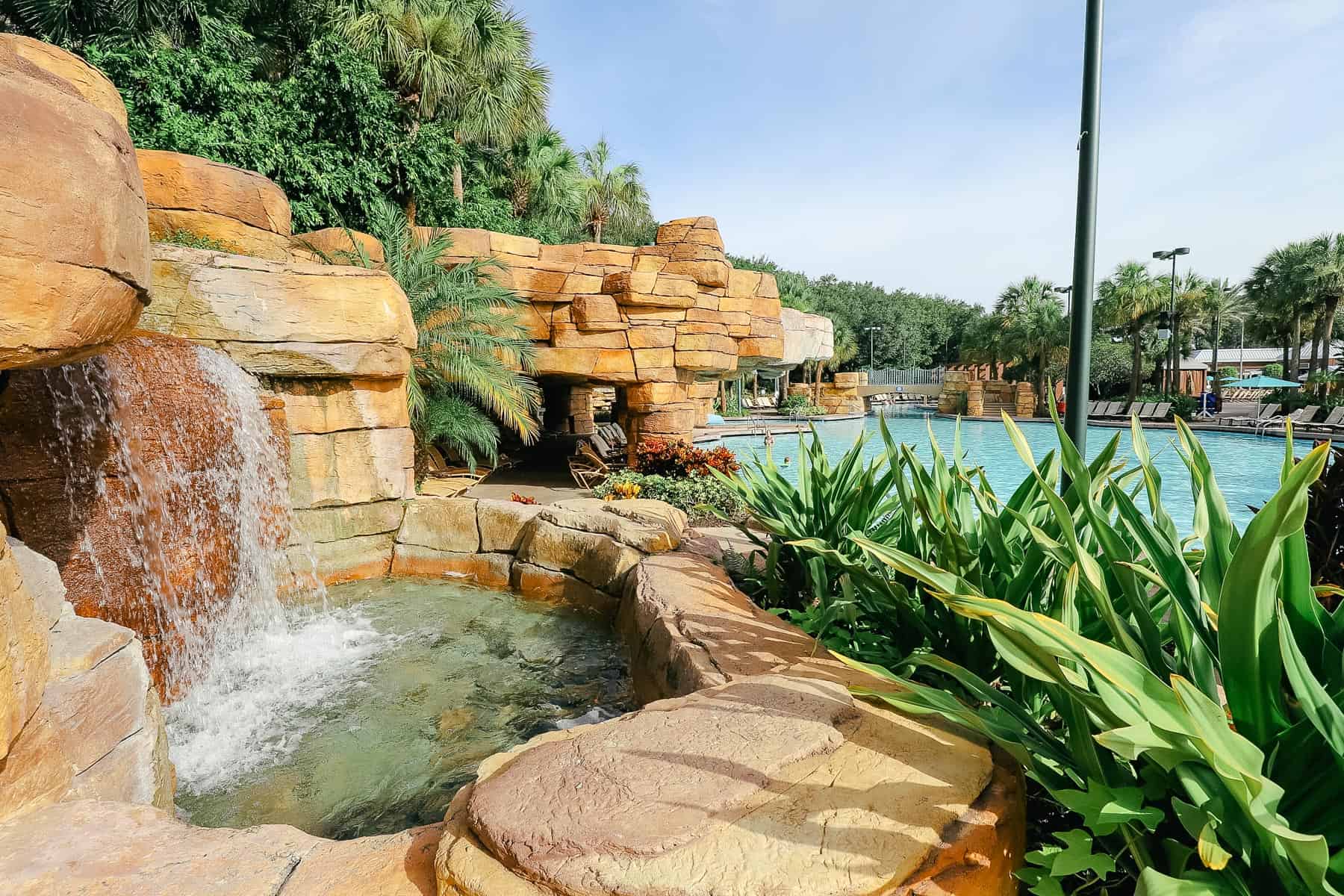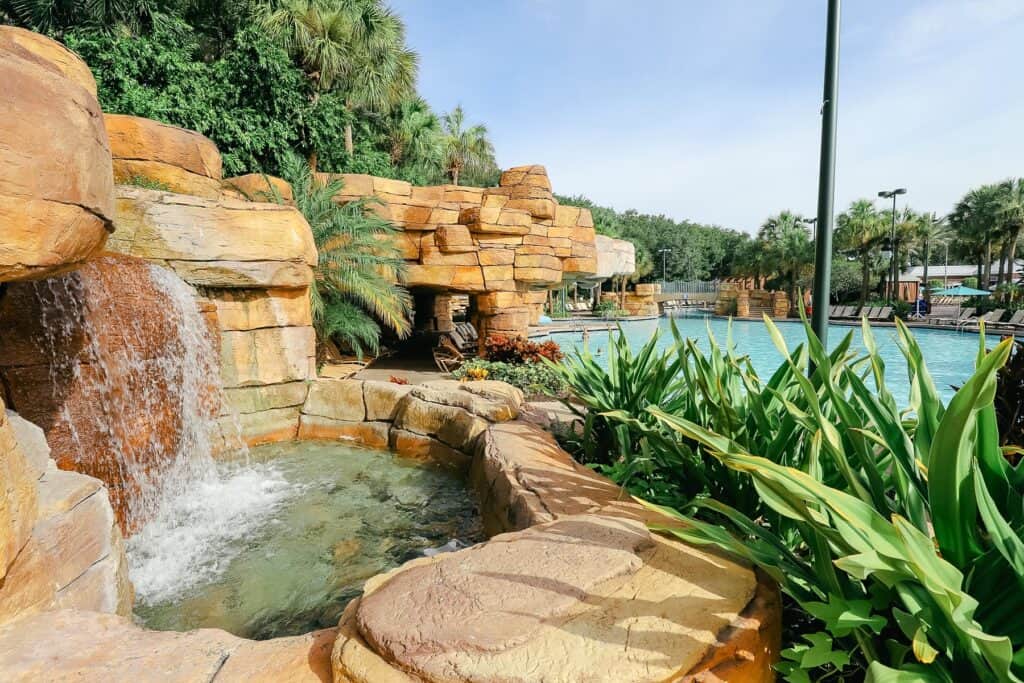 #7 Disney's Contemporary Resort
Disney's Contemporary Resort is the most classic of all the resorts surrounding the Magic Kingdom. It's the one with the monorails running through it.
But our favorite feature is a bit of a secret. Disney's Contemporary offers one of the best backyards in Walt Disney World.
Guests get so caught up in being next door to the Magic Kingdom that they hardly notice it! Below is a photo of the area taken from Bay Lake Tower.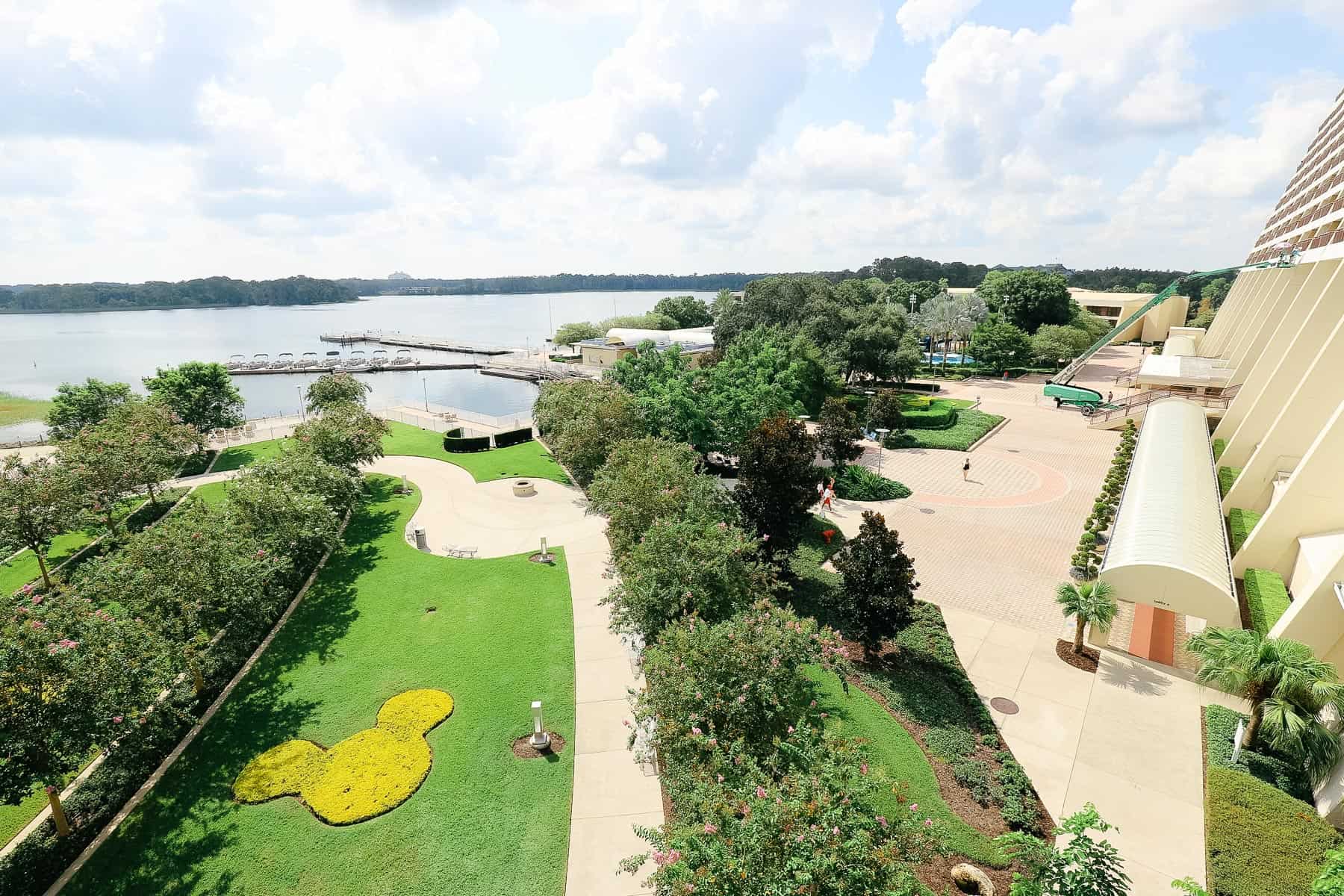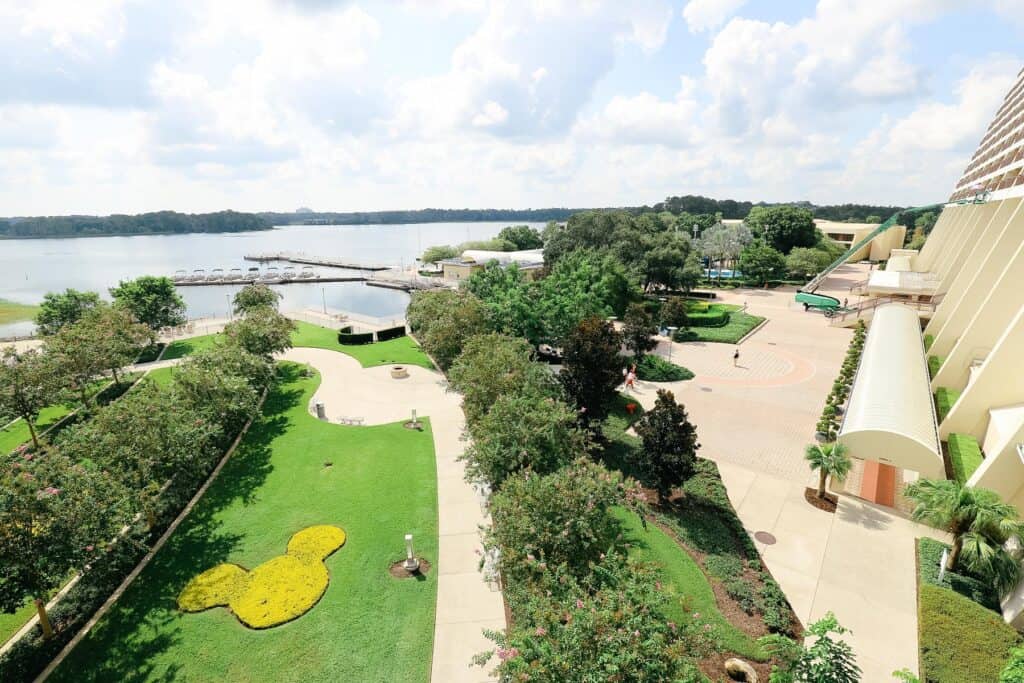 Furthermore, dining options at this deluxe resort are pretty outstanding. For starters, California Grill ranks as one of our top choices for the best signature dining at Disney World.
Disney's Contemporary also has a fun counter service, Contempo Cafe, a character dining experience, Chef Mickey's, and an excellent table service, Steakhouse 71. Or you can hop on the monorail and visit restaurants within close proximity at the surrounding resorts.
Related: Contemporary Resort Restaurant Guide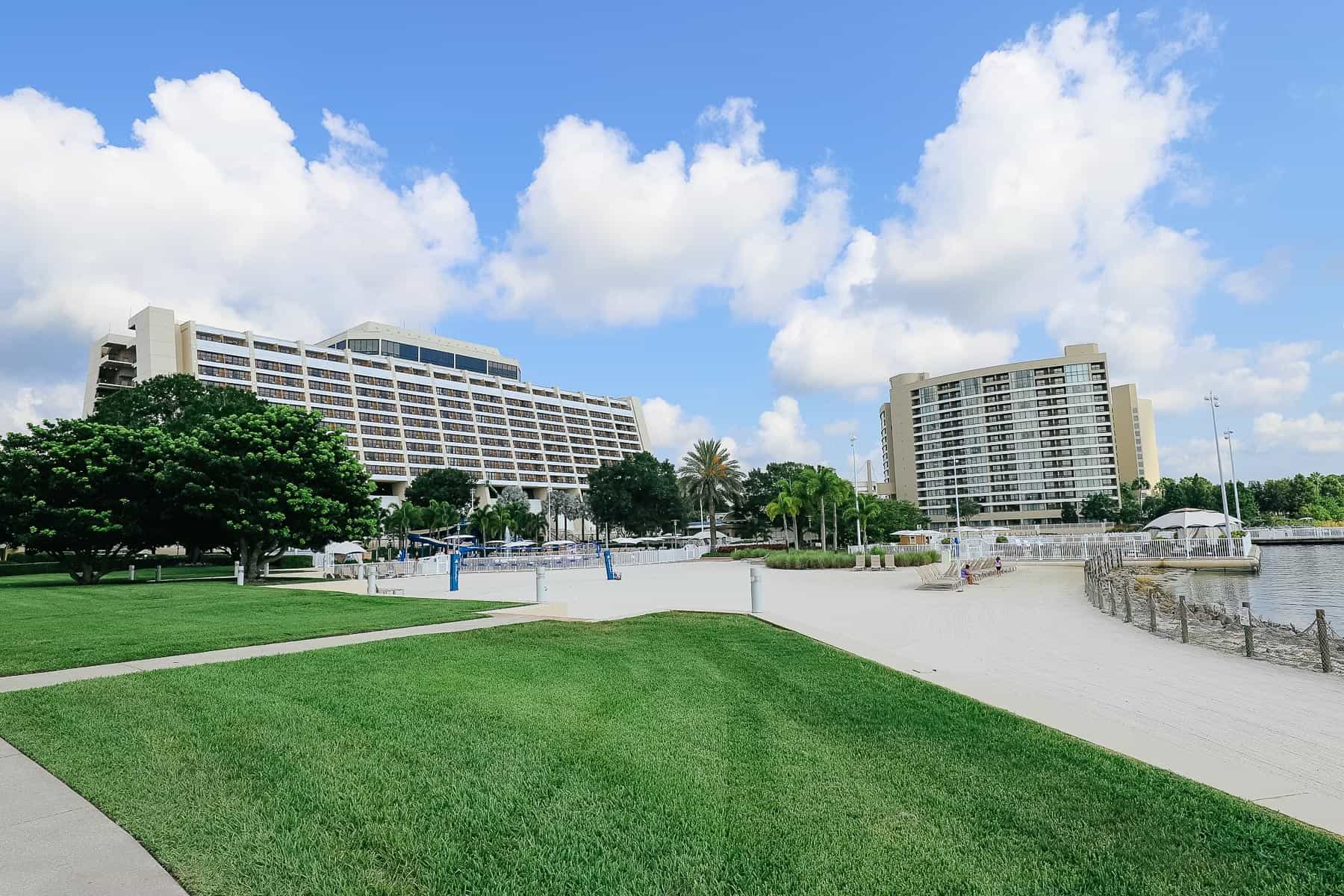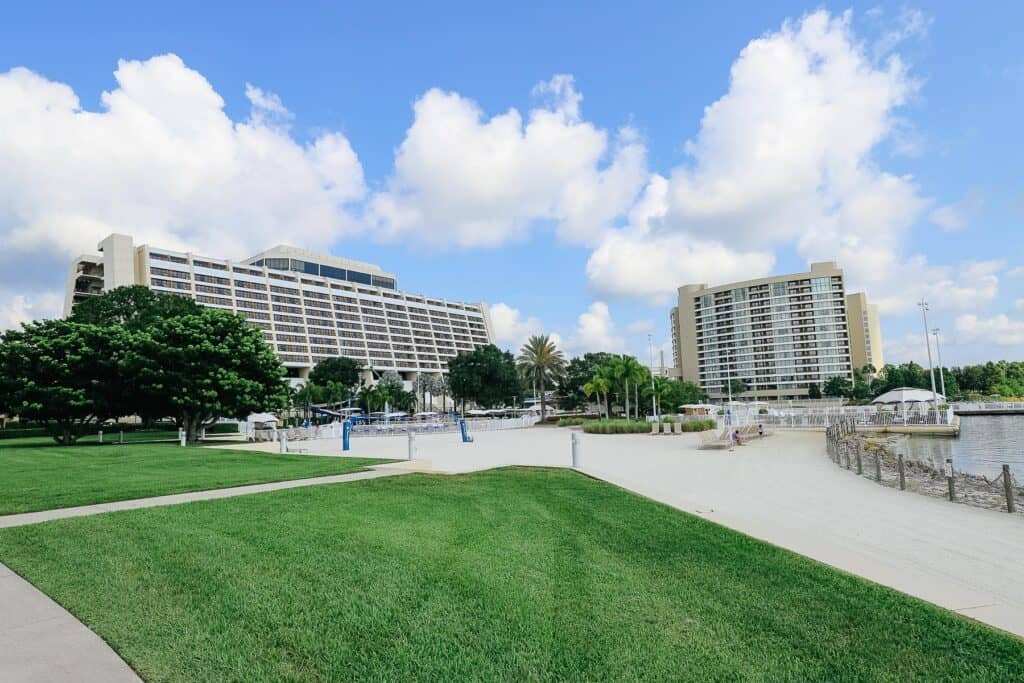 Lastly, it's always hard to top being able to walk to Magic Kingdom Park. It's only a 10-minute walk from the Contemporary to the park's main entrance.
We love to stay here when we have plans to spend time at the most magical place on earth. Walking back to the room on nights when the park is open late is especially nice.
Not having to deal with long lines for the bus or ferry is a game-changer. You can exit the park and take the walking path straight to the hotel.
Related: Disney's Contemporary Resort Review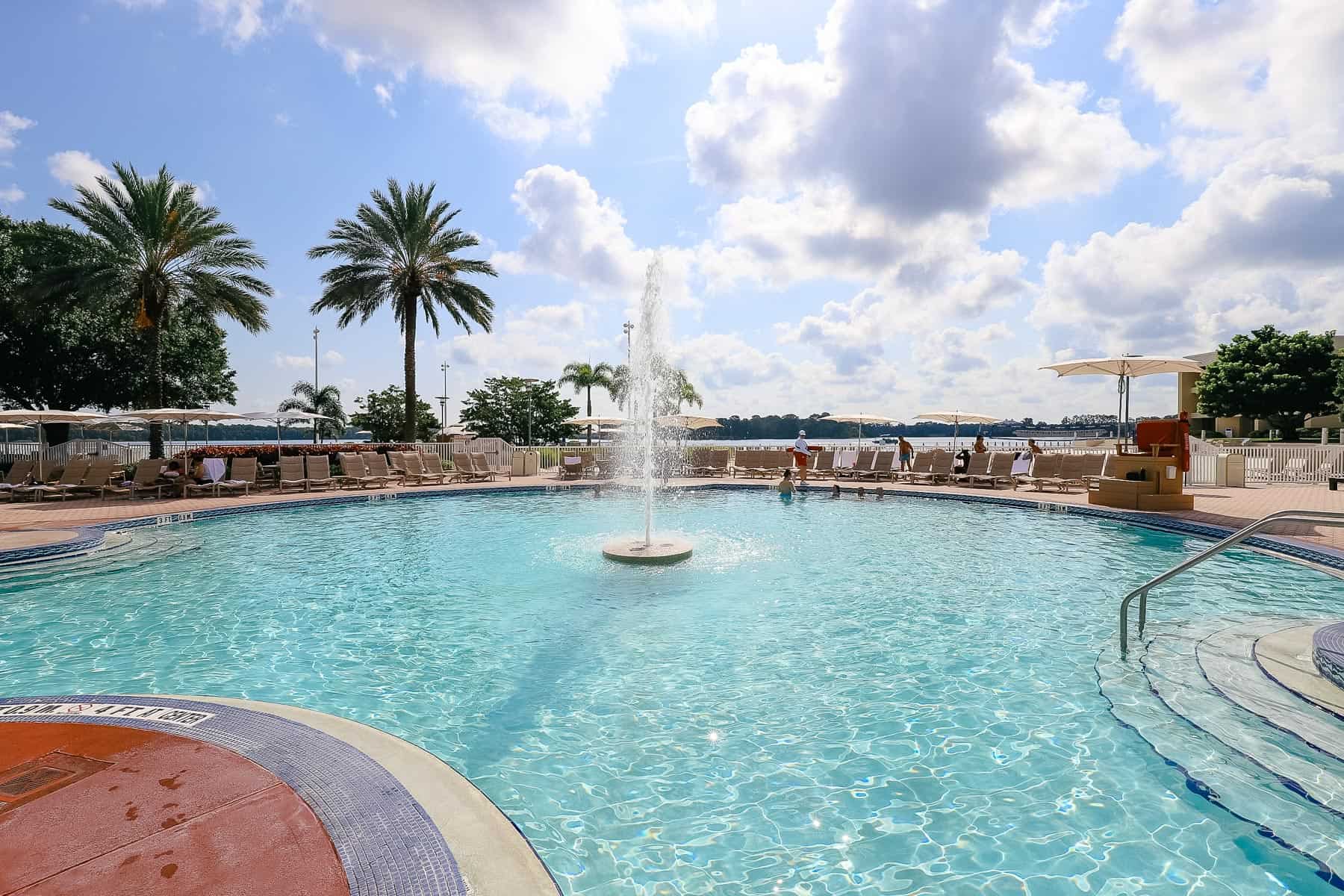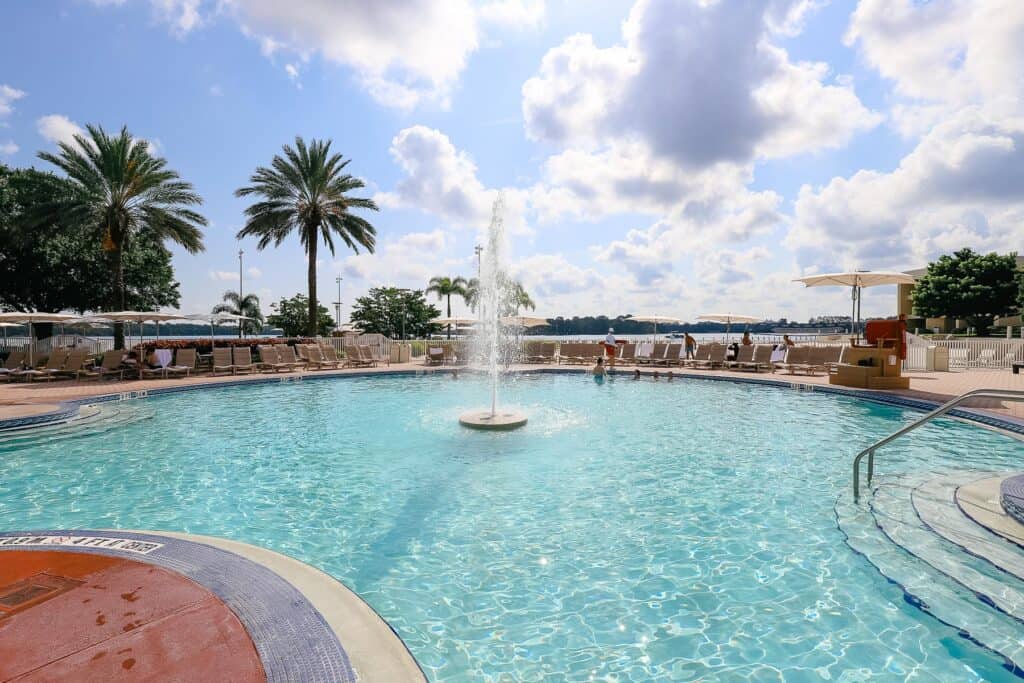 #6 Disney's Yacht Club Resort
Technically, we could include Disney's Yacht Club as our number two choice because it's connected to Disney's Beach Club. However, they are booked as separate resorts.
If you know you want to stay at either Beach Club or the Yacht Club, it's more of a preference for which style suits your best. Both resorts share the same amenities.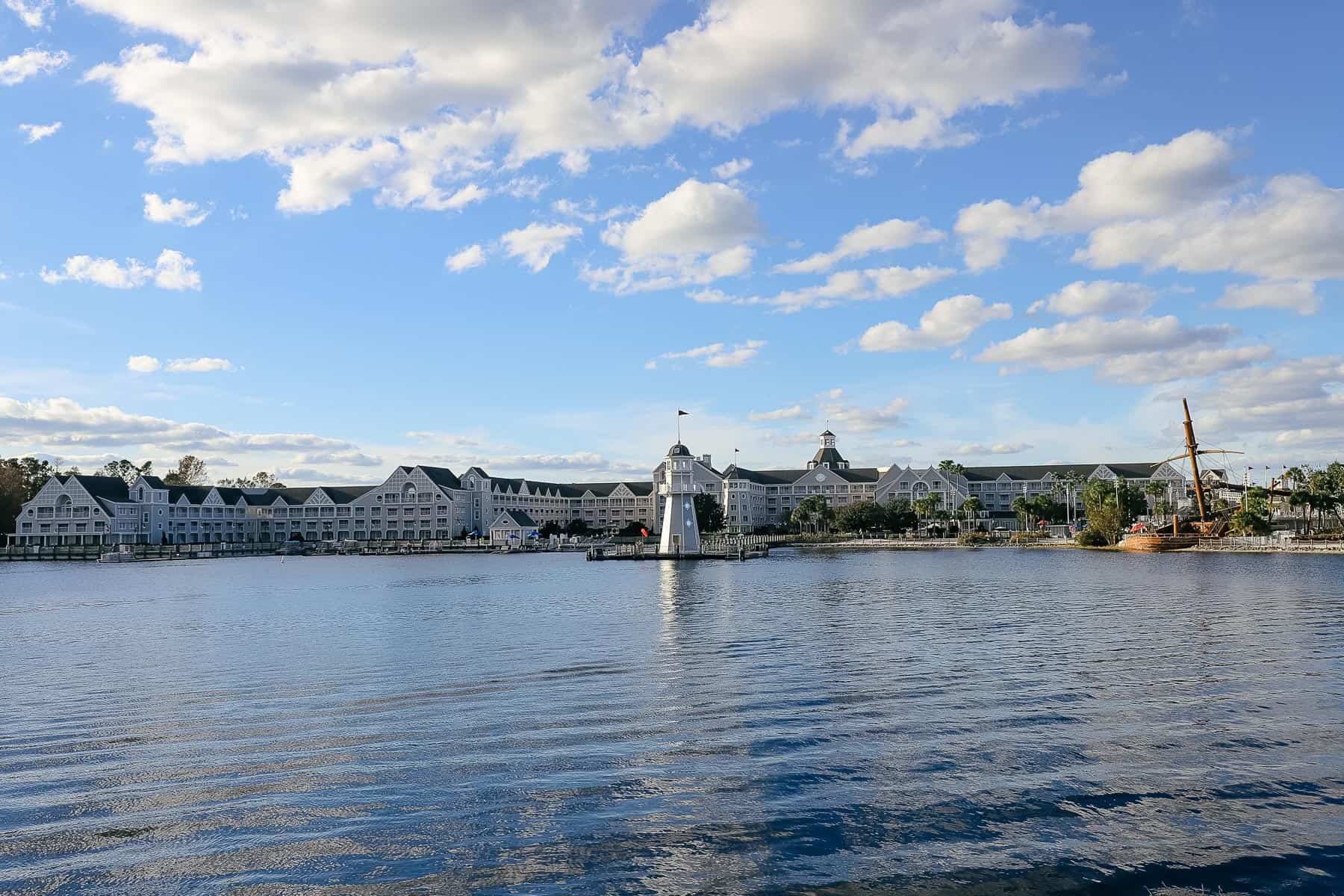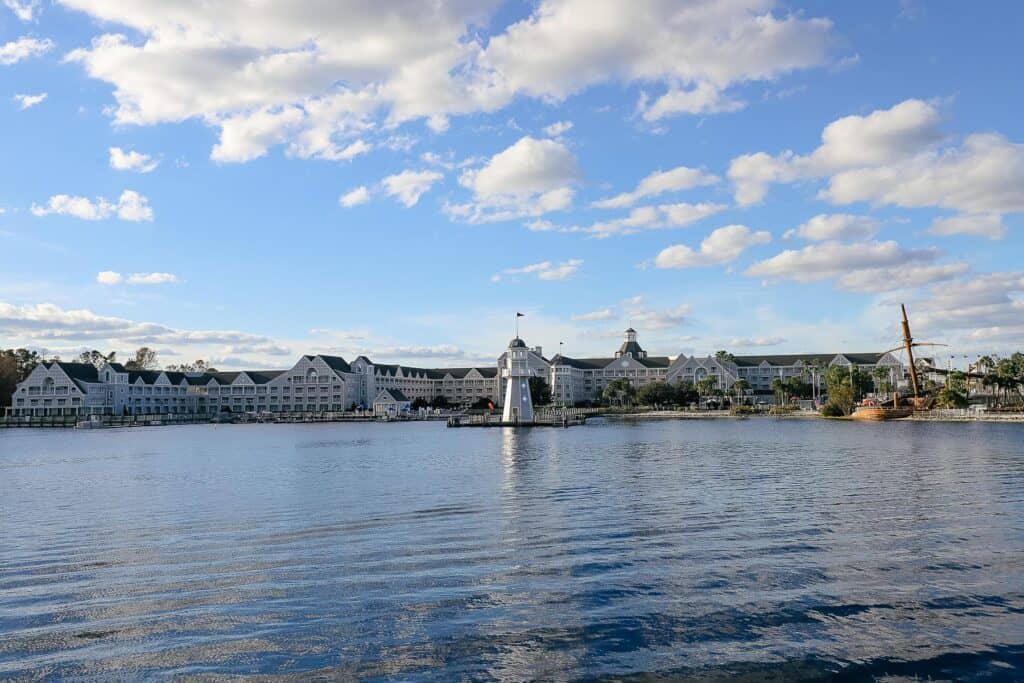 Disney's Yacht Club is the more formal of the two resorts. You can expect nautical theming that references ships, sails, ropes, and knots. It has a regal look and feel.
As far as dining goes, we have a few favorites. For starters, don't sleep on Yachtsman Steakhouse. Trust me, the onion rolls (and everything else) are delicious.
Disney's Yacht Club is also home to one of our most frequented table-service restaurants, Ale and Compass. We enjoy dining here for all meal periods, but especially at breakfast.
Related: Ale and Compass Breakfast Review
Of course, the biggest deal of staying here is Stormalong Bay. It even has a lazy river! But, if, for some reason, the pool ends up feeling too overwhelming, three leisure pools are available between the two resorts. Even better, those quiet pools are rarely crowded.
Related: Disney's Yacht Club Review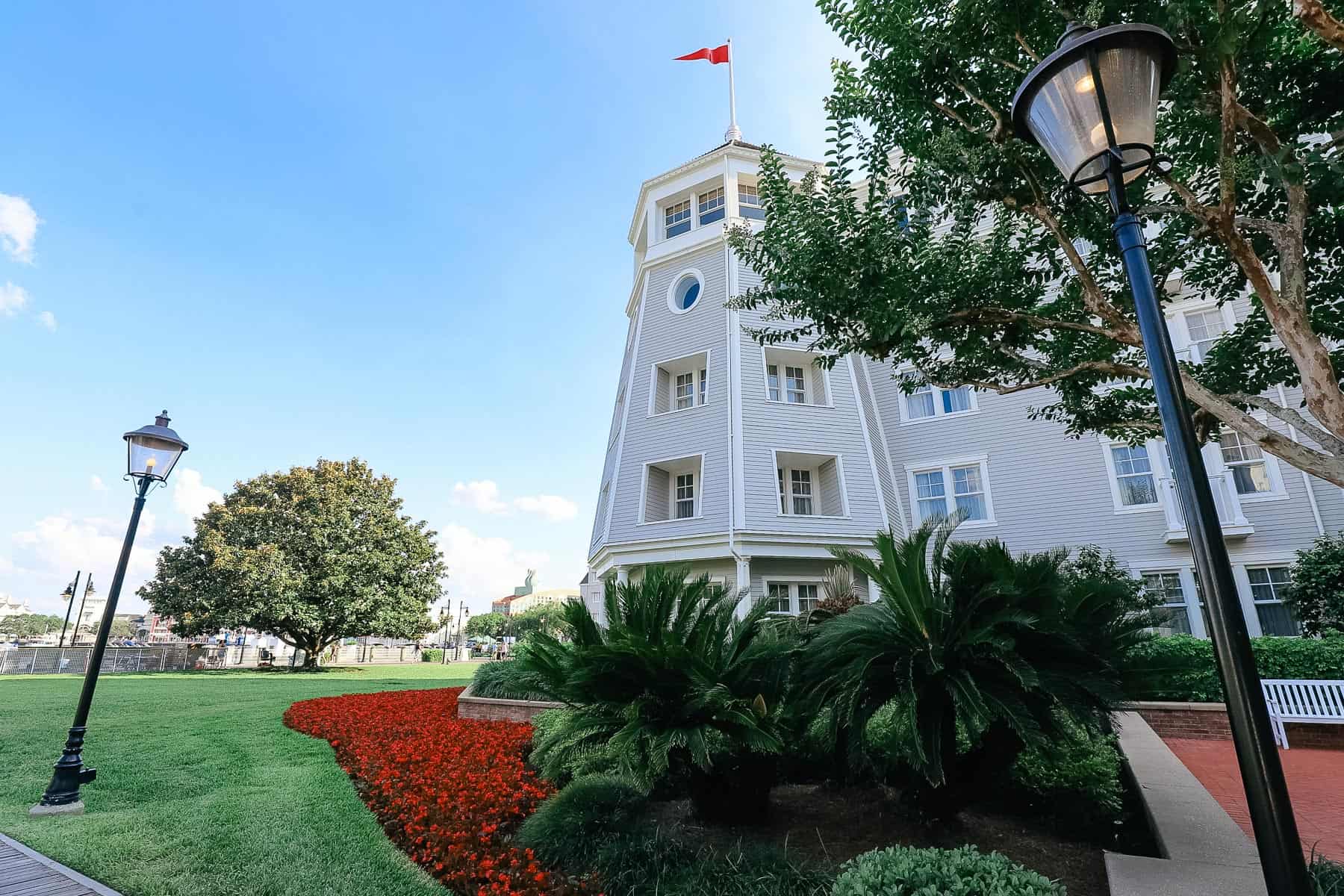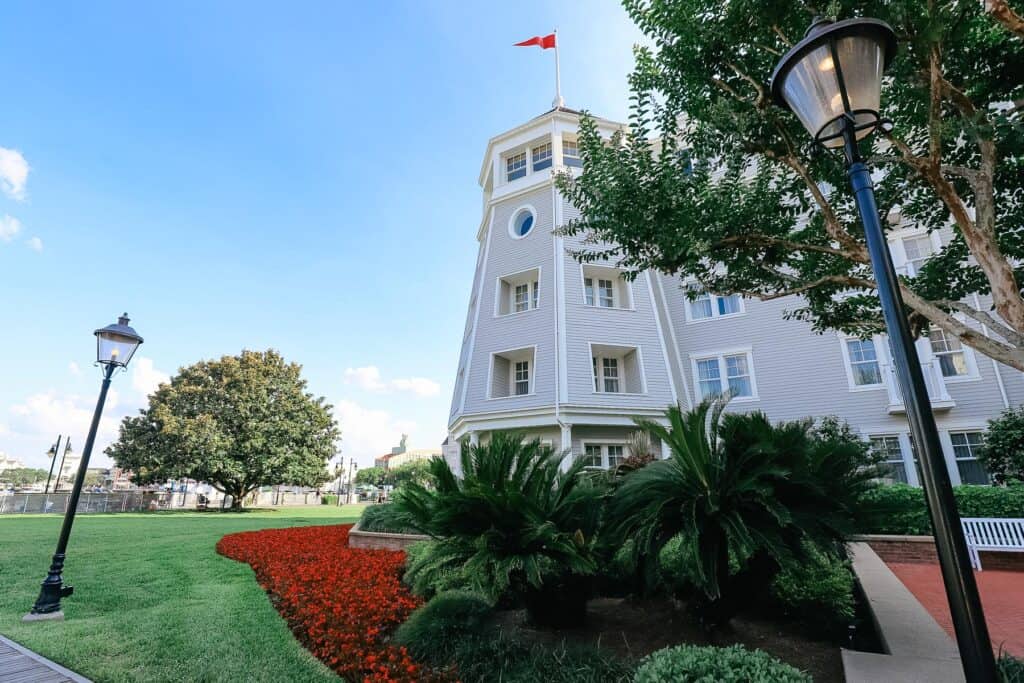 #5 Disney's Grand Floridian Resort & Spa
Disney's Grand Floridian is not only iconic, but it is the creme de la creme of deluxe resorts. This resort has a Victorian flair with a somewhat formal feel. But, thankfully, it's not too stuffy.
Grand Floridian sits across Seven Seas Lagoon from the Magic Kingdom. You can access the park via monorail, walkway, or boat transportation.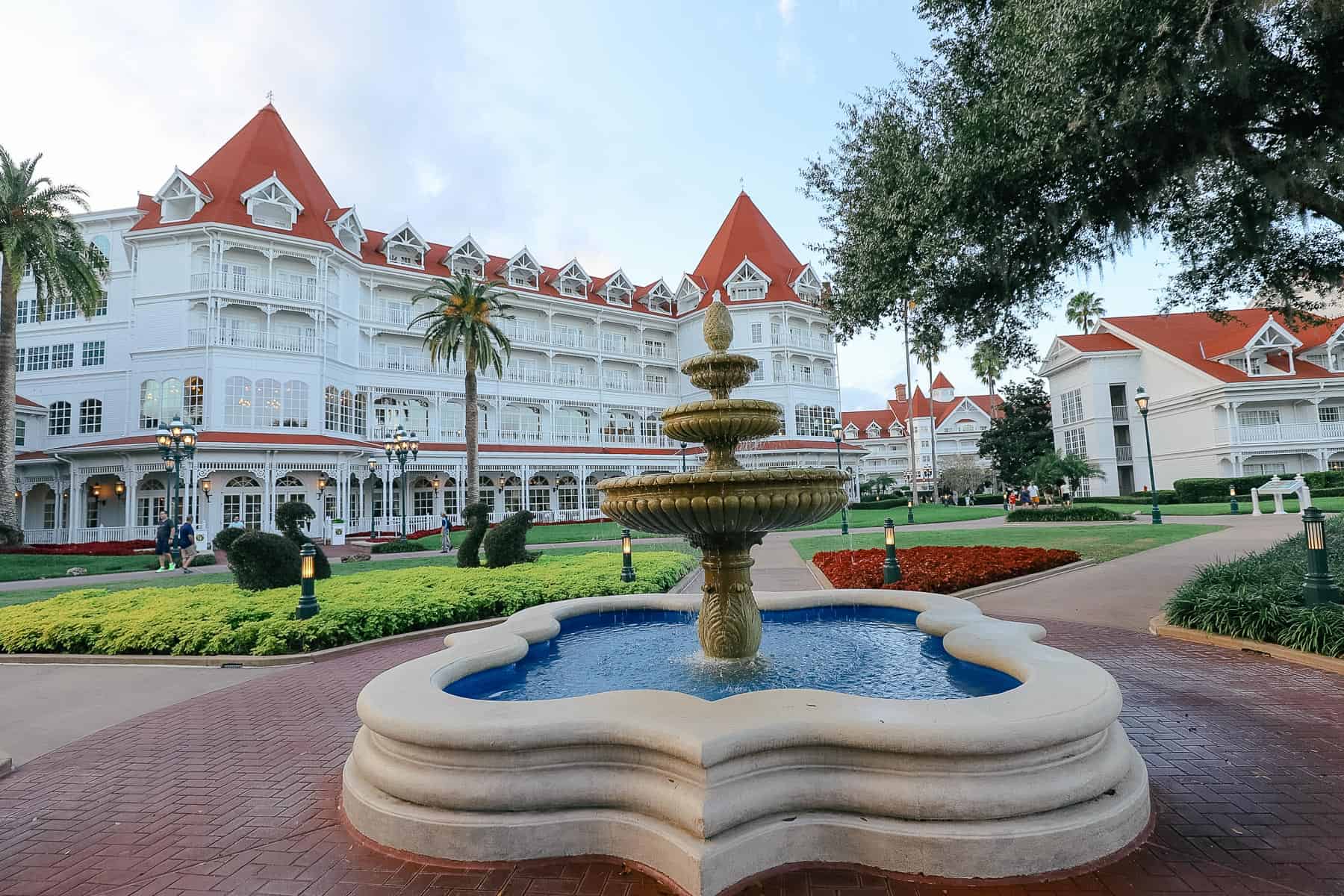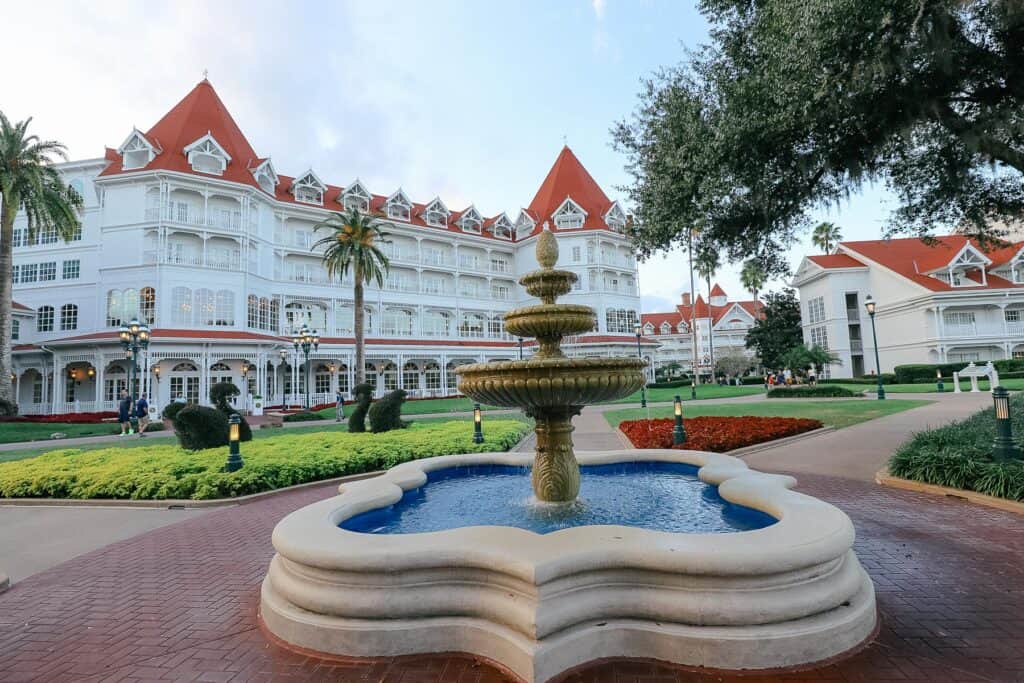 Foodies will want to know this deluxe hotel is home to three signature restaurants. Not only that, one of our hidden gem dining locations, Grand Floridian Cafe, sits right off the lobby.
My fondest memory of staying here was waking up to the morning sunlight pouring in from the balcony while hearing the ferry horns in the distance. It's a peaceful memory for a very busy Disney World.
Another plus is that this deluxe resort sits directly next to the Polynesian. It's like having two resorts for the price of one! So when you're in the mood for a tropical drink, you can walk over to Trader Sam's Grog Grotto and pick one up!
Of course, the Grand Floridian is Disney's most expensive resort. So, for some, pricing might be a significant consideration when planning a stay here.
Related: Disney's Grand Floridian Review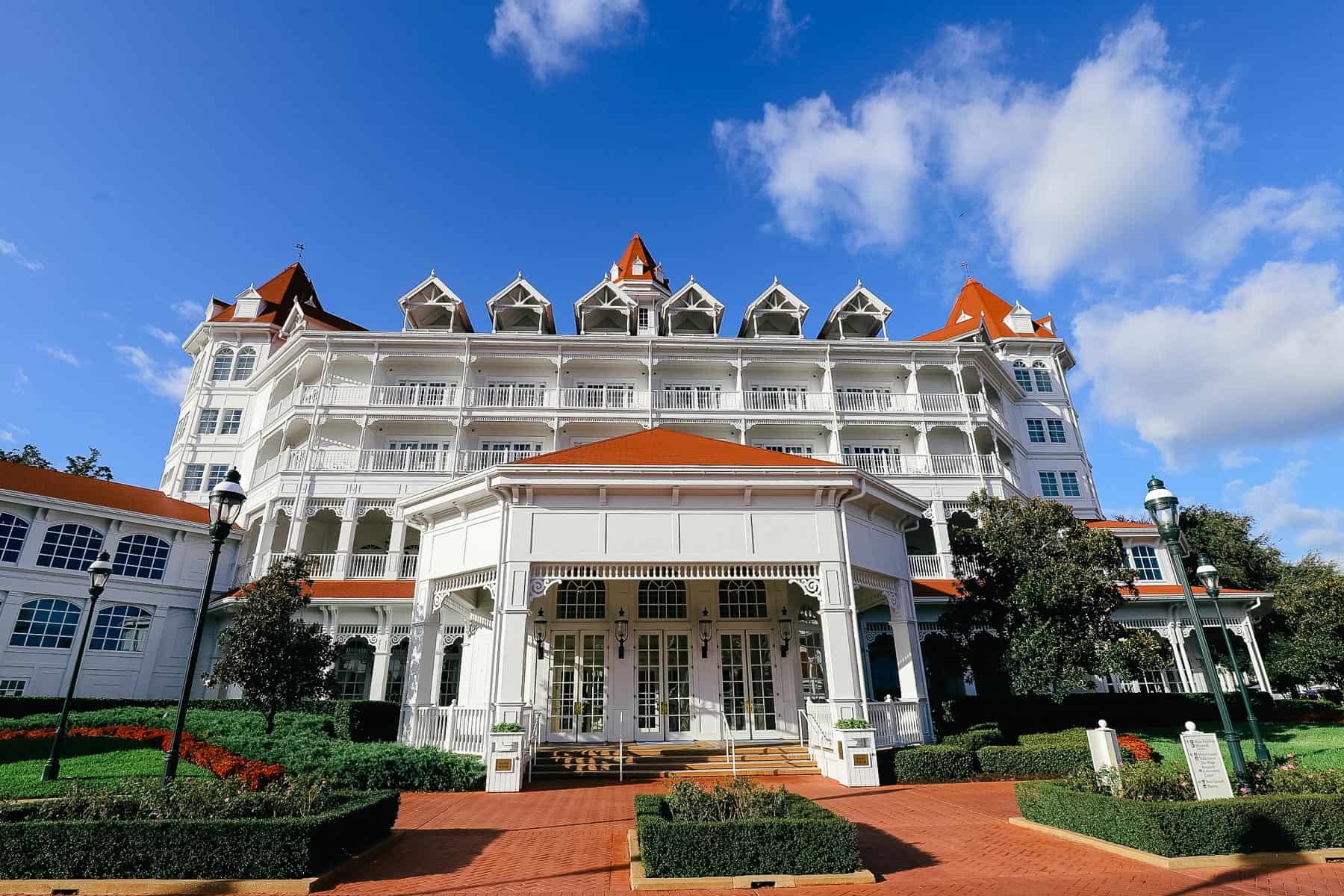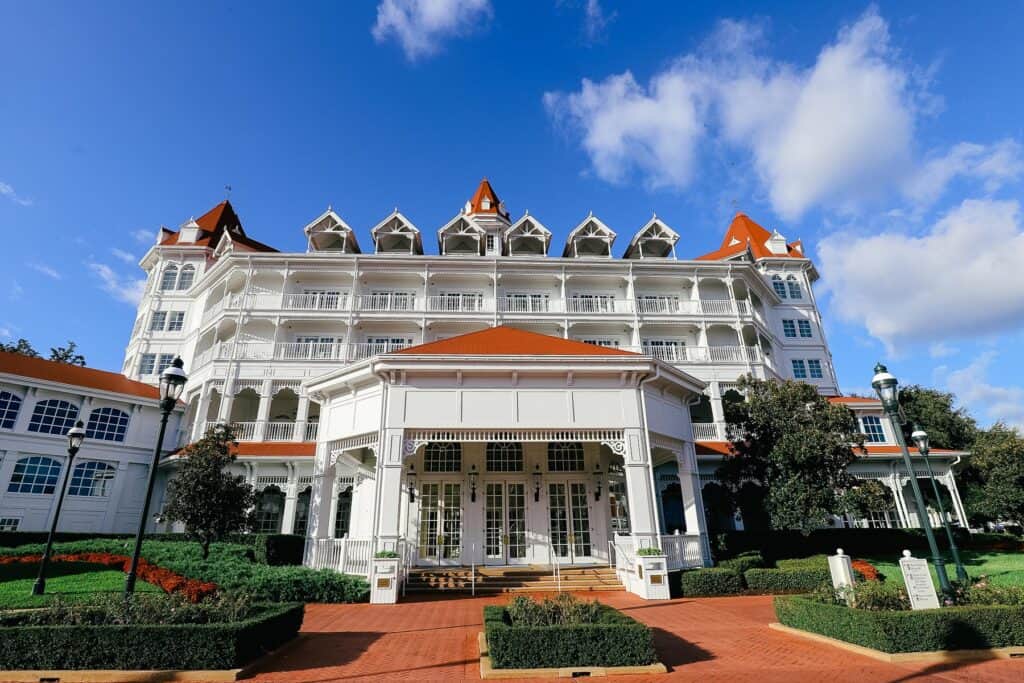 #4 Disney's Wilderness Lodge Resort
Disney's Wilderness Lodge falls into our top five picks for best Disney deluxe hotels. This resort offers a Pacific Northwest and National Parks vibe that comes across as a relaxing retreat.
Between the stunning woodwork and scenic surroundings, you won't feel like you're visiting the busy theme parks (or even Florida)! It feels like they turn the temperature down when you step onto the resort's boat dock.
You're in for a real treat if you visit over the holidays. Wilderness Lodge is even more stunning when decked out with Christmas decorations.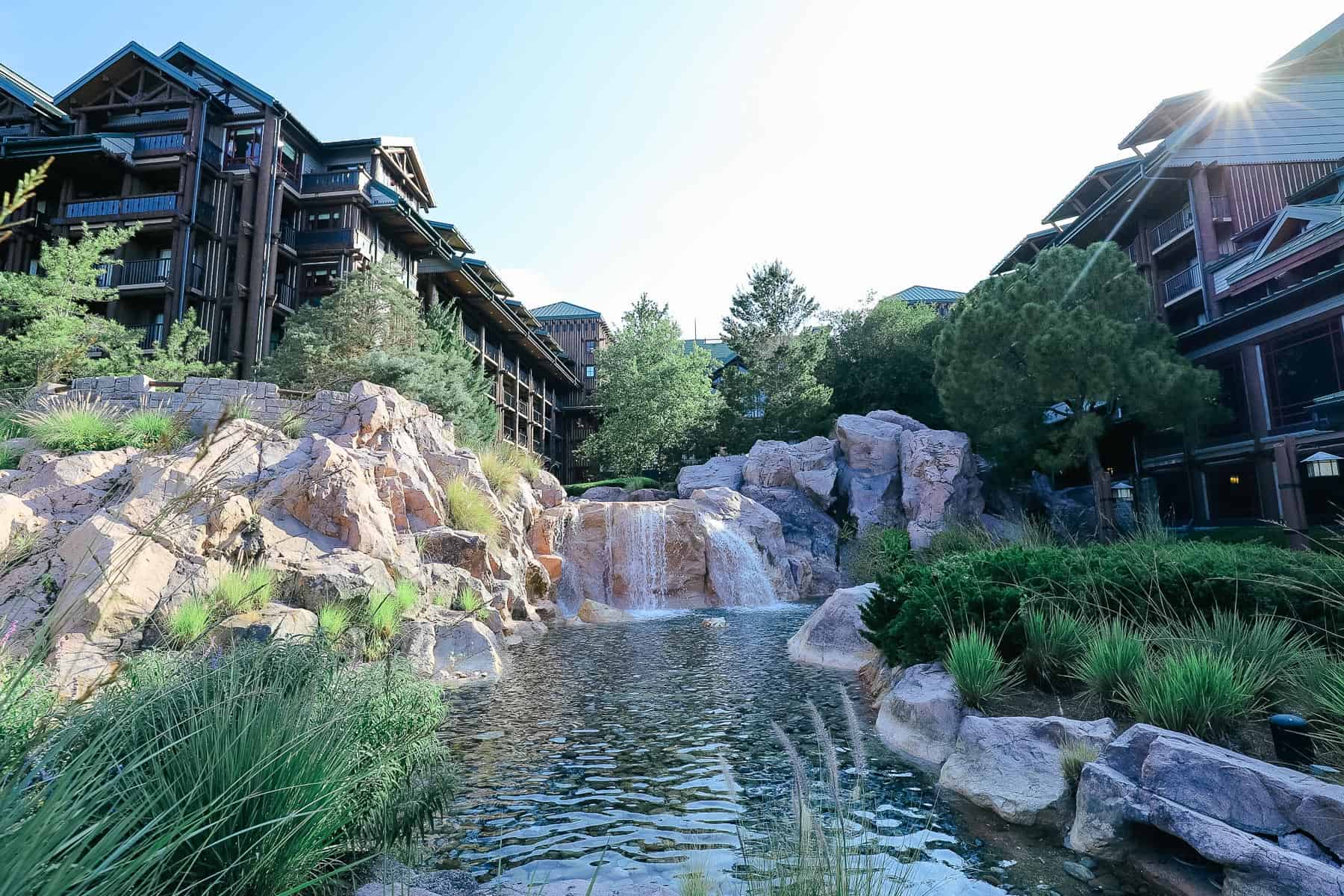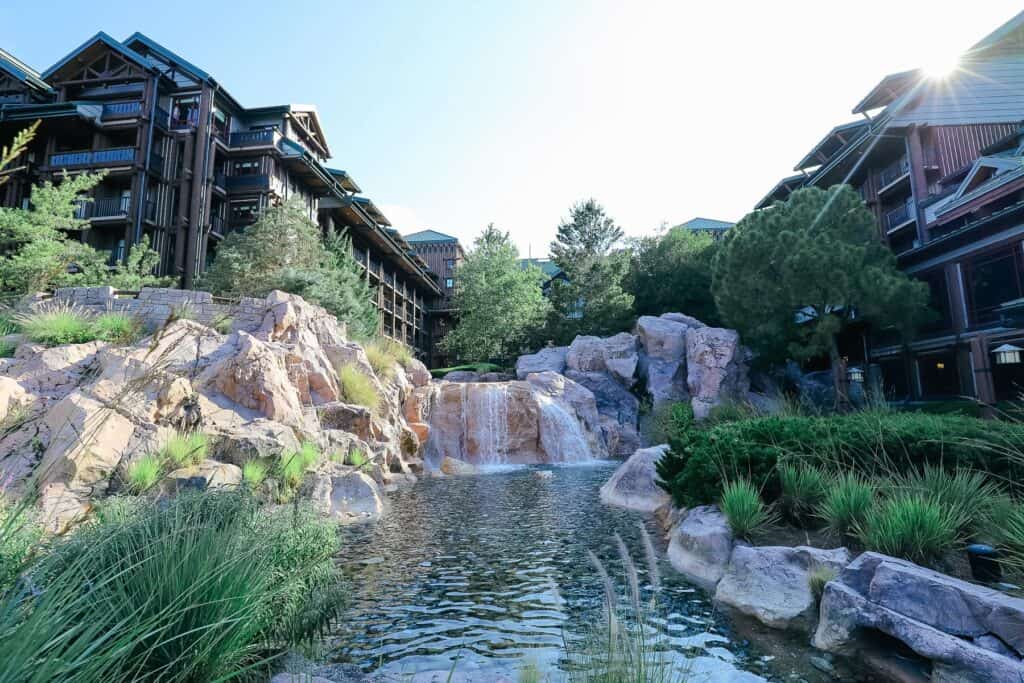 However, if this isn't the resort you pick, you can still plan a meal here during your trip. We love Geyser Point Bar and Grill for lunch or dinner.
Or you might enjoy dining with Snow White at Artist Point. And we love having breakfast at Whispering Canyon Cafe. This resort has excellent dining options.
Related: Restaurants at Disney's Wilderness Lodge
Disney's Wilderness Lodge is the perfect deluxe resort for those wanting that "get away from it all" feeling. You'll find plenty of nooks and crannies to read a good book or do a little people-watching throughout the hotel.
Did I mention fireplaces were involved? (It really is a chilly resort, so don't forget a jacket!)
Related: Disney's Wilderness Lodge Review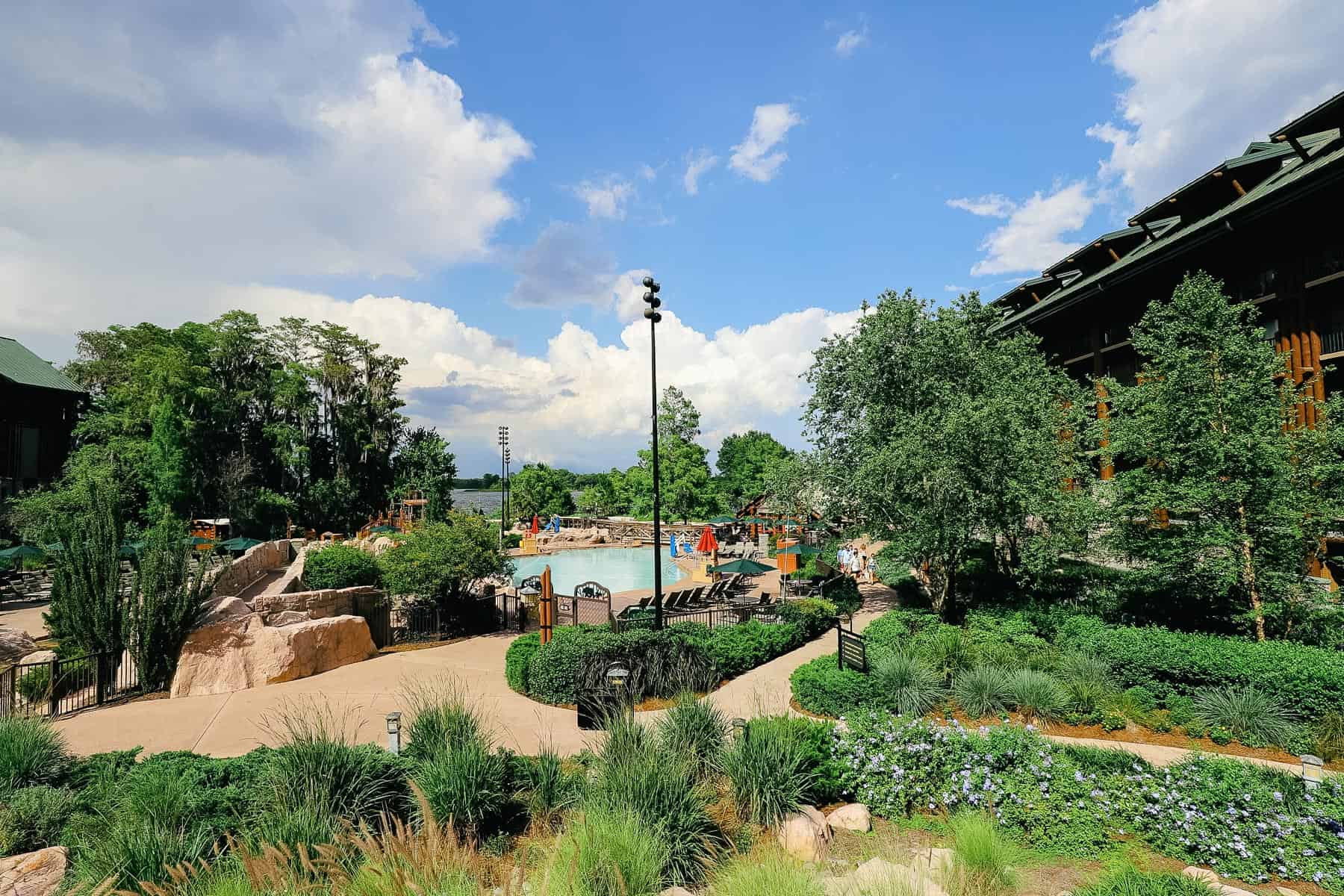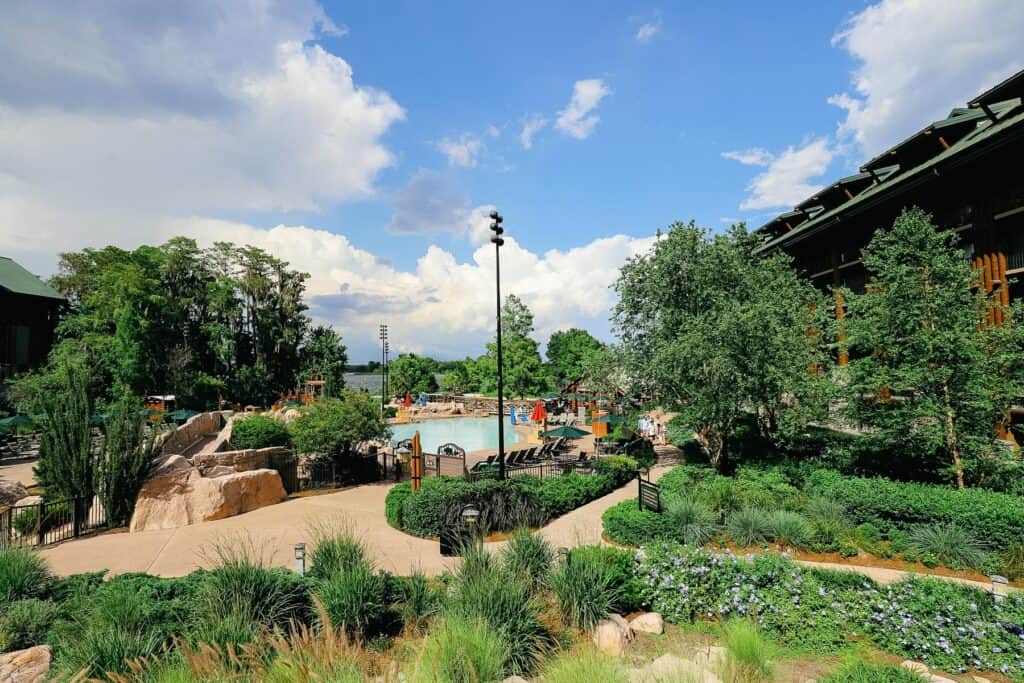 #3 Disney's Polynesian Village Resort
Our number three deluxe resort promotes relaxation with a Hawaiian vibe. Disney's Polynesian, an original 1971 resort, is a favorite for many.
However, given its popularity, the resort's pools are usually packed! So you probably won't find a quiet spot by the pool at this resort.
Disney's Polynesian underwent an entire resort refurbishment a few years back that brought touches of Moana to standard guest rooms. Additionally, the lobby and entryway received a bit of a facelift.
Everything turned out nicely.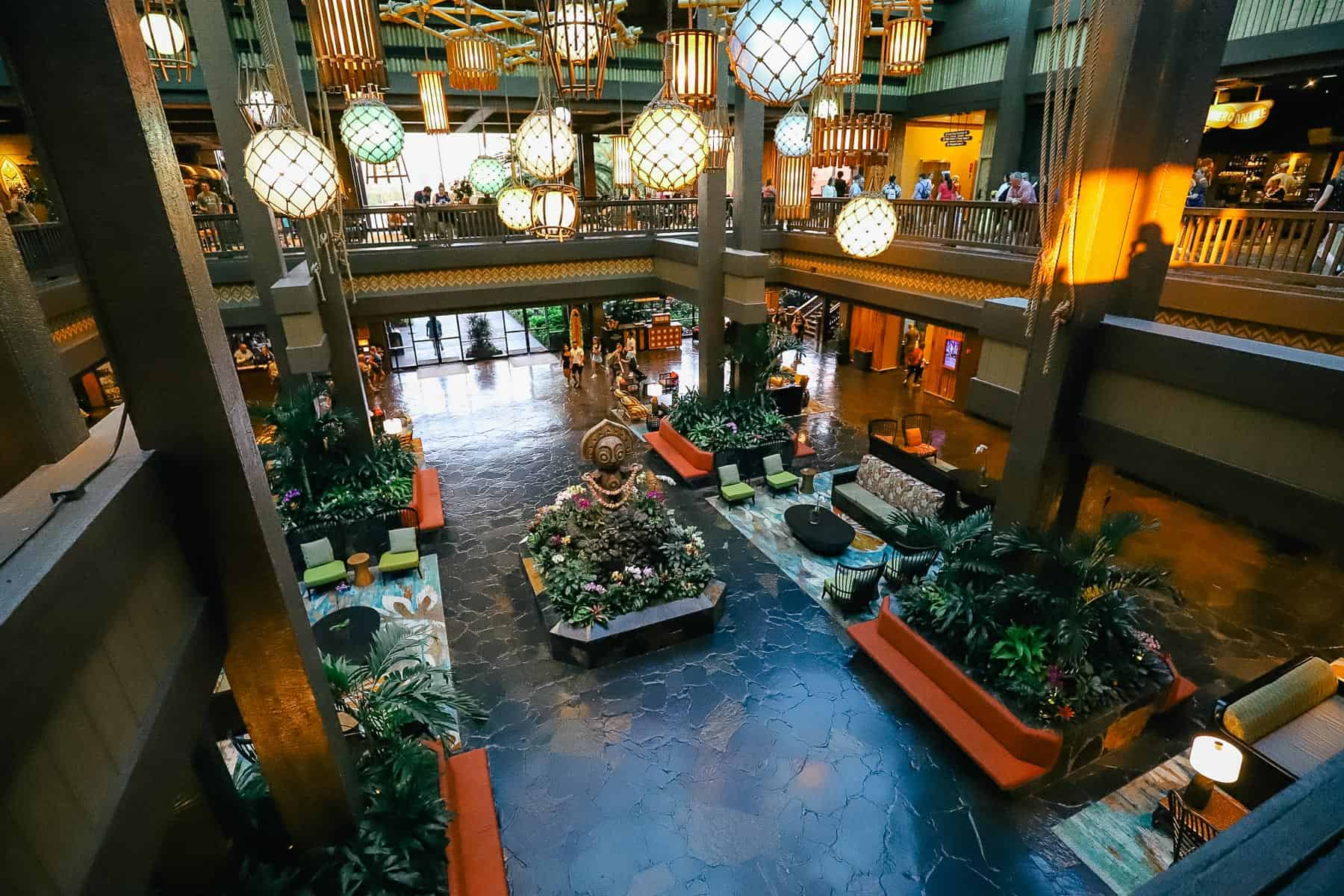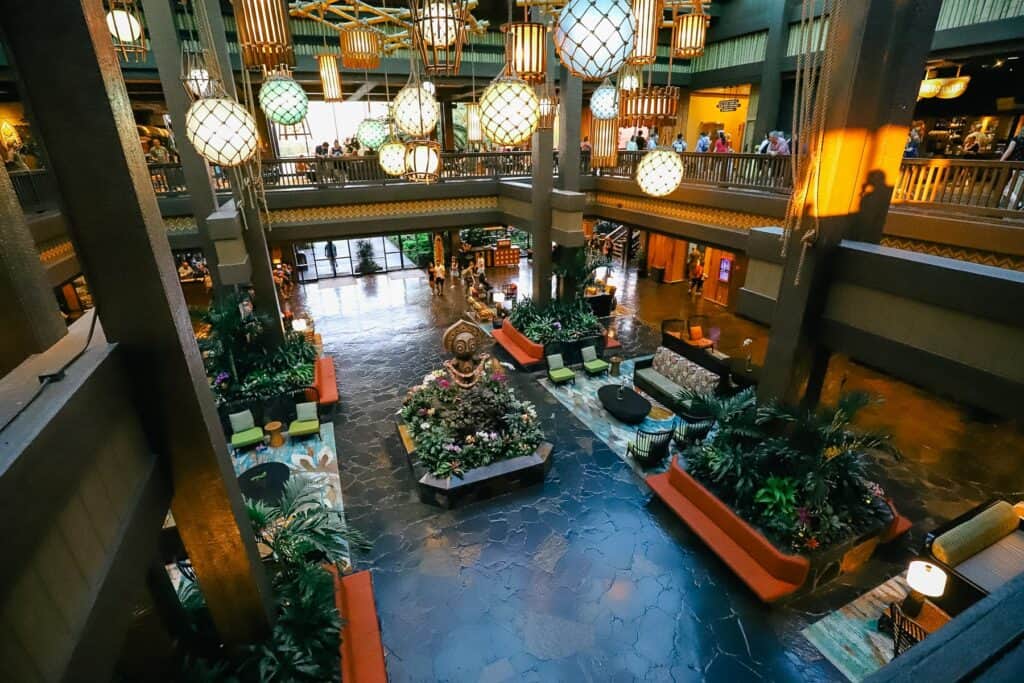 As far as restaurants go, the Polynesian has some wonderful options. Kona Cafe, the resort's standard table service, offers Asian and American cuisine.
'Ohana is exceptionally popular. For breakfast, they have a character meal. But for dinner, the restaurant transitions to offering a traditional Polynesian meal with meat skewers and tasty noodles.
Related: 'Ohana Character Breakfast Review
Additionally, Captain Cook's is a fun quick-service option, and you can also find Dole Whip treats at Pineapple Lanai near the resort's outdoor patio. Disney's Polynesian has so many great dining options. We could go on and on!
Related: Restaurants at Disney's Polynesian Resort
Since the Polynesian is located across the lagoon from Magic Kingdom, guests can enjoy nightly fireworks from the resort's white sand beaches. In addition, music from the performance is streamed over a speaker system adding to the ambiance of this unique viewing area.
Related: Disney's Polynesian Resort Review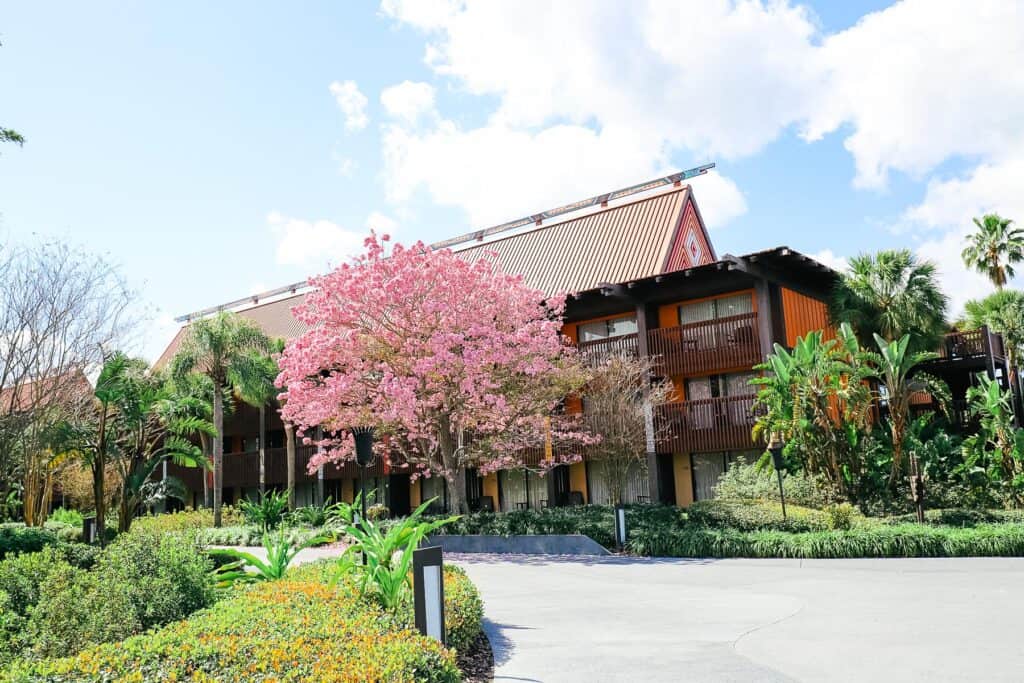 #2 Disney's Beach Club Resort
If you've ever visited Resorts Gal, you know we're big fans of Disney's Beach Club Resort. However, we rank it as our second choice because our top pick has something extra going for it that you won't find anywhere else.
Compared to the Yacht Club, Disney's Beach Club Resort offers a more casual, seaside vibe. Expect soft colors like light blues and seafoam greens that accent beautiful pink French limestone floors.
Beach Club sits across Crescent Lake from Disney's Boardwalk and is adjacent to the Yacht Club. It's a relaxing place to spend your Disney vacation.
Disney's Beach Club is the closest resort in proximity to Epcot. You can exit the resort's back door and walk to Epcot within less than five minutes.
Related: Disney's Beach Club Review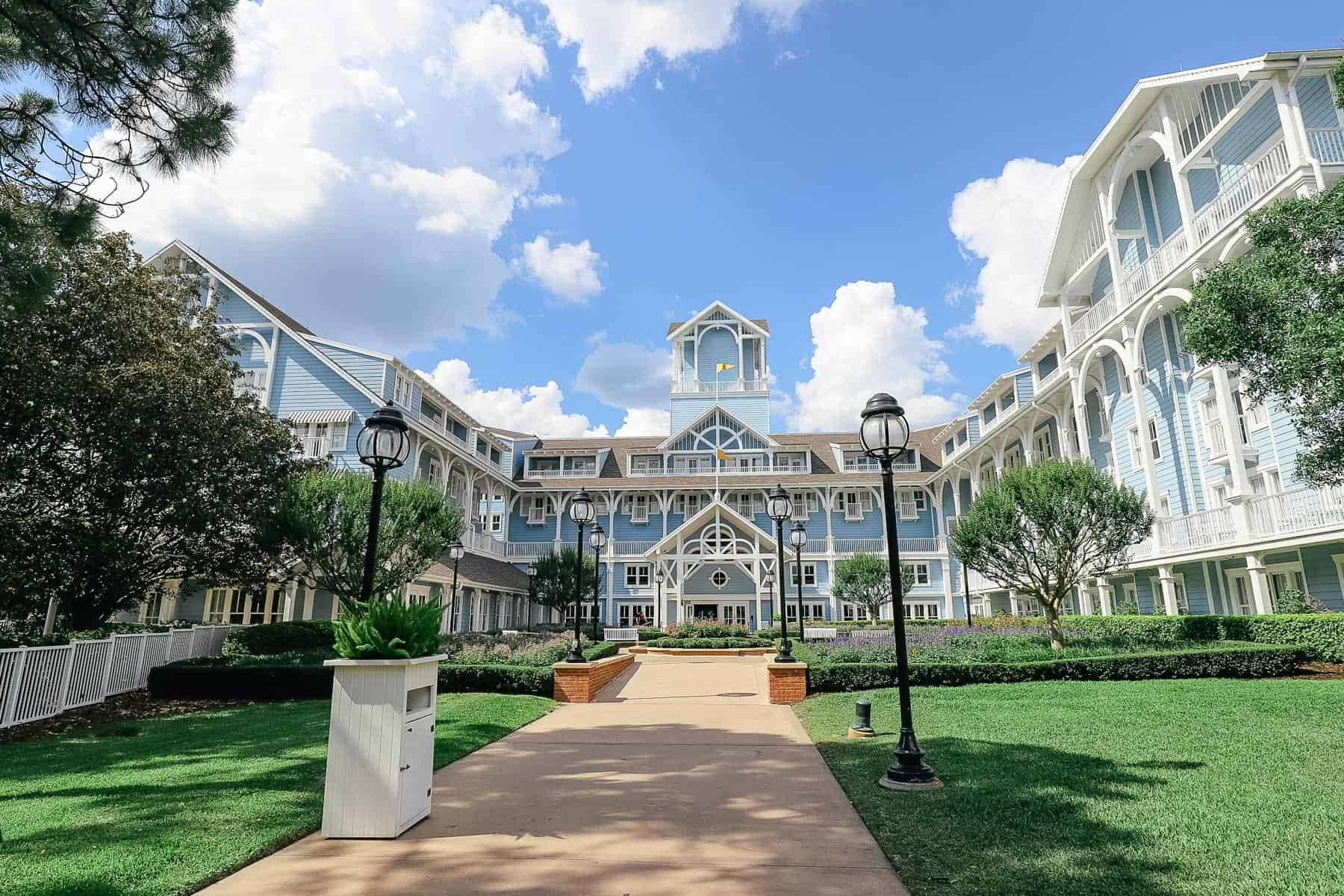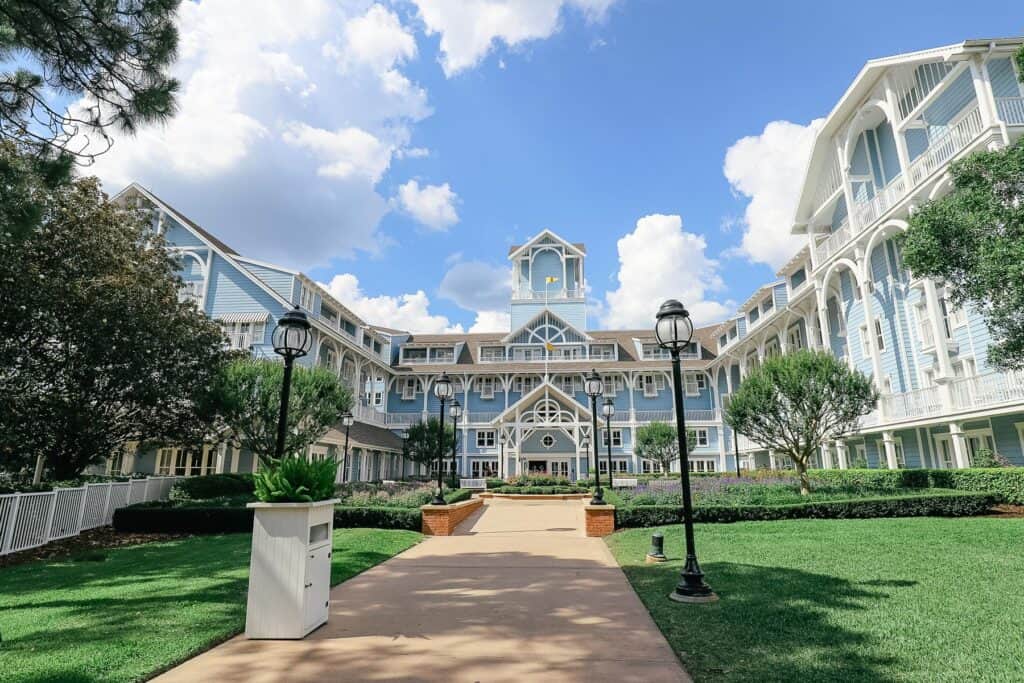 The Beach Club is home to Cape May Cafe, which has a popular character breakfast in the morning and is a seafood restaurant in the evening. Characters are only present for breakfast.
Related: Cape May Cafe Breakfast Review
Martha's Vineyard and Crew's Cup Lounge are hidden gems serving fantastic food. We love the clam chowder at Martha's Vineyard!
Of course, the biggest perk of staying here is Stormalong Bay. You also won't want to miss Beaches and Cream, a restaurant near the pool that serves guilty pleasure ice cream treats and diner food.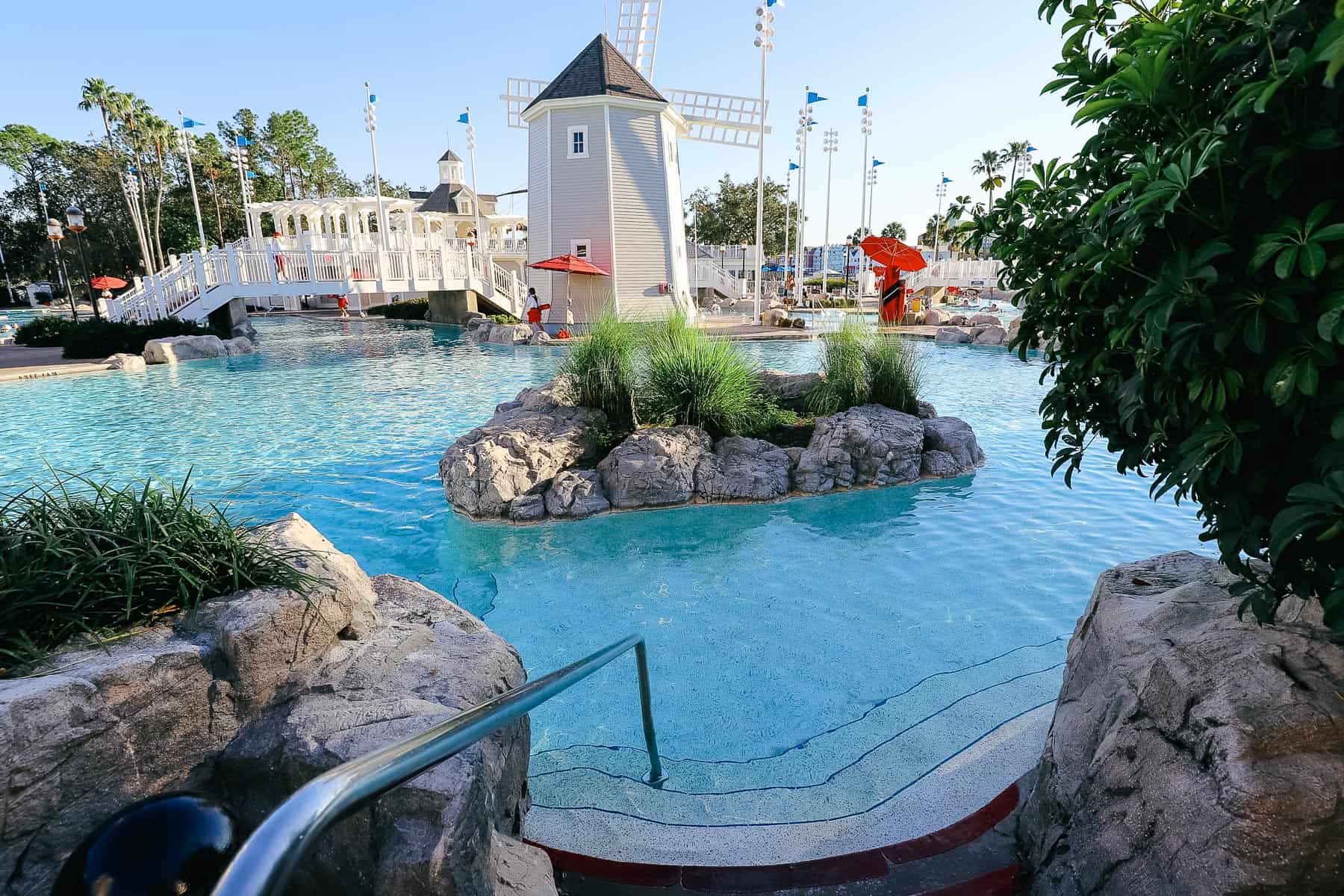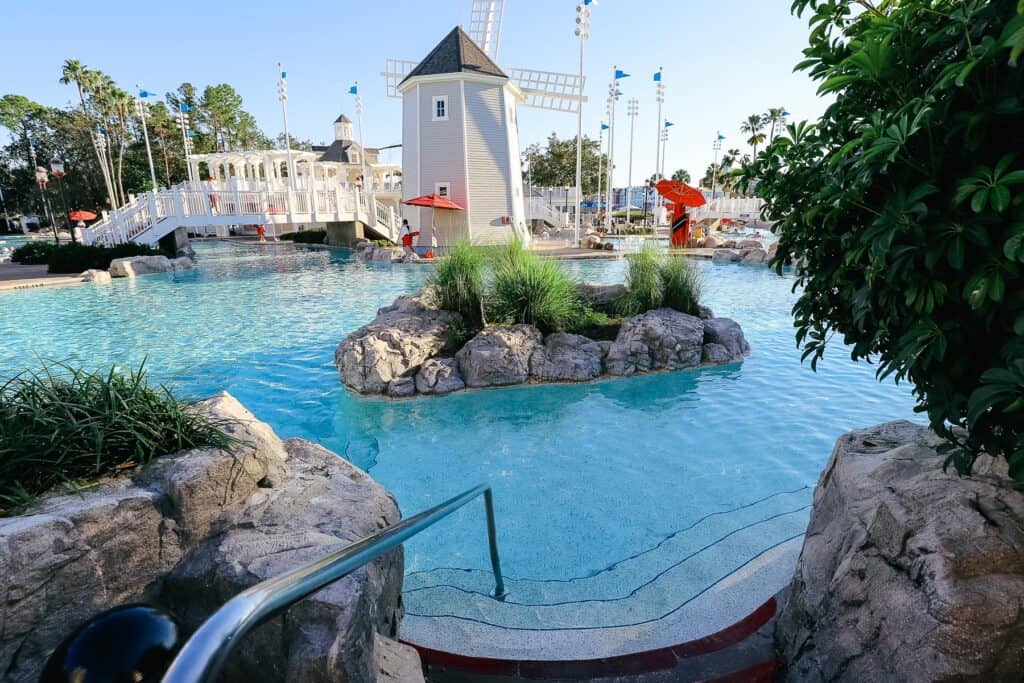 #1 Disney's Animal Kingdom Lodge
When it came down to ranking the best deluxe resorts, it was clear that Disney's Animal Kingdom had to come in as number one. While that may sound odd, given the resort is an exception to some deluxe resort amenities, we find the resort exceptional.
When you step inside Jambo House at Disney's Animal Kingdom Lodge, you're transported to another region. For many of us, Africa is a place we've never been and likely won't visit in our lifetime.
So it's fair to say that the Animal Kingdom Lodge resembles what many consider a once-in-a-lifetime experience. If you dream of traveling to Africa, love animals, or just want a calming escape, this is the best option.
Disney's Animal Kingdom Lodge allows guests to stay in rooms that overlook a savanna of African animals. So don't be surprised to walk out on your balcony and find giraffes, zebras, and other animals grazing below.
It's one of the few resorts worth upgrading your room view. Waking up to animals grazing outside your room is pretty surreal.
If you don't opt for a room view upgrade, the resort has numerous viewing areas for guests to see the animals on the savanna. But there's something extra special about waking up to a giraffe outside your room.
Related: Disney's Animal Kingdom Lodge Review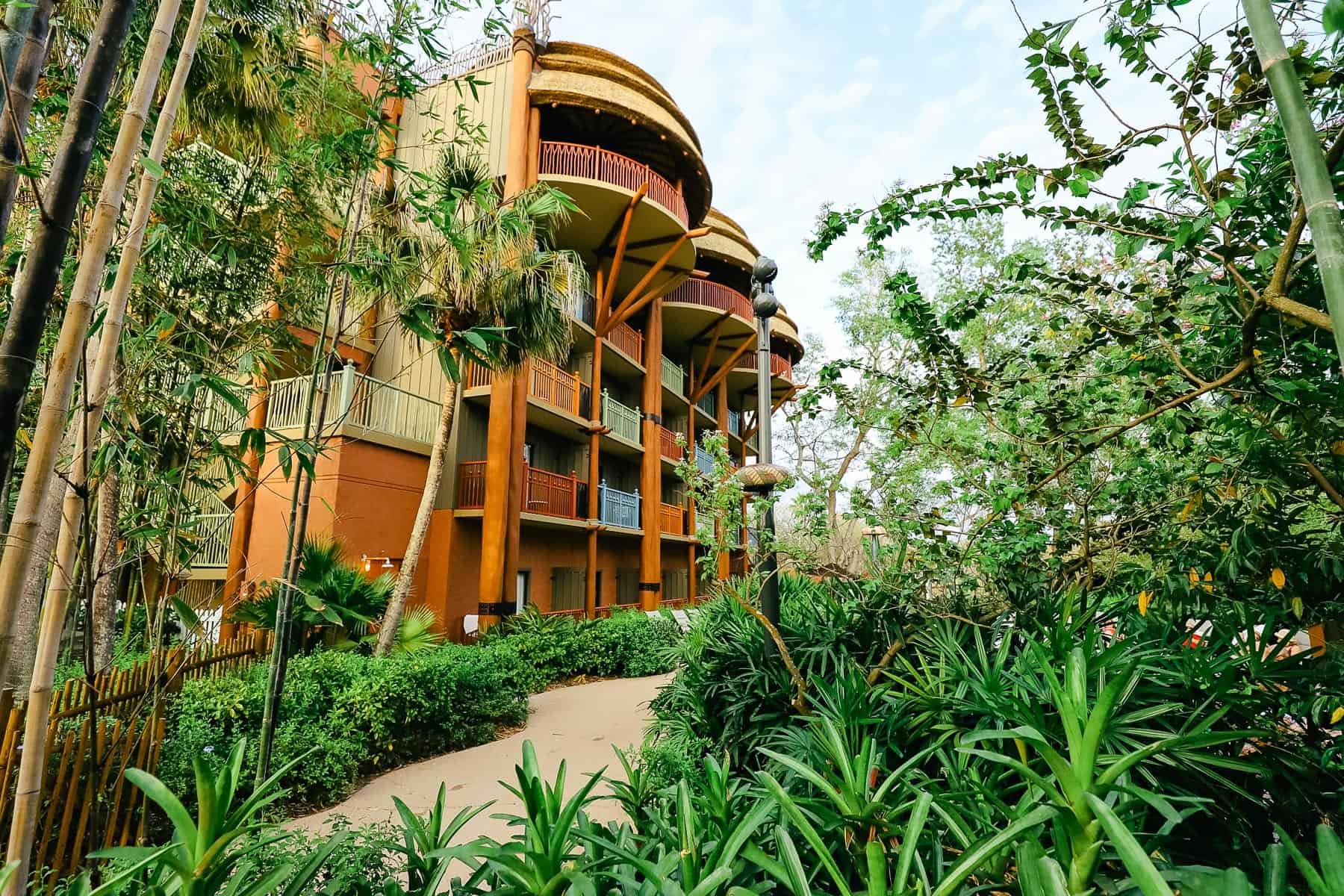 If the animal factor wasn't enough, the resort also has phenomenal dining options. First, Jambo House has Boma, which we consider the best breakfast in all of Disney World.
Related: Boma, Flavors of Africa Breakfast Review
Jiko, The Cooking Place, is Jambo House's signature dining restaurant. This restaurant is another of the best fine dining location at Disney World.
Down at Kidani Village, Sanaa serves breakfast, lunch, and dinner. Sanaa offers pleasant views of one of the resort's savannas. They have the best bread service that could feed a small army.
Related: Sanaa Review (with Bread Service)
After a stay at the Animal Kingdom Lodge, you'll find it difficult to compare to other deluxe resorts. This resort is an attraction in itself. So plan plenty of time to relax, explore, and enjoy it!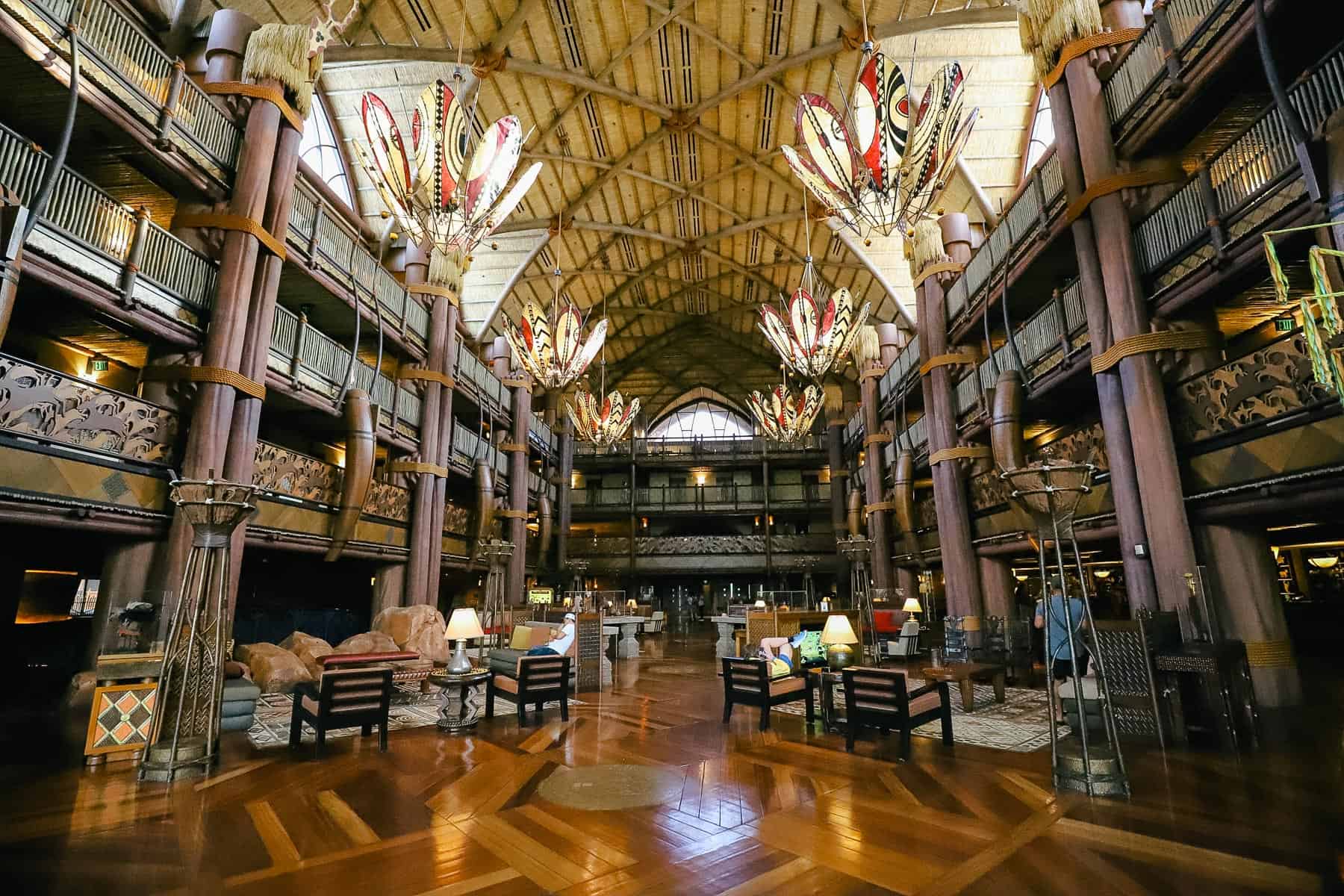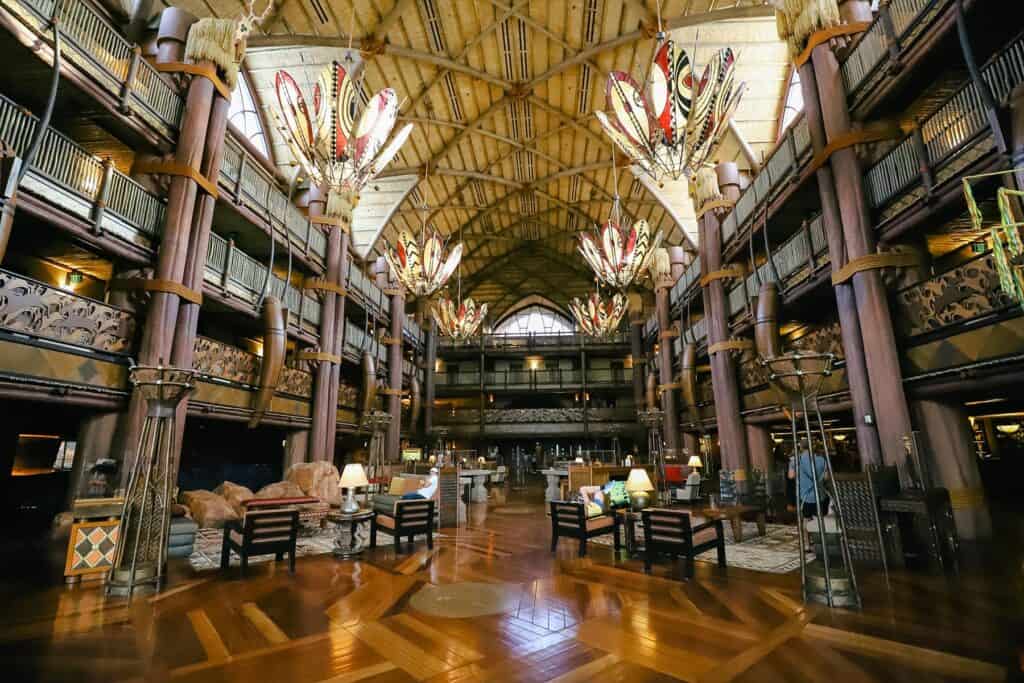 Final Thoughts on the Best Disney Deluxe Resort
We hope you enjoyed our rankings of the best deluxe resorts at Disney World. Before we wrap things up, let's reiterate those key points that set deluxe resorts apart from other categories:
Guests of deluxe resorts are eligible for early theme park entry benefits.
Deluxe resort guests are eligible for extended evening hours on select evenings at select parks.
Deluxe resorts offer multiple forms of transportation. The only exception is Disney's Animal Kingdom Lodge.
You'll find lounges, quick-service restaurants, pool bars, table-service restaurants, and signature dining at every deluxe resort.
Every deluxe resort has a themed feature pool area along with secondary pools. Feature pools all have water slides.
Deluxe resorts offer club-level, a concierge floor with special privileges.
All deluxe resorts offer interior room access.
Hopefully, these factors will help you decide if the deluxe category is right for you. While these resorts are expensive, they do have a few benefits that command a high price tag.
Now if you're wanting truly luxurious, there are a few nearby off-property resorts that you might like to consider. For starters, the Four Seasons is only minutes from Magic Kingdom.
We also have a few other reviews of nearby high-end hotels:
For other nearby options, try our list of the best off-property resorts near Disney World. We have a separate list of the best Marriott hotels near Disney World.
Some favorites include:
Other popular articles:
In the comments:
What are your thoughts on the deluxe resorts? Do you agree with our assessment of the best deluxe resorts at Disney World? Which one is your favorite?