A Topolino's Terrace Character Breakfast Review
Topolino's Terrace character breakfast is one of the best Disney character meals we've had in a long time. The entire character dining experience alone is worth a trip to Disney's Riviera Resort. Formally, the breakfast is known as Breakfast a la Art.
We originally attended the character meal at Topolino's Terrace – Flavors of the Riviera a while ago. At that time, a modified character dining experience was in place to help the characters remain at a safe distance from each other and the guests at the table.
During that time, there was no opportunity to collect autographs or visit with characters individually at the table. Thankfully, that's changed since I wrote this initial review.
Guests can now expect each of the four characters to visit their table during the meal. Characters will also sign autographs if you bring something for them to sign.
If you are looking to plan a meal at Topolino's Terrace during your Disney vacation, there are a few extra things you might want to know in advance. First, characters are only available at breakfast. Second, this is the newest character meal at Disney.
Topolino's Terrace, Flavors of the Riviera is a signature dining experience in the evening. This rooftop restaurant is a wonderful place to enjoy fine dining with stunning sunset views.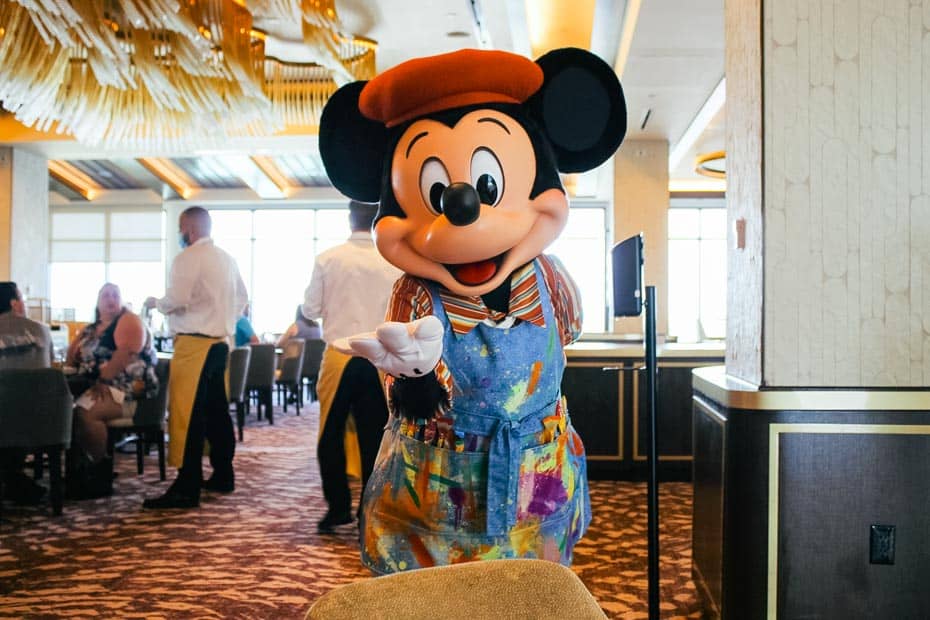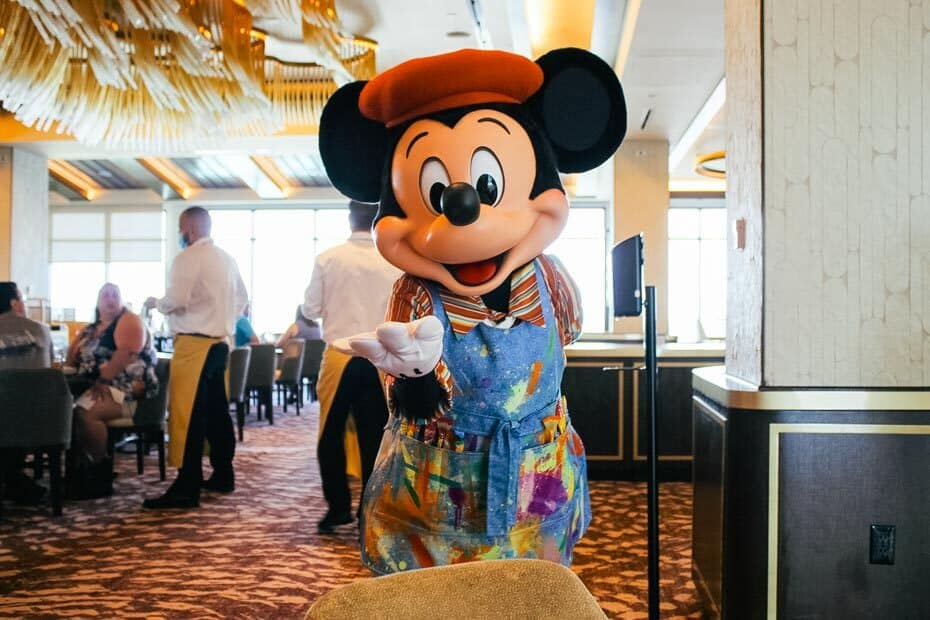 Our character breakfast at Topolino's was so good that I would be willing to return any time. Unfortunately, it's often difficult to secure reservations for this character meal due to its popularity.
So, if you plan to visit the Walt Disney World Resort in the upcoming months, I highly recommend securing this dining reservation as soon as possible. Availability starts at 60 days out.
For this review, we'll specifically look at the full Topolino's Terrace character breakfast experience. Below, I'll add photos and thoughts about the restaurant's atmosphere, menu, entree items, and allergy-friendly menu.
Lastly, I'll share a few fun photos of the characters and rooftop views from Topolino's. Let's get started!
Topolino's Terrace Character Meal Review
Topolino's Terrace is located on the top floor of Disney's Riviera Resort. Disney's Riviera Resort is stunning and worth a visit over to enjoy a meal.
When you exit the elevator, you'll immediately walk up to the check-in stand.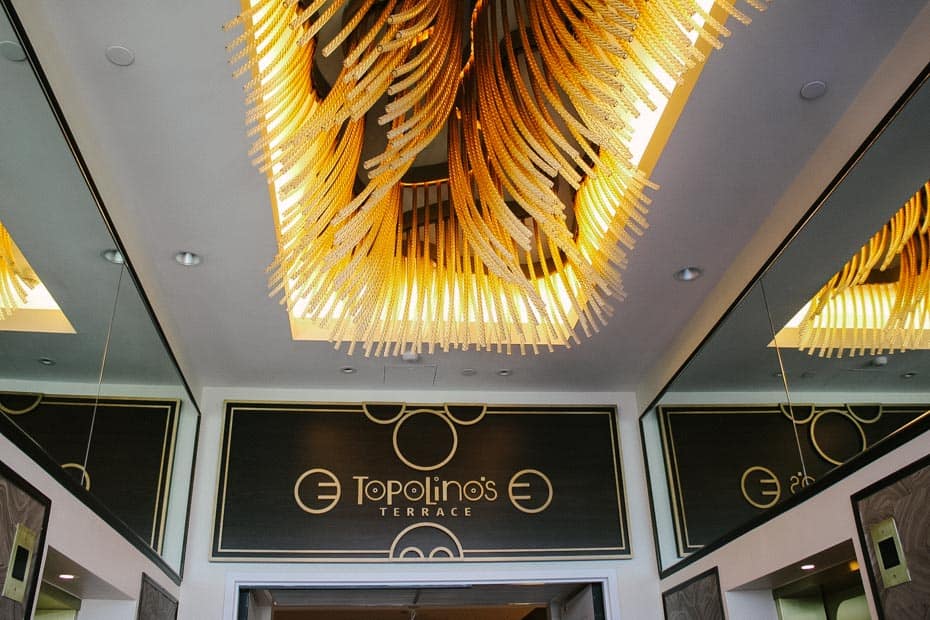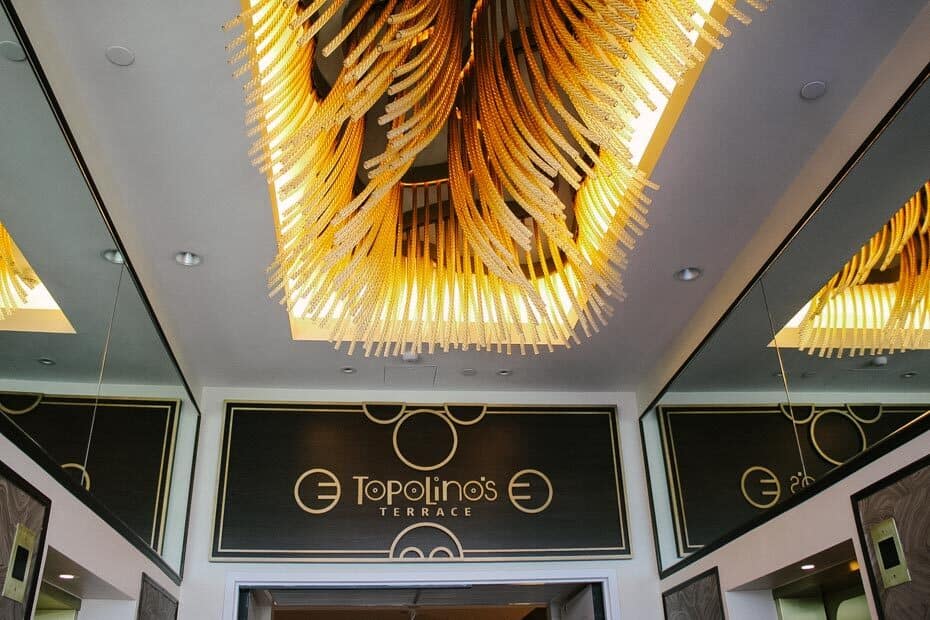 If you have a few moments before your table is ready, feel free to step out onto the terrace and take in the stunning views. Or you can wait until the end of the meal if you like.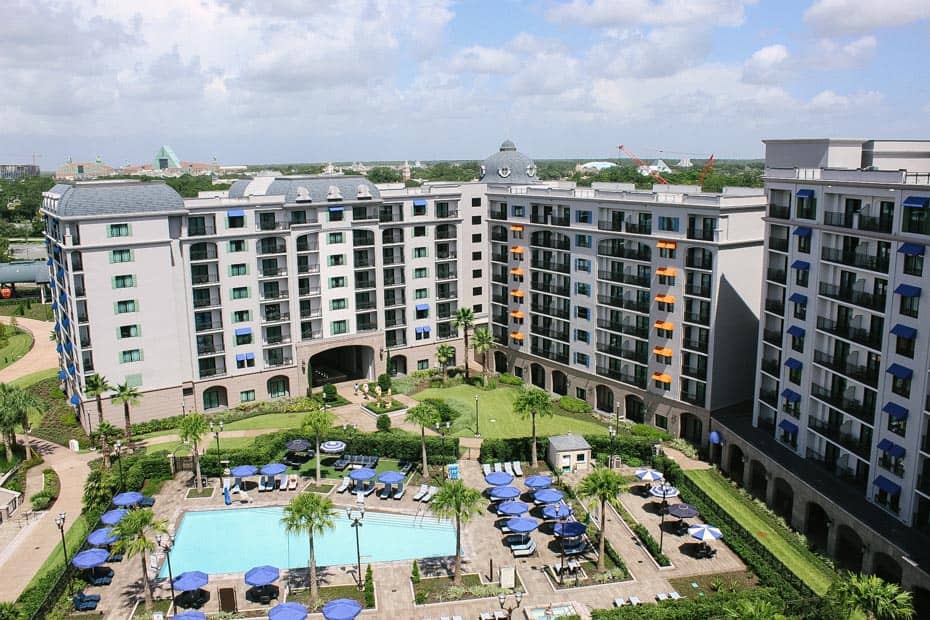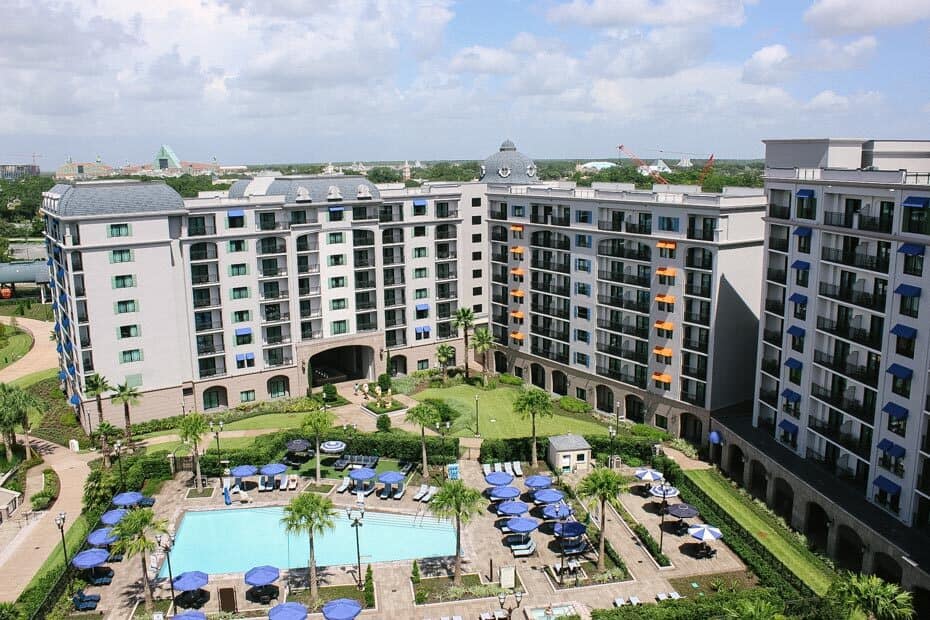 Inside, you'll find a variety of tables and chairs, along with banquette-style seating.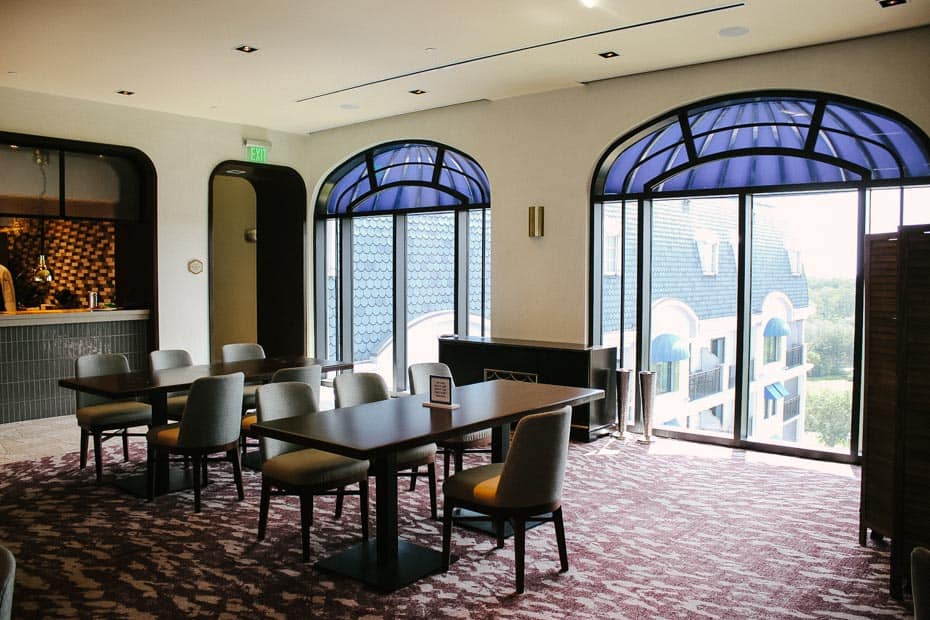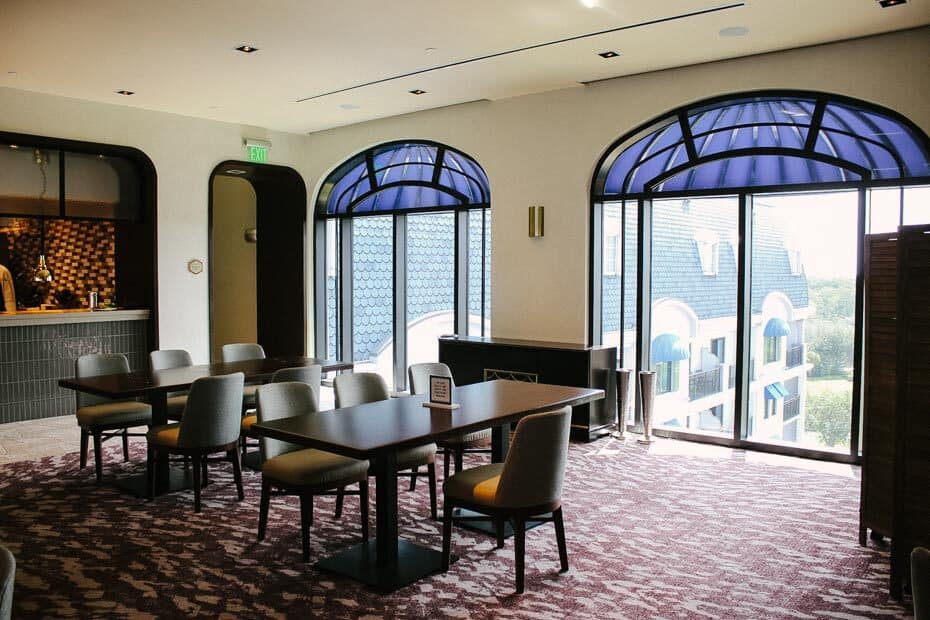 A partially open kitchen sits on one side of the restaurant.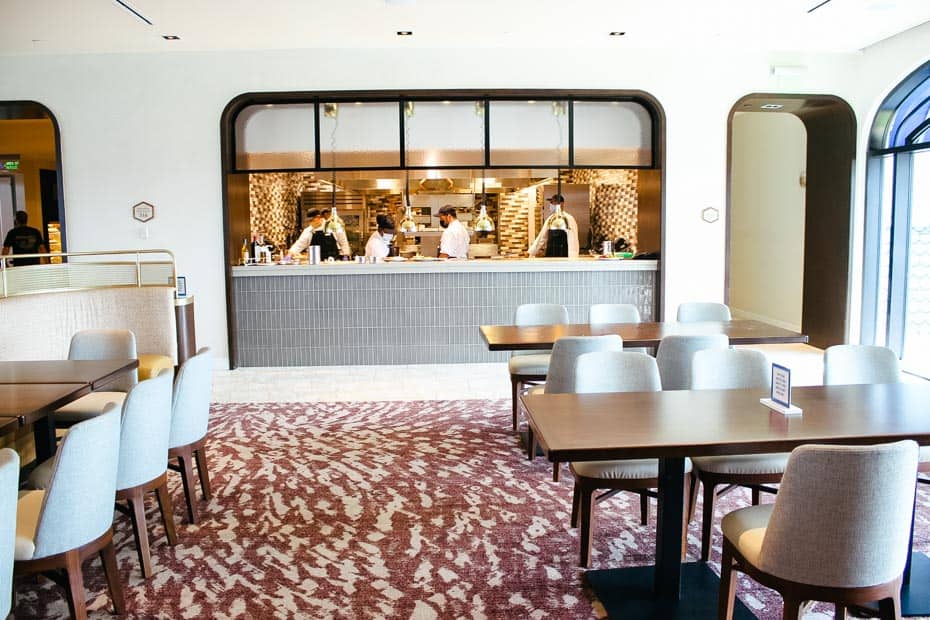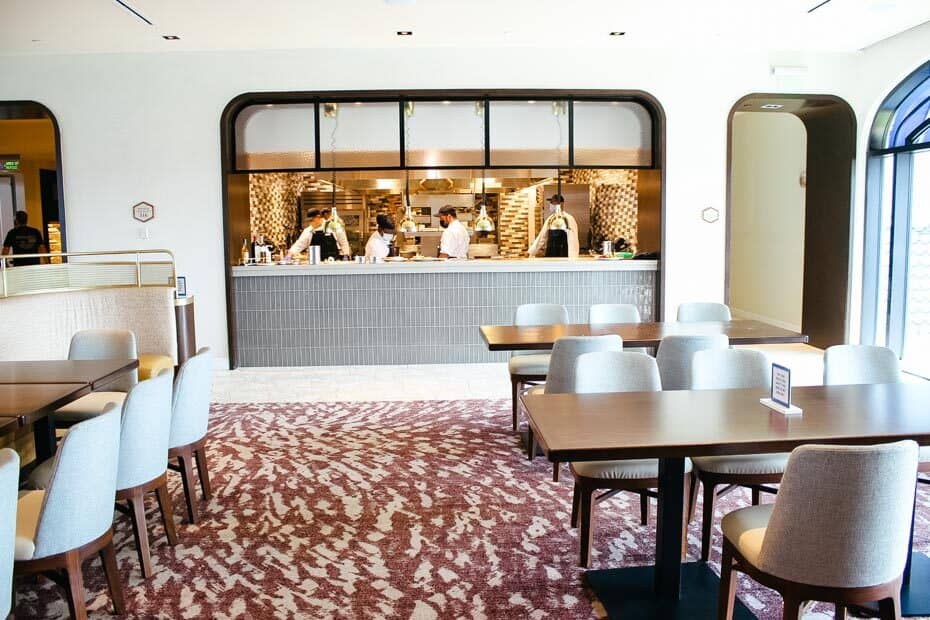 The opposite side features a wall of windows that look out to a nice view. In hindsight, I might have requested a window seat, but rare is the day I make those kinds of special requests. We were here to see a favorite Disney character or two anyway.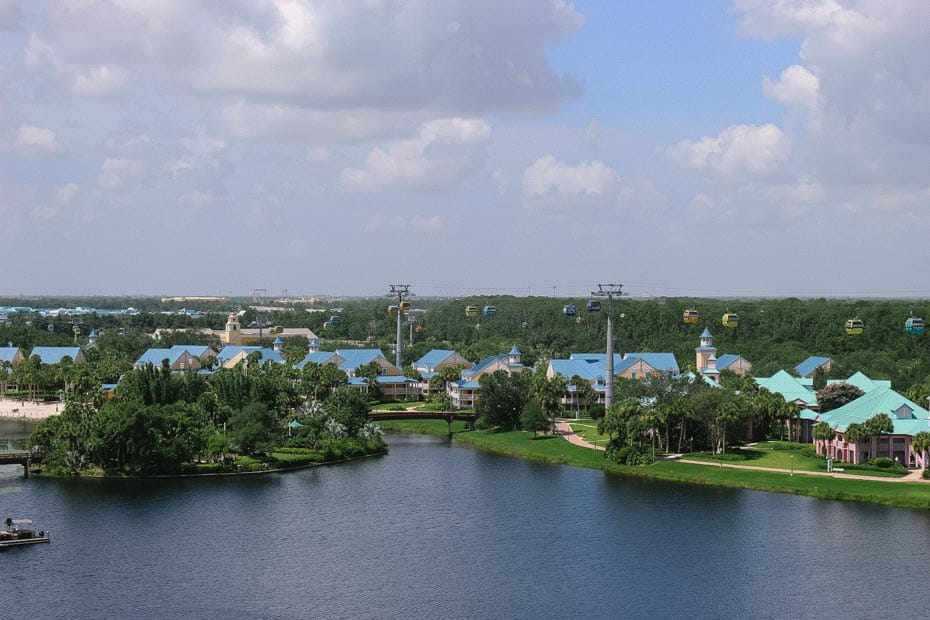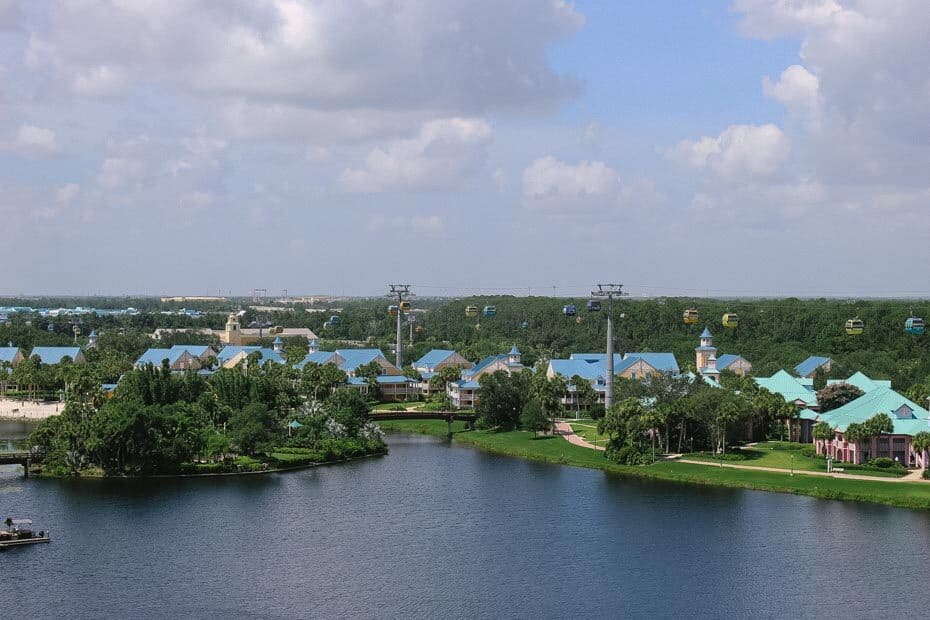 If you are lucky enough to get a window seat, I think you'll enjoy it. The restaurant is fairly dark overall, even with the window. So dark that I had a fairly difficult time getting decent pictures for this review.
Back to the check-in process. One thing that's different at the dining locations is the check-in process.
You might remember in our Grand Floridian Cafe Review, I went over the process of checking in using the My Disney Experience app.
The process is the same here. You'll open the My Disney Experience app when you get to Disney's Riviera Resort and check in for your meal. Or you can scan the QR code outside the restaurant. Both options will prompt you to select any special needs or celebrations.
Topolino's Terrace Character Breakfast Menu
The menu process works similarly to checking in to the restaurant. After being seated, there will be a small brochure with a QR code at the table. The QR code allows diners to access the menu on their mobile device.
The purpose of this smaller sheet of paper is to help reduce waste. There are paper menus available if needed, but cast members must dispose of them after each use to prevent re-handling.
Anyways, all you have to do is scan the QR code, and the current menu will pull up on your mobile device. It's really a simple process, but if needed, you can request a regular menu.
The character breakfast at Topolino's Terrace has a prix fixe menu. Each table receives a basket of pastries. Then guests will select an entree from the menu.
At the time of this meal, an adult character breakfast at Topolino's costs $42.00, and the price of the kid's prix fixe meal was $27.00.
Popular entree items include:
Quiche Gruyere
Wild Mushroom Scramble (Vegan or Plant-Based Option)
Smoked Salmon
Spiced Sausage Hash
Two Eggs (Any style with smoked meat.)
Sour Cream Waffles
Fruit Plate
Wood-Fired Butchers Steak
For the time being, you can view full details of the menu and current price here on Disney's site. Since there is a prix fixe menu at the Topolino's character breakfast, you can order more than one entree.
For instance, we ordered three entrees between us for the fixed price of two adult meals. This is usually custom at any prix fixe menu restaurant.
While it's not advertised, the meal is similar to an all-you-care-to-eat dining experience. However, it's not a buffet.
You can confirm this with your server upon arrival if you are interested in ordering a second entree. We used to do this at the California Grill Brunch when it was available.
Related: Disney's California Grill Brunch Review
Per the menu above, one thing I want to add is that you can order the two eggs and substitute the eggs for the plant-based scrambled egg with a side of plant-based sausage. There are several options if you are looking for a vegan dish.
Since my son has severe food allergies, we requested an allergy-friendly menu. Most of the allergy-friendly menus are by special request.
As I touched on above, you no longer select food allergies when making an initial dining reservation. You must select them when you check in by using the mobile feature. It will prompt you to add any allergens before confirming.
If you have food allergies, I recommend speaking to the chef preparing your meal. That's rarely an issue when we list our food allergies to a server, but we occasionally have to insist.
That was not the case here at Topolino's Terrace. We were extremely impressed with the chef's handling of food allergies.
Here's a look at Topolino's Terrace allergy menu.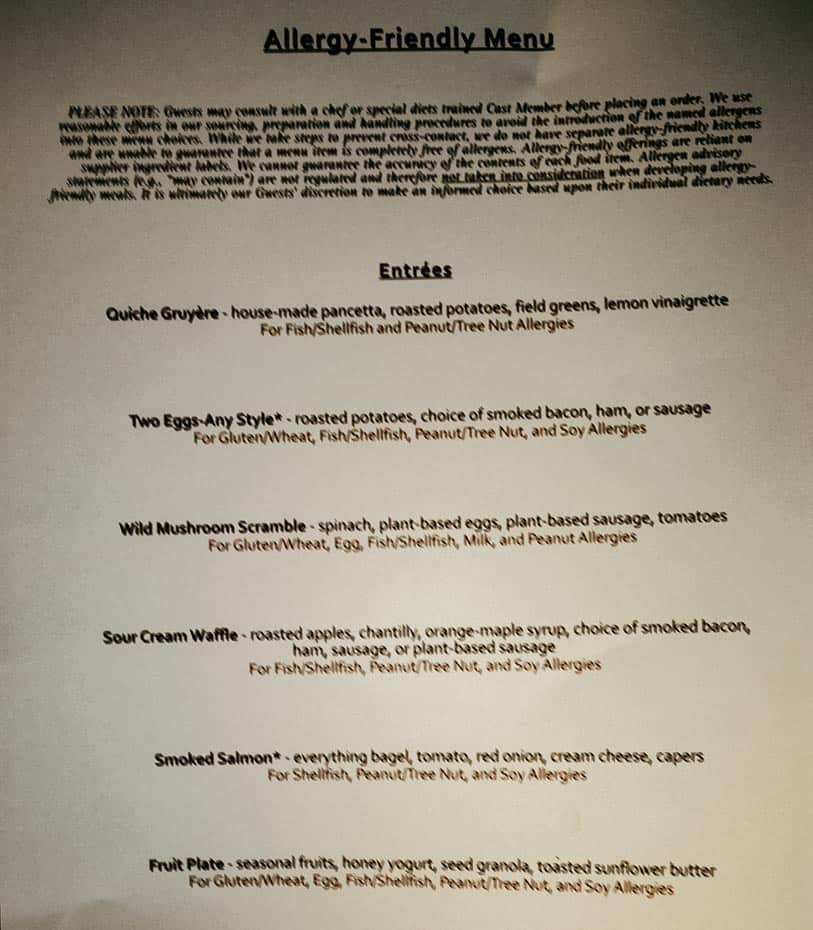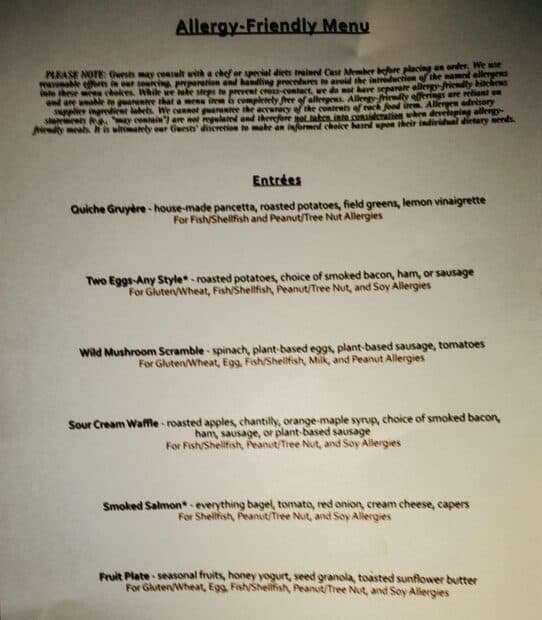 For starters, the table will receive a plethora of pastries that come in this darling paint bucket presentation. There were many different options, like croissants, chocolate chip muffins, and fruit-filled and cheese-filled danishes.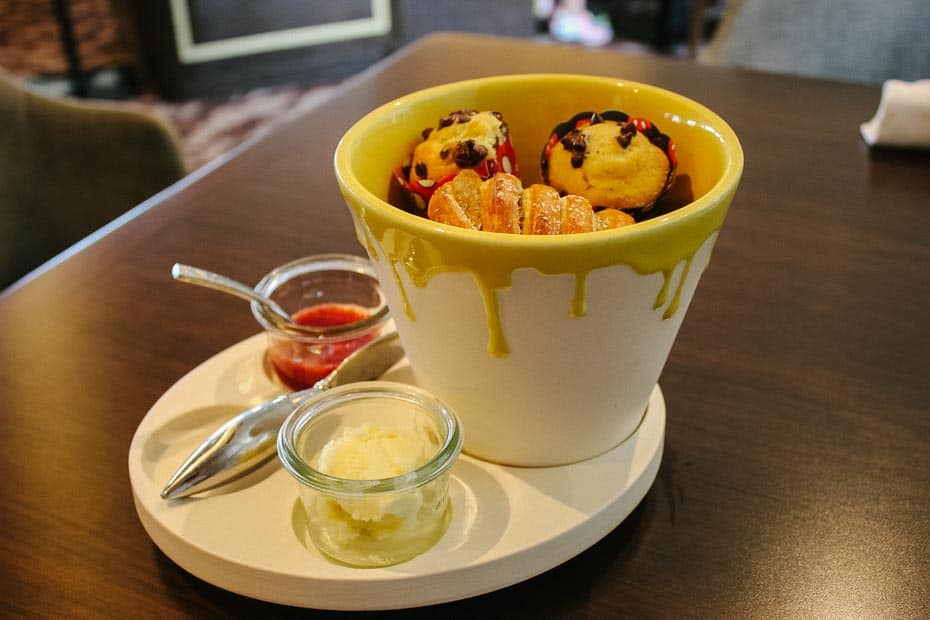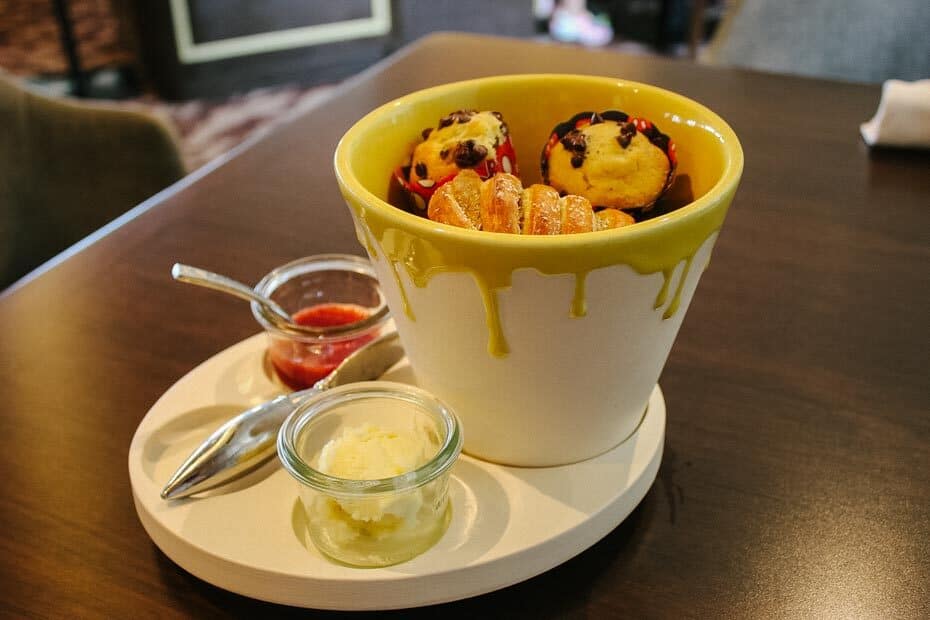 My favorite part was the croissant with strawberry sauce drizzled on top. I would caution against eating too many pastries prior to receiving your entree, though.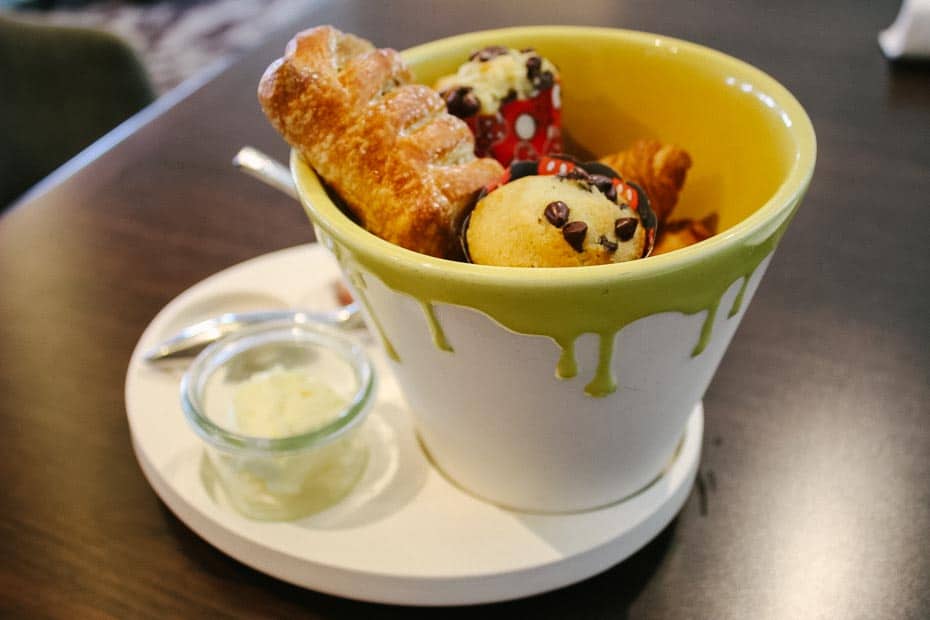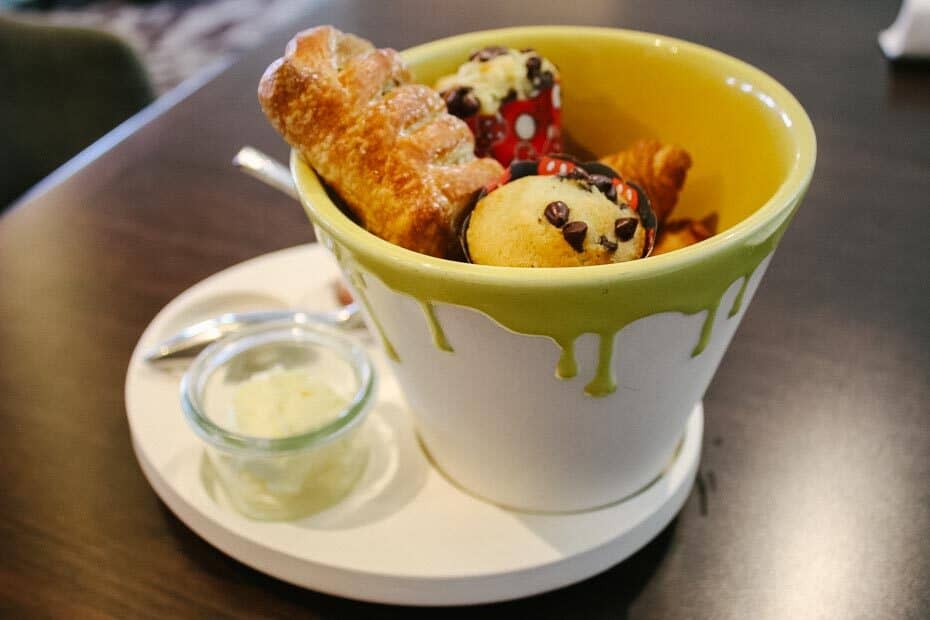 This paint bucket below was brought to our table separately. It contained special breadsticks with allergy-friendly spreads. These are shaped like the popular French Epi bread.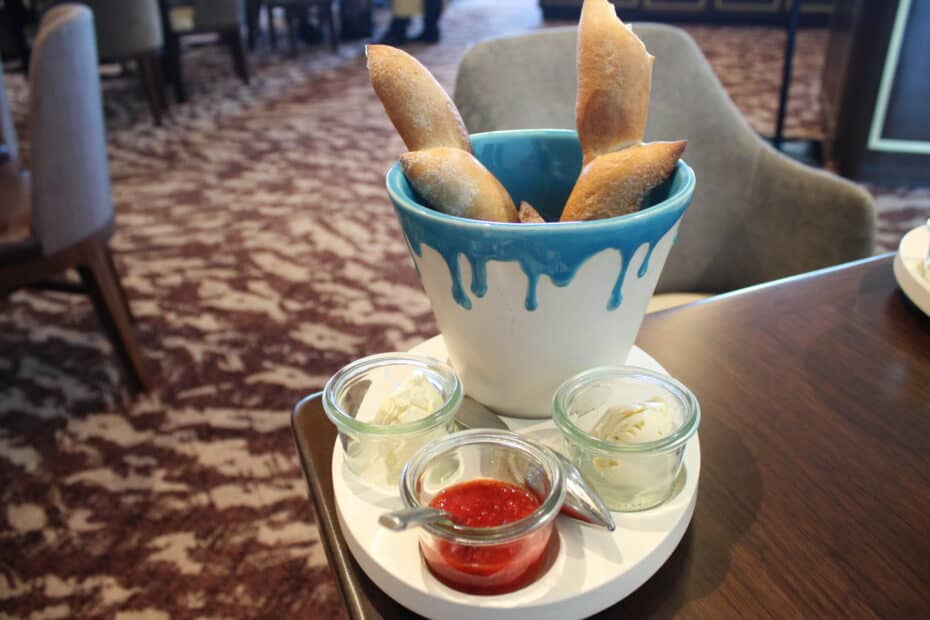 We always appreciate these nice gestures.
Next, we'll look at the fruit plate entree prepared with food allergies in mind. The fruit plate is an actual entree, and as you might tell, the presentation was stunning.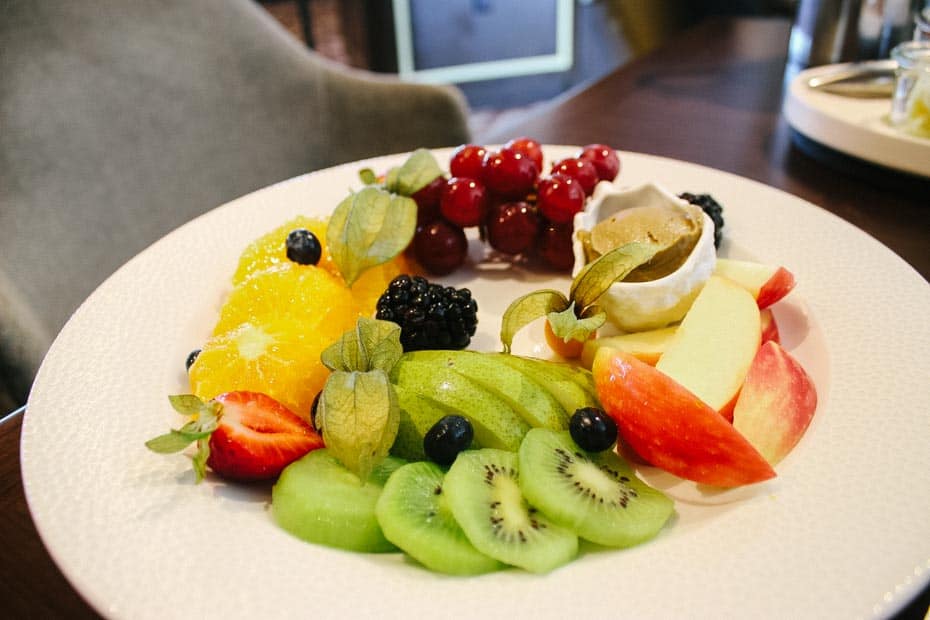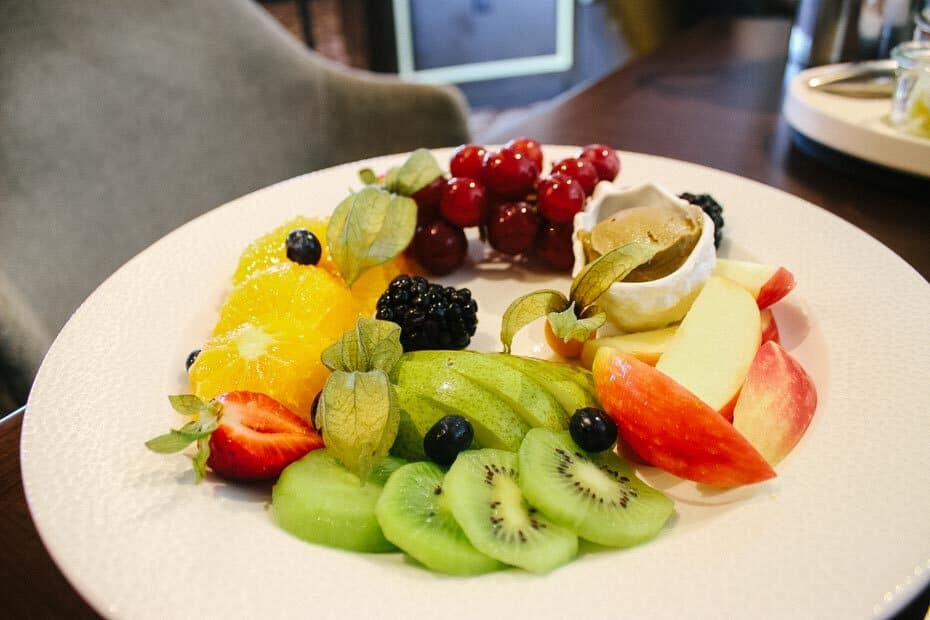 My son ended up devouring this entire entree. Toward the back of the plate, that's a sunflower spread that works well for many food allergies.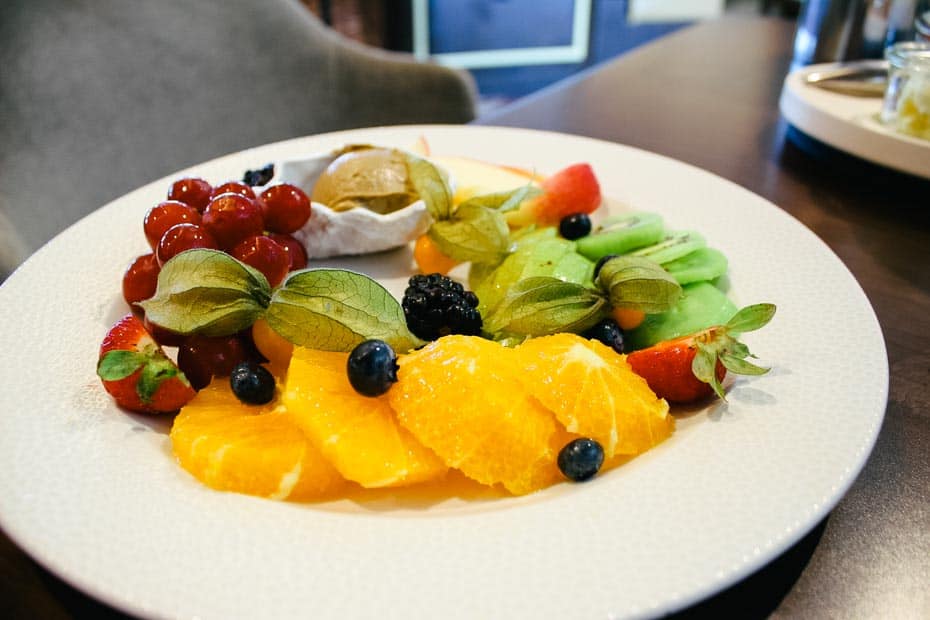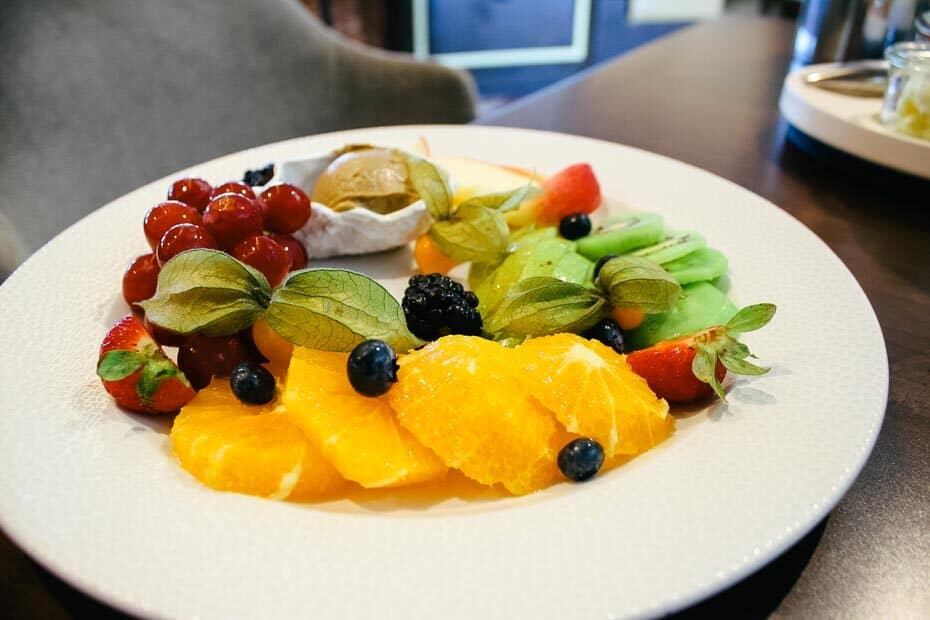 Additionally, he ordered the allergy-friendly waffle with a side of bacon. This is similar to what a normal guest will receive when ordering the adult sour cream waffle with a side.
However, a special allergen mix is used to prepare these in a waffle iron that's not cross-contaminated. It also didn't hurt that it doubled as a Mickey waffle.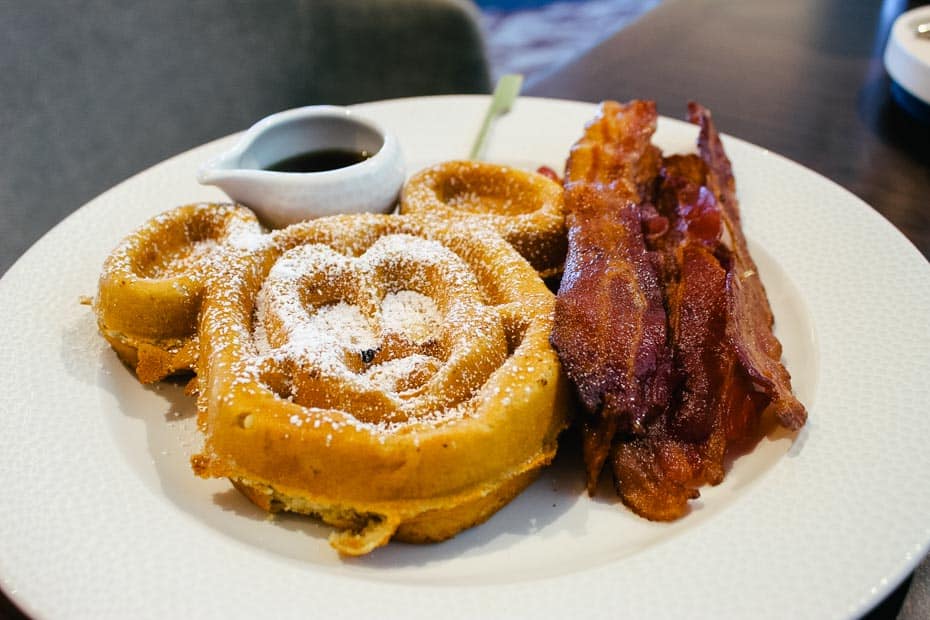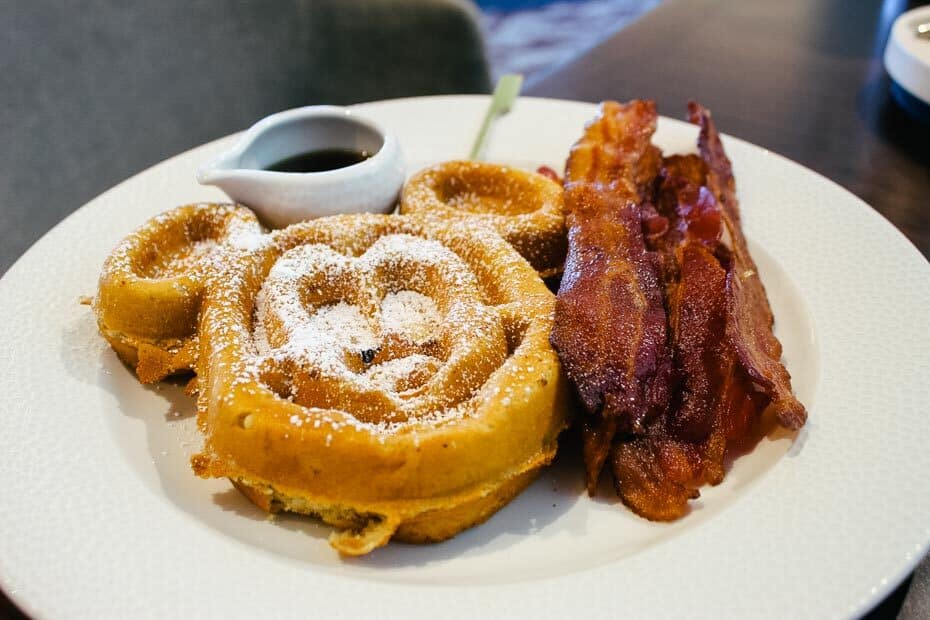 Upon ordering, the chef mentioned they were using a new mix compared to the old Bob's Red Mill that he is accustomed to eating. This turned out to be the case across the property. He later mentioned that he preferred Bob's Red Mill over the new mix.
If you order the regular sour cream waffles at Topolino's Terrace, they come with roasted apple, Chantilly, orange maple syrup, a side of bacon, smoked ham, sausage, or plant-based sausage.
The chef was also nice to bring out a few of the Enjoy Life brand cookies. It really makes a difference to us when we get to go somewhere like this, and the chef is confident in preparing food and making the meal special.
If you deal with food allergies, you probably know that's not the case across the board. In fact, we rarely dine out anywhere except at Disney.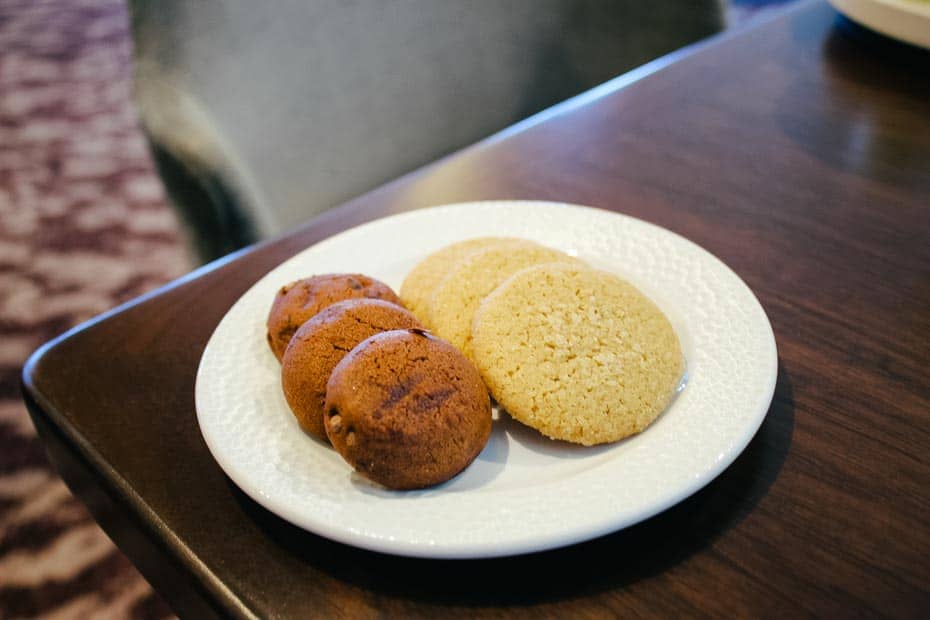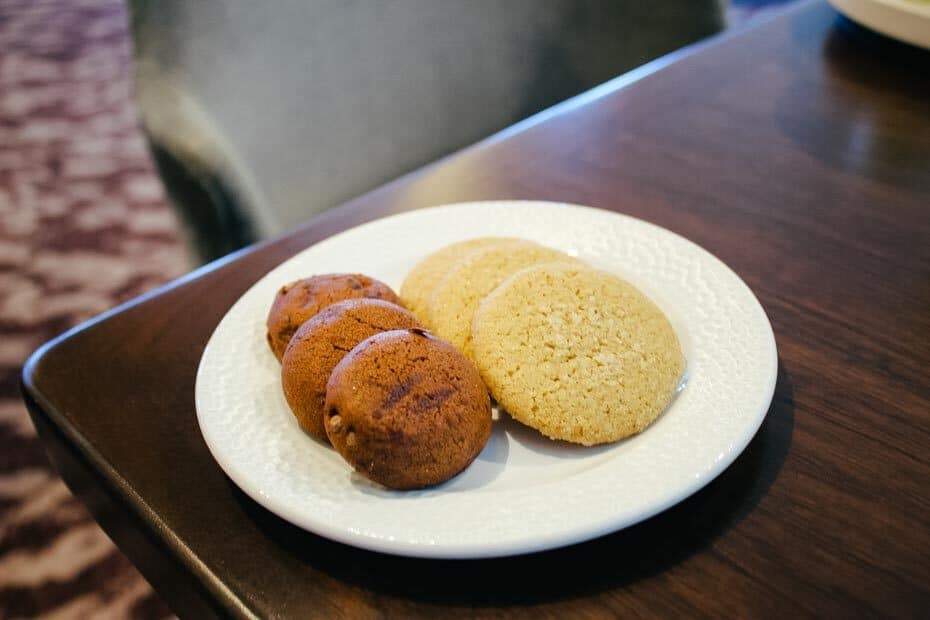 Going into this character meal, I pretty much knew that I wanted the Quiche Gruyere dish. The quiche was a nice individual-size offering with a side of roasted potatoes and a salad.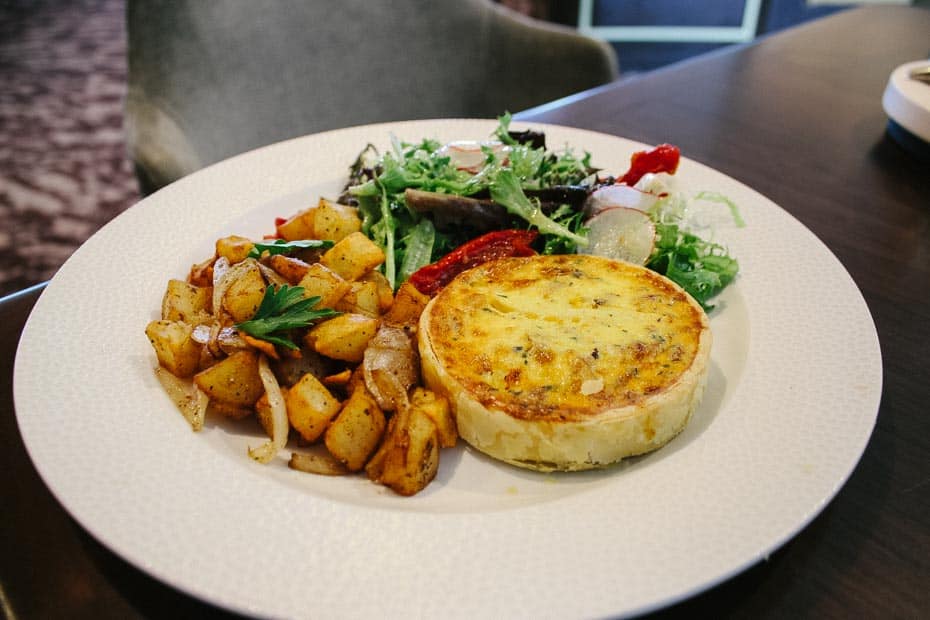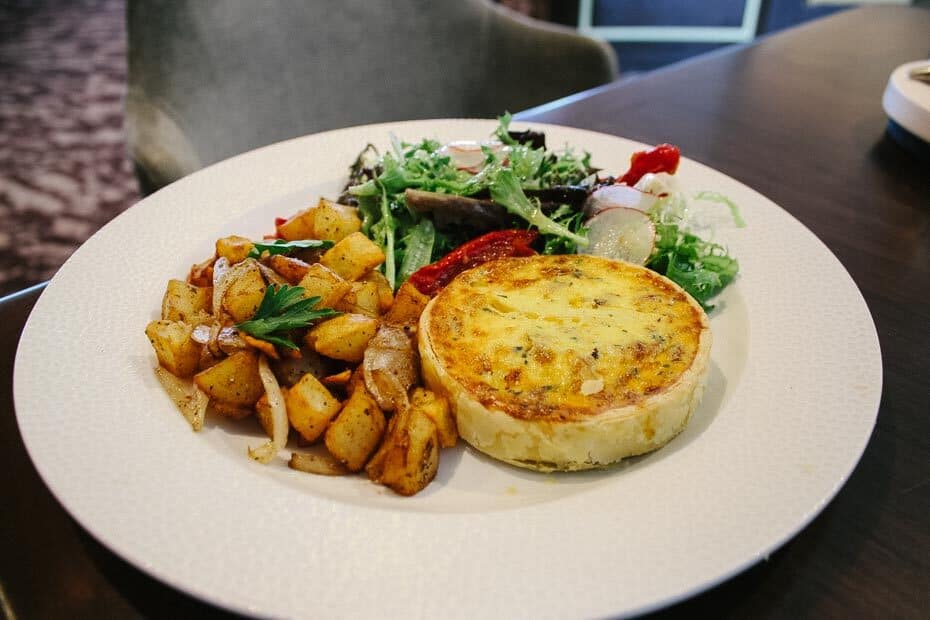 When I go to a restaurant at Disney World for breakfast, I always try to make it stretch as breakfast and lunch. I like to schedule this type of meal around 10:15 a.m.
Related: Best Breakfasts at Disney World
That way, we don't come in and get the last service. But we also can usually have a snack later in the day to get us by until dinner. Call it brunch, if you will.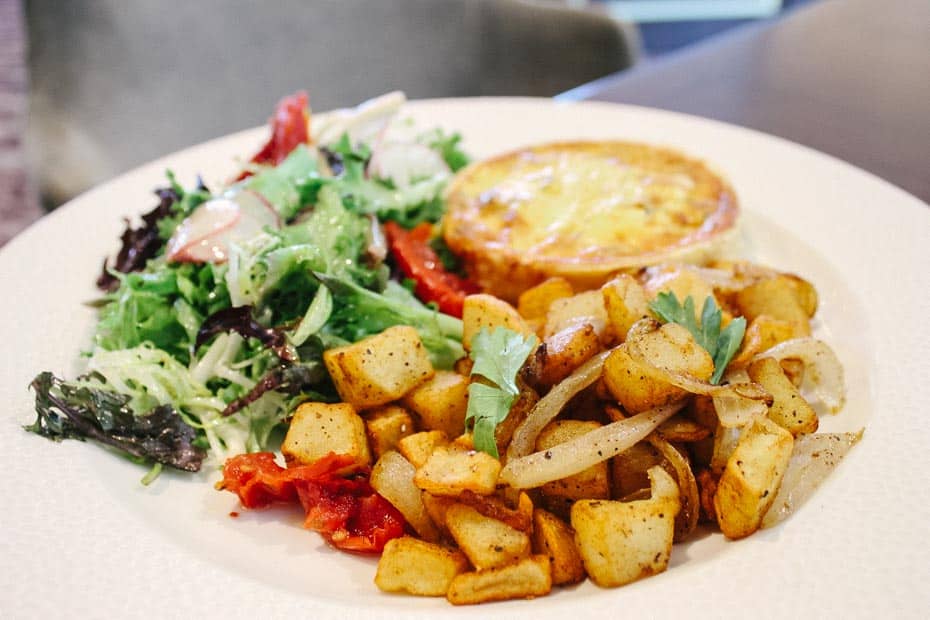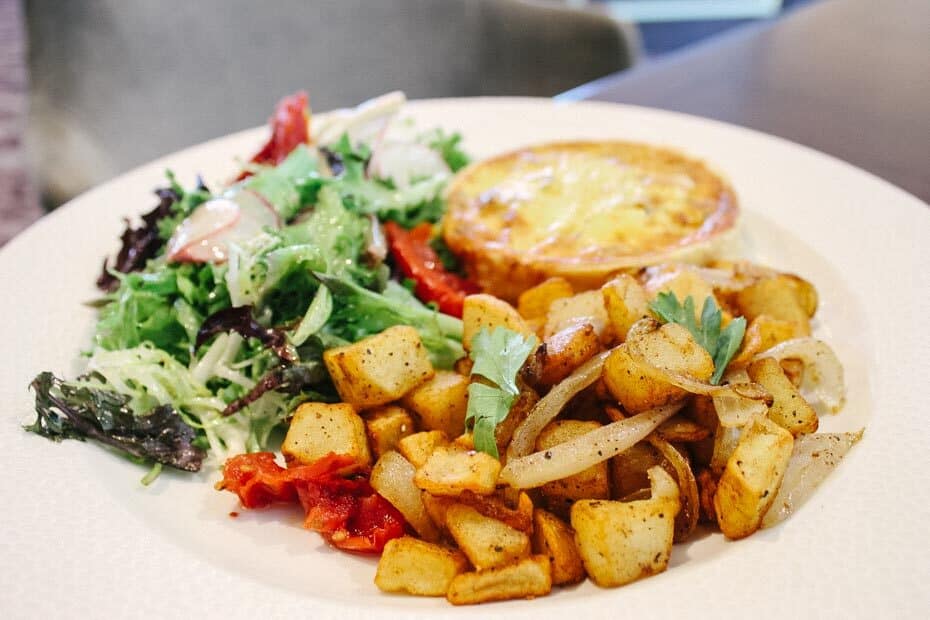 It's also nice to have a day where you sleep a little later before heading out to the parks. We prefer to do this type of meal on our Epcot day.
And what's really nice is that you can park at Riviera with a dining reservation. After you finish the meal, take the Disney Skyliner to the International Gateway at Epcot.
It will be easy to get back to your car at the end of the evening, taking the same route.
Related: Disney Skyliner Resorts
Additionally, you could take a similar route from Riviera Resort to Disney's Hollywood Studios. You could probably get breakfast in before the park opened and then head over.
As for Magic Kingdom or Animal Kingdom, I probably wouldn't reserve Topolino's Terrace on the same morning. Unless that is, you had a late evening planned at Magic Kingdom.
Anyway, I digress. This quiche was excellent. I am a big fan of this dish and enjoy making it at home.
Therefore, I have a good idea of what a quiche should and should not be. And this one was everything it should be and more.
The crispy potatoes on the side were the perfect accompaniment, along with the salad tossed in a lemon vinaigrette.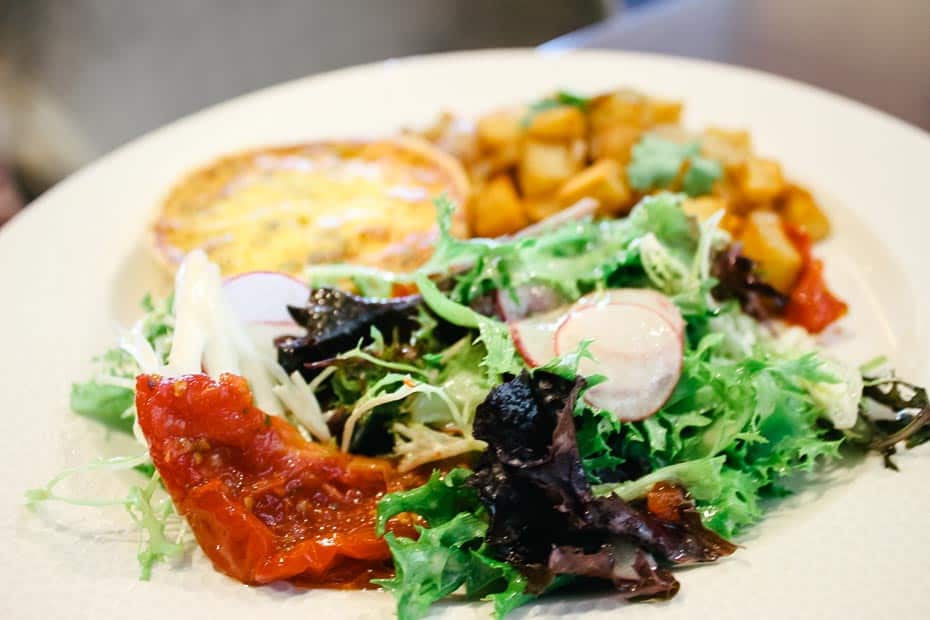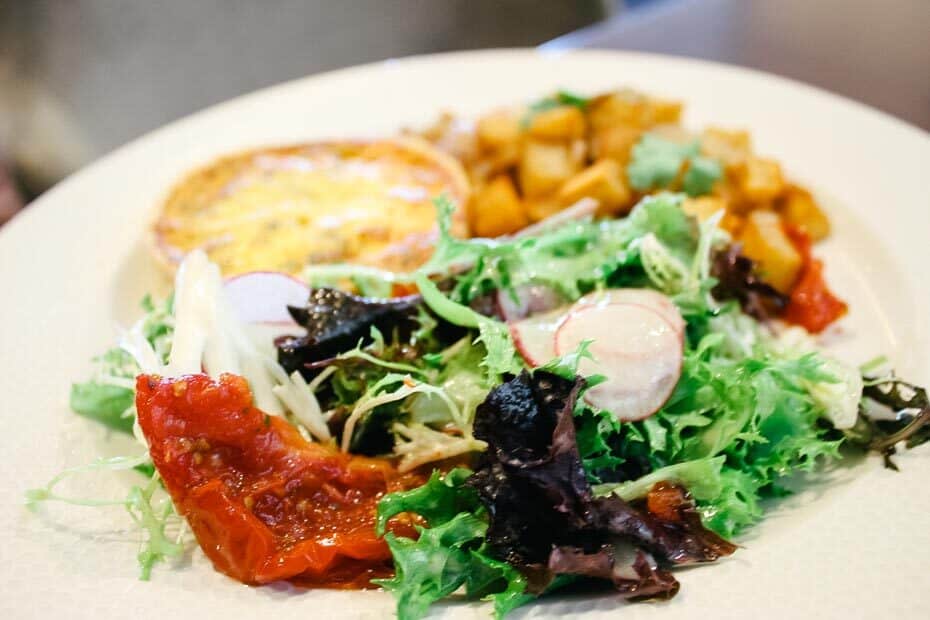 Coffee comes with the meal if you decide to order it. However, I wasn't crazy about the shallow cups.
They are probably true to the style you might find on the French Riviera, but I prefer more depth to help hold in the heat.
Also, I usually use two packages of sweetener. With this size, you would probably only want to use one.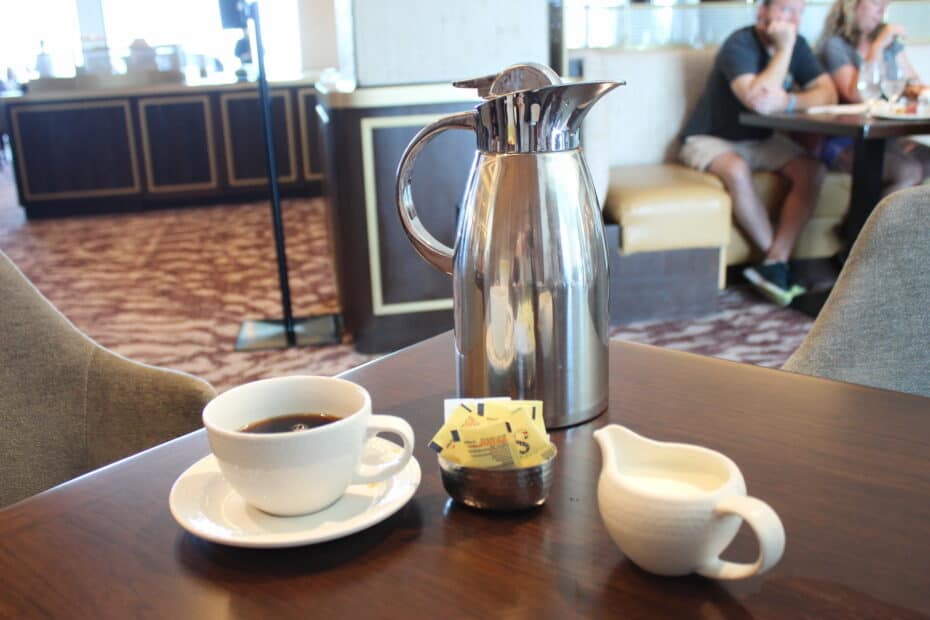 Characters at Topolino's Terrace Breakfast
If you wonder what the character experience is like at Topolino's, it involves four classic characters expressing their favorite artistic passions.
First, you might see Daisy Duck, but in the form of a ballerina. She twirls around the room, gracefully posing for photos.
The character interaction here was wonderful. Each character was eager to greet guests and participate in the fun every so often when a song would play.
During those times, all four characters would come out and dance around the restaurant.
It appears that most of her time is spent on the dance room floor these days. So don't be surprised when you find her dancing full-time over at Hollywood Studios.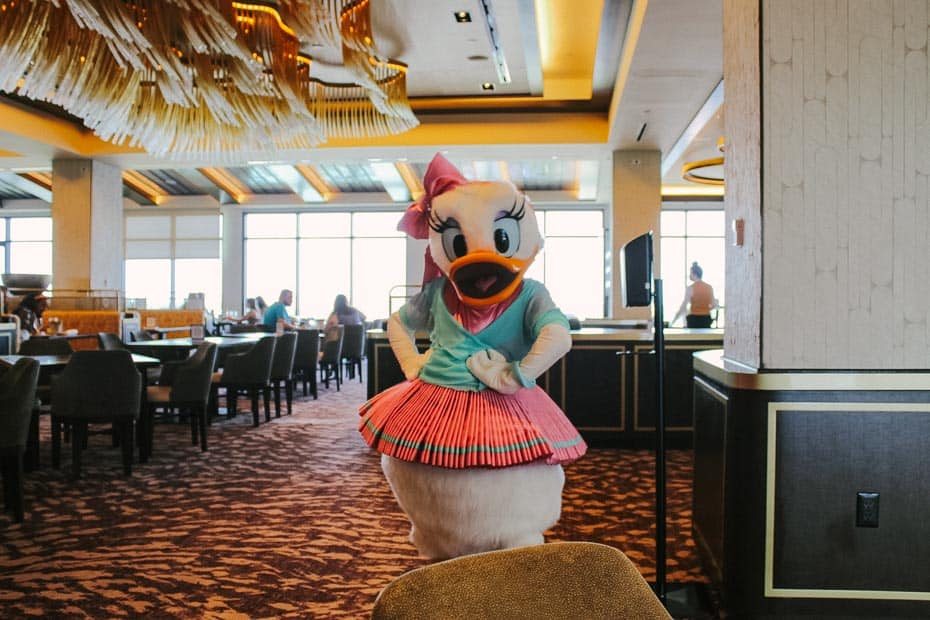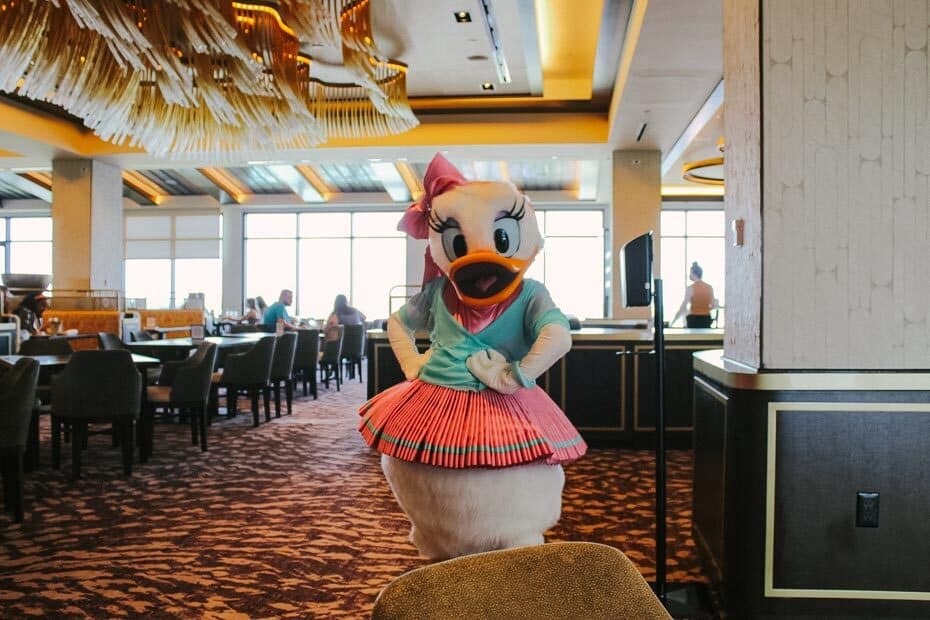 And her sidekick Donald Duck is a master sculptor, of course. You can tell that Donald Duck is living his best life on the French Riviera. It totally fits the bill.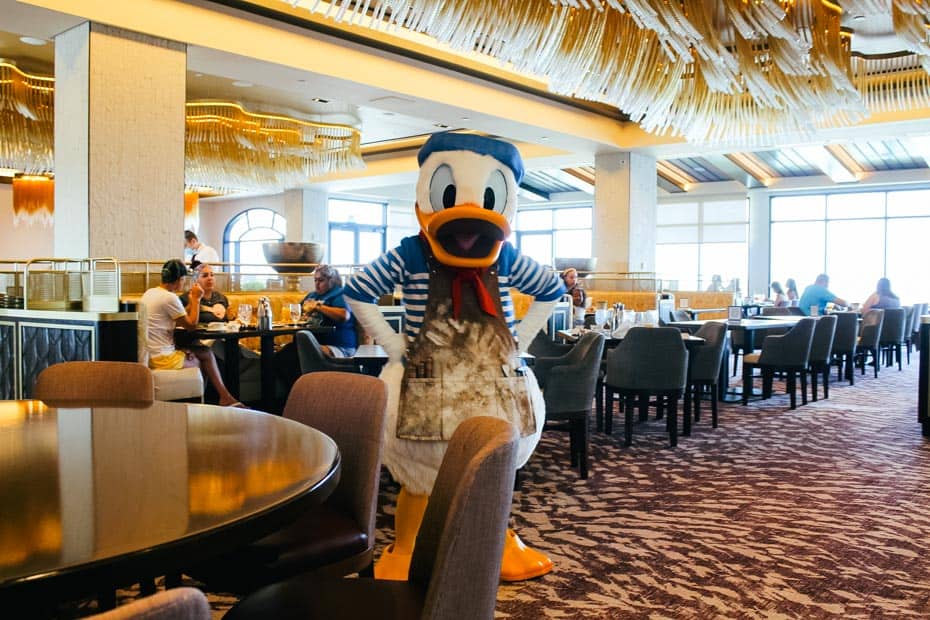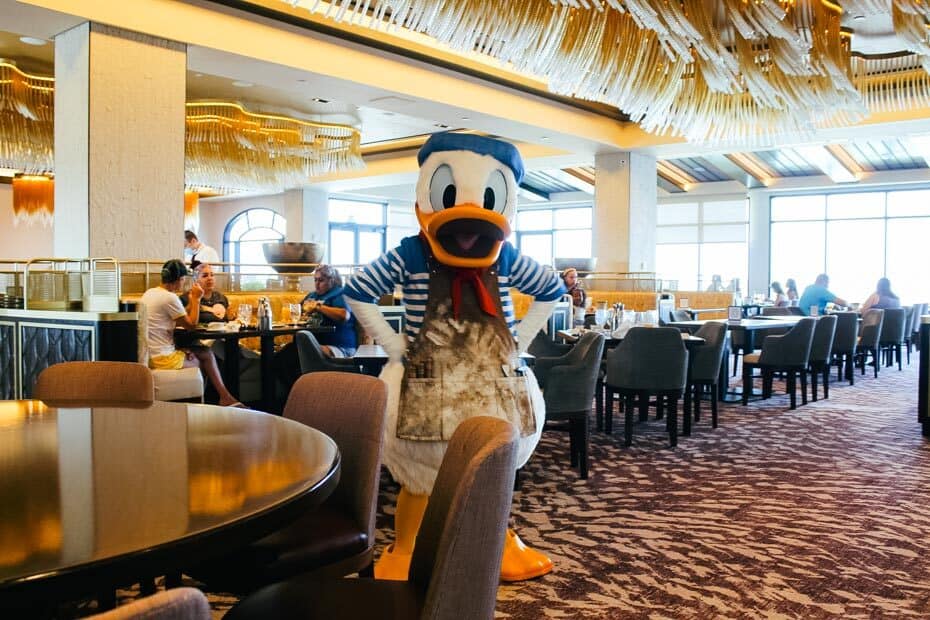 As for Minnie Mouse, she sports the most fashionable outfits. In fact, the print of her dress is covered in all her favorite poems.
Which also leaves me wondering, at what point will you find me at Disney wearing a skirt littered with my favorite blog posts?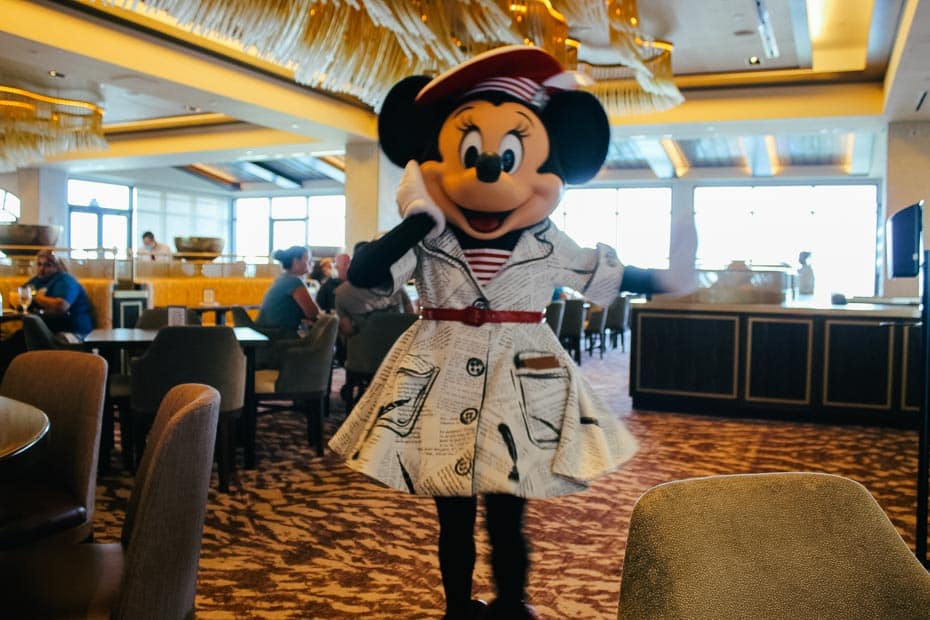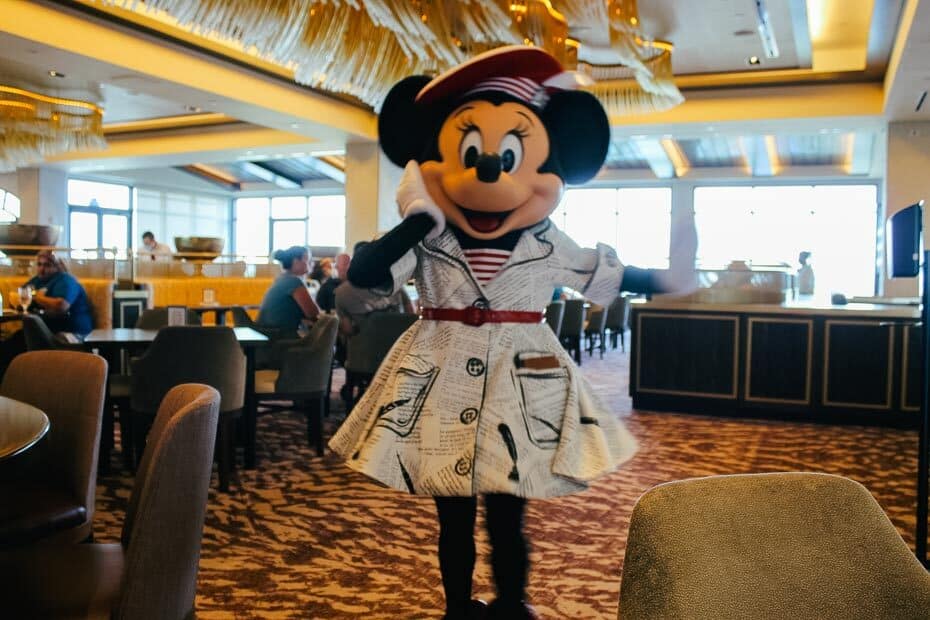 And finally, the one and only Mickey Mouse. Can you get any more Italian than this?
His apron is splattered in all the countryside colors. That's where I imagine he sits peacefully, creating his next work of art–probably a picture of Minnie Mouse.
You might have seen the Mickey and Minnie short cartoon to which I'm referring.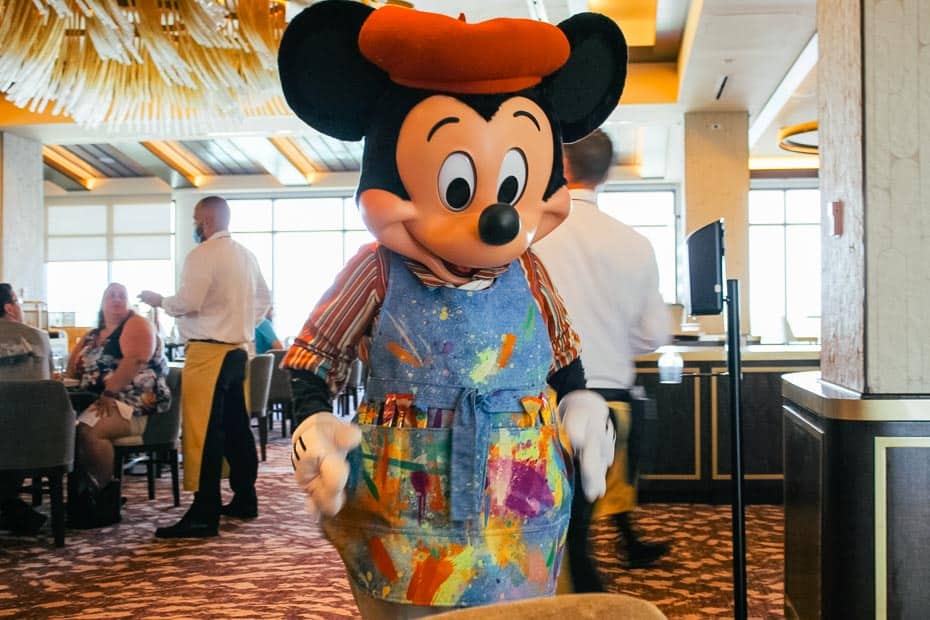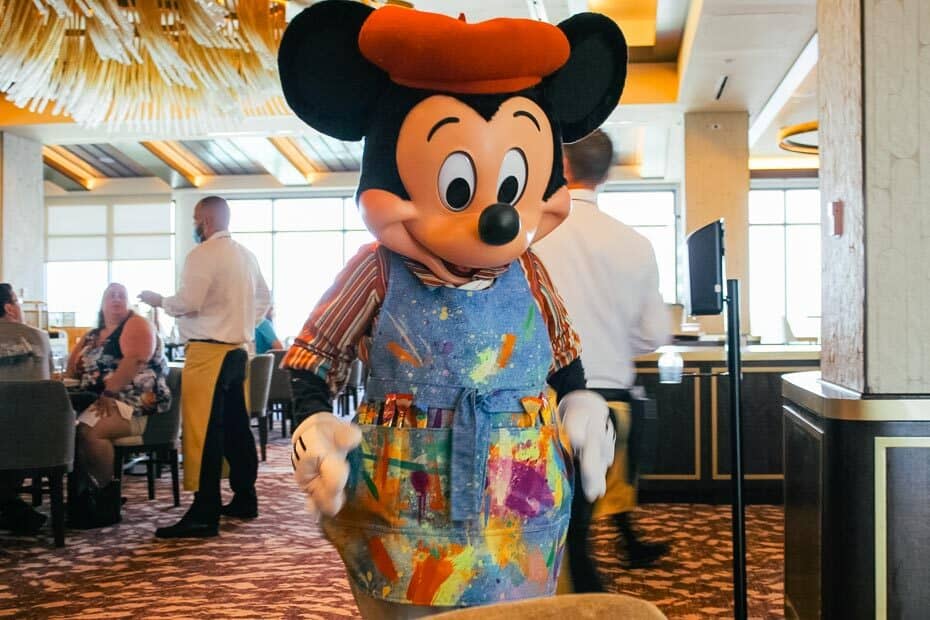 An eternity ago, when I started writing this review (earlier today), I mentioned a bit of a substitute for the lack of character autographs. Said substitute is the postcard below with a picture of all the characters present at Topolino's Terrace character breakfast.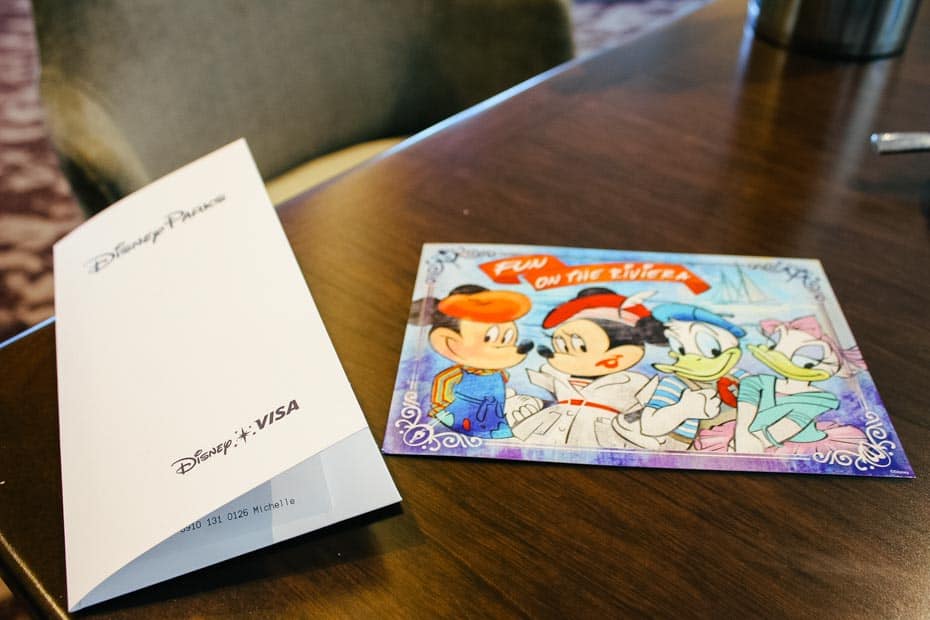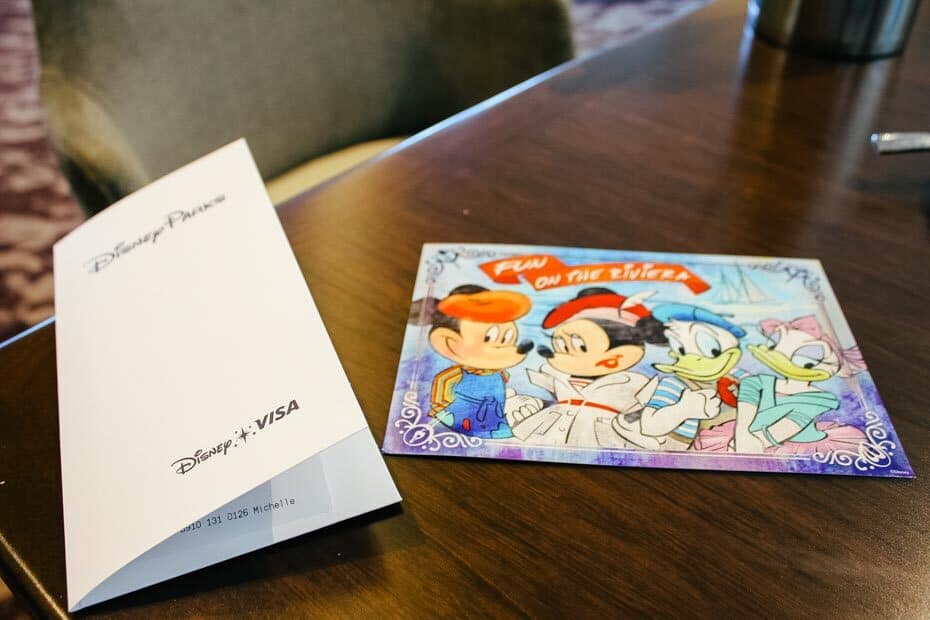 On the opposite side of the card, you'll find each of the character's autographs.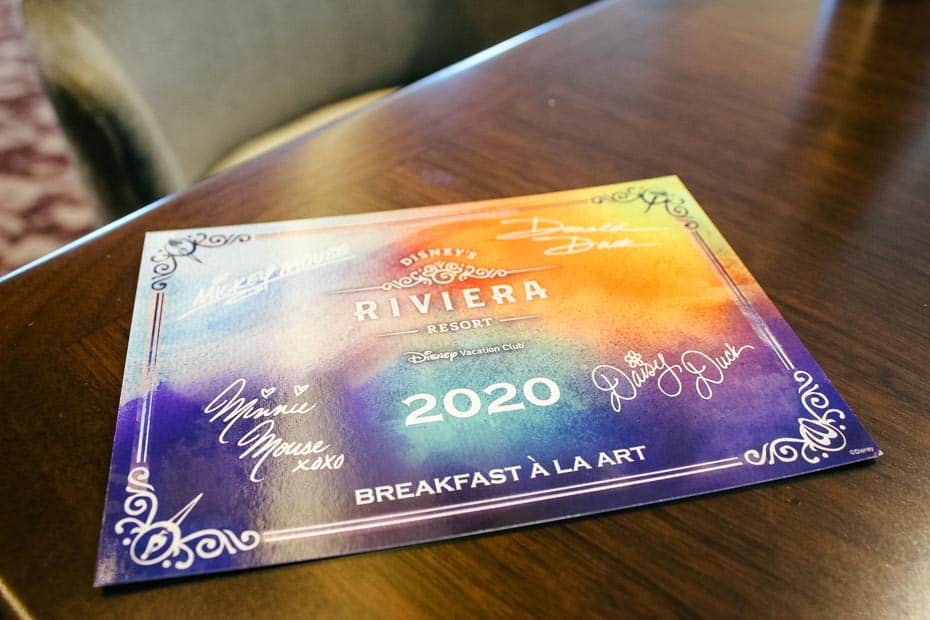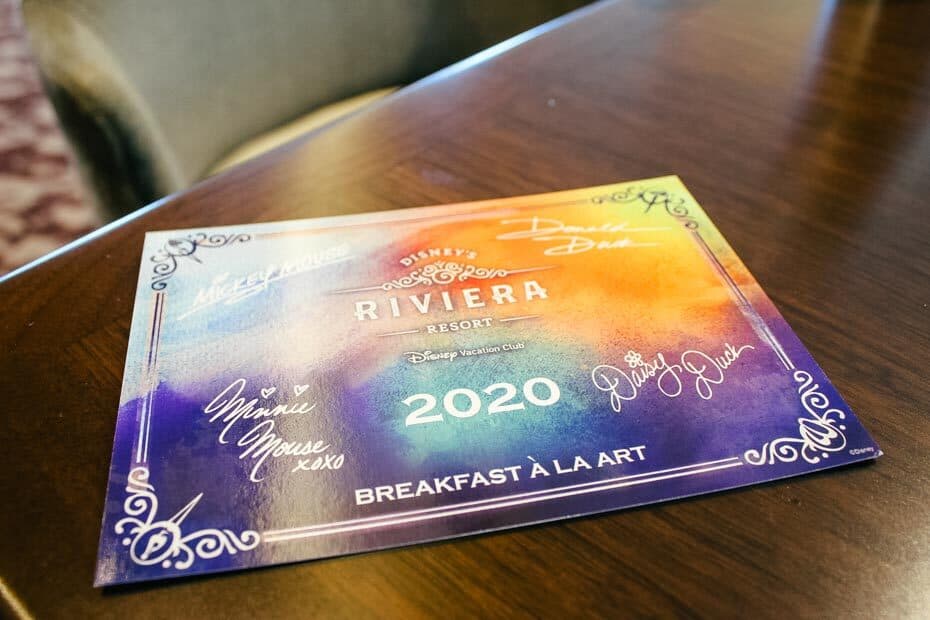 Additionally, there is a plush version of each character available for those who need to take the experience home with them.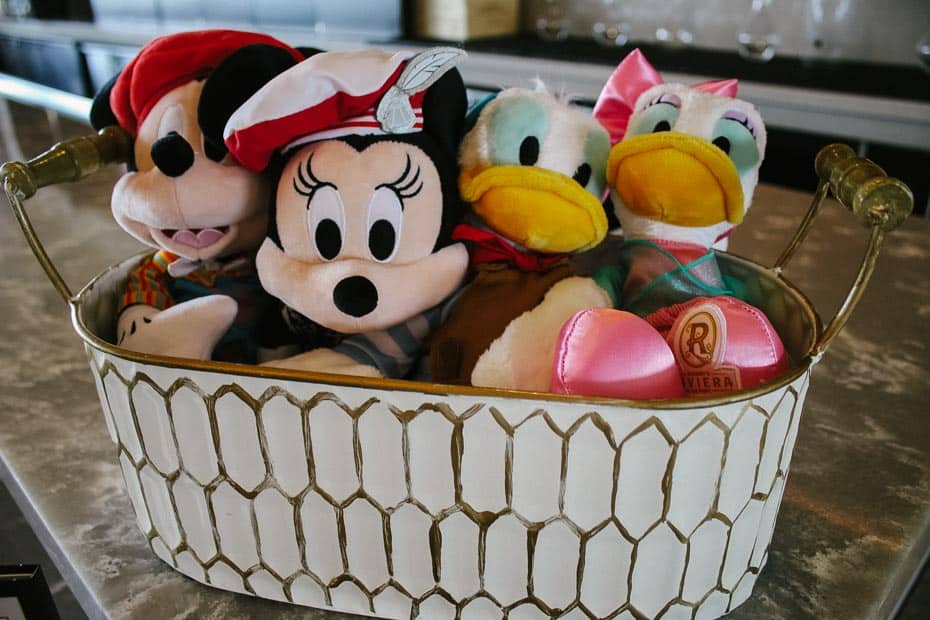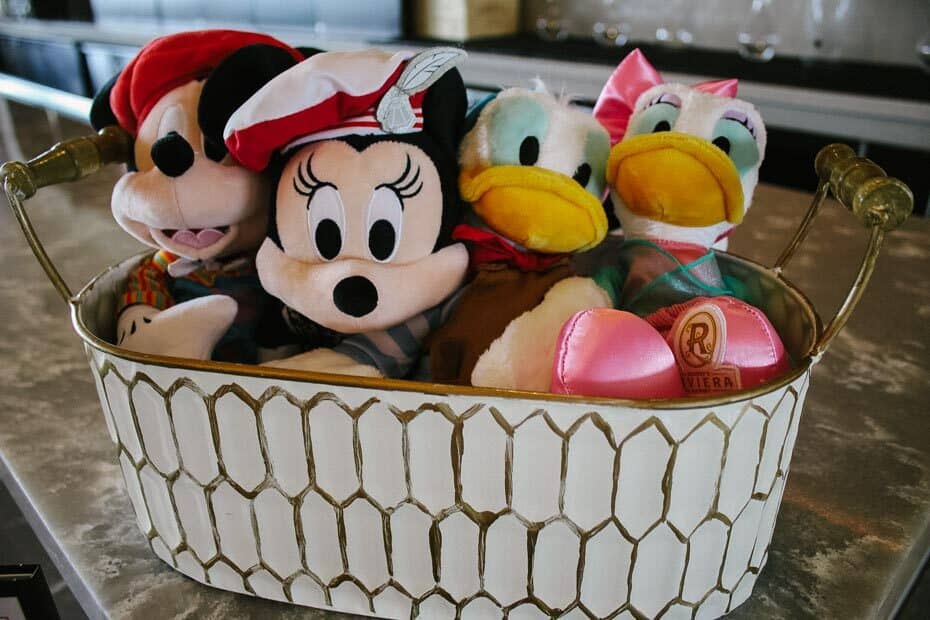 Here is the pricing for the souvenirs. They are also available downstairs in the resort's gift shop, La Boutique.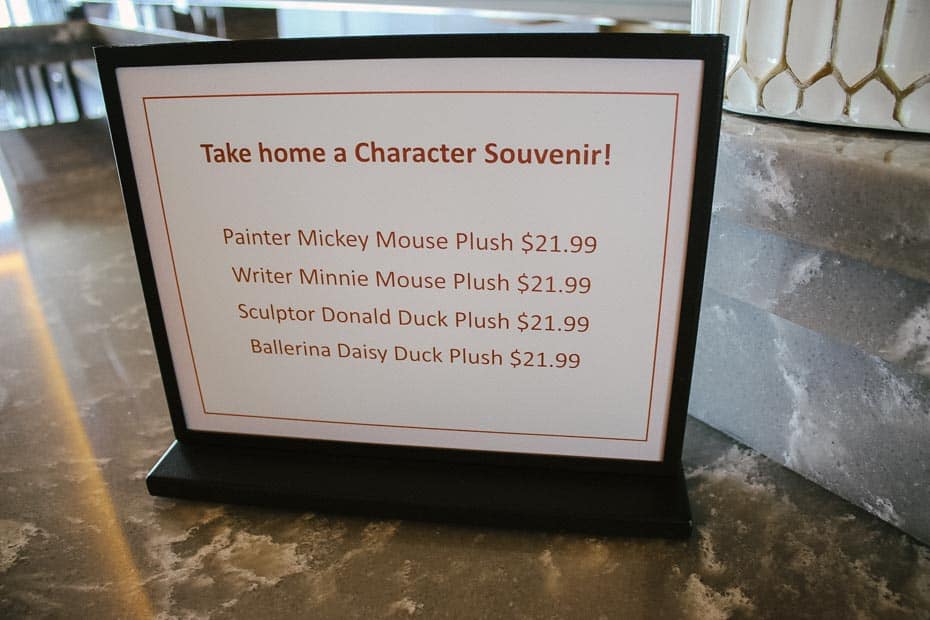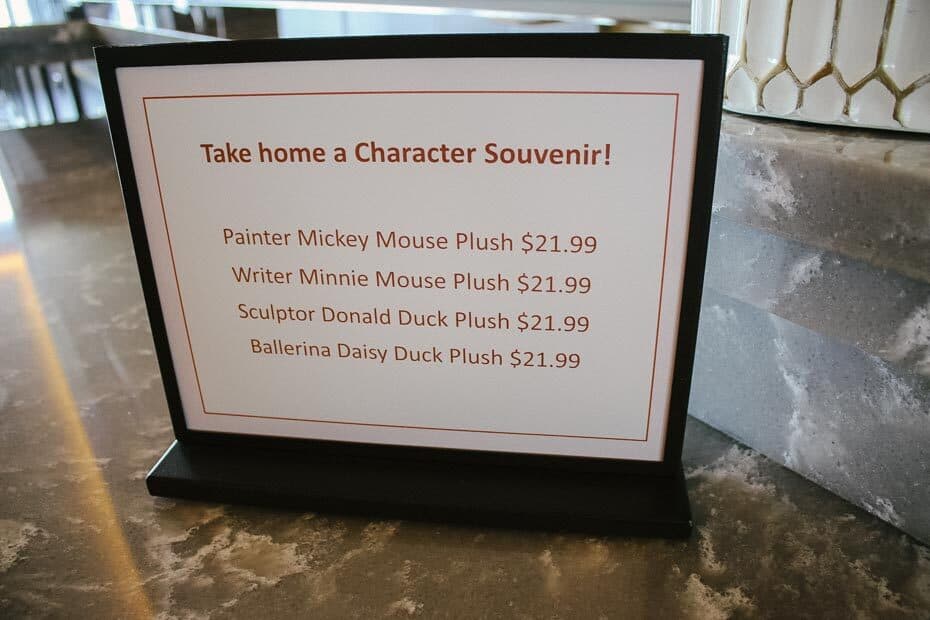 Final Thoughts about Breakfast at Topolino's Terrace
When reflecting on the entire Topolino's Terrace character breakfast, I walked away feeling good about the experience. The food was better by far than what I've had at the breakfast at Akershus with princesses and the Best Friends Breakfast at 'Ohana.
And this is much better than Chef Mickey at Disney's Contemporary Resort. Unfortunately, I wouldn't go there either. The food doesn't get good marks.
Garden Grill over at Epcot is a toss-up. It has a great location, but the food isn't great.
The only meal I consider comparable is the Bon Voyage Breakfast at Trattoria al Forno, located at Disney's Boardwalk Inn. However, characters aren't available at this time.
Related: Disney's Boardwalk Inn Review
It was also nice to visit the new Riviera Resort and take advantage of the views on the terrace after we finished our meal.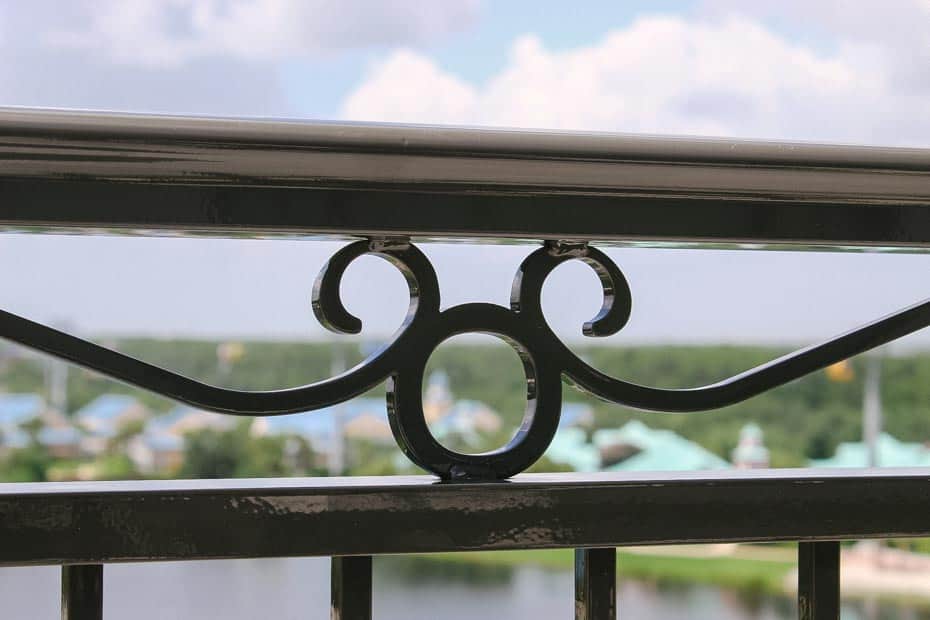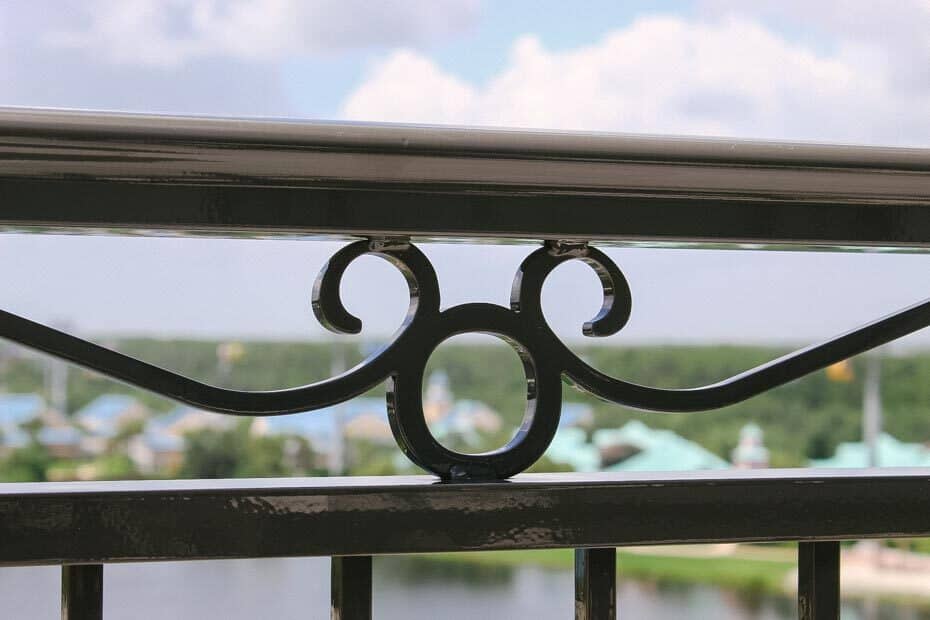 Here's a look at that terrace. In the evening, you can pick up a cocktail here before dinner if you like. But during the character breakfast, the area is only open for leisure.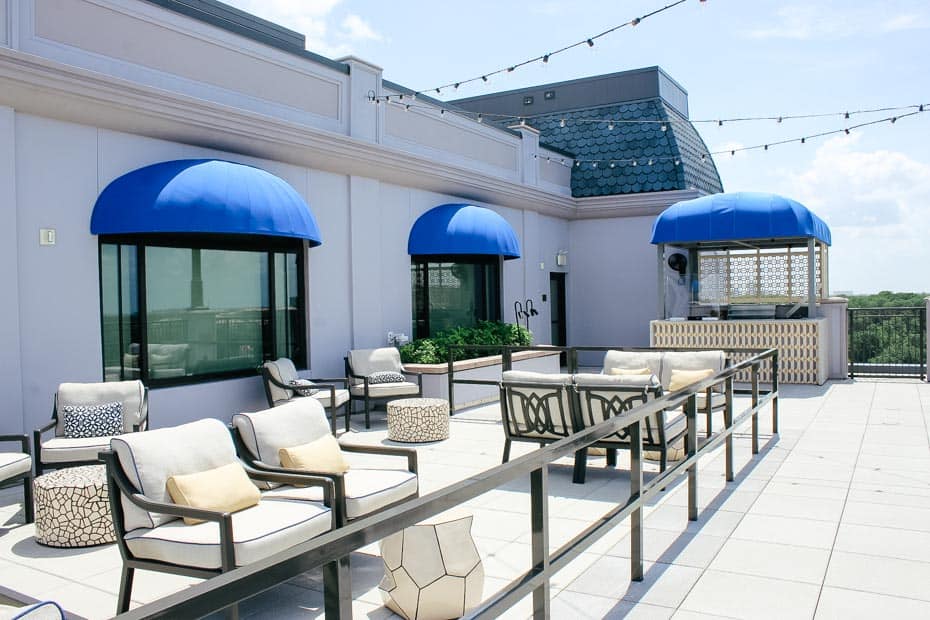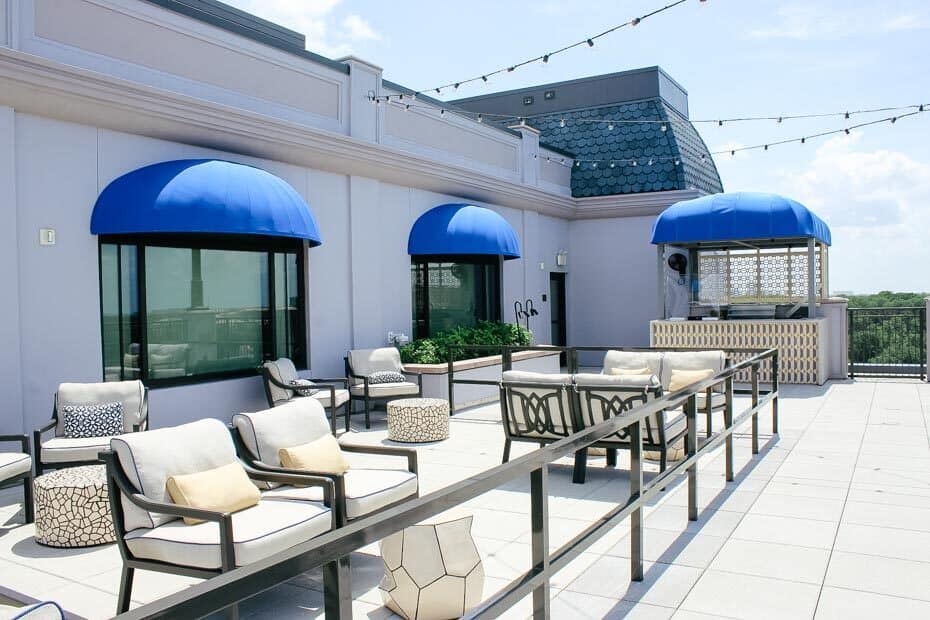 Additionally, the view of the Skyliner and many other significant structures is stunning.
You can see the Tower of Terror, the backside of Expedition Everest, the top of the Tree of Life, and the infamous Swan and Dolphin Resort.
Related: Swan and Dolphin Resort Review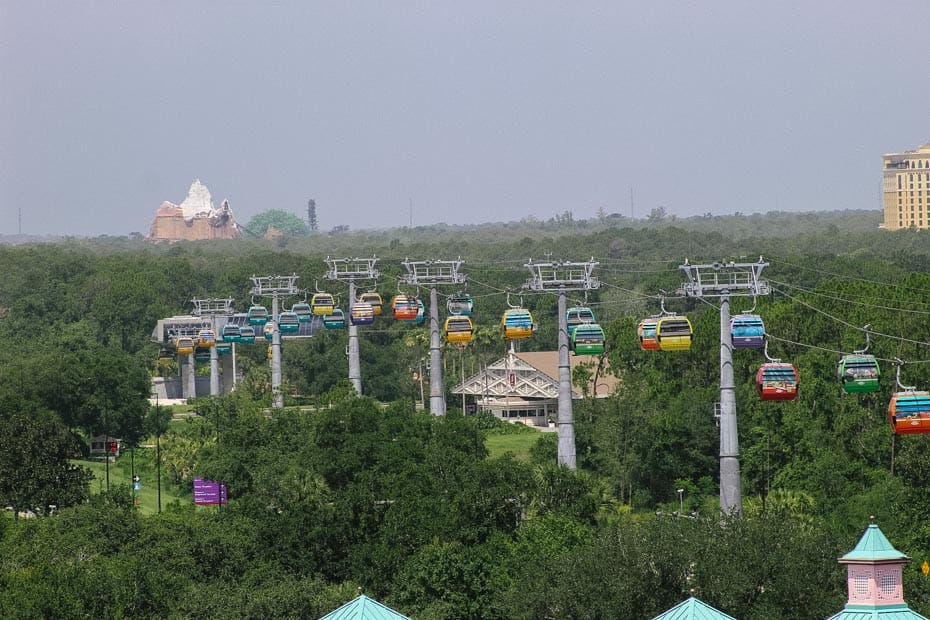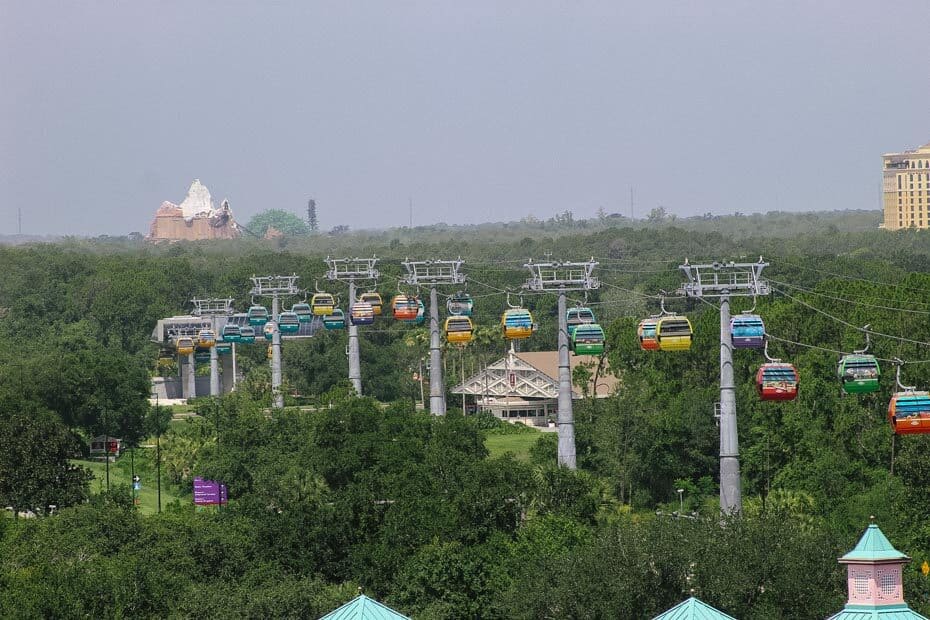 Overall, Topolino's Terrace is hard to beat. Plus, what's not to like about dining with classic characters styled as you might find them on the French Riviera?
While the price is high for this meal, the value of the experience and the quality of the food tends to balance things out.
Hopefully, you will have the opportunity to enjoy a meal here. I wouldn't hesitate to recommend it to anyone with interest.
If you want more details about dining at Disney, preview our entire list of Disney Restaurant Reviews. Some of our more popular ones include:
Or you might enjoy one of my all-time favorites, breakfast at Ale and Compass. They have a wonderful menu with reasonable prices, just no characters.
For other dining options at Disney's Riviera Resort, try these:
Or you can check out our complete review of staying at Disney's Riviera Resort.
In the Comments
Are you considering trying the Topolino's Terrace character's breakfast? What would you try? Does this experience look appealing?
Planning a Walt Disney World or other Disney Destination vacation?
Our friends and travel partner, Firefly Travels, excels at doing Disney differently. You can fill out a plan your trip form on their website, and someone will reach out shortly to discuss the specifics.