Buzz Lightyear's Space Ranger Spin
Buzz Lightyear's Space Ranger Spin is a fun, family-friendly interactive attraction. Space Ranger Spin is located in Tomorrowland at Magic Kingdom Park.
This article will discuss the details of Buzz Lightyear's Space Ranger Spin. Most guests will enjoy experiencing this attraction at least once during their visit to the park.
This attraction is the only ride representing the Toy Story franchise at Magic Kingdom. However, as you probably know, an actual Toy Story Land is available at Hollywood Studios.
Related: Toy Story Land at Hollywood Studios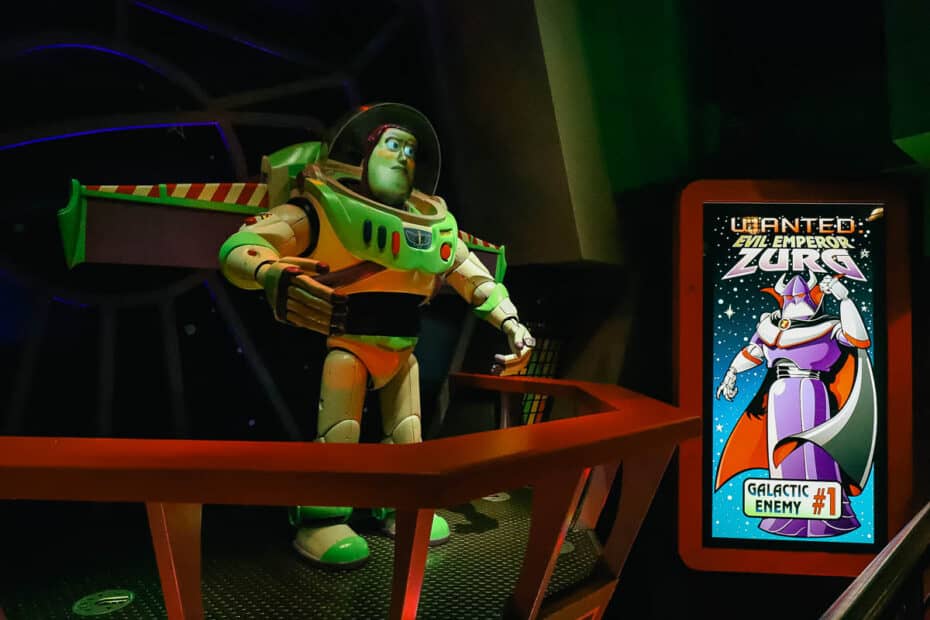 The quick reference chart below offers the need-to-know details.
Buzz Lightyear's Space Ranger Spin
Magic Kingdom

Location:

Tomorrowland

Disney Height Requirement

None

Disney Genie+ Eligible

Yes

Ride Type:

Slow-Moving, Semi Dark

Seats Per Vehicle:

Two

Disney Rider Switch

No

Good For:

All

Scare Factor:

None

Must-Do List:

Medium

Perfect For:

Toy Story Fans
Children
Competitors

Special Mention:

Interactive Gaming System with Ride
Buzz Lightyear Space Ranger Spin at Disney World
Buzz Lightyear's Space Ranger Spin is an interactive slow-moving dark ride. Guests have the opportunity to accumulate points while shooting at a variety of targets.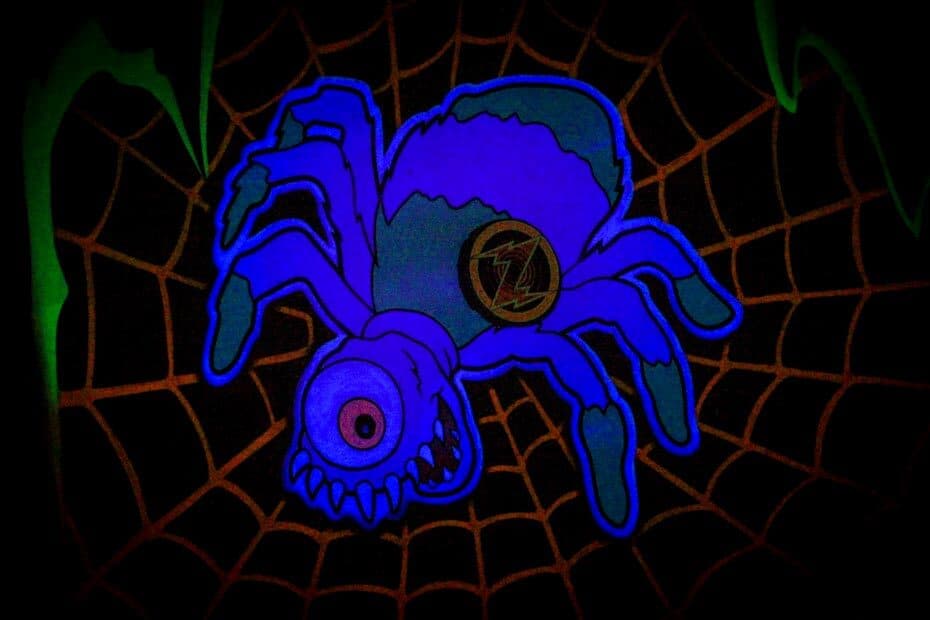 Buzz Lightyear's Space Ranger Spin is reminiscent of Toy Story 2, featuring our favorite intergalactic here, Buzz Lightyear. This is the film where he faces his enemy, the evil Emperor Zurg.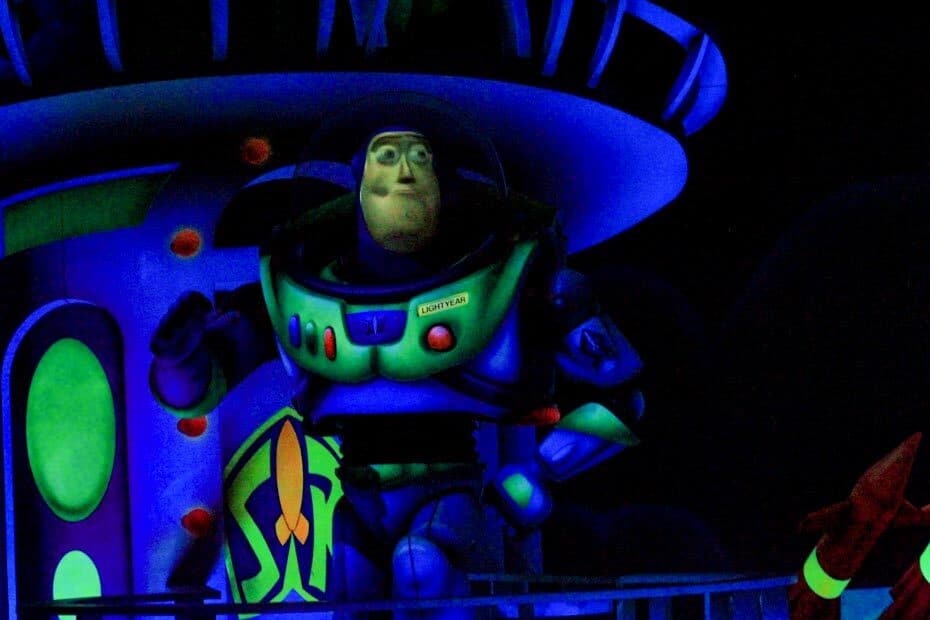 While this attraction is similar to Toy Story Mania at Hollywood Studios, there are no 3D elements. Each ride vehicle seats two passengers with blasters. You'll use the blaster to aim at targets and score points.
For scoring points, my best tip is to locate the red laser from your blaster on the targets ahead of you. If you can focus on your laser, you'll do much better aiming at your target.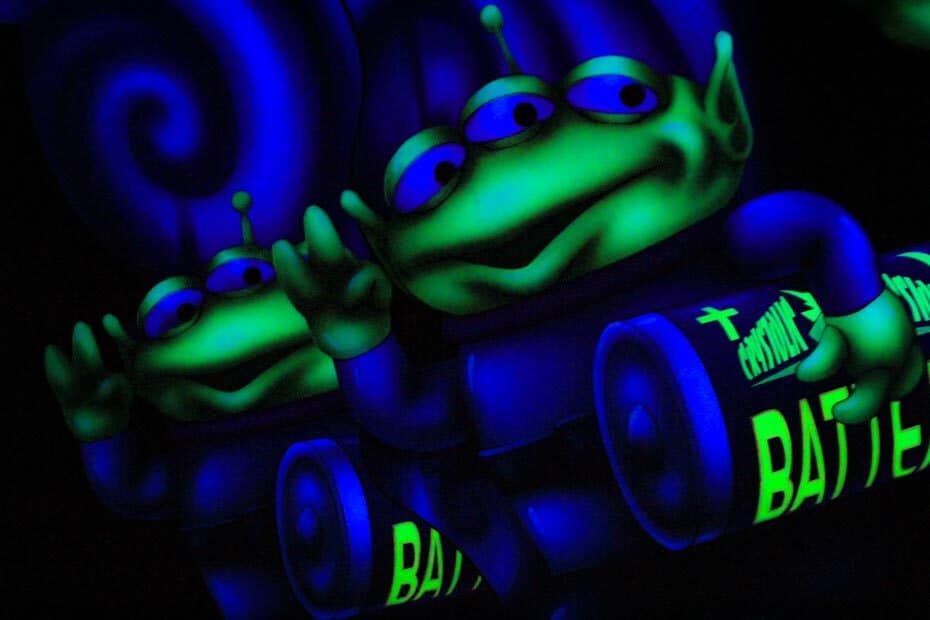 Additionally, this attraction has an on-ride photo opportunity. It's about three-quarters of the way through the attraction.
This photo-op is where those with a competitive nature will have a face of concentration as they try to add more points to their score.
What do these points get you? Well, bragging rights.
But if you reach the maximum score of 999,999, snap a photo with your mobile device. Then, show the image to the cast member in the shop at the end of the ride.
They will award you with a Galactic Hero button. It's kind of a big deal.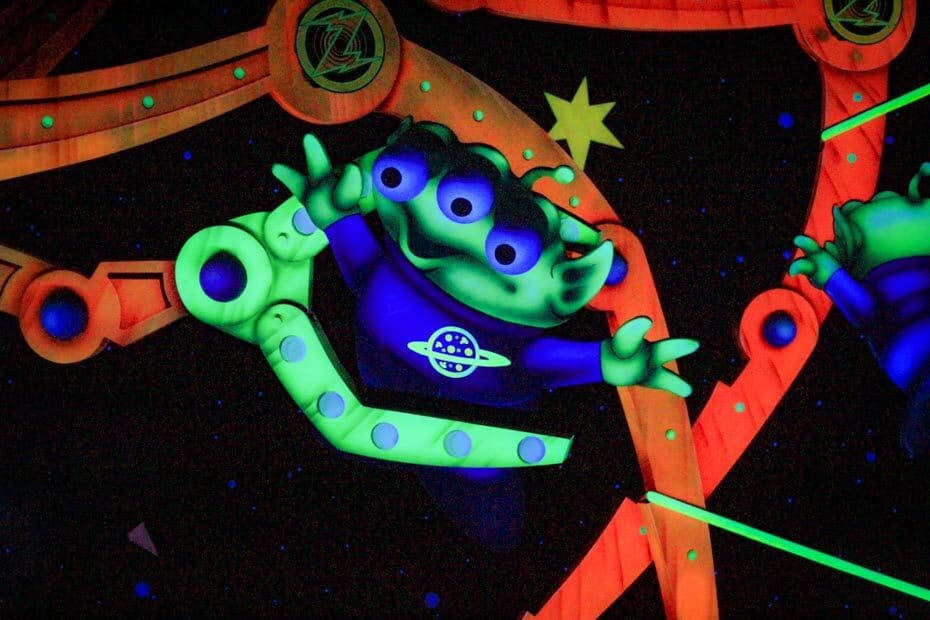 Wait times for this Buzz Lightyear's Space Ranger Spin are lowest during the early morning and late evening hours.
Additionally, this attraction offers a Lightning Lane option for those who purchase the upgrade.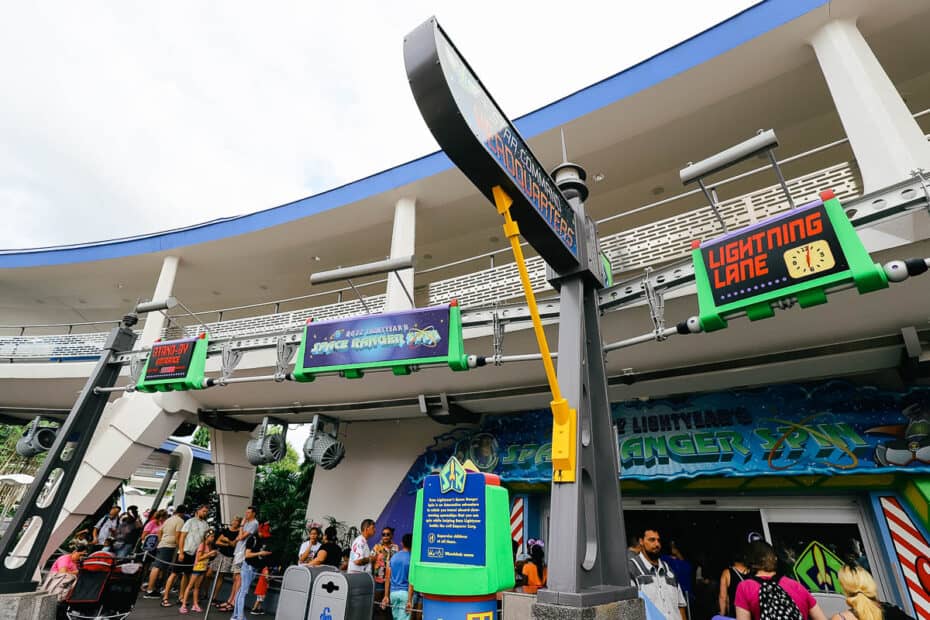 Know Your Disney Rules When Riding With Children: Any child under the age of seven or younger must be accompanied by an adult fourteen years or older.
For more attractions in the nearby area, try these articles:
Or preview the complete list of rides at Magic Kingdom.
Related Disney Planning Articles:
Resorts Gal specializes in Disney World Resorts, Characters, and Dining. If you want information on where to stay, check out our Disney World Resort Reviews. It includes a list of every single resort review we have available.
Additionally, we have information for planning a stay off property. Try these articles:
For those planning on spending a lot of time at Magic Kingdom, check out these nearby resort reviews:
If you plan to meet characters in the parks, there's an updated list of Disney World Characters. Additionally, Buzz Lightyear meets at Magic Kingdom, and he also meets at Toy Story Land.
Related: Buzz Lightyear Meet and Greet at Toy Story Land
Lastly, our most popular reviews include the best restaurants at Disney Springs, and I keep a timeline going of Disney Loungefly mini-backpacks.
In the Comments
What are your thoughts on Buzz Lightyear's Space Ranger Spin? Are you looking forward to experiencing this attraction?