A Look at Liberty Square at Disney World
Disney World's Liberty Square is one of the six lands located in Magic Kingdom Park. The land represents the colonial time period of the United States and is bordered by Fantasyland on one side, and Frontierland on the other.
If I had to choose whether or not to visit Colonial Williamsburg or Liberty Square in the Disney World Parks to get a dose of American history, I would choose Liberty Square every single time. Not knocking any historical site in our great country. But surely we can agree that Walt Disney World, in general, is an iconic place in American history.
Liberty Square at Disney World offers a nice glimpse of American history. You can literally step into this small corner of the park and see an exact replica of our nation's own Liberty Bell.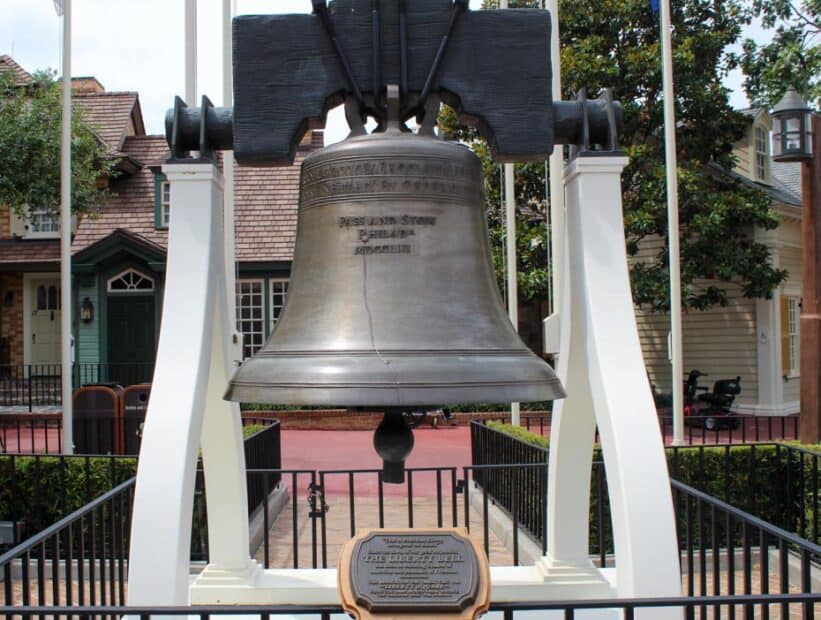 Not only that, but there's a Liberty tree planted right beside it. When crowds are light, you might even feel as though you have stepped back into time.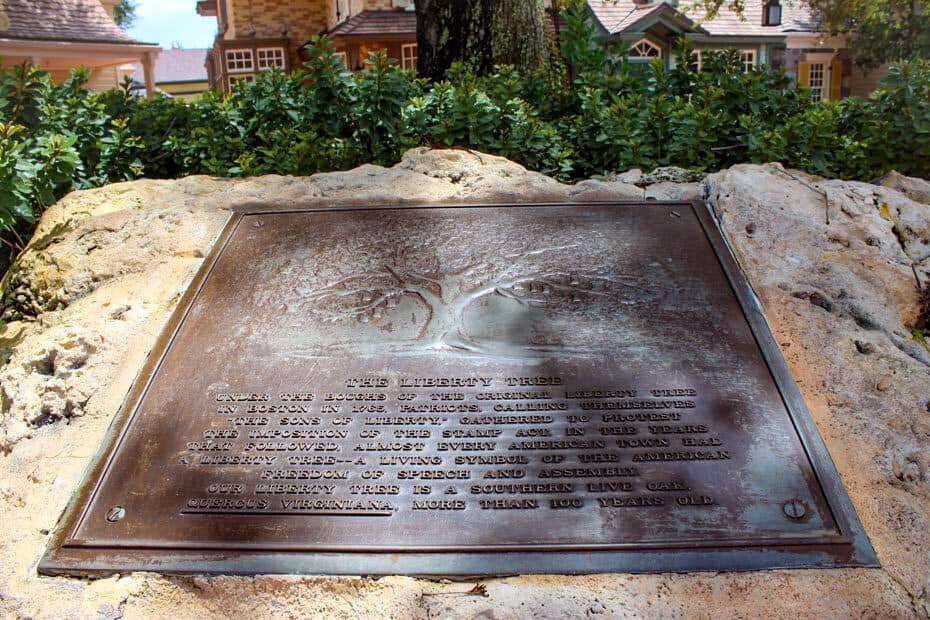 The quaint charm of the area is spot-on in relation to the time period. In fact, Liberty Square is an integral part of the park that probably doesn't get enough appreciation as an entire land.
Notice how the shutters are tilted in the buildings below. During this time period, England had quit shipping metal to America so the colonies wouldn't use it for ammunition.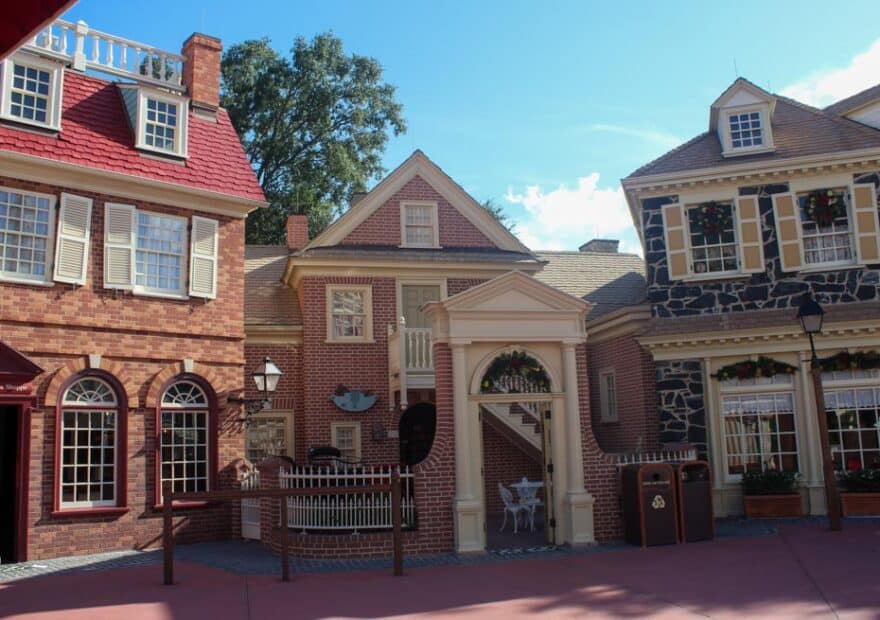 In turn, the people began removing the metal that was used to hang shutters and began using it to make ammunition. They replaced the metal for the shutters with leather. Naturally, as the leather became worn the shutters shifted and were no longer evenly hung.
These small details can be found all over Liberty Square. The land is also home to the classic Haunted Mansion, a scenic riverboat ride, and an attraction that gets updated every time our country elects a new president.
Between the attention to detail and classic attractions, one has to admit, that a visit to Liberty Square is well worth a second glance around. And Liberty Square might make for a nice place to incorporate a fun history lesson if you can balance out the learning with a little fun, food, and shopping.
Liberty Square Disney World
Here's what you can expect to see while touring Liberty Square at Disney World.
Attractions
The Hall of Presidents
Haunted Mansion
Liberty Square Riverboat
Dining
The Diamond Horseshoe
Columbia Harbour House
Liberty Square Market
Liberty Tree Tavern
Sleepy Hollow
Characters
Retail
Liberty Square Parasol Cart
Liberty Square Portrait Gallery
Memento Mori
Ye Old Christmas Shoppe
Extra
Liberty Bell
Parade Viewing from Liberty Square
Liberty Square connects almost fluidly to neighboring Frontierland. If you aren't paying attention it can be somewhat hard to tell where one ends and one begins.
The lands both represent different periods of United States history. But Liberty Square focuses more on the 18th century American Revolutionary War time period.
The attractions in Liberty Square work well for the area with all three providing some kind of historical reference.
For instance, The Hall of Presidents is an original attraction that opened with the Magic Kingdom in 1971.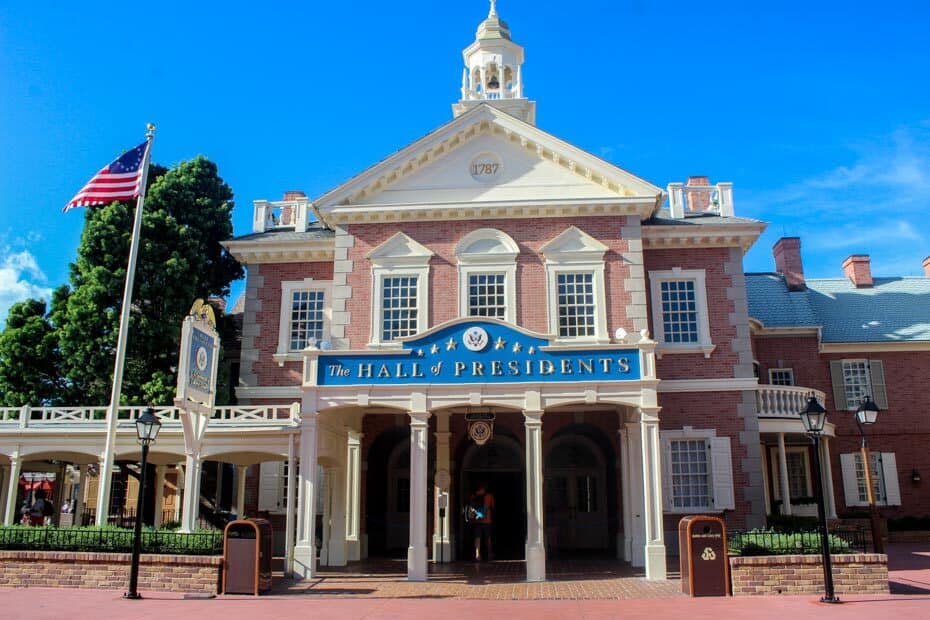 If you have had the opportunity to watch the Imagineering Story that premiered on Disney Plus, you might be familiar with some of its history.
Inside The Hall of Presidents at Liberty Square, you'll find a large theater that displays all of our nation's presidents in animatronic form. It is quite an impressive performance and has a 25-minute duration.
Our next attraction in Liberty Square is Disney World's Haunted Mansion. This classic and original attraction was really ahead of its time when Magic Kingdom Park first opened.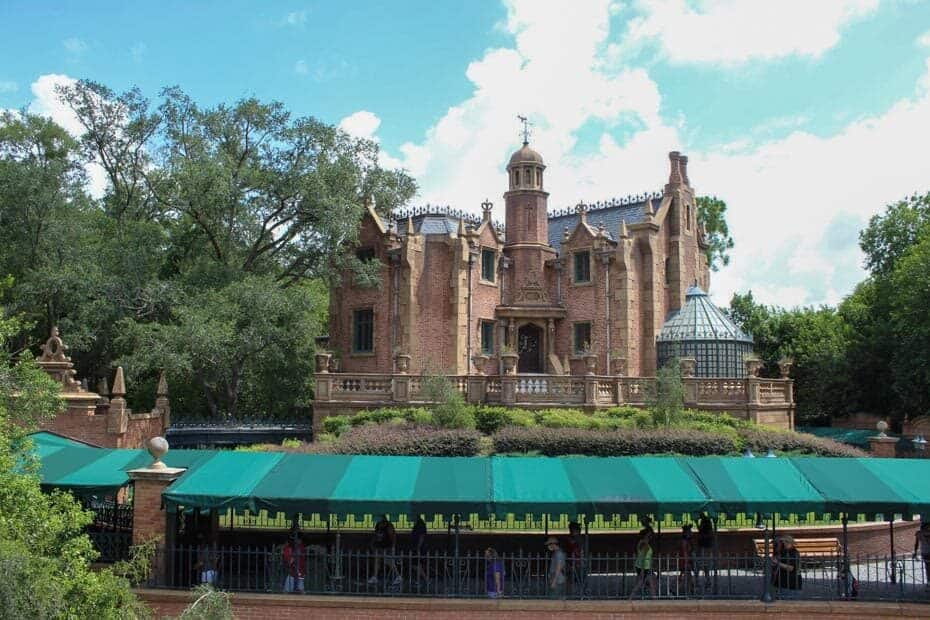 The ride has an interactive queue if you elect to wait in standby. Unfortunately, the attraction is so popular that standby waits can build excessively throughout the prime touring time of the day.
It would make me truly sorrowful if I had to miss a ride on the Haunted Mansion, so make sure to fit it in to your schedule.
Our last attraction in Liberty Square at Magic Kingdom is the Liberty Square Riverboat. This attraction provides an opportunity to travel around Tom Sawyer Island on an authentic steam-powered boat sporting a paddlewheel on the back.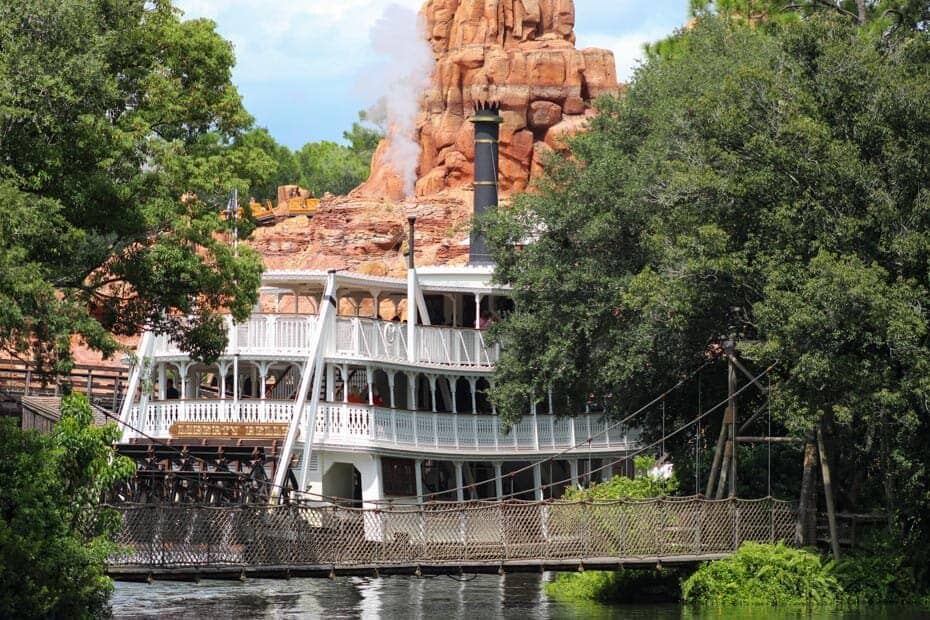 The Liberty Belle operates until dusk and can be considered an anytime attraction. The only wait you might have is the one for the steamboat to return, dock, and unload passengers. The full duration of the boat ride is around 17 minutes.
This is an attraction that I actually do like to ride fairly often when visiting the parks. It's a wonderful excursion that allows you to alleviate a little crowd pressure found in the park. In fact, I keep it on my shortlist of attractions to experience on popular holidays like Christmas Day or Easter.
While character meets do change from time to time within the parks, you'll find the opportunity to meet Mary Poppins in Liberty Square. Here's a picture of the meet and greet location below.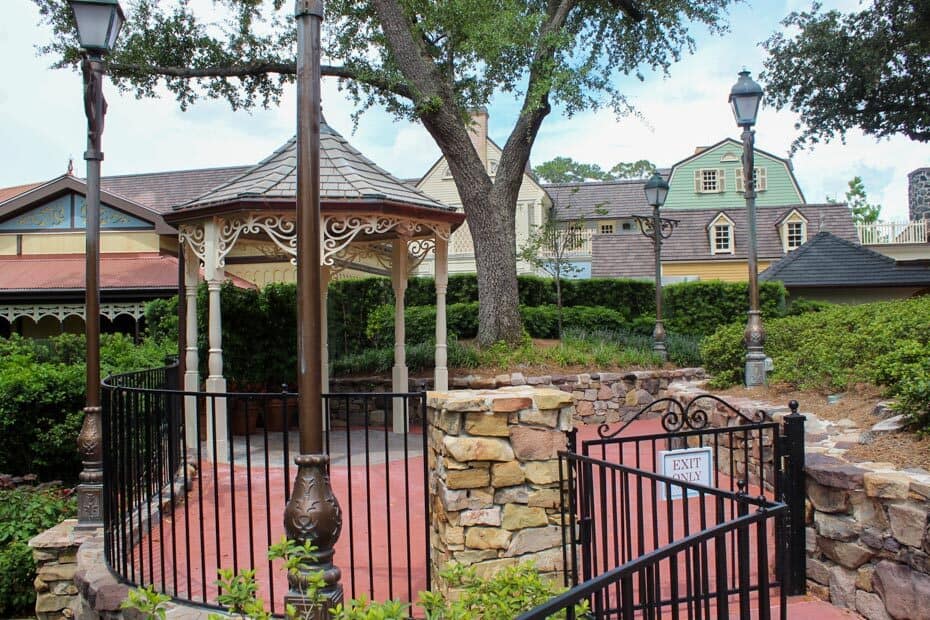 This area is located behind Ye Olde Christmas Shoppe. Tiana formerly met in this location but moved over to Princess Fairytale Hall a few years back. Now you'll find Mary Poppins here when character meets are available.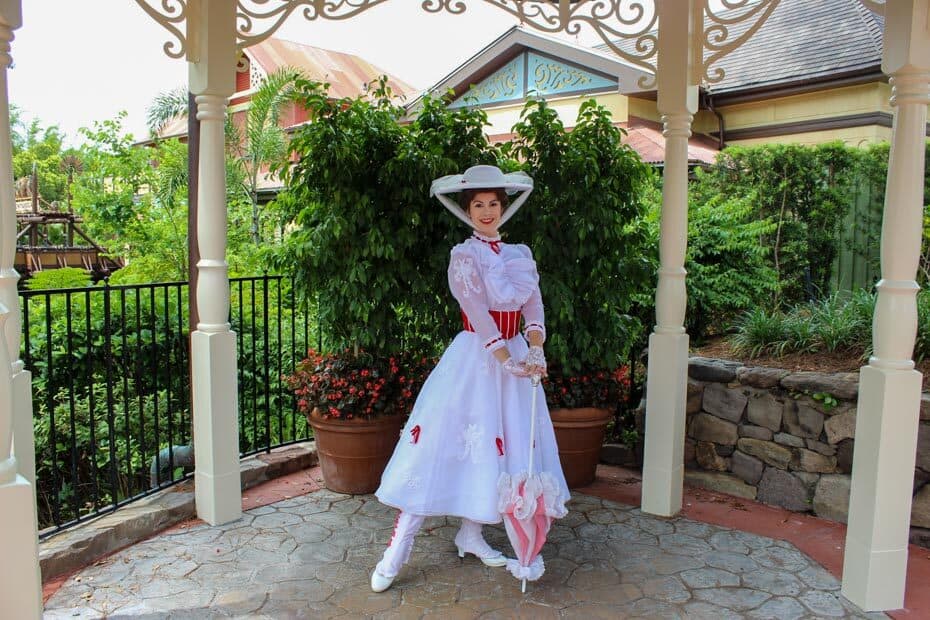 Now we'll take a look at the dining options offered in Liberty Square. What I've done below is highlight each location and put a link to the menu underneath.
There are also mentions of what meal periods are served at each location. Additionally, there are a few places to pick up a snack while touring.
The Diamond Horseshoe
Table Service
Serves Lunch and Dinner
Open Seasonally
Columbia Harbour House
Quick Service
Serves Lunch and Dinner
Liberty Square Market
Quick Service
Turkey Legs, Hot Dogs, and Snack Offerings
Liberty Tree Tavern
Table Service
Serves Lunch and Dinner
Sleepy Hollow
Quick Service
Waffles Sandwiches, Funnel Cakes, and Corn Dogs
Shopping in Liberty Square at Magic Kingdom
You might want to check out some of the unique to Liberty Square shopping locations while in the area.
Liberty Square Parasol Cart is located along the walkway across from The Hall of Presidents. Usually, there is a wide variety of parasols out on display making it easy to locate. These parasols provide great shade from the sun, and you can have one custom-made adding your name or other details.
Liberty Square Portrait Gallery is the perfect place to have your silhouette done in Magic Kingdom. This is actually something that's been on my list for a while now. There are also opportunities to have your portrait sketched and a few other items.
Memento Mori is a favorite stop across from the entrance of Haunted Mansion. I rarely visit Magic Kingdom without taking a step in the store to see what is new.
If you love the Haunted Mansion this quaint cottage style store is packed full of fun merchandise representing it.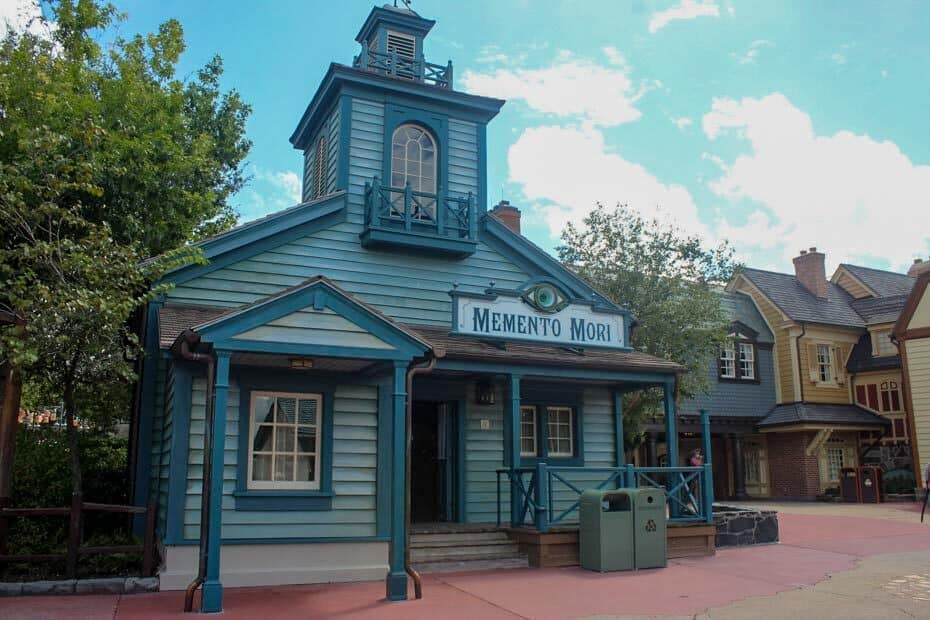 Liberty Square is actually home to another pretty famous shop in the Magic Kingdom.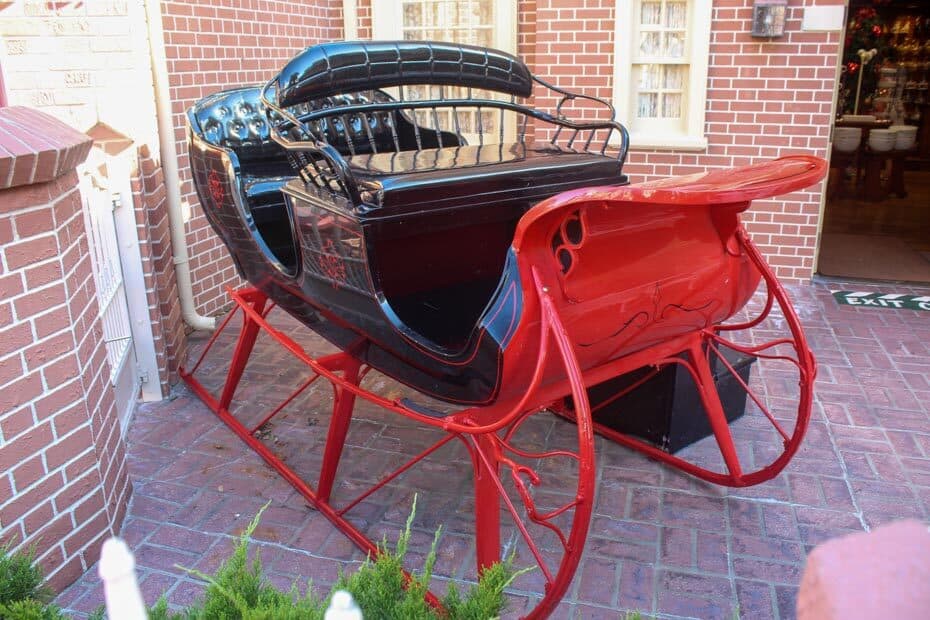 Ye Olde Christmas Shoppe is one of the most traditional stores you can expect to find in Walt Disney World. It's an entire shop dedicated to the Christmas holiday.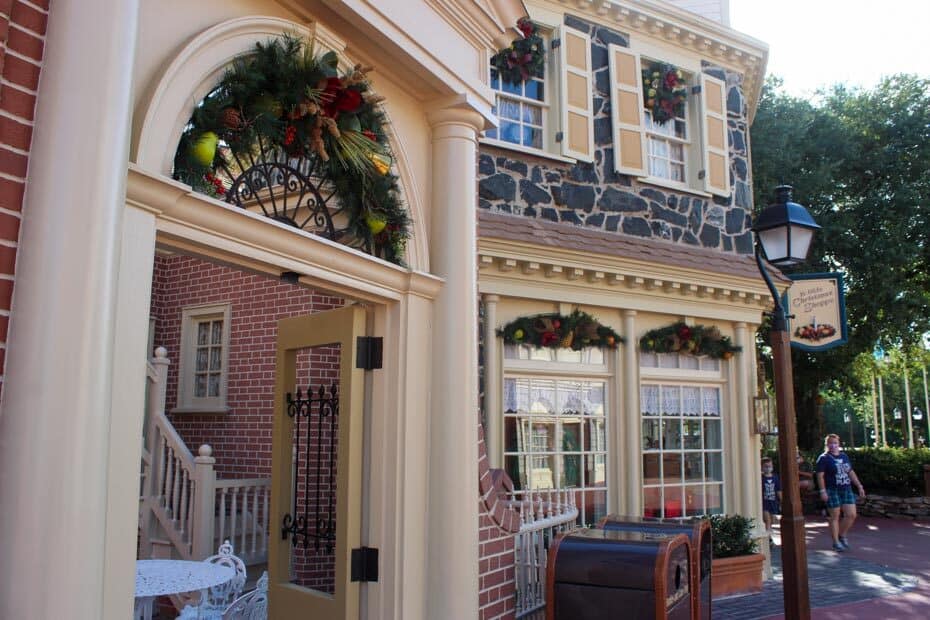 Many people pick up family ornaments here commemorating a year sabbatical to Walt Disney World or maybe even a classic first time trip. Whatever your occasion, make sure to step in and see what all is available.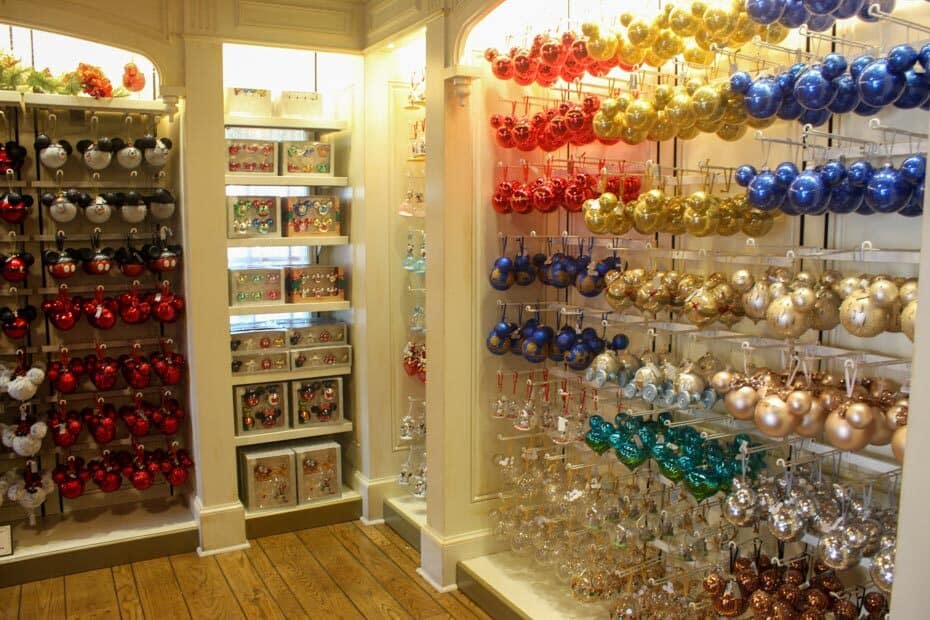 This Liberty Square store always has something that I want.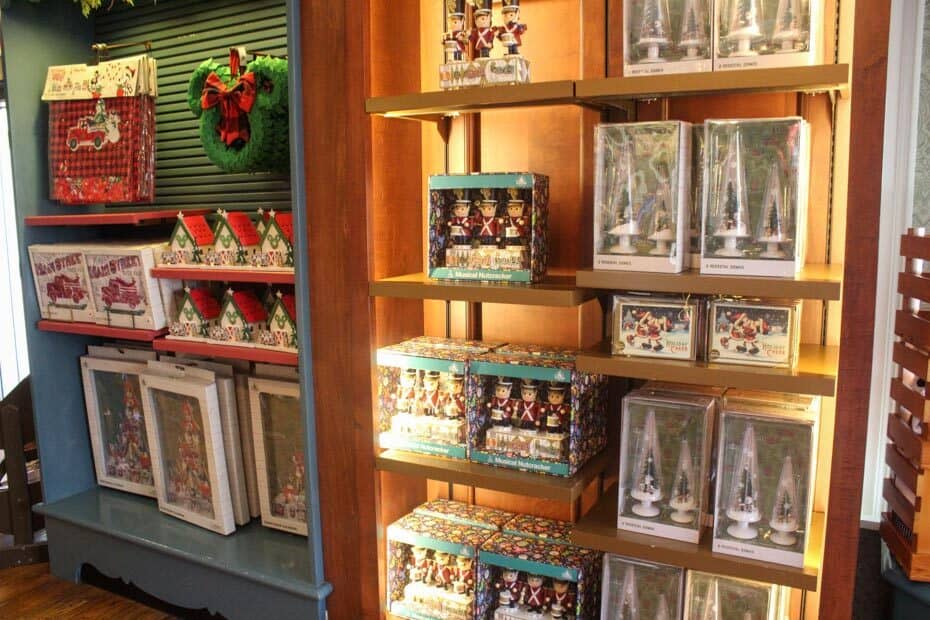 A Few Extra's at Liberty Square in Disney World
While touring the Liberty Square area at Disney World, there are a few extra things I wanted to share in further detail.
For starters, there's the Liberty Bell replica that is centered in Liberty Square and flanked by flagpoles. The flags surrounding this large semblance of American Independence represent the original 13 colonies that initially became the formation of our great country.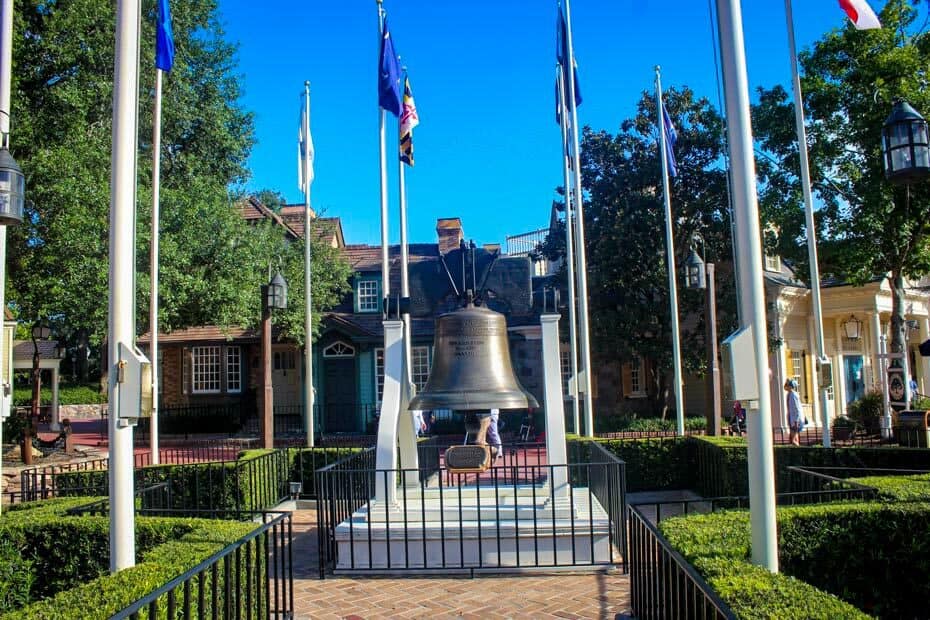 The plaque says, "This replication was truly cast for Liberty Square using the same mould from whence the original bell was sprung."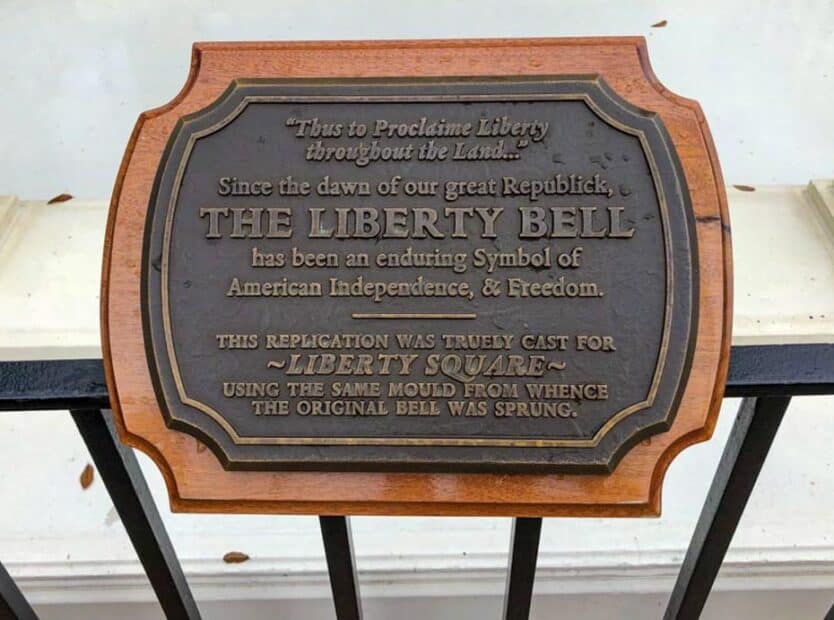 Liberty Square is also a decent area to enjoy the Festival of Fantasy Parade when it's available. At this time, the only parades available are the daily pop up cavalcades. However, they do travel through this path as well.
Below is a preview from a Sunday afternoon viewing as the parade begins its turn from Frontierland into Liberty Square.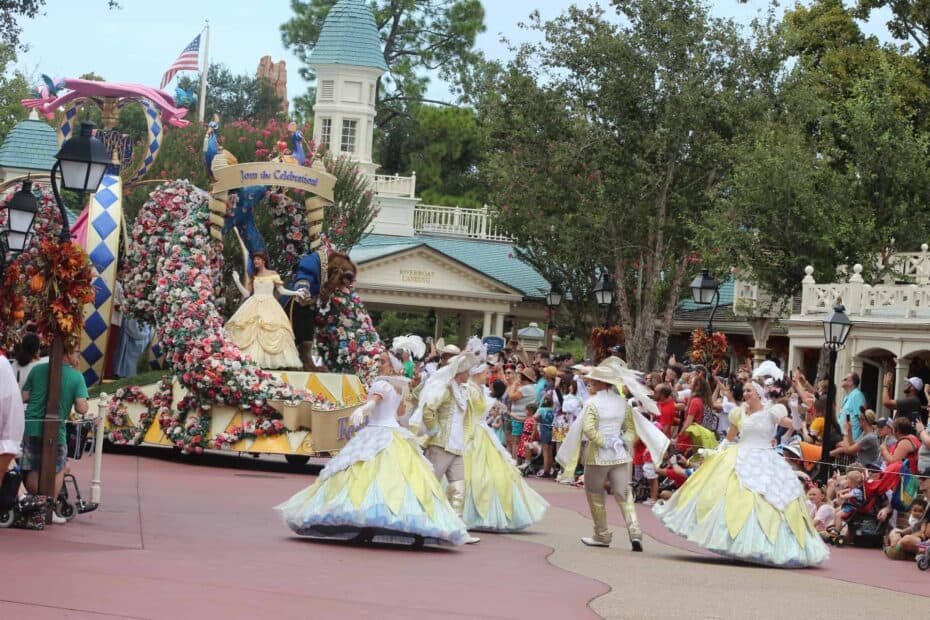 One thing to keep in mind while you are in Liberty Square is that there are no restrooms. Apparently, this is because there was no such thing as indoor plumbing during this time period.
Therefore, the nearest restroom will probably be in the Tangled restroom area that borders the land. And there's plenty of options close by in Frontierland.
Final Thoughts on Liberty Square
Liberty Square is a place you'll probably end up spending more time than expected on your next vacation. For me, I tend to lose sight of the fact that I'm in a themed land while I'm here.
That's probably because it doesn't necessarily take on the same kind of persona as some of the other lands like Fantasyland or Adventureland.
But this representation of history is not something that we Americans should easily forget. And for that reason alone I'm thankful the land is here in the parks.
Now if we can just get Disney to bring back a full-time offering of "Muppets Presents…Great Moments in American History."
I don't know what's more American than the Muppets? Do you?
For all of the Magic Kingdom by land series visit these reviews:
Resorts Gal specializes in Disney World Resorts, Characters and Dining. Make sure to check out some of our resources like the list Walt Disney World Resorts with reviews. That article gives a brief overview of every resort at Disney.
For planning dining reservations, we have a full list of our Disney restaurant reviews available. Normally, we recommend planning at least one Disney World character dining meal and a Disney signature dining reservation.
If you are planning to meet characters in the parks, I keep an updated list of Disney World Characters here. That review will like to every meet available in each of the four parks.
Lastly, our most popular reviews include the best restaurants at Disney Springs and I keep a timeline going of Disney Loungefly mini-backpacks.
If you have any questions or thoughts about Liberty Square at Walt Disney World leave them in the comments below.