Magic Kingdom Resorts and Hotel Area at Disney World
The Magic Kingdom Resorts and Hotels are some of the most sought-after destinations at the Walt Disney World Resort. The opportunity to stay at a resort nearby Magic Kingdom has a few perks that you can't get anywhere else on Disney property.
In this review, we'll look at the five hotels that make up the Magic Kingdom Resorts area. Then, I'll add an overview of each one and a link to the complete resort reviews for each one.
Anyone intending to spend a decent amount of time at Magic Kingdom will want to consider the benefits of being within proximity of the park.
Additionally, those who don't end up staying in this resort area might want to plan a little dining at one of these hotels on your Disney vacation. They are all worth the visit.
The resorts that sit on the shores of Seven Seas Lagoon provide a pleasant escape from the busyness of the Disney theme park. You can easily hop over to a resort hotel on the monorail for a meal if you know what you are doing.
Related: Resort-Hopping at Disney World
This article was updated on April 14, 2022.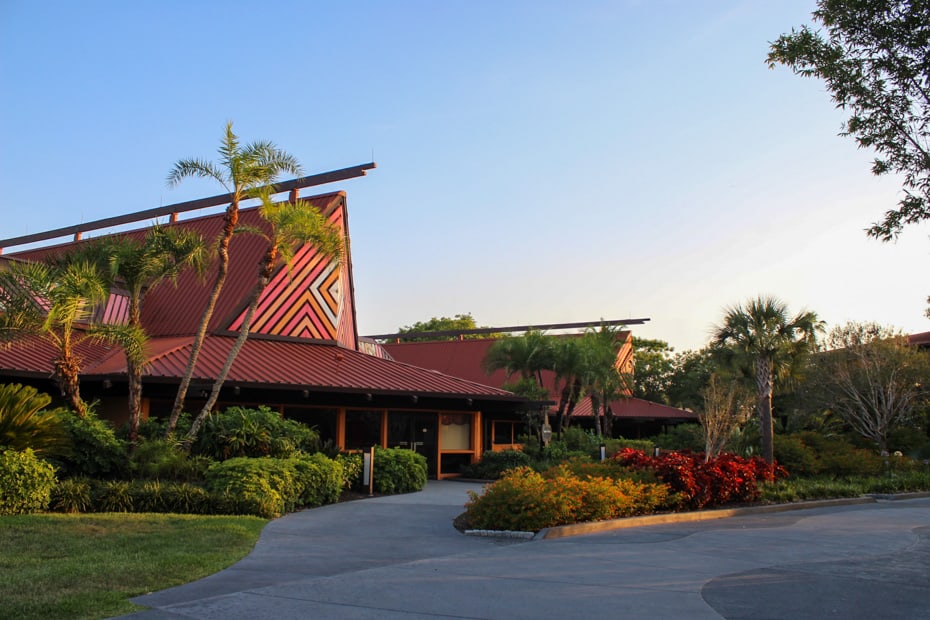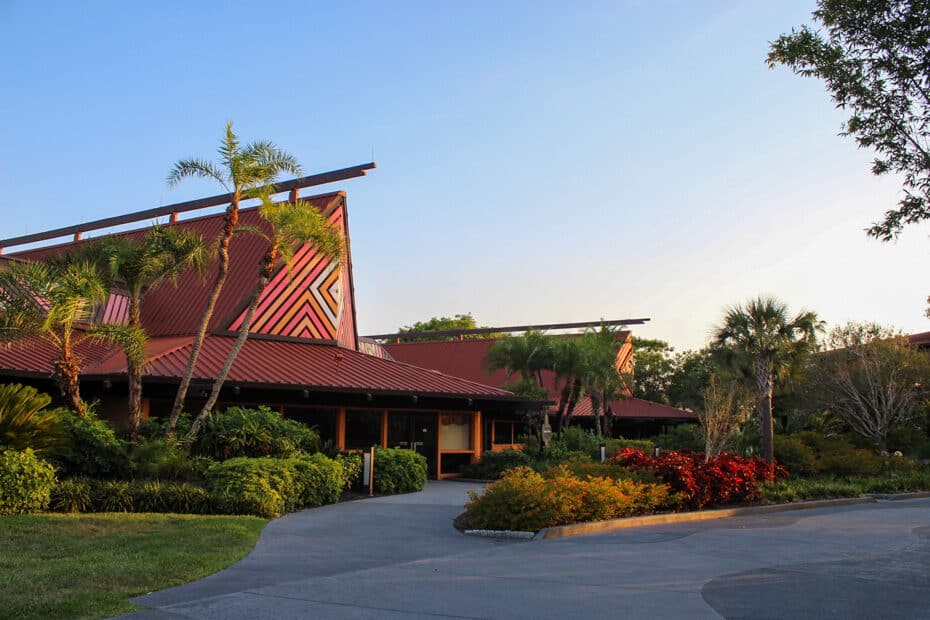 Magic Kingdom Resort Hotels
The following hotels make up the Magic Kingdom Resorts area at Walt Disney World.
The Disney World Resorts listed above are considered deluxe resorts except Fort Wilderness. Additionally, the following three resorts are all considered monorail resorts.
Contemporary
Grand Floridian
Polynesian
Therefore you can take the monorail from Magic Kingdom to these hotels. In addition, you can take a boat to all five of the resorts except for Contemporary.
All three of the monorail resorts are within walking distance of Magic Kingdom. So technically, Grand Floridian and the Contemporary have a direct path to Magic Kingdom.
And since the Polynesian adjoins Grand Floridian, you can also access the walking path from that resort.
As for the Wilderness Lodge and Fort Wilderness, you'll have to take a boat or bus service to the Disney theme park. However, they are only a short ride away compared to other resorts on Disney property.
Disney's Contemporary Resort
The Contemporary is the original 1971 resort with the monorail running through it. Its A-frame shape is modern in design.
Additionally, there's a separate Disney Vacation Club Resort, Bay Lake Tower, connected to the hotel by a bridge. We enjoyed staying at the tower but weren't crazy about our deluxe studio room layout.
Related: Bay Lake Tower Review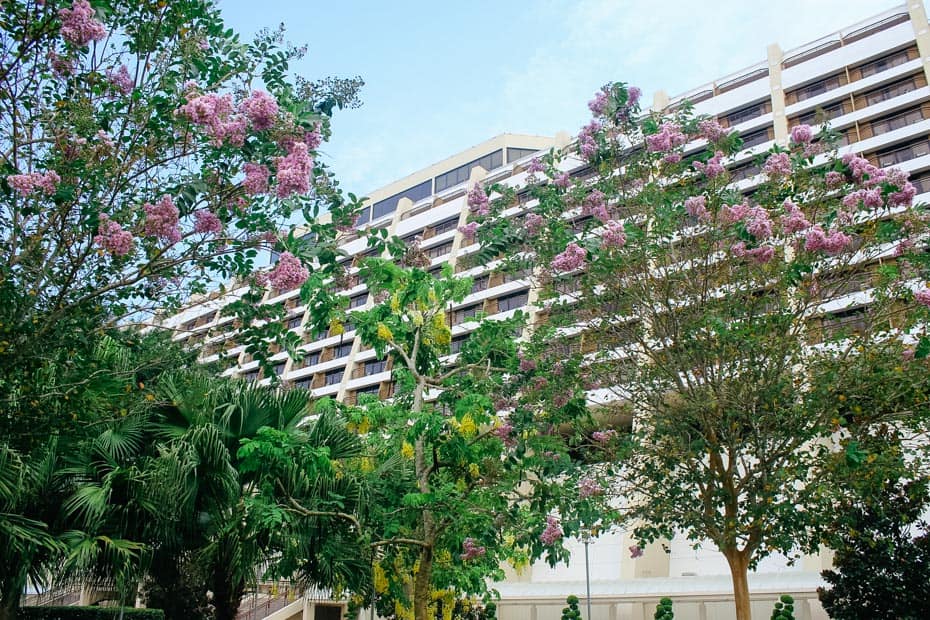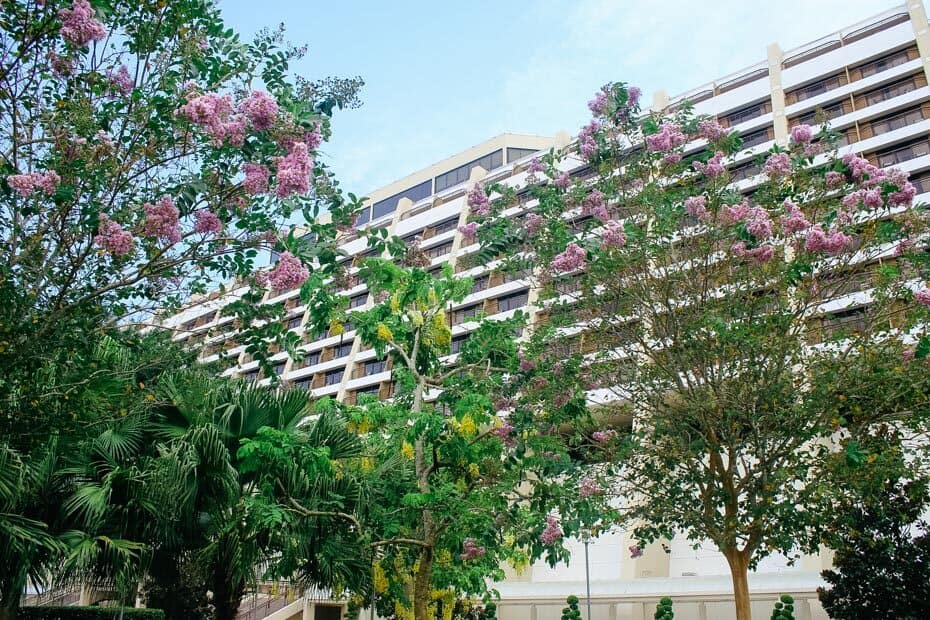 On the opposite side of Contemporary's tower-like structure, there's a separate Garden Wing. It sits out to the far back of the resort in a private area.
Related: Garden Wing Rooms at the Contemporary
If you've read any of our articles about Disney's Contemporary Resort, then you know that I could go on and on about the tremendous nature-like backyard at the resort. It is an anomaly compared to the Magic Kingdom crowds that are only a few minutes away.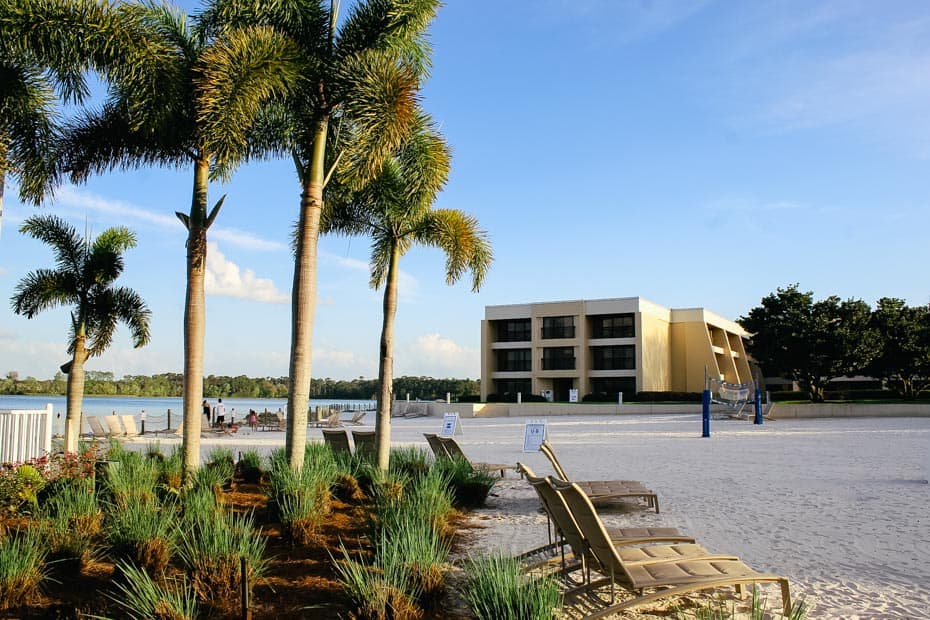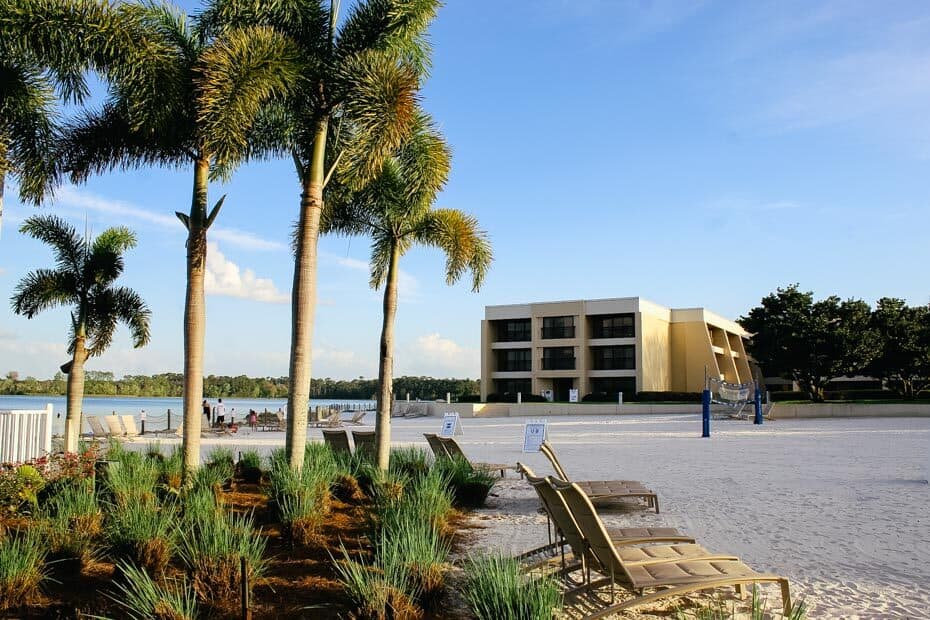 Another great thing about staying at this Magic Kingdom hotel is the room views. You'll end up with a theme park view or water view when you stay in either of the towers.
That theme park view is pretty unique, especially during the evening fireworks. However, I'm a sucker for the water views that look out to Bay Lake. You can probably see why.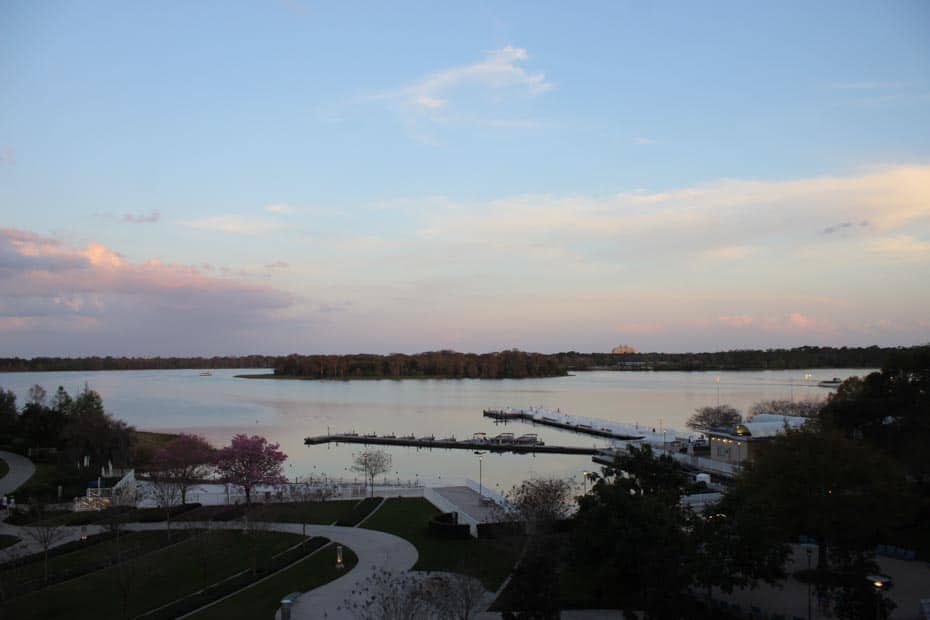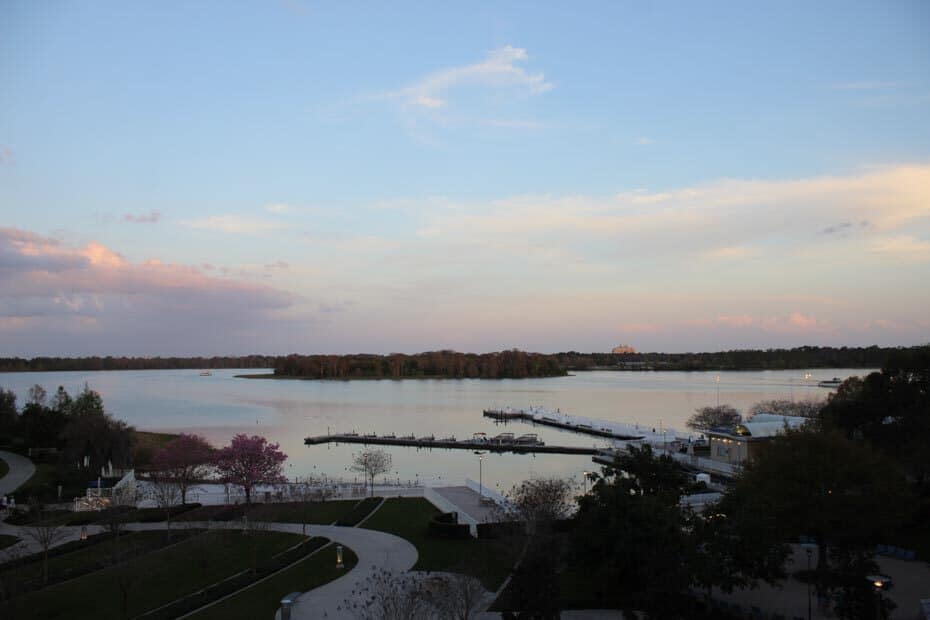 In addition to the large backyard with fun recreation, the Contemporary has some of the best dining options. You can read all about them here in the Contemporary Restaurants Guide.
And I have to mention that my all-time favorite signature dining location sits on the tower's top floor, the California Grill.
Related: 50th Anniversary Dinner at California Grill
For more information, we have a full review of the resort that touches on what it's like to stay here and other amenities.
Related: Contemporary Resort Review
Disney's Polynesian Village Resort
As we make our way around the monorail resort line, we reach our next stop, Disney's Polynesian Resort. The Polynesian is the hotel you'll want to stay at when you are daydreaming about a Hawaiian vacation but have to take the kids to Disney.
The moment you step foot onto the Poly's soil, you'll be surrounded by lush, tropical landscaping. The mood is serene, and a stay at this Disney deluxe resort will provide that authentic vacation feel.
All the while, Magic Kingdom sits across the water, ready for you to visit at your convenience.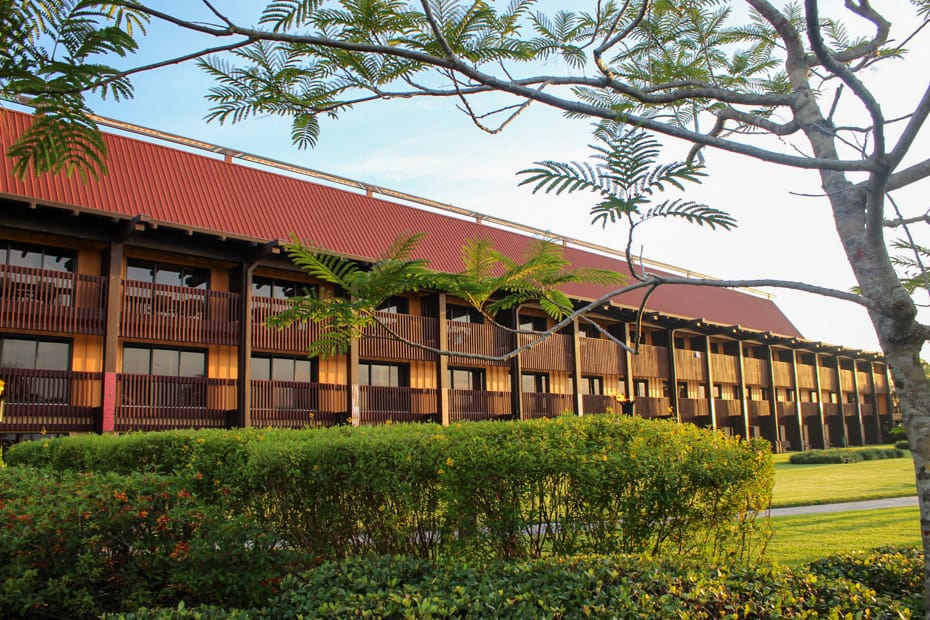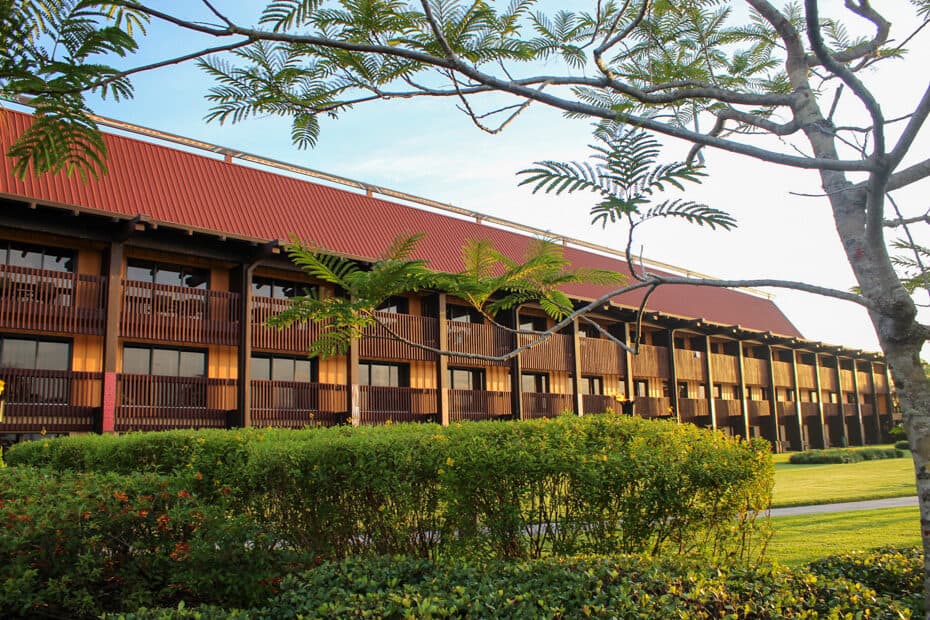 If you are curious about the full details of a stay at this Magic Kingdom Resort, you can read our full Disney's Polynesian Village Resort review.
Related: Disney's Polynesian Village Resort Review
The resort recently underwent a complete refurbishment. Additionally, construction begins in 2022 for a new Disney Vacation Club Resort at the Polynesian. Details are here.
At the original portion of the resort, the guest rooms sport a refurbished look. Expect touches of Moana in standard resort rooms.
We recently toured the villa rooms and loved the layouts. Here are the two options that are currently available:
The deluxe studio option is excellent if you need a tad more space than a standard room. It has a wonderful guest bath layout, too.
Since most guests visit the Poly at least once during their Disney vacation, I've put together a complete guide to the Polynesian Restaurants. The guide will help you figure out a place to eat, pick up a Dole Whip, or order a drink that comes straight out of a pineapple.
Related: Disney's Polynesian Restaurant Guide
Whether you spend a week here or drop in for a leisurely evening, the Polynesian is a welcoming retreat that you probably don't want to miss.
Disney's Grand Floridian Resort and Spa
Disney's Grand Floridian Resort is only a few steps away from the Polynesian. This hotel is considered the flagship property of all the resorts at Disney World.
Grand Floridian has an iconic red roof with white siding and a casual Victorian look and feel. You'll know it when you see it.
A stay at this Magic Kingdom Resort is pleasant, and I highly recommend looking into their villa wing, the Grand Floridian Villas. The deluxe villa studio comes with a small kitchenette.
Related: Grand Floridian Villas Review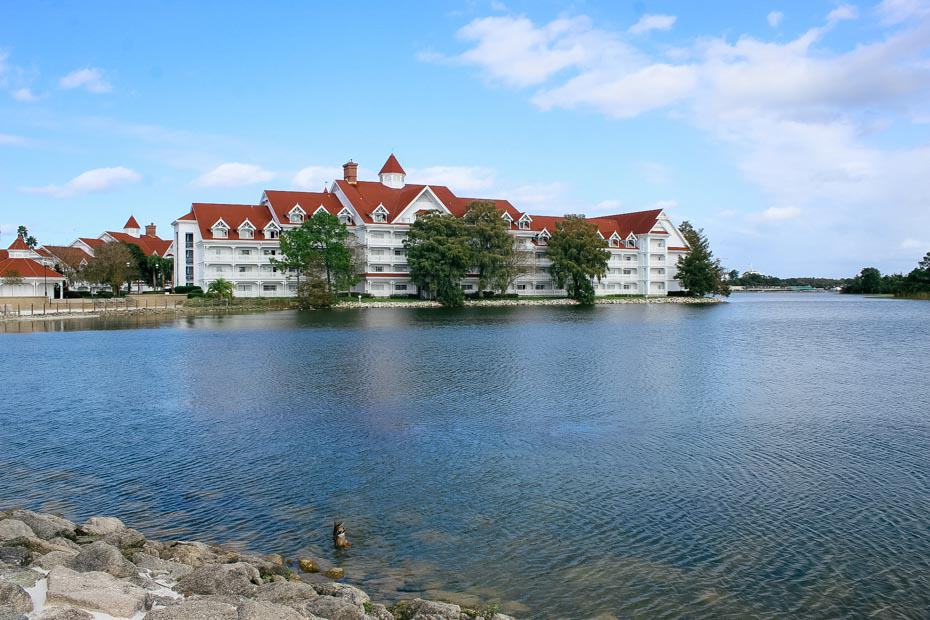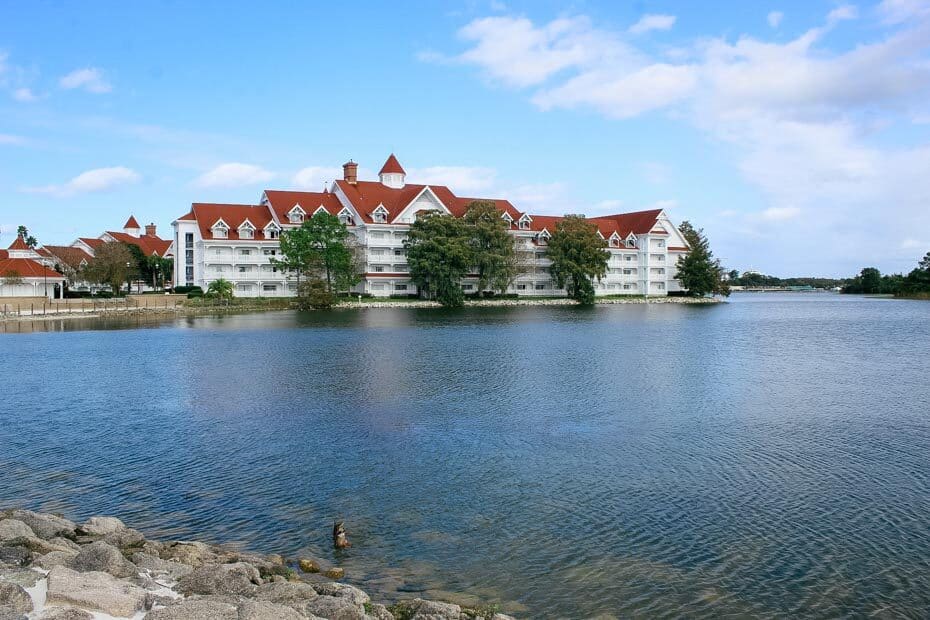 Dining options are spectacular at the Grand Floridian as well. They have not one but three different signature dining locations. You can preview all of the options in our restaurant guide.
Related: Grand Floridian Restaurant List
The latest great thing about Grand Floridian is that they opened a new walkway between the resort and Magic Kingdom. So you can walk to and from the resort and theme park as you like during hours of operation.
You might be thinking, why would I do that when I could take the monorail? The answer: No lines and no extra stops on your way back to the Grand! And those views of Bay Lake along the way aren't bad either.
For more information about this resort, try our full resort review.
Related: Grand Floridian Resort Review
Disney's Wilderness Lodge Resort
Florida meets the Greater Northwest Pacific is the vibe you'll find when you visit Disney's Wilderness Lodge. So be prepared never to want to leave after entering those large front doors.
The lobby gets you with that blast of cold air, providing immediate relief. A warm fireplace sits nearby to help even things out when you notice the chill.
Similar to the Polynesian, Wilderness Lodge will be another destination you'll want to visit during your vacation, even if you're not staying there.
The perfect excuse for visiting? Dining.
There are some excellent options like Disney's Geyser Point Bar and Grill and the Artist Point character dining with Snow White.
Related: Disney World Character Dining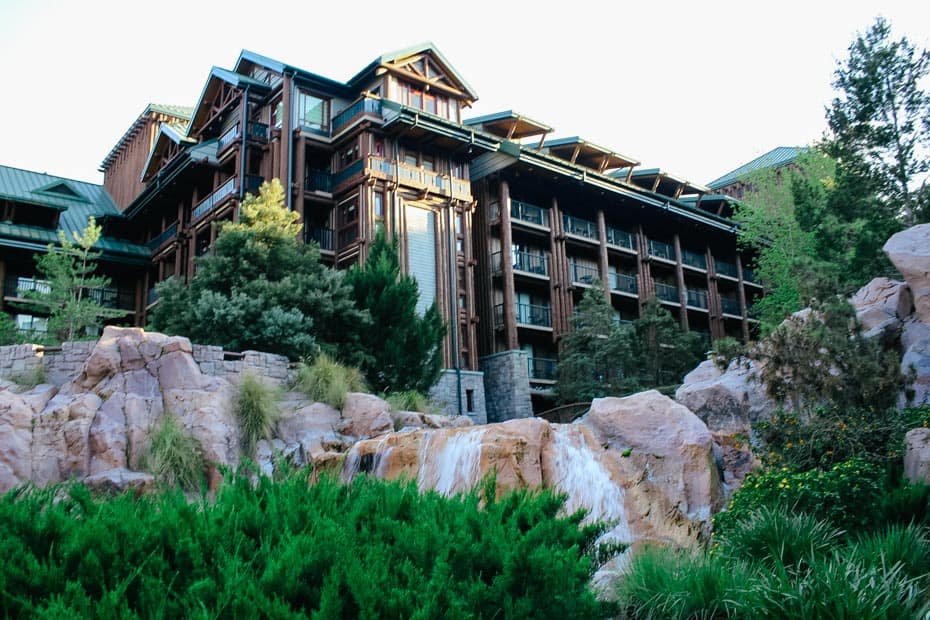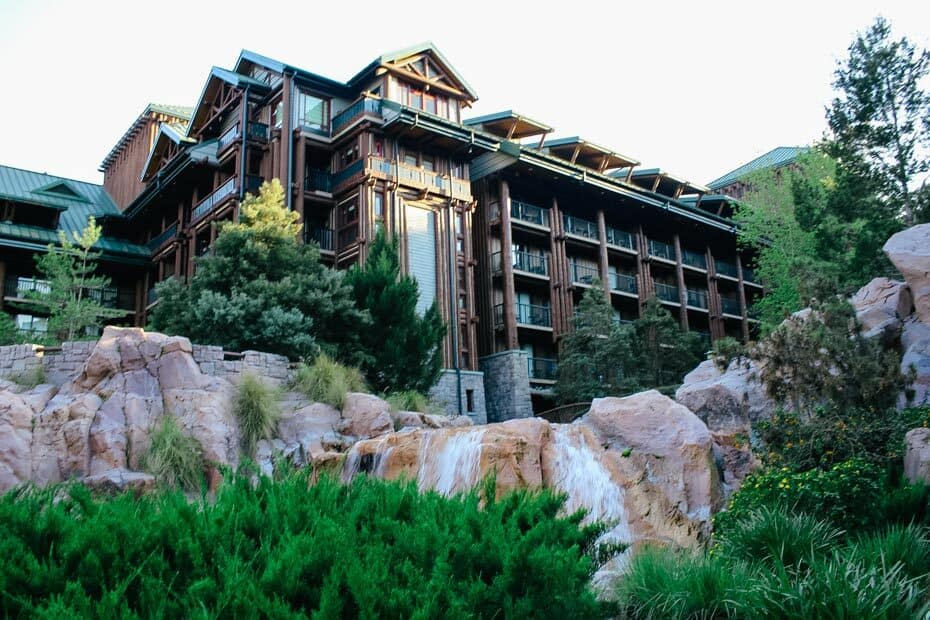 If you're staying at the Lodge, I insist on having breakfast at Whispering Canyon Cafe. You can read all about these options here in our restaurant guide.
Related: Wilderness Lodge Restaurant Guide
A stay at this Magic Kingdom Resort has plenty of options as far as rooms go. There are cabins (one of the most expensive accommodations at Disney) and two Disney Vacation Club Resorts, Boulder Ridge and Copper Creek Villas.
Related: Copper Creek Villas Review
Wilderness Lodge offers bus service and boat service to the Magic Kingdom. Unfortunately, you can't walk to the theme park because of the water.
For more information, make sure to check our full resort review.
Related: Disney's Wilderness Lodge Review
Disney's Fort Wilderness Resort and Campground
Our last resort for the Magic Kingdom park area is a moderate. Fort Wilderness, a resort with a campground, allows guests to bring their camper or RV.
Additionally, you can throw up your tent when you rent one of their campsites. I have yet to do the whole pitch a tent at Disney thing. But seriously, you're at the most magical place on earth. What could go wrong?
Fort Wilderness is one of the most charming locales at the Walt Disney World Resort. You'll find tons of outdoor recreation, including horseback riding and canoeing.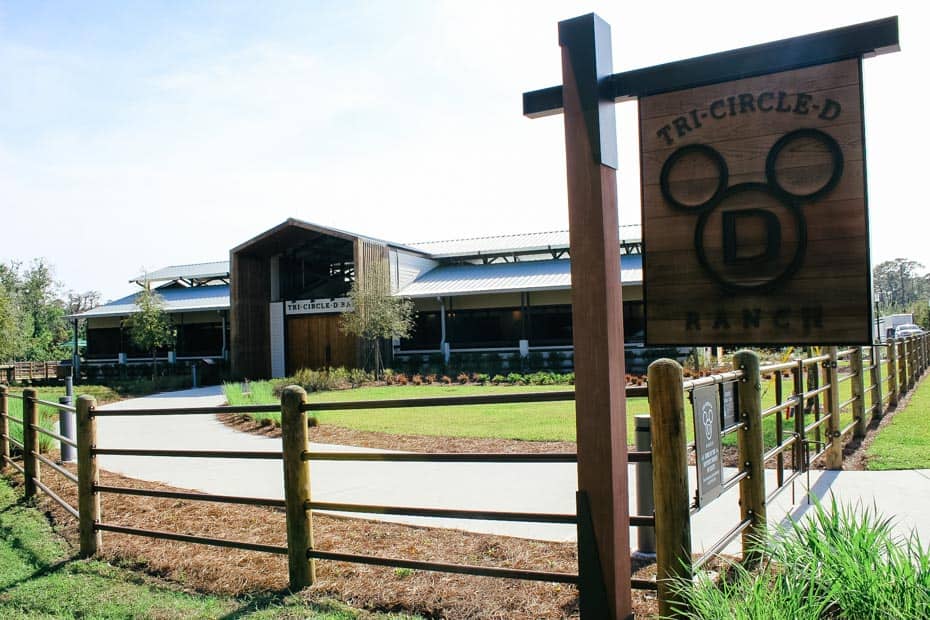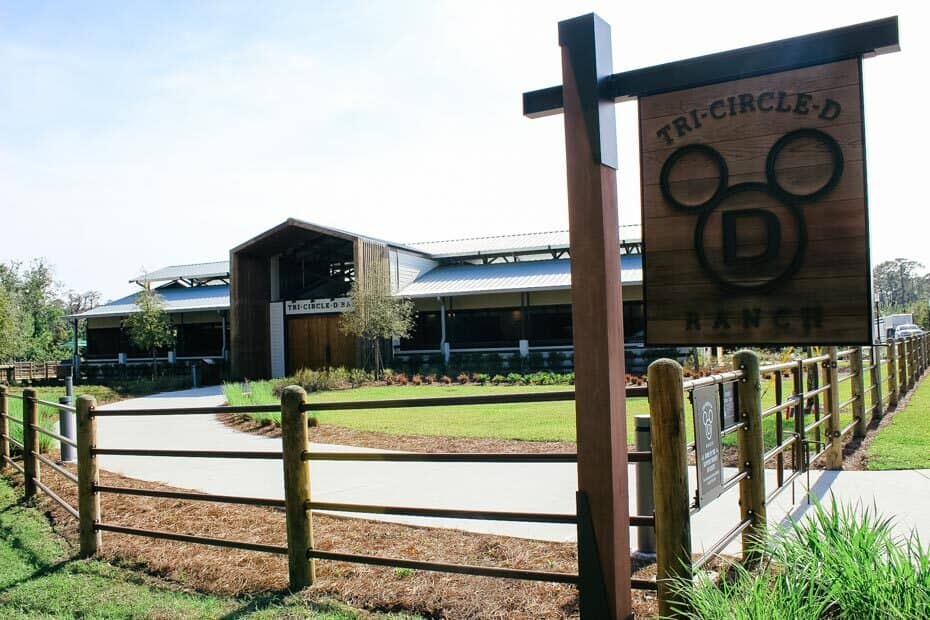 Not only that, but it's home to the Hoop De Doo Musical Revue. That's a theatrical dining experience that includes fried chicken and strawberry shortcakes!
The boat ride to Magic Kingdom takes approximately 12 minutes, and you'll be all the better after the calming trip across the lake. The main thing you'll need to know is that most guests rent golf carts or bicycles to get around the Fort.
With over 750 acres, Fort Wilderness is a pretty big place.
Related: Disney's Fort Wilderness Resort Review
What Resorts are Closest to Magic Kingdom?
Out of all the resorts we covered, the ones closest to the Magic Kingdom are the following:
Grand Floridian
Polynesian
Contemporary
Contemporary is the closest, but the other two aren't far behind. Grand Floridian is next, and Polynesian is only a little further.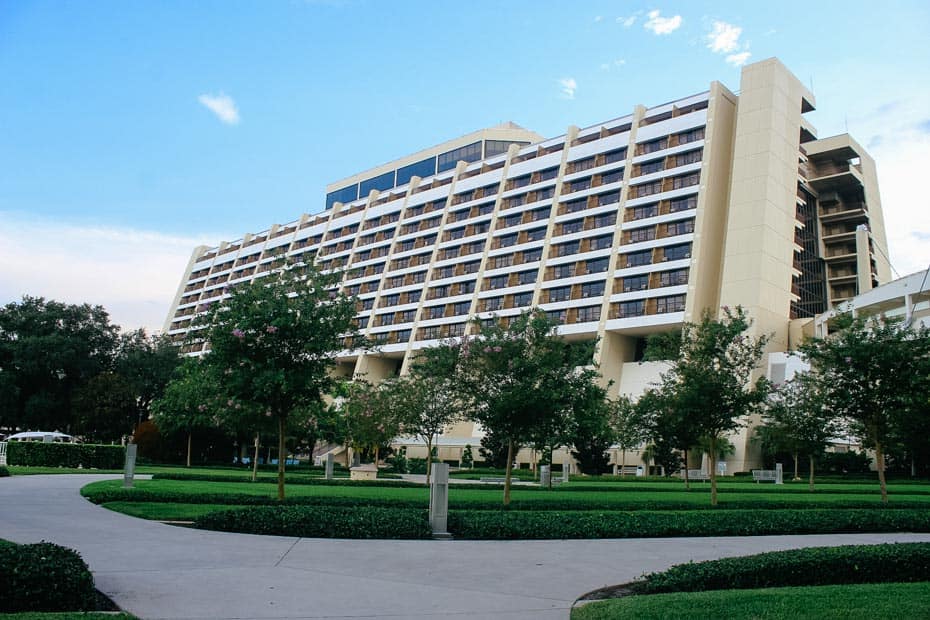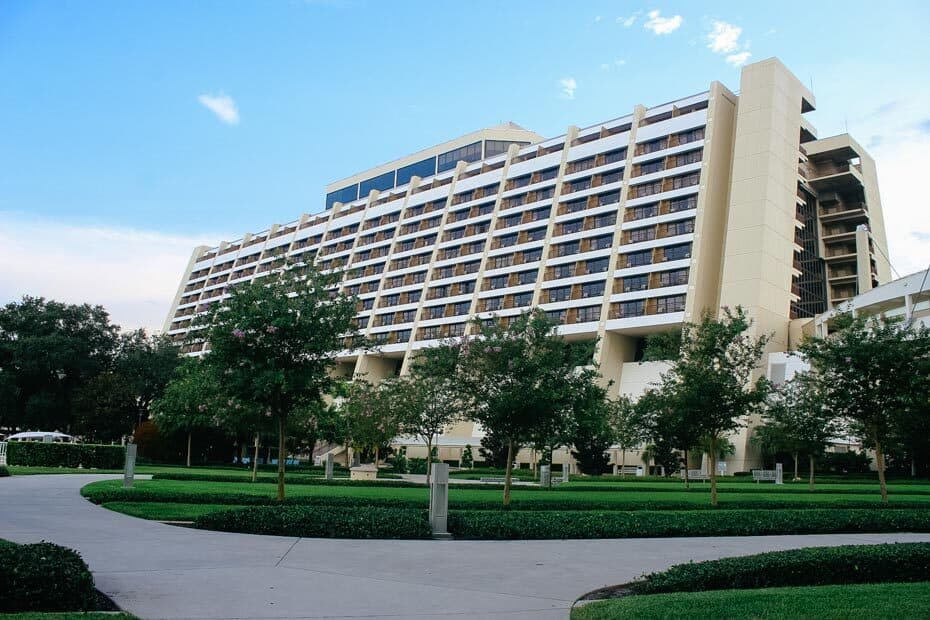 If you haven't had the opportunity to stay at one of these hotels, it's so hard to decide. Ultimately, they are all excellent options. Go with the one that sounds most appealing to you.
Final Thoughts on Magic Kingdom Resorts
Hopefully, this review put you in the right direction when choosing a resort near Disney's Magic Kingdom. No pun intended.
While the Magic Kingdom hotels are relatively expensive, the overall experience can be priceless.
Additionally, time is money. Therefore, you might end up being able to spend a good deal more time in the park since you are so close in proximity.
Plus, the location of these resorts is ideal for going back to your room to take a nap, for dinner reservations, or maybe a little pool time.
If you stay further away and rely on Disney bus transportation, it can easily take a good hour to get back to your room after leaving Magic Kingdom.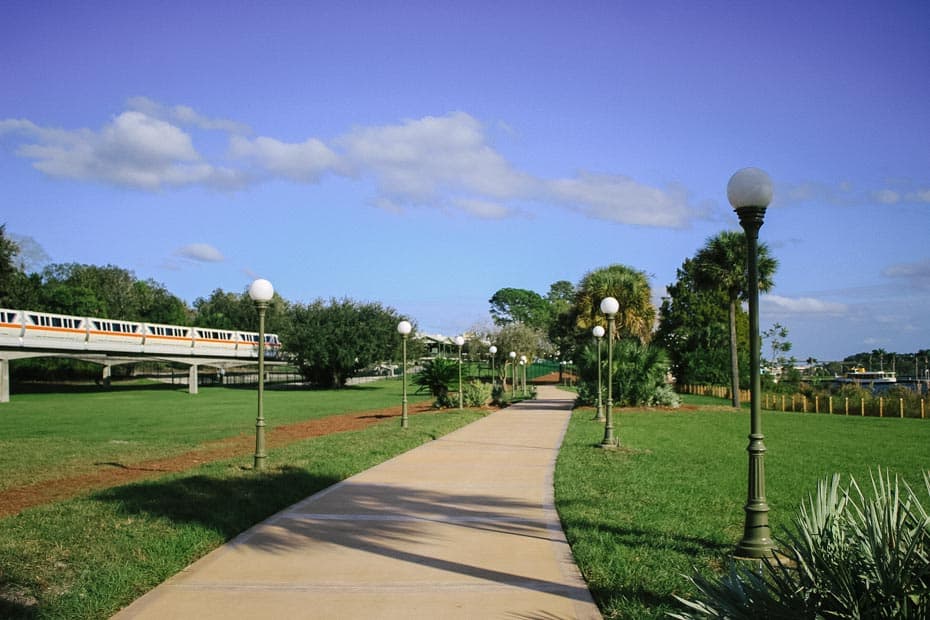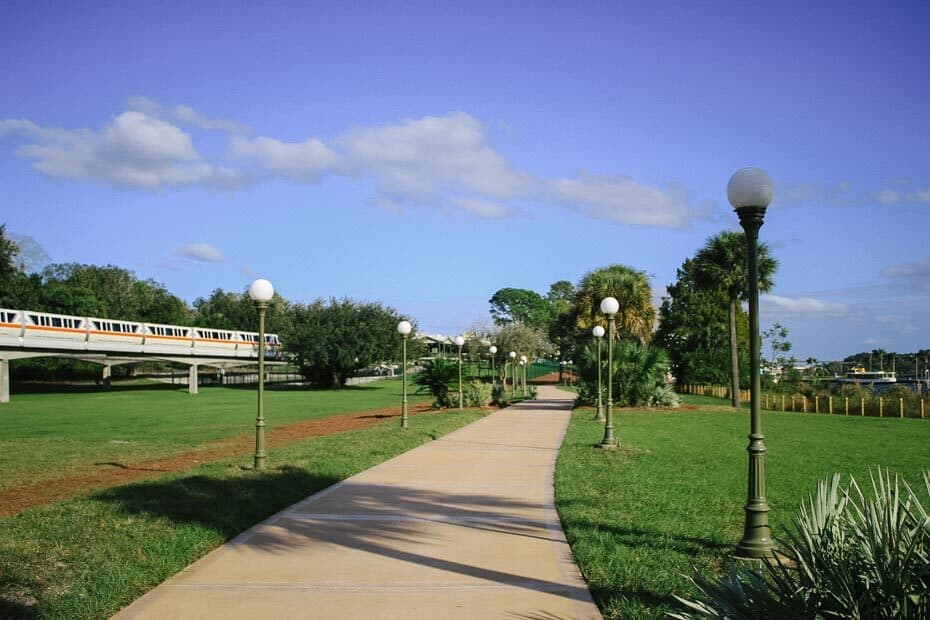 These resorts are also perfect for those with plans to attend extra-ticketed events at Magic Kingdom. You can thank me later after leaving the Christmas or Halloween party after midnight and arriving back at your room in minutes.
And the same goes for when you leave in that mass exodus after the nightly fireworks. That's when the transportation lines are full everywhere you turn.
When you stay at most of these Magic Kingdom Resorts, you can walk back to your room. So there won't be a line to do that.
Regardless of whether you end up selecting one of these resorts or staying a little further away, I hope you'll enjoy your Disney Vacation.
Are you still not sold on staying at one of these? We specialize in providing information about the resorts. Check out our complete list of Disney World Hotel Reviews for more details.
Or try these individual reviews:
In the comments: Which of these Magic Kingdom Resorts is most appealing to you? Did you find this article helpful? Do you still have questions about the resorts located near Magic Kingdom?