Under the Sea Journey of the Little Mermaid
Under the Sea-Journey of the Little Mermaid is an attraction in New Fantasyland at Magic Kingdom. Commonly known as The Little Mermaid Ride, this attraction allows guests to go under the sea and visit the world of the little mermaid.
This article discusses Under the Sea-Journey of the Little Mermaid in detail. We'll look at how to make this attraction "part of your world" during your Walt Disney World vacation.
A beloved attraction, this is one that fans of The Little Mermaid won't want to miss. Throughout the ride, you can expect to hear classic tunes, including Poor Unfortunate Souls.
You'll also encounter show scenes from the original movie with favorite characters like King Triton, Sebastian, and Scuttle. Each scene features audio-animatronics that bring the ride to life!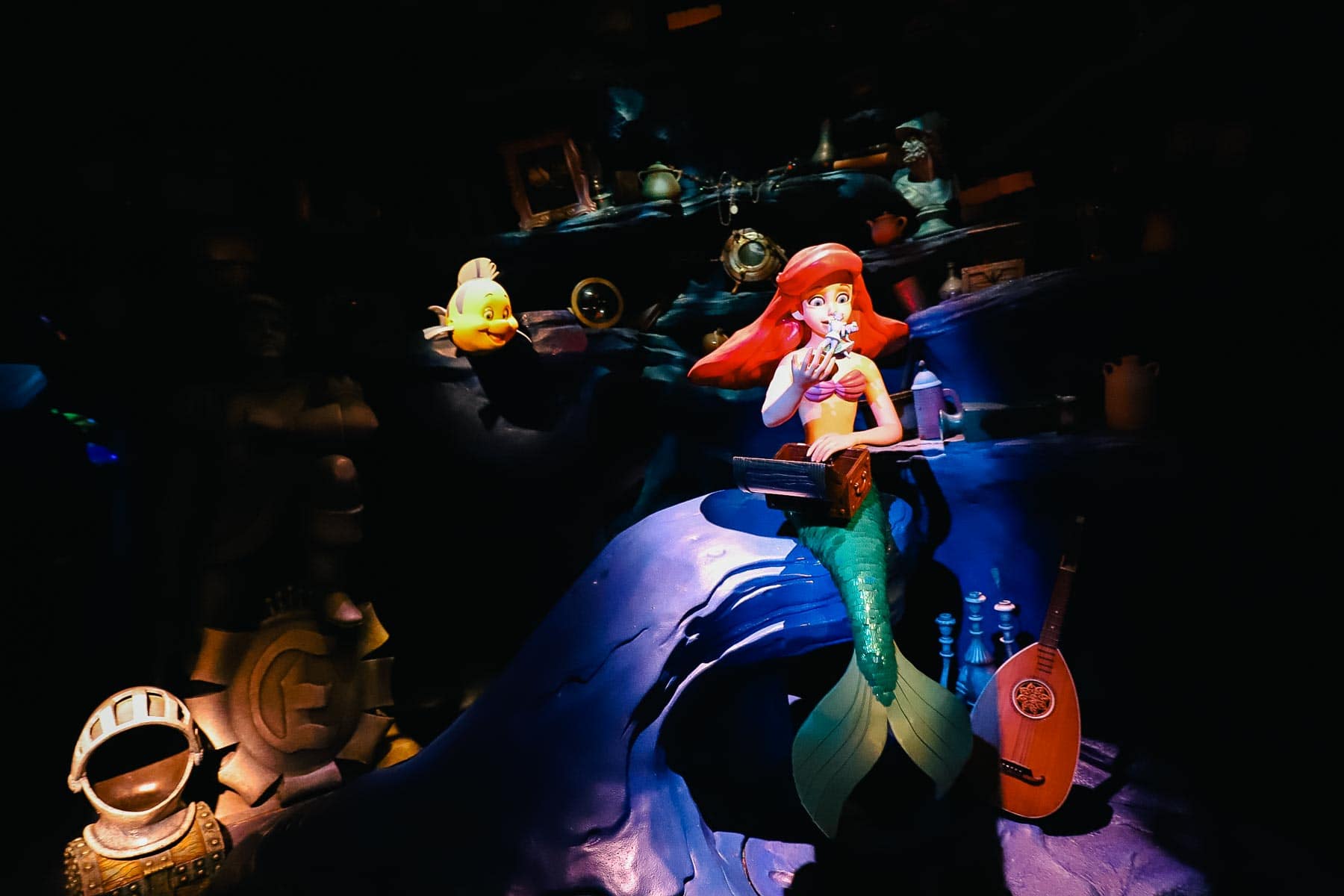 Here's a quick reference chart for the Journey of the Little Mermaid at Magic Kingdom.
Under the Sea Journey of the Little Mermaid
Magic Kingdom

Location:

New Fantasyland

Height Requirement:

None

Eligible for Disney Genie+

Yes

Ride Type:
Omnimover
Slow-Moving

Seats Per Vehicle:

Up to three per clam shell

Rider Switch:

None

Good For:

Little Mermaid Fans
Small Children

Scare Factor:

None

Must-Do List:

Medium

Perfect For:

All ages

Special Mention:

Sebastian makes several appearances.
*Details for guests with mobility issues (i.e., wheelchair, ECVs)
Must Transfer to Wheelchair
Audio Description
Handheld Captioning
Under the Sea Journey of the Little Mermaid
Under the Sea: Journey of the Little Mermaid debuted nearly a decade ago during the New Fantasyland expansion. It is the only attraction representing The Little Mermaid at Magic Kingdom.
Journey of the Little Mermaid has an exceptionally long queue, so it isn't easy to gauge the length of the line in advance. However, posted wait times tend to be pretty accurate.
Both standby and Lightning Lane queues are available for this attraction. However, you won't need to use an individual Lightning Lane for this ride in most instances.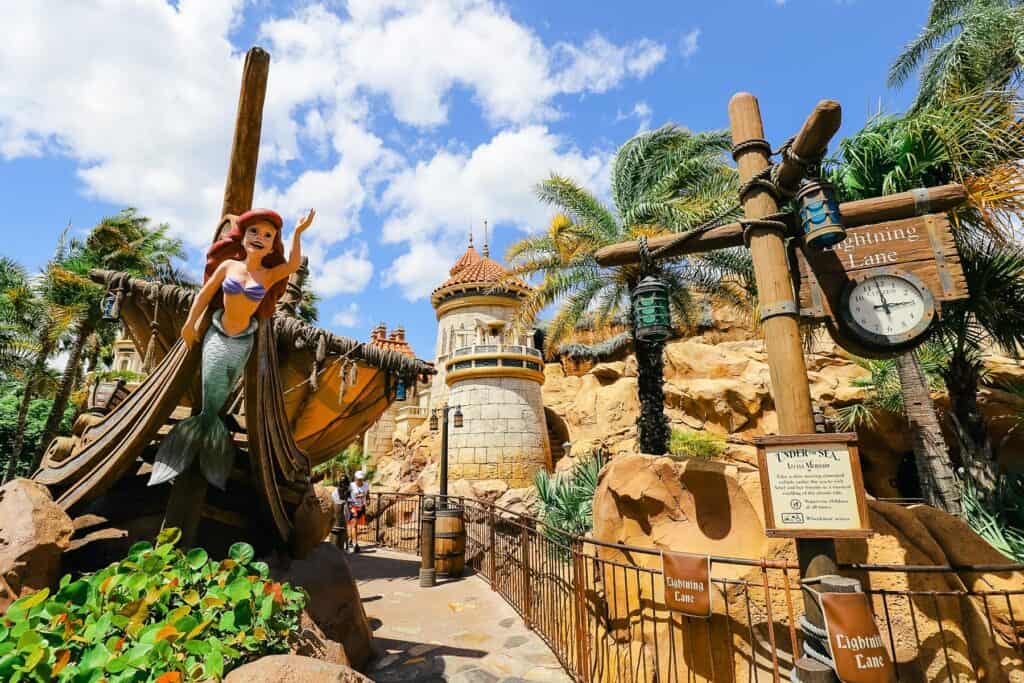 A shipwreck with Ariel at the helm sits outside the attraction's entrance. Ariel's Grotto, a character meet-and-greet, sits immediately next door.
Related. Meet Ariel at Her Grotto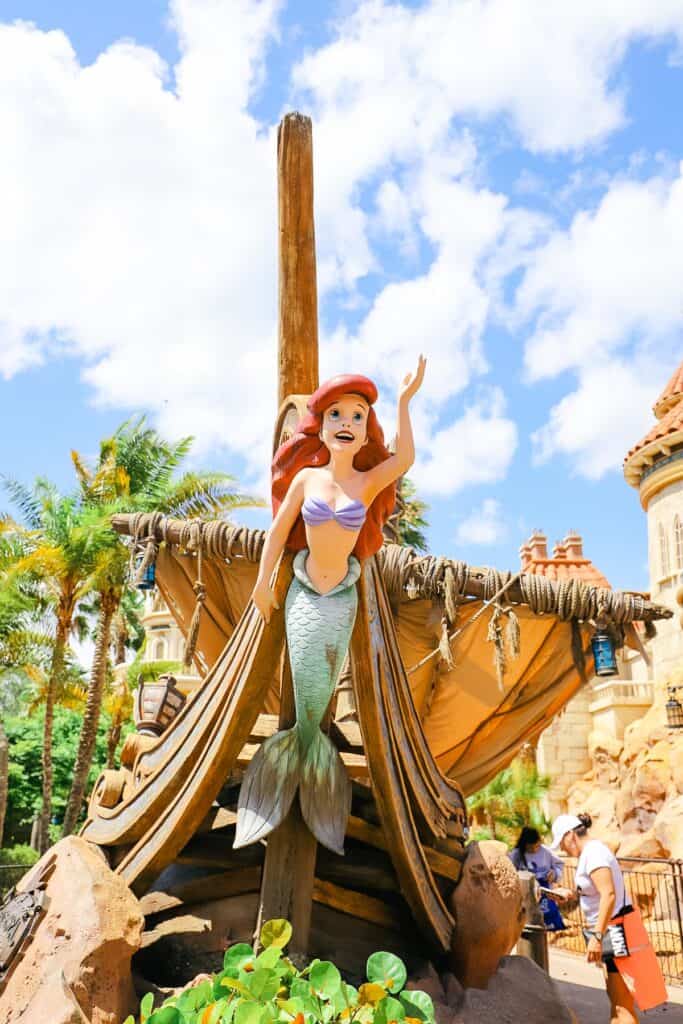 A few ride rules are posted outside the entrance.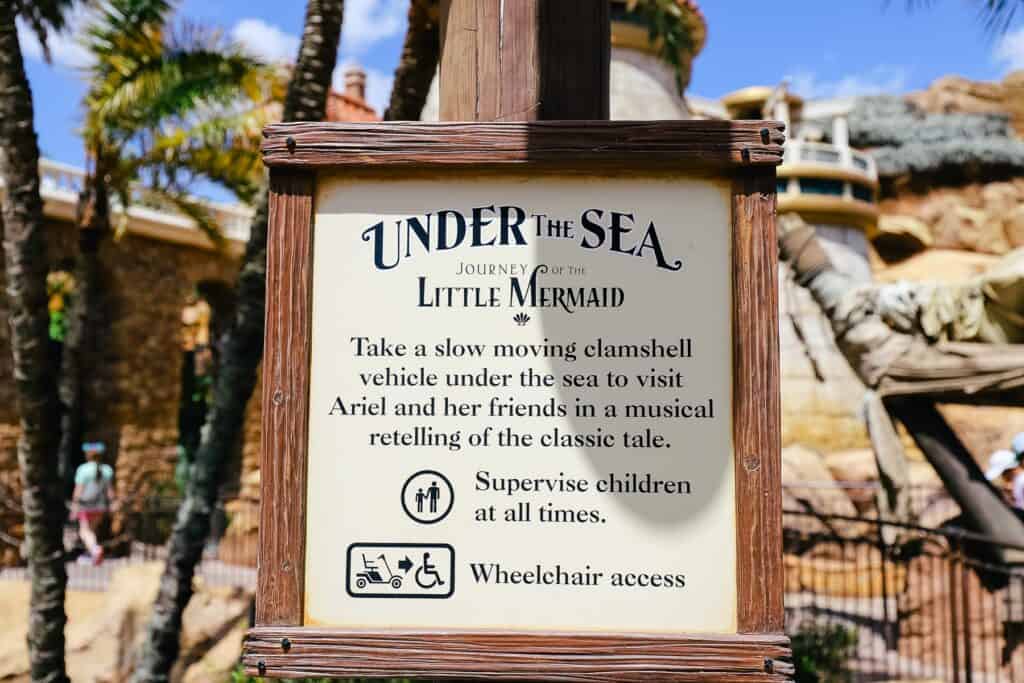 Here is a photo of the entrance for the standby queue.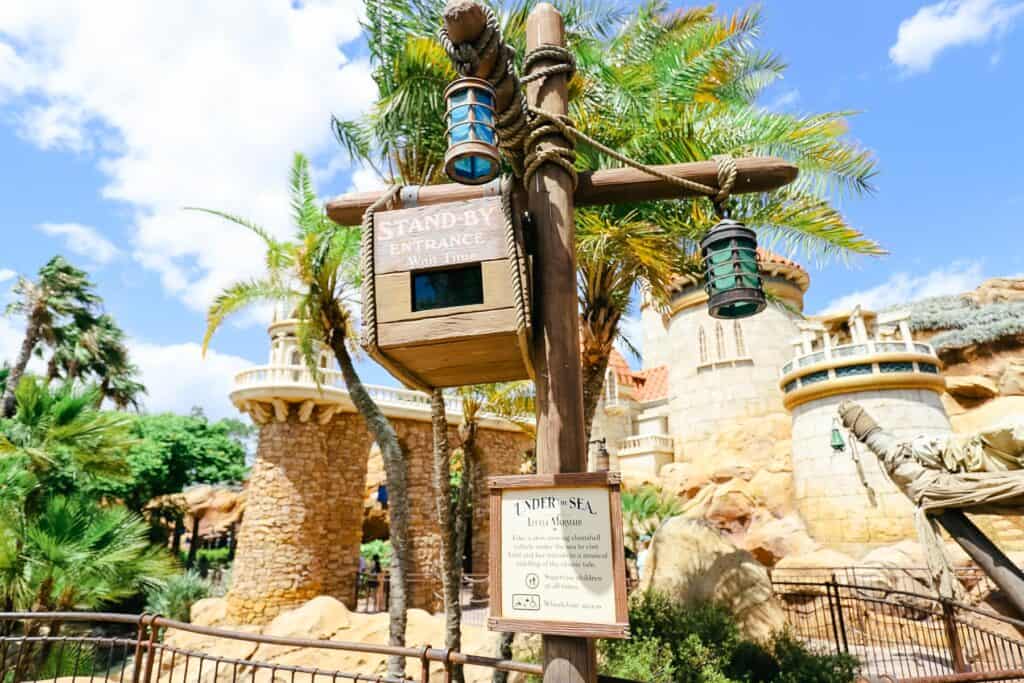 Prince Eric's Castle sits in the background. You'll pass by it as you journey through the queue to Ariel's undersea adventure.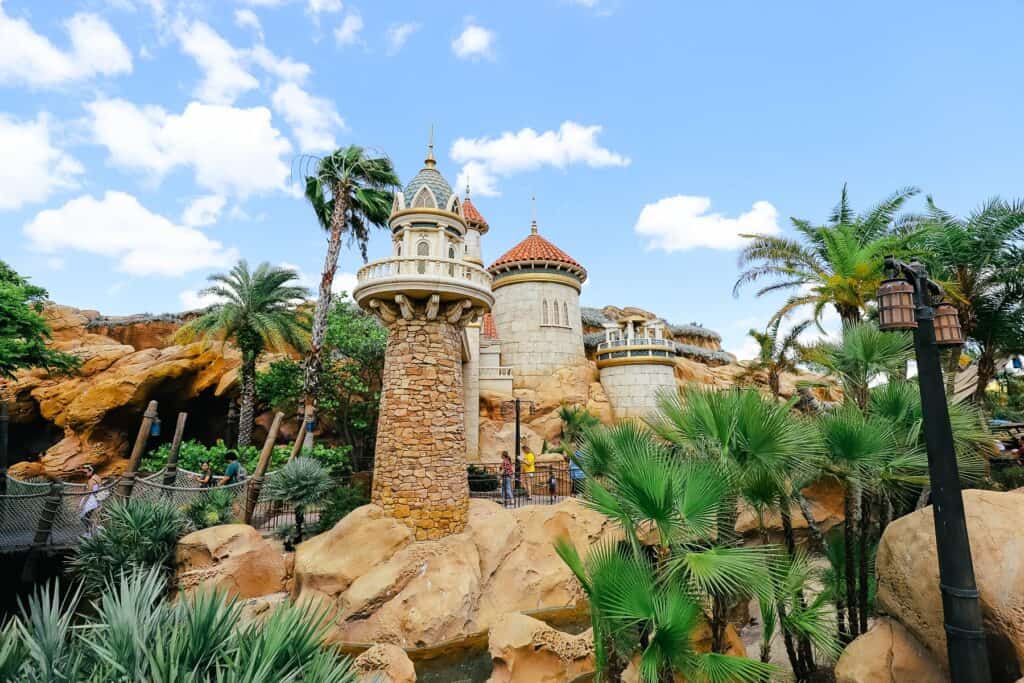 An interactive game is available for guests waiting in standby. Per the instructions, you help the crabs sort Scuttle's collection of human stuff into piles.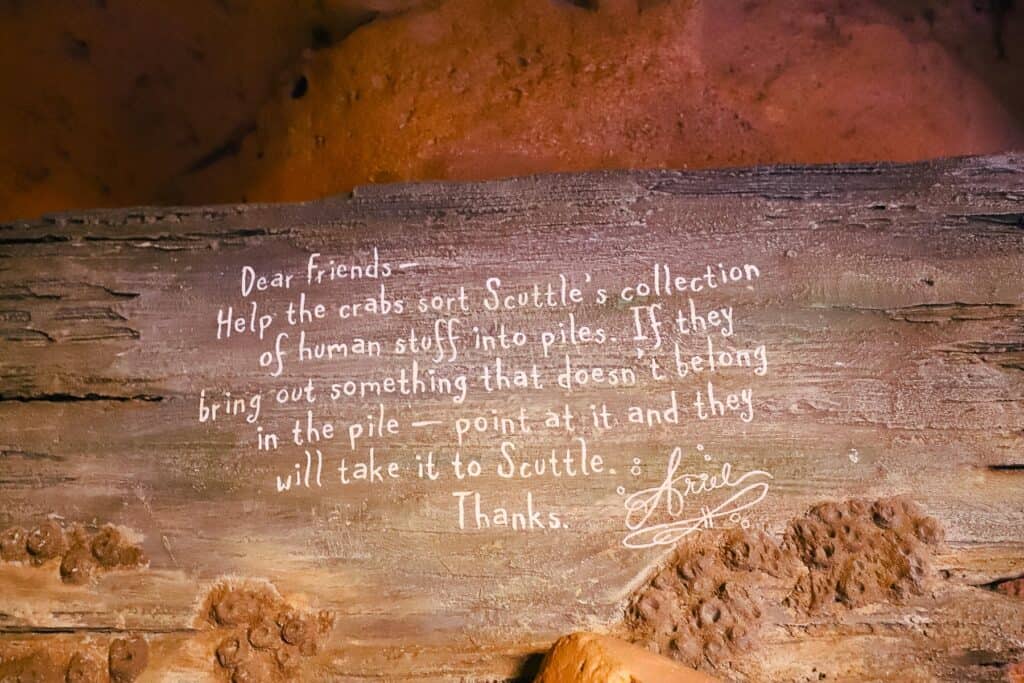 It's a well-themed queue, and the game helps keep children entertained.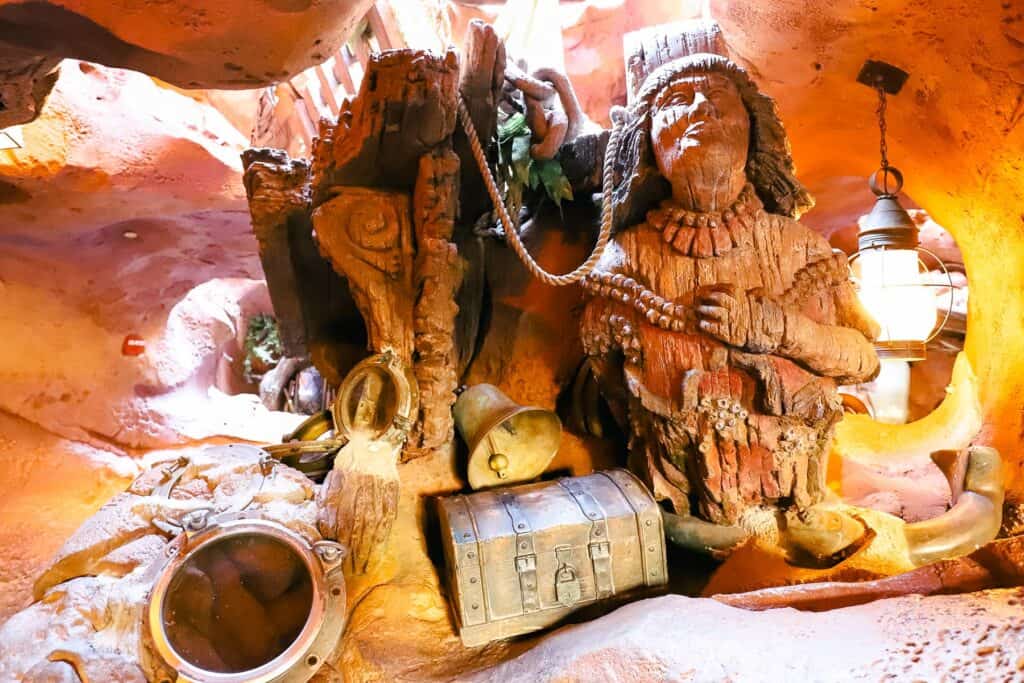 You can see one of the blue crabs in the photo below.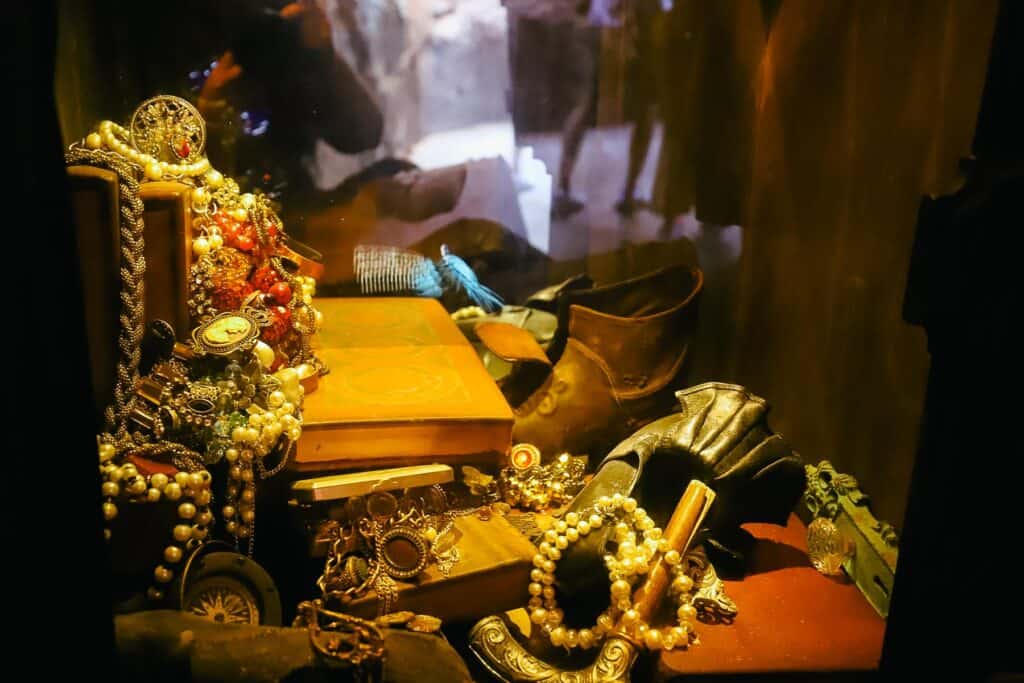 Fun Fact: Every year on MIckey's birthday (November 18th), guests gather at the Journey of the Little Mermaid to see a unique hidden Mickey projected as a shadow when the sun hits a certain area at approximately 12:00 p.m.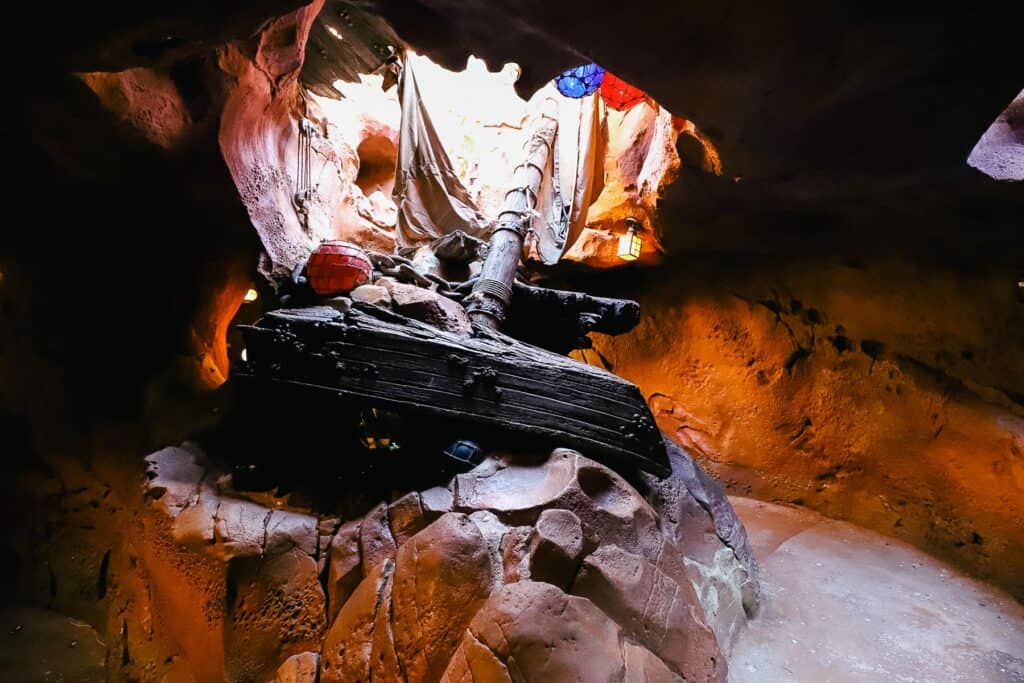 Under the Sea Journey of the Little Mermaid uses an Omnimover ride system like Haunted Mansion and Buzz Lightyear's Space Ranger Spin. Guests step onto a slow-moving walkway to board a clamshell.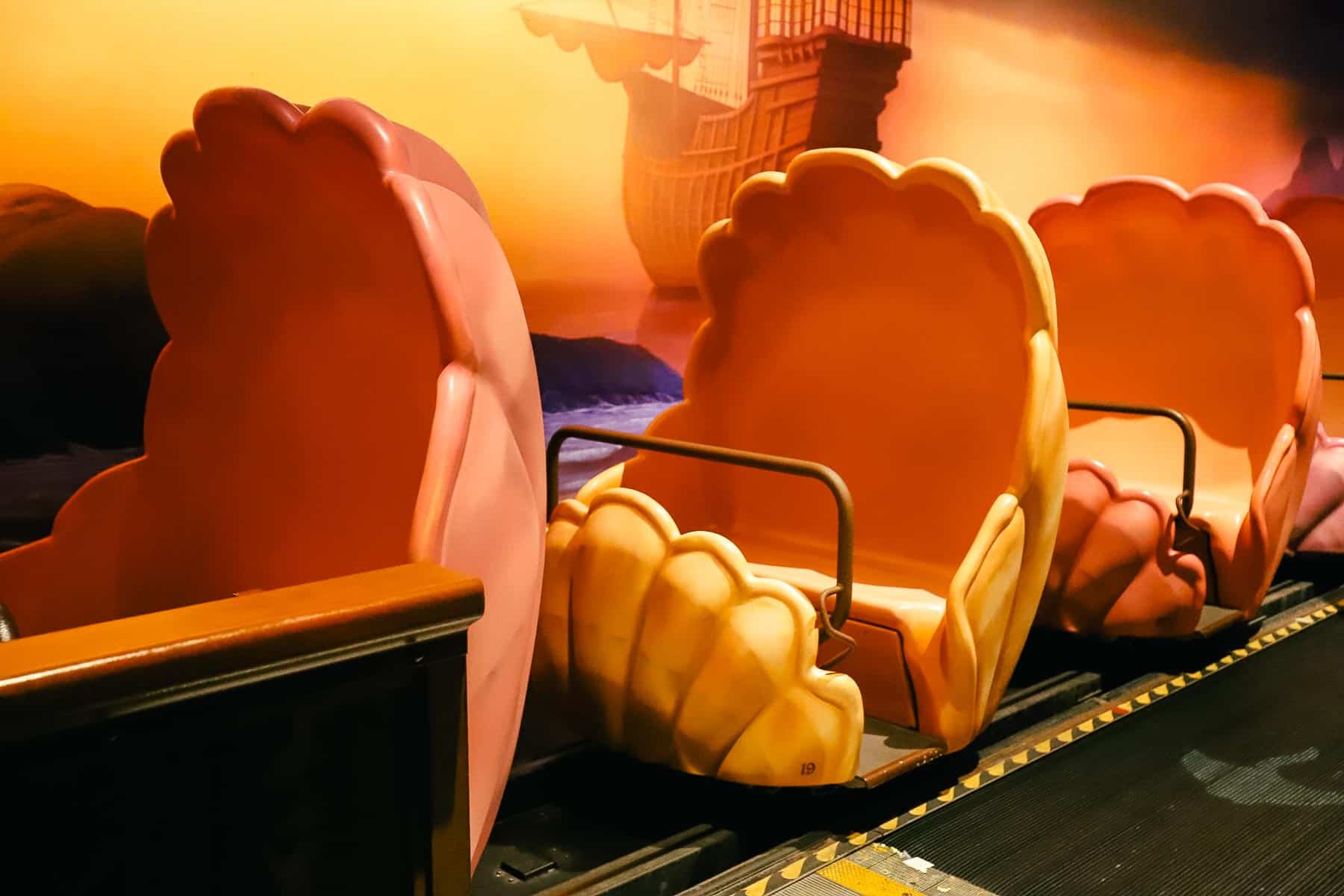 After securing a seat in your clamshell, you'll pull the lap bar over you. A few minutes later, your clamshell rotates, and you'll find yourself traveling backward under the sea.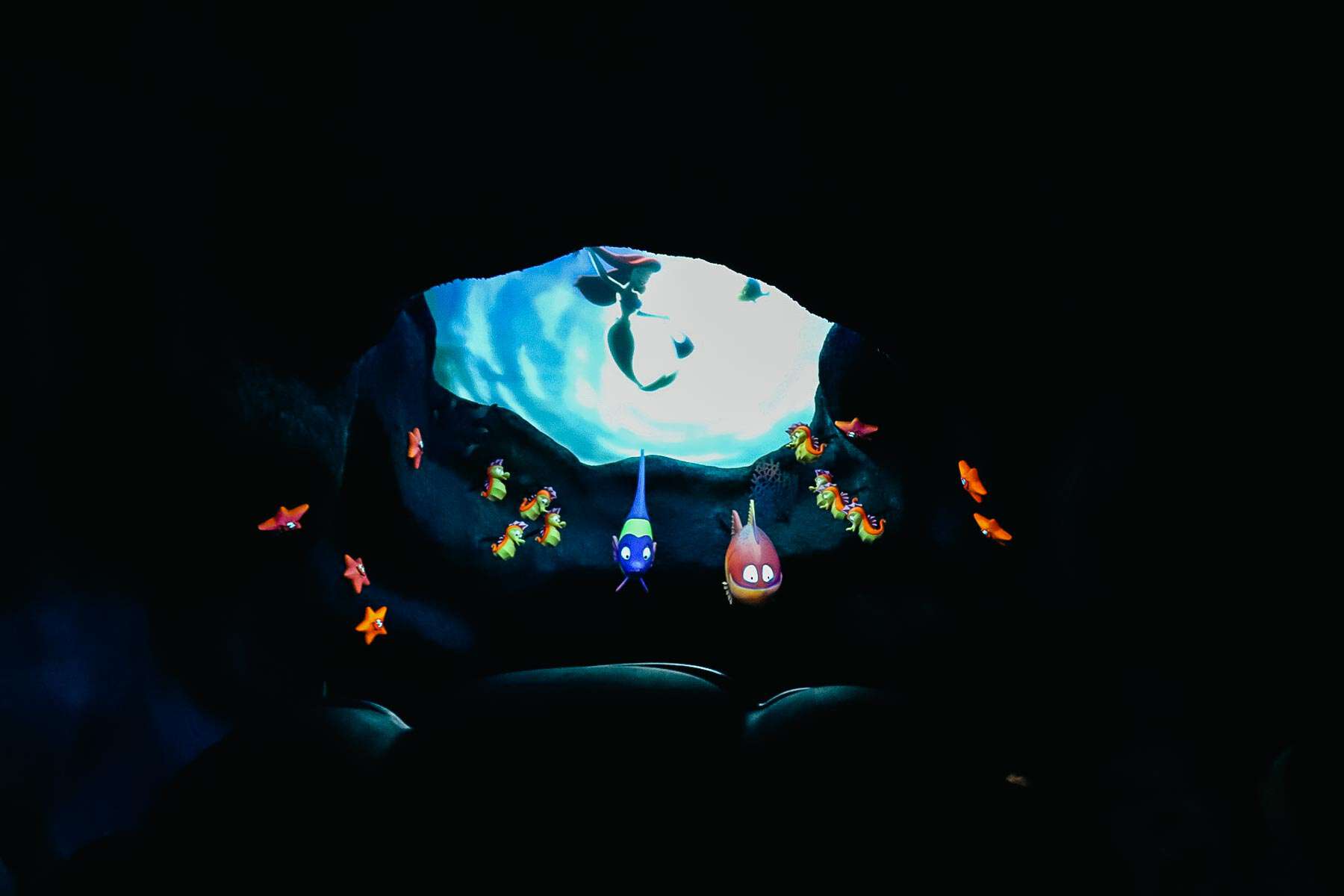 First, you'll encounter Ariel in her thingamabob place with Flounder. They are admiring Ariel's treasures. She has whosits and whatsits galore!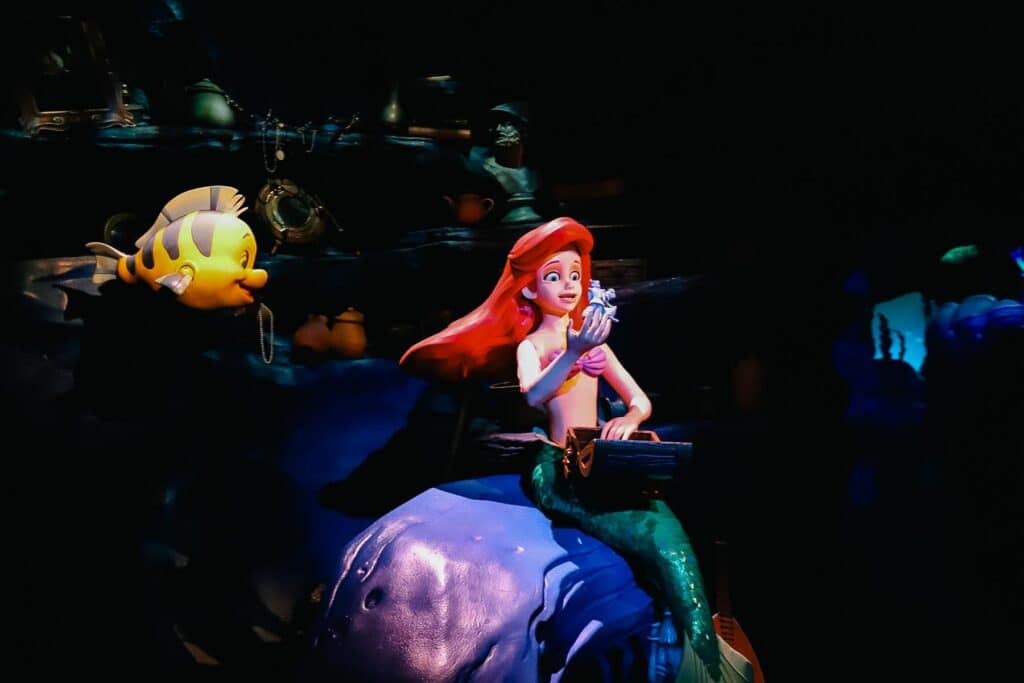 Then you'll enter a large room full of sea life as Under the Sea plays in the background.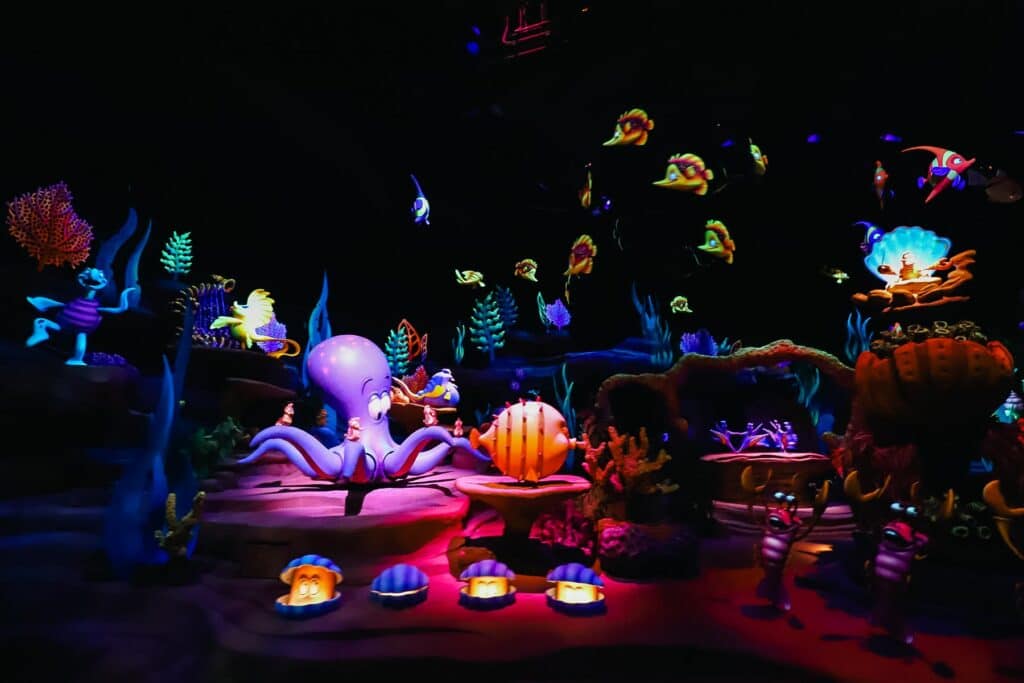 Ariel makes another appearance as she dances along with the band.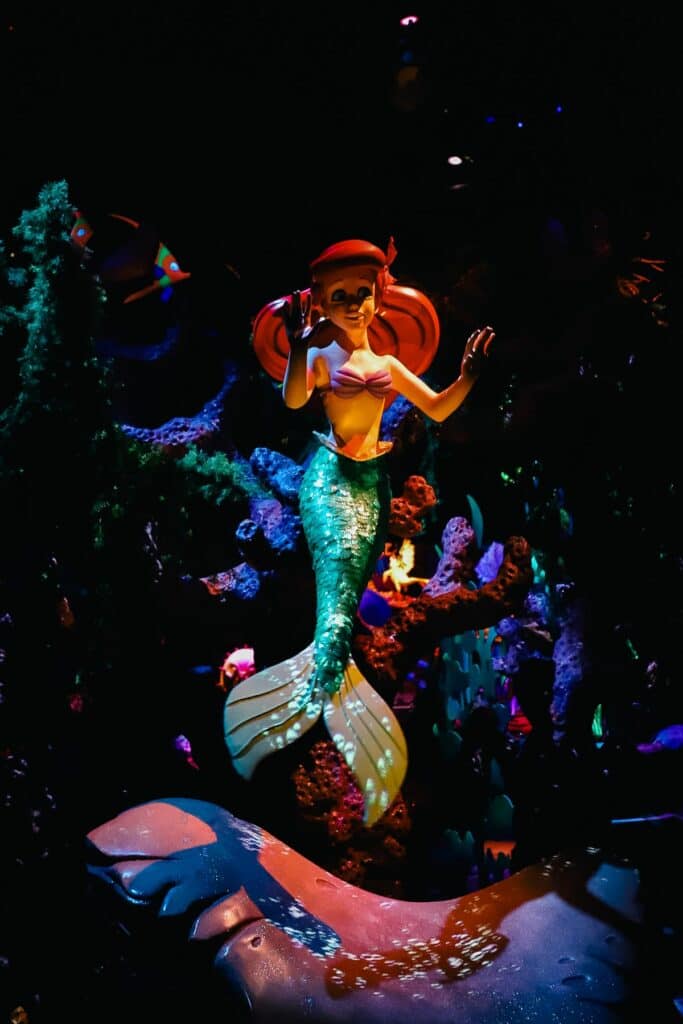 Before long, you'll enter Ursula's lair. She's up to no good like usual.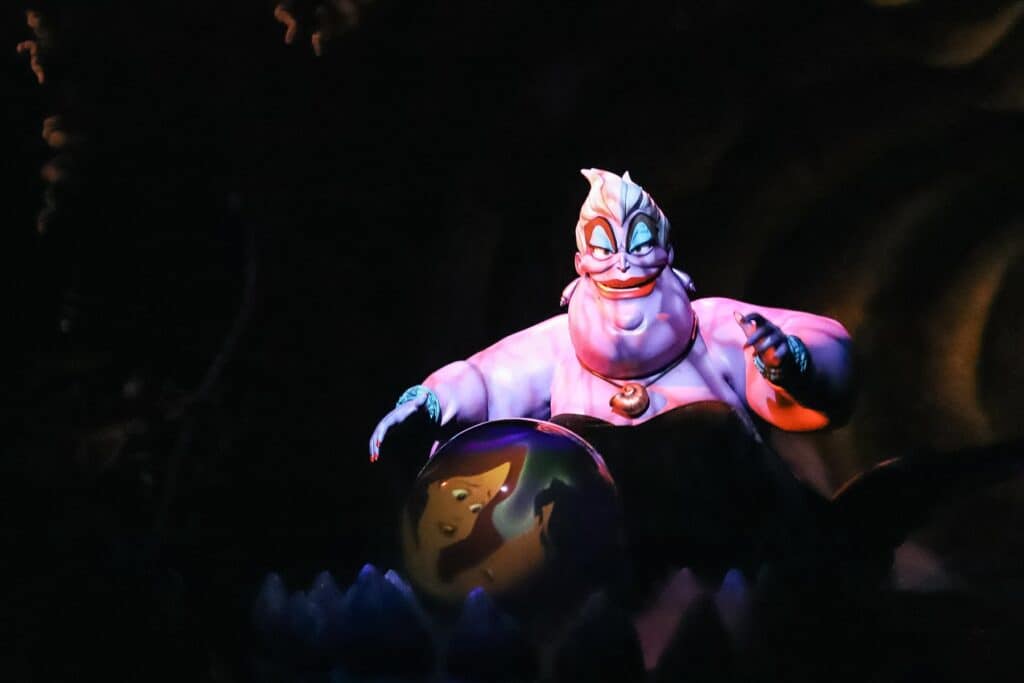 Unfortunately, Ariel made a terrible deal with Ursula, and you see her transform into a human. She didn't know the human world was a mess!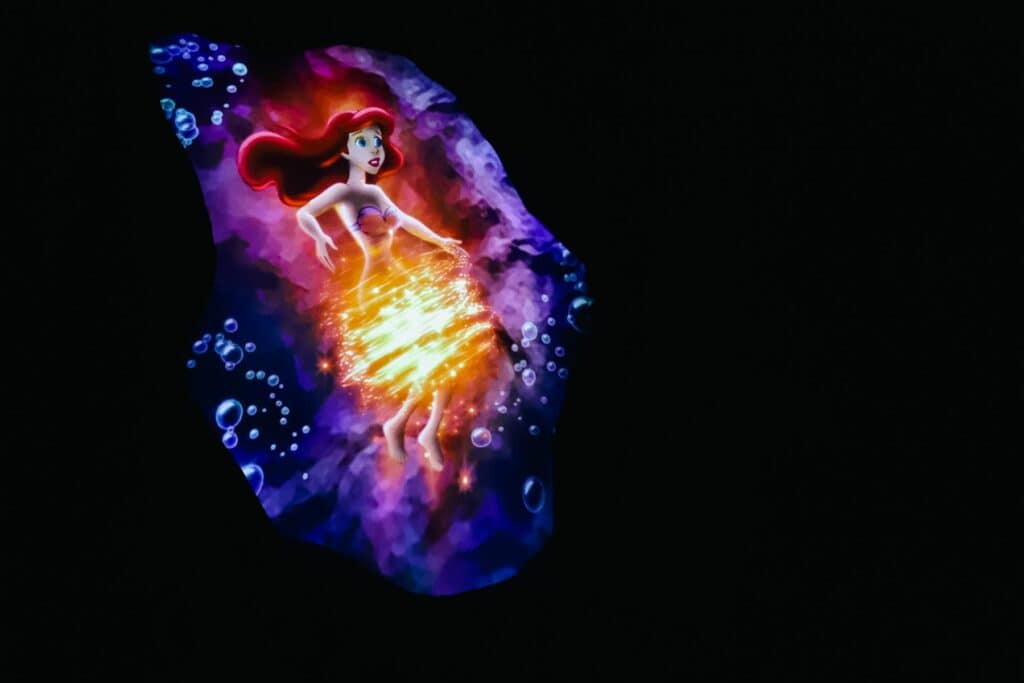 Before long, the mood is set, and everyone's waiting on Prince Eric to…you know…kiss the girl. Sha-la-la-la-la!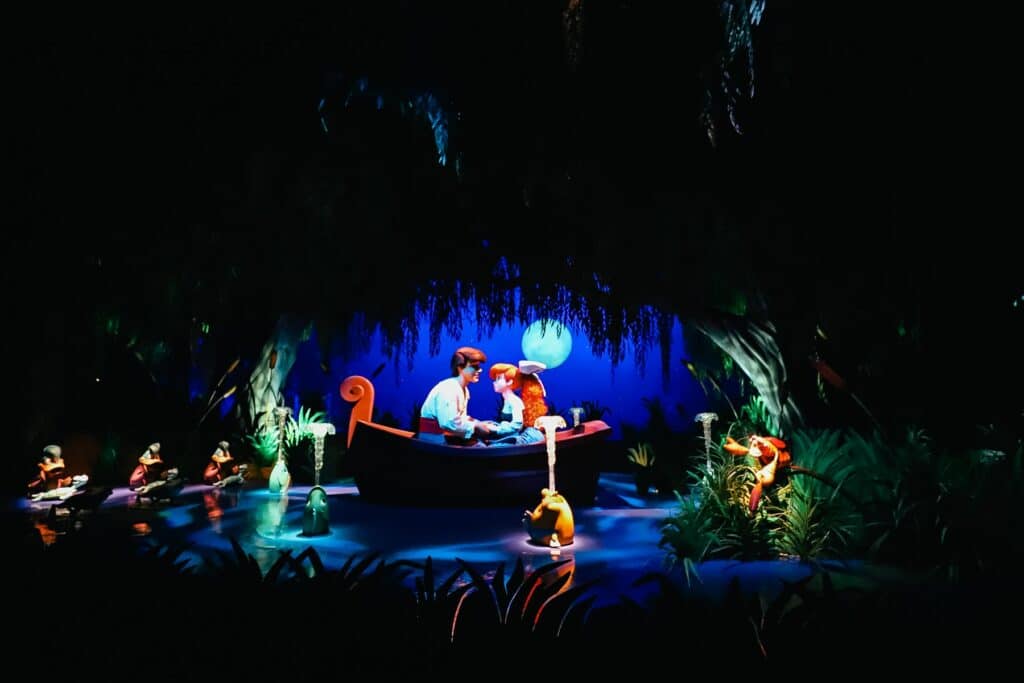 As most happy endings go–things have a way of working out. Meanwhile, the evil villain is left fuming in the background.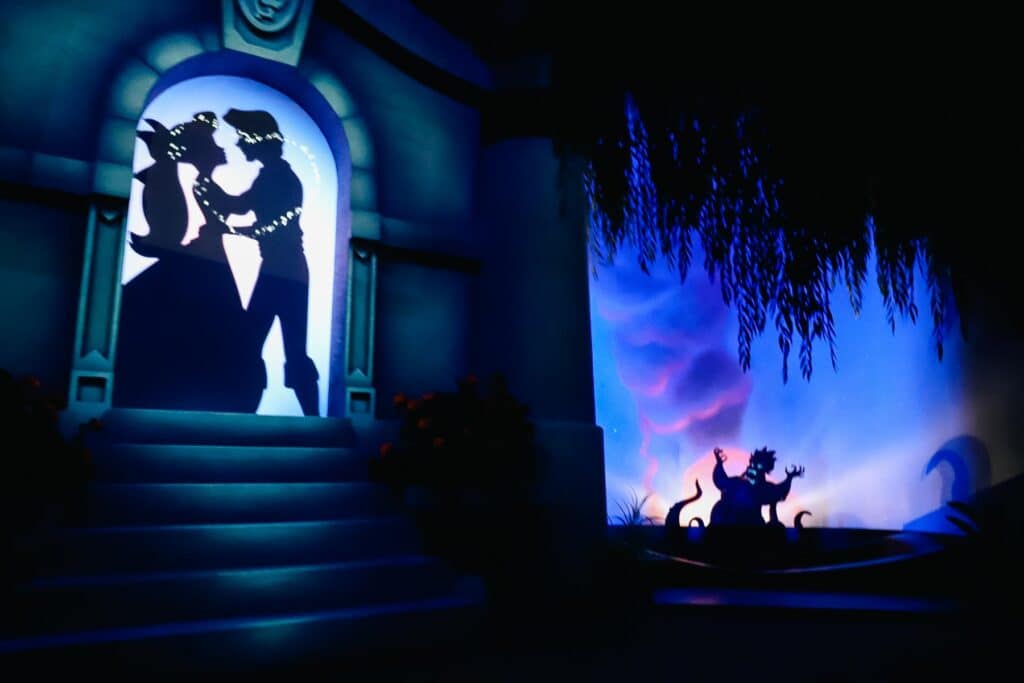 King Triton even throws in a few fireworks with his trident to celebrate.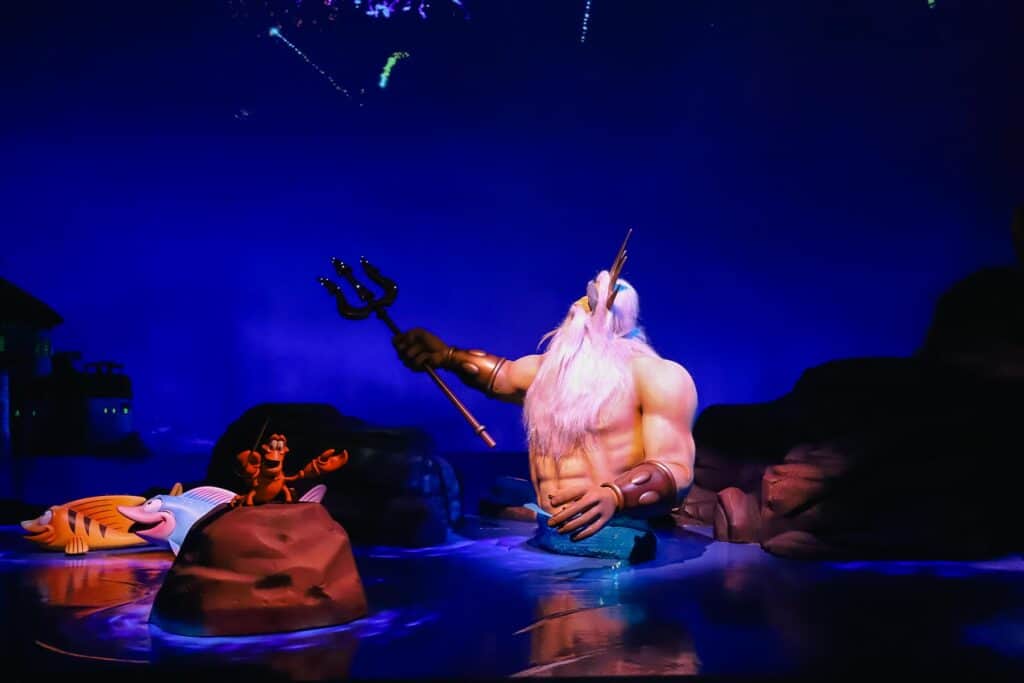 And Ariel and Prince Eric live happily ever after.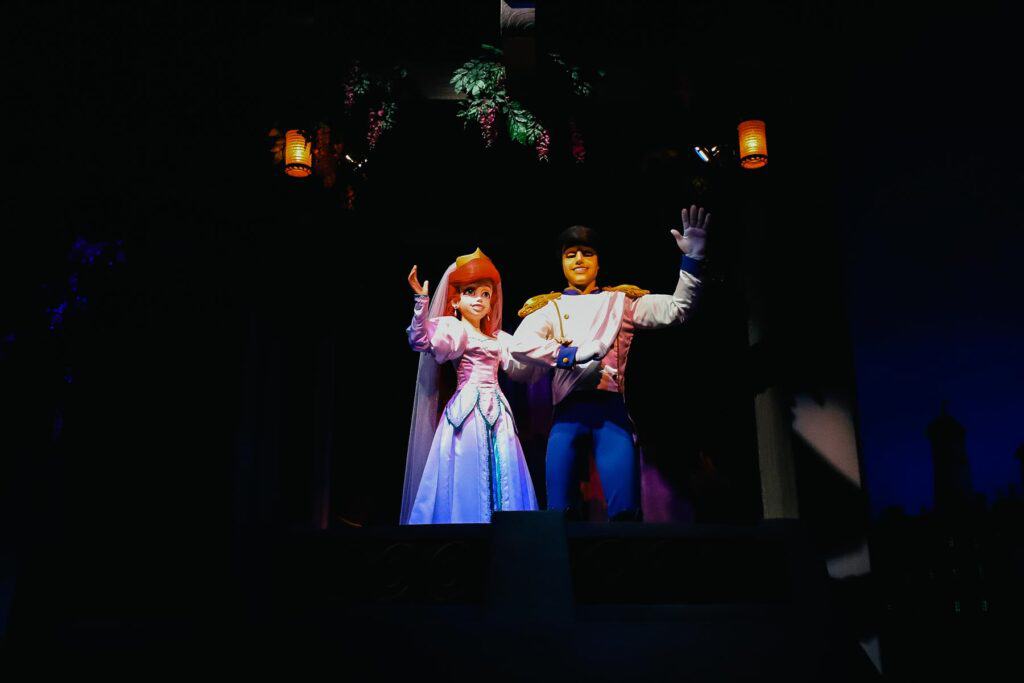 Journey of the Little Mermaid is an excellent attraction to experience during the late afternoon or evening hours when wait times in this area are at their lowest.
However, it's not a great escape from the rain. There's no shelter near the entrance or the exit. So if you were to exit in a downpour, you've got a decent walk to get to the next covered location.
Here are a few photos from the attraction.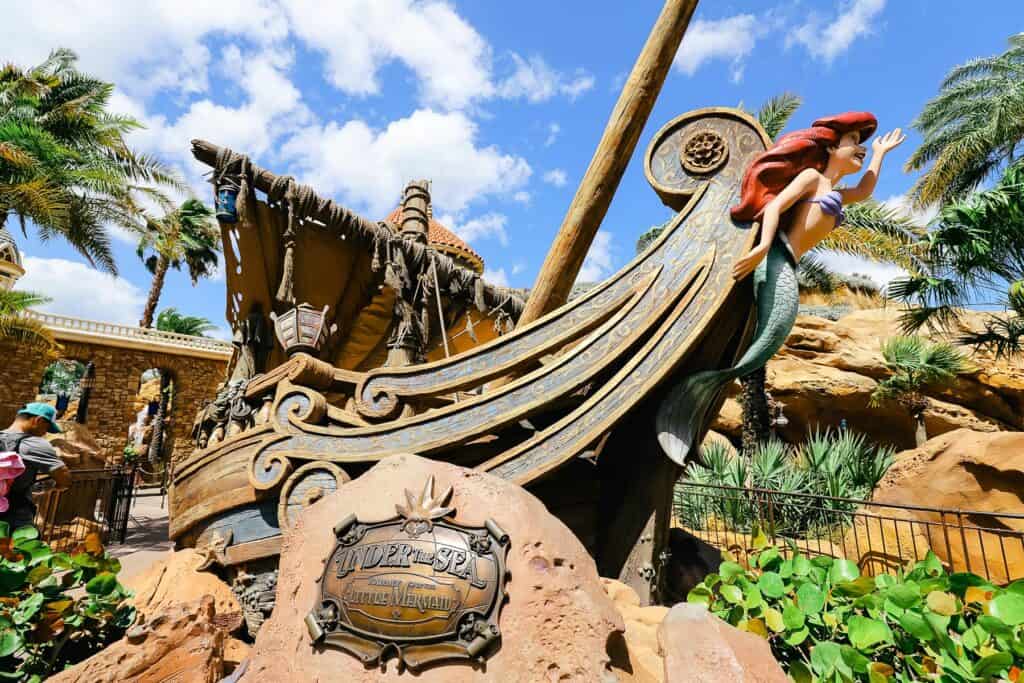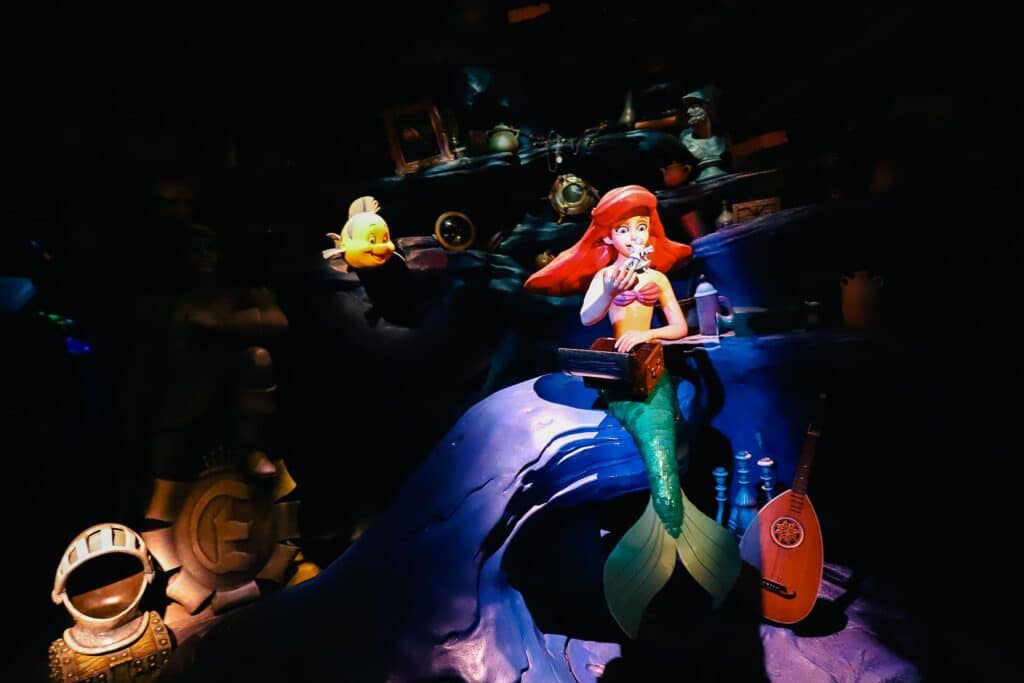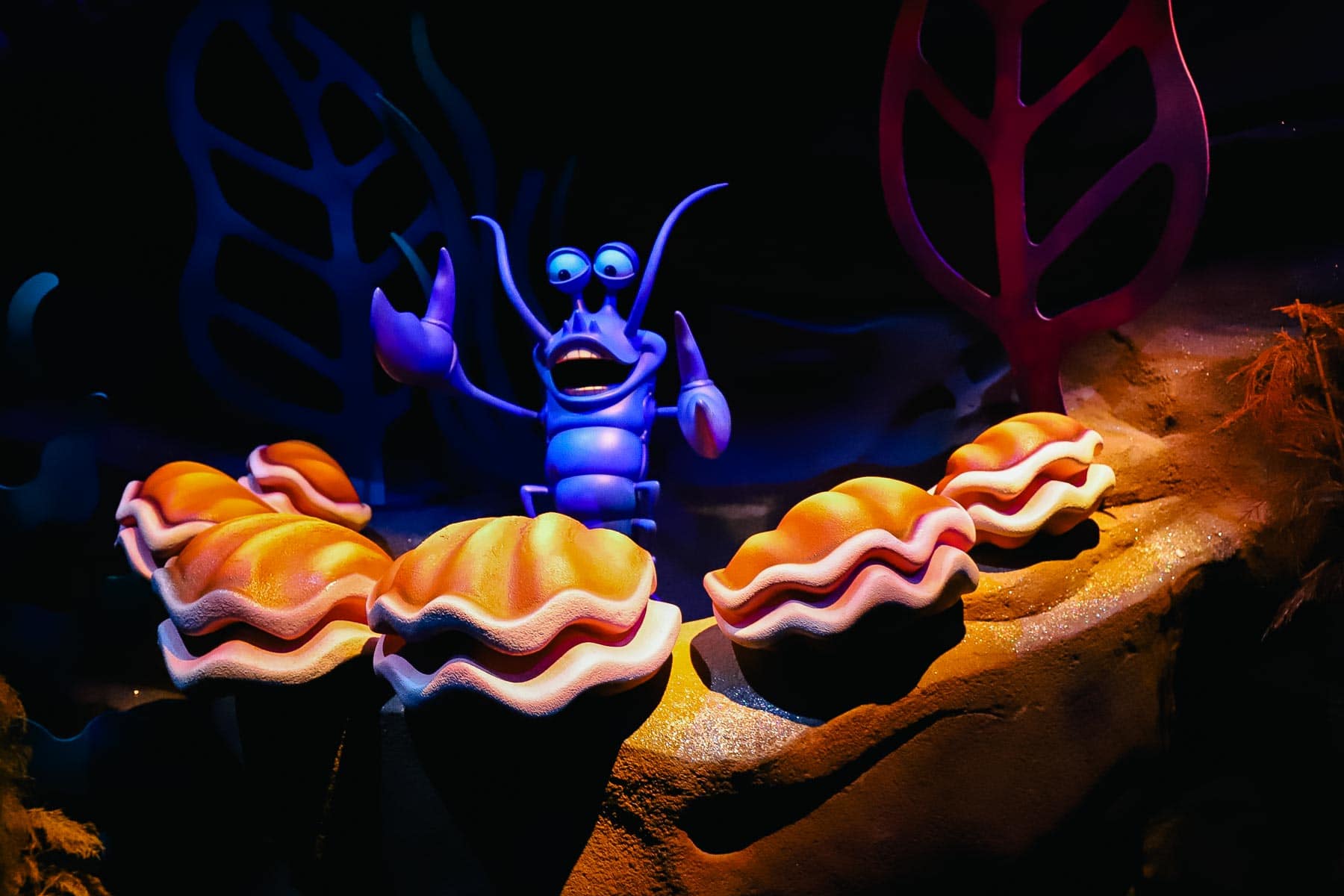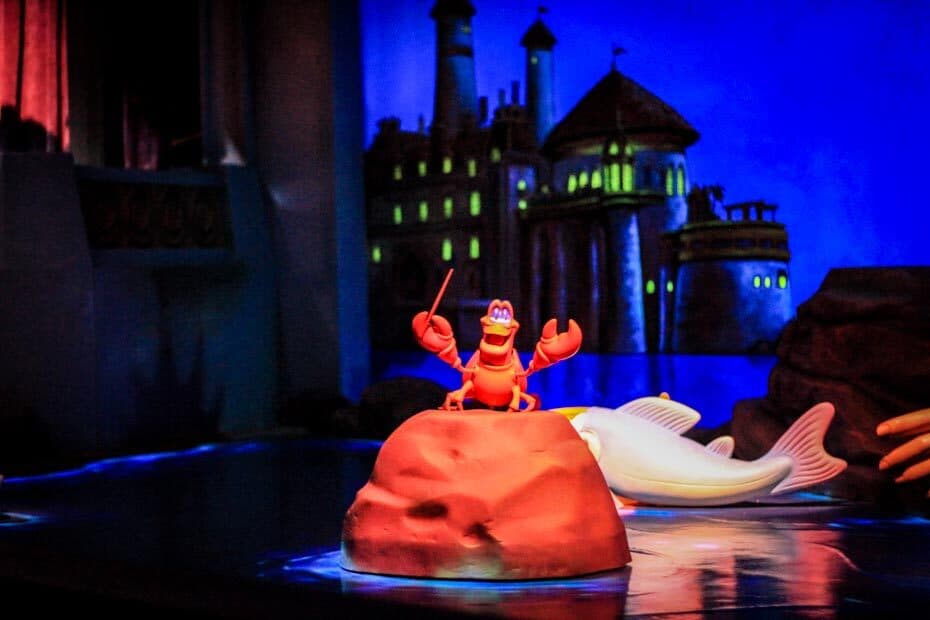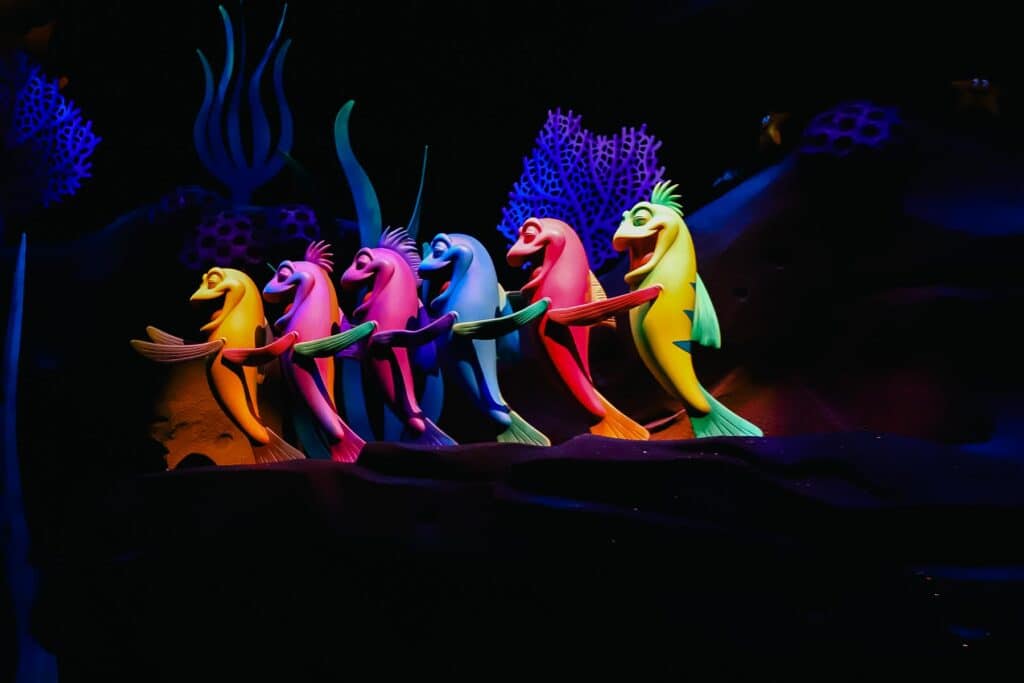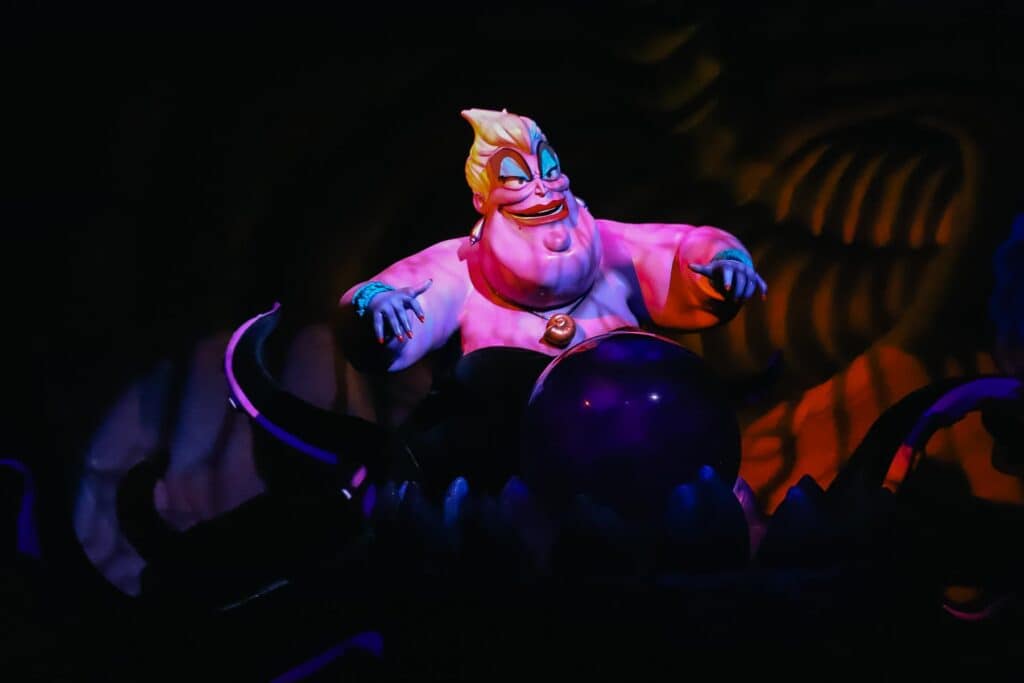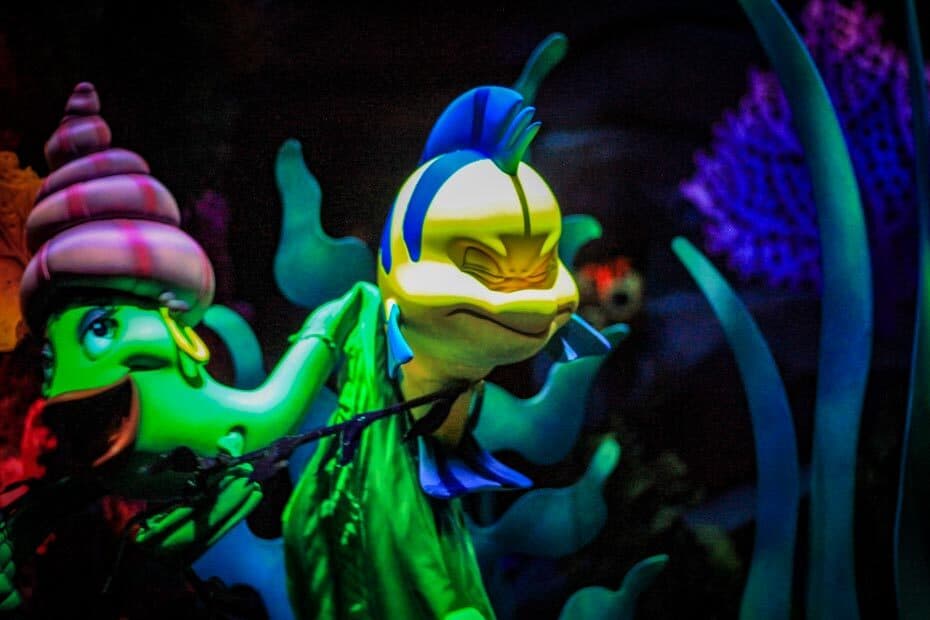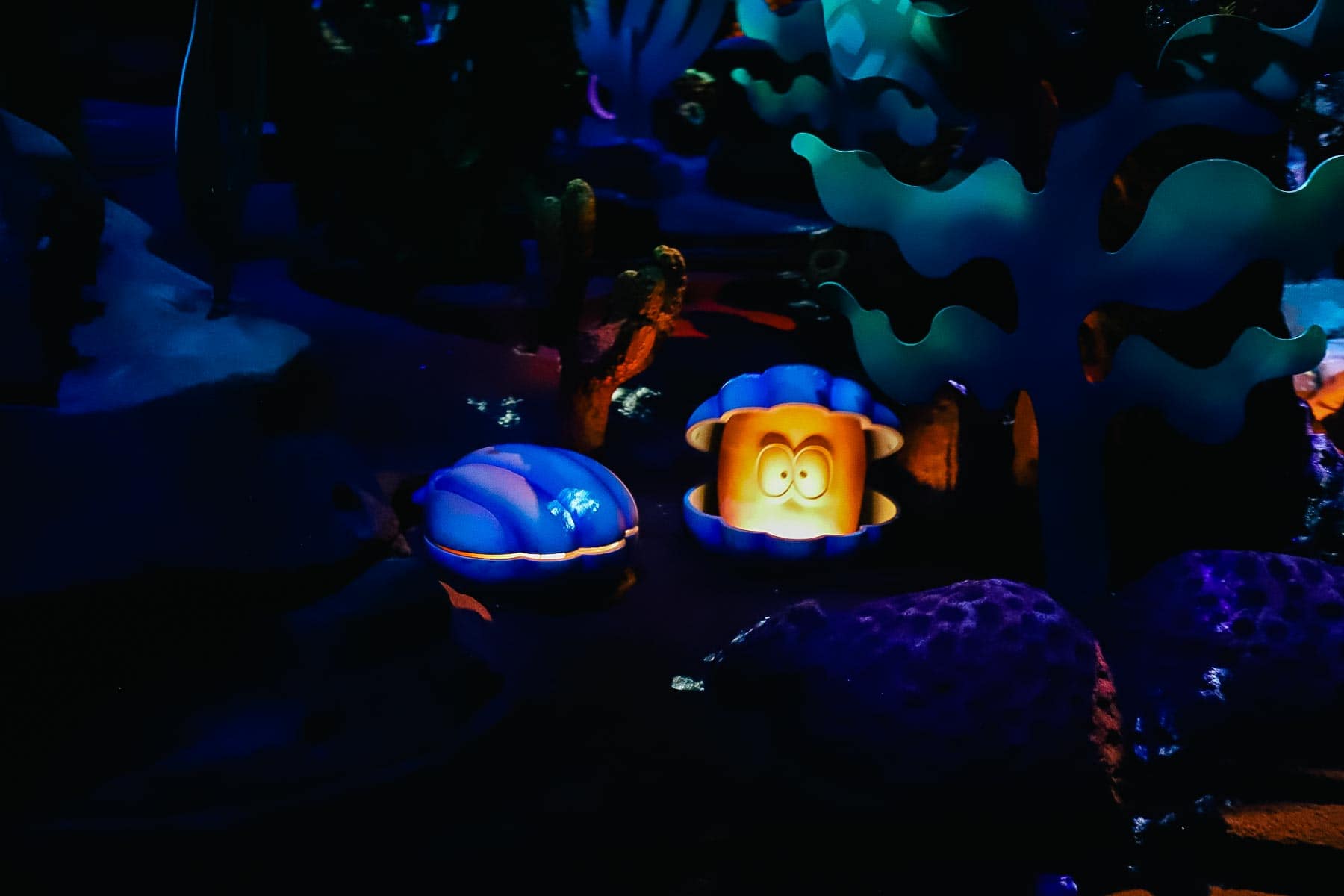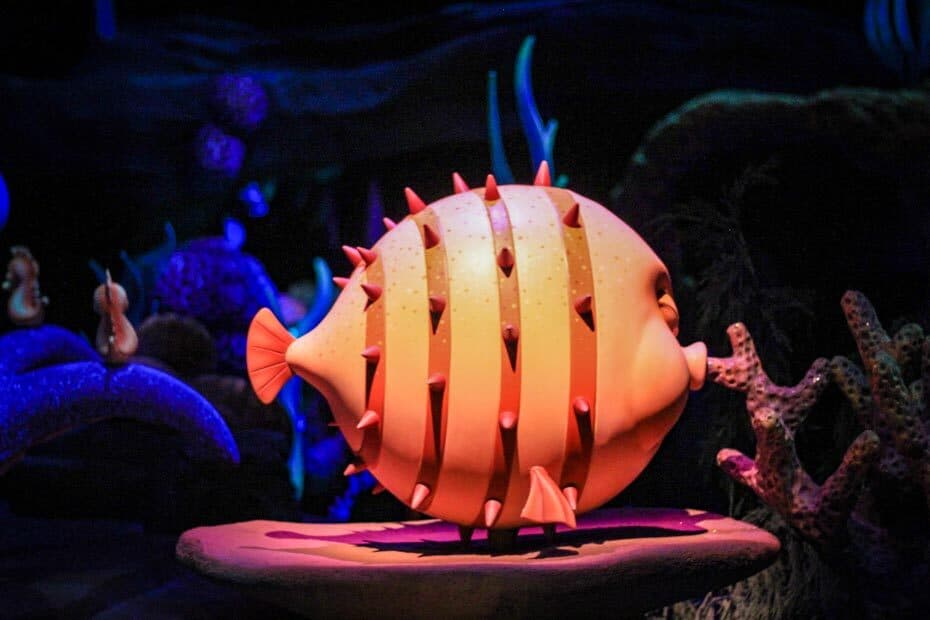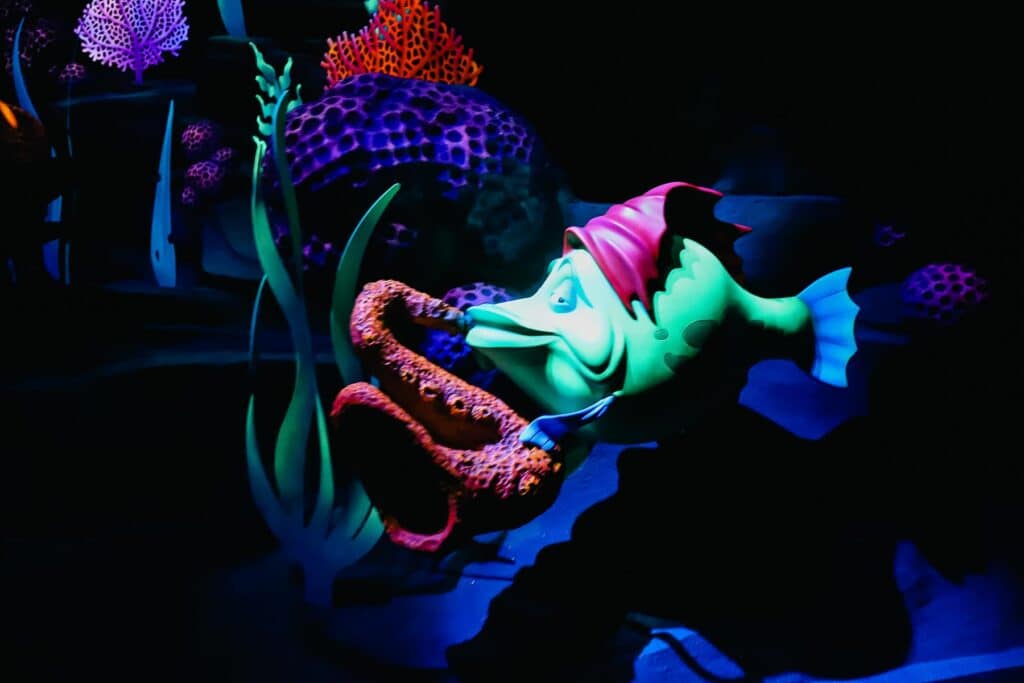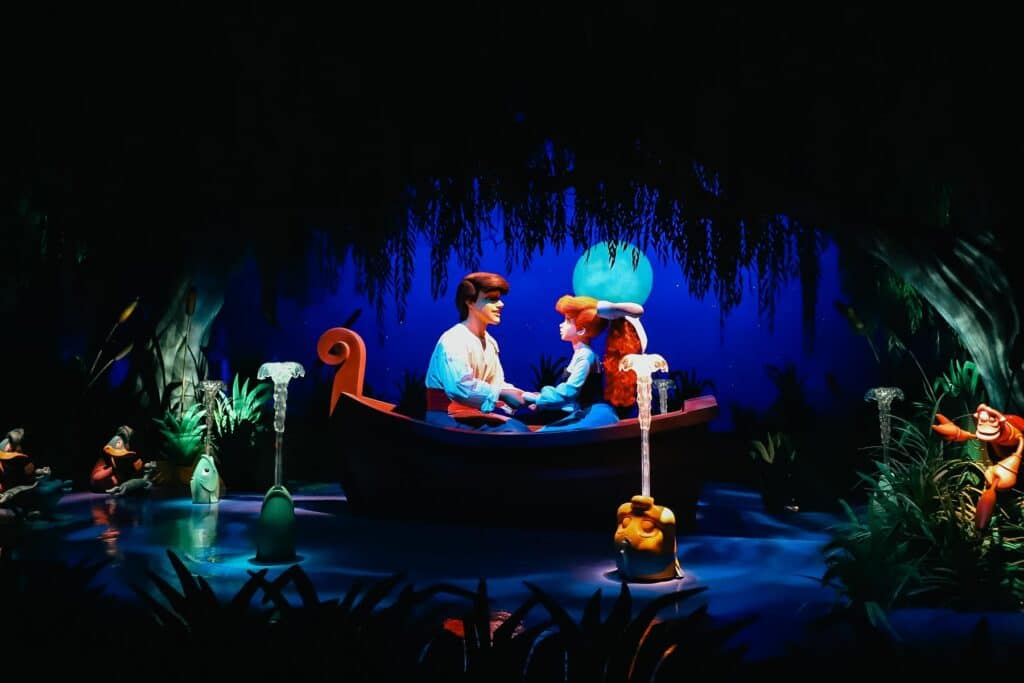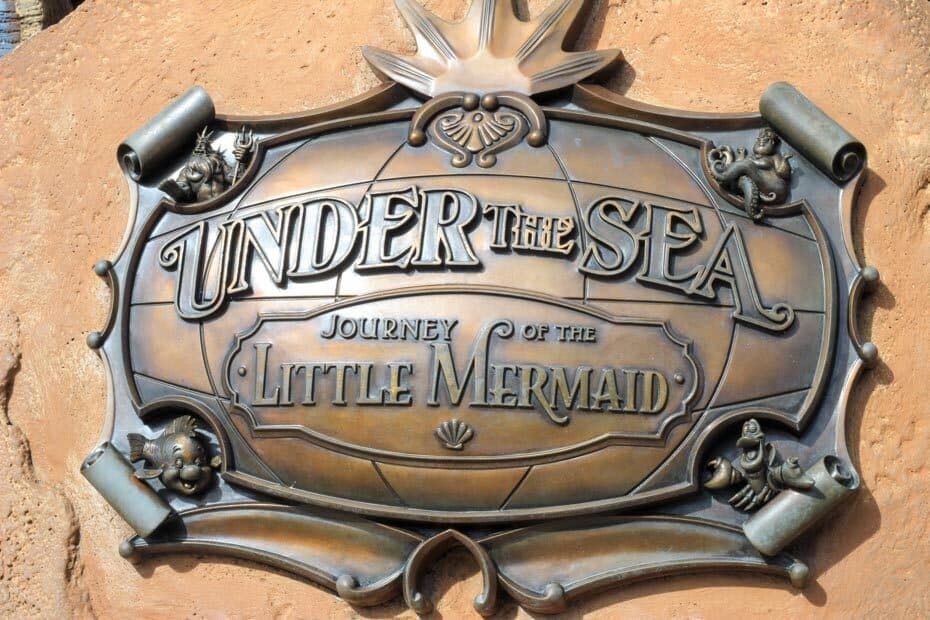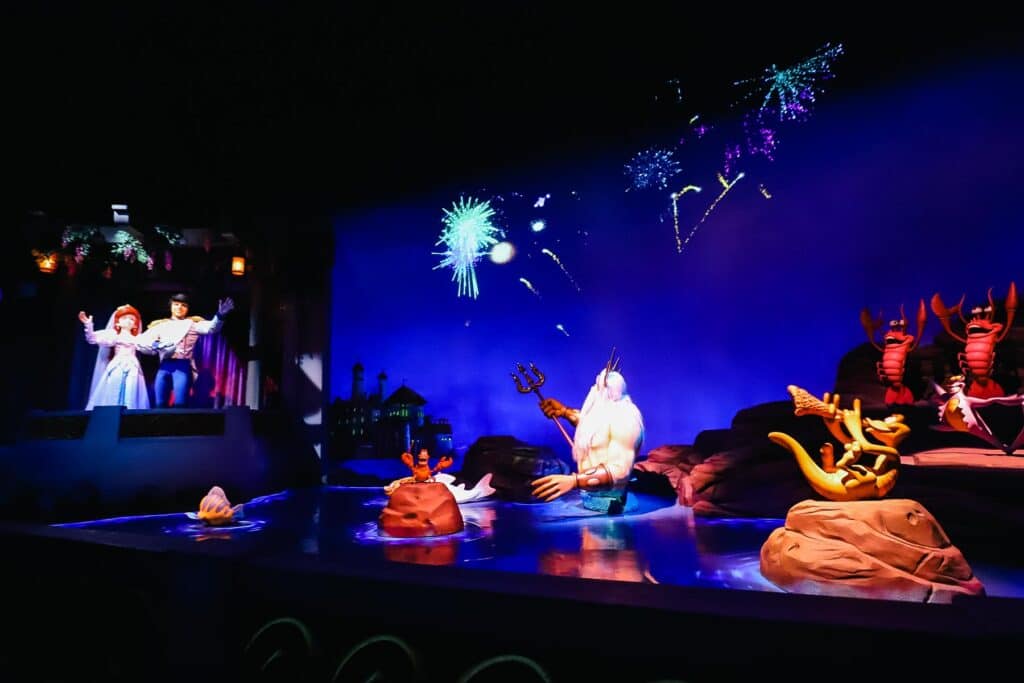 For more attractions, the following are located nearby:
Or you might enjoy the complete list of rides at Magic Kingdom.
Resorts Gal specializes in Disney World Resorts, Characters, and Dining. Make sure to check out some of our planning resources. You might enjoy browsing our list of Disney World Resort Reviews.
With the cost of staying on Disney property rising so significantly in recent years, we've added a list of the best off-site hotels near Disney World. Some of our favorite options are listed in the Best Marriott Hotels Close to Disney. And we enjoyed a stay at Orange Lake Resort in Kissimmee.
Related: Orange Lake Resort Review
We also have a complete list of Disney restaurant reviews for planning dining reservations. Usually, we recommend scheduling at least one Disney World character dining meal and a Disney signature dining reservation.
For counter service, you might check out The Top 10 Best Quick Services at Disney Resorts.
If you plan to meet characters in the parks, we keep an updated list of Disney World Characters. That review links to every meet-and-greet available in each of the four parks.
Lastly, our most popular reviews include the best restaurants at Disney Springs, and we keep a timeline going of Disney Loungefly mini-backpacks.
In the Comments
Have you ridden Under the Sea Journey of the Little Mermaid? It's one of my favorites, leave a comment and let me know yours!