Under the Sea Journey of the Little Mermaid
Under the Sea Journey of the Little Mermaid is an attraction in New Fantasyland at Disney World. More commonly known as The Little Mermaid ride, this attraction allows guests to plunge under the sea, entering a whole new world of aquatic life.
In this review, we'll take a detailed look at Under the Sea Journey of the Little Mermaid. This is a beloved attraction that fans of The Little Mermaid won't want to miss.
Expect to hear classic tunes and see favorite characters, including King Triton, toward the end! Just don't make any deals with Ursula along the way. She's the type that likes to trick unsuspecting mermaids!
This article was updated on November 25, 2022.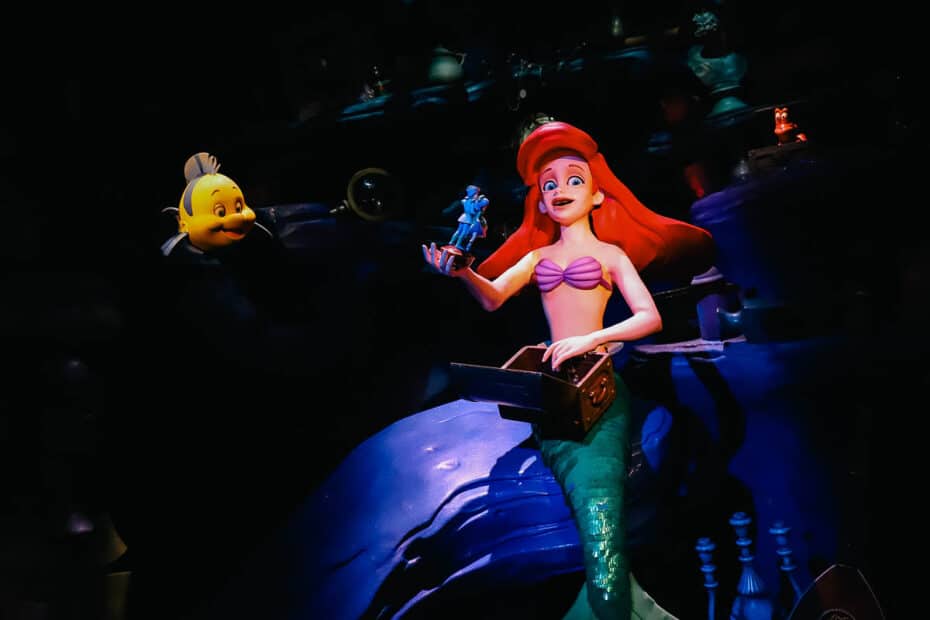 Here's a quick reference chart for the Journey of the Little Mermaid at Magic Kingdom.
Under the Sea Journey of the Little Mermaid
Magic Kingdom

Location:

New Fantasyland

Height Requirement:

None

Eligible for Disney Genie+

Yes

Ride Type:

Slow-Moving Clam Shell
Omni-mover

Seats Per Vehicle:

Up to three

Rider Switch:

None

Good For:

Little Mermaid Fans
Small Children

Scare Factor:

None

Must-Do List:

Medium

Perfect For:

All ages

Special Mention:

Sebastian makes several appearances.
Under the Sea Journey of the Little Mermaid
Under the Sea: Journey of the Little Mermaid was part of the New Fantasyland expansion nearly a decade ago. This is the only attraction representing The Little Mermaid at Magic Kingdom.
Journey of the Little Mermaid has an exceptionally long queue, so it's difficult to gauge the length of the line in advance. However, posted wait times tend to be pretty accurate.
Both standby and Lightning Lane queues are available for this attraction. However, in most instances, you won't need to use a Lightning Lane for this ride.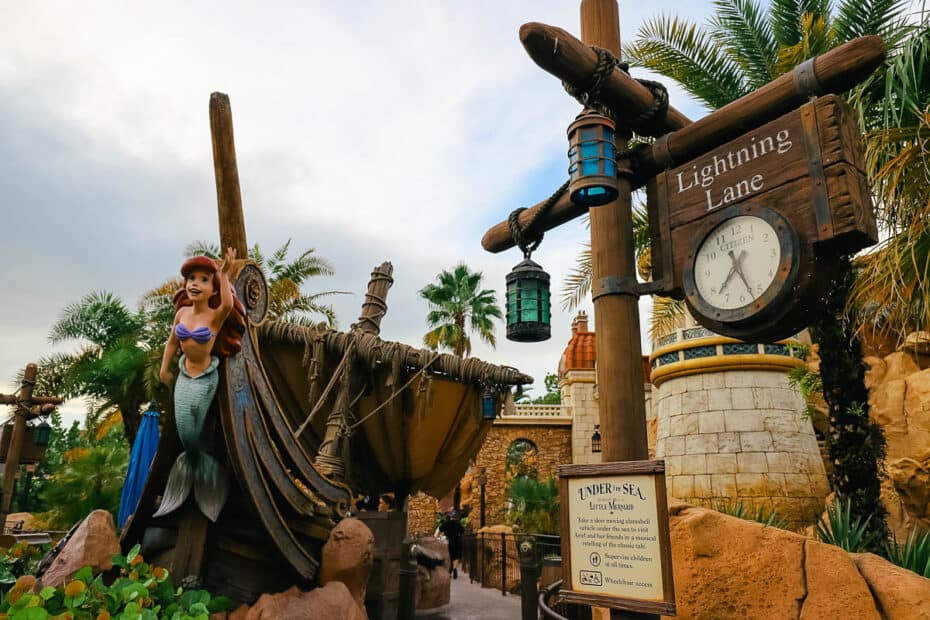 Under the Sea is an Omni-mover attraction like Haunted Mansion and Space Ranger Spin. You'll have to step onto a slow-moving platform to board your clamshell.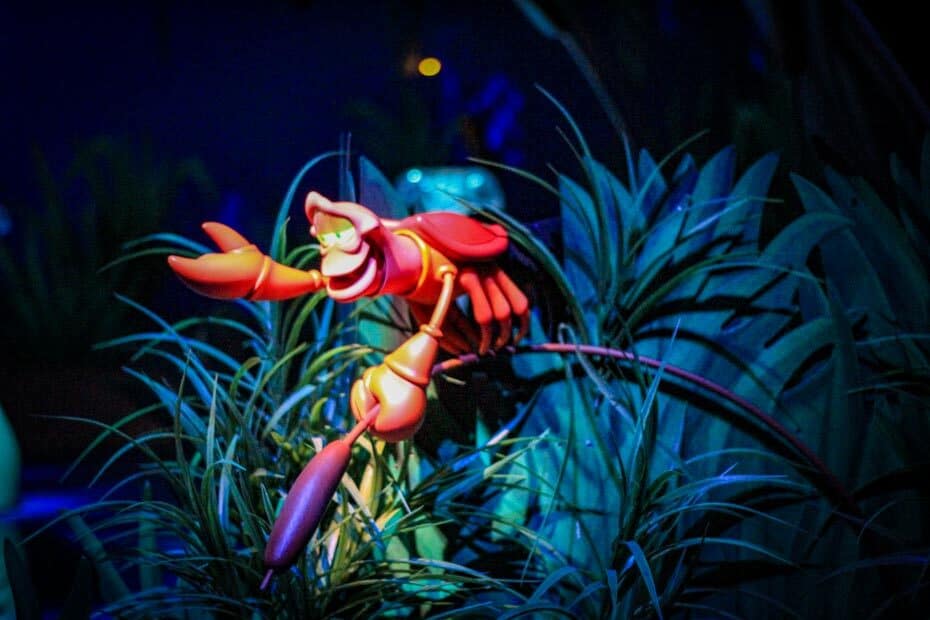 After securing a seat in your clamshell, you'll pull a lap bar over you. A few minutes later, your clamshell rotates, and you'll find yourself diving backward under the sea.
First, you'll encounter Ariel in her thingamabob place with Flounder. They are admiring Ariel's treasures.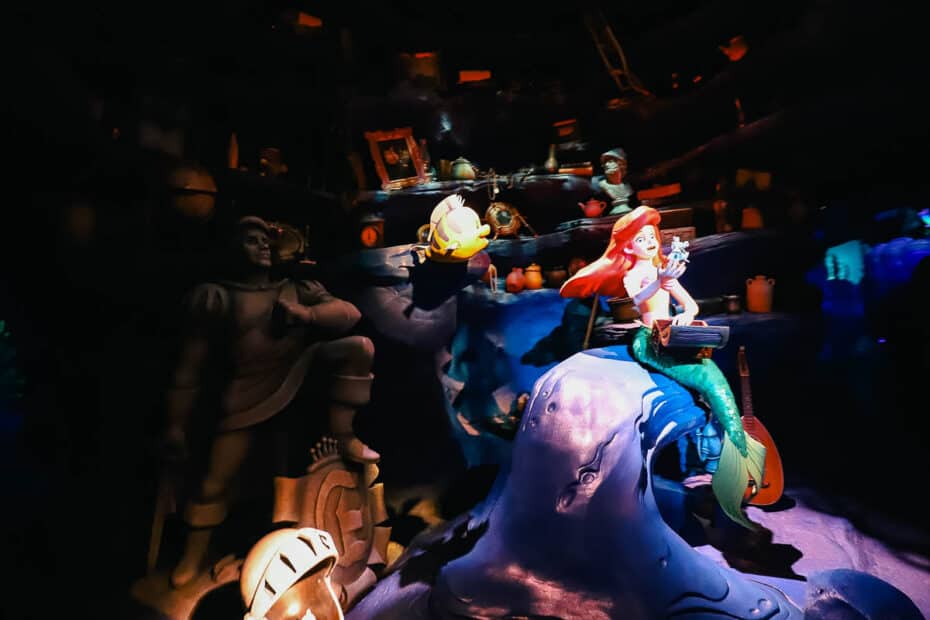 Then you'll enter a large room full of sea life as Under the Sea plays in the background.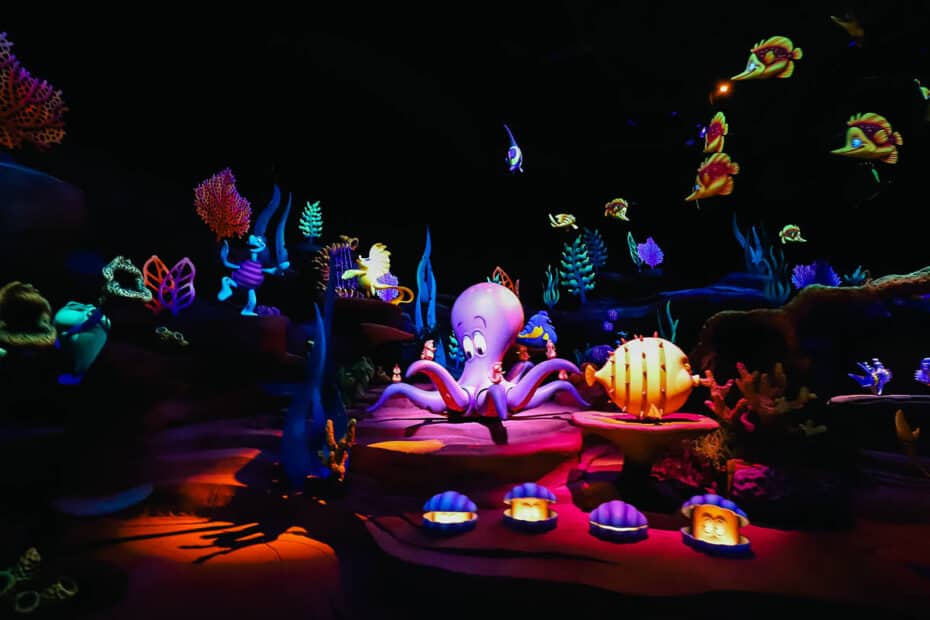 Ariel makes another appearance here as she dances along with the band.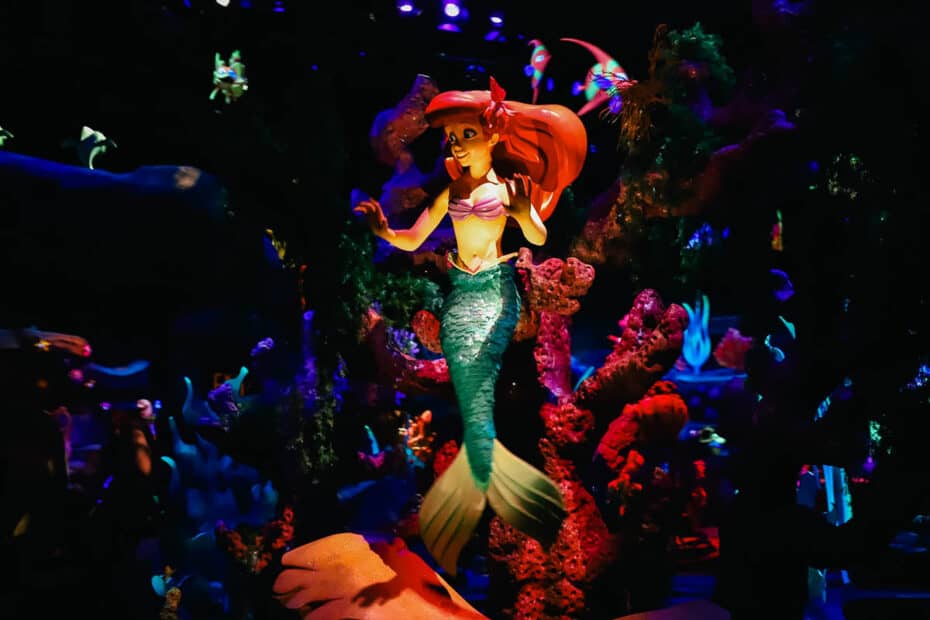 Before long, you'll enter Ursula's lair. But, as always, she's up to no good.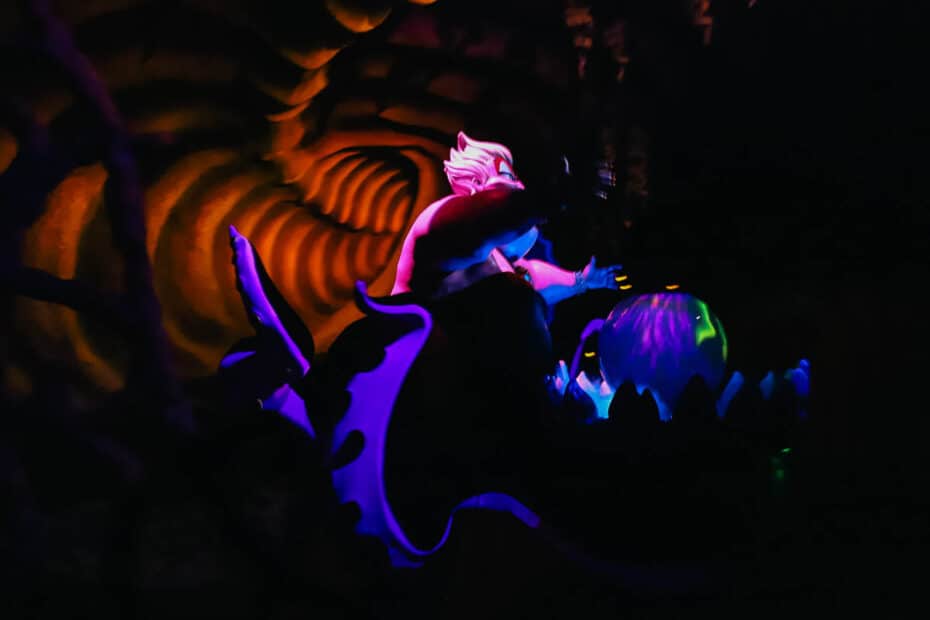 Unfortunately, Ariel made a terrible deal with Ursula, and you see her transform into a human. She apparently didn't know the human world was a mess!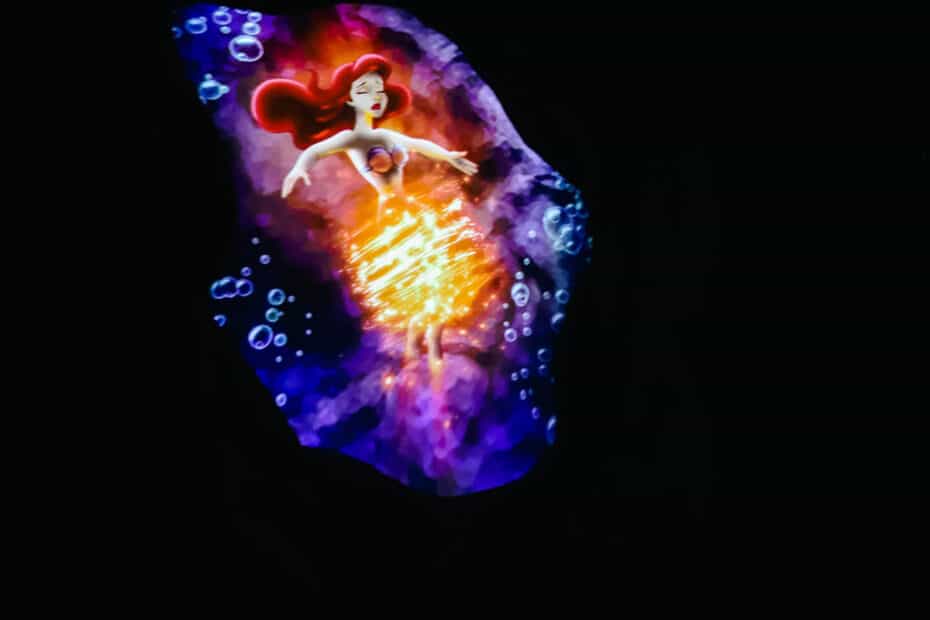 Before long, the mood is set, and everyone's waiting on Prince Eric to…you know…kiss the girl. Sha-la-la-la-la!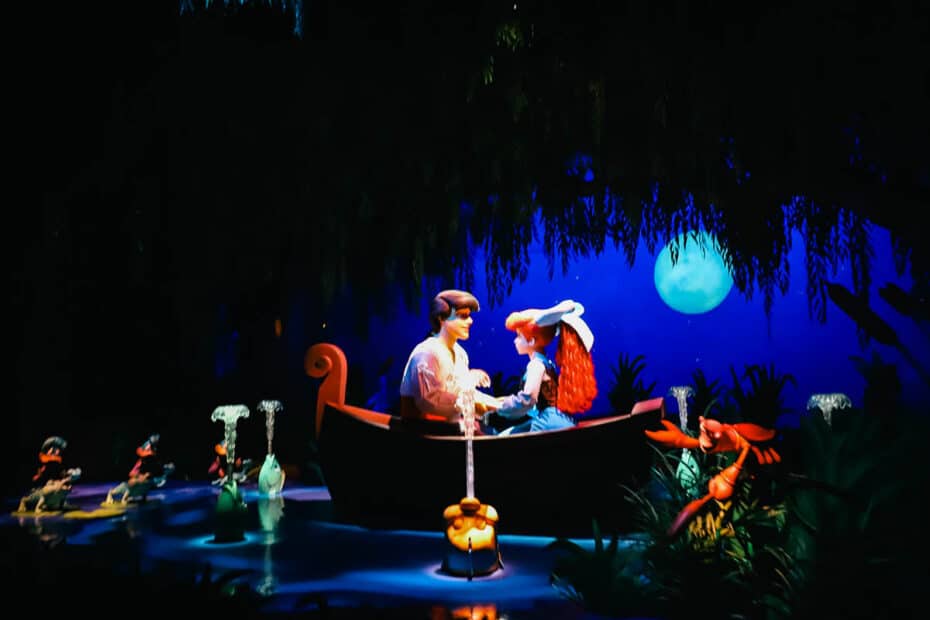 Things work out as most happy endings go, and the evil villain is left fuming in the background.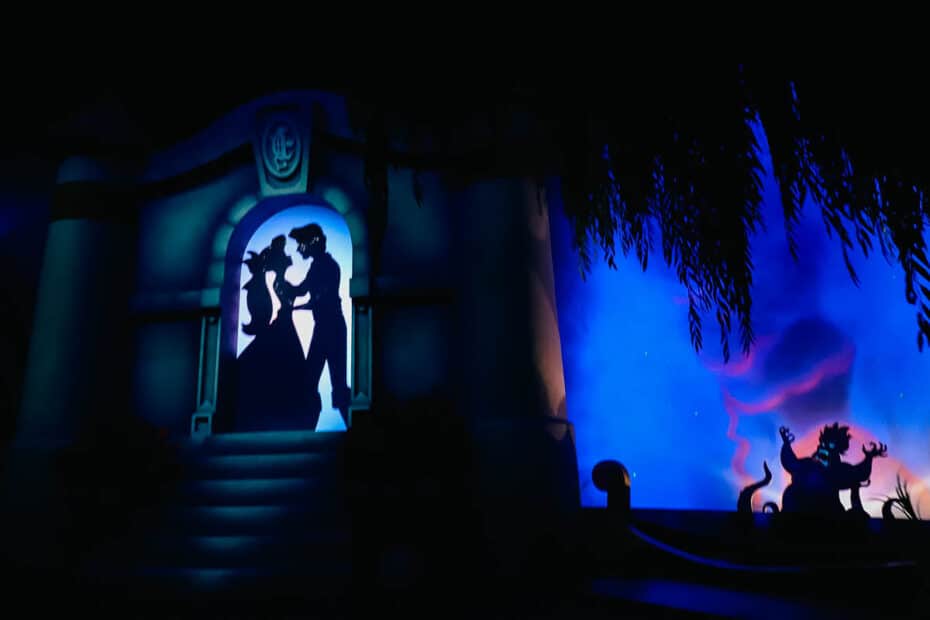 King Triton even throws in a few fireworks with his trident to celebrate.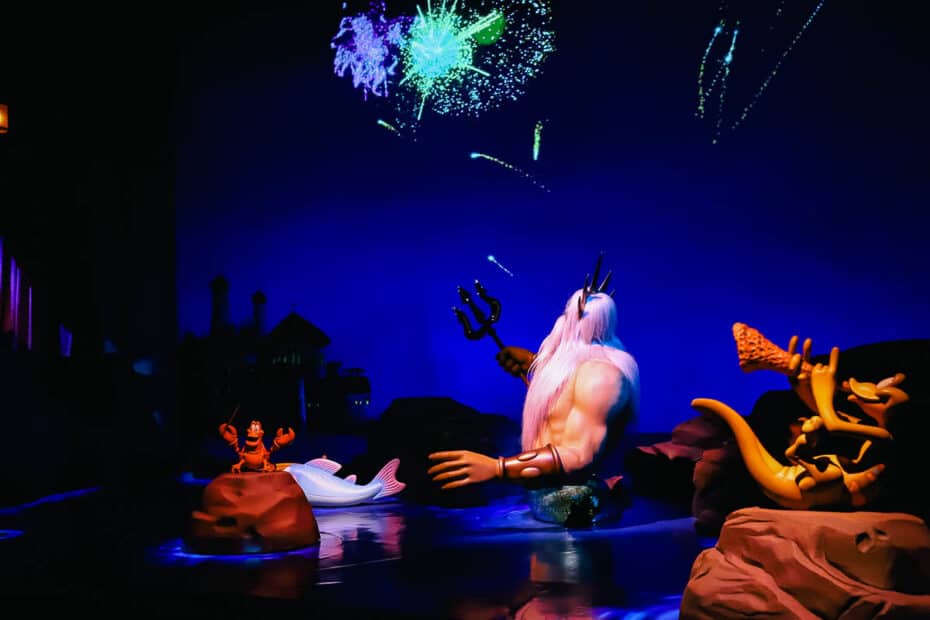 And Ariel and Prince Eric live happily ever after.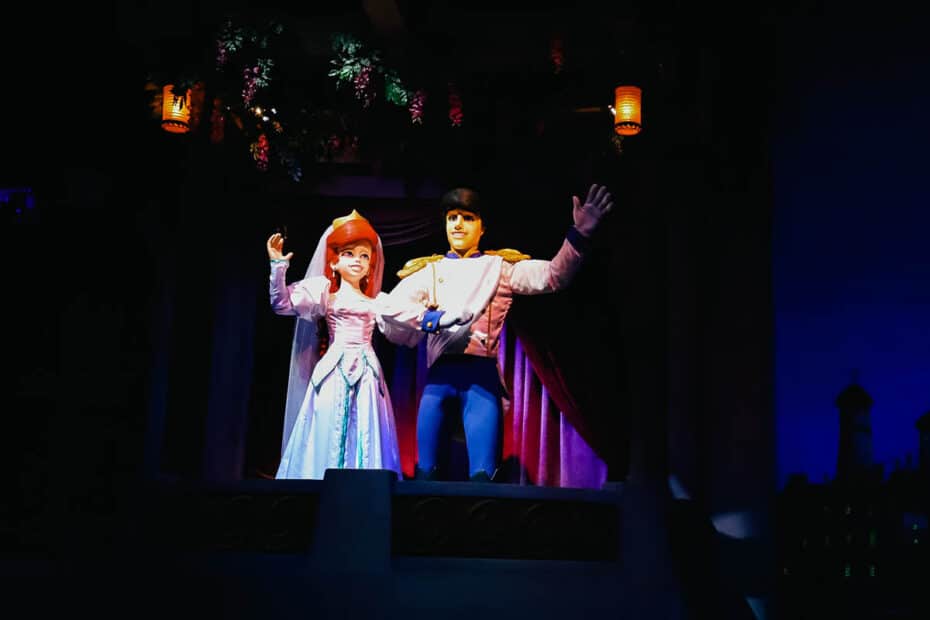 Journey of the Little Mermaid is an excellent option to ride during the late afternoon or evening hours when wait times in this area are at their lowest.
However, it's not a great escape from the rain. There's no shelter near the entrance or the exit. So if you were to exit in a downpour, you've got a decent walk to get to the next covered location.
Under the Sea Journey of the Little Mermaid Photos
Here are a few photos from the attraction.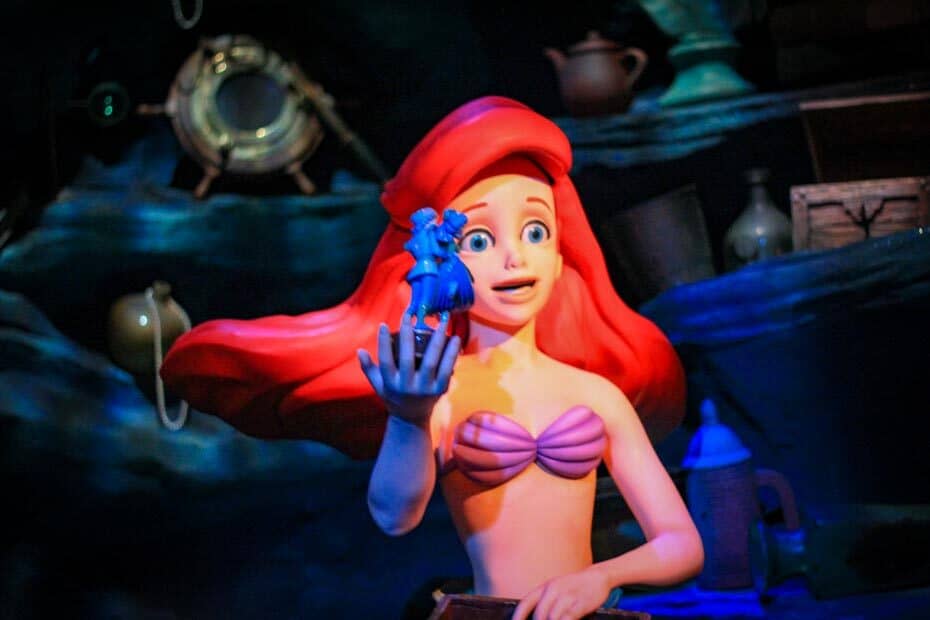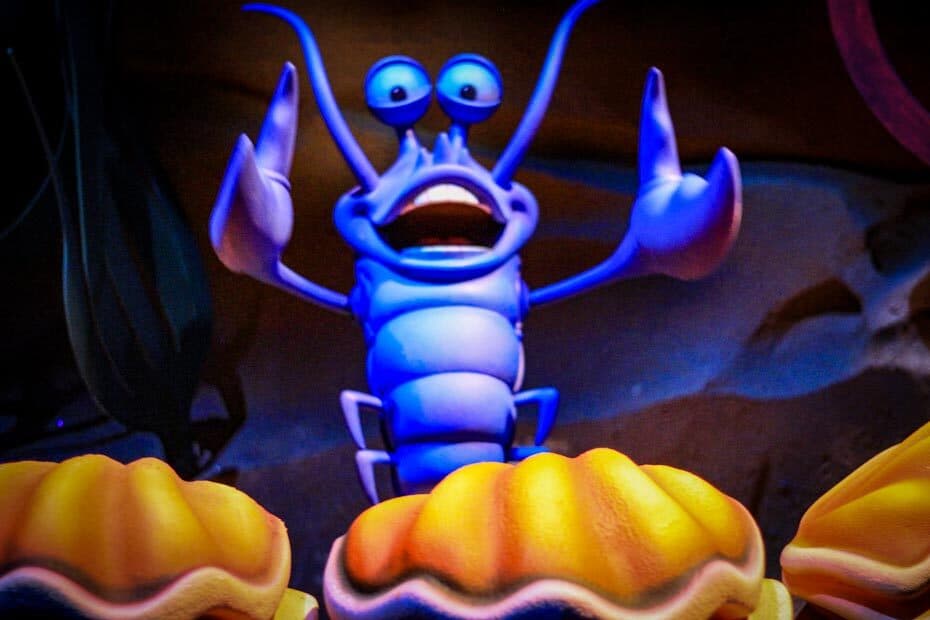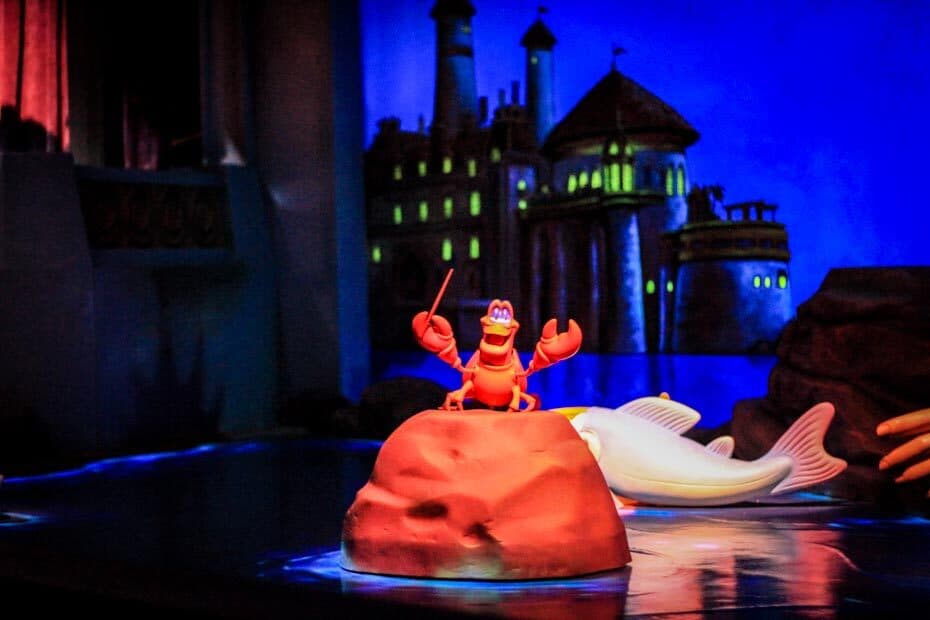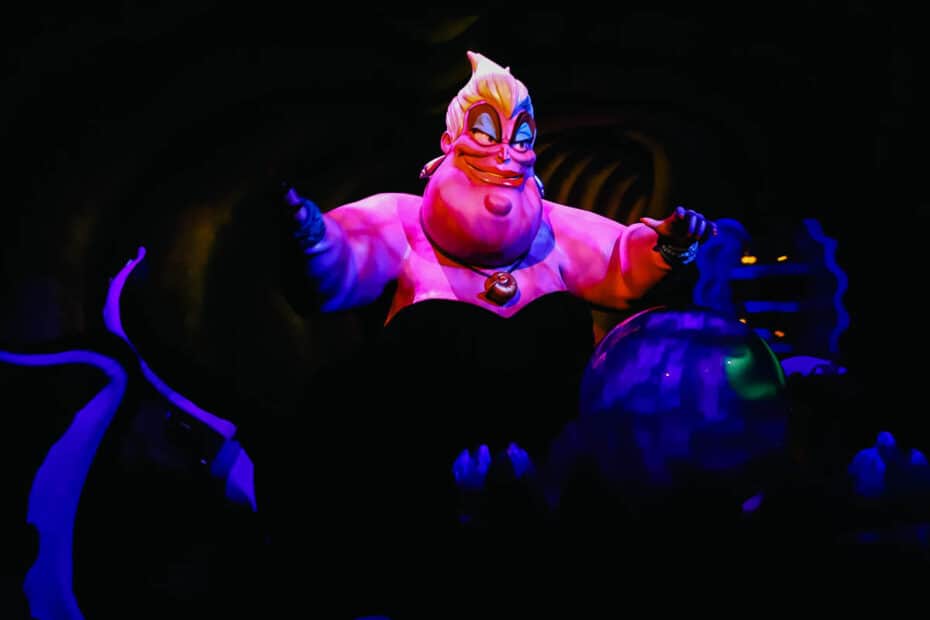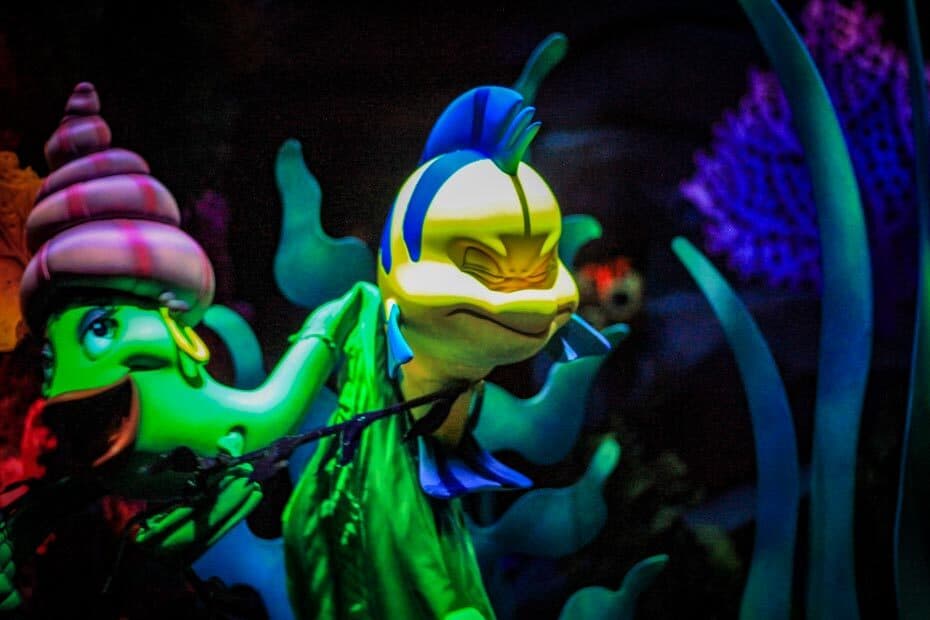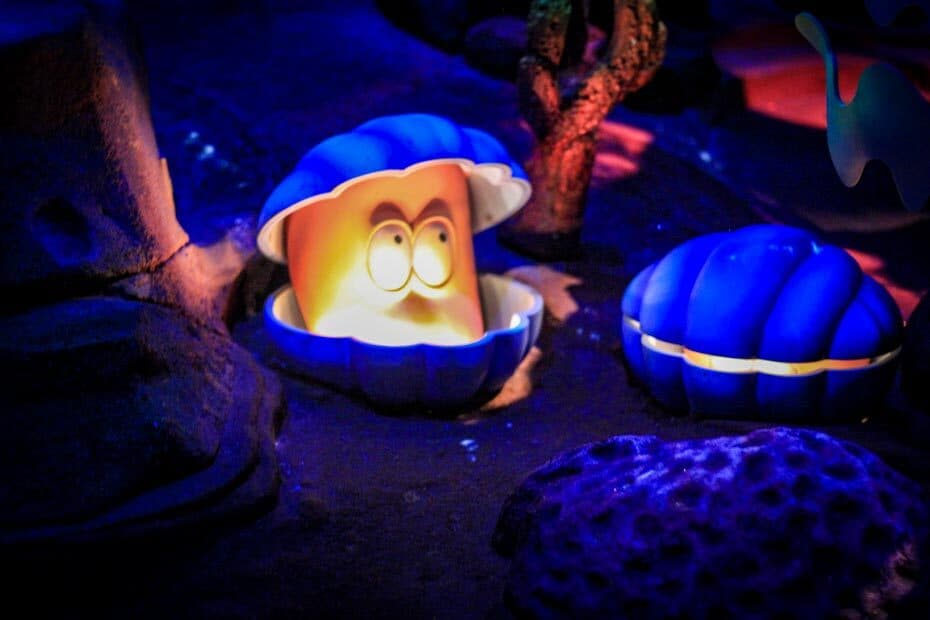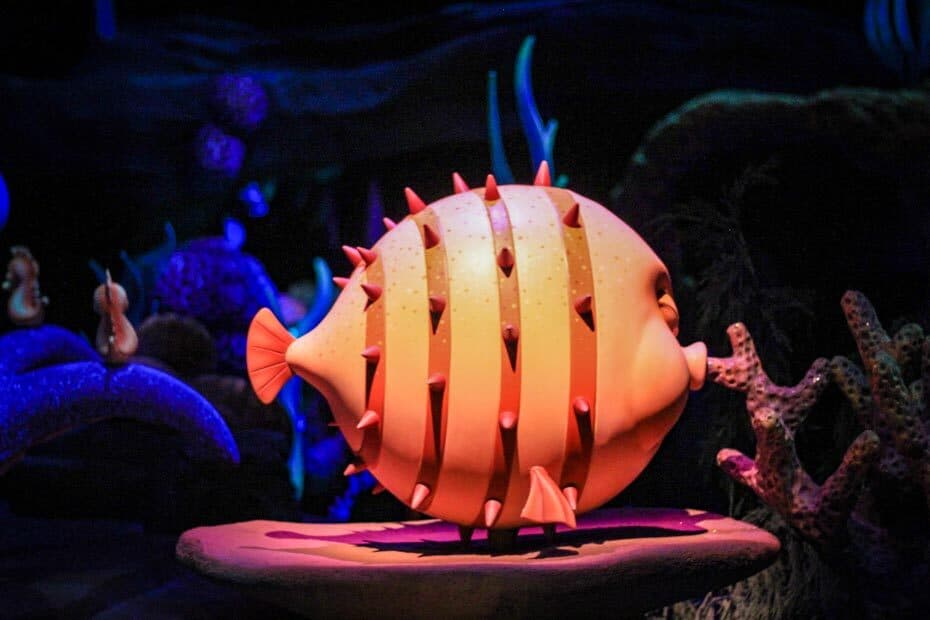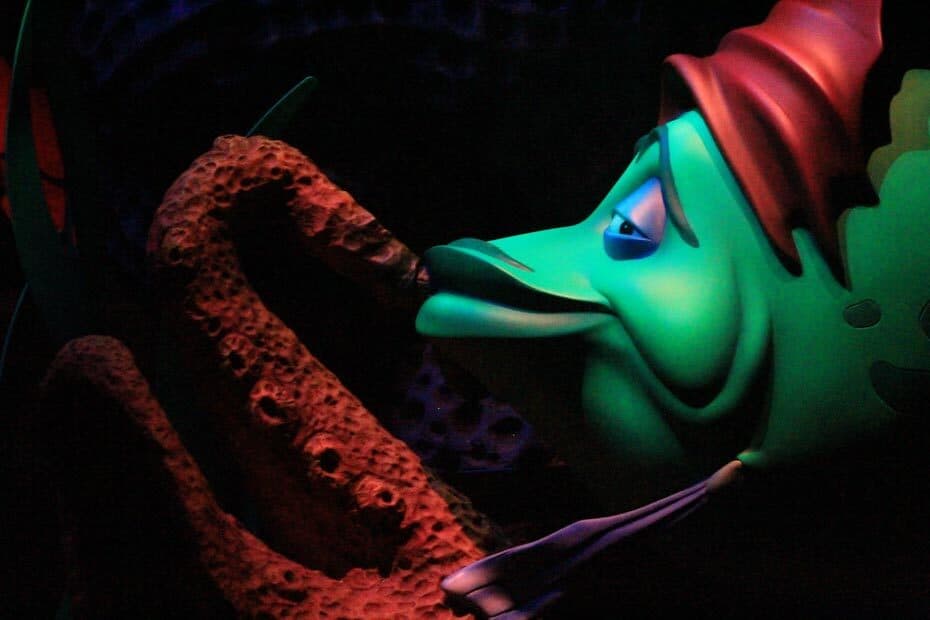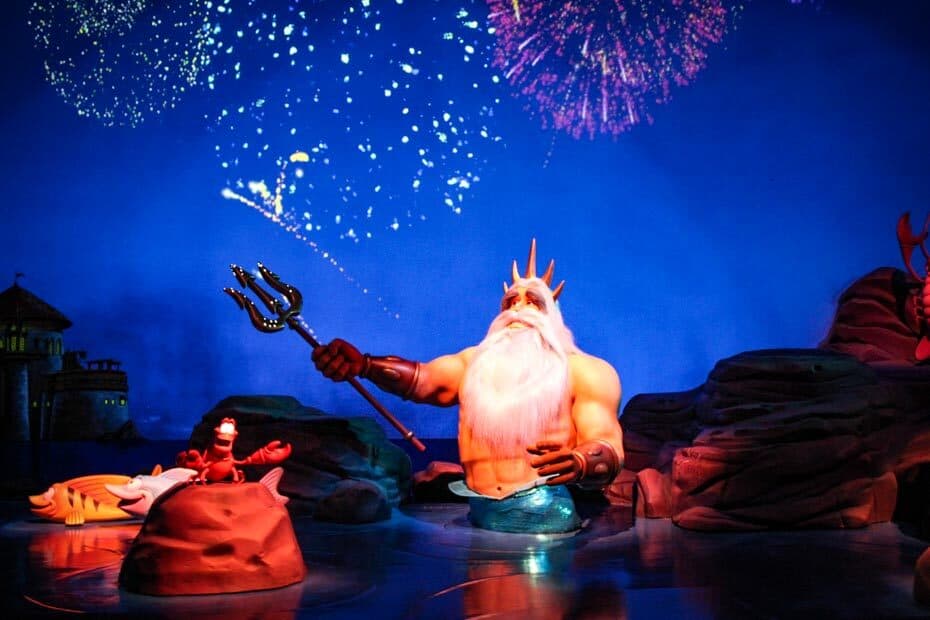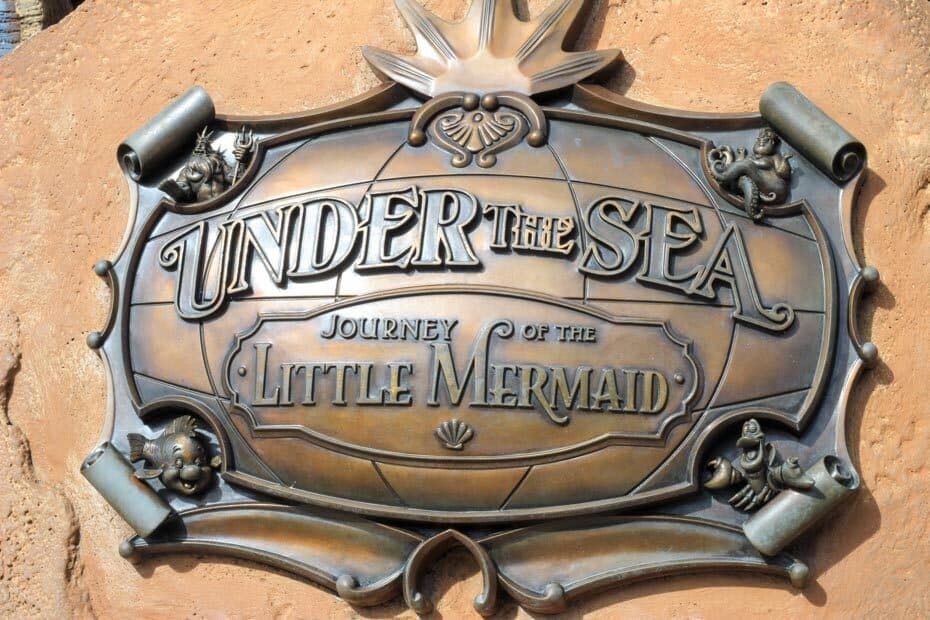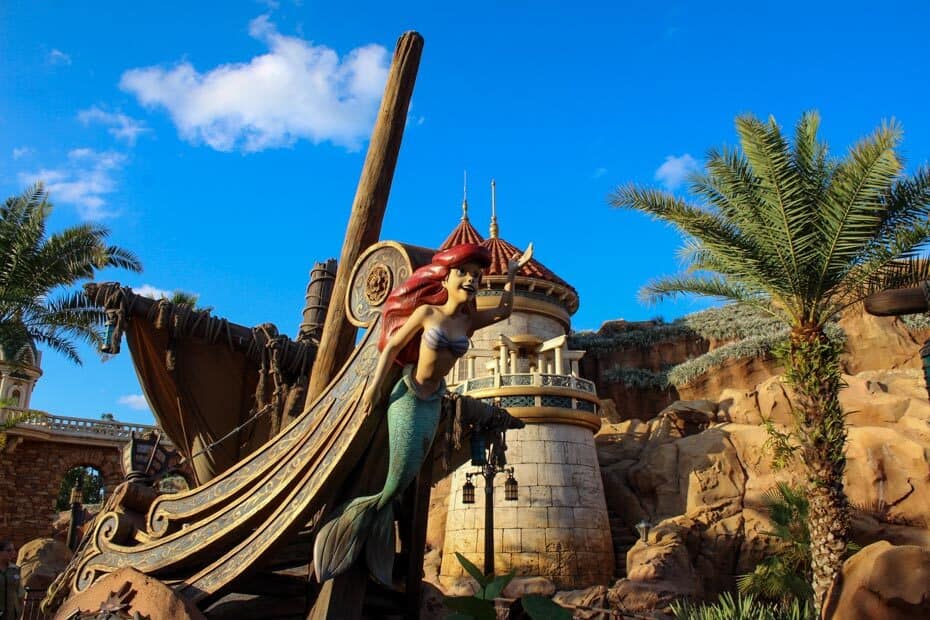 For more attractions, the following are located nearby:
Or you might enjoy the complete list of rides at Magic Kingdom.
Resorts Gal specializes in Disney World Resorts, Characters, and Dining. Make sure to check out some of our planning resources.
Our most popular articles covering the resorts are in our Disney World Resort Reviews list.
With the cost of staying on Disney property rising so significantly in recent years, we've started to add reviews of the best off-site hotels near Disney World.
Some of my favorite options are listed in the Best Marriott Hotels Close to Disney. And we enjoyed a recent stay at the Orange Lake Resort in Kissimmee.
Related: Orange Lake Resort Review
We have a complete list of Disney restaurant reviews for planning dining reservations. Usually, we recommend scheduling at least one Disney World character dining meal and a Disney signature dining reservation.
For counter service, you might check out The Top 10 Best Quick Services at Disney Resorts.
If you plan to meet characters in the parks, I keep an updated list of Disney World Characters here. That review links to every meet available in each of the four parks.
Lastly, our most popular reviews include the best restaurants at Disney Springs, and I keep a timeline going of Disney Loungefly mini-backpacks.
Have you ridden Under the Sea Journey of the Little Mermaid? It's one of my favorites, leave a comment and let me know yours!