Two-Bedroom Villa at Disney's Beach Club Photo Tour
A two-bedroom villa at Disney's Beach Club has a lot to offer when it comes to amenities. Located along Crescent Lake, near Epcot and Hollywood Studios, the Disney World Villa Resort is ideal for anyone planning to spend a reasonable amount of time at either theme park.
This article will preview a two-bedroom villa at Beach Club Villas. A few months back, you may remember that I stayed in a deluxe studio at the Beach Club.
However, on this visit, we were only doing a room tour, and I was able to take a few photos to share with you. The two-bedroom villas are spacious, with each bedroom offering a private bath.
Additionally, there's a full kitchen which can help save a little money if you use it to prepare meals throughout your vacation. And the fact that the unit has a washer and dryer means you don't have to pack quite so much.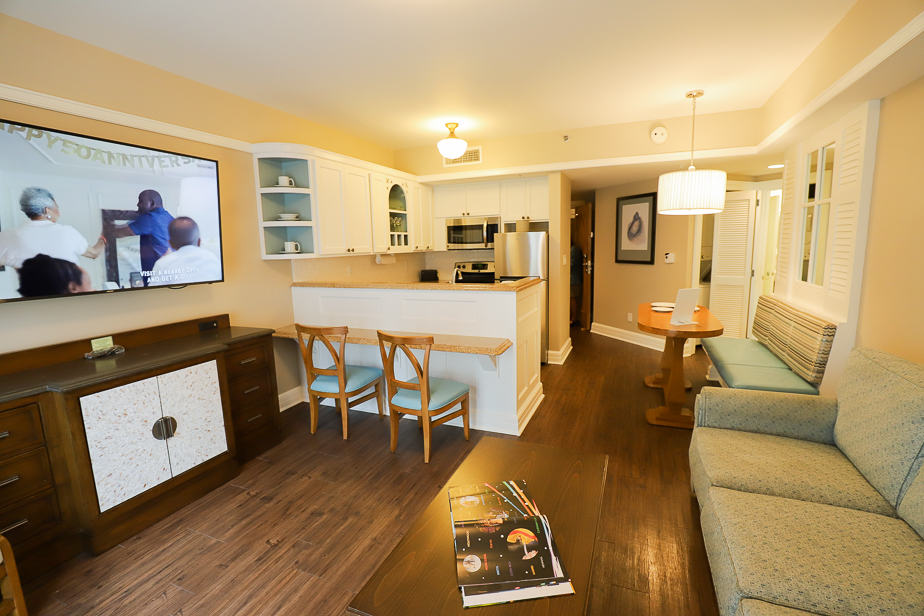 Before we take a complete look at the room, here are a few specifics for a two-bedroom villa at Beach Club:
Master Bedroom features a king size bed with en-suite master bath.
Second Bedroom features two queen-size beds with a standard guest bath.
Living area features a queen-size sleeper sofa.
This unit sleeps up to 8 guests.
There is a full kitchen with built-in bar and banquette dining area.
Washer and Dryer
Most two bedroom villas offer a garden or woods view.
When entering the two-bedroom villa, you're greeted with a large open living area. This open space is where the living room, kitchen, and dining area are all located.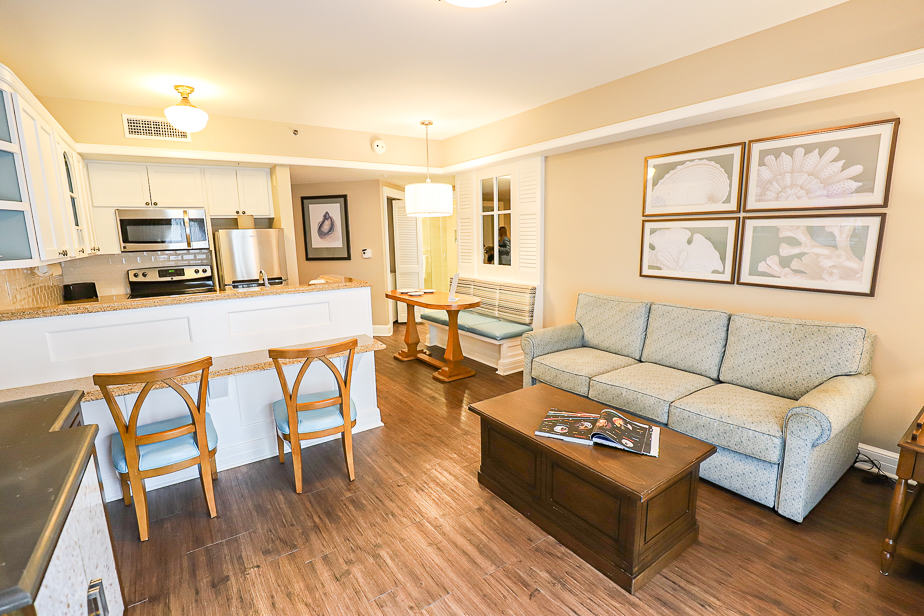 The living room has a large flat-screen television that hangs on the wall. It's placed in an area where you can easily see it from the different areas in the room.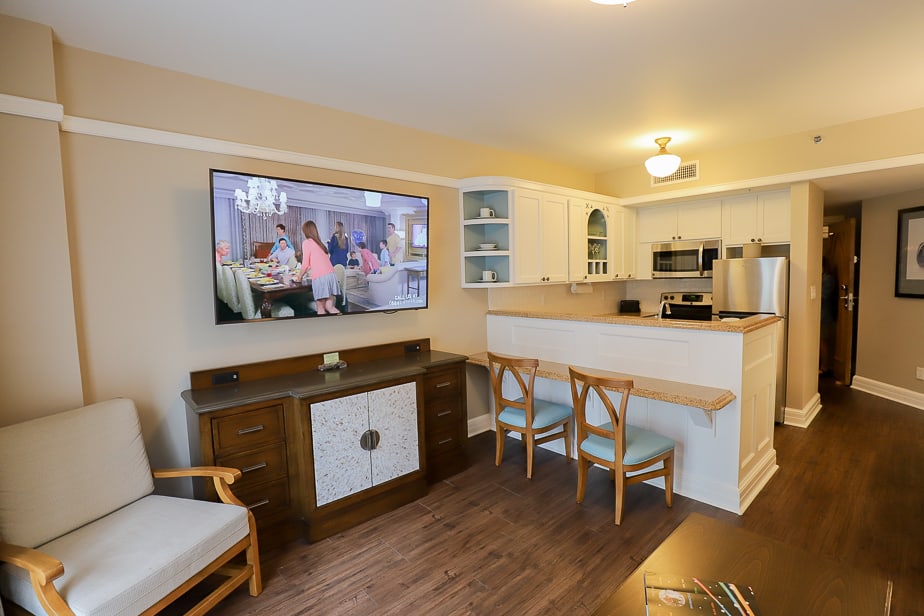 The living room consists of a three-cushion sofa and one extra chair in the corner. This is the sofa that pulls out to make an additional bed. The coffee table is on rollers so that you can slide it out of the way. Additionally, it offers extra drawers underneath it for storage.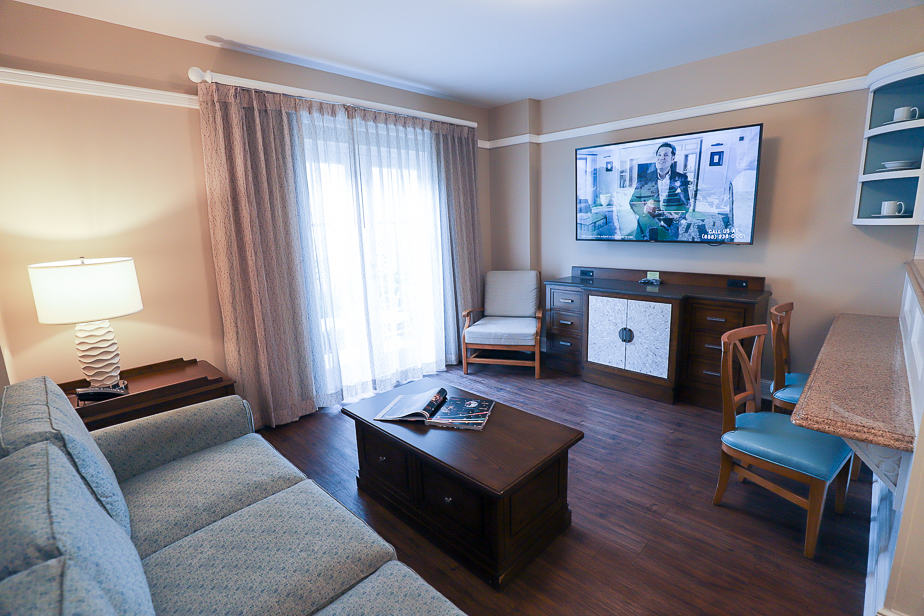 The color palette and decor at the resort are neutral with touches of calming seafoam greens.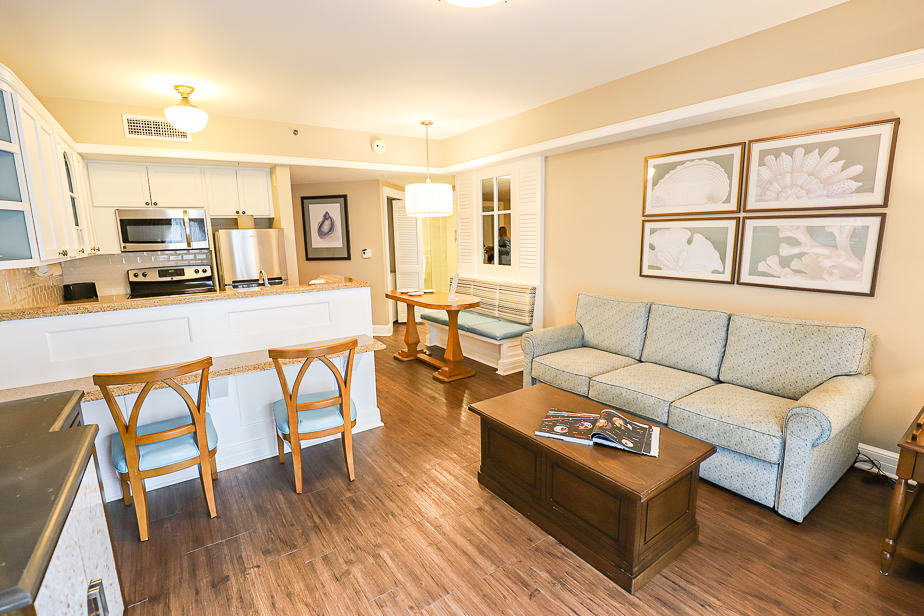 There is a chair-height breakfast bar that seats two guests.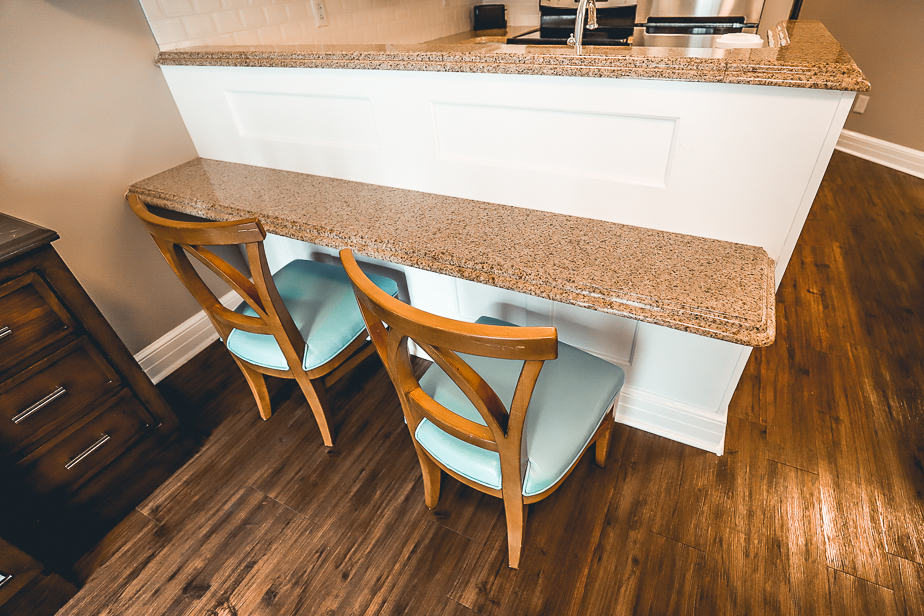 The kitchen provides all the essentials for preparing meals. There's a stove with an oven and a built-in microwave. Additionally, you'll have a full-size refrigerator, dishwasher, sink, plenty of cabinets, and counter space.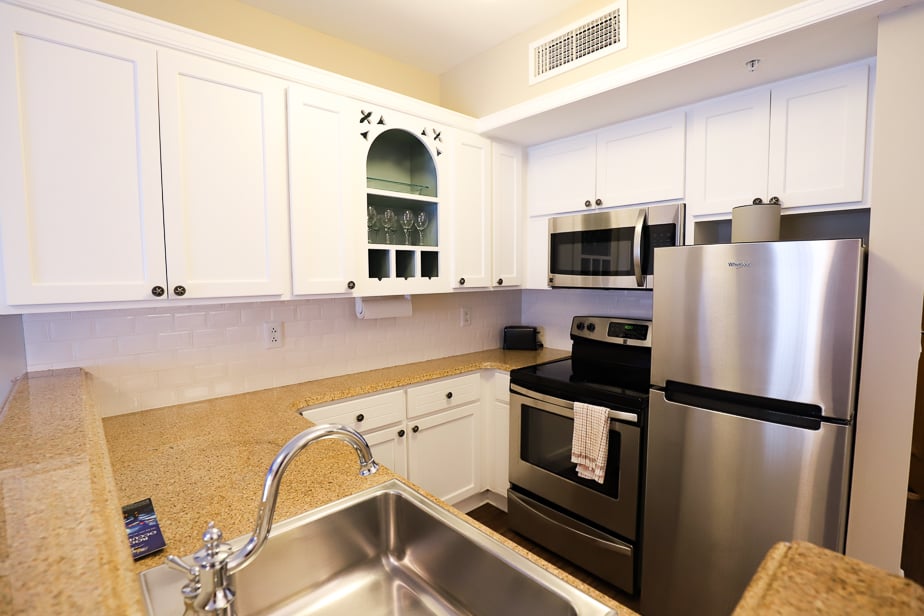 The villas are stocked with dinnerware, flatware, and utensils. You'll also have a few small kitchen appliances like a toaster oven and coffee pot.
In addition, a roll of paper towels, cloth kitchen towel, dish soap, and dishwasher detergent are provided. You can request extras if needed.
Here is a look at the dining area. You can bring the chairs at the bar over to the table if needed. Or, if the weather is pleasant enough, take your meal out to the patio area.
The two-bedroom villas all have a private balcony or patio.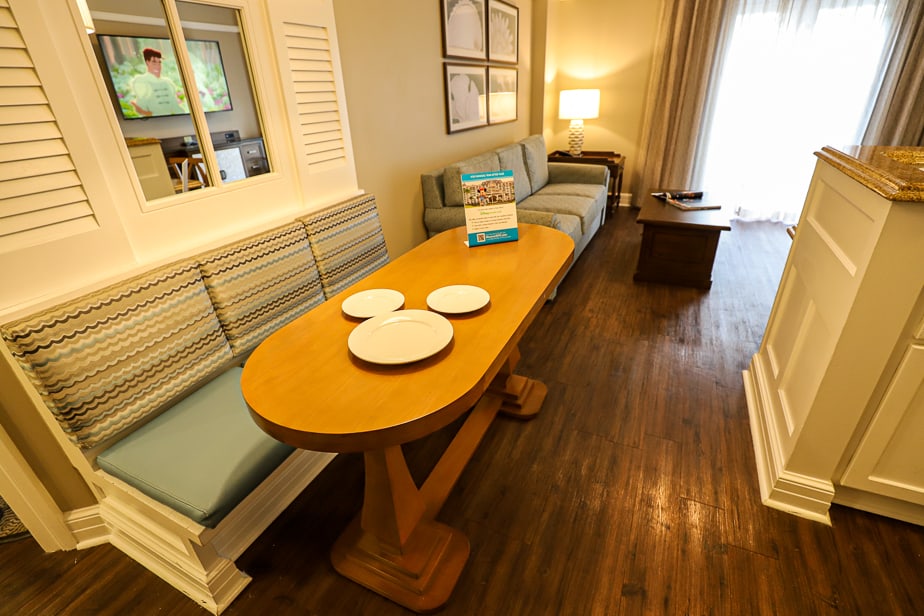 The entire space is functional and efficient.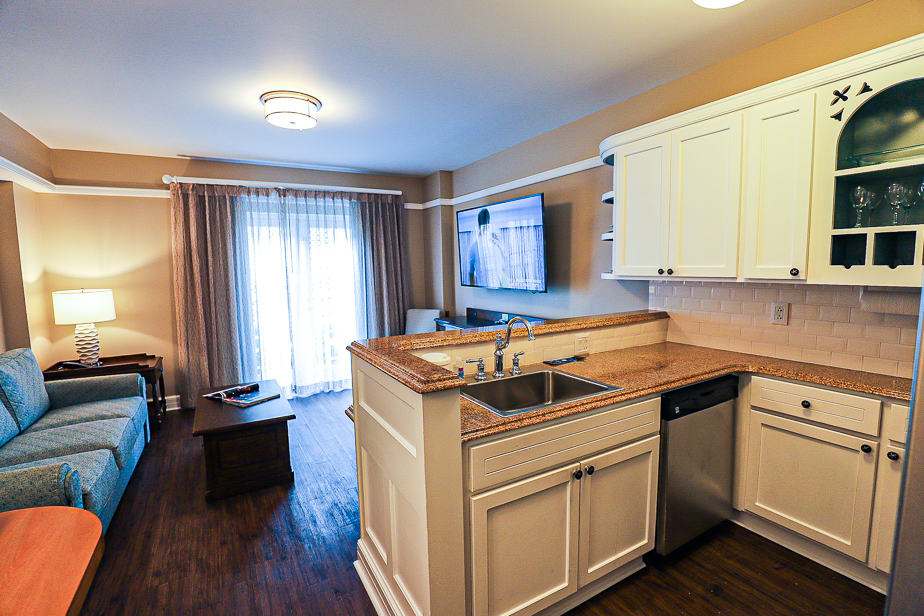 The main living area sits in the middle of the two bedrooms. On one side of the unit is the guest bedroom with a king-size bed. This bedroom features a dresser with storage, a reading chair in the corner, and a desk in the opposite corner.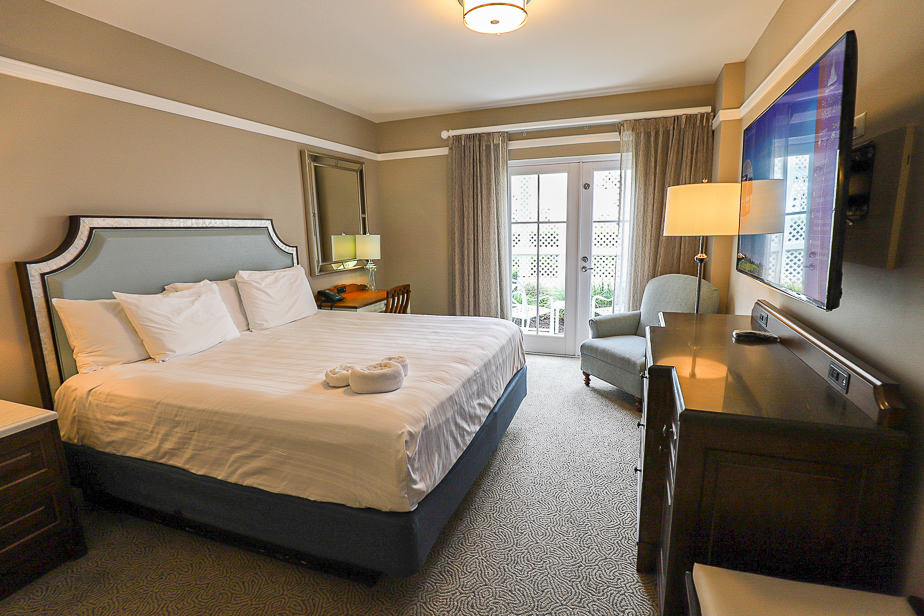 It's the size of a standard hotel room and offers a patio or balcony off the back.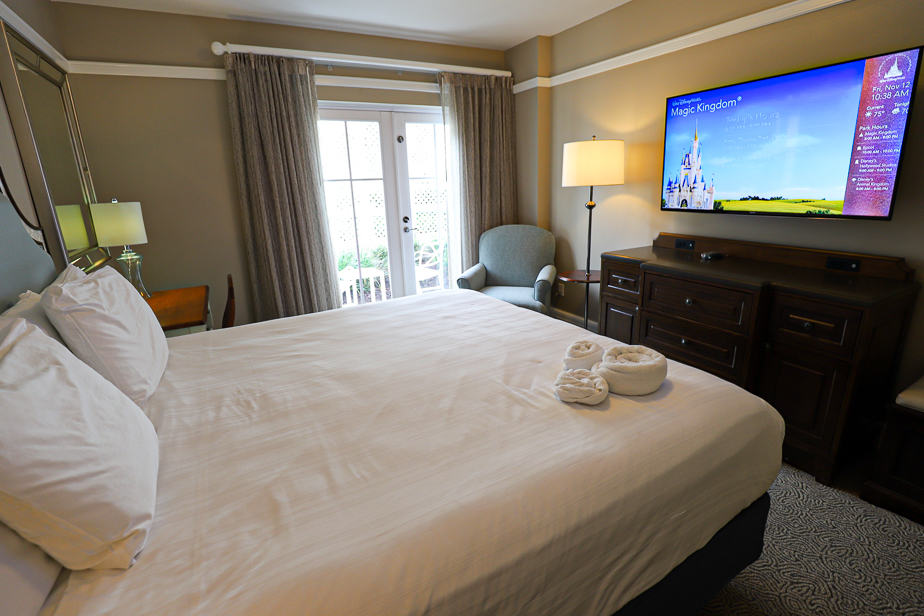 While the room is standard, you'll find that the guest bath is upgraded.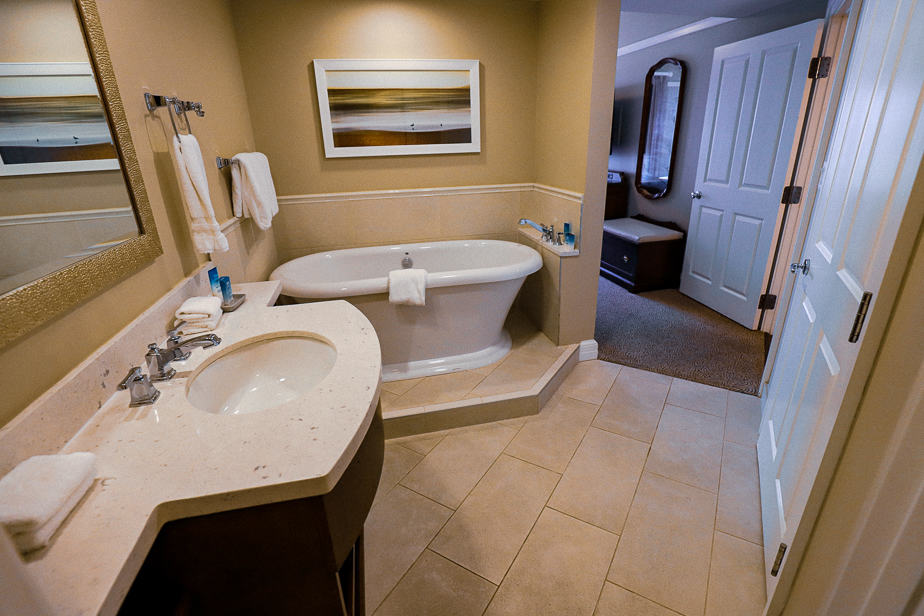 There's a large, stand-alone soaking tub.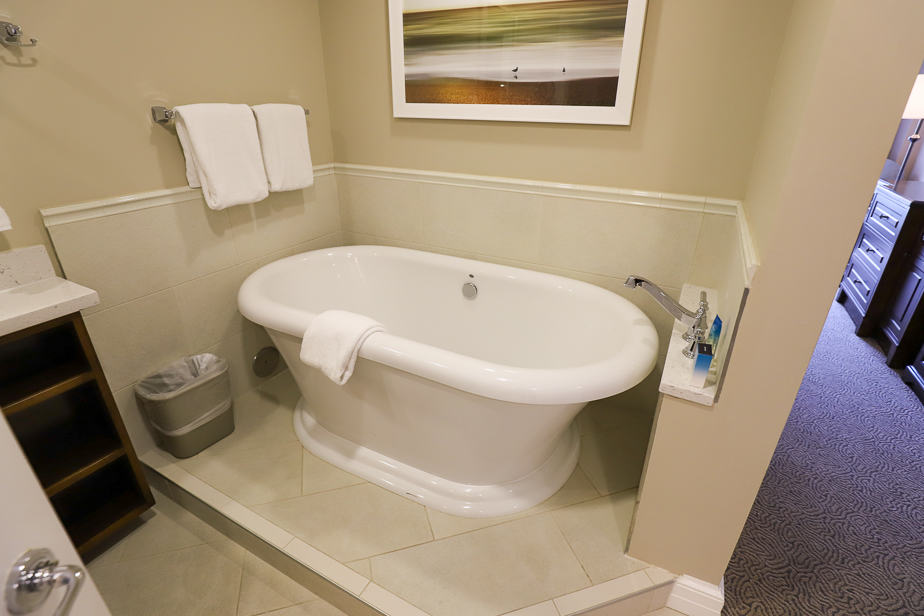 Additionally, the bath features a single vanity with excellent counter space and storage underneath. And that's a walk-in closet behind it.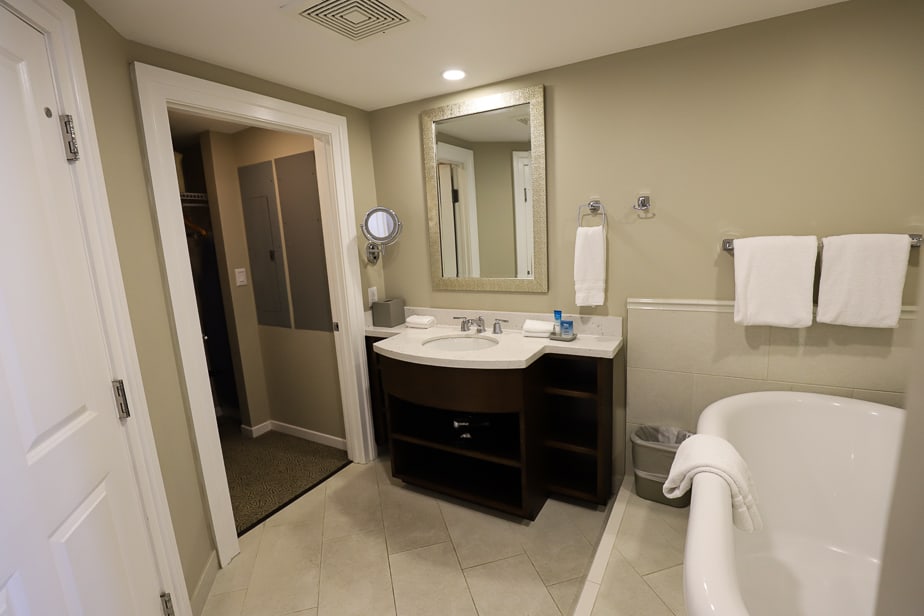 A separate door in the master bath opens to this large walk-in shower and vanity area. In addition, this bathroom has a door that opens back up to the hall area between the living room and master bedroom.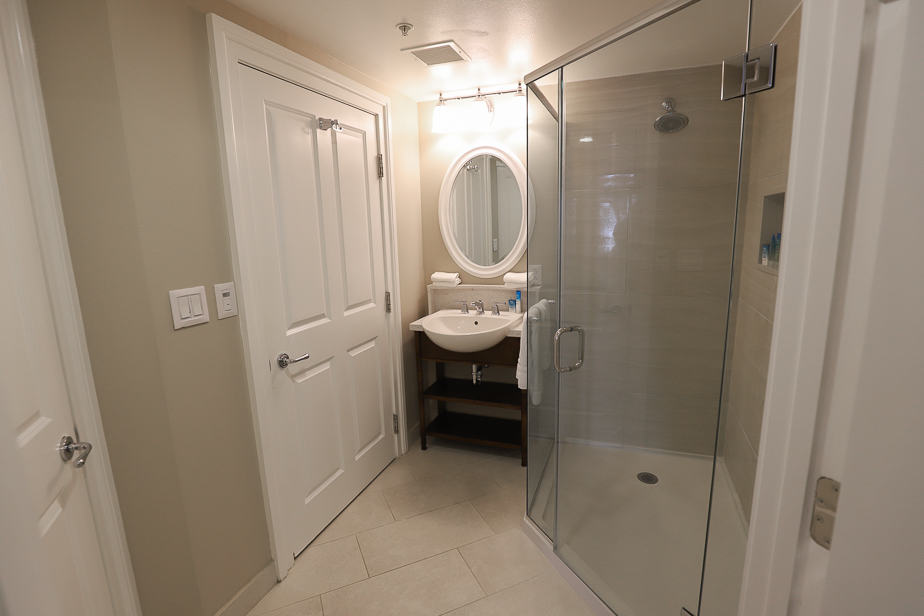 And this bathroom has a separate water closet.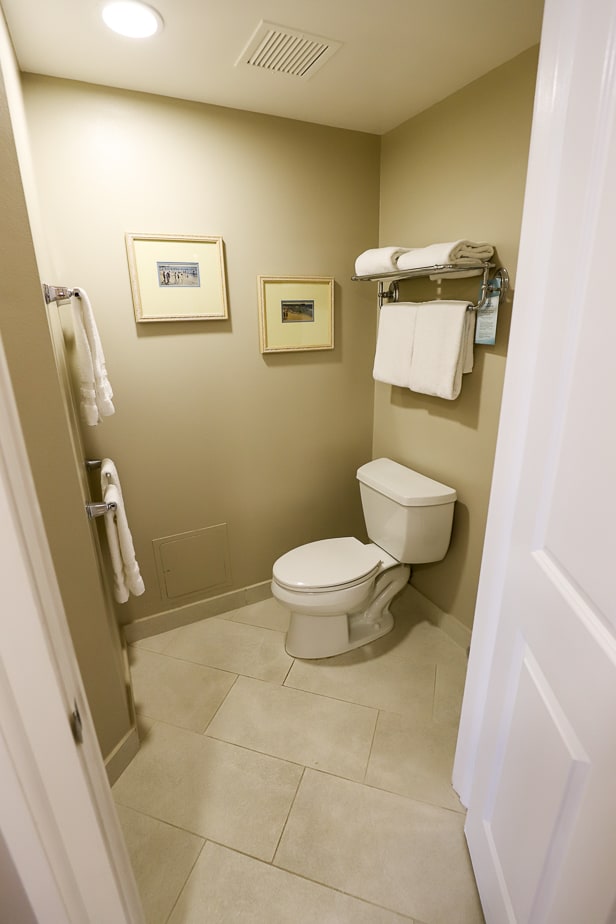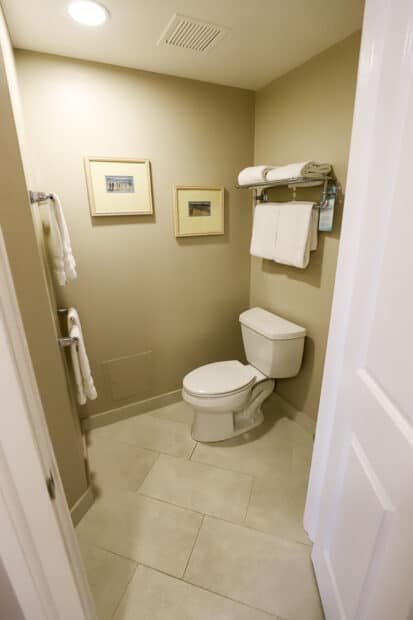 Confused? When I was adding the photos for the two-bedroom villa, I felt like this part was hard to explain. So I went to Disney's site here and pulled the floor plan to give you a better idea of the layout.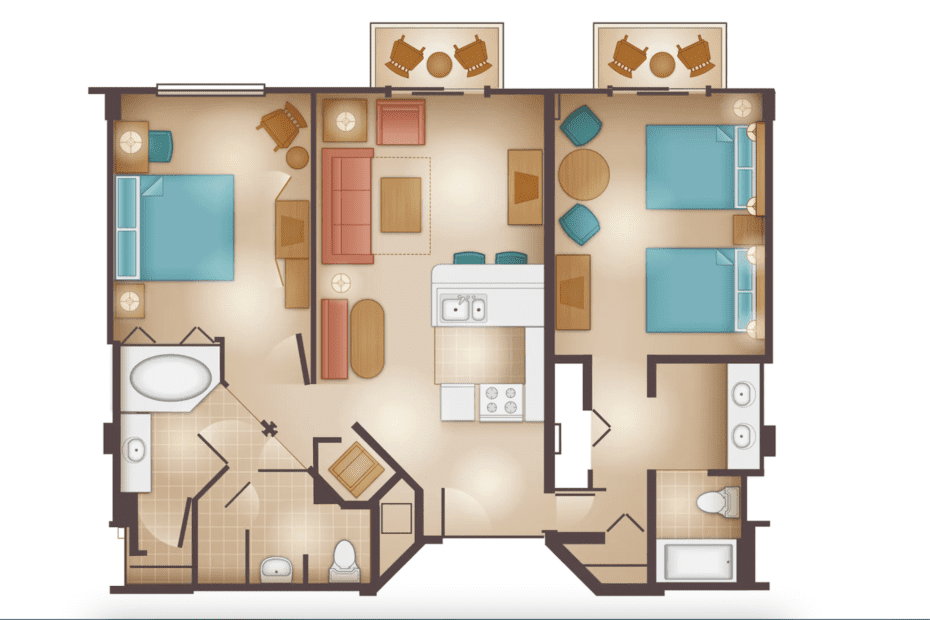 There's a small closet with extra bedding for the sofa sleeper off the living room. This closet has the usuals like a safe, iron, and ironing board.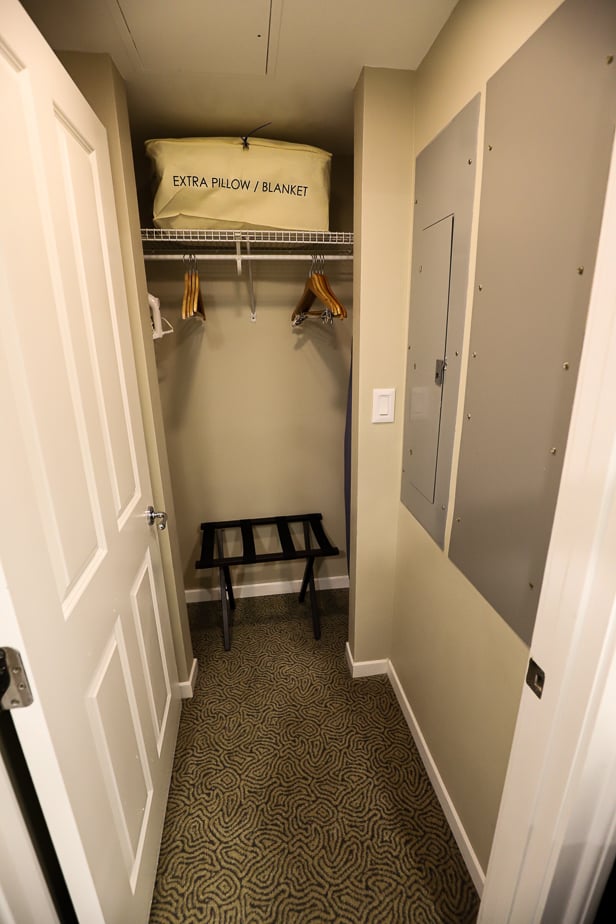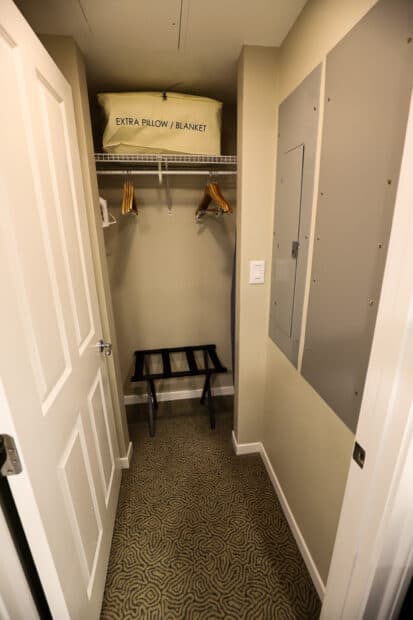 And the foyer has another closet with a stackable washer and dryer.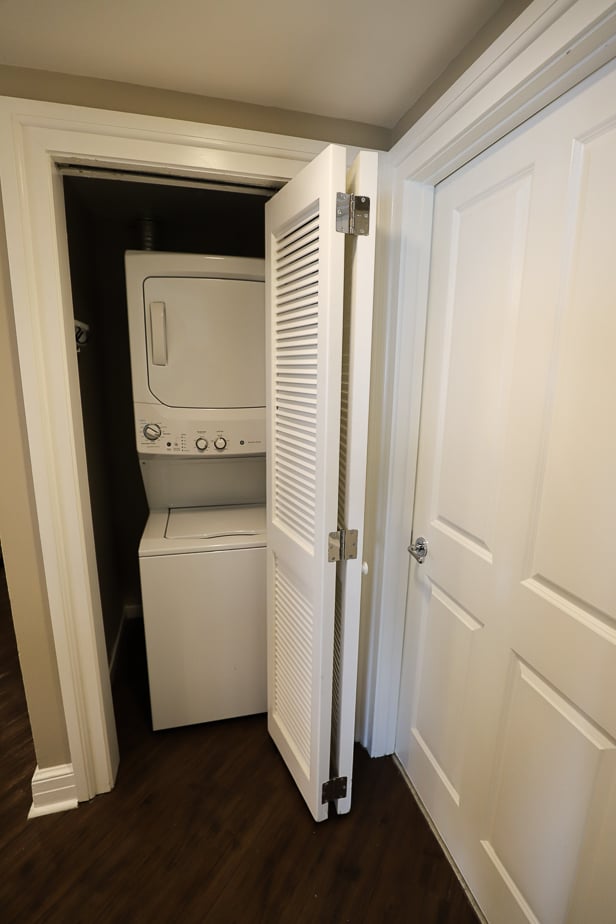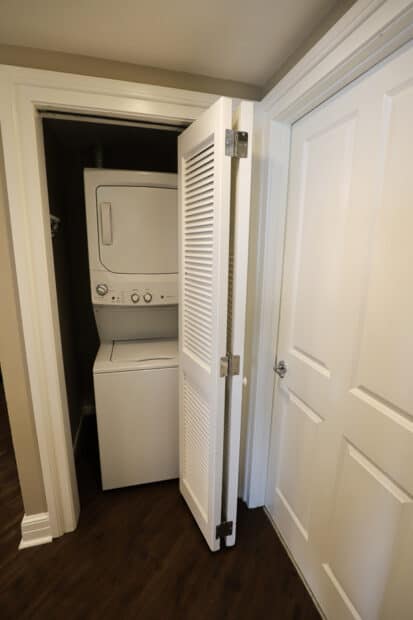 We'll look inside the guest room with two queen beds across the unit. This room is similar to a standard guest room like we stayed in when we reviewed the resort in its entirety.
Related: Disney's Beach Club Resort Review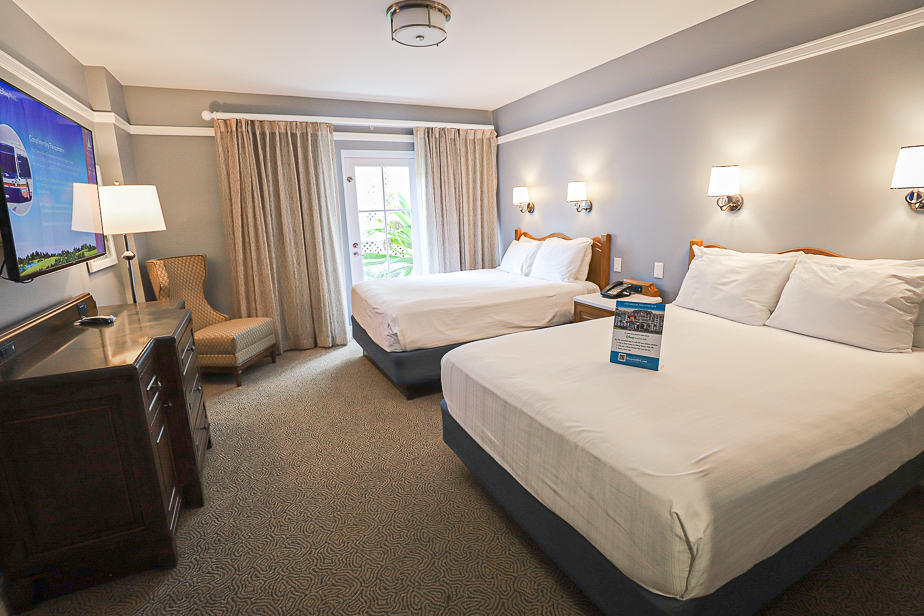 However, there are a few nuances. For instance, this room offers a chair with an ottoman versus a small table with chairs like a standard room.
The vanity area in the guest bath is almost identical. The only difference I see here is that there's not a ledge over the vanity area providing extra counter space.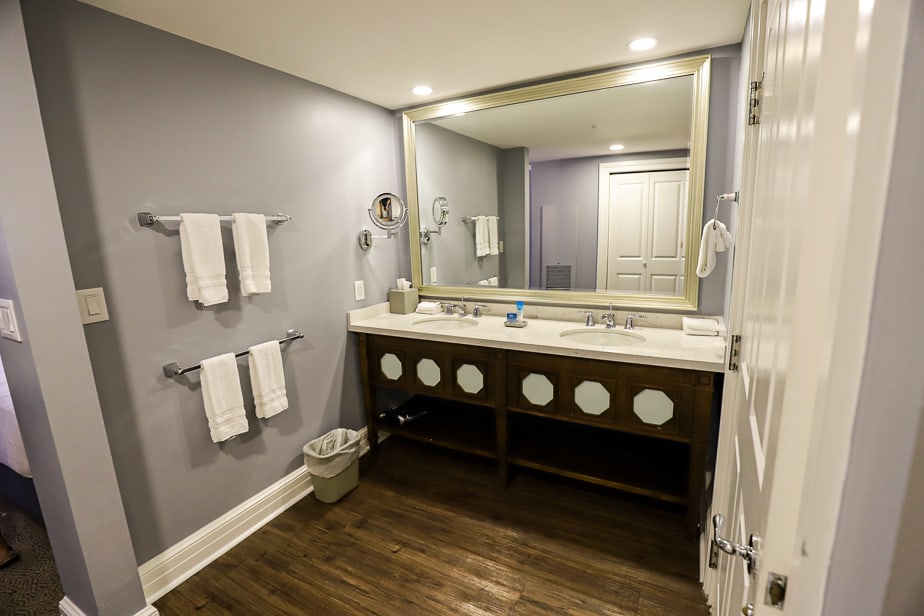 And this bath offers a walk-in shower versus the shower with tub combination. You might also notice that the Beach Club still offers individual toiletries versus the newer built-in versions secured to the shower walls.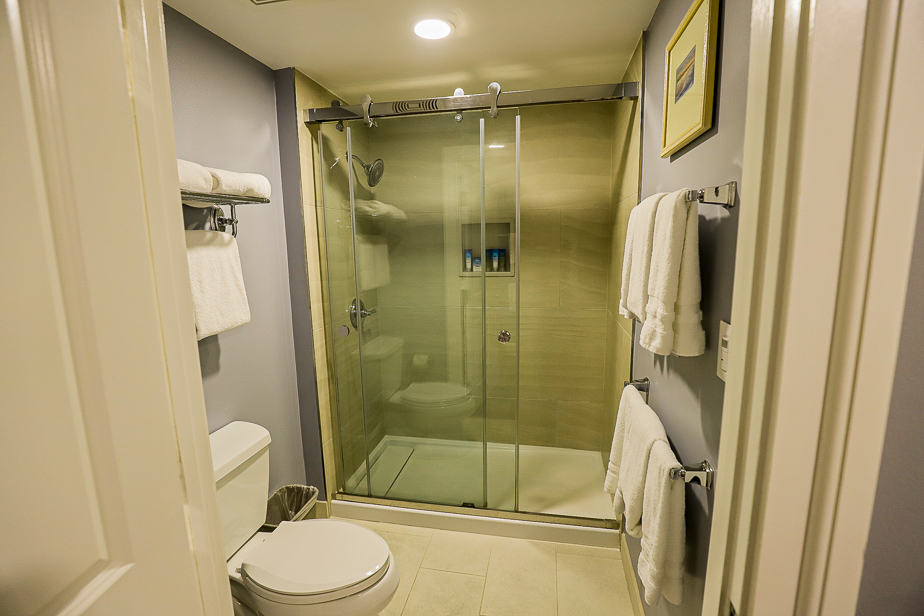 Lastly, this guest bedroom offers a standard size closet.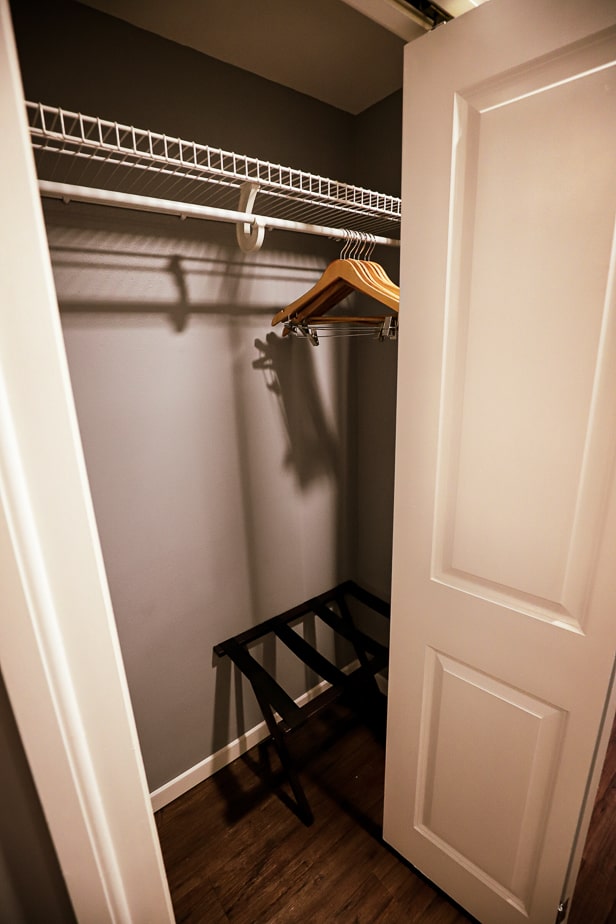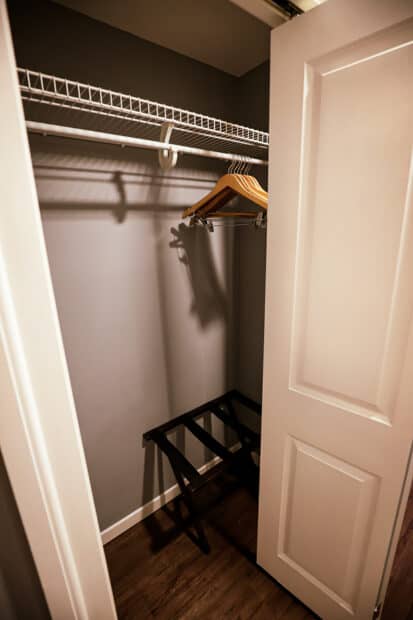 Overall, I enjoyed the layout of the two-bedroom villa at Disney's Beach Club. Was it the three-bedroom grand villa at Riviera or the bungalow at the Polynesian?
No, but this room had plenty of the same amenities and is a little more affordable when it comes to pricing.
Additionally, it's hard to beat this location combined with the conveniences of home that the two-bedroom villa offers. When staying on Disney property, this type of unit is an excellent choice for a variety of groups.
I would especially consider a two-bedroom when traveling with grandparents or parents with small children who will likely need breaks during the day. If everyone starts in the parks early in the day, and someone needs to leave, it will be easy for them to get back to the room.
It's also nice to have the option to prepare food in the room. There are a variety of grocery store delivery services available these days. You can have groceries delivered on the day of your arrival. Bell services will keep them in a refrigerated cooler and bring them to your room after check-in.
For more information about Disney's Beach Club, you can view all of our articles related to the resort here. Or you might enjoy these:
So, what are your thoughts on a two-bedroom villa at Disney's Beach Club? Is this a room type you're considering for your next stay at Disney? Leave a comment below and share your thoughts or experiences.
Planning a Walt Disney World or other Disney Destination vacation?
Our friends and travel partner, Firefly Travels, excels at doing Disney differently. You can fill out a plan your trip form on their website, and someone will reach out shortly to discuss the specifics.