Preview a Deluxe Studio at Disney's Beach Club Villas
Disney's Beach Club is one of the most popular resort hotels on property. When it comes to planning a stay at this resort, there are plenty of room options, including a deluxe studio.
In this article, we'll preview a deluxe studio at Disney's Beach Club Villas. For reference, the Villas at Disney's Beach Club make up a separate Disney Vacation Club portion of the resort.
Rooms at a Disney Vacation Club are available for members to rent based on a points ownership. Additionally, Disney rents these rooms to regular guests as well.
Deluxe studios are a bit of an upgrade over a standard room at a regular resort. There are a few differences between a regular room and a deluxe studio. For instance, deluxe studios have extra amenities like a small kitchenette that includes a microwave and mini-refrigerator.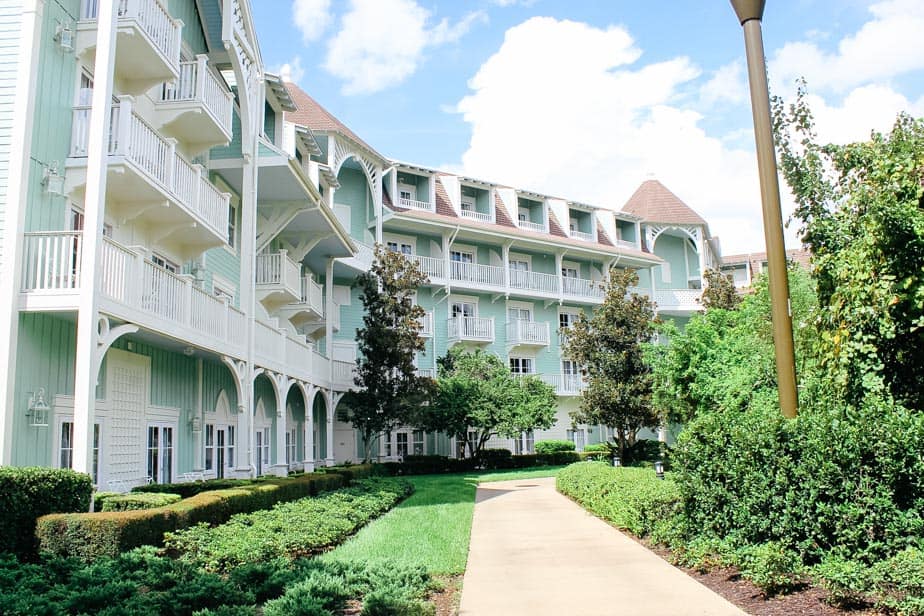 Below is a photo of our room from a recent stay at Disney's Beach Club Villas. My friend Kristen, the owner of Firefly Travels, invited me to come along with her team for a few days at the Beach Club.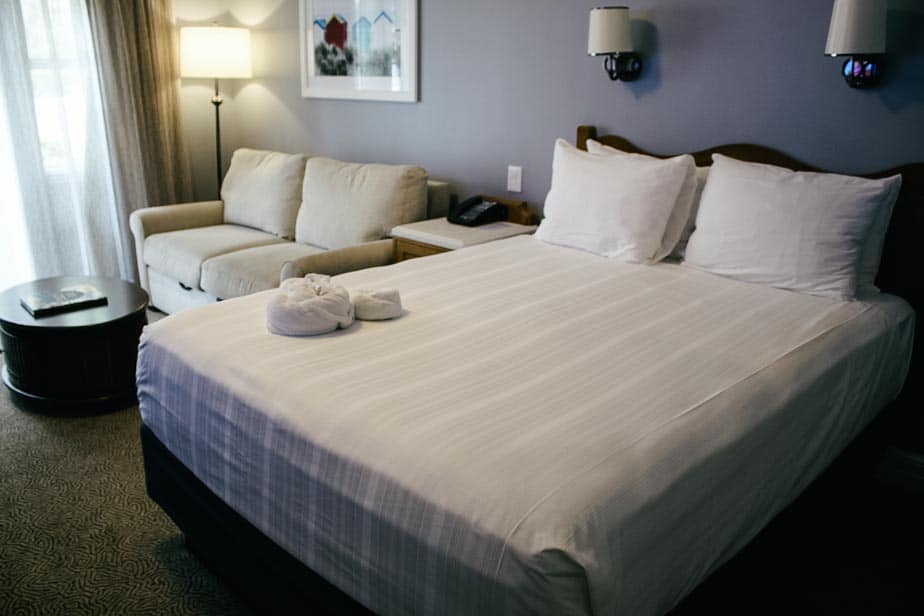 Since we were planning to spend a good deal of time at both Epcot and Hollywood Studios, the Beach Club was an ideal choice. Both theme parks are within walking distance of the hotel.
Additionally, the Beach Club has the best pool in all of Disney World! I've probably spent more time at the pool area, Stormalong Bay, over the years than I have anywhere else on property.
Anyway, back to our deluxe studio, which slept up to five guests. Below you might notice that there is a table with chairs underneath the television area. The table actually folds down when it's not in use.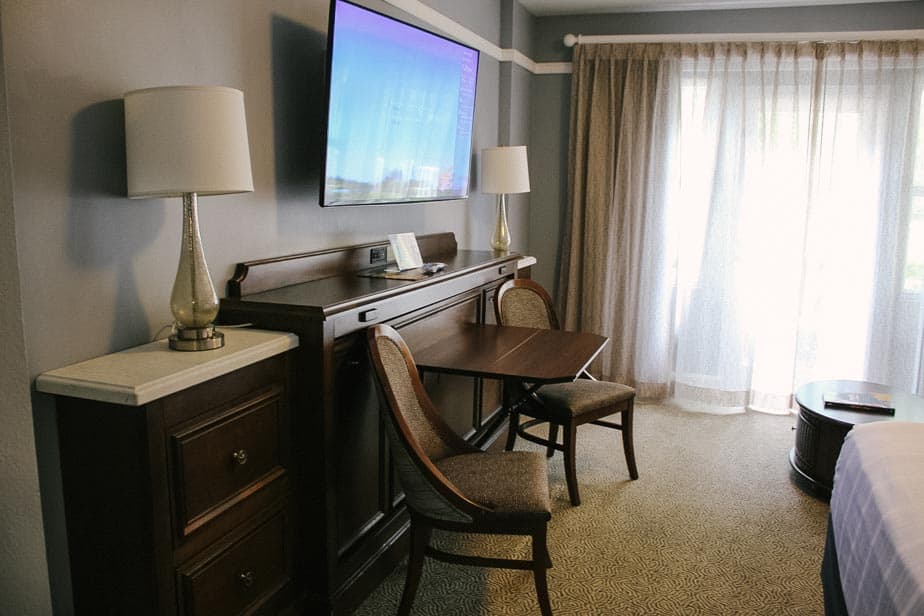 After folding the table down, a trundle bed for one guest pulls out. These style of trundle beds are designed for a small child around the age of 12 or under.
This is where I'm supposed to have a photo of the trundle bed in sleeping position. However, we had a cabana reserved at the pool and I was in a hurry to enjoy it. So, unfortunately, I forgot the photo.
My bad.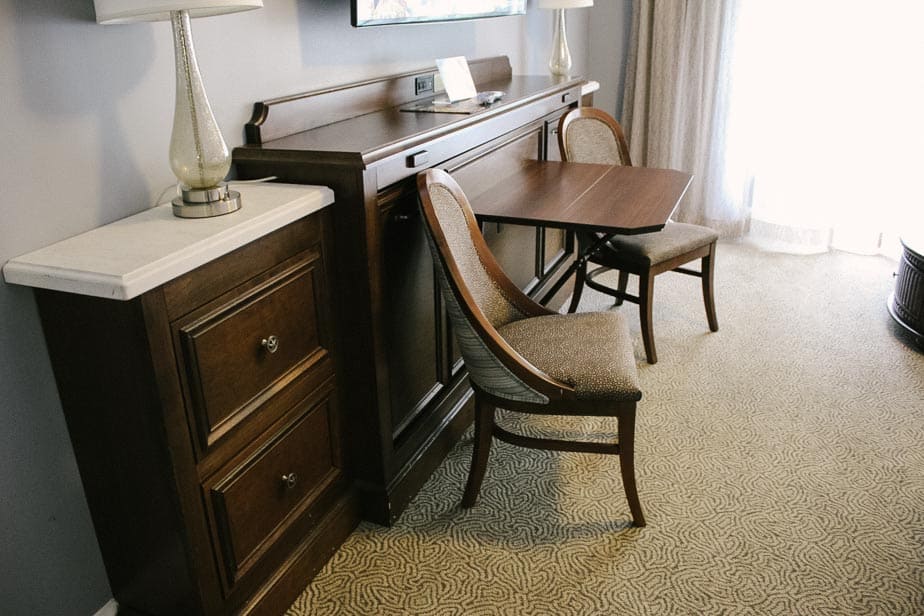 In the past, most deluxe studios had one queen size bed and an additional queen size sleeper sofa. This is the design of the studio here at the Beach Club.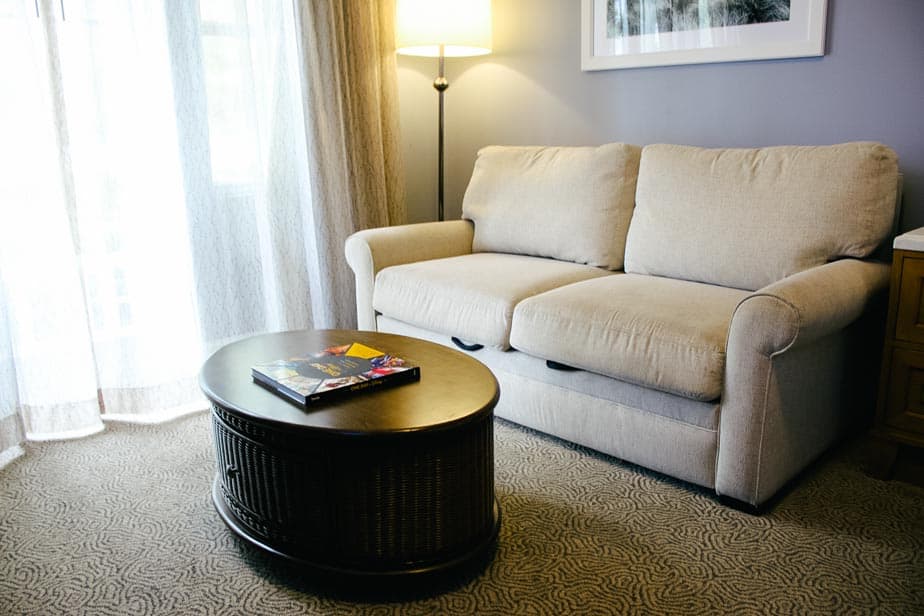 In front of the sofa, there was a coffee table that had a large pull-out drawer offering extra storage.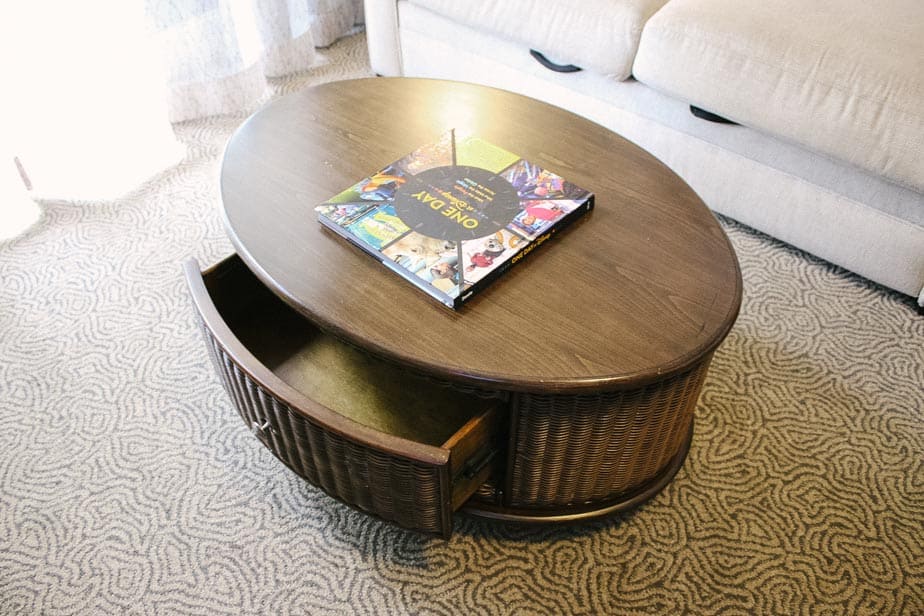 On this trip, I volunteered to sleep on the sofa. And it wasn't great. However, I feel like the experience was good to have and it reiterates my feelings about sleeper sofas.
My advice is this, if you have someone that has to sleep on a sofa for more than 2-3 days, don't reserve one of these rooms. It's not worth it.
Back before I started blogging, my son spent a good 9 nights on a sleeper sofa at the Beach Club. He never complained, but toward the end of the trip he became really sore and his neck was hurting.
At this time, he was probably 11-12 years old. It's something that's stuck with me over the years, and I try to always mention it when I run across a room that has a sofa sleeper.
Now, don't get me wrong, I love to stay here at the Beach Club Villas. It's just that the sleeper sofa is something you'll definitely want to consider if someone in your group will have to use it.
Thankfully, most of the newer resorts and refurbishments have beds that pull down out of the wall in place of a sofa sleeper. Those beds, like in our Riviera Resort review, have real mattresses that provide a stable sleeping surface.
Back to the deluxe studio, we have a look at the kitchenette area. There is a full-size coffee maker, microwave, and a sink. In addition, the mini-fridge's are more significant in size than the ones you would find in a standard room.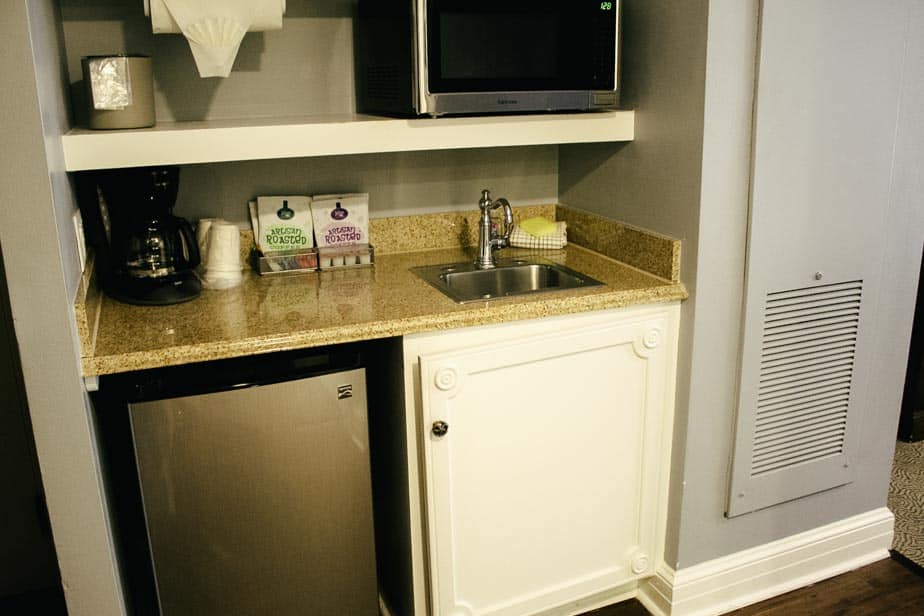 The microwave and sink are both nice upgrades that we tend to really use on longer stays. It's nice to be able to prepare small, casual meals in your room.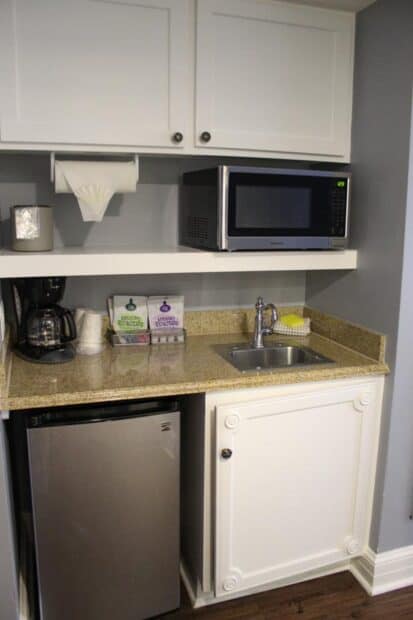 You can do oatmeal in the morning for breakfast. And we've eaten microwave hot dogs and Kraft mac-and-cheese more times than I can count over our stays in deluxe studios.
I'm sure you can get creative and come up with something.
Some of the villas resorts have larger bathrooms like the villas at the Grand Floridian. However, that is not the case at Disney's Beach Club Villas. The vanity area is exactly the same as what you would find in a standard room.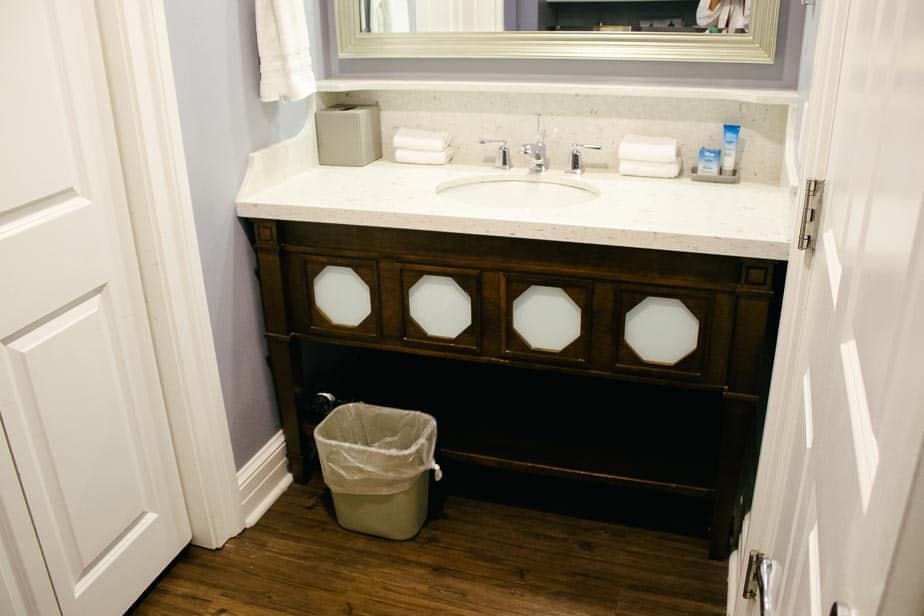 The bath area consists of a tub with shower combination.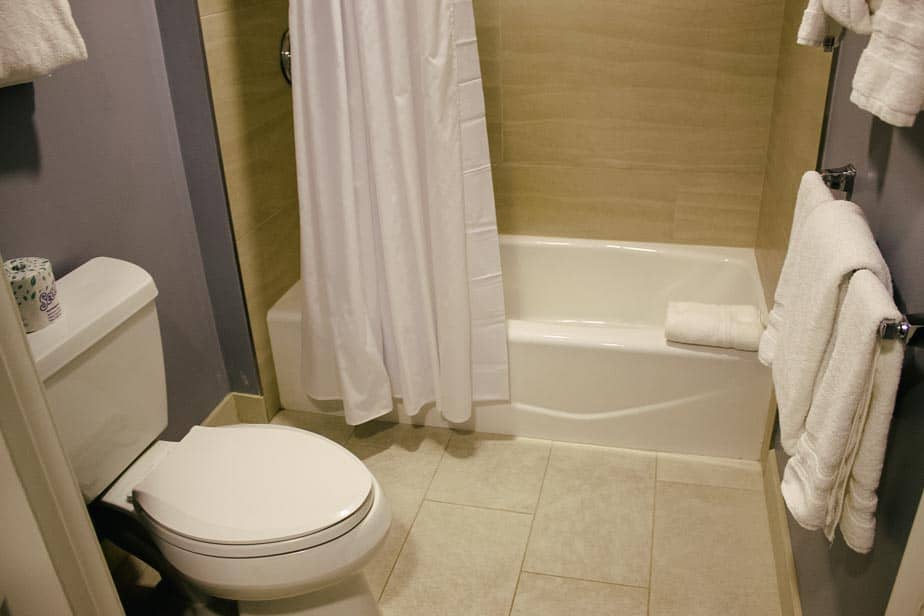 Standard Disney H2O products were available along with plenty of extra towels.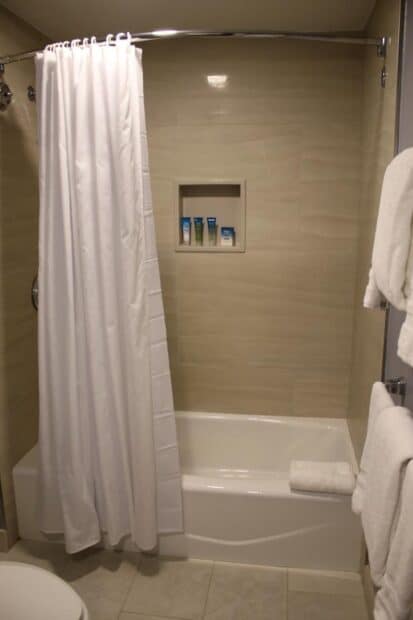 When you reserve a deluxe studio through a travel agent or directly through Disney (paying cash) you'll normally receive daily housekeeping. However, if you rent points through the Disney Vacation Club, you'll receive a small refresh with trash and towel service on the fourth day.
So if you are wanting full service daily, you'll want to check with an authorized Disney travel agent. Remember, during this time, you might not get daily housekeeping, no matter where you stay.
As far as the room goes, there was a closet that had the usual items like an iron with ironing board, in-room safe, and extra blankets and pillows. Most of the DVC rooms have vacuum cleaners, which probably aren't so standard.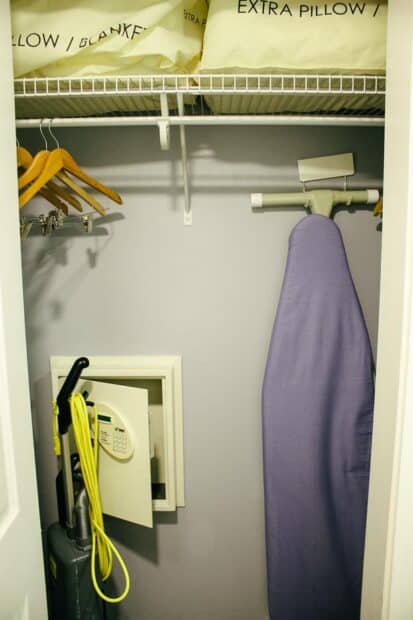 Lastly, I wanted to mention that all of the deluxe studios at the Beach Club Villas have a standard balcony. Our room was on the ground floor and looked out to a grassy area.
Balconies are great to have, even if you just use them to apply sunscreen. However, you might remember from our review of Disney's Beach Club, that not all rooms at the resort have balconies. Some only have tiny Juliette balconies that barely allow enough room to step outside the door.
My top request for a standard room at the Beach Club is a full balcony. Thankfully, you won't have to worry about that if you decide on a deluxe studio. However, I might would request a higher floor if you would like a little more privacy in a studio room.
For more information about staying at Disney's Beach and Yacht Club, you might enjoy these related articles:
Additionally, with the holidays rapidly approaching, there's a little advice in this article on the best Disney Resorts to tour at Christmas.
What are your thoughts about the deluxe studio room at Disney's Beach Club? Have you ever slept on one of these sofa beds? How was it? Share your thoughts below in the comments.