The Market at Ale and Compass (Counter Service at Disney's Yacht Club)
The Market at Ale and Compass is the primary counter service dining location at Disney's Yacht Club Resort. It's an ideal stop for a quick breakfast, lunch, dinner, or snacks.
They even have a notable selection of coffee drinks too! Now, I bet that perked you up a bit.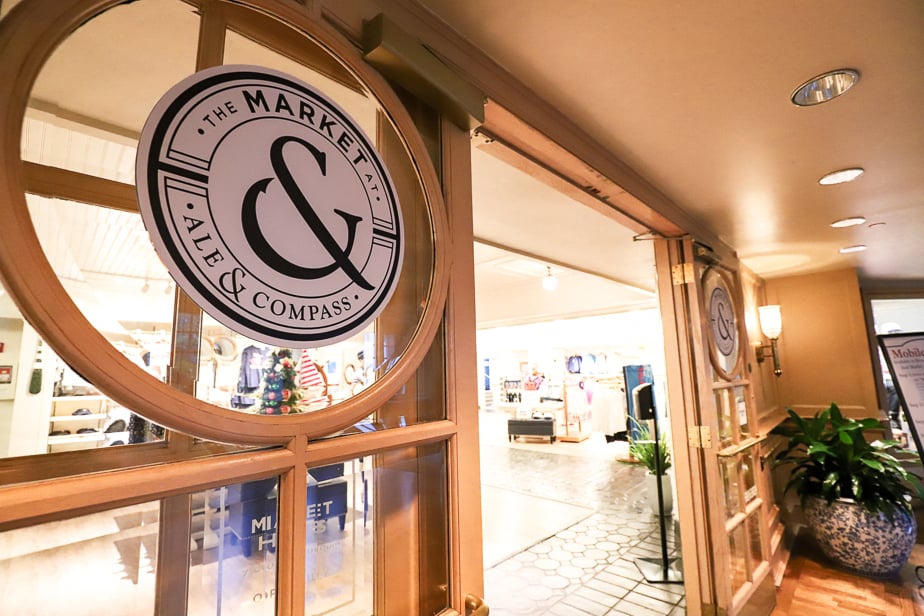 As you may have guessed by its name, The Market at Ale and Compass is more of a grab-and-go type of establishment. The quick-service shares a location with Yacht Club's gift shop.
Outside the Market, a sign is posted indicating a few of the different offerings you'll find inside.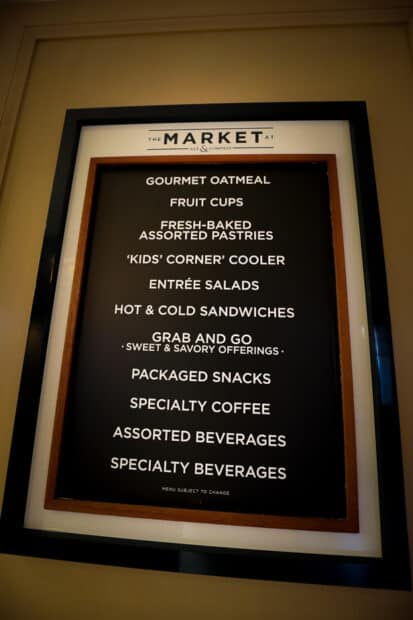 There are also signs requesting that you use Disney's mobile order service to place your order. However, I noticed that guests were placing orders at the counter when I took these photos. So, if you're not comfortable placing a mobile order, someone should be available to assist you.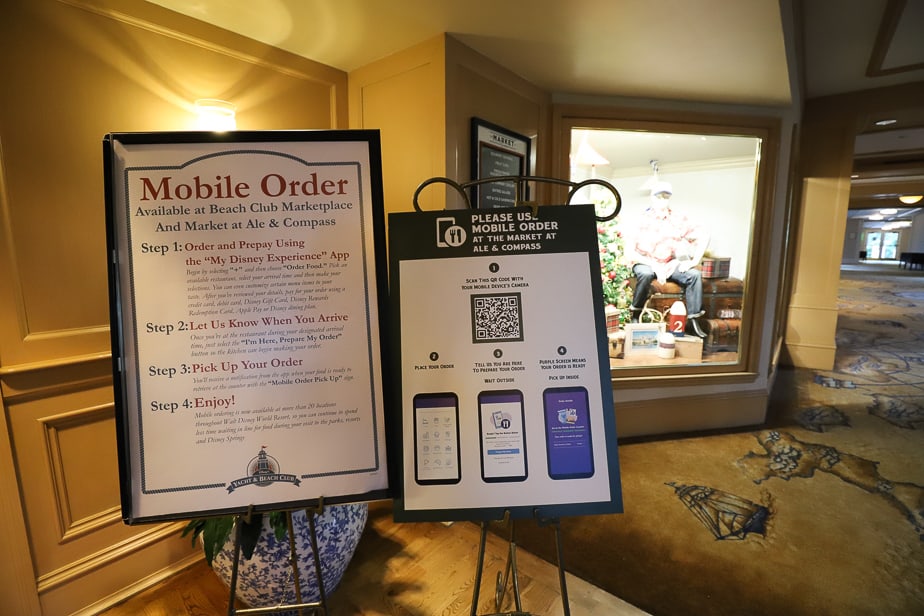 The Market carries gourmet oatmeal, fresh fruit, and pastries for breakfast. Made-to-order items include a bounty bowl, egg white breakfast wrap, breakfast sandwiches, and Mickey waffles.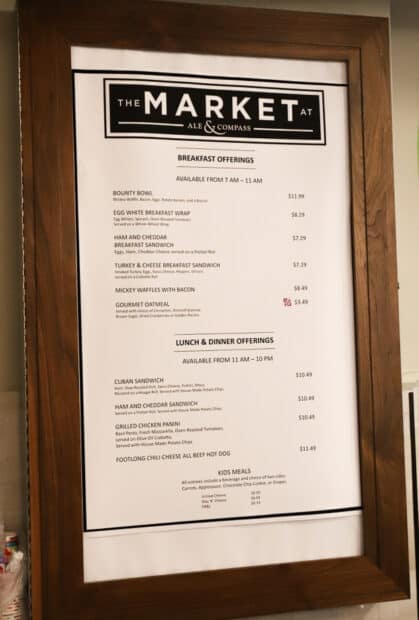 There are salads, hot & cold sandwiches, and different grab-and-go items for lunch and dinner. You can preview the menu here on Disney's site.
Below is a picture of the separate coffee menu. The Market is a pretty popular stop for coffee in the area.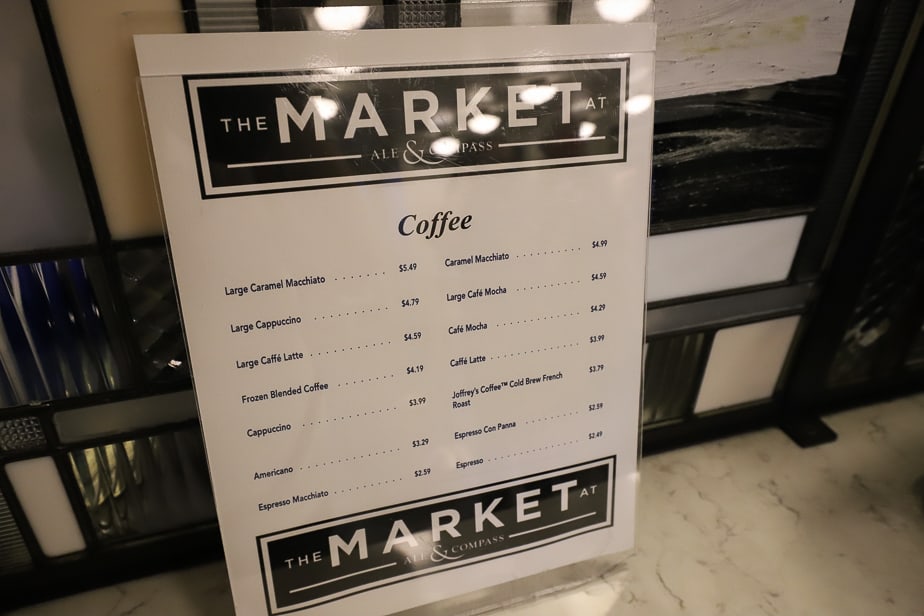 Occasionally, Disney's Beach Club, located next door to the Yacht Club, has a pop-up coffee bar.
Rapid Fill mugs are available at the counter. Most of them feature wraps celebrating Walt Disney World's 50th anniversary. I bet we won't see many of these in the thrift stores in the future. They are sure to be collector's items, right?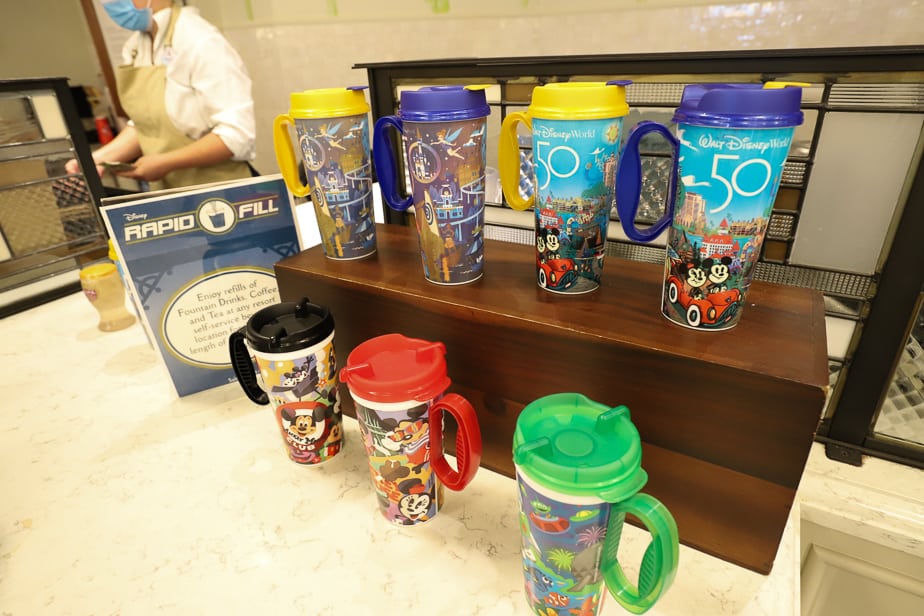 Below is a look at the overall set-up of The Market.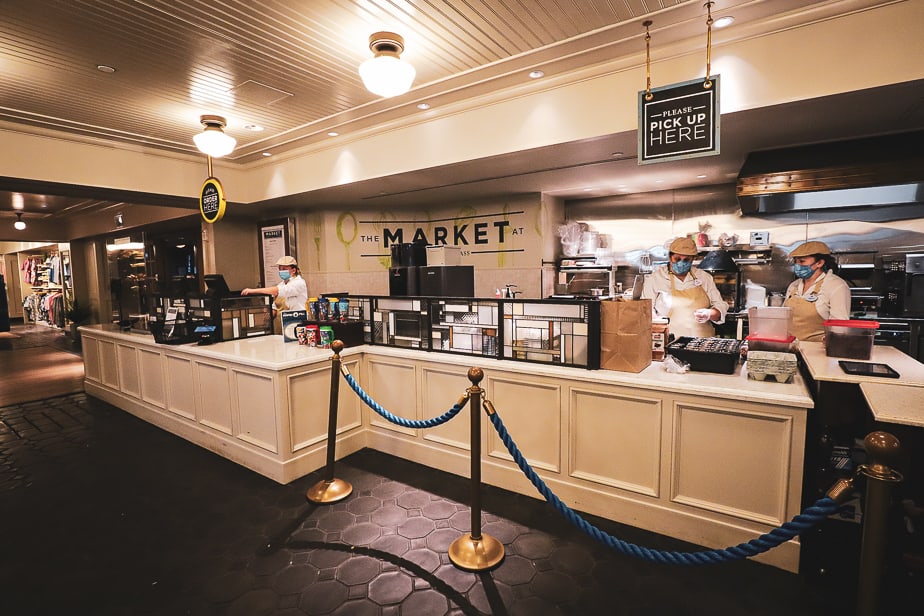 To the far right, there is an interior dining area. And while I think the dining area is nice, there are far better places to enjoy a meal at the Yacht Club. I would probably take my meal out to the Admiral quiet pool or Stormalong Bay.
Related: Pools at Disney's Beach and Yacht Club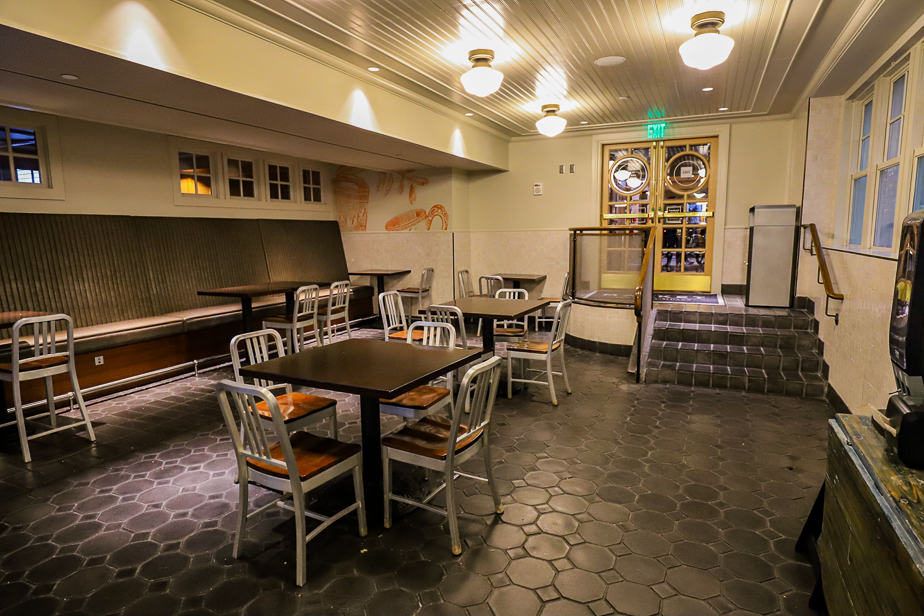 You'll find plenty of condiments.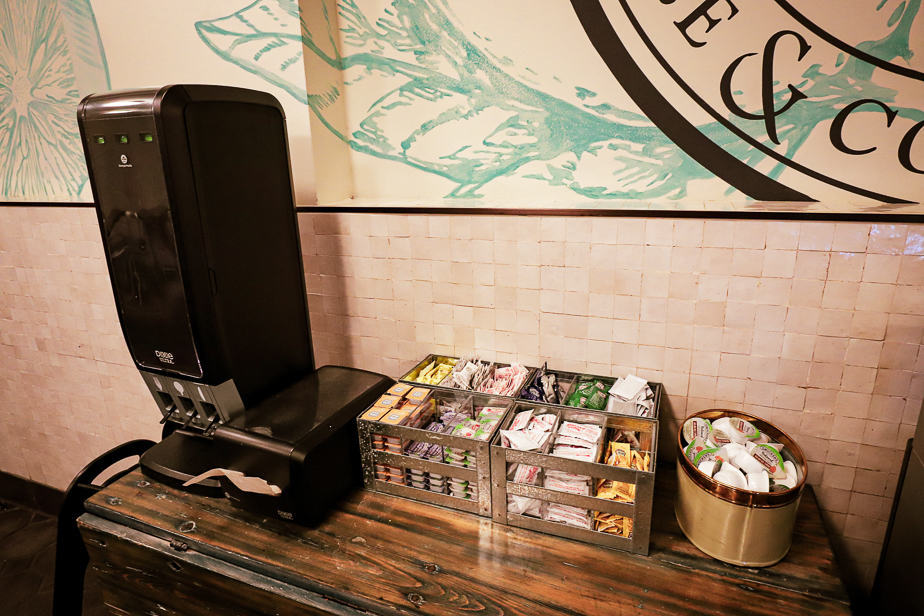 There is a soda machine and a mug wash sink at the counter on the right. You can rinse your rapid-fill cup at the sink.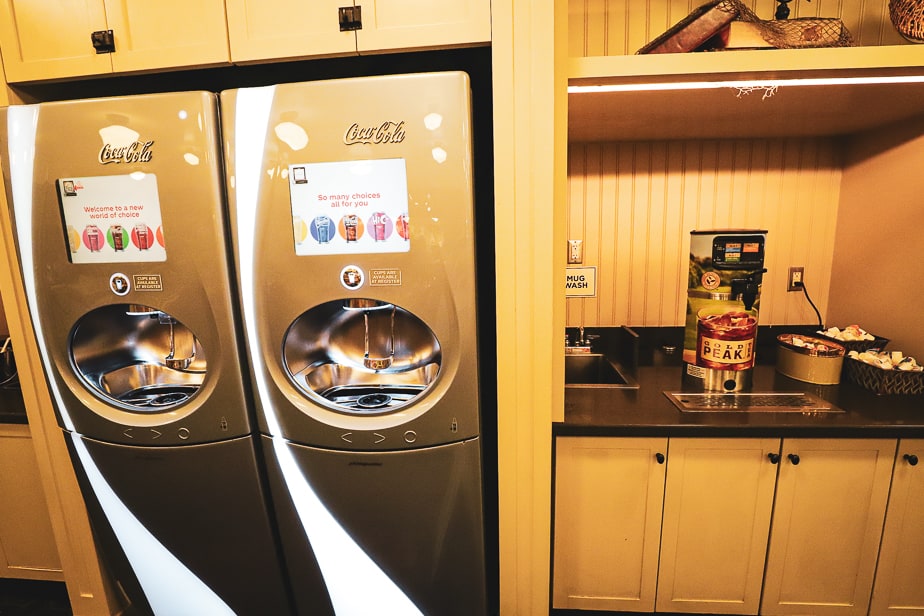 Here is the coffee set-up, and there's hot water available for tea.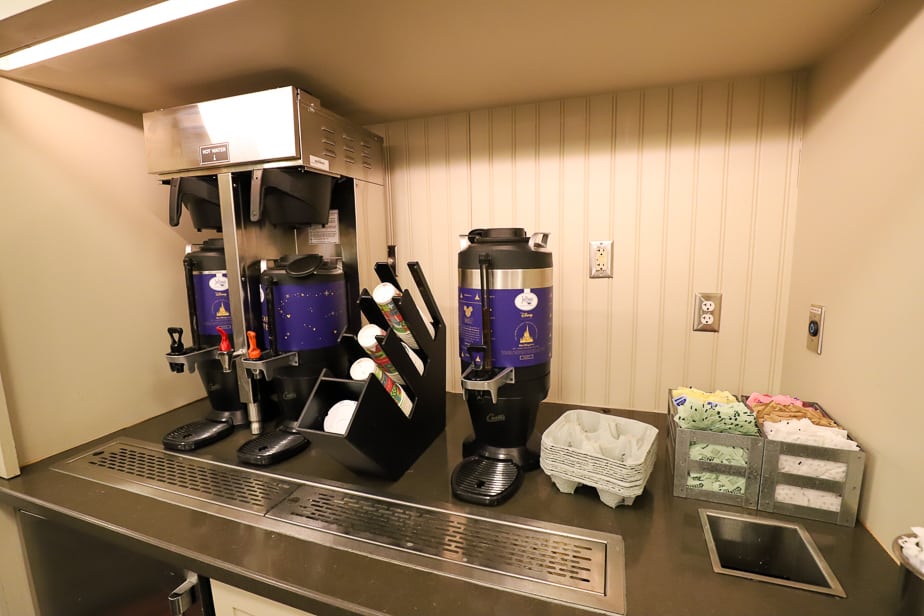 The Market offers a decent selection of Twinings Tea. If you're like me and enjoy a nice cup of tea, you might want to check out the tea shop in the United Kingdom Pavilion at Epcot.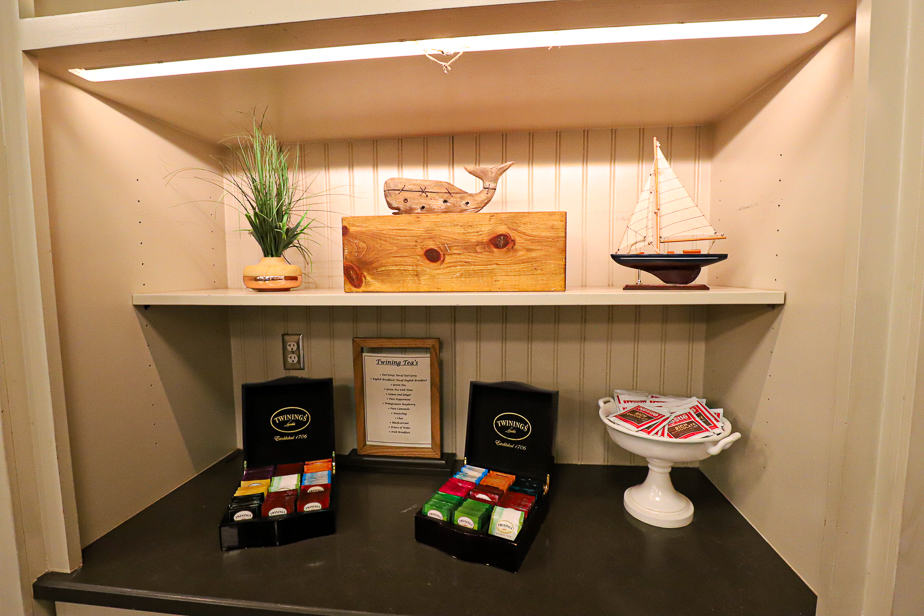 Below is the selection of wine at the counter service.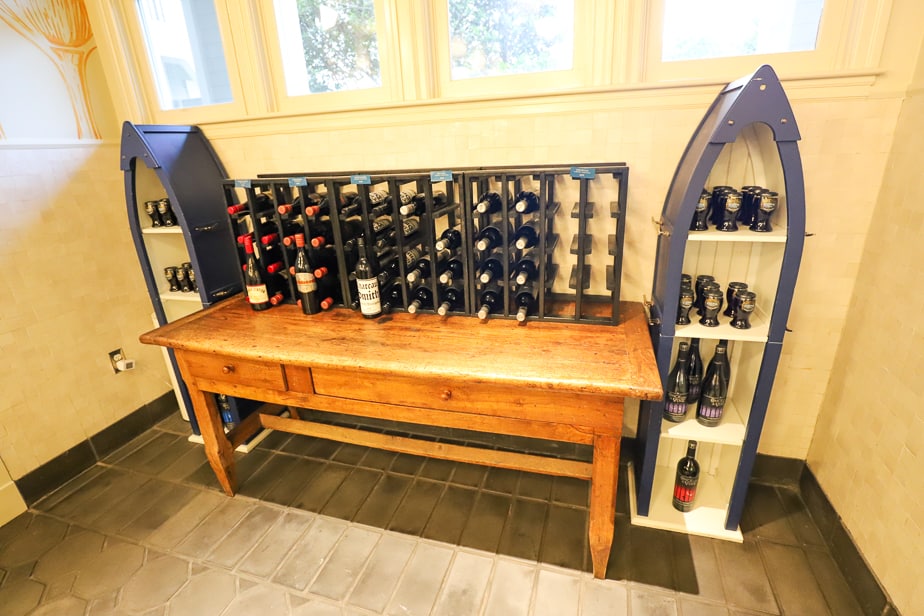 Over on the gift shop side, there's a cabinet with various liqueurs.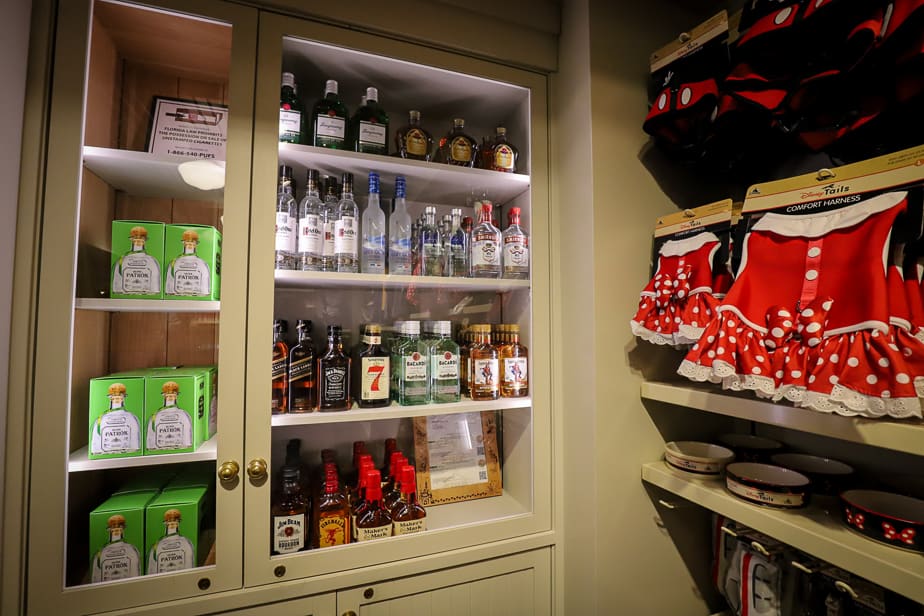 Back over on the counter service side, there's a large refrigerated case with a variety of items. On the far right, there are salads, cold sandwiches, fruits, and yogurts. Toward the left, there's an extensive range of beverages from milk and soda to beer and champagne.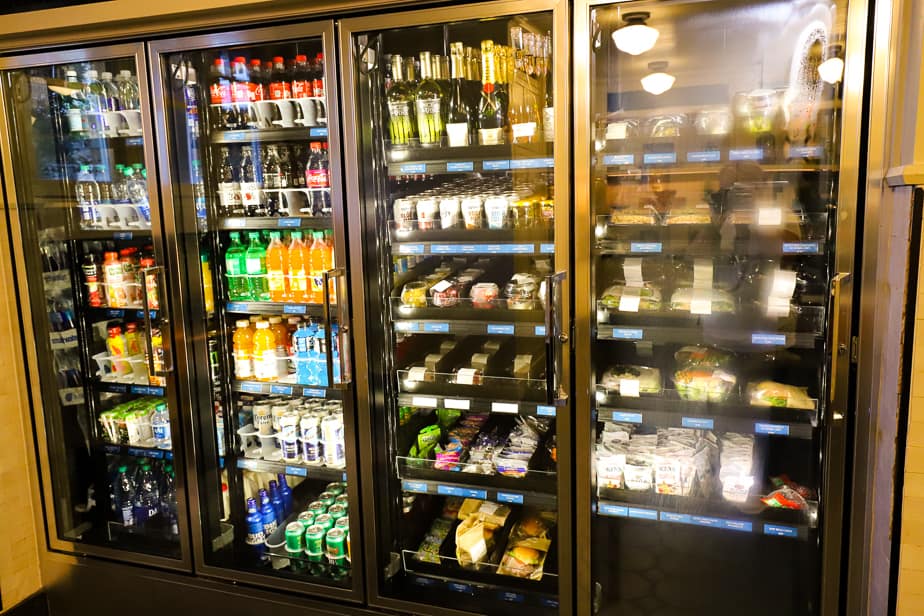 In the middle of The Market, you'll find a long counter surrounded by snacks and bakery items.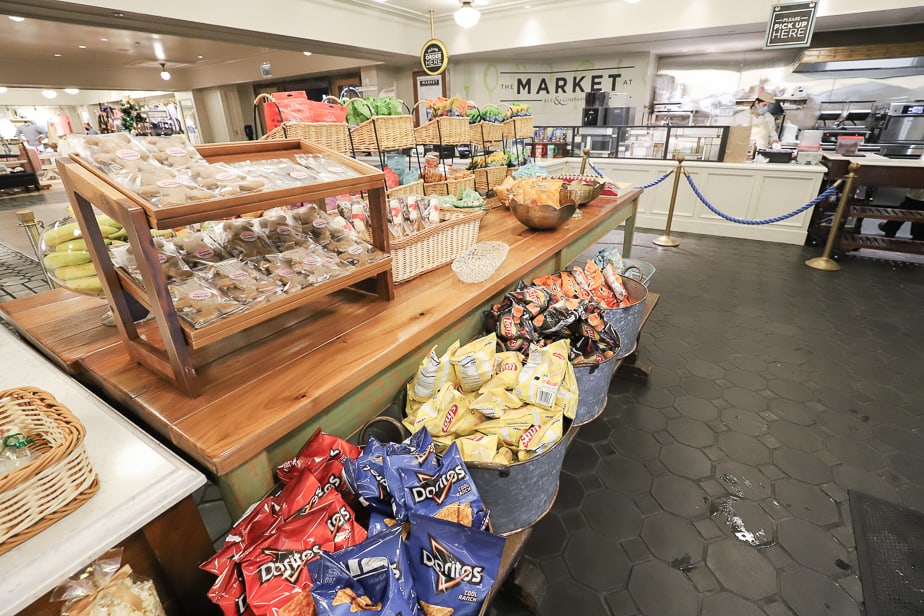 They had a few seasonal items celebrating the holidays on this visit. Make sure not to miss the 2021 Gingerbread Carousel featuring The Little Mermaid if you're visiting over the holidays.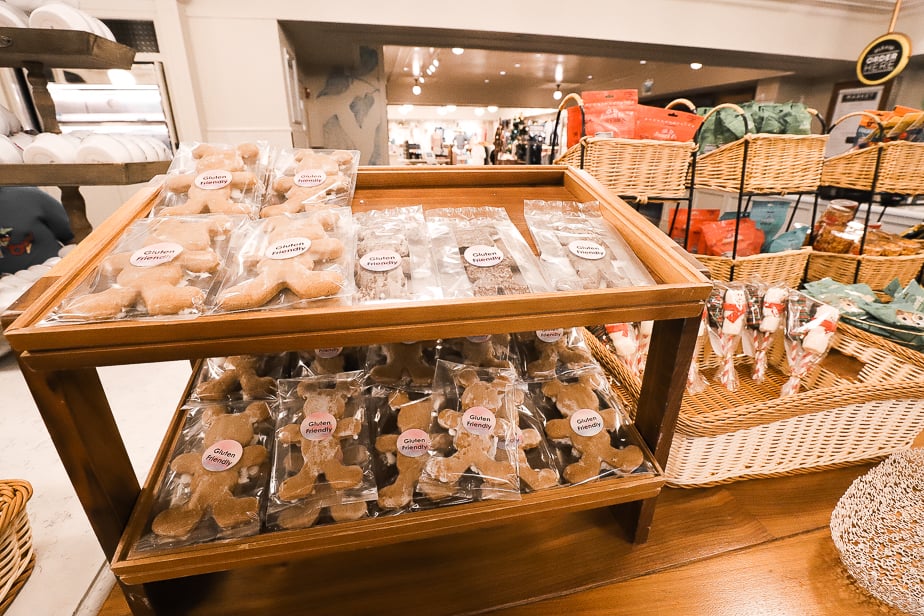 Gluten-free and allergy-friendly items are available, which some of us can truly appreciate.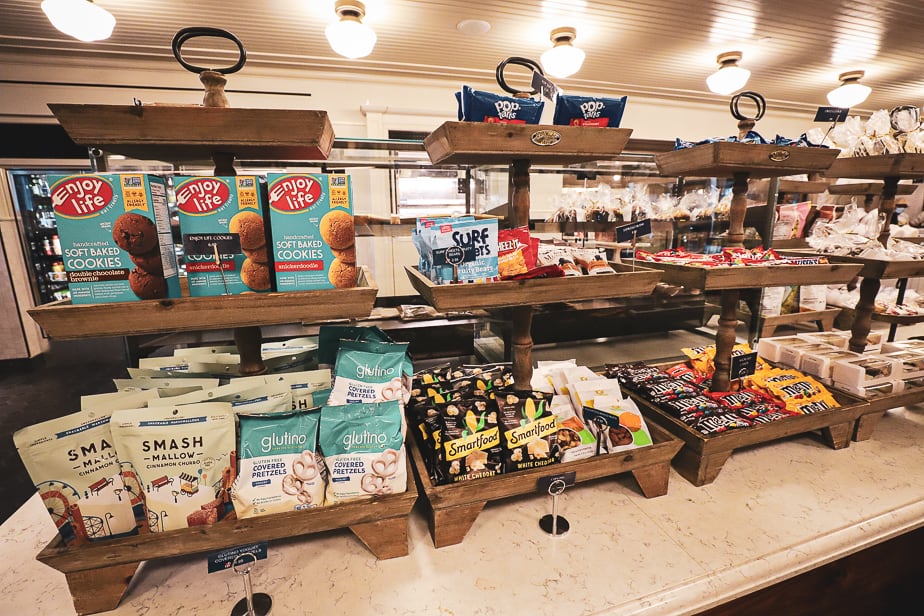 Healthy(?) items were available like these protein and granola bars.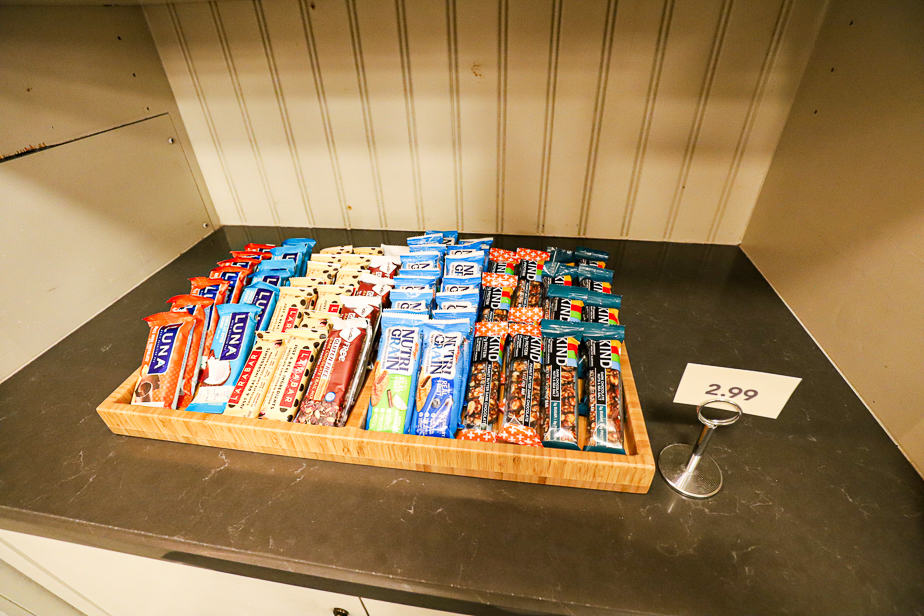 Or you could go with pints of Haagen Dazs and Mickey ice cream bars.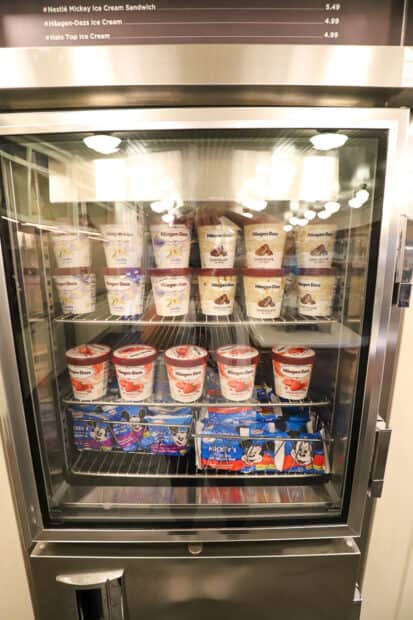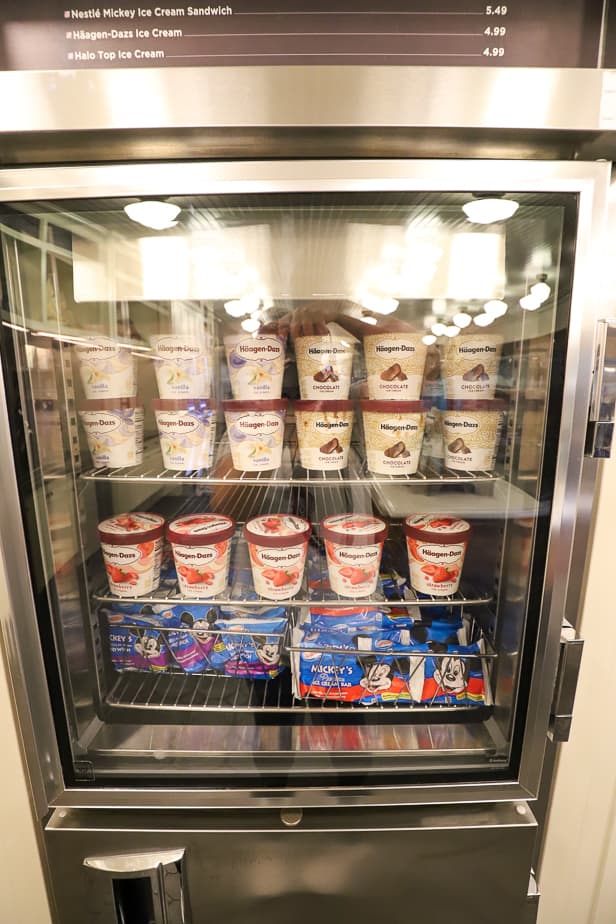 Here is a closer look at items in the refrigerated section.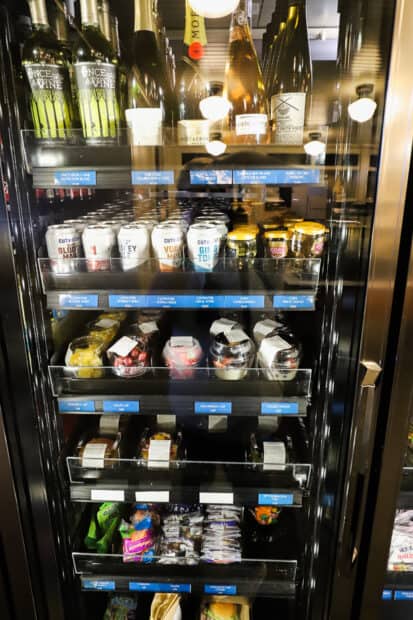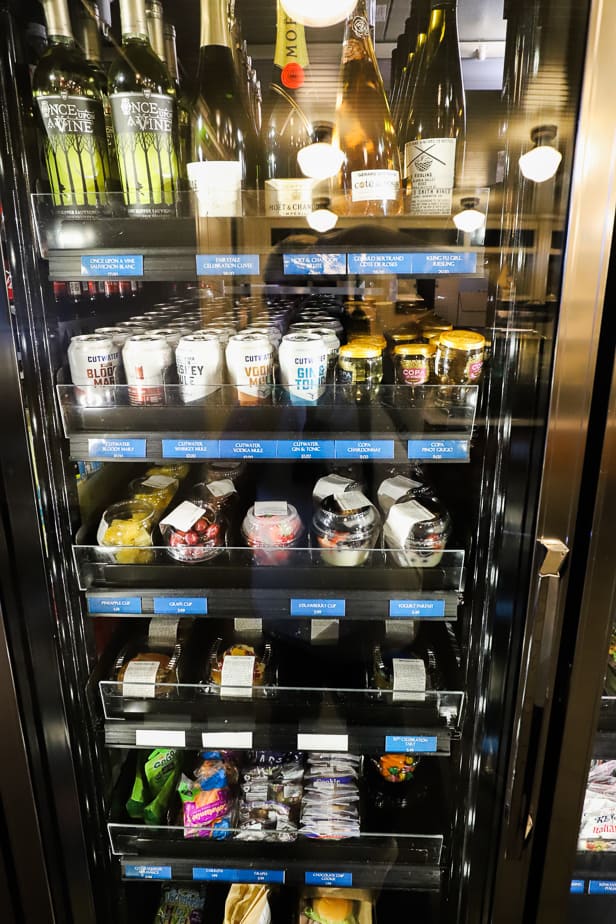 And there are a few pastries available.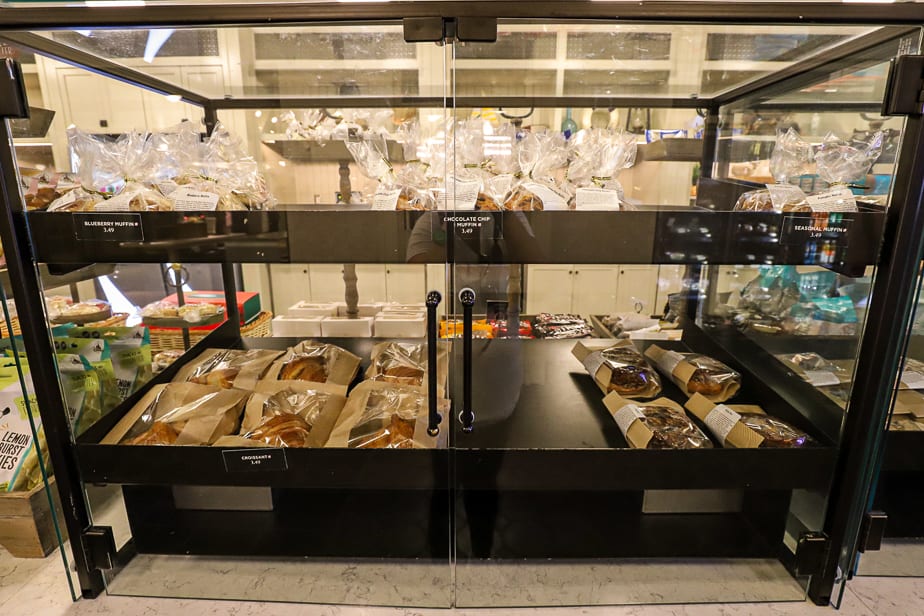 I thought the sticky buns looked good. Or you could always go to Boma, Flavors of Africa for breakfast and get some fresh off the buffet.
Related: Best Breakfasts at Disney World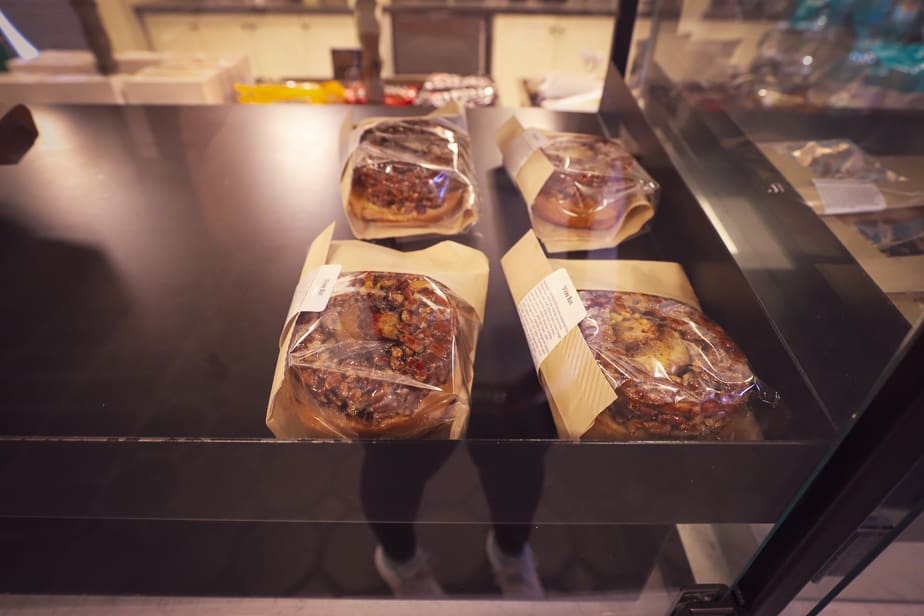 Other items include individual cereal cups and Disney-branded snacks.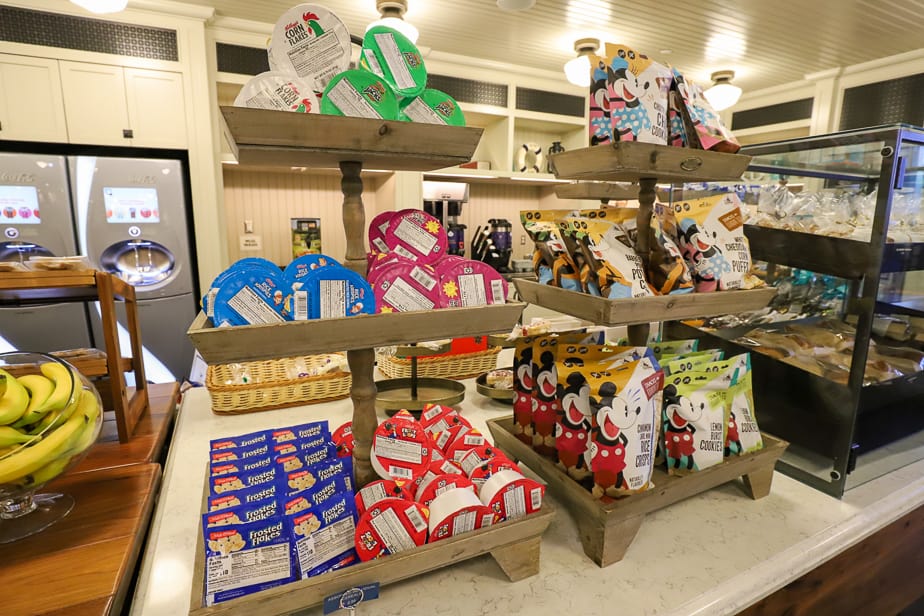 A few fresh fruit items are on display. Unfortunately, one piece of fruit will set you back $2.29, which is a bit ridiculous, considering you can usually get a bundle of 8-10 bananas at Costco for $1.29.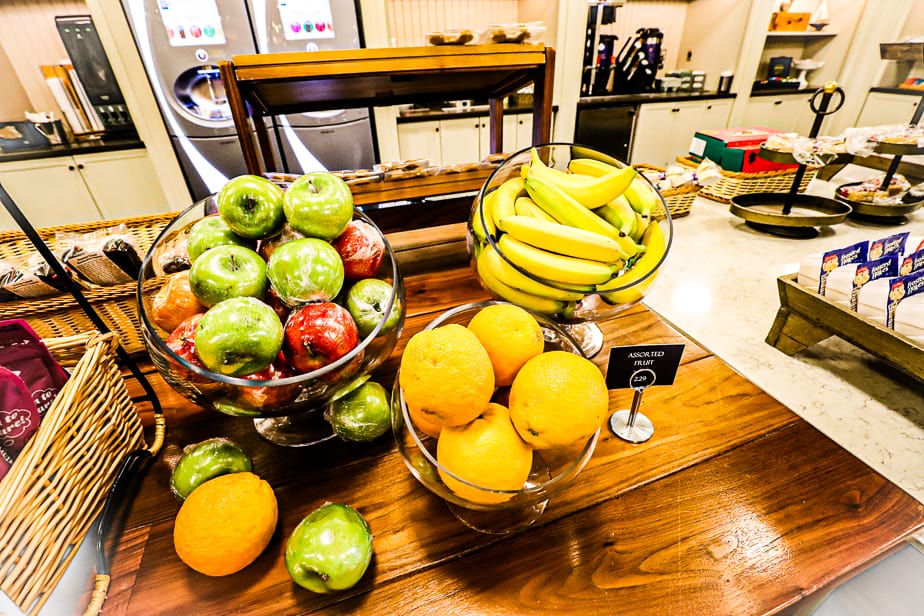 But it's Disney World, and everything here does cost more.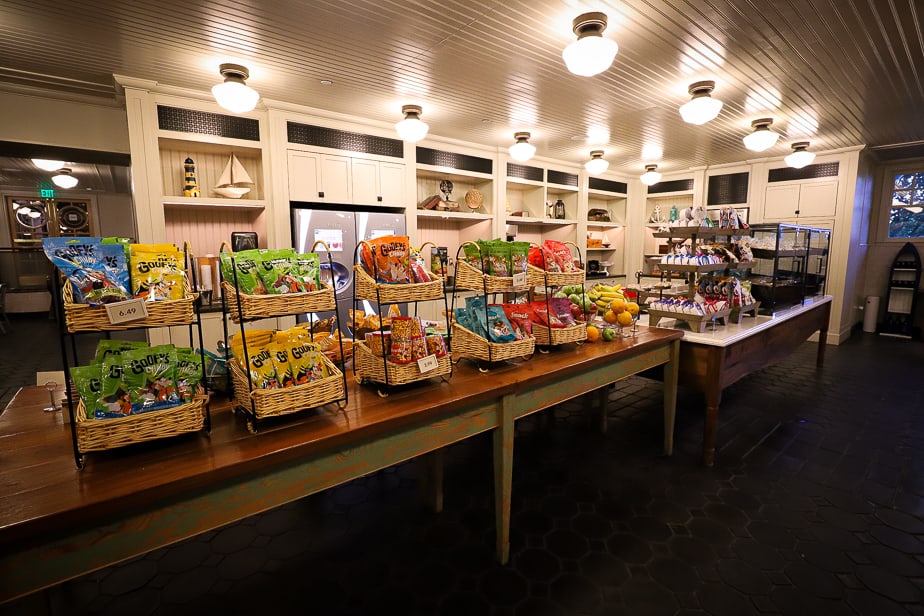 Overall, the Market at Ale and Compass offers a good selection of to-go items. However, I find the counter service options lacking for lunch and dinner. And I think you can do much better at the resort's main table service, Ale and Compass.
For instance, you can mobile order a kids' meal at Ale and Compass for breakfast or an entree to split with someone. Pick it up and enjoy your meal next door at the lounge, or if the weather is pleasant, find a table outside. You'll have the best morning.
Additionally, we enjoy dinner at Ale and Compass too. If you don't feel like making a reservation, pick up a to-go order and enjoy it in your room. I usually like to order a salad and an appetizer here to take back to my room for dinner.
In addition, the resort offers counter service dining at Hurricane Hanna's by the pool. And you can walk next door to the Beach Club Marketplace. They will have a few more items for lunch and dinner, but breakfast items are pretty much the same.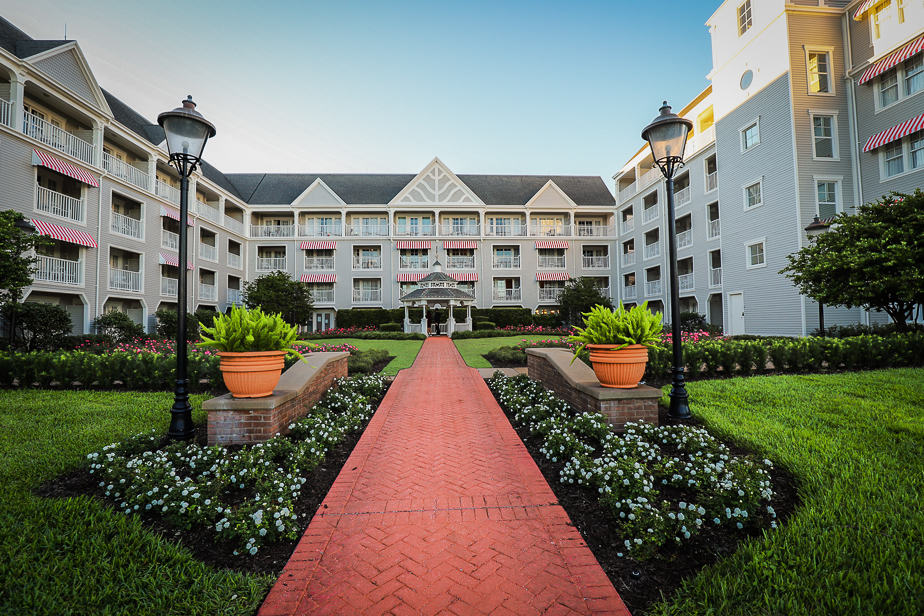 For more information on Disney's Yacht Club, you can view all of our articles related to the resort here. Or you might enjoy these:
Hopefully, this article provided you with an idea of what you can expect to find at The Market at Ale and Compass. Are you planning a stay at the resort? Leave a comment below with your thoughts.