The Market at Ale and Compass (Counter Service at Disney's Yacht Club)
This article previews The Market at Ale and Compass, the primary counter-service dining location at Disney's Yacht Club Resort.
Those planning an upcoming stay at Disney's Yacht Club Resort will want to familiarize themselves with The Market at Ale and Compass. This location serves as the resort's counter-service restaurant and coffee shop.
The Market is open daily from 7:00 a.m. until 11:00 p.m. and serves breakfast, lunch, and dinner. Below, we'll look inside the store and preview the menu for The Market at Ale & Compass.
This article was updated on January 19, 2023.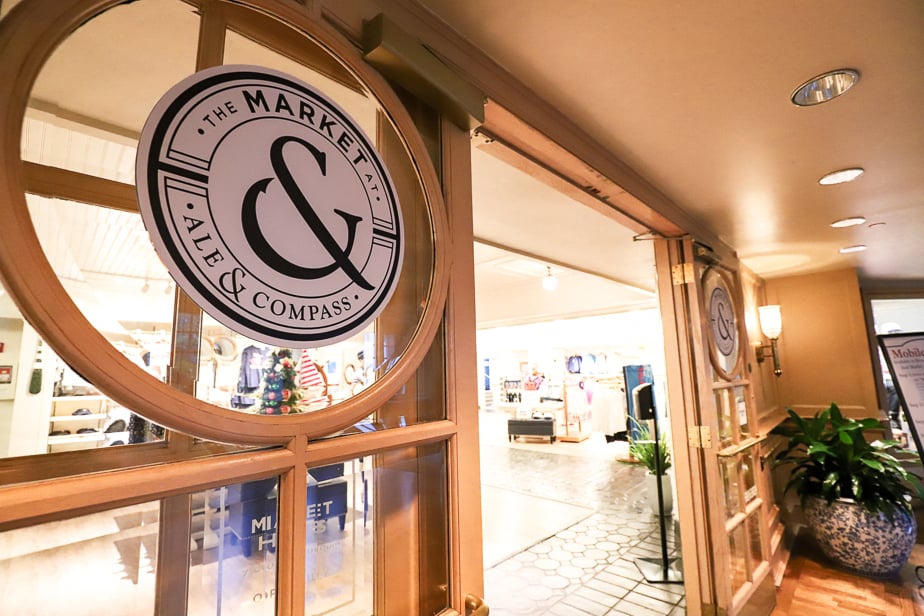 As you may have guessed by its name, The Market at Ale and Compass is more of a grab-and-go or convenience establishment. Part of The Market is the resort's designated quick service, while the other half is the Yacht Club's gift shop.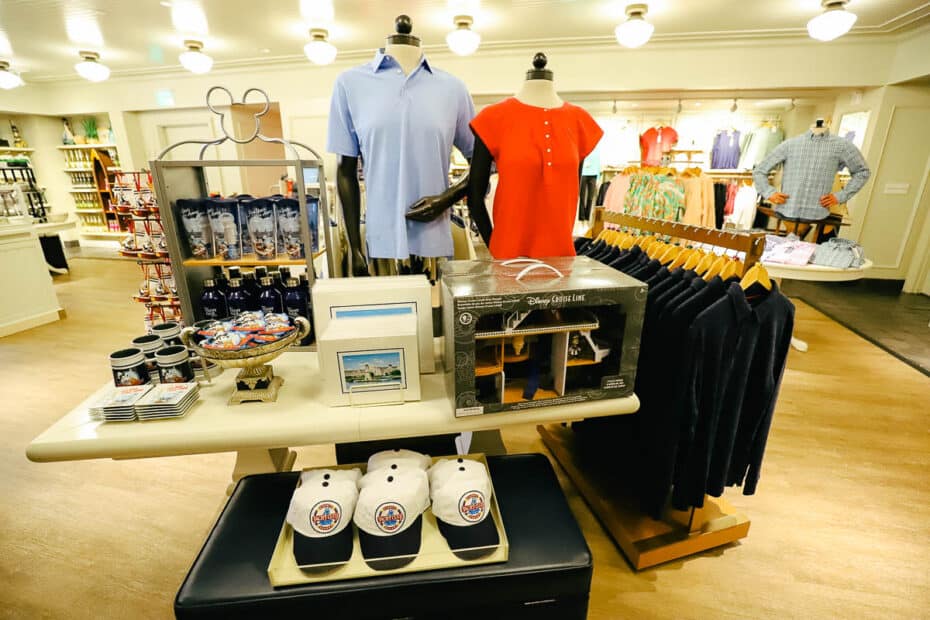 The Market at Ale and Compass Menu
For breakfast, The Market at Ale and Compass has menu items like:
Breakfast Bowl (Scrambled Eggs served with a Mickey Waffle, Potato Barrels, Bacon, and a Biscuit)
Egg White Breakfast Wrap (Egg Whites, Spinach, and Oven-roasted Tomatoes served on a Whole-Wheat Wrap)
Turkey and Cheese Breakfast Sandwich (Oven-roasted Turkey, Eggs, Swiss, Peppers, and Onions served on Ciabatta)
Ham and Cheese Breakfast Sandwich (Eggs, Ham, and Cheddar served on a Pretzel Roll)
Mickey-shaped Waffles
Breakfast Sides:
Potato Barrels
Bacon
Gourmet Oatmeal (Served with a choice of Cinnamon, Brown Sugar, Dried Cranberries, or Golden Raisins)
You can preview the entire breakfast menu with prices here on Disney's site.
For lunch and dinner, items include:
Foot-long, All-beef Chili-cheese Hot Dog (All-Beef Foot-long Hot Dog topped with Chili and Cheese)
Grilled Chicken Panini (Basil Pesto, Fresh Mozzarella, and Oven-roasted Tomatoes on Ciabatta served with Chips)
Cuban Sandwich (Ham, Slow-roasted Pork, Swiss, Pickles, Mayonnaise, and Mustard on a Hoagie Roll served with Chips)
Ham and Cheese Sandwich (Served on a Pretzel Roll with Chips)
Premade Cold Sandwiches:
Roast Beef Sandwich (Roast Beef, Horseradish Cream, Caramelized Onions, and Arugula on Multigrain Bread served with Chips)
Turkey and Brie Sandwich (Roasted Turkey, Brie, Lettuce, Apples, and Dijon-Mayonnaise on Multigrain Bread served with Chips)
Spicy Italian Sandwich (Ham, Salami, Capicola, Provolone, Lettuce, Tomato, and Spicy Giardiniera Spread on Focaccia Bread served with Potato Chips)
Salads:
Chicken Caesar Salad (Chicken, Romaine, Parmesan, and Croutons with Caesar Salad Dressing)
Greek Salad (Romaine and Kale Mix with Tomatoes, Cucumbers, Onions, Olives, and Feta)
Garden Salad (Romaine and Kale Mix with Tomatoes, Cucumbers, Onions, Olives, and Feta)
Kids' Meals:
Ham Sandwich
PB&J Uncrustable
Turkey Sandwich
Grilled Cheese
Macaroni and Cheese
(Kids' meals are served with a choice of two sides and a choice of Small Lowfat Milk or Small DASANI® water.)
Desserts:
50th Celebration Tart (Birthday Cake Mousse Dome on top of a Milk Chocolate Mousse-filled Vanilla Tart Shell with Mini Chocolate Crisp Pearls, Buttercream, Fondant, and Chocolate Décor)
Cookies n' Cream Trifle (Layers of Chocolate Cookie Sandwich Mousse, Chocolate Cake, and Whipped Cream)
You can preview the entire lunch and dinner menu with prices here on Disney's site. Unfortunately, the Disney Dining Plan is not available as of this update.
In addition, The Market at Ale and Compass has a coffee bar. Here is a photo that shows the different specialty coffee drinks. These drinks are all made with Joffrey's Coffee.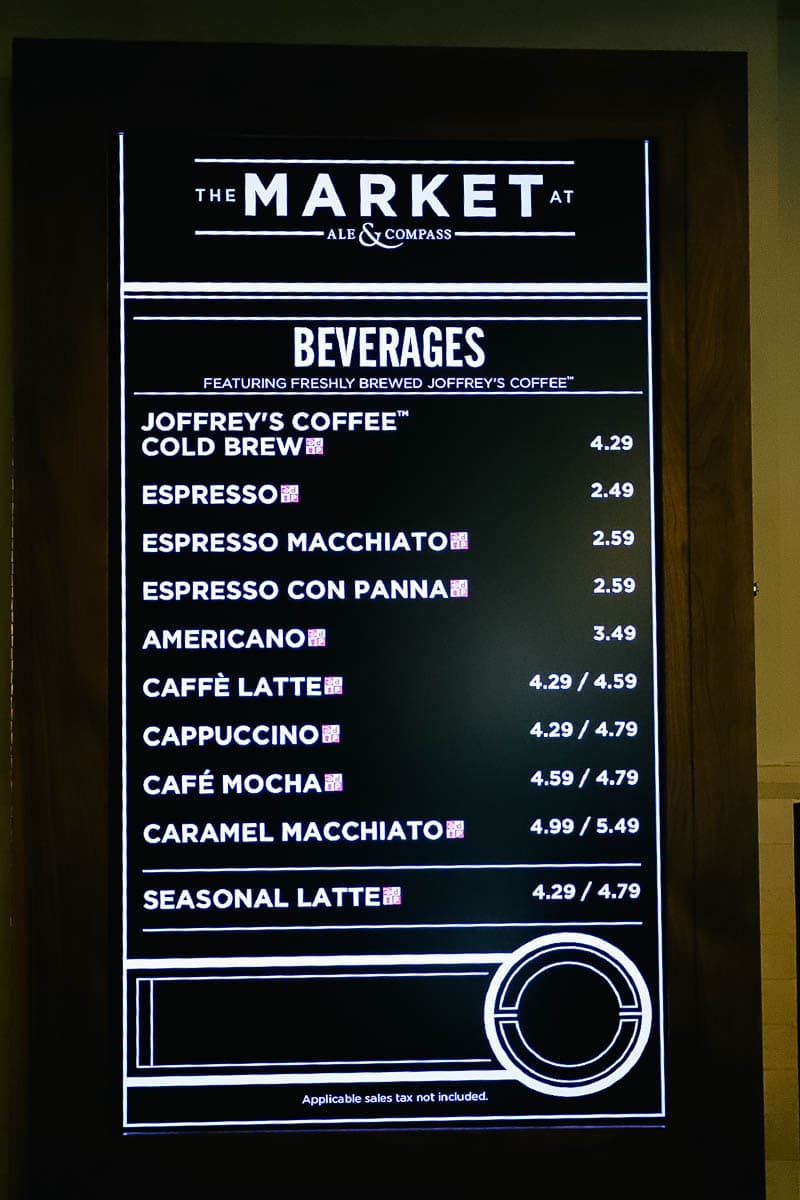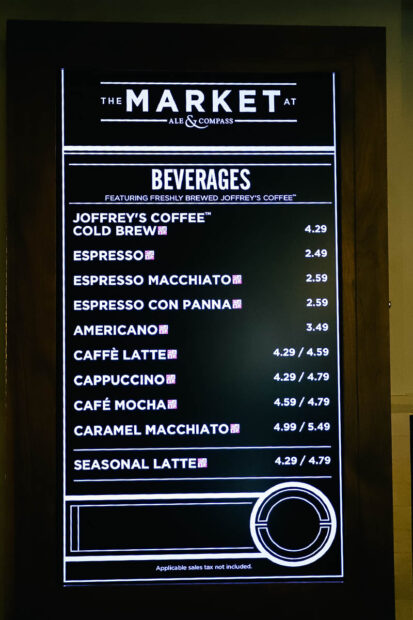 If you're staying next door at Disney's Beach Club Resort, you'll likely want to walk to the Yacht Club for a specialty coffee. The Market will have more options than Beach Club Marketplace.
Rapid Fill mugs are available at the counter. Most of them feature wraps celebrating Walt Disney World's 50th anniversary. These will likely change to a new theme in the coming months.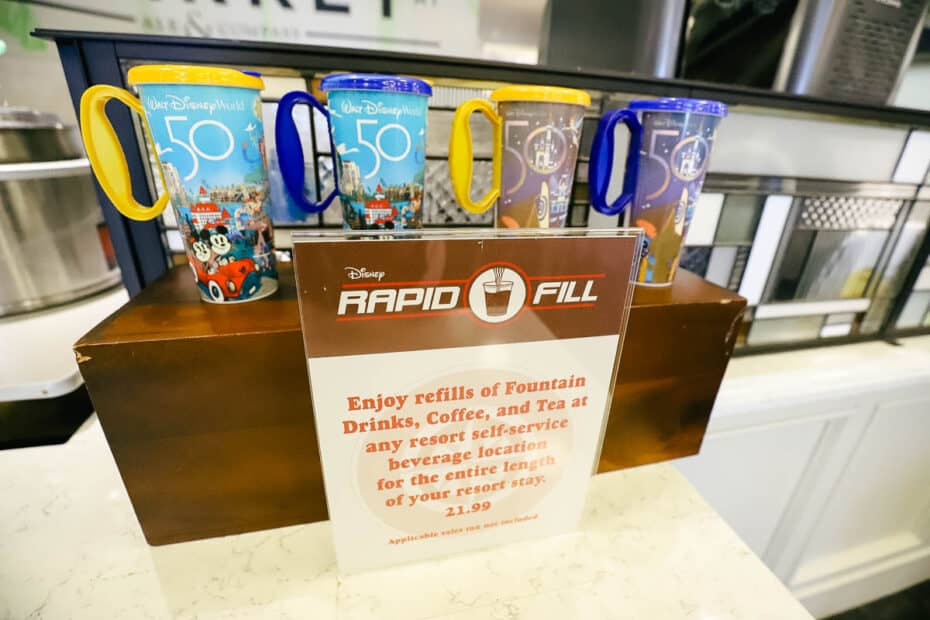 Below you can see the overall set-up of The Market.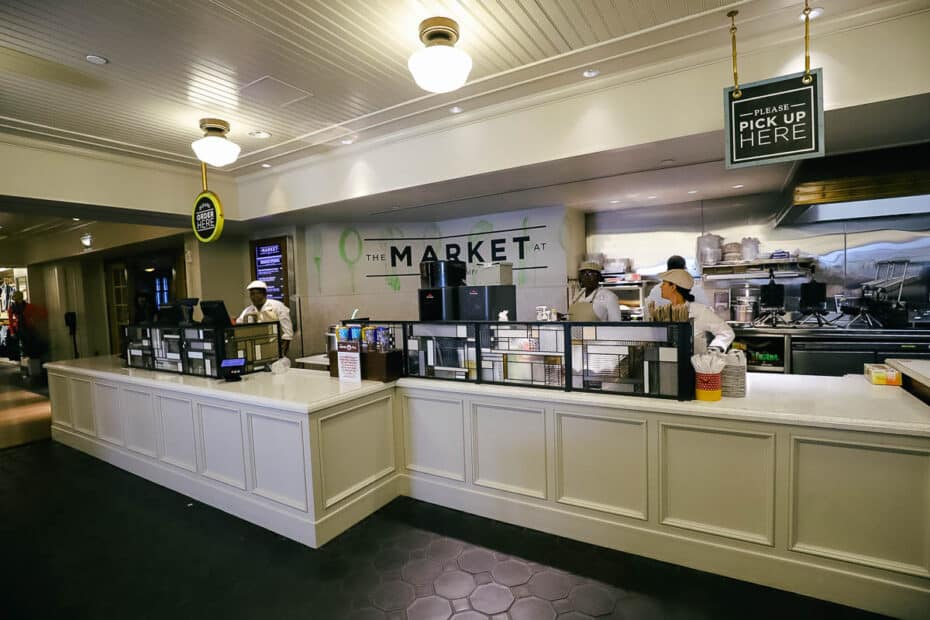 To the far right, there is an interior dining area. And while I think the dining area is nice, there are far better places to enjoy a meal at the Yacht Club. I would probably take my meal to the Admiral quiet pool or Stormalong Bay.
Related: Pools at Disney's Beach and Yacht Club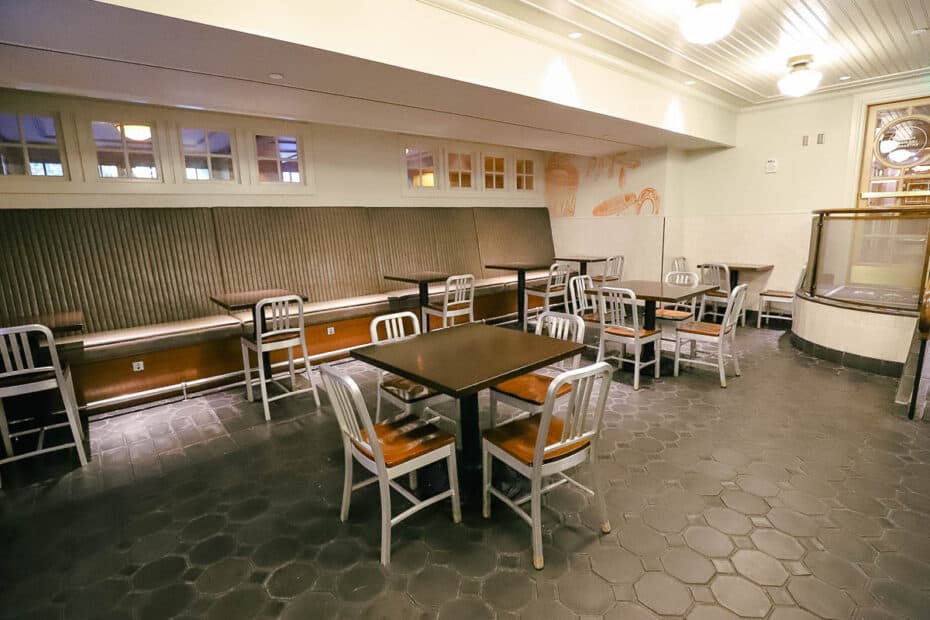 You'll find plenty of condiments.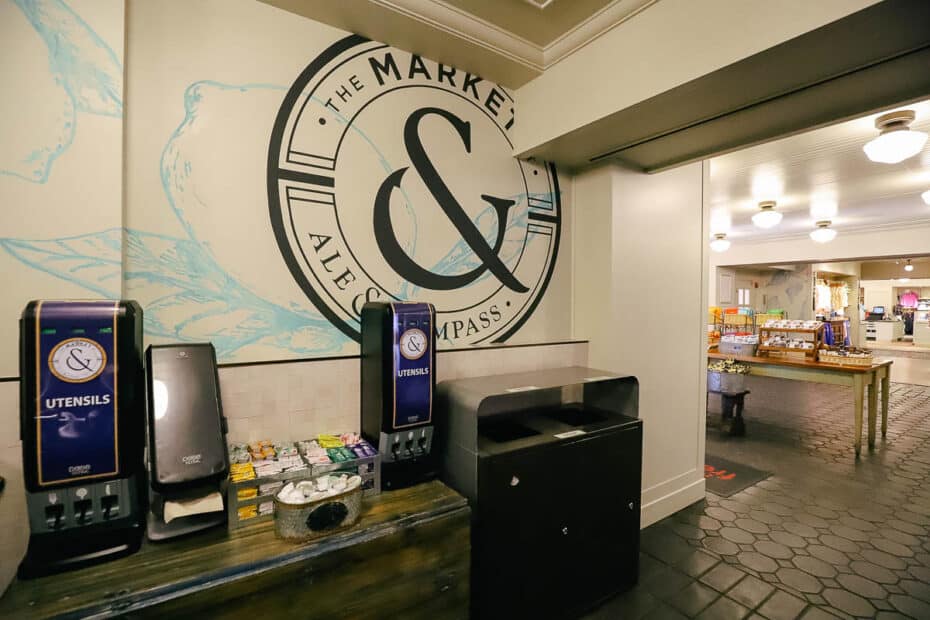 Coca-Cola Freestyle machines are available for refillable mugs. You can also refill them at Hurricane Hanna's. Additionally, there's a sink to rinse your mug to the right of the soda machine.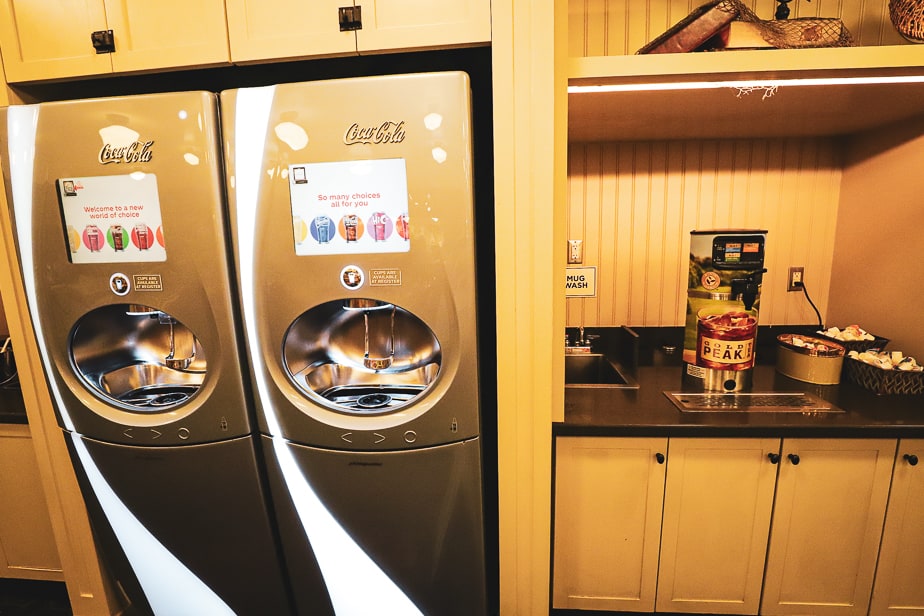 Here is the coffee set-up, and there's hot water available for tea.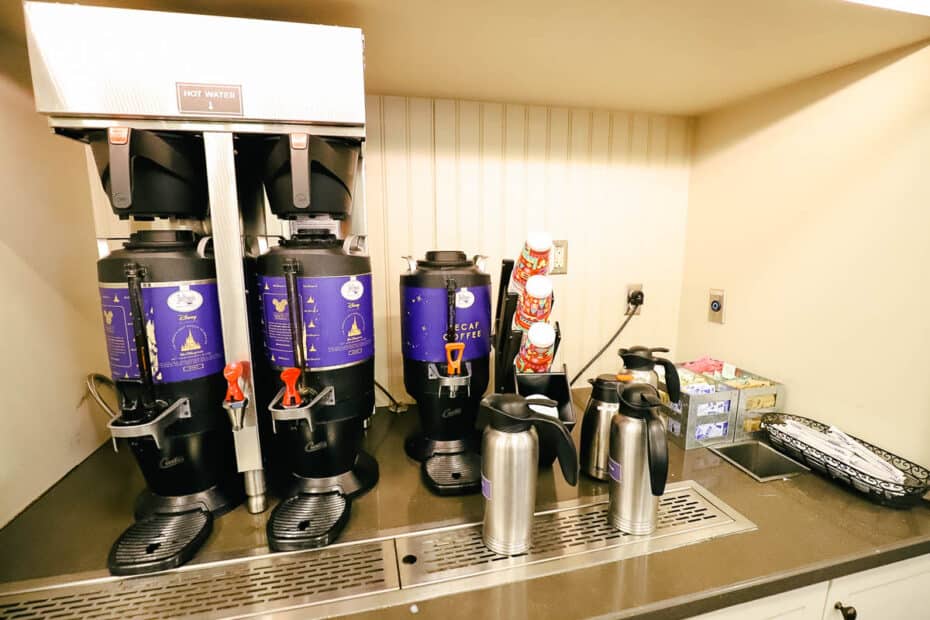 The Market offers a decent selection of Twinings Tea.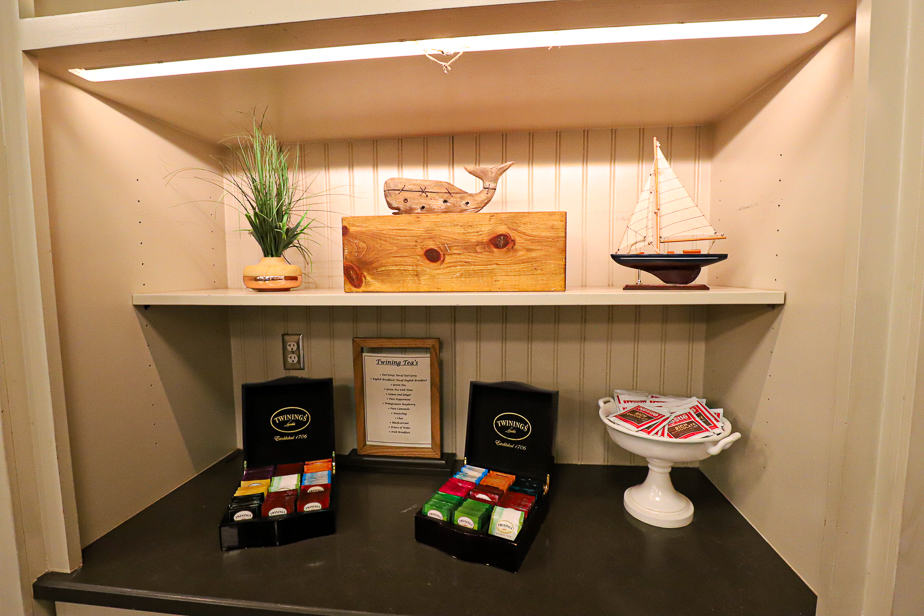 Below is the selection of wine at the counter service.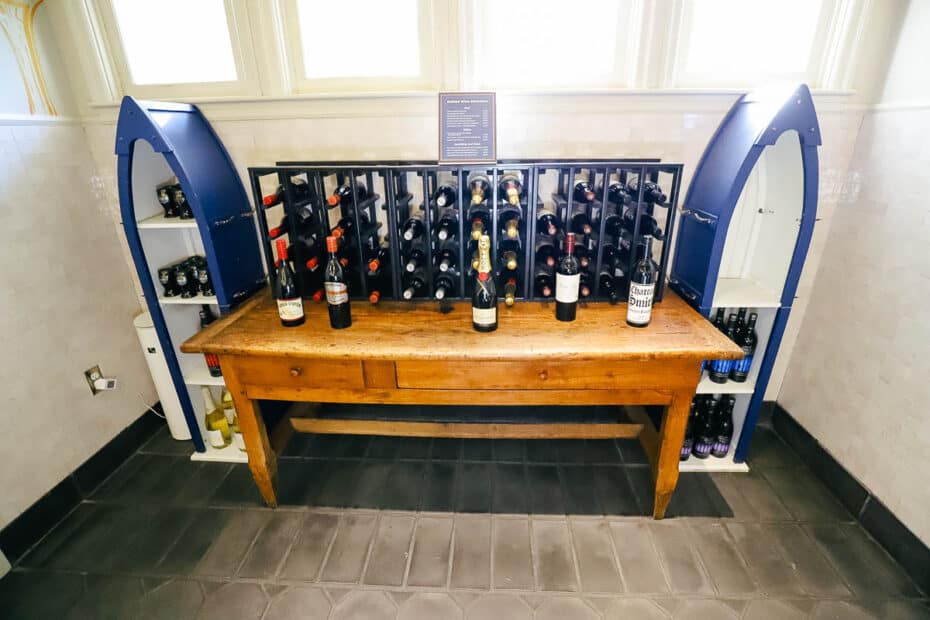 Over on the gift shop side, there's a cabinet with various liqueurs.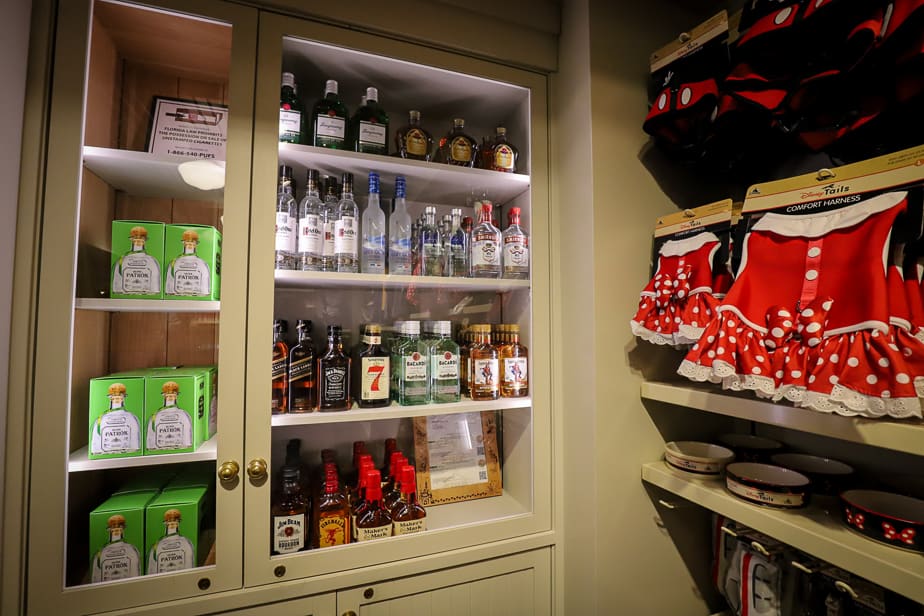 There's a large refrigerated case with various items on the counter service side. There are salads, cold sandwiches, fruits, and yogurts on the far right. Toward the left, there's an extensive range of beverages, from milk and soda to beer and champagne.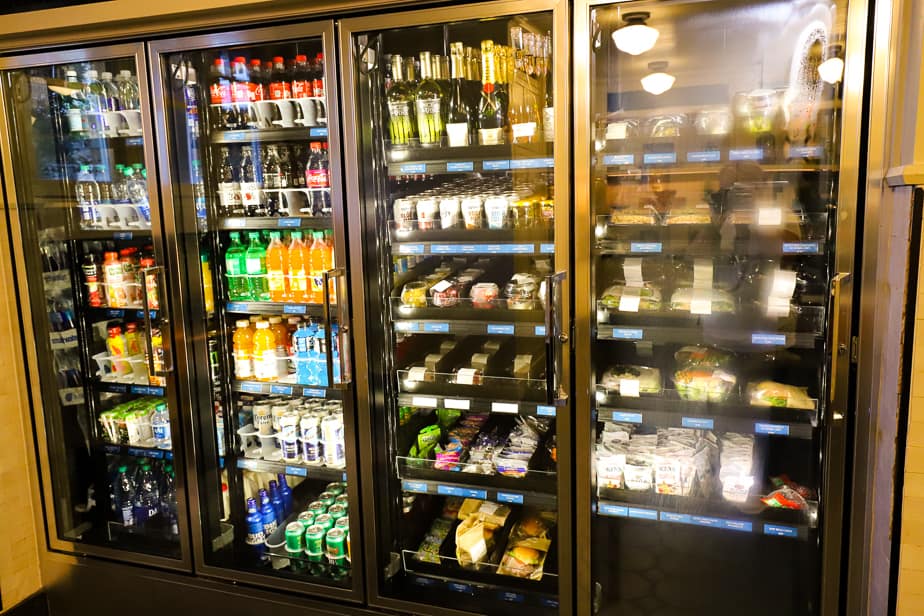 In the middle of The Market, you'll find a long counter surrounded by snacks and bakery items.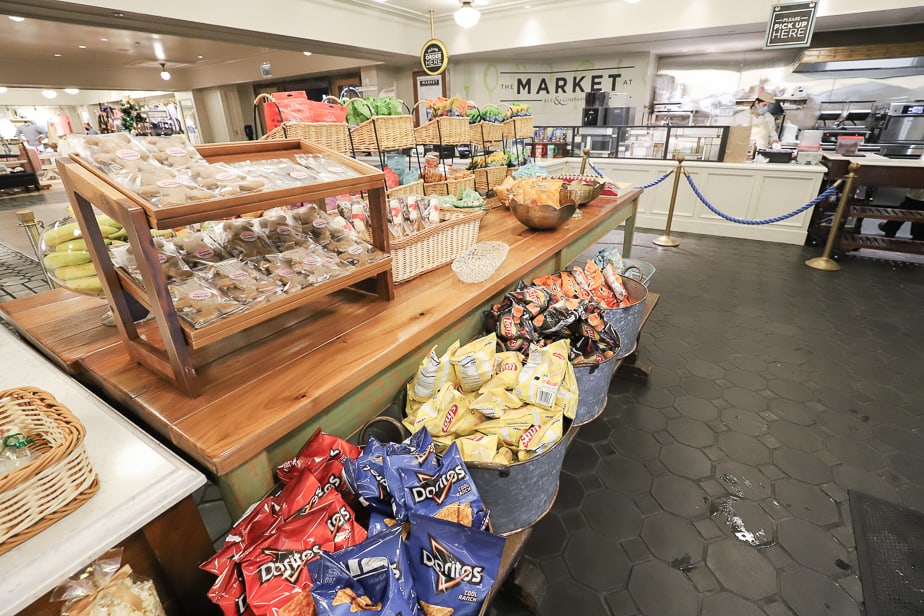 You might run into some seasonal treats if you're visiting over the holidays.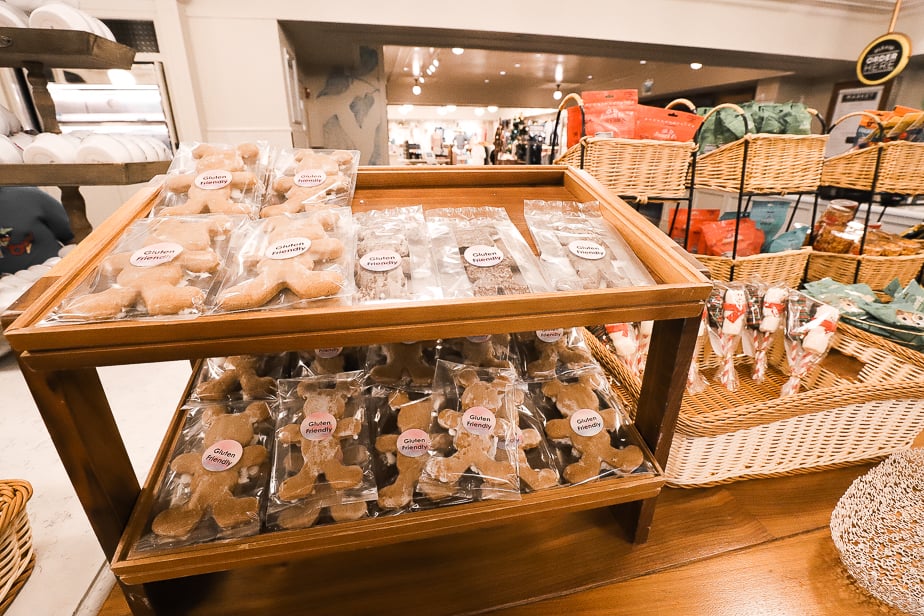 Gluten-free and allergy-friendly items are available, which some of us can truly appreciate.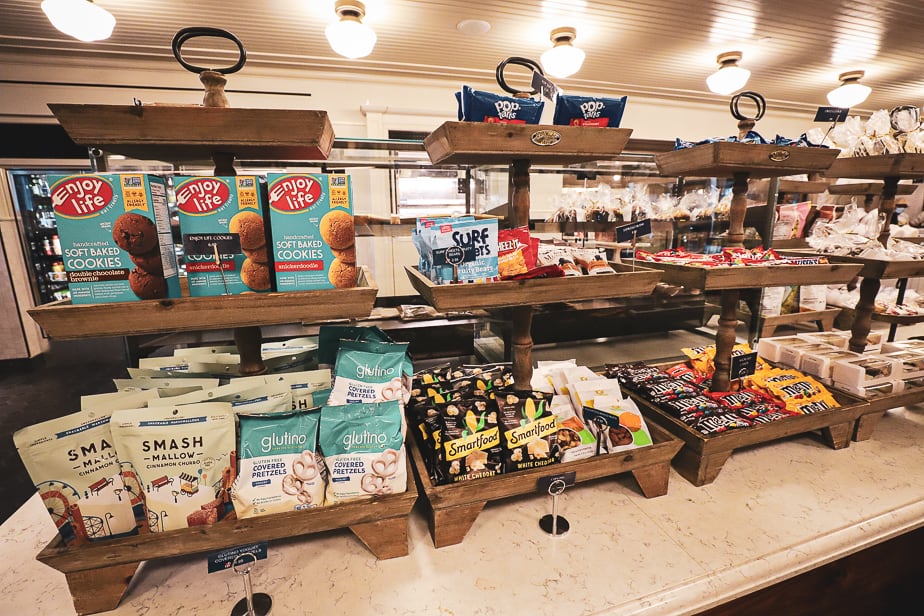 Healthy(?) items were available. I see a Kind bar, Nutri-grain bars, and Luna protein bars.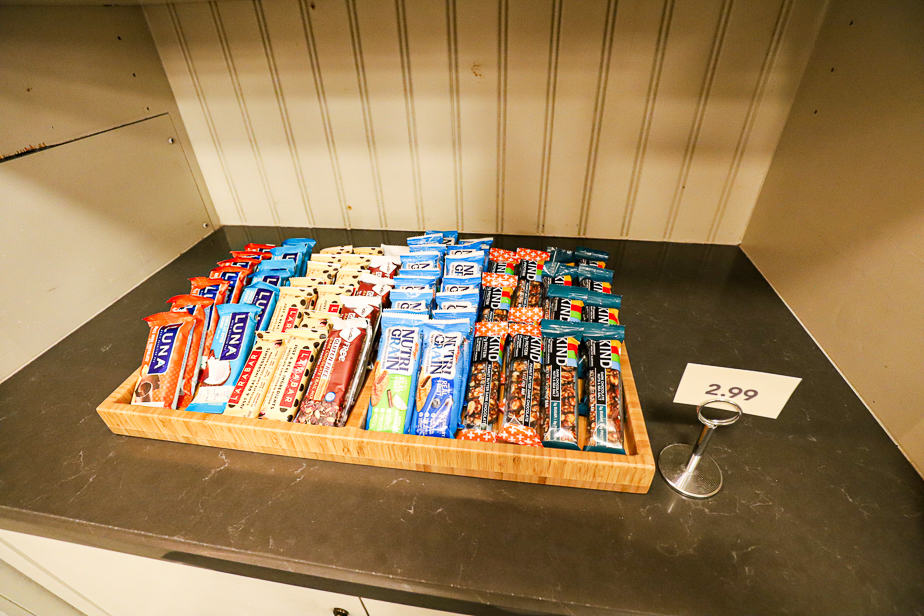 Or you could go with pints of Haagen Dazs and Mickey ice cream bars.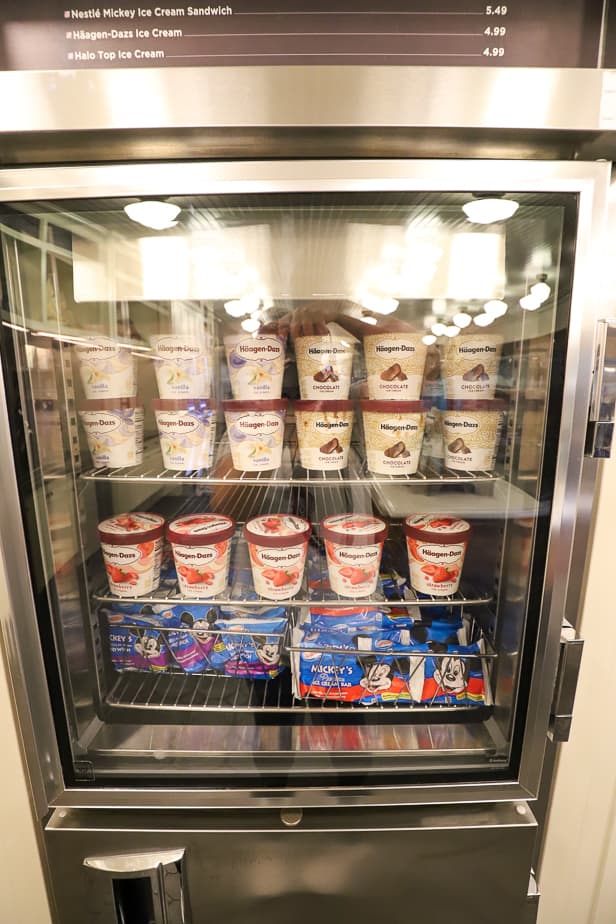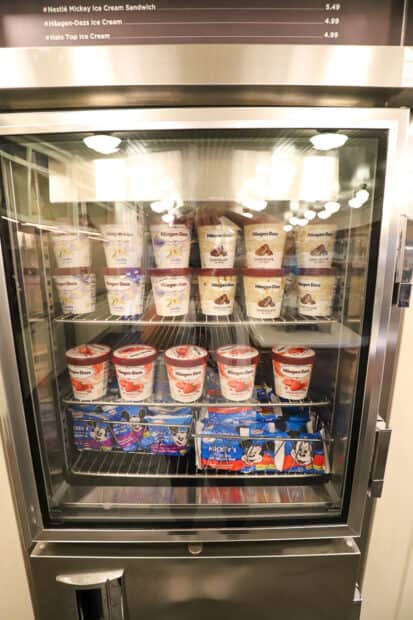 Here is a closer look at items in the refrigerated section.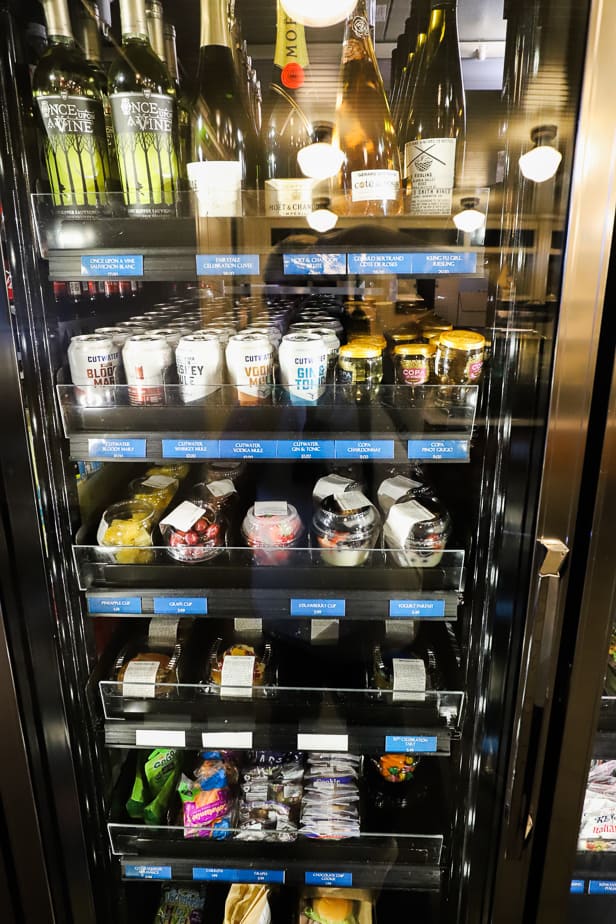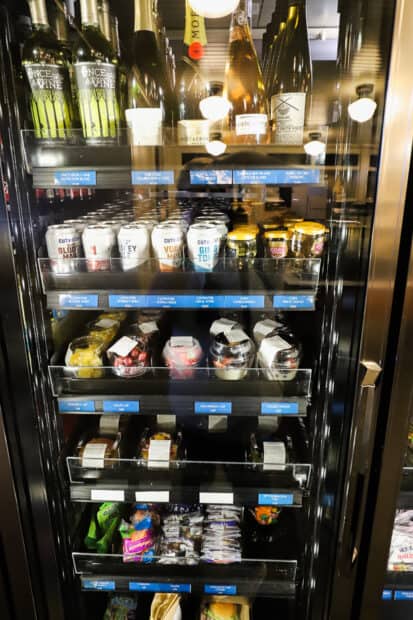 And there are a few pastries available.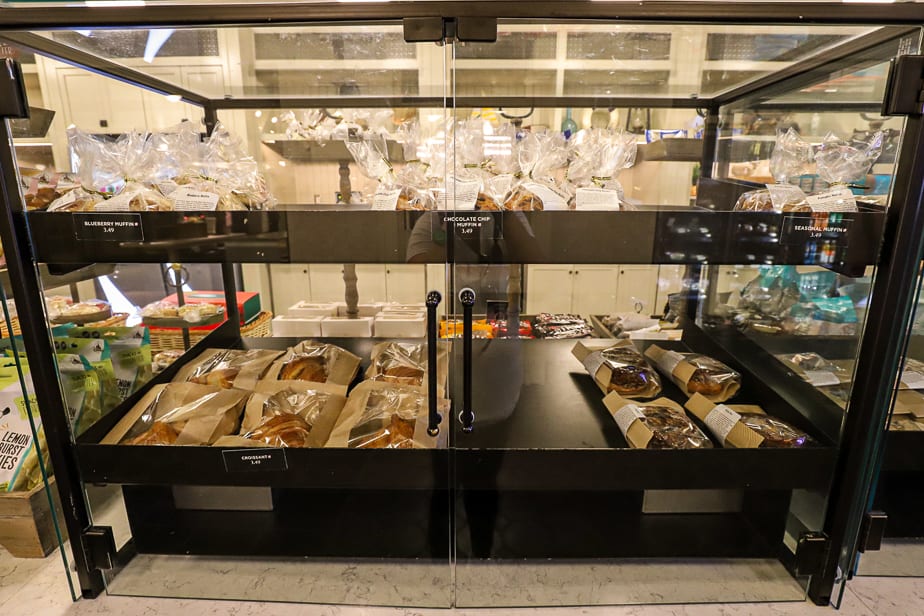 I thought the sticky buns looked good. However, if I wanted sticky buns, I would visit Boma, Flavors of Africa, for breakfast and get some fresh off the buffet.
Related: Best Breakfasts at Disney World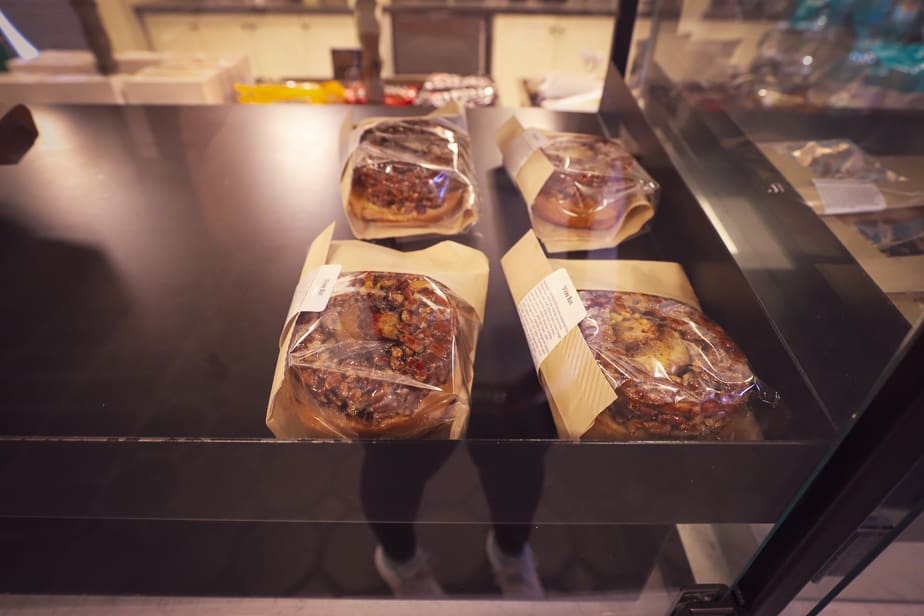 Other items include individual cereal cups and Disney-branded snacks.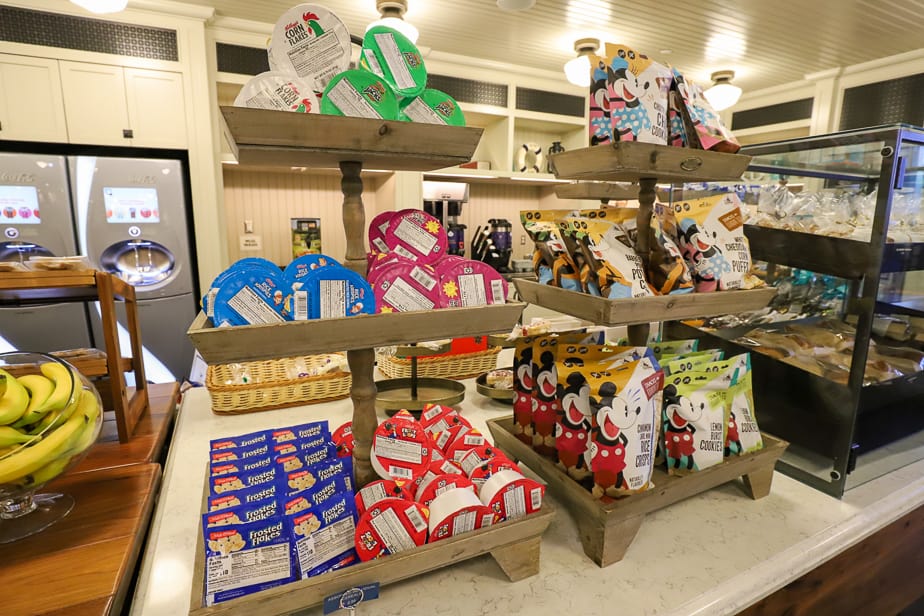 A few fresh fruit items are on display.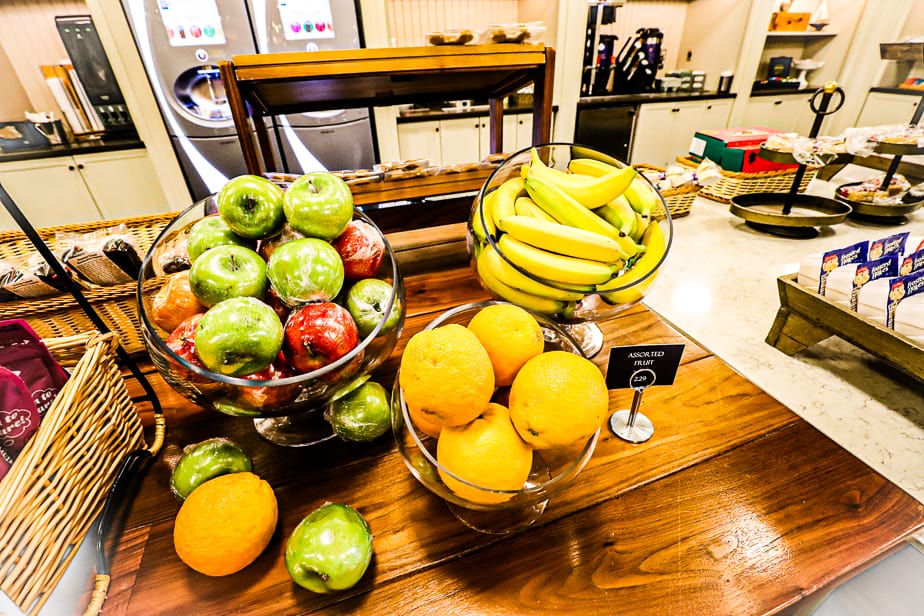 Here's another look.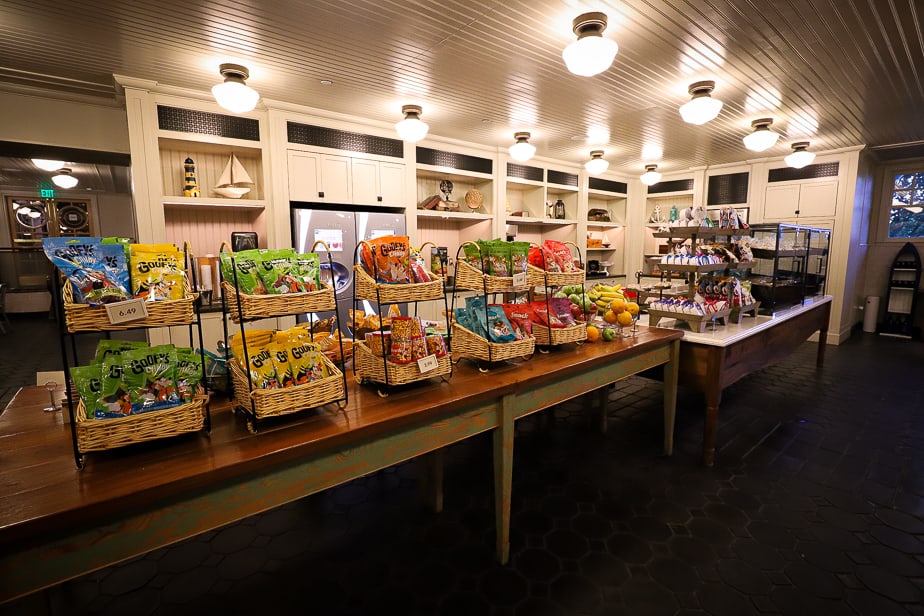 Overall, the Market at Ale and Compass offers a decent selection of to-go items. However, I find the counter service options lacking for lunch and dinner.
For most of our meals, we usually prefer to eat at the resort's table service, Ale and Compass restaurant. They have pancakes, chocolate waffles, eggs benedict, and much more for breakfast.
Related: Ale and Compass Breakfast Review
We have enjoyed the Vermont Cheddar burger, jumbo lump crab cakes, truffle fries, and more for lunch and dinner. We have a separate review that combines those meals.
Related: Ale and Compass Review (Dinner and Lunch)
One of the best things about the restaurant is that you can mobile order. Several times I've ordered a late breakfast or lunch and taken it out to the pool.
For more information on Disney's Yacht Club, we have a complete guide:
Or you might enjoy these other articles:
In the Comments
Hopefully, this article gave you an idea of what you can expect to find at The Market at Ale and Compass. Are you planning a stay at the resort? Leave a comment below with your thoughts.